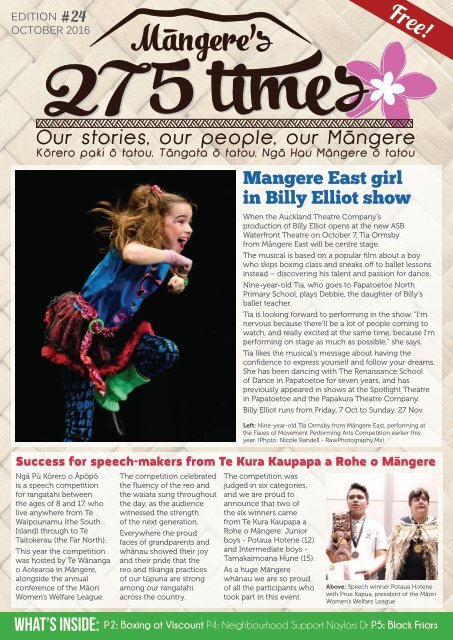 275Times October 2016
Mangere's community news.
Mangere's community news.
SHOW MORE
SHOW LESS
You also want an ePaper? Increase the reach of your titles
YUMPU automatically turns print PDFs into web optimized ePapers that Google loves.
EDITION #24

OCTOBER 2016

275 times

275

Māngere's

times

Free!

Our stories, our people, our Māngere

Kōrero paki ō tatou, Tāngata ō tatou, Ngā Hau Māngere ō tatou

Mangere East girl

in Billy Elliot show

When the Auckland Theatre Company's

production of Billy Elliot opens at the new ASB

Waterfront Theatre on October 7, Tia Ormsby

from Māngere East will be centre stage.

The musical is based on a popular film about a boy

who skips boxing class and sneaks off to ballet lessons

instead – discovering his talent and passion for dance.

Nine-year-old Tia, who goes to Papatoetoe North

Primary School, plays Debbie, the daughter of Billy's

ballet teacher.

Tia is looking forward to performing in the show. "I'm

nervous because there'll be a lot of people coming to

watch, and really excited at the same time, because I'm

performing on stage as much as possible," she says.

Tia likes the musical's message about having the

confidence to express yourself and follow your dreams.

She has been dancing with The Renaissance School

of Dance in Papatoetoe for seven years, and has

previously appeared in shows at the Spotlight Theatre

in Papatoetoe and the Papakura Theatre Company.

Billy Elliot runs from Friday, 7 Oct to Sunday, 27 Nov.

Left: Nine-year-old Tia Ormsby from Māngere East, performing at

the Faces of Movement Performing Arts Competition earlier this

year. (Photo: Nicole Randell - RawPhotography.Mx)

Success for speech-makers from Te Kura Kaupapa a Rohe o Māngere

Ngā Pū Kōrero o Āpōpō

is a speech competition

for rangatahi between

the ages of 8 and 17, who

live anywhere from Te

Waipounamu (the South

Island) through to Te

Taitokerau (the Far North).

This year the competition

was hosted by Te Wānanga

o Aotearoa in Māngere,

alongside the annual

conference of the Māori

Women's Welfare League.

The competition celebrated

the fluency of the reo and

the waiata sung throughout

the day, as the audience

witnessed the strength

of the next generation.

Everywhere the proud

faces of grandparents and

whānau showed their joy

and their pride that the

reo and tikanga practices

of our tūpuna are strong

among our rangatahi

across the country.

The competition was

judged in six categories,

and we are proud to

announce that two of

the six winners came

from Te Kura Kaupapa a

Rohe o Māngere: Junior

boys - Potaua Hotene (12)

and Intermediate boys -

Tamakaimoana Hune (15).

As a huge Māngere

whānau we are so proud

of all the participants who

took part in this event.

Above: Speech winner Potaua Hotene

with Prue Kapua, president of the Māori

Women's Welfare League

WHAT'S INSIDE: P2: Boxing at Viscount P4: Neighbourhood Support Naylors Dr P5: Black Friars
---
2

Tranzformers brings

change through boxing

Kia ora, my name is Robert MacFarlane. I'm a social worker for ME

Family Services and I'm currently working in Viscount Learning

Community, Māngere. My role at the school is to influence

the learning and wellbeing of the children in our care.

Earlier this year, with the support of

principal Keith Gayford, and expert

assistance from two coaches at

SuperCity boxing gym in Manukau,

we set up the 'Tranzformers' Boxing

Programme to help students who face

extra challenges to their learning.

During the programme, Coach

Rob and Coach Cain focussed on

teaching the values of "attitude,

application and attendance"

to help the students transform

their learning and behaviour.

On September 22, we held a boxing

exhibition in the Viscount School Hall,

which gave boys from Years 7 and 8

an opportunity to spar in the ring.

The purpose of this event was not

only for the students to demonstrate

their discipline, self-control

and boxing skills, it was also an

opportunity to recognise their

achievements in the classroom,

with certificates acknowledging

how much progress they'd made.

Parents, staff and selected classes

attended the event to show their

support for the students taking part.

One of the fathers who came to

the exhibition said that his son was

now showing a lot of restraint with

his anger at home. Feedback from

teachers also indicated subtle but

significant changes in the students

who took part in the programme.

As for the students themselves,

most rated the experience as life

changing in some respect.

Above: Year 7 & 8 boys from Viscount Learning

Community take part in a boxing exhibition at

the end of the Tranzformers boxing programme.

It was a privilege to have Viscount

Learning Community adopt the

Tranzformers boxing programme

as another way to support the

wellbeing of its children and to help

them grow into effective learners.

Getting licensed together

Alexandria (21), from Māngere, recently

attended the Behind the Wheel

Learners Licence course held at the

Māngere East Community Centre.

She was a bit nervous to begin with. "I wasn't sure

what to expect really, but I was determined to get my

licence," she says. "The class was really helpful and

there were lots of other people learning just like me."

After completing the two-week programme Alexandria

was prepared for the test. She acknowledges the

important role her whānau played in supporting her

through to getting her licence. "The encouragement

and support I got from my family really helped me," she

says. "My dad drove me to the course and even sat in

on the lessons too - it all added to my confidence".

The Behind the Wheel workshops and Pledge recognise

the influence and importance of whānau support for those

who are on their licensing journey, and how that support

can help them get all the way through to their full licence.

It can also be a motivator for others in the family who

might be thinking of getting their licence too. "From seeing

me do this [Behind the Wheel] course, my dad, brother,

niece and sister-in-law are now all keen to get their next

licences too." Alexandria says, "It's now a bit of fun - we

can all test each other and keep each other motivated."

If you know a young person thinking about getting

their licence, offering your support and encouragement

to get there can make all the difference! You can

start by joining a Pledge team with them to get FREE

resources and access to awesome workshops.

Above: Alexandria says support and encouragement

from her family helped her get her learner licence.

Visit www.behindthewheel.nz and register today.

To find out more about workshops

happening in Māngere, follow us on

Facebook @behindthewheelmangere.

ADVERTORIAL
---
Jason helps Sela get her groove back

"Sela seems to lead an

ordinary dull life – at least

that's what she thinks when

comparing it to other kids at

her school. She hasn't even

been to Rainbow's End!" says

Jason Manumua, director of

How Sela Got Her Groove

Back, a new play produced

by Good Seeds Trust.

"To be able to get to

Rainbows End would

mean that she'd finally

be like the other kids –

and maybe life wouldn't

suck as much," he says.

"This is how Sela's journey

to Rainbows End begins,

but she will come to

know it's the journey

not the destination

that really matters."

Jason is a graduate of

the On-Screen Acting

course at South Seas Film

& Television school, as

well as a graduate of the

The Actors' Programme.

A writer/director, Jason

currently works with his

local South Auckland OSCAR

organisation, devising and

producing community

holiday kids shows.

After forming the Tongan

Creatives Collective in 2012,

he co-wrote, acted and

directed in two seasons

of The Tongan Morris

Men, the group's most

popular production.

In 2015, the Tongan

Creatives Collective

committed to supporting

the Mahina Arts Festival in

Tonga; presenting work,

creative workshops and

cultural development.

Jason has worked for Good

Seed Trust for nearly two

years and is a talented

director and producer,

as well as an actor.

He performed in the recent

production of Macbeth at

the Māngere Arts Centre,

Above: Jason Manumua, director of How Sela Got Her Groove Back,

a new play for Good Seed Trust.

and he's often found at the

arts centre either directing

or in character. He is

described as a dedicated

and local staff member with

a heart of gold - for the

community and the children.

Good Seed Trust run OSCAR

services and two holiday

programmes in Māngere.

How Sela Got Her Groove

Back is the second production

that Good Seed Trust

have staged, involving

children and staff from

their holiday programme.

The children have no

previous training in theatre

or dance and singing, and

all rehearsals are done at the

Māngere Arts Centre during

holiday programme hours.

The children still enjoy

their normal programme

and excursions as well.

Last year's production,

Isitolo and the Magic Paint

Brush, was a big hit, with 90

children and 10 staff in the

cast. Both shows sold out,

so this year's production

will have four sessions to

cater for the high demand.

Community and other

after school and holiday

programmes are welcome

to attend the show at the

Māngere Arts Centre on 5

and 6 October. The cost

is $5 for adults and $2 for

and children under 12yrs.

Ph: 2751065 or 2751069

3

Below: Cast members rehearse for How Sela Got Her Groove Back

5-6

OCT2016

KIDS SCHOOL

HOLIDAY SHOW

Mon - 12pm Matinee & 7pm

Tues - 12pm Matinee & 7pm

nga tohu o uenuku

INFO: 'N'N'N.E\JENTFIND/1.CO.NZ
---
4

Neighbourhood Support in Naylors Drive

A new

Neighbourhood

Support group is

set to kick off in

Māngere, following

a successful

community

event at the Old

School Reserve.

By Justine Skilling

Waste Minimisation Facilitator

Talking Rubbish, ME

Family Services

Driven by local resident

Toni Helleur with help from

several local community

groups, the event was

an opportunity for

Naylors Drive cul-de-sac

residents to meet each

other and to hear about

Neighbourhood Support

(NS) and other resources

in their local community.

They also got to meet

members of the Māngere

South Neighbourhood

Policing Team, including

Constable Merihera Tipene,

who played a big role in

co-ordinating the day.

NS District Representative

Ho Yoong Hoh introduced

the concept of NS. He

explained that the aim of

NS is not only to reduce

crime and look after one

another's safety, but also to

get to know our neighbours

so we can support one

another and share resources.

The group then learned

about a little-known

neighbourhood treasure:

the Old School Reserve

Teaching Gardens. Garden

co-ordinators Yvonne

Thomas and Graeme

Hanson invited everyone

to visit and make use of

this fantastic resource. The

gardens have plots available

for local residents to grow

their own vegetables, with

mentoring from Yvonne

and Graeme if needed.

The focus then turned to

food waste, as the Teaching

Above & Below: Naylors Drive residents and organisers at the Neighbourhood Support event.

Gardens are also opening up

to neighbours who'd like to

keep food waste out of their

rubbish, but don't have room

for a compost bin or garden.

Koia Teinakore from Talking

Rubbish (ME Family Services)

introduced Bokashi bins,

which can be used to

separate food waste from

general rubbish in small

houses or apartments.

All food waste, including

cooked food, meat and

dairy products can be put

into a Bokashi bin, which

pickles the food waste

rather than composting it.

Neighbours will be able to

attend a Bokashi workshop,

receive assistance with

setting up their own

Bokashi bin, and then drop

the pickled waste at the

Auckland Teaching Garden

once their bin is full.

"The aim of Neighbourhood Support is not only to

reduce crime and look after one another's safety,

but also to get to know our neighbours so we

can support one another and share resources."

The group then visited

the Nukutukulea Aoga

Niue ECE open day. A

delicious zero-waste meal

awaited, courtesy of the

NS group, ReleaseWorks,

Toni Helleur's family and

former resident Ferin Khan.

The umu and biryani on

offer reflected the diverse

cultures on Naylors Drive,

and the red cabbage

bowls and garden salad

signalled a commitment

to waste minimisation

and healthy kai.

The group mixed and

mingled, received free blood

pressure checks from a

Turuki Healthcare nurse,

heard about a free Māngere

support group for a low-carb

healthy-fat lifestyle, received

information from On Point

Financial Advisors' director

Letisha Tan, and sampled

locally made natural

products from Totally Toha.

The event was a wonderful

opportunity for Naylors

Drive neighbours to

meet each other, find out

what's happening in their

community, and to start

planning some new NS

groups in their area.

Well done to everyone

involved!
---
5

Saluting the Black Friars

By Gabriel Faatau'uu

Photos: Penina Momoisea

Back in 2014, the Black

Friars put on 'The

Merchant of Venice'

at the Māngere Arts

Centre. At the time, I had

recently started a new

job as an usher at the

Centre, while still working

fulltime elsewhere.

I remember turning up to my shift

and laughing when I was told what

the show was. 'The Merchant'

was a play I'd learned about at

university in Wellington. I rolled my

eyes thinking that a Pacific-based

South Auckland group would have

no idea what they were doing.

Boy was I wrong. After watching

their performance, I was completely

blown away - everything from the

costuming to the acting and dancing

had inspired me, and I knew there

was hope for Pacific theatre.

In May 2015, I left my fulltime job

to pursue a career in the arts. The

Māngere Arts Centre has been

amazing and through them I have

come across talents from all walks of

life - talents who I knew by face and

name, but not on a personal level.

Being part of the show Macbeth,

directed by Michelle Johansson,

gave me the opportunity to not only

perform at my workplace, but to

work alongside and share the same

stage with fellow actors whom I

have watched perform for the past

two years. We have formed a great

friendship and sense of family, too.

I feel truly proud and privileged to

have worked on this project. And

I'm somewhat embarrassed that I

doubted the Black Friars. The group

formed 10 years ago to prove to

doubters like my previous-self, that

Shakespeare is possible in South

Auckland and for the next generation.

I am immensely honoured to know

that we sold out several Shakespeare

shows in South Auckland.

Above & Below: Scenes from the Black Friars'

performance of 'Macbeth' at Māngere Arts

Centre in September.

I'm excited about the next

Black Friars project, and I can't

wait to do it all over again.
---
6

MARAMATAKA

OCTOBER 2016

Kia ora tātou, we're

into our third edition

of the maramataka

(moon calendar)..

By Ayla Hoeta

Just to recap, the maramataka

is based on three connected

elements: the sky (Te

Rangi), land (Te Whenua)

and water (Te Moana). By

observing these elements,

we can predict activities in

our natural environment.

Cut out & keep your lunar calendar

You can use the dials printed

here to align each day of the

year to predicted activities.

These are steps to set your dial:

1. Cut out the two circles.

2. Place the small circle inside

the large one and put a pin

through the middle of both.

3. Now set the month, which

starts on Rakaunui. Rakaunui

falls one day before the full

moon (West Coast) and on

the full moon (East Coast).

4. In October, the full moon is on

the 16th, so rotate the small dial

until the number '15' lines up with

'Rakaunui' on the big dial. You

should see that October 1st falls

on Ohoata. The 19th is Korekore

te whiwhia, which is a day to

rest. The good fishing Tangaroa

days are on October 22 - 24.

Now that you've set your dial you can

look at key days of the month - high

energy days, planting and fishing.

High energy days are Ōturu, Rākaunui

and

Rākau

Mātohi,

(October

15 - 17). These days are

best for activities that require

more energy such outdoor

events, or planting crops.

The maramataka not only allows

us to predict days of the month

but also the coming of seasons

and different parts of the season.

According to our oral traditions

handed down through a series of

whare wānanga, we have seven

periods of summer (raumati).Each

period is indicated by identifiable

patterns of flowering trees, ripening

berries and so on. These act as

visual cues to let us know where

we are in the summer months.

The seven periods are:

Matiti Kura: This is the first phase. It is

triggered by the ripening of the small

red berries in the bush. The time

frame is toward the end of October.

Matiti Hana: The second

phase is recognisable when

the puawananga or puareinga

(clematis) flowers turn the canopy

of the forest a brilliant white.

Matiti Muramura: The third

phase is noted for the flowering

of the northern rātā and the old

pohutukawa.

The canopy

turns from white

(hana) to red (muramura).

Matiti Kaiwai: Is known as the

middle of summer. This is when

the ground is so dry it opens

up and thirsts for water.

Matiti Raurehu: The fifth phase is

the most difficult to detect. It usually

occurs in early February. It may even

precede the rise of the harvest star

Whanui, but we have yet to confirm

that. You can recognise this phase

by a white dust-like substance on

the lawn that resembles a frost.

Matiti Rautapata: The sixth phase

is easily identifiable if you are near

the bush. This is when the seed

pods burst and the seeds fall (tapata)

onto the dry leaf bed below.

Matiti Rauangina: This is the last

phase of summer and is very easy

to identify. Just keep an eye out for

leaves that swing to and fro as they

fall from the trees. This rhythmic

dance is called 'te angina' or free fall.

I myself am super excited about the

coming of summer and will be more

observant of the flowering patterns

closer to the end of this month.

You can contact me on Facebook

for further information: Ayla Hoeta

– Miss Five Crowns NZ Finalist.
---
Upskilling & fixing faults

By Robyn Yousef

Photo: Alan Stevens

Leonora Marsh-Ngatai

gained her New Zealand

Certificate in Infrastructure

Works - Level 2 by studying

full time at The Solomon

Group, based in Panmure.

Upon completion of

her training through the

Southern Initiative's Māori

and Pasifika Trades Training,

she successfully secured

fulltime employment

with Watercare.

Leonora (known as Leo)

works as a drainage

serviceperson, a role that

involves maintaining

Watercare's network of

wastewater pipes and pump

stations. She is now engaged

in further study towards the

New Zealand Certificate

in Water Reticulation –

Wastewater – Level 3.

She says, "I had been

employed in seasonal

work or a combination of

casual jobs, and I really

ZERO FEES

TRADES TRAINING

AGES 16 ­ 40

EMPLOYMENT LINKS

wanted a steady job for a

40-hour week. I read the

advertisement about the

Infrastructure programme on

offer at Solomon Group and

immediately knew that this

could be a possibility for me."

Leo, a mother of three,

was raised by her paternal

grandparents in Pukekohe.

She attended Puni Primary

School and then Pukekohe

Intermediate and Pukekohe

High School. She really

struggled with literacy

during her schooling, but

was determined to get help.

"I got great help from my

tutor, Singa Falanitule, at

the Solomon Group, where

I completed my trades

training in Infrastructure

Works, and I continue to

get on-going support from

her when needed. Now my

reading and writing is not

an issue and I have heaps

of confidence – I am not

shy and will give it a go."

TOOLS GRANT

DRIVERS LICENSING SUPPORT

For more information visit www.mptt.co.nz or Free phone (0800) 874­678

The Solomon Group is

a Maori Private Training

Establishment (PTE) that

offers fee-free trades training

opportunities through

the Southern Initiative for

those aged 16–40 years

and who are of Maori or

Pasifika descent. They

empower people through

training programmes

in trade skills, leading

to apprenticeships and

sustainable employment.

The programme Leo

completed is 12 weeks

long and focuses on the

infrastructure sector,

helping to address the skills

shortage in Auckland.

Watercare is among a

number of Auckland

organisations that have

committed their support

to graduates from Maori

and Pasifika Trades

Training programmes.

Leo is one of six Southern

Initiative graduates that

have been employed by

Watercare since April.

Dale Williams from

the Southern Initiative,

responsible for recruitment

co-ordination and quality

control, is delighted with

the progress Leo has

made during her time with

the Solomon Group and

also in her six months (to

date) at Watercare, where

she has been employed

fulltime since completing

her 12-week course.

Leo initially started in

Watercare's maintenance

services reinstatement team

where she quickly learned

how to clean up wastewater

faults throughout Watercare's

network. Since completing

her immunisations and

special drainage training, Leo

has moved into the drainage

team where she identifies,

locates and repairs faults

in the wastewater network

pipes and pump stations.

Watercare's Infrastructure

Delivery General Manager,

ADVERTORIAL

LEONORA MARSH-NGATAI | SERVICE TECHNICIAN, WATERCARE, P

Above: Leo Marsh-Ngatai works

as a drainage serviceperson for

Watercare, where she identifies,

locates and repairs faults.

Steve Webster, says,

"We are proud to have

Leonora as a Watercare

team member. She has

enthusiastically learned the

requirements of the role

and continues to expand

her knowledge in her role

and through further study."

Dale says, "She really is

an inspiration to other

mothers who stem from

similar backgrounds. She

has completely turned

her life around through

trades and we hope to

share her testimonial to

inspire and encourage

the participation of more

females in the trades."

Leo says her next goal is

to complete her current

studies, enabling her

to continue her career

advancement at Watercare.

"The team at Watercare is

so supportive and I enjoy

working in wastewater

reticulation, it's awesome

knowing that I play a role in

helping Watercare deliver

Auckland's wastewater safely

to the treatment plants."

For more information on

Maori and Pacific Trades

Training Programmes,

visit www.mptt.co.nz

7
---
8

Community Notices

MANGERE OTAHUHU ATHLETICS CLUB

The Māngere-Ōtāhuhu Athletics Club invites registrations

for its first ever full summer season. The club caters for

children and youth aged from two to 18. Fully trained coaches

ensure a quality learning experience, and the club provides

an opportunity for children to participate in social and/or

competitive athletics. See the club's Facebook page 'Mangere

Otahuhu Athletics Club' for more details.

CREATIVE PROJECTS WANTED

Are you a local performer, musician, creative, artist or

community organisation? Māngere-Ōtāhuhu Arts Brokers are

looking for ideas for creative projects that happen in and with

local communities. If your project is selected, the Arts Brokers

can support you to fulfil your vision, assist with funding, and

also help to find the right location or people for you to work

with. Come to a community meeting to meet the Brokers and

find out more: Wednesday, October 12 at 6.30pm, Māngere

Community House, Robertson Rd. Full info is available at:

mangereotahuhuarts.org.nz/news

HAVING A BABY?

Mellow Bumps antenatal group starts Wednesday 12th October,

10am - 12.30pm at Māngere East Community Centre. To enrol,

call 09 263-0798 or email: tawera.ormsby@ohomairangi.co.nz

ACCESS TO EMPLOYMENT (A2E)

All the tools you need to get a job. The A2E programme is a

relaxed, informal session held in the Māngere Town Centre

Library at 10:30am on Friday mornings. Meet other locals and

hear from employers and training agencies about opportunities

and advice that can assist you in your job search. All ages and

backgrounds welcome.

MANGERE EAST COMMUNITY SURVEY

The Māngere East ACCESS Trust and partners have contracted

Visitor Solutions to conduct an independent evaluation of the

potential need for and feasibility of a new community facility

at Walter Massey Park in Māngere East. This work builds on

findings from earlier research undertaken in the Māngere East

area in 2015.

You can fill in the survey online via http://www.surveygizmo.

com/s3/3004001/Mangere-East-Community-Survey

OR www.facebook.com/MangereEastCommunityCentre.

Your response is confidential and will not be connected to

you in any way. If you have any questions about the survey,

please contact Richard Griffiths at Visitor Solutions: rgriffiths@

visitorsolutions.net or Hone Fowler at the Māngere East

Community Centre: hone@mangereeast.org.

Community notices are FREE for non-profit organisations.

Send us details of your group or event for the next issue!

275 times

275

Māngere's

times

Design: Belinda Fowler Editor: Roger Fowler

Publisher: Māngere East Community Centre

275times@gmail.com

www.facebook.com/275times

www

www.275times.com

09 275 6161

Welding +

Panel beating

BUILDING

AND

CARPENTRY

Recreation

& Sport

Automotive

Joinery

& Cabinet

making

Forces

Pre-Entry

Employment

Skills

Don't

just dream it.

NCEA Level 2

Warehousing

& Forklift

Operations

BECOME IT!

ZERO FEES &

TRAVEL SUBSIDY

FOR 16-19YRS

FREE SELECTED

PROGRAMMES FOR

20+ YEAR OLDS

FREE

Learners or

Restricted Licence

(conditions apply)

Conditions apply.

HANDS ON

TRAINING

MANGERE

(09) 257-5732 | 59 TIDAL RD

Contact: Tuhin Choudhury

TWR000695 HP

Unit 7/17 Airpark Drive