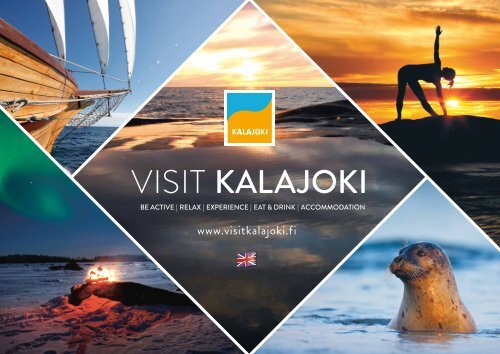 Visit Kalajoki - brochure
Create successful ePaper yourself
Turn your PDF publications into a flip-book with our unique Google optimized e-Paper software.
VISIT KALAJOKI

BE ACTIVE | RELAX | EXPERIENCE | EAT & DRINK | ACCOMMODATION
---
OPEN

YOUR SENSES

When you arrive in Kalajoki, stop for a moment.

Close your eyes.

Breathe deeply.

Can you feel it?

Natural aromas of springtime awakening.

Aromas of summertime pine forests and blue sea.

The magic of the bright summer nights when daylight never really ends.

Autumnal sea breeze on the islet.

Arctic wintertime frost and fresh snow.

Can you hear it?

Springtime babbling brook and swan song.

Midsummer waves, sounds of laughter and music.

Bidding farewell to migratory birds as autumn sets in.

Cracking sounds as frost bites trees, crunching snow beneath your feet.

Open your eyes.

See the glorious greenness of the tranquil river creek?

Inviting sand dunes and the wide blue sea.

Pure lingonberries, bilberries and mushrooms just waiting to be picked.

Speed off across infinite expanses of ice to the ends of the Earth.

What are you waiting for?

Allow Kalajoki to capture your heart.

Any time of the year.
---
Rovaniemi

Oulu

Umeå

Kokkola

Vaasa

KALAJOKI

Tampere

Helsinki
---
LET THE TALES TAKE YOU ALONG

Take an imaginative stroll through Kalajoki's old town of Plassi.

Can you see and hear what life was like in the Middle Ages?

Kalajoki came from the sea, and from the sea it has lived.

The log house timber shows its age, but listen as they whisper.

There lived the fisherman's wife, who always waited

for her husband to return from seal hunting.

That cabin was owned by the widow of a sailor,

whose livelihood came from weaving linen cloth.

Over there lived the sea captain with his wife and children who

earned some extra bread by mending fishermen's nets.

The children of the sawmill workers played

over there without a worry in the world.

The sawmill owner looks over Plassi from

the fine windows of his manor.

Goods exchanged hands at the Plassi market.

Plassi market was one of its kind in Finland!

Centuries were lived this way.

Until folk heard about the wondrous sea shores of Kalajoki.

They called it the "Northern Riviera" as they set

their picnic blankets down on the sand dunes.

The dunes were also unique in Finland.

Word of "fine sands and the health impacts of sea air" spread quickly.

People arrived in droves for recreation and wellbeing by the sea.

That was a century ago.

Today, Kalajoki still attracts people to experience its wonders.
---
LET NATURAL TRANQUILLITY

SURROUND YOU

Sit on the sand and watch the glowing sun rising on the horizon.

Please your eyes with the undulating sand dunes.

Will they beckon you to lounge in the sunshine or search for geochahes?

Or perhaps running wild along duckboards?

Enter the green forest, so close.

Will you choose to go on foot, by bike or canoe?

See the forest trails full of pure natural treasures.

Lingonberries and bilberries ready to eat.

On a winter's night you can enjoy the magical spectacle of the Northern Lights.

Snowscapes glistening like millions of diamonds.

The unbelievable ice plains that appear to extend into infinity.

Here, in the heart of the forest. On coastal meadows.

On rocky sea islets. In river creeks.

Revitalising natural tranquillity surrounds you wherever you go.
---
LET DESIRE FOR

ADVENTURE TAKE OVER

Relax with yoga on the sea shore.

Take a hike in nature along duckboard walkways.

Go cycling, horse riding, fatbiking, standup paddleboarding, fishing.

Alternatively, surf the waves or the frozen waters.

Climb to new heights in the adventure park set in the heart of the forest.

Fly down the zipline and scream with joy.

Paddle a canoe along the meandering course of the Siiponjoki River.

Alternatively, walk along its marvellous shores.

Explore the sea at the Marine Nature Centre.

Sail on a traditional vessel to the unique Maakalla Island.

Witness ringed seals fooling around on the islets,

and the fishing villages of the Rahja Archipelago.

See how Ulkokalla Lighthouse Island stands proudly in the sea.

Taste Finnish exoticism.

Brave the sauna or smoke sauna.

Lash yourself gently with a sauna whisk using

a traditional whisk made from leafy birch twigs.

Toughen yourself up with a dip in an ice pool.

Bring out the child in you at the fun water park,

or pamper yourself in the warm spa

Meet great people at great events.

Experience Finland's most legendary Midsummer festivities.

The twinkling of a thousand flames at the Venetian Festival.

Christmas parties colour winter darkness.

Go with the flow.

Enjoy every moment.
---
GIVE TIME FOR YOURSELF

AND LOVED ONES

Come together with friends, family or group.

Savour local culinary delights in cosy restaurants.

Alternatively, enjoy a hot cup of coffee brewed over

the campfire on a canoeing trip.

Fall in love with cold-smoked salmon on rye bread.

Piquant lingonberry jam accompanying meat stew.

Special meals prepared from mushrooms gathered

from the surrounding forest.

Everything tastes better in Kalajoki!

Go out on a date with yourself and take time out just for you.

Sit in the idyllic cafeteria and sip on a cup of tea and get "a clap

around the ears", which is the affectionate name for a Finnish

cinnamon bun. Spend a while people watching.

Let yourself be pampered in the spa, with treatments,

or a visit to the hair salon. You've earned it.

Go shopping. Discover quality Finnish design.

Jewellery, ceramics or even a new pair of shoes made by local handicraft artisans.

Pure locally sourced delicacies, tasty fish catches from the sea.

Something adorable for yourself, something lovely for home,

something great for a friend.

As evening sets in, choose to stay in a luxurious villa on the seashore.

Or perhaps a traditional Finnish log cabin in the countryside?

How does camping under the starry skies sound?

Wherever you decide to stay,

you will sleep the best nights of your life.
---
LET FUTURE

ALLURE

In the future, you can expect to experience more wonders in Kalajoki.

The new and magnificent Marina that serves tourists and boaters by the sea.

A new wooden-built shopping village where you can try a spot of activity

in the adventure park just as well as finding some great luxury brands.

A thriving town centre and its brand new shopping centre

with its own cultural offerings.

Although we have many new features,

the most important values remain the same.

Sea glistening in the sunshine, the nightless night of

the Midnight Sun and the sand dunes full of life.

The sparkling winter snowscapes of the Arctic

and the seemingly endless ice plains.

Nature changing into springtime splendour.

Forest of wild berries and hiking trips appeal in the autumn.

Captivating activities throughout the year.

Everything you need for perfect relaxation,

winding down and savouring gastronomic delights.

Kalajoki has it all.

Now and forever.
---
LET KALAJOKI CAPTIVATE

Kalajoki, a small, idyllic town by the sea on

Finland's western coast is renowned for its sand dunes,

archipelago and lighthouse island, and much more.

Kalajoki has over 15 kilometres of coastline.

Kalajoki even has 20 lakes and forest as far as the eye can see.

Kalajoki actually has more sea than land:

Sea area accounts for 1462 m²,

whereas land area covers only 922 km².

Rest assured it will never be overcrowded in Kalajoki.

There is one square kilometre of space for every

14 people.

The 12,500 inhabitants of Kalajoki feel that Kalajoki is

one of the best places in the world for living and

enjoying tranquil free time.

This feeling is also shared by the number of tourists to

Kalajoki exceeding 1.5 million each year.
---
CONQUER KALAJOKI

AND LET IT CONQUER YOU

Kalajoki, an idyllic town by the sea in western Finland,

attracts people because of its wonders.

Unique sand dunes.

Spectacular islands and islets.

Northern Lights dancing above the sea in winter.

Ice plains stretching out into infinity.

Natural produce: wild berries, mushrooms and catches of fish.

Revitalising, thrilling and relaxing activities.

Shopping opportunities, pampering and special restaurant dishes.

Happy events that will always make you smile.

Conquer Kalajoki and let it conquer you.

Any day of the year.

Welcome to the land of wonder!

Kalajoki Tourism Association | matkailu@visitkalajoki.fi | visitkalajoki.fi

Graphic Design: NTRNZ media oy | Text: Helmiteksti | Photos: Harri Tarvainen, Vesa Rönty, Terho Männistö, Metsähallitus, Hanna Rautio, Hannu Vallas, Tuukka Luukkonen