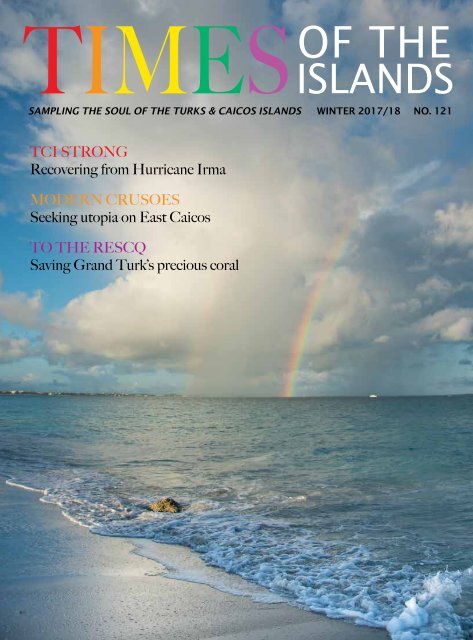 Times of the Islands Winter 2017/18
Presents the "soul of the Turks & Caicos Islands" with in-depth features about local people, culture, history, environment, businesses, resorts, restaurants and activities.
Presents the "soul of the Turks & Caicos Islands" with in-depth features about local people, culture, history, environment, businesses, resorts, restaurants and activities.
SHOW MORE
SHOW LESS
You also want an ePaper? Increase the reach of your titles
YUMPU automatically turns print PDFs into web optimized ePapers that Google loves.
TIMES

OF THE

SAMPLING THE SOUL OF THE TURKS & CAICOS ISLANDS WINTER 2017/18 NO. 121

ISLANDS

TCI STRONG

Recovering from Hurricane Irma

MODERN CRUSOES

Seeking utopia on East Caicos

TO THE RESCQ

Saving Grand Turk's precious coral
---
H O W D O YO U L I K E Y O U R L U X U R Y ?

EFFORTLESS? OR BRILLIANTLY UNCONVENTIONAL?

THE SHORE CLUB

THE SHORE CLUB

THE PALMS

THE PALMS

THE SHORE CLUB

The refined sophistication of The Palms on Grace Bay

Beach, consistently honored by travel publications

for its sense of elegance and easy atmosphere. The

savvy chic of the Shore Club, the stunning new gamechanger

on Long Bay Beach. Where whimsy rules and

magic awaits around every corner. Each with a style

and a vibe all its own. Both singular destinations, part

of the Hartling Group's stellar portfolio of luxury resorts

which also includes The Sands at Grace Bay. Your call.

THE COOL SIDE OF CLASSIC

649.946.8666

thepalmstc.com

WRITE YOUR STORY HERE

649.339.8000

theshoreclubtc.com
---
KIDS

get a great vacation

And so do the PARENTS

Vacation time is a great time for everyone at Beaches ® Turks & Caicos. With five villages set on Grace Bay, voted one of the best beaches in the world, your clients will have so

much to do, they won't know where to start. The 45,000 square foot Pirates Island Waterpark is perfect for kids, with 10 waterslides, including a SkySlide, plus a surf simulator

and lazy river. Families can scuba dive* and snorkel along some of the best reefs in the Caribbean or swim-up to five bars (with nine more on dry land), because the drinks are

always on the house. And 5-Star Global Gourmet TM dining means they have 21 specialty restaurants to choose from, satisfying even the most finicky eaters. There are luxury

accommodations for every size family, and exciting activities for kids, from an Xbox Play Lounge to a teens-only nightclub to our Very Important Kids (V.I.K.) Camp. Best of all,

everything is unlimited and included – even the tip, taxes and Beaches transfers*. So while the kids are off doing their own thing, the grown-ups can enjoy an escape of their own.

MAGNIFICENT POOLS

UNLIMITED SCUBA DIVING *

WATERPARK FUN

21 RESTAURANTS INCLUDED

But when they get together, it's the best time of all.

BEACHES.COM

In the U.S. and Canada: 1-800-BEACHES; In the Caribbean:1-888-BEACHES;

In Turks & Caicos: 649-946-8000 or call your Travel Professional

MORE QUALITY INCLUSIONS THAN ANY OTHER RESORTS IN THE WORLD

*Visit www.beaches.com/disclaimers/timesoftheislandswinter17 or call 1-800-BEACHES for important terms & conditions.
---
contents

Departments

6 From the Editor

13 Getting to Know

A Silver Lining

By Jody Rathgeb

Photos Courtesy Paul Wilkerson

74 Faces & Places

Junior Achievement 2017 Innovation Camp

By Claire Parrish ~ Photos By Angela Musgrove

75 About the Islands/TCI Map

81 Where to Stay

83 Dining Out

85 Subscription Form

86 Classified Ads

Features

28 TCI Strong

By Ben Stubenberg

46 An Unexpected Adventure

By John Galleymore

50 Putting a Lid on It . . .

By Peter Kerrigan, Engineering Design Services

56 To Need and Not Have . . .

By Craig Archibold, NW Hamilton Insurance

Green Pages

18 Recovery2

Story & Photos By B Naqqi Manco

21 To the RESCQ

Story & Photos By Don Stark

24 Go Gently

By Dr. Aaron Henderson & Dr. Heidi Hertler

Photos By Dr. Heidi Hertler

TIMES

OF THE

ISLANDS

SAMPLING THE SOUL OF THE TURKS & CAICOS ISLANDS WINTER 2017/18 NO. 121

On the Cover

Sharon Weil Hornstein is the owner/photographer of

Sand Dollar Images. Of this her first contribution to

Times of the Islands she says, "Up early, I looked out

the window at just the right moment and dashed to

Leeward Beach to make this image. For me, rainbows

have always symbolized hope and opportunity and I

believe this photograph captures the power, beauty and

resilience of Turk & Caicos through Hurricanes Irma and

Maria." For more of Sharon's Turks & Caicos images,

visit www.sanddollarimages.com and follow her on

Instagram @sanddollarimages and

@turnstonehousetci.

Astrolabe

61 Starting Over

By Dr. Donald H. Keith

62 Modern Crusoes

By Jeffrey Dodge

67 Follow the Chimneys

By Dr. Charlene Kozy

28

This October 2017 drone image shows that the hurricanes did not

diminish the beauty of TCI's beaches.

PROVO PICTURES

4 www.timespub.tc
---
TurksAndCaicosProperty.com

Parrot Cay Beachfront - Dhyani House

Dhyani House in Parrot Cay is a "must see" property for discerning real estate buyers seeking

peace, tranquility and more seclusion than many other Caribbean Islands or Providenciales have to

offer. This exclusive 4,691 sq. ft. 3 bedroom beachfront villa is set on an expansive 2.36 acres. Also

included in this offering, is an adjacent lot with an additional 2.31 acres of prime beachfront land.

US$12,000,000

Bernadette Hunt

Cell ~ 649 231 4029 | Tel ~ 649 941 3361

Bernadette@TurksAndCaicosProperty.com

Bernadette has lived in the Turks and Caicos

Islands for over 21 years and witnessed the

development and transition of the islands

into a significant tourist destination. Based

on independent figures her gross transaction

numbers are unrivalled. Bernadette has

listings on Providenciales, Parrot Cay,

North and Middle Caicos and is delighted

to work with sellers and buyers of homes,

condos, commercial real estate and vacant

undeveloped sites.

Long Bay Beachfront - Mandalay

Mandalay is an exclusive 7 bedroom ultra luxury property located on more than 2 acres of Long Bay Beach,

in a pristine, low-density area only minutes from Grace Bay. The villa and out buildings exemplify the new

standard in luxury construction using creative materials, cutting edge technology and exceptional finishing.

US$11,500,000

Turks and Caicos Property is the leading

independent real estate firm in the Turks and

Caicos Islands with offices located at Ocean

Club West Plaza, Ocean Club West Resort

and Le Vele Plaza on the Grace Bay Road.

Bernadette's reputation and success has been

earned over time through her dedication,

enthusiasm and passion for real estate. Her

personal experience as having practiced law

in the islands for more than 10 years together

with owning and renovating a number of

properties means she is well-placed to advise

her customers and developers on what to

anticipate in the purchasing and construction

process.

Bernadette delights in working in the real

estate industry and her humor and energy

make her a pleasure to work with.

North Caicos - 200 Acre Development Site

This is a rare opportunity for developers wishing to purchase a pristine 200 acre site in North Caicos,

Turks and Caicos Islands. The property features 1,650 ft. of coveted beachfront. Located on the on the

Northeast side of the island and consisting of 4 parcels of land (lots 109, 110, 111 and 112 in Block 50102).

Please contact Bernadette if you would like

to find out more about owning real estate in

the Turks & Caicos Islands.

US$12,500,000
---
from the editor

MARTA MORTON—WWW.HARBOURCLUBVILLAS.COM

Mirroring the country's resilient spirit, the Turks & Caicos

flora bloomed back within weeks of Hurricane Irma's strike.

Give and Take Away

A Christian worship song I've listened to for many years, quoting from the Bible's Book of Job, says, "He gives

and takes away . . . blessed be His name." Whether or not you believe in an Almighty God, most of us believe in some

form of cosmic reckoning, a universal balance, hence the adages "Every cloud has a silver lining" and "It all evens out

in the end."

The Turks & Caicos Islands have long been blessed with an exceptionally beautiful, bountiful and sought-after

natural environment in the turquoise sea, sugar-sand beaches, clear skies and warm climate. The people, too, are

uncommonly kind, generous and gifted with an exuberant sense of humor and ability to persevere during hard times.

The rapid changes of the last three decades, both within the Islands and the world at large, threaten to mar pristine

resources and cause open hearts to clench.

Yet an intervention of sorts took place this fall. The massive impact of Hurricane Irma and the threat of Hurricane

Maria has "taken away." Homes, roofs, businesses, livelihoods, routines, plans and expectations were destroyed. But

also broken down were barriers between races, religions and economic level, as folks came together in recovery.

"Given back" were fresh landscapes, bigger beaches, better strategies for the future, renewed appreciation of TCI's

attributes and most importantly, a new spirit of pride, cooperation and togetherness. You'll see it in the pages to

follow. And at the "end of the day," as they say, I think the scale is tipping in the favor of blessed.

Kathy Borsuk, Editor

timespub@tciway.tc • (649) 946-4788

6 www.timespub.tc
---
LAST OF THE TRUE EXOTIC

FIRST FOR FAMILIES

Five Distinct Villages to Choose From

1. KEY WEST VILLAGE 2. ITALIA

BEACHES ® Turks & Caicos, the last of the true exotics, includes absolutely everything you

could think of for the ultimate family vacation. A thrilling 45,000 square-foot waterpark with

ten water slides and a surf simulator. Fabulous land and water sports* including unlimited

scuba diving*. PADI even named Beaches Resorts one of the top five dive operations

in the Western Hemisphere. Superb 5-Star Global Gourmet dining at 21 restaurants,

and 14 bars serving unlimited premium spirits for adults. Authentic island entertainment

for everyone. Cool hangouts for teens and Sesame Street ® fun and games for the kids.

Complimentary accredited nannies for all ages, all day and into the night. Beautifully

appointed family-sized rooms, suites, and villas, some even with butler service. Even the tips,

taxes and Beaches transfers* are included. Take a closer look at Beaches Turks & Caicos

and see why we continue to enjoy an unparalleled record of award-winning success.
---
S

N VILLAGE 3. CARIBBEAN VILLAGE 4. FRENCH VILLAGE 5. SEASIDE VILLAGE

21 SPECIALTY RESTAURANTS.

ALL INCLUDED. ALL UNLIMITED.

Savour the difference between

dining and 5-Star Global

Gourmet TM dining where

the ingredients are freshly

prepared, the décor is as

authentic as the cuisine, and

a globally-inspired menu of

culinary delights is created by

internationally-trained chefs.

&

Turks Caicos

Resort Villages & Spa

MORE QUALITY INCLUSIONS THAN

ANY OTHER RESORTS IN THE WORLD

For more information visit BEACHES.COM

In the Caribbean: 1-888-BEACHES;

in Turks & Caicos: 649-946-8000

or call your Travel Professional

BEACHES VOTED WORLD'S BEST

AT THE WORLD

19

YEARS IN A ROW

TRAVEL AWARDS

*Visit www.beaches.com/disclaimers/timesoftheislandswinter2017btc or

call 1-800-BEACHES for important terms & conditions.

®
---
2016

VOTED

WORLD

19 YEARS in a Row at th

MORE QUALITY INCLUSIONS THAN ANY OTHER RESORTS IN THE WORLD

Beaches ® Turks & Caicos has held the top spot at the World

Travel Awards for nearly two decades by offering guests more of

everything on the world's best beach. Every land and water sport, an

awe-inspiring waterpark with surf simulator, 5-Star Global

For more information, visit BEACHES.COM

OR CALL 1-888-BEACHES

Gourmet TM dining at 21 incredible restaurants, and non-stop bars

and entertainment — always included, always unlimited. And now

we've added trend-setting food trucks, new live entertainment, and

re-styled accommodations … making the World's Best even better.

TIPS, TAXES AND BEACHES TRANSFERS* INCLUDED

TM/© 2017 Sesame Workshop

*Airport transfers included. Other transfers may be additional. Beaches ® is a registered trademark. Un
---
Five Distinct Villages to Choose From

1. KEY WEST VILLAGE 2. ITALIAN VILLAGE 3. CARIBBEAN VILLAGE 4. FRENCH VILLAGE 5. SEASIDE VILLAGE

'S BEST

e World Travel Awards

Beaches Turks & Caicos

is on the world's

#1 BEST BEACH

by tripadvisor ®

ique Vacations, Inc. is an affiliate of Unique Travel Corp., the worldwide representative of Beaches Resorts.
---
PG advert_Layout 1 5/10/17 9:10 AM Page 1

TIMES

MANAGING EDITOR

Kathy Borsuk

OF THE

ISLANDS

ADVERTISING MANAGER

Claire Parrish

"Escape to the extraordinary."

CONTRIBUTING WRITERS

Craig Archibold, Kathy Borsuk, Jeffrey Dodge,

John Galleymore, Dr. Aaron C. Henderson, Dr. Heidi Hertler,

Dr. Donald H. Keith, Peter Kerrigan, Dr. Charlene Kozy,

B Naqqi Manco, Claire Parrish, Jody Rathgeb,

Ramona Settle, Don Stark, Ben Stubenberg.

CONTRIBUTING PHOTOGRAPHERS

Jeffrey Dodge, John Galleymore,

Gary James–Provo Pictures, Dr. Heidi Hertler,

Sharon Weil Hornstein, Sara Kaufman,

Dr. Donald H. Keith, Agile LeVin, B Naqqi Manco,

Marta Morton, Angela Musgrove, NASA Image Library,

Ingrid Pohl and Janet Pohl-Schollenberg, Dominick Rolle,

Pat Saxton, Ramona Settle, Maria Simmons, Don Stark,

Georgina Stubbs, Ben Stubenberg, Shaun Sullivan,

Tom Tewksbury, Paul Wilkerson, Jack Williams.

CONTRIBUTING ARTISTS

Wavey Line Publishing

PRINTING

southeastern, Hialeah, FL

Times of the Islands ISSN 1017-6853 is

published quarterly by Times Publications Ltd.

Copyright © 2018 by Times Publications Ltd. All rights reserved

under Universal and Pan American Copyright Conventions.

No part of this publication may be

reproduced without written permission.

Subscriptions $28/year; $32/year for

non-U.S. mailing addresses

Submissions We welcome submission of articles or photography, but

assume no responsibility for care and return of unsolicited material.

Return postage must accompany material if it is to be returned. In no

event shall any writer or photographer subject this magazine to any

claim for holding fees or damage charges on unsolicited material.

While every care has been taken in the compilation and reproduction of

information contained herein to ensure correctness, such information is

subject to change without notice. The publisher accepts no

responsibility for such alterations or for typographical or other errors.

WORLD TRAVEL AWARDS 2015 - CARIBBEAN'S LEADING BOUTIQUE HOTEL

TCHTA STAR AWARDS 2016 - HOTEL OF THE YEAR

TCHTA STAR AWARDS 2016 - RESTAURANT OF THE YEAR - GRACE'S COTTAGE

PROVIDENCIALES TCI • US TOLL FREE 1.888.209.5582 • T 649.946.5096

RESERVATIONS@POINTGRACE.COM • WWW.POINTGRACE.COM

Business Office

Times Publications Ltd., P.O. Box 234,

Lucille Lightbourne Building #1,

Providenciales, Turks & Caicos Islands, BWI

Tel/Fax 649 946 4788

Advertising 649 431 7527

E-mail timespub@tciway.tc

Web: www.timespub.tc

12 www.timespub.tc
---
getting to know

Meteorologist Paul Wilkerson created a Facebook page that provided an important service during Hurricanes

Irma and Maria.

A Silver Lining

Paul Wilkerson's interest in local weather proved essential this season.

By Jody Rathgeb ~ Photos Courtesy Paul Wilkerson

Lots of people come to the Turks & Caicos and fall in love with its turquoise waters. Paul Wilkerson went

further. The American meteorologist extended his love to the TCI's clouds, winds, rains, dry spells . . .

and particularly to its people who live in this special climate. For them, he created a Facebook page that

focuses on local weather, not knowing how popular and essential it would become during Hurricanes

Irma and Maria.

Times of the Islands Winter 2017/18 13
---
Paul Wilkerson and his family first visited the Turks &

Caicos Islands from their home in Arkansas in 2014. "We

realized we really loved the people and the Islands," he

says. "Feeling like that, I naturally wanted to find a way to

help with weather."

That season brought a tropical storm that solidified

his purpose. "I had been monitoring a few of the local

Facebook pages and many were discussing how they

were caught off guard and were frustrated with the lack

of information they could receive. I figured I could provide

a connection point for solid, reliable information if

they wanted to use it."

He knew he was the guy for the job because of his

regular paying job: non-commissioned officer in charge

of the Arkansas National Guard's 154th Weather Flight

unit, a position he has held since 2007. He has worked in

meteorology for 23 years, completing the requirements

for a Bachelor's Degree in the field at Mississippi State

University and the United States Air Force weather observing

and forecasting course. He also worked for the U.S.

federal government as a civilian meteorologist from 2001

to 2007.

"While my primary profession is military, the weather

page is something I do in my free time when I am not

at work," Wilkerson explains. He was already running a

Facebook page devoted to his area of Arkansas when he

decided to perform a similar service for TCI.

Sourcing, sharing

He named the page, naturally, "Turks and Caicos Weather

Info." At first, followers were people who lived in the

Islands, but the word spread. "Over time the page has

morphed from a community information page to include

travel weather information." He says he tries to post a

five-day forecast about every three days, although he will

add posts to make corrections or discuss severe weather.

He does the updates around his working hours, using his

lunch break or posting before or after his office hours.

"This is a personal page so I take care of it on my own

time."

Wilkerson says the information on the page comes

from many sources, including the National Hurricane

Center, the Bahamas Meteorological Agency, the National

Oceanographic and Atmospheric Administration and satellite

photos of the Atlantic Ocean and Caribbean Sea.

The Turks & Caicos are considered a "data sparse region,"

so gathering as much information as possible is important,

as well as having a meteorologist's instinct. He can

get fairly specific, he notes, able to say, for example,

Even when home in Arkansas, Paul and Brande Wilkerson have the

Turks & Caicos Islands' weather and people on their minds.

"Hey, it should be raining over on Grace Bay, but Salt Cay,

you guys are seeing mostly sunny skies." He also pays

attention to feedback on the page. "I always like to get

'on the ground' information," he says. "It helps increase

the accuracy of forecasts, while also getting the people

involved."

The meteorologist notes that he does not mean to

replace weather information provided by the government

through its Department of Disaster Management and

Emergencies (DDME). "While I do provide relevant information,

I always stress the importance [to Islanders] in

listening to their local government officials as well as official

sources of information," he says. "The government

has their own operation channels, and they are there to

provide for citizen safety."

Irma and Maria

Having multiple sources of information proved to be

invaluable during the hurricanes of 2017, and it was

during those stormy times that Wilkerson's Facebook

page soared in popularity and added to its mission.

"During the run-up to Hurricane Irma, the web page saw

astronomical growth within a matter of three weeks due

to people looking for information," he says. "Prior to the

hurricane, our monthly reach overall based on the site sta-

14 www.timespub.tc
---
This Paul Wilkerson shot of a rainstorm approaching Whitby, North Caicos, is more typical of the weather he sees during regular visits to the

Turks & Caicos Islands. Hurricanes of the power of Irma and Maria are quite uncommon!

tistics was nearly 40,000 or so. The month of September

alone, our reach was over 819,000!"

Still working full time, Wilkerson met the challenge

of the storms. He watched as the barometric pressures

in models of the first disturbance over the open Atlantic

Ocean stayed extremely low, indicating that a powerful

storm was forming, and he says his heart sank when he

saw the forecast tracks showed the Islands in the bull'seye.

"At that point, about five days out, it was time to

start moving fast. After I would get off work, I spent the

better part of six to eight hours at home doing nothing

but weather and updates. I was getting up at 3:30 AM

each morning so I could spend about three hours providing

updates prior to heading to work. On the evening

it hit, I believe I stayed up most of the night to provide

information up to the point it was just passing near West

Caicos. I got a few hours' sleep, then was up checking on

friends and anyone I could."

He praises the support of his family during that

time. His wife, Brande, was screening messages, getting

information to him, helping to fix errors in posts and continuing

to run a busy household with two daughters and

multiple animals. "It was an absolute team effort between

us," he comments. "It was very special to me having her

Times of the Islands Winter 2017/18 15
---
Island Auto_Layout 1 12/12/17 12:49 PM Page 1

ISLAND AUTO RENTALS

For Quality & Reliable Service

& Competitive Prices

The Cruise Center, Grand Turk

Neville Adams

Tel: (649) 946-2042

Cell: (649) 232-0933 or (649) 231-4214

Email: nevilleadams@hotmail.com

Providenciales

Levoi Marshall

Cell: (649) 441-6737

Email: levoimarshall86@gmail.com

Web: islandautorentalstci.com

Ferry Fall 17_Layout 1 8/22/17 12:52 PM Page 1

helping me and the Islands through her dedication, too."

Meanwhile, at the other end of the Facebook page,

followers were checking their feeds frequently to get

Wilkerson's updates and sharing them with both Islanders

and relatives and friends in other countries. Many in the

U.S. were thankful to get information that their usual

sources, such as The Weather Channel, were not sharing

until the storm got closer to Florida.

Then, after Irma hit the Islands, Turks and Caicos

Weather Info became more than a weather page. People

were using it to find out about the status of island buildings

and businesses and about the safety of family and

friends. Wilkerson found himself a clearinghouse of

information as well as a meteorologist. "That can be hard

because you have to sort through all of the information

and try to determine what is real and true, and what is

fodder and folks trying to capitalize for the sake of scamming

or giving misinformation," he recalls. "I tried really

hard to vet everything and ensure that only accurate

information was getting out through our channels."

Yet he was still doing weather as Hurricane Maria was

approaching. "I monitored Maria as often as I could and

tried to give timely updates. [The two storms] were similar

in that they developed in very good environments and

took very similar tracks. And as we know, unfortunately

Puerto Rico and others of the Leeward Islands suffered

much worse from Maria. TCI was very fortunate that

Hurricane Maria made the turn when she did. TCI could

have had a large number of deaths had Maria made a

direct strike due to the amount of damage and compromised

structures Irma left behind. Thankfully that didn't

happen."

* *

Temporary suspension PROVO NORTH 12.30pm & 1.30pm Sept 1st to Oct 31st

*

Resumes Nov 1st

Funding relief efforts

The widening mission of Turks and Caicos Weather Info

now included a relief fund that the Wilkersons began. "We

had all of these new followers, and [we thought] it might

be the right platform to try and help. It's funny because

at first, I think I had my sights set on $2,000 and Brande,

I think, said $5,000. We would consider that a success. If

you had told us at the beginning that our page would

raise nearly $43,000, I might have laughed. But it shows

you the compassion of people."

The fund drew more than 270 donors, and the

money was spread across many needs. Donations went

to Pampered Paws, the Provo Rotary Club (to distribute to

schools), TCI Boat Club (to help the elderly), Wellington

Williams (early food distributions) and the TCI Reef Fund.

Large portions of the fund purchased such items as flash-

16 www.timespub.tc
---
lights, mosquito repellent, sanitizer and feminine care

products, which were sent to South Caicos via ferry, as

that island was deemed most in need. Shipping and delivery

efforts were helped by Tito and Atekah Seymour and

Tom and Kate Tewksbury on Providenciales, and Earleen

Elliott on South Caicos. Again, Wilkerson adds Brande to

the list of helpers, as she was co-administrator of the

funds.

TOM TEWKSBURY

A large portion of the Turks and Caicos Weather Info hurricane relief

fund purchased supplies that were sent to South Caicos via ferry.

Walkin May2017_Layout 1 5/28/17 5:45 PM Page 1

Wilkerson continues to monitor TCI weather and

regularly update the Facebook page, and he and his

family continue to visit the Islands, staying at various

places beyond the usual tourist spots. He says he would

like to visit all of the country's islands eventually. And

as for weather, he notes that information for the TCI is

improving all the time. He was impressed with the DDME

response to Hurricanes Irma and Maria, including shelter

and utility information. "Information from multiple reliable

sources is key to overall success," he notes.

Drops of moisture in the air are just small things,

separate and almost insignificant. But when a lot of them

come together, they are a cloud. Likewise, people who

come together, particularly in an emergency, are a community,

a family. Given that, the Wilkersons of Arkansas

are most certainly a part of the TCI family. a

Jody Rathgeb is a long-time contributor to Times of the

Islands. She spent the hours before, during and after

Hurricanes Irma and Maria monitoring the Turks and

Caicos Weather Info page on Facebook and sharing it with

others. She made many new Facebook friends!

DISTRIBUTOR DISTRIBUTOR FOR FOR EVINRUDE && MERCURY MERCURY

OUTBOARDS, PURSUIT WORLD CLASS CAT, CAT,

SUNDANCE AND BOSTON WHALER BOATS

Lures and Live Bait

Marine Hardware & Gear

Fishing Gear & Supplies

Marine Paints & Varnish

Marine Batteries

Sebago Docksiders

& Sperry Topsiders Shoes

BLUE

BLUE

HILLS

HILLS

ROAD

ROAD

PROVIDENCIALES

PROVIDENCIALES

TURKS

TURKS

& CAICOS

CAICOS

ISLANDS,

ISLANDS,

B.W.I.

B.W.I.

PHONE: 649-946-4411

FAX: 649-946-4945

Times of the Islands Winter 2017/18 17
---
green pages

newsletter of the department of environment & coastal resources

head office: church folly, grand turk, tel 649 946 2801 • fax 649 946 1895

• astwood street, south caicos, tel 649 946 3306 • fax 946 3710

• national environmental centre, lower bight road, providenciales

parks division, tel 649 941 5122 • fax 649 946 4793

fisheries division, tel 649 946 4017 • fax 649 946 4793

email environment@gov.tc or dema.tci@gmail.com • web www.environment.tc

This is a fine example of the Caicos pine, TCI's National Tree, standing tall prior

to the furious winds of the 2017 hurricanes.

Recovery 2

How did the Caicos Pine Recovery Project fare after the 2017 hurricanes?

Story & Photos By B Naqqi Manco, DECR Terrestrial Ecologist/ Environmental Officer

Invasive scale insect, Mediterranean black aphid, sooty mould fungus, intense drought, flooding, out-ofseason

wildfires . . . our Caicos pine, the National Tree of the Turks & Caicos Islands, has had a difficult

time of the last 20 years. As two Category 5 hurricanes approached TCI in September 2017, we had to

secure the nursery, office base and seed orchard as much as possible.

18 www.timespub.tc
---
green pages newsletter of the department of environment & coastal resources

Trays of newly planted seeds were filed gently away

under tables in the Government Farm packing house,

and saplings were bundled together and surrounded

with makeshift cord fences in the nursery. As for the

field sites, we just had to hope for the best. The passage

of Hurricanes Irma and Maria devastated infrastructure

throughout the Islands, and the weeks following saw the

Caicos Pine Recovery Project team reassigned to relief

work. So the pines would have to wait.

The first visit to the nursery after Irma was grim. The

entire structure, which stood since 2009, was collapsed.

Beams were broken, shade cloth was torn. Fortunately,

most of the saplings were only barely damaged, though

we lost a few. While the seed trays remained put, the wind

and blowing rain introduced deadly damping-off fungus,

which meant out of over 10,000 seedlings planted, only

a handful survived their crucial first weeks. Numerous

trees in the seed orchard were blown over, and following

Hurricane Maria (which blew in from the opposite directions

as Irma) many of them were toppled the other way,

sustaining root damage. Weakened, they were attacked

aggressively by pine tortoise scale.

The field sites faired somewhat better, though access

trails and firebreaks were largely filled with blown vegetation.

Our Middle Caicos research canopy was destroyed,

but the Caicos Pine Yard Trail signs and markers were

unscathed. Surprisingly, only a few large pines were

blown over, but numerous newly planted saplings in the

Diamond Jubilee Pine Yard were toppled and had to be

propped up; several were lost from intense root damage.

Thankfully, we had been able to make early cone collections

from both Pine Cay and Middle Caicos several

weeks before the storms, and so the fact that cones and

seeds were mostly blown away was not much of a threat

to the project. After things began returning to normal,

the cones were cleaned and we now have several thousand

seeds to plant again. The downed trees in the seed

orchard were propped back up (though we did lose a

few), and the nursery trees were pruned and cleaned up.

Following the storms, we decided to expand Caicos

Pine Awareness Week, originally the first week of

December, to include the entire month of December. With

media spots, tree plantings and a Christmas tree lighting

ceremony, Caicos pines featured prominently through the

The Caicos Pine Recovery Project Nursery at the Government Farm was completely destroyed by Hurricane Irma. Materials for its rebuild

(lumber, nails, shade cloth and ground cloth) are sorely needed.

Times of the Islands Winter 2017/18 19
---
green pages newsletter of the department of environment & coastal resources

From top: An important study tree in the strongest remaining Caicos

pine population in Middle Caicos was blown over, but it may survive

if its roots were not too badly damaged.

A Caicos pine sapling at the DECR Native Plant Garden in Kew, North

Caicos was planted by primary school students.

month. On December 6, 2017, the first Caicos pine to

be planted at the TCI Government property was set into

the ground at the National Environmental Centre on the

Lower Bight Road by students from Ianthe Pratt Primary

School. The following day, students from Charles Hubert

James Primary School helped plant an additional Caicos

pine sapling in the DECR Native Plant Garden in Kew,

North Caicos. For the first time, one of the Caicos pines

planted in this garden three years ago was featured as the

community Christmas tree for the lighting ceremony on

December 22.

There's still a lot of work to do towards bringing the

Caicos Pine Recovery Project back to its full capacity. Our

priority is rebuilding the nursery, though new materials

(lumber, nails, shade cloth and ground cloth) are sorely

needed. Intense rain following the hurricanes has flooded

many of the field sites, so work there is delayed—but they

all require extensive trail and firebreak clearing, barrier

repair and ground work.

You can help with the recovery efforts toward protection

of the Caicos pine for future generations by

donations into the DECR/Caicos Pine Recovery Project

account at Sunshine Nursery in Providenciales! a

20 www.timespub.tc
---
green pages newsletter of the department of environment & coastal resources

Until the 1980s when a coral disease attacked, Elkhorn corals were one of the most common reef-building corals in the Caribbean.

To the RESCQ

Saving Grand Turk's precious coral after the hurricanes.

Story & Photos By Don Stark, Chairman, Turks & Caicos Reef Fund

In September 2017, back-to-back hurricanes severely damaged the island of Grand Turk (as well as

other islands in the Turks & Caicos). But not all the damage was readily visible. At the southern tip of

Grand Turk, in about four to six feet of water, there exists a lovely stand of critically endangered Elkhorn

coral (Acropora palmata). Elkhorn corals are large, fairly fast growing, branching corals that, up until

the 1980s, were one of the most common reef-building corals that protected beaches throughout the

Caribbean. Unfortunately, a coral disease attacked Elkhorn corals throughout the region and virtually

wiped them out. So protecting the remaining healthy Elkhorn reefs is important.

Times of the Islands Winter 2017/18 21
---
green pages newsletter of the department of environment & coastal resources

22 www.timespub.tc

Sadly, many large branches were broken off the

Elkhorn corals on the southern tip of Grand Turk by the

waves generated by the hurricanes. Some may have naturally

survived, as this is one of the methods by which

Elkhorn coral propagate, but many were laying in sand

and would likely have died.

The Turks & Caicos Reef Fund (TCRF), the only

active environmental non-governmental organization

in the Turks & Caicos Islands, was contacted by DECR

Environmental Officer Katharine Hart to see if there

was anything that could be done to save these critically

endangered corals. Fortunately, the TCRF was already

working on propagating Elkhorn corals in a nursery set

up a year earlier off the northwest coast of Providenciales

and agreed to assist with the rescue effort.

The TCRF's coral nursery work is funded through

a European Union programme called BEST (Voluntary

Scheme for Biodiversity and Ecosystem Services in

Territories of European Overseas). The grant was awarded

to Wageningen Marine Research based in the Netherlands

and the Turks & Caicos Reef Fund is one of four organizations

selected to work with the Dutch researchers on

this research project. It is called RESCQ (Restoration of

Ecosystem Services and Coral Reef Quality). The goal is

to test a new type of nursery set-up—attaching corals to

bamboo poles suspended by ropes on each end—what

are called coral ladders. The design keeps the corals suspended

in the water column where they can have easy

access to all the nutrients and sunlight they need to grow.

Following the storms, Katharine Hart gathered up

many of the broken pieces of Elkhorn coral and placed

them in improvised trays placed on cinder blocks to keep

them off the sand until TCRF staff and volunteers could

install the coral ladders. A total of four ladders have been

installed off shore from Governor's Beach on Grand Turk,

not far from the Biorock structure that was set up a number

of years ago in an earlier effort to grow corals.

The salvaged pieces of coral were frequently too large

for the ladders, so were broken into smaller pieces with a

hammer and chisel. Each fragment is measured and photographed

with its identification tag before it is hung on a

ladder, using monofilament line to secure them. The line

is quickly grown over so that within a few weeks, where

At left, from top: This is a large piece of broken Elkhorn coral before

fragmenting. Here are multiple pieces of Elkhorn coral after fragmenting,

ready to be used in the nursery. This fully populated coral ladder

keeps the corals suspended so they have easy access to nutrients

and sunlight.
---
green pages newsletter of the department of environment & coastal resources

the monofilament touches live coral it is covered with live

coral. So many fragments of coral were salvaged that the

four ladders were quickly filled with 261 coral fragments.

It is expected that these corals will begin growing

again and will do so fairly quickly. The Elkhorn corals

in the Providenciales nursery nearly doubled in size in

six to nine months, after which they are refragmented

(broken into smaller pieces) and returned to the nursery.

Eventually, all the nursery corals will be returned to

the reefs from which they were collected in an effort to

re-establish healthy growths of these important corals

throughout the TCI. After just a month in the Grand Turk

nursery, there is already evidence of new growth on many

of the corals and wounds caused by the storms and the

fragmenting of larger pieces are beginning to heal.

The biggest challenge in keeping the corals healthy

and growing is controlling algal growth on the ladders

and on wound sites on the corals themselves. At least

biweekly trips to the nursery are required by scuba diver

volunteers, DECR staff and TCRF staff using toothbrushes

to remove algae from the coral fragments.

Eventually, the corals will be transplanted back to the

reef site. Two techniques will be used to secure the fragments.

The first is direct attachment to hard substrate

(rock) using cement or epoxy. This technique will be used

for larger fragments. The other technique is to use monofilament

line to attach smaller coral fragments to a rebar

structure secured to the sea floor. Eventually, the rebar

will be invisible as it will be completely grown over by the

corals.

In the end, it took a team effort by the DECR, TCRF,

Bohio Resort dive staff and Blue Water Divers dive staff to

save so many critically endangered corals that would have

been otherwise lost. In a few years, this post-hurricane

effort will yield healthy new stands of Elkhorn coral off

the coast of Grand Turk. a

From top: This fragment of Elkhorn coral is already showing new

growth fingers. Attaching coral fragments to a rebar structure is one

way to transplant the corals back to the reef site.

About TCRF

Founded in 2010, the Turks & Caicos Reef Fund is the

only active environmental advocacy organization in the

TCI. It is an all volunteer-run organization that provides

funding for education, research and conservation programs

to individuals, organizations and agencies that

help to preserve and protect the environment of the

Turks & Caicos Islands. Our goal is to have at least 85%

of all funds raised through voluntary contributions from

divers and snorkelers visiting the Turks & Caicos Islands

directed to the Fund's programs.

Anyone wishing to donate or assist the TCRF in any

way can contact them at www.TCReef.org. Scuba divers

visiting the Islands are encouraged to make a $10

donation through the purchase of a dive tag that can

be attached to their dive gear to show their support.

Snorkelers can show their support through the $5 purchase

of a pink or blue silicone wristband. A complete

list of outlets for TCRF merchandise can be found on the

organization's website.

NOTE: This document has been produced with the financial

assistance of the European Union. The contents of

this document are the sole responsibility of Wangeningen

Marine Research and the Turks & Caicos Reef Fund and

can under no circumstances be regarded as reflecting the

position of the European Union.

Times of the Islands Winter 2017/18 23
---
green pages newsletter of the department of environment & coastal resources

The Arch is a 10 metre dive site off South Caicos. Schools of fish were observed in this area, post-Hurricanes Irma and Maria.

Go Gently

The delicate nature of coral reefs.

By Dr. Aaron C. Henderson & Dr. Heidi Hertler, The School for Field Studies,

Center for Marine Resource Studies, South Caicos ~ Photos By Dr. Heidi Hertler

Coral reefs are perhaps the most visually stunning ecosystems in the marine environment. Often

described as the "rainforests of the sea," they abound with colourful life, ranging from the corals themselves

to the multitude of fish species that dart around the reef. Unfortunately, they are also one of the

most threatened ecosystems on the planet, and prominent coral scientists have predicted that these

wonderful oases of biodiversity and productivity might become a rarity within the next 10 to 20 years.

24 www.timespub.tc
---
green pages newsletter of the department of environment & coastal resources

The threats that coral reefs face are numerous.

Diseases caused by bacteria, viruses and fungi have

become increasingly common in recent decades. Coral

bleaching events have also become more prevalent; the

last year has seen Australia's Great Barrier Reef experience

a 29% decline in live coral due to bleaching, with

some areas of the reef losing as much as 70% of their live

coral. Overfishing and destructive fishing practices also

impact the health of coral reefs by disrupting their natural

ecological process and by causing physical damage to

the reef structure.

Coastal development is another major cause for

concern. Coral reefs are intricately linked to mangrove

forests through ecological connectivity (for example,

many reef fish live among the mangrove roots early in

their life, where they are provided with abundant food

and protection from larger predators, before moving

out to the reef to complete the adult phase of their life).

Furthermore, the mangroves bind sediments that might

otherwise be carried onto the reef by water currents,

covering the corals and eventually smothering them.

Unfortunately, mangroves tend to be the first casualties

of coastal development, removed to provide space for

marinas, promenades or beaches. The increased development

brings more people to these coastal areas,

resulting in more pollution, more water-based activity,

and a greater demand for seafood—all of which add to

the environmental stress.

Then we have the big one: climate change. While the

most publicised effect of climate change is the increase

in air and sea temperature, otherwise known as global

warming, this is only half of the problem when it comes

to the marine environment (albeit a huge problem, and

one associated with the aforementioned diseases and

coral bleaching events). Sometimes referred to as "global

warming's evil twin," ocean acidification is quite possibly

the biggest threat to not only coral reefs, but to

the oceans as a whole. At the onset of the Industrial

Revolution, the concentration of atmospheric carbon

dioxide was approximately 270 parts per million (ppm),

the same level that it had been for the preceding 10,000

years. Since then, the concentration of atmospheric carbon

dioxide has increased to over 400 ppm due mainly

to the burning of fossil fuels—an increase of 33% in less

than 300 years.

A large proportion of atmospheric carbon dioxide

From top: SFS CMRS staff perform the first visual survey of the area

around The Plane on South Caicos since Hurricanes Irma and Maria

struck. Shallow reefs absorb much of the energy associated with

storms. The reefs off the south end of Long Key are still thriving.

is absorbed by the oceans, so increased atmospheric

carbon dioxide naturally leads to increased carbon dioxide

in the water, and this is where the problem of ocean

Times of the Islands Winter 2017/18 25
---
green pages newsletter of the department of environment & coastal resources

acidification begins. Carbon dioxide molecules and water

molecules react to form carbonic acid, but carbonic acid

is a relatively unstable molecule and quite readily breaks

apart into two components, namely hydrogen ions and

bicarbonate. It is the increase in hydrogen ions that is

reducing the pH of the ocean, causing it to become more

acidic. The bad news for animals that produce hard structures

such as shells, and our corals that produce their

characteristic limestone skeleton, is that the decreasing

pH of the oceans causes these structures to dissolve.

Studies on small marine molluscs known as sea butterflies

have shown that their shells completely dissolve in a

matter of days at pH levels that our oceans are predicted

to reach by the middle of this century.

But again, this is only one part of the problem.

Carbonate is a substance that occurs naturally in ocean

water, and many organisms combine it with calcium to

produce their shells. Corals also use it to produce their

stony skeleton—the very framework of the reef. But, carbonate

and hydrogen ions are naturally attracted to each

other and they bind together to form another bicarbonate.

Although this process helps to reduce the rate of acidification

by trapping the hydrogen ions in the bicarbonate

molecule, it has the unwanted effect of also trapping

the carbonate, meaning that there is less free carbonate

available for animals that use it to form their shells or

skeletons. So our corals are facing a two-pronged ocean

acidification attack: on one side the decreasing pH of the

ocean makes their skeletons more prone to dissolution,

and on the other side there is less carbonate available to

them to form their skeletons in the first place!

In the grand scheme of things, human impacts are a

relatively recent problem for coral reefs. Bearing in mind

that the coral reefs we see today have been growing for

thousands, and in some cases millions of years, they have

obviously had to contend with entirely natural sources of

disruption during their formation. Wave action, storms

and hurricanes are just some of the natural phenomena

that shape the reefs and control their development. Even

reefs that are geographically close to each other can be

dominated by entirely different coral species, depending

on the physical conditions locally. Reefs that are found in

areas with constant wave action tend to be dominated by

robust boulder-like coral species, while the more delicate

branching species are limited to less energetic environments.

However, even the most sheltered coral reefs

From top: The hurricanes didn't seem to have affected the thriving

schools of fish on South Caicos reefs, although some fragmentation

of corals was observed.

are prone to occasional high-energy wave action during

storms and hurricanes, and the frequency of these events

will have a strong controlling effect on the types of living

coral present at any one time.

26 www.timespub.tc
---
green pages newsletter of the department of environment & coastal resources

Above: On the South Caicos reefs, coral are healthy and the system is

thriving at 10 metres.

And so, with all of the potential challenges that they

face, how have the coral reefs of the Turks & Caicos

Islands fared? The good news is that they are actually

among the healthiest of all the reefs in the tropical western

Atlantic. That is not to say that they are in absolutely

pristine condition—ocean acidification is a global problem,

and coastal development continues to be a matter

for concern, but our reefs have been relatively free of the

disease outbreaks and mass bleaching events that have

afflicted coral reefs elsewhere.

At the SFS Center for Marine Resource Studies on

South Caicos, we undertake research on many aspects

of the local marine environment, ranging from the biology

and ecology of key species and ecosystems, to

the impacts of exploitation and resource management

approaches. Naturally, this means that we spend a great

deal of time in the water actively studying and passively

observing the wonderful underwater world of the Turks

& Caicos Islands.

Our staff have been involved in marine research all

over the world, but there is a definite consensus among

us that there is nowhere quite like this place. So, after the

Islands were pummelled by Hurricanes Irma and Maria

this year, we feared that many of the reefs might have

experienced catastrophic damage. With the help of the

East Bay Resort and Split Finger Ltd. on South Caicos we

set out to assess the impacts. Thankfully, most of the

sites that we visited were still in very good condition.

Some extensive damage was observed on shallow reefs

down to depths of around four metres, but below this it

was more or less business as usual. Some coral colonies

had been broken or cracked by the wave action, but they

were still alive, and the fish populations were as vibrant

as ever. Given the magnitude of Hurricane Irma in particular,

and considering the destruction it caused on land,

the reefs of the Turks & Caicos appear to have had a very

lucky escape.

Looking to the future, it is to be hoped that the coral

reefs of the Turks & Caicos Islands will continue to thrive.

It will take some time for damaged areas to fully recover,

but as long as we can minimise negative human impacts,

recover they will. Climate change, including ocean acidification,

is a global problem that can only be tackled on a

global scale, but there is still a lot that we can do locally

to help promote the health and vitality of our precious

coral reefs. a

Times of the Islands Winter 2017/18 27
---
NASA IMAGE LIBRARY
---
feature

DOMINICK ROLLE GARY JAMES–PROVO PICTURES

Opposite page: The eye of Hurricane Irma is clearly visible from the

International Space Station as it orbited over the Category 5 storm on

September 5, 2017.

Above: In spite of incredible devastation, TCI's resilient spirit showed

up in smiles, compassion and care—hope in the face of tragedy.

BEN STUBENGERG

GARY JAMES–PROVO PICTURES

TCI Strong

Facing the fury of Hurricanes Irma and Maria.

By Ben Stubenberg

For eyes reading these words today or 100 years from now, know this: When Hurricanes Irma and Maria

tore across the Turks & Caicos Islands in September 2017, the people of these beautiful islands united as

one. Well-off or struggling, they helped each other selflessly and without claim for credit. This was their

moment, and they stood tall and strong. This is their story.

Times of the Islands Winter 2017/18 29
---
Tuesday evening, September 5, 2017. Forty-eight

hours away, and smart phones flicker with time-lapse

images of a giant rotating mass of white careening

towards TCI for a dead centre hit. Short, anxious text

messages quicken with each screen update. "Surely, it will

veer to the north and out to open sea," goes the hopeful

chatter among residents. "It always does. We'll catch

some of the storm, but it won't be bad." But the monster

Category 5 hurricane stays on track and doesn't turn

north. Reality approaches and the gut tightens.

Cars crowd back into building supply stores where

folks snap up the last remaining sheets of plywood. They

top off the gas tank one more time before stopping by

the supermarket to buy a few extra cases of water that

are suddenly rationed to one per customer. Tarps, petrol

containers and flashlight D batteries are long gone.

Wednesday evening and twenty-four hours to go.

Updates show the path has swerved a shade south. That

means South Caicos, Salt Cay and Grand Turk will bear

the brunt while blasting the south shore Providenciales

communities of Long Bay, Discovery Bay, Five Cays and

Chalk Sound. The sky turns to velvety cream as the wait

begins. But it's still calm, the way it's supposed to be

before the storm. No one wants to shutter in just yet.

So in the pleasant weather, people gather at the bars

still open or on a neighbour's porch, like they would

for a relaxing evening after work. An easy camaraderie

fills familiar haunts as glasses are raised and big smiles

greet friends and strangers alike, all sharing a foreboding

sense of anticipation.

As much preparation as everyone has made, no one

can really be sure if the roof will hold. Or if the rain or

a storm surge will bring a flood of mud into the living

room. Or if life's possessions will just blow away. The

angst deepens as pictures pop up of Hurricane Irma's

trail of destruction in the Lesser Antilles and the Godzilla

of storms, the strongest ever in the North Atlantic, shows

no sign of weakening for us. But nobody gives in to fear.

"See you on the other side!" friends call out with some

dark humour, as they head back to what they hope will

still be home tomorrow.

Thursday morning, twelve hours out. A big gust

swooshes against the house and brings a sharp, audible

creak to the roof, as the windows clatter. The brain

pumps out the first shot of dopamine that focuses the

mind when preparing for the worst. It's really coming.

The heart skips two beats. More hours pass, and the gusts

slam harder and more often. Walls start shuddering while

loosened gutters clang relentlessly against the eaves.

At 10 PM, Irma unleashes the full measure of her fury,

engulfing our little islands that barely protrude above a

turquoise sea, now whipped into a madding frenzy.

The Internet drops off, phones go dead, lights flitter

out. Flashlights are turned on and candles lit. Outside,

sustained winds reach a hyper-dangerous record-breaking

175 mph (280 kmh) with gusts reaching over 200

mph (320 kmh), hurling sticks, branches and tile like bullets

through the air. Trees bend, then snap, then uproot,

tossed about as easily as chopsticks. The first roofs start

peeling back as Hurricane Irma bears down on every

This satellite image shows Hurricane Irma on

September 7, 2017, with the Turks & Caicos Islands

dead in its sights.

30 www.timespub.tc
---
home with all her power, howling and scratching like an

angry animal trying to get in.

BEN STUBENGERG

GARY JAMES–PROVO PICTURES MARTA MORTON—WWW.HARBOURCLUBVILLAS.COM

Hurricane beginnings

The journey starts in early August half a world away with

ripples in the sky high above the highlands of Ethiopia,

Sudan and the Nile Valley. Hot air rises from the sandy,

rocky surface and drifts lazily west over the Sahara Desert

before clashing with the cooler air from humid jungles

of Central and West Africa. The unstable mass spills out

over the Atlantic Ocean toward the Cape Verde Islands,

the spawning zone for the most tempestuous of weather.

As the wind flows over the warm ocean, the surface of

the water evaporates and triggers another cycle of rising

air. The air is cooled at the higher elevation, forming large

cumulus clouds of water droplets that fall back to the surface,

generating a circulation of energy. As happens when

the sea is particularly warm, July through November, more

water evaporates and creates ever-bigger clouds that can

intensify into tropical depressions and then storms. At

this point they are given a name from an alphabetical list,

alternating male and female, drawn up by the National

Hurricane Center in Miami, Florida. The ninth Atlantic

storm of the 2017 season gets the name Irma.

Most of the time, these storms dissipate well before

they reach the other side of the ocean, but a few, like Irma,

strengthen into hurricanes (more than 74 mph/118 kmh

sustained winds). Since the storms develop in the middle

of the ocean far from measuring devices, scientists lack

precise data to determine when or exactly why any given

storm will explode into a full blown hurricane or simply

fizzle out. But satellites provide clear visuals showing the

beginnings of a counterclockwise spiral around an eye of

calmness, influenced by the Coriolis effect of the earth's

rotation, as the hurricane churns across the vast Atlantic.

Irma's threat is not readily apparent at first, as

it bumps up to a Category 3 and then back down to a

Category 2 while still in mid-ocean—bad, but manageable.

But in late August, as she lurches towards the

Caribbean, Irma suddenly strengthens into a massive

Category 5 with sustained winds of more than 155 mph

(248 kmh). The gyrating arms grow rapidly too and

extend out 400 miles. She shows no mercy for the first

tiny islands in her path, bringing death and devastation

to Dominica, Barbuda, St. Martin and the Virgin Islands

before bumping up to skirt the north coast of Puerto Rico

and Hispaniola. Next in her sights? The 40 islands and

cays in the southern Lucayan archipelago that we call

home—the Turks & Caicos Islands.

From top: The sheer force of Hurricane Irma's Category 5 winds is

displayed across Providenciales. On Leeward Highway, a toppled cell

tower destroyed the roof of a tire repair and sales shop.

The force of the wind spun this sunken boat completely around,

smashing it into the dock at Harbour Club Marina.

This aerial view of Chalk Sound shows a villa with its top floor "gone

with the wind." Residents suspect a series of tornados were spawned

by the storm.

Times of the Islands Winter 2017/18 31
---
TWATIMES_Layout 1 2/16/17 7:49 AM Page 1

Serving international & domestic clients in real estate, property development,

mortgages, corporate & commercial matters, immigration, & more.

TEL 649.946.4261 TMW@TMWLAW.TC WWW.TWAMARCELINWOLF.COM

Hugh final_Layout 1 5/29/17 1:15 PM Page 1

P

E

R

S

HUGH G. O'NEILL

&

ATTORNEYSN

AT

L AW

P.O. Box 267

Hibernian House

1136 Leeward Highway

Providenciales

Turks and Caicos Islands

B.W.I.

Tel 649-946-4514

Fax 649-946-4955

Email hugh.oneill@hgoneillco.tc

C

CO. O

N

F

I

D

E

N

T

I

A

L

Hurricanes in history

Well before the first Europeans set foot on these islands,

the native Taino and Lucayan Indians had learned to

expect and adjust to the seasonal arrival of a "Jurakan"

that evolved into our word for hurricane today. These

fearsome winds, they believed, derived from their deity

Guabanex as part of a cosmic battle between good and

evil. The Indians recognised the signs of an approaching

storm days before, that allowed them to prepare. Frigate

birds flew inland away from the coast, while crickets,

cicadas, toads and frogs disappeared, as if they all had

a foreboding sense of impending disaster. The Indians

could even tell months before if the hurricane season was

going to be particularly bad by a bountiful crop of avocados.

When the first Spanish colonists arrived in the late

1400s and early 1500s, they too would experience the

devastating effects of hurricane-force winds and rains,

more powerful than anything they had seen in Europe. At

first, according to Stuart B. Schwartz in his book Sea of

Storms, the Spanish dismissed warnings by the Indians,

whom they considered to be "unsophisticated" and "savage,"

even when the natives proved to be right. Indeed,

the Spanish considered such forecasting of the future sacrilegious

fortune telling. The onslaught of these ferocious

storms, they believed, lay entirely in the realm of divine

providence, and the havoc wreaked was punishment for

man's sins and moral failure. Only prayer, procession and

repentance could mitigate these pure acts of God.

A notable exception to this fatalistic notion in the earliest

days of Caribbean colonisation was, paradoxically,

the intensely pious Christopher Columbus. On his fourth

and final voyage to the West Indies in 1502, he warned

the governor of Santo Domingo of an impending storm

after noting southeasterly swell of the water, high cirrus

clouds and a hazy atmosphere. A large fleet of 30 ships

laden with gold extracted from the Taino Indians was

about to leave the port for Spain, and Columbus urged

the governor to keep the ships in the protected harbour

until the storm passed. Already disdainful of Columbus,

who had lost his star power after three previous Atlantic

crossings that began with his Grand Turk landfall in 1492

(Times of the Islands Fall 2017), the governor scoffed at

the notion that storms could be predicted. Ship pilots and

sailors readying the fleet in Santo Domingo expressed

the same sentiment and sailed anyway, while Columbus

found shelter in a bay.

A powerful hurricane did hit two days later that took

twenty of the fleet's ships straight to the bottom and dis-

32 www.timespub.tc
---
AGILE LEVINE

GARY JAMES–PROVO PICTURES

abled nine more. Only one ship made it to Spain, and it

happened to be the one with the gold specifically allotted

to Columbus for his earlier services as "Admiral of the

Seas." The happenstance of only the ship with Columbus's

gold making it back to Spain, coupled with foretelling and

prognostication, was not lost on his rivals who accused

him of being in league with the devil.

It would take decades, but the Spanish and other

European colonists in the West Indies gradually recognised

the cyclical pattern of hurricanes and began to

value the observational and predictive skills of the fast

disappearing natives. That in turn led to greater acceptance

of natural forces at work and that humans had

some control over protecting themselves. As the Age

of Enlightenment took hold in the 18th century, a better

understanding of these natural forces emerged that

removed human action as the cause for these disasters.

But rather than one perspective replacing the other, the

two co-existed, as Schwartz points out, woven together

in a belief that divine intercession could be called upon

to lessen impending calamity, even if driven by natural

forces. Indeed, through the centuries right up to today,

people all over the West Indies pray to be spared from

hurricanes and give thanks when an island escapes a

storm or is spared from destruction.

In a supreme twist of historical irony, blame for hurricanes

has come full circle back to humankind being

responsible for its own destructiveness by way of global

warming. Instead of the hand of providence meting out

punishment, however, the prevailing scientific view holds

that humans are reaping what they have sowed through

reckless stewardship of the planet.

GARY JAMES–PROVO PICTURES

Springing into action

After a ferocious and precarious night (when the worst of

hurricanes always seem to strike!), morning breaks with

a swirling, chalk-grey sky. The winds begin to subside, as

Irma passes by. People peer out from cracks in plywood

sheets or push away sandbags to open the door through

sloshing water and get the first glimpse of nature's

wrath. Once majestically high coconut trees lie twisted

and broken. Planks of wood and roof shingles cover the

hard-packed sand and limestone rocks, resembling huge

discarded checkerboards. Downed street lights and telephone

poles sprawl across the highway with coiled lines

and cables draped over the asphalt like black spaghetti.

But it's the brush stripped of all leaves along the roads

that unexpectedly grabs our attention. For the first time

in memory, residents driving along Leeward Highway can

From top: Although the palms were drooping on Grace Bay Beach just

after Hurricane Irma, it was soon back to pristine.

The Enid Capron Primary School in Five Cays, although hard-hit,

served as a shelter for over two weeks.

Piles of debris littered the landscape around the fountain in front of

Baci Restaurant in Turtle Cove.

Times of the Islands Winter 2017/18 33
---
The day after

The morning of September 8, 2017, the day after

Category 5 Hurricane Irma struck the Turks & Caicos

Islands, is among the bleakest days in the country's

history. Each island experienced extensive damage.

There was no electricity, no phone or Internet service

and no running water. Toppled utility poles and trees,

flooding and debris made most roads impassible. All

the airports were closed, government and many private

boats were on dry dock and much of the population

had damage to their property, business and/or vehicle.

Where to begin?

I recently spoke to TCI Commissioner of Police

James Smith, who played a pivotal and visible role in

getting the country back on its feet in the days following

the storm. Commissioner Smith has always believed

that leadership involves personal responsibility and

being on the "front line." Prior to the hurricanes, this

"man on the ground" was a common sight driving his

patrol car through the local communities, talking to

the people. This became the first step in bringing the

situation under control. "We had to get out into the settlements

to see the extent of the devastation, making

sure there was no loss of life or medical problems. We

used patrol cars, Department of Disaster Management

The force of Hurricane Irma's winds is apparent in the case

of this overturned truck outside of Grant's Gas Station in

downtown Providenciales.

& Emergencies (DDME) vehicles, basically anything that

moved to see how everyone had fared."

The next step was to find a way to communicate to

residents and concerned people off-island that, miraculously,

no one had died and there were no serious

casualties. This was important to squelch the traditional

"coconut telegraph," which loses accuracy and context

as information is passed along person to person.

A second major concern was getting to hardest-hit

Grand Turk, South Caicos and Salt Cay, both to see

how they fared and to provide help. Because there was

no communication and no way to reach these islands

right after the storm, their isolation could have bred the

thought that "Nobody cares," which was far from the

truth.

As government, DDME and aid officials came

together, Commissioner Smith turned to ties made

during his previous posting in the Cayman Islands. That

country's chief engineer and chief pilot were former

comrades, and immediately started the two-day trip to

Providenciales (via Cuba) in the Cayman Islands police

helicopter. As soon as it arrived, they flew to Grand

Turk with supplies and a technologist to get communication

reinstated. The commissioner recalls, "We met

the deputy governor, who was manning the emergency

centre, along with the attorney general and other officials.

They were overjoyed to see us! Every building on

Grand Turk was damaged, and much of the government

infrastructure demolished." With police boats stuck on

land, the first dispatches of food and water to Grand

Turk were via private boats. The police helicopter was

also the first to check on and assist the few families

who elected to stay on Salt Cay.

A functioning National Emergency Centre was

created in Providenciales at the Digicel office next to

Graceway IGA. Here there were generator-powered electricity,

communications and space for daily briefings.

As soon as some semblance of communication services

was restored, Commissioner Smith realized the importance

of providing the public with factual updates and

reassurance. Using his smart phone ("a very powerful

instrument"), he filmed a series of three videologues

that were disseminated via Facebook, the police website,

and other social media outlets. Their message?

Everyone is safe. There is no shortage of food, water or

petrol, so don't panic. Here is where you can get food

and supplies. Everything is going to be OK.

The second of Smith's messages was filmed from

one of the shelters, with the burly commissioner holding

10 month old Teshaun in his arms. It netted at least

30,000 hits.

As the Islands slowly recover, Commissioner Smith

reports that the crime rate remains remarkably low.

34 www.timespub.tc
---
"Although we had some minor looting just after the

storm, it was nowhere near the criminality other countries

experienced. And in spite of many compromised

buildings and limited street lights, we're not seeing a

lot of crime post-Irma."

Looking towards the future, Commissioner Smith

agrees with other government officials that a major

improvement must be made in preparation of hurricane

shelters and communications. He says, "The shelters

35Years

Assisting domestic and international clients for 35 years

Tel + 1 649 946 4602 • Fax + 1 649 946 4848

Email reception@savory-co.com • Website www.savory-co.com

The collapse of part of the roof at the venerable Faith Tabernacle

Church in downtown Providenciales has become an iconic symbol

of the storms.

need to be fit for purpose and designed for potential

long-term use. We need to invest in these now." He also

suggests there be a better way to disseminate information

and organize aid distribution and coordination,

with a clear system of command and control.

Yet, miming others' impressions, Commissioner

Smith remains in awe of the huge coming-together of

the private sector, churches, charities and the general

public to help each other. He agrees that it was a major

reason for TCI's ability to welcome visitors back within

two months of the storm. This is part of the TCIStrong

phenomenon. "The hurricane survivors have banded

together with pride. We've survived!" a

By Kathy Borsuk

Photos By Jack Williams

Food for Thought is a new charity set up to provide

daily breakfast to government school students –

starting with the primary schools in North Caicos,

Middle Caicos, South Caicos and Salt Cay.

We estimate that just $200 will allow us to provide

breakfast to one child for a whole school year.

If you would like to donate or learn more please

email foodforthoughttci@gmail.com

or visit our website foodforthoughttci.com

Times of the Islands Winter 2017/18 35
---
The longest established legal practice

in the Turks & Caicos Islands

Real Estate Investments

& Property Development

Immigration, Residency

& Business Licensing

Company & Commercial Law

Trusts & Estate Planning

Banking & Insurance

1 Caribbean Place, P.O. Box 97

Leeward Highway, Providenciales

Turks & Caicos Islands, BWI

Ph: 649 946 4344 • Fax: 649 946 4564

E-Mail: dempsey@tciway.tc

Cockburn House, P.O. Box 70

Market Street, Grand Turk

Harbour Club:Layout 1 8/17/16 10:16 AM Page 1

Turks & Caicos Islands, BWI

Ph: 649 946 2245 • Fax: 649 946 2758

E-Mail: ffdlawco@tciway.tc

Harbour Club Villas

Turtle Tail Drive, Providenciales

Six one-bedroom villas.

Dive operators at our dock.

Bonefishing in the lake.

Fabulous beaches nearby.

Ideal for couples or groups.

Trip Advisor

Travellers' Choice

Awards Winner

E: harbourclub@tciway.tc

T: 1 649 941 5748

See our website

for details.

www.HARBOURCLUBVILLAS.com

clearly and cleanly see the little neighbourhoods of clapboard

houses nestled along its sides. Everyone knew they

were there, somewhere, but what thick vegetation once

made invisible had come into plain view. And that stark

ocular proximity brings the ongoing plight of their occupants

into sharp, unavoidable focus.

For those who got through relatively unscathed, there

is no time to dwell on minor losses when more urgent

needs beckon. The time for action has come. Government

officials, businesses, charity groups and individuals all

get moving.

Well in advance of Hurricanes Irma and Maria, the

Department of Disaster Management and Emergencies

(DDME) had begun preparations by converting into

shelters 12 schools and churches throughout TCI, as

well as the Gustavus Lightbourne Sports Centre on

Providenciales. DDME assigned trained shelter managers

to each location and provided supplies of food and water.

Through electronic messaging and social media, as well

as more traditional means, the DDME managed to reach

all 40,000 people living in TCI. DDME Director Dr. Virginia

Clerveaux explained, "While we reached a lot of people

electronically, we also employed loudspeakers from vehicles,

postings, handouts and just showing up at popular

island meeting spots to provide warning updates and

preparation tips." Most people remained in their homes,

but some 1,500 people moved to one of the government

designated shelters. Nobody got left behind.

Also way out ahead of the storm were the resorts,

the "rocks" of the country's all-important tourism industry.

Knowing that many of their staff might be exposed

to hurricane danger, properties such as Windsong, The

Alexandra, Grace Bay Club, West Bay Club, Seven Stars,

The Shore Club, The Palms, Gansevoort and Villa del Mar,

among many others, made their hotel rooms and condominiums

available to employees and their families. Most

of the managers even hunkered down with both staff and

the guests who chose to stay through the storm. (Most

resorts evacuated guests well ahead of time.) After the

hurricane when it became apparent that some of the

staff homes had been severely damaged, resorts did not

waiver in keeping employees sheltered at the resort or

other places until their abodes were repaired. Grace Bay

Club, for example, secured commercial space for displaced

employees to live, while The Shore Club rented out

the dining hall at St. Monica Anglican Church (and made

The Shore Club Ballroom available for Sunday services).

Just about everyone in the food business got involved

immediately. Supermarkets such as Graceway IGA (which

36 www.timespub.tc
---
Brew ad May 2017_Layout 1 5/11/17 10:51 AM Page 1

had kept its generators running throughout the storm),

restaurants including Retreat, Bay Bistro, Big Al's Island

Grille, Le Bouchon and Rickie's Flamingo Cafe, and private

chefs like Josh Carlton prepared thousands of hot

meals to give away on the spot or bring to anyone in

need. Grace Bay Car Rentals provided vehicles and drivers

from its staff to deliver many of these meals to the

hard-hit settlements, often using 4X4 SUVs to reach the

more difficult areas. "Food for Thought," which has long

operated a renowned breakfast program for TCI schools,

also played a critical role in getting food to the needy.

Meanwhile, dozens of boat operators and captains,

including Delphine Hartshorn, Bruce Barron (Panoply), and

Valdez Thomas (Sea Spice), quickly organised transportation

of food and supplies to North and Middle Caicos,

South Caicos and Grand Turk, thus providing a critical link

when none other existed. Hurricane debris in the milky

ocean water, particularly near Grand Turk, put the boats

at risk, but the captains and crews went anyway.

TC Crystal Water (of which Turks Head Brewery is a

part) turned off the coin-operated machines at their South

Dock Road facility so that anyone could fill up as many

jugs of water as they needed for free. When the Caicos

Conch Farm learned that they would lose 500 lbs (227 kg)

of red snapper and grouper after the generator crashed,

they contacted TC Crystal Water and proposed harvesting

the fish for a giant fish fry in the TC Crystal Water parking

lot. "Let's do it," came the reply. So they set up grills and

gave away an outstanding fried fish meal to anyone who

wanted some.

Hundreds of people initiated their own personal

assistance programs to aid friends and neighbours, as

well as those hurting the most. Some 20 members of

the venerable Fish Fryer's Club gathered at the house

of photographer Penrhyn Brooks and worked 11 hours

straight to clear debris from his yard (breaking, of course,

for a fry fish BBQ). This informal social group of men

and women from all over TCI has been getting together

weekly for over 10 years, often raising money for donations

to schools and other causes. So, when one of the

group needed help, everyone showed up in force.

Social media groups wasted no time identifying needs

and connecting people who could help. One of these was

the WhatsApp group called "We Care Turks & Caicos." It

was set up by a group of friends and expanded organically

to other friends until it reached 30+ committed

individuals drawn from every part of the community—

including sports stars, lawyers, a high school student and

even ex-pats living in the US and Canada. The network

Turk's Head Brewery

Brewery Tours Monday-Friday

11AM, 1PM, 3PM

$15/pp

Enjoy a complimentary selection of local craft beer

after your tour!

Email tours@turksheadbeer.com

Call 649.941.3637 x 1005 to book

www.turksheadbrewery.tc

52 Universal Dr.

Providenciales, TCI

TOUR TASTE SHOP

Times of the Islands Winter 2017/18 37
---
North and Middle Caicos

The full brunt of Hurricanes Irma and Maria missed

North and Middle Caicos, causing less damage than

experienced on the other islands. Still, the tiny populations

of these stunning gems (1,600 people in

North Caicos and just 180 in Middle Caicos) took no

chances and prepared well. Because these islands are

more rural and cut off from the economic advantages

in Providenciales, residents have developed a strong

culture of self reliance. Indeed, for more than 200

years, they sustained themselves quite independently

by farming small plots of land and harvesting from the

sea conch, lobster and fish. Woven together over time,

these communities naturally band together when disaster

strikes.

A few days before Irma hit, government officials in

Middle Caicos called for a meeting of all residents at

the Community Centre in Conch Bar and asked everyone

to evacuate, as there would be no services. But

the people there refused, citing need to watch over

their houses and each other. They worried too that if

the causeway between North and Middle Caicos was

wiped out, as happened after Hurricane Ike in 2008,

they might not be able to get back for weeks. Instead

of leaving, almost everyone in Conch Bar gathered at

the Mount Moriah Baptist Church, bringing with them

plenty of food and water to share. In the settlements

of Bambarra and Lorimers, residents also thoroughly

prepared and moved into the strongest house to ride it

out.

Mike Terry of Ephraim Construction and residents dumped rocks to

shore up the causeway between North and Middle Caicos.

In North Caicos, people mostly stayed in their own

houses or with friends and neighbours if they believed

their own house might not stay intact. A few went to

churches for shelter. As soon as the winds subsided,

the physically stronger members of these islands went

out to clear the main two lane road that runs 32 miles

between North and Middle Caicos and connects the settlements.

Anyone with a car that could get through mud

on the unpaved side roads and at least two feet of water

drove from house to house to see if anyone was hurt

and needed immediate aid. Between the hurricanes, residents

worked with Mike Terry of Ephraim Construction

to load up rocks from a quarry to shore up the causeway

in case it couldn't take a second hit from Hurricane

Maria. In so doing, these tiny TCI communities literally

and symbolically stayed bound to one another, reinforcing

recognition of being one people. a

By Ben Stubenberg

SARA KAUFMAN

38 www.timespub.tc
---
PROVIDENT LIMITED

Developing commercial and residential

properties since 1966

Most experienced,

most knowledgeable, and

with the largest inventory

of LAND AVAILABLE

for sale on

Providenciales

Properties available in:

Turtle Cove • Turtle Tail

Grace Bay • Long Bay

Ocean/Beach Front

Ocean View • Canal

Call Bengt Soderqvist

Ph: 649 946-4303 Fax: 649 946-4326 Email: Bengt@tciway.tc

P.O. Box 594, Providenciales, Turks & Caicos

15150 Golden Point Lane, Wellington, FL USA 33414

ALSO:

Commercial Areas

Marinas

Hotels • Condos

Private Homes

raised hundreds of dollars every day to pay for food,

personal hygiene supplies and building materials, and

tapped members to bring them to the most vulnerable.

The network created a bond between the members who

surprised themselves at being so effective in working

together. This WhatsApp group is not going away.

Aid came from unexpected sources too. Two days

before Irma hit, Haitians called friends in TCI to offer

their homes as shelter should they want to evacuate to

Haiti. Haitian-based charities, including Mission of Hope,

had stockpiled supplies in case Irma hit Haiti. But when

the hurricane missed them, Haitians loaded up tarps,

water, purification bottles, food and other survival items

meant for them onto the ship True North heading to

Providenciales. In this way, people in Haiti, often the

recipients of aid in times of tragedy, showed they were

quick to give back when nearby countries suffered their

own calamity. Local TCI charities Salvation Army, Convoy

of Hope and Harvest Bible Church met the True North

at the dock and distributed the goods throughout TCI.

In late October, the government of Haiti added to the

private donation by giving TCI hundreds of generators,

plywood sheets, tarps and other housing materials to

help with the aftermath and rebuilding.

WhatsApp group "We Care Turks & Caicos" helped coordinate the provision

and delivery of hundreds of meals after the hurricane.

DOMINICK ROLLE

Times of the Islands Winter 2017/18 39
---
#TCIStrong

Irma. Maria. I think it's safe to say that girls born

in the Caribbean will not be given these names any

time soon. Hurricane Irma was so powerful that the

National Hurricane Center is considering designating it

a Category 6! Before setting her sights on the Turks &

Caicos Islands, Irma destroyed Barbuda, St. Martin, St.

Barths, Anguilla, and the US and British Virgin Islands.

Two weeks later, Hurricane Maria decided to pay a

visit. Maria was a Category 5 and many had no power

or communications and were dealing with damage

from Irma. There was still debris everywhere. This

could behave like missiles and cause further devastation.

Thankfully Maria only produced mostly rain and

no further damage.

Everyone was thankful to be alive! Everyone helped

everyone clean up, rebuild and upgrade. And although

the media sensationalized the devastation, many areas

got back to business quickly.

On my first visit back to inspect our vacation home

(just after Maria), I dreaded what I would find. I drove

from the airport to Leeward heartbroken. Every roof

had damage, landscape was brown and shredded. But

every roof was already topped with either a tarp, peel

and seal, or a person hammering. And when I got to

the hub of Grace Bay Beach where the resorts are, I

found it clean and nearly pristine! I later discovered

that everyone had stepped it up to pitch in. Some resort

employees lost entire roofs, yet worked tirelessly to get

resorts (and their jobs) up and running.

By the end of the week, hibiscus were blooming.

Everyone was tired, but grateful and smiling. By my

next trip the first week of December, the vacation

hub areas of Grace Bay, Leeward and The Bight, were

cleaner and fresher than ever. Nearly all of my favorite

restaurants are back in business, including Bugaloo's

and Da Conch Shack. And, of course, the stunning

turquoise sea and sugar-sand beaches are incredibly

alluring and unchanged.

TCI is strong, but vacationers must remember that

while no signs of hurricanes are to be seen in tourist

areas, many of the local settlements were badly damaged,

as were Grand Turk, South Caicos and Salt Cay.

That's where many workers go home to after work.

Your visit helps the country to thrive. But consider

vacationing with a heart—bring along an extra suitcase

with goods to share or consider donating to one of the

These Blue Hills before and after shots

show the remarkable and quick recovery

TCI has wrought in the popular tourist

spots.

funds raising money towards recovery.

Keep on coming to the Turks & Caicos, and encourage

family and friends to make this their next vacation

destination. Tourism is clearly TCI's primary industry,

and as resorts, restaurants, watersports operators,

spas, car rentals, wedding planners, activities thrive,

the benefits trickle throughout the economy.

For more information, check out the following

Facebook pages: The Salvation Army Turks & Caicos,

1-649-431-6802; Turks & Caicos Red Cross, 1-649-

946-5182; Potcake Place K-9 Rescue, 1-649-231-1010;

Hurricane Irma Relief Turks and Caicos (www.hirtac.

org); Provo's Children Home (www.pch.tc). Many

resorts set up individual GoFundMe pages to help their

employees recover. a

Story & Photos By Ramona Settle

40 www.timespub.tc
---
Seeing the other side

Many people unaffiliated with any aid group simply loaded

up their cars with food, ice, water and other supplies and

drove to the shelters or homes of housekeepers and gardeners

they had employed for years. For some living in

more affluent areas of Providenciales, seeing up-close for

the first time the difficult conditions under which their

workers lived moved them profoundly.

For me, the young teens in the Enid Capron Primary

School shelter in the settlement of Five Cays made a deep

impression. Each time someone arrived with a delivery of

supplies, the youngsters promptly went to unload the car

or truck with utmost courtesy and thankfulness. Despite

two weeks of living on cots with one sheet and maybe

a single change of clothes, they looked impressively

clean and well-groomed. The shelter manager, Yanique

Henriquez, ran a tight, orderly ship, and the youngsters

and adults responded by respecting the rules and making

the best of a difficult situation.

On the last day before the shelter closed so the

school could reopen, two of the teens, a boy and a girl,

took me aside. They looked me straight in the eye with

steady confidence and calmly explained their situation.

"The shelter now has enough food and water," the boy

began. "And we are very thankful for what everyone has

done to make sure we were OK. But what we don't have

is a home. We are from Five Cays, but there is no place to

go back to." "Are you brother and sister?" I asked. "Well,

Kathryn

Brown

Director ERA Turks and Caicos Real Estate

Kathryn's experience in real estate

began in 1997 with ERA in Cayman

Islands. In 2000 Kathryn moved to

Turks and Caicos Islands to take

up the position of Managing

Director of ERA Turks and Caicos

Real Estate (formerly ERA Coralie

Properties Ltd.). Kathryn was a

founding member of Turks and

Caicos Real Estate Association (TCREA) that implemented the

MLS for Turks and Caicos. She was instrumental in drafting the

Ethics and Rules and Regulations for the Association. She also

headed up a certified training program for members of TCREA.

As well as sitting on many of the Association committees, she was

Vice President for 3 years, followed by 5 years as President.

Kathryn has recently been awarded Certificate of Distinction, Life

Time Membership to TCREA. Now C.E.O. of ERA, she still loves

being involved with listings and sales and has many repeat clients

and customers, most of whom have become friends. Kathryn has

been Top Selling Broker for ERA for 15 years. Real estate is her

passion; she consistently provides service with integrity and vision

ensuring the best results for both customers and clients.

ERA Turks and Caicos Real Estate

not before the hurricane, but we are brother and sister

Juan Martinez Fall 15 sixth_Layout Tel: 649 231-2329 1 5/27/16 11:58 AM Page 1

now, as we've been helping each other get through this." Email: krbrown@era.tc

"Where is your mother or father?" I asked. "Are they Web: www.eraturksandcaicos.com

here too?" "Yes, let me get my mother," the girl said and

brought her over.

Both began speaking Haitian Creole to the mother,

telling her about their appeal to me. This is not an unusual

PHONE:

situation in Turks & Caicos, as many children have one

2 4 1 . 3 2 9 7

2 4 4 . 9 0 9 0

foot in the Haitian world and one in the TCI community.

3 4 4 . 9 4 0 3

As is sometimes the case in North America and the UK,

2 4 4 . 6 1 9 1

SOUTH DOCK

young teens will translate for a parent who cannot speak

ROAD, PROVO

English and end up negotiating for the family medical

services, leases, utility hookups, work expectations and

school enrollment. No longer adolescents, these two

teens, ages 16 and 14, dealing daily with the challenges

and uncertainties on the fringes of society, had matured

well beyond their years. In another time or place, they

might be anticipating an upcoming school dance or making

plans to watch a football game. Instead, they just

wanted to find some place to live with walls, a roof that

didn't leak too much and a couple of beds or cots, even if

Times of the Islands Winter 2017/18 41
---
GARY JAMES–PROVO PICTURES

This drone shot shows the flooding experienced in Five Cays after Hurricane Irma, although the predicted massive storm surge never materialized.

temporary. Nothing else mattered. And so to anyone who

would listen, they made their case with patient, urgent

eloquence.

The teens and their families did get a short reprieve

for a few more days at the Gustarvus Lightbourne Sports

Centre before they and others found tiny, one-room

houses in their Five Cays settlement. I visited one of the

places shared by two 15 year-old girls and three adult

women who had been in the Enid Capron shelter. They

had no running water or electricity. When night came,

they lit candles. The two girls slept in the one cot, while

the three women slept on a sheet of plywood over a

cement floor. Folded up clothes served as pillows. With

nothing to cook with, they bought prepared food from

local supermarkets, which they shared with each other.

Whatever jobs they had were suspended, so they had no

income. Yet nobody complained, and nobody gave up.

The sobering reality of their predicament, fellow residents

who live less than a 15-minute drive from anywhere

on Providenciales, tugs hard at the heart and doesn't let

go.

Local lawyer and photographer Dominick Rolle, one

of the members of "We Care Turks & Caicos" WhatsApp

group, noted that just about everyone without a generator

basically camped out for at least two weeks, sometimes

more than six weeks, waiting for power to come on. "It

was challenging and often uncomfortable for sure," Mr.

Rolle said. "But it also created a closer sense of community

that has been sustained though weekly cookouts

where everyone shares what they have."

At the same time, Mr. Rolle emphasised, "That experience

of temporary deprivation opened our eyes to a

hidden segment of society that lives like this every day. It

humbles you. We cannot forget that they are part of TCI

society too—their kids go to school with your kids or play

on the same sports teams. But when they go home, they

may not have something as basic as a light, much less a

refrigerator or stove."

Dr. Sam Slattery, founder of the Grace Bay Medical

Centre, pointed out, "People employed by the stores,

offices and resorts of Grace Bay and all around Provo

often walk a half mile in the mud to get to a paved road

and then take a taxi jitney to get to work. All day we

expect them to perform their jobs with cheerful efficiency.

And then at night, they go back home to a very

different world and deal with hardships the rest of us can

scarcely imagine."

TCI gets back on its feet

Hurricane Maria arrived a week later, quick on the heels

42 www.timespub.tc
---
GARY JAMES–PROVO PICTURES

This photo of Grace Bay Beach was taken on September 29, 2017, less than one month after Hurricane Irma. Both nature and the Islands have

a remarkable ability to bounce back.

after slashing into Puerto Rico with deadly assault. TCI

residents again prepared for the worst, but this time it

was different. After Irma, everyone, imbued with confidence,

knew they could handle the next one, no matter

how big. As it happened, Maria curved north away from

TCI. It still rated a dangerous Category 3, but was nothing

like Irma. The attitude was unified, "Let's get this over

with so we can clean up and rebuild."

Right after the hurricanes had passed, DDME and Red

Cross teams of trained resident volunteers fanned out to

assess the damage. Well over 100 British troops landed

with large Chinook helicopters and C-130 transport aircraft

with supplies to distribute. The UK aid organisation

Department for International Development worked quietly

in the background with DDME and local groups to get

food and supplies in and move them to where needed.

The preparations, sheltering and post-hurricane aid

by everyone paid off, as TCI did not have a single fatality

or injury attributable directly to the hurricanes. That

"zero" statistic is even more impressive when one considers

that TCI is not normally in the path of devastating

hurricanes that have hit the Caribbean and Bahamas. It

had been a full 9 years since Hurricanes Hanna and Ike

struck in 2008 and 23 years from when Hurricane Kate hit

in 1985. The last big hurricane before that was Donna in

1960. Applying the lessons learned, the TCI government

has already begun to prepare even better for the future,

including tighter enforcement of building codes.

The post-hurricane clean up was no less remarkable.

With debris strewn about, gardening services large and

small went straight to work contracting out at pre-hurricane

prices. Many of the workers covered themselves in

hoodies or thick flannel shirts against the sharp thorns

of the brush, as well as the sudden onslaught of mosquitos

that hatched in pools of water. The men worked all

day in the hot sun, made excruciatingly more uncomfortable

by high humidity. Sometimes they used chainsaws

to cut up the fallen brush, but mostly they hacked away

with machetes, counting on the job to earn some badly

needed cash while delaying tending to the wreckage of

their own homes.

TCI's Canadian-based electricity provider, FortisTCI,

brought in 231 electrical line repair specialists and 65

trucks from Canada and the US to supplement the local

repair crews, putting the total TCI restoration workforce

to well over 300. Local crews went to work as soon as

Times of the Islands Winter 2017/18 43
---
they got the "All Clear," while the first wave of foreign

workers arrived within 48 hours. With so many poles,

transformers and lines destroyed, restoration inevitably

was uneven, especially since priority had to be given to

hospitals, airports and water companies. While frustrating

for many, particularly those with homes on the south

shore of Providenciales as well as the other islands, Fortis

crews worked dawn to sun-down to bring the all-important

power back. Fortis also hired local cooks to prepare

800 hot meals and distributed them at community centres.

Provo water companies, too, worked to keep "city

water" flowing to customers for at least a few hours a day

just after the storm as they located and fixed pipe leaks

before re-pressurising the system.

Amazingly, almost all resorts and rental villas were

repaired and back in business by mid-November and

accepting guests at the same high standards that have

made Providenciales a sought-after luxury destination.

Residents and business owners who suffered severe

damage to their property tended to shrug off the misfortune

as part of living in an island paradise. They typically

covered their financial and personal pain with jokes, but

everyone felt the ache of losses that would take months, if

not years, to recoup. Despite the hit, a festive mood prevailed.

DJs such as DJ Dayoh and singers like Tess Charles

partnered with cafés and bars to host fundraiser nights.

(In fact, a half blown-off roof at Rickie's Flamingo Cafe did

not stop a big fundraiser there.) Spirited crowds ready to

party showed up to check on friends, swap stories and

give food and clothes. Just days after Irma hit, businesses

and individuals brought all the donations they acquired

to Butterfield Square in Downtown Providenciales, set up

tables and gave away items to those who needed them.

Local artists jumped in to raise relief money through

wonderfully imaginative storm-related art. Jeweller Atelys

sold several thousand dollars worth of her original handmade

creations, all of which went to hurricane relief.

Alizee Zimmermann gathered broken roof tiles, a potent

symbol of the wreckage, and painted them with colourful,

whimsical animals for sale to residents and visiting

tourists. Painter Fay Ninon, founder of Oceanic Alchemy

for marine life preservation, raised money by creating a

line of clothes and accessories with a "TCI Strong" theme

and then worked with the Edward Gartland Youth Centre

to buy and distribute food in Grand Turk, Salt Cay and

Providenciales.

TCI stronger

You never know how people are going to react in a real

crisis, especially when almost no one living today in TCI

can remember anything as severe as Hurricane Irma. But

perseverance and kindness have always been an integral

part of Turks & Caicos culture. Charitable events consistently

draw hundreds of people from all over the Islands.

So it was no surprise that the quite diverse TCI community

united in providing relief. In fact, for weeks after the

hurricanes, that's all anyone talked about. Native people

and ex-pats alike felt pride, as if they had passed a kind

of test. Folks came togther, and former animosities and

grudges seemed to have been blown away with the winds.

In another place, things might have gone in a negative

direction, with descent into avarice, feuding or

despair. But that didn't happen here. Instead, the best of

humanity emerged, and this precious episode in TCI history

must be remembered and cherished and nurtured,

for there will surely be other challenges and trials down

the road.

Indeed, we are on that road now, with another chance

to draw on the Islands' proven character and fortitude by

keeping the post-hurricane momentum of extraordinary

goodwill going. We can start by not letting the less fortunate

in our society once again disappear behind the thick

brush as the leaves grow back. Teens shouldn't have to

hunt for a place to stay for their families and five women

shouldn't have to live in one room without running water

or electricity. And let's pause to recognise and respect

the hardships of people who touch our everyday lives—

people we depend on—and do all we can to lighten their

burden. Our Islands are too small and our hearts are too

big. The good people of TCI stood together magnificently

strong when the dark winds roared in, and they can shine

brighter still in the sunlight of the aftermath. a

Ben Stubenberg is a contributing writer to Times of the

Islands with a passion for Turks & Caicos Islands history.

An avid ocean man, he is the co-founder of the sports and

adventure tour company Caicu Naniki and the annual

Turks & Caicos "Race for the Conch" Eco-SeaSwim. Ben

can be reached at ben@caicunaniki.com.

For the latest updates, fascinating

information on just about anything

related to the Turks & Caicos Islands,

and beautiful photos, go to

VisitTCI.com

44 www.timespub.tc
---
The nation's capital

Grand Turk, South Caicos and Salt Cay were in the

direct path of both Hurricanes Irma and Maria and suffered

much damage. Relief operations kicked in almost

immediately, with volunteers from the other islands

and a contingent of military from the UK, including the

HMS Ocean, which is the only aircraft carrier and largest

operational warship in the Royal Navy.

The UK also sent huge cargo planes of relief

supplies. Blue Haven Marina frequenter mega-yacht

Dorothea III and the Yacht Aid Global Team also were

among the first to deliver clean water and supplies to

Grand Turk. Military helicopters ferried provision on

to South Caicos and Salt Cay. Highlighting the UK's

commitment to the Islands, over 120 military personnel

were instrumental in assisting with post-hurricane

security, re-opening the Providenciales airport and

essential government buildings, clearing debris, repairing

schools, and even helped get Radio Turks & Caicos

running.

By the two month post-hurricanes mark, Fortis TCI

reported that electricity was restored to all customers

throughout the TCI that can currently receive it. This

included the extensive rebuilding of sections of the

transmission and distribution networks on Grand Turk

and Salt Cay. This accomplishment set a new standard

in the Caribbean for restoration from a hurricane.

Although a number of TCI Government offices

on Grand Turk sustained significant damage, the

Immigration, Customs and Treasury Departments

re-opened right after the storms, in spite of needing

to operate for weeks on generator power. Other key

offices were relocated as necessary.

The Grand Turk Cruise Ship Centre re-opened in

November. As early as one month after the storms,

Seatrade Cruise News reported, "Work is full tilt at the

Grand Turk Cruise Center to restore the destination to

receive ships in November. A senior Carnival official

said the cruise pier did not suffer any damage while the

cruise center facility suffered mostly cosmetic damages

and loss of some landscaping. Carnival's team worked

around the clock to welcome back guests. The beaches

are in great shape, the water is gorgeous and the welcoming

people are getting ready to resume business."

a

From top: This UK Royal Air Force Chinook is hovering over the

Turks & Caicos. The UK deployed units from several branches of

their armed forces to aid in recovery and provided invaluable transport

of supplies after Hurricane Irma. Just prior to the reopening

of the cruise port on November 1, Carnival and Margaritaville staff

cleaned up the "strip" on Grand Turk.

AGILE LEVIN

Times of the Islands Winter 2017/18 45
---
JOHN GALLEYMORE
---
feature

Opposite page: In the TCI's fishing capital of South Caicos, it was estimated that nearly every one its buildings sustained damage, with 51

being totally destroyed. Salt Cay, shown here, fared no better.

Above: The author and photographer inspect St. John's Church on Salt Cay after Hurricanes Irma and Maria ravaged the tiny island.

AGILE LEVIN

An Unexpected Adventure

Visiting South Caicos and Salt Cay post-hurricanes.

By John Galleymore

In the ten years of being a resident of Providenciales, we had seen storms form off the west coast of Africa

and either dissipate, move away or grow no larger than a tropical storm. The one exception was the 2008

"double" of Hurricanes Ike and Hannah, tearing through the TCI just weeks apart, devastating the Islands.

Whoever could have imagined that this scenario was set to repeat nine years later in September 2017?

Times of the Islands Winter 2017/18 47
---
JOHN GALLEYMORE

At the end of August 2017, my wife and I flew into

Providenciales from the British Virgin Islands. We had

been visiting there for some time and were very familiar

with the Islands. Little did we know that less than two

weeks later, the BVI would serve as a stark warning of

what was to about to hit the Turks & Caicos Islands—

Hurricane Irma.

Early September and we are in an old rented cottage

on Grace Bay, tracking the storm daily and trying to agree

with the general consensus that it will turn and move

away. Some folks are prepping, buying up supplies, and

others are securing their homes with plywood and hurricane

shutters. Many say it's a lot of work, only for the

storm to pass us by. There is little anxiety amongst many

residents. The hurricane has been graded as a Category

2; powerful yes, but it's still hundreds of miles away and

most people believe that the first landfall it makes will

drain the power out of it. So, in the TCI, life carries on.

On September 4, Hurricane Irma was up to a Category

4 and people started to take notice. No more so than just

18 hours later, when it had strengthened into a Category

5 and made landfall, nearly wiping the island of Barbuda

off the face of the earth.

Irma had become a terrifying beast, with maximum

sustained winds peaking at 185 MPH on September 6 —

it would remain steady and unchanged for the next 37

hours. While maintaining this intensity, Irma made successive

landfalls on September 6—on St. Martin and Tortola

in the British Virgin Islands—and utter devastation was

the result. Suddenly we were getting press reports and

messages from these islands and we feared that unless

the storm deviated or broke up, we were in for the same.

Now, as the storm moved closer, we all started tracking

it and it made headlines in the US and Europe. It was

measured to be bigger than France and moving at just 14

MPH. Suddenly everyone was stocking up on fuel, food

and searching for plywood to secure homes. We relocated

to a hotel on Grace Bay, not trusting the old house we

were renting, and settled in with supplies for five days

along with our two very bemused dogs. That afternoon,

the streets were deserted and sandbags aligned every

storefront. There was nothing to do but wait.

When it came, it came with force—late afternoon,

early evening, the wind and rain started and by nightfall

palm trees were being bent nearly double and the rain

was thick and horizontal. We would be in for many hours

of this. As the storm grew closer, the noise increased to

that of a freight train and our ears were popping due the

sudden drop in air pressure.

48 www.timespub.tc

We sat it out, not sleeping at all, and when dawn

came we ventured out onto Grace Bay Beach. It was eerily

calm and the sand line had been totally altered. Perhaps

a million tons of sand along this coast had been shifted

overnight. We walked the streets of Grace Bay assessing

trees down and roofs blown off, although luckily we

had not been subject to the annihilation of some other

Caribbean Islands.

I was sent a picture, (remarkably FLOW had kept their

service throughout) and it showed a photo of The Shore

Club taken from hundreds of meters out with the water

drained from the Caicos Bank by the wind motion.

I was being contacted by global news outlets such

as CNN and the BBC, who were picking up my Instagram

posts and were desperate for live news on the state of our

Islands.

In the first day and those that followed, it was obvious

that it was not the storm itself that would make us

suffer, but the after-effects—no power, water or communications.

Those of us who stocked up were thankful we

had. Soon lines for gas were forming, with some drivers

waiting six hours or more to be allotted a ration of some

five gallons.

Already, before the now approaching Hurricane Maria

hit the TCI, the community was pulling together and raising

funds, supplies and awareness for those in need. I am

very attached to the out islands, so it was with great relief

I was able to take a boat to South Caicos to check on my

good friend Tim Hamilton and take some basic supplies

of food and water for him to distribute.

South Caicos had been hit hard, with many roofs

taken off and 232 of its 234 developments receiving

some form of damage, with 51 being totally destroyed. It

was here the UK military, now in force across the Islands,

Tim Hamilton distributes food and water

to residents of South Caicos.
---
JOHN GALLEYMORE

JOHN GALLEYMORE

AGILE LEVIN

had their work cut out for them. They organized logistics

and started to clear the harbor, all while the sounds of

helicopters and cargo planes filled the air.

Shortly after the hurricanes, the Sailrock development

created the South Caicos Heritage Foundation to help

preserve and support the local community in rebuilding.

Immediately after Hurricane Irma, the Sailrock team provided

aid in the form of materials, equipment, operators

and logistical support, along with food and water.

My next concern was that of Salt Cay, and although

the residents were subject to a mandatory evacuation

order, a dozen or do had chosen to stay and there was

no word from them. A few days later, a small group of

us consisting of Dan and Agile LeVin, Jon Ward and Judy

Dirckx were arranging supplies and relief efforts when we

were offered a ride on a Chinook to visit Salt Cay.

The residents greeting us looked shell-shocked.

Although they had a solar-powered reverse osmosis system

set up and the TCI Government had sent over many

supplies, it was fresh food they craved. Thanks to Judy on

Providenciales who rounded up donations, we were able

to supplement the relief efforts by sending over a ton of

food underslung on the helicopter.

There was substantial damage to most roofs, lots of

debris, trees down and no power. Yet within two months,

power had been restored, major debris cleared from the

harbour area, and the main roads were driveable. The

ferry service between Grand Turk and Salt Cay currently

runs three times per week, plus extra freight runs as

needed. With the primary school devastated, kids are

attending school in Grand Turk.

North District businesses and rental villas were open

by December. The north shore beach has settled with

steeper shoreline but a wonderful bright expanse of

sand. The nearby reef is gorgeous and in good health.

Salt Cay Divers are organizing reef cleanups with their

scuba guests who wish to volunteer, church restoration

projects are being developed in which guests can assist

and the arrival of the whales in mid-January is hotly anticipated.

All over TCI, in the weeks that followed the storms

life got back to some normality. Many expatriates chose

to leave the country, albeit temporarily. Many had unlivable

homes; some needed to decompress and re-charge

after a harrowing ordeal. Roofs were repaired as supplies

filtered in and power and water slowly restored. The TCI

was down but most definitely not out, and we would

rebuild and recover with a greater sense of community

spirit and fortitude than ever before. a

From top: Residents of South Caicos meet the Caicos Ferry, a vital link

to receive supplies and return to Providenciales to stay with family

and friends.

Many historic buildings on South Caicos and Salt Cay were lost to the

hurricanes.

Salt Cay's iconic White House is still standing, although a bit worse for

the wear. The Dunn family is working hard to preserve it.

Times of the Islands Winter 2017/18 49
---
GARY JAMES–PROVO PICTURES
---
feature

Initial assessment revealed that approximately 80% of all residences in the Turks & Caicos Islands received some level of damage following

the passage of Hurricanes Irma and Maria this fall, most commonly to roofs.

MARTA MORTON—WWW.HARBOURCLUBVILLAS.COM

Putting a Lid on It . . .

and keeping it on.

By Peter Kerrigan, Director, Engineering Design Services

As a young boy, my mother took me and my siblings to see the musical "Fiddler on the Roof." My younger

brother nearly had a heart attack when the graveyard scene was shown. Myself, well I was simply horrified

at the condition of the roof and very concerned for the safety of the fiddler. Clearly I was destined to be

a structural engineer.

Roofs are like people, they come in all shapes and sizes and some are healthier than others. The negative

effects of Hurricanes Irma and Maria in the Turks & Caicos Islands this autumn clearly demonstrated

the importance of having a strong and fit roof when living in a hurricane-prone area.

Times of the Islands Winter 2017/18 51
---
Hurricane Irma, which struck the Turks & Caicos

Islands on September 7–8, 2017, was the closest

approach of a Category 5 hurricane to the country on

record, with all of the country's islands being affected.

Accumulated Cyclone Energy (ACE) is a measure used by

the National Oceanic and Atmospheric Administration

(NOAA) to approximate the wind energy used by a tropical

system over its lifetime. Hurricane Irma generated

the most ACE on record in the tropical Atlantic, and even

more than 18 entire Atlantic hurricane seasons in the satellite

era (since 1966). Irma's peak sustained winds were

estimated at 185 MPH, with gusts even higher. That's

what the roofs of dwellings across the Turks & Caicos had

to contend with.

How did they fare? In its rapid assessment report

post-Hurricane Irma, the Caribbean Disaster Emergency

Management Agency (CDEMA) reported that the Turks &

Caicos Islands suffered nearly 80% damage to its housing

stock and critical infrastructure during the hurricane's

passage. The report concluded that damage across the

TCI was similar in nature and related largely to roof damage,

especially level one damage. This was categorized

as: loss of roof tiles, small sections of roof damage or

destroyed windows or door damage, guttering and eave

damage or loss, water damage to sections of ceilings and

varying degrees of water intrusion.

Anyone who viewed the TCI "live" or via photos on

the Internet in the weeks and months following the storm

would bear witness to the magnitude or severity of roof

damage. Blue tarp and peel and seal was too common

a sight. Sadly, it was an especially wet "rainy season" in

October and November, and those who did not have the

means to quickly repair their roofs suffered greatly with

additional water damage and resultant mold.

The geometry of a roof plays a significant role in how

it performs in high winds. Steep pitched roofs react differently

than shallow pitched or flat roofs and the direction

of the wind relative to a particular roof often determines

if the wind pressures are positive (pushing) or negative

(suction). There is a misconception that the predominant

pressure exerted on a building is a positive pressure.

Depending on roof type and wind direction, there is just

as much chance of a suction wind pressure being applied

as a positive pressure.

It goes without saying that all roofs should be

designed and built to withstand these pressures.

Engineers determine these pressures from loading codes

such as ASCE-7, an integral part of building codes in the

United States, published by the American Society of Civil

FIGURE A

FIGURE B

Rafter to Wall Connection is critical.

FIGURE C

Truss to Wall Connection is critical.

FIGURE D

Rafter to Wall Connection is critical.

Cut or Stick Roof

Cut or Stick Roof with a Collar Tie

Truss Roof

Indicative Details Only

Installed GC4 GC6Z

Rafter

Collar Tie

Rafter

Triangulation

Rafter

Bottom Chord

Hurricane Clip

Engineers. The code describes the means for determining

dead, live, soil, flood, tsunami, snow, rain, atmospheric

ice, earthquake and wind loads, and their many combinations

are then used as the basis for structural analysis

and design.

The resultant design pressures are used to analyze

the roof frame and cladding (covering) and the building

GC6Z

as a whole. The negative pressures are used to determine

uplift loads at rafter or truss-bearing points and those

Bolt Hole to

loads are used to determine what strap or Beam mechanical

Edge Depth

fixing is chosen to restrain/hold down the rafter or truss.

Simpson or USP are the most common straps or fixings.

The too-often installed "hurricane clip" (See Figure D

above) should not be used on residential projects. They

52 www.timespub.tc
---
EDS_Layout 1 12/18/17 9:44 AM Page 1

are too small for most, if not all, residential projects and

do not have sufficient capacity to cope with the uplift

loads resulting from a hurricane. Instead, hurricane

straps of adequate size should be used.

All roofs should be sheathed (decked) with either

plywood or Tongue & Groove boards. It provides the substrate

to which the peel and seal and roof finish is laid.

The sheathing should be at least 5/8" thick but some roof

finishes require a fixing embedment of 3/4" to achieve

compliance, and in such cases the sheathing installed

should be 3/4" thick.

The sheathing should be secured to the rafters at

a minimum of 6" centers throughout the roof surface.

Leading edges along the ridge, eaves and hips should be

secured at 4" centers. Adequate fixings with appropriate

embedment into the rafters should be installed. The hotdipped

galvanized "Ring Shank" nail is a good example of

a recommended fixing.

The sheathing is not only utilized as a substrate on

which to fix the peel and seal or roof finish. A critical part

of its job is to provide diaphragm action to the roof. This

diaphragm action essentially stiffens the roof plane and

helps to transmit lateral (horizontal) loads to the main

walls and downwards to the foundations. The sheathing

and how it is connected to a roof in a hurricane zone is

all-important.

The roof or roof framing can be constructed in many

different ways and some roofs are by their nature more

stable than others. A "stick" or "cut" roof is a perfectly

acceptable roof if the rafter size is appropriate for the

span, however if a collar tie is included the roof becomes

more stable by default. (See Figures A & B at left.) A full

truss is yet more stable and probably the most stable of

all roofs by virtue of its triangulation. (See Figure C at

left.) Each roof type and its associated member sizes will

have their limitations, and depending on what roof or

combinations of roof styles are chosen by a homeowner,

the engineer must design accordingly.

The structure onto which the roof will be supported

must also be well designed and fit for purpose.

Reinforced walls should incorporate stiffener columns

and belt or ring beams. Timber frame buildings should

be braced to prevent racking or lateral sway. (This can

also be achieved by sheathing the inside or outside of

the timber stud walls with plywood.) The roof on a timber

frame building needs to be connected to the wall,

which in turn needs to be connected to the floor, and the

floor to the foundations. And very importantly, the weight

combination of all elements needs to be greater than the

Engineering Design Services Ltd Ltd

Providing

Providing

full professional

full professional

civil and structural

civil and structural engineering

engineering design and detailing services

design and detailing services to

to the Turks & Caicos Islands since 2001

the Turks & Caicos Islands

and beyond since 2001

Our extensive client portfolio includes Aman Resorts,

Ritz Carlton and Hilton Group

We specialise in hurricane

and earthquake resistant design

We are active in the Cayman Islands, St Kitts and Nevis,

and are involved in projects

Bahamas, St Lucia and UK/Ireland

in many of the hurricane and

seismic prone regions

Seismic design in Haiti

of the

and

Caribbean

other notable seismic zones

throughout the Caribbean region

EDS Ltd

EDS Ltd

Providenciales

Phone: (649) 941-3324/(649) 332-4405

Providenciales

Phone: (649) 941-3324

renewable energy solutions

energy efficiency solutions

www.greenrevolutionltd.com

moreinfo@greenrevolutionltd.com

tel. 649-232-1393

Times of the Islands Winter 2017/18 53
---
total uplift load resulting from a hurricane storm.

Any roof should be well maintained over its lifespan.

All enclosed timber roofs should be well ventilated, but

not too much so that it weakens the roof. Timbers and

plywood should be pressure-treated.

We structural engineers are often accused of overdesigning.

My typical response is, "We design for the

worst case scenario." Now, many of us know what that

worst case scenario looks and feels like. We all hope and

pray we won't have to experience one again. But in all

likelihood, we will. So we should at least be prepared.

The finished roof is more than a roof. It is one of

the most important components of a home. It protects

the building, your family and your possessions. It should

be well designed and well constructed—well fit to host a

fiddler like Irma, should she turn up to play a tune. a

54 www.timespub.tc
---
The Leading Private Bank in the Turks and Caicos Islands

Where values are growing

Wealth Management • Bonds/Fixed Income

Investment Strategies • Foreign Exchange

Stocks/Equities • Precious Metals

Fixed deposits/CD's • International Transfers

Turks & Caicos Banking Company Ltd.

The Regent Village, Unit H102, Grace Bay Road, Providenciales

Tel: +649 941 4994

Email: services@tcbc.tc • www.tcbc.tc

Regulated by the Financial Services Commission, Turks & Caicos Islands
---
GARY JAMES–PROVO PICTURES
---
feature

MARTA MORTON—WWW.HARBOURCLUBVILLAS.COM

Residents of the Turks & Caicos had need for adequate insurance after Hurricanes Irma and Maria tore through the Islands this fall. Sadly,

reports by the Caribbean Disaster Emergency Management Agency (CDEMA) revealed that only 14% of total houses damaged had home

insurance that covered disaster risk.

To Need and Not Have . . .

A look at insurance in the face of disaster.

By Craig Archibold, Account Executive, Property & Casualty, NW Hamilton Insurance Services Ltd.

As I reflect on the events of the unprecedented 2017 hurricane season, I found myself in deep consideration

of an old saying my mother would always say to us as children, "Better to have and not need, than

to need and not have."

Times of the Islands Winter 2017/18 57
---
As an insurance professional, I understand this as a

modern thought that was in some way ahead of its time.

Our society has grown tremendously over the past 30+

years and today's economy has come with major financial

commitments and personal investments that demand a

wise approach to managing our risk associated with hurricanes

and other natural catastrophes.

To need and not have is a great motivation for us

in the Turks & Caicos Islands. There is truly no greater

security to your property investments in the TCI than

insurance. As a community, the instrument of insurance

must become a part of our vernacular as a tool in managing

risk and protecting our hard-earned assets—and not

simply thought of as an enforced mortgage requirement

and expense.

Insurance is the antidote to the "need and not have"

dilemma. It is not a scheme or a proverbial money pit;

something that you pay into, but get nothing back from.

Some invoke such talking point with no experience of an

unfortunate event that threatens personal investments

accumulated in the short or long term. Insurance has

been tested and tried for centuries as the ultimate security

fix to an unknown financial loss. It is in fact a valuable

tool in your pocket to protect your interest and more than

a bank-required instrument of security.

Throughout centuries, insurance has been proven

to be a tool and security feature to safeguard assets. In

1601, the first insurance legislation was enacted in the

United Kingdom; coverage for merchandise and ships has

its roots in this law. It was necessary to make arrangements

and plan contingencies to ensure that merchants

did not lose all their investments tied up in cargo and

ship owners did not lose their source of wealth if their

ships went down and were taken by the sea. With the

increasing demand for ship and cargo insurance, Edward

Lloyd's Coffee Shop became recognized as the place for

obtaining marine insurance; this is where "Lloyd's" that

we know today began.

Although insurance in London began with Lloyd's

of London, the methodology of pooling the reserves of

many to pay for the claims of few was recreated throughout

financial corporations, who took insurance out

beyond marine and cargo insurance. In today's insurance

industry, most types of insurance can be sourced and the

models established globally are centered on this shared

principal objective—the belief that there is strength in

numbers, a joint force against all kinds of calamities

including financial troubles.

In 1688, the home insurance industry would be

established, ushering in a paradigm for other lines of

insurance cover. The types of insurance available in the

modern insurance market are wide and varied. However,

general insurance underwritten by insurance companies

is typically restricted to mainstream insurance such as:

commercial property, household/homeowner's, liability

and motor insurance. Household (property) insurance is

a personal line of insurance, however in much the same

way, commercial property is covered against the risk of

fire, flood, storm, theft, malicious damage and accidental

damage.

When pursuing the purchase of insurance there are

a few considerations. One would be to know your asset

This ironic shot shows hurricane debris on Grand Turk

following the passage of Hurricane Irma.

GEORGINA STUBBS

58 www.timespub.tc
---
Blue Loos_Layout 1 5/28/17 4:13 PM Page 1

value and imagine for a brief moment how losing it with

no recourse for restoration would impact you financially.

The concept of insuring and having adequate coverage

is often misunderstood and to a large degree taken for

granted. The disproportionate nature of underinsuring

your property comes with great financial exposure. A

guide to recover from such potential crisis would be to

consult a qualified evaluator for property evaluation. This

puts you in a strong position of understanding your property's

worth as it seeks to establish the replacement value

of your property consistent with current market trends.

With property values in the Turks & Caicos among the

highest in the region and the daunting cost of construction

to replace assets, conventional wisdom demands

having added security against property loss and business

interruption. The need to have insurance has become a

must-have. Policies such as homeowner's and commercial

property insurance are the leading coverage in our local

industry.

The meteorological predictions for the 2017 hurricane

season anticipated that the season would bear much

activity. With the reality of major storms Ike, Hanna, Irma

and Maria within the past nine years, the Turks & Caicos

Islands are still processing and grappling with their after-

All your septic tank solutions

in one place provided by a

family-owned business that

cares about the environment

of the Turks and Caicos

Islands.

Call Blue Loos 231 7448 to

have your tank emptied,

cleaned or fixed. All waste

disposed of in a licensed facility.

Call IWWTT on 232 1279 for information

about installing a new septic system or

re-fitting your old system. We are agents

for Bionest and FujiClean; both systems

offer a wide range of options for your

perfect septic tank solution.

Eco Friendly

Times of the Islands Winter 2017/18 59
---
CROSSING AFRICA UPDATE

Since our Fall update, Mario Rigby has travelled

from Sudan to Egypt and is expected to finish

his journey from Cape to Cairo on December 30,

2017. Look for the story in the Spring 2018 issue

of Times of the Islands.

math, although the road to recovery has been rapid. Our

community has learned that "to need and not have" is no

longer an option to avert a financial loss. With the devastation

of homes, businesses and infrastructure occurring

in hours, even with sufficient warnings, our best construction,

best intentions and every conceivable precaution,

the force of nature is overwhelming and destructive.

We must recognize the catastrophic nature of hurricanes

and the devastating after-effects they have both

financial and emotionally. We believe that communities

at large are better served when they make the necessary

preparation to mitigate loss during such times. The tempests

know no bounds and destruction therefore is not

confined to any particular demographic, economic or cultural

class.

Whether you agree with the arguments for climate

change or not, the earth is warming and the noticeable

differences in weather patterns continue to escalate,

producing peculiar natural disasters around the globe.

Hurricanes remain a great threat to the Turks & Caicos

Islands and the region. It is incumbent that we lobby for

changes or affirm policies in our building codes and hope

that the relevant government agencies oversee the proper

construction of neighboring buildings; the absence of

such oversight, however, will not negate our responsibility

to insure our properties.

The insurance industry in the Turks & Caicos Islands

is well regulated and thus far has made good on its

claims in Hurricanes Ike and Hanna (2008), and the recent

double whammies of Hurricanes Irma and Maria. The

Financial Services Commission has always been proactive

in its obligations to see that those operating in the industry

are solvent and are sufficiently reinsured.

The experience from the recent hurricane events,

and in particular their effects, provides a plethora of

lessons to compel rational minds that threats are no

longer probabilities but rather reality for the foreseeable

future. Destruction can be self-imposed and in most

cases beyond human control in the context of a natural

disaster. This gives more reason than none to better

prepare ourselves to mitigate a potential loss during any

unfortunate catastrophe that comes with warning and

unforeseen circumstances. I believe that this can only be

achieved by having appropriate and adequate insurance

coverage and heeding the warnings established through

official government and private agencies to protect us

from financial vulnerabilities, because it is better to have

and not need, than to need and not have. a

60 www.timespub.tc
---
astrolabe

newsletter of the Turks & Caicos National Museum

front street, p.o. box 188, grand turk, turks & caicos islands, bwi

tel 649 946 2160 • fax 649 946 2160 • email info@tcmuseum.org • web www.tcmuseum.org

PAT SAXTON

This is the state of the Turks & Caicos National Museum's exhibit

building, the Guinep House, following the combined beating of

Hurricanes Irma and Maria on Grand Turk in September 2017.

Starting Over

By Dr. Donald H. Keith, President,

Turks & Caicos National Museum Foundation

2017: a year to forget? No, a year to remember! Yes, we all suffered losses, but we also learned

important lessons that must not be forgotten as we start over with our lives and livelihoods after "IrMaria,"

the two powerful hurricanes that slammed into Grand Turk only two weeks apart with 150+ MPH winds

striking from both east and west.

This issue features two stories about starting over. In one, the intellectual curiosity of a Tennessee

schoolteacher leads her to re-invent her life in the process of single-handedly uncovering a largely forgotten,

but critical, episode in the history of the Caicos Islands. The subjects of her study, the "Georgia

Loyalists," were themselves starting over, having been driven out of the United States after the War of

Independence more than 200 years ago.

In the other, we learn the previously untold story of a group of 19 Californians who decided to abandon

the US and start their lives over on an island paradise—East Caicos! Unfortunately for them, the

realities were considerably different from their dreams. The moral of this story seems to be "Fortune

does not favor the unprepared."

But fortune does favor the prepared! Following the destruction of the Victoria Library by arson earlier

this year, the Museum is installing state-of-the-art fire suppression and security systems in both the

Guinep House and the Science Building. There is nothing humans can do to prevent hurricanes, but after

months without power on Grand Turk following IrMaria, we are installing our own diesel-powered 50

KW generator so that when storms hit in the future, we can keep the lights and security systems on, and

climate control running to protect our collections and exhibits.

Perhaps the most important lesson learned is that the Museum's location on Grand Turk, 64 feet

from the North Atlantic Ocean, is too vulnerable to destruction from hurricane winds and flooding to

be the repository for all of the Museum's collections and holdings. At least some of the most fragile

and precious books, photographs, letters and artifacts must be moved to a more secure, purpose-built

structure at the Museum's campus, more than half a mile from the sea, in the Village at Grace Bay on

Providenciales. A National Museum is not defined by the buildings it occupies, but by the collections it

is responsible for. If its collections are destroyed, it cannot just start over. a

Times of the Islands Winter 2017/18 61
---
astrolabe newsletter of the Turks & Caicos National Museum

DONALD H. KEITH

These ruins can still be found on the shore at Jacksonville, East Caicos.

Modern Crusoes

"Streamlined Pioneers" seek utopia on East Caicos.

By Jeffrey Dodge

Newspapers all over America called them "Utopians," "Streamlined Pioneers," "Modern Crusoes," "New

Life Seekers" and "Colonists." These were just a few of the monikers given to a group of 19 Californians

seeking "to get away from civilization as it now operates for the lesser-privileged." Group leader Richard C.

Irvine said, "We have a chance to attain a security we cannot get in the United States because of uncertain

social conditions and the terrific differential in wage scales and taxes." Sound familiar? Like something

you might read in the papers today? No—this was 78 years ago!

62 www.timespub.tc
---
astrolabe newsletter of the Turks & Caicos National Museum

The pioneers

In late 1939, a party of five California families and three

bachelors, totaling nineteen, formed a closed corporation

they called the East Caicos Trading Company. They sold

their homes, left their jobs and friends and prepared to

move to East Caicos, the largest uninhabited island in

the Turks & Caicos. Members of the group ranged in age

from 17 months to 69 years. Among them were a traveling

salesman, a carpenter for Walt Disney, a housekeeper

for Mary Pickford, a retired Standard Oil Co. engineer,

a horticulturist, an electrician, an insurance investigator

and a nurse. It was reported that members of this group

were selected from "hundreds" that replied to advertisements—however,

no such ads have been found to date.

Paradise chosen

They selected East Caicos because Mrs. Grace Lake (née

Reynolds), a member of the group, owned a large tract of

land there. Grace Lake's Irish father, John N. Reynolds,

moved to the Turks & Caicos Islands about 1856 and

became a salt merchant with salinas on South Caicos.

As trustee for his four children, Reynolds acquired 1,288

acres at Breezy Point on the north shore of East Caicos

in 1871, as well as a 99-year lease from the British

Government for most of the rest of the island.

His initial intention was to raise cattle and supply meat

to neighboring islands. By 1884, Reynolds was extracting

and selling bat guano from caves in the interior for

fertilizer. He was also involved in the sisal industry that

began there about 1890. The guano played out in late

1880s and, unable to compete with the superior qualities

of manila hemp from the Philippines, the sisal operation

ceased about 1919. Abandoned when both these

commercial operations failed, substantial industrial and

residential structures still lie about the island, including a

narrow gauge railroad built to move sisal from the fields

to the processing area.

Grace Reynolds was born on the Turks Islands in

1881 and lived there until she moved to Boston with her

mother Elizabeth and three siblings in 1890. With the

death of her brother John Jr. in 1925, Grace became the

sole owner of the property at Breezy Point as well as the

years remaining on the 99-year lease. She married her

second husband, James Lake, in 1925. It is not known

when in the late 1930s the Lakes moved to California

from Massachusetts or how they met Richard C. Irvine,

From top: Grace and James Lake plan their journey to East Caicos.

The yacht Spindrift is tied up in the Miami River in February 1940.

Members of the group pose aboard Spindrift in Miami just before

departing for East Caicos in February 1940.

who became the leader of the group of Californians seeking

a better life on East Caicos.

Records show that James Lake returned to New

York from a trip to the Turks & Caicos in April 1934.

Recounting his experiences on this trip, Lake told the

California "pioneers" that he visited East Caicos and found

it to be a virtual "Paradise." He excitedly described the

island as covered in hardwood forests (mahogany and

lignum vitae) as well as papayas and fruit trees. Other

INGRID POHL AND JANET POHL-SCHOLLENBERG

Times of the Islands Winter 2017/18 63
---
astrolabe newsletter of the Turks & Caicos National Museum

DONALD H. KEITH

hides and the bat guano found in the caves for fertilizer.

There was also sisal to cultivate, and papaya fruits and

shark liver oil to turn into medicinal products.

In addition to the many resources waiting for them

on East Caicos, the "adventurers" brought clothing, tents,

food for three months, and tools for building homes

and growing crops. They reportedly shipped separately

several tons of goods including electrical generating

equipment for lights, hundreds of seeds, additional tools

and radio equipment to establish a broadcasting station.

These items were shipped from California to Jamaica

where they would eventually be forwarded to East Caicos.

Whether or not these supplies ever reached East Caicos is

unknown. There was a report that the shipment was held

up in Panama because of lost documentation.

INGRID POHL AND JANET POHL-SCHOLLENBERG

The stone house ruins still standing at Jacksonville, East Caicos (top)

appear similar to the structure seen in the image (above) of James

Lake, Richard Irvine (group leader), Olaf Lornsten and Gaston Blum,

captain of Spindrift, on East Caicos.

resources of potential economic benefit included hundreds

of wild cattle and thousands of wild donkeys from

the days of the sisal enterprise twenty years earlier. The

sisal industry, he said, had also left behind two concrete

35,000-gallon water catchment tanks that would provide

fresh water for the group. There was even talk that East

Caicos was once the haunt of the pirate Henry Morgan,

suggesting buried treasure was a possibility!

Careful planning and many promises

Roughing it was not part of the plan. James Lake and

Richard Irvine explained to the group that they would initially

live in tents and later build permanent homes from

the lumber they would harvest from the hardwood forests.

They could support themselves by selling the cattle

and donkeys roaming wild on the island for meat and

The journey was rough

The trip to "Paradise" began on January 16, 1940, with

the group leaving California for Florida in two cars, a

truck and a trailer. Each family paid between $1,000 and

$2,000 to participate in this venture (roughly equivalent

to $17,000–$34,000 today!) Group leader Irvine stated

that the total cost of the venture was $10,000 ($170,000

today) and that he expected they would be self-supporting

within three months.

The journey to Florida was difficult and many in the

party were sick with colds by the time they arrived in

Tampa on January 24. They sold the automobiles, truck,

and trailer in Miami and two or three weeks later signed

an agreement with George Conley and Capt. Gaston Blum

of Chicago to provide transportation for the group to East

Caicos on the yacht Spindrift.

The group left Miami on Spindrift for East Caicos

on February 18, 1940. The agreement between the

Conley-Blum syndicate and the "colonists" included free

transportation to East Caicos in exchange for rights to

develop the island into a tourist resort. Conley and Blum

were to promote the island back in the U.S., transport

more people and supplies to the Island, and eventually

establish a resort there. Colonizing East Caicos

was beginning to look more and more like a businessfor-profit

venture and less like the co-operative colony

originally envisioned.

East Caicos at last

Spindrift arrived at East Caicos on March 2, 1940. The

64 www.timespub.tc
---
astrolabe newsletter of the Turks & Caicos National Museum

weather had been terrible and the passage was rough—

forcing them to lay over in Key West and again in Cuba.

When the passengers finally arrived at their destination,

they were seasick, tired and almost immediately disappointed.

Spindrift had to anchor offshore due to the

coral reefs and shallow water that surround the island,

requiring many trips ashore by tender to move people

and supplies from the yacht to the beach.

By the time everything was on shore, it was late and

the "pioneers" were hungry. Their first meal ashore was

bread and canned fruit, though it was reported that some

of the men speared lobsters to boil and eat later that

evening. Since there was no time to set up tents, the

"adventurers" camped under the stars on the beach, but

the fierce mosquitoes and constant braying of wild donkeys

made sleep on East Caicos that night impossible.

The following day they draped a canvas tarpaulin

over the walls of an abandoned and windowless shell of

a building left by the sisal company, supporting it with

rails taken from the old railroad. This was where their

supplies would be stored. Inhabitants from neighboring

islands, curious and looking for work, traveled to East

Caicos. They were each paid 50 cents a day to clear an

area of scrub, bush and sisal so the settlers could erect

their tents.

Reality dawns

Two or three days after their arrival, the eager "pioneers"

went forth to survey the island and locate the valuable

resources promised them. It was not long before they

realized that there would be no beef to eat—hunted out

years earlier, the cattle were gone. There were donkeys,

but in smaller numbers than expected. It looked like fish

and possibly donkey would be their only sources of protein

and the only fresh vegetables were those they could

buy from the inhabitants of nearby islands. There were

no bananas, no papayas or other edibles growing on their

newfound home.

Not only were the cattle gone, but also the guano

they intended to sell had been depleted years before.

There were no hardwood forests. There did not seem to

be any resources they could sell to make money, and

their money was already running short. Adding to their

problems, the yacht Spindrift did not return with more

people or supplies.

A 1940 newspaper article suggests that contrary

Grace and James Lake (shown on previous page) stand in front of

their tent on East Caicos.

to his claim that he personally surveyed East Caicos in

1934, James Lake took his description of it from charts

and hearsay from others. It is an interesting coincidence

that in 1936 a newspaper reported that a Capt. Arthur

A. Lawrence of Pittsburgh, Pennsylvania said that he

had spent several years on North Caicos, describing it

as a "Paradise." His description of North Caicos and the

resources there, which was probably accurate, was very

much like the description James Lake attributed to East

Caicos when he promoted it to the group of California

"pioneers."

Paradise abandoned

Within days, sunburn and infected sand flea and mosquito

bites were taking their toll on the group. The Irvine's 17

month-old baby was covered with infected mosquito bites

and tempers were growing short. Some members of the

party were no longer speaking to each other. After just

four weeks on the island, group leader Richard Irvine,

his wife, their four children and 18 year-old bachelor

Ned Read left for Miami. Another couple, Mr. and Mrs. E.

A. Lawrence, left at the same time, but took a different

route arriving in Miami on April 12, 1940. Reportedly,

Mr. Lawrence kissed the dock and danced a jig when he

landed there. The Irvine family and Ned Read arrived in

Miami on April 15, 1940. Richard Irvine told reporters

he might return to East Caicos, but his wife said, "You're

crazy if you come back, Caicos is a desert." Ten members

of the group remained on East Caicos, including James

and Grace Lake, who told the departing members of the

party that they intended to "stay and tough it out." Andres

Lornsten, the retired Standard Oil Co. engineer, took over

as group leader.

INGRID POHL AND JANET POHL-SCHOLLENBERG

Times of the Islands Winter 2017/18 65
---
astrolabe newsletter of the Turks & Caicos National Museum

Exactly what happened on East Caicos after nine

members of the group departed in April 1940 is

unknown. However, it was reported that Boyce Phillips

told the departing members that he would soon be heading

to Panama to work for the government. Passenger

lists show that Cletys Ackerman and Hjalmar and Greta

Kvanvig left East Caicos in July, arriving in Miami on

August 8, 1940 aboard the vessel Betty K from Nassau.

Passenger lists recorded that Grace Lake arrived in Miami

on February 14, 1942 and her husband, James Lake,

arrived a year later on April 10, 1943. There is no information

to explain why they arrived separately or whether

or not they remained on East Caicos until they returned

to Miami. Andres Lornsten, his wife Isabella and their two

adult children arrived in Key West in 1945. It is not known

if they spent five years on East Caicos or somewhere else

before returning to the U.S.

While we do not know when the last "pioneer" left

East Caicos, it is certain that they did not succeed in

establishing a viable colony there. There is reference to

the repatriation of the last members of this group, possibly

the Lornsten family, during WWII partly at government

expense—but exactly which government is unclear.

Nonetheless, within a few years the island was once again

uninhabited—left to the donkeys and mosquitoes. a

Epilogue

Not long after the Utopians' abortive attempt to start a

new life on East Caicos, Grace Lake conveyed the Breezy

Point land she owned to her daughter, Alice L. Christensen,

a Bermudian by marriage. In May 1949, members of the

Christensen family went to East Caicos to determine if it

could become "another Bermuda." They were disappointed.

In 1968, at the suggestion of a friend, retired British S.O.E.

(Special Operations Executive) officer and journalist John

Houseman moved to East Caicos with his wife and two

children, with the intention of establishing a hotel. A few

months after setting up camp, Houseman's wife left him

and the plan collapsed. In 1970, the Christensens sold the

property to the Solar Group of Bermuda. The Breezy Point

property is now owned by the Arden Group of Philadelphia,

and is currently listed for sale.

Members of the group of "Pioneers"

Irvine, Richard C. – group leader, sales (age 43)

Irvine, M. Louise – spouse (age 37)

Irvine, Jane – daughter, student (age 17)

Irvine, Helene D. – daughter (age 7)

Irvine, Dawn – daughter (age 9)

Irvine, King – baby son (age 17 months)

Lake, James – insurance investigator (age 69)

Lake, Grace – East Caicos land owner (age 60)

Lornsten, Andreas – retired, Standard Oil Co. (age 59)

Lornsten, Isabella – spouse (age 46)

Lornsten, Olaf – son (age 22)

Lornsten, Margaret L. – daughter (age 20)

Kvanvig, Hjalmar – horticulturist (age 37)

Kvanvig, Greta – spouse, housekeeper (age 32)

Lawrence, Ernest – salesman (age 24)

Lawrence, Cecilia – spouse, nurse (age 28)

Ackerman, Cletys R. – bachelor, Disney carpenter

(age 34)

Phillips, Boyce – bachelor, engineer (age 32)

Read, Edward (Ned) – bachelor, student (age 18)

Thanks to Ingrid Pohl and Janet Pohl-Schollenberg, Tom

Ellis and Dr. Donald H. Keith, who helped me research

this story.

66 www.timespub.tc
---
astrolabe newsletter of the Turks & Caicos National Museum

The author's work on Middle Caicos to document the Loyalist-era plantations was inspired by Islander Ernest Forbes's advice, "Just follow

the chimneys."

Follow the Chimneys

How I became an Islander.

By Dr. Charlene Kozy

Editor's note: Dr. Charlene Kozy has been contributing articles to Times of the Islands for nearly a

decade. They range from a survey of the various flags and emblems used by the country, to detailed

histories of the life and times of the Caicos Islands' Loyalist plantation owners, to fond recollections of

her association with the women of Middle Caicos, and a tale of pirates and one of Caicos Cay's original

homeowners, Countess Helen Czernin.

In the following memoir, Dr. Kozy reveals just how she became associated with the Turks & Caicos

Islands 40 years ago and how it became an important part of her career. It makes me honor and appreciate

her contributions all the more. We look forward to more to come.

Times of the Islands Winter 2017/18 67
---
astrolabe newsletter of the Turks & Caicos National Museum

While teaching in a Nashville high school in the late

1970s, I agreed to teach a new course. In so doing I suddenly

became Tennessee's first high school teacher of

anthropology, the study of human societies and cultures

and their development. This led to participation in some

homegrown archaeology, a specialty within anthropology.

Centuries-old stone box graves pertaining to the

Native American Mississippian culture were discovered

practically next door to the school during construction

of a golf course. The find attracted the attention of Dr.

William Bass from the University of Tennessee. Among

many other things he taught my class how to determine

the age and gender of a skeleton. Under his direction, my

class reconstructed the stone box grave of a teenage boy

just about the age of my students. Subsequently, it went

to the State Museum.

This experience ignited my desire to do something

more challenging than just teaching. I combed through

a pile of journals and advertisements for research volunteers

and found a grant from Earthwatch, a non-profit

international organization that provides human and financial

support to scientific research projects. If accepted,

the grant would fund me to go to the Caicos Islands

with a group from the University of Illinois. When I was

accepted in 1977, I jumped at the opportunity without

knowing exactly where I was going, what kind of work I

would be doing, or whom I would be working for. I found

myself spending six weeks with archaeologist Shaun

Sullivan's group studying the Lucayan Taino Indians and

tediously unearthing their ancient artifacts. Dr. Sullivan

was an excellent teacher on the ways of archaeology—but

also an ex-Army Green Beret and hard taskmaster!

We lived in the settlement of Bambarra on Middle

Caicos and our meager "leisure time" was spent at

Emmanuel Hall's store. I listened wistfully with him and

his wife Constance to a clear channel radio station from

my hometown of Nashville, 1,400 miles away. I also

learned to play dominoes on Saturday nights with Mr.

Hall's customers. Mrs. Constance was always there finding

things for the villagers, and being sure all were taken

care of. I felt at home in the country store, in so many

ways like my dad's—the one I grew up in. I learned about

the culture of the people of Bambarra, and all the things

we had in common.

SHAUN SULLIVAN

In 1977, Constance and Emmanuel Hall opened their home and shop in Bambarra, Middle Caicos to the members of the Earthwatch expedition.

This experience gave the author a desire to learn more about the ruins of stone buildings, walls and chimneys she saw on the island.

68 www.timespub.tc
---
astrolabe newsletter of the Turks & Caicos National Museum

Shaun kept his group busy. We walked to the dig

site each morning and carried our finds back to our staging

area each evening. Sometimes when the mosquitoes

were heavy or light rain came, we worked in the shelter

of the cave at Conch Bar. As we rode in the bed of Carlin

Forbes's truck, I became fascinated by the overgrown

ruins of stone buildings and walls we passed along the

way. They were like the walls and chimneys I was accustomed

to seeing in Tennessee. The chimneys were large

enough to stand in, reminding me of tales of early pioneers

hiding within during Indian attacks. No one knew

much about where the stone buildings came from except

that they were part of "history" and we were studying

"pre-history."

When the Earthwatch expedition was over, I returned

home and put my degrees in History to work, immersing

myself in library research. I learned the ruins were

the remains of plantations belonging to British subjects

who were forced to leave their holdings in Georgia and

Florida following the U.S. War of Independence. The

British Government offered them large land grants in the

Bahamas and Turks & Caicos Islands as compensation

Glen Freimuth and Shaun Sullivan were leaders of the University of

Illinois groups investigating Lucayan Indian sites on Middle Caicos

in 1977.

for their losses in the newly created United States and in

recognition of their loyalty to the Crown. They became

known as the American Loyalists.

American historians wrote little about American

Loyalists in textbooks. I could find an unflattering paragraph

about them here and there that always included

how they were tarred and feathered by "The Sons of

Liberty," trying to make revolutionaries of them. Knowing

These are some of the participants in the 1977 excavation of Lucayan Indian sites on Middle Caicos. Emmanuel Hall and the author stand

fourth and fifth from left.

SHAUN SULLIVAN SHAUN SULLIVAN

Times of the Islands Winter 2017/18 69
---
astrolabe newsletter of the Turks & Caicos National Museum

DONALD H. KEITH

This kitchen on the Haulover Plantation on Middle Caicos was well

preserved, with a large fireplace and hooks to hang pots on. It was

separate from the main house to avoid fire hazards.

that there was little interest in this group, I took my

findings and thoughts to my former history teachers at

Middle Tennessee State University (MTSU). One kind professor,

Dr. Fred Rolater, encouraged me to consider it a

worthwhile study for a doctorate. He continued to be a

mountain of support through my arduous road to becoming

Dr. Charlene Kozy.

But my quest was just beginning. I was accepted

as a doctoral student at MTSU. I married Steve Kozy, a

very patient and understanding man, who traveled with

me to Nassau to read microfilm in their archives and to

the University of Florida looking for knowledge of the

Loyalists. Then we found a company in Orlando, Florida

that was microfilming Nassau's records. I purchased copies

to read under less stressful circumstances. These films

were records of land grants to exiled individual Loyalists

and even gave their locations in the Caicos Islands. Soon,

I was no longer satisfied just to read about the Loyalists.

Now, armed with my research, I wanted to return to the

Turks & Caicos to see if I could find the places where the

people I had been studying actually lived!

But where to start? While staying at the Island Princess,

one of the three hotels on Providenciales in those days,

Steve and I met Tommy Coleman. Upon hearing my story,

he suggested a trip to Parrot Cay to meet a woman who

lived on a restored Loyalist plantation. Excitedly, we

accepted the invitation and met Countess Helen Czernin

who graciously invited us to stay in modernized slave

quarters converted to guesthouses. This friendship

endured for many years. Helen moved to Grand Turk and

introduced me to influential people such as Mrs. Grethe

Seim and government officials who encouraged me and

gave permission to study the ruins on Middle Caicos and

even bring in field school students.

I was no stranger on Middle Caicos, especially to the

people of Bambarra. I needed their help, and they gave

it freely. Their acceptance of my husband and me was

unusually good. At first, we stayed in the "Government

House," which also served as a clinic, but after a few visits

we were invited to stay with Islanders in their homes.

There were no hotels in Bambarra! Elizabeth and Ernest

Forbes housed two of the three field schools we organized.

Hon. Robert Hall, an officer in the government and

son of Constance and Emmanuel Hall, visited the projects

and gave the students history lessons about the Islands.

The next step was to locate the plantations. After I

explained that my purpose for being there was to locate

the actual Loyalist plantations I had been studying,

Constance Hall took me to the abandoned Ferguson plantation

where she was born. A young teacher on the island,

Valerie Hamilton, guided me to many other places.

Mr. Alton Higgs guided us to the Haulover plantation

near the settlement of Lorimers. I was immediately struck

by the many similarities between Haulover and plantations

of the same period in the U.S. Built by Loyalist Dr.

John Lorimer some time around 1800, it had the spacious

main house with obvious divisions of rooms including

dining rooms, bedrooms and studies and was similar

in many ways to the Hermitage, former U.S. President

Andrew Jackson's plantation near my home in Tennesse.

Haulover's separate kitchen was relatively well preserved,

with a large fireplace and hooks to hang pots on. Having

a separate kitchen from the main house was the common

practice in America due to fire hazards. The builders of

Haulover followed suite. Haulover had slave cabins built

70 www.timespub.tc
---
astrolabe newsletter of the Turks & Caicos National Museum

beside fields ready to be cultivated, as did the Hermitage.

An overseer's house was nearby at Haulover, ready to

receive instructions from the master. There were other

similarities as well. Both men had villages named for

them: Old Hickory in Tennessee (Jackson's sometimes

nickname), and Lorimers on Middle Caicos. Dr. Lorimer's

gravesite lies nearby, just as Andrew Jackson's grave is

on the grounds at the Hermitage.

With the help of Ernest Forbes, maps of plantation

locations and detailed land and household appraisals, we

correlated documented data with topography, landmarks

and geographical features and identified more plantations.

Ernest's knowledge of the Islands and succinct

observation—"Just follow the chimneys"—were invaluable.

Searches for the plantations, now long overgrown

in cactus and tropical vegetation, boiled down to looking

for the tops of stone chimneys looming above the

dense bush. Machetes were the tool of choice in clearing

the way to the old ruins so we could survey, map

and measure them. Our guide, Mr. Ernest, assured us the

vegetation would grow back within a few months. "It will

soon be like you found it today."

In retrospect, my quest to "rediscover" the Caicos

Islands Loyalists led to much more than I originally

expected. I satisfied my quest to correlate the microfilm

descriptions with actual places and structures on Middle

Caicos and completed my dissertation, "A History of the

Georgia Loyalists and the Plantation Period in the Turks

and Caicos Islands," earning a doctorate degree that led

to working at Cumberland University for 21 years, serving

as president for the last three. For some of the students

I brought down for the field schools it was their first trip

outside the United States and their first experience living

in a different socio-political environment. Such real-world

learning experiences are not possible in a university setting.

Just as important are the long-lasting friendships

forged with archaeological colleagues working in the

TCI such as Drs. William Keegan, Shaun Sullivan, Glen

Friemuth, Lisabeth Carlson and Donald Keith. I have

mourned the loss of friends in the Caicos Islands over

the years, but I cherish the memories of time spent with

them. I am eternally grateful to Dr. Fred Rolater for his

support. To rephrase John Kennedy's statement to the

German people, "Ich bin ein Berliner"—"I am a Turks &

Caicos Islander." As one of their own, I salute the people

of the Turks & Caicos Islands. a

This portrait depicts the author, Dr. Charlene Kozy, who taught and

was a dean at Cumberland University for 21 years, serving as president

for the last three years before she retired.

Join the Museum

Become a Member and receive a year's subscription

to Times of the Islands (which includes Astrolabe),

free admission to the Museum, and a Members'

Discount in the Museum Shop.

Senior (62+) $35

Individual $50

Family/Friend $100

Sponsor $250

Contributor $500

Partner $750

To join*, send name, address, email, and type of

membership, along with cheque or money order

payable to "Turks & Caicos National Museum" to:

Friends of the Turks & Caicos National Museum

39 Condesa Road

Santa Fe, NM 87508 USA

Or, visit:

www.tcmuseum.org/membership-support/

*For U.S. residents, support of the Museum is tax-deductible via

Friends of the Turks & Caicos National Museum, Attn: Donald H.

Keith, 39 Condesa Road, Santa Fe NM 87508, our affiliated institution

and registered 501 (c) (3).

MARIA SIMMONS

Times of the Islands Winter 2017/18 71
---
astrolabe newsletter of the Turks & Caicos National Museum

Museum matters

The turning point

Hurricanes are nothing new, but this past season it was

as if Mother Nature had painted a bull's eye on the

Turks & Caicos Islands—with Grand Turk in the center!

First, Irma, a Category 5 storm, struck the island on

September 8 from the east, passing to the south with

winds of 185 MPH, wrecking the power grid, destroying

the reverse osmosis water system and taking out all

communications with the exception of satellite phone.

Grand Turk went dark. I was moved to tears as

dozens of people—archaeologists, historians and

other scientists who had worked in the TCI, U.S. servicemen

who had been stationed there, directors of

other Caribbean museums, and former ex-pat Museum

employees—contacted me by telephone and e-mail,

hoping for the best and asking what they could do to

help, sending checks and even volunteering to fly down

to help with the clean-up!

When news did start to trickle out it was not encouraging.

The Museum's two-story Science Building took

the brunt of the wind's force, but in doing so sheltered

Guinep House from the worst effects. Two weeks to

the day later on September 22 , punching with winds

over 170 MPH, Maria passed to the north, grazing the

island and delivering a backslap to the western shore,

normally in the lee. Both buildings were damaged, but

there was nothing between the Guinep House and open

sea except the tree for which it was named! The winds

picked up the balcony roof and grotesquely folded it

back onto the main roof, peeling back the eaves and

exposing rafters in the process.

It could have been a lot worse. The good news is

that there was no immediate damage to the collections

or exhibits. The buildings kept their roofs, but winddriven

rainwater infiltrated, causing interior damage.

Increasingly, we worried about the after-effects of this

flooding as the weeks, then months passed with frequent

heavy rains and no electricity to run our climate

control systems inside the buildings.

Of course the Museum properties have always been

heavily insured and structural repairs have already

started, mingled with upgrades such as new security

and fire-suppression systems and even our own 50 KW

After the combined impact of Hurricanes Irma and Maria, the wall

surrounding the Museum's Botanical Garden collapsed.

diesel generator. We are strengthening our defenses

against the vicissitudes of fate, but given the Museum's

location, there is only so much we can do.

Meanwhile, 70 miles away on Providenciales, after

Irma the Museum's Development Office and even the

thatch-roofed Caicos Heritage House suffered so little

damage there was no need to file an insurance claim—

and Maria did no damage at all! Power, telephone and

Internet were restored within a couple of days and

Candianne Williams, the Museum's representative on

Provo, made sure the Village at Grace Bay campus was

up and running by mid-October.

Hurricane Ike hit the TCI on September 7, 2008. It

took the roofs off 80% of the buildings on Grand Turk.

We thought it was a once-in-a-century storm, yet here

we are only nine years later, recovering from two storms

of the same ferocity only two weeks apart. At present,

all the Museum's eggs are in one basket 64 feet from

the North Atlantic Ocean. Mother Nature is telling us,

"The climate is changing. Sea levels are rising. Storms

are becoming more intense. It's time to move!" Already,

long-time Museum supporters have made donations

earmarked for expansion of the Museum's facilities on

Providenciales in preparation for moving our most vulnerable

collections there. You can't argue with Mother

Nature. All you can do is heed her warnings, hope for

the best, and prepare for the worst! a

Dr. Donald H. Keith

PAT SAXTON

72 www.timespub.tc
---
astrolabe newsletter of the Turks & Caicos National Museum

Museum matters

Who's who

In August 2017, I received a phone call from Adrienne

Antoinette Lightbourn Butz who just finished transcribing

The Letter Book of Captain John Lightbourn Sr. and

William Astwood. She found the original manuscript,

more than 200 years old and quite fragile, in 2012

among old papers passed on to her after the death of

her parents. It took Ms. Butz more than a year of tedious

work to transcribe the hand-written manuscripts into a

readable document.

The letters are between John Lightbourn, a

Bermudan in the salt trade in the Turks & Caicos

Islands, and his nephew in Bermuda, William Astwood.

Collections of original personal correspondence like

this are very rare and invaluable to historians for what

they reveal about trade, commerce, family relationships

and social mores of the times. The Museum now has

two copies of this limited-edition book in our library,

but should you want one yourself, they are available

through Amazon at: https://www.amazon.com/

Letter-Captain-Lightbourn-William-Astwood-ebook/dp/

B0773WC5FT.

The book reads like a "Who's Who" among land

owners and salt merchants of the Turks Islands with

family names like Frith, Dickenson, Tucker, Dunscomb,

Bascombe, Gibbs and Darrell appearing on virtually

every page. The letters will aid the Museum in its

ongoing research into familial connections between

Bermuda and the Turks Islands. I want to thank Ms.

Butz for donating these books to the Museum, and

admire her patience and determination in deciphering

and transcribing these hand-written letters written

more than two centuries ago. a

Pat Saxton

From the Director

The Turks & Caicos National Museum suffered a lot of

damage from Hurricanes Irma and Maria. It was not

catastrophic, but it will take many months to get back

to normal. We intend to re-evaluate the exhibits and

improve the Museum and Science Building, making

them more user-friendly for visitors and Islanders alike.

This is a book of transcribed letters between John Lightbourn and

his nephew in Bermuda, written more than 200 years ago.

So out of the storm comes new ideas. I personally

have to thank a few people. These persons, like

myself, were also dealing with the destruction of their

homes. Our Chairman Seamus Day was with me every

step of the way to save the archives and exhibits. He

also secured the financing for the new generator. Lisa

Talbot carried numerous books from our research

library along with gift shop items to safety, and pushed

buckets of water out of the workshop and dry lab. My

husband Neil pulled up soaked carpet squares, carried

out ruined furniture and kept me calm. Conrad Baron

cleared the site not once, but twice, and then put our

garden back in order. As they say, it takes a village—or

just some very dedicated folks in that village who love

the Museum. Thank you! a

Pat Saxton

PAT SAXTON

Times of the Islands Winter 2017/18 73
---
faces and places

Junior Achievement 2017 Innovation Camp

Just after Hurricane Irma, the Junior Achievement 2017 Innovation Camp took place simultaneously in Grand Turk

and Providenciales. In Grand Turk, 59 students gathered at the H.J. Robinson High School, breaking down into 12

teams of 14- to 18 year- olds. Seventy-seven students from numerous high schools around Providenciales gathered

at The Shore Club breaking into 11 teams. For this year's challenge, both groups were asked to find a way to prepare

for and mitigate the effects of a hurricane through a full day of brainstorming and presentations. Judges were representatives

from Scotiabank and the Department of Disaster Management, considering content, creativity, quality and

team spirit. The winning Grand Turk team, Forecast 5, proposed a mobile app whose main purpose was to provide

hurricane updates and preparedness tips, serving as a weather radar, friend tracker and First Aid assistant. The winning

Providenciales team, 649 Aerial System, proposed a drone damage assessment tool. The system would also

include an app that not only provided real-time damage assessment, but also hurricane updates and preparedness

tips. Team Forecast 5 was comprised of Kendrea Gelcius, Llewandra Basden, Raynae Myers, Samantha Marcellus and

Angelia Ariza. Both teams will face off in January 2018 with another challenge. The winner will represent the Turks

& Caicos Islands in the regional Innovation Camp Challenge hosted by JA Americas. Junior Achievement is an international

non-profit organization focused on inspiring and motivating kids to be ambitious and goal oriented. The

Junior Achievement Innovation Camp is regionally funded through a partnership with Scotiabank.

Story By Claire Parrish ~ Photos By Angela Musgrove

Team 649 Aerial System from Providenciales includes (at center, from left): Rasheed John, Rodisha Johnson, Anthonique Asamoah, Zaria

Ingham, Ernelle Hall and Robria Clarke.

74 www.timespub.tc
---
about the Islands

Map provided courtesy Wavey Line Publishing. Their navigation charts and decorative and historic maps of the Turks & Caicos Islands, the

Bahamas, and Hispaniola are available in shops throughout the Islands. Visit www.waveylinepublishing.com.

Where we are

The Turks & Caicos Islands lie some 575 miles southeast

of Miami — approximately 1 1/2 hours flying time — with

the Bahamas about 30 miles to the northwest and the

Dominican Republic some 100 miles to the southeast.

The country consists of two island groups separated

by the 22-mile wide Columbus Passage. To the west are

the Caicos Islands: West Caicos, Providenciales, North

Caicos, Middle Caicos, East Caicos, and South Caicos. To

the east are the Turks Islands: Grand Turk and Salt Cay.

The Turks & Caicos total 166 square miles of land

area on eight islands and 40 small cays. The country's

population is approximately 32,000.

Getting here

There are international airports on Grand Turk, North

Caicos, Providenciales, and South Caicos, with domestic

airports on all of the islands except East Caicos.

At this time, all of the major international carriers

arrive and depart from Providenciales International

Airport. American Airlines flies from Miami, Charlotte,

Boston, Dallas, New York/JFK and Philadelphia. JetBlue

Airways offers service from Fort Lauderdale, New York/JFK

and Boston. Southwest Airlines travels to Fort Lauderdale.

Delta Airlines flies from Atlanta and New York/JFK. United

Airlines flies from Newark, Washington, DC and Chicago.

WestJet travels from Toronto. Air Canada offer flights

from Toronto and Montreal. British Airways travels from

London/Gatwick via Antigua.

Times of the Islands Winter 2017/18 75
---
Bahamasair flies to Nassau on Thursday and Sunday;

InterCaribbean Airways travels daily except Thursday.

InterCaribbean Airways and Caicos Express travel to Haiti

daily, while InterCaribbean Airways flies to the Dominican

Republic daily (except Wednesday); to Jamaica daily,

and to Puerto Rico on Tuesday, Thursday, Saturday and

Sunday. InterCaribbean Airways also travels to Santiago,

Cuba on Monday, Wednesday and Friday. (Schedules are

current as of December 2017 and subject to change.)

Inter-island service is provided by InterCaribbean

Airways, Caicos Express Airways, and Global Airways. Sea

and air freight services operate from Florida.

Language

English.

Time zone

Atlantic Standard Time (AST) observed year-round.

Currency

The United States dollar. The Treasury also issues a Turks

& Caicos crown and quarter. Travellers cheques in U.S.

dollars are widely accepted and other currency can be

changed at local banks. American Express, VISA, and

MasterCard are welcomed at many locations.

Climate

The average year-round temperature is 83ºF (28ºC). The

hottest months are September and October, when the

temperature can reach 90 to 95ºF (33 to 35ºC). However,

the consistent easterly trade winds temper the heat and

keep life comfortable.

Casual resort and leisure wear is accepted attire for

daytime; light sweaters or jackets may be necessary on

some breezy evenings. It's wise to wear protective clothing

and a sunhat and use waterproof sunscreen when out

in the tropical sun.

Entry requirements

Passport. A valid onward or return ticket is also required.

Customs formalities

Visitors may bring in duty free for their own use one carton

of cigarettes or cigars, one bottle of liquor or wine,

and some perfume. The importation of all firearms including

those charged with compressed air without prior

approval in writing from the Commissioner of Police is

strictly forbidden. Spear guns, Hawaiian slings, controlled

drugs, and pornography are also illegal.

76 www.timespub.tc
---
Returning residents may bring in $400 worth of

merchandise per person duty free. A duty of 10% to

60% is charged on most imported goods along with a

7% customs processing fee and forms a major source of

government revenue.

Transportation

A valid driver's license from home is suitable when renting

vehicles. A government tax of 12% is levied on all

rental contracts. (Insurance is extra.) Driving is on the

left-hand side of the road, with traffic flow controlled by

round-abouts at major junctions. Please don't drink and

drive! Taxis are abundant throughout the Islands and

many resorts offer shuttle service between popular visitor

areas. Scooter, motorcycle, and bicycle rentals are

also available.

Telecommunications

FLOW Ltd. provides land lines and superfast broadband

Internet service. Mobile service is on a LTE 4G network,

including pre and post-paid cellular phones. Most resorts

and some stores and restaurants offer wireless Internet

connection. Digicel operates mobile networks, with

a full suite of LTE 4G service. FLOW is the local carrier

for CDMA roaming on US networks such as Verizon and

Sprint. North American visitors with GSM cellular handsets

and wireless accounts with AT&T or Cingular can

arrange international roaming.

Electricity

120/240 volts, 60 Hz, suitable for all U.S. appliances.

Departure tax

US $20 for all persons two years and older, payable in

cash or traveller's cheques. It is typically built into the

cost of your ticket.

Courier service

Delivery service is provided by FedEx, with offices on

Providenciales and Grand Turk, and DHL. UPS service is

limited to incoming delivery.

Postal service

The Post Office and Philatelic Bureau in Providenciales is

located downtown in Butterfield Square. In Grand Turk,

the Post Office is on Front Street, with the Philatelic

Bureau on Church Folly. The Islands are known for their

varied and colorful stamp issues.

Times of the Islands Winter 2017/18 77
---
Media

Multi-channel satellite television is received from the U.S.

and Canada and transmitted via cable or over the air.

Local station WIV-TV broadcasts on Channel 4 and Island

EyeTV on Channel 5. People's Television offers 75 digitally

transmitted television stations, along with local news

and talk shows on Channel 8. There are also a number of

local radio stations, magazines, and newspapers.

Medical services

There are no endemic tropical diseases in TCI. There are

large, modern hospitals on Grand Turk and Providenciales.

Both hospitals offer a full range of services including:

24/7 emergency room, operating theaters, diagnostic

imaging, maternity suites, dialysis suites, blood bank,

physiotherapy, and dentistry.

In addition, several general practitioners operate in

the country, and there is a recompression chamber, along

with a number of private pharmacies.

Barefoot Palms Ad:Layout 1 8/19/16 1:16 PM Page 1

www.BarefootPalmsVilla.com

Barefoot Palms

3 bedroom, 2 bath villa

Gorgeous pool, patio, tiki bar

Blocks om the ocean, walk to beach,

minutes drive to golf, supermarket,

shopping and restaurants

$2450-$3850 weekly; flexible dates

Immigration

A resident's permit is required to live in the Islands. A

work permit and business license are also required to

work and/or establish a business. These are generally

granted to those offering skills, experience, and qualifications

not widely available on the Islands. Priority is given

to enterprises that will provide employment and training

for T&C Islanders.

Government/Legal system

TCI is a British Crown colony. There is a Queen-appointed

Governor, HE Dr. John Freeman. He presides over an executive

council formed by the elected local government.

Lady Sharlene Cartwright-Robinson is the country's first

woman premier, leading a majority People's Democratic

Movement (PDM) House of Assembly.

The legal system is based upon English Common

Law and administered by a resident Chief Justice, Chief

Magistrate, and Deputy Magistrates. Judges of the Court

of Appeal visit the Islands twice a year and there is a final

Right of Appeal to Her Majesty's Privy Council in London.

Taxes

There are currently no direct taxes on either income

or capital for individuals or companies. There are no

exchange controls. Indirect taxation comprises customs

duties and fees, stamp duty, taxes on accommodations,

restaurants, vehicle rentals, other services and gasoline,

as well as business license fees and departure taxes.

78 www.timespub.tc
---
Economy

Historically, TCI's economy relied on the export of

salt. Currently, tourism, the offshore finance industry,

and fishing generate the most private sector income.

The Islands' main exports are lobster and conch, with

the world's first commercial conch farm operating on

Providenciales. Practically all consumer goods and foodstuffs

are imported.

The Turks & Caicos Islands are recognised as an

important offshore financial centre, offering services

such as company formation, offshore insurance, banking,

trusts, limited partnerships, and limited life companies.

The Financial Services Commission regulates the industry

and spearheads the development of offshore legislation.

People

Citizens of the Turks & Caicos Islands are termed

"Belongers" and are primarily descendants of African

slaves who were brought to the Islands to work on the

salt ponds and cotton plantations. The country's large

expatriate population includes Canadians, Americans,

Brits and Europeans, along with Haitians, Jamaicans,

Dominicans, Bahamians, Indians, and Filipinos.

Churches

Churches are the center of community life and there

are many faiths represented in the Islands, including:

Adventist, Anglican, Assembly of God, Baha'i,

Baptist, Catholic, Church of God of Prophecy, Episcopal,

Faith Tabernacle Church of God, Jehovah's Witnesses,

Methodist and Pentecostal. Visitors are always welcome.

Pets

Incoming pets must have an import permit, veterinary

health certificate, vaccination certificate, and lab test

results to be submitted at the port of entry to obtain

clearance from the TCI Department of Agriculture, Animal

Health Services.

National symbols

The National Bird is the Brown pelican (Pelecanus occidentalis).

The National Plant is Island heather (Limonium

bahamense) found nowhere else in the world. The

National Tree is the Caribbean pine (Pinus caribaea var.

bahamensis). The National Costume consists of white cotton

dresses tied at the waist for women and simple shirts

and loose pants for men, with straw hats. Colors representing

the various islands are displayed on the sleeves

and bases. The National Song is "This Land of Ours," by

urgent care • family medicine

URGENT CARE

WALK-IN CLINIC

AND WELLNESS CENTRE

• • •

(649) 941-5252

on site pharmacy

located adjacent graceway gourmet

Focused on the patient

The way medicine should be practiced

twr ad Times Fall 1/4_Layout 1 8/11/17 7:12 PM Page 1

Tradewinds Radio

on the dial at FM104.5

104.5

Enjoy.

THE SOUND OF THE TROPICS

Call 431 7527

Times of the Islands Winter 2017/18 79
---
㈀ 㠀

吀 甀 爀 欀 猀 愀 渀 搀 䌀 愀 椀 挀 漀 猀 刀 攀 猀 攀 爀 瘀 愀 琀 椀 漀 渀 猀 椀 猀 礀 漀 甀 爀 洀 漀 猀 琀 甀 瀀 搀 愀 琀 攀 搀

爀 攀 猀 漀 甀 爀 挀 攀 Ⰰ 愀 渀 搀 戀 攀 猀 琀 瀀 氀 愀 挀 攀 琀 漀 最 攀 琀 最 爀 攀 愀 琀 搀 攀 愀 氀 猀 愀 渀 搀 椀 猀 氀 愀 渀 搀 搀 椀 猀 挀 漀 甀 渀 琀 猀 ℀

䄀 爀 攀 礀 漀 甀 愀 䰀 甀 砀 甀 爀 礀 吀 爀 愀 瘀 攀 氀 䄀 搀 瘀 椀 猀 漀 爀 㼀 䘀 椀 渀 搀 漀 甀 琀 洀 漀 爀 攀

愀 戀 漀 甀 琀 漀 甀 爀 渀 攀 眀 猀 攀 爀 瘀 椀 挀 攀 ᰠ 䰀 甀 砀 甀 爀 礀 䔀 砀 瀀 攀 爀 椀 攀 渀 挀 攀 猀 ᴠ

the late Rev. E.C. Howell, PhD. Peas and Hominy (Grits)

with Dry Conch is revered as symbolic island fare.

Going green

TCI Waste Disposal Services currently offers recycling services

through weekly collection of recyclable aluminum,

glass, and plastic. The TCI Environmental Club is spearheading

a campaign to eliminate single-use plastic bags.

Do your part by using a cloth bag whenever possible.

Keep TCI "Beautiful by Nature" by not littering!

Recreation

Sporting activities are centered around the water. Visitors

can choose from deep-sea, reef, or bonefishing, sailing,

glass-bottom boat and semi-sub excursions, windsurfing,

waterskiing, parasailing, sea kayaking, snorkelling,

scuba diving, kiteboarding, stand up paddleboarding,

and beachcombing. Pristine reefs, abundant marine life,

and excellent visibility make TCI a world-class diving

destination. Tennis and golf—there is an eighteen hole

championship course on Providenciales—are also popular.

The Islands are an ecotourist's paradise. Visitors can

enjoy unspoilt wilderness and native flora and fauna in

thirty-three national parks, nature reserves, sanctuaries,

and areas of historical interest. The National Trust

provides trail guides to several hiking trails, as well as

guided tours of major historical sites. There is an excellent

national museum on Grand Turk, with an auxillary

branch on Providenciales. A scheduled ferry and a selection

of tour operators make it easy to take day trips to the

outer islands.

Other land-based activities include bicycling, horseback

riding, and football (soccer). Personal trainers are

available to motivate you, working out of several fitness

centres. You will also find a variety of spa and body treatment

services.

Nightlife includes local bands playing island music

at bars and restaurants and some nightclubs. There is

a casino on Providenciales, along with many electronic

gaming parlours. Stargazing is extraordinary!

Shoppers will find Caribbean paintings, T-shirts,

sports and beachwear, and locally made handicrafts,

including straw work and conch crafts. Duty free outlets

sell liquor, jewellery, watches, perfume, leather goods,

crystal, china, cameras, electronics, brand-name clothing

and accessories, along with Cuban cigars. a

80 www.timespub.tc
---
where to stay

In the wake of Hurricanes Irma and Maria, especially on the Islands

beyond Providenciales, be sure to confirm that the property is open

prior to making travel plans.

Grand Turk

range of daily rates

US$ (subject to change)

number of units

major credit cards

restaurant

bar

air conditioning

phone in unit

television in unit

kitchen in unit

laundry service

pool

on the beach

H

The Arches of Grand Turk – Tel 649 946 2941 190–210 4 • • • • • • •

Bohio Dive Resort – Tel 649 946 2135 • Web www.bohioresort.com 170–230 16 • • • • • • • •

Crabtree Apartments – Tel 978 270 1698 • Web www.GrandTurkVacationRental.com 210–250 3 • • • • • •

Grand Turk Inn – Tel 649 946 2827 • Web www.grandturkinn.com 250–300 5 • • • • • • •

Island House – Tel 649 946 1519/232 5514 • Web www.islandhouse.tc 110–185 8 • • • • • • •

Manta House – Tel 649 946 1111 • Web www.grandturk-mantahouse.com 110–130 5 • • • • • • •

Osprey Beach Hotel – Tel 649 946 2666 • Web www.ospreybeachhotel.com 90–225 37 • • • • • • • • • •

Pelican House – Tel 649 246 6797 • Web www.pelicanhousegrandturk.com 110-130 3 • • • • •

Salt Raker Inn – Tel 649 946 2260 • Web www.saltrakerinn.com 55–140 13 • • • • • • •

Solomon Porches Guesthouse – Tel 649 946 2776/241 2937 • Fax 649 946 1984 75–100 3 • •

Middle Caicos

H

Blue Horizon Resort – Tel 649 946 6141 • Web bhresort.com 265–400 7 • • • • • • • • •

North Caicos

H

Bottle Creek Lodge – Tel 649 946 7080 • Web www.bottlecreeklodge.com 155–240 3 • •

Caicos Beach Condominiums – Tel 649 241 4778/786 338 9264 • Web www.caicosbeachcondos.com 159–299 8 • • • • • • • •

Cedar Palms Suites – Tel 649 946 7113/649 244 4186 • Web www.oceanbeach.tc 250–300 3 • • • • • • • • •

Flamingo's Nest – Tel 649 946 7113/649 244 4186 • Web www.oceanbeach.tc 175–340 2 • • • • • • • •

Hollywood Beach Suites - Tel 800 551 2256/649 231 1020 • Web www.hollywoodbeachsuites.com 200–235 4 • • • • • •

JoAnne's Bed & Breakfast - Tel 649 946 7301 • Web www.turksandcaicos.tc/joannesbnb 80–120 4 • • • •

Palmetto Villa – Tel 649 946 7113/649 244 4186 • Web www.oceanbeach.tc 225–250 1 • • • • • • • •

Pelican Beach Hotel - Tel 649 946 7112/877 774 5486 • Web www.pelicanbeach.tc 125–165 14 • • • • • • • •

Pine Cay

H

The Meridian Club - Tel 649 946 7758/866 286 7993 • Web www.meridianclub.com 800–1300 13 • • • • • • •

Parrot Cay

H

COMO Parrot Cay Resort & Spa - Tel 649 946 7788/855 PARROTCAY • Web www.parrotcay.com 550–2850 65 • • • • • • • • • •

Providenciales

G

G

H

H

H

H

H

H

H

H

H

H

H

H

H

H

H

H

H

Airport Inn – Tel 649 941 3514 • Web www.airportinntci.com. 140 18 • • • • • • •

The Alexandra Resort & Spa – Tel 800 704 9424/649 946 5807 • Web www.alexandraresort.com 280–420 99 • • • • • • • • •

The Atrium Resort – Tel 888 592 7885/649 333 0101 • Web www.theatriumresorttci.com 159–410 30 • • • • • • • •

Amanyara – Tel 866 941 8133/649 941 8133 • Web www.aman.com 1000–2100 73 • • • • • • • •

Aquamarine Beach Houses – Tel 649 231 4535/905 556 0278 • www.aquamarinebeachhouses.com 200–850 24 • • • • • • • •

Beaches Resort Villages & Spa – Tel 888-BEACHES/649 946 8000 • Web www.beaches.com 325–390AI 758 • • • • • • • • •

Beach House Turks & Caicos – Tel 649 946 5800 • Web www.beachchousetci.com 532–638 21 • • • • • • • • • •

BE Beach Enclave – Tel 888 434 3981 • Web www.beachenclave.com see web 24 • • • • • • • •

Blue Haven Resort & Marina – Tel 855 832 7667/649 946 9900 • Web www.bluehaventci.com 250–650 51 • • • • • • • • • •

Caribbean Paradise Inn – Tel 649 946 5020 • Web www.caribbeanparadiseinn.com 162–225 17 • • • • • • • •

Club Med Turkoise – Tel 800 258 2633/649 946 5500 • Web www.clubmed.com 120–225 290 • • • • • • • • •

Coral Gardens on Grace Bay – Tel 649 941 3713/800 532 8536 • Web www.coralgardens.com 199-449 32 • • • • • • • • • •

Gansevoort Turks + Caicos – Tel 888 844 5986/649 941 7555 • Web www.gansevoorttc.com 315–720 91 • • • • • • • • • •

Grace Bay Club - Tel 800 946 5757/649 946 5050 • Web www.gracebayclub.com 650–1750 75 • • • • • • • • • •

Grace Bay Suites – Tel 649 941 7447 • Web www.GraceBaySuites.com 99–195 24 • • • • • • • •

Harbour Club Villas – Tel 649 941 5748/305 434 8568 • Web www.harbourclubvillas.com 210–240 6 • • • • •

The Inn at Grace Bay – Tel 649 432 8633 • Web www.innatgracebay.com 179–379 48 • • • • • • •

Kokomo Botanical Gardens - Tel 649 941 3121• Web www.aliveandwellresorts.com 169–299 16 • • • • •

Le Vele - Tel 649 941 8800/888 272 4406 • Web www.leveleresort.com 303–630 22 • • • • • • • •

La Vista Azul – Tel 649 946 8522/866 519 9618 • Web www.lvaresort.com 215–375 78 • • • • • • •

The Lodgings – Tel 649 941 8107/242 6722 • Web www.hotelturksandcaicos.com 175–255 15 • • • • • •

Neptune Villas – Tel 649 331 4328 • Web www.neptunevillastci.com 150–400 10 • • • • • • • • •

Northwest Point Resort • Tel 649 941 5133 • Web www.northwestpointresort.com 196–550 49 • • • • • • • • • •

Ocean Club Resorts - Tel 800 457 8787/649 946 5880 • Web www.oceanclubresorts.com 180–690 191 • • • • • • • • • •

The Palms Turks & Caicos – Tel 649 946 8666/866 877 7256 • Web thepalmstc.com 595–1700 72 • • • • • • • • • •

Times of the Islands Winter 2017/18 81
---
H

H

H

H

H

H

H

H

H

H

H

H

H

H

H

H

H

where to stay

range of daily rates

US$ (subject to change)

number of units

major credit cards

restaurant

bar

air conditioning

phone in unit

television in unit

kitchen in unit

laundry service

pool

on the beach

Providenciales (continued)

Pelican Nest Villa – Tel 649 342 5731 • Web www.pelicannest.tc 429–857 2 • • • • • •

Point Grace – Tel 649 946 5096/888 209 5582 • Web www.pointgrace.com 424–1515 27 • • • • • • • • • •

Ports of Call Resort – Tel 888 678 3483/649 946 8888 • Web www.portsofcallresort.com 135–210 99 • • • • • • •

Queen Angel Resort – Tel 649 941 8771 • Web www.queenangelresort.com 150–575 56 • • • • • • • • •

Reef Residence at Grace Bay – Tel 800 532 8536 • Web www.reefresidence.com 275-385 24 • • • • • • •

The Regent Grand – Tel 877 288 3206/649 941 7770 • Web www.theregentgrand.com 495–1100 50 • • • • • • • • •

Royal West Indies Resort – Tel 800 332 4203/649 946 5004 • Web www.royalwestindies.com 180–695 92 • • • • • • • • • •

The Sands at Grace Bay – Tel 877 777 2637/649 946 5199 • Web www.thesandsresort.com 175–675 116 • • • • • • • • • •

Seven Stars Resort & Spa – Tel 866 570 7777/649 333 7777 – Web www.sevenstarsgracebay.com 365–2400 165 • • • • • • • • • •

The Shore Club – Tel 649 339 8000 – Web www.theshoreclubtc.com 465–4650 148 • • • • • • • • • •

Sibonné Beach Hotel – Tel 888 570 2861/649 946 5547 • Web www.sibonne.com 110–375 29 • • • • • • • •

The Somerset on Grace Bay – Tel 649 339 5900/888 386 8770 • Web www.thesomerset.com 350–1300 53 • • • • • • • • • •

Turtle Cove Inn – Tel 800 887 0477/649 946 4203 • Web www.turtlecoveinn.com 85–180 30 • • • • • • • •

The Tuscany – Tel 866 359 6466/649 941 4667 • Web www.thetuscanyresort.com 975–1300 30 • • • • • • • •

The Venetian – Tel 877 277 4793/649 941 3512 • Web www.thevenetiangracebay.com 695–1175 27 • • • • • • • •

Villa del Mar – Tel 877 345 4890/649 941 5160 • Web www.yourvilladelmar.com 190–440 42 • • • • • • •

Villa Mani – Tel 649 431 4444 • Web www.villamanitci.com See Web/AE 6 • • • • • • •

Villa Renaissance - Tel 649 941 5300/877 285 8764 • Web www.villarenaissance.com 295–650 36 • • • • • • • • •

The Villas at Blue Mountain – Tel 649 941 4255 • Web www.villasatbluemountain.com 1200–2500 3 • • • • • • • •

West Bay Club – Tel 855 749 5750/649 946 8550 • Web www.thewestbayclub.com 235–1163 46 • • • • • • • • • •

Windsong – Tel 649 333 7700/800 WINDSONG • Web www.windsongresort.com 275–925 50 • • • • • • • • •

The Yacht Club – Tel 649 946 4656 • Web www.yachtclubtci.com 250–350 52 • • • • • • •

Salt Cay

Castaway – Salt Cay – Tel 772 713 9502 • Web www.castawayonsaltcay.com 175–265 4 • • • • •

Genesis Beach House – Tel 561 502 0901 • Web www.Genesisbeachhouse.com 1000–1200W 4 • • • • •

Pirate's Hideaway B & B – Tel 800 289 5056/649 946 6909 • Web www.saltcay.tc 165–175 4 • • • • • • •

Salt Cay Beach House – Tel 772 713 9502 • Web www.saltcaybeachhouse.blogspot.com 799W 1 • • • • • •

Trade Winds Lodge – Tel 649 232 1009 • Web www.tradewinds.tc 925–1325W 5 • • • • •

Twilight Zone Cottage – Tel 772 713 9502 • Web www.twilightzonecottage.blogspot.com 499W 1 • • • •

The Villas of Salt Cay – Tel 772 713 9502 • Web www.villasofsaltcay.com 150–475 5 • • • • • • • •

H

H

H

G

South Caicos

East Bay Resort – Tel 844 260 8328/649 232 6444 • Web eastbayresort.com 198–1775 86 • • • • • • • • • •

Sailrock South Caicos – Tel 800 929 7197 • Web sailrockresortcom 600–800 6 • • • • • • • • •

South Caicos Ocean & Beach Resort – Tel 877 774 5486/649 946 3219

Web southcaicos.oceanandbeachresort.com 120–275 24 • • • • •

Hotel & Tourism Association Member

Green Globe Certified

Rates (listed for doubles) do not include Government Accommodation Tax and Service Charge

82 www.timespub.tc
---
dining out – providenciales

Amanyara — Amanyara Resort. Tel: 941-8133. Light gourmet

cuisine with menu changing daily. Open 6 to 10 PM.

Angela's Top O' The Cove Deli — Suzie Turn, by NAPA.

Tel: 946-4694. New York-style delicatessen. Eat-in, carry-out,

catering. Open daily 7 AM to 5 PM; Sunday 7 AM to 2 PM.

Asú on the Beach — Alexandra Resort. Tel: 941-8888. Casual

Caribbean and popular international fare. Open daily for 7:30

AM to 10:30 PM. Service indoors, poolside, and at beach.

Baci Ristorante — Harbour Towne, Turtle Cove. Tel: 941-3044.

Waterfront Italian dining. Brick oven pizza. Popular bar. Open

for lunch Monday to Friday 12 to 2 PM and dinner nightly from

6 to 10 PM. Closed Sunday.

Bay Bistro — Sibonné Beach Hotel. Tel: 946-5396. Oceanfront

dining featuring creative international cuisine. Open daily

7 AM to 10 PM. Weekend brunch. Catering and special events.

Beaches Resort & Spa — The Bight. Tel: 946-8000.

All-inclusive resort. A variety of restaurants and bars on premises.

Non-guests can purchase a pass.

Bella Luna Ristorante — Glass House, Grace Bay Road. Tel:

946-5214. Fine Italian dining. Indoor or terrace seating above

tropical garden. Open daily from 5:30 PM. Closed Sunday. Lunch

and pizza in the garden. Private catering available.

Big Al's Island Grill — Salt Mills Plaza. Tel: 941-3797. Wide

selection of burgers, steaks, salads, and wraps in a diner-like

setting. Open daily from 11 AM to 10 PM.

Bugaloo's Conch Crawl — Five Cays. Tel: 941-3863. Fresh

local conch and seafood by the beach. Rum, buckets of beer,

live local bands. Open daily from 11 AM to late.

Cabana Beach Bar & Grill — Ocean Club. Tel: 946-5880.

Casual island fare, burgers, salads, snacks. Open daily from

7 AM to 10 PM. Tropical cocktails with a view of the sea.

Caicos Bakery — Caicos Café Plaza. Authentic French boulangerie.

Fresh-baked breads, rolls, croissants, muffins, quiche,

pastries, cakes. Open 7 AM to 4:30 PM daily except Sunday.

Caicos Café — Caicos Café Plaza. Tel: 946-5278.

Mediterranean specialties, grilled local seafood. Fine wines, dining

on the deck. Open 6 PM to 10 PM Monday to Saturday.

The Caravel Restaurant — Grace Bay Court. Tel: 941-5330.

Cozy restaurant offering island food with flair; famous for fish

tacos. Full bar. Open daily 5 to 10 PM, closed Thursday.

Chicken Chicken — Times Square, downtown Provo. Fast food,

fried chicken, native fare.

Chinson's Grill Shack — Leeward Highway. Tel: 941-3533.

The Islands' best jerk and barbecue, Jamaican pastries. Open

daily 8 AM to 10 PM; Friday to Midnight.

Chopsticks — Neptune Court. Tel: 333-4040. Fusion of Asian

cuisines. Take-away, delivery, on-site dining. Open daily 11:30

AM to 3 PM; 5:30 to 10:00 PM.

Club Med — Grace Bay Road. Tel: 946-5500. All-inclusive

resort. Buffet-style dining; live show and disco in the evenings.

Non-guests can purchase a daily pass.

Coco Bistro — Grace Bay Road. Tel: 946-5369. Continental

Caribbean cuisine by Chef Stuart Gray under a canopy of palms.

Serving dinner from 5:30 PM. Closed Monday. Look for the new

Cocovan airstream lounge with garden seating or take-away.

Coconut Grove Restaurant & Lounge — Olympic Plaza,

Downtown. Tel: 247-5610. Casual native fare for residents and

tourists. Cracked conch, conch fritters, fried fish. Pool and game

room. Open daily 11 AM to 10 PM.

Coyaba Restaurant — Caribbean Paradise Inn. Tel: 946-5186.

Contemporary Caribbean gourmet cuisine in a private tropical

garden setting. Extensive wine list. Dinner nightly from 6 to 10

PM. Closed Tuesday. Reservations recommended.

Crackpot Kitchen — Ports of Call. Tel: 2313336. Experience

the best of authentic Turks & Caicos and Caribbean cuisines

with local celebrity Chef Nik. Open daily 5 to 10 PM except

Thursday; Happy Hour 5 to 7 PM.

Crust Bakery & Café — Graceway IGA. Tel: 941-8724.

Breakfast sandwiches, specialty coffees, soups, salads, gourmet

sandwiches and desserts. Open Monday to Saturday, 7 AM to

8:30 PM. Covered patio dining or take-out. Catering available.

Da Conch Shack & RumBar — Blue Hills. Tel: 946-8877.

Island-fresh seafood from the ocean to your plate. Covered

beachfront dining for lunch and dinner daily from 11 AM.

Danny Buoy's — Grace Bay Road. Tel: 946-5921. Traditional

American pub fare; imported draught beers. Open for lunch and

dinner daily from 11 AM. Happy Hour specials. Large screen TVs

for sporting events. Karaoke.

The Deck — Seven Stars Resort. Tel: 941-7777. All day dining

and cocktails by the water's edge. Open daily 11 AM to 11 PM.

Live music Friday nights.

Drift — West Bay Club. Tel: 946-8550. Open-air beachfront dining.

Creatively used local ingredients. Full bar. Open daily.

Dune — Windsong Resort. Tel: 333-7700. Private beachfront

dining with limited availability. Fresh fare prepared to perfection.

Open daily.

Element — LeVele Plaza. Tel: 348-6424. Contemporary, creative

cuisine in an elegant setting. Open for dinner Friday to

Wednesday 6:30 to 10:30 PM.

Fairways Bar & Grill — Provo Golf Club. Tel: 946-5833. Dine

overlooking the "greens." Open for breakfast and lunch from 7

AM to 4 PM daily; Friday, Saturday and Sunday open until 8 PM.

Great Sunday brunch 9 AM to 3 PM.

Fire & Ice — Blue Haven Resort & Marina. Tel: 946-9900.

Drinks at the Ice Bar, dessert by the fire pits. South Americanmeets-Caribbean

flavors and spices. Open daily 5:30 to 9:30

PM. Closed Wednesday.

Fresh Bakery & Bistro — Atrium Resort. Tel: 345-4745.

Healthy European salads, soups, sandwiches, bakery, pies and

cakes. Gelato. Open daily 7 AM to 6 PM, closed Sunday.

Fresh Catch — Salt Mills Plaza. Tel: 243-3167. Authentic native

cuisine, from seafood to souse. All-you-can-eat seafood buffet

on Wednesday. Open daily 8 AM to 10 PM. Closed Sunday.

Carry-out available.

Garam Masala — Regent Village. Tel: 941-3292. Authentic

Indian cuisine, tandoori charcoal-oven specialties. Open daily

11:30 AM to 3 PM, 5:30 to 10 PM. Dine-in, take-out or delivery.

Giggles Ice Cream & Candy Parlour — Ports of Call &

Williams Storage. Tel: 941-7370. Cones, sundaes, shakes,

smoothies, "Gigglers," ice cream pies and cakes. Pick 'n' mix

candies. Open daily 11 AM to 10 PM.

Gilley's Sky Lounge & Bar — At the airport. Tel: 946-4472.

Burgers, sandwiches, local food. Open daily 6 AM to 9 PM.

Grace's Cottage — Point Grace Resort. Tel: 946-5096.

Elegant, gourmet Caribbean cuisine showcasing regional foods.

Extensive wine list. Gazebo seating under the stars or indoor

Times of the Islands Winter 2017/18 83
---
dining in a romantic gingerbread cottage. Serving dinner from

6 to 10 PM nightly. Reservations required. Native cuisine night

on Tuesday with live music.

Grill Rouge — Grace Bay Club. Tel: 946-5050. Al fresco bistro.

Diverse menu. Fun cocktails. Open daily for lunch Noon to 3 PM,

dinner to 9 PM.

Hemingways on the Beach — The Sands at Grace Bay. Tel:

941-8408. Casual beachfront bar and restaurant. Fresh fish,

pasta, sandwiches, salads and tropical drinks by the pool.

Oceanfront deck for great sunsets! Open 8 AM to 10 PM daily.

Hole in the Wall Restaurant & Bar — Williams Plaza, Old

Airport Road. Tel: 941-4136. Authentic Jamaican/Island cuisine

where the locals go. Full bar. A/C dining or outdoors on the

deck. Open daily 7 AM to 9 PM. Pick-up/delivery available.

Infiniti Restaurant & Raw Bar — Grace Bay Club. Tel: 946-

5050. Elegant beachfront dining for lunch and dinner. Gourmet

Euro/Caribbean cuisine; fine wines. Full bar and lounge.

Reservations required.

Island Boochery — Le Petite Plaza. Tel: 348-7027. Vegan

lifestyle kitchen, offering fresh, organic, raw, vegan, gourmet.

Open daily 10 AM to 6 PM; Saturday 10 AM to 2 PM.

Island Conch Bar & Grill — Bight Cultural Market. Tel: 946-

8389. Caribbean and local cuisine. Open daily 11 AM to 9 PM.

Island Scoop — Grace Bay Plaza. Tel: 242-8511/243-5051.

21 flavors of ice cream made locally. Cones, smoothies, blizzards

and shakes. Open daily, 11 AM to 10 PM.

The Java Bar — Graceway Gourmet. Tel: 941-5000. Gourmet

café serving fresh baked desserts, sandwiches and coffee

delights. Open 7 AM to 8 PM daily.

Jimmy's Dive Bar — Ports of Call. Tel: 946-5282. The place for

steaks, BBQ, booze and breakfast. Open daily, 7 AM to 11 PM,

(Thursday to Saturday to Midnight); open Sunday at 8 AM.

KItchen 218 — Beach House, Lower Bight Road. Tel: 946-5800.

Caribbean cuisine with hints of French and Asian fusion and the

chef's passion for fresh ingredients. Open 8 AM to 10 PM daily.

The Landing Bar & Kitchen — Grace Bay Road across from

Regent Village. Tel: 341-5856. Unique nautical setting for dinner

under the stars. Cocktails, fire pit. Open daily except Tuesday

5:30 PM to . . .

Las Brisas — Neptune Villas, Chalk Sound. Tel: 946-5306.

Mediterranean/Caribbean cuisine with tapas, wine and full bar.

Terrace, gazebo and inside dining overlooking Chalk Sound.

Open daily 8 AM to 10 PM. Take-out available; private parties.

Le Bouchon du Village — Regent Village. Tel: 946-5234. A

taste of Paris. Sidewalk café with sandwiches, salads, tartines,

tapas, dinner specials, wine, cheese, dessert, coffees. Open

daily 11 AM. Closed Sunday.

Le Comptoir Francais — Regent Village. Tel: 946-5234.

French deli, bakery, wine shop. Open daily.

Lemon 2 Go Coffee — Ventura House. Tel: 941-4069.

Gourmet coffeehouse. Sandwiches, muffins, cookies, croissants,

yogurt, salads. Open Monday to Saturday 7:30 AM to 7 PM,

Sunday 9 AM to 1 PM.

The Lounge — Grace Bay Club. Tel: 946-5050. Decidedly hip

lounge. Caribbean-infused tapas, martinis, tropical cocktails,

world music and the finest sunset location in Providenciales.

Lupo — Regent Village. Tel: 431-5876. Authentic Italian

"comfort food." Regional wine list. Dine in or take out readymade

gourmet meals. Open daily 11 AM to 3 PM; 6 to 10 PM.

Magnolia Restaurant & Wine Bar — Miramar Resort. Tel:

941-5108. International cuisine with island flavors, north shore

views. Open for dinner from 6 to 9:30 PM except Monday. Wine

bar opens at 4 PM.

Mango Reef — Turtle Cove. Tel: 946-8200. Fresh local flavors

and seafood, homemade desserts. Open daily 8 AM to 10 PM.

Set price dinner on weekdays. Waterside deck, indoor or patio

dining. Tie-up to dock at Turtle Cove Marina.

Market Café — Blue Haven Resort. Tel: 946-9900. Gourmet

coffees, teas, frozen drinks; fresh breads and pastries; grab 'n'

go salads, sandwiches, smoothies. Open daily 7 AM to 8 PM.

Melt Ice Cream Parlour — Regent Village. Tel: 432-1234.

Carefully crafted selection of sumptous and inspired sundaes,

with coffee, champagne and cocktails for the grown-ups! Open

Monday to Saturday, 9 AM to 10 PM.

Mis Amigos Cocina Mexicana — Central Square. Tel: 946-

4229. A variety of traditional Mexican fare, including salads and

the best margaritas in town. Open daily.

Mother's Pizza — Downtown Times Square. Tel: 941-4142.

Best pizza in the Turks & Caicos, available by the slice or the

island's biggest "large." Open daily 11 AM to 9 PM; to 10 PM on

Friday and Saturday; Noon to 8 PM on Sunday.

Mr. Groupers — Lower Bight and Sunset Ridge Hotel (near airport).

Tel: 242-6780. Serving fresh local seafood straight from

the sea. Open daily 10 AM to 10:30 PM, Sunday 3 to 11 PM.

Opus Wine • Bar • Grill — Ocean Club Plaza. Tel: 946-

5885. International menu with Caribbean flair. Fresh seafood.

Serving dinner nightly 6 to 10:30 PM. Indoor/outdoor dining.

Conference facility, events, catering.

Parallel23 — The Palms. Tel: 946-8666. Pan-tropical cuisine in

a setting of casual elegance. Boutique wine list. Al fresco or private

dining room available. Open daily 6 to 10:30 PM.

The Patty Place — Behind Shining Stars; Le Petit Place, Blue

Hills. Tel: 246-9000. Authentic Jamaican patties and loaves. 18

flavors of Devon House ice cream. Open daily 9:30 AM to 10 PM.

Pavilion — The Somerset. Tel: 339-5900. Chef Brad offers a

global palate, interpreted locally. Seafood raw bar. Open daily

for breakfast, lunch, dinner; Sunday Prime Rib special.

Pelican Bay Restaurant & Bar — Royal West Indies Resort.

Tel: 941-2365/431-9101. Poolside restaurant and bar with

Caribbean, French and Asian fare. Breakfast, lunch, dinner daily

from 7:30 AM to 10 PM. Special events each week.

Pepper Town Café — Digicel Cinema, #4. Tel: 246-9237.

Native and Caribbean Dishes. Open daily except Sunday 11:30

AM to 7 PM. Island breakfast on Saturday at 7 AM.

Pizza Pizza — Grace Bay Plaza/Cinema Plaza. Tel: 941-

8010/941-3577. New York style specialty pizzas. Open daily

11:30 AM to 9:30 PM, weekends until 10 PM. Free delivery.

Retreat Kitchen Vegetarian Café & Juice Bar — Ports of

Call. Tel: 432-2485. Fresh, organic, vegan fare. Fresh juices,

daily lunch specials. Open for lunch Monday to Saturday.

Rickie's Flamingo Café — Between Ocean Club and Club Med.

Tel: 244-3231. Local fare and atmosphere right on the beach.

Best grouper sandwich and rum punch! Don't miss Curry Fridays

and Beach BBQ Saturdays.

Sailing Paradise — Blue Hills. Tel: 344-1914. Casual beachfront

restaurant and bar. Caribbean fare. Open daily 7 AM to 11

PM. Sunday brunch and beach party, daily happy hour.

Salt Bar & Grill — Blue Haven Resort & Marina. Tel: 946-9900.

Casual dining with outdoor seating overlooking the marina.

Sandwiches, burgers and salads, classic bar favorites with local

flair. Open daily from 11:30 AM to 9:30 PM.

Seven — Seven Stars Resort. Tel: 339-7777. Elevated contempo-

84 www.timespub.tc
---
ary cuisine fused with TCI tradition. Open Monday to Saturday,

5:30 to 9:30 PM.

72ºWest — The Palms Resort. Tel: 946-8666. Beachside dining

with a family-friendly, Caribbean-inspired menu. Serving lunch

daily; dinner seasonally.

Sharkbite Bar & Grill — Admiral's Club at Turtle Cove. Tel:

941-5090. Varied menu; casual dining. Sports bar/slots. Open

daily from 11 AM to 2 AM.

Shay Café — Le Vele Plaza. Tel: 331-6349. Offering organic

coffees, teas, sandwiches, salads, soup, pastries, gelato, sorbetto,

smoothies, beer and wine. Open daily 7 AM to 7 PM.

Simone's Bar & Grill — La Vista Azul. Tel: 331-3031. Serving

fresh seafood and local cuisine. Open daily 11 AM to 11 PM;

weekends 7 AM to 11 PM. Popular bar!

Solana! Restaurant — Ocean Club West. Tel: 946-5254.

Oceanfront dining from sushi to burgers. Teppanyaki and Sushi

Bar, engage with the chefs. Open daily 7:30 AM to 10 PM.

Somewhere Café & Lounge — Coral Gardens Resort. Tel:

941-8260. Casual dining with Tex-Mex flair right on the beach.

Cocktails, beers, specialty drinks. Open early to late daily.

Stelle — Gansevoort Turks + Caicos. Tel: 232-4444. Modern

Mediterranean cuisine featuring fresh fish and seafood. Open 6

to 10 PM daily, until 2 AM on Friday with DJ.

Sui-Ren — The Shore Club. Tel: 339-8000. Inspired flavors of

Peruvian-Japanese fusion cuisine with fresh seafood and organic

produce in a unique setting. Open daily.

Thai Orchid — The Regent Village. Tel: 946-4491. Authentic

Thai cuisine; over 60 choices! Dine in or carry out. Open for

lunch and dinner daily.

Three Brothers Restaurant — Town Center Mall, Downtown.

Tel: 232-4736. Seafood and native cuisine. Tuesday night buffet

dinner. Catering services. Open daily, 7 AM to 10 PM.

Tiki Hut Island Eatery — Dockside at Turtle Cove Inn. Tel:

941-5341. Imaginative sandwiches, salads, seafood, Black

Angus beef, pasta, pizzas, fresh fish. Open daily 11 AM to 10

PM. Breakfast on weekends.

Turkberry Frozen Yogurt — The Saltmills. Tel: 431-2233.

Frozen yogurt in a variety of flavors, with a large selection of

toppings. Open 11 AM to 11 PM daily.

Turks Kebab — At Craft Market on Sand Castle Drive. Tel: 431-

9964. Turkish and Mediterranean fare. Salads, falafel, gyros,

kebabs, hummus. Open for lunch and dinner.

Via Veneto — Ports of Call. Tel: 941-2372. Authentic Italian

dining in a stylish indoor/outdoor venue. Open from 5:30 PM to

late. Closed Thursday. Saturday is Pizza Night!

The Vix Bar & Grill — Regent Village. Tel: 941-4144. Highend,

island-inspired world cuisine, fine wines. Open daily for

breakfast, lunch and dinner. Available for meetings.

Yoshi's Sushi & Grill — The Saltmills. Tel: 941-3374/431-

0012. Sushi bar menu plus Japanese cuisine. Open daily Noon

to 3 PM; 6 to 10 PM. Closed Sunday. Dine indoors or out. Carry

out available.

Zest! — Gansevoort Turks + Caicos. Tel: 232-4444. Lunch and

dinner beachfront. Taste of the Caribbean and Americas. Open

daily Noon to 5 PM; 6 to 9 PM. Fisherman's night Wednesday. a

subscription form

VISIT WWW.TIMESPUB.TC TO VIEW CURRENT ISSUE ON-LINE!

TIMES

OF THE

ISLANDS

SAMPLING THE SOUL OF THE TURKS & CAICOS ISLANDS

One year subscription

$28 U.S. addresses/$32 non-U.S. addresses

Name____________________________________________________________________

Date ____________________

Address__________________________________________________________________

City _____________________________________________________________________

State/Province____________________________________________________________

Country/Postal Code_____________________________________________________

E-mail address (not required)_____________________________________________

r New Subscription r Renewal

r U.S. Cheque/M.O. enclosed

Mail with payment to:

Times Publications Ltd., c/o Kathy Borsuk,

247 Holmes Ave., Clarendon Hills, IL 60514

Please allow 30 to 60 days for delivery of first issue.

Times of the Islands Winter 2017/18 85
---
classified ads

Forbes Classified A 2017_Layout 1 8/3/17 4:05 PM GBC2017_Layout Pag 1 2/16/17 9:10 AM Page 1

"Go Beyond Provo"

Find your dream property on North Caicos,

Middle Caicos, Salt Cay or Pine Cay.

Call or email us today!

Grace Bay Road across from Regent Street

Fun Friendly People

Yana ad May2017_Caicu Naniki classified 5/28/17 7:29 PM Page 1

Appreciating Your Business!

941-8500

www.gracebaycarrentals.com

JEEPS • VANS • SUVs

SCOOTERS • BICYCLES

DEPENDABLE SERVICE

Economical 5 Day Package

EASY • FUN • AFFORDABLE

FREE PICK-UP & DROP-OFF

Mon to Sat 8-5 and Sun 8-12

TURTLE COVE MARINA

946-4684 • Cell Phone: 231-0262

www.ScooterBobTCI.com

e-mail: scooterbobs@gmail.com

Jana Pickova Lightbourne

Ultimate Massage

Experience

Spa Pure Bliss_Layout 1 11/7/17 10:20 AM Page 1

Tel: (649) 332-5974

Touch of Bliss_Layout 1 12/12/17 11:34 AM Page 1

MOBILE SPA & MASSAGE SERVICES

Professional & Luxurious

Services:

•Aromatherapy

•Synergy Massage

•Pregnancy Massage

•Deep Tissue Massage

•Pre/Post Surgery Massage

•Sports Massage

•Reflexology

•Facials •Body Scrub

•Pedicures •Manicures

pureblissmassages@yahoo.com

Ana: 649.348.5687 • Anisha: 649.343.8536

Coming to your

villa or house

at the time

that suits you

Natural • Herbal • Relaxing

Newly located at Caribbean Place

Turks & Caicos

VETERINARY

ASSOCIATION

649-946-4353

Caring for your pet as though

it were our own since 1981

SeaSwim change classified:Caicu Naniki classified

HertzDollar_Layout 1 2/16/17 Call•Email•WhatsApp

12:37 PM Page 1

We Come To You•Cash Only Skipper_Layout 1 2/16/17 11:36 PM Page 1

649.941.3910 649.946.4864

Call Us.

Whether it's for the largest variety of

vehicles, or the better prices and

greater service.

www.hertztci.com www.dollarcartci.com

Open 8am to 5pm 7 days.

Skipper's

TAXI & TOURS

Lloyd "Skipper" Stubbs

at your service

GATEMAN8@HOTMAIL.COM

PH: 649 241 9959

After hours call

Brigitte ad Classified_Brigitte 8/25/17 11:50 AM Page 1 PROVIDENCIALES,

Barry 332.0012 Patrice 332.8602 Sophia 331.9895

TURKS & CAICOS ISLANDS

Tangled Hair Salon

Open 6 days per week

for cutting, styling and so much more

Call 431 4247 (431 HAIR)

PORTS OF CALL PLAZA

www.tangledhairsalonprovidenciales.com

classified ads . . .

"One of the World's

Most Gorgeous Swims" -

The Daily News of Open

Water Swimming

SWIM RACING IN BEAUTIFUL,

TURQUOISE GRACE BAY,

JULY 7, 2018

"RACE FOR THE CONCH" ECO-SEASWIM

1/2 MILE, 1 MILE, AND 2.4 MILE EVENTS

(649) 432-5000

www.ecoseaswim.com

are an inexpensive way to reach Times of the Islands readers,

in the Turks & Caicos and around the world.

call 649 431 7527 for information

86 www.timespub.tc
---
LIVE WATERFRONT

Beach Enclave

International Drive

SOLD MLS 1400324

We all have dreams, and they are as vast and varied as the world is wide. But they all start with

inspiration, and inspiration starts with your surroundings. That's what home is.

Family. Friends. A sense of place. An amazing view.

It's all part of what makes a space a home, because your home is where you truly LIVE.

THE FINEST COLLECTION

Condominium | Home & Villa | Land | New Development

649.946.4474 | info@tcsothebysrealty.com | turksandcaicosSIR.com

Venture House, Grace Bay | Resort Locations: Grace Bay Club, The Palms, The Shore Club, The Sands

Each Sotheby's International Realty® office is independently owned and operated.