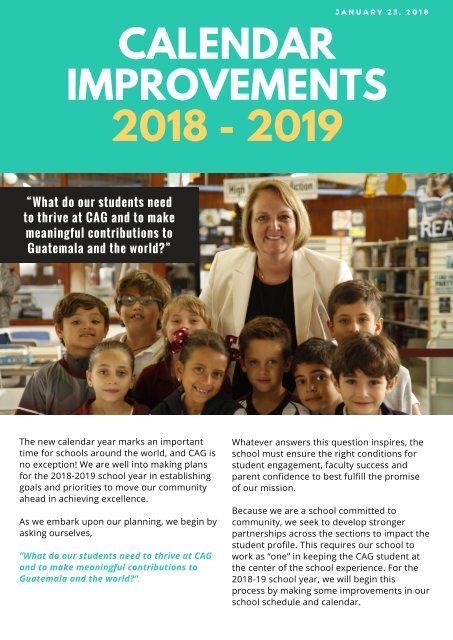 Calendar Improvements 2018 - 2019
Create successful ePaper yourself
Turn your PDF publications into a flip-book with our unique Google optimized e-Paper software.
J A N U A R Y 2 3 , 2 0 1 8

CALENDAR

IMPROVEMENTS

2018 - 2019

"What do our students need

to thrive at CAG and to make

meaningful contributions to

Guatemala and the world?"

The new calendar year marks an important

time for schools around the world, and CAG is

no exception! We are well into making plans

for the 2018-2019 school year in establishing

goals and priorities to move our community

ahead in achieving excellence.

As we embark upon our planning, we begin by

asking ourselves,

"What do our students need to thrive at CAG

and to make meaningful contributions to

Guatemala and the world?".

Whatever answers this question inspires, the

school must ensure the right conditions for

student engagement, faculty success and

parent confidence to best fulfill the promise

of our mission.

Because we are a school committed to

community, we seek to develop stronger

partnerships across the sections to impact the

student profile. This requires our school to

work as "one" in keeping the CAG student at

the center of the school experience. For the

2018-19 school year, we will begin this

process by making some improvements in our

school schedule and calendar.
---
SHARED DISMISSAL

GRADES K-12 WILL ENTER AT 7:30AM AND EXIT AT 2:00PM

MONDAY THROUGH FRIDAY.

The shared dismissal time supports schoolwide alignment, after school programming and

athletics, and also allows for faculty to maintain consistent office hours for students and

families, while also opens opportunity for shared facility use, planning and professional

development.

Currently, all sections share the same entry time, but stagger their exit times. The staggering of

time throughout the week does not add enough meaningful learning time for our older

students to make an impact on curriculum completion. Later dismissal times are also,

periodically, compromised for early school closings due to city traffic patterns or emergency

closings. Staggered dismissals also task school resources that can be best redirected to the

academic program.

Pre-Kindergarten will continue with the same 7:30am - 12:00pm schedule

MAXIMIZE CONTACT TIME

WE HAVE ELIMINATED 19 HALF DAYS FROM THE SCHOOL

CALENDAR AND REPLACED THEM WITH 12 FULL DAYS TO

MAKE SURE OUR STUDENTS BENEFIT FROM A 2:00PM

DISMISSAL.

In 2017-2018, we scheduled 19 half days

throughout the year. At times, these days were

staggered uniquely from one section to

another.

In 2018-2019, we have scheduled 6 half days for

Pre-K through 5th grade and 4 half days for

grades 6-12. With the exception of the first two

days of school in August 2018, the half days are

shared by ALL sections. To accommodate this

alignment in school reporting and

conferencing, all sections will function on a

trimester schedule.
---
OUR SCHOOL CALENDAR FOR NEXT

YEAR SCHEDULES 186 SCHOOL DAYS

These extra day are above Ministry requirements of 180 days

and afford us some flexibility if there are unplanned school

closings, special campus speakers or events for our students.

We will seek to use these days for instruction, however they will

also serve as buffers. Also, there is a direct correlation between

student success and time invested in the school schedule and

calendar.

A school that makes intentional efforts to build a predictable

and supportive schedule for students and teachers report

stronger school climate and higher levels of creative and

dynamic achievement. Since these are at the heart of the

school's mission, and the focal point of strategic planning, we

have found ways to balance the schedule and calendar for

increased contact time with less interruptions.

Below, is a general outline that includes some important comparisons for these improvements,

and for our families´ planning purposes, the last page includes the calendar outline. Once the

sections and the APM complete their event calendars for the year, we will post the complete

calendar online.

I want to extend a special thank you to the academic administration

and the faculty for supporting these changes and for keeping the

interest of the CAG child at the heart of all decisions.

As always, should you have any questions or concerns about

these changes, please feel free to contact my office or email

me at pmarshall@cag.edu.gt

In the tradition of Maroon and Gray,

Patricia Lee Marshall

General Director
---
INSTRUCTIONAL

HOURS

2017-2018 2018-2019

Daily Schedule Pre K:

12:00pm (Mon.-Fri.)

K-5:

2:00pm (Mon.-Fri.)

6-12:

2:00pm (Mon., Tues., Fri.)

3:00pm (Wed. and Thurs.)

Pre K:

12:00pm (Mon.-Fri.)

K-12:

2:00pm (Mon.-Fri.)

Total School Days

Full Days

Half Days

180 Days Planned

(179 Actual)

K - 5th: 164 Days

6 - 12: 161 Days

K - 5: 16 Half Days

6 -12: 19 Half Days

186 Days Planned

K - 5th: 180 Days

6 - 12: 182 Days

K - 5: 6 Half Days

6 -12: 4 Half Days

Total Annual Instructional

Hours

(180 Days, half/full

calculations)

Pre-K: 810

K-5: 1138

6-12: 1196.5

(186 Days, half/full

calculations)

Pre-K: 837 (186 Days)

K-5 1197

6-12: 1201

THE AMERICAN SCHOOL OF GUATEMALA

2018 - 2019 CALENDAR OUTLINE

Pre-K: 7:30am-12:00pm

K-12 School Schedule: 7:30am-2:00pm

Total School Days 2018-2019: 186

(Ministry of Education Requires 180)

Full Days EC/ES:

Half Days EC/ES:

Full Days MS/HS:

Half Days MS/HS:

Trimester 1, (Aug. 2-Nov. 9)

Trimester 2, (Nov. 12-March 1)

Trimester 3, (March 5-June 6)

180

6

182

4

63

62

61
---
2018 - 2019 CALENDAR OUTLINE

WE HAVE ADJUSTED VACATION TIME TO BETTER SUPPORT THE RHYTHMS OF THE

SCHOOL AND THE TRAVEL PATTERNS OF OUR CAG COMMUNITY.

21 School Days

A U G

THURSDAY, 2 OPENING DAY EC & ES Half Day, MS & HS Full Day

FRIDAY, 3

EC & ES Half Day, MS & HS Full Day

WEDNESDAY, 15 SCHOOL CLOSED Holiday

19 School Days

S E P

FRIDAY, 14

NO CLASSES

18 School Days

O C T

MONDAY, 14

TO FRIDAY, 19

NO CLASSES

Fall Recess

18 School Days

N O V

THU, 1 - FRI, 2 NO CLASSES

Holiday

FRIDAY, 9 HALF DAY ALL SCHOOL

End Trimester One

THU, 22 - FRI, 23 SCHOOL CLOSED Thanksgiving Break

9 School Days

D E C

THURSDAY, 13

FRIDAY, 14

TO MONDAY, 31

HALF DAY ALL SCHOOL

SCHOOL CLOSED

Last Day, Noche de Luces

Winter Recess

19 School Days

J A N

TUE, 1 - WED, 2

THU, 3 - FRI, 4

MONDAY, 7

SCHOOL CLOSED

NO CLASSES

ALL STUDENTS RETURN

20 School Days

F E B

N O H O L I D A Y S & N O H A L F D A Y S
---
2018 - 2019 CALENDAR OUTLINE

20 School Days

M A R

FRIDAY, 1 HALF DAY ALL SCHOOL End of Trimester 2

MONDAY, 4

SCHOOL CLOSED

17 School Days

A P R

MONDAY, 14

TO FRIDAY, 19

SCHOOL CLOSED

Semana Santa/Spring Break

21 School Days

M A Y

WEDNESDAY, 1 SCHOOL CLOSED Holiday

FRIDAY, 10 SCHOOL CLOSED Holiday

4 School Days

J U N

THURSDAY, 6 HALF DAY ALL SCHOOL Last Day of Classes/End of School

FRIDAY, 7 CLASS OF 2019

GRADUATION
---
American School of Guatemala

http://www.cag.edu.gt/

11 calle 15-79 Zona 15 Vista Hermosa III Guatemala, Guatemala

(502) 25009595