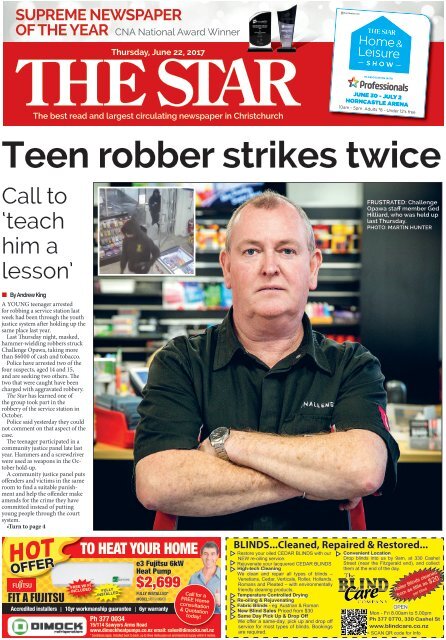 You also want an ePaper? Increase the reach of your titles
YUMPU automatically turns print PDFs into web optimized ePapers that Google loves.
Supreme NewSpaper

of The Year CNA National Award Winner

A Star Media Event

Thursday, June 22, 2017

JUNE 30 - JULY 2

HORNCASTLE ARENA

The best read and largest circulating newspaper in Christchurch

10am - 5pm Adults $ 8 - Under 12's free

Teen robber strikes twice

Call to

'teach

him a

lesson'

FRUSTRATED: Challenge

Opawa staff member Ged

Hilliard, who was held up

last Thursday.

PHOTO: MARTIN HUNTER

• By Andrew King

A YOUNG teenager arrested

for robbing a service station last

week had been through the youth

justice system after holding up the

same place last year.

Last Thursday night, masked,

hammer-wielding robbers struck

Challenge Opawa, taking more

than $6000 of cash and tobacco.

Police have arrested two of the

four suspects, aged 14 and 15,

and are seeking two others. The

two that were caught have been

charged with aggravated robbery.

The Star has learned one of

the group took part in the

robbery of the service station in

October.

Police said yesterday they could

not comment on that aspect of the

case.

The teenager participated in a

community justice panel late last

year. Hammers and a screwdriver

were used as weapons in the October

hold-up.

A community justice panel puts

offenders and victims in the same

room to find a suitable punishment

and help the offender make

amends for the crime they have

committed instead of putting

young people through the court

system.

•Turn to page 4

OFFER

FIT A FUJITSU

TO HEAT YOUR HOME

FREE WI FI

INCLUDED

Accredited installers | 10yr workmanship guarantee | 6yr warranty

Ph 377 0034

15/114 Sawyers Arms Road

www.dimockheatpumps.co.nz email: sales@dimocks.net.nz

on 8KW Heat Pum

Deal

Hot Hot

Heat Pump for Just

KW 8 ASTG24L Fujitsu

$2,999

Warranty

Year Six

Fully Installed*

PH 377 0034 OR 0800 800 734

Installed back to back, up to 3 met

run and electrIcal supply wIthIn 6 m

FULLY

INSTALLED

e3 Fujitsu 6kW

Heat Pump

$2,699

FULLY INSTALLED*

MODEL: ASTG18KMCB

Call for a

FREE Home

consultation

& Quotation

today!

* Conditions apply. Installed back to back, up to three metre pipe run and electrical supply within 6 metres.

BLINDS...Cleaned, Repaired & Restored...

Restore your oiled CEDAR BLINDS with our

NEW re-oiling service.

Rejuvenate your lacquered CEDAR BLINDS

High-tech Cleaning

We clean and repair all types of blinds –

Venetians, Cedar, Verticals, Roller, Hollands,

Romans and Pleated – with environmentally

friendly cleaning products.

Temperature Controlled Drying

Re-oiling & Rejuvenating

Fabric Blinds - eg Austrian & Roman

New Blind Sales Priced from $30

Same Day Pick Up & Drop Off

We offer a same-day, pick up and drop off

service for most types of blinds. Bookings

are required.

Convenient Location

Drop blinds into us by 9am, at 330 Cashel

Street (near the Fitzgerald end), and collect

them at the end of the day.

Roller Blinds cleaned

from as little as $20

per blind

OPEN

Mon - Fri 8.00am to 5.00pm

Ph 377 0770, 330 Cashel St

www.blindcare.co.nz

< SCAN QR code for Info
---
2

Latest Christchurch news at www. .kiwi

Thursday June 22 2017

Inside

FROM

THE

EDITOR'S

DESK

The Star

News.................................. 3-15

SOCIETY DOES its best to

rehabilitate young offenders

and get them back on the rails.

But for some, there is no

hope and no matter what plans

and initiatives are put in, their

lives spiral out of control.

Many years ago a detective

told me a young burglar he had

arrested would go on to kill.

He did. He was involved in one

of the most vicious murders

the city has seen. A totally

random murder of an innocent

young woman.

Another detective told me a

young boy he was dealing with

at the time had the propensity

to become a very serious sex

offender. How right he was.

Like the killer, he is now

serving a lengthy jail term for

terrible crimes.

So what hope is there for the

young teenager who has been

arrested for the Challenge

Opawa service station robbery

last week? (See page 1). We're

told its the same offender who

robbed it in October.

Chances are the justice

system will see more of this

fellow.

– Barry Clarke

The Christchurch Star Company Ltd.

359 Lincoln Rd | Addington | Christchurch 8024

CONTACT THE STAR

ADVERTISERS

YOUR BEST CHOICE TO

GROW CUSTOMERS

No.1 for Readership

No.1 for Circulation

No.1 for Results

Contact us today to grow

more customers for your

business!

Contact Shane at:

shane@starmedia.kiwi

or call 3797-100

Source: CMI Nielsen readership

Thursday Christchurch Urban area 10+

Kiwi correspondent at home in

the White House

13

At a Glance

Retirees bid to

revive Garden City

image

NEWS

GENERAL: 379 7100 | NEWS: Barry Clarke. 364 7422. barry@starmedia.kiwi | WEB: www.starmedia.kiwi

ADVERTISING: 364 7429, shane@starmedia.kiwi | CIRCULATION/DELIVERY JOBS: 364-7451 or 7453

THIS WEEK IN CANTERBURY'S PAST

This week in history saw the first trial of electric lighting at

the Lyttelton wharves on June 19, 1882. On June 20, 1928, the

Canterbury Aero Club was formed. The first pilot trained by

the club was a woman, Aroha Clifford. On June 21, 1851, the

Christchurch Cricket Club was formed. On the same day in

1897 there were huge celebrations for Queen Victoria's diamond

jubilee which included the opening of Victoria Park on the Port

Hills and the transformation of Market (Victoria) Square. In

1909 the city's high pressure water supply began operation. On

June 22, 1954, Pauline Parker and Juliet Hulme (right) murder

Parker's mother in Victoria Park. Their subsequent trial was

one of the most sensational in the city's history. On June 23,

1854, Pioneer John Deans dies at Riccarton. The preservation of

Deans Bush was one of his dying wishes.

NEWS 8

Viewpoint...........17 & 18

Readers' photos............21

Our People............22,23

Gardening...........................37

Travel................................38

Food........................................39

Sport......................... 43-45

Puzzles..................................46

Better living and

leisure

FORWARD 50

See inSi

25-36

LOCAL NEWS

www.Star.kiwi

BID TO GET NATIVE BIRDS BACK

Native birds could return to the city

as part of a new project to get people

growing mistletoe in their gardens. The

city council project provides instructions

and the seed to plant the native at home.

Mistletoe used to be a common sight, but

the plant's popularity had dropped because

native birds were rare in the city and seed

wasn't being spread naturally. Mistletoe

is a favourite food of the bellbird, and by

encouraging more people to grow it, it

is hoped the birds will return. You can

register to take part before the weekend, on

the city council website.

Tired of cold and drafty wooden window frames?

We can help you

create a warmer,

healthier and more

valuable home

and reduce your

heating bill.

Open Mon-Fri 7.30am-5pm, Sat 9am-12 noon

If your old windows are in poor condition, we have a

couple of options, insert frames or full replacement.

Benefits for you:

• Healthier, warmer home

• Reduces heating bill

• Reduces condensation

• Adds value to your property

• Reinvigorates the look and

saleability of your home

THE DIFFERENCE IS AMAZING

Visit our showroom, text or phone

for a FREE quote

Phone: 377 7708 or 0274 602 254

11 Iversen Terrace, Waltham

www.windowinnovation.co.nz
---
The Star 3

News

Latest Christchurch news at www.

.kiwi

Thursday June 22 2017

Drinking driver dobbed in by fellow motorist

• By Andrew King

A DRIVER four times the

legal drink-drive limit was

seen weaving all over a road

before crashing into a parked

vehicle in Redwood on

Monday.

The driver recorded

1080mcg/L. The legal limit is

250mcg/L.

A member of the public driving

behind the vehicle phoned

• By Gabrielle Stuart

THIS YEAR'S Santa Parade has

been saved after Mayor Lianne

Dalziel and city councillors

approved funding for it.

The parade organisers had

just one month left before they

ran out of money, as a funding

cut last year

forced them to

dip into their

reserves to pay

for the parade.

They made a

passionate plea

Pam Morris

to the city council

last month for

$100,000 to save

the parade.

On Tuesday, city councillors

approved a $35,000 grant for

this year's parade, which would

be topped up by a $65,000 grant

from the city council major

events fund.

Christchurch Children's

Christmas Parade Trust organiser

Pam Morris said it was a

great relief to know the parade

would not have to shut down.

"It's a victory, because it

means we can actually get on

with organising the parade," she

said.

The parade has been run in

Christchurch for more than 70

years, and she said she had been

very worried it would have to be

cancelled permanently.

police after they saw the motorist

driving erratically on Sawyers

Arms Rd at about 1.30pm.

They then followed the vehicle

to Queen Elizabeth II Dr.

The vehicle then clipped a

van parked on the side of the

road near St Bede's College

before coming to a stop about

200m up the road at about

1.45pm.

Police arrived shortly after

the crash and arrested the

"If it wasn't for The Star, we

would never have got this far,"

she said.

The Star has run a series of

articles highlighting the parade

funding problems, which

began when the city council

cut the parade funding at short

notice last year from $97,750 to

$69,000.

Until the funding cut, the

cost of the parade – about

$200,000 per year – had been

split between corporate and

private sponsorship and the

driver, who is in his 40s.

He was not injured in the

crash.

Senior Sergeant Stephan

McDaniel said it was

concerning that someone could

be that intoxicated at that time

of day and thought it was okay

to drive.

"This is why we have checkpoints

at all different times of

the day and this reinforces that

need. We want to thank the

city council. In December, Ms

Dalziel promised the city council

would not let the parade fall

over and said the city council

would look at including the

funding in this year's Annual

Plan.

But in January, the parade

trustees were told in an email

that there had been "no commitment

so far" to set aside

funding for the parade, so it

would have to compete with

other events for funding.

The trust then turned to

person for reporting this to us

and taking the time to follow

the vehicle so we could catch up

with it quickly," he said.

The driver has been charged

with excess breath alcohol and

will appear in the district court

on July 18.

The incident comes days after

The Star revealed last week

that drink-driving statistics in

Canterbury had almost halved

over the last decade.

Santa parade stays afloat

POPULAR:

City council

funding means

the annual

Christchurch

Santa Parade

will go ahead

this year.

PHOTO:

GILBERT

WEALLEANS

crowd-funding on Givealittle

and fundraising to pay their

bills, but they could not raise

enough to cover the shortfall.

But after the appeal to Ms

Dalziel and city councillors last

month, the Annual Plan was

changed to include funding for

the parade.

The parade costs include rent,

insurance, maintenance of floats

and costumes, traffic management

and running costs on the

day of the parade and a wage for

one paid organiser.

In Brief

MURDERER TO STAY IN JAIL

High-profile murderer Ziggy

Stardust Buckeridge, who

killed a 14-year-old girl in North

Canterbury 25 years ago, will stay

behind bars. Buckeridge, 55,

was declined parole after his

latest hearing. He was deemed

to pose a medium to high

risk of sexual and violent reoffending.

Buckeridge is serving

a life sentence for murdering

Rangiora teenager Julie Sands on

Anzac Day, April 25, 1992.

ACCIDENT VICTIM NAMED

The man killed in a Rolleston

workplace accident was 59-yearold

Dayal Parbhu Patel. Mr Patel

was killed after becoming trapped

under a beam at about 12.30pm

at Pegasus Engineering in the

Rolleston Izone Business Hub

on June 9. He died at the scene.

WorkSafe have been notified.

BID FOR STATE HOUSES

Three community housing

providers have been short-listed to

take over up to 2500 Housing New

Zealand properties and tenancies

in Shirley, Bryndwr and Riccarton.

The providers are Community

Futures Christchurch, Otautahi

Community Housing Consortium

and a third consortium

comprising Compass Housing

Services Co (NZ) Ltd, AMP

Capital Investors Ltd, and

Brookfield Financial Australia

Securities Ltd. Housing New

Zealand will continue to own and

manage up to 3300 properties in

Christchurch.

FUTURE OF EMPTY CHAIRS

The city council is investigating

options for where the 185 Empty

Chairs on the corner of Madras

and Cashel Sts could be moved to.

Artist Peter Majendie spoke to city

council's social and community

development committee on Monday

about relocating the installation,

which commemorates the

people who died in the February

22, 2011, earthquake. Committee

members voted to look into other

sites. The current site is earmarked

for the new multi-purpose arena.

•Our People, page 22-23

The elegant bra

with supreme comfort

• Lasts 3 times longer than most bras

• No under wires

• Straps do not fall down

• Full support from beneath the bust

• Unique shape wear

• Breast Prostheses fitted and supplied

• Esther is a registered health provider

Front-opening options in all bra styles

FREE

CONSULTATIONS

AND FITTINGS

Esther Rökk UnderFashions

For appointments please phone 322-6590

82 Milns Rd, Halswell • www.eru.co.nz

Classic Styles by Triumph

Non Wired

Non Wired

Professional Free Bra Fittings

Kiss of

Cotton

12-18B, 12-20C,

12-20D, 12-18DD

(colour - fresh powder)

Poesie Firm

Support

12-18B, 12-20C,

12-22D, 12-24DD

(colour - fresh powder)

ACCESS TV FOR NZ

SKY CHANNEL 083

Thursday 7.30pm

Shop 48 Barrington, Barrington Street

Phone 03 337 6609

www.lingerieonbarrington.co.nz

TROUBLE HEARING?

• Reduce listening effort

throughout your day,

resulting in less stress &

fatigue.

• Understand speech

in difficult listening

situations, eg.

Restaurants.

Call today to book an appointment for a

Free hearing check & hearing aid demo

Merivale Hearing Clinic

24b Church Lane.

Call now: 356 2324

Greg Foote,

Audiologist MNZAS
---
4 Thursday June 22 2017

Latest Christchurch news at www. .kiwi

The Star

News

DON'T MISS OUR

STOCK RUN-OUT

1400W

Waterblaster

1600psi. 06270696

2L Weed Weapon

Extra Strength

Weedkiller

08906792

Weathertough

Exterior

White. Low sheen

or semi gloss.

08907160/62

ONLY

$

99

ONLY

$

89

JUST

$

10

Gold AA

Batteries

Alkaline.

08907475

JUST

$

19

ONLY

$

5

2.5L

Decking

Cleaner

PLUS HEAPS

MORE INSTORE,

SO HURRY IN

SELECTED

STOCK

ONLY

15m

Professional

Fitted Hose

12mm. 00305964

Garden

Hand Tools

Stainless steel head

Transforms decks in

15 minutes. 08905672

construction. Comfort

grip. 00267871

ONLY

$

9

Multi 2 In 1

Shovel-Edger

Spade and shovel

functions in one

tool. 02970528

ONLY

$

15

ONLY

$

5

3m

Extension Lead

3 outlets. Compact

reel. 04331575

Scissors

and

Snip Set

00370296

Dog Kennel

Medium. Plastic.

03440278

Our Policy is Lowest Prices, and we're committed to it.

Our price guarantee means that where, despite

our procedures supporting our Policy, you find a

competitor's lower price on the same stocked item,

15%

This excludes trade quotes, stock liquidations

and commercial quantities.

Visit bunnings.co.nz for your local store trading hours

$

5

ONLY

JUST

$

10

JUST

$

29

ONLY

$

1

230mm

Disposable

Paint Tray

01661788

•From page 1

Challenge Opawa staff

member Ged Hilliard who

was held up on Thursday

said the teenager needs to

be "taught a lesson."

"Sounds like he wants

to be a criminal for life.

So it is hard to tell how he

will react to any form of

punishment," he said.

Mr Hilliard had a gut

feeling when he was being

robbed that one of the

offenders was same as in

October.

"When it happened I

thought, I've seen this

before," he said.

One of the hammerwielding

robbers told Mr

Hilliard to back-up or he

would kill him.

'Sounds like he wants

to be a criminal for life.

So it is hard to tell how

he will react to any form

of punishment.'

– Ged Hilliard

Two 13-year-old boys

and a 15-year-old girl were

charged with the aggravated

robbery in October.

SCARY:

One of the

hammerwielding

robbers told

Challenge

Opawa

employee

Ged Hilliard

to back up

or he would

be killed.

Teen robber strikes twice

winter

Golf

clearance

20% OFF

aLL adidas

Mens and Ladies

GoLf sHoes

Floor stock only

20% OFF

Mens and

Ladies GoLf

cLotHinG

Nike, FootJoy, Adidas,

Sporte Leisure -

Shop stock only

They took about $5000 of

tobacco and $300 cash.

Service station manager

Jean Fahey said it was disappointing

the youth system

for dealing with young

offenders was not working

in this case.

She was involved in the

community justice panel

but cannot reveal what was

said because it is confidential.

"We won't be involved

in a community justice

panel this time for this robber.

There is obviously no

point," she said.

30% OFF

seLected 2016 GoLf

drivers, fairways,

Hybrids and aLL

secondHand and ex-deMo

stocks

Limited floor stock only

20% OFF

Left Handed

2017 ModeL of

tayLorMade M1 &

M2 driver, fairway

and Hydribs

Only one set of each available

Other great specials in store!

20% OFF

cobra kinG f7 one LenGtH

and cobra os iron sets

Only one set of each available

Not all services and products featured are available in all stores, but may be ordered. See in store for product availability.

We reserve the right to restrict the purchase of commercial quantities. All prices quoted are inclusive of GST.

Prices valid until Sunday 2nd July 2017, or while stocks last.

BUNZ17912

BEST

ADVICE

BEST

ADVICE

BEST

SERVICE

BEST

SERVIC

Excludes Gift Vouchers, Website sales and is floor stock only.

BEST

PRODUCT

204 st asaph st | www.sharpies.co.nz | 03 379 9009 | open 7 days
---
The Star Latest Christchurch news at www. .kiwi

Thursday June 22 2017 5

The Star scoops media awards

THE STAR has been judged

the best of the best at the New

Zealand Community Newspaper

Awards.

The Star scooped the three top

awards – best newspaper, most

improved newspaper and it also

took out the supreme award

which covers newspapers, magazines

and websites.

Venetia Sherson who judged

the supreme award category said:

"The Star is bold in design and

bold in attitude. The Star urges

its readers to engage in debate

and reflect on the issues it deems

important to the community.

"Strong grass roots reporting,

and tight writing are the

hallmarks of the paper. It tackles

big subjects with a sure hand

and features a good mix of civic

issues, crime and community

stories."

Mike Fletcher who judged the

most improved newspaper category

said of The Star: "The paper

is a cracker. It is a joy to read.

Judging by The Star's pagination

growth, the readers and advertisers

like it and value it too.

"The Star is filling a vital niche

for news and views in Christchurch.

Every page is attractive.

Every page is interesting."

It was a big night for Star

Media's team at the awards

ceremony which was held in

Christchurch on Friday.

As well as The Star winning

the top three awards, Kiwi Gardener

was judged best all round

lifestyle magazine, Gabrielle

Stuart was the winner of the best

senior feature/lifestyle journalist

category and Bridget Rutherford

was runner-up in the junior

reporter and feature writer

categories.

Star Media also featured in the

advertising awards.

Rodney Grey was the winner

and runner-up in the best advertising

portfolio categories and

Michaela Bolster was the sales

excellence winner.

'The Star is filling a vital

niche for news and views in

Christchurch.'

– Mike Fletcher, judge

The awards come at a great

time for Star Media – The Star's

readership has increased substantially

in the latest Nielsen

report.

Star Media has a large portfolio

of newspaper titles – The Star,

Nor'West News, Western News,

Pegasus Post, Southern View,

Bay Harbour News and Selwyn

Times, magazines Kiwi Gardener,

Style, Rugby News and With This

Ring, web news site

www.star.kiwi and operates

several annual events City 2 Surf,

the Home & Leisure Show and

With This Ring, Bridal Show.

Star Media is a family business,

locally-owned by Pier and

Charlotte Smulders.

Star Media chief executive

Steve McCaughan said: "I believe

the awards won on the weekend

are reflective of all our Star Media

team's effort and the fact that

TEAM: Star Media

reporter Bridget

Rutherford, graphic

designer Rodney Grey,

account executive

Michaela Bolster,

chief executive Steve

McCaughan, managing

director Charlotte

Smulders, editor-in-chief

Barry Clarke, magazines

editor Kate Preece and

reporter Gabrielle Stuart.

we are locally-owned and understand

our local market. We strive

to be the best in all that we do

and it's satisfying to see all our

efforts recognised at the CNA

awards. I am so lucky and proud

to have such a talented team.

"Our aim is to produce publications

that fully engage with the

audiences they serve.

"Our big haul of awards on the

weekend and the rising readership

of our titles is indicative that

we are hitting the mark.

"This keeps our audiences engaged

and is great news for our

advertisers too."

Join us

Do first aid . Volunteer . Fundraise . Shop . Donate

redcross.org.nz 0800 RED CROSS
---
6 Thursday June 22 2017

Latest Christchurch news at www. .kiwi

The Star

News

Cameraman Ron Madden's colourful

• By Gabrielle Stuart

RON MADDEN, a colourful

TVNZ cameraman who worked

for more than 40 years covering

stories from conflicts in South

Africa to the Canterbury

earthquakes, died last week after

a battle with cancer.

Mr Madden, 64, began writing

his own eulogy soon after he was

diagnosed with cancer early last

year, saying: "I would rather tell

my own lies". He began it with a

paraphrase of comedian Spike

Mulligan's infamous epitaph:

"See, I told you I was bloody

sick!"

Friends and workmates of

Mr Madden said that described

his attitude to life – fun, witty,

forthright and irreverent.

But they also described him as

someone who was dependable,

a great friend, and gave a huge

amount of time and passion to

helping others.

He grew up in Christchurch

and went to St Bede's College.

In his eulogy, which he worked

on for months while receiving

treatment, Mr Madden said the

highlight was starting a gun

club at school, and the worst day

was getting "six of the best" for

ACTION: Ron Madden filming on Manchester St the day of the

February 22, 2011, earthquake.

cheating in Latin class.

He worked in several jobs before

starting at TVNZ, including

as an NZ Forest Service ranger,

tour driver, deer shooter and

concrete truck driver.

As a cameraman he was able

to do a lot of travelling, including

to Antarctica, which he

described as "the most boring

place in the world", and to South

Africa, where he remembered

riding with armed soldiers,

filming young boys playing in a

rubbish dump.

TVNZ South Island news

operations manager Mike

Fitzgerald said he had worked

with Mr Madden since the early

80s.

He said Mr Madden was a

fantastic cameraman, with a

passion for the job, a wonderful

eye for a frame and an ability to

engage with people.

HOT WINTER

HEAT PUMP SPECIALS

+ FREE installation *

$2,799 $2,999 $1,999

$2,499

Free Installation*

Compact

Floor Console

5.2kW Heat Pump

AGTV14LAC

Free Installation*

High Capacity

Floor Console

8.0kW Heat Pump

ABTG24LVTC

Free Installation*

Compact

Premier Plus Hi-Wall

5.4kW Heat Pump

ASTG14LUCB

Free Installation*

Compact Hi-Wall

6.0kW Heat Pump

ASTG18LVCC

Establishment fee of $99 applies

Call now for a free quote 0800 324 678 www.dcis.co.nz

*Inc back-to-back installation only, conditions apply.

T005 - Back to wall NOW $289

FG2231

NEW LOCATION

13b Parkhouse Rd, CHRISTCHURCH

Call into your nearest Instant

Finance branch and ask about the

Fast $500 or apply online now!

VWB7514W NOW $349

More sizes available

3/11 Goulding Ave, Hornby

9B Buckley Road, Linwood

Hurry! The Fast $500

finishes on 30 June 2017.

Terms and conditions apply. Subject to Instant Finance

lending criteria and responsible lending guidelines.

XSB1290 1200x900 Shower NOW $779

NVS7514F NOW $499

More sizes available

Open 7 Days Mon-Fri 9am - 5.30pm | Sat 9.30am - 4pm | Sun 10am-3pm

0800 MILLEN | www.millen.co.nz | 03 348 8678
---
The Star Latest Christchurch news at www. .kiwi

Thursday June 22 2017 7

life behind the lens remembered

He captured many important

moments in history, including

a lot of the central city footage

immediately after the February

22, 2011, earthquake, which is

still used today.

Mr Fitzgerald said one of Mr

Madden's biggest strengths was

his ability to help people open up

on camera.

"I'll always remember some of

his whitebaiting pieces filmed on

the Coast, where he really loved

what he was doing. The colours,

the sunrises and sunsets, the

water, the older people's faces,

he just made it sparkle," he

said.

Although Mr Madden was

not impressed with Antarctica,

he loved the West Coast, and

also took any opportunity to get

in a helicopter or four-wheeldrive.

"He loved the outdoors but you

wouldn't get him hiking up a hill,

he preferred to drive or fly. He

had his own 4WD and he loved

it, arm out the window, Ray Bans

on," Mr Fitzgerald said.

He said Mr Madden had

"underneath his gruff exterior,

a lot of kindness," and took the

time to take many young people

under his wing and train them

BEHIND THE SCENES: Ron Madden filming a television piece

in 1984.

– including Phil Keoghan, who

went on to host The Amazing

Race.

He had many nicknames

– Ron to friends, Mads to

workmates, and "builders crack"

for the low-rider jeans he wore

"before they were cool."

Outside work, Mr Madden

was a passionate clay shooter,

and represented New Zealand

at several international

championships.

Former South Island Clay

Shooters president Neil

Winsloe said Mr Madden was

instrumental in setting up and

running the club.

"If there were things to be

done, Ron would do them. He

was a great organiser, whether it

was organising accommodation

for a trip or fundraising for the

club. He was a lot of fun. And

he was a good drinker, always

had a lot of stories. Without his

assistance and backing, the club

would not be what it is in the

South Island today, that's for

sure," he said.

Mr Madden finished his

eulogy with a message to his

wife, Deanne Harvey: "Thank

you, thank you, Deanne, for

everything."

Mr Fitzgerald said Mr Madden

had to finish at work early last

year because of his cancer, after

barely taking a day sick in his

life – he had 280 sick days owing

when he left.

"All in all, he was a really good

person, a really decent bloke,

and a bit of a legend in his own

lifetime," he said.

A service to remember Mr

Madden's life will be held next

month where his eulogy will be

handed out..

PROFESSONAL: Ron Madden

worked for more than 40 years

with TVNZ. He travelled across

the world.

Still trying to get your

EQ damage or repair

issues sorted

We've helped hundreds of homeowners get

what their policy promises.

Talk to us about our "no win-no fee" approach.

NO WIN

NO FEE

Ph: 03 377 8855 | 127 Ferry Road, Christchurch City

E: reception@earthquakeservices.co.nz | W: www.earthquakeservices.co.nz
---
8 Thursday June 22 2017

Latest Christchurch news at www. .kiwi

The Star

News

Kiwi correspondent at home in the

SNAPSHOTS: Former US president Barack Obama photographed

by Anna Wilding. President Obama with Bruce Springsteen (left).

Taster of

some of our

stunning

dresses

instore

Balls...

Award Nights...

Special Occasions

• By Gabrielle Stuart

TEARS, CHEERS and telling

offs – Anna Wilding has had a

front row view of Barack and

Michelle Obama's personal

moments in the White House.

The Cantabrian spent two

years working in there as an

independent correspondent, one

of more than 200 people from

across the world who make up

the White House press corps.

She recently moved back to

Christchurch for family reasons,

but said she kept her press credentials

and planned to return to

Washington DC later this year.

She began working there in

2015, representing Herald de

Paris, an online news site.

She often photographed the

Obamas, attended many of their

meetings, and followed their

political ups and downs.

She said both President

Obama and the then First Lady

were "very emotive" people, and

fascinating to watch.

"I've seen Obama look jaded

and exhausted, and I've seen him

cheer and laugh when sports

teams came in. I've seen him hug

his staff. I've seen Michelle tell

people off. She interacted with

children, and she worked in the

PRIVILEGED: Cantabrian Anna Wilding has spent two years

working at the White House as a press correspondent for an

online news site.

vege garden there at the White

House."

She said the atmosphere and

architecture at the White House

was incredible, although some

things were unexpected.

Great service, style & variety

Late Night every Thursday - Open until 6.30pm

55 Nottingham Avenue, Halswell. Phone: 322 6126

CHCH FANZONE

ALL BLACKS v THE BRITISH & IRISH LIONS

THIS SATURDAY

POPLAR STREET FROM 5PM

BE THERE. BE HEARD.

ccc.govt.nz/chchhostcity
---
The Star Latest Christchurch news at www. .kiwi

Thursday June 22 2017 9

White House

Port Hills fire cost $4.5m

The Oval Office, where she was

invited to photograph President

Obama sign important documents,

was smaller than she had

always imagined, she said.

The amount of security checks

and clearances she had to go

through to first be approved and

then to enter the White House

grounds were also something she

had never experienced before, she

said.

She was working there when

Donald Trump became president,

and said the atmosphere completely

changed as he replaced

most staff, right from the security

to the interns.

"I think the new administration

coming in weren't fully prepared,

they didn't have the same

political background. Everyone

was polite but it was chaotic.

They're obviously still finding

their feet," she said.

Ms Wilding's background is in

the film industry, and she spent

some time living in LA before

moving to Washington DC – but

she said Hollywood was "child's

play" compared with work in the

White House.

She said many correspondents

there had worked in the White

House for 20 or 30 years, and

breaking in as a New Zealander

was very difficult.

"You do feel like a minority,

and realise we are from a very

small country that doesn't make

much difference. They'd rather

answer a question from someone

from Korea, because of the importance

of the relations there, or

from one of the five major American

networks," she said.

DOWN TO

EARTH:

Anna

Wilding said

Michelle

Obama

was never

afraid to get

her hands

dirty, even

in the White

House

garden.

FIGHTING THE Port Hills

fires cost the Department of

Conservation more than $4.5

million.

Two fires, several kilometres

apart, started in early February

this year; two days later they

had combined. Helicopter pilot

and ex-SAS soldier Steve Askin

died when his chopper crashed

trying to fight the fires. Nine

houses were destroyed and two

were significantly damaged.

Hundreds of people were evacuated.

DOC spokesman Andy

Roberts said the department

contributed more than $3.5

million in operational costs and

$1 million in staff and other

internal costs. This amounted to

about half of last year's firefighting

costs of $8.7 million.

"The department supplied

more than 130 fully trained

rural firefighters, including fire

behaviour experts, air attack

managers and sector leaders

during the fires, which started

in February and burned for two

months.

"If we add in time spent on

aerial mapping, incident planning

and other background

support roles, that would come

to more than 11,000 hours of

DESTRUCTION: A helicopter battles the fire with a monsoon

bucket.

PHOTO: MARTIN HUNTER

staff time, some of whom were

on duty for up to 15 hours a day.

This all amounts to about 50 per

cent of the total costs incurred

on the Port Hills fires, which

destroyed some 1660ha."

DOC has to respond to fires

within a 1km margin of protected

areas. No public conservation

land was burned in the Port

Hills fire.

DOC had also helped

fight major fires at Broken

River, Hawkes Bay, Hanmer and

Queenstown during last summer's

fire season. More than 460

staff are fully trained to fight

fires on or near conservation

land.

"DOC will always have an interest

in rural fire and the threat

it poses to the natural and heritage

values that DOC is charged

with protecting.

Still trying to get your

EQ damage or repair

issues sorted

Call your GP team 24/7 for health advice.

If it's after-hours a nurse is available to give free health advice.

We've helped hundreds of homeowners get

what their policy promises.

Talk to us about our "no win-no fee" approach.

12

NO WIN

NO FEE

9

6

3

Ph: 03 377 8855 | 127 Ferry Road, Christchurch City

E: reception@earthquakeservices.co.nz | W: www.earthquakeservices.co.nz
---
10 Thursday June 22 2017

Latest Christchurch news at www. .kiwi

The Star

News

Doctors warn of wait times

Street lights

set to go LED

• By Bridget Rutherford

THE CITY'S street lights could be

replaced with LED technology in

a bid to save $1.6 million each year

in electricity costs.

The city council is preparing an

application to the New Zealand

Transport Agency to apply for

funding to do the work.

City council planning and delivery

transport manager Lynette

Ellis said it would cost about $25.5

million to replace the city's 38,000

street lights, excluding parks.

If the city council's application

is approved, NZTA would pay for

about $21.6 million of the total

cost.

Twelve per cent of the street

lights on roads already have LED

lights. For 2017, electricity to run

the street lights was expected to

cost $4.6 million, Ms Ellis said.

Dunedin City Council will begin

replacing its 15,000 street lights

with LED technology soon, at a

total cost of $14 million.

• By Gabrielle Stuart

YOU MAY face a wait to see a

doctor this winter, as both GPs

and hospitals warn they are at

capacity.

The Canterbury District

Health Board, which has

expressed

concern that beds

at Christchurch

Hospital will be

full this winter,

has asked people

to call their

Kate

Baddock

community

doctor first if they

are sick.

But the city's

GPs have said they are also

worried about numbers, and are

already struggling to fit people

in for appointments.

CDHB planning and funding

general manager Carolyn

Gullery said a number of

strategies were in place to

manage the situation,

including an "acute demand

programme" that could treat

people at home.

She was concerned about

bed numbers, especially at

Christchurch Hospital, she said.

"It will be a challenging

winter and we recommend that

Capacity: The city's GPs have said they are struggling to fit

people in for appointments this winter.

the people who have health

conditions that can become

worse in winter connect with

their general practice team and

develop a plan about what to do

if they become unwell," she said.

New Zealand Medical

Association chairwoman Kate

Baddock told The Star doctors

had reported being too busy to

see more patients.

That was because funding

constraints meant some medical

centres could not afford enough

doctors, Dr Baddock said.

But Christchurch doctors

say they will not turn people

away.

Hornby

Medical

Centre practice

manager Rosie

Kennedy said

appointments

were kept free

for urgent cases,

and people with

illnesses like the

flu would be seen.

She said funding was a

David

Jones

problem, as they would build

an extra room and bring in an

extra doctor if they had more

money.

David Jones, a director

of Better Health practices,

which includes the Linwood,

Moorhouse and Barrington

medical centres, said they were

under a lot of pressure.

As well as the cost of extra

patients, he said GPs had

also faced extra technological

and health and safety requirements,

and the funding had

not kept up.

Black

Reverse

Gold

PRESENTS

Silver

13 – 22 JULY

BOOK NOW

ticketek.co.nz
---
The Star Latest Christchurch news at www. .kiwi

Thursday June 22 2017 11

Tickets on

sale NOW!

Vicki Buck

Glenn Livingstone

Councillor attacks arches

• By Julia Evans and Sarla

Donovan

CITY COUNCILLOR Glenn

Livingstone has lashed out over

spending on the new airport

Gateway Bridge arches on social

media.

On Saturday, fellow councillor

Vicki Buck posted a picture of

the bridge's arches at the Memorial

Ave/Russley Rd intersection

to her Facebook page.

Cr Livingstone kicked back replying:

"What a waste of money."

The arches have attracted a lot

of criticism from the public due

to their $4 million price tag.

CONTROVERSIAL: At a cost

of $4 million, the new airport

arches are taking shape on

Memorial Ave.

PHOTO: MARTIN HUNTER

And Cr Livingstone said

the money would have been

better spent on a replacement

bridge for Pages Rd in New

Brighton.

However, he said he was simply

frustrated with the prioritisation

of the arches over projects

residents of the city's east have

been waiting for.

"I was trying to make a point

over priority. Some would argue

both are a priority, and the

intersection (at Memorial Ave)

did need addressing. It's just

frustration at different viewpoints

and seeing other priorities

leapfrogging what our local

(Coastal-Burwood) community

needs," he said.

The Pages Rd bridge was seen

as a priority, two years ago but

was pushed back to 2021 to

2023, Cr Livingstone said.

He also admitted all elected

city council members are guilty

of "letting fly" on social media

from time to time.

Cr Buck responded to his

comment by posting a breakdown

of how much funding the

city council was putting into

each ward.

The arches are funded by the

National Land Transport Fund

not the city council.

Man shot in face

by police was

also a sex offender

A 24-YEAR-OLD shot in the

face by police is a convicted sex

offender, it can now be revealed.

Murray James Allan (right)

pleaded guilty to a

variety of charges in the

district court on Friday

after the incident in

Woolston earlier this

year.

Police fired on Allan

after he aimed a blank firing

pistol at officers when a patrol

went to search the parked vehicle

he was in.

Records show in January 2013,

the then 19-year-old was jailed

for three years and two months

for having non-consensual sex

with a 14-year-old in what was

described as "very close to rape".

The court was told the girl was

emotionally traumatised, and

had tried to commit suicide twice

following it.

At the time, Allan's presentence

report said he could

cause a "high level of harm" if he

offended again.

Allan was released on parole

on December 3, 2015, with

conditions he would not have any

unsupervised contact

with under-16s, or with

the victim.

Allan has been

remanded in custody,

and will be sentenced

for the February

incident on August 10.

Police had been on an

unrelated call out at 2am when

they stopped to question Allan

and another man in the parked

car.

When officers thought they

saw a cannabis pipe in the vehicle

they said they were going to

search it and called for back

up.

Allan then produced the pistol

and aimed it at one of the officers,

prompting police to shoot him in

the side of the face.

He was given first aid, before

being taken to hospital in an

ambulance with minor injuries.

All Sewing Needs

Tailoring

for 40 years

Alterations,

repairs &

garment

makeovers.

All fabric

including

leather wear.

Made to order.

All enquiries welcome

474 Barrington St

Corner Lincoln Road

(near Z Station)

Phone: 339 2464

www.streetwize.co.nz

FREE

installation*

BUY ONLINE

bluedude.co.nz 09 304 5017

FREE SHIPPING • REFUNDS WELCOME

SALE

We'll keep you warm this winter.

Fully rated heating right down to -15°C...guaranteed.

Want to Shift to a new career?

We can make it happen.

CDC estimates ICT employment in Canterbury

will grow 2500 additional jobs by 2025

Combine your existing degree and life experience with

innovative learning to prepare for a career in the booming Tech

sector. Shift, Signal's 9 month industry focused programme

starts July 24, is open to graduates of any discipline, with

limited scholarship opportunities still available.

Choose from the Software development stream or the

Development Allied stream to focus on other areas such

as testing, user experience or technical writing.

Scholarships

available

APPly noW!

$3,299

HIGH WALL HEAT PUMP

FH50 6.0kW

*Conditions apply

Back-to-back basic installation

Be part of one of NZ's fastest

growing sectors with fantastic

employment opportunities.

P 0800 990 024

E info@signal.ac.nz

W www.signal.ac.nz/shift

www.dcis.co.nz

Book your FREE in-home quote TODAY!

0800 324 678

SIGNAL is powered by:
---
12 Thursday June 22 2017

Latest Christchurch news at www. .kiwi

The Star

S Av O U R t h E

News

At m O S P h E R E

For an iconic shopping experience & the best

selection of street food the city has to offer

f OOd COURt

Dose Sushi

The Burger Joint

Dimitri's Greek Kebabs

American Delight

Berry Healthy

Base Woodfired Pizza

Fritzweiners

Maree's Lebanese Kebabs

Pure Pulp

Tiki Taco

A Mouse Called Bean

Wild Bites

Noodle Monk

Gaslight Taverna

Freyburgs Fish and Chips

Cosy Cafe

Paradise Dumplings

J Bings

Herba Gourmet

Coq au Van

REtA il

Cosmic

Hunters and Collectors

Hapa

TradeAid

Stencil

NZ Post / Kiwibank

Simply New Zealand

The General Store

Metromart

Meccano

Untouched World

Champions of the World

Barkers

O P E n n O w

ShOP tO win

Win lunch for 4 people at Black Estate Vineyard,

flying there and back with Christchurch

Helicopters, piloted by Richie McCaw

Enter in store or online www.containermall.kiwi

SECURE YOUR SPACE tO d AY

Limited retail spaces

available 0800 00 11 78

Open frOm 10am daily

cashel street (Bridge Of rememBrance end)

PHOTO: MARTIN HUNTER

VALUES: Architect Carsten Auer, who will

redesign Linwood College, stands in the

recreation area. Right – The award-winning

St Andrew's College chapel.

Linwood College design

in hands of award-winner

• By Bridget Rutherford

AN award-winning

company that designed the

St Andrew's College chapel

and the bus interchange

will do the architecture

for Linwood College's

redevelopment.

Architectus has been

awarded the contract for

the full-school rebuild and

redevelopment.

The company's other

projects include the bus

interchange, St Andrew's

chapel, the central city's

new Knowledge Centre,

and more than 30 school

projects across the country.

Company director

Carsten Auer will be the

lead architect.

His previous work

includes Lyttelton Primary

School's master plan, the

city's Innovation Precinct

spatial framework,

St Cuthbert's College

performing arts centre

and Auckland Grammar

School's sports complex.

• By Andrew King

POLICE SEIZED a rifle

and knife from a vehicle

they pulled over in the

early hours of Wednesday.

The suspicious vehicle

was stopped on Holland St

in Avonside at 3.33am.

A police spokeswoman

could not determine if

the car was reported to

police, or if it was stopped

after being noticed by the

patrolling officers.

He said schools were

more than places to learn

– they helped shape the

identity of the community.

So any design had to

reflect that and the values

and culture of the community.

"This project is special

not only for its scale but in

particular for the strong

pedagogical vision developed

by the college and the

leadership role it is looking

to undertake in the

revitalisation of the eastern

suburbs of Christchurch."

He said the project was

personal for him as he

lived in Redcliffs, which

was part of Linwood's

catchment, and he wanted

to contribute to shaping

the future of the school.

"I believe the current

college leadership is working

successfully to rebuild

the confidence of all of

their community in what

Linwood College has to,

and can, offer."

Principal Richard

They searched the vehicle

and found a rifle in the

boot and a knife.

A 34-year-old man was

arrested and charged with

possession of an offensive

weapon and unlawful

possession of a firearm.

He will appear in the

district court on June 27.

•The Australian man

who died after a central city

motel fire on June 14 was

44-year-old Jason Edward

Edmundson said the

awarding of the contract

was a step forward in the

redevelopment.

The school's buildings

have reached the end of

their lifespan, and it has

carried out significant

consultation with the

community on how it

could look and feel better.

It wants to become

the school of choice for

students living in its

catchment, including

Sumner, Redcliffs, Mt

Pleasant, and Lyttelton,

many of whom travel to

schools on the other side

of town.

The redevelopment

comes after a limited statutory

manager was asked to

step into the school in 2014

to resolve issues between

staff and management.

Principal Margaret Paiti

resigned in June 2015 after

five years in the role.

Physical building work

was expected to begin on

site next year.

Police seize weapons; name fire victim

Sillick. Mr Sillick suffered

critical injuries in the blaze

at the City Central Motel

Apartments, on the corner

of Barbadoes and Hereford

Sts, at about 6.50am.

Detective Senior Sergeant

Mark Worner would not be

drawn on what had caused

the fire but said it was "not

accidental."

Police have examined

CCTV footage from the

motel, and are not looking

for anyone else connected.
---
The Star Latest Christchurch news at www. .kiwi

Thursday June 22 2017 13

Fake Lions gear bust at stadium

FAKE LIONS tour

gear was seized at AMI

Stadium before the match

against the Crusaders.

Government officials

are cracking down on the

sale of fake merchandise

during the tour. A Ministry

of Business, Innovation

and Employment

spokeswoman confirmed

fake Lions tour gear had

been seized before games

in Christchurch, Dunedin

and Rotorua.

"A group of individuals

have been selling items

with unauthorised association

with the Lions

series."

MBIE tourism, sectors,

regions and cities general

manager Iain Cossar said

it is "currently investigating

a small number of

incidents involving the

sale of merchandise" and

"three to four individuals"

have been responsible for

it.

The spokeswoman

said MBIE has served "a

number" of breach notices

under the Major Events

Management Act 2007,

and "continues to gather

evidence should the ministry

decide to prosecute."

MBIE has not encountered

any people selling

fake All Blacks merchandise

before games.

The series status as a

major event under the Act

means it has protection

for specific words and emblems

closely associated

with the tour.

$

1 Reserve

Over 100 cars at

2007 Mini Cooper

$1 RESERVE

2009 Holden Commodore

$1 RESERVE

2003 Audi TT

$1 RESERVE

2011 Ford Kuga

$1 RESERVE

2013 Great Wall X240

$1 RESERVE

2010 Toyota Camry

$1 RESERVE

2010 Suzuki Swift

$1 RESERVE

2011 Great Wall X240

$1 RESERVE

2008 Audi A4

$1 RESERVE

SCENT: Brian and Colleen Briggs in their own garden, which has won many

awards.

PHOTO: MARTIN HUNTER ​

Retirees bid to revive

Garden City image

• By Gabrielle Stuart

A GROUP of gardeners are

cultivating a plan to put

Christchurch back on the

map as the Garden City – a

public garden the size of

nine rugby fields, created

by retirees.

The plan has been

designed by Christchurch

Beautifying Association

members, who are working

with private developers to

create it.

Their plan is to create a

50-60 unit retirement village,

where residents would

all be gardeners.

Each unit would have its

own garden, maintained

by the owner – but the

gardens would all be connected

and open to the

public, forming a giant

public park.

On Monday, association

president Ron Andrew and

former president Brian

Briggs put the plan to the

city council's social and

community development

committee.

Committee chairman

Phil Clearwater said staff

had been asked to look at

ways the city council could

be involved and support

the project.

That could include

building a community hall

or facility in the park, or

helping the group through

the consenting process to

speed it up.

Mr Briggs said he already

had a list of people

interested in buying units

in the village, and had met

with developers willing to

build it.

"I often talk to people

about going into a retirement

home, and they say,

'no, I definitely won't do

that, because I won't have a

garden'," he said.

The plan would allow

people to downsize into a

supported living environment,

while still giving

them space to be creative

and contribute to the community,

he said.

"It would be a real dream

come true for a lot of people,"

he said.

The group is currently

working with building

company G.J Gardner

Homes, and are looking

at creating the village on

a 9.5ha piece of land near

Papanui.

Mr Briggs said each unit

would be designed to look

like a little cottage, but

would have a fully modern

interior.

The estimated cost of

each unit title would be

about $350,000, he said.

Once set up, the village

would be run by a body

corporate.

Mr Andrew said he believed

the village could be

a huge asset for the city.

After Christchurch won

the Garden City of the

World title in 1997, thousands

of people travelled

from as far as the United

States and Japan to visit,

he said.

He hoped the village

could become a similar

attraction.

•Gardening, page 37

1999 Holden Commodore

$1 RESERVE

2016 Chery J11

$1 RESERVE

OTHER VEHICLES INCLUDED IN AUCTION ALL $1 RESERVE

2008 Mitsubishi Lancer

2008 Mazda Demio

2008 Daihatsu Terios

2008 Toyota Corolla

2008 Toyota Corolla

2007 Subaru Impreza

2007 Mitsubishi Colt

2007 Toyota Vitz

2007 Hyundai TB

2006 Honda Stream

2006 Mitsubishi Outlander

2006 Nissan Teana

2006 Audi A4

2006 Ford Escape

2006 Volkswagen Polo

2006 Ssangyong Kyron

2006 Land Rover Freelander

2006 Volkswagen Golf

2006 Holden Barina

2008 Volkswagen Polo 2.6

$1 RESERVE

2013 Mitsubishi Mirage

$1 RESERVE

2006 Toyota Corolla

2006 Toyota Avensis

2006 Toyota Corolla

2006 Holden Commodore

2005 Peugeot 307

2005 Volvo S40

2005 Suzuki Swift

2005 Citroen C4

2005 Honda Jazz

2005 Ford Fiesta

2004 Toyota Estima

2004 Holden Commodore

2004 Jaguar X-Type

2004 Volkswagen Golf

2004 Mazda 3

2004 Honda Accord

2004 Volkswagen Golf

2004 Suzuki Aerio

2004 Subaru Legacy

2003 Subaru Legacy

2003 Subaru Forester

2003 Mitsubishi Diamante

2003 Mazda 6

2003 Toyota Camry

2002 Holden Commodore

2002 Nissan Skyline

2002 Mitsubishi Lancer

2002 BMW 318Ti

2002 Auti TT

2002 Volkswagen Beetle

2002 Subaru Legacy

2002 Honda Fit

2001 BMW 318i

2001 Mitsubishi Diamante

2001 Nissan Wingroad

2000 Mitsubishi Dion

2000 BMW 320i

2000 Subaru Legacy

2011 Holden Epica

$1 RESERVE

1987 Holden Commodore VL

$1 RESERVE

2000 Ford Laser

2000 Nissan Pulsar

2000 Alfa Romeo 146

2000 Mitsubishi Pajero

1999 Subaru Legacy

1999 Ford KA

1999 Nissan Presage

1999 Mercedes Benz

1999 Nissan Primera

1999 Mazda Demio

1999 Hyundai Sonata

1998 Honda CRV

1998 Toyota Corolla

1998 Nissan Largo

1997 Mazda Famnilia

1997 Subaru Impreza

1997 BMW 323i

1997 Nissan Primera

1996 Mercedes Benz

Auction vehicles selling from 7pm on Monday 26th June.

Inspections & test drives available weekdays til 5pm

and weekends til 4pm

Get pre-approved for finance.

Call Les on 027 355 5585 or Donna on 027 652 2295

turners.co.nz

1 Detroit Place, Christchurch. Phone 03 343 9850
---
14 Thursday June 22 2017

Latest Christchurch news at www. .kiwi

The Star
---
The Star Latest Christchurch news at www. .kiwi

Thursday June 22 2017 15

News

Walk to prevent suicide

• By Bridget Rutherford

MORE THAN 500 people

are expected to gather in

Hagley Park this weekend

to raise awareness for

suicide prevention.

HopeWalk Christchurch

will take place from 8-9am

on Saturday, starting at the

Botanic Gardens Visitor

Centre.

HopeWalk Suicide

Prevention Trust founder

Joseph Fa'afiu said the

walk would bring people

together to show people

are not alone. They would

be wearing yellow – the

colour of hope.

The trust aims to break

the stigma, shame and

silence around suicide. A

coroner's report said Canterbury

had the highest

number of suicides in the

country from July 2015 to

July 2016, with 78. In the

last decade, there were 599

suicides in Canterbury.

Mr Fa'afiu said trauma

and anxiety, which could

lead to depression, was

a high contributor to

the high suicide rate in

Christchurch.

"If we look at the

COUNTRY GOLF

AT ITS BEST

Only half an hour

from the city.

GREENDALE

GOLF CLUB

Green Fee players, both

men and women, are always

welcome to play and may join

in the 'Match of the Day' on

Saturdays at 12 noon and

Tuesdays at 9.30am – only $20!

AttrActive flexible

subscriptions AvAilAble

987 Coal Track Road, Greendale

Email: greendale@golf.co.nz

Web: www.greendalegolf.co.nz

ongoing earthquakes in

Christchurch this can

also act as more external

pressure. I'm not saying it's

the only contributor, but it

has added weight to a lot of

people's lives, weight that

some may not be able to

carry."

Other HopeWalks will

take place across the

country and Australia and

Canada.

•For more

information, visit the

HopeWalk Christchurch

2017 Facebook page.

379-3589

379-3589

Where to get help:

Depression Helpline

-0800 111 757 (24/7)

Youthline – 0800 376

633 (24/7) or free text

234 (8am – 12am)

Whats Up – Online chat

(7pm – 10pm) or 0800

WHATS UP / 0800

9428 787 Helpline (1pm

– 10pm week days, 3pm

– 10pm weekends)

Healthline – 0800 611

116

If it is an emergency

and you feel like you or

someone else is at risk,

phone 111

The magazine for

gardeners who

like To geT Their

hands dirTy

www.gardener.kiwi

100%

Heat Pump Specials

HealtHy Dry VeNtIlatION

GE35 4kW Heat Pump from only GE35 4kW Heat Pump from only $2,299

GE50 5.8kW Heat Pump from only The most energy GE50 efficient 5.8kW Heat way Pump to ventilate from only your $2,749 home

FH50 6.0kW Heat Pump from only FH50 6.0kW Heat Pump from only $3,499

Heat Recovery

Ventilation

ensures a home is:

• Dry

• Feels warm

• Smells fresh

• Without lingering smells

BeFOre

ONLY 15

MINUTES FROM

ROLLESTON!

aFter

Technology

INCLUDES INSTALLATION. CONDITIONS APPLY.

INCLUDES INSTALLATION. CONDITIONS APPLY. APPLY.

Contact us today for a healthier future

196 Wordsworth Street,

www.snowtemp.co.nz 196 196 Wordsworth Wordsworth

Christchurch Street, Street,

www.snowtemp.co.nz

Christchurch Christchurch

Heat Pump Installation/Repairs • Refrigeration Design, Build, Repairs

Heat

Heat

Pump

Pump

Installation/Repairs

Installation/Repairs

•

•

Refrigeration

Refrigeration

Design,

Design,

Build,

Build,

Repairs

Repairs

Advertorial

Importing makeup

proves a success for

determined couple

Top brands in makeup, skin care and

fragrance are offered at significantly

lower prices than normal retail at The

Makeup Sale in the Bush Inn Centre,

Christchurch and George Street,

Dunedin.

"Our mission is that we want our

customers to save money – that's what

the business is designed for," says owner

Palak Harry.

Palak and husband Alex arrived in

Christchurch from India in 2012 with

just $700, wanting to settle here and start

a business. Palak had previous business

experience, and decided that for their

New Zealand business venture she

would import cosmetics and sell them

here. Reaching their goal hasn't been an

easy road, however.

"We had a very rough start," she says.

"After working and saving the money to

start the business we ordered our first

stock, but it didn't arrive. So, we saved up

again and ordered stock from the United

States. It arrived, but it was all expired so

we had to get rid of it all."

Store based in Bush Inn Centre

Despite these setbacks, Palak was

determined to carry on with her plans.

"In my heart, I believed there would be a

good supplier, and eventually, after a few

more attempts I found one."

The couple bought a small quantity from

the US supplier and sold the products

from their home. When this proved

successful, they started selling at the

Sunday market, with Alex still working

full-time and all their extra money going

back into the business.

The next step was opening pop-up stores

on four days a week – Wednesday to

Saturday.

"WHERE THE SALE NEVER ENDS"

up To 70% off

The one stop shop for Cosmetics and Fragrances (for women and men)

THE MAKEUP SALE SHOP

Owners: Alex & Palak Harry

"We opened them as an 'event', in

different towns around the South

Island –Timaru, Dunedin, Nelson and

Blenheim. We were all over the South

Island for a couple of years and also in

Christchurch at The Palms, Hornby,

Northlands Mall and the Bush Inn.

These proved a great financial success

and continued to grow, but with Palak

now pregnant with their first child, they

decided it was time to settle down. So in

January 2016 they opened

their first store, The

Makeup Sale, in the Bush

Inn Centre, with a second

store opening in Dunedin

in September 2016. Palak

now employs nine staff

over the two stores.

"We will still have

the pop-up stores in

Northlands Mall starting

in August/September,"

Palak says, "and we

are looking at opening

another permanent store

in Rangiora."

The Makeup Sale stocks a wide selection

of top brands including Revlon, Almay,

L'Oreal, Maybelline, Rimmel of London,

New York Colors and Cover Girl. They

are also the exclusive New Zealand

stockists of the UK brand Technic.

"An example of the savings for customers

is more than 50 per cent on foundations

– they are never more than $20," Palak

says. "We also have a huge range of

fragrances. We buy products at lower

prices and pass these low prices on to

our customers."

@makeupsale.co.nz makeupsalenz

www.makeupsale.co.nz

Shop 3, inside Bush Inn Centre Mall (Before Paper Plus) | Ph 03 343 1516
---
16 Thursday June 22 2017

Latest Christchurch news at www. .kiwi

The Star

Our

Home is

Your Home

When support is required to continue living life to the full, Radius Care aims to make the

transition into aged care as smooth as possible.

New Zealand owned and operated, our Kiwi values ensure residents are important beyond their

medical needs. It's about providing the best lifestyle possible, supporting their hobbies and

interests, and making our home their home.

Bowling championships, baking, woodwork and outings illustrate the variety of activities on

offer. The seven-day activity rosters ensure our residents continue to enjoy their passions every

day, all the while surrounded by family and friends who can spend time with loved ones and

remain an integral part of their lives with 24-hour visiting.

If you have any questions or would like to look around, please feel free to call or drop in for a

chat at any of our four facilities in the Canterbury region.

Radius Hawthorne, 10 St Winifreds Place, Bryndwr, 03 351 9346

Radius St Helenas, 392 Barbadoes Street, Central, 03 365 6700

OTHER FACILITIES IN CANTERBURY

Radius Millstream, Ashburton, 03 975 8860

Radius Elloughton Gardens, Timaru

Village Ph: 0800 155 155 | Rest Home & Hospital Ph: 03 684 4688

Leaders in Care

Visit www.radiuscare.co.nz or call 0800 737 2273 for more information.
---
The Star Latest Christchurch news at www. .kiwi

Thursday June 22 2017 17

Viewpoint

Ensuring collaboration

ON Monday

afternoon about

300 people gathered

at The Piano on

Armagh St for the

first City Leaders'

Forum.

When I was appointed

Minister supporting Greater

Christchurch Regeneration just

over seven weeks ago, I committed

to keeping the community

as up-to-date as possible and

working alongside Mayor Lianne

Dalziel, the city council, Regenerate

Christchurch and Otakaro, as

well as other agencies and community

groups.

I did this because I firmly

believe that by working together

we can create something really

special.

The forum, hosted by the

mayor and I, was the first in a

series of events to ensure greater

collaboration and cooperation

among our city's leadership.

It was an opportunity to

communicate our successes, our

challenges and the milestones

we've achieved since the quakes.

It was also an opportunity for

open and honest discussion on

key rebuild and regeneration

issues.

The mayor and I are united

in our commitment to making

Nicky Wagner

Christchurch the best possible

place to live, work and raise a

family. We see a city full of opportunity.

Accompanied by a panel of

local business leaders, community

group representatives

and regeneration partners, we

discussed concepts such as maintaining

momentum and effective

collaboration, as well as specific

regeneration projects like the

metro sports facility, performing

arts precinct and residential red

zone.

Christchurch is lucky to have

so many leaders of such a high

calibre — all of whom want

what's best for their city. I'm a

naturally optimistic and positive

person but that doesn't mean

ignoring the challenges we're facing

or the work that still needs to

be done. By working together, by

more actively engaging with the

community and staying focused

on the task at hand, we can and

will be successful.

I look forward to the next

forum at the end of next month.

Some city councillors are

frustrated they still haven't

had a formal meeting with

the new rebuild boss more

than two months after she

took over the role

Sam Newton – This woman

did nothing for the people who

elected her after the earthquakes,

now she's in a higher

profile job I'm not surprised

that's changed.

Andrew Johnson – Who

would have thought, eh. Someone

actually worse than Brownlee

exists.

Nicholas Smeaton –

Maybe she's decided she's got

more important things to do –

like going sailing on Auckland

Harbour.

Alan Papprill – She's probably

out on the water somewhere

rather than engaging with either

the voters or her job. Out of

touch with reality . . . typical

National Party hack.

Graham Pownceby – Did

anyone seriously expect anything

more of a National MP?

Good job, the election isn't far

away.

Chris Farrier – Time for a

rethink on this rebuild boss, we

have been sitting in limbo far

too long.

Graham Pownceby –

No wonder she's not had any

meetings, too busy out on the

harbour.

•More Viewpoint, p18

Spend

$1000 in June

and go in the

draw to win this

Weber BBQ.

Come in and see us for

TYRES ● WHEELS ● BATTERIES

SUSPENSION ● BRAKES

WHEEL ALIGNMENT

(latest 3D Technology)

03 389 2170 www.coopertyres.co.nz

407 Ferry Road, Christchurch
---
18 Thursday June 22 2017

Latest Christchurch news at www. .kiwi

The Star

Viewpoint

•From page 17

Hamish Wilson – But she's

happy out there, sailing on the

Waitemata Harbour.

Hugh Jonathan

McGuire – That's disappointing.

The artist behind the

185 Empty Chairs tribute

is working to make it

permanent – and creators

of The Lord of the Rings

movies may help to make it

happen

Juliet Dalley – I love this

memorial as it helps to visualise

each person no longer with us.

As the article says – "the missing

chair at the table". I appreciate

not all people will share my sentiments,

but for me this makes

a much greater statement than

the new memorial. Good luck to

the artist (Mr Peter Majendie)

and I do hope the city council

seriously considers the proposal.

It will be sad to lose this significant

tribute to all those that we

lost.

Julie Foster – I think it's a

very visual and powerful memorial

to those we lost on a day

that changed our lives forever, I

personally think the 185 chairs

have a place in our city and in

our hearts.

Stephen Graham – We

have our permanent memorial

now. The chairs memorial

served its purpose well. Time

to move on. On the other hand,

there's nothing to stop the artist

from displaying it on his own

private property.

Jan Wikaira – I love this

memorial. It came first and from

the heart and I would love to see

it find a permanent place.

Bronwyn Hendry – This

is one of the most powerful

installations I've seen in my life.

I really hope it stays. It is an important

part of history now.

Ali Greening – This a place I

go when I'm grieving the loss of

people, lifestyle and opportunity.

There is something here that recognises

that sometimes life sucks,

and we are forever affected by the

loss of someone or something.

Something that I do not find at

the other memorial. Yes, it came

from the earthquakes, but it is

about so much more.

•Our People, p22 & 23

Health funding 'botch-up'

hurts Canterbury patients

JUST WHEN we

thought things

couldn't get any

more difficult for

our underfunded

Canterbury District

Health Board they have been

dealt a proverbial kick in the

guts.

A botch-up with the numbers

in the National Government's

budget has resulted in an error

in funding allocations nationally,

meaning 14 district health boards

were given too much money

and would have to give up some

of their funding to even out six

DHBs that were short-changed.

After initially being told how

much money they'd receive, DHB

leaders were then summoned to

Wellington and told their Budget

allocations will be changed.

Canterbury is on the losing end

of this maths and loses $2.69m in

funding.

To my mind, Minister of

Health Jonathan Coleman has

to front up and answer serious

questions about how this gross

error occurred. It's fair to say Mr

Coleman has egg on his face after

a Budget that he'd rather forget.

There is no doubt that staff made

an error but I am old-fashioned

when it comes to these matters

– the buck stops fair and square

with the minister.

While this is embarrassing for

the minister, the bigger impact

is that some DHBs will have to

make sharper cuts than expected.

This affects patients directly. It

means if you are waiting for a hip

or a knee consultation or surgery,

the uncertainty will continue.

Critically, it also means that there

is no much-needed additional

funding here in Canterbury for

our mental health services which

are at crisis point.

This mess adds insult to injury

after a Budget that offered nothing

new on mental health, failed

to fund primary care adequately

and allowed the funding shortfall

under this Government's watch

to stretch out to a cumulative

$2.3 billion. It's clear that due to

his mismanagement of health

funding, there will be real losers

across the country. After nine

years, New Zealanders deserve

better. It's time for a fresh approach.

•Megan Woods is Labour's

Canterbury spokeswoman

What's being done

about Canterbury's

water quality?

Look a little deeper at the

action being taken to improve

our precious water.

This year, there are new requirements on farmers

to limit the effects of farming on water quality.

The majority of farmers are already doing the

right thing, but more needs to be done to truly

improve our precious water.

We are working with farmers so that they know

exactly what they need to do. It will take time

for these improvements to have an effect on our

water quality and quantity, but we're off to a

good start.

Look a little deeper at

www.canterburywater.org.nz
---
The Star Latest Christchurch news at www. .kiwi

Thursday June 22 2017 19

raNGiora • Northwood • st martiNs • tower juNctioN • BishoPdaLe • raNGiora • Northwood

Northwood • st martiNs • tower juNctioN • BishoPdaLe • raNGiora • Northwood • st martiNs • tower juNctioN • BishoPdaLe •

STATIONERY MADE

AFFORDABLE

20 %

off

ALL OFFICE

STATIONERY

PLUS GET THESE

HOT DEALS

INSTORE!

25%

OFF

40%

OFF

WERE

$29.99 EACH

GET ORGANISED FOR LESS

ACCOUNT BOOKS

CARRY FILES AND

EXPANDING BOX FILES

NOW

$

17 .99

EA

OUR PRICE

$

24 .99

8 HIGHLIGHTERS

WERE $9.99

NOW

$

6 .99

INKS

BEAN BAGS

OUR PRICE

$

79 .99

RRP

$99.99

EACH

EA

Follow us on

Facebook:

BOX OF 10 BIC PENS

NOW 2 FOR

$

8 .99

@papertreestores

@papertreestores

tower junction, off Clarence St, Riccarton | Bishopdale, 31 Bishopdale Court, Bishopdale | rangiora, 206 High Street, Rangiora

Northwood supa centre, Main North Road, Belfast | st martins shopping centre, Wilsons Road, St Martins

WERE

$7.99

EACH

ALL BLACKS BACKPACK

INCLUDES

FREE PENCIL

CASE WORTH

$9.99

HURRY, SALE ENDS 30 JUNE!

BUY TWO,

SAVE

20%

EVERYDAY

HALF PRICE!

MESH DESK SETS

WERE

$29.99

SET

RRP $32.99

ALL FOR

$4.99

TOTAL

VALUE

$17.99

NOW

$

14 .99

SET

CANON OFFICE PAPER

BOX OF FIVE

OUR PRICE

$

23 .99

THIS OFFER AVAILABLE AT TOWER JUNCTION STORE ONLY

• st martiNs • tower juNctioN • BishoPdaLe • raNGiora • Northwood • st martiNs • tower juNctioN • BishoPdaLe • raNGiora
---
20 Thursday June 22 2017

Latest Christchurch news at www. .kiwi

The Star

FRESHCHOICE PRESENTS

MID-WINTER CHRISTMAS

19th - 25th June 2017

19TH TO 25TH JUNE 2017

Country Fresh NZ

Baking & Roasting

Potatoes 2kg

$

3 49

bag

Tegel Chicken

Frozen No 22

$

5 99

kg

Fresh NZ Pork Shoulder Roast

(Excludes Free Range)

$

9 99

each

Loose Enza NZ

Queen Apples

$

1 99

kg

2

for

$

7 00

Vogel's Bread 720-750g

(Excludes Gluten Free)

$

4 50

each

Tararua Butter 500g

$

22 99

pack

$

8 99

each

$

2 49

each

$

1 00

each

Heineken 12 x 330ml Bottles

(Excludes Light)

Montana Classic 750ml

Wattie's Very Special/Big & Hearty Soup

520-535g

Bluebird Burger Rings/Twisties/Cheezels/

Rashuns 110-120g

FreshChoice

Barrington | Merivale | Parklands

Open 7 Days a week.

FreshChoice.co.nz FreshChoiceNZ 0800 40 40 40

Customer Support Freephone

While stocks last at FreshChoice Barrington, Merivale & Parklands only.

We reserve the right to limit quantities. Trade not supplied.

Owned and

operated

by locals

fccs2206
---
The Star Latest Christchurch news at www. .kiwi

Thursday June 22 2017 21

Readers' photos

If you want to win a double

movie pass – get clicking. Each

week The Star will give away a

double movie pass to the best

photo sent in by a reader. Send

your photos to martin.hunter@starmedia.kiwi. Put

'photo competition' in the subject line and include

your name, address and phone number

FROSTY: Pat Tetlow, Waimairi Beach.

GONDOLA LOOKOUT: Wayne Lacey, Cashmere.

WINNER: Niamh Neve Thomas, Rolleston.

DANCER: Tracy Walsh, St Albans.

CUP: Zoey Downes, Heathcote

Valley.

SOUTHERN INSTITUTE OF TECHNOLOGY

Academic or practical? We have a course for you!

Southern Institute of Technology (SIT)

offers programmes from Certificate to Masters

level, with course intakes throughout the year.

The Christchurch campus has programmes

covered by the Zero Fees Scheme, which

means you are not charged tuition fees, only

paying for any direct material costs involved.

The New Zealand Certificate in Project

Management is open for enrolments and

students can begin studying at the end of June

or in the September intake. Teaching the core

skills and techniques of project management,

this course will allow you to contribute to the

management of various projects and work

SUNSET: Cristian Feher, St Albans.

with others in a project team. Offered via

blended delivery, you get the best of both

worlds, with fortnightly workshops and

online study combining to create a flexible

and comprehensive programme.

If you're looking to get a trade under your

belt, the Certificate in Construction is a great

option as the building industry is in need

of those with construction qualifications.

Beginning in August, this course can allow

you to fast track your way through an

apprenticeship. Covering carpentry theory,

elementary construction skills, health and

safety, drawing and practical construction,

you will attend classes three days per

week, with the other two days occupied by

practical work experience. Students have

the opportunity to participate in house

building coupled with the completion of

theory units, which will ideally then lead

into an apprenticeship.

Come and enrol to study at SIT's

Christchurch campus and kick

start your career today!

ASHLEY: Tania Miller, Woolston.

CONSTRUCTION

@ SIT

CHRISTCHURCH

ENROL NOW FOR SEMESTER 2

ª Certificate in Construction (Level 3)

-Course starts 21 August

Call today or email info@sit.ac.nz

0800 TO STUDY

www.sit.ac.nz
---
22

Latest Christchurch news at www. .kiwi

Thursday June 22 2017

Our People

The Star

Peter Majendie

Artist makes bid to find new home

Peter Majendie is trying

to find a permanent

location for his 185

Empty Chairs. Bridget

Rutherford spoke to him

about creating a place

for people to remember

their loved ones and his

stand-up comedy career

So Peter, I see you are looking

for a new home for your

185 Empty Chairs. How is that

going?

Well, at the moment on our

website you can vote for where

you'd like to see the 185 chairs

move to, like the CTV building

site, the Botanic Gardens or

Latimer Square. Latimer Square

seems to be the most favoured

place. We've been told it's not

moving to the CTV site. So I'm

talking to the city council to see

if there is somewhere they can go

and what the future is for it.

How long have you been looking

for a new site?

Our proposal to make it

permanent was with CERA a

good two years ago, because

where it is now is earmarked for

the new stadium. We're there

POIGNANT: Artist Peter Majendie says he painted the first of the 185 Empty Chairs for a grieving

friend because he just had no clue what to say.

PHOTO: MARTIN HUNTER

for as long as the church meets

on that site. It's always been a

temporary site. When we set it

up, it was going to be up for three

weeks. We did it for the first

anniversary of the February 22,

2011, earthquake.

Why do you think they have

remained for five years?

When we put it up, I was pretty

sure it would work. I think immediately

it was pretty popular.

It's very open-ended and people

could engage with it. Whenever

we thought about taking it away,

I'd get a lot of emails. As far as

the chairs go, I can remember in

the first few months meeting a

young guy, he would have been

about 12, and he'd bike to the

chairs and he would sit there and

chat to his mum. He needed a

memorial then – not six years

later. I think one of the things

the chairs have done is transcended

the earthquake.

Where do the chairs come

from?

My closest friend lost a sonin-law

in the earthquake, and

I asked him if I could paint

a chair. We bought chairs on

Trade Me and a few places have

donated chairs. Over the years,

we've had working bees and

people have brought chairs along

to paint. I still get them from

the Salvation Army and the

EcoShop, I'm painting about 10

at the moment. We've had very

few thefts, the wheelchair was

stolen, and we've had a little bit

of damage through vandalism,

but not much at all. It's really the

weather that breaks them down

so we need to replace some.

And speaking of the weather,

I hear you have been chatting to

Weta Workshop about making

the chairs more permanent?

We have cast one in aluminium

to see how it would work. We

went to Weta to get options of

how we could make them more

permanent, or make new ones.

We could 3D print them.

Enjoy a COFFEE ON US when you attend our FREE

Build Right seminars at the Star Home & Leisure Show*

BUILD RIGHT ARE

THE 'RIGHT CHOICE'

FOR YOUR

RENOVATION

OR NEW HOME

• Enhance your home with an

extension or renovation

• Get a no obligation free quote

• Qualified and experienced

quantity surveyor

• Stunning house plans

• 10 year guarantee on all projects

• Trust the company that has

years of experience

774 Main North Road, Christchurch

Ph 03 323 5771

Build Right Homes

buildrighthomes.co.nz

Join seminar host

Marissa Stephen

on the Build Right

Q & A couch as

she talks with

the experts.

FREE Build Right

seminars are held

at Horncastle Arena

daily from June

30th - July 2nd, 2017

(inclusive).

Build Right are located at stands 85, 86 and 87.

*Conditions apply: offer available to Build Right seminar attendees for 2017 show duration.

"Proudly associated with Build Right Homes Construction"

Nobull Gas & Plumbing
---
The Star Latest Christchurch news at www. .kiwi

Thursday June 22 2017 23

for his 185 Empty Chairs memorial

Where did you take your

inspiration from?

The 1995 Oklahoma bombing

memorial is made up of chairs. I

do speak on Vincent van Gogh

– he painted chairs depicting

personality – I think that was the

strongest influence. I know some

people have said they don't want

a chair to represent their loved

one but the empty chair speaks

of the absence of the person.

And you mentioned your

friend's son-in-law died in the

quake, did you know anyone

else?

Not well. I'd done quite a bit of

art around town and I had been

interviewed by CTV a number of

times, so I did know people who

worked there.

Did that make the 185 Empty

Chairs more personal for you?

It was, especially my friend's

son-in-law. It's been a privilege,

I've met some wonderful people

with amazing stories. People

who help maintain the chairs

feel they are actually doing

something, because they are

all hand-painted. One guy

suffered serious injuries in the

earthquake and it took him two

hours to paint the wheelchair,

and I think he found it quite

MOVING: Peter Majendie created an installation at Sumner

beach to mark the 100th anniversary of the withdrawal of

troops from Gallipoli.

therapeutic. No-one who was

in a wheelchair was killed, but I

know three people did finish up

in wheelchairs. There were a few

people who came along and it

was their first time coming into

town since the day of the quake.

You must meet a lot of

affected people there?

Yes, because it's so open-ended

and an everyday object people

can engage. Someone told me he

remembered his son from the

little baby carrier, through to

the high chair, school chair, the

swivel chair at work. And some

people connect with just one

chair.

What other art work have you

done in Christchurch?

We used to do large-scale

peace labyrinths in Latimer

Square. They were very interactive.

We also wrapped the

orange tree for the launch of the

Canterbury Community Trust's

$25 million earthquake fund. It

was on the corner of Manchester

St and Oxford Tce. We used hundreds

of metres of fabric for that.

And can you tell me a bit

about Sidedoor Arts Trust, and

what it's all about?

Sidedoor has run for about 14

years. It came from a contemplative

space that my wife Joyce and

I created for people going out the

back door of church to help connection

and reflection. As for the

chairs, a friend of mine has done

his masters thesis around community

homelessness. He interviewed

a lot of homeless people

in Christchurch and they were

telling him the chairs for them

are a sacred place. They would

sit there and smoke and drink,

and I have no problem with that,

but they would never sleep there,

it's a set-apart space. In some

sense, the Margaret Mahy Family

Playground is a sacred space.

It's an absolute joy – I take my

grandkids there. Those are the

sort of things the city needs to

give it some soul. That was one of

the reasons we decided to push

ahead with making the chairs

permanent.

On another note, I hear

you're also a bit of a stand-up

comedian. Can you tell me

about that?

I did it on the tram and I've

done stand-up in Auckland and

overseas in the United States,

United Kingdom and Australia.

It revolves around the fact I'm

deaf, my parents were deaf. I've

had a couple of operations and

have the most powerful hearing

aids you can get and a pretty

good phone. My parents went

deaf in their 20s so I knew what

it was like. I think in some ways

that was quite influential on my

art. We are so dependent on

words, so through art I'm trying

to say things visually.

And what do you like to do in

your spare time?

I like my mountain biking.

I've had some pretty spectacular

crashes. And I have six grandkids

who are a constant joy and

I am quite involved with. Joyce

and I are about to go with our

youngest son, his wife and three

kids to Paris and the UK.

Sounds exciting, and did you

grow up in Christchurch?

I grew up in Brighton and

I've always lived here. We're in

Heathcote now.

New to beekeeping

or want to upskill?

Saturday 8 – Saturday 22 July 2017

Tickets on

sale NOW!

STARTS

AUGUST

2017!

For more info go to

@KidsFestNZ or kidsfest.co.nz

The New Zealand Certificate in Apiculture

(Level 3) is starting soon!

Delivered as a part-time programme across New Zealand.

14 workshops over 34 weeks. Ideal for those wanting to get into

beekeeping or those who need a formal qualification in apiculture.

Six modules match learning requirements with the seasonal nature

of industry activities:

• Bees and their Habitat • Requeening • Honey Flow

• Bee Manipulation • Bee and Hive Health • Bee Feeding

ENQUIRE NOW!

CALL 0800 TARATAHI

E: info@taratahi.ac.nz

W: taratahi.ac.nz
---
24 Thursday June 22 2017

Latest Christchurch news at www. .kiwi

The Star

SAVE $8,000

cnr Montreal & St Asaph Streets, Christchurch

www.christchurchmitsubishi.co.nz

Sales, Service & Parts: 03 379 0588

NEW ASX XLS AWD Diesel now only $33,990 +ORC

Get a little style, a little attitude, the most desirable warranty and a whole lot more with

the powerful yet fuel effiecent ASX XLS AWD Diesel. See for yourself at Christchurch

Mitsubishi. Call 03 379 0588 or visit ChristchurchMitsubishi.co.nz to take a test drive.

*Price listed is for ASX XLS AWD 2.3L Diesel RRP is $41,990+ORC. Price excludes On Road Costs which includes WoF, Registration and a full tank of fuel.

Offer available while stocks last. Visit mmnz.co.nz for full Diamond Advantage terms & conditions.

100% UNIQUE. 0% INTEREST.

For a limited time you can get behind the wheel of these unmistakable MINI models with 0% interest and just 3 payments. *

MINI HATCH

MINI CLUBMAN

Iconic design, with three or five doors and plenty of customisable details to make your MINI an individual.

Highly crafted design with distinct split rear doors, offering ample space and room to move.

Book a test drive at Christchurch MINI Garage today.

INTEREST NOW

(Deposit)

0% ($250 Establishment Fee)

1

/ 1 2018

3 / 1 2019

3 (Month 12) / 3

(Month 24)

CHRISTCHURCH MINI GARAGE.

30 Manchester Street. Christchurch. 03 363 7240.

MINI.CO.NZ

*Offer includes an establishment fee of $250 and recommended on-road vehicle costs. Offer excludes MINI John Cooper Works Clubman. BMW Financial Services New Zealand Ltd terms, conditions and standard

lending criteria apply. Offer expires June 30th 2017.
---
BETTER LIVING & LEISURE

JUNE 2017

INSIDE

MEET ME AT

MERIVALE

Page 2

LITTLE HIGH

EATERY

Page3

ON POINTE

BARREBOOTY

Page 8

SMALL AND

SPORTY

Page 12

AWAITING COPY

Ad Number: FG9853

Artwork: FG9853

Size: 9x8

Description: JOHN RHIND FUNERAL DIRECTORS

Account: Forward 50 key # jr_966

Colour: F

Filename: FG9853

JR_966

Thinking about the future

Feel safe in the knowledge that you are working with a

professional and experienced team who will guide you through

prearrangement and prepayment options.

We can be contacted at anytime to assist you.

www.johnrhind.co.nz

19 London Street, Christchurch | Tel: (03) 379 9920 | 118 Williams St, Kaiapoi | Tel: (03) 327 7499
---
meet mE at merivale

coogee, potts point, paddington, newport...

sydney's a foodies paradise!

TRAVEL I 2

Sydney needs little introduction. Chances

are if you've visited Sydney a few times, you

would have stuck mainly to the beaten track;

shopping in the CBD, Bondi Junction and

down Oxford Street; lunching in and around

the harbour and at Wooloomooloo Wharf,

maybe a surfing lesson on Bondi Beach or a

day trip to Manly and the Northen beaches

on the Ferry. While I'd happily spend every

trip doing just this, there are unsurprisingly

some pockets of amazingness to be found

not too far away from these favourite haunts.

A great way to venture in to some new

Sydney neighbourhoods is to use the

Merivale Group as a starting point. The

hospitality superweights, established by the

Hemmes family has a growing portfolio of

more than 65 restaurants, bars, pubs, hotels

and function spaces that are all spectacularly

unique. It appears that they have the

hospitality midas touch with all their venues,

opening to steller reviews for both food and

ambience.

On the eastern side of Sydney, Merivale's

Coogee Pavilion is somewhere you can easily

spend a day. Complete with petanque, giant

magnetic scrabble, ping pong and an in-house

theatrette, it's a venue that ticks the boxes

for every age. A market style food court

concept inhabits the ground level, offering

oysters to wood-fire pizza. On the rooftop

the four indoor and outdoor bars, have huge

balconies that boast wraparound views of the

Coogee shoreline.

Coogee is really Bondis little unappreciated

sister. You'll find a swim at the pictureque

Whylie's or McIver's Baths, one of the few

remaining womens only ocean pools, located

on the rocks next to Coogee Beach, is right

up there with Bondi's Icebergs pool. Coogee

carries a less pretentious air than its Bondi

neighbours and has the added bonus of being

either the start or finish of the popular Bondi

to Coogee coastal walk.

Third Age Tours eST

Small Group Tours for the over 50's

Domestic and International

Great Prices!

england/Wales & Yorkshire Dales

24 August - 23 September 2017

enchanting Ireland & Scotland 31 May - 27 June 2018

2017 Full

2017 Full

curiosities of cuba 30 April - 26 May 2018

Treasures of Turkey 11 May - 4 June 2018

captivating croatia, Slovenia

montenegro & Venice

15 June - 9 July 2018

Vietnam & cambodia 4 - 26 October 2018

Beautiful norfolk Island 22 - 29 October 2017

Sicily, rome & Southern Italy 29 September - 24 October 2017

4 PlAceS leFT

South Island Tours

Glorious Autumn in Arrowtown 17 - 22 April 2018

catlins/Stewart Island 8 - 16 February 2018

White herons, Glaciers & Alpine loop Tour

28 January - 2 February 2018

PluS oTher DeSTInATIonS!

For a Free InFormATIon PAck contact Brenda

Third Age Tours

1999

Ph 03 379 3799 or 03 312 7050 | Freephone: 0800 927 725

sunshineone@xtra.co.nz | www.thirdagetours.co.nz

Another infamous place many people visit

in Sydney is Kings Cross. But step sideways

a few metres and you'll end up in Potts Point.

Worlds apart in terms of sophistication and

grandeur, here you'll find the home to a

growing number of Merivale's restaurants.

Behind a door bathed in pink neon on

Victoria Street, you'll find Ms G's which is

'modern Asian' and will be 'unlike anything

you've ever experienced before'. The graffiticovered

walls, uber stylish lighting and jam jar

decorated ceiling are hipster cool. The menu is

exceptional too and mashes together the very

best combination of Chinese to

Vietnamamese, to Korean.

While you're in Potts Point if you're

interested in architecture, you may want to

visit Elizabeth Bay House to appreciate the

grand old architecture of yesteryear or visit

Macleay St which has plenty of clothing

boutiques. Potts Point is often referred to

as the little France of Sydney, with beautiful

tree-lined streets, art deco terrace houses and

european styled cafes, you're bound to spot

plenty of expensive sports cars and lap dogs

sitting pretty amongst the euro styled locals.

You couldn't mention Merivale without

covering the Ivy complex in the CBD. Home

to award-winning restaurants, Sydney's only

rooftop pool bar, numerous event spaces

and leading fashion and lifestyle retailers, the

Ivy ensures the perfect CBD outing starts in

George street.

While many of us won't be wanting to don

a bikini and head to the super glitzy pool club

on the top floor, The Ivy's Felix and Ash St.

Cellar in comparison offer an oasis of relative

maturity.

Fred's and Charlie's Parkers, Merivale's

highly-anticipated Paddington venues, which

opened towards the end of last year, are both

venues worth visiting if you hit the Oxford

Street shopping strip.

31 kms north of the CBD on the

stunning shores of Pittwater, another of Justin

Hemme's renovations, The Newport makes

a great pitstop if you're heading north on a

day-trip to the stunning northern beaches of

Avalon or Palm Beach.

Boasting Australia's largest outdoor waterfront

beer garden, The Newport like all of the

Merivale Groups ventures has multiple,

eclectic, themed spaces to drink and dine in.

With live music often playing and a 'vintage

gymnasium' with badminton, exercise bikes

that can charge mobile phones, ping pong

tables, outdoor petanque and concrete table

tennis courts, there's no shortage of

entertainment.

Like the Coogee Pavilion, the Newport

menu is based on a community market

concept, where different food stalls feature

everything from a grass-fed beef burger and

fresh shucked oysters, to spit-roasted pork,

fresh pastries and a pizzeria and salad bar too.

As a word of warning, if you visit one of

Merivale's venues you're sure to get hooked.

And as you should always be prepared to pack

an extra bag to fill with shopping on a trip to

Sydney, once you've discovered the Merivale

venus, also prepare to pack on a couple of kgs

from sampling the incredible assortment of

mouthwatering restaurants.
---
3 I LIFESTYLE

art for everyone

The Christchurch Art Show held it's fourth consecutive show at The Events Centre, Wigram

Air Force Museum of New Zealand in Christchurch from June 15 - 18.

Described as a show with "art for everyone", the Christchurch Art Show, over four days

showcases works by New Zealand artists. At only $10 for entry in to the show it's an

inexpensive way to peruse artworks in a gallery meets tradeshow style setting. All artworks

are for sale.

A feature of this years event was the "biggest ever wall of art" measuring 21 metres long.

The wall held a signature work of the top ten artists that the public voted they wanted to see

return from the 2016 show. The 2017 top ten artists were;

Joel Hart: Joel creates multi-dimensional, pop-culture inspired urban works, often

incorporating women.

Marie Kjestrup Adams: Marie uses bold brush strokes, line, colour and layering to create

expressive, free flowing works capturing movement, flair and the excitement of every day life.

Liz Turnbull: Liz's works explore our landscape. She has a fascination with light, water and

the outdoors and how our landscape's mood can be changed by light alone.

Odelle Morshuis: Recent pieces are paintings of figures framed with layers of engraved

glass.

Joe McMenamin: Joe's flowing organic patterns that ripple through his works have won

him a following throughout New Zealand.

Jane Riley: Jane's artworks depict the beauty she sees and interprets with tremendous

energy, passion and flair, often incorporating textures of sand, gemstones, shells and other

natural materials.

Janyne Fletcher: Jayne is an Otago-based photographer who clearly knows the nuances of

the region's weather and land.

Megan Huffadine: The objects and forms in her work are derived from the Central Otago

locale. Seeds, remnants and discards are sketched from memory, scale is altered and then these

are developed into new forms.

Susan Hurrel Fieldes: Susan's printmaking works are abstract and often focus on the

solarplate, collagraph and drypoint methods.

John Burns: John's artwork is bold. Some have stories, some are crazy, gentle, mad, kind,

thoughtful, different and thats a word I hear a lot about my art, and a word I like... to be

different.

If you haven't been to the Art Show, you should definitely add it on to your 2018 'to-do' list.

CONTACT

SALES MANAGER

Frank Greenslade - 03 364 7446

frank@

DESIGN AND COPY

Harriet Hall

hello@twohats.co.nz

Make your GP team

your first call 24/7

Even after-hours a nurse

is available to give free

health advice.

Lightweight WHEELCHAIRS

SELF PROPELLING

LIGHT-WEIGHT

SELF PROPELLING

WHEELCHAIRS

• Pop off wheels

• Removable leg-rests

• 14", 16" or 18" seat width

• Weight with wheels and leg-rests

removed is only 10.9kg

• Folds for storage or transportation

• Maximum user weight 100kg

PHONE 354 5616

108 Sawyers Arms Rd, Papanui, Christchurch

10% Off for SUPERGOLD card holders

Conditions may apply

9

6

12

3

TROUBLE HEARING?

• Reduce listening effort

throughout your day,

resulting in less stress &

fatigue.

• Understand speech

in difficult listening

situations, eg.

Restaurants.

Call today to book an appointment for a

Free hearing check & hearing aid demo

Merivale Hearing Clinic

24b Church Lane.

Call now: 356 2324

Regain the freedom

of your home

Simple, safe and stylish, Acorn

Stairlifts give people the chance to

enjoy their own homes once again.

• For straight or curved staircases

• Indoor and outdoor lifts

• Free home assessment

• Fast installation

• Safe and reliable

0800 223 062

CALL NOW FOR YOUR FREE BROCHURE & QUOTATION

Greg Foote,

Audiologist MNZAS

FREE DVD Guide

to Stairlifts!
---
christchurch gets a little high

it's like going through the cupboard in to narnia. enter the doors to the little high eatery and

you'll feel like you're in another world (or city at the very least!)

CUISINE I 4

If you're looking for a new breakfast, lunch or dinner spot, The Little High Eatery is it. The

newest addition to High Street is calling the old Mackenzie Willis building home. With an

upmarket foodcourt/foodtruck concept, you can choose from eight different eateries; Bacon

Brothers, A Mouse Called Bean, Eight Grains, Noodle Monk, Base Pizza, El Fogon Grill, Caribe

Latin Kitchen and Sushi Soldier.

Far from the standard mall-style foodcourt, the attention to detail at Little High is

impeccable. Each of the eatery zones has it's own distinctive decor, adding to the market feel.

Caribe Latin Kitchen has a brightly tiled bar and eclectic mix of prints on the wall and Bacon

Bros has the front of an old truck at the counter.

The lighting is impressive with each eatery decked out with an ambience to match. Over

at El Fogon the chunky rustic pendants are turned down low creating a very authentic Latin

American grill feel, where in stark contrast over at Eight Grains the lights are up high,

illuminating the minimilist Japanese kitchen.

With over 40 craft beers from all around the world to choose from and sake, sangria and

margaritas, you'll be forgiven for popping back here time and time again to make your way

through the drinks lists.

The menus won't disappoint either. Handed a buzzer upon ordering at each of the eatery

counters, there are no rules as to how many diferent options your group samples. Many of the

menu items are designed to be shared, making a perfect opportunity to sample a variety of the

the mouthwatering dishes on offer.

A spicy serving of Quesidillas at the Caribe Latin Kitchen washed down with a Dos Equis

Lager was my pick. To be honest i'd be happy making this my go-to choice, was it not for the

fact that evey plate that past my eyeline looked incredible. I've added the dumplings at Eight

Grains and a bowl from Noodle Monk to my next visit wish-list, but I know that i'll keep going

back to make my way around the venue.

For those still working in the CBD, a coffee from A Mouse Called Bean which used to be

housed in the Re:Start Mall and a breakfast burger from Bacon Brothers would be a great pick.

It's so good that i'd even suggest heading in for a mid-afternoon snack. Maybe opt for

somethig slightly left-field with a Japanese green tea ice cream or churros.

It's proving to be sublimly popular so finding a seat on the weekend can be a gamble,

but with long opening hours (from 7am-10pm Sunday-Wednesday and open until midnight

Thursday-Saturday) you're not restricted to head for just lunch or dinner. Being able to park in

the Wilsons carpark right outside the front door adds to the appeal too.

At this stage until the new venue buzz dies down a little I wouldn't suggest turning up with a

big group. It's easier to jump on the end of one of the longer shared tables or bar leaners than

secure a table or booth during peak feeding times.

www.littlehigh.co.nz

slip in to these

a detachable sole in your choice of colour

takes them from house shoe to outside-ready

in a snap

Stylish, simple and incredibly comfortable

Mahabis slippers are described as "a luxury

unisex slipper brand combining scandinavian

design principles and european craftsmanship."

Mahabis are designed in London and

produced in Portugal. The lining is super soft

sheep wool, which sculpts to the shape of

your foot making them super comfy.

The clever feature of this slipper is that

they can be worn both inside and outside by

clipping on a sole. Replacement soles can be

bought in a variety of colours.

They're more expensive than your average

slipper, but their sleek scandinavian-like look

would make them a perfect gift for that someone

who has everything.

Available online at www.mahabis.com
---
5 I CUISINE / HEALTH

INGREDIENTS

5 avocados

400g peas + extra for garnish

3 jalapeno chillies

3 cloves garlic

2 eshallots

PEA GUACAMOLE

Don't think peas belong in guacamole?

Try this fantastic recipe from SYDNEY's Papi Chulo restaurant!

25g toasted sunflower seeds

Dash of fish sauce

Juice of half a lime

Salt

Coriander for garnish

Good quality corn chips

DIRECTIONS

1. Take the flesh from each avocado and gently mush them up in a bowl while still keeping

them chunky.

2. Please peas into a blender and pulse. Add to avocados.

3. Finely chop garlic and jalapeno, and add three quarters to avocados (may have to add

more to taste later on.

4. Slice eshallots finely and add to avocados.

5. Finally, mix everything together and season with salt, lime juice and fish scause. There

should be a balance of tangy, spicy (may need to add more jalapeno and garlic mix), and

salty.

6. To serve, place in serving bowl and sprinkle garnish with extra peas, sunflower seeds

and coriander.

7. Enjoy with corn chips!

FALLS

Ask your Doctor about Canterbury's Falls Prevention Service, Steady as you go, exercise

classes and green prescription exercise classes.

FALLS are not a normal part of ageing and many falls can be prevented.

FALLS are the most common injury in older people.

Falls by older people are usually due to poor balance and weakened leg muscles.

* Women are one and half times more likely to fall than men.

* ½ of all people over 80 years fall each year & 1/3 aged over 65 years will fall.

* Many falls and subsequent broken bones can be prevented.

* Many of these broken bones have life changing and life threatening results.

Ask your Doctor about Canterbury's Falls Prevention Service, Steady as you go, exercise

classes and green prescription exercise classes. These are all designed to build up your muscle

strength and improve your balance. Walking and all other exercise that you do on your feet is

good for muscle strength. Half an hour at least three times a week is beneficial.

If you are over 50 years and have broken a bone as a result of a bump or minor fall talk to

your Doctor about osteoporosis or contact your local Osteoporosis Society for more

information, Trish at trish.adams200@gmail.com

The Osteoporosis Society of Canterbury Inc. have their AGM on Wednesday July 12th at the

YMCA Hereford Street at 2-30pm. There will be falls prevention specialists to give advice and

help.

All Welcome

mulled wine

mulled wine is one of the seasonal sTAPLES we can't get enough of. The key to its success is

using some quality ingredients (stay away from the casked wine!)

INGREDIENTS

1 bottle of full-bodied wine (Shiraz, Merlot

or Malbec work well)

1 vanilla pod

1 large orange

1 large lemon

1 teaspoon cloves

4 star anise

5 cracked cardamom pods

2 cinnamon quills broken in halves

1 teaspoon whole green or black peppercorns

10g grated ginger

1 bay leaf

¼ of a whole nutmeg, grated

Brown sugar, to taste

100ml water

OSTEOPOROSIS

SOCIETY

Canterbury

DIRECTIONS

1. Combine all spices in a pot. Heat on high until small wisps of smoke rise and the aroma

floats up into your nose.

2. Add the water and continue to heat until the mixture begins to look like tea.

3. Turn the heat down, add wine, and give a quick stir.

4. Squeeze the juice of the orange and lemon into mixture, adding the remainder the fruit

as well. Heat until hot, but not boiling.

5. Add sugar. Be sure to taste so you don't sweeten too much. Once you've reached your

desired sweetness, leave to infuse on a low heat for 10-15 minutes.

6. Strain solids, and then add back to pot to keep warm.

7. Decant wine into preferred vessel and enjoy!

Join the Canterbury

Osteoporosis Society

For

• Support & understanding

• Information

• Regular Newsletters

• Exercise & Dietary Information

• Public Meetings

Contact Trish (03) 960-5143
---
what is important to you?

It is interesting what people perceive as important beauty/appearance items when asked

to name the three items they couldn't do without if told they were going to a desert island

indefinitely.

A cross section of males and females ranging from 52 to 95 years old were asked the

question.

Oddly only one person asked if they would be there on their own. Their replies follow:

Elizabeth - 68

Coconut oil - It can be used internally and externally, hair brush, nail scissors.

LAW / BEAUTY I 6

Francis - 73

Sunglasses, hairbrush, nail file.

Susie - 63

Moisturiser with sunscreen, mouthwash and lip gloss (Chanel Exotique no 12)

Jo - 75

Magnifying mirror, tweezers and sunscreen.

Go ask your friends.

It can lead to an

interesting

discussion!

JoAN - 95

Dior foundation, Oil of Olay moisturiser and a 'good' lipstick.

ANNA - 59 & SARA - 62

Oddly two sisters Anna and Sara both chose identical items: moisturiser with sunscreen -

particularly for the lips, smudgy charcoal eye pencil and mouth wash.

Philip - 69

A huge cake of soap, piksters for cleaning my teeth and an endless supply of mouth wash.

Pene - 52

Scissors, mirror, scrubbing brush.

Mike - 66

A toothbrush so my teeth aren't caked in raw fish, moisturiser to keep sun and salted skin

from going wrinkly and a comfy pillow so I get my beauty sleep.

JOHN - 82

The biggest, thickest supply of loo paper, Laphroaig mouth wash, (for those in the dark,

this is actually single malt whiskey and a hairbrush.)

CAPACITY

WORDS FLEUR MCDONALD

As lawyers, we are required to meet with

our clients and take their instructions in

order to help them complete the particular

legal task(s) they are planning. Sometimes

when we do this, we need to take a little

extra time to consider our clients legal or

mental capacity to make decisions.

Mental or legal capacity is a client's capacity

to make a decision. Decision making requires

that a client:

• understands the decision they are

having to make

• can discuss with us the possible

options available to them in a way that

shows they appreciate the risk and or

benefit of those options

• understands the impact that a decision,

or the lack of a decision, may have on

them or their loved ones

• is able to articulate and discuss all of

the above with us.

It is important to note that the level of

capacity required isn't the same in every

situation. For example, to make a Will the

test is whether the client knows they are

making a Will and the effect of doing so,

whether they understand the extent of

the assets they are dealing with and finally,

whether they comprehend the moral claims

which they ought to give effect to.

However, when giving instructions to

complete Enduring Powers of Attorney the

test is whether the client understands the

consequences of granting a power of attorney

and the nature and effect of the power they

are giving. This is the test even in a situation

where the client is no longer capable of

managing their own affairs.

Having these discussions with our clients

is difficult. It can be very confronting, both

for our clients and for us. In a worst case

scenario, our clients can be very offended by

us questioning their capacity. This is not our

intention. Our intention is to ensure that

the legal outcome our clients have set out to

achieve, has the best possible opportunity to

succeed.

We are aware however that if there is a

likelihood that our client's decision might be

challenged, one of the first questions that

may be raised is whether our client had the

capacity required to make the decision in the

first place.

The best way of mitigating this risk may be

for our clients to undertake a capacity

assessment prior to completing their

legal work. It is best that the assessment be

scheduled as close as possible to the

appointment to complete the legal work

they are contemplated. It is important for

us to write to our client's doctor to explain

to them the background of the situation, the

legal test that is at issue and to request a

detailed report regarding our client's capacity

to make the decision in question.

For the reasons discussed above, if you have

concerns about your capacity or the

capacity of a loved one, it is critical that you

obtain advice from a team well versed in

dealing with these matters. At Harmans we

have a specialist seniors team to help you

with any queries you may have. Contact Fleur

McDonald on 352-2293 to arrange an

appointment to discuss your situation.

1. Banks v Goodfellow (1870) LR 5 QB 549

2. Re Tony (1990) 5 NZFLR 609

3. Re K [1988] 2 WLR 781
---
7 I LIFESTYLE / BEAUTY

Twelfth Night comes to Fortune!

Twelfth Night is sure to be a raucous, wild production and a great night out for all.

bangin brows

show some brow love. treat yourself to a specialised brow treatment.

Shakespeare is moving back into the

Fortune with this perennially rich, bold and

classic. comedy. Even after 400 odd years

this tale with shipwrecks, gender bending

disguises, traps and some terrific party

songs hasn't lost any of its entertainment

value. Since the beginning of 2017, 11

local Theatre Studies students have been

working alongside us in every facet of

the Fortune organisation to bring you this

deeply rewarding meditation on loss, love

and lunacy. Under the inspired direction of

Benjamin Henson the 2017 Fortune

Company will join them to deliver some

playful pyrotechnics.

Twelfth Night is part of a biannual

collaboration with the university of Otago

that give emerging theatre practitioners

real world experience working on a

professional production. This production

marks the Fortune's second collaboration

after the very successful production of

Punk Rock in 2015.

Twelfth Night is sure to be a raucous, wild

production and a great night out for all. To

book your tickets head to fortunetheatre.

co.nz or call 03 477 8323 – seats are selling

fast!

As we age the hair on our bodies becomes

lighter and sparser, making it even more

important to maintain our brows.

A well-shaped brow gives a look of

confidence and really balances the face and

frames the eyes. It's also said that eyebrows

play the most important role in creating the

facial symmetry that makes a person look

attractive.

There have been many trends with

eyebrow shapes and colour, but natural and

full eyebrows will never go out of style.

If you haven't got a naturally full brow

or you've had a long history of tweezering,

there's still hope. There are a few products

that actually help to repair damaged

eyebrows or create an illusion of thicker

brows and in recent years specialty eyebrow

bars have popped up, offering expert advice

and techniques.

To get the low-down on what we should

be doing with our brows, Kim Mchugh, Brow

Artist and Founder of The Eyebrow Bar on

Colombo Street gave us the answers;

1> I've tweezed my eyebrows to

death over the years, is there anything

that can be done?

Firstly (and most importantly), step away

from the tweezers! A daunting concept but

totally necessary to give yourself the best

chance of rekindling the 'Brow Love'.

Secondly, book an appointment with me

and I can recommend a plan to get your

brows back on track.

It's advised to not remove any hairs for at

least 4 - 8 weeks prior to your appointment,

that way I can see what growth is coming

back and which areas need TLC.

A 'Custom Colour Brow Tint' can be a

real savior. It can reveal a fuller, more defined

brow literally in a matter of seconds in some

cases. It's also great for giving the brows more

depth and helps to disguise the greys.

There are some fantastic results-based,

growth enhancing serums that are

especially formulated to encourage the

growth in patchy areas. Come and see me to

have a chat as they're not suitable for

everyone... if the damage has been done

and the follicle is dead, it won't encourage

any more growth but it may help to prevent

future hair loss.

If you're not keen on a chemical based

product then I also recommend trying

Castor Oil or Organic Coconut oil. In my

experience, applying this to the brow area

can also help stimulate new growth and give a

lovely glossy finish to the hairs.

Time is also key - be patient. In my

experience, it can take anywhere from 4

months - 18 months for the completion of

your new 'Bangin' Brows'. If you've tried all of

the above but to no avail, then Microblading

is for you.

Be very careful when you choose your

Microblading technician, it's paramount that

you do your research and always choose a

qualified and experienced practitioner who

has a solid background in brows. I can't stress

that point enough!

2> Can you tell us what your eyebrow

revolution treatment entails?

The Eyebrow Revolution is my most

popular treatment.

It starts with a consultation - we have a

chat about your concerns and see what we

can do to achieve your brow goals.

A brow tint and shape is then performed

and brow cosmetics are applied to give them

a flattering finish.

3> Who do you consider to have

perfect brows?

I absolutely adore Cara Delevingne's brows.

They're naturally amazing and have that

untouched look which is my favourite.

4> What are we aiming for with our

brows.....there seem to be a lot of full

browed girls around at the moment?

I'm a fan of natural looking brows. My

advice to the readers is this; embrace your

natural shape as natural never goes out of

fashion.

Also, invest in a specialised brow treatment,

it's well worth it.

www.theeyebrowbar.co.nz
---
LIFESTYLE / FITNESS I 8

On pointe

want a ballerina style pyhsique like

natalie portman in the black swan....then give

barre fitness a twirl.

Has anyone asked you to try barre

fitness? While barre has origins in dance,

the rhythmically challenged shouldn't

worry. Most barre classes follow the same

basic structure. You'll most likely start with

a warm-up, then move in to some planking

and push-ups, do a series of arm exercises

(sometimes with hand weights), and then

continue at the bar with a lower-body

section to work your bigger muscles like the

quads, glutes and calves. You'll also put your

core to action with a series of either bar or

mat based exercises. A class will finish off

with some relaxation and stretching.

The isometric contractions that make up

the bulk of a barre class occur when the

muscle tenses without changing length.

Isometric exercise is a great way to maintain

muscle strength.

If you're wanting to sculpt a leaner longerlooking

and more graceful physique aka

Natalie Portman in Black Swan then here

we breakdown the different types of Barre

training for you.

TYPES OF BARRE:

BARRE3

Ballet meets yoga and pilates

Using a yoga mat, ball and ballet barre.

PURE BARRE

Similar to Barre3 but with a cardio kick.

Ball, ballet barre and hand weights.

BOOTY BARRE

Created by celebrity fitness instructor

Tracey Mallett.

Ball, ballet barre and resistance bar.

THE KEY BENEFITS ARE:

• toned arms and back

• sculpted thighs and lifted seat

• strong, flat abdomen

• firm elongated muscles

• improvement in your coordination

• increased flexibility and posture including

improvement in your overall postural

alignment

• strength and endurance

• increase in energy and body awareness

Lyndal Woodham brought Bootybarre to New Zealand, back in 2013 and in 2015

she had the honour of becoming the NZ Master Trainer for Bootybarre, enabling

her to grow the brand in New Zealand. Created by celebrity trainer Tracey Mallett in

2009, it's now taught in 25 different countries. Lyndal has since set up the On Pointe

Studio where she teaches classes for all ages and fitness levels.

Barre fitness stems from the exercises ballet dancers use to keep fit and

trim. Can you tell us how your bootybarre differs? What are the key health/

mind benefits of attending your classes?

Bootybarre is a fusion fitness of Pilates, Yoga and Dance, you don't have to be an

expert or have any previous experience. We use the barre for support and resistance

and it helps with our balance. Its about coming and moving your body and creating

long lean muscles. In our classes we focus on small muscles groups, creating awareness

of these areas and how to engage and contract them efficiently to get the best benefit

from the class. Its all done to fun upbeat music, boutique class sizes and in a

comfortable inviting environment.

For the over 50's (and those who don't lean towards being ballerina-like)

is On Pointe still a good place to head? And what would be the best class to

start with?

Age is only a number and this workout is for anyone, both male and female. We have

a beginner barre class on Saturday mornings 8am which is always a great place to start

so you can get a feel for the class and the flow of it. From there you'll go one of two

way - realise you love our little cardio blasts or not! So we have Bootybarre Plus which

incorporates cardio blasts to get the heart rate up or we have our flex & flow / Sculpt

classes where we have therabands attached to the barre and we use these throughout,

ditch the cardio and enjoy a nice long stretch at the end. You don't have to have been a

ballerina in a previous life to come and enjoy the class, we encourage you to take things

as hard as you want, we give plenty of modifications and variations so each individual

can take the workout to their desired level. Its not about comparing yourself to the the

person next to you. Its about you getting the most of your own workout and walking

out of the room feeling a little taller, toner and sore in all the right places.

Lyndal Woodham - Owner and Instructor

On Pointe Barre & Wellness Studio

www.onpointenz.com

Enjoy Dunedin with us

Aaron Lodge TOP 10

• Heated Swimming Pool

• Pentanque Court

• Playground

• Barbeques

• Activities Booking Service

• Reading Room

• TV Lounge

• Spa Pool

• Mini 'Park Golf' Course

• Under 5's Playroom

• Picnic Tables

• Games Tables

• Internet Station

• Laundry

www.aaronlodgetop10.co.nz

CAN WE let the bath do the running?

Research published in the Journal of

Temperature found that an hour-long soak in

hot water produced similar anti-inflammatory

and blood sugar responses as 60 minutes of

moderate physical activity.

"It seems that activities that increase heat

shock proteins may help to improve blood

sugar control and offer an alternative to

exercise," lead study author Steve Faulkner

from Loughborough University wrote. "These

activities -such as soaking in a hot tub or

taking a sauna - may have health benefits for

people who are unable to exercise regularly."

It's critical to point out a few limitations of

the study. For starters, the experiment only

monitored men, so it's difficult to say if the

same effect would happen in women. It also

only included 14 volunteers, which is an

extremely small sample size. More research

needs to be conducted before scientists

can come to any official conclusion. And, of

course, you should still continue to exercise

regularly.

That being said, the study does offer some

more promising insight into the healing

effects of hot water. The science of hot baths

is seemingly only delivering good news!
---
9 I HEALTH / FITNESS

Canterbury has some stunning mountain bike

tracks with terrain varying from super flat

to moderatly hilly. From the leisurly Bottle

Lake Forest to the stunnigly scenic Lees Valley,

we've rounded up a few favourites;

McLeans Island Track

It is a well built, fast, smooth track that everybody

will enjoy.

10.5KM MAIN LOOP - 30 MINUTES

2KM RIVER LOOP - 8 MINUTES

Add an extra 2km's with this little detour out

towards the river.

5KM CORINGA LOOP - 15 MINUTES

Head under the bridge for an extra 5km's

extending the ride into a figure of 8.

The track is made to be ridden in one

direction so make sure you're heading the

right way!

Bottle Lake Forest

Bottle Lake is a great place to find varied and

fun mountain biking. You can spend a couple of

hours going around with the kids, or go hard

for a 45 minute workout. At the halfway point

you can also reward yourself with a coffee or

ice cream.

BOTTLE LAKE FOREST - 45 MINUTES - 2

HOURS

Crocodile Track

Through the cattle stop, the single track winds

down over farm land and through a small

plantaion before coming out at the Halswell

Quarry. Apart from a small up hill section, it is

all fast down hill, single track.

HALSWELL QUARRY TO THE START OF

THE CROCODILE - 15 - 20 MINUTES

Why should you get back on your bike

as you get older?

1. It's easy on the joints.

When you sit on a bike, you put your weight

on a pair of bones in the pelvis called the

ischial tuberosities, unlike walking, when you

put your weight on your legs.

2. It's a great aerobic workout.

Aerobic exercise also triggers the release of

endorphins, the body's feel-good chemicals—

which may make you feel young at heart.

3. You'll build up muscle.

As you get older, you lose muscle mass.

Keeping your body fit starts with simply riding

your bike often, While your buttocks and legs

are the obvious muscles being put to work,

you'll also use abdominal muscles to balance

and stay upright and to a smaller degree your

arms by holding on.

4. Pedaling builds bone.

Resistance activities, such as pushing pedals,

pull on the muscles, and then the muscles pull

on the bone, which increases bone density.

5. It's great for your wellbeing.

Even half an hour of daily exercise has been

observed to improve people's subjective

mood and well-being!

canterbury tracks

mountain biking is a great way to get the blood pumping.

Wharfdale Track / Lees Valley

An hours drive from Christchurch, the

Wharfdale Track is very accessible, and

offers a great challenging ride with fantastic

scenery. You can choose to ride the single

track through the Beech forest to the old

Townsend Hut site and turn back and return

the way you came, or carry on along the

4WD track to Lees Valley Road and back

to Oxford via Ashley George Road. There is

also the option to stay a night at the

Wharfdale Hut.

CAR PARK TO WHARFDALE HUT - 4

HOURS ONE WAY

WHARFDALE HUT TO LEES VALLEY ROAD

- 1.5 HOURS

LEES VALLEY ROAD - 3 HOURS

Christchurch Heart Institute and the Heart Foundation

First to Work with Cardiovascular Charity Partnership

Ryman residents and staff raise $330,000 for heart research

The Christchurch Heart Institute is

working alongside the Heart Foundation as

part of an innovative approach to

cardiovascular disease (CVD) research,

following a significant donation of $330,000

from Ryman Healthcare received on the 31

May 2017.

The 2016-17 charity partnership between

Ryman Healthcare and the Heart Foundation,

which has funded the Heart Foundation

Clinical Fellowship, will support a clinical

research study, looking into the scope and

make-up of cardiovascular disease in residents

of Ryman Healthcare facilities.

Associate Professor, Chris Pemberton, of

the Christchurch Heart Institute, based at the

University of Otago, Christchurch, is behind

the idea to run the study which will provide

a clearer picture about the CVD risk in New

Zealand's retirement healthcare sector.

"It is exciting to be working with the Heart

Foundation, who have informed residents of

Ryman Healthcare facilities about the study,

laying the foundation for the project to

proceed. Ryman residents who volunteer

to take part in the study, will benefit from

increased awareness of their overall health and

any cardiovascular risk. The information we

gather at the Christchurch villages and

others around the country will be used to

raise the standard of cardiovascular care in

New Zealand," he said.

The study will begin at Ryman retirement

villages in Christchurch, and gradually roll-out

across the country, which is something

Pemberton is looking forward to.

"We want to get going in 2017, firstly

putting systems in place, with a view to starting

the first of the studies later this year."

The Christchurch Heart Institute, a

University of Otago Research Centre, is

renowned globally for their contribution to

CVD research. In particular, the discoveries

of blood hormones associated with heart

disease which have led to specific blood tests

for heart issues, now being used routinely in

clinics all around the world.

"This project is aimed at taking what we

know in a hospital setting and applying that

knowledge in the primary health sector.

Leading to better management of

cardiovascular disease, before hospital

admission becomes necessary."

Heart Foundation Chief Executive, Tony

Duncan, is delighted to have been part of the

Ryman Healthcare charity partnership for

2016-17. He believes Ryman's donation will

undoubtedly support many people in the aged

care sector who are impacted by heart

disease, which is New Zealand's biggest killer.

"Given the high incidences of heart disease

in the aged care sector, this will make a

significant contribution to the management of

heart disease among the aged."

Ryman Managing Director Simon Challies

said heart health had been a popular cause.

Over the past 12 months the Ryman family

has been busy with knitting, barbecues, art

shows, raffles and head shaves to raise as

much as possible for the Heart Foundation.

"We all know what a great job the Heart

Foundation does and it has been a popular

charity with residents. We've had a record

year for fundraising with residents and staff

participating in a whole lot of fundraisers.

They're big-hearted people – if you'll excuse

the pun – and we are delighted to match their

fund-raising dollar-for-dollar. The $330,000

raised is a new record for Ryman.''

Christchurch

Heart Institute

A University of Otago, Christchurch, research group based

in the School of Medicine at Christchurch Hospital.

World renowned for our contribution to cardiovascular

disease research.

Including discoveries of blood tests to identify specific heart

conditions, now being used routinely to diagnose and guide

treatment all around the world.

If you would like to help, please consider making a donation to

the Christchurch Heart Institute Trust.

Contact: Lorraine Skelton on 03 364 1063,

or lorraine.skelton@cdhb.health.nz
---
'right size' not necessarily 'downsize'

do not downsize your dreams, but do carefully consider getting a puppy or purchasing a big

old house in your later years!

As we get older, it's no surprise that we find ourselves "downsizing" in many different ways.

One of which might be getting a newer or smaller house, a more managable garden or a smaller

dog. It's a very common phenomenon as we enter the golden years.

But it might not be so much about 'downsizing' the square metres of your house or the kgs

of your dog that matter to you most, but more the location of the property relative to family

and ammenties and the exercise requirements of your breed of dog. Over 50 it's all about

finding the right size for you.

The trend toward pint-size pooches has been well documented since 2000 but has

accelerated in recent years, in part because of an aging population of baby boomers. For many

people who have had labradors their whole live, they might consider a miniture labradoodle

which is a lot smaller and doesn't require quite so much exercise, yet is similar in temprament.

A dog's energy levels and temperament can be just as important as it's size. Do you have the

energy to deal with a puppy who wants to destroy every shoe in sight? Adopting a pet from the

SPCA is a great way to find a new companion without having to put yourself through the puppy

faze. When you go in to the SPCA to meet their adoptees, they take the time to find out a little

about you, your lifestyle, your property and your experience with animals. They'll also offer

advice, to help ensure you find the perfect companion to suit your needs.

It's also worth considering that many multi-units and assisted-living communities have size

restrictions, which make it difficult to bring larger breeds with you if you need or want to move.

Going hand-in-hand with what animals you should consider when you hit your later years

come decisions about property.

Laurie Sutton of Ray White says, "In my experience, 'mature' downsizers generally choose

location based on being close to family, especially if there are grandkids, friends, work or

lifestyle. Some may like the facilities of some of the new sub divisions like Pegasus or

Clearwater, but I think the other factors take priority. The newer areas do offer the advantages

of all the mod cons, plus good insulation and double glazing, not to mention EC safety, all of

which would be desirable, particularly for an older person."

New homes being built today are often built smarter than the sprawling homes of the past.

The better design that usually comes with 21st century living means smaller homes can feel just

as spacious. By moving to a smaller place, the obvious benefits such as lower monthly

electricity bills, contents insurance and house maintenance are reduced. There's also a benifit in

moving to an area that has a sense of community, where you can get to know the neighbours,

rather than isolation and privacy.

In terms of desirable features, Laurie would suggest looking for "single story, with a low

maintenance garden, proximity to amenities, including healthcare and proximity to public

transport as key. Safe neighbourhoods, security, and good parking, ideally an internal access

EXERCISE THE MIND

garage are all important. Schools zones, which can add value to some suburbs would be less

important, but might be factored in when considering resale value. Many of the smaller homes

today are on cross leases or unit titles, which a lot of buyers shun, but because of that they are

often more affordable, and shouldn't necessarily be overlooked. As long as the solicitor goes

over it, I personally don't see the downside and I own a cross leased home myself."

Future proofing should also be a consideration when looking for a new home. Will the

owner be likely to need to make the home handicap friendly in the future? Likewise, health

and safety should be considered. Are there any tripping hazards or other potential risks? "We

sold a small home recently that was subject to approval from the buyers physio that ramps and

handrails could be adequately installed, for instance."

While it's important not to downsize your dreams in terms of house or pet, it's important

to future proof your selections and start thinking about what's going to work for you in a few

years time.

Single story, with a low maintenance garden, proximity

to amenities, including healthcare and proximity to

public transport as key.

"

"- Laurie Sutton, Ray White

QUICK CROSSWORD

LIFESTYLE / MIND I 10

SUDOKU - EASY

SUDOKU - MEDIUM

ACROSS

1 Warm underwear (8)

5 Jacob's twin brother (4) 9 Fire-raising (5)

10 Wild — not evil (anag) (7)

11 Pub game (3,9) 13 Sanctuary (6) 14 Accuse

without

established proof (6) 17 Peter practised poetic

ploy perfectly (12)

20 Natter (4-3)

21 Doubly (5)

22 Affair of honour? (4) 23 Of private concern (8)

DOWN

1 Rip (4)

2 Rapture (7)

3 Fashionable male

socialite (3,5,4)

4 Beautiful (6)

6 Drive — young ox (5)

7 Not yet proven (8)

8 Position in society (6,6)

12 Steady — objective (8) 15 Strong feeling (7)

16 Czech capital (6)

18 River flowing through

Tours and Nantes (5) 19 Keeled over (4)

STANNAH STAIRLIFTS

SOLUTIONS

THE THe STAIRLIFT PEOPLE PeoPLe

Working in STANNAH partnership with STAIRLIFTS

leading

manufacturer Stannah Stairlifts, Independence

Working in partnership with leading manufacturer Stannah

2011 have been changing peoples lives

Stairlifts, Independence 2011 have been changing peoples lives

in New Zealand, giving them back their

in New Zealand, giving them back their independence to go up

independence to go up and down their stairs

and down

and stay their stairs

living in and

the stay

home living

they in the home they love.

love.

• For • Curved For Curved and and Straight Straight stairs

stairs

• Indoor • Indoor and outdoor and outdoor models

models

• Recondition • units

units

• Free • New no obligation Rental Scheme quote

now available

• Free no obligation quote

Freephone

Freephone 0800 920800 66 7792 66 77

www.independence.co.nz

www.independence.co.nz

50115
---
11 I BOOKS

Sharks

Photographed by Mr Michael Muller

Available from Taschen

Dior New Couture

Photographed by Patrick Demarchelier

Available from Superette

Sir Mario Testino

Available from Unity Books Online

coffee table books to add to your collection

what do your coffee table books say about you?

Les Dîners De Gala by Salvador Dalí

Available from Book Depository

In the Company of Women

Available from Collected

Let's face it: the coffee table book is not just a book; it's an item designed to showcase a

little snapshot in to the owners interests. It's always intriguing to see what kind of books

people put out on their coffee table. Are they arty books or travel based? Do they look like

they've been well read or are they just there for show? Coffee table books are now often

used by interior stylists to instantly transform a surface by adding some pops of colour and

a little sophistication to your home.

The 1970s cookbook that surrealist painter Salvador Dalí created with his wife Gala is

unsurprisingly bonkers, featuring 136 recipes with dreamlike illustrations by the artist, and

including a chapter specifically dedicated to aphrodisiacs.

In the Company of Women features profiles of a broad cross-section of more than 100

inspiring, creative, successful women – from Rookie editor Tavi Gevinson to Thelma Golden,

director and chief curator of New York's The Studio Museum.

Another slightly odd, definitely intriguing choice, Women in Trees is edited by a woman

named Jochen Raiss, who has been collecting amateur photographs of women in trees from

flea markets for around a quarter of a century. Weird and wonderful, this strangely touching

book has captured moments of pure happiness enjoyed by unknown women from the

1920s to the 1950s.

The Sharks coffee book would be one to add to the table for pure shock factor, the large

scale images taken by Michael Muller literally jump off the pages!

Women in Trees

Available from Amazon

tears we cannot stop: A SERMON TO WHITE AMERICA

In his 2016 New York Times op-ed piece

"Death in Black and White," Michael Eric

Dyson moved a nation. Now he continues

to share his views in Tears We Cannot Stop.

Dyson makes it clear to readers that he wants

more than guilt, he wants action and change.

He wants readers to wake up to "what it

means to be black in America", and actually do

something about racism.

Like any book dealing with deep issues such

as race, this book is sure to ruffle some

feathers, make more than a few wince and

really anger others. Nothing is sugar coated.

At just 228 pages, it's anything but a quick

read. Yes, there's controversy in Dyson's views

but it will also open a lot of eyes.

"One of the most frank and searing discussions on race ... a deeply serious, urgent book, which

should take its place in the tradition of Baldwin's The Fire Next Time and King's Why We Can't Wait."

-The New York Times Book Review

"Readers will find searing moments in Tears We Cannot Stop, when Dyson's words proves unforgettable...But

more than education, Dyson wants a reckoning." —The Washington Post

"Here's a sermon that's as fierce as it is lucid. It shook me up, but in a good way. This is how it works

if you're black in America, this is what happens, and this is how it feels. If you're black, you'll feel a

spark of recognition in every paragraph. If you're white, Dyson tells you what you need to know—

what this white man needed to know, at least. This is a major achievement. I read it and said amen."

—Stephen King

"Impassioned." —Library Journal

AN EXCERPT: On the invention of

Whiteness:

"Beloved, let me start by telling you an ugly

secret: there is no such thing as white people.

And yet so many of them, so many of you,

exist. Please hear me out. I know you're flesh

and blood. I know that you use language and

forks and knives. I'm not talking about your

bodies or your garages or your grocery stores.

I'm talking about the politics of whiteness. I'm

talking about an identity that exists apart from

the skin you're born in. I'm talking about a

meaning of race that supersedes the features

you inherit when you come out of the womb.

You don't get whiteness from your genes. It is

a social inheritance that is passed on to you as

a member of a particular group.

And it's killing us, and, quiet as it's kept, it's

killing you too.

Race has no meaning outside of the cultures

we live in and the worlds we fashion out of its

force and energy. Whiteness is an advantage

and privilege because you have made it so, not

because the universe demands it.

So I want to tell you right off the bat that

whiteness is made up, and that white history

disguised as American history is a fantasy, as

much a fantasy as white superiority and white

purity. Those are all myths. They're intellectual

rubbish, cultural garbage. The quicker you

accept that, the better off you'll be, and so will

the rest of us.

My friends, I know reading this frightens

many of you. It may even anger you. Please

bear with me. Until you make whiteness give

up its secrets none of us will get very far.

Whiteness has privilege and power connected

to it, no matter how poor you are. Of course

the paradox is that even though whiteness is

not real it is still true. I mean true as a force

to be reckoned with. It is true because it has

the power to make us believe it is real and to

punish those who doubt its magic.

Whiteness is slick and endlessly inventive. It

is most effective when it makes itself invisible,

when it appears neutral, human, American."

PAPANUI RSA

BAR & RESTAURANT

for any occasion with family and friends

Canteen Hours:

Mon 5 – 7pm Tue/Wed 12 – 2pm and 5 – 8pm

Thu/Fri/Sat 12 – 2pm and 5 – 8.30pm

Sunday 1st & 2nd Sunday of month from 1- 3pm

5 – 8pm every Sunday

Open 7 nights for dinner from 5pm

Bar Hours:

Mon 1pm – 8.30pm Tue/Wed 11am – 9pm

Thu/Fri/Sat 11am - 10.00pm

Sun 1st & 2nd Sunday of Month 12pm - 8.30pm

All other Sundays 2pm - 8.30pm

Contact us for you function, meeting or conference requirements

Papanui RSA

1 Harewood Road, Papanui

Office: 352 1185 Bar/Restaurant: 352 9770
---
THE SPECS

PRICE Suzuki Ignis Limited, $22,500

DIMENSIONS Length, 3700mm;

width, 1660mm; height, 1595mm

CONFIGURATION Four-cylinder,

front-wheel-drive, 1242cc, 66kW,

120Nm, continuously variable

automatic

PERFORMANCE 0-100km/h,

12sec

FUEL USAGE 4.9l/100km

It's not easy making a small car look stylish.

However, Suzuki is the master at it, take their

recent models – Celerio, Baleno and just

recently, the Ignis, they are all trendy, funky

models which relate to a large cross-section

of car buyers.

The Ignis is brand-spanking new and is

dubbed by Suzuki as a small sport utility

vehicle. That sums it up well, it has the looks

of a SUV, but at just 3700mm it is squat and

will appeal to those who like easy entry and

exit along with a tallish driving position and,

of course, a budget price. The newcomer

starts at just $18,990, automatic transmission

will add $1510, while the Limited variant, as

tested, sits at $22,500, although if you want

two-tone paint that's an additional $490.

Interestingly, the Ignis in Limited form is just

a four-seater, there are only two seat-belts

in the rear and the configuration lends itself

SMALL & SPORTY

WORDS ROSS KIDDIE

more to adaptable load carrying options.

However, there are Isofix child seat tethers

for those who have young ones in tow. If you

want to seat three across the rear, the entrylevel

GLX is a five-seater, albeit it would be

tight widthwise for adults.

The Ignis is also a car which lends itself to

sporty appeal. Sure, it's not a rocket ship, but

with the way it can be dressed and optioned it

has specification and features which will make

it stand out even more amongst others.

Under the bonnet is a 1.2-litre, fourcylinder

engine and it is engineered for

economy along with respectable power outputs.

Suzuki rate it with a 66kW and 120Nm

outputs, even though torque peaks tallish in

the rev band (4400rpm), the engine works

freely thanks to the matching of it to a

continuously variable automatic transmission.

According to Suzuki's advertising material,

the Ignis will return a 4.9-litre per 100km

(57mpg) combined cycle fuel usage average.

In my opinion that would be quite achievable,

during evaluation time the trip computer was

constantly showing 6.9l/100km (41mpg) with

a 5l/100km (56mpg) figure cruising quietly at

100km/h, the engine turning over slowly at just

2000rpm in the tallest part of the gearing.

It has taken me a long time to warm to CVT

transmissions, but today's units are so normal,

the Ignis works through the gearing much like

a traditional automatic. There's even a sport

mode which will hasten engine revolutions

should the driver decide a little bit of extra

oomph is needed, say for a highway overtake.

In terms of performance, that can be

achieved in around 7.5sec, while a standstill to

100km/h time of 10.9sec is not to be sneezed

at.

The engine is a willing worker and charms

with its quiet operating manner and lively

response – that's another bonus of CVT, the

engine works unimpeded through the

transmission.

The Ignis sits on a new platform and,

although it isn't sophisticated, it has been

designed as a weight-saving structure along

with a suspension set-up that will allow for

controlled balance when the corners arrive.

Even though rear wheel freedom is

hampered a little by a torsion beam tube

axle, there is just enough movement so that

mid-corner bumps and ruts don't upset body

balance nor directional stability.

MOTORING I 12

At almost 1.5m, the Ignis is quite tall, and

body movement over softish spring and

damper settings is noticeable. However,

steerage is unaffected and directional accuracy

is quite sharp. I'd like to have a little more

steering feel through the wheel, but in this

modern age of electric power steering systems

most mainstream cars get a light, as opposed

to a firm feel.

Providing the grip are high quality 16in

Bridgestone tyres, even though their footprint

is small at 175/60, there is an underlying feeling

of grip and control, and for that reason the

Ignis feels quite athletic, which considering its

simplicity underneath, is commendable.

In Limited form the Ignis is comprehensively

equipped. All models represent value for price,

but there are a few goodies in the Limited

which you may not expect in a car for this

price such as satellite navigation, Apple Car Play

and Android Auto, keyless entry and ignition,

cruise control with speed limiter, and digitally

controlled air conditioning, just to name some

of the major items. It also has a high safety

specification.

Even though it is marketed as a sport utility

vehicle, it must be remembered the Ignis is

two-wheel-drive (front) only and it isn't

engineered for life off-road.

However, if you are after a car which is just

a little out of the ordinary with interesting

internal shapes and colours, and an exterior

look which is standalone, then the Ignis is the

car for you.
---
z

The Star 37

Gardening

Latest Christchurch news at www.

.kiwi

Thursday June 22 2017

GARDENING

ADVICE with

$80

PRIZE

PACK!

QUESTION

In March last year I planted Escallonia Apple Blossom shrubs which are growing

nicely into a compact and pretty hedge. Recently we've been advised that due to the

quakes, our sewer pipes will have to be dug up and replaced. This means either

having the shrubs trampled or removing them. Can I uproot the shrubs and place them elsewhere, perhaps in

tubs while the repairs are carried out, and then replant them? They are just gaining strength and coming away

nicely and I'm reluctant to disturb their growth.

Today's winning question came from Sue Barker. Congratulations!

Escallonia can be

ANSWER transplanted quite easily

compared to many other

shrubs. We would suggest cutting back any new

growth before transplanting, and carrying out the

process during the winter months. The plants can

either be placed in large containers or into your

veggie garden temporarily. Ensure plants are

kept moist throughout the process but do not

over water as this can rot young roots. With

this species, it is better to be a little drier than

over wet.

When you are ready to replant them back into their

original spot, add plenty of Daltons Compost

to give them the best start and add a layer of

mulch on top. After replanting, allow time for the

plants to settle (up to two weeks) before applying

a side dressing of Daltons Premium Tree &

Shrub Fertiliser in spring.

For more gardening advice, read

our How to Grow Fruit Trees guide at

www.daltons.co.nz/how-to-guides

Roses provide lush fl owers, delicious scents and add charm to any

garden. June and July are the best months to plant, relocate and prune

roses (once dormant). When choosing the perfect plant for your garden

or pots, choose from; Old Fashioned, Hybrid Tea, Floribunda, Shrub or

Climber varieties.

BE IN

TO WIN!

Send us your

gardening

question

to be in to win!

We have a Daltons Premium Rose pack to give

away which includes everything you will need to

plant and grow healthy roses.

Valued at over $80, it contains:

• 2x Daltons Compost

• Daltons Premium Rose Fertiliser

• 2 x Daltons Premium Flower Bed Mix

• PLUS a pair of comfortable, versatile

Red Back gardening gloves from

Omni Products (www.omniproducts.co.nz)

Email your question

and glove size to:

chchstar@daltons.co.nz

Entries must be received

by 30th June 2017

The Automotive Lamp

Specialists

New and Used Lamps for

Cars, Trucks, Vans, 4WD

and Motorhomes

PH 0800 225 483

325 Brougham Street

CHRISTCHURCH

now bigger than ever

The magazine for gardeners who

like to get their hands dirty

SubScribe from

$43. 50*

*6 issues/6 months

SUBSCRIPTIONS FREEPHONE

0800 77 77 10

www.gaRdeNER.kiwI

growing with you

SprIng Is here –

It'S Sow Time

how to get the best results from

seeds and seedlings

100% NatIve In

The capItal

Unravelling the secrets of

Otari-wilton Bush

The New Zealand

landscape awards

The people behind

the projects

$7.90 incl. GST

Save our roSeS

How a rose register is protecting our heritage

September 2016 | 100%

It's time

to grow!

New look and more

content than ever!

MeeT LeSTer Brice

A Garden coach

auckland Botanic GardenS

Why we love our public grounds

ISSN 2423-0219
---
38 Thursday June 22 2017

Latest Christchurch news at www. .kiwi

The Star

Travel

Put your taste buds to the test in Tokyo

FAST FACTS

•Add a winter warm-up in

Queensland to a Japan getaway

and enjoy a far shorter flight to

Tokyo with Jetstar. After flying

direct from Christchurch to the

Gold Coast, Jetstar's 787

Dreamliner services deliver added

comfort at unbeatable value, as

you wing your way to Tokyo. For

extra-comfort, upgrade to the bestvalue

business class experience to

Japan. Bag a great fare deal and a

seat to suit at www.jetstar.com

•Navigating Tsukiji's astonishing

mercantile mecca can be

bewildering, which is why I enlisted

the expertise of Context Travel,

who operate small-group guided

walking tours. My trusty guide,

John, unveiled Tsukiji's tales,

secrets and insights with effortless

and eye-opening aplomb. Few

walking tours are packed with

such revelatory richness. www.

contexttravel.com

• By Mike Yardley

SELECTION: Seafood for sale at the Tsukiji Market.

ON ARRIVAL in Tokyo, I

was looking for a sure-fire

way to blitz the jet-lag.

The sensory onslaught

of Tsukiji Market fitted the

bill perfectly, as I revelled in

the colour, the cacophony

and organised chaos of

the world's largest seafood

market.

Spanning the size of 430

rugby fields, the market

metrics are gob-smacking.

It's the stomping ground for

50,000 workers, where over

1700 stalls sell 2000-tonnes

of seafood daily, in 480

varieties. This grand encounter

with the kitchen of

Japan groans with polystyrene

crates proudly splayed

with every marketable sea

creature – including whale

meat.

Fancy watching the daily

Tuna Auction? You'll need

to get here at the ungodly

hour of 3am, to score a visitor's

slot in the tuna auction

room. The dealing is all

done by 6.30am.

Humming with postauction

activity, later in

the morning, a veritable

army of workers hauled

freshly sold fish on forklifts,

hand-carts and "turret

trucks", like speed-freak

bees in a choreographed

hive. I gazed in awe of hulking

blue-fin tuna the size of

refrigerators.

Half of Tokyo seemed to

be out sampling and shopping.

It's a riveting introduction

to the core ingredients

in Japanese cuisine

and the ebullient vendors

happily hand-out free tastings.

I grazed on seaweed,

benito shavings, dumplings

in soybean flour, smoked

fish and kimchee squid.

Best of all, Tsukiji's quintessential

sushi restaurants

offer the freshest raw fish

fix possible. My tour group

headed for Sushi Daiwa,

situated next to Sushi Dai,

which are the two famous

sushi houses. Their pilgrimage-like

pulling power

means you may well find

yourself queuing outside for

several hours. We lucked in,

with only a 15min wait.

Although they staff are

too polite to say so, you are

expected to eat and run

at these sushi counters.

Alongside the delectable

slivers of tuna draped over

a bed of rice, we noshed on

congee reel, sea urchin and

that celebrated Japanese

delight, tamagoyaki, egg

omelette roll.

If you're sizing up one big

blow-out in Tokyo, the Park

Hyatt is the pinnacle of

high-end hospitality.

The city's most decorated

hotel is the Park Hyatt

which graces the upperlevels

of a Kenzo Tangedesigned

high-rise, lording

over west Shinjuku.

Considered the father

of modern Japanese

architecture, he was the

master planner for the

rebuilding of Hiroshima

after World War 2. With

the hotel floors beginning

on the 41st level with the

glass-walled reception,

you can be assured your

accommodation will be

dressed with a sweeping

panorama of the neondrenched,

sky-scrapered

expanse of Tokyo.

Service is ultra-attentive

without being starchy.

Whether you're staying

in-house or not, the dining

destinations are unmissable.

BUSY: Eat fresh raw fish at Sushi Daiwa.

HIGH-END: Experience panoramic

views from a room at the Park Hyatt.

Spend $10 at

a participating

airport outlet

during June

for your chance

to win.*

*For more details, go to

eatshopwinatrip.co.nz
---
The Star Latest Christchurch news at www. .kiwi

Thursday June 22 2017 39

GREAT food

BROUGHT TO YOU BY...

Your fresh food people

CARAMELISED RED ONION

TARTS

Ingredients

140g Flour

1 pinch Salt

140g Unsalted butter

2 Tbsp Cold water

2 Tbsp Extra virgin olive oil

3 whole Diced red onion

2 Tbsp Maille Balsamic Vinegar

100g Parmesan cheese

40g Mascarpone

1 Beaten egg

142g Bacon bits, thick cut, crisp

cooked and crumbled

1 Tbsp Fresh thyme

3 Tbsp Flour

2 cups Chicken stock

1 to taste Salt & freshly ground

pepper

Directions

Directions

Combine flour with salt

in large mixing bowl. Cut in

butter with pastry blender or

two knives until mixture is

size of small peas. Stir in just

enough cold water to form a

dough. Wrap in plastic wrap and

refrigerate until firm, about 30

minutes.

Preheat oven to 200 deg C.

Grease four (11cm) individual

tart pans or a larger pan. Divide

dough into four portions and

press onto bottom and up sides

of prepared pans. Line with

aluminium foil or parchment

paper and fill with pie weights

or dry beans partially up sides.

Bake until golden brown, about

15 minutes. Remove to wire rack

to cool.

Heat olive oil in large skillet

and cook onion over mediumlow

heat, stirring occasionally,

until onions are golden brown,

about 20 minutes. Stir in Maille

Balsamic Vinegar; set aside.

Beat cheeses with egg, then

stir in bacon. Fill baked tarts

with egg mixture, then top with

onion mixture.

Bake until knife inserted in

centres comes out clean, about

20 minutes.

Don't have individual tart

pans? You can use a larger tart

pan instead.

CHICKEN AND LEEK

CASSEROLE

Ingredients

4 Bacon rashers

6 Chicken thighs

50g Butter

1 Onion

2 Leeks

1 Tbsp Wholegrain mustard

Preheat oven to 180deg C.

Chop each chicken thigh into

quarters and roughly chop the

bacon.

Melt butter in a frying pan and

add finely chopped onion, leeks,

thyme and mustard. Gently cook

until onion and leeks are tender.

Add flour and stir well and then

gradually add hot stock until

sauce thickens. Season with salt

and pepper to taste.

Place chicken and bacon in

a casserole dish and pour over

leek sauce. Cover and cook for

one hour.

Large Leeks ................... 1 .49

each

Eve Apples ...................... 2 .99

kg

Loose Red Onions

peeled .............................. 3 .49

kg

Red seedless

Grapes ............................... 3 .99

kg

Brushed Agria 5KG Bag ... 5 .99

bag

Beef Ribeye Steak ...... 24 .99

kg

Chicken Thigh

Fillets ............................... 12 .99

kg

All our fresh meat is 100% NZ FARMED.

specials VAlid 19th june - 25th june 2017. ONLY AVAILABLE AT

RAEWARD FRESH HAREWOOD RD, TOWER JUNCTION & MARSHLAND RD

harewood rd Mon–Fri 7.00am–6.30pm Sat–Sun 8.00am–6pm

Tower junction Mon–Fri 8.00am–6.30pm Sat–Sun 8.30am–6pm

MARSHLAND RD Mon–Sun 8.00am–6:00pm

WWW.

At

check out our end

of week special!

thursday &

friday only

Loose Table Onions 99 C

kg

Loose CARROTS ..........99 C

kg

Whole Beef Fillet 29 .99

... kg

WHILE STOCKS LAST!

specials VAlid 22ND june - 23RD june 2017. ONLY AVAILABLE AT

RAEWARD FRESH HAREWOOD RD, TOWER JUNCTION & MARSHLAND RD

.CO.NZ
---
40 Thursday June 22 2017

Latest Christchurch news at www. .kiwi

The Star

How To -

Kumara Fries

See SuperValue.co.nz

19 th June to 25 th June 2017

$

11 99

kg

Fresh NZ Skinless Chicken Breast Fillets

great deal

$

3 99

kg

Chilean Red Seedless Grapes

great deal

$

5 99

ea

Mainland Mild/Colby/Edam Cheese 500g

Fresh NZ Plain/Crumbed Beef Schnitzel

Seedless Easy Peel Mandarins

Coke/Sprite/Fanta/Lift/L&P 1.5L

$

14 99

kg

$

3 99

kg

$

2 49

ea

$

3 99

ea

great deal

$

3 99

ea

$

5 00

pk

Freya's Bread 750g

(Excludes Lower Carb)

Keri Fruit Drink/Juice

2.4-3L

Nescafé Coffee

Sachets 10 Pack

$

17 99

pk

Speight's Gold Medal Ale/Summit

12 x 330ml Bottles

$

9 99

ea

$

1 69

ea

Bluebird Original/Thick/Thinly Cut Chips

140/150g

Jacob's Creek

Sparkling/Old Coach

Road 750ml

(Excludes Reserve)

svcs2206

Owned & operated

by locals

Store Locations: Edgeware Village, Fendalton Village, Lyttelton, Stanmore, Sumner, Wairakei

All stores open 7 days.

While stocks last at SuperValue Edgeware Village, Fendalton Village, Lyttelton, Stanmore,

Sumner, Wairakei only. We reserve the right to limit quantities. Trade not supplied. For inspiration visit SuperValue.co.nz |

Please drink

responsibly
---
The Star Latest Christchurch news at www. .kiwi

Thursday June 22 2017 41

Theatre/Arts

Clever comedy but no side-splitter

The Pickle King

Produced by Indian Ink

Written by Jacob Rajan and

Justin Lewis

Reviewed by Georgia

O'Connor-Harding

YOU COULD be easily fooled

for thinking The Pickle King is a

bit of a tragedy, theming around

a girl who believes she is cursed

and everyone she loves dies.

But with a captivating set, vivacious

characters and just a touch

of neat choreography, Indian

Ink's original show brought a

touch of warmth into the city's

cold wintry night.

The show staged at the Isaac

Theatre Royal last week, is part of

the company's 20th-anniversary

national tour.

Covering the themes of love,

death and adversity immigrants

face when moving to New Zealand,

The Pickle King is about a

blind receptionist who falls in

love with another employee at a

run-down hotel in Wellington.

At the same time the blind

receptionist, who believes she is

cursed, falls in love with another

employee, a mysterious guest

checks into the hotel who she

believes is the Grim Reaper.

The show was a highly-anticipated

comedy, having won an

LIGHT AND DARKNESS: Andrew Ford as George Reaper, Kalyani Nagarajan as Sasha and

Vanessa Kumar as Jeena in Indian Ink's original production The Pickle King. ​

award at the Edinburgh Festival

Fringe and Chapman Tripp

Theatre Awards.

It is easy to see why it is

award-winning in the way it is

professionally executed, but the

storyline was not life-changing

and it didn't make me howl with

laughter like I thought it would.

It was lovely the show's original

performance 15 years ago had

been adapted to feature a love

story around two women rather

than a man and woman.

The same-sex love story

between the leading characters

Sasha (Kalyani Nagarajan) and

Jeena (Vanessa Kumar) was extremely

natural, and was a credit

to how far New Zealanders have

come to accepting gay relationships.

With the company always

featuring performers of Indian

descent in the show, I loved the

way the setting was designedthe

walls were covered in

brightly coloured Indian-inspired

paintings creating a mystique

atmosphere. But you were soon

reminded the show was actually

set in Wellington, as every time

a door or window opened gusty

sound effects and the odd flying

prop would blast across the stage.

A non-speaking pianist is the

cherry-on-top to the hotel-esque

atmosphere but some of the music

played although beautiful, was

slightly depressing.

But bright costumes with a

broad spectrum of masks ranging

from covering the actor's full

face to just partially made for a

visual treat balancing joy with

darkness.

Andrew Ford mastered his

role of the scary-death-inducing

George Reaper, his voice was

particularly creepy and one could

not help but watch with thrilling

fear. But, to be honest, I didn't

get why his character had such a

fascination with pickles, which

the entire show is supposedly

based around. The pickles didn't

seem to have any relevance to the

overall storyline.

But there is a bit of a twist to

the end of the story that makes

the death-like George Reaper not

what he seems.

You will have to catch up with

the show to find out.

Italian Ceramic Tiles

experience a wall and flooring range that offers

freshness of style, and attention to architectural

needs. Imported directly from Italy, these tiles

offer a most captivating and appealing design that

will stand the test of time.

DeTAILS

31 Mandeville Street

Riccarton

03 348 6919

Love

LocaL

riccarton

From contemporary design

stores to beauty houses and

eateries, Riccarton has it all.

The Cosmetic Clinic

The Cosmetic Clinic is Westfield Riccarton's

hidden gem! Conveniently located near the

Divine Cake's car park entrance, you can slip in

and out for your treatments without raising an

eyebrow. They use medical-grade lasers for hair

removal, and offer advanced skin treatments

that remove pigmentation, facial red veins and

general redness. There is also an experienced

Cosmetic Nurse on site four days a week.

Consultations are free and walk-ins are welcome.

DeTAILS

Westfield Riccarton, 129 Riccarton Road

03 265 0660

thecosmeticclinic.co.nz

All About You

IPL: painless, safe and effective. No more close

shaves. Say goodbye to unwanted hair growth

without the pain or discomfort of waxing.

All About You uses the latest technology to

provide more effective treatments for hair

found all over the body. The sessions are rapid,

painless and the results are far superior than a

wax treatment.

DeTAILS

162 Clarence St, Riccarton

03 348 3949, skincare@allaboutyou.co.nz

allaboutyou.co.nz

Riccarton House & Bush

experience a world of Victorian and

edwardian splendour in an elegant setting.

There are guided tours and an excellent

licenced restaurant called Local, which is

headed up by Sam Marchant, owner of the

unmissable Christchurch Farmers' Market that

takes place on the grounds every Saturday

morning.

DeTAILS

16 Kahu Road, Riccarton

03 341 1018

riccartonhouse.co.nz

About Colour and

New White Interiors

The About Colour and New White Interiors

showroom is well worth a visit if you are

embarking on renovations, building a new home

or just needing to refresh your

surroundings. The showroom is a one-stop

shop, where the knowledgeable staff can advise

on paint colours from the wonderful About

Colour range and Porters Paint from Australia.

Ask about their specialty paint collection that

includes 'Instant Rust' and 'Liquid Tin'.

New White Interiors offers a complete

decorating service, as well as bespoke furniture,

the latest wallpapers and fabrics. Find a wide

range of interior solutions under one roof.

DeTAILS

29 Leslie Hills Drive, Riccarton

03 348 8015

aboutcolour.co.nz
---
42 Thursday June 22 2017

Latest Christchurch news at www. .kiwi

The Star

One step

closer

to your

dream lifestyle

JUNE 30 - JULY 2

HORNCASTLE ARENA

10AM - 5PM

Adults $8 - Under 12's free

Star Media is proud to be sponsoring Canterbury's first ever Playhouse Challenge

Live Auction Saturday July 1 at 4pm

Proceeds to charity - Birthright Canterbury and Tenants Protection Association

starhomeshow.kiwi

Star Media Event
---
The Star Latest Christchurch news at www. .kiwi

Thursday June 22 2017 43

Sport

Flanagan comes back from injury for World University Games

MIDDLE DISTANCE runner

Rosa Flanagan has qualified

for the 5000m at the World

University Games in Taiwan in

August.

Flanagan, 21, achieved the

qualifying time for the games

at the Portland Track Festival

last week and is now the only

Canterbury athlete in the

13-strong New Zealand team.

Qualifying for the event has

been one of Flanagan's major

goals this year after a bad run

of injuries.

Last year, she suffered a stress

fracture in her tibia, which

meant she had to resort to aqua

jogging, swimming, biking

and cross training while she

recovered.

She then suffered labral

tears in both her hips, which

resulted in her missing the

majority of the New Zealand

and Australian track seasons,

making it tough to qualify for

major events.

She has spent the last two

months in Santa Monica,

United States, training and

competing in a number of

1500m, 3000m steeplechase,

and 5000m track races.

She has previously won the

New Zealand 3000m and

3000m steeplechase titles and

represented New Zealand at

the world championships

in 2015. After the World

University Games she hopes to

represent New Zealand at the

2018 Commonwealth Games

and 2020 Olympic Games.

Jim Beam White

Label Bourbon

1.75 Litre

Wither Hills Range

750ml (excl Pinot Noir)

Woodstock 5% 330ml 12 Pack Bottles

or Cody's 7% 250ml 12 Pack Cans

Jim Beam Black

Label Bourbon

1 Litre

44 .99

each

Wither Hills

Pinot Noir 750ml

17 .99

each

19 .99

pack

Speight's Gold Medal Ale or

Summit Lager 330ml 15 Pack Bottles

QUALIFIED: Rosa Flanagan (centre)

has put a bad spell of injury woes

behind her to qualify for the World

University Games.

In Brief

Seagers Gin or

Ivanov Vodka 1 Litre

59 .99

each

Famous Grouse

Whisky 1 Litre

13 .99

each

Chatelle Napoleon

Brandy 1 Litre

Jack Daniel's No. 7

Whiskey 700ml

Coruba Rum 1 Litre

22 .99

pack

Diesel & Cola 7% or

Captain Morgan Rum &

Cola 5% 330ml 6 Pack Cans

29 .99

each

34 .99

each

34 .99

each

36 .99

each

37 .99

each

12 .99

pack

Vodka Cruiser 7%

250ml 12 Pack Cans or

KGB 275ml 12 Pack Bottles

Smirnoff Ice Red 5%

250ml 12 Pack Cans

Long White Vodka

or Mist Wood Gin

320ml 10 Pack Bottles

Billy Maverick 7%

250ml 18 Pack Cans

Beck's or Oranjeboom

330ml 12 Pack Bottles

Heineken

330ml 15 Pack Bottles

ADVICE FROM TOPAI-AVEAI

Last year's UC Championship most

valuable player Cruz Topai-Aveai returned

to Shirley Boys' High on Tuesday to pass

on words of wisdom to the school's junior

rugby players. Topai-Aveai led Shirley

BHS to consecutive UC Championship

grand-final appearances in 2015 and

2016 before moving to Sydney to join the

South Sydney Rabbitohs. After a handful

of games for the South Sydney under-20

side he was offered a first grade contract

with the Cronulla Sharks. He will return

to Sydney later this week and is expected

to return from injury for the Sharks

under-20 side next month.

CBHS TO HOST NELSON

Christchurch Boys' High School will host

Nelson College in a top of the table UC

Championship clash on Saturday. Both

Christchurch Boys' and Nelson have just

one defeat to their name in this campaign.

The home side come into the game on

the back of a nail-biting 25-23 final

minute win over St Andrew's College.

Christchurch Boys' trailed St Andrew's

by five points with just two minutes

remaining. Rico Syme was the hero,

coming off the bench to make his first XV

debut with 20min remaining and scoring

a breakaway try in the dying stages, before

Alex Harford's kick sealed the win.

19 .99

pack

DB Export Gold,

Draught or Tui

330ml 24 Pack Bottles

33 .99

pack

First Pick 750ml

9 .99

each

Collect Fly Buys or Airpoints

for every $20 spent.

21 .99

pack

Corona

355ml 18 Pack Bottles

39 .99

pack

Wolf Blass Yellow

Label 750ml

10 .99

each

22 .99

pack

Somersby Cider

330ml 12 Pack Bottles

22 .99

pack

Church Road

750ml (excl McDonald

Series & Reserve)

14 .99

each

27 .99

pack

Henry's guide to

19 .99

pack

that's the

You just can't beat a sip of your favourite tipple.

From whisky to vodka and everything in

between, no matter what your drink of choice,

you should find it on our shelves!

www.henrys.co.nz

CHRISTCHURCH: AVONHEAD • BARBADOES ST • BISHOPDALE • HOMEBASE SHIRLEY • HORNBY

• MOORHOUSE AVE • PARKLANDS • ROLLESTON • TOWER JUNCTION • WOOLSTON • YALDHURST

• TIMARU • RANGIORA • KAIKOURA • GREYMOUTH • QUEENSTOWN • ALEXANDRA • DUNEDIN • NELSON: RICHMOND

Henry's encourages safe & responsible use of alcohol. Shout prices run from Monday 19th June until Sunday 2nd July 2017 or while stocks last.

28 .99

pack
---
44 Thursday June 22 2017

Latest Christchurch news at www. .kiwi

Sport

Value Cars

www.valuecarswarehouse.co.nz

32 Moorhouse Ave | 03 366 7768

The Star

The biggest range of vehicles in one location

In Brief

KNOCKOUT FOOTBALL

Both the Chatham Cup and

Women's Knockout Cup fields

will be narrowed down in

round three this weekend. In

the Chatham Cup, Cashmere

Technical will host Nomads

United on Saturday at Garrick

Park, while Coastal Spirit will

travel to Nelson Suburbs on

Sunday in the other encounter.

Just one Canterbury team will

remain in the women's cup

with premier league leader

Coastal hosting Cashmere on

Saturday at Cuthberts Green.

DEVILS FACE THUNDER

Canterbury Red Devils will

be hoping home ice can help

turn their fortunes around

in this year's New Zealand

Ice Hockey League. The Red

Devils, last year's finalists,

are currently at the bottom of

the table after six games and

only one win to their name.

They will host the Dunedin

Thunder in two games this

weekend, with the first on

Saturday and another on

Sunday. The Thunder also

have only one win this season.

However, they defeated the

Red Devils 6-3 and 5-4 in two

pre-season games.

Falck tests out European clay

• By Gordon Findlater

PROMISING YOUNG tennis

talent Reece Falck is spending

the next eight weeks developing

his game on the clay courts of

Europe.

Falck, 15, is currently in

Amsterdam as part of Tennis

New Zealand's targeted athlete

programme.

He will compete in two

grade four junior International

Tennis Federation events in the

Netherlands, a grade two event

in Germany, and another event

in Fiji on his way home.

The Shirley Boys' High

School student is coached by

his father Andrew, who is head

coach at the Burwood Park

club.

Andrew believes the eight

weeks of clay court play will

benefit his son's game.

"Playing on clay is a great

way for young players to

develop their game and it's

a surface we don't have easy

access to here," said Andrew.

Falck is the only Canterbury

tennis player in the targeted

athlete programme.

He won the 14 and under

national title earlier this year

and represented New Zealand

at the junior Davis Cup in

March.

Two other Canterbury

juniors will also have brief

spells in Europe.

National 16 and under

champion Dylan Heap will

head to Amsterdam for three

weeks of training and also play

EURO TRIP:

Current New

Zealand

age group

champion

Reece Falck

is getting a

taste of clay

in Europe

thanks to his

inclusion in

Tennis New

Zealand's

targeted

athlete

programme.

at the tournament in Fiji.

Will Schneideman will travel

to Brussels, Belgium, for a

month and compete in two ITF

tournaments.

HALSWELL UNITED AFC

KANGA CUP (ACT, AUSTRALIA) TOURNAMENT TEAM

HUAFC '2017 UNITED' SPONSORS

July 2 - July 7 2017

www.hawkfootball.org.nz

Lorraine Porter-Bishop

EdEn littlE

sPONsORED

BY

16 Chappie Place

Ph: 349 8497

www.mitre10.co.nz

sophiE withEll

sPONsORED BY

alyssa whinham

sPONsORED BY

monEy tRansfER

Connecting the world through

currency exchange.

www.xe.com transfers@xe.com

Ph: 09 905 4660

phoEbE watson

sPONsORED BY

25 Leslie Hills Drive,

Chch. Ph: 349 4816

www.irvineflooring.co.nz

Ph: 366 2037

www.autoimage.nz

Check us out on Facebook

The Halswell United U14 Girls football

team will

EdEn

play in

littlE

the Kanga Cup in

Canberra from 2 July through to the

7 July.

Seven girls teams, 4 from Australia,

2 from New Zealand and 1 from Korea,

will play in Cup competition over the 6

day tournament.

The majority of the Hawks have played

together over the past 2 seasons and

have developed into a team that enjoy

the challenges the sport brings. Their

efforts have seen them win the 2016

Mainland Football 13th Grade Girls

Competition and many of the players

gained selection to representative

teams last year.

This season the team is playing the

2017 Mainland Football 15th Grade Girls

Competition, which they won the Round

One Competition without losing a game.

They have also played warm-up games

in the build-up to tournaments against

Halswell United boys and womens

teams.

The members of the squad would like to

thank each and every sponsor who have

contributed to them for this feature,

everyone who has supported the various

fundraising efforts carried out over the

last year and the biggest 'thank you'

goes to the parents who have helped

make this trip possible.

Emma batEy

sPONsORED BY

For all your Point of

Sale, Eftpos & Cash

Register needs.

Ph: 0800 549 4767. www.kiwieftpos.co.nz

sapphiRE gallaghER

sPONsORED BY

maddi alfEld

sPONsORED BY

Email: jtexteriorplastering@gmail.com

jEnnifER mERkin

sPONsORED

BY

india cRawfoRd

sPONsORED BY

Cnr Annex & Wigram Rds,

Chch. Ph: 335 0053.

www.chesters.co.nz

Ph: 021 975 103. www.datametrics.co.nz

740 Halswell

Junction Rd, Chch.

Ph: 349 7143

lEillani tE whoRo

sPONsORED BY

Ph: 0800 564 648

www.xcm.co.nz

bElla wilkinson

sPONsORED

BY

ARMOURCRETE LTD

SPECIALISTS IN INDUSTRIAL FLOORING

Ella fRyER

sPONsORED BY

Ph: 027 431 0001. www.mckenziebuilders.co.nz

cRaig whinham

sPONsORED BY

www.greenlightrecruitment.co.nz

Specialists in Sales,

Admin, Customers

Service, Transport,

Warehouse &

Freight Forwarding

41 Sawyers

Arms Rd, Chch.

Ph: 963 1110

Ruby claudE

sPONsORED BY

Ph: 349 6980

www.readylawn.co.nz

abbEy hEndERson

sPONsORED BY

We manage your property

as if it were our own. We

are happy to meet up and

discuss your rental options.

Rental assessments are

free of charge.

Ph: 027 533 9504. www.purelyproperty.co.nz

joRja paRsons

sPONsORED BY

15 Goulding Ave,

Chch.

Ph: 349 2225

cRaig cRawfoRd

sPONsORED BY

www.cashconverters.co.nz

Linwood,

Ph: 389 5560

Papanui,

Ph: 354 3303
---
The Star 45

Sport

Warriors name Foran for Bulldogs clash

WARRIORS COACH Stephen

Kearney will give five-eighth

Kieran Foran until the last

minute to prove his fitness ahead

of tomorrow's game against the

Bulldogs at Mt Smart Stadium.

Foran hurt his quad muscle in

the side's win over the Titans 11

days ago and is showing signs

of improvement. The extra rest

thanks to last weekend's bye has

helped him have a chance of being

fit to face the side he will play

for in 2018.

Kearney has named the Kiwis

international in the No 6 jumper

in a side that has a familiar look

to it.

The one glaring omission is

centre Solomone Kata, who is

unavailable for the game due to

the death of his brother back in

Tonga.

"Sol has had a tragic event

Latest Christchurch news at www.

.kiwi

happen – his brother has passed

away in Tonga," Kearney told

Radio Sport.

"He will be flying out late

tonight to attend his brother's

funeral," Kearney said.

"He was only a young guy and

it was a tragic event – the club's

best wishes and thoughts are

with Sol and his family."

Rookie Charnze Nicoll-Klokstad

comes onto the wing with

David Fusitua moving into the

centres to replace Kata.

Kearney refused the temptation

to include the club's all-time

leading try-scorer Manu Vatuvei,

who is working his way back

from injury. Vatuvei has been

included on an extended bench.

Also named on an extended

bench is prop James Gavet, who

missed the game against the Titans

with a hamstring strain, and

Thursday June 22 2017

Ata Hingano, who came on to replace

Foran when the five-eighth

got injured.

The Warriors have confirmed

they will not be bringing in

a replacement for the nowdeparted

assistant coach Steve

McNamara, who this week

took up the vacant head

coaching job at the Catalan

Dragons in the United

Kingdom's Super League.

2007 MAZDA CX7

2.3 auto, alloys, ABS, twin airbags.

$17,990

CAR

OF THE

WEEK!

275 Colombo St, Christchurch

Cnr Colombo & Milton Sts

Ph: 337 9629

2017 NRL

TIPPING COMPETITION

ROuND 16 (JuNE 23-25)

Warriors v Bulldogs

Tigers v Titans

Cowboys v Panthers

Raiders v Broncos

Roosters v Storm

Dragons v Knights

Sharks v Sea Eagles

OuR ExPERT's sELECTIONs

• TOOLS

• AIR TOOLS

• ALLOY JACKS

• BATTERIES

• OIL & MUCH MORE!

OPEN TUES-FRI 9AM - 4.30PM

129 NORTH AVON RD, CHRISTCHURCH

www.woodfordglen.co.nz

Andy

Carr

Austin Motor Group

Warriors

Titans

Cowboys

Broncos

Storm

Dragons

Sharks

Games

successfully

selected

67/111

Currently

4th=

Pepe

Clark

Ben

Rogers

Mike

Olds

Wilson's Sports Bar The Flooring Warehouse Rockcote

Warriors

Tigers

Cowboys

Raiders

Storm

Dragons

Sharks

Games

successfully

selected

63/111

Currently

7th

Warriors

Titans

Cowboys

Raiders

Storm

Dragons

Sharks

Games

successfully

selected

71/111

Currently

2nd

Warriors

Titans

Cowboys

Broncos

Storm

Dragons

Sharks

Games

successfully

selected

59/111

Currently

8th

Brandts-Giesen

McCormick

Barristers & Solicitors

139 Kippenberger Avenue, Rangiora

Telephone: 03 313 4010 | Facsimile: 03 313 5096

Christchurch Direct Line: 03 379 1303

Email: reception@bgmlawyers.co.nz

We belong to your community

steve

Lennon

Warriors

Tigers

Cowboys

Broncos

Storm

Dragons

Sea Eagles

Andrew

McCormick

Frank

Endacott

Eddie

Kerrigan

Woodford Glen Speedway Brandts-Giesen McCormick Nigel Thompson Motor Co. Ltd Ignite Fitness

Games

successfully

selected

67/111

Currently

4th=

Warriors

Tigers

Cowboys

Raiders

Roosters

Dragons

Sharks

Games

successfully

selected

70/111

Currently

3rd

Warriors

Tigers

Panthers

Raiders

Storm

Dragons

Sharks

Games

successfully

selected

73/111

Currently

1st

Warriors

Tigers

Cowboys

Broncos

Roosters

Dragons

Sea Eagles

Games

successfully

selected

64/111

Currently

6th

All areas of practice:

Family, Property, Farming, Business Trusts,

Wills, Estates, Criminal and Traffic

After hours by appointment

• Andrew McCormick • Anna Lloyd

• Roger Brown • Quentin de Hamel

• Sharon Ward • Emma Symon

• Jesney Te Puke-Cowperthwaite

• Carol Dunn

Committed to Excellence in a

Friendly Environment

WILSONS'

SPECIALS

Tuesday's + Wednesday's:

Burger + Fries $12.00

Saturday 12 – 5pm:

Wilsons' $10 Pint 'n' Punt

Buy a pint of your favourite

beer & receive a $5 TAB

voucher to enjoy.

All Day Everyday:

2 Big Sports Screens

18

Pokie Machines

2 Major Jackpots with NZCT

Wilsons Sports Bar Steinlager

PH 03 343 4141 | 25 Riccarton Rd

2008 JAguAr S-TyPe

2.7D 6A 4D SeDAN

4 Door, ABS Brakes, Air Bag(s), Air Conditioning, Alloys,

Bluetooth, Body Kit, Central Locking, Electric seats, Fog

Lights, Fully Optioned, HID, Isofix, Leather, Parking Sensors,

Steering wheel functions, Tinted Glass, Turbo, 2720 cc

$19,999

519 Moorhouse Ave

Ph 377 6484 | Cell 021 134 9848

www.nigelthompson.co.nz

Carpet piCk of the week

Locksley

Extra heavy duty

Luxury 100% Solution

Dyed Polyester carpet

One colour only "Main"

- a beautiful brown

multi-tone look that

can add an extra

dimension to your floor.

Only while stocks last.

LARGE VARIETY

OF STOCK ROLL

VINYL, 2M WIDE

STARTING FROM

$49.00 per metre.

exCeptional

Value

$

99m

47 Gasson St, Ph 353 8899

Hours: 8.30am-5pm Mon-Fri

www.theflooringwarehouse.co.nz
---
46 Thursday June 22 2017

Latest Christchurch news at www. .kiwi

The Star

Puzzles

THE

CROSSWORD

1677

1 2 3 4 5

6 7 8

9

10 11

12 13

14 15

16 17

18 19

20 21

DECODER

Each number

represents a different

letter of the alphabet.

Write the given letters

into all squares with

matching numbers.

Now work out which

letters are represented

by the other numbers.

As you get the letters,

write them into

the main grid and

the reference grid.

Decoder uses all 26

letters of the alphabet.

22 23

©THE PUZZLE COMPANY

ACROSS

DOWN

6. Distinctive mushroom found in 1. Road safety device introduced

New Zealand (3,3)

by police in 1969 (12)

7. Previously (6)

2. Foolish (7)

10. Main ingredient in guacamole 3. Waterway (5)

(7)

4. Maybe (7)

11. Pivot (5)

5. Discovered (5)

12. Successor (4)

8. Last possible moment (8,4)

13. Skilled (5)

9. Area which Abel Tasman called

16. Noise (5)

Murderer's Bay (6,3)

17. Nuisance (4)

14. Injured (7)

20. Bill English's given first name 15. Resolved (7)

(5)

18. In the midst of (5)

21. Revoke (7)

19. One of the seven dwarfs (5)

22. Ford which was New Zealand's

top-selling vehicle in 2015 (6)

23. Bird, also known as kuku and

kukupa (6)

SOLUTION 1676

Across: 1. Heroic, 5. Usurer, 9/10. The Two The Towers, number 11. Hung, game 12. that Stampede,

14. Stanza, 16. Spiral, 19/21. Athletic Park, 22. Number, 23. Ailing, 24. Eldest, 25.

Eleven.

improves your arithmetic

Down:

HOW

2.

TO

Exhaust,

PLAY

3. Octagon, 4. Croissant, 6. Storm, 7. Roe deer, 8. Russell,

13. Associate, 14. Swannie, 15. Ashamed, 17. Impulse, 18. Arrange, 20. Evens.

It's like sudoku: each

vertical and horizontal

line has to contain

the numbers 1-6, and

the numbers can't be

repeated in any row or

column.

But it's sudoku with a

twist: The numbers in

each heavily outlined

set of squares, called

cages, must produce the

number in the top corner.

For example, 5+ means

the numbers add up to 5,

9x means the numbers

multiply to equal 9.

TIP: Numbers can be repeated in a cage, as long as they are not in the

same line or row.

© 2017 KenKen Puzzle LLC. All rights reserved

KenKen is a registered trademark of Nextoy LLC

WORDBUILDER

L E R

U

S

How many words of three or more letters can you

make, using each letter only once? Plurals are

allowed, but no foreign words or words beginning

with a capital. There's at least one five-letter word.

Good 8 Very Good 12 Excellent 17

Number FuN

2 Digits

15

19

26

51

3 Digits

094

173

194

202

584

606

632

804

4 Digits

1485

1813

5561

9746

5 Digits

17709

49992

50562

59552

7 Digits

1560799

3618378

3825855

5737500

8 Digits

00830397

15037376

40101058

57788731

SUDOKU

344

Fill the grid so that every row,

every column and every 3x3

box contains the digits 1 to 9.

SOLUTIONS

Untitled Puzzle

NUMBER FUN

1

4

8

5

5

9

5

5

2

2

0

2

3

6

1

8

3

7

8

1

5

0

3

7

3

7

6

8

0

4

1

5

2

6

1

9

4

0

0

8

3

0

3

9

7

1

5

6

0

7

9

9

5

8

4

1

7

7

0

9

5

5

6

1

KENKEN

DECODER

WORDBUILDER

ers, leu, lues, lur,

lure, lures, lurs,

rue, rues, rule,

rules, ruse, slue,

slur, sue, suer,

sure, use, user.

NZ CROSSWORD

Across: 6. Red Cap, 7.

Before, 10. Avocado, 11.

Hinge, 12. Heir, 13. Adept, 16.

Sound, 17. Pest, 20. Simon,

21. Abolish, 22. Ranger, 23.

Kereru.

Down: 1. Breathalyser, 2.

Idiotic, 3. Canal, 4. Perhaps,

5. Found, 8. Eleventh hour,

9. Golden Bay, 14. Wounded,

15. Decided, 18. Among, 19.

Dopey.

SUDOKU

SUDOKU

NZ CROSSWORD

Across: 6. Red Cap, 7.

Before, 10. Avocado, 11.

Hinge, 12. Heir, 13. Adept, 16.

Sound, 17. Pest, 20. Simon,

21. Abolish, 22. Ranger, 23.

Kereru.

Down: 1. Breathalyser, 2.

Idiotic, 3. Canal, 4. Perhaps,

5. Found, 8. Eleventh hour,

9. Golden Bay, 14. Wounded,

15. Decided, 18. Among, 19.

Dopey.

WORDBUILDER

ers, leu, lues, lur,

lure, lures, lurs,

rue, rues, rule,

rules, ruse, slue,

slur, sue, suer,

sure, use, user.

DECODER

KENKEN

1

5 7

5 7

6 0

1 9

1 8

5 0

4

1

5

0

3

7

3

7

6

3

6

1

8

3

7

8

5

8

4

2

0

2

0

1 0

5 8

6 3

0 0

7 3

9 9

9 7

1

9

4

2

6

5

9

5

5

2

1

4

8

5

SOLUTIONS

NUMBER FUN

Untitled Puzzle
---
The Star 47

Driven

FREE WEEKLY MAGAZINE

in stands every Friday

Latest Christchurch news at www.

.kiwi

Thursday June 22 2017

OVER 1000

VEHICLES

FOR

SALE

Outstanding fuel

economy in Outlander

• By Ross Kiddie

WHEN Mitsubishi

launched its popular

Outlander sport utility

vehicle in hybrid form, it

was almost deemed revolutionary.

That was in 2014, and

since then the PHEV (plugin

electric vehicle) has sold

well in New Zealand –

globally too for that matter

– and is about to become

even more appealing for it

has just had a fairly hefty

makeover.

The concept, shape and

ease of use hasn't changed

one bit, but the new

Outlander PHEV is fitted

out with a lot of new

kit, most of it is electronic

thereby enhancing the

infotainment and communication

systems, along

with the inclusion of an

ultra fast charge mechanism,

higher priority for

electric operation-only and

the inclusion of advanced

safety protocols.

Column space doesn't

allow comprehensive detailing

of the new features but

I can say the Outlander in

this form is engineered with

a greater emphasis towards

propulsion through the

electric motors.

For that matter, the new

fast charge connection will

fit well with a comprehensive

project nationwide to

install fast charge stations.

Of course, the PHEV can

also be charged through a

household supply using a

separate connection.

However, there's more to

PHEV than just plugging

in, charging and then driving

off, the hybrid system

is true hybrid. Under the

bonnet sits a four-cylinder,

2-litre engine which is

rated at 88kW. It's there to

charge the batteries when

they run low, as well as

providing drive if there is

no charge available. On the

subject of drive, the PHEV

is true to the Outlander

concept, it gets four-wheeldrive

courtesy of a second

electric motor at the rear.

Amidst the complexity

of the hybrid system the

MITSUBISHI OUTLANDER: Plug-in hybrid.

PHEV is capable of returning

some amazing fuel

usage statistics through

the varying drive modes,

although electric drive is

prioritised.

At best possible usage

Mitsubishi rate the PHEV

at an amazing 1.7-litres per

100km (166mpg). That,

of course, can only be

achieved under certain circumstances,

but on a daily

commute it can't be ruled

out.

• Price – Mitsubishi

Outlander PHEV,

$67,990

• Dimensions –

Length, 4695mm;

width, 1800mm;

height, 1710mm

• Configuration

– Four-cylinder,

four-wheel-drive,

1998cc, 88kW,

189Nm, continuously

variable automatic

• Performance –

0-100km/h, 10sec

• Fuel usage –

1.7l/100km

An overnight charge (6.5

hours) will cost around $2

depending on your service

provider and it is good for

a 54km journey.

Fast charge rates at a pay

station will cost, on current

rates, 25c/minute plus

25c/kWh. A 20min time

frame should be expected

to charge from zero to 80

per cent.

Even though the

Outlander PHEV is a

complicated car and takes

some understanding, buyers

needn't be put off by its

complexity. If you just get

POWER:

Plug in and

charge

up for an

electric

drive of

54km.

in and drive it, it quickly

becomes familiar and

drives little differently to

the standard vehicle it is

based on.

Also, if you are a technophile

there are a multitude

of information displays to

keep you happy, they indicate

the varying modes that

the vehicle is utilising at

any given time.

Even though I didn't take

the PHEV off-road – only

for the sake I didn't want to

get it dirty thanks to a wet

Queen's Birthday weekend

making off-road conditions

muddy – you can drive the

PHEV with the mindset it is

a useful off-the-seal traveller

with suspension capable

of absorbing a bit of rough

stuff and ground clearance

which allows travel over

undulating ground.

The PHEV also has composure

on the highway, it

travels very quietly – no

surprise there – and it

steers and handles like an

SUV should. It feels quite

sprightly given the torque

generation of electric

power returning a 10sec

time to make 100km/h

from a standstill.

There's been a common

misconception that you

have to drive hybrids long

distances to recapture the

cost of purchase.

That's certainly not the

case with the Outlander

PHEV. It comes priced

realistically from $60,990.

The evaluation car was

VRX-specced which adds

$7000 and you get all the

Mitsubishi high-grade kit

– leather trim, heated front

seats, paddle gear shifters,

sat nav, Siri voice recognition

and a multitude of

other items. It's fair to say

the VRX sits on the outer

periphery of the luxury car

market.

If you think that longevity

is a worry, take into

account that the hybrid/

electric componentry is

covered for an eight-year

period (or 160,000km) and

the engine/driveline is covered

for 10 years. Peace of

mind really.

Best

Motorbuys

TM

2016 FORD EVEREST 'Trend' 4WD

3.2T. Diesel, 6 spd Tiptronic, 20" Alloys,

7 Seater, Bluetooth Sync 3 GPS Sat/Nav,

Tints, Low km. 'Impressive 4WD'

2012 FORD FOCUS 'ST'

2.0 Litre Turbo, 6 speed, Recaro Race Seats,

Factory Bodykit Push Button Start, Rear Wing,

NZ New. "Rare Opportunity"

2013 FORD KUGA Trend 'Ecoboost'

1.6litre Turbo, Multiple Airbags, Partial Leather,

ABS Brakes Bluetooth, Keyless Start.

"Latest Eco Boost Technology"

$60,990 WAS $30,990 SPECIAL $29,460 GREAT BUY $27,690

2005 TOYOTA RAV4

2.0 auto, alloys, ABS, twin airbags

Plus ORC $300

Cash Price $15,290

NZ NEW

SAVE $2000

2004 TOYOTA IST

1300cc, only 65,000kms,

arriving soon.

NOW $6,990

$14,990

2005 MINI COOPER

SAVE

$1,000

$58pw

NOW

$13,990

1998 MAZDA B2600 4X4

2.6 petrol injected, 5 speed, p/s, good tyres,

drives well, priced to sell.

2003 HOLDEN RODEO LT D/CAB 4WD

3.0 Turbo diesel, 5 spd, dual airbags, abs, side

opening canopy, nudge bar, steps, good km.

NZ NEW $19,995

www.tcm4wd.co.nz

Cnr Main South & Epsom Rd

www.avoncityford.co.nz Sockburn, Christchurch

0800 655 551

SAVE $2000

2006 TOYOTA VOXY

8 seater coach,factory alloys, spoilers,

UV tinted windows.

NOW $6,990

2002 BMW 318TI

Auto, alloys, ABS, twin airbags, low km.

$7,990

2007 HOLDEN COMMODORE

3.6, auto, alloys, ABS, twin airbags

$13,990

275 Colombo St, Christchurch.

Cnr Colombo & Milton Sts. Ph: 337 9629.

$8,999 $6,999

$12,999

1996 NISSAN DATSUN FLATDECK 2WD

2.7 litre diesel, 5 speed, new Blackwell's flat deck,

148,000kms.

Christchurch Commercials & 4x4's MVT

20 Opawa Rd, Christchurch, Ph (03) 379 2675 • 361 Wilsons Rd, Christchurch, Ph (03) 982 8674

2011 HOLDEN COMMODORE

SERIES 2

$86pw

2004 FORD COURIER XLX D/CAB 2WD

2.5 Turbo diesel, 5 spd, dual airbags, abs, air cond,

side opening canopy, alarm, alloys, new timing belt.

NZ NEW $13,995

Below is a small

selection of our

great deals!

To advertise in Best Motorbuys, phone Lea Godfrey 021 277 3086

SAVE $2000

2005 TOYOTA KLUGER

2.4ltr tiptronic, great ground clearance,

excellent example, just arrived.

NOW $8,990

68 WILLIAMS 321 High STREET, Street, KAIAPOI Rangiora

- FREEPHONE mbmotors@vodafone.co.nz

(03) 420 4207

1055 Main North 03 Rd, 423 Chaney's 3287 or 027 Cnr, 211 Belfast 1158

2000 FORD COURIER D/CAB 4X4

2.5 litre turbo diesel, 5 speed,

power steering, airbags.

1999 TOYOTA ALTEZZA

RS200

SAVE

$2,000

$9,995 $14,995 $5,995

$38pw

265 Colombo Street, Christchurch

(opposite Beckenham Mitre 10)

Phone 03 337 9933

2012 SUZUKI GRAND VITARA LTD

1 Owner NZ new, popular 2.4L auto, cruise control, 6

airbags, ESP, sunroof, high/low 4wd.

LEATHER $17,995

12/24/36 Month Protecta Warranties available.

113 Sherborne Street, Edgeware

Phone 03 377 8873
---
48 Thursday June 22 2017

Latest Christchurch news at www. .kiwi

OPEN HOMES

Come to an open

home or make a

time to view.

Avondale: 26 Cowes Street

Priced To Moo-ve On Cowes: Solid 3 bedroom

family home. Modern kitchen, spacious living.

Large deck. Dble garage. Extra parking.

Enquiry over $379,000

Sunday 1-1.30pm

Avonhead: 31a Rosedale Place

Needs To Sell Urgenty: Make an offer. Nest or

invest. 2 dble bdrm rear townhouse in Burnside

& Merrin St school zones. Make an offer.

Enquiry over $345,000 (RV $355,000)

Sunday 11-11.30am

COLLAPSED SALE

Cashmere: 75 Valley Road

Brand New Designer Dwelling: Collapsed sale,

back on the market, be quick! 4 bdrms, 2 bthrms,

single garage. Extra parking. See it, love it, get it!

Saturday and Sunday 3.15-3.45pm

Linwood: 1a Clive St

Affordable, Sizable & Practical: Very tidy 3 dble

bdrm home. Modern kitchen, new paint, carpet.

Off street parking. Great value for money.

Sunday 12-12.30pm

North New Brighton: 12 Saltaire Street

Get On The Property Ladder: Must be sold. 2/3

bdrms. Woodburner on wetback. Re-wired,

re-roofed, re-painted. New dble garage.

Enquiry over $355,000 (RV $375,000)

Sunday 2-2:30pm

Do you know

the current

value of

your home?

Find out,

call Trish

now for a

free appraisal.

Trish Lawrence

ph 0800 874 745

Initial Realty Ltd

Licensed Agent REAA 2008

Appears every week in

For more information:

Mike Fulham

P 364 7406

E mike@christchurchstar.co.nz

Trish donates

to Camp Quality

Home

& Property

REAA - Disclosure rules

when selling a home

Real estate advertisements are designed to make

every property look like a dream buy.

That's why they gloss over the

negative aspects and linger on the good

points, wanting you to be drawn in by

the sun-drenched location rather than

be put off by lack of garaging. It's no

crime to gloss over a property's quirks,

but lying by omission or design about

more serious matters is not allowed. If

you do this when selling your property

you may be at risk of being sued by the

purchaser.

When you're ready to sell your

property it's a good idea to get legal

advice about your obligations before

you sign an agency agreement. Most

of these agreements, which set out the

terms and conditions of your contract

with the real estate agent, require you

to confirm that you are unaware of any

undisclosed defects

in the property and

that you haven't

withheld any

information about it.

As a seller, you must

also confirm that

your property has all

the necessary consents

and code compliance

certificates for any

building work. Any outstanding consents,

including ones that involve any works at a

neighbour's property, should be disclosed

to the agent.

This is important for several reasons.

Licensed real estate agents have

clear obligations when it comes to

disclosure. They must not mislead a

seller or a potential buyer, or withhold

any information. While it's not up

to the agent to uncover any hidden

defects in a property, they must tell any

prospective buyers what they know.

Under the Real Estate Agents Act

2008, if licensed real estate agents

suspect that a property may have a

defect then they are obliged to ask

the seller about it, or advise potential

buyers of any risks. For example, if a

property is next door to a proposed

new development, or if it's in an area

that's been subject to flooding, the agent

must tell prospective buyers rather than

turning a blind eye.

If your property may be prone to

weathertightness issues thanks to its

age or cladding, then the agent may

have to disclose this potential risk to

NEW LISTINGS

Home & Property appears

every Thursday, delivered FREE

throughout Christchurch

For more information

and bookings, contact

Mike Fulham

M: 021 300 567

E: mike@starmedia.kiwi

prospective buyers. If it doesn't have

any weathertightness problems it may

be worth getting this confirmed in an

expert report by a qualified building

inspector who has professional

indemnity insurance, understands

the strict legal requirements of their

role and carries out their work in

accordance with the New Zealand

Property Inspection Standard. This will

help make the sale process as efficient

as possible.

If you know there are issues

with the property, whether

it's something small like a

garage door not working

properly, or a bigger deal

like an unconsented deck, it's best to

discuss them with the agent you are

working with. They can help you decide

how to manage the problem, whether

that means fixing it, or disclosing it to

potential buyers. However, a licensed

real estate agent must not disclose any

problems with your property to buyers

without getting your consent first. If a

seller doesn't agree on a disclosure, the

agent is required to stop working for

them rather than disclose any defects

without consent.

These rules offer more protection to

buyers than the traditional attitude of

'caveat emptor' (buyer beware), which

assumed that the seller would always

know more than the buyer and any sale

was at the buyer's risk. However, buyers

should always do their own research

about a property before signing a sale

and purchase agreement. Buyers should

also ask the agent about anything they

are concerned about, no matter how

trivial it may seem. It's far better to get

an answer upfront than find out when

it's too late.

Your Earthquake

damaged home!

The Star

Talk to us if you are serious about

selling your "As is Where is" home.

We have sold over

100 "As is Where is"

homes and we have

a huge database of

qualified buyers.

Phil & Holly Jones

Ph 03-382-2230

Phil 027 435 7711

Holly 027 222 0220

phil.jones@raywhite.com

We have

achieved record

breaking prices

recently!

Licensed (REAA 2008)

Results Realty Ltd

www.firsthomes.nz

chchsales@firsthomes.nz

3 Bed, 2 Bathroom

Double Garage

$285,000

Oamaru

LET'S GET STARTED!

Price: SBD BEO $159,000

Web: G3HGF3

2 1 1

FAMILY SIZED HOUSE AND GARDEN

Price: SBD BEO $269,000

CHECK THIS OUT!!

Price: SBD BEO $335,000

THE SANCTUARY

Price: SBD BEO $695,000

Web: G11GF3 3 1 2 Web: G6ZGF3 4 2 2 Web: G71GF3 4 2 2

SBD BEO = 'Sale By Deadline Buyer Enquiry Over'

*

LJ Hooker Harveys Group, based on number of transactions

Call Oamaru's No. 1 Team For Listing & Selling - Ph (03) 434 9014

Robertson Real Estate Ltd MREINZ - Licensed Real Estate Agent REAA 2008

THE POSSIBILITIES ARE ENDLESS

Price: BEO $69,500

Web: G40GF3

Check out all our listings at www.oamaru.ljhooker.co.nz | Deal with the Best: LJ Hooker Oamaru - The Most Productive Team in NZ *
---
The Star Latest Christchurch news at www. .kiwi

Thursday June 22 2017 49

Phone our local team on 379 1100

or Email: star.class@starmedia.kiwi

Acknowledgements

SCURR, Beatrice May

(Trixie). Tim, Frank,

Barry and their extended

families wish to express

their heartfelt thanks to

everyone for their support

and kindness following

the death of Trixie. Thank

you for the flowers, cards,

expressions of sympathy

and the presence of those

who came to farewell

and celebrate her life.

We would particularly

like to acknowledge the

wonderful care Trixie

received during her time at

Birchleigh Village. Please

accept this as a personal

acknowledgment of our

appreciation.

Adult Information

VENUS

ROOM

Upmarket discreet,

open 10.30am till late,

www.venusroom.co.nz

or ph 03 376-4565

or 022 059-4369

Adult Information

DOUBLE Trouble 1 for

pleasure & 1 for fun, ph

022 100-3942, Chch

LADIES Wtd sensual

massage or full service,

room hire also avail, ph

03 379-5440 or 021052-

4568ChCh

SEXY, Sensual lady avail

for fun times, ph 021 025-

92429, ChCh

Babies Equipment

BABY Clothing clean,

girls birth to 12 mths, all

reas priced, baby clothing

boys, birth to two & half

yrs, all reas priced, nappy

inserts Microfibre x 10

with nappy pants x 5 $35

ono ph 027 549-0048 or 03

349-0048

FRONT Pack baby

carrier, birth to 1 yr old,

exc cond $30, also baby

bath white $10 ph ph 027

549-0048 or 03 349-0048

Beds & Bedding

QUEEN Sealy firm

mattress, as new, 2 year

old $450, ph 022 134 5928

Bedroom Furniture

HEADBOARD QS honey

coloured Kauri $250 ono

ph 03 980 3100 or

021 241 7286

Bicycles

KTM MTB, race series,

c/w spare frame, XT gears,

27spd, Ritchey ext seat,

Pillar wheels, hardtail

with axle, frnt susp, Bri

computer $200 ph 329-

9798 or 027 232-5598

Birds – Caged

KING PARROTS.

x2 males, 4 & 5 yrs old,

avairy birds only $325 ea,

ph ChCh 3257166

Boating Accessories

& Equipment

MARINE

SUPPLIES

• Boat Covers

• Fish Finders

• Boat Hardware

• Life Jackets

• Accessories

305 Flaxton Road, Rangiora

Ph 027 439 3184

www.southislandmarine.co.nz

Boating Accessories

& Equipment

INFLATABLES with

transoms Lancer 2.0

tender, Zodiac XDC 5.8

m, Seveylor 3.8 m vinyl

downriver. F/glass Viking

sail dingy and trailer sailer

Pelim Cherry. All need

some work. Ph Mike 027

266 9255

Books

BOOKS Old wanted,

anything considered,

including hunting,

mountaineering, fishing &

childrens, ph 354-1621

Building Supplies

SLEEPOUTS

WANTED

Don't mind

craning

to remove or

doing repairs.

Also wanted

offices, homes,

granny flats,

garages etc

Ph 021 106 2900

Business for Sale

NEW - Proven Business

opportunity.

Require reliable vehicle.

Well presented with good

Communication skills.

E:aoadvert@outlook.com

Business for Sale

MOWING & GARDENING

BUSINESS FOR SALE

Well established 40+ clients, good mix of

residential, rental & commercial clients.

Full financials available for year ended 31/03/16.

Price $31,900 + GST. If required full equipment

package including full mowing trailer available as well.

If you want to know more phone or text

Patrick on 021 084 52952

Caravans, Motorhomes

& Traliers

TRAILER Wanted any

size or cond, ph or txt

Peter 021 025-94977

Car Parts

FALCON XE to AU, EB

to AU, XR6, Car, ute, or

sw, all parts, ph 027 271

8716

Car Parts

The Automotive Lamp

Specialists

New and Used Lamps for

Cars, Trucks, Vans, 4WD

and Motorhomes

Cars

$8,001 - $12,000

TOYOTA VITZ.

2006,1.3 auto,low 56K,

ABS, 8 safety air bags,

AC, CD player, economy

at its best, very tidy, be

quick $8999 Ph 0274

936023

Cars

$16,001 - $20,000

MITSUBISHI 380

SX, 2007, stunning red,

$8,000 paint, 3.8 V6,

40mpg, spoiler, 17" alloys

$18,000, ph 352 5963

Cars

$1,501 - $4,000

NISSAN PULSAR 2000

SW 185 kms, wof & reg,

5 spd manual. Reliable &

economical. $2,500. Ph

981-9563 or 027 200 4706

TOYOTA Corolla Spacio

1999, 140kms, blue, very

tidy $3,800 ph 027 780

6666 or 342 6366

Childcare &

Domestic Help

NANNY Mature &

experienced seeks position

caring for 1-2 children,

over 5yrs old, after school,

have nursing exp, St

Albans, Papanui, Merivale

& Shirley areas, plse ph

027 788-7147, Melanie,

Ch

Classic Cars &

Motorcycles

MITSUBISHI CORDIA

turbo GSR, 1985, low

kms, 1 previous family

owned, red, suit collector,

ph 352 5963

TRAILER Wanted any

size or cond, ph or txt

Peter 021 025-94977

PH 0800 225 483

325 Brougham Street

CHRISTCHURCH

Church Notices

The Spiritualist

Church of NZ

41 Glenroy Street

Woolston

SUNDAY SERVICE

7pm

Address

Sandy B

Mediumship

Sandy B

Ph 021-081-43700

SYDENHAM CHRISTIAN

SPIRITUAL CHURCH

Sydenham

Community Centre

23/25 Hutcheson St

Address

Gail

Clairvoyance

Gail

Sunday 7pm

All Welcome

Phone 349-9749

Christian

sPiritUaList

ChUrCh

182 Edgeware Road

Sunday Service

7pm

Address

Angela

Clairvoyant

Angela

All Welcome

NEW AGE CHRISTIAN

SPIRITUAL CENTRE

Grafton Street

Sunday 7pm

Address:

Gaynor

Clairvoyance:

Gaynor

Tuesday 1pm - 3pm

Healing &

Clairvoyance

All Welcome

Clothing &

Accessories

JACKET Mens XL , new,

black, 4 pockets, waist

length, $30 ono, ph 03 365

5261

Community Events

ALCOHOLICS

ANONYMOUS, If you

want to have a drink thats

your business. If you want

to stop, we can help. Phone

0800 229-6757

Computer Games

XBOX 360 + 6 games,

$200 ono ph 03 980 3100

or 021 241 7286

Finance

Establishment fee of $99 applies

How does a $500 cash loan that

you pay 0% interest on over a short

term of 3 months sound?

Terms and conditions apply. Subject to Instant Finance

lending criteria and responsible lending guidelines.

Hurry - The Fast $500 finishes on 30 June 2017

3/11 Goulding Ave, Hornby

9B Buckley Road, Linwood

Helping Cantabrians since 1988

The Fair City Finance "Five

Point" promise will give you:

Fast and easy online

application process

Same-day loan approval

Speedy cash disbursement

Flexible repayment options

Affordable rates:

14.95% – 19.95%

Firewood

FIREWOOD 1 Cu Mtr

of dry untreated off cuts

$25, 32 Dakota Cres, Mon

to Fri 7am - 5pm , ph 03

3411027

Flatmates

FLATMATE WANTED.

Two rooms $140 & $130

pw.Incl Power & phone.

Ph Rob 03 981 2353

SOUTH NEW Brighton,

double room can furn,

working, private home

$200 pw ph 027 398 2797

Fishing & Hunting

GEVARM SEMI AUTO

.22 rifle in lockable case,

many extras $30 ph 03 455

4402 Dunedin

RIFLE Bolts wtd,

cash paid, by collector,

any type, price etc, in

Canterbury Mon - Thurs,

ph 027 586-7621

IF22958CS

Apply online now at faircity.co.nz

or call the team on 0800 340 350

Fair loans, fast.

Furniture (Indoors)

FURNITURE

Various pieces, bedroom

& lounge furniture, all

must go, ph 027 398 2797

Garage Sales

AVONDALE

CHISNALWOOD INT

SCHOOL, 76 Breezes Rd

, Sat 9am - 11am, Tools

, kitchen ware, general

houshold itsms, sports gear

& electrical, something for

everyone

Fishing & Hunting

WE BUY ALL UNWANTED

GUNS & ACCESSORIES

FOR CASH

Now at

64 Carmen Rd, Hornby

027 265 4659

You can now shop online with us

www.shooterssupplies.co.nz

Funeral Directors

Direct Natural

Funeral Provider

0800 000 121

www.cremorials.co.nz

Garage Sales

CRACROFT/LOWER

Cashmere, 5 Holmcroft

Court, off Wolsleys Road,

Saturday 8.30am to 1pm,

we are decluttering &

downsizing, so lots of

items to move, something

for everybody.

OXFORD 1 Korimako

Close, Sat 8am - 12pm,

musical instruments and

effects, fishing gear, left

over building materials

etc, caravan, postable

scaffold

Funeral Directors

Direct

Cremation

No frills, No Service,

No fuss, simply

straight to the crem.

Other options available

Ph: 379 0178

for our brochure

or email

office@undertaker.co.nz

POPPY

FUNERALS

Refreshingly

different...

For all your funeral

needs from direct

cremation to full

service

No hidden or

additional fees

24 hour availability

Male and female

directors

Ph: 0800 92 00 99

www.PoppyFunerals.co.nz

Garage Sales

RANGIORA 5 Wattle

Lane, Sat 8am, something

for everyone, Triumph

1975 2.5 car, childrnes

clothes, childs bikes open

to offers on everything

SPREYDON 23

Barrington Street, Sat

8am - 2,30pm, household

& office furntiture, misc

items, cash only, must park

on street

WOOLSTON

3/78 Barton St, Friday

& Saturday 9 to 1pm

clothing & shoes, mostly

$2, gas heater & other

heaters, dvds all $2,

other household items &

costume jewellery
---
50 Thursday June 22 2017

Latest Christchurch news at www. .kiwi

The Star

Your local guide to our

Trusted Tradesmen & Professionals

To advertise:

Phone 379 1100 or email

star.class@starmedia.kiwi

accountant

ACUPUNCTURE

ARCHGOLA

Builder

Accounting

services

quotes

given

• Bookkeeping

• GST

• PAYE

• Tax Returns

• Management

Advice available

PHone PAul

355-2636

C H R I S T C H U R C H

ACUPUNCTURE

C E N T R E

C H R I S T C H U R C H

ACUPUNCTURE

C E N T R E

Patrick Guo MB (China)

Registered acupuncture specialist

ACC treatment provider

25 years experience

Specialising in injuries, muscular

problems and pain relief

440 Papanui Rd (end of Blighs Rd), Chch

Ph: 03 3542398 | Email: patguo@gmail.com

www.chchacupuncture.co.nz

Enjoy outdoor living all year round

• House, deck, carport & window canopy etc

• Warm & dry in winter

• UV protection for summer

• Customised & Tailored

• Café curtains fitted

• 5 year warranty

15 months

INTEREST FREE

Normal lending criteria apply

Grant Stewart

Chris Thorndycroft

Ph 0508 272 446 | www.archgola.co.nz

Wright Enterprises Build Limited

W.E. Build

New Homes

Renovations

Alterations

Re-roofing

Re-cladding to older buildings

Family owned & operated

E info@webuildltd.co.nz

Antony Wright 021 111 1703

John Wright 0274 343 323

AH 03 347 4347

www.webuildltd.co.nz

Builder

BUILDING

Carpet binding

CARPET CLEANING

BUILDers

"A local looking after locals"

• Licenced builder with 20 years

experience in renovations,

alterations and extensions

• A creative craftsman who is

attentive to detail

• Quotes the job, does the job

• Works with all budgets

Travlon

Coachlines

Andrew Drewitt

Ph: 021 395 324

Email: ad_designs@hotmail.com

Building & roofing

log fire inSTAllATionS

• Bricklaying & Blocklaying (30 yrs experience)

logfires

• log fire installation & maintenance

• chimney cleaning

• standard logfire installations $600 + gsT +

permit + parts if applicable

• My scaffolding no charge

fencing

• Brick, block, timber or any combination

roofing repairs

• concrete tile, metal chip tile, corrugated iron

landscape Builds

• retaining walls, decks, BBQs, planter boxes

Jim Gardner Trade Services

Member NZ Home Heating Association

Ph 03 343 4044 or 0274 375 619

Email teamgardner@xtra.co.nz

DI'S CARPET

BINDING

Have your carpet off-cuts bound

124 Halswell Junction Rd, Halswell

Ph 322 1103 M 027 586 4830

Hours Mon - Fri 9.30am - 5.00pm

Busy Bees

Professional carpet and

upholstery cleaning at

affordable prices

• Carpet cleaning from $20 a room

• Lounge and dining chairs from $10 a chair

(conditions apply)

Give us a "Buzz" on 0800 500 016

to discuss your requirements and

get a FREE quote.

www.busybees.co.nz

CHARTER & TOUR

Travlon

Coachlines

Travlon Coachlines

School Run to some

private schools

ex Selwyn/Halswell area

"Wide range of coaches

"Wide

and buses for

School range of Run coaches to some and buses

for Charter

private schools

& Tour"

ex Selwyn/Halswell area

www.travlon.co.nz | Phone: 03 325 2959

"Wide

Email:

Phone: range

info@travlon.co.nz

03 325 of coaches 2959

Email: and info@travlon.co.nz

buses for

Charter Driveways & Tour"

SWAINS KIWI KERB

www.travlon.co.nz

Phone: 03 325 2959

Quality Workmanship -

Email: info@travlon.co.nz

DRIVEWAY

CONSTRUCTION

Free Measure & Quote

• Asphalt

• Driveways

• Kerb

Over 10 Years Experience

• Chipseal

• Chip

PH 0800 081- 400 • 980-1123

Mob 0274 325 457

CONCRETE

Concrete Removal & Trucking

Driveways, paths, sheds, garages,

site clearances

We also deliver and spread landscaping

supplies – topsoil, bark chip, shingle etc.

For fast friendly service phone

Nick on 0274 324 124

keacontracting@yahoo.com

DRIVEWAYS

Exposed Aggregate

Stamped Concrete Plain

Concrete Resurfacing

Things we offer...

Competitive/affordable pricing

Attention to detail

Professional service

free quotes/insurance scopes

Cell 0278 145 848

www.drivecrete.co.nz

concrete & paving

• Driveways

• Earthquake repairs

• New Home Specialists

• Patios & Paths

tel: 0508 873 7483

email: sales@affordableconcrete.co.nz

www.affordableconcrete.co.nz

Excavations

• Driveways

• Car Parks

• Site Cleaning

• Demolition

• Farm Tracks

• Drain Cleaning

• Stump & Hedge

Removal

• Ashpalt Concrete

Wide range

oF TruckS

• Tennis Courts &

Swimming Pools

• Chip Seal Driveways

• Diggers – 2 Ton

up to 20 Ton

• Excavators

• Bobcat & Drilling

• For Posthole &

Fence hole

For a Free Quote

on your next project

Phone Steve on 021 338 247

or 325 7922

Free

QuoTe

digga hire

• 1.5t, 3t, 5t, 12t, 20t, 30t Excavators

• Loaders • Compactors • Tip Truck

Short & Long Term Hire

Flexible & Competitive Rates

0800 344 425

Cnr SH1 & Weedons Ross Rd, Rolleston

EXTERIOR PLASTERING

Quality

Workmanship

at Competitive Pricing

Free Quotes

Aynsley Frewer

M: 027 201 1296

E: aynsleyfrewer@xtra.co.nz

PO Box 20534 Bishopdale
---
The Star Latest Christchurch news at www. .kiwi

Thursday June 22 2017 51

Your local guide to our

Trusted Tradesmen & Professionals

To advertise:

Phone 379 1100 or email

star.class@starmedia.kiwi

FOOTCARE

OASIS

Senior Citizens Foot Care

25 Conway Street, Spreydon

Treating hard thick nails, calluses

and corns finishing with a foot massage

Price $30 Allow 45 mins

Home Visits available by appointment

Therapist – Amanda

(30 years experience)

Ph. 942-6036 for an appointment

HOURS ARE FLEXIBLE

GARDEN SUPPLIES

CHCH'S LARGEST SELECTION OF

BARK • COMPOST • SHINGLES

Remember...

we are NOT in

Parkhouse Road

Landscape Lane (off Lunns Rd)

P. 348 2915 OPEN 7 DAYS

nO GREEn wastE In anY OF OUR COMPOst

Gutter Guard

STOP LEAVES

birds, snow, hail & vermin

from blocking up your spouting

Quality materials: BHP Colorbond steel mesh with

unique patented louvre will even keep out pine needles.

Will not rust or sag with age or load. 10 year warranty,

range of colours.

Proven in Australia & New Zealand over the last 15 years.

FOR SAFE, PURE DRINKING

WATER FROM YOUR ROOF.

NOW AVAILABLE: STAINLESS STEEL

MICO MESH

Call Rohan anytime Mon-Sat for a noobligation

assessment & quote

0800 486532 www.gumleaf.co.nz

HEAT PUMPS

Which one is

right for you?

• Single-split, Multi-split, Ducted?

• Wall, Floor console, Ceiling

cassette, Concealed?

• Mitsubishi, Panasonic, Fujitsu,

Daikin, Toshiba...?

Find out with a

FREE HOME APPRAISAL

from the Independent

Heat Pump Experts.

BOOK NOW

0800 47 48 97

heatpumpguys.co.nz

THE INDEPENDENT SPECIALISTS

junk

kitchen renovation

landscaping

LANDSCAPING

Why go to the Dump?

Junkman comes to you!

Items too big for the

rubbish bin?

Or too heavy for you

to move?

Junkman comes

to you & takes

it away

FROM $

65 *

*Prices vary depending on items and volume – minimum charge $65

0800 586 5626

www.junkman.co.nz

office@junkman.co.nz

Kitchen looking tired?

Revitalize with new colour at a

fraction of replacement cost

• Alterations & Hardware available

• Laminated Kitchens no problem

• 'On Site' finishing available

• Over 20 years experience

• Free Quotes with no obligation

• All Joinery & Furniture repair & Spraycoatings

PABLO'S PAINTWORKS

27 Birmingham Drive, Middleton

03 338 6280 | 021 541 323

pablospaints@xtra.co.nz

www.pablospaintworks.co.nz

Landscape

Construction and

Garden Maintenance

You can have your gardens, trees,

shrubs, plants and lawns maintained to look their best

all year round, for a great price.

Residential & Commercial Landscaping

• Maintenance • Pruning • Reconstruction & Rejuvenation

• Rental Property and Commercial Maintenance

• Pre-Sale Tidy-Ups

New Home Landscaping

Lawns • Gardens • Decks • Paving • Water Features

• Quality • Value for money • Experienced • Punctual

• Professional • Flexible • Knowledgeable • Reliable

Call Ross Legg - 027 222 0388

Email ross@revivelandscaping.co.nz

www.revivelandscaping.co.nz

• Site clearing • Rubbish removal

• Garden edging • Planter boxes

• New lawns • Concreting • Paving

Solid Landscaping Ltd

027 777 7513

info@solidlandscaping.co.nz

facebook.com/SolidLandscapingLtd

solidlandscaping.co.nz

MAINTENANCE

Doctor

Fixit

• Carpentry • Repairs &

Maintenance

• Doors & Windows

• Fencing

• Painting & Plastering

• Tiling

• Outdoor Maintenance

• Renovations

• Decks & Pergolas

Norm McRae

027 222 3060 | 03 312 0082

www.doctorfixit.nz

PAINTER

Michael Kelly Painters

Locally owned and

operated family

business.

25+ years Experience

• Painting • Wallpapering

• Interior • Exterior

Free Quotes

Phone

Michael 0212 649 492

michaelkellypainter@hotmail.co.nz

painter

Price Family

Painters Ltd

Interior/Exterior

Wallpapering/Painting

Gib Stopping

Free Quotes

EQC Opt Out

Fletcher Accredited

Project Management

Phone: Morton 021 667 444

Email: mortonprice@xtra.co.nz

www.pricefamilypainters.co.nz

PAINTING

EQC REPAIRS

TAKE THE STRESS

OUT OF YOUR

REPAIRS!

We can make it happen

WE ARE A

ONE STOP SHOP

WINNING

National Awards

from NZ Master Painters, sponsored by DULUX

36 Years in business now offering

Fixing, Stopping, Painting, Wallpapering

• Piling • Electrical • Plumbing • Flooring

• Painting • Roofing • Plasterboard • Wallpapering

Gary: 021 329 881

Cam: 021 329 200

Office: 03 338 9886

E. office@gkfyfeltd.co.nz

PAINTING - PLUS

pc & phone repairs

PLUMBER

TRADES

• PAINTING • TILING

• PLASTERING

• WALLPAPERING

Phone Kevin Steel

• Interior/Exterior

• New Homes & Repaints

• Quality workmanship assured

• Correct preparation always undertaken

• 20+ years experience

• Earthquake repairs

(Painting/Plastering/Wallpapering/Tiling)

Ph 381 7417 or 027 216 8946

www.facebook.com/kevinsteelpainters&decorators

• iPhones • Smart Phones

• iPads • Tablets • Computers • Laptop

Repairs, Parts and Accessories

• Glass Screen Protectors

• Phone Cases • Cables etc

109 Matipo St | 0800 222 691

• Hot water cylinder repair/replacement

• Leaky taps, blocked toilets

• New housing

• All plumbing alterations

• Mains pressure hot water

• Fire and wetback installation

• Digger/tipper excavation and hire

• Watermain replacement/repair

• Free quotes

• Certified craftsman plumber

10% prompT paymenT disCounT * same day serviCe *

Call/Text 027 245 5100

*conditions apply

Freephone: 0508 426 269

Trades &

Professional

Services

MORE

Trades & Professional Service Businesses

appear on the following pages
---
52 Thursday June 22 2017

Latest Christchurch news at www. .kiwi

Your local guide to

Trades & Professional Services

Every Thursday in The Star

Plumbing & Drainage

Plumbing & Drainage

REntal

PLUMBING & DRAINAGE

Local business for all

plumbing MTPD and drainage

Call Local Morgan business work. - 0223758506 for all

plumbing and drainage

Morgan Thomas Plumbing & Drainage Ltd

Local business for all plumbing and

drainage work.

Freework.

Free Quotes

Quotes

Free Quotes

New SkyVac

Gutter Cleaning Machine

New SkyVac

Revolutionary Gutter cleaning system.

No job too big or too small!

Gutter Cleaning Machine

Revolutionary Gutter cleaning system.

MORGAN THOMAS PLUMBING & DRAINAGE LTD

No job

Calltoo Morgan

big0223758506

or too small!

MORGAN Visit our THOMAS website PLUMBING - www.mtpd.co.nz

& DRAINAGE LTD

Email Call-Morgan morgan@mtpd.co.nz

0223758506

Visit our website - www.mtpd.co.nz

Email - morgan@mtpd.co.nz

RE-ROOFING

QUALITY ROOFING AT THE

BEST PRICE AROUND

Protect your home with a new Colorsteel roof.

Call for a friendly, FREE assessment and quote.

• Roofing

• Spouting and Downpipe

• Safety rails

• Licensed Building

Practitioner

Ph: 347 9045 or 021 165 1682

Email: Robinsonroofing99@gmail.com

Rent

Me

Or

Buy

Me

to let

Rental - From $75 p/w Size 10m 2

• Accommodation –teenagers, elderly, guests

• Cabin Sleep out • Site office • Storage

• Home office/ small business • Games room

0800 HouseMe 468 736

houseme2015@xtra.co.nz

ROOF REPAIRS

NO BOND

REQUIRED

Locally owned & operated with

over 30 years experience.

• Extensions & repair • Roof coating

• Concrete & clay tiles • Butynol

• Malthoid • Asbestos Certified

• Coloursteel • Old iron • Guttering

Phone Dave 981 0278

or 021 223 4200

E: dave@beaumontroofing.co.nz

BEAUMONT ROOFING LTD

No BoND

until 30th June

Terms and conditions apply

NEED A

FRIDGE • WASHER

TV • FURNITURE ?

Call Mr Rental - 0800 111 313

Visit www.mrrental.co.nz

123 Blenheim Road, Riccarton

Open Monday to Saturday

spouting

VIDEO PRODUCTION

business video

PRoduCTion

A video will bring your business alive & into your

customers mind.

Promote your services or business with a

professionally created video with us

• Corporate and Business

video a speciality

• Competitive rates

• 25 years experience

• Start to finished product

• Professional quality

guaranteed

PHone KeRRY 021 635 083

WINDOW TINTING

tintawindow

advanced film solutions

99% uv block

fade protection

heat control

reduce glare

25 Years Experience

privacy films

frosting designs

non-darkening films

Workmanship Guaranteed

Lifetime Warranties on Most Films

UV

block

Free Quotes Canterbury and Districts

03 365 3653 0800 368 468

Funeral Directors

For Sale

SalE

Get excited at the great prices

for decorator pots, fountains,

fine furniture, lamps and more at

348 Brookside Road, Rolleston.

10.30am - 4.00pm

Monday through Saturday

PHONE 022 358 1690

Gardening

& Supplies

TREE & HEDGE

SERVICES

• Trees removed

• Trees pruned

• Storm damage

• Hedges trimmed

• Free quotes

Ph Justin

021 221 4344

Gardening

& Supplies

A GARDEN

PROFESSIONAL

NEEDED? Qualified

Horticulturist, offering

expert pruning, garden

makeovers, garden design

and landscaping, for free

quotes call Bryce 027 688-

8196 or 0508 242-733

Handy Person

Services

Tired of that dripping

tap? Brassed off with

those sticking doors and

windows? Sick of looking

at that broken gate &

fence? Help is at hand! Ph

John on 021 149 0986 for

an obligation free quote to

ease your mind.

Health & Beauty

ANGELIC Witches,

here to heal, miracles

do happen, try a Reiki

massage, for your aches,

pains, blocks, pulls &

strains from Reiki Master

Pauline $25 per 30mins or

$40 p/hr, ph 341-3146,

Lost & Found

MISSING

$500 REWARD

Black & Tan Miniature

Pinscher (size of small

cat). Si has been missing

since 12/6/17 - Northwood/

Redwood/Belfast/

Marshlands/Burwood.

Please call 0279 235 844

if you see him

Massage

MALE Masseur, relax

massage, waxing for men,

8am-8pm ph 027 723 5756

SENSUAL Hot Oil

Massage Rural Location

Anna 021 110-8790

Mobility &

Disability Aids

SHOPRIDER Scooters

variety of new &

secondhand with warranty,

also wheelchairs,

powerchairs & walkers.

Contact Gerald &

Christine, Accredited

Supplier Service

Wheelchair Scooter

Sales/Service Ltd,

ph 383-1364 or

0800 231-023

or 021 183-1177

Musical

PIANO Bentley compact,

light, tidy condition +

piano stool $200 ph 351

0904

Personals

JUST RETIRED.

Man would like to find a

silly and naughty firm slim

older lady to talk about old

times, and how it used to

be.Maybe try and rekindle

passion lost over the years.

Want to die with a smile on

my dial. 3583634

LOOKING for a lady to

share my nice lifestyle

with. No tats, no smokers,

emaill alanjamieson@xtra.

co.nz

SINGLE LAD.

With time on hands seeks

a firm fit friendly feminine

feline for company,

laughter, squeals of joy

and TV time.

027 659 4425

SUCCESSFUL

GENTLEMAN. Mildly

athletic 180cm and 95kg

handsome and motivated

living on own, Fendalton

area, seeks a stylish,

sophisticated and well

preserved slim lady

who might enjoy my

company, my jokes,my

warmth, my personality,

for company. Love to hear

from you

Age 40 plus, Euro or

Asian. Write to me.

Brad, P.O.Box 1919

,Christchurch A photo

would be appreciated.

Pets & Supplies

PUPPIES Staffy X

Bullmastiff /Ridgeback (

dad) 6wks old, 2 bridlge,

2 white & ginger, boys &

girls avail, $300 will have

1 vacc ph 020 447 7444

SYDNEY Silkie pups

avail 29/6 8 wks had first

vacc, fleaed, wormed, ph

03 323 4344 or 021 217

2292 Kianaga.

Sewing & Knitting

KNITWEAR

New hand knitted woollen

garments to fit 6 months

to 3 years. A variety of

colours for boys and

girls. $10 each. Phone

0211208868

Sports Equipment

SKIS 3 sets, poles & boots

$100 ono, snowboard with

bag & boots $100 ono ph

022 033 4179

SPORTS WATCH.

Mens, brand new,surplus

to needs, $115,

Ph 021 170 1580

Telephones &

Communications

CB RADIO.

Midland 80

channel,27MHZ 5 watt

as new in box with all

accressories $60

Ph 021 1418029

To Let

SOUTH Brighton self

contained sleepout with

ensuite, own bathroom

facilities, newly

redecorated, warm &

private, $200 pw, ph 027

398-2797

TV/Video

ADVERTISMENTS

in this classification can

be placed to us on Ph

3791100.

The deadline is 5p.m.

Tuesdays for Thursdays

Star

The Star

To Let

AN Extra Room @

your place.

A NZ made Room-Mate

movable Cabin is what

you need, will keep you

warm in winter, 2.4 mts x

3.6, fully insulated, curtains,

carpet, alum joinery,

lockable,

from only $55 pw,

WINZ quotes avail.

to view

www.roommatecabins.co.nz

or ph 03 341-8909 or

0800 111-344 or

027 202-9145

Tools & Machinery

CHAINSAWS Wanted,

old types, make & model

number required, plse ph

06 327-6056

DEWALT 12" builders

saw, in good order with

spare blade $350 ph 03

455 4402 Dunedin

GUILLOTINE Sheet

metal, 36" treadle foot

operated, big & old but

still cuts well, spare set of

unused blades $200 ono ph

385 6902

TOOLS, Garden garage,

saw benches, Lathes. Cash

buyer Phone 355-2045

Toys and Trikes

ROCKING HORSE

wooden, very good cond,

suit small child $45 ph 381

5588

ROCKING HORSE

wooden, very good cond,

suit small child $45 ph 381

5588

Wanted To Buy

AAA Buying goods

quality furniture,

Beds, Stoves, Washing

machines, Fridge Freezers.

Same day service. Selwyn

Dealers. Phone 980 5812

or 027 313 8156

ADVERTISMENTS

in this classification can

be placed to us on Ph

3791100.

The deadline is 5pm

Tuesdays for Thiursdays

Star

ALL Old China, Crystal,

Ornaments, Vases, Cutlery

etc. Raewyn Hill Phone

360-0951

A Records wanted.

Were you in a band or a

promoter etc? We would

love to hear from you.

Please phone Dave at

PennyLane 430 Colombo

St, Sydenham 3663278 or

A/H 0212226144 7 days

BUYING Now, Royal

Albert, Royal Doulton, all

old china, crystal, antiques,

estate lots. For best prices

and free inspection call

Academy Antiques. Phone

349-4229

GOOD stuff wanted.

Whiteware, freezers etc,

good quality furniture,

antiques, curios,

collectables. Anything

considered. Cash paid. Ph

Dave 960-8440, 027 66

22 116

MILITARIA Any

country, firearms,

uniforms, badges, medals,

memoribilia, WW2 or

earlier ph 338-9931

TOOLS, Garden garage,

saw benches, Lathes. Cash

buyer Phone 355-2045
---
The Star Latest Christchurch news at www. .kiwi

Thursday June 22 2017 53

Star Classifieds

Trades & Services

RE-ROOFING

QUALITY ROOFING AT THE

BEST PRICE AROUND

Protect your home with a new Colorsteel roof.

Call for a friendly, FREE assessment and quote.

• Roofing

• Spouting and Downpipe

• Safety rails

• Licensed Building

Practitioner

Ph: 347 9045 or 021 165 1682

Email: Robinsonroofing99@gmail.com

PROFESSIONAL & QUALIFIED

PAINTING

Plastering, Wallpapering

Spray Painting

Ph John 027 860 8106

ACE handyman services.

Lawn mowing, painting,

fence building and

cleanups etc Phone

021-164-5567 or 03-960-8431

GARDEN CITY

MOVERS (LTD)

Christchurch Fragile Freight

Small Shift

Specialists

and Single

Items

Ph 027 355 0090

info@gardencitymovers.co.nz

Trades & Services

• Hot water cylinder repair/replacement

• Leaky taps, blocked toilets

• New housing

• All plumbing alterations

• Mains pressure hot water

• Fire and wetback installation

• Digger/tipper excavation and hire

• Watermain replacement/repair

• Free quotes

• Certified craftsman plumber

Trades & Services

tRAiLER

SKiP

HiRE

• 2 or 5 cubic metre

• Household Rubbish

• Green Waste

• Yard Clean ups

• Load it yourself or

hire us

• Locally owned and

operated

bin co

Ph: 383-0646

027 2131 733

• Replacement/new roofing

• Colour Steel gutter & fascia

• Flue & log burner installs

• Skytube/light installs

• Earthquake repairs

Licence Building

Practitioner LBP

Member of the Roofing

Association

DCM ROOFING LTD

The Roofing Specialists

PHONE IAIN

027 445 5597

iain@dcmroofing.co.nz

10% prompT paymenT disCounT*

same day serviCe*

*conditions apply

Call/Text 027 245 5100

Freephone: 0508 426 269

EQC CASH SETTLEMENT

We will re-scope your property to ensure

you have been paid in full to cover all

your repair costs.

None of the properties that we have

re-scoped so far has been paid the

correct amount to repair their damage.

EXAMPLES

Trades & Services

• Phone our local team 03 379 1100 • Email star.class@starmedia.kiwi

•Yaldhurst Road Initially $3,800 after our

re-scope payment received $46,320

•Wairakei Road Initially $7,575 after our

re-scope payment received $38,182

•Prossers Road Initially $19,827 after our

re-scope payment received $60,273

•Kaplan Avenue Initially $859 after our

re-scope payment received $34,931

•Liverton Crescent Initially $11,000 after our

re-scope payment received $29,842

•Dalkeith Street Initially $5,000 after our

re-scope payment received $8,945

Call 022 643 6450

Email admin@totalelectric.co.nz

After Hours 347 3313

Trades & Services

Blind

Cleaning

Specialists

Clean & repair of all

styles of window blinds

domestic & commercial.

New blind sales.

0800 8899 99

www.blindcleaning.co.nz

info@blindcleaning.co.nz

5 / 301a Blenheim Rd

(Driveway next to Hubbers carpark)

Trades & Services

ELECTRICIAn

Prompt & reliable

registered electrician with

24 years experience for all

residential and commercial

work, new housing and

switch board replacements

Phone Chris 027 516 0669

ELECTRICIAn

Available, 30 years

experience, immediate

start, competitive rate,

ph Brian 027 433 9548

FEnCIng

All styles and shapes,

gates, wooden, ph Mark

027 331-3223

HAnDyMAn

No job too big or small.

Good rates. Call 020 410

67205

HAnDyDAn

One call does it all.

BRICK & BLOCK

new work, repairs, small

• We have re-scoped 50 properties who have been under

paid for their repairs.

jobs only, free quotes, ph

• Have your initial repairs failed?

• Did you receive your full entitlement?

• Do not pay your excess until all repairs are completed.

• General under payments are: Asbestos testing and

Bruce 028 406 8226

BUILDER

Exp in all aspects of General Handyman

exterior lead paint, peeling wallpaper, cracking in exterior

building works, home

plaster not repaired correctly.

Decking Fencing Spouting

For re-scoping and all earthquake repairs renovations & extensions, Cleans, Concrete Paths,

including painting and redecorating. property repairs. Free Patios & Driveways,

Enquire now Phone 021-667-444

quote. Ph Stuart 0274 Repairs and Replacements

661058

Renovations Painting

BUILDER

Gardening Full Cleaning

Trades & Services Trades & Services

LICENSED, available for

Services Project Managing

all aspects of building.

Ph Dan Today

EXPERIENCED

Please call 027 241-7471 O22 600 7738

GARDENER LANDSCAPING

or 335-0265

HAnDyMAn

(Kevin Garnett)

• Paving

You name it, I'll probably

BUILDER

do it. Competitive rate. Ph

30 Years

• Driveways Available for all your Gordon 0274 851 897 or

Christchurch Botanic

Gardens.

• Patios & BBQ Areas building needs. No job 960-1961

too small, specialist in

• Retaining Walls

LAnDSCAPIng

ALL landscape

residential repairs and Paving, Lawns, Irrigation,

work done. • Fencing & Decking maintenance. Trade

Decking, Fencing.

qualified and Licenced.

Maintenance, pruning, • Design & Construct

Kanga & small digger

Phone Jason for a free

tidy up, lawn work,

services. Check out Squire

• Free Plans quote on 021790083

landscape planning

Landscaping on facebook.

BUILDER

and planting etc. 30 years

FREE QUOTES. Ph

Qualified, licenced Arthur 347-8796, 027

Free Quotes experience and insured, bathroom 220-7014 Edwin 027 220-

Phone 348 3482

renovations, decks and 7154

338 9349 or fences, all building work, OVEn CLEAnIng

Looking for an 027 447 9707 ph Josh 020 400 96143 Professional cleans

www.brendscapes.co.nz www.jmhbuilders.co.nz $50.00. Gift Vouchers

electrician?

avail. Phone 0800 683-

BUILDER

• Residential, Domestic

6253 or 027 228-0025

For all building work

& Commercial

PROFESSIONAL & QUALIFIED

PAInTER

• Repairs, Maintenance

but specialist in bathroom AVAILABLE

PAINTING

• Fault finding

renovations, 30 yrs All aspects in painting.

Plastering, Wallpapering

• New housing

experience, with service

Spray Painting

Very competitive in roofs

• Competitive rates

and integrity. Free Quotes.

and fences. Please call 027

• Free quotes

Ph John 027 860 8106 Ph Lachlan 383-1723 or

241-7471 or 335-0265

• Full & Partial Rewiring

0274 367-067.

• Test & Tagging

PLASTERIng - FInnS

• Security Cameras

Trades & Services CARPET & VInyL PLASTERING Services

• LED Lighting Upgrades

LAyIng

AAA HAnDyMAn

- alterations, renovations,

licensed carpenter Repairs, uplifting, cracks, holes, skim coating

LBP, all property and relaying, restretching,

and covering. 24 yrs exp,

building maintenance,

no job too small. Canty

E mail jflattery@xtra.

repairs, bathroom/shower

born & bred. Ph 022 087

co.nz,

installations, with free

4351

quotes 03 383 1927 or 027 ph 0800 003 181 PLUMBER

245 5226 ciey@xtra.co.nz or 027 2407416

A top plumbing job

completed at a fair price,

CLEAnIng

Trades & Services

Home cleaning service.

prompt service, all work

Fussy, thorough and

guaranteed, ph Brian, 960

reliable. Ph 325-3426 7673 or 021 112 3492

Building & roofing

evenings or 021 046 2258 REMOVALS

log fire inSTAllATionS

Small furniture removals,

COnCRETE

have own van, can fit

• Bricklaying & Blocklaying

Decopave Ltd, various types of whiteware

(30 yrs experience)

Canterbury owned & appliances, some furn,

operated for over 10

logfires

bedding, boxes etc, honest

years, competitive rates, & reliable, any area

• log fire installation & maintenance

full excavation, coloured, considered, ph Chch 027

• chimney cleaning

exposed, stamped, call 517 7001

• standard logfire installations $600 + gsT + Paul 027 322 6119

ROOFIng

permit + parts if applicable

COnCRETE

• My scaffolding no charge

Qualified & Licenced

IMPRESSIOnS LTD Practitioner. Re-Roof &

fencing

Call us for a free quote for Repairs, all types. Member

• Brick, block, timber or any combination all your driveway, path New Zealand Roofing

& patio needs - Concrete, Association. Over 35 years

roofing repairs

Asphalt & Landscaping. experience. Phone John

• concrete tile, metal chip tile, corrugated iron Excavation & placings, 027 432-3822 or 351-9147

power washing service,

landscape Builds

email johnmill@ihug.

acid wash & reseal and

co.nz

• retaining walls, decks, BBQs, planter boxes fencing. Please call Jason

SPOUTIng CLEAnIng

Fisher on 022 075 9310

Spouting Unblocked,

Jim Gardner Trade Services ELECTRICIAn

Cleaned Out and Flushed

Member NZ Home Heating Association

Registered, electrical Out. Also Full Handyman

Ph 03 343 4044 or 0274 375 619 installation and repairs, Services Available. Call

Email teamgardner@xtra.co.nz Gorbie Electrical, ph 021 Trevor 332 8949 or 021

026 73375 or 03 322 4209 043 2034

Trades & Services

TILER

For all your tiling

needs, new, existing &

replacement of tiles, free

quotes, ph Jared 021 023

58414

TREES BIg OR SMALL

tree removal, trimming,

stump grinding, shelterbelt

clean up, section clearing,

rubbish removals,

excavation work, ph Trees

Big or Small, for a free

quote, 021 061 4783

TREES & HEDgES

cut down or trimmed,

shrubs and rubbish

removal, section clearing,

ph 022 609 2176 for a free

quote

WATERBLASTIng

Quick service, great rates

Call Bret 02041067205

WInDOW CLEAnIng

Average 3 brm house

inside or out $40. Both $70

Phone Trevor 344-2170

Tours

Hokianga and Far North

Departs 27th August 2017

8 days $1950.00 per person

Mt Cook Stargazing

Departs 9th August 2017

2 nights

$1295.00 per person

Includes helicopter flight

All tours include flights

Call Reid Tours 0800 446 886

www.reidtours.com

The best place

to learn and

play music in

Christchurch!

Tuition

• Learn an instrument (including voice) in a group or on

your own!

• Join an orchestra, an instrumental ensemble, a jazz

band, rock band or choir!

• Bring the children, aged 2-8 years along to have some

fun and engage in music learning in our foundation

classes, Take Off with Music!

• From ages 2 - 92 we can meet your musical needs.

Join our great community now!

For more information, check out our website www.csm.org.nz

or phone the CSM office on 03 366 1711

Public Notices

NOTICES

advertising

Sports, Clubs, Schools,

Organisations, AGMs,

Legal Notices, Public

Notices, Family

Notices, Births,

Deaths, Memoriams,

Birthdays, Weddings,

Anniversaries,

Engagements...

For all your important

notices, advertise in

The star, where it will

be seen by 179,000

people every Thursday.

For professional,

helpful service,

phone 379-7100

Annual General

Meeting

Sunday 25th June 2017

at 3.00pm

in the Sydenham Lounge

50 Colombo St, Christchurch

Special General Meeting

To be held directly after the AGM

- Don Whyte, General Manager
---
54 Thursday June 22 2017

Latest Christchurch news at www. .kiwi

The Star

Star Classifieds

• Phone our local team 03 379 1100 • Email star.class@starmedia.kiwi

Public Notice

Public Notices

Public Notices

Public Notices

Public Notices

JULY 2017 MEETINGS

The next meetings of the Christchurch City Council, Community Boards, Council

Hearings Panels and Subcommittees with delegated authority will be held as follows:

COMMUNITY BOARD COMMITTEES

Date Time Committee and Venue

5 2.30pm Akaroa Design and Appearance Advisory Committee, Akaroa

Sports Complex, Akaroa Recreation Ground, 28 Rue Jolie, Akaroa

17 5.30pm Duvauchelle Reserve Management Committee, Duvauchelle

Community Centre, 6039 Christchurch-Akaroa Road, Duvauchelle

24 4pm Robinsons Bay Reserve Management Committee, 40 Kingstons

Hill Road, Robinsons Bay

COMMUNITY BOARDS

Date Time Board and Venue

3 9am Coastal-Burwood Community Board, Board Room, Cnr Beresford

and Union Streets, New Brighton

3 3pm Linwood-Central-Heathcote Community Board, Linwood

Boardroom, 180 Smith Street

4 5pm Spreydon-Cashmere Community Board, Boardroom, Beckenham

Service Centre, 66 Colombo Street

10 4pm Fendalton-Waimairi-Harewood Community Board, The

Boardroom, Fendalton Service Centre, Cnr Jeffreys and Clyde

Roads, Fendalton

10 7pm Lyttelton Reserves Management Committee, Lyttelton Community

Boardroom, 25 Canterbury Street, Lyttelton

11 4.30pm Halswell-Hornby-Riccarton Community Board, Upper Riccarton

Library, 71 Main South Road, Riccarton

17 1pm Banks Peninsula Community Board, Lyttelton Community

Boardroom, 25 Canterbury Street, Lyttelton

17 4.30pm Coastal-Burwood Community Board, Board Room, Cnr Beresford

and Union Streets, New Brighton

19 10am Linwood-Central-Heathcote Community Board, Linwood

Boardroom, 180 Smith Street

21 8am Spreydon-Cashmere Community Board, Boardroom, Beckenham

Service Centre, 66 Colombo Street

21 9am Papanui-Innes Community Board, Papanui Service Centre, Cnr

Langdons Road and Restell Street

24 4pm Fendalton-Waimairi-Harewood Community Board, Fendalton

Service Centre, Cnr Jeffreys and Clyde Roads, Fendalton

25 4.30pm Halswell-Hornby-Riccarton Community Board, Upper Riccarton

Library, 71 Main South Road, Riccarton

31 1pm Banks Peninsula Community Board, Lyttelton Community

Boardroom, 25 Canterbury Street, Lyttelton

31 3pm Linwood-Central-Heathcote Community Board, Linwood

Boardroom, 180 Smith Street

COMMITTEES

Date Time Committee and Venue

4 1pm Selwyn Waihora Water Management Zone Committee, Selwyn

District Council, 2 Norman Kirk Drive, Rolleston

5 9am Finance and Performance Committee, Civic Offices, 53 Hereford

Street

5 1pm Social and Community Development, Civic Offices, 53 Hereford

Street

6 3pm Strategic Capability Committee, Civic Offices, 53 Hereford Street

7 9am Greater Christchurch Partnership Committee, Council Chamber,

Environment Canterbury, 200 Tuam Street

7 1pm Innovation and Sustainable Development Committee, Civic

Offices, 53 Hereford Street

18 4pm Banks Peninsula Water Management Zone Committee, Venue to

be advised

26 9am Regulatory Performance Committee, Civic Offices, 53 Hereford

Street

26 1pm Infrastructure, Transport and Environment Committee, Civic

Offices, 53 Hereford Street

27 6pm Christchurch West Melton Water Management Zone Committee,

Environment Canterbury, 200 Tuam Street

SUBCOMMITTEES

Date Time Subcommittee and Venue

3 11am Reserves Officer Subcommittee, Civic Offices, 53 Hereford Street

17 11am Reserves Officer Subcommittee, Civic Offices, 53 Hereford Street

31 11am Reserves Officer Subcommittee, Civic Offices, 53 Hereford Street

28 1pm Multicultural Subcommittee, Civic Offices, 53 Hereford Street

31 10am Parking Restrictions Subcommittee, Civic Offices, 53 Hereford

Street

COUNCIL

Date Time Venue

6 10am Council Chamber, 2nd floor, Civic Offices, 53 Hereford Street

27 10am Council Chamber, 2nd floor, Civic Offices, 53 Hereford Street

Copies of the agendas will be available online and to the public at the meetings.

Members of the public are welcome to attend any of these meetings.

To present to a Community Board, Committee or Council meeting ring the call centre on

03 941 8999 or email info@ccc.govt.nz

J Daly

COUNCIL SECRETARY

www.ccc.govt.nz

South Hornby

School Board

of Trustees

Casual Vacancies for

an elected trustee

Two casual vacancies

have occurred on the

board of trustees for

an elected parent

representative.

The board has resolved

under section 105 of

the Education Act 1989

to fill the vacancies by

selection.

If ten percent or more

of eligible voters on the

school roll ask the board,

within 28 days of this

notice being published, to

hold a by-election to fill

the vacancy, then a

by-election will be held.

Any eligible voter who

wishes to ask the board

to hold a by-election

should write to:

Chairperson

Board of Trustees

South Hornby School

52 Shands Road,

Hornby, CHCH 8042

by 21 July 2017

Public Notices

SALE AND SUPPLY OF

ALCOHOL ACT 2012

SECTION 127 & 101

CLEARWATER GOLF CLUB

LIMITED, (THE LICENSEE, PO

Box 14069, Christchurch 8544),

has made application to the

District Licensing Committee

at Christchurch for the renewal

of OFF-LICENCE RENEWAL in

respect of the premises situated

at 1/38 Clearwater Avenue

known as CLEARWATER GOLF

CLUB.

The general nature of the

business conducted under the

licence is: OFF-LICENCE OTHER

NOT OTHERWISE SPECIFIED.

The days on which and the

hours during which alcohol

is sold under the licence are:

MONDAY TO SUNDAY 7.00AM

TO 11.00PM.

The application may be

inspected during ordinary

office hours at the office of the

Christchurch District Licensing

Committee, Civic Offices, 77

Hereford Street, Christchurch.

Any person who is entitled to

object and who wishes to object

to the grant of the application

may, not later than 15 working

days after the date of the first

publication of this notice, file a

notice in writing of the objection

with the Secretary of the District

Licensing Committee, PO Box

73049, Christchurch 8154.

No objection to the renewal of a

licence may be made in relation

to a matter other than a matter

specified in section 131 of the

Sale and Supply of Alcohol Act

2012.

This is the second publication of

this notice. This notice was first

published on 15 June 2017.

SECTION 101

SALE AND SUPPLY OF

ALCOHOL ACT 2012

Caliente Kitchens Ltd, (PO Box

35, Christchurch), has made

application to the District

Licensing Committee at

Christchurch for the renewal of

an on licence in respect of the

premises situated at Level 1, 98

Victoria Street known as Boo

Radley's Food & Liquor.

The general nature of the

business conducted under the

licence is a: bar/restaurant.

The days on which and the

hours during which alcohol is

sold under the licence are: 8am

to 3am, seven days per week.

The application may be

inspected during ordinary

office hours at the office of the

Christchurch District Licensing

Committee.

Any person who is entitled

to object and who wishes to

object to the issue of the licence

may, not later than 15 working

days after the date of the first

publication of this notice, file a

notice in writing of the objection

with the Secretary of the District

Licensing Committee, PO Box

73049, Christchurch 8154.

No objection to the renewal of a

licence may be made in relation

to a matter other than a matter

specified in section 131 of the

Sale and Supply of Alcohol Act

2012.

This is the first publication of

this notice.

Public Notices

SALE AND SUPPLY OF

ALCOHOL ACT 2012

SECTION 101

A AND S 2017 LIMITED, (THE

LICENSEE, PO Box 5376,

Papanui, Christchurch), has

made application to the

District Licensing Committee

at Christchurch for the issue of

ON-LICENCE NEW in respect

of the premises situated at

15 Main North Road known as

PAPANUI FLAME.

The general nature of the

business conducted under the

licence is: ON-LICENCE TAVERN.

The days on which and the hours

during which alcohol is intended

to be sold under the licence are:

MONDAY TO SUNDAY 8.00AM

TO 2.00AM THE FOLLOWING

DAY.

The application may be

inspected during ordinary

office hours at the office of the

Christchurch District Licensing

Committee, 53 Hereford Street,

Christchurch.

Any person who is entitled

to object and who wishes to

object to the issue of the licence

may, not later than 15 working

days after the date of the first

publication of this notice, file a

notice in writing of the objection

with the Secretary of the District

Licensing Committee, PO Box

73049, Christchurch 8154.

No objection to the issue of a

licence may be made in relation

to a matter other than a matter

specified in section 105(1) of

the Sale and Supply of Alcohol

Act 2012.

This is the first publication of

this notice.

SALE AND SUPPLY OF

ALCOHOL ACT 2012

SECTION 127 & 101

JUTHARAT SUWANSANG,

(THE LICENSEE, Longtail

Thai, 695A Gloucester Street,

Linwood, Christchurch 8061),

has made application to the

District Licensing Committee

at Christchurch for the renewal

of ON-LICENCE RENEWAL in

respect of the premises situated

at 695 Gloucester Street known

as LONGTAIL THAI.

The general nature of the

business conducted under

the licence is: ON-LICENCE

RESTAURANT CLASS 3.

The days on which and the

hours during which alcohol

is sold under the licence are:

MONDAY TO SUNDAY 8.00AM

TO 11.00PM.

The application may be

inspected during ordinary

office hours at the office of the

Christchurch District Licensing

Committee, Civic Offices, 77

Hereford Street, Christchurch.

Any person who is entitled to

object and who wishes to object

to the grant of the application

may, not later than 15 working

days after the date of the first

publication of this notice, file a

notice in writing of the objection

with the Secretary of the District

Licensing Committee, PO Box

73049, Christchurch 8154.

No objection to the renewal of a

licence may be made in relation

to a matter other than a matter

specified in section 131 of the

Sale and Supply of Alcohol Act

2012.

This is the only publication of

this notice.

Public Notices

SALE AND SUPPLY OF

ALCOHOL ACT 2012

SECTION 127 & 101

SATYA ENTERPRISES LIMITED,

(THE LICENSEE, Mr Inderjit

Singh Satya Enterprises

Limited, 25 Birkdale Drive,

Shirley Christchurch 8061),

has made application to the

District Licensing Committee

at Christchurch for the renewal

of OFF-LICENCE RENEWAL in

respect of the premises situated

at 5/251 Travis Road known as

THE BOTTLE O QEII.

The general nature of the

business conducted under the

licence is: OFF-LICENCE LIQUOR

STORE.

The days on which and the

hours during which alcohol

is sold under the licence are:

MONDAY TO SUNDAY 9.00AM TO

11.00PM.

The application may be inspected

during ordinary office hours at

the office of the Christchurch

District Licensing Committee,

Civic Offices, 53 Hereford Street,

Christchurch.

Any person who is entitled to

object and who wishes to object

to the granting of the application

may, not later than 15 working

days after the first publication of

notice of the application, in the

newspaper (being The Star), file a

notice in writing of the objection

with the Secretary of the

Christchurch District Licensing

Committee, PO Box 73049.

No objection to the renewal of a

licence may be made in relation

to a matter other than a matter

specified in section 131 of the

Sale and Supply of Alcohol Act

2012.

This is the first publication of this

notice.

SALE AND SUPPLY OF

ALCOHOL ACT 2012

SECTION 101

NOTUN JIBON LIMITED, (THE

LICENSEE, PO Box 13735,

Armagh, Christchurch 8141),

has made application the

District Licensing Committee

at Christchurch for the issue of

ON-LICENCE NEW in respect

of the premises situated at

91 Riccarton Road known as

NOBANNO RESTAURANT, BAR

& CAFE.

The general nature of the

business conducted under

the licence is: ON-LICENCE

RESTAURANT CLASS 3.

The days on which and the

hours during which alcohol

is intended to be sold under

the licence are: MONDAY TO

SUNDAY 11.00AM TO 1.00AM

THE FOLLOWING DAY

The application may be

inspected during ordinary

office hours at the office of the

Christchurch District Licensing

Committee, 53 Hereford Street,

Christchurch.

Any person who is entitled

to object and who wishes to

object to the issue of the licence

may, not later than 15 working

days after the date of the first

publication of this notice, file a

notice in writing of the objection

with Secretary of the District

Licensing Committee, PO Box

73049, Christchurch 8154.

No objection to the issue of a

licence may be made in relation

to a matter other than a matter

specified in section 105(1) of

the Sale and Supply of Alcohol

Act 2012.

This is the first publication of

this notice.

Public Notices

ME/CFS Group

(Canterbury) Inc.

Monthly Support

Meeting, Wednesday

28th June, 1.30-3.30pm,

Abberley Park Hall, 15

Abberley Cres, St Albans,

Christchurch. Visitors

are welcome Gluten free

afternoon tea. Further

information (03) 365-5887

Do you know

where your

nearest

CIVIL DEFENCE

sector post is?

Ring your local

council to find out.
---
The Star Latest Christchurch news at www. .kiwi

Thursday June 22 2017 55

Star Classifieds

• Phone our local team 03 379 1100 • Email star.class@starmedia.kiwi

Public Notice

Rino TIRIKATENE

MP for Te Tai Tonga

"He whakanui ia Matariki. He whakanui i Te Reo

me nga Tikanga Maori. He whakanui i te wairua

o te iwi. Ko Matariki te tau hou o te iwi Maori"

Matariki is a celebration of culture, language,

spirit and people. Matariki is our new year.

0800 838 248

mptetaitonga@parliament.govt.nz

Authorised by Rino Tirikatene, Parliament Buildings, Wellington

Public Notices

Annual General

Meeting

Sunday 25th June 2017

at 3.00pm

in the Sydenham Lounge

50 Colombo St, Christchurch

Special General Meeting

To be held directly after the AGM

- Don Whyte, General Manager

Situations Wanted -

Jobs Wanted

PERSON Requires 30 hrs

work per wk, Mon - Fri or

Tues - Sat, exp in retail,

warehouse & clerical

duties, refs available req,

ph 027 778 3291

Situations Wanted -

Jobs Wanted

PERSON Requires 30 hrs

work per wk, Mon - Fri or

Tues - Sat, exp in retail,

warehouse & clerical

duties, refs available req,

ph 027 778 3291

Situations Vacant

Weekend Position

Part time Job Share

Family Friendly Visits Coordinator

Christchurch Men's Prison | 15 hours per fortnight

Pillars has been providing services to children and families

of prisoners for 29 years with the aim to help them cope with

parental imprisonment. It has collaborated with Plunket to

provide parenting support during prison visits for Father's and

their children. We have a vacancy for a Family Friendly Visits

Co-ordinator at Christchurch Men's Prison. Applicants will be

subject to a police vet.

This position is for Saturday and Sunday fortnightly and additionally

requires 1 hour supervision and administrator support and contact

during the week. You will be required to be trained to deliver

parenting support and strategies at the Centre.

The position is a job share working alternative weekends and there

is an expectation that the two co-ordinators will work together to

ensure the service is delivered.

For a job description, please contact:

Verna.mcfelin@pillars.org.nz

Job application closes 03 July

Bridalshow

A Star Media Event

Vehicles Wanted

save the date

Sun 27th Aug

10am to 3pm

air Force Museum

45 Harvard Ave

Wigram, Chch

Tickets: $20.00

CAR REMOVALS

$$CASH PAID$$

CARS, VANS, UTES & 4X4 WANTED

NZ OWNED AND OPERATED FOR 24 YEARS

We use world class vehicle depollution systems

0800 8200 600

www.pickapart.co.nz

ADVERTISING

TELEPHONE SALES

• Part Time evenings, approx 6-9 hours per

week.

• Hourly rate plus commission.

• Earn extra dollars.

Star media is looking for a talented &

determined person to work 2-3 hours in the

evenings, 2-3 nights per week.

The role will be to contact a wide variety of

businesses offering a range of advertising

options across our newspaper titles.

The person we are seeking should

be self motivated, reliable, have a

good telephone manner & enjoy

talking with people.

You must be highly organised & be

able to work independently. Sales tools,

training & an excellent remuneration

package will be available to the successful

applicant.

Our offices are at 359 Lincoln Road near

Hagley Park.

Reporter,

Sub Editor

Star Media is seeking journalists.

We are looking for a reporter who will

have the ability to file great stories for our

print publications, including The Star and

Community titles, and our website

www.star.kiwi.

The successful applicant will need to be

competitive, have a thorough knowledge

of Christchurch and Canterbury, have

great deadline sense and have a passion

for community news and the people that

make it.

Video skills would be an advantage.

Star Media is also seeking casual sub

editors. The successful applicants will

need to have had experience with

InDesign and able to copy sub, lay out

pages and write headlines.

Situations Vacant

Send your CV to

Classified Manager

Mike Fulham

mike@starmedia.kiwi

Send your CV to

Editor in Chief

Barry Clarke

barry@starmedia.kiwi

Situations Vacant

CLEANERS

REQUIRED

Shirley

Saturday & Sunday

6am to 8.30am

We are looking for

cleaners to join our

commercial

cleaning team.

You will need to pass

a Security Check and

you MUST have your

own transport.

These are permanent

long term positions

and not suitable for

holders of temporary

work permits.

Please email your

Application to

csc@totalcanterbury.co.nz

or phone 338 9056

Visit our website:

totalcanterbury.co.nz

Please advise which

job when emailing

your CV.

Entertainment

DALLAS TV Series,

from season 1 - 14, incl 2

reunions exc cond, $200,

ph 027 227 1069

VIDEO Tape Libriary for

sale ph 03 981 2724

THE MEANIEZ,

Versatile, three piece,

classic rock band have

limited dates available for

2017. Ph Brian on 027 271

7288 or Brent on 027 211

4997
---
56 Thursday June 22 2017

Latest Christchurch news at www. .kiwi

The Star

Star Classifieds

.CO.NZ

RICCARTON (0508-446-987)

((3D) TRANSFORMERS: THE LAST KNIGHT (M)•

Thu-Wed 8:00PM

TRANSFORMERS: THE LAST KNIGHT (M) Thu - Fri

11:20, 2:40, 6:00,9:15PM SaT 2:40, 6:00, 9:15PM Mon-

Wed 11:20, 2:40, 6:00, 9:15PM ALL EYEZ ON ME (R16)

SaT 1:15, 9:00PM CARS 3 (G)• SaT 12:15, Sun 12:10PM

DESPICABLE ME 3 (PG)• SaT 10:00 Sun 9:50aM

GENERAL ADMISSION

ALL EYEZ ON ME (R16) Thu-Fri 12:50, 3:50,

9:00PM SaT 1:15, 9:00PM Sun 11:00, 8:10PM Mon

12:50, 3:50, 6:30PM Tue-Wed 12:50, 3:50, 9:00PM

BAYWATCH (R13) Thu 1:50PM

CARS 3 (G)• Thu 10:00, 11:30, 4:20, 6:10PM

Fri 10:00, 11:00, 4:20, 6:10PM SaT 10:30, 12:15,

1:50, 4:20, 6:10PM Sun 9:40, 11:45, 12:10, 2:10,

4:10, 6:10PM Mon 10:00, 1:40, 4:00PM Tue 10:00,

1:40, 4:00, 6:10PM

Wed 10:00, 1:30, 4:00, 6:10PM

DESPICABLE ME 3 (PG)•

SaT 10:00, 1:00, 3:50PM

Sun 9:50, 11:00, 1:20, 3:15PM

KING ARTHUR: LEGEND OF THE SWORD (M)

Fri 1:30PM

MCLAREN (G) Thu 6:40PM Mon 11:30aM

PIRATES OF THE CARRIBEAN: DEAD MEN TELL

NO TALES (M) Tue 10:50PM

ROUGH NIGHT (R16)•

Thu 1:00, 6:50, 8:50PM Fri 10:30, 1:00, 6:40PM SaT

10:10, 4:10, 6:40PM

Sun 10:30, 3:50, 5:50PM

Mon 10:40, 1:00, 9:30PM

Tue-Wed 10:30, 1:00, 6:40PM

THE MUMMY (2017) (M)

Thu 3:00, 8:40PM Sun 9:30PM

Tue-Wed 9:30PM

THE SHACK (M)

Thu-Fri 10:15aM

Mon-Wed 10:15aM

TRANSFORMERS: THE LAST KNIGHT (M)•

Thu 10:10, 12:20, 1:20, 3:40, 4:40, 7:00PM

Fri 10:10, 12:20, 1:20, 3:40, 4:40, 7:00, 10:00PM

SaT 10:10, 11:10, 12:30, 1:20, 3:30, 4:40, 7:00,

10:00PM Sun 10:20, 12:00, 3:40, 4:40, 7:00PM

Mon-Wed 10:10, 12:20, 1:20, 3:40, 4:40, 7:00PM

TUBELIGHT (PG)

Fri 2:20, 6:50, 8:30, 10:15PM SaT 10:20, 6:50, 8:30,

10:15PM Sun 6:40, 8:30PM Mon 2:20, 8:30PM

Tue-Wed 2:20, 6:30, 8:30PM

WONDER WOMAN (M)

Thu 11:50, 3:10, 5:30, 8:30PM Fri 11:10, 3:10, 5:30,

8:40PM SaT 10:50, 5:30, 8:40PM Sun 12:50, 5:30,

8:40PM Mon 11:10, 3:10, 5:30PM Tue 11:10, 3:10,

5:30, 8:40PM Wed 10:30, 3:10, 5:30, 8:40PM

MY COUSIN RACHEL (PG)•

Thu-Wed 10:30aM

PRAMS AT THE PIX - TICKETS ONLY $9

CARS 3 (G)•

Wed 11:00aM

G SUITABLE FOR GENERAL AUDIENCES.

PG PARENTAL GUIDANCE RECOMMENDED FOR

YOUNGER VIEWERS.

M SUITABLE FOR MATURE AUDIENCES 16 YEARS

OF AGE AND OVER.

E SUITABLE FOR EVERYONE

SESSION TIMES ARE CORRECT AT TIME OF PRINTING

• NO COMPLIMENTARIES

PHOTO ID IS REQUIRED FOR ALL (R) RATED MOVIES

ROUGH NIGHT (R16) BAYWATCH (R13) ALL EYEZ ON ME R16

watch local | support local | shop local

Join our hosts

Geoff & renee on

sKy ChaNNeL 83

Thursday 7.30pm

repeaTs friday

1.30am & 7.30am

WE SHARE YOUR VISION

SKY 083 + On Demand

WWW.STAR.KIWI

NORTHLANDS (0508-446-987)

ALL EYEZ ON ME (R16)•

Thu 3:00, 9:00PM Fri 12:10, 3:00, 9:00PM

SaT 3:00, 8:30PM Sun 3:00, 9:10PM

Mon-Wed 12:10, 3:00, 8:10PM

BAYWATCH (R13)

Fri 3:30PM

CARS 3 (G)•

Thu 10:30, 1:30, 5:50PM

Fri 10:40, 3:30, 5:50PM

SaT 10:05, 12:30, 3:30, 5:50PM

Sun 10:00, 12:30, 3:30, 5:50PM

Mon-Tue 10:40, 3:30, 5:50PM

Wed 11:00, 3:30, 5:50PM

CHURCHILL (PG)

Thu 10:20, 12:50, 6:30PM

Fri 10:20, 12:50, 6:20PM

SaT-Sun 10:40, 12:50, 6:30PM

Mon-Wed 10:20, 12:50, 6:30PM

DESPICABLE ME 3 (PG)•

SaT-Sun 10:00, 11:00, 12:10, 2:20PM

GUARDIANS OF THE GALAXY 2 (M)

Thu 3:35PM

KING ARTHUR: LEGEND OF THE SWORD (M)

Thu 10:15aM

MCLAREN (G)

Thu 1:00PM Fri 1:20PM

Mon-Wed 1:20PM

MY COUSIN RACHEL (PG)•

Thu 10:10, 12:30, 6:00PM

Fri 10:50, 1:10, 6:00PM

SaT-Sun 10:30, 1:00, 6:00PM

Mon-Wed 10:50, 1:10, 6:00PM

PECKING ORDER (PG)

Thu 11:10aM Fri 10:15aM Mon-Wed 10:15aM

PIRATES OF THE CARRIBEAN:

DEAD MEN TELL NO TALES (M)

Fri 10:50aM

ROUGH NIGHT (R16)

Thu 1:10, 3:50, 6:20, 8:10PM

Fri 1:30, 3:50, 6:20PM

SaT 1:10, 4:25, 6:40PM

Sun 1:10, 4:25, 6:40, 8:20PM

Mon-Wed 1:30, 3:50, 6:20, 8:30PM

THE MUMMY (2017) (M)

Thu 8:40PM Fri 8:10PM

SaT 9:10PM Mon-Wed 3:40PM

TRANSFORMERS: THE LAST KNIGHT (M)•

Thu 10:00, 1:00, 2:50, 5:40, 8:20, 8:50PM

Fri 11:15, 2:30, 5:40, 8:20, 8:50PM

SaT 10:40, 2:00, 2:50, 5:40, 8:15, 8:50PM

Sun 10:40, 2:00, 2:50, 5:40, 8:10, 8:50PM

Mon-Wed 11:15, 2:30, 5:40, 8:15, 8:50PM

TUBELIGHT (PG)

Fri 8:30PM SaT-Sun 9:00PM Mon-Wed 8:45PM

VICEROY'S HOUSE (M) Mon-Wed 10:55aM

WONDER WOMAN (M)

Thu 3:10, 6:10, 8:30PM Fri 3:10, 6:10, 8:40PM

SaT-Sun 3:40, 6:10, 8:40PM

Mon-Wed 3:10, 6:10, 9:00PM

PRAMS AT THE PIX - TICKETS ONLY $9

CARS 3 (G)•

Wed 11:00aM

BAYWATCH R13 -VIOLENCE, OFFENSIVE LANGUAGE &

SEXUAL THEMES. PIRATES OF THE CARIBBEAN: DEAD

MEN TELL NO TALES M - SUPERNATURAL THEMES AND

VIOLENCE. DIARY OF A WIMPY KID: THE LONG HAUL

PG - COARSE LANGUAGE. MCLAREN G. ROUGH NIGHT

R16 - VIOLENCE, OFFENSIVE LANGUAGE, DRUG USE

SEX SCENES AND CONTENT THAT MAY DISTURB. THE

MUMMY M - SUPERNATURAL THEMES AND VIOLENCE.

THE SHACK M - CONTENT THAT MAY DISTURB. GOING IN

STYLE M. DESPICABLE ME 3 PG. WONDER WOMAN M -

VIOLENCE. CHURCHILL PG. CARS 3 G. VICEROYS HOUSE

M. CONTENT THAT MAY DISTURB. TRANSFORMERS:

THE LAST KNIGHT TBC. GUARDIANS OF THE GALAXY

2 M - VIOLENCE. PECKING ORDER PG. MY COUSIN

RACHEL PG - VIOLENCE AND COURSE LANGUAGE.

TUBELIGHT PG. KING ARTHUR LEGEND OF THE SWORD

M. ALL EYEZ ON ME R16 VIOLENCE, OFFENSIVE

LANGUAGE, DRUG USE & SEXUAL MATERIAL.

for enquiries, contact Geoff moreton: 021 1066 177

CLUBS NEW ZEALAND WARMLY WELCOME

MEMBERS, THEIR GUESTS AND

AFFILIATE CLUB MEMBERS.

BECOME A MEMBER TODAY!

FOR MORE INFORMATION, CONTACT A

CLUB WITHIN THIS SECTION.

H ORNBY

WORKINGMEN'S

CLUB

«WHAT'S ON«

FRIDAY 23 JUNE, 8PM

TICKETS $20 AT THE CLUB

SATURDAY 24 JUNE

4.30PM EDDIE SIMON

8PM IAN MAC

SUNDAY 25 JUNE, 1.30PM

HEART OF THE COUNTRY

$6 ENTRY

«COMING UP«

SATURDAY 22 JULY, 8PM

TICKETS $20 AT CLUB OFFICE

Club

CAFE

OPEN 7 DAYS

LUNCH & DINNER

Gluten Free &

Vegetarian options

Chalmers

Restaurant

Early Bird Special

5.30pm – 6.30pm

FRI & SAT

Roast (4 Choices)

and Free Desserts

still only $22.50

Unbeatable value

including your

choice of fresh

Veges and Salads

Hornby WMC | ph 03 349 9026 | 17 Carmen Road | Hornby

www.hornbyworkingmensclub.co.nz | Members, guests & affiliates welcome

St Albans Shirley Club

269 Hills Rd | ph 385 1632 www.sasclub.co.nz

Members, guests & affiliates welcome FOLLOW US ON FACEBOOK

AGM - THIS Sunday 25th June, 11am

WHAT'S

ON

• SKY Sport • Pool Tables

• Gaming Room • TAB

• Shuttle operates

Thurs, Fri, Sat night

BECOME A MEMBER TODAY!

FRIDAY between 5.30pm-7.30pm

LUCKY MEMBER JACKPOT DRAW

FRIDAY 7PM LIVE MUSIC

IAN MAC

SUPER 15 & LIONS RUGBY

SEE IT HERE!

BISTRO

Open 5pm-8pm

Thurs, Fri, Sat

BAR MENU

available daily
---
The Star Latest Christchurch news at www. .kiwi

Thursday June 22 2017 57

Whitford's glorious

new season menu

Cafe OPEN from 11am

TAB & Gaming

Function Facilities

HOUSIE

Tuesday, Thursday, Saturday

SATURDAY JACKPOT

UP TO $80

SHUTTLE

Tuesday - Saturday

phone 0508 966 5786

NEW

WINTER

MENU

JOIN

A CLUB BY

THE SEA!

WHAT'S ON

ENTERTAINMENT

LINO

7.30PM SATURDAY, Whitford's Bar

LIONS v ALL BLACKS

SATURDAY, Sports Bar

Open 7 Days from 5pm

www.newbrightonclub.co.nz

WEDNESDAYS

RETRO ROAST

LUNCH

12PM-1.30PM

$10 Members / $12 Non

Caesar Salad

WHITFORD'S Restaurant in the

Woolston Club is embracing winter

with a glorious new menu.

Highlighting the best in fresh, new

season produce, the new menu

offers a collection of family

favourites as well as satisfying winter

classics.

Stand out dishes include...

FROM STARTERS ... Southern

Style Fried Chicken, $10.50.

FROM MAINS ... Tender pork

ribs, basted in our homemade BBQ

sauce, served with slaw and a side of

mash, wedges or fries, $24; Lamb

Shanks slow cooked in a rich full

bodied gravy, served with

caramelised balsamic onion, mash

and seasonal vegetables, $23 and

$29.50 servings.

FROM PIZZAS .... Added to

Whitford's set pizza choices is The

DIY. Create your own pizza from the

ingredient list, from $17.50.

FROM DESSERTS ... Black Forest

Sundae, Berry sorbet, vanilla ice

cream, chocolate brownie pieces,

berry compote, chocolate ganache

with cream and nuts, $12.

Open from 5pm daily, the

restaurant is child-friendly and also

offers an impressive selection of

gluten-free dining options.

During the day, the Club cafe is

open from 11am-4.30pm offering a

large selection of freshly made inhouse

cabinet food complimented

by extensive cafe, pizza, and snacks

menus, along with Barista crafted

coffee and hot chocolate available till

late!

The Woolston Club, 54 Hargood

St, phone 389 7039.

Steak - cooked

to your liking

MID-WINTER

XMAS FUNCTIONS

WE HAVE THE VENUE.

EXCELLENT CATERING. PLENTY OF

PARKING. ENQUIRE NOW!

ClubBISTRO

Open Tuesday to Saturday

12pm-2pm and from 5pm

Midweek $10

SPECIAL ROAST

Available Tuesday,

Wednesday, & Thursday

TUESDAYS & THURSDAYS

Members Lucky Card Draw

FUNCTION ROOMS

SHUTTLE RUNNING

Tues, Thurs, Fri & Sat

TAB POD

GAMING ROOM

PIERVIEW

Restaurant

202 Marine Parade | Ph 388-9416

Members, guests and affiliates welcome

Quality

a la carte

with a view!

Open from 5.30pm

FRIDAY, SATURDAY & SUNDAY

OPEN FOR

SUNDAY BRUNCH

By the Seaside!

10.30am-2pm

SUNDAY 3 COURSE

DINNER SPECIAL

$25

SUNDAY BUFFET

THIS Sunday 25th June

ALL YOU CAN EAT

$25 BOOK NOW!

LIVE MUSIC

• Large TV's

TAB pod

• Gaming Room

• Courtesy Van

• Great Bar

• Great Staff!

• Open daily from 11am

richmond

club

www.rwmc.co.nz

pride of the east

since 1888

Club

BISTRO

SUBS

ARE NOW

OVERDUE!

ANDY PAGE

(aka Fleck)

7PM FRIDAY

LIVE RUGBY

3PM SUNDAY

I ALONE

ON OUR NEW

LARGE SCREEN

SATURDAY 7.35PM: ALL BLACKS v LIONS

TUESDAY 7.35PM: HURRICANES v LIONS

SPECIAL: THURSDAY 5PM

Steak, chips & salad $10

UNDER NEW

MANAGEMENT

FROM 3rd JULY

Open Tuesday to Sunday | Brunch - Lunch - Dinner

75 London St | Ph 389 5778

www.rwmc.co.nz

Clubs New Zealand

warmly welcome

members, their guests and

affiliate club members.
---
58 Thursday June 22 2017

Latest Christchurch news at www. .kiwi

THAI

BARETTA: Friday 4pm - Nick

Lee; 7.30pm - Cornersound duo;

10.30pm - DJ Mike Jonez.

Saturday 9pm - DJ Double

Header feat. Infared & Dox.

COOKING

DEMONSTRATIONS

Learn how to

cook Authentic

Thai food!

The Royal Thai Embassy, in association

with Thai Chef's Restaurant, Riccarton,

extend a warm invitation to the people

of Christchurch to attend

FREE Thai Cooking Demonstrations

by an experienced Thai chef.

Dishes will be Chicken Pad Thai;

Massaman Curry with Duck legs;

and Crispy Pork with Green Curry Paste.

Free Samples will be available to taste

plus Thai cooking ingredients will be

available for sale (Sunday only).

SATURDAY 1 JULY 2017,

2pm - 3.30pm

Thai Chefs Restaurant,

1 Riccarton Rd, Riccarton.

SUNDAY 2 JULY 2017,

10am - 1pm

The Riccarton Market,

165 Racecourse Rd, Sockburn.

1 Riccarton Rd ph 03 341 1163

www.thaichefs.co.nz

Secured level parking at the back of the

restaurant through Bartlett Street.

BECKS SOUTHERN

ALEHOUSE: Saturday 9.30pm -

Six Left Standing.

BILL'S BAR: Thursday &

Sunday 6pm - Mickey Rat

Karaoke.

BISHOP BROTHERS

PUBLIC HOUSE: Sunday 3pm

- Eddie Simon.

BLACK HORSE: Saturday -

Luke Karaoke.

BLUE SMOKE: Friday 8.30pm

- Tiny Ruins 'NZ Winter Tour',

tickets $25+bf@utr.

BROUGHAM: Saturday 8pm -

Jenlin's Karaoke.

CARLTON: Thursday 9pm -

Smoke & Mirrors. Friday 10pm

- Assembly Required. Saturday

10.30pm - Flat City

Brotherhood. Sunday 4pm -

Great Carlton Quiz. Monday

5pm - Nick Lee. Tuesday 6pm -

Open Mic Night. Wednesday

8.30pm - Topia duo.

CASA PUBLICA: Friday 9pm -

DJ Maestro B. Saturday 9pm -

DJ Dwight Caldwell.

CHRISTCHURCH CASINO:

Friday 7pm - Live music;

10.15pm - Marcel. Saturday

4.30pm - Nyree; 9.15pm - Easy

Come, Easy Go. Sunday 5.30pm

- Lonesome Sue.

CHRISTCHURCH FOLK

MUSIC, IRISH SOCIETY

HALL: Sunday 7.30pm -

Tribute Evening featuring the

music of James Taylor

performed by local talent, $8

members/$12 non.

CLADDAGH IRISH PUB,

FERRYMEAD: Thursday -

Open mic. Saturday - Live

music.

COASTERS TAVERN:

Saturday 8.30pm - Rockabella.

Sunday 5pm - Hot Gossip.

DARKROOM: Thursday - Neil

Macleod. Friday - Irie Sessions

#14. Saturday - Sanctuary

presents: Oh My Goth.

DUX CENTRAL: Friday 5pm -

Emerson; 9pm - Big Rig.

Saturday 2pm - Kitchen

Collective; 9pm - Get Set.

Sunday 2pm - Jazz Session.

EMPIRE: Thursday 9pm - DJ

Oh One Eight. Friday 10pm -

DJ Vlad. Saturday 10pm - DJ

Phase. Sunday 10pm - DJ Spinal.

FINNEGANS -

PREBBLETON TAVERN:

Friday - Trad Jam Session.

GBC (GARDEN BAR CAFE):

Friday 6pm - Sima & Vaeio.

HORNBY WMC: Friday 8pm -

Madsen Promotions presents

Superstar Show starring Paul

Madsen and Band feat. Johnny

Cash Tribute performed by

Stuart Clarke, tickets $20.

Saturday 4.30pm - Eddie Simon;

8pm - Ian Mac. Sunday 1.30pm

- Annette's Heart of the Country,

$6 entry.

HORNCASTLE ARENA:

Tickets @ticketek.

ISAAC THEATRE ROYAL:

Wednesday 7.30pm - Black

Grace: As Night Falls. Tickets

@ticketek.

JANES BAR: Saturday - Live

music. Sunday - Live blues.

Wednesday - Open Mic Night.

MACKENZIES BAR: Friday -

12 Gauge. Saturday - Nossitap.

Wednesday - Karaoke.

MAK TAVERN: Friday 9pm -

DV8. Saturday 9pm -

Mammoth. Sunday 3pm -

Assembly Required.

MICKY FINNS: Thursday 8pm

- Flat City Brotherhood.

NEW CITY HOTEL: Saturday

9pm - Hussle Vangle plus

Megahertz.

OAK N FERRY, WOOLSTON:

Friday - I Alone. Saturday -

Chris Grey.

OPERATUNITY, LA VIDA

CENTRE: Wednesday 11am -

It's Raining Men feat.

Bonaventure Allan-Moetaua,

Rutene Spooner, Rory Nolan,

Cameron Barclay, entry fee.

PEGASUS ARMS: Friday

7.30pm - Flat City Brotherhood.

PIERSIDE CAFE & BAR:

Friday 9pm - Karaoke with

Sharkey. Saturday 9pm - Shiver.

RICHMOND WMC: Friday

7pm - Andy Page. Sunday 3pm

- I Alone.

ROCK ROLLESTON: Saturday

9.15pm - Blue Grove.

ROCKSTAR PIZZA: Thursday

9pm - Live music. Friday 10pm

- Live music. Saturday 10pm -

Live music. Sunday 8pm - Live

music.

To add a listing,

contact Jo Fuller

03 364 7425

jo.fuller@

starmedia.kiwi

www.star.kiwi/whatson

The Star

Hollie Fullbrook and Tiny Ruins at Blue Smoke on Friday night.

SAS CLUB: Friday 7pm - Ian

Mac.

STOCKxCHANGE BAR,

SHIRLEY: Friday 7pm - Sign of

the Firebird.

SULLIVANS IRISH PUB:

Thursday 7.30pm - Boiling Billy.

Friday 9pm - The Shameless

Few. Saturday 9pm - HeadRush.

Tuesday 7.30pm - Topia.

Wednesday 7.30pm - Willie

McArthur.

TEMPS BAR: Friday 8.30pm -

No Secrets. Saturday 8.30pm -

Live music. Tuesday 7pm - Jam

Session (gear provided).

THAI CHEFS, SUKHU

TIGER: Thursday to Wednesday

9pm - Resident DJ & Karaoke.

THE BOG: Thursday 10pm -

Stout duo. Friday 5pm - Diego

Hariswara; 11pm - Black Velvet.

Saturday 11pm - Corner Sounds.

Sunday 5.30pm - Ian Costello &

friends Sunday Session. Monday

- The Jameson Band.

Wednesday 8pm - Open Mic

Night.

THE CRAIC IRISH BAR:

Thursday - Willie McArthur.

Friday - Eddie Simon. Saturday -

The Shameless Few. Wednesday

- Karaoke with DJ Chick.

THE CUBAN: Thursday 9pm -

Topia. Friday 9pm - Antony

Pickard. Saturday 10pm - Latin

Party.

THE FITZ: Friday - Super

Freak. Saturday - The King & I.

THE MILLER: Friday 9pm -

Reckless duo. Saturday 9.30pm -

Old Skool. Wednesday 8pm -

Karaoke with Lance.

THE WAVE BAR: Thursday

8.30pm - Karaoke. Friday

8.30pm - DJ.

TREVINOS: Friday - Nyree.

Saturday - Reckless duo.

TWISTED HOP: Friday

7.30pm - Lloyd & Doublet.

WOOLSTON CLUB: Saturday

7.30pm - Lino.

WUNDERBAR, LYTTELTON:

Tuesday 7pm - Open mic.
---
The Star 59

What's on

Latest Christchurch news at www.

.kiwi

Thursday June 22 2017

Let us know about your event!

Email whatson@starmedia.kiwi

THURSDAY, 6-8PM

CHRISTCHURCH

CONVERSATIONS

The Greatest Contribution panel

will see interesting speakers

share their views on what kind

of contribution the residential

red zone could make to the city

and to New Zealand. The panel

will be led by Lincoln University

professor Jacky Bowring and

feature speakers Marjan van den

Belt, Philippa Howden-Chapman,

Joseph Hullen and Rod Oram.

Free event.

The Piano Centre, 156

Armagh St

NEW BRIGHTON SEASIDE

MARKET

Saturday, 10am-2pm

New Brighton Pedestrian Mall

MT PLEASANT FARMERS'

MARKET

Saturday, 9.30am-12.30pm,

McCormacks Bay Rd

LYTTELTON FARMERS'

MARKET

Saturdays, 10am-1pm,

London St

OPAWA FARMERS'

MARKET

Sundays, 9am-noon,

275 Fifield Tce

THURSDAY TO SUNDAY

CINEMA ITALIANO FESTIVAL

Drama, comedy or documentary

– whatever your preference,

culture and fun are guaranteed

at the Italian Film Festival.

Christchurch is privileged to be

the first leg of the festival, so get

along to a screening before the

rest of the country.

Academy Gold Cinema,

Colombo Mall car park

THURSDAY TO SUNDAY,

10AM-5PM

FRANCIS UPRITCHARD:

JEALOUS SABOTEURS

Francis Upritchard's work is

animated by mystery. Exquisitely

imagined and startlingly strange,

her sculptures and paintings

reverberate with possible

histories, both ancient and

imagined. Come face-to-face

with enigmatic figures, sprawling

sloths and cabinets full of the

unexpected in this collection of

the internationally-acclaimed,

New Zealand-born artist's work.

Christchurch Art Gallery

FRIDAY, 6.30-9.30PM

MUSICAL QUIZ

Alliance Française will test your

musical knowledge at this fun

quiz night. Alliance Française is

a worldwide network of nonprofit

associations dedicated

to the promotion of the French

language and culture. There will

be live music during the event

so go along with your team (six

people maximum), or go alone

and they'll find you a team to

join! This event will be in both

english and french. Register at

enquiries@afchristchurch.org.nz.

Alliance Francaise, 275

Cashel St

FRIDAY, 7.30-11PM

MICHELLE GOES TO PARIS

FUNDRAISER

The city's very own Moulin

Rouge-style show, featuring cancan,

burlesque and swing dancers,

trapeze acts and girl-group, The

Starlets. Help raise funds to send

terminally ill 56-year-old mother

and grandmother Michelle

Calderwood to Paris. Tickets

$25-$40.

Halo Lounge, 66B Wharenui

Rd

FRIDAY, 6-10.30PM

LYTTELTON FESTIVAL OF

LIGHTS STREET PARTY

This year's street party will be a

night to remember. There will

be a parade, food stalls and

live music from The Eastern,

Mundi and The Settlers on

the main stage. Check out the

entertainment throughout the

night on the Albion Square stage

and Collett's Corner, and the

much-loved fireworks display at

8pm. Free event.

London St, Lyttelton

SATURDAY, 7.30PM

CBS CHOIR AND

ORCHESTRA

The week-long Cathedral

Arts Festival will close with a

celebration of the Feast of St

John the Baptist, patron of the

Christchurch Catholic Diocese.

Soprano Rebecca Ryan will

perform a new edition of Mozart's

monumental Great Mass in C

minor.

St Mary's Pro Cathedral,

Manchester St

SUNDAY, 10AM-3PM

WINTER ENCRAFTMENT

MARKET

This market will feature more

than 70 craft and design stalls,

handpicked from across New

Zealand. There will also be a great

variety of food trucks and coffee.

Free entry and ATMs will be

on-site.

Lincoln Event Centre, 15

Meijer Dr

SUNDAY, 2-5PM

GARDEN CITY ORCHESTRA

MID-YEAR CONCERT

The Garden City Orchestra will

present music including Schubert,

Faure and Beethoven. Cakes and

drinks at intermission. $10/$5

Avonhead School, 55

Avonhead Rd

SUNDAY, 10AM-2PM

MATARIKI IN THE ZONE

Celebrate Matariki in the red

zone with planting, a dedication

of the poppies over Gallipoli

garden at the top end of the

reserve, lovely kai (soup and

hangi), kapa haka and great

music. Take the kids along for

some activities.

Anzac Dr Reserve

SUNDAY, NOON-3PM

HALSWELL COMMUNITY

MARKET

Set in the award-winning gardens

of St John of God, this monthly

market has live entertainment,

fabulous stalls and delicious food.

Come along and support local

businesses, musicians, clubs and

groups.

26 Nash Rd, Aidenfield

CHAMBER MUSIC NEW ZEALAND

presents

MOZART & HAYDN 'KUIJKEN STYLE'

Wednesday 12 July, 7.30pm

Charles Luney Auditorium

CHRISTCHURCH

Free Open Stage performance at 6.45pm

Concession

Rates Available

Core Funder

ticketek.co.nz 0800 842 538

chambermusic.co.nz/kuijkenquartet

Join the conversation
---
60 Thursday June 22 2017

Latest Christchurch news at www. .kiwi

The Star

get your

game on

Whether you've got people over for the big game, planning a

big roast, or simply warming yourself up by the fire - make

sure you score a deal on your favourite brews!

CHILLED!

BILLY

MAVERICK

& COLA

12 x 250ml

Cans, 7%

HOT DEAL!

$

19 99

celebrate

the win!

JOHNNIE

WALKER RED

1 Litre

HOT DEAL!

$

36 99

Salute the team with our

whisky winner specials.

JOHNNIE

WALKER BLACK

700ml

HOT DEAL!

$

44 99

keep up the good vibes!

Don't get caught short! When the team is round to

watch the big game, make sure the fridge is always

fully stocked with our super sporting deals!

under $20

limited edition

STEINLAGER

CLASSIC

24 x 330ml Bottles

HOT DEAL!

$ 37 99 $

19 99

$ 1999

LION ICE

15 x 330ml Cans

STEINLAGER

BLACK CANS

12 x 330ml Cans

130+ STORES NATIONWIDE, 100% LOCALLY OWNED & OPERATED

Amberley | Ashburton | Barrington | Belfast | Blenheim Road | Brighton | Brougham | Burnside | Colombo Street

Eastgate | East Street | Edgeware | Elmwood | Ferrymead | Halswell | Hanmer Springs | Hillmorton | Hornby | Ilam | Kaiapoi

Leeston | Lincoln | Lyttelton | Pages Road | Papanui | Parklands | Rangiora | Seaside | Shirley | Woodend | Woolston

superliquor.co.nz | 0800 SUPERL (0800 787 375)

Offers end close of trade 2nd July 2017, while stocks last. Available at participating stores only. Varietals may vary by store. Limits may apply.

Trade not supplied. Terms and conditions may apply. Available 19th June - 2nd July 2017 inclusive. Please see www.superliquor.co.nz for details.

SUP0369_C7_CHCH
---
Hurry in for amazing

targetfurniture.co.nz

Sales ends Monday 3rd July

savings!

Panama

7 Piece Dining Set

(1900mm Table + 6 Tulsa Chairs)

Add light, warmth, and a stunning coastal look to

your home with the Panama Living range.

The Panama collection features stunning mountain

ash tops finished to look like Weathered Oak, which

contrasts perfectly with the vivid white, lightly

brushed Acacia body.

was $1399

now only

$1079

save

$320

Eames

5 Piece Dining Set

This contemporary setting is a

compact set that is suitable for

both studio and apartment living.

Riley 2 Seater plus Chaise

Restrained and sophisticated, this suite flaunts a subtle

mid-century modern design that will give your living

space the fresh new look you need.

was $1499

$1199

now only

was $399

now only

$299

save

$100

Diego Lounge Suite (Grade A)

was $3179

now only $1899

500 DAYS

800mm Round Table + 4 Chairs

The Diego modular suite is a Target favourite. How many

other suites can transform to suit the shape of your room?

This one can and it does it with comfort in mind!

save

$1280

NO PAYMENTS

AND NO INTEREST *

*Minimum purchase $499. Finance offer expires 24th July 2017. Lending criteria, $50 Annual Account Fee,

Establishment Fees, terms and conditions apply. See back page for terms & conditions.

Visit us at targetfurniture.co.nz
---
Get a

NEW

LOOK

for a

GREAT

PRICE!

Vogue Bedsettee

NZ Made Sofa Bed covered in

the latest fabrics and can be

customised to suit your home.

Folds out to a double sized bed.

save

$600

was $1999

now only

$1399

Carson

7 Piece Dining Set

A Scandinavian-inspired

range with a modern mood

and represents extremely

good value.

150cm Table + 6 Chairs

was $959

now only

$759

Modena

3 Piece Dining Set

Featuring clean lines and a

relaxed, coastal style, the

Modena is an easy choice that

is sure to revamp any space.

save

$200

Panamaa Living Collection

This contemporary setting is a compact set that

is suitable for both studio and apartment living.

Lamp Table

was $299

now only $249

2 Drawer Coffee Table

was $699

now only $499

2 Door TV Unit

was $799

now only $599

3 Drawer, 2 Door Buffet

was $1199

now only $999

2 Door TV Unit

2 Drawer Hall Table

was $599

now only $499

Low Bookcase

was $499

now only $399

2 Drawer Bookcase

was $899

now only $699

Lamp Table

2 Drawer Coffee Table

3 Drawer, 2 Door Buffet

was $1479

now only

$1149

save

$330

2 Drawer Hall Table Low Bookcase 2 Drawer Bookcase
---
Nohr 4 Piece

Bedroom Package

The simple white drawer fronts make this range

suitable for both kids and adults bedrooms and

each drawer features smooth runners for ease

of use. All units of the same height can be put

side by side to create a seamless long chest.

Includes Queen Bed, 2 Bedsides &

6 Drawer Tallboy.

save

$100

was $1199

now only

$1099

Oliver

7 Piece

Dining Set

Toscana

7 Piece

Dining Set

This Oliver has a twist with

dark inserts smartly encased

by light sandblasted Acacia.

Inspired by rolling hills

and olive groves just

north of Florence in

the Tuscany area.

was $1999

now only

$1659

save

$340

save

$320

was $2199

now only

$1879

Memphis

4 Piece Package

A contemporary look

featuring a straight line

profile finished with silver

metal handles.

save

$220

Toscana

Bookcases

The Toscana collection

was designed to create a

minimalistic environment

of casual yet stylish

formality

was $1399

now only

$1179

Small Bokcase

was $899

now only $699

Large Bookcase

was $999

now only $899

save

$300

Monarch 3 Plus 2 Seater (Grade A)

save

$1300

Clean & simplistic plush design. This suite offers a contemporary look as well as

comfort. Choose from an impressive range of fabrics to suit your home décor.

was $3199

now only

$1899

Cologne 2.5 Seater Sofabed

The cologne is packed with comfort, this sofa

pulls out with ease to become a bed settee, ee,

perfect for all those overnight guests.

was $1399

now only $1099
---
save

$50

save

$100

Dimensions:

W2082xD1605xH1370mm

Geo Queen Bed

The Geo bed is geometric style at its finest with an intricately

patterned headboard and footboard. Available in black or white,

this Queen Bed will be the statement piece of your bedroom!

was $349

now only

$299

Willow Queen Bed

The fresh frame add's a fun element to suit a modern space. Also available in

black and white colour options. Mattress and bedding are not included

was $399

now only

$299

Metro Bedroom Collection

The bright white finish of the Metro range is an easy way to add brightness

to a dull bedroom. Made from a blend of New Zealand Pine and MDF to

ensure that the white finish will stay white.

4 Drawer

Chest

5 Drawer Chest

6 Drawer Tallboy

6 Drawer Lingerie

7 Drawer Lowboy

4 Piece Package

includes Queen Bed,

2 Bedsides & 8 Drawer Chest.

4 Drawer Chest

was $459

now only $399

4 Piece Package

was $1759

now only $1579

5 Drawer Chest

was $549

now only $479

Queen Bed

was $649

now only $599

6 Drawer Tallboy

was $599

now only $499

3 Drawer Bedside

was $249

now only $229

6 Drawer Lingerie

was $599

now only $549

8 Drawer Chest

was $699

now only

$599

7 Drawer Lowboy

was $699

now only $599

Jamie Bunk Bed

The Jamie bunk bed is an

ideal way to save on space

in your kid's bedroom. This

stylish bunk can be set up as

shown or converted into two

single beds and is available

in either white or black.

was $599

now only

$499

save

$100

FREE

SIZE UPGRADE

ON ANY MATTRESS

PURCHASED

We

accept:

targetfurniture.co.nz

Get more

CHRISTCHURCH Corner Blenheim & Curletts Rds. Ph: 03 343 3204

Accessories are not included in the price of furniture unless otherwise stated. Colours in store may vary to those pictured. Stock may vary from store to store.

Target apologises in advance if any item is sold out during the promotion. All prices include GST. Target reserves the right to amend any misprints or errors within this

advertisement. Mailer offers expire Monday 3rd July 2017. Sale excludes Manchester and accessories.

*No Payments and No Interest for 500 Days ("Payment Holiday") is available on Q Card Flexi Payment Plans for in-store purchases only until offer ends 24th July 2017.

Minimum spend $499. Annual Account Fee of $50 applies. New Q Cardholder fees - $55 Establishment and ($3 PPSR - Q Card only. Existing Q Cardholder fee -

$35 Advance. Q Card Standard Interest Rate, currently 25.25% p.a. applies to any outstanding balance at end of Payment Holiday. Payment Holiday period may vary

depending on Cardholder's payment cycle dates. Q Card lending criteria, fees, terms and conditions apply. Rate and fees correct as at date of publication, subject to change.

TRADING HOURS: Monday to Friday 9am-5pm • Weekends 10am-5pm