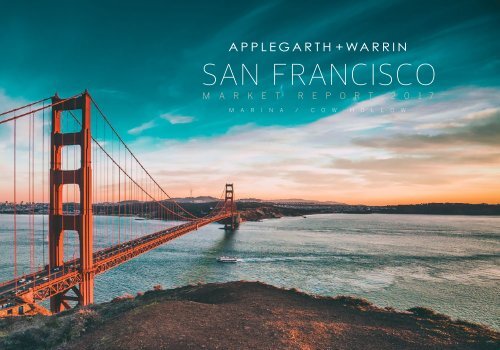 BB-Sothebys-AW-SF-Report-2017-R8
Create successful ePaper yourself
Turn your PDF publications into a flip-book with our unique Google optimized e-Paper software.
APPLEGARTH

+ WARRIN

SAN FRANCISCO

M A R K E T R E P O R T 2 0 1 7

M A R I N A / C O W H O L L O W
---
San Francisco residential real estate had another record-setting year in 2017.

The median sales price in the city rose 4.6% to $1,250,000. In District 7

(Marina, Cow Hollow, Pacific/Presidio Heights), the median sales price stayed

mostly flat after a big runup in 2016, declining just $5000 to $1,855,000.

That is still $255,000 higher than the city's second most expensive district

(Noe Valley and surrounds).

Homes sold much more quickly in 2017 and an increasing number were sold

off-market. 33 homes were sold off-market in 2017 in District 7, representing

15% of all homes sold. The Marina was one of the hottest areas in the city,

with 71% of homes selling for over the asking price. The average sales price

in the Marina is now $2,028,000, while Cow Hollow is at $2,573,000.

The Applegarth+Warrin team was the #1 Sales Team

at Golden Gate Sotheby's in 2017, with over $100 Million in sales.

APPLEGARTH + WARRIN

PAUL WARRIN

415.407.8019

paul@aw-sf.com

Max Applegarth

HOME IN THE CITY BEAUTIFUL
---
2017 MARINA SIGNIFICANT SALES

Previous Sales Annual

Address Sales Price Sales Date BR/BA Sq Foot DOM Price Year Apprecia1on

Single Family Homes

3551 Scott $6,595,000 8-Nov 4240 0

290 Avila $5,800,000 26-May 5/4.5 4306 0 $3,430,000 2014 24.0%

196 Avila $4,995,000 19-Oct 3/3.5 3231 9 $3,680,100 2014 10.6%

3239 Webster $4,400,000 14-Jul 3/3.5 2720 7 $2,175,000 2005 8.2%

2328 N. Point $3,925,000 31-Oct 2950 0 $2,100,000 2014 26.1%

2161 N. Point $3,800,000 8-Jun 4/4 3106 16 $710,000 1994 19.0%

3724 Divisadero $3,700,000 24-May 3/2 2090 0 $1,495,000 2002 9.8%

3518 Webster $3,610,000 11-May 4/3 2060 16 $2,700,000 2016 30.6%

2034 Beach $3,600,000 15-Jun 4/3 2225 19 $975,000 2000 16.0%

3235 Webster $3,375,000 18-Oct 3/2 2460 34 $1,994,000 2010 9.6%

3157 Baker $3,260,000 10-Feb 5/3.5 3646 105 $2,425,500 2015 17.1%

77 Toledo $3,150,000 16-Jul 3/3 1800 0 $1,867,500 2007 6.5%

235 Mallorca $3,000,000 15-May 3/3 2253 0 $1,350,000 2013 30.2%

3258 Lyon $2,910,000 2-May 3/3 2078 23 $1,500,000 2004 7.1%

2028 Jefferson $2,807,000 27-Jul 3/2.5 2106 50 $275,000 1978 23.3%

3166 Baker $2,800,000 14-Apr 3/3.5 2010 57 $1,500,000 2004 6.7%

51 Avila $2,750,000 25-Jul 3/2.25 2143 14

53 Rico $2,750,000 10-Aug 3/1.5 1880 9

3645 Scott $2,650,000 10-Oct 3/2 1518 0 $875,000 1999 10.9%

3742 Divisadero $2,625,000 12-May 3/2 2300 11

33 Capra $2,605,000 13-Oct 3/2.5 2110 18

3627 Divisadero $2,490,000 3-Nov 2/2 1725 13

3621 Scott $2,450,000 28-Jul 2/2 1496 3 $1,925,000 2007 2.8%

3107 Franklin $2,180,000 17-May 3/2 2145 10 $865,000 1999 8.5%

Condos

1661 Beach $3,400,000 31-Oct 3/4 2810 4

3532 Webster $3,300,000 31-Aug 3/4 2876 49

1962 Jefferson $3,220,000 26-May 3.5/4 2495 0 $1,945,000 2008 7.5%

2330 Francisco $2,875,000 24-Feb 2.5/3 2200 0 $2,500,100 2014 6.0%

1754 Bay $2,850,000 22-Sep 3.5/5 2529 7

1456 Chestnut #3 $2,800,000 12-Dec 2/3 1551 38 $2,300,000 2013 4.6%

1431 Jefferson $2,080,000 30-May 2/2 1801 22 $1,628,000 2012 6.0%

1330 Chestnut $2,025,000 30-Aug 2.5/3 1644 19 $1,565,000 2013 6.7%

TICs

3032 Franklin $2,400,000 16-Feb 2.5/3 1894 0 $2,200,000 2012 1.9%

3236 Divisadero $2,291,000 28-Feb 2.5/3 1900 14

2017 COW HOLLOW SIGNIFICANT SALES

Previous Sales Annual

Address Sales Price Sales Date BR/BA Sq Foot DOM Price Year Apprecia1on

Single Family Homes

2528 Union $12,000,000 7-Sep 4/5.5 6000 102 $4,200,000 2013 47.6%

2636 Union $9,285,000 30-Oct 5/4.5 5710 53 $700,000 1985 37.7%

2741 Greenwich $7,500,000 28-Apr 5/4.5 5682 58 $3,075,000 2014 48.3%

2652 Chestnut $7,000,000 6-Jun 5/6 4870 123 $7,025,000 2014 -0.1%

2440 Filbert $6,350,000 10-Apr 4/3.5 3305 10 $3,375,000 2009 11.3%

3041 Divisadero $5,740,000 6-Oct 5/3.5 2 $2,700,000 2009 13.3%

2572 Greenwich $4,998,000 30-May 4/4 4221 66 $2,700,000 2003 6.3%

2555 Filbert $4,995,000 15-Dec 4/3.5 3836 65 $3,850,000 2012 5.7%

2750 Lyon $4,990,000 15-May 4/3.5 3100 3 $3,850,000 2012 6.4%

2850 Filbert $4,695,000 24-Oct 4/3.5 2778 0 $4,200,000 2014 3.4%

2830 Filbert $3,875,000 7-Jul 4/3.5 2700 123

2919 Fillmore $3,600,000 30-Jan 6/3.5 2650 113 $1,785,000 2016 1109.2%

1627 Greenwich $3,500,000 20-Sep 3/3.5 10 $2,295,000 2012 9.9%

2961 Broderick $3,450,000 27-Nov 3/2.5 0 $3,275,000 2016 3.8%

2637 Union $3,210,000 27-Apr 3/2 2540 22

2717 Baker $2,450,000 26-Dec 2/2 1540 13 $956,000 1998 7.8%

11 Imperial $2,244,000 17-Jul 3/1.5 1620 10 $1,340,000 2010 9.5%

2621 Lombard $1,500,000 27-Nov 3/1.5 2222 55 $760,000 2010 13.0%

Condos

1662 Union $3,225,000 28-Jul 3/3 53 $2,400,000 2013 8.4%

3038 Steiner $2,750,000 7-Jul 2.5/3 11 $2,015,000 2013 9.0%

2756 Baker $2,650,000 31-Aug 2.5/2 1678 10 $1,100,000 2011 22.5%

2929 Fillmore $2,350,000 1-Dec 2/3 2008 7 $1,465,000 2012 10.9%

1501 Greenwich $2,150,000 13-Apr 2.5/3 1642 10 $1,815,000 2008 2.1%

2829 Laguna $2,125,000 21-Jul 2/3 1465 7 $1,170,000 2004 6.3%

2828 Pierce $2,000,000 21-Dec 2/3 43 $1,725,000 2015 5.7%

2827 Pierce $1,990,000 15-Feb 3/3 1886 15 $1,035,000 2001 5.9%

2368 Union $1,875,000 17-Feb 3/3 1950 0 $1,262,000 2012 10.5%

2743 Gough $1,810,000 11-Jul 2/3 1520 5 $1,310,000 2013 9.0%

2839 Pierce $1,779,000 2-Feb 2/2 1225 8 $432,000 1996 15.3%

2816 Baker $1,750,000 6-Jun 2/2 1460 12 $605,000 1998 9.9%

2856 Scott $1,515,000 31-Jan 1/1 1479 0 $800,000 2000 5.5%

TICs

2719 Franklin $2,685,000 22-Nov 3.5/4 34

2721 Franklin $2,395,000 13-Nov 2.5/3 19

2833 Webster #5 $1,580,000 6-Dec 2/3 1678 75 $690,000 2015 49.2%
---
2017

$6,595,000

highest sale

22

SFHs sold

68

Condos/TICs sold

THE MARINA

$1,906,589

avg list price

$2,027,894

avg sale price

1,683

avg sq ft

71%

of homes sold for

over asking price

$1,205

avg price sq ft

26

avg days on mkt
---
2017

$12,000,000

highest sale

18

SFHs sold

41

Condos/TICs sold

$2,504,441

avg list price

COW HOLLOW

$2,572,667

avg sale price

1,884

avg sq ft

$1,366

avg price sq ft

30

avg days on mkt

55%

decrease in days on

market from 2016
---
2017

$38,000,000

highest sale

57

SFHs sold

PACIFIC HEIGHTS +

PRESIDIO HEIGHTS

204

Condos/TICs sold

$2,924,492

avg list price

$2,956,395

avg sale price

2,114

avg sq ft

6.3%

over ask in October,

the hottest month

$1,398

avg price sq ft

33

avg days on mkt
---
2017

$7,500,000

highest sale

12

SFHs sold

93

Condos/TICs sold

$2,182,310

avg list price

RUSSIAN HILL

$2,196,445

avg sale price

1,676

avg sq ft

$1,311

avg price sq ft

39

avg days on mkt

14%

of all sales which

occurred in March
---
A PPLEGARTH + WARRIN

100 TIBURON BLVD, MILL VALLEY, CA 94941

APPLEGARTH+WARRIN : THE #1 REAL ESTATE SALES TEAM FOR GOLDEN GATE SOTHEBY'S INTERNATIONAL REALTY IN 2017