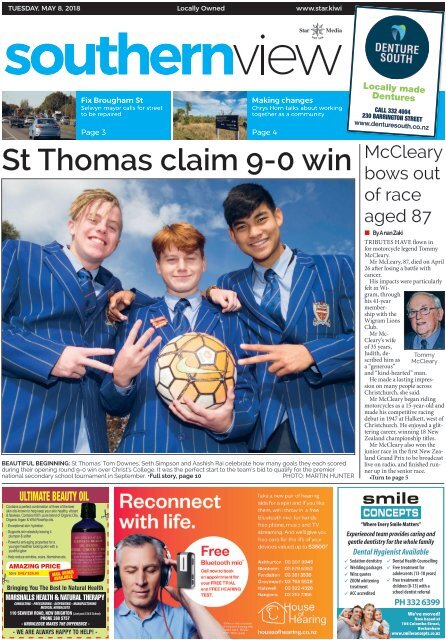 Southern View: May 08, 2018
Create successful ePaper yourself
Turn your PDF publications into a flip-book with our unique Google optimized e-Paper software.
TUESDAY, MAY 8, 2018

Locally Owned

www.star.kiwi

Fix Brougham St

Selwyn mayor calls for street

to be repaired

Page 3 Page 4

Making changes

Chrys Horn talks about working

together as a community

St Thomas claim 9-0 win

BEAUTIFUL BEGINNING: St Thomas' Tom Downes, Seth Simpson and Aashish Rai celebrate how many goals they each scored

during their opening round 9-0 win over Christ's College. It was the perfect start to the team's bid to qualify for the premier

national secondary school tournament in September. •Full story, page 10

PHOTO: MARTIN HUNTER

ULTIMATE BEAUTY OIL

Contains a perfect combination of three of the best

skin oils known to help keep your skin healthy, vibrant

& flawless. Contains100% pure blend of Organic Dilo,

Organic Argan & Wild Rosehip oils.

- Exceptional skin hydration

- Supports skin elasticity leaving it

plumper & softer

- Powerful anti-aging properties for a

younger healthier looking skin with a

youthful glow

- Help reduce wrinkles, scars, blemishes etc.

AMAZING PRICE

50ml only $26.90

MAIL ORDER

AVAILABLE

Bringing You The Best In Natural Health

MARSHALLS HEALTH & NATURAL THERAPY

CONSULTING - PRESCRIBING - DISPENSING - MANUFACTURING

MEDICAL HERBALISTS

110 seaVIeW roaD, NeW BrIGHToN (Just past C.N.B School)

pHoNe 388 5757

- KNOWLEDGE MAKES THE DIFFERENCE -

- We are alWaYs HappY To Help! -

Locally made

Dentures

call 332 4004

230 Barrington strEEt

www.denturesouth.co.nz

McCleary

bows out

of race

aged 87

• By A nan Zaki

TRIBUTES HAVE flown in

for motorcycle legend Tommy

McCleary.

Mr McLeary, 87, died on April

26 after losing a battle with

cancer.

His impacts were particularly

felt in Wigram,

through

his 41-year

membership

with the

Wigram Lions

Club.

Mr Mc-

Cleary's wife

of 35 years,

Judith, described

him as

a "generous"

and "kind-hearted" man.

Tommy

McCleary

He made a lasting impression

on many people across

Christchurch, she said.

Mr McCleary began riding

motorcycles as a 15-year-old and

made his competitive racing

debut in 1947 at Halkett, west of

Christchurch. He enjoyed a glittering

career, winning 18 New

Zealand championship titles.

Mr McCleary also won the

junior race in the first New Zealand

Grand Prix to be broadcast

live on radio, and finished runner

up in the senior race.

•Turn to page 5

"Where Every Smile Matters"

Experienced team provides caring and

gentle dentistry for the whole family

Dental Hygienist Available

Sedation dentistry

Wedding packages

Winz quotes

ZOOM whitening

treatment

ACC accredited

Dental Health Counselling

Free treatment for

adolescents (13-18 years)

Free treatment of

children (0-13) with a

school dentist referral

PH 332 6399

We've moved!

Now based at

104 Colombo Street,

Beckenham

www.smileconcepts.co.nz
---
2 Tuesday May 8 2018

Latest Christchurch news at www.star.kiwi

from the reporter's desk

A SPECIAL mention goes to the family of Christchurch

motorcycle racing legend Tommy McCleary, who passed away last

month.

Mr McCleary was 87 years-old and lost his battle with cancer

on April 26. He was a loyal member of the Wigrams Lions Club,

clocking up 41 years of membership.

Mr McCleary's story is told on page 1.

Also on page 1, St Thomas of Canterbury College has had a

dream start to it's football season.

They defeated Christ's College 9-0 in the opening round, with a

few players notching up a fair few goals each.

The team is looking to qualify for the premier national secondary

school tournament in September.

–Sophie Cornish

News

Page 6

Sport

SOUTHERN VIEW

Learning Tree opens nursery

The Halswell Learning Tree has branched out and opened a

nursery

SBHS go down Christ's in tight match

Shirley Boys' High School have suffered an opening

round defeat in the UC Championship, losing 27-34 to

Christ's College.

get in touch

GENERAL ENQUIRIES Ph 379 7100

CLASSIFIED ADVERTISING Ph 379 1100

The Christchurch Star Company Ltd

PO box 1467, Christchurch

starmedia.kiwi

NEWS

Sophie Cornish

Ph: 364 7437

sophie.cornish@starmedia.kiwi

ADVERTISING

Mark Sinclair

Ph: 364 7461

mark.sinclair@starmedia.kiwi

Page 11

Community events

Get over some stress

Release endorphins to help you relax and lower stress levels

at the Mid-Week Laughter Club, Wednesday, 6-7pm, St

Marks Methodist Church.

Page 13

The best-read local newspaper, delivered to

15,826 homes every Tuesday

Spreydon, Hoon Hay, Hillmorton, Cracroft, Cashmere,

St Martins, Somerfield, Sydenham, Addington, Waltham,

Opawa, Beckenham, Huntsbury, Woolston.

SELWYN STREET

NOW OPEN

Jack Daniel's

1L

$

49 99

Each

$

35 99

Each

24PK

$

39 99

Each

Johnnie Walker Red

1L

DB Export Gold

330ml

Lunch & Dinner

Take-away menu available

Brand new food

caravan on street

$

21 99

Each

12PK

Cody's Bourbon &

Cola 7%

$

12 99

Each

SPECIALS AVAILABLE FROM 23/04/18 UNTIL 20/05/18

Selwyn Street 1/304 Selwyn St

Ph. 03 377 6586

www.thebottle-o.co.nz

Stoneleigh

Range

$10

Lunch

Specials

12-2pm

295 Selwyn St, Spreydon, Chch

Call for bookings Ph. 027 424 3632

Hagley Junior Open Night

Looking at high school options for 2019?

Join us for our Junior College Open Evening and discover

more about what Hagley can offer you!

TUESDAY, MAY 8TH | Please join us at either 4.30pm or 5.30pm

A maximum of 125 places available in Year 9 for 2019.

Currently no places available in Year 10 for 2019

Phone us on (03) 379 3090 ext 884 or visit www.hagley.school.nz

for more information about Junior Enrolments.
---
SOUTHERN VIEW Latest Christchurch news at www.star.kiwi

Tuesday May 8 2018 3

News

Mayor wants Brougham St fixed

Broughton

submits views

to city council

• By Julia Evans

CONGESTION ON Brougham

St needs to be addressed before it

gets worse.

That's according to Selwyn

Mayor Sam Broughton, who

raised concerns regarding

ongoing congestion from

the Southern

Motorway onto

Brougham St in

his submission on

the city council's

draft Long Term

Plan.

Sam

Broughton

Mr Broughton

anticipates it

will get worse for

Selwyn residents

entering the city and vice versa if

it is not addressed quickly.

"The southern end of the

motorway connecting to

Brougham St is a major cause

of transport delays to the wider

travelling public, which is

expected to get worse as time

goes on."

Mr Broughton said it

inevitable with the expected

CONGESTION: Selwyn Mayor Sam Broughton has raised concerns about traffic on Brougham

St with the city council.

PHOTO: MARTIN HUNTER

population increases in both

Selwyn and Christchurch.

"It's an area Christchurch

knows about but I just want to

highlight that it is a concern for

us too," he said.

In his submission, Mr

Broughton suggested

intersection improvements as a

potential solution.

"SDC requests that

Christchurch City Council

works with the New Zealand

Transport Agency to improve

traffic flow and reduce

congestion along Brougham

St with particular attention to

intersection upgrades or

grade separation at key

intersections like Colombo St

and Selwyn St."

City council manager

planning and delivery

transport Lynette Ellis said

it will be sharing Mr

Broughton's concerns with

NZTA.

Local

News

Now

Fire rages, homes at risk

Cops first

out of

the blocks

on their

e-bikes

• By Bridget Rutherford

SOME POLICE officers ride

horses – but Christchurch cops

ride e-bikes.

Canterbury's road policing

team is the first in the country

to test out using e-bikes while

on patrol.

Road policing group officer

in command Senior Sergeant

Kelly Larsen said the team

has been trialling two e-bikes

around the city.

She said the results so far had

been positive.

"E-bikes are being trialled to

help understand the benefits

they could offer such as ease of

responding to incidents in the

central city, as well as extending

patrolling areas."

She said police officers in

Christchurch, Wellington,

Nelson, Auckland and

Invercargill already used

regular bikes.

FILL UP FOR

LESS WITH

YOUR GOLD

CARD.

15

19→27

MAY

2018

Innovation that's good for the world

Join us at over 50 Christchurch events,

more info → techweek.co.nz

*Terms and Conditions apply.

111-115 Milton Street

Phone 332-6056

as local as you are | www.challenge.net.nz

#twn18 | #goodfortheworld | #ChChTWNZ18

Presenteds by

Principal sponsor

Regional partner

BOOK NOW FOR

MOTHER'S DAY
---
4 Tuesday May 8 2018

Latest Christchurch news at www.star.kiwi

SOUTHERN VIEW

Your Local Views

McMaster & Heap

Veterinary practice

OUR "EYE' VET…..

Its not often I write about my husband,

Steve Heap, but I must say I'm often

very proud of the work he does at our

Practice, and how he is always looking

ahead to grow, improve and provide the

best workplace for our staff. Steve has a

keen interest in all things involving "eyes"

but he's also very competent at dental

surgery too. Patients come far and wide

to see Steve for his expert advice on eyes

and compassionate, friendly service. He

sees a myriad of animals,

ranging from very expensive

thoroughbreds and alpacas,

to lions and kiwis at Orana

park and then all domestic

animals inbetween.

Steve decided to study

Ophthalmology while

we were in the UK in our

20's on a working/holiday

and it is one of the best

specialities Steve could

have chosen. Not only does

Steve really enjoy eyes, but

it has helped to grow our

business and stand it apart from others.

There are currently only 3 or 4 vets seeing

ophthalmology referrals in NZL.

Most days Steve has 3-6 Ophthalmology

surgeries. He actually gets excited at the

prospect of returning an eye to normal

function and pain free.

A few days ago was one of those "jubilant"

moments. In waltzed a very friendly 8

year old Labrador called "Arnie". Arnie was

referred to Steve with a persistent infected

discharge coming from his Left eye that

he had for 8 months. Eight months ago he

had an ulcer in the same eye which initially

cleared up, but quickly became constantly

infected, weepy, red and sore. He had been

on every eye ointment possible with no

real results. The owners claimed they were

cleaning the eye out 5 times a day. The

purulent discharge seemed to be coming

from the lower

tear ducts.

Steve suspected

a foreign

body so he

recommended

anaesthetizing

Arnie and

taking a closer

look.

Sure enough

Steve removed

a large barley

grass awn from

the left tear

duct by cutting

down into the duct. It had probably been

sitting there for the past 8 months causing a

chronic persistent eye infection. Steve is sure

Arnie will make a full recovery with no need

for eye drops. As a surgeon moments like

these are hugely rewarding because straight

away Steve has made a big difference to

Open 7 days

Cnr Hoon Hay & Coppell place

phone 338 2534, Fax 339 8624

e. mcmasterandheap@yahoo.co.nz

www.mcmasterheap.co.nz

Arnies quality of life….and his

owners.

Clients and vets alike speak

highly of Steve. His sole

purpose is to solve problems

quickly and professionally,

with skill and expertise and he

is great at explaining things

clearly and simply, so clients

really "get" what his plan is for

their pet. Clients apparently

love his scribbley little eye

diagrams they leave with, diagrammatically

describing the surgical procedure. I recently

attended a veterinary meeting and felt

very proud at all the accolades my fellow

colleagues spoke about my husband. Steve

is one of the very few vets around who

freely, 24/7 gives ophthalmology advice to

any vet in the country free of charge. He just

enjoys sharing his knowledge to benefit all

animals in need.

We are currently in the throes of building

a large, modern addition to adjoin our

current premises in Hoon Hay. We are very

excited about what this will mean for us

and our patients in the future. We hope

to be seen as a referral centre, with more

specialists vets coming on board, as well

as a first opinion clinic. We have very loyal,

committed clients who often recommend

us to others. We want to improve our level

of knowledge and expertise and provide

better care by creating

separate dog and cat

treatment , consult and

waiting areas. We are

constantly looking ahead

to the future and trying

to set ourselves up to

stand alone, offering

outstanding care, service

and communication in an

ever increasing corporate

veterinary world, one

in which we will never

become part of.

Steve and I are living

the dream. What could

be better than surrounding ourselves with

animals all day, solving problems using our

skill and expertise, making people smile

again and saving animals lives. It just doesn't

get much better than that.

Dr Michele McMaster

McMaster & Heap

CREATING CHANGE: Chrys Horn says the community worked together to get

Kennedys Bush Track reopened.

Working together

to change

your community

Halswell

Community

Project

chairwoman

Chrys Horn

talks about

making

changes happen in her

area

CHANGE happens most

often and most easily when

we work together to make

it happen.

A recent example was

the formation of the

Kennedys Bush Track

Network, which led to the

reopening of the track.

It was great to see the

network grow quickly

and highlight the critical

mass of people out there

interested in getting the

track open.

As the group formed,

the media became more

interested in the issue and

people worked together to

tell the city council that

they really wanted that

road line open.

Time and again we see

the same principle in the

work that the Halswell

Residents' Association

does around our area, such

as ensuring our local roads

are safe and that we have

necessary local facilities.

Sports clubs shape our

kids and our Saturdays;

while churches provide

support and activities for

our local area.

Another way we are

seeing the work achieved

by communities is in

the many planting days

that we see happening

on the Port Hills, in the

quarry, and around local

streams. Here people

are making a significant

positive difference to our

landscapes and to local

water quality. A recent

example is the Cashmere

Streamcare group which

met two weeks ago to weed

and put mulch around

plantings along the edge

of a local drain between

Sparks and Sutherlands

Rds. Communities change

things in all sorts of

different ways around our

city and our local area.

We have a huge range

of wonderful community

groups in Halswell and

they need your support.

Get out there and get

involved in a community

that interests you and see

how you can help to make

a difference.
---
SOUTHERN VIEW Latest Christchurch news at www.star.kiwi

Tuesday May 8 2018 5

Community-led

design process

should happen

McCleary bows out of race

•From page 1

He took off his helmet for the

last time in 1966.

Post-racing, Mr McCleary

served as the president of Wigram

Lions Club, as well as club

and as district governor.

Wigram Lions Club member

of 45 years, Jack Tait, said Mr

McCleary made a number of

contributions to the community

and could not single out a

standout over the years.

"He was blessed with a very

good memory, he could recall

stories from the past and name

people and he always had a

good joke to tell," Mr Tait said.

Mayor Lianne

Dalziell

explains what

will happen

now that

submissions

on the Long

Term Plan

have closed

THANK YOU to the more than

1500 submitters on the Long Term

Plan 2018-28.

THe hearings are now under way

with some early themes emerging,

including getting the basics right

– from smooth roads to chlorinefree

drinking water – and getting

much-needed facilities built.

A number of submitters have

asked for a more community-led

design process in future. In my

view this can and should happen.

As highlighted by the external

advisory group, we all need to

understand the links between

our legal obligations as a council,

our strategic directions, levels of

service, the capital programme

and operational expenditure.

Pulling one lever can have a major

impact on another.

Submitters have picked up

on this with respect to reduced

expenditure on wastewater

infrastructure leading to

increasing the risk of sewage

overflows into the rivers during

storm events; and roads which

might need an early repair to save

a more costly repair or rebuild

down the track.

THis is the second Long

Term Plan I've introduced, and

although we know more than we

did with the first, (e.g. we have

our insurance settlement and

now know how much we were

shortchanged on the true cost of

repairing the earthquake damage

to our horizontal infrastructure),

maybe we could co-design the

consultation document with the

community in such a way as to

make everything more accessible

for everyone.

THe theme for this LTP is "we're

in this together". That cannot be

just for the delivery – it must be in

the planning as well.

Maddie back in school

• By Emily O'Connell

WEST MELTON teen Maddie

Collins has returned to St

Margaret's College after an

18-month break due to health

problems.

Maddie, 14, was too sick to

attend school but has been doing

better following a successful

kidney transplant in January.

Her mother, Sarah Manson-

Collins, said Maddie was enjoying

being back at school but was

finding it tiring.

Mrs Manson-Collins said

Maddie will attend school

Mondays to Thursdays, with

Fridays put aside for ongoing

hospital appointments.

She said they are keeping an

eye on Maddie but are pleased

her kidney biopsy in March

showed no sign of rejection.

Maddie and her family were

told on January 16 their fiveyear

wait for a kidney match

BACK TO SCHOOL: Maddie Collins has returned to St

Margaret's College after more than a year off.

had been found. They flew from

Christchurch to Auckland

the following day and Maddie

underwent an initial operation

and then a second operation

to reposition the kidney hours

later at Starship Children's

Health.

Mrs Manson-Collins said

Maddie has a lot of exciting

events coming up, including

speaking at the Canterbury

Bride of the Year event about

organ donation.

Please get in touch with

my office if you need any

assistance on 03 338 6347 or

megan.woods@wigram.org.nz

Authorised by Hon Megan Woods, Shop 6, McCathy St, Christchurch

Discover Christchurch's

best priced pet

accommodation

• New cat & dog

groomer straight

from USA

• Daycare -

all breeds

• Long stay/

short stay

Call now to book

in your fur baby,

inspections

welcome

anytime!

Men

"The question of the power of men has been very topical

in the past year with changes in political leadership,

#MeToo and other associated movements. In images

used in the media of significant male politicians or male

professional leaders these men more often than not

wear a suit albeit maybe without a tie these days. The

suits these men wear convey power. Do these men wear

suits because they are a symbol of power? Do corporate

woman feel they have to emulate men in the way they

dress to achieve power? Why in fact is there such a

historical difference in the clothes of men and woman?

Do men have an advantage in society because there

exists this type of uniform that gives them an unspoken

air of authority that there is not something equivalent of

for woman?

The history of menswear suits, over-coats, trousers,

shirts and ties can be traced back several centuries

and remain very traditional and recognisable in the 21st

century. The shape of the lapel, the size of the tie, the

quality of the material and the way they are produced

may have changed but the form and its associations are

immediately identifiable. Sombre colours of greys and

black suits still dominate. These suits are trans-seasonal.

It is a code of dress that is universally recognisable. By its

continued widespread use it isn't likely to change. These

suits are not necessarily worn for comfort so are they

still in such dominant use because of the symbols they

convey?

Here seventy men are dressed in traditional suits then

they deviate playing with shape and form, eccentricity,

personality and individualism also drawing at times on

more feminine influences of colour and pattern. It is an

unresolved exploration of menswear and its implications

in contemporary society." Gill Hay.

Gill attended Canterbury University School of Fine Arts

in the early 1980s and has been exhibiting widely in New

Zealand and overseas for the past 20 years. She lives in

Lyttelton where she has a studio in her home overlooking

the inner harbour.

ALAMEDA

KENNELS & CATTERY

271 Dyers Road | Ph 384 1297

www.alameda.nz

Commissioned by
---
6 Tuesday May 8 2018

Latest Christchurch news at www.star.kiwi

News

SOUTHERN VIEW

De-stress with 'downtime dice' at your library

ROLL ON into the Fendalton

and Upper Riccarton libraries or

the Te Hapua: Halswell Centre to

pick up your downtime dice.

The new well-being tool –

organised by post-earthquake

recovery campaign All Right? –

encourages Cantabrians to enjoy

some "guilt-free downtime",

utilising free dice that feature

feel-good suggestions, such as

enjoying the outdoors or making

community connections.

The dice are also available for

pick-up at Central Library on

Peterborough St, and the New

Brighton, Papanui, Shirley, South

libraries, along with several

cafes.

All Right? manager Sue Turner

underlines the importance of

prioritising downtime.

"A few minutes of quality

downtime can boost our energy,

focus, creativity, productivity

and happiness," Ms Turner says.

"Sometimes we need a gentle

reminder that it's OK to take

a break, and that's where our

downtime dice come in."

The downtime dice suggests a

HALSWELL LEARNING Tree

has branched out and opened a

nursery.

The early childhood centre

started planning the nursery in October

after identifying a need for it

in the community.

It already had a pre-school which

range of simple activities, such as

enjoying music, getting outside,

or catching up with a friend.

accommodates about 30 children

aged between two and five-yearsold.

The nursery is licenced for a

maximum of 20 children.

The centre's months of planning

paid off as Labour MP for Port

Hills Ruth Dyson cut the ribbon to

Christchurch-based All Blacks

leadership manager Gilbert

Enoka views downtime as an

Learning Tree opens nursery

the nursery. Its annual garage sale

last year raised $1200 for the

nursery – which went towards

natural wooden furniture and

resources.

The nursery's opening had a free

bouncy castle, sausage sizzle and

face-painting for the children.

TAKING TIME: All Right?

mental health strategist

Ciaran Fox with a dice

at the Central Library on

Peterborough St.

integral part of his day.

"Downtime can be simple

things like reading a book, having

a coffee, having a treat of

some sort . . . but it's the ordinary

and soul-enriching nature of

those pleasures that really enhances

individuals and increases

their capacity to function at high

levels and feel really good about

themselves," Mr Enoka says.

"I think society needs resilient

citizens and that goes for workers,

athletes, men, women, and

children.

"Developing resilience is about

exposing yourself to waves of

stress and waves of recovery.

Having downtime is good for

your recovery."

He believes that 10-15min

"emotional recovery activities"

can help anybody.

"They're like pit stops in a race,

where you just go in to fill up

energy."

NEW: Halswell

Learning Tree

staff members

Bree Chesmar

(left), Jo Robb,

Shanel de

Schot, Ashleigh

Hills and Carol

de Schot.

PHOTOS: JARED

MCLEOD
---
SOUTHERN VIEW Latest Christchurch news at www.star.kiwi

Tuesday May 8 2018 7

The entertaining drama teacher

Christ's College director of drama David

Chambers has been teaching for 40 years and

been made a life member of Drama New

Zealand. He talks to Julia Evans

You've recently been made

a life member of Drama New

Zealand, how did that feel?

Well it was a total surprise, I

was absolutely gobsmacked, but

really honoured. There aren't a

lot of them, there are only about

eight life members in total. It's

the drama teachers' association

for primary and secondary

schools from around the country.

I've never really held back

about what's going on in drama

and how it could be better. I'm

very lucky that I've had a wealth

of students who are very talented

and got themselves some very

good results. I can bathe in their

glory a bit, that's quite fun. I'm

always talking to other drama

teachers around the country

and we have a good dialogue together,

which I tend to contribute

to a fair amount.

Was your family proud?

They were absolutely gorgeous;

I got lovely reactions from all

around the country. It's amazing

what Facebook does. They all

started posting it on Facebook

and it started going a little bit

viral. I'm lucky to have a life-long

partner who is also a high school

teacher. She's brought me three

lovely kids and so now we have a

number of grandchildren sort of

all around the world.

Can you tell me a little bit

about your background in

teaching?

I started out with a commerce

and geography background

and taught all that stuff for 10

years. Then was lucky enough

to be able to shift into my first

drama department. I started

the first drama department at

Aranui High School and I did

that in 1987. Then I grew the

department while I was working

on all the national growth for

NCEA. So I spent 19 years at

Aranui, then moved to Linwood

for a year, and after that I came

to college. So this is my 21st year

at college, 40 years with a lot of

beautiful people.

It must have been an

interesting shift from Aranui

and Linwood to Christ's

College?

Well it was. I often think that

the kids still need the same

thing. What you're trying to

do is you're trying to drag

the best out of each kid,

give them the opportunities;

try and give them the

unconditional love and

just create the biggest

challenges for them

to achieve. Just a

little bit above

what they

need to

be, an

arm's

reach

away.

There's

a greater

wealth base

at college,

but money

isn't the only

thing people

are wealthy

with. The

wealth of

experience

at Aranui

is just extraordinary. In fact,

the demise of Aranui is one of

the saddest things in my life. I

believe that school should still

be there. We had an amazing

drama department and it wasn't

only drama, it was a bloody good

school. It's such a pity it's just

been wiped off the face of the

earth. It's gone except in the loving

memories of a few people.

How important is drama?

Studying drama in school

means that kids can look at the

world with a fresh lens. It opens

up a whole range of thought

and opportunity to think in the

skin of other people. It teaches

diversity, it teaches inclusion and

tolerance. Those things are just

vital right now in this confused

world.

Over the years you must

have taught some interesting

students, any juicy stories?

It would be very difficult to

know quite what stories to tell.

There have always been some

rat bags who thought it would

be a good idea to take my car

for a ride to go and get fish

and chips. That was a goodie.

BACKSTAGE: David Chambers is currently

working on the Christ's College and Rangi

Ruru Girls' School's production of West Side

Story.

PHOTO: MARTIN HUNTER

I mean there are a lot more

stories about students who have

been exceptional in their

own right. Those are

the real stories. I have

had the privilege of

teaching some really

good television

presenters, actors,

stage technicians,

writers, reporters.

The most

wonderful thing

about all of those

young people is

the contact that

I continue to

have with them,

often on a

monthly basis.

I'm still always

on the phone

to someone

I taught at

college or at

Aranui. It's

amazing.

How did you

get into

the world

of drama

and arts?

I found

out that I

could do

it in year

13 in 1971.

It was

something

that I could do at school but

also I could enjoy it beyond

the classroom. I did a bit of it

at Otago University and I did a

bit of it up here in Christchurch

with various outfits. Then when

I got to Aranui, I realised I could

pursue it, which is what I did.

From there, we developed it and

I just made it happen for the

kids.

They wanted it to happen. It

is my life role, it's what I'm here

to do really, because it gives me

such a buzz discovering texts,

discovering culture, discovering

things about myself in a great

way, I just want to share that

with the kids and pass it on.

When was the last time you

performed on stage?

Years ago. Probably the last

time I would've performed

would have been the 1994

production of Les Miserables, I

think. That was such a huge feat,

to be able to fit that in was a very

difficult task, but I managed it

and the school wanted me to do

it. That was the last and that's

because there's just no time. This

is a seven-day a week job and

you just can't commit to a full

production.

Someone asked me the other

day if that made me unhappy. I

said 'well, no, it can't be because

if I was unhappy I would have

done something about it'. I think

I am, if truth be told, happy

enough to be where I am making

it possible for other people

to act, sing and dance. Well

interact, because acting is really

interacting.

Have you had any on stage

disasters?

There's been plenty of them.

Every show has its own set of

challenges and sometimes it just

sort of stops. Fortunately, that's

not often. When it does stop, you

just have to get it started again. If

the fire alarm goes off, you've just

got to stop, reset and do it again.

I've had a few of those.

In 1994, most people forget,

while Les Mis was on there was

an earthquake. We were doing

a matinee at the Isaac Theatre

Royal and everyone had to

evacuate. We all walked past all

those bricks that hadn't fallen

down but would fall down later

in 2011. Everybody forgets. I can

remember the lights moving and

the building moving. We were

standing on the side of the stage

and all of the lights just started

swinging and we're thinking

'holy heck'.

The whole audience and cast

just piled out so there was a

whole French Revolution out

on Gloucester St. Back to it

after a few durries. I played the

policeman, Javert.
---
8 Tuesday May 8 2018

Latest Christchurch news at www.star.kiwi

News

SOUTHERN VIEW

Horace is 100 and iPad savvy

War radar expert keeps up with the play

• By Emily O'Connell and Kurt

Bayer

HORACE LONGSON might

have just turned 100 but using

his iPad to check Facebook is a

breeze.

That's because he has lived

alongside innovative technology

since World War 2.

When war broke out in 1939,

the railway clerical cadet volunteered

for the air force and

became involved in the secret

world of radar.

Mr Longson was one of a few

in New Zealand trained to use

the Typex British-made cipher

machines.

It scrambled morse code

messages, enabling planes patrolling

the coastline and hunting

Japanese or German submarines,

ships, or aircraft, to communicate

in secret.

"The work was extremely

hush-hush but highly-interesting.

And we knew that what we were

doing was special," he said.

Tour city's historic pub sites on your phone

• By Julia Evans

DIGGING INTO the city's

colonial past has been made

easier with the release of a new

heritage app.

Heritage New Zealand

outreach adviser

Rosemary Baird was

part of a team that

developed the Heritage

Trail – Public Houses,

Private Lives: Excavating

Christchurch's Colonial

Hotels app, which gives

users a guided walking

tour of sites of the city's

Victorian hotels.

"We've been playing

with the idea of doing an app for

a while. For years I first wanted

to do one on the history of the

Avon River but this was the one

that got off the ground," she said.

The heritage trail is a 3.5km

loop of seven hotel sites ranging

from the 1860s to 1900s, Dr

Baird said.

The app starts at

the site of the former

Oxford on Avon

on Colombo St and

loops around locations

including the

Occidental Hotel

on Hereford St, the

Caversham Hotel on

Madras and St Asaph

Sts and finishes in

Cathedral Square at

the Old Government Building.

It uses old photographs and

videos to showcase excavations

Rosemary Baird

Mr Longson celebrated his

100th birthday with family and

friends at the Papanui Club last

Saturday.

He is feeling good for his age

but concedes he's a "bit wobbly

in the legs."

Mr Longson still attends weekly

church services at St Martins

Anglican church, where he once

operated the sound desk.

"I'm a technician, but the age

of improvements – they've gone

digital. They work off a little

laptop screen, a tiny little screen

that Horace finds difficult," he

said.

Last Sunday, the church

celebrated his birthday with a

morning tea and a special ride in

a vintage vehicle.

Born in Temuka in 1918 and

named after his uncle Horace

Prattley who died at the Somme

in World War 1, Mr Longson was

always inquisitive and handy. As

a child, he built his own radio

sets.

After World War 2, he returned

to his railways job and

soon became interested in ham

radio.

He is a life member of the

Amateur Radio Transmitters'

Association. He would also build

his own television sets – his first

had a 15cm screen made from a

radar tube.

Mr Longson retired in 1976

and his wife of 67 years, Brenda,

died about six years ago.

The 100-year-old has lived in

the same house for "probably" 60

years and has no plans to move.

"I'll only go if I'm carried out.

I'm not intending to leave this

house as long as I possibly can,"

he said.

Mr Longson, who doesn't wear

glasses or hearing aids, says the

secret to reaching 100 is eating

good food and not drinking or

smoking.

The most important thing

he's learnt is to be kind to other

people. "Anything I can do for

anybody, I'm very happy to do

it," Mr Longson said.

and artefacts from the sites, a

lot of which were uncovered

following the February 22, 2011,

earthquake. "If you talk to any

Christchurch archaeologist,

CELEBRATION: Horace Longson, holding his wedding day

photo, turned 100 on Saturday. PHOTO: MARTIN HUNTER

they'll tell you this city has a

unique collection of archaeology,"

she said. Archaeologists

are called to work on sites of pre-

1900s buildings that are being

TOUR: The site of the former

Oxford on Avon on Colombo

St is the first stop in the

Heritage Trail app. PHOTO:

CHRISTCHURCH CITY

LIBRARIES

demolished – a common occurrence

after the earthquakes, Dr

Baird said.

"The best illustration I can give

you is that the archaeology company,

Underground Overground,

had one or two staff members

before the quakes, now they have

20 or 30," Dr Baird said.

•To download the app,

search for Heritage Trails

in the Apple App Store or

Google Play Store.

Artisan Homes

Builders of superior homes. Built to last.

Winners in Registered Master Builders House of the Year Awards

Visit our new show home - Faringdon South Show Home Village

East Maddisons Road | Phone: 03 374 9172

Phone 03 374 9172 Rob 021 324 876

email robin@artisanhomes.co.nz

www.artisanhomes.co.nz
---
SOUTHERN VIEW Latest Christchurch news at www.star.kiwi

Tuesday May 8 2018 9

Laneways link central city

Christchurch is

becoming a city

of laneways and

courtyards, with

many developments

taking inspiration from

Melbourne. Bridget

Rutherford reports

PEOPLE SIT in the sun on the

benches eating their lunches and

chatting in the newly-finished

Evolution Square.

In the heart of the Innovation

Precinct, the new public space is

buzzing. Next door, Little High

Eatery is a hive of activity.

Nearby, the site where Poplar

Lane once stood is now home to

eateries, and Vanguard Square,

another courtyard for people to

relax in.

Over in Cashel Lobby in the

BNZ Centre, people wander in

through the different laneways to

buy their lunches and sit on seats

and beanbags – the courtyard

sheltered from the wind.

The Terrace development is

nearby. Oxford Lane, which runs

between two of the buildings,

provides a place for revellers to

enjoy a drink at the tables under

the glow of hanging lights.

This was the city council and

Government's vision for the central

city – activating the spaces

in between the buildings, much

like Melbourne.

And now, it's becoming reality.

Both Evolution and Vanguard

Squares are part of Government

anchor project the South Frame.

It will eventually join the Innovation

and Health Precincts.

It is made up of five pedestrian

ACCESS: The architects behind The Crossing visited

Melbourne to take inspiration for the laneways through

the development. Right: Oxford Lane in The Terrace

will provide a place for people to sit and socialise in

between two buildings.

lanes and eight vehicular access

lanes, which run from north to

south. It also has four gathering

spaces, while a spine known as

the Greenway would run right

through the middle from east to

west.

Otakaro South Frame project

manager Cameron Mclean said

Evolution Square was an example

of how well it had worked.

He said the project's laneways

and gathering spaces were a

catalyst for further private development

in those blocks.

"Having these public spaces

on their doorstep encourages

developers to deliver the likes of

hospitality and retail ventures

that spill out onto the laneways

and make this an appealing part

of the city for people."

Melbourne's laneways were

inspiration for the South Frame's

potential, but they tried to add

a unique layer to the design

through collaboration with

CONTRAST:

The once

popular Sol

Square is a

shadow of

its former

self.

PHOTOS:

MARTIN

HUNTER

Matapopore, Mr Mclean said.

For example, the garden beds

were filled with plants traditionally

used by Ngai Tahu and

stones used for tools or trading

had been placed throughout the

frame, he said.

Otakaro would continue to divest

land adjoining the laneways

to parties to develop them to

attract people to the central city,

he said.

The concept of laneways

and courtyards was part of the

central city blueprint, developed

after the quakes in 2012.

But the idea of enhancing

these spaces was around before

then.

The city council was in the

process of upgrading its existing

laneways before the February 22,

2011, earthquake.

The Central City Lanes Plan

identified lanes that had the

potential to be successful like the

popular Sol Square and Poplar

Lane.

But when the February 22,

2011, earthquake hit, that plan

was paused, and both Poplar

Lane and Sol Square were severely

damaged.

While new buildings have

popped up in Poplar Lane's

place, Sol Square is a shadow of

its former self.

The red Mini Cooper teeters

above the square where weeds

grow up through the cracks in

the pavement, and graffiti covers

the buildings and windows.

Some evidence of its past remains

– the faded signs for once

popular The Fish and Chip Shop

and Toast and the large musical

notes on the side of one of the

buildings.

Sol Square is, however, rising

from the ashes, with developer

Dave Henderson's plans to restore

the complex to its former

glory.

Since the quakes, other private

developments were also including

laneways and courtyards in

their designs.

Strange's Lane was the first.

The lane which runs between

Lichfield and High Sts has a

similar feel to the old Sol Square

and Poplar Lane with brick

buildings, hanging lighting, bars

and eateries.

It was the brainchild of developer

Shaun Stockman.

He said Strange's Lane took

inspiration from Melbourne

laneways – not too wide and

intimate.

"I had a break there just after

the quakes and it gave me the

idea."

Mr Stockman said there was

an arcade on the site in the

1960s.

He said the work happening

now with laneways was a follow

on from the work the city council

had done before the quakes.

The Crossing opened last year.

It is made up of several buildings

which are all interconnected.

The man behind the development,

Philip Carter said while

there was a planning requirement

to incorporate laneways

within The Crossing, they were

happy to do it.

"The laneways create interest

and encourage discovery. We invested

in the architecture of the

development, and the laneways

gave us an opportunity to showcase

the architecture and make

the spaces interesting."

Mr Carter said the architects

visited Melbourne early in the

design process and they used its

laneways as inspiration.

He said they created an "interesting

CBD" and spaces where

people would want to spend

time. Richard Peebles has included

laneways in his McKenzie

and Willis complex which will

eventually link to the Duncan's

Buildings he's restoring.

He plans to connect his Riverside

development, due to open at

the end of the year, with a new

building to be constructed on

the former Guthrey Centre site,

to link it with Ballantynes.

Much of the South Frame is

expected to be finished by the

end of the year.

Land Information New Zealand

is working to acquire the

remaining land needed. Three

are still to be finalised.

The laneways are opening

progressively.

But while some of the city's old

laneways are gone, some of the

new ones reflect on their history.

One of the lanes leading into

the BNZ Centre's Cashel Lobby

is called Shades Lane, a reference

to the former Shades Arcade

which once stood there.

People moving through Evolution

Square have a chance to

literally walk down Memory

Lane, a tribute to the labyrinth of

past lanes in the area.
---
10 Tuesday May 8 2018

Latest Christchurch news at www.star.kiwi

Kirkwood

teacher takes

NZ marathon

title in Rotorua

KIRKWOOD INTERMEDIATE

teacher Blair McWhirter was

the standout at the Rotorua

Marathon, claiming the 2018

New Zealand title raced on

Saturday around Lake Rotorua.

McWhirter (below), from the

Sumner Running Club, went to

the front of the race from the

outset with

young Lake

City runner

Michael Voss,

and they

were joined

by Voss'

clubmate Sjors

Corporaal

by the 10km

mark.

The three

leaders ran together through the

hills and past the half way mark,

sharing turns at the front for another

17km in perfect conditions.

At the 27km mark, McWhirter

applied the pressure coming off

the last of the hills and the group

split up with Corporaal not able

to respond and Voss running

into trouble.

The 35-year-old who has a personal

best of 2hr 22min 38sec set

12 months earlier at the London

Marathon, continued to stretch

his lead over the final 10km and

came home in winning time

of 2hr 29min almost 6min clear

of Corporaal.

McWhirter said he wanted to

settle into a good rhythm and see

what he had left for the second

half of the race.

"I got to the 27km mark and

felt that was my time to give it a

nudge," he said post-race. "I got

there feeling pretty good and I

thought I'd have a good crack for

3km and I managed to open up a

bit of a lead."

He said he was satisfied he

made his big move early enough

which set him up for the victory.

With the marathon doubling as

the New Zealand Championships

for 2018, the first three finishers

all win their first New Zealand

championship medals.

St Thomas claim 9-0 win

in season opening clash

SPORTS

• By Gordon Findlater

ST THOMAS of Canterbury

College couldn't have asked

for a better start to their goal

of qualifying for the premier

national football tournament.

They defeated Christ's College

9-0 on Wednesday in the

opening round of the Connetics

school premier first XI football

compeititon.

Coach Jacob Allen says even

he was surprised when his team

shot to a 4-0 lead within 20min

of their opening match of the

match at Christchurch Football

Centre.

By full-time the team has

added another five courtesy of a

Seth Simpson hat-trick, braces

from Tom Downes and Aashish

Rai, and two Christ's own goals.

"Christ's are normally a really

good opposition so we were

happy," said St Thomas' coach

Jacob Allen.

The team were cheered to victory

by their megaphone wielding

supporters club. Around 25

students braved the cool evening

for a 7.30pm kick-off to cheer on

their team.

BIG WIN: St Thomas' supporters club celebrate with the first

XI following their 9-0 win over Christ's College.

SOUTHERN VIEW

"There was a huge amount of

support . . . some of the chat the

lads have is a bit average but the

amount of noise they make is

amazing," said Allen.

St Thomas' had a successful

2017 campaign which saw them

finish fourth at nationals and

runners up in the Connetics

premier competition following a

loss on penalties to St Andrew's

College.

Other than the back four, the

team have retained the large

chunk of players from last season.

Their first goal is to qualify

for nationals that are being held

in Christchurch in September.

To do so they will need to perform

among the top four or five

teams in the Connetics premier

competition.

They play Christchurch

Boys' High School tomorrow

in their second round match at

Christchurch Football Centre.

•Round one results:

Christchurch Boys' High

School 0, Rangiora High School

0; Burnside High School 5,

Lincoln High School 0; Shirley

Boys' High School 3, Middleton

Grange 1; Riccarton High

School 3, Papanui High School

2; St Thomas 9, Christ's College

0; Cashmere High School 2, St

Bede's College 0.

Best

Motorbuys

TM

ANYTHING WITH A MOTOR!

The South Island's leading motoring publication

FREE every Friday at hundreds of locations

around the South Island, and it's available online!

www.bestmotorbuys.co.nz

For advertising enquiries, ph Lea Godfrey 021 277 3086
---
SOUTHERN VIEW Latest Christchurch news at www.star.kiwi

Tuesday May 8 2018 11

Taspale Valavaia of SBHS looks to pass to team mate Waitangi

Tuisuga as he is tackled during their match on Saturday.

Evan Blyth

is tackled

by Zach

Gallagher

of Christ's

College.

SBHS lose close first round encounter

SPORTS

• By Gordon Findlater

SHIRLEY BOYS' High School

have suffered an opening

round defeat in the UC

Championship, losing 27-34 to

Christ's College.

Hosting one of the competition

powerhouses on Saturday, Shirley

Boys led 24-20 midway through

the second half.

However, the tides quickly

turned when they conceded a

penalty try and were reduced to 14

men after intentionally

sending the ball dead in their

own in goal area. Shirley captain

Mitchell Barry, who scored a

first half try and went five from

including an effort from

halfway, then levelled the scores

27-27 after a penalty

conversion with just over

10min remaining.

In the dying stages of the

game Shirley found themselves

camped in their own 22, fighting

to fend off constant pressure from

Christ's.

The visitors power up front

proved too much in the end

though as they bundled their way

over the line to steal victory on

the final whistle.

On Saturday Shirley travel

to Lincoln to face Lincoln

Combined.

SBHS perform a haka prior to the start of their match on Saturday.

style

noun

elegance and sophistication.

synonyms: flair, grace, poise,

polish, suaveness, urbanity, chic,

finesse, taste, class, comfort,

luxury, affluence, wealth,

opulence, lavishness.

WWW .VI S I O N C O LLE G E.CO. N Z

LEARN

MODERN OFFICE

COMPUTER SKILLS

FREE 20 week course.

NZ Certificate in Business (Admin & Computing).

This course will cover Windows 10 and Microsoft Office

(Word, Excel and Publisher). Taught within a business context,

this programme will prepare you for the modern office.

Hours are flexible and can include night classes.

MAGAZINE

STYLE.KIWI

ENROL

NOW

PHONE US NOW ON:

0800 834 834

txt OFFICE to 027 557 8839

COLLEGE

50 Hazeldean Rd,

Addington, Christchurch

A division of ATC New Zealand. (Est 1984). NZQA Accredited.
---
12 Tuesday May 8 2018

Latest Christchurch news at www.star.kiwi

SOUTHERN VIEW

Retirement Villages

Bupa

Parkstone

Retirement

Village

View our great selection

of brand new one and two

bedroom apartments, priced

from $335,000.

Open to view this weekend.

Open days Saturday 12 & Sunday 13 May, from 1pm-3pm

Bupa Parkstone Retirement Village

2 Athol Terrace, Ilam

Call Beth Dunn on 03 341 5700 or 027 837 7632

bupa.co.nz
---
SOUTHERN VIEW Latest Christchurch news at www.star.kiwi

Tuesday May 8 2018 13

Email gilbert.wealleans@starmedia.kiwi

by 5pm each Wednesday

South Library Book

Discussion Group

Wednesday, 10-11am

For those who love reading

and want to share in discussion

with other friendly book lovers.

The group gets together on the

second Wednesday of the month.

Places are limited so please

phone or email to enquire about

availability and cost. There is a

small cost involved.

66 Colombo St

Knit 'n' Yarn

Wednesday, 10.30-1pm

Go along to Linwood Library

for our friendly Craft Corner

sessions. Take your knitting,

crochet or other portable craft

project and enjoy time with

other crafters. Have a look at

their range of books to get ideas

for your next project. Free,

beginners welcome.

Linwood Library, Eastgate

Shopping Centre

Creative writing

Wednesday, 4-5.45pm

Group leader Jennifer works

with group members to craft,

create and develop their own

work. Bring with you some pens

or pencils, (even a laptop), paper,

and any of your wonderful ideas,

story-telling, or art! Talk to any

of the friendly Linwood Library

team for more information.

Suitable for adults and teens. No

charge.

Linwood Library, Eastgate

Shopping Centre

Rummikub Club

Thursday, 10am-noon

Go and join in on a game of

Rummikub, a tile-based game

for two to four players, combines

elements of the card game

rummy and mahjong. There is

no charge to play.

Linwood Library, Eastgate

Shopping Centre

Storytimes/Wā Kōrerō

Thursday, 10-10.30am

Encourage learning through a

love for stories. Storytimes is an

interactive programme including

stories, songs, rhymes and play!

This is a free session.

Linwood Library, Eastgate

Shopping Centre

Beckenham Exercise Class

Friday, 9.30-10.30am

Designed for people

living with long-term health

conditions. Classes generally

occur weekly other than on

public holidays. Ph 0800 663 463

to register.

St Marks Methodist Church,

cnr Barrington and Somerfield

Sts

Go along to the Mid-Week Laughter Club on Wednesday, 6-7pm, with the focus on getting

over stress. It aims to release endorphins and help you relax and lower stress levels. There is

no comedy, stand-up or jokes at this session. Instead, you are encouraged to make yourself

laugh at nothing at all for the purpose of relaxing. Entry is $2. St Marks Methodist Church, cnr

Barrington and Somerfield Sts.

Scrabble @ Linwood Library

Friday, 10.30-noon

Go along to Scrabble club,

there is no obligation, just go

along when you can and join the

friendly group. All materials are

supplied and there is no fee.

Linwood Library, Eastgate

Shopping Centre

Babytimes/Wā Pēpi

Friday, 11-11.30am

Encourage learning through

language. Babytimes is an

interactive programme including

rhymes, songs, stories and

play. There is no charge to go

along.

Linwood Library, Eastgate

Shopping Centre

Spreydon Social Games Club

Saturday, 10am-noon

Join a friendly game or two of

Upwords, Scrabble, cards, Chess,

Mahjong and more.

Spreydon Library, 266

Barrington St

Opawa Farmers' Market

Sunday, 9am-noon

Go along to the farmers

market for organic and delicious

produce from local growers.

Enjoy sipping on a coffee

while wandering around the

market and checking out the

food on offer. From artisan

bread and French pastries to

fresh berries and local cheeses,

there will be something for

everyone.

275 Fifield Tce, Opawa

now bigger than ever

growing with you

SprIng Is here –

It'S Sow Time

how to get the best results from

seeds and seedlings

100% NatIve In

The capItal

Unravelling the secrets of

Otari-wilton Bush

The New Zealand

landscape awards

The people behind

the projects

$7.90 incl. GST

Save our roSeS

How a rose register is protecting our heritage

September 2016 | 100%

It's time

to grow!

New look and more

content than ever!

MeeT LeSTer Brice

A Garden coach

auckland Botanic GardenS

Why we love our public grounds

The magazine for

gardeners who like to get

their hands dirty

SubScribe from

$43. 50*

*6 issues/6 months

ISSN 2423-0219

SUBSCRIPTIONS FREEPHONE

0800 77 77 10

www.gaRdeNER.kiwI
---
14 Tuesday May 8 2018

Latest Christchurch news at www.star.kiwi

SOUTHERN VIEW

#GetBetterResults

The Press audited circulation

46,252 *

VS

audited circulation

149,948 *

Mass Circulation | Mass Readers | Massive results

Advertise with Star Media and let us help you grow your customers, sales and profits.

We home deliver into over 100,000 more homes than The Press. In fact we reach more people with

just one ad than any other Christchurch media channel. Get the Star Media advantage working for

your business today. For a professional, no obligation free consultancy for your business, call us now.

Contact Shane today: 03 379 7100 shane@starmedia.kiwi

www.starmedia.kiwi

*ABC circulation report The Star, Bay Harbour News,

Selwyn Times and North Canterbury News vs Press. ANP
---
2

[Edition datE]

SOUTHERN VIEW Latest Christchurch news at www.star.kiwi

Tuesday May 8 2018 15

HEALTH & BEAUTY

A gut feeling

Digestive health is becoming increasingly important

for improving our overall wellbeing. As there is a

distinct connection between our tummy and our

moods, immunity and even our behaviours, it pays

to follow your gut if you feel out of sorts with these

nutritional enhancer

Dietary fibre is made up of three

types and each play a different role

throughout the digestive tract. it's often

a case of balancing them all and not only

supplementing with just one. to ensure

you get enough fibre in your diet: women

should aim for 25 grams to 30 grams

and men 30 grams to 38 grams each day.

Soluble fibre are found in oats, psyllium,

vegetables, fruits with their skin on and

supplements like Metamucil. insoluble

fibre can be found in wheat bran pasta

and quinoa. resistant starch is contained

in cold cooked pasta, potatoes and firm,

fresh bananas.

Probiotics and prebiotic foods can

help keep the correct pH balance(acidity

to alkalinity) in our intestines. These

'good' bacteria assist with breaking down

fibre in the bowel and produce healthy

stool movements. Probiotics can be

found in supplements, cultured yoghurt,

kombucha drinks and fermented

vegetables. Prebiotic foods are Jerusalem

artichokes and raw garlic, leeks and

onions.

Poor gut health could be caused by,

but not limited to, high stress levels,

caffeine, smoking or inadequate water

consumption. if you suffer from

prolonged periods of reflux, constipation,

diarrhoea or cramping and nausea, seek

medical advice. your doctor may help

identify possible intolerances or allergies.

True

Who thought

DENTURES

and false!

could look this

natural?

• Full dentures • Metal partial dentures

• First-time immediate dentures • Implant supported dentures

style

noun

elegance and sophistication.

synonyms: flair, grace, poise,

polish, suaveness, urbanity,

chic, finesse, taste, class,

comfort, luxury, affluence,

wealth, opulence, lavishness.

VEBITE

STUNNING: A beautiful new denture for

a young female patient

AGING GRACEFULLY: Natural teeth for

a gentleman patient in his 80's

HOLLYWOOD: It's all white for this

female patient in her 60's

These stunning lovebite full upper and

lower dentures have been expertly crafted by

internationally-recognised dental technician

Richard Greenlees at his Christchurch studio.

The combination of Richard's skill, experience

(including 15 years in London's prestigious

Harley Street) knowledge and revolutionary

techniques allow him to create beautiful

bespoke false teeth that truly resemble those

in nature and reflect each patient's individuality

and unique character.

402 Montreal Street

Christchurch | P. 379 1222

By appointment only.

Consultation fee applies.

lovebite.com

MAGAZINE

STYLE.KIWI

Richard will personally guide you through the entire process to create

teeth with small nuances in the fabrication, colour and shape. Your beautiful new

lovebite dentures will boost your confidence and make you look and feel year's younger!
---
16 Tuesday May 8 2018

Latest Christchurch news at www.star.kiwi

SOUTHERN VIEW

EXHIBITORS

BOOK NOW

June 29 - July 1

vanessa.fleming@starmedia.kiwi

021 914 565
---
SOUTHERN VIEW Latest Christchurch news at www.star.kiwi

Tuesday May 8 2018 17

REAL ESTATE

Premium Prebbleton

10 Farthing Drive, Prebbleton

4 bedrooms | 2 bathrooms | 2 toilets | 1 living room | 1 dining room | 2 car-garage | 4 off-street parks | Listing #FM5413

In a world of sameness, the cream always

rises to the top, and this extraordinary home

is no exception.

Upon entry, the scale and space is

immediately apparent. Built with deliberate

specifications, defined around the ultimate in

family living and freedom, there is no doubt

this property is one of a kind in Prebbleton.

The living area, with huge proportions,

sets the tone for the rest of the house. Full

length windows with sliding doors extend

the already massive living outside into a

generous paved patio, and back yard. High

ceilings amplify the space, which leads to an

entertainer's dream of a kitchen, complete

with engineered stone benchtops, belling

stove, and a big scullery and pantry set off

the main kitchen. Sleek modern design

complements the other living features,

including remote controlled blinds, speaker

system, and TV above the large gas fireplace.

With four bedrooms, options abound for

either family, work from home or guests.

All bedrooms have ample storage, with the

master boasting a king-size walk in robe and

beautifully appointed ensuite with double

shower. A sliding door from the master to a

private spa tops off the experience that awaits.

The yard has been designed to maximise

lawn and living, and planted to allow for

privacy. Vege patches are an added extra for

those with green thumbs.

Heating is more than covered with two

heat pumps to complement the gas fire, and

under tile heating gives the added touch of

luxury. Double glazing throughout ensures

that the home retains its heat with minimal

input required.

The double garage has been designed with

added space either size, allowing for extra

storage, and even has a large wardrobe set in

to cleverly utilise space. The laundry is a great

size, once again with added storage outside of

the main thoroughfares in the house which

cleverly creates cleaner lines and less clutter.

Only a short walk into the Prebbleton

Village, and short drive to the motorway

into the city, this location is popular for very

good reason. Schools and childcare nearby

also give great options for families, and the

neighbourhood is very quiet and family

oriented.

Open Homes Wednesday, Saturday and

Sunday 1:00pm - 1:45pm.

See you at the Open Homes or to arrange

a private viewing of this property call Joy

Butel or Alistair Hazeldine of Harcourts

Grenadier Ferrymead (Licensed Agent

REAA 2008) on 384 7950 or Joy mob: 021

353 280 or Alistair mob: 027 572 1555

Visit www.star.kiwi

anytime, anywhere!

Breaking news,

delivered to

your pocket.

Fire rages, homes at risk

•news •CTV •sport •districts •schools •lifestyle •opinion •what's on

www.star.kiwi
---
18

Latest Christchurch news at www.star.kiwi

Tuesday May 8 2018

SOUTHERN VIEW

Classifieds Contact us today Phone our local team 03 379 1100

Pets and Supplies

Situations Vacant

Trades & Services

Trades & Services

ARCHGOLA

Enjoy outdoor living all year round

• Quiet rural setting

• Modern purpose built facility

• AsureQuality approved

• Caring qualified staff

• Inspections encouraged

69 Avoca Valley Road, Heathcote.

Ph. (03) 3844028 Email. info@avocacats.co.nz

www.avocacats.co.nz

Computers

ALL

YOUR

COMPUTER

WORRIES SOLVED!

*$30.00 off your first

service with this coupon!*

No problem too big or

small from home PC's to

business networks. PC

slow? An end to Viruses,

Spyware, and Clogged

Systems. Safe secure

hassle-free computing.

Lost files recovered.

Microsoft Certified,

MCSE, MCP+l. 30 years

experience. Call Andrew

Buxton this week on 326-

6740 or 027 435-7596

for $30.00 off* Custom

Computers Christchurch

Curtains

www.curtainfabric-outlet.com

Fashion Designs & Colours

Discontinued Designs

End of Lines Bargain Prices

Call at Our Shop

CURTAIN FABRIC OUTLET

71 Hawdon St Sydenham

Ph 366-5026

Gardening

& Supplies

A GARDEN OR

LANDSCAPING TIDY

UP? Shrub, hedge &

tree pruning, Lawns,

Gardening, consistently

reliable general property

upkeep, Dip. Hort. 10

yrs experience, One off

tidy ups or on-going

service. Nick's Property

Maintenance. Keeping

your garden beautiful.

Free Quote. Ph. 942-4440

Holiday

Accommodation

QUEENSLAND SUN-

SHINE COAST AUSTRA-

LIA Resort, Ocean Views,

Balconies, Self Contained,

1 or 2 B/R Ensuite,

Heated Pool, Spa, Sauna,

Free Internet, Shops,

Restaurants, Tennis, Surf

Club & Patrolled Beach,

Public Transport at door.

Ask for our SEASONAL

SPECIALS. Phone 61 7

544-35011 Email: reception@mandolin.com.au

www.mandolin.com.au

DESIGN

We offer professional

design services.

PRINT

We print your gloss

mailers and letterbox

flyers.

Delivery

Canterbury wide

coverage or targeted

zone deliveries.

Wanted To Buy

TOOLS Garden,

garage, woodworking,

mechanical, engineering,

sawbenches, lathes, cash

buyer, ph 355-2045

ADVERTISING

ACCOUNT MANAGER

If your serious about selling and like to

achieve outstanding results, then you are

the person we are looking for!

We are looking for someone who has:

• Experience in selling B2B

• Proven success record of winning new

business

• Maintain and grow existing client base

• Listen and relate well to our clients to

provide the best solutions

We will offer you an excellent base salary as

well as a commission system with no cap.

You will be part of a successful team

selling our free newspapers, magazines

and digital solutions to our clients, which

are all experiencing strong growth in our

marketplace.

I am keen to hear from you, if you can

take me through your proven sales process

and deliver an intelligent sales solution to

customers.

It's an exciting and fun time to join our

media team.

You will get support and structure provided,

to ensure your success in our team.

Please send your application and CV via

email to Steve McCaughan

steve@starmedia.kiwi

Letterbox Advertising

Flyers and Newspaper Inserts

FREE QUOTES

Contact: Michaela Malloch

P: (03) 379 7100 or 021 932 177

E: michaela.malloch@starmedia.kiwi

• Commercial Carpet Cleaning

• Residential Carpet Cleaning

• Upholstery Cleaning

• Stain & Odor Removal

• Tile & Grout Cleaning

NEED HELP

WITH YOUR

CARPET CLEAN?

Simply give us a call

on 021 035 8989

We will get the job done

in a professional way.

ROOF

PAINTING

Rope & harness

a speciality,

no scaffolding

required,

30 years of

breathtaking

experience.

FREE QUOTES

Exterior staining,

exterior painting,

moss and mould

treatment and

waterblasting

Phone Kevin

027 561 4629

AAA HANDYMAN

licensed carpenter

LBP, all property and

building maintenance,

repairs, bathroom/shower

installations, with free

quotes 03 383 1927 or 027

245 5226 ciey@xtra.co.nz

BUILDER

For all building work

but specialist in bathroom

renovations, 30 yrs

experience, with service

and integrity. Free Quotes.

Ph Lachlan 383-1723 or

0274 367-067.

CARPET & VINYL

Laying. Repairs, uplifting,

relaying, restretching.

Email jflattery@xtra.co.nz

ph 0800 003 181 or 027

2407416

IRRIGATION

Fed up with standing

around with a hose? Need

an irrigation system for

your garden? Ph Andy 03

2601378 or 0211419199.

englishgrdnr@gmail.com

PAINTING

& Decorating Wingfields

Contracting, all interior

& exterior painting & all

forms of interior plastering

& jib fixing, ph Mark 021

171-1586 or 355-5994

PAINTER

Quality work, I stand by

Canterbury Ph Wayne 03

385-4348 or 027 274 3541

PAINTER AVAILABLE

All aspects in painting.

Very competitive in roofs

and fences. Please call 027

241-7471 or 335-0265

PLASTERER

Gib Stopping, Small

job specialty. 30 + years

experience. Ring 0800

387-369

PLUMBER

ALF THORPE

PLUMBING Certifying

Plumber for all types of

plumbing, maintenance,

spouting, alterations etc.

Phone 352-7402 or 0274-

350-231

• House, deck, carport & window canopy etc

• Warm & dry in winter

• UV protection for summer

• Customised & Tailored

• Café curtains fitted

• 5 year warranty

15 months

INTEREST FREE

Normal lending criteria apply

Chris Thorndycroft

Grant Stewart

Ph 0508 272 446 | www.archgola.co.nz

From new builds to small home alterations, we

specialise in turning your dream home ideas into reality.

Call the name you can trust!

Ph 377 0034

Native PlaNts

naTiVe planT nursery

Trees for

CanTerbury

speCialisTs in

• Groundcovers

• Ferns

• Grasses

• Small to big

sized shrubs

BUILDER

www.dimocks.net.nz

• Shelterbelts

• ALL grades

• Expert advice

• Planting now

Ask us about Super

Gold Card discounts

Helping our community grow

42 Charlesworth Street

Ph/Fax (03) 982-1028 | OPEN 7 DAYS

www.treesforcanterbury.org.nz

ROOFING REPAIRS

Fully qualified, over 40

yrs experience. Ph John

027 432-3822 or 351-

9147 email johnchmill@

outlook.com

SPOUTING CLEANING

Spouting Unblocked,

Cleaned Out and Flushed

Out. Also Full Handyman

Services Available. Call

Trevor 332 8949 or 021

043 2034

STONEMASON

BRICK

&

BLOCKLAYER,

Earthquake Repairs, Grind

Out & Repoint, River/

Oamaru stone, Schist,

Volcanic Rock, Paving,

all Alterations new & old,

Quality Workmanship,

visit www.featureworks.

co.nz or ph 027 601-3145

TILER/CARPENTER

35 years exp, no job

too small. Ph Ross 027

4311440.

TILER/CARPENTER

35 years exp, no job

too small. Ph Ross 027

4311440.

T.V. SERVICE CENTRE

Repairs, tvs, microwaves,

stereos, DVD. Aerial

installations and kitsets,

480 Moorhouse Ave, ph 03

379 1400

T.V. SERVICE CENTRE

Repairs, tvs, microwaves,

stereos, DVD. Aerial

installations and kitsets,

480 Moorhouse Ave, ph 03

379 1400

VHS VIDEO TAPES

& all camera tapes

converted to DVD, video

taping special occasions,

www.grahamsvideo.co.nz

ph 03 338-1655

WINDOW CLEANING

Average 3 bdrm house

inside or out $40. Both

$70. Phone Trevor 344-

2170
---
SOUTHERN VIEW Latest Christchurch news at www.star.kiwi

Tuesday May 8 2018 19

What's On

Entertainment

To advertise, contact

Jo Fuller 027 458 8590

jo.fuller@starmedia.kiwi

Celebrating five decades

of making music

NZ COUNTRY music legend, Brendan

Dugan, celebrates 50 years of

entertaining with a special anniversary

concert at the Hornby WMC on Sunday

27th May.

Brendan became an overnight

sensation when he won TV talent show,

New Faces in 1968.

Since then he has performed

countless live shows (both here and

overseas); made numerous TV

appearances; and has an impressive

catalogue of recordings to his credit.

Recognised for his efforts, Brendan

has been honoured with the prestigious

title of NZ Entertainer of the Year. He

has also been awarded with a Scroll of

Honour by the NZ Variety Artists Club.

For the 50th Anniversary Concert

Brendan will be joined on stage by his

father Pat Dugan, sister Annette Dugan

Mick, and well known country music

artists Jodi Vaughan, Aly Cook, and

Maree Humphries. Providing the

backing is e Andy Gilmour Band

with Wayne Allen & Cameron Walsh.

e show, that takes place at the

Hornby WMC on Sunday 27th May,

starts at 2pm. Tickets $20 on sale now at

the club office, Carmen Rd, phone 03

349 9026.

'Famous for their roasts!'

RESTAURANT & CAFÉ

Cooked Breakfasts

Check out our extensive breakfast

menu from Continental to Cooked

We are open from 6.30am

Seniors SPECIAL

Two courses $20

Soup/Roast or

Roast/Dessert

Special available lunch only

Monday - Saturday 12pm - 2.30pm

What's On

TUESDAYS &

THURSDAYS

MEMBERS LUCKY

CARD DRAW

CLUB

BISTRO

DOWNSTAIRS

Open Tuesday to Saturday

12pm - 2pm & from 5pm.

$19

UPSTAIRS

The

RACECOURSE HOTEL

& Motorlodge

118 Racecourse Rd, Sockburn,

www.racecoursehotel.co.nz

Dine by the Beach

PIERVIEW

RESTAURANT

Open from 5.30pm Friday, Saturday

and Sunday, and for Sunday Brunch

from 10.30am to 2pm.

BUFFET LUNCH

Don't forget Mum!

Mother's Day

Sunday 13th May

TREAT THE

FAMILY!

Kid's

2 course

special

$13

Christchurch. Ph 03 342 7150

MONTH-END

SUNDAY NIGHT

BUFFET $25pp

Sunday 27th MAY,

from 5.30pm

BOOK NOW!

SUNDAY 13th MAY

from 11.30am

Bookings essential on 388 9416.

$25 PP

Due to Mother's Day, the restaurant will not be open for our

regular Sunday Brunch, and will be open for normal a la carte

dinner on Sunday night.

202 Marine Pde | Ph 388 9416 | www.newbrightonclub.co.nz | Members, guests & affiliates welcome

Lunch & Dinner

All you can eat, 7 days

Bookings Essential

PH 386 0088

fb.com/GardenHotelRestaurant

www.gardenhotel.co.nz

SERVING

HAPPY HOUR

5PM - 7PM DAILY

OUR CABINET ITEMS

ARE HOMEMADE

CREATED FRESH ON SITE DAILY

$12

LUNCH

SPECIALS

Live Music:

6PM.SAT 12-MAY

COFFEE

HAPPY

H O U R

2PM-4PM

DAILY

$3.50

Offer available for a limited time

and includes tea, hot chocolate

MON: ROAST MEAL

TUE: FISH & CHIPS

WED: FISH BURGER

THU: ROAST MEAL

SAT: FISH & CHIPS

AVAILABLE

FROM

11.30AM-2PM

FOR A

LIMITED TIME

PHONE 385 8880 FIND US ON FACEBOOK fb.com/GBCCHCH

THE GARDEN HOTEL COMPLEX | 110 MARSHLAND RD

www.gardenhotel.co.nz | phone 385 3132

H ORNBY

WORKINGMEN'S

CLUB

FAMILY FRIENDLY DINING

Club CAFE

OPEN DAILY

LUNCH & DINNER

GF & V options available

Chalmers Restaurant

CARVERY DINNER $22.50

EVERY FRIDAY & SATURDAY FROM 5.30PM

Early Bird Special

5.30pm - 6.30PM

Family Friendly

FREE

DESSERT

PLAYING

THIS WEEKEND

SATURDAY

4.30PM: BARROSS

8PM: IAN MAC

SATURDAY

7.30PM: UPSTAIRS

RETRO ROCKIN'

TICKETS $20. DOOR SALES $25

COMING UP

SUNDAY 27 MAY

BRENDAN DUGAN

50TH ANNIVERSARY SHOW

feat. FAMILY & FRIENDS

2PM. TICKETS $20

SATURDAY 9 JUNE

A TRICK OF THE LIGHT

THE PINK FLOYD PROJECT

SATURDAY 23 JUNE

STARS IN THEIR EYES

feat TONY WELLINGTON

AS ROY ORBISON and

EDDIE SIMON AS LEO SAYER

The Hornby Club | ph 03 349 9026 | 17 Carmen Rd | Hornby

www.hornbywmc.co.nz | Members, guests & affiliates welcome
---
20 Tuesday May 8 2018

Latest Christchurch news at www.star.kiwi

SOUTHERN VIEW

GRAND OPENING!

OUTLET

STORE

Barbadoes St

99 FERRY RD, CHRISTCHURCH CENTRAL

St Asaph St

Ferry Rd

OUTLET

STORE

Fitzgerald Ave

GOT A SUPERGOLD CARD OR STUDENT ID?

TAKE AN EXTRA

10% OFF

MANCHESTER &

BEDROOM FURNITURE

FREE

DELIVERY *

ON LOUNGE SUITES

BEDS & WHITEWARE

BRING IN

YOUR TRUCK/

TRAILER &

TAKE AWAY A

BARGAIN!

WINZ QUOTES

ACCEPTED

EVERYDAY!

TALK TO US

ABOUT OUR

FINANCE

OPTIONS!

BARTER, HAGGLE & SHAKE HANDS ON A DEAL JUST FOR YOU!

FRIDGE FREEZERS • WASHING MACHINES • DRYERS • COOKING • SMALL APPLIANCES

HEATING • LOUNGE SUITES • DINING SUITES • BEDROOM SUITES • BEDS & HEAPS MORE!

Valid Tuesday 1st - Sunday 13th May. Outlet Store items are over stocked, end of line, scratch & dent, ex display, ex repair items and more.

*Delivery location must be within the Christchurch metropolitan area.