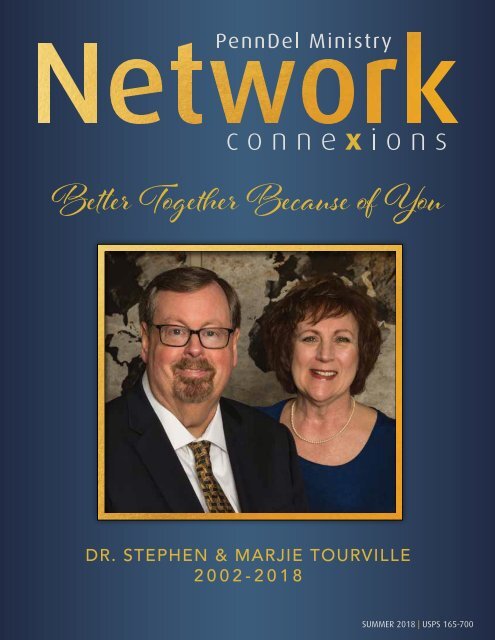 You also want an ePaper? Increase the reach of your titles
YUMPU automatically turns print PDFs into web optimized ePapers that Google loves.
Better Together Because of You

DR. STEPHEN & MARJIE TOURVILLE

2002-2018

SUMMER 2018 | USPS 165-700
---
2018 PENNDEL DISTRICT COUNCIL

MAY • 7-9 • 2018

GT CHURCH • READING, PA

SCHEDULE OF EVENTS

7

MONDAY, MAY 7

1:00PM

4:00PM

6:00PM

FREE NIGHT

EXHIBITORS BEGIN SET-UP

REGISTRATION OPENS IN LOBBY

REGISTRATION CLOSES

CONNECT ON YOUR OWN

9:00PM YOUTH LEADERS & UNDER 40

BOWLING CONNECTION EVENT

GUEST SPEAKER

WEDNESDAY, MAY 9

DOUG CLAY

GENERAL SUPERINTENDENT

ASSEMBLIES OF GOD, USA

Doug Clay was elected last year as General

Superintendent of the Assemblies of God. Prior

to his present ministry, he has served on the

national level as General Treasurer and Youth

Director. In the Ohio District he was District

Superintendent, District Youth Director and

Lead Pastor. He is a 1985 graduate of Central

Bible College in Springfield, Missouri.

Doug Clay has a passionate love for the

local church; he is a church health enthusiast

and he effectively equips leaders to grow

in their calling. He is the author of Ordered

Steps and Dreaming in 3D.

8

9

TUESDAY, MAY 8

8:30AM

9:30AM

12:00PM

1:45PM

6:30PM

REGISTRATION REOPENS

SACRED ASSEMBLY

PRAYER, MEMORIAL &

COMMUNION SERVICE

Rev. Bryan Koch

SENIORS LUNCH

YOUTH LEADERS LUNCH

CHILDREN'S LEADERS LUNCH

CREDENTIALED WOMEN'S LUNCH

BUSINESS SESSION

RETIREMENT BANQUET

"Better Together … Because of You"

WEDNESDAY, MAY 9

8:30AM

9:30AM

11:45AM

1:45PM

7:00PM

REGISTRATION REOPENS

KEYNOTE / CHURCH PLANTING

Dr. Stephen R. Tourville

LADIES LUNCH

BUSINESS SESSION (if needed)

ORDINATION / COMMISSIONING

OF NEW DISTRICT SUPERINDENDENT

Rev. Doug Clay

REGISTER ONLINE BY MAY 1

PENNDEL.ORG

CONTACT INFORMATION

For more information, please

contact the PennDel Ministry Center at

717.795.5921 or danielle@penndel.org.
---
SUPERINTENDENT

STEPHEN R. TOURVILLE

717.795.5921

supt@penndel.org

DARE TO DREAM

BIG TOGETHER

Sixteen years ago the Lord put a dream in my heart for the waters of His

Spirit to rise across our Network so that all ships would rise together as He

worked among us.

We often think of this as our dream, but in truth this is

God's desire – His dream. A part of that dream is the

sense of unity we experience when we see ourselves

as a part of the team God has raised up to impact

Pennsylvania and Delaware with the Gospel of Jesus

Christ. Indeed, none of us can change the world

through our own efforts, but it is truly incredible what

can occur when we join hearts and efforts to reach

those God has placed around us. We experience what

it means to be "Better Together."

Marjie and I have been honored to serve you as

your Superintendent these past years. Your love

and support for us has created an atmosphere

where God's presence has been felt and His favor

experienced. As we look to the future, it is our prayer

that our future leadership will experience the same

prayer, support, encouragement and love that you

have afforded us. We thank you for your care for us

and trust you will commit to follow those who will lead

into the future.

Our gratitude goes out to our excellent staff, both

departmental leaders and support personnel at the

Ministry Center and the Conference Center. Their

excellence, passion and loyalty have established a

context where unity is evident. Our presbyters have

led with great integrity and passion for your sections

and churches. Their commitment to God, you and our

fellowship has been a source of great encouragement

to me. Our ministers, churches and followers of Jesus

across our Network made serving in this capacity a

joy that provides significance for all we do. Thank

you from the bottom of our hearts for your prayers,

love and passion to be people of the Spirit and of the

Word as we have labored together for His Kingdom.

May God continue to grace us with His presence until

He comes again.

Network connexions | Summer 2018 | 3
---
A

CONVERSATION

WITH

PASTOR

STEVE

Pastor Steve has been passionate about empowering individuals to

fulfill their calling in serving God through Pentecostal ministry.

Achievements

& Awards

BACHELOR OF SCIENCE IN BIBLE

University of Valley Forge

MASTER OF ARTS

Assemblies of God Theological Seminary

MASTER OF DIVINITY

Evangelical Seminary

DOCTOR OF MINISTRY

Assemblies of God Theological Seminary

MASTER'S LEVEL COURSES

Pittsburgh Theological Seminary,

Biblical Seminary

Philadelphia, Princeton

Theological Seminary

BOADIE AWARD FOR EXPOSITORY

Evangelical Seminary Preaching

2013 ALUMNI OF THE YEAR

Assemblies of God Theological Seminary

2017 ALUMNI OF THE YEAR

University of Valley Forge

BY DONALD J. IMMEL

What was it like growing up in Pastor/Professor

Tourville's home?

"It was normal to me. I just figured that everyone's father

studied a lot and loved (reading) books. Due to Dad's

occupation, there wasn't much money. But that was normal

to me as well. I didn't realize until later that we were rather

poor. I just figured that Dad was tight!"

Tell me more about your dad. How did he come to faith?

"I'm not sure exactly. He was just inclined as a young man

to serve the Lord. When he was in Guam he was an airplane

mechanic. He didn't hang around soldiers who caroused and

lived that kind of a lifestyle. His friends were those who shared

the faith. In fact, although there wasn't an atmosphere on

base where religion was cultivated, Dad was able to get his

commanding officer to provide a building for worship."

4 | Network connexions | Summer 2018
---
How were you called into ministry?

"I was called into ministry during my junior year in high school. My

call to ministry was more of a process than an event – some people

have that critical moment when God speaks to them at the altar

or as a result of an evangelist or missionary's ministry. That wasn't

the way it was for me. I was processing my faith and what I believe

("Do I believe what I believe, or do I believe what I believe because

my parents believe it?"). It was during this time that I came to the

conviction that God was calling me into the ministry.

What was the most outstanding "pastoral" moment that comes

to mind?

"Without a doubt the special times around the altar. The most

prominent memory that comes to mind is at the altar at Trinity in

West Chester. A man named Scott was literally pounding on the floor

while at the altar. I went over to him and said, 'Scott – is everything

alright?' Scott looks up and says, 'I'm free – I'm free.' I didn't know

that he had been struggling with an addiction. That night he was

delivered. What's more is that to the best of my knowledge - he lived

it out."

How about the worst moment?

"I think that I've shared it so many times most people will know…

there was a guy who protested me by carrying a cross around the

perimeter of the parking lot of our church."

How did that situation resolve?

"I was encouraged by some to dismiss him from the church. But he

had a teenage daughter that would have been deeply affected by

that, so I just prayed that the Lord would take care of it. Although he

had threatened to never leave the church, within a few weeks he left

and never came back."

Do you have a dream for PennDel after you retire?

"Early on in my role as Superintendent, I had a picture in my mind

(a "vision" if you will) of the water level rising, and hoping that all

the ships (our churches) would rise with it. I believe that the dream

that God has for our Network goes far beyond me. I have been a

small part of it, but that "dream" involves reaching the people of

our district, our country, and the world for that matter. I think of the

scripture that says, "…when David had served God's purpose in his

own generation, he fell asleep…(Acts 13:36, NIV)." I don't plan on

dying soon, but I feel that I've served God's purpose for the time I've

been superintendent."

"The dream I have is that the water will

keep rising, and that all of our churches

will rise with it."

Ministry

History

1972-1973

YOUTH PASTOR

East Greenville AG,

East Greenville, PA

1973-1974

YOUTH PASTOR

First AG, Erie, PA

1974-1976

SENIOR PASTOR

Valley View AG, Knoxville, PA

1976-1978

SENIOR PASTOR

Faith AG, Hazleton, PA

1979-1982

SENIOR PASTOR

New Life Center, Ford City, PA

1982-1986

SENIOR PASTOR

Faith AG, Hazleton, PA

1986-1998

SENIOR PASTOR

Trinity AG, West Chester, PA

1996-1998

PRESBYTER

Greater Philadelphia Section

1998-2000

DISTRICT HOME MISSIONS

DIRECTOR

Penndel Ministry Network

2000-2002

INTERCULTURAL MINISTRIES

DIRECTOR

General Council U.S.

Missions, Springfield, MO

2002-2018

DISTRICT SUPERINTENDENT

PennDel District

Network connexions | Summer 2018 | 5
---
Marjie Tourville

OUR PASTOR'S WIFE,

OUR FRIEND

By Robin Immel

God gives gifts to the body of Christ: our

salvation, spiritual gifts, ministry gifts, and

even people. He blessed our PennDel

Ministry Network in 2002, when Marjie

(Marjorie) became our Network pastor's wife

as her husband (Pastor Steve) was elected

as Superintendent.

The day Pastor Steve was installed as Superintendent

started with a unique challenge for Marjie. Her

morning began with a dental emergency; one that

left her with a front crown missing! Thankfully, Marjie's

sister (Jeanne Wessman) was a dental assistant for

a Carlisle dentist. Later, when Marjie walked to the

front seat and looked to the platform, she gave Pastor

Steve a full, beaming smile!

Marjie completed her B.A. degree in Leadership

Management at Eastern University at age 46,

and for the past 12 years has been Pastor Steve's

Administrative Assistant. During the years when Pastor

Steve was lead pastor, Marjie enjoyed both her work

in the corporate world and her role as pastor's wife. In

West Chester she was Missionette's Coordinator and

Sectional Missionette Rep.

Across our Network, PK/MKs (Pastor and Missionary

Kids) have an accumulation of hand-knitted hats

and scarves. Over the years it has been a passion of

Marjie's to make and distribute them at the annual

PK/MK Retreat. Another event near to Marjie's heart is

the Women in Ministry Retreat; an event designed to

bless ministry wives and women in ministry.

When asked what her plans are after retirement she

says, "More time with grandchildren!" Steve and

Marjie have two children: Jason and his wife Rene'

have four children and live in Shrewsberry, PA. Their

daughter Julie and her husband, David, have two

children and live in Springfield, MO. While Marjie is

retiring from one position, great joy is ahead as she

assumes her role as "full-time Me-Maw."

After my husband, two young daughters and I moved to a new church

and town, I found myself discontented and disillusioned. I had put pressure

on myself that I wasn't meant to carry. I knew I needed help before

I jeopardized my family, ministry, and future.

After Ministers' Enrichment, the Lord clearly spoke to me that I needed

a coach NOW! I emailed Marjie and shared my struggle. I asked if she

would recommend a local woman ministry-leader to coach me through

this trying time. I stepped out, was vulnerable, and asked for help. Marjie

responded a day later offering HERSELF to coach me! For the next year,

she and another woman in ministry and I met together monthly; bearing

one another's burdens and praying for each other.

Marjie went above and beyond the call of duty for me. Marjie gave,

prayed, counseled and coached. My life will never be the same because

you took the time. Thank you, Marjie!

Christa Fowler

I was at a Women in Ministry Retreat in 2002;

the year Pastor Steve became Superintendent.

I was new to the district, and had no friends. At

a jewelry-making class, a lady asked if she could

sit with me. We chatted easily and began making

our jewelry.

Someone announced, "Ladies, this is our new Superintendent

and his wife." The lady beside me stood up and smiled at everyone. I

never expected that someone in her position would be nice to me. She

was the superintendent's wife, but was being a "regular" person like

me. That was the beginning of a treasured friendship with dear Marjie!

Darleen Newman

The hats and scarves that Marjie made were one

of the things I looked forward to most every year!

PK/MK Retreat was my favorite PennDel event of

the whole year! It was such a great feeling walking

into dinner the first night and seeing all the hard work Marjie had done

just for us PKs/MKs. It made us feel so special.

Each hat and scarf came with a scripture tied to them with a piece of

yarn. I still have them as well as the hats and scarves I collected over

the years. That simple gesture meant the world to me growing up and

so does Marjie!

Marjie sowed seeds into our lives with each stitch she knitted.

Marjie is incredible!

Jolyn Jones

6 | Network connexions | Summer 2018
---
ASSISTANT SUPERINTENDENT

Bryan Koch

610.678.0266 ext. 224

bryankoch@gtaog.org

DARE TO DREAM BIG...

TOGETHER

What I want to write about to you today is

something that God desperately desires for

his people…UNITY.

There are two things that the enemy fears and works day and night to

undo. He wants to fight against our dreams and the dreams we dare to

fulfill together!

It is something which Jesus himself prayed for just before He went to the

cross. John 17:20-21 says, "I am praying not only for these disciples but

also for all who will ever believe in me through their message. I pray that

they will all be one, just as you and I are one—as you are in me, Father,

and I am in you. And may they be in us so that the world will believe you

sent me."

Unity is the one thing that the Bible says will convince people the church

has something the world does not. It is one of the big things that the Holy

Spirit is meant to accomplish.

When I speak of unity, let me say it straight that I'm not talking about:

• UNION: when you are bonded with someone with whom you may

not have a common bond.

• UNIFORMITY: when everyone looks alike and thinks alike.

• UNANIMITY: where everybody ought to always agree on everything.

I don't expect either uniformity nor unanimity to exist in our church.

But what I do want, what God desires and what we must have, is unity!

By unity, I mean a oneness of heart, a similarity of purpose, and

an agreement on truth. This is how I believe the church needs to

"Dare to Dream Big Together!"

The enemy's strategy to defeat the church is to ''divide and conquer,"

which is no match for a united church, no matter what size the church

may be. Satan cannot defeat a united church that Dares to Dream

Big Together because there is no place where he can attack the body.

Every part is covered.

By unity,

I mean a

oneness of

heart,

a similarity

of

purpose,

and an

agreement

on truth.

A big part of Steve and Marjie's legacy will be what they have spoken over us, how

they have modeled the way for us and reminded us that we are "Better Together,"

and we will be… if we continue to Dare to Dream Big…Together!!

Network connexions | Summer 2018 | 7
---
SECRETARY/TREASURER

Donald J. Immel

717.795.5921

don@penndel.org

With The Lord:

About People:

Ministers Transferring In:

Krowitz, Gregory S (Ordained) from Southern California

Earle, Sylas LJ (Licensed) from New York

Gibney, Stephen S (Licensed) from New Jersey

Snavely, Timothy E (Ordained) from Appalachian

Yunghans, Glen A (Ordained) from Northern New England

Ministers Transferring Out:

Davis, Cassie A (Certified) to Potomac

Dennard, Robert W (Licensed) to S Texas

Dudiak, Johnathan C (Licensed) to Potomac

Gibbons, John V (Ordained) to Potomac

Rutherford, Thomas (Ordained) to Southern Missouri

Wirmel, Joey L (Certified) to Ohio

Wirmel, John M (Licensed) to Ohio

New Credentials:

Barco, Kristine (Certified)

Goldsborough, Eric (Licensed)

Hall, Forrest (Licensed)

Sederwell, Kyler S (Licensed)

About Churches:

Parent Affiliated:

Treeline Church- – South Fayette, PA

Campus Pastor – Brian Henry

Lead Pastor – Jeff Leake

New Trans District PAC's in PennDel:

Worship Church – Bethlehem, PA

Trans-PAC from New Jersey District

THOMAS LAZAR, 90, went home to be with the Lord

on January 28, 2018. Thom was a pastor for over forty

years to several Delaware churches. He retired in 1993

after 38 years of ministry at Newark First Assembly of

God Church (now Parkview AG). He was preceded in

death by his wife of 61 years, Irene Lazar.

MIRIAM OWEN, 92, went home to be with the Lord

on February 2, 2018. Miriam assisted her late husband,

Robert, in pastoring churches throughout Great

Britain, Wisconsin and PennDel. Together, Miriam and

Robert traveled extensively spreading the gospel

message.

SHARON KOLENDA, 48, went home to be with

the Lord on February 9, 2018. Sharon was the Lead

Pastor's Wife, Children's Pastor and Director of the

Homeschool Co-op at Glad Tidings AG, Bloomsburg.

She is survived by her husband, John and five children

at home. She is the daughter of Janice Harding and

the late Rev. Harold Harding.

Pastor Steve and I became presbyters together in 1997. A few

years later Pastor Steve became Assistant to the Superintendent,

AG Intercultural Ministries Director, and of course PennDel District

Superintendent. It has been a special pleasure to serve with Dr. Stephen

Tourville! His permission-giving style has exemplified transformational

leadership that is both Spirit-filled and pastoral. He and Marjie have

cared for our churches and ministry family with personal attention

despite the heavy demands of the role they have fulfilled. Our lives and

ministries are richer because of the manner in which they have served!

8 | Network connexions | Summer 2018
---
WORLD MISSIONS

Donald J. Immel • 717.795.5921 • don@penndel.org

2018 MISSIONS PROJECT PARTNERSHIP!

FARES FOR MISSIONS

For the past three decades, Fares for Missions has assisted our

career missionaries by supplementing their "00" account. Once

a newly appointed missionary schedules 10 services and raises

$750 per month in support, they can begin to draw a salary from

their account in Springfield. Many missionaries will initially drive

that account into the red because they are taking out more than

they have received. It takes weeks and months of itineration for a

missionary to get back into the black. PennDel missionaries have

the advantage of a loving and supportive Network that infuses

$5,000 into their operational budget from Fares For Missions.

Additionally, Fares for Missions also provides assistance with

outbound airfare (hence "Fares for Missions!") for our missionaries.

This relieves some of the pressure, and ultimately enables our

missionaries to get to the field months before their counterparts

from other Districts.

THANK YOU for your prayerful consideration of our 2018

PennDel World Missions Project.

MA2GO Fund

The Missionary Associate program was initially developed to

provide a longer-term missionary opportunity for those wishing

to serve our missionaries for a time period greater than an AIM

or MAPS assignment. The Missionary Associate program gained

traction and has now become a pipeline for individuals, couples,

or families who may feel that career missions is a distinct possibility

for their life. Many are in the process of obtaining ministerial

credentials. Jeff Hartensfeld reported that nearly half of

the career missionary candidates last year were first missionary

associates.

There is sacrifice involved in serving as an MA. I know of three

MA's who sold their home and used the proceeds to help fund

their budget. That is the level of commitment being displayed by

these missions-minded warriors. Would you consider a partnership

with either a one time gift or monthly support for the

MA2GO fund?

OPPORTUNITIES TO CONTRIBUTE:

• Wednesday, May 9 during the 7 pm Summit Service

• Online giving: www.penndel.org – myPennDel account

• Send check(s) to: PennDel Ministry Network, 4651 Westport Drive, Mechanicsburg PA 17055.

Please indicate on the check: Fares for Missions or MA2GO Fund.

MISSIONARIES ITINERATING: The following PennDel Missionaries

are currently itinerating and would appreciate an opportunity to share

their vision and heart for their World Missions assignment:

Dr. Kevin & Wendy Beery (Europe) kevin.beery@agmd.org

Paul & Kristin Mathias (Sensitive) mathiasfamily@oikosmail.com

Ron & Amy Jones (Eurasia) Ronald.jones@agmd.org

Leah & Ethan White (Sensitive) packinglight@oikosmail.com

Tony & Jamie Sebastian (Europe) tony.sebastian@agmd.org

Ana & Mike Dascalescu (Eurasia) ana.dascalescu@agmd.org

*Quick Reference: www.penndel.org

Ministries/World Missions/ItinerationList

Take advantage of this resource available for you!

Look ahead to the remainder of 2018 and all of

2019 and see which of our PennDel Missionaries

are scheduled to come home on furlough.

Network connexions | Summer 2018 | 9
---
Better Together

DR. STEPHEN &

MARJIE TOURVILLE

2002-2018

2018

2002

I was in the middle of a family crisis and I called the

district office. Pastor Steve got on the phone and

took the time to listen and pray with me. The crisis hit

while I was graduating from UVF and necessitated me

stepping into the role of pastor at the church I was

helping – at the age of 22. I am so grateful for the

wisdom and prayers of Pastor Steve.

…You have been a tremendous supporter of me

and my mission's career. I appreciate that you have

been a champion for my mission's endeavors…

Dr. JoAnn Butrin

International Ministries Director, Springfield, MO

Kyle Manning, Youth Pastor

Faith Assembly of God, Uniontown, PA

Words can never adequately express my

gratitude for the many times you encouraged

me in the ministry at Shanksville AG. Your

support of women in ministry is unparalleled!

Sylvia Baker

Shanksville AG, Shanksville, PA

10 | Network connexions | Summer 2018
---
Because of You

You pastored this district as a father. During one particularly

difficult time in our lives when someone was calling you and

making accusations against us, you called me and said you

weren't calling as my Superintendent; you were calling as

a father. The advice you gave me held Darla and I steady

during very difficult times.

Tim Bunney, Lead Pastor

Presbyter, SWSS

Praise Assembly of God, North Versailles, PA

Thank you, Pastor Steve & Marjie, for your courageous

belief in championing church planting in PennDel! The

Power Place is here today because of your belief in us

and because of your pioneering spirit!

Greg & Kristie Hollis, Lead Pastor

The Power Place, Kennett Square, PA

…I particularly value your inclusiveness. I have

felt it toward the smaller churches of our small

section. You never made me or those I represent

feel small. I have seen you include those of other

races and women, and that is an example to us all.

Chris Clark, Lead Pastor

Presbyter, NCWS

Chapel on the Hill Assembly of God, Emlenton, PA

"TOP 5" Things We Love About the Tourvilles

1. You called our son by name, "Steve." It is a small thing to you, but huge to him!

2. Thanks for the hats you made for our daughters at PK/MK Retreat! Your thoughtfulness

blew them away!

3. Lance knows what it's like to "follow a legend" in a ministry position, and so does Steve.

I hope I'm doing it half as well as you have done!

4. Lorie loved Marjie's leadership for the Women in Ministry events. They were fun, laid back and

truly refreshing!

5. We love you both, and so appreciate the class and dignity which you have conducted yourselves.

You have set a great example for us all!

Lance & Lorie Lecocq, Lead Pastor

Monroeville Assembly of God, Monroeville, PA

Network connexions | Summer 2018 | 11
---
HOME MISSIONS PROJECT OFFERING 2018

Jason & Jodi Lamer

The Belle Vernon Dream

As a church rooted and planted in Fayette County,

Faith Assembly has sensed a call to be a countywide

church that is aware of and addressing the

major issues of our area. Through prayer and

conversation with other Fayette County churches,

four specific areas have been identified as

strongholds over our community. Those specific

strongholds are poverty, dysfunctional homes,

spirit of religion and empty wells of addiction. In

2016, there was a strong desire to move beyond

prayer for the stronghold of addiction and to begin "getting our hands dirty" in the matter. As a

church, we began to ask God for a piece of property that would become a home to a ministry and

to a small group of men who would become discipled and changed by the Spirit of God.

When it comes to the drug epidemic in Fayette County, our desire is to see broken lives restored.

The plan is to begin a discipleship home first and then establish a church in the same community.

In the Recovery Phase, we would open a home to men who are willing to commit to a six-month

program that would integrate discipleship classes, a work program and support group. The work

program would include a cleaning service that is made available to area churches for financial

support. In the Church Phase, the church would launch as an extension of Faith Assembly with a

campus pastor serving on-site.

In a miraculous answer to prayer, Presbyter Tim Bunney and the Southwest Suburban Home

Missions Committee offered us a recently donated property that includes a church, apartments and

classrooms. We are grateful for this generous gift. Our next step is to begin the renovation on the

property. We ask for your help in seeing the Dream become a Reality in Belle Vernon!

WE NEED Y

They are big dreams, and

we need your help. I invite

you to partner with these

two great Home Missions

Projects.

YOU CAN SUPPORT

THESE CHURCH PLANTS

IN THESE THREE WAYS:

PRAY that Philly Dream

Center Church locates a

facility and gets the funding

they need to move into it.

Pray for the establishment of

the Belle Vernon Discipleship

Home and church plant.

12 | Network connexions | Summer 2018
---
CHURCH PLANTING AND DEVELOPMENT

Tom Rees

717.795.5921

tom@penndel.org

I have loved Pastor Steve's leadership principle,

"What is important to you, is important to us."

Pastor Steve has definitely exemplified this by partnering and praying with

church planters, parent churches, sections and church planting networks.

• He has championed PennDel's investment of over

$2.3 million for new churches during his tenure.

• He has empowered the C3 network that has blessed

apostolic, catalytic leaders to plant many churches.

• The fruit of that is 191 new churches opened under

Pastor Steve's leadership!

We have been BETTER TOGETHER in planting new churches…

thank you Pastor Steve!

OUR HELP!

GIVE A special

offering will be received

on Wednesday morning,

May 9 at MinistrieSummit.

You can also send an offering

to the project of your choice.

Giving can be one time or

monthly.

GO Consider taking a

team to Philly for a short

term missions trip with Philly

Dream Center Church or

helping with the renovations

in Belle Vernon.

Philly Dream Center Church

As Urban Missionaries, we feel a strong call to one

of the neediest parts of the city, North Philadelphia

and Kensington. Here are some of the ministries

that have been launched in our first year of ministry

in these communities:

S.H.I.N.E (Spreading Hope In Neighborhoods

Everywhere) is reaching children with a sidewalk

Sunday School. One of the locations is nicknamed

"Needle Park" because of the notorious fame for a

park where drug dealers and addicts congregate.

In the midst of this, there are many unattended

children playing at the park. On a weekly basis, we

reach these children, as well as some guardians,

with this outreach.

Mobile Food Pantry distributes free groceries

to needy families and seniors. Philadelphia is the

poorest "big city" in the nation. Nearly 25% of

children go many mornings and nights without

a proper meal. This is why we purchased a large

truck to distribute much needed food throughout

the most needy neighborhoods of Philadelphia.

Midnight Angels is a ministry that Shirrie leads

with a team of women who reach women in high

human trafficking areas including strip clubs. The

team drops off gift baskets, prays for the women,

and invites them to a Bible study.

David and Shirrie

Dominguez & Family

WE NEED

YOUR HELP…

We have reached a point where we are

in need of purchasing or leasing a facility

where our church can move forward

with the dream that God has given us…

launching community worship services,

offering a School of Urban Missions

cohort, hosting Philadelphia short

term mission trips and internships, and

developing micro industries (Philly needs

"Double J"- Jesus and Jobs).

Network connexions | Summer 2018 | 13
---
YOUTH MINISTRIES

Doug Sayers

717.795.5921

dyd@penndel.org

YOUTH ALIVE MISSIONARY

Lee Rogers

717.795.9780

lee@reachtheschool.com

…the greatest forward move…

By Lee Rogers

"Come on back!" my youth leader shouted as I backed the church van into position. We had just wrapped up a powerful

retreat and needed to get things loaded to head home. I was just about in position when I felt the rear wheels slide

and sink into some mud. I switched gears and tried to move forward, but there was no avoiding it—I was stuck! The van

needed to be pulled out by another vehicle with more traction and more power.

It's not uncommon to feel stuck in life; experiencing stagnation,

searching for a way forward. The power and traction we need is

found in an encounter with the Holy Spirit! One of the best ways

to encounter the Holy Spirit is in gathering with other believers—

at the altar, seeking God alongside the community of faith. That's

what youth camps, conventions, retreats, and rallies are all about.

One of the hallmarks of

Assemblies of God youth

ministries is the large

event: camps, conventions,

retreats, and rallies.

In these settings, when

we're in one accord and in

one place, the Holy Spirit

moves in powerful and

life-transforming ways.

This is how AG youth

ministries were birthed—hundreds of young people from dozens

of churches were gathering together for youth rallies as early as

1925. 1 These gatherings sparked the formation of youth groups

in churches, and youth rallies began to sweep through the fellowship

across the country.

Less than two years later, at the General Council of 1927, the

Assemblies of God adopted a resolution to officially endorse and

encourage the formation of youth ministries at a church and district

level. 2 Fred Vogler, who went on to become the Assistant Superintendent

of the Fellowship, said the nationwide formation of youth

groups and ministries was "the greatest forward move we have

had in Pentecost since the founding of the General Council." 3

We continue to believe the greatest forward move happens when

our young people experience the Holy Spirit in transformational

encounters that gives the power and traction to help them get unstuck;

when God births within them new vision for His mission in the

emerging generation! This summer and fall, make plans to join us for

powerful encounters with the Holy Spirit at Youth Camp and Fearless:

One Day to Make a Difference. These events feature powerful

times of seeking the Holy Spirit, casting vision, and equipping young

people to impact the world for Christ. We are trusting God for the

greatest move forward in this generation!

1 William Menzies, Anointed to Serve: The Story of the Assemblies of God (Springfield, MO: Gospel Publishing House, 1971), 273.

2 Constitution and By-Laws of the General Council of Assemblies of God Including Essential Resolutions Revised and Adopted September 16-22, 1927 (Springfield, MO,

1927), 73-75.

3 Carl Brumback, Suddenly...From Heaven: A History of the Assemblies of God (Springfield, MO: Gospel Publishing House, 1961), 299.

16 YEARS OF CARING, LOVING AND BELIEVING have flown

by but know they have left their imprint on us.

16 YEARS OF LEADING us in Communion at PDYM Youth Convention

16 YEARS OF PK/MK RETREAT for our Pastors' & Missionaries'

children. Including, 16 years of annually putting close to 200 hand

knitted hats, scarfs & hackie sacks on our heads, necks and feet!

16 YEARS OF WANTING the list of Fine Arts Participants so you

could encourage students in their ministry gifts.

16 YEARS OF PRAYING for each PDYM event and those that

would be in attendance.

16 YEARS OF STEWARDING the Bongiorno Conference Center so

that this next generation could know the power and presence of God.

The Bible says,

"Remember your

leaders, who spoke the

Word of God to you.

Consider the outcome

of their way of life and

imitate their faith." (Heb. 13:7)

Pastor Steve and Marjie, your influence

as visionaries has been timely and

profound. It will continue to be our

honor to imitate your faith. We wish

you God's very best as you continue to

influence others for Christ!

14 | Network connexions | Summer 2018
---
Network connexions | Summer 2018 | 15
---
CHRISTIAN EDUCATION

George Krebs

717.795.5921

george@penndel.org

PERMISSION TO

DREAM

I had only served the District Ministries Center for ten months when a

new Superintendent was voted into office. Needless to say, not knowing

Pastor Steve Tourville's leadership style, I was a little nervous. As

we began to work together Pastor Steve gave me a tremendous gift.

He not only gave me permission to dream for my department, but also

inspired me to dream big...God-sized big. Pastor Steve never dictated

what I should do; instead he gave me the resources and encouragement

needed. Many times Pastor Steve would unveil a bigger dream in

front of me, believing that I could make it happen.

Out of all my ministry experiences, these last 16 years have been the

best of my life. In my darkest days, when I lost my wife to cancer, Pastor

Steve helped me to dream big and see a great future both personally

and in ministry. I know that God places visions and dreams in our heart,

but I am thankful for those whom God brings into our lives to help

make those big dreams a reality. Thank you, Pastor Steve, you have

made me better, and indeed we are better together.

16 | Network connexions | Summer 2018
---
GOD INSPIRED

DREAMS

When we hear "dreams" mentioned, we might assume someone ate

too much pizza or ice cream before bed. Perhaps we picture a parent or

educator encouraging children to use their imagination. Dreaming big

certainly conjures up the thoughts of expanding our hopes and aspirations

to believe for an increase, a greater outcome, or a positive change.

All of these would be true and valid concepts.

However, my attention turns to the verse in Joel 2:28-29, where the

prophet declares with great authority and divine inspiration,

"I will pour out my Spirit upon all people,

your sons and daughters will prophesy.

Your old men will dream dreams, and your young

men will see visions. In those days I will pour out my

Spirit even on servants – men and women alike."

God is clearly inviting all people of all ages, genders and status to allow

God's Spirit to speak, reveal and demonstrate His power through us!

These are not just people with aspirations of a better future, but they are

people anointed by the power of God to be used in the spiritual gifts.

(1 Corinthians 12)

WOMEN OF PURPOSE

Ruth Puleo

717.795.5921

ruth@penndelwomenofpurpose.org

penndelwomenofpurpose.org

People who dream

under the inspiration

of the Holy Spirit are

those who are being

given the gift of faith

to believe God for

the impossible, to see

miracles happen and the power of God

displayed in our gatherings. When we

come together, we need a vision for what

is upon God's heart to be accomplished. I

am very thankful that while serving under

Pastor Stephen Tourville, I have been

granted the freedom to DREAM BIG.

He has always encouraged me to obey

God's leading and in doing so, we have

seen tremendous growth. Let's keep

dreaming!

Network connexions | Summer 2018 | 17
---
ROYAL RANGERS

Greg Scott

302.697.2313

gscott@pdrangers.org

www.pdrangers.org

DREAMING BIG

Dreams do come true! For over

30 years the PennDel Royal Rangers were an

entity without a home. Moving around from

place to place, holding events at locations we

could find available to meet our need, renting

property, using Boy Scout Camps, utilizing farms,

or camping on church properties. Every event

required that we haul everything there, set it

up, construct our stages and then tear it all back

down again after the event. We always dreamt of

having our own camp, but couldn't find a way to

make that happen. We never stopped dreaming

though and always held on to that dream.

Through the efforts of a handful of visionary

leaders we finally realized our dream in 2000,

acquiring a camp of our own in a place called

"Honey Grove," no less, how apropos. Realizing

that dream, we have now moved on to other

dreams. A dream that we will develop the premier

camp for Royal Ranger boys to come, have fun,

get trained, and be mentored to launch out into

the world as Christ-like Servant leaders. We also

dream about having a camp where families can

come and enjoy a serene setting and relax and

fellowship and experience the move and power

of God. Our dream doesn't stop there, however.

Since we have been having Pow Wows over

the last 50 years, we estimate that over 3,000

boys have given their hearts to the Lord. We are

dreaming that through our camp and our efforts

that we will double that number over the next 50

years. Too big of a dream? Not with our God, not

with men of vision inspired by God.

COMING EVENTS

IN 2018:

PENNDEL DISTRICT

POWWOW

50th Anniversary Celebration

PDRR Camp Berry,

Honey Grove, PA

June 22 - 24th

NATIONAL FCF

RENDEZVOUS

Eagle Rock, MO

July 16 - 20th

JUNIOR LEADER

DEVELOPMENT ACADEMY

PDRR Camp Berry,

Honey Grove, PA

Jul. 30 - Aug. 4th

PENNDEL DISTRICT

LEADERS CONFERENCE

Newport A/G

(Thompsontown Campus)

Aug. 24 - 25th

GIRLS MINISTRIES

Sharon Poole

sharonp@pdgirlsministries.com

penndel.org/girls

When Pastor Steve asked me to become the

District Girls' Ministries Director, his guidance

and advice were priceless. Each time I asked

for advice, he gave it without making me out of

touch in my leadership.

The Women in Ministry Retreat has become the

highlight of the year for many of us. Each year

not only did Marjie plan for us to have a fun

and refreshing weekend, but it was filled with

incredible times of friendship and connections.

She had a way of making each feel important

and valuable.

I know God's ways are perfect.

(Psalm 18:30). I know that

He has a great plan for them

and for the PennDel Ministry

Network. Their influence will

continue in our Network.

18 | Network connexions | Summer 2018
---
DISTRICT CALENDAR

I can attest personally to how

Pastor Steve Tourville has

influenced my leadership as can

many of the leaders in our ministry.

His unwavering support and encouragement have

led us to greater heights and allowed us to realize

our dreams and set goals for even greater ones.

His dedication to his position and his support of

our ministry has inspired me to push through those

times when I felt like it was time to step aside.

We will miss his leadership and fellowship, but his

inspiration will continue on. While we can look back

at our accomplishments we are reminded in scripture

to not look to the past, but anticipate the future!

Phil. 3:13. We continue to pray and dream big

together that many more doors to the souls of boys

and men in our sphere of influence will be opened

and give us the ability and opportunity to continue

changing lives for His kingdom.

~ Greg Scott

Pennsylvania-Delaware Ministry Network

4651 Westport Drive • Mechanicsburg, PA 17055

Read online: penndel.org/connexions

Editor:

Managing Editor:

Executive Presbytery

Superintendent

Stephen R. Tourville

Assistant Superintendent Bryan Koch

Secretary/Treasurer

Donald J. Immel

Timothy Bunney Southwest Suburban - SWS

Christopher Clark North Central West - NCW

Roland Coon Delaware - DEL

Steven DeFrain East Central - EC

Jeffrey Kettering South Central - SC

Jeff Marshall Southwest Metro - SWM

Robert Novak Greater Philadelphia Area - GPA

James Pentz North Central - NC

Randall Rhoads South Central East - SCE

Walter Smith South Central West - SCW

Allan Thorpe Northwest - NW

David Twiss Northeast - NE

General Presbyters

Stephen R. Tourville

Donald J. Immel

Bryan Koch

Stephen R. Tourville

Carole Bongiorno

Honorary General Presbyter

Philip Bongiorno

PennDel Superintendent Emeritus

JUNE

1..................Credential App's due for September

2..................District RR Camp Workday

8-10.............Men's AdventureFest Six

11................Kennywood Park Day

11................Presbytery Meeting – District Ministries Center

14................Dorney Park/Wildwater Kingdom Day

14-16...........Prims, Stars, Friends & Girls Only Retreats – BCC

17................Father's Day

18-22...........Youth Camp Week #1 – BCC

22-24...........District RR PowWow

25-29...........Youth Camp Week #2 – BCC

30................National Teen Bible Quiz Finals

JULY

1-6...............National Teen Bible Quiz Finals

4..................Independence Day – Ministries Center Closed

9-13.............Kids' Camp Week #1 – BCC

16-20...........Kids' Camp Week #2 – BCC

16-20...........RR Nat'l FCF Rendezvous – Eagle Rock, MO

23-27...........Kids' Camp Week #3 – BCC

30-Aug 3.....Kids' Camp Week #4 – BCC

30-Aug 3.....National Fine Arts Festival – Houston, TX

30-Aug 4.....RR Jr. Leader Training Academy

AUGUST

17-19...........Teen Bible Quiz Camp – BCC

24-25...........District RR Leaders Conference

SEPTEMBER

3..................Labor Day – Ministry Center Closed

7-9...............RR West Division Fall Camporee

8..................Fearless: One Day to Make a Difference (Youth)

8..................World Missions Training Event – GT/Middletown

9..................Campus Awareness Day

10................Presbytery Meeting – BCC

11................Credential Interviews – BCC

15................Credential App's due January 2019

21-22...........Women in Ministry Retreat – BCC

21-23...........RR East Division Fall Camporee

26................See You at the Pole

29................Fearless: One Day to Make a Difference (Youth)

Volume 64 Number 2 - (USPS 165-700) is the official periodical published

quarterly by the Pennsylvaina-Delaware District Council of the Assemblies of

God. Periodical postage paid at Mechanicsburg, Pennsylvania. Circulation

Stands at Approximately 7,500

POSTMASTER, Send address changes to:

Pennsylvania-Delaware District Council,

4651 Westport Drive, Mechanicsburg, PA 17055-4887
---
Pennsylvania-Delaware Ministry Network

4651 Westport Drive

Mechanicsburg, PA 17055

Find us online: penndel.org

Follow us on Facebook: PennDel Ministry Network

Follow us on Twitter: #penndelag

DARED TO DREAM BIG

A little more than 10 years ago, under

the leadership of District Superintendent,

Stephen R. Tourville and the Executive

Presbytery, the PennDel District Council

voted to spin-off its church loan fund

into a separate 501 C3 non-profit

corporation. As a result of that decision,

Heritage Investment Services Fund was

born. Because Pastor Steve and his board of directors

Dared to Dream Big, a ministry that served Assemblies of

God churches and investors in two states for its first 27

years now serves AG churches and investors in 31 states

and internationally. On behalf of HIS Fund's staff, Board

of Directors, investors and borrowing churches, I wish

to extend my sincere thanks and deep appreciation to

Superintendent Tourville for the key role he has played in

helping HIS Fund grow and bless the Kingdom of God not

only in the United States, but around the world!

Brother Bongiorno and Pastor

Steve at MinistieSummit

~ Philip Bongiorno, Chairman and President, HIS Fund

Investment Interest Rates

5 year note 4.00%

4 year note 3.25%

2½ year note 3.00%

1 year note 2.75%

6 month note 2.50%

Demand Note 2.25%

www.hisfund.com • 866-219-0820 (toll free) • 717-796-9784

MINIMUM DEPOSIT TO OPEN A NOTE IS $500.00. THE INITIAL INTEREST RATE

ON ALL NOTES WILL DEPEND ON EFFECTIVE INTEREST RATES AT THE TIME

OF PURCHASE. TERM NOTES PAY INTEREST AT A RATE FIXED AT THE TIME OF

ISSUANCE. ONCE FIXED, THE INTEREST RATE ON A TERM NOTE WILL NOT BE

CHANGED UNTIL THE NOTE MATURES. AT LEAST THIRTY (30) DAYS PRIOR TO

ANY DECREASE IN THE INTEREST RATE ON A DEMAND NOTE, HIS FUND WILL

NOTIFY THE HOLDER OF SUCH CHANGE. *DEMAND NOTES ARE NOT AVAILABLE

IN SOUTH CAROLINA. HIS FUND INTEREST RATES ARE SUBJECT TO CHANGE

WITHOUT NOTICE. FOR MORE INFORMATION OR ADDITIONAL FORMS, VISIT OUR

WEBSITE AT WWW.HISFUND.COM.

THIS INFORMATION IS NEITHER AN OFFER TO SELL NOR A SOLICITATION OF AN

OFFER TO BUY THE SECURITIES ISSUED BY HIS FUND. THE OFFERING IS MADE

ONLY BY THE PROSPECTUS. THE UNSECURED SECURITIES OF HIS FUND ARE

NOT OFFERED OR SOLD IN ANY JURISDICTION WHERE NOT PERMITTED. THE

NOTES ARE NOT SAVINGS OR DEPOSIT ACCOUNTS OR OTHER OBLIGATIONS

OF A BANK AND ARE NOT INSURED BY THE FEDERAL DEPOSIT INSURANCE

CORPORATION, ANY STATE BANK INSURANCE FUND, THE SECURITIES INVESTOR

PROTECTION CORPORATION OR ANY OTHER GOVERNMENTAL AGENCY.