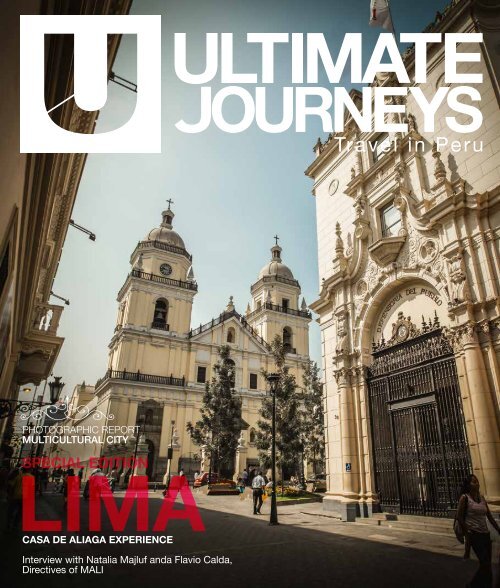 You also want an ePaper? Increase the reach of your titles
YUMPU automatically turns print PDFs into web optimized ePapers that Google loves.
PHOTOGRAPHIC REPORT

MULTICULTURAL CITY

SPECIAL EDITION

LIMA

CASA DE ALIAGA EXPERIENCE

Interview with Natalia Majluf anda Flavio Calda,

Directives of MALI
---
Kuelap, Kuelap, hidden hidden Fortress Fortress of the Chachapoya of the Chachapoya People, People, a highlight a highlight of Peru's of Peru's Northern Northern Circuit. Circuit.
---
INDEX

EXECUTIVE EDITOR ULTIMATE JOURNEYS

GERARDO SUGAY

CONTENT EDITOR

RODRIGO CABRERA / KM CERO

DIEGO GUERRERO / LIMA TOURS

EDITOR

CAROLINA SAN ROMAN / KM CERO

EDITION ASSISTANT

GERALDYNE LONGORIA / KM CERO

COORDINATION

KM CERO

ART DIRECTOR

KM CERO

12

60

MARKETS IN LIMA

Info graph

INDEX

52

6 Editorial

8 Updates

12 Photographic report/

Multicultural city

Traditions and identities

22 Guide to Lima

The Historic Centre

32 Guide to Lima

Resorts

42 Callao

A quick guide

50 Pachacamac Archaeological

Sanctuary

Info graph

52 Ancient Lima

Important archaeological sites

and the main museums

in the city

60 Interview with Natalia Majluf

and Flavio Calda

Directives of MALI: "Lima's

great wealth is its museums"

PHOTOGRAPHY EDITOR

CHRISTIAN DECLERCQ / KM CERO

GRAPHIC DESIGN

MIGUEL SANTAYA / SONIA ARAUJO

INFOGRAPHS

SANDRA FLORIAN

WRITERS

IÑIGO MANEIRO

PAOLA MIGLIO

DIEGO OLIVER

SANTIAGO PILLADO-MATHEU

SERGIO REBAZA

TRANSLATION AND CORRECTION OF TEXT

PETER SPENCE

PHOTOGRAPHERS

SANTIAGO BARCO

ALEX BRYCE

MAX CABELLO

RODRIGO CABRERA

CHRISTIAN DECLERCQ

ANTONIO ESCALANTE

RENZO GIRALDO

ADRIAN PORTUGAL

ARCHIVO KM CERO

ARCHIVO LIMA TOURS

ARCHIVO PROMPERU

ARCHIVO RESTAURANTE CENTRAL

22

PACHACAMAC

ARCHAEOLOGICAL

SANCTUARY

Info graph

MULTICULTURAL

CITY

Traditions and identities

32

78

70

94

70 Good eating in Lima

Four chefs and two food

writers give us their

recommendations

76 Markets in Lima

Info graph

78 Casa de Aliaga

The new face of a colonial

property with 481 years

of history

88 Advertorial

90 Music in Lima

Between tradition, urban

vanguard and tropical anarchy

94 New soul

Objects and spaces enjoying

a second life

100 Expat

102 Agenda

/5
---
EDITORIAL

Off the beaten track by the old Inca bridge, in the Machu Picchu Sanctuary.

Dear reader:

The City of Kings, former capital of the Viceroyalty of Peru… The Pearl of the Pacific, needs no introduction these

days. Peru's capital has a unique and addictive atmosphere and conceals innumerable places, scenes and

histories that demand to be discovered.

This latest edition of ULTIMATE JOURNEYS - Travel in Peru concentrates on Lima and reveals all of its secrets,

museums, mansions, parks and gardens. The city makes it easy for us to learn about its pre-Hispanic, colonial,

republican and modern history. All of this in one destination, a metropolis full of life and experiences with a view

towards the future.

UNESCO was right to declare it a World Heritage Site in 1991 because of its architectural treasures and monuments

that bear witness to a glorious past. Lima has some surprising stories to tell and, much more than its culture and

history, it is a living expression of what we are today.

In this edition we interview Natalia Majluf and Flavio Calda, director and general manager, respectively, of Lima Museum

of Art (MALI), one of Peru's most important museums, which contains one of the most important collections

of Peruvian art.

Ours is the only South American capital city on the Pacific coast, a natural bridge for people from all over the world

who have brought with them their customs and cultures. All of this has added to our local culture, the heir to ancient

civilisations that today can be seen in the traditions of thousands of migrants from all over the country who, today,

meet in this great capital. Enjoy this amalgam of life and colour that is the origin of our gastronomy, art and identity:

enjoy Lima.

Enjoy reading and learning!

Your friends from Lima Tours

OHSAS 18001

BUREAU VERITAS

Certification
---
UPDATES

UPDATES

EVENING VISIT AROUND HUACA PUCLLANA

The Huaca Pucllana Site Museum is now open at night Wednesdays to Sundays,

from 7 p.m. until 10 p.m. The tour includes a guide and covers all sectors of Huaca

Pucllana, except for the top of the pyramid. For further information go to:

http://huacapucllanamiraflores.pe.

INTERNATIONAL CHAIN PLANS

TO OPEN SEVEN HOTELS IN PERU

The international Accor Hotels chain is planning to open

a further seven hotels in Peru before 2018. This will

add seven hundred more rooms and ensure continual

investment in the cities of Lima and Cusco.

Heinz Plenge Pardo

Gihan Tubbeh

GRAN PAJATEN IS PERU'S FIFTH BIOSPHERE RESERVE

UNESCO has recognised Gran Pajaten —a natural area divided between the

departments of Amazonas, La Libertad and San Martin— as Peru's fifth biosphere

reserve. It is also the first biosphere reserve in South America to contain a mixed

world heritage site (cultural and natural). Its core zone is the Rio Abiseo Natural

Park, a protected natural area containing the Gran Pajaten archaeological site.

APPROVAL GIVEN FOR REGULATIONS

COVERING TOURISM IN MANU NATIONAL

PARK

The State-Protected Natural Parks Service

(Sernanp) has approved regulations for

tourism in Manu National Park. The aim

is to regulate its use for tourism and to

ensure that this activity is compatible with

the purposes of conservation for which the

park was created.
---
UPDATES

LIMA WORLD BIOSPHERE CAPITAL IN 2016

The Fourth World Congress of Biosphere Reserves

was held in Lima from the 14th to the 17th of April.1500

guests were invited from the 120 participating

countries. The result was an agenda for the next

decade, for the world's 651 biosphere reserves, and

delegates signed an Action Plan and the Declaration

of Lima.

Cesar Vega

SATELLITE IMAGES REVEAL THE MEANING

OF PUQUIOS BUILT BY THE NASCAS

A new analysis of satellite images carried out

by the Institute for Environmental Analysis

Methodologies in Italy has shown the significance

of the puquios built by the Nascas. The team

of investigators confirms that the location of the

puquios was based on the distribution of water

in the area and that these spiral constructions

were a form of ventilation that introduced

air into a network of underground channels.

These structures were used fundamentally for

the system of irrigation and water transfer that

helped the Nascas to live in this desert land.

Heinz Plenge

CHICAMA IS THE FIRST LEGALLY PROTECTED

WAVE IN THE WORLD

The Chicama wave, recognised as the longest

left wave in the world, is the first wave ever to

be protected by law. The ruling protects the

breaker and prevents the granting of any other

type of rights on this area. This is not only a great

achievement for world surfing, but also sets a

precedent in environmental law by guaranteeing

the protection of an environmental service.

Alex Bryce

NEW SITE MUSEUM OPENED AT PACHACAMAC

ARCHAEOLOGICAL SANCTUARY

The Pachacamac Site Museum, at the archaeological

sanctuary of the same name —located in Lurin,

31.5 kilometres from Lima on the Old Pan-American

Highway— was opened last February. It has been

built to international standards and in harmony with its

surroundings. It offers visitors a display consisting of

277 objects; most of them ceramics, textiles, wooden

and metal artefacts left by pilgrims to the sanctuary.

The exhibits include the Pachacamac idol, a wooden

artefact that is emblematic of the museum.

LIMA HOSTS OUTSTANDING INTERNATIONAL

BLOGGERS

Four of the most popular Latin American travel

bloggers visited Lima. They formed part ofthe 3 Travel

Bloggers team, which visits innumerable destinations

around the world and then publicises them on social

media. Jose Luis Pastor Tejada, Ariana Arteaga, Maria

Victoria Viudes and Arturo Bullard arrived in Lima

sponsored by Inter Continental Hotels Group, the

Crowne Plaza Lima and Avianca. During their sevenday

stay in the city they pursued cultural activities and

adventures and enjoyed the capital's gastronomy.

Rodrigo Cabrera
---
Adrian Portugal

MULTICULTURAL CITY

THE CITY OF LIMA IS

A MICROCOSM OF

PERU: MEMBERS OF

ALL OF THE COUNTRY'S

DIFFERENT COMMUNITIES

ARE GATHERED HERE,

BRINGING WITH THEM

THEIR TRADITIONS,

FOOD, LANGUAGES AND

CUSTOMS. LIMA TODAY

IS THE RESULT OF THIS

GREAT MIXTURE, WHICH

HAS CREATED A UNIQUE

AND MULTIFACETED

SOCIETY.

Multicultural

city

Traditions and identities

By

Diego Oliver

The Ruta Mare

project creates

expressions of

the popular art of

migrants to Lima.

/13
---
Adrian Portugal

MULTICULTURAL CITY

Left:

The Nueva

Esperanza

cementery is the

second largest in

the world. It covers

more than 60

hectares.

Right:

The contagious

happiness of a

yunza: the custom

of decorating a tree

with balloons, fruit

and toys before

cutting it down

while dancing

around it.

All Souls Day is a special date in the Peruvian

calendar. On the 31st of October each year

visitors to the Nueva Esperanza cemetery in

Villa Maria del Triunfo meet their relatives and, through

their collective memories, the dead come back to life

for a joint celebration.

Seen from one of its surrounding hills, this cemetery

looks like a huge miniature city, where the fivestorey

graves resemble skyscrapers. People walk

like giants among the thousands of tombs, many

unmarked just to add to the confusion. Musicians

for hire at five soles play huainos and beer bottles are

thrust neck first into the earth so that "they" can also

enjoy "their" celebration. Drink, local food, flowers,

candles and blessings are all on sale. The unusual

thing about this fiesta is that it was not originally

a Lima tradition; it was brought by the millions of

provincial folk who, decades earlier, left their homes

and came to Lima in search of a better life in the

"City of Kings".

Lima as it is today is the result of a series of political

and social transformations that have taken place

over several centuries. One of the most significant

took place in the middle of the 20th Century and

was described by anthropologist Jose Matos Mar:

massive migration from the countryside to the city.

At the beginning of the 20th Century Lima was a city

of little more than 100,000 inhabitants dominated by

a mixed-race aristocracy. However, in the 1940s —

when it already had 600,000 people— it experienced

Antonio Escalante

a demographic explosion with the arrival of thousands

of migrants from the centre of the country. That gave

rise to a new group of proprietors, shopkeepers and

workers, new neighbourhoods arose near the centre

of the city, roads were improvised and then paved,

there were more street vendors and Quechua, the

native language of the Peruvian highlands began

to be spoken in the streets of the capital. The sad

huainos of the highlands could be heard alongside

traditional Creole music, while at meal times, classic

picarones were joined by guinea pig and the capital

celebrated Andean fiestas and processions such as

Qoyllorit'i. Between 1940 and 1960 the population

trebled and by 1984 more than five million people

were living in Lima.

The city founded in 1535 by Francisco Pizarro is

now home to ten million inhabitants, one third of

the population of Peru. This immense metropolis

contains members of every community of Peru: from

the highlands, the coast and the jungle, as well as

numerous groups of foreigners including Chinese,

Japanese and Italians who came to Peru at different

times in the country's history. Each one of them,

with traditions deeply rooted in their places of origin,

have brought with them their languages, fiestas and

dances; mixing their music and culinary traditions

and making our great capital a multifaceted place.

This is the true face of Lima: a mixture of origins,

histories and traditions from far and near, of which

we are all now the proud owners.

Max Cabello

More than 462 lay brotherhoods around the world celebrate one of the oldest and most important festivities

of Peru: The Lord of the Miracles procession.

/15
---
MULTICULTURAL CITY

Most of the immigrants

to Lima come from

the highlands, which

produces a welter of

Andean music in the

city. Their refrains tell

of the daily life in their

native lands and their

experiences in the

capital city.

LIMA HAS

43

DISTRICTS; SAN JUAN DE

LURIGANCHO IS THE LARGEST

IN THE COUNTRY WITH MORE

THAN

1.5

MILLION INHABITANTS

THE POPULATION OF LIMA IS

NEARLY

9.7

MILLION.

ONE THIRD OF PERU'S

POPULATION LIVE THERE

Adrian Portugal

Christian Declercq

Christian Declercq

Above:

The Historic

Centre contains

the city's past

and its present.

Colonial and

republicanera

buildings

alongside

the thriving

commercial

activity of the

present.

Below:

Miraflores,

Barranco and

Chorrillos were

Lima's resorts

until the middle of

the 20th Century.

Today they are

important districts

of the city itself,

given the urban

growth since that

time.

IN THE PARQUE DE LA

MURALLA YOU CAN SEE THE

EXPANSION OF THE CITY OF

LIMA. ON THE ONE HAND IS

THE DISTRICT OF RIMAC,

BUILT IN COLONIAL TIMES,

AND ON THE OTHER IS SAN

JUAN DE LURIGANCHO,

DATING FROM THE SECOND

HALF OF THE 20TH CENTURY

Max Cabello

/17
---
MULTICULTURAL CITY

The beach is where daily routine and differences give way to recreation. Agua Dulce, in Chorrillos, is one of the most

popular beaches in Lima.

Adrian Portugal

/19
---
MULTICULTURAL CITY

Alex Bryce

BELMOND PALACIO NAZARENAS, CUSCO

DISCOVER OUR WORLD

Max Cabello

WE INVITE YOU TO DISCOVER OUR COLLECTION OF EXCEPTIONAL

TRAVEL EXPERIENCES IN THE WORLD'S MOST REMARKABLE LOCATIONS.

INDIVIDUAL, INSPIRED, AND IMAGINATIVE, THE WORLD OF BELMOND

IS A WORLD LIKE NO OTHER.

This great city is home to the individuals and traditions

of all the communities of Peru, whether indigenous or

foreign.

Christian Declercq

HOTELS | TRAINS | RIVER CRUISES | JOURNE YS | BELMON D.COM

/21
---
THE HISTORIC CENTRE

Guide to Lima

The Historic

Centre

San Martin Square, built

in 1921 to celebrate the

centenary of Peruvian

independence.

Christian Declercq

BUILT OVER AN ANCIENT

PRE-HISPANIC CITADEL,

THE MANY STYLES AND

TECHNIQUES USED IN THE

HISTORIC CENTRE OF LIMA

GIVE IT AN ECLECTIC AND

STYLISED AIR. A CITY WITH

HUNDREDS OF YEARS OF

ARCHITECTURAL HISTORY.

By

Sergio Rebaza

Lima is the result of thousands of years of

habitability. An ancient city, created by the clash

of two ways of looking at the world: the Andean

and the European. The current Historic Centre was

built over the capital of the chieftaincy of Lima —ruled

by Taulichusco— following a square street pattern

referred to as Pizarro's chequerboard in honour of the

Spanish conquistador who founded Lima in 1535.

As the capital of the Spanish colony, the principal

institutions representing the three powers of the state

were established on the central square: spiritual (the

cathedral), royal (the viceregal palace) and temporal

(the municipal government). Regular earthquakes,

time and indolence have left very little of the original

Lima. Of the wall that enclosed the city for almost two

centuries (17th - 19th) a small section remains, known

as the Baluarte de Santa Lucia. It was bounded by

what is now the Grau, Alfonso Ugarte and Paseo Colon

avenues, and the Rimac River, behind the Presidential

Palace. This is the area known as the Historic Centre,

recognised as a World Heritage Site by UNESCO in

1991.

The Historic Centre, which includes part of the District

of Rimac, on the other side of the river, contains most

of Lima's historically important buildings; a small

selection of styles throughout its history: colonial-era

balconies, mansions, public squares, monasteries

and convents, quintas and callejones are eloquent

witnesses to alternating booms and crises, as well as

monuments to government folly. A window on the past

with secrets and history on every street corner. So,

let's walk and learn.

PIZARRO'S CHEQUERBOARD CONSISTS OF

117

BLOCKS COVERING A TOTAL OF

215

HECTARES

/23
---
THE HISTORIC CENTRE

Christian Declercq

Above: inside the

Casa de Aliaga.

Below, left:

Teatro Municipal.

Below, right: Casa

de Osambela.

Architecture

CASA DE ALIAGA

This is possibly the oldest inhabited house in the Americas.

Owned by the De Aliaga family for seventeen generations,

its current form derives from a number of reconstructions

and restorations and combines styles from different eras.

An architectural jewel that is not to be missed.

Guided tours

Jr. De la Union 218-224, Cercado de Lima.

Monday to Sunday: 9:30 a.m.-5 p.m. (prior reservation).

Telephone: 427-7736

http://www.casadealiaga.com.

Museo Cementerio

Presbitero Matias

Maestro.

Musuk Nolte

QUINTA DE PRESA

A classic example of the country houses of the 18th Century.

It belonged to the Carrillo de Albornoz family until the end

of the 19th Century. The original construction, covering

15,000 square metres, included a mill and market garden.

At present it is administered by the Heritage Trustees of

Rimac. It is being restored by the World Monuments Fund,

financed by the Plan Copesco Nacional.

Jr. Chira 334, Rimac.

PUENTE DE PIEDRA

The oldest bridge in Lima, built in 1608 to connect the

bank of the River Rimac (now Jiron de la Union in the

centre of Lima and Jr. Trujillo in the district of Rimac). The

bridge originally had balconies on each side that were later

removed to accommodate tramcars and motor vehicles.

As a result of the modifications it also lost one of its seven

original arches. It is undoubtedly one of the most used

bridges in the area, especially by pedestrians.

TEATRO MUNICIPAL

Inaugurated on the 28th of July 1930 with a production

of Aida, this theatre was designed and built by Alfredo

Viale in the neoclassical style. On the 2nd of August

1998 it was gutted by fire. The main auditorium was

restored and opened to the public on the 11th of

October 2010, and the restoration was completed

some months later.

Jr. Ica 377, Cercado de Lima.

http://teatromunicipal.pe.

CASA DE OSAMBELA OR CASA OQUENDO

Built between 1798 and 1808 on the site of the old convent of

Nuestra Señora del Rosario, this mansion is a typical example

of Lima architecture at the end of the 18th Century. Its most

prominent features are the five enclosed ornamental balconies

of the five bedrooms on the second floor.

Jr. Conde de Superunda 298, Cercado de Lima.

Other monuments

MUSEO CEMENTERIO PRESBITERO MATIAS

MAESTRO

Jr. Ancash 1611, Cercado de Lima.

Monday to Sunday: 8:30 a.m.-6 p.m.

Telephone: 352-6208.

MUSEO DE LA CATEDRAL DE LIMA

Jr. Carabaya block 2, Main Square, Cercado

de Lima.

Monday to Friday: 9 a.m.-5 p.m. /

Saturday: 10 a.m.-1 p.m. /

Sunday: 1 p.m.-5 p.m.

Telephone: 427-9647.

Culture

The Historic Centre of Lima contains the capital's principal

museums. Religious and conventual art, architecture and

contemporary art, in a stroll through almost five centuries

of history.

MUSEO DE LOS DESCALZOS

Inside the Monastery of the Discalced Franciscans, this

museum was opened in 1981. The principal theme is art

from the viceregal period and the conventual life of the

Franciscans. More than four centuries of culture in one of

the most representative zones of the District of Rimac: the

Alameda de los Descalzos.

Manco Capac 202-A, Alameda de los Descalzos, Rimac.

Mondays to Sundays: 4 Morning tours: 9:30, 10:30, 11:30,

a.m. and 12:30 p.m. /4 afternoon tours: 2, 3, 4 and 5 p.m.

Telephone: 481-0441.

Paolo Lopez

MUSEO DEL CONGRESO Y DE LA INQUISICION

Created in 1968, this is one of the most popular museums.

It is housed in what used to be the Peruvian Senate and

much earlier the headquarters of the Holy Inquisition

(1584-1810), where trials were held of those accused of

heresy, sexual crimes or crimes against the Holy Office.

Its principal attractions are the torture chamber and secret

cells.

Jr.Junin 548, Plaza Bolivar, Cercado de Lima.

Monday to Sunday: 9 a.m.-5 p.m.

Telephone: 311-7777, ext. 5160.

Free guided visits.

Below:

Processional

cloister in the

Museo de los

Descalzos.

Christian Declercq

Christian Declercq

/25
---
THE HISTORIC CENTRE

Christian Declercq

Above: Library in the

Museo Convento de

San Francisco.

Below: Façade of the

Museo del Banco

Central de Reserva.

Christian Declercq

MUSEO DE ARTE DE LIMA-MALI

Located in the Palacio de la Exposicion —where the

Great Exhibition of Art, Science and Industry was held

to celebrate Peruvian 50 years of independence— this

museum, surrounded by beautiful gardens in the heart

of the city, houses one of Peru's most important art

collections: from pre-Hispanic items (textiles and ceramics)

to contemporary works. It is the country's principal art

gallery and one of the most important cultural centres in

Lima. It was declared a National Monument in 1973.

Paseo Colon 125, Parque de la Exposicion, Cercado de

Lima.

Tuesday to Sunday: 9 a.m.-7 p.m. / Saturday: 9 a.m.-5

p.m. / last Friday of each month: 9 a.m.-10 p.m.

Telephone: 204-0000.

www.mali.pe.

MUSEO NACIONAL DE LA CULTURA PERUANA

This is one of those museums that are always neglected;

a serious mistake. It is one of the most interesting of the

museums in the Historic Centre. Founded in 1946, it

contains the largest collection of popular art in the country

and plays a laudable role in promoting and propagating

traditional Peruvian art. It is an essential stop on the route

round central Lima.

Av. Alfonso Ugarte 650, Cercado de Lima.

Tuesday to Saturday: 9 a.m.-5 p.m.

Telephone: 321-5626.

CASA DE LA LITERATURA PERUANA

One of the new additions to Lima's cultural centres,

located in the historic and monumental Desamparados

Station alongside the Presidential Palace, the Casa de la

Literatura has entertaining and educational displays and

facilitates visits by people of all ages. It has a full cultural

agenda throughout the year and is a place in which you

should spend some time, to read each one of the displays.

It is a monument to Peruvian letters. Let's read!

Jr. Ancash 207, Cercado de Lima.

Tuesday to Sunday: 9 a.m.-7 p.m.

Telephone: 426-2573.

Entry is free.

GALERIA MUNICIPAL PANCHO FIERRO

This is the main gallery for non-commercial art in the centre,

located next to the Town Hall. It hosts a lot of different

events including talks and exhibitions of contemporary art,

both Peruvian and foreign.

Pasaje Santa Rosa 114, Cercado de Lima.

Tuesday to Sunday: 10 a.m.-8 p.m.

Telephone: 632-1300.

Anibal Solimano

Other museums

MUSEO CONVENTO DE SAN FRANCISCO

Plaza de San Francisco, Cercado de Lima.

Monday to Sunday: 9:30 a.m.-5:30 p.m.

Telephone: 719-7188.

MUSEO DE ARTE ITALIANO

Paseo de la Republica 250, Cercado de Lima.

Tuesday to Sunday: 10 a.m.-5 p.m.

Telephone: 321-5622.

MUSEO DEL CONVENTO DE SANTO DOMINGO

Jr.Camana 170, Cercado de Lima.

Monday to Sunday: 8:30 a.m.-5:30 p.m.

Telephone: 426-5521.

MUSEO NACIONAL AFROPERUANO

Jr. Ancash 542, Cercado de Lima.

Monday to Friday: 9 a.m.-5 p.m.

Telephone: 426-0689.

Entry is free.

MUSEO DE SITIO BODEGA Y QUADRA

Jr. Ancash 209, Cercado de Lima.

Tuesday to Sunday: 10 a.m.-6 p.m.

Telephone: 428-2390.

Entry is free.

MUSEO DEL BANCO CENTRAL

DE RESERVA

Jr. Ucayali 271, Cercado de Lima.

Tuesday to Saturday: 9 a.m.-5 p.m. / Wednesday:

9 a.m.-7 p.m.

Telephone: 613-2000, ext. 2656.

Entry is free, but a prior appointment is needed.

Public Spaces

In recent years, the centre of Lima has been reclaiming

areas for the enjoyment of its citizens. Parks, boulevards,

walks, squares and pedestrianised roads enable the

inhabitants of greater Lima to come together and get to

know their city.

PARQUE DE LA EXPOSICI0N

Located between Paseo Colon, Paseo de la Republica,

28 de Julio and Garcilaso, this is one of the largest parks

in the city of Lima. Created in 1870 by President Jose

Balta for the National Exhibition of 1872, the Parque de la

Exposicion originally included several pavilions —the main

one being the Palacio de la Exposicion— of which the only

survivors, apart from the Palacio, are the Venetian and

the Moorish or Byzantine pavilions, near to Av. Garcilaso.

More recently, the park hosted the Mistura International

Gastronomy Fair and occasionally other smaller events,

such as Expo Cafe and concerts in its open-air theatre.

PARQUE DE LA RESERVA-CIRCUITO MAGICO

DEL AGUA

Originally part of the Parque de la Exposicion, the Parque

de la Reserva was inaugurated by President Augusto B.

Leguia in 1929, and is named after the reserve troops

who defended the capital during the Pacific War. Located

between Arequipa Avenue and Petit Thouars, this green

space contains works from important Peruvian artists:

sculptures by Cristina Galvez and Daniel Vasquez Paz,

as well as a small construction that is the work of Jose

Sabogal. After being abandoned for several decades, the

park was reopened in 2007 with a new name: Circuito

Magico del Agua, a set of three computer-controlled

ornamental fountains that attract thousands of visitors

every month.

Tuesday to Sunday: 3p.m.-10:30p.m.

Christian Declercq

TIME FOR A STROLL

Jiron de la Union is, without doubt, the most important

pedestrian-only street in Lima. It was laid down at the

foundation of the Spanish city, linking the Main Square

with San Martin Square, although it goes beyond that, to

Paseo Grau. During the early years of the 20th Century it

was the preferred walking area for Lima's aristocracy; but

later on it became a purely shopping street. Curious facts:

It was only pedestrianised in 1982 On this street you can

appreciate the Municipality, Casa Courret (block 4), the

beautiful Church of Nuestra Señora de la Merced and the

Convento Mercedario (block 6), Casa Barragan (block 7),

the Gran Hotel Bolivar (block 9) and the Rimac Building.

Vamos a Jironear - "let's go for a walk" as Lima's earlier

residents would say.

THE CENTRE FOR PEDESTRIANS

In recent years vehicles have been banned from

several streets, benefiting not only pedestrians

but also local shops. Now, for example, you can

walk peacefully along the Ancash - Carabaya

pedestrian zone —which connects the Presidential

Palace, Casa de la Literatura Peruana and the

Church of San Francisco— as well as along

Jirones Ica and Ucayali. Apart from this permanent

pedestrianisation, the Municipality has launched

an initiative called "Pizarro's Checkerboard with

no Cars" on the last Sunday of each month, which

includes activities for all the family: art, culture,

gastronomy, tourism, recreation, sport and even

discounts in some stores.

Above:

Jiron de la Union, one of the

busiest streets in the centre

of Lima.

Below:

Moorish Pavilion in the

Parque de la Exposicion.

/27
---
THE HISTORIC CENTRE

DID YOU KNOW THAT YOU COULD

CATCH CRAYFISH IN THE RIMAC RIVER UNTIL

THE BEGINNING OF THE LAST CENTURY?

Christian Declercq

Rodrigo Cabrera

Guide

EL CHINITO

Sandwiches, chicharrones (roast pork).

Jr. Chancay 894, Cercado de Lima.

Telephone: 423-2197.

Monday to Saturday: 8 a.m.-9 p.m. / Sunday: 8 a.m.-1 p.m.

TIO CANDELA

Fried fish.

Jr. Angaraes 482, Cercado de Lima.

Telephone: 331-2534.

Monday to Saturday: 5 p.m.-8 p.m.

THE MAIN SQUARE WAS THE SITE OF

THE FIRST MARKET IN LIMA, CALLED EL GATO

(THE CAT). AS THE YEARS PASSED IT MOVED

AND GREW TO BECOME WHAT IS NOW THE

CENTRAL MARKET

Christian Declercq

Above: Pasaje Nicolas

de Rivera El Viejo

contains a number of

restaurants.

Below: Chinese arch in

Calle Capon, entrance

to Lima's Chinatown.

Above: View of Cerro

San Cristobal from

the Alameda de los

Descalzos.

Below: The Alameda

de los Descalzos

still contains marble

statues and seats

installed in the 19th

Century.

CERRO SAN CRISTOBAL

On the boundary of the districts of Rimac and San Juan

de Lurigancho, this hill was the Apuor tutelary deity of the

ancient inhabitants of Lima. Indeed, it was an observation

point for the surrounding territory for both the ancient

inhabitants and, later, the Spanish. On the summit of Cerro

San Cristobal, as well as a hundred-year-old cross, there is

a museum that is free to enter and gives information on the

history of the city. But without doubt the most impressive

thing about it is the 360 degree view it provides of greater

Lima. It is a true icon of this mega city that should be visited

and cared for. Access is signposted, both for pedestrians

and vehicles.

ALAMEDA DE LOS DESCALZOS

This is one of the principal attractions of Rimac. It

was completed in 1611 and was modelled on the

Alameda de Hercules in Seville (Spain). The Los

Descalzos Church and monastery are at one end;

and at the other is the old Cristal brewery, with the

house of Micaela Villegas, known as La Perricholi

to one side. The Alameda was remodelled in 1857.

The railings, imported from England, the cast-iron

urns and marble seats, were installed during the

remodelling, which was completed a year later with

the installation of twelve statues made in Rome and

representing the signs of the zodiac. It is the emblem

of the District of Rimac.

Lima: A kaleidoscope

of flavours

The centre of Lima contains all the flavours of a

multicultural and multiethnic city that is the sum of all the

nations making up Peru. Dare to try it.

Some cities have a distinctive scent, just as some people

do. In Lima's case one could say that it gives off the sum

of all the world's scents. And indeed, the capital of Peru

does contain all the world's flavours. Asian or oriental

flavours mingle with native, African and European in an

amalgam or emulsion of smells in every city street. Just

walk around the Central Market to encounter the smell of

cebiche, frying, hot embers and herbs that would have

confounded even Jean-Baptiste Grenouille, protagonist

of the novel El Perfume.

Food is without a doubt the element that most

represents the city. To such an extent that the Quality

of Life Perception Report 2015 (Lima Como Vamos),

cites creole food as the element that most identifies

Lima's residents (49.6%), more than the Main Square

(40.9%) and Our Lord of the Miracles (33.6%).Food is

our religion.

Bars, taverns and corner shops; street vendors and

boulevards, fairs and markets. In a relatively small

space, Lima contains an enviable range of cuisines.

Anyone who visits should not miss Chinatown, one of

the most important Chinese enclaves in Latin America.

KAÑETE

Creole food.

Jr. Cañete 550, Cercado de Lima.

Telephone: 330-1639.

Tuesday to Sunday: 11 a.m.-5 p.m.

PLAZA SAN MARTIN

Peruvian cuisine.

Nicolas de Pierola 942, Cercado de Lima.

Telephone: 426-2332.

Monday to Thursday: 8 a.m.-8 p.m. / Friday: 8 a.m.-11:45

p.m. / Saturday: 9 a.m.-6 p.m. / Sunday: 9 a.m.-4 p.m.

L'EAU VIVE

Home-made food, set lunch.

Jr. Ucayali 370, Cercado de Lima.

Telephone: 427-5612.

Monday to Saturday: 12:30 p.m.-3 p.m. / 7:30 p.m.-9:30

p.m.

SALON DE LA FELICIDAD

Peruvian-Chinese food.

Jr. Paruro 795, Chinatown, Cercado de Lima.

Telephone: 426-2190.

Monday to Sunday: 9 a.m.-11 p.m.

TANTA

Cafe, bar, restaurant.

Pasaje Nicolas de Rivera El Viejo 142, Cercado de Lima.

Telephone: 428-3115.

Monday to Saturday: 9 a.m.-10 p.m. /

Sunday: 9 a.m.-6 p.m.

Christian Declercq

/29
---
THE HISTORIC CENTRE

Left: Century-old

Cordano restaurant.

Right: San Martin

Square, epicentre of

Lima's night life.

Night life

The Historic Centre of Lima has been the epicentre of the

cultural and bohemian life of the city since its foundation

481 years ago. Let's party!

In Lima a fiesta is called a jarana, and party-goers jaraneros:

a Creole person born in Peru with a full yet courteous

social life, who lives in the poorer neighbourhoods such

as Barrios Altos and Rimac, where waltzes, polkas and

marineras can still be heard.

The centre's golden age was undoubtedly the end of the

19th Century and beginning of the 20th, when the city and

its culture were at their apogee. Artists, revolutionaries and

poets like Abraham Valdelomar and thinkers such as Jose

Carlos Mariategui made our city into a cultural extension of

the great European capitals.

Years later, however, the centre entered a darker age.

The bohemian festive spirit moved to other districts and

the centre began a long process of not just physical but

cultural deterioration. A few places kept the spirit alive,

such as the century-old Cordano Bar —part of Peru's

national heritage since 1989— and a favourite of poets

and artists from the nineteen fifties to the seventies, such

as Martin Adan and Victor Humareda.

Happily, in the last twenty years the centre of the capital

has been reborn. Art galleries, cultural initiatives, bars

and cafes have given the centre of Lima a new, classical

and enduring atmosphere appropriate to a renewed city

that that attracts locals and foreigners alike. Let the party

continue. Long live the centre!

CORDANO

Restaurant.

Jr. Ancash 202, Cercado de Lima.

Monday to Sunday: 8 a.m.-8:30 p. m.

MUNICH PIANO BAR

Tavern.

Jiron de la Union 1044, Cercado de Lima.

Monday to Saturday from 5 p.m.

MI TERCER LUGAR

Cafe Bar.

Jr. Camana 483, Cercado de Lima.

Monday to Friday: 8 a.m.-9:30 p.m. / Saturday: 8 a.m.-7:30 p.m.

CASA BELGA

Restaurant Bar.

Jr. Azangaro 254, Cercado de Lima.

Monday to Wednesday: 12 noon-6 p.m. / Thursday to Saturday:

12 noon-9 p.m.

ESTADIO FUTBOL CLUB

Restaurant Bar.

Jiron de la Union 1047, Cercado de Lima.

Monday to Thursday: 12:15 p.m.-12:15 a.m. / Friday to Saturday:

12:15 p.m.-2:45 a.m. / Sunday: 12:15-5 p.m.

9BARES

Cafeteria.

Jr. Ica 281, interior 102, Cercado de Lima.

Monday to Saturday: 8 a.m.-10 p.m.

Christian Declercq

Raul Garcia

/31
---
RESORTS

Guide to Lima

Resorts

By

Paola Miglio

MIRAFLORES

CULTURe

In Miraflores culture is found in the streets. This old

and residential neighbourhood has today become an

important commercial centre as well, in which surviving

old-style houses are interspersed with modern buildings. It

is perfect for walking around and enjoying the sea breeze

on the promenade.

MUSEO DE SITIO HUACA PUCLLANA

An archaeological site belonging to the Lima Culture (200-

700 A.D.) It was built as a series of pyramids, open spaces

and courtyards made from mud bricks. Today it is the

subject of study and visitors are allowed in it. There is a

site museum and a beautiful restaurant with a view of the

Huaca Pucllana.

General Borgoño block 8, Miraflores.

Wednesday to Monday: 9 a.m.-5 p.m. / Wednesday and

Sunday: 7 p.m.-10 p.m.

CENTRO CULTURAL RICARDO PALMA

A gallery with a library, exhibitions, theatre, cinema and

cultural exchanges.

Av. Larco 770, Miraflores.

Telephone: 617-7266.

PARQUES CENTRAL AND KENNEDY

These parks are right in the centre of Miraflores,

surrounding the Virgen Milagrosa Church and adjacent

to Av. Diagonal and Av. Larco. Artists gather here in the

afternoons, offering their paintings for sale. Craftsmen

and antiquaries occupy the small plaza and sweets and

sandwiches can be bought from well-run stalls. This is also

the place for small concerts and fairs.

THE PROMENADE, PARQUE DEL AMOR AND PARQUE

SALAZAR

The promenade in Miraflores is one of the most popular

public spaces in the district. It has picnic areas, playing fields

and adventure sports (hang gliding), cafes that look out

over the sea and a shopping centre. Furthermore, its main

parks such as Parque del Amor (Love Park), —which has

a sculpture called El beso by Victor Delfin and inscriptions

by Peru's principal poets— and Parque Salazar, host

cultural activities at the weekend as well as an annual book

fair. On the promenade you can also appreciate El tiempo

(or monstruo) by Jose Tola, an impressive sculpture from

one of Peru's best contemporary artists; Amarre, by Lima

sculptor Sonia Prager, adjacent to the Bajada Balta; and

Intihuatana by Fernando de Szyzslo, together with one of

Marcelo Wong's iconic works near to Villena Bridge.

CASA MUSEO RICARDO PALMA

The former home of Peruvian writer Ricardo Palma. Its

original furniture and the writer's personal possessions

remain in place.

General Belisario Suarez 189, Miraflores.

Monday to Friday: 9:15 a.m.-12:45 p.m. and 2:30 p.m.-4:45

p.m.

MUSEO AMANO

Museum of pre-Columbian textiles: More than 400 items

of textiles on show.

Retiro 160, Miraflores.

Tuesday to Sunday: 10 a.m.-5 p.m.

GALERIA LUIS MIRO QUESADA GARLAND

One of the most regular venues with the greatest variety

of exhibitions.

Av. Larco 450, Miraflores.

Tuesday to Sunday: 11 a.m.-10 p.m.

BOOKSHOPS

EL VIRREY

Bolognesi 510, Miraflores.

Monday to Saturday: 9 a.m.-8 p.m. /

Sundays: 11:7 a.m.-7 p.m.

IBERO

Corner of Bajada Balta and Berlin, and Av. Comandante

Espinar 840, Miraflores

Lunes a sabado: 10 a.m.-9 p.m. /

Sundays: 12 noon-8 p.m.

FONDO DE CULTURA ECONOMICA

Berlin 238, Miraflores.

Monday to Saturday: 9 a.m.-9 p.m.

Christian Declercq

Intihuatana,

a sculpture by

Fernando de Szyszlo

and the view from

the promenade in

Miraflores.

/33
---
RESORTS

Above:

Bar of Maido

Restaurant.

Below:

La Lucha

sandwich bar.

Gastronomy

and nightlife

RAFAEL

Cuisine d'auteur from Chef Rafael

Osterling. Bar and restaurant. In

50th place in Latin America's 50

Best Restaurants sponsored by San

Pellegrino and Acqua Panna.

San Martin 300, Miraflores.

Telephone: 242-4149.

Monday to Friday: 1:30 p.m.-3 p.m.

/ Monday to Wednesday: 8 p.m.-11

p.m. / Thursday to Saturday: 8 p.m.-

00:00

CENTRAL

Cuisine d'auteur from Chef Virgilio Martinez. First

place in Latin America's 50 Best Restaurants

sponsored by San Pellegrino and Acqua Panna,

and 4th place in the world list.

Santa Isabel 376, Miraflores.

Telephone: 242-8515.

Monday to Friday: 1 p.m.-3:30 p.m. and 7 p.m.-11

p.m.

MAIDO

Japanese and nikkei cuisine by Chef

Mitsuharu Tsumura. 5th place in

Latin America's 50 Best Restaurants

sponsored by San Pellegrino and

Acqua Panna, and 44th place in the

world list.

San Martin 399, Miraflores.

Telephone: 446-2512.

Monday to Saturday: 12 noon-4 p.m.

and 7:30 p.m.-11 p.m. / Sunday:

12:30 p.m.-4 p.m.

LA MAR

Fish and shellfish - belongs to the

Acurio Group. 12th place in Latin

America's 50 Best Restaurants

sponsored by San Pellegrino and

Acqua Panna.

La Mar 770, Miraflores.

Telephone: 421-3365.

Every day: 12 noon-5 p.m.

Maido

COSTANERA 700

Fish, shellfish and Japanese cuisine

by chef Yaquir Sato.

Av. Del Ejercito 421, Miraflores.

Telephone: 421-4635.

Monday to Saturday: 12 noon-11

p.m. / Sundays and bank holidays:

12 noon-5 p.m.

PERUPA'TI

Food bar, coffee, bread and

sandwiches, sweets, beer and

cocktails, gourmet and María

Daplacer handicrafts store.

Av. Armendariz 546, Miraflores.

Telephone: 201-5023.

Every day: 8 a.m.-11 p.m.

EL PAN DE LA CHOLA

Artisanal bread, breakfasts,

sandwiches and coffee.

Av. La Mar 918, Miraflores.

Tuesdays to Saturdays: 8 a.m.-10

p.m. / Sunday: 8 a.m.-3 p.m.

LA LUCHA

Sandwiches, juice and coffee.

Av. Diagonal 308, Miraflores.

Sunday to Thursday: 8 a.m.-1 a.m. /

Friday and Saturday: 8 a.m.-3 a.m.

CAFE A BISTRO

Salads, meat, breakfasts and one

of the best hamburgers in Lima.

Artisanal style.

Av. Del Ejercito 2193, Miraflores.

Telephone: 264-5856.

Monday to Saturday: 8 a.m.-4 p.m.

and 7 p.m.-11 p.m. / Sunday: 8 a.m.-

4 p.m.

FIESTA

Restaurant serving the cuisine of

Chiclayo, by Hector Solis. 31st

place in Latin America's 50 Best

Restaurants by San Pellegrino and

Acqua Panna.

Av. Reducto 1278, Miraflores.

Telephone: 242-9009.

Monday to Saturday: 12:30 p.m.-11

p.m. / Sundays: 12:30 p.m.-4 p.m.

Christian Declercq

NUEVO MUNDO DRAFT BAR

Av. Larco 421, Miraflores.

Telephone: 249-5268.

Sunday to Thursday: 12:30 p.m.-1

a.m. / Fridays and Saturdays: 12:30

p.m.-3 a.m.

CAFE BAR HABANA

Manuel Bonilla 101, Miraflores.

Telephone: 446-3511.

Monday to Saturday: 6 p.m.-3 a.m.

BONUS TRACK

SURQUILLO

LA PICANTERIA

Picanteria serving fish and shellfish,

by Hector Solis. 36th place in Latin

America's 50 Best Restaurants by San

Pellegrino and Acqua Panna.

Santa Rosa 388, on the corner of

Gonzalez Prada, Surquillo.

Telephone: 241-6676.

Tuesday to Sunday: 10:30 a.m.-5 p.m.

AL TOKE PEZ

Fish and shellfish bar.

Av. Angamos 886, Surquillo.

Tuesday to Sunday: 12:30 p.m.-3 p.m.

MARKETS AND ORGANIC PRODUCE

FAIRS.

Important sources of the freshest fish

and shellfish, fruit and vegetables from

all over the country (see info graph).

Shopping

Design, books, handicrafts, interior

decoration and practical works of art.

Miraflores is one of the city's important

retail centres where you can find just

about everything.

PHILOMENA BY MICAELA LLOSA

Clothes for women by independent

designers, made from local materials.

Enrique Meiggs 141, Miraflores.

Telephones: 243-0403 / 372-3255

Monday to Saturday: 11:30 a.m.-8

p.m.

LORENA PESTANA

Designer jewellery.

General Borgoño 770, Miraflores.

Telephone: 446-4033.

Monday to Saturday: 11:30 a.m.-8 p.m.

PECA JOIAS

Jose Galvez 483, Miraflores.

Designer jewellery in silver.

Telephone: 241-2498.

Monday to Saturday: 11:30 a.m.-8

p.m.

JALLPA NINA

Unique decorative and practical

ceramics.

Federico Villarreal 290, Miraflores.

Telephone: 440-2256.

Monday to Saturday: 9:8 a.m.-5 p.m.

EL MUNDO DEL PAPEL

Design, illustration, paper, printing,

transcription.

28 de Julio 552, Miraflores.

Telephone: 445-2343.

Monday to Friday: 12 noon-8 p.m. /

Saturday: 3 p.m.-8 p.m.

HANDICRAFTS

Inca markets: Handicrafts from all over

Peru. Textiles, practical items, silver

jewellery, paintings, prints, leather,

cotton goods.

Av. Petit Thouars block 52, Miraflores.

Every day: 9:30 a.m.-8 p.m.

LARCOMAR MALL

One of the main shopping centres,

which contains stores selling

international brands and work from

local designers, as well as restaurants

and a food court.

Malecon de la Reserva 610, Miraflores.

Every day: 11 a.m.-10 p.m.

LAMA

Clothes and designer items.

Jr. Gonzalez Prada 381, Miraflores.

Monday to Saturday: 9 a.m.-9 p.m.

ANDREA LLOSA

Clothing from designer Andrea Llosa.

Elias Aguirre 1205, Miraflores.

Telephone: 477-1875.

Monday to Friday: 11:30 a.m.-8 p.m. /

Saturday: 11:8 a.m.-7 p.m.

Christian Declercq

Christian Declercq

ANTIQUITIES IN MIRAFLORES

Miraflores has many antique shops

selling unique items. Most can be

found on Av. La Paz, near to its

junction with Av. Ricardo Palma.

The area is quiet so you can walk

around the shops in a morning.

They open every day, including

Saturdays, from the morning

onwards.

Christian Declercq

Above:

Gourmet food

in Perupa`ti and

handicrafts in

Miraflores.

Below:

Larcomar Mall
---
RESORTS

Christian Declercq

Above:

Bajada de los Baños.

Left:

Sunset from the

promenade in

Barranco.

Right:

Parque Municipal

of Barranco.

BARRANCO

A district of poets and writers, singers and celebration,

Barranco is one of the most famous parts of Lima, a cultural

district where modernity and tradition exist side by side.

CULTURE AND PUBLIC SPACES

PARQUE MUNICIPAL

The district's enchantingly beautiful central park is surrounded

by old houses, the library, the town hall and the Santisima Cruz

church. In the middle of this space is a statue of a danaide on

a lake surrounded by other marble sculptures. The Barberini

candelabrum is nearby, together with angels sculpted in

Carrara marble. In the middle is a type of pergola used for plays,

exhibitions, concerts and other cultural activities.

PUENTE DE LOS SUSPIROS

Built in 1876 to join the two sides of the gully and permit access

between Ayacucho and La Ermita streets. It has been restored

and its rustic beauty and romance have inspired composers

and writers such as Chabuca Granda, who captured its magic

in the waltz El Puente de los Suspiros in 1960.

LA ERMITA

A small chapel used by fishermen and travellers. It is built from

adobe and quincha and was erected in the middle of the 18th

Christian Declercq

Christian Declercq

Century, by a baker called Caicedo, whose wife was cured

through the cross that is worshipped there. It is reached by

crossing the Bridge of Sighs.

THE PROMENADE

Running the length of Barranco is a quiet and peaceful

promenade, with small parks and shared spaces, such as

Paseo Saenz Peña. You often see people strolling along,

perhaps resting in its alcoves, and it also has an impressive

view of the sea.

BAJADA DE LOS BAÑOS

The road that leads to the beach from Barranco. It is cobbled

and still preserves the old houses —some now restored— built

at the beginning of the 20th Century as beach houses.

GALERIA LUCIA DE LA PUENTE

Exhibitions of contemporary art.

Paseo Saenz Peña 206-A, Barranco.

Telephone: 477-9740.

GALERIA 80M2

Malecon Pazos 253, Barranco.

Telephone: 252-9246.

CENTRO COLICH

Jr. Colina 110, Barranco.

Telephone: 247-1538.

GALERIA DELBARRIO

Bernardino Cruz 148, Chorrillos.

Telephone: 251-9111.

MUSEO DE ARTE

CONTEMPORANEO DE LIMA

Permanent exhibition by

contemporary artists and travelling

exhibitions both Peruvian and

foreign.

Av. Miguel Grau 1511, Barranco.

Tuesday to Sunday: 10 a.m.-6 p.m.

CENTRO CULTURAL JUAN PARRA

DEL RIEGO

Theatre and exhibitions.

Av. Pedro de Osma 135, Barranco.

Every day: 10 a.m.-10 p.m.

MATE-MUSEO MARIO TESTINO

Av. Pedro de Osma 409, Barranco.

Tuesday to Sunday: 10 a.m.-7 p.m.

MUSEO PEDRO DE OSMA

Av. Pedro de Osma 421, Barranco.

Tuesday to Sunday: 10 a.m.-6 p.m.

TRAM RIDE

Travels the first five blocks of Av.

Pedro de Osma de Barranco. There

and back.

Tuesday to Sunday: 10 a.m.-5 p.m.

MATE-Museo Mario Testino

LA COLMENA

Ice creams, flowers, cafe, restaurant

and, shortly, bookshop.

Av. Prolongacion San Martin 131,

Barranco.

Every day: 9 a.m.-10 p.m.

LA NOCHE

A classic venue for concerts,

exhibitions and plays.

Pasaje Sanchez Carrion 199,

Barranco

Monday to Saturday: 7 p.m.-3 a.m.

LA LIBRE

A bookshop that opened just over

a year ago and encourages cultural

interchange with alternative titles and

unusual editions.

Av. San Martin 144, Barranco.

Tuesday to Sunday: 12 noon-9 p.m.

GASTRONOMY

Barranco has become an

important gastronomic centre

within Lima. New places open

here every year, from small

cafes and artisanal ice cream

shops to bistros serving cuisine

d'auteur and taverns offering

home-made creole food.

ISOLINA

Specialising in home-made creole dishes.

Av. Corner of Prolongacion San Martin 101

with Domeyer, Barranco

Telephone: 247-5075.

Tuesdays to Saturdays: 12 noon.-00:00

Mondays: 12 noon-5 p.m.

Sundays and bank holidays: 12 noon-5 p.m.

LA CREM DE LA CREM

Artisanal ice cream and home-made

puddings.

Parque Municipal de Barranco 109.

Telephone: 396-2124.

Mondays to Sundays: 12 noon-10 p.m.

MOLLE CAFE Y BISTRO

An interesting example of cuisine d'auteur from

chef Matias Cilloniz.

Av. Prolongacion San Martin 131, Barranco.

Telephone: 489-5459.

Breakfast on Mondays, Wednesdays,

Thursdays and Fridays: 9 a.m.-11 a.m.

Lunch on Mondays, Wednesdays, Thursdays

and Fridays: 12:30 p.m.-3 p.m.

Dinner on Wednesdays, Thursdays, Fridays

and Saturdays: 7:30 p.m.-10 p.m.

Brunch on Saturdays and Sundays:

9 a.m.-3 p.m.

SIBARIS

Healthy home-cooked food. Stews made by

Francesco de Sanctis and an interesting bar

run by Thalia Talavera.

Jr. 28 de Julio 206-B, Barranco.

Telephone: 247-0263.

Tuesdays to Saturdays: 11 a.m.-2 a.m.

Above:

Museo Pedro

de Osma.

Left:

MATE-Museo

Mario Testino.

Right:

Fig salad, Molle

Cafe y Bistro.

Christian Declercq

Estudio Famas

/37
---
RESORTS

Barra 55.

Dedalo.

Canta Rana Cebiche

Restaurant.

Christian Declercq

Gihan Tubbeh

Christian Declercq

HELADERIA BLU

Artisanal ice cream.

Jr. 28 de Julio 202, Barranco.

Telephone: 247-3791.

Tuesdays to Sundays: 12 noon-10

p.m.

TOSTADURIA BISETTI

A cafe that uses important varietals

of coffee of different origins. Artisanal

puddings.

Av. Pedro de Osma 116, Barranco.

Telephone: 247-4399.

Every day: 8 a.m.-10 p.m.

BARRAMAR

Rice dishes and cebiches. Good

whitebait on bread.

Corner of Jr. 28 de Julio and Grau.

Telephone: 715-2972.

Tuesday to Sunday: 11 a.m.-3 p.m.

AMOR AMAR

Fish and shellfish.

Garcia y Garcia 175, Barranco.

Telephone: 619-9595.

Monday to Saturday: 12:30 p.m.-4

p.m. and de 8 p.m.-11 p.m. / Sunday:

12:30 p.m.-5 p.m.

CANTA RANA

Fish and shellfish.

Genova 101, Barranco.

Telephone: 247-7225.

Monday to Sunday: 11 a.m.-9 p.m.

BARRA 55

Canapes and bar specialising in gin.

Av. 28 de Julio 206 D, Barranco.

Tuesdays to Thursdays: 7 p.m.-1

a.m. / Fridays and Saturdays: 9 p.m.-

30 a.m.

AYAHUASCA RESTOBAR

Bar and canapes.

Av. Prolongacion San Martin 130,

Barranco.

Monday to Saturday: 8 p.m.-3 a.m.

BAR PICAS

Bar and canapes.

Bajada de Baños 340, Barranco.

Telephone: 252-8095.

Monday to Saturday: 8 p.m.-3 a.m.

LA NOCHE

Classic concert venue with

bohemian bar.

Pasaje Sanchez Carrion 199,

Barranco.

Telephone: 247-1012.

Monday to Saturday: 7 p.m.-30 a.m.

BAR JUANITO

A long-established bar. Noted for its

sandwiches and cau cau.

Av. Grau 270, Barranco.

Monday to Saturday: 11 a.m.-2.30

a.m.

BONUS TRACK

CHORRILLOS

EL HORNERO

Meat and grills.

Malecon Almirante Grau 983,

Chorrillos.

Telephone: 251-8109.

Monday to Friday: 12 noon-00:00 /

Sundays: 12 noon-11:30 p.m.

SONIA

Fish and shellfish.

Agustin Lozano La Rosa 173,

Chorrillos.

Telephone: 249-6850.

Every day: 12 noon-5 p.m.

EMILIO Y GLADYS

Fish and shellfish, the speciality is

mangrove scallops when in season.

Daniel Velez 197, Chorrillos.

Every day: 12 noon-5 p.m.

SHOPPING

A bohemian district with many

alternative design and decoration

emporia.

CLANDESTINA

Clothes and designer items.

Av. San Martin 678, Barranco.

Monday to Saturday: 11 a.m.- 7 p.m.

PUNA

Clothes and designer items.

Av. Pedro de Osma 106, Barranco.

Tuesday to Sunday: 11 a.m.- 8 p.m.

PLANTIQUE

Decoration and design store with plants

and botanical items.

Av. Pedro de Osma 106, Barranco.

Tuesday to Sunday: 11 a.m.-8 p.m.

VERNACULA

Fashion, decoration and cafe.

Ayacucho 269, Barranco.

Tuesday to Sunday: 11 a.m.-8 p.m.

DEDALO

Designer items, practical art from

contemporary Peruvian artists,

ceramics, handicrafts and cafe.

Paseo Saenz Peña 295, Barranco.

Monday to Saturday: 10 a.m.- 10 p.m. /

Sunday: 10 a.m.-7 p.m.

OJO DE PEZ

Designer items.

Av. San Martin 156, Barranco.

Monday to Saturday: 10 a.m.- 8 p.m.

LAS PALLAS

Handicrafts and popular art.

Cajamarca 212, Barranco.

Monday to Saturday: 10 a.m.- 6 p.m.

CUATRO EN UN BAUL

Designer items, decoration.

Jr. Martinez de Pinillos 105, Barranco.

Tuesday to Sunday: 10 a.m.-8 p.m.

Martes a domingo: 10 a.m.-8 p.m.

SAN ISIDRO

The road that links the coastal districts of San Isidro,

Miraflores, Barranco and Chorrillos is full of art and culture.

It encompasses the main theatres and galleries, as well as

public and environmental spaces.

culture and public spaces

PARQUE EL OLIVAR

This park is considered a national monument and dates

from the colonial era when, in 1560, the first olive trees were

brought from Spain. The plantation had as many as 2800

trees. Nowadays there are around 1600. The park is large

and peaceful, the habitat of important flora and fauna. Next

to the Casa de la Cultura you can see an old olive press and

the oldest of the olive trees.

It extends from Av. Santa Cruz up to Paz Soldan Park,

flanked by Av. Conquistadores and Antero Aspillaga.

Entry is free and it is open twenty four hours a day, every day.

MUSEO MARINA NUÑEZ DEL PRADO

Home of sculptress Marina Nuñez del Prado Viscarra (La

Paz, Bolivia, 1910). In the neo-colonial style, the house was

bought by her in 1973 and converted into her workshop;

today it is a museum that contains much of her work. It

was the first house in El Olivar to be declared a National

Monument.

Antero Aspillaga 300, San Isidro.

Monday to Saturday: 9 a.m.-5 p.m.

CASA DE LA CULTURA

The old town hall has been converted into the Casa de la

Cultura, venue for artistic activities, recitals, exhibitions and

art workshops. Today it is part of the cultural, environmental

and tourism circuit.

La Republica 455, San Isidro.

Monday to Friday: 9 a.m.-6 p.m.

CENTRO CULTURAL DE LA UNIVERSIDAD CATOLICA

An interesting and extensive cultural space that includes

a gallery, theatre, cinema, café and bookshop. Lima Film

Festival is held here every year, as well as workshops and

conferences.

Av. Camino Real 1075, San Isidro.

www.centroculturalpucp.com.

SITIO ARQUEOLOGICO HUALLAMARCA

Known as the sugar loaf, this site dates from pre-Inca

times. It is a truncated pyramid and is in an excellent state

of preservation. Construction started at the end of the

Formative Stage and beginning of the Lima Culture (200

B.C.) It was also used as a cemetery for various groups until

the arrival of the Incas. It has a site museum.

Corner of Av. El Rosario and Av. Nicolas de Rivera 201, San

Isidro.

Wednesday to Sunday: 9 a.m.-5 p.m.

LIBRERIA SUR

Av. Pardo y Aliaga 683, San Isidro.

Monday to Saturday: 10 a.m.-9 p.m.

LIBRERIA COMMUNITAS

Av. 2 de Mayo 1690, San Isidro.

Monday to Saturday: 8:30 a.m.-8:30 p.m.

Christian Declercq

Christian Declercq

Above:

Parque El Olivar.

Below:

Museo Marina Nuñez

del Prado.

/39
---
RESORTS

Clandestina

store.

District

of San Isidro.

Mariana Lengua

Fernando Lopez

Gastronomy and

nightlife

San Isidro contains some of the most

traditional places in which to enjoy

Peruvian food. From classic cafés to

restaurants included in The World's 50

Best Restaurants sponsored by San

Pellegrino and Acqua Panna. Here are

the best.

LA BONBONNIERE

Classic with French influence, good

cakes and pastries and breakfasts.

Burgos 415, San Isidro.

Telephone: 421-2447.

Tuesdays to Saturdays: 8 a.m.-11 p.m. /

Sunday: 8 a.m.-9 p.m.

SYMPOSIUM

Chosen as the best Italian restaurant in

the city in the Summum awards.

Santa Luisa 122, San Isidro.

Telephone: 221-3397.

Monday to Saturday: 12:30 p.m.-3:30

p.m. and 7:30 p.m.-11:30 p.m.

CONVIVIUM

An Italian restaurant, but less formal

than the previous one. Open from

breakfast time and has a good wine

cellar.

Santa Luisa 110-120, San Isidro.

Telephone: 440-3182.

Monday to Saturday: 8 a.m.-00:00 /

Sunday: 8:a.m.- 5 p.m.

MALABAR

One of the most delicious restaurants

and bars in Lima. Under the command

of Chef Pedro Miguel Schiaffino.

Product-themed dishes and cuisine

d'auteur. 20th place in Latin America's

50 Best Restaurants sponsored by San

Pellegrino and Acqua Panna.

Telephone: 440-5200 / 440-5300 .

Av. Camino Real 101, San Isidro.

Monday to Saturday: 12:30 p.m.-3:30

p.m. and 7:30 p.m.-11 p.m.

CASA MOREYRA / ASTRID &

GASTON

Cuisine d'auteur by renowned chef

Gaston Acurio and confectionary

expert Astrid Gutsche. 3rd place in

Latin America's 50 Best Restaurants

sponsored by San Pellegrino and

Acqua Panna, and 14th in the world.

Av. Paz Soldan 290, San Isidro.

Telephone: 442-2775.

Mondays to Saturdays: 1 p.m.-2.30

p.m. y 7:30 p.m.9.30 p.m.

Sundays: 1 p.m.-4 p.m.

MARAS Y SALAR

Restaurant and bar located in the

Westin Hotel. Cuisine d'auteur by Chef

Rafael Piqueras.

The Westin Lima Hotel & Convention

Center, corner of Las Begonias and

Amador Merino Reyna, San Isidro.

Telephone: 201-5023.

Monday to Friday: 12 noon - 4 p.m. and

7 p.m.- 00:00 / Saturday: 7 p.m.-00:00

OSAKA

Seafood and nikkei cuisine.

Av. Pardo y Aliaga 660, San Isidro.

Telephone: 421-7819.

Monday to Saturday: 12:30 p.m.-4 p.m.

and 7:30 p.m.-00:00 / Sundays and

holidays: 12:30 p.m.-5 p.m.

TANTA

Cafe, bar, restaurant.

Pancho Fierro 115, San Isidro.

Telephone: 421-9708.

Monday to Saturday: 8 a.m.-00:00 /

Sundays from 8 a.m.-10 p.m.

MIGUEL DASSO

A concentration of cafeterias,

restaurants and delicatessens. Best on

a Sunday when the Piensa Verde fair

is held.

SAN ISIDRO MARKET

Important source of the freshest fish

and shellfish, fruit and vegetables from

all over the country (see 'Markets').

Av. Del Ejercito 1551, San Isidro

SHOPPING

Some designer clothes and

accessories stores can be found in

San Isidro. Peruvian artists and great

creativity.

AV. CONQUISTADORES

Runs from the Gutierrez Roundabout

to Virgen del Pilar church. It is

interesting to go on foot and discover

the shops and cafes all along this

street. There are shops specialising

in independent designs and leather

shoes and handbags, such as

Clandestina and Mascarpone

Originale, silver jewellery by Claudia

Lira, shoes by Viviane Fiedler and

Vanessa Dellepiane, and other

international brands.

CLANDESTINA

Av. Conquistadores 392, San Isidro.

Monday to Friday: 10 a.m.- 8 p.m. /

Saturday: 11 a.m.-7 p.m.

VIVIANE FIEDLER

Av. Conquistadores 376, San Isidro.

Monday to Friday: 11:30 a.m.-8 p.m. /

Saturday 11 a.m.-6 p.m.

MASCARPONE ORIGINALE

Av. Conquistadores 325, San Isidro.

Monday to Friday: 11:30 a.m.-8 p.m. /

Saturday 11:8 a.m.-6 p.m.

CLAUDIA LIRA

Av. Conquistadores 560, San Isidro.

Monday to Friday: 11:30 a.m.-8 p.m. /

Saturday 11:8 a.m.-6 p.m.

VANESSA DELLEPIANE

Conde de la Monclova 315, San Isidro,

one block from Av. Conquistadores.

Monday to Friday: 11:30 a.m.-8 p.m. /

Saturday 11:8 a.m.-6 p.m.

ILARIA

Jewellery and decorative silver items.

The main store is in San Isidro.

Av. Dos de Mayo 308, San Isidro.

Monday to Saturday: 10 a.m.-7:30 p.m.

SIRANA

Designer clothes for women. Shoes

and accessories.

Miguel Dasso 120, San Isidro.

Monday to Friday: 10:30 a.m.-7 p.m. /

Saturday: 11 a.m.-7 p.m.

/41
---
CALLAO

THE CONSTITUTIONAL

PROVINCE OF CALLAO IS

15 KILOMETRES FROM

THE CENTRE OF LIMA.ITS

LOCATION AND PORT, ONE

OF THE MOST IMPORTANT

IN AMERICA, MAKE THIS

A COMMERCIAL TOWN;

IT WAS A STRATEGIC

PLACE FOR DEFENDING

THE VICEROYALTY AND

THEN THE COUNTRY'S

INDEPENDENCE AND IN THE

FIGHT AGAINST PIRATES.

IT IS ALSO A FISHING

PORT AND AN ATTRACTIVE

DESTINATION FOR WATER

SPORTS ENTHUSIASTS,

LOVERS OF SEAFOOD AND

THOSE SEEKING BOTH

NEW AND TRADITIONAL

DESTINATIONS WITHIN

LIMA.

Callao

A quick guide

By

Iñigo Maneiro

Photos

Christian Declercq

Thanks to Iniciativa

Fugaz, Jose Galvez

Passage, in the centre

of Callao, now contains

restaurants and art

galleries.

Archaeological sites

Its archaeology forms part of its geography and

extends beyond Callao itself to parts of Ventanilla and

San Martin de Porres. The area was a natural desert

with seasonal vegetation called 'lomas' covering the

summits of the hills.

The first human inhabitants lived here ten thousand

years ago, with Chivatero in the District of Ventanilla

as the main population centre. Middens and heaps of

discarded shells remain from this era. These groups

occupied the seashore and islands off the coast;

cemeteries have been found on San Lorenzo Island.

COMPLEJO EL PARAISO

Built four thousand years old, the complex consists

of various burial mounds or huacas, such as El

Paraiso or Pampa de los Perros. It is on the municipal

boundary between Ventanilla and San Martin de

Porres Districts.

CERRO CULEBRAS

Dating from the Lima Culture (200 to 750 A.D.), it covers

35 hectares and contains a polychromatic mural 28

metres long.

TAMBO CERRO RESPIRO

Located on the old Oquendo Estate, it dates from the

Colli period, until the arrival of the Inca Empire.

Architecture and history

When Peru's capital was moved from Jauja to Lima during

the Spanish Conquest, Callao became an important port

and commercial centre, one of the most important of the

viceregal period. It played a decisive role in the struggle

for independence and against corsairs and pirates.

Urban architecture has been enriched by successive

waves of immigrants to Peru: Japanese, Germans,

Chinese and Italians. Part of this influence can be seen in

different buildings. Later, different neighbourhoods were

built but it is in its seaside resort that Callao's greatest

historical and architectural wealth can be found:

/43
---
CALLAO

Left:

Cathedral Church

of Callao.

Right:

Real Felipe

fortress.

Below:

Main Square

of La Punta.

LA PUNTA:

THE DISTRICT WITH

THE STRONGEST

PERSONALITY, IS SO

CALLED BECAUSE

OF ITS SHAPE. THE

DISTRICT CONTAINS A

NUMBER OF THE MOST

IMPORTANT SPORTS

CLUBS (REGATAS

UNION, LA PUNTA,

CIRCOLO SPORTIVO

ITALIANO, ETC.)

Churches

THE CATHEDRAL

Built by Antonio Dañino in 1833.It is in the Neoclassical

style, with a single nave. The niches on its façade contain

statues of St. Simon and St. Jude Thaddeus.

Jr. Constitucion 387 Callao.

Opening times: when Mass is being said.

Cost: free of charge.

www.diocesisdelcallao.org.

VIRGEN DEL CARMEN DE LA LEGUA

In the 17th Century an image of Our Lady of Carmel

was sent from Spain to Peru. It was going to be taken

to the centre of Lima but the donkey carrying it stopped

-according to tradition- half way there and refused to move

a step further. So a chapel was built to house the image.

Years later the current Church was built on the site of the

chapel. The image has many devotees in Callao.

Junction of Faucett and Colonial Avenues.

Opening times: when Mass is being said.

Cost: free of charge.

www.parroquiasenoradelcarmen.blogspot.pe.

INMACULADA CONCEPCION

(THE LIGHTHOUSE CHURCH)

This Church was built at the end of the 19th Century and

it has two towers, an unusual feature among Callao's

churches, due to the effects of earthquakes. Its oil paintings

and image of Our Lord of Consolation are noteworthy.

Jr. Uruguay 340.

Opening times: when Mass is being said.

Cost: free of charge.

www.iglesiatemplofaro.blogspot.pe.

SAN JUAN BOSCO

Also built at the end of the 19th Century, this Church has

three naves and a fine façade with Italian style.

Calle Garcia Calderon 348.

Opening times: when Mass is being said.

Cost: free of charge.

SAN JOSE

This Church was built in Bellavista by Viceroy Manso de

Velasco, and served for many years as Callao's cathedral.

Jr. Bolognesi 440, Bellavista.

Opening times: when Mass is being said.

Cost: free of charge.

Monuments

FORTALEZA O CASTILLO DEL REAL FELIPE

It is one of the most representative constructions in Callao

and was built in 1747 during the government of Viceroy

Manso de Velasco. It had a vital role in the struggle for

independence and in defending the city against pirates.

It was named in honour of the Spanish King Philip the 5th.

Plaza de la Independencia.

Opening times: from Monday to Sunday, 9 a.m. to 4 p.m.

Cost: foreigners 12 soles, Peruvian adults 6 soles and

children 2 soles.

CASA RONALD

Named after its proprietor Guillermo Ronald, this important

English-style building was finished in 1928 and has recently

been restored.

Corner of Constitucion and Independencia.

Opening times: free.

Cost: free of charge.

www.guillermoronald.com.

Public squares

MIGUEL GRAU

The main square of the district. Next to the quay and Paseo

Darsena. The meeting point for trips to the Palomino

Islands.

PLAZA DE ARMAS DE LA PUNTA

Site of the municipality and Malecon Pardo. Popular with

Callao residents.

Corner of Bolognesi and Medina.

BOLOGNESI

One of the most important in Callao. It contains an

ornamental fountain and a statue of national hero

Francisco Bolognesi.

Block 5 of Avenida Saenz Peña.

DE LA INDEPENDENCIA

Opposite the Fortaleza del Real Felipe, this square is

notable for its gardens. It has a bronze fountain with

allegorical representations of maritime commerce.

Av. Saenz Peña block 1.

Museums

REAL FELIPE

Exhibition of uniforms, arms and equipment used by the

Peruvian Army. The fortress is one of the best examples of

military architecture in South America.

Plaza de la Independencia.

Opening times: from Monday to Sunday, 9 a.m. to 4 p.m.

Cost: foreigners 12 soles, Peruvian adults: 6 soles and

children 2 soles.

NAVAL

Arms, historic documents, paintings, photographs ad

many other exhibits on the history of the Peruvian Navy.

The museum has thematic galleries for the Amazon, the

Andean plateau and the Antarctic, among others. It is the

most comprehensive military museum in the country.

Av. Jorge Chavez 123. Historic Centre.

Opening times: Tuesday to Sunday from 9 a.m. to 3 p.m.

Cost: Adults 3 soles and children 2 soles.

www.museonaval.com.pe.

CHUCUITO:

FOUNDED BY ITALIAN

IMMIGRANTS, ITS

BUILDINGS DATE FROM

THE 19TH AND 20TH

CENTURIES; SOME ARE

MADE FROM WOOD OR

MUD-BRICKS PAINTED

IN BRIGHT COLOURS

Above:

Quay on

Plaza Grau.

Below:

Naval Museum.

/45
---
CALLAO

Restaurants,

bars and others

Callao's maritime personality and past waves of migration

have influenced the port's gastronomy, but seafood is

always the principal ingredient. According to food writer

Ignacio Medina, these are some of the best places to eat

in Callao.

Above:

Rovira

Restaurant.

Below:

Don Giuseppe

Restaurant.

Following page:

Left:

Mural on Calle

Independencia.

Above:

Rear of the Edificio

Ronald.

Below:

Galleries forming part of

the Iniciativa Fugaz.

SUBMARINO ABTAO

The submarine of the same name. Exhibition of charts and

other items used on board.

Avenida Jorge Chavez 120-A.

Opening times: Tuesday to Sunday

from 9:30 a.m. to 4:30 p.m.

Cost: 10 soles, children under 5 free of charge.

www.submarinoabtao.com.

FIRE SERVICE

An exhibition of equipment, instruments, vehicles and

uniforms used by the first firemen in Callao.

Avenida Alejandro Granda block 3.

Opening times: Monday to Saturday from 9 a.m. to 5p.m.

Cost: free of charge.

Make a reservation beforehand 429-0318.

Open air

ISLAS PALOMINO

Boat trip to the Palomino, Cavinza, El Fronton and San

Lorenzo Islands. Showing the islands' wealth of animal life:

seals, Humboldt Penguins and dozens of species of birds.

Port of Callao.

Opening times:

Friday, Saturday and Sunday.

Cost: around 100 soles.

www.tourmarinocallao.com.

MATEO

Restaurant.

Jr. Constitucion 286.

www.cevicheriamateo.com.

ROVIRA

Restaurant.

Daniel Nieto 195.

KUMAR

Restaurant.

Benavides 5429,

urbanizacion Parque

Industrial, Callao.

EL COLORADO

Restaurant.

Malecon Figueredo 671,

Chucuito.

DON GIUSEPPE

Restaurant.

Grau Nº 30, La Punta.

EL RINCON DE

SANTIAGO

Small diner, huarique.

Jr. Montezuma 847,

Callao.

MECHITA

Small diner, huarique.

Jr. Castilla 344, Callao.

MAR Y SOL

Small diner, huarique.

Garcia Calderon 440,

Callao centre.

DONDEPP

Small diner, huarique.

Chanchamayo 231,

Chucuito.

MERCADO

MISTURA LA PUNTA

PRODUCE MARKET.

Main Square, La Punta.

The first Saturday of each

month.

MERCADO JANOO LO

CENTRAL MARKET.

Entrance on Saenz Peña.

From 8 a.m. to 3 p.m.

I

Iniciativa Fugaz

A private initiative to restore some of the emblematic

parts of Callao. It involves art, culture, neighbourhood

life, recreation and visitors near to the Main Square.

It includes:

The Corriente Alterna school of photography.

Galleries: Gonzalez y Gonzalez, Evolucion por Fugaz,

Entes y Pesimo, Amazonica and Revolver.

Restaurants: Renzo Garibaldi Osso, Osaka, Beatriz,

Veggie Pizza and Cafe D'Sala.

Boutiques: Balkanica.

/47
---
PROGRAMMES

PROGRAM FULL DAY

CYCLING AND

GASTRONOMY

PROGRAMME

• Cycle tour from Larcomar to the fish

market in Chorrillos. Includes a visit to

the Puente de los Suspiros in Barranco.

• Visit to La Herradura Beach.

• Relaxation in local restaurant Juanito to

sample its traditional sandwiches.

• Tour starting at Barranco's Main

Square through different streets in the

district to see urban art and finishing in

an organic cake shop.

• Visit to a cafe or artisanal brewery.

HALF DAY

PROGRAMME

BOHEMIAN

BARRANCO

• Walking tour of the District of Barranco.

Includes a visit to the Main Square

of Barranco and the emblematic Bridge

of Sighs.

• Visit to the MATE, museum of the

famous Peruvian photographer Mario

Testino, showing photographs of Princess

Diana.

• Visit to Tostaduria Bisetti for a relaxing

and delicious coffee.

*Free time to explore other cafés

and galleries in the area.

HALF DAY

PROGRAMME

HISTORIC

CENTRE OF LIMA

• Visit to Lima Cathedral.

• Tour of the exclusive Casa de

Aliaga.

• Visit to the Larco Museum.

• Panoramic tour of Miraflores.

Includes a stop at the Parque del

Amor, with its beautiful view of the

Costa Verde.

*Passengers have the option to

end the tour in the Perupa' ti food

market.

HALF DAY

PROGRAMME

CALLAO

• Tour around the historic monuments

of Callao.

• View of the Real Felipe Fortress.

• Walk around historic Callao

(urban art).

HALF DAY

PROGRAMME

GASTRONOMIC

AND

ARCHAEOLOGICAL

• Tasting of typical Peruvian fruit at the

Gran Fruta juice bar.

• Visit to Mercado Nº 1 de Surquillo

to see the myriad ingredients used in

Peruvian cuisine.

• Visit to Huaca Pucllana.

• Cookery demonstration at a local

restaurant.

TOUR BY NIGHT

PROGRAMME

ARCHAEOLOGY

• Visit to the Larco Museum.

• Evening tour of Huaca Pucllana.

• Dinner at the Huaca Pucllana Restaurant,

opposite the illuminated temple.

MALI

• Visit to Lima Museum of Art (MALI).

• Visit to the Circuito Magico del Agua

(Parque de la Reserva).

HALF DAY PROGRAMME

ORGANIC

GASTRONOMY

• Visit to the Eco-market in Miguel Dasso

in the District of San Isidro, with stops at

strategic stalls to taste organic food.

• Brunch at El Pan de la Chola.

*Only on Sundays

HALF DAY

PROGRAMME

GASTRONOMIC TOUR

• Visit to a local cafe for breakfast (coffee

and canapes).

• Visit to Mercado Nº 1 de Surquillo to see

the variety of ingredients used in Peruvian

cooking and to try the products from some

of the stalls.

• Demonstration cookery classes and lunch

at a local restaurant.

/49
---
ANCIENT LIMA

IF YOU PERHAPS THOUGHT

THAT CUSCO AND THE

INCAS REPRESENTED

EVERYTHING ABOUT

PRE-HISPANIC HISTORY

IN PERU, YOU COULD

NOT BE MORE WRONG.

THE CITY OF LIMA HIDES

IMPORTANT REMAINS

FROM THE ANCIENT

NATIONS THAT INHABITED

THE LOCAL VALLEYS

BEFORE THE CHRISTIAN

ERA. THE FIRST 'LIMEÑOS'

IRRIGATED LARGE

VALLEYS, BUILT GREAT

PYRAMIDS AND WHOLE

CITIES, SOME OF WHICH

CAN STILL BE VISITED

TODAY.

Ancient Lima

Pre-Hispanic capital

By

Diego Oliver

Huaca Pucllana,

an archaeological

monument that has

survived the urban

expansion of Lima.

Christian Declercq

/53
---
ANCIENT LIMA

Christian Declercq

Above:

Carved wooden artefact

found in Huaca Mateo

Salado.

Below:

One of the excavated

sectors of the Maranga

archaeological complex.

Walter Hupiu

Nils Castro is a young Peruvian teacher, aged 37

and a proud founder member of Circulo Ciclista

Protector de las Huacas, a private initiative

consisting of artists, archaeologists, designers,

teachers and actors, whose aim is to encourage the

use of bicycles as vehicles for recording local heritage.

"It is also our responsibility. If institutions don't protect

them then we have to do so ourselves", he says.

On the last Sunday of each month, Nils organises a

bicycle ride around different Lima huacas, from the

most popular to those ignored by the bustling city.

"There are more than five hundred huacas in the city

of Lima", he adds enthusiastically like someone with

many more routes to design. You can take part in the

trips for free; all you need is a bicycle, two legs and a

bottle of water.

Although books on the history of Peru tell us that Lima

was founded in 1535 by Francisco Pizarro, before

that time Lima, consisting of the valleys of the rivers

Chillon, Rimac and Lurin, was a perfect place for the

development of socially complex cultures. The three

valleys contain plenty of cultivable land and because

they are close to the Pacific Ocean with its rich

biomass, food was plentiful.

Evidence has been found that the area was occupied

in the 10th Century B.C., by groups of nomadic or

semi-nomadic hunter-gatherers. A process known as

neollithisation began (5000-1800 B.C.), in which these

family clans began to form small communities, such

as those found at Cerro Paloma and in the district of

Chilca, which were strongly dependent on fishing and

marine resources.

This process saw the construction of the first public

architecture, complexes of three buildings arranged

in a horseshoe shape and having a ritual character,

like the Huaca Paraiso, recently dated to around 4200

B.C.

The historian Jose Canziani Amico explains that the

transition to the Formative Period (1800-500 B.C.)

saw a series of important transformations. Plants

and animals were domesticated, new forms of land

management were introduced and new knowledge

and tools acquired, which defined new forms of

social organisation. These characteristics enabled the

creation of the first cities in what is known as the Early

Regional Development Period (500 B.C. - 700 B.C.)

That was the period in which great strides were made

in ceramics, textiles and silverware, huge irrigation

complexes were built, vastly increasing crop yields and

a new economy was built on the increasing availability

of surplus production. These new parameters created

a new statist approach to territory, examples of which

are the archaeological complexes at Cajamarquilla,

Pachacamac and Maranga. The latter is particularly

interesting as it covers 4 square kilometres in the

heart of the city of Lima and was nothing less than the

Above:

The exterior walls of the

Temple of the Sun were

painted red; remains of the

paint can still be seen on

these walls.

Below:

The new Pachacamac Site

Museum displays the principal

findings from the site.

MARANGA

COVERS 4 SQUARE

KILOMETRES IN THE

HEART OF THE CITY

OF LIMA AND WAS

NOTHING LESS THAN

THE CENTRE OF THE

LIMA CULTURE

(200 - 600 A.D.)

BEFORE 1535,

LIMA WAS

A PERFECT PLACE

FOR THE

DEVELOPMENT OF

SOCIALLY COMPLEX

CULTURES

Walter Hupiu

centre of the Lima Culture (200 - 600 A.D.) There are

14 monumental pyramids, 50 smaller buildings with

ramps, walled dwellings, squares, residential areas,

storehouses, cemeteries, irrigation canals and other

items.

Also there is Pachacamac, undoubtedly the most

spectacular complex in the region. Like Maranga and

Cajamarquilla, this complex of 4.6 square kilometres

was originally built by the Lima Culture, which occupied

it until the 7th Century, when the Wari (6 00-1100)

overwhelmed the region bringing with them, among

other things, their religious influences. According to

Denisse Pozzi-Escot, director of the Pachacamac

complex, it was during the Wari occupation that the

site became an extremely important destination for

pilgrims, that endured and strengthened during the

Ychma Culture (1100-1470 A.D.), and then the Incas

(1470-1532 A.D.)

Christian Declercq

/55
---
ANCIENT LIMA

Rodrigo Cabrera

Christian Declercq

Above:

Huaca Huallamarca or

Sugar Loaf stands out in the

middle of urban San Isidro.

Below:

Access to the summit of

the main pyramid of Huaca

Pucllana, Miraflores.

Beatrice Velarde

ITS SIZE AND

MONUMENTAL

NATURE SHOW THAT

IN CERTAIN STAGES

AN ENORMOUS

AMOUNT OF WORK

WAS INVESTED IN

THIS SITE

Left:

Wooden items

and shells found during

excavations in Huaca

Huallamarca.

Right:

One of the five

pyramids still remaining at

Huaca Mateo Salado.

Then the Spanish arrived, led by Francisco Pizarro,

and Lima was founded officially.

Archaeologist Julio Rucabado, in charge of records

and collections of the Pachacamac complex,

imagines the Lima valley in the pre-Hispanic period

as full of farms and irrigation canals, with two large

urban centres (Pachacamac and Maranga) at either

end and smaller settlements scattered between

them. Examples of the latter being Pucllana, Mateo

Salado and Huallamarca, sites in an excellent state of

preservation that have managed against all the odds

to survive in the middle of a metropolis of 10 million

inhabitants.

Throughout the 20th Century Lima experienced

a demographic explosion, especially after the

nineteen sixties—when it had fewer than two million

inhabitants— caused by massive migration from the

countryside to the city. Since then the city has grown

rapidly without order or control. New neighbourhoods

appeared in the desert; rough tracks became paved

roads; there was greater demand for housing, food

and services. The city carried everything before it.

And unfortunately archaeological remains were no

exception.

Being an archaeologist in Lima is a heroic calling. They

fight against the overwhelming urban growth, against

deficient conservation policies, against the eternal

lack of money and against an enormous number of

remains that can certainly not be restored in their

entirety. However Lima has a number of conservation

initiatives that are open to the public and included in

tourist circuits. Pachacamac is one of them and today

has a refurbished site museum that enables visitors

to understand better the process of occupation and

development of the most important religious centre

on the Andean coast. With illustrative and instructive

displays, the museum has a collection of offerings

to the god Pachacamac consisting of ceramics,

textiles and jewellery from different eras, as well as

explanations about the cultures that made it famous.

Huaca Mateo Salado, on the other hand, is a complex

consisting of five stepped and truncated pyramids

that functioned as an administrative and ceremonial

centre for one of the local chieftains —we do not know

for certain which— of the Ychma Culture."Its size

and monumental nature, despite later overbuilding,

show that in certain stages an enormous amount of

work was invested in this site, involving the shifting

of thousands of cubic metres of earth and stones.

This implies that the site was very important and that

the governing elites of the day had enough power to

persuade hundreds of people to work voluntarily on

the construction of temples, roads and other large

architectural projects. The Ychmas people did not

receive "wages", though the chieftain or priest was

obliged to provide clothing and food in return for their

labour", explains Pedro Espinoza, project director.

Huaca Pucllana, where night visits were inaugurated a

short time ago to take advantage of the attractive lighting,

is much older than Mateo Salado. It was built during the

later period of the Lima Culture and consists of a main

pyramid with lower buildings around it made from mud

bricks. The complex appears to have been abandoned

and then used as a cemetery by the Ychma.

Lima also contains three museums that provide a

more detailed view of Peruvian pre-Hispanic history.

Christian Declercq

/57
---
ANCIENT LIMA

Museo Larco

Above:

Culture gallery at

the Larco Museum.

Exhibition of ceramic,

stone and wooden

artefacts from different

pre-Hispanic cultures.

Below:

Impressive view of the

Caral archaeological

complex. The cultural

landscape lies next to

the River Supe and the

mountain foothills.

Christopher Kleihege

182 KM FROM LIMA,

THE CARAL RUINS

HAVE BEEN

DECLARED A WORLD

HERITAGE SITE BY

UNESCO AND HAVE

CHANGED OUR

CONCEPTION OF THE

EARLIEST SOCIETIES

IN AMERICA

The National Museum of Archaeology, Anthropology and History of Peru is

the oldest state-run museum, founded in 1826, and covers the history of

Peru from the beginning of local civilisation until the Republican era. It has

a huge collection of stone artefacts, ceramics, textiles and silverware from

the different Peruvian cultures. The Larco Museum, on the other hand,

founded by Rafael Larco Hoyle in 1926, is housed in a viceregal mansion

built over a pre-Hispanic pyramid dating from the 7th Century. It contains

the most comprehensive collection of pre-Hispanic gold and silver objects

and erotic art, part of a total of more than 45,000 archaeological finds:

mute testimony to three thousand years of Peruvian history. Finally, the

Amano Museum displays a unique collection of pre-Hispanic textiles from

eleven cultures, under modern conservation conditions.

CARAL: THE OLDEST CIVILISATION IN THE AMERICAS

Located in the Supe valley, 182 kilometres from the city of Lima, the Caral

ruins have been declared a World Heritage Site by UNESCO and have

changed our conception of the earliest societies in America. It dates from

3000 B.C., making it as old as the Mesopotamian (3700 B.C.) or Egyptian

civilisations (3500 B.C.) and replacing the Olmeca Culture (1200 B.C.) in

Mexico as the oldest in America.

The complex consists of numerous pyramids, circular open spaces,

galleries and dwellings; all the buildings suggest that religious rites were

frequently practiced. Musical instruments such as flutes, quenas, whistles

and horns have been found, as well as quipus; objects that speak of a

complex social organisation. According to the leading expert on Caral,

Ruth Shady, the city may have been conceived as a great calendar, given

that each public building was related to one of the deities of the Caral

pantheon and with a certain star position.
---
INTERVIEW

"THE NICE THING ABOUT MALI IS THAT IN A SINGLE

VISIT YOU CAN SEE MANY EXAMPLES OF PERU'S

CULTURAL DIVERSITY THROUGH ITS HISTORY AND

ITS ART. WE ARE A MUSEUM THAT TRIES TO GIVE AN

INTEGRAL VISION OF THIS COUNTRY."

MALI was created more than 60 years ago.

Tell us about your career.

Natalia: MALI was created in 1954 by a group

of people who thought that Lima should have

a place where art could be exhibited. At that

time there was an archaeological museum and

a museum of popular art, but not one for fine

art. So from that time to the present this has

been a national museum of art.

"MALI has the largest and most representative

collection of art works in Peru, from the pre-

Hispanic period to the present day. This has

been achieved by a collective effort involving

several generations of Peruvians. Many artists,

collectors and families have contributed in

different ways (by donating works, collections,

etc.) so that Peru should finally have an

internationally respectable collection. Also,

different governments and presidents have

supported and ensured the continuity of its

management. That is the museum's strength:

many years of work with a clear vision of where

we want to go".

Natalia Majluf y

Flavio Calda

Directives of MALI

In 2015 you inaugurated a permanent

exhibition on the second floor. How

was the process that culminated in the

reopening?

Natalia: First of all it implied an investment

in infrastructure, involving the complete

refurbishment of the second floor of the Palacio

de la Exposicion. To do that the museum used

the Plan Copesco of the Ministry of Foreign

Trade and Tourism. And while the construction

was going on, we were working on other things;

we acquired important collections as well as

restoring works and creating tools to make

them more accessible to the general public.

One of these is the MALI app, which has a

video guide and an audio guide incorporated in

it. That is because we have always understood

By

Rodrigo Cabrera

Photos

Christian Declercq

/61
---
INTERVIEW

The MALI stands

in the Parque de

la Exposicion, an

important public space

that hosts concerts

and other cultural

activities.

"A LINK BETWEEN MALI

AND THE HISTORIC

CENTRE MUSEUM

NETWORK AND WITH

THE HISTORIC DISTRICT

OF RIMAC WILL BE

A GREAT BOOST FOR

TOURISM IN LIMA. WE

ARE THINKING IN A

GRAND PEDESTRIANISED

WAY LINKING ALL OF

THESE INSTITUTIONS

TO MAKE ONE OF THE

MOST POTENT TOURIST

ATTRACTIONS NOT ONLY

IN LIMA BUT IN THE

WHOLE OF PERU. OVER

THE NEXT FEW YEARS WE

SHOULD CONCENTRATE

ON THIS."

the second floor renovation project as a project to

restore the museum's collections.

"We have made huge effort to acquire works that make

the collection even more representative. For many years

the museum lacked the best works, key examples

were missing and we have done much to rectify this

situation. Our art acquisition policy has been in force

for many years and is a continual effort to strengthen

the institution".

What are the most outstanding elements in the

new exhibition?

Natalia: Firstly I would like to emphasise the architectural

quality of the new gallery space. The work is impeccable;

it respects the building's structure and uses modern

techniques that are compatible with the original

architecture. I think another point in favour of the

second floor is its diversity. It would be very difficult for

someone to come and say they didn't like anything;

there is such a variety of works that there is something

to like for everyone: photographs from the 19th Century,

paintings from the 18th, metalwork, textiles and graphic

design, etc. I don't think many other collections have

this depth and diversity. Our collection has many stars,

but it is impossible to pick out any single work; what

matters is the collection as a whole. Furthermore, we

are continually trying to consolidate and complete the

collection, which implies an enormous effort by the team

and the museum's finances.

How is your team structured?

Natalia: The museum uses the North American

model of museum management. At the head are

the trustees who appoint a managing board, which

is renewed wholly or in part every four years. The

managing board nominates two directors; currently

Flavio Calda looks after the museum management

(administration, finances, marketing and personnel),

while I am responsible for the academic side and

everything concerning content. Reporting to us we

have professionals in conservation, curation and

education, etc.

How do you see MALI today as a cultural space

in Lima?

Natalia: We see MALI as a great introduction to the

museums of Lima. Visitors who want to see more

Moche art can go to the Larco Museum; those who

want more colonial art have the Pedro de Osma

Museum; and those who are more interested in textiles

can go to the Amano Museum. These options are

already available in Lima and are museums that are

trying to improve their collections and quality.

How do you see Lima as a tourist destination and

how should you concentrate on that sector?

Natalia: Over the last ten years we have seen a gradual

transformation in the idea of Lima for tourism. For many

years it was thought that the city had nothing of interest

to tourists. This has been changing and the boom in

gastronomy has been an interesting factor; but there

are others and I think the gradual renovation of Peruvian

museums has started to transform this point of view.

"Lima's great wealth is its museums; the fact that for

a long time they have been ignored by the authorities

and travel agencies is a key factor. Both the public

and private sectors have been blind to this enormous

potential. Lima does not have ruins as impressive as

Machu Picchu, Kuelap or Choquequirao; clearly the

architecture of the coast does not have the same

immediate attraction; it may be as important from an

archaeological and historic point of view but to the

tourist that is not the same. Nevertheless, Lima is the

city with the greatest concentration of cultural heritage

in physical terms, not just in Peru but in the region.

What we have to imagine is that over the next six years,

as the growth and expansion plans of Lima's various

museums come to fruition, this will be the cultural

capital of South America. As far as museums, quality

and quantity are concerned, no other city can compete

with Lima".

You have worked with the public sector to

refurbish the permanent exhibitions. How do you

work with the private tourism industry?

Flavio: Having a permanent collection helps us to work

with organised tourism because we have a consistent

product all year round, enabling us to participate in

fairs and generate material such as the audio and

video guides.

"Since we opened in September 2015 we have

worked very closely with agencies, tour operators and

guides' associations, inviting them to the museum so

that they can see the new galleries in person. This has

brought us the first wave of foreign visitors, but we

expect even better results from next year onwards.

We also have tourists who come on their own; we

have doubled the number of such visitors but the

figure is still low considering this museum's potential".

Natalia: Another important aspect for tourists is the

temporary exhibitions. A short while ago we opened a

small exhibition called Las playas de Lima, 1978-1991;

it provided a new lease of life. In July we will open a

mega-exhibition of the collection of genre paintings we

have acquired, which is probably the most important

water colour collection in Peru today. We will also mount

exhibitions of photographs and architecture on the coast,

as well as a small display in the textile gallery, among

others. So not only will the temporary exhibitions on the

first floor change throughout the year, but the permanent

display will also be refreshed. The idea is that regular

visitors to Lima -Peruvians from outside the capital and

Latin American travellers- will have a reason for coming

back to MALI again and again.

The collection of

pre-Hispanic art

includes pieces

dating from 1200

B.C.to 1532,

when the Spanish

Conquistadors

arrived.

/63
---
INTERVIEW

What are the main challenges facing MALI as a

tourist attraction?

Flavio: The principal one is promotion, and that

is achieved by working constantly with the tour

operators and with foreign visitors travelling on their

own account, who organise their trips on the Internet.

Our aim is to be included in these visitors' itineraries;

we find out their first points of contact with the city

and try to be there. For example, we are working with

PromPeru to become their official museum.

"We are also coordinating other matters that do not

depend only on us. We want the area surrounding

the museum to improve, although the park is not

our responsibility; nevertheless we are discussing

improvements such as a bus parking area, or including

MALI as a stop on the tourist bus route that operate

in the city. The idea is to make it easier for tourists to

get to MALI".

And what about activities for local residents?

Flavio: Now we are serving two sectors of the public,

but we've always been a local museum. We know the

different segments of the public in Lima, but visitors'

experiences are different, depending on where they

come from. They come to a night in MALI —the first

Friday of each month— to listen to concerts and have

a drink; on Sunday —a family day when we hold a

number of workshops— people come to learn and

to do something together as a family. The app, for

example, helps to enrich these experiences. We want

them to keep coming back; we want visitors to do

their own research to obtain an ever more interactive

experience.

Apart from this, do you have any more specialised

activities?

Natalia: Yes, conferences for example. We are also

developing a programme of visits for a specialised

Above:

El biombo del Inca, oil

on canvas painted in

1837.It narrates the

genealogy of the Incas.

Left:

Human head in silver

with gilded copper

inlay and semiprecious

stones, made

by the Moche Culture

(100-800 A.D.)

Right:

The MALI's collection

of colonial-era

paintings is one of

the most important in

Peru.

The abstract art of Fernando de Szyszlo.

/65
---
INTERVIEW

www.atsaperu.com

Luxury

as you

Deserve

Above and below:

Guided visits

can be arranged

to see both the

permanent collection

and temporary

exhibitions.

MALI

"WE HAVE AN INTEGRAL VISION OF TOURIST DEVELOPMENT FOR THE

CITY. IN THE SHORT TERM TOURISTS WILL VISIT ONE MUSEUM AND LEAVE

THE OTHERS; BUT IN THE MEDIUM TERM THE STRUCTURE OF TOURISM

IN LIMA WILL MEAN THAT VISITORS SEE NOT ONE BUT TWO, THREE OR

FOUR MUSEUMS DURING THEIR STAY. THIS WILL MAKE THE SMALLER

MUSEUMS GRADUALLY FEEL THE INCREASE IN TOURISM. WE HAVE TO

PROMOTE THE MUSEUM SECTOR AND NOT JUST ONE MUSEUM."

MALI

public, who will see the works we have in store, more

comprehensive collections than those on display, visits

guided by specialists in the subject, etc.

What new projects are on the horizon?

Natalia: We have a number of ongoing projects, the

most important of which is probably an extension to

MALI. It will be a space specially designed for our

contemporary collection that is not shown on the

second floor because it covers up to the 20th Century.

Nevertheless our contemporary collection is one of

MALI's most important and probably one of the most

important in the region.

"The idea is that the new building should be used as an

area that brings us into closer contact with the Parque

de la Exposicion; it will also be built in the context of the

new line 2 metro station at the junction of Paseo Colon

and Garcilaso de la Vega. The station connecting the

underground with the Metropolitano bus services will

be on our corner. It will become the heart of Lima's

public transport system and it is very important for us

to make the museum a part of this".

Imagine flying to Peru or any destination, at any time, in a private and confortable plane with premium

on-board services, without the risk of losing your flight and avoiding unnecessary delays.

"You decide when and where, the rest leave it in our hands"

reservas@atsaperu.com + (511) 363 - 7457

/67
---
GOOD EATING IN LIMA

Good eating

in Lima

Recommended by chefs and food writers

THERE ARE MANY GOOD RESTAURANTS IN LIMA. SO MANY THAT YOU COULDN'T SAMPLE THEM ALL IN A

MONTH. ESPECIALLY THE 'HUARIQUES', THOSE LITTLE PLACES KNOWN ONLY TO A FEW THAT WE PRIZE FOR

THEIR SPECIALITIES. THE BEST CAU CAU, THE BEST CRAB, THE BEST STIR-FRIED BEEF. PERUVIANS LOVE

RECOMMENDING THEIR FAVOURITES, PASSING THEIR DETAILS LIKE TOP SECRETS TO TRAVELLERS WANTING TO

DISCOVER THE CITY. THIS TIME WE ASKED FOUR CHEFS AND TWO FOOD WRITERS FROM LIMA TO TELL US ABOUT

THE ONES THE ALWAYS GO BACK TO.

FRANCESCO DE SANCTIS

For the chef of Sibaris, a small Barranco restaurant

(Jr. 28 de Julio 206-B) who prepares delicious

home-made food, Lima's gastronomy is one of the

most democratic in the world: you can eat very well for

not much money and discover an infinity of flavours in

each dish. So among his favourites that he goes back to

over and over is El Cevichano, in Market Nº 1 in Surquillo.

Here, he tells us, you can get a fresh cebiche made from

the fish of the day, at a good price and with first-class

service. The benefit is that Mariella, the owner's sister,

sells fresh shellfish in the same market, so everything is

made from the freshest ingredients. Another on his list is

la Negra in Chorrillos, who makes fantastic anticuchos.

Between blocks 1 and 3 of Av. Huaylas, in the parking

lot of Huaylas market. "She starts every afternoon at six,

selling anticuchos and picarones. Fantastic", exclaims

Francesco.

Christian Declercq

By

Paola Miglio

Christian Declercq

Christian Declercq

MONICA KISIC

Lima is the Peruvian city where the cultures of the

Andes and the jungle, the north and the south

come together. Lima's gastronomy is the result of

all this history of urban growth, of ancestral tradition, of

new and future cultures and of fusion", explains talented

young chef Monica Kisic. Her own tastes are well defined

and as far as food is concerned they are wide ranging.

She goes to eat mangrove scallops when they are in

season at the famous Emilio y Gladys (Daniel Velez 187)

in Chorrillos; clams at El Rincon de Bigote in Miraflores

(Jose Galvez 529) and salchipapas with chicha at any Tip

Top outlet. "Ever since I was little I've been going with my

mum; their auto service is great". But she also has other

favourites: Doña Paulina (Pan American Highway South

Km. 87) for the classic roast pork sandwich and tamal

with a beer after a party; Antigua Taberna Queirolo for

a ham sandwich (San Martin 1090, Pueblo Libre); Toshi

Matsufuji's Toke Pez in Surquillo (Av. Angamos 886) for

the cebiche; La Lucha for sandwiches in general (various

outlets) and Mi Amigo, a Chinese restaurant in San Isidro,

in the filling station on the corner of Salaverry and Av. Del

Ejercito. "If I fancy a glass of wine with something to eat

I go to La Gastronoma (Libertad 439, Miraflores): their

potato omelette and quiche are delicious. And if I just

want a drink and finger food, I go to Barra 55 (Jr. 28 de

Julio 206 D, Barranco).

Previous page:

Barra 55 is a bar

specialising in gin

cocktails.

Above:

El Cevichano,

in Mercado Nº 1

de Surquillo, is

the perfect place

to sample this

traditional dish.

Below:

Queirolo retains the

essence of an early

20th Century tavern.

Ideal for a good

chilcano.

/71
---
GOOD EATING IN LIMA

Above:

Pizza served at

Mayta Restaurant.

Below:

Lobo de Mar Otani,

where the cebiche is

delicious.

Jimena Agois

TOMAS MATSUFUJI

The owner and chef of fish and shellfish bar Al Toke

Pez (Av. Angamos 886, Surquillo) has made a wise

choice of premises and type of food. He favours

home-made cebiches and generous helpings. For

Tomas, "Lima is a place where rich and poor alike can

enjoy one of the greatest pleasures life has to offer: eating

well". So his favourite places include La Huerta Chinen

(Mercado Nº 2 de Surquillo) where, he tells us, everything

is good but the stuffed potato and chuck ribs are great;

Yamakawa (Jr. Luis Varela y Orbegoso 259, Surquillo),

for its tacu tacu or stir-fried noodles and fish; Lobo de

Mar Otani (Jr. Colon 587, Miraflores) for its cebiche and

crabs; El Cabrito del Huanchaco de La Victoria (Rodolfo

Beltran 199); the dim sum breakfast at Salon Capon in

Chinatown in the centre of Lima; and finally, Costanera

700 (Av. Del Ejercito 421, Miraflores): "The whole menu

is excellent, put the duck with rice is especially notable",

says Tomas. And he's right.

JIMENA AGOIS

Is a photographer and restaurant critic. Her most

recent work includes her photos for the latest book by

Gaston Acurio and Javier Masias, "Bitute, el Sabor de

Lima", and those for the next work by Virgilio Martinez

for publishers Phaidon. She has learned that "eating

in Lima means enjoying a wide variety of flavours and

styles. It means knowing more about the country with

each mouthfull and, above all, always finding surprises".

Although Jimena spends her days visiting restaurants,

taking photos and trying everything, there are places

to which she always goes back, such as Mayta (Av.

28 de Julio 1290, Miraflores), for the Thai pasta and all

of its cebiches and tiraditos; Rafael (San Martin 300,

Miraflores), for its curries and shrimp dishes such as

chupe (chowder); and El Mercado (Hipolito Unanue 203,

Miraflores), where she says she likes everything and any

choice is a good one. "Another two I go to are Carnal

(Elias Aguirre 698, Miraflores), for the hamburgers,

and Los Bachiche (Av. La Paz 1025, Miraflores) for the

octopus carpaccio, pizzas, pesto and testa, a dish that is

difficult to find in Lima, but chef Cinzia Repetto prepares

very well indeed".

FOR TOMAS,

"LIMA IS A PLACE

WHERE RICH AND

POOR ALIKE CAN

ENJOY ONE OF THE

GREATEST

PLEASURES LIFE

HAS TO OFFER:

EATING WELL"

Christian Declercq

Christian Declercq

VIRGILIO MARTINEZ

Gastronomy in Lima is a unique example of diversity,

an interesting chaos of flavours and tradition. It

reinforces our identity".

The chef of Central, the world's fourth best restaurant

according to The World's 50 Best Restaurants, of San

Pellegrino and Acqua Panna, also has his favourites.

Those that are close to where I live and work, as the

pressure of work prevents him from going far. Virgilio

Martinez prefers the classic cebiches of Surquillo

market, with El Cevichano and Bam Bam and its

powerful leche de tigre; both can be found in Mercado

Nº 1 de Surquillo. "It's gigantic —he says—. When I

fancy a chalaquita de almejas I go to El Rincon de

Bigote (Jose Galvez 529)". And then Harry Neyra's

La Barra for coffee and sandwiches from Renato

Peralta's Migas (both at Perupa'ti, Av. Armendariz

546, Miraflores) and Los Bachiche (Av. La Paz 1025,

Miraflores) when I fancy pasta.

JAVIER MASIAS

Restaurant critic, joint author of "Bitute, el Sabor de

Lima" and food writer Javier Masias knows where

to eat and appreciates good preparation. For that

reason he has some interesting recommendations. His

concept of Lima as a gastronomic space is clear: "Lima

cuisine brings together all of Peru's different identities. It's

a natural laboratory of fusions and experimentation with

influences from all over the world and one of the greatest

sources of satisfaction and pride for its inhabitants". The

places he most likes to go to include, for example, Barra

55 (Jr. 28 de Julio 206 D, Barranco). "I love the fact that

it has some of the best gin and tonics in the city —he

notes—, just a few canapes but beautifully made, always

a good choice of music and affordable prices. It's best on

weekdays". Another of his favourites is La Gastronoma

(Libertad 439, Miraflores), a delicatessen that sells

natural, artisanal and organic produce. It has delicious

natural wines and is nice and quiet; it is off the beaten

track. Amaz (Av. La Paz 1079, Miraflores), Amazon food

to share, is also on his list; the bar is run by one of the

best bartenders in Lima. He would also add Rafael (San

Martin 300, Miraflores): "A contemporary approach to

the classics in an open environment"; El Cevichano in

Mercado Nº 1 de Surquillo for a fresh, tasty and lowcost

cebiche; and Isolina (Prolongacion San Martin 101,

Barranco), traditional Lima food in huge helpings to share.

THERE ARE MORE YOU

SHOULDN'T MISS IN

LIMA, BUT ALMOST

EVERYONE AGREES

THAT THEY SHOULD BE

KEPT FOR THAT SPECIAL

OCCASION. FOR EXAMPLE,

CENTRAL (SANTA ISABEL

376, MIRAFLORES),

MAIDO (SAN MARTIN

399, MIRAFLORES),

RAFAEL (SAN MARTIN

300, MIRAFLORES) AND

MALABAR (AV. CAMINO

REAL 101, SAN ISIDRO)

Above:

Rincon de Bigote

is very popular for

its clams with chilli,

onion, mushrooms,

coriander and

lemon.

Below:

Isolina offers creole

cooking as it used

to be.

Sergio Guzman

/73
---
GOOD EATING IN LIMA

MY RECOMMENDATIONS

When they ask me where to eat it's not easy to answer. I have

too many places to recommend; but there are some I always go

back to regardless. Mind you, I'm not going to repeat the ones I've

already recommended, to increase the variety I agree: All of those

mentioned are places I go to often. I would also add the following.

Somos

Above:

the hamburger at

Cafe A Bistro is

one of the best in

the city.

Below:

left to right:

Virgilio Martinez,

Jimena Agois and

Tomas Matsufuji.

Below from left

to right: Javier

Masias, Francesco

de Sanctis and

Monica Kisic.

• La Picanteria (corner of Gonzalez Prada and Santa Rosa in

Surquillo) for crab chilcano, cau cau and pork with rice.

• Don Fernando for the pepian, northern style (General Garzon

1788, Jesus Maria).

• El Pan de la Chola (Av. La Mar 918, Miraflores) for a good

breakfast.

• Panchita (2 de Mayo 298, Miraflores), the true Lima cuisine by

Martha Palacios is impeccable. Her pork and rice and carapulcra

are unforgettable.

• Cafe A Bistro for a good hamburger (filling station on the corner

of Av. Salaverry and Av. Del Ejercito, San Isidro).

• Osso (Tahiti 175, La Molina) for meat.

• Mariate (Arica 478, Miraflores) for puddings. Look out for the

alfajores and crocante de pecanas.

• Pum Kay (Av. Benavides 1949) for Chinese food.

• El Tio Candela (Jr. Angaraes 482, Lima) for pan-fried fish.

You have to go to them and you'll have a great experience.

Jimena Agois

Jimena Agois

Christian Declercq

Christian Declercq

Pocho Caceres

Santiago Barco

Phoss
---
CASA DE ALIAGA

A TOUR OF THE

OLDEST COLONIAL-

ERA MANSION ON

THE CONTINENT, WITH

CHEF JERONIMO DE

ALIAGA, DESCENDENT

OF THE ORIGINAL

OWNER, AS OUR

GUIDE.

By

Iñigo Maneiro

Photos

Christian Declercq

Casa de Aliaga

481 years of history

The inner courtyard

of the mansion, in

the Seville style,

with Cusco School

paintings.

/79
---
CASA DE ALIAGA

Above:

The Salon Dorado

contains three mirrors

with a profile of Marie

Antoinette, Luis XVI

furniture and a bronze

fireplace bearing the

signs of the zodiac.

Below:

initials of Juan

de Aliaga y de la

Puente, proprietor

in the middle of the

19th Century. He

was responsible for

the work that gave

the mansion the

appearance it has

today.

CASA DE ALIAGA

HAS BEEN

INHABITATED FOR

17 GENERATIONS

OF THE SAME

FAMILY SINCE IT´S

CONSTRUCTION IN

XVI CENTURY

W

hen Conquistador Jeronimo de Aliaga reached Peru from Panama,

he must never have thought that the plot of land given to him by

Pizarro as a reward for his services would become the oldest house

in the Americas continuously occupied by the same line: the De Aliaga

family. Neither would he have imagined that one of his descendents, after

seventeen generations of the family had lived without interruption in the

house, would share his name; but instead of wielding a sword, the Jeronimo

de Aliaga of our times is responsible for the gastronomic experience offered

by the house today.

"Opening De Aliaga mansion to tourists —recalls Jeronimo— was the idea

of my grandfather, Eduardo Arrarte, founder of Lima Tours. Not only did my

family live in the house, but my father and an aunt still live there. So the Casa

de Aliaga is above all a family home. But its historic importance, the art works

it contains and also the need for a source of income to ensure its upkeep

and maintenance meant that we have opened the oldest part to visitors while

keeping the private apartments for those who live there".

FROM THE SPANISH CONQUEST TO THE NEW YORK TIMES

The Casa de Aliaga was built on a huge plot occupied by the Inca chieftain

Taulichusco, the highest authority in the River Rimac valley. After the conquest

of Peru, this land was distributed by Pizarro among his senior commanders.

Pizarro himself took the land now occupied by the Presidential Palace, while

Jeronimo de Aliaga built his house on a 2500 square metre plot, and over
---
CASA DE ALIAGA

The Salon de los Azulejos is decorated with hand-painted ceramic tiles dating from the 17th Century.

/83
---
CASA DE ALIAGA

THE HISTORIC

CENTRE OF LIMA

CONTAIN GREAT

HOUSES OF THAT TIME,

SUCH AS THE

GOYENECHE,

TORRE TAGLE AND

RIVA AGÜERO

MANSIONS

Each room of the

house has its own

style, deriving

from the furniture,

paintings and

contemporary

items.

the years it has hosted artists pursued by the law,

presidents, intellectuals and even saints such as St.

Rose of Lima.

The first Jeronimo de Aliaga left the port of Sanlucar

de Barrameda in Cadiz at the age of sixteen, bound

for Panama. From there he travelled with stores

and munitions to Peru, as a member of the force

commanded by Conquistador Pizarro. He took part in

the foundation of Lima on the 18th of January 1535

and in the creation of San Marcos University, the oldest

in the Americas.

The Historic Centre of Lima and many other districts of

the capital contain great houses of that time, such as

the Goyeneche, Torre Tagle and Riva Agüero mansions,

but very few open their doors to visitors. This, although

much more recent from a historical point of view, the

Casa Moreyra is today a well-known restaurant; the

Pedro de Osma museum and the Garcia Alvarado

mansion stage occasional celebrations, such as

weddings or corporate events. The closest to the Casa

de Aliaga is the Huayoccari Hacienda in the Sacred

Valley, Cusco."We both opened our homes to show the

wealth of works of art they contain. In our case the art

collection and the wide variety of styles to be seen in

the house, including French, baroque, gothic, viceregal,

neo-gothic, classical and even modern, as introduced

by the current residents. That is what brings it alive".

And that is why the mansion has been a national

monument since 1972 and why The New York Times

describes it as an obligatory stop on any visit to Lima.

The Historic Centre has been changing for many years,

when former mayor Alberto Andrade gave priority to

its appearance and safety. "That was the idea. As with

most countries that have a historic tradition comparable

to ours, the centre should be an ever more important

part of any visit to Peru, and in its small way, the Casa

de Aliaga contributes to this".

MORE ALIVE THAN EVER

What is certain is that some eight thousand visitors a

year come to this house, next to the historic post office

building and to one side of the Presidential Palace.

Jeronimo de Aliaga has four proposals for these

visitors."On one hand we have guided tours offered

through agencies. During these visits the group comes

with its own guide, although we can make specific

recommendations regarding the guide. Individuals

wishing to visit must make a reservation in advance to

ensure that the service is available, and for them the

house has its own guide.

The best part of the experience is the gastronomy. We

offer lunch and dinner for groups of up to 120 people

in two of the most important rooms, the Salon de los

Would you like to discover Machu Picchu?

Winding through the Sacred Valley of the Incas, deep into the heart of Peru´s

ancient past, Inca Rail transports travelers in complete comfort and harmony to

magnificent Machu Picchu. Offering four levels of service and eight daily trips

between Ollantaytambo and Machu Picchu, Inca Rail is a luxurious way to enjoy

the 1.5 hour excursion. Spacious seats, panoramic views, UV-protected windows,

air conditioning, fine Peruvian cuisine and impeccable service await travelers.
---
CASA DE ALIAGA

Left:

Jeronimo de Aliga

prepares each dish

at dinner.

Above:

king prawn and

yellow mashua

purée with ragout

and Porcon

mushrooms.

Below:

lamb with foamed

Ica butter and

crispy quinoa.

Opposite page:

the mansion's

original dining

room has been

adapted to

accommodate

groups of diners.

CASA DE ALIAGA

IS MORE ALIVE

THAN EVER BECAUSE ITS

HISTORY HAS BEEN

ENRICHED BY EXPERIENCES,

THE DESCENDENTS

OF ITS ORIGINAL

OWNER AND ARTISTIC

DIVERSITY

Azulejos, which was painted by hand and whose tiles

were brought from Seville in the 17th Century, and the

Salon Dorado, with its Luis 16th furniture."We have

nearly finished a dining room on the ground floor; this

will free the two rooms mentioned, thus improving

the experience and reducing group size, as the new

room will seat a maximum of eighty people. Another

option consists of corporate events and programmes.

We have room for two hundred people standing and

offer a suitable menu for such events in line with the

client's requirements. Finally we have a seven-course

taster menu. It is much more flexible and responds

to market forces. I make personal visits to organic

producers and fairs, and I also have specific suppliers

for different products. I make the different courses from

the ingredients I can obtain".

In general, the menu is based on two gastronomic

styles, one of purely Peruvian Creole food, in line with

the personality of the city of Lima, and a lighter and

gentler international version."The latter is designed with

the type of visitor we receive in mind; most of them are

from Europe and the United States and are 60 years

old or more, so they seek lighter dishes or special diets.

We can also make up specific menus as requested by

individual groups".

The De Aliaga mansion is more alive than ever because

its history has been enriched by experiences, the

descendents of its original owner and artistic diversity.

It also has tourist initiatives that share all of this with

its 21st Century visitors."The whole of my family

is involved in this enterprise: my father and aunt

handle public relations, my sister Maria Eugenia does

communications, my brother Gonzalo is responsible for

administration and I'm in charge of the food. We look

for equilibrium between the house as a family home

and the house as a tourist experience. We go from one

to the other and little by little, we are adapting to new

situations and requests from visitors".

/87
---
ADVERTORIAL

TITILAKA'S GENEROUS "ALL IN" SERVICE INCLUDES

CONTEMPORARY CUISINE CREATED BY PERUVIAN

CHEF MARIA FE GARCIA, AND MORE THAN A

DOZEN HIGHLY FLEXIBLE ITINERARIES LED BY OUR

EXPERTS AND LOCAL BILINGUAL GUIDES.

Luxury in the

cradle of the Inca

civilisation

The itineraries include visits to picturesque markets,

weavers, walks on ancient roads, exclusive excursions

to private sections of the Taquile and Uros islands,

mountain biking, bird watching, road trips, visits to

archaeological sites and excursions to Bolivia.

Everyone working in the lodge is committed to doing

so in a sustainable and responsible manner. Three

quarters of our personnel are from local villages,

thus encouraging their economic development.

Titilaka also works with a not-for-profit organisation

to support the communities living on the lake shore,

by providing a sum of money for each guest. We also

offer each guest the opportunity to make their own

donation when visiting a local community.

The hotel is modern and sophisticated, with original

decoration that includes hand-made products from

local artisans. The eighteen rooms have a view of

the lake. Titilaka has its own boathouse with sailing

boats, kayaks, canoes and paddleboards for the

exclusive use of its guests. With Relais & Chateaux

services and conveniences, Titilaka is the perfect

base for exploring the highest navigable lake in the

world and its Andean surroundings, in style.

By

Titilaka

Endless skies, snow-covered peaks and sapphire

waters shining on the horizon at Titilaka, luxurious

lodgings with an out-of-this-world charm on

the shore of Titicaca Lake, the cradle of Andean

civilisation and home of some of the most traditional

communities in Peru. Off the beaten track, Titilaka

is the entry to an unspoiled part of Titicaca Lake

that offers a magical variety of spectacular scenery

including mountains, Inca and pre-Inca ruins, ancient

roads and vibrant indigenous villages where whole

families weave colourful traditional textiles by hand.

Titilaka means "puma's mouth" in Aymara, and the

lodge takes its name from a local community with

which it shares a private peninsula jutting spectacularly

into the lake. Frequently described as "mystic",

the surrounding area is home to many Aymara and

Quechua communities for whom Spanish is their

second —or even third— language, and where the

Andean creation myths centred on the lake are still

part of local customs and daily life.

/89
---
MUSIC IN LIMA

Dengue Dengue

Dengue!, a duo

that mixes tropical

and electronic

rhythms with potent

audiovisual effects.

Music in

Lima

Soundtrack of a musical city

By

Santiago

Pillado-Matheu

LIMA IS A CITY WITH

MANY HIDDEN SECRETS.

A CITY WHERE YOU HAVE

TO KNOW WHERE TO FIND

WHAT YOU WANT. DESPITE

BEING AN AUTHENTIC

CRUCIBLE OF DIFFERENT

CULTURES, A REFLECTION

OF PERU AND ITS GREAT

CULTURAL DIVERSITY, THE

CITY HAS MANY FACETS

NOT VISIBLE IN FULL

EVEN TO ITS NEARLY TEN

MILLION INHABITANTS.

A PALETTE OF SOUNDS

VARYING BETWEEN

TRADITIONAL, URBAN

VANGUARD AND TROPICAL

ANARCHY.

Santiago Barco

/91
---
MUSIC IN LIMA

Left:

Cover of creole album

La gran reunion.

Renzo Giraldo

Adrian Portugal

CONTEMPORARY MUSIC

Contemporary and experimental music has had a place

in Lima since the middle of the last century, when Edgar

Valcarcel, Cesar Bolaños, Arturo Ruiz del Pozo and Jorge

Eduardo Eielson, among others, began their search for

new sounds. In the vanguard of modern music, new

exponents are coming to prominence today. Fusions

of jazz and free music join with artistic performances

in experimental venues: in the northern suburbs Luis

Alvarado and his label Buh Records, the MAC and

the first collective exhibition of musical art, Telefonica

Foundation, the National Theatre and art venues Garua,

Proyecto AMIL and 80m2 demonstrate new electronic

and analogue trends being created in Peru.

ROCK AND ROLL

Rock is not a musical genre in Lima. It is the sum of

the different aesthetic stimuli one finds on the streets;

their most representative and creative cultural diversity.

In scattered venues in districts such as Miraflores,

Barranco, Los Olivos and the Historic Centre, the

forces of countercultural rock from freak folk and indie

to hardcore and metal, and numerous sui generis styles

are making themselves heard. Live performers include

artists such as Kanaku y El Tigre, Cocaina, Menores,

Jiron Mercurio, La Sarita, El Aire, Cuchillazo, Cobra and

many others, whose gigs can blow you away.

Santiago Barco

TROPICAL ANARCHY

But there is something else in the air, which fully represents

the spirit of Lima in the 21st Century: it's cumbia. Deriving

from the seventies, when psychedelic cumbia was at

its peak, with bands such as Los Destellos, Los Mirlos

and Juaneco y su Combo, brewed from the chicha or

Andean cumbia if the eighties, whose exponents included

Chacalon, Los Shapis, Pintura Roja and Armonia 10,

the cumbia rhythm of the new generation is potent and

extremely popular: from the electronic style of Dengue

Dengue Dengue!, Elegante y La Imperial, including the

DJs of digital cumbia, to La Mente and Bareto, with their

dub influences and interminable fiestas, tropical anarchy

is the rhythm of today.

If there is one thing we ought to know when we arrive

in Lima, it is that below its surface a musical explosion

under way; a countercurrent developing between the

truth and the cosmopolitan city fed by the mountains and

the sea, the song of the river and the sound of the wind.

A city where everything makes a sound and where every

soul needs song to stay alive.

Santiago Barco

SALSA IS ONE OF

THE MOST POPULAR

MUSICAL GENRES IN

LIMA, AND ESPECIALLY

IN CALLAO. BANDS

SUCH AS CAMAGUEY

AND SINGERS LIKE

WILLY RIVERA HAVE A

FAITHFUL FOLLOWING

THERE. NEVERTHELESS,

NEW SALSA SONGS ARE

BEING PERFORMED BY

SABOR Y CONTROL, A

BAND PLAYING 'HARD

SALSA' LIKE THE

CLASSIC BANDS OF

THE PAST, AND WHICH

ALSO USES MUSIC

WHEN WORKING WITH

YOUNG PEOPLE IN POOR

NEIGHBOURHOODS

Left:

Julio Perez, vocalist

of the rock band La

Sarita.

Right:

Sabor y Control.

Right:

Dina Paucar, one of

the best performers

of Peruvian folk music

in one of her many

concerts.

SAYARIY ITS A

MUSICAL PRODUCTION

COMPANY THAT

SEEKS TO PROMOTE,

THROUGH VARIOUS

RECORD LABELS, THE

DIFFERENT MUSICAL

DEMONSTRATIONS

ARISING IN PERU. THEY

INCLUDE CREOLE,

ANDEAN, ELECTRONIC

AND CONTEMPORARY

MUSIC

LIMA BEWITCHED

The essence of Lima's traditional music is creole

music. A mixture of Spanish and African, with musical

flavours from the Andes and other regions, it took

root in Lima at the beginning of the 20th Century,

keeping the creole spirit alive in the city's most

emblematic neighbourhoods: Rimac, Barrios Altos,

Breña, La Victoria and Cercado. Following in the

footsteps of interpreters such as Limeñita y Ascoy,

Los Morochucos, Oscar Aviles and Arturo "Zambo"

Cavero, and composers like Felipe Pinglo, Chabuca

Granda, Manuel Acosta Ojeda and Augusto Polo

Campos, the creole legacy in its purest form continues

thanks to Manolo Castillo Vera, Jorge Armas, Francisco

"Chiquito" Rodriguez, Cesar Manuel "Pescado" Oliva

and Alberto "Chiquitin" Borjas; all of them recently

published by record company Sayariy, under the La

gran reunion label.

APUS AND FLOWERS

Waves of migration from the highlands to the capital

have given rise to innumerable departmental clubs in

different parts of Lima. These clubs, in the centre and

peripheral districts of Lima, host all the local fiestas

of each community, district, province or region of the

Peruvian highlands. And when this beautiful flower of

folk tradition blooms, an atmosphere of carnival and

joy develops and voices are raised in nostalgia and

homage to Peru's original peoples. From the likes of

Raul Garcia Zarate and Manuelcha Prado, custodians

of the traditional Ayacucho guitar, to Dina Paucar,

Sonia Morales and Laurita Pacheco, exponents of

the Andean harp, the sentiment of this music can be

found all over the city, particularly in the area around

the Central Market, where every variation of folklore

from all over Peru can be found.
---
NEW SOUL

By

Iñigo Maneiro

THE SECOND-HAND AND ANTIQUITIES

MARKET IS STEADFASTLY EXPANDING.

IT IS INFLUENCED BY THE PERIODIC

ECONOMIC CRISES THAT AFFECT

THE WORLD AND DEMAND CREATIVE

ECONOMIC MANAGEMENT BY

INDIVIDUALS, WHO THEN UNEARTH

WHAT THEIR GRANDPARENTS HAD KEPT

TUCKED AWAY. BUT IT ALSO DEPENDS ON

A A TASTE FOR VINTAGE AND ANTIQUES,

GIVING A NEW USE TO PRODUCTS THAT

IN MANY CASES WERE DESIGNED FOR

ANOTHER PURPOSE.

Xxxxxxxxxxxxxx

New soul

Objects and spaces enjoying a second life

This may be decoration, an addition

to a collection, fashion or recycling

-the latter being the result of the new

environmental sensibility that is sweeping

the planet. To all of this can be added a

significant investment to recover important

buildings and give them a new sense of

purpose, thus ensuring the conservation of a

a rich historical heritage that otherwise could

succumb to the modern appetite for new

buildings.

For example theodolite tripods used by

surveyors, Cuatro en un Baul is selling them

as lamp standards. Glass bottles used by

pharmacies to store medicines: Las Primas

is selling them for use in the kitchen. Wooden

chests, old doors or fallen tree trunks can

now be found converted into tables in

hotels and private houses. There is no limit.

Jewellery, first edition books, clothes such as

that sold by Las Traperas in Barranco and

Mercado de Pulgas, furniture and musical

instruments, toys, household items, tools,

watches and cameras, such as those kept

by Rescatando Recuerdos. The list is long

because everything can be brought back to

life or used again as decoration in the home

or office.

Hall of the Edificio Ronald. Just a

few years ago this building was

abandoned; today it is part of

the Iniciativa Fugaz and contains

restaurants, shops and art

galleries.

Christian Declercq

/95
---
NEW SOUL

Above:

Cuatro en un Baul.

Left:

The Goyeneche mansion

in the centre of Lima, has

been preserved by the

Banco de Credito del Peru.

Right:

At Las Traperas you can

buy clothes and even

furniture and decorative

items.

But apart from this, Lima has much to offer from Peru.

In some second-hand or antiques stores you can find

republican-era or colonial art, popular art that has gone

out of fashion, and things used in times past on the

coast or in the highlands, such as Las Pallas in Barranco.

Sometimes, olden days are associated with a specific

person known for his career, tastes or possessions, and

this is the case with Jorge Bustamante and his collection

from the middle of the 20th Century, which is on show at

Vernissage Arte y Antigüedades, and Orlando Espinosa

and his Art Deco collection, which can be seen in

El Desvan, both in the district of San Isidro.

Entire streets are given over to antique stores, such as

La Paz Avenue in Miraflores, Junin next to Mercado Nº 2

de Surquillo or the road down from La Molina. Normally

these stores offer a carefully chosen selection of what can

be found in the more popular second hand markets.

Restoration

and historic buildings

• Arte Express: www.livingaroundart.com.

• World Monuments Fund: www.wmf.org.

Carlos Ibarra

Cuatro en un Baul

Large old houses are also being transformed. This is true

of the Hotel B in Barranco, which offers sophisticated and

exclusive rooms; the Goyeneche mansion, which belongs

to the Banco de Credito, or the Riva Agüero mansion,

which houses the Museum of Popular Art and Traditions.

Arte Express has contributed much to the restoration of

old buildings in the historic centre of Lima. This company

has restored some of the capital's emblematic buildings,

many of them dating from the beginning of the 20th

Century, converting them into banks, offices, stores and

technology businesses.

A particularly noteworthy example can be found in the

Constitutional Province of Callao. A group of investors,

who have created the Iniciativa Fugaz, have restored the

traditional Casa Ronald and several buildings around the

Main Square, which are used for different cultural and

gastronomic initiatives, including art galleries, boutiques

and restaurants.

Christian Declercq

Another way of restoring and using old things is followed by the

World Monuments Fund, an institution that in Peru is restoring and

safeguarding a rich heritage. At present it is undertaking new projects

under the guidance of photographer Mario Testino. Four of these

are in Cusco, one in Arequipa and four in the Department of Lima:

The church of San Cristobal de Rapaz in the northern highlands, the

terraces of Laraos in the south, the Quinta de Presa in the district of

Rimac and the Ermita in Barranco, a building dating from the middle

of the 18th Century, although the existing building, in the neo-gothic

style, was erected at the beginning of the 20th Century.

Christian Declercq

Arte Express

Antiquities

• Between blocks 2 and 8

of La Paz Avenue, Miraflores:

www.mirafloresperu.com.

• Surquillo Market, block 1 of Jiron

Junin.

• La Molina Antiques Market, on the

descent from Cerro de La Molina.

• Las Pallas: www.laspallas.com.pe.

• Rescatando Recuerdos:

on Facebook.

• El Desvan:

www.antiguedadeseldesvan.com.

• Vernissage Arte y Antigüedades:

on Facebook.

Christian Declercq

Above:

Façade of the

Sudamericana building,

erected between 1921

and 1930.Now restored

thanks to the work of Arte

Express.

Left:

Lots of furniture with a

history in the antique

shops of Miraflores.

Below:

Mural in the Plaza Matriz

in Callao. Part of the

Fugaz Initiative is to bring

this area of Callao back

to life through art and

culture.

Second hand

• Cuatro en un Baul, Jiron Martinez de Pinillos

105, Barranco.

• Las Primas: www.primas.com.pe.

• Mercado de Pulgas (Barranco and Miraflores):

trueca@trueca.pe.

• LasTraperas: www.online.lastraperas.com and

on Facebook.

• Traperos de Emaus de San Agustin: Avenida

Guardia Civil Mz. M Lt. 11, Chorrillos.

• La Cachina, in the centre of Lima. Block 8 of

Argentina Avenue.

/97
---
"Peru's Travel Industry Foundation,

affiliated with Tourism Cares of the USA "

1 La Libertad

Project: Implementation and improvement of the exhibition halls and deposits of the

Archaeological Programme "El Brujo" Complex (PACEB) - Cao Museum, towards the

optimisation in the management of the archaeological collection of the Moche Culture.

Purpose: Cooperate with the PACEB and Wiese Foundation in the conservation and

showcasing of the cultural heritage and historical items found in the Moche archaeological

site, in the district of Magdalena de Cao; and support community development in the district

by engaging young students in the educational programme "Getting close with our Heritage".

Support: Visit the Archaeological Complex "El Brujo" and the Cao Museum during the tour

of "the Moche Route".

2 La Libertad

Project: Archaeology and community development in the town of San Jose de Moro, where

a Moche Culture cemetery is located.

Purpose: Cooperate with the Catholic University of Peru to train young members of the

community in art and serigraphy so they can reproduce the ceramics and iconography of the

Moche with their traditional techniques. Promote the products of the ceramics workshop by

distributing printed collateral material.

Support: Visit the ceramics workshop and archaeological site of San Jose de Moro, during

the tour of "The Moche Route".

3 Lima

Project: Mobile application based on the geolocation of the main museums in Lima.

Purpose: To help the Municipality of Lima in the creation of a mobile application in both systems

Android and IOS, free of charge, in three languages: English, Spanish and Portuguese, for the use of visitors

to the city, with graphic and complete information on the main museums in Lima and Callao.

Support: Download the application and visit the museums in the city.

"We sponsor initiatives of sustainable tourism in Peru which generate benefits to

the destination, preserving its heritage and empowering the local communities."

1

2

3

4

5

6

7

5 Cusco

Project: Diversification of the Tour products in the Community of Andahuaylillas, by

showcasing and managing traditional resources: a "Chicheria" and an Artisan bread oven.

Purpose: To help members of the Andahuaylillas community perceive more benefit from

the tourist visits to their famous Chapel, by offering additional typical products such as the

"Chicha" - corn beer, and Andean farmer's bread.

Support: Visit the "Chicheria" and the bakery during the Andean Baroque tour, and buy

their products.

6 Cusco

Project: Site museum and handcraft centre of Tipon, Inca archaeological site.

Purpose: To help the members of the Choquepata community, where the Inca

archaeological site of Tipon is located, to show their cultural heritage, strengthen their

identity and promote their handcrafts.

Support: Visit the community centre and purchase handcrafts during the tour of Tipon.

7 Cusco

Project: "ReCusco", collecting and recycling Pet plastic bottles in the Cusco tourist route.

Purpose: Manage a recycling programme for Pet plastic bottles, dispensed by

TurismoCuida's founding companies to their guests in the Cusco route, with the

co-sponsoring of the Fund of the Americas - FONDAM and under the direction of Prisma

Association, which should protect the environment and incorporate micro-businesses

of recyclers.

Support: When visiting Cusco, the Sacred Valley and Machu Picchu, deposit your empty

plastic bottles in the "ReCusco" containers".

4 Lima

Project: Detailed survey of the "Kullpis" of Rupac, in Huaral province, Lima Region.

Purpose: To support the faculty and students at Orval Peruvian Art University, with their research at the

Archaeological Site of Rupac - ca. 13C, through 3D laser scanning of the "Kullpis" (buildings/towers

of stone), and comprehensive surveying to build replicas to scale, which can be visited and thus

preserving the original ones.

Support: Visit the Archaeological Site of Rupac, 8-hour drive from Lima, developing the local economy

through tourism and motivating the area's residents to preserve their heritage.

8

8 Arequipa

Project: The Sillar Route, declaration of the sillar quarries of Añashuayco, as Cultural

Heritage Site of Peru.

Purpose: To help some 500 members of the Association of Sillar Cutters of Añashuayco,

to protect their trade and the quarries of Sillar, a white volcanic stone and main icon of

the architecture of Arequipa, called "the White City".

Support: Visit the quarries and admire the work of the Sillar cutters during the city tour

of Arequipa.

www.turismocuida.org / info@turismocuida.org

/TurismoCuida
---
EXPAT

"THIS WORK

IS THE BEST

PRESENT I'VE

EVER RECEIVED.

EVERYTHING

I KNOW,

EVERYTHING I

HAVE LEARNED

OVER THESE

YEARS ".

By

Carolina San Roman

Karime LopezChristian Declercq

Where were you born?

I am Mexican. I was born in the Federal District, but I lived

there only until I was seven and then moved to Queretaro.

I would say I'm from Queretaro because I mostly grew up

there; my home, my friends and my life are there.

Did you know early on that cooking was your thing,

or did you study something else beforehand?

After leaving school in Queretaro I decided to study

plastic arts in Paris. Before going to university I had to

learn French, so I spent a year studying it and a little art

history. I then started studying fine art.

So how did you get into gastronomy?

While studying plastic arts I realised that what I liked most

was cooking. Everything relating to cooking in Paris was

great, so detailed that it captivated me and I wanted to do

it myself; so I decided to study cooking. I wasn't happy

in Paris but I did want to stay in Europe, and thanks to

a friend I made contact with a school and moved to

Seville, where I studied gastronomy for three years.

Then I worked for six months in a really great restaurant,

it had three Michelin stars, afterwards they hired me for

two years. Then I went to another good restaurant, also

Michelin starred, and so onwards.

What were your experiences before

coming to Peru?

After being in Spain for several years I was asked to take

charge of a restaurant in Mexico City and I decided to go

back. I was the creative manager of Puyol —one of the

city's best restaurants— for a time, but I couldn't adapt,

so I moved to North Carolina to work for a restaurant

company that needed somebody to look after the quality

in all the restaurants in the chain. They paid very well so I

took advantage of it to save some money; then I returned

to Mexico while I decided what I wanted to do. I worked

in my family's restaurants, responsible for the baking and

confectionery. During this period I was accepted by a

restaurant in Tokyo, and without thinking twice, off I went.

I was training for a few months and then they hired me

and I stayed there until my work visa expired a year and

a half later.

So how did you come to Peru?

My Japanese work visa took so long that I had to leave

the country. I decided to go to South America because

I had never been there. I was in Bolivia working on a

project and some mutual friends —friends of mine and

Virgilio Martinez— contacted me to work at an event in

Peru. I accepted because I had always wanted to get

to know the country. I met Virgilio and he offered me a

job with him when he opened Senzo, his restaurant in

Cusco. I stayed there several months and then he started

other projects so I came to Lima to work at Central.

What do you do at Central?

I'm responsible for development and research; this is

very important here because all the restaurant's dishes

have a history. I am part of the Mater Iniciativa, which

consists in investigating Peruvian products. To do so we

travel to the different regions. We draw up the menu using

the results of this research work. This work is the best

present I've ever received. Everything I know, everything

I have learned over these years about Peruvian products

has been incredible. Some dishes on the menu stay

the same, others mutate and yet others are replaced

according to what we are researching. You can eat at

Central then come back in fifteen days to find new and

different dishes.

What do you like most about working there?

My work involves manual work and I love that. Also, I like

Virgilio's aesthetic very much. At Central I'm free to do a

little of what I want because Virgilio has a lot of confidence

in me. That makes me happy at my work.

Gregory de Villers

Brick Martin

Central

What interests you most about cooking in Peru?

The product is definitely the most interesting thing, it's

incredible. Not just the ingredients, but how they are

used. You have everything here, products from the coast,

the highlands and the jungle, and they're all easy to get.

The diversity is impressive and every time we go on a trip

what most strikes me is the product. Furthermore, here

in Central we use products that nobody has cooked with

before, for example chaco clay. We use it in puddings, in

salads, in our vegetarian menu, etc.

What is the most outstanding thing on

Central's menu?

The ingredients and that each dish is the product of deep

research; each dish has a whole team of people working

on it.

What do you most enjoy about living in Lima?

What I enjoy most is seeing the sea every day. I can walk

to work and look at the sea as I walk.

Do you have any new projects with Central?

The principal project for Central is Central; it is very

absorbing, but from a positive point of view. It's a great

project that is alive all the time, and we're going so fast

that at times we don't realise exactly what we're doing,

but there is always something new to work on.
---
AGENDA

AGENDA

MUSEUMS & EXHIBITIONS:

MALI

Lima Museum of Art presents a photographic exhibition entitled Las playas

de Lima, 1978-1991 in the Juan Bautista y Carlos Verme photography

gallery. The collection includes photographs from artists such as Mariella

Agois, Juan Enrique Bedoya, Fernando La Rosa, Jaime Razuri and Mariel

Vidal, showing beaches in the last third of the 20th Century. The exhibition

runs until the 10th of July and is open from Tuesday to Sunday 10 a.m. to

7 p.m. and Saturday to 5 p.m.

MAC

The Lima Museum of Contemporary Art will host two exhibitions during

May to September 2016. Separacion is an effort by Roxana Artacho and

Hector Mata, and discusses inequality in Peruvian society. It runs from

the 20th of May to the 10th of July. And then there is Vacio Museal, is

the work of Gustavo Buntinx. The aim of this exhibition is to protect the

contemporary visual memory, it is a collective exhibition that opens on the

31st of May and runs until the 25th of September.

MUSEO PEDRO DE OSMA

The Pedro de Osma Museum's cultural exhibition Italian Glamour opened

on the 15th of May and runs until the 10th of July. It contains more than

one hundred dresses illustrating the evolution of design from the nineteen

fifties to the present day.

MATE

The MATE - Mario Testino Museum presents an exhibition entitled Nuevas

Almas Salvajes by Peruvian artist Jose Vera Matos, from the 17th of May

to the 26th of June. Its contention is that music, culture and language

show the tensions existing in Latin America since the Spanish conquest.

The exhibition is open Tuesday to Sunday from 10 a.m. to 7 p.m.

MATE

Daniel Silva

FESTIVIties PERu

CORPUS CHRISTI

Cusco. Date: June 16th.

FIESTA DE SAN JUAN

Celebrated in the Peruvian Amazon. Dates: Iquitos: from June 2nd to 26th;

Moyobamba: from June 22nd to 30th; Tingo Maria: from June 12th to

24th; Ucayali: from June 19th to 24th.

INTI RAYMI

Cusco. Date: June 24th.

QOYLLORIT'I

Cusco. Date: Between May and June.

LA FIESTA PATRONAL DE SAN PEDRO Y SAN PABLO

Lima (Chorrillos and Callao) and Chimbote. Date: Last week in June.

Principal date: June 29th.

FIESTA DE LA VIRGEN DEL CARMEN

Paucartambo, Cusco. Date: July 15th and 16th. Main date: July 16th.

FIESTAS PATRIAS

The whole country. Date: July 28th and 29th.

EVENTS / CONCERTS

From the 20th of May to the 26th of June, producer Preludio presents

a musical dedicated to Chabuca Granda and entitled Dejame que te

cuente, in Lima Municipal Theatre. Bookings can be made at Teleticket

in Wong and Metro.

The 21st Lima International Book Fair will take place from the 15th

to the 31st of July in Parque de los Proceres in the District of Jesus

Maria. This is one of the most important cultural events in Peru. The

guest country this year is Colombia and the fair will provide a forum

for its publishers, writers and books.

O x y g e n E n h a n c e d T o u r i n g

Alleviates altitude sickness symptoms including shortness of breath, headaches, fatigue and nausea.

Alivia los síntomas de altitud como la dificultad en la respiración, dolores de cabeza, fatiga y náuseas.

A higher concentration of oxygen will provide a more relaxing journey.

Una mayor concentración de oxigeno ayudará al pasajero en tener un viaje más placentero

Oxygen Cylinders

Cilindros de Oxígeno

"The oxygen enriched cabin is effective in preventing altitude sickness.

Passengers will feel great cruising even this high across the highplateau".

40psi Pressure regulator

Regulador de presión de 40psi

Oxygen departure valve

Válvulas de salida de oxígeno

Low pressure Oxygen line under bus

Línea de Oxigeno de baja presión debajo del bus

The additional Oxygen in BusO2, creates a special

environment 1000m / 3280 ft lower than the actual altitude

El oxígeno adicional en el Bus, crea un ambiente

especial 1000m más abajo que la altura real.

For more information, please contact your Lima Tours

Specialist or write us to: inbound@limatours.com.pe

says onboard medical advisor Dr. Dante Valdivia

Cima Clinic in Cuzco

"La cabina enriquecida con oxígeno es eficaz para prevenir el mal de altura. Los pasajeros

pueden estar seguros de sentirse bien incluso en las zonas más altas del Altiplano".

comentó el médico asesor a bordo Dr. Dante Valdivia

Clínica Cima en Cuzco

www.limatours.com.pe

Driver Panel

12v o 24v Solenoid Valve

Válvulas de 12v o 24v

40sch Flowmeter

Flujometro de 40sch

Para más información, favor contáctese con su especialista

de Lima Tours o escribanos a: inbound@limatours.com.pe
---
Private sailing on Lake Titicaca, the world's highest navigable lake.