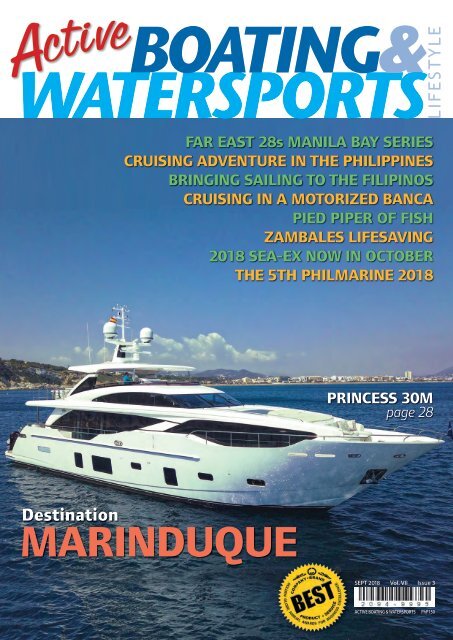 Do you know the secret to free website traffic?
Use this trick to increase the number of new potential customers.
FAR EAST 28s MANILA BAY SERIES

CRUISING ADVENTURE IN THE PHILIPPINES

BRINGING SAILING TO THE FILIPINOS

CRUISING IN A MOTORIZED BANCA

PIED PIPER OF FISH

ZAMBALES LIFESAVING

2018 SEA-EX NOW IN OCTOBER

THE 5TH PHILMARINE 2018

PRINCESS 30M

page 28

Destination

MARINDUQUE

SEPT 2018 Vol. VII Issue 3

ACTIVE BOATING & WATERSPORTS

1

PhP150
---
SUNBRELLA

Editorial &

Photography

Courtesy of

SUNBRELLA

Being on the water is about enjoying your boat

above and below deck. Sunbrella® marine

fabrics have been the trusted choice of boaters around

the world for over 50 years, providing legendary fade

proof, bleach cleanable and ease of cleaning properties.

From upholstery solutions with

a soft, inviting hand to bold

canvas coverings, Sunbrella offers

excellent protection from the

elements and a distinct design

aesthetic.

Sunbrella marine fabrics offer the

ultimate defense in harsh marine

environments while maintaining

their durability, integrity

and beauty. The legendary

performance of Sunbrella fabric

is engineered into the core of

every fiber, creating powerful

protection against fading, mold,

mildew, and constant exposure

to sun, salt and chlorine. If stains

occur, Sunbrella fabrics can be

cleaned with bleach without

losing color or performance.

With the best

warranties on the

market, Sunbrella

marine fabrics are

designed to last

season after season.

jacquards, Sunbrella has thousands of quality upholstery

fabrics to choose from to create a look all your own. On

deck, water-resistant yet breathable canvas keeps heat

from getting trapped while providing sun protection, and

is ideal for dodgers, biminis, sail covers and boat covers.

Discover craftsmanship, authenticity

and heritage in Sunbrella's newest

collection, Makers. Centered

around the principles shared

between traditional handweaving

and modern manufacturing, the

new Sunbrella Makers Collection

embraces color, texture and artistic

heritage. Careful study of artisanal

techniques from around the world,

applied to Sunbrella's patented

performance fabric technology, has

created an inspirational collection

of durable upholstery fabrics with a

beautifully unique, handmade feel.

44 new jacquards, stripes, textures

and solids bring an authentic

story to life with designs inspired

by Japanese Shibori dyeing and

Mayan backstrap weaving.

Sunbrella marine fabrics create a comfortable, relaxing

boating experience for all on board. Sunbrella's luxuriously

soft upholstery fabrics make any space feel inviting

when applied as cushions, sunpads, decorative pillows

and berth covers. From basic canvas textiles to designer

With the best warranties on the market, Sunbrella

marine fabrics are designed to last season after season.

Sunbrella shade fabrics carry a 10-year limited warranty,

and specialty shade and upholstery fabrics carry a 5-year

limited warranty.
---
NOW AVAILABLE AT

DESIGN + PERFORMANCE TM

P H I L I P P I N E S

YACHT PARTS, SALES and SERVICE

SUBIC BAY 0939 922 3238

MANILA 0918 963 8148

CEBU 0939 902 0494

BORACAY 0918 963 8155

DAVAO 0918 963 8151

PUERTO PRINCESA 0912 309 6305

Sunbrella® is a registered trademark of Glen Raven, Inc.

3
---
FROM THE EDITOR'S DESK

It is with the greatest of pleasure that we celebrate our eighth

anniversary with the September edition. We have come a long way

since the first edition hit the streets in September 2010. The growth

rate over these past eight years has been both phenomenal and very

rewarding, with lots of milestones achieved, like being supported by

the Department of Tourism since 2011, being awarded the Golden

Globes in September 2017 to what it is today. And it is all thanks to

you our loyal Supporters, Advertisers and Readers, without you it

would have never been possible.

Over the last eight years we have seen so much growth and many

changes, and proudly, we were a major contributor for much of this

growth in the industry. A rewarding feeling when your efforts help so

many people.

In this issue we have revisited Marinduque, this magical Island has

so much to offer, and I was lucky enough to spend the week with

Tourism Officer Dindo Asuncion and his staff, in helping produce the

destination feature.

In our next edition we will be visiting Panganiban in Camarines Norte,

I have been reading up on this little gem of a destination and look

forward to bring you the complete story in our December Edition.

Once again thank you for all your support and a great eight years,

now we look ahead to even bigger and better editions.

WHAT'S INSIDE?

Far East 28s Manila Bay Series 6

Cruising Adventure in the Philippines 12

International Collaboration Brings 20

Sailing to the Filipinos

Palawan Sailing 24

INTO THE BLUE Cruising the Philippines 30

In A Motorized Banca

Pied Piper of Fish 36

Zambales Lifesaving - Meeting the 42

Challenges of Aquatic Safety

Destination - MARINDUQUE 50

2018 SEA-EX Now In October 74

Sailing Tips - Using A Tender 78

The 5th Philmarine 2018 80

Barry Dawson Editor

Destination MARINDUQUE

PRINCESS 30M

Cover photo courtesy of Rayomarine

4

Published quarterly by: ABW PUBLISHING

House 16, Madrigal Compound, 2550 Roxas Blvd., Pasay City

Editor & Production: BARRY DAWSON

Contributing Writers: BRUCE CURRAN & JAMES WEBSTER

Contributing Photographers: TERRY DUCKHAM & JOHNNY MARTINEZ

Advertising: 551-4587/ 0928-714-4461

Email: info@activeboatingwatersports.com

Website: www.activeboatingwatersports.com

Printed by: House Printers, Taytay, Rizal, Philippines

Active Boating and Watersports is a copyright© production

No part can be copied or reproduced without the express

permission of the publishers.

The views expressed and advertisements published in Active Boating & Watersports

are those of the authors and advertisers, and not ABW Publishing.

ABW Publishing does not accept any liability whatsoever for errors or omissions.
---
5
---
Far East 28's

Manila Bay

Series

6
---
The latest innovations in speedy, easy to

handle, sailing boats, The Far East 28's were

introduced to the Philippines within the last year

by Jerry Rollin and Phil Sail Manila.

Since being part of the Philippine Sailing scene

they are really making a name for themselves.

Competing in regattas all over the country, at Subic

Bay, Puerto Galera, Punta

Fuego and Manila Bay. The

latest is the series racing in

Manila Bay with eight monthly

events from June through

to December 2018. With

teams from Subic Sailing, Taal

Lake Yacht Club, PHINSAF,

PSA Men & Women Teams,

Centennial II, all competing for

top honours.

The series got off to an

excellent start in the 1st leg

with excellent conditions

A couple of the events

because of typhoon

conditions we have been

experiencing over the

last two months some

legs had to be postponed

and rescheduled.

for sailing across the Manila Bay. Unfortunately

a couple of the events because of typhoon

conditions we have been experiencing over the last

two months some legs had to be postponed and

rescheduled, this is not a problem for the teams

when sailing is in your blood like most competing

sailors in the Philippines.

The event schedule is now up

to date with the latest event

being held this last weekend

August 25th 2018. The next

leg in the series will be held

in Manila Bay on Saturday the

8th of September, so if you

have a free Saturday come

down and watch these speedy

craft in action.

During the Philippine Boat

Show (Sea-Ex) held at the

SMX Convention Centre Mall

of Asia on October 5th to 7th

Words by

BARRY

DAWSON

Photographs

as credited

7
---
2018, there will be two events held at the floating

docks at the SM By The Bay Terminal. This will be

an exciting event so make sure you make it part

of your 2018 Sea-Ex

experience.

There will be two

events held at the

floating docks at

the SM By The Bay

Terminal.

Some of the teams

competing in the series

are For the PSA Women's

Crew there was Jerene

Medel, Paula Bombeo,

Rosario Amadeo, Asejo

Alaiza, Belmonte Evita,

Elise Zamora and Maria

Vinzon, with Jerene Medel skippering the team. For

Subic sailing there was Balting Asejo, Chris Cheng,

Joshua Santos, Sean Michael Mitchell, Reimond

Silvestre and Maria Vioeira, with Sean Mitchell and

Subic Sailing: Balting Asejo Chris Cheng Joshua

Santos Sean Michael Mitchell Reimond Silvestre

and Maria Vidoeira. With Maria Vidoeira and

Sean Mitchell sharing the skippers duties. Team

Centennial II was crewed by Eli Paraiso, Norman

Jaravata, Rex Sanico, Ricky Domingo, Joseph

Frisco and Jimmy Yamson and skippered by Alan

Chua. For TLYC some of the regular crew members

participating in the series are Joe Hagedorn, Glenn

and Jana Everett, Joiada Pablo, Mikee Vinzon and

8
---
DEDICATED ENGINEERING SPECIALISTS

9
---
Patrick Bassett, while Peter Capotosto and Alex

Chen shared the skippering duties.

The Series has been

very competitive so

far with lots more

excitement to come in

the next few months.

The Series has been very

competitive so far with lots

more excitement to come

in the next few months so

watch out for the event

schedule and be part of

this exciting regatta held

on Manila Bay.

The results so far and the

leader board stands at Subic Sailing holding the

lead with Centennial II in second place PSA Women

in third spot with Phinsaf holding fourth place.

Watch out for other event times in the events

calendar of Active Boating and Watersports.

10
---
L E O P A R D 5 0

L E O P A R D

L E O P A R

Welcome the newest addition to the

award-winning fleet Welcome the newes

award-winning fleet

V E R S A T I L E

DEDICATED ENGINEERING SPECIALISTS

11
---
Cruising A

in the Philippines

12
---
dventure

After finishing the last boat maintenance

jobs in Subic Bay we eagerly departed

for our holiday destination,

Puerto Galera Yacht Club. We

make this 95-mile jaunt in

two legs, stopping at Pattaya

Cove midway. We dropped the

hook in the protected bay right

next to the boatyard, making

for a nice short 45 miles day.

We arose at first light and

made the second passage in

relatively calm waters. This leg

takes some weather planning

as Verde Pass can be quite a

bumpy ride. We use windy.com

for weather planning although

there are several other options.

Back in what we call "one

of our homes" we picked

up the reserved mooring by

early afternoon. Puerto Galera Yacht Club has a

great mooring program with the big bonus of the

"service boat" which takes us to shore or the yacht

club. I am teaching our 5-year-old proper VHF

radio protocol, so he loves to call the boat. Priam's

tiny voice calling "service boat please, picks up on

Furthur" gives the drivers a chuckle.

I don the 900 Christmas lights and we plan a party

aboard, a Furthur tradition. The cruisers in the

anchorage come by dinghy and others from the

shore. The Holiday season has begun! Christmas

and New Years are spent with our good friends at

the Yacht Club. This is my eighth Christmas in the

tropics, memories of cold rainy days, long cold

nights and the insane hustle bustle of my hometown

holidays are but a faint memory. Christmas should

be spent in flip flops, shorts and a festive Hawaiian

shirt!

We now pick up our crew for the season, Maggie, a

spunky gal from Oklahoma who has been studying

in Australia. This gives her a unique accent, Oky/

Ozish. Weather looking good for the downwind leg

down Verde Pass and around Civitte Point. This can

As we get ready we talk

to other divers who just

saw a Hammer Head

Shark, one of the view

things missing from my

"I have seen" list, so I

get really excited.

be a hairy bit of water as it rounds the north tip of

Mindoro Island. We drop the hook at a protected

anchorage inside Cumalog

Point. This cuts the trip to Apo

Reef, our destination, in half.

Crack of light departure and

we head to diving Mecca,

Apo Reef. We drop the hook

just inside the massive reef

at a place where we find 13

meters of water. Most of the

inside is deep, 25 to 30 meters

so finding this mound makes

anchoring easier. We drop the

dinghy and Maggie and I do a

quick dive, with Donna driving

the tender. As we get ready we

talk to other divers who just

saw a Hammer Head Shark,

one of the view things missing

from my "I have seen" list, so I

get really excited. Sadly, the sought-after shark has

gone but we see a few of its smaller cousins plus

the usual spectacular array of fish, great dive!

The next day we make the short hop to El Rio

Resort. This is our first time visiting this distinctive

location. We have heard great things but others

have reported that this is not a very "Cruiser

Friendly" place, so we want to find out. As we

approach and call on the radio a boat comes out to

greet us and guide us to a mooring. We go ashore

by landing the dinghy on a very well-built dock and

are escorted to the office.

El Rio is a 5-star resort, dream-like white sandy

beaches, pools and a top-level restaurant. They

charge us 500p for the mooring, and 500p a person

to come ashore, 1000p if you want to use their

pools or showers. The per person fee can apply to

your restaurant bill. The dinner we had was superb

along with live music. The prices are resort like, not

local, so the 500p per person is eaten up pronto.

This got us thinking about all the wonderful resorts

in Palawan and how they relate to cruisers. I find

there are three categories: first being "welcome!",

Words by

BRIAN

CALVERT

Photographs

as credited

13
---
esorts that value our business and find boats

moored in view of their guests to be a positive

experience for them. These places offer moorings

with the caveat that we drop by for a meal or

drinks. The second, like the above-mentioned

resort, welcome us but for a

mooring and landing fee, a

reasonable request I guess.

The third, and there are

some like this, who not only

do not welcome us but claim

ownership of the waterfront

near their establishments—

GET OUT! Not wanting to

argue the legalities of such

a claim and certainly not

wanting to go where we are not welcome, we avoid

such places, leaving a clean wake.

If you are lucky you

will find Mike, the

pioneer of the bay and

full of history and

news.

Now we round the north tip of Busuanga Island

and head to another of our "homes", Busuanga

Bay aka Pearl Bay or Puerto Del Sol (no name on

the charts). This is the gathering place for all Coron

area cruisers, as per our designations, a type 1

resort area, WELCOME. There are solid moorings

that can be used, do drop by Puerto Del Sol for a

scrumptious meal or drinks. If you are lucky you will

find Mike, the pioneer of the bay and full of history

and news.

The bay is also home to two other popular resorts;

Busuanga Bay Lodge is the big newer one, exquisite

in design and accommodations. Cruisers can join

the BBL Yacht Club which will provide you a shortterm

space at the dock, (3 hours) for fueling and

water. Gasoline for dinghies is also available there.

Members get a discount at the 5-star restaurant

and use of the amazing infinity pool. The fee is

5000pp a month or 20,000pp for the year for those

14
---
15
---
who make this a more permanent home. The fuel

prices are comparable to those in town.

Many a cruiser makes the hike up to the tower of

Al Faro Resort, who boasts, rightly so, the best

sunset pool view on earth. Happy Hour brings the

boaters in and the frequent special events are an

attraction. Jimmy, the pink toenail painted, golden

long-haired owner, puts on "Fashion Shows" that

delight the crowds, he is a gold plated character for

sure. Meals are affordable and excellent.

Our stay is in the bay is ended when our need

for provisions crops up so off to Coron Town we

go. To create some confusion, Coron Town is on

Busuanga Island, not Coron Island which is mostly

undeveloped. We drop the hook and dinghy into

town. There are several good dinghy landings, we

like Sea Dive as it is handy, and we get to check

in on the owner, who may fool you as he wonders

about not looking "owner-esque" he is one of the

pioneers of the wreck diving in the area.

A stop at Coron Town is not complete without a

visit to the famed Hot Springs, so we hop a tricycle

and make the bumpy ride out of town. The springs

are salt water and crystal clear. With three pools at

varying temperatures, everyone gets a comfortable

soak, I go for the hot one!

Loaded up we set back to seek the purpose of

our quest, the wreck diving! History dropped a

golden egg on this area when in 1944, seven large

Japanese ships were attacked by 125 US fighterbombers

and sank in diveable depths. I have been

diving these treasures for five years and never tire

of the experience.

I have been diving

these treasures

for five years and

never tire of the

experience.

We add to our usual destinations with a visit to the

Leper Colony at Cullian Island. We drop the hook

16
---
Spend more time on the water with

EZ DOCK FLOATING DOCKS

Enjoy the best

waterfront investment

you'll ever make

EZ Dock was founded by water

enthusiasts for water enthusiasts.

We designed our entire brand

around one philosophy: we want

EZ Dock to be part of the best

investment in your waterfront

property. You can find EZ Docks

at restaurants, marinas, homes,

recreational areas and more.

All our docks are made to

withstand harsh weather and

are designed not to paint, chip,

warp or peel. It means less

maintenance for you, with more

time on the water.

PHILIPPINES

Features

Maintenance-Free

and Barefoot

Friendly

Adaptable Design

Innovative

Coupling

Flexible Flotation

Technology

EZ Dock has been around

since 1991, helping industrial,

commercial, government and

residential clients get better

access to the water. We design

all of our products to be fully

customizable. Whether you need

a commercial-grade dock to run

boat tours, a kayak launch, or a

swimming dock for your lakefront

home, we can help you design

the exact dock for your needs.

Contact us today to learn more!

Distributed by Rayomarine Inc.

The Leading Luxury Motorboat and

Sailboat Distributor in the Philippines

27/F World Center Bldg, 330 Sen. G. Puyat

Avenue, Makati City, Philippines

info@rayomarine. com

sales@rayomarine.com

Phone: +632 867 8603

www.rayomarine.com

D E D I C A T E D

ENGINEERING

SPECIALISTS

17
---
just off the town and go ashore while grabbing

lunch we run into Pastor Hermi. He becomes

our exuberant guide. A lifelong local, both his

grandparents were Lepers. Unlike the horror stories

of the Hawaiian colony, this one was dedicated to

the treatment and helped develop the cure.

As our time in Coron winds down we start making

plans to go south to El Nido. Our first stop is a new

one for us, Coral Bay Resort. Again this is a type 1

resort, welcome cruisers. We grab a mooring and

go ashore, it is a slow week for them with only a

few guests who we befriend. Donna and I have a

tradition of dining in a new place on the eighteenth

of each month, (married on the 18th) so Coral Bay

is the pick of the month.

This ends the first half of our cruising adventure in

the Philippines. We are blessed with near perfect

weather, incredible sites, and diving extraordinaire,

old friends and new. Simply some of the best

cruising in the world. We now depart for Palawan, El

Nido and beyond, hope you follow our adventures

or better yet join us www.furthuradventures.com/

charter.

Donna and I have a

tradition of dining in a new

place on the eighteenth of

each month, (married on

the 18th) so Coral Bay is

the pick of the month.

18
---
19
---
International C

Brings Sailing

Words by ROY

ESPIRITU/

PHBYC

Photographs

as credited

An International collaboration of organizations

involved in sailing and boatbuilding has

brought about the popularity of the Oz Goose sailboat,

an easy to build sailboat designed

by Batangas-based Australian

designer Michael Storer. This

initiative has helped dispel the

myth that sailing is only for the

rich, it has also made sailing

affordable and user-friendly and

drawn more Filipinos to take up a

hobby and sport that is virtually

a perfect fit for the country's

archipelagic geography.

Companies involved in this

collaboration include; Hyde Sails

International a British company

that manufactures sails for

various watercraft whose main

This initiative has

helped dispel the myth

that sailing is only for

the rich, it has also

made sailing affordable

and user-friendly.

factory is in Cebu, Duckworks Boatbuilders Supply

of the U.S, Broadwater Marine of Australia., local

boatbuilding materials suppliers such as Zamboply

Marine plywood, Pioneer Epoxy

and Polymer Products, Inc.

This initiative was brought

about through the efforts of the

Philippine Home Boatbuilders

Yacht Club or PHBYC, an internet

group of boating enthusiasts

that promote affordable boating

and sailing through do-ityourself

wooden boats.

So far, over 50 Oz Goose

sailboats have been built in

the three island groups of the

Philippines; built from scratch

using downloadable boat plans,

20
---
Collaboration

g to to Filipinos

built to order from authorized builders, and most of

them produced during Family Boatbuilding Weekends

(FBW) the signature event of PHBYC, wherein families

or groups assemble a boat from a prefabricated kit.

In 3 years, the PHBYC has successfully organized three

Oz Goose FBWs in Luzon, Visayas and Mindanao,

making the Oz Goose the fastest growing sailing fleet

in the country, boats in Batangas regularly participate

in monthly regattas organized by the Taal Lake Yacht

Club. These events culminated in the first Oz Goose

National Championships in 2017 in Talisay, Batangas.

The event was a resounding success, 18 teams

participated from all three island groups in the

Philippines. The official video that came out from

the regatta spurred renewed interest in dinghy

sailing. PHBYC has since organized two more FBWs in

Batangas, allowing for more boats to participate in the

upcoming National Championships in November 2018.

Long-time sailing enthusiast, Peter Capotosto,

Commodore of the Taal Lake Yacht Club said, "I have

come to believe that this boat could be what Philippine

sailing has been waiting for, for half a century. All the

pieces fit, to create a boat with multi-sector demand

that will be produced and sailed, by a broad number

of individuals, corporations, and schools, with varied

interests. The Optimist was a huge hit in Europe. This

could be the Philippines' Optimist. It's bigger, faster,

and way more versatile. The Optimist is not going to

jump start sailing in the Philippines, but this boat just

might." Mr Capotosto said.

"The unique coming together of international and

local boating experts and suppliers leading to the rising

popularity of the Oz Goose class in the Philippines is

unprecedented, and could be the hope for the future

of Dinghy sailing here", According to Mr Capotosto;

"We organize monthly races at TLYC and the increased

participation of old and new sailors in the Oz Goose

21
---
Bottoms nailed

Deck installed

class has increased exponentially after we had a FBW

there in February" Mr Capotosto added.

Sailing clubs around the world are trying to emulate

what PHBYC has done to revive interest in small boat

sailing. According to boat designer Michael Storer:

"We still have a long way to go to get mainstream

interest in small boat sailing in the Philippines, but

PHBYC is making progress, schools have expressed

their interest having sailing as a varsity sport and our

maritime academies that produce sailors that know

little about sailing are beginning to appreciate how

small boat sailing and boatbuilding can significantly

add to the seamanship knowhow of their cadets."

The Oz Goose is easy to build and it sails well with 3

persons, but is best sailed with one or two people onboard,

making it a great platform to learn how to sail.

22
---
Its shape gives it a lot of stability and is empty of water

when righted from a capsize. Sailing lessons with the

Oz Goose sailboat are organized by PHBYC at TLYC in

Talisay, Batangas.

The Oz Goose is four meters long and made from 5 or

6mm marine grade plywood, and lumber, assembled

with epoxy. While the sails that move the boat can be

made by the builder from materials like polytarp or

tyvek, professionally made Dacron sails can also be

purchased locally from dealers such as Las Pinas based

Monsoon Marine.

Safety on the Water

Anyone can learn how to sail, PHBYC has always

been an advocate of safety on the water by wearing a

personal flotation device (PFD) being responsible and

respectful to the

environment

and advising

people when to

expect you back

when going

on extended

boating trips.

The Oz Goose is four

meters long and made from

5 or 6mm marine grade

plywood, and lumber,

assembled with epoxy.

About PHBYC

The Philippine

Home Boatbuilders Yacht Club (PHBYC) is a local

community sailors, boaters and amateur and

professional boatbuilders that help people get into

boating and sailing economically through boatbuilding.

Plans for building all kinds of boats are available

online and the materials to build them are readily

available locally. Established in 2006 PHBYC helps its

members by giving advice on sourcing materials and

boatbuilding techniques, all they ask in return is for

people to pay forward what they've learned to help

grow the fleet of homebuilt boats. Feel free to follow

PHBYC's Facebook group page and the Open Goose

Sailing Boat Group).

23
---
Palawan

Aquilone on a

quiet day with

sails up

24
---
Sailing

If you think the best way to fall in love with the

world's favorite island destination, Palawan, is

island hopping on a crowded banca, think again. An

El Nido- based sailing adventure,

Palawan Sailing, is changing

the scene. What's on offer

with Palawan Sailing is both

certified sailing courses and fully

chartered sailing expeditions in

Northern Palawan and beyond.

Talking about falling in love. In

search of a site for both sailing

and diving, Dustie and Thierry

arrived on their sailing boat

Aquilone in El Nido in 2014 after

cruising many Southeastern

countries. Stunned by the beauty

of the Bacuit Bay, they decided

to start a sailing school, the first

Students come from

all over the world to

El Nido to take course

in the most beautiful

"classroom" with

Thierry and Thomas.

truly internationally recognized school, endorsed by

IYT, in the Philippines.

Shortly after, Thomas, a veteran

scuba and free diving instructor

from France, joined the team as

a sailing instructor. Both Thomas

and Thierry are professional

IYT/MCA sailing instructors and

qualified to teach sailing from

beginner level up to the highest

recreational level YachtMaster

Ocean on the 45- foot sailing

sloop, Aquilone.

Students come from all over

the world to El Nido to take

course in the most beautiful

"classroom" with Thierry and

Thomas. Courses usually run for

Words by

BARRY

DAWSON

Photographs

as credited

25
---
4-6 days depending on the level of certification. At the

end of each course, students receive an internationally

recognized IYT/MCA certificate which is accepted by

all charter/rental boat companies and coast guard

authorities around the world.

Is it just the beauty of the Bay to enjoy? Certainly not!

Northern Palawan is very unique compared to other

Southeastern Asia for reliable winds in the Habagat

season from November till June. The winds go from

10 to 20 knots throughout the day from the north/

east, which makes perfect condition for sailors as well

as students. In addition, the Bacuit Bay is sheltered

from ocean swells hence is ideal for beginners to

experience their first sail trimming and steering. More

advanced students can experience coastal sailing

with trips between El Nido, Linapacan, Coron, Port

Barton, and Puerto Princesa. For even more advanced

skipper candidates, farther trips can be organized to

experience blue water sailing up to Puerto Galera,

Mindoro. Engine off, chart plotter off …students can

learn the art of navigating by the stars with the help of

a sextant and guidance from their instructor.

Thomas on winches

Thomas at the helm

Students on 0 to hero

Other than courses, Palawan sailing organizes custom

sailing expeditions around the Northern Palawan.

Usual trips range from 3 to 8 days. Aquilone can easily

accommodate 4 guests very comfortably in 2 separate

cabins, ideal for families and/or two couples. Most days

are spent cruising from one secret island to another,

with plenty time to relax on the deck or snorkeling

on pristine reef. To fully appreciate the stunning view

and tranquility of Big Lagoon and Small Lagoon, visit

such spots in Bacuit Bay before the hordes of bancas

arrive. Only a private sailing expedition can bring this

unspoiled beauty to you.

Learn to sail. Hold the tiller. Feel the breeze. Love the

freedom.

Engine off, chart

plotter off…

students can learn the

art of navigating by

the stars.

26
---
27
---
PRINCESS 30M

THE PRINCESS 62

EXPERIENCE THE EXCEPTIONAL®

Words &

Photographs by

RAYOMARINE

The latest addition to the M Class range, the

Princess 30M embodies the combination of

cutting-edge pilothouse design with effortless long

range passage making. Her variable geometry hull

design benefits from the same advances as the awardwinning

40M, stretching the

boundaries in hydro-dynamic

design, space and comfort.

Experience one of the most

luxurious raised pilothouse

yachts in the world. Her

purposeful, distinctive design is

yours to define through a world

of craftsmanship. The flybridge

is invitingly vast accommodating

sun loungers, sofas, dining area,

a wet bar and even a spa bath

should you wish.

The Princess Design Studio is on

hand to capture the very essence

of your interior design ambition.

And with class-leading interior

volume, you'll have all the space possible to realise it.

The handcrafted finish throughout is prestigious. And

Two years of

development at

Princess have paid off:

The 30M is a very

handsome yacht.

your guests are cosseted with three or four beautifully

appointed en suite cabins to choose from.

Her rich, dark blue topsides extend to the top of

her bulwarks, disguising the proliferation of tinted

hull windows. The topsides

architecture includes an arch that

rises gracefully from her stem to

the after tip of her flybridge.

A second sweep bisects that

arch, running from the top of the

pilothouse down to the stern,

where it segues into the transom.

Two years of development at

Princess have paid off: The 30M is

a very handsome yacht.

The Princess 30M comes with

a standard layout that is largely

fixed, although owners can

change the four equal-size guest

staterooms on the lower deck

into two staterooms plus one VIP

suite. Further customization is available on the flybridge,

where the upper helm is fixed and everything else is up

for grabs.

28
---
T H E P R I N C E S S 3 0 M

E X P E R I E N C E T H E E X C E P T I O N A L®

SPECIFICATIONS

Length overall (incl. pulpit)

Beam

Draft

Displacement approx.

Fuel capacity

Water capacity (excl. calorifier)

Engine Options Diesel

Twin MTU 12V 2000 M96L

Twin MTU 16V 2000 M96L

100ft 3in (30.56m)

22ft 8in (6.92m)

6ft 8in (2.05m)

110 tonnes

3,230 US gal/12,228 Ltr

426 US gal/1,614 Ltr

Speed range: 20-22 knots

Speed range: 23-25 knots

For Sales, Service or more information contact:

PRINCESS YACHTS PHILIPPINES

Rayomarine Inc

+63 918 999-9282

martingarcia@rayomarine.com

FIND OUT MORE AT PRINCESSYACHTS.COM

29
---
Words by

BRUCE

CURRAN

Photographs

as credited

Below: Fisherfolk

Middle: The Lenz

Meret

Center: Boarding

the Lenz Meret

I

n the last decade, I have been fortunate enough

to sail some 8000 mile through different regions

in the Philippines,. Curiously though, it left me

increasingly frustrated. With my boat's draft of 2

meters, I was so concerned about coral shallows and

running aground that I tended to stay away from

the coasts, and consequently felt as though I was

missing much of the beauty of these islands. The

scenery is spectacular, but passing by closer in,

occasionally stepping ashore for lunch or just for

a wander seemed so much more interesting, and I

found myself increasingly unable to resist.

Finally the day arrived when my curiosity saw me run

aground on a reef. Stuck fast, I watched while the

local bancas (native outriggers, often motorized)

sped around me. Grounded from 7pm till 3.30 am,

I had a lot of time to think of future travel plans,

and how the shallow draft of bancas is a supreme

advantage in these waters.

Seagoing bancas are over 15 meters long, built of

ply laid over a supporting frame of local hardwood

and mostly rigged with bamboo outriggers on both

sides of the main hull. These days most of them

are motorized, generally using Japanese truck

engines adapted for marine use. Drawing less than

the water of my sailboat, they could go where my

expensive plaything could not, gliding over reefs

and running right up onto the sandy beaches that

skirt most of the islands. The slow pace of a sailboat

may be magical if you have the luxury of time on

your hands, but with a diesel engine, you can cover

a lot more ground. The seed of an idea for a more

intimate way to explore local coastal communities

was germinating.

With over 7,500 islands, any serious exploration of

the Philippines means taking to the water at some

point. In many urbanized parts of the country the

roads are nightmarishly choked with traffic; in more

rural areas, they are sometimes scarcely drivable.

By contrast, the waterways are free and open and

un-crowded. The water is frequently an inviting

turquoise, warm and chock-full of marine life.

Around 70% of the country's settlements are shore

based, and offer a ready way to experience the

famously warm Filipino welcome given to visitors.

There are also plenty of beach resorts in the most

beautiful parts of the country to call home for the

night, where the banca can be beached nearby,

ready for the next day's excursion.

I realized I was on to something. In a sailboat I

had always stuck out like a sore thumb, giving

an impression of extortionate wealth in a country

where subsistence is the norm for many. With a

banca, I would be demonstrating an appreciation

of local craftsmanship and know-how, and by

employing local guides I would be bringing an extra,

unlooked-for source of income to a remote area.

After much hunting and many enquiries a suitable

17 meter banca was located, and I plotted a 500

mile route through the region named Mimaropa

(this name comes from the first two letters of

the region's main islands: Mindoro, Marinduque,

Romblon and Palawan). Four crewmen, namely

30
---
A group of adventurers test the waters aboard a native

outrigger, on the lookout for hidden havens and magical

memories

Paul, Ruel, Rey and Reychel came with the banca,

as part of the package for our seven-day adventure,

with the vessel averaging about 12 knots, a good

pace for long nautical journeys.

but adventurous, we wedged ourselves into two

vans loaded with supplies, belongings and camera

gear for the drive down to Lucena City, three hours

to the south.

Nine like-minded would-be

explorers were joining me, six

foreigners and three Filipinos,

all aware that our clear-cut

route and expected timetable

were subject to the vagaries of

the weather. There was a simple

VHF radio set on board in case

of the need for shore contact -

although as it turned out it was

mostly tuned in to a local music

station. A GPS and appropriate

navigation charts were another

necessity, especially since

the crew were being asked to

venture into waters unknown to

them. Finally, lacking a pair of

binoculars, we would make do

with the pairs of sharp Filipino

eyes to help us through the winding reef areas to

come. We were now ready to begin our voyage of

exploration.

Getting Acquainted

Our first day dawned early: with more than 75

nautical miles of ocean to cover by nightfall, we

gathered quietly in the foyer of a Manila hotel at 3

am. Nine bleary-eyed adventurers feeling anything

The 175hp diesel engine

coughed into life and in

short order we had turned

a semicircle through the

harbour and headed out

for the open sea.

By the time we arrived, the

busy port was humming with

passenger and cargo traffic,

and a mishmash of boats of all

sizes were vying for positions

at the dockside. Street

vendors were doing a brisk

trade in the crowd and our

motley crew wove their way

amongst the hordes in search

of our own chartered banca.

There she was, the Lenz

Meret, glimmering white with

a dark-blue marlin painted

on both sides, bobbing and

bucking eagerly at anchor

close to a concrete pier. Her

flags crackling overhead were

a good omen, indicating that

there was a fair breeze from the northeast. This was

the expected prevailing wind, known locally as the

amihan, which blows pretty consistently from mid-

October to mid-May during the dry season.

We clambered aboard what was to be our floating

base for the next seven days. The 175hp diesel

engine coughed into life and in short order we had

turned a semicircle through the harbour and headed

out for the open sea. The clamour and chaos of

Below: Paul relaxing

on the Lenz Meret

Middle: Apo island

driftwood fire

Center: Charting

31
---
Clockwise Below:

Coral reef Apo island

Next: Dongon Reef

Next: Kayaking in El

Nido

Bottom: Marinduque

the port was soon a thing of the past as a majestic

shoreline view opened up behind us, dominated

by the massive conical bulk of Mount Banahaw, a

dormant volcano and Christian pilgrimage site inland

in Quezon province. A wonderful sense of release

fell over all of us as we outran the greedy clutches

of city life, the timeless rhythms of tide and wind

replacing the blaring horns and non-stop hustle. We

breathed in great lungful's of fresh sea air and dozed

on deck as we nosed out into the Sibuyan Sea.

It was time to appraise our shipmates. The crew

eyed us city-types and we in turn cast furtive

glances back at them, each of us mindful that these

strangers were all about to become very familiar

over the course of the next week. Slowly we shed

our wariness and relaxed. As the hours slipped by,

we sank into a sort of meditative state, lulled by the

action of the waves, the slap of water against the

hull, the creak as the boat's timbers flexed against

the sea. Often we dozed, suddenly awaking as a

quiver in the frame of the boat betrayed a change

of direction.

After such a blissful

day afloat, our night's

stay back in the urban

jungle was a shock to

the system.

We made only one stop along the Luzon coast that

day, stopping at the tiny, rarely visited community

of Pitogo laid out below a grand old stone church

that dated back to the days of the Spanish 400

years ago. Our quick tour attracted a gaggle of

curious youngsters and then we were back aboard.

Well before dusk we crossed the open water between

Luzon and the island of Marinduque in the midst of

the Sibuyan Sea. The banca gingerly wound its way

through the bamboo fish traps that sat on the edge

of the surrounding reefs, and headed in towards a

coast thick with mangroves. A successful first day,

and soon we were relaxing around a swimming pool

at our resort near the town of Santa Cruz.

Marinduque and Romblon

Our early morning wake-up call came courtesy of

the local fighting cocks loudly proclaiming their

prowess. These prized fowl are an integral part of

rural Filipino life, and they are kept well fed and

ready to do battle at all times.

We quickly readied ourselves and back on the water

we turned the banca north along the coast, making

our way to Balanacan, where a massive yet graceful

religious statue dominates the entrance to the

inner harbour, standing guard over all those who

shelter in the port. With its quiet shallows, it makes

an excellent place to sit out the typhoons that

batter these parts in the summer. Kevin Hamdorf,

a professional photographer, took the chance to

scurry off inland to Mogpog market on a mission

for colorful images.

32
---
By afternoon we had reached Boac, the capital of

Marinduque and home, at Easter, to the well-known

religious festival of Moriones. This culminates in a

re-enactment of the crucifixion of Jesus complete

with Roman legionnaires, and the local handicraft

stores do a natty line in Roman dress and masks.

The narrow, pristine streets of the capital were lined

with immaculately kept colonial-era buildings, and

on the hill at the heart of the city was a grand old

brick cathedral with a pair of vast, ornately carved

wooden doors. A host of small black bats had taken

sanctuary inside, clinging to the whitewashed,

curved ceiling above the main altar.

Then it was time for something more hedonistic. We

took a two-hour dip in the hot springs to the south

of the city, then paid a visit to a beach club where

a band was playing. As it happened, one of our

fellow adventurers was herself a professional singer

and late in the evening, Mel lit up the stage with an

electric performance that had the band, the local

clientele and us, roaring for more.

Next morning the sea was in a similarly boisterous

mood, making our day-three longer than we had

envisioned. We also spent time checking out a rumor

we had heard, of a Boracay-like beach, hidden in

an island group off Romblon. Boracay then had its

tip-top worldwide reputation amongst tourists, but

scattered throughout the Philippines are 7,500+

islands and many, perhaps hundreds, of comparable

places exist. You need a boat to find them though,

for they are isolated paradises beyond the reach of

the average holidaying masses. We were in search

of one such paradise but were unable to find it, and

with the day well advanced we turned towards the

main island of Romblon and made our landfall at

the town of the same name.

We berthed in the same protected harbour where

Spanish galleons, laden with silver, used to drop

anchor for the first time after their three-month

voyage from Acapulco in Mexico. Today, two

dilapidated Spanish hill fortifications still guard the

city below, and yet another magnificent Spanish

cathedral dominates the center of town. This is

marble country and trinkets of many sizes are on

sale, though prospective buyers should make sure

to bargain hard.

Mindoro

Day four was our longest sea journey by far - a 100

mile run from Romblon to San Jose, in southwest

Mindoro. It had been for some concern at the outset,

but in the event we found ourselves running with

the amihan, and the strong seasonal northeasterly

winds sped us along smoothly and quickly. It was

a delight to make such good time, and we snuck

into a stretch of protected crystal water to find a

perfect sand beach which made an idyllic spot for

a late lunch at rest under the shade of an ancient,

gnarled tree.

By sundown we were lying off San Jose, with

hundreds of fishing bancas anchored higgledypiggledy

around us. San Jose was our first encounter

with urban sprawl since we had left Lucena, and it

was not a pleasant one, with smoke-belching and

honking vehicles jamming the highways of the large

town. After such a blissful day afloat, our night's

stay back in the urban jungle was a shock to the

system.

Awakening to the whine of motorcycles in the street

outside, we checked out in a hurry, wanting to be

underway as soon as possible. The agony of the

land was soon transformed into the ecstasy of the

sea. Some three kilometers offshore lay Dongon

Reef, an immaculate coral sand spit protruding from

a mirror-flat sea. We edged the banca as close as

we dared and anchored on the surrounding sand to

avoid damaging the glimmering field of coral spread

like a persian carpet beneath the clear waters. The

perfection was overwhelming; it was a magical place

seemingly at the other end of the universe from the

town which was now on the far horizon, so close

yet so far. Rainbow-coloured shoals of fish graced

the coral garden, and parrotfish and other more

solitary inhabitants darted here and there amongst

the coral.

Eventually we dragged ourselves away, but just

as we got started, we were surprised by a pod of

some 20 common dolphins that crossed our path.

We were spellbound by their antics and though

they quickly left us, another group (much larger

bottlenose dolphins this time) came by to surf and

prance off our bow.

Finally we were tied alongside the dock at Sablayan

town, which lies more or less halfway up the west

Apo island

33
---
coast of Mindoro. Here we had to shop for supplies

for a one-night beach camp we had planned on

remote Apo Island. Most importantly, our permit to

enter the magnificent Apo Reef protected area had

to be organized at the office of the a Department

of the Environment and Natural Resources (DENR).

We split up and headed out on separate supplygathering

missions, then with supplies stowed,

started out once more. By early afternoon we had

checked into our first beach resort, at North Pandan

Island. Nico and Ethel took

However, as the sun

dropped below the

horizon we were invaded

by what seemed like

millions of sandflies

known locally as nik-niks.

to a kayak for an early

evening paddle along the

shoreline, while my son

Bali and I, together with

Kevin, explored the trails

that crisscross the island

to remote rocky coves and

isolated limestone cliffs.

Apo Reef

Next morning came exploration of a different kind

as Anthony, the dive master from Pandan Resort,

took us two hours west to Apo Reef, one of the best

dive sites in the Philippines. For the keen divers on

board, this was a highlight, the day they had been

waiting for, and Ethel, Nico, Kevin and Bruno were

abuzz with anticipation.

The first dive was as good as it gets; Bali and I

snorkeled along the edge of the reef on the first

dive, following the bubble line above the team of

experienced divers. The bubbles acted as a herding

call to the reef fishes below, and many swam much

closer to the surface as a result, giving Bali and I a

better view. A turtle idled lazily along the reef some

5 meters below us, while much farther down the

divers were immersed in natural wonders, swimming

among grey reef sharks, turtles, innumerable fish

species and a vast array of spectacular corals. There

are said to be more coral species in this single reef

complex than the whole of the Caribbean Sea.

After the second dive, Kevin announced it was the

best diving he had ever done. There were beaming

smiles all round as we headed for our overnight

camp at the southeastern tip of Apo island, a little

to the west of the Apo Reef complex.

Since 1998, A Japanese lighthouse has been

guiding ships around the reef, which sits in the

middle of a busy shipping lane. Climbing up to the

platform, high above the tree line, we were able to

enjoy spectacular views in all directions, with subtle

changes in the color of the water revealing the

extent of the Apo Reef sanctuary. Much closer to

hand, the rusted and decrepit remains of a wreck

lay forlorn atop the reef, a reminder of why the

lighthouse is necessary.

As the day drew on we set a driftwood fire and

gathered for a peaceful night, with a full moon clear

and bright overhead. However, as the sun dropped

below the horizon we were invaded by what seemed

like millions of sandflies known locally as nik-niks.

The torment of these biting hordes was unbearable

for some, and by morning four of our number had

retreated to the top of the lighthouse to get above

the pests. Meanwhile, the local resident warden

slept soundly in his loosely laced tent, while all

around him we were scratching, slapping and

cursing the night away. By dawn Gary looked like a

pincushion, his legs a mass of itching bites.

Palawan

The next day was an easy 3 hour banca ride to

Dimakaya Island, in the Calamian island group north

of Palawan Island, where a first-class resort, Club

Paradise, awaited us. The main part of the trip was

now at an end, with a final trek across Dimakaya

Island to the Eagle's Nest viewing point as a kind of

grand finale to our seven days of adventure. After

the 500 nautical mile voyage, every one of the nine

participants agreed they would do another, and a

second trip has already been drawn up to run down

the west coast of Palawan Island. The scenery and

diving there are superb, and there are many beach

resorts to soothe the travel-weary.

Five of our number flew back up to Manila from

Busuanga while three of us stayed on, one more

adventure on our minds. Kevin hadn't been able

to resist the chance to kayak and photograph the

cathedral-like limestone karst coves of Coron Island.

Travelling overland to its namesake, Busuanga's

main town of Coron, we then took to the water

one final time to visit the island with its turquoise

lakes that nestle between towering crags. If you're

prepared to drag all your own gear up and over a

long set of rough limestone steps, there is some

excellent thermocline (neighboring layers of water

at very different temperatures) diving to be done

in Cayangan Lake. In this case though, we were

content to swim, snorkel, sightsee and savour the

last hours of our week-long voyage of discovery.

Dusk was closing in as we returned to our kayaks,

cleared the breakers on the beach and set out for

Coron town. A fantastic sunset was brewing on the

horizon, a pleasantly cooling breeze was blowing,

and right then everything seemed just as it always

should be.

34
---
YACHT PA RTS SALES AND SERVICE

Your One-Stop

Boating Service Specialists

GET YOUR BOAT BACK TO HOW YOU WANT IT TO BE!

➤ Inboard & Outboard Repairs & Service

➤ Electronic Installation & Repairs

➤ Fiberglass & Gelcoat Repairs

➤ Marine Carpentry & Teak Deck Repairs

➤ Carpet & Upholstery

➤ Aluminium Boat Repair & Refinishing

➤ Colour Restoration

➤ Transom Repairs & Replacement

➤ Metal Work & Welding

➤ Anti-Fouling

➤ Striping and Decals

➤ Trailer Repairs or Replacement

➤ Sail Repairs

ALL WORK GUARANTEED

Phone: 047-252-5468/0939-922-3238

www.broadwatermarine.com

➤ SUBIC BAY

Tele/fax: (047) 252-5468 Mob: 0939-922-3238 (Smart) 0917-829-3507 (Globe)

➤ MANILA

Tele/fax: (02) 551-1813 Mob: 0918-963-8148 (Smart) 0917-829-3508 (Globe)

➤ CEBU

(032) 341-0474 Mob: 0939-902-0494 (Smart) 0917-327-7931 (Globe)

➤ BORACAY

Ph: (036) 288-2709 Mob: 0918-963-8155 (Smart) 0917-327-7933 (Globe)

➤ DAVAO

Mob: 0918-963-8151 (Smart) 0917-659-7537 (Globe)

➤ PUERTO PRINCESA (048) 433-2467 Mob: 0912-309-6305 (Smart) 0917-832-3449 (Globe) 35
---
Pied Pipe

Words by

JAMES

WEBSTER

Photographs

as credited

A

ll living creatures are driven by a never

ending search for sustenance. Whether

its lions, monkeys or fish, they will flock to an

easy source of prey, each with their own source of

communication.

For fishermen, the use of berley

has become a well established

method of drawing fish to

their favorite fishing location.

Typically, fish scraps or bait

are chopped up and randomly

tossed overboard or placed in

a container and dispersed at

regular intervals.

This works well to a point. The

problem is that is problematic

that the fish will chomp on

your baited hook amongst all

the other morsels available.

Without a constant stream,

they lose the bait trail and

The problem is that

is problematic that

the fish will chomp

on your baited hook

amongst all the other

morsels available.

36
---
of Fish

37
---
The pieces will be

slowly released as the

bomb dissolves with

the source will remain

under your boat.

swim off. The generous chunks of berley will feed

the fish rather than stimulate their interest and

persuade them to swim up a berley trail. The berley

will quickly drift away, taking the

fish with it.

A much more fruitful method of

working berley is with a berley

bomb. There are many ways to

fashion a berley bomb, however

the simplest and just as effective

way is to place a suitable sinker

attached to a length of fishing

line into a cardboard milk carton

or a similar container and fill it with your berley

pieces and water, place it in your freezer and there

you have it. You can then drop it to the desired

depth after removing the cardboard and tie it off

somewhere on your boat. The pieces will be slowly

released as the bomb dissolves with the source will

remain under your boat. This is much more effective

than randomly throwing berley overboard but still

has its drawbacks. Your baited hook is still vying for

the attention of fish with your berley chunks.

Stim Burley Ground

berley bomb

Clean and

consistent

method to

burley

38
---
C: 95 M: 65 Y: 35 K: 20

R: 20 G: 76 B: 110

HEX: #144c6e

C: 40 M: 30 Y: 30 K: 10

R: 157 G: 158 B: 159

HEX: #9d9e9f

C: 40 M: 30 Y: 30 K: 10

R: 157 G: 158 B: 159

HEX: #9d9e9f

C: 20 M: 15 Y: 15 K: 5

R: 205 G: 204 B: 205

HEX: #cdcccd

C: 95 M: 65 Y: 35 K: 20

R: 20 G: 76 B: 110

HEX: #144c6e

C: 70 M: 40 Y: 25 K: 10

R: 83 G: 125 B: 154

HEX: #537d9a

YACHT PARTS SALES AND SERVICE

New Brands. Lower Prices. Greater Value.

Exclusive distributors for

Phone: 047-252-5468/0939-922-3238

www.broadwatermarine.com

➤ SUBIC BAY

Tele/fax: (047) 252-5468 Mob: 0939-922-3238 (Smart) 0917-829-3507 (Globe)

➤ MANILA

Tele/fax: (02) 551-1813 Mob: 0918-963-8148 (Smart) 0917-829-3508 (Globe)

➤ CEBU

(032) 341-0474 Mob: 0939-902-0494 (Smart) 0917-327-7931 (Globe)

➤ BORACAY

Ph: (036) 288-2709 Mob: 0918-963-8155 (Smart) 0917-327-7933 (Globe)

➤ DAVA0 DAVAO

Mob: 0918-963-8151 (Smart) 0917-659-7537 (Globe)

➤ PUERTO PRINCESA (048) 433-2467 Mob: 0921-309-6305 (Smart) 0917-832-3449 (Globe) 39
---
Above: Berley

Far right: Adding

sardines

By putting your fish scraps in a blender and filling

a plastic container and freezing this concoction

into a burley bomb you will have a really effective

method of drawing fish to your baited hook with no

competition from other sources for the attention of

the fish. By punching a number of holes into the

container before dropping overboard a slow release

of burley pieces too small to feed the fish but a

scent that will entice the fish towards your bait.

By the time they get to your location they will be

excited and ravenous, assuring a good feed of fish

at tonight's dinner.

Lions, monkeys and fish will quickly discover when

and where an ample supply of food is available at

You will have created a

fish buffet and by the

time you arrive at your

location on your fishing

day, they will be there

waiting.

Above: Berley bomb

Right: Fish attracted

with Burley

40
---
a given time at a given location and they will flock

to that smorgasbord around the same time each

day. If you are able to visit your preferred fishing

location for 10 minutes, 3 or 4 days in row before

your planned fishing trip, you can fashion such a

smorgasbord for the fish. I have seen this method

performed with sensational success, particularly

during fishing competitions.

Formulate your bombs with chunks of berley as

described in the first instance with enough weight

to hold them in place on the river, lake or sea bed.

Fashion enough for two for each visit you make

before your planned fishing day. Then simply drop

them overboard or toss them to your casting location

if fishing from the banks rivers or lakes, at the same

place each day and leave.

You will have created a fish buffet and by the time

you arrive at your location on your fishing day, they

will be there waiting. For that day your bombs will

be formulated with blended fish scraps and the

scent emulating from them will send the fish into a

feeding frenzy and provide you with bragging rights

over a highly successful days fishing.

41
---
Zambales Lifes

Words by

BARRY

DAWSON

Photographs

as credited

A

quatic safety is something that needs

far more attention, especially during the

Summer months when, locals, tourists and foreigners

flock to the beaches to cool off by enjoying the

pristine waters that abound in the Philippines.

Water safety has to be at the top of list of priorities

and is fully supported by Active Boating and

Watersports, and as discussed in the last edition,

drowning statistics show that

there is a long overdue need

to resolve the problem and

lower the drowning rates as

significantly as possible.

Zambales Lifesaving Inc., a

non-stock, non-profit NGO, is

working hard on this issue for

its home area, Zambales, but

also are finding themselves

called upon by other areas such

as San Juan La Union, Bataan,

and Aurora, to assist with their

endeavors in delivering better

water safety for locals and

visitors.

Zambales Lifesavings success

comes from having an organized

approach and the correct priorities; the first and

most important being "Drowning Prevention and

Awareness" targeted at all ages but with a special

emphasis on children below 14 years of age, but

also with their parents, this is followed by training

of various people in aquatic safety and rescue at

That advice is very clear…

"reach or throw, but do

not go"… it teaches you to

look for objects that you

can throw to the person.

affordable cost, lastly is lifesaving sports, below is

a background on the three priorities, why they are

being treated in this order and how they work.

Drowning prevention and awareness:

This is the most important priority, as statistically

more than 30% of all drowning incidents involve

children below 12 years of age, or in real terms more

than 12,000 children lose their lives due to drowning

every year in the Philippines,

drowning is the 6th highest

cause of mortality in children 1

– 4, 3rd in children 5 – 9 and the

2nd leading cause of mortality

in children 10 – 14. The saddest

thing of all is that drowning is

preventable through education

and awareness.

Especially, the education of the

parents and older persons who

supervise these kids when at

the beach, pool or areas where

water is used for recreation by

children. According to statistics,

a staggering 88% of children

in fatal drowning incidents

were under supervision of

their parents or an adult at the

time, thus it is very important to educate those who

supervise children when around water.

The "Swim-safe" program that Zambales Lifesaving

initiated in 2016 has been a great success and they

thank participating resorts, Palmera Garden Resort

Pray this is never

your child

42
---
saving Meeting Meeting the the Challenges

of Aquatic of Aquatic Safety Safety

in Iba, with support of the Iba Rotary Club, also the

Lighthouse Marina Resort and Le Charms Suites' in

SBMA for supporting the program.

However the program badly needs a sponsor to

continue to grow. The program itself is only a half

day, commencing with a lecture, which discusses

various dangers often found in aquatic recreations,

such as at the beach, rip currents and inshore holes,

in rivers and creeks, snags and unseen rocks and also

in pools, especially wave pools. It also covers around

the home, such as pails and washing dishes left with

water in them, as this is unfortunately one of the

largest causes of drowning in the home. Parents or

guardians must also attend the lecture.

There is also special emphasis on assisting a victim,

especially if you are not trained in rescue, even if

you think you are a good swimmer, that advice is

very clear… "reach or throw, but do not go"… it

teaches you to look for objects that you can throw to

the person, or things to use to reach them, especially

if close to the edge of the water.

This is followed by practical in water instruction, the

main goal of which is to teach the participants to

"float", everyone can float and knowing how to do so

is the difference between life and death, as the victim

will not panic, thus can wait for assistance without fear

of drowning, there are also scenarios and games of

how to find things to use for "reach or throw".

The number that can attend is dependent on the

number of trained instructors available, as all need

one on one initial instruction on how to float. Sadly

though there is very little support from the tourism

or other allied industries, that should be involved,

the program is not expensive to run, however for

it to grow and expand we do require a sponsors to

come on board and assist us.

The second priority is: Training of Lifeguards and

Lifesavers: Zambales Lifesaving Inc. is a Philippine

Coast Guard "Accredited Training organization" for

the training and certifying of Lifeguards as per RA-

9993 and PCG MC 03-14, which attests to their ability

and resources to get the job done professionally.

Thus all Certificates issued by Zambales Lifesaving

Inc. and accepted throughout the country and also

accepted in many overseas countries. Through the

efforts of founder and program director, Mr. Roger

Bound, who has a background in Lifesaving, going

back to his roots in Australia, plus almost 30 years

experience in the Resort industry in Zambales,

giving him accurate knowledge faced by the resort

industry as well as those of lifeguards, it was through

his initiatives that the Swim-safe program was

commenced aiming at drowning prevention through

awareness and education.

Mr. Bound has also cemented ties between Surf

Life Saving Australia Far North Coast Branch who

regularly visit Zambales with the latest updates on

training and equipment, they also assist in donating

equipment, such as rescue boards, that are used

for training and can be issued to member resorts to

supplement what equipment they may themselves

have, thus making it safer for their beach users.

Additionally they have with the support of the

Australian Life Saving Academy been able to modify

the training modules to suit local conditions and to

translate much of the materials into Filipino, this,

along with them issuing self assessment manuals

to their students has substantially decreased the

student failure rate in the classroom and theory

areas, as Mr. Bound says, Lifeguarding is one of the

very few professions that can be achieved without a

university or college degree and there are now quite

a number of lifeguards initially trained by Zambales

Lifesaving working overseas and on cruise ships.

Zambales Lifesaving has a number of contacts for

overseas placement, but also has a policy that they

will not endorse their trainees to overseas until

they have had at least 3 years experience in the

Philippines, when asked why was this is, he replied,

Lifesaving training

43
---
This year saw it become

an International event

with teams from

Singapore and Sabah

Malaysia.

Right: Drowning

child being

administered cpr

our priority is aquatic safety in Zambales and the

Philippines for locals and visitors here.

Another of the innovations that Zambales Lifesaving

has is extending its program from Open Water

(Beach) lifeguard, a 40 hour course and swimming

pool lifeguard, a 36 hour course to meet the growing

demand and increase in interest in surfing, by devising

a special course to train surfing instructors in first

aid, basic life support (CPR) and basic rescue, should

any untoward incident occur during surfing lessons,

this program has been approved and Zambales

Lifesaving Inc. has been accredited by all of the major

controlling bodies of surfing,

such as International Surfing

Association (ISA) Academy

of Surfing Instructors (ASI)

and United Philippine Surfing

Association (UPSA) and the

Department of Tourism (DOT)

who oversees the ASI program

in the Philippines. The

Zambales Lifesaving Inc. Surf

Instructors Safety Certificate is

now a requirement for all Surfing Instructors working

with these organizations.

Their final priority is: Lifesaving Sports:

Lifesaving sports certainly have an importance, they

are Internationally recognized, in fact, there is a World

Championship held every 2 years, there are also

competitions Nationally and in other nearby South

East Asian Countries, such as Thailand, Vietnam and

we believe soon to be in Sabah, Malaysia.

Zambales Lifesaving Inc. have run a competition

every year in Zambales for the last 7 years, attracting

in the past teams from other areas, such as Boracay,

Cebu, Dumaguete and Manila, this year saw it

become an International event with teams from

Singapore and Sabah Malaysia, also Zambales

Lifesaving Inc. with the assistance of the Zambales

Provincial Government through the efforts of Hon.

Governor Atty. Amor Deloso plus the assistance of

the Standard Insurance Co. Inc and RP Energy has

competed in the Phuket Surf Lifesaving Competition

in Thailand for the past 2 years, finishing second

outright in the Teams Championship and outright

Ironman Champion on both occasions against as

many as 12 countries.

Zambales Lifesaving also competes nationally,

since 2012 Zambales Lifesaving has sent a team to

the Great Titan Lifesaving sports event in Negros,

finishing 1st and 4th, it again competed at this event

at Bantayan Island in 2014, finishing 1st and 2nd.

Also, the Festival of the Winds Lifesaving competition

in Boracay, 2012 finishing 2nd in the International

division against teams national and Australian teams.

Zambales Lifesaving has also attended the Cebu

Lifeguard Rescue Challenge every year since 2013,

finishing Champions on every occasion during those

5 years, they will again attend the Cebu event on

September 9 and hope again to be successful.

We asked Mr. Bound why they have done so well

in the Lifesaving Sports, his reply, hard work and

dedication, plus it showcases that we are among

the top training facilities in the Philippines, also it

gives us the opportunity to work in the development

of our youths in sports associated with water, we

have successfully managed to bond together our

lifeguards, our swimming community and our surfing

community to all work hand in hand in drowning

prevention and awareness, this even more so with

our special lifesaving sports event for children from

5 to 15 years of age that we held the following

day after our 7th Standard Insurance Lifeguard

Challenge Competition, this event is sponsored by

44
---
Lifesavers from all

over the Philippines

Singapore and

Malaysia

Junior Trainees

with Coach Nhel

Aranzanso Coach

William Asturias

and Roger Bound

45
---
the Provincial Sports Office, this is the first year

that they have been involved, but we hope this will

become a permanent annual fixture.

It showcases that we

are among the top

training facilities in the

Philippines, also it gives

us the opportunity to

work in the development

of our youths.

Clockwise below:

Instructors at a swim

safe session Palmera

Gardens, Iba

Next: Swim Safe

Instructions been given

Next: From Left to

Right PO2 Michael B

Macayan Philippine

Coast Guard (PCG)

Chief Master-at-Arms

Subic, CPO Manuel O

Laroco PCG Deputy

Subic, Roger Bound

Zambales Life Saving,

SNI Gervy I Mayo PCG

Admin POIC Subic and

Jim Rapp Zambales

Life Saving

Bottom: Proud winners

of one of the many

frequent competitions

held

We are also looking to

commence monthly

training sessions for kids

on a monthly basis and

are currently in discussions

with resorts to provide their

facilities free for the kids.

Our 2019 event will, we

hope, again see a whole

day of events just for the

kids. Lifesaving sports are also a great way to keep

your lifeguards fit, learn new techniques and new

innovations and it showcases lifesaving to the public,

you meet new friends and learn from each other and

most importantly you make new contacts and have

the opportunity to reward those who support you,

not only your competitors, but also the sponsors, if

you look at our relationship with Active Boating and

Watersports Magazine, it commenced from a chance

meeting at a Lifesaving Sports demonstration we

did at the Hobie Challenge in SBMA, way back in I

think in early 2015, this showcased to you what we

do and what our commitment and objectives are,

without this we may never had met and gained your

valuable support.

I thank you also for the continued coverage that

you have give not only to us but to drowning

awareness and prevention, ours has become a strong

partnership, as you see the need for what we do.

Thanks also to our Hon. Governor who has now

installed our organization onto the Provincial Disaster

Risk Reduction Management Council so we can share

our thoughts and expertise in the reduction of risk,

especially in the aquatic recreation areas of Zambales.

In closing if anyone or organization is interested

to become a partner in these projects, Contact

information: Zambales Lifesaving Inc. a duly

registered SEC non-stock, nonprofit organization Mr.

Roger Bound - President and program director.

Email: slszambales@gmail.com or call or text him on

0918 922 2863. www.zambaleslifesaving.org

All transactions are covered by BIR registered Official

Receipt. Training is conducted at affordable prices,

the below prices are based on min of 10 trainees,

Open Water Lifeguard; P4,300.00. Pool Lifeguard;

P3,500.00 and Surf Instructors Safety Certificate

P2,150.00 all of these courses are inclusive of First

aid, basic life support / CPR and Philippine Coast

Guard approved Lifeguard Certificate. (Prices include

self assessment training manual, but does not include

foods or accommodations).

For persons interested in training there is a tentative

planned date of the last week of September for an

Open Water course. Contact Ms. Marichu on 0918

938 0266 for further information.

46
---
47
---
Fusion Sound

Words &

Photographs by

FUSION

48

Whether it's the modern sounds of Rap

or Hip Hop to the beats of P Diddy or

M&M, or the Blues of Bo Didley, the Jazz of Miles

Davies, the tunes of Celine Dion or the Rock of Guns

n Roses. The power of music is something we can all

relate to. The feeling we get when our favorite song

comes on, the emotion and the memory associated

with that song is something unique to all of us. The

power of music is unquestionable. Hearing the strum

of a chord can raise hairs on the back of our neck

evoking a surge of sensations. Feeling the beat of

a bassline can transport us back in time as a wave

of nostalgia washes over us.

Experiencing music through

the Signature Series is like

listening to a live performance.

If you want great sounds and a

sound system to match FUSION

MARINE ENTERTAINMENT has

the components to make the

perfect combination.

The FUSION multi award

winning collection of

Entertainment Components has

quality and innovation that just

cannot be surpassed, leading

the way in marine and lifestyle

audio entertainment. Fusion is

dedicated to offering innovative

audio solutions that enhance

your personal leisure time,

anywhere on the water. Now

with Fusions launch of an incredible all-in-one, plug

and play audio solution – the Panel-Stereo purposebuilt

performance in marine environments is even

better The Panel-Stereo combines all the elements

required for excellent audio reproduction in a single

product, providing the ultimate all-in-one audio

solution. Class-D amplification, Fusion's Digital Signal

Processing (DSP), dual 3-inch speakers, and a passive

bass radiator are combined in a single, perfectly tuned

enclosure, to provide excellent audio wherever the

Panel-Stereo is installed. The versatile Panel-Stereo

can be mounted in three different ways. With the

optional 43mm surface mounting spacer, you can

install the Panel-Stereo directly onto any flat surface

with no mounting cut-out required. The Panel-

Stereo's shallow depth makes it ideal for installation

in shallow wall cavities where standard speakers will

not fit, either with flush or flat mounting for a simply

premium finish.

Experiencing music

through the Signature

Series is like listening

to a live performance.

See and hear the full range of FUSION Marine

Entertainment products 2ch, 4ch and signature series

amplifiers, stereo DVD/CD Players decks or portable

marine sound systems at all Broadwater Marine outlets.

Along with a full range of speaker systems, including,

cabin speakers, ceiling or panel speakers. FUSION's

Signature Series marine speakers are designed to

provide unparalleled performance even when exposed

to the harshest marine conditions. Combining 'CURV'

Cone composite technology with a Silk Dome tweeter

and fully sealed crossover components, offering a

stylish solution for premium on-water listening and

for that something extra the

Signature Sports Speakers they

feature Dual-Color diffused LED

Lighting options that illuminate

Striking Blue or Sparkling White

to set the mood or start the party.

Of course, no great sound

system is complete with-out

the thumping bass sounds of

the sub-woofer, producing

low frequency bass can be the

difference between a good audio

system and a truly memorable

entertainment experience.

The Signature Series marine

subwoofers deliver a carefully

balanced blend of engineering

brilliance and performance to

bring your favorite music to

life. The 10" Signature Series

Subwoofers deliver a massive 450 Watt max output,

adding comprehensive low frequencies to your

entertainment experience. Then of course to power

all this sound you will need an amplifier and FUSION

makes the best on the market, perfect for the marine

environment offering the most efficient, stunning

and powerful marine amplifier series. Engineered with

a stainless-steel front panel to resist corrosion and

features Class-D amplifier technology; the key benefit

of a Class-D amplifier is high output.

At Broadwater Marine we understand what it's like to

spend time on the water, because that's what we do.

We're boaties, sailors, paddle-boarders and fishermen -

we know what works in your car will not work on the

water and that's why the team are available to give the

best possible advice, so drop into one of our several

stores and let our friendly staff help turn your boat

into a floating entertainment home away from home.
---
49
---
Words by

BARRY

DAWSON

Photographs

as credited

T

he true heart of the Philippines, in the heart

of the Philippine archipelago, and shaped

like a heart is Marinduque (Tagalog pronunciation:

[marin'duke]) an island province in the Philippines

located in South-Western Tagalog Region or

MIMAROPA, formerly designated as Region IV-B.

Its capital is the municipality of Boac. Marinduque

lies between Tayabas Bay to the north and Sibuyan

Sea to the south. It is west of the Bondoc Peninsula

of Quezon province; east of

Mindoro Island; and north

of the island province of

Romblon. Some parts of the

Verde Island Passage, the

centre of the centre of world's

marine biodiversity and a

protected marine area, are also

within Marinduque's provincial

waters.

During the Philippine-

American War,

Marinduque was the

first island to have

American concentration

camps.

The province of Marinduque was ranked number

1 by the Philippine National Police and Philippine

Security Forces as the 2013 Most Peaceful Province

of the country due to its low crime rate statistics

alternately ranking with the province of Batanes

yearly. Furthermore, for almost 200 years, the

province is home to one of the oldest religious

festivals of the country, the Moriones celebrated

annually every Holy Week.

According to a legend, the

island of Marinduque was

formed as a consequence of a

tragic love affair between two

people: Mariin and Gatduke.

Mariin's father, a local chieftain,

did not approve of this affair

and ordered the beheading

of Gatduke. Before this could

50MARIND
---
e done, the couple sailed out to sea and drowned

themselves, forming the island now called Marinduque.

However, the most accepted theory of the etymology of

the province's name is a Hispanized corruption of either

malindig or malindug, which means "stand tall" or

"elegant", in reference to a potentially active volcano in

the southern section of the island, the Mount Malindig.

During the Spanish and early American occupations,

Marinduque was part of Balayan Province (now

Batangas) in the 16th century, Mindoro in the 17th

century, and had a brief period as an independent

province in 1901, when the Americans arrived.

During the Philippine-American War, Marinduque

was the first island to have American concentration

camps. Marinduque is the site of the Battle of

Pulang Lupa, where 250 Filipino soldiers under

Colonel Maximo Abad, defeated a smaller force of

54 American Infantrymen. It is one of the few battles

during the pacification of the Philippines where the

tenacity and bravery of the Filipinos prevailed over

the well-armed Americans. Col. Abad after capturing

the Americans later surrendered on April 15, 1901

upon orders from Gen. Emilio Aguinaldo and due to

the capture of Gov. Martin Lardizabal and two other

officials of the revolutionary who were held hostage

by the Americans in Fort Santiago.

In 1902, the US-Philippine Commission annexed the

islands of Mindoro (now two separate provinces)

and Lubang (now part of Occidental Mindoro) to the

province. Four months later, the province became

part of the province of Tayabas (now Quezon). On

February 21, 1920, Act 2280 was passed by the

Philippine Congress, re-establishing Marinduque as

a separate province.

DESTINATION

DUQUE Revisited UQUE51

Joven Lilles www.pinterest.ph/jovtrekker
---
The century old

Boac Cathedral

marinduquenews.blogspot.com

Boac business district

In 1942, the Japanese Imperial forces landed in

Marinduque. In 1945, combined American and

Filipino troops liberated the province from the

Japanese forces. Two government agencies were

stationed in the province during the American

period, the Philippine Commonwealth Army and the

Philippine Constabulary. The general headquarters

of the PCA was active from 1935 to 1942 and again

Archaeology

in the Philippines

began in

Marinduque.

from 1945 to 1946 while the PC was active from

1945 to 1946.

Archaeology in the Philippines began in Marinduque.

Prior to 1900, only one important archaeological

investigation had been carried out in the country: the

Antoine-Alfred Marche's exploration of Marinduque

from April to July 1881. According to anthropologist

Henry Otley Beyer, while many other accidental

discoveries and finds have been recorded from time

to time and a few burial caves

and sites had been casually

explored by European and local

scientists, no systematic work

had been done anywhere else

prior to these explorations. After

Marche, the next important

archaeological work was

undertaken by Dr. Carl Gunthe

in the Visayas Island Group in

1922.

Marinduque provincial capitol

boyplakwatsa.files.wordpress

52
---
DEDICATED ENGINEERING SPECIALISTS

53
---
National Museum Boac

Mount Malindig

in Buenavista,

Marinduque

54

MARINDUQUE

weekendbiyahera.blogspot.com

An abundant yield of Chinese urns, vases, gold

ornaments, skulls and other ornaments of precolonial

origin was what Marche finds represented.

He brought back to France the Marinduque

artefacts he uncovered in 40 crates. Part of it now

is said to be housed at the Musée de l'Homme in

France. The finds also included a wooden image

of the Marinduque anito called "Pastores" by

the natives. One of these artefacts also found its

way into the National Museum of Natural History

of the Smithsonian Institution in Washington,

D.C. (Catalogue No. A127996-0, Department of

Anthropology, NMNH, Smithsonian Institution).

These fragile jarlets traveled from China to the precolonial

Philippines. Buried in a cave in Marinduque

for centuries, excavated in the late 19th century,

brought to Paris and eventually one ended up at the

Smithsonian Institution museum.

Part of Marinduque's history lies at the Marinduque

Museum in Poblacion at Boac and in museums

abroad. It will take some time to analyze these

artefacts to piece together its pre-colonial past.

Marinduque is considered as the geographical centre

of the Philippine archipelago by the Luzon Datum of

1911, the mother of all Philippine geodetic survey.

The province is a "heart-shaped" island with a total

land area of 952.58 square kilometers, situated

between Tayabas Bay in the north and Sibuyan

Sea to the south. It is separated from the Bondoc

Peninsula in Quezon by the Mompong Pass. West

of Marinduque is Tablas Strait, which separates it

from Mindoro Island. Some of the smaller islands to

the northeast are Polo Island, Maniwaya Island, and

Mompong Island. Southwest portion includes the

Tres Reyes Islands and Elephant Island.

The highest peak in Marinduque is Mount Malindig

(formerly called Mt. Marlanga), a potentially active

strato volcano with an elevation of 1,157 metres

(3,796 ft.) above sea level, located at the southern

marinduquenews.blogspot.com Joven Lilles
---
Jaro Cathedral

tip of the island. Various cave systems occupy the

province, which include the grand Bathala Cave; the

newly discovered San Isidro Cave with its complex

subterranean river; and Talao Caves with its 12 series

of caves overlooking the western part of the island.

Balanacan

Balanacan Port (Filipino:

Pantalan ng Balanakan) is

the major port in the island

province of Marinduque,

Philippines. It is located at

the north-western tip of

the province in Barangay

Balanacan at the town of

Mogpog. Overlooking the port is the statue of Our

Lady of Immediate Succor (Biglang-awa stands as a

silent sentinel at the entry to the port watching over

all those who enter and leave).

Biglang-awa stands

as a silent sentinel at

the entry to the port

watching over all those

who enter and leave.

access as it is set a high hill, located 10 meters

northwest of the highest point on Marinduque

Island, is the Station Mark used for mapping,

surveying and navigation. The station mark is a 1.5

cm hole, approximately 6 cm deep, drilled in the

corner of a triangle carved into

hard rock at the center of a

cross cut on top of this stone.

The reference mark is azimuth

326° and is distant 18.85

meters. The Initialization of

Station Balanacan as the

geodetic datum origin is

traced back to surveying and

mapping activities in the

Balanacan Port

from afar

439 steps to

Luzon Datum

A majestic view of the Balanacan Cove and

surrounding areas can be seen from the newly

refurbished view deck, where a 360 ° breath-taking

view sprawls out before you, and is a must visit to

get some photos that will remain a lifetime memory.

Luzon Datum

On our last visit to Marinduque in 2013 we could

only report on the Luzon Datum because of limited

55
---
Luzon Datum

Thus a geodetic station is

said to be in the Luzon

Datum if it is connected by

continuous triangulation

from Station Balanacan.

56

Philippines of the then

United Sates Coast And

Geodetic Survey (USCGS).

With the new territorial

claim of the US following

the Spanish-American

War, the responsibilities of

the USCGS grew to include

various scientific and

cartographic initiatives

in the Philippine islands beginning in 1901. The

charting of insular waters and harbours and the

development of a geodetic network had to be done

from scratch, both military and commercial factors

were considered in the initial surveys. The military

telegraph and cable aided in the establishment of

astronomical stations in Legaspi, Vigan, Ormoc,

Tacloban, Iloilo, Bancalan Island, Cagayan, Sulu

Island, Davao, Iligan, Misamis Oriental and

Zamboanga, each having its own datum. The

Station Balanacan (Latitude 13° 33' 41".000 North,

Longitude 121° 52' 03".000 East) in the province

of Marinduque defined the datum origin of the

Luzon Datum of 1911, with Clarke Spheroid of

1866 as reference ellipsoid. The historical document

on the triangulation of the Philippine islands gives

the establishment of Station Balanacan as 1906.

All surveys in the Philippines from 1901 to 1927

were based on the position of this station. Thus a

geodetic station is said to be in the Luzon Datum

if it is connected by continuous triangulation from

Station Balanacan. Now for the fit and healthy there

is a 439 step climb to top. The climb is demanding

but if you just take your time, stopping frequently

on the way up to enjoy the view, the effort is well

worth it when you reach the top, with a commanding

view of some of the most spectacular views you will

encounter, there is also a two level viewing deck to

make it even more spectacular than it already is.

Boac

The main city of Marinduque is Boac, where the

local people are amazingly friendly. A Franciscan

missionary Fray Estevan Ortiz established the town

in 1580 and named it Montserrat de Marinduque.

From this point foundations were laid for two other

towns, San Juan de Marinduque and San Bernardo

de Marinduque.

Boac is home to most of the province's commercial

businesses. Barangays San Miguel, Murallon, and

Mercado are the town's business district where the

public market, medium-rise buildings, sports arena

and Boac Town Arena, now Moriones Arena are.

Meanwhile, Barangay Isok is home to the town's

education district. Marinduque National High

School, St. Mary's College of Marinduque, Don

Luis Hidalgo Memorial School, Barangay Day Care

Centers, Boac North District Office and the Division

of Marinduque DepED Office are in Barangay Isok.

The Municipal Building Hall is at Brgy. Tampus,

adjacent is the Marinduque Museum at Brgy.

Malusak.

The Marinduque Provincial Capital is in Barangay

Santol near the Dr. Damian Reyes Memorial Hospital

(formerly Marinduque Provincial Hospital) and

Camp Maximo Abad. The name Boac is derived from

the Visayan word bu-ak, which means "divided".

The town had been divided in two by a river running

from the eastern hinterland to the western plains

down to the sea. The two were the Northern and

the Southern areas.
---
Other records say that Boac came from the word

"bulwak", which characterizes the tide caused by

the rapids of the Boac River to its mouth in Brgy.

Lupac and to the banks around the riverside barrios.

The first "visita" was established in 1580 and it was

called "Monserrat de Marinduque" (now Boac) with

Fray Alonzo Banol as its minister.

weekendbiyahera.blogspot.com

In 1621, the Spanish Jesuit missionaries brought

the three-foot Marian image to Boac. So began the

people's devotion to the image of the Virgin Mary.

In the mid-17th century, a group of Muslims in the

Philippines called the Moro people felt threatened by

the actions of the ruling Spanish government. They

challenged the government by launching attacks on

coastal Christian towns. This resulted in a raid along

the shores of Barangay Laylay, near the Boac River.

During the siege, the neighborhood people fled in

panic and took refuge in the fortress church of Boac,

which is now called Immaculate Conception Cathedral.

In the meantime, all able-bodied men defended the

outer walls of the church fortress against the attacks.

Many Christians were killed and, by the third day of

violence, those alive began to run short on food. The

capture of the fortress seemed imminent.

The survivors prayed fervently at the throne of

Mary, asking her to deliver them from their enemies.

Legend says that suddenly there came a very strong

storm, with torrential rain, thunder and lightning. At

the very height of the storm, it is reported that the

image of a beautiful lady with outstretched arms

appeared standing on the top of the wall. Terror

seized the Moros and they fled in confusion to their

vinta boats. Thus, the Christians were saved from

death by Mary.

Boac Municipal Hall/

Casa Real

57
---
Boac River

C

Ever since this incident, the image of Mary has been

honoured and given the title "Biglang Awa." To

commemorate the miracle, a stone niche was built

on the wall at the spot

The image of a

beautiful lady with

outstretched arms

appeared standing on

the top of the wall.

Our Lady of

Biglang Awa

Marinduque

where Mary appeared. The

old image brought by the

Jesuits in Boac was placed

there. There is a shrine at

this location today.

In 1942, Boac was

occupied by Japanese

troops. In 1945, the Battle

of Marinduque began and the American-Philippine

Commonwealth troops landed in Boac after the

war was built of the general headquarters of the

Philippine Commonwealth Army and Philippine

Constabulary from 1945 to 1946 station in this

municipality.

The Provincial Government of Marinduque under

Gov. Carmencita O. Reyes built a larger-than-lifesize

image of the Our Lady of Biglang Awa in cement

and placed in the seashore in Balanacan Port to

welcome travellers to the island. A tradition in Boac

is the staged passion play called the Senakulo,

an annual event, that has gained popularity for

supporters and sponsors. It has a permanent site,

complete with stage and elevated grounds at the

reclaimed Boac River bed.

M

Y

CM

MY

CY

CMY

K

www.trekearth.com

Balanacan Port

wmapio.net Joven Lilles

58
---
59
---
Moriones centurions

parade in the streets

The Senakulo is a series of theatrical presentations

with sound and special lighting, and is held on the

evenings of Holy Wednesday, Maundy Thursday,

on Good Friday Morning and after the midnight

mass on Easter Sunday. The presentations are reenactments

of relevant passages from the Old and

New Testaments, with the Genesis, Prophecies, the

birth, life and teachings,

the passion and death of

Christ to his resurrection.

The Easter Sunday

presentation also includes

the full conversion of

the centurion Longino to

Christianity following the

restoration of his eyesight,

his defiance of Pilate by

spreading the news, his capture and beheading.

The presentations

are re-enactments

of relevant passages

from the Old and

New Testaments.

Preparations on the props and costumes start

months before and rehearsals sometimes last till

dawn, proving, (if proof was ever needed), that

Filipinos take their religion and their festivals very

seriously. Even participants working in other parts

of the country come home to fulfil their spiritual

promise to take part in the passion play for as long

as they can.

On May 10, 2008, the Diocese of Boac celebrated

the 13th anniversary and the golden anniversary

of the canonical coronation of Mahal na Birhen

ng Biglang-Awa (1958–2008). Cebu Archbishop

Cardinal Ricardo Vidal of Mogpog, Marinduque,

officiated at the consecrated mass.

The Diego family fight

for the MARINDUQUE

Boac is the third largest of the six municipalities

of the province of Marinduque, after Santa Cruz

and Torrijos. It borders all the municipalities of the

province: Mogpog to the north, Santa Cruz to the

Northeast, Torrijos to the East, Buena Vista to the

South and Gasan to the South Southwest.

The municipality is generally hilly, rugged and

mountainous in the south and eastern part with thin

strips of flat and farm lands and long shoreline in

the west. The longest and largest river, Boac River,

which gets its source in the mountainous forest in

The Senakulo

features the passion

and death of Jesus

60
---
the extreme southwest and spills off to the northern

shore of Boac, divides the municipality into two

geographical areas: north and south.

The closest town-to-town reference to Boac is the

municipality of Mogpog which is approximately 5

kilometers. Boac is connected to Mogpog and Gasan

by the Marinduque Circumferential Highway or the

Pan-Marinduque Highway. Two bridges connect

the north and south area of the municipality: the

narrow Tabi Bridge which connects Brgy. Tabi and

Brgy. San Miguel and the said-to-be the longest

bridge in the province, Biglang Awa Bridge (186

m), which connects Brgy. Tampus and Brgy. Bantad.

A narrow minor road connects Boac and Mogpog

via Buliasnin-Nangka Road, and Boac and Gasan via

Duyay-Tapuyan Trail. Boac has a total road network

of 117.61 kilometers. Geopolitically, Boac is divided

into six zones: Poblacion, Riverside, Ilaya I, Ilaya II,

Seaside A and Seaside B. Boac's geographical centre

is roughly located between the border of Brgy.

Binunga and Brgy. Can-at.

Mogpog and the Paadjao Falls

The township of Mogpog (the name is derived from

the Tagalog word ma-apog which means abundance

of lime, lies a few kilometers from Balanacan port

and has a lot for the visitor to see. Spectacular

views over Balanacan cove and the islands between

Marinduque and Lucena can be seen from the

View Deck which is located by the statue of 'Ina

61
---
View of Gasan town

from the St. Joseph

church's view deck

Paadjao Falls

62

MARINDUQUE

ng Biglang Awa', a gentle stroll from the town

centre. For visitors staying in the area overnight, the

popular Hilltop Hotel and the Palms by the Beach

resort offer comfortable rooms to complement the

island's well known reputation for hospitality and

friendly service.

For an energetic day out, trek to the Paadjao

Falls which are best reached on foot. A series of

mesmerizing, gently cascading falls of approximately

100 feet tumble into a 15 foot deep pool of clear

fresh water. By the pool are naturally formed

hollows where tired travellers can relax, bask in the

refreshing water and enjoy the spa like effects of

these open-air baths.

More adventurous travellers can explore the Tarug

Caves, a three chambered cave within a limestone

formation rising steeply to about 1000 feet above

sea level. The pinnacle is about 10 square feet but

the climb is well worth it. Camera enthusiasts will

love the panoramic views over Bondoc Peninsula to

the east and Tablas Strait in the west. Caves can be

confusing and confounding places for the unwary,

so inexperienced spelunkers should seek the services

of an experienced guide before setting out.

Mogpog also offers a pristine diving and snorkelling

site at the Natangco Reefs. A natural shelf of up to

40 feet deep is on the west side of Natangco Islet

and is an excellent area for snorkelling buffs. For

SCUBA divers the reef terminates into a near vertical

drop of underwater cliffs reaching down to the

sandy bottom approximately 130 feet below and is

recommended for drift diving. The industries of this

gentle town are fishing, agriculture, butterfly culture

and of course the making of the famous morion,

which means mask or visor.

Gasan

The peaceful little township of Gasan, situated

south of Boac, like all other towns on Marinduque

has so much to see, plus of course the overwhelming

friendliness of the local inhabitants. Gasan is
---
famous for its butterflies, handicrafts and many

archaeological sites, appealing to both nature lovers

and culture vultures. There's more to see from an

eco-tourism perspective than for lovers of water

sports but its rustic, unspoiled beauty will reward

anyone who makes the effort to come here. For

the romantically minded there is nothing more

satisfying than a stroll through Reyes Park. This

dreamy promenade with its stone tables, benches

and lights is built on top of an ancient sea wall

with an unobstructed view of the western coast

of Marinduque – Tablas Strait, Tres Reyes Islets are

southwest and glimpses of Mindoro to the west.

Gasan's butterflies are the most beautiful seen in

the Philippines, with over 200 species, many of

which are not found anywhere else. In fact, 75%

of butterflies exported from the Philippines come

from Marinduque. Accommodation in Gasan is

comfortable and friendly. Two of the better resorts

seen, while touring the island, were the Katala

Beach Resort and Restaurant and the Blue Castle

Beach Resort. Both offer excellent facilities at very

reasonable rates. St Joseph's is a beautiful church

on the hilltop overlooking the township of Gasan.

With its magnificent architecture is a place well

worth visiting.

Tres Reyes Island

Approximately 20 minutes by Banka from the

mainland at Gasan is Tres Reyes Island, the idyllic

settings of this Island makes for a day to remember

as it has so much to offer for a relaxing day of

touring the islands, the local residents are extremely

friendly, the waters are clean and pristine and the

atmosphere is serene and peaceful. Dindo Asuncion

and his team from the provisional tourism office

have plans in the pipeline for more improvements

to the island like a new pier for the incoming boats,

for easier access. The main industry of the island is

the cultivation of the seaweed for the markets, a

delicious delicacy that is a must try.

Torrijos

Tres Reyes Island

The buntal is

painstakingly

processed by soaking

and boiling in a secret

herbal mixture .

Established in 1879 was

named after General Jose

Maria Torrijos, a prominent

military officer admired

in Spain during the War

of Independence. Torrijos

boasts beautiful beaches,

white sands and pristine

waters and is a diver's paradise. There are beautiful

© Herald Presado 2013

63
---
Handcrafted

pottery

making

www.booking.com

Cagpo Beach Resort

rustic resorts like Cagpo Beach Resort where you

can stay at very reasonable rates. There are local

industries in the area where you can pick up a sample

of hand crafted products. In the Barangay of Bonlin

a local group formed a cooperative

for loom weaving

which has steadily gained

prominence in the years.

since its establishment.

This thriving handicraft

centre makes intricately

woven products for the

home, such as place

mats, table runners,

window shades and wall

decorations, on manually operated looms. That is

now exported all over the Philippines. The material

used for these home furnishings is called buntal,

a fibre extracted from the buri tree that thrives in

Eco-friendly and located

on an 8 hectare property

it has everything you

could ask for.

the area. The buntal is painstakingly processed by

soaking and boiling in a secret herbal mixture to

produce a fibre that has been deemed to be of the

finest quality available in the Philippines.

There is also hand crafted pottery a successful

industry of the area. Gabisan Pottery is the makers'

fine pottery and terracotta products. The barangay

boundary markers in the municipality came from the

Gabisan kilns.

Buenavista

The main attraction to this sleepy town would have

to be the Marinduque Hot Springs Resort. Set in a

serene and rustic environment the Marinduque Hot

Springs Resort is a welcome relaxation after traveling

this magnificent island. Eco-friendly and located on

an 8 hectare property it has everything you could

Bellarocca Island

Resort & Spa

galapamore.weebly.com

64
---
ask for: the facilities include five hot spring pools.

Surrounding the swimming pools are beautiful

picnic houses where you can relax and enjoy lunch

after an invigorating dip in one of the pools, all the

while taking the time to enjoy the atmosphere.

You can just have a day trip, or stay overnight as

the resort boasts cottages with private pools, airconditioned

rooms, tree house kiosks, picnic and

camping grounds. A nourishing breakfast is included

for overnight residents. For a really therapeutic

treatment, not far from the hot springs is Sulphur

Springs, a few hours spent here will be an invigorating

stopover. A few kilometres from the hot springs is

the Curba Farm Resort. The resort also runs one of

the finest restaurants on the island. The Curba Bar

and Grill is located next door to the resort, on the

second level overlooking the town. The theme is of

the wild west and the superb cuisine is nothing short

of mouth-watering and at very reasonable prices.

The other attraction of Buenavista is the Bellarroca

Resort. This exclusive five star resort is on a small

island just off the coast of Buenavista, and for a

price you can stay overnight in one of the luxurious

rooms or villas. The amenities are of the highest

quality and the resort boasts everything from a spa

bath to a villa with movie. Bear in mind this is a very

exclusive resort and is not designed for the budget

conscious.

FOR ONLY

*P750 PER YEAR

65
---
66 MARINDUQUE

Zip line at the

Freedom Echo

Adventure Park.

Freedom Echo Adventure Park

When we last visited Marinduque back in 2013 the

Freedom Echo Adventure Park was on the drawing

board and just started under development, now

fully functional the Adventure park has so much

to offer with accommodation,

trekking, zip line, swimming

pool, off roaders and fabulous

food. Is now a must to be

at the top of your to do list

when in Marinduque enjoying

everything this magical Island

has to offer.

This side of the

island-province is

where you'll find the

white sandy beaches.

www.wallpaperup.com

Scuba Diving in Marinduque

For many years the significant absence of a reputable

and dependable diving facility in the province

concealed the underwater beauty of the island from

the eyes of the diving community for years. While it

is true that scuba activities in

the province have been going

on for years, these were made

and organized on personal

trips and alliances. Two formal

dive facilities were established

in the early '90s – one in Boac

(Marinduque Marine Sports

Corporation), the other in the

old Fantasy Elephant Club

(precursor to the now Bellarocca Island Resort &

Spa).

Operations of these facilities made diving in the

province somewhat recognized in the industry – the

former with expatriates from Hong Kong; the latter

with the predominantly Japanese clientele of the

resort. Sadly, the operations of the above did not

last long –both naturally ceased with the closure

of their respective resort operations. Since then,

no other formal dive-shop has been established

and functioning in the province. The inimitable and

unique underwater life in the province lured and
---
attracted Dive Instructor Freedom Dellosa (PADI

#67549) - a native of Lucena City in neighboring

Quezon Province, to set up a dive operation in

Marinduque aptly naming it Coral Divers Den

in 2012. The shop was initially part of an "ecoadventure"

destination his family built on a hilltop

in Boac, but later decided to transfer the same closer

to where the diving actions are –at Poctoy White

Beach in Torrijos. True to its name, the newfound

home of the dive shop is just a stone's throw from

the waiting reef system beneath the sprawling blue

waters adjoining the facility. There, his organized

diving groups, walk-in guests and students visit

and appreciate the underwater beauty of the

place coupled with the professional dive service

the "Den" has to offer. The facility has an array of

scuba equipment ready to serve the diving activity

of fifteen (15) divers. It also boasts of fifty (50)

scuba tanks filled with quality breathing air from a

well- maintained air compressor system. Underwater

flashlights are likewise available for night diving

activities, as well as other accessory equipment

necessary to make diving safe and enjoyable. Divereducation

is likewise being provided in the place.

Standard PADI diver-courses from Open Water

up to Dive master ratings are offered and being

taught at reasonable rates. Non-divers shall have

the opportunity of having their time underwater by

taking the PADI Discover Scuba Program that the

establishment similarly offers.

With the establishment of Dive Marinduque over

5 years ago things changed considerably for divers

wanting to explore the hidden treasures of this

island. This side of the island-province is where

you'll find the white sandy beaches. With the mighty

Mt. Malindig – the highest peak in the island as

background, a lazy walk on the ivory sands of Poctoy

coupled with a soothing dip in its turquoise waters is

www.wallpaperup.com

Marinduque Poctoy-

White Beach

www.traveltothephilippines.info

67
---
Left: Gasang-

Gasang Festival

Right: Moriones

festival

a welcome respite. The coral reef system in the area

is of the fringing type.

The shallow reef flat which gently slopes toward the

open ocean is so wide and long, such that shoreentries

are impractical and the use of boats in all

dives is must. With mooring buoys strategically

placed to discourage the use of boat anchors that

contribute to the destruction and damage to the

reef. The reef slope may be found at around 50

- 70 meters from the shore. It is often very steep

and begins to descend

to much deeper depths.

Relatively, coral growth is

more pronounced and rich

in this part of the reef. All

entry points in the dive

sites marked by buoys

are located on these

slopes. The absence of

strong currents in the area

explains the prevalence

of hard corals which are less colorful than the soft

ones. Dive sites are characterized by sloping reefs at

Sea fans and gorgonians

are not uncommon in

the steep walls plastered

with assortments of

coralline covers.

depths ranging from 5-10 meters, followed by walls

covered with hard corals dropping down to around

35 meters into the sandy bottoms. Of interest

to the visiting divers would be the independent

and clustered patches of reefs on the sandy bed

encrusted with hard corals, while an incredible

diversity of sea shells litter the vastness of the sandy

floor. Sea fans and gorgonians are not uncommon

in the steep walls plastered with assortments of

coralline covers. Stag-horns, acroporas and their

lot, are cluttered and distributed unevenly on the

reef. Attention-grabbing reef formations, crevices,

overhangs and swim-troughs proliferate in the area.

These are homes and territories to various reefdwelling

fishes like groupers, wrasses, moray eels

and many more. Pelagic fishes are occasional visitors

to the reef, so divers are advised not to forget to

momentarily gawk into the blue every now and then,

so as not to miss the opportunity of rare pelagicencounters.

Sightings and photographed stop-overs

of eagle rays have been documented and observed,

as well as the much-talked-about beaching of sperm

whales during the '70s and 80s. The long stretch of

fringing reef in the area is likewise believed to be

home to minute sea-dwellers that are delights and

joy to underwater macro photographers.

Festivals in Marinduque

There are many festivals of fun and frivolity in

Marinduque that visitors can enjoy like the Gasang-

Gasang festival or the Tuba Festival and the

Kalesayahan Festival and the biggest of them all the

Moriones held every year on holy week.

68
---
Find your stand up paddle board (SUP) today at

SUBIC BAY BORACAY

MANILA DAVAO

CEBU PUERTO PRINCESA

www.broadwatermarine.com

69
---
70

MARINDUQUE

Kalutang playing

Kalesayahan

Tuba festival

Gasang Gasang Festival

A yearly colorful Easter Sunday festival held in the

town of Gasan. It is a celebration of the origin of the

name "Gasan" which came from the term "Gasang-

Gasang" a type of coral that used to be seen

around the town's shoreline. Accompanied by live

marching bands, contingents of colorful costumes

and indigenous materials. Dancing in Jubilation the

contingents from surrounding Barangays are in full

spirit to the beat of the drums as the parade dances

its way along the major streets of Gasan shouting

"Viva El Kristo".

Tuba Festival

"Tuba" is the native drink

obtained from the coconut

tree by the "mangangant" or

"tuba" gatherers. A festival in

honour of the "mangangant

and "tuba" drinking, a

pastime, that has been developed in the town of

Torrijos, and coincides with the town fiesta. Street

dancing, utilizing props of bamboo and coconut

materials are accompanied by drum and lyre bands.

Kalesayahan Festival

Kalesayahan is a contraction of two tagalog

words "Kalesa" a local horse-drawn vehicle and

The storyline of the

Moriones Festival

centers on Longino,

a Roman Centurion,

blind in one eye.

"kasayahan" A festival celebrating kalesas in Gasan

town during the past decade to generate interest in

this form of local transportation and to preserve the

few existing ones, has been successfully undertaken

in the Month of August of every year. This is

timed with the town's celebration of its founding

anniversary. Kalesas and horses are gaily decorated

with indigenous materials, carrying a young couple

dressed in "Filipiniana attire that shows e creativity

in various expressions and decorating. A community

project involving men women and children with

winners often receiving cash

prizes.

The Moriones

Would have to be the biggest

festival in Marinduque and is

held on Holy Week each year.

Throughout the Philippines,

Holy Week is celebrated with

fervor and reverence which follow age-old Catholic

customs plus a few ancient practices that border on

the mystical. And Marinduque is no exception as

it is time for the Moriones Festival, a folk-religious

tradition dating back to the 1870s, that runs from

Holy Monday to Easter Sunday. Men and women

from the island's six towns dress up as colorful

characters that parody the clothing and behavior

of Roman soldiers during the time of Christ. The
---
hand-made costumes are fashioned from cloth,

shells, woven into vines plus almost anything useful

that's lying around – the only limit seems to be the

designer's creativity and imagination. The mask, or

morion, is usually made of hand carved wood or

Paper Mache'. A helmet adorned with multi-hued

paper flowers completes this distinctive garb. The

swords, shields and spears are of painted wood

and with the mask, costume and helmet comprise

the basic Roman tunic. The mask and costume are

prepared painstakingly and discreetly months, even

years, before they're worn.

For the whole week these pesky Moriones figures

populate the town's streets, engaging in mock

sword fights, marching, dancing, playing pranks

on the masses of excited children, performing

antics or springing a surprise on an unsuspecting

victim, while staying safely hidden behind their

mask. Amidst all this gaiety and frivolity the man

behind the seemingly vexing morion is actually

fulfilling a vow of penance, thanksgiving or

performing an act of self-cleansing. Traditionally

the Moriones' identity is kept secret, even from his

immediate family. The spiritual sacrifice of these

men and women is a heavy burden they happily

and enthusiastically carry out. Enduring the

weighty helmet, with vision limited by the mask,

and sweltering inside their costume during the hot

humid days, the penitents then participate in the

Map of Marinduque

evening's religious processions and do so with a

sense of pride and achievement.

The storyline of the Moriones Festival centers on

Longino, a Roman Centurion, blind in one eye, who

was ordered by the Roman High Council to command

the soldiers at the crucifixion. He speared the side

of the crucified Christ, and a few drops of the blood

that gushed from the wound splashed into his blind

eye, miraculously restoring his sight. He converted

to Christianity after the miracle, which earned him

the wrath of the other centurions. Longino then set

out to tell as many people as possible of the miracle

and proclaiming Christ as the Son of God. This is

where the fun starts, perfectly timed in Marinduque

for its brand of Easter Sunday celebrations. Pontius

Pilate orders the Moriones to look for Longino,

capture and behead him to prevent his spreading

the news. Learning of the plot he eludes his fellow

Moriones playing captors, not to escape but to

gain more time in spreading the truth of his newly

found faith. The habulan, or mad chase, for Longino

begins and so does the fun. Running in chaotic

circles around the town, in the market place, hiding

in houses and even using the audience as a shield

to avoid his perplexed Moriones pursuers, this

spectacle delights the onlookers no end.

Oftentimes a spectator becomes an unwitting

participant of this tragi-comedy as he tries to hide

LUZON

MARINDUQUE

71
---
MARINDUQUE

72

Ka Amon caves

the hapless Longino, who has, by now, become the

darling of the crowd. Longino is captured twice but

manages to escape to the crowd's resounding roar

of approval. On the third time, realizing that he has

proclaimed to the world the miracle of Christ, he

accepts his fate in the final act called pugutan or

mock beheading, usually timed at high noon. After

asking his newly found Saviour's forgiveness, he

lowers his head to the block

and is decapitated by another

morione, called the berdugo,

or executioner. His "lifeless"

body is paraded around town

for his "funeral" that leads to

the church where all Moriones

rededicate the year's Lenten

vow to god. If traveling to

Marinduque, for this week

of religious fun and frivolity,

book all travel and accommodation early, or run

the risk of missing out on one the Philippine's most

colorful festivals.

Kalutang

Proudly native and exclusive to Marinduque is

the Kalutang. A band of local musicians who have

perfected the art of producing crisp clear melodies

that blends with the catchy rhythm of a booming

bass. Their Instruments are distinctly unconventional

and very unique. Cut from the end of specially chosen

branches of the kwatingan tree found on the island,

each musician carefully cuts this desired length and

specifications. Striking together the identical pair of

wooden instruments at selected points along the

length produces notes of a definite pitch and tone

quality that remotely resembles a cross between an

un-sustained marimba and castanets. As such, the

Kalutang belong in a class of musical instruments that

is generally classified as percussion. The instruments

range in size from approximately ten inches in length

by an inch in diameter for the soprano section to four

feet in length with a diameter of six inches for the

It takes thousands,

even millions, of years

for those geological

miracles to be formed

through continuous

precipitation.

bass section. Due to the method used to produce the

sound, the Kalutang bands of Marinduque never use

any additional percussion instruments. The percussion

and rhythm have been naturally integrated in a style

that these peculiar instruments are played.

The Ka Amon Caves

The caves of Ka Amon are

located at the eastern part

of the island of Marinduque.

Young the island may be,

but the origin of these caves

was already part of nature's

magnificent sculpture during

the Cretaceous Epoch before

Marinduque finally rose from

the sea about 20 million years

ago. With sunlight touching

the once-underwater limestone beauty, more subtle

changes began to take place —slowly transforming

the barren karst, (landscape formed from the

dissolving or separation of soluble rocks), into a

heart-shaped paradise thriving right at the center

of the Philippine archipelago. Indeed, the wings of

www.wewander.ph

Palad Sandbar
---
www.wewander.ph

time, like magic, did its wonders on Marinduque

and among its amazing creations are the more than

one hundred and fifty caves found on the island.

Ka Amon Cave 1 has been classified by PCAT under

Class I, thereby closing it to the public. Caves

under this category possess delicate and fragile

geological formations, threatened fauna and flora

species, archaeological and paleontological value,

and extremely hazardous conditions. In the case

of Ka Amon 1, there are fauna species and fragile

eco-systems in the cave that need to be protected

and the government deems it best for the said cave

to be left undisturbed. Meanwhile, Ka Amon Cave

2 has been classified under Class II, which means

it is open only to experienced cavers or guided

educational tours and/or visits.

According to DENR, caves under this category have

areas, or portions, marked with hazardous conditions

and contain sensitive geological, archaeological,

cultural, historical, and biological values. This adds

to the excitement of seeing and cherishing these

caverns which tell many great stories about the

earth and humankind. the cave, Ka Amon, was

roamulofied.files.wordpress.com

Holy Cross Parish Church Sta Cruz

derived from the name of the owner of the property,

Ramon Monterey, a very generous son of Torrijos.

Every visitor must register and donate a nominal fee

for cave maintenance and other legitimate purposes.

After just several minutes of a light, exhilarating

climb up the mountainside, you will see the narrow

passage to Ka Amon Cave! It takes thousands,

even millions, of years for those geological miracles

to be formed through continuous precipitation.

As you observed and admire these speleothems,

(a secondary mineral deposit formed in a cave),

one cannot help comparing nature's to man's

methodology and fruitage of sculpting. There always

seems to be an essence of divinity in the former,

whether it's a gigantic or microscopic creation; their

breath-taking designs show the immense power

and intellect of their Maker.

Places to stay

There are numerous places around every province

of Marinduque offering first class accommodation

to suit every type of budget and taste. One of

the choicest places to stay in Boac is the Freedom

Echo Adventure Park. But whatever your taste and

budget you will find something to suit your needs.

A warning if planning to go to Marinduque during

Holy Week, book early, to avoid disappointment.

How to get there

From Manila there are buses daily to Lucena pier

this takes approximately six hours where you can

get a Ferry to Marinduque Balanacan Port. There

are two ferry services Montenegro and Start Horse.

For price and comfort it is recommended to use

Start Horse. Now that the airport is open again you

can get a flight from Manila bay with Air Juan this

is comfortable, fast and convenient and reasonably

priced to book a flight with air one call (02) 7188111

or go to www.airjuan.comer.

Maniwaya island

73
---
Words by

BARRY

DAWSON

Photographs

as credited

Normally held in late February / early

March the 10th Philippine Boat Show &

Nautical Lifestyle Expo has been moved to early

October 2018. As part of the on-going partnerships

with the National Coast Watch Council Secretariat

and MARINA, the organizers decided to move the

dates of the show in order to coincide with the

recently proclaimed "Maritime

and Archipelagic Nation

Awareness Month" (MANA

MO), creating a cohesive and

equally beneficial atmosphere

all around.

This year the Sea-Ex will be

held on October 5th to 7th at

This year the

Sea-Ex will see

the return of the

Floating Docks that

have been absent

for 3 years.

the SMX convention Centre, Mall of Asia Pasay, and

will also see the return of the Floating Docks that

have been absent for 3 years since moving from No.1

Esplanade to make way for the new development

there.

Sponsored by EZ Dock and supplied by Martin

R.Garcia of Rayomarine the

EZ Dock floating docks will be

situated at the SM on the bay

Seaside Terminal, and will be

used for some outstanding on

water displays, a very welcome

return to the Sea-Ex. EZ Dock

is the most versatile floating

docks available today in the

2018 SEA-EX N

74
---
Philippines with multiple applications for Residential,

Commercial use, Marinas, Resorts, Industrial,

Mining, Trail walk-bridges , Government and Military

installations and Seaplane airports. Anyone looking

for floating docks, take the opportunity to speak

to the staff at the Rayomarine EZ Dock stand and

get a great Sea-ex deal. This year there are 43 major

exhibitors, with all the familiar faces and some new

welcome additions people can expect to see a lot

more this year. See the latest navigation technology

at Broadwater Marine, who also showcase the latest

in marine entertainment with the fusion range and

all other high quality boat accessories designed to

make your boating life easier. Norwegian Marine and

Marnav Marine Electronics will also be promoting the

latest innovations. There will be a vast range of boats

for sale from the best suppliers in the Philippines.

Rayomarine will be there with top shelf displays

of the latest Princes Yachts, Hobie Cats along with

Chaparral and Robalo. Europa Yachts, AMAC, Asia

Marine Ocean Gecko, Trevally Boats, Boatshop and

new comer Infinity Boatworks will all have their

latest designs on display.

There will be plenty of eye-catching long legged

candy on display as they model and promote the

latest Jet Skis from Scan Marine and the impressive

designs from Noli Manus's Team Nonino.

Bankapro will have the latest in inflatable watertoys,

while other exhibitors like Hexagon, Solanda

Industries Dreibund Corporation, Power systems

ow in in October

75
---
Return of the Floating Dock

• The inclusion of a floating dock for on water

display at the SM By The Bay Seaside Terminal

is a welcome addition to the show after a

three-year hiatus.

• We are excited to bring back sunset cruises,

music and cocktails by the bay.

• The outdoor area offers our exhibitors and

partners more options to expand their

branding and marketing campaigns.

Example of Floating Dock

76
---
Inc., Spurway's, Sunbrella, Suzuki, Rope Systems

Incorporated, Top Sea Shells, Simpsons Marine,

Upshaw Industrial Corporation, UCM ATV Motors,

PYCS, Unilox, CLP Intertrade Co Ltd. Polymer

Products, Advanced Composite Systems. Seafirst Co

Korea, Integrated Marine Solutions, Neossia, Jiangsu

Marine and Subic Asia Pacific Marine resources will all

be displaying the latest in marine technology in their

particular fields. A long-time supporter of the Seaex,

Mr Rodney Hegerty will be back there with RDH

Marine, while for pleasure activities, there is Busuanga

Bay Lodge, Sun Paradise Island Corregidor Foundation

and Alveo land for that new condo to help you retire

in the Philippines. No Matter what your interest is

you will find it at the 10th Philippine Boat Show &

Nautical Lifestyle Expo 2018

from 5th to 7th October at the

SMX Convention Centre Mall

of Asia Pasay, Metro Manila,

Philippines. Don't miss this

exciting marine expo, and

while you are checking out

all the goodies on display call

into the Active Boating and

Watersports Display and obtain

your free copy of the latest

edition.

No matter what your

interest is you will find

it at the 10th Philippine

Boat Show & Nautical

Lifestyle Expo 2018.

77
---
You should be very

careful when using

the tender – more

drownings results from

their misuse than from

people going overboard

from a cruiser.

Sailing Tips

You've always been interested to sail, but you know little about boat parts, the confusing technobabble,

and what little you know is making your head spin in four different directions! Worry no

more. This continuing series of articles is for you: it covers tips regarding hardware present on most boats,

as well as common sailing techniques, terms and definitions, the names of the different pieces of hardware,

and much more. This will keep you informed about most things you will need before you begin your own

sailing excursion. Be sure to consult with an experienced sailor and someone knowledgeable about boats.

Article

excerpts

reprinted

from

the book

CRUISER

HANDLING

by BOB BOND

& STEVE

SLEIGHT

Tender stowed on

the davits

78

Tenders

All cruising boats need to have a tender to ferry the crew and

stores between the boat and the shore. Ideally, it should be

large enough to carry all the crew, the provisions and any sailing

gear, while remaining easy to handle under both oars and an

outboard motor. It should also have permanent buoyancy and

be tough enough to withstand rough treatment. In practice the

problems of stowing a tender on board a small or medium sized

cruiser limits the choice of type. While the purpose-designed

rigid tender handles better in the water, you can normally on

the davits. The alternative is to tow it, which reduces your boat

speed and causes problems when coming in and out of the

harbour.

Most people in fact opt for an inflatable tender which can

partially be deflated and easily stowed on deck or in a large

locker. They are not easy to row in a strong wind, and you may

find that you need an outboard motor for long trips, inflatables,

being soft, have the advantage that they don't damage the

boat when coming alongside. You should be very careful when

using the tender – more drownings results from their misuse

than from people going overboard from a cruiser. Make sure

that crew members wear a lifejacket in the tender, even on short

trips, and even if they can swim. Never overload the tender,

make two trips, if necessary.

Towing a Tender

If you have a rigid tender you will probably have to tow it behind

your boat, at least for short trips. Even if you have an inflatable

you may prefer to tow it occasionally rather than deflate it and

stow it, if you know you are going to use it again shortly. Before

setting off, remove all the loose gear from the tender and stow

it aboard the boat. Use a strong warp as a towing line, making

sure it is long enough to allow the tender to lie well astern of the

boat. The line should be fixed to a through-bolted eye on the

outside of the stem of the dinghy. A slack reserve line should

be fastened from the tender to the boat just in case the towing

line breaks. In strong winds you may find that an inflatable

tender becomes airborne or even blows aboard the boat. Under

these conditions, shorten the towing line. You may also need

a shorter line when towing a tender in harbour. A rigid tender

is, in fact, more difficult to tow than an inflatable. It sometimes

tends to surf down a wave when the boat is sailing offwind,

and crash into the boat. In this case, you should lengthen the

line even though the tender may sheer about as a result. If you

are manoeuvring in congested waters, a crew member should

look after the tender to ensure that the towing line doesn't

foul the propeller or rudder, and that the tender doesn't hit any

other boats. Never try to board the tender when under way, for

whatever reason.
---
Using a Tender

Using a Tender

Tenders, whether inflatable or rigid, are inherently unstable, and

you should take great care when using them. Be particularly

careful getting in and out of the tender to avoid upsetting it.

After launching it in the water, secure the painter to a stanchion

base or deck cleat near the shrouds.

The oarsman should get in first, stepping into the middle of it,

and sitting down immediately on the central thwart, facing the

stern. The oars are passed to him, followed by any stores being

transported. Make sure the weight is distributed evenly. Any

other passengers should then get in, taking care to balance the

tender, and holding it steady against the sides of the cruiser.

When the oarsman has fitted the outboard oar into its rowlock,

and has said he is ready, the crew member nearest the painter

casts off and pushes the tender clear so the oarsman can fit the

other rowlock and oar. To disembark, simply reverse the order of

getting in, taking care to keep the weight balanced.

If you are coming ashore in tidal water, make sure your dinghy

is pulled up above the high water mark if there is an incoming

tide. If coming ashore in an unfamiliar estuary or river, watch

out for deep mud. Use the slipway if there is one.

Rowing a Tender

Rowing a loaded tender is hard work, and the oarsman must

therefore be competent. If the waters are tidal, work out your

plan of approach to your boat or to the shore, depending on

the direction and strength of the current. Remember that it is

always strongest at the point mid-way between high and low

tide. It is also worth remembering that the current is usually

weaker in shallow water. If a strong current is flowing, always

allow for it, to avoid being swept past your objective. Your own

efforts, plus the force of the current, should push you sideways

to the boat.

Always ensure balanced seating for

ease of handling

A seaworthy dinghy

is important -

make sure it also

rows well and don't

overload it.

boat-tender

Motor Yacht Tender

Hatch

Tender attached

Tender Guide

79
---
Words by

BARRY

DAWSON

Photographs

as credited

The 2018 Philmarine Expo held at the SMX

convention Centre on June 27th to 29th and

hosted by the Maritime Industry Authority was

again a huge success for the organizers, exhibitors

and the marine and boating

industry of the Philippines.

With 4830 attending the

expo over the 3 days,

checking what was new

on offer in all facets of the

marine industry. There was

plenty to see for everyone,

with technical advice being

supplied by the Philippines

Ports Authority, the Maritime

Some of the many

international exhibitors

included Rivertrace,

a UK company

completely involved

with the environment

and the removal of oil

from our oceans.

Industry, Naval Defence and exhibitors from all

over the world displaying what was new and what

was hot! Local Philippine exhibitors included the

top boating and marine dealers in the country,

like Broadwater Marine the

largest boat chandlery in

the Philippines with outlets

in Subic Bay, Manila, Cebu,

Boracay, Davao and Puerto

Princesa, promotion the latest

in Marine Entertainment in

the latest Fusion Range of

the world's best marine audio

systems available, along with

the complete range of Dan

80
---
Fenders and BLA accessories and Parts. Megapaint

and Nippon Paint Philippines, Inc. Showcasing

the best marine paints money can buy to protect

your valuable investment, while Eastwest Building

Tech. Inc. had the top in marine flooring and

floating docks, and Riverbank industries.

Scan Marine The largest Sea Doo Jet ski Dealer

in the country with outlets in Manila, Iloilo,

Palawan, Cebu and Davao was there to showcase

the latest and best jet skis on the market today.

For the best in Charts and the full Simrad range

of Radars and equipment, top dealer from Cebu,

Norwegian Marine was there to help and advise

customers the best and latest in technology.

While Al's Marine and Tronquered were there with

the latest in small pleasure craft. Isuzu and Suzuki

had the latest in marine engines on display, while

boat builders Pacificfortia Marine Technologies

Inc. were displaying their latest designs. There was

also Hy King Marine Trading showcasing fire safety

equipment, While Alatas and Marine Travelift

were displaying the ultimate in Marine cranes and

boat lifting equipment. For the latest in GPS, Fish

Finders and other electronics, the best of Garmin

was showcased by both Broadwater Marine and

Jason Electronics Phils. Company Inc.

Some of the many international exhibitors

included Rivertrace, a UK company completely

The 5th

PHILMARINE

2018

81
---
involved with the environment and the removal of

oil from our oceans. Lizard Craft from Shanghai with

their new N-wave and Fly-wheel craft have made a

disruptive breakthrough in

boat building technology,

while the Popular Parsh

Marine from Singapore,

now well established in

the Philippines was making

new in-roads in the marine

industry. Korea Marine

Equipment caters from

the pleasure boat to major

shipping and industrial

development. From Greece there was Laliza's safety

equipment with state of the art life jackets and other

safety equipment that is sure to please.

ZF Asia Pacific from

Singapore and Xiamen

Friendly lighting Technology

were all there to make the

event the success that it was.

From Singapore Shan was there with Global Marine

Safety, showing there advanced technology in safety

equipment.

82
---
Other exhibitors at this year's Philmarine were

Compolite Pte Ltd from Singapore providing marine

lighting solutions, Polymer Products Philippines

with advanced adhesives, GuangDong MinHua

Shipbuilding from Jiangmen Citu Guandong, Deco

Marine From Busan Korea, also from Korea was Gorio

Punp & Marine Systems, Navicharts from Cebu,

Apex Plastic Piping from Laguna, GTI Consultancy

Services from Cavite, China Shipbuilding From

Shanghai, Maps & Globe Specialists from Singapore,

ZF Asia Pacific from Singapore and Xiamen Friendly

lighting Technology were all there to make the event

the success that it was.

If this year's show is any indication of the growth of

the Marine industry in the Philippines, then don't

miss out on the 2019 6th Philmarine expo.

83
---
HILIPPINE YACHT CLUB DIRECTORY

84
---
85

HILIPPINE YACHT CLUB DIRECTORY
---
86
---
87
---
88
---
89
---
P H I L I P P I N E S

YACHT PARTS, SALES and SERVICE

90