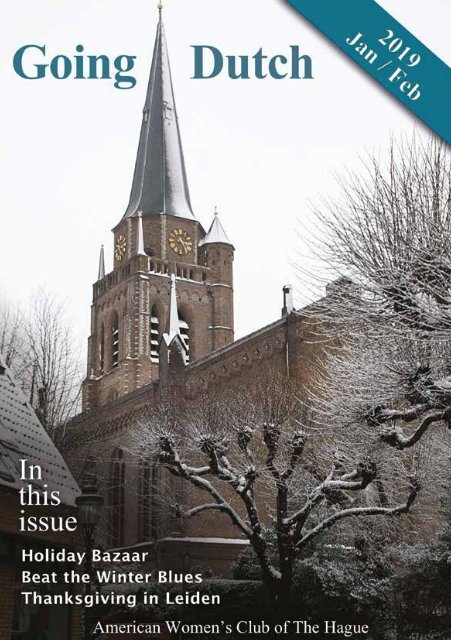 AWC Going Dutch January_February 2019
American Women's Club of The Hague monthly magazine
American Women's Club of The Hague monthly magazine
SHOW MORE
SHOW LESS
Do you know the secret to free website traffic?
Use this trick to increase the number of new potential customers.
one stop shop

for all your beauty desires

Going Dutch

January/February 2019

The Magazine of the

American Women's Club

of The Hague

Denneweg 56

2514CH The Hague

Tel. 0703458442

www.lifestylesalonthehague.nl

Holiday Bazaar

Thanksgiving in Leiden

Winter Blues

22

44

48

5 Officers and Chairwomen

6 Message from the President

7 Winter Welcome Back

Coffee and Borrel

7 February General Meeting

8 Letter from the Editor

10 Membership

12 Ongoing Activities

19 One-of-a-Kind Activities

22 AWC Holiday Bazaar

28 January Calendar

30 February Calendar

33 Holocaust Memorial Day

33 Private Art Tour

34 FAWCO Corner

35 FAWCO Handbag and Art

Auction

36 Handbag Auction

37 Restaurant

Recommendations

38 C, C & C Open House Recap

40 MLK, Jr. Tribute and Dinner

42 The Dutch Daily

44 Thanksgiving in Leiden

46 AWC Benefit Event

47 Women in Need: TLC Dinner

48 8 Ways to Beat the Winter

Blues

50 Clues in the Calico

52 Announcements

56 Classifieds

57 Index of Advertisers

and Ad Rates

58 Proost! Interview

JANUARY/FEBRUARY 2019 3
---
Editor

Audrey Goodman

2018-2019 AWC Officers

Committee Chairs

AWC Clubhouse

Johan van Oldenbarneveltlaan 43

2582 NJ Den Haag

Tel: 070 350 6007

info@awcthehague.org

www.awcthehague.org

Going Dutch Magazine

goingdutchmag@gmail.com

Clubhouse Hours

Tuesday and Thursday

10 a.m. - 2 p.m.

Monday, Wednesday and Friday Closed

Dues (Effective 2018-2019)

€ 110 per year (€ 66 after January 1)

€ 90 business, professional

€ 55 valid US military ID

€ 35 student

€ 35 Outside the Netherlands (Going

Dutch magazine not included)

Add € 15 new member registration fee

Design and Layout

Teresa Mahoney

Cover Photo

Snow in Voorschoten, December 2017 by

Melissa White

Back Cover ad by Marcel Vermeulen:

Vintage brooch transformed into a necklace

Photography

Mary Adams, Susan Cave, Susanne Dundas,

Greetje Engelsman, Amber Gatewood,

Rebecca Hines, Jaimie Keppel, Suzanne

MacNeil, Teresa Mahoney, Julie Mowat,

Melissa Rider, Liliana Todorovic, Michelle

Voorn, Melissa White

Proofreaders

Celeste Brown, Jane Gulde, Diane Schaap,

Debbie van Hees

Advertising Manager & Invoicing

Open

Contributors

Susan Cave, Jane Choy, Susanne Dundas,

Greetje Engelsman, Roberta Enschede, Dena

Haggerty, Marsha Hagney, Eileen Harloff,

Suzanne MacNeil, Julie Mowat, Naya

Pessoa, Melissa Rider, Holly Savoie, Liliana

Todorovic, Michelle Voorn, Melissa White

Printer

www.dwcprint.nl

AWC Bank Account Number

IBAN: NL42ABNA0431421757

KvK Den Haag

40409274

Honorary President Diane Hoekstra

President Suzanne MacNeil

awcthehague.president@gmail.com

Vice President Marsha Hagney

awcthehague.firstvp@gmail.com

Treasurer Sheyla Karman

awcthehague.treasurer@gmail.com

Secretary Heather DeWitt

awcthehague.secretary@gmail.com

Club and Community Development

Naya Pessoa

awcthehague.community@gmail.com

Clubhouse Administrator

Jan Essad

awcthehague.clubhousemgr@gmail.com

Communications Audrey Goodman

awcthehague.communications@gmail.com

Member-at-Large

Sunita Menon

Front Office

Liduine Bekman, Siska Datema-Kool,

Dominique Duysens, Amber Gatewood,

Machelle Hollar, Paula Looijmans, Melissa

Rider, Robin Rose, Holly Savoie, Carol

Schapira, Chelsea Wald

Activities: Greetje Engelsman

Arts: Jane Choy

Assistant Treasurer: Teresa Insalaco

Benefit Event: Michelle Voorn & Deana

Kreitler

Board Advisor: Jessie Rodell

Caring Committee: Naomi Keip

Chat, Craft & Cake: Suzanne Dundas

eNews Amber Gatewood

Evening Events: Elizabeth Zeller

Events & Tours: Liduine Bekman

FAWCO: Julie Mowat and Teresa

Mahoney

Front Office Coordinator: Open

General Meeting Programs: Dena

Haggerty

Heart Pillow: Jan de Vries

Historian/Archivist: Open

Holiday Bazaar: Jaimie Keppel-Molenaar

IT Administrator: Julie Otten

Kids' Club: Lindsey Turnau

Library: Dena Haggerty

Membership: Melissa Rider

Newcomers: Holly Savoie, Greetje

Engelsman

Parliamentarian: Georgia Regnault

Philanthropy: Holly Savoie

Public Relations: Open

Social Media: Ceci Wong and Julie Otten

Tennis: Molly Boed

Volunteer Coordinator: Laurie

Martecchini

Webmaster: Julie Otten

Women with Dutch Partners: Open

Deadlines: Submissions are due no later than the last Monday of the month preceding the publication month.

For example, for the March issue, submissions are due before Monday, January 28

Please Note: Articles submitted to Going Dutch will be published subject to space limitations and editorial approval.

All rights reserved; reprints only by written permission of the Editor. Please email to: goingdutchmag@

gmail.com

Legal Notice: Articles in Going Dutch express the views and opinions of their authors alone, and not necessarily

those of the AWC of The Hague, its Members or this publication.

4 GOING DUTCH

AWC Mission Statement

The AWC is an association formed to provide social and educational activities for American

women living in the Netherlands and to promote amicable relations among people of all nations,

as well as acquiring funds for general public interest. Membership in the club is open

to women of all nations who are friendly and welcoming to American culture. The association

does not endeavor to make a profit. The AWC is a 100% volunteer organization.

JANUARY/FEBRUARY 2019 5
---
Message from the President

by Suzanne MacNeil

Welcome to 2019! I hope your holiday

celebrations were filled with

family and lots of love. I started

the holidays in early December with those

eight crazy nights of Hanukkah. Then, it was

off to the U.S. where I spent time with my

mom, brother and his family in Jacksonville.

After Florida, we hit the cold climate of Lake

Tahoe where we rented a house for a week,

with plenty of space for family. It was the

perfect way to end the year…with my boys

plus one girlfriend and my sister.

The New Year marks the start of the second

half of this Club year and I'm looking

forward to the next few months of events

and activities, including the annual benefit

on April 13. Plans are still under way, but

our beneficiary organization has been chosen

(see page 46), and I know you'll want

to attend to support it by buying a ticket

and bidding on fab items in our auctions. It

promises to be a fun and exciting evening.

Stay tuned for more information in the next

few weeks. Please mark your calendars for

Saturday, April 13!

The first half of the Club year has been

a whirlwind for your Board Members and

Committee Chairs as we started implementing

our three-to-five-year plan. Here's

a recap of the work that has already been

accomplished, with so much more to come.

6 GOING DUTCH

As of the first of this new year we bid

adieu to GroupSpaces (good riddance) and

have migrated to our

new website platform

thanks to

Julie Otten, our

IT Chair and

Webmaster.

She worked

tirelessly,

and though

there are minor

tweaks under

way, the most challenging

aspects

of the project are

complete.

Marsha

Hagney, our

Vice President,

worked side by

side with Julie in

November and

December learning

how to populate the new calendar on the

website and helping Members sign up for

events and activities during our transition.

She told me she's enjoyed learning new technology

skills and working with Members.

The newly refurbished Clubhouse

looks amazing and inviting, thanks to the

intrepid team of Jan Essad, our Clubhouse

Administrator, and Sunita Menon, our

Member-at-Large. Many of their wishes

came true as our landlord agreed to cover

the cost of some of the requests from Jan

and Sunita. The redo isn't over yet!

Our Communications Team is led by

Audrey Goodman, who is also the Going

Dutch Editor. She is working to expand our

marketing materials and increase activity

on the Club's public Facebook page over

the next year.

As I mentioned earlier, there is a benefit

event planned for Saturday, April 13.

The Benefit Committee includes our Club

& Community Chair, Naya Pessoa. Naya is

also working with Philanthropy Chair Holly

Savoie to prepare for our annual TLC Dinner

(see page 47) and the Easter basket project

for children and families who may need a

helping hand. Volunteers will be needed!

The GDPR has tested our Club in various

ways, not the least of which is ensuring

we maintain our Members' privacy.

Melissa Rider, who chairs the Membership

Committee, is collecting forms signed >>11

Winter Welcome Back Coffee

and Borrel

Ring in the New Year by connecting and

reconnecting after the busy holidays!

Daytime best for you? Join us for our

morning coffee…

Evenings better? Stop by for an evening borrel…

The Winter Welcome Back Coffee and Borrel

are just what we need to settle back into our

routines after the holidays. Reconnect with

friends, meet new Members, or introduce potential

Members and share all that our AWC

has to offer. Learn about upcoming activities,

programs, philanthropic efforts, and volunteer

opportunities from our Board Members

and the chairs of our many programs and

activities. Come and go as your schedule allows!

What better way to start 2019 than in the company

of your AWC friends? Come join us!

We are still working on the details

for our February meeting as we

go to print, so please look to our

Facebook page and eNews for further information.

Thursday, February 14

10 a.m. - 12 p.m.

AWC Clubhouse

Thursday, January 17

Morning Coffee: 10:30 a.m. – 12:30 p.m.

Evening Borrel: 6 – 8 p.m.

AWC Clubhouse

FREE

February General Meeting

Did you know that any Englishspeaking

woman may join the AWC?

Invite your English-speaking friends

from other countries who have an

affinity for Americans to join us today!

JANUARY/FEBRUARY 2019 7
---
Letter from the Editor

by Audrey Goodman

Wow, 2018 was a whirlwind! My

husband, Dan, and I arrived in

The Hague just days after the New

Year, jet lagged and still in shock that we had

moved to the Netherlands. For the first couple

of months, we kept saying, "I can't believe we

actually live here." That feels like an eternity

ago. And yet, this past year has also gone by

in the blink of an eye.

Well-behaved women seldom

make history.

~Laurel Thatcher Ulrich

We had agreed to move to The Hague

before we ever set foot here, and I had this

preconceived idea of how our lives would be

in the Netherlands: My husband and I would

ride our bikes all over the country, past endless

fields of blooming tulips and countless

windmills. We would speak Dutch fluently

within the first six months, and I would effortlessly

cook Dutch food. Ha! We don't

own bikes. Tulips don't bloom year-round.

My Dutch vocabulary is limited. And I can't

make decent stamppot or erwtensoep.

8 GOING DUTCH

Our lives may be nothing like I imagined,

but this experience has been better than I

could have hoped. I truly think my easy adjustment

is attributable to my amazing husband

and the wonderful women of the AWC.

Dan handles change much better than I do;

I like routines and prefer familiarity. On the

days when I'm frustrated or homesick, he

has been patient and understanding. Having

a supportive partner makes all the difference.

Not only is the AWC full of interesting

and generous women, there are countless

activities and events to keep me busy. From

our recurring activities to our unique events,

I'm never bored. Recently I've attended a

Thanksgiving service in Leiden, made a pearl

bracelet in a lovely jewelry shop, attended

a sculpture tour with a local artist, joined a

book club, and had a glass of wine (or two)

with other Members at a newly-discovered

restaurant. Our events range from day to night

and weekdays to weekends, providing options

for everyone. Thirsty Thursday (one

of my favorite events) is a great opportunity

for prospective Members to come meet

other women and find out what our Club is

all about. I've discovered places and activities

I would have otherwise missed and met

women whose paths I would likely not have

crossed. I'm beyond grateful for the friends

I've made through the AWC, and I can't wait

to see what 2019 has in store for us.

Audrey

JANUARY/FEBRUARY 2019 9
---
Membership

by Melissa Rider

Message from the President (cont.)

Continued from page 8

January marks the one-year anniversary

of me taking over the role of Membership

Coordinator. I have found this volunteer

job of welcoming new Members and keeping

the membership records very rewarding.

Our Club has grown by more than 20

new Members since our Fall Kick-Off, and

I know we will be seeing more new faces

after the January Kick-Off.

You can help recruit new Members by inviting

friends or acquaintances to our activities

and events throughout the year. Your best

recruitment tool is our website, where prospective

Members can read Going Dutch

online to learn in-depth about all that the

Club has to offer, from philanthropic events

to social activities. New Member registration

and dues payment are all done on our

website too, so it is one-stop-shopping. If

you meet someone whom you think would

be a good fit, suggest they visit our website:

www.awcthehague.org.

Welcome New Member

Maria Linkogle

by Members giving them allowing them

to opt in or out of allowing their likeness

to be used in the Club's social media and

collateral material outreach per the GDPR.

Membership falls under the Secretary,

Heather DeWitt, who is responsible for

taking minutes at Board meetings and annual

general meetings.

Club finances are always at the top of

mind for your Board. Sheyla Karman, who

is our Treasurer and an accountant by trade,

keeps us on track and reminds us of the funds

coming in and what's needed to pay our bills

and cover costs. We are in constant contact

and I so appreciate her dedication and guidance

these last six months.

As for me, I still have much to learn

about overseeing our AWC. I met the AWC

Amsterdam (AWCA) President at our

Prinsjesdag Luncheon and we've stayed in

touch about various aspects of our Clubs.

We've agreed to hold a Joint Board Meeting

(with some of our Committee Chairs) on

Tuesday, January 22 at our Clubhouse to

share best practices. I'll report the key

takeaways from the session at our General

Meeting on Thursday, February 14.

As a TV news anchor I once worked with

signed off each newscast, "That's it for now

from here."

Happy New Year and tot ziens!

Suzanne

Going Dutch is Available Online

Go to www.awcthehague.org to share the current month's issue with friends and family. You will

also find links to our annual advertisers, whose support makes this magazine possible. If you

visit or contact one of our advertisers, let them know Going Dutch sent you!

The AWC Clubhouse, which has been closed for the holidays,

will re-open January 8

Birthdays

Due to changes in European privacy

laws, and because Going Dutch will soon

be posted on our external Facebook

page, we won't be sharing birthdays

in print any longer. Instead, you'll see

Members' birthdays in the weekly

eNews, which is sent to your private

email account and is more secure. We

value our Members' privacy. If you have

any questions, please contact Melissa

Rider, our Membership Coordinator, at:

awcthehague.membership@gmail.com.

Members: eNews Distribution

A weekly electronic newsletter

is sent to all AWC Members.

If you have not been receiving your

eNews, please contact Melissa at

awcthehague.membership@gmail.com.

Travel4U@americantravelcenter.net/www.americantravelcenter.nl/tel. +3261234901

"Our next holiday is

a safari. They do

the whole world!"

"They make booking a

holiday so easy. I just

leave it to them!"

"Every trip is

customized, just for

me! That's unique!"

10 GOING DUTCH

JANUARY/FEBRUARY 2019 11
---
Credit: Amazon

Ongoing Activities

Book Clubs

The AWC Book Clubs are open to all

readers, and new Members are especially

welcome! There are no requirements that

you must attend every meeting or lead

a discussion. Snacks are provided by a

different Member each month. There are

two Book Clubs hosted by AWC Members:

One in the daytime and one in the evening.

Questions? Teresa Mahoney organizes the

daytime group, and Dena Haggerty handles

the evening meetings. For more information,

please contact them at awcthehague.

bookclub@gmail.com. Happy reading!

Daytime Book Club

January Selection:

The Secret Scripture

(McNulty Family) by

Sebastian Barry

In The Secret Scripture,

Sebastian Barry revisits

County Sligo, Ireland, the

setting for his previous

three books, to tell the

unforgettable story of Roseanne McNulty.

Once one of the most beguiling women in

Sligo, she is now a resident of Roscommon

Regional Mental Hospital and nearing her

hundredth year. Set against an Ireland besieged

by conflict, this is an engrossing tale

Cancellation Policy

Members may reserve a spot for an AWC tour, activity or

event in advance. Payment is required within five business

days of the reservation or before the deadline date (whichever

is sooner) otherwise your name will be moved to a waitlist.

It is the responsibility of the Member to notify the Club at

awcthehague.finance@gmail.com to cancel a reservation

prior to the cancellation deadline. Please note that there will

be NO REFUNDS (no exceptions) after the cancellation deadline.

Members may find a substitute in lieu of cancellation

provided that arrangements are made with the tour, activity

or event organizer. Members shall be held responsible for

their guest reservations in accordance with this policy.

Daytime Book Club Reading List:

Thursday, March 28: 21 Lessons for the 21st

Century by Yuval Noah Harari

of one woman's life, and a poignant story

of the cruelties of civil war and corrupted

power. This novel was made into a film starring

Rooney Mara, Eric Bana, and Vanessa

Redgrave.

Thursday, January 24

10 a.m.

AWC Clubhouse

FREE

February Selection:

Milkman by Anna Burns

In an unnamed city, middle

sister stands out for the

wrong reasons. She reads

while walking, for one. And

she has been taking French

night classes downtown. So

when a local paramilitary

known as the milkman begins pursuing her,

she suddenly becomes "interesting," the last

thing she ever wanted to be. Despite middle

sister's attempts to avoid him—and to keep

her mother from finding out about her maybe-boyfriend—rumors

spread and the threat

AWC Guest Policy

Guests are welcome

to participate in AWC

activities and tours on

a limited basis. As a

nonmember, a guest

is limited to attend

two functions per

calendar year and will be

charged an additional

nonmember fee. Only

Members are entitled to

use babysitting services.

Credit: Amazon

of violence lingers. Milkman is a story of the

way inaction can have enormous repercussions,

in a time when the wrong flag, wrong

religion, or even a sunset can be subversive.

Told with ferocious energy and sly, wicked

humor, this novel establishes Anna Burns as

one of the most consequential voices of our

day.

Thursday, February 28

10 a.m.

AWC Clubhouse

FREE

Daytime Book Club Recap – November:

Tara Westover's Educated: A Memoir

brought up strong emotions from the readers

about education, families, communities,

religion and politics. The author's path from

a rural, Mormon community household to

Cambridge University was considered by

some as a hero's journey and by others as

a contrived memory map. The group discussed

public school, home-schooling and

"un-schooling", and concluded that any type

of schooling is a way to unlock intelligence.

In the academic world, the author was able

to write her dissertation on world religion

comparisons without being hampered by her

strict Mormon upbringing. But education

in our personal worlds, the school of life, is

more difficult to write about. Westover shares

how family love evolved into societal isolation

and abuse. She examines the challenges

of separating herself from her family in her

struggle to selfhood. Our families act as our

frame of reference—our definition of normal.

What happens when you discover your

family isn't normal? The group discussed our

own familial bonds. Where do we draw the

line (or even cut the line) to discover and empower

ourselves? Westover gives us a hint,

"Education means access to as many ideas

and perspectives as you can to make up your

own mind." A memoir at such an early age

isn't a definitive work—but is a compelling

depiction of a work in progress.

Evening Book Club

January Selection: The

Only Story by Julian Barnes

One summer in the '60s,

in a staid suburb south of

London, Paul comes home

from university, aged 19,

and is urged by his mother

to join the tennis club. In

the mixed-doubles tournament

he's partnered with Susan Macleod, a

fine player who's 48, confident, ironic,

>> 14

Credit: Amazon

12 GOING DUTCH

JANUARY/FEBRUARY 2019 13
---
Ongoing Activities (cont.)

Continued from page 13

and married, with 2 nearly adult daughters.

She is also a warm companion, their bond

immediate. And they soon, inevitably, are

lovers. Clinging to each other as though

their lives depend on it, they then set up

house in London to escape his parents and

the abusive Mr. Mcleod. Decades later, Paul

looks back at how they fell in love, how he

freed Susan from a sterile marriage, and

how—gradually, relentlessly—everything

fell apart, and he found himself struggling

to understand the intricacy and depth of the

human heart. It's a piercing account of helpless

devotion, and of how memory can confound

us and fail us and surprise us (sometimes

all at once), of how, as Paul puts it,

"first love fixes a life forever."

The location changes every month, so please

contact Dena Haggerty at awcthehague.

bookclub@gmail.com if you are interested

in attending.

Evening Book Club Reading List:

March: The Dinner by Herman Koch

April: The Song of Achiles by Madeline Miller

Wednesday, January 9

7:30 p.m.

Location TBA

FREE

February Selection: The Mars Room by

Rachel Kushner

It's 2003 and Romy Hall is at

the start of two consecutive

life sentences at Stanville

Women's Correctional

Facility, deep in California's

Central Valley. Outside is

the world from which she

has been severed: the San

Credit: Amazon

Francisco of her youth and her young son,

Jackson. Inside is a new reality: thousands of

women hustling for the bare-essentials needed

to survive; the bluffing and pageantry and

casual acts of violence by guards and prisoners

alike; and the deadpan absurdities of institutional

living, which Kushner evokes with

great humor and precision. Stunning and unsentimental,

The Mars Room demonstrates

new levels of mastery and depth in Kushner's

work. It is audacious and tragic, propulsive

and yet beautifully refined. As James Wood

said in The New Yorker, her fiction "succeeds

because it is so full of vibrantly different stories

and histories, all of them particular, all of

them brilliantly alive."

Wednesday, February 13

7:30 p.m.

Location TBA

FREE

Chat, Craft & Cake

Chat, Craft & Cake is a weekly

highlight for those who enjoy crafts and

camaraderie. Whether your craft is knitting,

quilting, needlepoint or simply mending your

clothes, or whether you are a beginner or an

expert, you are welcome to join us. Fish that

UFO (Unfinished Object) out of the drawer

and get going on it again. CCandCers are

always ready with a helping hand, a lesson,

or some advice. Each week, a different

Member brings a cake - tried and true, or

experimental. Babysitting is not available

and there are lots of sharp objects about

(pins, needles, scissors and wit) so we cannot

accommodate children. Contact Suzanne

Dundas at awcthehague.crafts@gmail.com

for more information.

Every Tuesday

10 a.m. – Noon

AWC Clubhouse

FREE

Heart Pillow Project

Members work together to make heartshaped

pillows designed to help support the

arms of recent mastectomy patients. Each

pillow is made with TLC, wrapped, and

comes with a note signed by an AWC volunteer.

No sewing skills are needed, as you

can cut, stuff, or wrap the heart pillows.

>> 16

14 GOING DUTCH

JANUARY/FEBRUARY 2019 15
---
Ongoing Activities (cont.)

Continued from page 15

We are proud to provide men and women

with something both practical and comforting,

and we know our work helps because

we often receive thank-you notes and emails

from the patients who have received a heart

pillow. For more information, please contact

Jan de Vries at awctehhague.heartpillow@

gmail.com.

Tuesday, January 8 &

Tuesday, February 12

Noon – 2 p.m.

AWC Clubhouse

FREE

Visitors Welcome

Out to Lunch Bunch

If you're interested in making new friends

and exploring new restaurants throughout

The Hague, then this is the group for you!

Rather than setting one specific day of the

month, we change our days each month in

order to accommodate a variety of schedules.

If you have a favorite restaurant in your

neighborhood you'd like to share with the

group, please contact Greetje Engelsman

at awcthehague.activities@gmail.com.

Out to Lunch Bunch: January

This restaurant is named after Jamey

Bennett, a diplomate and spy who worked

for the British Secret Service. He was sophisticated

and naughty, an irresistible

Upcoming Out to Lunch Bunch:

Wednesday, March 20

Monday, April 15

combination. He knew the world and preferred

luxury. He wanted to sit down on a

Chesterfield with a good gin & tonic. Never

a dull moment with Jamey. Those were the

days… and still are!

Tuesday, January 22

Noon – 2:30 p.m.

Jamey Bennett

Plaats 11, Den Haag

www.jameybennett.nl

Sign up at www.awcthehague.org

Out to Lunch Bunch: February

Restaurant Van Kinsbergen in the

Zeeheldenkwartier is named after the

commander in Chief Van Kinsbergen of the

Dutch Navy. The restaurant is a mix of a

Dutch grand café and the popular gastropubs

in London. Many choices in drinks, and

surprisingly good and affordable food.

Families, colleagues, couples and groups of

friends eat here: from meat from a charcoal

grill to vegetarian and fish dishes. The

gigantic bar has 15 taps with many English,

American, Dutch and Belgian specialty

beers. Mmm… time to try this restaurant for

lunch in February.

Tuesday, February 19

Noon – 2:30 p.m.

Restaurant Van Kinsbergen

Prins Hendrikplein 15, Den Haag

www.gastropubvankinsbergen.nl

Sign up at www.awcthehague.org

Thirsty Thursday

Join us again for our monthly gathering.

Thirsty Thursday is a casual evening of

companionship and good conversation – a

favorite for AWC Members and prospective

Members. Two soft drinks, wine or beer,

plus snacks.

Thursday, January 24

6 – 9 p.m.

Grand Central Food Market

The Hague Central Station

1st floor, Koningin Julianaplein 17

€ 15 for two drinks and food

No RSVP needed

February's monthly gathering will be a bit

different—at an art gallery! We'll have an

interesting discussion about the retail side of

the art world: What is takes to run a gallery,

and to work as a go-between for the artists

and customers. As usual, prospective

>> 18

16 GOING DUTCH

JANUARY/FEBRUARY 2019 17
---
Ongoing Activities (cont.)

Continued from page 17

One-of-a-Kind Activities

by Marsha Hagney

Members and guests are welcome!

Thursday, February 21

6 – 9 p.m.

Project 2.0 Gallery, Noordeinde 57

€ 15 for two drinks and food

No RSVP needed

Walkie Talkies

Whether you count your steps or just want

to walk with friends, the Monday morning

Walkie Talkies is a fun, healthy and energetic

way to start the week. The group meets in

front of the Clubhouse before heading out

to walk to various destinations in the area,

usually racking up 10,000 steps along the

way. Sign up on the AWC website to receive

email updates, or contact Emily van Eerten

or Greetje Engelsman at awcthehague.

walkietalkies@gmail.com.

Mondays

9:30 a.m.

AWC Clubhouse

Free

Sign up at www.awcthehague.org

Wassenaar Coffee & Conversation

If you live in or north of Wassenaar, join

your neighbors for coffee and conversation

once-a-month without having to drive to

the clubhouse. One Member will host a

casual coffee at her home at 9:30 on the

first Thursday of every month. Prospective

Members are welcome too. Suzanne

Dundas coordinates these meetings and can

be reached at awcthehague.crafts@gmail.

com. Because the location changes every

month, contact Suzanne if you are interested

in attending or for more information.

Thursday, February 7

9:30 a.m.

Location TBA

FREE

RSVP directly on www.awcthehague.org. Direct any questions to

awcthehague.firstvp@gmail.com.

Payment must be made within 5 calendar days of reserving or your name will be moved to a waitlist.

Payment can be made in the Front Office by PIN, on the AWC website (www.awcthehague.org) or by

bank transfer to the AWC account NL42ABNA0431421757.

Women with Dutch Partners

Holiday Party

Celeste Brown will

be hosting a WWDP

Post-Holiday gathering

at her home in

Oegstgeest. Everyone

is asked to bring:

• a delicious item for

the buffet table (we

are using SignUp Genius to keep track of

what everyone's bringing), and

• a wrapped gift for the gift exchange, €10

maximum. Consider bringing a gift you

received that you would rather "re-gift".

Remember, one person's "trash" is another

person's "treasure"!

Women with Dutch Partners is a loose collection

of Club Members who have/had

Dutch partners. If you identify with this

group but have not yet received your invitation

from SignUpGenius, please let us know

and we'll add you to the list.

Thursday, January 10

Begins at 6:30 p.m.

Address will be provided upon registration

Sign up at www.awcthehague.org

>>20

Unique products

for entrepreneurs

1061246

18 GOING DUTCH

Sligro The Hague Forepark is the perfect fit for you as entrepreneur.

We inspire and support you with our products and services, that will

help you with your business. Our people are always there for you

with professional and tailored advice.

sligro.nl

Linge 2, The Hague

JANUARY/FEBRUARY 2019 19
---
One-of-a-Kind Activities (cont.)

Continued from page 19

Defend Yourself Class

Have you ever felt you needed to be on guard

or wary of your surroundings while out and

about? Have you worried about what to do

if someone tries to mug or attack you? Tim

MacNeil, (Suzanne MacNeil's husband)

is a graduate of the U.S. Naval Academy,

a retired marine, and a blackbelt in Iaido, a

Japanese martial art that honors the samurai

traditions. Tim will teach participants basic

self-defense moves and methods to prevent

you from being hurt or violated. There

won't be any tossing or throwing of opponents,

but the class will involve participants

to work in pairs to help master effective defense

methods.

Wednesday, January 16

7 – 9:30 p.m.

AWC Clubhouse

€ 10 Members / € 15 Non-Members

Maximum 30 / No Minimum

Please wear sneakers or other flat shoes,

and comfortable pants

Sign up at www.awcthehague.org

Guided Tour of Femmes Fatales—

Strong Women in Fashion

Femmes Fatales will be the first exhibition

in fashion history to focus exclusively on

female designers. The exhibition includes

work by Coco Chanel, Jeanne Lanvin,

Mary Quant, Vivieene Westwood, Miuccia

Prada, Maria Grazia Chiuri (Dior), as well

as Dutch greats like Fong Leng, Sheila de

Vries, and Iris van Herpen, among many

other. For more information, contact Jane

Choy at jechoy@me.com.

Wednesday, January 23

11 a.m. – 12:30 p.m.

Gemeente Museum, Den Haag

€ 10 Members / € 15 Non-Members

Museum entrance fee of € 13.50 not

included (Entrance is free with Museum

Card)

Maximum 20 / Minimum 12

Registration/Cancellation Deadline:

January 13

Sign up at www.awcthehague.org

20 GOING DUTCH

Dutch Products Class

AWC Member and long-term resident

of the Netherlands, Carol Slootweg,

will explain Dutch cooking and cleaning

products. She teaches cooking classes, so

she is an expert in using local products and

converting American recipes. Carol and

Greetje Engelsman have co-produced a

book entitled Dutch Products, which will be

available for € 10. Join this class and you

Credit: Gemeente Museum

will never be confused about cooking or

cleaning products in the Netherlands again!

If you have questions, contact Greetje at

awcthehague.newcomers@gmail.com.

Friday, January 25

10 a.m. – Noon

AWC Clubhouse

FREE

Sign up at www.awcthehague.org

Guided Tour Behind the Scenes

of Panorama Mesdag

Panorama Mesdag gives you a 360-degree

vista of the sea, dunes and fishing village of

Scheveningen as it was in 1881. Step back

in time and experience a unique view of our

cultural heritage—the oldest 19th century

panorama in the world on its original site.

This cylindrical painting, more than 14 meters

high and 120 meters in circumference,

was painted by one of the most important

painters of the The Hague School, Hendrik

Willem Mesdag, with help from his wife

and friends. A very impressive piece of art!

We will have a guided tour in the Panorama

Mesdag, as well as a behind-the-scenes

look. Join us and be amazed!

Wednesday, February 13

10:30 a.m.

Museum Panorama Mesdag

Zeestraat 65, Den Haag

www.panorama-mesdag.nl

€ 7 Members / € 12 Non-Members

Tour does not include € 8.50 admission

fee for the museum (Free with Museum

Card)

20 Maximum / 15 Minimum

Registration Deadline: February 7

Sign up at www.awcthehague.org

FAWCO Handbag & Art Auction

We will have an afternoon of bubbly, bites

and fun, bidding on donated items from our

own Club Members to support the FAWCO

charity, Hope Beyond Displacement.

Donations of once-loved handbags or art, to

be auctioned off, can be dropped off at the

clubhouse during opening hours between

January 8 and February 14.

Thursday, February 21

Begins at 1 p.m.

AWC Clubhouse

Sign up at www.awcthehague.org

Playball Netherlands is now

taking bookings for 2019!

Want to get your little one involved?

www.playballkids.com to see the fun for ages

2-7 years

Email kidsplayball@hotmail.com to arrange a

FREE trial class

www.facebook.com/PlayballNetherlands

Or call Maggie on: 0627214347

JANUARY/FEBRUARY 2019 21
---
2018 AWC

Holiday

Bazaar

by Naya Pessoa

Last month our AWC hosted the annual

Holiday Bazaar and I'm happy to report

that volunteers and attendees ended

the two-day event with bellies full of baked

sweets and warm memories. The vendor list

was extensive with 40+ participants, with

quite a few returning from last year combined

with new vendors from The Hague area. It

was a full showcase of talent including handmade

arts and crafts products, accessories

for adults and children, jewelry, chocolate

sculptures, wine, and so much more variety.

This year's Holiday Bazaar was one of

many firsts: trying out the new venue at the

Hilton The Hague, new faces on the organizing

committee, and a new sponsorship

from PlayBall Netherlands.

The Kids' Corner activities were organized

by Holly Savoie, and professionally

supervised thanks to the staff of PlayBall

Netherlands, which donated its staff and

time for both days—which is an incredible

gift to the AWC and to the parents

who attended the Holiday Bazaar! Many

thanks to Teresa Mahoney for bringing

PlayBall Netherlands into the loop. To top

off the festivities for the kids, thank you

to Roberta Enschede for helping recruit

our dear Santa "Peter" Claus who stopped

by to say hello. Rest assured that Santa and

everyone else made a pit-stop for cookies

and other treats at the Bake Sale organized

for the first time by Cathleen Owens.

Thank you to everyone who contributed

their culinary skills so we could start gaining

that requisite holiday weight!

The success of the event is fully attributable

to the event's committee members for their

attention to detail (and deadlines!). A special

thank you dedication to:

Jaimie Keppel – Chair

Teresa Insalaco – Finance

Laurie Martecchini – Volunteer Coordinator

Cathleen Owens – Bake Sale

Amber Gatewood – Public Relations

Emily van Eerten – Raffle

Holly Savoie – Kids' Corner

We appreciate the valuable guidance from

AWC President Suzanne MacNeil as she

answered questions and offered advice

while some of us navigated uncharted

waters. This was the first year for Jaimie

Keppel to serve as the Chair of the Holiday

Bazaar, and she unquestionably rocked it!

Jaimie's role in the Holiday Bazaar was

spotlighted in an article in the Dutch publication

AD, thanks to the efforts of Amber

Gatewood who spread the word in classic

print and digital media.

At the end of the day, our efforts would be

nothing were it not for our fearless volunteers

who offered to roll up their sleeves

in preparation before, during, and after the

event. Laurie Martecchini was tasked

with the coordination of volunteers—both

skills and scheduling—and it is fair to

say she is a professional at it! Speaking

of professional, did you see the raffle display?

Another successful display from the

experienced Raffle Organizer, Emily van

Eerten, who coordinated raffle prizes and

ticket sales. It really is such a gift to be

able to work with committee members who

are so incredibly committed to this annual

event. Not everyone's efforts are immediately

visible during the two-day event, but

trust that they were surely hard at work—

shout out to the finance team of Teresa

Insalaco and the Club's Treasurer, Sheyla

Karman.

Personally, it was my first Holiday Bazaar

and I can't believe what an experience I've

been missing. To top it off, it is incredible

to see how such a beautiful event comes together

through 100% volunteer effort. The

gathering of the community—young and

old, Dutch and international, entrepreneurs

and customers—is unmatched, and thank

you to everyone who shared with friends

and family!

>> 24

JANUARY/FEBRUARY 2019 23
---
Holiday

Bazaar

Volunteers

LaTasha Baker

Laurie Martecchini

Liduine Bekman

Loren Mealy

Lori Schnebelie

Lynne Roukema

Marianne de Beer

Marsha Hagney

Mary Ellen Brennan

Melissa Ride

Michele Jacquemain

Michelle Voorn

Naomi Keip

Anne van Oorschot

Belgin Genc

Cathleen Owens

Celeste Brown

Chelsea Wald

Claire Talbot

Deana Kreitler

Dominique Duysens

Dory Ritchie

Elaine Pimm

Emily van Eerten

Emma Patterson

Georgia Regnault

Naya Pessoa

Rachel Hines

Sabine Crowley

Shanon Gonzalez

Sheyla Karman

Silke van Eerten

Sue Cramp

Susan Cave

Suzanne Dundas

Suzanne MacNeil

Teresa Insalaco

Teresa Mahoney

Una Mulvihill

Ginnie Rempt

Heather DeWitt

Holly Savoie

Jaimie Keppel-Molenaar

Jan de Vries

Jan Essad

Jo van Kalveen

Julie Bravo

Julie Mowat

Julie van der Wolf

Kimberly Carlton

Lana Heidar
---
JANUARY/FEBRUARY 2019 27
---
January 2019

Sun Mon Tue Wed Thu Fri Sat

1 2 3 4 5

Clubhouse Closed through January 7

6 7 8 9 10 11 12

Walkie Talkies 9:30 a.m

Chat, Craft & Cake 10 a.m.

Buddy Check 12

AWC Board Meeting

6:30 p.m.

Clubhouse Closed through January 7

Heart Pillow Workshop

Noon

AWC Tennis 1 p.m.

Evening Book Club

7:30 p.m.

WWDP Post Holiday Party

6:30 p.m.

13 14 15 16 17 18 19

Walkie Talkies 9:30 a.m

Chat, Craft & Cake 10 a.m.

AWC Tennis 1 p.m.

Winter Welcome Back

Coffee

10:30 a.m. - 12:30 p.m.

Defend Yourself Class

7 p.m.

Winter Welcome Back

Borrel 6 - 8 p.m.

20 21 22 23 24 25 26

Walkie Talkies 9:30 a.m

Chat, Craft & Cake 10 a.m.

Out to Lunch Bunch Noon

Guided Tour of Femmes

Fatales—Strong Women in

Fashion 11 a.m.

Daytime Book Club 10 a.m.

Dutch Products Class

10 a.m.

AWC Tennis 1 p.m.

Thirsty Thursday 6 p.m.

27 28 29 30 31

Walkie Talkies 9:30 a.m

Chat, Craft & Cake 10 a.m.

Martin Luther King Jr.

Tribute and Dinner

5:30 p.m.

AWC Tennis 1 p.m.

28 GOING DUTCH

JANUARY/FEBRUARY 2019 29
---
February 2019

Sun Mon Tue Wed Thu Fri Sat

1 2

Save the Dates:

March 20: Lunch Bunch with Art Tour

April 13: Benefit Event

April 25: Keukenhof Castle Tour

3 4

5

6 7

8 9

Walkie Talkies 9:30 a.m

Chat, Craft & Cake 10 a.m.

AWC Tennis 1 p.m.

Wassenaar Coffee and

Conversation 9:30 a.m.

AWC Board Meeting

6:30 p.m.

10 11

12

13

14

15 16

Walkie Talkies 9:30 a.m

Chat, Craft & Cake 10 a.m.

Heart Pillow Workshop

Noon

Guided Tour Behingd

the Scenes of Panorama

Mesdag 10:30 a.m.

Coffee 10 a.m.

February General Meeting

10:30 a.m.

AWC Tennis 1 p.m.

Buddy Check 12

Evening Book Club

7:30 p.m.

17 18

19

20 21

22 23

Walkie Talkies 9:30 a.m

Chat, Craft & Cake 10 a.m.

Out to Lunch Bunch Noon

AWC Tennis 1 p.m.

FAWCO Handbag & Art

Auction 1 p.m.

Women in Need TLC Dinner

5 p.m.

Thirsty Thursday 6 p.m.

24 25

26

27 28

Walkie Talkies 9:30 a.m

Chat, Craft & Cake 10 a.m.

Daytime Book Club 10 a.m.

AWC Tennis 1 p.m.

30 GOING DUTCH

JANUARY/FEBRUARY 2019 31
---
Holocaust Memorial Day

The new AWC Website is now up and running!

Please visit

www.awcthehague.org

for all of your Club-related needs:

Payment of Membership dues, registration for activities and events,

Membership directory, etc.

If you have any questions about the website, please contact

awcthehague.communications@gmail.com.

On January 27, 2005, the U.N. General

Assembly held a special session in

remembrance of the liberation of

Auschwitz on that same day in 1945. It declared

the 27th of January the International

Day in Memory of the Victims of the

Holocaust.

Since that time, there are ceremonies and

projects worldwide. In the Netherlands, the

Nooit Meer Auschwitz lecture (Never Again

Auschwitz) is held each year in Amsterdam.

Private Art Tour

by Susanne MacNeil

There are gems hidden among us. One of those gems, a private art collection, was opened

to Members for a tour. The who and the where remain private, but the reactions from those

who took part speak volumes.

Credit: Roel Wimmenhove

Emily van Eerten: "What an amazing private art tour we had today! I'm so thankful to

our host, and to Suzanne MacNeil, Jane Choy and Marsha Hagney for arranging it. I'm

feeling rather smug for signing up for it not having had any clue what it would be. Fortune

favors the bold! Since I respect the host's request for privacy, I'll just leave it there."

Jo van Kalveen: "It was incredible. I felt so moved by all that we saw and heard about."

Heather DeWitt: "It truly was a very special event!"

Marsha Hagney: "What a wonderful morning!"

Michelle Voorn: "Thank you for putting this together. It was an amazing experience! And,

as unique and particular as it was, it had passion, love, and most of all approachability. Plus,

who can resist interesting and beautiful art!"

32 GOING DUTCH

JANUARY/FEBRUARY 2019 33
---
FAWCO Corner

by Julie Mowat, AWC The Hague FAWCO Representative

Handbag and Art Auction

by Teresa Mahoney

Federation of American Women's Clubs Overseas, a United Nations NGO with

consultative status with the UN Economic and Social Council

www.fawco.org.

On November 5, the inspiring Amanda Lane,

Executive Director of Collateral Repair

Project (CRP), joined us for coffee and gave

a presentation about their program. Our Club

will be raising money for their community

center programs for refugees, which is the

FAWCO Target Fundraiser: Hope Beyond

Displacement. Please see the facing page

about our Handbag and Art Auction to be

held on February 21.

Amanda shared stories about the refugees

and how CRP makes a difference in their

lives. She was able to tell us how the money

we raise will be used for the SuperGirls program,

gender-based violence program, salon

and auto skills, women's empowerment,

34 GOING DUTCH

school supplies and uniforms, etc. With the

additional funds raised by FAWCO Clubs

through the end of February, they hope to:

• Fund participation for 30 more women

in the Economic Empowerment

Program for hair styling, beauty and

self-employment skills,

• Renovate a playground,

• Launch the After School Club at a new

community center in downtown Amman,

reaching more refugee children,

• Translate the SuperGirls' curriculum

into Arabic to ensure it can be used in

the future by all staff,

• And create a dedicated space for women

to learn and train.

It was a wonderful chance to ask questions

and learn more about refugees in Jordan.

You can learn more by visiting www.

collateralrepairproject.org.

One Billion Rising is the biggest massaction

to end violence against women in

human history. The theme of SOLIDARITY

remained the focus of One Billion Rising

2018, with the call to "Rise, Resist,

Unite!". FAWCO encourages its Clubs to

participate, and last year we had so much

fun in a flash mob dance in Leiden with

Leiden University. Save the Date: February

14. We hope to do something again this year!

Visit www.onebillionrising.org for more

information.

FAWCO's Biennial Conference is March 21

to 24 in Edinburgh, and all AWC Members

are invited to attend. It is a great way to

learn about all the things FAWCO has to

offer. There will be excellent speakers

and workshops. Please ask me or Teresa

Mahoney if you have any questions. Register

at www.fawco.org.

You might find this hard to believe, but

despite all these years of being involved

with Going Dutch, I have never written

a single article! Well I am finally inspired to

do so because I am thrilled to be in charge of

the Handbag and Art Auction that will take

place February 21, and am excited to get everyone

involved. For you new Members, I will

explain the details more in-depth in a minute.

For us veterans, I just want to reminisce a

little about some of the emotional moments

we have experienced together at previous

Handbag Auctions.

Remember the

time when Dru desperately

wanted that

beautiful pink Chanel

bag but the bidding

went beyond her budget

and she very reluctantly

had to stop?

Then Nancy stepped

in, bought the bag, and

presented it to Dru as

a present. Drew burst

into tears—and, oh my

gosh, I am tearing up thinking about it now.

What

about when

Lara won

the beautiful

white-beaded

bridal clutch

donated by

her own

mother Georgia? There were very few dry

eyes in the room after that touching motherdaughter

moment.

Did you hear about Melissa bidding on

that gorgeous vintage Hermes scarf as a surprise

for me? (Have I mentioned my scarf

obsession?) Again, the bidding started going

high, and suddenly Melissa thought "Crap

(sorry for the swearing but you know how

Melissa thinks!) what if Teresa had actually

donated that scarf!?" So

she stopped bidding only

to have Susan swoop in,

buy it, and present it to

her as a gift. And I am

the happy recipient of that auction highlight!

New Members, you can tune back in

now… So how does the auction work?

First: Over the next few weeks, have a

look to see if you have any well-loved handbags

that need a new home. Accessories like

scarves or gloves are appreciated, too. This

year we are introducing a new category: art.

If you have any nice pieces that need a new

home, please donate those as well.

Second: Bring those lovely auction items

to the Clubhouse during office hours through

February 14.

Third: Relax while my team and I put

together a catalog and get some bubbly and

snacks ready. The lovely and talented Loren

has volunteered to be auctioneer again this

year, so thank goodness success is assured!

Fourth: Come to the Auction February

21! There will be bubbly, good cheer, lots of

fun and, of course, snacks! All proceeds go to

the very worthy and well researched FAWCO

Charity: Hope Beyond Displacement. Have a

look at the facing page for more info in case

you missed Amanda Lane's inspiring presentation.

When she explains about all the good

work they are doing, you just want to throw

money at her! How much nicer to throw money

to support the charity while also getting a few

handbags in return.

Ok, I feel I have gushed enough. Here's the

condensed message for those who have dozed

off despite the plethora of exclamation points:

Handbag and Art Auction

Thursday February 21

starting at 1 p.m.

Please drop off auction items (wellloved

handbags and art) at the

Clubhouse starting now!

JANUARY/FEBRUARY 2019 35
---
Restaurant Recommendations

by Audrey Goodman

Thank you to AWC Member Michelle Voorn, for submitting the following restaurants

to be featured this month. Please send your recommendations to goingdutchmag@

gmail.com.

Cencalli

Authentic Mexican restaurant. They even

make their own tortillas!

Korte Houtstraat 14C, 2511 CD,

Den Haag

070 215 7547

cencalli.com

Mexican, Latin, Spanish

€€ - €€€

Tuesday, 5 – 10 p.m.

Wednesday – Saturday,

11:30 a.m. – 4 p.m. & 5 – 10 p.m.

Closed Sunday & Monday

KUA Mexican Kitchen

They make their own mole and have a

pozole to die for!

Torenstraat 77, 2513 BP, Den Haag

070 737 1335

Kuarestaurant.nl

Mexican, Latina, Vegetarian

€€ - €€€

Tuesday – Sunday, 5:30 – 11 p.m.

Closed Monday

Madestein Restaurant & Events

Relaxed but trendy restaurant, with a variety

of dishes. And a very pretty location by a

lake.

Madepolderweg 100, 2553 EG,

Den Haag

017 424 4843

madestein.nl

French, Dutch, Seafood

€€ - €€€

Monday – Saturday, 10 a.m. – 10 p.m.

Sunday, 9 a.m. – 10 p.m.

36 GOING DUTCH

JANUARY/FEBRUARY 2019 37
---
Chat, Craft & Cake Open House Recap

by Susanne Dundas

"You are all so talented."

"I must have the recipe for the Sarah Bernhardt cookies."

Yes, we enjoyed the accolades, but Chat, Craft & Cake was more pleased to welcome

some new faces (and Rebecca Wood, a former AWC Member visiting from Texas)

during our community-wide open house on November 27. It was also nice to display

our projects and admire what other CCandCers have accomplished through

the years. Chat, Craft & Cake meets every Tuesday at the Clubhouse from 10 a.m.

until noon.

38 GOING DUTCH

"Your stitches are so precise."

"You designed that yourself?!"

Sarah Bernhardt Bars

Submitted by Hilde Hatlestad Volle

Ingredients:

Almond Base

400 g almonds

400 g sugar

4 tsp baking powder

6 egg whites

Chocolate buttercream

250 g butter

200 g powdered sugar

6 egg yolks

4 tsp cocoa powder

2 tsp vanilla sugar

Chocolate glaze

200 g chocolate (I used milk chocolate, but

use the dark one if you prefer that)

2 tbsp butter

Directions:

Grind the almonds and mix them with the

baking powder. Whisk the egg whites until

stiff. Add the sugar little by little and whisk

until it is a thick merengue. Fold in the almonds.

Put the mixture in a roasting pan (approx.

30x40 cm) and bake it in the oven on 175°C

for 20 minutes. Let it cool in the pan until

completely cold.

Whisk soft butter together with the powdered

sugar. Whisk in the egg yolks until you get a

fluffy buttercream. Then whisk in the cocoa

powder and the vanilla sugar. Spread it all

over the almond base and put it in the fridge

for a couple of hours. If you can't fit the pan

in the fridge you can divide it in two and put

in on serving plates.

Melt the chocolate together with the butter.

Spread it over the cold cake in a thin layer.

Let it cool in the fridge again until the chocolate

glaze is stiff. Slice the cake with a sharp

knife – and enjoy!

P.S. – This cake is excellent for the freezer. I

slice it and put it in the freezer, then I take out

as much as I need/want. Thaw it for 10 – 15

minutes before serving.

JANUARY/FEBRUARY 2019 39
---
Dr. Martin Luther King, Jr.

Tribute and Dinner

by Roberta Enschede

On November 2, 1983, President Ronald Reagan signed a bill making the third Monday

in January a federal holiday in honor of the birth of Dr. Martin Luther King, Jr. At the

time he noted that Dr. King's 39 years changed America forever, "The conscience of

America has been touched," he said.

Since 1986, we have commemorated Martin Luther King Day in this community. Then

as now, there is much to reflect upon and much to do. The poet Nikki Giovanni wrote, "If

we are wrong, then the Constitution of the United States is wrong. This is a sacred poem."

Dan Rather, former news anchor who covered Dr. King commented, "There are Lifters and

Leaners. While thousands leaned on him, I never saw his shoulders give way or his back

bent." Former Secretary of State General Colin Powell warned, "We cannot forget where

we came from."

In these times, General Powell's statement is more urgent than ever. It is a call to action!

In November 2018, the FBI released a report that documented a significant increase in hate

crimes. The totals included a doubling of anti-Arab hate crimes and a 37 % increase in anti-

Semitic incidents. African-Americans made up nearly half of all the victims of hate crimes.

We will never forget what happened when people were praying in the Mother Emanuel

Church in Charleston, South Carolina or in the synagogue in Pittsburgh or on the streets of

Credit: TJ Brown

Sunday, January 27 at 5:30 p.m.

Hotel Den Haag-Wassenaar, Zijdeweg 54, Wassenaar

(just off the A-44 at the bridge)

€ 30 Adults / € 15 Children under 12

Charlotteville, Virginia, when men

carrying torches reminiscent of Nazi

times and the KKK shouted "Jews

will not replace us." They even carried

signs emblazoned with the words

"Diversity is a code word for White

Genocide." They explained, "We're

just going up there to, like, stand up

for the white race and defend our

heritage, keep the Confederate monuments

from coming down." Rep.

John Lewis, a hero of the Civil Rights

Movement, said, "I cannot believe in

my heart what I am witnessing today

in America. Why do people put each other down because of their race or what part of the

world they come from. We can and must do better."

Like Rep. Lewis, our speakers Lois Mothershed-Pot and Reverend Harcourt Klinefelter

lived through the times and the struggles. Like his, theirs are the voices of history who see

their personal experiences manifest not in the past, but in the world today and tomorrow.

Lois was the first African-American student in her university and the first Black President

of the National Christian Students Union. Her sister, Thelma Mothershed, was one of the

Little Rock Nine, the young high school students who tried to integrate Central High School

in Little Rock against the orders of Governor Orval Faubus. Ultimately President Eisenhower

had to send in the National Guard. Her father was a U.S. Army officer in WWII, who fought

in Europe and the Pacific in the segregated U.S. Army. He fought for freedom that was not

his in the army or back home in Little Rock.

Reverend Harcourt Kinefelter finished his studies in Theology at Yale University and

went down South to find Dr. King. He worked for him for three years till his death. Since

that time, he has devoted his life to non-violent conflict resolution.

Agence France Presse – Getty Images

We hope you will come and bring the children. TS Galloway from Chicago will be

there with his trombone and other musician friends. TS used to play with Count Basie and

before that with Ben Branch in Chicago for Dr. King's rallies. We'll have some wonderful

singing too and U.S. Deputy Chief of Mission, Shawn Crowley, will speak as will some of

our young people.

Though so much of the news has been negative this past year, we know "deep in our

hearts, we shall overcome someday." Please join us for a simple dinner, the kind Dr. King

would have liked. Join us to share the words and wisdom of the young and the people who

were there and remember.

Sponsored by OAR – Overseas Americans Remember

Anneke Beeuwkes, Michelle Beier, Roberta Enschede, Tove McGrew, and Jessie Rodell

For reservations or further information, please contact Roberta Enschede at

oarinnl@yahoo.com.

40 GOING DUTCH

JANUARY/FEBRUARY 2019 41
---
The Dutch Daily

by Eileen Harloff

A Tale of Two Dams

Under this intriguing headline was a twopage

story that opened up a whole new world

for me—that of sophisticated food and cooking.

It was reported that on an evening at

the end of October 2018, for a ticket costing

$180, some 80 people were served a modern

Dutch menu at the James Beard House in

New York City. This is the site of the James

Beard Foundation, the most prestigious culinary

institute of America, and to be invited to

prepare a meal there is not only a great honor,

but also an opportunity to receive international

recognition. Five Dutch restaurants were

involved—Choux, Vermeer and Kaagman,

and Kortekaas from Amsterdam, and Aloha

and Dertien from Rotterdam (hence the "two

dams"). These restaurants were selected by

010/020, an organization that was set up two

years ago with the aim of highlighting the

"diversity of the large city gastronomy within

and outside the Netherlands." This entails an

exchange of chefs at local, national and international

levels, and promoting the "activist

chef," who regards cooking as an art, not just

a job, and chefs as agents of change, who operate

with a social agenda. This means cooking

with natural ingredients, using more vegetables

and biological products, paying cooks

and food personnel decent wages, avoiding

unnecessary waste, and the like.

As for the menu of the Dutch dinner last

October, three creative examples include

sunflower seed cream with apple espuma,

calves brain with oysters, and pig cheeks

with fermented pears. As for me, I'll stick to

my peanut butter cookies and tuna fish sandwiches—at

least I'll know how to pronounce

them.

From Restauranteur to

Archaeologist

Among the cultural treasures of the City of

Delft for visitors to see in the coming year

may well be artifacts that restauranteur Jon

Cornelese found in his recently purchased

building located next to the Grote Kerk.

These were discovered when he was checking

for a potential leak in the floor and came

upon a cellar with two parts—one dating

back to the 15th century and the other to the

13th century. Archaeologists were called in to

inventory the site, and their findings were impressive.

There were blue tiles (one of which

featured an elephant, long before elephants

were widely known), clay pipes, a beer tankard

dating back to 1280, and even a human

leg bone. There were also several bricks that

were identified as coming from the 13th and

14th centuries and had probably been part of

Credit: Fred Leeflang

Credit: Museum Mondial

Miniatures at Their Minimalist

They were created in the Soviet era. They

require a microscope to see and recognize

them. They are few in number. They are

unique and truly spectacular. They are 14

of the many miniatures created by Mykola

Syadristy, a well-known artist in his home

country of the Ukraine. They are on display

in Museum Mondial in Volendam, which

was created especially for this purpose after

a visit that Mural Bilan made to an exhibition

of Syadristy's work in Turkey. What

he saw astonished and impressed him, and

he enthusiastically told his neighbor in the

Netherlands, Marc van Hartog, who was

then Director of the Stedelijk Museum in

Zwolle. He too was impressed, and an exhibition

was arranged in his museum. In the

meantime, Bilan and van Hartog envisioned

a museum dedicated to just the works of

Syadristy, who agreed to the plan if he himself

could select its location. The three men

visited many sites and finally, in the small

town of Volendam, the artist chose a site on

items on display are portraits of Rembrandt

and Yuri Gagarin, the first person in space,

a bug on a foot and a 1.8 millimeter beautifully

detailed windmill. The materials used

by the artist are pliable gold and fruit pits.

The history of the artist is as fascinating as

his works. Born in 1937 in Ukraine, then a

part of Russia, he was an engineer by career

and a diver for sport. As such, he learned to

slow down his breathing, which stood him

in good stead in his art, whereby a slight

trilling of the hand could lead to the destroying

of a work in progress. The KGB—

the Russian Secret Service—wanted to

recruit him to make miniature devices for

listening in on people's conversations, but

he refused and as a result he was arrested

and tortured. Fortunately, he survived and

has become a well-known artist. Museum

Mondial is open Tuesday to Sunday, from

10 a.m. to 6 p.m.

The Last Post Office

In November the only remaining post office

in The Hague was closed. The era of

the local post office, with the head office

next to the Grote Kerk in the center of town,

is over. They have been replaced by neighborhood

postal agencies in stores, tobacconists,

and supermarkets. One of the most

unusual of these locations is situated across

the street from the former central office and

is in the shop Papegaaien Paleis, or Parrot

Palace. Here can be found some 300 parrots

of various colors, attributes and countries

of origin. As the owner of the Palace

says, "nowhere else in the Netherlands can

you buy stamps or send packages among

parrots" and, incidentally, you may even be

prompted to buy one.

Credit: James Beard Foundation

a nearby cloister of that time. These bricks

have now been donated to the Grote Kerk,

whose tower is currently under renovation.

While the archaeological findings have delayed

the opening of the new restaurant by

half a year, they have earned their keep as

a unique addition to the finished building.

Cornelese plans to place a glass floor over

the cellar, which will house the WCs, and

thereby take the customers 800 years back in

time with a simple "wash room visit."

the harbor, with a beautiful view. And so

Museum Mondial was established.

Syadristy loaned the 14 works to the museum.

Among this collection is a gold replica,

3.85 millimeters small and containing

256 details, of the Santa Maria, the lead

ship that Christopher Columbus sailed to

America. Syadristy commanded that this

work of art should be so placed in the museum

that it looked out over the harbor. Other

Credit: Parrot Palace

42 GOING DUTCH

JANUARY/FEBRUARY 2019 43
---
Thanksgiving in

Leiden
---
Women in Need TLC Dinner

by Holly Savoie

Continuing the tradition of community outreach, the AWC is hosting its annual TLC

Dinner on Saturday, February 23. Our goal is to share a bit of TLC with some women

outside or inside our Club, who are experiencing personal struggles and could use a

building up. A personal struggle might be trying to pay bills without enough funds, watching

a loved one suffer, grieving the loss of a spouse or child, dealing with the collapse of a

marriage, battling cancer or other illness, or losing a job and struggling to find a new one.

You can always tell who the strong women are. They are the

ones you see building each other up. ~Anonymous

We want to provide an opportunity for women to put their trouble behind them for a few

hours and maybe make some new friends, to support one another and make connections.

Our goal for this project is to have these women walk away after a relaxing evening and see

that the AWC is an organization of strong women determined to make a difference in the

lives of those around us.

If you know of a woman who could benefit from this uplifting and fulfilling evening, please

send her name and a bit of her "story" to me by January 19 at hpsavoie@comcast.net and

the committee will send out an invitation. If you would like to be involved, there are several

ways that you can help:

• Donate or find sponsors for gifts for the guests.

• On the night of the event itself, we need the help of six volunteers to decorate and serve

the ladies.

• We are also looking for musicians who are willing to donate their services.

Saturday, February 23

5 – 10 p.m.

AWC Clubhouse

Guests by Invitation Only

Volunteers Needed

46 GOING DUTCH

JANUARY/FEBRUARY 2019 47
---
8 Ways to Beat the Winter Blues

by Liliana Todorovic

While many people rejoice at the arrival

of Sinterklaas and oliebollen,

changes in the weather can bring

about changes in our emotional state. With

the temperature dropping and days getting

shorter, it's easy to get caught up in a flurry

of negativity.

Seasonal affective disorder (SAD), or winter

depression, is characterized by changes

of mood during the colder, darker days of

autumn and winter. You are suffering from

SAD if, at the turn of the season, you are

suddenly experiencing never-ending negative

moods, exhaustion first thing in the

morning and throughout the day, sugar and carbohydrate cravings, lethargy, irritability, or

feelings of worthlessness and despair.

The recognition of the impact of the seasons on our emotional wellbeing dates back to

Ancient Greece. As early as around 400 BC, pioneer physician Hippocrates described how

seasonal changes influence our health. It is believed that seasonal affective disorder is triggered

by our brain's response to a decrease in daylight. Shorter days can disrupt our biological

clock, the circadian rhythm, and decrease our levels of serotonin and melatonin,

chemicals crucial to regulating our mood and sleep. Luckily, most symptoms subside with

the arrival of spring.

In the meantime, here are eight things you can do to beat the winter blues:

1. Take advantage of your lunch break to step outside and soak in some rays. Studies have

shown that vitamin D deficiency can affect up to 50% of people in the northern hemisphere.

If you are new to the Netherlands and hail from warmer climates, the lack of

sunshine might be affecting your health and wellbeing. Breaking up your day by going

for a walk can boost your positive energy. Taking vitamin D and B12 supplements is

proven to be beneficial.

beta-carotene, and vitamin C and E. If you are in the mood for comfort food, try

cooking a protein-rich curry with pumpkin, sweet potatoes, chickpeas or lentils and

a sprinkling of turmeric, a spice known for its health benefits. Instead of bingeing on

desserts—share your holiday cookies with your friends or your office.

4. Stick to a regular sleep schedule. Because seasonal depression is caused by changes in

the circadian rhythm, it's important to make sure that you wake up and go to sleep at

roughly the same time. Create an evening routine to help you unwind by stowing away

electronics an hour before bedtime, doing a guided meditation, or cozying up with a

good book.

5. Use light therapy to improve your mood. Healthy light exposure prevents the development

of severe winter depression by reducing the level of melatonin, which makes

you sleepy, and increasing the level of serotonin. Studies show that a highly effective

treatment for seasonal depression is the exposure to a light box, or SAD lamp, which

mimics sunlight. Basking under the lamp every morning for up to one hour will significantly

improve your mood and energy levels. The use of dawn-simulating alarm

clocks, that progressively lighten up in the early hours to imitate the sunrise, is also a

good option. Don't be afraid to brighten your mood by wearing bright colors, lighting

candles and sitting by a fireplace.

6. Invest in a negative ion generator, or ionizer. About the size of an air purifier, this

device is proven to fight effects of seasonal depression by increasing healthy air molecules

in your home, the same that can be found on mountains, beaches and waterfalls.

When inhaled, negative ions increase the flow of oxygen in our bloodstream and the

production of serotonin. Negative ion generators make us feel rejuvenated and less

drowsy, like a deep breath of crisp, mountain air.

7. Spend time with your friends and loved ones. As the end of the year approaches, many

people struggle with deadlines at work, exams, or the holiday rush. Take a break from

the grind to connect with an old friend. Instead of stressing out about Christmas presents,

why don't you give a friend something even more precious: the chance to spend

some quality time together trying a new activity?

8. Talk it through. Seasonal depression can take away our ability to see the light at the end

of the tunnel. If you are feeling hopeless, do not be afraid to seek help. A good, long

talk with a professional therapist, who can can help you identify and personalize coping

mechanisms, is the best cure for seasonal depression.

2. Stay active. As much as we all want to

cozy up at home during the winter, it's

important to keep moving. Don't wait

until the New Year to decide to get fit.

Try a new sport with a friend, go to the

gym, join a yoga class—all of this will

lead to an increase in the production of

serotonin, the feel-good hormone.

3. Fight the urge to load up on

carbohydrates and sugar. You can

boost your energy by eating fruits and

vegetables loaded with antioxidants,

48 GOING DUTCH

JANUARY/FEBRUARY 2019 49
---
Clues in the Calico

by Susan Cave

I

am a collector of old quilts. I bought my

first in 1969 when I was in graduate school

at the University of Georgia. It snowed

in December, my thin dorm blanket left me

freezing and I resorted to sleeping under my

coat. I was envious of girls whose mothers

arrived with armfuls of colorful quilts, both

new and old. I was foreign and had no notion

of them. I found a pink and white one at

the local flea market for $3. It cost $2 for a

box of soap powder and six quarters for the

communal washer and dryer. I have been

studying quilts and their stories ever since.

She can spot the pattern. I can spot the fabric

age and type. We feel the weight, look at the

stitching, the color damage, the edges and

the measurements, discuss and between us

we can make the quilts tell their stories. And

what stories they turn out to be.

Some clues are easy to recognize, others

are very subtle, and the obscure messages

send us running for the textbooks. There were

distinctive eras of fashionable quilt making—

from the early 1840s through the 1850s, the

1880s to 1900, and the Depression quilts of

the 1930s. Some designs hit us in the eyes the

minute we see them. The Double Wedding

Ring and the Dresden Plate are classic patterns

of the Depression, and they are both

part of Sherry's collection in Leiden. Others

are more elusive and take time.

Gentleman's Fancy, Chinese Holidays, Flying

Dutchman, Henry of the West or Hearts and

Gizzards? Occasionally we come up with

several names for the same pattern and try

to correlate the correct one with the time it

was made.

My quilt journey has taken me across

continents and time zones. I have a Ralli from

the Sind province of Pakistan, a Kantha dated

in Bengali from eastern India, a modern New

Zealand quilt celebrating the end of the Maori

land wars, an English quilt made in 1890

by a man called Wilbur Blenkinsopp, and a

signed and dated 1906 Swiss silk quilt from

Berne. From the U.S., I have a quilt made by

a woman born a slave, a patchwork from a

girl belonging to the Sauk and Fox tribe of

Oklahoma, and a cross stitch quilt made by

a lady from Virginia who met Martin Luther

King, Jr. in person. That same lady, nearing

the end of her time, gave me a Tree of Life

quilt made for her great grandmother's wedding

in 1884. The maker was the bride's part

Iroquois grandmother. I feel privileged to be

the guardian of such treasures.

Earlier this year I received an unexpected

email from a lady living on the west coast of

the U.S. named Sherry Cook. Both of us were

members of the American Quilt Study Group

of Lincoln, Nebraska, and our profiles of collecting

were remarkably similar, as we started

around the same time. She collected vastly

more than I ever did, as I was limited by my

irregular trips back to the U.S. But surprise,

surprise, some of her Depression-era quilts,

made from feed sacks, were being exhibited at

the Textile Research Centre (TRC) in Leiden.

Did I want to go and see them? I shared this

news at the AWC with Chat, Craft and Cake

(CC&C) members who meet every Tuesday at

the AWC Clubhouse, and off we went to meet

the Director, Dr. Gillian Vogelsang-Eastwood,

and enjoy the exhibition.

Sherry is in the process of donating a

substantial number of quilts to the TRC and

Gillian has plans for a major exhibition in

2020, coinciding with the 400th anniversary

of the Mayflower. The TRC already had quilts

(American and English) but no specialists

who could identify and catalogue the collection.

Between us, AWC Member Beverley

Bennett and I have about 75 years of experience

in quilting and collecting. We felt we

could add value to the details sent by Sherry

and add to the conversation of the others.

Loren Mealey, not a quilt maker but an expert

in textile and design in the CC&C group,

was keen to offer her skills to the TRC too,

so the three of us volunteered.

The clues are in the calico, the batting,

the design, the making, and sometimes in the

papers of the quilt. It is like a detective story.

Few quilt makers had the foresight to sign

and date their work, so we can only make an

educated best guess. But we read and analyze

the clues and categorize them by pattern and

style. Quilts, like clothing, follow fashion.

Beverley and I fortunately have good visual

discriminating skills and good memories.

One of Sherry's quilts turned up with a

date of 1940, but no further information. By

a process of elimination and lots of research,

we are now satisfied that the quilt date was

out by 100 years and have assigned the date

at 1840. It is indigo and white, and possibly

the most valuable of the entire collection.

Beverley has used her considerable skill to

preserve small parts which were falling away

and we are confident that researchers will be

able to study it for the next 100 years.

Each time we go to the TRC, we wonder

what we will find. There is a quilt made by

three different pairs of hands and a pre-Civil

War quilt where a new fabric from the 1980s

was expertly used in a mend. The modern

dyes gave it away. Another quilt was made

using the pages of a Sears Roebuck catalogue

in the days when a wedding ring cost

$24.99, and some women made quilts using

new fabrics but adding blocks from their

grandmothers sewing boxes, so the making

spanned decades. Every now and then we

find initials or a name. One day we wondered

aloud, "Who was Amy?"

For me, one of the greatest charms of

the American quilt are the pattern names.

The lyricism of Jacob's Ladder, the Rose

of Sharon, Crown of Thorns, and The Old

Rugged Cross evoke a simpler time when

the Bible was the only book in the home.

And whoever thought of naming a patchwork

Loren has been left open-mouthed when

Beverley and I get excited about saw teeth,

prairie points, feathers, butted edges, nibbed

corners, quilting in the ditch, husks, lozenges,

long arms and broken dishes. Standing back,

we must sound daft, but it all adds to the story.

We hope that by the time the exhibition

arrives in 2020, we will have added to the

collection, filled in the missing years and

the TRC will have the largest quilt holding

in Europe. The American quilt is an amazing

example of women's social history and we are

privileged to be part of it at the TRC.

50 GOING DUTCH

JANUARY/FEBRUARY 2019 51
---
Announcements

The Arts Society Lecture

The Gods of Egypt

Tanja van der Zon, Art Historian and

Exhibition Manager at the Rijksmuseum

van Oudheden in Leiden, will introduce

us to the fascinating world of the Gods

of the ancient Egyptians. Where did the

Gods live and what was their purpose in

the Netherworld? Myths and stories will

show their extraordinary existence and

influence. Nonmember fee is € 13. www.

theartssocietythehague.org

Tuesday, January 15 at 8 p.m.

Doors open at 7:15 p.m.

Cultural Centrum Warenar

Kerkstraat 75, Wassenaar

International Literature Festival

Writers Unlimited, an annual international

literature festival connecting over 80 authors,

poets and musicians from all over the

world with each other and with audiences,

will take place from January 17 – 20 on 13

stages around The Hague. The theme of the

24th edition is Who Wants to Live Forever?,

focusing on the future, including the relationship

between humans and robots, impact

of technological innovations, and hope

and fear for the political future. There are

programs in English as well as Dutch. www.

writersunlimited.nl

52 GOING DUTCH

Rotterdam International Film

Festival

The 48th International Film Festival

Rotterdam (IFFR) takes place from January

23 – February 3. One of the largest audience

and industry-driven film festivals in the

world, IFFR offers a line-up of carefully selected

fiction and documentary feature films,

short films and media art from 50 countries.

This year's festival will move through a

plethora of emotion, and will consider how

our feelings can be evoked, understood or

manipulated by images in a contemporary

world. www iffr.com

Burns' Night Supper

The St. Andrew's Society extends an

invitation to the AWC to attend their annual

ceilidh (Scottish country dancing) and dinner

in honor of Robert Burrns, Scotland's most

famous poet. Dinner will include haggis

(dispatched with a swirling sword), neeps

(turnips) and tatties (mashed potatoes);

please note if you'd prefer vegetarian

haggis when booking your tickets for € 40

with Marion at maria.janine@ziggo.nl. No

dancing experience is necessary as you will

be encouraged to join in with step-by-step

instructions by a caller―the dance teacher

who walks everyone through each dance.

www.standrews.nl

Friday, January 25

Door open at 6:30 p.m.

Prompt start at 7 p.m.

BSN Leidschenveen

Vrouw Avenweg 640, Den Haag

Grab Your Skates

Winter is here and in addition to the

chance of skating on natural ice, there are

several outdoor rinks that have been set

up around The Hague. The seaside resort

of Scheveningen offers ice skating in front

of the Kurhaus through January 20 (www.

cooleventscheveningen.nl). Although

Leidsenhage, the large shopping center with

free parking in Leidschendam, is largely

under construction, its large rink is once

again open daily through March 3. This rink

is occasionally closed for private parties,

so be sure to check the calendar first (www.

iceparadise.nl).

Feel at Home in The Hague Fair

Whether you are new to The Hague and its

surrounding area or have lived here for years,

you shouldn't miss the biggest international

community event in the region. There

will be an International

Food Court and more than

150 exhibitors providing

information on every aspect

of life in and around The

Hague as well as shows and

displays from local schools,

theater groups, musicians

and sports teams. Be sure to

stop by the AWC table. Free

tickets are offered online:

www.feelathomeinthehague.

com/registration

Sunday, February 3

11 a.m. – 5 p.m.

Den Haag Stadhuis

Spui 70, Den Haag

www.

feelathomeinthehague.com

Art Fair in Rotterdam

The 20th edition of Art Rotterdam, an

international art fair for contemporary

modern art, takes place from February 7 –

10 in the Van Nelle Factory, a UNESCO

World Heritage Site. Built in 1931, this

factory produced tobacco, coffee and tea

from until 1995. It is an iconic example of

the Modern Movement in the Netherlands.

This is an excellent opportunity to visit this

unique site in addition to browsing around

an art fair known for discovering up-andcoming

talent. Discounted tickets are

available online: www.artrotterdam.com

Chinese New Year Festival

There is a lot to see at the official opening

of the annual Chinese New Year Festival

to celebrate the Year of the Pig on >> 54

JANUARY/FEBRUARY 2019 53

2018 Photo by Richard Mulder
---
Announcements (cont.)

Continued from page 53

Saturday, February 9. In and around The

Hague Stadhuis (City Hall), the national

celebration is organized with Chinese

dragons and lions dancing, performances

by Chinese and Dutch artists, and an Asian

market in the Stadhuis starting at 11 a.m.

www.chineesnieuwjaar-denhaag.nl

The Arts Society Lecture

The Art of Turner

William Turner (1775 – 1851) once said,

"The only secret I have is damned hard

work." He was the classic example of a

self-made man, experimenting and taking

landscape painting to a radically new level,

truly exploring the face of nature and the

sublime. Lecturer Sarah Stopford majored

in art history at Harvard and English at

Cambridge. She has a special interest in

the connections between literature and

visual arts. Nonmember fee is € 13. www.

theartssocietythehague.org

Tuesday, February 12 at 8 p.m.

Doors open at 7:15 p.m.

Cultural Centrum Warenar

Kerkstraat 75, Wassenaar

46th ABN AMRO World Tennis

Tournament

Over 100,000 spectators are expected at

this annual indoor tennis tournament from

February 9 – 17 at the Ahoy Rotterdam.

The event offers men's singles, men's

doubles and the World Wheelchair Tennis

Tournament. Ladies' Day will be on

Tuesday, February 12 featuring tennis of

the very highest standards. Tickets for Kids'

Day on Wednesday, February 13 can only

be purchased through the Ahoy Box Office.

www.abnamrowtt.com

Blues Festival Delft

Delft is home to the Netherland's biggest

indoor blues event from February 22 – 24.

More than 70 Dutch and foreign bands perform

at more than 30 cafés and restaurants

throughout the city during this free festival.

If you love Chicago and Texas blues, blues

rock and acoustic Delta blues, you'll feel

right at home. www.delftblues.nl

Children's Books Illustrator

Exhibit

The House of the Book within the

Meermanno Museum in The Hague is

presenting a major exhibition about Quentin

Blake, the British illustrator of over 300

children's books including such Roald

Dahl classics as Charlie and the Chocolate

Factory, and Matilda. Through March 3,

the exhibition will provide an overview

of the complete oeuvre of the worldfamous

illustrator, who began illustrating

children's books in 1960. Visitors can gain

an insight into his thought process as he

explains step-by-step how he uses a text as

the basis for an illustration. In addition to

many original drawings, there will also be

photographs, illustrations and miniatures.

www.meermanno.nl

54 GOING DUTCH

JANUARY/FEBRUARY 2019 55
---
Classifieds

Bijoux-dor Gold &

Silversmith

Professionally trained gold

and silversmith specializing

in handmade and custom

jewelry, and repairs. AWC

members are eligible for a

10% discount on custom work.

Visit my atelier at Noordeinde

47, 1st floor, The Hague

or call 0687598566 for an

appointment or send an email

to meriemoukil@hotmail.com.

www.meriem-dor.com

Transformational New

Neuro Therapy

available from Anel Smit, an

experienced, professional

Counsellor and International

Coach for children, adults and

seniors in Dutch, English and

Afrikaans.

www.anelsmit.com

Multi-Level Neuro Processing

Functional Therapy

Creative Art Development

0642463605

www.icr-coachregister.com

Coffee & Taxes

We file your:

• Dutch income taxes

• VAT tax

• Migration forms

• Benefits/ Toeslagen

Plus

financial/ governmental consultancy

Contact me at:

marielschouwink@gmail.com

0625684010

Private Pilates Lessons in

Your Own Home

I am a Certified Pilates

instructor offering mat

Pilates—tailored to your

body's specific needs.

Monday to Friday, office

hours. Women only. Private

one-on-one or small groups of

up to three possible. Lessons

in English.

The Hague, Wassenaar area

only.

Please email christina@gikas.

nl for more info.

Expat Families in Transit &

Work Life Balance

Ingrid offers Child & Teens

Counseling, Life Work

Coaching, Accountability

Coaching and Workshops

& Training. Experienced

Bilingual Psychosocial

Therapist/Counselor &

Coach. Certified NFG

member. Check for Coverage

Health Care Insurance.

Contact 0640216544. FREE

30 MIN CONSULTATION.

imasselinkandreas@gmail.

com

www.ingridmasselinkandreas.

com

Index of Advertisers

ACCESS

page 32

American Travel

Center

page 11

Aveda Lifestyle

Salon

Inside Cover

Frans Burgers

Tapijt

page 13

FRITSTAXI

Airport Service

Inside Back Cover

Happy Critters

page 17

Marcel

Vermeulen

Jewelry

page 9

Petros Eyewear

page 9

Support Fellow AWC Members

Find links to a large variety of businesses

owned by AWC Members at www.

awcthehague.org/site/newcomers/

business-links

Playball Kids

Sligro

page 21

page 19

VERHEY VAN

WIJK brilmode

page 15

Wassalon

Weissenbruch

page 17

Your Cleaning

Service

page 32

The AWC is not responsible for accidents

or injuries occurring at Club activities or

on Club property. Sports and exercise

instructors must carry their own liability

insurance.

Member Privacy

Event information, suggestions or comments for eNews?

Please send all eNews information to awcthehague.enews@gmail.com no later than end of day

each Friday for the following week's eNews.

Please be reminded that the AWC Membership List is for AWC Member reference only and use of this

information in any communication other than AWC official business is strictly prohibited. Members may

not share the list with anyone other than another AWC Member in good standing and never to any

third party.

The AWC takes care to protect Member information and adherence to this policy is critical to maintain

Member privacy. Members are asked to report suspected misuse of the list to any AWC Board Member.

56 GOING DUTCH

Rates

Classified Mini-Ads:

Deadline: In general, the 1st of the month prior to the

month in which your ad will appear, although subject to

change due to holiday schedule.

AWC Member Rates:

For 45 Words

Non-Member Rates:

For 45 Words

For 25 Additional Words

Per Issue € 15 € 8

Eight Issues € 110 € 55

For 25 Additional Words

Per Issue € 10 € 5

Eight Issues € 70 € 30

How to Submit Your Ad:

Email your ad to: goingdutchads@gmail.com

Payment Information:

Please indicate the name of your ad on your payment so that

we are able to match up your payment with your ad.

By Bank Transfer:

ABN-AMRO

43.14.21.757

IBAN: NL42ABNA0431421757

Display Ads:

For full, half, third or quarter page commercial display ads,

email our magazine staff at goingdutchads@gmail.com

JANUARY/FEBRUARY 2019 57
---
Proost! Questionnaire

Answers by Michelle Voorn

Why are you living in the Netherlands, and

when did you arrive?

My initiation to living in the Netherlands

was in 2000, of course, for love. Stayed

three years and then moved back to Houston.

Second round, same said love reason, and

this time work moved us back. We arrived in

June of 2018.

Give us a quick wrap-up of your family.

My birth family is all over the U.S. and my

brother is in Mexico City. In the Netherlands,

my Dutch (well-Texanized) husband Sander

and I have two Texas-born boys: Aidan (13)

and Liam (12).

What do you enjoy most about the AWC?

Probably like many before me have said, it

has taken away some of the loneliness of being

a newcomer and leaving home behind.

Not to mention, the social activities are so

varied, from art, to coffee, to royal parades. I

am having so much fun getting to know new

lovely women, whom I hope will become

close friends.

Where is your favorite place in the

Netherlands?

Many don't know, but I suffer from tinnitus

(the perception of ringing/noise in the ears).

Although mine is a loud engine room with

a mixture of low pitch electrostatic hum,

24/7… so it's easy to say THE BEACH,

Kijkduin or Scheveningen! The sounds of the

ocean and the waves mask the noise which

my silly brain has decided to recreate. I guess

I should feel connected to Van Gogh since

they now suspect he also suffered from tinnitus.

Which locations haven't been ticked off

your bucket list?

Maldives, Seychells, Tahiti… oh wait, other

than lazying around on a beautiful beach?

Too many to count. But I'd love to go to Asia,

Japan being one of my top spots in the bucket

list; China, Thailand. Then closer to this

side, I am still missing the Nordic countries

(Denmark, Norway, Sweden). Egypt. The

Transiberian Express. I better think about

getting a job to subsidize all these dreams!

What's your hobby?

I'm not going to pretend I don't like TV, I am

a Nordic Noir junky… dark mystery/detective

TV series. I do love the dystopias like

The Handmaids Tale. I can't get away from

Grey's Anatomy, and the new one A Million

Little Things. Plus all the cooking shows

from Netflix, particularly Chef's Table!

Cooking! In the last year or two I started focusing

more on my native Mexican cuisine.

There is so much variety and depth that the

world hasn't gotten to see and experience, so

I have to start at home.

Then I love reading! Although the move gave

me "Fried Brain Syndrome" (FBS), my brain

and I have had a hard time finishing a book in

the last few months. I'll get back into it soon.

Music, love music as well. And board games.

Pffff… I have too many and not enough time

for them all!

What is your favorite flower?

Orchids, definitely orchids.

What is your favorite drink?

Again, with limiting me to a single favorite

one… coffee, water, fresh teas (fresh ginger,

cardamom pods, clove and star anise is

my current fave), then there's vodka (Texas

Tito's), and wine. And I've discovered my

taste has evolved into a good Scotch or

Bourbon.

58 GOING DUTCH

JANUARY/FEBRUARY 2019 59