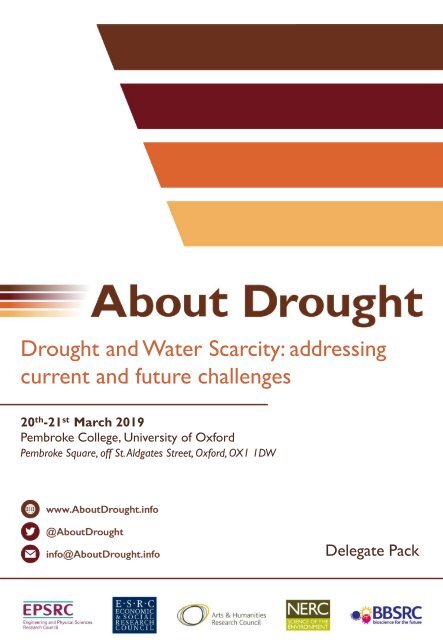 DelegatePack_DroughtConference_20-21March2019
You also want an ePaper? Increase the reach of your titles
YUMPU automatically turns print PDFs into web optimized ePapers that Google loves.
Drought and Water Scarcity: addressing

current and future challenges

20 th -21 st March 2019

Pembroke College, University of Oxford

Pembroke Square, off St. Aldgates Street, Oxford, OX1 1DW

Delegate Pack
---
Useful Information

Venue

Pembroke College is our venue for the whole event: the conference, accommodation, and the conference dinner.

It is located in the city centre, on Pembroke Square which leads off from St. Aldates Street, Oxford, OX1 1DW. You enter via the

Porter's Lodge. The conference takes place in the Rokos Quad: ask the porter for directions, or follow the signs.

For those who have booked B&B accommodation within Pembroke College as part of your registration package note that your

room key will be available from the Porter's Lodge from 2pm. There is a room in which to store luggage if needed: please ask the

porters for directions. Check out is 9am.

Registration and refreshments are available from 9.15am by the Pichette Auditorium on each day. The conference takes place over

three floors in the same building. A lift is available.

There is no dedicated poster viewing session so we encourage everyone to take the opportunity during the breaks, lunch and

drinks reception to have a look at the posters.

Travel Advice

Click here for printable maps, directions and information

about public transport.

Arriving by train – The college is 15 minutes walk from the

train station (Park End Street, OX1 1HS)

Arriving by coach/bus – The Oxford Tube and the X90 run

frequently from central London to Oxford. The Oxford Tube

stops on St. Aldates street, very close to the College. From

Heathrow, the Airline coach runs directly to Oxford. From

London Stansted, National Express coaches run to Oxford

via Luton Airport. All coach services terminate at Gloucester

Green Bus Station (George St, OX1 2BX). The college is 10

minutes walk away.

Arriving by car – There is no parking available at the college

so if arriving by car, please use one of the city's Park & Ride

schemes.

Taxis – Are located at the railway station and the Gloucester

Green Bus Station (George St, OX1 2BX). Here are some

local firms: "001 Taxis" 01865 240000, "Go Green Taxis"

01865 922222.

Food & Drink

Please bring your water bottle and re-usable cup to help

minimise waste! This is because crockery cannot be taken

into the auditorium and paper cups will be issued instead. As

these cannot be recycled, a reusable cup is best if you have

one. Refreshments will be served at registration and during

breaks. Lunch is cafeteria style, in the College's dining hall. All

dietary requests have been noted. If you are unsure if

something is suitable, the catering staff will be happy to advise.

Everyone is invited to the drinks reception on Wednesday

20 th March. For those who have booked, the Conference

Dinner will be held at 7.15pm on Wednesday 20 th March:

please note that only those who included a ticket for the

dinner as part of their registration package are able to attend.

Medical Advice

Non-emergency help – If you need non-emergency medical

attention, ring the NHS helpline 111 from a UK phone. If you

do not have a UK phone, you can call from the Porter's

Lodge. Speak to the Porters if you need first aid, or need to

go to hospital but not in an ambulance. They will be happy to

help. The number for the Porter's Lodge is 01865 276444,

If you need urgent medical attention, call the UK

emergency number: 999. Please also tell the Porter's

Lodge so they can help you and guide the emergency

services. The nearest Accident & Emergency Unit (A&E) is at

the John Radcliffe Hospital, Headley Way, Headington,

Oxford, OX3 9DU.
---
Contents

2

4

5

6

7

8

12

13

27

32

33

34

35

36

37

40

45

Useful Information

Welcome

UK Drought & Water Scarcity Programme

Water-saving media campaign competition

Audio Anecdotes – historic droughts from a human/social perspective

Programme

Session Chairs

Speakers

Posters

Drought & Water Scarcity Projects

Drought Risk and You (DRY)

Historic Droughts

IMPETUS

MaRIUS

ENDOWS

Links to About Drought Datasets

Delegates

Thank You
---
Welcome

Welcome to the About Drought Conference 2019 and thank

you to all the delegates, speakers and presenters in

attendance. More than 100 people representing a very broad

range of interests and expertise join us to connect with this

truly interdisciplinary research initiative, the RCUK Drought &

Water Scarcity Programme.

In this e-delegate pack you will find information

which illustrates the diverse, interdisciplinary and

cross-sectoral content of About Drought and gives

a valuable insight into drought and water scarcity.

We would like to thank all our speakers and

facilitators who are sharing their expertise and all

the delegates for your questions, comments and

opinions which will feed into the direction of the

programme, its outputs and future workshops,

events and engagement activities.

Have you viewed the About Drought

Showcase video?

The About Drought video documentary features

interviews with members of the programme and a

wide range of stakeholders. Please watch it by

clicking here and share it with your colleagues.

You can view About Drought videos on YouTube

and listen to our fascinating podcasts of memories

of UK droughts on SoundCloud. If you would like

to feature any of these resources on your website

or at an event, please contact the project office by

emailing info@AboutDrought.info
---
UK Drought & Water

Scarcity Programme

Droughts and water scarcity jointly pose a substantial threat to the environment, agriculture, infrastructure,

society and culture in the UK, yet our ability to characterise and predict their occurrence, duration and

intensity, as well as minimise their impacts, has often been inadequate.

The UK Droughts & Water Scarcity research programme is a five-year interdisciplinary, £12 million+

NERC programme in collaboration with ESRC, EPSRC, BBSRC and AHRC. It is supporting improved

decision-making in relation to droughts and water scarcity by providing research that identifies, predicts and

responds to the inter-relationships between their multiple drivers and impacts.

The programme's research is UK-focused, and contributes to NERC's natural hazards and climate system

strategic science themes.

The final project, ENDOWS, (known as About

Drought) engages with stakeholders, practitioners

and the public to involve them in the UK Drought

and Water Scarcity programme and to disseminate

information about the findings, outputs and datasets

from the programme that everyone can use.

SHOWCASE VIDEO

You can find highlights from the About Drought

Showcase by following this link:

bit.ly/AboutDroughtHighlights
---
Competition

Through our ENDOWS programme, students from

the School of Communication Design at Falmouth

University have been working with Dr Rebecca

Pearce and Dr Cui Su, to shake up the way we talk

about drought and water saving.

Challenged to create a media campaign to raise

awareness of water scarcity, drought or a watersaving

product, the results have spanned both social

media and traditional media platforms, embraced the

humorous side of water-saving, and drawn in a new,

younger audience with different attitudes to

consumption and waste.

See below for some of the campaign highlights.

We've chosen to feature three of the campaigns at

the conference. Visit the 1 st floor where Dannie &

Max, Chiara & David, and Alex & Jacob will be

delighted to talk you through their campaign ideas.

Choose a song from the three-minute shower

playlist, find your secret water hero identity or make

a water-saving pledge. Check out the new visuals for

a responsible water use traffic light system weather

app extension.

We are particularly keen to hear from any delegates

who would like to roll-out the campaigns regionally

or nationally.

Chiara and David Dannie and Max Watson and Cox

Judge for yourself – view the campaigns and meet the students behind them on the

1 st floor in the Pembroke Allen & Overy Room
---
Audio Anecdotes

"A lot of the

heather moorland

was destroyed.

Lots of animals,

sadly, lost their

lives."

What's it like to

listen for a living?

Rebecca Pearce

Postdoctoral Research Fellow

University of Exeter

Between October 2014 and October 2017, Dr Rebecca Pearce travelled

across Britain, tracing the impacts of historic droughts as they are recalled

by people living in a diverse range of communities.

Now you can join Rebecca in that experience by listening to a selection of

extended interview highlights from the Historic Droughts project's oral

history collection, through our special conference sound installation of audio

anecdotes.

Pick up a set of headphones at our listening post in the foyer at any time

over the two-day conference and choose from three different channels.

Close your eyes and immerse yourself in the conversation, from horticulture

to heatwaves and hydrology to heath fires. Sense the sweat, smoke and

sunburn, imagine the colour contrast of carefully tended golf courses set

against parched fields and moorlands.

Learn something about the power of memory work, narratives and

storytelling, through these three unique pieces.

"… the [firefighter] leggings that we used to wear back in the 70s were

made of plastic and the helmets, believe it or not, were made out of

hardboard … you wouldn't believe that they would make leggings out of

plastic but they were yellow plastic and they used to melt very easily."

Western Morning News 2 nd October 1976

Western Morning News 9 th September 1976

Western Morning News 9 th September 1976

Listen to the About Drought Audio Anecdotes at the Listening Post in the foyer and

meet Rebecca Pearce who conducted the interviews
---
Wednesday 20 th March

Programme

09.15

10.00

11.30

11.50

13.00

13.50

15.20

15.40

16.45

16.50

17.10

19.15

Registration – Foyer outside The Pichette Auditorium

Tea & Coffee

Plenary Session (The Pichette Auditorium)

Welcome & notices: Helen Gavin (University of Oxford)

Chair: Jamie Hannaford (CEH)

Welcome to the ENDOWS Programme

Guest Speaker: Henny van Lanen (Wageningen University)

The 2018 NW European Drought: warnings from an extreme event

Len Shaffrey (Reading University)

Has climate change increased the chance of events like the 1976 North West European

drought occurring?

Guest Speaker: Rob Wilby (Loughborough University)

Challenging the mantra of wetter winters, drier summers in the UK

Break - Foyer

Plenary Session (The Pichette Auditorium)

Chair: Len Shaffrey (Reading University)

Introduction

Guest Speaker: Massimiliano Pasqui (CNR)

A customisable drought monitoring and seasonal forecasting service to support different users'

needs

Bramha Dutt Vishwakarma (University of Bristol)

Novel metric for water stress from the Gravity Recovery And Climate Experiment (GRACE)

satellite mission

Pico pitches from poster presenters

Lunch – The Hall

Parallel Sessions (see following page)

Room 1: Climatology and Hydrology – Pichette Auditorium (Main auditorium)

Room 2: Drought Impacts – Harold Lee Room (2 nd floor)

Break - Foyer

Parallel Sessions continued

Sessions come back together in The Pichette Auditorium

Closing Words

Jamie Hannaford (CEH)

Drinks Reception – Foyer • ALL WELCOME

Conference Dinner – The Hall

Please be seated by 19.15 as service will start promptly at 19.30. Only delegates who

have booked places in advance can be accommodated at the dinner.
---
Wednesday 20 th March

Afternoon Programme

Room 1 - Pichette Auditorium: Climatology and Hydrology

13.50

14.00

14.20

14.40

15.00

15.20

15.40

15.45

16.05

16.25

16.45

Len Shaffrey (Reading University)

Introduction

Jamie Hannaford (on behalf of Katie Smith) (CEH)

Reconstructing historic flow data to inform management of future hydrological extremes

Lucy Barker (CEH)

How severe were historic hydrological droughts in the UK? Insights from a systematic characterisation and

ranking of events back to 1891

John Bloomfield (BGS)

Characterising the effects of major episodes of drought on groundwater at national to continental scale

Matt Fry (CEH)

The Historic Droughts Inventory: an accessible archive of past drought impact information for the UK

from diverse documentary sources

Break - Foyer

Jamie Hannaford (CEH)

Introduction

Elizabeth Brock (Met Office) & Katharine Smart (Anglian Water)

What does stochastic rainfall generation and Bayesian extreme value analysis mean for Water

Resource Planning

Christopher Nankervis (Weather Logistics Ltd)

Use of Copernicus seasonal climate forecast model data to improve the accuracy of long-term forecasts:

the UK Summer Rainfall Insights project

Ragab Ragab (CEH)

Study of drought risk in different UK catchments under future climate and land use changes

Sessions come back together in The Pichette Room (main auditorium)

Room 2 - The Harold Lee Room (2 nd floor): Drought Impacts

13.50

14.00

14.20

14.40

15.00

15.20

15.40

15.45

16.05

16.25

16.45

Ian Holman (Cranfield University)

Introduction

Tom King (Lancaster University)

The effect of the hot dry conditions of 2018 on natural ecosystems: findings from Wytham Woods,

Oxfordshire

Jill Thompson (on behalf of Sarah Ayling) (CEH)

Impact of reduced rainfall on the growth and development of plants in British semi-natural grassland:

a rainfall manipulation study

Daniela Anghileri (University of Southampton)

Strengthening research capabilities for addressing water and food security challenges in sub-Saharan Africa

Stephen McGuire (SEPA)

Assessing the impacts of water scarcity in North East Scotland through the summer of 2018

Break

Nevil Quinn (UWE)

Introduction

Frederick Otu-Larbi (Lancaster University)

Modelling the effects of drought stress on photosynthesis and latent heat fluxes

Susan Davies (University of Edinburgh)

Effective risk management against threat of drought impacts on the Scottish timber industry

Peter Kettlewell (Harper Adams University)

Mitigating drought impact on crop yield by applying film-forming polymers

Sessions come back together in The Pichette Auditorium (main auditorium)
---
Thursday 21 st March

Programme

09.15

10.00

11.35

11.55

13.10

14.00

15.30

15.50

16.55

17.00

Registration – Foyer outside The Pichette Auditorium

Tea & Coffee

Plenary Session (The Pichette Auditorium)

Welcome & notices: Helen Gavin (University of Oxford)

Chair: Nevil Quinn (UWE)

Introduction

Guest Speaker: Kerstin Stahl (University of Freiburg)

Customising drought indices to improve drought impact monitoring and prediction

Guest Speaker: Mike Morecroft (Natural England)

Drought impacts on the natural environment and lessons for climate change adaptation

Guest Speaker: Ian Holman (Cranfield University)

Taking lessons from the 2018 drought forward into increased drought resilience in the

agricultural sector

Break - Foyer

Plenary Session

Chair: Lindsey McEwen (UWE)

Introduction

Guest Speaker: Anne van Loon (Birmingham University)

Feedbacks between drought and society

Guest Speaker: Fiona Lobley (Environment Agency)

The UK 2018 dry weather situation: looking ahead to 2019

Pico pitches from poster presenters

Lunch – The Hall

Parallel Sessions (see following page)

Room 1: Drought Planning & Management – Pichette Auditorium (main auditorium)

Room 2: Drought Impacts, Communities, Risk Perception & Communication – Harold

Lee Room (2 nd floor)

Break – The Foyer

Parallel Sessions continued

Room 1: Drought Planning & Management

Room 2: Drought Impacts

Sessions come back together in The Pichette Auditorium

Closing Words

Ian Holman (Cranfield University)
---
Thursday 21 st March

Afternoon Programme

Room 1 - Pichette Auditorium: Drought Planning & Management

14.00

14.10

14.30

14.50

15.10

15.30

15.50

15.55

16.15

16.35

16.55

Jamie Hannaford (CEH)

Introduction

Lindsey McEwen (UWE)

Integrating science and narratives: a new interdisciplinary approach to develop drought mitigation

strategies

Granville Davies & Miranda Foster (Yorkshire Water)

Water resources in Yorkshire, UK in 2018: drought management, perception and communication

Amanda Fencl (on behalf of Ruth Langridge ) (University of California)

Groundwater management in planning for drought: experience from California, USA

Mark Smith (Hydro-Logic Services Ltd)

Recent trends in water resources planning and management

Break

Lindsey McEwen (UWE)

Introduction

Sevilay Topcu (Cukurova University)

Implementing Drought Management in Turkey: an institutional pathology

Amanda Fencl (University of California)

Interconnections between Research on Groundwater, Drought and Climate Change

Caroline King (TBI) & Daniel Tsegai (GeoData Institute)

A review of methods for drought impact and vulnerability assessment

Sessions come back together in The Pichette Room (main auditorium)

Room 2 - The Harold Lee Room: Drought Impacts/Communities,

Risk Perception & Communication

14.00

14.10

14.30

14.50

15.10

15.30

15.50

15.55

16.15

16.35

16.55

Rebecca Pearce (Exeter University)

Introduction

Kevin Grecksch (University of Oxford)

Achieving water efficiency through social norms in the public sector

Ruth Larbey (UWE)

Engaging consumers around water scarcity and water-saving

Sandra Santos (Wageningen University)

Improving institutional frameworks integrating local initiatives from communities exposed to drought and

water scarcity in Ecuador

Antonia Liguori (Loughborough University)

Learning around 'storying water' to build an evidence base to support better decision-making in UK drought

risk management

Break

Ian Holman (Cranfield University)

Introduction

Paul Whitehead (University of Oxford)

Impacts of climate change on water quality affecting upland and lowland rivers, wetlands and delta systems

Cedric Laize (CEH)

Relationship between a drought-orientated streamflow index and a series of riverine biological indicators

Jaeyoung Lee (University of Oxford)

Water quality modelling in the Severn-Thames river systems and the impact of a water transfer in drought

Sessions come back together in The Pichette Room (main auditorium)
---
Session Chairs

Helen Gavin

Oxford University

Environmental

scientist with the

Environmental Change

Institute & MaRIUS

Project Manager

Nevil Quinn

Associate Professor in

Applied Hydrology at

University of the West

of England (UWE)

About Drought

Science Coordinator

Jamie Hannaford

Principal Hydrologist

at Centre for Ecology

& Hydrology (CEH)

PI on About Drought

& Lead PI on Historic

Droughts

Lindsey McEwen

Professor in

Environmental

Management at UWE

& Lead PI Project DRY

Len Shaffrey

Senior Scientist at the

National Centre for

Atmospheric Science

(NCAS) & Professor

of Climate Science

University of Reading

PI on IMPETUS

Rebecca Pearce

Research Fellow,

University of Exeter

About Drought Social

Science Coordinator

Ian Holman

Professor of

Integrated Land &

Water Management

Cranfield University &

Agricultural lead on

Historic Droughts
---
Speakers

Day 1: Plenary – The Pichette Auditorium

Jamie Hannaford CEH

Welcome to the ENDOWS Programme

The Drought and Water Scarcity (DWS) Programme is a major interdisciplinary research programme funded by

NERC, ESRC, EPSRC, BBRC and AHRC. The Programme commenced in 2014 and ends in 2019 and is now in the final

phase, a knowledge exchange project called ENDOWS (Engaging Diverse stakeholders and publics with outputs from

the Drought and Water Scarcity Programme). This presentation will illustrate how ENDOWS is working with a very

diverse stakeholder community to exploit the datasets, models and methodologies developed within the DWS

programme to develop tools and guidance for improved drought management. ENDOWS is structured into various

sectoral workstreams (water supply; agriculture; environment; business; communities). A key focus of this presentation

will be on how ENDOWS is developing methodologies for long-term drought and water resources planning (e.g. the

development of national, consistent 'Drought Libraries' and national-scale hydrological and water supply system

models) to support the current drive towards more integrated regional- and national-scale water resources planning.

The talk also illustrates how ENDOWS is enhancing operational drought management through improved monitoring

and early warning of drought, and how this is being co-developed with stakeholders during the ongoing dry weather in

2018. Various other sectoral applications will then be highlighted through examples. Finally, the talk will discuss the

innovative approaches being developed to ensure the vast amount of data being generated by the programme are

readily accessible to the community.

Henny van Lanen Wageningen University & Research

The 2018 NW European Drought: warnings from an extreme event

Last year Europe was hit again by a severe drought, particularly north-western countries suffered. It became apparent

to a wider public that droughts and associated water shortages are not solely preserved for the Mediterranean.

Moreover, drought projections increased concerns. A high pressure system above Scandinavia kept depressions

causing rain at distance and dry and warm air masses were transported to NW Europe. This weather circulation type

is not uncommon for the region, but in 2018 it appeared to be very persistent and lasted several months. Several

temperature records were broken, the climatological water deficit exceeded the driest on record in some countries,

and significantly affected the water system. Not surprisingly, a wide range of impacts was reported. Drought, as a

natural hazard cannot be prevented. However, people are challenged to minimize socio-economic and environmental

impacts. An analysis of management of the 2018 drought learnt that not everything was in order everywhere. It was

found that monitoring of hydrological variables is not targeted to drought, but in NW European countries it is biased

towards floods. Usually the monitoring puts more emphasis on surface water than groundwater. Impact minimization

also requires seasonal hydrological drought forecasting. Use of these forecasts is largely underdeveloped by lots of

practitioners. Monitoring and forecast data are hard to obtain, which is meant to avoid panic among the public.

Interaction between social and more conventional media helped to expose these data. Development of drought

management plans is a rather slow process that takes years, which cannot be speeded up to cope with an emerging

drought. Findings from the 2018 drought should warn policy-makers and water managers to increase preparedness

and (i) to take existing scientific knowledge more quickly on board (e.g. seasonal forecasting), (ii) to target monitoring

more to drought, (iii) to equally balance between surface water and groundwater, and (iv) to make data better

accessible. We also learnt that the academic community should progress on: (i) drought impact forecasting rather than

only hazard forecasting, (ii) including drought in a multi-hazard setting, and to improve knowledge on droughtgenerating

processes and modelling.

Len Shaffrey NCAS, University of Reading

Has climate change increased the chance of events like the 1976 North West European drought

occurring?

The 1976 NW European summertime drought was preceded by a sustained dry spell through the winter and spring of

1975 and 1976. The summer of 1976 was characterised by a continuation of the dry spell combined with an extreme

heatwave. The combination of heat and lack of water had numerous impacts across many sectors including public

health, agriculture and water resource management. Understanding how climate change might be impacting on the

frequency or severity of extreme events is a question of interest to water resource managers, regulators and the

general public. In this study, climate model experiments have been performed to assess whether climate change is

increasing the probability that events like the 1976 North West European might occur again. These experiments

suggest that increased anthropogenic forcing since the 1970s has dramatically increased the probability of

summertime heat waves. However, climate change has also decreased the probability of an extended winter and

spring dry spell preceding a summertime drought. The combined effect of climate change on temperatures and rainfall

is that an event such as the 1976 North West European drought is substantially more likely in the present-day climate

compared to the 1970s.

Rob Wilby Loughborough

Challenging the mantra of wetter winters, drier summers in the UK

My talk will draw upon a recent re-examination of the widely adopted EWP series, and constituent records, led by

Conor Murphy at Maynooth. I will also refer to other work that I have done on evaluating rare droughts from historic

records, as part of the approach now implemented by UK water companies in their drought resilience planning.
---
Speakers

Day 1: Plenary – The Pichette Auditorium continued

Massimiliano Pasqui CNR (Italian National Research Council)

A customizable drought monitoring and seasonal forecasting service to support different users'

needs

Massimiliano Pasqui is a climate scientist whose main interests are numerical modelling in support of weather

forecasts, climate data analysis, seasonal forecast predictability and climate change impacts. He participates in a

number of national and international projects in these fields. He is the author of numerous scientific papers on

international journals/books on atmospheric science and climate change mechanisms and impacts in the

Mediterranean basin and Africa. In the last decade he has been engaged as a contract professor in meteorology,

numerical modelling and climatology courses at several Italian universities.

Bramha Dutt Vishwakarma University of Bristol

Novel metric for water stress from the Gravity Recovery & Climate Experiment (GRACE) satellite

mission

The GRACE satellite mission recorded time-variability in Earth's gravity for more than a decade, which can be directly

related to changes in water stored near the surface of the Earth. GRACE maps of water mass change are available at

monthly time scale and have been used to validate hydrology models, close regional water budgets, estimate

groundwater changes and map water stress. Usually the GRACE time series is decomposed into a linear trend and a

periodic signal and then the magnitude of the trend is used to infer the severity of water mass in a region. In this

study we show that such an approach is misleading because catchment scale hydrology also contains inter-annual

signals with decadal frequencies that are also recorded by GRACE. Since the quality-controlled GRACE record is only

about 13 years long, the long wavelength inter-annual signal cannot be co-estimated and will contaminate estimates of

linear trend. Furthermore, the inter-annual behaviour of each catchment is different and, therefore, a catchment

should not be evaluated against other catchments but with respect to its natural variability. Therefore, to quantify

water-stress comprehensively, we propose a novel metric for water stress that uses GRACE trend and inter-annual

variability from a calibrated 62-years-long hydrology model time series. We obtain a global water stress map that

differs markedly from previous GRACE assessments. We find that more than 1.5 billion people in 39 river catchments

are facing severe water stress and this number will rise by 50% in 2025 if current trends continue.

Day 1: Parallel Session 1 Climatology and Hydrology – Pichette Auditorium

Jamie Hannaford presenting for Katie Smith CEH

Reconstructing historic flow data to inform management

Hydrological models can provide estimates of streamflow pre- and post- observations, which enable greater

understanding of past hydrological behaviour and potential futures. We outline a new multi-objective calibration

method which was derived and tested for 303 catchments in the UK. The calibrations were used to reconstruct river

flows back to 1891 to provide a much longer view of past hydrological variability given the brevity of most UK river

flow records which commenced post-1960. This work provides an exemplar framework for calibrating catchment

models for use in multiple applications. The ~125 year spatially and temporally consistent reconstructed flow dataset

derived for this study will also allow comprehensive quantitative assessments of past UK drought events, as well as

long-term analyses of hydrological variability that have not been previously possible. This will allow water resource

managers to better plan for extreme events, and build more resilient systems for the future.

Lucy Barker CEH

How severe were historic hydrological droughts in the UK? Insights from a systematic

characterisation and ranking of events back to 1891

The relative shortness of river flow records in the UK means that it is not possible to characterise hydrological

droughts prior to the 1960s in many places across the country. We know from individual long river flow records,

regional flow reconstructions and qualitative data that severe hydrological droughts occurred in the late 19th and

early 20th Century; but until recently it hasn't been possible to identify and characterise these droughts across the

UK. New daily river flow reconstructions for 303 catchments across the UK, dating back to 1891 have enabled

national scale, drought identification and characterisation. For 108 near-natural catchments across the UK, using the

Standardised Streamflow Index for accumulation periods of 3 and 12 months, hydrological drought events over

~125 years from 1891 to 2015 have been systematically identified, characterised and ranked. Extracted events were

ranked according to four characteristics: duration, accumulated deficit, mean deficit and maximum intensity in order

to assess how the events compare when different aspects of severity were considered. These results provide an

unprecedented view of drought severity in the UK, shedding light on those events outside of the observed period

(e.g. the early 1920s) and that are poorly documented in qualitative sources (for example the droughts of the 1940s).

This extended understanding of past droughts is crucial to inform the planning and management of future events,

aiding the development of scenarios outside the range of those seen in observed data and providing benchmarks

against which to compare current and future events.
---
Speakers

Day 1: Parallel Session 1 Climatology and Hydrology – Pichette Auditorium continued

Dr John Bloomfield British Geological Survey

Characterising effects of major episodes of drought on groundwater at national to continental

scale

Major droughts have profound social, economic and environmental impacts. For example, the most recent major

drought in the UK from 2010 to 2012 was the driest 18 months for over 100 years. The two dry winters caused

record low groundwater levels, and, as a consequence, seven water companies in England had to impose temporary

use bans, colloquially known as 'hosepipe bans', on ~20 million people in spring of 2012 with the environment and

farming sector significantly adversely effected. The effects of drought on groundwater yields are monitored and

modelled by water companies at the individual borehole to water company scale. However, major episodes of

drought, such as the 2010-12 event, have large spatial footprints and there is potentially significant benefit to be gained

from an improved and more coherent understanding of groundwater drought status and impacts at the national to

continental scale. We describe approaches to the standardisation of groundwater level hydrographs to enable analysis

of groundwater level response to major episodes of drought at the national to continental scale. This is first illustrated

with data from the Chalk aquifer of the UK. We then present some initial results from the Groundwater Drought

Initiative (GDI), a new pan-European research collaboration. The GDI is producing the first continental scale synthesis

of groundwater level data from across Europe with the aim of assessing spatio-temporal changes in groundwater

drought status from 1960 to the present and the impacts of groundwater drought at the European scale. Finally, we

consider some of the challenges particular to analysis and understanding of groundwater droughts and their impacts at

the national to continental scale.

Matt Fry CEH

The Historic Droughts Inventory: an accessible archive of past drought impact information for the

UK from diverse documentary sources (Matt Fry, Nuria Bachiller-Jareno, Carmen Dayrell, Helen

Baker, Delores Rey Vicario, Bettina Lange, Rebecca Pearce, Lucy Barker, Steve Turner, Simon

Parry, Jamie Hannaford)

Documentary sources can provide a wealth of information on the occurrence, severity and impact of past droughts.

Sources including religious texts, financial records, newspapers, administrative accounts and early meteorological

commentaries have been used to demonstrate the reconstructions of past drought, providing evidence of spatiotemporal

variability in drought during periods with little or no climatological records (Brazdil et al). The content of

documentary sources can also provide information on the contemporary impacts of drought that is not available from

meteorological or hydrological records and can therefore be used to corroborate existing information on drought

severity and provide a basis for understanding the evolution of resilience to drought in human systems across

different sectors. The Historic Droughts Inventory is a collation of instances of reporting on UK drought from diverse

sources including legislative records (Hansard), agricultural press (Farmers Weekly, Farmers Guardian), contemporary

drought reports, personal histories and historic newspapers from 1800 to 2015. The Inventory has been created

through a variety of methods appropriate to the volume and focus of the original sources, based on manual curation

of drought-related articles (for the legislative texts and agricultural media) to automated processing (historic

newspapers and online bulletins). The resulting information has been consistently formatted to enable comparison

between these "sectors", following that of the existing European Drought Impact Report Inventory (Stahl et al),

allowing for comparison with other databases of recent drought impacts. Geospatial information has been extracted

from impact texts where possible to locate the impact and allow for comparison with spatial extents of droughts in

the hydro-meteorological records. More than 50,000 drought impacts have been collated and the datasets archived in

publicly accessible research archives. An online tool has been created to enable the Inventory to be searched by date,

location, or search term (e.g. "Barley", "Reservoir"), allowing the temporal and spatial occurrence of drought from

the viewpoint of impacts to be visualised. This tool has potential for use for educational purposes as well as by

drought researchers and historians.
---
Speakers

Day 1: Parallel Session 1 Climatology and Hydrology – Pichette Auditorium continued

Elizabeth Brock Met Office & Katharine Smart Anglian Water

What does stochastic rainfall generation and Bayesian extreme value analysis mean for Water

Resource Planning

For the Water Resources Management Plan 2019 (WRMP19), Anglian Water assessed the return period of historical

and stochastic droughts with particular reference to 'severe' or 1 in 200 year return period events. This required reanalysis

of historical events using up-to-date extreme value techniques, as well as the development and analysis of

stochastically-generated droughts which were different in nature and severity to historical references. This talk

discusses the Met Office's role as a leader in weather and climate science, with advanced expertise in statistical

analysis of extreme events such as multi-year drought, in providing supporting information to Anglian Water for their

WRMP19 which addresses current and future risk of water scarcity in their catchment areas. This includes: An

evaluation of a stochastic rainfall dataset using a spatially and temporally coherent generator1 in the context of

drought planning and an outline of further statistical methods that were applied to the generator configuration

regarding application of an atmospheric climate pressure index; Discussion of the difficulties associated with evaluation

of return levels for multi-year drought events and introduction of the prototype Bayesian extreme value analysis

method it has used in order to overcome these challenges; Potential further developments of the Bayesian Extreme

Value analysis technique and other statistical analysis techniques available to drought planners to assess drought in the

context of a changing climate will be discussed; A final word on methods applied to the rainfall generator dataset so

that Anglian Water could evaluate the potential risk associated with future climate change using UKCP09 and how

this might differ given the more recent outputs of the UKCP18 project. 1. Serinaldi, F. and Kilsby, C.G., 2012. A

modular class of multisite monthly rainfall generators for water resources management and impact studies. Journal of

Hydrology 464-465, p. 528-540

Dr Christopher Nankervis Weather Logistics Ltd

Use of Copernicus seasonal climate forecast model data to improve the accuracy of long-term

forecasts: the UK Summer Rainfall Insights project

Summer rainfall variability is the most common cause of agricultural losses, accounting for production losses of up to

30%. Salads and field vegetables are especially prone to dry summers with demand on water resources. Combined

with high temperatures that stunt crop growth, summer droughts can wreak havoc for the supply of fresh produce to

our supermarkets. With access to Copernicus seasonal climate forecast model data, we now have the ability to

improve the accuracy of long-term forecasts by combining open source model data with field- level climate and

historical daily data records. This stands to revolutionise the way that farmers operate to better optimise their crop

production through actionable decisions. With more accurate long-term forecasts large-scale growers can better

select sites based on soil moisture availability, delay sowing, select drought tolerant crops or better plan their water

resources. The result is a future of farming less vulnerable to the seasonal weather variability, higher yields and

sustainable produce for British supermarkets. Our European Space Agency-funded project, UK Summer Rainfall

Insights (UKSRI), aims to develop a new summer rainfall forecasting service for release in summer 2019. This will

provide daily rainfall analytics at the field-level, providing early information about upcoming droughts in the UK.

Ragab Ragab CEH

Study of the drought risk in different UK catchments under future climate and land use changes.

Ragab, Ragab; Afzal, Muhammad1; Blake, James1 and Kaelin, Alexandra.1

This study aimed at investigating the impact of climate and land-use changes on drought severity for different

catchments across the UK from North to South and from West to East namely, Eden, Don, Frome, Bevills Leam,

Pang, Ebbw and Fowey. A physically based distributed catchment-scale model (DiCaSM) was applied. The catchment

area of the studied catchments varied from over 150 km2 to over 300 km2. In all studied catchments the severity of

the historic droughts was most obvious in the 1970s, as well as those of the late 1980s, the 1990s, 2003 and 2012.

The severity of the drought varied from one catchment to another, mainly due to the geographical location of the

catchment, seasonal variability of the rainfall, prevailing temperature and land use practices. The DiCaSM model was

calibrated using the measured stream flow. For most of the studied catchments the Nash- Sutcliffe efficiency factor

(NSE), as an indicator of goodness of fit, gave a value of above 0.9 during the model calibration period, and a NSE

value above 0.80 over the entire study period (approx.1961-2012) during the validation process. The uncertainty

analysis supported the good model performance result as the measured streamflow fell within the model envelope of

5 and 95% likelihood-weighted quantiles with acceptable containment ratio (CR).

[Continued overleaf]
---
Speakers

Day 1: Parallel Session 1 Climatology and Hydrology – Pichette Auditorium continued

[Ragab continued from previous page]

For the future time periods (the 2020s, 2050s and 2080s), under UKCP09 low, medium and high emission scenarios,

annual river flow decreased up to 10% with significant variation between the seasons. For instance, summer stream

flow under high emission scenarios for the South-East catchments decreased by 50% by the end of century whereas in

the North the decrease was slightly below 30%. Although climate models projected an increase in winter

precipitation, this increase was outbalanced by the increase in evapotranspiration. Overall, in all studied catchments

water losses by evapotranspiration significantly increased leading to an increase in soil moisture deficit and a decrease

in the streamflow and groundwater recharge. Modelling results revealed that under the climate change projections,

soil moisture deficit and evapotranspiration would increase under medium and high emission scenarios; also the

frequency and severity of the drought would be higher. The impacts of the land use changes on water resources, such

as stream flow and ground water, had less severe impact than the impact of climate change. However, for sustainable

food production, there is a need to replace highly water- consuming crops with drought tolerant crops in order to

produce adequate yield and minimize the impact of climate change. These findings could help in planning water

resources, devise better water management and provide important information for decision makers, water managers,

policy makers and stakeholders, as well as in mitigating the climate change impact on water resources availability.

Day 1: Parallel Session 2 Drought Impacts – The Harold Lee Room (2 nd floor)

Kirsti Ashworth Lancaster University

The effects of the hot, dry conditions of 2018 on natural ecosystems: findings from Wytham

Woods, Oxfordshire

On 22nd June, 2018, the UK Met Office officially declared a heatwave across the British Isles. Hot, dry conditions

persisted in southern England until 8th August with temperatures amongst the highest recorded and many areas

experiencing ~60 consecutive "dry days". While the impacts of these conditions on agricultural productivity were

widely reported, less attention was given to the effects on natural ecosystems. Here we report the findings of a

measurement campaign in Wytham Woods, Oxfordshire, during the 2018 growth season (May-Oct). Oxford

University's long-term ecological research site at Wytham Woods is a mixed deciduous woodland, dominated by

native UK tree species, particularly oak, beech and hazel. Measurements were made at multiple heights from a 15m

high walk-up platform in a closed-canopy old-growth area. Concentrations of CO2 and the plant volatile isoprene

were measured continuously at 0.53 (ground-level), 7.3 (understorey), 13.2 (mid-crown) and 15.3m (top of canopy)

above ground. These were supplemented with occasional leaf gas exchange and volatile sampling via a LiCor-6400.

These samples were subsequently analysed in the laboratory by gas chromatography-mass spectrometry (GC-MS).

Key meteorological variables (air temperature, photosynthetically active radiation (PAR), relative humidity and

windspeed) were also recorded. Satellite retrievals of normalised difference vegetation index (NDVI) and

photochemical reflectance index (PRI) were used as an indicator of ecosystem health. Overall we found that volatile

emissions tracked photosynthesis early in the season, increasing substantially as temperatures rose. As the drought

intensified, photosynthesis and isoprene emissions abruptly dropped, indicating the woodland had reached a threshold

of water availability. Following this, isoprene emissions became decoupled from gas exchange and by August had

virtually ceased. Both NDVI and PRI showed the same time series, with a marked drop coinciding with the

"shutdown" observed on the ground. While canopy-scale photosynthesis recovered quickly to pre-drought levels on

re-wetting, isoprene emissions did not resume suggesting depletion of carbon stores within the trees. Our results are

consistent with the hypothesis that isoprene protects plants from oxidative stress associated with high temperature

but they additionally indicate a tipping point beyond which plants no longer invest in isoprene synthesis, thereby

potentially exacerbating temperature effects during prolonged heatwaves.

Jill Thompson CEH

Impact of reduced rainfall on the growth and development of plants in British semi-natural

grassland: a rainfall manipulation study

As part of the Drought Risk and You project (DRY project) a field experiment was set up on two locations within

each of three river catchments; the Bristol Frome, Sheffield Don and Fife Eden. Metal frames were used to support

clear Perspex gutters that were arranged so as to intercept approximately 50% of incident rainfall. Similar frames but

with roofs that allowed all rainfall to pass through allowed us to assess any effects of the frames and roofs, while plots

without frames and roofs were untreated controls. The experiment ran for three years from October 2015 to

October 2018. Automatic weather stations were used to record weather conditions, especially rainfall and soil

moisture within the experimental plots. Plant growth and development was monitored by biomass sampling, recording

species composition and % cover and measurement of the height of selected species. Preliminary examination of the

data from the Frome catchment suggests that where the sward has a rich species composition it was able to tolerate

reduced water supply over the three year period, and there were subtle differences in the response of different

species at the sites.
---
Speakers

Day 1: Parallel Session 2 Drought Impacts – The Harold Lee Room (2 nd floor) continued

Daniela Anghileri University of Southampton

Strengthening research capabilities for addressing water and food security challenges in

sub-Saharan Africa

Most of the communities in sub-Saharan Africa (SSA) are largely dependent on rain-fed agriculture and pastoralism for

their livelihoods and, as such, they are very vulnerable to weather and hydrological variability. Droughts are indeed

amongst the main causes of fatalities and economic losses in SSA. To effectively address water and food security

challenges, it is necessary to understand the complex interactions between the available water resources, including

both blue and green water; the resilience and coping strategies of the local communities to water scarcity and the

large scale impact of national and regional policies on food availability and access. The project "Building research

capacity for sustainable water and food security in drylands of sub-Saharan Africa" (BRECcIA) is a collaborative

research programme which aims at advancing knowledge of food and water security in three SSA countries: Ghana,

Kenya and Malawi. The project is funded under the Research Councils of United Kingdom (RCUK) Global Challenges

Research Fund (GCRF) programme call for growing research capability to meet the challenges faced by developing

countries (GROW). BRECcIA comprises 6 universities located in 4 countries (UK, Malawi, Kenya and Ghana), and

partnerships with 8 international organisations to carry out impactful and high- quality research aiming at positive

changes in policy and practice for sustainable water and food security. This contribution presents the BRECcIA

project, the methodological framework to address water and food security based on the co-production of the

research questions and activities among the different institutions involved in the project and a series of different

stakeholders (from local communities to policy makers), its expected outcomes and impacts, and some preliminary

results on water resources and drought assessment in the three SSA countries.

Stephen McGuire The Scottish Environment Protection Agency (SEPA)

Assessing the impacts of water scarcity in North East Scotland through the summer of 2018. R.

Gosling*, S. McGuire*, I. Milne* and M. Wann* * Scottish Environment Protection Agency,

Graesser House, Fodderty Way DINGWALL IV15 9XB

The summer of 2018 saw the most prolonged water scarcity event in North East Scotland for decades. Coming off

the back of two consecutive dry winters, low summer rainfall accompanied by higher than average temperatures led

to widespread impacts across the region. The River Spey was at or below a very low flow level (Q95) for 76 days in a

row, the longest such period in its 66-year record. Furthermore, the period of soil moisture deficit across the region

stretched from mid-April to mid-November, a full month longer than in the hot, dry summer of 1976. This paper

presents some of the record-breaking statistics of the 2018 event and reports on the evidence of both ecological and

socio-economic impacts that resulted from it. These impacts ranged from severe wetted river habitat shrinkage to

high water temperatures and fish deaths, and from the cessation of whisky production to crop failure and private

water supply issues. The Scottish Environment Protection Agency has a key role to play in reporting water scarcity

information, coordinating the collection of evidence and liaising with water users where action needs to be taken to

protect the water resource and water environment and maintain supplies for as long as possible. These actions are

set out in Scotland's National Water Scarcity plan and this paper will look at the implementation of this plan in its first

major test since its adoption.

Frederick Otu-Larbi Lancaster University

Modelling the effects of drought stress on photosynthesis and latent heat fluxes. Frederick Otu-

Larbi (1), Adriano Conte (2), Kirsti Ashworth(1), Oliver Wild(1), Silvano Fares(2) (1) Lancaster

University, United Kingdom (2) Council for Agricultural Research and Economics, Italy

Water availability is an important factor in plant processes such as photosynthesis, transpiration and carbon

assimilation. Plants exposed to drought stress show diminished growth and productivity. However, ecosystems that

are routinely subjected to drought stress have developed adaptations to minimise the impacts of low water

availability. Mediterranean climates are characterised by high temperatures and prolonged droughts during the

vegetative season, making them ideal for studies that focus on modelling the impact of water deficit on plant

physiological processes. We incorporate an empirical formulation to account for water stress into three methods of

estimating plant physiological processes within a one-dimensional canopy-exchange model (FORest Canopy-

Atmosphere Transfer; FORCAsT): the empirical Jarvis-type model (JV) and the semi-empirical approaches developed

by Ball-Woodrow-Berry (BWB) and Medlyn (MD). We tested our models with data from two forest sites with

Mediterranean climates where continuous measurements of plant physiological parameters such as latent heat (LE)

fluxes and Gross Primary Productivity (GPP) have been ongoing for several years: a Holm oak forest located inside

the Presidential Estate of Castelporziano (CPZ), Rome, Italy and a Ponderosa pine forest at Blodgett, on the

California Sierra Mountains, USA. We evaluate the ability of each model formulation to estimate latent heat fluxes and

gross primary productivity (GPP) at each of these sites, first without and then with the impact of soil moisture deficit..

Our results show that for both sites, the inclusion of the effects of low soil water availability in the summer improves

model estimates of LE and GPP. This agrees with previous findings from laboratory experiments and modelling studies

and highlights the need to incorporate drought stress effects in land surface models.
---
Speakers

Day 1: Parallel Session 2 Drought Impacts – The Harold Lee Room (2 nd floor) continued

Susan Davies University of Edinburgh

Effective risk management against the threat of drought impacts on the Scottish timber industry

This requires the provision of quantified information on the probabilities and consequences of drought in a form that

supports policy and strategic decisions on the choice of tree species that provide the greatest resilience against

this threat. Our innovative approach derives location-specific risk versus return comparisons of 20 commercial timber

species in Scotland by quantifying the impact of drought risk under a high emission climate change scenario, to

potential return modelled as change in volume of timber production. Sitka is the main timber species in Scotland

accounting for over half of current commercial plantations. We assess whether the yield potential of Sitka spruce is

likely to be sufficiently high to cover its relatively high susceptibility to drought compared to rival species over the

next rotation, and whether its dominance is likely to continue into subsequent rotations in regions predicted to

experience high water deficits. We identify whether there are viable alternatives to Sitka during the next rotation

with a higher drought tolerance defined as within a threshold of 90% of Sitka's yield. Since diversification increases

resilience against other risks (such as pest and diseases), our analysis provides strategic regionally coherent

information on suitable alternatives to Sitka that increase resilience. Such a risk management strategy would help

protect commercial softwood timber volume production in an industry worth almost £1billion per year to the

Scottish economy. The modelling approach outlined could easily be used to assess alternative timber species in other

regions where comparable data is available.

Peter Kettlewell Harper Adams University

Mitigating drought impact on crop yield by applying film-forming polymers

Irrigation is used to mitigate or eliminate drought impacts on only about 20% of the world's crop area. Most of the

crop area is thus dependent on rain and more-prone to short-term drought impacts. Members of the Drought

Mitigation Group at Harper Adams University are researching a potential mitigation method, applying film-forming

polymers, for drought impacts in rain-fed cropping. This method can, however, be detrimental to plant growth and for

many years has only been used on ornamental plants, where growth and yield is less important than in crop plants.

The novelty in our research is to time the application just before the most drought-sensitive stage of crop plant

development, when detrimental effects on growth are more than offset by reduced water stress. We have shown

benefits in common wheat (Triticum aestivum L.) and oilseed rape (Brassica napus L.), with as much as a 42%

improvement in crop yield in one experiment on droughted wheat. Current research is investigating the mechanism

of this technique, in order to define more-clearly the circumstances which can reliably lead to mitigation of drought

impacts on crop yield in rain-fed agriculture.
---
Speakers

Day 2: Plenary – The Pichette Auditorium

Kerstin Stahl University of Freiburg

Customising drought indices to improve drought impact monitoring and prediction

Drought risk management, including monitoring and early warning, still relies primarily on drought indicators selected

or combined from hydro-meteorological variables, such as precipitation, and in fewer cases on modelled soil moisture,

observed or modelled streamflow, or remotely sensed vegetation health. To guide the selection and give more

meaning for drought management decisions, a number of studies have investigated empirically the linkage between

these indices and records of drought impact occurrence. These studies have been inspired by the damage function

approach employed in risk assessments of other natural hazards. Based on studies in Europe and the USA this

contribution illustrates challenges and potentials of validating the suitability of indices with impact information,

customizing thresholds for warnings and finding impact-indicator link functions that may be suitable for a prediction of

the probability of impact occurrence. Impact information was derived from large archives of text-based, coded impact

reports, such as the European Drought Impact report Inventory and the US Drought Impact Reporter and links and

link functions were analysed at various spatial scales for various subsets of impact types and drought events. The

identified challenges include the rapid decrease of data when subsetting for specific impact sectors or smaller spatial

areas, the choice of the link model, and a variety of potential dynamic changes to the underlying conditions between

and even during drought events. Based on the assessment, recommendations for a successful and applicable link model

include in particular a careful pre-processing of index and impact data and more systematic impact data collection in

the future.

Mike Morecroft Natural England

Drought impacts on the natural environment and lessons for climate change adaptation

The Earth's climate has changed as a result of greenhouse gas emissions and will continue to change, even if emissions

are successfully and quickly reduced. Adaptation to climate change is therefore essential and an increasingly

recognised priority in environmental management and policy. An increased risk of drought, especially during hot, dry

summers is one of the key aspects of climate change that we need to adapt to in the UK. Over the last few decades

there have been a number of periods of drought and we can look at how these affected the natural environment to

get a better understanding of the threats we face. This shows that drought affects a wide range of ecosystems and

species. Amongst species some are adversely affected but others can benefit. The risks are greatest when a dry

summer follows a dry winter as soil water and flow in rivers is already low at the start of the summer. The Impacts

are however modified by soil type, catchment and management. The indirect effects of drought, such as increased

abstraction and, as graphically shown in the summer of 2018, increased wildfire risk, can be just as important at the

drought itself. Looking to the future, there are a range of potential adaptation measures including: wetland

restoration, reducing abstraction, better control of water levels in protected sites and diversification of tree species to

decrease risks to woodland. Climate change adaptation can't be a stand-alone activity, it needs to be thoroughly

integrated into the way organisations operate and I will illustrate this from our work in Natural England.

Ian Holman Cranfield University

Taking lessons from the 2018 drought forward into increased drought resilience in the agricultural

sector

The 2018 drought had widespread and varied consequences for all parts of the agricultural sector in the UK. This

presentation looking back at 2018 will cover four main components. Firstly, the unusual meteorological characteristics

of 2018 that proved so challenging for UK agriculture will be described. Secondly, a quantitative analysis of the wide

range of impacts of the 2018 drought on the livestock, rainfed and irrigated agricultural systems will be described,

based on reporting within specialist sector publications, identifying both negative and positive impacts of the drought.

Thirdly, the range of short-term coping and longer term strategic reported responses to the drought will be

described. Finally, building on the preceding analyses and recent interviews with farmers, the presentation will reflect

on three lessons from the 2018 drought and how they might be taken forward to support increased drought resilience

in the agricultural sector: (1) the need for improved strategic planning at all levels and scales, from farm to catchment

to supply chain; (2) the need to enable best use of licenced water during drought through improved forecasting,

monitoring and evidence-based decision making; and (3) the need to enable the continuing de-synchronisation of

irrigation demand and irrigation abstraction through investment in winter storage.
---
Speakers

Day 2: Plenary – The Pichette Auditorium

Anne van Loon Birmingham University

Feedbacks between drought and society

An important aspect of sustainable management of future droughts is reducing vulnerability and increasing

preparedness and resilience. However, little is known about drought vulnerability and resilience and how these change

over time. The main obstacles are a lack of data and a lack of commonly accepted approaches. In this presentation, I

show examples of research that aimed to distinguish and visualise (changes in) vulnerability. For communities,

preparation to future droughts is challenging as it can be hard to envisage future drought and possible impacts.

Barriers exist in the exchange of experience and knowledge between groups within a community or between

community and government actors. We combined narrative techniques and hydrological model scenarios to reveal

people's vulnerabilities to drought and explore routes to future resilience. This approach allowed participants to use

their imagination of future drought events and exchange ideas for drought preparation between different

intergenerational groups and professional occupations. The narratives were a useful tool in conversations with

government representatives about including community vulnerability in drought management. For society, it is

important to be aware of unintended consequences of management measures that focus on reducing the hazard.

Building reservoirs for water supply can possibly lead to counterintuitive dynamics that should be considered: supply–

demand cycles and reservoir effects. The former describe instances where increasing water supply enables higher

water demand, which can offset the initial benefits of reservoirs. Reservoir effects include cases where over-reliance

increases vulnerability, and therefore increases the potential damage caused by droughts. These examples show that

increasing our understanding of the drivers and effects of drought vulnerability is crucial: we need to know more about

the feedbacks between drought and society to develop sustainable management of future drought events.

Fiona Lobley Environment Agency

2018 dry weather and its impacts; looking ahead to 2019

In 2018 the UK started with drought conditions in Kent then, after a wet spring, came the hot, dry summer

bringing drought to the North West. The incident spread westwards across the country. Over that period the

Environment Agency and others invested significant time and resource into managing and responding to the event.

The EA responded to five times the normal number of environmental incidents, granted drought permits to water

companies and applied for a drought order to protect the environment. The incident is not over. Many parts of

the country have seen improvements in reservoir storage but concerns remain for groundwater levels and filling

farmers' reservoirs. Overall January and February 2019 have had below average rainfall, especially in central and

eastern of England. This has meant a delay to the recharge of groundwater stores and we are now faced with low

groundwater levels stretching from Berkshire through to Norfolk heading into the spring. Farmers are very

nervous about the risk of drought in 2019 and, for most, below average rainfall will reduce production and

increase costs. Even with typical rainfall, we could see environmental impacts in 2019 due to a lag in response from

the dry weather in 2018. There is also a potential for cumulative environmental impacts if we were to experience

another dry summer this year. Without higher than average rainfall over the coming months we could experience

significant impacts on the environment, navigation and the agricultural sector.
---
Speakers

Day 2: Parallel Session 1 Drought Planning & Management – The Pichette Auditorium

Lindsey McEwen UWE & DRY

Integrating science and narratives: a new interdisciplinary approach to develop drought mitigation

strategies

Drought - a diffuse, slowly progressing and pervasive hazard - is a complex 'high stakes' risk that is increasing in the

Anthropocene. As a natural phenomenon, drought can happen anywhere at any time, while also socially constructed

through overuse of water supplies. Issues exist in using specialist science as the dominant evidence- base in: framing of

drought risk communication as "knowledge deficit"; managing drought risk; and mitigating actual droughts. This

presentation explores how, and by what processes, scientific and narrative evidence on drought risk and drought

mitigation might be brought together to support better decision-making for UK drought risk management (DRM) and

more widely. It provides a methodological review of critical points of connection between science and narrative

within the interdisciplinary DRY project (Drought Risk and You), exploring issues that we have had to address in

developing our methodology to innovatively "bridge the knowledge gap". This paper appraises the decisions in

bringing narrative and science iteratively into the same space as DRY's "engaged", participatory methodology has

played out, set against opportunities and barriers for drought risk communication and the nature of "narratives". We

explore potential for science-narrative interaction in terms of "past", "present" and "future" drawing across

exemplars from different methodological concerns: conceiving narrative as data and data as narrative; working with

science as stimuli for narratives (and vice versa); interdisciplinary and inter-professional systems thinking; exploring

roles of visualisation in risk and complexity; co-developing "bite- sized drought science"; scenario-ing to bring

narrative and science together in iterative engagements; co- developing local catchment-based drought impact indices;

and co-designing DRY's "Utility" that draws on science and narrative to support better multi-stakeholder decisionmaking.

This requires cognisance of different ways "evidence" could be used in DRM, building up from individual

household level to non-statutory and statutory organisational decision-makers.

Miranda Foster & Granville Davies Yorkshire Water

Water resources in Yorkshire, UK in 2018: drought management, perception and communication

2018 was an interesting year for water resources management in Yorkshire. Although we are considered to be one of

the most resilient regions in the country when it comes to drought, the severity of the hot and dry weather

experienced from May to August 2018 (in particular), led to a rapid decline in our regional reservoir stocks. At times,

the downward curve of reservoir levels mirrored that from the last significant drought experienced in the region, that

of 1995/96. Despite the significant water resources challenge that the dry weather and at times high demands caused

us, we did not hit formal triggers in our drought plan for either implementing Temporary Use Bans (TUBs) or

requiring drought permits. This was, in part, reflective of the major investment that we made after the 1995/96

drought, leading to the creation of our regional grid system which allows us to move significant quantities of water

around our region. Although we did not hit our formal triggers, by early autumn – and after a very dry October – we

made the decision to submit a number of applications for drought permits. These were intended to help our reservoir

stocks recover over the winter period, by reducing reservoir compensation flows and allowing us to continue to

abstract water from key rivers. This paper will explore lessons learned from the 2018 drought in Yorkshire. In

particular, we will look at issues that we will consider when updating our drought plan to enhance our resilience in

the future. We will review the drought from beginning to end, considering how decisions were made at each stage,

what influenced those decisions and how we worked with the Environment Agency during this challenging time. This

will include looking at the information gathering process and use of common data sources – such as CEH's online

drought portal – to create evidence to support applications for drought permits. Further, the paper will explore

issues around perception and communication in periods of drought. We will consider how our communications

campaign evolved through the year and how we communicated with key external stakeholders and with our own

colleagues.

Amanda Fencl University of California, Davis presenting for Ruth

Langridge University of California, Santa Cruz

Groundwater management in planning for drought: experience from California, USA

Groundwater is a critical water supply source during drought when it compensates for reduced surface water

supplies. At the same time, there is less groundwater recharge. The result in California is that groundwater levels and

storage have decreased over time and many groundwater basins are both degraded and depleted. Declines are

primarily focused during droughts with recovery at other times. Climate change will exacerbate these declines with

projections for higher temperatures and extreme droughts by the end of the 21st century. This will alter the natural

recharge of groundwater including decreased inflow from runoff, increased evaporative losses, and warmer and

shorter winter seasons. These changes will exacerbate already existing groundwater overdraft in many groundwater

basins. Moreover, many areas in the state rely heavily on imported surface water from the Central Valley Project and

State Water Project for groundwater recharge and consumptive use, and this water is projected to be less reliable

and more expensive in the future.

[Continued overleaf]
---
Speakers

Day 2: Parallel Session 1 Drought Planning & Management – The Pichette Auditorium continued

[Amanda Fencl continued from previous page]

This paper explores how groundwater management agencies in California are planning for drought, and new

approaches currently being used that show promise for addressing the more extreme droughts projected under

climate change. First, the paper provides a review of the research on drought and groundwater management in the

state including strategies currently used to address drought. Second, case studies illustrate newer and varied

approaches being used to reduce drought impacts. Highlighted are the different strategies used by groundwater

managers to increase storage that can then be used for drought reserves to reduce vulnerability to the extreme

droughts projected under climate change. Two additional case studies discuss the limits of a drought reserve strategy

and indicate that more is needed to address the range of basin conditions and varied needs of communities reliant on

groundwater. The different approaches presented in this paper to increase groundwater storage specifically for use

during drought are important first steps to proactively manage groundwater to adapt to the higher temperatures and

future extreme droughts projected under climate change.

Mark Smith Hydro-Logic Services (International) Ltd

Recent trends in water resources planning and management

Droughts have potentially huge consequences for the economy, society and the environment. Yet, in being relatively

low frequency and 'chronic events' (rather than being short and sharp episodes like floods), they are typically 'back of

mind' for many customers and the public until the consequences come to the fore. The Water Resources

Management Plan (WRMP) and Drought Plan processes have served both the industry and society well to date.

However, as we increasingly plan for a more uncertain and volatile future, the process of decision-making and

engagement on risk has the potential to be increasingly challenging also. This presentation reflects on recent trends in

water resources planning and management, and the rising importance of planning processes in reflecting the

'consequences' of relevance and interest to customers and stakeholders. In many cases, these can draw on existing

tools and methods to maximise their value in application. The development of new approaches, including linking to

concepts such as natural capital, has the potential to more effectively explore the balance between cost (to intervene)

and avoidance of consequences. Additionally, it potentially enables better dialogue with customers and the wider

population. This paper will also reflect on the challenges and pitfalls of engaging on low frequency events that seem set

to become more frequent, and will address the question as to how communication of risk in future might serve to

help the industry collectively tackle future challenges of drought and water scarcity.

Sevilay Topcu Cukurova University

Implementing Drought Management in Turkey: an institutional pathology

Located in a semi-arid zone, Turkey is highly and increasingly prone to extreme drought events. Turkey has signed the

United Nations Convention to Combat Desertification (UNCCD) in 1994, ratified in early 1998. The first road map

and national action plan in accordance with the convention was prepared by the Turkish Ministry of Environment and

Forestry in March 2005. In 2011, a special unit, the Directorate of Combating Desertification was established under

the (then) Ministry of Forestry and Water Affairs to prepare and implement long-term policies and national action

programmes. This first national action plan however failed to meet the performance criteria in terms of

implementation, monitoring and assessment of the planned actions by 2013. Hence this plan was updated in

partnership with the Food and Agriculture Organisation, financed by the Global Environment Fund, to align Turkey's

National Action Plan with UNCCD's 10-Year Strategy and reporting process in 2014. On paper, Turkey's

management plans to combat drought and desertification are impressive. Their implementation however leaves much

to be desired. Despite droughts being slow-onset, and therefore often predictable (disaster) events, droughts are

subject to crisis management rather than disaster risk management, comprising all stages in the Disaster Risk Cycle.

This contribution highlights a key reason for this poor implementation: the dysfunctional dynamic institutional

landscape in Turkey for drought management. Drought management is distributed over a wide range of institutions,

governed by a plethora of laws and regulations. There are also gaps in the existing water legislation as a whole, and

current laws do not clearly assign authority and responsibility for water-related matters. Sufficient data and an

efficient monitoring system for drought and desertification are lacking. Inter- institutional and inter-sectoral data

sharing, monitoring and traceability has not been fully established. Lack of data and analysis is the primary obstacle for

institutions to develop the appropriate strategies and policies. Additionally, the responsible institutions and even intrainstitutional

directorates are poorly coordinated amongst themselves. The institutions may compete over

responsibilities and resources. Moreover, the relevant water, agriculture, food, forestry and health ministries and

relevant central and local institutions are reorganised every few years, impairing institutional learning and memory in

the drought domain. Accordingly, official evaluations show low levels of motivation and dedication in the involved

public officers due to incessant and unpredictable reshuffles.
---
Speakers

Day 2: Parallel Session 1 Drought Planning & Management – The Pichette Auditorium continued

Caroline King The Borders Institute & GeoData Institute co-authored with

Daniel Tsegai Programme Officer, UNCCD Secretariat

A review of methods for drought impact and vulnerability assessment

Droughts emergencies are occurring with increasing frequency and magnitude globally. Their economic and social

impacts are underestimated, particularly in the marginal dry areas of developing countries. Where drought risk

assessment and management are inadequate, drought menaces exacerbate threats to global security and well- being.

In the framework of a UN-Water Initiative on ''Capacity Development to support National Drought Management

Policies'' (NDMP), the World Meteorological Organisation (WMO), the United Nations Convention to Combat

Desertification (UNCCD) and the United Nations' Food and Agriculture Organization of the United Nations (FAO)

have initiated a review of approaches and methods for drought impact and vulnerability assessment. This review

explores the strengths and weaknesses of available approaches, tools and methods for assessing drought impact and

vulnerability at the national, local and global levels. Such assessments should be integrated across sectors, scales and

timeframes, and should include particular consideration of the most vulnerable groups. They should reveal adaptation

capabilities, priority actions to enhance them and the economic case for these actions. Findings suggest that many

published assessments fall short in their consideration of the longer-term impacts and vulnerabilities associated with

hydrologic and socio-economic drought. These impacts and vulnerabilities are man-made via urban development and

land and water management patterns. They are therefore largely preventable or manageable. Recommendations focus

on the opportunity for improved international knowledge exchange and capacity building in developing countries to

enhance drought impact and vulnerability assessment. International processes such as the IPCC are playing a critical

role in building capacities for the assessment of loss and damage associated with meteorological and agricultural

droughts. However, the national Parties to the UNCCD and its Drought Initiative could do more to focus the

attention of sovereign scientific processes on pre-emptive assessments of the man-made hydrologic and socioeconomic

vulnerabilities to drought. This should enable better informed actions at all levels to stop preventable

drought crises from exacerbating threats to the global economy and security.
---
Speakers

Day 2: Parallel Session 2 Drought Impacts/Communities, Risk Perception & Communication –

Harold Lee Room (2 nd floor)

Kevin Grecksch University of Oxford, Centre for Socio-Legal Studies

Achieving water efficiency through social norms in the public sector

Water efficiency is a cornerstone of water resources management and public water supply. Yet typical water

efficiency campaigns in England and Wales are aimed at private domestic customers and private businesses. In

addition, existing water efficiency campaigns focus on two key drivers of water-saving behaviour - technological

devices and financial incentives - but leave unexplored the potential of social norms to create behavioural

commitments to water-saving. In our research we focus on community standards held by a group of water users in

relation to efficient water use, with such norms formed and applied, in settings with a public character, e.g. in the

work place, educational or NHS institutions. The public sector is interesting for a variety of reasons. The UK public

sector employs more than five million people, it is a diverse workforce and it is this workforce that spends a large

amount of their time in offices or workshops using water for toilets, washing, cleaning or in the office kitchen. The

majority of English and Welsh water companies do include, for example, schools in their water efficiency campaigns

but in the context of either providing audits or technological devices to save water or educational campaigns aimed at

children. Our research focuses on the 'missing link' of social norms, i.e. informal understandings that guide and govern

our behaviour in society. We start from the idea that social norms may play a significant role in making technological

devices and economic incentives work for water efficient behaviour. Our research is based on an extensive academic

and grey literature review that included topics such as water efficiency, water behaviour, the use of behaviour change

methods, social norms and resources efficiency strategies in the public and private sector, for instance energy saving

initiatives. The grey literature included documents by WaterWise, Ofwat, Defra, EA and other regulatory bodies. We

conclude that water-saving behaviour is influenced not just by individual decisions, but social and psychological drivers

such as social norms, values, group behaviour and external factors: culture, family behaviour, infrastructure and

regulations. This is reflected in current theoretical approaches, which we reflect upon. How behaviour change is

framed and communicated is another important factor in order to change behaviour and we will discuss tools such as

water-saving competitions to increase water-saving behaviour, for example between schools or departments. Thus,

reference group thinking, for example by people sharing a working space, can be a motivational factor in its own to

save water. The presentation will also discuss our main output, a Primer document aimed at water companies,

regulators and policy makers (Defra, EA, NRW, Ofwat) and water-related NGOs and industry bodies, such as

WaterWise, Friends of the Earth, WWF, Water UK or UKWIR.

Ruth Larbey UWE

Engaging consumers around water scarcity and water saving

Public water companies in the UK operate within a fine balance – tasked with keeping the taps on, they also have a

keen understanding of the actual extent and sustainability of the UK's water resources – and with that comes a

responsibility and a drive to communicate these factors to the public. This spoken presentation will feed back the

results of research into water company practices to engage consumers around water scarcity and water saving.

Gathered via interviews with UK water companies' communications teams, it will profile some of the latest and most

innovative trends and practices, in order to contribute to a multi-sectoral and multi-disciplinary conversation about

how to develop the UK's water resilience.

Sandra Santos Wageningen University

Improving institutional frameworks integrating local initiatives from communities exposed to

drought and water scarcity in Ecuador

In recent years Ecuador has been particularly susceptible to climate variability and extreme events. In the

transboundary Mira River Basin (MRB) in the North of Ecuador drought and water scarcity are serious hazards. As a

case study, a water project in the Imbabura province, which is in the MRB, was studied to explore various aspects of

how to improve existing institutional frameworks integrating local initiatives from communities exposed to these

phenomena. The data collected was based on local experiences and historical data to better understand rainfall

variability at the local scale. It is also proposed to use the basin water management plan for the water management

authority SENAGUA to support decision-making.

The information shows poor involvement from the community-based organizations (irrigation boards), indirectly

triggering conflicts, e.g. when there is not enough water; when the agreements on collaboration between local

politicians and the communities are unsustainable; or when tension arises between water users over water rights and

claims. As a result, some scenarios were generated by improper management resulting in political considerations

rather than social concerns, leading to several projects to meet the demand for water within an area. This basin, with

a relative high risk to drought, shows: a scaling up on all water scarcity issues and in all their problem dimensions; that

the evaluations that have been carried out on the effectiveness of this project could not fulfil their objective; that all

the institutional elements required to bridge water policies with the needs of the population are not well known. This

research is the first basin overview of the relevant sources concerned drought and water scarcity.
---
Speakers

Day 2: Parallel Session 2 Drought Impacts/Communities, Risk Perception & Communication –

Harold Lee Room (2 nd floor) continued

Antonia Liguori Loughborough University

Learning around 'storying water' to build an evidence base to support better decision-making in UK

drought risk management

While the 'narrative turn' is well-cited in the social sciences, and storytelling approaches are embedded in arts and

humanities (A&H) practices, this paper reflects on learning around 'storying water' gained within the interdisciplinary

DRY (Drought Risk and You) project. Over four years, DRY has worked to expose and incorporate 'the hidden

story' – in terms of both type of risk (diffuse, pervasive) and 'less heard' voices (different publics, sectors,

knowledges), to build an evidence base to support better decision-making in UK drought risk management. This has

been underpinned by meaningful co-production and participatory research approaches. DRY has worked across seven

UK case-study river catchments, along hydro-meteorological and other gradients, exploring how storytelling might

help reframe (indeed commence, in some cases) different drought discourses. This presentation reflects critically on

challenges and opportunities in developing context-driven storytelling approaches, the different research evidence

they garnered (e.g. on drought myths; cultural water behaviours; systemic thinking; science-narrative interactions) and

the knowledges they can unearth for those in research, policy and practice. Whilst DRY faced opportunities and

challenges in adapting well-established storytelling methods, our processes built in iterative opportunities to reflect

collectively on, and confront, what can be understood as 'storytelling'. This involved adopting and re-adapting multiple

narrative approaches, with the awareness and willingness to take risks and receive unexpected responses. Our

processes aimed to advance knowledge on how drought - past, present and future - impacts different communities in

nuanced ways, and importantly, their potential agency in adaptation. Alongside, statutory resilience organisations are

now developing 'communication' campaigns that require better understandings of 'storying methods' in exploring

people's wider water relations.

Prof Paul Whitehead University of Oxford

Impacts of climate change on water quality affecting upland and lowland rivers, wetlands and delta systems

There are likely to be significant impacts of climate change on water quality affecting upland and lowland rivers as well

as wetlands and delta systems. Changing precipitation, temperature and flow regimes will alter catchment dynamics

flushing increased loads of diffuse pollutants into rivers. Such changes will also alter dilution downstream, enhancing

the concentrations of point source pollutants in dry flow periods. Changing temperatures and residence times will

alter chemical kinetics speeding up organic decay processes, which will affect oxygen regimes and thereby ecology.

These impacts could be serious and demand alter management and control strategies to ensure water scarcity is not

additionally limited by water quality issues.

Cedric Laize CEH

The relationship between a drought-orientated streamflow index and a series of riverine biological indicators

Relationships between a drought-oriented streamflow index and a series of riverine biological indicators have been

investigated at c80 sites in England and Wales in order to assess: (i) the impact of drought conditions on river

ecosystems; (ii) whether the streamflow index could be used successfully as an early-warning indicator of drought

impact on river ecosystems. Results show some significant, albeit limited, response to drought conditions as well as

antecedent conditions (eg flow indicator 6 months before, 12 months before). Overall, when flow conditions are

drier, biological indicators decrease. Decrease magnitude varies greatly and at some sites, the actual ecological impact

is limited. There are some significant but limited patterns of the biological indicator response slope to flow in terms of

catchment characteristics.

Jaeyoung Lee University of Oxford

Water quality modelling in the Severn-Thames river systems and assessment of the impact of a water

transfer in drought

Water quantity and quality are often dealt with as separate issues. Water resources management plans aim to ensure

a secure water supply over some future planning horizon, whilst setting aside sufficient water to allow a healthy

aquatic environment in rivers. However, the health of the aquatic environment is also profoundly influenced by water

quality and in a changed climate. Changes in water quality will vary dynamically and spatially and a process-based

modelling approach is required to understand the complexity of interactions, especially during drought periods. A key

water resource issue for the future in the UK is the supply of water to London over the next 50 years. Whilst a new

infrastructure is being considered an alternative plan is to transfer water from the Severn to the River Thames.

Possible issues include the risk of supply and impacts of the transferred water on the Thames and water supply. The

aim of this modelling study has been to assess water quality variables including dissolved organic carbon, nitrogen and

phosphorus in the Thames and Severn and the impacts of water transfers from in drought or low flow years. The

Integrated Catchments Model (INCA) models have been set up for both the Severn and the Thames and the model

calibrated against observed flow and quality data for the purpose of study. A set of hypothetical water transfers have

then been considered. The impacts of the water transfers are fairly minimal under normal flow conditions. However,

during drought years a rise in the Thames is likely to occur. Although the model results do not show an imminent

issue, future drought conditions and climate change might stress the system towards a more problematic situation.
---
Posters

Peter Cook, Emily Black & Anne Verhoef University of Reading

Variations in the West African Monsoon from reanalysis and model results

Rainfall in West Africa is strongly seasonal and since at present many people have no other water for irrigation it is

important to understand the variations in the monsoon. Large interannual and decadal variations in the amount of

rainfall are seen in ERA-Interim reanalysis, and in the results from the Met Office Unified Model (GA3) ensemble of

high resolution atmosphere-only model runs with the JULES land-surface scheme and OSTIA sea-surface temperatures

(UPSCALE). This work is part of BRAVE2, "building understanding of climate variability into planning of groundwater

supplies from low storage aquifers in Africa (second phase)", funded under the NERC/DFID/ESRG Unlocking the

Potential of Groundwater for the Poor (UPGro) program.

John Bloomfield & Matthew Ascott British Geological Survey

Understanding the impact of climate change on borehole yields from fractured aquifers

This is essential for future water resources planning and management. Although the impact of changes in hydraulic

conductivity with depth (VKD) on groundwater levels is well established, the relative significance of climate change and

VKD on borehole yield estimates is poorly understood. We hypothesize that VKD exerts a significant additional

control on borehole yields under climate change which has not been considered in yield assessments to date. We

developed a radial groundwater flow model of an idealised pumping borehole in the fractured Chalk aquifer of southeast

England, and applied 11 VKD profiles based on a simple conceptual representation of variability in hydraulic

conductivity with depth in the Chalk. For each VKD profile, we applied 20 climate scenarios and six constant pumping

rates for the period 1962 – 2014. We then estimated borehole yields based on the derived lowest pumping water

levels during key drought years (e.g. 1976). We show that VKD is more significant than changes in climate in

controlling lowest pumping groundwater levels. Hydraulic conductivity is as significant a control as climate on borehole

yields, although responses are highly non-linear associated with pumping water level-pumping rate curves intersecting

key yield constraints (e.g. pump intake depth, major inflow horizons). It is recommended that variations in hydraulic

conductivity with depth are taken into consideration in future assessments of borehole yields under climate change.

The approach presented is generic and can be applied across different aquifers where vertical heterogeneity is present.

Catherine Grasham University of Oxford

A transdisciplinary approach to understanding drought risks in the Awash River basin,

Ethiopia

The Awash River basin in Ethiopia is of high economic importance in the country, with productive activities

contributing around 30 percent to national GDP. Population growth, urbanisation, irrigation expansion and emerging

industries are putting pressure on the quality and quantity of available water resources. Drought and flood events are

endemic and their management is critical for mitigating water risks and achieving sustainable development. This

research paper offers a transdisciplinary approach to a more holistic understanding of drought risks. Previous research

has used global, regional and basin scale hydro-climatic models to inform decision-making around optimum investments

for drought management. However, these analyses have often overlooked the varying benefits to different water users

(domestic, irrigated agriculture, rainfed agriculture, industry, livestock). This research co-produces knowledge across

disciplines using basin scale climate hazard mapping, water resources modelling and risk perspectives from interviews

and discussions with different water users at the woreda (district) level. We find that risk is not homogenous and

consists of social, economic and cultural dimensions. The adaptive capacity of water users is influenced by water

source, access to water technologies and position in the basin. Water users utilising groundwater were found to be

more resilient and industries with sophisticated water pumping technologies experienced less impact on production

during a drought year. Attempts to mitigate risks upstream were exacerbating negative impacts on downstream

groups. We have found that a transdisciplinary research design allows drought risk thresholds to be developed for

different water users, which is necessary to support equitable water management outcomes. Our findings are

particularly relevant for decisions makers concerned with ensuring that investments to mitigate drought risks benefit

the poor.
---
Posters

Emma Cross, Emma Neachell & Tom Entwistle Environment Agency

The 2018 heatwave; responding to and managing the impacts on people and the

environment in Thames Area

June and July 2018 saw exceptional temperatures across Thames Area – in common with most of the UK. These hot

and dry conditions extended into early August, and resulted in the summer being the joint warmest on record for the

UK. The Environment Agency's (EA) role is to monitor, report and act to reduce the impact of such periods of

prolonged dry weather on people and the environment. We manage and coordinate our response to prolonged dry

weather and its impacts through the Thames Area Drought Plan. As the heatwave escalated in June, Thames Area

received an increase in reported environmental incidents relating to dry weather. In response to this, the drought

team, made up of multi-disciplinary specialists was convened. The drought team decided that sufficient indicators in the

Drought Plan had been met to progress to a prolonged dry weather incident. Thames Area continued to respond to

environmental incidents related to exceptional temperatures throughout July and into August. There were numerous

reported incidents of blue-green algal blooms in rivers and lakes and associated reports of fish in distress. Some

resulted in emergency fish rescues. To help farmers (and other abstractors), a more flexible approach to water

abstraction was adopted. Whilst the heatwave largely dissipated in August, dry conditions in the preceding months

meant that the River Thames Waterways team experienced operational challenges balancing the needs of navigation,

public water supply and the environment. Dry weather related impacts were focused around the Upper Thames,

where the Oxford Watercourses Low Flow Operating Procedure was put in place to protect watercourses around

Oxford. Although Thames Area only received 47% Long Term Average (LTA) rainfall between May and October,

November saw 123% of the LTA rainfall. In spite of this, month-end soil moisture deficits remained above average

resulting in negligible recharge to groundwater. This in combination with hydrological projections, meant that the focus

switched to planning for continued dry weather. The EA is currently using reasonable worst case scenarios from

monthly hydrological projections to assess the water situation for the end of winter and early spring.

Feyera Hirpa, Ellen Dyer, Rob Hope, Daniel Olago & Simon

Dadson University of Reading

Finding sustainable water futures in the Turkwel River basin, Kenya under climate change

and variability

Climate uncertainty, land use, demographic, and political changes increasingly present defining challenges to water

resources planning worldwide. The challenges are most acute in low-resource contexts with limited data,

unpredictable rainfall, and unmet water needs for the vulnerable and poor. Here a novel decision-scaling approach was

applied to model hydro-climatic risks in the Turkwel River basin, Kenya, where frequent droughts and rapidly growing

water demand cause high level of water scarcity. A climate response surface was constructed by combining a water

resource system model, historical climate data, and a range of water demand scenarios. Results show that climate

variability and increased water demand are each important drivers of water scarcity in the basin. Increases in water

demand due to expanded irrigation exert the strongest influence on the ability of the system to meet water resource

supply requirements. In all cases considered, irrigation expansion has negative implications for domestic supply

requirements in the rapidly growing Lodwar town and environmental flows. The climate response surface offers a

visual and flexible tool for decision-makers to understand the ways in which the water resource system responds to

climate variability and development scenarios. Policy decisions to accelerate water-dependent development and

poverty reduction in arid and semi-arid lands that are characterised by rapid demographic, political and economic

change in the short- to medium term have to promote low-regrets approaches that incorporate longer-term climate

uncertainty.

Ayilobeni Kikon National Institute of Technology Karnataka

Application of Optimized Machine Learning Technique in Drought Forecasting Using SPI

Drought indices are crucial for addressing its disruptive consequences that include creating havoc on the economy,

agriculture, health, and environment, among others, leading to other cascading vulnerabilities. Therefore, drought

forecasting or analysis becomes very essential in assessing the future drought events and risk assessment in any region.

In this study, precipitation data from 1964-2013 is used for assessing drought in Jodhpur district of Rajasthan, India. A

hybrid model of Genetic Algorithm-Adaptive Neuro-Fuzzy Inference System (GA-ANFIS), Particle Swarm Optimization

- Adaptive Neuro-Fuzzy Inference System (PSO-ANFIS) and Generalized Regression Neural Network (GRNN) has

been developed to forecast the drought using 6-SPI, 9-SPI and 12-SPI. The performance analysis of the different models

of GA-ANFIS, PSO-ANFIS, and GRNN for 6-SPI, 9-SPI, and 12-SPI were compared. By comparing all the three models

with different input combination, the results show that GRNN gave the best performance result having an R2 value of

0.93 for 6-SPI, 0.95 for 9-SPI, and 0.96 for 12-SPI. In this regard, GRNN mark itself as a tool to perform prediction and

comparisons of performance, making it reliable owing to its ability to converge the underlying function of the data with

the availability of few samples.
---
Posters

Nikos Mastrantonas, Simon Parry & Jamie Hannaford CEH

Luke Harrington University of Oxford

Drought Libraries for enhanced resilience in long term water resource planning in the UK

Long-term planning of water resources has been a key requirement of the providers of water supplies, and this is

extremely important nowadays. In the UK, the water companies are required to produce management plans on a fiveyear

cycle, ensuring consideration has been given for both present and future demands and constraints. Moreover,

there is a need to test water supply systems against the 'worst historical' drought event and consider those 'beyond

historical' that might occur in future. However there is no agreed methodology for determining the worst historical

event, and each water company may use different datasets to reach an answer. Given this lack of consistency, there is

interest in rationalising the approach to answer questions relating to drought affecting multiple neighbouring water

companies and around the feasibility of large-scale water transfers.

This need is addressed by the UK Droughts & Water Scarcity Programme, which supports improved decision-making

and communication in relation to droughts and water scarcity for a range of sectors. Capitalising on new improved

national-scale data for extensive historical and future timeframes, consistently derived 'drought libraries' are

developed.

These drought libraries are sets of events across a range of severities, durations and spatial domains, facilitating the

exploration of questions around the temporal and spatial coherence of drought. Due to the extended historic period

(to 1862), the libraries provide the opportunity to characterise recent events in their wider historical context.

Moreover, information about possible future droughts, with climate model projections up to 2099, can inform

stakeholders on the expected severity of future events. This study demonstrates the applicability of the drought

libraries through case study catchments in southern England. The results show the severity of a specific historical

drought event varying notably across different rainfall accumulation periods, showing that reference events should be

carefully selected. Moreover, the future projections indicate that the drought hazard will be intensified in this part of

the UK. The application of nationally consistent drought libraries in assessments of resilience to past, present and

future droughts will maximise the benefit in managing the UK's national water resources, and begin to address some of

the critical questions around how to reconcile the often competing demands from society, economy and environment.

Wiza Mphande Harper Adams University

Elucidating Drought Mitigation with Antitranspirants in Spring Wheat

Drought stress has a negative effect on crop yield performance. If drought occurs during reproductive development,

application of antitranspirants improves grain yield in wheat as was shown by Kettlewell et al. (2010). However, the

mechanism by which this is achieved has not been established. The possible explanation could be the negative effect of

ABA on pollen development, as drought triggers increased biosynthesis of this phytohormone (Lee and Luan 2012). In

2018, a field experiment was conducted in the Flatt Nook Field at Harper Adams University (52°46′N, 2°25′W),

Shropshire, UK. Drought stress conditions were simulated using polythene tunnels erected over experimental plots.

Application of Vapor Gard, a film antitranspirant, to spring wheat at three growth stages, GS33, GS45 and GS51,

reduced the endogenous concentration of abscisic acid in flag leaves and improved grain yield. These results suggest

that drought amelioration by antitranspirants is related to reduced biosynthesis or increased catabolism of abscisic

acid. This research has potential to enhance knowledge about drought signalling and designing genetic techniques for

drought tolerance in crop breeding research. Further work is required to determine the effect of Vapor Gard on the

relationship between abscisic acid and pollen and ovary development.

Hattie Roberts, Kirsti Ashworth & Ian Dodd Lancaster University

Felicity Hayes CEH

Brassica napus. L (oilseed rape; canola) is the third most important oilseed crop worldwide, and the most valuable in

Europe, with its products used for food, fodder and fuel. B. napus is considered a thirsty crop, with drought and high

temperatures decreasing seed size and pod number, hence yield . There is increasing concern over its productivity and

continued economic viability as "Mediterranean" conditions spread northwards through Europe. Here we report on

the growth rate, leaf gas exchange and morphology of a spring cultivar of B. napus (cv. Click), grown indoors in semicontrolled

environment growth chambers, and subjected to three different water regimes. Three watering regimes

were implemented 1) well-watered (WW) plants, which were re-watered with 100% of evapotranspiration lost daily;

2) deficit irrigation (DI) wherein plants were watered at 50% evapotranspiration volume daily; 3) drought and rewatering

(DRW) irrigation wherein plants were watered at 50% cumulative evapotranspiration volume every five days.

We also collected samples of plant volatiles emitted from the leaves. These volatile organic compounds (VOCs) are

synthesised and released in response to abiotic stresses such as drought and are thought to protect plant metabolism

and functioning under oxidative stress. We investigated whether these volatiles help maintain productivity during the

application of stress or promote rapid recovery of functioning and growth on removal of the stress, i.e. on rewatering.

Final above-ground masses and leaf area of the both deficit irrigation and plants exposed drought and rewatering

were significantly smaller than well-watered plants, with photosynthetic rate and stomatal conductance also

significantly higher in well-watered than deficit irrigation and drought-exposed plants. The emission of certain volatiles

was correlated with water availability.
---
Posters

Sevilay Topcu Cukurova University

Strategic Comparison of Past and Future Droughts in Turkey

Turkey is strongly and increasingly exposed to drought. Historically, serious droughts occurred as in 1804 and 1876

causing the loss of agricultural production and livestock as well as the migration of affected farmers. Drought-related

famines and diseases in 1876 claimed an estimated 200,000 lives. More recently, serious drought events occurred in

1928, 1973, 1989, 1990, 1993, 1998-2001, 2007, 2008, 2013 and 2017. The present study analyses i) the spatial and

temporal dimensions of historical droughts in Turkey, ii) to predict the potential intensity, frequency and duration of

droughts for the future (2070-2100) iii) to compare the past and future drought occurrences with a view to developing

appropriate mitigation and adaptation strategies. We used the Standardized Precipitation Index (SPI) to assess drought

characteristics. Rainfall datasets for the reference period, 1960-1990, were acquired from 51 stations (representative

of regions with different rainfall regimes in the country) of the Turkish State Meteorological Service. The future rainfall

series for the 2070-2100 period were simulated using a regional climate model (RegCM4) for IPCC's SRES-A2 scenario

conditions. To determine the likely changes between reference and future periods, the projected future rainfall series

was compared with the average rainfall amount derived from the reference period in SPI calculations. Finally, maps

were drawn to determine the changes in spatial patterns of droughts. The study results showed that drought

conditions are diverse in Turkey, and increasing trends for intensity, frequency and duration were detected. At

regional scale, the Eastern part of Marmara, Black Sea Region and northern and eastern parts of the East Anatolia

Regions are characterized by wetter conditions. Particularly severe drought conditions are expected in the Western

Mediterranean and Aegean Regions, although other regions of the country will also likely be confronted with more

frequent, intense and long lasting droughts. Most rain-fed and irrigated areas and surface water resources are located

in the drought-vulnerable regions of the country. Industrial, touristic, urban and other water uses will also be affected

by the worsened conditions in Turkey. Results of this and similar studies have been integrated into the national

drought strategy and action plans to combat desertification and drought in Turkey.

Harry West, Nevil Quinn, Michael Horswell & Paul White UWE

Examining spatial variations in the utility of SPI as a 3-month-ahead environmental drought

indicator

Droughts are a common meteorological phenomenon and a significant natural hazard. Despite this we lack a common

understanding of the definition of a drought event and a detailed understanding of drought onset and termination. In

its simplest form however a drought can be defined as a deficit of rainfall relative to normal conditions. This rainfall

deficit will eventually propagate through the hydrological system into terrestrial water storage and streamflow. Using

the latest available hydro-meteorological datasets from the UK Droughts & Water Scarcity Programme, this paper

aims to examine the relationship between rainfall deficit (quantified by the standardised precipitation index for a range

of accumulation periods ranging from 1 to 12 months) and environmental drought (quantified by the standardised

streamflow index) in 303 catchments across Great Britain. Through this we identify the rainfall deficit accumulation

periods that are associated with the more severe environmental droughts, and in doing so identify the role of local

catchment characteristics (quantified by the base flow index) in moderating drought frequency and severity. By

developing a spatial understanding of the relationship between rainfall deficit accumulation and environmental drought,

we identify and map the variation in critical SPI accumulation thresholds for estimating environmental drought risk

over the forthcoming 1 to 3 months. The intention is that this will provide water resource managers with a simple tool

to aid effective decision making in drought event management.

Jie Xiang, Martin Hare, Ivan Grove & Peter Kettlewell

Harper Adams University

Understanding mitigation of drought damage to rapeseed from spraying film

antitranspirants

Considering predicted impacts of climate change, the expansion of rapeseed in the major producing countries in

temperate regions, where it is well-adapted, has been reinforcing the need for future tolerance to abiotic stresses such

as water deficit. A number of studies have shown that drought has been exacerbated by climate change with multiple

effects on agriculture, particularly in arid and semi-arid regions. Rapeseed (Brassica napus L.) has become the third

most important oilseed crop around the world for edible oil, fodder and biofuel production after soybean (Glycine

max L.) and palm oil (Elaeis guineensis L.). It is more sensitive to water stress compared to other crops such as wheat

and barley, especially at its critical reproductive stages. There is increasing evidence that film antitranspirants can

improve the yield of crops subjected to drought compared to unsprayed treatments. Nevertheless, the mechanisms by

which antitranspirants can mitigate against yield loss are not clear. Therefore, a series of experiments will investigate

the underlying mechanism by which film antitranspirants increase the yield of rapeseed under drought conditions,

especially the stomatal functions. Additionally, the data will be related to the mathematical models of gas exchange

from the stomata to exploit the role of film antitranspirants on the regulation of gaseous exchange in rapeseed.
---
The Projects

Find out more about the

Drought & Water Scarcity

projects
---
DWS

Projects

dryproject.co.uk

Drought and water shortage can severely affect

us all through impacts on the environment,

agriculture, infrastructure, society and culture.

We started the interdisciplinary DRY project in

April 2014, with the ultimate aim of developing

an easy-to-use, evidence-based resource, to

support decision making for management of

drought risk in the UK for a range of end-users.

The DRY project spanned seven catchments

within England, Wales and Scotland to reflect

different hydrological, socio-economic,

environmental and cultural gradients in the UK.

Unlike many other investigations which focus

solely on mathematical modelling of drought

risk and a single sector, the DRY project has

taken a unique approach, bringing together

different aspects of drought science and multistakeholder

storytelling to better understand

.

drought risks, the trade-offs among different

management options and the tipping points that

determine their outcomes.

A key part of DRY's research was to bring

together different types of data to build a

comprehensive picture of how drought risk will

affect a range of different UK regions at

catchment and local scales. To achieve this goal,

DRY incorporated a two-way process for

gathering and sharing local drought knowledge.

Stories about water resources and drought

were stimulated through memories of historical

drought events, discussions around drought

images, citizen science and imagining the

possible outcomes of drought which arise from

the hydrological drought models iteratively

developed in the team. The stories themselves

then provided contexts that fed into our

mathematical hydrological drought models

through which we explored scenarios of what

might happen in potential future droughts.

Outputs from our research include the DRY

project Utility, a resource to support decisionmaking

which incorporates the DRY's

searchable Story Bank; the DRY Story Map; and

DRY Guidance on its approach alongside papers

in wide-ranging journals across disciplines.

The project leader is Professor Lindsey

McEwen, from UWE Bristol.

@Project_DRY
---
DWS

Projects

historicdroughts.ceh.ac.uk

Historic Droughts aims to develop a crossdisciplinary

understanding of past drought

episodes that have affected the UK, with a view

to developing improved tools for managing

droughts in future.

Drought and water scarcity are significant

threats to livelihoods and wellbeing in many

countries, including the UK. Parts of the country

are already water-stressed and are facing a wide

range of pressures, including an expanding

population and intensifying exploitation of

increasingly limited water resources. In addition,

many regions may become significantly drier in

future due to environmental changes, all of

which implies major challenges to water

resource management. However, droughts are

not simply natural hazards. There are also a

range of socio-economic and regulatory factors

that may influence the course of droughts, such

as water consumption practices and abstraction

licensing regimes. Consequently, if drought and

water scarcity are to be better managed, there

is a need for a more detailed understanding of

the links between physical (i.e. meteorological,

hydrological) and social and economic systems

during droughts.

With this research gap in mind, the Historic

Droughts project has been developing an

interdisciplinary understanding of drought from

a range of perspectives. Based on an analysis of

information from a wide range of sectors

(hydrometeorological, environmental, agricultural,

regulatory, social and cultural), the

project has characterised and quantified the

history of drought and water scarcity since the

late 19th century.

The project has developed the first systematic

account (the UK Drought Inventory) of past

droughts in the UK. The Inventory is the basis of

a novel joint hydrometeorological and socioeconomic

analysis that is leading to a 'systemsbased'

understanding of drought – i.e. an

understanding of the multiple and interconnected

drivers of drought, the impacts of

drought and the feedbacks between them.

We expect this systems-based understanding to

improve decision-making for future drought

management and planning, and to facilitate more

informed and effective public discourse related

to drought.

The project leader is Jamie Hannaford at the

Centre for Ecology and Hydrology (CEH).

@HistDroughtsUK
---
DWS

Projects

aboutdrought.info

IMPETUS brings together scientists from the

meteorological, land surface, surface water and

groundwater communities and social scientists

from the water demand and forecast usability

communities.

The project involves internationally-leading

scientists and social scientists from three NERC

Research Centres (the National Centre for

Atmospheric Science (NCAS), the British

Geological Survey (BGS) and the Centre for

Ecology and Hydrology (CEH), four leading

universities (Oxford, Reading, Newcastle, and

Southampton), the Met Office and the European

Centre for Medium-range Weather Forecasts

(ECMWF).

IMPETUS aims to improve the forecasting of UK

drought on monthly to decadal timescales, by

improving meteorological, hydrological and

water demand forecasts and how they are

combined to produce drought forecasts. This

will be done in conjunction with stakeholders to

ensure that drought forecasts are relevant for

decision making.

The project leader is Professor Len Shaffrey

at University of Reading.

@AboutDrought
---
DWS

Projects

mariusdroughtproject.org

The span of the MaRIUS project is large and

covers physical and social science topics

including: drought governance; drought options

and management; community responses and

environmental competency.

MaRIUS has developed new methodologies,

datasets and models for the analysis of drought

and water scarcity impacts on river flow, water

quality, ecology, farming, the economy, and how

these combine to affect people.

It includes climatic aspects of drought and the

derivation of a synthetic 'drought event library';

hydrological responses both on a catchment and

national scale; effects on water quality including

nutrient concentration in rivers and algal

concentrations in reservoirs, and effect of land

use change; the ramifications on water

resources on the Thames catchment and also

nationally. It includes the impact of drought and

water scarcity on terrestrial and aquatic

ecosystems; agriculture and farming; the

economy; and on electricity production.

Some researchers in MaRIUS are using scenario

modelling and case studies across a number of

scales to understand both the drought impacts

at a local level as well as the institutional

decision-making by governments and water

companies.

The modelling work uses climatically rigorous

drought scenarios and their impacts on water

quality, agriculture, biodiversity and economic

losses.

In addition to computer modelling, social

science and stakeholder engagement are a key

part of the project, helping us to understand the

role of the community, institutions, regulators

and markets in drought management.

The project leader is Professor Jim Hall at

the Environmental Change Institute,

University of Oxford.

@AboutDrought
---
DWS

Projects

ENDOWS

aboutdrought.info

Engaging diverse stakeholders and publics with

outputs from the Drought and Water Scarcity

Programme. ENDOWS brings together the

successful stakeholder engagement elements of

the four Drought and Water Scarcity (DWS)

projects to further develop and promote

understanding of the key messages from the

programme. Building on the activities of DRY,

IMPETUS, MaRIUS and Historic Drought,

ENDOWS is funded by the Research Councils

to inform adaptation and management decisions

before, during and after drought events, using

the new data and findings of the DWS

programme.

ENDOWS has brought these activities together

under the banner 'About Drought' an accessible

programme of informed engagement with

regulators, industry, business, policy-makers,

communities and sector organisations.

Knowledge Exchange is a key function of About

Drought, facilitating effective networking

between the research community and

stakeholder communities; encouraging the

building of reliable contacts and stimulating new

working relationships and accelerating the

speed at which the outputs of the DWS

programme are being implemented to support

evidence-based decisions in drought planning

and management.

Thus far, the project has enabled interaction on

and transfer of scientific knowledge and outputs

in the form of resources, information, and/or

tools to water companies, the Environmental

Agency, allotment groups, farmers associations,

and so on. Some of these outputs are being

presented at the About Drought Conference

2019.

The About Drought website is being developed

as an authoritative source of expertise, and as a

publicly available platform for informed

comment and opinion. The About Drought

Twitter account @AboutDrought highlights

drought-related news and opinions from the UK

and around the world.

@AboutDrought
---
Datasets

The NERC UK Drought and Water Scarcity Programme has released a large number of datasets,

together with interfaces for accessing and visualising data over the web and guidance for use of the

data. For more information on these datasets, please email Matt Fry (mfry@ceh.ac.uk).

Find this information online by clicking here

Historic hydro-

Meteorological

data

• Enhanced historic rain gauge data, and updated 1km rainfall grids back to

the 1860s [Met Office].

https://www.metoffice.gov.uk/research/collaboration/ukcp/download-data

• Historic catchment average daily rainfall series for selected

catchments, 1861-2015 [Met Office / CEH]

• Historic gridded Potential Evapotranspiration (PET), monthly and

daily 5km grids, 1891-2015, based on temperatures [CEH]

https://doi.org/10.5285/17b9c4f7-1c30-4b6f-b2fe-f7780159939c

• Historic Standardised Precipitation Index (SPI), 5km grid +

catchments, 1862-2015 [CEH]

https://catalogue.ceh.ac.uk/documents/233090b2-1d14-4eb9-9f9c-

3923ea2350ff

• Historic reconstructions of daily river flow for 303 UK catchments

(1891-2015) [CEH] https://catalogue.ceh.ac.uk/documents/f710bed1-e564-

47bf-b82c-4c2a2fe2810e

• Reconstructed/modelled historic monthly gridded river flow and soil

moisture for the UK from the Grid-to-Grid model, 1km grid, 1891-2015

[CEH] https://catalogue.ceh.ac.uk/documents/f52f012d-9f2e-42cc-b628-

9cdea4fa3ba0

• Reconstructed historic groundwater level series for 54 boreholes,

1891-2015 [BGS] https://catalogue.ceh.ac.uk/id/ccfded8f-c8dc-4a24-8338-

5af94dbfcc16

• Historic Standardised Groundwater level Index (SGI) for 54 UK

boreholes reconstructed groundwater level time series (1891-2015) [BGS]

https://catalogue.ceh.ac.uk/documents/d92c91ec-2f96-4ab2-8549-

37d520dbd5fc

Near real-time

droughtrelated

metrics

The following drought-related metrics have been focussed on within the

Drought and Water Scarcity programme, and could become accessible in

near-real time should this be a requirement from users:

• Standardised Precipitation Index (SPI), 5km grid + catchments,

monthly [CEH] – already available via the CEH Drought Portal

• Standardised Streamflow Index (SSI), selected gauging stations,

monthly [CEH]

• Standardised Groundwater Level Index (SGI), selected boreholes,

monthly [BGS]

• Hydro-ecological drought metrics, under development within the

projects [CEH]
---
Datasets

Climate change

projection data

Probabilistic time series based on the Weather at Home (W@H) event set

(100 ensemble members for each time slice) for a baseline period (1974-

2004) and two future periods (2020-2049 and 2070-2099) under the

RCP8.5 high emission scenario.

• Full gridded climate outputs including PET, daily / monthly on ~25km

grid (University of Oxford)

http://catalogue.ceda.ac.uk/uuid/0cea8d7aca57427fae92241348ae9b03

• (Dependent on user requirements) Catchment average rainfall,

temperature and PET for gauged catchments

• Daily river flow series at gauged catchments: Grid-to-Grid [CEH],

Dynamic TopModel [University of Bristol]

https://catalogue.ceh.ac.uk/documents/5f3c1a02-d5c4-4faa-9353-

e8b68ce2ace2

• Gridded monthly flows and soil moisture from Grid-to-Grid, 1km

grid [CEH] https://catalogue.ceh.ac.uk/documents/3b90962e-6fc8-4251-

853e-b9683e37f790

• (Dependent on user requirements) Summary grids and maps of this

data, e.g. change factors for future time periods for key statistics

(annual/monthly/seasonal flows, etc.)

• Daily grids of hydrological variables (runoff, soil moisture, etc.) under

UKCP09 climate projections for seven representative catchments across

the UK for three future periods (the 2020s, 2050s, 2080s), with 100

realisations, modelled with Di-CHASM [CEH]

New Social and Socio-economic datasets

The multi-disciplinary UK Drought and Water Scarcity research programme is also producing a wide range

of data outputs from research activities in many disciplines. Some of these outputs are listed below, and

others will be added as they are produced and identified from the component projects.

Cross-sectoral

inventory of

past droughts

References to past droughts from a variety of sectors, integrated into a

consistent format to capture spatial and temporal reporting of drought:

• References to droughts in the agricultural media. 2000+ entries referring to

drought within UK agricultural media between 1975 and 2012, including

information on farm classification.

• References to droughts in legislation. 500+ entries referring to drought

within UK legislation between 1976 and 2012, from Hansard debates and

other government publications.

• References to droughts in newspapers. Thousands of spatially located

entries referring to drought within local and national newspapers from

1800 to 2014.

• References to droughts in oral histories. 1000 entries referring to drought

from dozens of drought-focussed oral histories from across the UK, from

water industry experts and members of the public.

Database of reservoir construction: a dataset of reservoir construction, with

capacity information, from 1800 to 2000.
---
Download About Drought

Briefing Notes & Leaflets

Briefing notes:

How to plan and manage water resources for

public water supply: future directions

Leaflets:

Which farming areas of England and Wales are

most at risk from economic losses due to

drought?

Economic impacts of regulatory drought

management on irrigated agriculture

Drought Monitoring & Forecasting

Securing a fair share of water: a strategy for

agriculture and horticulture

D-Risk: helping irrigators manage drought risk

Using your phone to scan a QR code

Crop response to a changing climate

If you already have a QR app on your phone, simply

hold the screen over the code(s) to be taken to the

document(s). You can download a scanner from

your app store.

You can also access the document(s) using the

hyperlinks.
---
Delegates

First Name Last Name Organisation

Muhammad Afzal CEH

Daniela Anghileri University of Southampton

Danielle Ashby University of Falmouth

Lucy Barker CEH

Pat Barrett Environmental Protection Agency

Peter Baur Shared Water

Pam Berry University of Oxford

John Bloomfield British Geological Survey

Bentje Brauns British Geological Survey

James Brindley Environment Agency

Elizabeth Brock Met Office

Frans Carel Persendt Aberystwyth University

Tim Collins Natural England

Keith Colquhoun Thames Water

Peter Cook NCAS Climate

Stanley Cook SJC Water Consulting Ltd

Séverine Cornillon British Geological Survey

Alexander Cox University of Falmouth

Vicky Crichton Environment Agency

Emma

Cross

Jo Cullen Welsh Water

Vittoria Danino Anglian Water

Granville Davies Yorkshire Water

Susan Davies University of Edinburgh

Richard Davies Environment Agency

Suraje Dessai UK Research & Innovation

Mieke de Wit NERC

Barnaby Dobson University of Oxford

Tracey Dunford Natural Resources Wales
---
Delegates (cont)

First Name Last Name Organisation

Mason Durant HR Wallingford

Vicky Durbridge NERC

Bramha Dutt Vishwakarma University of Bristol

Tom Entwistle Environment Agency

David Fanner University of Falmouth

Amanda Fencl UC Davis

Miranda Foster Yorkshire Water

Matt Fry CEH

David Garcia-Leon Ca' Foscari University of Venice

Ugo Gasparino RWE npower

Daniela

Gatto-Ronchieri

Helen Gavin Oxford University

Vasileios Giannakopoulos Lancaster University

Richard Gosling SEPA

Alastair Graham Geoger

Catherine Grasham Oxford University

Kevin Grecksch University of Oxford

Ivan Grove Harper Adams University

Eliakim Hamunyela Aberystwyth University

Jamie Hannaford CEH

Richard Hill Environment Agency

Feyera Hirpa University of Oxford

Ian Holman Cranfield University

Anneka Johnson-Marshall Affinity Water

Sunil Kansakar Environment Agency

Ilias Karapanos Affinity Water Ltd

Alison Kay CEH
---
Delegates (cont)

First Name Last Name Organisation

Ruth Kelman NERC

Peter Kettlewell Harper Adams University

Ayilobeni

Kikon

National Institute Of Technology

Karnataka

Tom King Lancaster University

Caroline

King-Okumu

Cedric Laize CEH

NERC Centre for Ecology and

Hydrology

Bettina Lange University of Oxford

Ruth Larbey UWE

Stefan Le Roy SLR GeoHydro Solutions Ltd

Jaeyoung Lee University of Oxford

Antonia Liguori Loughborough University Arts

Fiona Lobley Environment Agency

Dave MacLeod University of Oxford

Willem Maetens Flanders Environment Agency

Ramona Magno IBIMET-CNR

Mark Manning SDS

Helene Margue The Royal Society

Nikolaos Mastrantonas CEH

Christine McCulloch University of Oxford

Lindsey McEwen UWE

Stephen McGuire SEPA

Rachel Merrix Environment Agency

Stephen

Middleton

Ben Miller ESRC

Ian Milne SEPA

Mike Morecroft CEH

Wiza Mphande Harper Adams University
---
Delegates (cont)

First Name Last Name Organisation

Gillian

Murphy

Jennifer Murphy Environment Agency

Christopher Nankervis Weather Logistics Ltd

Emma Neachell Environment Agency

Tom Nurick Environment Agency

Fred Otu-Larbi Lancaster University

Affie Panayiotou Affinity Water

Massimiliano Pasqui Institute of Biometeorology

Rebecca Pearce University of Exeter

Kathryn Pharr University of Oxford

Ben Piper Independent

Lizzie Quarmby Environment Agency

Nevil Quinn UWE & Natural England

Ragab Ragab CEH

Duncan W Reed DWRconsult

Gwyn Rees CEH

Hattie Roberts Lancaster University

Leandro

Rocchi

National Research Council -

Institute of Biometeorology

Ali Rudd NERC - CEH Wallingford

Cathleen Ryan Canal & River Trust

Gloria Salmoral Cranfield University

Sandra Santos Valencia Wageningen University

Sunita Sarkar CEH

Len Shaffrey Reading University

Nicky Shale UWE

Jie Shi Environment Agency

Max Simmonds University of Falmouth
---
Delegates (cont)

First Name Last Name Organisation

Louise

Slater

Katharine Smart Anglian Water Services Ltd

Mark Smith Hydro-Logic Services

Roxanna Snooke South West Water

Kerstin Stahl University of Freiburg

Sally Stevens IEA

Rachel

Stubbington

Samuel Sutanto Wageningen University

Tim Sykes Environment Agency

Maliko Tanguy CEH

Jill Thompson CEH

Sevilay Topcu Cukurova University

Jacqueline Turner South West Water

Steve Turner CEH

Henny van Lanen Wageningen University

Anne van Loon Birmingham University

Lucy Vilarkin Bristol City Council

John Waddingham Environment Agency

Michael Wann SEPA

Jacob Watson University of Falmouth

Doris Wendt University of Birmingham

Harry West UWE

Nik Whalley South West Water

Kevin Wheeler University of Oxford

Pamela White Environment Agency

Paul Whitehead Oxford University

Rob Wilby Loughborogh University

Elizabeth Wilson Oxford Brookes University

Victoria Williams Environment Agency

Tim Woollings University of Oxford

Jie Xiang Harper Adams University

Hong Yang University of Reading

Linnet Zohrabian University of Oxford
---
Thank you for attending the

About Drought Conference

Please stay in touch