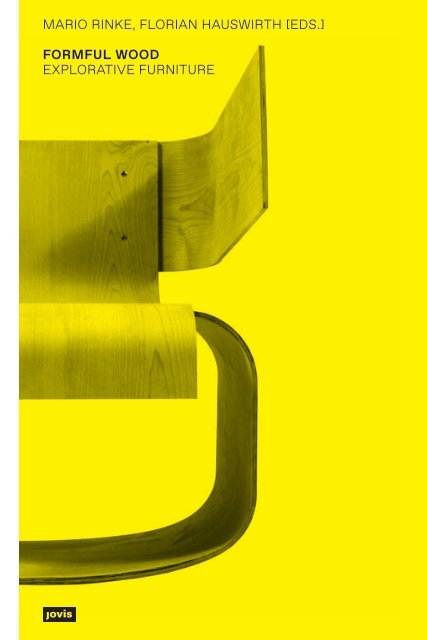 Formful Wood. Explorative Furniture
ISBN 978-3-86859-588–8 https://www.jovis.de/de/buecher/product/formful-wood-explorative-furniture.html
ISBN 978-3-86859-588–8
https://www.jovis.de/de/buecher/product/formful-wood-explorative-furniture.html
SHOW MORE
SHOW LESS
Create successful ePaper yourself
Turn your PDF publications into a flip-book with our unique Google optimized e-Paper software.
MARIO RINKE, FLORIAN HAUSWIRTH [EDS.]

FORMFUL WOOD

EXPLORATIVE FURNITURE
---
JOSEPH SCHWARTZ

PREFACE

4

MARIO RINKE AND FLORIAN HAUSWIRTH

DESIGN AND CONSTRUCT A PLYWOOD SEAT!

8

CHRISTOPH SCHINDLER

REFERENCING AS AN EVOLUTIONARY PROCESS

15

ALESSANDRO ORESTE TELLINI

EDUCATIVE CRAFT

23

FLORIAN HAUSWIRTH

DESIGNING IN THE WORKSHOP—THINK WITH YOUR HANDS

35

OBJECTS IN PROGRESS

RAOUL DUBOIS, SVEN HÖGGER, SAMIRA MUSTER, FABIAN REINER,

VALENTIN RIBI, MANON ZIMMERLI, MAXENCE RYAN, ALEXANDRA GRIEDER,

NICOLAS HARTER, ZIU BRUCKMANN, DEIARA KOUTO, ILGHAR DADGOSTARI,

JOSHUA RITTER, LEA BISSIG, LEONIE HOCHSTRASSER, LORENA ADLER,

LUKAS TOPPLER, MELINA MICHAELIDES

43

GALLERY

RAOUL DUBOIS, SVEN HÖGGER, SAMIRA MUSTER, FABIAN REINER,

VALENTIN RIBI, MANON ZIMMERLI, MAXENCE RYAN, ALEXANDRA GRIEDER,

SIMON WÜST, NICOLAS HARTER, ZIU BRUCKMANN, DEIARA KOUTO,

ILGHAR DADGOSTARI, LEA BISSIG, LEONIE HOCHSTRASSER,

LORENA ADLER, LUKAS TOPPLER, MELINA MICHAELIDES, MERET TRÖSCH,

NADIA HUBER MEICHTRY, NATALIE AGREDA, NILS WIDMER,

OLEKSANDRA MEDVEDEVA, SELINA CADRUVI, URSINA HASLEBACHER,

VIVIANE STÜSSI, AYNUR TURUNC

81

OBJECTS IN PROGRESS

MERET TRÖSCH, NADIA HUBER MEICHTRY, NATALIE AGREDA, NILS WIDMER,

OLEKSANDRA MEDVEDEVA, SELINA CADRUVI, URSINA HASLEBACHER,

VIVIANE STÜSSI, AYNUR TURUNC

146

SEBASTIAN KRAFT

GRAIN ORIENTATION, GROWN AND SHAPED

165

MARIO RINKE

THE FORM AS AN IMPRINT OF AN IDEA

175

NICOLAI DE GIER

TECTONICS

187

CONTRIBUTORS / TABLE OF FIGURES

199
---
FORMFUL WOOD

EXPLORATIVE FURNITURE
---
PREFACE

JOSEPH SCHWARTZ

4
---
Can there be a more enticing and challenging task for students, even if ultimately

not particularly complex, than to design, create—and yes—make with their own

hands "formful wood"—also known as stools, chairs and benches, even small

pieces of furniture—within an interdisciplinary study setting? Contemplations of

this nature have taken on current prominence, especially since the label "formful

wood" is a nod to the distinguished peculiarity of the designs of Alvar Aalto.

Courtesy of Artek, the furniture company that accompanied the course, Alvar Aalto's

designs have been incorporated into our design semester. This is therefore an

experiment which was nurtured into reality at the Lucerne University of Art and

Design where it became embedded in the object design philosophy, as well as at

the Department of Architecture at ETH Zurich where it was incorporated into structural

design courses. Both institutions were very energized due to the successful

debut of the courses in 2015.

While the main aim of the object design course is to promote researchbased

design that appeals to the senses and provides responsible and compelling

solutions to challenges of today's cultural and social environment, the professorship

of Structural Design at the Department of Architecture at ETH Zurich

places the focus on the recognition of interaction between internal forces and

forms of load-bearing elements and purposefully applies it to the architectural

design process. The insight that the concept of construction controls the distribution

of internal forces within broad boundaries is key to creative structural

design and makes possible in the first place the playful articulation of the tectonics

of bearing and joining.

With a focus on bending wood as a starting point, surprising design ideas

were uncovered, accompanied by corresponding prototypes built by the students.

Everything centered around construction, transformation and manipulation at the

intersection of design and art. The participants soon became aware that at the

beginning of the process there is a need to discover and acquire knowledge not only

of the method of construction itself, but also of many other aspects such as materiality,

flexibility, stability, functionality, identity and interaction with the user. Very

helpful in this regard was the ongoing examination of Artek's philosophy, which,

modern manufacturing techniques notwithstanding, does not consider furniture

as an industrial artifact, but rather an expression of socio-philosophical concepts

and therefore an echo of its time.

The students' exposure to artisan skills at the RAPLAB workshop at ETH

Zurich served as a vivid tool that greatly aided the introduction to and understanding

of principles of construction. What are the ways in which wood can be bent?

What are the options created by the layering of veneer? How can individual parts

be joined; how do they respond to gentle or vigorous touch? What is the effect of

space between parts? What, ultimately, is the relationship between force, material

and form? How can a concept be taken to its ultimate conclusion, developed

5
---
DESIGN AND CONSTRUCT A PLYWOOD SEAT!

10
---
A TEACHING PROJECT TRANSCENDS DISCIPLINES

This complex of topics forms the basis of our design workshop. In spring 2018, the

Object Design department at Lucerne University of Applied Sciences and Arts

and the Chair of Structural Design at ETH Zurich's Department of Architecture

launched a joint course that was taught to 28 students from both universities with

the goal of designing and building seating objects made of plywood, as a collaborative

effort. We received support from Artek, our industry partner, whose name

combines the words art und technology, and who still employs the same, delicate

handcrafted manufacturing processes that became the hallmark of their furniture.

Artek's so-called L-leg, a narrow curved chair leg, also dubbed the "little sister of

the architectural column" by co-founder Alvar Aalto, is a typical example of these

processes and became a launching pad for the design project. It is made using a

combination of steam bending and molded plywood, whereby irregular cuts are

sawn into the end of a piece of wood which was then bent and glued together

with another piece using veneer strips. Three legs of this nature are subsequently

mounted to the seat by the user himself. The uniqueness of this type of furniture

turned it into a cult object. The intricate process could only be assembled through

extensive testing in the workshop. Artek thus combines the curiosity and experimentation

of design with craftsmanship and industrial practices. This philosophy

makes Artek an ideal partner for our design workshop. Object design and architecture,

craftsmanship and industry—crossing the boundaries of individual disciplines

and schools of thought was a central goal pursued by the workshop and gave rise

to a interdisciplinary research and work process among students and supervisors.

The workshop started off with participants getting to know each other, as

well as the industrial and craft work processes and materials. The head of Artek's

manufacturing operations in Turku, Finland, explained typical manufacturing methods

via video conference. It was impressive how much these processes resembled

time-honored manufacturing methods—a continuity that was also reflected

in remarkably consistent products. This marked an important starting point for the

students: processes were experimented with and used as springboards for new

functions and forms. A visit to a veneer factory also made a significant impression

on the students. There, they were able to observe how thin veneers were cut from

a tree trunk and underwent further processing. Those two encounters, Artek's

L-leg and the flat veneers in the factory, opened wide the range of experimental

approaches presented by the designs. Once the students had received a detailed

introduction to manufacturing techniques and tools in the workshop, they settled

down and began to work on their projects.

11
---
REFERENCING AS AN EVOLUTIONARY PROCESS

inter- or transdisciplinary process. If a design concept cannot be detached from

its reference, we are tempted to call it a copy. A carefully conceived product, on

the other hand, equally creates closeness and distance to its reference, updates

it, and gives it another artistic status.

7

Moreover, the new design might become

a new model itself. A well-referenced project is as much culturally involved as it

is independent.

Despite the omnipresence of referencing, there are surprisingly few written

statements on its use and meaning in product design, with the discipline being

in the shadow of art and architecture history. 8 As an intellectual tool for our future

handling of references at the school of art and design, this paper reflects some

attitudes based on experience gathered from selected design modules. [→ FIGURE 1]

MATERIAL AND SEMI-FINISHED PRODUCTS

Referencing a material from a different context is one of the common referencing

methods in product design, let us think for instance of Marcel Breuer's Wassily

Chair (1925) related to tubular steel from bicycle frames or the Aluminum Group

by Charles and Ray Eames (1958) inspired by the construction elements of contemporary

airplanes.

In the design module "Praise of the Light," participants were to conceive

a lamp. The school provided shōji paper as a material used in traditional Japanese

architecture for covering room dividers. As a second design inspiration, LED filament

bulbs were specified, the low operating temperature would allow the positioning

of the bulb very close to the paper. Although only one factor had been

changed compared to the well-known Akari luminous sculptures (1958) by Isamu

Noguchi, novel formal languages were created. [→ FIGURE 3 and 4]

CONSTRUCTION

Constructive details are an important factor in formulating the character of a

design and often refer to areas outside the design theme. A well-known example

would be the Knotted Chair (1996) by Marcel Wanders, in which knitted joints

become stiff through a change of material from wool to carbon fiber.

In the project "Construction and Transformation," we collaborated with

the Chair of Structural Design at ETH Zurich. 9 From the perspective of product

design, we had noticed that many students had insufficient intuition about structural

concepts including dimensioning and therefore felt the need to set an appropriate

impulse.

We asked the participants to design a piece of furniture that is able to

bear the load of a person and apply an appropriate structural principle. Comparing

the results, we had the impression that many students understood the methods

of structural design as a formal vocabulary, which they incorporated into their

designs. [→ FIGURE 5 and 6]

18
---
CHRISTOPH SCHINDLER

HISTORY

Historical embedding and formal recourse help us not to lose touch while something

new develops. There are different strategies for dealing with design history.

If we think of design history, we usually think of a design history "canon" and

emphasized "key objects," embedded in an art–historical model that moves from

one "great movement" to the next. 10 If a designer imitates a style or age, we call

this attitude "retro." A redesign of such a key object is labelled "approbiation," like

Stefan Zwicky's redesign of Le Corbusier's LC2 in concrete and reinforcement.

Together with a team of design historians and in the context of a vintage

design salon, we carried out the module "Memories of Objects and Their Stories":

the participants chose a historical reference from the living area and placed it in

a contemporary context. The references were not specific designs from known

designers, instead they belonged to a certain type of vernacular, indigenous and

anonymous family of objects, a kind of Bernard Rudofsky approach transferred

11

to design. [→ FIGURE 7 and 8]

CONTEXT

A reference to a related or entirely different discipline gives the customer the impression

of moving in a field that he or she can hardly enter otherwise. Such a reference

is the fuel filler cap of all generations of the Audi TT since 1998, which is formally

reminiscent of automobile racing and thus emphasizes the sportiness of the car.

Under the title "Inspired by Textile Objects," we offered a module that

drew its inspiration from the digital archive of the Zurich silk industry, which was

designed by a research group at our school. 12 We were interested in how peculiarities

of textile patterns—rapport, weaving techniques, patterns, colors—could

be transferred from one design discipline to the other and, practically speaking,

from flat textiles to the third dimension of product design. The openness of the

question allowed a broad solution space. It was hard to tell whether the resulting

objects can still be categorized as product designs, became art, are between

the disciplines, introduce a new field or whether the disciplines have dissolved.

CONCLUSIONS

For our School of Art and Design, design modules based on referencing are among

the most appreciated courses, both internal among students and teachers as well

as external colleagues from our discipline. For most students, this is the moment

in their curriculum when they start to relate themselves to the world. They interact

with practice, disciplines, history and cultures and are introduced to the complexities

of design.

In contrast to specialized courses in any of the chosen fields, a design

module does not set out to give a complete overview of a field. Correspondingly,

students do not learn in depth about the field of their reference, instead they

reflect on its relation to product design. Moreover, they gain an awareness that

instead of just one perspective on the world there are many, depending on place,

culture, profession, as well as ethnicity, age, religion, gender and so on. Referencing

is more of a method than a content.

19
---
DESIGNING IN THE WORKSHOP—THINK WITH YOUR HANDS

36
---
FLORIAN HAUSWIRTH

ing or CNC milling. Conversely, it is not so easy to translate real handmade objects

into 3D data. However, that data is needed for precise assembly or later production.

And yet, industry and developers of CAD systems have not shown much interest

in this transfer. Nonetheless, for designers of real products, this interplay is crucial.

Apple Chief Designer Jonathan Ive is also among those who have observed

a growing division between digital design and practical manufacturing in education:

"So many of the designers that we interview don't know how to make stuff,

because workshops in design schools are expensive and computers are cheaper.

(…) That's just tragic, that you can spend four years of your life studying the design

of three dimensional objects and not make one." 3

DESIGNING IN THE WORKSHOP

My open-minded approach to designing in the workshop has been molded by time

spent training and working as a model maker. During my apprenticeship, all work

followed a precise plan, and I subsequently had to teach myself to break free from

this structure. During my stint in the development department of the furniture company

Vitra, I began to take notice of how things seemed to center around a "materialized

idea," its form, rather than the actual physical object (model). Occasionally, we

had to painstakingly assemble objects for 2–3 weeks only to saw them into pieces

within seconds and reassemble them with great effort and prescribed precision.

It is not easy to describe the design process in the workshop. At the most

fundamental level, all steps should be designed in such a way that the unforeseen

is taken into account. Unpredictable things can happen "on a whim" or in the form

of "mistakes" that creep in but may also point to another, perhaps simpler way

of doing things. This "openness in planning" could be compared to interactions

between craftsman and designer. Especially when one gets a little tired or bored,

this can be an exciting thing. Even a situation or activity where a person is unfocused

or absent-minded can give rise to something new. "To me, boredom is the

mother of creativity. And also curiosity." 4 says designer Ron Arad.

Communication in the workshop is more direct and informal than in an

office setting. It is never unclear what you are talking about. I always find "work

discussions" with students very interesting. Conversations can go off in various

directions, which then require further decisions. Some people need confirmation

and encouragement while others need to be challenged by provocation when they

become bogged down or get carried away with implementation issues. In addition,

random visitors can be a disruptive force that breathes life into a process.

An ideal scenario has students learning a practical trade mingle with

students of a different educational background in the same class, because this

makes them rise to challenges through their different approaches. To put it pointedly,

the nerds and the uninitiated need to bounce ideas off each other during the

design process. People will dig deep into a subject matter only to pull back later

to analyze the process with a sense of detachment. Compare this with the feedback

scenario that is associated with the design process "Double Diamond": "The

Double Diamond is a simple visual map of the design process, divided into four

distinct phases—Discover, Define, Develop and Deliver." 5 Irrespective of the discipline,

this process always allows for different options to be examined and narrowed

down to a specific answer. This applies to both defining the problem and

determining the solution, which makes it a double diamond.

37
---
PULPO

L: 520 mm × W: 480 mm × H: 790 mm

The architectural moment, in the right-angled cutting of two L-legs by Alvar

Aalto, was the starting point for a long series of concrete designs. The focus lay

on both bent linear elements and on planar surfaces. A first concrete design led

to a frame that was composed of assembled, transformed Y-legs, over which a

large surface for sitting and two smaller surfaces for depositing the arms had

been arranged, all of them like deep-frozen cloths. Although both elements had

been derived from Artek examples, they were unable to form a sensible entity.

Furthermore, the production of the legs and their attachment was found to be

both impractical and too expensive. In an additional step, the rod-shaped legs

had also been reworked into surface-like elements. The individual parts were

sewn together at those points where they overlap or touch, which approaches

the sensuous impression of the textile surface.

The most important aspect of the Artek design was, however, the simplicity

of expression and, above all, the uncomplicated assembly. A direct joining

of these components became a central aspect of the next step. Starting once

more from the Artek stool, the design was revised and now based itself on a

seating surface with three identical legs, one of which now forms the backrest.

This new simplicity immediately expressed itself in its childlike, organic forms.

It was easy to stack the three identical, spoon-shaped legs and to pack them in

a space-saving manner. Furthermore, the assembly is simple and clear. Due to

its bent shape, the 7 mm thick cross-glued wood veneer has an enormous rigidity.

For weight reasons, the seating surface is hollow. This means that screws

can be simply pushed through and tightened with a nut.
---
RAOUL DUBOIS

[GALLERY] → 82

45
---
JOLICOEUR

L: 300 mm × W: 600 mm × H: 410 mm

What does a seating object look like which not only has to be elegant and sensuous,

but also has to be robust because of frequent use? The objective of the

proj ect was to develop a seat for public transportation facilities. A number of

free sketches led to important steps in the direction of a target form, where comfort

and simplicity are combined in curves. Extensive production tests led to a

seat that is constructed in one piece. A fixed inner and flexible outer formwork

was created for this purpose. In this first step, a lot of effort was spent on producing

a strong curvature, after which the seat had to be stabilized in a second

step, through a combination of these surfaces. The formwork, which had been

rebuilt with a lot of effort, made a still tighter curvature possible at this point.

The radical concept of a closed, simple and comfortable form led to a result

that expands the formal language of plywood and indicates additional potential.

54
---
MANON ZIMMERLI

[GALLERY] → 96

55
---
BOBI-STOOL 155

L: 520 mm × W: 374 mm × H: 300 mm

66
---
ILGHAR DADGOSTARI

[GALLERY] → 112

In the design, the name Artek stands for the connection between identity,

function and art. Despite modern production techniques, products are not

always considered as purely industrial artifacts. Instead, they are frequently

an expression of socio-philosophical concepts and, with that, representatives

of their time. In this sense, the project searches for forms that go beyond the

pure material and production technology.

Following this guiding principle, especially the use and the meaning of

symbolism have been made the focus of the creative process. The interaction

between form and material develops via numerous attempts that are made on

different scales. Due to the material properties of cardboard, the initial tests

and first development of forms were carried out in this material. The designs

developed this way are then worked out more precisely in their form by using

a milling machine. A model is created using a scale of 1:3 or 1:5 and then made

of aircraft plywood, after which it is examined for strengths and weaknesses.

On the basis of the achieved results, weak points were strengthened in the final

design and fixed with screws. Unlike other projects, the form of the object is

not created by using a press mold. Instead, it is the result of an active deformation

process of the wet wood.

This has led to the creation of an abstract object that can be used as

seating furniture, both in the home area and in public institutions, such as galleries

or museums. The basic concept of the form is designed to promote a dialog

between various cultural, social and historical contexts. 67
---
HENK

L: 520 mm × W: 260 mm × H: 500 mm

Very early on in the project, the potential of a folding chair was recognized and

investigated with a first model. This consisted of four bent U-parts, which could

be folded in two directions and which generated unusual shadows in light. This

trial model was the starting point for the project. While the folding function was

integrated, the radii of the U-shaped of the chair legs were changed. In this way,

different functional models were created with strongly reduced shapes, so that

the intersections of the U-legs could come into their own.

For the production of the chair legs, flexible and airplane plywood were

used, which was cut into strips and coated with polyurethane wood adhesive,

after which it was wrapped around the prepared form made of MDF. A shaping

machine was then used to remove the unnecessary material. The two forms of

the seating surface meet when the chair is folded open. The two selected shapes

form a rounded end to the chair legs, together with the cushion and the leather.

Henk stands for lightness and mobility. If required, the volume of the

chair can be reduced through the folding function, so that it is easier to store

it. The user has the choice of using this in the living room, on the veranda or

while camping.

78
---
MELINA MICHAELIDES [GALLERY] → 124

79
---
PULPO

82
---
RAOUL DUBOIS

[PROGRESS] ← 44

83
---
JOLICOEUR

96
---
MANON ZIMMERLI

[PROGRESS] ← 54

97
---
SPLIT STOOL

106
---
NICOLAS HARTER

[PROGRESS] ← 60

107
---
MYCRET SOLID STOOL

114
---
LEA BISSIG

[PROGRESS] ← 70

115
---
L //KE

126
---
MERET TRÖSCH

[PROGRESS] → 146

127
---
STOOL 62

134
---
OLEKSANDRA MEDVEDEVA [PROGRESS] → 154

135
---
BIRK BANK

L: 1350 mm × W: 450 mm × H: 800 mm

Based on Alvar Aalto's "Stool 60" and its L-legs, as well as the concept of self-assembly,

a modular system for a seating bench was developed, which can be used

in many different ways. Variations in the legs of the bench play an important role

in this regard. These are bent with the help of cuts and steam, and then glued

together with inserted veneers. The legs are made of maple wood, and the parts

for the arms and back are manufactured from spruce tree wood. Due to the way

in which they are joined, the legs appear to wind themselves around the seating

surface, the back and the armrests, as if they were plants. This organic motif

helps to form the bench into an entity that offers great comfort, despite the seriality

of the elements: since the backrest and the armrests are bent, the body can

comfortably snuggle up to the bench.

BIRK BANK is delivered with exchangeable legs, which can be combined

with various armrests, backrest and seating surfaces. This means that this bench

can be adapted individually to each place where it is used.

150
---
NATALIE AGREDA [GALLERY] ← 130

151
---
PENKKI

L: 1100 mm × W: 600 mm × H: 900 mm

The design of the "Penkki" has two roots. Firstly, the construction and the

esthe tics of the L-legs that were used for the "Stool 60" of Artek, which serve

as a technical foundation for its production, and secondly the highly symbolic

Swiss "Landibank" of Burri, which serves as an esthetic reference. The radical

simplicity of these motifs was recorded in a comic-like pencil sketch, which in

turn became the basis for its further development. The objective was to come

as close as possible to the esthetics of the two-dimensional sketch in a three-dimensional

space, without appearing to be grotesque. This is why rather rough

forms were used and why the edges were given an imperfect finish. The object

was manufactured according to the Artek example, whereby the cantilevered

legs were produced with the help of a counter-form. Simple spruce wood planks

were used for the seating surfaces and the backrest. Through the esthetics

of repetition, the bench wins dynamism, and the straight hardwood is given a

snappy touch. Through its direct connection with the original sketch, the creative

process is conveyed by the object itself. Here seating furniture has been

created in wood, which gives both a playful and a minimalist impression, while,

due to its lightness, giving a new interpretation to cozy sitting in the living room.

This has led to the creation of a niche product in the crossover between a stool

and a bench, indoor and the outdoor space and between two cultures, namely

Finland and Switzerland, as a cantilevered bench for the living room.

158
---
URSINA HASLEBACHER [GALLERY] ← 138

159
---
GRAIN ORIENTATION, GROWN AND SHAPED

FIGURE 1 Oak outer string timbers required for shipbuilding

FIGURE 2 Structure of a wood cell

FIGURE 3 Stress distribution in curved wood

FIGURE 4 and 5 Hay sled
---
SEBASTIAN KRAFT

the material does not have to stretch or compact. By placing a metal bending rail

on the outer (pull) side, the tensile component can be completely removed from

the wood. Metal has a considerably higher tensile modulus (and a higher tensile

strength) than wood and takes over the tensile stress. As a result, the wood

"only" has to compress—on the inside now several times over. According to a rule

of thumb, hardwoods such as beech, oak, ash and elm can be bent by a minimum

radius of three to four times the thickness of the piece in question. Conifers, on

the other hand, only allow 18 times the radius. 1 [→ FIGURE 3]

DAMPNESS

In preparation, the air-dry wood is moistened with water. When moisture is supplied,

the cells swell and the properties of the cell building blocks change. E-modulus

and strength decrease. Moistening beyond the fibre saturation point does not

further soften the wood, contents are washed out if necessary and cell cavities

filled with water can lead to breaking outwards on the pressure side during bending.

TEMPERATURE

Temperature has a great influence on the mechanical properties of the wood.

In combination with wood moisture, an increase in temperature leads to a loosening

of the fiber composition and to plastic deformation (in contrast to elastic

deformation, in which the object returns to its original state after loading/bending).

Elongation now causes much less stress than with dry, unheated wood. The

deformability of the cell walls allows for strong compression. Wood should be

continuously warmed to 80° C and moistened up to the fiber saturation point.

GROWTH RINGS

A load in the tangential direction is advantageous, i.e. the cross-section to be bent

should preferably have standing growth rings (90° to the bending direction). Grain

orientation should be parallel to the longitudinal axis. Cut fibers break outwards

during bending, the piece has a reduced load-bearing capacity.

METHODS

The wood is steamed or boiled in a closed container, then bent and fixed as quickly

as possible over a press mold or several points. After cooling it is loosened and

can be further processed. Since the wood springs back a little after forming, the

bending form must be 10–20 % beyond the target geometry. Additional fixation

over several days or weeks—e. g. with a clamping set or nailed strips—prevents

slow resetting further. Each wooden part takes on an individual shape after bending,

therefore it is important for parts that are in a series production that they are

fastened at several points (at least three) when installed.

167
---
THE FORM AS AN IMPRINT OF AN IDEA

FIGURE 1 US Patent, John Henry Belter, "Manufacturing Furniture," 1858
---
MARIO RINKE

itself in England as a metaphor for the cheap and deceptive. The French furnier

of the 16th century still stood for adornment and meant covering a piece of wood

with a nobler one.

The development of plywood as we know it today is mainly the work of

two people whose patents dominated the discourse in the USA in the 1850s and

1860s: Belter and Mayo. The cabinetmaker John Henry Belter (Johann Heinrich

Belter), who immigrated from Germany, owned a furniture factory in New York

and received numerous patents for machines and plywood techniques. Interestingly,

in the documents of his 'pressed-work' there are even depictions of press

molds and arrangements of the lamellas [→ FIGURE 1]. Belter only briefly names the

essence of the well-known plywood, the gluing of thin layers of wood in layers, in

order to then focus on the actual application: "giving increased beauty, strength,

and other valuable qualities to what is termed 'pressed-work' furniture (…)". 4 Belter

used his technique to make the back of a chair. Until then, an object produced

in this way had been produced flat or curved in only one direction because of its

material characteristics. Belter produced a closed tubular shape from which he

cut out the individual back segments. By means of the tubular shape, he shaped

his curved chair backs: In the direction of the tubular shape, he bent the individual

staves, in the tangential direction he pushed them together at slanted edges,

similar to the wall of a barrel. This allowed him to easily achieve a double curvature,

which provided greater stability and made the element lighter. For esthetic

and technical reasons, the outermost layer was to be vertical and—to give the customer

a good impression—made of rosewood. Similar to his patent for the rosewood

bed 5 in 1856—for its frame he developed a circular, curved plywood surface—the

specially shaped wooden component is a replica of an established shape

yet using a new process. Plywood is therefore a practical, lighter and more compact

substitute for a multi-part and multi-stage construction method. It is only

applied to the part of the furniture whose geometric complexity normally meant

a greater construction effort.

In 1865 John K. Mayo's patent, on the other hand, aimed at a general production

of materials. 6 He first described the process of artificially joining the layers:

"The invention consists in cementing or otherwise fastening together a number

of these scales of sheets, with the grain of the successive pieces, or some

of them, running crosswise or in diversely from that of the others (…)." The specific

direction of the timber grains takes on a specific arrangement and the layers

neutralize each other to a certain extent. For this new wood building material,

the scale boards, he had specific forms and technical applications in mind, as

he explains in a patent in 1868. 7 There, elements in the form of tubes or hollow

boxes are depicted and described in order to be used as lightweight and particularly

load-bearing bridge beams. Constructively, they refer to the contemporary

wrought-iron components whose typical forms they adopt. But also the connection

details, e. g. sleeve joints and, if necessary, rivets, are taken over. Scaled

boards are produced as "improved material," which produce different technical

forms. Mayo's collage-like drawing [→ FIGURE 2] thus stands for the principle of construction:

The individual, the thin, narrow layers of wood, are transformed into a

new, continuous mass whose plate-like form is determined by the industrially executed

layering only. This continuous mass already has a new artificial shape, i.e.

the straight plate, which is combined to form boxes or is constantly curved to the

shape of a tube. The new nature of the material, its layering with its specific directions

and the overall curvature, is laid out in the reorganization and fixation of the

177
---
TECTONICS

FIGURE 4 Paimio lounge chair, Alvar Aalto, 1930

FIGURE 5 Chieftain chair, Finn Juhl, 1949

FIGURE 6 Romans' curule seat, Sella Curulis

FIGURE 7 PK22, Poul Kjærholm, 1955 FIGURE 8 PK 41, Poul Kjærholm, 1961

190
---
NICOLAI DE GIER

Technique prepares and works up the materials and gives form to them and to

the associated parts, partly through the techniques of adapting and finishing

them, but also through modes of joining the constituent elements that have been

adapted to the chosen material.

When new techniques are contrived, new possibilities of working with

existing materials arise. When the technique of steam bending was developed

by the Thonet brothers, new ways of designing furniture were rendered feasible.

Suddenly, it was possible to move, in a simple way, from the vertical to the horizontal

plane without having to do so via an assembly or via joining. Not only did

the new possibilities have an influence on the form, they also affected the whole

process of formation. Consequently, the world's first industrial articles of furniture

could be mass-produced.

TECTONICS AS A FACTOR IN THE FORMATION OF MEANING

The formation of meaning in a given article of furniture's construction depends

on the perceptions and associations fashioned actively by both the creator and

the viewer. How the furniture articles' construction is perceived and interpreted

and what meaning the architect has supplied to the construction, along with how

this is perceived by the viewer on the basis of his/her experiences, all depend to

a marked extent on the cultural horizon and on the political, social and economic

circumstances under which the articles have been created.

Certain articles of furniture carry more significance than others and this

establishment of meaning is crucial when we consider that some articles of furniture

make a deeper impression on us, regardless of what period of time they

have been created in, because they have been executed with an affirmative artistic

insistence that extends beyond their own contemporary time.

The tectonic articulation is the generator of the formation of meaning in

the manner of joining the elements. In other words, through a closer analysis of a

given article of furniture's materially related adaptation and finishing, of its execution

with respect to form and of the significance of the joinings, the tectonic

idea of the work can be read. Tectonics unites the artistic purpose with the materiality,

the form and the technique.

"Architecture begins when two bricks are put carefully together." 4

Mies van der Rohe

—

1 Werner Blaser. Joint and connection. Basel 1992

2 Kenneth Frampton. Studies in Tectonic Culture. The Poetics of Construction in the

Nineteenth and Twentieth century architecture. Cambridge, MA 1995

3 Anne Beim. Tektoniske visioner i arkitektur. Copenhagen 2004

4 Gustav Friederich Hetsch. Bemærkninger angaaende Kunst, Industri og Haandværk.

Copenhagen 1863

191
---
CONTRIBUTORS

NICOLAI DE GIER is Associate Professor, architect

MAA, graduated from The Royal Danish Academy

of Fine Arts, School of Architecture and trained as

a cabinetmaker. He is head of the Furniture master's

program. Nicolai de Gier has published a number

of articles, papers and books on furniture and

design, participated in design talks, exhibitions, workshops

and documentaries about furniture design. He

co-founded and runs the design brand TAKT.

FLORIAN HAUSWIRTH is an industrial designer and

"industrial craftsman" thanks to his training as a

technical model maker. During his work as a prototype

builder and materials researcher at Vitra, he

learned various design approaches and also experienced

the transition from analog to digital design

in the product development of the furniture company.

Today he runs a design studio and label "Industrial

Craft" where he places machine processing and

handmade products in an equal relationship to each

other. Florian teaches on the Object Design Program

at the Lucerne School of Art and Design.

SEBASTIAN KRAFT is a carpenter and timber engineer.

From 2007–2011 he worked in the materials department

of the Bern University of Applied Sciences in Biel.

He has been self-employed since 2011 and develops

professional solutions for the application of wood and

derived timber products. Since 2014 he has been a

lecturer for wood theory at the Lucerne University of

Applied Sciences and Arts.

MARIO RINKE is a structural engineer and construction

historian, specialized in early reinforced concrete

and timber construction. He is a senior researcher at

the Department of Architecture at ETH Zurich where

he has lectured since 2011, having been at the Lucerne

University of Applied Sciences and Arts since 2009.

He obtained his Diploma in civil engineering from the

Bauhaus University in Weimar in 2006 and his PhD

at ETH Zurich in 2013. After working as a structural

design engineer in London and Zurich, he runs his

own office in Zurich. Mario is a founding member of

the International Association of Structures and Architecture

(IASA) and regularly publishes in the fields of

architecture and construction.

CHRISTOPH SCHINDLER studied architecture at the

University of Kaiserslautern and received his doctorate

from ETH Zurich. Since 2005 he has been a partner

at schindlersalmerón in Zurich, responsible for

product development with a focus on contract furniture.

Since 2014 he has been Head of the Object

Design Program at the Lucerne School of Art and

Design.

JOSEPH SCHWARTZ has been full professor at the

Chair of Structural Design at the Department of Architecture

at ETH Zurich since 2008. He obtained his

Diploma in civil engineering from ETH Zurich in 1981

and his doctoral degree in 1989. Between 1989 and

1999 he lectured at several universities in Switzerland.

From 2001 to 2008 he was professor at the Lucerne

University of Applied Sciences and Arts. Joseph

Schwartz was associate partner of a consulting office

in Zug, Switzerland, from 1991 to 2001. Since 2002 he

has been the owner of a civil engineering office in Zug

involved in the design of building structures, in close

cooperation with several leading Swiss architects.

ALESSANDRO TELLINI studied industrial and product

design at the University of Applied Sciences and Arts

Northwestern Switzerland (FHNW) and has a formal

education as a graphic designer from the Basel School

of Design Switzerland. He joined the Rapid Architectural

Prototyping Laboratory (Raplab) at the Department

of Architecture at ETH Zurich as Research Assistant

in 2009 and became director of the Raplab in 2011.

Alessandro is a lecturer at ETH and involved in different

teaching and research projects in the department, ranging

from design studios to elective classes and from

model building to large-scale prototypes. In 2017 he

co-founded Faber Atelier, his own small-scale design,

and furniture company.

STUDENTS OF ETH ZURICH Ziu Bruckmann, Raoul

Dubois, Alexandra Grieder, Nicolas Harter, Sven Högger,

Samira Muster, Fabian Reiner, Valentin Ribi, Maxence

Ryan, Simon Wüst, Manon Zimmerli

STUDENTS OF LUCERNE UNIVERSITY OF APPLIED

SCIENCES AND ARTS Deiara Kouto, Ilghar Dadgostari,

Lea Bissig, Leonie Hochstrasser, Lorena Adler,

Lukas Toppler, Melina Michaelides, Meret Trösch,

Nadia Huber, Natalie Agreda, Nils Widmer, Oleksandra

Medvedeva, Selina Cadruvi, Ursina Haslebacher,

Viviane Stüssi, Aynur Turunc, Joshua Ritter

199
---
TABLE OF FIGURES

NICOLAI DE GIER: TECTONICS

All images: Brian Buchard

FLORIAN HAUSWIRTH: DESIGNING IN THE WORKSHOP—

THINK WITH YOUR HANDS

All images: Lucerne School of Art and Design

SEBASTIAN KRAFT: GRAIN ORIENTATION, GROWN AND SHAPED

1 Etienne-Nicolas Blondeau, Nicolas Claude Duval le Roy

and Honoré-Sébastien Vial du Clairbois. Dictionnaire

encyclopédique de marine. Paris 1783–1787

2–3 Wolfgang Fiwek. Holz biegen. Hannover 2014

4–21 Lucerne School of Art and Design

MARIO RINKE: THE FORM AS AN IMPRINT OF AN IDEA

1 John Henry Belter. US Patent "Manufacturing Furniture" 1858

2 John K. Mayo. US Patent "Materials for Bridges & c." 1868

3 Otto Hetzer. UK Patent "Improvements in Composite

Wooden Structural Elements (…)" 1906

4 Carl Kersten. Freitragende Holzbauten. 2nd Edition. 1926

5 Brooklyn Museum

CHRISTOPH SCHINDLER: REFERENCING AS AN

EVOLUTIONARY PROCESS

1 Fabia Burkard

2 Wikimedia Commons

3 Andri Stadler

4 Wolfgang Mayer

5 Andri Stadler

6 Wikimedia Commons

7 Sophie Schüpbach

8 "Silk Memory" web database

ALESSANDRO ORESTE TELLINI: EDUCATIVE CRAFT

All images: Raplab ETH Zurich

INTRODUCTION

pp. 10/12 bottom: Lucerne School of Art and Design / ETH Zurich

p. 12 top: artek

OBJECTS IN PROCESS

All images: Lucerne School of Art and Design/ETH Zurich

LAST PAGES

pp. 192–195: Lucerne School of Art and Design/ETH Zurich

pp. 196/197: Andri Stadler
---
DESIGN AND

CONSTRUCT

A PLYWOOD

SEAT!
---
Design and construct a plywood seat! Based on the famous L-leg, which was designed by the architect Alvar Aalto for

the Finnish furniture company Artek, an experimental study project investigated the potential and design possibilities

of glued and bent wood. In close cooperation with Artek, 28 students of architecture at the ETH Zurich, and students of

object design at the Lucerne University of Applied Sciences and Arts, not only turned the material on its head, but also

questioned the sensuous qualities of the objects, their construction as an architectural place and sitting as a social

event. This volume presents the surprising and unknown aspects of a well-known material, illuminates the respective

creation process and reflects on its context in a variety of essays.

Contributions to the volume were made by Nicolai de Gier, Florian Hauswirth, Sebastian Kraft, Mario Rinke, Christoph Schindler

and Alessandro Oreste Tellini