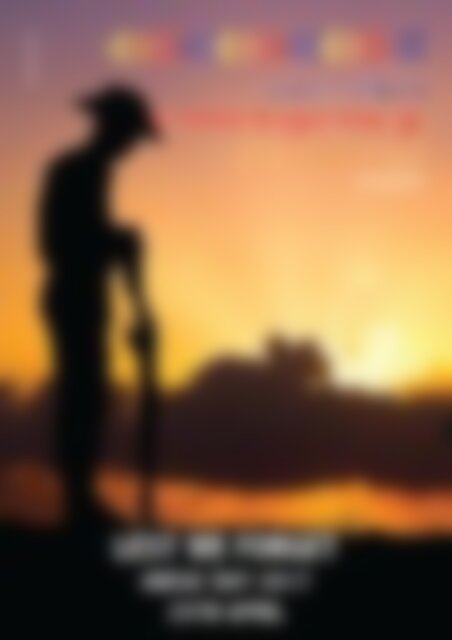 Vol. 3 Issue 2. 2017
The Australian Emergency Services Magazine is a community educational resource dedicated to the recognition and promotion of emergency service personnel, and the awareness of safety measures, for the community, family and individual. We aim to provide relevant and up to date information and advancements within each of the emergency response sectors and first responders.
The Australian Emergency Services Magazine is a community educational resource dedicated to the recognition and promotion of emergency service personnel, and the awareness of safety measures, for the community, family and individual. We aim to provide relevant and up to date information and advancements within each of the emergency response sectors and first responders.
SHOW MORE
SHOW LESS
Create successful ePaper yourself
Turn your PDF publications into a flip-book with our unique Google optimized e-Paper software.
Autumn 2017

LEST WE FORGET

ANZAC DAY 2017

25TH APRIL
---
22-23 MAY 2017 JUPITERS HOTEL GOLD COAST

www.anzdmc.com.au

The Australian Emergency Services Magazine

and Boothbook Media proudly supports

the Australian & New Zealand Disaster and

Emergency Management Conference
---
Editor's Note

CONTENTS

2

Latest Events

• Volunteer Week

• ANZ Emergency and

Disaster conference

Anzac Day - remembering our

emergency services

Bail reform after Bourke

Street tragedy

Emergency Kit Essentials

Understanding thunderstorm

asthma

Climate change and the latest

heatwaves

Volunteering - your essential

guide to volunteering for

emergency services

The importance of social ties

during disaster recovery

National rollout of cyber

safety program

Tune into emergency

warnings

3

5

6-7

8-9

10-11

12-15

16-19

20-23

24-27

28

30

australian

emergency

services magazine

www.aesj.com.au

MAGAZINE CONTACTS

1300 851 710

press@aesj.com.au

DISCLAIMER

The Australian Emergency Services Magazine is a community

educational resource and does not promote itself as a charity

or fund raising institution, nor solicit on behalf of charities

and is no way financially supported by or associated with

any government or similar institution. Distributions of the

publication is Quarterly and are circulated via a database of

interested parties, including business, subscribers, advertisers,

volunteer emergency organistations, and council libraries.

A digital eMag is distributed to a targeted database in each

State & Territory. All information published in the Australian

Emergency Services Magazine is in good faith and whilst every

effort is made to ensure that the publication is free of error

and omission, no responsibility or liability will be accepted by

Boothbook Pty Ltd.

Published by Boothbook Media

ABN:72 605 987 031

www.boothbookmedia.com.au

1
---
EDITORS NOTE

2

Welcome to the Autumn Edition of

the Australian Emergency Services

Magazine. And what a long hot

summer it was! Looking forward to

the cool change that Autumn brings

and an end to the notoriously busy

season for our emergency service

personnel.

This summer season certainly

had our emergency services and

volunteers going the extra mile

and demonstrating as always what

an amazing job they do in our

communities.

The Bourke Street tragedy on

January 20th in Melbourne shocked

and saddened us all, but will forever

have a place in the hearts of the

residents of Melbourne, the families

affected and the emergency services

personnel that were first on the

scene.

Craig Lapsely, the Emergency

Management Commisioner

expressed these deep sentiments.

"Our thoughts are with not only

those who have lost their lives, but

those who are injured physically,

and those who will be scarred

for such a long time by what they

witnessed, what they did, how they

helped. We've seen bravery, we've

seen people doing their jobs and we

have seen ordinary people doing

extraordinary things. The impact for

all of us is far reaching, including for

those who are thinking "what if "?"

Bushfires, storms and floods also

had their devastating affect on

communities around the country

with many families losing their

homes to these natural disasters that

seem to be more prevalent each year.

This highlights the value of having

strong community ties and how

important it is to look after our

neighbours. To celebrate this

community spirit and to hopefully

inspire you, this issue includes a

definitive guide to volunteering in

your community in the emergency

services sector.

On April 25th ANZAC Day services

will be held around the country. We

take a look back at the history of the

emergency service volunteers during

WW2 and the invaluable role they

played around the country. Check

out your local council website for

ANZAC day services in your area.

From all the team at the Australian

Emergency Services Magazine we

wish you a cooler and more peaceful

Autumn.

Emma Parker

Editor
---
LATEST NEWS

Volunteer Week 2017

8-14th may

Save the date! National Volunteer

Week, 8–14 May 2017

National Volunteer Week

(NVW) is an annual celebration

to acknowledge the generous

contribution of our nation's

volunteers.

From 8–14 May 2017 thousands

of events across the country will

be held to say thank you to the 6

million Australians who volunteer

including breakfasts, morning/

afternoon teas, and luncheons

as well as open days, award

ceremonies, picnics, forums and

training sessions.

'Give Happy, Live Happy' is the

catch cry of this year's national

volunteer week and there are plenty

of reasons why volunteering in

your local community will not only

improve the lives of those around us

but also for you too!

Professor Thomas Neilson from the

University of Canberra advocates

the benefits of volunteering in the

following ways:

As a healthy lifestyle choice:

"One of the healthiest things we

can do is to volunteer. Volunteering

leads to healthier, happier, and

longer lives. Sustainable wellbeing

comes not from money or

consumerism, but from

having meaningful happiness in our

lives. Studies show intimate links

between generosity and our

immune systems. We now know

that volunteering is not just good

for our physical health, but for our

psychological and emotional health

too."

As a true community builder:

Engaging in generous and altruistic

behaviour makes you want to

be more generous and altruistic.

Volunteering, health, and happiness

together create a positive,

reinforcing loop: the more you

volunteer, the healthier you become,

the more you want to volunteer.

Volunteering is a true community

builder in that sense.

As a predictor of health and

happiness:

There is one shared denominator

for what people across cultures and

religions report as giving them

meaningful happiness in their

lives: being something for others.

When we give of ourselves to others

through volunteering we experience

an array of health benefits from

hormones rushing through our

biology, increasing our resistance to

disease and adversity. In fact, giving

is one of the strongest predictors of

increasing our health and

happiness.

At www.volunteeringaustralia.org

you can purchase lots of goodies

to show your support, download

resources to display in your

workplace to help speread the word

or register your own event.

References:

www.volunteeringaustralia.org/nvw

Associate Professor Thomas Neilson, University of

Canberra

Nielsen, T. W. (2013). Meaningful Living. http://

www.thomaswnielsen.net/giving-makes-us-happy/

2. Thomas W. Nielsen, The Canberra Times,

June 14, 2010. http://www.thomaswnielsen.net/

resources/meaningful-living/

3
---
4
---
LATEST NEWS

DISASTER AND EMERGENCY

MANAGEMENT CONFERENCE

2017 Australian & New

Zealand Disaster & Emergency

Management Conference

The 6th Australian and New

Zealand Disaster and Emergency

Management Conference will be

held from 22nd to 23rd of May, at

Jupiters Hotel on the Gold Coast,

Queensland.

The Conference theme "EARTH;

FIRE and RAIN" will continue

to address planning, response

and review the latest research

in the management of disasters,

emergencies and hazards.

How do we respond to, recover

from and mitigate against the

impacts of disasters on our

communities, emergency service

personnel, infrastructure and

provision of services.

What can we learn from our

international colleagues and the

research being undertaken in

Australia.

The conference will address these

issues and more.

Join our Australian and

International delegates, more

than 100 speakers, our exhibitors

and partners at this must attend

event for people working in and

with the emergency and disaster

management sector.

Topics discussed at the conference

include:

• Technology and Operations

• Multi-Agency Response

• Understanding and Enhancing

Resilience

• Emerging Technology and

Capability Needs

• The Recovery Process

• Crisis Leadership

• Volunteers in Emergencies

• Psycho-Social Implications of

Disaster Management

• International Response to

Disasters

• Consequence Management

• Open Topics

Confirmed Speakers:

Mr Rod Young, National

Emergency Response Manager,

Telstra

Mr John Yates QPM, Director of

Security – Scentre Group, Australia

and New Zealand, Westfield

Corporation – US, UK & Europe

Ms Judy Slatyer, CEO, Australian

Red Cross

Dr Susie Burke, Senior Psychologist,

Public Interest, Environment and

Disaster Response, Australian

Psychological Society

Dr Paul Barnes, Head, Risk &

Resilience, Australian Strategic

Policy Institute

Associate Professor Peter Aitken,

Senior Director, Health Disaster

Management Unit, Queensland

Health

To reserve your place at the

conference or to exhibit visit:

www.anzdmc.com.au

5
---
THIS ANZAC DAY WE

REMEMBER OUR

EMERGENCY SERVICE

VOLUNTEERS

This ANZAC Day we look back

at the role the emergency services

played during WW2.

The National Emergency Services

NSW (NES) helped to protect,

educate and provide aid on

the home front. The NES was

established in 1939 and by the

end of World War II 115,418

people had volunteered with the

organisation.

Nearly half of these volunteers

were enrolled as wardens. During

the War, from the Hunter to the

Illawarra, there were 464 air raid

sirens, 70,000 feet (21,336 m) of

trench shelters, 36,000 ft (10,972

m) of covered trenches and 139

pillbox air raid shelters.

Australian Commonwealth and

State Ministers agreed in 1936,

that for civil defence purposes,

they would train key personnel

in preparation for gas attacks,

provide equipment, manuals,

technical information and advice.

This was the very beginning of

Australia's Civil Defence Service.

During WWII, many Australians

were volunteers, appointed as Air

Raid Wardens by the National

Emergency Services, monitoring

air raid security and breaches

of blackout regulations. In cities

and towns around the country,

evacuation procedures were

planned and practised.

After the war, around the late

1940s, the Commonwealth

reactivated the Civil Defence

Service, and during the 1950s

the States accepted responsibility

for civil defence organisations.

Each State formed a headquarters

and volunteer units at local

government level.

6
---
This was the beginning of the SES

that we know today.

In 1942, a famous advertisement

featuring the Prime Minister John

Curtin called on all Australians

to assist in the war effort. Men,

women and children were called

upon to support and protect their

homes from the enemy.

"What are you doing for Australia

in her darkest hour?" was the

slogan used.

Anticipating Japanese air and

submarine attacks, blackout

restrictions were introduced and

air raid warning instructions

issued. Families dug air raid

shelters in their backyards and

barbed wire was strung across

beaches.

Many men who were unable to

enlist because of their age or their

essential war occupations joined

home defence organisations.

Members of the Volunteer

Defence Corps (VDC) and the

Volunteer Air Observers Corps

(VAOC) helped to erect and patrol

coastal defences or spot aircraft

and shipping.

Others joined the Naval Auxiliary

patrol, a voluntary organisation

attached to the Royal Australian

Navy. Many of the volunteers

provided their own vessels, from

dinghies to luxury yachts, to patrol

Sydney Harbour and coastal areas.

The possibility of Japanese

invasion prompted the Australian

Government to assume

extraordinary wartime emergency

powers. Prime Minister John

Curtin was able to invoke defence

powers under the Constitution

which allowed the government

broad, wartime authority and

which gave Curtin probably the

most power of any Australian

Prime Minister.

A standard wooden alarm rattle

was used by Air Raid and Civil

Defence Wardens to warn local

residents of potential air raids or

gas attacks. The rattle made a very

loud, sharp clacking sound that

was designed to attract attention.

The government also introduced

strict censorship of the media.

Any information that might

damage public morale such

as explicit details of enemy

attacks, Australian losses or

even unexploded bombs on

Australian soil was censored by

local authorities on the instruction

of the Chief Publicity Censor in

Canberra.

To honour those men and women

who bravely fought and volunteered

within the community and

those who are still engaged in war

overseas attend a local ANZAC

ceremony in your local area.

Check your local council website

for information or contact your

local RSL club.

7
---
Victoria should not rush in on

bail reform

The horrifying event in Melbourne's

CBD on the 20th January was yet

another episode where a person

used a vehicle as a weapon of

destruction. It left five people,

including a baby boy, dead. Another

30 people were injured, many

seriously.

The alleged perpetrator, Dimitrious

Gargasoulas, was revealed to be on

bail in relation to another alleged

offence six days before the attack,

despite opposition from Victoria

Police prosecutors. A bail justice (an

out-of-hours volunteer honorary

justice, like a justice of the peace)

had granted Gargasoulas bail on

January 14.

In response, Victorian Premier

Daniel Andrews has announced

that magistrates, rather than bail

justices, will be exclusively deployed

to hear bail applications in serious

matters. Andrews has also directed

the former director of public

prosecutions, Paul Coghlan, to

review Victoria's bail system.

Does the bail justice system work?

Faced with cries to "do something"

when a crisis erupts, governments,

understandably, become risk-averse.

So, it was quite predictable that the

Andrews government's first target in

this case was the bail justice system.

This uniquely Victorian initiative

has drawn praise for more than two

decades.

While one can sympathise with

those who are calling for review and

change, we need to exercise caution

before overhauling the operation of

bail laws on the basis of one, albeit

horrendous and tragic, case.

The bail justice system is one of the

reasons usually given to explain

why Victorians continue to enjoy

the lowest remand-in-custody rates

in Australia.

There is no evidence that that

achievement has compromised

safety for Victorians generally.

Moreover, police officers actually

make 90% of bail decisions;

magistrates or bail justices are only

called in to adjudicate in the event

of police denying bail.

8
---
There is also no reason to suspect

that a magistrate would not have

reached the same bail conclusion

as the bail justice did in relation to

Gargasoulas on January 14.

Denying bail fills our prisons

The denial of bail is also a

significant factor in the seemingly

unstoppable rise in Australia's

prisoner numbers.

There was yet another significant

rise in numbers last year. In the

September quarter of 2016, the

average number of full-time

prisoners was 38,998. Of these, 32%

(12,332) were unsentenced – that is,

denied bail.

This takes Australia, for the first

time in its modern history, out

of the 15-30% range – which

includes, for example, the UK, the

US, Canada, Russia, Israel, Poland,

New Zealand and Germany – and

puts it into the 30-50% range found

in Brazil, Thailand, Papua New

Guinea, France, Kenya and Mexico.

The number of unsentenced

prisoners in Australia increased

by 22% from 2015 to 2016. This

followed a 21% increase from 2014

to 2015. Over the last five years,

unsentenced prisoner numbers in

Australia have increased 81%. The

trend is financially and socially

irresponsible and unsustainable.

Australians need to be a little more

forgiving regarding the decisions of

bail authorities when their decisions

turn out to be ill-fated. Thousands

of accused persons are granted bail

each year over police objections

with few adverse consequences.

Australia needs to be very

careful not to allow the bail

system – whether it is overseen

by magistrates or lay justices – to

become a political scapegoat at the

hands of commentators exercising

20/20 hindsight.

Finally, we must be very careful not

to rush to judgement and pretend

that by tightening certain justice

processes the problem will go

away. Simply putting (and keeping)

behind bars for months at a time

everyone whom someone has

deemed to be a risk to their family's

safety, their own safety or public

safety is not the answer.

This article has been amended to display

the date the incident occured.

First published on The Conversation

Rick Sarre

University of South Australia

www.msccruises.com.au

Meditteranean

Northern Europe

Caribbean

South America

South Africa

Dubai, Abu Dhabi

MSC Grand Voyages

FLY, LAND & CRUISE

1300 028 502

DEALS BY DESTINATION

CHILDREN CRUISE FREE

Suite 532, 5 Lime Street King Street Wharf SYDNEY

9
---
EMERGENCY KIT

ESSENTIALS

HAVING AN EMERGENCY KIT IS AN IMPORTANT STEP TO

PREPARE FOR, SURVIVE AND COPE WITH EMERGENCIES.

Know

All householders need to

know where your

Emergency Kit is kept.

On this page is a list of items which should be in your

kit at all times. There is also a list of extra items which

if you do not keep at all times you should add to your

kit during storm or cyclone season.

FOOD AND WATER

COMMUNICATIONS

Check

and update the contents

of your kit regularly, to

ensure everything is in

working order and has

not expired.

Discuss

your Emergency Kit

with all householders

and make sure everyone

knows what to do in an

emergency.

KNOW YOUR

EMERGENCY

CONTACTS

Range of non-perishable

MEDICAL AND

SANITATION

food items

Bottled water

First Aid Kit and manual

Essential medications,

prescriptions and dosage

Toilet paper

Toothbrush/toothpaste

Soap/shampoo

Personal hygiene items

LIGHT

Flashlight/torch with

extra batteries

Battery powered lantern

Battery powered radio with

extra batteries

Traditional wired telephone

Prepaid wired telephone

Prepaid phone cards and

coins for phone calls

CLOTHING AND

FOOTWEAR

Warm jumper, waterproof

jacket, hat and gloves

for everyone

Closed-toed shoes or

boots for everyone

TOOLS AND SUPPLIES

Whistle, utility knife,

duct/masking tape

10
---
Plastic garbage bags, ties

Safety glasses and sun glasses.

MISCELLANEOUS

Special items for infants

(nappies, formula etc)

Special items needed by

elderly or people with

special needs

Spare house and car keys

Pet food, water and

other animal needs

IMPORTANT DOCUMENTS

Keep original or certified copies of

these documents in your Emergency

Kit.

Scan copies of them and save the

files on a USB memory stick or CD

to include in your kit. Keep all these

items in sealed plastic bags.

Insurance papers for your

house and contents, cars

and for valuable items

Inventory of valuable

household goods

Wills and life insurance documents

House deeds/mortgage documents

Birth and marriage certificates

Passports/visa details

Stocks and bonds

Medicare, pension cards,

immunisation records

Bank account and credit card details

A back-up copy of important

computer files

Household Emergency Plan with

emergency contact numbers

FOR MORE INFORMATION AND TO DOWNLOAD AN

EMERGENCY PLAN FOR YOUR HOUSEHOLD GO TO:

www.qld.gov.au/emergency/dealing-disasters/emergency-kit

11
---
UNDERSTANDING

THUNDERSTORM

ASTHMA

12

On the 21st and 22nd of November

2016, thousands of Victorians were

affected by a thunderstorm asthma

event which sadly contributed to the

death of nine people.

The rapid onset of this emergency

and the scale of its consequences

were unprecedented. The event tested

the ability of Victoria's emergency

management system to consider and

respond to Class 2 emergency health

consequences arising from a Class 1

emergency – in this case, a storm.

Never before have the Emergency

Services Telecommunications

Authority, Ambulance Victoria or

Victorian hospitals experienced this

level of demand in such a condensed

time period and dispersed over such

a large geographical area.

As a result a review was conducted

into how this emergency was

managed in order to better help the

community and improve services and

outcomes for all.

Understanding what thunderstorm

asthma is, how to manage it and

what to do during such an event is

a key to better management. One

of the first outcomes of the review

was that thunderstorm asthma is not

well understood and neither is the

ability to predict when such a storm

will contain the right factors that will

affect people in an adverse manner.
---
The thunderstorm asthma event

of 21–22 November 2016 had

consequences that were not typical of

a thunderstorm.

The unique characteristics that

differed from the more commonly

occurring emergencies such as

bushfire, flood and thunderstorm

included:

• being largely invisible

• being geographically dispersed

and widespread

• having a rapid onset

• being unfamiliar or unknown,

with less practiced response

protocols.

Allergy, asthma and allergic rhinitis

(AR) are different conditions that

often co-occur, and research is

ongoing to fully understand the

immune system interaction with

allergens.

In simple terms, allergies result from

hyper-sensitivity to an allergen (for

example dust, pollen, mould) whereas

AR is associated with inflammation

of the nose in response to an allergen.

Asthma on the other hand is a

chronic inflammatory condition

located in the lower airways. There

are several types of asthma, among

which allergic asthma is the most

common.

Notwithstanding the rarer occurrence

of epidemic thunderstorm asthma,

as occurred in Melbourne on a much

smaller scale in 2010, many people

with asthma are regularly affected

by the combination of elevated

pollens and thunderstorms. The

numbers of people affected, and the

severity of their asthma are not well

documented.

Although there are uncertainties

about the specific mechanisms

involved, thunderstorm asthma

is likely triggered by small sized

airborne allergens, such as those from

pollen and mould spores that are

carried by thunderstorm downdrafts

and outflows and then inhaled by

allergen-sensitive individuals.

Some of these small-sized allergens

are caused by rupturing pollen grains

as a result of climatic conditions

associated with the storm activity.

There are four proposed conditions

for a thunderstorm asthma epidemic:

• high concentrations of allergenic

material (for example grass

pollen or fungi)

• thunderstorm outflow that

sweeps up bio-aerosols and

suspends them near ground level

in population centres

• formation of respirable-sized

particles (
---
One example of how thunderstorm

asthma occurs and affects those with

respiratory conditions is outlined in

the figure above.

Thunderstorm asthma epidemics

occur when allergen- sensitive

individuals inhale air that is carrying

a high concentration of airborne

allergens. Notably, not all asthmatics

are affected by thunderstorm asthma,

and many people affected do not have

a known history of asthma17.

Where allergy testing of

thunderstorm asthma subjects has

occurred, many have had hypersensitivity

to certain types of fungi

and/or pollen18 19. In addition,

many thunderstorm asthma subjects

have reported a history of hay fever,

but not asthma20 21 22.

It is hypothesised that sensitive

individuals are 'primed' by

environmental factors prior to the

thunderstorm so that their airways

are already hyper-responsive, and

that this causes the acute and severe

reaction to the amount of allergens

carried by the thunderstorm23 24.

A potentially key priming factor is

exposure to airborne allergens such

as pollen or fungal spores prior to the

thunderstorm.

Other priming factors that may

be relevant include exposure to

air pollution, viral infections

(particularly respiratory)25 26 and

weather factors that are known to

affect asthmatics more generally, such

as sudden temperature changes and

high humidity27.

Thunderstorm asthma is a significant

public health issue because of its

potential to affect large numbers

of people (including those with no

known history of asthma), and to

overwhelm emergency department

(ED) resources and pharmaceutical

suppliers. The most severe impact of

thunderstorm asthma is the sudden

MAJOR AUSTRALIAN OPERATOR OF PASSENGER LAND TRANSPORT

PLAN YOUR JOURNEY AND VIEW TIMETABLE

INFORMATION

www.cdcbus.com.au

HILLSBUS

QCITY

HUNTER VALLEY

CDC VICTORIA

SCHOOL SERVICES

CHARTER SERVICES

29 FOUNDRY ROAD SEVEN HILLS NSW CUSTOMERSERVICE@CDCBUS.COM.AU 02 9890 0000

14
---
increase in asthma cases to the

point of an epidemic. This includes

general practitioner (GP) visits, ED

presentations, and in extreme severe

acute cases, hospital admissions.

PREDICTING THUNDERSTORM

ASTHMA

Thunderstorm asthma involves

interactions between meteorological

factors, airborne allergens, and

human factors, therefore prediction

is complex. Four conditions must be

considered in order to understand the

potential for thunderstorm asthma

prediction.

1. High concentrations of alergenic

material.

2. Thunderstorm outflows

3. Respirable-sized aeroallergens.

4. Exposure of sensitive people.

Factors that appear important for

predicting thunderstorm asthma

include:

• seasonal factors: rainfall during

winter, pollen season (start, peak,

and end)

• in the preceding days:

temperature, humidity, pollen

count, fungal spore count

• on the day: temperature,

humidity, wind direction, wind

speed, pollen forecast

• about the thunderstorm:

thunderstorm type, direction of

movement, wind speed

• exposure: time of day, location of

the gust front.

It is important to note that there are

likely other variables involved and

that thresholds and triggers (for

example required pollen count) are

unknown.

WHAT TO DO

• If you already have asthma

discuss an action plan with your

GP during pollen season

• Dont ignore symptoms of asthma

even if you have never had it

before.

• Be aware of when thunderstoms

are forecast

• Stay indoors and close all

windows and doors until the

storm has passed.

• If your condition worsens contact

000 immediately

You can stay informed of pollen

forecast through this website

provided by Deakin University:

www.deakin.edu.au/students/

faculties/sebe/les-students/airwatch

Keep informed of weather forecasts

through BOM and stay tuned to all

radio and tv broadcasts.

www.bom.gov.au

Australian Emergency Service Magazine with

reference to:

© State of Victoria 2017

Review of response to thunderstorm asthma

Australia Ltd

www.imcdgroup.com

Detergents Pharmaceuticals Personal Care

IMCD is a global leader in the sales, marketing

and distribution of speciality chemicals and food

ingredients. Through our technical, marketing

and supply chain expertise we bring added

value and growth to both our customers and

principal partners throughout the world.

Coatings

Home care, industrial

care and institutional care

Pharmaceutical synthesis, innovative (brand)

pharmaceuticals, generic pharmaceuticals,

neutraceuticals or food supplements, veterinary

Colour cosmetics, dental, deodorants,

fragrances, hair care, skin care and toiletries

Adhesives, construction inks,

industrial coatings, paints

Food & Nutrition

Lubricants

Synthesis

Plastics

Bakery, beverages, confectionary,

dairy, edible oils & fats, nutrition,

savoury, animal nutrition

Automotive, industrial,

fuel & refinery

Resins, polymers, esters, plasticisers,

pigments & dyes, surfactants,

floculants, various additives

Compounders, converters, rubbers,

polyurethanes and composites

IMCD Australia firmly believes in offering innovative solutions that meet sustainable demands as well as making a positive contribution to its local communities.

Block 6/113 Unwin Street ROSEHILL NSW 2142 02 9897 6100

15
---
CLIMATE CHANGE

AFFECTING OUR

WEATHER

Climate change doubled the likelihood of the New South Wales heatwave

16

The heatwave that engulfed

southeastern Australia at the end

of last week has seen heat records

continue to tumble like Jenga blocks.

On Saturday February 11, as New

South Wales suffered through the

heatwave's peak, temperatures soared

to 47° in Richmond, 50km northwest

of Sydney, while 87 fires raged across

the state amid catastrophic fire

conditions.

On that day, most of NSW

experienced temperatures at least

12° above normal for this time of

year. In White Cliffs, the overnight

minimum was 34.2°, a new record for

the state's highest observed minimum

temperature.

On Friday, the average maximum

temperature right across NSW hit

42.4°, beating the previous February

record of 42.0°. The new record

stood for all of 24 hours before it was

smashed again on Saturday, as the

whole state averaged 44.0° at its peak.

At this time, NSW was the hottest

place on Earth.

A degree or two here or there

might not sound like much, but

to put it in cricketing parlance,

those temperature records are the

equivalent of a modern test batsman

retiring with an average of over 100 –

the feat of outdoing Don Bradman's

fabled 99.94 would undoubtedly be

front-page news.

And still the records continue to fall.

Mungindi, on the border of NSW and

Queensland, broke the Australian

record of 50 days in a row above

35°, set just four years ago at Bourke

Airport, with the new record now at

52 days.

Meanwhile, two days after that

sweltering Saturday we woke to find

the fires ignited during the heatwave

still cutting a swathe of destruction,

with the small town of Uarbry, east

of Dunedoo, all but burned to the

ground.

This is all the more noteworthy when

we consider that the El Niño of 2015-

16 is long gone and the conditions

that ordinarily influence our weather

are firmly in neutral. This means we

should expect average, not sweltering,

temperatures.

Since Christmas, much of eastern

Australia has been in a flux of

extreme temperatures. This increased

frequency of heatwaves shows a

strong trend in observations, which

is set to continue as the human

influence on the climate deepens.
---
It is all part of a rapid warming

trend that over the past decade has

seen new heat records in Australia

outnumber new cold records by 12

to 1.

Let's be clear, this is not natural.

Climate scientists have long been

saying that we would feel the

impacts of human-caused climate

change in heat records first, before

noticing the upward swing in average

temperatures (although that is

happening too). This heatwave is

simply the latest example.

What's more, in just a few decades'

time, summer conditions like these

will be felt across the whole country

regularly.

ATTRIBUTING THE HEAT

The useful thing scientifically about

heatwaves is that we can estimate

the role that climate change plays

in these individual events. This is a

relatively new field known as "event

attribution", which has grown and

improved significantly over the past

decade.

Using the Weather@Home climate

model, we looked at the role of

human-induced climate change in

this latest heatwave, as we have for

other events before.

We compared the likelihood of such

a heatwave in model simulations

that factor in human greenhouse

gas emissions, compared with

simulations in which there is no

such human influence. Since 2017

has only just begun, we used model

runs representing 2014, which was

similarly an El Niño-neutral year,

while also experiencing similar levels

of human influence on the climate.

Based on this analysis, we found that

heatwaves at least as hot as this one

are now twice as likely to occur. In

the current climate, a heatwave of

this severity and extent occurs, on

average, once every 120 years, so is

still quite rare. However, without

human-induced climate change, this

heatwave would only occur once

every 240 years.

In other words, the waiting time for

the recent east Australian heatwave

has halved. As climate change

worsens in the coming decades, the

waiting time will reduce even further.

Our results show very clearly the

influence of climate change on this

heatwave event. They tell us that

what we saw last weekend is a taste

of what our future will bring, unless

humans can rapidly and deeply cut

our greenhouse emissions.

Our increasingly fragile electricity

networks will struggle to cope, as

the threat of rolling blackouts across

NSW showed. It is worth noting that

the large number of rooftop solar

panels in NSW may have helped to

avert such a crisis this time around.

Our hospital emergency departments

also feel the added stress of heat

waves. When an estimated 374

people died from the heatwave that

preceded the Black Saturday bushfires

the Victorian Institute of Forensic

Medicine resorted to storing bodies

in hospitals, universities and funeral

parlours. The Victorian heatwave of

January 2014 saw 167 more deaths

than expected, along with significant

increases in emergency department

presentations and ambulance callouts.

Infrastructure breaks down during

heatwaves, as we saw in 2009 when

railway lines buckled under the

Maximum temperature anomalies across NSW on February 11, the peak of the heatwave. Bureau of

Meteorology, Author provided

17
---
extreme conditions, stranding

thousands of commuters. It can also

strain Australia's beloved sporting

events, as the 2014 Australian Open

showed.

These impacts have led state

governments and other bodies to

investigate heatwave management

strategies, while our colleagues at

the Bureau of Meteorology have

developed a heatwave forecast service

for Australia.

These are likely to be just the

beginning of strategies needed to

combat heatwaves, with conditions

currently regarded as extreme set to

be the "new normal" by the 2030s.

With the ramifications of extreme

weather clear to everyone who

experienced this heatwave, there is no

better time to talk about how we can

ready ourselves.

We urgently need to discuss the

health and economic impacts of

heatwaves, and how we are going to

cope with more of them in the future.

We would like to acknowledge

Robert Smalley, Andrew Watkins

and Karl Braganza of the Australian

Bureau of Meteorology for providing

observations included in this

article. This article was amended on

February 16, 2017, to include updated

weather observations.

This article was first published on 'The

Conversation'

Sarah Perkins-Kirkpatrick

Research Fellow UNSW

Andrew King

Climate Extremes Research Fellow

University of Melbourne

Matthew Hale

Research Assistant UNSW

18
---
INTENTION COMMITMENT DELIVER

SouthEast Qld Commercial Formwork Company

with over 25yrs in the industry

www.infinityconstructionsqld.com.au

07 3287 2724

info@infinityconstructionsqld.com.au

3/191 Sandy Creek Road YATALA QLD

www.bullfrogs.com

FURNITURE STATUES OTHER DECOR

Stunning modern &

classic Balinese

furniture

Various types of

statues from the

popular to the rare

Be inspired by our

broad collection of

Balinese home decor

"Bring the Resort Look at Home"

Balinese Decor and Furniture Mornington Peninsula

03 5973 6308 0400 025 828

Visit our showroom at:

Factory 3 1 Watt Road

MORNINGTON VIC

simon.kennedy3@bigpond.com

www.sealy.com.au

Over 75 years of setting the standard in quality bedding

MANUFACTURER

1299 BOUNDARY ROAD WACOL QLD

07 33315200 gbatchelor@sealy.com.au

19
---
In support of national

volunteer week we look at

ways you can volunteer in

your local community and why

volunteering is so rewarding

In recognition of National Volunteer

Week this year on the 8th-14th

May, we thought we would take

the moment to discuss why

volunteering is so important in the

community and different ways you

can get involved.

There is obviously many ways you

can volunteer within your local

community, depending on what

your passion is. Here at Australian

Emergency Services Magazine

we obviously have a passion for

our volunteers who work in the

emergency sector. There are many

roles within this sector to suit a

wide range of people.

Your local council and state

government websites contain lots

of information about these different

roles and how to apply.

Rather than spending time surfing

the net we have brought you all the

latest information state to state and

links to get in contact with these

organisations.

If you want to volunteer but are not

sure where to start here are some

broad suggestions:

GoVolunteer is an online tool that

enables you to search different

positions across the country. You

can search by organisation, position

or post code.

www.govolunteer.com.au

Contact your local volunteering

centre

These services offer you the

opportunity to make an

appointment and talk to somebody

about volunteering and the

opportunities available to meet your

requirements.

Contact your local council

Many municipal and shire councils

• Produce community directories

that include not-for-profit

organisations needing volunteers, or

• Include lists of volunteering

opportunities on their website, or

• You could get in touch with the

community services department

in the council, as these people

may have knowledge of local

opportunities.

Look at your local newspaper

Often there are articles about

volunteering and community

service advertisements that inform

people about local volunteering

roles.

20
---
Contact your local neighbourhood

house or community centre

Ask for information about their

volunteering opportunities or

information about other volunteer

involving organisations in the area.

Interested in a specific cause?

You might like to search on the

internet for organisations that

address or respond to issues related

to that cause. You might also like

to ask at your local library for

information on groups that try

to effect change in society such

as advocacy, human rights or the

environment.

Interested in volunteering in a

specific sector?

If you have decided on the sector

where you might like to volunteer,

you could consider the following

options:

• Health: You might like to phone

a local hospital or community

health service and ask about their

volunteering opportunities.

• Education: Enquire at schools and

other education institutions.

• Environment: Enquire at

your local council and other

environmental organisations both

locally and nationally.

• Sport and recreation: Contact

your local council for information

on sporting clubs and groups, or

visit the websites of state bodies for

particular sports.

• Arts/culture: Enquire at local

museums, libraries and not-forprofit

galleries and heritage centres.

• Emergency: Using either the

phone book or website look for

volunteer based fire, emergency,

surf life saving, first aid, ambulance

or coast guard/patrol groups.

• Business/professional/union:

Contact your local chamber of

commerce or a professional body

or union you belong to or are

interested in supporting.

• Law/justice/political: Enquire at

the head office in your state for the

contact details of local branches or

political parties.

Another option would be to

contact the Department of Justice

in your state for information about

volunteer programs that support

people dealing with the justice

system.

21
---
Emergency Service Volunteering

State by State:

STATE EMERGENCY SERVICE

The State Emergency Service (SES)

is a volunteer-based organisation

empowering people to help

themselves and others in times of

emergency and disaster.

The SES responds at local and

national levels in disasters and

emergencies, and is the primary

response agency for storms and

floods.

SES volunteers are 'ordinary

people doing extraordinary things'.

Volunteering with the SES is a

challenging and rewarding way to

give back to your community.

Queensland SES

New South Wales SES

ACT SES

Victorian SES

South Australia SES

Tasmania SES

Western Australia SES

Northern Territory ES

RURAL FIRE SERVICE

The Rural Fire Service (RFS) needs

all types of people, with a wide

range of skills, to keep brigades

running and communities safe. The

purpose of rural fire brigades is to

operate in areas not covered by State

and Territory Fire and Emergency

Services urban (town) services.

Queensland RFS

New South Wales RFS

ACT RFS

Victoria CFA

South Australia CFS

Tasmania TFS

Western Australia BFS

Northern Territory FES

AMBULANCE SERVICE

There are many ways volunteers

can assist in the ambulance service.

In some states volunteers are

trained and acredited and also have

volunteers who are considered first

responders before the ambulance

service arrives. These services are

particularly important in rural

areas where services are limited and

distances are great.

QLD Ambulance Service

NSW Ambulance Service

ACT St John Ambulance Service

Victorian Ambulance Service

South Australian Ambulance

Service

Tasmania Ambulance Service

Western Australian St John

Ambulance Service

Northern Territory St John

Ambulance Service

COMMUNITY RESPONSE TO

EXTREME WEATHER (CREW)

Join the Emergency Volunteering

CREW, where you can volunteer to

INTERPRET PLUMBING

PLUMBING DESIGN & CONSULTING NEW RESIDENTIAL PLUMBING PLUMBING RENOVATIONS LIGHT COMMERCIAL & INDUSTRIAL

Sewer and stormwater drainage

Detailed trenching and boring

Septic and waste water systems

Fresh water supply connections and reticulation

Rainwater tanks & pumps

Hot water systems including solar hot water systems and heat pump systems

Underfloor heating

General/ongoing plumbing maintenance including resolving blocked drains and CCTV drain inspections

WE OFFER A WIDE RANGE OF PLUMBING SERVICES

www.interpretplumbing.com.au

PTY LTD

chris@interpretplumbing.com.au

0434 541 290 121 THE AVENUE, GRANVILLE NSW

22
---
help your community in disasters

and emergencies.

Volunteers lend a hand – when

it's safe to do so, before and after

disasters – with preventative

measures, immediate clean-up and

large-scale, long-term recovery

projects.

The difference that you can make

to a disaster-affected family,

community group or organisation is

immeasurable.

Volunteering Australia CREW

COMMUNITY ORGANISATIONS

Each state will have its own

particular organisations that you

can volunteer in. Visit your local

government or state website for

further details. However we have

compiled a list of the major ones

that you should be able to find

nationally.

Australian Volunteer Coast Guard

Surf Life Saving

Volunteering Australia

Australian Red Cross

Lifeline

Salvation Army

St Vincent de Paul Society

References:

volunteeringaustralia.org

Queensland & NSW Government

PREMIUM QUALITY

AUTO GLASS SERVICE

WINDSCREEN REPLACEMENT

CHIP REPAIR

RESEAL

HOME OR WORKPLACE

'If it moves and has glass we can fix it!'

michael@mjrautoglass.com.au

www.mjrautoglass.epage.at/

PO BOX 8098 GUNDAROO NSW 2620

23
---
Recovering from disasters: Social networks

matter more than bottled water and

batteries

24

Standard advice about preparing

for disasters focuses on building

shelters and stockpiling things

like food, water and batteries.

But resilience - the ability to

recover from shocks, including

natural disasters - comes from our

connections to others, and not from

physical infrastructure or disaster

kits.

Almost six years ago, Japan faced a

paralyzing triple disaster: a massive

earthquake, tsunami, and nuclear

meltdowns that forced 470,000

people to evacuate from more than

80 towns, villages and cities. My

colleagues and I investigated how

communities in the hardest-hit

areas reacted to these shocks, and

found that social networks - the

horizontal and vertical ties that

connect us to others - are our most

important defense against disasters.

The 2011 catastrophe

At 2:46 pm on Friday, March 11,

2011, a massive 9.0 earthquake

struck off Japan's northeastern coast.

The quake was bigger and lasted
---
3, which experienced nuclear

fuel meltdowns. Over 160,000

people were forced to evacuate

from Fukushima prefecture. The

radiation exclusion zone initially

covered more than 5,400 square

miles, but has slowly decreased

as decontamination efforts have

progressed.

In total, more than 470,000 people

evacuated during the disaster. The

nuclear accident paralyzed national

politics, made many survivors

anxious and depressed, and

changed the landscape of energy

policy in Japan by pushing local

residents to pursue non-nuclear

options. Many communities have

started electricity cooperatives

where they use geothermal, solar

and wind to produce their power.

What saved lives during the

tsunami?

A Japanese colleague and I hoped

to learn why the mortality rate from

the tsunami varied tremendously. In

some cities along the coast, no one

was killed by waves which reached

up to 60 feet; in others, up to ten

percent of the population lost their

lives.

We studied more than 130 cities,

towns and villages in Tohoku,

looking at factors such as exposure

to the ocean, seawall height,

tsunami height, voting patterns,

demographics, and social capital.

We found that municipalities

which had higher levels of trust

and interaction had lower mortality

levels after we controlled for all of

those confounding factors.

The kind of social tie that mattered

here was horizontal, between

town residents. It was a surprising

finding given that Japan has spent

a tremendous amount of money

on physical infrastructure such as

seawalls, but invested very little in

building social ties and cohesion.

Based on interviews with survivors

and a review of the data, we believe

that communities with more ties,

interaction and shared norms

worked effectively to provide help to

kin, family and neighbors. In many

cases only 40 minutes separated the

earthquake and the arrival of the

tsunami. During that time, residents

literally picked up and carried many

elderly people out of vulnerable,

low-lying areas. In high-trust

neighborhoods, people knocked on

doors of those who needed help and

escorted them out of harm's way.

What helped cities bounce back?

longer than the hundreds of quakes

which rattle the nation annually,

but did little damage to homes and

businesses. Unfortunately, however,

the danger was far from over.

Mareeba

Cairns

Innisfail

Within 40 minutes massive waves

of water, some as high as six

stories, smashed down on coastal

communities in the Tohoku region

in northeastern Japan. Some 18,500

lives were lost, primarily to the

tsunami.

Damage from the earthquake and

tsunami shut down the cooling

systems at the Fukushima Daiichi

nuclear power plants 1 through

W390532

7050 16015408 00010

RC Langtree & Company

RC Langtree

12/19

Cloncurry

1300 4 LOWES

Ouyen

Horsham

79

Blackall

Quilpie

Kerang

Bendigo

Townsville

Ingham

Ayr

Roma

Mackay

Biloela

Miles

Gulgong

Forbes Orange

Hillston

Griffith

Cowra

West Wyalong

Coleambally

Albury /

Cobram Wodonga

Yarraville

Emerald

St George

Goondiwindi

Narrabri

Dubbo

Boggabilla

Garah

Moree

Cooma

Rockhampton

Gladstone

Wondai

Bundaberg

Toowoomba

Armidale

Tamworth

Newcastle

Brisbane

Grafton

25
---
In another study I worked to

understand why some 40 cities,

towns and villages across the

Tohoku region had rebuilt, put

children back into schools and

restarted businesses at very different

rates over a two-year period. Two

years after the disasters some

communities seemed trapped

in amber, struggling to restore

even half of their utility service,

operating businesses and clean

streets. Other cities had managed

to rebound completely, placing

evacuees in temporary homes,

restoring gas and water lines, and

clearing debris.

To understand why some cities

were struggling, I looked into

explanations including the impact

of the disaster, the size of the city,

financial independence, horizontal

ties between cities, and vertical

ties from the community to power

brokers in Tokyo. In this phase of

the recovery, vertical ties were the

best predictor of strong recoveries.

Communities that had sent more

powerful senior representatives

to Tokyo in the years before

the disaster did the best. These

politicians and local ambassadors

helped to push the bureaucracy

to send aid, reach out to foreign

governments for assistance, and

smooth the complex zoning and

bureaucratic impediments to

recovery.

While it is difficult for communities

to simply decide to place more

senior representatives in Tokyo,

they can take the initiative to make

connections with decision makers.

Further, they can seek to make sure

that they speak with a unified voice

about their community's needs and

vision.

Social ties, not just sandbags

The Tohoku disasters reinforce past

evidence about the importance of

social networks and social capital in

disaster recovery around the world.

While climate change is making

some disasters more devastating

over time, there is good news from

our findings. Governments, NGOs

and private citizens have many tools

available to foster horizontal and

vertical connections.

Nonprofits like the Australian Red

Cross, BoCo Strong in Boulder,

Colorado, and New Zealand's

Wellington Regional Emergency

Management Organization now

take social capital seriously as they

work to build resilience. In these

programs local residents work

alongside civil society organizations

to help strengthen connections,

build networks of reciprocity, and

think about the needs of the area.

Rather than waiting for assistance

from the government, these areas

are creating their own plans for

mitigating future crises.

How to build resilience

Shelleys Industries

THE LEADING MANUFACTURER OF UTILITY TRAYS,

LIGHT TRUCK BODIES AND TRAY TOPS

Commercial Tiling Services WA

Quality Commitment Reputation

Specialising in high profile, public and private architecture

26

SPECIALISTS IN:

A CLASS WELDING

CUTTING

FABRICATING

FINISHING/PAINTING SURFACES

ASSEMBLY

FITOUT

07 4661 2178

www.shelleysindustries.com.au

admin@shelleysindustries.com.au

33 Albion Street WARWICK QLD

Skills, knowledge and expertise to deliver an

outstanding result on every project

08 9200 6191

www.commercialtilingservices.com.au

linda@commercialtiling.com.au

42 Wittenoom Street EAST PERTH WA
---
Communities can build cohesion

and trust in a variety of ways.

First, residents can emulate Mr.

Fred Rogers and learn about their

neighbors, who will serve as first

responders during any crisis.

Next, whole communities can

seek to deepen interactions and

trust by organizing sports days,

parties, religious festivals and other

community events that build trust

and reciprocity.

For example, San Francisco

provides funds to local residents

to hold NeighborFest, a block

party open to all. City planners

and urban visionaries can learn to

think like Jane Jacobs, an advocate

for living cities and third spaces

- that is, places beyond work and

home where we can socialize. By

designing what advocates call

"placemaking public spaces," such

as pedestrian-friendly streets and

public markets, they can reshape

cities to enhance social interaction.

Finally, communities can increase

volunteerism rates by rewarding

people who volunteer their time

and providing concrete benefits

for their service. One way to do

this is by developing community

currencies — local scrip which is

only accepted at local businesses.

Another strategy is time banking, in

which participants earn credits for

their volunteer hours and redeem

them later for services from others.

After 3/11, one organization in

Tohoku has sought to bring these

kinds of programs - social capital

creation and design - together by

providing a communal space run by

elderly evacuees where neighbors

can connect.

As communities around the

world face disasters more and

more frequently, I hope that my

research on Japan after 3.11 can

provide guidance to residents

facing challenges. While physical

infrastructure is important for

mitigating disaster, communities

should also invest time and effort in

building social ties.

Daniel P. Aldrich

Professor of Political Science, Public

Policy and Urban Affairs and Director,

Security and Resilience Program,

Northeastern University

Original Article

02 9281 6889

1300 939 999

Integrity, competitive pricing and high quality service

THE SPECIALISTS IN:

PHYSICAL FOREIGN EXCHANGE

CORPORATE INSURANCE

LENDING SOLUTIONS

MARGIN FX/CFD TRADING

PROPERTY DEVELOPMENT

TERM DEPOSITS/FIXED INCOME PRODUCTS

Professional

Educational

Inspiring

07 4237 8802

Devoted, professionally qualified and experienced staff

From 6wks - 5yrs

Petit Early Learning Journey provides a secure

and compassionate environment to enhance

awareness of your child's inner strengths,

esteem as individuals, dignity and autonomy,

self-confidence and enthusiasm for learning.

Goldmate offers a diversified range of quality financial

services for businesses and sophisticated investors

'Your financial mate'

www.goldmate.klixhosting.com.au

admin@goldmate.com.au

G1, 683-689 GEORGE STREET SYDNEY NSW

www.petitjourney.com.au

portdouglas@petitjourney.com.au

Cnr Old Port Road & Captain Cook Hwy CRAIGLIE QLD

27
---
NATIONAL ROLL OUT OF 'THINK

YOU KNOW'

Victoria Police has become

the final state law enforcement

agency to formally sign-up to the

ThinkUKnow cyber safety education

program, finalising the national rollout

of the program across Australia.

All Australian police forces are now

part of the ThinkUKnow cyber

safety program to deliver cyber

safety messages in communities

and schools within each state and

territory.

Victoria Police Crime Command

Assistant Commissioner Stephen

Fontana said that while Victoria

Police has been actively educating

school children, parents and

teaching staff in relation to cyber

safety for several years, the signing

of a Memorandum of Understanding

(MoU) to join the program, is a

positive step in formalising the

national approach with partner

agencies.

"With technology rapidly expanding

well beyond what we can predict, the

safety of children when accessing

the internet – including social media

sites – is paramount," he said.

On Safer Internet Day, the

announcement provides a timely

reminder of the importance of

cyber safety, and the need for

ongoing education about safe online

practices.

AFP National Manager Crime

Operations Deborah Platz said the

ThinkUKnow program brings law

enforcement and industry partners

together to educate and keep

Australian children safe, by raising

awareness of the risks presented by

technology.

"Victoria Police's commitment to the

ThinkUKnow program highlights

the ongoing importance that all law

enforcement agencies have placed on

ensuring young people are provided

with the tools needed to navigate the

online environment, and educating

parents and teachers about how they

can best support their children to

stay safe," Assistant Commissioner

Platz said.

ThinkUKnow Australia is a

28
---
1800 MYMEAL

1800 696 325

www.mowtas.org.au

A place in the hearts and homes of Australians

for more than 50 years

While age and disability may reduce some people's capacity to get out and about,

Meals on Wheels helps make it possible to stay in their homes, where most are happiest,

and maintain some independence. Delivery of nutritious meals, social interaction and

regular visits ensure a clients' wellbeing and can help people live the lives they choose.

Unit 5, Tech 4

Tasmanian Technopark

Innovation Drive

DOWSING POINT TAS

1800 696 325

admin@mowtas.org.au

partnership between the AFP, Microsoft Australia,

Datacom, and the Commonwealth Bank of Australia,

delivered in collaboration Neighbourhood Watch

Australasia and now all state and territory police.

ThinkUKnow cyber safety sessions cover topics

including sexting, cyberbullying, online grooming,

and privacy, and encourage children to speak with a

trusted adult and to report suspect behaviour.

In 2016, state and territory police delivered 1,463

presentations to more than 150,000 school children.

This is in addition to presentations delivered by

accredited volunteers from ThinkUKnow industry

partners.

This Safer Internet Day, Victoria Police and the

Australian Federal Police (AFP) are encouraging

the public to #askoutloud and seek advice from law

enforcement, or family or friends, to identify scams

and fake messages online.

For more information on ThinkUKnow, and resources

about how to stay safe online, go to www.thinkuknow.

org.au

COMMERCIAL

11 Churchill Street

WILLIAMSTOWN NTH VIC 3016

INTEGRATED DEVELOPMENT

AND BUILDING SOLUTIONS

EDUCATION

www.builtritegroup.com

OVER 15 YEARS OF INTERNATIONAL PROJECT PLANNING,

LEADERSHIP AND DELIVERY EXCELLENCE

INDUSTRIAL

RETAIL

PROJECT CONSULTANCY

PROGRAM MANAGEMENT

MANUFACTURING

CONSTRUCTION

FIT-OUT

HOSPITALITY

03 9397 8004

info@builtritegroup.com

29
---
TUNE INTO

WARNINGS

Emergency Services use a range of

methods to warn the community

about severe weather and

other emergencies that require

preparation and action at the

household level.

When warnings are issued you may

be directed to:

Finalise preparations

Secure items around your home

Activate your Emergency Plan

Shelter in place, or Commence

evacuation to your predetermined

safer location

Warnings are urgent—you will

need to act immediately on the

information provided.

1. Tune in:

Tune your battery powered radio to

your local radio station to listen for

weather and warning updates.

Turn your television to your local

station to watch and listen for

warning updates.

2. Log on:

Bureau of Meteorology website for

weather updates, weather warning

and tsunami warning information.

Your state Disaster Management

Services website for information on

preparing, Emergency Alerts issued

and current information on disaster

events.

Your local council website for local

emergency management plans and

evacuation information and routes.

Find your local council.

3. Listen out:

For the Standard Emergency

Warning Signal (SEWS) used at the

beginning of serious warnings.

For Emergency Alert voice

messages to your landline and text

messages to your mobile telephone.

For local community safety

30
---
announcements (radio and

television) for updates.

For sirens and loud—hailer

announcements, that Emergency

Services may use in certain

circumstances.

For Emergency Services personnel

who may door—knock your area to

pass on warnings.

4. and Act:

• Act immediately on the advice

provided

• Ensure all householders are

aware of the warning and advice

provided. Check on neighbours

and friends who may need

special assistance

• Activate your Household

Emergency Plan

• Locate and collect your

Emergency Kit

• Activate your evacuation

arrangements if required.

Emergency Alert. Be Warned. Be

Informed.

Emergency Alert is a telephone

warning system that authorities

can use to provide warnings to

communities.

Emergency Alert can be used

to send voice alerts via landline

telephones based on the location

of the handset, and test alerts to

mobile phones based on the billing

address.

It is for use in a range of emergency

situations, including extreme

weather events and bushfires. You

are not charged and will not have

to pay for the alert. Importantly,

you cannot opt out of receiving

emergency alerts.

If you receive an Emergency Alert,

you need to listen carefully to the

Stephen Young

Lawyers

02 9635 0889

Stephen Young Lawyers is a boutique law firm situated in the heart of Parramatta.

Our practice specialises in personal injury law, commercial law and conveyancing.

We are dedicated in providing a personal, professional and friendly service.

We speak English, Cantonese and Mandarin.

www.stephenyounglawyers.com.au

Suite 612 Level 6, 118 Church Street Parramatta NSW

31
---
advice provided. You may be directed to

finalise prepartions, secure items around

your home, shelter in place or commence

evacuation to your predetermined safer

location. For more information, visit the

Disaster website.

Stop & Listen: Standard Emergency Warning

Signal

When warnings are issued for major

emergencies, relevant authorities may use

the Standard Emergency Warning Signals

(SEWS) prior to providing information on

the emergency.

SEWS is a wailing siren sound used

throughout Australia for serious emergency

events such as severe cyclone, bushfire, flood

and storm.

When you hear the signal on radio,

television or over the phone via Emergency

Alert messages, pay careful attention to

the information that follows and act

immediately on the advice given.

MINCHINBURY

At Guardian Funerals we offer a range of services to

honour and remember the person who is gone

to help you say 'goodbye' in a personal way

Bringing together the city of Botany Bay

and Rockdale City councils

CHAPEL - Easily seats 70 with standing room for another 30

Modern audio-visual facilities

Organ available for services

PARKING - Ample parking at funeral home and within the grounds

CATERING AREA

COFFIN SHOWROOM

ARRANGEMENT ROOM

PREPAID FUNERAL SERVICES AVAILABLE

02 9625 8500

www.guardianfunerals.com.au

Situated within the grounds of Pinegrove Memorial Park

KINGTON STREET MINCHINBURY NSW

fboulous@guardianfunerals.com.au

1300 581 299

www.bayside.nsw.gov.au

council@bayside.nsw.gov.au

Rockdale Customer Service Centre

Mon-Fri 8:30am - 4:30pm

Sat - 9am-1pm

02 9562 1666

Mascot Customer Service Centre

Mon-Fri 8:30am - 4:30 pm

02 9366 3666

32
---
APPS TO HELP

YOU IN AN

EMERGENCY

TECHNOLOGY IS FOREVER CHANGING AND IN MOST CASES TRYING

TO IMPROVE OUR ACCESS TO INFORMATION. WE HAVE PUT

TOGETHER THE TOP APPS IN AUSTRALIA THAT ARE FOCUSED ON

KEEPING YOU SAFE AND INFORMED DURING THIS COMING SUMMER.

Fires Near Me App - Developed by the NSW Rural Fire Service it will

provide information about bushfires from participating fire agencies across

Australia. The app finds your location using a map and will give relevant information

around you. It also allows you to choose a location. The app also

provides information on total fire bans.

The Emergency+ app is a free app developed by Australia's emergency

services and their Government and industry partners.

The app uses GPS functionality built into smart phones to help a Triple Zero

(000) caller provide critical location details required to mobilise emergency

services

Emergency AUS App - delivers warning and incident information issued

by official agencies across Australia. Providing you with real-time access to

official warnings, incident reports and public Sensory Observations to aid

in better decision making during emergencies and disasters. By bringing

together emergency information from over 25 emergency service agencies

and accessing observations submitted by the public

Triple Zero Kids Challenge App - Start playing and learn about what happens

when you call Triple 000. The online game is designed for children of

kindergarten and primary school age and consists of a number of safety scenarios.

The game is available in seven languages including English, Arabic,

Vietnamese, Chinese, Thai, Hindi and Dinka.

33
---
EMERGENCY

CONTACTS

For Police, Fire & Ambulance across Australia dial 000

SES PoliceLink Crimestoppers

131444 132500 1800 333 000

13HEALTH Health Direct Australia Bureau of Meteorology

1343 2584 1800 022 222 1300 659 213

International Incident Emergency Helpline

1300 555 135

Victorian Country Fire Authority

1800 240 667

FOR LOCAL NUMBERS OR INFORMATION PLEASE REFER TO YOUR STATE OR

LOCAL GOVERNMENT WEBSITE

34
---
35
---
IF IT DOESN'T ADD UP,

SPEAK UP.

CALL THE

NATIONAL SECURITY HOTLINE

1800 123 400

Even if you think it's probably nothing, the smallest piece of information

can be valuable. Calls to the National Security Hotline have already

contributed to investigations. If something doesn't add up, speak up

by calling the National Security Hotline.

36

Authorised by the Australian Government, Capital Hill, Canberra.