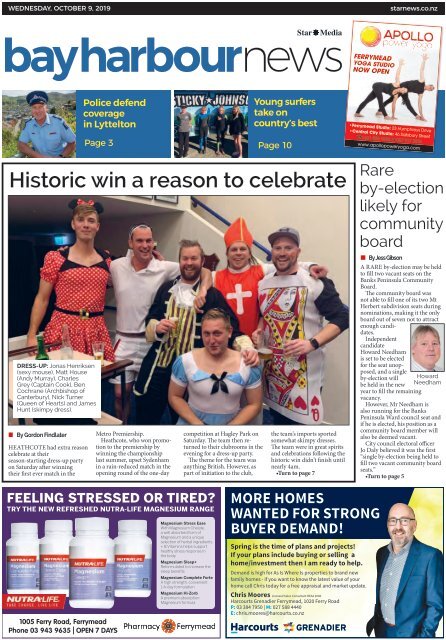 Bay Harbour: October 09, 2019
You also want an ePaper? Increase the reach of your titles
YUMPU automatically turns print PDFs into web optimized ePapers that Google loves.
WEDNESDAY, OCTOBER 9, 2019

starnews.co.nz

FERRYMEAD

YOGA STUDIO

NOW OPEN

Police defend

coverage

in Lyttelton

Page 3

Young surfers

take on

country's best

Page 10

•Ferrymead Studio: 23 Humphreys Drive

•Central City Studio: 46 Salisbury Street

Ph: 021 055 1884 or 027 227 2026

www.apollopoweryoga.com

Historic win a reason to celebrate

DRESS-UP: Jonas Henriksen

(sexy mouse), Matt House

(Andy Murray), Charles

Grey (Captain Cook), Ben

Cochrane (Archbishop of

Canterbury), Nick Turner

(Queen of Hearts) and James

Hunt (skimpy dress).

• By Gordon Findlater

HEATHCOTE had extra reason

celebrate at their

season-starting dress-up party

on Saturday after winning

their first ever match in the

Metro Premiership.

Heathcote, who won promotion

to the premiership by

winning the championship

last summer, upset Sydenham

in a rain-reduced match in the

opening round of the one-day

competition at Hagley Park on

Saturday. The team then returned

to their clubrooms in the

evening for a dress-up party.

The theme for the team was

anything British. However, as

part of initiation to the club,

the team's imports sported

somewhat skimpy dresses.

The team were in great spirits

and celebrations following the

historic win didn't finish until

nearly 4am.

•Turn to page 7

Rare

by-election

likely for

community

board

• By Jess Gibson

A RARE by-election may be held

to fill two vacant seats on the

Banks Peninsula Community

Board.

The community board was

not able to fill one of its two Mt

Herbert subdivision seats during

nominations, making it the only

board out of seven not to attract

enough candidates.

Independent

candidate

Howard Needham

is set to be elected

for the seat unopposed,

and a single

by-election will

be held in the new

year to fill the remaining

vacancy.

However, Mr Needham is

also running for the Banks

Howard

Needham

Peninsula Ward council seat and

if he is elected, his position as a

community board member will

also be deemed vacant.

City council electoral officer

Jo Daly believed it was the first

"single by-election being held to

fill two vacant community board

seats."

•Turn to page 5

FEELING STRESSED OR TIRED?

TRY THE NEW REFRESHED NUTRA-LIFE MAGNESIUM RANGE

1005 Ferry Road, Ferrymead

Phone 03 943 9635 | OPEN 7 DAYS

Magnesium Stress Ease

With Magnesium Chelate,

a well absorbed form of

Magnesium and a unique

selection of herbal ingredients

+ B Vitamins helps support

healthy stress response in

the body

Magnesium Sleep+

Reformulated to increase the

sleep benefits

Magnesium Complete Forte

A high strength, convenient

1-A-day formulation

Magnesium Hi-Zorb

A premium absorption

Magnesium formula

more homeS

wanted for Strong

buyer demand!

Spring is the time of plans and projects!

If your plans include buying or selling a

home/investment then I am ready to help.

Demand is high for As Is Where Is properties to brand new

family homes - if you want to know the latest value of your

home call Chris today for a free appraisal and market update.

Chris moores Licensed Sales Consultant REAA 2008

Harcourts Grenadier Ferrymead, 1020 Ferry Road

P: 03 384 7950 | m: 027 588 4440

e: chris.moores@harcourts.co.nz

GRENADIER
---
PAGE 2 Wednesday October 9 2019

BAY HARBOUR

Latest Canterbury news at starnews.co.nz

get in touch

from the editor's desk

THE EMPIRE has struck back.

Police have spoken to Bay Harbour News

(page 3) today after many months of discontent

from people in the Lyttelton and

surrounding bay areas.

Residents are concerned over a perceived

lack of police coverage in Lyttleton – the main concern is that

the local station isn't staffed 24/7.

When something happens in the early hours, they want a

quick response, instead of a unit heading from Christchurch if

the matter is serious enough.

So it is good to see police have finally fronted and explained

the situation.

But they could also take it a step further and tell our readers

what is going on in their patch. If I had a dollar for everytime

they don't return calls . . .

- Barry Clarke

GENERAL INQUIRIES Ph 379 7100

CLASSIFIED ADVERTISING Ph 379 1100

Star Media, a division of Allied Press Ltd

PO box 1467, Christchurch

starmedia.kiwi

NEWS

Jess Gibson

Ph: 021 914 169

jess.gibson@starmedia.kiwi

ADVERTISING

Jo-Anne Fuller

Ph: 364 7425

jo.fuller@

starmedia.kiwi

Rob Davison

Ph: 021 225 8584

rob.davison@

starmedia.kiwi

up

up

to

to

30 %

off

Resene

Resene

Premium

Premium

Paints,

Paints,

Wood

Wood

Stains,

Stains,

Primers,

Primers,

Sealers

Sealers

and

and

Wallpaper

Wallpaper

plus

plus 25%

25%

off Decorating Accessories

off Decorating Accessories

and Cleaning Products

and Cleaning Products

Come

Come

in

in

and

and

see

see

us

us

today

today

at

at

your

your

local

local

Resene

Resene

ColorShop!

ColorShop!

Addington, Ferrymead, Hornby,

Addington, Ferrymead, Hornby,

Lichfield Street, Northwood,

Lichfield Street, Northwood,

Rangiora, Shirley, Tower Junction

Rangiora, Shirley, Tower Junction

Dyers Road Landscape

& Garden Supplies

• Barks • Peastraw • Composts - we supply the best available

• Aggregates - Chip, Round and Basecourse

• Pavers & Schist products • Pungas

• Decorative Stones & Landscaping Rocks

• Trailer Hire first hour free with purchase

• Bag & Bulk - pick up or delivered

David, Carol & Mike

news

Fall in love

with your

favourite furniture

all over again!

Pizzas popular

A new oven will be installed at The Tannery, it will replace a

smaller oven which has cooked over 500,000 pizzas.

Page 5

community events

Ceramics with intrigue

Check out Jane McCulla's artwork at Stoddart Cottage Gallery in

Diamond Harbour, Friday, Saturday and Sunday from 10am to

4pm throughout October.

Page 13

tasty bites

Cooking with what is in season

Lemons and fennel are in season and they make a perfect

partnership. Try the combination in risotto.

Page 15

The best-read local newspaper, delivered to

10,056 homes, RDs and farms every Wednesday

Brookhaven, Heathcote, Ferrymead, Redcliffs, Mt Pleasant,

Sumner, Lyttelton, Diamond Harbour, Governors Bay, Akaroa.

We will deliver!

Phone: 03 384 6540

183 Dyers Rd, Bromley • OPEN 7 DAYS

Weekdays 7.30am-5pm. Weekends 8.30am-3pm

www.dyersroadandlandscapes.co.nz

before

SOIL

AND

HARDFILL

DUMPING

Discounts off the normal retail price until 4 November 2019 at Resene owned ColorShops

Discounts and participating off the normal resellers. retail Paint price offers until 4 also November available 2019 at participating at Resene owned Mitre ColorShops 10 MEGA/

and Mitre participating 10 stores. Valid resellers. only Paint with offers cash/credit also available card/EFTPOS at participating purchases. Mitre Not available 10 MEGA/ in

Mitre conjunction 10 stores. with Valid account only sales, with promotional cash/credit vouchers/coupons card/EFTPOS purchases. or other Not offers. available Excludes in

conjunction trade, ECS, WallPrint, with account wall sales, decals, promotional Crown products vouchers/coupons and PaintWise or levy. other offers. Excludes

trade, ECS, WallPrint, wall decals, Crown products and PaintWise levy.

• Recover your chairs and couches

and save money!

• Excellent range of fabrics

• Quality workmanship guaranteed

• Free quotes available

• Over 30 years experience

after

Easy Parking • Laybuy Welcome

17 Lillian Street, Halswell

03 322 4548

Open Mon-Fri 9.30am - 5.00pm

Saturday 10.00am - 1.00pm

Somerfield Upholstery Ltd

FURNITURE RECOVERY SPECIALIST

6/47 Sonter Road, Wigram | Ph 021 251 6200 | 349 0456
---
Wednesday October 9 2019

Latest Canterbury news at starnews.co.nz

BAY HARBOUR

PAGE 3

News

•HAVE YOUR SAY: Are you satisfied with the police responses in Lyttelton and the bays area?

Email your views to jess.gibson@starmedia.kiwi

Police defend coverage in port

• By Jess Gibson

POLICE SAY they are present

in Lyttelton more than people

think.

There has been criticism from

residents over a lack of policing

in and around the harbour

following a number of crimes

which have been happening such

as car theft and damage.

But Senior Sergeant Roy

Appley said there are five officers,

including station boss Sergeant

Franco Lovrich, who are rostered

to work different shifts in

Lyttelton between 7am and 11pm

over seven days.

Senior Sergeant Appley is

based at the Papanui Police

Station but oversees police in

other communities, including

Lyttelton.

"The benefit of having five

dedicated officers is that they are

able to follow up on things that

are continually happening," he

said.

He said both during and

outside of hours the officers are

working, police can be sent from

any area of Christchurch to attend

incidents in Lyttelton if they

are required.

"Police are sent where the

needs are, particularly if it's lifethreatening,"

he said.

Similarly, Lyttelton's officers

may at times be called to assist

incidents which are happening in

other areas of Christchurch.

The Canterbury District Command

Centre is open 24/7 and

has staff working to monitor

crime trends and the events happening

around Christchurch.

Senior Sergeant Appley said

staff use this information to respond

to crimes as they happen

in any area, including Lyttelton,

and to prevent crimes before they

occur.

Uniformed police are available

to respond to public safety incidents,

alcohol-related incidents

POLICING:

Senior Sergeant

Roy Appley

says having five

dedicated officers

in Lyttelton means

they are able to

follow up on things

that are continually

happening.

PHOTO: GEOFF

SLOAN ​

and incidents which require

police dogs.

Additionally, there are three

road policing responses.

These are normal traffic policing,

the booze bus, which targets

drunk and drugged drivers and

the Antisocial Road User Group,

which deals with boy racers.

"In an emergency, people

should call 111 and the appropriate

resource will be dispatched. If

it is not urgent, residents should

call 105," said Senior Sergeant

Appley.

"The overall goal is for people

to feel safe and to be safe, and

that is taken very seriously by

Canterbury police."

Meanwhile, private security

company Tactical Response

Team has been patrolling the

streets at night in response to

residents' concerns.

The City to Sumner

Community Patrol also has a

plan to station one of its vehicles

in Lyttelton.

But that plan is on hold until

at least four more volunteers put

their hand up to help keep an eye

on the port and harbour areas.

tree trouble?

call us 384 9630

www.fourseasonstreecare.co.nz

In Brief

TRAILER FALL INJURES

A woman was transported

to Christchurch Hospital by

helicopter in serious condition after

falling from a trailer in Diamond

Harbour on Sunday. The woman,

believed to be in her 60s, suffered

significant injuries to her head

when she fell at Bay View Rd.

Diamond Harbour Volunteer Fire

Brigade chief officer Bob Palmer

said the callout was initially

attended by the brigade and then

St John, before the Westpac Rescue

Helicopter arrived.

AKAROA FRENCHFEST

Akaroa's biggest celebration,

FrenchFest, will be held from

Friday to Sunday. Visitors can

immerse themselves in French

culture, history, entertainment

and romance at the town's

biennial event. A traditional

Maori powhiri will open the

festival on Friday before the

weekend kicks off and a circus

performance will close the event

on Sunday.

CRUISE BERTH UNDER WAY

More than half of the main wharf

piles on Lyttelton's new cruise

berth have been successfully

driven. Forty-three out of a total

of 64 main wharf piles have now

been driven to full depth of about

65m below ground level. The

project is on track to be completed

by November 2020.

Dr Tim Lindley

For Heathcote Community Board

THIS WEEKEND

ADDINGTON RACEWAY

SAT 12th & SUN 13th

OCTOBER 1Oam-6pm

Over 100 exhibitors & 60 FREE Workshops

ADULTS $10 CHILDREN FREE

www.bodymindspirit.co.nz

t h e t r e e p e o p l e

f o u r s e a s o n s t r e e C a r e

"For communities

you'll love to live in"

@timlindleychch

Authorised by Tim Lindley, 28 Patmos Pl, Mt Pleasant, Christchurch 8081

Visit our new website: www.min.nz

With thriving communities and

picturesque views,

the bays are truly spectacular

COASTAL REAL ESTATE SPECIALISTS

We'll help you live the dream.

Min Sarginson Real Estate Ltd. specialises in homes, sections and

rental properties in the spectacular Lyttelton Harbour bays, and

coastal suburbs of Christchurch, New Zealand.

We'll make it so easy for you. All our sales consultants live in the

area – we can give you valuable insights into life in our thriving

coastal communities.

This is an exciting time; of promise, optimism, and opportunities

never anticipated pre-quakes. Beachfront, or hillside with

grandstand views, find the property of your dreams:

Lyttelton | Diamond Harbour | Governors Bay | Cass Bay

Charteris Bay | Church Bay | Purau Bay | Port Levy | Northshore

Southshore | New Brighton | Heathcote | Sumner | Redcliffs

Scarborough | Mount Pleasant | Clifton

Call Min Sarginson Real Estate Ltd. for free, no-obligation advice. Lyttelton: 03 328 7273, lyttelton@min.nz or Church Bay: 03 329 4161, churchbay@min.nz
---
PAGE 4 Wednesday October 9 2019

BAY HARBOUR

Latest Canterbury news at starnews.co.nz

NEW RELEASES

GREAT

Spring

READS

INSTORE!

NEW FOODIE BOOKS INSTORE NOW

Open Side

The official autobiography by Sam Warburton

Sam Warburton OBE was not only a titan of Welsh rugby, but an

icon of the game. Having represented his country as a player and

team captain at all junior levels, he propelled himself to international

attention in 2011 when named as the youngest ever captain of

Wales for the Rugby World Cup. Despite his tender age, Sam's

immense displays for club and country were recognised still further

in April 2013, when, at just 24, he was named the Lions' captain

for the extraordinary 2013 tour to Australia. Four years later, after a

year `in the wilderness', Sam was named Lions' captain yet again

for the historic tour to New Zealand, thereby becoming the first ever

Lions Captain never to lose a series in the professional era.

A Sharp Left Turn

Notes on a life in music, from Split Enz to Play to

Strange by Mike Chunn

A rollercoaster yarn about Mike Chunn's years in the groundbreaking

band Split Enz, but also the powerful story of how he dealt

with a crippling mental health issue and went on to become one of

our most influential music identities.

This is a gripping read that works on several levels. It's the slidingdoor

story of someone who might have become a world-famous

pop star had he not suffered from a severe phobic disorder.

It's the story of an assortment of young musicians trying to find their

feet as bands in the late 70s and early 80s, and the associated

euphoria and craziness of that life.

Permanent Record

by Edward Snowden

Edward Snowden, the man who risked everything to expose the US

government's system of mass surveillance, reveals for the first time

the story of his life, including how he helped to build that system

and what motivated him to try to bring it down.

In 2013, twenty-nine-year-old Edward Snowden shocked the world

when he broke with the American intelligence establishment and

revealed that the United States government was secretly pursuing the

means to collect every single phone call, text message, and email.

The result would be an unprecedented system of mass surveillance

with the ability to pry into the private lives of every person on earth.

Six years later, Snowden reveals for the very first time how he helped

to build this system and why he was moved to expose it.

I Am More Than Just my Tits

Surviving Breast Cancer by Karin Horen

Karin Horen tells the remarkable story of her continuing battle with

breast cancer. At just 26 she was diagnosed with breast cancer

and immediately underwent two surgeries, resulting in a partial

mastectomy, a twelve-month course of chemotherapy and six

weeks of radiotherapy.

Unphased by her health scare, she moved forward with her life -

meeting a charismatic actor, Manu Bennett (Arrow, Spartacus), and

moving to New Zealand to start a family. When the cancer returned,

she had a full mastectomy of her left breast and a preventative

mastectomy of her right. After her double mastectomy, Karin

struggled with her turbulent relationship and her body image. She

took inspiration from her three daughters and found a new purpose.

Brock at Bathurst

by Bev Brock, co-drivers and team members

who shared the journey with Peter Brock

No driver is as connected to a single track as the legendary Peter

Brock is to Bathurst. Half a century ago, a shy and bearded

Brock first took on Mount Panorama, the track he was destined to

dominate with a record nine wins, earning him the mantle 'King of

the Mountain'.

That uncanny relationship between driver and track is the focus

of this book, a 360-degree look at every race of Brock's glorious

Bathurst career. Relive Peter Perfect's reign over the Mountain in the

company of Bev Brock, his partner of nearly three decades, as well

as mechanics, teammates, rivals and friends who witnessed his

genius up close.

1005 FERRY RD

PH 384 2063

while stocks last (see instore for terms and conditions)

BARRY & KERRY
---
Wednesday October 9 2019

News

• By Jess Gibson

THE eight-year-old wood-fired

oven at The Tannery has cooked

more than 500,000 pizzas.

And now, it is time for it to

retire.

Cassels The Brewery Bar and

Restaurant has upgraded to a

larger pizza oven to help keep up

with growing demand.

Alasdair Cassels, who

owns The Tannery, opened the

bar and restaurant shortly after

the February 22, 2011 earthquake

as a place for the community to

gather while the city dusted itself

off.

Mr Cassels said the number

of pizzas cooked was

"unbelievable."

•From page 1

Mr Needham called the lack of

candidates "disappointing."

"It's community representation,

and that's not what we're getting,"

he said.

Mr Needham is a Charteris

Bay resident and runs an internet

sales business. His aim is to stop

rate rises and put and end to

closed-door meetings.

Only three of the eight

members who had seats on the

community board last term are

standing for re-election and

seven new candidates, including

"I would not have believed it

when we put it in. We love that

everyone loves our pizzas as

much as we do."

The most popular pizza

flavours are the Rakaia, topped

with akaroa salmon, cream

cheese and capers followed

by the Linwood, topped with

waitoa chicken, bacon, kransky

and smoked cheese and the

Pigeon Bay, topped with waitoa

chicken, capsicums, red onion and

jalapenos.

Mr Cassels runs the joint with

his son Zak Cassels and son-inlaw

Joe Shanks.

Other than pizza, the spot

is best known for its awardwinning

beer which is brewed

on-site.

Mr Needham, are standing.

Low pay has been cited

as one of the reasons the

community board did not

attract enough candidates.

In its last term, members

were paid less than half

of what inner-city board

members receive.

As it stands, community

board members are set

to receive $9864 and the

chairperson $19,729 after

the elections.

But Mr Needham said income

played no part in his decision to

Latest Canterbury news at starnews.co.nz

500,000 pizzas cooked at venue

UPSIZING: Alasdair Cassels and Joe Shanks replaced the

8-year-old wood-fired pizza oven at Cassels The Brewery

Bar and Restaurant for a larger one to keep up with growing

demands.

PHOTO: GEOFF SLOAN

Low pay cited for shortage of candidates

Bill

Studholme

stand for the council and community

board seats.

"I didn't even look at

that. I've been here for

five years and I love this

area, so I looked at how I

could get more involved

with the community."

However, Charteris Bay

Residents' Association

secretary Bill Studholme

said Mr Needham has

made no contact with

the group in the lead-up to the

elections.

He said the association was

"extremely well served" by former

Mt Herbert representatives

Felix Dawson and John McLister.

"We would rather somebody

we knew, but if there's nobody

there then we will just come

across as some noisy outsiders,"

Mr Studholme said.

As the current remuneration

model is set by population,

community boards with bigger

populations get higher pay.

However, that may change after

the newly-elected city council

decides on the allocation of a

$1,843,200 governance pool.

BAY HARBOUR

PAGE 5

Contentious

liquor store

slow to open

• By Jess Gibson

A NEW liquor store given the go

ahead in Redcliffs is yet to open.

Rizak Enterprises Ltd sole director

and shareholder Juraj Singh

was granted an off-licence to open

Redcliffs Fine Wine and Spirits

store at 1/87 Main Rd in July.

The alcohol regulatory and

licensing committee's decision

came after Mr Singh made

amendments to an application

which was opposed by almost 50

people.

Mr Singh told Bay Harbour

News the store will "definitely"

still go ahead, and that he has

been tied up with family commitments

and managing other stores.

"I'm not able to give time to

the store at the moment, but the

licence has been granted and everything

will be eventually done."

He said there is no timeline

yet, but that a refit could possibly

be completed in the next two

months.

"These things take time," he

said.

Mr Singh's amended application

included a renaming of the store

from Thirsty Liquor to Redcliffs

Fine Wine and Spirits.

It also assured CCTV security

would be installed inside and

outside the store and no alcohol

advertising would be placed

outside the building.

Re-elect

Lianne Dalziel

Christchurch Mayor

"I love Christchurch and am confident about our future.

With my experience and inclusive style of leadership, we

can tackle any challenges that lie ahead, while seizing every

opportunity that comes our way.

Together, we will build a legacy for generations to come."

lianne.co.nz

Remember to Vote

Ballot papers must be returned by

12.00 noon, Saturday to be counted!

Authorised by A. Campbell,

c/- Lvl 1/394 Riccarton Rd, Chch

Best for Christchurch
---
PAGE 6 Wednesday October 9 2019

BAY HARBOUR

Latest Canterbury news at starnews.co.nz

How important is it

to create competition

for your home?

One approach to selling a property is to find a single buyer,

and through clever and professional negotiation, achieve

a positive outcome for both the seller and the buyer.

However, let's face it, few people want to pay more than

a property is actually worth. Nowadays, with so much

information readily available through online research

a buyer can quite quickly work out a "ceiling" figure of

value for a particular property. That is a figure that can

potentially limit what a buyer may be prepared to pay.

However, the one thing that can change a buyer's

opinion of "ceiling" value is the realisation there are

others who also desire the home and are, in fact,

prepared and willing to pay more.

Creating competition is

the best way to achieve an

exceptional result for your

property.

Through the interplay of competition, it's our aim to

achieve a price that we are happy to present to our

sellers - a figure that is a direct reflection of competing

buyers.

This is what we call creating competition. And that is how

we believe we can bring true value to our vendors.

Call us today to talk about the different ways to create

competition for your home too.

Jan Edlin

027 433 8025

Patricia Van der bent

027 296 1408

Pip Sutton

027 224 9524

Top Sales

for October

The Standevens

Ferrymead Office

Feature Properties

Eddie Spry

021 156 5884

Marie Malone

027 489 8349

Home, James!

We recently welcomed James Shepherd to the team as

our new Sales Manager. We're thrilled to have him on

board as he brings a wealth of experience to the team.

James was a successful real estate salesperson for eight

years before transitioning into

management a couple of years ago.

His commitment and drive, along

with an excellent appreciation of

both business and property, adds

something special to Ray White

Ferrymead. James lives locally,

with his children attending Mt

Pleasant School, so he also has

great knowledge and connection

with our wider community.

65 Taylors Mistake Road, Scarborough

- Pip Sutton -

Eleanor Corston

027 435 2415

Anna Loader

027 272 7128

Bronny Clifford

021 272 7718

Molly Ferdinand

027 594 7427

Mark Gardner

021 633 669

What people are saying

about us:

109 Beachville Road, Redcliffs

- Jan & Patricia -

Daisy Foldesi

021 328 059

Matt Clayton

021 223 3998

"Daisy was wonderful. Patient, thoughtful and a realist. It

is lovely to have an agent who lives in the neighbourhood,

knows everyone who lives there and understands the

advantages and challenges of living in Lyttelton. Were

really happy and love our house, all thanks to Daisy."

– About Daisy Foldesi

"They truly went the extra mile, especially with all the

after sale service."

– About The Standevens

Rosamund McDonald

021 026 56149

Simon Standeven

027 430 4691

Paula Standeven

027 547 2852

"I enjoyed dealing with Rod. He's very personable

and he worked very hard chasing the large volume of

prospective buyers interested in the property."

– About Rod Cross

64 McCormacks Bay Road, Mt Pleasant

- The Standevens -

21 Humphreys Drive, Ferrymead and 47b London Street, Lyttelton

Phone (03) 3844 179 | rwferrymead.co.nz | /RayWhiteFerrymead

Rod Cross

021 763 763

Bev Prout

027 495 9586
---
Wednesday October 9 2019

Latest Canterbury news at starnews.co.nz

BAY HARBOUR

PAGE 7

Your Local Views

A stitch in time saves nine

The

Redcliffs

Residents

Association

has

launched an

'eco-village'

initiative in response

to the climate and

ecological emergency.

This month

association member

Dave Bryce writes

about awareness of

sustainable goods and

crafts.

11th, 12th & 13th Oct

1 day admission: $5.00 | 3 day admission: $10.00

www.theswapmeet.org.nz

Sick of late night tenant phone calls and being on call 24/7?

Tenants not paying their rent on time?

Can't find a tenant for your vacant property?

Katrina Green

Operations Manager

027 606 0030

Let us take the stress out of owning a rental property.

Contact us for a free no obligation chat today.

GLOBALLY, we currently

have unsustainable levels

of goods creation and

consumption, which

has lead to an associated

depletion of resources and

destruction of habitats.

A sustainable society and

economy would ensure that

craft and manufactured

goods would last a long

time and then be able to be

returned for repair, repurposing

or recycling.

This is starting to happen

with "product stewardship"

and eventually may be

required by law.

But in the meantime, you

can help by trying to avoid

buying things you don't

really need.

When you do make a

purchase, try to only buy

things which are durable,

repairable, non-plastic,

locally made, toxin-free,

recycled or recyclable and

without excessive packaging.

Check if things can be

fixed or recycled, before

"binning" them and replacing

them.

Take a look at the Redcliffs

Community Shed,

99c Main Rd, behind the

Black Suede Hair Salon.

These happy people just

love fixing and making

things and have great

woodwork, metalwork and

craft skills.

Simply go down during

their open hours with your

broken items and enthusiasm.

They also welcome donations

of tools, materials

and broken things, some of

which they have repaired

or repurposed and donated

to the Redcliffs School Fair

and many charities.

The shed is open on

Mondays from 9am to

2pm, Wednesday and

Fridays from 10am to 2pm

and again on Wednesday

nights from 6pm to 9pm.

Handy Hint: "A stitch in

time saves nine." This old

adage means regular care

and maintenance will avoid

costly repair later.

Bowlers seal win for Heathcote

•From page 1

Earlier in the day Heathcote

scored 131/7 from

their 22 overs with Matt

House (31) and English

import James Hunt (29) top

scoring.

They then restricted

Sydenham – who were 88/3

in the 15th over – to 127/9

thanks to Nicolaj Damgaard

and Jordan Horrell

who took three wickets

each.

This Saturday,

Heathcote host

Burnside West University

at Heathcote Domain,

where initiations will

continue for the team's new

boys.

Ray Hastie

Property Manager

027 448 8225

Morris & Co Property Management - Professional Property Management Services with a Personal Approach.

WHAT'S

NEW

AT

FOUR SQUARE

Fresh Strawberries

250g Prepack

Product of New Zealand

NEW

PRODUCT

Hellers Fresh Craft

Sausages Pork &

Cider or Turkey &

Maple Bacon 6 Pack

$

5 49

$

9 49 pk

pk

Quality Bakers

Nature's Fresh Bread

700g

$

3 19 ea

Pams Fresh

Asparagus 250g

Product of New Zealand

$

3 99 ea

NEW

PRODUCT

Moon Drops Premium Seedless Grapes

Loose, Product of USA

www.foursquare.co.nz

Just Juice

Fruit Juice 1 Litre

$

2 49

BATHURST BLOWOUT

ea

facebook.com/FourSquareNZ

We are local experts with

Canterbury-wide knowledge

providing professional Property

Management services with a

personal approach

Ray White Morris & Co Property Management Limited

03 331 6755 morrispm.nz@raywhite.com

canterburypm.co.nz

Specials available South Island only from Monday 7th October until Sunday 13th

October 2019 or while stocks last. Wine and beer available at stores with an off

licence. Wine and beer purchases restricted to persons aged 18 years old and over.
---
PAGE 8 Wednesday October 9 2019

BAY HARBOUR

Latest Canterbury news at starnews.co.nz
---
Wednesday October 9 2019

News

Latest Canterbury news at starnews.co.nz

BAY HARBOUR

PAGE 9

Photo hunt keeps the past alive

THE ARTS Centre as we know it

has been part of Christchurch's

landscape for generations –

but this glimpse of one of its

buildings standing alone on a

dusty unpaved road is unfamiliar

to many of us.

From 1877 until the mid-1950s,

the Arts Centre was buzzing

with students, as Canterbury

College (now Canterbury

University) and Christchurch

Girls' and Boys' High Schools

used the buildings as a campus at

various times.

The buildings were transferred

to the Arts Centre Trust Board

when Canterbury University

completed its move to Ilam in the

1970s.

Designed by prominent

architect Benjamin Mountfort,

this Gothic Revival tower served

as the Observatory and Biology

building, with a telescope gifted

by James Townsend located in

the Observatory right at the top

when this photo was taken.

The historic Townsend

Telescope, a six-inch refractor

made by Thomas Cooke and

Sons of York, England, in 1864,

was recovered from the rubble of

the Arts Centre tower after the

February 22, 2011, earthquake.

The Arts Centre and

Canterbury University plan to

restore the building and the

telescope.

The Beca Christchurch

HISTORY: This photo of the Observatory, Canterbury College,

circa 1895, was entered in the 2013 Christchurch City Libraries'

Photo Hunt.

Heritage Festival 2019 starts

on Monday and this year, as

part of the festival, Christchurch

City Libraries will celebrate 10

years of the Christchurch Photo

Hunt.

Over the past decade, the photo

hunt has collected hundreds of

great photos like this one, and

Christchurch City Libraries

hopes people will dust off their

collections and unearth some

more treasures.

The photo hunt competition

runs from now until October 31.

Your photo hunt photos will be

carefully scanned and preserved

as part of the Christchurch City

Libraries' collection.

They will then be loaded

onto the Discovery Wall at

Tūranga central library so

CELEBRATION: To check

out the Beca Christchurch

Heritage Festival events taking

place at the Arts Centre, visit

ccc.govt.nz/heritagefestival.

PHOTO: ARTS CENTRE

Submit your photos for the

Christchurch Photo Hunt

at any city library or at

christchurchcitylibraries.com

everyone can enjoy them.

You can also see them at

discoverywall.nz.

There will be heaps of events

happening in the central city

during the Beca Christchurch

Heritage Festival 2019.

There will also be some great

events at the Arts Centre during

the festival. Check out what's

happening at ccc.govt.nz/

heritagefestival or pick up a copy

of the Heritage Festival printed

guide from your local library or

service centre.

Water tanks with

faces to feature

at exhibition

• By Jess Gibson

THREE WATER tanks modified

to resemble faces have claimed

their place on Teddington's

Loudon Farm.

Sculptor Hannah Kidd preselected

a ridgeline to install her

artwork The Watchmen in the

lead up to the largest sculpture

exhibition in the South Island

– Sculpture on the Peninsula –

which will be held on November

8 to 10 at the farm.

Proceeds from the event are

donated to Cholmondeley Children's

Centre, a residential care

facility for children in crisis.

Entry is $15 per adult and

children under 12 are free.

For further information,

including a full list of

contributing artists, visit www.

sculpturenz.co.nz

Christchurch

Heritage

Festival

Encounter

our stories

7–28 October

Over 80 special events! Discover heritage tours, walks, talks, workshops,

music, food and more with the Christchurch Heritage Festival…

• Viewpoint/Tirohanga – The Shoebox Collection

(1960s –'70s architectural photo exhibition), 14–27 October

• Banks Peninsula Geology and Te Pātaka o Rākaihautū

Banks Peninsula Geopark – Guided Walk, 19 October

• Orton Bradley Park Spring Fair, 27 October

ccc.govt.nz/heritagefestival
---
PAGE 10 Wednesday October 9 2019

BAY HARBOUR

Latest Canterbury news at starnews.co.nz

Local surfers take on

the country's best

• By Steve Tyro

YOUNG SURFERS from the

Taylors Mistake and Sumner's

Point Surf Team made waves

at the Sticky Johnson Primary

School Championships in

Gisborne.

Benji Lowen and Amelie

Clarke competed in the year 6

and under division with Jack

Tyro and Poppy Entwisle taking

on the year 7 division last

weekend.

A sizeable surf greeted the 94

competitors on the first day of

competition at the Gizzy Pipe at

Midway Beach.

Benji and Jack surfed heats

in the round-robin phase of the

event to make the semi-final

showdowns with other unbeaten

surfers.

In the semi-finals, Benji and

Jack continued their momentum,

winning respective semis

and moving into the finals to

surf for New Zealand titles.

The finals were close and Benji

and Jack had similar results,

only this time they both came

up short and finished second in

the four-person finals.

Amelie and Poppy narrowly

missed out on the finals round

by one placing.

However, with this being their

first visit to Gisborne for the

SURF'S UP: Jack Tyro and Poppy Entwisle took on the year

7 division while Benji Lowen and Amelie Clark competed in

the year 6 and under division at the Sticky Johnson Primary

School Championships. ​

championship the experience will

be invaluable for next years comp.

The young surfers did the

South Island proud by finishing

in fourth position for the club

trophy.

If you are interested in joining

Point Surf Team Boardriding

Club go down to the Esplanade

at Hardwicke St between 10am

and noon on Saturday for registration

day.

For more information call

Steve Tyro on 027 2000 373.

IT WAS MY birthday this week,

which means it's almost been a

whole year that I've been the stayat-home

parent.

And in spite of the fact that

this can be really hard work, it's

no job.

I still wake up in the morning

and am stoked about every coming

day. Even if I'm waking up because

a tiny person with too much

energy is forcing my eyes open.

It's an absolute privilege to see

my daughter grow and learn

while forming a close bond with

her.

Part of her growth that I've

noticed a lot of this past week is

that she is becoming one sassy

wee extrovert.

She's at the stage where she

loves being centre of attention

or at the very least, part of the

action. I guess this stage might

never end, but right now she's got

to try everything and be noticed

while doing it.

At our last couple of Wā Pēpe/

Babytimes, she's spent the whole

time in the middle of the group,

dancing to the songs and bathing

in the adulation of her fans (the

other parents).

My place has been downgraded

to halfheartedly singing and

dancing along so as not to feel too

VITTORIA

& Matt

An adorable attention hog

left out.

But if she can't impress her way

into the centre of attention, she's

just started trying something new

to get an audience.

While visiting a mate in

Rangiora, his two young boys

(four and two) had pulled out an

old guitar to have a jam.

Seeing that the brotherly duo

were the stars of the lounge with

their rendition of the classic

Twinkle Twinkle Little Star,

Vittoria went full front row

groupie.

Dancing normally was still

not garnering the attention she

craved, so she lifted her shirt and

spun around on the spot.

Now, said mate and I have

long been metal fans and are well

versed with your standard familyunfriendly

groupie show antics,

so this drew raucous laughter

from him and a sort of giggling

cringe from me.

Her outgoing attitude and

willingness to be the star are

endearingly wonderful and I'll

always encourage them.

•Former Star Media

journalist Matt Salmons has

become a stay-at-home

dad. We follow his journey

weekly

George Clifford

M 027 306 3065 P 03 351 3002

george.clifford@harcourts.co.nz

Holmwood Real Estate Ltd Licensed Agent REAA 2008

Mt Pleasant 241 Cannon Hill Crescent

770m 2

3 2 2

Unreal Views and Great Vibes

This is your opportunity to own one of the best views

Christchurch has to offer. There is also plenty of opportunity

to add value here to this sheltered west facing private abode.

The main entrance is situated off a private lane with easy drive

on access into a large internal access tandem double garage.

There is also the option of parking a trailer or boat down the

bottom of the section which is accessed off another private lane.

The master bedroom includes a walk in wardrobe, ensuite and

private balcony and is one of three double bedrooms upstairs.

Throughout the year the spacious dining and living area has

great natural light. The log burner creates a warm and ambient

atmosphere. The entertainment potential is huge. The wine cella

ensures that the tiki bar remains fully stoked and leads out to

a multi-tier deck that includes a BBQ area and space for a spa.

This delightful home - which represents the perfect balance of

comfort and convenience - is sure to attract a lot of attention, and

interested parties are urged to act quickly.

A comprehensive information pack is available upon request.

For Sale: www.harcourts.co.nz/Property/896999

Holmwood

my kind of people

3 issues $20

6 issues $44.50

10 issues $65

SUBSCRIPTIONS FREEPHONE

0800 77 77 10

rugbynews.co.nz

Make Me Pretty

Furniture Upcycling

An old fashioned

Christmas

Creative Workshop

Make Me Pretty

Upcycling

The finishing touches

Furniture Upcycling Workshop

Make Me Pretty

Upcycling

3-hour Workshops

Learn to upcycle with confidence

Old Fashioned XMAS: 2 & 23 Nov

Finishing Touches: 16 Nov

creations - commissions - classes

www.makemeprettyupcycling.com

Ph: 021 129 1486 | Make Me Pretty Upcycling

E: makemeprettyupcycling@gmail.com

FOR HIRE

Caterpillar D5N

14 Tonne

Operator included

Enquire for rate

Contact: Tim Foster - 027 285 7454

Barry Foster - 027 432 5195
---
Wednesday October 9 2019

Latest Canterbury news at starnews.co.nz

BAY HARBOUR

PAGE 11

WHAT'S YOUR

TOURING STYLE?

We would like to invite you to our exclusive in store one off show

"Whats your Touring style" on Wednesday 23 October. This evening

is essential if you want to find out about the excellent stress-free

ways of linking together all the experiences you wish to have on your

overseas travels in a way that's right for you including;

• Classic Coaching

• Small Group

• Adventure

• Active

• Boutique

DATE: WEDNESDAY 23 OCTOBER

TIME: 6PM START

WHERE: 987 FERRY ROAD

HOUSE OF TRAVEL FERRYMEAD

RSVP: PLEASE RSVP ON TELEPHONE 03 376 4022 OR

EMAIL FERRYMEAD@HOT.CO.NZ BY FRIDAY 18 OCTOBER

RSVPS ESSENTIAL

DON'T

MISS OUT!

REGISTER

TODAY!

SPACES ARE

LIMITED.

Join us for drinks & canapes and be inspired with brief presentations

from our team outlining the various touring experiences on offer.

RSVP TO ferrymead@hot.co.nz by Friday 18 October or phone 03 376 4022

BETTER TOGETHER

987 FERRY ROAD, FERRYMEAD VILLAGE I 03 376 4022 I FERRYMEAD@HOT.CO.NZ
---
Advert: svbhn0910

Newspaper: Bay Harbour News

PAGE 12 BAY HARBOUR

Latest Canterbury news at starnews.co.nz

Wednesday October 9 2019

Prices you can rely on!

Our Price Promise is to give you prices you can rely on

everyday! Whether it's some of your everyday items or those

special treats, you can trust SuperValue to help you save on

your favourites.

Look out for the Price Promise products in-store, you'll see

their low prices around anywhere from a couple of months

to over a year! We'll also be adding more and more of your

favourites to Our Price Promise every week, so stay tuned

for more ways to save.

7 th to 13 th October 2019

$

2 30

pk

$

1 60

ea

$

2 80

ea

Titan Paper Towels

2 Pack

Essentials Tomato

Sauce In Can 575g

WW White Sugar

1.5kg

Plus, more great savings!

$

12 00

kg

$

4 00

pk

$

5 50

ea

NZ Prime

Beef Mince

USA Bi-Colour

Seedless Grapes 500g

WW Salted Butter

500g

$

27 00

kg

$

3 50

ea

$

3 00

ea

Fresh NZ Beef

Sirloin Steak

New Season Bunched

Asparagus 250g

Cadbury Caramilk

Block 180g

$

23 50

pk

$

9 50

ea

$

1 80

ea

Heineken

12 x 330ml Bottles

Montana Classic

750ml

Bluebird Delisio or

Doritos Corn Chips

140-170g

svbhn0910

Owned &

operated

by locals

SuperValue Lyttelton: 17 London Street, Lyttelton. Phone 328 7368. Open 7am – 9pm, 7 days.

SuperValue Sumner: 3 Village Mall, Sumner. Phone 326 5688. Open 7am – 9pm, 7 days.

Prices apply 7th to 13th October 2019,

or while stocks last at SuperValue Lyttelton and Sumner.

For inspiration visit SuperValue.co.nz |

Please drink

responsibly
---
Wednesday October 9 2019

Latest Canterbury news at starnews.co.nz BAY HARBOUR PAGE 13

Diamond Harbour Bridge

Club

Tuesday, 1.30, at the rugby

club, Wednesday, 6.40pm

New players welcome. There

will also be a chance to learn

to play bridge at lessons on

Tuesdays at 7pm in the green

room of the Memorial Hall on

Waipapa Ave. For more information

phone Pauline on 329 4414

or 027 363 6302.

Diamond Harbour Bowling

Club, 20 Purau Ave, Diamond

Harbour Rugby Club, 2a Waipapa

Ave

JP Clinics

Tomorrow, 11am-12.30pm, at

Little River, and Saturday, 10amnoon,

at Sumner

A justice of the peace will be

available to members of the community

to witness signatures and

documents, certify document

copies, hear oaths, declarations,

affidavits or affirmations, as well

as sign citizenship, sponsorship

or rates rebates applications.

There is no charge for this service.

Little River Library and

Matuku Takotako: Sumner

Centre

A Very Pleasant Playgroup

Tomorrow, 9.30-11.30am

Email jess.gibson@starmedia.kiwi by

5pm each Wednesday

This drop-in playgroup is for

pre-schoolers and their grownups.

Stay for the whole session or

drop-in when it suits.

Mt Pleasant Community

Centre

Tai Chi

Friday, 7-8.30pm

This is a gentle exercise for

people of all ages and fitness

levels, bringing many health

and other benefits. All are welcome

to attend this weekly class.

Phone Lucida for more information

on 022 697 7420.

105 Bridle Path Rd

Mt Pleasant Art and Craft

Market

Saturday, 9.30am-12.30pm

Go along and support your

local craftspeople every second

Saturday of the month. Browse

with a coffee and pastry from the

farmers market running outside.

Mt Pleasant Community

Centre

Adventure on Te Ara Ihutai -

Christchurch Coastal Pathway

Sunday, 10am-2pm

Be adventurous and experience

a free, self-guided walk from

Scott Park, Ferrymead to Scarborough

Clock Tower. Complete

a treasure hunt, learn about the

ecological habitats of the unique

coastal flora and fauna, explore

the great coffee and ice cream

options and all the Eastern Bays

has to offer.

Scott Park, Main Rd, Mount

Pleasant

Shoreline Toastmasters

Monday, 7.30-9pm

Nervous about speaking? Go

along to gain confidence by practising

speaking, listening,

learning and laughing – in a

warm, friendly non-threatening

environment. For information

shoreline@toastmasters.org.nz

Mt Pleasant Yacht Club, 21

Main Rd

Indoor Bowls at Tui Club

Monday, 12.45-3.45pm

Go along for a fun and inclusive

environment at indoor

bowls. The first day is free and is

$3 thereafter. All equipment is

supplied. No previous experience

necessary as coaching is given.

Soft-soled shoes should be worn.

Phone Sue on 389 1849.

Woolston Club, 43 Hargood St

Woolston

Technology Help Sessions

Monday, 2-3pm

If you need help using your

computer, smartphone, iPad,

or tablet, go along to a drop-in

session. Take your laptop, tablet,

or smartphone, or use one of the

centre's computers. No bookings

required at this free event.

Matuku Takotako: Sumner

Centre

Mt Pleasant Walking Group

Tuesday and Thursday, 9.30am

A mix of flat and hill walks for

people with a medium level of

fitness. Walks are in nearby areas

Intriguing new ceramics by

Jane McCulla are on show

for free in the main gallery

at historic Stoddart Cottage

Gallery, 2a Waipapa Ave in

Diamond Harbour. The Trace

of Presence Exhibition will be

open on Friday, Saturday and

Sundays from 10am to 4pm

throughout October. Pieces

are inspired by evidence of

transient human presence in

remote landscapes. Commission

from sales to Stoddart

Cottage Trust for heritage

activities.

and further afield. There will be

car-pooling with shared costs.

Phone Judy on 384 1269.

Various locations

Knit 'n' Yarn

Today, 10am-noon, at Lyttelton,

Take your knitting, crochet or

other portable craft project and

enjoy time at knit 'n' yarn. Free,

no bookings required.

Lyttelton Library

Akaroa Craft Group

Monday, 1.30-2.30pm

Go along and join the Akaroa

Craft Group. Sit in comfy chairs

and have a relaxing chat while

working on your project. Share

skills in a wide range of crafts,

including needlework, knitting,

quilting, handicrafts, making

dolls, teddy bears and spinning.

Akaroa Library

NOW

OPEN

Bupa Bethesda Care Home

has officially opened

our brand new dementia

community here in

Bishopdale, Christchurch.

We are

recognised as

dementia-friendly by

Our residents enjoy a small, close-knit community where we focus

on person-first care.

Want to know more? Call our care home manager, Chris McCulloch

on (03) 359 6390, or feel free to drop by during business hours.

235 Harewood Rd, Bishopdale | www.bupa.co.nz/bethesda
---
PAGE 14 Wednesday October 9 2019

BAY HARBOUR

Latest Canterbury news at starnews.co.nz

Celebrate 25 years

of Christchurch Casino.

CELEBRATE DIVERSITY WITH

CHRISTCHURCH CASINO.

FREE TO ENTER.

OVER $100,000 IN CASH

& PRIZES TO BE WON!

WIN TRIPS TO

VIETNAM & INDIA!

Includes flights, accommodation, guided tours

and spending money!

- Ts & cs apply -

Explore, Play, Redeem.

Download our Players Club app.*

30 VICTORIA ST I 0800 CASINO I chchcasino.co.nz

Enter for free by swiping your Players Club card at the Kiosk from 5pm every Saturday. Live hourly draws at 8pm, 9pm, 10pm.

Winners must be present. Players Club is free to join.*Must be a Players Club member to download app.
---
Wednesday October 9 2019

Latest Canterbury news at starnews.co.nz

BAY HARBOUR

PAGE 15

Tasty Bites

Cooking with what is in season

Lemons and fennel are in

season and they make a

perfect partnership. This

subtle combination works

beautifully on its own

as a light dinner or will

accompany seafood, pork

and lamb

Lemon and fennel risotto

Ingredients

1500ml vegetable stock, hot

2 lemons

2 Tbsp olive oil

1 Tbsp butter

2 shallots

1 tsp fennel seeds, crushed

3 bulbs fennel, sliced thinly and

tops reserved

400g risotto rice, such as arborio

or carnaroli

200ml dry white wine

100g parmesan cheese, finely

grated

1 cup fennel fronds

½ purple olives, stones removed

50ml olive oil

sea salt and cracked pepper

Directions

Bring the stock to the boil. In a

medium-sized saucepan, heat the

oil and butter, add fennel seeds

and shallots and cook gently

for 3min. Add the sliced fennel

bulbs and cover with a lid and

cook for about 15min until the

fennel has softened and become

sweet and fragrant.

Add the zest of one lemon and

juice from half.

Add the rice and stir well so

the rice gets coated. Cook until

the rice becomes lightly toasted.

Add wine and stir well until it

has been absorbed into the rice.

Ladle the hot stock in one ladle

at a time. Stir well between each

addition so the rice sucks up the

stock and becomes creamy.

Continue until the rice is

tender and creamy and the sauce

around the rice is thick and silky.

If too thick, loosen with a little

more stock, or if too runny cook

out for a little longer. You may or

may not need all the stock.

Adjust the seasoning and

finish by adding half the grated

parmesan and stir to combine.

To make the fennel and olive

dressing, chop the fennel fronds

and add to the olives and zest of

one lemon.

Stir together, add the olive

oil and enough lemon juice to

balance the dressing.

To serve the risotto, spoon

on to your plate, sprinkle over

a little more grated parmesan.

Spoon over a little fennel and

olive dressing.

Save your ripe bananas

to make this sweet after

dinner treat

Banana loaf

Ingredients

140g butter, softened, plus extra

for the tin

140g caster sugar

2 large eggs, beaten

140g self-raising flour

1 tsp baking powder

2 ripe bananas, mashed

50g icing sugar

Handful dried banana chips, for

decoration

Directions

Heat oven to 180 deg C.

Butter a 900g loaf tin and line

the base and sides with baking

parchment.

Cream 140g softened butter

and 140g caster sugar until light

and fluffy, then slowly add two

beaten large eggs with a little of

the 140g flour.

Fold in the remaining flour,

one tsp baking powder and two

mashed bananas.

Pour into the tin and bake

for about 30min until a skewer

comes out clean.

Cool in the tin for 10min, then

remove to a wire rack.

Mix 50g icing sugar with twothree

tsp water to make a runny

icing.

Drizzle the icing across the top

of the cake and decorate with a

handful of banana chips.

Otago Daily Times

Your trusted

source of news

from across

the South

PICK UP YOUR COPY FROM 7.30AM AT BP CONNECT:

FENDALTON

1 Memorial Ave

BUSH INN

330 Riccarton Road

MOOREHOUSE

144 Moorehouse Ave

DALLINGTON

712 Gloucester St

RUSSLEY RD

661 Russley Road

ROLLESTON

1705 Main Road

EDGEWARE

712 Edgeware Road

QEII

308 Travis Road

MARSHLANDS

432 Marshlands Road
---
PAGE 16 Wednesday October 9 2019

BAY HARBOUR

Latest Canterbury news at starnews.co.nz

ADVERTORIAL

JOIN SBA FERRYMEAD

"We offer a great monthly service, which avoids the hassle for you of managing

your GST or payroll, or you can use our annual service to complete your end of

year accounts. We offer advice, information, and peace of mind," - Sally White

SBA Ferrymead 2/1 Waterman Place, Ferrymead, Christchurch 8023 | SBA Hornby 1/37 Shands Road, Hornby, Christchurch 8042

MODERN PREMISES

IN TWO CONVENIENT

LOCATIONS

"A good bunch of people and a

huge help to my business over

the past 2 years. Down to earth

advice on business matters"

- Chris

"Brilliant bunch to deal with.

They're very knowledgeable

and can really help you build

your business"

- Nigel

Our friendly team are always just

a phone call or email away when

you need them.

"We run a small business and they

have given us awesome support

as we look to take the next steps"

- George

In this picture: Sally and the team at SBA Ferrymead

Offering a range of cost-effective accounting

services and bespoke business solutions

SBA Ferrymead and Hornby provides businesses and rental property owners

with cost-effective management of GST, annual accounts and payroll, and

they can even bespoke a solution.

FREE XERO

FOR

6 MONTHS!

The team of qualified accountants

at the two branches is led by Sally

White, who guides her team in

understanding unique client needs

and goals. Sally and her team

loves to work with people that

are looking to understand their

numbers, and to support clients in

better decision making.

Sally sees their role as accountants

as being the professional

scorekeepers for business owners

and landlords to help improve

financial performance. As she

says, "without a scorekeeper, goals

and performance can leave people

operating in the blind, realistically

resulting in missing out on

optimum results".

"We offer a great monthly service,

which avoids the hassle for you of

managing your GST or payroll, or

you can use our annual service to

complete your end of year accounts.

We offer advice, information,

and peace of mind," Sally says.

SBA Ferrymead's clients are

business owners, rental property

investors and people looking to

set up new businesses. Support is

tailored to their needs, with clients

ranging from those who hate

anything to do with finances, to

those who like to keep everything

in their control and only want

financial reports prepared for tax

purposes and their bank. Either

way, SBA Ferrymead is happy to

provide support.

Get Xero Free for six months

when joining SBA Ferrymead

between now, until 30th

November 2019, T&C's apply.

Please email us directly at

ferrymead@sba.co.nz to request

copies of our terms of engagement

and full terms and conditions for

the Free Xero offer.

SBA Ferrymead invites you to join

their practice now, and do what

you really love, and leave the

accounting to the experts.

Visit us at Cnr Ferry Road and

Waterman place, with easy

off-street parking.

Contact us on 03 260 0600 or

email ferrymead@sba.co.nz
---
Wednesday October 9 2019

Latest Canterbury news at starnews.co.nz

BAY HARBOUR

PAGE 17

Transform

your garden

with a natural timber sauna

For those seeking the ultimate in garden lifestyle,

the answer can be found at Canterbury Saunas, says

business owner Mark Smith. As he explains, a Finnish

barrel sauna turns a garden into a sanctuary of

relaxation, refreshment and rejuvenation.

The barrels come from Finland and

are made by a passionate family

company, who live, breathe and

sleep sauna, Mark says. They are

handcrafted from Thermowood, a

very slow-growing Nordic Spruce

that has been heat-treated at 205

degrees celcius for two days. The

timber is free of resin, durable, and

not prone to warping, so is perfect

for sauna. Thermowood is also 25 per

cent more thermally efficient compared to

cedar.

"Similar-looking saunas are available elsewhere.

However, at Canterbury Saunas we use 45mm-thick

timber to ensure longevity and we offer many upgrade

options, such as windows and different lengths and

widths.

"People were taken aback at the recent Canterbury

Home Show, at the quality of the ball-and-socket

joinery and how many growth rings were on the timber

walls – people kept coming up and stroking them,"

Mark says.

Unrivalled in size and options for customisation,

Canterbury Saunas also exclusively offers

the Huum heater range, from 4.5kw to

18kw. The standard model holds 55kg

of stones, which produces fabulous

steam, and with an upgrade option

the heater can be controlled

remotely with a smart phone.

For a more rustic feel, clients can

also upgrade to a traditional woodburning

heater, perfect for people in

remote locations.

Mark says sauna compares well to a

conventional spa pool, without the need to

run the heater constantly. He has used his St Albans

sauna several times a week for over a year and has

found that the electricity costs are about $2 a session.

Virtually maintenance free, there are no slippery steps,

filters to be changed or harsh chemicals to add to the

sauna – a quick sweep out and wipe down every few

weeks is sufficient. Oiling the outside of the timber

once a year is also recommended.

Published studies from the University of Bristol, which

used very large study groups over 20 years, have

come back with some interesting findings, Mark says.

Regular use of Finnish-style saunas can reduce blood

pressure and the chance of stroke. It also benefits

skin condition and eases breathing problems. Soft

tissue aches and pains are also eased in the heat of

sauna. Finally, the barrel shape and quiet environment

combine to create a feeling of peace and sanctuary

away from the hectic pace of life.

Canterbury Saunas has a demonstration model

at Oderings Garden Centre, 20 West Coast Road,

Yaldhurst. Website www.canterburysaunas.co.nz

Six wayS SaunaS

beat spa pools

Ease aches and pains away with a Scandinavian

designed and crafted barrel sauna, the hot

new option with some great advantages.

1. Saunas only use power when in use.

2. Saunas aren't noisy.

3. Easier to keep clean with no need for chemicals.

4. Enjoyable in any weather, cocooned from

the elements.

5. Safer – no slippery steps, level floor, and easy to get

in and out of.

6. Lower maintenance because there's only one

working part, the heater.

canterburysaunas.co.nz

mark@canterburysaunas.co.nz | CALL 03 669 2506
---
PAGE 18 Wednesday October 9 2019

BAY HARBOUR

Latest Canterbury news at starnews.co.nz

BUY NOW – PAY IN 2021 *

NEW!

CALAIS

RANGE

ON SALE

4 Drawer Tallboy WAS $ 999

NOW $

899

NEW SEASON

OUTDOOR

JUST LANDED!

Credit Criteria, exclusions, fees,

terms & conditions apply.

MYKONOS

2 Seater WAS $ 899 NOW $ 749

Single Seater WAS $ 570 NOW $ 475

Coffee Table WAS $ 599 NOW $ 499

ON SALE

New outdoor

cushions!

Queen Bed WAS $ 999

NOW $

899

2 Drawer Bedside WAS $ 379

NOW $

349

Dining Table – W180 WAS $ 799

Bench – W150 WAS $ 390

ALL BEDROOM ON SALE

NOW $

749

NOW $

370

Your lounge...

custom made by you.

NZ MADE SOFAS

ON SALE

ALL OUTDOOR ON SALE

DIEGO

1.5 Seater – 1 Arm / Corner /

3 Seater – 1 Arm

See in store for pricing details.

ALL DINING ON SALE

ALL LOUNGE ON SALE

OPEN LATE NIGHT THURSDAYS & FRIDAYS to 7PM - UNTIL OCTOBER 21st.

DAYLIGHT SAVINGS SALE ENDS 21.10.19.

Shop

Online

Nationwide

Delivery

Finance

Options

Cnr Blenheim & Curletts Rds, Christchurch

Ph: 0800 TARGET (0800 827438)

targetfurniture.co.nz

Offers and product prices advertised here expire 21/10/19.

Sale excludes Manchester and Accessories.
---
2

[Edition datE]

Wednesday October 9 2019

keep it local

Latest Canterbury news at starnews.co.nz

BAY HARBOUR

PAGE 19

and support businesses in your community

Wonderful range

of stylish casual

women's European

summer shoes

Russ Day

displays

a popular

new

European

summer

sandal by

La Bonita

The Footwear Factory in Garlands

Road Woolston has been a part of the

Christchurch retail scene for more than a

quarter of a century.

Over that time thousands of people have

flocked to the store to find bargains and

good deals in quality footwear, ranging from

children's shoes, sandals and school shoes

to men's and women's fashion and casual

shoes, outdoor and sports shoes, bowls

shoes, slippers, and safety footwear for the

workplace.

Launched in a small shop in Papanui, the

business later operated in Riccarton for 12

years before moving to Garlands Rd 16 years

ago.

Owned by Russ and Jude Day, there you

will find shelves lined with footwear in a

huge variety of styles and colours for men,

women and children – a 'gold mine' for shoeseeking

shoppers.

The footwear is brought in from all over

the world, as well as coming from New

Zealand manufacturers, and includes ends of

lines and other well-priced items.

Four main brands are carried – the New

Zealand made McKinlays range of children's

school shoes, as well as men's and women's

styles. The well-known Hi-Tec range of

outdoor footwear and tramping, New

Balance sports shoes and a range of Keens

sandals and outdoor footwear. These known

brands cover all ages.

New styles arrive almost every day, so

there are always more to try on, while Russell

and his second-in-charge Karen are happy to

advise on styles and sizing.

Located on a high-profile site at 47C

Garlands Rd, (next to Flags Tyres), the

Footwear Factory is easy to find, and there is

off-street parking available.

They are open seven days a week –

9.30am- 5pm Monday to Friday, 10am-2pm

Saturday and 11am-3pm Sunday. Phone

389-3431. Check out their website for new

arrivals, www.thefootwearfactory.co.nz

One piece is never enough!

StyliSh EuroPEan

SummEr StylES

FACTORY SHOP

OPEN FRIDAY 11AM-2PM

LOOSE TREATS

LOLLIES

BARS

GIFT BOXES

SECONDS

SORRY NO EFTPOS. CASH SALES ONLY.

UNIT 9, 27 WATERMAN PLACE

PHONE 03 376 4455

Aviation Automotive

Maritime Rail Military

Artwork, books, models and more.

Lyttelton Framing

Quality Picture Framing by UK qualified conservation

framer. Very competitive prices and all work is guaranteed.

32 London Street, Lyttelton | Ph. 03 328 7350

E. anchorfinearts@xtra.co.nz

FERRYMEAD

• Mathematics

• Reading

• Spelling

• English

DOES

YOUR CHILD

NEED SOME HELP?

ENROL THEM TODAY!

• Sciences

• NCEA Subjects Y11-13

• Preparation for school

entrance test

FREE

AssEssmEnt

Unit 1/27 Waterman Place, Ferrymead

(just off Ferry Rd) | Phone 384 1188

www.kipmcgrath.co.nz

Full Leather. Made in Turkey.

from $159

47c Garlands Road, Woolston

Phone 389 3431

www.thefootwearfactory.co.nz

Give your trees the care they

deserve. Free no-obligation quote.

Work from large tree removals

to fruit tree pruning and hedge

trimming by an experienced arborist.

●INSURED ●QUALIFIED

●PROFESSIONAL

PH 021 062 4463

david@specialbranchtreecare.co.nz

www.specialbranchtreecare.co.nz

DOSSIER 1

Advertising enquiries Jo Fuller | Ph: 027 458 8590 | jo.fuller@starmedia.kiwi
---
PAGE 20 Wednesday October 9 2019

BAY HARBOUR

Latest Canterbury news at starnews.co.nz
---
Wednesday October 9 2019

REAL ESTATE

Seascape delight

28B Ripon Street, Lyttelton

Enquiries over $645,000

4 bedrooms | 2 bathrooms | 1 living room

open-plan kitchen/dining | 1 car garage

plus 1 carport - Listing no. 10099

Latest Canterbury news at starnews.co.nz

BAY HARBOUR

PAGE 21

Elegant and stylish. Built for maximum

sun with panoramic views over Lyttelton

Harbour and surrounding hills across to

Quail Island.

Stroll up the driveway, past single garage

and carport up a few steps across a deck

onto the first level. Here you find three

double bedrooms. The master with access

to decent size bathroom having the luxury

of shower, bath and double his-and-hers

sinks, plus a separate toilet. The laundry

is also located on this floor. Continue up

the central stairway onto the second level

landing. Turn left to the living, right to

kitchen or diagonal to access the rear of the

property.

The private landscaped courtyard provides

all day living, ideal for that morning cuppa

to evening BBQs. Take time to breath in the

fragrant Jasmine that adorns the trellis.

The light-filled open-plan kitchen/dining

area is the heart of the home. Here stunning

picture-perfect sea views from the fulllength

dining room window combine with

high ceilings making for that feeling of

spaciousness.

Flow continues through to the living area

where a balcony off this room provides

additional living or entertaining space.

Stairs continue through the centre of the

house to a cleverly designed mezzanine

floor. Again, be spoilt with superb views

from the dining room windows. Having its

own shower and toilet makes this a super

fourth double bedroom, but if you want

space, light, and a "special spot" in which

to work from home, then this is just the

space. This is one of those properties where

careful planning, quality and convenience

for modern day living will have you want

to live here.

Lyttelton has become a sought-after

dynamic Port community with much to

offer from the Saturday market, cafes,

restaurants, to great entertainment. A town

that can boast having a number of famous

artists. Come join this bubbling township.

"Buyers over $645,000" need to view.

To arrange a private viewing of this home

please contact...

Heather Chick

Min Sarginson Real Estate

(Licensed Agent REAA 2008)

Phone 027 211 7205

or 03 328 7273

www.bigbrothersbigsisters.org.nz
---
PAGE 22 Wednesday October 9 2019

BAY HARBOUR

Latest Canterbury news at starnews.co.nz

We're for

local

EVENTS

From Kaikoura,

to Christchurch,

to Ashburton,

we have it covered
---
Wednesday October 9 2019

Latest Canterbury news at starnews.co.nz

BAY HARBOUR

PAGE 23

Classifieds Contact us today Phone our local team 03 379 1100

Public Notices

Reserve Management

Committees –

Triennial Elections

Triennial elections of the Reserve Management Committees of the Banks

Peninsula Community Board will be held as follow. You are welcome to come

along and vote, or put your hand up as a candidate. Please contact Amy Hart,

Support Officer, with any questions at amy.hart@ccc.govt.nz.

• Diamond Harbour Reserves Management Committee – Monday 14 October,

7.30pm, Green Room, Diamond Harbour Community Centre,

2A Waipapa Avenue, Diamond Harbour

• Le Bons Bay Reserve Management Committee – Sunday 20 October, 4pm,

Le Bons Bay Domain Hall, Le Bons Bay

• Ataahua Reserve Management Committee – Monday 21 October, 7pm,

Ataahua Hall, Ataahua Reserve, Kaituna

• Lyttelton Recreation Ground Reserve Management Committee –

Monday 21 October, 6pm, Lyttelton Community Boardroom,

25 Canterbury Street, Lyttelton

• Pigeon Bay Reserve Management Committee – Monday 28 October,

2.30pm, Pigeon Bay Settlers Hall, 40 Wharf Road, Pigeon Bay

• Allandale Reserve Management Committee – Wednesday 30 October,

7pm, Governors Bay Hotel, 52 Main Road, Governors Bay

• Stanley Park Reserve Management Committee – Friday 1 November, 9am,

Akaroa Yacht Club, Beach Road, Akaroa

• Robinsons Bay Reserve Management Committee – Saturday 9 November,

5pm, Robinsons Bay Reserve (40 Kingstons Hill Road, Robinsons Bay if wet)

• Lyttelton Reserves Management Committee – Monday 11 November, 7pm,

Lyttelton Community Boardroom, 25 Canterbury Street, Lyttelton

• Garden of Tane Reserve Management Committee - Tuesday 12 November,

5.30pm, Bully Hayes, 57 Beach Road, Akaroa

• Awa-iti Reserve Management Committee – Tuesday 12 November,

4pm, Boardroom, Little River Service Centre,

4238 Christchurch Akaroa Road, Little River

A. Hart

Support Officer

To Let

RENT ME!

Ideal as an extra

bedroom or office.

no bond required

Bay Harbour News 15 x 3

OOF 2019

Fully insulated and double glazed for warmth.

Tuition

PIANO LESSONS

Catherine Bracegirdle

DipABRSM ATCL AIRMT

12 Ridgeway Pl, Richmond Hill, Sumner

PH. 021 044 5102

www.pianoandtheory.co.nz

catherine.bracegirdle@gmail.com

Situations Vacant

DRIVETECH LTD

"TRAINING TOMORROWS DRIVERS TODAY"

HEAVY TRAFFIC CLASSES 2, 3, 4 & 5

FROM FULL CAR (Class 1)

TO FULL TRUCK (Class 2) in 2 days

(Road code & pre-assessment driving training provided)

FORKLIFT ENDORSEMENT (F & OSH)

CAR DRIVING LESSONS

Train with a knowledgable, experienced assessor that will work with you

through your theory and practical steps.

Driving Related Health & Safety Training

Passenger, Logbook & Load Security Training

OTHER COURSES/LICENCES & ENDORSEMENTS AVAILABLE ARE:

Vehicle Recovery, Wheels, Tracks, Rollers & Dangerous Goods

Courses in Christchurch, Invercargill,

Cromwell & Mosgiel daily.

Other areas by arrangement

INTEREST FREE TIME PAYMENTS

(Terms & Conditions apply)

FREEPHONE 0508 2 37483

or 03 348 8481, 027 510 0684

info@drivetech.co.nz / www.drivetech.co.nz

Three convenient sizes from $70 a week:

ALEXANDRA HEADLAND

Computer

Services

Standard 3.6m x 2.4m

All Units Have Ocean Views.

PLEASE NOTE:

Large Format: 4.2m x 2.4m Full Colour | Xtra-large Cost 4.8m Code: x 2.4m7040

Heated Pools, Spa & Sauna,

VIRUS REMOVAL AND

that we have Free prepared Wifi, Tennis this advertisement PC HEATH CHECK

Visit our website GARDENER Need your proof based & on Mini our Golf. understanding of $50.00 With free pick

the instructions received. In approving

n Date Position www.justcabins.co.nz home or commercial

and delivery within 10km

Cost excl gst

for display cabin locations garden tidied up or the advertisement, CHECK OUR it is GREAT the client's of Redcliffs. Phone Paul

responsibility to check the accuracy of

ed 9 October Public Notice renovated $240.12 or require long

WINTER SPECIALS

on 021495577. Microsoft

both the www.mandolin.com.au

term assistance. Phone advertisement, the media and Certified Pro with 25 years

i 11 October www.justcabins.co.nz

Public Notice Ruth $277.88 326 6663 or 021 272 position nominated. 0061 7 5443 5011

experience. Visit www.

JUNE to AUG temps 20C

0303

Cancellation of adverts booked with seracnz.com

media will incur a media cancellation

fee of $50.

Letterbox Advertising

your contact: Rachel

Flyers and Newspaper Inserts

DESIGN

We offer professional

design services.

PRINT

We print your gloss

mailers and letterbox

flyers.

Delivery

Canterbury wide

coverage or targeted

zone deliveries.

Gardening

& Supplies

A GARDEN OR

LANDSCAPING TIDY

UP? Shrub, hedge &

tree pruning, Lawns,

Gardening, consistently

reliable general property

upkeep, Dip. Hort. 10

yrs experience, One off

tidy ups or on-going

service. Nick's Garden

Maintenance. Keeping

your garden beautiful.

Free Quote. Ph. 942-4440

& 022 264 7452

Holiday

Accommodation

Australia QLD

SUNSHINE

COAST

RESORT

FREE QUOTES Contact: Michaela Malloch

P: (03) 379 7100 or 021 932 177

E: michaela.malloch@starmedia.kiwi

Wanted To Buy

AAA Buying goods

quality furniture, beds,

stoves, washing machines,

fridge freezers. Same day

service. Selwyn Dealers.

Phone 980 5812 or 027

313 8156

Trades & Services

Landscape

and Garden

Services

Need help with

your garden?

We provide a quality

service for all your

Garden Maintenance

(hedges, lawns,

line trimming, weeding)

and Landscaping needs,

(fencing, paths, drives,

retaining and earthworks).

Full Arborist Service

Ph 021 272 0303

Situations Vacant BRICKLAYER

George Lockyer. Over

SUMNER AFTER

40 years bricklaying

SCHOOL CHILD

experience.Uk trained.

MINDER/

Insurance work, EQC

HOUSEKEEPER.

repairs. Heritage

Mon-Fri 3-6pm. Drivers

brickwork & stonework

license & willingness to

a speciality. No job too

clean or prepare meals at

small. Governers Bay.

times. 10yo boy at Sumner

Home 329 9344. Cell

school. $20/hr paid

027 684 4046. E mail

weekly. Ph 03 326 7937 or

georgelockyer@xtra.co.nz

021 111 2220

CARPET LAYING

Exp. Repairs, uplifting,

relaying, restretching.

Phone John on 0800

003181, 027 240 7416

jflattery@xtra.co.nz

CONCRETE CUTTING

Affordable Concrete

Cutting with Quality, and

removal work. Free quote.

No job to small. Phone 027

442-2219, Fax 359-6052

a/h 359- 4605

ELECTRICIAN

JMP Electrical.

Experienced & registered.

Expert in all home

electrical repairs &

maintenance. Call James

027 4401715

INTERIOR

PLASTERING

From small jobs to new

housing. 32 yrs experience.

Ph 027 666 2174

LAWNMOWING

You Grow I Mow. Free

quotes. Ph / text Chris 021

252 1801

PAINTING SERVICES

Mature, reliable,

conscientious &

experienced, reasonable

rates, no job too small!

Call Ron 027 434-1400

PLASTERING

INTERIOR, no job too big

or too small, specialise in

repair work & new houses,

free quotes given, over 20

yrs plastering experience,

ph Peter 027 221-4066 or

384-2574

Trades & Services

Your local professional

FOR ALL YOUR

PLUMBING,

GAS &

DRAINAGE

• Bathroom repairs

• Renovations

• Leaks

• Blocked drains

• Gas and drainage

Carol and Chris

Phone 376 5322 or email

chcheast@laserplumbing.co.nz

PLUMBING &

DRAINAGE

SERVING

CHRISTCHURCH

AND WIDER

CANTERBURY REGION

WITH QUALITY

WORKMANSHIP

AND SERVICE.

PHONE HAMISH BALDWIN

027 636 3499

YOU COULD

BE HERE

ROOF

PAINTING

Rope & harness

a speciality,

no scaffolding

required,

30 years of

breathtaking

experience.

FREE QUOTES

Exterior staining,

exterior painting,

moss and mould

treatment and

waterblasting

Phone Kevin

027 561 4629

Let us help take

your business to

new heights

Advertise your business in our

Trades and Services column.

For assistance contact Vicky

Phone 03 364 7419 or email

vicky.sayers@starmedia.kiwi

rooF

painting

Book now for

Summer and

receive 20%

discount.

Rope and harness

a speciality.

No scaffolding

required.

30 years

experience.

Free quotes,

call Craig

021 060 2392
---
PAGE 24 Wednesday October 9 2019

BAY HARBOUR

Latest Canterbury news at starnews.co.nz

THE

GIANT

SMITHS CITY SALE

SELECTED

$ 299

Save

$ 80

14"

WE'VE GOT

YOU SORTED

FOR TECH

55"

$ 1499

Orion 2 Portable BBQ GM152-045

OUR

LOWEST EVER

ADVERTISED

PRICE!

less

than

per

$ 16 week *<

UHD

14" A9 Laptop

DK0081AU

50% OFF* 1

4GB RAM, 128GB SSD,

AMD Dual-Core

A-Series processor.

Available in single to californian king!

less

than

$ 749

Save

$ 250

per

$ 10 week *<

HUGE RANGE

OF CAMPING

IN-STORE &

ONLINE NOW

BEDS

Skygazer

3XV Person

Dome Tent

$ 159

Save

$ 15

55" 4K UHD Smart TV RU7400

Galaxy Note10 | 10+

Available NOW in selected stores & online. †

8.5KG

8.5kg Front Load

WashingMachine

EWF8524CDWA

UNBELIEVABLE

DEAL!

$ 999

less

than

$ 11

per

week *<

$ 1699

less

than

10 | 256GB

per

$ 18 week *<

10+ | 256GB

$ 1899

less

than

per

$ 20 week *<

$ 2299

less

than

10+ | 512GB

per

$ 24 week *<

BONUS

JBL BLUETOOTH

SPEAKER FLIP 4

WORTH $149

Easy repayments with affordable finance, EVERYDAY!

24 months

interest free

on everything $499 & over *

50 months

interest free

/smithscity

/smiths.city

0800 SMITHS (0800 764 847)

on furniture & beds $999 & over * smithscity.co.nz

Life made easy. Helping Kiwis feel at home since 1918

Not all products are available in all stores but are available online and for order. Please call us on 0800 764 847 to check for availability at your local store. All offers in this ad are valid Wednesday 9th until Tuesday 15th

October 2019, while stocks last or unless otherwise stated. *Apple products, selected computers, game consoles, gift cards, clearance items and some promotional items are not available in conjunction with interest free

offers. Flooring available on a maximum of 18 months interest free. Exclusions, fees, terms, conditions and credit criteria apply. Available in-store only. Equal instalment amounts include one-off booking fee of $45.00, annual

fees of $45.00 p.a., and security registration fee of $8.05, and exclude insurance. Current interest rate of 23.95% applies to any unpaid balance after expiry of (any) interest free period. See in-store or visit smithscity.co.nz for

details.Instalment amount based on a 50 month finance period. *1 Discount is off our full retail price and not in conjunction with any other offer.

JT5987

550 Colombo Street | Cnr Belfast and Radcliffe Road Northwood, CHRISTCHURCH MEGASTORES
---
Wednesday October 9 2019

Latest Canterbury news at starnews.co.nz

BAY HARBOUR

PAGE 25

Dress Circle Views

Sumner 67 Clifton Terrace

3 2 2 1 2

Auction: Thursday 24 October 2019 (unless sold prior)

View at: www.harcourts.co.nz ID#SM0236

Open homes: Wednesdays, Saturdays and Sundays, 11 - 11:45am

Grenadier Real Estate Ltd MREINZ. Licensed Agent REAA 2008.

Alison Carter

P 0274 318 960

E alison.carter@harcourts.co.nz

W alisoncarter.harcourts.co.nz
---
PAGE 26 Wednesday October 9 2019

BAY HARBOUR

Latest Canterbury news at starnews.co.nz

Location - Education - Motivation

Mt Pleasant 56a Major Hornbrook Road

3 2 2 1 2

Auction: Thursday 31 October 2019 (unless sold prior)

View at: www.harcourts.co.nz ID#SM0239

Open homes: Wednesdays, Saturdays and Sundays, 2 - 2:45pm

Grenadier Real Estate Ltd MREINZ. Licensed Agent REAA 2008.

Alison Carter

P 0274 318 960

E alison.carter@harcourts.co.nz

W alisoncarter.harcourts.co.nz
---
Wednesday October 9 2019

Latest Canterbury news at starnews.co.nz

BAY HARBOUR

PAGE 27

Amazing Views and Passive Income

Mt Pleasant 42b Marama Crescent

4 3 4 2 3

Auction: Thursday 31 October 2019 (no prior sale)

View at: www.harcourts.co.nz ID#SM0239

Open homes: Wednesdays, Saturdays and Sundays, 2 - 2:45pm

Grenadier Real Estate Ltd MREINZ. Licensed Agent REAA 2008.

Alison Carter

P 0274 318 960

E alison.carter@harcourts.co.nz

W alisoncarter.harcourts.co.nz
---
PAGE 28 Wednesday October 9 2019

BAY HARBOUR

Latest Canterbury news at starnews.co.nz

Seaviews, Space and Grace

Lyttelton 14 Brittan Terrace

4 2 2 1 1

Price: $669,000

View at: www.harcourts.co.nz ID#SM0249

Open home: Saturday, 1 - 1:45pm

Grenadier Real Estate Ltd MREINZ. Licensed Agent REAA 2008.

Alison Carter

P 0274 318 960

E alison.carter@harcourts.co.nz

W alisoncarter.harcourts.co.nz