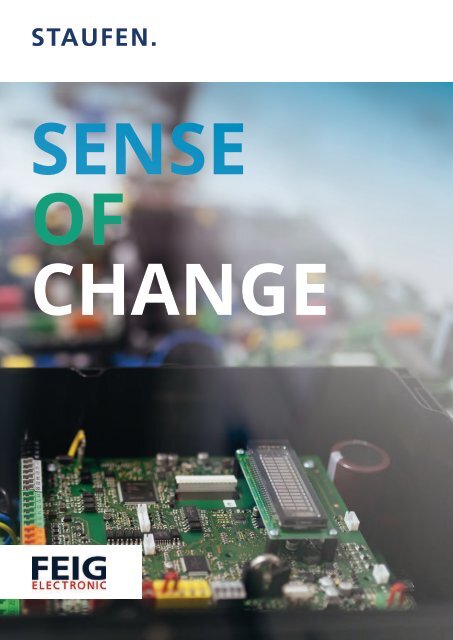 Sense of Change: Success Story Staufen AG
Many companies only think about reinventing themselves in times of need. But not FEIG ELECTRONIC GmbH. The market and innovation leader for controller and sensor technology as well as identification and payment systems exercises its versatility from a position of strength – and has been for many years.
Many companies only think about reinventing themselves in times of need. But not FEIG ELECTRONIC GmbH. The market and innovation leader for controller and sensor technology as well as identification and payment systems exercises its versatility from a position of strength – and has been for many years.
SHOW MORE
SHOW LESS
Create successful ePaper yourself
Turn your PDF publications into a flip-book with our unique Google optimized e-Paper software.
SENSE

OF

CHANGE
---
Sense

of change.

2 STAUFEN. | FEIG
---
Many companies only think about reinventing

themselves in times of need. But not FEIG

ELECTRONIC GmbH. The market and innovation

leader for controller and sensor technology

as well as identification and payment systems

exercises its versatility from a position of

strength – and has been for many years.

COMPANY

PORTRAIT

In Weilburg located in central Hesse, a city with a population of

approximately 13,000, high-quality electronics are developed and

produced that are used around the world. FEIG ELECTRONIC has

specialized in products for intelligent gate and barrier control.

The company also uses its expertise in controller and sensor technology

as a supplier of light signal systems and other traffic signs.

In addition, the Weilburg-based company is highly successful

with its RFID applications and electronic payment solutions.

The customer segment is broad and ranges from trade,

logistics, medical technology and public administration to event

management. The specialist for contactless identification, control

electronics and traffic sensors employs around 300 experts and

trainees. The internationally focused company has a close network

of distribution partners and a subsidiary in the USA.

STAUFEN. | FEIG 3
---
Entrepreneurial spirit

instead of batch and queuing

INITIAL

SITUATION

FEIG set off on the path to lean transformation in 2010. Company

founder Wolfgang Feig became aware of a successful project

from the lean experts at Staufen AG. The company, which was

started by the graduate engineer in the early 1970s out of his

garage, was in the best economic shape even then, but in order

to leverage further potential, FEIG made sure not to pass up this

opportunity.

"Successful entrepreneurial behavior is based on the willingness

and ability to change. This attitude – paired with a great sense

of community – makes up the core of our company philosophy,"

emphasizes current Managing Director Eldor Walk, who continues

along this path he once pursued together with Wolfgang Feig.

At that time, the company still focused on the batch and queuing

principle for workshop production. Each workstation worked with

batch sizes resulting in high wastage rates, high circulating stocks

and long throughput times. Earmarked communication was missing,

especially at the interfaces to other company divisions or customers.

FEIG was far from excellent manufacturing according to

lean principles.

4 STAUFEN. | FEIG
---
»

"Successful entrepreneurial

behavior is based on the

willingness and ability to change."

Eldor Walk, Managing Director«

Managing Directors: Eldor Walk and Christian Norwig

STAUFEN. | FEIG 5
---
Consistent implementation

of the value-stream concept

APPROACH

To first determine whether and how FEIG could benefit from lean

transformation, a potential analysis was carried out. Together

with lean specialists from Staufen AG, the medium-sized company

assessed its production processes: throughput times, space

utilization, inventories and process times – everything was put to

the test. FEIG initially concentrated on the production of an electronic

gate control system. "The aim of a lighthouse project of this

kind is to familiarize employees and managers – including those

from other areas of the company – with the meaning and benefits

of lean management," states Production Manager Rudolf

Dörr on this approach and adds, "Lighthouse projects effectively

and quickly make the meaning and benefits of lean management

clear to everyone involved." At the time, he was new to the company

but had some lean experience from previous positions that

helped him move the topic forward.

6 STAUFEN. | FEIG
---
A decisive step in this lighthouse project was integrating module

inspection and various pre and final assembly steps to form a

clocked, high-performance production island in a one-piece flow.

Team Leader THT (Production)

Alexander Heinz (2nd from

right) and Rudolf Dörr, Head

of Production and Materials

Management (3rd from right)

during a Go & See with

employees

Until then, the automatic and manual assembly of the electronic

modules was still outsourced to various service providers,

which resulted in long delays, high control effort and also

forgoing value-added potential. FEIG therefore decided

to cap these interfaces and dependencies in the value

stream and to develop the necessary technologies in-house.

For this purpose, the company invested in corresponding production

facilities and, within two years, managed to manufacture

the entire outsourced volume itself and also integrate

further processes into production islands in a targeted manner

and without affecting existing customers. By permanently

reducing waste in processes, production gained the resources

needed to support growth and increase vertical integration.

In detail: The throughput time was reduced by an average

of 50 percent across all work systems, and the inventories

in circulation by more than 70 percent. In addition, around

30 percent was saved in space and distances.

The success of this project impressed all those involved at FEIG.

Gradually, all production processes were examined and aligned

according to lean criteria.

STAUFEN. | FEIG 7
---
Lean Sales – Team performance

instead of solo success

Spurred on by success in production and driven forward by internally

trained lean experts, FEIG then focused on other areas.

Sales Director Franz-Josef Kaiser was initially still skeptical when it

was finally his department's turn. No wonder: Sales rose by up to

12 percent annually – a remarkable achievement that he in no

way wanted to jeopardize.

But this success came at the price of a considerable workload.

Almost every process in the area first landed on the sales director's

desk – without him practically nothing got off the ground.

Certainly a risky system, because if such a key person is absent

once, even temporarily, the wheels stop turning. Moreover, the

long-standing sales director was set to retire. And the sales professional

was determined to ensure an smooth transition for his

successor. So, he decided to put lean to the test.

And with complete success, because within a short time

Franz-Josef Kaiser became a true advocate for the lean philosophy:

"I am convinced that companies can only survive in

the future if they work according to lean principles. We now

have a completely different culture in sales and are an even

stronger team than before." Visualization and efficient regular

communication make up the core of the new system. Using

Shop Floor Management boards, he and each of his employees

can see the status of various sales projects and key

figures at a glance. This alone saves the sales manager almost

an entire workday a week, which would otherwise be spent in

endless one-on-one meetings. Short-cycle regular communication

takes place once a week, a quick meeting within the sales

department. Exchange with other departments takes place once

a month.

Employees have also experienced a significant change. Administrative

burdens in sales managers' activity profiles have been

significantly reduced. They can concentrate on their core tasks

– namely supporting dynamic growth through systematic initiatives

and continuously improving processes with cross-area CIP.

8 STAUFEN. | FEIG
---
»

«

"I am convinced that companies can only survive in the

future if they work according to lean principles."

Franz-Josef Kaiser, Sales Director

Franz-Josef Kaiser,

Sales Director (2nd from left)

and Sales Office Manager

Christiane Grundmann

rely on short-cycle regular

communication in sales.

STAUFEN. | FEIG 9
---
Lean, fit and successful

For FEIG, lean transformation is a real success story. Annual

turnover has increased from about €30 million to more than

€50 million within a short decade.

RESULTS

Shop floor manufacturing in production has given way to a

waste-free one-piece flow without even a single employee having

to fear for their job. The company has acted wisely: FEIG used

freed resources for insourcing measures, allowing the company

to achieve almost 100 percent vertical integration. In sales,

the electronics specialist, which previously worked nearly without

any defined processes, was able to achieve a new strategic

quality. Leads are now generated, tracked and developed in a

process-oriented manner. Decision-makers spend less time dealing

with day-to-day business and are able to devote themselves

to their actual, higher-level tasks. The sales team has more time

to sell instead of getting lost in administrative processes.

Purchasing Manager Yvonne

Oesterling and her team look

forward to savings through new

measures such as the Idea Box.

FEIG has taken the path to become a Lean Enterprise at a remarkable

pace. The purchasing department is also transforming in this

direction and has achieved savings of almost €2 million within

1.5 years through measures such as cross-divisional product

group management. Today, the Weilburg company is one of

Staufen AG's BestPractice partners – in less than ten years they

have gone from Lean Trainee to Lean Master.

"One important change was

our new structure. In the past,

everyone did everything

and now there is a

clear allocation of employees

according to operational

or strategic tasks."

Yvonne Oesterling, Purchasing Manager

10 STAUFEN. | FEIG
---
»

"Entrepreneurs and companies, who want to

understand the interaction of lean management,

adaptability and economic success,

are always welcome."

Eldor Walk, Managing Director

«

STAUFEN. | FEIG 11
---
ABOUT STAUFEN

Inside every company there is an even better one.

With this conviction, Staufen AG has been advising and qualifying

companies and employees for more than 25 years.

320

employees

65

Mio. € revenue

17

languages

>70

5.000

seminar participants every year

BestPractice Partner

PUBLISHER

STAUFEN.AG

Consulting.Academy.Investment

Blumenstraße 5

D-73257 Köngen

+49 7024 8056 0

www.staufen.ag

contact@staufen.ag

CONTACT PERSON

Christoph Heine

Director Sales

c.heine@staufen.ag

+49 7024 8056 169

INSIDE EVERY COMPANY

THERE IS AN EVEN BETTER ONE.