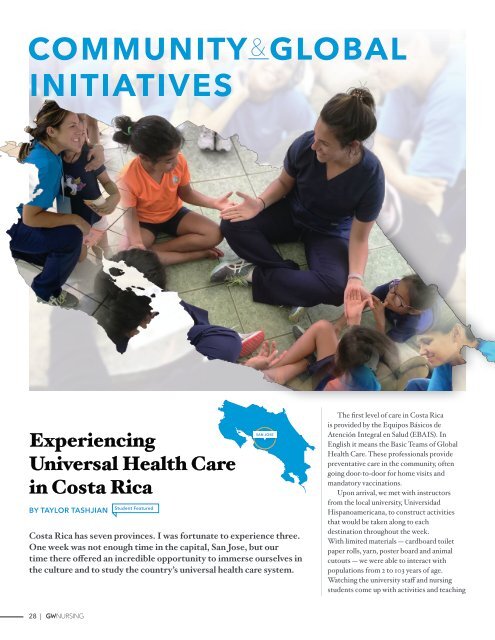 GW Nursing Magazine Fall 2019
GW Nursing is a publication of the George Washington University School of Nursing. The magazine tells the story of GW nurses and their endeavors in the areas of education, research, policy and practice.
GW Nursing is a publication of the George Washington University School of Nursing. The magazine tells the story of GW nurses and their endeavors in the areas of education, research, policy and practice.
SHOW MORE
SHOW LESS
Do you know the secret to free website traffic?
Use this trick to increase the number of new potential customers.
community&global

initiatives

Experiencing

Universal Health Care

in Costa Rica

BY TAYLOR TASHJIAN

SAN JOSE

Costa Rica has seven provinces. I was fortunate to experience three.

One week was not enough time in the capital, San Jose, but our

time there offered an incredible opportunity to immerse ourselves in

the culture and to study the country's universal health care system.

The first level of care in Costa Rica

is provided by the Equipos Básicos de

Atención Integral en Salud (EBAIS). In

English it means the Basic Teams of Global

Health Care. These professionals provide

preventative care in the community, often

going door-to-door for home visits and

mandatory vaccinations.

Upon arrival, we met with instructors

from the local university, Universidad

Hispanoamericana, to construct activities

that would be taken along to each

destination throughout the week.

With limited materials — cardboard toilet

paper rolls, yarn, poster board and animal

cutouts — we were able to interact with

populations from 2 to 103 years of age.

Watching the university staff and nursing

students come up with activities and teaching

plans with household items was a great

reminder that health care doesn't always

require bells and whistles. And although we

didn't have the opportunity to go into the

community with the EBAIS, the success

of their work was undeniable since the

population as a whole was informed, educated

and overall healthy.

Early in the week, we visited a day care

for children ages 0-12 who were deemed at

"social risk." These children may, at some

point, not have access to nutritious foods or

be able to play safely in their neighborhoods.

At the day care, though, the children were

eager to play and demonstrated their English

while sharing their culture and hobbies. Kids

as young as 4 knew what foods were healthy

and what habits were unhealthy.

Things came full circle later in the week

when visiting Residencia Geriátrica Juan

Bonal, a geriatric residence, where we met

happy, healthy and engaged individuals, many

older than 100. There was a clear absence of

walking devices, hearing aids and glasses. No

one was interrupted for blood sugar checks or

insulin shots. No oxygen tanks or respiratory

masks were present. People chatted and

recalled events that took place more than 80

years ago as if they occurred yesterday.

Costa Rica was a completely different

environment than any of us had anticipated.

My colleagues and I embarked to San Jose

thinking we may lend a hand or two but, not

long after arrival, we realized the people of

Costa Rica should be sending their students

to teach us about successful health care!

Their health care system is affordable and

accessible and heavily stresses education and

prevention, and this has helped to create a

healthy population. This trip was an eyeopening

reminder that not every country

needs saving. The Costa Rican saying is "Pura

Vida," translating to "simple life" or "pure

life." After my time in this beautiful country, I

can't think of anything more fitting.

GW Nursing partners with Universidad

Hispanoamericana for this global experience.

The goal for both universities is to provide a

wide spectrum of opportunities and learning

activities that mutually benefit students

and faculty from both institutions of higher

education. More information on the global

experience in Costa Rica is available at

go.gwu.edu/costarica.

community & global initiatives

Students on the Ground:

Clinical Rotations in Ward 8

BY ERIN JULIUS

GW Nursing's Accelerated B.S.N. students attend classes in Loudoun

County, Virginia, where the median household income is more than

$130,000 and the county routinely tops lists of the richest in America.

Less than 40 miles away, in Washington, D.C.'s Ward 8, one-third of its

80,000 residents live below the poverty line, which takes a toll on the

health of the community.

"A lot of people don't take care of themselves," said B.S.N. student Shavonne Sweatt, who

completed her community clinical rotation at Calvary Women's Services, a Ward 8 homeless

shelter. "They know what they need to do but don't have the resources to eat better."

Dozens of GW Nursing students have educated residents at Calvary over the course of the

school's years-long partnership with the shelter.

"The students who spend time with the residents here learn things they can take with them

into their first jobs," said Gail Chinoy, the GW Nursing clinical instructor who supervises

students' rotations at Calvary. "Everyone has a unique story, and to provide effective care, they

must remain nonjudgmental and avoid making assumptions."

When working in the community, B.S.N. students see the tangible effects of social

determinants of health that are discussed in their classrooms, said Karen Dawn, D.N.P.,

RN, PHCNS-BC, CDE, a GW Nursing assistant professor and public health clinical

nurse specialist.

Medicaid is available to Washington residents so the issue for the population seen by

students at Calvary is one of health literacy and resources rather than lack of insurance,

Ms. Chinoy said.

"It is important for GW nursing students to not just practice and conduct research in

the community but to practice and conduct research with the community," said Sherrie

Wallington, Ph.D., a GW Nursing assistant professor whose community-based participatory

research strategy focuses on prevention and health disparities. "This is an important

distinction in training the next cadre of nursing practitioners, leaders, advocates and faculty.

These people have a desire and vision to help deliver quality care and engage and strengthen

our communities to better work toward the reduction of health disparities and toward health

equity for all."

Ms. Sweatt and fellow student Monelle Jenkins gave a presentation about sexually

transmitted infections (STIs) on their last day at Calvary. The presentation inspired a lively

conversation, with women at the shelter asking about STI testing, female condoms and

preventive measures including GARDASIL®, the HPV vaccine and Truvada®, pre-exposure

prophylaxis (PReP), taken to prevent HIV.

28

|

nursing.gwu.edu | 29