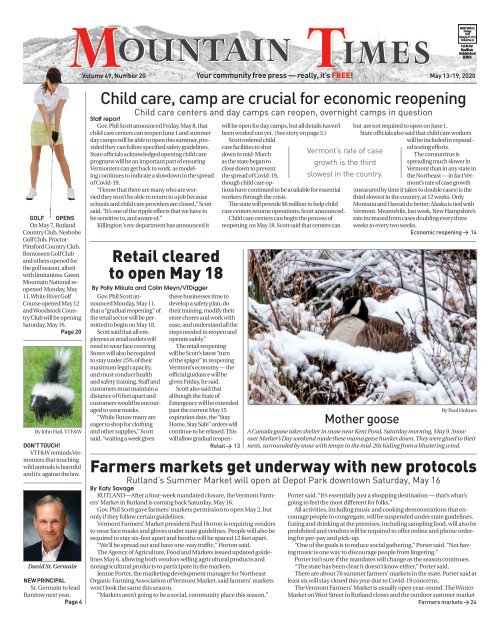 Mountain Times - Volume 49, Number 20 - May 13-19, 2020
You also want an ePaper? Increase the reach of your titles
YUMPU automatically turns print PDFs into web optimized ePapers that Google loves.
Mou nta i n Ti m e s

Volume 49, Number 20 Your community free press — really, it's FREE! May 13-19, 2020

GOLF OPENS

On May 7, Rutland

Country Club, Neshobe

Golf Club, Proctor-

Pittsford Country Club,

Bomoseen Golf Club

and others opened for

the golf season, albeit

with limitations. Green

Mountain National reopened

Monday, May

11, White River Golf

Course opened May 12

and Woodstock Country

Club will be opening

Saturday, May 16.

Page 20

By John Hall, VTF&W

DON'T TOUCH!

VTF&W reminds Vermonters

that touching

wild animals is harmful

and it's against the law.

David St. Germain

NEW PRINCIPAL

St. Germain to lead

Barstow next year.

Page 4

Child care, camp are crucial for economic reopening

Child care centers and day camps can reopen, overnight camps in question

Staff report

Gov. Phil Scott announced Friday, May 8, that

child care centers can reopen June 1 and summer

day camps will be able to open this summer, provided

they can follow specified safety guidelines.

State officials acknowledged opening child care

programs will be an important part of ensuring

Vermonters can get back to work, as modeling

continues to indicate a slowdown in the spread

of Covid-19.

"I know that there are many who are worried

they won't be able to return to a job because

schools and child care providers are closed," Scott

said. "It's one of the ripple effects that we have to

be sensitive to, and aware of."

Killington 's rec department has announced it

Retail cleared

to open May 18

By Polly Mikula and Colin Meyn/VTDigger

Gov. Phil Scott announced

Monday, May 11,

that a "gradual reopening" of

the retail sector will be permitted

to begin on May 18.

Scott said that all employees

at retail outlets will

need to wear face covering.

Stores will also be required

to stay under 25% of their

maximum legal capacity,

and must conduct health

and safety training. Staff and

customers must maintain a

distance of 6 feet apart and

customers would be encouraged

to wear masks.

"While I know many are

eager to shop for clothing

and other supplies," Scott

said, "waiting a week gives

these businesses time to

develop a safety plan, do

their training, modify their

store chores and work with

ease, and understand all the

steps needed to reopen and

operate safely."

The retail reopening

will be Scott's latest "turn

of the spigot" in reopening

Vermont's economy — the

official guidance will be

given Friday, he said.

Scott also said that

although the State of

Emergency will be extended

past the current May 15

expiration date, the "Stay

Home, Stay Safe" orders will

continue to be relaxed. This

will allow gradual reopen-

Retail > 13

will be open for day camps, but all details haven't

been worked out yet. (See story on page 3.)

Scott ordered child

care facilities to shut

down in mid-March

as the state began to

close down to prevent

the spread of Covid-19,

though child care options

have continued to be available for essential

workers through the crisis.

The state will provide $6 million to help child

care centers resume operations, Scott announced.

Child care centers can begin the process of

reopening on May 18. Scott said that centers can

Vermont's rate of case

growth is the third

slowest in the country.

but are not required to open on June 1.

State officials also said that child care workers

will be included in expanded

testing efforts.

The coronavirus is

spreading much slower in

Vermont than in any state in

the Northeast — in fact Vermont's

rate of case growth

(measured by time it takes to double cases) is the

third slowest in the country, at 12 weeks. Only

Montana and Hawaii do better; Alaska is tied with

Vermont. Meanwhile, last week, New Hampshire's

rate increased from cases doubling every three

weeks to every two weeks.

Economic reopening > 14

Farmers markets get underway with new protocols

Rutland's Summer Market will open at Depot Park downtown Saturday, May 16

By Katy Savage

RUTLAND—After a four-week mandated closure, the Vermont Farmers'

Market in Rutland is coming back Saturday, May 16.

Gov. Phil Scott gave farmers' markets permission to open May 2, but

only if they follow certain guidelines.

Vermont Farmers' Market president Paul Horton is requiring vendors

to wear face masks and gloves under state guidelines. People will also be

required to stay six-feet apart and booths will be spaced 12 feet apart.

"We'll be spread out and have one-way traffic," Horton said.

The Agency of Agriculture, Food and Markets issued updated guidelines

May 6, allowing both vendors selling agricultural products and

nonagricultural products to participate in the markets.

Jennie Porter, the marketing development manager for Northeast

Organic Farming Association of Vermont Market, said farmers' markets

won't look the same this season.

"Markets aren't going to be a social, community place this season,"

By Paul Holmes

Mother goose

A Canada goose takes shelter in snow near Kent Pond, Saturday morning, May 9. Snow

over Mother's Day weekend made these mama geese hunker down. They were glued to their

nests, surrounded by snow with temps in the mid-20s hiding from a blustering wind.

Porter said. "It's essentially just a shopping destination — that's what's

going to feel the most different for folks."

All activities, including music and cooking demonstrations that encourage

people to congregate, will be suspended under state guidelines.

Eating and drinking at the premises, including sampling food, will also be

prohibited and vendors will be required to offer online and phone ordering

for pre-pay and pick-up.

"One of the goals is to reduce social gathering," Porter said. "Not having

music is one way to discourage people from lingering."

Porter isn't sure if the mandates will change as the season continues.

"The state has been clear it doesn't know either," Porter said.

There are about 70 summer farmers' markets in the state. Porter said at

least six will stay closed this year due to Covid-19 concerns.

The Vermont Farmers' Market is usually open year-round. The Winter

Market on West Street in Rutland closes and the outdoor summer market

Farmers markets > 24
---
2 • The Mountain Times • May 13-19, 2020

Dr. Jonathan Spiro named interim

president of Castleton University

CASTLETON—The Vermont State Colleges

board of trustees named Dr. Jonathan

Spiro interim president of Castleton

University, according to a news release

Thursday, May 7. Dr. Spiro will begin June

1 and serve until a permanent president is

named.

"It's an honor to be named Castleton's

interim president. I'm confident our

amazing and hard-working team of faculty

and staff will continue our trajectory

of success far into the future. While the

Covid-19 pandemic creates many challenges

for small universities, Castleton will

always be a strong and stabilizing force

in meeting regional educational needs,"

Spiro said.

Dr. Spirohas served in a variety of academic

posts since his arrival at Castleton

in 2002. He has served as interim provost,

academic dean, dean of the college of arts,

humanities, and social sciences, and chair

of the department of history, geography,

economics, and political science. Dr.

Spiro was the recipient of the Outstanding

Faculty Award for his courses on history,

politics, race, slavery, immigration, the

ancient Maya, and the nature-nurture debate.

Formerly a professor at the University

of California Berkeley, he twice won the

"Distinguished Teacher" award.

Dr. Spiro is known nationally as a leading

authority on the eugenics movement,

and authored the critically acclaimed

In recognition of National Nurses Week,

The Meadows and The Gables send a heartfelt THANK YOU

to our caring and dedicated RNs and LPNs.

The professionalism and kindness with which you

serve our residents is truly exceptional.

240 Gables Place, Rutland, VT

802.775-3300

www.themeadowsvt.com

Dr. Jonathan Spiro

book, "Defending the Master Race:

Conservation, Eugenics, and the Legacy

of Madison Grant." He is frequently called

upon by national media, including The

Atlantic and The New York Times, for his

perspective on race and nationalism.

Dr. Karen M. Scolforo will continue to

serve as Castleton president until May 31.

Under Dr. Scolforo's leadership,

Castleton University enjoyed numerous

successes and achievements, including

enrollment growth, balanced budgets, the

establishment of two new campus locations,

and the addition of more than 20

academic programs.

200 Gables Place, Rutland, VT

802.770.5263

www.thegablesvt.com

Nurses are our community's super-heroes

Pop-up Covid-19 testing sites open for

asymptomatic frontline workers and

returning Vermonters

Anyone with even mild symptoms is encouraged to

contact a health care provider, to get tested

WHITE RIVER JCT—Vermont health

officials announced three pop-up testing

sites will open this week for Covid-19

specimen collection, including one locally

at the Upper Valley Aquatic Center in White

River Jct. Saturday, May 16 from 9 a.m.-3

p.m.

Over the weekend, a pop-up testing site

in Colchester collected 138 specimens.

The pop-up testing sites are for asymptomatic

health care workers, first responders

(EMS, fire, and law enforcement), and

child care providers currently serving

essential workers. People who are returning

to the state, and who will be at day 7 or

later in their quarantine period, can also

be tested. These include people returning

from wintering out of state, college students,

and people who are coming to stay

in their second homes.

To make an appointment for one of the

pop-up sites, health care workers, first

responders child care providers and returning

Vermonters should visit: humanresources.vermont.gov/popups.

RANDOLPH—Brian

Lowe, of Randolph, has

helped hundreds of

American kestrels successfully

hatch and fledge in

Vermont and was named

the winner of the 2019

GMP-Zetterstrom Environmental

Award. Lowe

was announced as the 2020

winner rather than receiving

the honor in person,

in keeping with current

Covid-19 physical distancing

guidelines.

The prestigious award is

named for Meeri Zetterstrom,

who inspired

recovery efforts that led to

the removal of the osprey

from Vermont's endangered

species list, and it

is given annually to one

person, business, group or

non-profit that has made a

significant contribution to

Vermont's environment.

The award is accompanied

by a $2,500 donation

to the winner's environmental

cause.

Over a quarter-century,

Lowe helped kestrels thrive

despite decreasing numbers

of natural homesites

due to changing forest

management techniques

by setting up and maintaining

kestrel boxes and

banding hundreds of birds.

"I know Meeri would be

proud of Brian and would

appreciate his work," said

GMP Vice President Steve

Costello, who worked on

osprey recovery efforts

with Zetterstrom for years.

"Meeri believed it was incredibly

important to look

at the entire web of life, not

just the most charismatic

birds and animals.

"The kestrel is lesser

known than many birds,

but it's a beautiful raptor

and plays an important

Other site include Tuesday, May 12, 9

a.m.-3 p.m. at Bennington College and

Thursday, May 14, 9 a.m.-3 p.m. at Brattleboro

Union High School

The Health Department and the state's

enhanced testing and contact tracing task

group have been organizing these events

with support from the Vermont National

Guard and EMS agencies. Health Commissioner

Mark Levine, M.D., said the state

has plenty of supplies to meet the goal set

by Governor Phil Scott to conduct 1,000

tests per day.

The pop-up sites are not open to the

general public. The Health Department

encourages all Vermonters with symptoms

– no matter how mild – to contact

their regular primary care provider to get

referred to a nearby testing site.

People who do not have a health care

provider can call 2-1-1 to be connected

with a local community or hospital-connected

clinic for referral to a test site.

For up-to-date information and guidance

visit : healthvermont.gov/Covid19.

Brian Lowe wins 2020 GMP-

Zetterstrom Environmental Award

Lowe honored for helping to save American Kestrels

American kestrel

By Steve Costello

role in rodent and insect

control," Costello said.

Lowe is credited with a

singular effort, uncanny in

its comparison to Zetterstrom's

work. The first bird

box Lowe installed was a

bluebird box, which had

residents within a week.

Inspired, he asked a neighbor

if he could put a kestrel

box on his farm, and a pair

made it home almost immediately.

He was hooked.

Today he manages over

40 kestrel boxes each year,

and bands the babies, often

with school children looking

on.

"It is very gratifying

Lowe > 15
---
The Mountain Times • May 13-19, 2020 • 3

Mobile lunch program fills stomachs when school is out

By Julia Purdy

Even when schoolchildren are required

to stay home, the school meals program

must go on. And this year, in addition to

seeing that kids don't miss out on nourishment,

the program helps to relieve the

extra financial hardship of parents being

out of work as well as offering paid work to

paraeducators, school bus drivers and meal

preparers.

Every student under 18 is eligible;

families must apply. Families in the Rutland

Northeast Supervisory Union received

5,293 breakfast-lunch combos the week

of April 27-May 3 alone. RNESU includes

Barstow Memorial School in Chittenden,

Lothrop Elementary in Pittsford, Neshobe

Elementary and Otter Valley Union High

School in Brandon, and Sudbury, Leicester

and Whiting elementary schools.

Since March 19, brown paper bags

containing snacks and light meals have

been delivered by paraeducators riding

school buses, dropping off a breakfast and

lunch combo at or near students' homes. In

mid-morning, school buses trundle along

the roads, where picnic coolers of all shapes

and sizes await delivery of bags containing

whole fruits, pints of 1% milk, breakfast

foods and protein lunch fare. Meal bags

may also be picked up each morning in the

parking lots at Neshobe, Lothrop, Barstow

and Leicester.

Weekend meals were added April 24.

The Abbey Group, a contracted school

food service based in Enosburg Falls, Vermont,

puts up the meals, employing four

cooks at the Otter Valley UHS production

site for weekday meals, and four cooks at

Neshobe Elementary for weekend meals.

Connie Burleson, operations administrator

at Enosburg Falls, told the Mountain

Times that all the cooks volunteered for the

project.

All staff has gone through the Vermont

Dept. of Labor's Covid training, which includes

social distancing, masks and gloves,

in addition to the national restaurant association's

annual ServSafe training in food

handling.

The U.S. Dept. of Agriculture (USDA)

reimburses costs individually by site.

The Abbey Group contracts with school

districts in Massachusetts, New Hampshire

and New York as well. "Last week alone we

provided 150,000 meals as a company" for

all the schools, Burleson said.

By Julia Purdy

Kaleb Cornell, 6, and Levi Cornell, 3, walk (and bike) to the end of Barnard Road in Chittenden

to pick up their school meals. Mom Joannah Cornell was employed part-time as

an occupational therapy assistant until mid-March. Raising three active young boys,

she said the meal deliveries help to reduce frequent trips to the Rutland supermarkets, a

12- to 15-mile trip from her home.

Killington Rec to offer

modified summer camp

KILLINGTON—In response to Gov. Phil Scott's announcement Friday, May 8, that

summer camps can open if they "can meet strict health and safety requirements," Killington's

Department of Parks and Recreation will offer a modified summer camp.

The regulations put in place by the state of Vermont include measures to increase

social distancing, allowances for easier contact tracing, and increased sanitation.

"We are currently working on a plan to hold camp and meet these regulations," said

Sarah Newell, director of parks and recreation. "The number of children that will be able

to attend camp may be reduced, and normal camp activities may be modified, but we

will do our best under these unusual circumstances to meet the camp needs of the community."

The planning of camp under these new restrictions is still underway. Questions such

as when camp will start and where it will be located are still being answered. The Department

of Parks and Recreation hopes to have a detailed announcement soon. For the most

up-to-date information visit killingtontown.com/parksrec or killingtonrec.com.

A major change to camp planning includes the cancellation of Rek and Trek as it has

been run in the past. Children age 10 to 13 will still have a place at camp, with activities

that meet their social and developmental needs, but they will not be traveling as they

would have in past years.

"While many of these changes may seem difficult, the safety of our counselors and

campers is my first priority," said Newell.

Currently, registration for camp is on hold until additional details are resolved.

Camping is restricted in national forest

As prime-time

backpacking season

approaches, the Green

Mountain National Forest

is responding to the

Covid-19 pandemic by

restricting overnight camping at designated

campgrounds and shelters, in addition to

closing pit toilets along the Appalachian

Trail and Long Trail segments. The majority

of the National Forest remains open.

After Secretary of Natural Resources Julie

Moore announced, May 6 that: "No longer

are Vermonters being asked to limit outings

to no more than 10 miles from home,"

"No longer are Vermonters being

asked to limit outings to no more than

10 miles from home," said Moore.

people understandably want to get out and

explore.

John Sinclair, forest supervisor of the

Green Mountain a national forests,said:

"Restricting access to recreational sites or

areas is a particularly difficult decision for

the Forest Service."

For more info and specfic closures visit:

fs.usda.gov/main/gmfl/home.

By Tom Harris

Picky

eater?

This black bear was

caught raiding Tom Harris's

garden in Plymouth

on Wednesday, May 6.

Turns out he doesn't like

onions, Harris said.
---
4 • The Mountain Times • May 13-19, 2020

Opioid deaths in Vermont decrease

for the first time since 2014

Preliminary data show a 15% decrease last year over the year prior

The percentage of opioid-related fatalities

involving cocaine continues to increase.

Cocaine was present in 43% of opioidrelated

fatalities in 2019.

Opioid-related fatalities in Vermont have decreased

for the first time since 2014. Newly released data from the

Department of Health show a 15% decline in the number

of deaths attributed to opioid misuse — down from 130 in

2018 to 111 in 2019.

Health Commissioner Mark Levine, M.D., said the news

was welcome, but still sobering. "Our strategies to meet

this public health challenge are making a difference," said

Dr. Levine. "But even a single death tied to opioid use is too

many. Each person is a friend, family member and loved

one, and we owe it to them to keep making progress."

"The opioid epidemic is one where it is difficult to celebrate

progress because it remains a significant challenge

that greatly impacts far too many Vermont families," said

Governor Phil Scott. "However, it is important to pause

and recognize incremental gains so that we continue to

move in the right direction. Vermont has been a leader in

this fight for years, and this important work will continue."

Dr. Levine credits

the state's multifaceted,

all-agency approach

to tackling the

opioid crisis. "Vermont

has long been laying

the groundwork in

addressing opioid use

disorder to reach this

significant milestone," said Dr. Levine. "The more lives we

can save, the more Vermonters we can help on their path

to recovery."

Vermont's efforts have included providing rapid access

to medication-assisted treatment, patient education and

rules governing prescription monitoring, the creation of

a statewide network for naloxone distribution, safe drug

disposal, syringe service programs, a statewide network

of recovery centers, and building strong community

partnerships.

Dr. Levine said Vermont has worked to dig deep into

providing full-service programming that helps Vermonters

move from treatment to successful recovery. Key to

those efforts has been Vermont's "hub and spoke" system

of care that makes available medication-assisted treatment

(MAT) services to people diagnosed with opioid use

disorder. More than 9,000 Vermonters currently receive

MAT in state-supported facilities, and treatment is available

to anyone who wants it. The hub and spoke system

has since been adopted by other states as a care model.

Health officials stressed that although the progress to

date is significant, even in normal times the work is ongoing,

and there is no defined finish line other than ensuring

Vermonters get the treatment and recovery services when

and where they are needed.

In addition, Dr. Levine said the Covid-19 pandemic

creates new challenges for people living with substance

use disorder, but emphasized there are still many ways to

get help.

The Health Department recently launched VTHelplink,

which provides free, confidential and personalized

information and referrals to substance use prevention,

treatment and recovery services throughout the state.

VTHelplink features a call center of trained staff and

clinicians and online resources, connecting Vermonters

to information for themselves, family and friends, or on

behalf of clients.

"We are all adapting

to changes during

the pandemic, and

substance use treatment

is no exception,"

Dr. Levine said.

"Getting treatment is

safe and necessary,

and we will do all we can to see more Vermonters succeed

in their recovery."

Additional findings from the 2019 opioid-related

fatalities (all data is preliminary):

Fentanyl continues to be the primary driver of

opioid-related deaths in Vermont. Although there were

fewer deaths involving fentanyl in 2019 (95) compared

to 2018 (100), fentanyl accounts for 86% of deaths in

2019 compared to 77% in 2018.

The percentage of opioid-related fatalities involving

cocaine continues to increase. Cocaine was present in

43% of opioid-related fatalities in 2019, up from 36% in

2018. The number of cocaine-involved deaths surpassed

the number involving heroin for the first time

since 2010.

After increasing from 42 deaths in 2017 to 69 deaths

in 2018, deaths involving heroin decreased by nearly

half in 2019 (37 deaths).

David St. Germain named

principal of Barstow

Memorial School

CHITTENDEN—The

Barstow School Board announced

the appointment

of David St. Germain as the

next principal of Barstow

Memorial School, on Monday,

May 11.

St. Germain, a local

resident, will begin his new

position on July 1, 2020.

Having earned a

doctorate of education in

administrative leadership

for teaching and learning

from Walden University,

Dr. St. Germain comes with

many years of experience.

He has served as a teacher

for several years, assistant

principal of a junior-senior

high school, principal of

two elementary schools,

principal of a K-12 for four

years and a Pre-K-6 for 12

years. Most recently he has

served in higher education

at College of St. Joseph as

division chair of education

and at North Country Community

College.

The principal search had

23 applications and 13 were

reviewed by the search

advisory committee led

by Superintendent Jeanné

Collins along with teacher,

staff and parent representation.

Four candidates

were interviewed and two

strong finalists were introduced

to the community in

a virtual forum attended by

55 community members.

St. Germain was chosen

for his depth of experience,

clear vision and calm

David St. Germain

manner, and his leadership

experiences that fit the

Barstow school community

need.

"I am pleased to bring

David on board to lead

Barstow Memorial School.

I feel his experiences and

leadership style are a good

fit for Barstow at this time,

and that belief is backed by

the support of the search

advisory committee. We

will miss Bianca McKeen,

who has done a fine job

and is returning to Rutland

City for her next leadership

position," said Collins.

St. Germain reflected on

his new new post, saying:

"From my earliest days of

teaching at the College of

St. Joseph, I heard about the

great things occurring at

Barstow Memorial School.

The more I interacted with

the teachers and parents

at the school, the more I

understood how special

a place it is. I am eager to

begin as the next principal.

Solid Waste Transfer Station

Location: 2981 River Road (Behind Town Garage)

Phone Number: (802) 422-4499

SAT.& MON. (8 A.M.- 4 P.M.)

Collection & transfer of solid waste deposited by residents and property owners of

the Town. (Windshield sticker & punch card needed) Recycling Center for residents

and property owners of the Town. (Free with windshield sticker) If you need to

dispose of solid waste outside the normal operating hours of the Transfer Station

or have construction & demolition debris or other non-acceptable waste, residents

and property owners of Killington can go to the Rutland County Solid Waste District

Transfer Station & Drop-off Center located on Gleason Road in Rutland.

Summer hours began Sat., April 4, 2020.

TOWN OF KILLINGTON

SOLID WASTE TRANSFER STATION - UPDATE

FREE BULKY ITEMS DAY - YOU MUST HAVE A STICKER!

• Saturday, May 30, 2020: 8 a.m. - 4 p.m.

• Monday, June 1, 2020 : 8 a.m. - 4 p.m.

Household trash ONLY. NO business' and no building and/or construction materials.

VERMONT GREEN UP DAY - Saturday, May 30, 2020: 8 a.m. - 4 p.m.

Green Up Bags FOR ROADSIDE TRASH ONLY are available at Town Hall and are

free when brought to the Solid Waste Transfer Station. Please DO NOT leave bags on

the side of the road as they must be brought to the Transfer Station on Saturdays or

Mondays between 8 a.m. - 4 p.m. The Town does NOT pick up bags left on the road

side.

Location: 2981 River Road (Behind Town Garage)

Phone Number: (802) 422-4499
---
The Mountain Times • May 13-19, 2020 • 5

Buy Sell Trade

MID-STATE GUNS LLC

976 VT Rt. 12S

Randolph, VT 05060

midstateguns@myfairpoint.net

Ray & Carol Burke

Tel 802.728.3100

Fax 802.728.4300

Courtesy Vermont Agency of Agriculture

A man carries a box of donated food at the Vermont Foodbank warehouse operations center in Brattleboro, Vermont.

Vermont dairy farmers, dairy

producers donate to the Vt Foodbank

Milk from Vermont dairies will be processed to feed Vermonters in need

The Vermont Agency of Agriculture, Food and Markets

has coordinated an effort to recover raw milk from being

disposed while creating a new, temporary food supply for

the Vermont Foodbank. In collaboration with the Vermont

Community Foundation, $60,000 has been made available

to purchase this milk for the benefit of Vermonters.

These efforts are particularly important as Vermont's dairy

industry, like all sectors, has been challenged by Covid-19

but remain essential to Vermonters' food supply.

"This collaboration highlights the integral role of Vermont

dairy farms in our state's food system," said Governor

Phil Scott. "I applaud these groups for supporting our

farmers and Vermonters in need, feeding our most vulnerable

and not wasting a valuable and healthy agricultural

product."

Joining in this effort is Dairy Farmers of America (DFA);

Commonwealth Dairy, LLC, producer of Green Mountain

Creamery® yogurt, and HP

Hood. DFA family farms

will be providing the milk to

Green Mountain Creamery

and HP Hood. The milk

will be processed by these

Vermont dairy producers

for a donation of 42,000 cups of yogurt and over 11,500

gallons of 2% milk to the Vermont Foodbank. The donation

will serve hundreds of food bank clients over the course of

the coming weeks, providing nutritious dairy products to

the Vermont communities in need while preventing food

waste. New England Dairy also provided support to bring

these businesses together.

"Due to changes in demand, the surplus of milk available

from our Vermont dairy farms has grown over recent

weeks and is highlighting the uncertainty they face today. I

want to thank those involved in this effort for recognizing

the value of our Vermont dairy products, and the importance

they hold in our economy and communities," said

Vermont Agriculture Secretary Anson Tebbetts. "We are

thrilled that we have found a process to redistribute agricultural

product that otherwise would have gone to waste to

serve our neighbors in the communities we call home."

"Dairy is a huge part of our rural working landscape

The Vermont Foodbank… has seen

an increase of up to 100% of percent

in demand since mid-March.

and economy—it is also a critical piece of 'who we are' as a

state," says Dan Smith, president and CEO of The Vermont

Community Foundation. "To be able to respond to a need

for milk distribution and help feed Vermonters who are

struggling are exactly the type of reasons we created the VT

Covid-19 Response Fund, and we're thrilled to work with

such stand-up organizations."

Beginning last week, product will be produced on a

weekly basis and donated to the Vermont Foodbank in

amounts of 1,152 gallons of milk for 10 weeks and 3,500

cases of yogurt throughout the month of May, helping the

Vermont Foodbank to serve thousands of clients. The Vermont

Foodbank, which serves more than 153,000 individuals

each year, has seen an increase of up to 100% in demand

since mid-March due to the Covid-19 pandemic.

"We are pleased to be a part of this initiative to get

nutritious dairy products to Vermont families during these

difficult times," said Kiersten

Bourgeois, manager of communications

and industry

affairs for DFA.

"Dairy farmers are also

being challenged by disruptions

as a result of Covid-19

and this initiative is a step in the right direction to supporting

many parts of our society."

"The coronavirus pandemic has led to a drastic increase

in the number of people in need of help accessing food,"

said Vermont Foodbank CEO John Sayles. "When people

are laid off or losing work hours with businesses shut down,

their food budgets are hit hard. Meeting the increasing need

is an immense task, and we wouldn't stand a chance if not

for creative efforts like this one that connect the resources

available with the people who need them."

"The support from the state of Vermont and DFA has

been crucial in allowing our team to efficiently process a

surplus of milk supply to provide yogurt to our communities

in the area," said Esteve Torrens, CEO of Lactalis US

Yogurt,which owns Commonwealth Dairy, LLC. "With

dairy farmers across the country struggling to redistribute

their product, this collaboration is a win-win to curb unnecessary

food waste and serve those in need."

Mou nta i n Ti m e s

is a community newspaper covering Central

Vermont that aims to engage and inform as well as

empower community members to have a voice.

Katy Savage

Julia Purdy

Curt Peterson

Cal Garrison

Table of contents

Local News................................................................. 2

State News.................................................................. 5

Opinion...................................................................... 8

News Briefs.............................................................. 13

Puzzles..................................................................... 17

Silver Linings........................................................... 18

Food Matters............................................................ 22

Pets........................................................................... 24

Mother of the Skye................................................... 25

Columns................................................................... 26

Classifieds................................................................ 28

Service Directory..................................................... 29

Real Estate................................................................ 30

Polly Lynn-Mikula .............................. Editor & Co-Publisher

Jason Mikula .......................... Sales Manager & Co-Publisher

Lindsey Rogers ...................................... Sales Representative

Krista Johnston............................................Graphic Designer

Brooke Geery........................................ Front Office Manager

Dom Cioffi

Mary Ellen Shaw

Paul Holmes

Merisa Sherman

Flag photo by Richard Podlesney

©The Mountain Times 2020

The Mountain Times • P.O. Box 183

Killington, VT 05751 • (802) 422-2399

Email: editor@mountaintimes.info

mountaintimes.info

Dave Hoffenberg

Ed Larson

Vivian Finck

Nate Lucas
---
6 • The Mountain Times • May 13-19, 2020

Vermont isn't punishing Covid scofflaws, but

citizen enforcers are on patrol

By Colin Meyn/VTDigger

Some of the messages read like field reports: "The

sidewalks between Price Chopper and Walmart had groups

of people standing together no mask or social distances,"

and others like warnings: "I want to make you aware of the

health crisis that is ongoing at the floating bridge in Brookfield.

Since fish were stocked in the pond it's become a daily

gathering spot of dozens of covid ignoring people."

Others are more inquisitive: "Picture below shows people

at Roxie's in Bomoseen, Vt., around 5 p.m. I am the only one

wearing a mask. Can you ask the Governor at his Monday

press conference what citizens should do if they witness

these blatant violations of his mandatory mask order?"

They all refer to a rapidly evolving part of our social contract:

compliance with Covid-19 public health guidance.

Peter Erb of Hinesburg emailed: "I just did a foray to the

recycling center and to get gasoline and probably not one

in ten people has a mask on," he wrote on May 4. "We have

made too big a sacrifice for this to fail," he added. "Governor

Scott must mandate face masks as we loosen up or all will

be of naught."

The governor and attorney general have taken an intentionally

light-touch approach to coronavirus enforcement.

Scott often says he prefers to "lead," rather than "drive" or

"educate" rather than "mandate"— even as he is taking

small but steady steps to reopen the economy and social interaction.

The governor "strongly suggests" that individuals

wear masks to protect other people from getting Covid-19.

That has made shame and public scolding two of the

main sticks in Vermont's coronavirus compliance system.

From social media groups to news website comments and

official channels set up by the state, many Vermonters are

not only proudly falling in line, they are on guard, and going

public with their grievances.

Jens VonBulow emailed about a trip to Walmart on April

26. "As I waited in the truck I noticed that most people were

not wearing masks as they went in to shop. Some were, but

most were not," he wrote, adding that his wife observed the

same thing inside, along with staff wearing masks around

their necks. "We won't be going back to Walmart anytime

soon," he added.

VonBulow said in a phone call last week that he considered

calling Walmart about the issue. "I just decided that

I wasn't gonna waste my breath," he said. "Because what

would they do that they weren't doing now? I'm sure they

weren't gonna buckle down and require people or ask them,

you know."

Instead he emailed. "I just wanted to vent I suppose," he

said. Asked about VonBulow's account, Rebecca Thomason,

a Walmart spokesperson, said the company posts

banners, decals and other reminders around the store to

encourage compliance

with social distancing

and wearing masks.

"I understand that in

Vermont it's not required,

but we are absolutely trying

to suggest and follow

that everyone is mindful

and and wears their masks for the sake of everyone," she

said. "But at some point, we're doing all that we can to make

sure that the public is aware and to ask that they follow it."

Some big box stores, including Costco, are now requiring

customers to wear masks, a decision that has drawn

its own social media backlash. Walmart's enforcement

philosophy is rather similar to Vermont's. "I'd rather have

people want to do it for the right reasons than force them to

do it," the governor said in an interview Monday.

He said that the state "ranks among the highest for

compliance" and has set up a robust testing and tracing

program to catch new outbreaks before they become

widespread.

While the low case data supports Scott's lax enforcement

"Wouldn't it better to do all we can to

prevent Vermonters from unknowingly

spreading it in the first place, rather than

limit the spread once folks are infected?"

Courtesy Vermont State Police

Citizens can report a violation at: bit.ly/vtviolation.

policy, many wonder if testing and tracing is better than

preventing future initial outbreaks with stronger mandates

for wearing face masks, for example. "Wouldn't it better

to do all we can to prevent Vermonters from unknowingly

spreading it in the first place, rather than limit the spread

once folks are infected?"

asked a writer who wished to

remain anonymous.

If VonBulow had instead

turned to the Vermont

Department of Public Safety

or the Attorney General's Office

with his complaint — as

hundreds of Vermonters have done — the companies could

have been among those who the AG has "reached out to…

to alert them that their activities – if accurately reported –

may be in violation and to request voluntary compliance."

That list numbered seven as of Thursday, May 7, and

included three cosmetologists, one real estate agent, one

property inspector, one tattoo artist, and an oxygen supply

company, according to Charity Clark, the attorney general's

chief of staff.

The April 3 "Attorney General's Directive to Law Enforcement

on the Enforcement of Covid-19 Emergency Order"

also clarifies the available penalties: A civil violation of up to

$1,000 per violation per day and criminal violation of up to

$500 fine and/or up to 6 months imprisonment.

Citizens can report a

viloation at: bit.ly/vtviolation.

Local police departments

also say they are

getting calls, but haven't

been much solace to

those seeking punitive

enforcement of Covid-19 public health guidelines.

As of Tuesday, police officers in Burlington "have not

undertaken any enforcement on this issue," Deputy Police

Chief Jon Murad said in an email. But the department did

"sometimes have to navigate balancing neighbors' requests

to check on others' compliance (or lack thereof) with the

extent of our powers under the emergency order."

Although the worst fate for these public health scofflaws

is a scolding, many Vermonters remain on patrol, online

and through official channels.

To enforce or not to enforce?

Apart from the governor's observations that most people

are complying with his executive advice, he has also challenged

the notion that ordering people to wear masks will

"Your behavior is now affecting

other people...your freedom stops

where mine begins," Hiliker said of

those not wearing masks in public.

inevitably increase compliance.

"Even with enforcement, it doesn't mean that you're going

to accomplish your goal," he said. "Because then there'd

be resistance, then there would be people doing more reckless

things, possibly."

Faye Hilliker, a recently retired nurse of 45 years living in

Newport, has done medical research on the effectiveness of

masks in stifling disease and she disagrees. She compared

coronavirus non-compliance to smoking indoors.

"You can't, because your behavior is now affecting other

people," Hilliker said. "And when you do that, your freedom

stops where mine begins. So, yeah, you're the governor,

sorry, guess what that means, you make laws and you make

sure that they're put into place."

Hilliker said potential pushback on punishments like

fines could be tempered with a clear and creative public

service campaign — something like the "this is your brain

on drugs" ads of the late 1980s, or a PSA meme her daughter

shared with her about how pants protect us from peeing

on each other, and masks protect us from spraying on each

other.

"They don't believe it, and they're not stupid people, they

just don't believe it," Hilliker said of those in her community

who refuse to follow Scott's guidelines. Why aren't her

neighbors staying in line, like her? "I don't know," she said.

"I have racked my brain trying to figure it out because I was

very angry at first, and then I'm like, I gotta let this go."

Peter Erb, the Hinesburg resident who took a foray to the

recycling center, said on the

phone Friday that he also

ventured recently to a lunch

spot in North Clarendon.

Apart from being in his 80s,

placing him well within vulnerable

age territory amid

the pandemic, Erb said he

was not particularly vulnerable to the virus or its effects. Still

he was disturbed by the experience: he said staff members

weren't wearing masks, and were handling food without

gloves. He had planned to buy a sandwich, but decided

on a container of macaroni salad instead. "I figured there

was less chance of them handling that than the cheese and

bread and everything, and it was probably in the cooler for

a while," he said.

Why did Erb go out for lunch despite the risks? "Probably

because I was stupid and hungry," he said. "You know,

I mean I have a mask on, I distance, I have an alcohol spray

which I keep at hand and use."

Among the governor's reasons for avoiding punitive

coronavirus orders has been not wanting to further burden

Vermonters already coping with the many challenges of the

moment. Erb said he'd like to see the government enforce

the public health orders on businesses, simply by adding

masks to the "no shirt, no shoes, no service" policy.

"Governor Scott is clearly in control of what businesses

are open or not open, so the order shouldn't be directed at

the individual. The order should be directed at, if you, the

individual, want to partake in this particular business, you

have to wear a mask, and if you don't do it, fine, don't do it,

that's your choice."

Erb said it's also dangerous to have citizens enforcing the

rules against each other — pointing to violent incidents in

other states when citizens have attempted to enforce the

rules. In Michigan, a security guard at a Family Dollar was

shot and killed after he told a shopper to wear a mask. Erb

said he worried the coronavirus compliance divide, played

out nationally, could turn angry and politically partisan.

He also pointed to a more personal experience. "My wife

got into a fairly contentious discussion in a grocery store

when somebody wouldn't back off, had no mask and just

wouldn't distance," he said. "And, you know, that's a fairly

controlled situation, and, you know, in Hinesburg."
---
The Mountain Times • May 13-19, 2020 • 7

Call it a mother's ingenuity, but our

son is not always the best with reading

and responding to

emails. It may be a

guy thing? So Pat has

learned that when

she needs to get

Ben's attention, she

just titles the email

"Golf," even though

it has nothing to do

with what she may

be asking. It works, By Rep. Jim

although I wonder if

Harrison

he is on to her…

A belated Happy

Mother's Day to all moms!

And speaking of golf, this hacker

snuck out last Friday afternoon for

a quick nine holes before winter

returned over the weekend. The

opening of golf courses and certain

outdoor recreation in Vermont, albeit

with restrictions, was a further sign of

the state's reopening last week.

With state modeling continuing to

The Covid-19 crisis is challenging all of us, but it is

particularly challenging for those already at risk in Vermont.

"Stay Home, Stay Safe" assumes two things – that

you have a home and that it is safe. Sadly, for too many

Vermonters this is not the case.

And so Vermont's government,

along with its non-profit housing

community, has stepped in to

provide additional help.

Covid-19 has magnified the

need for safe, affordable housing,

and Vermont doesn't have

enough of it. In Windsor County

we have very low vacancy rates

By Sen. Alison

Clarkson

and very expensive rents. Lowincome

Vermonters are often

more vulnerable – not only to

the health consequences of this

pandemic but to its economic fallout. They have higher

levels of underlying health conditions and far less financial

security.

At the moment, Vermont has about 1,600 homeless

families and individuals being

housed in motels and hotels

around the state. In the Upper

Valley we have about 120

homeless households, which

translates to about 195 individuals

(14 of whom are children) being sheltered in five

different motels in 125 rooms. To put this in perspective

– in a normal winter, the Upper Valley Haven might be

sheltering anywhere from 60-70 people. In mid-March,

the state extended the motel voucher program in response

to the Covid-19 crisis. As a result, the Haven was

able to meet the demand for housing not just of those

who were homeless, sheltered and unsheltered, but also

those who were housing insecure (i.e. people who were

couch surfing, sleeping in cars or doubling up). The

Haven has been the conduit for coordinating this safe

housing, helping distribute food, and helping secure the

support services many of these people need to stabilize

their lives.

This pandemic has brought into sharp relief the fact

that housing is health care. One of the success stories of

Golf…

Homelessness and Covid-19

Public health is improved with safe housing

To date, not a single

homeless person in Vermont

has had the coronavirus.

show positive trends the "Stay Home

Stay Safe" order has been modified to

allow:

• Gatherings of 10 or fewer.

Vermonters may now leave

home for outdoor recreation

and fitness activities with low or

no direct physical contact and

to resume limited social interactions

and gatherings of 10 or

fewer, preferably in outdoor

settings that allow for greater

physical distancing protocols.

• Inter-household socializing.

Members of one household may

gather – and allow children to

play – with members of another

trusted household, provided

health and safety precautions are

followed as much as possible.

Child care

Child care centers were given a

limited green light to reopen June 1 at

Friday, May 8, press conference. The

change is permissive and does not

mandate that centers reopen. Summer

day camps will also be allowed to

open this summer, and that guidance

will be available sometime this week.

Hospitality

Members of the hospitality and

tourism industry are getting anxious

over when Vermont may be able to

open this important sector, which

is estimated at 10% or more of the

state's economy. While there are hints

that restaurants, at least for outdoor

dining, may be able to open soon,

there have been no such indications

for larger events. Vermont is a

popular wedding destination and

many inns and event suppliers are

very concerned they may go out of

business if not allowed to reopen this

summer.

The governor and his administration

are watching trends in neighboring

states (which are not doing as well

as Vermont at containing the Covid

positives), before they are likely to

give the signal to allow large numbers

of visitors.

Harrison > 15

this Covid-19 crisis is the fact that by acting swiftly, the

affordable-housing community (the state with a host

of housing and social service non-profits) managed to

move the homeless population from congregant housing

to motel rooms where they could live safely, maintaining

physical distance. As a result, to date, not a single

homeless person in Vermont has had the coronavirus.

This is good news for all of us. And, as a further benefit,

a number of those Vermonters who were precariously

housed have been helped into permanent housing.

In Boston, one-third of its homeless population has

been sick with Covid-19, both a tragedy for those falling

ill and an infection hot spot putting everyone at greater

risk.

We have an opportunity now to act further on what

we know – that public health is improved with safe housing.

The opportunity to leverage some of the federal Covid-19

financing into permanent housing for Vermonters

is a real option. We can expand rental assistance to

prevent new people from becoming homeless as the

crisis strikes more and more of us. We can house families

who have lost their homes in temporary housing or motels.

More permanently, we can

incentivize rehabilitation of

unused houses and the building

of new affordable housing.

We could buy some of these

motels, facing their own financial

challenges, and renovate them to house families.

The affordable-housing community has created a

proposal to invest $106.5 million of the federal Covid-19

money into this work – creating a bridge from homelessness

to permanent housing. They propose to spend

$70 million to create new housing, and $36.5 million for

the next 9 months to help prevent future outbreaks of

Covid-19 by ensuring safe and healthy homes for more

Vermonters. It anticipates expanding support services

to meet the increased needs of these vulnerable populations

and builds capacity in the housing community

to provide these services. The local jobs created by this

housing investment could also play a significant role in

Vermont's economic recovery.

Clarkson can be reached at aclarkson@leg.state.vt.us

or by phone at 457-4627.

RUTLAND COUNTY SOLID WASTE

ALLIANCE COMMUNITIES (SWAC)

SEEKS PUBLIC INPUT ON SOLID

WASTE IMPLEMENTATION PLAN

News Release: The Rutland County Solid Waste

Alliance Communities (SWAC) - the towns of

Benson, Chittenden, Fair Haven, Middletown

Springs, Pawlet, Rutland Town, Shrewsbury,

Sudbury, Tinmouth, and West Haven is rewriting

its Solid Waste Implementation Plan (SWIP) to

comply with the State of Vermont's Materials

Management Plan (MMP). The MMP contains

performance standards, including those focused

on implementing Act 148 (Vermont's universal

recycling and composting law), that each solid

waste entity must meet to achieve the following

goals:

• Prevent waste from being generated.

• Promote sustainable materials

management, with a preference for highest

and best uses.

• Minimize reliance on waste disposal

(landfilling and incineration).

• Conserve resources, minimize energy

consumption, and reduce greenhouse gas

emissions and other adverse environmental

impacts.

SWAC's plan will include information on how

various waste streams are managed in the Solid

Waste Alliance Communities; how members

are and will be educated on waste prevention,

reduction, and proper disposal; and how SWAC

will meet the performance standards in the MMP.

Information on the Solid Waste Implementation

Plan can be found at

rutlandcountyswac.org/solid-waste-plan/

We would like to get feedback on the plan from

members of the Rutland County Solid Waste

Alliance Communities residents, businesses, and

stakeholders.

Here's how you can weigh in on the new Solid

Waste Implementation Plan. Please submit your

comments in writing (info@rutlandcountyswac.

org). Comments will be accepted until the SWAC

Board adopts the final, State-approved draft

in October, 2020. Please check the website for

updates.

One public meeting has been scheduled for

May 14, at 6:00 p.m. (Meeting ID: 527 141 285).

A second public meeting is scheduled for June 8

at 6:00 p.m. (Meeting ID: 769 358 627). Meetings

are available to the public by calling in to a Zoom

meeting. To attend, please dial (415) 762-9988. You

will be prompted to enter the meeting ID number

followed by the # key. You are not required to

download the app to use this option.

Contact Information:

Pamela Clapp, Administrator, at 802-342-5701

and info@rutlandcountyswac.org.
---
Opinion

8 • The Mountain Times • May 13-19, 2020

OP-ED

Project VISION, a force

for positive change

By Joe Kraus

In the summer of 2012, a large and diverse group of

citizens gathered to ask what could be done about the

growing opioid crisis affecting our community. That group

ultimately became known as Project VISION, a very eclectic

collaborative of virtually every agency and organization

dedicated to the welfare of the greater Rutland region. Our

members include churches, schools, law enforcement,

social service agencies and citizens of every shape and

color. The city of Rutland and the Rutland Regional Medical

Center also play critical roles.

We operate in the belief that

together we can accomplish

more than any of us could

accomplish alone.

We operate in the belief that together we can accomplish

more than any of us could accomplish alone. As a

result, we focus on building non-traditional partnerships.

We like to think that this is one time, where 1 plus 1 can

equal 3.

We have no board of directors, no budget and no rules.

Everyone is welcome and everyone has a say. Despite dealing

with some of the most difficult and complex issues of

our time, we are a remarkably happy and effective group

and have an unshakable belief in our community and in

our collective future. We love Rutland.

Together we have achieved a great deal over the last

eight years. The city's Northwest Neighborhood, where we

spent much of our early efforts, is a much different place

today than it was eight years ago. Abandoned homes have

been restored or demolished, a community park was created,

block parties and other neighborhood events have

taken place, private investment can be seen everywhere

and the Southwest Vermont Council on Aging restored

the largest building in the neighborhood and moved its

offices there. Most significantly, survey results show that

most residents are now happy with the neighborhood and

would recommend it to their family and friends.

The Rutland City Police Department has completely

Project VISION > 11

Castleton University

remains strong

By Andre M. Fleche

During an uncertain time for the Vermont State College

System, the people of Vermont should have confidence

that Castleton University remains well-positioned to

continue to serve the social and economic good of the

state. Each year, Castleton sends forth new nurses, teachers,

social workers, journalists, entrepreneurs, and many

other graduates who go on to live and work in Vermont's

communities. CU carries out its mission according to the

"Castleton Way," which emphasizes the transformative

power of caring personal relationships. Castleton's approach

affords the state's students invaluable opportunities

to work in laboratories alongside faculty in healthcare

and the natural sciences; to learn research directly from experts

in the social sciences and the humanities; to develop

professional skills under the guidance of caring mentors in

business, communication, social services, education, and

athletics; to create and perform with the close support of

accomplished artists, actors, and musicians; and to compete

at the highest echelons of NCAA Division III sports.

Castleton University enjoys a track record of success in

Castleton > 11

LETTERS

All Vermonters

may contribute

to keeping

agriculture afloat

Dear Editor,

There is no hiding from

Covid-19. This virus has

no borders and travels at

will, menacing people and

businesses in every sector

of society. The pandemic

threatens agriculture and

with it our food security, as

farmers work to produce

the food on our tables. Our

farmers, producers and

those making their living

off the land are working relentlessly

for all of us, and

we thank them for their

leadership and sacrifice.

We have witnessed

creativity at our farmers'

markets. The markets are

providing fresh food in a

new format. We have hit

pause on the social events,

but these markets have

transformed into simple

food hubs, providing a

tremendous service to

shoppers while implementing

safe practices. We

thank Vermonters who are

supporting these markets

by choosing to buy local

and support neighbors. We

look forward to more markets

opening this spring

and summer.

Despite recent successes

in the local food

Vt foods > 9

Support of local journalism is imperative

Dear Editor,

The following is a letter

that U.S. Rep. Peter Welch

wrote to Speaker Pelosi and

Minority Leader McCarthy

on May 8.

I write today to request

that the next Covid-19

legislative package include

funding to support local

journalism and media.

Darwin awards canceled by Dave Whamond, Canada, PoliticalCartoons.com

The best way to defeat these

false stories is to have more

information from trusted

sources in our communities,

such as our local newspapers.

This support is essential

to ensure that our communities

continue to have

access to local, accurate

information about the

Covid-19 pandemic.

Our local news outlets

have been struggling to

keep the lights on in their

newsrooms before and

during this crisis. This pandemic

has exacerbated the

problems that existed, and

many outlets are searching

for any assistance to help

maintain their operations.

Despite this, our local

media outlets have shown

their resiliency by finding

creative ways to continue

to report on critically important

stories. The pandemic

has required that the

economy be intentionally

slowed to respond to the

public health emergency,

which has decreased or

eliminated the advertising

budgets of local businesses.

The dramatic decrease

of advertising has devastated

the budgets of our local

news outlets, who depend

on advertising dollars. We

have seen the impact of the

slowdown in our news coverage

when the Waterbury

Record published its last

issue in March and more

than ten other Vermont

outlets announced that

they were suspending

publication, or furloughing

or laying off staff.

Right now, as fake news

remains a threat online,

we need these local media

outlets more than ever. The

World Health Organization

identified that the current

worldwide health pandemic

has led to a "massive

Local news > 9

Thank you for

finding Finn

Dear Editor,

To all of those who

helped us search for our

dog Finn in Pittsfield,

the Masillo family can not

thank you enough. He

got free with his leash

attached and was out in

the woods and stuck for 42

hours. We are overcome

with gratitude, by both the

willingness and kindness,

of our community.

He has been rescued,

and is safely home, thanks

to the efforts of people

(and dogs!) throughout

Pittsfield, Stockbridge, Killington

and Chittenden.

Annie and Chris Masillo,

Pittsfield

Finn

Submitted
---
The Mountain Times • May 13-19, 2020 OPINION • 9

CAPITOL QUOTES

On voting by mail in the November election...

"I just don't understand the need to make the

decision today, to make a determination whether

it's going to be mandatory in November, when, right

now, we have the means to move forward with the

process and set it into place. And then, after the

primary, push Go,"

Said Governor Phil Scott

"CA is now a vote by mail state. Every

registered voter will receive a mail-in

ballot for the Nov. election. We'll also

provide safe in-person voting options.

The right to vote is foundational to our

democracy. No one should be forced to

risk their health to exercise that right,"

Said California Gov. Gavin Newsom

"Governor Scott has expressed concerns about

the institution of a vote by mail system, without

clarifying what about Secretary of State Condos'

plan is of concern. Without a plan for how

vulnerable Vermonters can cast their ballots if

we have a resurgence of Covid 19 in the fall, as

some project, we potentially force Vermonters

to compromise their health to exercise this most

fundamental of rights – this is wrong,"

Said Vt. Gubernatorial candidate Rebecca Holcombe

COMMENTARY

Reclaiming education through

community partnerships

By Zayda Kellogg

I am a junior at Peoples Academy High

School in Morrisville, Vermont.

Throughout the pandemic, and the

consequential shutdowns, there is often

talk of wanting to go

"back to normal,"

to fall back into the

past, the thought

of which provides

us comfort and a

sense of security, to

forget Covid-19 ever

happened. Though there is no doubt this

pandemic must be fought, I beg that we

do not return to "business as usual." To

go back to normal, to abandon what this

virus has revealed, will be to fail. We must

transform, coming back stronger than

before in every possible way.

I personally have found the school shutdowns

to be extremely enlightening. High

school has not treated me kindly, and I

>

believe I speak for many students in saying

so. Despite having been labeled a "smart

kid" from a young age, I feel no more compatible

with the traditional high school

path than those who

learn at a slower pace.

We are all frustrated.

Many of us are left

behind, or cast aside

for wanting to move

faster. Students often

feel abandoned due

to the limits set by the education system,

limits which tell us how and what to learn.

I by no means intend to speak against the

notion of our standard subjects, or say

that there is nothing worthwhile happening

in our schools. However, I do wish to

make the case that we can do much better

because we all have different interests and

different minds.

Quarantine and remote learning has

Creative education > 11

Vt foods: We can all do our part to keep local farmers in business.

from page 8

scene, many of our farmers

are nervous, and at times

terrified, of the economic

forecasts.

The region's dairy farmers

and cheesemakers are

bracing for the worst as

summer arrives. We hope

the predictions are wrong,

but milk pricing forecasts

are formidable, dropping

overnight. This sobering

news means that more

than ever we will need to

do all we can to support our

farmers. Now is the time to

buy Vermont dairy. Every

bit helps. Buy more milk,

cheese, butter, yogurt.

There is plenty.

The private sector

is stepping up to help

dairy farmers. Through

a generous donation by

the Vermont Community

Foundation, milk and yogurt

is being processed and

To go back to normal,

to abandon what this

virus has revealed,

will be to fail.

donated to the Vermont

Foodbank, helping dairy

farmers as well as people

who need food. This milk

may have been discarded

but instead it is ending up

on the dinner table. We

thank Commonwealth

Dairy, Dairy Farmers of

America-St.Albans, Hood

and the Foodbank for putting

this program together.

We thank all those who

have kept agriculture

moving during uncertain

times. Parts of our nation

are facing deep disruption

in meat processing, but

Vermont's plants are open,

delivering high quality

chicken, turkey, lamb, beef,

and pork to Vermonters.

Thanks to those farmers

who are delivering food

through farm stands and

CSA's, and the Vermonters

who are buying our fresh,

quality products. This is

another way to shop for local

food and support your

community. You also can

order Vermont products

online, which offers a safe

and easy way to support

those who face an uncertain

future.

And finally, to our

farmers: we know you are

hurting. The Agency of

Agriculture is doing its best

to get you the information

and resources you need to

make difficult decisions.

Please visit the Covid-19

page on our website. There

are federal, state and private

programs that might

help you.

It will take all of us pulling

in the same direction to

get through this.

Anson Tebbetts, Vermont

Secretary of Agriculture,

Food & Markets

"Vote by mail will strengthen our democracy

while keeping all Vermonters safe in the midst of a

pandemic. I urge you to support Secretary of State

Jim Condos and legislative leaders as they work to

implement universal vote by mail for November's

general election,"

Said Vt. Lieutenant Governor David Zuckerman

Local news: Has never been more important or more vulnerable.

>

from page 8

infodemic" – the spread of

misinformation spinning

out of control. The best way

to defeat these false stories

is to have more information

from trusted sources

in our communities, such

as our local newspapers,

radio and television outlets.

Additionally, throughout

this pandemic local

news outlets have provided

accurate, local information

on assistance that can help

their readers during this

difficult time. They help

spread the word on food

distribution schedules,

reusable mask distribution

locations, and other critical

information daily.

Creating a specific fund

or program to encourage

and support the sustainability

of local, community-based

news is essential.

Some Vermont communities

are on the brink of

finding themselves in a

"news desert," with few or

any local news sources.

Thank you for your

consideration and I look

forward to working with

you on this proposal.

Sincerely,

Peter Welch, member of

Congress
---
10 • The Mountain Times • May 13-19, 2020

Stay Stay Stay

We're Home. Home. Home.

Here Stay Stay Stay

For You! Safe. Safe.

Safe.

Stay Home. Stay Safe.

Stay Home. Stay Safe.

We're Here For You!

We're Here For You!

We're Here For You!

We're Here For You!

EASY DUMPSTER RENTAL SERVICE

EASY FOR YOUR NEXT PROJECT

EASY

EASY

DUMPSTER

DUMPSTER RENTAL SERVICE

EASY FOR DUMPSTER RENTAL FOR

FOR

YOUR

YOUR

NEXT

NEXT

PROJECT

PROJECT SERVICE

EASY FOR DUMPSTER YOUR NEXT RENTAL PROJECT SERVICE

FOR YOUR NEXT PROJECT

CURBSIDE PICKUP OF YOUR

CURBSIDE TRASH & RECYCLING

OF CURBSIDE

PICKUP

PICKUP

OF

OF

YOUR

YOUR

CURBSIDE TRASH PICKUP TRASH

&

&

RECYCLING

RECYCLING OF YOUR

CURBSIDE TRASH PICKUP & RECYCLING OF YOUR

TRASH & RECYCLING

Make the most of your time at home!

Make the most of your time at home!

Get the right sized dumpster, when you want it,

Make where you want it and removed when you say so.

Get

Get Make the

the

the right

right

most

most sized

sized

of

dumpster,

dumpster,

your time

of your time when

when

at

you

you

home!

at home! want

want

it,

it,

Make

where

where the

you

you most

want

want

it

it of

and

and your

removed

removed time

when

when at

you

you home!

Get the right sized dumpster, when you want say

say it, so.

so.

Get Make the the right most sized dumpster, of your time when you at home! want it,

Get where

where

the you right want

you

sized it and

want it

dumpster, removed

and removed when

when

you you

you

want say so.

say

it,

so.

where Get you the want right it sized and removed dumpster, when you want say so. it,

where you want it and removed when you say so.

Stop going to the local Drop-Off Center

Stop going to the local Drop-Off Center

Stop going to the local Drop-Off Center

Stop going to the local Drop-Off Center

Stop going to the local Drop-Off Center

Stop going to the local Drop-Off Center

We provide safe, clean, and dependable service

along with two large wheeled carts.

We

We

provide

provide

safe,

safe,

clean,

clean,

and

and

dependable

dependable

service

service

We provide along

along

with

with safe, two

two clean, large

large and wheeled

wheeled dependable carts.

carts. service

We provide safe, clean, and dependable service

We provide along with

along with

safe, two

two

clean, large

large wheeled

and wheeled dependable carts.

carts.

service

We provide along safe, with clean, two and large dependable wheeled service carts.

along with two large wheeled carts.

Call 800-CASELLA today to sign up for service!

Call 800-CASELLA today to sign up for service!

Call Call 800-CASELLA today to sign up for service!

Call 800-CASELLA today to sign up for service!

Call 800-CASELLA today to sign up for service!

RECYCLING • SOLUTIONS • ORGANICS • COLLECTION • ENERGY • LANDFILLS

RECYCLING • SOLUTIONS • ORGANICS • COLLECTION • ENERGY • LANDFILLS

800-CASELLA • casella.com

RECYCLING

RECYCLING

• SOLUTIONS

• SOLUTIONS

•

•

ORGANICS

ORGANICS

• COLLECTION •

•

ENERGY

ENERGY

• LANDFILLS

• LANDFILLS

RECYCLING • SOLUTIONS 800-CASELLA • ORGANICS • COLLECTION casella.com • ENERGY • LANDFILLS

RECYCLING • SOLUTIONS • ORGANICS • COLLECTION • ENERGY • LANDFILLS

800-CASELLA

800-CASELLA

• casella.com

casella.com

800-CASELLA casella.com

800-CASELLA • casella.com
---
The Mountain Times • May 13-19, 2020 OPINION • 11

Bethel, Springfield, Windsor to

receive $800,000 from EPA for

brownfields cleanup

BETHEL— On May 7, the U.S. Environmental Protection Agency (EPA) announced

that two local grantees have been selected to receive $800,000 to assess and clean up

contaminated properties under the agency's brownfields program. These funds will

aid under-served and economically disadvantaged communities around the state in

assessing and cleaning up abandoned industrial and commercial properties.

"Covid-19 has impacted the economy and redevelopment in every corner of New

England. Today's investment of EPA Brownfields assessment and cleanup funding

provides a much-needed boost for economic development and job creation in many

of New England's hardest hit and underserved communities," said EPA New England

Regional Administrator Dennis Deziel. "Brownfields projects are always an economic

catalyst, and this funding has never been more important to our local partners."

Green Mountain Economic Development Corporation, in Bethel, will be awarded

a $500,000 Cleanup Grant to clean up the Valley Motor Sales site at 207 Pleasant St.

in Bethel. The cleanup site was originally developed in 1929 as a Mobil gas station. In

1933, the property was sold and operated by two different owners as an automobile

dealership until 2018. The site is contaminated with polycyclic aromatic hydrocarbons

and PCBs commingled with petroleum. Grant funds also will be used to conduct community

outreach activities.

Southern Windsor County Regional Planning Commission, in Springfield and

Windsor, will be awarded a $300,000 Assessment Grant to conduct environmental site

assessments, develop cleanup plans, and support reuse planning and community

outreach activities for various sites to be selected throughout the grant. Assessment

activities will focus on the town of Springfield, which contains two Qualified Opportunity

Zones, and the town of Windsor's historic downtown area. Priority sites include

the Parks and Woolson property, a vacant industrial complex, and the former Vermont

Machine Tool Company.

For more information visit epa.gov.

>

Creative education: Let's not miss this opportunity to improve.

from page 9

taught me that I learn better

with less guidance, that I

thrive when given my own

schedule and the ability

to move at my pace. It has

shown me a world which

I do not want to leave, in

which I have control. My

own interests — architectural

engineering, calligraphy,

and economics — are

niche and, thus, understandably

I have less access

to them. But high school has

actively hindered my ability

to explore anything about

which I am passionate.

In my sophomore year,

for a science project, I was

asked to interview some

professional architects

and architecture students.

Through this project I was

told not how to access this

subject and enrich myself,

but instead that I "didn't

need to worry about it until

college." But I have lived my

entire high school career

aching for a subject which

I have not yet touched,

planning my college experiences

around a major

which I have never explored

academically. I must go on

the sole basis of this feeling

in my bones that it is right

for me, supplemented

only by some books I have

skimmed between classes.

Our entire grade was asked

to take career aptitude tests,

only for the results to sit in a

portfolio.

In a small school, only

certain subjects can be

accessed, and so students

must carve their own path

on the sidelines. All my

interests, everything which

sparks interest in my mind

and my heart, are things

which I must find on my

own. Students are being

asked to trust-fall into the

world blindfolded.

That is why I joined the

Peoples Academy Community

Asset Mapping Team

through the Vermont Community

Learning Network.

We were a small group of

students taking the first

steps toward a broader education

system, one which

will not be overwhelmed

by the diverse interests of

students. This, we believed,

can be done if we only look

beyond the walls of our

school. When we reach out

of our campus and into the

community, not only can

we accommodate students

with unique career goals or

different learning goals, but

we can give students access

to genuine experiences and

connections which can be

enhanced by a classroom.

We need to connect young

people with those who

share common interests,

and bring them to adults in

their community who can

guide them. The broader

we allow students to reach,

the easier it is to prepare

them for the workforce, for

their communities, and for

the word. For the moment,

these broader connections

must be exclusively digital,

but they may later lead to

face-to-face relationships.

Remote learning presents

us with a new opportunity

to work with countless

students like myself who

feel out of place or forgotten

in the public schooling

system, and even for adults

hoping for new experiences.

Those like myself who

are now facing more free

time and fewer interactions

than ever before, who find

themselves bored and even

lonely, are craving new experiences

which a community-based

digital learning

project can provide during

and beyond the Covid-19

pandemic. Not only will this

impact young lives, but it

will improve the emotional,

mental, and intellectual

health of all through friendship,

connection, and

meaningful learning.

from page 8

reinvented itself by its

groundbreaking partnership

with a variety of

social service agencies in

the VISION Center on the

second floor of the police

department. As a result,

our officers are now able to

directly and immediately

provide assistance to the

most challenged and disadvantaged

members of our

community. Incarceration

is no longer the first or only

option.

We are no longer demonizing

those with addictions

and are making it safe

and easy for them to receive

the assistance and treatments

they need. As a result

of this and comprehensive

community policing efforts,

all categories of crime

are down significantly.

Lastly, we have helped

to restore our pride in this

amazing community and

our hope for the future.

Eight years later, it is still

our fervent hope that we

continue to be a force for

Castleton: Our local university is on stable ground.

>

Project VISION: Past community success can model future aid.

>

from page 8

its endeavors. During a time of decreasing

college enrollments in the region, Castleton's

student body has actually grown.

Castleton's students enjoy modern,

well-cared-for facilities. The campus hosts

camps and athletic events for Vermonters

of all ages, and in the past weeks, the university's

Spartan Arena

has been converted

into an emergency

pandemic overflow

site through partnership

with the Rutland

Regional Medical

Center.

This does not mean

Castleton has avoided

the challenges facing higher education,

and the Covid-19 crisis has raised new

and unprecedented ones. For a number

of years, Castleton has been doing more

with less. State funding makes up only a

small percentage of Castleton's budget.

In 2018, shortfalls forced the university

community to endure painful layoffs.

Through dedication to responsible fiscal

management, Castleton's leadership

team tamed these deficits and began

to replenish reserves before incurring

Covid-19-related costs.

The university's faculty and staff also

realize the need to seek outside sources

of funding. Their efforts have secured

approximately $8 million in grants in

this fiscal year alone. Over the past seven

years, the members of the natural sciences

faculty have raised more than $1.5

million in outside research support, and

the federal government has chosen to

invest in Castleton with very prestigious

positive change. To that

end we have undertaken a

strategic planning process

that will help shape our

future. The process started

this past winter and was

making great progress until

the coronavirus struck. We

then all hunkered down

and our planning abruptly

stopped.

In addition to taking the

lives of many Vermonters,

the coronavirus has cast a

bright light on the cracks

and gaps in our social safety

nets. It has also devastated

the finances of our state,

our hospitals, colleges,

towns, schools, churches

and other nonprofits. It is

very likely that the many

services provided by these

critical bulwarks of our

society will be greatly

diminished in the years

ahead. And as a result, life

for many of us, particularly

the most disadvantaged,

will be much more difficult.

As we plan for our future

Project VISION we will take

Faculty and staff

... have secured

approximately $8

million in grants in

this fiscal year alone.

into account this new reality.

Serving is our reason for

being and in the aftermath

of the coronavirus we and

our many partners will be

required to serve in ways

we never had to before.

I would, therefore, like

to invite you to become a

part of Project VISION as we

plan for our future. We are

the place where everyone

is welcome and everyone's

contribution is appreciated.

While I cannot predict

where the future will take

us, I can say without hesitation

that we will not stop

until we achieve our vision

of making Rutland one of

the healthiest, happiest

and safest communities in

America. Together we can

do it.

You can check us out on

Facebook, Project VISION

or email matthew.prouty@

vermont.gov and ask to be

added to our listserv.

Joe Kraus lives in Rutland

and is chairman of Project

VISION.

grants, including a McNair Scholars

Grant, which prepares students in underrepresented

groups for graduate school,

and a $2.25 million Title III Grant, which

funds student retention efforts.

Castleton University's innovators have

also pioneered new ways of delivering

higher education. In

the past year, faculty

and staff have developed

unique partnerships

with employers

at Southwestern

Vermont Healthcare

in Bennington and

the Killington Mountain

Resort, where

hospitality management students live

and work while earning their degree. The

university also continues to launch new

online programs in high-demand fields,

including a masters of business administration

and a proposed associate's degree

in speech language pathology. Castleton's

psychology department recently crafted

an accelerated baccalaureate program,

and the university has become an important

dual-enrollment destination for

local high school seniors.

In short, Castleton University occupies

an invaluable place in Vermont's educational

landscape. The creative minds at

CU are already boldly reimagining the future

of higher education in the state. The

people of Vermont should feel certain

that continued investment in Castleton

will result in further growth.

Andre M. Fleche is a professor of history

and faculty assembly president at Castleton

University.
---
12 • The Mountain Times • May 13-19, 2020

Wanted

Persons or Person

$5,000 Reward

• No questions asked! •

CONGRATULATIONS -

You have successfully broken into my

property in North Chittenden.

◆ ◆ ◆

The following items are in your possession:

Honda 250 dirt bike – New in 2004 – Never ridden

John Deere 825i Gator – Olive/black

John Deere 625 Gator – Olive/black

Rhino commercial pull behind mower

– custom modified

One of a kind Multi Quip Plate Compactor

Honda Wheel-mounted Generator

Red Sears Horizontal Air Compressor w/red hose

Black Sears Vertical Air Compressor

Black Husky Vertical Air Compressor

To get more information on reward

or to return property PLEASE

call Royal Churchill @ 928-697-3763

Churchill
---
The Mountain Times • May 13-19, 2020 • 13

Woodstock high school ranked third in

the state, top 5% nationally

By Curt Peterson

Windsor Central Unified School District superintendent Mary Beth

Banios announced at the May 11 board meeting that Woodstock Union

High School was ranked "Third Best" among Vermont high schools in

2020 by U.S. News and World Report.

WUHS is one of 312 public high schools in the state. Mt Mansfield

Union High School was ranked No. 1 and Milton Senior High School No. 2.

U.S. News gave WUHS a score of 93.63 out of 100 and reported that 51%

of Woodstock high school students participate in Advanced Placement

courses, 6% are minorities, and 21% are "economically disadvantaged."

Nationally, WUHS ranks 1,133 among more than 24,000 public high

schools rated by U.S. News.

After that announcement, the WCUSD "Zoom" remote board meeting

dealt mostly with ways in which the coronavirus pandemic has affected

operations, finances and future plans for the seven-town school district.

Seniors Sam Powers and Alison Leibly reported that students are having

difficulties adjusting to learning remotely.

"If the situation continues into the fall," Powers told the board, "I think

you should consider changing how the schools do e-learning."

Leibly said there are inconsistencies among teachers and classes that

make learning confusing, and that schedules and study materials are

sometimes hard to locate. And students are left to their own devices in

navigating the system.

Both said better and more frequent communications between students

and the board members would be very beneficial. Sherry Sousa,

director of instructional support services, said a July retreat involving

administrators, parents, faculty and students is in the planning stages.

Powers reiterated his past suggestion that remote learning be used to

schedule more "sleep time" for students.

"Teenagers need more sleep than adults to function well, and this is an

opportunity to provide that," he said.

Banios reflected on state education finances, saying the current fiscal

year (FY20) "will probably end up OK," but FY21 may face a $350 million

state-wide education fund shortfall, forcing a choice between cutting

costs and finding ways to generate revenue. The deficit could translate

into a 25 cent increase in statewide property tax rates, which would translate

to $650 additional tax on a $250,000 assessment.

Finance and Operations Director Mike Concessi said Butler's Bus Service

passed reductions in driver and fuel costs of $60,000 this spring back

to the district.

WUHS principal Garon Smail said grading students' accomplishments

during the pandemic shut-down will be partially arbitrary by necessity.

Reliance on internet access is so important that inequities are bound to

exist, he admitted.

"Those with the most resource do the best, as always," Adam Ameele

(Reading) commented.

Banios replied that Raph Adamek, director of instructional technology,

is working with several internet providers to remedy the lack of internet

connectivity in certain areas within the district. Final grades will rely

significantly on teacher judgment, she added.

Concessi explained how the shut-down has affected district finances,

helping resolve a final deficit for FY19 of $60,000 through non-continuing

expenses, such as the bus company rebate. He said there should be no

deficit carry-over from the current budget year.

For two schools, The Prosper Valley School in Pomfret, and Reading

Elementary School, the pandemic has been a distraction.

Bob Crean, a Pomfret resident, pointed out that no plans have been announced

regarding using $50,000 in the FY20 budget slated for rehabilitation

of TPVS, which has been closed for two years due to moisture and

mold problems.

And RES, with 35 students, has the highest cost per student among the

five operating campuses at $25,814 — 32% higher than the average for all

campuses, which is $19,926.

Courtesy usnews.com

Sherburne

Fire District #1

urges property

owners to check

for leaks

Sherburne Fire District

#1 operates the sewage

treatment facility on Dean

Hill Road in Killington. It

serves the properties along

Killington Road from The

Woods to Glazebrook.

The facility operators

continue to treat higher

flow than there should be at

this time, particularly with

the pandemic business

closures. There are many

potential sources of this

inflow, but they would like

some help to try to reduce

or eliminate this excessive

flow.

Property owners are

asked to check for leaky

toilets, dripping faucets, ice

machine water running,

etc. There are relatively

few private homes connected

to the system and

with most snow gone and

groundwater levels dropping

there may be many

unoccupied properties

with fixtures running

water.

A continuously running

toilet can waste between

1,000 and 4,000 gallons of

water per day.

Please have someone

check for leaks. If you have

questions or need assistance

call the WWTF at

422-3831.

>

Retail: Scott's administration continues to "turn the spigot" cautiously to reopen the economy without causing new outbreaks that could derail progress.

from page 1

ings to be properly monitored.

"Again, I think you should expect and we want people to

limit their travels for interaction … making sure that we're

socially safe and we're not getting into aggregate settings,

so that we can prevent the spread from happening," Scott

said of the next iteration of his executive order. "So you'll

see a variance of what we have in place, but I would say that

there's going to be relaxing of that order."

The governor has said that he is confident that increased

testing and tracing will allow Vermont to reopen without inadvertently

causing new coronavirus outbreaks. "Without a

vaccine, this is to ensure safety and reopen," he said.

He also noted that Vermont had zero new confirmed

cases and zero deaths from Covid-19 on Sunday.

"By taking a cautious approach, we will be stronger

and healthier, when we get to the finish line," Scott said

Monday, "instead of taking two steps forward and one step

back, to take one and a half steps forward without having to

retreat."

Scott emphasized the need to stay cautious and diligent

knowing how it's affected our neighboring states. "There

have been 45,000 deaths within a radius of 350 miles of

us," he said, emphasizing that it would be unwise to relax

measures that encourage tourism, too early.

Mark Levine, M.D., commissioner of health said the

state "knows there have been many more than the 926

cases confirmed," and encouraged anyone with even mild

symptoms to let their doctor know and get tested. "We have

the ability to conduct 1,000 tests per day, we encourage all

who have symptoms, even mild, to get tested. Including

children. There is no cost for testing," he said.

Levine echoed the governor, saying testing and contact

tracing "are so important to catch another peak early so we

can prevent from spreading to crisis point."

The state is also doing blanket testing for groups with

one member who has tested positive.

Levine also noted that the list of symptoms associated

with the virus have expanded to now include: chills,

repeated shaking, muscle pain, headache, sore throat or

loss of taste or smell. "The symptoms are now more clear to

us than they were a few weeks ago," he said. "A fever is not

necessarily the key indicator, many do not present a fever

but have other symptoms." But a cough remains one of the

most common symptoms.

When asked what health experts still don't know about

the disease, Levine had a long list, some of which included:

How many people have or had the virus but were asymptomatic?

How big of a threat that group is — are they are

infectious? If kids are significant transmitters of virus, and

many more. But the biggest question that the "whole world

is trying to figure out simultaneously, is how to restart and

reopen, in a phased and cautious way — it's impossible to

really know without a proper infectivity factor to model

case increases."

"We're learning from those who are slightly ahead, but

impossible to know which epidemic curve Covid-19 will

follow? Will we have months before another peak? Will it be

off and on? We really don't know," he said.

The Scott administration also recently began allowing

hospitals to schedule nonessential appointments.

Human Services Secretary Mike Smith warned that dental

offices should not assume that this will extend to their

practices, noting that some dental offices have indicated

to patients that they will start scheduling nonessential appointments

starting May 18. "It would be premature to conclude

that this ban will be lifted" in the near future, he said.

Scott also said Remdesivir, a broad-spectrum antiviral

medication that can shorten hospitalization stays for severe

patience, will be available in Vermont this week.
---
14 • NEWS BRIEFS

The Mountain Times • May 13-19, 2020

Economic reopening: Child care, camps are a crucial element for parents to get back to work.

>

from page 1

Virtual graduations, celebrations

Education officials also provided guidance on end-ofthe-year

gatherings. Large gatherings will not be permitted

through the end of the school year, so there will be no

in-person graduation celebrations; those events should be

virtual, the state said.

Overnight camps

While day camps have been given the green light with

specific guidance, the state is still looking for a way to

welcome people from outside its borders without upsetting

the balance that has led to a low rate of Covid-19 in

Vermont.

Ted Brady, deputy secretary of the Agency of Commerce

and Community Development, outlined the Scott administration's

latest word regarding summer camp, explaining:

"For thousands of Vermonters, summer day camp is not a

luxury; it's a necessity," he said. Because summer camps

serve for many families as child care, "summer camps simply

need to be open if we expect

the economy to be open."

The residential camps attract

children – some draw as many

as 500 campers at a time — and

their parents from outside of the

state, and Scott has made it clear

he still wants people from outside Vermont to stay away to

prevent the spread of the virus. But Brady said the state is

working with camps and their association to chart a path

forward.

"While these reopenings are going to be more complicated,

ACCD is working with the Vermont Camp Association

and a sampling of overnight camps to learn what they

can do to comply," he said.

Some camps, such as Farm & Wilderness in Plymouth,

has announced that they won't open this summer. Many

others are still waiting to see what happens in coming

weeks.

But the state isn't going to issue a directive on camps,

said Brady.

"It's a decision the summer camps can make themselves,"

he said. Vermont is still under an executive order

limiting gatherings to 10 people or under. While that order

– which is due to expire May 15 — will probably be eased

Farm & Wilderness in

Plymouth has announced that

they won't open this summer.

in coming days and weeks, Brady noted that camp and

daycare this summer aren't going to look or feel the way

they did before.

"While we're pleased today that day camps and overnight

camps have a path forward for this summer, they're

going to look different under Agency of Human Services

guidance," said Brady. AHS regulates daycares, and the

guidance that it produces with its many state partners will

probably involve masks, social distancing and a limit on

participant numbers. "Some are not going to be able to accommodate

that guidance."

The rate of growth in Covid-19 cases has been mostly in

a decline since April, according to data from the Vermont

Department of Health. As of Friday, the state had only five

people hospitalized for Covid-19, with another 10 hospitalized

with symptoms but awaiting test results, according to

the health department. Just 2% of the Covid-19 tests conducted

by the state are coming back positive, the department

said.

Those results show that

it's time to start opening up

daycares and summer camps,

said Scott. But he and Brady

reiterated that it's not clear

what those openings will look

like. The American Camp Association and the YMCA, on

which Brady is relying for some guidance, have hired a firm

called Environmental Health & Engineering to evaluate

the health standards that camps will require to operate this

summer.

The Vermont Camp Association, which is working with

Brady, is awaiting that guidance as well. The group won't

make recommendations to individual camps, said Ellen

Flight, who is president of Songadeewin Camp in Salisbury

and director of the association. She expects Songadeewin

Camp to make a decision about the summer sometime

this month.

Environmental Health & Engineering has said it will

create a guidebook that summarizes and defines best practices

and recommendations for day camps and overnight

camps, aligned with guidance from the Centers for Disease

Control.

Anne Wallace Allen of VTDigger contributed to this report.

No-cost curbside appliance

recycling helps free up

space, bring in cash

An Efficiency Vermont program aimed at reducing the

number of inefficient appliances plugged into Vermont's

electric grid can help stay-at-home Vermonters free up

space and generate cash; all without spending money or

leaving home.

The offer is available to Vermonters with secondary

refrigerators, standalone freezers, window-style air conditioners,

and dehumidifiers.

All recycled appliances should be in working condition

and owned by the customer. There is a limit of four

per household. Pick up is free. Appliances will be tested

at the recycling facility to verify they are in working order.

A check will be sent to the customer based on the type of

working appliance recycled. (If they are not operating,

the appliances will still be properly recycled at no cost

to the customer.) Efficiency Vermont will provide the

following payments by check to customers who recycle

working appliances:

• $50 for refrigerators and freezers

• $20 for window air conditioners and dehumidifiers

In order to protect both customer and driver safety,

appliances can be left in an open garage, in a driveway,

on a porch, or in any other accessible location that

doesn't require the driver to enter a home. Drivers will

wear cloth face masks and maintain at least six feet of

distance from customers at all times.

"This is just one of many programs Efficiency Vermont

will be offering in the coming weeks to help Vermonters

lower their energy costs amidst the Covid-19 pandemic,"

said Efficiency Vermont Director Rebecca Foster. "We

are working with our partners to bring forward no-cost

and low-cost ways for businesses and residents to save

energy and money."

Pick up and recycling service will be provided by

ARCA, which is working under contract with Efficiency

Vermont. Customers anywhere in Vermont can sign

up for appliance recycling by calling ARCA at 888-998-

6323. Pick up dates will occur from mid-May through

June and will vary by region. Learn more at efficiencyvermont.com/recycle.
---
The Mountain Times • May 13-19, 2020 NEWS BRIEFS • 15

>

Lowe: GMP-Zetterstrom Award given to Brian Lowe of Randolph for his work with American kestrel.

from page 2

to hold these beautiful birds in my hand, and see the Zetterstrom was known as "Grandma Osprey." She

reaction of the kids –'Oooooooh,'" he says. "To me, it's began her efforts to restore ospreys at Milton's Lake

absolutely fantastic to be able to do this."

Arrowhead in the late 1980s. Her vision, collaboration

"I conservatively estimate that more than 1,000 and leadership prompted utilities, the state, and

American kestrels have successfully fledged in Orange landowners to work together, and ospreys were

and Washington counties thanks to Brian's efforts," said removed from the endangered species list in 2005. The

Chip Darmstadt, executive director of the North Branch award was created shortly before she died in 2010.

Nature Center, who nominated Lowe. "I can think of few Past GMP-Zetterstrom Award recipients

conservation or stewardship efforts that have benefited include Sally Laughlin, a scientist whose work was

for so long or from so much effort by one individual. instrumental in restoring three species of endangered

"This has been a labor of love for Brian, born out of birds in Vermont; Michael Smith, the founder of

his own initiative, and operated at his own expense," Rutland's Pine Hill Park; Margaret Fowle, who led

Darmstadt said. "He is long overdue for this kind of Vermont's peregrine falcon restoration program; the

meaningful recognition."

Lake Champlain Committee, which works to protect

Kestrels, the smallest raptors in north America, are and improve Lake Champlain; Kelly Stettner, who

about the size of a mourning dove. They feed on insects, founded the Black River Action Team in southern

small mammals, and birds. Though not endangered, Vermont; Roy Pilcher, founder of the Rutland County

according to the North American Breeding Bird Survey, Chapter of Audubon; Lake Champlain International,

kestrel populations declined 1.39 % per year between a nonprofit working to protect, restore and revitalize

1966 and 2017, a cumulative decline of more than 50 %, Lake Champlain and its communities; Marty Illick of

due to loss of habitat and declining prey populations. the Lewis Creek Association; Steve Parren, a biologist

"In his corner of the world, Brian has made a

for the Vermont Department of Fish & Wildlife; and

significant difference," Costello said. "He's worked with 2019 winner Eric Hanson, a biologist at the Vermont

dozens of landowners to create a strong and vibrant Center for Ecostudies, who helped save endangered

kestrel population."

loons in Vermont.

>

Harrison: Leg. update from House rep.

from page 7

Budget

House Speaker Mitzi Johnson has indicated

that next year's state budget will be a "much bigger

problem" than the task of balancing the current year.

Initial forecasts indicate an estimated 17% revenue

reduction.

Education funding

An education funding solution for the upcoming

Pre-K-12 school year remains elusive after key committees

were told they could not use federal funds to

make up revenue shortfalls.

Current projections suggest property tax rates

could go up another 17 cents per hundred in addition

to prior increases passed by voters in early March if

no spending reductions are made.

An education funding solution for

the upcoming Pre-K-12 school

year remains elusive after key

committees were told they could

not use federal funds to make up

revenue shortfalls.

Courtesy of North Branch Nature Center

Brian Lowe

Courtesy of North Branch Nature Center

Brian Lowe shows children a young kestrel.

Courtesy of North Branch Nature Center

Brian checks one of the kestrel nesting boxes he maintains.

Legislation

The Legislature continues to advance bills to

address issues that have come up during the Covid

emergency:

• H.947, which allows the governing body of a

municipality to set its local tax rate if unable

to hold a town meeting. This measure applies

to Brattleboro, which had its annual meeting

scheduled later than Town Meeting Day.

• H.948, which allows municipal boards to

conduct quasi-judicial proceedings remotely,

such as property valuation reviews.

• H.950, which would allow advance directives

to be signed remotely during the current

emergency.

• S.343, which provides two months of hazard

pay for certain categories of employees that

earn less than $25/hour. The bill has passed

the Senate and was referred to the House

Commerce Committee. As passed by the Senate,

employers will be required to submit a

report as to which employees are eligible. The

bonuses would be on top of any premiums

that businesses may be paying. The estimated

cost is currently $60 million. And yet more

groups are lobbying to be included.

Ballots by mail

Secretary of State Jim Condos appears to be waging

a political campaign with the Vermont Democratic

Party running digital ads to pressure the governor

to approve the secretary's plan for all-mail balloting

for the November elections.

Scott has indicated that it was too early to sign

off on all-mail balloting when they cannot even be

printed until after the August primary. He acknowledges

we may have to resort to that option and

should make plans, however, to determine that now

sends the wrong message about the state reopening

for business and visitors.

In closing, thank you for your continued efforts

at social distancing, wearing a mask when out in the

public and practicing good hygiene.

Governor Scott has indicated the state of emergency

will continue for the time being, but more

segments of the economy will reopen as virus trends

allow.

Jim Harrison represents Bridgewater, Chittenden,

Killington and Mendon in the state house. He can be

reached at JHarrison@leg.state.vt.us.
---
16 • NEWS BRIEFS

The Mountain Times • May 13-19, 2020

Dynamic duo adapts for virtual

Vermont Adaptive Charity Rid

By Mac Janney, development coordinator for Vermont Adaptive

Typically this time of year, I bust out the

mighty tandem to train for the Vermont

Adaptive Charity Ride with my buddy and

guide Frank Kelley. Since we are practicing

social distancing, tandem

biking has to be put on

hold. Not to worry though!

We will be participating

virtually in the Virtual

Vermont Adaptive Charity

Ride.

In the past, we've

trained to ride 40 miles

which takes about 3 ½

Submitted

hours to complete. On Saturday,

June 20, Frank and I will plan to set

up our stationary bikes in my driveway and

pedal the equivalent with anyone welcome

to join (up to 10 people). Since I'm familiar

with the 40 mile route, I've begun putting

together a music playlist for motivation.

We'll be checking in to the Facebook live

stream while firing up the grill.

There are a few things I need your help

with. I am planning to raise $1,000 as I've

done in past years, which I

can't thank you all enough

for supporting. I will match

the $1,000, which I feel is

the right thing to do.

Since Vermont Adaptive

serves a vulnerable population,

our community will

need us more than ever to

get outdoors. Our goal is

to raise $300,000 which is

critical to Vermont Adaptive's programs.

The road back starts now.

Again, thank you so much for your help

and support. For more information and

to register for the 2020 virtual charity ride,

visit charityride.vermontadaptive.org.

#Onekillington lawn signs available

The popular #OneKillington

Social Distancing

lawn signs are now avalable

for purchase.

Each sign is $10 and is

available at onekillington.

myshopify.com.

Each purchase supports

the Killington Relief

Fund, whose goal it is to

provide financial assistance

to members of the

Killington service and

business community suffering

financial hardship

as a result of Covid-19 and

the economic shutdown.

For more information

visit KPAA.com or gofundme.com/f/killingtonstrong.

Courtesy KPAA

Courtesy of Billings Farm & Museum

Garden with Billings Farm experts

May 18-22—WOODSTOCK—It's time to

garden. Visit Billings Farm at Home May 18

– 22, for information and tips to grow delicious,

fresh produce in your own backyard

or community garden.

See what they're growing in their

heirloom and education gardens. Learn

the history of Victory Gardens and find out

why home gardens are so important, then

and now. Find information on manure

and compost and how to use them in your

garden.

Get inspired by "Learning in the Kitchen,"

as we highlight a different vegetable

each day – radish, rhubarb, parsnips and

more - with a scrumptious recipe to make at

harvest time. Follow along with our educators

as they demonstrate recipes for arugula

pesto and asparagus soup.

Join in live from the Billings Farm gardens

on Wednesday, May 20, at 1 p.m., as

they host the Facebook Live series, Ask

Billings Farm Live. Museum educators will

share gardening practices and answer your

questions. What heirloom vegetables do

they grow and why? And who doesn't love

sunflowers? Ben Pauly, Master Gardener for

the Woodstock Inn & Resort, will provide a

sneak peek of this year's design for the Sunflower

House— it even incorporates social

distancing best practices!

Connect with them at: billingsfarm.org/

billings-farm-at-home, facebook.com/BillingsFarmMuseum.

Professional Driveway Solutions

Social

Distancing

The

VT

way

6 ft

7 MAPLE SAP BUCKETS

1 SKI

2.5 HIKING PACKS

PAVING

SEALCOATING

GRAVEL RESTORATION

DRAINAGE

#VTStrong

thedrivewaydoctorsvt.com

(802) 549-4323

For Up-to-Date info. on Covid-19

go to: mountaintimes.info

1.2 MOOSE ANTLERS

MOUNTA IN TIMES
---
The Mountain Times • May 13-19, 2020 PUZZLES • 17

WORDPLAY

'Mother's Day' Word Search: Find the words hidden vertically, horizontally, diagonally and backwards.

ADOPTED

BOUQUET

BREAKFAST

CHILDREN

FAVORITES

GIFTING

GRANDMOTHER

HONORED

CROSSWORD PUZZLE

Solutions > 28

CLUES ACROSS

1. Seed part

7. Productive

13. Popular cocktail

14. Sausages

16. Western state

17. Natural desires

19. Defunct British

automaker

20. Early media

tycoon

22. Move from one

place to another

23. Letter of

Semitic abjads

25. Female birds

26. Umbrella brand

28. Delinquent

29. Tax collector

30. Cooking tool

31. Female sibling

33. Flat-topped hat

34. Angolan

currency

36. Boardwalk

candy

38. European

nation

40. Leaflike part of

palm

41. Removed with

solvent

43. Uttered words

44. Unfashionable

person

45. Disappointed

47. Controversial

device in soccer

48. 007's creator

51. Pain

53. UCLA mascot

55. Razorbill

56. Turkic people

58. Mimic

59. Crime involving

fire

60. And, Latin

61. A saponaceous

quality

64. Dorm employee

65. Estate lands

67. States

69. They slow you

down

70. Gets up

CLUES DOWN

1. One or the other

2. Doc

3. Songs have

them

4. Record of

payment (abbr.)

5. Speak endlessly

6. American state

7. Digressions

8. Tell on

9. Brews

10. Belongs to the

bottom layer

11. American

cigarette brand

12. Legal voting

age in US

LOVE

MAMA

MATERNAL

MAY

MEAL

MOM

MOTHER

MUM

13. Dish

15. Expelled air

from the nose

18. Body art

21. Fierce,

destructive act

24. Bear bright

yellow flowers

26. Japanese

delicacy

27. Get off your feet

30. Male organs in

some invertebrates

32. __, so good

35. Cleverness

37. Protest yacht

38. Anesthetized

39. Mollified

42. Touch lightly

43. Diego,

Francisco, Anselmo

46. Some windows

PARENT

PRESENTS

ROSES

SHOWCASE

SPECIAL

SPOIL

SUNDAY

TREAT

have them

47. National capital

49. Squirrels like

them

50. Grandmothers

52. Painter's tool

54. News

organization

55. __ and thesis:

musical term

57. Famed activist

Parks

59. __ Spumante

(Italian wine)

62. A number

or amount not

specified

63. Body part

66. Of I

68. Old English

Guess Who?

SUDOKU

How to Play

Solutions > 28

Each block is divided by its own matrix of nine cells. The rule for solving Sudoku

puzzles are very simple. Each row, column and block, must contain one

of the numbers from "1" to "9". No number may appear more than once in any

row, column, or block. When you've filled the entire grid the puzzle is solved.

made you look.

imagine what space

can do for you.

Mounta in Times

802.422.2399 • mountaintimes.info
---
theSilverLining

18 • The Mountain Times • May 13-19, 2020

This week's infusion of hope and positivity.

Submitted

Girl Scouts in Jessica Utter's troop made scratching posts for cats at their local shelter before the pandemic kept the girls from meeting in person. Now they are meeting through Zoom

and doing what they can to stay connected and active.

Jessica Utter named Volunteer of the Month by

Girl Scouts of the Green and White Mountains

CUTTINGSVILLE—What started out as a way for a

mother and daughter to spend time together and offer

them opportunities for growth has turned into a passion

for Jessica Utter, who now leads a Girl Scout troop of 14

girls in North Clarendon. Girl Scouts of the Green and

White Mountains named this enthusiastic new coleader

its Volunteer of the Month

for May.

Utter, 35, of Cuttingsville, just

south of Rutland, said she had her

daughter, Alana, join the troop

as a Daisy last year as a way to

break through a shy stage, and

got involved herself as a helper. "I

was trying to find things to help

her open up and that we could do

together," she said. "So we joined a

troop at her school in Clarendon."

It wasn't long before Utter began

volunteering in more ways with the

troop.

Melissa Peer is Utter's experienced

co-leader, helping her

navigate the new experience. "She

is an amazing co-leader," said Peer, "always proactively

helping with every aspect of our troop. She is creative,

fun and patient. I really enjoy collaborating on new

activity ideas with her."

Utter calls Peer the "backbone" of the troop. "She's

been doing this troop for many years. I lean on her for

a lot of information, and I am so happy to co-lead with

Jessica Utter (left)

her. We have a lot of fun and we just click!"

Peer notes that Utter has taken the lead to implement

virtual meetings to allow the girls to stay connected

during the pandemic restrictions. Girl Scouts

everywhere are now participating in many of the

online badge opportunities and activities just for fun

on Facebook Live and through

girlscoutsgwm.org.

"We're doing Zoom meetings,"

said Utter. "We've been doing

them every week, to at least say

hi. We gave the girls a challenge

last week to go out and do some

art in nature. Some girls made

fairy houses with things they

found – sticks and twigs and

leaves. My daughter took feathers

and did paintings. Some did leaf

rubbings, and they showed each

other what they did. Just trying to

Submitted

stay connected is our main goal

at this point."

Before the Covid-19 restrictions

were put in place, the

Girl Scouts had been in full cookie mode. They were

fortunate to have sold most of their Girl Scout cookies

before the restrictions, and donated the leftovers to a

local hospital. The sales fund their troop activities for

the coming months.

Her very active troop has made fleece blankets for

senior citizens, cat-scratching posts from used cookie

boxes for a shelter, participated in the Rutland Meals

Challenge, volunteered at the Rutland Stuff-A-Bus

challenge, and more.

"They are truly working together to make a great,

lasting impact on their community," said Amanda

Powell, volunteer support specialist for the council,

"an amazing thing to see for a troop of Daisies – Juniors!"

Utter plans to keep her scouts active even with the

inability at this time to meet together in person. "One

of the things that's top on our list is we want to build

one of the little libraries for the Clarendon community

complex. We hope to do it by the end of the year," she

said. "Our focus is hoping to get back out and help with

things in our community."

Utter encourages other parents to consider volunteering.

"It's a lot of fun. Especially if you have your

own children, it's great bonding time for us. Almost all

of our moms are volunteers and we just all have a great

time together."

Volunteers are the heart of scouting, and Girl Scouts

of the Green and White Mountains appreciates all the

many people who give of themselves to mentor girls

across Vermont and New Hampshire. The council is

grateful to Jessica Utter for sharing her talents and

passion, and embodying the G.I.R.L. (Go-getter, Innovator,

Risk-taker, Leader) philosophy that drives

Girl Scouts. She is deserving of the honor of Volunteer

of the Month for May, as she helps her Girl Scouts

become young women of courage, confidence, and

character, who make the world a better place.
---
The Mountain Times • May 13-19, 2020 THE SILVER LINING • 19

Fair Haven Historical

Society hosts decorating

contest to observe

Memorial Day

FAIR HAVEN—While the Memorial Day parade and

Spring Fling have been cancelled, the Fair Haven Historical

Society would still like to honor the observance of

Memorial Day. They are asking folks who would like to

join to decorate their homes and businesses with a patriotic

theme. Those who would like to participate to are

being asked to sign up at tinyurl.com/FHHSregister so

that the judges will know the locations of those wishing

to participate.

They also have a site where folks can actually cast a

ballot to vote for their favorite decorated home and business.

Voting will be open from May 20-25, 2020. Please,

one vote per person and per email address. Duplicate

votes/voters will be invalidated.

Please visit https://tinyurl.com/FHHSballot to access

the ballot and keep an eye on their Facebook page

(facebook.com/FairHavenHistorical) for updates and

more info.

MNFF announces

the short of the

week series

The status of the 6th Annual Middlebury New Filmmakers

Festival remains up in the air due to Covid-19. It

is currently scheduled for August 27-30, 2020, but organizers

are waiting to see how the virus progresses before

anything is certain.

While they wait, they are bringing a piece of the

festival home to you. MNFF is pleased to offer a curated

weekly series of great shorts from MNFF5 over the next

several months. For those of you who attended the last

fest, but didn't see these films, this is your chance. And

for the even greater number of you who couldn't join in

Middlebury, this is your chance as well. No more "fear of

missing out!"

Beginning Monday, May 11, one film a week will be

available for free for a full week on Vimeo for everyone

to access with a simple click. No passwords are required.

Just watch and enjoy the fine work.

The schedule is as follows:

• May 11-17

"Échappé" Directed by Allison Mattox

• May 18-24

"Mrs. Cho" Directed by Anna Sang Park

• May 25-31

"Maria" Directed by Shiri Paamony Eshel

*Winner, Best Documentary Short at MNFF5

• June 1-7

"Estrellita" Directed by Daniel Houghton

• June 8-14

"Carol Street" Directed by Demietrius Borge

• June 15-21

"Lonnie" Directed by MacPherson Christopher

• June 22-28

"Canusa Street" Directed by Perry Walker

To view the films, visit vimeo.com/middnewfilmfest.

A spotted lady beetle sits on a matured dandelion as the seeds begin to detach and take flight.

NORWICH—With their multitude

of colors and patterns, lady

beetles catch the eye of even the

most insect-averse. They have also

captured the attention of the Vermont

Center for Ecostudies'

Vermont Atlas of Life team.

This May, the team will

launch a project focused on

rediscovering Vermont's long

lost lady beetle species, called

the "Vermont Lady Beetle

Atlas." To kick off the atlas, VCE is

encouraging anyone who is interested

in searching for lady beetles to

head to their yards from May 15-18

to participate in the Backyard Lady

Beetle Blitz.

Search for lady beetles in gardens

and potted plants, among weeds

and shrubs, and even along the edges

of your house. You never know

where they might be hiding! The

goal is to find as many lady beetles

as possible over those four days and

add your sightings to the "Vermont

Lady Beetle Atlas" project on iNaturalist

(inaturalist.org/projects/

vermont-lady-beetle-atlas.)

Lady beetles were not on VCE

conservation biologist Kent McFarland's

radar when he asked Jason

Loomis, VCE's software developer,

to digitize a historic Vermont lady

beetle report.

"We're always on the lookout

for historic natural history data,"

explained McFarland. "When we

find them, our mission is to rescue

them from potential oblivion in the

dustbin of history. We had a 43-yearold

document which provided a

snapshot of lady beetle life prior

to 1976: "Lady Beetles: A Checklist

of the Coccinellidae of Vermont."

Jason began pulling the records into

a database, and we quickly realized

that many of the beetles reported

hadn't been seen in decades."

Alarm bells started going off and

Kent went to work, sifting through

historic lady beetle collections

from the University of Vermont's

Zadock Thompson Natural History

Collection, Middlebury College,

and the Vermont Forest, Parks and

Recreation collection, and modern

records from the Vermont Atlas of

Life iNaturalist project and the Lost

Ladybug Project at Cornell University,

as well. As the pieces fell into

place, he realized that 13 of Vermont's

33 native lady beetle species

have been missing since the 1970s.

This may come as a surprise to

anyone who has watched armies

of bright red and orange beetles invade

their windowsills once the autumn

wind catches a chill. However,

most of these winter roommates are

in fact an invasive species-the Asian

Lady Beetle-thought to be partly

responsible for the native species'

declines.

Although it may appear that

Asian Lady Beetles are all there is to

see, look more closely at the plants

near your home and you may notice

other lady beetles who often blend

By Susan Elliott

VCE kicks off backyard lady beetle blitz May 15-18

13 of Vermont's 33 native lady

beetle species have been

missing since the 1970s.

in. A friend to farmers and gardeners

alike, these tiny insects feed

primarily on aphids and other pests

who can destroy crops. Healthy,

diverse lady beetle populations

keep these pests in check, making

the decline and disappearance

of some native species quite

concerning.

The Vermont Lady Beetle Atlas

was created to find answers to

the questions regarding these

missing species' whereabouts.

The Atlas's main objective is to

collect information about Vermont's

lady beetle species by conducting

field surveys and revisiting older

records in order to develop a deeper

understanding of how they are faring.

However, VCE cannot undertake

this endeavor alone.

Lady beetles are tiny needles

in the vast haystack of Vermont's

woods, fields, and gardens, making

it difficult for a handful of biologists

to successfully search alone.

Looking to the Lost Ladybug

Project as an example, VCE is asking

citizen scientists for help in

searching for the missing species.

While you can start looking for lady

beetles anytime, the official kick-off

is VCE's Backyard Lady Beetle Blitz

the weekend of May 15.

Every lady beetle counts!

If you're interested in learning

more, please visit the Vermont Lady

Beetle Atlas website at val.vtecostudies.org/projects/lady-beetleatlas.

For questions related to the

Atlas or the Backyard Lady Beetle

Blitz, please contact Emily Anderson

at eanderson@vtecostudies.org.
---
20 • THE SILVER LINING

The Mountain Times • May 13-19, 2020

Golf courses open

Outdoor recreation and gatherings of 10 or fewer now permitted

Staff report

On Wednesday, May 6, Governor Phil Scott announced

that outdoor recreation and limited social

interactions may resume under strict health and safety

precautions, as state modeling continues to indicate a

slow in the spread of Covid-19.

The state also paved the way for the reopening of lowcontact

outdoor recreation including ballfields, skate

parks, trail networks, golf courses and tennis courts.

On May 7, Rutland Country Club, Neshobe Golf Club,

Proctor-Pittsford Country Club, Bomoseen Golf Club

and others opened for the golf season, albeit with limitations.

Green Mountain National opened for the season

on Monday, May 11; White River Golf Course opened

May 12 and Woodstock Country Club will be opening

Saturday, May 16 (weather permitting).

Courses, however, must follow strict guidelines outlined

by the state, including:

• Only people currently residing in Vermont can

play (out-of-state residents are considered to be

"residing" after they meet the 14 day quarantine

mandated.)

• Clubhouse and pro shop remain closed for inperson

shopping/dining (some restrooms are

open, but not all.)

• Walking is encouraged. Golf cart occupancy is

limited to one person or two people in a family

(many courses are not renting them at this time

due to strict protocols.)

• All tee times must be reserved over the phone or

online.

• No gathering before or after play is permitted.

• No sharing of clubs is allowed. No rental clubs are

allowed.

• Golfers must always maintain a distance of at

least 6 feet from other golfers and staff.

• Only credit or debit cards can be used for purchases.

No cash sales.

• Some courses will limit the number of holes

open, putting greens and driving ranges to comply

with social distancing mandates.

Addendum 13 also authorizes businesses, non-profit

and government entities that support or offer outdoor

recreation and outdoor fitness activities with low or no

direct physical contact to begin operations on May 7.

These include but are not limited to state and municipal

parks, recreation associations, trail networks, golf courses,

big game check stations and guided expeditions.

Campgrounds, marinas and beaches are not permitted

to open at this time.

While the "Stay Home,

Stay Safe" order remains

in effect, if able to

comply with

outlined safety

measures, the

governor's latest

order allows the following

social activities

to resume:

Gatherings of 10 or

fewer. Vermonters may

now leave home for

outdoor recreation and fitness activities

with low or no direct physical contact

and to resume limited social interactions

and gatherings of 10 or fewer, preferably

in outdoor settings that allow for greater

physical distancing protocols.

Inter-household socializing. Members

of one household may gather – and allow

children to play – with members of another

trusted household, provided health and

safety precautions are followed as much as

possible.

"These small gatherings will give

Vermonters a chance to reunite and enjoy

each other's company. But we must do so

carefully," said Governor Scott. "There is

no specific set of rules, or enforcement

measures that we can put in place here.

We need Vermonters to be smart and thoughtful during

these visits. If we do, it means kids can play together and

friends can resume some of the in-person conversations

they have missed during nearly two months of social

distancing," he said.

"We have to remain vigilant, so we don't lose ground as

we continue, slowly and safely, reopening Vermont in a

way that puts public health first," Scott added.

Guidelines to prevent the spread of Covid-19 through

outdoor recreation and outdoor fitness, including "arrive,

play and leave" requirements, signage and registration

to limit facility use to Vermonters and those who

have met the 14-day quarantine requirement, elimination

of non-essential touching and/or staff-customer

interactions, reduction of high contact surfaces and

common areas and limiting rental equipment and

restroom facilities to those which can be thoroughly

disinfected, are included in the order and in additional

guidance from the Agency of Commerce and

Community Development.

The governor's order also includes additional

health and safety guidelines for these interactions,

including following safety and hygiene protocols,

limiting non-essential travel, and protecting those

in at-risk categories, who should continue to stay

home. It also directs the commissioner of health

to provide additional recommendations.

"As we continue to take modest steps to

reopen our economy, there are also equally

important steps related to how we spend our

down time – our play time," said Julie Moore,

secretary of the Agency of Natural Resources.

"As Vermont's winter transforms to a bright

and green spring, many of us are itching to

get outside and go a bit further afield and

no longer are Vermonters being asked to

limit outings to within 10 miles of their

homes. Now, more than ever, we need

to rekindle this relationship with the

outdoors, but we must do so in a way

that respects physical distancing and

helps keep all of us healthy."

But Moore also asked Vermonters

to steer clear of the most popular outdoor sites

and to explore areas that they haven't hiked, biked or foraged

in before.

"We can't all go to the same place at the same time,"

said Moore, suggesting that people avoid crowded trailheads

and try instead to visit new places that see fewer

visitors.

Vermont has 750,000 acres of public land with 55 state

parks and 5,000 miles of trails, she said.

Devil's Bowl Speedway opens for practice, but season uncertain

May

7

WEST HAVEN—Governor Scott granted

permission for the state's stock car tracks

to open with limited practice sessions as

part of the May 6 announcement allowing

outdoor recreational activities to resume,

albeit under strict guidelines.

However, at Devil's Bowl Speedway, the

54th season of racing is still uncertain. The

racing event on Sunday, May 17, has been

cancelled.

"For now, the smart choice is to take

things step-by-step and await further guidance

from Governor Scott. We will evaluate

any further changes daily, and we will be

sure to communicate any adjustments

promptly,"

Owners Mike and Alayne Bruno wrote in

a letter to racers and fans May 8.

Practice sessions will begin this week but

held under restrictions in accordance with

the "arrive, play, and leave" guidance in Addendum

13, which include:

• No persons shall be permitted on

the grounds if they are sick or symptomatic.

• Each person will have their temperature

taken (with a non-contact

thermometer, if available) before

entering the premises.

• The use of face masks covering the

nose and mouth will be mandatory

for Devil's Bowl Speedway employees.

All others will be highly encouraged

to use face masks, and Devil's

Bowl Speedway will make every

effort to have a supply available.

• Race team will be required to maintain

proper physical distancing

protocols.

• Personal vehicles will be parked

no closer than 10 feet apart in the

parking lot.

• Restrooms will be open, with hot

water and soap readily available.

• Food concessions will not open.

• Test sessions will be available only

to residents of Vermont, per the

governor's orders.

• There will be no tires or fuel sold on

site.

• Rental electronic scoring transponders

will not be available.

Practice sessions are available for registration

Wednesday, May 15 - Sunday, May

17, 5-8 p.m. with the pits open 4:30-8:45

p.m. Reservations will be taken on a first

come, first served basis. Each test session

allows for one racecar and five people and

costs $130 (credit, debit, or PayPal only).

"While it is certainly frustrating to not

always be allowed to enjoy things that we

have sometimes taken for granted – like dirt

track racing at Devil's Bowl Speedway – the

health and safety of everyone is far more

important," the Brunos said. "We realize –

and deeply regret – that this current order

excludes our dedicated and passionate

supporters from New York, New Hampshire,

Massachusetts, and elsewhere; nearly

half of our regular fan and competitor base

is from outside Vermont, along with several

track officials and key personnel. We under-

Devil's Bowl > 24
---
The Mountain Times • May 13-19, 2020 THE SILVER LINING • 21

Vermont SBA hosts daily webinars

The Vermont District Office of the

SBA (U.S. Small Business Administration)

offers a free daily webinar

from 9-10 a.m., Monday to Friday to

discuss SBA's Paycheck Protection Program

(PPP) and the Economic Injury

Disaster Loan & Advance (EIDL).

Visit meet.lync.com/sba123/

sbmazza/6F6N4YK6 to join the webinar.

To join by phone, call 202-765-

1264 and when prompted enter the

code #470177937. Upon joining the

call, mute the phone to cut down on

the background noise and please do

not place the call on hold (as the hold

music will be heard over the presenter).

For more information, email susan.

mazza@sba.gov.

VTF&W photo by Tom Rogers

Hikers and climbers can help nesting peregrine falcons by avoiding several Vermont cliff

areas this spring and early summer.

Some cliff tops and overlooks closed to

protect nesting peregrines

Hiking Vermont's hillsides is a great way to enjoy a spring day, but the Vermont

Fish and Wildlife Department and Audubon Vermont recommend people check

to see if the area they are planning to hike or climb is open. In addition to the

many trails that are currently closed to limit the spread of the Coronavirus, several

cliff areas are closed to protect nesting peregrine

falcons.

"Peregrine falcons are very sensitive to human

presence during their breeding season, so we ask

climbers and hikers to please maintain a respectful

distance from all nests," said state wildlife

biologist Doug Morin. "The areas closed

include the portions of the cliffs where

the birds are nesting and the trails

leading to cliff-tops or overlooks."

These sites will remain

closed until August 1 or until

the Vermont Fish and Wildlife

Department determines the risk

to nesting falcons has passed. If nesting falcons

choose new sites, additional sites may be

added to the closed list at vtfishandwildlife.com.

• Barnet Roadcut (Barnet) – Rte 5 pullout closed

• Bolton Notch (Bolton) – UUW cliff – cliff access

and climbing closed

• Bone Mountain (Bolton) – portions closed to climbing

• Deer Leap (Killington) – cliff-top and climbing closed

• Eagle Ledge (Vershire) – closed to hiking and climbing

• Fairlee Palisades (Fairlee) – cliff-top closed

• Hazens Notch (Lowell) – closed to climbing

• Marshfield Mountain (Marshfield) - portions closed to climbing

• Mt Horrid (Rochester) – Great Cliff overlook closed

• Nichols Ledge (Woodbury) – cliff-top closed

• Prospect Rock (Johnson) – cliff-top (trail has been re-routed) and climbing

closed

• Red Rocks Park (S. Burlington) – southern cliff access closed

• Rattlesnake Point (Salisbury) – southern overlook closed

• Snake Mountain (Addison) – overlook south of pond closed

Audubon Vermont conservation biologist Margaret Fowle works with volunteers

and other conservation professionals to monitor the sites throughout the nesting

season. "Peregrine falcons were removed from Vermont's endangered species list

in 2005, and the population continues to thrive thanks to the efforts of our many

volunteers and partners," said Fowle. "In many cases the lower portions of the trails

remain open, and we encourage people to enjoy watching peregrine falcons from a

distance with binoculars or a scope."

What you can do to help Vermont peregrines

• Respect cliff closures, and retreat from any cliff where you see peregrines

• Report any disturbance of nesting peregrines to your local state game warden

• Report any sightings to Margaret Fowle at margaret.fowle@audubon.org

Vermont's catch-and-release bass

fishing is season is underway

Spring brings quality bass fishing across the state

Vermont's catch-and-release bass

fishing is underway with some of the

hottest bass fishing action in New England

happening right now, according to

Vermont Fish and Wildlife.

"Spring catch-and-release bass fishing

is a really special time to be on the water

in Vermont, and the fishing can be truly

spectacular," said Bernie Pientka, state

fisheries biologist with Vermont Fish and

Wildlife (VTF&W). "Combine warming

weather, minimal boat traffic and feeding

largemouth and smallmouth bass,

and spring bass fishing is hard to beat."

Vermont's catch-and-release bass

fishing runs until June 13, when the regular

bass season opens, and the harvesting

of bass is allowed.

A full listing of waters and applicable

regulations can be found in the 2020

Vermont Fishing Guide & Regulations, or

by using the Online Fishing Regulations

Tool found at vtfishandwildlife.com.

For catch-and-release bass fishing, all

bass must be immediately released after

being caught and only artificial lures

may be used. The use of live bait is also

prohibited during the catch-and-release

season.

Department fisheries biologist

Shawn Good says pre-spawn bass

fishing provides outstanding angling

opportunities at a time when bass

are congregating but haven't started

spawning yet, and has very little impact

on spawning success.

"When thinking about early season

bass fishing, many uninitiated anglers

picture targeting bedding bass, but

that's just not the case. Pre-spawn bass

fishing is about targeting bass on a

catch-and-release basis as they stage

and concentrate around areas close to

where they plan on spawning. When

water temperatures reach 48°F to 56°F,

bass move to the shallows, begin warming

their bodies, and feed heavily for a

couple weeks in preparation of spawning

activities. Once bass have begun

constructing nests, and guarding and

protecting eggs and newly hatched fry,

they don't actively feed. Quite honestly,

it's time consuming and often frustrating

to target non-feeding bass on beds.

It's the pre-spawn groups of bass that

are aggressive, grouped up, and a ton of

fun to catch."

Vermont Fish and Wildlife has assembled

a few basic tips for anglers

heading out to fish for bass during the

By Shawn Good, VTF&W

Warmer weather and increased feeding

activity by largemouth and smallmouth

bass offer a great opportunity for fast

catch-and-release bass fishing action in

Vermont before the regular bass season

starts on the second Saturday in June.

spring catch-and-release season.

Let water temperatures dictate your

tactics and lure choices. Often fishing

slowly on the bottom with jig-style

baits can be most effective shortly after

ice-out. As water temperatures begin to

rise into the 48 to 58-degree range and

fish feeding activity increases, moving

baits such as spinnerbaits, crankbaits

and stickbaits can be big producers.

Look for rocky shorelines and

marshy back bays. Shallow, gradual

rocky shorelines consisting of ledge,

chunk rock, gravel or boulders will

hold heat and warm up first, attracting

baitfish and ultimately feeding smallmouth

and largemouth bass. Marshy,

weedy bays will also warm up quickly

and will attract numbers of largemouth

bass in various stages of their springtime

movements.

Pay attention to the clues. If you catch

a fish, get a bite, or see a fish follow your

lure, take another pass through the same

area. Many fish will often stack up on

the same structure during the spring as

they transition from winter to spring and

summer haunts.

To purchase a fishing license or

learn more about fishing in Vermont,

visit vtfishandwildlife.com.

For information about staying safe

while enjoying outdoor activities, visit

vtfishandwildlife.com/outdoor-recreation-and-covid-19.
---
Food Matters

22 • The Mountain Times • May 13-19, 2020

MEALS TO GO-GO

TAKE OUT

& DELIVERY

TUES.-SUN.

11AM - 9PM

Mid-way up

Killington Access Rd.

vermontsushi.com

802.422.4241

Open Wed.-Sun.

2 - 8 p.m.

This

Week's

Specials

Warm up &

serve Casey's

Caboose

Suppers:

(24 hour notice)

• Chicken

Parmesan

• Prime Rib

Beef Stew

• Shepherd's

Pie

• Meat Loaf

• Italian Classic

Lasagna

• Casey's

Famous

Mac'n'Cheese

(with Smoked Pork

Belly, Grilled Chicken

Vodka, or Seafood)

And yes you can get Casey's

Amazing burgers / Draft Take-out Beer

Take-Out Plow Car Smash

any night Wednesday thru Sunday.

Courtesy of BROC

Donate food and funds at Depot Park this Friday. Pictured (l-r) Mark Stockton, Tom Donahue and Matt Prouty.

Donate to the Stuff-A-Cruiser fundraiser

Friday, May 15 at 9 a.m. —RUT-

LAND—On Friday May 15, Capt.

Mark Stockton of Stockton Security

in collaboration with Commander

Matt Prouty of the Rutland City Police

and Project Vision are hosting a

'Stuff-A-Cruiser" food and fundraising

drive-up event with BROC Community

Action to benefit the BROC

Community Food Shelf. The Rutland

City Police Command Center vehicle

will be in the Rutland Walmart

parking lot in downtown Rutland,

RUTLAND

CO-OP

grocery

I

household goods

77 Wales St

adjacent to the garden center from 9

a.m.-3 p.m. to collect donated food

and funds. The pubic is encouraged

to make a donation and not to exit

their vehicles. Stockton Security,

Rutland City PD and BROC Community

Action staff will help receive your

items safely. All nonperishable items

donated will be quarantined safely

before being distributed.

"Helping when needed most is

what it's all about," said Capt. Stockton,

owner of Stockton Security. Tom

produce

health and beauty

Donahue, CEO at BROC Community

Action said, "With the increased demand

at the BROC Community Food

Shelf, this event will go a long way in

helping families of low income right

here in Rutland County including

many people that are suddenly

unemployed."

For more information visit BROC.

org, call 802-775-0878 or follow

BROC Community Action's Facebook

and Twitter Pages for daily

updates.

Paramount Theatre offers dates of rescheduled shows

New Dates

The Paramount Theatre has announced dates for many of the shows,

which had to be postponed due to Covid-19. Here are the new schedule

updates, in order of original show dates:

• EagleMania has been rescheduled for Saturday, June 20, 2020

• Rutland's Got Talent has been rescheduled for Saturday, June 13, 2020

• Russian National Ballet has been rescheduled for Wednesday,

March 9, 2021

• Bill Engvall has been rescheduled for Saturday, Sept. 19, 2020

• The Beach Boys has been rescheduled for Wednesday, Sept.16, 2020

• "Buddy: The Buddy Holly Story" has been rescheduled for Saturday,

Jan. 16, 2021

• One Night of Queen has been rescheduled for Tuesday, April 20, 2021

• Randy Houser has been postponed – new date announced soon!

• Champions of Magic has been rescheduled for Saturday,

Nov. 14, 2020

• Wonderfeet Kids' Museum's Lip Sync Battle has

been rescheduled for Saturday, Sept. 12, 2020

• An Acoustic Evening with Lyle Lovett has been

postponed – new date announced soon!

• Daughtry Acoustic Trio has been rescheduled for

Friday, March 19, 2021

• Clint Black has been rescheduled for Friday, Aug.

28, 2020

Ticket-holders who are unable to attend a

rescheduled date are asked to please contact the

box office by phone (802-775-0903) or by email

(BoxOffice@ParamountVT.org) to arrange for a gift

certificate of their purchase price.
---
The Mountain Times • May 13-19, 2020 FOOD MATTERS • 23

Three Killington restaurants

seek to expand dining outdoors

Eateries caught between a rock and a hard place anticipate future business

By Curt Peterson

Three iconic Killington eateries

applied to the Select Board for expanded

outdoor dining approval and

won unanimous approval on May

5 – The Foundry, The Lookout Tavern

and Sushi Yoshi.

The restaurants, closed since

Governor Phil Scott's March 17 shutdown

in response to the coronavirus

pandemic, hope he will soon allow

reopening, at least to a percentage of

their previous legal dining capacity,

or even outdoor-dining only.

The Lookout Tavern requested

an area similar to one-time outdoor

events approved in the past.

The Foundry would like to use its

deck and expanded space of 60-by-20

feet, with a split rail fence barrier.

Sushi Yoshi hasn't previously provided

outdoor serving, and wants to

serve through their take-out window

to a new 30-by-50-foot area.

"We've been planning to do this

for some time anyway," Sushi Yoshi

owner Nate Freund told the Mountain

Times.

"Keep in mind," Selectman Jim

Haff said, "our approval only means

the town has no objection. The

restaurants still have to get state

approval before they have the goahead."

Freund said expanded seating

capacity outside won't increase total

seating capacity, which could mean

paying for additional sewer usage,

more restrooms, and expanding

parking.

Mike Coppinger, executive

director of the Killington Pico Area

Association, said, "There are other

considerations, such as accommodations

for people with disabilities, etc.,

as well as social distancing requirements."

Chris Karr, who owns The Foundry

and other Killington businesses, believes

the governor will limit reopening

capacity to between 20-50%, and

is philosophical about the situation.

"The state has been skirting

around the issue of reopening restaurants,"

Karr told the Mountain Times.

"But I think he's considering the

obvious challenges in more densely

populated areas than Killington,

such as in Burlington. There's a lot of

people there to try to manage safely.

We're just a small segment here."

Karr said the governor is probably

also looking at what neighboring

states are doing, and how that's working

out.

"I'm supportive of everything

he's doing," Karr said. "and, frankly,

I think the customers will feel more

comfortable eating outside."

Scott has been reluctant to

define when and under what

conditions outdoor dining, or any

other restaurant operations, may

reopen. Other than take-out, eatery

businesses have been shut down for

close to eight weeks.

As late as Monday, May 11,

shutdown easing was allowed for

retail businesses using a percentage

of capacity limitation of 25%

and employing social distancing

and employee face masks, but Scott

made no mention of restaurants.

Rebecca Kelley, Scott's director

of communications, provided no

clarification of his position, or any

idea when restaurants might get his

consideration.

And federal "stimulus package"

loans don't fit most restaurant

business models – the Paycheck

Protection Program requires owners

to rehire employees to qualify

for loan-forgiveness. If they don't,

the loans have to be paid back over

a two-year period.

The funds are needed to carry

ongoing overhead costs such as

rent, mortgage loans, utilities and

taxes.

Vermont's 2,300 local restaurants

produce $500 million of the state's

GDP and employ approximately

20,000 people, according to the

Vermont Agency of Commerce and

Community Development.

Vermont

Gift Shop

(802) 773-2738

Breakfast • Lunch • Dinner

LARGEST SELECTION OF ICE CREAM TREATS!

GIFT CERTIFICATES AVAILABLE!

Celebrating our 74th year!

Open Daily 6:30 a.m.

GROCERY

MEATS AND SEAFOOD

beer and wine

DELICATESSEN

BAKERY PIZZA CATERING

OPEN 7 DAYS A WEEK

7 a.m. - 7 p.m.

2023 KILLINGTON ROAD

802-422-7736

WE'RE HERE

TO HELP!

ALL

STOCKED

UP!

Daily Specials & new "Dinners to Go"

posted on @KillingtonMarket

& our website. Order by 2 p.m.

Call Deli 802-422-7594

Any special requests are always welcome.

www.killingtonmarket.com

Specials

Daily

ATM

Take-Out Convenience:

Breakfast, Lunch & Dinners TO GO

The Foundry Sushi Yoshi Lookout Tavern

Shelter in Pace virtual ultra-marathon held

36-hour any distance, any surface ride/run/hike/walk takes place this weekend

With trails closed and so many of our favorite events

cancelled or postponed it's been too easy to focus on

all of the wrong things. So, in an effort to help us all stay

connected and motivated during these crazy times, and

maybe do a little good, the Catamount Trail Association

and Ironwood Adventure Works have teamed up to

bring you a one of a kind virtual challenge, the Shelter In

Pace: Virtualtramarathon — a 36-hour, any distance, any

surface, ride/run/hike/walk.

Here's how it works. You register for $20. Five of

those dollars go straight into a prize pool that will be

distributed via raffle in $100 increments. The remainder

will be divided equally between the Vermont

Community Foundation Covid Response Fund and

the Catamount Trail Association. Raffle entries are

earned by completing a predetermined distance. If you

are running, hiking, or walking every 5km earns you

one raffle ticket. If you are cycling one ticket is earned

for every 15km you complete. The more you do the

more chances you have to win. It's as simple as that.

The event will start at 8 a.m. on Saturday, May 16,

and will end at 8 p.m. on Sunday, May 17. During this

period you can run, walk, hike, or bike as much and as

far as you'd like ... or can. Final distance totals will need

to be submitted by midnight on May 17. Then on Monday,

May 18 the prize purse will be raffled off in $100

increments, as well as some awesome swag from Un-

Tapped and Skirack.

Register now at ironwoodadventureworks.com/

shelter-in-pace-virtualtramarathon.

Flowers

are everyday

occasions!

200 Main St.

Poultney

802.287.4094

Delivery Available

Arrangement by

Emily Stockwell

Wedding Flowers ♦ House Plants

Secure 24-hour ordering online:

everydayflowersvt.com
---
24 • PETS

The Mountain Times • May 13-19, 2020

JAYDA

Jayda is a sweet 6-yr-old bulldog mix. She is a funny

goofball that is learning to play ball. She loves to go for

walks and car ride. Jayda adores people, but not other

animals so she has to be the only pet and with a homeowner.

We are open only by appointment. If you want

to meet Jayda give us a call us or go online to fill out our

dog application.

This pet is available for adoption at

Springfield Humane Society

401 Skitchewaug Trail, Springfield, VT• (802) 885-3997

*Adoptions will be handled online until further notice.

spfldhumane.org

Rutland County Humane Society needs help

The Rutland County Humane Society (RCHS) is

participating in the Pets 2 The Rescue 1-mile and 5K

virtual run/walk or bike ride fundraising event. This is a

great opportunity to enjoy the beautiful spring weather

with or without your furry friend, while helping to raise

needed funds for the homeless animals at RCHS. You

have until May 31 to complete your walk/run/bike, giving

you lots of time. To learn more and to register for just

$10 visit rchsvt.org — 100% of your registration fee goes

to the homeless animals at RCHS. If you have any questions

please contact RCHS at 802-483-9171 or rchs@

rchsvt.org.

>

Walk, run or bike to help the homeless animals at RCHS

Farmers markets: Summer Market returns to Depot Park this Saturday, protocols in place.

from page 1

at Depot Park opens — usually on

Mother's Day weekend.

"We're really only starting the

summer market one week late,"

Horton said.

Horton said there are usually 80-

90 vendors at the Rutland summer

market, but some may not participate

this year.

"I expect we'll see about half of

that," he said.

Greg Cox, the former president

of the Vermont Farmers Market and

owner of Boardman Hill Farm in

West Rutland, is taking extra precautions

to re-open his vendor booth.

"For me, it's a very important part

of my business plan and important

to my family," he said. "I'm adamant

that local food is more important

than food that's coming from a long

supply chain. I think it's healthier, I

know it's more economically viable."

Cox isn't sure how his business

will be impacted this summer.

"We don't know the comfort zone

of the vendors or the customers,"

Cox said. "There are some of those

that may not be comfortable coming

into what they perceive as a dangerous

situation. A lot of folks that come

to the market are older and this

thing's not over by a long shot."

All farmers markets in the state

were required to close, shocking

some local farmers as farmers

markets in bordering states stayed

open, having been classified more

similarly with grocery stores.

"This whole situation has shown

the cracks in a broken food system,"

Cox said.

The farmers market in Rutland is

open every Saturday from 9 a.m. to 2

p.m. Wednesday markets begin May

20, according to vtfarmersmarket.org.

Despite the changes, Horton was

grateful to open again.

"I think our customers are going

to be very glad to have us back in

business," Horton said.

SAMPSON

I'm a 10-year-old neutered male. I came back to

Lucy Mackenzie when my beloved human passed

away. I miss him so very much. I have asthma, but it's

easily kept under control with a simple daily medication.

If you have room in your home and heart for a

sweet senior fella, call the shelter to learn more about

me today!

This pet is available for adoption at

Lucy Mackenzie Humane Society

4832 VT-44, Windsor, VT • (802) 484-5829

*(By appointment only at this time.) Tues. - Sat. 12-4p.m.

& Thurs. 12-7p.m. • lucymac.org

Submitted

Farmers markets are now open, but it's not 'business as usual' as social distancing remains important for health.

>

Devil's Bowl: The dirt speedway in West Haven opens for practice but future uncertain.

from page 20

stand the governor's reasoning for this exclusion, though

we hope that those restrictions can be relieved soon."

"We have been clear since the beginning of the Covid-19

pandemic that we cannot

and will not race without

our fans present. Racing

in front of an empty

grandstand would be a

poor financial decision for

our business, and it would simply be unfair to hold a race

without the people who love and support it," they added.

"Whether the governor's orders change or not, Devil's Bowl

Speedway will not survive either in spirit or on the bank

ledger without the support of all our fans and participants,

whether they are from Vermont or not. Other facilities are

planning to race without spectators while offering a live

video stream, but that is not a viable option for Devil's Bowl

Speedway, and it will not be in our plans. We can get by on

"Racing in front of an empty

grandstand would be a poor

financial decision," said the Brunos

test sessions for now, but we will wait to hold racing events

until it is safe to do so with everyone present."

"With that said, we are excited and relieved that things

are moving in a positive direction

for Vermont, and we will

do what it takes to ensure that

the opening of Devil's Bowl

Speedway does not set that

progress back. We encourage

you to remember that the Covid-19 pandemic has not gone

away. Several of our own loved ones and many more in our

extended racing family have been affected by this disease,

and we continue to take things very seriously. Racing is a

way of life for many of us, but it should not force a choice

between life and death. We will do our part to try to prevent

the spread of Covid-19 while easing back into a normal

routine. It may still take some time, but we will get there

eventually," the Brunos said.
---
The Mountain Times • May 13-19, 2020 MOTHER OF THE SKYE • 25

Aries

March 21 - April 20

It's your attitude that matters more than

anything. On the surface, you're pretty

sure that you've got that covered. Underneath

it all, lapses in confidence, along

with memories that carry your own brand

of doubt, color everything you're trying to

bring about. If you've been wondering why

the Law of Attraction has been pulling in

more craziness than usual it's because you

have a few things to address. One of them

is your fear of failure; another might be

your fear of success, or the idea that you

don't deserve to have a life that's as big as

the one that you see in your dreams.

Taurus

April 21 - May 20

Before you jump into this, get a wide

angle lens and dredge up the foresight

to see that, in a few months, it won't look

as good as it does now. The impulse to go

ahead could very well be arrested by outer

restrictions. If that's the way it goes, you

need to remember that blocks of any kind

are usually there to tell us to wait up. At

times, especially when there is a ton of interference,

it's a clear sign that you're heading

down the wrong road. Pay attention.

Life is always showing us what's going on.

Keep your eyes focused on what's right in

front of your face.

Gemini

May 21 - June 20

You keep getting feedback that makes

you feel kind of shaky about some of

your choices. None of it is right or wrong.

At this point all you can do about all of this

well meant advice is: consider the source

and file it. Nobody knows more about

what's at stake than you do. Sometimes it's

wise to pursue your own methods. If the

odds suggest that you're on a fool's errand,

the odds are about to teach you that there

are times when a novel approach is the only

way to redeem a situation that has gone too

far afield. You can do this. Keep it real and

stay true to yourself.

Cancer

June 21 - July 20

Keep an eye on the impulse to over dramatize

everything. Be just as mindful

of the ways in which you pretend you've

got it all handled. Both M.O.s are a sign

that you feel totally out of control. Back up

and take a deep breath. A little distance will

show you that you have all the power in a

situation that, at this point, only requires

a few minor adjustments. Those changes

need to take place in your work and in your

relationship dynamics. Both areas of your

life are being tweaked by love and money

issues that will improve as soon as you rearrange

your priorities.

Leo

July 21 - August 20

It's getting hard to figure out who you

need to please. Going back and forth

between what people and things expect

from you, and what you really need to be

doing for yourself is a huge item right now.

What's also in play is the fact that you're

finally coming to terms with all the water

that has gone under the bridge. If your life

has been one long emergency of late, as

the dust settles on what you've had to live

through delayed emotional responses will

bring up all kinds of stuff. It's high time.

Once the truth comes to light you will get

a clearer sense of where to go from here.

Virgo

August 21 - September 20

You are at the point where your mind

knows exactly what you need to do,

but your heart isn't quite there yet. The

deeper part of you clings to the past because

you're afraid that if you let it go

everything will fall apart. Giant steps forward

won't work at times like this. Halfway

between being stuck and knowing that

you've got nothing left to lose, it'll take a

while for both cylinders to start firing. Dive

deep enough to unblock some of these fears

and give yourself three or four months to

regroup and gather the strength to make the

changes that are more important than anything

right now.

Libra

September 21 - October 20

It isn't hard to see how much you care.

One would think that it might make a difference,

but in the long run you may have

to face the fact that you wasted so much

of yourself on something that didn't pan

out. This is about finding out what people

are made of. Having placed your bets on

whoever you've put on this pedestal, in

your quieter moments the thought that you

gave them way more credit than they deserve

sticks in your craw. In the midst of

the deepest wish to make all of this take a

happy turn, there is a whiff of selfishness

in the room that could mess up everything.

Scorpio

October 21 - November 20

It's never just one thing; there are always

at least three issues dancing around the

totem pole. Between the repetitive nature

of things, and the voice in your head that

has had enough of this, many of you are

ready to snap. Even if you've gotten Zen

enough to just chop wood and carry water,

you're still feeling slightly blasé. When it's

time for a change, no amount of "Well I

really need to stay here and hold space for

whoever I think I am" will cut it. As much

as you think that safety lies in being a good

girl/boy scout, it could very well be time to

break up, break out, and/or move on.

Copyright - Cal Garrison: 2020: ©

Sagittarius

November 21 - December 20

Sideswiped by feelings that have made

it hard to be here for any of this, you

find yourself overwhelmed. Normally able

to maintain your cool no matter what, in

your private moments you are lost. There's

nothing wrong with the deep end of the

pool. The fact that you're here is a sign that

you're ready to get to the bottom of "stuff"

that can't be ignored any longer. This may

turn into one of those, "Cry me a river" moments,

or mark the point where you finally

look the demon in the eye. No need to freak

out. There are volumes of pure white light

beaming in at the end of the tunnel.

Capricorn

December 21 - January 20

Now that you're in the middle of this,

it looks a lot different than it did from

the outside. You will be lucky if you can

figure out how to deal with a situation that

got a lot more complicated than you ever

thought it would. You're enough of a realist

to know what needs to happen but others

don't seem to see it the way you do. Getting

around them and their issues will require

strategies that test both your integrity

and your level of discernment. I hardly ever

recommend playing games, but this is one

time when you have no choice but to be

strategic and do what is expedient.

Aquarius

January 21 - February 20

You've been at this for so long you've

forgotten why you're here. Try rewinding

back to the point where you made

the decision to do X, Y, or Z. The last thing

you need is to be stuck. This restlessness

could be the result of what happens when

we stay too long, or get overly identified

with who we think we are. Your life needs

to look like a vision quest for you to be

happy. Don't settle for anything less. If

breaking out requires you to revamp your

contracts with others, trust the fact that

your choices and any changes you decide

to make will do you both a world of good.

Pisces

February 21 - March 20

You would do yourself a favor if you

could wake up to the idea that you're

not the person who was here a year ago.

Becoming aware of the fact that you have

opened a whole new chapter would be

less unsettling if your ego could let go of

the need to be whoever you were. Recent

epiphanies have shocked your system

enough to make you question everything.

Stories that underscore the extent to which

you had to lose track of yourself in order to

find your way will eventually see you picking

up the pieces, putting things together,

and drawing a new set of boundaries.

Understanding

our abundance

By Cal Garrison, a.k.a. Mother of the Skye

This week's Horoscopes are coming out under the light

of a Capricorn Moon. The big news this week is that a bunch

of planets are going retrograde, and a couple of them are

changing signs. Here is the list:

1. Saturn goes retrograde on May 11, at the first degree

of Aquarius, and will remain in that state until Sept.

29.

2. Mercury will enter Gemini, the sign that it rules, on

the same day.

3. Venus turns retrograde on May 13 at the 21st degree

of Gemini, and will stay in that mode until June 24.

4. Mars will enter Pisces, the sign of its "Fall" on the

same day.

5. Jupiter goes retrograde on May 14 at the 27th degree

of Capricorn, and will not resume its forward motion

until Sept. 13.

Looking at of all of this, September appears to be

Horoscopes > 30

Karen Dalury

3744 River Rd. Killington, VT

802-770-4101

KillingtonYoga.com

@KillingtonYoga

Live classes via Zoom.

Online Schedule for next

week, starting April 6.

Monday 8:15 - 9:15 am Vinyasa

Tuesday 5:30 - 6:30 pm Basics

Thursday 5:00 - 6:00 pm Vinyasa

Friday 10:00 - 11:00 am Basics

Healing at Heart

Programs & Services:

• Habit Change Coaching

• Individual and Group

• Clear the Kitchen

• On Your Trail

Susan Mandel • Certified Health Coach • 802.353.9609

healingatheart.com • fab50healthcoach@gmail.com

RUTLAND'S PREMIERE

YOGA & PILATES STUDIO

Mother of the Skye

Mother of the Skye has 40 years of experience as an astrologer and tarot consultant. She may be reached by email to cal.garrison@gmail.com

22 WALES STREET, RUTLAND, VERMONT

Go online to see our full schedule:

@trueyogavt

trueyogavermont.com
---
Columns

26 • The Mountain Times • May 13-19, 2020

The varied (and not-so-shrinking) violet

One of the first spring wildflowers you'll see – perhaps

even before the last shaded patches of snow disappear

– is the violet. This common flower, which blooms from

April through June, is widely known and easily identified.

There is more than one violet, however. The genus

Viola contains some 500 species, including about 30

in the northeastern states and eastern Canada. It's a

large, varied, and fascinating

group. Violets grow everywhere

from sea level to the highest

mountaintops, in meadows

and marshes, along roadsides

and riverbanks. They sprout in

rocky hillsides, sandy fields, and

moist woodlands. Their delicate

The Outside

Story

By Laurie D.

Morrissey

flowers range in color from blue

to yellow and white to varying

shades of purple.

The first violet you're likely to

notice in the springtime in New

England is Viola rotundifolia, or

round-leaf yellow violet, which

appears as an early splash of color poking up through

dull leaf litter on the forest floor. If you're walking

through the woods, look for this violet near stones and

tree trunks. A close inspection reveals purple veins

on its lower petals.

The violet we are most familiar with, however,

is Viola sororia, also called the common

blue violet and a bundle of other names:

purple violet, sister violet, common meadow

violet, wood violet, confederate violet,

woolly blue violet, and dooryard violet.

This native wildflower grows abundantly

in meadows and moist woods.

V. sororia reaches a height of 3-8 inches

and has dark green, heart-shaped leaves

growing directly out of the ground. It has

two kinds of flowers; the first to bloom are

the ones we are most likely to notice. These

chasmogamous flowers, like those of all

violets, are five-petaled, with two upper petals,

two lateral petals, and a lower petal directed

backward toward a nectar-laden spur. The center

of the flower, raised on a slender, leafless stalk,

is white, often with dark veining that serves as a

pollinator guide. Tiny hairs on the two lateral petals

keep water from getting inside the flower and diluting

the nectar.

Ironically, despite this investment in attracting

pollinators, these early-blooming flowers seldom

produce seeds, since they open before many pollinators

are flying about. The plants' cleistogamous, or

closed, flowers are more successful at producing seeds.

Tarentaise. Ascutney Mountain. Grafton Maple Smoked Cheddar. Vermont

Smoke & Cure Summer and Fortuna's Cacciatorini Sausages paired

with some fresh made six-grain bread and all washed down with some Mac

& Maple Cider.

It's amazing to think of all the wonderful foods we have in Vermont just

at the tip of our fingers. The other night we set out for a dinner paddle on

the water and laid out a charcuterie and cheese plate in the middle of the

canoe. We snacked for hours while we paddled around and watched the

sunset. A true alpine meal that would have been at home in the Swiss Alps.

What we didn't realize until later was that each and every single item on the

plate was born and raised in the Green Mountains of Vermont.

When we got home, we checked our fridge just to check a theory. We saw

a pattern. Wagner Farm eggs. Thomas Dairy milk. Black River ground beef

and Misty Knoll chicken. King Arthur flours and Cabot butter.

These much-less-showy flowers grow close to, or even

underneath, the ground and are sheltered by the violet's

leaves. They don't open, but self-pollinate, and when the

seeds are ready for distribution, the flowers split open to

eject them.

In spite of the plants' beauty, some homeowners

violently dislike violets. These perennials also reproduce

by underground rhizomes, making them tough to eradicate

from lawns, especially the shady parts. Considering

the violet's tenacity, it's hard to know where the expressions

"shrinking violet" and "retiring violet" came from.

Other wild violet species in our region include the

northern white (often growing in streambeds); sweet

white (fragrant); birds-foot (deeply cut leaves); and

arrowhead (pointy leaves). Categorizing different species

within the Viola genus is challenging for botanists,

because the plants hybridize so easily. Johnny-jumpups

and pansies, both favorites of potted porch displays,

were hybridized from species of Viola.

The violet's place in mythology, folklore, herbalism,

and gastronomy could fill a volume. Its name is

sometimes attributed to Greek mythology: Ione, or Io,

was the name of Zeus' lover. The god turned her into a

heifer to protect her from his wife's jealous wrath and

gave her violets to graze on. In the language of flowers,

violets symbolize humility and modesty. Each color has

its credit: yellow symbolizes high worth, white is for

innocence and purity, and blue is for faithfulness

and devotion. Napoleon loved violets, earning

him the nickname Corporal Violet.

Foragers, including Native Plant

Trust's senior research botanist Arthur

Haines, use the leaves in salad.

His favorite is the roundleaf

yellow, which

he gathers near

his home in the

western mountains

of Maine.

In a carotenoid

contest, he points

out, violet leaves

beat spinach:

they contain two

and

a half times as

much.

You might even find

crystallized violet flowers on a cake – though

in that case, forget about nutrition.

Laurie D. Morrissey is a writer who lives in

Hopkinton, New Hampshire. The illustration

for this column was drawn by Adelaide Tyrol.

The Outside Story is assigned and edited by

Northern Woodlands magazine and sponsored

by the Wellborn Ecology Fund of New Hampshire

Charitable Foundation: nhcf.org.

Shock, awe and

perspective

Whenever we experience a significant and unexpected

event in our lives, such as the coronavirus, it

can result in a lot of uncertainty and anxiety. As investors,

we want to know what to do. Do we run for safety

or stick to our plan?

One of the best things we

can do at times of uncertainty,

anxiety and fear is to step back

and put things into their proper

perspective. Let's put our current

situation in perspective to

help us make the best decisions

Money

Matters

By Kevin Theissen

moving forward.

The financial crisis of

2008/2009 has some similarities

with what we are going

through. The economy hit a

rough spot, Congress and the Fed came in with stimulus

packages and there was a lot of movement in the

stock market – primarily down. Anyone watching the

markets likely lost sleep and many felt compelled to

sell.

Long-term investors that maintained perspective

and discipline were rewarded handsomely for their

investing grit. Looking back over the last 12 years the

great financial crisis of 2008/2009 is nothing more

than a blip before the start of a long bull market.

We can greatly reduce the anxiety and fear we feel

by removing those inputs from our lives. Just as we

may unfriend someone on social media that bothers

us, we can "unfriend" the news and other information

that may influence us to make costly investment

decisions.

We cannot control the news nor what happens

globally, but we are in complete control of what we

pay attention to. And what we pay attention to has

significant influence on the choices we make. Let's

control our inputs so we can get the greatest longterm

output.

Kevin Theissen is the owner of HWC Financial in

Ludlow.

Lucky to live amongst great local food

Livin' the

Dream

By Merisa

Sherman

Submitted

Vermont salumis and more Vermont cheeses. Homemade jelly from our

neighbor's berries and ramps foraged by some friends. Soon, there will be

fiddleheads as well as asparagus and spring peas from our own garden. We

hadn't meant to buy local, we just did.

For the first few summers I lived here, I had the good fortunate of working

at the Woodstock Farmer's Market. After an intensive training process,

my mind was awakened to a whole new world. There I learned the difference

between processed cheese and real cheese, between factory farmed

animals and grassfed ones and between Wonder Bread and everything else.

I had never eaten so many different types of cherries in my entire life. It was

absolutely amazing.

Over the past few weeks, the entire world has been reopening their kitchens

and dusting off their mixers. I love everyone comparing their banana

breads and bragging about their sourdough starters. I've seen all kinds

Livin' the dream > 27
---
The Mountain Times • May 13-19, 2020 COLUMNS • 27

The backyard of my property is framed in

a thick cluster of trees that blocks almost any

hint of other homes. I can hear voices and

lawnmowers in a number of directions, but

my visual range sees

only greenery.

Obviously, this is the

case during the spring

and summer months,

but as fall begins to

arrive and the trees

shed their foliage, I am

reminded how many

The Movie

Diary

By Dom Cioffi

homes and families surround

my living space.

I'm okay with this

because we don't spend

much time in our backyard

during the colder months. However, we are out

there quite often when the weather is accommodating.

In fact, we enjoy this space so much that

we invested a good chuck of money renovating it.

We now have a beautiful stone-paved patio

broken into two areas. One section is for cooking

and eating where we put in a killer grill with

a marble bar seating area and a built-in cooler.

Sitting next to that is a table with an umbrella and

several chairs for dining.

In the other section, there is a towering stone

fireplace with several comfy wicker lounge chairs

with cushions. And just behind the fireplace,

craftily hidden from view, is my favorite accoutrement:

the hot tub.

When the weather is right, we love to go out

after a long day and sit in front of the fire to relax. At

night the crickets and other nocturnal creatures sing

and prance about, which really sets the mood. We

even have a few owls that love to hoot to one another

in the early evening hours.

On weekends, it's not uncommon for my wife

and me to share a cocktail or two on the deck. And if

there's a nice chill to the air, the hot tub is an amazing

respite.

So, it's safe to say that our backyard/deck area is

one of the things that makes our home special and

brings us an immense amount of joy.

But then the coronavirus lockdown arrived.

A funny thing has happened over the last several

weeks. While we would normally be starting to enjoy

our amazing deck and backyard, we've not done so

nearly as much as we have in past spring seasons. In

an odd change of pace, we've moved to the front yard.

I guess it started with my son and me playing basketball

in the driveway

each evening. We were

spending quite a bit of

time out there and my

wife was popping out

to visit us occasionally.

Given that there were

no chairs, she would sit

on the front stoop or

lean against a nearby

tree.

During this time, people were starting to come out

in droves for evening walks through the neighborhood.

As I've stated in past columns, there have been some

silver linings to the quarantine, one of which has been

the influx of people getting outside for exercise.

As these people walked by, inevitably conversations

ensued. We've had conversations with neighbors we

know quite well, conversations with neighbors we

barely know, and conversations with neighbors we've

never met.

Initially, these were brief "hellos," but as the weeks

Walk this way

We've had conversations with

neighbors we know quite well,

conversations with neighbors we

barely know, and conversations with

neighbors we've never met.

passed and we'd see them on different walks, the

exchanges became more and more involved. Now, my

wife and I both feel like our neighborhood has grown

much closer as we look forward to the chats each

evening.

About two weeks ago, a couple of large boxes were

delivered to our house. When I asked my wife what she

bought, she gleefully stated that we were now proud

owners of two beautifully crafted Adirondack chairs (I

just had to put them together).

I couldn't understand why, since our deck was

maxed out with seating options, but she told me they

were for the front lawn. I scoffed at the idea and begrudgingly

put them together and placed them where

she requested. And you know what? She was right.

Now we can sit comfortably on our front lawn and

wave and chat with all our friends as they walk by each

night.

"Honey Boy," written and starring Shia LeBeouf, is

a gut-wrenching but ultimately redeeming story of

LeBeouf's anxiety-filled

childhood, which was

devoid of anything

resembling a quiet

neighborhood setting

like ours.

LeBeouf began

writing this screenplay

while in rehab dealing

with the trauma

inflicted on him by his hippie, fame-obsessed father,

who himself was a troubled alcoholic.

Check this one out if you want some insight into why

LeBeouf was such a tumultuous star once his career

took off. It's difficult to watch, but ultimately a very

well-crafted and well-acted film.

A piercing "B+" for "Honey Boy."

While it did have a short theatrical release, most

people caught this one when it started streaming. Currently

you can find it on Amazon Prime Video.

Got a question or comment for Dom? You can

email him at moviediary@att.net.

Livin' the dream: Delicious local foods

>

from page 26

of food being prepared by people who never thought

they'd really have to cook for themselves again, especially

in a town where so many of us work in the restaurant

industry. We don't often get to eat at home unless it's

chicken fingers and mozzarella sticks from Jax at 2:30 in

the morning.

But now? We've made homemade pasta and meatballs,

as well as biscuits with sausage gravy from scratch.

The bf has taught himself how to make perfect poached

eggs and I have made everything from tortillas to crackers.

In the beginning of StayAtHome, we took photographs

of every meal because we were shocked by our

own greatness and joked about making a cookbook just

so we could remember that we actually knew how to

cook. It's been a super fun adventure and one that we

have actually been extremely grateful for.

Here in Vermont, we are blessed to have so many

wonderful and easily accessible sources of food. I was so

very excited to curbside pickup homemade breads, farm

fresh eggs and real croissants at Dream Maker and a

whole slew of local meats and cheeses from the Woodstock

Farmer's Market this weekend. For so many of us,

cooking has become a treasured pastime these past few

months. And I am so very, very grateful to live where local

food isn't just a movement – it's a way of life.

Please consider supporting our communities by

buying local products, making a donation to your local

food bank or growing an extra row or two this summer.

Together, we are "Vermont Strong."

By Merisa Sherman

Chicken and mushrooms with homemade biscuit

Please call or

check us out

online for this

week's movie

offerings.

Movie Hotline: 877-789-6684

WWW.FLAGSHIPCINEMAS.COM
---
Classifieds

28 •

Want to submit a classified?

Email classifieds@mountaintimes.info or call 802-422-2399. The Mountain Times • May 13-19, 2020

Rates are 50 cents per word, per week; free ads are free.

RENTALS

APT FOR RENT Furnished

1 Bedroom $1000, 2

Bedroom $1200, Private

Entrance, 7 miles to Rutland

Medical Center. Beautiful

neighborhood. Photos upon

request. Utilities wifi trash

removal all included. No

smoking, Pets ok ‪(802)770-

8786‬

PITTSFIELD APARTMENT

for rent. Cozy 1 bedroom,

furnished apartment with 3/4

bath, kitchen and living room.

Ideal for one person. No

pets. No laundry. Available

June 1. $650/month includes

heat and hot water. Call Lisa

802-558-3278.

REAL ESTATE

ERA MOUNTAIN Real Estate,

1913 US Rt. 4, Killington—

killingtonvermontrealestate.

com or call one of our real

estate experts for all of your

real estate needs including

Short Term & Long Term

Rentals & Sales. 802-775-

0340.

KILLINGTON PICO

REALTY Our Realtors have

special training in buyer

representation to ensure a

positive buying experience.

Looking to sell? Our unique

marketing plan features your

very own website. 802-422-

3600, KillingtonPicoRealty.

com 2814 Killington Rd.,

Killington. (next to Choices

Restaurant).

PRESTIGE REAL ESTATE

of Killington, 2922 Killington

Rd., Killington. Specializing

in the listing & sales of

Killington Condos, Homes,

& Land. Call 802-422-3923.

prestigekillington.com.

KILLINGTON VALLEY REAL

ESTATE Specializing in the

Killington region for Sales and

Listings for Homes, Condos

& Land as well as Winter

seasonal rentals. Call, email

or stop in. We are the red

farm house located next to the

Wobbly Barn. PO Box 236,

2281 Killington Rd., Killington.

802-422-3610, bret@

killingtonvalleyrealestate.

com.

PEAK PROPERTY GROUP

at KW Vermont. VTproperties.

net. 802-353-1604. Marni@

peakpropertyrealestate.com.

Specializing in homes/condos/

land/commercial/investments.

Representing sellers & buyers

all over Central Vt.

THE PERFORMANCE

GROUP real estate 1810

Killington Rd., Killington. 802-

422-3244 or 800-338-3735,

vthomes.com, email info@

vthomes.com. As the name

implies "We perform for you!"

SKI COUNTRY REAL

ESTATE, 335 Killington Rd.,

Killington. 802-775-5111.

SkiCountryRealEstate.com –

8 agents servicing: Killington,

Bridgewater, Mendon,

Pittsfield, Plymouth,

Stockbridge, Woodstock

areas.Sales & Winter

Seasonal Rentals. Open

Monday-Saturday: 10 am – 4

pm. Sunday by appointment.

SERVICES

BEAUREGARD PAINTING,

30 years experience, 802-

436-1337.

POWER WASHING

SPECIALISTS. Call Jeff

at First Impressions, 802-

558-4609.

FOR SALE

PERENNIALS $3. –Hale

Hollow Road, Bridgewater

Corners, 1 mile off 100A

802-672-3335

CARGO TRAILER- 7x16,

7000lb cargo capacity white

trailer. Great condition, no

rust. $4000 obo. 503-708-

8922

2017 TOYOTA

HIGHLANDER Hybrid for

sale. Tow hitch, roof rack.

75k miles. Great condition!

$28,000 or best offer. Call

Brooke 971-801-5788

FREE

FREE REMOVAL of scrap

metal & car batteries. Matty,

802-353-5617.

FREE PLANTS with

Services. jeff@hgvtpro.

com 802-882-7077

WANTED

HIGHEST PRICES PAID

- Back home in Vermont

and hope to see new and

returning customers for the

purchase, sale and qualified

appraisal of coins, currency,

stamps, precious metals

in any form, old and high

quality watches and time

pieces, sports and historical

items. Free estimates. No

obligation. Member ANA,

APS, NAWCC, New England

Appraisers Association.

Royal Barnard 802-775-

0085.

EMPLOYMENT

NANNY. PART-TIME nanny

to watch one child during

the week, we are located in

Killington. Reach james_

mangion@yahoo.com if you

are interested.

ALPINE BIKE WORKS in

Killington Vermont is seeking

full and part time bicycle

technicians. We are a full

service bicycle shop at the

base of Killington Bike Park

specializing in mountain and

gravel bikes and stock a

large inventory of bikes, parts

and accessories. We offer a

great working environment

with a friendly atmosphere.

Work includes all types

of services, including

bicycle suspension, drive

train, wheels, tires and

brakes. Compensation

relative to experience.

Thinking of relocating?

We can help! Please

send resume to info@

alpinebikeworks.com for

consideration.

EQUAL

HOUSING

OPPORTUNITY

All real estate and rentals

advertising in this newspaper

is subject to the Federal Fair

Housing Act of 1968 as amended

which makes it illegal to advertise

"any preference, limitation or

discrimination based on race,

color, religion, sex, handicap,

family status, national origin,

sexual orientation, or persons

receiving public assistance,

or an intention to make such

preferences, limitation or

discrimination." If you feel you've

been discrimination against, call

HUD at 1-800-669-9777.

EXECUTIVE DIRECTOR

The Housing Trust of Rutland County (HTRC) is

seeking a dynamic and experienced leader to guide

this respected organization to its next level of growth

and development. HTRC's mission is to transform

buildings into quality affordable housing and more,

and to develop relationships to cultivate communities

that thrive. Primary responsibilities will include providing

oversight of day-to-day operations for $45 million

in real estate assets, a $1.3 million annual budget,

and a staff of 16, as well as working with a committed

Board of Directors to develop the strategic direction for

the organization.

The Executive Director position encompasses

a wide variety of duties related to real estate development,

community relations, strategic planning,

financial management and fundraising and revenue

generation. The Director will be expected to ensure

the financial strength of the organization, position

the organization for appropriate growth, and seek

opportunities to strengthen impact. Multiple years

of progressive, senior level management experience

required; nonprofit experience preferred. The successful

candidate will have excellent interpersonal,

management, and analytical skills, experience working

with an active board of directors, as well as the

ability to manage and prioritize competing needs in a

complex organization.

Interested candidates should submit materials via

email to executivesearch@housingrutland.org Only

electronic submissions will be considered. Please

provide a cover letter, including salary requirements,

as well as a current resume, a work-related writing

sample, and three references with contact information.

Only complete applications will be considered.

Applications will be accepted until June 12th, 2020, although

candidates are strongly encouraged to submit

material as soon as possible.

PUZZLES on page 17

>

CROSSWORD PUZZLE

SUDOKU

Housing Trust of Rutland County is an Equal Opportunity

and Affirmative Action Employer and actively

seeks a diverse pool of candidates for this

position.

For All Your Home and

Commercial Petroleum Needs

746-8018 • 1-800-281-8018

Route 100, Pittsfield, VT 05762 • cvoil.com
---
Service Directory

The Mountain Times • May 13-19, 2020 • 29

SERVICE DIRECTORY

GIVE A CALL OR RENT YOUR STORAGE

UNIT ONLINE TODAY!

1723 KILLINGTON ROAD, KILLINGTON, VT

#1 RENTAL AND MANAGEMENT OFFICE

IN KILLINGTON FOR 45+ YEARS

— Cabinets

— Countertops

— Flooring

WATER WELLS

PUMPS

COMPLETE

WATER SYSTEMS

HYDRO FRACKING

GEOTHERMAL

East Poultney, VT 05741

802-287-4016

parkerwaterwells.com

Kitchen and Bath

Design, LLC

— Hardware

— Plumbing Fixtures

— Installation

Kelly & Nick | 802.855.8113

125 Valley View Drive, Mendon, Vermont

kndesigns125@gmail.com

Professional Service, Professional Results

For All Your Plumbing & Heating Needs

Specializing in Home Efficiency & Comfort

24 Hour Emergency Service

(802) 353-0125

WASHBURN & WILSON

AGENCY, INC.

144 Main St. • P.O. Box 77 • Bethel, VT 05032

Providing Insurance for your Home, Auto or Business

Short Term Rentals • High Value Homes

Free Insurance Quotes

Call Mel or Matt 802-234-5188

www.washburnandwilson.com

Renovations, Additions & New Construction

Vision

(802) 342-6026

www.VisionBuildersVt.com

FREE ESTIMATES • FULLY INSURED

ALL CALLS RETURNED

ERIC SCHAMBACH • 36 Years Experience

• Structural

Repairs

• Preventative

Maintenance

• Siding

• Framing

• Decks

- INCREASED RENTAL REVENUE

- PROPERTY MANAGEMENT SERVICES

PRIVATE HOMES AND CONDOS, ASSOCIATIONS

- CONCIERGE SERVICES

FOR OWNERS WHO RENT THEMSELVES

- STEAM CARPET AND UPHOLSTERY CLEANING

KILLINGTONGROUP.COM

KILLINGTON ROAD - (802) 422-2300

RED DUCK

REFUSE RECYCLE

Weekly • Bi-Weekly • Seasonal • Year-Round

802-422-2230

Reliable Service Since 1980

candido electric

residential & light commercial • licensed & insured

office: 802.772.7221

cell: 802.353.8177

frank candido rutland/killington

candidoelectric@yahoo.com

we help you see the light!

DisasterRecoveryInc.com

PITTSFORD, VERMONT

Fully insured and certified

Water Wind Mold Fire

Flood Recovery • Smoke Odor

Elimination • Carpet Cleaning

Mold Remediation • Maid Cleaning

Services • Total Restoration

24 Hour Service

Don't just restore...RECOVER!

Clifford Funeral Home

2 Washington Street • Rutland, VT 05701

(802) 773-3010

Gary H. Clifford • James J. Clifford

coronavirus disinfecting

cleaning and sanitizing using

cdc recommended procedures

businesses * rentals * homes

802-287-1120

www.simplycleanvt.com

Full Service Vape Shop

Humidified Premium Cigars • Hand Blown Glass Pipes

Hookahs & Shisha Roll Your Own Tobacco & Supplies

CBD Products • Smoking Accessories

131 Strongs Avenue Rutland, VT

(802) 775-2552

Call For Shuttle Schedule

Like us on

Facebook!
---
30 • REAL ESTATE

The Mountain Times • May 13-19, 2020

Horoscopes: Clarity comes as Mercury making its way into Gemini, so although we may be in for a major wake-up call, we'll be mentally ready for it.

>

from page 25

significant. With Jupiter and Saturn going

direct at that point, it looks like it will take

close to four months for Saturn to help us

restructure things that have gone totally

awry, and for Jupiter to get us back on

the ball when it comes to knowing what

the truth involves. It's like saying, before

anything can resume in a balanced way,

we have to screw our heads on straight

enough to see what's really going on. With

more than a few heavy-hitting planets and

asteroids making it hard to pull ourselves

together, it's good that Saturn and Jupiter

are hauling back just enough to loan us a

few months to figure out what's what.

When Venus turns retrograde, it basically

gives us a few weeks to examine

what's really at stake in our relationships.

Re: our love life – that piece is always

confusing. Why? Because love is not what

we think it is. As much as we have been

conditioned to believe that it has to look

a certain way, and go a certain way, the

standard prescription does not work for

everyone. What you need from your love

life and what I need from mine never looks

the same. Under the rays of retrograde

Venus it becomes important to restructure

our relationships based on what works

for us, as opposed to the stereotypical

"Barbie and Ken" template for relating.

In addition to this, because Venus governs

love and money, the need to look at

our money issues and put all of that in perspective

is huge right now. The belief that

our money/wealth/abundance comes

from outside of us is entrenched in all of

us. This is a fear based concept; when the

external source of supply disappears or

dries up we automatically freak out, losing

sight of the fact that even though the tide

comes in, and the tide goes out, we are

always swimming in a sea of abundance.

When Venus is retrograde we are called

upon to remember that it is our connection

to spirit that supports and sustains us.

This means that no matter what conditions

we encounter, or what state we find

ourselves in, we know exactly what to do

to take care of ourselves. Overriding the

belief that abundance is externally generated,

we erase the greed for security and

open the space to tap into true wealth. A

need to be open to this perspective is on

the loudspeaker right now – do whatever it

takes to embrace it.

On the day that Venus goes retrograde,

Mars will change signs, moving from

Aquarius to Pisces. Said to be in its "Fall"

in this sign, we'd do well to look at what's

good about Mars in Pisces. If we take Mars

to be about the way we express our energy

and direct our actions, how do you suppose

the warrior archetype will behave

when it's in the sign of the compassionate,

healer, giver?

When Mars moves through Pisces,

the macho-aggressive element that is

intrinsic to this planet takes on a spiritual

vibe, giving birth to "the Spiritual Warrior."

Think of Bruce Lee, think of Kung-Fu, or

even Chuck Norris; there is no weakness

here, not at all. Our actions and the way we

direct our energy need to be infused with

the highest spiritual motivations. It comes

down to gathering our strength from

within so that by the time Mars crosses

the Aries Point on June 29, our fighting

spirit will be fueled by directives from the

Higher Self.

With Mercury on its way into Gemini,

in and around all of the other zodiacal

changes that are taking place, it looks to

Overriding the belief that abundance is externally

generated, we erase the greed for security and

open the space to tap into true wealth.

me like our heads will be clear and open

enough to remain objective to it all. Why

do I say this? Mercury governs our thought

processes. It rules Gemini. The Gemini

archetype makes it easier to wrap our

minds around pretty much anything.

Because we happen to be in the midst of

a global reset, a.k.a. major wake-up call,

we can take comfort in the fact that when

it becomes necessary, we will be mentally

willing, able, and flexible enough to step

out of the box and awaken to whatever the

truth requires of us.

Over the long haul? The upshot of all of

this will roll out through the Fall, culminating

at the Winter Solstice, when Jupiter

and Saturn move into a conjunction at

0 degrees of Aquarius. Jupiter and Saturn

conjunct each other every 20 years. The

last time this aspect took place was in

May of 2000, at the 22nd degree of Taurus.

Twenty-year cycles are important in

the Tropical zodiac, and in the Mayan

calendar as well. The nodes of the Moon

return to the same position during that

time frame. Pluto, the heaviest of the

heavy duty generational planets takes

approximately 20 years to move from one

sign to another. A bunch of significant,

interconnected evolutionary gears are

tuned to phase lock and ratchet us up a

notch in 20-year intervals.

Put simply, the changes that are

building up right now are the end result

of whatever time and experience have

taught us since the millennium. If we

were under the impression that the Age

of Light would kick in back then, or at the

2012 Winter Solstice milestone, we were

putting the cart before the horse, forgetting

that changes of this magnitude take

time.

The way I see it, the charges may have

been set back then, but the fuses took

two decades to spark up and bring the

house down. I could be wrong but my

sense is that the old paradigm, along

with all of the darkness and ignorance

that we associate with it, is on its knees,

and will be gone for good, by Dec. 22,

2020. Let me leave you with that and

invite you to take what you can from this

week's 'scopes.

Real Estate, Real People, REAL

RESULTS

ALISONM C CULLOUGHREALESTATE.COM

29 Center Street, Suite 1 • Downtown Rutland, VT • 802.747.8822

Alison

McCullough

Real Estate

Our Approach

Governor Phil Scott

signed an addendum

to Executive Order

01-20 that institutes

new health and safety

requirement and

provides guidance

to some singleperson

low contact

professional services,

such as Realtors®, to

operate if specified

safety requirements

can be met. The new

order took effect on

Monday, April 20.

Our office will

follow the Vermont

Department of

Health and CDC

guidelines.
---
The Mountain Times • May 13-19, 2020 REAL ESTATE • 31

Grow Your Life in Killington

KILLINGTON VALLEY REAL ESTATE

Bret Williamson, Broker, Owner

Celebrating

30 years!

802.775.5111 • 335 Killington Rd. • Killington, VT 05751

FALL LINE CONDO - SKI HOME & SHUTTLE OUT

• 3BR/3BA beautifully renovated

• End Unit. Panoramic Views!

• New granite, stainless appliances

• Cherry cabinets. Gas fireplace

• On-site: indoor pool

• Furnished & equipped: $299K

MTN GREEN - BLDG 1

THE LODGES - SKI IN & OUT

• 1-LVL 3BR/3BA, Furnished &

equipped, Wash/Dryer, patio

• Gas fplc, gas range, gas heat

• Mud-entry w/ cubbies+bench

• Double vanity, jet tub,

• Common: Indr pool

• End unit, $439K

KILLINGTON CTR INN & SUITES

72 658 Windrift Tanglewood Ridge Road, Drive, Killington Killington $ 575,000 $459,000

This Great unique, private Killington 3 bdrm , location, 3 bath, custom modern stone home, work situated throughout

on the a exterior, wooded heated lot garage, overlooking VT castings nearby wood Pico stove, Mountain hot tub,

Ski open area, floor offers plan and unexpected a large living privacy room with and valley stunning views from the

mountain wall of windows. views.

4552 Prior VT Drive, Route Killington 107, Stockbridge $1,200,000$129,000

Many Exquisitely opportunities detailed Tudor for this style home located in a private minutes 20 acre to I-89

and Killington 20 min location. drive to Spacious Killington. gourmet Excellent kitchen, rental arched history, doorways,

recently high end fixtures, renovated carefully improvements crafted trim and including moldings a new throughout.

standing Truly unique seam property. metal roof, windows, doors, and more.

Mountain 298 Prior Drive, Green, Killington Killington $ 1,2000,000 $149,500

2-bedroom, This 4934 square 2-bath foot, corner exquisitely unit Mtn Green detailed building Tudor 1. Sold style furnished,

home updated is in a class appliances, by itself. outdoor A five pool bedroom views, shuttle home, route &

wood surrounded burning by fireplace. the grandeur Cable, internet, of the plowing, green mountains. refuse removal

and shuttle service included in quarterly fee.

Cricket Hill, $

Lodges, Killington $459,000 555,000

Ski-in, This 4-bedroom, ski-out from this 4-bath 3-bedroom, home with 3-bath inground furnished pool top floor is a

Lodges ten minute unit with drive trail from views Killington of Bear Mountain. Resort with Owners stunning enjoy all

the views Sunrise of Pico amenities Mountain. including The spa, competitively pool, hot tub priced and gym. home,

is being sold furnished.

View all properties @killingtonvalleyrealestate.com

Office 802-422-3610 ext 206 Cell 802-236-1092 bret@killingtonvalleyrealestate.com

NOTE TO READERS:

The Mountain Times is closing its office to the public as of March 18, 2020.

We will continue to cover local news in print as well as online, through

social media and via our newsletter (sign up at mountaintimes.info).

You can also reach us at 422-2399 or editor@mountaintimes.info.

• Shuttle Service

• Furnished & equipped

• OnSite: In&Outdr Pools,

• Whirlpl, Laundry area

• 1BR @ $129K

MTN GREEN – MAIN BLDG (#3)

• 2BR/2BA w/lockout $162K

• STUDIO: $95K

• 1BR Bldg 3! $126K - 150K

• Onsite: Indoor & Outdoor Pools,

Whirlpl, Restaurant, Ski & Gift

Shops, Pilate Studio, Racquetball/basketball;

Shuttle Bus

KILLINGTON GATEWAY- TOP/END UNIT

• furnished & equipped

• gas heat & fplc, tiled kitch &BA flrs

• Cath ceiling w/ sky lt, open flr plan

• Cherry kitchen cabinets, AC

• Covered deck, private ski locker

• 1 BR/1BA: $81K; 2BR/1BA, $125K

JUST OFF KILLINGTON RD

• 4 Oversized BR's, 2.5BA,

4,227 sq.ft.

• 10 person hot tub, laundry room

• Llarge deck & bar room

• Furnished & equipped $599K

• Completely Renovated 2BR/3BA

w/one LOCK-OFF unit

• Stone-faced gas f/plc, W/Dryer

• Tiled floor to ceiling shower

• Outdr Pool. Short walk to shuttle &

to restaurant. Furnished $222K

KILLINGTON TRAIL VIEWS

• 6BR/3BA , 2 acres,

2,600 sq.ft.

• Walk-out lower level

• Detached storage garage

• New septic system

• Furnished & equipped

• $379K

MOUNTAINSIDE DEVELOPMT HOME

• 3 en-suite bedrooms + 4 ½-baths

• Living Rm floor to ceiling stone fplace

• Family gameroom w/ fireplace

• Chef's kitchen,sauna, whirlpl tub

• 3 extra separately deeded lots incl.

• www.109mountainsidedrive.org

• $995K

WINTER VIEWS OF SUPERSTAR!

• On cul-de-sac, great LOCATION!

• 4BR, 2.5BA 3,470 sf, a/conditioning

• Ctl vac, chef's kitch, butler's pantry

• Cedar closet, office, master suite

• 3 car garage, storage, screened porch

• Deck, unfinished basemt,++

$789,500

We sincerely thank local businesses, towns, organizations and individuals for helping

us to cover the news as well as support those efforts financially. As more businesses

close and people are laid off, community support will be more important than ever

for the health of our organization and for all of our neighbors.

To support local journalism, visit mountaintimes.info

Lenore

Bianchi

'tricia

Carter

Meghan

Charlebois

Merisa

Sherman

Pat

Linnemayr

Chris

Bianchi

Katie

McFadden

Over 140 Years Experience in the Killington Region REALTOR

Michelle

Lord

Kerry

Dismuke

MULTIPLE LISTING SERVICE

MLS

®

PEAK

PROPERTY

G R O U P

AT

802.353.1604

VTPROPERTIES.NET

IDEAL PROPERTIES CLOSE TO

KILLINGTON, OKEMO OR WOODSTOCK!

HOMES | CONDOS | LAND

COMMERCIAL INVESTMENT

PRIME DEVELOPMENT OPP

W/7 LOTS FOR HOME SITES

OR TOWNHOMES OF 8 UNITS!

BASE OF THE KILLINGTON RD!

ONE OF THE BEST SPOTS

IN KILLINGTON!

Retail Property 17 acres consists of a

main building w/11,440 sq. ft. on 3 levels

w/elevator. Direct to xcountry trails.

Immediate access to 20 miles of MTN

bike trails on Base Camp

& Sherburne Trails! $1,350,000

RARE OPPORTUNITY! ULTIMATE RETREAT! Ideal Short Term Rental

Property! 27+ acres w/amazing views abutting National Forest Land,

2 spring fed swimming ponds, gazebo w/power & end of road location.

Special property has a main farmhouse, 3 level barn, guest house, an

enchanting seasonal cottage, 3 car detached garage & so much more!

$699K

Marni Rieger

802.353.1604

Tucker A. Lange

303.818.8068

Marni@PeakPropertyRealEstate.com

59 Central Street, Woodstock VT

505 Killington Road, Killington VT

FIRST TIME ON MARKET! SPECIAL GEM!

Minutes to Killington or Okemo. Fabulous Robert

Carl Williams designed home sleeps 18. 4 Ensuites.

Excellent short term rental potential. Being sold

totally furnished. Move in & enjoy! $674,900

STRONG RENTAL INVESTMENT & BUSINESS

OPP CLOSE TO KILLINGTON, SUGARBUSH

& MIDDLEBURY SNOWBOWL! 7 unit property

located in the center of the village in Rochester.

Building is 7,216 sq ft. Main level is a local landmark

& home to the Rochester Café (45 person licensed

restaurant) & Country Store. 3 rental apts onsite,

one which is used as Airbnb. 2 rentable open studio

units. Last unit is rented cold storage space. All the

real estate & business $549,900

ONE OF A KIND PROPERTY MINUTES TO PICO

OR KILLINGTON. Post & Beam home 4bed/ 4 bath

w/ 2 car garage. 2 bed/1 bath apt to rent out for extra

income. 3 level barn, outbuilding w/ heat. Inground

pool & cabana to enjoy in summer months. So close

to skiing & Rutland. Come see. $389,900
---
32 • The Mountain Times • May 13-19, 2020

RRMC Strong