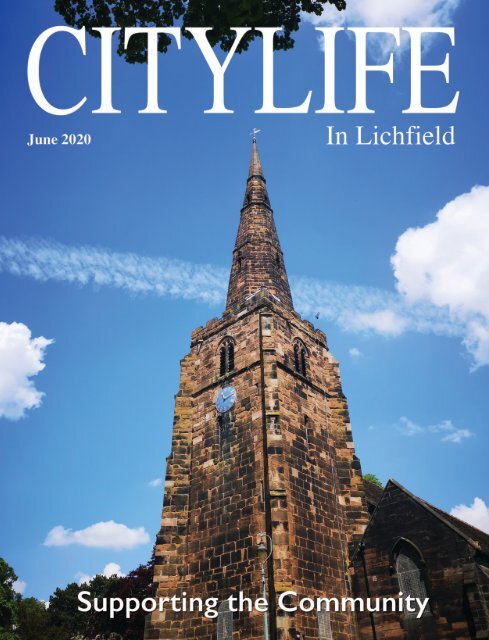 Citylife in Lichfield June 2020
June is with us and the summer is here, our June edition is filled with lots of Lichfield summery sun with our usual mix of features, recipes, articles, competitions and much, much more!
June is with us and the summer is here, our June edition is filled with lots of Lichfield summery sun with our usual mix of features, recipes, articles, competitions and much, much more!
SHOW MORE
SHOW LESS
Create successful ePaper yourself
Turn your PDF publications into a flip-book with our unique Google optimized e-Paper software.
3
---
Welcome to

CITYLIFE

Welcome to CITYLIFE in Lichfield, a monthly magazine

bringing you our pick of the city's news, events and stories.

Each month CITYLIFE in Lichfield is delivered to 18,000

businesses and homes in Lichfield, Kings Bromley, Fradley,

Alrewas, Hill Ridware, Whittington, Stonnall, Shenstone,

Little Aston, Hammerwich, Burntwood and Longdon,

completely free of charge; bringing you the best that the

city has to offer.

Each issue features heritage stories exploring the rich

history of our area, plus competitions, interviews and the

latest in fashion and style.

Got a story or charity event you want to share with our

readership? Think you've snapped an image that captures

the spirit of the city? We want to hear from you!

Our business is bringing you Lichfield's city life.

CITYLIFE Contacts

Editor - Kristen Lackajis 07885 380632

kristencitylife@gmail.com

Features - Jono Oates 07785 757201 jonocitylife@gmail.com

Advertising -

Steve Brown 07740 166497 stevebrowncitylife@gmail.com

Rebecca Hill 07970 513144 rebeccahillcitylife@gmail.com

Inside...

12 Lockdown Sunday Roast

55 Bar on Wade Street tantalises the tastebuds

.............................

16 Father's Day Gift Guide

Take a look at our favourite gifts for Dad

.............................

18 Garden Revamp

A few ways to refresh your garden in lockdown

.............................

22 A History of Gin

Where did our love affair with G&T originate

from?

.............................

34 Lichfield's Cutest Pets

A compilation of your furry friends!

Production - Helen Smith 07967 154187

helencitylife@gmail.com

Citylife In Lichfield Ltd

PO Box 7126 LICHFIELD WS14 4JS

CITYLIFE in Lichfield and CITYLIFE in Rugeley magazines

are not connected to any other publication or publisher, and are

wholly owned by CITYLIFE in Lichfield Ltd.

Citylife In Lichfield

www.citylifeinlichfieldltd.co.uk

Citylife in Lichfield Ltd does not endorse any business or organisation

appearing in these pages, and the publication of any advertisement,

editorial, event listing or advertising editorial does not constitute an

endorsement by Citylife in Lichfield Ltd.

Your Local Magazine
---
Times of

Change for

Cutlery Firm

..........................

CEO Simon Price and son, James.

After the first closure in its 118-year history,

cutlery firm Arthur Price is reporting a change

in the products it is currently selling, illustrating

how life has changed during lockdown. The shops and

factories of this family-owned business remain closed,

but its website is seeing an increase in demand.

Demand not just for everyday cutlery due to more

people spending time at home, but increased sales in its

high-ticket, silver service pieces and more traditional

patterns as many people replicate going out to the pub

or a restaurant around their kitchen or dinner table.

Simon Price, CEO, said: "At the end of March, I'll be

honest, I didn't know what the future held for the

company. We had so many online orders so with lots of

planning, and a very small team of five people we were

able to recently start fulfilling sales will adhering to

strict safety working rules. It is lots of small steps as we

adapt to this new norm, but demand is steadily rising,

and you can see how life has changed over the last

three months just by looking at our cutlery sales."

The business temporarily closed for the first time in

its 118-year history back in March. Started in

Birmingham in October 1902 it has survived two

world wars, the Great Depression and Spanish Flu but,

as a non-essential business, CEO Simon Price, the

fourth generation of the Price family at the helm,

closed the door on 23rd March. Simon together with

his son James are working in their Lichfield warehouse

packing boxes and dispatching orders supported by

three others, compared to a team of normally over

100.

Order direct from www.arthurprice.com. There is

no minimum order and delivery is free.

5
---
LOCAL NEWS

6

Birmingham Road

Works Resume

After temporarily stopping work on Lichfield

District Council's Birmingham Road site, The

Coleman Group resumed work on the key

gateway site on 11th May.

The project to improve the Lichfield site, which

includes the bus station and old police station,

was put on hold due to safety concerns around

the spread of the coronavirus.

Work completed so far includes resurfacing the

bus station and demolishing the police station.

Work picked up where it left off and started

with the removal of the police station

foundations.

The work will be followed with finishing off the

bus station improvements, including refreshing

the bus shelters and adding in new benches and

bins. It will also see the creation of a

replacement 56-space long-stay car park, the

removal of the old bus station shops and toilets,

the installation of new toilets and landscaping of

the area.

To find out more, go to

www.lichfielddc.gov.uk/brsimprovements.

.......................................................................................

Local Lad Runs

for NHS

Instead of the dreaded end of Primary School

tests, a local Rugeley lad had his mind, and legs,

set on raising funds for the NHS.

Eleven-year-old Otto Homer, decided to help

raise funds to help the NHS during the current

Covid-19 pandemic. He set up a make-shift

donation box outside his house which filled up

rapidly with donations from residents of his

Etchinghill street and passers-by.

On Saturday 9th May Otto, who attends

Lichfield Cathedral School, ran up and down his

street for one hour, non-stop, cheered on by his

family and neighbours, raising more than £250!

Every year, pupils from Lichfield Cathedral

School in Years 5 and 6, as part of the school's

Ethical Leadership Programme, are encouraged

to develop a social responsibility where acts of

kindness are an everyday normality. This year

pupils were challenged to come up with their

own unique ways of raising funds.

From doing jobs round the house, to

sponsored events and bake sales! To find out

more and donate, please visit

www.justgiving.com/fundraising/y5and6charityd

ay. All money goes directly to the NHS

charities.

.......................................................................................

Running to

Support Lives

Selfies from the runners

On Sunday 19th April, more than 90 runners

from Chasewater Running Club took part in an

Ultra Marathon relay, around their local streets

and gardens, in aid of the charity 'Our Blue

Light'. The virtual baton was passed by each

runner who posted a selfie after completing

their leg of the relay.

Adhering to government guidelines and

restrictions, each runner ran for 15 minutes,

along a route that was close to home, or even

laps of their garden.

The relay took place between 07.30am and

8pm, with many of the 15 minute slots being

occupied by two or even three runners, who

each took part from their homes.

In just over 12 hours, the runners covered

128.5 miles, equivalent to almost five full

marathons. In total, the virtual relay raised an

incredible £1,815 for the charity, which

supports the mental health and well-being of

emergency service and essential workers.

.......................................................................................

Gardening

Competition Winner

The lucky winner of the gardening essentials kit

from Brookside Nursery in our April edition

was Damion Rice. Damion recently received

the kit and was delighted with it as, in the

current lockdown situation, he is going to spend

a lot of time in the garden this summer, growing

vegetables with the help of the children.

Daughters Ada and Emmy are pictured with the

gardening prizes, getting ready to do lots of

digging and planting!

Our thanks to Brookside Nursery, based in

Hints, for the prize. For more information about

the garden centre, visit

www.brooksidenursery.co.uk.

.......................................................................................

Chairman's Charity

Donation

In his year in office,

Lichfield District

Council's Chairman has

raised funds for his

chosen charity,

Lichfield Foodbank.

Although he couldn't

give the money to

Lichfield Foodbank in

person, Councillor Joe

Powell was keen to

donate the money now to help support the

charity's valuable work.

To find out more about Lichfield Foodbank, visit

www.lichfield.foodbank.org.uk.
---
7
---
LOCAL NEWS

Canal Bench Donated

to People of Lichfield

Beacon Park Tennis

Court Refurb

When the coronavirus lockdown finally

ends, visitors to the Lichfield Canal will be

able to rest on a new bench donated by a

former city resident.

A plaque on the bench, which is sited on

the Gallows Reach section between

London Road and Cricket Lane, reads: "For

the people of Lichfield with thanks to all

who worked selflessly to restore the canal.

Donated by John Hayfield."

John now lives in the Cotswolds but

remembers with great affection the central

role the canal played in his childhood, even

though it had been abandoned almost ten

years before.

He said: "We lived at 35 London Road - so

many an hour was spent down by the

canal.

"Lichfield is full of memories for me. I hope

the bench will be enjoyed as a place for

rest and peaceful reflection."

The benches on the Lichfield Canal

Heritage Towpath Trail are made by

Lichfield and Hatherton Canals

Restoration Trust volunteer, Tony

Cadwallader.

Information on how to donate a bench can

be found at the Trust's online shop at

www.lhcrt.org.uk.

.......................................................................................

£10k Secured for

Burntwood Town

Ecosystems

Lichfield District Council is celebrating

after its funding bid to the Greater

Birmingham & Solihull Local Enterprise

Partnership (GBSLEP) was successful.

The money, which comes from the Towns

and Local Centres Fund, will be used to

fund research to understand the strengths

8

Burntwood miner and pit pony, scamp

and opportunities of Burntwood town

centre and its relationship with

neighbouring urban centres.

Burntwood residents, businesses and

stakeholders will be asked to feed into the

research, which is set to take place over

the summer months.

.......................................................................................

The Show Must

Go On!

Lichfield Garrick will set sail to Neverland

with the swashbuckling Pantomime

adventure, Peter Pan, later this year. In

advance of the performance, Lichfield

Garrick is searching for young local

performers to join the lost boys, on their

adventures in the magical world,

Neverland.

The Young Company is an integral part of

this and The Garrick looks forward to

working with some of the most talented

young performers in the area.

The company is looking for girls between

the ages of 8-13 (under 5ft 4) and boys

between the ages of 9-15 with strong

acting and some movement skills, though

previous stage experience is not essential.

Due to government regulations regarding

COVID-19, The Garrick will be conducting

auditions in a different way than in the past.

This year it is inviting applicants to submit

videos as their audition.

Please visit www.lichfieldgarrick.com/getinvolved/juvenile-cast-2020/

for more

information, including a video audition

guide and application form. All audition

videos and application forms must be sent

to education@lichfieldgarrick.com by

Sunday 7th June.

All Juvenile audition videos submitted to

the theatre will be held securely on its

network, they will only be shown to

members of staff or creative staff that it is

deemed necessary by the Theatre's

Safeguarding Team to do so.

The first phase of Beacon Park's tennis

courts refurbishment was completed in

May, after Lichfield District Council and

Beacon Park Tennis CIO agreed a 21-year

lease of the city's four community tennis

courts.

The new lease means the charity can focus

on improving the facilities and encouraging

more people to play tennis and netball

more often, after taking over the

management of the facility.

Beacon Park Tennis CIO was formed to

step in and help rescue the courts, raising

the necessary funds to resurface the four

tennis and netball courts and add new

floodlighting to help extend play

throughout the year.

The charity has teamed up with HS2, Sport

England, the LTA, Lichfield Spires Netball

Club and Lichfield District Council to help

raise the £208,000 needed for the project.

Diggers moved in for the first phase of the

refurbishment work on Monday 11th May,

which includes creating new foundations

and resurfacing the four tennis courts. This

will be followed by phase two, which will

see new floodlighting installed.

Lichfield Spires Netball Club helped boost

the charity's coffers when it staged a 12-

hour 'netball-a-thon' and raised £2,600

earlier in the year.

To find out more about Beacon Park

Tennis, visit

www.facebook.com/beaconparktennis.
---
Advertising Feature

Are you concerned about Life Assurance

or Critical Illness cover?

In these very difficult times do you have the correct amount of life assurance or critical illness cover?

If you died would your mortgage get paid? Would your loved ones be protected financially if you were gone?

Have you got Critical Illness cover to protect you? Do you think you need it?

Would you like a free protection quote from a local professional?

Do you think that insurance is expensive? Ask yourself "can you afford not to have it?"

I feel that effective Financial Planning is about knowing your Clients and them knowing about you. There is no one size fits all approach and

all Clients are unique with differing circumstances, needs and requirements.

If you become a client I will find out enough about you to provide you with effective financial planning. I will speak in clear terms and do

my best to try and help you achieve your

goals.

Usually you can visit our office in

Shenstone or I can visit you at home to

discuss your financial needs which could

include Pensions, Investments, Savings,

Protection and Inheritance Tax. At the

moment, given the current circumstances,

I can arrange a telephone call or online

meeting if you prefer. The first

appointment will be at my cost and there

is no obligation to proceed any further.

Any future costs will be explained and

agreed with you before any work is

carried out on your behalf.

As part of the process I will carry out a

full fact find of your circumstances and

discuss with you your priorities, where

you want to be financially in the future

and how I may be able to help you get

there.

I am a member of a fourteen strong

Financial Adviser team at Four Oaks

Financial Services and am supported by

in-house research, client liaison and

administration teams.

As an experienced and fully qualified

Financial Adviser I work with clients to

help them achieve their financial goals. My

clients are mainly in the Burntwood,

Lichfield, Cannock and greater

Wolverhampton areas, although I do have

clients much further afield.

At Four Oaks Financial Services we

advise our clients on a range of

investments and are very proud to have

their trust and confidence to do so.

It is often said that people deal with

people so please give me a call or drop

me an email. We can have a chat and can

take it from there if you wish.

I hope to hear from you soon.

Robin Place DipFA, CeLTCI,

MLIBF

Financial Adviser

0121 323 2070, 07968 504805

robin@fouroaksfs.com

9
---
LOCAL NEWS

Gold Award for

Council

Lichfield District Council has won a gold

achievement award in recognition of the

way it manages its address information

database.

The Exemplar Awards, held by GeoPlace,

celebrate excellence in service delivery

that has been enabled through local

government address and street

information.

The gold award for address data is given to

local authorities that have achieved the

highest standard in national tests on data

excellence, and the supply of regular

updates to the national hub, which

manages address data from all authorities

in England and Wales.

The gold award is only given to local

authorities that have consistently reached

and maintained the highest standards in

national tests on data excellence.

.......................................................................................

Cathedral Celebrates

Nightingale's Legacy

A moving artwork for International

Nurses Day on 12th May highlighted the

anniversary of Florence Nightingale's 200th

birthday as it was projected onto the

façades of Lichfield Cathedral and Stanford

10

Hall, the Defence Medical Rehabilitation

Centre in Nottinghamshire.

Defence Medical Services, Lichfield

Cathedral and Luxmuralis Artistic

collaboration, Peter Walker and David

Harper, came together to pay this tribute,

highlighting the immeasurable contribution

of nurses in civic and military life.

Inspired by the legacy of Florence

Nightingale the founder of modern nursing,

who was nicknamed 'the Lady of the Lamp',

the moving projections and original

accompanying music are designed as a

thank you to generations of nurses from

past to the present day.

Florence Nightingale pioneered many of

the nursing practices in use at hospitals

today, and her role in military nursing

established 150 years of compassion, care

and hope for those on the front line. The

Defence and National Rehabilitation

Centre opened in 2018 and continues in

the tradition of Florence Nightingale to the

present day.

.......................................................................................

Foodbank is

Here to Help

Lichfield Foodbank is asking the

community to share the message that they

are open and here to help anyone

struggling to afford food in the current

crisis.

The volunteer-run charity, which has been

supporting people in need in the city and

surrounding areas for more than six years,

has already fed five times more people

since the start of the coronavirus

pandemic than in the same period last year.

The foodbank provides a balanced package

of food for three days, plus a voucher for

each household member, redeemable at

Riley's Greengrocers where it can be

exchanged for fresh fruit and veg, fresh

milk and bread.

Anyone needing support can call the

national Citizens Advice Helpline on 0808

208 2138 or call the foodbank on 07913

563901, or email

clientvoucher@lichfield.foodbank.org.uk

for a code number to take to a session and

collect a food package. Sessions are held

on Tuesdays 10am - 12 noon and

Wednesdays 1pm - 3pm at Life Church,

Netherstowe and on Fridays 12.30pm -

2.30pm at Wade Street Church.

For more information on how you can

donate food visit

www.lichfield.foodbank.org.uk or follow

the Foodbank on Facebook and Twitter.

.......................................................................................

Giving Back to the

Community

Trish Mellor, Co-Chairman &Treasurer, Cannock

Friends of St Giles with items generously donated

by Newlife Charity

Life at St Giles Hospice has obviously

changed over recent weeks, a major

difference being that families can sadly not

visit the hospice at present. As well as

adding to the emotional stress, this also

provides practical difficulties. Prior to

Covid-19, patient families would provide

nightclothes and take laundry home for

washing. It is no longer possible for this to

happen: all laundry is now done on-site and

many patients, particularly those admitted

from hospital, have no change of clothes.

St Giles had used up all of its stock but

Cannock-based Newlife Charity and

Cannock Friends of St Giles came to the

rescue in May, with four crates of

nightwear being provided from Newlife,

including nightdresses, dressing gowns,

underwear, slippers and pyjamas suitable

for men and women of all ages.

St Giles has launched Katie's Appeal for its

key workers working during these

extremely uncertain times and anyone

who wishes to can donate at

www.stgileshospice.com/katie'sappeal. A

gift of as little as £5 could pay for meals for

a patient at the end of their life.
---
11
---
Dining Review

55 Bar

Delicious Lockdown

Sunday Roast!

...................

Whilst in lockdown, we've been

sampling some of our favourite

restaurant's takeaway menus.

This month, director Helen enjoyed a

Sunday roast from 55 Bar, located on Wade

Street, Lichfield.

I have to admit this is the first time I have

eaten food from 55 Bar Wade Street and

due to Covid-19 we decided to give their

takeaway Sunday roast a try. I booked in as

soon as I could as they do get booked up

quite fast - all it took was a simple Facebook

message (you can call too) and my order

was placed and a time given for me to pop

along and collect. We received fantastic

service, with safe, social distancing and

contactless delivery adhered to, and all food

securely boxed and organised.

We had opted for the family roast – the

star of the show being a slow-roasted,

succulent, whole garlic and thyme roast

chicken! Cooked to perfection, the meat

just fell off the bone, and it was served with

all the trimmings, including a mouthwatering

selection of roast and creamy

mashed potatoes, seasonal vegetables, honey

roasted carrots, gratin cauliflower cheese,

homemade Yorkshire pudding and red wine

pan gravy.

Now I love our Sunday roasts and believe

me this really hit the spot, in fact this is one

of the best (if not the best) we have had, all

cooked by the super talented Chef Tom

Astle.

12

If, like me, you get

hungry and are

worried about

portion size - don't

be! There is plenty

of food to fill even

the most ravenous

of people!

After an hour's 'rest' we dove into the

puddings. I went for the sticky toffee

pudding and custard and my partner had the

elderflower gin cheesecake. These were the

perfect, sweet end to a fantastic meal and

did not disappoint.

Currently, 55 Bar is also doing two

cocktails for just £10 so to put us in the

holiday mood we also opted for two

cocktails, these being a 'Floss and Gloss' and

a 'Double-Blush' cocktail, which we enjoyed

sat in the garden on our 'staycation'.

If you are missing your usual sit-down

restaurant meal, I would highly recommend

55 Bar Wade Street for their delicious and

varied takeaway menu. The customer

service, quality of food and drink, and food

preparation is exactly the same as dining-in

– truly perfect!

Take a look at 55 Bar on Facebook, where

you can also view the menu (including a

children's menu). Payment is via debit/credit

card and orders can be made over the

phone by calling 07753 977064 or via

Facebook. Sunday serving times are 12pm till

5pm so please order in advance so save

disappointment.

55 Wade Street, Lichfield,

WS13 6HL.

Tel: 07753

977064

www.55wadestreet.com
---
The Good,

The Bad and

The Ugly

..........................

While celebrating the local artwork in

support of the NHS and key workers,

Lichfield District Council's community

safety team is also aware of a growing number of flytipping

incidents and reports of graffiti.

Since lockdown began, the district has seen some

wonderful artistic expression by youngsters at home

with their parents creating rainbow paintings, which

are being displayed in thousands of windows across

villages, towns and the city.

This show of solidarity and support for frontline

workers is 'good'. However, where there is good

unfortunately you also get the 'bad', which is when

rubbish is dumped on local lanes, beauty spots and

private land.

The shared waste service for Lichfield and Tamworth

has continued to run a full waste and recycling service,

where other local authorities have cut back. The

council's grounds maintenance, street cleansing and

parks teams have also been continuing to keep the

district tidy despite lockdown. This is something to be

applauded and is helping to keep some normality in

these difficult times.

Unfortunately, there is also the 'ugly', which is graffiti

defacing many areas of the district. Like fly-tipping, it is

illegal and costly to remove.

The council's community safety team, working with

Staffordshire Police, is especially interested in stopping

someone who has spray painted the tag 'LÖKM' across

the Lichfield city.

If you have any information about graffiti or any

other environmental crime in the district, such as flytipping,

please report it to the council at

www.lichfielddc.gov.uk/report.

13
---
14

Record Sales for

Lichfield

Auctioneer

By Alex Keller

....................

Richard Winterton Auctioneers has achieved record

sales as business adapts to the coronavirus landscape

with two safe, online-only auctions.

The Lichfield family firm has revolutionised its business due to

coronavirus in order to operate safely.

A range of contactless, free, specialist valuations for jewellery,

watches and antiques plus COVID-19 secure options for house

clearances, consignments and collections are now available – for

details, please see our advert on page 15.

Sales at The Lichfield Auction Centre now take place behind

closed doors with strict social distancing measures for staff in

place.

The Fine Arts & Specialist Sale achieved a 91.5 per cent selling

rate with 2,726 registered online bidders.

Highlights included the Peter McAleese SAS medals collection

selling for £25,000 and a stunning sapphire necklet (photo

attached) which fetched £32,000.

The Michael Gilbery Collection of paintings and sketches

exceeded £35,000 with a self-portrait of the artist making

£10,700.

"There were terrific results in all categories, from jewellery,

watches and silver to stamps, comics, cameras and whisky," said

auctioneer Richard Winterton.

This fabulous sapphire necklet sold for

£32,000 in the Lichfield Fine Arts auction,

the first taking place entirely behind

closed doors. Left: The moment Richard

Winterton brought down the hammer

Tom Winterton achieved excellent prices for brown

furniture in the online-only Three Day Sale

"Hot on the heels of the Fine Art came our Three Day Sale on

May 19-21, again held entirely behind closed doors and with strict

social distancing measures in place.

"With 1,349 lots entered and 1,301 sold, a 96.4 per cent selling

rate was achieved with an average price of £116 per lot.

"All the hard work and meticulous planning paid off as we

smashed our Three Day Sale record, breaking the £150,000

bracket and attracting 2,742 bidders from around the world."

Highlights included a collection of military watches fetching

£2,000, a stamps section totalling £4,000 and a specialist

technology section making £7,200.

"We also saw the strongest demand for brown furniture we've

seen for a number of years," added Richard.

"We have evolved to operate totally differently yet our results

are better than ever. Safety of staff and clients is our number one

concern and we are taking every precaution in order to ensure

we can still offer a valuable service to people across Lichfield."

New online-only Antiques & Home Sales begin on Monday, June

15, with another on Monday, June 22, and again on Monday, June

29, starting at 10am on all days.

Upcoming auctions include a sale of steam and hand-built

vehicles set to make thousands, a collection of Roman artefacts

and the important house contents of a large country estate.

Visit www.richardwinterton.co.uk, telephone 01543 251081

and email office@richardwinterton.co.uk.
---
15
---
Perfect Gifts

for Dad!

........................

This Father's Day is on 21st June - why not treat Dad to something

extra-special that he can enjoy whilst in lockdown?

£219.99

Makita 18V Li-ion Cordless Combi Drill

& Impact Driver Twin Pack

(comes with 2 batteries)

Price - £219.99

Available from Tippers, Lichfield

www.tippers.com

£89

from

£24.95

£189

This handmade silver plated brandy warmer

and glass is a stylish contemporary design of

a real old favourite. Let the tealight candle

gently warm the brandy to create the

perfect tipple for any time of year. Available

from Arthur Price, Britannia Way, Lichfield

www.arthurprice.com

Make a statement with a beautiful Liberty print

tie (in pure silk and cotton). Available from

Michael's Menswear, Market Street, Lichfield.

Sterling Silver Solid 'Weave' Torque Bangle.

Available from Allen Brown Jewellery located at

Heart of the Country Shopping Village, Swinfen,

Lichfield, WS14 9QR

www.allenbrownjewellery.co.uk 01543 481 948

£42

from

£49.95

£83

16

Dark Brown Leather and Stainless Steel

Wrap Around Bracelet. Available from Allen

Brown Jewellery located at Heart of the Country

Shopping Village, Swinfen, Lichfield, WS14 9QR

www.allenbrownjewellery.co.uk 01543 481 948

Leather, Stainless Steel and Carbon Fibre

Gents Necklace. Available from Allen Brown

Jewellery located at Heart of the Country

Shopping Village, Swinfen, Lichfield, WS14 9QR.

www.allenbrownjewellery.co.uk 01543 481 948

Jazzy, funky-patterned shirts are the latest

fashion trend for the summer months!

Available from Michael's Menswear, Market

Street, Lichfield.
---
Support Your Local Air Ambulance

..............................................................

D

espite the lockdown and necessary social distancing in place, demand for Midlands Air Ambulance Charity's rapid response prehospital

emergency service has not faltered, and the charity needs your help to remain operational.

Up to ten people each day in the area require swift medical intervention following a traumatic incident, such as a road traffic collision,

equine accident, or fall, or a medical episode including cardiac arrest, heart attack and stroke. Yet, with fundraisers and events having

to be cancelled, the clinical team requires your support as the service's missions are entirely funded by charitable donations.

There are a number of ways to get involved, including playing the charity's Lifesaving Lottery. For just £1 per week, you could win

£1,000. Alternatively becoming a regular or one-off donor helps future-proof this vitally important service.

Find out more about Midlands Air Ambulance Charity at www.midlandsairambulance.com/donatenow and follow the organisation

on social media.

17
---
18

Lockdown

Garden Revamp!

...........................

With a lot of us being furloughed or

working from home, coupled with the

exceptional weather we are

experiencing, means one thing… plenty of time in

the garden! And with a little extra time on our

hands, what better way to spend it than by

revamping your beautiful outdoor space? We've

got a few ways you can inexpensively transform

your garden into an alfresco paradise!

1) Add some colour

It's a quite fix that brings instant colour and

life to a garden. If you have soil borders you

can purchase some beautiful shrubs and

bedding plants from your local garden centre

(as most are now open to the public again). If

you don't have any flower beds, pots, tubs and

hanging baskets are a great way to add

greenery.

2) Comfortable living

If you're planning on spending more time

relaxing in your garden, then it could be time

to chuck out the tired, worn plastic table and

chairs that you've had for years! There are

some really nice and affordably priced bistro

and patio sets on the market at the moment,

with corner rattan sets being a particularly hot

trend this summer. Choose muted neutral

shades of grey or cream to add a touch of

Mediterranean sophistication to your living

area.

3) A lick of paint

There is nothing that smartens up a garden

more quickly than a paint job! Fence panels

and sheds will benefit greatly from a coat or

two of protection and it gives your garden an

instant fresh feel. There's plenty of colours to

choose from – you can keep it traditional by

opting for a dark brown stain, but why not try

the latest look which is a charcoal grey? Or

you could even opt for something a little more

flamboyant such as a deep purple or green!

4) Water water everywhere!

A water feature not only looks great, but it

provides a gentle trickle reminiscent of lying by

a woodland spring and soaking up the

sunshine! If you're thinking it's too much hassle

to install a water feature, you'd be wrong!
---
Nowadays they require no plumbing or water

supply as many are solar powered and simply

run in the sun! They're quick and easy to set

up and require little to no maintenance at all.

5) Outdoor dining

We all love a barbecue – there's something

about cooking in the great outdoors that

really gets us feeling at one with nature. And

now is the perfect time to think about

investing in a good, sturdy 'barbie' to see you

through the hot, long summer we're surely

expecting! There's a range of options, from

the less-expensive coal-fired kettle

barbecues, to gas-powered monsters, or why

not even get creative and design your own

brick-built barbecue/pizza oven? Family

mealtimes will never be the same again!

19
---
Advertising Feature

Alfresco Living!

...........................

Get the look with these fantastic

outdoor items, all available from

Tippers, Europa Way, Lichfield.

www.tippers.com

Weber Smokefire EX6 GBS Wood Fired Pellet Grill, priced at

£1,449 inc VAT.

With a large area of dual cooking space, this BBQ is designed to

distribute heat evenly across the cooking area. Searing as well as

smoking the unique Weber porcelain enamel finish helps prevent

cracking and rusting!

Weber Smokey Joe Premium, priced at £72.99 inc VAT.

With superb cooking ability, as well as the ultimate in

portability, this unique take on the traditional kettle

barbecue is the perfect companion to those long summer

days out!

Anglia Range in Blanco 605mm x 605mm, priced at £39.85 per m2 inc VAT.

This stylish paving is perfect for revamping your patio or outdoor space and creating

something truly unique.

20
---
21
---
22

Juniper &

Monks

A History

of Gin

By Jono Oates

....................

There's nothing better on a warm summer evening

than sitting in the garden sipping a refreshing

glass of gin and tonic. Gin has, in recent times,

become more and more popular and is now, once

again, one of the nation's favourite drinks – but

where did our everlasting love affair with a good old

G&T begin?

In the 1st century AD a Greek physician called Pedanius

Dioscoride mixed juniper berries with wine to create a

herbal medicine which was supposed to soothe chesty

coughs and ailments. In the 11th century Benedictine

Monks in Italy also produced a juniper berry and tonic

wine mix.

By the 17th century the forerunner of today's gin was

introduced in Holland, where they mixed juniper berries

with a malt wine, mainly to help sweeten the taste of the

sour wine. The mixture was called genever, and then

jenever, and was introduced into Britain at the time of

King William III, formerly William of Orange. It was said

that the British got so drunk on this new liquor that they

could not pronounce the full name due to slurring and

the name was shortened to the much easier to

pronounce: gin! During the Anglo-Dutch Wars in the 17th

century the English troops had seen the Dutch soldiers

drinking jenever and had been very impressed with their

fighting prowess, seemingly improved by a tot or two of

gin, and this is where the term 'Dutch Courage' comes

from.

During the 18th century, the Georgian period, the

country became obsessed with drinking gin to excess,

helped by its cost which was much cheaper than beer.

This resulted in the grotesque and disturbing etchings by

the artist William

Hogarth in 1751,

showing the

comparative calm

of 'Beer Street'

compared to the

murderous chaos

of 'Gin Lane',

including the

image of the

heavily drunken

mother dangling

her baby over a

flight of steps. This

resulted in the

Gin Act of 1751

where taxes on

gin were raised

significantly and

licenses to sell it

were made

harder to acquire.

During the late

20th century gin

had become

unfashionable but,

in the last 20 years it has made a significant return and

there are now a wide variety of distillers and a colourful

range of standard and flavour infused gins, all

accompanied by carefully selected tonics to suit each

variety.

For my early evening treat I chose the flavoursome,

locally produced, Fifth Spire Gin. The company was

started by two friends, Tom and Rory, initially from Tom's

spare room! They now have a gin and cocktail bar on

Swan Road, called The Spirit Works. Their gin is produced

using two copper stills, one filled with junipers,

peppercorns and coriander and the other is loaded with

citrus fruits – lemon, lime and grapefruit. I selected a

suitable bottle of tonic to go with it, added a sprinkling of

black peppercorns to depth, a line of green olives, a slice

of lime and finally a handful of ice cubes. It is a traditional

gin, with no extra infusions or add-ons, but is a glorious

drink, with a strong and positive flavour, and the citrus

fruits are definitely in evidence, giving it a tangy, but not

tart, taste.

It seems Britain, and Lichfield, has fallen back in love

with gin… and long may that continue!

Fifth Spire Gin, and other cocktails, is currently available

for home delivery via www.thespritworks.co.uk or email

for further information at orders@thespiritworks.co.uk.
---
23
---
Tastes of the Season

Well here we are still in lockdown

and the world is baking. Even with

a catering business I'm still

struggling to get flour and light

muscavado sugar which makes life

difficult. We are having to learn to

adapt as in the war years but

sometimes that can give us better

skills and a chance to experiment.

The setback is that baking is more

of a science than savoury cookery

which is much more forgiving as

far as quantities, ingredients and

temperatures are concerned.

As most children are still currently

at home, I'm giving a couple of

easy recipes that the children can

join in with and develop their skills

in the kitchen.

Baklava

200gms butter

100gms pistachios

100gms macadamia nuts

50gms walnuts

50gms pecan nuts

3tbsp honey

1 x pack filo pastry

Pinch cinnamon

Method

Melt the butter either in a

microwave or a pan. Take a sheet

of filo, lay it on a baking sheet and

brush with the butter. Lay another

on the top and brush again. Repeat

until you have 5 sheets.

Chop the nuts or whizz in a food

processor but only until chopped

Sweet Treats!

By Simon Smith

not blitzed. Mix with the honey

and cinnamon. Put this mix onto

the filo pastry and roll like a

sausage roll. Bake in a preheated

oven at 180 for 15 minutes or until

the pastry is golden. When cold

slice and serve. For a bit of added

luxury I serve with mascarpone

and pomegranate seeds.

Jam Roly Poly

This is a long

time

favourite and

one I had to

make for a

dinner in the

trenches at

Whittington

for the officer's mess.

200gms self-raising flour

100gms shredded suet

1tbsp caster sugar

150ml milk

7tbsp raspberry jam

Pinch salt

Method

Mix the flour, suet and salt

together in a bowl. Add the milk

and knead together. Put on a

floured surface and gently knead

for a further 3 minutes. Roll into a

rectangle and put onto some

baking parchment on a baking tray.

Spread with the jam and roll up

like a Swiss roll. Turn so the joint

seam is at the bottom to hold it

together. Bake in a preheated oven

at 180 for 35 minutes. Serve with

custard.

Simon Smith runs a catering business

from his production kitchen in

Lichfield, providing bespoke private

dinners plus wedding, corporate and

event catering. Simon also undertakes

cookery demonstrations around the

country and with local businesses such

as Arthur Price and Tippers. During the

summer months Simon works for

private clients both on superyachts

and in villas in St Tropez and Europe. If

you are looking for catering or a day of

cookery skills go to www.simonsmithchef.com

*Please take extra care when

preparing and handling hot foodstuffs.

Go to www.food.gov.uk for further

details.

24
---
A Green Sweep

................................

Friendly and dedicated is our ultimate cleaning mantra. From domestic to

commercial cleaning, at Green Sweep we only use natural products and

provide a highly-trained, fully-vetted team, armed with that "can do"

attitude.
---
Postcards

from the

Past

All postcards are from Jono

Oates' private collection

Bore Street. Many of the buildings are very familiar here, on the right hand-side

the Guildhall, Tudor of Lichfield and the George IV pub. On the left is the pub

sign of the old Goats Head pub, now Barclays Bank and beyond it the shop sign

of the Lichfield branch of the Walsall and District Co-operative, which is now the

White Stuff shop.

Market Place and Dam Street. The building with the glass atrium on

the top was a large department store, the buildings were demolished

in the 1970s, and are now the NatWest and HSBC banks. To the right

you can see a butcher's boy standing outside Hall's the butchers, which

is now the Superdrug store, the bull's head carvings are still on the

shop front, showing its former use.

Market Place and Market Street. This shows the other side of the

Market Square. The department store, D.H.Williams, can be seen again,

and on the left is the statue of Samuel Johnson which, at the time, was

surrounded by railings, and behind it the Samuel Johnson Birthplace

Museum.

Sandford Street. Looking towards Bird Street, to the left is the

Old Brewery and the Royal Oak Inn. The buildings on the right

are much changed today but at the bottom of the street is the

George Hotel on Bird Street.

26

Market Street. Looking towards Bird Street, with the Johnson

Museum on the left. Beyond the museum is Meachams, a printer and

stationers, it is now The Bureau bar and brasserie. On the right is

Samuel Wood's shop, a tobacconists, which then became another

tobacconists, B.T.Redington, today it is Jennie B's wool shop. Beyond

that is Frisby's, a branch of a large chain of shoe and boot shops, who

started in Leicester but had branches all across the Midlands, the store

is now the Dorothy Perkins clothes shop.
---
Domestic

Abuse

Services See

Referral

Increase

...............................

The number of domestic abuse victims making contact

with specialist support services has increased following

the launch of an awareness campaign last month.

The #YouAreNotAlone campaign, funded by the

Staffordshire Commissioner, driven by Staffordshire Police

and supported by victims' services, depicts the signs of abuse

and signposts local services to reassure victims and

perpetrators that services are still available during the

Coronavirus pandemic.

Since the campaign's launch on 21 April, there has been a 12

percent increase in the number of referrals into domestic

abuse victim support providers, in comparison to the same

four-week period last year*.

New Era provides free, confidential help and practical

support to anyone affected by domestic abuse, here in

Lichfield and throughout the rest of Staffordshire and Stokeon-Trent.

Commissioned in October 2018 by the Staffordshire

Commissioner for police, fire and rescue and crime along

with Staffordshire County Council and Stoke-on-Trent City

Council, New Era supports victims of domestic abuse, their

families as well as perpetrators of domestic abuse who want

support to change their behaviour.

New Era's support for victims is provided by Victim Support,

while our services for people who want help to change their

behaviour are provided by the Reducing Reoffending

Partnership.

If you're in an unhealthy relationship or experiencing

domestic abuse – or know someone who is - having the

courage to speak out can be extremely hard but it's really

important that you do seek the right help, and as soon as

possible.

You can contact New Era directly yourself via the helpline,

email or 24-hour live webchat chat.

People can also be referred to New Era for support by a

third party, such as a teacher, or a social worker or a police

officer.

New Era contact details:

www.new-era.uk

Email: new-era@victimsupport.org.uk

24-hour victim helpline: 0300 303 3778.

24-hour live webchat for victims via our website: www.newera.uk

Instagram: @newerastaff

Twitter: @newerahelp

If you want support to change your behaviour, ring 01785

601690 during offices hours, Monday to Friday.

27
---
C is for Creativity

...................................................................

Cis also for Camera, and in these times of restricted movement, a

camera is a great way to discover how creative you can be. It's

also a great way to keep younger members of your family

occupied on rainy days, and sunny ones too if they are stuck for ideas.

Fortunately, most people have easy access to a camera these days; the

one in your phone is ideal. Read on to discover some ideas for using it.

You'd be forgiven for thinking photography was just pressing a button.

In fact, it is more think-and-shoot than point-and-shoot. As you'll

discover, what comes before and after the button pressing is where the

fun starts.

One thing to keep in mind when you are taking photographs is that

you don't see what your camera sees. This is because we tend to filter

things out in our minds. Your intention might be to photograph a vase of

flowers, but what the camera records are the vase of flowers, the table

it's sitting on, and whatever is in the background.

Now that's not necessarily a problem, but by paying attention to

everything in the camera frame, you have a chance to avoid things that

might spoil the photo. Stuff like that basket of washing by the sink, or

some distracting poster on the wall. And of course, you can avoid the

telegraph pole growing out of Grandma's head in your holiday snaps if

you spot it before pressing the button. Think-and-shoot pays dividends.

So, what sort of things can you find to photograph?

How about:

• your pets,

• flowers, in a vase or growing in the garden,

• toys,

• food, cooked or the perhaps the veggies before they are prepared.

What about more abstract things:

• reflections in a window or a pond if you have one,

• shadows of people or things,

• textures or walls and furniture.

You could be really sneaky and try to photograph things from unusual

angles, so they aren't obvious at first sight.

Perhaps this is a good point to offer a few more tips that could make

your photos more interesting.

1. Get closer to your subject. It's OK to fill the frame and even to cut

things off at times.

2. Don't just stand there, kneel down, or even lay down to see the

world from a different perspective. Equally, you can look down at things

(but don't climb on furniture to do so!).

3. Try moving the camera, perhaps to follow something that is moving,

or to give a deliberate blur to the picture.

4. Try out the various options on your camera. Phone cameras often

let you choose a square picture, or create a panorama. (And remember,

panoramas can go up and down as well as side to side).

5. Experiment with different lighting - window light can often give a

lovely soft light that is great for portraits. A small torch can give a harsher

light for a different effect.

Once you have taken a few pictures, you can start to explore the many

options in photo editing. You'll be familiar with some of them, cropping,

and adjusting the brightness or contrast, for example.

The best way to discover what is possible is to play with the various

options in your photo editor. Or better still, try a couple of different

editors to find the one you like. My favourite for editing phone pictures

is Snapseed, which is completely free and has a wonderful range of editing

options (28 at the last count!).

Some of the things you can try are:

• convert to monochrome, black and white, sepia, blue tint etc.,

• exaggerate the colours, making them vivid for example,

• play with the contrast to alter the mood of the picture,

• experiment with overlays (something you can do in Snapseed, and

probably in other editors too),

• crop or rotate the picture to how you want it, the camera may have

a standard frame size, but your photos can be in any proportion you like.

Above all, experiment! If you aren't sure what a particular editing

option does, give it a try and find out on a spare photo. There is an option

in Snapseed to let you save different versions of your photo, so why not

try a few different ways to see which ones you like?

And when you have edited your masterpiece, you have a variety of

ways to put it to use:

1. print it - some local supermarkets offer printing facilities,

2. use your design in a greetings card with one of the online card

companies,

3. get the design printed on a mug or a mouse mat for example,

4. compile your favourite photos into a book using one of the online

printing companies, or just by sticking pictures into an album.

Photography is more accessible than ever these days with digital

cameras and smartphones. And if you are willing to experiment, you can

have a really creative time discovering just what they - and you - can do.

Enjoy!

The accompanying photos were all taken and edited using a mobile

phone or a tablet.

David Gough, www.davidgoughphotography.com

28
---
Rose Garden and Martyr's Plaque Beacon Park

The Green, Green

Grass of Home

By Jono Oates

..........................

One of the comments that many people have made

during lockdown is that the air seems cleaner, the road

noise much quieter, the bird noise sounds louder…

and the grass seems to be much, much greener! I'm not sure if

this is based on fact, but perhaps it is because we now, generally,

have much more time on our hands when we go out walking.

Instead of a brisk A-to-B to get onto our next job, meeting or

appointment, we are perhaps now taking a more leisurely stroll,

making the time to take in the views, listen to the birdsong and

smell the roses.

Over the last few weeks I've visited a number of Lichfield's

public parks and gardens, some well-known and others tucked

away. Most of these locations are large and spacious so it is fairly

easy to observe safe, social distancing.

My first choice is probably the most well-known green spaces

within Lichfield, this being Beacon Park and the Museum

Grounds. Beacon Park was formerly the estate that surrounded

Beacon Place, a large early 19th century family house, which was

finally demolished in the 1960s. After the demolition the

grounds were incorporated with existing public land, which had

been donated by Colonel Michael Swinfen-Broun in 1943, to

form the park as we see it today. The park includes the Rose

Garden, where the Martyr's Plaque can be seen, and a woodland

walk at the far side, along the boundary of the A51 road.

The Museum (or Recreation) Grounds were landscaped in

1859 when the old Free Library and Museum, now the Registry

Office, was opened. The fountain in the middle of the grounds

Museum Gardens, Beacon Park

was donated by the Revd

James Thomas Law, another

notable Lichfield benefactor.

Darnford Park runs from

Ryknild Street right down to

Cappers Lane, separated by

Darnford Lane, and was

created as part of the Boley

Lane residential development

in the 1970s. There are some

lovely wooded paths and

trails along here and is very

popular with dog walkers

and hide and seekers of the

Lichfield Kindness Rocks

scheme!

A smaller, and much more

Monks Walk

compact, garden space is at

the Monks Walk, close to the

old Friary building. The

Franciscan Friary was

founded in 1237 and was

demolished during the

Dissolution of the

Monasteries in 1538, in the

reign of King Henry VIII. The

walk is reputed to be

haunted and the mysterious

figure of a hooded monk has

been seen walking round the

flower beds! The walk was

saved from being

redeveloped into a car park

in 2003 and is now

Darnford Park

maintained by a group of

volunteers.

There are may other green spaces in and around Lichfield so, if

you are able to get out and about, why not explore some of them

this summer and discover the Green, Green Grass of Lichfield!

29
---
Dining Review

30

Lockdown

Café Culture!

Lockdown may mean we can't go into our usual

favourite eateries and cafes, but that doesn't mean we

can't still enjoy the food at them! With lots of

establishments diversifying and offering takeaway

options, we take a look at two in the local area.

...............................

A Taste of Italy

By Jono Oates

It's not often you can sit under an olive tree and gaze across

open countryside with a coffee and a panini in front of you, but

you can at Café Prego, which is not in Tuscany or Puglia… but at

rural Shenstone!

The café is located within the Creative Plants plant nursery, on

the Birmingham Road and I popped in on a Sunday morning

following a stroll round the stunning array of plants.

I opted for a red pepper and mozzarella panini, on ciabatta

bread and, as I have a very sweet tooth, I was easily persuaded to

follow that up with a lemon drizzle scone with cream and jam. I

do love a coffee and so, for me, it had to be a black Americano.

The panini was very tasty, the melted cheese and pepper

combination was perfect and the ciabatta bread added a

crunchily-satisfying bite to it. It came with a nice, fresh, salad and

a dollop of coleslaw and was nicely filling without making me feel

that my Sunday dinner should be put on the back-burner.

It was then time for a guilty pleasure treat - the citrusy tang of

the scone was delicious, it crumbled in the mouth and went down

a treat.

As well as my wooden bench there are a number of other

tables and chairs, all safely spread apart, round the centre.

Customers can order their food and drink and then are called

when it is ready, it is then picked up by the customer from a table

outside the café. Social distancing is carefully observed and there

are hand sanitizers at the food collection points.

During the current restrictions the café is open to serve food

from 10am to 2pm. There is a special, limited, menu at the current

time serving burgers, paninis, jacket potatoes and soup, along with

a selection of cakes.

For more information visit

www.creativeplants.co.uk or ring 01543 481 640.

...............................

A Damn Fine Breakfast!

By Jono Oates

There is nothing better

than having a perfectly

cooked Full English

breakfast as a Friday

morning treat and I

certainly enjoyed my

fabulous fry-up from

Damn Fine Café today!

Having closed their

doors since lockdown,

Sophia and the team reopened

the café today to

provide a takeaway

collection only service.

My choice was an easy

one to make as it just had

to be the Full English Breakfast with toast. I ordered through the

Damn Fine Café Facebook page and received an instant response,

although they are also taking bookings through Instagram or by

ringing them on 01543 268934. I was given a specific time to

collect as there are no deliveries and orders must be placed in

advance. Sophia told me that people can call in at the shop, place

their order and then return to collect it at the designated time

later if they wish.

The hearty Full English consisted of two sausages; two rashers

of bacon; two hash browns; baked beans; mushrooms and a fried

egg. It looked so inviting and the aroma filled the air around me,

so it was with great enthusiasm that I got stuck in! Everything was

very well cooked and just how I like it –crispy bacon, moreish

sausages with plenty of flavour, juicy mushrooms and lightly

cooked hash browns which were not at all greasy! I've loved

baked beans ever since I was a nipper, they are still my favourite

go-to comfort food even now, and they added a lovely bit of

moisture to the breakfast – and, of course, I mopped the plate up,

bean juice and all, with my slice of brown toast.

The Damn Fine Café Full English breakfast was a real delight, a

fantastic way to set myself for the day (no lunch was needed

today!). It was full of flavour, well cooked and well-presented and

at £5.50 it was great value too. Safe distancing and contactless

service was well observed and it was easy to order and collect,

with friendly and welcoming staff.

Damn Fine Café is at 16 Bird Street. Food orders

for Friday and Saturday mornings only can be made

by direct message on the Facebook

page(@DamnFineCafe), via Instagram

(damnfinecafe_lichfield )or by ringing 01543 268934.
---
Bower

Beauties!

Charlotte Mace 2018 with

Mayor David Leytham

(photo by Robert Yardley)

This year's Lichfield Greenhill Bower

Procession was sadly cancelled due to the

current lockdown situation, however we

asked for photographs from some of the

previous Bower Queens online, and you

willingly obliged! Here are some of the

Bower's former Queens, including our very

own Rebecca Hill, who was crowned in 1995!

If you were a former Bower Queen, or a

deputy, and have photos from your special day,

email Jono ajonocitylife@gmail.com and we'll

publish your photos in our next issue!

We're sure that the Bower will be back

stronger than ever next year – here's to 2021!

Harriet Chatwin 2017 with

Mayor Janice Greaves

Bethany Daire 2014 with

Mayor Norma Bacon

Rebecca Hill Bower Queen 1995

Sarah Froggatt Bower Queen 2001

Jane Dayus-Hinch 1980 with

Mayor Neville Brown

Sarah Brindley Deputy Queen 2001

31
---
Hounds &

Hastings at Hoar

Cross

By Jono Oates

..........................

Situated 10 miles from Lichfield is the former stately home of

Hoar Cross Hall, now a residential resort spa, but previously

home to many generations of the Meynell-Ingram family.

The land on which the hall was built was part of the Needwood

Forest and in the 11th century belonged to Henry De Ferrers, who

owned land throughout the country following the Norman

conquest. In 1740 the Hon. Charles Talbot, a relative of the Earl of

Shrewsbury, bought the estate and it was then sold to Hugo

Meynell, another major land owner and politician. He was one of the

two MPs who represented Lichfield in Parliament in 1762. The

Meynell family claimed that their family line could be traced back to

Hugo de Grand Mesnil who was one of the few known companions

of William the Conqueror at the Battle of Hastings and was, again, a

significant landowner.

Hugo Meynell was a noted fox hunter and developed a breed of

hound that was quicker, fitter and had a better sense of smell than

earlier breeds. He was Master of the Fox Hounds of the Quorn

Hunt in Leicestershire and is often considered to have been the

father of modern fox hunting. Hugo married Elizabeth Ingram-

Shepherd, daughter of Charles Ingram and their son, also Hugo, was

the first to be given the surname of Meynell-Ingram.

Their grandson, yet another Hugo, married Emily Charlotte

Wood, the daughter of Sir Charles Wood, 1st Viscount Halifax and

they oversaw the construction of the current hall, which was

completed in 1871 after 10 years of building work. It was designed

by the English architect Henry Clutton and was modelled on the

design of Temple Newsam, the stately home of the Ingram family in

Yorkshire. Several months before the building had been finished

Hugo Maynell-Ingram had fallen from his hunting horse and, just a

few months after the family had

moved in, he passed away. His widow,

Emily Charlotte, remained in

residence at the family home, and

arranged for a church to be built

alongside the hall, the Church of the

Holy Angels. The church, built in her

late husband's memory, was

completed in 1876.

The couple had no children so,

when Emily died in 1904, her brother

Fredrick Wood, who had been living

with her at Hoar Cross since Hugo

had died, took the surname of

Meynell-Ingram to continue the

family name. In 1953 the last Meynell-

Ingram to live at the hall, yet another Hugo, and his family, moved to a

smaller residence at nearby Newborough and the hall's long association

with the Meynell-Ingram's came to an end.

In 1970 William and Gwynyth Bickerton-Jones bought the hall and

restored it before selling to businessman Stephen Joynes MBE, who

turned it into a luxury spa hotel which saw many famous celebrity faces

over the years attending to get their relaxation fix. Just last year, the

resplendent hall was sold once again following Sir Joynes' retirement

and is now part of the Baron's Eden Hotel group.

Sources: www.baronseden.com/hoar-cross-hall;

www.growingupinastatelyhome.uk/blog by Viv Wilson (nee Bickerton-Jones);

www.e-voice.org.uk/hoarcross/history-of-hoar-cross.

32
---
Dining Review

Pizza Perfection!

Lockdown restrictions have definitely put a halt to

most cafés and restaurants in and around Lichfield, but

with the restrictions starting to lift slightly, some of

them are now providing innovative ways to start

trading again. We sample the Italian delights of two

local establishments.

...............................

Takeaway at The Three Tuns

By Jono Oates

The Tuns have now

started providing a

limited food menu, full

of tasty treats like

pizzas and their

famous small Yakitori

sticks, and they have

also created a farm

shop within the pub,

stocked with essentials

such as eggs, fresh

vegetables, fresh meats, flour and more.

I love a slice of pizza, so as soon as I saw that they had chilled

takeaway pizzas on the menu, I was hooked, and I was one of the

first people standing in the queue when they opened their doors

for the first time since lockdown at 12 noon on Friday!

You enter the pub from the right hand side for the takeaway

service, directions are clearly marked, and to ensure safe, social

distancing. Inside the pub resembles an Aladdin's Cave of drinks,

food and snacks. However only one thought was in my head…

Pizza!

They have a lovely selection of different styles and food

combinations to suit most tastes and I plumped for the Chilled

Pubs Special – spicy beef, jalapenos, red onion, pepperoni, sun

dried tomatoes and a sprinkling of fresh rocket – yummy!

You can't eat the food on site obviously so, as I live fairly close

to the pub, I opted to walk there and back to collect my takeaway.

Once home I opened the lid of my takeaway box to find a huge

pizza oaded with all the ingredients that looked amazing, the

rocket leaves were placed in a separate container. The chilled

pizzas are part cooked by the pub so all that needed to be done

was to slide my pizza under the oven for a few minutes and it was

ready to be enjoyed!

The pizza was super-thin and slightly crispy at the edges – now

that is JUST the way I like it! I decided to cut it in half as it was

too big for just little old me, it would easily make two meals and

probably even more with added extras, like a side salad or mixed

olives.

I have to say that my expectations as I walked home breathing

in those wonderful aromas were well and truly met! The pizza

was light and crispy, the pepperoni, jalapenos and beef were all

deliciously spicy, without being of full chilli strength, and the

tomatoes and cheese provided a juicy and creamy balance, which

made every bite a simple, and not at all guilty, pleasure!

The Three Tuns on the Walsall Road currently opens from

12noon to 9pm daily, this includes the takeaway foods and the

farm shop. No drinking or eating is allowed on the site, it is

takeaway only. No pre-booking is required or necessary,

customers can turn up on the day.

Saturday Night 'Make-A-Way'!

By Kristen Lackajis

What better way to enjoy a

Saturday night than in front of the

TV with a takeway pizza on your

lap?! And there's no better pizza

than a traditional, freshly-made

concoction, so I was delighted to

be able to experience making and

baking my own concoction,

courtesy of Matt and Gemma of

Café Cigno in Burntwood and their

new venture Pizza Kits At Home!

Ordering is easy – you simply visit the

Facebook page, select what you want from the

menu, and your pizza making kit is delivered to

your door (with social distancing in place) in real

takeaway pizza boxes, for an authentic

experience!

The dough needs to be fully defrosted for 12

hours in the fridge and then left at room

temperature for a couple of hours so it can

prove, so ordering the day before you wish to

indulge is a good idea! I ordered on the Friday

morning with the intention of cooking and eating

my pizza on the Saturday night.

Making the pizza is lots of fun and a

great idea for children who want to

get more involved with baking!

Stretch and ply your dough with your

fingers into a delicious pizza base, and

then pop it into a hot pan and add

your toppings. Once the base starts

to turn a lovely golden brown, simply

pop the pan under a hot grill to cook

the top of it and melt all that

delicious cheese!

After it's cooked, you can transfer it back to the takeaway box

and voila! You have a fabulous, authentic takeaway pizza that you

have lovingly created yourself!

Being a 'meat-feast' kind of girl, I went for the works – crispy

bacon strips, chicken, chorizo and pepperoni, along with red

onions for my topping and it was absolute perfection. The best bit

being that it comes piping hot and superbly fresh from the oven!

Juicy and fresh, with a light crispy dough base, I was extremely

impressed and would highly recommend this to both parents

wanting to entertain the kids and adults wanting a bit of pizzamaking

fun!

Pizza at Home Kits can be found on Facebook at

www.facebook.com/pizzaathomekits and contacted via

messenger or via email at: Pizzaathomekits@gmail.com.

33
---
Lichfield's

Cutest Pets

Thank you to everyone who has sent us pictures of their pets. It's an

incredibly hard job choosing who to feature as we think all of your furry

friends are gorgeous!

If you haven't already sent us pictures of your pets, please send them to

helencitylife@gmail.com (remember to clearly mark your entries 'Cutest Pet'

and to tell us the name of your pet, and a little bit about them). Sorry but we

can't return any pictures sent to us by post.

Cutie of the

Month! Smudgie

Smudgie is a nine-year-old Lhasa Apso/Jack Russell cross and has been owned

by Jennifer since she was just 15 months old. Jennifer said: "She is the biggest

baby in the world and loves to be loved. This photograph is at Dobbies Garden

centre in Shenstone. She just didn't feel like walking. Too many legs and feet

were frightening her. She was very happy once we put her in the pot,with my

cardigan as a cushion!"

Meet Lexi the10 year old puppy!

owned by Ruth Forster

This is 3 month old Lichfield regular

Miniature Dachshund 'Bella' making herself

at home in sister 'Jasmines' bed! Jasmines

face says it all... 'It was so quiet before you

arrived' Eloise and Mark

Selina Henson sent this photo in

of her 6 year old whippet Louie

34

Meet Alfie!!

He's a cheeky Boston Terrier

owned by Helen Bonser

This is Casper hes 14, we was

fostered from Angel's Small Paws

Dog Rescue 6 years ago, he ended

up staying with Elaine Hanson

This is Dexter Cockerpoo. Vicky and

Andy Fordham and their family have

loved getting to know him so well during

lockdown. He's been best friends with

their two boys and a true delight.
---
This is Wissage when he was a

kitten. He lives with Ann-Marie and

Jonathon

Meet Rocky he is just over 6 years old

and a little busy on his phone.

He is owned by Judith

Here is Percy pug Instagram

@percypug27 his favourite past time is

going to his favourite coffee shop

Melbourne in Lichfield!

This is Bailey looking

rather cool! Sent in by

Harry Grant

Here we have Betsy Boo

owned by Charlotte Ashby.

Betsy has her own instagram

@betsy_boo_and_louman

Pluto is owned by 10 year

old Mahari. Pictured here

relaxing with his snack!

This is Jo Howell's

beautiful girl, Harley!

This is Pickles owned by

Catherine. She's a rescue from

Romania and Catherine has had her

almost 3 years now, she's a proper

Diva.

Here we have Elvis. He's a bit crazy,

but very special to Louise as he was

her dad's cat, who sadly past way in

2017. Elvis is now 6.

Please meet Manuel (black) and Margot

(ginger). Rescued through a cat sanctuary - Little

Paws Cat Haven ran by a group of volunteers.

They are the best of friends and are always

looking out for each other. They are super loving

and cuddly and enjoy nothing more than a

snooze together on our bed!

35
---
Laughter Despite Lockdown

By Chris Purchase

...................................................................

It's a very weird feeling to find out your job has become

illegal overnight. I've always wanted to be an outlaw so

now I get to feel like James Dean just for choosing the

right career. As a comedian living in the UK it's not

something I would ever have expected to happen. I've been

a stand-up comedian for over a decade, living in Lichfield for

the majority of that. Thanks to Tom and Rory at the Spirit

Works we run a monthly stand-up show which has thrived

with the full support of the community here.

I'm also a runner and as a runner I feel compelled to tell

you that I'm a runner as soon as the opportunity presents

itself, did I mention I'm a runner? I took up running last

October in a bid to get healthier, I say healthier when really

I mean it was getting really expensive having to rebuy

clothes in ever increasing sizes. When running through

Lichfield it's incredibly uplifting to see the outpouring of

support for everyone on the frontlines, from rainbows in

windows and painted onto driveways in chalk to handmade

wooden signs declaring the NHS heroes in people's front

gardens. You can't help but get a little emotional when you

know everyone's going through the same thing but still going

strong. I've obviously had to adapt so that I'm running on

increasingly remote routes, last Sunday I found myself

running on the grass alongside the A5 in a bid to not

inconvenience any families on actual paths trying to adhere

to social distancing rules adding an extra adrenaline level to

my runner's high as sixteen wheel lorries thundered past.

I've never felt more alive.

As with my exercise I've also had to adapt my career to

our ongoing situation. Initially I thought I'd have to do

something else entirely but being a middle aged father of

two most online employment opportunities were out of

reach. Unable to travel to audience filled venues I was stuck

with how to continue working within the present guidelines

36

and so was born "Live From His Dining Room" a topical

comedy news show I stream every Sunday night into other

people's homes via social media. At first it was incredibly

weird to get dressed up in a formal evening suit and perform

to only a phone in my own dining room, lit by floodlights I'd

bought for £3 on a market stall, but the reaction I got from

my online audience was such a huge boost that it's become

a regular show. Now I'm not sure if I'll remember how to

deal with a live audience, it's much easier to handle a heckler

when you can just delete their comments instead of

dwelling on them during a 2 hour car journey home at 3am

on a Friday night eating a sad, cold pasty you bought from

Gloucester services.

It has been encouraging to see so many small businesses

adapt alongside the community, from restaurants like

McKenzies offering takeaway Sunday lunches to Melbourne

coffee shop ensuring their customers stay safe while still

providing everyone's much needed caffeine fix to our

beloved Spirit Works, venue for our stand-up show Comedy

42, delivering their well renowned cocktails and own brand

gin to people's homes. Things like this have added a level of

normality to a situation that's anything but normal.

And who knows when we'll go back to normal or even if

that normal exists anymore, what I do know is that every

time I'm having a bad day this pretty little city finds some

way to cheer me up, give me hope and prove that whatever

happens we will find our way through. Now if you'll excuse

me I have a new personal best to get on the A38.

If you'd like to see any of the things I'm doing during the

lockdown to distract us from it all you can check out my

website www.thechrispurchase.com or on all forms of

social media www.facebook.com/thechrispurchase

w w w . y o u t u b e . c o m / c / c h r i s p u r c h a s e

www.instagram.com/thechrispurchase
---
37