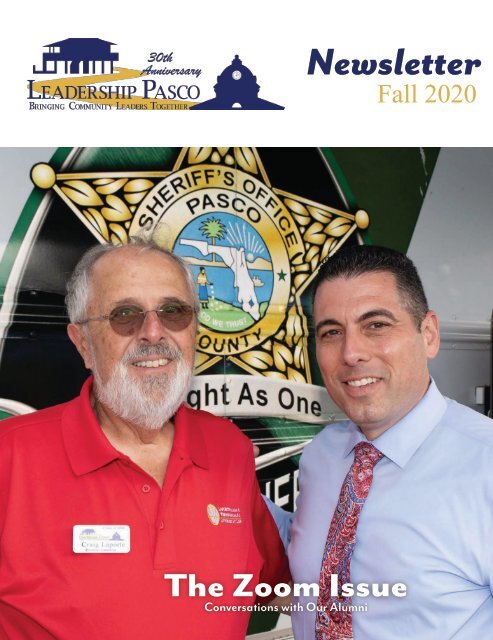 Leadership Pasco Newsletter - Fall 2020
The Leadership Pasco Newsletter is published quarterly. SINCE 1991, THE MISSION OF LEADERSHIP PASCO is to identify and recruit current or potential leaders of Pasco County, facilitate the development and interaction of those leaders, and to foster an issues-oriented learning environment for these leaders and the citizens of Pasco County in order to encourage an ex-change of ideas and generate enthusiasm for community growth and development.
The Leadership Pasco Newsletter is published quarterly. SINCE 1991, THE MISSION OF LEADERSHIP PASCO is to identify and recruit current or potential leaders of Pasco County, facilitate the development and interaction of those leaders, and to foster an issues-oriented learning environment for these leaders and the citizens of Pasco County in order to encourage an ex-change of ideas and generate enthusiasm for community growth and development.
SHOW MORE
SHOW LESS
Create successful ePaper yourself
Turn your PDF publications into a flip-book with our unique Google optimized e-Paper software.
Newsletter

Fall 2020

The Zoom Issue

Conversations with Our Alumni
---
unprecedented

adjective

Never done or known before.

To Our Leadership Pasco Family,

As president of Leadership Pasco in these

unprecedented times, despite extensive leadership

experience facing difficult challenges,

I was shaken, felt inadequate, and even

scared, at the prospect of being in charge. Feeling uncertain, as to how to proceed

in my leadership role, I felt compelled to share my apprehension with my peers on

the Leadership Pasco Board. The result was a resounding affirmation of my feelings

of apprehension and fear. Hearing others, whom I respect and admire, share the

same feelings gave me comfort I was longing for in these unprecedented times.

As a leader, and an alumnus of Leadership Pasco, I encourage you to reach out to

your classmates and share your fears and concerns in your leadership roles. And, I

assure you, you will find the same support and comradery I discovered amongst our

Board of Directors. The challenges and decisions we face are made surmountable

when we honestly and sincerely share our fears. I am blessed to have a Board of

Directors that chose not to judge, but instead shared their feelings of apprehension.

Welcome to our Zoom issue, and please know our Board has been safely meeting

online since April, and the attendance and participation has been fantastic. On

October 8, we had our very first virtual alumni social and Pasco County trivia game

which was organized by Laura Raposa '19 and Angie Gardner '11. It was a great opportunity

to bring our alumni and even a few applicants for Class of 2022 together

in a safe and comfortable way. In fact we have twelve applicants for the next class

and have begun engagement with other interested leaders. Before the end of the

calendar year, we will really start building an amazing group of diverse applicants

to kick-off the next program year.

Many thanks to Amanda Hart '14 and Angel Cook '18 who have organized an in

person Class of 2020 graduation for December 1. The event is planned to be a safe

and fun event, with use of a large space at Spartan Manor, social distancing, and

other safety measures. Look for an official email about the event around November

12.

Thank you for your patience and encouragement, as we re-group, plan, and continue

to support and expand our mission.

Don Anderson, Class of 2016

President, Leadership Pasco

CEO, Coalition for the Homeless of Pasco County, Inc.

Leadership

Pasco

Newsletter

SINCE 1991, THE MISSION OF LEADERSHIP

PASCO is to identify and recruit current or potential

leaders of Pasco County, facilitate the development

and interaction of those leaders, and to foster

an issues-oriented learning environment for these

leaders and the citizens of Pasco County in order to

encourage an exchange of ideas and generate enthusiasm

for community growth and development.

The Leadership Pasco Newsletter is published quarterly.

Please direct correspondence about this publication

to Leadership Pasco, P.O. Box 695, Elfers, FL,

34680. Readers also may reach staff by sending an

email to administration@leadershippasco.com.

Editorial Staff

Amanda Hart '14

Editor

Jason Longo '17

Design

Photo Credits

J. David Wright '20

(Leadership Pasco class days)

Board Members

Don Anderson '16, President

Manny Long '16, President Elect

Tara O'Connor '16, Secretary

Chuck Anderson '20

Nichole "Nikki" Alvarez-Sowles '13

Carla Armstrong '14

Stefanie Ambrosio Pontlitz '13

Angel Cook '18

Angie Gardner '11

Brendan Gorman '18

Kim Hamm '15, Immediate Past President

Amanda Hart '14

Crystal Lazar '13

James Mallo '12

Tara O'Connor '16

Thomas O'Connor Bruno '20

Leah Peake '19

Joseph Poblick '14

Laura Raposa '19

Kim Rymanowski '19

James Walters '15

John Willis '15

© Leadership Pasco. All rights reserved.

FALL 2020 NEWSLETTER
---
4

8

2 6 12

Features

2

4

6

8

10

12

Nikki Alvarez-Sowles '13

Thomas O'Connor Bruno '20 and Kera

Arnone '20

Craig Laporte '06 and Captain James

Mallo '12

Stefanie Pontlitz '13

Kim Rymanowski '19

Kurt Conover '92

Sponsors

Bay to Bay Roofing

Bene's Career Academy

Blackjack Media Group

Centennial Bank

Clearwater Gas System

Duke Energy

Greater Dade City Chamber of Commerce

Greater Pasco Chamber of Commerce

Jarrett Ford

Land O' Lakes High School Culinary Arts Program

Laporte, Mulligan & Werner-Watkins, P.A.

Medical Center of Trinity

Micro Solutions

O'Connor Law Group, P.A.

Oliver & Fox PA

Pasco County Clerk & Comptroller

Pasco Economic Development Council

Pasco Education Foundation

Pasco County Sheriff's Office

Pasco Hernando State College

Pontlitz Asset Advisors

Ralph the Lawyer

Regional Medical Center Bayonet Point

Ron's Bar-B-Que

Saint Leo University

Simpson Environmental Services, Inc.

TECO Energy, Inc.

Time Trap Escape Room

United Way of Pasco County

Leadership Pasco

LEADERSHIPPASCO.COM

1
---
Catching Up with Nikki Alvarez-Sowles '13, Pasco

County Clerk and Comptroller

By Jason Longo '17

You mentioned the community aspect. What was your

class project?

Our project was helping NAMI, the National Alliance

on Mental Illness. This was right after the Sandy Hook

Elementary School shootings. It was very upsetting, and

it stemmed from a mental illness. My class wanted to

help NAMI and get the word out about the organization

and its local impact.

When you went through the program, what was your

position in the Pasco County Clerk of Courts Office?

I was the Chief Operations Officer.

What stood out for you in your Leadership Pasco experience

when you were a class member?

In Leadership Pasco you learning about Pasco County.

You get to know the industries in Pasco County from

governments to small businesses to big businesses, and

you get a really good lay of the land. That's great. But in

addition to that, what I got out of it was connecting with

the people in my class and creating lifelong relationships.

That is priceless. My class was very small. I think

'13 had 26 people all together, but we bonded very well,

and we will remember this experience for the rest of our

lives, which really means a lot to me. And as a group,

we worked on something that helped our community. It

was a lot of work, and through overcoming challenges

together, we formed great relationships while giving back

to our community. And it's giving- back that meant a great

deal to me. I did not want the experience to end. I wanted

more. So, I joined the Leadership Pasco Board and have

been a board member ever since.

You had worked closely with your predecessor Paula

O'Neill. I'm sure she was a wonderful model for the

job, but did her success make you feel even more under

the lens? If so, how long did that last?

I was hired by Jed Pittman in 2007, and then Paula

became Clerk in 2009. After she became Clerk, she

promoted me to the criminal director position. Not long

after, in 2010, she promoted me to Chief Operations Officer,

which I held until I became Clerk last summer. As

COO, I oversaw every aspect of the Office. Since 2010, I

had the opportunity to gain experience about everything

this Office does. That prepared me to take over and lead

the Office. On day one, I never felt under the lens; I felt

prepared. I think part of Paula's plan was to make sure

she had someone able and willing to hand the reins over

to. I believe that's what ended up happening.

Did she give you any memorable advice, or what did

you observe that you also model?

When I think about Paula, I think about grace under pressure.

I think about connecting with the community and I

think about service with compassion. Paula and I worked

very well together because I try to live my life by those

tenets and she was just a great example of that.

When I began practicing law -- this was in the early

2000s -- I was good at what I was doing, but it wasn't

making me happy. It didn't fill my cup up. I felt like there

was so much more that I could do rather than litigate

cases. Something was missing. I really thought long and

hard, about, "How can I use my law degree to fill my

2 FALL 2020 NEWSLETTER
---
cup in a way that feels more satisfying?" The law firm was

great in that I could do a lot of community work. Through

that work, I found that I like to help make things better

in my community. I realized in local government you can

have an impact in your community. So that's what I did. I

got into local government in 2006, then I was hired in 2007

here, and every day I get to make an impact on our community.

I feel so privileged to be able to do that. Our Office

provides public safety and human services to our community.

It's very important. I get to touch people's lives every

day utilizing my education and my experience. Being able

to have grace under pressure and serving with compassion

and connecting with community -- that's where it is for me.

Tell us about your family.

They're amazing. The kids are the loves of our lives. I love

my family. My husband, Kevin, and I met when I was 19.

We dated for a long time and got married when I was 26.

We celebrated 20 years this year. It's been so great, and I

gave away my age here! That's okay.

Who is in your former position?

Another Leadership Pasco alumna, Kim Thompson. Kim

has a lot of experience in the clerk's world. She came

from the Palm Beach Clerk's Office, and I think she's has

close to 20-years of experience in the clerk's office. She's

fantastic.

What is the philosophy of how the Leadership Pasco

program is important to employees of the clerk's office?

That's a great question. It's the kind of the thing that everybody

wants to do in my office. Every year we figure out

who's been here the longest now and try to give everyone

an opportunity to be in Leadership Pasco. The connections

you get from each class are amazing. It expands our network

to reach the people we serve. Learning about Pasco

County from the ground up and from the Green Swamp

to the Gulf Coast -- that's invaluable. It's also important to

involve yourself in something bigger than yourself. The

class project was so rewarding in that capacity.

How has your office changed since COVID?

Our office never closed during the pandemic. The courts

did close for a bit, but not our office. Gov. DeSantis declared

Clerk's offices to be providers of essential services,

and our team totally agreed. We must remain open for

public safety and human services, but we also had to make

sure our team was safe. We had several needs to address.

Those with compromised immune systems or who were

taking care of someone with a compromised immune

system needed to work outside the office. The second thing

was allowing the parents who had school-aged children

to be able to telework so that they could take care of their

children and attend to their schooling. Third, we needed to

get as many people out of the office so that we could properly

social distance. We worked to have overall 50% of the

office teleworking so we could social distance our team in

the office. Even if you're not in your usual area, you can

work from a desk nearby, and everyone is safe.

The early days were hectic. For our teammates coming in,

we had to acquire PPEs, develop a mask protocol, set up

Plexiglas screens at our customer windows, and make sure

we had plenty of no-touch thermometers so teammates

could check for fevers. We weren't prepared with any sort

of platform or any sort of connectivity for remote work

Within two weeks, we had to figure all that out. In addition

to staying on top of everything we do -- which is about a

thousand duties assigned by statute, regulation, and court

order -- we had to sort out what can be done virtually and

what absolutely must happen in our six Pasco locations.

Then we had to figure out, for every employee, how much

of what they do can be done virtually, and how much

has to be done in the office. It was a big feat. Lots of late

nights. Lots of no sleep trying to plan it out, but we got all

of that accomplished and still today we are teleworking.

We wanted to make sure our customers knew that they

wouldn't see a blip in our service.

Is there anything that we didn't talk about that you

want to share?

I just want you to know that it's a blessing to be able to

lead the clerk's office and to be trusted to provide our services

to the community. It's just a great feeling to be able

to give back to the community and to know that the community

feels that I'm the right person for the job. I do not

take it for granted. I am honored to be able to be a public

servant and to give back to the people of Pasco, expanding

on the lessons of Leadership Pasco.

I thank you for this opportunity to have a great conversation

about it.

Nikki Alvarez-Sowles '13 with Pasco government leadership and

the Class of 2019 at Government Day.

Leadership Pasco

LEADERSHIPPASCO.COM

3
---
Thomas O'Connor Bruno '20 and Kera Arnone '20

- Exceptional Fundraising During Difficult Times

By Jason Longo '17

tive director because the idea was to make that space

decorated and more kid-friendly as a part of our sweat

equity project. When we saw the shower situation, we

decided that we would make that our priority.

[Kera] Then we started talking about what happens with

the clothes that come in and the towels; and that's when

we decided to pursue a washer and dryer for the location

as well. Because our class has a lot of contacts, we felt

that we could get a discounted renovation for the shower

and the appliances donated.

[Thomas] Basically the day that everything started shutting

down was the day that I had electricians and plumbers

going out there to start to start pricing what the project

was going to be. And that's when a lot of companies

said "we're not comfortable going into places." So it all

went on hold. We have been in contact with Andrew, and

Kera saw him last week. That's when we got the award.

Tell us about your Class of 2020 project?

[Thomas] For our project, we are supporting Suncoast

Voices for Children. They help to bring children out of

bad home situations where there is abuse or neglect.

Sometimes they house them overnight on location until a

family member or other caregiver can take care of them.

Suncoast Voices provides the equipment needed for those

caregivers or extended family who may not have beds,

cribs, or car seats or anything like that, so that they can

transport and house the children. They are on location in

the Pasco Sheriff's Office on Little Road; the Child Protection

Division.

[Kera] They have an intake room that wasn't the most

comfy. It was very industrial. There are toys there, a

couch, but not a lot of organization to it. It's tough to stay

there overnight. So our project was to redesign that area

and to add a shower in their unit at the CP office. They do

have access to a male and female bathroom.

[Thomas] As they didn't have access to a shower, they

would use the sinks to help wash the children who may

have come with lice or who needed to be cleaned up. So

when we went on a tour with Andrew Maurin, their execu-

[Kera, showing the award on Zoom] It says the Suncoast

Voices for Children awarded the Voice of the Year to the

Leadership Pasco Class of 2020.

[Thomas] For part of our sweat equity, we knew that

they had some deliveries from some other donations. So,

some of us came down to Pinellas to help load a trailer of

diapers and wipes that was stored at the Salvation Army

here. And, Kera, I think you were on that end right?

We loaded here in Pinellas and then Carol, one of our

classmates, drove it up to Pasco and dropped it off so that

they would have access to it. It was, again, a great cause,

and I'm just happy to be even a part of a group that could

raise this much money in this kind of situation.

So you raised about $20,000 for Suncoast Voices for

Children, and without a Taste of Pasco. How?

[Thomas] Yeah. Our goal was $20,000. Originally I had

met with Chuck Anderson and Tim Hanavan and we

looked at budgeting and how much we thought we could

bring in with the event. We had ideas that we were going

to shatter everybody's donation record. I mean, we were

going to pit class against class to see who could donate

the most money. We had all these grand schemes of

4 FALL 2020 NEWSLETTER
---
inging in funds. We got sponsors. We got vendors and

we started to book everything and then business day we

had to have a very frank conversation about if we could

host Taste of Pasco in May. Now it looks silly to even have

considered it, but we had a conversation with the whole

class and decided to pull everything. We didn't know.

[Kera] At that point, we had about $7,000. Maybe $10,000

through sponsors. The issue there was once the marketing

for their agencies went away, several of them did pull out

completely. Some were still able to support us in part and it

dropped us down to five or six thousand.

[Thomas] But then the Rotary Clubs really stepped up. The

Rotary Club of Seven Springs usually has several charities

they support annually, but this year they dedicated the

entire amount to us and so that was a huge boost at $7,500.

Rotary Club of New Port Richey donated over $5,000. So

between those two Rotary Clubs we had over $12,000. We

sold six or seven tickets to Taste of Pasco and everyone

that bought a ticket told us to keep the money. So this may

be the least amount of tickets ever sold by a class.

Thomas, how has COVID-19 affected your work at

Coalition for the Homeless?

[Thomas] It's been good and bad. The bad was that we

had to close down because we had offered showers to the

homeless and couldn't figure out the way to provide emergency

services while keeping everyone safe. Because we

are not the lead agency and many of our staff are an older

population, it was easy and necessary to make the switch

to working from home. Luckily in Pasco, COVID has not

affected the homeless population as much as in other areas.

We've only known three or four cases of homeless persons

who have tested positive. The other good news is that

there are overwhelming amounts of funding coming down

through the federal government, the CARES Act Provider

Relief Fund. There's a lot of funds for homeless services

and through the emergency solutions grant, which is a

federal funding stream through the county and through the

Department of Children and Families. So much funding,

but it's so tied up in government regulations and such that

we're just now getting access to it. This was funding that

we knew about in May and we're just now getting to it.

Kera, how has real estate changed since COVID-19?

[Kera] Real Estate changed a little bit when COVID hit,

people are afraid to allow people in their homes for showings,

so we've had to get better at wearing masks and better

with sanitation. People leave lights and stuff on for us

before we show the home, which is fine. The good thing

is that the market is so hot. We can't find homes to sell

and they're selling for top dollar and it's mind blowing at

how fast they are selling. Another thing is that people have

realized they don't need to be in the city where they work,

everyone is leaving those dreary cities and are moving to

our happy Sunshine State. So it's good. There is a lot of out

of state buyers.

What brought each of you to apply for the Class of

2020?

[Thomas] I had heard about it when I was with the County.

Never pursued it, but then Don Anderson came onboard

and really pushed me to do it. I had applied for Class

of 2019 and was accepted, but I was not available to do

the bus tour due to a previously scheduled vacation to

Sonoma, California. I had talked to Don and Stefanie [Pontlitz]

about it, and they said that I really would miss out, if

I couldn't do bus tour. So I applied for the Class of 2020

and was re-accepted.

[Kera] I only moved here in July of 2018 and in 2019

Stefanie [Pontlitz] came and spoke about Leadership Pasco

to my Rotary Club meeting and everyone in my club said,

"Kera, you should do this. It would be a great thing for you

to do." Julie Rockwell and Tara O'Connor are also in my

Rotary Club, so there was a lot of suggestions to apply.

2020 Class Project Sponsors

Cornelison Engineering & Design, Inc.

Duke Energy

Gulfside Healthcare Services

Master Title

Pasco County Schools - Jeans Day Fundraiser

People Places, LLC

Rotary Club of New Port Richey

Rotary Club of Seven Springs

The Bank of Tampa

Time Trap Escape Room

Wells Fargo

Withlacoochie River Electric

Leadership Pasco

LEADERSHIPPASCO.COM

5
---
A Conversation with Craig Laporte '06 and

Captain James Mallo '12 - The Team Behind

Criminal Justice Day

By Jason Longo '17

enced that as well. So then I got Brian Mulligan to do it,

and then of course Franny (Frances Werner-Watkins), and

then Brendan (Gorman) being in the latest iteration of our

group. Pasco Sheriff's Office does it too. HCA, Progress

Energy, the Clerk's office - there are a lot of organizations

that make it a point to have an applicant every year.

James, what was your inspiration to continue on from

the Class of 2012 to the Leadership Pasco board?

[James] I enjoyed my time as a classmember and liked

meeting and working with groups of people from different

parts of the county and with different backgrounds.

The common ground was Leadership Pasco. I got

involved with Criminal Justice Day even before joining

the Class of 2012 and to this day, my goal is to continue

to make Criminal Justice Day the best day that it can be.

There are very few days where, as Craig said, the Sheriff

sets aside a full day, and I'm happy to be a part of that.

Nick Walsh '20, Craig Laporte '06, and Captain James Mallo '12 at

Criminal Justice Day - October 2019.

Craig, do you remember how you came to be a member

of the class of 2006?

[Craig] I don't remember who it was who first told me

about Leadership Pasco. It was a long time ago. Captain

Joe Frontz was in the Sheriff's Office and was actually

running Criminal Justice Day. There were a number of

people that I knew and, being involved in the community

and doing a lot of different charity work, I learned

about it. I thought it would be beneficial. Even though I

worked the whole county as a deputy, I thought it would

be helpful to learn more about the county and, of course I

was practicing law. I'd been practicing law at that point in

2006 for 23 years. I wanted to get out there and meet more

people, so that's what prompted me to join.

Craig, all of your colleagues at Laporte, Mulligan and

Werner-Watkins, P.A. have also gone through the program.

How did that become a tradition?

[Craig] I thought it was such a great experience that I felt

it was important that all the lawyers in my office experi-

Criminal Justice Day gets very high marks on all

Leadership Pasco class evaluations. How do you keep

improving the program?

[Craig] Well, I can tell you that Criminal Justice Day has

evolved since I went through it. At that time, the big deal

was to take a walking tour through the jail and then a lot

of other classroom stuff which was interesting. It was

good, but what it needed was a boost. When Bob White

was Sheriff, he supported the day but not to the extent

that Chris Nocco, when he became Sheriff. I will never

forget that got a phone call from Chris and he said "Hey,

I want to set a meeting and talk to you about Criminal

Justice Day." He said "I want to meet with you to brainstorm

to make the day better." I've never had a Sheriff do

that for us. I went to his office and was shocked when I

went into the conference room and the entire command

staff was there. He set aside an hour just to discuss Criminal

Justice Day for us and basically pledged his support

to anything we wanted to do to make it a success. He

thought it was very important and every year since then

he calls me three to five months in advance and says,

"Alright, let's get together." And again, his entire command

staff is a part of that meeting, and as you've seen

they are all dedicated to being a part of our day. The two

6 FALL 2020 NEWSLETTER
---
things that have carried on from the past have been the

panel discussion with the judges, state attorney, the public

defender, some law enforcement, and the Sheriff; and the

walking tour of the jail. But everything else has changed.

It's far more interactive and exciting.

Do you remember your project from 2006?

[Craig] Our project was and it's still out there is the Missing

and Abducted Children's Command Center for the

Sheriff's Office. It started out as a community project.

That was when Bob White decided he did not want to go

through the bid process to use government money for that

command center, so he went out to the community and

started raising money that way. Also, he could keep the

construction with a local company and not have to bid

it out over a large statewide area. So our class decided

we were going to raise money, which we did. We raised

money through fundraising and then we were able to get a

matching grant. We raised about $20,000 with the help of

that. Our ongoing commitment was that our class would be

on call in the event of a missing child and that the Sheriff's

Office had our numbers and would call us out to assist in

the ground search.

What are some innovations at Pasco County Sheriff's

Office that the Class of 2021 would have learned about,

if we didn't have to postpone?

[Craig] I do know that for years they planned on a jail

expansion because of overcrowding. They're adding either

another wing or another floor. I'm not sure. The other thing

they're doing is building basically a school there and it was

going to involve a great deal of forensics, but it was going

to be a national academy with people coming from all over

the country and it was related to the rubble pile that this

last year's class got to see.

[James] We now have two, and are building one more

rubble pile which are all helpful to training first responders

on dealing with a mass casualty event such as a terrorist

attack. We will also have more drone technology to share.

Just the other day we helped locate a missing person on

the trails with a drone and the fire department assisted with

ATVs. Another great thing that we would have presented is

The Future Operations Division and the Behavioral Health

Intervention Team (BHIT). [From the Pasco Sheriff's Office]

"The mission of the Future Operations Division is to

help the Sheriff's Office strategically meet the law enforcement

related needs of our rapidly changing community.

Comprised of both civilian and law enforcement members,

the division works to provide comprehensive assessments

and recommendations to improve department efficiencies

by focusing on strategic planning, forward thinking, and

innovative ideas. The division will also track the future development

of Pasco County and the impact this will have

on law enforcement and its capacity to meet the needs of

our growing county." The BHIT make contact with people

suffering from mental health, and try to get those people

help before a crime is committed.

How can citizens be more supportive to Pasco County

Sheriff's Office and Law Enforcement at this time?

[Craig] Well, you know, one of the things that I've been

involved for the last seven or eight years is trying to get a

permanent memorial built for our fallen, law enforcement

officers. We're the only county in Florida, that doesn't have

a memorial. This year was tough, because due to COVID

we ended up canceling our Law Enforcement Family

Fun day this year, so we lost a lot of fundraising for the

memorial. We were very fortunate that our county commissioners

went out there and started helping us raise money.

We are now hoping that by March of next year, we're

actually going to have a permanent memorial built over at

the historic courthouse in Dade City. There's about eight

of us on board that started this project. It is going to cost

upwards of $300,000 and we've actually got the statue not

only ordered, but I think it's already been cast. It's waiting

in Minneapolis for us to be able to actually build the base

to put the statue on. It's a statue of a fallen Pasco County

Sheriff's deputy who is being lifted skyward by an angel

under the arms. We're excited about finally getting that

done and honoring our fallen officers. Learn More.

[James] Saying hello and "thank you for what you do" to a

law enforcement officer is something that means so much

and helps us to feel positive the entire day.

Monica Anderson '20, Sheriff Chris Nocco, and Patricia Howard

'20 at Criminal Justice Day - October 2019.

Leadership Pasco

LEADERSHIPPASCO.COM

7
---
Stefanie Pontlitz '13, our 2020 Judith Rochelle

Award Winner and Program Day Chair

By Jason Longo '17

I'll say it again; the best part of Leadership Pasco is that

everyone who's involved is so dedicated. To be "the most

dedicated" and put that in quotation marks, is crazy to

me, because it's such a high bar. It's an incredible honor

for leaders to consider me worthy of that, and I'm super

appreciative of that. What I've been involved in up to

the point of joining Leadership Pasco has really led me

to that, but Leadership Pasco has probably been what

has allowed me to take my leadership skills to the next

level. If you're not doing what you say you are going to

do and hitting all your points and deadlines – this board

knows because you're the only one not doing it. So to be

involved with a board and group like Leadership Pasco

definitely challenges you to be the best you can be.

You've been a class member, an alumnus, a board

member, board president. But you also have the distinction

of being the Judith Rochelle Award winner for

2020. That is Leadership Pasco's highest honor. I think

you hit the mark in every area of the award criteria,

but most visibly there is a lot of dedication and leadership.

You seem to be involved in more causes than I'm

even aware of. Let's talk about that.

Over the years, I've had the opportunity to be involved in

a lot of great groups, including being a Past President of

Leadership Pasco, Rotary Club of Trinity, Junior Service

League and a few others. What I try to do as a leader is

just be kind and be fair and open-minded and I think that

is a lot of what helps people understand me and for me to

understand them. My leadership style is non-aggressive.

I like to have other people's input. I've said it before, but

Congratulations. Tell us about your non-traditional

Judith Rochelle Award surprise "ceremony"?

With COVID, we haven't had graduation yet, which

is where we traditionally present this award. I knew

that I was nominated because I'm on the Past President

Council, and they are the ones who make the decision. I

didn't go to the meeting because I was nominated. I have

been nominated in the past, and I knew others who were

nominated before, and they were probably re-nominated

too. They are all incredible people. So I didn't think

much about it at that point. Well Lisa Shippy-Gonzalez

scheduled a couple's dinner with us, but we had to cancel

as my mother-in-law had broken her wrist that evening.

It took six to eight weeks to reschedule, but now I know

that she was trying to work around the schedules of a

bunch of people. At board meetings it would come up

and someone would ask how the award presentation was

going, and Angel would say "we're working on it." So

I kind of had it in my head that maybe something is up.

But when we finally did meet for dinner, I was surprised.

Angel [Cook] did a great job and it was nice to have

Tina [Shelton] come back and present the award. She

had trained me to be Program Chair and had pretty much

trained me to do everything that I had done. And of

course Lisa was there, and also Evie Parks who has really

been a big part of Leadership Pasco. So it was really, really

nice and super sweet. So I was surprised but I had an

inkling by the time we got around to round two.

8 FALL 2020 NEWSLETTER
---
Congratulations on your new position. Tell us about

your career move.

I'm very excited to be the next Executive Director for The

Lighthouse for the Visually Impaired and Blind (LVIB) of

Pasco, Hernando, and Citrus Counties. The mission of the

Lighthouse is to educate, empower, and employ people

who are visually impaired and blind.

How did you hear about Leadership Pasco before you

applied?

I actually heard about Leadership Jacksonville from a coworker

so when I moved back to Pasco, I knew I wanted to

be in it. I knew it was a great networking group and organization

to be a part of, but honestly I couldn't afford it, and

the company I was working with wasn't willing to support

me. So I had to wait and Derek [Pontlitz] ended up going

before I did and I was so upset because I was the one who

wanted to go and he got to do it two years before I did.

When I finally got to a position and organization where

they would let me go - United Way of Pasco - I applied

and got in. Cami Austin and Cindy Ewald were my two

supporters along with Tina Shelton and I was really excited

when I got into the class. I met Lisa [Shippy-Gonzalez]

on bus tour day. She's now one of my best friends, but we

didn't meet until the class. She sat next to me and said "we

have a ton of friends in common, how have we not met

before?" We've been super close ever since.

Did you meet your husband, Derek in Pasco?

We did not meet exactly in Pasco. I was President of the

West Pasco Young Professionals and two of his close

friends saw a picture of the Immediate Past President in

the paper and thought she was good looking, so decided

they were going to come check out the meeting. In true

style of them, it took them quite some time to actually get

around to attending. By that time I was President but in

talking with them, we decided that we should be friends.

We hung out a few times and at one of their birthday parties,

I met Derek. We technically met through networking.

You and Derek are both Rotary Club presidents. What

does it mean to be a Rotarian?

We are now Immediate Past Presidents. I'm with Trinity

Rotary, and Derek is New Port Richey. Being a Rotarian is

one of the greatest honors. It is an organization of people

who purely want to give back to their community and

never ask for anything for themselves. It is the most selfless

giving family you could be a part of. And each group

has its own personality. Each Club has something that

makes them individually special and so I enjoy visiting

other clubs because they are so much different then mine.

But Trinity is my home and those members are my family.

How did you spend your socially distancing time?

We moved. We had been renovating a house for almost

two years, and so it gave us the time on the weekends that

we hadn't had before. We actually finished the renovations,

and so my time was packing boxes, unpacking

boxes, and moving. We are officially out of the other

house and we'll get it up on the market soon. But yeah,

that's pretty much been my COVID project.

As Leadership Pasco Program chair for a number of

years, can you provide a statement to inspire applicants

for the Class of 2022?

I think it's important for people to encourage their coworkers

and their friends who are looking to get more

involved to become part of Leadership Pasco. It builds

friendships and connections that if I needed anything from

the County, from the city, or from another nonprofit there's

someone in Leadership Pasco that I can call and say, "Can

you help me out with this or do you know who can help

me with this?" I'm probably only one or two phone calls

away from getting the information that I need. We think

we're a small town, but we're really 600,000 people and it

does take a village. I think Leadership Pasco helps make it

smaller. It's very important that people share that opportunity

with their family and friends. Unfortunately we can't

do it this year; but, when we do come back, as Program

Day Chair we are working on some new and exciting stuff

and we will be bigger, better, and stronger.

Tina Shelton '09, Angel Cook '18, Stefanie Pontlitz '13, and Evie

Parks '00 at a surprise dinner in honor of our 2020 Judith Rochelle

Award winner, Stefanie.

Leadership Pasco

LEADERSHIPPASCO.COM

9
---
Kim Rymanowski '19, New Board Member and

Entrepreneur in the Uncertain Times of COVID-19

By Jason Longo '17

Tell me about your family. Are they involved in the

businesses as well?

My husband Mitch (pictured) and I relocated to Florida

from Connecticut. In 2012, we bought our house here in

New Port Richey and by 2014 after we both retired, we

moved here full-time, which is how I was able to take

on a business and not have it affect my day-to-day work.

My husband is trying really hard to stay retired, but he's

kind of a silent partner. He does a lot of the maintenance

work for us and technology if we are having trouble with

internet and things. I do all the office work, the accounting,

the hard labor. We have about six jump ropes at each

location, and it's amazing how often they break. I come

home about once a week with a jump rope that needs

repair, and he fixes it, so I can bring it back the next day.

Kim, you are one of our new board members, and a

business owner that expanded your business during

COVID. Let's talk about your business first.

We bought 9Round Chelsea Place in New Port Richey

on November 1st, 2016. The gym had been two years old

when we bought it. During the pandemic, I bought two

more 9Round gyms that were at risk of closing permanently.

Those are in Pinellas County, but our primary business

is here in Pasco County. Because we're individually

owned, even though it's a franchise, we operate independently

as if we're small business owners. So I purchased

two more licenses and bought those two locations (Dunedin)

and (Safety Harbor). I know what these gyms are

capable of doing and I love the brand and concept.

Why we bought two more during the pandemic when I

was forced closure by the government is beyond me.

COVID effected the fitness industry in a huge way.

Tell us about that, including what innovations you

added to keep customers safe.

Owning any business is challenging during COVID, but

owning a gym is even more challenging. We had a lot of

frustrations early on, you know we were closed for two

months. That was hard because around Saint Patrick's

Day we had to decide if we were going to close. That's

when I started seeing all the gyms in the area start voluntarily

closing and we were faced with a decision. We

were having our house painted at the time, and the windows

were all covered up, with us inside. We ended that

day with a beautiful newly painted house and made the

decision to close up. As soon as we sent that notification,

the government also had a mandate. I had five employees

at the time, and I still had rent to pay. We had 175 members,

and what we decided to do was to continue charging

our members. We asked them to please stick it out with

us, and we in turn continued to pay the trainers and the

rent. It was a really hard hole to dig out of, and we're still

working on it. When we finally did open up, we offered

our members two months of credit, spread out across the

rest of the calendar year. So we were able to maintain

salary for five people, one of which is full-time and has

benefits, pay rent, and keep as much afloat as possible.

When we did open back up, we didn't get a lot of cancellations;

but what we did get was a lot of "I'm not ready to

10 FALL 2020 NEWSLETTER
---
come back." Maintaining social distancing is really hard to

do in the gym, especially when you're doing kickboxing in

your personal training. Our stations are normally six feet

apart by design. So now we keep one station in between

them. They have ten to twelve feet between each person

in there. Our employees are all wearing masks while

they're working. When you're exercising, and that was a an

exception to the mask rule, so the members don't have to

wear masks. Some of them do, but they don't have to. Just

gathering all the PPE supplies just to open, you know my

husband was at Sam's Club every morning at 6 a.m. bless

his heart. That was probably our biggest challenge, just

gathering the cleaning supplies to open up; because they

were nowhere to be found.

Where did you relocate to when you moved to Pasco?

We originally bought our house on the water in Gulf Harbors.

We recently sold it and have since moved to Odessa

to be closer to all three of the gyms.

What was your experience in Pasco that lead you to

become a part of the Class of 2019?

When we bought our business in 2016 we immediately

joined the West Pasco Chamber of Commerce. and started

networking. It was through networking that we met a lot of

people, and how I heard about Leadership Pasco. So, you

know, word-of-mouth, and seeing people that have gone

through the program, and being new to the area - I thought

it was a great opportunity for me to get to know more

about Pasco, be a part of the community, and to network as

well.

You know there's a lot of rivalry among the Program

Day organizers. What class was your favorite?

I had a lot of favorites because there is so much to take in,

but I think my favorite because I love dogs was Criminal

Justice Day. I own two German Shepherds, so that was

great.

So, besides opening two more businesses; what did you

do during the days when we had to socially distance?

Did you do any binge Netflix watching?

No we didn't get into any new TV shows during the

shutdown. For two months I took advantage of cooking.

I love to cook, and my husband loves to cook, so around

the holidays that's what we do together. We took advantage

of that time to just cook everything from scratch. We

were making pasta from scratch, different sauces, and just

getting creative and learning new recipes. Because my

employees were still working, and I wanted to keep our

members engaged, I had each employee make a 60 second

video every day, so that I could post it on social media to

create content. It was nice and members appreciated that

so that they could see their trainers and see what they were

doing. We were all still working but from home.

If you open up two more businesses during COVID

that becomes your hobby, right?

Exactly, and I do have a nice little home gym, so I spent a

lot of time keeping up with my workouts. I actually lost six

pounds while we were closed, so that's good.

I saw a Tweet about you having a connection to Art For

Hope. Can you tell me more about that?

I like to get involved with different things that are near and

dear to my heart. I was the presenting sponsor for Art For

Hope during September, which is a fundraiser for suicide

awareness - The Bobby White Foundation. I am very

involved in that.

In 2020, you became a Leadership Pasco Board Member.

What inspired you to continue to be involved?

Well, after going through the program and enjoying it as

much as I did, I wanted to be involved in a higher capacity

and hopefully influence others to also be involved in

Leadership Pasco and go through the program because it

was very beneficial for me. I learned so much about the

County. Living on the west side. I wasn't very familiar

with the rest of Pasco, so I really got to know the community

in my county and I'm hoping that this program stays

alive. The only way it will, is to keep talking about it and

supporting it.

Angel Cook '18 and Kim Rymanowski '19 at an event in 2018.

Leadership Pasco

LEADERSHIPPASCO.COM

11
---
Interviewing a Legendary Leader & Beloved Pasco

County Resident, Kurt Conover '92

By Jason Longo '17

Do you remember how you heard about Leadership

Pasco?

I do. At the time, I was the Land O' Lakes District Manager

for Florida Power and worked with Bob Creson, who

happened to be one of the founding board members of

Leadership Pasco. Bob wanted me to get involved right

away, so we started hosting the board meetings at the

brand new Land O' Lakes Florida Power District Office.

So I became a class member the year after that.

I feel like your career has been about reinventing yourself.

Can you tell us about that, and your early work

history?

Early on, when I was a very young man, I was fortunate

enough to be working for the City of New Port Richey and

it's interesting because at that time I was starting college.

I was right out of high school and going to St. Petersburg

Junior College; there was no Pasco/Hernando Community

College. One summer day, I went to the Recreation

Center in New Port Richey and there was a Recreation

Leader there by the name of John Gallagher and he was

a friend of the family. My brother and him hung around

a lot together, and so I said "Hey do you know anybody

that's hiring for the summer?" And John said, "Oh yeah,

Lana (Goluba) Howe is running a summer playground

program. You might want to go over and apply." So I

got hired, and then I got hired as a custodial person.

Then I worked my way up to a Recreation Leader, then

Assistant Parks and Recreation Director and then at the

ripe age of 22, I was appointed as Director of Parks and

Recreation. My bosses always look at me with dissapointment

when I say that's the best job I ever had.

But it truly was. It was a wonderful job. And at that

time, the City of New Port Richey had everything. They

had that brand new Recreation Center had a new Olympic-sized

swimming pool, we had the tennis courts, golf

tournaments, and golf leagues. We had bowling leagues,

we had Southwestern United States qualifiers for horseshoe

tournaments. We had roller skating, record hops,

and teen dances. We had so many things out there and

always exciting stuff going on and I still see people to

this day that remember when I was at the Recreation

Center. They bring their grandchildren and sometimes

great grandchildren and say "That's the guy that used to

work the Rec Center when I was little." The Rec Center

obviously looks a lot different today than what it did

back then but that was a was a was a great job. I did get

to be really good friends with Chuck Nelson who was

Pasco County's first Parks and Recreation Director. I

also became good good friends with co-workers Steve

Luikart (he worked as our Athletic Supervisor) and

Chuck Bellerose '92 (he worked as Assistant Director)

who later became a Leadership Pasco Alumni and was

also later awarded the Judith Rochelle Excellence in

Leadership Award (2003).

You have been so involved with Pasco County. Can

you take us back to the beginning?

I was very young when I moved to New Port Richey.

My dad was a retired military officer and my mom was

a registered nurse. When we first came down from up

12 FALL 2020 NEWSLETTER
---
New York, my father drove down Grand Boulevard. He

happened to see the water and the houses right on the

water and he said, "That's where we've got to live." So

we moved into a house off of Sunset Point, which is now

Manatee Drive and there were only like six houses on the

whole peninsula, because it is a peninsula. It's right in

between the City of New Port Richey and the City of Port

Richey. It was a big three-story house that had a boathouse,

literally right down from the living room. It was

really neat growing up there as a kid. I had two brothers

and two sisters and our grandfather moved in with us.

It was really a small town and everybody kind of knew

each other. The activities were wonderful and, as we had

the water right there, you could fish and we used to do

things that you shouldn't do, like feed the alligator. There

were lots of fish, lots of crabs and we enjoyed boating

and scalloping. Just a great place to grow up.

We were sorry to hear about your wife's passing. Can

you tell us about her life and about your children?

I had actually married my next door neighbor. I had built

a new house on Louisiana Avenue when I was in my late

20s and my future bride, when she came down from New

York. She rented one of the duplexes next door. We fell

in love and got married and have two beautiful children.

Unfortunately, I lost my wife, it will be five years ago

this December, to a very unexpected aneurysm and then

a stroke. She was a very active, energetic, and vibrant

person. She had been a dance instructor. So it was a challenging

time and I have a lot of empathy for people who

lose loved ones after so many years.

I have always wondered when you met Harold Sample,

your friend and Bus Tour Days' colleague?

So Harold and I go way back. I had an older brother that

knew Harold. Harold's dad used to work for the Pasco

County Sheriff's Office. That's not how I got to meet

Harold, but I did know him. His mom used to work at

the Florida Power Office in New Port Richey when I first

started there and he had a sister that worked there too.

Harold has been all over the County. More recently, he's

lived in the east side, but he grew up on the west side.

Like I said, it's a small knit community so mainly through

his activity in West Pasco is where I got to know Harold

real well. I have to say this about Harold and I echo

it whenever I can; I am totally amazed at his ability to

remember things about the whole county. I've been doing

tours with him for 10 years, 15 years... I don't even know

how long. We will go through a new area that we don't

normally cover and he says something significant about

that area and things that happened in that area. I've never

heard of anybody say that they haven't learned something

new while on tour with Harold, no matter how long

they've lived here.

How did you make the transition to a hospital marketing

role?

The thing that was similar to all of those jobs, whether

it was with the City or the power company, is that it was

a lot of public relations. That's my favorite thing. I love

people and I know a lot of people. At the time, I was the

Chairman of Chasco and I had met a man by the name of

Alan Levine, who who has since held several impressive

executive positions in healthcare. In working with him,

Alan became a really good advocate for me and he was

the one that encouraged Dan Miller, who was President &

CEO at Regional Medical Center Bayonet Point, to hire

me. That was just under 25 years ago.

COVID has greatly effected the new normal, but tell us

about the effect to service and safety at the hospital.

So they have implimented precautions. We get screened

every day and we have to wear masks. With COVID hitting

the hospital, we had to go about redesigning everything.

We went from five different entrances to one for

patients and one for employees.

Can you tell us about any hidden talents or hobbies

that you picked up this year?

I do play some online poker. Texas hold 'em with some

buddies who are soccer coaches from Land O Lakes,

because I used to be really involved in the Central Pasco

Youth Soccer Association (CPUSA) and made some

lifelong friends. The in-person stuff is out, but now we

just do the online playing. I've also remodeled my kitchen,

installed new windows and doors, installed Bermuda

Shutters, and have done a lot of painting and gardening.

Kurt Connover '92, Richard Jenkins '20, and Thomas O'Conner

Bruno '20 at Bus Tour Day (West).

Leadership Pasco

LEADERSHIPPASCO.COM

13
---
Class Notes

Accomplishments

Don Anderson '16 is now President of the

Leadership Pasco Board of Directors.

Tom Celotto '11 is now a Director Emeritus of the

Leadership Pasco Board of Directors.

Heather Grimes '11 is now a Director Emerita of

the Leadership Pasco Board of Directors.

Manny Long '16 is now President Elect of the

Leadership Pasco Board of Directors.

Tara O'Connor '16 is now Secretary of the

Leadership Pasco Board of Directors.

Stefanie Pontlitz '13 is the 2020 Judith Rochelle

Award winner and hired as Executive Director for The

Lighthouse for the Visually Impaired and Blind (LVIB)

of Pasco, Hernando, and Citrus Counties.

Kim Rymanowski '19 opened two additional

9Round Fitness franchises this year.

John Willis '15 is now Treasurer of the Leadership

Pasco Board of Directors and was named Employee

of the Year 2020 by the Florida West Coast Credit

Union.

In Memoriam

Candace Glewen '14

Visit LeadershipPasco.com/ClassNotes

to submit accomplishments, marriages,

engagements, births, and memoriam

information. We will continue to share in this

quarterly newsletter.

Class of 2020 Graduation

Save the Date

Tuesday, December 1, 2020

Spartan Manor - New Port Richey

6:00-9:00 p.m.

We appreciate our sponsors

14 FALL 2020 NEWSLETTER

www.LeadershipPasco.com