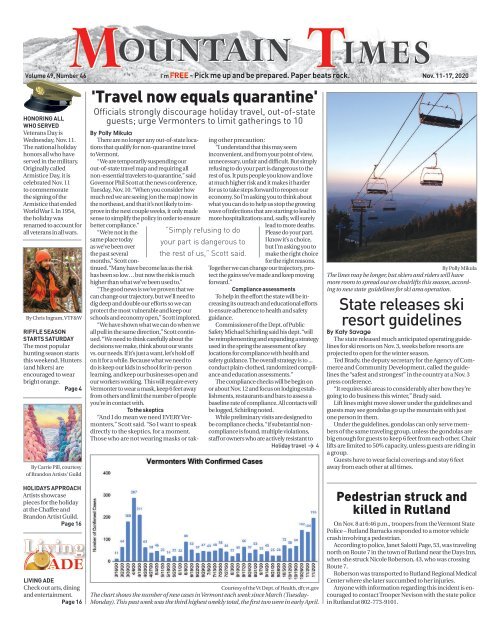 Mountain Times - Volume 49, Number 46 - Nov. 11-17, 2020
Create successful ePaper yourself
Turn your PDF publications into a flip-book with our unique Google optimized e-Paper software.
Mou nta i n Ti m e s

Volume 49, Number 46

HONORING ALL

WHO SERVED

Veterans Day is

Wednesday, Nov. 11.

The national holiday

honors all who have

served in the military.

Originally called

Armistice Day, it is

celebrated Nov. 11

to commemorate

the signing of the

Armistice that ended

World War I. In 1954,

the holiday was

renamed to account for

all veterans in all wars.

By Chris Ingram, VTF&W

RIFFLE SEASON

STARTS SATURDAY

The most popular

hunting season starts

this weekend. Hunters

(and hikers) are

encouraged to wear

bright orange.

Page 4

By Carrie Pill, courtesy

of Brandon Artists' Guild

I'm FREE - Pick me up and be prepared. Paper beats rock. Nov. 11-17, 2020

'Travel now equals quarantine'

Officials strongly discourage holiday travel, out-of-state

guests; urge Vermonters to limit gatherings to 10

"Simply refusing to do

your part is dangerous to

the rest of us," Scott said.

By Polly Mikula

There are no longer any out-of-state locations

that qualify for non-quarantine travel

to Vermont.

"We are temporarily suspending our

out-of-state travel map and requiring all

non-essential travelers to quarantine," said

Governor Phil Scott at the news conference,

Tuesday, Nov. 10. "When you consider how

much red we are seeing [on the map] now in

the northeast, and that it's not likely to improve

in the next couple weeks, it only made

sense to simplify the policy in order to ensure

better compliance."

"We're not in the

same place today

as we've been over

the past several

months," Scott continued.

"Many have become lax as the risk

has been so low… but now the risk is much

higher than what we've been used to."

"The good news is we've proven that we

can change our trajectory, but we'll need to

dig deep and double our efforts so we can

protect the most vulnerable and keep our

schools and economy open," Scott implored.

"We have shown what we can do when we

all pull in the same direction," Scott continued.

"We need to think carefully about the

decisions we make, think about our wants

vs. our needs. If it's just a want, let's hold off

on it for a while. Because what we need to

do is keep our kids in school for in-person

learning, and keep our businesses open and

our workers working. This will require every

Vermonter to wear a mask, keep 6 feet away

from others and limit the number of people

you're in contact with.

To the skeptics

"And I do mean we need EVERY Vermonters,"

Scott said. "So I want to speak

directly to the skeptics, for a moment.

Those who are not wearing masks or taking

other precaution:

"I understand that this may seem

inconvenient, and from your point of view,

unnecessary, unfair and difficult. But simply

refusing to do your part is dangerous to the

rest of us. It puts people you know and love

at much higher risk and it makes it harder

for us to take steps forward to reopen our

economy. So I'm asking you to think about

what you can do to help us stop the growing

wave of infections that are starting to lead to

more hospitalizations and, sadly, will surely

lead to more deaths.

Please do your part.

I know it's a choice,

but I'm asking you to

make the right choice

for the right reasons.

Together we can change our trajectory, protect

the gains we've made and keep moving

forward."

Compliance assessments

To help in the effort the state will be increasing

its outreach and educational efforts

to ensure adherence to health and safety

guidance.

Commissioner of the Dept. of Public

Safety Michael Schirling said his dept. "will

be reimplementing and expanding a strategy

used in the spring the assessment of key

locations for compliance with health and

safety guidance. The overall strategy is to ...

conduct plain-clothed, randomized compliance

and education assessments."

The compliance checks will be begin on

or about Nov. 12 and focus on lodging establishments,

restaurants and bars to assess a

baseline rate of compliance. All contacts will

be logged, Schirling noted.

While preliminary visits are designed to

be compliance checks, "if substantial noncompliance

is found, multiple violations,

staff or owners who are actively resistant to

Holiday travel > 4

By Polly Mikula

The lines may be longer, but skiers and riders will have

more room to spread out on chairlifts this season, according

to new state guidelines for ski area operation.

State releases ski

resort guidelines

By Katy Savage

The state released much anticipated operating guidelines

for ski resorts on Nov. 3, weeks before resorts are

projected to open for the winter season.

Ted Brady, the deputy secretary for the Agency of Commerce

and Community Development, called the guidelines

the "safest and strongest" in the country at a Nov. 3

press conference.

"It requires ski areas to considerably alter how they're

going to do business this winter," Brady said.

Lift lines might move slower under the guidelines and

guests may see gondolas go up the mountain with just

one person in them.

Under the guidelines, gondolas can only serve members

of the same traveling group, unless the gondolas are

big enough for guests to keep 6 feet from each other. Chair

lifts are limited to 50% capacity, unless guests are riding in

a group.

Guests have to wear facial coverings and stay 6 feet

away from each other at all times.

HOLIDAYS APPROACH

Artists showcase

pieces for the holiday

at the Chaffee and

Brandon Artist Guild.

Page 16

Living

ADE

LIVING ADE

Check out arts, dining

and entertainment.

Page 16

Courtesy of the Vt Dept. of Health, dfr.vt.gov

The chart shows the number of new cases in Vermont each week since March (Tuesday-

Monday). This past week was the third highest weekly total, the first two were in early April.

Pedestrian struck and

killed in Rutland

On Nov. 8 at 6:46 p.m., troopers from the Vermont State

Police – Rutland Barracks responded to a motor vehicle

crash involving a pedestrian.

According to police, Janet Salotti Page, 53, was traveling

north on Route 7 in the town of Rutland near the Days Inn,

when she struck Nicole Roberson, 43, who was crossing

Route 7.

Roberson was transported to Rutland Regional Medical

Center where she later succumbed to her injuries.

Anyone with information regarding this incident is encouraged

to contact Trooper Nevison with the state police

in Rutland at 802-773-9101.
---
2 • LOCAL NEWS

The Mountain Times • Nov. 11-17, 2020

Vermont's regular deer season starts Saturday, Nov. 14

Hunting in the time of Covid brings families and friends together with precautions

By Peg Bolgioni

Since the onset of the Covid 19 pandemic, many

have flocked to the outdoors. Participation in recreational

activities like hiking, biking, and running have

seen an uptick, but in Vermont, there has also been an

increased interest in hunting.

Louis Porter, commissioner of the Vermont Fish & Wildlife

Dept., attributes this to a number of reasons, including

a greater desire to be connected to family and friends in an

activity that allows them to isolate within their Covid-19

pods, as well as a heightened concern about food supply

chains and the ability to procure locally sourced food that is

free of chemicals and antibiotics.

According to Commissioner Porter, there are some

common sense approaches that hunters should do to keep

themselves and others safe from Covid.

"We advise that if you and a friend are going hunting

perhaps you should drive separately unless you are in the

same Covid pod," he explained. "Please be aware that if you

are dressing a deer with someone that brings you in close

contact with them, take turns doing so."

There are two types of hunting check stations in Vermont.

The first could be a local store where an employee

helps you check in your big game and records the information,

and the second are biological check stations where

Vermont Dept. of Fish & Wildlife biologists are on site to

record any biological data.

"At both check stations it is very important that people

abide by the Covid restrictions and safety requirements,"

Porter maintained. "We have sent letters to a couple of

check stations telling owners and managers that we can't

continue to have them continuing operation if they aren't

compliant with Covid safety requirements. As commissioner,

I can't be requiring people to report their big game in

places that put them and their family at risk for Covid and

I also can't put my staff, volunteers, biologists at risk either.

Overall compliance has been very good. Many hunters are

excited to check in their big game and meet up with other

hunters. They are very cooperative about wearing masks

and social distancing."

The Vermont Fish & Wildlife website (vtfishandwildlife.

com ) states those traveling to deer camps who reside in

parts of New England and New York with fewer than 400

active Covid-19 cases per one million residents, are able

to come into Vermont for recreational purposes without

having to quarantine, if they come in their own personal

vehicle. Those from counties outside Vermont with higher

than 400 cases per million are to self-quarantine for 14 days

before arriving in Vermont, or quarantine for seven days

and receive a negative Covid-19 test.

Porter added, "Many are taking extra precautions and

going to camp with those in their Covid pod, some are renting

a cabin so they can be alone, others are pitching tents

outside, and those in the camp are bringing them food."

One of the interesting trends that has emerged is a demographic

of hunters in their 20s and 30s that have started

hunting. The term "Adult Onset" hunters refers to those

who did not grow up in hunting families. To them it is about

engaging with the environment in a different way, and

obtaining local game.

Understanding that Vermont is an aging state and hunter

participation numbers will start to decline, the Vermont

Fish & Wildlife is trying to pivot in its effort to engage more

hunter participation.

"We have actually changed the way we do business in the

age of Covid," said Porter. "Our hunter safety class numbers

have increased because we now offer both hunter and bow

hunter classes online and in person."

The department has recently imposed a 12-year-old

age limit for those taking the class online, which does not

require the students to go to the range. Anyone under 12

has to take the hunter safety course in person.

Porter explained, "It is a question of maturity. We had

some very young people supposedly graduating from

the online classes at the age of 6 and under. For those

kids under 12 we felt it was very important for one of

our hunter safety instructors to have eyes on them and

judge their maturity."

This year, Oct. 24-25 marked the introduction of Novice

Deer Hunting Weekend, which overlapped with Youth Deer

Hunting Weekend. For the first year, someone who gets

their license can participate in this weekend. To be eligible,

they must be at least 16 years old, with a valid Vermont resident

or non-resident hunting or combination license, and

accompanied by an unarmed adult 18 years of age or older

who also holds a Vermont or Vermont non-resident hunting

or combination license.

"It was much more successful than we imagined," said

Courtesy of VT F&W

Porter. "We expected about 200 participants and had over

a thousand! We have been lucky in Vermont that we have

been able to expand our game management and have longer

and more seasons. I would also say it's safe to estimate

even during that pandemic, that Vermont is on track for a

20% increase in hunting participation this year over last."

Hunters urged to wear orange

Vermont Fish & Wildlife is reminding hunters

to wear fluorescent hunter orange while they gear

up for the start of Vermont's traditionally popular

16-day regular deer season from Saturday, Nov. 14

to Sunday, Nov. 29.

A hunter may take one legal buck during this

season. Vermont hunting licenses include a buck

tag for this season and a late season bear tag (for

Nov. 14-22).

"Hunting is one of the safest outdoor activities,

and it's getting safer thanks to advances in education

as well as science," said Vermont Hunter Education

Program Coordinator Nicole Meier. "Our

volunteer hunter education instructors stress that

wearing orange during hunting season is important,

and studies prove that wearing fluorescent

hunter orange keeps hunters visible to other people

in the woods, but it keeps them relatively invisible

to deer."

Meier said hunters moving into the line of fire

of other hunters and mistaking other hunters for

game are common causes of the state's accidents.

The times that deer are most active, during the

dawn and dusk hours, are times of especially low

visibility. You can improve your chances of being

seen by other hunters by wearing hunter orange,

which can be seen even in low-light situations.

Hunters might be concerned that deer are scared

by hunter orange. In fact, deer have been shown

to be unaffected by the color. A deer's vision is

based on movement, patterns and color variations.

Unlike humans, deer do not have multiple color

receptors in their eyes. They can see color, but their

spectrum is limited.

Hunters who get a deer on Nov. 14 or 15 can

report their deer at one of the biological check

stations. Local stations include Singleton's Store in

Cavendish and Keith's Country Store in Pittsford.

Hunt smart. Hunt safe. Wear orange.
---
The Mountain Times • Nov. 11-17, 2020 LOCAL NEWS • 3

Killington local Rocco Jones chosen

as Flyin Ryan adventure scholar

By Brooke Geery

Rocco Jones, a fixture at Killington for

mountain biking and snowboarding,

was chosen as a Flyin' Ryan adventure

scholar. The scholarship is provided by

the Flyin' Ryan Foundation, named for

skier Ryan Hawks who died in 2011. The

foundation offers scholarships to kids

12 and older with a dream, a goal or an

adventure that they are passionate about

and need financial help to accomplish.

Jones, 12, lives in Wallingford and

attends Mill River Union High School.

Thanks to the scholarship he will attending

KMS for the entire winter term, beginning

on Nov. 30.

Jones is proud to be the youngest and

the smallest caddie at the Ekwanok in

Manchester. He likes snowboarding,

Rocco Jones

Submitted

skiing, mountain biking, wrestling, soccer,

rock climbing and running 5Ks and

Spartan races. In 2019 he won the Kids'

2-mile competitive Spartan Race as well

as the Killington Triathlon (during a snow

storm). He won the Woodward Fastest

Ninja Challenge in his age group both

for Killington Mountain and across the

country.

After suffering a few snowboarding accidents

he has become a strong advocate

of wearing a helmet and will be using his

award to advance his education in competitive

snowboarding and safety by attending

the Killington Mountain School

Boost Snowboard program. His dream is

to become a competitive snowboarder

and compete in the X Games.

Local inn takes innovative

approach to combat Covid

Birch Ridge Inn adopts biodefense technology

By Polly Mikula

Bill Vines and Mary Furlong,

owners of the Birch

Ridge Inn in Killington,

have added an innovative

health and safety measure

to their restaurant and

Great Room to help combat

Covid-19 infection.

"I'm scientifically

trained, I'm a geek, and

I've been studying this

since we closed in March,"

said Vines who worked in

managerial positions in

engineering and marketing

for both Raytheon and

Motorola prior to moving

full time to Killington

in 1997. "I just couldn't

believe that blowing wind

across the room was the

best solution," he said, referring

to common air filtration

systems that could

inadvertently infect others

by blowing contaminants

around a room.

"I asked myself: what

does the defense industry

do?" Vines said of his decision

making process. After

much research, Vines

chose a biodefense company

called Synexis LLC,

which works to reduce

microbes in occupied

spaces.

Synexis uses patented

dry hydrogen peroxide

(DHP) technology to

reduce certain bacteria,

viruses and mold in the air

and on surfaces in indoor

spaces where people

congregate.

Three Synexis Sphere

units have now been

installed in the Birch

Ridge Inn's restaurant

and Great Room. Each

unit is 18.7" by 7.7" and

covers about 1,000 square

feet. Each retails for "a

couple thousand" and the

company sends owners

a regular delivery of key

replacement parts and

filters every quarter, Vines

explained.

When combined with

standard cleaning practices,

social distancing

and face masks worn by

inn staff and guests, the

new Synexis Sphere systems

helps to reduce the

probability of contamination

by biological agents

that could be introduced

to the inn by other guests

— Covid 19 as well as the

flu — Vines stated.

"What led me to the

technology was that it

has been proven effective

against coronavirus and

influenza while continuously

operating in occupied

spaces," said Vines.

This is in contrast to

deploying ultraviolet (UV-

C) light to kill unwanted

microorganisms, which

the inn uses in its 10 guest

rooms, but only when

unoccupied, as uvc is very

dangerous to people, pets

and plants.

"Because of the danger

of exposure, ultraviolet

Birch Ridge > 6

Shopping upcoming

holiday sales?

(888) 921-5990

If you're planning to buy a new appliance

or efficient product soon, check out the

Efficiency Vermont Marketplace first.

• Find and compare products

• See if rebates are available

• Read customer reviews

• Set price alerts

efficiencyvermont.com/shop
---
Wi-Fi not working?

4 • LOCAL NEWS

The Mountain Times • Nov. 11-17, 2020

Let the Wi-Fi specialists help!

Wi-Fi not working?

Wi-Fi Let the Wi-Fi not specialists working? help!

Let the Wi-Fi specialists help!

Experts in Managed Wi-Fi

Wi-Fi Let the Wi-Fi not specialists working? help!

Wi-Fi not working?

Wi-Fi not working?

Let

Building

the Wi-Fi

Video

specialists

Security

help!

Experts Let the Wi-Fi in Managed specialists Wi-Fi help!

Let

Experts

the Wi-Fi

in Managed

specialists

Wi-Fi

help!

Experts Access in Control Managed Systems Wi-Fi

Building Video Security

Experts Building in Video Managed Security Wi-Fi

Point-To-Point Building Experts Video Managed Wireless Security Wi-Fi

Access Control Systems

Experts Access Building in Control Video Managed Security Systems Wi-Fi

Building Video Security

Access Enterprise Control Data Systems Backup

Point-To-Point Wireless

Point-To-Point Building Access Control Video Systems Wireless Security

Point-To-Point Server/Workstation Wireless

Enterprise Data Backup

Access Enterprise Installation Point-To-Point Control Data & Wireless Support

Systems Backup

Enterprise Data Backup

Enterprise

Point-To-Point Enterprise

Server/Workstation

Data Backup

Virtual

Server/Workstation

Private Data Networks Wireless Backup

Installation & Support

Installation Server/Workstation

Support

Server/Workstation

Enterprise Installation Data Backup

Server/Workstation

Installation & Support

Support

Virtual Private Networks

Virtual Installation Private & Networks Support

Virtual Server/Workstation

Private Networks

Virtual Installation Private & Networks Support

Need Immediate

Technical Support?

Virtual Private Networks

802-236-2194

Need Immediate

Need Immediate

Technical Need Immediate Support?

Technical Need Immediate Support?

802-236-2194

IT Technical 802-236-2194

that just Support? works

Need Immediate

Technical

802-236-2194

~ Business & Residential Support? ~

IT that just works

IT

IT 802-236-2194

that

that

just

just

works

works

~ Business & Residential ~

IT that just works

IT that just works

~ Business & Residential ~

Business Residential ~ Business & Residential ~

IT that just works

~ Business & Residential ~

~ Business & Residential ~

NORTHSHIRE NETWORKS

NORTHSHIRE NETWORKS

802-236-2194

802-236-2194

mark@northshirenetworks.com

mark@northshirenetworks.com

NORTHSHIRE northshirenetworks.com

NORTHSHIRE NETWORKS

NETWORKS

NORTHSHIRE 802-236-2194

802-236-2194 NETWORKS

mark@northshirenetworks.com

mark@northshirenetworks.com

802-236-2194

Holiday travel: State officials urge all Vermonters to take all possible Covid precautions

>

from page 1

educational efforts or safety guidance,

referrals may be made to the attorney

general's office, as has been the case

for the past eight months," he said.

Beginning next week state law enforcement

will also begin distributing

Covid-19 safety cards during all traffic

stops statewide, as an additional educational

effort, Schirling added.

Limiting gathering size

The state announced an advisory

Friday, Nov. 6, for Vermonters to limit

social gathering sizes to 10 people or

fewer with a very limited number of

trusted households.

"The safest approach is to stick to

your own household, especially when

it comes to indoor gatherings and

when people are eating — obviously

without masks on like at a Thanksgiving

dinner," said Vermont Health

Commissioner Mark Levine.

"The fact is our entire region is

in danger from the surge in Covid

cases that are happening right now.

It's very clear that things will not

improve anytime soon. Looking at

the map of red today is very instructive,"

he said. "We need to act now.

We are truly on a threshold here. The

decision we make today will truly determine

our future. And I don't mean

our long-term future, I mean our

immediate future," Levine added.

"Travel increases your chances of

getting and spreading the virus, so we

need to avoid traveling as much as we

practically can," he said.

Scott said it more bluntly on

Tuesday: "If you don't need to travel

right now, don't."

"Anyone who travels now must

remember one thing: they need to

follow Vermont's quarantine rules, no

matter what county they are coming

from or traveling to. Travel now equals

quarantine," Levine said, adding, "Just

to reiterate what quarantine means, it

means staying home and away from

people for at least 14 days or 7 days

with a negative PCR test as long as you

don't have any symptoms."

"I want to keep every Vermonters'

focus on my two main points: Severely

limiting travel and being extremely

Cases in the Northeastern U.S.

Courtesy of dfr.vt.gov, Johns Hopkins University Data & Oliver Wyman Forecast Model

careful and cautious regarding small

gatherings beyond immediate family,"

Levine concluded.

Keeping schools open

Containing the spread of the virus

will not benefit the health of Vermonters

and its economy, but also will allow

schools to remain open for in-person

instruction, which is important for

students as well as their families and

their parents employment.

In-person instruction is best for

kids academically and emotionally,

and reducing social gatherings is the

way Vermonters can help schools

provide it, said Dr. Rebecca Bell, the

president of the state's local chapter

of the American Academy of Pediatrics

on Friday. She added that the

state has seen little Covid-19 transmission

in schools. Vermont has seen

a total of 54 cases at 41 K-12 school

since September, including students

and staff, which is significantly lower

than New Hampshire's 406 cases and

Maine's 211 cases.

"Pediatricians want to highlight the

good work that schools are doing and

to implore Vermonters to follow health

department guidelines around masking,

distancing, avoiding crowded

spaces, adhering to travel guidelines,

getting the flu shot and staying home

when sick," said Bell. "The days get

darker and colder, and as we enter the

holiday season, following the guidelines

will be more important than ever,

in order to keep kids in school."

"I know this is difficult news,

especially around the holidays," Scott

said. "But by being smart about gatherings

and travel now, we can keep

schools and our economy open, and

we will get through this pandemic

faster and on better footing than just

about any other state."

Case numbers

There are currently 20 outbreaks

and 63 situation that state officials

are monitoring, Levine said, Tuesday.

They are at schools, child care sites,

colleges and universities, health care

facilities, worksites and social gatherings.

The largest outbreak is still the

one associated with ice sports in the

Montpelier area. There are now 125

cases associated with that outbreak,

76 of which are at St. Michaels college.

The state predicts a 79% rise in cases

nationally and a 105% rise in cases

in the Northeast in the next six weeks,

according to forecasts presented by

Mike Pieciak, commissioner of the

dept. of financial regulation.

Vermont is hitting case numbers

not seen since the pandemic started in

the spring. The state reported 46 cases

and 12 hospitalizations Tuesday, and

announced another death from the

virus, the state's first since July.

There have been over a hundred

cases reported in each of the past

three weeks: 142 (week ending Oct.

26), 134 (Nov. 2) and 196 (Nov. 9).

That's nearly double the average in

early October and quadruple the

average for September.

Increased testing

We need to keep our social circles

small and limit our contacts. But "if

you do, or did recently, socialize with

people outside of your usual social

circle, or attended a crowed event,

please do not have close contact

with others and consider get tested.

You can get tested now as well as

seven days after the event or gathering,"

Levine said.

The state is entering into a contract

and "speedily working toward a plan"

with CIC Health of Cambridge Massachusetts,

to offer testing every day of

the week at locations across the state,

Levine said. The test will be a PCR selfadministered

nasal swap.

"This is part of our ongoing offense

against the virus. This is part of our

fight," Levine said.

Additionally, the state is increasing

surveillance testing to better understand

true Covid levels in Vermont.

The state will focus on teachers

and staff in K-12 schools with testing

set to begin as soon as next week.

Starting the week after Thanksgiving

all teachers and staff in one quarter of

the state's schools will be tested each

week so that each month all teachers

and staff in all schools will have been

tested, Levine explained.
---
The Mountain Times • Nov. 11-17, 2020 LOCAL NEWS • 5

OBITUARY

Daniel Kindle O'Connell of Rutland

died on Nov. 2, 2020 of metastatic

prostate cancer at the age of 81.

Dan O'Connell was never one to

follow the expected path, and he enjoyed

reflecting on the many adventures

that he had the good fortune to

experience throughout his life.

Born in New York City, his family

moved to Vermont when he was 6.

He married his childhood sweetheart,

Geraldine Wiley, and raised

a family in South Londonderry.

His later independent adventures

sometimes took him away from Vermont,

but he always returned, making

his home in Norwich, Coventry,

and Wallingford. His final decades

were spent in Rutland, where he

was an active volunteer and community

member.

An Air Force veteran, O'Connell

was trained as a radar equipment

specialist, which gave him a lifelong

interest in electronics and a wealth of

knowledge regarding ham radio and

electronic tinkering which he loved

to share. An early adopter of many

new technologies, he was a TV repair

technician, co-founder of a small

cable company, and developer of

color inkjet printers.

He was an inaugural member of

MINT, Rutland's makerspace. He

also enjoyed the natural world as a

maple sugarer, Master Gardener, and

lover of thunderstorms.

Due to O'Connell 's varied and

eclectic interests, he was known

David M. Gleed, 57, died

Nov. 3, 2020 at Rutland

Regional Medical Center.

He was born in Amesbury,

Massachusetts,

March 15, 1963, son of

Robert A. and Roberta J.

(Blais) Gleed.

David Gleed spent many

years in the restaurant and

hospitality industry in the

Killington area prior to being

an X-Ray technologist.

Surviving are his

Daniel Kindle O'Connell, 81

David M. Gleed, 57

David Gleed

to many people in many different

ways. He was "Grampa Dan" to his

grandchildren, who were lucky to

investigate the world with him as

young children, exploring museums,

playgrounds, mud puddles, and

ropes and pulleys in the backyard.

He was the sexton of the Arlington

(Massachusetts) Unitarian Universalist

Church and later, Buildings &

Grounds at the Unitarian Universalist

Church of Rutland, where he was

still an active member attending

Zoom services even in his final days.

Many who knew and loved Dan

O'Connell met him over some volunteer

project. He was an usher for

the Paramount Theater. He helped

build the Vermont Farmers Food

mother, Roberta J. Folsom

and his step father, Gary

Folsom, both of Amesbury,;

his son, Justin W. Gleed of

Mendon; a brother, Jeffrey

A. Gleed of No. Andover,

Massachusetts; two sisters,

Marcia A. Noel of Amesbury,

and Paula J. Minter

of Warminster, UK; and his

former wife and companion,

Babette Elwell of

Mendon.

Gleed's memory will be

held close in the hearts of

his family and friends and

people in our community.

We'll miss you, Dave

Gleed.

He was predeceased by

his father Robert Gleed.

The family will be holding

a private memorial in

his hometown of Amesbury.

Memorial contributions

may be made to St. Jude's

Children's Hospital.

Arrangements are by

Clifford Funeral Home.

Daniel Kindle O'Connell

Center from ruins. He filmed for

PEG TV during the Occupy Rutland

movement, and he volunteered for

the Solar Festival. He was spry well

into old age and still walked and

rode his bike all over the city. As a

lifelong learner, he was well known

at libraries around the state. He will

be remembered fondly as a master

storyteller and troubadour, who

enjoyed performing with the Rutland

Curbstone Chorus.

The family extends heartfelt

gratitude to his caregivers at St.

Joseph Kervick Residence, his home

since 2018, and at Rutland Health

& Rehab, as well as the nurses and

doctors at the VA Clinic and Rutland

Regional Medical Center. They

especially acknowledge his Rutland

"surrogate family" Kathleen and

Wayne Krevetski, who showed such

loving care for him.

O'Connell is survived by his

daughters Kathleen O'Craven of Toronto,

Ontario and Susan O'Connell

(Craig) of Hardwick; grandchildren

Morgan O'Connell, Jill O'Craven, Rylan

O'Connell, and Reese O'Craven;

and brother Ferris O'Connell.

Dan O'Connell was always one to

lend a helping hand whenever and

wherever it was needed. In lieu of

flowers, consider stopping to help

someone with car trouble, or shoveling

the walk at a church or library, or

sharing a skill with someone.

An online guest book can be found

at cliffordfuneralhome.com/obits.

VNH partners with

Castleton nursing students

to provide community flu

clinics, training

Throughout October, Visiting Nurse and Hospice for

Vermont and New Hampshire (VNH) hosted drive-thru

and walk-in flu clinics in the Upper Valley. This year,

VNH partnered with nursing students from Castleton

University to deliver the vaccine.

This hands-on training proved to be helpful for the

Castleton University nursing students.

A current nursing student at CU, Danielle Fitzsimmons,

said: "I am learning technique and getting experience

interacting with people by providing them patient

education about the vaccine, talking with them about

concerns and making them feel comfortable," she said.

"We've been going over everything that we are learning

in school and putting it into practice, it's great!"

The U.S. nursing schools turned away 68,938 qualified

applicants in 2014, according to the American Association

of Colleges of Nursing (AACN) report on 2014-

2015 Enrollment and Graduations in Baccalaureate and

Graduate Programs in Nursing. The greatest challenge

to enrollment capacity identified by the National League

of Nursing (NLN) is a widespread lack of clinical sites for

nursing students. VNH is working towards a clinical rotation

in home health to not only help with the shortage

of clinical sites, but to raise awareness about community-based

home health nursing as a career path.

LOCAL PEOPLE.

LOCAL SERVICE.

Home Comfort – All season long!

BEAT THE HEAT!

Get on the schedule for an air conditioning

or Mini Split AC Unit Installation.

0 % Down - 0 % Interest

For up to 36 months

Call us now at 866-326-0535

Table of contents

Local news....................................................................2

Opinion ........................................................................8

News briefs.................................................................11

Calendar......................................................................12

Puzzles........................................................................15

Living ADE..................................................................16

Food matters...............................................................20

Pets..............................................................................24

Horoscopes.................................................................25

Columns......................................................................26

Classifieds...................................................................28

Service directory.........................................................29

Real estate...................................................................30

Mou nta i n Ti m e s

is a community newspaper covering Central

Vermont that aims to engage and inform as well as

empower community members to have a voice.

Polly Lynn-Mikula .............................. Editor & Co-Publisher

Jason Mikula .......................... Sales Manager & Co-Publisher

Lindsey Rogers ...................................... Sales Representative

Krista Johnston............................................Graphic Designer

Brooke Geery........................................ Front Office Manager

Katy Savage Dom Cioffi

Julia Purdy

Mary Ellen Shaw

Curt Peterson Paul Holmes

Gary Salmon Merisa Sherman

Flag photo by Richard Podlesney

©The Mountain Times 2020

The Mountain Times • P.O. Box 183

Killington, VT 05751 • (802) 422-2399

Email: editor@mountaintimes.info

mountaintimes.info

Dave Hoffenberg

Virginia Dean

Aliya Schneider

Ed Larson
---
6 • LOCAL NEWS

The Mountain Times • Nov. 11-17, 2020

Courtesy Birch Ridge Inn

The Birch Ridge Inn, a 10-room lodge located off Butler Road in Killington, just installed three dry hydrogen peroxide spheres in its restaurant and Great Room to fight Covid.

Birch Ridge: Inn uses state-of-the-art biodefense technology to keep guests safe in the property's great room, restaurant and other public spaces.

>

from page 3

light was not a good solution for the Inn's Great Room or

restaurant," Vines said.

"Inn staff is present in the restaurant up to 18 hours

of the day during certain periods of the year to prepare

the product to be served to guests… Public spaces of

the inn are effectively occupied 24 hours of the day as

guests check-in, check-out, and come and go from

various activities taking place in and around Killington,"

Vines noted in a paper he documented for himself when

reviewing all available technology. Therefore, "occupied

spaces require a treatment regimen which functions in

the physical presence of people," he wrote.

Vines considered four main options before choosing

Synexis:

1. UV-Light

2. Air cleaning using HEPA filters

3. Ionic generators (either stand alone or combined

with HEPA filters)

4. Dry Hydrogen Peroxide (DHP) inoculation

Vines settled on the DHP

solution because it works

continuously in occupied

spaces, has been scientifically

proven to be effective

and safe, and doesn't require

guests to change their behavior.

"While it is virtually impossible

to guarantee that people

will not catch the disease, we believe we have adopted

a strategy which will greatly lower the probability of

people becoming ill with Covid while visiting the inn,"

Vines said. "We expect to have to deal with Covid for another

year and a half to two years, but even if Covid goes

away tomorrow, we'll continue to use this technology.

It provides a healthier living environment to our guests,

our staff and to Mary and me— we live here, too!"

How it works

Synexis technology takes what is naturally in the environment,

ambient oxygen and humidity, to generate

a low level of dry gaseous hydrogen peroxide, which is

uniformly distributed through the air.

"If virus particles are in the air, they will be met with

hydrogen peroxide particles, which oxidize and neutralize

the contaminants," Vines explained.

"The effects of hydrogen peroxide on viruses and

other micro-organisms is well known," Vines noted

in his paper reviewing the technology. "Viruses in the

environment require water to survive. With a chemical

structure similar to water, hydrogen peroxide

molecules attach to virus particles and other microorganisms

that are airborne, or on surfaces, to naturally

break them down."

"If virus particles are in the air,

they will be met with hydrogen

peroxide particles which

oxidize and neutralize the

contaminants," Vines explained.

Synexis delivers dry hydrogen peroxide safely to

occupied spaces in concentrations of 5 to 25 parts per

billion (ppb). By comparison, normal concentrations

in human lungs for hydrogen peroxide molecules range

up to 60,000 ppb, according to Synexis's Material Safety

Data Sheet.

The technology can be integrated into the HVAC duct

system or applied as a stand-alone to individual rooms

or spaces (as done at the Birch Ridge Inn) to reduce

pathogens in the air and on surfaces.

From biodefense to commercial use

"It's just a science project until it moves from 'science

fair' to a commercially viable application," said Vines.

The technology was invented and patented by James

Lee, who worked on chemical, radiological and biological

defense when he was a major in the U.S. Army.

The technology was first commercialized for the private

sector after 9/11 to help protect corporations from

biological attack by, specifically at that time, anthrax.

Since then, the technology

has been proved to reduce the

propagation of viruses, bacteria,

molds and fungi, odors,

and certain insects, according

to Synexis's digital brochure.

"As far as I know, we are the

first business in Vermont to

adopt the technology," Vines

said. "But the technology is

starting to be adopted commercially by a number of

companies, municipalities and schools."

Earlier this month, the town of Vail, Colorado, became

the first municipality in the nation to comprehensively

install a state-of-the-art microbial reduction system

in occupied spaces throughout its public facilities and

buses, according to the town. The devices have been

added to air-handling systems in all the town-owned

buildings including: Vail Public Library, Dobson Ice

Arena, Vail Golf & Nordic Clubhouse, Vail Village and

Lionshead Welcome Centers, the two transit centers,

Colorado Snowsports Museum, Donovan Pavilion, Vail

Municipal Complex, plus the three fire stations, public

works buildings and other facilities. In addition, the

town's entire bus fleet, totaling 33 vehicles, has been

equipped with the system. The $188,000 investment is

expected to greatly reduce the overall microbial load in

Vail's public buildings, according to Vail Town Manager

Scott Robson.

Synexis technology was also installed at Vail Mountain

School in order to ensure the safety and continuance

of in-person instruction.

Others who have recently adopted the Synexis

systems include: Trane Technologies, which is making

them available to K-12 customers; Pinewood Studios in

Atlanta; the University of Oklahoma; and Kansas State.

Synexis Systems are regulated by the U.S. Environmental

Protection Agency and state governments as

antimicrobial devices. Synexis is the sole developer of

hydrogen peroxide gas and dry hydrogen peroxide technology

for occupied spaces. The company is headquartered

in Lenexa, Kansas.

By Bill Vines

The Birch Ridge in now has three Synexis Spheres installed

to help stop viral spread. Two are in the Great Room.
---
The Mountain Times • Nov. 11-17, 2020 LOCAL NEWS • 7

Skiing protocols: State advises ski resorts before winter

>

from page 1

Lodges are also limited to 50% occupancy,

with no more than 75 people in

any indoor space at a time.

The state recommends resorts place a

30-minute time limit on how long guests

stay inside and manage people through

a ticketing or reservation system.

Resorts are also required to maintain

electronic records of names, phone

numbers, addresses and email addresses

of those who enter any lodge, including

what time they used the lodge and

where they sat.

"All skiers and riders are going to have

to alter their routine," Brady said.

The Vermont Ski Areas Association

worked with Vermont resorts, the National

Ski Areas Association and the state

to develop the guidelines over the past

several months.

"This really has been a collective

effort," said Adam White, the communications

director for Vermont

Ski Areas Association. "Every

decision this season is going

to be informed by safety and

health."

White said the rules are general

enough to allow ski resorts to build their

own guidelines on top of the state's recommendations.

"Every resort is different," White said.

At the press conference last Tuesday,

Brady commended Killington for its

adaptability. The resort is typically the

first to open and the last to close.

"They made a strategic decision this

year to wait to open until they have

enough operating terrain and enough

lifts to spread that crowd over the mountain,"

Brady said.

As temperatures approached nearly

70 degrees the weekend prior to Killington's

initial projected opening on

Nov. 14, Communications Manager

Courtney DiFiore said Killington opening

date would be pushed back. The

resort isn't opening until it can provide

top to bottom skiing — a change from

typical years. Okemo is projected to

open Nov. 21.

DiFiore said Killington is prepared for

the changes.

"We knew they were coming," Di-

Fiore said of the guidelines. "Things can

change, which is why all the plans we

created are very adaptable."

She said the ski industry is used to

making rapid changes, given the unpredictability

of snowfall.

"We're feeling pretty confident in our

plan," DiFiore said. "We may not see as

many people on the mountain as we

normally would, anyway."

Killington and Okemo released

winter operating plans in August and

September. They are both requiring

riders to book their ski days ahead of

time. Killington is requiring guests

to make parking reservations, while

Okemo is requiring skiers and riders to

"We're feeling pretty confident

in our plan," DiFiore said.

book reservations for slots on the hill

ahead of time.

Both resorts are opening as many

lifts and as much terrain as possible to

spread people out on the mountain.

"We're happy to have those

guidelines,"Okemo Communications

Manager Bonnie MacPherson said.

"We'll be in compliance with those and

combine them with the protocols we

already have in place."

Brady emphasized the need for

all out-of-state guests to follow the

recommended guidelines for quarantining

prior to arrival (if from a regional

county with 400 cases per million or

higher) and emphasized the need for

resorts to be flexible with cancellation

policies this year.

Despite the changes, Brady said the

state was committed to providing an

"unparalleled winter experience."

By Alexis Voutas, KMS

Killington Mountain School camp participants pose with Coach Craig.

That's a wrap on KMS

fall dryland camp

By Chuck Hughes, KMS

The Killington Mountain School Dryland Camp recently wrapped up for the session.

The camp was for local athletes interested in getting in shape and keeping fit for the

upcoming ski and board season. It was made up of six weeks of training on Tuesdays and

Thursdays afternoon at the Johnson Rec Center on River Road.

Athletes participated in high performance fitness training, stretching, soccer, hiking,

running, and of course kickball.

The camp used a "drop and go" and a "pick up and depart" system for parents and athletes,

along with modified practices of mask wearing and social distancing with daily health

checks.

In total 23 students participated from Killington and surrounding local towns in the

12-session camp. The town of Killington Recreation Department and Director Sarah Newell

helped with guidance and scheduling the camp sessions. The Camp Director was Alexis

Voutas and KMS Coaches included Greg, Craig, Claire, Tyler, Pete G., Nori, Kip, Pete D., and

Tanner, all who helped to make the camp a big success.

For information on Killington Mountain School, visit killingtonmountainschool.org.

Assisted Living

at The Meadows

For more than 25 years,

The Meadows at East Mountain

has been Rutland County's

trusted name for assisted living.

Solid Waste Transfer Station

Location: 2981 River Road (Behind Town Garage)

Phone Number: (802) 422-4499

SAT.& MON. (8 a.m.- 4 p.m.); SUN. (8 a.m.-noon)

Call 802-775-3300 or

visit us online if we can

assist you or a loved one.

Private Rooms • Dining • Activities

Help with Personal Care & Medications

Transportation • Housekeeping

Memory Care

Where

the living

is easy.

Collection & transfer of solid waste deposited by residents and property owners of

the Town. (Windshield sticker & punch card needed) Recycling Center for residents

and property owners of the Town. (Free with windshield sticker) If you need to

dispose of solid waste outside the normal operating hours of the Transfer Station

or have construction & demolition debris or other non-acceptable waste, residents

and property owners of Killington can go to the Rutland County Solid Waste District

Transfer Station & Drop-off Center located on Gleason Road in Rutland.

Winter hours began November 1, 2020.

240 Gables Place • Rutland, VT

www.themeadowsvt.com

Select residency now available
---
Opinion

8 • The Mountain Times • Nov. 11-17, 2020

OP-ED

Protecting Vt's forests,

one deer at a time

By Lynn McNamara

Several years ago I made a decision that came as a

surprise to many of my friends and family. I was going to

start hunting deer here in Vermont. As a lifelong animal

lover and considered the family "tree hugger," this desire

to hunt seemed to some to be at odds with my dedication

to conservation.

As a child growing up in Massachusetts, it was very rare

to see a deer and even when I first moved to Vermont over

20 years ago, a deer in the yard was a special sight. But in

the last two decades, with few predators, warmer winters,

and declining numbers of hunters, the deer population

has rapidly expanded in many parts of Vermont — resulting

in negative impacts to our landscape.

I have had the privilege to steward lands that have

been conserved by The Nature Conservancy for the past

13 years, and in that time I have witnessed our forests

change. The forests now appear more open and park-like,

if they are not infested with invasive plants such as honeysuckle,

buckthorn and barberry. They are composed of

widely spaced mature trees, with few saplings or seedlings

growing in the understory. While not always apparent at

first glance, what is missing is the next generation of trees

and the complexity and diversity of species that used to

be typical of our Northern hardwood forests. This altered

landscape is primarily due to the overpopulation of deer

that are over-browsing a vital ecological stage that promotes

healthy forests.

I've always felt a strong connection to nature and the

lands around me, a land ethic, which has grown over

time. Therefore, I have devoted my personal and professional

life to nurturing the natural communities that sustain

us. I do this through actions both big and small, like

picking up roadside trash, planting flowers and shrubs

that provide food for pollinators and wildlife, and through

my work restoring wetland and forest systems that have

been impacted by past human use. Witnessing the change

in our forests inspired me to take even further action and

Hunting > 11

Vermonters demand balance,

we're ready to offer it

By Rep. Pattie McCoy (R-Poultney)

On Nov. 3, Vermonters spoke loud and clear. In a stunning

rebuke of the status quo, the Vermont Legislature

will have new leadership when it convenes in January due

to the current Lieutenant Governor, President Pro Temp,

Speaker of the House, and Progressive House Caucus

Leader not returning to Montpelier. Longtime Democratic

and Progressive lawmakers from all corners of Vermont lost

their primary and general election campaigns.

Perhaps most important is the Democratic-Progressive

coalition lost their Supermajority.

Meanwhile, Vermont Republicans gained ground. We

expanded our footprint in the Vermont Legislature for the

first time in six years. We picked up House seats we have

never before had a Republican represent and Governor

Scott won re-election by 40 points, totaling more votes than

any Vermont governor in history.

Vermonters were loud and clear in their electoral mandate

of more balance. With this newfound balance will be

a greater focus on our structural challenges: affordability, a

stagnant economy, the growing divide between Chittenden

County and rural Vermont, our demographic trends, and

the challenges we face as we weather the Covid-19 crisis.

We have an opportunity this biennium to make important

strides on all of these issues and be a force for positive

change. Whether it is lowering the cost of health care,

unleashing the full potential of our workforce, or investing

Balance > 11

LETTERS

Thank you

Rutland

County

Dear Editor,

From the bottom of

my heart, I say thank the

residents of Rutland County

for electing me to be one of

your next senators. I am beyond

grateful for your trust

in me. I am overwhelmed by

the support of thousands,

and I promise not to let you

down. This campaign, and

victory, would never have

been possible without the

unwavering support of my

wife, Jessica, and our four

children.

As I said time and again

during the campaign, I will

truly be a senator for everyone.

A spirit of collaboration

is needed more than

ever from elected officials

and I pledge to work with

everyone who wants to improve

our county and state

like I do. After all, respect

towards others always, even

those we may disagree with

from time to time, is truly

the Vermont way!

I look forward to getting

to work on Jan. 6. Thank

you, Rutland County.

Sincerely,

Senator-Elect Joshua

C. Terenzini

Thanks!

Dear Editor,

Thank you to all who

took the time to vote in this

year's general election. As

you know, it was a record

turnout for Vermont with

approximately 80% of registered

voters participating.

Hats off to our town clerks

and their election teams for

the job they did preparing

for this year's election with

the processing of all the

mail-in ballots and establishing

safety measures at

the polls on Nov. 3.

Thanks especially to

residents in Bridgewater,

Chittenden, Killington

and Mendon for your vote,

contribution, willingness

to host a lawn sign, to give

a friendly wave or words

of encouragement along

the way.

These are unusual times.

As the legislature begins

anew in January, I will to

do my best to represent

the district as a whole and

resume sending regular updates

on legislative action.

It is an honor to serve as

your state representative.

Thank you!

Jim Harrison, North

Chittenden for State

Representative, Rutland-

Windsor 1

You're fired by John Darkow, Columbia Missourian

Community rallies one more time

Dear Editor,

I'm writing in awe of the

incredible response to the

GMP Food Challenge recently

held on behalf of the

Vermonters who rely on the

Rutland Community

Cupboard.

With Covid-19

forcing this

wonderful annual

community event

into a virtual one

this year, we had

no way to know how this

might go — but again, Rutland

County came through

big for those in need.

Working with Rebekah

Stephens and the Community

Cupboard, we set

The virtual Food

Challenge surpassed

that lofty $25,000 goal

by raising $32,000.

what we thought was a huge

goal — $25,000. We knew

the need is bigger than ever

thanks to Covid.

With several checks arriving,

postmarked before

the deadline but after the

Herald's recent coverage,

we wanted to let folks know

what an amazing outpouring

occurred. When all was

said and done, the virtual

Food challenge > 9

WRITE TO US.

The Mountain Times encourages readers to

contribute to our community paper by writing

letters to the editor. The opinions expressed

here are not endorsed nor are the facts

verified by the Mountain Times. We ask submissions

to be 300 words or less.

Email letters to

editor@mountaintimes.info

Mounta in Times

mountaintimes.info
---
The Mountain Times • Nov. 11-17, 2020 OPINION • 9

CAPITOL QUOTES

On the historic achievement of a

woman—of color—being elected to the

US vice presidency...

"While I may be the first woman in this

office, I will not be the last—because

every little girl watching tonight sees

that this is a country of possibilities,"

said Kamala Harris in her speech on Nov. 7

"Congratulations Vice President-

Elect Kamala Harris. After 230

years — you shattered two ceilings.

A truly historic achievement,"

said New York Gov. Andrew Cuomo

"This is history. And the gravity of this moment

wasn't lost on us. Vice President-elect Kamala Harris

in Suffragette white on the 100 year anniversary

of women getting the right to vote is quite the

statement,"

said Colorado Rep. Diana Degette in reaction to Harris's

speech

"Cannot understate how historic and

incredible this is for Kamala Harris

and for Black women and South Asian

women everywhere, and for America.

Let's not look back, ever,"

said soccer star Megan Rapinoe

"52 years ago this week, Shirley Chisholm

became the first Black woman elected to

Congress. Her historic election helped to

pave the way for so many Black female

candidates, including Kamala Harris, to

follow her,"

said tennis player Billie Jean King

"As the first woman in this office and the child of

two immigrants, she is an inspiration to many

people and an example of the possibilities in

America,"

said German chancellor Angela Merkel

COMMENTARY

By Marguerite Jill Dye, Killington

I never knew I craved normalcy

To such an extent, to such a degree.

But suddenly, I'm finding myself

Heaving sigh after sigh of needed relief.

Your calm, steady voice and healing words,

Spoken directly from your heart,

Soothe my soul, calm my nerves,

Alleviate headaches, lower blood pressure.

I never knew I crave normalcy

To such an extent, to such a degree.

You give me hope, Joe, that we will survive

Through this pandemic and other disasters.

If only you could have come sooner, Joe,

How many lives could you have saved?

But January's better than never

And I am grateful you're well on your way.

I never knew I crave normalcy

To such an extent, to such a degree.

With a simple face change on screen after

screen,

I'll no longer feel the urge to scream.

You're restoring my faith in humanity, Joe.

Your kindness, compassion, inclusion, and

caring

Are replacing the bitterness, anger, and

hatred

That has spewed forth day after day,

Assaulting serenity, sensitivity, sanity,

Human decency, and integrity.

I'm decompressing with sighs of relief

That can be heard across the room.

The stress and exhaustion have left me limp.

But your arrival on the scene is the remedy

that I need

To overcome and counteract the despair

and hopelessness that I have felt.

I crave a leader who lifts us up,

Who doesn't degrade us or negate us,

Who keeps us safe from pandemics and wars

With a level head, science, and good

advisors.

LETTERS

>

Food: Thanks!

from page 8

Food Challenge surpassed

that lofty $25,000 goal by

raising nearly $32,000 for

our friends and neighbors,

which will help feed hundreds

of families, including

working people, seniors,

and children.

Given the region's

heartfelt response to everything

from Tropical Storm

Irene to the Gift-of-Life

Marathon, I can't honestly

say I am surprised by this

support, but my faith in

humanity is replenished

nonetheless. Thanks to all

who helped.

Steve Costello

Rutland Town

Tribute to Joe

Thank you Windsor County

Dear Editor,

Thank you,

people of the

Windsor County

Senate District,

for re-electing

us as your State

Senators.

Your trust is

an honor, and a challenge

to be worthy. We're

grateful to the many

people who've worked to

re-elect us, and we thank

our various opponents

for a civil contest in these

uncivil times.

We are all in a difficult

time, dealing with the

health implications and

economic consequences

I crave a leader who respects human rights,

Who strengthens families and unites them,

Who reconstructs, does not deconstruct,

Our Democracy's building blocks.

I crave a leader who speaks the truth,

Comprehends Climate Change, protects

the Earth

And serves everyone he represents,

Not only himself and the top 1%.

I seek a team that raises the bar and

Leads us to a sustainable future.

I seek a team that understands the value of

education,

Civil rights, equal opportunity, and living

wages.

With you as our leader, we can work together

To feed the hungry, house the homeless,

Provide safety, security, liberty, justice,

And healthcare for all Americans.

I believe you're the man for the job, Joe,

With your steadfastness and

determination,

Deep inner peace and cooperative nature,

You lead by example through your good

deeds and words.

Please teach us tranquility and share your

vision.

Heal our ailing world and Nation.

I firmly believe it can be done

With the spirit and guidance of your

leadership.

With so many resources on our Earth

It's only a matter of strategizing and prioritizing

To meet and fulfill humanity's needs.

I realize it may take some time

But whatever it takes, it will be worthwhile.

Now is the time to redefine and unite,

To roll up our sleeves and once again become

The shining, inspiring Nation the world

admires,

Leading responsibly and effectively

From the magnificent City on the Hill.

We will...act

resolutely to get our

brave little state to

the end of this crisis.

of Covid-19, as well the

many challenges that face

Vermont even in the best

of times. We, like you, will

do our best to think creatively

and act resolutely

to get our brave little state

to the end of this crisis.

Again, thank you,

Senator Alison Clarkson

Senator Alice Nitka

Senator Dick McCormack
---
10 • OPINION

The Mountain Times • Nov. 11-17, 2020

By Zip Barnard

Casella Construction recreated a scene from "The Nightmare Before Christmas."

Biden Wins by Jeff Koterba, CagleCartoons.com

Good Vaccine News by Kevin Siers, The Charlotte Observer, NC

By Curt Peterson

By Zip Barnard

Killington Corporation's window on Merchant Street showcased winter recreation.

Rutland Halloween

was a great success

By Royal Barnard

For more than half a century the City

of Rutland has hosted without interruption

the most famous Halloween Parade

in all of America. The dream child of

Rutland reporter and comic fan, Tom

Fagan, the event has brought Marvel

Comics celebrities, ghouls, goblins and

thousands of viewers from everywhere

for decades. In 2020 the pandemic would

not allow that.

Initially there was discussion, but no

plan came forth for an alternative. Norma

Montaigne, who designed, built and

acted with Drum Journeys of the Earth

Skelly Dancers, who have led the parade

for years, came up with a proposal. She

and friends Zip Barnard and Claude Derosier

imagined a "Parade of Windows" using

downtown venues to show wonderful

exhibits and images of parades past.

In a great tragedy, Montaigne died in

an auto accident in the middle of the effort.

Barnard and Derosier were left alone

to make something work.

In the mean time Eric Malette of the

Paramount Theater was working to

assembled a group of supporters to at

least have a fireworks display at the fair

grounds. There was hope for a celebration.

In a frantic effort to create an event,

downtown merchants including property

owner and city supporter, Mark

Foley and others, agreed to make space

for giant blowups of past floats to appear

in their windows.

Claude Derosier worked with Awesome

Graphics to reproduce large scale

image blowups. Zip Barnard worked with

many on logistics. Gary Meitrott of Drum

Journeys produced an audio presentation.

Nikki Hindman of the Downtown

Partnership jumped in with financial

and organizational support.

The Rutland Herald opened its photo

files for choosing great images. There

would be a parade.... of windows... 27 of

them filled with fun and memories.

The Downtown Partnership and the

Friends of Norma Montaigne greatly appreciate

and thank Killington Resort and

Casella Construction for their fabulous

lighted windows. Congratulations for

all the wonderful displays in downtown

Rutland business windows. The fireworks

were a perfect finale.

Rutland is a proud city and once again

has proved that we can survive anything

that comes our way. Rutland's No. 1 in

America Halloween parade survived and

it will continue in 2021. Norma Montaigne

lives in our hearts and she will be

there too. RIP.
---
The Mountain Times • Nov. 11-17, 2020 NEWS BRIEFS • 11

>

Hunting: Restoring balance to nature

from page 8

that led to my becoming a hunter.

After listening to local foresters, ecologists and wildlife

biologists, I learned that deer hunters provide a valuable

service to our lands by restoring a system of checks on

a population that has been disrupted by the absence of

predators, and a changing climate.

Just as I hit the roads to clean up litter on Green Up Day

in the spring, I retreat to the woods with my crossbow during

hunting season and if I am successful, as I was earlier

this season, I have a freezer full of sustainable and local

meat to feed my family through the winter.

Lynn McNamara is the director of stewardship for The

Nature Conservancy in Vermont.

>

Balance: Working together for VT

from page 8

in higher education, we stand ready and willing to roll up

our sleeves and get to work. We look forward to partnering

with our colleagues across the aisle whenever we can, and

respectfully engaging with them in a robust debate when

we disagree in order to reach consensus.

The bottom line is if we pull together towards a brighter

future, focus on the fundamentals, and recognize voters'

yearning for more balance in Montpelier, we all will succeed.

But if we fail to act on these issues and instead put pet

projects or partisan politics first, we will be ignoring the

mandate of Vermonters and letting them down.

Vermont has an opportunity to emerge stronger than

ever from the present crisis — but only if we pull together.

With a greater balanced Legislature, we are in a position to

do exactly that.

Let's roll up our sleeves and get to work.

McCoy is the Minority Leader of the Vermont House of

Representatives. She is a member of the House Committee

on Transportation, House Rules, Joint Rules and Legislative

Council Committees

Courtesy of BROC

Stuff A Bus returns

The 26th annual Stuff A Bus three-day event is back Nov. 12-14. This year the event will go on with The BUS and

live radio broadcasts throughout, with one notable change. The organizers from Catamount Radio will be collecting

cash and checks, not food. Following Covid-19 safety protocols it was decided that collecting food would not meet

the safety test. However, the three food shelves participating can purchase food locally and through the Vermont

Food Bank in bulk with the monetary donations. Participating organizations include the BROC Community Food

Shelf, the Rutland Community Cupboard and the Salvation Army. Buses will be parked at Price Chopper and Hannaford,

with a WJJR Van at Tops Market in Rutland. BROC CEO Tom Donahue said, "this fundraising event is more

important than ever before due to the pandemic."

"Stuff A Bus is emblematic of holiday giving and kindness at this special time of year," said Rutland Community

Cupboard Executive Director Rebekah Stephens.

Make my Medicare MVP!

Get added value and benefits with a Medicare Advantage

plan from MVP Health Care. ®

$ 0 primary care visits, telemedicine services, and Preferred Generic Drugs

NEW! Earn up to $200 in WellBeing Rewards for healthy activities

NEW! Up to $200 for over-the-counter medicines and health-related

items from select pharmacies or by mail order with most plans

NEW! Option to add additional dental coverage, with $1,000 in annual benefits

Plus, FREE wellness programs, including virtual fitness classes,

a FREE SilverSneakers ® fitness membership, and more!

Speak with an MVP

Medicare Advisor today.

Call 1-833-368-4622

TTY: 1-800-662-1220

Monday–Friday, 8 am–8 pm Eastern

Time, October 1–March 31, seven days

a week, 8 am–8 pm

Try MVP's new Medicare Cost

Calculator, or schedule a oneon-one

virtual appointment

at MovetoMVP.com/VT.

The annual election period for MVP Health Care Medicare Advantage health plans is Oct. 15–Dec. 7,

2020. MVP Health Plan, Inc. is an HMO-POS/PPO/MSA organization with a Medicare contract.

Enrollment in MVP Health Plan depends on contract renewal.

Telemedicine services from MVP Health Care are powered by Amwell and UCM Digital Health.

Regulatory restrictions may apply.

Y0051_4916_M

MountTimes MovetoMVP.com/VT 1-833-368-4622 2-Oct 14-Oct 7-Oct 9.75" x 5.8"
---
Calendar

12 • The Mountain Times • Nov. 11-17, 2020

'SONGS FROM AFAR': RYAN MANGAN

at GRACE CHURCH & ONLINE

FRIDAY, NOV. 13 at 7 p.m.

By Krista Johnston

WEDNESDAY, NOV. 11

Mountie for a Day

8 a.m.

MSJ welcomes area students, currently in grades 7 and up, to visit

Mount St Joseph Academy for a school day. Middle and High Schoolaged

prospective students who are interested in learning more about

MSJ are invited to meet our students, faculty and staff and to participate

in our school day, from 8:00 a.m to 3 p.m. Lunch will be provided.

Fit and Fun

9:30 a.m.

Marilyn Sheldon holds exercise classes at the Godnick Adult Center.

Low impact, aerobic, and stretching routines; move to lively, sing-along

music. 1 Deer St. in Rutland. Advance registration required, call

802-773-1853.

Family Wednesdays

10 a.m.

Billings Farm & Museum will be open on select Wednesdays in November

and December from 10 a.m. – 4 p.m. with family friendly programs,

story readings, artifact explorations and on-site or take-home crafts.

11/4 theme- Gentle Jersey Cows.

Veterans Day at VINS

10 a.m.

VINS welcomes Veterans and Active Service Members to the VINS

Nature Center on November 11 free of charge. Simply provide your

military identification for complimentary admission. They are offering

one complimentary ticket for your caregiver or spouse.

Veteran's Day Ceremony

11 a.m.

A time to honor all Veterans at the American Legion Post 55 in Brandon.

Supporting Veterans Children Through Transitions

12 p.m. - Webinar. Register at adobe.ly/3kiNGYX

Everyone Eats - Castleton

2:30 p.m.

Free restaurant-prepared meals to pick up at Castleton Elementary

School in Castleton.

Working Families Playgroup and Everyone Eats!

4 p.m.

Free, ready to heat and eat meals provided by local restaurants through

Everyone Eats at Wonderfeet Kids Museum! Play before or after picking

up your meals. We are limited to 20 guests in the museum at a time.

Temperature checks and masks will are required. Reservations are not

required but RSVPing will help us to order the right amount of meals.

Everyone Eats - Rutland

4 p.m.

Free meals served up at the Vermont Farmer's Food Center from 4-6

p.m. More info at vermontfarmersfoodcenter.org/everyone_eats

Everyone Eats - Fair Haven

4 p.m.

Free restaurant-prepared meals to pick up at Fair Haven Grade School

in Fair Haven.

Winter Snow Sports Mixer

4 p.m.

Join for an Okemo Valley Regional Chamber of Commerce Program

on Snowsports this winter. Zoom access info sent to those who

RSVP. There will be a "Thanksgiving Margarita" cocktail demo from

the Fullerton Inn participants can make from home. Register at conta.

cc/3kaKXk5

Kim Wilcox and Guest

5 p.m.

Performing live at The Public House, 5813 Woodstock Rd in

Quechee.

Everyone Eats - Poultney

5 p.m.

Free restaurant-prepared meals served up at Young at Heart

Senior Center, 206 Furnace St in Poultney.

Everyone Eats - Chittenden

5 p.m.

Free restaurant-prepared meals served up at Barstow Memorial

School in Chittenden.

Sammy B

5 p.m. - Performing live at Neal's Restaurant in Proctorsville.

Open Mic Night

5:30 p.m.

At the Skunk Hollow tavern with host Pete Meijer every Wednesday

5:30 - 8:30 p.m.

Locals Night

6 p.m.

King Arthur Junior and Sammy B perform at Flannels Bar and Grill.

Resilience and Change: Conservation and Community

in a Renewed Vermont

7 p.m.

Keynote speaker Paul Costello will tie together the various themes in

the Association of Vermont Conservation Commissions (AVCC) Annual

Summit. Find a schedule, register for individual sessions, and donate

at vtconservation.com/conservation_summit/

Film night

7 p.m.

Rutland Jewish Center will discuss two 10-minute films, each of which

is about a young boy and his relationship to Judaism. The films, Happy

New Year and Call Me Alvy may be found and viewed in advance. They

will also be shown during the event. Join via Zoom at dartmouth.zoom.

us/j/98439950393?pwd=eldKRXpjU2NJTm9yd28vd3dYQ1pCUT09

THURSDAY, NOV. 12

Stuff A Bus

All day

Buses will be parked at Price Chopper and Hannaford with a WJJR

Van at Tops Market in Rutland. The organizers from Catamount Radio

will be collecting cash and checks not food.

Groovy Grannies line dance

9:30 a.m.

Intermediate line dance, mostly country with a little variety. No partner

is needed. Marilyn Sheldon leads at the Godnick Adult Center. 1 Deer

St. in Rutland. Advance registration required, call 802-773-1853.

Circle of Parents

10 a.m.

Virtual. contact Cindy Atkins, Family Support Programs Coordinator, at

802-498-0608 or catkins@pcavt.org.

Story Hour online

10 a.m.

See Miss June's virtual story time on The Rutland Free Library YouTube

channel.

VeggieVanGo

11:30 a.m.

Area community members in need of food assistance are invited to

pick up free vegetables and fruits from VeggieVanGo at Gifford medical

Center in Randolph.

2020 Farm to Plate Gathering

12:30 p.m.

Hosted online. Links to sessions will be sent to you prior to the

Gathering via email. There is a flat fee of $30 to register here: cvent.

com/events/10th-annual-farm-to-plate-network-gathering/registration-

72393487186e4615be28fbe9cd39f449.aspx?fqp=true

Everyone Eats - Rutland

4 p.m.

Free meals served up at the Vermont Farmer's Food Center from 4-6

p.m. More info at vermontfarmersfoodcenter.org/everyone_eats

Duane Carleton

4 p.m. - Performing live at Moguls Sports Pub in Killington.

Wisdom Cafe

4 p.m.

Roger Clark Memorial Library in Pittsfield invites you to join the Wisdom

Cafe! Let's talk about gratitude. What are you grateful for? Is gratitude

useful? How do you find it? The first of a regular new series, we'll

explore ideas in a thoughtful exchange. Free & open to all 16 years+.

RSVP for info on how to join. 746-4067 or pittsfieldvtlibrary@gmail.com.

Circle for Foster & Adoptive Families

5 p.m.

Virtual. Contact Heather Niquette, Family Support Programs Coordinator,

at 802-498-0607 or hniquette@pcavt.org

Everyone Eats - Chittenden

5 p.m.

Free restaurant-prepared meals served up at the North Chittenden

Grange Hall in Chittenden.

Everyone Eats - Killington

5 p.m.

Mission Farm is working with Everyone Eats. Providing food for anyone

in need. No questions asked. Meals can be picked up at Mission Farm

on Thursdays between 5 and 6. All folks need to do is sign up or call in

by Sunday to reserve meals. 802-422-9064

Sammy B

5 p.m. - Performing live at Neal's Restaurant in Proctorsville.

Nurturing Skills For Families

5:30 p.m.

Virtual. Contact Cindy Atkins, Family Support Programs Coordinator, at

802-498-0608 or catkins@pcavt.org

Everyone Eats - Brandon

6 p.m.

Free meals served up in Brandon's Estabrook park beginning 6 p.m.

More info at vermontfarmersfoodcenter.org/everyone_eats

Cornhole Winter League

6 p.m.

Play cornhole with Exit 4 Cornhole in Randolph. Located in the warehouse

at Rain or Shine, 14 Hull St. Bags fly at 6 p.m. $5 cover, $10

league fee.

BYO(D)Mic

6 p.m.

It's open mic night on Thursdays now at Du Jour VT, but you gotta'

bring your own mic to spit on.

Team Trivia with Casey Murray

6 p.m.

Test your knowledge at The Public House, 5813 Woodstock Rd in

Quechee.

Jim Yeager

6 p.m.

Summer Music Series presents local musician Jim Yeager every Thursday

rain or shine at the Barnard Inn and Tavern. No Cover - Donations

appreciated.

Acoustic Jam with Host David Hughes

6 p.m. - Live at the Ripton Mountain Distillery in Brandon.

Virtual Knit Knite

7 p.m.

Six Loose Ladies and Friends host a knitting circle from Chester via

Zoom. More info available at facebook.com/events/973117296469197.

Uphill and Beyond

7 p.m.

Vermont Ski and Snowboard Museum's Virtual Red Bench Series presents

"Uphill and Beyond; Ski Legends Go Deep on What Covid Means

for Resorts and the Backcountry" via Zoom. More info and register at

vtssm.org/new-events.

Virtual Book Release Celebration

7 p.m.

Join Phoenix Books and Peter Hogenkamp for a release celebration of

"The Vatican Conspiracy." This event is free, but registration is required

at phoenixbooks.biz/event/peter-hogenkamp-vatican-conspiracy-0

Circle for Kinship & Guardianship Families

8 p.m.

Virtual. Contact Heather Niquette, Family Support Programs Coordinator,

at 802-498-0607 or hniquette@pcavt.org

FRIDAY, NOV. 13

Stuff A Bus

All day

Buses will be parked at Price Chopper and Hannaford with a WJJR Van

at Tops Market in Rutland. The organizers from Catamount Radio will

be collecting cash and checks not food.

Calendar > 13
---
The Mountain Times • Nov. 11-17, 2020 CALENDAR • 13

>

Calendar:

from page 12

2020 Farm to Plate Gathering

9 a.m.

Hosted online. Links to sessions will be sent to you prior to the

Gathering via email. There is a flat fee of $30 to register here: cvent.

com/events/10th-annual-farm-to-plate-network-gathering/registration-

72393487186e4615be28fbe9cd39f449.aspx?fqp=true

Mission Farm/Church of Our Saviour Annual Coat

Drive

9 a.m.

All types of coats and winter outerwear—new or clean, gently-used—

will be accepted. In honor of our Veterans, donations will be given to

the Veterans Assistance Office in Rutland. Cash donations will be used

to purchase boots for Veterans. You may drop off items in the church

lobby Friday-Monday Morning, Nov.13-15. Mission Farm/Church of

Our Saviour (Episcopal) is located at 316 Mission Farm Road, across

from the Killington Skyeship Gondola.

Prana Yoga

10:30 a.m.

Tammy Brown instructs at the Godnick Adult Center. Advance registration

required by calling 802-773-1853.1 Deer St. in Rutland. Stay for

free meditation at 11:30 a.m.

Expungement "Tele-clinic"

10 a.m.

Attorney General T.J. Donovan will partner with Windham County

State's Attorney Tracy Shriver, Vermont Legal Aid, and Code for BTV

to host an expungement "tele-clinic." Visit vtlawhelp.org/expungement

for more info.

Meditation

11 a.m.

Led by Brian Salmanson at the Godnick Adult Center. 1 Deer St. in

Rutland. Free.

Dorset Theatre Festival Young Playwright awards

4 p.m.

The 2020 winners will be celebrated with an online ceremony, including

a digital presentation of the winning pieces, directed by this year's

teaching artist, Heidi Armbruster. More info: dorsettheatrefestival.org/

young-playwrights-program

Chris Pallutto

5 p.m. - Performing live at Moguls Sports Pub.

Member Exhibit & Holiday Shoppe opening reception

5 p.m.

Chaffee hosts an all-member show celebrating the talented artists in

our communities whose works will be on display and for sale throughout

the 1890's mansion until Jan. 8. RSVP required. Call 802-775-0356

or email info@chaffeeartcenter.org to reserve. All attendees will receive

a special Ann Clark Ltd. Gingerbread House Cookie Cutter customized

especially for the Chaffee.

Opening Reception

5 p.m.

The Brandon Artists Guild (The BAG) kicks off the holiday season with

affordable, gift-able art and craft pieces. The show, It's the Thought

that Counts, runs from November 6 through January 24. The public is

invited to the free opening reception.

Sammy B

5:30 p.m. - Performing live at the Foundry in Killington.

Aaron Audet

5:30 p.m. - Performing live at Roots the Restaurant.

King Arthur Jr.

6 p.m.

Friday Nights at Flannels Bar & Grill, $3 Draft Beer and live music by

King Arthur Junior!

Ryan Fuller

6 p.m. - Performing live at Jax food and games.

George Nostrand

6 p.m. - Performing live at the Bomoseen Lodge.

Duane Carleton Rocks Taylor's Birthday

6:30 p.m. - Performing live at the Clear River Tavern.

Trivia in the Tap Room: Vermont

6:30 p.m.

Pub trivia with Rick Davis at the Harpoon Riverbend Taps & Beer

Garden in Windsor.

Live Music

6:30 p.m. - Catch a live performance at Taso on Center in Rutland.

Krishna Guthrie

6:30 p.m. - Performing live at Du Jour VT in Ludlow.

'Songs from Afar' concert: Ryan Mangan

7 p.m.

Singing Beethoven & Vaughan Williams in the candlelit beauty of Grace

Church Sanctuary with the audience seated in the balcony. Please

bring your smartphone for digital program notes (QR coded). Also live

streamed on Facebook @GraceChurchVT

SATURDAY, NOV. 14

Stuff A Bus

All day

Buses will be parked at Price Chopper and Hannaford with a WJJR

Van at Tops Market in Rutland. The organizers from Catamount Radio

will be collecting cash and checks not food.

Cars and Coffee

7 a.m.

Enjoy a cup up of coffee, look at cars and show off your own at Forest

Dale Grocery in Brandon.

Mission Farm/Church of Our Saviour Annual Coat

Drive

9 a.m.

All types of coats and winter outerwear—new or clean, gently-used—

will be accepted. In honor of our Veterans, donations will be given to

the Veterans Assistance Office in Rutland. Cash donations will be used

to purchase boots for Veterans. You may drop off items in the church

lobby Friday-Monday Morning, Nov.13-15. Mission Farm/Church of

Our Saviour (Episcopal) is located at 316 Mission Farm Road, across

from the Killington Skyeship Gondola.

Virtual Craft Fair

9 a.m.

Hosted by the Vermont Farmers Market. Support local and shop

some of the most talented vendors from across the state of

Vermont. From artisan crafts, specialty foods, maple and honey,

CBD products, and everything in between, vendors have that

unique gift you've been searching for. Join Vermont Farmers

Market on Facebook and Instagram all day to learn more

about vendors, browse items for sale, view stories, and

even live updates from show manager.

Art of the Goddess

10 a.m.

Workshop hosted by Cathy Walker and Heidi Smith Bagley at

Stone Valley Arts in Poultney. Participants must preregister to

save a spot for themselves. $25.

Wooden Utensil Carving

1 p.m.

This class will provide you the skills and knowledge to design and cut a

utensil from a rectangular wooden blank. REclaimED Makerspace, 169

Main St. in Poultney. $100 (10% off for members) RSVP Required on

our website or in person: reclaimedvt.org.

Rick Redington and The Luv

4:20 p.m.

Drive In Concert with Rick Redington & The Luv at the Wild Fern in Stockbridge.

Super Stash Bros.

5 p.m.

On the deck at Moguls Sports Pub. 2360 Killington Rd. in Killington.

Juke Joint at Home

5 p.m.

JAG productions hosts. The cabaret has been adapted to keep everyone

safe while enjoying songs and soul food, ballads and beverages

from the comfort of home. Tickets are $75 and include a single meal,

cocktail, and the link to watch the virtual performance, or $20 for a

ticket to view the show only. jagproductionsvt.com

King Arthur Junior

5 p.m. - Performing live at Neal's Restaurant in Proctorsville.

Ryan Fuller

5:30 p.m. - Performing live at the Foundry at Summit Pond.

George Nostrand & Eric King

6 p.m. - Catch a live performance at Jax in Killington.

Jenny Porter

6 p.m. - Performing live at Flannels Bar and Grill in Mendon.

Aaron Audet

6 p.m. - Performing live at Bomoseen Lodge.

Chris Pallutto

6:30 p.m. - Catch a live performance at Du Jour VT in Ludlow.

Virtual Short Play Festival

7 p.m.

Vermont Actors' Repertory Theatre presents a virtual short play festival

featuring Vermont playwrights via Zoom. The festival is free of charge

and open to the public. Zoom links will be available through facebook

page (Vermont Actor's Repertory Theatre), website www.actorsrepvt.

org, or by emailing actorsrepvt.org@gmail.com.

Sat night with Dj Mega

10 p.m. - Spinning live in Rutland's Center Street Alley.

SUNDAY, NOV. 15

CDGC Fall League

9:30 a.m.

Chester Disc Golf club tournaments continue. Please arrive 15-20

minutes early to sort out groups, buy-ins, warm-ups, etc.

Skier/Snow Enthusiast Blessing

10:30 a.m.

Church of Our Saviour/Mission Farm will host an enthusiastic Skier/

Snow Enthusiast Blessing. Prayers will be offered for an especially

safe, snowy and fun winter. Bring your skis, boards or any symbol of

winter activities for an enthusiastic blessing.

Mixed Medium Dance Symposium

11 a.m.

Vermont Dance Alliance's (VDA) annual dance symposium goes virtual

this year with inspirational programming to meet the current challenges

to the region's arts sector and support regional dance artists. Register

at flipcause.com/secure/event_step2/OTkyNTU=/92821.

Jim Yeager

12 p.m. - Performing live at Mont Vert Cafe in Woodstock.

UTENSIL CARVING WORKSHOP

at RECLAIMED MAKERS SPACE

NOV. 14 & 15 at 1 p.m.

Courtesy of Reclaimed Makerspace

Winter Farmers' Market

10 a.m.

The Vermont Farmers Market's winter market at Vermont Farmers

Food Center, 251 West St. in Rutland. Until 2 p.m.

Virtual Story Time

11 a.m.

Phoenix Books hosts virtual story time with John & Jennifer

Churchman, authors of "The Christmas Barn."

Mixed Medium Dance Symposium

11 a.m.

Vermont Dance Alliance's (VDA) annual dance symposium goes

virtual this year with inspirational programming to meet the current

challenges to the region's arts sector and support regional

dance artists. Register at flipcause.com/secure/event_step2/

OTkyNTU=/92821.

Konflikt '47 Open Play

12 p.m.

Bring your army (500 - 1000 points) and your books and your dice to

battle it out on the weird war battlefields of Konflikt '47 at Draw Go

Games in Rutland.

Wooden Utensil Carving

1 p.m.

This class will provide you the skills and knowledge to design and cut a

utensil from a rectangular wooden blank. REclaimED Makerspace, 169

Main St. in Poultney. $100 (10% off for members) RSVP Required on

our website or in person: reclaimedvt.org.

Virtual Short Play Festival

2 p.m.

Vermont Actors' Repertory Theatre presents a virtual short play festival

featuring Vermont playwrights via Zoom. The festival is free of charge

and open to the public. Zoom links will be available through facebook

page (Vermont Actor's Repertory Theatre), website www.actorsrepvt.

org, or by emailing actorsrepvt.org@gmail.com. Calendar > 14
---
14 • NEWS BRIEFS /CALENDAR

The Mountain Times • Nov. 11-17, 2020

Walmart chooses not to apply

for frontline employees hazard

grant pay for workers

All employers must apply for grants by Friday

Staff report

Walmart has come under fire for failing to apply for the state of Vermont's frontline

employees hazard grant pay, a program which provides grants of $1,200 and $2,000

to workers who put themselves at risk, particularly in the early days of the pandemic.

Many Walmart employees meet these qualifications, however, because the employer

must apply, they may not receive them.

State Senators Tim Ashe, Cheryl Hooker, Jane Kitchel, Chris Pearson, and Michael

Sirotkin issued a statement on Nov. 5 urging Walmart to apply.

"We are extremely disturbed to learn that Walmart has indicated they will not allow

their Vermont employees to receive essential worker hazard pay grants. Their decision,

cruel under any circumstances, is especially unthinkable since the grants are intended

to thank essential workers who stayed on the job in high risk positions in the earliest

days of the Covid pandemic," the Senators wrote.

"While our society has a long way to go to right the historically unfair compensation

of many essential workers, we are proud that Vermont created a hazard pay program

to recognize our essential workers with a modest but meaningful financial grant for

Food box program extended

The Farmers to Family food box program

has been extended through the end

of the year! Starting Nov. 16, Farm to Family

food boxes will be available at multiple

daily food distributions throughout the

state. To register and see the dates and

locations, please visit humanresources.

vermont.gov/food-help or call 802-476-

0316 for assistance.

MASKS ON

FACES

SIX-FOOT

SPACES

Each reservation will receive one box

with about 30 pounds of food, including

fresh produce, dairy products, and meat.

You are welcome to pick up food for other

families who are not able to make it to the

pickup site, just be sure to make a separate

reservation for each household.

For more ways to access the food you

need, visit vtfoodbank.org/gethelp.

STAY SAFE, VERMONT!

Every time you make plans or head out, ask yourself:

Will people

wear masks?

Can I easily keep

6 feet from others?

Hazard pay > 31

Can I avoid

crowds?

UNCROWDED

PLACES

>

Calendar:

from page 13

Duane Carleton

4 p.m. - Performing live at Moguls Sports Pub in

Killington.

Jenny Porter

5 p.m. - Performing live at Jax food and games.

Jazz Night

5 p.m. - The Summit Pond quartet performs at the

Foundry in Killington.

Rick Webb

5:30 p.m. - Performing live at Flannels bar and grill

in Mendon.

MONDAY,

NOV. 16

Fit and Fun

9:30 a.m.

Marilyn Sheldon holds exercise classes at the

Godnick Adult Center. Low impact, aerobic, and

stretching routines; move to lively, sing-a-long

music. 1 Deer St. in Rutland. Advance registration

required, call 802-773-1853.

Nurturing Skills For Families

10 a.m.

Virtual. Contact Heather Niquette, Family Support

Programs Coordinator, at 802-498-0607 or

hniquette@pcavt.org

It Takes a Village: A Community of

Parents

10 a.m.

Meets from 10-11:30am at Wonderfeet Kids' Museum.

Snacks provided, siblings welcome.

Red Cross Blood Drive

12 p.m.

At Brandon American Legion Post 55. 550 Franklin

Street in Brandon.

"Fried Green Tomatoes"

2 p.m.

Sherburne Library hosts a matinee of Fanny Flagg's

timeless story of Ruth and Idgie set in the small

town of Whistle Stop, Alabama. Send an email to

sherburnememorial@gmail.com or call the library at

422-9765 to reserve your seat.

Nurturing Program for Families in

Substance Abuse Recovery

4 p.m.

Virtual. Contact Cindy Wells, Family Support

Programs Coordinator, at 802-498-0611 or cwells@

pcavt.org

Everyone Eats - Rutland

4 p.m.

Free meals served up at the Vermont

Farmer's Food Center from 4-6 p.m.

More info at vermontfarmersfoodcenter.org/everyone_eats

Nurturing Fathers Program

5 p.m.

Virtual. Contact Amber Menard, Family Support

Programs Coordinator at 802-552-4274 or

amenard@pcavt.org

Exploring Abenaki Foodways Cooking

Class

6:30 p.m.

Roll up your sleeves and gather in the kitchen for

this virtual instructional cooking class taught by

Missisquoi Abenaki chef Jessee Lawyer. Jessee

will demonstrate how to create a seasonal dish

showcasing Native techniques and pre-colonial,

Vermont-grown and gathered ingredients. Recipes

will be included so you can create the dish for your

own family and friends. nofavt.org/aglitweek

TUESDAY,

NOV. 17

Line Dance: Country

9:30 a.m.

Marilyn Sheldon holds dance classes at the Godnick

Adult Center. Advance registration required, call

802-773-1853. Come for a fun cardiovascular

workout with both new and old-line dances. No

experience necessary. No partner needed. 1 Deer

St. in Rutland. $5

Jim Yeager and Friends

5 p.m. - Performing live at The Public House, 5813

Woodstock Rd in Quechee.

Sammy B

5:30 p.m. - Fiesta Tuesdays at Flannels Bar & Grill

in Mendon.

Circle of Parents in Recovery

5:30 p.m.

Virtual. Contact Cindy Atkins, Family Support

Programs Coordinator, at 802-498-0608 or catkins@

pcavt.org

Aqua-cise class for men

5:30 p.m.

For men by a man, allowing men of all ages to experience

the benefits of exercising in therapeutically

warm water. Also, with the stress on the muscles

and joints being aided--lessened-- by the buoyancy

of the water, the results are significant and much

less painful than dry-land training and excursive.

These classes are being offered at the Mitchel

Therapy Pool located at the Vermont Achievement

Center (VAC), 88 Park St. in Rutland.

#MilkwithDignity

6 p.m.

Advancing the Human Rights of Farmworkers while

Fostering a Sustainable Northeast Dairy Industry.

Join us for this workshop to learn more about the

Milk with Dignity Program, farmworkers' continued

struggle for justice and how you can get involved to

help expand this powerful solution to the Hannaford

supermarket's supply chain. nofavt.org/aglitweek

SKIER & SNOW ENTHUSIAST

BLESSING at MISSION FARM

SUNDAY NOV. 15 at 10:30 a.m.

Answering YES to any of these questions

lowers your risk of getting and spreading

COVID-19. The more, the better!

Everyone Eats - Brandon

5:15 p.m.

Free meals served up in Brandon's Estabrook park

beginning 6 p.m. More info at vermontfarmersfoodcenter.org/everyone_eats

King Arthur Junior

5:30 p.m. - Performing live at Flannels Bar and

Grill in Mendon.

MORE TIPS:

HealthVermont.gov/StaySafe

Modern/Pioneer day for Magic:

The Gathering

6 p.m.

Play Magic at Draw Go Games in Rutland. Max

Capacity of 8 people so be sure to preregister in

person or online at drawgogames.square.site.

Submitted
---
The Mountain Times • Nov. 11-17, 2020 PUZZLES • 15

WORDPLAY

'Produce Aisle' Word Search: Find the words hidden vertically, horizontally, diagonally and backwards.

SUDOKU

Solutions > 28

How to Play

Each block is divided by its own matrix of nine cells. The rule for solving Sudoku

puzzles are very simple. Each row, column and block, must contain one

of the numbers from "1" to "9". No number may appear more than once in any

row, column, or block. When you've filled the entire grid the puzzle is solved.

ASPARAGUS

BROCCOLI

CABBAGE

CARROTS

CAULIFLOWER

COLLARD GREENS

COOKED

DELICIOUS

DIET

EGGPLANT

FRESH

GARLIC

GINGER

GREEN BEANS

KALE

KOHLRABI

PEAS

RAW

SPINACH

SPROUTS

SWEET POTATOES

SWISS CHARD

VEGETARIAN

ZUCCHINI

CROSSWORD PUZZLE

Solutions > 28

CLUES ACROSS

1. Dutch word for

"language"

5. Popular music

style

8. Body part

11. Largely dry

valleys

13. Brew

14. Ancient Greek

sophist

15. Where rockers

play

16. Human gene

17. One point east of

northeast

18. Adversary

20. Small cask or

barrel

21. About ear

22. Benign tumors

25. In a different way

30. One charged

with a crime

31. Chinese

principle underlying

the universe

32. Long, narrow

straps

33. Passover

38. Ottoman military

commander

41. One who does

not succeed

43. Data

45. 3D image

47. Whale ship

captain

49. Japanese title

50. Made of wood

55. Yokel

56. Exercise system

__-bo

57. Supreme being

59. Playing card with

three spots

60. Hostelry

61. Spiritual leader

62. Single lens reflex

63. Time of the 90th

meridian, used in the

central U.S.

64. Thomas __,

American cartoonist

CLUES DOWN

1. Shuttered airline

2. Swiss river

3. Port city in

Yemen

4. It can be straight

5. Tennis player's

tool

6. Estranged

7. Garden archway

8. Assists

9. Grain crop

10. Millisecond

12. U.S. Founding

Father Adams

14. Small, deerlike

buffalo

19. Easily

manageable

23. Male parent

24. Nearsightedness

25. Patriotic women

26. Decorate a cake with

frosting

27. __ fi (slang)

28. A joke rooted in wordplay

29. Attack violently

34. Keyboard key

35. __ juris: independent

36. Corporate executive

(abbr.)

37. Adult female bird

39. Pertains to knowledge

40. Pashtoes

41. Prefixed title for Italian

monks

42. To be fired from a gun

44. A way to position

45. __ process: produces

ammonia

46. Follow instructions

47. Humanistic discipline

48. Throw

51. Swiss river

52. American hate group

53. Actor Idris

54. Seizes

58. Baseball stat

Full Service Vape Shop

Humidified Premium Cigars • Hand Blown Glass Pipes

Hookahs & Shisha Roll Your Own Tobacco & Supplies

CBD Products • Smoking Accessories

131 Strongs Avenue Rutland, VT

(802) 775-2552

Call For Shuttle Schedule

Like us on

Facebook!

FOR COVID-19 UPDATES

• Visit mountaintimes.info

• Sign up for our e-newsletter

• Follow us on Facebook

MOUNTA IN TIMES
---
Friday, Nov. 13 from 5-7 p.m. —RUT-

LAND—The Chaffee Art Center invites the

community to its annual Member Exhibit

& Holiday Shoppe opening reception on

Friday, Nov. 13 from 5-7 p.m. This is an

all-member show celebrating the talented

artists in our communities whose works will

be on display and for sale throughout the

1890s mansion until Jan. 8.

An RSVP is required to attend. A limited

number will be allowed at one time in the

mansion. Reserve your half hour time slot:

5 p.m.; 5:30 p.m.; 6 p.m.; 6:30 p.m. Call 802-

775-0356 or email info@chaffeeartcenter.

org. All attendees to the opening will receive

a special Ann Clark Ltd. gingerbread house

cookie cutter customized especially for the

Chaffee.

There is no charge for admittance. A

donation would be greatly appreciated. In

the spirit of the season of giving, we hope

you can bring a non-perishable food item

donation.

The mansion will be beautifully decorated

in holiday splendor by the Rutland

Garden Club including all four fireplace

mantels and grand staircase! Visitors will experience

the beauty of the arts and the oneof-a-kind

handmade treasures for giving

this holiday season. There will be wall(s) of

smalls, a wonderful array of small pieces of

LivingADE

16 • The Mountain Times • Nov. 11-17, 2020

Courtesy of Chaffee Art Center

The Chaffee Art Center as it was decorated for the holiday season in years past.

Chaffee invites community to

its Member Exhibit & Holiday

Shoppe opening reception

fine art perfect for that special gift to someone

or yourself! Plus, a variety of other small

gift items for those on your holiday list.

Mark your calendars: As part of the holiday

celebration, the Gingerbread Contest

Open House will be on Saturday, Dec. 5

from 12-2 p.m. All are invited to submit

their imaginative creations with drop-off on

Dec. 2 and 3. Entrants will receive an Ann

Clark Ltd. gingerbread house cookie cutter

Kit. The gingerbread creations will be on

display for visitors to vote for their favorite

entry until Jan. 8.

Plus, don't miss the Rutland Garden Club

Holiday Boutique and Greens Sale that will

also be happening on Dec. 5 from 10 a.m.

to 2 p.m.

If interested in showing work

in the Annual Member Exhibit

& Holiday Shoppe, please email

info@chaffeeartcenter.org or

go to chaffeeartcenter.org.

As the Chaffee celebrates

59 years as an art center in the

Rutland Community, they also

invite you to join as an artist, single or family

member to help the Chaffee to continue

to inspire and cultivate creativity, while

positively impacting the vitality of our community

through the arts.

Visit the Chaffee during open hours

Nov.

13

This week's living Arts, Dining and Entertainment!

Courtesy of Chaffee Art Center

One of the many decorated fireplaces at the

Chaffee Art Center in Rutland.

to experience the beauty of the historic

building and the wonderful works of art

throughout, plus the new Gallery

Shoppe! While here, picture

your next event, bridal shower,

wedding, meeting or retreat

being held in the beautiful

1890s mansion, fondly known

by its first owners as "Sunny

Gables."

Gallery hours are Thursday and

Friday 12-4 p.m.; Saturday 10 a.m. to 2

p.m. Check out chaffeeartcenter.org and

the Chaffee Art Center Facebook page for

updates, call 802-775-0356, info@chaffeeartcenter.org,

or stop in to the Chaffee Art

Center at 16 South Main St. in Rutland.

It's the Thought

That Counts:

The Brandon

Artists Guild

announces

holiday gift show

Nov. 6 - Jan. 24— BRANDON—The

Brandon Artists Guild (BAG) kicks off the

holiday season with affordable, gift-able

art and craft pieces. The show, "It's the

Thought That Counts," runs from Nov.

6 through Jan. 24. The public is invited

to the free opening reception on Friday,

Nov. 13 from 5-7 p.m. Social distancing

rules will apply.

"We won't let coronavirus dampen

the holiday spirit of giving," declared

Stacey Stanhope Dundon, a ceramic

artists and president of the BAG. "People

can come to the Artists Guild and buy

affordable, original pieces while avoiding

crowds. They're also helping the

local economy and supporting working

artists. It's win-win."

In addition to BAG's usual array of

artworks, this all-member, allmedia

show features a Holiday

Shop with a Mexican

fiesta theme.

"The idea is to celebrate

with bright, upbeat colors,"

said Stanhope-Dundon.

"The kind of color that lifts

your spirits."

BAG is an artist-run gallery

with approximately 40 exhibiting artists

and additional supporting members.

The BAG, at 7 Center Street in Brandon,

is open Tuesday through Saturday from

10 a.m. to 5 p.m., and Sunday from 10 a.m.

to 4 p.m. Hours may vary. More info: 802-

247-4956. or BrandonArtistsGuild.org.

By Judith Reilly,

Courtesy of BAG

By Joan Drew, Courtesy of BAG

By Steven Zorn, Courtesy of BAG
---
The Mountain Times • Nov. 11-17, 2020 LIVING ADE • 17

Phoenix Books hosts virtual readings

Thursday, Nov 12. at 7 p.m.—RUTLAND—Join Phoenix

Books in Rutland for a virtual book release celebration

Thursday and a virtual story time on Saturday,

both presented for free via Zoom. On

Thursday, local author Peter Hogenkamp

will be on hand for the release

of his new book, "The Vatican Conspiracy."

It is an ordinary day in Marco

Venetti's quiet coastal parish—but

the woman who's come to confess is

not ordinary. Marco has always been

drawn to beautiful Elena, and she

brings news that will shatter his peace.

Elena's sister and daughter have

been kidnapped, to force her to bring

a gang of ruthless men into the country—if

she doesn't, her family will be

brutally killed. But if she obeys, many

more innocents will die… In

her desperation she turns to

Marco, knowing his time in

the military has given him

the skills she needs. Determined

to protect her, Marco draws on the

violent past he has tried to forget.

Virtual

event

Peter Hogenkamp is a practicing physician, public

speaker, and author of medical fiction and thrillers living

in Rutland. His first novel, "The Intern" was published

in April 2020 by Touchpoint Press. When he isn't

writing or practicing medicine, he loves to hike, ski, and

take photographs.

Register to attend at phoenixbooks.biz/event/peterhogenkamp-vatican-conspiracy-0.

For the kids, join John and Jennifer Churchman on

Saturday, Nov. 14 at 11 a.m. for a reading of their book,

"The Christmas Barn." They be joining from Moonrise

Farm for a very special story time featuring their

new book in the Sweet Pea and Friends series. This

new Christmas story from the

creators of the New York Times

bestselling book "The Sheep

Over" will warm your heart this

holiday season!

When the old pine tree cracks

and falls after an autumn storm,

Farmer John knows just what to

do. He will give the farm animals

a very special present for

Christmas. He draws up a

plan, and piece by

piece, a structure is

built, while the farm

animals—sheep,

dogs, chickens, geese,

ducks, and some

alpacas —look on in

wonder at what it will

be!

Join all the animals

on Moonrise Farm as

they watch Farmer John

prepare his Christmas gift for them!

John Churchman is a photographer, artist, and

farmer. Jennifer Churchman is a multimedia artist,

storyteller, and writer. The couple combine their talents

to give voice to the stories of the animals that surround

them and add boundless enjoyment to their lives. They

have made their home on a small farm in the countryside

of Essex with their daughter Gabrielle.

Registration is free, but required at phoenixbooks.biz/

event/virtual-story-time-john-jennifer-churchman.

Peter Hogenkamp

Vermont Actors' Repertory Theatre

presents a virtual short-play festival

Vermont Actors' Repertory

Theatre presents a virtual short-play

festival via Zoom on Saturday, Nov.

14 at 7 p.m., and Sunday, Nov. 15 at 2

p.m. The festival is free of charge and

open to the public. Talkbacks with

playwrights, performers and directors

will follow the performances.

The festival theme is Together in a

Sudden Strangeness and features

Nov. 14-15—Vermont Dance Alliance's (VDA) annual

dance symposium goes virtual this year with inspirational

programming to meet the current

challenges to the region's arts sector and

support regional dance artists. VDA has

partnered with Next Stage Arts and "The

Hop" to present a two-day symposium

on Nov. 14 and 15.

"Mixed Medium Dance Symposium"

will include interactive dance and choreographic

workshops, artist talks, and

dance films in partnership with the Hopkins

Center for the Arts at Dartmouth.

Participants will share in each other's

work, learn from other dance professionals

in the fields of dance/choreography,

dance film, and dance studies, and find new inspiration.

These sessions offer approaches and creative solutions

pieces from Vermont playwrights

to include: Jeanne Beckwith, Lesley

Becker, Marisa Valent, and Shoshannah

Boray.

Their work is fresh and timely, in

many cases being performed for the

first time. The festival coordinator

is Alex Nicosia and the November

festival is directed by Lesley Becker,

Michaela Eckler, and Kristen Hixon.

This festival showcases the talent of

over 15 actors to include locals and

performers from across the state.

They have planned one more virtual

short-play festival for Feb. 5-7. Zoom

links will be available through their

facebook page (Vermont Actor's Repertory

Theatre), website actorsrepvt.

org, or by emailing actorsrepvt.org@

gmail.com.

for how dance can continue to thrive in a time of social

upheaval and limited in-person engagement.

The symposium is made possible with

support from the Vermont Arts Council,

Open Door Integrative Wellness and the

Vermont Creative Network/Chittenden

County Zone The partnership between

these three New England arts organizations

broadens the reach to include

artists of the Upper Connecticut River

Valley and southern Vermont.

Register through the Next Stage ticketing

platform at flipcause.com/secure/

event_step2/OTkyNTU=/92821.

Individual pricing varies. $40/day

pass (Sat only or Sun only) and $60/

weekend pass (Full access.)Pre-registration and payment

due by Nov. 11.

KPAA hosts

Annual Vermont

Holiday Festival

KILLINGTON— The Killington

Pico Area Association

will be hosting its 16th

annual Vermont Holiday

Festival the weekend of

Dec. 4 and 5 at

the Snowshed

Base Lodge.

Because of

Covid, the

festival this

year will be

quite different

from years

past. It will showcase

a stunning Christmas

light show with lasers and

synchronized holiday music,

which can be streamed

directly into your car's

stereo. Visitors will be able

to view the show from the

comfort of their vehicles.

Dec.

4-5

Bring your favorite snack,

sit back and enjoy the visual

splendor of dancing lights.

The festival will have two

showings, each lasting approximately

20 minutes:

One on Friday at 6

p.m. and one on

Saturday at 5 p.m.

Gift bags will be

handed out, which

will include a tree

decoration and treats.

Killington Pico Area

Association will post event

registration on website and

social media.

Tickets will be sold in

advance online for $25 per

vehicle. Go to Vtholidayfestival.com

for more information

and to purchase

your tickets.

Vermont Dance Alliance's annual symposium goes virtual

Courtesy of Christal Brown

Bebe Miller's "in a Rhythm"

Virtual

event

By Serenity Smith Forchion

Toby MacNutt
---
18 • LIVING ADE

The Mountain Times • Nov. 11-17, 2020

Uphill and Beyond: Ski legends

go deep on what Covid means for

resorts and the backcountry

Thursday, Nov. 12 at 7 p.m.—Vermont

Ski and Snowboard Museum's Virtual

Red Bench Series presents "Uphill and

Beyond; Ski Legends Go Deep on What

Covid Means for Resorts and the Backcountry"

on Thursday, Nov. 12 at 7 p.m.

via Zoom.

What will backcountry ski travel look like

this winter? How will the skiing economy

deal with the uncertainty Covid presents?

Will trailheads be packed? Backcountry

Magazine's Adam Howard joins ski industry

legends to discuss what Covid means to

the backcountry community and resorts

grappling with a booming uphill scene at

American resorts this winter, on Thursday,

Nov. 12 as part of Vermont Ski and Snowboard

Museum's Red Bench Series.

Howard will be joined by film stars Mike

Hattrup and Chris Davenport, backcountry

pioneer Andrew McLean, and freelance

writer and editor Megan Michelson. A Q&A

session will follow.

From the U.S Freestyle Team to Greg

Stump's eponymous film Blizzard of Ahhh's,

ski guide to product developer, Mike

Hattrup is both everyman and everything

but. He built the K2 telemark and backcountry

brands and is now the U.S. Alpine

Products Manager at Fischer skis. He joins

from his home in Ketchum, Idaho.

Middlebury graduate Megan Michelson

is a freelance journalist based in Tahoe

City, California. She's an editor-at-large

for Backcountry Magazine, a correspondent

for Outside Magazine, and a senior

correspondent for Powder Magazine. She

covers skiing and the outdoors for publications

like the San Francisco Chronicle, REI's

Co-op Journal, and more.

U.S. and Colorado Snowsports Hall of

Famer and two-time World Champion

freeskier Chris Davenport is one of the top

big mountain skiers in the world today.

Among his many ski mountaineering

achievements, Davenport became the

first person to ski all fifty-four of Colorado's

14,000-foot peaks in one year. He's starred

in more than thirty ski films by Warren

Miller and Matchstick Productions. He's

also author of two beautiful coffee-table

books, "Ski The 14ers" and "Fifty Classic

Ski Descents of North America." He lives in

Aspen, Colorado.

Andrew McLean has skied all seven continents

including trips to Baffin Island, Antarctica,

Svalbard, Morocco, Kashmir, Iran

and numerous Alaska expeditions. In 1995

he wrote "The Chuting Gallery–A Guide to

Steep Skiing in the Wasatch Mountains"

and is a frequent photo and article contributor

to backcountry skiing journals. Before

becoming a professional skier, he worked

as a product designer for Black Diamond

Equipment where he invented the HotWire

and LiveWire carabiners, Camalots, Peckers,

Talons and his personal favorite, the

Whippet Self Arrest Ski Pole. Andrew lives in

Park City, Utah.

Moderator Adam Howard grew up in

Cambridge skiing at Smugglers' Notch

Resort and backcountry skiing with his parents

in the shadow of Mount Mansfield. He

studied journalism at Western State Colorado

University before interning at Powder

Magazine. He's worked various roles at

Backcountry Magazine since the late 1990's

and he's now President and CEO of its parent

company, Height of Land Publications.

Skiing has taken him around the world,

but he's happiest ripping with his family at

Smuggs where he's a freeski coach at Smugglers'

Notch Ski and Snowboard Club.

Reserve your Zoom ticket at vtssm.org/

new-events or us02web.zoom.us/webinar/

register/WN_usDUmoJ9SH6tW8r9uGf0ow.

Virtual doors to the Museum open and the

discussion begins at 7 p.m.. The event is

complimentary; but a $10 donation from

each guest is encouraged. Visit vtssm.org.

FULL BAR

Craft Cocktails

Expansive VT Beer & Cider Menu

NOW OPEN

KILLINGTON DISTILLERY &

STILL ON THE MOUNTAIN CoCktail Bar

47 Old Mill Rd, Killington, VT | 802-422-8200

Serving Full Dinner & Drinks – 3p-9p (Wed. - Sun.)

Outdoor Patio & Indoor Dining Available by Reservation

Medical Grade HEPA filters installed indoors for your added safety.

16 places to get Thanksgiving

dinner prepared for you

To-go

• Kamuda's Country Market, Route 7,

Pittsford

Pre-packaged dinner available for

pick up Wednesday or Thursday.

$10.99 Pre-order recommended but

not required. Call 802-483-2361 ext.

5. Open limited hours on Thursday,

Nov. 26.

• Rollin' Rooster, Pittsford

Catering specials for Thanksgiving will

be available from The Cluckin' Cafe in

Pittsford. Message them on Facebook

for prices and to place an order. Orders

must be placed by Nov. 22 for pick up

Wednesday Nov. 25 and Thursday Nov.

26.

• Hannaford, Brandon & Rutland

Fresh, fully-cooked turkey or ham dinner,

complete with all the trimmings

and a freshly-baked pie. Each dinner

serves 6-8 people. Limited availability,

so please be sure to order early. See a

deli associate for details or call your

store. Rutland: 802-775-8900 or Brandon:

802-247-4113

• The Backroom, Pittsfield

$45 per person includes Misty Knoll

turkey — roasted breast and braised

thigh with cranberry sauce, stuffing and

gravy, Brussels sprouts with bacon and

kimchee, maple-vanilla sweet potato

puree, green bean and wild rice salad,

caramelized leek and aged cheddar potatoes,

buttermilk biscuit and smoked

maple butter, and slice of apple or

pumpkin pie. Call 802-770-4357.

Pick up is available at the Original General

Store on Thursday, Nov. 26 from 12

p.m.-2 p.m. Place your order by Nov. 19.

• Woodstock Farmer's Market

$50 dinner for 2; $100 dinner for 4 includes

turkey breast, mashed potatoes,

stuffing, gravy and cranberry pear

relish. Don't forget to add dessert. Place

your Thanksgiving orders by phone at

802-457-3658. All pre-ordered items

will be available for contact-free pickup

outside the store on Tuesday, Nov. 24,

and Wednesday, Nov. 25. Route 4, West

Woodstock.

• Killington Market

Complete Thanksgiving meals available

for the whole family, as well as fresh

turkeys from Stonewood Farm. Singleserve

Turkey supper available all day

Thursday and Friday for $8.49. Call the

Deli at 802-422-7594 for more information.

Killington Road, Killington.

• Flannels Bar and Grill, Mendon

$25 per person prefix plates for up to 4.

4+ is done family style. Whole cooked

birds and fresh pies available. Reserve

by Nov. 21 by calling 802-772-4402.

• Choices Restaurant & Rotisserie,

Killington

Open on Thanksgiving 4-8:30 p.m.

$24.95 per person. Includes sliced

cider-brined turkey breast, dressing,

harvest squash, green beans, mashed

Options for dine-in and to-go

potato and gravy and cranberry sauce.

Place your orders by Friday Nov. 20 by

emailing claudeschoices@yahoo.com.

Pick-up Nov. 26, 3-6:30 p.m.

• Moguls, Killington

Take out turkey dinner for one or dinner

to-go for a whole family or group with all

the fixings! Call 802-422-4777

• Barnard Inn, Route 12, Barnard

$29 per person. Pre-order by Tuesday,

Nov. 24, pick-up on Thursday, Nov. 26.

Call 802-234-9961 or email events@

barnardinn.com. View full menu at:

mailchi.mp/barnardinn/thanksgivingmenu-take-out.

• Simon Pearce, Quechee

Dinner for 4, $225. Includes: Free-range

Misty Knoll turkey, soup or salad, four

seasonal sides and choice of dessert.

All will be ready-to-reheat in oven-safe

containers. Pick up Nov. 24 from 2-5

p.m. and Nov. 25 1-5 p.m. To order email

restaurant@simonpearce.com, now

through Nov. 19

• Sweet Caroline's, West Rutland

Customizable dinners for $23+tax per

person. Take-out orders with advanced

reservations accepted until Sunday,

Nov. 22 or until they reach capacity. Call

802-438-5696 to order and reserve.

Dine-in

• Southside Steakhouse, Rutland

Seatings from 12-7 p.m. Reservations

required. Call 802-772-7556 to reserve

your table. Route 7 south of downtown.

• Victorian Inn, Wallingford

Open Nov. 26 at 5:30 p.m. Call 802-446-

2099 to reserve your table. Route 7 in

the village.

• Sam's Steakhouse, Ludlow

$29.95 Thanksgiving feast, Nov. 26 from

12-5 p.m. Reservations recommended

by calling 802-228-2087.

• Sweet Caroline's, West Rutland

$23 + tax for a variety of customizable

meals. Taking reservations for in house

between 12-6 p.m. on Nov. 26. Diners

are strongly recommended to choose

their meals when they reserve a table.

Call 802-438-5696 to order and reserve.

(Reservation accepted until Sunday,

Nov. 22 or until they reach capacity.)

• Mountain Top Inn and Resort

Offering dine-in Thanksgiving dinner

to the public Thursday, Nov. 26 with

seatings from 12-6:30 p.m. Reservations

required. Take-out will be a

limited option and should be placed

well in advance. For those with a guest

house booking for Thursday evening,

Nov. 26, there is a separate 'Chef prepared

traditional Thanksgiving dinner'

menu. Guests must place their order

by Saturday, Nov. 21 and the meal will

be delivered directly to their Mountain

Top guest house. This menu is served

prefix for $50 per plate per person and

only available to those staying in guest

houses. For stay or dining reservations

call 802-483-2311.
---
The Mountain Times • Nov. 11-17, 2020 LIVING ADE • 19

JAG Productions continues to celebrate and spread

Black Joy with annual fundraiser

Saturday, Nov. 14 at 5 p.m.—WHITE RIVER JUNC-

TION – Coming out of the month-long Black Joy

Project, JAG Productions will share its creative energy

and healing power throughout the Upper Valley and

beyond virtually this year during its annual fundraiser

Juke Joint on November 14. The cabaret has

been adapted to keep everyone safe while enjoying

songs and soul food, ballads and beverages from the

comfort of home. Tickets are $75 and include a single

meal, cocktail, and the link to watch the virtual performance,

or $20 for a ticket to view the show only.

New York-based West Indian-American chef

Latoya Henry will prepare soul food with a Caribbean

home-cooking twist. Food pickup is from 5-6

p.m. at Newberry Market. The menu will consist of

fried chicken with six-cheese macaroni or black-eyed

peas, or a vegetarian smoked shepherd's pie with sixcheese

macaroni or potato salad. All dishes include a

side of smoked collard greens, bourbon banana bread

pudding, and the "Justice Allows Growth" cocktail

from JAG Ambassador Wolf Tree craft cocktails.

Cocktails and conversation with surprise guests

begin at 6:30 p.m. and performances begin at 7 p.m,

going until 9 p.m. The virtual cabaret will feature

some of JAG's favorite artists.

JAG welcomes Andy Roninson, pianist (Recipient

of 2019 Jonathan Larson Grant); Alex Grayson,

singer ("Once on This Island" national tour, "Choir

Boy "- JAG Productions); Tesia Kwarteng, singer

("Intimate Apparel" - Lincoln Center, "Porgy and

Bess in Concert" - BarnArts); Morgan Green, singer

("Be More Chill" - Broadway); Wesley Barnes, singer

Mission Farm hosts annual coat drive, blessing

Fri-Sunday, Nov. 13-

15—KILLINGTON—This

weekend, bring your gently

used winter gear to Mission

Farm/Church of our

Saviour, and on Sunday at

10:30 a.m., don't miss the

skiers' blessing.

Coats will be accepted

all day Nov. 13, 14 and 15.

All types of coats and winter

outerwear—new or clean,

gently-used—will be

accepted. In honor

of our veterans,

donations will be

given to the Veterans

Assistance

Office in Rutland.

Cash donations will

be used to purchase

boots for veterans. If you

are unable to make the

Sunday Blessing, you may

drop off items in the church

lobby Friday-Monday

morning, Nov. 13-15. Mission

Farm/Church of Our

Saviour (Episcopal) is located

at 316 Mission Farm

Road, across from the Killington

Skyeship Gondola.

For more information, you

can call the church office,

422-9064, or e-mail info@

MissionFarmVt.org.

Then on Sunday, join

for the Skier/Snow Enthusiast

Blessing at 10:30

a.m. Hosted by Church

of Our Saviour/Mission

Farm blessings and

prayers will be offered for

an especially safe, snowy

and fun winter. Bring your

skis, boards or any symbol

of winter activities for an

enthusiastic blessing.

The blessing

is being held

Nov.

13-15

McGrath's

("Jesus Christ Superstar" national tour, "Choir Boy"

- JAG Productions); Will T. Travis, singer ("Hamilton"

- national tour, "Choir Boy" - JAG Productions);

Nygel Robinson, singer ("Lady Day at Emerson's Bar

& Grill" - JAG Productions); Donovan Woods, singer

("All Together Now" - Chandler Center for the Arts);

Shaunyce Omar, singer ("Nina Simone: Four Women"

- Seattle Repertory Theatre); Erica Durham, singer

("The Color Purple Musical"- national tour, "Marie &

Rosetta" - Vermont Stage); Stephanie Everett

("I'm Fine, I'm Fine" - Northern Stage).

Grayson said he is excited to be again

working with JAG, friends from Choir

Boy, and being able to share his gift

with all of those yearning for the arts

right now.

"I think it's really amazing what

Jarvis is doing as a queer Black man in

Vermont, directing and producing these

Black stories, and featuring Black artists in a

state where it is kind of unexpected," Grayson said.

"It's a community that I am really proud to be a part

of and I feel like with what Jarvis and JAG have done,

it's so inspiring to see how you can go outside of a

place where you've been told the work is and create

— create art and draw in audiences and continue to

enlighten people…People need to be able to see these

live performances and have these stories shared

because it's really the best way to be exposed to truth,

and to be able to self analyze."

The money raised will go towards furthering

JAG Production's mission to producing classic and

outdoors in combination

with Church of Our Saviour's

Annual Coat Drive.

Mission Farm/Church of

Our Saviour (Episcopal)

is located at 316 Mission

Farm Road, across from

the Killington Skyeship

Gondola. For more

information, you can call

Irish Pub

the church office, 802-

422-9064, or e-mail info@

MissionFarmVt.org.

rath

Inn at

L ng Trail

Deer Leap

2.2 mi. from

start to

cGrath's

cGrath's

Nov.

14

contemporary African-American theatre; serving as

an incubator of new work that excites broad intellectual

engagement; and thus catalyzing compassion,

empathy, love, and community through a shared

understanding of the human experience. Playwright

Gethsemane Herron-Coward, who wrote Blanks or

Sunday Afternoon, After Church for JAGfest 3.0 in

2018 said of JAG Productions:

"While I was still a graduate student, I knew I had

an idea I believed in for my play-a study on Black

women's maternal and IPV-related deathsbut

I did not feel like I had all the support

Virtual

event

needed to make it the play I envisioned.

But JAG changed all that," Herron-Coward

said. "Jarvis believed in the play from our

first Brooklyn meeting. He believed in me

and in doing so, modeled what

that belief could entail- paying

for my work. Paying my actors.

Most importantly, JAG set up

moments of care for us creatorsmoments

where we could connect

to nature, break bread, work on our aching bodies

through sound therapy and yoga. I felt seen and cherished

and it was one of the best theatrical experiences

I've had. Please support the work of this visionary,

who is changing what is possible for Black theater artists.

Please support JAG."

To purchase tickets, to learn more, or to donate

if you cannot attend, please visit jagproductionsvt.

com. Tickets are $75 for dinner and the show, and $20

for the performance only.

McGrath's

Irish Pub

Pub Open Daily

Mon.–Fri. 3-9 p.m.

Sat. & Sun. 12-9 p.m.

Serving Lunch & Dinner

Take-Out

Rte. 4 between Killington & Pico

802-775-7181

innatlongtrail.com

Rooms & Suites available

McGraths

Inn

L

McGrat

McGrath

Irish

Irish P
---
Food Matters

20 • The Mountain Times • Nov. 11-17, 2020

We are stocked with nonperishable food, paper goods

& cleaning supplies. Any person in need, please call to

arrange a pickup. Donations accepted. Please call Nan

Salamon, 422-9244 or Ron Willis, 422-3843.

Sherburne UCC "Little White Church," Killington, VT

Vermont

Gift Shop

@back_country_cafe

KILLINGTON

FOOD SHELF

RUTLAND

CO-OP

grocery

I

household goods

77 Wales St

(802) 773-2738

produce

health and beauty

Breakfast • Lunch • Dinner

LARGEST SELECTION OF ICE CREAM TREATS!

GIFT CERTIFICATES AVAILABLE!

Celebrating our 74th year!

Open Daily 6:30 a.m.

Specials

Daily

Open

Thurs.-Mon.

at 7 A.M.

EGGS • OMELETTES • PANCAKES • WAFFLES

Great Breakfast Menu

Outdoor seating & dining now open! TAKE-OUT AVAILABLE

923 KILLINGTON RD. 802-422-4411

Back Country Café

The Back Country Café is a hot spot

for delicious breakfast foods. Choose

from farm fresh eggs, multiple kinds of

pancakes and waffles, omelets or daily

specials to make your breakfast one of a kind. Just the right heat Bloody

Marys, Mimosas, Bellini, VT Craft Brews, Coffee and hot chocolate drinks.

Maple Syrup and VT products for sale. Check Facebook for daily specials.

(802) 422-4411.

Birch Ridge

Serving locals and visitors alike since 1998, dinner

at the Birch Ridge Inn is a delicious way to

complete your day in Killington. Featuring Vermont

inspired New American cuisine in the Inn's dining

room and Great Room Lounge, you will also find

a nicely stocked bar, hand crafted cocktails, fine

wines, seafood and vegetarian options, and wonderful house made desserts.

birchridge.com, (802) 422-4293.

Casey's Caboose

Come for fun, amazing food, great drinks, and

wonderful people. A full bar fantastic wines and

the largest selection of craft beers with 21 on tap.

Our chefs create fresh, healthy and interesting

cuisine. Try our steaks or our gourmet burgers

made with 100% Vermont ground beef, U.S. lamb or home-grown pork— we

have 17 burgers on our menu! Try our famous mac n' cheese with or without

lobster. Yes! the train is still running... caseyscaboose.com,(802) 422-3795.

Choices Restaurant

& Rotisserie

Choices Restaurant and Rotisserie

was named 2012 "Ski" magazines" favorite

restaurant. Choices may be the

name of the restaurant but it is also what you get. Soup of the day, shrimp

cockatil, steak, hamburgers, pan seared chicken, a variety of salads and

pastas, scallops, sole, lamb and more await you. An extensive wine list

and in house made desserts are also available. choices-restaurant.com

(802) 422-4030.

BC

Dream Maker Bakers

Dream Maker Bakers is an all-butter, from-scratch

bakery making breads, bagels, croissants, cakes

and more daily. It serves soups, salads and sandwiches

and offers seating with free Wifi. At 5501

BC

BACKCOUNTRY CAFE

KILLINGTON VERMONT

McGrath's

Irish Pub

BACKCOUNTRY US Route 4, Killington, CAFEVT. No time to wait?

KILLINGTON VERMONT

Call ahead. dreammakerbakers.com, (802) 422-5950.

Inn at Long Trail

Looking for something a little different? Hit up

McGrath's Irish Pub for a perfectly poured pint of

Guinness, Inn live music at on the weekends and delicious

food. Guinness not your favorite? They also

L ng Trail

have Vermont's largest Irish Whiskey selection.

Visit innatlongtrail.com, (802) 775-7181.

Jones' Donuts

Offering donuts and a bakery, with a

community reputation as being the best!

Closed Monday and Tuesday. 23 West

Street, Rutland. See what's on special

at Facebook.com/JonesDonuts/.

Call (802) 773-7810.

Killington Market

Take breakfast, lunch or dinner on the go

at Killington Market, Killington's on-mountain

grocery store for the last 30 years.

Choose from breakfast sandwiches, hand

carved dinners, pizza, daily fresh hot panini, roast chicken, salad and specialty

sandwiches. Vermont products, maple syrup, fresh meat and produce along

with wine and beer are also for sale. killingtonmarket.com (802) 422-7736

or (802) 422-7594.

Liquid Art

Relax in the warm atmosphere at Liquid

Art. Look for artfully served lattes from

their La Marzocco espresso machine, or

if you want something stronger, try their

signature cocktails. Serving breakfast, lunch and dinner, they focus on healthy

fare and provide you with a delicious meal different than anything else on the

mountain. liquidartvt.com, (802) 422-2787.

Lookout Tavern

Celebrating 20 years of fun, friends and good

times here in Killington! Everything from soup

to nuts for lunch and dinner; juicy burgers, fresh

salads, delicious sandwiches and K-Town's best

wings. Your first stop after a full day on the Mountain

for a cold beer or specialty drink and a great

meal! lookoutvt.com, (802) 422-5665.

Moguls

Voted the best ribs and burger in Killington,

Moguls is a great place for the whole

family. Soups, onion rings, mozzarella

sticks, chicken fingers, buckets of chicken

wings, salads, subs and pasta are just

some of the food that's on the menu. Free shuttle and take away and delivery

options are available. mogulssportspub.com (802) 422-4777.

Peppino's

Chef-owned since 1992, Peppino's offers

Neapolitan cuisine at its finest:

pasta, veal, chicken, seafood, steak,

and flatbreads. If you want it, Peppino's

has it! Aprés-hour daily features half price appetizers and flatbreads.

Reservations accepted. peppinosvt.com, (802) 422-3293.
---
The Mountain Times • Nov. 11-17, 2020 FOOD MATTERS • 21

Seward's Dairy

If you're looking for something truly

unique and Vermont, check out Seward

Dairy Bar. Serving classic homemade

food including hamburgers, steaks, chicken, sandwiches and seafood. Craving

something a little sweeter? Check out their own homemade 39 flavors of

ice cream. Vermont products also sold. (802) 773-2738.

Virtual

event

Still On the Mountain

Killington Distillery & Still on the Mountain

Cocktail Bar invite you to enjoy our handcrafted

small batch spirits inspired from the blissful Killington

region. Pair your cocktail with one of

our delectable food offerings made from sustainably

sourced, local ingredients. Sit back,

sip on your cocktail, and dig into a delicious meal in the lap of nature.

killingtondistillery.com, (802) 422-8200.

POOL • DARTS • HORSESHOES • FREE MINI GOLF

BURGERS • BBQ RIBS • SALADS • GYROS

Open

Sugar and Spice

Stop on by to Sugar and Spice for a home style

breakfast or lunch served up right. Try six different

kinds of pancakes and/or waffles or order up

some eggs and home fries. For lunch they offer

a Filmore salad, grilled roast beef, burgers and

sandwiches. Take away available.

www.vtsugarandspice.com (802) 773-7832.

Sushi Yoshi

Sushi Yoshi is Killington's true culinary adventure.

With Hibachi, Sushi, Chinese and

Japanese, we have something for every age

and palate. Private Tatame rooms and large

party seating available. We boast a full bar with

20 craft beers on draft. We are chef-owned and operated. Serving lunch

and dinner. Delivery or take away option available. Now open year round.

www.vermontsushi.com (802) 422-4241.

Taso on Center

Taso On Center serves up a menu that is always

changing and evolving, with options like

traditional American, Mexican, and Asian cuisine.

Enjoy eclectic food, craft beers or cocktails

at Taso on Center in historic downtown Rutland!

(802) 775-8270.

7:30 am- 3 pm – Sun. Mon. & Thurs.

7:30 am- 4:30 pm – Fri. & Sat.

Check out our NEW patio & outdoor seating!

All butter from scratch bakery making

breads, bagels, croissants, cakes and more.

Now serving soup, salad and sandwiches....

outdoor seating with Wifi and games area.

Courtesy of FarmToPlate.com

Diagram of Vermont's Food system

2020 Farm to Plate

gathering held virtually

Thursday, Nov. 12 and

Friday, Nov. 13—This year's

Farm to Plate gathering

may be virtual, but it's no

less important! This year

marks a period of transition

with the closing of the first

10 years of Farm to Plate

and the beginning

of the next 10

years. Together

as a network

attendees

will get a first

glimpse at the

next 10-year

strategic plan — it's

vision, goals, and objectives

— and in breakout

sessions dive into priority

issues that have emerged

through stakeholder engagement

and public input

to determine the ways in

which we'll collaboratively

work together to bring our

shared vision to fruition.

You'll also hear stories of

adaptation and transition

in the food system during

Covid, and reflect on

Nov.

12-13

what can be learned and

applied from them to the

next decade of food system

development.

The gathering will be

held Thursday, Nov. 12

from 12:30 p.m.-5 p.m.

and Friday, Nov. 13 from 9

a.m.-12 p.m., and will

be hosted online.

Registration is

open here: bit.

ly/36ldO0h.

Links to

sessions will

be sent prior to

the gathering via

email. There is a flat fee

of $30 to register for the

gathering regardless of

number of sessions/days

attended. They're offering

to cover the registration fee

for farmers, food workers,

or food business owners

who need assistance with

registration costs. If you are

applying for a scholarship,

please do not register until

you hear from our Farm to

Plate staff.

5501 US Route 4 • Killington, VT 05751

802.422.5950

Breakfast • Pastries • Coffee • Lunch • Cakes • Special Occasions

• THURSDAY: FOOTBALL

DUANE CARLETON

• FRIDAY: 5-8PM

CHRIS PALLUTTO

GROCERY

MEATS AND SEAFOOD

beer and wine

DELICATESSEN

BAKERY PIZZA CATERING

OPEN 7 DAYS A WEEK

Sun. - Thurs. 7 a.m. - 8 p.m.

Fri. & Sat. 7 a.m. - 9 p.m.

2023 KILLINGTON ROAD

802-422-7736

• SATURDAY: 5-8PM

SUPER STASH BROS.

• SUNDAY: NFL SUNDAY

3 NFL TICKETS

Deck Dining • A/C • Shuffleboard

BEST BBQ RIBS IN KILLINGTON

OPEN MON/THURS/FRI/SAT 3-11 p.m.

& SUN NOON-11 p.m.

Order by 11/13

ORDER VT

TURKEYS

HERE

Daily Specials posted on @KillingtonMarket

& our website. Call Deli 802-422-7594 by 2 p.m.

Call our deli by 11/13 to order your

Stonewood Farm Turkey.

www.killingtonmarket.com

TAKE-OUT

&

RESERVATIONS

ATM

Take-Out Convenience:

Breakfast, Lunch & Dinner
---
Food Matters

22 • The Mountain Times • Nov. 11-17, 2020

Mid-way up Killington Access Rd.

Tuesday - Sunday, 11:30 a.m. - 9 p.m.

vermontsushi.com • 802.422.4241

MISO

HUNGRY

HIBACHI | SUSHI | ASIAN

Classic Italian Cuisine

Old World Tradition

~ Since 1992 ~

fresh. simple.

delicious!

1/2 price appetizers

& flaTbreads

from 4-5 p.m.

Open Sunday

at 1 p.m.

for Lunch & Dinner

pasta | veal

Chicken | seafood

steak | flatbreads

For reservations

802-422-3293

First on the Killington Road

Closed Wednesdays

Agricultural Literacy Week tackles

resilience in all its forms

VERMONT – For this year's Agricultural Literacy Week,

the Northeast Farming Association of Vermont (NOFA-VT)

invites anyone interested in learning more about building a

resilient food system in Vermont to tune in for a week-long,

virtual celebration. The online events are free and open

to the public, and designed to inform, educate and create

community around the topic of agricultural resiliency in all

of its forms.

Each night, Nov. 16 through 19, will feature an online

gathering bringing together diverse voices of our community:

farmworker rights group Migrant Justice, Missisquoi

Abenaki chef Jessee Lawyer, students of gender studies and

agriculture at Bennington College, and organic farmers

building soil health and feeding their communities.

"Farmers and farmworkers haven't stopped farming

during the pandemic. And we're not going to let social distance

stop us from celebrating the economic and cultural

importance of farms in Vermont," said Livy Bulger, NOFA-

VT's education & engagement manager. "Agricultural

Literacy Week is an opportunity to hear stories and engage

in meaningful conversations, with a wide variety of folks

involved in strengthening our food system."

This program is a collaborative effort by NOFA-VT, the

Vermont Dept. of Libraries and the Vermont Agency of

Agriculture, Food and Markets. These events are free and

open to the public, but pre-registration is required. More

information and links to register are available at nofavt.org/

aglitweek, or by calling (802) 434-4122.

Featured events

Exploring Abenaki Foodways cooking class

Monday, Nov. 16, 6-7:30 p.m.

Guest Speaker: Chef Jessee Lawyer

Description: Roll up your sleeves and gather in the

kitchen for this virtual instructional cooking class taught by

Missisquoi Abenaki chef Jessee Lawyer. Jessee will demonstrate

how to create a seasonal dish showcasing Native

techniques and pre-colonial, Vermont-grown and gathered

ingredients. Recipes will be included so you can create the

dish for your own family and friends.

#MilkwithDignity: Advancing the Human Rights of

Farmworkers while Fostering a Sustainable Northeast

Dairy Industry

Tuesday, Nov. 17, 6-7:30 p.m.

Guest Speakers: Migrant Justice

Description: The Milk with Dignity program, created by

Migrant Justice, brings together farmworkers, consumers,

Come to our sugarhouse for

the best breakfast around!

After breakfast, check out

our gift shop for all your

souvenir, gift, and maple

syrup needs. We look

forward to your visit!

Outdoor seating & dining now

open! Take-out available.

Serving Breakfast & Lunch

7a.m. - 2p.m. daily

Check out our menu online!

Sugar & Spice Restaurant & Gift Shop

Rt. 4 Mendon, VT

802-773-7832 | www.vtsugarandspice.com

farmer owners and corporate buyers with the principal

goal of fostering a sustainable Northeast dairy industry that

advances the human rights of farmworkers, supports the

long-term interests of farm owners, and provides an ethical

supply chain for retail food companies and consumers.

Covid-19 has further proven how essential farmworkers

are, as they continue to work day-in day-out to produce the

milk and dairy products to feed our communities. Join us

for this workshop to learn more about the Milk with Dignity

Program, farmworkers' continued struggle for justice and

how you can get involved to help expand this powerful

solution to the Hannaford supermarket's supply chain.

Building Soil Health Resilience**

Wednesday, Nov. 18, 6-7:30 p.m.

Farmer panel: Misse Axelrod (Drift Farmstead), Nic Cook

(Cedar Circle Farm & Education Center), Tyler Webb (Stony

Pond Farm), Kate Spring (Good Heart Farmstead)

Description: Farms that build soil, sequester carbon and

grow nutritious foods for their communities are webs of

life. Mimicking the natural world and the deep ties of how

we are all connected, resilience starts with soil, and builds

out into whole-systems thinking. Join this panel of Vermont

farmers as they share how their farms are an extension of

the natural world that steward deeply interwoven systems

for plant, animal and human communities to thrive.

**[Optional] Pre-Screen this Film: Rent the film "Biggest

Little Farm" from your local library and watch the film

before attending this workshop. This film is also available

on Netflix.

Gender, Agriculture, and Food Access

Thursday, Nov. 19, 6-7:30 p.m.

Guest Speakers: Ike Leslie, postdoctoral researcher in

food systems at the University of New Hampshire; Tatiana

Abatemarco, Visiting Faculty of Food Studies, Bennington

College; Bennington College students taking course Gender,

Subsistence, and Agriculture

Description: In this workshop, students will share the

results of an oral history project, interviewing farmers, gardeners,

consumers, and advocates who work in a variety of

local food access programs. Specifically, the research focuses

on the intersections between food access projects and gender

identity. The students will share their research results in

conversation with local expert Ike Leslie, who has researched

and published on the topic of gender and agriculture. The

students' research is part of their work in the class, Gender,

Subsistence, and Agriculture at Bennington College.

JONES

DONUTS

"Jones Donuts and Bakery is a

must stop if you reside or simply

come to visit Rutland. They have

been an institution in the community

and are simply the best."

open wed. - sun. 5 to 12

closed mon. + tues.

23 West St, Rutland

802-773-7810
---
The Mountain Times • Nov. 11-17, 2020 FOOD MATTERS • 23

Dorset Theatre Festival announces

winners of Young Playwrights competition

DORSET—Dorset Theatre Festival

has announced the winners of the 7th

annual Jean E. Miller Young Playwrights

Competition, as well as enrollment

for the 2021 online program.

An annual collaboration between

Dorset Theatre Festival and local

schools, Dorset Theatre Festival's

Young Playwrights program provides

regional middle and high school students

the opportunity to learn about

playwriting and create plays of their

own. This year, the Festival offered its

classes online for the first time.

A panel of professional playwrights

and theatre artists from across the

country read the plays, provide feedback,

and select winning submissions

from the middle and high school

categories. Traditionally, the winning

pieces are given a public reading at an

annual awards ceremony.

This year's winners are Shea

Smitwick from Maple Street School

in Dorset and Matthew Califano from

Craftsbury Academy in Craftsbury.

The 2020 winners will be celebrated

with an online ceremony,

including a digital presentation of

the winning pieces, directed by this

year's teaching artist, Heidi Armbruster.

The virtual event will be held

on Friday, Nov. 13 at 4 p.m.

"This pandemic time has been

uniquely suited to introspection

and imagination — which are the

building blocks of storytelling and

play-making," said Armbruster, a New

York City-based theatre artist who

has worked extensively in creating

new work, both as a playwright and

an actor. Her play Mrs. Christie had

its world premiere in Dorset in 2019.

As a performer, Armbruster's credits

include Broadway, Lincoln Center,

and many appearances in film and

television, including as the character

Michelle on TVLand's Younger.

The program's goal, according to

Armbruster, is to provide an online

interactive course in playwriting for

students without creating additional

lesson-planning for educators. Instructors

may schedule a session for

a whole class, individual sessions for

specific students, or simply use videos

from the course in their own lesson

plans as they wish.

"In the classroom experiences that

I have had so far, the experience of

making something together - even in

an online format - has created a sense

of community, and that has been exciting

and healing," Armbruster said.

She and Dorset Theatre Festival are

currently in the process of enrolling

students and classrooms for the 2021

program, which will continue online.

Offering Young Playwrights

online has expanded the reach of the

program, according to Dina Janis, the

Festival's artistic director. "Now this

Vermont tradition is available both to

more schools in Vermont, as well as

to students and teachers anywhere

in the country," said Janis. Students

in Wisconsin, North Carolina, and

New Jersey participated in the 2020

program.

"Students, teachers, and parents

are all experiencing a world-wide,

life-changing moment right now.

Especially for the kids, teaching

them how to put what they're thinking

and feeling on stage is something

we're so grateful to be able to

provide," said Janis.

The 2021 program will continue to

offer multiple options for educators

to customize how they incorporate

this program into their existing lesson

plans. All options will give students an

Heidi Armbruster

Courtesy of Dorset Theatre

RE-OPENING THANKSGIVING 4 - 8:30 p.m.

Turkey Dinner To-go special $24.95

• Sliced Cider Brined Turkey Breast

• Dressing

• Harvest Squash

opportunity to explore the fundamentals

of playwriting: character,

dialogue, structure, and conflict.

"I can adapt my lessons for any

classroom situation or any number of

students. I can tailor it to the work that

students are doing in the classroom,

or do something entirely independent,"

said Armbruster, encouraging

those interested to sign up soon in

order to secure space in the interactive

versions.

There is also a series of virtual

classes available online through

Dorset Theatre Festival's website

(dorsettheatrefestival.org/youngplaywrights-program)

and on their

official YouTube channel, with more

to come soon.

Educators interested in participating

should contact Heidi Armbruster

at: heidiyp@dorsettheatrefestival.org.

The Jean E. Miller Young Playwrights

Competition is funded in part

by support from the Glenn N. Howatt

Foundation. For more information,

visit dorsettheatrefestival.org.

• Green Beans

• Mashed Potato & Gravy

• Fresh Cranberry Sauce

8-piece pumpkin pie to-go: $16

Email your orders by Friday 11/20.

* Pick-up 11/26, 3-6:30 p.m.

21 Drafts

&

18 burgers!

All outdoor seating

is DOG FRIENDLY!

EARLY BIRD

SPECIALS

MON./ THURS./FRI.

4:30 PM -6 PM

» BAKED HADDOCK

w i t h RICE

» DELMONICO SUPPER

STEAK MASHED

POTATOES

» CHICKEN BROCCOLI

ALFREDO

» BAKED RAVIOLI

w i t h MEATBALL

» FREE COFFEE

(Soup or Salad with abov e)

OPEN EVERYDAY

@ 2 p.m.

Call 422-3795

for take out.

CaseysCaboose.com

$18

PLUS T/T

SERVING FULL

MENU

4:30 PM -9 PM

MONDAY,THURSDAY,

FRIDAY & SATURDAY

OPEN for DINNER THURS.-SUN. (5-9 p.m.)

For reservations, call or email: claudeschoices@yahoo.com

422-4030 • 2820 KILLINGTON RD.

WWW.CHOICES-RESTAURANT.COM

LIVE

ENTERTAINMENT

FRI. & SAT.

22 CENTER STREET,

DOWNTOWN RUTLAND

RESERVATIONS REQUESTED

802-775-8276
---
24 • PETS

The Mountain Times • Nov. 11-17, 2020

Rutland County Humane Society

BUTTER

Are you looking for a friend? Butter is a 2 year old yellow

lab mix that came from Arkansas. This girl has a lot of energy

and would love to walk, run, jog or hike with you. She

is a sweet girl that loves food, so obedience training will be a

lot of fun! Butter is heartworm + so she has to stay in VT. She

would go to you as a foster and once her treatment is over,

you would then adopt her. We are covering the cost of this.

KURT - 6-months-old.

Neutered Male. Labrador

mix. Black. I am a happy,

crazy little puppy and always

on the go.

BAGEL - 5-months-old.

Spayed female. Domestic

Shorthair. Torti. I am a very

active kitten that just wants

to explore.

MAIZY - 3-years-old.

Spayed female. Domestic

Shorthair. Dilute calico. I

love to play with toys but

I am also a very independent

lady that is happy just

entertaining herself.

MOOSE - 3-years-old.

Spayed female. Domestic

Shorthair. Grey tiger and

white. I love giving hugs

and being with my person.

This pet is available for adoption at

Springfield Humane Society

401 Skitchewaug Trail, Springfield, VT• (802) 885-3997

*Adoptions will be handled online until further notice.

spfldhumane.org

SHONEY - 6-months-old.

Spayed female. Hound

mix. White and brown. I am

your crazy silly all over the

place puppy.

PHENIX - 2-years-old.

Spayed female. Domestic

Longhair. Tortie. There

really isn't anything much

better than a scratch under

the chin.

HOBBES

I'm a 4-year-old neutered male. I am a shy guy that

has never lived with people, and it takes me a bit to

warm up. The good news is that with some loving kindness,

I do come around. It really is just odd being inside

all the time, especially being around people all the time.

I do well with other cats. So, if you have patience and a

kind heart, and have a home looking for a furry companion,

please consider me and call to learn more!

This pet is available for adoption at

Lucy Mackenzie Humane Society

4832 VT-44, Windsor, VT • (802) 484-5829

*(By appointment only at this time.) Tues. - Sat. 12-4p.m.

& Thurs. 12-7p.m. • lucymac.org

THUMPER - Adult. female.

Rabbit. Domestic. White.

I love my greens, apples,

apple branches and carrots.

KAI

11-months-old. Spayed female. Hound mix.

Brown. Toys, did someone say toys, I love to play

with all sorts of toys.

All of these pets are available for adoption at

Rutland County Humane Society

765 Stevens Road, Pittsford, VT • (802) 483-6700

Tues. - Sat. 12-5p.m. Closed Sun. & Mon. • www.rchsvt.org

SIMON - 1-year-old. Neutered

male. Domestic

Shorthair. Black and white.

I will spend my days chatting

to you.

GARY - 5-months-old.

Male. Ferret. Sabel. We

have a bundle of energy

and are so much fun to

watch and interact with.

EARTH - 5-months-old.

Spayed female. Domestic

Shorthair. Calico. I spend

my days sitting in the highest

point of a room.

MARS - 5-months-old.

Spayed female. Domestic

Shorthair. Torti. There

is just so much to explore

and so little time in the day!
---
The Mountain Times • Nov. 11-17, 2020 HOROSCOPES • 25

Cosmic

Catalogue

Copyright ©2020 - Cassandra Tyndall

Aries

March 21 - April 20

In the children's tale, "The Tortoise

and the Hare," you, dear Aries, are

the hare. This week though, it would

be in your best interest to adopt the

approach of the tortoise. As your patron

planet changes direction, you'll

be keen to initiate a brand-new plan or

project. If you do it rushed, you'll do

it twice. Nobody's got time for that!

As Mercury changes signs, new information

will come to hand that you'll

need to take your time to consider.

Leo

July 21 - August 20

Remember around this time last

year? All over the internet people

were proclaiming that 2020 is going

to be "their year." I'm not sure too

many people could look back on this

year as one filled with joy, hope or

promise. That doesn't mean it didn't

exist, it was just harder to find. This

week, you'll discover what these topics

mean to you. With renewed vigor,

you'll be in a position to chase the

goals and dreams in your heart once

again.

Sagittarius

November 21 - December 20

Jupiter, your patron planet, makes

its third and final fusion with powerful

and intense Pluto. Issues dating

back to April and June may resurface,

especially around money. You might

discover you've got more wealth (literal

or proverbial) than you thought,

or, you may realize that one more cathartic

look at your attitudes to abundance

are necessary. It's been a long

year for you, but light is at the end of

the tunnel if you face what you fear

right now.

Sharpen your axe

2020 has been one of

the most dramatic years

I'm sure many of us can

remember. Amongst

dramatic years, there are

dramatic months and

dramatic weeks.

When I studied the as-

current political landscape.

Personally, by now, you

should have a clear understanding

of what mess you

may have to clean up in

your own affairs.

It might be worthwhile

to avoid the temptation

...it will take some time for the

storm to clear.

Taurus

April 21 - May 20

It's the quiet corners of your solar

horoscope that are the most active

this week. Thus, giving you time to

plan and prepare your next move.

Your relationship sector receives

communicative Mercury for the second

time since late September as well

as a New Moon. A second chance to

say something unspoken may promise

a fresh start and the chance to start

over. If something is weighing heavy

on your mind, a problem shared is a

problem halved.

Gemini

May 21 - June 20

Remember that time in late September,

when all of a sudden,

your schedule went kinda crazy?

What happened? Did you slip into

lazy habits or indulge in more pleasurable

pursuits? If that's the case, this

week will heighten the need to tighten

up your priorities and reduce distractions.

As details and deadlines require

your focus now, a lot can be achieved

if you apply yourself. A New Moon

may inspire hard work, particularly if

that supports your financial goals.

Cancer

June 21 - July 20

long and arduous cycle in your

A career sector winds up this week.

By now, you should have a clear concept

with what you're dealing with in

a professional situation, or with your

overall life direction. Life may feel as

though it's marking time right now, but

in reality, delays or frustrations will ultimately

put you in a better position to

make the right choice. A New Moon

at the end of the week may reveal the

way forward.

Virgo

August 21 - September 20

It will be a cause for celebration

when Mercury, your patron planet

returns to Scorpio and your 3rd sector

this week. Being able to research,

strategize and plan helps you feel

focused and helpful, especially if

you've lost sight of a particular goal in

recent weeks. Diving into the proverbial

rabbit hole of a topic of personal

interest may bring new revelations

that may seed a future path for you. A

New Moon on Sunday will be worth

making a wish under.

Libra

September 21 - October 20

Tension within a personal or professional

relationship could reach

a peak this week. Points of contention

you thought had been dealt with

may raise their ugly heads again. This

might involve money or other shared

resources. You're all about balance

Libra, so it will be worth your while

to hold your ground on issues that are

unfair. Holding the superior position,

astrologically speaking, negotiating a

new plan of action and setting intentions

for the future may help you rebalance

the scales, or the bank account.

Scorpio

October 21 - November 20

There is a massive amount of astrological

focus on you this week.

As Mercury returns to your sign, you

may revisit a personal topic from late

September. Your patron planet, Mars,

changes direction and you might notice

your overall mood and mojo shift

slowly toward increased energy and

focus. As a long and arduous project

shows signs of winding up, you might

like to make a personal plan or goal

under Sunday's New Moon. A little

self-care is long overdue!

Empowering you to lead a divinely inspired life.

Capricorn

December 21 - January 20

So what will you do with this one

precious life? If you haven't figured

out your personal priorities after

the crazy astrology 2020 threw at you,

then this week may make it blatantly

obvious. A rare and potent alignment

between Jupiter and Pluto form in

your sign, for the third and final time

this year. You may get the deserving

reward for hard work done thus far, or,

you may get the harsh truth if you've

avoided something important.

Aquarius

January 21 - February 20

You'll be faced with having to

make some important decisions

regarding your career and overall life

direction as Mercury returns to your

10th solar sector. Life in 2020 has

thrown you plenty of curve balls. It's

now time to get clear regarding what

your priorities are. A New Moon on

Sunday can help you reimagine your

future, rather than how it feels to be

in the here and now. You've got more

to be optimistic about than you think.

Pisces

February 21 - March 20

You've been learning a lot about

your value in recent months. It's

not only your financial value, but also

the gifts, skills and talents you share

with others. As you've reassessed

your worth, it may now be time to

consider raising your rates. Again, not

only financially, but also what you're

willing to give and share with others.

Perhaps you need to be a little more

selfish. You hold more power in a situation

than you may think.

Cassandra has studied astrology for about 20 years. She is an international teacher of astrology who has been published all over the globe.

trology of this year, I highlighted

this week as being

one of the most intense

and direction shifting all

year. This is due to two of

2020's signature influences

becoming active at the

same time.

The good news is that

these two cycles are concluding.

The bad news is

that it will take some time

for the storm to clear. This

is very apparent within the

to make swift progress in

an attempt to make up for

lost time. There is still more

information to glean, and

likely bringing more shocks,

surprises or curve balls you

may not have anticipated.

Taking a leaf from a

former president's book, if

your axe isn't quite ready

yet, then take some time to

make sure it's sharp. A strategic

approach will serve

you better than haste.

RUTLAND'S PREMIERE

YOGA & PILATES STUDIO

22 WALES STREET, RUTLAND, VERMONT

Go online to see our full schedule:

@trueyogavt

trueyogavermont.com

Karen Dalury

3744 River Rd. Killington, VT

802-770-4101

KillingtonYoga.com

@KillingtonYoga

Live classes via Zoom.

Online Schedule,

check our website for updates:

Monday 8:15 - 9:15 a.m. Vinyasa

Tuesday 5:30 - 6:30 p.m. Basics

Wednesday 8:15 - 9:15a.m. Yin Yoga

Thursday 5 - 6 p.m. Vinyasa

Friday 10 - 11a.m. Basics
---
Columns

26 • The Mountain Times • Nov. 11-17, 2020

Life within the brush pile

For nearly a decade, I've been adding to a brush pile in the woods behind my home. A

depository of pruned branches, dead flowers, discarded logs, old leaves, and an occasional

Christmas tree, the pile is a decaying testament to seasons and chores long past. Over the

years, the pile has settled a bit as the accumulated debris has slowly broken down. Yet, the

brush pile remains as intended: a woody oasis for wildlife.

"Wildlife uses brush piles for nesting, resting, evading predators,

keeping cool during summer, and staying warm and dry

when it's cold and stormy," Charles Fergus wrote in his book "Make

a Home for Wildlife: Creating Habitat on Your Land Backyard to

Many Acres." Constructed brush piles replicate what happens on

the forest floor when dead branches and trees build up in a given

The Outside

Story

By Lee Emmon

spot. These unremarkable (at least to the human eye) heaps offer

critical cover for forest creatures, and Fergus notes that brush piles

are utilized by different species, including rabbits, turtles, weasels,

chipmunks, and squirrels.

In the winter, various small animals will use brush piles to

find sufficient warmth and cover, said Haley Andreozzi, the

wildlife outreach program manager with the University of New Hampshire Cooperative

Extension. These smaller animals, in turn, attract predators such as foxes,

fishers, and long-tailed weasels. Tracks left in the snow will help identify the different

creatures that enter and exit the pile.

Doug Hitchcox, a staff naturalist with Maine Audubon, said brush piles are also valuable

real estate for birds. He noted several species will use brush piles at different times of the

year, including sparrows, some warblers, like common yellowthroat, and a variety of wrens,

including house, winter, or Carolina wrens. Although the main benefit of brush piles to

birds is cover and shelter, some may try to nest within the pile. "Winter wrens and a couple

of species of flycatchers will often build their nests in the roots of uprooted trees," said

Hitchcox. "So a brush pile might mimic that enough to be an enticing nesting location."

If built near an existing bird feeder, especially one without adequate natural

cover nearby, a brush pile may attract more avian visitors. "If you don't have trees

or shrubs already near the feeder, a brush pile is a great option to give birds a quick

get-away spot," said Hitchcox.

Brush piles are easy to construct at the edges of forests, fields, and gardens. Recently

cleared areas also provide excellent sites. To start, simply place a base of logs on the ground.

Rocks or an existing tree stump can also serve as the pile's foundation. Add multiple layers

of branches and smaller sticks, and eventually, you'll have a dome-shaped pile with

numerous hiding spots for small animals. Leaves and other forms of vegetation will provide

insulation as well as natural covering. There should be room left at the bottom to allow

animals to come and go.

Andreozzi said that while any type of woody debris will support wildlife habitat, "a deliberately

structured brush pile will provide habitat for a larger diversity of species and will last

longer." She suggests building multiple brush piles in areas without natural cover to ease

the threat posed by predators.

Since I started on my first brush pile, I've added another on a different corner of the

property. Smaller than the main pile, it grows slowly after each windstorm and yard job. The

pile has already attracted the attention of a few critters.

On cold winter nights, as ice-covered trees sway in the wind, and snow coats the

forest floor, I hope small creatures have reached the warmth and safety of my brush

piles – and that when a new day dawns, the old branches and rotting wood have

sustained a most precious gift: life.

Lee Emmons is a nature writer, public speaker, and educator. The illustration for this

column is by Adelaide Murphy Tyrol. The Outside Story is assigned and edited by Northern

Woodlands magazine and sponsored by nhcf.org.

It has been estimated that fewer than

50% of adults have a will or other estate

documents in place, which may not

be entirely surprising. No

one wants to be reminded

of their own mortality or

spend too much time thinking

about what might happen

once they're gone.

But a will is an instrument

of power. Creating one

gives you control over the

distribution of your assets.

If you die without one, the

state decides what becomes

of your property, without

regard to your priorities.

A will is a legal document by which an

individual or a couple (known as "testator")

identifies their wishes regarding the

distribution of their assets after death.

A will can typically be broken down into

four main parts.

1. Executors - Most wills begin by naming

an executor. Executors are responsible

for carrying out the wishes outlined in a

will. This involves assessing the value of the

estate, gathering the assets, paying inheritance

tax and other debts (if necessary),

and distributing assets among beneficiaries.

It's recommended that you name

at least two executors, in case your first

choice is unable to fulfill the obligation.

2. Guardians - A will allows you to

designate a guardian for your minor

children. Whomever you appoint, you

will want to make sure beforehand

that the individual is able and willing

to assume the responsibility. For many

people, this is the most important part

of a will since, if you die without naming

a guardian, the court will decide who

Money

Matters

By Kevin Theissen

The yard was covered in white. I

mean, really covered in white. It wasn't

that pathetic little amount that we got

on the first snowfall last week where

you talk yourself

into thinking that

there's probably

enough

snow to ski some

laps around the

yard before the

snow is all gone.

This was the

first real snow,

the kind you

have to sweep off

of your car and

shovel the front

walk because it

will actually stick around. We measured

almost 8 full inches and smiles about as

big. Because snow that deep this early

in the season only means one thing: it's

two-stroke time!!

We hook up the trailer, pull the pin,

open the clamshell and gaze longingly at

our beauties that have been hiding away

takes care of your children.

3. Gifts - This section enables you to

identify people or organizations to whom

you wish to give gifts of money

or specific possessions, such

as jewelry or a car. You can also

specify conditional gifts, such

as a sum of money to a young

daughter, but only when she

reaches a certain age.

4. Estate - Your estate encompasses

everything you own,

including real property, financial

investments, cash, and

personal possessions. Once

you have identified specific

gifts you would like to distribute,

you can apportion the rest of your

estate in equal shares among your heirs,

or you can split it into percentages. For

example, you may decide to give 45

percent each to two children and the

remaining 10 percent to a sibling.

The law does not require that a will be

drawn up by a professional, and some

people choose to create their own wills

at home. But where wills are concerned,

there is little room for error. You will not

be around when the will is read to correct

technical errors or clear up confusion.

When you draft a will, consider enlisting

the help of a legal or financial professional,

especially if you have a large estate

or complex family situation.

Preparing for the eventual distribution

of your assets may not sound enticing.

But remember, a will puts the power in

your hands. You have worked hard to

create a legacy for your loved ones. You

deserve to decide what becomes of it.

Kevin Theissen is the owner of HWC

Financial, Ludlow.

Smoke 'em if you've got 'em!!

Livin' the

Dream

By Merisa

Sherman

Will power

all summer long. The BF and I cannot

contain our grins as we look at each other

before grabbing the rear of our sleds and

drag them out of the trailer in unison.

My skis, of course, don't clear the trailer

because I didn't pull hard enough. That's

okay, I start my strength training for the

season by lifting the dead weight of the

rear and pulling back with all the strength

that I only imagine that I have — but it

still doesn't move.

And so begins snowmobile season.

My engine, at least, turns over easily

and I drag the skis around, growing stronger

with each pull. Plumes of thick smoke

rise up, twisting in the wind. As I wait for

the engine to reach temp, I am captivated

by the smoke dancing in front of the

headlights like the Last Unicorn dancing

before the Red Bull. It's simply beautiful.

But nowhere near as beautiful as the

tracks we would leave all over the yard.

After a quick mental review, I'm off with

one big loud BRAAAAAAAP. I lean my

entire body off the left side of the sled,

my knee hanging out as I shove the

handlebars to the right. The skis catch

Livin' the dream > 27
---
The Mountain Times • Nov. 11-17, 2020 COLUMNS • 27

A little over 30 years ago, I lost my father to a massive

heart attack. He was 55 years old, in good shape,

and active – definitely not someone you'd expect to die

so young. However, he was a

smoker and as the coroner report

attested, he had considerable

plaque build-up in his arteries,

which meant that lifestyle and

DNA likely combined to bring

him down.

My brothers and I took note of

this and have often talked over

The Movie

Diary

By Dom Cioffi

the years about the hereditary

aspects of heart disease. What

makes matters worse is that

there's also a tendency for high

cholesterol (which can cause

heart disease) on my mother's side, too.

I've had my cholesterol checked over the years and it's

always run on the high side – as expected. I've remained

wary of this point, so I've always been careful about my

diet and lifestyle. I'm certainly not the picture of health

when it comes to food intake, but I'm better than average,

for sure. And at 54 years old and running 15-20 miles

a week, I think I'm keeping myself in pretty good shape.

Looking at my diet, I avoid all fried and fast food, in

general. I get a fair share of veggies,

fruits, and nuts almost every

day and if I eat breads, it's usually

whole grains. My fluid intake consists

of water, hydration products

for running, and the occasional cocktail (I rarely drink

soda or sweetened drinks). And finally, I only eat red

meat a few times a month, preferring fish and chicken as

my staples.

My two downfalls are pizza (hey, I'm Italian) and ice

cream. The latter is my Achilles heel by a long shot. My

father got me started on the ice cream habit as a kid and

I've never been able to shake it.

The urge overtakes me in the evenings just before I

head off to bed. Like a twilight ritual, as I begin to get

drowsy, my sweet tooth kicks in. Before I know it, I'm in

the kitchen concocting a sugary nightcap.

>

Livin' the dream: Braap, braaap, braaaap!

from page 26

on the snow, darting to the left around the bush

and the rear slides sideways to catch up. I can feel

the pure power from the engine flowing from my

hands up into my arms and shoulders and I grow

stronger, almost like She-Ra with the power of

GraySkull.

I'm in a high tuck, basically doing wall sits while

I feel the sled moving underneath me. In some

ways, it's like two skis locked in attack position and

you throw your body to

make the whole contraption

get on edge. I can

feel one ski lift as I come

around the pricker tree,

tightening my turn so I

can get a good angle to

launch from the culvert

ditch. The skis slam back

down and now I'm pumping the track, willing my

sled to move quicker and faster, as I pull a donut

around the picnic table covered in snow.

And oh the power, the raw power that comes

from the sled is absolutely overwhelming and

I find myself high on my connection with the

machine. We move together, weaving around the

rocks hidden under the snow that I know are there

because I've hit them with the mower. I can't get

enough, as I slide my skis right next to the BF's

The heart of the matter

"The Truman Show" is both a comedic and

poignant example of life treating someone unfairly.

I am captivated by the smoke

dancing in front of the

headlights like the Last Unicorn

dancing before the Red Bull.

I go through phases, but for the

last several years, my go-to sundae

consists of chocolate or vanilla

ice cream with pure Vermont

maple syrup and either peanuts or

pistachios liberally applied to the

top. Just writing about it gets the

juices in my mouth flowing!

Unfortunately, every time I eat

one of these sundaes, I get the funny

feeling they're causing plaque to

build up in my arteries.

As I wrote about in the spring, I

lost a dear friend to a heart attack

quite unexpectedly. His passing was

a gigantic slap in the face since he

was only in his early 50s and a fairly

active guy. I was pretty shaken so I

vowed that I would immediately see a

cardiologist and get a full work-up of

my heart health.

It took months to get in but when

I finally did, I found the experience

enlightening. I learned more about

cholesterol in one hour than I had in

my entire life. And since I had a history

of heart disease in my family and a tendency to run

high in the cholesterol category, my doctor insisted I get

some scans done.

I got a CT scan on my heart, which showed very little

plaque for a man my age. This thrilled me. However, the

second scan – a sonogram of my carotid arteries – didn't

have the best results. It turns out that the radiation I

had on my neck for cancer several years ago has caused

a higher-than-normal level of plaque to adhere to the

inside of those arteries – so much so that I need to go on

medication to combat the effects.

This was not the news that I wanted to hear. However,

and we do our signature fist pound, thumb up

before pulling away yet again.

Lap after lap, we find new routes to follow

around the garden and past the park bench.

My shoulders and arms are getting tired from

maneuvering the sled, but I ignore the pain. I

am only getting stronger and better as we track

up the lawn. Faster and faster, I drag the sled

around the NIMH bush making sure to leave

enough of a buffer

to the forest so I can

make some cross

country tracks in the

quiet of the morning.

But I'm not thinking

about that now. I have

to focus on throwing

my sled around the

next turn and ripping the rear end around. I'm

in the zone and there's no time for anything

but snowmobiling. I make my own "braaap"

noises to match my sled and I know our song

is being echoed by the valley. As I park my sled

next to the deck, I cannot stop the hungry smile

that's plastered on my face. I swing my leg over

and give my girl a little pat to thank her for the

continued greatness.

It's going to be a mighty fine winter.

the doctor made me feel good

that I had taken the steps to look

into my health. Had I not, I was

heading down the same road as

my father and good friend.

So, I will begin a new chapter

in my health by starting a

medication that I would much

rather not be taking. I will also

be visiting a nutritionist to see

what other steps I can take

to put myself at lower risk. In

some ways, I'm excited to learn

more and try to see if I can alter

the effects that radiation and

DNA have had on my body.

The only thing that frightens

me is knowing that my new

nutritionist is likely going to

nix my nighttime ice cream

parties.

Life can be so unfair…

In this week's feature, we

go back a few years to the

classic Jim Carrey film, "The

Truman Show," which is both

a comedic and poignant example of life treating someone

unfairly.

With the lack of new films being released, I've had to

occasionally dive back into the annals of great movies

I've seen. "The Truman Show" is one I've been wanting

my son to watch given how unique and metaphorically

intoxicating it is. Thankfully, upon viewing again 22 years

after its initial release, it holds up surprisingly well.

This was the film that showed the world what a great

actor Jim Carrey was going to be. It was a wonderfully affecting

commentary on modern life and the constricting

worlds we sometimes find ourselves in.

If you're looking for a great film to revisit or were never

lucky enough to see it in the first place, definitely give this

Jim Carrey classic a try.

Got a question or comment for Dom? You can email him

at moviediary@att.net.

By Merisa Sherman

Plumes of smoke rise up from the snowmobile, twisting in the wind.
---
Classifieds

28 • The Mountain Times • Nov. 11-17, 2020

RENTALS

SEASON RENTAL/ Sale,

7Br, 4 Ba, 3 fireplaces, 2

kitchens and 2 decks, $2000

mo. A turn of the century

historic villa, 6 miles away

from Killington Resorts. Free

snow removal, firewood.

$6000 Dep. Immediately

available between Nov-Apr.

802-770-8786. Journeys

End Manor, Previously a

5-Star Airbnb.

THREE ROOM office suites.

Downtown Rutland. $500

per month. 802-353-5438

PRIVATE ROOM available

in large, socially-distanced

ski house for season. Ideal

location. 917-796-4289

outdoordiva7@yahoo.com.

REAL ESTATE

FOR SALE -Killington

building lot. Robinwood.

Walk to Pico. 603-340-3835

UNIQUE VICTORIAN—

10 rooms with open floor

plan.10 private acres mostly

wooded with mountain

bike trails. Dead end road.

Minutes to school, Pico and

downtown. North Rutland

Town (802) 775-6961

ERA MOUNTAIN

Real Estate, 1913

US Rt. 4, Killington—

killingtonvermontrealestate.

com or call one of our real

estate experts for all of your

real estate needs including

Short Term & Long Term

Rentals & Sales. 802-775-

0340.

KILLINGTON PICO

REALTY Our Realtors have

special training in buyer

representation to ensure a

positive buying experience.

Looking to sell? Our unique

marketing plan features your

very own website. 802-422-

3600, KillingtonPicoRealty.

com 2814 Killington Rd.,

Killington. (next to Choices

Restaurant).

KILLINGTON VALLEY

REAL ESTATE Specializing

in the Killington region

for Sales and Listings for

Homes, Condos & Land

as well as Winter seasonal

rentals. Call, email or stop

in. We are the red farm house

located next to the Wobbly

Barn. PO Box 236, 2281

Killington Rd., Killington.

802-422-3610, bret@

killingtonvalleyrealestate.

com.

PEAK PROPERTY

GROUP at KW Vermont.

VTproperties.net. 802-

353-1604. Marni@

peakpropertyrealestate.

com. Specializing in homes/

condos/land/commercial/

investments. Representing

sellers & buyers all over

Central Vt.

THE PERFORMANCE

GROUP real estate 1810

Killington Rd., Killington.

802-422-3244 or 800-338-

3735, vthomes.com, email

info@vthomes.com. As the

name implies "We perform

for you!"

PRESTIGE REAL ESTATE

of Killington, 2922 Killington

Rd., Killington. Specializing

in the listing & sales of

Killington Condos, Homes,

& Land. Call 802-422-3923.

prestigekillington.com.

CROSSWORD PUZZLE

SKI COUNTRY REAL

ESTATE, 335 Killington Rd.,

Killington. 802-775-5111.

SkiCountryRealEstate.com –

8 agents servicing: Killington,

Bridgewater, Mendon,

Pittsfield, Plymouth,

Stockbridge, Woodstock

areas.Sales & Winter

Seasonal Rentals. Open

Monday-Saturday: 10 am – 4

pm. Sunday by appointment.

FOR SALE

FIREWOOD FOR SALE-

We stack. Rudi, 802-672-

3719

SNOW TIRES- Four 2019

Nokian Hakkepelitta R-3

snow tires and rims. 265-

70-r16. About 3000 miles.

Asking $500. 631-766-4981

FREE

FREE REMOVAL of scrap

metal & car batteries. Matty,

802-353-5617.

SERVICES

ACCORD MEDIATION

— Work through divorce

or disagreements

peacefully with mediation.

802-391-4121 www.

accordmediationvt.com

BEAUREGARD PAINTING,

30 years experience, 802-

436-1337.

SUDOKU

CHIMNEYS CLEANEDlined,

built, repaired. 802-

349-0339

TREE WORK at fair prices.

We also do all kinds of house

maintenance and check

ups for second homes. Call

Doug or Kelli 203-942-5905,

hughesdoug8@gmail.com.

ANDREW'S WINDOW

Cleaning - 802-236-5873 -

Professional Window and

Screen Cleaning

WANTED

HIGHEST PRICES PAID

- Back home in Vermont

and hope to see new and

returning customers for the

purchase, sale and qualified

appraisal of coins, currency,

stamps, precious metals

in any form, old and high

quality watches and time

pieces, sports and historical

items. Free estimates. No

obligation. Member ANA,

APS, NAWCC, New England

Appraisers Association.

Royal Barnard 802-775-

0085.

HOUSING WANTED- Single

hard working guy looking

for apartment in Rutland

area for myself and my well

behaved dog. I am quiet

looking for same. Call John

802-282-7883

PUZZLES page 15

>

EMPLOYMENT

ASSISTANT INNKEEPER-

The Birch Ridge Inn

at Killington seeks an

Assistant Innkeeper to help

with inn operations. Full

time, variable hours. For

an interview call 802-422-

4293.

CLEANERS NEEDED-

Hiring for multiple part time

and full time positions. Team

Leads start at $14/hour, at

least one year professional

cleaning/leadership

experience is required.

Cleaning Assistants start at

$13/hour DOE. Looking for

reliable individuals to work

based out of Rutland. Must

have a valid drivers license,

ability to pass a background

check and random illegal

drug tests. Weekends

required. Daily scheduled

hours 8 a.m.-5 pm. Position

could turn permanent. Call

or text Mary at 802-287-

1120.

HOUSEKEEPER- Full time

year round/part time/flex

time positions available.

Starting immediately.

Bonus. Please call 802-

422-2300 or email gail@

thekillingtongroup.

com. The Cleaning

Crew, 10 West Park Road,

Killington.

HOTEL HOUSEKEEPER—

The Mountain Inn is seeking

a full time housekeeper to

join our team. Prior hotel

housekeeping experience

is a must for our newly

renovated property located

at the base of Killington

Resort. We have a great

benefit package including

PTO, 401k, health insurance

plus more! Rate of pay will

be commensurate with

experience.

CASHIER WANTED

Evening. PT/FT/Year

round. Competitive wage.

Killington. Please call 802-

558-0793.

DELI HELP WANTED: Deli

Clerk, line cook. Experience

would be great, but if you

enjoy working with food, we

will train. Competitive wage.

Please call 802-558-0793.

HELP WANTED- Kitchen,

line cooks, dishwashers and

waitstaff. Full time/part time.

Apply in person at Moguls

Sports Pub.

KILLINGTON GRAND

Hotel has multiple positions

available in different

departments. Front Desk,

Spa, Housekeeping and

more. For more information

and to view all of our open

positions visit www.killington.

com/jobs , (800)300-9095

EOE

KILLINGTON RESORT's

Mountain Operations has

multiple positions available in

different departments. Road

Maintenance, Snowmaking,

Lift operations and more. For

more information and to view

all of our open positions visit

www.killington.com/jobs ,

(800)300-9095 EOE

KILLINGTON RESORT is

now accepting applications

for parking attendants

and parking reservations

monitors. For more

information and to view all

of our open positions visit

www.killington.com/jobs.

(800)300-9095 EOE

EQUAL

HOUSING

OPPORTUNITY

All real estate and rentals

advertising in this newspaper

is subject to the Federal

Fair Housing Act of 1968

as amended which makes

it illegal to advertise "any

preference, limitation or

discrimination based on

race, color, religion, sex,

handicap, family status,

national origin, sexual

orientation, or persons

receiving public assistance,

or an intention to make such

preferences, limitation or

discrimination."

This newspaper will not

knowingly accept any

advertisement which

is in violation of the law.

Our readers are hereby

informed that all dwellings

advertised in this newspaper

are available on an equal

opportunity basis. If you feel

you've been discrimination

against, call HUD toll-free at

1-800-669-9777.

Want to submit a classified?

Email classifieds@mountaintimes.info or call 802-

422-2399. Rates are 50 cents per word, per week; free

ads are free.
---
Service Directory

The Mountain Times • Nov. 11-17, 2020 • 29

WASHBURN & WILSON

AGENCY, INC.

144 Main St. • P.O. Box 77 • Bethel, VT 05032

Providing Insurance for your Home, Auto or Business

Short Term Rentals • High Value Homes

Free Insurance Quotes

Call Mel or Matt 802-234-5188

www.washburnandwilson.com

#1 RENTAL AND MANAGEMENT OFFICE

IN KILLINGTON FOR 45+ YEARS

- INCREASED RENTAL REVENUE

Professional Service, Professional Results

For All Your Plumbing & Heating Needs

Specializing in Home Efficiency & Comfort

24 Hour Emergency Service

(802) 353-0125

— Cabinets

— Countertops

— Flooring

WATER WELLS

PUMPS

COMPLETE

WATER SYSTEMS

HYDRO FRACKING

GEOTHERMAL

East Poultney, VT 05741

802-287-4016

parkerwaterwells.com

Kitchen and Bath

Design, LLC

— Hardware

— Plumbing Fixtures

— Installation

Kelly & Nick | 802.855.8113

125 Valley View Drive, Mendon, Vermont

kndesigns125@gmail.com

GIVE A CALL OR RENT YOUR STORAGE

UNIT ONLINE TODAY!

1723 KILLINGTON ROAD, KILLINGTON, VT

Renovations, Additions & New Construction

Vision

(802) 342-6026

www.VisionBuildersVt.com

FREE ESTIMATES • FULLY INSURED

ALL CALLS RETURNED

ERIC SCHAMBACH • 36 Years Experience

• Structural

Repairs

• Preventative

Maintenance

• Siding

• Framing

• Decks

Clifford Funeral Home

2 Washington Street • Rutland, VT 05701

(802) 773-3010

Gary H. Clifford • James J. Clifford

- PROPERTY MANAGEMENT SERVICES

PRIVATE HOMES AND CONDOS, ASSOCIATIONS

- CONCIERGE SERVICES

FOR OWNERS WHO RENT THEMSELVES

- STEAM CARPET AND UPHOLSTERY CLEANING

KILLINGTONGROUP.COM

KILLINGTON ROAD - (802) 422-2300

RED DUCK

REFUSE RECYCLE

Weekly • Bi-Weekly • Seasonal • Year-Round

802-422-2230

Reliable Service Since 1980

candido electric

residential & light commercial • licensed & insured

office: 802.772.7221

cell: 802.353.8177

frank candido rutland/killington

candidoelectric@yahoo.com

we help you see the light!

ISLAND SHADING SYSTEMS

SHADES ~ BLINDS

WINDOW TINTING

Since 1998

BLOCK ISLAND

KILLINGTON • STRATTON

islandshading.com

islandshade@hughes.net

802-747-8248

Susan Malone Hunnewell

Land Company, WoodstoCk

deRosia & assoC. inC.

Got Land? need ideas, timber , sell?

7 acres $25,000 , PERMITTED 5 lot subdivision

Okemo area

802 324-3291| ivanland@aol.com

For All Your Home and

Commercial Petroleum Needs

746-8018 • 1-800-281-8018

Route 100, Pittsfield, VT 05762 • cvoil.com
---
10/23/2020 -7760165007106236330.jpg

https://mail.google.com/mail/u/1/#inbox?projector=1 1/1

30 • REAL ESTATE

The Mountain Times • Nov. 11-17, 2020

Looking for land?

See videos of all our listings on

YouTube!

BRIDGEWATER

Gold Coast Road - 1+ acre building lot - $49,900

KILLINGTON

Brad Mead Drive - 1+ acre building lot - $119,000

Fern Lane - 1 acre lot - $7,500

MENDON

Cortina Road: #5 - 2+ acres - $49,000

#7 - 2+ acres - $49,000

ROCHESTER

Austin Hill Road: Lot #1 - 4+ acres - $139,000

Lot #2 - 3+ acres - $119,000

Town Line Road - 10+ acres - $75,000

Oak Lodge Road - 8+ acres - $45,000

STOCKBRIDGE

South Hill Road - 151 acres - $998,000

New Boston Road - 10+ acres - $35,000

Madison Brook Lane: #25 - 1+ acre building lot - $30,000

#26 - 1+ acre building lot - $30,000

Mount Hunger Road - 2+ acres - $24,900

Westwind Road - 2+ acres - $17,500

2814 Killington Rd.

802-422-3600

www.KillingtonPicoRealty.com

REALTOR ®

802.775.5111 • 335 Killington Rd. • Killington, VT 05751

QUALITY HOME ON 4.2A+/-

• 4 Bedrooms + Den,office,

rec room

• Lg. kitchen,fam.rm.lv.rm,dn.rm

• Porch,Patio,4 car garage

• Solar panels, Heat pump,Oil

• Landscaped, $620,000

PICO-SKI HOME, WALK TO LIFT

MTN GREEN – MAIN BLDG (#3)

SKI HOME - SHUTTLE OUT

ON DEPOSIT

• Edgemont ..This won't last!

• 3 bedrm. 1 1/2 bath

• 2 Level Master bedrm

with deck

• Wood burning frpl

• $149,000

SPECTACULAR KILLINGTON HOME SITE 7.42A+/-

ON DEPOSIT

• 2BR + LOFT /2BA, 1,176 Sq.Ft.

• "H" bldg. (closest to Sports

Center)

• NEW: w/dryer, hot water heater

& boiler

• Furnished & equipped,

$299,000

• 1BR/1BA:$120K-$179,900

• BLDG 1: 2BR/1.5BA: $149,900

• Onsite: Indoor & Outdoor Pools,

Whirlpl, Restaurant, Ski & Gift

Shops, Pilate Studio, Racquetball/basketball;

Shuttle Bus

• Privacy on a Large Buildling site

in Killington

• Inground septic design for 4

bedrooms

• 7.42A +/- Views,

• Level Building area

• 3 Underground spring fed ponds

• $170,000

Celebrating

30 years!

BEAUTIFUL COUNTRY SETTING CHITTENDEN

• Beautiful country setting Chittenden

• 3Bedrm, 2Bath Home

• Vast trail out your door

• Minutes to Chittenden reservoir

• 4.8A +/_Barn and outbuilding

• Septic permit allows for 4 bedroom

• $405,000

SKI IN-SHUTTLE OUT – TRAIL CREEK

ON DEPOSIT

TELEMARK VILLAGE ...RARE TO THE MARKET

THE WOODS VILLAGE UNIT

ON DEPOSIT

• 1 BR/1BA, 785 sf., fireplace

• Propane heat, skylight, stacked w/dryer

• Deck, mud-entry room w/bench/closet

• On site: indoor pool/whirlpool, rec room

• Owner's closet, furnished & equipped

• 18-hole golf course across the road

$189K

• Updated Kitchen & master bath

• 3 levels of living space

• 2 Bedrooms

+ loft plus Bonus room

• Family room, Tennis and

Outdoor pool

• Next to Kent Pond $365,000

• 2 Bedroom + Loft / 2 Baths

• The Woods special Amenities,

• include :Indoor lap pool, soaking pool

hot tub, sauna,tennis courts

• Fitness Center

• $229,000

TRAILSIDE ON GREAT EASTERN TRAILSIDE DR

• Can't beat this

• Very rare Trailside location

• Build your dream house

• state permit engineering

in process

• level Driveway.Great

access to & from trail

• $400,000

Daniel Pol

Associate Broker

Kyle Kershner

Broker/Owner

Jessica Posch

Realtor

Joseph Kozlar

Realtor

Jane Johnson,

ALHS, ASP(r)

Realtor

Lenore

Bianchi

'tricia

Carter

Meghan

Charlebois

Merisa

Sherman

Pat

Linnemayr

Chris

Bianchi

Katie

McFadden

Over 140 Years Experience in the Killington Region REALTOR

Michelle

Lord

Kerry

Dismuke

MULTIPLE LISTING SERVICE

MLS

®

PEAK

PROPERTY

G R O U P

AT

802.353.1604

VTPROPERTIES.NET

IDEAL PROPERTIES CLOSE TO

KILLINGTON, OKEMO OR WOODSTOCK!

HOMES | CONDOS | LAND

COMMERCIAL INVESTMENT

AMAZING VIEWS

CLOSE TO KILLINGTON

OR OKEMO.

88+ ACRES development

potential! 5 bed/2 bath

home, 1 bed/1 bath apt,

2 car garage, 3 bay pole

barn & sugarhouse.

DIRECT ACCESS TO

VAST TRAILS! $599K

SNOWMOBILE

FROM YOUR DOOR

TO VAST TRAILS!

Gorgeous custom built

Post & Beam mountain

retreat! 4 bedrooms/

5 baths. Minutes to

Killington. Strong rental

investment. Great short

term rental potential.

$589,900

Marni Rieger

802.353.1604

Tucker A. Lange

303.818.8068

Marni@PeakPropertyRealEstate.com

59 Central Street, Woodstock VT

505 Killington Road, Killington VT

MENDON --BRAND NEW HOME!

COMPLETION DATE 10/31/20. High

end interior finishings throughout, inquire

for detailed list. 2 car attached garage.

1 min. to Pico. Property abuts state land.

MUST SEE! $549K

MAGICAL SPOT ON 350 FEET OF FRONTAGE ON LAKE

AMHERST. Minutes to Killington or Okemo. This special

property is being offered with a 1 bedroom plus den log home,

one car garage & 1 bedroom cottage. Amazing lake views from

every window. ACT NOW. $559,900

SKI IN/ SKI OUT MOUNTAIN CHALET ON

PICO! Only SLOPESIDE home on market at

Pico! Totally renovated open floor plan, 3 bed

+ den/rec room, 2 baths & great ski storage/

mud room! ACT NOW! $469K
---
The Mountain Times • Nov. 11-17, 2020 REAL ESTATE • 31

Hazard pay: Senators urge Walmart to participate

>

from page 14

their efforts during the first three months

of Covid. This makes us just one of three

states in the country that has done so, having

been the first to put a proposal forward

and the most generous in what we are

providing.

Commissioner of Financial Regulation

Michael S. Pieciak announced Nov.

9 several important updates regarding

the frontline employees hazard pay grant

program. This second round of the program

substantially expands the sectors

eligible for the grants and includes Vermonters

formerly employed in eligible

sectors. An additional $8

million of coronavirus

relief funds was recently

appropriated, bringing

the total second round

appropriation to $30.5

million.

To date, the department

has received potentially eligible applications

totaling approximately $27 million

in grants. Accordingly, funds are still

available, and the department encourages

eligible employers to apply by the deadline,

which is Friday, Nov. 13 at 11:59 p.m.

The department has already approved

281 applications totaling $12.3 million

in grants to approximately 7,000 current

and former employees, and those checks

will soon be disbursed. Further, the

department anticipates completing its

review of the remaining applications by

the end of this week.

Walmart said in a statement to Seven

Days, that it believes Vermont's program

is meant for small and medium employers,

"who might be unable to pay a similar

bonus. We hope those funds can be more

appropriately used by those employers."

However, the Senators disagree, stating

Walmart's hourly workers are exactly who

should benefit.

"Adding insult to injury, since eligible

retail employees must earn less than $25/

hour to qualify for a grant, Walmart's decision

solely disadvantages its lowest paid

employees. And since eligible workers

must have been on the job from mid-

"Walmart's non-participation ... is the

coldest of shoulders to these most

loyal of employees," said Sens. Ashe,

Hooker, Kitchel, Pearson and Sirotkin.

March to mid-May, these employees can

only be considered very loyal to Walmart.

Walmart's non-participation in the essential

worker hazard pay grant program is the

coldest of shoulders to these most loyal of

employees.

"We strongly urge Walmart to reverse

course and allow their employees to receive

hazard pay grants. It is the right and decent

thing to do," the Senators concluded.

To learn more about the program,

apply online, and to sign up to receive

periodic updates, visit dvha.vermont.gov/

front-line-employees-hazard-pay-grantprogram.

Bret Williamson

BROKER, OWNER

FOR SALE IN KILLINGTON

47 McClallen Drive, Killington $529,000

Rare Investment Opportunity, 7-bedroom, 2-family

home located just of the Killington Road. Updates

include new carpeting in upper and lower units -rental

ready with separate utilities on each unit. Property is

being sold fully furnished.

135 East Mountain, Killington $169,900

This 2 bedroom 1.5 bathroom Mountain Green condo

is located on the top fl oor of building 1 with windows

facingthe woods and Killington Peak. Sold fully furnished

and with recently updated fl ooring, appliances and

water heater, your vacation home is move-in ready.

Judy Storch

BROKER

Alan Root

REALTOR ®

802-422-3610 killingtonvalleyrealestate.com

298 Prior Drive, Killington $ 1,100,000

This 4934 square foot, exquisitely detailed Tudor style

home would be stunning in any setting; situated as it is,

on a lush, impressively private 20 acre lot, this property

is in a class by itself. A fi ve bedroom home, surrounded

by the grandeur of the green mountains.

125 One Way Road, Stockbridge $ 298,000

Located in the Timber Hawk community, 20 minutes

from Killington, this distinctive 4 bdrm, 3 bath home was

designed by renowned Vermont Architect Robert Carl

Williams as a natural, organic extension of its stunning

Green Mountain environment.

Sarah Vigneau

REALTOR ®

LAKE ST. CATHERINE

views

77 Carver Street, Brandon, VT

$84,500 | MLS#4788407

9 Deer Street, Rutland City, VT

$155,000 | MLS#4815332

4 Taplin Road, Barre, VT

$545,000

3997 US 7 Route, Pittsford, VT

$89,900 | MLS#4803499

2826 Main Road, West Haven, VT

$199,000 | MLS#4818153

90 Center Street, Rutland City

$300,000 | MLS#4805730

237 Kinni Kinnic Lane, Poultney

$799, 000 MLS#4817250

233 Stratton Road, Rutland City, VT

$129,500 | MLS#4821043

206 Adams Street, Rutland City, VT

$244,000 | MLS#4823386

1851 York Street Extension, Poultney

$310,000 | MLS#4805347

Our Approach

Our office will follow the Vermont

Department of Health and CDC

guidelines and put your safety

first as you find your new home.

93 Baxter Street, Rutland City, VT

$135,000 | MLS#4816362

456 Hartsboro Road, Wallingford, VT

$225,000 | MLS#4822291

14 Franklin Street, Brandon

$374,900 | MLS#4796653

Alison

McCullough

Real Estate

ALISONM C CULLOUGHREALESTATE.COM

29 Center Street, Suite 1 • Downtown Rutland, VT • 802.747.8822
---
32 • The Mountain Times • Nov. 11-17, 2020