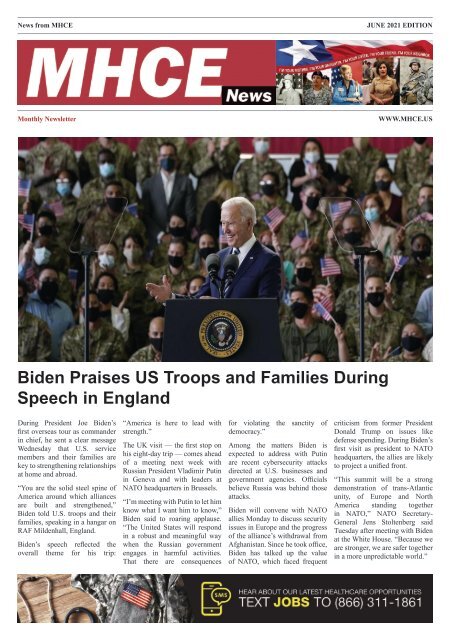 Create successful ePaper yourself
Turn your PDF publications into a flip-book with our unique Google optimized e-Paper software.
News from MHCE

JUNE 2021 EDITION

Monthly Newsletter

WWW.MHCE.US

Biden Praises US Troops and Families During

Speech in England

During President Joe Biden's

first overseas tour as commander

in chief, he sent a clear message

Wednesday that U.S. service

members and their families are

key to strengthening relationships

at home and abroad.

"You are the solid steel spine of

America around which alliances

are built and strengthened,"

Biden told U.S. troops and their

families, speaking in a hangar on

RAF Mildenhall, England.

Biden's speech reflected the

overall theme for his trip:

"America is here to lead with

strength."

The UK visit — the first stop on

his eight-day trip — comes ahead

of a meeting next week with

Russian President Vladimir Putin

in Geneva and with leaders at

NATO headquarters in Brussels.

"I'm meeting with Putin to let him

know what I want him to know,"

Biden said to roaring applause.

"The United States will respond

in a robust and meaningful way

when the Russian government

engages in harmful activities.

That there are consequences

for violating the sanctity of

democracy."

Among the matters Biden is

expected to address with Putin

are recent cybersecurity attacks

directed at U.S. businesses and

government agencies. Officials

believe Russia was behind those

attacks.

Biden will convene with NATO

allies Monday to discuss security

issues in Europe and the progress

of the alliance's withdrawal from

Afghanistan. Since he took office,

Biden has talked up the value

of NATO, which faced frequent

criticism from former President

Donald Trump on issues like

defense spending. During Biden's

first visit as president to NATO

headquarters, the allies are likely

to project a unified front.

"This summit will be a strong

demonstration of trans-Atlantic

unity, of Europe and North

America standing together

in NATO," NATO Secretary-

General Jens Stoltenberg said

Tuesday after meeting with Biden

at the White House. "Because we

are stronger, we are safer together

in a more unpredictable world."
---
2 | MHCE - News www.mhce.us JUNE 2021 EDITION
---
WWW.MHCE.US Monthly Newsletter | 3

Brown joined the Army Reserve as

an enlisted Soldier four years ago.

He received an ROTC scholarship

and attended college, afterwards

commissioning as a medical service

officer.

He said the opportunity to do more

was there and felt a calling to the

PA program. Once he had the 60

credit hours necessary — and other

prerequisites — he decided to put in his

application.

GLWACH's Ed. Dept. Helps Secure

Future of Army Medicine

Healthcare professionals spend years

obtaining complex medical degrees.

The Education Department at General

Leonard Wood Army Community

Hospital helps ensure the learning

continues, not only for GLWACH staff,

but for hospitals across the entire state

of Missouri.

Jordan Walters, chief of Hospital

Education and Staff Development

at GLWACH, said the training and

education support programs offered

here include virtual and in-person

clinical training opportunities.

"Our HESD clinical staff members

provide the required training healthcare

professionals need to maintain their

credentials," Walters said.

One of the programs the hospital

supports is the Interservice Physician

Assistant Program, which offers

enlisted and officer service members

from any career field the opportunity to

become PAs, said Maj. Jon Thibodeau,

GLWACH's PA training coordinator.

GLWACH trains about 10 students each

year in the hands-on, phase two portion

of the 29-month program.

Staff Sgt. Stephanie Foster, a medic in

the Oklahoma National Guard, is set to

graduate the PA program in October.

She called the course challenging.

"So many challenges and a lot of

successes, too," she said. "It's like

drinking from a fire hose with the

information and putting it all back

together in phase two when you actually

have the patient in front of you."

Foster said GLWACH's education

department allows PA students like her

the chance to rehearse trauma scenarios

— an invaluable resource.

"Trauma is increased muscle memory

for us," she said. "It's like an algorithm

when to do what actions. That way

when it's a scary situation, you have

practiced it enough and remember it."

Like Foster, 1st Lt. Austin Brown,

from Hebrew Springs, Arkansas, is also

currently enrolled in the PA program

here.

"I got some really good advice from my

PA, Capt. Robert Gibson, and he gave

me some advice on what to do for my

(application) packet and I got picked

up on the first go-around. I felt very

blessed for that."

Brown said phase two is a demanding

time, where students live weekby-week

through various tests and

challenges.

"I did not have a medical background

beforehand," he said. "But we had

students who were master sergeants

or flight medics, or Special Forces

medics with a lot of diverse knowledge.

Listening to them and their experience

was a huge advantage."

Brown said he studies at home when he

can to spend more time with his wife

and kids, and has advice for anyone

thinking of applying.

"Go and talk to PAs," he said. "Go get

the prerequisites; look up the program

to get a lot of information. Find

someone who has already gone through

the program because that's where you

get most of your knowledge."
---
4 | MHCE - News www.mhce.us JUNE 2021 EDITION

Navy Medicine announces

FY20 Sailor of the Year

Force Master Chief Michael J. Roberts, Director of the Hospital

Corps poses with Navy Medicine's fiscal year 2020 Sailor of the Year

candidates. (From left to right) Hospital Corpsman 1st Class Dylan

Marrone, assigned to Walter Reed National Military Medical Center,

Bethesda, Maryland; Hospital Corpsman 1st Class Thurman McCray

III, assigned to Naval Hospital Guam; Hospital Corpsman 1st Class

Alexis J. Sandoval, assigned to Bureau of Medicine and Surgery,

Falls Church, Virginia and Hospital Corpsman Petty Officer 1st Class

Michael Shoener, from Navy Medicine Training Support Center /

Naval Medical Forces Support Command(NMTSC/NMFSC)

TO ADVERTISE

contact Nathan.Stiles@mhce.us

Even the Opportunities are Sunnier

The region's most comprehensive and preferred health system, located in one of the nation's

most sought-after destinations, is seeking physicians in the following specialties:

OBGYN • Family and Internal Medicine • General Cardiology • Interventional Cardiology

Inpatient Medical Oncology • Neuromuscular • Orthopedics • Geriatrics

Ideal Place to Practice

n

n

n

n

Structurally and financially strong

organization

Work-life balance

High-caliber, physician-led teams

Extensive support from the

region's largest and most

comprehensive clinically

integrated network

World Class Quality of Life

n Northeast Florida is alive with over 1,100 miles of beaches and

waterways, 80,000 acres of parks and trails, a strong and prosperous

economy, multiple professional sports teams, renowned golf courses

and diverse cultural experiences

n The area serves as home to some of the Sunshine State's best cost of

living and the nation's most sought after quality of life

n Jacksonville was recently ranked by Forbes Magazine

as the second most desirable city for

relocation in the United States

n No state income tax

Please contact us at 904.202.5124, or email your

CV to PhysicianCareers@bmcjax.com

BH 33518 Specialties Recruitment Practice Link Ad_v04.indd 1

2/3/20 2:08 PM
---
WWW.MHCE.US Monthly Newsletter | 5

TO ADVERTISE contact Kyle.Stephens@mhce.us
---
6 | MHCE - News www.mhce.us JUNE 2021 EDITION

Navy Sexual Assault Prevention Response program-victim advocate,

Voting Assistance Officer, Diversity Officer, and Command Managed

Equal Opportunity (CMEO) Program Manager

"All of my assignments have been exciting and challenging in a

variety of ways," Washington said.

As the nation – and armed services – come to grips with confronting

not just the current pandemic outbreak, but also racial injustice,

Washington's role as CMEO program manager is crucial in providing

all staff members – active duty and civil service – a safe and secure

setting to perform to their maximum ability.

I Am Navy Medicine,

and Command

Managed Equal

Opportunity Program

Manager – Lt. Shanece

Washington

"I am Lt. Shanece Washington, Navy Medical Service Corps officer

and Occupational Audiologist, Regional Hearing Conservation

Program Manager, and Command Managed Equal Opportunity

Program Manager at Navy Medicine Readiness and Training

Command (NMRTC) Bremerton.

Washington has been in the Navy for four years and is originally

from Colorado Springs, Colo. and Rampart High School 2004-2008.

She is a graduate from University of Northern Colorado, 2008-2012,

in Audiology & Speech Language Sciences, B.S., with her Clinical

Doctorate in Audiology, AuD from University of Washington, 2012-

2016.

"I am a direct accession into the Navy. I completed all of my

educational training prior to joining. During my clinical doctorate

training, I was offered a spot with the Navy's Audiology Externship

Program, however, I had to decline the offer. I finished my residency

training at the Veteran Affairs Puget Sound Health Care System, and

made the decision to join the Navy upon my completion," explained

Washington.

"The CMEO program is in place to ensure an environment that is free

from social, personal, and institutional barriers that would prevent

service members from rising to the highest level of responsibility

possible. The ultimate goal is to foster and promote an environment

that prevents harassment and unlawful discrimination. There are six

protected categories for which harassment and discrimination are

prohibited: race, color, gender (including gender identity), sexual

orientation, national origin, and religion," noted Washington.

Washington's role as CMEO program manager has her as the point of

contact for command related equal opportunity concerns.

"I do not do this alone, but rather with a team," Washington stressed.

"Our duties include ensuring proper documentation and processing

of all reports of harassment and unlawful discrimination, both formal

and non-formal, providing updates regarding ongoing reports and

complaints to the commanding officer, coordinating the Command

Climate Assessment survey, and most importantly assessing the

impact of the CMEO program."

Washington attests that the importance of the CMEO program cannot

be understated.

"Discrimination and harassment undermine the capability of a

functioning team and are a disservice to the staff members and

beneficiaries we serve at this command. The CMEO program is

essential to promoting a positive command climate and fostering an

environment where all Service Members can thrive," Washington

said.

"I hope to promote a climate that goes beyond the idea of equality, but

rather highlights the need of equity and equitable practices that must

be built into everyday occurrences across the command to ensure

Washington grew up in a military family, and always knew from a

young age that she wanted to work with military members or veterans.

"My father served in the Air Force as a captain and instilled a sense

of responsibility and service to community in his children. It took me

several years to finalize the capacity in which I wanted to serve my

community," said Washington.

Despite her relatively short time on active duty, Washington has

served on both sides of the Pacific, from the Far East to the Pacific

Northwest. Navy Medicine has afforded her the opportunity to serve

in Yokosuka, Japan, Chinhae, South Korea, and now at NMRTC

Bremerton, Washington.

That fatherly advice learned when growing up has also empowered

Washington to take on a host of overlapping duties, which include

Hearing Conservation Program Manager, COVID-19 Level 1 Triage

provider, Occupational Audiology department head, Controlled

Substance Inventory board chair, Medical Service Corps secretary,
---
WWW.MHCE.US Monthly Newsletter | 7

equality," added Washington. "Ultimately, I hope to grow NMRTC

Bremerton into an example of best practices for the Department of the

Navy's Equal Opportunity and Sexual Harassment programs."

According to Washington, the best part of her career has been

collaborating with talented, passionate and forward thinking

individuals who strive to a make positive change within the Navy.

"I've witnessed the value of intervention and the impact that prevention

has on the quality of life of service members and their families. I started

my audiology career reactively by treating hearing loss in veterans.

Now I proactively try and prevent hearing loss from occurring in

service members. Additionally, I serve as a resource to operational

commanders and leadership to strategize appropriate interactions and

feasible recommendations related to hearing readiness. This is a great

gift that gives me purpose and motivation to continue this essential

work," stated Washington.

Washington's duty as audiologist directly contribute to the Navy

surgeon general priority on operational readiness and Navy Medicine's

core mission of producing force medical readiness and medical force

readiness.

"The mission of Navy Audiology is to prevent occupational-related

hearing injuries and increase medical readiness. Hearing loss can

place members in danger, diminish oral and communication skills,

and lead to ineffective command control with a potential for mission

failure," said Washington. "Hearing directly impacts the ability/

inability to localize and identify sound sources in an environment.

The vision of Navy Audiology is to ensure mission readiness in worldwide

operations by optimizing warfighter lethality, survivability

and situational awareness. We accomplish this through advocacy,

outreach, training, hearing protection, medical surveillance, and

treatment/rehabilitative services."

When asked to sum up her Navy Medicine career in one sentence,

Washington replied, "My Navy career has been the most challenging

and rewarding thing I have ever done, and has propelled me to higher

levels of responsibility that I previously had not considered.

Join Our Team!

Embark on a new career

with Central New York

Psychiatric Center!

Our Team Promotes

Hope, Resilience and Recovery!

Central New York Psychiatric Center is seeking

candidates to fill the following positions;

Psychiatrists, Psychiatric Nurse Practitioners,

Psychologists, and Registered Nurses.

These positions are available at our Inpatient

Forensic Hospital in Marcy, New York, as

well as our Corrections Based Satellite Units

across the State.

Benefits Include:

• NYS Pension

• Competitive Salaries

• Comprehensive Health Insurance

• Flexible Spending Accounts for

Healthcare & Dependent Care

• Generous Paid Time Off

Contact Us:

315-765-3375 or by e-mail

CNpersonnel@omh.ny.gov
---
8 | MHCE - News www.mhce.us JUNE 2021 EDITION

Auburn's Harbert College of Business ranked as One of

the Nation's Best by U.S. News & World Report

The Harbert College of Business is Auburn University's second largest academic unit and

continuing to grow. They've excelled at over 30 years of providing distance learning to graduate

students around the U.S. For some of us, Zoom classes became a reality just last year. That's

old news to Auburn's business unit because they've been on the distance learning train long

before it became a common practice for schools everywhere.

"In this dynamic and ever evolving online program space,

few colleges have such a strong foundation and history of

program development and recognized excellence in graduate

online programs. We are honored to have our programs again

be recognized [in] U.S. News & World Report."

—Harbert College of Business Dean Annette L. Ranft for The Harbert College of

Business at Auburn University

VISIT OUR WEBSITE

AT MHCE.US

With that expertise in the digital, education space, it's no surprise that their online programs

have been recognized nationally.

TO ADVERTISE

contact Nathan.Stiles@mhce.us
---
WWW.MHCE.US Monthly Newsletter | 9

When the practice of medicine

becomes the business of medicine.

You spent years studying medicine.

But what about the business side of

your practice?

It's easy to get started.

Take the next step toward a

Physicians Executive MBA

and contact us:

auburn-military.mba

334-844-4060

Auburn MBA
---
10 | MHCE - News www.mhce.us JUNE 2021 EDITION

Readiness at Forefront of Regional Health Command-

Pacific Commander's Spring Symposium

JOINT BASE PEARL HARBOR-HICKAM, Hawaii – Brig. Gen. Jack

M. Davis, commanding general, Regional Health Command-Pacific, and

Command Sgt. Maj. Abuoh E. Neufville, hosted the region's 2021 Spring

Commander's Symposium May 4-6, at the Tradewinds Club here.

The theme of the symposium was 'Ready Pacific,' with an emphasis on RHC-

P's role in enabling a ready medical force across the Indo-Pacific Command.

"As we get into MEDCOM's pivot to readiness, we're looking at what that

means for us here in the Pacific, and how we support it," said Davis.

With readiness at the forefront of discussions throughout the symposium,

attendees came together virtually and in-person from around the Pacific

region.

Participants heard from senior leaders from across the U.S. Army, U.S.

Indo-Pacific Command, Defense Health Agency, and U.S. Army Medical

Department, about important strategic topics impacting military medicine,

readiness, workforce development, and healthcare delivery.

DHA. Closing out the symposium was Maj. Gen. Michael Place, commanding

general, 18th Medical Command, who spoke about the battlefield of the

future and how Army medicine will be engaged.

At the conclusion of the event, Davis, the RHC-P commanding general,

expressed his appreciation to each of the speakers for their informative

updates.

Davis also thanked leaders for participating both in-person and virtually.

He also recognized the RHC-P staff the planning and implementation of a

successful symposium.

RHC-P, headquartered at JBLM and in Honolulu, is the most geographicallydispersed

command in Army Medicine, stretching more than 5,000 miles

and five time zones across the Pacific. The command oversees Army medical

treatment facilities and units in the Pacific Northwest, Alaska, Hawaii, Japan

and South Korea.

Day one of the symposium kicked-off with a briefing from Cmdr. Shawn

Clausen, chief of Force Health Protection, INDOPACOM, who provided an

overview of INDOPACOM's response to COVID-19.

Col. Nelson So, commander of the 47th Combat Support Hospital at Joint

Base Lewis-McChord, Wash., gave an update on the hospital's conversion to

a Hospital Center and Field Hospital from its current configuration as a CSH.

The second day began with a briefing on the DHA transition from Maj.

Gen. Telita Crosland, deputy surgeon general, MEDCOM. Sgt. Maj. Jimmy

Sellers, deputy chief of staff, U.S. Army Logistics (G-4), gave a presentation

on the relationship between officers and non-commissioned officers.

Col. Deydree S. Teyhen, chief of the U.S. Army Medical Specialist Corps,

gave a presentation on improving the health, fitness, and readiness of our force.

Teyhen has recently been serving as the Department of Defense therapeutics

lead for the federal government's COVID-19 response operations.

At the end of the day, Dr. Brian Lein, assistant director, health care

administration, DHA, discussed clinical readiness opportunities.

On day three, leaders received an update on Professional Military Education

from Maj. Gen. Dennis LeMaster, commanding general, Medical Center of

Excellence.

Attendees also heard from Mrs. Veronica Dudley, director, MEDCOM

Intelligence and Security, and Mr. Richard Beauchemin, chief of staff,

MEDCOM, who addressed the topic of Army civilians and their transition to
---
WWW.MHCE.US Monthly Newsletter | 11

needs

you!

View current jobs

or apply online at

JOBS.LA.GOV

For more info

contact Katie Gaulden at

(225) 634-4303 or katheryn.gaulden@la.gov

EQUAL OPPORTUNITY EMPLOYER | JOINT COMMISSION ACCREDITED
---
NEW

12 | MHCE - News www.mhce.us JUNE 2021 EDITION

CDC Lowers Guam's risk level, Clearing Fully Vaccinated

People to Travel There

The Centers for Disease Control and Prevention

lowered Guam's coronavirus travel-risk level

from "very high" to "moderate" on Monday,

meaning fully vaccinated people are now OK

to fly to the U.S. island territory.

However, unvaccinated travelers who are apt

to become severely ill from the coronavirus

respiratory disease are encouraged to avoid all

unnecessary travel there.

The CDC's "moderate" designation, also

called level two, means Guam has tallied

between 50 and 99 new COVID-19 cases over

the past 28 days. The island had been at level

four, which urges people to avoid all travel

because of a high number of new infections,

since May 17.

Since the pandemic began, Guam has

confirmed 8,210 coronavirus cases, 59

of which were active as of Monday, and

139 deaths, according to the island's Joint

Information Center. Six new patients were

identified between Friday and Sunday.

"We welcome CDC's downgrade in travel

risk for Guam from very high to moderate,"

Gov. Lou Leon Guerrero said in a statement

Tuesday. "This complements our recently

updated protocols that allow vaccinated

travelers to enter our borders without

quarantine."

The news comes a little more than a week after

the CDC discovered a COVID-19 "variant of

interest" – B.1.617.2, or the Indian variant

– among samples collected on Guam this

spring. Twenty-five samples taken in March

and April underwent genome sequencing by

the CDC, which returned the results to the

island's Department of Public Health and

Social Services on May 28.

Of those, 16 were identified as B.1.1.7, the

United Kingdom variant, and one was B.1.341,

the South African variant. Both are variants

"of concern," according to the CDC, meaning

there is evidence of increased transmissibility,

hospitalizations or deaths.

Another of the samples turned out to be the

Indian variant, which the CDC and World

Health Organization call a "variant of

interest" because its potential risks warrant

close monitoring.

VISIT OUR WEBSITE

AT MHCE.US
---
WWW.MHCE.US Monthly Newsletter | 13

CDC Discovers

Indian Variant

Among COVID-19

Samples Recently

Returned to Guam

The Centers for Disease Control and Prevention

lowered Guam's coronavirus travel-risk level

from "very high" to "moderate" on Monday,

meaning fully vaccinated people are now OK

to fly to the U.S. island territory.

However, unvaccinated travelers who are apt

to become severely ill from the coronavirus

respiratory disease are encouraged to avoid all

unnecessary travel there.

The CDC's "moderate" designation, also

called level two, means Guam has tallied

between 50 and 99 new COVID-19 cases over

the past 28 days. The island had been at level

four, which urges people to avoid all travel

because of a high number of new infections,

since May 17.

Since the pandemic began, Guam has

confirmed 8,210 coronavirus cases, 59

of which were active as of Monday, and

139 deaths, according to the island's Joint

Information Center. Six new patients were

identified between Friday and Sunday.

"We welcome CDC's downgrade in travel

risk for Guam from very high to moderate,"

Gov. Lou Leon Guerrero said in a statement

Tuesday. "This complements our recently

updated protocols that allow vaccinated

travelers to enter our borders without

quarantine."

The news comes a little more than a week after

the CDC discovered a COVID-19 "variant of

interest" – B.1.617.2, or the Indian variant

– among samples collected on Guam this

spring. Twenty-five samples taken in March

and April underwent genome sequencing by

the CDC, which returned the results to the

island's Department of Public Health and

Social Services on May 28.

VISIT OUR WEBSITE

AT MHCE.US

TO ADVERTISE

contact Susan.Keller@mhce.us
---
14 | MHCE - News www.mhce.us JUNE 2021 EDITION

A Look Back at the First African-American Nurses

in the Navy

From the dawn of the U.S Navy, African-

Americans have played a vital role in its

history and have embodied the basic tenets

of service and commitment to duty. At the

same time, the African-American experience

in naval history is a story about breaking

barriers, living through a segregated service,

and overcoming limitations of opportunity

on the path to what Admiral Elmo "Bud"

Zumwalt called "One Navy."

During the Civil War, African-Americans

comprised twenty-five percent of the total

naval force; not included in this statistic

were five African-American women (Alice

Kennedy, Sarah Kinno, Ellen Campbell,

Betsy Young, and Dennis[e] Downs) who

served as nurses aboard the Navy's "first"

hospital ship, USS Red Rover in 1863.

Although only volunteers, it is remarkable

to note that for over the next century these

women would represent the Navy's only

black nurses.

Mixed crews were common in the Navy until

"Jim Crow" state laws become the policy of

the service. From 1922 to 1942, blacks were

barred from serving as anything but mess

attendants or stewards. Four months after the

attack on Pearl Harbor, President Franklin

Roosevelt called for the end of the Navy's

discriminatory policies. On April 7, 1942,

Secretary of the Navy Frank Knox announced

that the Navy would start accepting enlistment

of blacks in ratings other than messmen.

By 1943, African-Americans were finally

allowed to serve as Hospital Corpsmen; and

by March 1944 blacks—following the lead

of the "Golden Thirteen"—were allowed

to serve as dentists, physicians, as well as

Hospital Corps officers.

After October 1944, black women were

permitted to serve as reserve officers

in administrative capacities. Ironically,

the Navy Nurse Corps, which had long

battled for gender equality within the Navy

establishment, would be the last to open its

doors to African-Americans.

Since being established in May 1908 the

Navy Nurse Corps had a history of barring

married women, single mothers, and men into

its ranks on a permanent basis. And although

black nurses were not officially prohibited

from entering the services after 1944, they
---
WWW.MHCE.US Monthly Newsletter | 15

were often "overlooked" in Army, Navy and

Red Cross recruiting drives until early 1945.

First Lady Eleanor Roosevelt and Mable

Keaton Staupers, Executive Secretary of the

National Association of Colored Graduate

Nurses were among the most vocal critics of

the implicit "ban" on black nurses. A longtime

advocate for racial equality in the nursing

profession, Staupers wrote that military

service was the responsibility for all citizens

of the United States, especially during a time

of war.

On March 8, 1945, the longstanding barrier

in the Navy was finally broken when a

25-year old New York-born nurse named

Phyllis Mae Daley received a commission

in the U.S. Navy Reserve. A graduate of

Lincoln School of Nursing in New York and

student of public health at Teachers College,

Columbia University, Daley had previously

been rejected from entering the Army Air

Force. Determined to serve, Daley stated

that she "knew the barriers were going to be

broken down eventually and…felt the more

applicants the better the chances would be for

each person."

Daley's path would be soon after followed

by Edith Mazie Devoe, of Washington, D.C.,

on 18 April 18th, Helen Fredericka Turner, of

Augusta, Ga., on April 20th, and Eula Loucille

Stimley, of Centreville, Miss., on May 8th,

1945.

Following the war all but Devoe would leave

active duty. Devoe would later make history

as the first black nurse in the Regular Navy on

January 6, 1948. In 1950 she would become

the first African-American Navy nurse to

serve outside the continental United States

(Triple General Hospital, Hawaii).

VISIT OUR WEBSITE

AT MHCE.US
---
16 | MHCE - News www.mhce.us JUNE 2021 EDITION

Navy Medicine

Staff Cited

for Stellar

COVID Vaccine

Teamwork

The concept, implementation and fulfillment

of team work was recognized May 13, 2021.

Not in an arena, at a stadium or on a field of

play.

The acknowledgement took place at a Navy

Medicine coordinated COVID-19 mass

vaccine site.

Rear Adm. James A. Aiken, Commander,

Carrier Strike Group Three, presented the

Navy and Marine Corps Commendation

Medal to several staff members of Navy

Medicine Readiness Training Command

(NMRTC) `Bremerton for their COVID-19

vaccine efforts in the third largest fleet

concentration area.

Hospital Corpsman 1st Class James A.

Gibbens was cited for meritorious service

from December 2020 to May 2021 ensuring

COVID19 vaccine inventory totaling 42,000

doses were properly managed in accordance

with the strict guidelines, which included

training eight petty officers on the proper

handling of Moderna and Pfizer COVID-19

vaccine, He also coordinated mass vaccines

for USS Nimitz (CVN 68) crewmembers,

provided onsite expertise in vaccine

management, patient flow and site selection,

which set the standard for the shipboard

vaccination.

The reports of a steady increase of eligible

beneficiaries getting vaccinated has been

welcome news to Navy leadership. Yet

what has also been just as appreciated is the

behind-the-scene coordination, collaboration

and cooperation to administer the vaccine.

"You have come together as a team. What

you are doing, and have done, is bigger than

yourself. This (mass vaccination) wouldn't

work unless each one of you did your part.

I applaud your effort and drive. For what

you have accomplished, I am thankful," said

Aiken.

Lt. Cmdr. Matthew G. Case was recognized

for his contributions serving as public health

emergency officer from December 2020

to May 2021. During that time frame, the

Medical Corps officer oversaw the successful

COVID-19 vaccination effort for the entire

Kitsap Peninsula, delivering more than

34,000 vaccines to 8,100 active duty service

members, 12,000 eligible beneficiaries,

civilians and contract employees for Navy

Region Northwest.

Case was also noted for providing technical

assistance to Carrier Strike Group Three

ensuring that the vaccine administration plan

adhered to Defense Health Agency guidance.

Additionally, Case oversaw logistical

handling of more than 42,000 vaccines and

redistribution of several thousand vaccine

doses to outlying clinics.

"What most don't know is how many extra

hours I put him through, whether it was

counting shots and doses every late night

or coming up with ideas on the best way

to administer the vaccine. Lt. Cmdr. Case

has been flexible and innovative," said

Capt. Jeffrey H. Feinberg, NHB/NMRTC

Bremerton executive officer.

Aiken affirmed that the singular actions by

Case, Gibbens and others, were essential to

a successful team effort, and were a main

reason why 'we have been succeeding in our

efforts' to eradicate the virus since the vaccine

was first offered to eligible beneficiaries in

the Pacific Northwest on Dec. 23, 2020.

"Whether someone was 75 and older, a

family member or active duty, the courtesy

and respect given to everyone by the mass

vaccination team was very well received and

professional," Aiken said. "I had retirees

come up to me after getting vaccinated on a

Saturday morning back in January and they

told me, 'thanks.' Not just for getting the shot

that day, but for being personally contacted

beforehand and taking the time to explain

and answer any questions and concerns."

TO ADVERTISE

contact Kyle.Stephens@mhce.us
---
WWW.MHCE.US Monthly Newsletter | 17

TO ADVERTISE

contact Karen.Scott@mhce.us

TO ADVERTISE contact Paul.Randall@mhce.us
---
18 | MHCE - News www.mhce.us JUNE 2021 EDITION

How Military Spouses Can Use the

Transition Assistance Program

The Defense Department's transition assistance program (TAP) is

designed to help service members get out of the military and back to

civilian life. But what about their spouses? What's in the transition

program for them? Before 2019, the most spouses knew about the

transition program was that they could attend on a space-available

basis. In October 2019, however, a new, congressionally mandated

program rolled out and, with it, specific guidance for how and when

some military spouses can get involved in the transition process with

their military member.

While the DoD is also developing a spouse-specific set of transition

programming available online through Military OneSource, this

policy addresses spouses and TAP as it's designed for the service

member.

What is TAP?

resources. Finally, a capstone session makes sure all of the boxes on

the transition paperwork have been checked -- literally.

Virtual TAP Training

The in-person sessions represent a lot of time in transition training.

If you have a day job or child care needs, you probably can't or don't

want to commit that much time to sitting in sessions with your service

member spouse.

TO ADVERTISE

contact Nathan.Stiles@mhce.us

TAP is presented to troops in five distinct parts, starting in most cases

no later than 365 days from their final-out date.

The process starts with a one-on-one initial counseling session during

which the service member creates and walks through a self assessment

and individualized plan. Next, troops attend a pre-separation briefing

where they get a broad overview of the transition. The third step

focuses on three different briefings from the Defense Department,

the Department of Labor and the Department of Veterans Affairs.

Next, they'll pick a focused track that walks through education or job
---
WWW.MHCE.US Monthly Newsletter | 19
---
20 | MHCE - News www.mhce.us JUNE 2021 EDITION

allow aircrew to wear their usual length arms and hems, decreasing the

risk of safety hazards."

But most pregnant naval aviators are still stuck on the ground. While the

Air Force has moved in recent years to create policies allowing pregnant

pilots to fly for a greater portion of their pregnancies if they choose, the

Navy has yet to follow suit.

According to Navy guidance updated in 2017, pregnancy is considered

a disqualifier for flying duties, although aircrew members may request a

waiver requiring approval from a local board of flight surgeons.

"Designated Naval Aviators who are authorized to fly during pregnancy

shall perform flight duties in a Medical Service Group 3 capacity only,"

the guidance states. That category refers to aviators limited to operating

aircraft with dual controls and accompanied on all flights by a pilot or

copilot with a less-restrictive medical qualification.

Navy Quietly Rolls Out

First Maternity Flight

Suits

The Navy welcomed its first female aviators in 1974. A mere 47 years

later, it's giving pregnant pilots a flight suit that fits them.

The service quietly issued the first maternity flight suit to Lt. Cmdr.

Jacqueline Nordan, a mobilization program manager in the Naval Air

Force Reserve, as part of an early distribution program, officials said this

week. Several other pregnant members of the command also received

the uniform in a test run to determine its usefulness, Navy spokeswoman

Amie Blade.

The Navy also began issuing the flight suit more broadly in May via an

Aircrew Systems Advisory to the fleet, Blade said.

"An Interim Rapid Action Change was drafted for the aircrew clothing

maintenance manual informing the maintainers on the procedures for

how to acquire a maternity flight suit," she said.

All pregnant Navy aircrew members are now eligible to wear the

garment, which features adjustable side panels and provides a snugger,

more professional fit as an aviator's pregnancy progresses.

Prior to the maternity flight suit, pregnant aircrew have generally

collected larger sized flight suits and gone up through additional sizes

throughout their pregnancy, potentially needing three to five additional

flight suits," Nordan, who has previously been assigned to an EA-18G

Growler squadron, said in the release. "Wearing a larger-sized flight suit

results in longer hems and sleeves, potentially presenting a safety hazard

in the aircrew cleared to fly during pregnancy."

She added that baggy and oversized flight suits simply look unprofessional.

"Pregnant aircrew who are not flying are still conducting squadron

business," she said. "They're still instructing classes, working in

simulators, giving briefings, and representing their organizations. It

makes a big difference to be able to continue to represent ourselves

professionally in a well-fitting uniform throughout a pregnancy."

It was actually the safety hazard of the larger flight suits that prompted

development of the maternity uniform, Blade said.

"A single adjustable flight suit can expand across multiple trimesters

depending on each pregnancy, saving pregnant aircrew the added expense

associated with purchasing multiple flight suits, as well as the cost of

tailoring larger-sized flight suits historically purchased to accommodate

the changing pregnant form," she said. "The expandable side panels

Single-pilot, ejection seat and high-performance aircraft that can

pull more than 2 Gs are entirely off-limits, as are planes that conduct

shipboard operations and those with cabin altitudes that exceed 10,000

feet. And after the third trimester begins, flying is banned entirely.

In 2019, the Air Force got rid of a medical waiver requirement for

pregnant pilots who wanted to fly later into their pregnancies. It also

expanded the standard flight-duty window for pregnancy by five weeks,

allowing pregnant pilots to fly from weeks 12 to 28 if they choose. Later

the same year, Lt. Col. Jammie Jamieson, a member of the Air Force

Women's Initiative Team, said the service was evaluating the science

with an eye to further reducing restrictions.

The Air Force has also taken steps to design and buy maternity flight

suits, launching solicitation and test efforts in 2020. The initiative caught

the attention of conservative pundit Tucker Carlson earlier this year. He

featured a photo of an Air Force captain wearing one of the flight suit

prototypes and scoffed, saying such efforts were making "a mockery of

the U.S. military."

Military leaders from across the services were swift to condemn Carlson's

attack.

"Women lead our most lethal units with character," Sergeant Major of

the Army Michael Grinston responded in a tweet. "They will dominate

ANY future battlefield we're called to fight on."

Creating a Culture

of Caring

Offering master's

and doctoral

degrees for

Registered Nurses

Specialties Offered:

Nurse-Midwife

Family Nurse Practitioner

Women's Health Care NP

Psychiatric-Mental Health NP

Learn more at frontier.edu/military
---
WWW.MHCE.US Monthly Newsletter | 21
---
22 | MHCE - News www.mhce.us JUNE 2021 EDITION

Fully Vaccinated Sailors Can Make Some Port

Calls, Ditch Masks and Cut Quarantines

After more than a year of grueling Navydeployments that left ships at sea

for months on end with no port visits, leaders announced that some of

the strict restrictions put in place during the pandemic will be lifted for

immunized personnel.

Sailors who've been fully vaccinated against COVID-19 or had the

illness caused by the novel coronavirus in the past three months will

no longer be required to quarantine before deployments, Vice Adm.

Phillip Sawyer, deputy chief of naval operations for operations, plans

and strategy, wrote in a new force-wide message issued Monday. The

change applies to personnel on ships, submarines and aircraft, he said.

Anyone who has declined the vaccine and hasn't built up antibodies for

COVID-19 through an infection in the last three months will still be

required to sequester for 14 days before deployments. Those personnel

will also be required to take COVID-19 tests before deploying.

Immunized sailors will also get the OK to make port calls in some spots

with U.S. military facilities, including Guam, Bahrain and Japan, where

they can use gyms, commissaries and other base services, Sawyer said.

Fully immunized sailors can also stop wearing face masks and social

distancing from others in most situations, his message states.

With more than a year operating in the COVID environment, we have

gained significant expertise in mitigating and preventing the spread of

COVID-19," he said in a news release announcing the changes. "Now

with vaccines and [Centers for Disease Control and Prevention] scientific

data, we are able to relax many of the procedures we put in place and still

provide for the health protection of the force."

The coronavirus pandemic wreaked havoc on military operations,

particularly missions on ships and submarines, where social distancing

in tight quarters is nearly impossible. Early in the pandemic, a massive

COVID-19 outbreak on the aircraft carrier Theodore Roosevelt left the

ship stuck in Guam for weeks as nearly the entire crew was moved ashore

to quarantine.

More than 1,200 sailors on that ship tested positive for the virus, and one

died.

Since then, crews have been required to stretch time away from their

families by boarding ships early for quarantine periods ahead of

deployments. Deployed crews also stopped making most port calls,

leaving some at sea for about 300 consecutive days.

Sawyer said the Navy is now seeing the military's highest vaccination

rate and the lowest number of COVID-19 cases. He credited sailors,

Navy civilians and contractors for assuming "personal responsibility" to

stop the spread of COVID-19, which has killed 26 service members and

infected nearly 39,000 Navy personnel.

So far, more than 230,000 Navy and Marine Corps personnel have been

fully immunized, the message states. Marines, who routinely deploy

on Navy ships, have shown some resistance to the shots, though. As of

April, nearly 40% of the 123,000 Marines who had the chance to receive

the COVID-19 vaccine had turned it down.

"We must continue to pursue full vaccination and apply best health

protection measures both at home and at work to sustain and improve

upon this performance," Sawyer said.

"The science is pretty clear," he added. "Vaccinations are key to best

protecting our sailors. The more sailors that are vaccinated, the better for

them, their families, the Navy and the nation."
---
WWW.MHCE.US Monthly Newsletter | 23

Tricare Select is a new health insurance plan that replaced Tricare Standard

& Extra.

Who Is Covered By Tricare Select?

Everyone eligible for Tricare with the exception of active-duty members

may enroll in the Tricare Select plan. The program is available worldwide.

Tricare Select Basics

With Tricare Select you can get care from any Tricare-authorized provider,

network or non-network. No referrals are required, but some care may

require prior authorization.

If you see a network provider you won't have to pay anything except your

copay or file any claims. If you visit a non-network provider you may have

to pay the full cost and file a claim with Tricare to be reimbursed.

How To Enroll

For information on how to enroll see the Tricare website at https://www.

tricare.mil/

Or visit our Tricare Select coverage page for more information including

coverage and costs at https://www.military.com/benefits/tricare/tricareselect/tricare-select-details.html.
---
24 | MHCE - News www.mhce.us JUNE 2021 EDITION

the FDA had advised that it warranted

review. Company scientists said the

drug's initial failure was due to some

patients not receiving high enough doses

to slow the disease.

But the changes to dosing and the

company's after-the-fact analysis made

the results hard to interpret, raising

skepticism among many experts,

including those on the FDA panel.

FDA Approves Much-debated Alzheimer's

Drug Panned by Experts

WASHINGTON — Government health

officials on Monday approved the first

new drug for Alzheimer's disease in

nearly 20 years, disregarding warnings

from independent advisers that the

much-debated treatment hasn't been

shown to help slow the brain-destroying

disease.

The Food and Drug Administration said

it approved the drug from Biogen based

on results that seemed "reasonably

likely" to benefit Alzheimer's patients.

It's the only therapy that U.S. regulators

have said can likely treat the underlying

disease, rather than manage symptoms

like anxiety and insomnia.

The decision, which could impact

millions of Americans and their families,

is certain to spark disagreements among

physicians, medical researchers and

patient groups. It also has far-reaching

implications for the standards used

to evaluate experimental therapies,

including those that show only

incremental benefits.

The new drug, which Biogen developed

with Japan's Eisai Co., did not reverse

mental decline, only slowing it in one

study. The medication, aducanumab,

will be marketed as Aduhelm and is to be

given as an infusion every four weeks.

Dr. Caleb Alexander, an FDA adviser

who recommended against the drug's

approval, said he was "surprised and

disappointed" by the decision.

"The FDA gets the respect that it does

because it has regulatory standards that

are based on firm evidence. In this case, I

think they gave the product a pass," said

Alexander, a medical researcher at Johns

Hopkins University.

The FDA's top drug regulator

acknowledged that "residual

uncertainties" surround the drug, but

said Aduhelm's ability to reduce harmful

clumps of plaque in the brain is expected

to help slow dementia.

"The data supports patients and

caregivers having the choice to use

this drug," Dr. Patrizia Cavazzoni

told reporters. She said FDA carefully

weighed the needs of people living with

the "devastating, debilitating and deadly

disease."

Under terms of the so-called accelerated

approval, the FDA is requiring the

drugmaker to conduct a follow-up

study to confirm benefits for patients.

If the study fails to show effectiveness,

the FDA could pull the drug from the

market, though the agency rarely does

so.

Biogen said the drug would cost

approximately $56,000 for a typical

year's worth of treatment, and said the

price would not be raised for four years.

Most patients won't pay anywhere near

that amount thanks to insurance coverage

and other discounts. The company said

it aims to complete its follow-up trial of

the drug by 2030.

The non-profit Institute for Clinical and

Economic Review said that "any price

is too high" if the drug's benefit isn't

confirmed in follow-up studies.

Some 6 million people in the U.S. and

many more worldwide have Alzheimer's,

which gradually attacks areas of the

brain needed for memory, reasoning,

communication and basic daily tasks.

In the final stages of the disease, those

afflicted lose the ability to swallow. The

global burden of the disease, the most

common cause of dementia, is only

expected to grow as millions more baby

boomers progress further into their 60s

and 70s.

Aducanumab (pronounced "add-yoo-

CAN-yoo-mab") helps clear a protein

called beta-amyloid from the brain.

Other experimental drugs have done

that before but they made no difference

in patients' ability to think, care for

themselves or live independently.

The pharmaceutical industry's drug

pipeline has been littered for years

with failed Alzheimer's treatments.

The FDA's greenlight Monday is likely

to revive investments in therapies

previously shelved by drugmakers.

The new medicine is manufactured from

living cells and will be given via infusion

at a doctor's office or hospital.

Researchers don't fully understand what

causes Alzheimer's but there's broad

agreement the brain plaque targeted

by aducanumab is just one contributor.

Evidence suggests family history,

education and chronic conditions like

diabetes and heart disease may all play

a role.

"This is a sign of hope but not the final

answer," said Dr. Richard Hodes, director

of the National Institute on Aging, which

wasn't involved in the Biogen studies

but funds research into how Alzheimer's

forms. "Amyloid is important but not the

only contributing factor."

Patients taking aducanumab saw their

thinking skills decline 22% more slowly

than patients taking a placebo.

But that meant a difference of just 0.39

on an 18-point score of cognitive and

functional ability. And it's unclear how

such metrics translate into practical

benefits, like greater independence or

ability to recall important details.

The FDA's review of the drug has become

a flashpoint in longstanding debates over

standards used to evaluate therapies

for hard-to-treat conditions. On one

side, groups representing Alzheimer's

patients and their families say any new

therapy — even one of small benefit —

warrants approval. But many experts

warn that greenlighting the drug could

set a dangerous precedent, opening

the door to treatments of questionable

benefit.

The approval came despite a scathing

assessment in November by the FDA's

outside panel of neurological experts.

The group voted "no" to a series of

questions on whether reanalyzed data

from a single study submitted by Biogen

showed the drug was effective.

Biogen halted two studies in 2019

after disappointing results suggested

aducanumab would not meet its goal of

slowing mental and functional decline in

Alzheimer's patients.

Several months later, the company

reversed course, announcing that a new

analysis of one of the studies showed the

drug was effective at higher doses and

The FDA isn't required to follow the

advice of its outside panelists and has

previously disregarded their input when

making similarly high-profile drug

decisions.

About 600 U.S. medical specialists

already prescribe the drug through

Biogen's studies and many more are

expected to begin offering it. Many

practical questions remain unanswered:

How long do patients benefit? How

do physicians determine when to

discontinue the drug? Does the drug

have any benefit in patients with more

advanced dementia?

With FDA approval, aducanumab

is certain to be covered by virtually

all insurers, including Medicare, the

government plan for seniors that covers

more than 60 million people.

Even qualifying for the drug could be

expensive. It's only been tested in people

with mild dementia from Alzheimer's

or a less severe condition called mild

cognitive impairment. To verify a

diagnosis could require brain scans that

cost $5,000 or more. Insurers, including

Medicare, don't cover the scans because

their benefits are unclear, but that could

change if the scans become a gateway to

treatment.

Additional scans will be needed to

monitor potential side effects. The drug

carries a warning about temporary brain

swelling that can sometimes cause

headaches, confusion and dizziness.

Other side effects included allergic

reactions, diarrhea and disorientation.

For patients in Biogen's studies, the

decision means they can continue taking

a drug many believe has helped.

Kevin Bonham was diagnosed with

early onset Alzheimer's in 2016 after

having difficulties with memory, reading

and driving. The 63-year-old from Bear

Creek Village, Pennsylvania, credits the

drug with helping him keep his job as a

mapmaker for another three years.

"Very quickly over a period of months it

was like the fog was lifted from the top

of my head," said Bonham, who is now

on disability and relies on his wife, Kim,

to help care for him and his teenage

daughter.

Like other trial participants, Bonham

had to stop taking aducanumab in March

2019 after Biogen halted its trials. He

resumed infusions nearly a year ago as

part of the company's ongoing research.