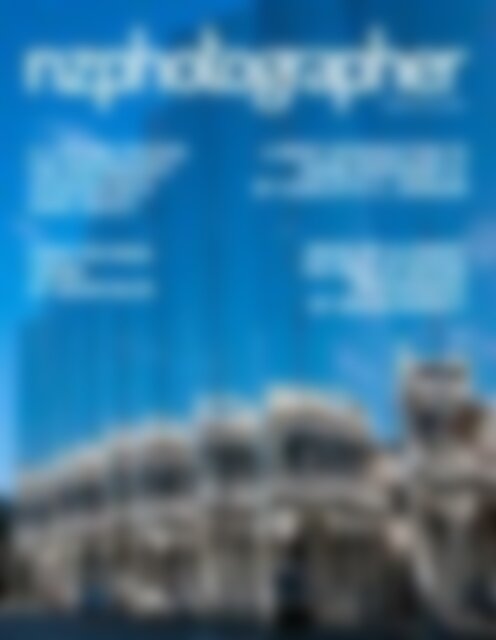 NZPhotographer Issue 45, July 2021
As of December 2022, NZPhotographer magazine is only available when you purchase an annual or monthly subscription via the NZP website. Find out more: www.nzphotographer.nz
As of December 2022, NZPhotographer magazine is only available when you purchase an annual or monthly subscription via the NZP website. Find out more: www.nzphotographer.nz
SHOW MORE
SHOW LESS
You also want an ePaper? Increase the reach of your titles
YUMPU automatically turns print PDFs into web optimized ePapers that Google loves.
ISSUE 45, July 2021

A LIFELONG PASSION

FOR PHOTOGRAPHY

INTERVIEW WITH

MARK TRUFITT

FROM THE ROAD:

TIRANA

BY SUSAN BLICK

A BRIEF INTRODUCTION TO

ADOBE PHOTOSHOP CC

BY CHARLOTTE E. JOHNSON

IMAGE OR ILLUSION?

THE ROLE OF NATURE

PHOTOGRAPHY

BY SHAUN BARNETT

NZPhotographer

July 2021

1
---
WELCOME TO ISSUE 45 OF

NZ PHOTOGRAPHER MAGAZINE

HELLO EVERYONE,

If you've been pondering what's

involved in extreme macro

photography, how to get started with

Photoshop, and where you can still

explore off the beaten tourist trail in

Europe, this issue has the answers!

In Behind The Shot Johann Schutte

takes us through the intricacies of

preparing a Bluebottle fly for an

extreme macro photo shoot which is

sure to have you looking at those dead

flies in your windowsill in a new light!

Susan Blick shows us around Tirana, the

capital of Albania, we talk museums

and travel with Mark Trufitt, and back on home ground Shaun

Barnett discusses the role of nature photography with some mustfollow

nature first principles.

Charlotte E. Johnson is also here to guide you with her introduction

to Adobe Photoshop CC, the first in a series of articles which will soon

have you taking your photography to a whole new level whilst Ana

has us pondering what our photographs are worth – a million dollar

question that requires your input to make the photography industry

fairer and better!

OUR CONTRIBUTORS

Emily Goodwin

Editor NZ Photographer

NZPhotographer Issue 45

July 2021

Cover Photo

Govett Brewster Art Gallery

by Lyn Alves

Publisher:

Foto Lifestyle Ltd

Website:

nzphotographer.nz

Graphic Design:

Maksim Topyrkin

Advertising Enquiries:

Email

hello@nzphotographer.nz

FOLLOW US

Susan Blick

Susan is an award-winning

landscape photographer

from New Zealand and

Australia who travels

extensively and leads

international photo tours.

She is currently based in

Istanbul, but is spending time

across the region throughout

the year.

Charlotte E. Johnson

A photography educator

helping photographers gain

skills and confidence, Charlotte

offers a range of workshops and

customisable tuition options.

An award-winning, full-time

photographer with a passion for

portraiture, she is a Lensbaby

Ambassador and an Adobe

Certified Expert in Photoshop.

Richard Young

Richard is an award-winning

landscape and wildlife

photographer originally

from the UK. The found of

New Zealand Photography

Workshops, he helps people

improve their photography

whilst experiencing

New Zealand's stunning

locations.

All rights reserved. Reproduction of any material appearing in this magazine in any form is forbidden without prior

consent of the publisher.

Disclaimer: Opinions of contributing authors do not necessarily reflect the opinion of the magazine.
---
CONTENTS

5

8

16

27

45

55

56

68

BEHIND THE SHOT

WITH JOHANN SCHUTTE

FROM THE ROAD: TIRANA

by Susan Blick

A LIFELONG PASSION FOR PHOTOGRAPHY

INTERVIEW WITH MARK TRUFITT

MINI 4 SHOT PORTFOLIO

A BRIEF INTRODUCTION TO ADOBE PHOTOSHOP CC

by Charlotte E. Johnson

WHAT ARE PHOTOGRAPHERS WORTH?

by Ana Lyubich

EXCIO TOP 10

IMAGE OR ILLUSION?

THE ROLE OF NATURE PHOTOGRAPHY

By Shaun Barnett

75 PORTFOLIO

BEST READERS' SUBMISSIONS THIS MONTH

MEMBERSHIP

FROM THE ROAD: TIRANA

BY SUSAN BLICK

A LIFELONG PASSION FOR PHOTOGRAPHY

INTERVIEW WITH MARK TRUFITT

IMAGE OR ILLUSION?

THE ROLE OF NATURE PHOTOGRAPHY

BY SHAUN BARNETT

8

16

68

FREE 12$ MONTH 120$ YEAR

• Online issue

• High res PDF download

• Access to all back issues

• Competition entry

($15 per entry)

• Readers gallery ($5 per entry)

• 4x4 gallery submission

• A chance to be featured

in interviews, cover photo,

behind the shot and articles

• Online issue

• High res PDF download

• Access to all back issues

• Competition entry

(1st entry free)

• Readers gallery (1 free entry

per month)

• 4x4 gallery submission

• A chance to be featured

in interviews, cover photo,

behind the shot and articles

• Online issue

• High res PDF download

• Access to all back issues

• Competition entry

(1st entry free)

• Readers gallery (1 free entry

per month)

• 4x4 gallery submission

• A chance to be featured

in interviews, cover photo,

behind the shot and articles

SUBSCRIBE
---
NZ Photographer Paid Subscribers

SAVE $100 on the full ticket price!

NZ NATURE

PHOTOGRAPHY

SUMMIT

FIORDLAND

Join NZ Photographer Magazine in Fiordland for the first

NZ Nature Photography Summit.

10th - 12th of September 2021

Experience the stunning natural beauty of the

Te Wahipounamu World Heritage Area, including

photography excursions for sunset over Lake

Manapouri and Milford Sound, along with a cruise

on Milford Sound. Learn from and be inspired by

leading New Zealand nature photographers including

Craig Potton, Richard Young, Andris Apse and Edin

Whitehead on 4 summit sessions with talks, mini

workshops and live Q&A.

Summit ticket includes:

• 4x Summit Sessions Tickets

• 2x nights accommodation,

Double/twin room.

• 2x Full Breakfasts per person

• 1x Lake Manapouri Sunset Trip

• 1x Milford Sound Sunset Trip

• 1x Milford Sound Cruise

• 1x Screening of Ata Whenua film

• Native tree planting in Fiordland

to offset Carbon

• Free return transport from

Queenstown available

https://nzphotographer.nz/summit

Register Here
---
Behind The Shot

With Johann Schutte

JOHANN, TELL US ABOUT YOU AND YOUR

PASSION FOR PHOTOGRAPHY...

I'm a clinical psychologist, so before I get to

photography let me tell you about 'flow'. Flow occurs

when you become so engrossed in an activity that time

just flies and you're hardly aware of biological needs

such as hunger. Flow is a psychologically very healthy

and restorative experience, and photography provides

this for me. I've always had a camera, as I grew up in

a home where photography was a common activity.

I slowly progressed from other genres to macro and

then to extreme macro, which is when you exceed

the 2:1 threshold. Extreme macro is special, because

it's a complex, demanding form of photography that

captivates me, creates flow, and doubles my sense of

accomplishment when I get a pleasing result.

WHAT'S YOUR SETUP FOR CAPTURING EXTREME

MACRO SHOTS?

Currently, my go-to camera for extreme macro is a

5ds. To accomplish extreme macro, I typically mount

an extension tube (100-200mm) on my 5ds, to which

I add a Kenko 5x diopter as a tube lens. After the

Kenko, I mount a suitable microscope objective,

such as a Nikon 10x CFI Plan. This constellation allows

me to shoot in the 5x - 13x magnification range.

When shooting in the 1x - 5x magnification range, I

typically use a Canon MP-E65 lens, which is a lens built

exclusively for macro photography.

I also use a Cognisys stackshot. This is a device

that allows the camera to be moved forward and

backward in micron sized steps, which facilitates

'stacking'. Because of the minute depth of field that

inevitably occurs at magnification of greater than

1:1, stacking is a popular technique used by many

extreme-macro photographers - Stacking is essentially

a digital layering of images with software, so that

more of your subject is in focus.

TELL US ABOUT PHOTOGRAPHING THE

BLUEBOTTLE THAT WE SEE ON THE NEXT PAGE...

The pic, a profile shot of a Bluebottle fly's head, is a 265

image stack at 5x magnification, executed with a MP-E65

Canon macro lens at F2.8. Illumination was with 3 Yongnuo

flashes @ 1/160. The Camera used was a Canon 6d set to

ISO100 and was advanced in 40micron stepsize.

I selected this shot for this feature because it

demonstrates the extensive sequence of steps

involved to get to the end result.

I avoid killing insects for the purposes of photography,

particularly ones I consider to be useful, like pollinators,

but I do sometimes harvest subjects off window-sills that

have been dead for a day or two, as in the case of this

Bluebottle fly.

On inspecting this Bluebottle fly under a magnifying

glass, it was clear that it needed to be cleaned and

restored. This involves as a first step, applying a typical

rubber air-blower to get rid of as much debris on the

subject as possible (as insects crawl around they pick

up cobwebs, pollen, dust etc.) I then usually bathe the

subject in a sonic jewellery cleaner for an hour or so. I use

a mild dishwashing detergent and water solution for this.

After the vibratory wash, I rinse the subject in the same

sonic cleaner in clean water for an hour. As subjects

often rapidly deteriorate post-mortem, I restore them

with a chemical product called Decon-90. Decon-90

is a laboratory cleaner which seems to serendipitously

also restore insect eyes and other parts. I usually bathe

the subject in a water based solution of this for 90-120

minutes, which restores the eyes quite remarkably and

'plumps it up'. I don't have the chemical background

to explain how/why this works, but it works well, except

if you overdo it as this will result in a dissolved specimen!

The last step is to dry the subject. For this I use rubbing

alcohol, which is water repellent. After submerging the

subject in the rubbing alcohol for a minute or two, I allow

it to dry naturally for 10 minutes or so.

If at this point the subject is still in one usable piece,

imaging can proceed. My imaging setup consists of

three units; the subject stage, light box, and Camera-

Cognisys Stackshot-PC interface.

I first mount the subject on the stage, which has up/down,

forward/backward, and lateral movement, and can

rotate, yaw, tilt, and pitch to allow positioning as desired. As

I'm sometimes working with really small or fragile subjects

like fleas or mosquitos, this can be quite challenging.

Once mounted, the subject is inserted into the light

box. This is where it is illuminated and where the light

source is properly diffused. The subject is inserted into

the central tunnel on one side, with the camera and

tube/lens entered from the other side.

NZPhotographer

July 2021

5
---
Bluebottle Fly

by Johann Schutte
---
The camera and Cognisys stackshot now comes

into play. Depending on the subject depth and the

magnification, the starting and ending points, and

stepsize are determined. For a magnification of 10x, I

would typically shoot 150-450 images at 7 micron stepsize.

The shoot sequence takes about 30-45 minutes. This

is an automated process that is based on stepsize

and subject depth. The reason it takes so long is that

I allow at least 5 seconds to elapse between shots to

allow vibrations caused by mirror lockup and shutter

movements to come to an end. I use Zerene (software)

to control the shoot and execute the stacking process.

On completion of the stack, some post-processing is usually

required. Zerene has some useful built-in tools with which

the stacked image can be improved, but final editing

occurs in Photoshop. My post-processing routine, which

usually takes 2-3 hours, typically involves digital removal

of stubborn remaining debris, local and global contrast

adjustments usually with luminosity masking, frequency

separated edits, colour adjustments, and sharpening.

WHAT ELSE SHOULD WE KNOW?

If you're fortunate enough to have a brick and mortar

building in which you shoot, you're far more protected

from noise and movement-caused vibrations that

originate from outside the house. As I do my stacking in

a typical NZ timber structure, cars passing by the house

or a car door slamming cause unwanted sympathetic

vibration in the subject. You can actually see this on

the pc screen at 10x magnification! This is why I cannot

use continuous lighting, for which longer exposure time

(slower shutter speed) is necessary, and have to use flash.

I was very happy with this particular pic because the

subject was old, dirty, and deteriorated to begin with but

ended up well in my estimation. It demonstrated that my

method works however, I look to optimising my processes

continually. Since taking this pic, I've altered the diffusion

material in the light tunnel to achieve softer light.

WHERE CAN WE SEE MORE OF YOUR EXTREME

MACRO PHOTOS?

www.flickr.com/photos/138441446@N04

www.js.net.nz/album

BEHIND THE SHOT IS PROUDLY

SUPPORTED BY

excio.gallery/johann

26th November - 2nd December 2021

7 Day Northland

& Bay of Islands

Photo Tour - 2021

EXPERIENCE

Join Ken Wright and Shaun Barnett on a seven-day photography

workshop showcasing the best of Northland's scenery. This location

offers ideal locations for long exposure photography, wild coastlines,

waterfalls, and classic jetty shots.

Historically, Northland was the main hub for activity in New Zealand—

and to date, it retains numerous remarkable landmarks: Russell, the

former capital; the Treaty of Waitangi grounds, the home of modern

New Zealand; giant sand dunes created by volcanoes; the meeting

place of the Pacific Ocean and the Tasman Sea; stunning bays;

waterfalls; Kauri forest—Northland has it all!

The never-ending summers of Northland make it a beautiful

place to relax. As it is a deceptively-large region, we have

set aside plenty of time to explore and capture some of

the lushest environment in the country.

www.photographyworkshops.co.nz

info@photographyworkshops.co.nz

027 261 4417

NZPhotographer July 2021 7
---
From The Road: Tirana

by Susan Blick

8 July 2021 NZPhotographer
---
Shot from my apartment balcony in downtown Tirana.

NZPhotographer

Canon 6D Mk1 + Canon 16-35mm F/2.8L III USM

@ F6.3, 0.4s, ISO100, 28mm

July 2021

9
---
Quirky Tirana is a mix of many things. It's colourful yet non-conforming with a touch of

grunginess. It's friendly, yet suspicious, it's interesting yet has no attractions on a world

scale to speak of with only a few places you must visit, but everywhere you should

wander! If you're the kind of photographer who loves premium sights you can pose

in front of, Albania's capital city may not be the place for you but if you're looking for

off the beaten path gems and odd finds I guarantee you'll develop a little crush on

this ex-totalitarian socialist republic city.

Prior to Covid, Albania was one of the highest trending new travel destinations on the

planet according to Harper's Bazaar. Luckily for me, the pandemic has held back

the masses and if you venture here shortly, you'll be afforded one of the best value

destinations in the world.

Street art is everywhere in Tirana.

Canon 6D Mk1 + Canon 16-35mm F/2.8L III USM @ F5.0, 1/632s, ISO250, 35mm

EXPLORING THE CITY

On arrival, head for Skanderbeg Square as

everything fans out from here. Typical of a

communist square, it's large and imposing, has a

massive ideological mosaic on the commanding

National Historical Museum and a giant Albanian

flag flies overhead, you certainly know you're

standing in a revolutionary square!

The square has a few photographical points of

interest: the old Et'hem Bey mosque of 1821, the

clock tower up which you can climb the 90 stairs

for a 360 degree view of the area, and the Opera

Cafe with outdoor seating to people watch as

you sip your 3rd coffee of the day! Tirana has

more coffee shops per population and per area

than anywhere else in the world. It's said that

after the fall of the socialist regime in the '80s the

cheapest investment someone could make was to

open a small coffee shop. Hence, there are now

thousands of them selling fabulous espresso for a

dollar.

Once you have explored the square head northeast

to the Observator Bar and Cafe (you'll find

it on Google maps) for a 13 floor-high view of

all Tirana and the surrounding Dajti Mountains.

A wide angle lens will help you frame the scene

above the apartment blocks. Go on a cloudy

day for dramatic skies if you can. There's no

entry fee but a purchase of another coffee or

beer is appreciated. Due to the chest-high glass

encasing the rooftop it's not possible to use a

tripod for long exposures or low light photography,

so you might as well come in the afternoon and

simply enjoy the sunshine and the views.

Just 100 or so metres away is the city market of

Pazaari Ri. It's busier on some days than others but

I couldn't quite figure out any rhyme or reason

for it. Nonetheless, the stall holders here are very

friendly and will happily pose for a photo if you

start a conversation. Remember people are quite

shy in Albania, a little unsure of outsiders, and

lacking English, so couple this together and it can

feel rather odd, but once you offer a smile and

take the lead, they lighten up quite quickly.

10 July 2021 NZPhotographer
---
Top: The view from the Observator Bar and Café.

Canon 6D Mk1 + Canon 16-35mm F/2.8L III USM

@ F7.1, 1/500s, ISO100, 16mm

Bottom:A shopkeeper in the Pazari Ri market.

Canon 6D Mk1 + Canon 16-35mm F/2.8L III USM

@F2.8, 1/250s, ISO320, 35mm
---
Another must see is the Pyramid of Tirana, originally

built as an ode to Communism and a museum to

Enver Hoxha, Albania's socialist dictator of 44 years.

It's currently having a huge makeover, so I couldn't

venture inside and even taking a shot from the road

was difficult with the 6 foot high fence surrounding

the site! But based on the drawings and predictions

it will be one of the premier sights in the city upon

completion and the largest IT Hub in the Balkans. At

the time of construction, the Pyramid was Albania's

most expensive building and it looks as though that

could be the case again after the refurbishment.

When you're done at the Pyramid drop by the

Bunk Art 2 installation for some heart-rendering and

shocking Albanian history under ex-leader Hoxha.

This is an incredibly unique history museum preserved

inside a Communist-era nuclear pit bunker. Hoxha was

so paranoid that he hid himself away here where he

set up a bedroom and office. Photography is allowed

here and still life opportunities exist among the relics

of the period. However, it is rather dark inside, so a

flash or a good low light lens would be very beneficial.

There is an entrance fee of NZ$5.

OUT OF TOWN EXCURSIONS

Make sure you leave time for two nearby but out of

town excursions. The first is to Petrela Castle which has

free entry. Much of the interior of the 15th century

castle has been lost but the views, which extend

beyond the castle itself, are outstanding. Be sure

to take the small path around the edge of the cliff

for fabulous views over the Erzen Valley and back

to Tirana city. The best time to visit is morning as the

light hits the castle nicely - the earlier the better for

beautiful soft light. A wide angle lens is your best

choice for this sightseeing experience. You'll have to

arrange a taxi to get here, look to pay about NZ$40

for the return trip with about an hour's wait time.

And finally, perhaps the best half day trip in all of

Albania and definitely in Tirana is to Kruje Castle. What

a splendid sight it is! In fact, I'd go as far as to say

staying at Hotel Panorama here is a huge tip. If I'd

known just how good a sight this was with incredible

views all the way to Kosovo, Macedonia, and the

Ionian Sea I'd have stayed here myself. Indeed, if I get

the chance to come back I will! The best way to get

here is by taxi, a bargain for a price of around 5,000

Leke (NZ$65) for the return journey with a two hour

wait time.

Perfectly preserved, the castle grounds are beautiful,

historical, and a great place to while away a couple

of hours. Lots of seating has been put in place to

allow you to take in the views and imagine the history.

Be sure to visit the church too, just a little down the

cobbled path to the left from the main buildings, it's

been in place for over a thousand years. Planted

Drones are permitted in Albania but be sensible, no flying in aircraft zones or

over crowds of people. Here I used my ailing Mavic Air to capture Petrela Castle.

DJI Mavic Air 1 F2.8, 1/800s, ISO100, 4.5mm

12 July 2021 NZPhotographer
---
The streets of the ancient town of Kruje.

Canon 6D Mk1 + Canon 16-35mm F/2.8L III USM @ F/7.1, 1/80s, ISO160, 16mm

right beside the church is a 600 year old olive tree -

probably the largest, most magnificent olive tree you'll

ever see! It was planted on the wedding day of the

Albanian hero Skanderbeg who held off the Ottomans

from this very castle. The streets surrounding the castle

are original cobblestone and you can tell they're old

by how smooth they are. Shops line the streets selling

homemade, handmade souvenirs – no plastic, trashy

souvenirs to be found here. However, due to Covid

times the people are hurting, these stores came about

because of international tourism and with it vanishing

overnight and for such a long period the people who

changed their lives for us tourists are now left without

an income. Take your wide lens, such as a 16-35mm

for the castle proper and for the street. The streets are

narrow and rather enclosed, so a fast lens like an F/2.8

as is always the case for street photography will be

beneficial here.

Insider Tip - On your way back down the mountain

keep a close eye out for a perfect view of the castle

framed by the mountains behind it. The best spot

isn't long after you depart from the top. There are a

couple of switchbacks that allow you to look back

towards the castle and the mountains. Ask your driver

to stop once you have a clear view. A nice long lens

will be best here, I used my 70-200mm.

CONCLUSION

All in all, Tirana isn't a city with world class sights,

let's be frank. Instead, it's a city to immerse

yourself in, nowhere in particular is better than

anywhere else for shooting. It's all good, street

opportunities abound, and interactions with

people are easy to come by in the markets. I

found that after introductions, if I asked for a

selfie before whipping out my camera, they

were relaxed enough to pose for me. The lack

of a common language between us made the

encounter fun, don't be shy because they are,

take the lead, be bold, smile lots, and Tirana will

share with you her hidden charms.

You can follow me to keep up with my latest posts

from the road:

@susanblickphoto

@phomadic

NZPhotographer

July 2021

13
---
$120 / YEAR or

$12 / MONTH

SUBSCRIPTION BENEFITS:

High res PDF download

Access to all back issues

Competition entry (1st entry free)

Readers gallery (1 free entry per month)

4x4 gallery submission

A chance to be featured in interviews, cover photo,

behind the shot and articles

SUBSCRIBE NOW

14 July 2021 NZPhotographer
---
Subscribe

today

and

download all back

issues.

www.nzphotographer.nz

www.nzphotographer.nz

NZPhotographer

July 2021

15
---
A Lifelong Passion For Photography

Interview with Mark Trufitt

MARK, TELL US ABOUT YOU AND YOUR

JOURNEY WITH PHOTOGRAPHY...

Educated in Surrey, England I completed a

foundation course in art and design at Reigate

School of Art & Design. I had every intention of

doing a degree in photography but was talked into

taking Graphic Design and Illustration. Incorporating

as much photography in my degree course as I

could, I graduated in 1983 and pursued my career,

working for advertising agencies in South London for

three years. But I always felt a need to be involved

in photography so I joined a partnership in a sales

and promotion company and became creative

lead which meant I got involved in studio product

photography and the odd onsite model shoot. I

also became more active in social photography, I

wouldn't travel without my trusty Pentax gear and

spent hours in the darkroom developing and printing

black and white film.

In 1992 I met my wife to be and visited New Zealand

(yes she was a Kiwi doing her OE), I loved New

Zealand so much that after nine years, I decided to

leave my partnership and move across to the other

side of the world and start a new life.

My first job was creative and production manager

for Cardmember Wines which involved hands on

studio photography of wine and other supporting

sales items. The major bonus was working with other

photographers such as Geoff Mason of Air New

Zealand and Huka Lodge fame.

I was with Cardmember for two years before deciding

to take a senior designer/studio managers position at

Apple Art in Gisborne. At this time my photography

had taken a back seat and after nine years I moved

on as I was offered a position at Te Papa Tongarewa as

exhibition (Day2) graphic production manager. Here

I wasn't pressing the camera button but art directing,

working with amazing people and photographers who

were perfectionists. This is where digital photography

and pixel peeping started for me, it was especially

important around printing large format and backlit

images. I also started doing my own exhibition

portfolio photography at this time, after working on

some amazing exhibitions I wanted to keep a log of

those exhibitions for my own reference and also for

presentation when applying for other contracts or jobs.

After moving back to Gisborne in 2008 and building

our new house, my wife and I moved back up to

Auckland where I was offered a position at Auckland

War Memorial Museum as exhibition project manager.

The job was demanding yet very rewarding and even

though I was creatively hands-on, photography had

taken a back seat as I had no time for my hobby.

I became the exhibition manager/designer at Tauranga

Art Gallery in 2015, the small team delivering 25

exhibitions in one year. As I had twice project managed

the National Geographic Wildlife Photographer of the

Year touring exhibition at Auckland Museum, I was lucky

enough to have a third go bringing it to Tauranga Art

Gallery. I was also back into pushing the camera button

with product and gallery photography, this along with

learning about gallery and object lighting has helped

me with my general photography.

For health reason I gave up working at the art gallery

and after a brief 3-year career direction change

working in parts and service for the motorcycle trade

(I've always been a motorcycle fanatic and love

riding, touring with my wife, and watching racing), I

have now decided to get back into photography with

a potential to become freelance. Following on from

16 July 2021 NZPhotographer
---
my career background I plan to develop and find my

photographic style, focusing on maybe one or two

genres, with an aim to having an exhibition that I can

tour nationally by putting my experience in exhibition

development to good use.

WHAT DO YOU LIKE TO PHOTOGRAPH?

The things I love to photograph are wildlife, particularly

birds (which takes an incredible amount of patience

and stealth!) I have also just started doing landscape

photography and really enjoy the technical side

of setting up for long exposure scenes. I find that I

cannot resist taking sunrise and sunset shots, our house

is on a hill facing west looking at the Kaimai Hills so, just

about every evening, I get a lot of inspiration!

Having a huge interest in motorcycling, I nearly always

take my camera gear to racing events, these can also

be challenging shots to capture due to the speed the

bikes travel at. Coming from a graphics background I

also really enjoy abstract photography, commercially

I see this as an opportunity for my freelance genre. I'm

also planning to start macro photography, possibly

within a studio environment.

Shags

Sony Alpha 6400, 55-210mm F4.5-6.3 OSS @ F6.3, 1/4000s, ISO800, 188mm

WHAT ARE YOU SHOOTING WITH?

Since digital came onto the scene I have always been

a fan of Canon equipment, using a Canon 350D for

Battle of the Streets 153

Canon 350D, 75-300mm @ F8, 1/1600s, ISO400, 125mm
---
many years, but this gear became old and was quite

low resolution so I decided it was time for an upgrade.

After some research and trials I decided to sell my

camera body and move allegiance to Sony. I sold my

Canon camera to a local student who was travelling

to the US for a scholarship in media and photography,

I thought this was a good chance to support someone

young so I threw in my lenses and bag together with a

few other bits.

In 2020 we were supposed to spend 6 weeks travelling

around Europe, I wanted to travel light and have

the ability to record video snips, so I finally settled on

the Sony A6400. For lenses, I have the Sony 16-50mm

F3.5-5.6 OSS and Sony E 55-210mm F4.5-6.3 OSS. I've

also ordered the Sigma 100-400mm F5.6-6.3 which is

currently on its way as I type this, and I'm also saving

for a new travel lens, either the Sony 18-105mm or

18-135mm. I have two Lowepro camera bags, the

Slingshot SL 250 AWIII and the M-Trekker SH 150 along

with a Manfrotto BeFree tripod.

Although COVID put an end to those European travel

plans, I do still require my photography gear to be

light due to my passion for motorcycling. I really enjoy

carrying around the Sony Alpha 6400 with its light

titanium body and weather proofing, also enjoying

the fantastic focus tracking and flip up screen which

makes it a great blogging camera too. However, it is

not as intuitive as the Canon system and takes a while

to get to know the ins and outs of using the menu

items. I am now looking at getting a full frame camera

too, maybe a Sony A7IV when it arrives or possibly an

A7R III if I can afford it.

TRAVEL IS IMPORTANT TO YOU, WHERE ARE

SOME OF THE MOST MEMORABLE PLACES

YOU'VE VISITED AND YOUR FAVOURITE

PHOTOS FROM YOUR TRAVELS?

Having a strong creative background and working

in the Museum sector for many years I really love

anywhere with a strong cultural history. Europe

is amazing with changing cultures and history

everywhere, but having recently spent time in

Canada, I plan to go back. It's such a vast country

with changing scenery, it's like New Zealand on a

grander scale.

In 2016 my wife and I did a small tour from Canada to

Seattle with friends who live on Vancouver Island. We

drove to Seattle and toured up and across country

to the Okanagan, these photos (taken with my old

Canon EOS and a Sony DSC-W730) bringing back

memories of a fantastic trip.

On our first full day in Seattle after travelling from

Victoria on Vancouver Island, our plan was to visit the

Space Needle

Sony DSC-W730 @ F3.5, 1/400s, ISO80

Tavira Clock Tower

Iphone 4S, F2.4, 1/20s, ISO250
---
Sky Needle, which we did, but I was side tracked into

taking photos of the Sonic Bloom Sunflowers, these

amazing pieces of art were impressive against the

clear blue sky and very fitting along side the Seattle

Sky Needle.

I also loved everything about the Isle of Man, helped

due to my love for motorcycling. Not only is it a

fantastic historical place, but to visit when the TT's

are taking part is an amazing experience. I have

folders of photos and videos from our trip in 2014 but

my favourite was barging through the crowds with

my camera to photograph Michael Dunlop with Guy

Martin congratulating him on winning the Senior TT

race.

My wife and I chose to visit Tavira in Portugal

following our trip to the Isle of Man, we made the

choice due to the art and culture of the area with it's

enormous history going back hundreds of years and

multiple cultures.

The hotel we stayed in at Tavira is surrounded by a

courtyard close to the foot of the Roma Bridge over

the Gilão River. An archeological dig is still taking

place underneath the hotel and as I was from a

museum background, they allowed us to go down

behind the glass viewing area to take a closer look

at the dig with relics that possibly date back to B.C.

IOM Senior TT Winner

Sony DSC-W730, F5, 1/125s, ISO80

The Clock Tower, St Maria of the Castle Church was

an iconic centre of town reference point that helped

when you visited the narrow paths and alleyways

around Tavira. This shot (clocktower) was taken with

my iPhone at night against a clear sky. (9:17pm

to be precise) I really like the way it was lit which

highlighted the towers brick work and maintained a

strong central reference point in the town at night.

Port Erin, Isle of Man

Sony DSC-W730, F3.2, 1/800s, ISO80
---
Peregrine

Canon 350D, 75-300mm @ F9.0, 1/640s, ISO400, 300mm

NZPhotographer

July 2021

21
---
Kaimai Pastels

Sony Alpha 6400, 16-50mm F3.5-5.6 OSS @ F5.6, 1/320s, ISO200, 50mm

WHAT TIPS CAN YOU SHARE FOR

CAPTURING SUNSET AND SUNRISE

PHOTOS?

I think the most important thing when you want

to take sunrise or sunset photographs is to have

a systematic process to practice, so that it

becomes second nature. Use a tripod and set

your shutter on delay or use a remote, this is

especially important on long exposures to settle

your camera. Even though not really necessary,

if you set your camera to bracket the shot, it can

be an advantage for post production especially

if you want to make HDR images.

Arrive early to set up your gear, make sure

you take a headlamp so you can see your

foreground objects and camera settings.

Choose where the direction of light needs to

enter your shot and check your frame edges

for composition. I recommend always shooting

in manual mode and double checking all your

settings before pushing the button.

Neutral density filters are fantastic for obtaining

longer exposures whilst smoothing out water and

clouds. F8 - F16 should be fine to get the most

of the depth of field, use manual focus and pick

a spot half way towards the horizon. Purchase

good quality filters as these require less colour

adjustment in-post.

WHAT HAVE YOU STRUGGLED WITH THE

MOST IN PHOTOGRAPHY AND HOW HAVE

YOU OVERCOME THESE CHALLENGES?

Getting out and taking photos has been my

biggest struggle. I have, until recently, been very

time poor due to my work so getting motivated

has been difficult. However, there is nothing like

a new lens to get you motivated and getting

out to places that you know have potential

for the shot you might be looking for or going

somewhere new that you know has potential -

we live in New Zealand after all so it can't be

that hard!

Now I have more time, I really like to go out with

my camera and will generally plan my shots,

22 July 2021 NZPhotographer
---
Sunrise Mount Maunganui

Sony Alpha 6400, 16-50mm F3.5-5.6 OSS @ F11, 4s with 6 stop ND filter, ISO100, 25mm

checking the weather forecast and making

preparations the night before for my sunrise shots

as well as planning for potential landscape shots.

I also research where birds are so I can further my

bird photography though this has been rather hit

and miss.

I am also very critical of my own shots and

sometimes feel that they are not quite right and

have a tendency not to show them. This is both

a good thing and a bad thing as sometimes I

dismiss perfectly good shots, but I still think it is

a good thing to be self critical - something we

were taught at art college.

WHAT ARE YOUR THOUGHTS ON SOCIAL

MEDIA FOR PROMOTING YOUR WORK?

I think that social media has its place and is a

great platform to exhibit one's work, however

I do believe that dedicated photography

social media sites are far more useful and

exciting. Excio, for example, not only offers an

excellent opportunity to show off your talent,

but by viewing other photographers' work gives

inspiration and motivation to experiment in other

genres and types of photography.

ANY INSPIRING WORDS TO LEAVE US

WITH?

In a world where digital media is part of

everyday life I think that photography plays an

important role for everyone. Most photos today

are digital, very convenient and easy to show

on a phone or computer. However, I believe

that it is important to have something tangible.

Printing your images is the essential final step to

bringing your photography to life. This will not

only enhance your story but it will also make you

a better photographer.

WHERE CAN WE FIND YOU ONLINE?

excio.gallery/mark_trufitt

www.linkedin.com/in/

mark-trufitt-55964218

facebook.com/

Tufferz

markt.myportfolio.com

NZPhotographer

July 2021

23
---
24 July 2021 NZPhotographer
---
13 Days - Subantarctic

Islands Photography

Expedition - 2021

22 December 2021– 3 January 2022

EXPERIENCE

We have the opportunity to join Heritage Expeditions on a tour of the

Subantarctic Islands. On this 13 day tour, we will have both Richard Young

and Edin Whitehead as your guides and photography experts on the trip.

We will have use of the ships lecture theatre to use in the evenings/while

sailing to hold tuition and review sessions which will focus on capturing

amazing wildlife and landscape photographs.

New Zealand and Australia's Subantarctic Islands are tiny havens for some

of the most abundant and unique wildlife on the planet. They are composed

of six groups of Islands. We will be visiting; the Snares, the Auckland

Islands, Campbell Island and Macquarie Island. Here flora and fauna are

densely concentrated: the number of indigenous plants and seabirds found

is far greater than that found on similar groups in the South Atlantic and

Indian Oceans.

PLACES VISITED

The Snares

Macquarie Island

Campbell Island

Auckland Islands

The Subantarctic Islands not only play an important role in the Southern

Ocean ecosystem - they also have a rich human history. From their

discovery 200 years ago, they were exposed to an era of exploitation. In

time we began to understand their true worth and treasure them for their

intrinsic value as wild and beautiful places. Visiting them is a pleasure and a

privilege. You will not be disappointed.

www.photographyworkshops.co.nz

info@photographyworkshops.co.nz

027 261 4417

NZPhotographer

Click here for

More Information

July 2021

25
---
Print On Demand

Why not read your favourite magazine in print?

ORDER NOW

www.nzphotographer.nz/order-print-nzp/

26 July 2021 NZPhotographer
---
Mini 4 Shot Portfolio

Our 4x4 feature showcases 4 mini portfolio's of both

professional and up and coming New Zealand

photographers. The 4 images are linked in some way,

allowing you to get an understanding of what each

photographer is most passionate about capturing.

For a chance to get your own 4x4 feature in a future

issue of the magazine, become a subscriber here.

POCKETS OF HAPPINESS

Athena Rhodes

NEW ZEALAND'S FAIRIE TERN

Chris Patterson

CITIES AT NIGHT

Paul Wallace

GOLDEN DAWN

Roger Baillie
---
ATHENA RHODES

28 July 2021 NZPhotographer
---
I found my love of nature, before I found my love of

photography. I started to go out into the wild to help with

anxiety, the sounds, textures, and smells of nature soothed my

often racing mind. I then picked up a camera to share those

moments, those pockets of happiness, with others. When I am

not wandering through ferns and shrub, I am writing, drinking

coffee, eating way too much peanut butter on toast and

having dog snuggles with my best friend, Hemingway.

@that_girl_in_mustard

POCKETS OF HAPPINESS

My series of photos are pockets of time in nature that have brought me happiness and

peace. When I go into nature, I typically don't go looking for these moments. Rather, I

sit still and patiently wait. Perhaps on the dewy grass, maybe on a mossy log, or on some

sand at a beach waiting for a moment to unfold.

The gannet image is one where the sunset was particularly striking. I was crouched down

on the viewing platform, taking photos of the many gannets that call Muriwai Gannet

Colony home during the breeding season. The place was a hive of activity with the

breeding season in full swing. This particular gannet looked right into my lens, making for

an interesting portrait. This is still one of my favorite photos to date.

The ocean wave image was captured during a sunrise in the city. I had woken up too

early on a Sunday, and rather than loll in bed, which most would understandably do on a

Sunday morning, I went for a wander to the beach. I perched on a rather uncomfortable

rock and watched the waves crash dramatically on the shore as the sun slowly rose. I

don't know how long I simply watched this nature show - minutes, hours, who knows? But I

did take an image as I wished to share the pocket of happiness I had found that morning

with others.

NZPhotographer

July 2021

29
---
30 July 2021 NZPhotographer
---
NZPhotographer

July 2021

31
---
CHRIS PATTERSON

32 July 2021 NZPhotographer
---
An Auckland based semi-professional photographer, most

of my work is centred on wildlife both on land and in the

water. During the past 4 years, photography has taken me

as far afield as Costa Rica for 3 separate expeditions to

capture some of Central America's stunning biodiversity. In

addition, pre-pandemic, I was an annual visitor to Tonga to

photograph the humpback migration. My key motivation as

a photographer is to raise awareness of the fragile state of

New Zealand's biodiversity through photography.

@christographnz

NEW ZEALAND'S FAIRIE TERN

This series displays New Zealand's most critically endangered endemic

bird; the Fairy Tern aka Tara Iti. Once found in healthy numbers around

the northern half of the North Island's coast, the Fairy Tern population

is now less than 50. With only 16 breeding pairs left, we are literally

watching a unique part of New Zealand's biodiversity tethering on the

brink of extinction as it fights for its survival as species. Several groups are

also fighting hard to avoid the Fairy Tern joining the shocking list of birds

that were condemned to extinction following the arrival of people to

Aotearoa.

Before the arrival of people, New Zealand was a group of islands that

created the perfect Garden of Eden for birds. However, the combined

effect of hunting by humans and the introduction of stoats, ferrets,

weasels, and possums into a country that previously had no bird

predators had a devastating effect on New Zealand's native birds.

Many of which were quickly wiped out, including the Moa, Haast Eagle

(the world's largest flying bird), Huia and Snipe.

Aside from predators, the demand for new housing locations and

recreational opportunities continues to place increasing pressure on the

Fairy Tern's essential habitat. We have several species of birds that don't

exist anywhere else on earth. The Tara Iti is deserving of our best efforts to

protect our most endangered endemic species.

Net proceeds of print sales for these 4 tern images will be donated to the

New Zealand Fairy Tern Charitable Trust.

NZPhotographer

July 2021

33
---
34 July 2021 NZPhotographer
---
NZPhotographer

July 2021

35
---
PAUL WALLACE

36 July 2021 NZPhotographer
---
Photography has been a casual hobby of mine since I was

about 12 years old. There wasn't any particular genre I was

attracted to so I was happy photographing family, places I

visited, and motorsports. Later I was fortunate that a major

part of my job involved overseas travel and rather than just

capture what I saw it motivated me to venture out, visit

places I would not otherwise have visited, and do things I

would otherwise never have done in order to get the shot.

www.paulwallacenz.com

CITIES AT NIGHT

These four images together epitomise my approach to

photographing cityscapes. Where possible for my cityscapes, I

like to shoot in the evening before it gets completely dark. The

evening light ensures that clouds have structure and interest

whilst the various lights of the city provide both interest and

illumination of the structures and buildings around them.

In heavy cloud, where the sky is dark, the lights of the city can

provide the illumination of the clouds above. Patience is the

key and I will often arrive early and remain at a location for

hours to get the best light possible.

For me, the use of a tripod is an essential tool as it allows me

to take long exposures. Long exposures can improve detail,

contrast, and colour as well as allowing creative use of the

movement in the clouds and water.

The cities featured in these images are New York, Sydney,

Tokyo, and Wellington.

NZPhotographer

July 2021

37
---
38 July 2021 NZPhotographer
---
NZPhotographer

July 2021

39
---
ROGER BAILLIE

40 July 2021 NZPhotographer
---
My father bought me my first camera when I was

6 so photography has always been with me from

that day. Most of my time behind the lens has been

with film cameras so I am still relatively new to digital

photography starting with a used Canon Rebel and

now with my Canon M6 mark II. Photography to me is

the privilege of capturing a specific moment of time

and the joy of sharing that moment with others.

@rustyroj

GOLDEN DAWN

This view of Herald Island in Auckland is one I pass by every day on

my way to work. It's a scene that so many pass by without much

of a thought however, it's all I could think of one week after being

inspired by a particular foggy morning

The weather forecast was for heavy rain, but I was determined to

try regardless, as there was a slight chance of mist on the water first

thing. It wasn't easy to get myself up before sunrise on a Saturday -

I'm not much of a morning person at the best of times!

It's not the first time I had set out to chase a lost cause either and

believe that they are always worth a chance. In this case, I didn't

get the exact shot I was hoping for but I was graced by the rising

sun and the mist up on the hills which came together in a beautiful

golden glow to create this magical scene. I felt privileged to be the

one to capture it.

The window I had was short and the predicted rain rolled in as I

made my way back to the car but I was glad I dragged myself out

of bed early on a Saturday morning to chase a lost cause.

NZPhotographer

July 2021

41
---
42 July 2021 NZPhotographer
---
NZPhotographer

July 2021

43
---
2017

Digital Cameras

Digital Cameras

2018

Digital Cameras

Digital Cameras

2019

Digital Cameras

Digital Cameras

2020

Digital Cameras

Digital Cameras

2021

Digital Cameras

Digital Cameras

NIKON NZ

WINTER BONUS

PROMOTION

Purchase a selected Nikon mirrorless or DSLR camera

and receive a bonus gift to enhance your creative vision.*

Ends 30th September

Mount Adapter FTZ

Mount Adapter FTZ

Speedlight SB-700

Media Kit

Aluminium

Carbon

* Via redemption. Promotion valid for eligible purchases made from 1st July 2021 until 30th September 2021 by NZ residents

from Nikon NZ Authorised Retailers. Terms & conditions apply. Visit www.mynikonlife.co.nz for full details and to redeem.

44 July 2021 NZPhotographer
---
A Brief Introduction to Adobe

Photoshop CC

by Charlotte E. Johnson

"The picture that you took with your camera is the imagination you want to create

with reality." — Scott Lorenzo

INTRODUCTION

Photoshop: The software that strikes terror into the

hearts of many and disgust into others. "That's been

Photoshopped!" goes the cry. I used to agree, being

of the opinion that an image shouldn't need editing

if it was good enough when captured. Then I took

some photography courses which included some

editing and I conceded that small exposure and

colour adjustments could be useful, especially when

using RAW files.

Later, I took dedicated courses in Photoshop, not

because I wanted to, but because it would look

good on my CV. Despite myself, I became interested

in compositing and creating images that I could

never have captured in real life. Photoshop stopped

being scary and started to be fun. I landed my

current job partly because I had done the courses

and, after a couple of years of constant practice,

I became an Adobe Certified Expert in Photoshop

CC. From where I first was to where I am now, I would

have never guessed.

No doubt you've seen plenty of images which have

been 'overcooked' in Photoshop. I look back on

some of my old works and grimace. I think one of the

best things anyone can learn about Photoshop is to

know when to stop... But that's not the purpose of this

article - here I will show you how to get started.

The basics of Photoshop are useful for every

photographer, regardless of preferred genre or skill

level. I would encourage anyone to learn Photoshop

over Lightroom or similar editing programs because,

one day, you might get to the point where you want

to go further with your editing, and you'll be limited

with what that software can do. If you start off in

Photoshop, you'll never feel restricted, and you may

even be inspired by the creative possibilities.

If you already have Photoshop but aren't sure how to

use it, perhaps skip to Getting Started. The best way

to understand some of what I cover here may be

to read along with Photoshop open in front of you.

So set aside some time, grab a cuppa, and let me

introduce you to your new best friend.

WHY USE PHOTOSHOP?

When it comes to editing, the majority of photographers

are divided between Photoshop and Lightroom,

although other software is rapidly increasing in

popularity. I'm not going to tell you which one to use,

that's up to you to decide based on what you want

to do with your images. Adobe states that "Lightroom

stays true to photography, while Photoshop lets you

create the images in your mind's eye". Compared to

Lightroom, Photoshop can perform a greater degree of

edits; retouching, compositing images together, adding

image filters, text and graphics if wanted, and so much

more. If you're wondering how to make your image

pop, you can do the job in any editing software. If you

want to remove an annoying sign in the background,

edit your models' skin without losing detail, change

out a dull sky for a more interesting one, head-swap

that person in a group photo who blinked, make those

mountains look more impressive, change day into night,

or overlay a texture… then Photoshop is for you.

CREATIVE CLOUD

Adobe now provides a subscription service which

is wrapped up inside their most recent branding,

the Creative Cloud. Think of the Creative Cloud as

a folder which contains all of the Adobe Software.

You can unlock which software you want to use by

purchasing a subscription but before you purchase

anything, you can download a free trial. All software;

Photoshop, Lightroom, etc. is downloaded, installed

and updated through the Creative Cloud. Before

purchasing, take a look at the available packages

because you may find a package which includes

other software (even if you don't initially want it)

is cheaper than subscribing to Photoshop alone.

Just because you have subscribed to the package

doesn't mean you have to have all of the included

software installed on your computer. One of the

positives of a subscription service is that you'll always

have the latest versions. Adobe offers updates

regularly so, if you're looking for online tutorials, try to

find the most recent one or, better still, find someone

(like yours truly) who offers tuition. For this article, I'm

using Adobe Photoshop CC version: 22.3.1.

NZPhotographer

July 2021

45
---
The Photoshop Home Screen

GETTING STARTED

When you open Photoshop (from here onwards

referenced as Ps), you are presented with a

Home Screen. You must open or create a file to

get into a Ps workspace with the Home Screen

popping up again if all files are closed.

As photographers, we'll primarily be opening

our photographs into Ps rather than creating

new files. If you don't like the Home Screen, you

can disable it so that Ps opens up straight into

the default workspace and files can be opened

through the regular File menu (just search

online for "How to disable the Photoshop home

screen").

If your image files are saved as .jpg or .tif they will

open straight into Ps. But if you open a RAW file

in Ps, it will pop up in a separate window which

is actually some pretty powerful software called

Adobe Camera Raw. Amongst other things, this

is where you'll be able to pull the most dynamic

range (i.e. rescue highlight and shadow detail)

from your images. Camera Raw is very similar

to Lightroom and really deserves its own article

but for now, have a play and see what you get.

Know that those changes will be embedded into

the file when you open it into Ps but don't worry,

the changes won't overwrite your original RAW

file.

At the bottom-centre of the Camera Raw

window you'll see some text with the colour

space your image was captured in (sRGB or

Adobe RGB), the bit depth your image will open

in (8 or 16 bit), the image dimensions and MP

(megapixels) and finally the ppi (pixels per inch).

File properties as displayed in Camera Raw

This (see above) is telling you what properties your file will

have in Ps when you click Open in the bottom-right of

Camera Raw. If you click on this text, a dialogue box will

pop up where you'll be able to set the image how you

want it. I recommend opening 16 bit images as this will

reduce banding in the image caused by gradations in

light or colour however, the file size will be much larger and

less powerful computers may struggle. There are ways to

improve the performance of Photoshop – have a search

online for how to do this.

THE PHOTOSHOP WORKSPACE

It might make for dull reading but getting familiar with

how Ps looks will help you navigate it and, ultimately,

make it easier to use. On the next page is a labelled

graphic naming parts of the workspace. The proportions

of the panels and text will vary depending on the size

of your screen. If you don't see the same layout, go to

the application bar and select Window -> Workspace

-> Essentials (Default). The entire workspace is contained

within the 'application frame' which allows you to move

panels and windows around and to dock them within

other panels if desired. If you make a mess or accidently

46 July 2021 NZPhotographer
---
Parts of the workspace

remove a panel, you can reset the workspace back to

what it was (Window -> Workspace -> Reset Essentials).

Tools Panel: This is where you'll find all the tools you

need to be able to edit. This panel actually displays

only a small selection of available tools – it can be

overwhelming but, as you learn, you'll be glad of the

range. Luckily, the people at Adobe realise learning

the tools can be a struggle so they've added a great

feature: hovering the mouse over any tool in the

toolbar will pop up a small, animated graphic showing

what it does. Helpful! You might not have identical

icons displayed on your screen to the screenshots

shown here and that's because most of these tools

have a hidden range which you can access by

clicking and holding on the icon until a sub-menu

pops up. Whichever tool you select from the sub

menu replaces the current icon in the tools panel.

Options Bar: Whenever you select a tool, you'll see

a range of options appear in the options bar. This is

where you can adjust and fine-tune whatever tool

you've selected to do precisely what you want.

Almost every tool has a unique set of options, piling

on the already overwhelming heap of information.

You can get by without knowing much about this

to start with, but it is important once you get more

comfortable with Ps.

Application Bar: The top menus are found within the

application bar. This is where you can open and

save files, edit and transform images, make image

adjustments (destructively), create and alter layers,

edit type, alter and refine selections, choose and

apply image filters, render 3D, change the layout and

view, manage plugins, customise the workspace, and

find Ps help. Again, there's a lot to take in from these

menu options, but you'll find that you use some all the

time and ignore others entirely. Ps wasn't made just for

editing photos – it is widely used by graphic designers,

web developers, digital artists, and many more – so

lots of what it contains can (thankfully) be ignored by

us photographers.

Panel Dock & Panels: Panels allow you to perform

different tasks, edit adjustments, and fine-tune tools.

The Window menu in the application bar allows you

to open new panels. Depending on what you select,

the panels can appear differently, as shown in the

graphic on the top of the next page which uses the

Brushes panel as an example.

Document Window: This is where your file appears

once opened. Multiple files can be opened and you

can switch between them by selecting the document

tab at the top of the document window. Clicking on

the x on a document tab will close the document.

Clicking and dragging the document will make it pop

out into its own floating window rather than being

NZPhotographer

July 2021

47
---
You can pull panels around to position them where you want; dock them, or collapse panels into icons by clicking the tiny double-arrow located at

the top right of the panel. No matter how you customise panels within your workspace, the function remains the same.

docked into the application frame as it appears by

default.

Application Frame: This is the frame which all other

parts of the workspace dock into.

Phew! That's the workspace covered. Now, let's get

on to the interesting stuff!

ADJUSTMENTS (PART 1)

In the application bar, the Image menu is where

you'll find Adjustments. This menu contains a range

of options to allow you to make tonal and color

adjustments to your images. All of the adjustments in

this menu are what is termed 'destructive' meaning

they will directly alter the pixels of your image.

Sounds bad, right? Well, it is. Once these adjustments

are made, there is no way to independently alter

or remove them without undoing any subsequent

changes you made to the Ps file (RAW files are

not affected). There are times when destructive

adjustments are needed but I believe it's important to

work in a non-destructive way wherever possible. This

means that, if you or a client changes their mind later,

you can come back to the Ps file and tweak individual

adjustments you made to that image without

affecting any other changes you made. It may sound

complicated but, trust me, it's a much better way of

working and easy once you get used to it. To do this,

you need to learn about layers and masks and this is

what Ps is really all about.

INTERMISSION!

It is normal to feel overwhelmed with the complexity

of Ps and learning a new software. If you are, this is

a great place to bookmark and come back to later.

Meanwhile, have a go at opening up one of your

images in Ps and try using some of these adjustments

to tweak it. Yes, they are destructive, but you can still

learn a lot about what they do and how to use them,

all the while getting used to the look and feel of Ps.

The next section in this article, History, tells you how

to undo any mistakes you made. If you don't want to

work on your original image, you can work on a copy:

open your photo into Ps (if Camera Raw pops up, just

click Open) and you'll see in the Layers panel, bottom

right, your image will be a Background layer. Rightclick

this layer and select Duplicate Layer. Click OK

on the dialogue box that pops up. You'll now have a

copy of your image that you can play with as you like.

When you're ready, come back and read on about

Layers and Masks. I promise it's worth it.

48 July 2021 NZPhotographer
---
HISTORY

If you've been playing around in Ps and you've made

some mistakes. Edit -> Undo (whatever you last did)

will always be available to you but there's a faster

keyboard shortcut: Ctrl - Z (Windows) or Command - Z

(Mac). Press both keys together as many times as you

like to undo one step at a time. If you made several

mistakes or want to keep track of what you've done

so far, you can use the History panel. This is set by

default to be the top-most icon in the panel dock and

is indicated by a set of 3 cubes with a curved arrow.

Click the icon to see a list of your recent history.

The History panel populates with every action you take in Ps but only

remembers a set number of actions. It is a safety net if you make a

mistake within this set number of actions.

LAYERS

Imagine you have a few sheets of regular plain paper,

each with something different printed on them,

stacked into a pile. You have made the equivalent of

Ps layers. You know there are several sheets of paper

in the pile but you can only see the top sheet. If you

take off the top sheet, you'll see the one underneath.

That's how pixel-based layers work (e.g. anything with

a photo or image, or created using a pixel-based tool

such as the paint brush).

Open up an image in Ps and you'll see it in the Layers

panel. Typically, it will be named the Background layer

and it will have a little padlock next to it. This means the

layer is locked. You can't do anything much with a locked

layer (options will be greyed out) so unlock it by clicking

once on the padlock and the icon will disappear. The

layer will now be named Layer 0. You can rename layers

by double clicking on the type of the existing name. If you

double click elsewhere on the layer, you'll get the Layer

Styles dialogue box which allows you to add funky effects

and blending to layers (make a note to have a play with

this later). To the left of the layer name is a small thumbnail

image and left of that is an eye icon. Clicking on this eye

icon will turn the layer on or off so you can see the layer

underneath. Clicking on a layer once will highlight that

layer and you can then use the icons at the bottom of

the Layers panel (highlighted in the following screenshot).

There are usually many ways to do the same thing within

Ps, so I will just talk about my preferred methods for creating

and altering layers using these icons. Again, Ps helpfully

includes information on what the icons are if you hover the

mouse pointer over them.

From right to left; the trash can deletes layers, the + inside a square

creates a new layer, the folder icon groups layers together inside a

folder, the half dark and light circle opens the adjustment layers menu,

and the light rectangle with a dark circle inside creates a layer mask.

The fx icon opens the Layer Styles dialogue box and the chain icon links

multiple layers together so any adjustments made to one layer apply to

all linked layers.

If you open two images into Ps, they will appear

in 2 separate files. Click and drag the layer of the

first image up towards the file tab for the second

image, hold it there until Ps swaps over to the

second tab, then drop the file onto the second

image. Alternatively, copy-paste an image into

an existing Ps document and it will appear as an

additional layer. Either way, you should now have

two images on separate layers in the same file.

Create a new layer using the New Layer icon and

you won't see anything change on your image

because the layer is blank and transparent until

you put something on it. When you create a new

layer, the new layer is automatically selected

which means you are now working on this

highlighted layer. Add some paint using the paint

brush tool to this layer and it will appear over the

top of the layer below. Don't like what you did?

Erase it using the eraser tool – only the paint on this

layer will be erased. If you were to paint directly

on your image layer rather than this new layer, it

would be destructively changing the pixels and

the eraser tool would erase your image as well as

the paint you put down on it. The key to working

non-destructively is to never alter the pixels on your

original image layer by instead using additional

layers to make changes and edits. Yes, you can

duplicate your background layer and make

destructive changes to that copy, but there are

several problems with doing it this way (although

many do) including doubling your file size.

NZPhotographer

July 2021

49
---
Re-order layers by clicking and dragging them

above or below (layers must be unlocked). To

reposition a layer, use the move tool and click

and drag the image. Edit layer size or rotation by

selecting the layer then clicking Edit -> Free Transform

and then play around with the toggles on the image,

press the enter key when finished. If you have several

layers, Ps may get confused about which one you

want to move, so it's sometimes easier to move them

when using Free Transform.

MASKS

Open two images and drag-drop one into the same

file as the other so there are 2 image layers (or copypaste).

With the top layer selected, click the mask icon

and a solid white square thumbnail will appear linked

to your layer in the layers panel. The most important

thing to remember about masks is that white shows

and black hides. Think of it like have a light turned on to

see (white) or off so you can't see (black). The top layer

will be currently entirely visible because the thumbnail

shows all white. Click on the mask thumbnail to select it,

choose the paint brush tool and change the foreground

color to black (see screenshot below) – now paint on

the top image to hide parts of it. Why would you do this

instead of erasing it? One reason is that you can bring it

back if you change your mind or make a mistake – just

paint with white. Magic! You can do this the opposite

way too – invert the entire mask by first clicking on it to

select it, then go to Image -> Adjustments -> Invert. The

mask will invert from white to black and be hidden. You

can paint to reveal areas by painting white. If you see

paint on your image, you may be painting on the layer

rather than the mask – make sure to click on the mask

to select it before painting.

first and try using a setting of just 10% to blend an

image using a mask.

ADJUSTMENTS (PART 2)

Are you ready? This is where we combine all we've

learned so far about layers and masks in order to

effectively use Adjustment Layers. You can see a list of

available adjustment layers when you click the light/

dark circle icon in between the mask icon and the folder

icon at the bottom of the layers panel. Conversely, to

the destructive adjustments you can find in the Image

menu, adjustment layers are non-destructive because

they create a new layer for each adjustment. It may

seem like a lot of unnecessary faff to make adjustments

this way but, trust me, you'll be glad you did. Adjustment

layers, no matter how many you use, do not increase

your file size. However, masks do, as do new layers with

pixel data. All adjustment layers come with masks so you

can refine where you would like the adjustment to be in

your image if you want to. Note that you must have the

correct layer selected to show the adjustment properties.

Clicking the mask will show adjustments for the mask

rather than properties for the adjustment layer – it's very

easy to be caught out this way! Unfortunately, Ps is full

of picky little things like this which help to throw off new

users. If you're editing in Ps and something isn't working

the way it should, try to step back and work through it

logically, starting by checking you have the correct layer

selected.

Left: The highlighted area in the Tools panel

is where brush colours can be selected

by clicking on the square color panels

(foreground and background). Clicking on

the tiny black and white duplicate panels

above the foreground and background colors

resets the colors to white and black. Clicking

the tiny arrows swaps the foreground and

background colors. Painting with the brush

tool always uses the foreground color.

Masks can become as complicated as you want

to make them but I just wanted to introduce you to

the concept here. Layers and masks are the basis

of image compositing – have fun experimenting

with overlaying one image on top of another and

blending it in using masks.

A top tip for blending using masks and the brush

tool is to adjust the Opacity or the Flow of the

brush. You'll find these settings, amongst others,

in the Options bar when you have the brush tool

selected. Lowering the opacity is effectively like

watering down your paint whereas lowering the

flow will effectively be like reducing the amount

of paint on your brush. Use one or the other at

The Brightness/Contrast adjustment layer was selected – you can see it has

appeared as a new layer above Layer 0 (background) and that it has a white

thumbnail, indicating a mask. The Properties panel above the Layers panel

shows where you can make the selected Brightness/Contrast adjustments.

50 July 2021 NZPhotographer
---
Even though there are multiple visible adjustment layers used in this file, the pixel-based layer (Layer 0) is still

visible, showing all of the adjustments made to it cumulatively.

Differing from pixel-based layers, most adjustment

layers are transparent. You can use several adjustment

layers and still see pixel-based layers below as seen in

the screenshot above.

BLEND MODES & OPACITY

Going back to our stack of printed paper analogy -

imagine that the top print is on a transparency instead

of plain paper. You can see some details of the below

image through the print and you can move it around

until you're happy with the overlapping composition.

Next, imagine placing the stack of prints onto a light

box and observe the image shining through from

underneath. Both these examples are very similar to

what some Blend Modes do.

You've probably seen lots of images making use

of blend modes – blending images with portraits

has been very popular, sometimes termed double

exposure portraits because they can have a similar

look to a traditional double exposure. Try it yourself:

load 2 image layers into a single Ps file as before

and change the blend mode on the top layer. Try

out each blend mode to see what it will do. The

result each blend mode gives depends a lot on the

content of the image and the one below, so it's

always a good idea to try each blend mode in turn

when trying to achieve a specific look. The most

popular blend modes for 'double exposure'-look

images are Multiply, Screen, Soft Light, and Overlay.

You can safely ignore a lot of things in the Layers panel when starting off. All you need to do to set a Blend Mode is choose

one from the drop-down menu which by default is set to Normal. You'll need more than one layer to see the effects of a

blend mode since it uses properties of the selected layer and the one below to display the resulting blended image.
---
An example of how using blend modes can affect an image. Here, the bokeh texture layer was set above the portrait layer and the blend mode was

changed to Screen. Model, makeup, and styling by Laura Macdonald.

Sometimes the best fit to blend an image with

another is simply to lower the opacity. The option to

change the opacity of a layer can be found next

to the blend mode in the layers panel and is set

by default to 100%. Lowering the opacity can help

make a composite more believable or achieve a

faded effect. This is also a great way to tone down

an adjustment layer if you feel it is too strong. Many

fine-art works are finished by adding a texture layer

set to a low opacity to give the image the feel of an

old painting.

SAVING FILES

Once you're finished editing, save your file using File

-> Save As. If you want to keep editing and save

all your layers, it's best to save as a Photoshop file

(.PSD), but that this can only be opened by Adobe

software and the files are large. You can also save

all your layers by selecting a .TIFF if you prefer, but

these files tend to be even larger (though they can

be opened in more software). Saving as a .JPEG will

effectively merge all your layers together, flattening

them into a single file. This will compress your image

and there will be a slider for you to select the

appropriate quality according to the file size you

want to achieve. For images I want to use on the

web, I use File -> Export -> Save for Web (Legacy).

This converts my file to an sRGB colour space and

to 72 dpi, ideal for online use. I can choose a .JPEG

file type, set the image size and adjust the quality

as well as see the predicted file size change in realtime

using this method. .JPEG files are ideal for

everyday and digital use but most good printers will

expect .TIFF files at 300 dpi.

SUMMARY

This article contains all the knowledge you need

to get Photoshop setup and to start playing.

Experimenting with what Photoshop can do can be

extremely rewarding and can elevate your images

to the next level. It will also help you get used to the

52 July 2021 NZPhotographer
---
One image from a set based on the theme of mental health showing the layers used to create the final image. You can see the original, pixelbased

layer at the bottom (Layer 0) and one more pixel-based layer at the top (Layer 2) which is all layers, merged, as the final image (shown).

Adjustment layers and masks are an essential part of my Photoshop workflow. Modelled by Natalie Thomas with assistance from Laura

Macdonald and Viviane Castro.

look and feel of Photoshop until it doesn't feel all

that intimidating any more.

I've given you the very basics of compositing

images together – start off simple and work your

way up. With so much to learn, it's easy to forget

what you did, so consider keeping notes on what

you tried and how you did it and get into the habit

of naming your layers with what you used or what

they contain, like the example below. Don't be put

off by the apparent complexity of what's going on

in this image – this is an example of my personal

workflow and looks more complicated than it

actually is.

Don't give up and remember that you don't

have to struggle alone – Photoshop is such a

popular piece of software that there are no end of

resources to help you learn; magazines, YouTube

tutorials, online courses, and in-person tuition are

all available to you. I'll be writing another article on

Photoshop which will add on to this one but, if you

can't wait that long, visit my website cejphoto.com

to see what I can do to help you and check out my

images on Facebook and Instagram for inspiration!

I can honestly say that learning Photoshop has

been the most important factor in my personal

development as a photographer. So get those files

off your camera memory card and into Photoshop

and practice, practice, practice!

@cej.photo

@cej.photo

NZPhotographer

July 2021

53
---
LEARN MORE

www.excio.io

54 July 2021 NZPhotographer

Photo by Jakub Soltysiak
---
In our members-only Facebook group last

month we received the question "How do

we measure our worth? How do beginner

photographers know how to position their

worth in a saturated market? Are there

industry standards to pricing? And how

do we avoid amateur photographers

under pricing their work and devaluing

the market for photographic works?" It's

a million-dollar question and while there

is no exact answer I thought it important

to raise the issue with a wider audience.

There is a lot of misconception and

confusion online so let's dig a bit deeper.

1. Cost scenario. Some suggest pricing

your work based on the costs incurred.

Having an accounting background I can

relate to that but as a photographer it

doesn't make much sense. They say –

calculate how much you spent on getting

your photography degree, gear, time to

get to the shot etc and then estimate how

many photographs/prints you need to sell

in order to cover those expenses. What

about those of us who are "weekend

warriors" and never got any proper

education in photography – does it mean

our photographs are worth less even if

they are better than those produced

by "professionals"? Obviously this cost

scenario is not reliable, so let's move to

the next one.

2. "Price your work in line with market

rates". There is a lot going on with "the

market" which is currently governed by

big players who don't give a sh*t about

photographers. Do you use Shutterstock

as your baseline, a company that sells

photographs for as little as $0.40 per

download or Getty Images who sell

photos to companies for $500+?

3. A smaller share of a bigger pie? Others

say you need to decide whether you

want to potentially make your work

more affordable for others and have

more sales or make it more exclusive or

limited-edition and wait for that bigger

paycheck.

So how do beginner photographers know

how to position their worth in a saturated

market? For amateur photographers or

those who have already gained enough

experience in the field but haven't yet

monetised their hobby, the main thing is

WHAT ARE

PHOTOGRAPHERS WORTH?

to start somewhere. It's possible to sell any

photograph but you should first establish

yourself on the market in order for people

to start seeing "worth" in your photos. You

might have read the interview we did with

Parmeet Sahni, now a successful full-time

photographer, who found her passion in

newborn and family photo sessions – for

her it all started with a Facebook post

where she shared her daughter's photos.

Don't hesitate to take photos of what you

love and then offer them to a local group/

charity or company you know for free

(this is totally different from a company

asking to use your work for free and taking

advantage of you!). I once went to a

local farm festival and took photos of

some of the booths. I took their business

cards and later sent them a few photos.

This turned into a very fun photo shoot for

a lady who makes soaps and cosmetics.

I didn't charge for it because I knew that

the lady sharing the photos I took could

potentially bring me much more exposure

followed by other photo shoot requests

that I could charge for. I didn't actually

continue with organized photo shoots

because I realised it wasn't for me, but

that's a different story!

Having talked to both sides – image

buyers as well as photographers

alongside exploring a variety of different

platforms whilst building our "Fair Trade

Photography" ExcioShop I realised it is not

so much photographers who "devalue the

market", it's those international giants who

set the standard that buying photographs

for a few cents or indeed downloading

them free of charge (legally) is OK.

My mind boggled when I read the latest

update from the well-known platform

Unsplash inviting photographers to

participate in "Open source advertising"

which essentially means they now expect

photographers to take photos of brands

(e.g. someone drinking Coca-Cola) and

submit them to the platform for free.

Does this mean we are now expected to

charge $0/photo?

Let's keep this question and indeed the

solution open - you are most welcome to

send your views, feedback, or ideas to me

at ana@excio.io.

Ana Lyubich

Co-founder of the Excio

Photo Community and

NZPhotographer Magazine,

Ana is a passionate

photographer and

photography mentor. She

loves exploring the unseen

macro world and capturing

people's genuine emotions.

Ana is always happy to help

other fellow photographers so

don't hesitate to get in touch

with her at ana@excio.io

www.excio.io

@excionz

NZPhotographer

July 2021

55
---
PHOTO COMMUNITY

From more than 20,000 photographs published on Excio

by our members, these 10 made it to the top this month.

56 July 2021 NZPhotographer
---
STORMY SUNSET

FRANK WIDMER

Everything was united in this photo, heavy rain, gale force

wind, and a sunset like I have never experienced before.

excio.gallery/frank

NZPhotographer

July 2021

57
---
SOMNUS

LUMENOX

Somnus, where Winter arrives and nature sleeps.

excio.gallery/lumenox

58 July 2021 NZPhotographer
---
UNIVERSAL DRIVE

ENZO GIORDANI

I've been admiring a piece of work on the wall of my

employer's head office by an artist named Kevan

McCollum. This is my twist on his image.

excio.gallery/enzo

NZPhotographer

July 2021

59
---
SEAL PUP

JAMIE FRASER

This wee guy was a little heart breaker. There is so much

thought and wonderment in those eyes! One of my

personal favourite images.

excio.gallery/fraserfotography

60 July 2021 NZPhotographer
---
GROVETOWN LAGOONS

SUE HENLEY

Grovetown Lagoons are a natural wetland on the Wairau

plains near Blenheim. Peaceful and beautiful it is home to

a wide variety of birds and wildlife.

excio.gallery/henley

NZPhotographer

July 2021

61
---
BLUE WINTER

ANN KILPATRICK

Winter leaves on my deck as

I learn about my camera on

a winter's day.

https://excio.gallery/ann

62 July 2021 NZPhotographer
---
BROTHERS IN ARMS

SHAYNE AVERY

This is my all time favourite image I have captured whilst in the

NZDF. Although it is just a couple of the lads rehearsing some

drills, for some people it speaks far more volume. Do not worry

your hearts, the vehicle is an abandoned truck in our training

area that we use to practice immobilized vehicle drills.

excio.gallery/shayne

NZPhotographer

July 2021

63
---
PAGODA

VICKIFINZ

I thought we had left it a little late in the season to look for fungi. We

went in search of this fungi on a track that normally takes around 20 mins

to complete... 4 hours later! We found a small group of these beautiful

specimens right at the end of our walk, when we thought we had missed

them - Such a treat!

excio.gallery/vicki

64 July 2021 NZPhotographer
---
KNOWLEDGE IS LIGHT SUNDAY ADELAJA

BY KERRY BURTON

Aotea College, Porirua. I went to the College to take photographs of the

spectacular views of Porirua Harbour on site, but instead I was drawn to the lit

up columns at the College Administration entrance.

excio.gallery/kerry

NZPhotographer

July 2021

65
---
LOST

PAMELA JOHNSTONE

A very dreary day in Canterbury, New Zealand with lots of fog.

excio.gallery/pamela

66 July 2021 NZPhotographer
---
Remarkable Form,

Exceptional Function.

Meet the new standard in small format printing. With expanded gamut,

dedicated photo & matte black lines and a new 10-colour UltraChrome

ink set, the Epson SureColor P706 and P906 redefine A3/A2 image quality

in a compact, stylish form factor 30% smaller than the previous generation.

Experience exceptional. Experience Epson.

www.epson.co.nz/prographics

NZPhotographer

July 2021

67
---
Image or Illusion?

The Role of Nature Photography

Words By Shaun Barnett

Mason Bay, Rakiura National Park Photo: Rob Brown

68 July 2021 NZPhotographer
---
NZPhotographer

July 2021

69
---
When we make images in nature, what are

we doing?

Representing reality, or creating an artful

interpretation?

And when we process an image, adding contrast,

vibrance, and sharpening, are we 'improving on

nature'?

Some of the photography I like to do is indeed

partly illusion. When I use a tripod, a suitable F-stop

for great depth of field, and a slow shutter speed,

I can render the run of a stream into a silky flow -

Something that cannot be recorded by the eye.

A friend who loathes this style of photography calls

it pornography; for him it's a corruption of how he

sees nature.

Well, that's landscape photography, you might say.

When you photograph birds, though, surely there

can't be much illusion? I would argue that a superfast

shutter speed can freeze a moment in the

flight of a bird that is also impossible to see with the

naked eye.

So nature photography is at least partly an illusion.

Yet what draws us to make images of nature is real:

we photograph real places and real creatures, and

what we are attempting to capture is something of

the sense of wonder, wildness, or beauty, perhaps

to convey something of the awe we experienced

to those who were not there to witness it. Or

perhaps to document aspects of nature for our own

interest, or even science.

Another criticism of 'scenic' photography is that

it hides the ugly aspects of humanity, creating

another illusion. For example, Milford Sound, in New

Zealand's Fiordland National Park, is a sublimely

stunning landscape. But photographs of it rarely

show the rows of buses, hotels, or crowds. Images of

Milford Sound are partly illusion: the camera faces

outwards, not backwards. Like much photography,

the image focuses the viewer's attention on a

highly selective frame, one deliberately excluding

what is not scenic. But that is also the essence of

any photography: to exclude clutter, and focus on

the subject.

And the fact is, the magnificence of that fiord is

real and still has the power to stir us. That's why

400,000 people visit Milford Sound every year, in

spite of the crowds and tourism infrastructure.

The reason why scenic calendars still sell is that

– cliché notwithstanding – many people are

fundamentally still interested in and moved by

A kea, Mt Aspiring National Park, Otago.

Know the rules: don't feed kea – it's bad for their health. Photo: Shaun Barnett/Black Robin Photography
---
eauty, by nature. A hiker surmounting a pass also

feels stirred enough to try and capture that scene

on their point-and-snap camera or phone. Pure

and simple landscapes unsullied by the presence of

humans.

It's easy to criticise 'scenic' photography as

just chocolate box ephemera, but that's partly

disingenuous. Because anyone can take a picture,

it is easy to under-appreciate really good nature

photography. The best outdoor photography,

like the best poetry or writing, has a fundamental

power to inspire, challenge or galvanise people.

New Zealand landscape photographer Rob Brown

developed a distinctive photographic style by a

great deal of hard work lugging heavy packs and

handling the cumbersome machinery of a large

format plate camera. Brown photographs things

he cares about, and while he tends to photograph

landscapes without humans, a lot of himself goes

into the final image. Viewers often recognise

this, and that makes them rise up above a purely

scenic snapshot. His book Rakiura, The Wilderness

of Stewart Island (2006) was the result of months of

photography on the island, conducted over years.

Similarly, to dismiss the work of renowned nature

photographer Craig Potton is equally problematic.

Take his book, Moment and Memory, Photography

in the New Zealand Landscape (1998). Much

more of the book includes forest interiors, many

of which are chaotic, gloomy, and even slightly

disconcerting. There is nothing clichéd about

them: they depict Potton's interpretation of the

often-complex nature of New Zealand forests. To

me these scenes are indeed far from scenic; they

instead invoke the foreboding that early Pākehā

(European) settlers must have felt when confronting

our almost impenetrable forests.

Potton's landmark book Images of a Limestone

Landscape (1987) with writer Andy Dennis, helped

draw attention to the Paparoa Range, and the

photographs in it transcended the genre of scenic

photography. A few of them have become some

of the most recognisable nature images ever

made in New Zealand. They were taken as part of

a deliberate campaign to draw attention to the

plight of this forest, when there were plans to mill it,

and this work led to the area becoming Paparoa

National Park.

Caver and tramper Neil Silverwood is another

photographer who uses his work as a tool to

advocate for nature. Silverwood has been a strong

advocate for a proposed Wild Rivers National Park

The Waitaha River, West Coast

Photo Neil Silverwood
---
Ice formations, Ruahine Forest Park, Manawatū.

Photo: Shaun Barnett/Black Robin Photography

in the central Southern Alps, and has also written

photo essays to advocate the value of rivers at

threat from hydro schemes.

Potton, Brown, and Silverwood are part of a long

tradition of landscape photographers whose work

is motivated by more than commercial imperatives.

All three have used their photography as a means

of expressing their responses to wild places to the

wider public, and their images have played a role

in saving places from desecration.

Likewise, in Tasmania, photographer Peter

Dombrovskis played a similar role. In the early 1980s

his one stunning image of Tasmania's Franklin River

was so powerfully presented in a poster that it

generated mass protest over State plans to dam

this wild river, eventually leading to it becoming a

major and defining election issue, not just for the

State, but for the Australian Federal Government.

You could say that Dombrovskis' one image was

the decisive weapon in the fight to establish the

Franklin-Lower Gordon Wild Rivers National Park.

In this way, these Southern Hemisphere

photographers are continuing the tradition of

American photographers like Ansel Adams and Eliot

Porter.

Even 35+ years after his death, Ansel Adams

remains perhaps the world's best-known landscape

photographer. His meticulous monochromatic

landscape photography helped to encourage

politicians to establish national parks such as

California's Kings Canyon.

In the purest form of this tradition, nature

photographers focus solely on natural scenes,

although some like Brown, Silverwood, and myself

often present huts, tramper (hikers), or camps

in their scenes. Nature photographers less often

communicate such things as the impact of pests

or mass tourism. That might be the role of a

documentary photographer.

However, that is not to say that nature

photographers should not be careful and conscious

about what they do. Te Anau-based photographer

and conservationist Crystal Brindle is the New

Zealand coordinator for Nature First (https://www.

naturefirstphotography.org/), a growing worldwide

alliance of nature photographers who have

adopted seven principles. These are:

72 July 2021 NZPhotographer
---
Barrier Knob, Fiordland

Photo: Crystal Brindle

* Prioritise the well-being of nature over

photography.

* Educate yourself about the places you

photograph.

* Reflect on the possible impact of your actions.

* Use discretion if sharing locations.

* Know and follow rules and regulations.

* Always follow 'Leave No Trace' principles and

strive to leave places better than you found them.

* Actively promote and educate others about

these principles.

Brindle feels that the power of Nature First lies in

enabling photographers to lead by example and

to move from simply capturing the beauty of the

natural world to acting as ambassadors for nature,

building on the long history of photography as an

advocacy tool for conservation.

This is especially important in an age when social

media platforms allow people to access, share and

re-share photographs continually. We need to be

more conscious of not sharing specific locations

(or geo-tagging) when doing so might cause

problems to a sensitive area or species. We need

to recognise when an area is too delicate for us to

intrude. We need to respect the rights of wildlife.

We need to be more thoughtful about the impact

of photography, and to err on the side of caution.

We need to be conscious that when we share a

place on social media, others will follow.

Throughout New Zealand's history, there have

been many times – even over the last decade –

when the government or industry proposes yet

more mining, hydro, roading or other destructive

developments on our conservation lands. The price

of conservation is eternal vigilance. And even

the converted need to be reminded about the

importance of this.

By interpreting nature with their own vision, perhaps

the chaos of a forest interior, the seductive line of a

mountain ridge or a water-worn river stone, nature

photographers can play a role in celebrating and

preserving our wild places.

NZPhotographer

July 2021

73
---
FLORA

READERS'

SUBMISSIONS

Photograph everything

related to flora this month -

try interesting perspectives,

close-ups, or simply capture

the beauty of our nature.

Submit by 15 July for a chance

to be featured in the next

issue of NZPhotographer.

Submit at www.nzphotographer.nz

74 July 2021 NZPhotographer
---
PORTFOLIO

BEST READERS' SUBMISSIONS THIS MONTH

'LINES'

CANOPY

I am involved in the building industry and can appreciate the effort, craftsmanship, and

methodology to pull off the overall look of the design to the entrance canopy structure at

Auckland Art gallery. This was taken on an outing while looking for unique shapes and lines

to shoot in the city using my Sony Alpha A3000.

Jordan Vallance

NZPhotographer

July 2021

75
---
LINES ABOVE

F7.1, 1/250s, ISO100, 26mm

One of the cranes on the Wellington wharf. Look up!

Ann Kilpatrick

76 July 2021 NZPhotographer
---
GOVETT BREWSTER ART GALLERY

I was visiting my home town of New Plymouth after a long absence and was

astounded to see the new art gallery. The shape, form, and lines of the building

were a challenge to capture on camera, but it's unique for sure.

Lyn Alves

NZPhotographer

July 2021

77
---
MODERN ARCHITECTURAL LINES

Looking up at the lines on an internal corner.

Kate Snow

78 July 2021 NZPhotographer
---
LINES IN ICELAND

Harpa Concert Hall & Conference Centre, Reykjavík, Iceland.

I was based in London doing my OE and and met my cousins in Iceland for a

holiday. I Stumbled across this building when there and the lines on it were amazing

to look up at.

Michelle Dalton

NZPhotographer

July 2021

79
---
WINDOW CLEANERS

Sony RX100M7 @ F5.6, 1/320s, ISO100

A team of window cleaners abseiling down the outside of a new tower block in

Commerce Street, Auckland's CBD. Taken from Custom Street East.

Mick Sharpe

80 July 2021 NZPhotographer
---
WOOD AND STEEL

This photo was taken outside the National Museum in Canberra.

The wooden floor is flanked by a steel sculpture and backed by a black steel wall

superimposing multiple patterns of linear features.

Steve Webster

NZPhotographer

July 2021

81
---
IVY TRAIL

F8, 1/160s, ISO500, 100mm

Natural lines created on this tree were from ivy that had been growing

up the trunk, the ivy being cut at the source last year. I like the patterns

left by the ivy vine but with it no longer threatening to take over.

Wendy Pemberton

82 July 2021 NZPhotographer
---
LIFE LINES

F2.8, 1/25s, IS0320, 35mm

An early morning photography walk in Western Springs Park, Auckland, proved just the place for

photographing this month's subject of lines. I like the way the sun hit the roots of this amazing tree. I liked it

even better in black and white.

Raewyn Smith

NZPhotographer

July 2021

83
---
CRAZY ARCHITECTURE

The art gallery in Melbourne, Australia, has some interesting architecture. In this photo

I try to show the seemingly haphazard lines that combine into an interesting format.

Steve webster

84 July 2021 NZPhotographer
---
OLD STABLE

In February I participated in the annual hike on the Otago peninsula organised by

the Harbour Cone/Hereweka Trust. This photo of an old stable on one of the farms

we traversed was converted to B&W for more impact.

Suzanne Renner

NZPhotographer

July 2021

85
---
UNDULATIONS

This photo was taken in a friend's dancewear shop. I was exploring how to

photograph the costume pieces in an interesting way when I was drawn to the

movement suggested by the pink ribbon edging on the lime green tulle of this tutu.

Suzanne Renner

86 July 2021 NZPhotographer
---
THIS WAY AND THAT

@F5.3, 1/5s, ISO100, 65mm

This image of a red cordyline was taken in Picton in a friend's garden. I love using the intentional camera

movement (ICM) technique but rarely use it on plants or trees because I struggle to get reasonable results

using them as subjects. I was taking part in a five day mini membership session with the ICMPhotoMag

Network and on day 1, the main focus of the exercise was leaves. Arrggghh! Anyway, not being one to

give in easily, I took to my friend's garden and started experimenting... and had an absolute ball. This was

possibly one of my favourite images from that session. I just love the intricacy and delicacy in those leaves.

The movement used is probably best described as a sort of exaggerated shudder!

Noelle Bennett

NZPhotographer

July 2021

87
---
HOT AIR BALLOONS

Samsung S7 @F1.7, 1/10s, ISO250.

Hotel Atrium - Albuquerque Marriott Pyramid North Hotel, Albuquerque, New Mexico.

This photo was taken during the week of the Albuquerque International Balloon Fiesta, October

2019. Lasting 9 days, hundreds of balloons have a mass lift off at dawn which is an amazing

sight.

Mick Sharpe

88 July 2021 NZPhotographer
---
NZPhotographer

July 2021

89
---
"I CAN WHISK YOU AWAY

TO PLACES YOU'VE NEVER

BEEN. TO PEOPLE AND

PLACES YOU WILL NEVER

SEE AGAIN."

A PHOTOGRAPHER

Photo by Pamela Johnstone

90 July 2021 NZPhotographer