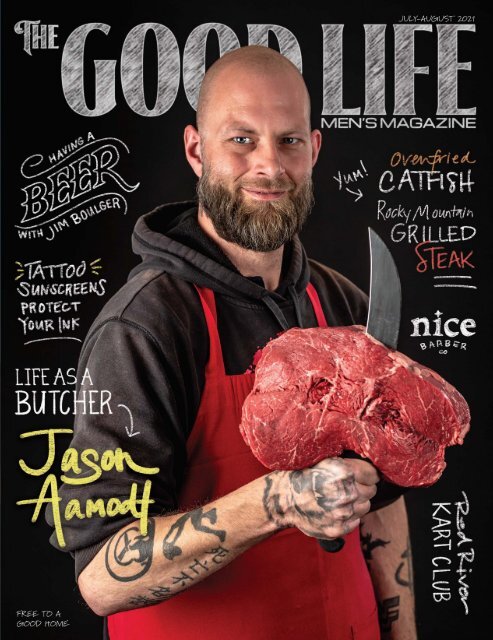 The Good Life – July-August 2021
On the cover – Jason Aamodt: Life as a Butcher. Local Hero – Andrew Nathan: Serving Veterans with a Purpose. Summer Recipes, Go Karts, Tattoo Sunscreens and more in Fargo-Moorhead's only men's magazine.
On the cover – Jason Aamodt: Life as a Butcher. Local Hero – Andrew Nathan: Serving Veterans with a Purpose. Summer Recipes, Go Karts, Tattoo Sunscreens and more in Fargo-Moorhead's only men's magazine.
SHOW MORE
SHOW LESS
Create successful ePaper yourself
Turn your PDF publications into a flip-book with our unique Google optimized e-Paper software.
FATHERS | DAD LIFE

Raising Well-Rounded Humans

WRITTEN BY: PAUL HANKEL

One of the main roles I serve in within our family is as

Chief Transportation Officer to all of my son's various

activities. I serve in this capacity year-round and the pay

is abysmal. While the absolute last thing I want to do is

get up at 6 am on a Saturday morning for practice, I find

that the benefits far outweigh the costs.

I'm striving to raise a well-rounded mini-human so he's

involved in pretty much every activity we can find. Soccer,

basketball, football, church activities, art classes and swim

lessons dominate the evening hours and weekend time

slots. We have yet to enter the traveling sports team phase

of youth sports participation, but I'm told its…hectic.

I constantly remind myself, as I'm running out to my car

during practice because we forgot his water bottle, that

this will all pay off when he lands a sports scholarship one

day, only to be reminded by a quick Google search that only

about two percent of high school athletes receive sports

scholarships…time to double down on music lessons?

While sports remains king, I think that it is extremely

important for kids to experience as many different

interests as they can while growing up, before settling

into their chosen passions. Music and theater play just as

important a role in the overall development of our kids

as sports. I was what some would refer to as, "hyper,"

growing up and this resulted in my parents, in lieu of overmedicating

me, putting me in every activity they could

find. Thankfully, Fargo was and continues to be a great

environment in which to explore all types of activities.

Coming as a surprise to absolutely no one, my son is

exactly like I was when I was a child and I am eternally

grateful that this area continues to invest in its youth by

offering a literal buffet of child-age activities. Below is a

list of some of the activities we hope to participate in this

summer.

FM Rugby Club

My son began asking if he could play, "football without

pads." It took me a minute to realize what he was referring

2 / THE GOOD LIFE / urbantoadmedia.com
---
to and then it dawned on me: rugby! Thus our rugby

journey began. FM Rugby Club is a great option, offering

rugby programs for all ages.

Red River Valley Lacrosse Association

Lacrosse programs are booming in the US and the sport

is now more accessible than ever! Fargo is home to

several local lacrosse programs, many of which provide

the gear and equipment needed to play.

Code Ninjas

It's like playing video games…with a purpose! If your child

is like is anything like mine, then electronics, tablets, and

video games are all the rage. While YouTube and Fortnite

are reign supreme, there are lots of coding programs and

activities that combine the aspect of gaming with coding

and computer science. Code Ninjas offers great childlevel

coding experiences by making coding fun! Check

out their website for a list of classes and programs,

including Parents Night Out (I highly recommend)!

Trollwood Performing Arts SchooL

As a former theater geek, I could write an entire novel on

the impact that Trollwood has had on my life, however,

I do have a word count on this article. Suffice to say,

Trollwood continues to offer the very best of theater,

dance, and art through a combination of stage plays,

theatrical classes, art classes, and an ever-growing list of

offerings. Regarding more information, your best bet is

to take your family to one of their summertime full-stage

productions. They are excellent! Then, visit their website

and get your child involved.

Elevate Rock School

Music is extremely important in our family. Thankfully,

the FM area is home to a host of musical opportunities

for busy families. Elevate Rock School, which opened in

2011, is located in Fargo and offers a full list of music

lessons from beginner to advanced. Classes are available

for almost all ages and they even offer a fully licensed

daycare.

In closing, I'd like to bring up a few universal parenting

truths regarding bringing your child to various activities:

– The parking always sucks.

– Your child's practice will always be at the earliest

session on Saturday mornings.

– Your child's mouthpiece will always go missing, five

minutes before you leave for practice.

– Yes, you will be forced to sell pizzas door to door. Grin

and bear.

While these annoyances and inconveniences are

rampant, overall, I think that its absolutely worth it in

order to help your child grow and excel.

As I mentioned, there are SO MANY great children's

programming options. Take a minute, check them out,

and we will see you there! Cheers! •

urbantoadmedia.com / THE GOOD LIFE / 3
---
JULY-AUGUST 2021

VOLUME 9 | ISSUE 1

2 24

fathers - dad life

raising well-rounded humans

rocky mountain

grilled t-bone steaks

6

10

12

16

18

wouldn't it be...Nice?

Nice Barber CompanY

oven fried catfish with radish,

Asparagus & citrus salad

red river kart club

tattoo sunscreens

protect your ink

on the cover

fargo's meat jesus

jason aamodt

co-owner of meats by

john & wayne dishes on

life as a butcher

26

30

having a beer with

owner & licensed

funeral director

jim boulger

local hero

serving veterans

with a purpose

andrew nathan desires

to leave everything on

the line

4 / THE GOOD LIFE / urbantoadmedia.com
---
The

GOODLIFE

MEN'S MAGAZINE

PUBLISHED BY

Urban Toad Media LLP

www.urbantoadmedia.com

OWNER / GRAPHIC DESIGNER

Dawn Siewert

dawn@urbantoadmedia.com

OWNER / PHOTOGRAPHER

Darren Losee

darren@urbantoadmedia.com

CONTRIBUTING WRITERS

Jeff Benda

Meghan Feir

Paul Hankel

Ben Hanson

Krissy Ness

Alexis Swenson

Emma Jean Vatnsdal

ADVERTISING INQUIRIES

Darren Losee

darren@urbantoadmedia.com

READ A PAST ISSUE

yumpu.com/user/thegoodlife

FOLLOW US ON FACEBOOK

facebook.com/urbantoadmedia

FOLLOW US ON TWITTER

@urbantoadmedia

FOLLOW US ON INSTAGRAM

@urbantoadmedia

The Good Life Men's Magazine is distributed six times a year by

Urban Toad Media LLP. Material may not be reproduced without

permission. The Good Life Men's Magazine accepts no liability for

reader dissatisfaction arising from content in this publication. The

opinions expressed, or advice given, are the views of individual

writers or advertisers and do not necessarily represent the views

or policies of The Good Life Men's Magazine.

urbantoadmedia.com / THE GOOD LIFE / 5
---
Nice Barber Company is bringing small town America back

to the service industry, one shave at a time

WRITTEN BY: EMMA JEAN VATNSDAL

PHOTOS BY: URBAN TOAD MEDIA

When the COVID-19 pandemic hit the U.S. in early 2020,

very few thought much of it. Sure, there were a select

group of individuals who knew the possibility of what

could happen to the country in the upcoming months, but

one thing was for certain — life as we knew it was about to

change, possibly forever.

What followed was months upon months of new

guidelines and rules, mandates and ordinances, all

designed and redesigned to keep communities safe

through something nobody quite knew how to handle.

And while the fear of the unknown continued to grow, the

hustle of everyday life seemed to come to a standstill.

Offices began setting up at home. Morning commutes

went from taking 15 minutes to drive across town (if

you're lucky), to sliding into the office chair as the clock

strikes 8 a.m., after traveling a few feet from the kitchen to

the living room. Online shopping became king, as words

like "social distancing" and "masking" became ubiquitous

and everyone began to really recognize what six feet was.

Sounds like the perfect time to set up shop in the service

industry, eh?

Branden Ashmore thought so too. And after Fargo-

Moorhead residents came out from behind their screens,

there was no better time than the present to help them

look their best.

Through the smell of freshly-brewed beer and cedar

planks, Ashmore has created a haven of manliness within

the southeast corner of the newly-formed, hallowed halls

of Fargo Brewing Co., and business has been Nice.

"I've had many different jobs," said Ashmore, co-owner

and master barber of Nice Barber Company in Fargo, N.D.

"But my most frequent and last job, I was a bartender."

Years of long nights and even longer weekends, with little

time to see family and friends was taxing on Ashmore.

Not only that, he was also dabbling in photography at the

time, shooting weddings, concerts and motorcycle rallies

— helping ensure his time card was never clocked out.

"I just got burnt out to the point where I just wanted time

to hang out with family and stuff like that again," he said.

"And my uncle used to always tell me that I'd make a great

barber, but I was like 'I will never run my fingers through

a man's hair for a living.'"

6 / THE GOOD LIFE / urbantoadmedia.com
---
urbantoadmedia.com / THE GOOD LIFE / 7
---
"My uncle used to always tell me that I'd make a great barber, but I was like

'I will never run my fingers through a man's hair for a living." - Branden Ashmore

As silly as the thought of running his fingers through a

man's hair for a living sounded right away, Ashmore says

the more he thought of it, the more it made sense — a

service industry job, whether it's bartending or barbering,

is no different from another service industry job.

Nice.

Ashmore completed his training at Moler Barber College

in September 2019, and began working at Everett's

Barbershop in downtown Fargo shortly thereafter.

Then COVID hit. Workers stayed home and haircuts

became scarcer and scarcer.

"We were laid off for three months, and we're sitting at

home," Ashmore said. "And the next thing you know, we're

back to work. We're busy for two, three weeks, then we

started plateauing. I was the newest barber over there

too, everyone else was established, so I was getting

two, three, four haircuts a day — if I was lucky — and it

kind of made me think about, well, what if? What if this

8 / THE GOOD LIFE / urbantoadmedia.com
---
ainchild that Jade Nielsen and Ian Johnson and I

had talked about was worth trying out? I really didn't

have any intentions of leaving Everett's, it just kind of

happened. I just had to try to take the chance.

The shop opened along with the grand opening of

Fargo Brewing Co. on April 20, 2021. Ashmore says

business was booming the first few weeks, but has

started to settle down now that they've gotten into the

groove of things.

"It's pretty consistent," he said. "We have highs and

lows because, you know, we're a new shop."

But even though Nice Barber Company is a new shop,

Ashmore and his fellow barber, Scott Ehresman,

want to bring in that something that harkens back to

"the good old days." Less like going to the dentist, and

more like visiting an old friend down at the hardware

store in small-town North Dakota.

"We're all Midwestern, small town people," Ashmore

said. "And Nice was kind of created because —

especially with this pandemic and how everybody

started treating each other, you're trying to be distant

from everybody, everything started feeling really cold.

There was no feel of community or togetherness or

anything."

After a bit of brainstorming, Nielsen, Johnson

and Ashmore kept coming back to the same idea:

'Wouldn't it be nice?'

"The word (nice) just kept popping up in everything

we talked about," he said. "We wanted to bring that

sense of unity and community to a business and it

just worked. At first we were kind of hesitant on it, but

the more and more we thought about it, it just made

perfect sense. I mean, we're here, we're a business,

but we're here to become a staple of the community."

Nice Barber Company is located inside Fargo Brewing

Company. Stop in for a beer and a visit — the shop is

open from 9 a.m. to 7 p.m., Monday through Friday. •

urbantoadmedia.com / THE GOOD LIFE / 9
---
10 / THE GOOD LIFE / urbantoadmedia.com
---
Serves 4

RECIPE AND PHOTO SUBMITTED BY: JEFF BENDA

The Red River of the North is home to over 70 species of fish, but my 5-year-old

daughter and I love to catch and eat the whiskered warriors known as channel

catfish. With spring officially here, it was time to turn in those winter soups and

heavy casseroles and bring back a perfect light salad to pair with some fresh fillets

from the one that didn't get away.

Ingredients:

4 (4 to 6-ounce) skinless catfish fillets

1 egg, beaten

1/2 cup Panko bread crumbs

1 ½ teaspoon Old Bay seasoning

16 asparagus spears, cut into long, thin strips

1/3 cup orange slices

1/3 cup pink grapefruit slices

2 green onions, chopped

2 radishes, sliced thin

2 Tablespoons mayonnaise

1 Tablespoon honey

¼ teaspoon poppy seeds

¼ teaspoon dry mustard

1/8 teaspoon each salt & pepper

Zest and juice from half of 1 orange

Directions:

Preheat oven to 4250 F. Spray baking sheet with cooking spray. In a shallow dish, stir

together the bread crumbs and Old Bay seasoning. Dip catfish fillets in egg, then

place them into bread crumb mixture and coat liberally; place on greased baking

sheet. Bake for 15 minutes. Meanwhile, make the salad. In a bowl mix together

asparagus, orange, grapefruit, green onion, and radish. In separate small bowl

make your dressing by combining mayonnaise, honey, poppy seeds, dry mustard,

salt, pepper, and zest & juice from half of 1 orange. Whisk together, pour over

salad, and toss well. When fish is done, take out of the oven, place one fillet on a

plate and garnish with ¼ of the salad. Repeat with remaining

plates and serve immediately.

Jeff Benda is an avid outdoorsman and family man who spent 25 years in the restaurant

and catering business. He now focuses his time as a home cook and professional wild

game recipe creator. He hopes that by sharing and celebrating the food he creates

with fish and wild game, he can highlight the great contribution so many hunters

and anglers have made to conservation in this country, and reflect the freedom we

have to enjoy America's great outdoors. For more recipes, visit his website:

www.wildgameandfish.com or follow him on Instagram: @wildgameandfish

urbantoadmedia.com / THE GOOD LIFE / 11
---
WRITTEN BY: KRISSY NESS

PHOTOS BY: URBAN TOAD MEDIA

For more than 12 years, Red

River Kart Club has been

hosting drivers young and old.

Their youngest members begin

at age five. However, this club

accepts drivers of all ages,

some being as old as 70 years.

This club can be a feeder

program where the kids can go

onto drive modified or sprint

cars.

Located on the Red River Valley

Fairgrounds, in the northwest

corner, you will find the track,

paved in asphalt, which is onetenth

of a mile.

When this program began,

there weren't nearly as many

drivers as there are today; a

lot of it had to do with cost.

"My nephew raced karts at the

Red River Valley Fairgrounds

many years ago, and it didn't

seem like a lot of kids were

involved in it at that time. It

was getting expensive. We

were looking for different

avenues to be able to save

people money," said Nick

Skalicky - President of the

Red River Kart Club. "At that

time, there was a different

engine package that came out,

that really catapulted us, and

was very affordable to have.

So now the karters coming

in, even at age five, are buying

the nicer karts that have all

the adjustments - so they can

run that same kart throughout

their whole career."

Six years ago, Red River Kart

Club became a non-profit. It is

not about making money but

providing a club for kids to

race and have the whole family

involved. What is even better

is the community support. It

Located on the Red River

Valley Fairgrounds, in the

northwest corner, you will

find the track, paved in

asphalt, which is one-tenth

of a mile.

12 / THE GOOD LIFE / urbantoadmedia.com
---
is a pleasure to see companies

donating funds and equipment

that go directly to keep the club

up and running.

In addition to speaking with

Skalicky, I had the pleasure of

talking to Jeremy Clark. Clark has

two boys in the Red River Kart

Club, Alex, 10, and Andrew, 8.

"We have been racing for years,"

said Clark. "Alex has over 100

feature wins, and Andrew has

more than 30 wins."

Clark used to race when he was

younger, but you can see that the

passion never left, and it has been

instilled in his boys.

When it comes to getting prepared

for a race, you better believe this

is a family affair.

"The boys have their list of things

they need to check and clean

during the week, and they work

on getting the trailer loaded the

day of the race," mentioned Clark.

"They check their own tires and

are responsible for taking them

on and off. Additionally, they each

have their own tote, and it is their

responsibility to make sure they

have all their gear in there, and if

it is not in there, they don't get to

race."

urbantoadmedia.com / THE GOOD LIFE / 13
---
The responsibility that this sport

incites is no joke. Aside from the

boys making sure they have fulfilled

their part, mom and dad also have

a laundry list of things to get done

before each race. Whether that is

making sure everyone is organized

and fed to working on the karts after

work to ensure they drive safely and

accurately.

"It is definitely a family sport; it's not

like any other sport where you can go

drop them off at practice." Laughed

Clark. "You are probably more

invested than they are."

Clark gave the boys a leg up by building

a track on their property. Furthermore,

the precision, ability, and overall

intelligence it takes to operate these

vehicles cannot be overlooked."It has

been a lot of fun," said Clark. "And they

boys really enjoy it."

14 / THE GOOD LIFE / urbantoadmedia.com
---
It is important to mention this is

not a male-dominated sport."There

are a lot of girls who have gone on

to be very successful," mentions

Skalicky.

The Red River Kart Club has

produced many racers that have

gone on to drive modified or sprint

cars. Many can be found racing at

the RRV Fairgrounds, Norman

County Raceway, or Buffalo River

Speedway. "I have had kids that

have won national titles that

have come out of the kart club,"

exclaimed Skalicky.

It is incredible to see a club excited

about the youth in their community.

Family and community mean the

same thing when you are a part of

the Red River Kart Club.

"The good life to me means –

seeing the kids grow from where

they started with us and watch

what they chose to do with their

life, whether that be racing cars or

not," said Skalicky.

"We try to teach them life lessons

about competitiveness; even

though it is a singular sport, it is

still a team sport." •

urbantoadmedia.com / THE GOOD LIFE / 15
---
tattoo sunscreens

protect your ink

protect your skin and your ink with these sunscreens

Keep your new tattoo out of the sun and

direct sunlight. Allow your new tattoo

to completely heal before applying

sunscreen.

The sun is a

tattoo's worst

enemy.

The most best thing you can do to

protect your tattoos is to stay covered

with loose clothing and avoid direct

sunlight. New tattoos are open wounds,

and sunscreens can cause irritation if

they are not fully healed.

16 / THE GOOD LIFE / urbantoadmedia.com
---
Things to look for when

choosing a sunscreen:

• Application Method

(spray or lotion)

• SPF - Sun Protection Factor

• UVB and UVA Protection

• Water and Sweat Resistance

• Moisturizing

1. Neutrogena ® Ultra Sheer ®

Dry-Touch Sunscreen Broad

Spectrum SPF 100+

Goes on easily and absorbs

quickly for an invisible, lightweight

feel on your skin.

Formulated with Helioplex ®

Technology, it offers superior

broad spectrum protection

from aging UVA rays and

burning UVB rays.

$15.99 | neutrogena.com

2. Banana Boat ® Ultra Sport

Clear Ultramist ® Sunscreen

Spray SPF 100

Provides powerful protection

that absorbs quickly and

won't run into your eyes. This

lightweight, clear spray is

designed expressly for sport

enthusiasts and other active

folks who need sunscreen

staying power in the sun!

$11.99 | bananaboat.com

• Reapply sunscreen every two

hours, no matter the SPF.

• Wait at least six weeks

before applying sunscreen

to a new tattoo.

• Protect your ink with SPF 50

or higher.

• Keep extra sunscreen in your

car and office for on-the-go

coverage.

3. Panama Jack ® Continuous

Spray Sunscreen - SPF 100

Escape Everyday ® ... Our

Panama Jack continuous

sunscreen sprays delicately

combines antioxidants with

moisturizing oils and a tropical

fragrance in a reef-friendly,

broad spectrum UVA/UVB

formula. With SPF 100, this

Panama Jack water resistant

(80 minutes), UVA-UVB

sunscreen lotion is best for use

by very fair/extremely sensitive

skin types that tan slowly and

burns easily.

$13.00 | panamajack.com

4. Coppertone ® Sunscreen

Lotion Sport SPF 50

Designed to stay on strong

when you sweat, this highperformance

sunscreen

protects you from the sun with

a durable and water-resistant

formula (80 minutes) that

leaves a light, breathable

feeling on your skin.

$11.99 | coppertone.com

urbantoadmedia.com / THE GOOD LIFE / 17
---
ON THE COVER | JASON AAMODT

Co-owner of Meats by John & Wayne

Dishes on Life as a Butcher

WRITTEN BY: BEN HANSON

PHOTOS BY: URBAN TOAD MEDIA

People always say, You know, he's quite the

character. With no detectable filter or lack of selfconfidence,

there may be no more of a character

in town than Jason Aamodt, known by his proteinloving

groupies as "The Meat Jesus." It's a fitting

moniker for the co-owner of Meats by John and

Wayne, one of Fargo's most beloved butcher shops

that have been serving up hand-cut and homeprocessed

selections of beef, pork, poultry, fish

and wild game since the mid-2000s.

"It was a friend of mine and long-time customer

that walked in one day and threw that name at

me… Meat Jesus," Aamodt recalled. "It just stuck.

I was like, 'That's it!' That's what I'm going to

brand myself as from here on out."

Aamodt originally had dreams of getting into the

broadcasting business, and with a background

in advertising and marketing, he knew the

importance of branding. While John and Wayne

— the original founders of the company — had

little interest in that side of the business, it came

naturally to Aamodt… as did his natural hard work

ethic.

The 'Third Wheel' Grabs the Mic

Aamodt was the "third wheel," as he described it

when he first got hired, and he was only supposed

to be part time. But the day he showed up, the

other employee quit, and Wayne said "Well, looks

like your full-time... starting now." As the saying

goes, he never looked back, working his way up

over about 15 years to become a third owner in

the business.

With a knack for self-promotion, Aamodt would

preach to anyone and everyone within shouting

distance about Meats by John & Wayne. To this

day, he says, they find it hard to pay for advertising

considering how steadily they grew almost purely

on word-of-mouth referrals.

"John and Wayne always wanted a place for regular

people who wanted good meat for a good price

with different selections," Aamodt said proudly.

"They created the old school butcher setup.

Made everything in house, cut in house, beef

was ground in house from full muscle meat.

Everything that goes into our processed

products, we're throwing in ourselves."

Soon enough, though, the Meat Jesus

was tapped to get the word out to new

audiences.

"Wayne handed me the golden

microphone when we finally decided to

advertise," Aamodt said. "To watch it

grow from then to now... the wordof-mouth

and then moving into

being the spokesperson, it's been

magic."

Insider Tips & Tales

When you've got the butcher's

uninterrupted attention leading

into peak grilling season, you get

unvarnished access to the insider

tips. With zero hesitation, Aamodt

declared both his favorites, as well as

18 / THE GOOD LIFE / urbantoadmedia.com
---
urbantoadmedia.com / THE GOOD LIFE / 19
---
ON THE COVER | JASON AAMODT

Favorite cut?

"New York Strip.

Dude, it's got the

right amount of

marbling, just fatty

enough to stay juicy,

and you get to eat it

all without risking the

giant heart attack…"

the top customer picks he sees week in and week

out. But not before a quick story on the injuries

he's seen over the years.

"Dude I've seen people's hands get caught

in saws, cuts that down to the bone, hands

in slicers, guys run over by cows," he said.

That one needed a bit more context: "So

my first job in this business was at a plant,

and one day a guy in the slaughterhouse

got trampled by a cow. And this dude

was as big as the cow."

So maybe the best tip? Keep your blades

sharp, but your eyes even sharper. On to

the meat of the story...

"Favorite cut? New York Strip," he said.

"Dude, it's got the right amount of

marbling, just fatty enough to stay juicy,

and you get to eat it all without risking the

giant heart attack… as much!"

What about the most popular product walking

out of the shop every day?

"Ribs, without a doubt. Still to this day, we take

the most phone calls on ribs," Aamodt said. "It's

the Wednesday special — been that way since

the beginning. That was the thing that started to

bring people in. Everything else is popular, but

those are what people call for on Wednesdays.

We cook two 250 pound batches a day now!"

And speaking of ribs, here's a tip you can put

to use immediately to improve your BBQ game:

always divide your cook into two. "If I buy one

rack, I always cut them in half and do one with

sauce and one without," Aamodt explained. "With

ribs, you can smoke, grill, bake… they're so versatile.

In the end, they're always kind of the same, but always

awesome and very forgiving for less experienced cooks."

20 / THE GOOD LIFE / urbantoadmedia.com
---
urbantoadmedia.com / THE GOOD LIFE / 21
---
ON THE COVER | JASON AAMODT

Meat Jesus Prep Tips:

BEEF

I'm very impatient, so I'm a season right before I go on

the grill kind of guy. The biggest piece of advice is just

to pay attention to the grill, and to your meat. You've

spent a lot of money on that meat, so don't ruin it.

PORK

Pork fat is so lusciously good. People forget about it

too much. Everyone is all about burgers and steak, but

don't forget about that lovely pork chop. They're easy.

It's clean. You don't have to cook well-done anymore.

Pork is safe. You can have some juice and not be

worried about it as much anymore.

and summer. I like to just put a big pad of butter and

some salt, pepper, garlic in foil, let it cook, and simmer

in that butter. Deep-fried shrimp? Who doesn't love it?

Salmon is a low and slow. The fat in salmon is like a

ribeye, you want it to melt down and keep that salmon

moist.

WILD GAME

Buffalo jerky is totally phenomenal. I'd never tried it

until I had started here. That said, my favorite wild

game that I've gotten to eat is moose. It's easy to dry

out, though, so keep an extra close watch on it. •

POULTRY

I love the bone. The bone-in chicken — thighs and

legs — with BBQ sauce just rock. My go-to chicken

dish is legs and thighs on the grill. I grew up on

that. Chicken breast is so versatile, and I do love

homemade chicken tenders with your own breading

and hot sauce like boneless chicken wings. Also,

get yourself some Two Gringos 'Chupacabra Rub'… I

cut up any and all leftovers, throw that on and turn

it into fajitas.

FISH

I'm a local river and fish guy. I grew up on Devils'

Lake. That's what we did. Walleye and perch, winter

"The biggest

piece of advice

is just to pay

attention to

the grill, and

to your meat.

You've spent a

lot of money on

that meat, so

don't ruin it."

- Jason Aamodt

22 / THE GOOD LIFE / urbantoadmedia.com
---
urbantoadmedia.com / THE GOOD LIFE / 23
---
ocky mountain

grilled t-bone steaks

WITH CHARRO-STYLE BEANS

This recipe tastes great over the campfire or on your grill at home.

Pepper-rubbed T-Bone Steaks are served with flavorful Charro-style beans.

24 / THE GOOD LIFE / urbantoadmedia.com
---
COURTESY OF BEEFITSWHATSFORDINNER.COM

INGREDIENTS:

• 2 beef T-bone Steaks (1 inch thick)

RUB

• 1 tablespoon black peppercorns

• 1 teaspoon green peppercorns

• 1 teaspoon pink peppercorns

• 1/2 teaspoon garlic powder

• 1/2 teaspoon Himalayan sea salt

• 1/4 teaspoon white peppercorns

• 3 juniper berries

CHARRO BEANS

• 1/2 pound pancetta, chopped

• 1/2 cup diced onion

• 2 teaspoons minced garlic

• 1 can (15-1/2 ounces) pinto beans, drained and rinsed

• 1 can (10-1/2 ounces) no-salt added Mexican-style

diced tomatoes

• 2 fresh poblano chile peppers, fire-roasted, seeded,

peeled and chopped

• 1/2 cup reduced-sodium beef broth

• 1 medium jalapeno pepper, diced

• 1 tablespoon chili powder

• 1 teaspoon ground cumin

• 1/2 teaspoon roasted ground coriander

• 1/2 ounce 70% dark chocolate, broken into pieces

COOKING

1. Combine Rub ingredients in a spice grinder. Pulse on and

off until grind has sand-like consistency. Set aside.

2. Cook's Tip: You may substitute 1/8 teaspoon ground white

pepper for 1/4 teaspoon white peppercorns.

3. Preheat large cast iron skillet on medium-high heat for 5

minutes. Add pancetta; cook 7 to 10 minutes until crisp,

stirring occasionally. Using a slotted spoon, remove pancetta;

set aside. Pour excess oil from pan. Return same skillet to

heat; add onion and garlic. Reduce heat to medium; cook 3

to 5 minutes until onions are translucent, stirring often. Stir

in pancetta, beans, tomatoes, poblanos, broth, jalapeno, chili

powder, cumin and coriander. Reduce heat to low; simmer 15

to 20 minutes, stirring occasionally. Add chocolate during last

5 minutes of cooking; stir until combined.

4. Meanwhile, press Rub evenly on steaks. Place steaks on

grid over medium, ash-covered coals. Grill, covered, 11 to 16

minutes (over medium heat on preheated gas grill, 15 to 19

minutes) for medium rare (145°F) to medium (160°F) doneness,

turning occasionally. Remove bones and carve steaks into

slices. Serve with Charro Beans.

5. Cook's Tip: To broil, place steaks on rack in broiler pan so

surface of beef is 3 to 4 inches from heat. Broil 15 to 20 minutes

for medium rare to medium doneness, turning once. Rest 5 to

10 minutes before slicing off of bone.

urbantoadmedia.com / THE GOOD LIFE / 25
---
HAVING A BEER WITH | JIM BOULGER

WRITTEN BY: MEGHAN FEIR • PHOTOS BY: URBAN TOAD MEDIA

Jim Boulger isn't your typical

36-year-old guy. Hot dogs are his

favorite cuisine. In high school, he

jammed to movie soundtracks in his

car. He also works at a funeral home.

As the fourth-generation owner and

licensed funeral director of Boulger

26 / THE GOOD LIFE / urbantoadmedia.com

Funeral Home in Fargo, Boulger has

continued the legacy his ancestors

started in 1897. Starting at the age of

12, Boulger mowed the lawns of his

father's business, which eventually

led to accompanying his dad on

transfers and vacuuming the carpets

and cleaning bathrooms in the

funeral home (tasks he still does to

this day).

He wasn't always certain he

wanted to meander the funereal

path of his predecessors, so he

attended St. Thomas and earned

a business management degree
---
Good Life: If you were to rename

the word "coffin," what would

you call it? I heard one guy call it

"a to-go box for the Lord."

Jim Boulger: Maybe an underground

condominium.

GL: If any animal could be as big

as a horse, what animal would

you choose?

JB: An English bulldog. I own

one and her name is Blanche.

If she were bigger, it would be

incredible.

GL: Would it be intimidating to

have her extra large?

JB: No, you talk to her and she

rolls on her back. Is that possible

as a horse?

GL: I think so.

JB: Do they sleep standing up?

GL: I think they can sleep standing

up, but aren't they usually like,

"Ehhh," and they kind of sleep

shifted to one side of their hip like

this?

JB: I bet they make that sound too.

As a kid horses never scared me,

but now I'm old and they freak

me out. Thinking about what I do

for a living, people die in really

strange ways, so that's always my

fear; I don't want to be the funeral

Meghan, attempting to

recreate—from memory—

the stance of a sleeping

horse. She got it wrong.

HA-HA!

before graduating with a degree in

mortuary science from the University

of Minnesota.

Fourteen years later, as we sat

outside of Brewhalla in the heat

of one of the hottest Fargo June

evenings in memory, no regrets were

in sight. We chatted about how being

a funeral director is a good fit for him,

how it certainly isn't for everyone,

how much he enjoys working with

his dad, and what kind of animal he'd

love to have transform into the size of

a horse.

THE GOOD LIFE / 27
---
director that was kicked in the head by a horse. Every time

I'm doing something where I'm like, "Is this normal because

if I die right now…"

GL: If you could make up a national holiday, what would it

be and how would you want people to celebrate?

JB: My favorite food on the face of the earth is a Chicago hot

dog. It has to be done right. So mine would be National Hot

Dog Day.

GL: What was the most scarring movie you ever watched

as a child?

JB: Oh, I can 100 percent tell you it was "Poltergeist." To this

day, I still sleep with a cover over my head with a little spot

for breathing. I wish that wasn't true, but it is. Everywhere I

go I do it. My wife is like, "You do it so quickly," and I'm like,

"I've been doing it for 30 years." My feet cannot be out of

the bed because somebody will grab them. I'm convinced. I

sleep with three comforters. I need to be cocooned.

To this day, I still sleep with a cover over my

head with a little spot for breathing."

GL: I definitely did that too with just a little breathing hole

for my nose, so we have that in common. I don't remember

when I forced myself to stop.

28 / THE GOOD LIFE / urbantoadmedia.com
---
JB: I got a lot of crap in college from my buddies and

I think they took a picture of me once, but I'm like,

hey—I'm still here and I'm not haunted.

GL: What's your heat tolerance for spicy foods?

JB: Absolutely nothing, but I'll eat it and suffer. I

remember the first date I went on with my wife. We

were in St. Paul and I was trying to impress her, so I

went to this Thai place acting like I knew what it was.

I was sweating and she was like, "You look like you're

miserable," and I was like, "I am, but I'm enjoying it."

I'll never forget that. And now I'm 36 and on stomach

medication. What's going on? Am I 70?

GL: In the event of an EMP where we lose all electrical

power, what would be one of the old-school skills

you would offer to people, besides your current

occupation?

JB: You're asking me what talents I have, and,

apparently, there aren't a lot.

GL: What skill would you decide to learn right away?

JB: I'd have to learn how to make a fire right away. I

order a lot of food, so I'd have to learn how to cook

better. I can hunt and I'm a fairly good fisherman. I

can negotiate fairly well, so if we're bartering at

that point I could do that. And I'm not squeamish

on things, so if we need to do something, I'm okay,

whatever that involves.

GL: What's one of your favorite memories as a kid?

JB: My dad and I used to go to the Bitterroot

Mountains in Montana and go fly-fishing every year.

We'd spend a week or 10 days hiking and fly-fishing.

We still do it. My dad's getting a little older, but I want

to keep going out there with him.

GL: What does living the good life mean to you?

JB: Having a family that loves and supports you,

although the definition of "family" might not mean

kids or a marriage to some people. The "good life" is

doing what you like to do and being a good person

while doing it. I like to think I make a difference. •

urbantoadmedia.com / THE GOOD LIFE / 29
---
LOCAL HERO | ANDREW NATHAN

30 / THE GOOD LIFE / urbantoadmedia.com
---
SERVING VETERANS

WITH A PURPOSE

Andrew Nathan Desires to Leave

Everything on the Line

WRITTEN BY: ALEXIS SWENSON

PHOTOS BY: URBAN TOAD MEDIA

Andrew ("Drew") Nathan is an Employment Coordinator for the Fargo Veterans

Affairs Department carrying out his personal life mission of serving others.

After graduating college, Nathan enlisted in the Army. With three jobs to choose

from, Nathan became an Intel Signals Analyst. His first assignment was serving in

Korea for a year. Afterward, Nathan submitted his Officer Candidate School (OCS)

packet and was selected for OCS in February 2001.

During his Infantry Basic Officer Leader Course in Fort Benning, G.A., 9/11 took

place. "Our Infantry Officer Basic instructors came out to tell us there was something

happening. As infantry, we realized we were probably going to have to fight...in the

Middle East. Training picked up exponentially after that," said Nathan.

Nathan was then required to complete further education. He passed Airborne School

following his first attempt at Ranger School. Nathan was assigned to the 82nd Airborne

Division as a Platoon Leader and was deployed to Afghanistan on January 2, 2003.

Deployment

From the moment their boots hit the ground, the 82nd was in continuous motion. They

were responsible for finding weapons and capturing high value targets, putting the soldiers

in constant danger. Due to the well-established network within country, capturing high value

targets was complicated—oftentimes the platoon would arrive mere minutes after the target

escaped.

"In February we were told we'd been assigned a big mission to capture a very high value target.

We didn't know who we were getting. We linked up with a 2nd Ranger regiment and a Navy Seal

team for a joint operation. We were getting ready for a combat air mission," said Nathan.

The platoon jumped on the night of February 25th, 2003 to provide security and secure the landing

zone for the Navy Seal team. "We came to find out that the Navy Seals had captured the high value

urbantoadmedia.com / THE GOOD LIFE / 31
---
LOCAL HERO | ANDREW NATHAN

PHOTO SUBMITTED BY: ANDREW NATHAN

target. We found out later the target

was Khalid Sheikh Mohammed,

the mastermind behind the 9/11

attacks," said Nathan.

Nathan finished deployment in

August 2003 and entered Ranger

School again. "It was career ending

to not pass Ranger School. I ended

up graduating in February 2004

which was a big accomplishment of

my time in the military," said Nathan.

Getting Out

Soon after graduation, Nathan

completed a tour in Iraq and

returned to the States exhausted.

Nathan's decision to leave the

military was a difficult, but sure

one. "I loved the military, but I

was burnt out, so I decided to get

out. One of the things that had me

decide to get out was that I got

engaged. I had two combat tours

32 / THE GOOD LIFE / urbantoadmedia.com

and made my goal of becoming an

Airborne Ranger, what more do I

need to do?," said Nathan.

He returned to North Dakota and

married his now wife, Fara. Still,

leaving a life of service completely

was out of the question for Nathan.

Within three months of leaving the

military, Nathan began drilling on a

"weekend-warrior" basis with the

North Dakota National Guard.

"I had a really hard time. I was

dealing with a lot of issues along

with being newly married and

starting a whole new job. I didn't

know what was going on with my

own self. If you don't get help right

away and aren't using the resources

that are available, it can be quite

damaging. I had a really tough time,

but I got some help through the

V.A.," said Nathan.

National Guard Service

Nathan held multiple jobs within

the ND National Guard, but

missed combat. When he had the

opportunity to deploy with the

Minnesota National Guard in 2009,

he transitioned to the MN National

Guard to complete a deployment in

Iraq from 2009-2010.

Nathan was tasked with helping

establish a bazaar in Basrah, Iraq.

"It helped create inter-connection

between soldiers and Iraqis. There

were camel rides, hookah bars, and

a date palm tree—we called it 'The

Oasis'. We were supposed to be

turning the country over and now

the Iraqis would have established

this business center. I had a little

part in that," said Nathan.

Following that deployment, Nathan

returned to the ND National
---
Guard with the Air Defense Artillery

battalion in Grand Forks. His

battalion was called to complete a

domestic deployment in Washington

D.C. Resulting from the 9/11 attacks,

there are defenses established to

defend against any further attack on

the National Capital Region. Nathan's

battalion was the first ND National

Guard unit to take a tour in Washington

D.C. from 2013-2014.

PHOTO SUBMITTED BY: ANDREW NATHAN

"I was the Operations Officer for that. It

was a pretty cool thing how everything

came around; I was involved in

Afghanistan fighting the war on terror

and then defended domestic soil," said

Nathan.

Following this deployment, Nathan

transitioned to the Army Reserve at

Fort Snelling, Minnesota. He began

instructing a Master's level doctrine,

strategic planning, military history, and

leadership to Captains and Majors.

Rounding out his last five years in the

ND National Guard, Nathan instructed

Command Staff before retiring August

5, 2019 with the rank of Lieutenant

Colonel.

"In those 22 years, I sought every

aspect of the military. I was fortunate.

Not everybody gets these opportunities;

I was just in the right place at the right

time," said Nathan.

Patriot Assistance Dogs

"I struggled really horribly with active

duty to civilian transition although I

was still a civilian. This part of me that

was so ingrained in me for 22 years

was gone. If you don't bridge that or

fill it with something else...that's the

wrong move. There's a void," said

Nathan.

This led Nathan to a conversation with

longtime friend Ray Pizarro who is a

board member and former client of the

Patriot Assistance Dogs organization.

Based in Detroit Lakes, Minnesota,

Patriot Assistance Dogs (PAD) provides

highly trained, certified psychiatric

service dogs to qualified U.S. Military

veterans. The cost of training each dog

is roughly $15,000-$20,000 and all

donated monies go directly toward the

dog and veteran selected.

urbantoadmedia.com / THE GOOD LIFE / 33
---
LOCAL HERO | ANDREW NATHAN

Learn more about Nathan's ride across North Dakota:

https://app.donorview.com/R9YeR

Nathan and Pizarro decided to

fundraise for PAD through a bike ride

across North Dakota. Adrenaline

junkie Nathan trained for the three

day ride for a year with a goal of

raising $50,000. The inaugural

ride was August 7-9, 2020. Nathan

biked while Pizarro provided

support along the route. Nathan's

son, Jerod, also biked intermittently

and provided coaching, water, and

nutrition.

While the original plan was to bike

along Old Highway 10, between the

stretches of unpaved and nonexistent

road, Nathan and Pizarro adjusted

their plan to make I-94 their primary

route.

"The last 25 miles was a downpour

and tornado warning; it was looking

like I'd have to end the ride and

not accomplish the mission. I was

getting a lot of road rash and was

ripped up pretty bad. I ended up

getting a flat tire and had to use

my son's tire to finish. I was in an

incredible amount of pain, soaking

wet, tired, and hungry," said Nathan.

34 / THE GOOD LIFE / urbantoadmedia.com

It was all worth it when the final

tally came in at nearly $30,000

raised to support PAD. "I'm doing it

for the idea that dogs help Veterans

with their Traumatic Brain Injury,

Post-Traumatic Stress Disorder,

general adjustments, getting into

the civilian world, being a healthy

individual, and repairing their lives.

I've seen how much these dogs help

Veterans," said Nathan.

This year's ride is August 13-14,

2021—two days to bike roughly 370

miles for a goal of raising $75,000.

Anyone is welcome to bike alongside

Nathan by joining at I-94 exits, but

he's especially hoping for more

bikers on the last 22 miles from

Casselton to Fargo. In Casselton,

there is a planned stop at the

Memorial Bridge. Those 22 miles

honor the 22 service members

who die by suicide each day (US

Department of Veteran Affairs).

"If I can get a bunch of Boy Scouts

that ride with me to the end that

would be great. Boy Scouts earn a

merit badge for biking different mile

levels. I have high expectations for

this year and am hoping to get more

people involved," said Nathan.

Nathan's service would be empty

without the consistent backing his

wife, Fara, and son, Jerod, offer. "My

wife is a saint. She's been through

two deployments where I haven't

been around and has put up with a

very crazy schedule with me being in

the military. She supports me 100%.

I wouldn't be able to do what I do if I

didn't have my family and community

behind me," said Nathan.

The Good Life

Nathan's outlook is heavily informed

by his faith.

"The good life is being at peace with

God and your fellow man. What

are you doing to glorify God and

help your fellow man? Especially

in today's world — everything's so

polarized. I'm not perfect at it, but

I have a strong belief and purpose.

I know that Jesus is Lord. Also, I

enjoy a good single malt scotch,"

said Nathan. •
---
urbantoadmedia.com / THE GOOD LIFE / 35