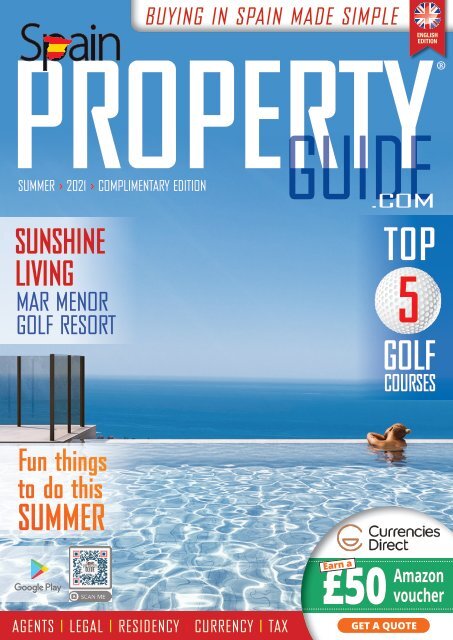 Spain Property Guide Summer 2021
Welcome to the summer edition of the Spain Property Guide magazine. As travel has opened its doors now is the perfect time to start the journey to your dream home in Spain. Read about the property for sale and new developments. Find a villa in Costa Blanca amongst the other property for sale, or a sea-front apartment in Costa Calida, if you like golf then find the ideal villa overlooking a golf course in Costa del Sol, also find out why Marbella is one of the most popular places for retiring to Spain. You can learn more about the Golden Visa in Spain and get the most important tips about buying a property in Spain all of this with estate agent's latest property offers. To find an overseas property, holiday home or to live and retire in Spain then the Spain property guide is a must-read. Writer Michel Cruz has many interesting articles about the popular areas to live that include Ibiza. Get the latest currency exchange information with a special offer to get a currency exchange quote from the market leaders Currencies Direct.
Welcome to the summer edition of the Spain Property Guide magazine. As travel has opened its doors now is the perfect time to start the journey to your dream home in Spain. Read about the property for sale and new developments. Find a villa in Costa Blanca amongst the other property for sale, or a sea-front apartment in Costa Calida, if you like golf then find the ideal villa overlooking a golf course in Costa del Sol, also find out why Marbella is one of the most popular places for retiring to Spain. You can learn more about the Golden Visa in Spain and get the most important tips about buying a property in Spain all of this with estate agent's latest property offers. To find an overseas property, holiday home or to live and retire in Spain then the Spain property guide is a must-read. Writer Michel Cruz has many interesting articles about the popular areas to live that include Ibiza. Get the latest currency exchange information with a special offer to get a currency exchange quote from the market leaders Currencies Direct.

SHOW MORE
SHOW LESS
Create successful ePaper yourself
Turn your PDF publications into a flip-book with our unique Google optimized e-Paper software.
BUYING IN SPAIN MADE SIMPLE

ENGLISH

EDITION

PROPERTY

.COM

SUMMER > 2021 > COMPLIMENTARY EDITION

GUIDE

®

SUNSHINE

LIVING

MAR MENOR

GOLF RESORT

TOP

5

GOLF

COURSES

Fun things

to do this

SUMMER

AGENTS l LEGAL l RESIDENCY l CURRENCY l TAX

£50 Amazon

voucher

Earn a

GET A QUOTE
---
ONTENTS

HORMITECH

Sunset in

Marbella

04

COSTA BLANCA NORTH 08

EXPLORE THE ESSENCE OF THE

MEDITERRANEAN 10

COSTA BLANCA SOUTH 18

TOP 5 GOLF COURSES 20

COSTA CALIDA 26

DISCOVER A WORLD BETWEEN LAGOONS,

DUNES AND THE SEA 28

HISTORY, CULTURE & ATMOSPHERE 30

MAR MENOR GOLF RESORT 32

COSTA ALMERIA 34

BUYING A PROPERTY IN SPAIN 36

LIVING IN SPAIN 38

COSTA DEL SOL 40

BENALÚS, EXCITING NEW GOLDEN MILE

HOMES 42

THE EDGE 46

TOP 5 GOLF COURSES IN ANDALUCIA 48

CURRENCY OUTLOOK 50

FUN THINGS TO DO THIS SUMMER 52

YOUR FIRST CLASS TICKET TO SPAIN 55

MARBELLA A FAVOURITE FOR RETIREES 56

DISCOVER THE COSTA DEL SOL 58

BALEARIC ISLANDS 60

IBIZA COOL 62

TROPICAL DREAMS MADE REAL 64

CONTACT

SALES >> sales@spainpropertguide.com

EDITOR >> editor@spainpropertguide.com

DISTRIBUTION >> distribution@spainpropertguide.com

DESIGN >> design@spainpropertguide.com

Tel: Spain +34 966 94 20 22 • Tel: UK +44 7498984177

COVER IMAGE: A cool dip with a view.

DISCLAIMER: Spain Property Guide Magazine accepts no responsibility for

claims made by advertisers or comments by made by contributors in any form.

Any unauthorised reproduction, in whatever media format, whether in whole

or in part, is strictly forbidden. Artwork produced by Spain Property Guide

remains the property of Spain Property Guide. All rights reserved.
---
Buying property

in Spain?

Save time and money on your currency transfers with:

Excellent exchange rates

No transfer fees

Expert support and guidance

Tailored transfer solutions

We've been helping people move money to and from Spain

since 1996 and with 16 Spanish branches we're never far away

when you need us.

We're authorised by the Bank of Spain and guarantee no

receiving charges in any Spanish bank on euro transfers – so

you enjoy peace of mind and additional savings.

Get a quote now and find out how much you could save!

Get a quote

Earn a

£50

Amazon voucher!

Our special offer for Spain

Property Guide readers – if

you register with us and

transfer £5000 we'll send you

a £50 Amazon voucher.

*

Want to find out more? Contact our team today.

Mention 'Spain Property Guide' for preferential exchange rates.

+34 965994830 | costablanca@currenciesdirect.com

*Terms and conditions apply

© Currencies Direct Ltd, One Canada Square, Canary Wharf, London E14 5AA, United Kingdom. Registered in England & Wales, No.: 03041197. Currencies Direct Ltd is authorised

by the Financial Conduct Authority as an Electronic Money Institution under the Electronic Money Regulations 2011. Our FCA Firm Reference number is 900669.

Our EU services are provided by Currencies Direct Spain.

SPAINPROPERTYGUIDE.COM l

© Currencies Direct Spain, E.D.E., S.L., Avenida del Mediterráneo, 341, 04638 Mojácar, Almería, Spain. Registered in the Commercial Registry of Almería under the Spanish tax ID

number B04897930. Currencies Direct Spain, E.D.E., S.L. is authorised by the Bank of Spain as an Electronic Money Institution under Law 21/2011 of 26 July and Royal Decree

778/2012 of 4 May. Our registration number with the Bank of Spain is 6716.

UK18486EN

03
---
HORMITECH –

a new way of

constructing

We think of concrete as a modern building

material that has become pretty much

universal over the past century, but in

reality it has been used since ancient times. Thanks

to on-going development, Spanish engineering

firm Hormitech is now taking concrete into the 21st

century.

Concrete doesn't always have a positive image

in the public mind, which is not really fair as it is and

for a very long time has been the main building

block of civilisation. The ancient civilisations of the

past already used early forms of it, and 19th and

20th century engineers simply improved upon the

durability, flexibility and structural strength of a

material without which so much of the architecture

and construction of the recent past would not have

been possible. Concrete retains a central role today,

but just as others are working to develop more

advanced and sustainable ways of doing things so

those producing building materials of this kind are

not sitting still either. In fact, they are finding that the

evolution of this manmade, purpose-built stone still

has a long way to go.

Hormitech is one of the European companies

leading this development. From its base in Tarragona,

near Barcelona, the firm has been a specialist

supplier of prefabricated concrete building structures

for over 40 years now, and while there have been

improvements to the product throughout this

time, the latest offering is the result of a quantum

leap in concrete technology. So much so, that

Hormitech has taken a step away from conventional

construction to provide the building blocks for a far

more efficient, high quality, environmentally sound

and attractive way of construction.

4

l

SPAINPROPERTYGUIDE.COM
---
By Michel Cruz

TECHNOLOGY FOR OUR TIMES

The technology now makes it possible to meet

contemporary needs for homes and edifices that

are structurally sound, tremor resistant and offer new

levels of insulation and energy efficiency, while also

eliminating damp and ensuring ambient comfort.

What's more, the system is prefabricated to measure

and not only suits modern architectural styles very

well but is adaptable to all designs, scales and types

of buildings, from private homes and apartments to

offices, malls, factories and warehouses.

The advantage of the system is the precision

with which it is made, not cut or adapted on the

building site, and also far surpassing the quality

of conventional prefabricated concrete building

materials. The superior characteristics of the system

are derived from the specially treated concrete itself

and the precision sealing that leaves behind anything

achieved in construction so far, with superlative

levels of sound, humidity and thermal insulation. The

result is a comfortable, controlled environment free

of damp and temperature extremes, which also

leads to optimal energy efficiency and far lower

heating and cooling costs, as well as offering virtually

maintenance-free durability.

BUILD SPEED AND QUALITY

The manufacture of the panels takes 40 days,

during which time the land is prepared for

construction. The assembly of the structure then

requires another 10-15 days, depending on the size

and complexity of the building, and once this is done

the rest of the villa is completed within another four

months. All told, you can have a brand new house

within six months using the Hormitech system, saving

a year or more in comparison with conventional

construction methods.

SPAINPROPERTYGUIDE.COM l

5
---
The reaction of the market has been keen, and

Hormitech is now constructing primarily private

villas but also apartments, offices and other types

of structures across Spain, Portugal and the south of

France. It takes concrete building into the modern

era in many ways, from quality, energy efficiency and

speed to living comfort, close to zero maintenance,

seismic and fire safety and also environmental terms,

as it not only reduces energy consumption but also

virtually eliminates on-site waste material.

HORMITECH - Madrid - Málaga - Valladolid

Tel: 91 94 91 900 • www.hormitech.es

6

l

SPAINPROPERTYGUIDE.COM
---
(+34) 965 791 035

rimontgo@rimontgo.es

https://www.rimontgo.com

Partida Montgo, Jávea l 5,700,000€

Dénia

l Price on Request

RMG6126

RMG3238

Spectacular villa built to the highest standards, a unique style,

beautiful views and a perfect enclave in the Montgó area in Jávea.

This majestic villa is surrounded by a well-preserved garden. The property

is organised into three levels, each of them with spacious rooms and a topquality

equipment. The main floor fuses with the terrace, the pool area and

a fantastic patio partially covered. All of it with beautiful views of the valley.

Property with private pool and panoramic views of the golf, sea and

the city in Dénia.

Exceptional, 5 bedroomed modern architect- designed avant-garde villa, set

within the privacy of the exclusive Golf Resort La Sella and Marriot Hotel,

with magnificent panoramic views to Montgó mountain, the 27 hole golf

course and the Mediterranean Sea.

La Plana, Jávea l 895,000€

Bocairent, Valencia l 1,930,000 €

RMG6303

Villa set on a plot of 13,000m2 in La Plana, a well-known area surrounded

by the Montgó Natural Park in Jávea. Includes guest accommodation.

The villa is comprised of the main residence and a guest apartment. The

main property is arranged on a single floor consisting of a large fitted

kitchen, living-dining room with fireplace, the master bedroom with an ensuite

bathroom, guest toilet and a bedroom.

RMGV1980

Unique rural home, very integrated into the surroundings with open

views of the valley and the spectacular swimming pool.

Located in the middle of the Sierra Mariola natural park, this villa sits on a huge

75,000m2 plot on top of a mountain. The house itself covers an area of 350m2

and comprises four bedrooms, three bathrooms, a magnificent living/dining

room with double-height ceilings, completed with a large kitchen.

Vall d'Albaida, Valencia

l Price on Request

El Bosque, Chiva, Valencia l 620,000€

RMGV2822

RMGV4241

Spacious country property surrounded by olive trees and vineyards in

one of the most beautiful locations of the Valencian Community.

Opportunity. Reduced price. Rimontgó guarantees that this property

features an extremely good price in its competitive market set. For more

information visit our Best opportunities section where you will find an

assortment of the very best buying opportunities in rimontgo.com.

Exclusive villa facing the golf in El Bosque, Valencia. Combination of modern

and Mediterranean style, bright with a large plot, garden and private pool.

Facing the prestigious golf course El Bosque, set on a plot of more than 1,200m2

with a well-established garden and a large swimming pool. The outdoor design

is Mediterranean with Ibiza-style touches and the indoor area benefits from a

modern design also combined with Mediterranean classic details.

SPAINPROPERTYGUIDE.COM l

7
---
Levante Beach,

Benidorm

8

l

SPAINPROPERTYGUIDE.COM

An ancient coast of beaches, crystalline waters and

rocky cliffs that lead down to secluded little coves and

bays, the northern part of the Costa Blanca is often

described as the most beautiful section of all – and one of

the finest examples of Mediterranean lifestyle to be found

anywhere.

COSTA BLANCA NORTH

Alicante provides the big city feel as well as a large international

airport for the region, and as you head north from here the

first significant resort town is El Campello, popular above all

with Spanish tourists. From here to the pretty coastal town of

Villajoyosa, with its multi-coloured houses, there are only tiny

beachside spots dotted, and more of the same until you come

to the most famous Costa Blanca resort of all: Benidorm.

Famous for its package tourism, as humorously depicted in

a British comedy series, this large resort town is redeveloping

its look and offering to appeal to a more modern kind of

tourism, complete with stylish resort hotels and a series of large

theme park attractions such as Terra Mítica, Terra Natura and

Aqualandia. From here, the coast becomes more rugged,

with imposing capes and rocky cliffs and bays that together

create breath-taking scenery against a backdrop of blue

skies and green pine groves.

Altea is a stylish resort town with a beautiful historic centre that

ranks as one of the region's highlights, while Platja L'Olla is a

wonderfully secluded stretch of coast between distant cliffs.

Just before you reach another iconic resort town, Calpe,

Altea Hills is the first of a series of luxurious villas suburbs with

stunning coastal views – one of several residential resort areas

that offer an excellent choice of modern homes with all the

latest styles, amenities and high-tech comforts. The views from

here are truly stunning.

COSTALANCA

EXQUISITE SHORES

Calpe is gifted with a stunning setting – a wide bay overlooking

an iconic rock cape not unlike that of Gibraltar, as well as an

inland lagoon known as Les Salines. This picture perfect spot

first named by the Phoenicians provides the ideal setting for

a resort town, and Calpe is the last large town before you

come to the end of the Costa Blanca at Jávea and Denia,

passing the pretty little coastal resort of Moraira. Beyond it lays

gorgeous coastal scenery with idyllic bays such as Plata de la

Granadella, with its turquoise water.

Jávea and Denia are two pretty towns fronting sandy beaches

and surrounded by attractive residential areas set within pine

groves, with many following the undulations of golf courses

such as the excellent La Sella Golf. The iconic Parc Natural

Montgó crowns the natural beauty of this region, which is also

less than an hour from Valencia, close to many more beauty

spots and always just a short drive from country villages full of

authentic regional charm.
---
NORTH

Elche

Rojales

Orihuela

Villa Martin

Alicante

Santa Pola

Guardamar

de Segura

Torrevieja

Denia

Javea

Benissa Moraira

Altea Calpe

Albir

Benidorm

Villa Joyosa

SPAINPROPERTYGUIDE.COM l

9
---
Explore the essence

of the

Mediterranean

The northern part of the coastal region that has

come to be known as the Costa Blanca has a

character and beauty all of its own. In fact, in reality

it is quite distinct from the southern region, and this

becomes noticeable in the landscape the minute you

leave Alicante behind and approach the resort town of

Benidorm.

Here the scenery becomes less arid, more classically

Mediterranean, with white limestone cliff plunging

towards the clear blue water. At Calpe and Altea,

classic Spanish sea resort blends with stylish traditional

seaside town, a scene punctuated by marinas and

luxurious villas dotting the hillsides. Altea has a certain

grandeur, following as it does the curve of the coast

towards its pennon, or cape. Its historic inner town is a

delight of Valenciano architecture, while Altea's marina

forms another scenic high point and a great place to

enjoy freshly caught seafood.

Look up and you see cars high up on the motorway

disappearing into a tunnel amid spectacular mountain

scenery. It's a world of white limestone, green pine

forests and clear blue skies here, and as you emerge

on the other side you feel like a whole new chapter

has opened, for now the landscape gently tumbles

down towards Calpe and its spectacular towering rock,

which from some angles looks like a smaller version of

Gibraltar. Calpe is stunningly scenic, with wide beaches

and azure waters that simply wills you to splash about,

but if you can resist the temptation and have the

energy to ascend the rock of Ifac – part of a protected

nature reserve – you'll be rewarded with some of the

most amazing views you'll ever have.

THE NORTHERN TIP

For the rest Calpe is simply an attractive resort

town, but you'll plenty of lovely beaches, coves and

smaller coastal settlements hugging the shoreline

between here and Jávea, one of the prettiest of all

the destinations in this region. Perhaps the best way

to appreciate this coast is to see it from the sea, so

head out on a yacht or powerboat and take in those

spectacular cliffs, coves and protected sections of

coastline. Platja del Portet and Cala Ambolo are

particularly beautiful, and if you can land in Platja de

la Granadella and ensconce yourself within its soothing

waters you may never want to leave again.

Its little fish restaurants are wonderful 'rustic', which

is to say basic and authentic, but what better way to

10 l SPAINPROPERTYGUIDE.COM
---
enjoy a true Spanish seaside meal? The Restaurante

Mirador de Jávea is a bit more tourist, but it's an iconic

location from which to contemplate the fantastic

expanse of Mediterranean Sea below you, and from

here it is just a short drive down through wonderfully

wooded residential suburbs down to Jávea itself.

JÁVEA, A TOWN OF THREE PARTS

In reality the municipal area of Jávea is divided into

three distinct parts. Most familiar to outside visitors is

the coastal resort, tucked into a corner of a large bay.

Here, luxurious apartments surround a coastal village

that looks out at a fishing harbour and marina that

eventually gives way to the resort hotels that dot the

long sandy beaches of El Arenal. At the far end of this

the coast rises to the spectacular cliffs that mark the

Cap de la Nao area. It is here, within the pine-covered

slopes overlooking the bays and coves, that a collection

of luxurious residential area provides a privileged setting

for a lifestyle that has been drawing people for many

decades now.

At the heart of it all, though, is the historic town of

Jávea – the original country village that grew into a

prosperous town thanks to its position dominating a

large and fertile valley. Largely level, this agricultural

area stretches for kilometres inland, eventually leading

to the elegant Club de Golf Jávea, whose parkland

landscape flanked by gold-toned hills provides an ideal

setting for the game. You will also find some elegant

five-star resort hotels and spas in this lovely natural

location, all of them just a few minutes from those sandy

beaches.

The epicentre of the old town is the Church of Sant

Bartomeu, an imposing structure that originally dates

back to early medieval times. Like most of the historic

quarter it is built mainly from local Tosca stone hewn

for centuries from the coastal cliffs, and still bears the

pockmarks of warfare sustained during the civil war.

Today, however, the only invaders are the small groups

of tourists drinking in the sights or relaxing in a quaint

square as village life goes on around them. This is a

town of cobbled streets, picturesque archways, historic

buildings that reveal bewildering layers of successive

cultures, and above all a mesmerising ambience.

SPAINPROPERTYGUIDE.COM l

11
---
ENTERING THE DOMAIN OF VALENCIA

The area around the marina of Jávea is another

one of those wonderfully scenic settings the Costa

Blanca is so noted for, and it offers the opportunity

to watch the sun set as you admire the cliffs of

Cap de Sant Antoni. Follow the road up from here,

between the villas and into the wooded Parc

Natural del Montgó, and it's dejá vu as you come

down towards the sea amid the villas dotted amid

those deep green pine groves. For all this, Dénia

has a character of its own, a little more built-up

town, but with a delightfully laid-back beach area

and the kind of marina that's welcoming in a very

languidly Mediterranean way.

Here you'll find every kind of eatery and salsa

bar, complete with designer brand boutiques, but

if it is luxury and pampering you're after, head a

little inland, near the charming village of Jesús

Pobre, and book into the Marriott La Sella Golf

Resort and Spa – where, golf, health and wellbeing

come together in one scenic spot. It's a great

way to conclude a voyage of discovery of the

Northern Costa Blanca, though if you're still feeling

adventurous, the wonderful city of Valencia is less

than an hour away…

12 l SPAINPROPERTYGUIDE.COM
---
SPAINPROPERTYGUIDE.COM l

13
---
COSTA BLANCA NORTH

BUYING IN SPAIN?

from our Extensive Northern Costa Blanca North Portfolio

we'll get you moving...

Moraira 275,000 €

Villa

Ref: HO473758

Altea 175,000 €

Apartment Ref: HO354096

Javea 1,095,000 €

Modern Villa Ref: HO232889

168m2

Build

828m 2

Plot

3 2

Bedrooms Bathrooms

Private

Pool

85m2

Build

NA

Plot

2 2 Community

Bedrooms Bathrooms Pool

374m2

Build

1000m 2

Plot

3 3

Bedrooms Bathrooms

Private

Pool

Denia 179,999 €

Apartment Ref: HO593564

Jalon 159,000 €

Townhouse Ref: HO121316

Calpe 575,000 €

Villa

Ref: HO350095

105m2

Build

NA

Plot

3 2 Community

Bedrooms Bathrooms Pool

165m2

Build

NA

Plot

3 2

Bedrooms Bathrooms

350m2

Build

1600m 2

Plot

6 5

Bedrooms Bathrooms

Private

Pool

Moraira • Javea • Jalon • Calpe • Denia

With 5 office located strategically throughout the

Northern Costa Blanca, our portfolio of properties is

second to none. Whether you're looking for a lock-up and

leave weekend escape, rental investment, or something

larger and more permanent, contact us.

Hamiltons Central Office

(+34) 96 649 1883

moraira@moraira-hamiltons.net

www.moraira-hamiltons.net

14 l SPAINPROPERTYGUIDE.COM
---
@

@

@

+34 96 5744179 Avenida Madrid, 03724 Moraira

info@tabairarealestate.com

www.tabairarealestate.com

CUMBRE DEL SOL 109.500€

MORAIRA 699.000€

3

m 2 m 2

m 2

m 2

2 1

320m 2 845m 2 4 2 Pool

m 2 m 2

m 2

m 2 m 2

86m 2 Terrace Pool

Ref: 30.332E

m 2

Ref: 20.3314E

BENISSA 235.000€

BENISSA COSTA 550.000€

m 2

137m 2 Terrace Pool

m 2

3 2

m 2 m 2

Ref: 10.268E

MORAIRA 600.000€

m 2

m 2 Ref: 20.3177E

203m 2 704m 2 3 3 Pool

m 2

m 2 m 2

m 2

JAVEA 1.250.000€

m 2

178m 2 897m 2 Pool

m 2

3 2

m 2 m 2

Ref: 20.3277E

m 2

m 2 Ref: 70.427

393m 2 1.000m 2 3 2 Pool

m 2

m 2 m 2

m 2

SPAINPROPERTYGUIDE.COM l

15
---
FEATURED

PROPERTY

016 l SPAINPROPERTYGUIDE.COM
---
@

@

@

+34 96 5744179

info@tabairarealestate.com

www.tabairarealestate.com

• South orientation with all-day sun

• Good access to the town of

Benissa

• Large poolside veranda terrace

• Independent guest

accommodation

• Floor heating with individual room

thermostats

• Wood burning stoves in both living

area and dining area

• Quality external PVC carpentry

with mosquito blinds and security

grills

LUXURIOUS

COUNTRY HOME

IN BENISSA

Located 5 minutes from Benissa town, this prestigious fourbedroom

country home built in 2007 boasts beautifully

presented interiors and premium construction quality and

fixtures. The coastal areas and beaches of Calpe and

Moraira are an approx 15-minute drive.

This luxury Benissa property has 10,000 square meters of land

all with a flat landscape, there are around 2,700 square

meters surrounding the property, walled, landscaped and

with pool area and large parking bay. The remaining land is

rural, providing good distances from neighbouring properties.

• Large garage for 4-5 vehicles

• 10 x 5-meter pool

• Excellent summer kitchen/

barbecue dining terrace

• Central courtyard with a well

799,000€

695,000€

493m 2

10,000m 2 4 4 Pool

m 2

m 2 m 2

m 2

m 2 Ref: 20.2637

SPAINPROPERTYGUIDE.COM l

017
---
COSTALANCA

Named 'the White Coast' for its cliffs and beaches, the Costa

Blanca is a world of sand-toned hues contrasting with the

azure-blue of the Mediterranean and the generally deep

blue of its skies. This is essential Mediterranea, a region imbued by

this ancient sea and its cultures.

Phoenicians, Greeks, Romans, Moors and Franks, they were

all here, moulding today with the indigenous population with

a culture that is Spanish, but also has its own distinct identity.

Spanish is the main language, with English, German, Dutch and

French also frequently heard, but the other official language

is Valenciano, which can be considered to be a derivative of

Catalan and also closely related to the local vernaculars of the

Balearic Islands.

As a tourist and residential region, the 200 kilometres of the Costa

Blanca can be divided into a northern and a southern section,

which border Valencia's Costa del Azahar and the Costa Cálida

respectively. Though the regional capital of Valencia – a jewel of

a city, and second only to Madrid and Barcelona within Spain – is

about an hour's drive away, the nearest point of reference is the

Mediterranean port of Alicante, itself a popular tourist destination.

Alicante

18 promenade l SPAINPROPERTYGUIDE.COM
---
SOUTH

COSTA BLANCA SOUTH

Moving up along the coast from the Costa Cálida, the

Southern Costa Blanca is characterised by beachside

resorts such as the chilled atmosphere of La Zenia, the

amenities of Torrevieja – one of the icons of this coastline

– and the smaller but equally popular Guardamar del

Segura. This is a mostly sandy shoreline perfect for

tourism but it offers a diversity of resorts, including

the small-scale innocence of El Pinet la Marina, at

the entrance to a large area of marshes.

At its north end, in Bras del Port, high quality salt is

produced close to the famous resort town of Santa

Pola. Rounding the coast, one reaches the final

part of the southern Costa Blanca, as it approaches

the city of Alicante, which marks the dividing line.

Here Monte Faro is a pretty coastal town set amid

spectacular cliffs, and though Arenals del Sol and

Urbanova are a little bigger, they too invoke a sense of

endless beaches and classic summer holidays.

Elche

Rojales

Orihuela

Villa Martin

Alicante

Santa Pola

Guardamar

de Segura

Torrevieja

Denia

Ja

Benissa Mo

Altea Calpe

Albir

Benidorm

Villa Joyosa

SPAINPROPERTYGUIDE.COM l

19
---
1 2

TOP-5

golf courses

on the Mediterranean

After the 'Costa del Golf', the next most important concentration of golf in Spain is situated

on its eastern, Mediterranean shores, at the point where the Costa Blanca and Murcia meet.

Here, golf courses are veritable verdant oases in the landscape, creating impactful contrasts

between tones of blue, sand-colour and green. Here is our selection of some of the best.

5

3

20 l SPAINPROPERTYGUIDE.COM
---
1. La Manga Golf Resort – the ultimate sports resort

Renamed Real Golf La Manga Club, this sprawling resort

of luxurious homes set upon three 18-hole golf courses

is deservedly famous across Europe for its spa and

sports facilities, and golf ranks at the top. The original

North Course was opened in 1971 and designed by

Robert Dean Putman, followed by the South Course

inaugurated in the same year by redesigned by Arnold

Palmer in 2005. The West Course is the creative product

of Dave Thomas, and it borders the Calblanque Natural

Park.

North Course – 5.755 metres, par-71

South Course – 6.499 metres, par-73

West Course – 5.714 metres, par-72

4

2. La Serena Golf – so scenic

Situated right by the Mar Menor, La Serena is one of

the most scenic golf courses you're likely to find, full

of bunkers and little lakes against a backdrop of the

big lake, sandbar, resorts, the sea and the surrounding

mountains. Few courses can have such a dramatic

and also convenient location, with everything on your

doorstep. The course was designed in 2006 by one of

the Spanish greats, Manuel Piñero.

Par-72

6.168 metres

3. Las Colinas – the ultimate landscape

Las Colinas Golf & Country Club is just that, a large

golf resort whose perfect green fairways lay as a

Garden of Eden blanket across the softly undulating

landscape between the Mar Menor and the southern

coastline of the Costa Blanca. Not far from Torrevieja,

this outstanding course was designed by renowned golf

architect Cabell B. Robinson and opened as recently as

2010 and is certainly one of the finest new courses of the

21st century.

Par-71

6.033 metres

4. Mar Menor Golf – the flattest course

Like an oasis sprouting fresh and green from the desert,

the Mar Menor Golf Resort is a visual delight a little west

of the lake, near Torre Pacheco. It's a pleasure to play

on as well, with its pleasantly flat terrain and lofty palm

trees in a warm but refreshingly dry climate. What's

more, when you're done conquering the Polaris course

designed by Jack Nicklaus in 2005 there's a wonderful

spa resort in which to relax and be pampered.

Par-72

6.153 metres

5. La Sella Golf – Best in Costa Blanca North

Part of a grand Marriott resort close to Denia, La Sella

is a 27-hole complex that flows amid hilly terrain ringed

by woods. It certainly is a beautiful setting and a

stunning course, designed by José María Olazábal and

opened in 1991. Not only are you surrounded by nature,

beautiful views and a spa resort hotel, but there are

luxury properties here too in a setting close to Denia,

Jávea, beaches and coves. The perfect spot to have

your own golf getaway!

Par-72

6.289 metres

SPAINPROPERTYGUIDE.COM l

21
---
Are you planning on

moving to Spain?

Blevins Franks has 45 years of experience advising

UK nationals moving to and living in Spain. We

can guide your through various aspects of your

move, from residence and Brexit, to tax and estate

planning, to how best to structure your investment

capital and pensions for a Spanish resident.

Talk to the people who know

+44 (0)207 389 8133

centralenquiry@blevinsfranks.com

We have nine offices in Spain as well as one in

London. Our local advisers would be more than

happy to have a chat with you and see how they

can help you establish your dream life in Spain.

INTERNATIONAL TAX ADVICE • INVESTMENTS • ESTATE PLANNING • PENSIONS

108-es

Blevins Franks Financial Management Limited (BFFM) is authorised and regulated by the Financial Conduct Authority in the UK,

reference number 179731. Where advice is provided outside the UK, via the Insurance Distribution Directive or the Markets in

Financial Instruments Directive II, the applicable regulatory system differs in some respects from that of the UK. Blevins Franks

Trustees Limited is authorised and regulated by the Malta Financial Services Authority for the administration of trusts and

companies. Blevins Franks Tax Limited provides taxation advice; its advisers are fully qualified tax specialists. This promotion

has been approved and issued by BFFM.

22 l SPAINPROPERTYGUIDE.COM www.blevinsfranks.com
---
We speak:

Office: +34 965 020 204 UK: 01273 900966 Email: info@welcome-estates.com Web: www.welcome-estates.com

LA FINCA Ref: 658154 474,000€

11 modern villas which are over three levels and are the only purpose-built 4 -bedroom villas on the whole of La Finca golf resort. The landscaped gardens, breathtaking views across the golf course,

8 x 4 private pool, and 3 bathrooms are just some of the features this fantastic property opportunity offers and is part of Welcome Estates Premier Collection. Located only a short walk to the local

restaurants, bars, and shops on La Finca and the well establish five-star La Finca Hotel and Spa resort.

Internal build size of 150m2 * Plot size from 317m2 up to 620m2 * Basement 61m2 * Terrace 59m2 * Ducted air-conditioning * White goods included * Completion time June 2022

LA FINCA

REF: 410488

Beautiful detached Canela

style villa situated within the

golf resort and has a frontline

position with stunning

views over the 7th fairway.

The villa comprises of 3

bedrooms and 2 bathrooms

with a private pool. Build size

of 118 m2 and sits on a plot

of 400 m2

339,950€

GUARDAMAR DEL SEGURA

REF: 658081

Modern new-build 3 bed &

3-bathroom townhouse situated

just a short walk away from

the beach and close to local

amenities. A large open plan

design living area, and spacious

rooms with a private garage. The

complex itself flows really well,

plus there is a communal garden

and pool to relax any time of the

year. Build size of 126 m2

219,000€

LA FINCA

REF: 658229

24 beautiful apartments, 2

bedrooms and 2 bathrooms,

fully air-conditioned with private

garden or solarium and communal

pool. Located within the Grecia

Residential Complex on the wellknown

La Finca Golf Resort, Algorfa.

These apartments are a new release

and benefit from a modern open

plan approach, providing you with a

unique way of living.

169,000€

ALGORFA

REF: 410477

Great opportunity 2 bedroom

apartment situated within the

gated community of the Fontana 3

complex. Well designed and high

standard with modern kitchen, utility

room, south facing with a covered

terrace and a communal pool. Also

with underground car parking and

is located about a 5-minute walk

to all the local amenities, such as

restaurants, shops, and bars.

87,000€

CIUDAD QUESADA

REF: 658184

New build key ready

apartment in a prime location,

2 bedrooms, 2 bathrooms.

Ground floor apartment with

glass sliding doors that take

you out to the terrace and

garden, which overlooks the

central community area and

pool. Close to all amenities.

Build Sizes from 79m2

upwards

189,000€

LOS ALTOS

REF: 410490

Stunning modern ground floor

apartment, 2 bedrooms and 2

bathrooms with private pool,

located in Los Altos, in the

Orihuela Costa area, close to

local amenities. South facing,

air-conditioned with an open plan

living space. The build size of

approximately 70m2 and has an

outside area of 70m2 at the front

plus a small back terrace of 15m2.

129,950€

SPAINPROPERTYGUIDE.COM l

23
---
COSTA BLANCA SOUTH

THE CASAS

MANUEL

FAMILY

Benefiting from two strategically

placed sales offices in Benijófar (Sales

office, and a dedicated aftersales

office) and La Zenia, Casas Manuel is a

professional, family-run company which

has been selling property throughout the

Costa Blanca since 2001 offering both

buyer and seller an exceptional strength

of service.

Since 2001, our reliable and professional

approach to business has created for

us many strong relationships throughout

Spain, UK, Belgium, France, Iceland,

Sweden, Russia, Norway, Czech Republic

and Holland. We pride ourselves on our

very personal and professional service that

we deliver to ALL clients.

As shown by our Testimonials page

– Trust is earned though our collective

Honesty, Hard Work, Transparency,

Knowledge and Ethics.

Our reputation for Values such as

these has enabled us to provide serious

property buyers the benefit of always

Whether you are buying

or selling, our approach to

business is simple - To provide

the best service possible to

every client we meet.

having a wide variety of well-priced

properties to offer for sale on the Costa

Blanca South. So, whatever budget range

stipulated… whether from small beachside

apartments, semi-coastal townhouses,

traditional Fincas, right through to luxury

villas – we will help you!

When you consult our specialist advisors

you will find we take your requirements

very seriously indeed and because we

listen to you we apply our extensive

knowledge and capacity within Casas

Manuel to diligently find you the perfect

property in your ideal location.

In simple: Our team is here to make your

Spanish buying process as easy as possible

and will be assisting you through every

step of the buying process...

If you are looking for something that we

do not have in our portfolio then not to

worry, you simply tell us what it is you want,

and our team of dedicated agents will

find it for you.

In 2016 Casas Manuel were honoured

to take part in a new Channel 4 property

series "Sun, Sea and Selling Houses". The

success of the 1st show resulted in the

series being re-commissioned by channel

4 and was followed up by a further three

series!

FEATURED PROPERTY

FEATURED PROPERTY

Benijófar

Stunning new build villas on the

outskirts of the popular village of

Benijofar. These villas are built over

two floors boasting a open plan

living/dining area on the ground

floor along with a shower room.

The first floor holds the two double

bedrooms along with a family

bathroom along with a roof top

solarium.

24 l SPAINPROPERTYGUIDE.COM

€224,900 Cabo Roig

KEY FEATURES

• Beds: 2

• Baths: 2

• Plot size: 134m2

• Build size: 90m2

• Pool: Private

• Parking: Off-road

• Full furnished

Ref CM6810

New Build Villas located in Lomas de

Cabo Roig, within walking distance

to all the local amenities that Lomas

de Cabo Roig has to offer. The

properties offer 3 double bedrooms,

3 bathrooms, spacious living and

dining area with an American style

kitchen. The property is sat on a

spacious plot which has a private

swimming pool, plus a roof solarium.

€349,900

KEY FEATURES

• Beds: 3

• Baths: 3

• Plot size: 199m2

• Build size: 131m2

• Pool: Private

• Parking: Off-road

Ref CM7870
---
Benijofar

Av. Federico Garcia

Lorca, 15, Benijofar,

03178, Alicante

+34 966 714 719

La Zenia

C. Maestro Torralba, 2

La Zenia,

03189

+34 966 714 719

FORMENTERA DEL SEGURA 265.000€

LOS ALTOS 139,750€

110m 2

m 2

603m 2

m 2 Pool

m 2

m 2

m 2

3 2 Pool 66m 2 Parking 2 2

m 2 m 2 m 2 m 2

m 2

Ref: CM7747

Ref: CM7872

EL CHAPARRAL 49,950€ VILLAMARTIN 145,000€

m 2

41m 2 Parking Pool

m 2

1 1

m 2 m 2

Ref: CM7851

DAYA VIEJA 124,999€

m 2

m 2

105m 2 140m 2 3 2 Pool

Ref: CM7479

m 2

m 2 m 2

m 2

CABO ROIG 88,000€

m 2

90m 2 133m 2 Pool

m 2

3 2

m 2 m 2

Ref: CM7868

@ info@casasmanuel.com @

m 2

m 2

71m 2 Parking 2 1 Pool

Ref: CM7422

m 2

m 2 m 2

m 2

www.casasmanuel.com

SPAINPROPERTYGUIDE.COM l

25
---
COSTA

CALIDA

Less famous by name than some of Spain's other costas,

the Costa Cálida extends from the Costa Blanca

southwards to the border of Almería province, covering

a 250-kilometre stretch of shoreline within the province of

Murcia.

It's a classic Mediterranean region of blue seas, rocky cliffs,

secluded bays and coves, and golden beaches dotted

with holiday resorts and traditional fishing towns. As its name

indicates, this is a warm coast, with warm summers and very

comfortable winters, and as rainfall is low the region also

offers a healthy climate to visitors and residents, making it

much-loved with families and especially retired tourists and

homebuyers from northern countries.

Formerly – and still – a rural area sprinkled with little country

towns, this is now a major holiday and retirement destination

that is marked by two distinct areas:

MAR MENOR

At its northernmost point, in El Mojón, the Costa Cálida

touches the Costa Blanca. South from here is the Parque

Regional de Las Salinas y Arenales de San Pedro del Pinatar, a

coastal marshland protectorate named for the nearby town

of San Pedro del Pinatar. The centre of town is surrounded by

extensive residential and holiday resorts in suburbs such as

Las Esperanzas, Los Imbernones, El Salero, Las Pachecas, Los

Antolinos, Las Beatas, Los Sáez, Lo Pagán, Molino del Chirrete

and Los Cuarteros, which front the main feature of this part of

the Costa Cálida: the Mar Menor.

Where the more inland resorts offer residential golf living

complete with extensive on-site amenities and leisure facilities,

the beachside area that extends southwards towards

Santiago de la Ribera and fronts the western shoreline of the

Mar Menor up to a military airbase provides a more classic

beachside ambience. Though this is not the Mediterranean

but a saltwater lagoon – at 170km2 Europe's largest – known

for its warm, shallow waters and delicious sweet fish. The lower

section is dotted with smaller resorts and towns such as La

Roda, Playa de Los Narejos, Los Alcázares, Bahía Bella, Punta

Brava, Los Urrutias, Estrella De Mar, Los Nietos and Mar de

Cristal.

LA MANGA

The saltwater lagoon conditions of the wonderful Mar Menor

are created by a dry climate and the 22-kilometere long

sand bar that extends from the protected Playas de La Llana

down to the La Manga resort at its southern end, where the

land spit joins the mainland at Cabo Palos and Playa Honda.

26 l SPAINPROPERTYGUIDE.COM
---
Among the famous golf courses in this area are the Hacienda

Riquelme Golf Resort, Hacienda del Alamo, El Valle and of

course La Manga itself.

COASTLINE

If the northern areas surrounding the Mar Menor are where

most of the tourist and residential resorts are located, then the

coastline of rocky cliffs and bays extending from La Manga

down to Aguilas is rather more natural and authentic. Here

you will find a succession of fishing towns such as

Puerto de Mazarrón and natural coastal reserves – as well as

the historic port of Cartagena, a cultural gem first founded by

Carthaginian traders more than 2000 years ago.

In the later years of Franco's rule, a US aeroplane accidently

dropped bombs during naval exercises not far from the coast.

It sparked a massive 'search and rescue' operation on the part

of the American forces, who much to their embarrassment

could not locate the errant devices. Fortunately, some

locals managed to do just that several weeks later, and the

potentially dangerous of equipment was returned to its redfaced

owners. Ever since, the Costa Cálida has become not

only one of the favourite tourist destinations in Europe, but

thanks to its climate, scenery and good value for money, also

a popular focus for year-round residence and retirement.

San Javier

Murcia

Santiago de

la Ribera

La Manga

La Azohia

Cartegena

Mazarron Isla Plana

Aguilas

The beach at

Mazarron

SPAINPROPERTYGUIDE.COM l

27
---
28 l SPAINPROPERTYGUIDE.COM
---
DISCOVER

a world between

lagoons, dunes

and the sea

If you thought you could pretty much picture

the Spanish coastline, think again. There is a

region so singular that its very description sounds

mesmerising: a region where a narrow 22-kilometre

long sandbar separates a salty lake from the sea.

This is a world where dunes and beaches extend on

both sides of this narrow slither of land between the

vastness of water extends to the distant horizon. It's

a region with a healthy, dry Mediterranean climate

that is at once singular yet also so familiarly Spanish;

a place of ancient settlement and modern tourism,

where golf borders the desert and a lake measures

135km2 while never exceeding depths of seven

metres.

You may have guessed by now that we're describing the

Mar Menor, an officially fresh water lake big enough to be

seen as an inland sea. The high level of evaporation makes

this a little 'Dead Sea' in Europe, with accompanying saline

levels that make it possible to float languidly on its warm

waves. Contrary to what you might think, the fish caught in

its waters is delicious and sweet – a contrast typical of this

particular part of the world.

A NARROW 'SLEEVE OF LAND'

The sandbar that separates the Mar Menor from the

nearby Mediterranean Sea is called La Manga (the Sleeve)

in Spanish, and while it is long (22km) the breadth varies

between 100 metres and a little over a kilometre. This has

not impeded the creation of a number of resort towns

within this spectacularly scenic area, where two bodies

of water – each with its own shades of blue-green – are

flanked by hills rising in the distance.

Both lake and sea offer beaches, water sports and

little islands, with Cape Palos in the south a reference

point that juts out into the sea. To the west of the lake's

quintessentially Spanish resort towns are golf country clubs

popular with Northern European visitors and residents, while

the La Manga Club near the sandbar is a first-class resort

area with internationally famed sports facilities much loved

by top athletes and football clubs. For culture, history and

Spanish cuisine the nearby historic port city of Cartagena

is a delight to visit, making this one of the most varied and

fascinating of Spain's many coastal regions.

SPAINPROPERTYGUIDE.COM l

29
---
History

culture and

atmosphere

Everything described in earlier paragraphs takes

place within the Autonomous Community of Murcia,

which is located between Andalucía and the Costa

Blanca. At its heart is the regional capital of Murcia, a city

founded by the erstwhile Moorish rulers of Iberia. Set upon

the Segura River a little inland from the southern Costa

Blanca, the city lays within a fertile agricultural plain

known locally as the Huerta, or the Orchard of Europe.

Murcia is a lively city with a beautiful historic centre

ornamented by Baroque buildings, medieval ruins now laid bare

by archaeologists and grand boulevards. A tall statue of Christ

standing atop an old Moorish citadel is the city's icon visible

from far and wide, while once inside its urban core you are

surrounded by the unmistakable sights, sounds and atmosphere

of a classic Spanish city. Less than half an hour from the resort

areas of the Mar Menor, it is a popular cultural reference for

Spanish and foreign residents alike.

CITY OF THE ANCIENTS

If you like watching movies such as Troy, The 300 and Jason

and the Argonauts, the city of Cartagena will strike a chord,

30 l SPAINPROPERTYGUIDE.COM
---
for it was founded by the Carthaginians – you know, of

the famous general Hannibal who crossed the Alps with

an army (including elephants) and routed the Roman

armies. That was back when the city states founded by

Phoenician traders had grown into a powerful naval

empire challenged by the up-and-coming Roman

upstarts – who eventually won those Punic Wars.

Over two thousand years ago, Cartagena (which

means 'New Carthage') was the scene of major battles,

and long after it continued to be a vital strategic

port. So much so, in fact, that it continues to be the

Mediterranean fleet HQ of the Spanish Navy today. But, in

spite of impressive historic buildings and a stunning Roman

amphitheatre, there is so much more to recommend this

port city. Cartagena bustles with Mediterranean culture

and energy, complemented by the fact that it is a naval

port and a university town. You'll love the dry, energising

climate, the sights and atmospheric setting within a

mountainous bay – all within a short drive from your home

on the Costa Blanca or Mar Menor.

SPAINPROPERTYGUIDE.COM l

31
---
Sunshine Living

Mar Menor

Golf Resort

Why oh why do people choose to live in Spain,

and why have they done so for many years?

Could it have something to do with the

climate, the beach-focused lifestyle, the laid-back

pace and the outdoor way of living? Yes, it has a

lot to do with that, plus the fact that you can own a

property or better yet – live in a stylish country club

environment for far less than it would cost you back

home.

Of all the different parts of Spain, the Costa Blanca

and Mar Menor remain among the most popular

because they offer all the above, as well as fantastic

value in a healthy climate close to nature. The

amenities are geared towards quality of life and the

sea is always near, and this is especially true of the

Mar Menor Golf Resort – a residential country club

set within the highly varied south-eastern corner of

Spain.

Here, the southern part of the Costa Blanca

shoreline meets the 22-kilometre long sandbar of

La Manga, which divides the Mar Menor lake from

the Mediterranean Sea. At its southernmost point,

the cape of Cabo de Palos, the 'vertical' coast turns

'horizontal', heading west towards the historic port of

Cartagena in a succession of caves and stretches of

32 l SPAINPROPERTYGUIDE.COM
---
long sandy beaches. After the city, the shoreline grows

even more rugged, at the natural reserve of Cabo Tiñoso

y Roldán.

A PERFECT RESORT VILLAGE

Set midway between all these points is the Mar Menor

Golf Resort, a residential country club situated a short

drive west of the famous lake, whose shallow, saline

waters make it ideal for sailing and swimming. The

country club is designed not like a typical resort but more

like an idealised Mediterranean village, which makes it

feel all the more like a perfect year-round community in

one of the sunniest spots in Spain.

In fact, it's the kind of suburban area you'd dream of

back home, with well-kept green zones and public areas,

a gated community with space, views and security,

where there is no passing traffic and children can roam

freely. What's more, the Mar Menor Golf Resort skirts the

meanderings of a stunning 18-hole golf course complete

with sandbanks and lakes, creating a beautiful setting for

a lifestyle in the sun.

Like the perfect village, this is a safe, pleasant living

environment close to the sea, the Mar Menor and the

cities of Cartagena and Murcia and their international

airports. With a golf course, driving range, academy,

clubhouse and also communal swimming pools,

restaurants, shops, a gym and a spa available, the Mar

Menor Golf Resort offers the ultimate lifestyle at highly

affordable prices. The villa, meanwhile, are spacious,

open-plan, well-finished and come with their own garage,

garden and terrace, as well as private swimming pools.

What more could you want from the ideal Mediterranean

family lifestyle?

FIND YOUR PERFECT HOME WITH US -

multilingual property experts for 25 years on the Costa

Email:

Web:

info@welcome-estates.com

www.welcome-estates.com

SPAINPROPERTYGUIDE.COM l

33
---
COSTA

ALMERIA

Almeria

Aguadulce Retamar

Belerma Cabo de

Adra

Gata

Almerimar

Villaricos

Vera

Garrucha

Mojacar

Agua Amarga

Las Negras

San Jose

34 l SPAINPROPERTYGUIDE.COM
---
It seems most Spanish costas are around 200 kilometres

long, and the Costa de Almería is exception, measuring

217 kilometres in length. In essence, it is a continuation

of the dry, warm, rugged terrain of the Costa Cálida,

but as you head south towards the Cabo de Gata

nature reserve the landscape becomes increasingly

'Martian'.

The sleepy little resort community of San Juan de los

Terreros marks the northern edge. At Pozo del Esparto

there is a delicious sense beachside seclusion in the

midst of a perhaps more lunar landscape, sure to delight

nature lovers. This part of the coast is made for people

yearning to get away from the madding crowd, and

even at the little marina and resort of Villaricos there

is no sense of a major high-rise town. It was in nearby

Palomares that locals discovered missing bombs that

the US Navy had waylaid but had not been able to

relocate, despite large-scale searches.

The beach

at San Jose,

Almeria

A NATURAL AND NUDIST PARADISE

This open-spaced, thinly populated coastline has

attracted such a concentration of nudists that a resort

dedicated to this kind of tourism sprang up in Vera,

where the Playas de Vera is now one of the largest

nudist resort areas in the world. Residents of the nearby

inland town of Vera are not always pleased with the

epithet, but it has put this part of the coast on the map

and creates many jobs in the area.

Just south of here are the resorts of Puerto Rey and Las

Marinas, which are marked by low-rise development,

Further along, at the marina resort town of Garrucha,

this culminates in a bit more of a town feeling, complete

with larger buildings and a historic centre. One of the

highlights of the Costa de Almería is Mojácar, which

is curiously divided into the original hillside town – a

pretty collection of white-plastered houses – and the

charming beachside resort of Mojácar Playa.

Here too, the quaint Mediterranean ambience has been

remarkably well maintained. Some more small resorts

follow, before one enters a vast space of protected

open coastal scenery en route to Carboneras, another

pretty Andalusian style beachside resort village. At

Aqura de Emedio, midway between Carboneras and

Mojácar, the dramatic white cliffs and grey-white

beaches stand out against a world of blue skies and

water.

It continues this way almost all the way to Almería

city, marking this as one of the most rugged, secluded

and natural of costas in all of Spain. For those who

lament the authenticity of earlier years, before tourism

became so large-scaled, the Costa de Almería is the

perfect answer. Dazzling the eye and the senses with

its roughhewn beauty, this is a place of small, intimate

coastal resort and fishing towns, where you can sip

a cold beer at a bohemian beach car or enjoy fresh

fish to the uninterrupted sound of the waves. Not for

everyone, but paradise who those who enjoy peace

and natural pleasures.

SPAINPROPERTYGUIDE.COM l

35
---
LEGAL ADVICE

Buying a

property

in Spain

THE PROCESS

In Spain the buying process has been simplified to become

easier and quicker since it was known to be complicated and

lengthy, now the sale or purchase of a home in Spain has not

only become easier, but also quicker.

The dual system involved joint documentation, the Land Registry

with a written description of a property while the Cadastre had

graphic representation in the form of a map or plan. There were

sometimes errors where the two did not match, this led to legal

disputes regarding boundaries. The Cadastre was not routinely

cross-referenced with the Land Registry, details that showed

alterations and extensions built that would not necessarily appear

on the Cadastre, again leading to legal complications.

The Spanish government took action to update the

conveyancing process and ensure the two registries were

consistent when describing a property. Amongst the changes is

the requirement that Land Registry descriptions must include a

'graphic representation' of the property in the form of a copy of the

map or plan held by the Cadastre.

This will ensure buyers know exactly what they are purchasing

and the Cadastre will have to make note of any alterations to

a building marked on the Land Registry records, and the two

institutions will also have to use the same reference code for each

property in order to avoid confusion and make the comparison of

data between the bodies easier.

Government officials estimate it will avoid the need for

some 22,000 personal declarations a year, saving €1.8million.

More importantly, it will provide greater security, clarity and

transparency for people buying a property, and should speed up

the process greatly.

THE STEPS

PLANNING

· Review your desire and essential

requirements

· Set your budget

· Choose the location/s

· Arrange the finance

· Allow for additional costs

· Arrange legal representative

· Plan your travel date

· Arrange viewings

· Research getting to know the

areas of your choice

Contact aradford@mylawyerinspain.com

www.mylawyerinspain.com

36 l SPAINPROPERTYGUIDE.COM
---
ACTION

· Get your NIE - Spanish tax

identification

· Open a Spanish bank account

· Agent's property brief and

information pack

· Viewings

· Make an offer

· Negotiations

· Pay a reservation deposit

THE NEXT STEPS

· Review of property details

· Survey – Advice

· Legal documentation - Planning

checks – Land Registry Checks

· Draft of the reservation agreement

· Review any conditions

· Fixtures and fittings inventory

· Signing of the pre-purchase

contract

· Pay the deposit 10% of the

purchase price less any

reservation deposit

FINAL STEPS

· Establishment of liquidation

settlement including taxes

· The resolution of mortgage/loan

· The Notary Sign the deeds

· Payment – banker's draft

· Registration and transfer of

property documents and utility

supplies

· Key handover – once the title

deeds have been signed and final

payment made you receive the

keys to your new home.

POST COMPLETION

· Quality monitoring

· Agents support and advice

SPAINPROPERTYGUIDE.COM l

37
---
LEGAL ADVICE

Living in Spain

38

If you intend to live in Spain for more than 90 days

in every 180 days then as you may already knowthe

rules for non EU citizens have changed since

January 31st 2001.

We all love the weather in Spain the wonderful

beaches and most of all the outdoors and lifestyle

that is on the wish list for most UK citizens especially

those who plan to retire.

Therefore if you intend to spend any considerable

amount of time in Spain and if you want to remain

longer then 90 days in every six month period then

it is required to apply for your Spanish non-lucrative

visa. This must be done form you home country by

application to the Spanish consul. It is also advisable

to apply for an NIE number for things like opening

a bank account, registeration of a Spansih mobile

phome and also to buy a car. Infact the Spanish

NIE number is used for most things so even if you

intend to stay for shorter periods but live in Spain

part time you will find that life without a NIE is almost

l SPAINPROPERTYGUIDE.COM

impossible.

For both the NIE number and the Spansih residency

visa (non-lucrative visa) you will need to fill in forms

in Spanish, also you will need to present the required

documents, some of the documents would need to be

translated and certified together with your passport,

utility bills and bank statements all with multiple

copies.

This process can be discouraging for those who

are considering a move to Spain, and expectadly

difficulties with the language, as well as which

documents to produce. Legal advice and support

is recommended to the simplify the process and

lead the way to a straight forward and stress free

application process. The timing which is most

important for those people wanting to buy a property

at the same time as selling a property and then move

to Spain as there are time restrictions on visas once

granted and necessary to apply for the residency TIE

card.
---
The

Spanish

power of

attorney

THERE IS AN EASIER WAY!

By Michel Cruz

Legal Services in Spain has produced a simple easy to follow guide

under their website https://www.getspanishresidency.com/

You can apply for your Spanish residency online or simply

arrange a free no obligation 30 minute telephone consultation,

that will save you time and headaches. Legal services in Spain will

help you every step of the way to becoming a resident in Spain.

· Assurance of the correct paperwork completed prior to visiting

the authorities

· An appointment made for you at a mutually convenient time at

the Police station and the Health centre

· Support of English speaking legal professionals on hand to

answer any questions you may have and provide the advice you

will need

· Assistance to find insurance companies for you to choose the

health insurance package that best suits your needs

· Help with your health insurance agent to ensure all documents

are issued correctly prior to presentation to the Spanish

authorities.

In Spain the power of attorney is known

as poder notarial the document must be

drawn in front of a public notary and it

must clearly stipulate the types of activities

that are granted to another person who can

be a family member or a Spanish abogado

(lawyer).

To grant someone the power to act on

your behalf must be carefully considered as

well as the powers you are granting to that

person.

These powers are usually used when

overseas property buyers instruct a lawyer

to act for them. Simple actions such as

opening a bank account and registering for a

NIE number are amongst the common uses,

they would normally include the power to sign

deeds on your behalf to buy, sell or inherit

property, or to issue legal proceedings.

A power of attorney is a powerful document

which authorises the appointed attorneys,

and must be only be used for trusted people,

to carry out wide ranging powers on your

behalf.

In Spain we have general powers of

attorney and special powers of attorney. A

general power of attorney is by its nature

wide ranging with general powers to carry

out a number of tasks. A special power of

attorney is used for a specific purpose, for

example to issue legal proceedings or to

incorporate a company.

If you want to get further advice and

consultation with a lawyer contact Alex

Radford legal abogado in Spain.

Sponsored by

a.radford@legalservicesinspain.com

SPAINPROPERTYGUIDE.COM l

39
---
COSTAEL SOL

Without doubt the Costa del Sol is one of the most popular tourist destinations in the world.

Stretching from Almeria to Tarifa, it caters for all tastes, ages and nationalities; with such a

wide range of facilities and attractions, there is something for everyone to enjoy.

Miles of sandy beaches, fantastic all year round warm climate and modern facilities keep tourists

flocking back year after year to resorts such as Torremolinos, Benalmadena, Fuengirola, Marbella and

Estepona.

East of Malaga is less popular than west, but no less appealing, from Rincon de la Victoria, Torre del

Mar and Velez Malaga, to Nerja; the area combines beautiful coastline, with white- washed villages

and some of the most spectacular inland scenery of the Axarquía.

40 l SPAINPROPERTYGUIDE.COM
---
Malaga

Nerja

Marbella Mijas

Torrox

Torremolinos

Benalmadena

San Pedro Fuengirola

de Alcantara

Estepona

Gibraltar

History & Culture

The area's history dates back to the Phoenicians

and has since been inhabited by Greeks, Romans

and Moors, all of whom have left their mark on the

architecture and culture of the region. The Costa

del Sol is as much steeped in culture as any other

region of Andalucia; from Picasso, to bullfighting,

flamenco to the colourful ferias, the region has an

immense cultural offering.

Orilla del

Mar in the

Benalmadena

province

SPAINPROPERTYGUIDE.COM l

41
---
BENALÚS,

exciting new

Golden Mile

homes

More than most, Marbella's

property market is built above

all on the unique quality of life

this area offers, and Benalús is a

luxury new development on the

Golden Mile made exactly with

that lifestyle in mind.

In most property markets a home is above all a place to

live. It conveys the status of a good address, as well as style,

comfort and wellbeing, but in the final analysis is a practical

living necessity that needs to be close to schools, work, shops

and other amenities. As such, it forms part of a working way

of life. A Marbella property, on the other hand, is inextricably

linked to lifestyle – and more specifically the lifestyle offered

by this unique part of Europe. Naturally it also functions as

a residence, offering all the cosy wellbeing and luxury of a

good home, but here your property is part and parcel of a

privileged lifestyle, and as a result is the ultimate reflection of

it.

For this reason many of the best properties on the Costa

del Sol are designed and built around a lifestyle concept. The

first and for many the most important part of this process is

location, and it is here that the creators of Benalús kick off with

the very best credentials one could wish for. If location is the

golden rule of real estate, then this luxury new development

of apartments and penthouses is a jewel indeed, for in

Marbella it doesn't get any better than an address on the

Golden Mile. Add sea views and close proximity not just to

the beach but also to Puerto Banús, the Golf Valley and

downtown Marbella – with its shopping and dining options –

and we're talking about a truly special offering.

42 l SPAINPROPERTYGUIDE.COM
---
BOUTIQUE LIVING IN MARBELLA

"It's the very reason why Benalus is such a special

project to us," says Sergio Fernández, director of the

project. "Such a top location deserves a property

development that represents the best of what

Marbella has to offer, so we have taken our time

to create something that we believe can best be

described as 'boutique living' in Marbella." Marbella's

planning issues were a hurdle that has been overcome

with a new project whose abundance of greenery

makes it an exclusive garden development in

which three elegant, low-rise buildings are discreetly

distributed within the private park-like grounds.

"While developing the concept, we had a very

clear idea of the target audience for whom we were

creating Benalus, and the kind of offering they have

been looking for. Although Marbella's is a market

primarily aimed at high-income buyers, we feel it

is saturated with villas at a time when many are

looking more towards luxurious, low-density residential

communities that offer space, comfort, luxury, security,

privacy and also optimal convenience and the

provision of on-site services." It is with this thinking in

mind that Benalus has been designed to offer a rather

more creative range of property options than one

would conventionally expect to find in a Marbella

development.

"We wanted to add to the fantastic credentials of

Marbella in terms of its climate, setting, accessibility

and facilities, with beautifully positioned modern luxury

homes set within the privacy and seclusion of their own

parkland. In this way, close to such Marbella landmarks

of style as the Marbella Club and Puente Romano, the

blend of ingredients and the lifestyle offered simply

could not be bettered."

INNOVATIVE PROPERTY CONCEPTS

It is the innovative range of apartment options that

is one of the stand-out features of Benalús, where the

SPAINPROPERTYGUIDE.COM l

43
---
44 l SPAINPROPERTYGUIDE.COM
---
27 properties set within three, four-storey buildings enjoy a southwest

and south-east orientation that ensures the spacious terraces

linked to luxurious open-plan indoor living areas benefit from a

combination of sun and shade both during the morning and

later in the day. Buyers have a wider range of options than usual,

including a 170m2, three-bedroom apartment on the first floor, a

three-floor, three-bedroom, 370m2 penthouse with private pool

and rooftop chill-out zone, and a two-bedroom, 200m2 ground

floor apartment with private pool and also a 55m2 space with

natural light that is at basement level.

Normally that would be it, but Benalús provides two more

choices: a top-of-the-range three-storey sky villa with four

bedrooms, a whole list of luxury amenities and a total area of

785m2. Perhaps even more unique is the duplex ground-floor

apartment with private pool and garden, four bedrooms and

no less than 460m2 of space, as well as the 55m2 lower level

space with direct access to the garage. The properties all come

with a storage room and two parking spaces standard, but the

top-range penthouse has parking for four cars and double the

storage.

BOUTIQUE AMENITIES

Endowed with views across the landscaped gardens, La

Concha and the sea, Benalús also offers 24-hour gated security

and an advanced system of volumetric sensors and panic buttons.

In keeping with the architectural styling, top-end materials and

brands are fitted, including Bulthaup kitchens, Villeroy & Boch

bathrooms and modern home installation systems controlling

among other things lighting, security and the energy-efficient

Altherma hot water, air conditioning and under floor heating by

Daikin.

The penthouses also feature a private hydraulic lift that connects

the three levels of the property, while the tasteful gardens surround

resort-standard facilities with a large swimming pool and deck, a

relaxed chill-out area and a spa with heated indoor pool, gym,

changing rooms with showers and wellness amenities. Together,

these communal and landscaped areas make up 5,700m2 of

Benalús's total of 9,326m2, with an additional 7,000m2 of private

parkland created where residents can enjoy leisure facilities in

spacious green surroundings.

"We believe Benalús brings a new kind of luxury property

concept to Marbella that more than ever is designed in keeping

with the lifestyle that makes it so desirable. In other words, Benalús

allows you to enjoy that way of life in the very best style."

Benalus l Tel: 951 194 646

SPAINPROPERTYGUIDE.COM l

45
---
46 l SPAINPROPERTYGUIDE.COM
---
Front row seat at

The Edge

Some locations are so amazing you wonder how someone got hold

of it. The Edge is situated in just such a spot; a perfect frontline

beach location surrounded by greenery and sandy beaches on

the west side of Estepona. Close by are a marina, two golf courses,

shops, schools, restaurants and even a horse riding centre, but your

gaze will mostly be fixed out to sea from the modern apartments,

penthouses and also beach villas being created here.

Designed by renowned Spanish architect Rafael de la-Hoz, who

has been responsible for prestigious projects within Spain and

internationally, The Edge is a luxurious frontline beach project situated

footsteps away from the Mediterranean Sea and the scenic coastal

pathway that leads towards Sabinillas in one direction, and the marina

and broad beachfront of Estepona in the other – with Marbella just 20

minutes away.

A BEACHSIDE OASIS

The views from this private, gated development are beyond

comparison, offering panoramic 180-degree vistas across the sea and

along the shoreline to Gibraltar and North Africa. The complex is set

within elegantly landscaped greenery, complete with large swimming

pool, sunbathing decks and cooling water features, as well as a wellappointed

gym and indoor heated swimming pool with spa facilities.

The 2, 3 and 4 bedroom apartments and penthouses sport sleek

contemporary architectural styling with sensual rounded forms that

also create a nautical feel on the panoramic decks, which extend the

open-plan living room and modern kitchen outwards. In addition, The

Edge also features four beach villas that offer a unique opportunity

to own a luxurious sea-fronting property set right on the beach while

enjoying the amenities and services of an exclusive gated community.

Set in an upcoming beachside residential area on the Costa del

Sol's New Golden Mile, The Edge is one of the most exclusive new

developments in the region – boasting a setting that few can equal, let

alone better.

Kronos Homes

www.kronoshomes.com

SPAINPROPERTYGUIDE.COM l

47
---
1

TOP-5

2

golf courses

in Andalucía

It won't come as much of a surprise that the top golf courses in Andalucía – which is, after all,

about the same size as Portugal – are located on its southern shoreline. More specifically, on the

Costa del Sol, which with around 70 top courses represents one of the greatest concentrations of

the sport anywhere in the world. For this reason, it has also been nicknamed the 'Costa del Golf'.

Given so many excellent golf courses in so many different locations, it is very hard to choose a

top-5, also because such a ranking would differ among different players and lovers of the game.

However, there are a few that stood out for us for a variety of reasons.

4

5

48 l SPAINPROPERTYGUIDE.COM
---
1. Real Club Valderrama – because it's legendary

The now-iconic Valderrama in Sotogrande was originally

inaugurated as Las Aves in 1974 until Jaime Ortiz Patiño

took it over in 1984 and brought in Robert Trent Jones

Sr. to redesign the course and set the tone for things to

come. The perfectionism of Patiño led to the hosting of

the legendary 1997 Ryder Cup, which continues to live

on in the annals of the sport. The course has been rated

the best in Europe by many, including none other than

Nick Faldo.

Par-71 course

6.390 metres

3

2. Aloha Golf Club – scenic jewel in the Golf Valley

If the Costa del Golf is the centre of golf in continental

Europe, then Nueva Andalucía's Golf Valley is the

epicentre, for this is where several of the greatest

courses can be found in close approximation. Las Brisas

is actually a little more famous, having hosted many

top competitions, but Aloha just cannot be beaten for

its fantastic views, which include a parkland landscape

with the iconic La Concha Mountain as a backdrop.

Opened: 1975

Designer: Javier Arana

Par-72

6.293 metres

3. Parador de Málaga Golf – beachside history

Once of the oldest golf courses in Spain is also located

right near the beach in a spot you may not expect –

within easy reach of the city, shopping and the airport,

not to mention the Mediterranean Sea. This makes

is very convenient for a number of reasons, but the

combination of history and a parkland course set on the

grounds of a Parador resort hotel gives this golf club a

truly unique ambience of this own that rather stands out

on the Costa del Sol.

Opened: 1925

Designer: Tom Simpson (of Turnberry, etc.)

Par-72

27-hole course, 6.173 metres

4. Río Real – the beautiful setting

If ever there was a golf course on the Costa del Sol that

is so obviously a man-made Garden of Eden, it is the

Río Real Golf Club's. Part of an elegant golf resort, its

scenic beauty derives from the fact that this is a largely

flat parkland course set between hills populated with

trees and private homes. Look the other way, and you

follow the stream after which it is named flow along with

the greenery to the nearby sea – making this one of the

few golf courses in the region that skirts the beach, an

experience to savour.

Opened: 1965

Designer: Javier Arana

5. La Quinta – golf amid the hills

Par-72

6.000 metres

Imagine a golf course that rolls between forested hills

and luxury homes. Peak one way and you look further

into the mountainous countryside, look the other and

you see the sea glistening in the distance. It's a rather

magical setting, created above all by the unique

topography of this course, whose excellent clubhouse,

driving range and academy are the envy of many even

on the Costa del Golf.

Opened: 1989

Designer: Manuel Piñero Sánchez

27-hole course, three 9-hole courses:

5.915 metres, par-71

5.749 metres, par-71

5.602 metres, par 70

SPAINPROPERTYGUIDE.COM l

49
---
CURRENCY OUTLOOK:

Euro tumbles on renewed

coronavirus concerns

EURO

EUR/GBP: Down from £0.86 to £0.85

EUR/USD: Down from $1.20 to $1.17

POUND

GBP/EUR: Up from €1.15 to €1.17

GBP/USD: Down from $1.39 to $1.37

The euro struggled to attract support

through March with the EU's sluggish

vaccine rollout remaining a key source of

pressure for the single currency.

Further diminishing the appeal of the euro was the

startling resurgence of coronavirus cases across the

continent, with Europe's third wave forcing countries

to tighten restrictions once more.

Meanwhile, data coming from the Eurozone

has been mixed over the past month, with some

positive releases offering temporary respite for the

single currency, but proving unable to reverse the

prevailing selling bias.

Looking ahead, barring a dramatic improvement

in Europe's vaccine rollout or a sharp drop in local

coronavirus cases, it's likely we could see the euro

remain on the back foot through much of April.

March has seen the pound struggle to maintain the

highs hit back in February as a key pillar of support

for Sterling (its successful vaccination programme)

appeared to be under threat due to shortages and

potential export bans from the EU.

This stoked concerns that the UK government

will need to alter its roadmap for easing lockdown,

something which Boris Johnson also warned about

when schools reopened at the start of the month.

However, Sterling has still been able to find some

support through the past month, with Chancellor Rishi

Sunak's budget providing a lift after he announced a

more-generous-than-expected stimulus package.

The pound was also able to advance on a broadly

weakened euro.

Turning to April, the focus for GBP investors will be on

whether the government moves forward with its plans

to reopen more of the economy on 12 April, with any

delays likely to negatively impact GBP exchange rates.

+34 965994830 | costablanca@currenciesdirect.com
---
@

@

info@marbella-estates.com

www.marbella-estates.com

MARBELLA 660.000€

SAN PEDRO DE ALCÁNTARA 2.485.000€

m 2 m 2 m 2 m 2

m 2

m 2

m 2 R3829483

110m 2 45m 2 2 2 Pool

NUEVA ANDALUCÍA 2.400.000€

m 2

m 2

286m 2 956m 2 4 4 Pool

m 2

R3628811

LOS FLAMINGOS 5,450,000€

m 2

m 2

m 2

m 2 R3601088

509m 2 163m 2 4 4 Pool

SIERRA BLANCA 6.950.000€

m 2

m 2

770m 2 1.571m 2 6 6 Pool

R3744535

m 2

m 2 m 2

m 2

PUERTO BANÚS 1,495.000€

m 2

m 2

m 2 R3451840

1073m 2 18.785m 2 10 10 Pool

m 2

m 2

m 2

167m 2 27m 2 2 2

m 2

m 2 m 2

R3693959

+34 952 904 244 • Urb. Monte Biarritz. Avenida Picos de Europa, nº8 29688 Estepona
---
Fun things

to do this

SUMMER

Each summer presents a new opportunity to enjoy

the ultimate high season experience by the sea,

the classic sun-filled adventure you've always been

dreaming of. The longstanding favourite for this is Spain,

and exactly what you do when you're here depends

on where you go, who you're with and how you define

'relaxation'.

For some it's partying in a nightclub or a beach club in

Ibiza, Mallorca or Marbella's Puerto Banús marina. For

others it is languidly lazing by the pool in a rented villa –

or better yet, your own – or entertaining either at home

in meeting up with friends in popular dining spots, be

they traditional or upmarket.

These days, the Spanish coastal resorts offer golf and

a wide range of other sports facilities, shopping, fine

dining, trendy beach venues, water sports, extreme

sports and so much more. Whether your focus is social,

sport, out to the sea or inland, there is a world of

52 l SPAINPROPERTYGUIDE.COM

possibilities – many of which you may not even know

about!

BY THE WATER

Most of the coastal regions of Spain have large aqua

parks designed for whole-day family fun, as well as

classic diving platforms, paddlers and even floating

obstacle courses right by the sea. A lot of areas also

are also close to lakes for fishing, swimming, sailing and

barbecuing, and if you want to make it more 'official'

head over to one of the many yacht harbours and hire

a jet-ski, take scuba diving lessons or head out to sea on

a yacht, catamaran or party boat.

Follow the kite-surfers and ride the waves – quite literally

– or take it a little easier in a kayak or paddle board. This

can be down up and down the Mediterranean coast

of Spain, but the ultimate place to soak up the 'hippie

chic' atmosphere, with its atmospheric, laid-back

beach parties is Tarifa, on the Costa de la Luz – about

an hour west of Marbella.
---
IN THE PARTY SCENE

A lot of people throw a party at their villa this time of

year, and if you don't feel like doing all the arranging

and catering yourself, there are concierge companies

and party organisers who'll arrange everything from

the food and decoration to the entertainment. You

may just prefer to get together at a restaurant, spend

the day at one of the many trendy beach clubs, or

dance the night away at a lively nightclub.

And if culture is more your thing, there is always a

grand historic city nearby full of bustle and fascinating

things to see and experience. Málaga is a jewel of a

port city around 40 minutes east of Marbella, Palma de

Mallorca is easy to reach from throughout the island,

the old town of Ibiza is a rustic delight and if you're in

the greater Costa Blanca/Mar Menor area, there many

cities such as Valencia, Alicante, Elche, Murcia and

Cartagena to choose from.

DISCOVER THE HINTERLAND

Ever wondered what lies behind that curtain of

mountains you can see from your property or hotel

room? Explore it and you will be well-rewarded,

whether you head into the beautiful country villages

of Mallorca, explore the villages of the Alpujarras that

extend inland from Nerja, or head into the deep green

valleys, towering mountains and pretty white pueblos

of the Serranía de Ronda – just inland from the Costa

del Sol.

There's more on offer here than pretty road trips,

country fare and relaxing boutique hotels and spas.

Such inland areas also offering spectacular scenery

for hiking, ballooning, mountain biking, horse riding,

swimming in fresh rock pools, mountain climbing,

hang gliding or simply spending the day by the water

in beautiful hill country lakes. With so many options

available, what are you going to do this summer?

SPAINPROPERTYGUIDE.COM l

053
---
ONE WAY SELF DRIVE

VAN HIRE

CHAUFFEUR SERVICE

PACKING MATERIALS & BOXES

LEGAL AND FULLY INSURED

Pets welcome

54 l SPAINPROPERTYGUIDE.COM

SPAIN 965 794 682 UK 0208 090 4292
---
YOUR

FIRST

CLASS

TICKET

TO SPAIN

Spain implemented the Golden Visa

Scheme which actually it is called the

visa for investors, in September 2013

this was in order to support entrepreneurs

and internationalisation.

The golden visa program provides a great

opportunity to make an investment in Spain and

make it your home or residency, especially if

you want to invest in property. This type of visa

is especially suitable now for UK nationals and

citizens of USA, India and China.

The reason that the golden visa was

introduced was to promote the economy in

Spain and to create new jobs because the visa

for investors makes it easier to gain a residency

permit through making an investment, more

common with the purchase of a property but it

can also be in different types of investments in

Spain here are the options available.

· Property investment of a minimum of

500.000€ free of any mortgage this

investment can be made in more than one

property purchase.

· Invest 1 million euros in Spanish company

shares.

· Deposit 1 million euros into a Spanish bank

account.

· Invest 2 million euros in Spanish public debts.

· Invest in a new business project in Spain of

general interest, which creates employment,

contributes to technological and/or scientific

innovation or has a socio-economic impact on

the local area.

The requirements to obtain a Spanish Golden

Visa

· The main applicant must be 18 years old.

· You must have current private health insurance

by a company authorised to operate in Spain.

· Proof of sufficient financial means, covering

personal and family living expenses, in Spain.

· Not having been refused entry into any of the

Schengen countries.

· Not having entered or stayed illegally on

Spanish territory.

· No existing criminal record in Spain, nor in the

country of residency of the last 5 years.

aradford@legalservicesinspain.com

Sponsored by

SPAINPROPERTYGUIDE.COM l

https://www.getspanishresidency.com/

spain: (+34) 951 820 099 uk: +44(0) 203 807 4044

55
---
MARBELLA

a favourite for retirees

If you're looking for a quality lifestyle, combined with

a near perfect environment then these are some of

the reasons why Marbella attracts more retirees than

other expat hot-spots in Spain.

Marbella is known for its micro-climate as it is

mainly sheltered by the mountain range of the Sierra

Blanca, in general the Costa del Sol offers a typically

Mediterranean climate with hot summers and mild

winters. Outdoor living and exercise is made possible

for most of the year, walking in the wonderful natural

scenery and beautiful views of the mountains and sea

views.

Golf is an increasingly popular sport for all ages with an

abundance of courses available in the area, or tennis

clubs nearby, which are popular as a social sport for

those who enjoy exercise, the Marbella area also offers

many other popular outdoor activities for the retired age

group including cycling and hiking, always accompanied

by delightful views.

Marbella is lively and offers variety of leisure and

entertainment, as well many cultural events in the

surrounding cities and country areas. A slower pace

of life, and a stress-free environment where a quality

lifestyle. The facilities around are also first class with

health care at the highest level of hospitals for both

state and private sectors, there is a broad range of

private clinics and retreats. Fitness classes and gyms

that suit the older generations offering yoga and Pilatus

classes.

Keeping healthy is these days something that most

people are thinking about, so the easy-going way of

life and sunny climate are accompanied by a healthy

Mediterranean diet.

056 l SPAINPROPERTYGUIDE.COM
---
Fresh fish and local seafood, organic vegetables and

lots of local fruit, the cuisine on offer is diverse with

almost everything you want available, international

cuisines from the abundance of local restaurants and

cafes, there is a growing trend towards organic, natural

and vegetarian or vegan venues too. Local cooking

is prepared with olive oil, known to be one of the

healthiest options along with a wide use of garlic and

fresh herbs.

Marbella is a friendly and extremely safe area with good

security facilities, peace of mind in a beautiful setting

is the ultimate way of life that Marbella has to offer, it

is the ultimate place for romantic walks by the beach,

watching the sun set behind Gibraltar as you enjoy a

drink, or dinner with friends or to head out to into the

surrounding countryside and explore so many other

things.

SPAINPROPERTYGUIDE.COM l

057
---
DISCOVER

Costa del Sol

The beautiful

views from

Ronda.

One of the most famous of Spain's sunny Costas,

this coastal region extending for over 150

kilometres from the provincial border with Cádiz

– near Sotogrande – to around 50 kilometres east of

Málaga city is the last major Mediterranean littoral resort

before you reach the Atlantic Ocean. For this reason it is

also the southernmost of the Costas, hence the one with

the sunniest year-round climate and accompanying

name.

For the most part, the Costa del Sol is made up of a

narrow coastal strip before foothills rise to become might

sierra mountain ranges, such as the Serranía de Ronda,

where pretty white Andalusian mountain villages appear

to cling to rocky cliffs. Originally settled by Iberian tribes

and later Phoenician traders, the region was ruled

by Romans and Moors before it became part of the

Spanish kingdom. For all its beauty, settlement was for

centuries hindered by roving Barbary Corsairs, who

raided town and took millions of captives to the slave

markets of North Africa.

Reborn as the Costa del Sol from the 1950s onwards,

it has since become one of the ultimate lifestyle

destinations in Europe, with Marbella at its centre

flanked by coastal resort towns such as Mijas, Fuengirola,

Benalmádena, Torremolinos and Estepona. The

Costa del Sol is famed for its Mediterranean setting,

70 golf courses, country clubs, luxurious hotels and

exclusive residential areas. It is typically Andalusian and

glamorously cosmopolitan at the same time – a place

that has drawn international celebrities for decades.

The true appeal of the Costa del Sol is the fact that it

makes so many different lifestyle possible, from country

living and (extreme) sports to luxury lifestyle and a heady

social scene, making it popular with visitors and residents

alike. The growing stature of Málaga – little more than

half an hour from most parts of the Costa del Sol – adds

yet another jewel in the crown of this coast of sun that

simply has to be experienced.

058 l SPAINPROPERTYGUIDE.COM
---
By Michel Cruz

Alcazar baths of

rain water.

SPAINPROPERTYGUIDE.COM l

059
---
SLANDS

BALEARIC

For those who haven't travelled there yet, the

Balearic Islands are an archipelago in the

Mediterranean off the Spanish east coast. The

four main islands are Mallorca, Ibiza, Menorca and

Formentera – and though they share a common

history, culture and local dialect of Catalan that

is also closely related to Valenciano, Provencal,

Ligurian, Corsican and Sardo (Sardinian) – each has

a character and ambience of its town.

PALMA DE MALLORCA

By far the largest and dominant island is Mallorca,

where the capital Palma de Mallorca is the main

cultural, economic and metropolitan centre of

the Balearics. This historic city is a treasure trove of

imposing architecture, with cultural layers that date

back to pre-Roman, Byzantine, Moorish and later

periods, influencing the local cuisine, traditions, art

and people. In addition to the many cathedrals,

fortresses and elegant streets and plazas to enjoy

are the picturesque old city, the harbour area

with its old towers and of course the white sandy

beaches within a stroll of town.

MALLORCA

If you avoid the built-up tourist town of Magaluf,

which not long ago catered mostly to British

60 l SPAINPROPERTYGUIDE.COM

package tourism but is now being upgraded,

skirting the southwest cape will take you through a

series of rather stylish beach resorts such as Santa

Ponça overlooking idyllic bays. Head inland to the

pastel-coloured charm of Andratx or Valdemossa, a

quaint mountain village reminiscent of the prettiest

ones in Provence or Tuscany. The whole western

mountain range and rocky coastline is a spectacle

of pretty little towns overlooking spectacular cliffside

scenery.

Round this region and you reach the Bay of

Alcudia, where mountains give way to plains

and expansive, white sandy beaches. This too is

a visitor's paradise complete with stylish coastal

resorts, and as you trace the eastern shoreline

you'll be rewarded with elegant little towns and

in places gorgeous beaches that have a very

natural and untouched fell. Round yet another

spectacular cape and you approach some of

the most spectacularly beautiful Mallorca coastal

scenery in places such as Cala Pi, whose iconic

aquamarine water pretty much sums up the island.

IBIZA

If Mallorca has captured the hearts of tourists and

jet-set visitors such as Claudia Schiffer and Michael

Douglas, then Ibiza will forever be associated with
---
The Port in

Palma, Mallorca

Ciutadella

Andratx

Pollenca

Palma

Inca

Alcudia

Cala Ratjada

Maó

MENORCA

IBIZA

San

Antonio

Santa Eulária

des Ríu

Ibiza

City

Cala d'Or

MALLORCA

FORMENTERA

heady summer holidays and the birth of the beachside

club scene. Many of the most famous DJs, such as

David Guetta, cut their teeth here and the likes of

Calvin Harris, continue to feature on a regular basis at

landmark venues like Pasha, which turn partying into a

resort occupation. There is, of course, also another side

to this famous party island, as seen in the historic charm

of its towns and country villages, as well as the natural

beauty of much of its coastline, where areas such as Es

Cubells are popular with high-end visitors and celebrities

seeking privacy, luxury and seclusion.

MENORCA AND FORMENTERA

For more of that iconic beachside beauty in the form of

green Mediterranean pine groves that grow right up to

white sand beaches washed by azure waters, Menorca

is the place to visit. More intimate and natural than the

larger islands, it is a scenic paradise where the land feels

like it spills into the ever-present Mediterranean Sea.

Even smaller and more sauvage, Formentera is where

lovers of nature, sea, sky and sandy dunes will feel at

home – on land as well as snorkelling in its clear blue

waters.

POPULAR RESIDENTIAL AREAS

MALLORCA

When it comes to quality real estate, Mallorca is not a

place of large concentrations, but rather of many little

treasures dotted around the island. That said, you'll see

names such as Pollensa, Alcúdia, Port Adriano and

Puerto Andratx appear frequently as they are among

the finest, most popular residential areas overlooking

gorgeous coastal scenery near all amenities.

IBIZA

The same is true of Ibiza, but those in the know look for

homes in Sant Josep De Sa Talaia, Santa Eulalia Des

Ríu and also Sant Antoni De Portmany – all perfect

examples of privileged living on this golden isle.

MENORCA AND FORMENTERA

In Menorca, it will be hard to resists the atmosphere

and scenic charm of the Ciudadela de Menorca,

though others head to the coastal pleasures of Maó

and Es Mercadal, while in Formentera Cala Envaster is a

perfect spot on a bay in an island otherwise made up of

small communities and SPAINPROPERTYGUIDE.COM country properties. l

61
---
IBIZA COOL

If you think Ibiza is just about clubbing and scores of youngsters

on summer holiday packages, think again. Ibiza is cool,

trendy and appealing in so many more ways, and the island's

booming tourist trade is proof of it.

To many, Ibiza is about summer, beaches, open-air parties and

late night clubbing. The capital of Europe's summer clubbing

scene has spawned its own genres of music, as well as numerous

world famous clubs, but aside from techno, trance and chillout

music – not to mention throngs of swaying, sweating bodies –

there is another, more cultural side to this tourist isle that is being

cultivated. Those in the know, like Richard Branson and other

well-heeled latter day flower power children, have long since

been enjoying its pleasures. Together with the creative types who

helped develop the iconic Ibiza style, they are turning this super

cool spot in the sun into one of the most must-experience places

of the moment.

Ibiza has long been associated with a brand of shabby chic

style that is considered by many to be the ultimate in trendiness.

Not entirely unlike our own Tarifa, this is a place where hip types

like to congregate – surfers, models, pop stars, trendy millionaires

and those successful in the world of design. Coming from similar

hippy roots perhaps, the fashionistas and those who in spite of

their wealth want to remain 'with it' and somehow spiritually

grounded flock to the private villas, secluded low-rise boutique

hotels and other hot spots overlooking paradisiacal coves or

white yachts bobbing quietly on the turquoise water.

More rustic destinations just inland are also very popular, and

while this new international jet set likes to dip its toe into the

feverish partying of the main tourist areas you sense that they

are more at home enjoying freshly caught fish or organically

grown vegetables at a quaint – but stylish – seaside venue. It is at

unassuming locations like this where, on a good day, you could

find yourself surrounded by Liam Gallagher, Kate Moss and Mark

Ronson, if you care for that sort of thing.

Shabby chic is therefore a word that has come to characterise

Ibiza and in turn the style has drawn much inspiration from it. If

there were a colour to represent the island and encapsulate its

ambience it would be azure; the deep aquamarine blue of its

coastal waters, the intense blue of its skies and the liquid freshness

of sea air. Or perhaps the pure, stark white of its plastered walls,

the sails that play against the horizon or the white linen that seems

to become an inadvertent uniform for sophisticated urban types

seeking summer epiphanies in the Med. Such descriptions are not

unlike the islands of Greece, complete with pretty white-plastered

windmills, and indeed, the quintessentially Mediterranean island

of Ibiza is in many ways a reflection of its cousins on the other side

of the vast sea.

62 l SPAINPROPERTYGUIDE.COM

Modern and trendy yet ancient and mysterious, the real Ibiza

is a world removed from the shallow hedonism of its squalid club

scene, where revellers feed on a cocktail of sun, drum beats and

chemicals to achieve a trance-like state of oblivion. The physical

Ibiza has an ephemeral quality, but one where it is the play of

visual beauty, tactile senses and an altered pace of being that

creates a mesmerising effect.

Besides crystal clear waters inviting the visitor to swim, sail and

scuba dive, Ibiza offers a surprising amount of beautiful nature for

so small an island. From the cliffs and coves rises the pine cover

that the island is famous for, converting into maquis heather in the

hardiest of spots before opening up into idyllic valleys covered

in green fields, blankets of wild flowers and almond trees. This is

rustic Ibiza, a place of goats, donkeys, quaint villages and old

rural traditions. It is also home to an amazingly stylish form of rural

tourism in which easy elegance and comfort have been raised to

an art form.

A popular natural area is the Ses Feixes wetlands, a swampy

lowland area bordering Ibiza Bay that is a wintering ground

for countless species of bird. You will also find bats and reptiles

where the Moors once cultivated land using a complex irrigation

system of canals and water deposits. Here, where intense

agriculture flourished for centuries in a man-made environment,

nature began to reclaim its marshes and return them to their

wild inhabitants from the 1960s onwards. Though threatened

by property development, the islanders are now beginning to

recognise the value of this natural spot with its deep historic

connection.

ANCIENT ROOTS THAT LINGER

Much of what makes this island so haunting can be traced to

its ancient roots, which though planted in a very distant and hazy

past continue to produce fresh shoots. While it shares much of

its story and characteristics with mainland Spain – Ibiza is just 79

kilometres east of Valencia – this is above all a Mediterranean

world. As a result, the Pine Islands – the name for Ibiza and

its smaller neighbour, Formentera – have always been a little

removed from their mother nation. Claimed by the Catalan as

their own, the people speak a local dialect of that tongue, yet

could also communicate with the Corsicans and Sardinians with

whom they share an almost invisible yet ancient bond.

Beaten by the salty sea winds and the voyagers they carried

here, these tiny islands have been invaded, sacked and pillaged

more times than you'd care to know, but the many stones have

produced an interesting mosaic. There must have been people

on the islands when the Phoenician traders from the other side of

the Mediterranean founded the town of Ibossim, but by the time

control passed to the Carthaginians the islands had a strong Punic
---
By Michel Cruz

culture also touched by traders from Greece and Rome, which

would later come to rule the territory under the name of Ebusus.

A popular attraction are the remains of a Phoenician

settlement at Sa Caleta, one of the finest examples of its kind,

while a small cluster of islands on the east coast draws scores

of visitors for a variety of reasons. Famed as the spot with the

third most powerful magnetic energy in the world, the islands

of Es Vedra and Es Vedranell certainly exert an irresistible pull on

hippies, travellers and those who can drag themselves away

from the clubs for a little cosmic introspection. But Es Vedra also

holds a mythical place in ancient history, alternatively cited as

the Island of Sirens in the Homeric epics, the holy island of the

Phoenician goddess Tanit and the birthplace of the Carthaginian

general Hannibal.

It is said that sacrifices were performed here by ancient

cults, whilst others say it is the tip of the sunken civilisation of

Atlantis, thus explaining why it is such a popular landing spot for

intergalactic travellers. The hippies who tell you this will also say

they've seen UFOs shooting over here, but maybe that's down to

the kind of 'tobacco' they smoke. Either way, it's a wonderfully

mysterious spot in which to indulge in wild theories and feel the

otherworldly atmosphere as you – per tradition – make a wish the

moment the island comes into view.

Later invaders, such as Germanic Vandals and Hellenic

Byzantines would pass through Ibiza too, as would the Moors,

before the territory passed to the Kingdom of Aragon in 1235,

paving the way for inclusion into the unified Spanish state.

Perhaps of greater influence even than all these invaders and

conquerors were the pirates that infested these islands for so

many centuries, plundering, murdering, raping and dragging

entire populations off to be sold as slaves in their dens. From the

earliest days to the medieval incursions by Vikings, Normans and

Crusaders, the people of the Pine Islands suffered relentlessly.

No more so, though, than during the centuries of raids by the

Barbary Corsairs, whose enslavement of tens of thousands of

islanders ended only when France conquered Algeria in 1830.

Until then, most of the beautiful seaside that now draws so

many people was devoid of population, made uninhabitable

by fear. The seaside villages we see today date in the main from

the 19th century, before which you needed an impregnable

fortress to retire to when the raids came. The town of Ibiza is a

fine example of this. Though it now houses almost half the island's

125,000 people, it was for long little more than a small port

protected by the Almudaina Castle. This large walled fortress,

which stands at the top of the picturesque Dalt Vila (Old Town),

provided the protection that made life here possible, but from

the mid-19th century onwards Ibiza's capital developed quickly,

a process that was further boosted by the rise of the tourist

industry from the 1950s on.

A SENSORY EXPERIENCE

The old walled town is so pretty that the entire area has

been declared a world heritage site by Unesco, complete

with castle, churches and the quaint houses and little plazas.

Here you will almost stumble over the history of the island, or

simply drink in the atmosphere, while on the other side of the

bay luxury yachts lie in the trendy marina fronted by luxury

boutiques, eateries and lounge bars. Much of the nightlife

continues to be concentrated around calle Barcelona, while

the town is also home to some of the most popular clubs,

among them the famous Café del Mar, where revellers come

to chillout and watch the sun set.

They are just some of the more than 40 clubs and trendy

bars that dominate the summer clubbing scene, and though

the island has tried to become more upmarket the popularity

of nightlife tourism shows no signs of diminishing. New hotels,

however, have all been five-star in recent years, and the overall

trend has been towards smaller scale and greater character.

The result has been that Ibiza has been tapping into the cool

chic scene that is so strongly associated with it, catering in the

process not only to young revellers and cultural tourists but also

the well-heeled visitor wishing to remain young at heart.

What Ibiza offers visitors is therefore becoming increasingly

diverse in nature, but always based around a strong sensory

experience – from the release offered by the clubs to the

relaxing, almost spiritual atmosphere to be found along the

pretty little coves and secluded beaches. Where the package

vacationers follow the well-beaten path to the 18 kilometres

of large sandy beaches such as those at Calls Bassa and

La Salinas, those occupying the private villas and low-slung

boutique hotels will seek out secluded spots far away from

the madding crowds. Lying ensconced within small pinecovered

estates, the private lodges they stay at offer peace

and anonymity in what is a typical Ibiza mix of laid-back hippy

style complete with Thai or Indian influences, yet suffused with

comfort, luxury and first-class service.

After all, a Richard Branson or Jean-Paul Gaulthier may

seek out hip venues where they can chill out and get closer

to nature, but they will not easily forsake the subtle pleasures

and comforts of life. As a result, the Ibiza chic venue is earthy,

designed in a way that appears to be random and informal

yet is actually demanding of creative energies, and provides

five-star services in an ambience that seems to want to decry

earthly luxury and opulence in favour of a more ethereal

way of being. Some will even feature yoga classes and

detox regimes amid the fragrance of flowers and incense,

while others are more starkly minimalist in their avant-garde

sophistication.

Either way, they combine with the shabby chic simplicity of

favoured seaside fish restaurants in pretty little coves or villages,

days spent lazing on secluded beaches, watching the sun

set on yachts and trekking into the rustic countryside – as well

as heading off to the most exclusive of the lounge bars and

clubs – to produce a style of Ibiza-branded experience that is

drawing more and more visitors to the dramatic beauty of this

coolest of Mediterranean islands.

SPAINPROPERTYGUIDE.COM l

63
---
DISEÑOS TROPICALES

Tropical dreams made real

Ever dreamed of creating a tropical sense of wellbeing

under the Spanish sun? The team at Diseños y Tejados

Tropicales can turn their hands to just about any design

or tropical thatched structure you can imagine, so dream

away and let your creativity take flight.

Aurelio Guido de Abreu is a man with a special gift.

Not only is he incredibly handy at making things but he

is also creative. It's quite a rare combination in a sector

where you are usually either technical or design-oriented,

yet in Aurelio's case there is a third element that is just

as important: he loves his work. Though trained as a civil

engineer and blessed with a natural ability to create

beautiful structures from timber and natural materials,

his work is also marked by a very sensitive and personal

approach to the projects he takes on.

First of all, he takes great interest in them, allowing the

time to get to know his clients and understand not only

what they are looking for but also how best to integrate

it within their home and lifestyle. "Another important

consideration is the suggested spot where the structure is

to arise and its orientation," says Aurelio. And in this case

orientation means not only optimising views but also taking

into account sunlight, gradient and the intended use. The

latter, in turn, affects the design, which has to plan for heat,

humidity and the use of natural light, as well as how best to

utilise the available space.

"Once I have a clearer picture of all this I don't come

up with standardised solutions but give myself a little time

to absorb the location, the requirements of my clients and

the practical aspects of the project. This is what makes

each one different, regardless of whether you're building a

poolside chill-out gazebo, a large outdoor entertainment

area or even an enclosed Rondavel thatched hut that

range in scale from a shower and changing room to an

independent guest cottage." It is this ability to come up

with original ideas that fit the needs and property of his

clients like a glove that sets Aurelio and his team apart.

His is a philosophy that shuns serialisation and the selling

of a range of standardised products. Indeed, Aurelio does

not offer pre-designed and made thatch huts, gazebos

and outdoor entertainment areas but rather made to

measure originals. Even the tree huts and children's garden

play equipment he makes is designed just for you (well,

your children). Does this bespoke way of working make him

more expensive? "No," says Aurelio, "we may not be the

cheapest option in the market, but we are efficient enough

to be competitive with our prices and offer true creativity

and craftsmanship."

THE ORIGINAL THATCHING COMPANY

After almost 20 years his reputation is such that much

of his business comes from word of mouth. Not only was

Diseños y Tejados Tropicales the first company to build

timber thatched structures of this kind on the Costa del

Sol and Spain, it was actually the pioneer in the field,

introducing the concept of thatching to our region and

showing homeowners and businesses just how it could

be used to create wonderful outdoor environments that

highlight the local climate and add value.

"In essence what we make is a lifestyle product, usually in

the form of hard landscaping, gazebos, pergolas, decking

and complete entertainment areas," says Aurelio, "but

restaurants, hotels and other businesses soon realised the

potential of such structures for creating venues with a

real sense of style and occasion." Before long Aurelio and

his team weren't only adding thatched shaded areas,

chill-out lounges and outdoor kitchen and dining areas

to the poolside zones of luxury villas, but also building

restaurant dining rooms, clubhouses and even entire shops

in evocative tropical styles that added a touch of Balinese

glamour to Marbella.

"We have completed over 40,000m2 of thatching

throughout Spain, Portugal and Morocco, working on

all types of villas, luxury apartment complexes, beach

clubs, restaurants, shops and hotels, either directly or

commissioned through architects such as, among others,

Hugo Torrico, Miguel and Diego Tobal, Ángel Taborda and

Juan Salvador Schvartzberg. If you think of it, it is quite a

portfolio, and now something that was unknown 20 years

ago is a much-loved part of design that adds a whole new

range of decorative and entertainment options." Indeed,

from Hotel Barceló Sancti Petri, Holiday World Resort, Sunset

Beach Hotel and others to the multi-million euro villas

decorated by interior designers such as Sandra Billington,

Lorenzo Queipo de Lano, Juan Carlos Morel and Liliane

Laredo, Aurelio's designs and sturdy workmanship are

visible across the country.

AN AFRICAN TRADITION

Thatch is an ancient material that mankind has been

using in home construction for millennia. It's durable,

attractive and practical – and universal, ranging from

the thatched cottages of Europe to the exotic huts of

Polynesia, South East Asia, the Americas and beyond.

Thatch structures as created by Diseños y Tejados

Tropicales, however, build above all on a distinctly African

tradition, and so it is not surprising to find that Aurelio too

has links to Africa.

Born in Cape Town to Portuguese parents, he became

accustomed to the kind of sun-kissed seaside environment

that also marks the Marbella lifestyle. An early love for

woodwork might have taken him into teaching, but a civil

engineering qualification (HND, Cape Town), military service

and a six-month backpacking trip through Europe were to

take him on a different path that would eventually lead

not only to Marbella but also back to what he loves most:

creating and designing exteriors. "Art is not something that

one possesses, it's our ability to connect with the divine in a

moment where inspiration is present," says Aurelio.

Aurelio has come to know, master and love all natural

materials, focusing originally on African reed but later

expanding the range of natural materials he uses to

64 l SPAINPROPERTYGUIDE.COM
---
include European reed, Bali 'Alang Alang', Latin American

'Piaciava', African 'Makuti' and local 'Brezo'. "They all

have their own visual and practical characteristics, and

therefore their own strengths and weaknesses, so deciding

which type of natural material to use can be a factor of

personal aesthetic preference or practical considerations

such as climate and use. Sometimes we even use them in

combination, for instance with African reed on the inside

and the lighter European reed on the outside, especially on

long spans where we don't want an obstructive pillar in the

middle – or Piaciava or Alang Alang for naturally flowing

overhanging roofs or the more rustic finishing of Makuti or

Brezo. It all depends on each unique area, its possibilities

and of course each individual client's needs for their very

special project."

But as Aurelio says, "If you want a typically African effect,

then the thick, smooth flowing textural look of African reed

combines beautifully with wooden poles and floor decking.

As for the large outdoor entertainment areas we design and

construct bar kitchen areas, al fresco dining room and cosy

chill-out lounge with or without games area or jacuzzi.

He advises clients on the best application to use, but

ultimately respects their preference.

"The structures we create can be used to turn a negative

into a positive, such as to cover an unsightly view and in the

process create a great new space. It can also be meant

to be a feature that adds lustre and style to your home,

but when its an entertainment area it should be designed

in such a way that it becomes a place where people want

to spend time. Either way, an exclusive design along with

good quality construction should add double its cost to your

home's value."

Whether essentially conceived for practical, aesthetic

or purely hedonistic purposes, the timber and thatched

structures created by Aurelio and his team at Diseños y

Tejados Tropicales turn flights of fancy into a reality where

you can relax, entertain or play.

www.tejadostropicales.com

Tel: +34 952 588 011

Mobil: +34 656 82 6446

info@tejadostropicales.com

SPAINPROPERTYGUIDE.COM l

065
---
BUYING IN

SPAIN

MADE SIMPLE

PROPERTY GUIDE

.COM

GUIDE

• Easy to navigate search

• Register For Free

• Collect your saved searches

• Access to the latest new property listings that match your search history

• Read the latest magazine, property news and articles

• Instant access to a personnel property finder

CONTACT

sales@spainpropertguide.com

TELEPHONE

+44 7498 984177

+34 966 942 023

WEBSITE

www.spainpropertyguide.com

66 l SPAINPROPERTYGUIDE.COM