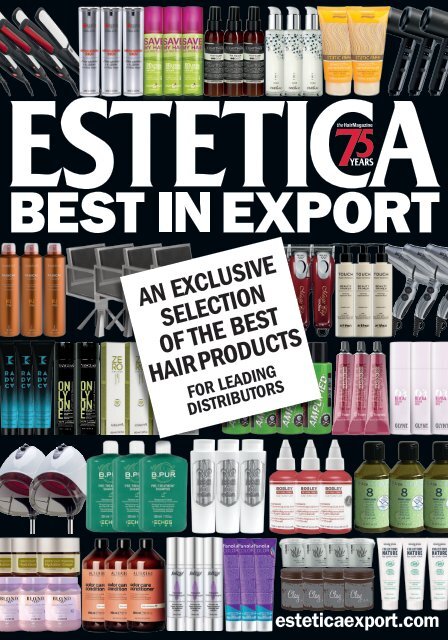 BEST in EXPORT 2021
An exclusive selection of the best hair products for leading distributors.
An exclusive selection of the best hair products for leading distributors.
SHOW MORE
SHOW LESS
You also want an ePaper? Increase the reach of your titles
YUMPU automatically turns print PDFs into web optimized ePapers that Google loves.
AN EXCLUSIVE

SELECTION

OF THE BEST

HAIR PRODUCTS

FOR LEADING

DISTRIBUTORS

esteticaexport.com
---
DISCOVER

ESTETICAEXPORT.COM

A new digital way to enhance

international business is

now available!

An editorial and digital

service supporting hair & beauty

product manufacturers entering

new international markets.

JOIN US TODAY!

www.esteticaexport.com
---
BE PART OF IT:

THE DAWN OF A NEW ERA

Paolo Maggi

Editor in Chief

EsteticaExport.com

While Beauty Trade Fairs are poised to resume their role at the forefront

of our industry, online support has become more paramount to business

success than ever before.

After a long, dreary period devoid of trade fair and exhibitions, the

international beauty industry is already savouring the prospect of

meeting again in person, as several of the major Beauty Trade Fairs

around the world are ever more determined to open their doors to an

eager public. From the end of August, the schedule of events is getting

busy, with many trade fairs confirmed: Cosmoprof North America Las

Vegas, MCB Paris, Salon International London, OnBeauty by Cosmoprof

Bologna, America's Beauty Show (Chicago) Beautyworld Middle East

Dubai, Beautyistanbul, to name but a handful of the main players.

These events will look different to their pre-pandemic image, as safety

protocols and travel limitations still have to be taken into consideration. However, this represents a great

improvement for an international beauty business that has suffered so much over the past 18 months.

While the whole hair and beauty industry is impatiently awaiting a return to meeting in person, we feel the need

to again underline the role that online communications have played throughout this difficult period. Many

companies have learned to use the online tools in order to sustain their business; for certain the market will

never go back to how it was before, but will integrate online activities with traditional ones such as the international

exhibition.

According to an Alibaba Group study on SMEs in the EU, the market gap between SMEs that export digitally and

those that do not is getting wider. The Chinese e-commerce giant says that online exports are the key to recovery

post-pandemic.

Many European companies are well aware of this, having worked hard during the lockdowns to adapt to the new

challenges, they have discovered that an online presence is vital to finding new customers in markets around the

world.

However, some European SMEs might be in jeopardy of being left behind.

According to Alibaba's survey, just 52% of SMEs in the EU export internationally. Among those that already sell

abroad, 55% say that export is essential or plays a significant role in the survival of their business.

Consequently, a large percentage of SMEs are not yet taking advantage of the existing opportunities in global

digital commerce, despite the persistent demand for affordable, high-quality products.

Together with the need to remove barriers and make trade easier, this Alibaba survey put under the spotlight a

not-to-be-missed opportunity, a chance for a large number of players of our industry in every corner of the world

to satisfy the increasing consumer's demand for imported beauty products.

Estetica could not allow this momentous stage in our industry's recovery to go uncelebrated, so we are publishing

a special edition of our "Best" Magazines dedicated to global export: "Best in Export". It's a tool which will be

distributed in the most important Beauty Trade Fairs and will help distributors, manufacturers and brands to

establish new connections or reengage with old ones. Best in Export is an important part of the Estetica Export

Project; it works in synergy with our website, our newsletters and all the online initiatives we offer to our partners.

We look forward to meet all of you again face to face, and we'll keep working to improve Esteticaexport.com

presence online: we all have realised we cannot do without it!

i

PUBLISHER AND MANAGING DIRECTOR: Roberto Pissimiglia

EDITOR IN CHIEF ESTETICA EXPORT: Paolo Maggi

EXPORT BUSINESS DEVELOPMENT MANAGER:

Pier Giorgio Scrimaglio - pg.scrimaglio@estetica.it

CIRCULATION MANAGER: Elena Flaugnatti - e.flaugnatti@estetica.it

EDITORIAL STAFF: Glorianna Vaschetto, Marie Scarano

LAYOUT: Manuela Artosi, Davide Cardente

Advertising Head Office: Via Cavour, 50, 10123 Torino (Italy)

Tel.: +39 011 83921111 - Fax: +39 011 812 56 61

ONLINE

business@esteticaexport.com - pec@pec.estetica.it - www.esteticaexport.com

PRINTED IN ITALY. Registration n. 435 of

7.4.49, Turin Law Court. All rights reserved.

Reproduction in whole or in part of texts or

photography is prohibited. Manuscripts,

photographs and art are selected at the

discretion of the publi sher free of charge

(advertising exclu ded). Whether published

or not, no material will be returned and

remains the property of the publishing house,

which may make use of it as seen fit. This may

include the withdrawal of publication rights

to other publishing houses. Estetica requires

exclusive publication rights in the hairdressing

sector for all photography submitted which

must not therefore be offered for publication

to other magazines in the hairdressing trade

or industry.

Updated version September 2021
---
ALTER EGO

ITALY

BEAUTY AND

KINDNESS

OUR HISTORY

With 33 years under the leadership of Pegorin's

Family, 1988 sees sons Gianni and Federico bring

to life, Alter Ego Italy, what is today recognized as

one of the most important brand of the AGF88

Group. Distributed in more than 60 countries all

over the world, in these past three decades, the

brand has earned a reputation for innovation

and product excellence. A passion for quality

and attention to detail, "down to the last drop",

along with values continually passed through the

generations for work, classic beauty and family!

Our mission is to develop high quality cosmetic

products for the professional haircare world

that blend together effectiveness and kindness,

performance and sustainability.

ABOUT US

Company Name:

Pettenon Cosmetics

S.p.A.

A group company of

Agf88 Holding

Company Address:

via del Palù 7/d

35018 San Martino

di Lupari (PD) - Italy

Website:

www.alteregoitaly.com

Founded in:

1946

Main Brands:

SheWonder, Urban Proof,

Technofruit Color, My Color,

Blondego, Egobond

Main Export Destinations:

North and South America,

All European Countries, North

Africa, Middle East, Australia

For a contemporary target that demands top

performance in protecting the environment, hair

and skin.

THE BRAND ESSENCE

One of the Latin translations for the words

'Alter Ego' is 'your trusted friend' and Alter

Ego Italy has been the trusted friend of salon

professionals for over 30 years worldwide.

Another translation is 'the other you' or "your

best soul mate" and this duality is represented

by the brand payoff that is "Beauty and

Kindness": on one hand the brand talks about

Beauty as its core business, on the other

hand about Kindness as respect for what is

precious for us. Alter Ego Italy has a clear

commitment in being a sustainable brand

in everything it does and, indeed, joined the

AGF88 Group in its "Water Save Campaign"

knowing the importance of water saving,

looking for a better future.

ALTER EGO ITALY EDUCATIONAL PROGRAM: it

offers a complete range of workshops designed

to build a core foundation of knowledge and

technical skills. The in-salon program brings

custom-made classes adapted to the needs

of each team. The Alter Ego Italy education

team is built on established industry leaders

in coloring, cutting and styling. Today the

brand has new art directors: Gogen's leading

international hairdressing team is a paragon of

creativity and innovation on the international

hairdressing scene, represented by Gina Rossi

(Expert Colourist), Jerry Del Duca (Creative

Director), MarcoLamberti (Creative Director)

and Alessandro Abei (Creative Director).

Thanks to our SALON EXPANSION program,

Alter Ego Italy offers each salon the opportunity

to choose the marketing program best suited to

their specific needs.
---
REASONS WHY

Family owned company since 1988

Made in Italy

Innovation in products

Beauty and Kindness

as brand philosophy

Salon exclusive

Complete portfolio of

professional products

Perfect balance between

science and nature

Ongoing inspiration and Education

International distribution

Customized marketing solutions

STAR

PRODUCTS

Around the concept of

beauty, Alter Ego Italy has

developed a complete

portfolio of professional

products dedicated to hair

color, shape, care and

styling.

TECHNICAL PRODUCTS:

TECHNOFRUIT COLOR, MY

COLOR, BLONDEGO, JUST

COLOR, PASSION COLOR

MASK.

A wide technical portfolio

covering all hairdressing

needs: next generation

formulae (PPD FREE),

reduced use of

packaging (no plastic

film), incredible lasting

brilliance, an infinite

palette of "creative

nuances, high

performance delivery

systems and new

techno-logies to reduce

the consumption of

water.

CARE PRODUCTS:

SHEWONDER, URBAN

PROOF

Products with natural

derived ingredients,

without sulfates,

parabens, petrolatum,

highly biodegradable

formulas, tested for

nichel, chrome, cobalt

and dermatologist,

recycled PET packaging

(conformed with food

contact – FDA approved),

FSC paper.
---
ARTAV

AUSTRALIAN MADE HAIR &

BEAUTY FOR OVER 65 YEARS

THE LEGACY CONTINUES

From its inception as Arturo Taverna's

market leading salons in Adelaide SA, to

the established manufacturer and supplier

of quality professional haircare and beauty

products that it is known for today, Artav

Australia continues to honour Arturo Taverna's

mission, manufacturing professional haircare

and beauty products, to a consistently high

standard, while following a natural approach,

with a strong sustainability commitment.

Natural Look Australia is Artav Australia's

ABOUT US

Company Name: Artav Australia

Company Address:

575 South Road, Regency Park,

SA 5010

Website:

www.naturallook.com.au

E-mail: andrew@artav.com.au

Founded in:

1960

Our founder:

Arturo Taverna

Directors:

Andrew Taverna

Anthony Taverna

Main Brands:

Natural Look, Luminart

Main Export Destinations:

New Zealand, Korea, Hong Kong,

Singapore, Taiwan, Indonesia, Philippines

Future Export Destinations:

Asia, Middle East, Russia, UK, Germany

most influential brand and represents the

best of its mission; to deliver the purest, highquality

products, to be environmentally safe

and cruelty free, at competitive prices, globally.

The comprehensive Natural Look Brand

encompasses, Haircare, Styling, Spray Tanning,

Skincare, Body Care, Depilatory Waxing and Pre

& Post Depilatory Lotions, Manicure, Pedicure,

Paraffin Treatments and Massage Oils.

Artav Australia's passion and dedication

is to create product ranges with naturally

derived bases, that deliver quality hair care

Above, the Artav Australia production plant and offices. Below: three generations

of Taverna men, L-R Andrew with son, founder Arturo, and Anthony

and beauty solutions, while providing the

best service and support for salons, clients

and businesses. An integral component of

this process includes a global network of

distributors based over 20 countries.

Artav Australia is committed to being aware

of their effect on the environment and is

constantly seeking options for reducing

potential impact. As members of the Australian

Packaging Covenant (APC) they have joined

forces with Governments and industry to

further advance the sustainable design, use

and recovery of packaging. Moreover, Artav

Australia uses natural, organic, plant based

and Certified Organic ingredients, that are

sustainably farmed and sourced.

Artav Australia has continued to remain

a proudly Australian, Family Owned and

Run Company and continues to expand its

Adelaide-based business. Over 1,000 Hair &

Beauty Products are developed and tested on

South Australian shores by an interdisciplinary

team of professionals, including in-house and

associated Hairdressers, Beauty Therapists

and Chemists, proudly supporting Australian

employment and local economy.

REASONS WHY

Australian Made

Family-owned and run

Over 60 years of knowledge and

experience in the hair industry

Products formulated by

hairdressers for hairdressers

Committed to sustainability

Natural, organic, plant based

and Certified Organic ingredients

Australian Packaging Covenant

(APC) Member

Private Label Services

Distributors in over 20 countries

Vegan-friendly, cruelty-free

Australian high quality standard
---
ARTAV

LUMINART

Over 65 Years of Hair and Beauty industry

knowledge and experience have culminated

in the creation that is Luminart Professional

Colour Cream. Rich, long-lasting, dependable

colours formulated using a unique illuminating

cream with Micro-Pigment Technology to

provide maximum colour-pigment absorbency,

resulting in flawless coverage and vibrant

intensity. Modern technology combined with

protective and conditioning, Natural, Organic,

Vegan Friendly ingredients, to create longlasting

colours, while also maintaining and

building healthy strong hair.

COLOURART

ColourArt locks in professional colour for

brilliant long-lasting results.

The ColourArt range is specially designed

with biodegradable formulas and naturally

derived ingredients; including Papaya Extract,

Coconut Oil and Kakadu Plum- to help

maintain the vibrancy of professional hair

colour and reduce colour fade from the sun,

thermal styling and environmental influences.

STAR PRODUCTS

ColourArt

Maximum Colour Life

Specially designed with

biodegradable formulas

and naturally derived

ingredients - including

Papaya Extract, Coconut

Oil and Kakadu Plummaintains

the vibrancy

of your professional

colour and reduces

colour fade from the

sun, thermal styling

and environmental

influences.

NaturalSpa

Australian Nature Inspired

Body Treatments

A complete body

care range of natural

products: formulated with

AUSTRALIAN BLEND 5

NATIVES, an exclusive

selection of our five

favourite vitamin rich and

antioxidant Australian

Native Ingredients:

Quandong, Kakadu Plum,

Desert Lime, Lilly Pilly &

Wattleseed, containing a

high content of Vitamin C

& fruit acids making it an

excellent promoter of the

production of collagen &

elastin in the skin.

Silver Screen

Ice Blonde Repair Serum

Exclusively formulated

with Organic Argan Oil

and Australian Lilly

Pilly Extract, rich in

Antioxidants, Essential

Fatty Acids and Vitamins

A, C & E to lock in

moisture and repair

damaged hair, while

protecting it from future

damage. Formulated with

the same Violet/Blue

Pigments showcased

in all Silver Screen

products, when used

in conjunction with the

complete range, will help

correct brassy, yellow

tones in Blonde, Grey

or Bleached hair. Colour

Safe Formulation with UV

Protection.

MADE IN AUSTRALIA | NATURALLOOK.COM.AU | INFO@NATURALLOOK.COM.AU | +61 8 8300 1999 |

NATURAL LOOK AUSTRALIA
---
ARTÉGO

CARE

FOR BEAUTY

BECAUSE BEAUTY IS OUR JOURNEY, AND

THE JOURNEY ITSELF IS OUR DESTINATION

It's 1998. A group of experts in the field of

professional and international hair care

chooses to give life to a Made in Italy quality

entrepreneurial project. The brand "Artègo"

was established gathering expert knowledge

and skills. Investors wish was to develop a

project aimed at training and promoting the

creative and technical talent of hairdressers as

well as their artistic personality; giving space

to artisanship and formulative innovation;

listening to salons needs and stressing the

Italian origins of its beauty tradition. Since

then, the Company continued its journey,

growing constantly. The brand is today sold in

more than 40 different countries all over the

world; Artègo people are moved by the yearn

for creating beauty and constant exploration,

always committed to supporting its loyal

hairdressers by growing their businesses

and professionalism. Artègo faces its future

with dynamism, curiosity, bravery, and looks

towards its horizon together with whomever

believes in the universal value of beauty; that

same value that guides us in the care and

consideration for Nature, People, Things. This

attitude is actually expressed by our vision and

philosophy "Care fo Beauty" as the expression

of an engagement and desire to operate and

behave in the world. Beautiful things reveal

the care, the talent and the passion of who

created them and care is a real beauty

gesture for us. Artègo has artisan tailoredmade

quality and formulative innovation,

italian talent and tradition for beauty. In our

company "MADE IN ITALY" means in house

manufacturing, formulation and production

procedural management, prolific and advanced

partnerships with universities and cosmetic

research institutions.

ABOUT US

Company Name:

Unicompany S.p.A

Company Address:

Via Pontina Vecchia km 33,600

00040 Ardea (RM) - Italy

Website:

www.myartego.com

Founded in:

1998

CEO | Founder:

Mr. Francesco Bandiera

Main Brands:

Artègo

Main Export Destinations:

Europa, North America, Middle East,

North Africa, Oceania
---
OUR MISSION: SALON AND CLIENTS

SATISFACTION AS A GOAL

We believe in salon growht and we invest in

its enhancement, thanks to advanced and

innovative products and training, incentives, new

ideas and development opportunities. We create

value for the salon through client satisfaction,

content, ideas, solutions, proposal. This is our

virtuous circle.

OUR MARKETS

We sell thoughout importers and distributors

in more than 40 foreign markets: EU, North

America, Australia, Turkey and Marocco,

alongside the best middle-eas markets. We

have a strong interest in the North American

market, and we look at emerging markets such

as Central and Southern American ones as well.

We are travelers: beauty is our journey, and the

journey itself is our destination. We're moved by

the yearn for constantly exploring and interprets

its mood with ideas, products, styles and places.

With care, passion and professionalism.

OUR DRIVERS

•PHYTO-TECHNOLOGY: we obtain the best

technical and beauty results balancing natural

elements (always present in our formulations)

with active cosmetic principles originating from

scientific research.

•RESEARCH, INNOVATION: constant for us,

not only in formulations, but in shapes, colors,

materals.

•TRAINING: makes shared experiences

possible, contributing to professional and

business salon's growth.

•EXCELLENT PARTERSHIPS: we choose the

best, in every field of our activity. We share

our modus operandi with research institutes,

suppliers, high level professional consultants

to interpret ours and our customers' needs.

•ENVIRONMENTAL AWARENESS: REDUCE-

REUSE-RECYCLE: we promote and opt

for responsible attitudes to reduce the

environmental impact. We use renewable

energy plants. We reduce unnecessary packs

REASONS WHY

OUR PHILOSOPHY: Beautiful things

reveal the care, the talent and the

passion of who created them and

care is a real beauty gesture for us

OUR MISSION: We believe in

salon growht and we invest in its

enhancement

OUR MODUS OPERANDI: Know,

Know-how, Know better, Know

together

manufacturing. We choose tools and furniture

that are beautiful, smart, reusable and fun.

We use FSC paper, sourced from responsibly

managed forests.

•SOCIAL RESPONSIBILITY: a company is not

a machine, but has a leading role in society. It

creates job opportunities and social growth. We

think that companies can go further, supporting

projects and community initiatives. One of our

important initiative is supporting FAI "Fondo

Ambiente italiano" (Environmental Italian Fund).

As a Golden Membership Donor, it fulfills our

spirit, our vision, our Care For Beauty belief. It

represents an incentive for us, a commitment

to safeguard beauty in all its shapes; we do not

only ideally share this belief, but we support it

with projects and concrete actions.
---
ARTÉGO

STAR PRODUCTS

Beauty Fusion

Phyto-tech color, up to

99% organic natural

ingredients. One line

for many services.

Extraordinary, modern,

ground-breaking

collection made of

63 oil color shades

mixable among them.

All the line is completely

FREE of COCAMIDE

DEA, MEA and ADDED

ALCOHOLS, replaced in

the formulation by natural

components, of whom

100% Organic Zemea®,

for a silky and soft final

hair texture. No PPD or

RESORCINOL added to

the formula.

Deco Beauty with care

A complete line of

professional bleaching

products, designed

to achieve the best

performances. Advanced

technology enriched

with natural elements,

product For natural or

colored hair, sensitive

and thin.

•Lovely Light cream:

last generation white

bleaching cream. Gradual

and efficient, enriched

with Corn Proteins,

Castor Oil and Beeswax.

The professional

alternative to the

bleaching powder,

with great bleaching

performances.

Touch Beauty Movement

Touch is a line of

products designed

to combine creativity,

innovation and beauty.

•Beauty Primer

(care and protection):

revitalizing cream with

Meadowfoam Seed Oil.

Professional no rinse

product with immediate

results. The first care

gesture before every

styling step, in order to

restore strength and

Rain Dance Nature's Time

A complete line of

product-treatments, loyal

to our rigorous phytotechnological

formulative

approach, looking for the

best synergy between

the efficacy of botanical

active ingredients and

scientific intelligence.

•Blooming Elixir (scalp

nourishing & hair

strengthener): gel serum,

with IPStic Complex, with

oregano, tea, capsicum

and soy protein extracts,

growth simulator and antiinflammatory

action. It

strengthens the hair and

nourishes the scalp in

depth, stimulating blood

flow to the hair follicle.

Certified results: +120%

hair follicle elongation,

+170% hair growth increase.

Good Society

metropolitan greenery

Precious conditioning

and cleaning creams,

luxurious hydrating and

elasticizing fluids, rich

sprays to give volume

and texture to the hair,

to respect the hair and

take care of its beauty.

•Lovely Light powder:

Violet bleaching powder

with Coconut Extracts, for

a gradual and constant

highlifting. It highlifts up

to 2 levels more than

a traditional bleaching

energy on every hair type,

without adding weight.

•Be Matt (beauty

enhancer): professional

matt effect wax with

medium strong hold and

Brazilian Clay. It gives the

hair texture and volume.

For matt textures and a

medium-strong hold, for

flexible styles.

protecting its beauty.

•51 Argan Oil Serum:

we formulated this

product thanks

to a controlled

ingredient, Argan Oil,

that we exclusively

purchase from

southern Moroccan

cooperatives: that's

why our Argan Oil is

certified EcoCert.

It gives shine and has

a detangling effect to

the hair without adding

weight. It makes the

hair silky, easy to comb,

strong and shiny.
---
Care

is a

Beauty Gesture

Always

ALL THAT YOUR SALON NEEDS TO BE UNIQUE

ALL THAT YOUR CLIENTS NEED TO BE SATISFIED

BEAUTY FUSION

EASY CARE T BALANCE

GOOD SOCIETY

PARAMETER T

SUMMER BEAUTY

BOTANICAL HENNA

EASY CARE T CLARITY

IT'S COLOR

PRETTY CURL

TOUCH

LOLA

EASY CARE T DREAM

YOUR MAGIC

RAIN DANCE

YOU|UP2

DECO BEAUTY

EASY CARE T RESCUE

MULTIPHLEX

STRAIGHT LINE

MYARTEGO.COM
---
BOSLEY

PROFESSIONAL

THICKER, FULLER-LOOKING

HAIR AND A HEALTHY SCALP

Recognizing that salon professionals are often

the first line of defense for women and men with

quality of hair issues, Bosley Professional

Strength provides stylists with effective solutions

for any client who struggles with fine, thinning, or

weak hair. Bosley Pro's comprehensive product

line includes daily-use hair and scalp cleansing

and treatment systems, volumizing styling

products, healthy hair scalp and hair treatments

and Minoxidil re-growth treatments and the

unwavering mission of serving hair and scalp

health doesn't stop there.

In 2018, Bosley Pro introduced a "healthy hair

from the inside out" program by launching

specialized formulas of ingestible supplements

uniquely designed for the specific needs of men

and women. Debuting for 2019, Bosley Pro

Ian Murphy, the beauty

business executive

driving the change

as CEO of Bosley

Professional Strength.

ABOUT US

Company Name:

Bosley Professional

Strength

Company Address:

12777 W. Jefferson Blvd.

Building D, Suite 3057

Los Angeles, CA. 90066

Tel. 1- 800.267.5391

Website:

bosleypro.com

Founded in:

2009

President/CEO:

Ian Murphy

Main Brands:

BosRevive, BosDefense, Healthy

Hair Treatments, Volumizing &

Thickening Styling, Hair Thickening

Fibers, Vitality Supplements

raised the bar on scalp health with the launch of

Rejuvenating Scalp Scrub – a physical exfoliant

treatment with activated bamboo charcoal to rid

the scalp of follicle clogging debris. In the styling

category, Volumizing and Thickening Styling

Mousse join the Bosley Pro styling lineup for

instantly fuller looking hair.

BOSLEY DOCTOR-RECOMMENDED SOLUTIONS

Bosley Professional Strength is a partnership

with Bosley, Inc. – the world's most recognized

hair restoration experts. That direct association

allows Bosley Pro to work with some of the most

knowledgeable hair-loss physicians in the world.

In addition, Bosley Pro products always include

beneficial ingredients for the hair and scalp.

Formulas are vegan, sulfate-free, paraben-free,

phthalate-free and focused around Bosley Pro's

LifeXtend Complex with DHT inhibitors, wellknown

as a hormone linked to hair loss.

Bosley Pro's guaranteed-results 30-day starter

kits, combined with Follicle Energizer, are an ideal

regimen for any man or woman looking to positively

impact hair density. And a great companion to the

topical products are the ingestible supplements

for men and women for healthy hair from "the

inside out." Award winning Bosley Professional

Strength hair care is the "go-to" choice for

professional stylists and their clients, or anyone

struggling with fine, thinning, or weak hair.

Based in Placentia, California, the company is led

by industry veteran and company President Alan

Stockman. Bosley Professional Strength is

available in professional beauty salons, barbershops

and select specialty beauty retailers

including Ulta, nationwide and in over 20 countries.
---
AVEC DU CHARBON DE BAMBOU NATUREL

NEW

SCALP.

REBOOT.

WITH NATURAL

LBAMBOO CHARCOA

WITH NATURAL

LBAMBOO CHARCOA

©2019 Bosley, Inc. Beverly Hills, CA 90212 | All Rights Reserved. | Printed for Scientific Hair Research, LLC.

REJUVENATING SCALP SCRUB

Fuller, thicker-looking hair begins with

a healthy scalp. Bosley Professional

Strength Rejuvenating Scalp Scrub is a

gentle, color-safe charcoal-infused scalp

exfoliating treatment that detoxifies,

rejuvenates and invigorates the scalp.

Give the scalp a reboot!

BEFORE

AFTER

FOR WOMEN & MEN · PARABEN, SULFATE & GLUTEN FREE

FREE OF SYNTHETIC DYES & FRAGRANCE · VEGAN & CRUELTY FREE
---
CARLOBAY

Experience, expertise

and passion made in Italy

Carlo Bay is a renowned Italian hairstylist with

a long career behind him and a succession of

triumphant and positive experiences and he was

elected Hairstylist of the Year in 2014 in Rome.

His career started in 1985 and today he has

more than 30 Salons in Italy and all over the

world (Moscow, Damasco, France and the last

one in Almaty).

In 1990, Carlo Bay opened the Florence

Academy: a school to give all hairstylists an

opportunity to train at every level. In 2002

started the creation of the Carlo Bay Club: more

than 80 salons in the whole Italy. Over the years,

Carlo Bay has created the official brands: Carlo

Bay Hair Diffusion and Carlo Bay Make-Up

Since many years Carlo Bay Salons serve a lot

of very important names from the Italian Fashion

Brands as Roberto Cavalli, Gucci, Ferragamo,

Ermanno Scervino and many others.

First of all, we are hairdressers

In our salons we work intimately with our

customers and we know exactly what their

needs are. This is why our products are

constantly evolving according to the local market

requirements.

A large collection of products for both

professionals and the final consumer is the

result of regular investments in research in

order to create exclusive formulas, mixing quality

New trends and new techniques

to improve salon business and

customers' experience.

about uS

Company Name: Carlo Bay

Company Address:

Via Giambologna 11/13,

50132 Florence - Italy

Website:

www.carlobay.com

E-mail: carlo@carlobay.it;

accademia@carlobay.it

Founded in:

1985

Marketing Manager / Export Manager:

Mr Carlo Bay, CEO

Main Brands:

Luxury Hair Diffusion, Carlo Bay

Cosmetics

Main Export Destinations:

Europe and Japan

Number of employees:

90

The aim of the

Academy is to

provide unique

learning experiences

and ensure the

students success.

natural ingredients, vitamins and advanced

technologies.

Carlo Bay Academy

For over 30 years we have been working to

provide unique learning experiences and ensure

our students success. Our goal is to prepare our

students for professional licensing and initate

them for a fulfilling career in hair and beauty

industry by teaching technical, artistic and

managerial skills. We offer a comprehensive

portfolio of hairdressing courses designed to

meet a wide variety of learning requirements in

both cut and colour.

Carlo Bay Academy will ensure you and your

team to be updated about new trends and new

techniques that are going to improve your salon

business and your customers' experience.

Reasons Why

Made in Italy

More than 30 years

of experience in the

hair industry

Professional Quality

100% control of the whole

value chain from formulation

to distribution

Renowned name in the

sector including hairdressing,

beauty and cosmetics

top brand
---
CARLOBAY

star

products

Argan Kit

The Kit includes: Shampoo

with Argan oil and

Macadamia, for colortreated

hair, dry, treated.

Gently cleanses, leaving

hair hydrated, soft, shiny.

How to use: apply to wet

hair, gently massage to

make Act the foam. Rinse

thoroughly and proceed

with a second application.

Hydrating mask,

nourishing. Its special

combination with Argan oil,

Macadamia oil, almond oil,

coconut oil, moisturizes

and nourishes, for dry hair,

colored, damaged, dull.

Makes hair soft, light and

flexible. How to use: apply

to wet hair, distribute with

a comb lengths, leave

For added shine and

softness, you can add

into the mixture of color.

Keratin Kit

The kit consists of:

Shampoo with alkaline

PH, promotes the opening

of hair scales. Purifying

Shampoo removes deep

chemical or environmental

debris, deposited within

the structure of the hair.

Nourishes hydrates any

hair type, in particular

dried and processed.

The combination

of keratin and collagen

creates within the

structure of the hair the

optimum conditions

for the subsequent

stages of treatment.

Intensive restructuring

Mask with keratin and

collagen. Added with

provitamin B5, vitamin

B6 and vitamin e.

releases the proteins

scales close retaining

the active ingredients.

Keratin Spray Lotion,

repairs and rebuilds the

external structure of the

hair damaged by chemical

treatments, as the protein

molecules of keratin and

collagen are fixed to the

structure, making the hair

stronger and more elastic.

The union of keratin and

collagen, gives body to

thin or thinning hair.

Mousse Foundation

The mousse foundation

is a high performance

product because it was

created by a studied

blend of oils and waxes

without water added. It

keeps the skin's hydro

pressure perfectly

balanced thanks to its

"anidra" (non waterbased)

nature. It is

suitable to every skin

type and guarantees an

a few minutes. Rinse

thoroughly and proceed

with styling.

Oil with Argan oil

and Macadamia, for

color-treated hair, dry,

damaged, frizzy. Protects,

nourishes and protects

your hair from the

elements. Anti-Frizz and

Untangling. Makes hair

smooth, docile and bright.

necessary to reinforce

the internal structure

of the hair. Leaves hair

hydrated, chunky, morbili

and manageable hair.

Its action penetrates

inside the previously

open scales with the

step1 Keratin Shampoo,

reinforcing the internal

structure of the hair.

During the posale time

excellent coverage. Tips:

apply mousse foundation

on clean and hydrated

skin with a sponge in

light, upward strokes.

For a more natural effect,

when choosing the

foundation colour, we

suggest the same shade

or a shade lighter than

your complexion.

CB PRODUCTION s.r.l.

Via Giambologna,11/13 - FIRENZE - ITALY - Tel. +39 055 571289

accademia@carlobay.it - www.carlobay.com
---
CERIOTTI

A STORY FULL

OF PASSION

The hairdressing world is growing bigger and

bigger. In Milan, the capital city of fashion

design, a little family-based company is starting

an activity founded on passion and care that is

going to develop over the next 40 years,

becoming one of the top brands in the world of

hairdressers' supplies: Ceriotti is born.

AN ICON

The most iconic product in Ceriotti's portfolio

is without doubts the hood dryer. Thanks

to an entirely Italian production, to the use

of the best components and materials and

to the long-term guarantee, since the very

first years Ceriotti's brand and products gain

a prestigeous position in the international

market. Models from Ceriotti's production

make their apperance in famous Italian movies,

in those scenes celebrating the "hairdresser's

gossip mania", ensuring an important growth

in fame and recognizability for the brand and

its products.

ITALIAN STYLE

From hood dryers to climazones, from the

Equator to the CIX3000, Ceriotti's mission is

not only to make the hairdresser's work easier,

but also to bring out its artistic side. Electrical

devices are soon matched in popularity by

the line of furniture, introduced in 1983.

Being different, while offering to the customer

the most comfortable and stylish pieces of

furniture is an absolute must. Inspired by the

creative background of Milan, Ceriotti designs

unique pieces of furniture that mark an epoque

in salon design. Led by growing international

fame and appreciation, in 1984 Ceriotti starts

a historical – and still ongoing – partnership

ABOUT US

Company Name:

Ceriotti

Company Address:

Via Moscova, 21

20017 Rho

Milan – Italy

Tel. +39 0293561413

Email: info@ceriotti.it

Website:

www.ceriotti.it

Started in:

1977

President:

Mr. Marco Ceriotti

A nice and recent picture

of Ceriotti management.
---
with Cosmoprof Bologna, the most important

and recognized exhibition in the beauty world.

FULL PRODUCTS CHOICE

The product portfolio is completed in

1994, when the production of professional

blowdryers begins and rapidly gains relief

and appreciation in the worldwide market.

Ceriotti becomes the most complete Italian

manufacturer in the hairdressing industry

and, with the introduction of the line "Alta

Sartoria Italiana" in 2019, becomes also

the first company to introduce tailor-made

products and finishes in an field that by

stereotyped-low quality products and clones

of more prestigious brands.

Innovation, passion, care, they all aim to the

one objective: . In a field that is still mainly

based upon stereotyped products and

clones of more prestigious brands, Ceriotti

has been able to distinguish itself, and

through innovation has evolved with trends,

sometimes even anticipating them.

INTERNATIONAL SPIRIT

Over the years, Ceriotti has been expanding

across the globe, building up a brand which

is more and more recognized in all the 5

Continents. "Our goal is to be a reference

point in the market – explains Marco Ceriotti,

President. We are not simple manufacturers:

we do not offer just products, we offer a

qualified service, complete assistance, and

superior quality. And this is proven by the

over 2000 customers worldwide that choose

Ceriotti everyday".

REASONS WHY

100% Made in Italy

Haute Couture for the

hairdressing salon design

Design, research, innovation

Highest attention to details

Very high quality products in

terms of performance & reliability

More than 40 years of experience

as italian manufacturers

Internal research

& development department

Ability to certify products

in all countries
---
CERIOTTI

STAR

PRODUCTS

FX4000 Digital Turbo

Thanks to the infraquartz

technology, the hair

processor with ventilation

produced by Ceriotti

delivers incredible

perfomances and

reduces by more than

50% the time required

for all chemical and

technical applications.

An easy-to-use interface

guides the user through

different procedures,

simplifying the setup and

optimizing the work in

the salon. The addition

of a Tourmaline coating

helps reducing the

electrostatic charge and

prepares hair for a nostress

brushing.

companion. The use of

steam in the application

of hair products has

proven incredible results

in halving the set-times

while improving the

effect of the products

themselves, results that

are reinforced by the

sterilizing properties of

ozone. This combination

of characteristics

deliver benefits that

are nowadays within

everyone's reach thanks

to Geyser Ozono.

Egg

When talking about

"icons", Egg deserves a

special mention. Thanks

to its modern shape, it

processes like bayalage,

deep conditioning and

soft drying.

WoW

What's the most

important feature to

look for in a hairdryer?

Strong power, low

weight, low noise,

long life... Some say

that these feature can

only be found in the

most advanced and

expensive dryers, while

some other believe

that the perfect tool

is the simplest ones.

Whatever your position,

WoW will suprise you.

A 100% Italian made

hairdryer that delivers

splendid performances,

in a low weight and low

noise body that radically

changes your drying

experience.

Geyser Ozono

Where natural

treatments and bioproducts

are becoming

more and more popular,

the ozone steamer

produced by Ceriotti

represents a perfect

has revolutionized the

hood dryer introducing

features such as the

4-speed TURBO motor,

the ionic generator, the

tourmaline coating.

Where most think that

the hood dryer belongs

"to the past", Egg is

looking to the future as

an irreplaceable tool for
---
COMPROF

MILANO

FOR BEAUTY

SPECIALISTS

Comprof was born in 1995 in response to the

growing demand in the haircare and beauty

sector for innovative and quality professional

solutions. A multibrand organisation, 100%

Made in Italy, that boasts an ample offering of

products that never fail to meet the expectations

of either the Italian or international markets.

Comprof is the perfect ally for all beauty

professionals.

OUR NUMBERS

16 proprietary brands

25 Brand Ambassadors worldwide

33 nations where we export Made in Italy

4000 innovative formulations

MISSION

Sophisticated formulations, winning style, high

reliability. We promote and spread Made in Italy

with contemporary projects and revolutionary

ideas. These same foundations give rise to our

products. Comprof is innovation that is easily

available to all beauty professionals.

VISION

Spreading the Haircare and Skin Care cult

through the products and services that we

create. Wellness is our mantra, guiding us

towards new horizons. We strive to affirm

ourselves as a reference point for Cosmetics

Distributors worldwide.

VALUES

Continuous innovation: we anticipate trends

and pursue ambitious objectives, making

change our growth driver to guarantee products

that are always of the highest quality. Change is

Innovative hair care brands

and products that reflect

Italian quality and tradition.

ABOUT US

Company Name:

Comprof Milano srl

Company Address:

CIS di Nola Isola 8

Pad. 8032-8035

80035 Nola (NA) - Italy

Email: info@comprof.it

Website (s):

http:comprof.it

Founded in:

1995

Marketing manager:

Dario Giordano

Number of employees:

65

Present in: Europe, Middle East,

North Africa

Interested in: South America

and Asia. Further expansion in:

Eastern Europe, Scandinavia,

and United Arab Emirates

Main Brands:

K-time, Paul Rivera,

6.Zero,Technique, Abstyle, Ekre,

Professional, Koster, Hair Tech,

Jvone Milano, Lialysse, Alphea,

Ben Herbe, Estiwell, Depiwell,

Epilsweet

Main Export Destinations:

France, Spain, Holland,

Bulgaria, Greece, Hungary,

Czech Republic, Iran, Tunisia
---
REASONS WHY

inherent to our organisation and innovation is

the driving force behind us. Analysing scenarios:

our research doesn't end with the most

advanced formula. We go beyond that, inserting

each product into a larger scale project that

takes into account the context in which it is

being used, current trends, and the specific

needs of the end consumer.

Persons of value: passion, energy, and

competence. Our network is enthusiastic and

ambitious, always eager to tackle new

challenges. A united work group that

collaborates to reach a common and shared

objective. The secret to our success.

Environmental sustainability: we draw our

inspiration from nature. All our formulas are

enriched with active botanical ingredients and

we are strongly committed to protecting the

environment that surrounds us. We are always

looking toward the future and a green and

sustainable world.

Territorial exclusive

4% free merchandising

Average dispatching of orders in

48 hours

Logistic support

End of year award

Ambassador training free of charge

Personalised canvas

Strategic location

Shared social strategy

Synchronised digital platform

EDUCATION COMPROF ACADEMY

Comprof Academy is an ambitious project that

came about as the fruit of our intention to

share two decades of knowledge and

experience in the Haircare and Beauty Care

sector. A true academy that offers personalised

courses that are continually updated to

accompany beauty professionals along their

path of professional growth and to give the

entire sector an innovative push. Cool hunter

by passion: our trainers are truly trend seekers.

They catalyse trends and breath new life into

them, whether in Haircare or Beauty Care,

anticipating the market.

Didactic pragmatism: the capacity to transform

fashion inspirations and scientific research in

applicable and replicable techniques and

protocols. We share a know-how that is the fruit

of skills acquired over the years.

Experience and motivation: the synergy

between the two decades of experience and

strong motivation are the driving force of our

model of education, which is always innovative

and capable of defining the new in-class and

remote training paradigms.

Education in number. 30 International Stylists

and Technicians for exclusive training, 1400

Events organised worldwide, 39000 Specialists

in the training sector.
---
COMPROF MILANO

• 30 partner laboratories in Italy: our partner

laboratories are where our passion is applied

to studying new formulations, controlling the

conformity and quality of every individual raw

material, perfecting texture, composition,

scents, and effectiveness of our products.

• 4000 active ingredients of natural origins:

the search for the most efficient active

ingredient and the best-performing extract goes

hand in hand with a profound knowledge of new

market trends, enabling us to guarantee

products that are of an excellent quality and

with cutting-edge formulations.

• 50 Rituals of consolidated beauty: we give

value to beauty with solutions studied in every

detail to ensure excellent results. We create

usage protocols for our products that actually

become indispensable rituals for enhancing

the beauty of skin and hair.

STAR

PRODUCTS

K- Secret Mask Spray,

K-Time

This intensive 10-in-1

spray mask is perfect for

all needs and any type

of hair, from treated hair

to dull, lifeless locks,

effectively moisturizing

and untangling without

weighing hair down.

Color is exalted and hair

regains shine and

natural body. Thanks

to a specific multi-action

formula, the intensive

mask spray makes

it possible to enjoy

10 fantastic benefits

in one easy step.

Take Over, 6.Zero

Take Over by Sei.Zero

offers specific

treatments to meet the

needs of curly, straight,

damaged, coloured,

or grey hair, leaving it

healthy and beautiful.

Cutting-edge haircare

technology for

a complete approach

and top performance

that are always

guaranteed.

damaged hair.

Formulated with high

concentrations of Argan

Oil, Vegetable Keratin,

and Blueberry Seed Oil,

Luminò nourishes hair

from within,

strengthening the hair

fibre, from the medulla

to the cuticle, making it

shiny and brilliant

without weighing hair

down.

Colossal and Fabulous,

Paul Rivera

The extra-hold hairspray

Colossal comes in a 500

ml container to lend

support and a stronger

hold to your hair style,

without weighing hair

down. It protects against

humidity with an anti-frizz

effect for a professional

finish and impeccable

hold. Enriched with

Poppy and Blueberry

Extracts.

Fabulous is the spray

with 10-in-1

instantaneous spray

studied to keep hair

looking fabulous day

Radyca, K-Time

The first nutraceutical

colour in the world,

Radyca is an innovative

professional product for

hair, but delves it roots

into the trichological

tradition to restore the

true authenticity of colour,

exploring different fields

of cosmetics. It covers

100% of greys, is silicon-

and PPD-free, and

ensures an extraordinarily

uniform and harmonious

colour, thanks to its

particular chemicalphysical

composition that

makes it possible for

intermediate pigments

to stabilise and distribute

themselves according

to a pre-established

geometric order.

Luminò, Vegan Ok

Treatment, Ekre

Luminò is a completely

vegan illuminating

treatment. Vegetable

active ingredients with

an incredible hydrating

and strengthening

powers characterize

Luminò, which is a

fantastic cure-all for both

normal and dry and

after day. Fabulous has a

formula containing

Sambuca and Orchid

Extracts. It regenerates,

hydrates, illuminates,

and protects hair, making

it more manageable

without weighing it down:

a complete treatment for

all types of hair in an

unprecedented multiactive

product.
---
RADYCA

The roots of the color.

DISCOVER THE FIRST NUTRACEUTICAL COLOR

Quinoa, Niosome and Coconut Oil based

ONLY FOR K-TIME SALONS

Check the website www.k-time.it
---
COTRIL

OUR PHILOSOPHY:

WORK BETTER, EARN MORE

Cotril is an Italian company based in Milan,

operating in the Professional Hair Care market

for hairdressers. Specialized in the development,

manufacturing and marketing of highquality

professional haircare products, Cotril's

business is split into two sectors: Business

Unit Cotril Professional, dedicated to the retail

market, and Business Unit CTL Private Label,

working under contract for the private label

market.

PAST MEETS FUTURE

In over forty years since its establishment, Cotril

has written an important chapter in the history of

professional hair products, in the name of competence,

integrity, professionalism and reliability.

Today it represents an international benchmark

for the world of coloring, styling and treatments.

The product range is extremely wide and able to

satisfy every need: it is made locally and independently

– 100% made in Italy – thanks to the company's

own research laboratories and manufacturing

plant, 24,000 square metres near Milan.

Today, the B.U. CTL Private Label stands out in

the world of professional haircare for its proven

experience, constantly demonstrated in the field

through its successful brand Cotril Professional.

The company exports to Russia, Spain, Portugal,

Czech Republic, Germany, Switzerland, Holland,

Greece, Belgium, Poland, Singapore, France, Vietnam,

Usa, Malta, Tunisia, Morocco, Iraq, Turkey,

Ukraine, Latvia, South Corea and Serbia.

ABOUT US

Company Name:

Cotril SpA

Company Address:

Via Trento 59,

20021 Ospiate di Bollate (MI) - Italy

Tel. +39 02 3834321

Email: info@cotril.it - export@cotril.it

Website:

www.cotril.it - www.ctlspa.it - www.cotril.shop

General Manager:

Mr. Giuliano Reas

Main Brands:

Cotril - CTL

Main Export Destinations:

Russia, Spain, Portugal, Czech Republic,

Germany, Switzerland, Holland, Greece,

Belgium, Poland, Singapore, France,

Vietnam, Usa, Malta, Tunisia, Morocco,

Iraq, Turkey, Ukraine, Latvia, South Corea

and Serbia

COTRIL PROFESSIONAL

Over the last few years, thanks to its strong

connection with the world of cinema, fashion,

showbiz and sports, Cotril Professional has

seen its brand awareness and presence in

the best hairstyling salons grow exponentially,

both in the Italian and international markets.

This is the result of two concurrent factors:

firstly, the fame of the company's celebrity
---
Hair Cotril for

Aurora Giovinazzo

at the Rome Film

Festival.

endorsers and, secondly, the extraordinary

quality of the products. These features make

Cotril Professional one of the most loved and

popular brands to be found and used in stars'

dressing rooms, on movie sets and backstage

at the catwalks.

THE STRATEGY

The marketing strategy aims at positioning

the Brand Cotril Professional as luxury products

for high-end salons, and promotes it

through strong marketing and sponsorship activities

using the modern tools of web marketing

and social platforms, engaging celebrities

from the fashion/showbusiness worlds as testimonials,

and investing in mass advertising in

women's/trade magazines. Regarding the

media strategy, according to Audipress data

the last Italian campaign (mainly concentrated

in woman's magazines) reached 15 million

potential clients.

COTRIL ACADEMY, COTRIL SALONS AND

COTRIL CENTER

Thanks to the Academy in Milan (covering

around 700 sq. metres of floorspace), Cotril

is able to give hairdressers the most advanced

educational programs in line with current

trends. Since 2015, Cotril has been developing

a franchising network called Cotril

Salons and also a light membership program

named Cotril Center. Cotril Salons

results so far include four successful

openings: salons with very high turnover,

supported by excellent quality products and

effective communication strategies.

REASONS WHY

Wide range of products

Exclusively professional products

and services

The color factory

100% made in Italy

More than 40 years of

experience

Hi-tech factory

High profile R&D department

Private label services

Hair Cotril for Autora Ruffico

(Above) and Beatrice Vendramin

(Right) at the Venice Film

Festival.
---
COTRIL

PRIVATE LABEL

B.U. CTL Private Label aims to be the ideal

partner through the study, development and

production of hair products (with particular focus

on coloring solutions). The top products

are Permanent Colors, Tone-on-tone Colors,

and Sensitive Dye, with revolutionary technology

using ammonia-free or PPD-free formulas.

Cotril offers three different types of service:

Full Service (comprising all steps of the

process, from research and purchase of

materials to manufacturing and packaging);

Bulk+Packaging (a filling and packaging service,

with packaging supplied by the client);

Bulk (manufacturing and delivery of finished

bulk product, packaged directly by the client).

STAR

PRODUCTS

GLOW ONE

Glow One is the high-performance permanent hair

color, offering 88 nuances capable of satisfying the

needs and requests of even the most demanding

clients.

Glow One guarantees 100% grey coverage and

facilitates detangling, for glossy hair full of body

and drenched in a fruity perfume.

Its innovative formulation features the complex Oil

Transport System, consisting of two molecules that

act in synergy with each other: one for the uniform

distribution of the colour along lengths and tips,

while second is needed to obtain richly saturated,

long-lasting colour.
---
DANCOLY

COSMETICS

AIMING FOR PERFECTION:

QUALITY AND INNOVATION

Back in 1958, Gilles le Bret, an enlightened

chemist and botanist from Aix-en-Provence in

southern France, the home of natural beauty

known for landscapes burgeoning with flowers

and grass, set up a technical laboratory

for the purpose of researching the benefits

that botanic extracts may offer the human

body and, more specifically, hair cells. Then

in 1965, with a view to applying the results of

his research to the products themselves, Gilles

le Bret formally found Dancoly Cosmetique,

specialised in manufacturing a series of

cosmetics formulated with botanical extracts.

Four years later, the Dancoly Spa series was

initially launched as the first brand formulated

with botanical extracts and oils able to

meet the specific needs of different hair types,

contributing to the success of these products

with end users.

After continued research and investments, in the

year 1980, Gilles le Bret discovered that the essence

extracted from deep-sea seaweeds and

ABOUT US

Company Name:

Dancoly

Cosmetique,

France

Espace Le Beauvalle

Bat B, 4 RUE Mahatma

Gandhi 13090 Aix-EN

Provence, France

Website:

www.dancoly.fr

www.vieso.fr

www.dancoly.com

Founded in:

1990

Factory Area:

10,000 sq. feet

Production Capacity:

Professional

Hair Care Products:

2.5 ml bottles/month

Skin Care and Body

Products:

1.6 ml bottles/month

Gift Set Assembly:

1.2 ml sets/month

Soap Production:

120 tonnes/month

Main Brands:

Dancoly Angel Provence

Hair Care Line/

Dancoly Angel

Professional

Hair Care Line/Dancoly

SPA Hair Care Line/

Argan Oil Line/ Vieso

Hair Care Line

Main Export

Destinations:

UK, USA, Russia,

Mainland China,

Italy, Japan,

New Zealand, Austalia,

Canada, Sweden,

Indonesia, Demark,

Hungary,

Ukraine, Taiwan,

Singapore, Malta,

Malaysia, Dubia,

Saudi Arabi, Kuwait,

Yemen, Iraq,

Hong Kong, Latvia,

Cyprus, Greece,

Poland, Finland,

South Africa
---
Dancoly is present at leading

trade fairs around the world:

left, the fair in Paris, France

and below, Cosmoprof

in Bologna, Italy.

REASONS WHY

Environmental Protection:

all packaging materials

can be recycled

Cruelty-free: product

testing only on human hair,

never on animals

European and FDA GMPC

(Good Manufacturing Practice

Cosmetics) Certification

Safe & Natural Ingredients:

No parabens, SLS, paraffin

oil, vaseline, propylene glycol,

cocamide DEA

various biological active ingredients had amazing

repairing effect on aged and yellow hair. He

immediately invited his friend George Girartin - a

top hair stylist in France, to join his team. Based

on their concerted efforts, Dancoly Cosmetique

released the Angel line two years later.

With the development of Dancoly Cosmetique

and its plans for international expansion, since

1998, Dancoly has taken steps for building a

global brand. Today the brand has successfully

penetrated markets in more than 60 countries

in Europe, the Middle East, and Asia – earning

the overwhelming approval of hairdressers all

around the world.
---
DANCOLY COSMETICS

DIVERSIFICATION AND COMMITMENT

Dancoly Cosmetique France now owns more

than one thousand cosmetic formulas for products

in a variety of fields, including haircare,

skin care, beauty and personal care. Their mission

is to meet the demands of both the wholesaler

and end client with quality products in

all these fields at affordable prices

With a view to guaranteeing optimal service

worldwide, Dancoly France has recently invested

heavily in constructing a modern GMP

production base in China. This plant was designed

and engineered to provide all the production

services necessary to this end, including

the moulding of packaging materials, product

design ,research and testing of filling and manufacturing

processes, to meet all the needs

of OEM/ODM customers and provide the most

competitive products for their brands

It is common knowledge that manufacturing

luxury cosmetics at a high price range is easy.

But Dancoly is committed to a self-imposed

challenge of making high-quality cosmetics

available to a much wider market while relentlessly

striving for perfection. Indeed, the

brand portfolio continues to grow, with the addition

of cutting-edge and innovative products

that meet the most demanding standards of

both quality and safety, making no compromises.

Nothing less than the best will do.

STAR

PRODUCTS

New Helichrysum Line

The near-miraculous

properties of botanicals

and other biological

active ingredients are still

being discovered.

Like the Helichrysum,

renowned as Immortelle,

an "eternal" flower, the

color of which never

fades, even if after

it dries. Its special

ingredients have amazing

properties: it can deeply

moisturize and repair dry

and damaged hair from

within.

Helichrysum Revitalizing

Shampoo/Conditioner

Professionally formulated

for dry, damaged or

frizzy hair, this shampoo

contains helichrysum

essence and vitamins

A and E, which can

effectively prevent

further UVA and UVB

damage while repairing

the damaged areas of

hair shaft. Helichrysum

moisturizing essence

penetrates into the hair

shaft to create a barrier

for repairing dry, colored

or chemically treated

hair, reviving hair and

restoring its natural shine

and elasticity, both inside

and out.

Helichrysum Wakening

Hydration Cream

Enriched with helichrysum

active ingredients,

anti-inflammatory

properties will alleviate

scalp irritation while

rejuvenating and

revitalizing damaged hair

caused by hot styling

tools, chemicals and

environmental elements.

Helichrysum Shine

Styling Wax

This flexible hold wax

creates versatile looks

with long lasting results.

It is suitable for all hair

types to smooth, create

texture, define and add

structure to your style.
---
DIVA

INNOVATE: UNLEASH

YOUR CREATIVE ENERGY

OUR HISTORY

Established in 2007, Diva Pro Styling has

grown quickly to become the UK's leading

salon-exclusive electrical brand. With highly

successful products in every drying and styling

category, it has become respected as the

salon professional's go-to brand for high-quality

innovation at trade-friendly prices.

The brand is stocked in most UK wholesalers,

with it's reputation spreading throughout

Europe, where the brand is represented by one

of France's leading hairdressers, Christophe

Gaillet, whose enviable star-studded client-list

includes Gucci, Nina Ricci, and L'Oréal

Professionnel, among others.

ABOUT US

Company Name:

Diva Pro Styling

Company Full Name

Salon Europe Ltd.

CompanyAddress:

223 Linen Hall

162-168 Regent Street

London W1B 5TE

Tel. +44 7823 889055

+44 7591 455651

Email: helpdesk@

saloneurope.com

Website (s):

www.divapro.co.uk

Founded in: 2006

Manager Director:

Mr. Neil Robson

Intl. Sales Manager:

Ms. Francesca Donati

francesca.donati@

saloneurope.com

Sr. Account Manager:

Mr. Kevin De Cruz

kevindecruz@

saloneurope.com

Main Brands:

Diva Pro Styling

Desired Export Destinations:

North America, South

America, Australia, Asia
---
REASONS WHY

Diva Pro creates innovative

styling tools with stylists mind!

Powerful yet lightweight digitally

controlled, brushless DC motor

uses less energy and can last

10x longer

3-metre long, swivel, heat-proof

cord

Christophe Gaillet is a brand ambassador for

Diva Pro Styling.

Christophe is a multi-award winning Hairstylist

based in Paris and member of the Haute

Coiffure Française artistic team.

He is also considered as one of the most

academic of French hairdressers who promotes

French hairstyling throughout the globe.
---
DIVA

STAR

PRODUCTS

Atmos Atom

Hair Dryer

Get both style and

substance with the ultra

compact Atmos Atom

Dryer weighing one

quarter the weight of

a typical professional

AC Motor, without

compromising on

strength or power. The

2000W, 100,000 RPM

motor has been expertly

designed for ultra-fast

drying with significantly

less motor noise,

allowing for a stressfree

salon environment.

Make it your own with

replacement sleeves

available for purchase

separately.

Atmos Dry

Hair Dryer

Introducing the new

Atmos Dry weighing one

quarter the weight of

a typical professional

AC Motor, without

compromising on

strength or power. The

2000W. 100,000 RPM

motor has been expertly

designed for ultra-fast

drying with significantly

less motor noise,

allowing for a stressfree

salon environment.

Includes powerful Atmos

PLUS conditioning

system to help combat

frizz leaving hair sleek

and shiny. Make it your

own with replacement

sleeves available for

purchase separately.

Air Curl

Styling Wand

Diva Pro Styling

introduces an entirely

new concept in

hairstyling technology

with the introduction of

the Air Curl. This brandnew

curling system

provides heat and wave

fixing technology in one

lightweight, easy to use

tool, to give quick, longlasting

curls for all hair

types. This curl system

requires less, and lower,

heat to fix curls and

waves, making it gentler,

kinder hairstyling and

fixing in one elegant tool.
---
With replaceable customisable colour sleeves

Scan the QR code

for loads more info

divapro.co.uk
---
ECHOSLINE

FOLLOW THE VEGAN WAY

OF ECHOSLINE

A NEW CLEAN HAIR BEAUTY

PHILOSOPHY IS HERE!

Created in Italy in 1998, Echosline is a

professional hair-care brand that has embraced

the «Clean Beauty» philosophy. Over the years,

it has evolved and embarked on « The Vegan

Way », formulating products based on natural

ingredients and developing environmentallyfriendly

packaging and materials, while

respecting professionals and consumers.

A sustainable and "clean" beauty is the vision

that drives Echosline towards a « less is more»

concept.

«LESS» is the way to achieve a vegan and

sustainable beauty, removing all that is not

essential.

«MORE» is what nature gives us when we

learn to take the best out of nature, while fully

respecting it.

Echosline's Smart Beauty aims at reducing its

impact on the environment and consumers,

making beauty ethical and sustainable with

100% vegan hair-care products. Echosline aims

at offering salons all over the world professional

treatments, promoting essential beauty and

simplicity as the best expression of authenticity.

Hair: Stylistic Team Echosline

Photo: Marco Di Filippo

ABOUT US

Company Name:

Pettenon

Cosmetics

S.p.A.

A group company of

Agf88 Holding

Company Address:

Via del Palù, 7/d

35018 San Martino

di Lupari (PD) - Italy

Brand:

Echosline

Website:

www.echosline.it

www.echosline.it/en

Founded in:

1998

Main Brands:

B.Pur, Karbon 9,

Seliàr, Echos Color,

Synergy Color

Main Export

Destinations:

More than

60 countries

in the world
---
STAR

PRODUCTS

B.PUR CLAY

B.PUR CLAY line is the

latest smart range of

Echosline that includes

three simple, innovative

products. It differs from

other lines because it

purifies and offers deepdown

cleaning that starts

from the scalp, then

remineralizes the hair,

giving soft, shiny locks

and longer-lasting styling

performance. Nothing

sums up the B.PUR CLAY

line's authenticity and

environmental

friendliness better than

its simplicity.

The line espouses the

concept of sustainable

and "Clean Beauty" and

the products are 100%

Vegan and made with

Free From, natural origin

ingredients. The selection

of functional active

ingredients includes

Aloe Vera, Jojoba oil,

Shea Butter and first

and foremost White Clay

with and antioxidant

properties and a strong

capacity to absorb

impurities.

B.PUR CLAY

PRE-TREATMENT MUD

Purifying and

remineralizing mud for

the scalp. White Clay

purifies the scalp,

working deep-down to

remove external

impurities. It is ideal for

use on oily and impure

skin, for a healthier and

more vibrant

appearance.

100% Vegan, Silicone

and Sulphate free.

B.PUR CLAY

PRE-TREATMENT

SHAMPOO

Purifying and

remineralizing shampoo.

It provides deep-down

cleaning for hair and

REASONS WHY

Smart" beauty with reduced

environmental impact and innovative

vegan products

Research in innovation with

sustainable formulations and

packaging

Essential formulas, based on natural

ingredients and with high percentage

of biodegradability

Professional quality guaranteed for

all of the products

Respect for the professionals, the

people and the planet

leaves it soft, fragrant

and ready for the Active

Shaping Mask. Ideal for

medium to thick hair, as

well as processed, dry or

unruly hair.

100% Vegan, Silicone

and Sulphate free.

B.PUR CLAY ACTIVE

SHAPING MASK

Shaping and plumping

mask. The formula

provides deep-down

nourishment without

weighing down hair

thanks to effective frizz

prevention and volume

control. It leaves hair

looking healthy,

manageable and glossy.

B.PUR CLAY Active

Shaping Mask features

cutting-edge, patent

pending* technology

that is represented by

the "Active Miraclay

Technology TM" brand.

Thanks to the power of

White Clay, it halps

styling and makes it

long-lasting with a

progressive memory

effect. Ideal for medium

to thick hair, as well as

processed, dry or unruly

hair.

* Italian patent n.

102019000003053

International

Patent pending PCT/

IB2020/051671
---
ELGON

EXALT THE BEAUTY

OF EVERY INDIVIDUAL

Elgon is the premium brand of Pidielle S.p.A, a

company based in Milan, drawing on its

founder's talent and experience in the field of

professional cosmetics.

For 50 years we have worked with professional

hairdressers from all over the world to help

them deliver uniqueness to their clients. This

translates into a profound understanding of

color and the professional sector, as a

guarantee of the quality and service that our

company is able to provide. Our approach

matches high performing Made in Italy products

with concrete business development projects

for our partners through support, collaboration,

inspiration, international education and

bespoke services.

COMPANY OVERVIEW

Elgon is an international brand who puts

individuality and uniqueness at its core, offering

products, services and interactive education to

support the hairdresser's business. Our objective

is to empower stylists and colorists all over the

world with expert knowledge and know-how, so

they can focus on creativity and offer a truly

personalised service to the client in the chair.

ABOUT US

Company Name:

Pidielle S.p.A

Company Address:

Via Bergamina, 7

20014 Nerviano

Milan - Italy

Tel. +39 0331 580166

Email: elgon@

elgoncosmetic.it

Website:

www.elgoncosmetic.com

Founded in:

1970

CEO:

Ms. Serena Caimano

Main Brands:

Elgon, Elgon Green, Mood,

Link-D

Caimano family
---
REASONS WHY

Elgon boasts an internal laboratory in which our

products are formulated and developed, as well

as proprietary manufacturing units. As certified

manufacturers and color experts since 1970,

our production principles are founded on a

continuous quality and control system, which

has always distinguished the brand.

A brand with a conscience, Elgon is devoted to

reducing social injustice and helping shape a

better future. Since 2010 we have been working

with COOPI an independent, secular humanitarian

organization committed to the development of

women and local communities. After the project

in Sierra Leone, teaching local women how to

cultivate their own farming business, Elgon has

supported the project WATER FOR LIFE, WATER

FOR PEOPLE in Ethiopia, and has already

identified new further projects to be involved in

over the coming years.

MARKET INTEREST

Distributed in 91 countries, Elgon is looking

to expand its family. We are looking for

distributors with a solid experience in the

cosmetic industry, who hold a structured and

widespread commercial network in their

territory. If you, just like us, strive for increased

sales development and believe in providing

excellent education programs, please get in

touch.

100% made in Italy

Worldwide presence

Strong focus on R&D and

innovation

Halal and eco-friendly product line

Highly engaged in CSR activities

International education program

ISO 9001 certification to ensure

first-class products

Our goal: to offer top-quality

professional products and services

Our mission: to make a

personalized and premium quality

professional hairdressing service

available to everyone

TOP PRODUCTS

Elgon offers a product to suit every need.

Moda&Styling is our flagship professional

technical line, an extensive permanent color

range used to obtain rich and vibrant, longlasting

results.

Imagea is our first product line within Elgon

Green, created with natural ingredients

obtained from sustainable agriculture and

featuring eco-friendly packaging.

I|BLONDE is our wide range of professional

products for bleaching, designed to respond in

a targeted way to all blonding needs.
---
ELGON

STAR

PRODUCTS

I|BLONDE RANGE PRODUCTS

New generation of dust-free bleaching

powders that perform, whilst boasting

a compact, creamy, silky and lumpfee

texture to facilitate application

and improve adherence to the hair. All

formulas are enriched with AC OIL

COMPLEX, a blend of oils that protects

hair from the stresses caused by

bleaching, and marine phyto-extracts with

antioxidant and revitalizing properties.

I|BLONDE WHITE PLUS

High-performing, dust-free white bleaching

powder for all lightening techniques.

Classic and reliable. Lifts up to 7 levels.

I|BLONDE EXTRA BLUE

High performing, dust-free blue bleaching

powder that counteracts underlying

orange tones. Lifts up to 7 levels.

I|BLONDE ULTRAVIOLET

High performing dust-free violet bleaching

powder that counteracts underlying yellow

tones. Lifts up to 7 levels.

I|BLONDE FREEHAND

Ultra-compact clay bleaching powder ideal

for freehand bleaching techniques. Lifts

up to 7 levels.

I|BLONDE SUPER 9

Extra powerful bleach designed to achieve

the highest lift in the shortest time.

Lightens hair up to 9 levels. TIME-SPEED

effect: up to 5 levels in 30 minutes.

PRIMARIA

A complete treatment programme to

prevent and combat the most common

and least desirable of scalp anomalies:

excess sebum, dandruff and hairloss.

The PRIMARIA range, compact but complete,

is rich in natural active ingredients:

•PREBIOTICS

Are substances of plant origin that

constitute the sustenance of the

microbiome, i.e. the blend of good

microorganisms that inhabit each and

every part of our body, including the

scalp, and that act as a shield against

aggressions from external agents and

pathogenic microorganisms.

•ANTI-POLLUTION COMPLEX

A complex of plant fibres (with

cucumber, apple, lime and seaweed

extracts) that exert an anti-pollution

action. They prevent the absorption of

polluting substances by the scalp.

•REDOXINA 2.0

A complex containing hyaluronic acid

and plant keratin. Makes hair stronger,

youthful and healthy with a time

control effect.

•REDENSYL®

An innovative complex that exerts an

effective anti-hairloss action.

•FREE FROM

Sulphates, silicones, parabens and

artificial colorants.

DERMOPEELING TREATMENT

Pre-shampoo exfoliating treatment to

detoxify and re-mineralize the scalp.

BIODAILY SHAMPOO

With gentle formula ideal for frequent

or daily cleansing of all hair types.

STIMULATING SHAMPOO

Shampoo enriched with Redensyl®

with strengthening and anti-hairloss

properties to gently cleanse fine and

fragile hair.

STIMULATING ANTI HAIRLOSS

TREATMENT

Lotion with Redensyl®that contributes

to the prevention of hairloss and

increases the amount of hair in the

growth phase.

REBALANCING TREATMENT

Pre-shampoo treatment with white clay

to absorb excess sebum.

PURYFING SHAMPOO

Gently yet effectively removes

dandruff and helps prevent its

reappearance.

PURYFING LOTION

Lotion with a gentle formula helps

fight dandruff as well as sebum

production.

REBALANCING SHAMPOO

Deeply yet gently cleanses oily scalp

and absorbs excess sebum thanks to

the formula enriched with white clay.
---
MODA&STYLING

Bring new life to your color with

Moda&Styling brown shades:

rich and vibrant chromatic results

to feel truly #brunette

Discover the new intense

and beige browns on

www.elgoncosmetic.com

and @elgonofficial

@elgonofficial

www.elgoncosmetic.com
---
EUGENE PERMA

100 YEARS OF EXPERTISE

AND KNOW-HOW

People at Eugene Perma have always set

themselves apart with a true entrepreneurial

spirit. At every level, each person makes an

enthusiastic, wholehearted commitment to the

company growth both in domestic and international

markets in a highly competitive context.

Proud of its French "savoir-faire", Eugene Perma

stands for the values of quality and creativity

that it puts to work every day. Thus, drawing

strength from a desire to create, and united

around a common search for inventiveness,

quality and effectiveness, Eugene Perma staff

has built foundations and reputation of a

corporation whose values they embody every

Above, Didier Martin

President and Owner

of Eugene Perma.

On the right, a picture

of our manufacturing

plant located in Reims.

ABOUT US

Company Name:

Eugene Perma

Company Address:

Headquarters:

10 rue James Watt

Bâtiment C/D

93200 Saint-Denis

France

Website:

http://en.eugenepermaprofessionnel.com/

Started in:

1918

President & Owner:

Didier Martin

Number of Employees:

400 worldwide

Main Brands:

Carmen, Solaris,

Essentiel

day. This strong commitment and positive state

of mind – a source of pride – have now been

driving the brand for nearly a century. This is

what makes Eugene Perma unique. The passion

for hair and the search for style based on firstline

expertise inevitably give rise to a history

that resembles no other.

FRENCH SAVOIR-FAIRE

Proud of its French "savoir-faire", Eugene Perma

is first-and-foremost a company on a human

scale that has been able to set itself apart and

develop a unique personality in the world of hair

care. The company was founded by Eugène

Sutter, a hairstylist and hairpiece manufacturer.

It developed on the market of professional

hairstylists and created three establishments

in Paris, London, and Vienna. This international

development drew strength from the invention

of the "Eugène permanent wave", known as

"the perm". Today, Eugene Perma is experiencing

strong international development

while still adhering to its traditions and values.

Present in 56 countries, Eugene Perma is a

"Made in France" success story thanks to its
---
are tested under dermatological control.

Eugene Perma products are tested by independent,

certified laboratories. The manufacturing

plant, located in Reims, aims to

respect the environment and observes strict

production commitments. Pride of place is

given to biodegradable raw materials: objective

zero waste into the environment. Recyclable

materials are used whenever possible and the

use of plastics and cardboard is being continually

reduced. Integral selective sorting has been

established for almost 20 years. Calling on

regional and national suppliers is a priority to

foster the local economy.

unique know-how. Through their creativity and

professionalism, Eugene Perma's hair beauty

specialists give life to the values of authenticity

and proximity that are so dear to the company

while promoting the impeccable level of quality

that has always characterized all of their

products and services.

HAIR CARE RESEARCH

Eugene Perma has a Parisian integrated

Research laboratory exclusively devoted to hair

color and hair care, developing 100% of the

company's formulas. This lab is leader in the

field of ammonia-free hair coloring and has

been a pioneer in banning tests on animals

since 1980's. Thanks to their unique cuttingedge

expertise, Eugene Perma innovations

combine optimal respect for the hair and

effectiveness. Eugene Perma's products are

known for their quality, reliability, and ease of

use, benefiting from all formulas being

developed in collaboration with hairdressers

and colorists. Shampoos and hair care ranges

COLOR INNOVATION

Eugene Perma hair color creates innovations

that meet with hairstylists' and consumers' full

approval both in France and abroad. Its coloring

products are subjected to numerous tests and

inspections that certify the performance of the

coloring results as well as the integrity of the

hair. Eugene Perma deploys all of its hair

REASONS WHY

One of the leading brands

in the hair salon industry in France

100 years of expertise

An independent and

family-owned company

Made in France

100% control of the whole

value chain from formulation

to distribution

A true savoir-faire in coloring

and in-depth care

A true partnership with stylists

and colorists all around the world
---
EUGENE PERMA

research and innovation expertise in order to

provide high quality, in-depth care products with

a wonderful sensory quality to address all hair

and scalp challenges.

FRENCH INSPIRATION

Eugene Perma's artistic teams are committed

to identifying and translating upcoming trends

in order to express them in a unique style, filled

with personality and elegance, epitomizing

"French Inspiration." The artistic team at

Eugene Perma Professionnel designs two

collections a year: Spring/Summer and Fall/

Winter. Step-by-step videos are made available

to realize the techniques and hairstyling in

salon. Collections are inspired by the latest

fashion, lifestyle and beauty trends, worked on

with an international trend bureau. Creativity for

Eugene Perma is, above all, a way to share

emotions at the service of style.

STAR PRODUCTS

Carmen Tone on Tone

The demi-permanent line

of Carmen is composed

of 4 services: Demipermanent

Service to

enhance natural color

without transforming

it, cover 1st gray hairs

or to revive the color of

lengths; Gloss Service

to provide a colored or

neutral shiny coating, or

to create new shades;

Toner Service to tint

blonde bases, neutralize

and/or add a nuance

after a Solaris service;

Men Service to mask

gray hair discreetly for

a rejuvenating effect.

Solaris

Solaris is the reference

range on the lightening

market. Lightening

techniques are not only

dedicated to blondes!

All hair types, for both

women and men, can

be enhanced with

touches of light: short

or long, thin or thick,

Essentiel Keratin

This product provides

hair with the newgeneration

ingenuity

of Essentiel Haircare

for a long-lasting

transformation with the

use ot the shampoo and

mask routine. Exclusive

Keraction technology

repairs and reinforces

damaged hair, helping

it develop an incredible

resistance that makes it

much less brittle.

Collections Nature Bio

by Cycle Vital

A complete hair care and

styling products range

with bio certified active

ingredient for stylists

and consumers who

are looking for: certified

organic products to

enhance their hair while

respecting nature, gentle

formulas (sulfate free,

silicone free, paraben

free), detox in between

classic hair care routines,

all hair types products.

Carmen

Carmen is the 1st

oxidative hair color

from Eugene Perma

Professionnel to amplify

tones and shine thanks

to its Reflect Magnetiq

System. This is the

innovative combination

of two specific

quaternary ammonium

compounds with an

anti-free radical agent

that visibly increases

Carmen's coloring

and shine enhancing

powers. Attracted to

the keratin fiber, the

Reflect Magnetiq

System binds to the

surface of the hair like

a magnet to smooth

its surface and form

a sheath that reflects

light and amplifies color

and shine.

straight or curly, light

or dark. It's range of

7 products provide

a creative lightening

service adapted to each

client. The formulas were

developed to ensure

maximum respect

for the hair fiber and

for the stylist.
---
PROFESSIONNEL | PARIS

MADE IN FRANCE

EUGENE PERMA FRANCE S.A.S - RCS Bobigny 322 584 723

THE

DUAL-EXPERTISE

HAIR CARE

WITH KERATIN

KERATIN

KERATIN GLOW

1.

2.

REPAIR*

BEAUTIFY

KERATIN PULP

KERATIN FRIZZ CONTROL

KERATIN COLOR

KERATIN SILVER

KERATIN NUTRITION

[ NEW ]

KERATIN FORCE

*Except for the Keratin Force segment.

All the products of the Keratin ranges contain keratin or a botanical equivalent.
---
FANOLA

A NEW EMOTIONAL

DIMENSION

FANOLA was born in 2005 from an intuition of

a group of entrepreneurs, becoming

immediately leader in the manufacture and

sale of professional hair products in Italy and

worldwide. Fanola is the Made in Italy brand

of professional hair products, designed to

follow the latest trends and to meet the needs

of all the hairstylists in the world who want to

share their creations in the social media.

We are focused on creating a strong relationship

between the brand and its followers, both

hairstylists and end consumers but also on

creating an international community with all

distributors to communicate the brand

uniquely, strengthening its values.

Fanola is focused on a behavioral and

emotional dimension. It's a young person,

sparkling, dynamic, unconventional, who loves

playing with colors, interpreting them as a

fashion accessory.

FANOLA, IT'S MY BLOND!

Fanola is known worldwide thanks to No Yellow

shampoo; the quality and effectiveness of the

No Yellow Shampoo are the basis of the

product's success and they had generated a

worldwide awareness for the brand. The No

Yellow line has gradually expanded to offer a

complete service dedicated to blonde hair, with

products dedicated not only to the care but also

to coloring and bleaching, always characterized

by the presence of specific pigments that

counteract unwanted yellow reflections.

ABOUT US

Company Name:

Pettenon

Cosmetics

S.p.A.

A group company of

Agf88 Holding

Company Address:

via del Palù 7/d

35018 San Martino

di Lupari (PD) - Italy

Brand:

Fanola

Founded in:

2005

Website:

www.fanola.it

Main Brands:

Fanola; No Yellow;

Orotherapy

Main Export

Destinations:

Europe, North America,

Australia; United Arab

Emirates; New Zeland,

Canada
---
REASONS WHY

Colourful/Creative/Community

addicted

Democratic&Inclusive

UnconventionalFrequent

Innovation

Brand focused on social media

Extreme performing products

100% Made In Italy

Professional Quality

Hairstylist's community

International Distribution

Fanola offers freedom of expression and

experimentation. Everyone can find their ideal

shade thanks to the original, unorthodox colour

selection, which conveys boundless love for life.

STAR

PRODUCTS

No Yellow Shampoo

& Mask

The professional

treatments range

with the Extra Violet

Pigment to neutralize

undesired yellow

effects on bleached,

blonde, streaked

or gray hair. The

formulation is enriched

with Grape extract for

an antioxidant action

and Silk Proteins for

shine. The Shampoo

neutralizes the yellow

undertones with an

immediate toning action

and the mask neutralizes

the yellow undertones

leaving the hair soft

and shiny.

No Orange Treatments

It is a professional

treatment including

Shampoo, Mask and

Conditioning Foam,

featuring a highlyconcentrated

BLUE

pigment in their

formulation to neutralize

copper-red-orange tones

while giving hair a cold,

shiny and even tone.

In particular, Blue Foam

is ideal on white hair

for icy effect result,

leaving hair nourished

and disetangled without

weighing down.

Nourishing Treatments

A complete restructuring

range for dry and frizzy

hair. All the products

are formulated to

give hydration and

nourishment to dry,

stressed and damaged

hair thanks to the Milk

Proteins and Linseed Oil.

Fanola Color

Permanent coloring

cream with ammonia,

enriched with Ginkgo

Biloba. Available in

119 shades, which

can be mixed together

to obtain infinite shades

of color. Formulated

to respect the skin

and hair, it leaves hair

bright and healthy and

guarantees a long-lasting

result. It allows to realize

uniform and bright

colors with rich, deep

and natural reflections

with 100% coverage of

white hair.
---
FARMEN

A HISTORY OF SUCCESS

AND VALUES

Farmen International Cosmetics Distribution

was born in 1964, in a small three-room laboratory

in Turin, Italy. A genuine firm, fruit of the

labour of two generations, offering effective, reliable

and cutting-edge products to beauty

treatment and hairstyle professionals. A firm

that is recognised and appreciated in more than

80 countries, across the five continents. Right

from the first product, Farmesil silicon spray, a

brainchild of founders Mariarosa Ceccon and

Piero Manzetti, it stood out for its innovative

and modern business approach. This is how

the first gas-free Italian hair spray, Natural, was

born, and all the other products that enrich its

three brands: Vitality's, Neà-Spa and Fascinelle.

Below, Farmen's Management

and headquarters.

ABOUT US

Company Name:

Farmen International

Cosmetics

Distribution SpA

Company Address:

Via Leinì, 150

10036 Settimo Torinese (TO)

Italy

Website:

www.farmenspa.com

Founded in:

1964

Main Brands:

Vitality's, Neà-Spa,

Fascinelle

Main Export Destinations:

The World

A COMPLETE PRODUCTION CHAIN

One of their strong points is the ability to

manage the entire production chain within the

company: from the initial concept to the selection

of raw materials and active ingredients,

right up to production, delivery and education

of the end user. Only in this way, by meticulously

checking each and every step, can

Farmen truly guarantee the quality and reliability

of their products. These tests are so stringent

that no more than around 100 of the approximately

600 formulas evaluated every year

are actually manufactured on an industrial

level. Since its establishment, Farmen has

always pursued a single objective: offering beauty

and style professionals effective, reliable

and innovative products to meet all their working

needs. The result of this commitment

is reflected today in three production lines:

Vitality's, Neà-Spa and Fascinelle. Vitality's

is the line dedicated to hair stylists, offering

a complete high-quality range designed to

enhance clients' style and improve their wellbeing.

These specific colouring, shaping and

styling solutions offer added value: the creativity

and experience of Italian-made products.

Neà-Spa is the brand dedicated to the professional

beauty sector. This complete range of

treatments for the face and body uses natural

and exclusive active ingredients derived from

Farmen's research. Fascinelle, the brand created

to satisfy the needs of clients who purchase

through the selective perfumery channel, is a

complete line of high-end products for the wellbeing

and styling of hair.
---
Left, some images of

the production chain.

REASONS WHY

A Modern Company

Strong Research and

Development Department

A complete production

chain

Local and glocal at

the same time

Made in Italy

Strong values

50 years of experience

THE CHARTER OF VALUES

Farmen has always believed in values such as

respect for the environment, safety at work,

customer care and commitment to the local

environment, with the awareness that profit

and responsibility cannot be separated. Today

Farmen has decided to go beyond this mission

statement, formalising their values and objectives

with the project "The Sustainable Colours

of Beauty", a social responsibility strategy that

aims at promoting a new kind of beauty, closer

to the Environment and to People. The first result

of this commitment was the formalisation

of the "Charter of Values and Commitments"

which was born as an evolving document and

becomes richer through dialogue with all the

firm's stakeholders. One of Farmen's strong

points is the internal management of most

of the supply chain, which ensures the maximum

quality, transparency and reliability of

their products. Raw materials: Farmen is developing

a sustainable supply policy based on

environmental and human rights protection.

The aim is to guarantee that even suppliers

of their main ingredients respect this policy by

the end of 2018. Packaging: Farmen is at work

to eliminate overpackaging, reduce the weight

of packages by 15%, and reach 100% recycled

paper and cardboard, partly certified as sustainable

by the end of 2018. Finally, the company

provides support, assistance and training before

and after sale to professional clients, ensuring

that products are 100% safe both for

humans and for the environment, thanks to

thousands of analyses carried out each year

by quality control at R&D laboratories.

FROM GLOBAL TO LOCAL

Farmen is a traditional Italian firm, strongly

linked to the local environment and at the

same time present in more than 80 countries

across the 5 continents. It is a spokesperson for
---
FARMEN

Italian quality in the World. Reconciling this twofold

nature has always been one of the essential

points in its corporate mission: for this reason,

70% of personnel lives in Settimo Torinese and

90% of first level suppliers can be considered

local. Always in this perspective, Farmen offers

continuous and practical support to the local

social fabric, sponsoring sport activities, NPOs,

students, hospitals and other organisations. But

international markets are also an integral part of

the soul of Farmen: future goals include penetrating

markets in ex-Yugoslavia, Argentina, Perù,

Chile, Turckey, Singapore, Mongolia, Norway, Sweden,

UK, Ireland, Iceland, Mexico, South Africa.

What type of partners are we looking for? Professional

importers, corporations, and retail chains.

PEOPLE: THE ADDED VALUE

Farmen's employees are their greatest asset:

for this reason, the firm guarantees health protection

and safety at work, transparent recruitment

policies, equal opportunities and equitable

remuneration, special terms for maternity

and agreements with nurseries, freedom of

trade union representation and continuous

professional development. In parallel, we share

the will to commit to a strategy of tangible and

transparent external communication, to make

Farmen's commitment visible and involve the

entire supply chain. Additionally, we support

the local environment and the local community,

with the creation of virtuous economic and

social systems.

STAR

PRODUCTS

Zero/Vitality's

Zero is renewing itself,

with a more ecological

conscience, shifting

the emphasis onto

the sustainability of

consumption.

Vitality's has chosen

to embrace the Vegan

philosophy with 3 green

pillars:

- for Us Vegan is: No

sumbstances of anial

origin or derivation and

no GMOs are used.

- 80-83% natural

index: A tangible

sign of Zero Colour's

daily commitment to

respecting the planet

and the well-being of

women.

- Formulation with

Organic extracts:

of green tea, aloe,

marshmallow,

equisetum, and thyme.

With anti-oxidant and

emollient properties,

they help protect colour

and leave hair softer

and silkier.

Deco/Vitality's

The new Deco line is

the professional choice

to play freely with light

and look after hair at

the same time. Deco

contains Complex oil, a

precious blend of Cotton

oil and Illipe butter

that by nourishing the

hair helps reduce the

depleting effects of the

bleaching process. The

keratin in the formula

works synergistically with

the Complex oil to protect

hair and condition it

superbly. Deco comprises

a complete range for all

lightening needs, looking

after both scalp and hair.

Epurà /Vitality's

From the heart of nature,

to the heart of beauty.

From the unspoilt nature

of the Alps to the

advanced technology

of Vitality's labs comes

Epurá. Pura Complex:

Gentian, Mountain arnica,

Scots pine, Lemon balm,

Juniper,

St. John's Wort.

A multifunctional

botanical complex

carefully selected in

collaboration with

expert botanists to

guarantee a safe

and organic product, from

seed to extract.

Specific properties for

each type of problem and

intense fragrances.

Tone/Vitality's

Delicate tone-on-tone

colouring with no

ammonia. It works

gradually over time

and doesn't lighten

the base, for an

extremely natural colour.

Thanks to Switch-on

Technology, every nuance

was broken down

into all its tones to

scientifically balance

the percentages of

coloured pigments

and thereby obtain

pure nuances.
---
THE VEGAN* COLOUR

HIGH NATURAL INDEX

Equisetum

Marshmallow

Thyme

Green tea

Aloe

THE VEGAN HAIR DYE WITH A HIGH NATURAL INDEX

Our commitment to respecting the planet and the beauty of women

Diamond

Skin Protection

Shine

Complex

Sweet

protection

Ammonia

free

With

PTD

Organic

extracts

We love

pets

*Contains no animal-derived ingredients

vitalitys.it
---
FOLLIZIN

RESEARCH INC.

AN ENLIGHTENED APPROACH

TO HAIR & SCALP TREATMENTS

Leo Leong started his career as a hairdresser

more than 47 years ago and has been a

professional hair care distributor since 1993.

He has always sought out innovative ways to

increase and stabilize the business of hair

salons. As early as 1993, 2 international 6-star

spa resorts in Thailand - The Banyan Tree and

Chiva Som - approached Leo to train their

therapists on hair and scalp spa services. At

that time there were no scalp care products

available, but that did not stop Leo from coming

up with innovative ideas after learning about the

resorts' face and body spa services. From then

on Leo has dedicated his efforts to the scalp

and hair care market and learning everything he

can about it.

In 1995, Leo became the first Asia Distributor for

a top U.S. scalp care brand and also became

Leo Leong's

first-hand

experience spurred

him to develop

revolutionary

in-salon scalp

treatments.

ABOUT US

Company Name:

Follizin Research Inc.

Company Address:

Global Headquarters:

68 Kallang Pudding

Road #06-03,

SYH Logistics Building,

Singapore 349327

Tel. +65 6743-5218

Email: enquiry@follizin.com

Website:

www.follizin.com

Started in:

2006

International Director:

Leo Leong

their international trainer for the Asia Pacific

region, inspiring him to focus on developing the

scalp care market in hair salons. It was a

challenging task, as hairdressers are creative

people and are not particularly keen on "noncreative"

services. He also noticed that most

hair salons tended to focus on their customers'

scalp problems and overpromising on the

treatment results, as they were encouraged to do

by most hair and scalp care product companies.

And even when salons changed product brands,

they continued to make empty promises, the

consequence was damaging their clients' trust

instead of building a solid relationship with them.

THE BEGINNING OF FOLLIZIN

Leo recalled his experience with the 2 spas in

Thailand, where he noticed that the scalp

services were offered to the spa resort

customers as a wellness service instead of a

problem-solving service. Over the years, he also

realized that the professional hair care

businesses marketed products focusing on

treating scalp problems but there was never

really a brand that fully focused on promoting

scalp health maintenance. After learning and

gathering more information on skin health and

skin care, he began his search for a scalp care

range that is like a skin care range. After all, he

reasoned, our face is an extension of our scalp

skin, and it is essential to pay as much (if not

more) attention to our scalp.

In 2005, he found a U.S. laboratory developing

products for aesthetic doctors and the first scalp

product they came up with was a night serum.
---
REASONS WHY

Similar to night serums for the face, this is an

intensive multi-functional product that greatly

improve the scalp skin while the body is resting.

Today this product, Intensive Follicle Energizer,

has gone through multiple advancements over

the years and remains as one of the best-selling

products in the range. It has also won the most

hair awards from Harper's Bazaar, Cosmopolitan,

Women's Weekly and other lifestyle magazines.

As there was only one product at that time from

Follizin, Leo requested the master distribution

rights covering the entire Asia Pacific region.

SKIN CARE FOR THE SCALP

This slogan has become the essence of the

brand. Follizin started in 2006 and grew from

one product to a full range for both in-salon

services as well as home care. Follizin products

are SLS, SLES, parabens and alcohol free. All

products are of skin care grade, made with

similar skin care technologies, and made

mostly from natural plant ingredients that can

be found in the finest facial products. Even the

in-salon scalp services are aptly named as

scalp facials due to the similarity to facial

services provided in beauty salons. Promoting

the concept of taking care of the scalp as one

would take care of the face became the biggest

focus for the brand, making it stand out from

other scalp care products.

CHINA – THE MOST CHALLENGING MARKET

When Leo started marketing in the region,

everyone told him that China was the most

promising market, not only in terms of size, but

also because it was the fastest emerging

Extensive experience

and understanding of the salon

market and hairdressers.

The brand is a Hair as well as

Beauty Salon exclusive concept.

Unique brand position with

unique concepts.

Highest value returns

and frequency.

Immediate increase in business

turnover with existing salon

client base.

Creates new and long-term

business opportunities for Hair

and Beauty salons.

Enable salons to have better

customer loyalty.

Complete support for

distributors from education

to salon penetration plans.

economy with a very vibrant and active hair

industry. However, it is still one of the most

challenging in terms of red tape when it comes

to product registrations, and bad practices in

the salons when it comes to scalp and hair

care. Determined to tackle the most challenging

market, China became one of the first

destinations he chose to focus on.
---
FOLLIZIN RESEARCH INC.

STAR

PRODUCTS

Training became a big part of the work to be done

and together with his China team, they

successfully changed the concepts and the

marketing approach of the salons that they work

with in China. Today there are many fine salons in

China with very well managed and professionally

run scalp spas that can truly rival some of the

best in salons around the world. Their training in

China has also evolved to curriculum courses

that dedicated therapists must attend and pass

a final exam in order to become a Follizin spa

therapist. The Follizin team in China is able to

provide everything a salon would need to run a

successful scalp spa. Results have also shown

that some salons earn up to 40% of the total

salon turnover from their scalp spa alone.

Besides China, Follizin is also very successful in

Singapore, Hong Kong, Malaysia and Thailand.

Balancing Cleanser and

Balancing Moisturizer

Unique hydro-lipid

balancing and

moisturizing technologies

to balance over-active

sebaceous glands without

using strong surfactants.

Intensive Follicle

Energizer

Award-winning night

serum with highly

effective technologies

that stimulates the scalp

skin to continuously

produce type 1 and

type 3 collagen for Age

Freeze effects. It also

helps to create a perfect

environment for healthy

hair growth while you

sleep.

Essential Scalp Toner

Award-winning alcohol

free, moisture

enhancing Scalp Toner

that acts like

a face toner locking

in essential moisture

on the scalp.

Scalp Pure

The first Anti-Pollution

treatment that detoxes

your scalp by drawing

out impurities, toxins,

pollutants and other

chemicals from the

scalp skin.

2018 – MILESTONE ACHIEVEMENT

With this successful and unique concept, Leo

started to negotiate for the distribution rights of

the brand globally. In 2018, a favorable settlement

made Leo a partner of the brand, free to focus on

the global marketing of Follizin, while product

development and manufacturing remain with the

laboratory. This would ensure that both parties

continue to do what they do best to bring the

brand to the next level of success. Today, Follizin

is focused on looking for more international

partners to share the success of the Follizin

scalp care story.
---
S k i n C a r e f o r t h e S c a l p
---
FRAMESI

FASHION, STYLE AND

UNIQUENESS

Made in Italy since 1945, Framesi has been

working for the professional hairdresser

success providing salons with innovative,

professional products that deliver in salon

precision, predictability and performance.

In Framesi beauty and fashion blend with

individual artistry and creativity, boosted by a

cutting-edge training program.

AN IDEA. A DREAM.

The courage to believe in it and make it

come true. With the mere support of family

and friends, an Italian story of passion and

determination began. And an exclusive

alliance with hairdressers, which will never

fail, was born as well.

Mr Fabio Franchina, President. Ms Patrizia Caldera,

Marketing&Corporate Communication Director and

Mr Andrea Pace, International Director.

ABOUT US

Company Name:

Framesi SPA

Company Address:

Strada Statale dei Giovi 135

20037 Paderno Dugnano (MI)

Italy

Website:

framesi.it

Founded in:

1945

Main Brands:

Framcolor, Morphosis,

FOR-ME, Framesi Barber Gen

Main Export Destinations:

USA, Tunisia, Pakistan, Czech

Republic, UK, Switzerland,

Argentina

RESEARCH AND QUALITY PRODUCTS

•Major investments in research and in the

development of cutting-edge formulations

•The highest standards, thanks to carefully

selected raw materials and a field-proven

series of checks and controls

•State-of-the-art production technology

•Consultancy from prestigious Italian

universities and US scientific institutes

•Framesi Accessories: safety, ergonomics

and top quality applied to implements for

professional use.

LEARNING BY DOING: THE ULTIMATE

EDUCATIONAL PROJECT

A training program designed to bring Italian

fashion all over the world and turn all of

Framesi's hairstylists into 360-degree beauty

consultants and successful designers, as well

as improving their technical skills. Learning by

doing places emphasis on the importance of

high-level lifelong training, a comprehensive

program of technical and style courses in

classroom and web sessions, to please even

the most demanding professionals. The project

will be led by two extremely knowledgeable

teams: The International Technical Masters,

for tailored one-to-one consultancy, and the

Framesi International Ambassadors, locallyselected

specialist trainers.
---
REASONS WHY

ITALIAN STYLE FRAMESI AND ITALIAN

STYLE ENERGY STYLISTIC TEAMS

• The collection: a yearly research project

into colors, volumes and styling designed

to propose the latest trends and satisfy the

public's expectations

• A unique and original cutting method that

optimizes the quality/time ratio and ensures

economic advantages for the salon

• Fashion, technique and style in a series

of seminars, the contents of which can

immediately be implemented in the salon.

A family business

Our mission: To work

exclusively for the success

of the hairdresser

• 100% made in Italy

Creativity, good taste and

style: the very essence of

Italy, highly valued all over

the world

Attention to people

• A unique project based

on common goals to be

shared with staff and

customers alike
---
FRAMESI

STAR

PRODUCTS

Famcolor 2001

This line gives the

stylist an infinite range

of possibilities, all

brilliant and unalterable.

The protective antiage

formula and high

quality pigments, made

even more stable by a

special technology, make

FRAMCOLOR 2001 the

permanent color loved

most by professionals

from all over the world.

Morphosis Re-Structure

Express Filler

A 3 step treatment for

total hair regeneration.

It gives damaged hair

back its resistance,

shine and manageability.

• PHASE 1

Revitalizing Shampoo

Purifying, with surfactants

of plant origin and acid

pH. Cleanses in depth

leaving the hair soft,

hydrated and ready to

receive regenerating main

principles. With precious

elements to nourish the

scalp and bulb too.

• PHASE 2

Express Filler

Restructuring gel to fill

out and repair hair fibre

in depth. Re-thickens

and re-compacts shaft

surface transforming

texture instantly.

• PHASE 3

Precious Fluid

Intensive disciplining

treatment. Restores hair

fibre's natural beauty

and elasticity. Thanks

to last generation

components, smooths

and re-compacts the

cuticles to trap the main

principles for longerlasting

benefits.

Extraordinary shine and

softness for hair.

Decolor B Diamond

A highly performing

bleach with diamond

powder. With ultra-fast

and dust-free formula,

hair gets extra shine

and hair surface

gets smoother, more

luminous and solid.

• Fast action

• Lightening power:

over 9 LEVELS

• Very hydrating

• Brilliance effect

• Smoothed, silky,

shiny hair
---
GLYNT

NATURE AND SCIENCE:

EXCLUSIVE QUALITY

GLYNT is a salon exclusive hair cosmetics

brand from Germany. More than 10,000 top

salons around the world are currently work-ing

with GLYNT. In 2017, it has been ranked as the

best German hair cosmetics provider for

the fourth consecutive time. Hans Conzen

Kosmetik GmbH, the company behind GLYNT,

was founded in 1968 by Hans Conzen. Since

then, this family-owned company has always

been independent. The registration of the

brand GLYNT, old-German for "shine", in the

early 1980s set the course for today's success.

Today's CEO, Stephan Conzen, is the original

founder's son. At the beginning, the company

mainly produced dermatological products,

in particular skin cosmetics for children and

adolescents with skin problems. Building upon

that experience, it found its way into the hair

cosmetics market in the early 1970s. GLYNT is

now planning to broaden its portfolio of international

distributors.

EXCLUSIVE QUALITY

The company philosophy is mainly based on

three pillars. First, it concentrates on what

is essential to modern hairdressers: a compact

portfolio of high quality products, which is

100% salon exclusive. Second, Hans Conzen

Kosmetik GmbH sees itself as a modern link

between nature and science: 100% product

ABOUT US

Company Name:

Hans Conzen

Kosmetik GmbH

Company Address:

Lehmkoppel 2

25499 Tangstedt/

Pinneberg - Germany

Tel. +49 4101 37 33-0

Fax: +49 4101 37 33-11

Mail: info@glynt.com

Export Contact:

Marc-Denis Ruecker

Head of International Sales

Tel. +49 4101 37 33-49

Mail: d.ruecker@glynt.com

Main export destinations:

Austria, France, Switzerland,

Denmark, Iran, UAE, Poland

Website:

www.glynt.com

www.grahamhillcosmetics.com

Main Brands:

GLYNT, GRAHAM HILL

Established in:

1968

CEO:

Stephan Conzen

Number of employees:

120

Turnover 2016:

22 Mio. €

Core business:

cosmetics, colour systems

and salon products

performance is the benchmark; botanical ingredients

are often the way to get there. Third,

the company strives to deliver a "high quality

but reasonable price" with attractive trade

margins for salons and affordable prices for

end users. In view of this, all products are

exclusive in terms of quality, but not in terms

of price.
---
Right, external

and internal views

of the company.

EXPERIENCE AND INNOVATION

The GLYNT product portfolio does not only

include highly effective care and styling products,

but also a compact portfolio of professional

salon products like the GLYNT Shadows

colour system or the internationally renowned

GLYNT bleaching powders. At the beginning

of 2017, GLYNT successfully launched their

new and revolutionary product line Trijuven,

a three-step therapy to rejuvenate both chemically

treated hair and natural hair. Trijuven

works not only on the cuticle, the outer part

of the hair, but also in the cortex, the inner

part. The resulting effect allows hairdressers

to work on stressed hair safely. Moreover,

GLYNT supports its customers with a wide

range of marketing material to successfully

establish Trijuven as the new beauty routine

for their clients. In addition, Hans Conzen Kosmetik

GmbH has recently expanded its product

portfolio with the new grooming line for

men, GRAHAM HILL. Inspired by the legendary

racing icon GRAHAM HILL, the product line

is the best choice for style-conscious gentlemen.

It is currently made of 17 different products

that have been segmented into three

categories: Cleansing & Vitalising, Styling &

Grooming and Shaving & Refreshing. Among

these, Stowe Wax Out Charcoal Shampoo and

Rascasse Beard Wash Cleansing Powder are

the highlights for top barbers. While the black

Stowe Wax Out Charcoal Shampoo has the

rare ability to thoroughly rinse out all kinds

of pomade, Rascasse Beard Wash Cleansing

Powder is the world's first enzyme powder for

an extra-mild beard wash.

REASONS WHY

Voted by salons as Best German

Hair Cosmetics Supplier in 2013,

2014, 2015, 2016

100% Made in Germany

100% Salon exclusivity

Full range of products

High quality at a surprisingly

reasonable price

Compact product portfolio with

limited capital lockup

Products tailored to

daily salon needs

Focus on both high efficacy as

well as a maximum tolerance

State-of-the-art product

formulations

Only ingredients with

proven effects
---
GLYNT

STAR

PRODUCTS

TRAINING AND EVENTS

Hans Conzen Kosmetik GmbH considers training

as an essential part of the professional

practice in this sector, because hairstylists

and salon owners should keep updated on the

latest fashion trends and product innovation

in order to deliver a premium quality service.

With this in mind, the company organizes a

3-day workshop on colour techniques for colour

experts, who can enrol directly through the

company website. For the seventh consecutive

time, the Capelli Group with Thorsten Hussfeldt

1. Shadows

One of the most modern

hair colour systems in

the market, 70 shades,

and endless creativity.

2. Platinum Bond

A bleaching experience

that will redefine your

quality expectations;

perfect with Shadows

Energizer 2%.

3. Revital Care Series

Natural "botox" for

chemically treated hair;

Revital Regain Milk is

excellent.

4. Glynt Derma

Care Series

The versatile remedy

for scalp irritation

and dandruff; Derma

Regulate Shampoo is

one of the best.

5. Nutri Care Series

The one-stop-shop for

dry and damaged hair;

Nutri Oil Elixir is a musthave;

Malibu Smoothing

Cream: lightweight antifrizz

cream.

6. Rok Spray Foam

Versatile spray foam for

strong volume on the roots

or creative texture effects.

7. Spider Cream

Flexible styling for variable

texture and light hold.

8. Diamond Shine Spray

Reflective spray for silky

shine, which will make

your styling success

directly visible.

9. Vita Day Cream

The salon blockbuster

- moisturizing styling

cream for hold &

fullness.

1

6

9

4

8

2

3

5

7

and the GLYNT Artistic Team have toured together

to 8 German cities on the Trend Tour

Cut and Style 2017. Under the slogan "Breakfree",

Thorsten Hussfeldt presented three

different ideas of cut: Shortcut, Shortbob

and Longhair; they are suitable to different

lengths and allow versatile styling options.
---
www.glynt.com
---
INEBRYA

WELCOME TO A NEW

SENSORIAL EXPERIENCE

Inebrya is the professional haircare brand

created in Italy for the hair artists of the world.

The brand name comes from the Italian verb

"inebriare" which means to exhilarate, to

stimulate, to excite.

The Inebrya products "inebriano" because

they move the senses through the colors

(packaging and fluids) and the fragrances

that fulfill the air since the first born in 1999.

These features are rooted in the brand's DNA

which stands for high sensorial experiences.

In the Italian laboratories every new product is

conceived, developed and produced selecting

with great accuracy cosmetic and delicate

fragrances, innovative transforming textures

and sensorial packagings.

Being a professional haircare brand means

offering products covering all the needs

the end consumers want to solve when

approaching their hairdressers. Inebrya offers

a wide product range covering the following 3

areas: technical, treatment & care, styling &

finishing. Today Inebrya is distributed in more

than 60 different countries of the world, and

aims at reaching, empowering and helping

more professionals and customers around

the globe.

INEBRYA offers exclusive products and solutions

for keeping hair healthy and beautiful, studied

to meet all the needs of haircare PROFESSIONALS

who bring CREATIVITY and PASSION to their work

every day, to make every woman feel UNIQUE.

ABOUT US

Company Name:

Pettenon

Cosmetics

S.p.A.

A group company of

Agf88 Holding

Company Address:

via del Palù 7/d

35018 San Martino

di Lupari (PD) - Italy

Brand:

Inebrya

Founded in:

1999

Website:

www.inebrya.it

Main Brands:

Blondesse, Ice Cream,

Inebrya Color & Bionic

Main Export

Destinations:

more than 60 countries

in the world

Hair: Artistic Team Inebrya - Photo: Filippo Fortis
---
REASONS WHY

Hair: Artistic Team Inebrya - Photo: Filippo Fortis

Sensorial experience as a point

of differentiation

Ultra femininity and elegant

maximalism

Complete professional range

Constant research and innovation

International education programs

(training and events)

100% made in Italy

Worldwide distribution

More than 20 years of expertise

STAR

PRODUCTS

BLONDESSE

Blondesse aims to

offer impeccable,

bright and fashionable

blonde and brunette

hair in complete

safety. Blondesse

covers not only prelighteners

range, but

also the comprehensive

selection features

toners and treatments,

both for blonde and light

brown hair.

Miracle Gentle Lightener

- Protect is the first

product to offer top prelightening

performance

while leaving the structure

of the hair intact. It is

ideal for people who use

pre-lightening services on

a regular basis.

Ultra Fast Lightener 9

Tones is a compact blue

pre-lightening powder

for quick, high lifting.

Reduct Color Powder

Antibrass is a compact

green pre-lightening

powder for cleansing

artificial colours and

neutralizing warm

hues. Ammonia Free

Lightener is a compact

purple ammonia-free

pre-lightening powder.

Cosmetic Bleaching

Cream is a cosmetic

blue pre-lightening

cream for total and

delicate lifting. Free

Style Clay Lightener

Balayage is a claybased,

compact prelightening

powder for

free-hand lifting and

contouring.

To go with the prelightening

and lifting

selection, Inebrya has

put together a line of

10 brand new semipermanent

toners.

They come in the

form of ultra-delicate

colouring creams that

are free from ammonia,

resorcinol and PPD.

Supporting the technical

range, there are specific

after-service treatments:

one to keep hair soft,

silky and conditioned

both in-salon and at

home; another two

specific anti-brassiness

lines to maintain hair

shades unaltered, from

lightest to darkest

blonde and brown.
---
INNOLUXE

UNLEASH YOUR

OUTRAGEOUS

OVERVIEW

Meet INNOluxe, we think it's pretty impressive…

This British bond-builder brand's game-changing

protein technology has been rewriting haircare

ever since 2015. In fact, world-famous colourist

Sophia HIlton credits INNOluxe with allowing

her to create all the show-stopping looks she's

renowned for - and that's why we invited her to

be our Brand Ambassador and she graciously

accepted!

A BOND-BUILDER WITH A DIFFERENCE

INNOluxe's signature in-salon treatment makes

insanely vibrant, healthy colour possible by

repairing hair and protecting it while you work.

Managing Director

Jez Barnett

Operations Director

John Hubbard

PR Manager

Katie Braden

ABOUT US

Company Name:

INNOluxe Ltd..

Company Address:

Unit 8G, Old Hall Farmyard,

Priory Lane, Little

Wymondley, SG4 7BL, GB.

Website:

www.innoluxe.com

Founded in:

2014

Number of Employees:

10

Main Brands:

INNOluxe

Moreover, this treatment can also be adapted

into an intensely luxurious Stand-Alone

treatment, or used to protect and repair hair

during all technical services.

No matter how you decide to use it, the results

will always speak for themselves. Clients and

salons absolutely LOVE it, especially because

– unlike other bond builders – it leaves the

hair feeling luxuriously soft and with an

unbelievable shine. Your clients can see and

feel the difference from the very first time they

try it, so it pretty much sells itself! This means

they will be eager to request INNOluxe at their

next appointment!

"QUITE FRANKLY, IT'S THE BEST"

Simple and concise. This comment by Sophia

Hilton is why INNOluxe is super-excited and

proud that the founder of London's Not Another

Salon, multiple award winner and all-round

'Queen of Colour', is the INNOluxe brand

ambassador.

"INNOluxe V2 takes it further than I thought

would ever be possible," she says. "V2 works

both inside and out. It rebuilds the hair like

never before, but equally important, the client's

going to feel it and ask for it again and again

and again."

TAKE THE LUXURY HOME

In addition to in-salon treatments, INNOluxe also

offers an excellent retail opportunity for salons.

Our PLATINUM and #SAVED ranges let clients

take INNOluxe luxury home with them, as does

our much-loved leave-in treatment, Elixir V2.
---
Not only does INNOluxe strengthen hair, it also leaves is soft to

the touch and shiny. After just one application, customers will

request it at every visit.

REASONS WHY

Strengthens hair while adding

shine and softness

Huge return on investment

Zero waste thanks to a syringe

measuring system

No minimum order

Fantastic retail opportunities

with in-salon sales

CREATED BY JEZ BARNETT

Jez Barnett has an overwhelming passion for

the science behind healthy hair. He grew up

around his family's hair salons and has over 30

years' experience in hairdressing with some of

the biggest names in the business.

It was an inevitable evolution that Jez would

being focussing on developing treatments

of his own with a view to helping colourists

everywhere push the creativity of their work

further than ever before.

Co-founder John Hubbard is a highly pragmatic

and talented businessman who perfectly

complements Jez's creativity and vision.

Together they are a dream team for delivering

INNOluxe to markets in every corner of the

globe.

INNOluxe also makes a big difference in a

salon's bottom line with a huge return on

investments. Indeed, salons that choose

INNOluxe report charging 20% extra on their

colour bills. And the super accurate INNOluxe

syringe measuring system also means zero

wastage.

Another enormous advantage is that there is

no minimum order. Just order what you need,

when you need it. You can buy as few or as

many professional products at a time as you

like – it's up to you. Then boost retail sales by

making available luxurious INNOluxe products

to use at home. A win for everyone involved!

GLOBAL AMBITIONS

INNOluxe is currently available in India,

Pakistan, Cyprus, the United Arab Emirates,

Kuwait, and Ireland. They are entertaining

potential expansion in the USA, Canada, other

EU member nations, South America, Russia,

and Turkey.
---
INNOLUXE

STAR

PRODUCTS

INNOluxe V2

A ground-breaking bondbuilder

treatment that

can be used with colour,

technical services or as

a Stand-Alone pampering

in-salon treatment. It

uses our world-leading

AminoBond protein

technology to rebuild

hair and prevent damage

as you work, and salons

and clients alike rave

about it! As well as V2's

salon-only products, the

range also includes our

much-loved Elixir V2,

a highly-concentrated

leave-in treatment that

clients can use at home.

#SAVED

Deiivering the power

of INNOluxe to shower

cubicles around the

globe. This range of

luxurious Shampoo,

Conditioner and Mask

is designed to enhance

colour and make it last

longer, but are also

brilliant for all hair,

even hair that's never

been coloured. They're

rich in sumptuous

ingredients that nourish

and condition hair so

that it looks and feels

fabulous, as well as

helping colour last longer

Platinum

A gorgeous range of

toning shampoos,

designed with supercool

blondes in mind.

Platinum Shampoo,

Conditioner and Mask

use deep purple and

blue pigments to

neutralise pesky warm

tones. And unlike

many similar ranges,

they leave hair feeling

fantastically soft,

luxurious and shiny.

Clients and salons love

it for keeping platinum

blondes and grey hues

cool, as well as for the

amazingly healthy look

and feel you're left with

after each use.
---
Do you know

INNOluxe?

"We've worked with many of the other

competing brands, and quite frankly they

don't compare. Not even close!"

@house_hairandbeauty

FIND OUT

MORE

"INNOluxe V2 takes it further than I

thought was possible."

·

SOPHIA HILTON

FOUNDER AND DIRECTOR OF NOT ANOTHER SALON

@innoluxe

@innoluxe

@innoluxeuk
---
KIN

COSMETICS

HIGH-QUALITY COSMETICS

FOR HAIR PROS SINCE 1932

KIN Cosmetics is one of the most historic and

prestigious brands in the world of hairdressing

in Spain. KIN Cosmetics is the history of the

Bosacoma family, a family that launched their

project in 1932. It is the company manufacturing

cosmetics exclusively for hair salon professionals

with likely the longest history in the country.

An international company with strong roots in

Sant Feliu de Guíxols (Girona), a small fishing

village in the heart of the Costa Brava and 100 km

from Barcelona, which has held onto its own

va-lues and traditions. A natural environment full

of contrasts which has inspired great artists such as

Picasso and Dalí. From here, KIN Cosmetics now

has arrived to 35 countries around the world.

Yes, KIN Cosmetics continues to be a family

company today but is highly professionalized.

A pioneering brand in the field of research and

development, working on unique and patented

formulas to place in the hands of hair salon

professionals leading-edge products and high

technical performance. The company has its own

R&D department, manufacturing, packaging, an

advanced logistics system so that its products

ABOUT US

Company Name:

KIN Cosmetics

Company Address:

Polígono Industrial Bujonis, 7-9

17220 Sant Feliu de Guíxols

(Girona) - Spain

Tel. +34 972 324000

Website:

www.kincosmetics.com

Founded in:

1932

CEO:

Joan Mª Bosacoma

Export Manager:

Borja Robleda for info write to

export@kincosmetics.com

Founder:

Gregori Bosacoma

Number of employees:

More than 50

Main brands:

kincrem, kinactif, kinmen,

kinessences, kinstyle, kinblond,

kinperm, kinworks and kinmaster

Left, Xevi Jubany,

Intl' Technical-

Artistic Director.

Right, Joan Maria

Bosacoma, CEO.

arrive as soon as possible into the hands of its

clients. Within the administrative and commercial

area, it also has a Marketing and Communication

department which strives to support and implement

the brand in every market along with the

Management and Sales teams. And very important,

the Training Department to cover all the needs

that hair salon professionals may demand at

their salons.
---
KIN Cosmetics 2019 Trends Collection.

A RISING COMPANY WITH A GROWTH OF

MORE THAN 15% IN THE LAST 2 YEARS

A company that fosters family values and

which stands out for its close and personal

treatment of each client and collaborator at

the international level. "Our clients are part

of our family and they deserve to be heard.

They know their own turf better than anyone

else", says Joan Mª Bosacoma (CEO and 4th

generation of the founding family) emphasizing

the main brand philosophy which is its

flexibility and its capacity to adapt to each of

its markets.

With facilities measuring more than 10,000

m 2 , since 2009 the company has been strongly

committed to the consolidation of a global

brand with a unified criterion and this has led

them to a renewal of their corporate image,

new product lines, management systems…

They have expanded their market platform,

entering new countries, started to produce

their own collections with the brand's creative

team, created a very proactive training

programme and there is still much left to do!

KIN Cosmetics has the calling to become a

benchmark within the international hairdressing

sector in the upcoming years. "Training and

direct contact with the brand's team of trainers

aimed at the partner and its teams and also

aimed at its clients, is key in sharing the

collective brand experience and growing

together", explains Xevi Jubany, International

Technical-Artistic Director of KIN Cosmetics.

Today, the brand is present in the USA, Mexico,

REASONS WHY

85 years of history as a

professional cosmetics

manufacturer

An International Education

Department to cover all the

needs of hair salon professionals

Brand philosophy: flexibility

and capacity to adapt to each

local market

The company has its own R&D

department, manufacturing,

packaging, an advanced logistics

system

They produce their own

collections with the brand's

creative team, having a very

proactive training programme

Annual trend collections are

presented on an APP that can be

downloaded for free

They own all products' formulas

an process, are certified by the

EQA and GMP
---
KIN COSMETICS

Colombia, Argentina, Francia, Holland, Austria,

Belarus, Israel, Iran, Singapore, etc. On the

brand's website, you can find each and every

territory where KIN Cosmetics is present today.

The strategy for the present and future growth

of the brand is through becoming stronger

and growing in the territories of America, Latin

America, Russia, Southeast Asia and the countries

of the United Arab Emirates.

HAIR SALON COLLECTIONS STEP-BY-STEP

FREE FOR ALL PROFESSIONAL HAIDRESSERS

KIN Cosmetics is also a benchmark in the

technological era, because its annual trend

collections are presented on an APP that can

be downloaded for free where hairdressers

from all over the world can learn cutting and

coloring techniques step-by-step as carried

out by the International Technical-Artistic team

of KIN Cosmetics from their Smartphones.

Throughout the years, the brand has created

a cutting and colouring collection with 3 trendy

looks of a commercial nature to explore in the

daily life of the hair salon.

At KIN Cosmetics, communication is always bidirectional

and therefore, clients of the brand

STAR

PRODUCTS

Kincrem Prestige (1)

KINCREM Prestige is a

dye with infinite creative

possibilities for hair

salon professionals,

developed with CRK+

Technology (Cerakin Plus

Technology), and enriched

with keratine which

combines very effective

active ingredients, providing

multiple benefits

to the hair in each use.

KINCREM Prestige

is a dye free of PPD

which provides intense,

balanced and long-lasting

colours, creating deeper

highlights.

Kinessences (2)

The natural richness

of the purest essences

of the earth now in

KIN Cosmetics

distributors

testing

product box

your hair. The projects

of the kinessences line

have been designed

using a high efficiency

natural active ingredients

and exclusive brand

technologies that have

multiple benefits for the

health and beauty of hair

with a constant special

eco-friendly philosophy

for all professionals with

strong environmental

convictions.

Kinactif (3)

Kinactif adapts to

the hair's routine with

exclusive advances in

R&D for the world of

hairdressing. Kinactif

products apply to nature in

its purest form the latest

advances in R&D which

have resulted in the AIS

(Active Inside System).

A liposomal and micro

encapsulation system

especially designed so

that the ingredients remain

anchored to the most

outer part of the hair

and hour after hour

penetrate into the inner

layers of the hair fibre.

know 1st hand that behind every product

there is a visible face of a physical person

who the client can point out. The brand even

organizes trips to the main headquarters for

international clients, so that they can interact

with the teams that are involved in every part

of the process.

2

1 3

4

Kinstyle (4)

Kinstyle places in

the hands of hair

salon professionals

a professional tool

to create as much as

possible. The styling

essential for the work

bag where comfort and

practicality are rewarded.

A short line which allows

certain products to be

cocktailed with others

to achieve any look

possible. Products to

construct and at the

same time treat the hair

with the highest respect.
---
WELCOME TO THE

NEW GENERATION OF

MULTI-REFLECTIVE TONES

The KIN Cosmetics laboratory has taken the next step in the

world of color, achieving new richer tones in color

reflection. Passing from 2 to 3 reflections, a new version of

tones is born, with more shade contrast and diversity. With

Earth Nudes coloring techniques, lsalon professionals can

create volume and highlight areas with distinct tones that are

always harmonious, as well as areas of depth that give even

more verve to the overall look.

DISCOVER MORE ABOUT EARTH NUDES AT KINCOSMETICS.COM

@kincosmetics
---
KLERAL É

CREATIVITY, PASSION

AND TECHNOLOGIES

Founded in Turin in 1968 by the Marianella

family, Kléral System is today a leading

manufacturer of professional hair care &

beauty products. Thanks to creativity, passion

and advanced technologies, Kleral is currently

exporting to over 80 countries across five

continents and can offer comprehensive and

customized service to develop and supply

Luigi

Marianella,

CEO of Kléral

System s.r.l.,

is leading the

company in

its quest for

worldwide

expansion.

ABOUT US

Company Name:

Kléral System s.r.l.

Company Address:

Via Robert Baden Powell, 6

10024 Moncalieri (TO) – Italy

Website:

www.kleral.com

email

info@kleral.com

Main Brands:

Kléral, Lovien Essential

Main Export Destinations:

U.S.A., Canada, Australia, Israel,

Europe, Ukraine, Russia, Middle East,

Central & South America

Social Media:

INSTAGRAM: @kleralitaly_official

FACEBOOK: Kléral System - Made

in Italy

YOU TUBE: kleral system.italia

innovative & original private labels "Made in

Italy". 50 years of experience combined with

an R&D department and Marketing & Sales

are able to provide customers a wide range of

hair care and beauty products. Last but not

least, all Kléral System products are entirely

manufactured in Italy and certified by UNI EN

ISO 9001-2015. A wide range of top-level

technical training, courses and workshops

are periodically offered to all clients both in

Italy and worldwide in order to teach new

techniques combined with the latest fashion

trends and elegance. Kleral System has also

been received the "OK ITALIA" award and is

recognized as one of the best cosmetics

manufacturers in Italy. The company boasts

over 600 formulas for products that are

checked step by step and tested. Kléral

System is sensitive to the environment and

seriously committed to developing and
---
delivering innovative new lines of organic

products, free of dangerous ingredients.

Despite a full time commitment to the

cosmetics sector Kléral System also gives

great importance to charity by supporting the

humanitarian organization AMSES in Capo

Verde. Thanks to strong determination &

expert fundraising, the company succeeded in

developing and opening a social-health centre

and a beautiful kindergarten for orphans. In

recent years Kléral has been consolidating its

presence in over 80 countries worldwide such

as U.S.A, Russia, Ucraina, Middle East, Latin

America, Israel, Canada, Australia, Europe,

India, with a view to conquering more countries

to consolidate our presence in Northern

Europe, Asia and South Pacific.

A selection of images of the

the company's production area.

REASONS WHY

100 % Made in italy

Production site in italy

Experienced & high-profile R&D

department

Strong creativity & passion in

marketing, social media & sales

department

Advanced technologies

Tailor made & customised

projects for private labels

Committed to deliver bespoke

beauty to the world

Over 50 years of experience

Currently exporting to 80

countries worldwide

Advanced & expert educational

services

Sensitive to the environment

Seriously committed to charity
---
KLERAL É

STAR

PRODUCTS

Biogenesi Natural

Hair care

The natural line

Biogenesi is based on

the use of truly

revolutionary and

effective active

ingredient by plant: the

Phyto-plant stem cells

from a rare and precious

quality of apple tree.

These particular cells

have the ability to

stimulate, accelerate

and repair deeply the

human tissues thanks to

an extraordinary affinity

with skin and hair human

cells. They have a high

and natural healing

power which counteract

the aggressions of the

oxidizing agents and

improve the health, the

wellbeing and the beauty

of the whole organism.

Biogenesi is vegan and

gluten free with an

and their strengthening

power, they are able to

protect the skin and the

hair by the external

aggressions. The line is

also composed by Silk

Protein, Oligo elements

and Natural Oils to

maintain the tissues

healthy, young, elastic

and moisturized.

Biogenesi Argan Color Oil

Sweet permanent

colouring in oil without

ammonia, enriched with

precious natural oils

such as Argan and

Macadamia. It has

Biogenesi Eau de

Couleur

Eau de Couleur is a

delicate permanent

colouring powder without

ammonia. It just has to

be mixed with water. Its

high tonalizing power

perfectly cover grey and

white hair and it ensure

a natural, shiny and

durable color.

ecological and natural

formula.

The other natural

ingredients of the

Biogenesi line are roots,

flowers and herbs

extract such as Ginseng,

Green Tea, Mint,

Camelia. Thanks to their

effective antibacterial

and antiseptic actions

excellent conditioning

and lightening

properties, which

enhance the natural and

beautiful color

reflections. After the

treatment, the hair

remains extremely soft

and silky.
---
LABOR PRO

PASSION FOR BEAUTY

GENERATIONAL BEAUTY

EXPERTISE AT YOUR DISPOSAL

OUR HISTORY

In 1967 Mr Giuseppe Bruccoleri founded Labor,

artisan business of tailor service, specialized

in work wear and located in Empoli- Florence,

Tuscany. Giuseppe is responsible for sales,

while her sister cuts and sews.

1973: Labor's foundations are consolidated.

High ambition of Giuseppe requires more

communication to support growth. Giuseppe

creates therefore the first "fashion" catalogue

proposing stylised patterns of new clothing

models.

1975: Highly successful participation on

international hair & beauty fair Cosmoprof in

Bologna strengthen interest in hair & beauty

area. The company build up wider specific

assortment for hairdressers. The relevant

success permits to move in a bigger company

building located in Montelupo Fiorentino. The

Company expands its vision creating specific

accessories products for hairdressers: tool

cabinet and polyethylene disposable tinting

cape G001, brand new and innovative product,

still nowadays our strong suit.

1983: Labor is now a concrete nationwide

reality, specializing more and more in

hairdressers' field. The company starts to

complete assortment with international brands

as Matador combs, Halkra neck paper and

Kimgloves gloves.

Simone and Claudio

Bruccoleri. "We are

committed everyday to the

pursue of excellence in

making people satisfied

and happy to work with

Labor Pro."

ABOUT US

Company Name:

Labor Pro Srl

Company Address:

Via L. Giuntini, 34/A

50053 Empoli (FI) - Italy

Tel. +39 0571 542421

Fax +39 0571 592695

Email: info@laborprosrl.com

ordini@laborprosrl.com

Website (s):

www.laborprosrl.com

www.upgradeitaly.com

www.gordonshaving.com

www.gettinfluo.it

Founded in: 1967

Export Manager:

Mr. Andrea Tonioni

Marketing manager:

Mr. Nicola Del Giudice

Main Brands:

Labor Pro, Upgrade,

Gordon, Gettin'Fluo

Main Export Destinations:

Portugal, Spain, Slovenia,

Greece, Bulgaria,

Montenegro, Romania,

Croatia, Belgium, Poland,

Czech Republc, Denmark,

United Kingdom.
---
REASONS WHY

Quality and Improvement oriented with

an italian family soul.

1989: Giuseppe's sons, Simone and Claudio,

join the company. With the same entrepreneurial

spirit business venture they believe immediately

in high potential of hairdressers'equipment,

enlarging quickly the assortment.

1992: Labor is now one of Italy's mainplayers

for professional work wears, tools and

hairdressers' equipments. Giuseppe leaves

the Company to the responsible hands of his

sons.

1997: "Labor" becomes "Labor Pro Hair" to

highlight new Company's identity and support

brand image. Presentation of the first catalogue

"Volume 1". Salesforce is completed in order

to guaranty competent sales promotion and

build up strong relationship with selected

customers.

2002: As Partner you can trust, Labor Pro Hair

focuses on its customer service. Among first

priorities is eccellent product availability 'always

and immediately'. Logistic and warehouses are

widened, too. More and more growing interest

also of beauty professionals.

2008: Product selection is constantly

improved and completed. Besides a selection

of international brands of reference, the

Company introduces it's own brand Upgrade:

high positioning, elegant design and exclusive

packaging. Upgrade also increases the interest

of International customers

2012: "Labor Pro Hair" becomes "Labor Pro".

Besides 'business Company', Labor Pro is now

considered 'Brand of reference' for hairdressers

and beauty professionals not only in Italy. Labor

Pro moves its headquarter to Empoli-Tuscany.

More than 50 years of excellence

Reliability: a partner

you can trust

Good profit margins

A wide range of products

A diversified selection

Quality logistics and product

availability

Positive reputation and image

Maintenance and repair centre

2019: Coordinated Marketing activities and

introduction of selective distribution method

strengthen development of future potential. The

program aims to provide such excellent products

and services in order to be actively selected by

business partners. Company's organisation,

further to salesforce network. is composed of

34 people, proudly working for Labor Pro.

THE PARTNER YOU MAY TRUST IN

Taking care of hair and beauty is a noble value

that requires careful preparation and passion.

Reliability - Live with tranquility

Since 1967 we have matured experiences and

knowledge. Our qualities and cultural orientation

to constantly improvement, make us a reliable

Company for supplies quality, assistance service

(before and after purchase), and for selective

distribution policy.
---
LABOR PRO

PASSION FOR BEAUTY

Marginality - Add more power

to your businesses

A real selective distribution protects wholesale

distributor. Coherent and homogenous price

policy, will avoid any negative popular reaction

in favour of appropriate trade margins for our

partners.

The wide range - Always meet

the appropriate solution

We offer a complete assortment of Hair &

Beauty devices and accessories. 21 categories

and 100 subcategories collect more than 4000

references in our Catalogue.

Therefore we will always offer you the right and

correct solution for matching which ever need of

professionals: from the simplest need of the

apprentice, to the highest need of the master

stylist or professor.

Diversified selection - Satisfy different needs

Appropriate product lines suitable for different

needs, in order to respect commercial

opportunities too: from "first-price" Labor Pro

Life line, Labor pro branded products (mediumhigh

positioning) and high positioned Upgrade

line; further to a selection of important

international branded references as well.

Reputation and images - Attract

and distinguish yourself

High fame of Labor Pro's brand, specific attention

of relevant images, as well as Marketing activities,

will attract customer's interest in our Company

and our products; moreover they contribute to

distinguish the professional from the choice of

the selected tools.

Maintenance and repair centre - Satisfied

before&after

Our new maintenance and repair centre is at the

disposal of any client. A specialized staff will

reply you with technician skills and punctuality to

your enquiries. Our Centre will follow up the client

from guarantee management, to maintenances

and repair service.

STAR

PRODUCTS

Upgrade, Beauty comes

from the heart

Upgrade is avantguarde,

knowledge and care:

professional hair tools

for hairstylists aware of

their art and looking to

better themselves. Heart

is not just the brand

symbol, heart is Upgrade

soul: passion in studying

and creating innovative

tools to enahnce talent,

beauty and self-love.35

items. Largest range

of tongs. Wide offer.

Specific tools.

Free Style, the all-in hair

straightener:

ergonmics at its

most, freedom in the

hairstylists' hands.

Contrary to conventional

straighteners, opening

and closing with an

inevitable heat loss, Free

style is equipped with

a fixed central opening

through which the hair

flows, granting total

freedom of movement

as well as a constant

temperature throughout

the styling.

Infra Curl:

more power and more

texture respecting the

hair. The first infrared

assembled on a tong.

Softer and healthier

waves and curls for a

longer last.

Infrared:

less temperature,

less damage, less

time. The professional

Upgrade Infrared is

high performance and

shinier softer results.

Smoothness at its most

with one pass only.

Alphacompact:

ultralight hair dryer

equipped with a

DC motor achieving

amazing performances

with a lower power

consumption. Extremely

compact, practical and

hairdresser-friendly.
---
FreeStyle

InfraCurl

AlphaCompact

InfraRed

1) Download the free Aria the AR Platform app

2) Frame the images
---
15% 0f profits DONATED TO CHARITY

MANIC

PANIC

ONCE EXTREME,

NOW MAINSTREAM

DYE FOR PEACE ®

PUNK ROOTS

Sisters and New York City natives Tish and

Snooky Bellomo have been America's darlings

of creative hair color, as well as punk rock

pioneers and tastemakers, since their days in

the original Blondie band in the mid-70s.

Opening America's first Punk Boutique in

1977, they went on to start the world's first

alternative beauty brand, Manic Panic®,

leading the hair color revolution and changing

the concept of what beauty is forever!

retailers including Ulta, Sally Beauty Supply,

Hot Topic, Walmart, Target.com and Riley

Rose. Our legendary hair color, which has

remained 100% Vegan and Cruelty-Free since

its inception, has helped celebrities including

Rihanna, Lady Gaga, Katy Perry, Cardi B, Kylie

Jenner and Kim Kardashian stand out in the

headlines.

BRINGING COLOR TO THE WORLD

Tish and Snooky have delivered their rock 'n'

roll lifestyle to the world through their iconic

brand. The product is now available through

ABOUT US

Entrepreneurs, singers

and sisters Snooky (left)

& Tish (right) Bellomo

are the masterminds

behind Manic Panic.

Company Name:

Tish & Snooky's

Manic Panic NYC

Company Address:

21-07 Borden Ave

4th Floor

New York, NY 11101

Tel. 718 937 6055

Email: internationalsales@

manicpanic.com

Website:

www.manicpanic.com

Presidents/CEOs:

Tish & Snooky Bellomo

Main Brands:

Manic Panic®

Manic Panic®Professional
---
REASONS WHY

The creative hair color favored

by hair stylists, influencers

and celebrities worldwide

The world's only 100%

women-owned and operated

creative hair color company

The widest selection of semipermanent

alternative hair colors

Available in over 40 countries!

"Dye For Peace": 15% of profits

go to charities like BCRF + PETA

360K+ followers on Instagram

228K+ followers on Facebook

1.2M+ views on Youtube

Many colors may be applied to

hair as dark as level 4 to achieve

brilliant highlights/tones

STAR

PRODUCTS

High Voltage®

Classic Cream

Our original iconic

conditioning hair color

formula available

in 55 shades.

Amplified Hair Color

Our Amplified formula

lasts 30% longer than

most semi-permanent

creative colors.

Hair Lightener kits

Prelighten your hair

with our Blue Lightning®,

Flash Lightning®

or Amplified Flash

Lightning®bleach

kits before using

Manic Panic®hair color.

Manic Panic

Professional Semi

Permanent

Gel Hair Color

Deeply pigmented

vibrant color. This

semi-translucent

gel formula lends

itself to color

placement accuracy.
---
MONTIBELLO

THE LEADING PROFESSIONAL

HAIRDRESSING COMPANY IN SPAIN

Looking back in time, we fondly remember the passion

with which a sales expert, Francisco Muria,

and a young, entrepreneurial chemist, Francesc

Adam started creating and innovating new product

lines specifically for hair care on a professional

level. The roots of the Montibello date back to

1967 with the aim of helping the development of

hairdressing professionals. From the very beginning,

Montibello delivered exceptional professional

quality products and a top-notch education. All this,

with the aim of allowing salons to stand out from

the others, offering new services and optimizing

those they already specialised in.

In a few years, it became the first Spanish professional

cosmetics company and consistently developed

a leading position in terms of number of

clients and market penetration.

Montibello is synonymous with performance, innovation,

quality, closeness and support to the hairdressing

sector, with a great technological capacity

and a clear innovative vision that is applied in the

development of a diversified range of products. The

company's strengths are also expressed in the creation

of tools and an advanced education plan to

support the development of our clients at any time

and everywhere. Montibello provides the salon a

ABOUT US

Company Name:

Montibello - Cosmética

Cosbar, S.L.

Company Address:

Vall d´Aran, 15

08820 El Prat de Llobregat

Barcelona – Spain

Website:

www.montibello.com

Founded in:

1967

General Manager:

Enric Aliberch

Export Manager:

Carola Adam for info write to

export@montibello.com

Founder:

Francesc Adam

Number of Employees:

262

Main Brands:

Cromatone, Oalia, Decode Treat

Naturtech, Smart Touch

Francesc Adam

Co-founder and

Enrich Aliberch

General manager.
---
full range of hair products in the categories of Color,

Treatment and Styling, suitable for everyone; targeted

to the medium-high segment and with a fresh

and positive Brand identity.

The company manufactures all its products in its

headquarters in El Prat, and its expansion at international

level is advancing according to the strategic

plan of the company. Indeed, the brand is

already consolidated in many countries in Europe,

America and Asia.

All this is possible thanks to an important team of

professionals who work with the utmost enthusiasm,

so that everyday thousands of hairdressing

salons and beauty centers continue to maintain

their trust in the brand.

HIGH PERFORMANCE & INNOVATION

One of Montibello's key assets is that the company

is recognized throughout the industry for the

quality & performance of its products, mainly obtained

thanks to over 52 years of experience in

manufacturing, know-how gained thanks to the direct

distribution, commercialization and close direct

contact with thousands of hairdressers all around

the world, and having one of most important cosmetic

laboratories in Spain with highly qualified and

talented professionals.

Thanks to all these elements and a clear understanding

that innovation is the only way to grow

and survive, Montibello has a focused approach

to innovation, creating break-through products that

meet consumers' underserved demands, driving

efficiencies, better margins, differentiation, faster

growth & creating consumer loyalty. In essence:

Products to help clients look good, feel good and

get more out of life.

Tim Hartley at Montibello 50th Anniversary gala.

REASONS WHY

1st Spanish Professional

Company Leader in Distribution

and Penetration

50+ years of experience in the

Professional Beauty Business

262 people with great technical

and innovation capabilities

8000+ hair salons in Spain

31 professional R&D+I in

a state-of-the-art laboratory,

one of most important cosmetic

laboratories in Spain

6 technical centers entirely

dedicated to the education of our

clients and distributors

In 2018, 10,000+ professionals

attended our Training Programs

€ 30 million turnover in 2018

International sales represent

23% of company proceeds,

with an ambitious growth plan

in this area

Present in 20 countries

& 2 affiliates

Located in Barcelona

with 10,000 m2 Headquarters

& Factory and 10,000 m 2

Logistics Center
---
MONTIBELLO

EXCLUSIVE PROFESSIONAL PRODUCTS, FOCUS

ON THE HAIRDRESSER & CREATING VALUE

Although consumer habits and channels are in a

constant evolution, Montibello' s philosophy remains

untouchable and more valid than ever. Committed

to creating value throughout the chain and

obsessed with professional channel exclusivity.

In other words, Montibello aims to Inspire professionals

to create and thrive by being the partner in

creativity that answers their needs.

Education is of primary importance concern and

constitutes the backbone of all their products and

services. The company is dedicated to the education

of both clients and distributors.

AMBITION WHERE IT COUNTS

The ambition of Montibello is to contribute to the

future of the hairdresser's professional category,

inspiring professionals & making people happy,

standing out in innovation and committed to the

channel. For this very reason, the company continues

to invest heavily in Human Resources, brand

upgrading, and facilities improvement so that hairdressers

will continue falling in love with us every

day behind the chair.

STAR

PRODUCTS

Decode Zero: the New

Beauty Standard

Montibello presents a

new generation of clean

hold finishing products

for a natural look. Clean,

invisible styling that

enhances natural beauty.

A new styling category

that suits the lifestyle

of 90% of your clients.

A clean beauty range that

provides a natural finish

and offers:

-Zero stickiness

-Zero nasties

-Zero residues

-Zero gimmicks

-Zero unnecessary

additives

"As pure as water, as

natural as you"

Meteorites

The first and only

colour platform

that illuminates and

rejuvenates blonde hair

The highly popular

Strobing trend brings

a new aura of radiance

and light to blonde

hair combined with

the innovative PLEX

2.0 technology that

recaptures silkiness

and youth to leave

blonde hair looking

renewed and refreshed.

A selection of 10 tones

to reveal ultra-luminous

blonde shades with

multidimensional tones

and flawless & consistent

colour and the first

dual-action: illuminating

cream clay toner that

corrects and purifies

hair colour and adds

a fashionable touch

of light through

6 new shades.

Time to Detox

Hair that feels like new

in just 15 minutes

Montibello presents Time

To Detox, a new treatment

mask that transforms hair

and leaves it feeling like

new in just 15 minutes

in a highly effective, simple

and speedy new ritual.

This innovative mask

renews hair by providing

a deep detox treatment,

revitalising and rejuvenating

the fibre, moisturising

and softening it without

weighing it down, and

adding shine and

movement.

The Time To Detox spa cap

is the latest innovation in

treatment products and

an essential accessory in

the care ritual thanks to its

slow release technology.

The latest generation

materials in the cap's

structure gradually release

the active ingredients in the

formula, contributing to a

more effective absorption

of the treatment into the

hair fibre and superior,

long-lasting results.

Smart touch save

my hair

Montibello presents

Smart Touch Save

My Hair, the first

365-day multi-benefit

hair protector.

Hair is exposed to stress

and trauma caused

by a number of external

aggressions 365

days of the year. Montibello

presents the first 365-day

multi-benefit protector.

The first Daily Defence

Sun Lotion:

All in one: pre and

post-treatment.

Not only a hair protector

but a daily hair saver.

Smart Touch Save

My Hair won the award

of #1 Professional

Hair Care innovation

in 2019 edition.
---
www.montibello.com

síguenos en:
---
Myosotis

Nature favours

your beauty

Myosotis Srl was founded in 1998, borning

from the previous experience of more than

30 years in the trichological field of the

Mattiello's family. Their constant attention

to nature brings them to launch the brand

Orising, an hair curative line with natural

phytoessences and essential oils with many

biological components. Since the very beginning,

Orising obtains a great success and

spreads rapidly, first in Europe and immediately

after in the Middle East, Russia, Eastern

and central Europe and recently in the USA

and Canada. Today Orising is considered a

landmark on the market for the treatment of

the different scalp and lengths anomalies.

The constant research of innovative products

brings the brand always at the forefront for

quality and specialty of its products. As a

company we strongly believe in mutual trust

with our partners and in collaboration with

them for the reach of mutual tangible objectives.

Seriousness in the relationship with

our partners and their enthusiasm gives us

the urge to always aim higher.

star

products

Above Maria

Grazia Zanini and

Mario Mattiello.

about uS

Company Name:

Myosotis SRL

Company Address:

Via XX Settembre, 9

37129 Verona (VR) - Italy

Tel. +39 045502641

Email: orising@orising.it

Website:

www.orising.it

Founded in:

1998

CEO:

Ms. Maria Grazia Zanini

General Manager:

Mr. Mario Mattiello

Main Brands:

Orising, Orising Skin Care

Main Export Destinations:

Europe, Russia, Ukraine, South

America, Usa, Singapore, Middle East

Exfoliating

Regenerating

Mask

2022 EXHIBITIONS -

COME AND VISIT US:

Cosmoprof Bologna |

10th – 14th March 2022

Beauty World Middle East | Dubai |

31st October – 2nd November 2022

Beauty Istanbul |

13th – 15th October 2022

Cosmoprof Asia Hong Kong |

16th – 18th November 2022
---
Myosotis

A GOLDEN

DREAM

Four years ago, after various requests of our

best clients, we launched a special collection for

the skin, addressed to high-end clients, Orising

Skin Care. This luxury line contains the newest

generation ingredients of high quality, natural

phytoextracts and many biological components,

the main characteristic of the brand Orising.

Orising Skin Care helps our skin contrasting

the signs of aging and maintaining a luminous,

young, and moisturized skin. The line is gaining

great success thanks also to the unique and refined

packaging, other than the evident attention

to details, essential in the launch of each new

star products

My Golden Secret Gold Cream and Gold Mask, Gold Water

Tonic, Framboise Water Tonic, Like a Dream with Gold 24K

Reasons Why

100% Made in Italy

High Quality Products

Strong Focus on Natural

Ingredients

30 Years' Experience

COMPANY GEOGRAPHIC BUSINESS

According to company statements,

the currently developed business geographic

areas are: Europe, Russia, Ukraine, Usa,

Canada, Singapore, Middle East

NEW DISTRIBUTION TARGETS

According to the company's statements,

the brand's distribution strategy could

consider new opportunities in countries

such as: Asia, Australia, Western Europe,

Latin America.

product. 24K Gold products complete the brand

of excellence in efficacy of results, other than

surely being a reason of interest and attention

of the best distributors. Orising Skin Care is

sold with all the marketing materials needed for

the promotion of the line to all the best distributors.

The quality 'Made in Italy' is a guarantee of

efficacy, that together with the unique packaging

pledge a great success of the line. For company

policy, the products and Cruelty Free. In addition,

during the international fairs where we will

enjoy in 2022, we will present our new completely

green line, certificated VEGAN OK, eco-friendly

and produced in the respect of environment.
---
MYRIAM•K

PARIS

THE REAL FRENCH

SENSE OF BEAUTY

MK France is a French company based in

Paris that has created a brand concept

consisting of both haircare products and

services utilizing multiple channels of

distribution. The products in the Myriam•K

Paris range reflect the personality of its

creator, perfectionist and demanding: Myriam

Keramane.

A 360° PHILOSOPHY

Thanks to the creativity and professionalism

of this woman, whose vision covers the entire

world, a gap has been filled in the world of

hair care and beauty. The Myriam•K Paris

lines were created to anticipate the needs,

desires and trends of the present era.

Both women and men, concerned with their

ABOUT US

Company Name:

MK France

Company Address:

55 Rue Pierre Charron

75008 Paris - France

Tel. +33 1 84 06 40 43

E-mail: commercial@

m-kfrance.com

Website:

www.myriam-kparis.com

Social Media:

Instagram: @myriamkparis

Snapchat: @therealmyriamk

Youtube: @myriamkparis

Started in:

2010

President & Founder:

Myriam Keramane

Global Commercial

Director:

Youcef Bennadja

Number of Employees:

20

Main Brands:

Myriam•K Paris

appearance, need a secure, high-tech

response, to rediscover beautiful, stunning

hair. This is the Myriam•K Paris promise:

products made in France, top of the range, in

keeping with the current trends, allowing all

of its users to feel totally confident.

A WOMAN AND HER DREAM

"You often end up doing what you love" says

Myriam Keramane, founder of Myriam•K

Paris. She dropped out of law school at the

age of 20 to follow her family's footsteps and

do what she loved: haircare. Her passion for

techniques and makeovers led her to delve

deeper into the profession and research

products that she couldn't find on the market.

This was her thought: if she couldn't source

them, she'd make them herself. Myriam is

totally devoted to letting her clients' beauty

shine and her astonishing success opened

new doors to her. She decided to throw
---
Founder of

Myriam•K

Paris, Myriam

Keramane

will settle for

nothing less

than perfection

in her products.

herself into the role of a hair product designer

in 2010. Myriam•K Paris is an umbrella

brand that offers innovative haircare services.

In the cosmetics sector, the «Made in France»

label is universally appreciated. In Europe

and elsewhere, French brands continue to

enjoy a select position. France sells, that´s

for sure. At home and abroad, the threecoloured

flag allows distributors to set their

products apart, and allows retailers to offer a

little bit of the French art of living...

Distribution and sale of Myriam•K Paris

products means profiting from the popular

influence of «Brand France».

AN EFFECTIVE MARKETING MIX

Myriam•K Paris offers innovative, high-quality

products, attractive packaging, a variety of

points of sale (wholesalers, concept stores,

hairdressing salons, etc.), excellent

communications, easy access to the products

and affordable price categories for each

customer segment. The Myriam•K Paris

Group brands are present on all the

distribution channels and carefully positioned

in various, completely complementary niches,

in order to satisfy the gamut of demand.

REASONS WHY

Selective, high quality and

complete professional product

range and services

Very high quality products in

terms of performance & reliability

Products developed to meet

market demands

High-quality active ingredients

Constant research and innovation

Prestigious French brand

Customer loyalty

Products Made in France
---
MYRIAM•K PARIS

STAR

PRODUCTS

Style, design,

and quality

Made in France

with plenty of

savoir-faire.

Lissage Français®

This is a thermoactive

straightening

treatment enriched

with diamond powder,

lily blossom, hyaluronic

acid, cashmere keratin.

Myriam•K Paris draws

on hair culture and

tradition from across the

continents to develop

treatment techniques

that bring the very finest

expertise from around

the world to all women.

As a leading country

in the cosmetics and

luxury sectors, France

deserves a treatment

in its own name. It was

high time that a French

brand left its mark and

gave the world a truly

sumptuous Made in

France product. This

thermo-active taming

treatment reduces

of ingredients are

brought together to

give multidimensional

shine that adds depth

and richness to your

colour while protecting

and caring for your hair.

This revolutionary deep

treatment relaxes hair

95%. Lissage Français®

guarantees progressive

straightening for

controlled volume or

an ultra-sleek look.

Controlled volume: this

straightening treatment

allows reduces hair's

volume and unappealing

frizz. For intensely

straightened hair, follow

with 5 minutes of blowdrying.

Or simply leave

excess volume and

restore shine and

moisture for ease of

styling. It's easy to

apply and ensures a

perfect balance between

precious natural

ingredients and cuttingedge

hair technology.

The most luxurious

to air-dry after washing,

for tamed, frizz-free locks.

Ultra-sleek: speciallydesigned

for those who

aren't easily parted with

their hair straighteners,

this service ensures you

won't need to pick them

up again for a good few

months.
---
TECNO ELETTRA

OUR CLAIM:

TRUTH FROM FACTS

OUR HISTORY:

THE TRADITION OF HANDMADE PRODUCTS

Tecno Elettra was founded in 1982, as an

Italian manufacturer with the purpose of

combining the tradition of hand-made products

with large scale industrial production.

This ambitious objective was achieved over

time, with the drive for constant growth and

development found in the determination

and desire for continuous improvement, in

a right mix of tradition, local culture, innovation

research and quality.

ABOUT US

Company Name:

Tecno Elettra Srl

Company Address:

Via Puglie, 10/12

60030 Monsano (AN)

Italy

Tel. +39 0731 60 54 35

Email: info@tecnoelettra.com

/export@tecnoelettra.com

Website:

www.tecnoelettra.com

Founded in:

1982

CEO:

Mr. Gilberto Fava

In the image above,

Gilberto Fava,

Tecno Elettra CEO.

Main Export

Destinations:

Europe, Middle East

and Central America

OUR PRESENT:

HANDMADE QUALITY FOR A GLOBAL MARKET

Over time, new models were created with the

help of an increasing amount of technology

combined with the attention to the details

characteristic of Italian workmanship and

investments in Research and Development

as well as Quality Control, together with numerous

international certifications. All of

this allowed Tecno Elettra to grow and consolidate

its presence in several countries.

Today, Tecno Elettra makes available a wide

range of excellence products that have become

renowned in the field of professional

hairdryers, and with its 5 Product Lines and

a comprehensive customer satisfaction policy,

the company is able to meet the different

needs of the market.
---
Tecno Elettra

headquarters in

Monsano, Italy.

OUR APPROACH TO WORK:

THE TRUST WE CREATE

The purpose of Tecno Elettra is to strengthen

and expand its distribution network, focusing

on exclusive distributors/importers.

Over the years, we chose to walk side by

side with our clients and we selected companies

interested in long-term relationships

with exclusive agreements. These policies

allowed Tecno Elettra to grow together with

its customers and to make the TE brand a

solid and reliable trademark.

REASONS WHY

More than 35 years of

Italian manufacturing

experience

Exclusively professional

products

Complete production

chain and internal R&D

International profile

together with innovation

and tradition

International quality

certificates

Worldwide presence

Private label services

STAR

PRODUCTS

R.A.M 2.0

Is the Italian Brushless,

the fruit of absolute

innovation in terms

of being lightweight and

boasting the perfect

balance of power and

energy consumption.

It features an all-Italian

brushless motor that

weight surprising little,

together with the inner

air conveyor to reduce

energy consumption

and improve air flow. The

heating element has six

supports

to enable a uniform

distribution of heat

for near-instantaneous

drying power.

Boss

A powerhouse

of styling performance.

Its 2400-2500W

for lightning-fast

drying allow unmatched

power and heat.

Advanced features

and premium

components technology

prevent any danger

of overheating.

All the products

of the 6000 line are

the most powerful

and best-selling.
---
TECNO ELETTRA

Celero

New Product 2020

Tecno Elettra continues

with their innovations to

benefit the hairdresser,

always with the

utmost respect for

the environment, by

presenting at Cosmoprof

2020, a new product

equipped with a

patented accessory

with the capacity to

increase performance

and reducing energy

consumption.

Therefore, low

consumption and top

performance mean

savings for hairdressers.

We are proud to have

created a hair dryer

that is an ally of both

the hairdresser and the

environment.

Celero, which in Latin

means speed, is a

hairdryer targets the

professional sector

and is equipped with a

patented accessory that

makes it possible to

improve performance.

Its 2200W of power

unleash an energy that

can be channelled to the

centre of the product,

thanks to the patented

application in the nozzle.

The air flow is no longer

dispersed like in a

traditional nozzle, but

is rather unified and

conveyed toward the

centre, thereby providing

a more intense blast of

air. This improvement

also made it possible to

lower the wattage of the

product, because the

patented conveyor gives

the impression of holding

a much more powerful

dryer. All this means

that the hairdresser

spends less time drying

hair, which adds up to

savings in terms time

and consumptions:

another reward for both

your wallet and for the

environment.

OUR FOCUS:

CUSTOMIZATION

All Tecno Elettra products can be customized

according to the customer's needs; it is

therefore possible to design and create a

specially made product focusing the attention

on a personalized marketing, with the aim

to target the market segment identified by

the Customer. Customization can refer just

to graphics and aesthetics by adding the

customer's logo on the product, but it can

also involve inner components, in order

to satisfy the end user requests. During

the customization process, it is of utmost

importance to remember that the specific

needs of the Customers are the basis on

which a new product is shaped out of an

already existing one from Tecno Elettra's

range. This generates a constant interaction

among Tecno Elettra, Customer, market

demands and development of a new brand.
---
TOGETHAIR

NEW HEAD-SPA

CONCEPT

Togethair® Meeting Nature is the highly specialised

professional hair care line with a

green soul, featuring effective and sensorial

formulations made from raw materials and

functional ingredients of natural origin that

inaugurates a new HEAD-SPA concept for salons.

"We blend the tradition of Phytotherapy with

the performance of professional hair products

to create extremely effective cosmetics

with a green soul. We combine passion with

the skills of different people, the person who

launched the idea of the product to the person

who uses it at home or in the salon every

day. We want to share the emotions of beauty

and bring people closer to nature, also

through the use of more natural and eco-sustainable

products."

EFFECTIVENESS AND CREATIVITY

Togethair® offers a wide range of products

whose natural, effective and pleasant formulations

meet the needs of Head Spas and

Hair Salons. A complete range for hair salons

offering specific products for every need,

guaranteeing excellent performance and letting

the salon staff express their creativity.

OUR PRODUCT COLLECTIONS

•O-RANGE HAIR COLOR

•NABE HAIR COLOR

•MEET PURE COLOR

•DEKO LINE

•NEWAVE

•3D BOND THERAPY

•NHC SPA TREATMENTS

•NEW FINISH CONCEPT

ABOUT US

Company Name:

Togethair S.r.l.

Registered office:

Via Cesare Cantu, 1

20123 Milan - Italy

Email: info@togethair.it

Website:

www.togethair.it

www.naturaliatantum.com

Founded in:

2016

Export Manager:

Mr. Paolo Galvani

Sales Manager Italia:

Mr. Maurizio Dalla Chiara

Export Destinations:

Worldwide

Main Brands:

Nabe Hair Color, O-Range,

Nhc Spa Treatments, New

Finish Concept
---
REASONS WHY

Focus on people

100% Made In ltaly

Production chain and site

Internal R&D Departments

GMP certificate

More than 40 years of

experience

Phytotherapy and natural

cosmetics knowledge

MADE IN ITALY EXCELLENCE CONQUERS

THE WORLD

The company is present in France, Portugal,

Switzerland, Croatia, Greece, Macedonia, Poland,

Hungary, Lithuania, South Korea, China,

Taiwan, Singapore, Malaysia, Hong Kong, Kuwait,

Saudi Arabia, Russian Federation.

STILL GROWING

Today Togethair® keeps on growing by becoming

part of Naturalia Tantum, a collector of

excellence made in Italy, a reference point for

natural cosmetics, functional integration, nutraceuticals,

beauty treatments and wellness

products.

A major international player, unique in terms

of the size and quality of its offer, committed

to research and innovation in the sector from

a green perspective.

On this page, hair

fashion imagery and

the production line.
---
TOGETHAIR

NHC SPA TREATMENTS

The line of specific treatments for the health

of hair and scalp. Chamomile, Nettle, Watercress,

Almonds, Hibiscus Flowers, Maidenhair

and Citrus are some of the functional

ingredients of this line made with ingredients

of up to 98% natural origin, with no sulphate

surfactants, parabens and mineral oils to ensure

a high level of naturalness.

HAIR FINISH INNOVATION

The Finishing products are enriched with Phytokeratin,

a vegetable keratin extracted

from hydrolyzed wheat proteins that replicates

the characteristics of the hair fibre, strengthening

the cuticles, revitalizing and restructuring

the hair, preserving its natural state. Hair

is smoother, easier to comb and to control,

allowing for perfectly defined styling. Hair is

thicker, silkier, more voluminous and shiny.

STAR

PRODUCTS

New Finish Concept

Sixteen products with a

base of Phytokeratin

studied for all phases

of styling. Finishing in a

new natural way.

Nhc Spa Treatments

Thirty-six products

that constitute a

complete line of

beauty treatments for

hair health and scalp

problems.

Nabè Hair Color

Evenly covers 100%

of grey hair and can

lighten bases up to five

tones. The low ammonia

content reduces skin

irritation, burning,

and keeps reddening

to a minimum.

The formulation is

completely soap free

and does not dehydrate

the hair fibre during

processing. Its balanced

formula also features

a pleasant fruity scent.

Available in 84 shades.
---
TOGETHAIR.IT

NABÈ

HAIR

COLOR

T H E C O L O R O F N A T U R E M E E T S B E A U T Y
---
TRINITY

QUALITY AND A

PASSION FOR PEOPLE

Trinity haircare finds its origin in Switzerland.

The company is proud to be Swiss and to be

able to show some of the typical features

Switzerland is known for across the world,

such as superior quality products, clean, modern

and functional design and strong focus

on environment, nature and people. With an

international team of professionals with their

own specialist skills and experience, the

company tries to incorporate its Swiss roots

and Swiss characteristics into every project,

product and activity, from Research and Development

to packaging, through the quality

and functionality of all their products. One of

the main endeavours of the company is to

represent a complete and consistent Swiss

identity, by being loyal to its values and principles.

However, it shows the same great respect

for its suppliers', distributors', partner

salons' and customers' identity, because the

main focus of this brand is on people.

SWISS IDENTITY

The brand was established in 2007 and immediately

achieved resounding success in

Germany, Austria and Switzerland. Thanks

to the outstanding quality of the product line

and the company attendance at international

conventions and shows, European markets

soon noticed the young and creative haircare

brand.

Started as a Swiss based R&D laboratory, the

company established a 40,000 sqm logistic

location at the latest standard managed with

SAP software in the south of Germany. Additionally,

the Marketing Department teamed

up with international colleagues from Germany

and Holland. This skilful and creative

crew focused on one mission: positioning Trinity

haircare broadly in medium and high-end

salons in Europe and worldwide. In order to

achieve this, the brand chose a communication

strategy in modern social media, but also

ABOUT US

Company Name:

Trinity haircare AG

Company Address:

Rorschacher Str. 150

9000 St. Gallen

Switzerland

Tel.+41 (0) 71 351 74 - 66

Fax +41 (0) 71 351 74 - 68

Website:

www.trinity-haircare.com

www.tailorsgrooming.com

President:

Robin Schenke

Main Brands:

Trinity haircare – Tailor's

Grooming

Main Export Destinations:

Germany, Holland, Belgium,

Greece, France, Russia,

Portugal, Czech Republic,

Slovakia, Slovenia, Serbia

and Austria

Left, President

Robin Schenke.
---
In this page, Trinity hairstyling images and

some events attended by the Company.

REASONS WHY

in traditional channels, by sponsoring some

television formats and a number of sports

events and teams. A great achievement for

the development of the brand was the recruitment

of Robin Schenke. At the beginning the

experienced sales professional took on the

position of Export Manager but quickly moved

to a higher level. He took on the company management,

successfully introduced it in more

than 20 countries and made it a well-known

and respected brand in the professional haircare

market worldwide. Charity is an utmost

concern for Trinity, which supports a variety of

projects in the fight against cancer. The company

is also concerned with environmental

protection, sustainability of all materials and

production processes and the continual professional

development of the haircare professionals.

The Trinity's European Artistic team

has enhanced the educational expertise of

the brand. This group of hair artists who come

from different European countries is responsible

for the development of trend-setting collections,

techniques and products, but most

of all the perfect training for clients in all the

markets where the brand is active.

Passionate, individual,

friendly service

Swiss Quality Products

100% salon exclusive – more

than an empty promise

The colour experts

High profile Research and

Development

Full range of products –

everything a salon needs

Appealing Trend Collections

twice a year

Trinity Trophy – Challenge for

your creativity
---
TRINITY

VISION, MISSION & STRATEGY

Trinity vision is to become one of the leading

brands in today's professional haircare market,

not in terms of size or turnover, but in terms

of brand recognition, brand awareness, and

most importantly brand value. The company's

greatest ambition is to be one of the most wellknown

and respected brands in the professional

haircare market worldwide. Trinity's mission is

to sell and promote 100% Swiss salon exclusive

premium quality products in today's professional

haircare market, with a personal touch and

with a clear focus on education, training and

support, to foster partner salons' success

and constant growth. Trinity strategy is to

create a strong and cooperative network of

suppliers and distributors who understand, live

and foster the Trinity vision and mission and are

in line with the company policy and values. This

Trinity global network should promote the Trinity

brand and distribute its products by supporting

partner salons.

STAR

PRODUCTS

VDT Cream Hair Colour

140 shades for intense,

brilliant and long-lasting

results with the key

ingredient Vibrant Care

Complex with Jojoba oil,

beeswax, pomegranate

core oil, linoleic acid

and the pigment-booster

Pyrazol for perfect

coverage while protecting

hair and scalp.

Tailor's Clay

Strong hold and matte

finish for every type of

hair. This unique styling

tool with bamboo extract

and silica is the one

and only real clay. Its

stunning creamy texture

gives firm hold, form and

texture. Perfect for short

cuts and for everybody

who likes a natural and

strong look.

One12 multi-action

spray

12 benefits in only one

product: nourishes,

detangles, eliminates

frizz, acts anti-static,

protects the colour,

adds volume, seals

cuticles, protects from

environmental stress,

seals ends, reduces

blow-drying time, hinders

cellular ageing and

leaves hair brilliant and

shiny. Contains a blend

of precious natural Argan

oil, Macadamia oil and

Nyamplung oil.
---
RAWMANTIC

The latest Trend Collection of TRINITY haircare Fall & Winter 2017/18

TRINITY haircare AG

Rorschacherstrasse 150-152

CH-9000 St. Gallen

Tel. +41 (0) 71 351 74 - 66

office@trinity-haircare.com

www.trinity-haircare.com
---
URBAN

KERATIN FRANCE

FRENCH EXCELLENCE

FOR HAIR

2010, Marseille: URBAN KERATIN begins.

The business was born of the meeting

between Mélanie Audouin and Bernard

Bigiaoui, who decided to combine their 10

years of experience in the world of hairdressing

to develop an unprecedented concept. At that

time, there were many brands marketing

Brazilian smoothing treatments, but their

effectiveness was not always guaranteed and

it was difficult to ensure their origins. More

importantly, many of them were harmful to the

client's health.

Together Mélanie and Bernard imagined a

powerful Brazilian smoothing formula that

would be formaldehyde-free.

The Concept: smooth hair while doing no

damage, and even protecting it.

It took long months of research, but they

succeeded in developing an original formula

based on keratin and amino acids that could

smooth and repair hair deep down with a

prolonged effect.

This revolutionary smoothing formula worked

on all types of hair, reducing curls up to 90%

for 3 to 5 months. Obviously it met with

immediate success, both in France and

abroad, and continues to be their best-seller

even today.

Thanks to this innovation, URBAN KERATIN is

rapidly becoming a point of reference for

keratin products.

ABOUT US

Company Name:

Urban Keratin France

Company Address:

15, Boulevard de St Loup

13010 MARSEILLE, France

Website:

www.urbankeratin.fr

Founded in:

2010

CEO:

Mélanie Audouin & Bernard Bigiaoui

Number of Employees:

Around 20

Activity:

Design, Manufacture and Marketing

of Hair Products

The brand now boasts a strong distribution

network in France, counting more than 350

points of sale, and stands out as the leader

in Brazilian smoothing. The company has

continued to grow, but always on a human

scale, with about twenty employees.

Today it is still loyal to its mission of developing

products that guarantee technology, passion

and ingenuity.
---
Diamonds are your hair's

best friend, too!

REVOLUTIONARY PRODUCTS

The strength of URBAN KERATIN lies in their

ability to offer innovative and up-to-date

products. Since 2010, 10 new ranges have

been launched. For the most part, they

combine keratin and diamond powder for the

utmost shine and effectiveness.

The selected ingredients are of the highest

quality and have inspired the development of

exclusive formulas in the company's

laboratories.

Ammonia-free oxydizing colour, colour remover,

and the styling range all guarantee immediate

and brilliant results. As there are different

hair types, URBAN KERATIN offers specific

ranges for each one, with a view to reaching

as many clients as possible.

This is why today it is a must-have brand for

salon professionals.

REASONS WHY

Leader in Brazilian smoothing

Permanent hair color

with no ammonia

French quality

Revolutionary products

A wide variety of products

A strong international presence

100% integrated

production chain

Loyal digital community

FRENCH SAVOIR-FAIRE

URBAN KERATIN products are developed with

the utmost respect for European standards.

French quality is found in the deep and lasting

care offered by each and every range. This

know-how also resulted in the BLONDE

and BRUNE FROM ST TROPEZ ranges, which

boosted the glamorous image of this French

brand worldwide.

The brand pays particular attention to quality

control. Indeed, the company owns their own

filling unit near Lyon and manage all their

own logistics.

Thanks to the implementation of this 100%

integrated production line, URBAN KERATIN is

able to provide their clients with deliveries in

record time. Education and coaching are also

a priority. Technical training is offered regularly

to guide hairdressers in offering their clients

the best salon care possible.
---
URBAN KERATIN FRANCE

AN INTERNATIONAL PRESENCE

Last September, during the MCB PARIS,

URBAN KERATIN organised its first

hairdressing show, aptly entitled URBAN

JUNGLE. The event, which brought together

over 200 hairdressers and distributors from

around the world, was orchestrated by Bob

Jeffy, the brand's hairdresser-ambassador.

The hairstyles presented were inspired by the

most beautiful exotic birds, from pink

flamingos to royal peacocks. They reflected

the diversity and richness of the world, a nod

to all distributors around the globe.

This is more relevant today than ever, because

URBAN KERATIN is now present in more than

25 countries, with a strong presence in

Europe, North America and the Middle East.

In Canada, hundreds of salons use URBAN

KERATIN, while they count 400 hair salons in

STAR PRODUCTS

Urban Diamant

Diamond powder joins

forces with keratin

to bring brightness,

softness, shine, and

radiance to hair. The

shampoo, conditioner,

and creamy care of this

luxury range make them

the best anti-ageing

allies for your hair,

allowing natural

restructuring.

Urban Color

An oxidation colouring

with no ammonia,

combined with the

stimulating action of

a new anti-ageing care

technology 3.0:

Lebanon. This success is the result of a

long-term plan, including participation in

many trade shows around the world, like

COSMOPROF and BEAUTY WORLD, every year.

DIGITAL POWER

URBAN KERATIN understands that it is

essential to place their stakes on social

networks. Today it has a strong community of

more than 75,000 subscribers worldwide.

In this way, the brand creates a connection

with Internet users by offering them targeted

professional advice. They discover URBAN

KERATIN products in a fun and interactive way

through videos, tutorials, contests. These

weekly meetings help to build community

loyalty and introduce the brand to as many

people as possible.

URBAN KERATIN has managed to create a

relationship of trust with both professionals

and the general public alike.

hyaluronic acid, keratin,

and diamond powder.

The result: perfect

grey coverage, extreme

brilliance, long-lasting

hydration, and

rejuvenated hair.

Keratin Extreme Mask

Here's a real must-have.

Its composition

with bio-molecules

of keratin and wheat

protein penetrates

and reconstructs

the structure of

damaged hair from the

inside, while nourishing

and moisturising it.

It leaves hair shiny,

soft, and easy to comb

for 3 to 4 weeks.

Argan Keratin Serum

Thanks to its unique

formula enriched with

argan oil, jojoba oil

and keratin, this serum

moisturises, treats and

prevents the ageing

of all types of hair.

It also enhances

shine, suppleness and

smoothness of the hair.

Its effectiveness is

thermo-active: in other

words, is reinforced

under the effect of

heat while protecting

the hair from irons

and driers. This serum

also eliminates frizz

and split ends.
---
VEZZOSI

OUR PASSION

IS MADE IN ITALY

For more than 40 years, we have been designing

and constructing salons for hairdressers

and for over 40 years clients have been

consulting Vezzosi, trusting in this company's

quality, service, innovation, and creativity.

The continuous search for new lines, new

materials, and new trends gives rise to the

creation of forms that are always on trends

and items that are more than just tools of the

trade, but evolve to become true objects of

design.

From aluminium to steel, via glass and wood

or Plexiglass®, nothing is left to chance, but

is rather the fruit of in-depth analyses not only

in the world of hairdressing, but in numerous

market sectors and in any setting or situation

that may be a source of inspiration for a new

creation.

In the Vezzosi scale of values, product quality

and client satisfaction are at the same level

as creativity – all of which can be considered

requisites for the success of any business.

Each product that exits the factory bears a

hallmark that certifies that it originated and

was produced in Italy. In a historic moment

when an exasperating search for low prices

is flooding the market with poor quality products,

Vezzosi's mission is to maintain superior

standards.

These standards are maintained in services

ABOUT US

Company Name:

Vezzosi srl

Company Address:

Via Martiri della Romania 9

42020 Albinea (RE) - Italy

E-mail: Info@vezzosiarredamenti.com

Website:

www.vezzosiarredamenti.com

Export Manager:

Mr. Daniele Braglia

Main Brands:

Vezzosi

Number of employees:

20

Main Export Destinations:

Europe-Russia- Arab Emirates -

United States - Italy

offered to clients as well: a design office that

is always available for 3D renderings that,

thanks to the use of cutting-edge technological

innovations in the IT field, make it possible

to create drawings similar to photographs;

a team of experts capable of visiting salons

to take measurements on site and making

initial suggestions for furnishing; a team of

specialised installers to set up the salon; a

commercial office organised to maintain contacts

worldwide; a distribution network capable

of effectively covering the territory. All in
---
Italian design and

an elegant flair for

contemporary yet classic

looks and materials like

wood, iron, and marble for

a functional nad beautiful

salon space.

REASONS WHY

all, professionals who entrusts Vezzosi with

their salon design is accompanied from the

beginning to the end, from the decision to renovate

to the inauguration of the new space.

INTERNATIONAL STRATEGY

Vezzosi can be found on markets worldwide,

from Italy and throughout Europe, Russia and

the Arab Emirates, and the United States. They

can also be found at leading trade fairs, like Cosmoprof

Bologna, MCB in Paris, and the Lyons

fair. As of today markets for potential further expansion

– to be consolidated together with top

distributors – include: England, Portugal, Spain,

Germany, Russia, and the Arab Emirates.

Continuous search for new lines

and materials

Italian design and production

In-house technical offices

with architects specialised

in salon design

Customised projects

Sales office that maintains

contacts worldwide

Distribution network that

effectively covers the territory

2020 PRODUCT LAUNCHES

The two top lines for 2020:

ALLURE: an elegant line that marks the comeback

of the marble effect: a chic, precious,

and timeless material used both at the washing

stations and in the armchairs, combined with

the upholstery that, in most work stations and
---
VEZZOSI

1

For more than 30 years

clients have been relying

on Vezzosi, certain

to find the quality,

service, innovation, and

creativity they desire.

furniture, is combined with wood and laminates.

Vezzosi has succeeded in breathing new life into

the marble effect, seeking to use it creatively,

but never compromising its classic elegance. In

this way it has become the new protagonist in

2020 furnishing and design trends.

The dominant shape of this line is the arc, which

can be found in every object of the line.

IRON: to offset the Allure line, Vezzosi will launch

a new line expected to mark the rebirth of industrial

style. The Iron line features clean linear

forms, with the warmth and varying shades of

wood grain contrasting with iron, which is instead

cold and minimalist, to create a perfect combination

between modern and vintage style.

4

5

2

STAR

PRODUCTS

1. ALLURE armchair, created with the line''s

signature arc, ergonomic, padded with vertical

seams, embellished with a faux marble insert that

evokes the charm of classic and elegant taste.

2. ALLURE shampoo station, recalling the arc

shape of its matching armchair. Padded, with

vertical seams, embellished with a faux marble

insert. An ergonomic shampoo station that

embraces the client, available in three versions:

basic, relax with electrically adjustable leg support,

and the version with lymphatic drainage massage

with continuous variation in air flow.

3. ALLURE work station created in laminate

with faux-marble inserts. Soft lines that recall

an arc and perfectly complement the shampoo

station and armchair. This work station is

embellished by a roundish trunk that has the dual

function of foot rest and storage compartment.

4. IRON line armchair in iron and metal mesh

with both seat and back padded. Square-shaped

armchair with clean and linear design that fits

perfectly into an industrial style decor. The base

of the armchair is unusual, with a four-footed

innovative form, always in iron.

5. IRON line shampoo station in iron and metal

mesh with both seat and back padded. Squared

and clean line, industrial style. Square basin.

A shampoo station available in three versions:

basic, relax with electrically adjustable leg support,

and the version with lymphatic drainage massage

with continuous variation in air flow.

3
---
adv by

ALLURE

Vezzosi's New Collection

www.vezzosiarredamenti.com
---
WAHL

PROFESSIONAL

PROFESSIONAL GROOMING

WITH A LEADING VISION

Since 1919, with the invention of the first

practical electric hair clipper, Wahl Clipper

Corporation has been the leader in the

professional and home grooming category. Today,

with over 2,500 employees worldwide, they are

proud to carry forward the tradition of innovation

and superior customer service that was created

by Leo J. Wahl. While Wahl has changed over

the years, it has also stayed the same. Wahl is

still headquartered in Sterling, Illinois, USA.

Today Wahl products are sold in approximately

176 countries worldwide with eight global

manufacturing facilities as well as 25 sales

offices. Products remain the global standard for

integrity, value and efficiency. At Wahl, they are

proud of their heritage of excellence as well as

their remarkable list of ground-breaking

innovations for the present and future for the

global market. Wahl founder Leo Wahl (left

image) first took his inspiration as a high school

student working for his uncle who manufactured

electric massagers.

CELEBRATING 100 YEARS IN 2019

Leo would travel to local barbershops and

noticed a real need missing, an electric motor

powered clipper. He perfected this while studying

at the University of Illinois and filed for his first

patent in 1919. Since then, Wahl Clipper has

continued to expand and innovate, all with the

professional artist in mind.

The company sets its sights on Leading with

ABOUT US

Company Name:

Wahl Clipper

Corporation

Company Address:

2900 N Locust St. Sterling,

IL 61081 - USA

Tel. 1-800-776-9245

E-mail: wahlpro@gmail.com

Website:

www.wahlpro.com

Founded in:

1919

President/CEO:

Greg Wahl

Number of Employees:

1100+ (domestically)

Main Brands:

Wahl, 5-Star, Sterling

From left to right: Kevin Wahl, Phil Wahl, Lance Wahl,

Dan Wahl, Brian Wahl, Mike Wahl.

Vision, a new philosophy for the 21st Century.

"To maintain our leadership position," - said

Wahl Clipper Corporation President/CEO Wahl,

"in the personal care categories we serve, we

must have vision. Vision to continually improve

our existing products. Vision to bring new

products to market which meet the wants and

needs of consumers. Vision to stay innovative
---
and ahead of our competitors, and vision to

support our customers, the retailers, with sales

and marketing programs that make it easy, fun

and profitable for them to sell more Wahl

products. Leading with Vision means constantly

being alert to new opportunities. By sharing

the vision, we can make tomorrow absolutely

extraordinary."

As we head into the future, Wahl Clipper is

proud to celebrate its 100 year anniversary in

2019. The company has big plans for new

products, advertisements, and packaging.

More importantly, Wahl plans to celebrate

with their hard-working staff and community

to show their appreciation for years and years

of dedicated service and support. The company

looks forward to new leadership with the 4th

generation of the Wahl family (pictured on the

left) and continued success.

REASONS WHY

#1 selling clipper company

in the world

Professional products are

made in the USA in Sterling, IL

They take pride in producing

high quality tools for the busy

barber and stylist

Top notch customer service and

repair staff located in Sterling, IL

Inventors of the first

electromagnetic motor clippers

99+ years of excellence

in the professional industry

Leaders in innovation in the

barber industry

Only manufacturer of

professional shavers in the USA

Family owned company with

4 generations of leadership

STAR

PRODUCTS

Black Peanut

The Wahl Black Peanut is

our number one selling

professional trimmer in the

USA. This lightweight unit

comes with a detachable

blade for easy cleaning

and maintenance. The

Wahl Black Peanut is a

compact, rotary motor

powered tool that is

versatile and can be used

as both a clipper and a

trimmer. It also is a great

beard trimmer!

Cordless Magic Clip

The 5-Star Cordless Magic

Clip is designed to deliver

the sharp performance

that experts demand with

the freedom of a cordless

clipper. The magic is in

the blades! The Cordless

Magic Clip features a high

precision stagger-tooth

2161 blade with crunch

technology. This cordless

tool offers superior speed

and ease of use,

a convenient taper lever for

easy fading and blending,

and a lithium ion battery for

a 90+ minute run time per

charge. It also has a cord/

cordless cutting capability.

5 Star Shaver

More than just a shaver,

this finishing tool offers

an appealing aesthetic

in addition to top-notch

precision. It comes with

a rechargeable battery

that can keep the rotary

motor running at full speed

for up to 60 minutes per

charge. With hypoallergenic

gold foil, even the most

sensitive skin will be free of

razor bumps, ingrown hairs,

or skin irritation.
---
YANGUAS

PROFESSIONAL

KINDNESS & SIMPLICITY:

NON-AGGRESSIVE INNOVATION

Yanguas Cosmetics is a Spanish company

specialized in manufacturing and selling

cosmetics products since 1994. It success is

the success of the professional, and therefore

the company makes a careful selection

of the active principles of each formula

achieving innovative and non-aggressive

formulas protecting hair health as much

as possible. The Quality and Safety of all

products has allowed Yanguas to obtain ISO

9001 quality certificates and ISO 22716 good

manufacturing practices in order to comply

with international regulations.

The company has a specialized Professional

Team with dedicated to developing its national

and international growth.

Yanguas's policy of Kindness and Simplicity

allows it to maintain a relationship of trust

and lasting with its customers, always

being available to answer any questions or

ABOUT US

Company Name:

Yanguas

Professional

Company Address:

Poligono Industrial Las

Labradas, Calle Castilla

Leon 13 - 7, 31.500 Tudela

Navarra, Spain

(+34) 948 410 308 /

680 175 502

Emails:

Anabelen@yanguas.net /

export@yanguas.net

Website:

www.yanguasprofessional.com

www.yanguashygienic.com

Founded:

1994

Management Contacts:

Ana Belen Gracia

Direccion Comercial

anabelen@yanguas.net

Angel Magallon Gerencia

angel@yanguas.net

Number of Employees:

20

Main Brands:

Yanguas Attraxtion,

Blussy, Only One,

Hidracolor, Attraxtion,

Yannanya, Yanguas

Hygienic

Main Export Markets:

Portugal, Poland,

Belgium, Peru, Puerto

Rico, Dominican

Republic, Lebanon,

Jordan

Target Markets:

Italy, Germany, France
---
The Quality and Safety of all

Yanguas products has enabled

it to obtain ISO 9001 quality

certificates and ISO 22716

good manufacturing practices.

REASONS WHY

Experience in the sector of more

than 25 years

Competitive price-quality ratio

Excellence in innovation

Wide product catalogue

Continuous training of

commercial teams

International presence

Strategic Alliances

queries that may arise. Working day by day

in the Innovation and Development of new

products, prestigious associations have

rewarded its work with business recognitions

European Award for Business Management

and Innovation, August 2018 and Gold Medal

for the Business Trajectory in the World of

Image, February 2017 .

Yanguas also specialises in the manufacture

and commercialization of hygiene and

disinfection products in the sanitary and

health field.
---
YANGUAS

PROFESSIONAL

Yanguas's policy of Kindness and

Simplicity allows it to maintain a

relationship of trust and lasting

with its customers, always being

available to answer any questions

or queries that may arise.

STAR

PRODUCTS

Permanent Hair

Cream Colour

Vegan cream colouring

with 100% grey hair

coverage. Enriched

with Argan Oil and

macadamia.

Only One Vegan

Treatment

Intensive treatment

with 100% natural

ingredients. It's highly

repairing formula is

rich in oils, Keratine,

hyaluronic acid,

vegetable proteins and

vitamin E.

Hairloss Treatment

Anti-hair loss treatment

based on the latest

epigenetics studies that

strengthens hair and

helps stop hair loss,

improving its synthesis

and vitality.
---
102

COUNTRIES WE DO

BUSINESS WITH

DOMESTIC SALES

33+ MANAGERS

THE WORLD'S LARGEST

OUR HAIRCARE PORTFOLIO

THE KIRSCHNER GROUP

28328 Constellation Road

Valencia, CA CA 91355, USA

intlsupport@kirschnergroup.com

www.kirschnergroup.com

+1-661-257-6260
---
INTERNATIONAL SALES

YEARS OF

25+

REPRESENTATIVES

EXPERIENCE

35+

BEAUTY SALES ORGANIZATION

WHO WE ARE

The Kirschner Group, Inc. is a professional

sales organization with over 35 years of

experience growing America's leading,

professional beauty brands.

We are the only sales organization in the

professional beauty industry to service

all 50 states, Canada, and the entire

international marketplace with strategically

placed Reps covering all continents.

WHAT WE DO

The Kirschner Group, Inc. connects our brands to the right

international distributor and retailer, then manages the business

relationship on a day-to-day basis, to ensure our customers

are getting the right support they need for brand growth.

WHERE WE SELL

Hair / Nail / Esthetic Professional Distributors I Ethnic Distributors

Barber Distributors I Chain Salons I Prestige / Department Stores

Beauty Retailers I E-Commerce I TV Shopping Network

OUR SKIN AND BEAUTY PORTFOLIO

The Kirschner Group, Inc.

tkg.beauty
---
THE MOST IMPORTANT BEAUTY

TRADE SHOW IN THE WORLD,

DEDICATED TO ALL SECTORS

OF THE BEAUTY INDUSTRY

COSMOPROF.COM

BOLOGNA, ITALY

FAIR DISTRICT

10 – 13 MARCH 2022

11 – 14 MARCH 2022

ORGANIZED BY

BolognaFiere Cosmoprof S.p.a.

Milan, Italy

P +39 02 796 420

F +39 02 795 036

info@cosmoprof.it

COMPANY OF IN PARTNERSHIP WITH WITH THE SUPPORT OF

A NEW WORLD FOR BEAUTY BOLOGNA, HONG KONG, LAS VEGAS, MUMBAI, BANGKOK