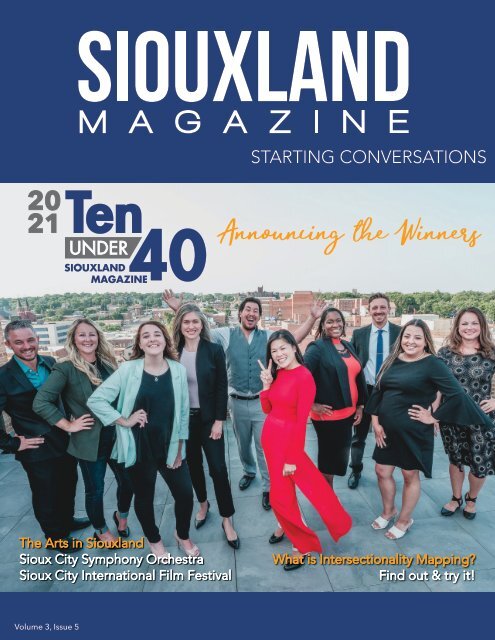 Siouxland Magazine - Volume 3 Issue 5
Create successful ePaper yourself
Turn your PDF publications into a flip-book with our unique Google optimized e-Paper software.
STARTING CONVERSATIONS

20

21 Announcing the Winners

The Arts in Siouxland

Sioux City Symphony Orchestra

Sioux City International Film Festival

What is Intersectionality Mapping?

Find out & try it!

Volume 3, Issue 5
---
ALWAYS MOVING.

Always improving.

We wake up every day to serve in the towns and places you call home. We've

expanded our innovative care, expertise and access to always keep you moving.

Because forward is the only direction we know.

CNOS.NET | 605-217-2667
---
Welcome to Siouxland Magazine

It's in these pages we educate and inspire. Even more importantly, we

create a community that thrives on connecting with one another. At our

core, we all want to connect. When we seek to understand, by listening

more intently, we find that our relationships deepen and our community

strengthens as a result. With appreciation for the power of connection

through meaningful conversations, it only made sense to name the

b u s i n e s s Empowering Conversations.

Siouxland Magazine | 10 Under 40 / 3

Stacie Anderson, Owner

It all starts with a conversation; with a desire to learn;

to see things from another perspective; to seek

truth. The truth is, we have more in common than we have

differences. Well, maybe it would be more accurate to say, what

brings us together is stronger than anything that divides us.

We would never want to marginalize our differences. We love the words of Audre Lorde,

"It is not our differences that divide us. It is our inability to recognize, accept, and celebrate

those differences." We are unique in vast and complicated ways. It's our hope that we can

come together with our unique strengths, perspectives, and ideas to build a community with

a powerful narrative of us.

Through this humble publication, we will start having conversations. This is an ambitious and

beautifully optimistic attempt to shine light on all the things that make our community strong,

but also discuss, in a productive and compassionate manner, the challenges we face.

We are doing our small part in building a cohesive community by creating conversations

that refocus our attention on our similarities. We are bringing people together; replacing

judgment with understanding. Perspective is powerful.

We want to hear from you. At Siouxland Magazine, we feel it is imperative to understand what

the community wants and needs. Share your vision and dreams for Siouxland.

We want you to lean into the conversation and participate in the discussion.

connect@empowering-conversations.com

Facebook @siouxlandmag

E m p o w e r i n g

Conversations, LLC

siouxlandmagazine.com
---
Converse22

10 Under 40 Winners.............................................................................................................8

Carving An Extraordinary Path.......................................................................18

Inclusive Peek................................................................................................................................20

Intersectionality Mapping.......................................................................................21

Dear Dweeby 18-Year-Old..........................................................................22

Sioux City Scoop.....................................................................................................23

Grow

Balance

Hardline Coffee Co............................................................................................................30

Become A Downtown VIP!.................................................................................32

Siouxland Chamber Annual Dinner........................................................33

Forty...................................................................................................................................................................35

Sioux City Growth Organization.................................................................37

Resources To Help!................................................................................................................39

Olympic Level Team Performance – "Going For

The Gold"...............................................................................................................................................41

Life Has You Down, Dog:

Thank The Earth For The Support To Rise High....................42

Ask The Therapist.......................................................................................................................44

Emerging From The Pandemic 101...............................................................4 7

Heal Through Synchronicity In Soundwaves..........................48

The quality of a leader is reflected in the standards they set for themselves.

– Ray Kroc
---
"Young people aren't the leaders of tomorrow. They are the leaders of today and tomorrow."

- Kathy Calvin

Inspire

Connecting Students With The Community............................24

Wayne State College Offering A Four-Year

Film Degree..........................................................................................................................................26

Making Something From Nothing...............................................................28

explore

Skincare & Age: Top 10 Questions.........................................................50

10 Things To Do In The Garden This Fall........................................52

The Power In Our Children......................................................................................54

Sioux City International Film Festival Celebrates

16th Year....................................................................................................................................................56

Panasonic North America Case Study:

Sioux City Symphony Orchestrates Exception Virtual

Experience..............................................................................................................................................60

Market Experience................................................................................................................62

At our core, we all want to connect. When we

seek to understand by listening more intently, we find

that our relationships deepen and our community

strengthens as a result. That's what our Siouxland

Magazine is all about! We can't wait to talk to you

and truly connect with you and your audience. If

you are interested in learning more about how to

advertise with us, download the media kit on our

website at siouxlandmagazine.com. Always feel free

to reach out to us via phone, email, or Facebook.

We're creating a magazine you won't want to put

down. We promise not to disappoint

Want to be included in our

November issue?

Contact us soon!

Deadline to reserve space is

September 27th!

Media Kit at siouxlandmagazine.com

JOIN US!

You won't want to miss...

Siouxland Magazine's Facebook

Spotlights @siouxlandmag

Monday @ 7:30 pm,

Small Business Spotlight

Wednesday @ 7:30 pm,

Nonprofit Spotlight

ON THE COVER

Photography by Britton Hacke Photography

10 Under 40 Winners (listed left to right) Kodi Benson,

Cynthia Nelson, Emily Vondrak, Sandra Granger,

Corey Larkin, Peggy La, TaRae Gardner, Michael

Harman, Maria Guzman, and Sheenah Tonga.
---
Siouxland Magazine writers

CONVERSE

Jetske Wauran,

People of

Siouxland -

Portraits of the

Extraordinary.

Semehar

Ghebrekidan,

Community

Inclusion Liasion

INSPIRE

Dr. Cyndi Hanson,

Executive Director for

Northeast Community

College's Extended

Campus.

Michelle Lessmann,

Fully Licensed Office

Professional in Keith

Bales Office of Thrivent.

GROW

Todd Rausch,

SBDC Regional

Director at

WITCC.

Grace Nordquist,

Business

Development

Coordinator for

Downtown Partners.

Tony Michaels,

KSUX Morning

Show Host with

Candice Nash.

BALANCE

Dr. Meghan Nelson,

Licensed Physical Therapist,

Professional Yoga Therapist &

Co-owner of Lumin Therapy.

Emily Vondrak,

President for

Sioux City Growth

Organization.

EXPLORE

Alex Watters,

Sioux City Council.

Erika Hansen,

Lifelong

Siouxland

Resident &

Model.

Gladys Smith,

Licensed Independent

Social Worker &

Co-founder of Soul

Creek Nature Therapy.

Dr. Nesrin Abu Ata,

Family Medicine

Physician, Integrative

Psychiatrist & Yoga

Instructor.

Peggy Smith,

Executive Director

for Leadership

Siouxland.

Amy Buster,

Writer & Editor.

Up From the

Earth Leadership

Team.

Emily Larson,

Licensed Massage

Therapist & Private

Yoga Instructor.

Kari Nelson,

Graphic Designer.

University of

Nebraska – Lincoln

Nebraska Extension

Educators.
---
Editors Note

Siouxland Magazine | 10 Under 40 / 7

I'm proud to announce the new Top 10 Under 40 Winners! The sheer number of deserving nominees made the selection

process challenging for the judges, as always. I can truly say Siouxland is fortunate to have so many talented young professionals

that care so much for their community.

Now to introduce our winners…

Kodi Benson TaRae Gardner Sandra Granger Maria Guzman

Michael Harman Peggy La Corey Larkin

Cynthia Nelson

Sheenah Tonga

Emily Vondrak

Beyond sharing their stories, it is important to help them get as much traction as possible with the wonderful work that they

are doing in Siouxland. In the following pages, you'll find out how you can support their efforts and get involved. I encourage

you to reach out to them. Share your thoughts and ideas. Maybe there is an introduction you can make or resources you can

provide. Every little bit helps. Also, consider sharing their Facebook posts that will pop up over the next few weeks to help

them, and the work they are doing, get even more exposure. Together, as a community, we can go further.

I couldn't be more grateful to have so many outstanding young people in our community that are dedicated to making this

world a better place to live in.

Congratulations to this year's winners!

Stacie Anderson

Owner of Empowering Conversations LLC & Siouxland Magazine

Certified John Maxwell Speaker, Trainer & Coach

Passionate about Leadership & Communication

Siouxland Magazine is owned and published by Empowering Conversations, LLC. All materials contained in this magazine (including text, content, and photographs)

are protected by United States copyright law and may not be reproduced, distributed, transmitted, displayed, published, broadcast or modified in any

way without the prior written consent of Empowering Conversations, LLC or in the case of third party materials, the owner of that content. You may not alter or

remove any trademark, copyright or other notice from copies of this content.
---
expand

collaborate

invest

Kodi Benson

Customer Service Department Manager, PREMIER Bankcard

City. We are working on some items that will help benefit

low-income affordable housing that will create a win for our

citizens, our businesses and our community.

How can people help you make that happen?

We need to look for new inventive ways to bring more

developers to our communities to create low incoming

housing. If your city has the opportunity to take advantage of

a program, point it out and bring it to their attention. If you

notice grants that can be applied for, send them to your city

administration and/or economic development. If you have a

job you are hiring for don't just limit your business to your local

community but expand it to the tri-state area.

What are you working on now?

With North Sioux City Council, we have numerous projects

that we are working on from putting in a new water tower, to

expanding a trail system from North Sioux City into Dakota

Dunes and then eventually into Sioux City. We continue to try to

recruit new businesses in North Sioux City from an economical

development standpoint to create job opportunities and

bring more individuals to our local communities. We make

decisions on a daily basis and do our best to enhance the lives

of our citizens and our overall community.

What is your vision for the future? / What would you

like to see happen in Siouxland?

I would like to see our tri-state areas continue to partner

together to grow our communities both financially and

economically. We need to find ways to benefit all of Siouxland

from a company standpoint as well as a citizen standpoint.

This includes but isn't limited to getting our community

members to work, to developing our rural sanitary sewer

system, to recruiting athletic events to participate in all areas

of our tri-state area. We have seen great strides in these efforts

through our United Sports Academy in North Sioux City, the

Siouxland Expo Center, and the Arena Sports Academy in

Sioux City. These have not only direct jobs but many indirect

jobs as well due to the number of travelers coming to our

local communities.

What are you doing to make that happen?

We are always looking for new growth in North Sioux City

from an economical development standpoint and are always

looking for new ways to recruit people to live in North Sioux

What is the most important key to success?

Only two words, team work. Together we will succeed,

individually we fail. There is no one person that can accomplish

and change the world by themselves; but with buy-in from our

community, and all of our local leaders and dedication from

everyone, we can achieve anything.

What is one challenging life experience that taught

you something you've been able to use to your

benefit or to the benefit of others?

Don't settle for anything in your life: your career, your

relationships, or in your personal goals. Once you accomplish

your goals, set a new one. Without goals, life and work is

boring, you always need something to strive for in order to

better yourself and get to the next level. I have had many

challenges in my life from having forced career changes, to

relationships that didn't work out, to other issues, but I have

learned to not let those challenges define me. I have learned

to over- come, push-forward, and learn from them. With every

experience comes a learning opportunity. You can't succeed

without failure; it's just like Thomas Edison who invented the

light bulb. He didn't do it on the first try, but he learned more

than 900 ways how not to invent a light bulb, furthermore he

didn't do it alone.

Volunteer Organizations

Vice President of City Council for the City of North Sioux City

Board of Directors North Sioux City Fire Department

SIMPCO Board

"Be the change that you wish to see in the world;

We can't change the world in a day but we can

change the world one interaction at a time!"
---
succeed

contribute

develop

TaRae Gardner

Educator with Sioux City Community Schools

(Unity Elementary)

Owner, Paris Gardner Trucking, LLC

Mary Kay Independent Beauty Consultant

What are you working on now?

Currently, I am a teacher in the Sioux City Community

Schools and actively involved on my schools Balance

Leadership Team, Teacher Leadership and Compensation

steering committee for Sioux City Schools, Intermediate

Director for Sioux City Education Association, Siouxland

Unit UniServe (SUU) President, and Iowa State Education

Association (ISEA) multicultural committee representative

for Siouxland. Also, I am currently a member of Sioux

City's Eastern Star chapter, Harmony Chapter #22, Order

of the Eastern Stars, Jurisdiction of Iowa. These groups

provide wonderful opportunities to give back and improve

Siouxland in various ways. I have volunteered at many

non-profit organizations, given school supplies, Siouxland

Soldiers, "Holiday for Heroes," working with youth at my

church, and mentoring Siouxland young educators.

What is your vision for the future?

My vision is to reach out into our community to increase

ethnic minority membership and leadership at all levels

and to improve educational and cultural opportunities for

ethnic and minorities.

What would you like to see happen in Siouxland?

I would like to see more organizations become more

diversified. At the same time, have a retention program

in place to improve Siouxland growth. Also, I would like

to see this program culture and nurture the relationship of

young professionals from their education journey to continue

throughout their career journey.

What are you doing to make that happen?

I am continuing to build partnerships with our neighborhood

businesses/organizations. Our school has partnered with our

neighborhood fire department. Also, I am a mentor to educators

for the Sioux City Community Schools. Plus, SUU mentors

educators in Siouxland. The ISEA Multicultural Committee has

created a Facebook page. Harmony Chapter #22, Order of the

Eastern Star gives out scholarships to college students. I am

devoted to religious, charitable, and educational purposes. I

strive for excellence through education, training, dedication,

and commitment.

How can people help you make that happen?

People can help by providing a platform and/or an avenue for

Siouxland business to come into schools to build a cultivating

relationship/partnership. Siouxland organizations have a

diversified program to bridge the gap between recruiting

college students and young professionals in the workforce.

Connections and relationships are very important to encourage

and show others we care about them.

What is the most important key to success?

The key to success is to have a growth mindset and be a lifelong

learner. Learning involves having an open mind, listening,

and exploring.

What is one challenging life experience that taught

you something you've been able to use to your benefit

or to the benefit of others?

Growing up, I never had to face any real challenges in life

until I became an adult. After graduating from college and

entering the workforce, I realized very quickly I have to work

harder in comparison to my colleagues. I noticed that being of

color in the workforce, I continuingly have to prove my worth

as a leader in my leadership roles. This taught me to be more

observant and have a clear vision of my goals.

Volunteer Organizations

Building Leadership Team

Teacher Leadership and Compensation steering committee

for Sioux City Schools

Intermediate Director for Sioux City Education Association

Siouxland Unit UniServe (SUU) President

Iowa State Education Association (ISEA) multicultural

committee representative for Siouxland

Member of Sioux City's Eastern Star chapter, Harmony

Chapter #22, Order of the Eastern Stars, Jurisdiction of IA

Provide services to many non-profit organizations

"Be the change that you wish to see in the world."
---
Siouxland Magazine | 10 UNDER 40 / 10

Sandra K.S. Granger

Pediatrician, UnityPoint Clinic at Sunnybrook

What are you working on now?

I volunteer in a couple of phenomenal programs that our

community offers. I serve on the advisory board for the

HOPES program, which provides support in a variety of

ways to families expecting a baby or coming home with

their new baby. This program has a powerful impact by

improving child and maternal health, school readiness,

and economic self-sufficiency. I am so proud to be

supporting them.

I also work with Prime Age to Engage, which works with

medical providers to provide books and a prescription

for reading to young children at their well-child visits.

Research shows that children who read for 15 minutes a

day from birth to age five will know many more words and

be much more prepared to enter kindergarten.

Additionally, I serve on the Siouxland District Board of

Health, where I advocate for policies and programs that

will help the health of our community. And I am working

with the Iowa Department of Public Health Childhood

Lead Advisory Workgroup to develop a new medical

screening tool to determine children's risk for lead

exposures and to increase providers' use of this tool at all

well-child visits from birth to age five.

and childcare, and investment in green space. Investment

in children, especially in early childhood, yields strong

dividends and benefits our whole community.

What are you doing to make that happen?

My role as a pediatrician gives me a great opportunity

to promote the health and well-being of children and,

by extension, families. I help to ensure optimal physical

functioning, maximize the ability to succeed in school, and

promote emotional health. I also work with HOPES, Prime

Age to Engage, Siouxland District Health Department

Board of Health, and the Iowa Department of Public

Health Childhood Lead Advisory Workgroup. I believe

all these roles help to make Sioux City a great place for

families to live.

How can people help you make that happen?

Invest in children!

What is the most important key to success?

If there is one key to success, it is hard work. However,

the ability to identify personal strengths and weaknesses

is also critical. Then you can work hard to address

weaknesses and potential strengths.

What is one challenging life experience that

taught you something you've been able to use to

your benefit or to the benefit of others?

When I was in medical school, I was incredibly anxious

heading into my first set of licensing exams, which play

a big role in determining how competitive you will be in

obtaining a residency. Worrying affected my sleep and

ability to take time away from studying. Then, on the last

Sunday before the test, I went to Mass and the priest's

sermon reflected on how worrying is a worthless endeavor

and ultimately involves us trying to intervene in God's

work. This perspective helps me keep my worries in check.

Volunteer Organizations

HOPES Advisory Board

Prime Age to Engage

Siouxland District Board of Health

Iowa Department of Public Health Childhood Lead

Advisory Committee

What is your vision for the future? / What would

you like to see happen in Siouxland?

I would like to see Siouxland continue to develop

into the best place to raise a family. I would like to see

our community's children thrive as adults with healthy,

balanced, and productive lives. We should consistently

work to provide affordable housing, quality education

"Children are the world's most valuable

resource and its best hope for the future."

– John F. Kennedy
---
Maria Guzman

Educator for Sioux City Community School District (Irving Dual Language Elementary School)

organizations have to offer. Also, by supporting our

schools and teachers.

What is the most important key to success?

The most important key to success is to work hard and

follow your dreams. Also, never forget where you came

from and your roots. Use it to grow from it and inspire

others like you. Sometimes all people need is to see

themselves in you to inspire their growth.

Siouxland Magazine | 10 UNDER 40 / 11

What are you working on now?

I have been a kindergarten teacher at Irving Dual Language

Elementary School for eight years and will continue to

be a kindergarten teacher this new school year. I started

helping the dance group at Irving about six years ago and

now I am one of the dance teachers for the group. We

volunteer our time after school and in the summer to teach

Mexican Folkloric dance to Irving students. We practice

after school and perform throughout the community. I

am recently planning to start the dance group back up

at Irving. The dancers really missed it and the community

has reached out for performances as well. I am hoping

to have the group practicing and be able to come to the

parades and performances this school year. I am also

working with Theresa from the Sioux City Public Museum

and other community members, planning the annual Day

of the Dead celebration.

What is your vision for the future? / What would

you like to see happen in Siouxland?

My vision for the future is to keep growing and learning

in my profession so that I can keep doing what is best

for students. I would like to see Siouxland growing as a

unified community by supporting cultural events or the

diverse local businesses the community has to offer.

What is one challenging life experience that

taught you something you've been able to use to

your benefit or to the benefit of others?

One challenging life experience that taught me to work

hard since I was a child was moving to the United States as

a 7-year-old and seeing my dreams of becoming a teacher

disappear. I did not speak English and it made school

very difficult. My parents taught me that I had to learn

English and work hard. I teach at Irving Dual Language

Elementary School. There are many students who do not

speak English. I know they feel, how I felt starting school.

I like being a role model for my students and showing

them that it is possible. They often do not believe I did not

speak English and it gives them a boost of confidence;

which is something I wish I had as a child. I always share

my experience of learning a new language with them, to

hopefully inspire them to work hard, so they can fulfill their

dreams when they grow up. However, also to know the

importance of not losing their native language or culture.

Volunteer Organizations

Siouxland Unidad Latina Volunteer

Volunteering with the dance group La Perla Tapatia - a

Mexican Baile folklórico ("folkloric dance")

Welcoming new immigrants to the Siouxland community

and volunteering as a translator

"In a world where you can be anything,

be kind."

What are you doing to make that happen?

I am learning and growing in my profession by going

back to school to receive my Master's. I want to continue

to do conferences or reading on my own time, about

strategies or ideas to implement in my classroom. I am

also supporting the community by helping plan a cultural

event for the community that is fun and educational.

How can people help you make that happen?

People can help make this happen by attending the

fun events the Sioux City Public Museum and other
---
Siouxland Magazine | 10 UNDER 40 / 12

Michael J. Harman, Ph.D., BCBA-D

Assistant Professor of Psychology, Briar Cliff University

Director of the Behavior Analysis Clinic

Director of Siouxland Research Center

How can people help you make that happen?

The most impactful way that people can continue to

help is to believe in the importance of providing help. I

use the word "believe" as I think that it encompasses the

motivation for providing help: helping others because,

and only because, others need help.

What is the most important key to success?

The most important key to success is accepting, behaving

with, and maintaining a sense of humility. Humility will

always keep you grounded in a realization that your

success is the result of a collective effort of everyone that

you have learned from in your path. Humility ensures that

success never stops; one person's success should be the

catalyst to helping other people succeed.

What are you working on now?

I am working to grow and maintain the impact of the pro

bono Behavior Analysis Clinic at Briar Cliff University.

The importance of this clinic is two-fold. First, this clinic

provides an opportunity for students of behavior analysis

to gain real-world fieldwork experience. Secondly, the

clinic provides the families of Siouxland with a muchneeded

resource at no cost.

What is your vision for the future? / What would

you like to see happen in Siouxland?

My vision for Siouxland is that it becomes a beacon of

hope for families seeking therapeutic services for their

children. I envision a Siouxland in which everyone who

needs, or who would benefit from therapeutic services,

would have access to those services. This would be a

Siouxland where the community collectively works to

ensure that every child has the best possible opportunity

to live their fullest life.

What are you doing to make that happen?

Fulfilling my vision for Siouxland requires consistent and

continual work in advocating, providing, and educating

people in the benefits of behavior analytic services. I

constantly look for platforms everyday to advocate for

the many families in Siouxland that need this type of help.

Further, I serve as the Clinical Director for the pro bono

Behavior Analysis Clinic at Briar Cliff University. With my

team of students, we consistently provide nearly 1,000

hours of pro bono services each year to children with

developmental disabilities. I also teach numerous courses

to students pursuing degrees in psychology and behavior

analysis.

What is one challenging life experience that

taught you something you've been able to use to

your benefit or to the benefit of others?

Following my undergraduate graduation, I applied to

nearly a dozen graduate schools. Every application I

submitted was rejected and I struggled with purpose

and direction. Just prior to graduating, a professor came

across my application in a discard pile. He decided to

give me a chance and extend an offer to attend graduate

school. At one of the most challenging times in my life,

someone decided to take a chance on me. It was from

this experience that I learned about the power of giving

people a chance.

Volunteer Organizations

pro bono Behavior Analysis Clinic at Briar Cliff University

(therapy, consultation, parent /staff training)

Association for Behavior Analysis International

"Et lux in tenebris lucet – and the light

shineth in the darkness."
---
Peggy La

Owner, Yummi Blox and Hong Kong Supermarket

What are you working on now?

Siouxland has always been my home and I am in love

with our community! One thing that I've learned in my

years here, is that people and their commitment to our

community are what make living here great and I'm

grateful to be a part of that mission. What's amazing is

that our family-owned Hong Kong Supermarket isn't just

a store. It's a one-stop-shop for hundreds of Siouxland

newcomers and long-time residents to shop for groceries

and socialize, too. While our store has a multitude of

products, we also have a multitude of resources and

information, helping direct people to the right places.

For example, if people need help with English Language

Learning classes, then we refer them to local agencies that

provide these services, like the Mary J. Treglia Community

House. I have always been deeply passionate about

building bridges and relationships in our community. I

have always been networking and communicating with

our Asian community in hosting local events, such as

the Siouxland Asian Festival held in the summer and the

Vietnamese New Year's celebration, held in February at

the Pho Mon Temple.

It's a privilege to be able to fulfill that role and help

enhance the quality of life for fellow Sioux Citians of all

ethnicities, races, sexual orientations, religious beliefs,

and abilities. I recently opened Yummi Blox to support

economic development on West 7th, while supporting

small food truck small business efforts. As a new mother

it is important to continue the work of celebrating many

different cultures, education, and uphold my civic duties

to keep our community together.

of Siouxland Asian Festivals, I know what it takes to lead with

positive collaboration and encouraging others to go the

extra mile. This annual event invites hundreds of people, not

only from our Asian communities but from diverse groups

of people from all walks of life. It's a great event for people

to make connections, learn from each other, and celebrate

the beauty of our Asian heritage.

What are you doing to make that happen?

Next year, 2022, is going to be a BIG YEAR for the Siouxland

Asian Festival. This is going to be our 10th year! I'm so proud

of how far this event has come! The annual Siouxland Asian

Festival brings hundreds of people from all over the tri-state

region. This festival is an expressive way for us to celebrate

our heritage, culture, and traditions. It is also meant to

rejoice in the special moments with our loved ones and

leaders among the Asian communities in Siouxland. Next

year's event will be bigger and better - and to make this

happen, we have a committee of dedicated people who

are incredibly passionate about making each Asian Festival

a success! From spreading the word in the community to

our local media, we have the tools and resources for what it

takes to create a stronger presence!

How can people help you make that happen?

The greatest help is willing to be educated, learn, and

embrace other communities. My greatest desire is to see

people continue to get involved and stand up for the

betterment of community and diverse populations.

What is the most important key to success?

Communication and action are the most important keys

to success. When a thought comes about, action has to

happen. Mistakes are bound to happen and can always

be adjusted along the way with communication, and I'm

so thankful that we have an awesome team that thrives on

these two principles. We not only come up with ideas but

execute them.

What is one challenging life experience that taught

you something you've been able to use to your

benefit or to the benefit of others?

Make mistakes! Learn from mistakes. Adapt and move

on. A mistake that makes you humble is better than an

achievement that makes you arrogant.

Volunteer Organizations

Asian Pacific Islander Commissioner for the State of Iowa

Co-Founder of Siouxland Asian Fest

Volunteer for the Inclusive Sioux City Advisory Committee

Volunteer for Mary J. Treglia Community House

Siouxland Magazine | 10 UNDER 40 / 13

What is your vision for the future? / What would

you like to see happen in Siouxland?

My volunteer experience has taught me to see the hidden

opportunities in difficult situations. After hosting a decade

Always ask questions. If you don't ask

questions, the answer will always be no.
---
Siouxland Magazine | 10 UNDER 40 / 14

Corey Larkin

Owner, High Ground Cafe + Espresso Bar

Volunteer Organizations

I run Sioux City Cars and Coffee, Sioux Falls Cars and

Coffee, Sioux City Fall Car BBQ, Sioux Falls Fall Car

BBQ, Midwest Euro Club, Midwest Euro Takeover, and

Siouxland Small Business and Startups.

My dad often said during hard times, "This

too shall pass." It's hard to always have that

outlook but it's very true.

What are you working on now?

I have been working on a lot of small businesses and

start-up networking.

What is your vision for the future? / What would

you like to see happen in Siouxland?

I would like to see more small businesses and unique

places. There's so many people that want to do these but

have no direction or are scared. There's lots of help out

there, they just need to be pointed there.

What are you doing to make that happen?

I'm having meetings at High Ground for Small Business

and Startups. I've also created a facebook group for the

area. Sioux Falls has a similar one that helps and does

very very well.

How can people help you make that happen?

Check out the Facebook page! https://www.facebook.

com/groups/siouxlandstartup

What is the most important key to success?

Keep at it. Don't get discouraged. You don't understand

exactly how hard it is to run a business and everything

that goes into it, until you're actually in it!

What is one challenging life experience that

taught you something you've been able to use

to your benefit or to the benefit of others?

Starting a business during a pandemic is hard, but maybe

starting in a time where it is so very hard will make the

future much easier.
---
Cynthia Nelson

Owner, Hawks Coffee Shop & Gypsy Soul Boutique

How can people help you make that happen?

I would love to see people supporting small businesseswe

have so many wonderful businesses and fabulous

business owners in our community and we need to make

sure we give support so they don't close their doors!!

Sergeant Bluff came out BIG TIME during COVID to

help support us. Our community rallied behind our new

business and made sure that we could continue to remain

open. The support they showed for the business, for my

family, and for my staff is exactly why I want to raise my

children here. The continued support for all local/small

businesses is so important.

Siouxland Magazine | 10 UNDER 40 / 15

What are you working on now?

I really enjoy being involved with committees that are

dedicated to making the Siouxland community a better

place to live/raise children. Currently, I am on the board for

Lila Mae's House, which helps survivors of sex trafficking.

I am also involved with several boards in Sergeant Bluff.

I want to actively help make my children's school and

community as great as possible. I am on the Parks and

Rec board, which works on creating and enhancing the

sports facilities and programs in Sergeant Bluff. I am also

on the SBL School Foundation Board, which raises funds

to give scholarships to students in Sergeant Bluff that

may need some assistance in college. I love making the

community a better place for my children and also being

able to help educate our future leaders.

What is your vision for the future? / What would

you like to see happen in Siouxland?

I would love to see Siouxland continue to grow and

develop. I love seeing new businesses opening up - more

events and activities being held- and more competitive

sporting teams developing! I would love to see that

continue. I am not originally from here and when I moved

here I noticed people would talk about having to go to

Omaha and Sioux Falls for day trips, for events, or for

sports tournaments. I think our goal should be to change

that - to create opportunities here in our own backyard!

What is the most important key to success?

I would say determination has been my key to success.

I really love showing my daughter (and her friends and

all my young female staff) that if you work hard you can

achieve your dreams. Being a strong female entrepreneur

and role model is a goal of mine and I have a long way

to go before I figure it out, but I am determined to keep

trying!

What is one challenging life experience that

taught you something you've been able to use to

your benefit or to the benefit of others?

I worked in Child Protective Services for about 10 years

and every single day I was reminded of the bad things

that happen in our world, and then also all the good

people and services we have in our community to help

make things better. It's very important to me to support

organizations that help make Siouxland a safer place for

children and those who are vulnerable.

Volunteer Organizations

Lila Mae House Board Member

Sergeant Bluff Little League - Board Member, Secretary,

and Director of Fundraising

Sergeant Bluff PTO - Secretary

Sergeant Bluff Parks and Rec Board Member

Sergeant Bluff Luton School Foundation Board Member

Sunnybrook Church Ministries

"Pray. Wait. Trust."

What are you doing to make that happen?

I have opened two businesses in the last year and I am

able to use that platform to bring people together, to

hold events, and to support local teams, non-profits, and

other small businesses. Connecting people and seeing

them happy is one of my passions. I love participating

in committees, sitting on Boards, and being in the room

where things are happening, so I can be a part of the

change.
---
Siouxland Magazine | 10 UNDER 40 / 16

Sheenah Tonga

Branch Administrative Supervisor

Assistant Vice President

The Stuck Bivens-Rose Group @ Baird

What are you working on now?

I am constantly looking for opportunities to serve the

community whether that be through an organization

or a simple act of kindness. Most recently I was able to

assist Camp High Hopes with setting up for Rib Fest and

volunteering at the Woodbury County Fair.

What is your vision for the future? / What would

you like to see happen in Siouxland?

I believe the year of COVID/2020 taught us all a lesson;

we need each other. We need community support. All

the things we once took for granted, or as a luxury, were

missed. It's time to band back together and move forward.

I would love to see Siouxland do just that. Find something

that excites you; find your passion. Whatever that is, find

a way to support it. I'd encourage you to do it as a family,

a group of friends, co-workers, etc. Be the one to lead the

charge and soon we will have a community full of leaders!

What are you doing to make that happen?

Whenever an opportunity to serve presents itself, I try to

recruit others to join me in the effort. Not only is it fun to

collectively achieve something awesome but it could help

someone else find their passion. There is a joy in giving

back but often we think we can't do or give enough. That

is not the case; the simple, smallest act can mean the

world to someone.

Through the COVID pandemic, I have made every

attempt to make those around me feel loved and cared

for through outbound phone calls, cards, small gifts

dropped at doorsteps, grocery runs, dinner drop-offs, or

simple messages to know someone is thinking of them.

How can people help you make that happen?

Anytime you find yourself with an opportunity to serve,

invite someone to join you. Be an example and lead the

way. You'd be surprised how many people are just waiting

for that invite!

What is the most important key to success?

The key to success is continuing to do what you know you

need to even when you don't feel like it. Stay consistent in

your efforts. Always remember success isn't built overnight

and it certainly isn't built alone.

What is one challenging life experience that

taught you something you've been able to use to

your benefit or to the benefit of others?

It feels like every day comes with a new lesson but the most

challenging came from 2006-2013 while my husband and

I were undergoing fertility treatment. The dream of many

young girls is to find prince charming and start a family;

it was certainly mine, but I never dreamt it would be as

challenging. The journey had a lot of trials. Through it all, I

learned to let go, endure, and enjoy the journey. The story

being written was ours. Around every corner, in every

valley or the top of every peak a lesson was learned. I've

been blessed to share our story and help several couples

through their fertility journeys. Once we opened up about

our trials, the number of Facebook messages I received

asking for guidance, support etc., was astonishing.

Everyone's journey is so different, and you never know

who you may inspire or impact by sharing yours.

Volunteer Organizations

Woodbury County Fair

Siouxland Wrestling Academy

Camp High Hopes

Church of Jesus Christ of Latter Day Saints

American Heart Association

United Way of Siouxland

Noah's Hope

Siouxland Humane Society

"Small acts, when multiplied by millions of

people, can transform the world."
---
Emily Vondrak

Marketing and Development Manager, Siouxland Habitat for Humanity

What are you doing to make that happen?

One of the most important ways to encourage growth is

to support the things we have now. Go to events like the

Farmers Market, Food Truck Fridays, or Saturday in the

Park. Remember local restaurants and boutiques when

you're dining and shopping. Take your family or friends

for a fun night out watching a local sports team, or show,

or event at the Tyson Events Center or Orpheum Theatre.

Siouxland Magazine | 10 UNDER 40 / 17

Investing in our community is why Innovation Market is

one of my favorite events we sponsor for the Sioux City

Growth Organization. It is amazing to hear the ideas of

local entrepreneurs and ultimately see them come to

fruition. For Siouxland to step up and invest in local people

is the key to progress.

What are you working on now?

I have the privilege of working for Siouxland Habitat for

Humanity, so I get to spend a lot of my time sharing more

about how we build safe, affordable homes for families in

need in the community.

I am also involved in some great community organizations.

Currently, I have the pleasure of serving on the Board of

Directors for the Siouxland Chamber of Commerce, and

as a Chamber Ambassador.

I am also honored to serve as the 2021 President for Sioux

City Growth Organization. I am working with a mission of

attracting and retaining young professionals to Siouxland;

we strive to get involved in the community and showcase

and experience all Siouxland has to offer.

Additionally, I served on the planning committee for the

first-ever Summer In Siouxland program. It was created

for all of the students who spent their summer doing

an internship in Siouxland so that they could learn what

opportunities they would have if they choose to stay here

after graduation.

What is your vision for the future? / What would

you like to see happen in Siouxland?

My biggest hope for the future of Siouxland is for the

community to continue to grow. It is almost surreal to walk

through downtown and see the revitalization compared

to 5, 10 years ago. We've seen so many new businesses,

housing developments, and more pop up. It's also led to

some fantastic quality of life projects. My vision is that we

stay on this trajectory and share with people what a great

community this is to be a part of and call home.

How can people help you make that happen?

Get Involved! Change comes from every one of us in

this community. We all have different experiences and

perspectives that shape the way we see the world. If you

have an idea to make Siouxland better, find a person or

organization that can help you make it happen.

What is the most important key to success?

The most important key to success is hard work. It sounds

cliché, but growing up as a farm kid it was a characteristic

that was ingrained in me as a way of life. It is a trait that has

served me well.

What is one challenging life experience that

taught you something you've been able to use to

your benefit or to the benefit of others?

Do not be afraid of change. At the time, losing my job at

the start of the COVID-19 pandemic was frightening. But,

by deciding to embrace change and see the set-back as

an opportunity, I ended up being able to move into a new

role in the nonprofit world, which had been a career goal

of mine for a long time.

Volunteer Organizations

Sioux City Growth Organization, President

Siouxland Chamber of Commerce, Board of Directors

Siouxland Chamber of Commerce, Ambassador

Summer In Siouxland, Planning Committee

Akron-Westfield Cheer Coach

"The people who are crazy enough to think

they can change the world are the ones

who do."
---
converse

curious

Cultivating Meaningful

Powerful narrative of "us"

truth seekers

Carving An Extraordinary Path

By Jetske Wauran

More than two decades ago, Mark Avery

ended a significant chapter in his life. He left

a prominent career as a businessman to pursue his

burning passion for the arts. What he didn't know

is that his passion would lead him to a path of

philanthropy. A path that he has continued to walk

on to this day.

Long before they were displayed in front of the

Martin Luther King Jr. Transportation Center in

downtown Sioux City, these 14 busts were at Mark's

home studio. These are sculptures of people who

have made a lasting impact on Siouxland as part of

the Celebrating Community Project.

Each sculpture was individually crafted by Mark.

Originally molded with clay before being cast into

a bronze sculpture, Mark spends at least six months

creating each bust.

In between his artistry, the Sioux City native has also

created Kindness Siouxland, a community project

focusing on spreading kindness through brightly

colored signs in the shape of thought bubbles

displayed across local schools and retirement
---
strengthening our community

Conversations exploring perspectives

coming together

open minded

focused on common good

homes. That is not all...he's got 5,000 more signs

ready to go for display.

"When you do art, it helps you see the different

layers of existence, and it also helps you to not only

understand yourself but also understand how you

relate to others and how they relate to you," shared

Mark.

Mark was born in Sioux City, May 22, 1954. He and

his wife have been married for 42 years. They have

two daughters and one son.

Photo Credit Jetske Wauran

Hello, I'm Jetske Wauran and I am so excited to team up with Siouxland

Magazine! This team effort will serve as an avenue to share my passion

project, "People of Siouxland - Portraits of the Extraordinary." I launched

this in September 2020, in hopes of inspiring and uplifting others in the

most trying of times. As a visual storyteller, my mission is to highlight

people who have made a profound impact in our community and write

stories about the underrepresented individuals and hidden gems within

Siouxland. It is an honor to share their unique and remarkable stories with

you. Stories that are worth encouraging, enjoying, and celebrating.

Jetske Wauran is a community activist, professional photographer, and

Emmy award winning journalist.
---
Siouxland Magazine | Converse / 20

Inclusive Peek

What challenges have you experienced living

in Siouxland? I enrolled at Morningside College in

Sioux City, Iowa. My main focus since I have arrived here

is my role in the Morningside College Golf Team. As I

am from Newcastle-Upon-Tyne in England, the biggest

challenge I have faced since I moved to the Siouxland

area is the difference in culture. For example, nobody

could understand my accent when I first arrived, so I

had to learn to pronounce words differently to converse

with people. Sense of humor and different types of

food is among other cultural aspects that were very

different for me when I moved here.

How has Siouxland been welcoming?

Sioux City, and the surrounding Siouxland area, have

been incredibly welcoming from the day I arrived here.

Everybody was so friendly and made me feel at ease.

All of the members on the golf team at Morningside,

and the head coach, Todd Sapp, offered me rides to

practice and get groceries. They also made sure that

myself and all of the other internationals (international

freshmen golfers in particular) were always invited to

social events and did everything they could to make

our lives easier. The sense of support I have felt from

the Siouxland community has been overwhelming.

Everybody has always shown an interest in myself

and the rest of the

Morningside Golf

program and this, to me,

just shows how fantastic

the local people are.

What do you want the

people of Siouxland

to know?

The first thing I would

like the people of

Siouxland to know is to

not change their attitude

and way of going about

life, as it creates a very

hospitable environment

for everyone in the

area. The second thing I Jonathan Robert Douglas

would like the people of Siouxland to know is that travel and

getting out of your comfort zone truly broadens the mind.

Since I have moved to Sioux City, I have been exposed to

many new challenges and met so many amazing people

I never would have met if I stayed in England. I really feel

like Sioux City and the people in the Siouxland area have

helped me develop and grow as a person and for that I am

eternally grateful.

Inclusive Peek – En Espanol

¿Qué desafíos ha experimentado viviendo en

Siouxland? Me inscribí en Morningside College

en Sioux City, Iowa. Mi enfoque principal desde que

llegué aquí es mi papel en el equipo de golf de

Morningside College. Como soy de Newcastle-Upon-

Tyne en Inglaterra, el mayor desafío al que me he

enfrentado desde que me mudé al área de Siouxland

es la diferencia cultural. Por ejemplo, nadie podía

entender mi acento cuando llegué por primera vez,

así que tuve que aprender a pronunciar las palabras

de manera diferente para conversar con la gente. El

sentido del humor y los diferentes tipos de comida son

otros aspectos culturales que eran muy diferentes para

mí cuando me mudé aquí.

¿Cómo ha sido la bienvenida a Siouxland?

Sioux City, y el área circundante de Siouxland, han

sido increíblemente acogedores desde el día que

llegué aquí. Todos fueron muy amables y me hicieron

sentir a gusto. Todos los miembros del equipo de

golf de Morningside, y el entrenador, Todd Sapp, me

ofrecieron paseos para practicar y hacer la compra.

También se aseguraron de que yo y todos los demás

jugadores internacionales (golfistas internacionales de

primer año en particular) estuviéramos siempre invitados a

eventos sociales y hicieran todo lo posible para hacernos

la vida más fácil. La sensación de apoyo que he sentido

de la comunidad de Siouxland ha sido abrumadora. Todo

el mundo siempre ha mostrado interés en mí y en el resto

del programa Morningside Golf y esto, para mí, muestra lo

fantástica que es la gente local.

¿Qué quieres que sepa la gente de Siouxland? Lo

primero que me gustaría que supiera la gente de Siouxland

es que no cambien su actitud y forma de vivir, ya que

crea un ambiente muy hospitalario para todos en la zona.

La segunda cosa que me gustaría que supiera la gente

de Siouxland es que viajar y salir de su zona de confort

realmente amplía la mente. Desde que me mudé a Sioux

City, he estado expuesto a muchos desafíos nuevos y he

conocido a tantas personas increíbles que nunca habría

conocido si me hubiera quedado en Inglaterra. Realmente

siento que Sioux City y la gente del área de Siouxland me

han ayudado a desarrollarme y crecer como persona y por

eso estoy eternamente agradecido.

Photo Credit Jetske Wauran.
---
Intersectionality Mapping

By Semehar Ghebrekidan

What is Intersectionality?

Kimberlé Crenshaw coined the term stating that it is a framework for conceptualizing a person, group of people, or

social problem as affected by several discriminations and disadvantages. It considers people's overlapping identities

and experiences in order to understand the complexity of prejudices they face.

Let's do some mapping!

Siouxland Magazine | Converse / 21

1. Draw a stick figure of yourself

2. List the following dimensions of your identity

Race

Ethnic background

Language background

Socio economic class now

Socio economic class when you were growing up

Gender

Sexuality

Age

Ability Status

Education background

Major

Introvert/Extrovert

Parental Status

Marital Status

Religious background/Spirituality

Citizenship Status

Military background

Political Ideology

If you are a

Sibling

Sister/brother

Cousin

Parent

Aunt

Grandparent

Great grandparent

Job Title

List 3 other things that you use as an identifier

After listing all of these around your person, think about the following.

1. What are 3 things you think about every day without anyone asking you?

2. What are 3 things that you are surprised with/don't think about often?

3. Why is it important to know these?

4. How would they affect your outlook on life?

5. How do they affect you in your job? In your family? In your organization?

Semehar Ghebrekidan is the Community Inclusion Liaison for the City of Sioux City. She is

charged with Inclusion efforts to help connect the City and the community. Semehar has her

master's degree from South Dakota State University in Sociology and her bachelors in Global

Studies with minors in Spanish and Leadership & Nonprofit Management. When she is not

working, you can catch her cooking, reorganizing her home, and hanging out with her family

and friends.
---
Siouxland Magazine | Converse / 22

Dear Dweeby 18-Year-Old

By Tony Michaels

This is easily one of my favorite issues of the

year with Siouxland Magazine.There is so much

negativity when you are doom scrolling on social media.

It is easy to get caught up in the dour posts, and it makes

me a little angsty and sad. That is why I LOVE this issue.

Odds are if you are reading this article, you are probably

not scrolling past political and angry posts.

Every time I run to get this annual issue; I have one big

takeaway moment. We are so lucky to be surrounded

by so many talented and compassionate individuals in

Siouxland. My second takeaway is that I love the fact so

many different professions are featured on these pages.

When I saw the first list way back in 2012, I thought it was

so fun to have so many different backgrounds and skill

sets in one room for some celebratory drinks.

When looking for an appropriate picture to go with

this article, I chose this embarrassing pic from my dorm

room at the University of Nebraska when I was 18. I sent

this image home to my parents to prove to my parents

I studied. At least once I studied. I did not send them

the pictures from 2 a.m. at a party. College was more fun

before social media.

I have been very nostalgic about life ever since my oldest

son turned 18 last month. My world view has changed.

My goals have changed. I have changed.

When this picture was taken, I was dialed in on having a

six-figure income, a sports car in the garage, and season

tickets to the Huskers at Memorial Stadium. In the

90's, I assumed we'd have five more trophies by 2021.

Unfortunately, the Husker football program changed

too.

Anyway, I was trying to be somebody, get a title, follow

a career in broadcasting, and make some bank. In short,

enjoy life.

Tony in the dorm.

Enjoy life. Cherish your loved ones. Look out for those

who need help. Be a man for others. Do not post on social

media after midnight. Invest in Facebook. Then, log off

Facebook.

Build something.

KSUX 105.7 Morning show host with Candice

Nash, Author of the book, "Tacos and Beer

Atmosphere."

Photos Contributed by Tony Michaels.

Paid advertisement.

Like Us on Facebook

and

Share our Facebook Spotlights

Making a Difference for Small Businesses & Nonprofits

A few days ago, I read a quote from Iowa State football

coach Matt Campbell about why he has not left for a

bigger job at a larger school or the NFL. He said, "you're

either trying to be somebody or you're trying to do

something." Man, has he built something in Ames.

The featured Top 10 Under 40 are building something

for us in Siouxland. They are using their talents to

improve the quality of life not only for their families but

for the greater good of the community. It is inspiring. I

love everything about this issue.

Man, I look at this young man in this picture and realize

how much I did not know.

I wish I could send a note to that geeky frosh.
---
Sioux City Scoop

By Alex Watters

Earlier this year, the Biden

administration unveiled the

American Rescue Plan which

will deliver $350 billion

for state, local, territorial,

and tribal governments to

respond to the COVID-19

emergency and bring

back jobs. Sioux City will be

receiving just over $40 million.

This program is going to have

a profound impact on our

Alex Watters community. However, it is not

necessarily a blank check. The US

Department Treasury gave broad categories with which the

monies can be used. There is also the hesitation that if funds

are used for a project that would not qualify, they have

to be reimbursed. Therefore, I would prefer to proceed

with caution.

The City Council directed staff to look into various

projects they thought were eligible and worth

pursuing. Staff then presented the City Council options

during two separate study sessions. These projects

strike a balance of supporting organizations negatively

impacted by the pandemic and proactively investing

in infrastructure that will set Sioux City up for future

growth.

Here is an outline of the projects identified with the

disclaimer that not all of these projects may be pursued

as they are outlined below. We may also receive further

clarification for eligible projects.

Siouxland Magazine | Converse / 23

Infrastructure:

Sewer

• Increase capacity and improvements at WWTP.

• Improves our ability to support new business/

industry.

• Reduce the likelihood of sewer rate increases in

the near future.

• Fund the balance of other outstanding sewer

projects.

Water

• Replace failing or at risk of failing water mains.

• Install boost station that will improve pressures

in a much-needed part of town.

• Extend water lines to support a new housing/

business development.

Stormwater

• Fund a drainage ditch that will expand our

business park and complete other project

shortfalls.

Broadband

• Increase business speeds to attract new business

and allow growth for others.

• Expand Wi-Fi capabilities into underserved

neighborhoods- leveling the playing field for

learning and connectivity.

Businesses/Nonprofits

• Establish parameters for organizations to apply for

funding to offset losses incurred due to the

pandemic.

Hospitality/Tourism

• Establish parameters for hotels and tourism reliant

businesses to apply for funding to offset losses

incurred due to the pandemic.

Affordable Housing

• Offer infrastructure improvements to support

affordable housing developments.

• Look into housing improvement opportunities for

those neighborhoods hardest hit by the pandemic.

(Maybe difficult to identify/verify).

Again, these projects aim to help organizations and individuals most impacted by the pandemic and make serious

investments in our infrastructure that will offset the need for future rate increases - something that will benefit all

taxpayers. While all of the qualifications for eligible programs may not be crystal clear yet, this type of investment

is sure to make a difference in our community. I look forward to the growth we can experience from it.

Alex Watters, City Council of Sioux City

awatters@sioux-city.org

Photo Credit Michel Rohner, Studio 712
---
Inspire

Lessons learned from stories in our community.

Connecting Students With The Community

By Michelle Lessmann

Connections are being made early in the Siouxland

community, thanks in part to partnerships

between local businesses and the Sioux City

Career Academy. The Career Academy offers over

30 pathways for area high school students to explore.

Each pathway integrates core academic knowledge

with technical and occupational knowledge to provide

students with a pathway to careers and post-secondary

education.

For students still determining what their future holds,

the Career Academy allows exploration. Students can

'try on' pathways until a passion is discovered. Exploring

these pathways in high school allows students to make a

more educated decision about a career or future college

major. There are three main goals for every pathway in the

Career Academy.

"We want to connect students

with careers and professionals

in those positions, so students

understand what is available

in our community," said Katie

Towler, principal of the Sioux

City Career Academy. "We

hope our students will either

stay here in Siouxland or return

to work in our community

someday."

Katie Towler, Principal,

Sioux City Community

School District, Sioux

City Career Academy.

Career Academy.

Students should leave high school with everything they

need to be immediately employable with the knowledge of

how a two-year or four-year degree can help them achieve

their career goals. The Career Academy has very strong

work-based learning programs, so student internships are

encouraged. Classes are focused on helping students gain

experience and applying skills they learn in the classroom as

much as they are about making connections with possible

employers and groups in the community.
---
non-profit

community

family

small business

people

"Our students are exposed to real-life experience through

the Career Academy, providing them with a true glimpse

into future careers and also building their resumes in the

process," adds Towler. "For example, our graphic arts

students connected with Downtown Partners to serve as

volunteers for the Alley Art Festival and helped Downtown

Partners to prepare for the NAIA tournament. Experiences

like this help engage students and strengthen their

community relationships. These connections encourage

students to stay in our community after high school."

During the 2021-2022 school year, over 2,600 students

will come from the tri-state area to attend Career Academy

classes. Recently, Governors Reynolds, Ricketts, and Noem

signed a pact allowing students from Nebraska and South

Dakota to attend the Career Academy. Currently, students

from 15 area schools have access to the Sioux City Career

Academy.

One of the Sioux City Career Academy's goals for the

upcoming school year is to increase their community

business connections. The Career Academy's Advisory

Committee works closely with students to help them

make a career out of what they are learning and loving in

the classroom. The Advisory Committee is a vital part of

connecting students with internship opportunities. In the

fashion/interior design pathway, students work with the

University of South Dakota's Theater Department to gain

experience in stage design, costumes, and make up.

Two Career Academy internship coordinators work with

students to identify their goals and then align those

goals with area internships. Students must meet certain

expectations showing they are well-prepared before

being placed in an internship, ensuring it will be successful

for both the student and the business. The internships

are graded with businesses providing feedback on the

student's performance.

Last school year's 63 internships included two very

successful ones. Cale, a 2021 graduate, interned at

Thompson Electric in their prefabrication shop. Cale's

class schedule allowed him to work part of every day

during the school year. After graduation, he was offered

a full-time job at Thompson Electric where he continues

to work. This internship was a win-win because Thompson

gained a valuable employee and Siouxland kept a great

young adult in the community.

Another successful internship is going on currently at

The Warrior Hotel with Terreek, a student in the Career

Academy's culinary program. Terreek is a chef de partie

Career Academy Design.

in Woodbury's Steakhouse kitchen, increasing his skills

by working with some of the top chefs in the area. What

started out as a regular internship, turned into a paid

internship and will likely lead to a full-time job for Terreek

after graduation.

Currently, there is a high demand for students with twoyear

technical degrees in higher-paying jobs, and the

Career Academy is working with community businesses

to fill that need. Demand for welders in the community

is high, and fortunately, so is demand for the welding

pathway in the Sioux City Career Academy. There is also a

high demand for construction and medical workers, such

as CNAs and CMAs; the Career Academy is working on

filling that demand.

Michelle Lessmann, a fully licensed office professional

in Keith Bales office of Thrivent. She can be contacted at

mrlessmann@hotmail.com.

To learn more about the Sioux City Career Academy or to visit

about possible business partnerships, call (712) 279-6668.

Businesses in nearby Nebraska and South Dakota communities

are also encouraged to partner with the Career Academy now

that students in those areas also attend the Career Academy.

Photos Contributed by Sioux City Career Academy.
---
Siouxland Magazine | Inspire / 26

Wayne State College film students working on an act from the student production of Sigmund and Dora; the set for the movie

was completely built from scratch by the film students.

Wayne State College Offering A Four-year Film Degree

By Amy Buster

The fall semester of 2021, Wayne State College will

offer students in Mass Communications studies a

four-year degree in film production. The program is

titled Digital Film Production and Theory. Dr. Michael G.

White, Ed. D., will be one of the professors teaching the

program.

"The film industry has changed a great deal over the years.

Wayne State College had a really strong Electronic Media

program when I started teaching here. The addition of film

was really natural. Industry needs are evolving, and we

wanted to train students in higher levels of production,"

explained Dr. White.

then transitioned into an adjunct professor in 2011 while

finishing up my doctorate. I was hired full-time in the Mass

Communications Program in 2019 as an Electronic Media

Professor," stated Dr. White.

The push for Wayne State to offer a program in film had two

driving forces behind it. One was the industry itself.

"The demand for highly skilled film production workers is

good right now. With the expansion of video used in social

Wayne State's history for providing real-life media

opportunities for its students goes back to when they did

their first broadcasting with their radio station in 1971,

KWSC-FM. The television broadcasting program with a

working station started in 1976.

Dr. White is a 1992 Mass Communications graduate of

Wayne State College, with an emphasis in Broadcasting.

He then continued with his studies to get an MSE in

Communication Studies and then his E.D. in Education

from the University of South Dakota.

"I began as a grad student at Wayne State College

in 2009 in the Communication Studies program, and

Wayne State College film students working on a scene from

the student movie, Red String of Fate. The movie was just

released in October last year.
---
media and the streaming of films more content needed to

be created. When I was a grad in the 90's, working in film

was like a dream. Today, there are jobs in smaller markets

doing commercials, corporate, and the occasional film,"

said Dr. White.

The digital film program at Wayne State helps students

develop skills in film production, on-camera performance,

in addition to experience in cinematic production, acting,

directing, lighting, and set design. Students finish the

program with a solid foundation in media production,

pre-production, and related skills. This allows students

to graduate and immediately enter the film industry with

the necessary skills to succeed.

Siouxland Magazine | Inspire / 27

The other demand for the program came from the

students themselves. In 2015, film production was

offered only as a minor at Wayne State.

"The development of the four-year program in film

production at Wayne State College came from student

interest. We were seeing tremendous growth in the

minor. Our program assessment data indicated students'

desire for a major. Recent graduates wanted more

undergraduate preparation for entry into graduate

film schools and they wanted more undergraduate

experiences for careers in film and television," stated

Dr. Deborah Whitt, Ph.D., Department Chair of the

Communications Department. She went on to state, "Now

our curriculum offers students a full range of multimedia

content, scriptwriting, acting, film analysis, media theory,

pre and post film production, and four years of hands-on

experience. I am so proud of our faculty and students!"

Once the student were able to take what they had learned

and put it into use and enter it in festivals, enthusiasm for

the program spread like wildfire.

"The students loved making films so much and their

skills expanded, I started expanding the curriculum to

include production design, screenwriting, on-set sound

engineering, Foley work, surround sound development,

etc. Enrollment went up, one of our students got into

a prestigious grad school, and the student films were

being selected into some of the better festivals. The

administration got behind us and funded a renovation of

"The Attic," the fourth floor of the Humanities building,

which is also the home of the Mass Communications

program. We expanded our video editing facilities to

support stations for colorization, motion graphic and

animation, and a lab dedicated to surround sound and

Foley (live sound effects) work. We now have great

cinema production equipment and students are trained

just as if they are on a major union set in any large market,"

said Dr. White.

During that five-year spectrum, from 2015-2020, a

number of White's films, and films of his students, went

on to place and win in area competitions. Films winning

awards by Wayne State Students include: Sigmund &

Dora, Something Lost, Connor & Annie, The Offer, Love

Sick, and The Offer. The films of Dr. White's that have won

Wayne State College film students, Ally Boyd and Justis

Hoffart, discussing scenes from the student film Something

Lost. Ally is a senior this year, and one of the top producers

in her class in the film department. Justis is a senior this year,

and one of the top directors in his class.

awards are: Ghost In Her, Ever Fallen (full feature film), A Day

with Lily, and To Live Again.

Recently, Dr. White got a phone call from a producer in

California who wanted to know more about Wayne State's

"Film School on the Prairie."

"I love the idea that students don't have to go to either coast

to get a film degree. They get to go to an affordable state

college which opens up the option of grad school. Really, the

best thing will be the experiences they get while at Wayne.

I literally have students on set the first week they arrive at

school. I wanted to be able to build something great here

at Wayne State. It's not just my Alma Mater, in many ways it's

my home. There is something special here. We are getting

interest from all over the country. It's just really thrilling,"

stated Dr. White.

Dr. White sat in great anticipation during registration this

summer for students to enroll in the four-year film-program.

It only took a few moments before a student approached him

and asked, "Where do I sign up for the four-year digital film

program?" With a tear rolling down his cheek, Dr. White was

more than happy to direct the student in getting enrolled in

the program. FADE TO BLACK

Amy Buster, a writer/editor for 25 years. The majority of her work

has been writing and editing for small-town newspapers in both

the Kansas City Metro area and the Siouxland Community. "The

relationships I've formed from these work experiences are some

of the most powerful, and life influencing bonds that I've ever

experienced." - Amy

Photos Contributed by Dr. Michael White.
---
Siouxland Magazine | Inspire / 28

Aaron's Barbershop.

Making Something From Nothing

By Dr. Cyndi Hanson

For those who look around and say, 'there's

nothing to do here,' there is a choice. For Aaron

Gonzalez, the decision was easy – make something! The

24-year-old owner of Aaron's Barbershop, Don Dinero

Promotion's, and co-owner of The Don'$ Sports Bar &

Grill determined early on that rather than complain about

something, he had the power to make it happen.

A Siouxland native, Aaron says he always had a business

mindset. "I liked to sell things as a kid. Fundraisers for

soccer or whatever really got me excited." And he

recognized watching his family operate businesses, also

influenced him to realize that you can reap rewards. His

grandfather had a couple businesses in Mexico before

moving to California to become a cook. When the family

relocated to Siouxland, Aaron's father and sisters opened

Mi Familia restaurant and the whole family worked. "I

remember not wanting to go to school at times. My dad

would say, ok you do not want to go to school, then you

are going to work. After working hard washing dishes

and getting a tiny paycheck, I was motivated to go back

to school!" said Aaron.

He continued to state that school was a challenge for him,

because he had big visions and school was slow. As a

result, he graduated early and put all his attention into his

professional pursuits as a barber. He had begun cutting

hair for others in 7th grade. "I'm not really supposed to say,

but I was cutting hair and running a business at 13 years

old," said Gonzalez. "I watched YouTube all the time to

learn new techniques. I'd ask others how to do something

if I didn't know. I have never been afraid of failure. You only

fail if you don't put in the effort."

In 2013, Gonzalez moved to Lincoln and enrolled in Barber

School. The 2,100 hours of required time, seemed an

Owner, Aaron Gonzalez
---
eternity to the young man who had already been doing

the techniques being taught for a couple years. "It was

hard for me to finish school. I just already knew that stuff,

it was frustrating to have to put in so much time. I pushed

to help others and now the requirement is down to 1,800

hours," he said.

He officially opened Aaron's Barbershop in South Sioux

City on February 9, 2017, at 19 years old. "That was my

goal, to do it before I turned 20," Aaron explained. "I

have books of goals I've written down through the years.

I focus on the one right in front of me until it happens,

then I'll go back and look to see what else I set as a goal

for myself."

Siouxland Magazine | Inspire / 29

At the ripe old age of 21, Gonzalez started to look for the

next thing. He had been cutting hair for almost a decade

and was good at it. He remembered in high school he

identified a need for a sports bar and grill in South Sioux

City and decided now was the time to make it happen.

"You know something is what you need to pursue when

it is always on your mind," Aaron explained. "This thought

was on me for over a year. I spent time researching what

I needed to do, looking for resources and a location.

Then one night about midnight, it became clear that it

should be called The Don'$ to honor my grandfather."

Gonzalez's grandfather had died about a year earlier.

Everyone in the family referred to him as The Don – a sign

of respect for the family patriarch.

"Once I had the name, it was almost like I heard my

grandfather say, 'do it,' and things started to fall into

place. I spent most of the night sketching a logo, a

couple months later a location became available. The

vision really came together," said Gonzalez.

"If something is in your mind continually,

believe in it, trust it, go after it."

The Don'$ Sports Bar & Grill grand opening was

November 17, 2018. Close family friend Pablo Cisneros

and Aaron's father, Lupe Gonzalez, are partners in the

business. "Dad helps with the day to day," Aaron stated.

"He knows the restaurant business. But we all help. I

would not have done this with anyone else. Pablo, his

wife, my dad and his sisters, my siblings are people I

trust, and we all work in the business. It is truly a family

endeavor." The business is a popular location and has

recently remodeled the dance floor. Aaron has visions for

further expansion as well, which aligns well with his other

business of a promotions company.

Gonzalez with ideas that keep coming.

has plans to bring more artists and concerts to the city to

make sure there are ways to have fun here. While he builds

the sports bar and entertainment businesses, Gonzalez

says cutting hair is his safety net. He now has 6 barbers at

his shop and recently opened a salon next door with three

beauticians providing services as well.

When asked why he has made Siouxland his home Aaron

explained, "I used to say I hated it here, I was going to

move to California. But my family is here, and I want to be

close to them. Plus, California would have just been about

having fun, not building for the future. I am 24 now and I

have a son, it is not just about me. Family is important to

me; I make sure I have two weeks each year to go on a trip

with my family. I probably couldn't do that if I worked for

someone else."

The advice that Aaron offers other young people is from

his mother, "she always said, the lazy person always works

double. She will probably laugh when she reads that. I did

not always like it, but she was right. If I were lazy and did

something kind of right, I would have to do it again and do

it right. My advice is stay focused, listen to yourself, work

hard. Happiness is not about where you are, it's about

what you are doing. If you are not working to elevate

yourself and those around you, in 10 years it will all just be

the same. Don't complain – do something."

Dr. Cyndi Hanson, Executive Director for Northeast Community

College's Extended Campus.

Photo Credit Britton Hacke Photography.

"I have always been the party planner," he said. "Now I

learned I can get paid to do it!" Don Dinero Promotions

coordinates events, parties, and other entertainment. "I

got to coordinate parties for Saturday in the Park artist

Waka Flocka Flame this year," Aaron said with pride. He
---
grow

Don't fear failure. Embrace it. It's where the learning happens.

Hardline Coffee Co.

Iowa's West Coast Initiative Feature

I operate a third-wave coffee shop

and roastery in downtown Sioux

City. Our focus lies in roasting

ethically sourced coffee and using

fresh ingredients to create unique

handcrafted beverages.

What motivated you to start

your business?

I started my journey with a handbuilt

mobile coffee unit shortly Owner, Nisa Salem

after graduating from Morningside

University. During my years as an undergrad, I developed a

passion for the craft (and consumption) of coffee. Combining

my previous experience in the food and beverage industry with

my formal education in the sciences, I decided to explore the

crossroads of coffee and chemistry. This quickly led to founding

a brick-and-mortar coffee shop and micro-roastery on 5th

Street in downtown Sioux City. What began as a mild curiosity

about single-origin coffees soon transformed into a passion for

sharing my creations with the community. My inspiration stems

from the connections I make with my customers and the ideas

we generate together.

What's unique about your business?

Our coffee is always roasted in-house, and our syrups and

pastries are made by hand. This allows us to offer a high-quality

experience with every beverage. It also ensures that we know

exactly what goes into each drink, so we are able to offer many

gluten-free and vegan options. Our baristas are highly trained

in brewing methods, so you know you're going to get the best

tasting cup every time.

What's the biggest challenge you've had to overcome

as you've grown your business?

Business ownership is often fraught with challenges. Three

days before Hardline's grand opening, I found out that I was

pregnant with my son, Ezra. Growing into motherhood and

growing as a small business owner are similarly difficult yet

often incompatible paths. Fortunately, all of that growth led to

a surprising amount of resilience. Eight months after my son

was born, the Covid-19 pandemic began. During that time, I

navigated through a major equipment failure, revenue loss,

hiring and training a new team, and closing down the shop to

quarantine and heal from the Coronavirus twice.

What has been your greatest reward?

Working with a team of like-minded but incredibly unique

individuals, as well as engaging with the community, has brought

me a lot of satisfaction and joy. I like to think that Hardline has

grown along with the people who support it, which in turn has

made it a very colorful and exciting place to be. It's always great

to see people show some love for specialty coffee.

How have you benefited from the start up community

in Sioux City & the region? What resources did you use?

I have enjoyed working with local organizations like Downtown

Partners and Iowa's West Coast Initiative to get involved

in community events through the coffee shop. Attending

networking events like IWCI's First Friday Coffee and Sioux

City Growth Organization's Innovation Market have helped

me make connections with other small business owners in the

area. The Sioux City Farmer's Market and IWCI's mastermind

groups have provided me with a platform to grow my business

and hone my skills as an entrepreneur alongside others.

Are there any experiences that were particularly

influential in that regard?

My mastermind group has been a great resource for inspiration,

and it helps me hold myself accountable and challenges me to

grow. I've also been fortunate enough to connect with a number

of people who share a similar passion for arts and culture. Some

of these connections are what led to our partnership with the Art

Sux Gallery and the revitalization of the former Karlton's building

on 4th Street, where we have opened our new location.
---
personal growth

leadership

determination

business development

influence

Why is it important for the community to support startups and

small businesses? What more can be done to help them?

Small businesses & startups infuse tons of resources and culture into their

communities. Many of you have heard that every dollar spent at a small

business goes right back into the community. That can also be said about

your energy. I've been blown away by the support Hardline has received

from our customers. It allows me to support my team, many of whom have

their own side hustles, and reinvest my energy into Sioux City in new ways.

There are many ways to support your favorite small business or startup.

Shopping locally, sharing their posts on social media, leaving a Google

review, or even offering a partnership or service can be mutually beneficial.

What is one thing you know now that you wish you knew when

starting your business?

Relationships make all the difference. I am fiercely independent by nature,

so it has been a struggle to ask for and accept help from others. I've learned

that I truly enjoy playing to my strengths and watching others flourish while

they utilize their skills. Building a well-rounded team has been one of the

highlights of business ownership for me. Now, I love that we can lean on

each other for support and celebrate our victories together.

What advice would you give to someone looking to start a

business?

So many tidbits of wisdom! You get out of it what you put into it. Approach

your business plans with good intentions and a positive attitude, and

don't be afraid to change it up. Adaptability is one of the best qualities an

entrepreneur can have. Do your research and really think about your longterm

goals, but don't forget to be flexible and enjoy the moment. One day

you'll look back and be amazed at how far you've come.

How can the community continue to help your business?

Visit our new space at 515 4th Street! Buy a cup of coffee, a bag of beans,

or some merch. We are always here for a friendly smile and some pleasant

conversation. If you're feeling philanthropic, tip your barista and leave

us a 5-star review online! Snap some photos and share them with your

friends. At the very least, word of mouth is always helpful. And don't forget

to support the arts and shop local!

What are some future goals for your company?

We are currently looking forward to upgrading our roasting and brewing

equipment to provide a larger variety of single origin coffees and coffee

blends. Additionally, we are accepting new clients for our wholesale program,

in which we roast and deliver coffee to other businesses in the area. We are

also excited to have adequate space to host art gallery receptions, mutual

aid events, and more local art and small business pop ups.

Iowa's West Coast Initiative (IWCI) is a collaboration between the economic

development organizations in Plymouth, Monona and Woodbury counties,

and includes the following organizations: City of Sioux City, Siouxland Interstate

Metropolitan Planning Council, Siouxland Economic Development Corporation,

The Siouxland Initiative, Le Mars Business Initiative Corporation, Woodbury

County, and Monona County. Learn more about IWCI at www.IAWestCoast.com.

Photos Contributed by Hardline Coffee Co.

IAWESTCOAST.COM I 866.537.6052

Entrepreneurs and small business owners now have

access to an information specialist who can assist you

in finding solutions to your most pressing questions by

facilitating connections to the right people, data, and

resources.

IASOURCELINK.COM I 866.537.6052

IASourceLink is the premiere business resource in Iowa

for entrepreneurs and small business owners. Free

business webinars, expert advice, and a searchable

directory of organizations that assist Iowa businesses can

all be found on IASourceLink.

IOWASBDC.ORG I 712.274.6454

Do you need free, confidential and customized business

counseling? Contact SBDC for advice on developing a

successful business plan.

SIOUXLANDEDC.COM I 712.279.6430

Siouxland Economic Development Corporation offers

financial assistance programs and services to assist

small and medium sized businesses in getting started or

expanding.

MAKERSPACESIOUXCITY.ORG I 712.251.6050

MakerSpace Sioux City offers shared space for hobbyists,

inventors, artists and innovative people to come together

to create and teach through hands-on learning.

SPRINGBOARDCOWORKING.COM I 515.809.0052

Springboard Coworking offers shared office space in

downtown Sioux City for entrepreneurs that combines

the best elements of cafe culture with a productive,

functional, and affordable work environment.

ISUSTARTUPFACTORY.ORG I 515.294.7444

ISU Startup Factory is designed to help businesses bring

new products to the market and work with companies to

make them attractive to outside capital investors.

VENTURENETIOWA.COM I 515.471.1300

VentureNet Iowa connects ideas to resources,

management, and investors, to create jobs and build

businesses in Iowa. If you have a business idea in the

areas of Biosciences, Advanced Manufacturing, Value-

Added Ag, or Information Technology, you may qualify

for assistance through VentureNet Iowa.

Did you use one of these great resources? We

want to share your story! Visit our website at

siouxlandmagazine.com, fill out the form and connect

with us today!
---
Siouxland Magazine | Grow/32

Become A Downtown VIP!

By Grace Nordquist

Work or live downtown? If so, you're eligible for

discounts at select downtown businesses through our VIP

program!

Our Downtown VIP program allows downtown employees

or residents to hold a VIP card that gives them access to

downtown business specials. It is free to all downtown

businesses to participate, and cards can be distributed to

every downtown employee or resident.

I work or live downtown, how do I get my card?

Downtown employees can sign up through Downtown

Partners by showing employer identification, or employers

may provide a list of employees on company letterhead.

Downtown residents will need proof of residency, or housing

management can send a list of tenants.

How do I know who offers discounts?

For a list of current downtown VIP specials, visit our website

at https://downtownsiouxcity.com/vip.

Our Downtown VIP program is one way we express our

gratitude to our downtown stakeholders. So, thank you -

and enjoy being a VIP.

Once you provide identification as an employee or resident

of downtown, stop by our office at 418 Pierce Street to get

your VIP card.

We always recommend calling ahead before stopping by

to ensure we are not out of the office. You can reach us at

712-252-0014.

Once you have your VIP card, simply show it at participating

businesses and mention the downtown VIP program to

claim your discount!

I have a business downtown, how do I offer a VIP

special?

If you are a downtown business who would like to offer a

special for the VIP program, we would love to add you to

the list! Please send your business name and the special you

would like to offer to info@downtownsiouxcity.com, or call

our office at 712.252.0014, or send a fax to 712.258.8516.

Please make all staff aware of what the VIP card looks like,

and the special you offer. We are happy to give you a VIP

card or send a copy for you to share with staff.

Thank you for participating in our downtown VIP program

and giving back to Downtown Sioux City.

If you have questions, please email us at info@

downtownsiouxcity.com, or call us at 712-252-0014. Be

sure to follow us on social media and check out our website

to stay up to date on all things Downtown Sioux City!

Contributed by Downtown Partners, a non-profit

organization that works with downtown stakeholders to

create a vibrant, expanding downtown. To learn more about

Downtown Partners and to stay up to date on downtown

projects and events, visit www.downtownsiouxcity.com.

PREMIER Congratulates

Kodi

Benson

First PREMIER Bank and PREMIER Bankcard

congratulate Kodi Benson for being named the

Siouxland Top 10 Under 40 in 2021.

We know there are no shortcuts to success. It

is achieved through hard work, integrity and

believing in both yourself and your team.

Congratulations, Kodi, we think you are PREMIER.

PERSONAL | BUSINESS | CREDIT | WEALTH MANAGEMENT

firstpremier.com
---
Siouxland Magazine | | Grow/33 / 39

Siouxland Chamber Annual Dinner

By Chris McGowan

As our nation commemorates the 20th

anniversary of the tragedy of 9/11, this year's

Siouxland Chamber of Commerce Annual

Dinner and Meeting is scheduled for Thursday,

September 30, 2021, at the Sioux City Convention

Center. Focused on saluting our veterans and the men

and women of our Armed Forces, this year's event is

designed to collectively say "Thank you" to our service

members for their selfless sacrifice and commitment to

defend freedom around the globe.

To this end, we welcome Keynote Speaker Melissa

Stockwell, an American war hero, world champion

athlete, and mother of two. She has triumphed over

personal tragedy to achieve international athletic

acclaim.

A 2002 ROTC graduate of the University of Colorado,

Melissa was commissioned a Second Lieutenant in the

United States Army and deployed to Baghdad, Iraq in

March of 2004 as part of the global "War on Terror."

Three weeks later, a blast from a roadside bomb struck

Stockwell's Humvee. The attack resulted in the loss of

her left leg above the knee. She is the first female in our

Armed Forces to lose a limb in active combat, and a

recipient of both the Bronze Star and Purple Heart.

Following her military service and focusing on her recovery,

Melissa turned her attention to competitive athletics.

She became the first Iraqi War Veteran to qualify for the

Paralympics. After competing in three swimming events at

the 2008 Paralympic Games in China, Stockwell was honored

by her fellow Team USA athletes and selected to carry our

nation's flag at the closing ceremonies. After Beijing, Melissa

transitioned to the sport of Paratriathlon. She is now a threetime

World Champion. She was named female Paratriathlete

of the Year for two consecutive years and has twice been

nominated for an ESPY Award.

Today, Melissa continues to compete as a world-class athlete

while giving back to others, particularly those who face

challenges similar to her own. She has become a certified

prosthetist, elite triathlon coach, and the published author of

The Power of Choice: My Journey from Wounded Warrior to

World Champion.

In addition to welcoming Melissa Stockwell, Siouxland will be

treated to the powerful and patriotic voice of United States

Navy Petty Officer (Retired) Generald Wilson. He will sing our

national anthem. Wilson, who has performed at the World

Series, Conference Championship games in the NFL, as well

at NCAA championship contests, will deliver a performance

you will not want to miss.

Chris McGowan, President, Siouxland Chamber of Commerce.
---
Siouxland Magazine | Grow/34

Start Your

Day With

Gourmet coffees,

hot breakfast sandwiches and

bakery goods make your morning

just right. For lunch, choose

from steaming soups, tasty

sandwiches, and fresh salads.

Eat in or grab and go!

Send Them Back-to-School

With a Smile!

Schedule your

back-to-school dental

visit with

Lohr Family Dentistry!

Order ahead!

Pick up or delivery

available:

lohrfamilydentistry.com

712.255.1163

2918 Hamilton Blvd.

Sioux City • Ho-Chunk Centre

Now Open! South Sioux • Flatwater Crossing

Winnebago • Ho-Chunk Village

sweetwatercafe.net

Crittenton Center

A Legacy of Serving Children and Families

Once known as 'Flo Crit,' a home for unwed mothers,

the Crittenton Center of today is much more. Offering

childcare and preschool, a foster teen program, family

development and parenting classes, we remain true to

our foundation of serving children and families.

We welcome your support as we give vulnerable children,

teens and families hope for a brighter future. Visit

www.facebook.com/crittentoncenter/, call 712-255-4321

or e-mail info@crittentoncenter.org to learn more today!

www.crittentoncenter.org
---
Forty

By Peggy Smith

I love this annual edition that highlights 10

Siouxland individuals under 40 and tells us

their stories along with their contributions to

our community. It is so inspiring to read how far

they have come in their personal and professional

lives and imagine the positive difference they will

make in the next 40 years.

This edition's focus got me thinking about what was

going on in my life back when I was 40. The year I

turned 40 was the year I lost my dad; the year I was

born was the year my dad had turned 40. He gained

me in his life at the same age I lost him from mine.

Somehow that fact is hard to grasp; and resonates

with me.

Losing a parent at any age causes reflection and the

need to recenter yourself, which was certainly true

for me. My dad had always been a true advocate for

Iowa and Siouxland. He was born the year his father

obtained the farm I still live on today – now a Century

Farm. Dad taught me the importance of taking care

of what you are entrusted with, family, being a good

steward of the land, and the community in which you

live. Those values were instilled in me from an early

age, but his death really drove them home to me.

Years ago, the opportunities to get involved revolved

mostly around church and school, or the field in which

you worked. My dad was involved in farming events

and was a township trustee for decades. Now, the

opportunities are practically endless. There are so

many causes and agencies that need advocates and

supporters that once an individual identifies their

passion, it is not difficult to discover a way to get

involved and make a positive impact in an area that

speaks to your heart.

Today, I am impressed with the enthusiasm and

dedication of the young professionals who call

Siouxland home and strive every day to make our

community better today than it was 40 years ago, or

even than it was yesterday. Identify your passion, get

involved, and help Siouxland become a place with

which to be reckoned!

Leadership Siouxland is an organization dedicated to

developing diverse, informed leaders who shape our

community for today and tomorrow.

Peggy Smith, Executive Director for Leadership Siouxland.

Siouxland Magazine | | Grow/35 / 39

Imagine the Power of Dedication

We are proud to recognize Sheenah Tonga, Branch

Administrative Supervisor with our Sioux City office,

for being named Top 10 Under 40 2021 by Siouxland

Magazine. Sheenah's dedication to our community

inspires us all.

The Stuck Bivens-Rose Group

712-234-4000

stuckbivensrosegroup.com

©2021 Robert W. Baird & Co. Incorporated. Member SIPC. MC-682901.
---
Siouxland Magazine | Grow/36

With more than 630 slot machines and 19 table games, hot casino action simply scratches the surface of all that

Hard Rock Hotel & Casino Sioux City has to offer. Experience the legends by viewing the vast Hard Rock Memorabilia

Collection, with iconic pieces from Slash to Johnny Cash. Enjoy a crafted cocktail or a delicious entrée in one of our

award-winning restaurants and bars, then catch an electrifying show accompanied by the roar of a live audience.

Finish the night and crash like a true rock star in the only AAA Four Diamond, award-winning hotel in the region.

We deliver amplified experiences that rock.

111 3RD STREET | SIOUX CIT Y, IA 51101 | hardrockcasinosiouxcity.com

Must be 21 or older to gamble. If you or someone you know needs gambling treatment, call 800.BETS.OFF.
---
Sioux City Growth Organization

By Emily Vondrak

First and foremost, we want to wish a huge

congratulations to this year's 10 Under 40! It is so

amazing to see all of the ways you are making an impact

here in Siouxland, and we are so grateful for all that you

do for our community! It is a very well-deserved honor!

Additionally, we want to recognize all of this year's

nominees. We are blessed to have a multitude of amazing

young professionals in this area who make a positive

impact from all walks of life- keep doing what you do!

start making a difference, which is part of the reason Sioux

City Growth Organization came into existence. While we

may be primarily young professionals, we know there is

strength in numbers. By coming together to work to grow

our community, we are able to accomplish our mission of

making a difference. Whether it is volunteering for a local

nonprofit, picking up litter, holding our annual Innovation

Market to promote entrepreneurs, or any of our other

initiatives, we strive to make an impact on the growth of

Siouxland!

Siouxland Magazine | Grow/37

We also want to give a big thank-you to Siouxland

Magazine! We so appreciate the work you put into

recognizing young professionals each year and for being

one of the community's best advocates.

Over the past decade, numerous Sioux City Growth

Organization members have had the honor of being

selected as part of Siouxland's 10 Under 40. We are so

proud of our members, past and present, for all they do

to uphold our pillars of networking, volunteering, and

getting involved, and carrying out our mission of attracting

and retaining young professionals to the Siouxland area.

We believe that change and growth in a community come

from everyone, of all ages. You are never too young to

Are you a young professional who wants to be more

involved in the community? Become a member of the

Sioux City Growth Organization! Check out our website and

Facebook page to learn more and stay up-to-date.

Have an idea for a way Sioux City Growth Organization can

make a difference in Siouxland? We would love to hear it!

Sioux City Growth Organization welcomes progressive

and innovative ideas. As a group, we work to put these

ideas into action and build the momentum to take Sioux

City into the future.

Emily Vondrak, President for Sioux City Growth Organization.
---
Chart Your Own Course

INDEPENDENT LIVING . RESIDENTIAL CARE

Your lifestyle is up to you - if you need ideas, we have plenty!

Life at Northpark Place is an ongoing partnership between

residents, families and our team. We embrace and advance

independence, celebrate opportunities, and empower residents

to experience life as they define it!

2562 Pierce Street

Sioux City, IA 51104

CharterNorthparkPlace.com

712-255-1200

. Activities and Enrichment Programs

. Basic Utilities

. Beauty / Barber Shop

. Cable TV

. Chapel

. Concierge Services

. Community Kitchen

. Computer / Internet Access

. Emergency Call System

. General Maintenance

. Housekeeping

. Landscaped Grounds

. Laundry Service

. On-site Care Staff

. Pet-Friendly

. Private Dining Room

. Scheduled Transportation Services

Experience

THE DIFFERENCE!

Being a part of our family also means being

inspired by a supportive culture built upon

reliability, loyalty, pride, experience and

mutual respect. It means providing seniors

with exceptional services and amenities, along

with the vibrant lifestyle they so richly deserve.

SCHEDULE AN IN-PERSON

OR VIRTUAL TOUR TODAY!
---
Resources To Help!

By Todd Rausch

I thought this month would be a good month

to share some resources that we have found to

be very helpful to our clients. We will be happy to

share any other resources that are helpful as well. This

is simply a start.

Resource links

SBDC guide to starting a business in Iowa

https://iowasbdc.org/wp-content/uploads/2020/10/

Start-Up-Resource-Guide.pdf

Smart Start on video (on demand) this is good.

Great place to start.

https://iowasbdc.org/on-demand-training/

SBA business plan checklist

https://fitsmallbusiness.com/sba-business-plan-template/

SBA business plan template online

https://www.signnow.com/fill-and-sign-pdf-form/6408-sbabusiness-plan-template-fillable-form

SBA Financing your business videos.

https://learn.sba.gov/learning-center-launch/learning-centerfinancing-your-business

Revolving loan funds Iowa map.

https://www.rd.usda.gov/files/IA_bp_rlflist120718-2018.pdf

SBA start your business guide.

https://www.sba.gov/business-guide/10-steps-start-your-business

Siouxland Magazine | Grow/39

Frequently asked questions about starting a

business in Iowa

https://iowasbdc.org/online-resources/frequentlyasked-questions/

Great Guide for all subjects from Iowa Dept of Rev.

https://tax.iowa.gov/starting-business

Iowa Unemployment Ins. You must do this within

30 days of hiring an employee

https://www.iowaworkforcedevelopment.gov/book/

export/html/38396

I9 form

https://idph.iowa.gov/Portals/1/userfiles/137/

AmeriCorps%20Enrollment%20Forms/

Employment%20Eligibility%20Verification%20I-9%20

Form.pdf

Quickbooks discount

https://americassbdc.org/resources/sponsoroffers/?cn-cat=22&fbclid=IwAR22O2nXLpSRD7I30HE

gciUHenN_r_VEAEY3VniyuR4KFpaofl3gh

Create a 1 page business plan online.

https://canvanizer.com/new/lean-canvas

https://www.thestrategygroup.com.au/wp-content/

uploads/2018/05/Template_V7-no-border-copy.jpg

https://cdn2.slidemodel.com/wp-content/uploads/

FF0001-01-free-business-model-canvas-1.jpg

Guide for lean canvas

https://www.tuzzit.com/en/canvas/lean_canvas

LivePlan

SBDC clients receive a discount when they use the link

below to start with LivePlan. SBDC clients can receive

6 months of LivePlan for $65. This is approximately a

50% savings. Click here to get started

https://partners.liveplan.com/iowa-sbdc

Free resources Liveplan

https://resources.liveplan.

Lender Match SBA

https://www.sba.gov/funding-programs/loans/lender-match

Strategic Doing

https://strategicdoing.net/intro/

Useful Links

https://iowasbdc.org/online-resources/useful-links/

Getting your products online with Shop Iowa.

https://iowasbdc.org/?s=Shop+Iowa

https://iowasbdc.org/photo-box/

Grow your business guide.

https://www.iasourcelink.com/guides/grow-your-business-guide

Todd Rausch, Regional Director for the Small Business

Development Center at Western Iowa Tech Community College. |

712-274-6454 | Todd.rausch@witcc.edu
---
Siouxland Magazine | Grow/40

congratulations

Dr. Michael Harman

Siouxland's Top 10 Under 40

Assistant Professor of Psychology

Director of the Behavior Analysis Clinic

Director of the Siouxland Research Center

Behavior

Analysis

Clinic
---
Olympic Level Team Performance – "Going For The Gold"

By Linda K. Krei (ActionCOACH ExcelEDGE)

With the excitement of the 2021 Summer Olympics,

it was clear that each athlete must be extremely

disciplined in preparing for and performing at that

level of competition; dedicating the focused time

and extreme energy necessary to reach the Olympic

level of performance. Whether a single sport or a team

endeavor, the skills, knowledge, and pursuit of excellence in

performance levels were incredibly impressive.

In our work environments, there are often Olympic-sized

projects that a team must come together to undertake, to

implement, and complete. Whether they be an established

team or newly formed units, the team members must learn

their roles within the team, and they must also collectively

align and understand the desired outcomes. Then, interact

successfully with the other members to earn their "medal"

and receive the honored recognition on the "presentation

platform" as a team.

Three critical elements that must exist with

any high-performing team:

• A willingness and openness to (continually) learn

• Skills for successful implementation & execution of

the project

• Knowledge of actions needed to achieve the goals

In a team setting, not every member will be at the same level

of expertise. As a leader, you must manage to move the

team forward while helping to fill in any skill or knowledge

gaps. However, the critical element essential for each team

member is to embrace the willingness and openness to learn.

Each team member must demonstrate they are ready to

take on a new challenge even in the face of uncertainty. The

learning process should include a willingness to fail as well

as some level of risk-taking to achieve team success. Skills

can be taught, and knowledge can be shared. Yet having the

willingness and openness to receive new information with

coaching and formative feedback for improvement must be

an intrinsic characteristic, authentically in the heart and on the

mind of each team member. The individual fire or spark for

this cannot be manufactured.

learning? The delivery of training, coaching and education

needs to be varied and tailored to individual learning styles as

much as possible. Also keep in mind, that all team members

do not learn at the same pace, and some may need additional

support along the way.

Ultimately, team success is going to come from clarity in shared

goals and timelines. If each team member works with the end

in mind, they have a better chance of success. You must let the

team set boundaries and consequences for each other and a

clear accountability plan must be in place.

Personality and Behavioral styles should also be considered

as you prepare your team for grander goals. Whether you use

Meyers Briggs®, DISC® or other personality assessment tools

to help better understand how to best communicate with each

team member, it is vital that they all understand their own style

and respect each other's styles for maximum output.

Important too is to understand what motivates self and others.

Once the team demonstrates mastery and achieves a certain

outcome, it is time to reward them. Consider that every member

of the team is motivated in different ways. Remember always

that team members are individuals with different motivations

that may require different types of recognition.

Training for a place on an Olympic Team clearly is not for

everyone. However, your teams can achieve Olympic-like

greatness, and it is the leader's role to inspire people and

manage the process to support, guide, develop, challenge, and

motivate their team toward excellence to "Go for the Gold".

Take Action Today.

Contact Coach Krei for your Complimentary

Strategy Session to get you started.

Siouxland Magazine | Grow/41

Once you have a clear picture of where each team member

stands with regards to these three critical areas, you can move

on to the next step of teaching and coaching the team. There

are 3 types of learning styles to understand and appreciate:

• Kinesthetic

• Auditory

• Visual

The dominate learning style will shape the way you deliver

information and impart new skills. Are your team members

"doers"? Do they need to be hands-on to learn? Are your

team members auditory, where they must hear information

in various form to learn? Or are your team members, visual

learners. Do they require visual tools and cues to spark the

As an award winning, globally recognized,

Certified Executive Business Coach and

Facilitator, Linda would love to help you take

your leadership to the next level.

Linda Krei, ActionCOACH Excel Edge

712.251.7189

E: lindakrei@actioncoach.com

https://lindakrei.actioncoach.com
---
alance

Inside and out.

Life Has You Down, Dog:

Thank The Earth For The Support To Rise High

By Dr. Meghan Nelson

It's important to consult your physician or physical therapist

before beginning any new physical activity or exercises,

and always listen to your body and respect the warnings

you hear.

"You may write me down in history

With your bitter, twisted lies,

You may trod me in the very dirt

But still, like dust, I'll rise."

-Maya Angelou

There's no escaping it: we all get knocked down from

time to time in life. We fail, we fall, we hit the ground

harder than we'd like. It's a kind of an unnerving reality,

but something we all have to deal with nonetheless.

This dance of life has always called me back to the

ground to bow to that which provides and sustains our

lives.

Child's pose can be the perfect posture to cultivate the

comfort and support so many of us yearn for at this time.

Physically, this pose can aid in digestion and lengthen

the spine and back hips, while stretching shoulders,

knees, and ankles. As with any joint impairments, this

pose could be difficult, possibly painful, and could cause

more harm than good. So, listen to the messages your

body sends you, especially in your ankles, knees, and

back. Be compassionate to your needs with the use of

bolsters or blankets to support and provide comfort.

But we also get up, dust ourselves off, and begin anew

time and time again. We're resilient. We battle back.

What is it inside of us that keeps that fire burning, that

keeps us rising?

The only mistakes are the ones from which we don't learn.

When we're down, this is our opportunity to dig deeper,

to release the fear of failure, to trust that there is a reason

for everything, to learn, to grow. These so-called failures,

these setbacks, are opportunities to cross thresholds,

become better, remain confident and trusting, and (re)

discover the profound connection of love and gratitude

towards the Earth, our community, and ourselves. They're

all crying out for help: the Earth, in its viral tongue; our

communities, in political discord and inequity; and

within ourselves, in our inability to create or embody our

heartfelt missions.

In searching for answers, only more questions. How do

we maintain our faith in systems that continually knock

us down? Why do we continue our support of institutions

that seem to be built for things, and not people? When

are we going to respond to the issues staring back at us

in the mirror?

During the times in my life when my back has been against

the wall, in those moments when I didn't know which way

to turn, the greatest solace I've found in my own life has

been in practice. The practice is the performance.

Child's Pose: Starting on hands and knees, shift the

hips back towards the heels, lowering the heart and

head to the earth. Arms can be extended out front but

avoid any pinching or sharp pain in any of your joints.

Please, be generous with props in order to support

yourself in a way that allows you to experience release—

into this pose to find solace, and within to find the

peace that comes with introspection. Take 5-7 rounds

of breath, connect to intention, and find gratitude and

comfort for the safety of the earth below you. Inhale,

lift back of body towards the heavens. Exhale, let go of

all fears, open heart, melt, and release into the earth.
---
eathe

clarity

nutrition

flexibility

Downward Facing Dog: From child's pose, shift

body forward to tabletop, tuck toes, lift knees and

draw tailbone back and up towards sky, draw navel

in towards spine. Slight bend in the knees to take

hamstrings out of the fight to rise up, release low back

and create space in the spine. Hands are firmly rooted

to mat; upper arms are spiraling open as elbow

creases toward front of mat. Shoulder blades slide

down spine away from ears. Neck is relaxed, let head

release between arms.s.

Downward Facing Dog (Family Version): Down

dog is always a popular one for the littles. Let your little

pup be playful, breathwork can be incorporated with

panting, barking, just being heard. Work to create a down

dog tunnel, lots of fun when doing yoga with a group or

the entire family. Take turns letting each participant crawl

underneath the down dog tunnel. Those on the ground

can slither and hiss like a snake. Making their way through

the tunnel is great core and functional strengthening

activity, plus a ton of fun.

"Our greatest glory is not in never falling

but in rising every time we fall."

– Confucius

Downward Facing Dog (Chair Version): Instead

of hands on the earth one can use a chair, desk, or

countertop to help release tension from spine and find

the same benefits of this pose. Grip onto the seat of a

chair pressing arms down to active stabilizing muscles

throughout shoulders. Feet slowly walk back, lower

heart towards the earth, keep knees bent in order to

find optimal length in the spine.

Dr. Meghan Nelson, a licensed physical therapist

and professional yoga therapist with a passion for

using yoga as medicine for optimal health, injury

prevention, and overall health and wellness. Meghan

is co-owner of Lumin Therapy, which provides

integrative healing of the mind, body, and spirit

through the practice of physical therapy, medical

therapeutic yoga, and mindfulness.

Photo Credit left page Meghan Nelson. Heart Opener

(Partner) Photo Credit Sarah Gil. Heart Opener

(Supported) Photo Credit Amy Focht. Camel Pose

Photo Credit Meghan Nelson.
---
Siouxland Magazine | Balance /44

Ask The Therapist

By Gladys Smith

Question: My daughter was recently involved

in a serious car accident where one of her

friends was badly injured. We've always

been a close-knit family, but she's been more

withdrawn, moody, and refuses to talk with us

about her feelings since the accident. What

can I do to help her get back to her old self?

Response: Thank you for your question. I'm glad

that you're reaching out to help support your

daughter during this difficult time in her life, as

parental support and guidance are critical for her

healing process.

From what you're describing, it sounds as if your

daughter may have been traumatized by the car

accident. A traumatic experience is an event in life

that causes a threat to one's safety, and possibly

places that person's life, or the lives of others, at risk.

As a result, a person will experience high levels of

distress emotionally, psychologically, and physically

that can temporarily disrupt their ability to function

in daily life. Adolescents will often be concerned

about the strong emotions they're experiencing, but

due to the developmental stage they are in, they

will manage their distress differently than a child or

adult.

After experiencing a traumatic event, one's body will

shift into a state of heightened arousal. It's as if the

body turns on a series of internal alarms. When the

alarms go off, one is able to access a lot of energy in

a short amount of time to enhance one's chance of

survival. In most instances, this heightened state of

arousal will last for a short period of time, or until the

threat subsides. One is usually very tired afterward,

as this state of arousal uses quite a bit of energy.

During the normal healing and recovery process,

the body is coming down from the heightened

state of arousal as the internal alarms turn off, the

high energy level subsides and the body returns

to a normal state of balance. This re-setting of the

body usually occurs within about one month after

the event.

Adolescence is a time when young people are in the

process of navigating their sense of independence.

However, after a traumatic experience, they will tend

to vacillate between independence and insecurity,

which can be somewhat perplexing for both them

and their parents.

As a parent, it's important to know the common

reactions to trauma in adolescents in order to best

Send Your

Questions to

the Therapist.

support them. Although every young person is

different, the following reactions are what you may

see with your daughter:

• Increased alertness and responses to stimuli

• Avoidance of thinking or talking about the event,

or the inability to stop thinking and talking about it

• Recurrent, distressing flashbacks, thoughts, or

memories about the event

• Strong emotions such as sadness, anger, anxiety,

and guilt

• Overreacting to small things

• Changes in mood

• Physical complaints of headache or stomach aches

• Trouble sleeping or having nightmares

• Isolating and withdrawing from family and friends

• Depression and feelings of hopelessness

• Difficulty with short term memory, focusing, and

concentration

• Feeling overwhelmed

• Increased need for independence, yet feelings of

insecurity

• A drop in grades and overall school performance

It can be difficult to see your teen struggling, especially

if they choose not to talk with you about it. There are a

number of reasons this may be happening. They may

still be in shock and trying to deal with the reality of

what happened, in addition to being confused about

their thoughts and feelings. Again, it's important

to remember that they don't always know how to

identify their feelings, which in turn makes it difficult
---
for them to express their feelings. Adolescents may

feel they need to be strong for others or don't want

to upset their parents or family members. Often they

may choose to spend time with their peers as it can

serve as a distraction from uncomfortable emotions.

There are a variety of ways that parents can help

their adolescent deal with the distress of a traumatic

experience. First of all, it's important to provide an

environment that is consistent and stable. It may

be necessary to limit the amount of activities they

are involved in to help reduce their level of anxiety.

Being clear with your teen about the rules and

boundaries you have for them will help to establish

consistency and routine. Another way to reduce their

anxiety is to ensure a predictable environment. This

can be done by having clear expectations of them,

informing them ahead of time of any upcoming

changes in schedules, and making sure they know

how to contact you should they need to.

After experiencing a traumatic event, it is vital for the

healing process to ensure a sense of safety. This can

be done by providing a predictable environment,

limiting confusion, and providing opportunities for

your teen to share their thoughts and feelings with

you without judgment. Keep in mind that there will

be things that remind your teen of the trauma they

are experiencing (places, people, sounds, etc.). It

will be helpful to develop a plan with them for how

they can deal with these reminders.

If the behaviors or symptoms you're seeing with

your daughter begin to become unmanageable, or

are interfering with her daily functioning, it may be

helpful to seek professional mental health services.

Fortunately, there are a number of treatment

interventions that are specifically designed to help

those who are struggling with trauma.

Siouxland Magazine | Balance /45

ULATIONS CONGRATULATIONS

TO THE

NDER

TO

40

All

WINNERS

OF THE 2021

10 UNDER 40 WINNERS

ity congratulates all of the people being

agazine UnityPoint as their 10 Health Under – Sioux 40 winners! City congratulates Your all of the

people being recognized by Siouxland Magazine as their

to Siouxland make an impact each and every day.

10 Under 40 winners! Your outstanding contributions to

e salute Siouxland you! make an impact each and every day. Thank you

for all you do. We salute you!

CONGRATULATIONS

CONGRATULATIONS TO

TO

SANDRA GRANGER, MD

SANDRA GRANGER, MD

We are We are extremely proud of your

of your recognition

recognition and appreciate your

and appreciate your

dedication dedication to the to the health health and wellbeing

and of our wellbeing community! of our

community!

004826-1 08/21 CS
---
Siouxland Magazine | Balance /46

INNOVATIVE BUSINESS

CONSULTANTS

712-277-2424

www.ibcins.biz

MultiDrip

IV Nutritional Therapy

Sioux City, IA

MultiDrps are nutritional IV infusions that fuel your

body with vitamins, minerals and amino acids

delievered directly into your bloodstream for a

replenished, rehydrated and revitalized lifestyle.

• Boost your immune system

• Recharge energy levels

• Feel revitalized in minutes

• Rehydrate your brain

multidrip.com

3930 Stadium drive | Sioux City, ia 51106 | (712) 276-4325
---
Emerging From The Pandemic 101

By Dr. Nesrin Abu Ata

Question: How do I deal with the aftermath and

continuation of the pandemic? I feel like I can't

go anywhere without having a mask on, and I

get anxious when someone gets near me at the

grocery store?

Response: You are not alone in dealing with such

questions and situations. Take a breath and remember to

be kind to yourself. When we are in survival mode, whether

it be fight, flight, or freeze, our nervous system is no longer

socially oriented where we feel connected to ourselves, to

others, and to a higher purpose. As we emerge from the

pandemic, our nervous system needs to re-calibrate back

into the socially engaged status. How do we know we are

there? We know we are there by feeling that we are in our

"element" again, feeling safe in our bodies, minds, and

spirits, and in relationships and community. This is where

we find it easy to connect to ourselves and others. We

start to live in a world full of possibilities, full of trust and

willingness to take risks to grow and explore.

The first step is acknowledging that we all have been

changed by the pandemic as we emerge. Exactly how we

have changed may take some time to realize. And that is

ok. We don't need to know the answers right away, and

each of us will leave our way into our own unique answers.

Remember that as we emerge from the pandemic, we

as a collective are having many "first time in over a year

experiences." Take time to reflect on your upcoming "first

time ever since the pandemic" event. Don't rush yourself

through the event or the experience. Be gentle with

yourself and check in with how your body feels. You may

feel nothing in your body, or you feel some tightness in

your chest or difficulties breathing. Be gentle with yourself

and accept your experience as it is without judgement.

Remember, there is no right way to emerge. The right way

is in the making, as you go.

Many of us have been out of touch with families and

friends. Most of us spent time at home searching for

something to watch on TV, or to eat in the fridge. Many

report a growth in the waistline as a side effect of the

pandemic! While spending so much time alone at home

felt like solitary confinement to some, the opposite is also

true. Being crammed into a room with too many family

members can be challenging. Conflict, emotional, and

physical altercations are likely to happen. Take stock of what

your body feels when you are around family and friends

now without judgement. It is ok to take breaks from being

around family and friends. Pandemic social overwhelm is

real!

From a mental health perspective, anxiety and depression

have increased since the pandemic; 2 in 5 adults are likely

to have depression and anxiety. Others report their sleep

worsening or having brain fog. From a neuroscience

perspective, executive functions like planning, focusing,

and abstract thinking are impaired when the person is

under stress. So, you may find yourself sluggish or doubting

yourself as you emerge from the pandemic. If you notice

that your mood or sleep have changed, consult with a

mental health provider.

Remember that the impact of the pandemic is also different

for different people. Some people like the quiet of reading

books, and others do not want to be stuck at home. As you

take stock of your life, and reflect on what is normal and

what is meaningful, you may want to ask yourself: what

events, habits and relationships have I let go of during

the pandemic? How do I feel about that? Am I happy and

relieved that I didn't have to do them, and now the more I

think about them again, do I get more stressed? Or does it

bring me joy again?

One thing for sure is that we are not going to "go back

to normal." Normal will need to be redefined for each

individual, family, community, and workplace. Whatever

it is that we are going through won't truly be over. Rather

than looking for who we are now, we should consider

approaching the emergence experience with an open

mind and curiosity. Nobody knows the right way to do it. Be

kind to yourself and others as we all navigate this new era.

Siouxland Magazine | Balance /47

Dr. Abu Ata is a board-certified psychiatrist and

family medicine physician in private practice,

providing holistic care for the mind, body, and spirit

in the context of personal growth and relationships.

Offers a mindfully cultivated practice of presence

and expertise. Her healing practice draws on her

mindfulness, yoga, family medicine, and integrative

psychiatry training to weave a unique tapestry

supporting your YOU-nique journey. Connect at

www.nesrinabuatamd.com or drnesrinabuata@

gmail.com.

Photo Contributed By Dr. Abu Ata.
---
Siouxland Magazine | Balance /48

Brainwave meditations and drones offer sound therapy in the comfort of your own home.

Heal Through Synchronicity In Soundwaves

By Emily Larson

Hello, again, dear reader. Our investigation of

alternative ways to heal and come home to ourselves

continues as we explore the notion of sound as therapy.

In order to do so, we must start with a side exploration of

the brain and its different states of consciousness.

You have probably heard that the brain is part of our

central nervous system, which means it is a hub of

communication to the rest of the body. It governs both the

voluntary responses, like picking up a pencil or walking

to the refrigerator to grab a fizzy drink, and the automatic

responses happening behind the scenes of our day-today

experiences. This includes the breath, heartbeat, sleep

cycles, digestion, and, importantly for this conversation,

brain activity.

These rhythm-based processes seeking harmony draw

great influence from the stress and relaxation responses

governed by the autonomic (or automatic) nervous

system. Thus, our stress level directly influences all the

automatic processes in our body. For example, shallow

breathing and sporadic, pinball-machine-like brain activity

communicate a stress dominant state to the body through

the autonomic nervous system.

Deep breathing and slowed brain activity communicate

a relaxation dominant state. This activity in the brain can

be measured using wave patterns and, for the type A

personalities out there, categorized into certain frequency

ranges (these ranges are measured in Hertz, or wave cycles

per second):

• The Beta State (13-38 Hertz) is characterized by quick

scratches of waves with just a bit of space in between each

wave, signifying wakefulness and conscious thought. We

produce brainwaves in primarily Beta frequency ranges

when we are awake and working, problem-solving, or

analyzing our surroundings.

• In an Alpha state (8-13 Hertz) our brain activity starts to

form fuller waves with more space in between each wave,

which is associated with a relaxed state; perhaps a light

meditation or that lovely space between dreaming and

wakefulness.

• During a Theta state (4-7 Hertz) our brains really slow down

and produce the broad waves associated with REM or

active sleep cycles. We can also achieve these frequency

ranges during deep meditation, visualization exercises, or

hypnosis.

• Finally, for our conversation, in the Delta state our brain

activity produces the broadest and slowest wave patterns

at 4 Hertz or less. Typically, we only achieve Delta during

deep dreamless sleep, but some advanced practitioners

and monks have been able to chill this deeply during

meditation.
---
These days, our busy, fast-paced world seems to exist in

a primarily Beta state of consciousness. Our brains work

quickly within these frequencies while we work at our jobs

or school, check off to-do lists, and put dinner on the table

for our families. These are important aspects of our lives, but

any overused state of consciousness causes imbalances.

For instance, excessive Beta activity typically presents as

excessive stress. This can manifest itself as chronic pain or

fatigue and can even affect how we see ourselves and our

world, contributing to states of dis-ease like depression

and anxiety. Shifting states of consciousness in our day-today

helps lift the stress of living in a primarily Beta or stress

dominant state where we tend to identify too strongly with

our thoughts and to-do lists. Accessing the deeper levels

of consciousness that exist at slower frequencies (Alpha,

Theta, Delta) enables us to live more fully as our truest and

purest selves rather than as our stressed and overused

thought patterns and belief systems.

There are countless ways to visit different levels of

consciousness like meditation, breathing exercises,

and even sleep. However, I am here to show you the

alternatives in alternative medicine. First, it will help you

to understand a bit about entrainment, which means

falling into synchronicity. For example, Christian Huygens

discovered that his pendulum clocks would start off-beat

from each other but eventually entrain to the same rhythm.

Similarly brainwaves can entrain with external frequencies

like sound waves. The practice of sound therapy utilizes

sound waves to shift our brain activity to the slowed down

and chilled-out Theta or Delta frequencies. This can be

especially true when the sounds are presented in a certain

manner such as binaurally. When two different frequencies

interact in this way, the brain perceives the difference in

frequency, which can be as low as 4-7 Hertz. As mentioned

previously, this is the actual range of Theta brainwaves and

below the range of human hearing. So, amazingly, our

brains perceive a sound lower than our ears can actually

hear! To boot, our brains and, consequently, our bodies

achieve a deeply relaxed and healing state. Ancient

medicine and technology combine to provide several ways

to bear witness to these sorts of sounds and phenomena.

Recipients take in unfiltered healing frequencies with a

sound bath.

• Sound baths are just that. When we allow our bodies to

rest fully and bathe in the hypnotic frequencies formed by

Tibetan singing bowls, crystal singing bowls, or gongs, our

brains have all they need to entrain these frequencies and

deliver the relaxation response to our bodies. Brian David

Gilbert offers crystal bowl sound baths regularly in the

community either through the Mind & Body Connection

or at a local park on a nice day. You can find updates

about sound baths on his Facebook page or Instagram @

Brian-David.

• Alpha, Theta, and Delta wave meditations are like sound

baths in that they both offer sound at frequencies meant

to deeply relax the mind and body. You can find many

versions of these meditations on Spotify or YouTube and

are usually best taken with high quality headphones in

order to receive the full therapeutic benefit of the binaural

beats. These meditations either layer calming music with

therapeutic tones or have little to no fluctuation as drones.

• Drones share important similarities to brainwave

meditations because they convey specific frequencies to

our brains for entrainment, and we can access them via

the internet from any one of our various devices right

at home. Drones, however, get right to the point and

deliver only specific frequencies. There are no melodies

or harmonies here, just chill, bass tones you can feel in

your bones.

These methods of sound therapy offer ways to relax the

mind even when that seems impossible among the sea of

to-do lists and clutter. Simply sitting with certain sounds can

help recalibrate the nervous system, our sense of identity,

and our perception of the world. Layers of continuous

behaviors and thoughts can fall away, allowing the true self

to fully emerge, in this moment, now.

Siouxland Magazine | Balance /49

Emily Larson, Licensed Massage Therapist, Private Yoga

Instructor, Bachelor of Science in Kinesiology & Human

Performance, Co-Teacher of Anatomy for massage

therapy students at the Bio Chi Institute, mother to Noah.

Crystal singing bowls send soundwaves through the

friction created between bowl and mallet.

Photo Credit (left page) Zach-Pickens.

Photo Credit (right page) Emily Larson.
---
explore

Enjoy Your Life. Adventurous

A soothing environment.

Skincare & Age: Top 10 Questions

Remember your carefree teen years, laced with

summer sunshine, experimental eye shadow

shades, and bare-faced beauty? When your skin was

smooth, and whatever you put on your cheeks looked

shiny and pretty?

At some point – maybe it's in your 30s, maybe your 40s,

maybe beyond – skin care becomes an obsession. And

certainly, we've reached a pivotal point in society where

we're starting to ask ourselves tough questions about

what this whole "look younger" thing means. Why do we

want to look younger? What's behind the drive to keep

the same face we had when we were 15 years old? And

why are women spending thousands of dollars a year on

skincare products and procedures to bring back a "glow"

they remember having 30-plus years ago?

For me, I've steered clear of cosmetic procedures for now,

but I'm not ruling them out. As our skin changes, we're

allowed to change our minds too! I've been fortunate to

have the friendship and guidance of local Ave aesthetician

Gina Eastman for many years, and I tend to follow her advice

verbatim. She gives the most amazing facials that leave your

skin glowy and hydrated. So, I decided to sit down with

The truth is, we all just want to feel great in our own skin.

For some, that means eradicating every line and wrinkle

that appears around the eyes. For others, it means

becoming comfortable with a look that may appear older,

but also enjoys a wisdom and clarity unknown to our teen

selves.

Is anything wrong with either approach? In my humble

opinion – no! Individuals should make their own

decision about how to approach aging. The underlying

commonality is that everyone wants to feel like

THEMSELVES. Whatever that means.

Gina always gives me the lowdown on the latest products.
---
Community

Entertainment

Nature

Appreciation

Indulge

Gina to get insider info about keeping your skin healthy and

beautiful – regardless of age. My Top 10 Questions – and

Gina's answers – are below:

• What is the most common complaint you hear about aging

skin?

Fine lines and wrinkles, age spots, hyperpigmentation! How

can I make them go away, or at least not as noticeable?

• What is your best piece of advice for women who want to

keep their skin looking fresh?

Use the correct products for your skin type. Always

moisturize day and night. It's essential to hydrate inside and

out; drink plenty of water. A lack of daily water intake can

lead to dull, less radiant skin. Wear sunscreen 365 days a

year, rain or shine, indoors and outdoors.

• Do you think there is too much emphasis placed on staying

"young"? How do you teach clients to embrace their age?

Yes. Absolutely, there are so many outdated stereotypes

about aging in older women. Staying positive, active, and

practicing a daily regimen is key.

• For younger clients in their 20s and 30s – what is the best

thing they can do now to keep their skin healthy?

Get in the habit of wearing sunscreen every day. I cannot

stress that enough. It is the most important step in your daily

regimen. Stop using just makeup wipes and just cleanse

your face. Also, add an antioxidant and Vitamin C. It helps to

fight free radicals from all environmental aggressors. They

will help boost the protection of your SPF and give you

radiant skin. Retinol – using it at night can increase collagen

production and decrease its breakdown.

• What is the most requested skincare treatment at Ave?

HydraFacial! It delivers instant and long-lasting results

that you can SEE and FEEL. The only hydra dermabrasion

machine which cleanses, exfoliates, and gives you a nodowntime

peel. It extracts, hydrates, and infuses your skin

with antioxidants and peptides.

• What is the biggest game changer in terms of results?

A DAILY AT HOME REGIMEN, and frequent visits with me.

• Skincare products can be expensive. What is the best way

to save money and still get great-looking skin?

Start with the basics; cleanser, toner, moisturizer, and

sunscreen specific to your skin type. Then I like to introduce

an all-in-one product, such as ALASTIN Restorative

Complex. It can improve the appearance of fine lines and

wrinkles, restore volume to thinning skin, improve elasticity,

contain antioxidants, and helps with skin dullness, as well as

even out the skin tone.

An assortment of skincare products at Ave.

• Are facials really that important? Will women see a big

difference by getting facials regularly?

100% and YES! They deep clean your skin, remove dead

skin cells, and unclog pores. They have tons of anti-aging

benefits. Massage and face masks help to lift the face

and muscles, which helps with fine lines and wrinkles.

Rejuvenation helps make your skin tone more even,

brighter, and your skin more elastic.

• What is the most significant advancement you've seen in

skincare in the last 10 years?

Hands down – HydraFacials and microneedling.

• What is the question you get asked most frequently?

"Your skin looks amazing, what do you?" I credit it to

great genes (thanks Mom), and I've been on an at-home

regimen for 14 years. And I've done BBL (BroadBand

Light) which helps with the appearance of fine lines and

wrinkles and hyperpigmentation.

There you have it! Expert advice on what you can do now,

at any age, to take care of your skin. However, you choose

to grow older, healthy skin will always showcase your most

beautiful being.

Erika Hansen is a lifelong Siouxland resident, mom,

model, podcast host, live entertainment professional,

and small business owner. Curious about exploring

the connection between outward appearances and

inner power, Erika is passionate about making fashion

fun, and fostering a spirit of inclusion with no limits

based on age or body type. You can find out more

about Erika's love of style & design, her modeling

journey, and info about her podcast, "Ages 9 to Adult",

on Instagram: @erikahansen.official.

Photo Credit Britton Hacke Photography.
---
Siouxland Magazine | EXPLORE /52

10 Things To Do In The Garden This Fall

By Jenny Jorgensen and Lisa Cox

Gardening is an almost year-round endeavor in

Northwest Iowa (specifically USDA zone 5) for

Woodbury County. Once the harvest is in, there is still

much to do to ready the garden for the following year!

• Plant garlic for next year. We harvest our fall-planted

garlic in July the following year. Come fall (shortly

before the first frost), you will want to plant new or

saved garlic cloves. This July, we harvested about

100 garlic bulbs. Each variety was planted in mid-

September of 2020. The garlic needs to dry before

it can be stored. Some save garlic heads to share,

replant, or roast with a drizzle of olive oil and fresh

rosemary from the garden. There is nothing better to

remind you of your laborious love in the garden than

fresh herbs and vegetables on your plate.

• Clean your garden of all leftover plants. Cleaning up

the garden will reduce the chances of disease and

future problems.

• Use your leaves as mulch. Once clean-up is done, rake

leaves and, if possible, shred them. (A mulching mower

that bags both grass and leaves will do the trick here.)

Use them in the garden as mulch, raking them to an

even level. No trip to the dump for your leaves! They

are helping your garden! Water them down at this

point. Our leaf mulch is often 3-5 inches deep for the

winter season. In the spring, the fall mulch will have

composted on its own and become compost in the

garden as we hand or rototill it in. Using leaves in the

garden is a wonderful way to continue to teach kids

in the garden. Not only do they enjoy raking them up

and jumping in them, which helps break them down,

but it also educates them on life cycle, recycling, and

decomposition.

• If you have been harvesting throughout the season,

try your hand at canning or freezing your produce

to eat throughout the long Midwest winter. With a

slight blanching, most veggies can be frozen. We like

to pressure can tomatoes, salsas, and occasionally

other veggies. An excellent resource for canning

and preserving fruits and vegetables is https://www.

extension.iastate.edu/humansciences/preserve-tastesummer

which includes courses and publications

available that are research-based. There is nothing so

satisfying as opening a can of your ginger peach jam in

January and spreading it on toast.

• Help the birds and insects through the winter by leaving

some tall stalks with perennial flower seed heads intact.

These not only make beautiful winter landscapes, but

they make tasty treats for the birds. Long grasses are

beneficial to the birds and insects during the winter.

• Clean out your pots and grow bags. At the end of every

season, it is important to clean your pots and bags to get

Drying Garlic to use the rest of the year.

them ready for the next year. Cleaning helps prevent disease

being carried over to the next gardening term. Another

advantage to the cleanout is to save ceramic pots, which tend

to crack if you leave the soil in them.

• Collect seeds. If there are annuals, perennials, or even favorite

vegetables you wish to try again another year, let seed heads

age on the plant, and just before they start dropping, claim

those seeds for your own. These seeds can be stored or

shared with family and friends to grow during the next garden

season. A great resource for this is Seed Savers Exchange

https://www.seedsavers.org/, where a course is offered on

learning how to save seeds.

• Think about drip irrigation for your vegetable and perennial

garden beds. Many gardeners create drip irrigation by

using hose connectors, simple measurements, shears, and

forethought for planning their garden course of irrigation.

This can be as simple as laying soaker hoses through the plots,

using landscape staples to secure them, and then hooking up

a hose or directional Y's and specified hoses designated for

gardens. Doing what meets your needs for your garden, your

budget, and your body are the primary goals of drip irrigation.

Often, this simple solution, done in the off-season, will help

save money, time, and stress in the long run.

• Composting! This is gold. As gardeners, we strive to constantly

rejuvenate our soil. We take from the soil, and we give to the

soil as part of the soil food chain. With our own food scraps, in

the right way, it is wonderful to spread our very own compost.

This is also a golden lesson to share with kids. Not only do they

learn about refreshing their soil in their backyard, but they also

learn about decreasing waste that is sent to their local dump.

There are a variety of compost options. Do some research to

see what works best for your yard and your family. You might

also want to try vermicomposting where a few red wiggler
---
worms will create compost for you from your kitchen scraps. Try

the book: Worms Eat My Garbage, by Mary Appelhof, Flower Press

(ISBN 0-942256-10-7). Kids love helping to feed the worms, and it is a

simple compost building opportunity to connect the whole family to

life cycles and healthy gardening.

• Bring plants that can be overwintered into the house. Several annuals

can overwinter inside your house with the right conditions. The first

condition for all plants being moved inside is light. Choose the right

light location, avoiding drafts for the fall and winter. Often, additional

grow lights can be added for better results. In many cases, during

the fall we see gardeners start to bring in their favorite geraniums.

Geraniums are known for their ability to be enjoyed indoors, and then

hardened off to be appreciated once more for another season outside.

Likewise, annual loving gardeners, who plant cannas, elephant ear,

and more learn that these can be relocated inside, wiped clean of

soil, and wrapped in newspaper, and stored in the dark until spring.

Similarly, many herbs can be gently lifted from the soil or transplanted

into a pot and brought inside to enjoy throughout the winter.

Siouxland Magazine | EXPLORE / 53

• Start watching for seed catalogs. Be thinking about what you want for

next year. This starts as soon as the harvest is in, the garden is cleaned,

the leaves are mulched, and the produce and seeds and plants are

where they need to be for winter. Seed catalogs start coming in

December. Be thinking, be planning, be exploring.

• Start planting your own seeds under lights inside according to

package directions. Some will be in early February…and progress

from there. You may get "the bug" and need light systems to grow

more of your own plants. This will increase the varieties you can plant.

• Contact Woodbury County Extension and enroll in the Master

Gardener Program, https://www.extension.iastate.edu/mastergardener/

become-master-gardener. Contact Shawn Tabke at tabkes@iastate.edu

FINALLY, as you plan for next year consider planning to "plant, grow,

share" following the motto of Up from the Earth. Follow us on Facebook

and check out our website at https://upfromtheearth.wixsite.com/

siouxland Join the many gardeners sharing fresh produce each season

to supply local food pantries to increase food security in our area.

Whether your donation is small or large, it will be truly appreciated.

Collection sites are listed on our website and on our Facebook page.

What is amending the soil? A soil amendment is any material

added to a soil to improve its physical properties, such as water

retention, permeability, water infiltration, drainage, aeration,

and structure. The goal is to provide a better environment for

roots. In order to do its work, an amendment must be thoroughly

mixed into the soil.

Jenny Jorgensen is a retired teacher and volunteers with Up from the

Earth. She is a Master Gardener and serves on the Woodbury County

Extension Council.

Lisa Cox is a former high school teacher and a very active community

volunteer including Up from the Earth. She is a Master Gardener and

a certified personal trainer.

Up From The Earth exists to connect extra produce from home gardens

to people in need.

Photo Credit Jenny Jorgensen.
---
Siouxland Magazine | EXPLORE /54

Igniting sparks can happen anywhere and can start at a young age.

The Power In Our Children

By Julie Boyle

As one of the largest positive youth development

organizations in the United States, 4-H believes in

the power of youth. We know every youth has valuable

strengths and abilities to improve our world. In 4-H, we

empower youth to be true leaders in their club,

community, country, and world. Research from Tufts

University has shown that engaging in high-quality

positive youth development (PYD) programs such as

4-H, youth are four times more likely to contribute to their

community, two times more likely to be civically active, and

nearly two times more likely to make healthier choices.

One of the key components of high-qualityPYD is

a lasting relationship with a caring adult outside of the

family, also referred to as a developmental relationship.

Building relationships is something we can do as

we engage with youth every day. A developmental

relationship is defined as one between a child

and an adult that reflects mutual warmth, respect, and

trust. As children grow and mature, they become more

independent, competent, and confident. This relationship

will evolve and become more complex as the focus

shifts to youth being an equal contributor. According

to the 4-H Thriving Model, research has revealed

five components of successful relationships. These

components include expressing care, challenging

growth, providing support, expanding possibilities, and

sharing power.

• Expressing Care: We can express care by listening, being

dependable, warm ,and inviting to youth with whom we

work or engage with every day. In a world where we all seem

to be in a rush, take the extra few minutes to listen to the

youth in our lives talk about their challenges and successes.

You may even hear them start to talk about their passions or

sparks (read on for more about youth sparks)!

• Challenging Growth: By challenging growth, we are

holding youth accountable and expecting them to bring their

best efforts. through encouragement and support in tough

tasks we can teach life skills. As such, challenge youth to fail

forward. Failure is often our best teacher so help them reflect

on failures by finding what worked and what didn't and what

they can change in the future.

• Providing Support: Children and youth need adults to

provide support by setting age-appropriate boundaries

and helping to navigate situations and systems in which they

are not familiar. We can empower them by helping to raise

their voices up and encouraging new connections to further

their passions.

• Sharing Power: Sharing power with youth in a

relationship helps youth feel valued. As adults, we need

to show respect for youth opinions and backgrounds,

collaborate with youth in a variety of ways, and include them

in making decisions that will affect who they are and what

they are doing.
---
• Expanding Possibilities: As adults, we have access to

opportunities that aren't always available to youth. We

can expand opportunities and possibilities for youth by

introducing them to new ideas, providing support in their

endeavors, and connecting them with others who can

help them reach their goals.

These five components of developmental relationships

are not independent of each other, rather they act

together and move fluidly throughout a relationship. These

relationships are an important component to PYD and

helping youth thrive. "Positive youth development is not

about young people doing 'okay' or well enough; it is

fundamentally about making sure young people have

the experiences they need to develop to their fullest

and become positive contributors to society" (Scales,

2010). We are helping youth thrive.

Siouxland Magazine |EXPLORE/ 55

Another major component of thriving

youth is youth "sparks". A spark is a passion or interest

that ignites a fire in a young person's life and expresses

the essence of who they are. It is something that gives

youth a sense of direction and encourages goal setting.

Sparks are different from fun activities or hobbies in that a

spark generates an action that not only benefits youth but

also their community or society. Sparks provide essential

motivation for a young person's growth in knowledge

and skills and provide an avenue for youth to build their

personal network as they engage with others with similar

sparks.

To support youth in building sparks, adults can become

a spark champion. A spark champion is someone who

helps youth identify their spark by paying attention to

their world and interests, listening to their values and

opinions, and recognizing when they achieve significant

milestones. We need to be intentional in talking to youth

about their sparks, encouraging advancement in their

spark, and providing opportunities to help youth get

better in their spark. A few things we can do include:

• Help youth set goals to follow their spark. Encourage

setting SMART (small, measurable, achievable, relevant,

and time-bound) goals to improve in their passion.

• Allow space for youth to develop their own projects.

• Allow failure! Providing a safe space where youth can

fail helps build resiliency and problem-solving skills.

• Provide support and encouragement. Some sparks may

be hard for adults to resonate with as it may not be one of

our interests, but it is important for us as adults, to show

our support and encouragement.

Engaging youth in a variety of activities helps them find

their sparks.

the everyday lives of children." Be the difference maker. Help

youth know they are valued in our society so we can watch

them change the world. To learn more about positive youth

development and Nebraska 4-H Youth Development, visit

our website at 4h.unl.edu.

Resources:

Arnold, M.E. (2019) Fostering Developmental Relationships. Oregon

State University Extension 4-H Youth Development

Arnold, M.E. (2019) Facilitating Youth Sparks. Oregon State University

Extension 4-H Youth Development

Scales , P. C. (2010,December) Finding the student spark: Missed

opportunities in school engagement. Search Institute Insights &

Evidence 5(1).

Julie Boyle, a 4-H Youth Development Extension

Educator working with youth serving programs and

organizations in Northeast Nebraska. She has a

bachelor's degree in Nutrition and Exercise Science

and a master's in Youth Development.

Photo Credit Julie Boyle.

Building relationships with youth and supporting them

in their sparks are just two important components

of PYD. This quote from Nelson Mandela sums it up

nicely. "History will judge us by the difference we make in
---
Siouxland Magazine | EXPLORE /56

The 2019 Women in Film panel.

Sioux City International Film Festival Celebrates 16th Year

By Amy Buster

The temps outside are starting to drop. You can hear

and feel the crunch of the leaves under your feet. There

is no mistaking that fall has arrived in Siouxland, and with

it, the 16th annual Sioux City International Film Festival

(SCIFF).

Tim Bottaro, one of the co-founders of the festival, shared

with us some of the history of how the festival has changed

over the years.

"We've transitioned to CD's, DVD's, and now to fully digital

submissions. These formats are much easier to deal with;

their size, better picture quality, more compact equipment,

and copying/transfer abilities were all welcomed by our

festival. I must defer much of the details to today's formats of

film to younger, more experienced board members," stated

Bottaro.

"When Rick Mullin, Margo Chesebro, Gary Lipshutz, John

Carter, and I created what was then known as the 'Siouxland

Film Festival,' the entries were submitted on VHS tapes.

Over the years, we received thousands of VHS films. I was

amazed we never received one that was damaged in the

mail or other delivery service. I recall the first international

film we received came from South Korea. We all marveled

it arrived in one piece," shared Bottaro.

Sadly, co-founder and prominent Sioux City volunteer, Rick

Mullin, died this past February. Part of this year's festival

will include a tribute to Mullin highlighting his many

achievements and contributions to the festival and the

Siouxland area.

Through the transition from shooting movies on film to

using digital technology, the festival, too, has changed with

the times.

Tim Bottaro, John Musker and Ron Clements.
---
Another aspect of the film festival that has changed is

where it is the location of the event.

"The move of the home of the festival to the Promenade

Cinema in downtown Sioux City has been wonderful.

The many filmmakers who travel to the now-named

Sioux City International Film Festival (SCIFF) are thrilled

to see their film on the big screen in a real theater digital

format. The SCIFF patrons also appreciate the enhanced

quality of the sound and viewing experience and have

commented on it," said Bottaro.

Siouxland Magazine |EXPLORE/ 57

Fifteen years ago, a single foreign film was submitted to

the festival. Today, one third of the films submitted are

from outside of the United States.

"One of the reasons for the huge increase is due to two

French filmmakers, sisters, flying to Sioux City for the

world premiere of their drama, 'A Moment of Lucidity.'

The sisters raved about the festival on Facebook

and elsewhere. They are well known filmmakers

internationally. As a result of their support the festival

and its board members received many Facebook friend

requests from filmmakers, actors, and others from around

the world. It sparked the beginning of SCIFF's growing

reputation as a high level, truly international film festival.

Every filmmaker, actor, or other film team member who

has attended SCIFF have mentioned how surprised they

were at the quality of the films shown, and the hospitality

of everyone they have met. Many declare SCIFF is the

best film festival they have ever attended," stated Bottaro.

The French filmmakers were the Barabault sisters, and

the year was 2016. The festival originally ran for only

two days, on a weekend, but has grown to a full fourday

celebration. This year the festival will be held from

September 30 – October 3. The SCIFF is the longest,

continuously running short film festival in Iowa. That is

until the year 2020.

"Cancelling last year was difficult to break in this

consecutive event. However, we also knew that battling

a health crisis was a priority. We are allowing filmmakers

from 2020 to submit for the 2021 festival and look forward

to offering once again, a fantastic lineup of high-quality

films," stated current board president, Leslie Werden.

The festival accepts short films, no longer than 30

minutes in length. All subject matter is acceptable. This

year's theme for panels and workshops is Latinx.

"The aspirations for the festival are to continue building

momentum by bringing in excellent filmmakers and

panelists so that the attendees not only see the films

but also have the opportunity to hear directly from

professionals in the industry. We currently work with

Downtown Business Partners to generate ideas for

events around downtown Sioux City that coincide with

the festival. In addition, Downtown Partners promotes

the event and provides us with some items for gift bags

Andi Behring, Rick Mullin, Arielle Haller-Silverstone and

Andrew Moffatt.

for incoming guests," shared Werden.

In return, the festival has had its impact on the Siouxland

community in helping support the aspirations of local film

makers.

"We are aware of Wayne State's status with a minor in film

and they just announced the major (BS in Film Production

and Theory) that will start in the fall semester (2021). We have

a great relationship with Wayne State. Students not only

attend the event but also host an informational table at the

festival. We are also planning a Local Filmmakers block on

Thursday night, September 30, to showcase works created

by local students and community members," said Werden.

She and Dr. Michael White, an Assistant Professor, who

focuses on broadcast and film production at Wayne State,

will be working together on this aspect of the festival.

"The beauty of SCIFF is that each year brings a number of

changes. The festival has evolved and adapted over the

past 16 years. SCIFF will continue to meet the challenges of

putting together an outstanding film festival. The support of

the people of the region is critical to SCIFF's success and has

been a big reason for its long life," said Bottaro.

Amy Buster, a writer/editor for 25 years. The majority of her work

has been writing and editing for small-town newspapers in both

the Kansas City Metro area and the Siouxland Community.

"The relationships I've formed from these

work experiences are some of the most

powerful, and life influencing bonds that

I've ever experienced." - Amy

Photos Contributed by Sioux City International Film Festival.
---
Great food with local flair

is just a click away.
---
Siouxland Magazine | EXPLORE /60

Challenge

Sioux City Symphony Orchestra.

Panasonic North America Case Study:

Sioux City Symphony Orchestrates Exception Virtual Experience

In a recent international case study, Panasonic

North America featured three American orchestras

for their innovative multimedia performances: the

Cincinnati Symphony Orchestra, the Miami New

World Symphony, and the Sioux City Symphony

Orchestra.

Challenge

The Sioux City Symphony Orchestra (SCSO) is one of the

nation's oldest at 106 years old and is highly distinguished

for its innovative, multimedia performances. With 70

members, the orchestra is a true regional ensemble that

draws its members not only from Iowa but also from nearby

Nebraska, South Dakota, and Minnesota.

In Sioux City, in-person performances halted from mid-

March 2020 to March 2021 as the pandemic prevented the

orchestra from gathering and hosting its planned season,

which typically consists of eight to ten programs each year.

"We were in the middle of the storm as Covid-19 completely

shut down our 2020 season, but we knew we needed to

be here when the pandemic abated, so we immediately

started preparing for our return," said Ryan Haskins,

Music Director, of the SCSO. "If you go back through any

disastrous moment in history, it has always been the arts

which eventually take humanity back to where they feel

normal again."

Under Haskins' leadership, the SCSO studied solutions and

consulted with other orchestras on how to best provide a

concert experience, even when an audience was not able

to gather. The orchestra's goal was to establish a multicamera

setup to produce live and pre-recorded musical

performances to showcase themselves online.

Solution

Through funding from the

Gilchrist Foundation, and the

Kind World Foundation, the

Sioux City Symphony created

SCSO LIVE, a new Over-the-

Top (OTT) subscription service.

SCSO LIVE, the orchestra's live streaming and on-demand

app, allows symphony patrons and fans around the world to

view concerts live, as well as recorded and edited archive

performances in 4K.

The SCSO recorded the first concert performance with its new

Panasonic Live Streaming system in December – a two-hour,

internally-produced Holiday TV special for the local NBC

station that received tremendous positive responses from

the community. In January, it produced six digital chamber

music concerts, including a three-part series on Beethoven,

which were all offered exclusively on its new SCSO LIVE

streaming service. "Without our new Panasonic gear, we
---
would not have been able to present this incredibly

diverse, impactful programming to the communities that

we serve," said Haskins. In March and April, the SCSO

resumed in-person concert presentations with limited

audiences and safety precautions in place, live streaming

them and making them available on its SCSO LIVE ondemand

app.

For the live performances, a three-member production

team led by Adam Gonshorowski, the orchestra's live

producer and director of digital content, down converts

the 4K video signal to 1080 HD for the live stream. The

production team, along with Haskins, then edits the

performance and uploads a 4K 60p program to Vimeo

for patrons and subscribers to SCSO LIVE. "You can watch

the performance live on a Saturday night, fully mixed and

produced, and then you can go back after the fact to

watch it in 4K on Vimeo as well," said Gonshorowski. "The

UE150's 4K 60p image is fantastic, especially the detailed

close-ups of the musicians and instruments."

According to Gonshorowski, the UE150's small footprint,

quiet operation, ability to be remotely controlled, and

easy setup were huge pluses, as the SCSO didn't want to

have camera operators in-house. "It's a better experience

for the audience not having to watch the operator pan a

camera or overhear the operator on a headset. We can

deploy the PTZ cameras in more interesting locations

where a person cannot get to. This allows for more

creative options with the cameras because we don't have

to have a person standing behind them."

"The Panasonic live streaming experience

has been truly remarkable. The first time

we had the PTZ camera system up and

running, it was a magical moment. We

all realized we were part of something

incredible. We have an exceptional

orchestra here in Sioux City, and now we

have something that can help us deliver it

in its true beauty to the world. We are now

operating at an entirely new level." Ryan

Haskins, Music Director, SCSO

Sioux City Sympony Ryan Haskins,Conductor.

Bringing New Perspectives to the Orchestra Viewing

Experience

According to Haskins, a virtual performance will not replace

the magic of a live performance. But if a person cannot

physically be at the venue, a virtual experience is the next

best thing. "If you watch from your seat in the theatre, you

basically have one view," said Haskins. "Because of our

new Panasonic cameras, patrons can view the concert from

many unique perspectives. It allows for a virtual on-stage

experience - close-ups of the instruments or even musicians

playing solos. Patrons can now experience angles that they

cannot normally view from their seats. And then, of course, it

also gives an audience member the chance to go home and

rewatch some of their favorite moments of the evening after

they have attended in person. It's a new, refreshing way to

view our programming."

The new PTZ cameras/switcher system has also allowed

the orchestra to greatly expand its outreach educational

efforts. "A large part of our mission is music education and

community outreach to young people. We can now connect

with classrooms, not just in Sioux City but across the country

or around the world," stated Haskins.

Summary

With Panasonic's 4K PTZ cameras/switcher system, the SCSO

is able to efficiently and creatively live stream its programming

and is looking to produce more TV programming, as well as

more exclusive offerings, for its SCSO LIVE app and digital

library. Its live streaming efforts are off to a great start, as

the SCSO has created a future-proof 4K 60p video system

that is easily expandable by adding cameras to provide new

angles and perspectives to educate and entertain patrons.

"The possibilities are endless," said Haskins. "This is exactly

what the orchestra world needs. Orchestras have been

criticized for only reaching their base audience, but it's now

thrilling to think how we can evolve with this new technology.

Our PTZ cameras/switcher system will allow us to expand

into new uncharted waters that will provide us with an energy

and creative fuel that you cannot match," Haskins added.

"It gives us the opportunity to share with more people the

chance to experience the art we know and love."

Siouxland Magazine |EXPLORE/ 61

Sioux City Symphony behind the scenes.

Photos courtesy of the Sioux City Symphony.
---
Siouxland Magazine | EXPLORE /62

PRESENTED BY CARLSON GROUP @ RE/MAX

Future home of RE MAX City Centre.

RIVIERA THEATER to be transformed

into "RE/MAX CITY CENTRE"

The former Riviera Theater will be celebrating

its 50th anniversary in 2021 with a complete

makeover. A group of area developers is determined

to reinvent an iconic Sioux City corner while giving the

nod to the venue's history. The local entrepreneurial

spirit of Siouxland will be on full display within the "RE/

MAX City Centre."

The City Centre will be the new home to the RE/

MAX Preferred real estate brokerage, their team of

exceptional agents, and several unique concepts not

currently found in downtown Sioux City. The Warp

Zone Arcade & Taproom, Ichiban Sushi and Japanese

Steakhouse and a newly renovated intimate theater

experience will bring the building to life!

"Culture is so important to us. We want to create a

really fun, upbeat atmosphere and flex space for our

clients, agents, and everyone visiting the City Centre to

enjoy all it will have to offer. As with all our real estate

closings, a portion of the proceeds from the purchase

of this property and leases generated in the building

will benefit the Children's Miracle Network," stated

Rachel Carlson, owner/broker RE/MAX Preferred and

Carlson Group Team Lead.

Lindie Stauder, who created the innovative "The

Warp Zone Arcade and Taproom," recently won

an award at Siouxland's 2020 Innovation Market

and also at the 2021 Iowa Venture Event. The new

concept combines the social experience of a bar and

the excitement and nostalgia of the arcade. In addition

to all your favorite old-school arcade games, they will

offer a wide selection of local and regional beers. A

constantly rotating tap list will keep you stopping in to

try something new.

Binh Vuong and the team at Ichiban will be

creating a new dining concept that takes the sushi
---
ar concept to a whole other level. Innovative

new ideas and creative twists on menu options will

give Sioux City patrons a different take on traditional

Japanese steakhouses.

There is still room to lease space within the building.

Although, space is expected to fill quickly, with

construction commencing late summer early fall.

The building currently sits at 18,000 square feet but,

through the addition of a second-level, will grow to

25,000+.

Siouxland Magazine |EXPLORE/ 63

"A cornerstone of our mission is creating

opportunities for local entrepreneurs and

business owners to be successful while growing

our community. The RE/MAX City Centre is

going to have a very collaborative high energy

entrepreneurial spirit," states Jeff Carlson,

Carlson Group at RE/MAX.

There will be a nod to the history of the Riviera. A

portion of the City Centre will remain a theater. The

vision for "The Theater" is to offer second movie

showings, as well as host other events. It's a great

platform for non-profit events and even will be

available to rent or host your own gatherings.

Jeff & Rachel Carlson (Sioux City), Aaron Jones

(Okoboji, IA), James Stapleton (Omaha), and

Joshua Johnston (Omaha) make up the partners

in "The City Centre Project." The developers

have a unique cross-section of experience in

designing and launching projects. The Sioux

City, Okoboji, and Omaha markets include

youth sports complexes, stay suites and resortstyle

lake accommodations, historical building

restoration, restaurants & bars, franchises, and

other residential developments.

Joshua Johnston commented, "Though my roots

are now in Omaha, having been born and raised in

Siouxland, I've always been drawn back to being part

of the growth and re-development of the Sioux City

area. As our other business ventures have grown, we

began to look back to Siouxland for opportunities to

make an impact. I remember coming to the Riviera

as a kid, and so to have the opportunity to breathe

life back into this building means a lot to me. We are

committed to the long-term success of downtown

Sioux City. It also means a lot of hard work coming

to fruition and something special for everyone

involved."

"I'm excited to continually invest in Siouxland as we

have with our Robertson Ryan insurance companies.

Siouxland holds a special place in my heart, and I

Chamber ribbon cutting of RE MAX City Centre.

am excited to do my part by investing in a project that

will add next-level amenities to downtown," elaborated

James Stapleton.

Bravo Company Design (Plymouth, MN) gave invaluable

initial insight into building layout options. FEH DESIGN

(Sioux City, IA) is heading up the architectural front,

including layout and infrastructure design efforts.

"The future is incredible for Sioux City, and RE/MAX

Preferred is poised to be a big part of that growth.

When buyers and sellers think of RE/MAX, they think

of "trust" and "integrity." We put our clients above

commissions, provide state-of-the-art technology to

improve the buying and selling process, and, most

importantly, give back to our communities. Our office

in Okoboji was #1 in sales in 2020, which is great, but

it's not our main focus. We focus on exceeding our

client's expectations, maximizing listing exposure for

our sellers, and providing unparalleled search tools

(i.e., RE/MAX Preferred App.) Our ability to provide

value, especially in technology and saving our agents

the time they can be spending with their families, will

allow us to continue to add amazing people to our

team. Our presence here, on 4th Street, at the RE/MAX

City Centre, shows our long-term commitment to our

agents, our clients, and the community, stated Aaron

Jones, Broker/Owner RE/MAX Lakes Realty and RE/

MAX Preferred.

Download Siouxland's

Preferred Real Estate Search App