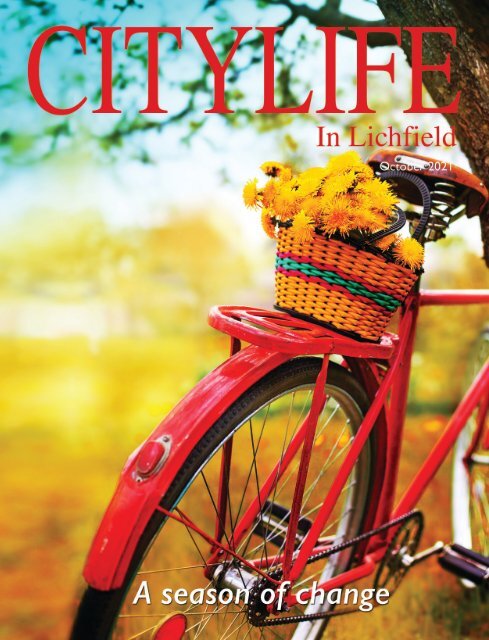 Citylife in Lichfield October 2021
Our October edition magazine is all about the lovely season of Autumn - the falling leaves, the country walks followed by a pie and a pint at a local pub, warm, cosy evenings in front of the fire and the spooky trick-or-treat fun of Halloween - it's a fabulous month of the year! We have lots of ideas on where you can go out and about this October, as well as our usual mix of local news stories, competitions, reviews, history features, and a return for our very popular Month-in-Pictures feature! So cut yourself a slice of pumpkin pie, pour a warming glass of merlot and enjoy reading our October magazine this autumn!
Our October edition magazine is all about the lovely season of Autumn - the falling leaves, the country walks followed by a pie and a pint at a local pub, warm, cosy evenings in front of the fire and the spooky trick-or-treat fun of Halloween - it's a fabulous month of the year! We have lots of ideas on where you can go out and about this October, as well as our usual mix of local news stories, competitions, reviews, history features, and a return for our very popular Month-in-Pictures feature! So cut yourself a slice of pumpkin pie, pour a warming glass of merlot and enjoy reading our October magazine this autumn!
SHOW MORE
SHOW LESS
You also want an ePaper? Increase the reach of your titles
YUMPU automatically turns print PDFs into web optimized ePapers that Google loves.
3
---
Welcome to

CITYLIFE

Welcome to CITYLIFE in Lichfield, a monthly magazine

bringing you our pick of the city's news, events and stories.

Each month CITYLIFE in Lichfield is delivered to

businesses and homes in Lichfield, Kings Bromley, Fradley,

Alrewas, Hill Ridware, Whittington, Stonnall, Shenstone,

Hammerwich, Burntwood and Longdon, completely free

of charge; bringing you the best that the city has to offer.

Each issue features heritage stories exploring the rich

history of our area, plus competitions, interviews and the

latest in fashion and style.

Got a story or charity event you want to share with our

readership? Think you've snapped an image that captures

the spirit of the city? We want to hear from you!

Our business is bringing you Lichfield's city life.

CITYLIFE Contacts

Editor - Kristen Lackajis 07885 380632

kristencitylife@gmail.com

Features - Jono Oates 07785 757201 jonocitylife@gmail.com

Advertising -

Steve Brown 07740 166497 stevebrowncitylife@gmail.com

Rebecca Hill 07970 513144 rebeccahillcitylife@gmail.com

Michele Phillips 07919 896575 michelecitylife@gmail.com

Production -

Helen Smith 07967 154187 helencitylife@gmail.com

Citylife In Lichfield Ltd

PO Box 7126 LICHFIELD WS14 4JS

CITYLIFE in Lichfield and CITYLIFE in Rugeley and

Cannock Chase magazines are not connected to any other

publication or publisher, and are wholly owned by CITYLIFE

in Lichfield Ltd.

Citylife In Lichfield

@citylifelichfield

@lichfieldcity

www.citylifeinlichfieldltd.co.uk

Citylife in Lichfield Ltd does not endorse any business or organisation

appearing in these pages, and the publication of any advertisement,

editorial, event listing or advertising editorial does not constitute an

endorsement by Citylife in Lichfield Ltd.

Your Local Magazine

Inside...

14 PYO Pumpkins

Charlotte Benton tells us more about our

pumpkin passion!

.............................

20 The Lost Pubs

Jono Oates delves into Lichfield's publican past

.............................

25 A City of Flavours

Our guide to restaurants in the area

.............................

39 Autumn Interiors

Some inspiration for your home

.............................

50 The Month in Pictures

Events from September - can you spot

yourself?

.............................

From the Editor…

Welcome to the October issue of Citylife in Lichfield, and what a weird

and wonderful past month it's been! Gloriously sunny days, interspersed

with heavy rain showers and strewn with chilling winds – as I write this,

I am wearing fingerless gloves as the sun is out but the air is very fresh!

It's safe to say that autumn is well on its way, however I must confess it

is my absolute favourite season! I love this time of change; the falling

leaves, the wonderful, vibrant colours, and I am rather fond of the semisad

yet expectant feeling I get that the long, hot days are being replaced

with the darker, shorter ones! It's a bizarre feeling, but I'm sure you

understand!

In this issue we've got the usual local news items to keep you up to date

with what's happening in the area; we've got fabulous recipes from

Simon Smith and Ruth Redgate; a whole host of dining experiences you

must try in and around the city; plus, a firm favourite – our history

features written by none other than 'Georgian' Jono Oates!

Why not make a hot drink to stave off the chill, pop your feet up and

have a flick through the pages?

Krissy
---
5
---
LOCAL NEWS

6

Shenstone Tower

Event Held

Friends of Shenstone

Tower (FoST) hosted

a celebration event on

Saturday 21st August

to mark the start of

the long-awaited

renovation of

Shenstone's old

Saxon/Norman tower.

Church bells

summoned everyone

to gather outside the

old Tower. FoST Chairman Jeremy Cotton

welcomed everyone and introduced the

committee and guests, Keith Billington, Hon.

Treasurer of the Staffordshire Archaeological &

Historical Society, and Christopher Pincher MP.

Jeremy outlined the journey so far and thanked

all the donors particularly Historic England,

HS2, Garfield Weston, Pilgrim's Trust, Leche

Trust, Bells Whisky, and the community who

have given so generously to the appeal.

After speeches and a poem, written for the

occasion, a replacement yew tree was

ceremoniously planted in the churchyard and in

the nearby church, an exhibition of the history

of the tower including architects plans could be

viewed as refreshments were served. A grand

opening event is planned for the summer.

.......................................................................................

Lichfield Choir

Nominated for Award

Themba Mvula and Lichfield Gospel Choir have

been shortlisted for the Royal Philharmonic

Society's Inspiration Award – the first ever

public-voted RPS Award which invites the public

to choose the winner of the award for the most

inspirational musical achievements by nonprofessional

ensembles across the UK.

Led by charismatic, inspirational musical

director Themba Mvula, Lichfield Gospel Choir

seemed completely unphased by the constant

setbacks and hurdles of lockdown. The choir

were straight out the gate in the very first days,

instigating online rehearsals that would

continue every week throughout the last year.

The winners of all thirteen categories will be

announced at the 2021 RPS Awards at Wigmore

Hall, London, on 1st November. The event will

be presented in a new and refreshed format

that will enable more music-lovers and musicmakers

to join in the festivities.

To find out more, visit

www.royalphilharmonicsociety.org.uk.

.......................................................................................

Corn Field of Dreams!

Local resident, Mr

Philip Green, planted

some corn on the cob

last year that he

purchased from a local

retailer, only to find

the sweetcorn seeds

have grown to become

more than 12 feet in

height!

Reminiscent of the

1980s film 'Field of

Dreams' starring Kevin Costner, Mr Green of

Boley Park is pictured with his gigantic corn

plants!

.......................................................................................

Garden Unveiled for

Burntwood Breast

Care

(l to r) Pauline Walker, Mags Davies, Michael

Fabricant, Marie Hiley, and Linda Griffith.

On Saturday 11th September Local MP, Michael

Fabricant, unveiled a commemorative bench

and sensory garden at Burntwood Memorial

Institute in memory those who have lost their

lives breast cancer.

The garden, which was created by Cherry

Orchard Garden Services (COGS), features a

bench and plaques honouring dedicated to local

victims of breast cancer.

Burntwood Breast Care was founded by Marie

Hiley and Pauline Walker in 2009 who met in

the chemotherapy department at Burton

Hospital whilst undergoing treatment for the

disease. Towards the end of their treatment

they decided to create a group so they could

meet other ladies and have a drink and a chat

and subsequently help support each other.

The group meets every third Wednesday of the

month at the Burntwood Memorial Institute on

in Rugeley Road.

.......................................................................................

Lichfield to Improve

Recycling Rates

Households across Lichfield District and

Tamworth Borough will be supported to help

improve recycling rates by changing how some

waste is sorted, after proposals to change the

way the councils collect recycling were

approved.

At meetings held in September, both Lichfield

District Council and Tamworth Borough

Council agreed to move from co-mingled to

dual-stream recycling from April 2022. This will

see glass, cans and plastics continue to be

collected in the current blue bins, and paper and

card collected in new blue bags.

The changes should see recycling rates improve

across both local authority areas, as separating

out paper and card will prevent it from being

contaminated, meaning more of it can be

recycled.

To read the full report, go to

www.lichfielddc.gov.uk/septembercabinet.

.......................................................................................

Local Pet Shop

Supplies Charity

Greenark is an

e s t a b l i s h e d

family-run animal

feed business,

based in Rugeley,

and is proud to

s u p p o r t

Staffordshire Fire

and Rescue by

kindly donating

all the dog food

to feed all their

working dogs. Pictured is Red the dog collecting

his latest batch of feed from the shop!

You can find Greenark at Unit 16, Power Station

Road, Rugeley, or follow on Facebook and

@Instagram to see more of their good work.
---
Advertising Feature

Robin Place – Certified Financial Adviser

I'm a fifty three year old Financial Adviser from Burntwood working for Four Oaks Financial Services based in Shenstone. I have

many Clients in the Burntwood and Lichfield area and some of you reading this will know me from my membership of Lichfield

Rotary Club, Hammerwich Parish Council or Burntwood Town Council.

I'm often asked what Financial Advisers do, what services they provide and how they can benefit me.

The answer is that Financial Advisers have a range of specialities they deal with such as mortgages, investments, protection,

financial planning and pension consolidation. Not all have the same specialities or qualifications, and some prefer to focus in certain

areas rather than others.

Most of my advice is given around financial planning, investments, pensions and inheritance tax but I have colleagues at Four

Oaks Financial Services who work in other areas as well.

I am one of a Team of Financial

Advisers supported by in-house

research, client liaison and

administration teams based in our

offices on the Birmingham Road,

Shenstone. Should you wish to have a

consultation with me your first meeting

will be at my cost and there is no

obligation to proceed any further.

Financial Advisers are qualified

professionals and get paid in a variety of

ways, which I will explain to you when

we speak. If you do decide to be a client

then you will get a personalised service

that matches your needs, whatever they

may be, as we are all individuals.

I will carry out a full fact find of your

circumstances, look at your current

plans and policies and discuss with you

your priorities, where you want to be

financially in the future and how I may

be able to help you get there. I will

speak in clear terms and do my best to

try and help you achieve your goals.

As an experienced local Financial

Adviser I work with clients at all stages

of their life to help them achieve their

financial goals, whatever they be.

You can find me on the Independent

rating sites Unbiased and Vouchedfor,

via my website -

www.financialadviser.me.uk or the Four

Oaks website – www.fouroaksfs.com

It is often said that people deal with

people, particularly local people, so

please give me a call or drop me an

email so we can have a chat and can

take it from there.

I hope to hear from you soon.

Robin Place DipFA, CeLTCI, MLIBF

Financial Adviser

0121 323 2070, 07968 504805

robin@fouroaksfs.com

7
---
LOCAL NEWS

8

£1.13m to Improve

Planning Service

The service that deals

with local planning

applications is set to

receive a funding boost

over the next five years

to help it restructure and

improve services to

residents.

Lichfield District

Council's Cabinet agreed

plans to restructure its

development management service at a meeting

in September.

The budget increase will see the planning

department receive an extra £1.13 million

between 2021 and 2026.

This will allow the service to be reorganised

and build extra capacity, including additional

training and creating new roles to meet a

significant increase in demand.

To see the full report go to

www.lichfielddc.gov.uk/septembercabinet.

.......................................................................................

Dr Johnson's Birthday

Celebrations

On Saturday 18th

September, the

Samuel Johnson

Birthplace Museum

and Lichfield City

Council marked the

312th Birthday of

the man of many

words with cake,

flowers, activities

and a ceremony.

The Mayor of

Lichfield, Councillor

Robert Yardley,

placed a laurel

chaplet on the

statue of Johnson

Cllr Angela Lax,

Development

Management

Robert Yardley (image

courtesy of Jono's Tourism)

on the Market Square during the traditional

civic ceremony while visitors, dignitaries and

members of the Johnson society looked on. The

St Michael's Choir led by Musical Director

Dudley Ray provided hymns and Reverend

Canon Andrew Stead, Lichfield Cathedral,

performed a blessing. The festivities continued

at Johnson's Birthplace with storytelling, poetry

readings from the Lichfield poets and family

craft activities. Celebrations concluded with the

Johnson Society's afternoon tea party, which

took place on Saturday afternoon at The

Bishops Palace with their new President,

cartoonist Posy Simmonds.

For more information about upcoming events

at Samuel Johnson's Birthplace, please visit the

Museum's website at

www.samueljohnsonbirthplace.org.uk.

.......................................................................................

Al Fresco City Dining

Extended

The temporary arrangement that has seen bars,

cafes and restaurants extend onto Lichfield city

centre streets is rolling over for another year.

In July 2020 Lichfield District Council

suspended disabled parking bays to allow

visitors and shoppers more space on busy city

centre streets due to the Covid-19 pandemic.

A number of the parking bays are now being

used by bars, cafes and restaurants who applied

for pavement licences to provide extra seating

outside for their customers, to allow them to

recover from numerous lockdowns.

After an extension of the Business and Planning

Act 2020, the council has approved plans to

extend these city centre arrangements until

30th September 2022.

This will mean the 21 disabled parking bays on

Market Street, Bore Street, Conduit Street and

Tamworth Street will remain suspended, and

the 18 hospitality businesses will be able to

keep their pavement licences for another year.

There are still 21 disabled bays available

throughout the city centre, and the

replacement parking spaces in Bird Street car

park and Lombard Street car park, which are

reserved for blue badge holders, will also

remain in place over the coming year.

.......................................................................................

Groups Benefit from

Local Fund

Nine groups across Lichfield District have

already benefited from small grants for a range

of projects thanks to a new funding scheme.

In the two months since the launch of the

Councillor Local Community Fund, district

councillors have agreed to more than £1,000 of

funding to be awarded to local community

groups in their areas.

Alrewas Arts Festival

The fund is part of Lichfield District Council's

two-year pilot scheme that sees all 47 district

councillors receive £300 to distribute to

groups in their areas each year.

The grants have been spent on a variety of

projects, including planting spring flower bulbs

in Drayton Bassett, providing families in need

with white goods, and buying a fridge so groups

who meet at St John's Community Church in

Burntwood can have refreshments.

Alrewas Arts Festival also applied to their local

ward councillor, Mike Wilcox, for £150 towards

organising Arts Fest on the Island, which took

place on 5th September. The event included

local musicians, a craft market, a children's

nature trail, workshops and refreshments.

The application period for 2021 will close at

the end of November, so groups are being

reminded to apply for a small grant of between

£50 and £300 for projects and activities that

will have a positive impact on their local area.

Individuals can also apply for funding, provided

they can show the application is on behalf of a

local community project or activity.

Find out more and apply for funding at

www.lichfielddc.gov.uk/councillorfund.

.......................................................................................

Drivers Warned in

Deer Mating Season

Drivers are being warned to take extra care to

avoid collisions with deer during the rutting

season in and around Cannock Chase.

Deer are on the move in October and

November as it is their breeding season and

that means deer will be more prevalent,

particularly at dawn and dusk, coinciding with

when roads are at their busiest.

With a deer population of more than two

million in the UK, recent research shows

around 75,000 are involved in vehicle collisions

each year, with 10,000 killed. Deer collisions in

the Cannock Chase area range between 140

and 160 annually.

Temporary signs have been put up alerting

drivers of potential black spots for deer

collisions, but deer can jump out onto the road

at any time, so stay vigilant.
---
10th Anniversary of

COGS

................................

On Thursday 16th September, Citylife

attended the Strawberries & Creamthemed

anniversary celebrations of Cherry

Orchard Garden Services (COGS), which moved

to Burntwood Memorial Community Centre 10

years ago.

COGS is a Community Interest Company

which offers workplace opportunities for learning

disabled adults and has them train in horticultural

activities before they are confident enough to use

those skills to maintain the gardens of their local

vulnerable and frail elders. They also offer their

services to community spaces such as the local

graveyards, residential homes, and the old schoolhouse.

Michael Fabricant with councillors &

members of COGS

This event was funded from the Co-Operative Local Community Fund in 2020. COGS

received over £3,000 from the Co-Operative Local Community Fund donations towards

their Strawberries & Cream event which was used to purchase the wood and equipment

needed to build the benches, to purchase the equipment needed to grow the fruit and

make the jam, and to hire the local caterers. The benches at the event were hand built by

the learning-disabled beneficiaries who undertake woodwork and DIY activities where

they also build planters and wooden products which they also sell to their local

community.

Joined by local councillors, and MP Michael Fabricant, approximately 85 people

attended the event.

9
---
LOCAL NEWS

LHCRT Boosts

Fundraising with

Lottery

Lichfield and Hatherton Canals Restoration

Trust (LHCRT) was one of the first good causes

to sign up to be a part of Lichfield Community

Lottery, which was launched by Lichfield

District Council in April 2021 and sees 60p

from every £1 lottery ticket go to good causes

in Lichfield District.

Players simply go online to and choose which

local cause they want to support.

So far the Canals Trust has raised more than

£4,000 with Lichfield Community Lottery

thanks to its supporters. This money will be

spent on reinstating the historic Lichfield Canal

for the benefit of the community.

To buy your lottery tickets, or to sign up as a

Good Cause for the Lichfield Community

Lottery,

visit

www.lichfieldcommunitylottery.co.uk.

.......................................................................................

Local Crem

Remembers Lost

Babies

Cannock Chase Crematorium is to hold a

special service on Thursday 14th October to

commemorate the lives of babies lost in

pregnancy or soon after birth, in support of

Baby Loss Awareness Week.

Baby Loss Awareness Week (9th-15th

October), is a national campaign which aims to

give anyone touched by pregnancy and baby

loss a safe and supportive space to share their

10

experiences and feel that they are not alone.

The service, which will be led by experienced

celebrant Sue McFadden, will offer a safe

supportive space to bring together those

bereaved parents, families and friends affected

by losing a baby too soon.

It will take place on Thursday 14th October at

6pm, at Cannock Chase Crematorium, Norton

Road, Cannock, WS12 3HJ.

Cannock Chase Crematorium will also join the

global 'Wave of Light' at 7pm on Friday 15th

October, lighting the building in pink and blue, in

memory of all the babies.

If you would like to attend the service, please

let the crematorium know by emailing

info@cannockcrematorium.co.uk

telephoning 01543 212988.

.......................................................................................

Community Games

Success

Perry the Bull in the tug of war

The sun shone on both days of Lichfield

Community Games, which included the

Birmingham 2022 Commonwealth Games

roadshow and their colourful bull mascot, Perry.

Lichfield Community Games was held at

Beacon Park on 18th and 19th September. The

weekend event saw more than 1,500 people of

all ages come along and try a variety of sports

and activities.

From soft archery and badminton, to boxing

and squash, there were plenty of activities to

try.

Hundreds of medals were awarded for various

races, which culminated in a giant tug of war.

On top of the Commonwealth Games

roadshow, the event saw lots of organisations

and clubs showcase their activities, including

Active Lichfield, Freedom Leisure, Happy

Healthy Cycling, Moo Music, Tennis

MicroSports, Beggars Oak Clog Dancers, Rugby

Tots, Lichfield Swimming Club, Silhouette Dance

Academy, BFAB Dance, Urban Boxing, British

Canoeing, Staffordshire FA, Vision School of

Dance and Mini Athletics Lichfield.

Lichfield Community Games was organised by

Inspire Activity, in partnership with Lichfield

District Council and community partner,

Central England Co-operative.

or

In Memory of

Peter Barrett

It was as with great

sadness that members

of the Lichfield Twinning

Association learnt of

the death of their

Chairman Peter Barrett

on 11th September.

Peter had led the

Twinning Association

for over 11 years and

was always keenly involved in all links with the

twin towns of Ste. Foy lès Lyon and Limburg an

der Lahn, where he had many friends.

Both the French and German Twinning

Associations have sent sincere condolences,

saying how much he will be missed.

Peter was also involved in other Lichfield

groups – the Johnson Society, the Anglo

German Club, as well as belonging to the

Shrievalty Association. Peter also played a very

active role in city life, serving the City Council

between 1995 and 2003. He was the city's

Sheriff in 1996 and its Mayor in 1998.

Condolences are sent to his wife and son – he

will be missed by so many.

.......................................................................................

Counsellor & Comic

Returns to City

Sheila McMahon on stage

Lichfield mental health comedienne and

counsellor, Sheila McMahon, is returning to the

Garrick to perform her first live theatre show

in the city in over two years.

Eagerly awaited, and expected to be the usual

sell-out, Sheila admitted she's been writing the

show – which will take place a day before

World Mental Health Day on October 10th -

for the last 19 months and is excited to be

returning to performing live on stage.

You can book tickets to the show, priced £18,

which will include the usual mix of mental

health education, stand-up comedy and music,

during an exploration of the pandemic's impact,

online at www.lichfieldgarrick.com or by

visiting the Box Office.
---
11
---
LOCAL NEWS

12

Local Business's

Charity Donation

Knight & Doyle

Carpet &

U p h o l s t e r y

Cleaning is

proud to be

c o r p o r a t e

supporters of St

Giles Hospice.

This year the

company has Karen presents the

pledged to donate cheque to Zoe

a minimum of

£2,500 and has recently presented St Giles with

another cheque for £750.

The firm gives a donation for every carpet or

upholstery cleaning job it does, so donations

are all thanks to their clients in Lichfield and the

surrounding area.

The cheque was presented by Karen Nicholls,

Marketing Manager at Knight & Doyle, to Zoe

Wright, Events Manager at St Giles.

Knight & Doyle is an expert carpet and

upholstery cleaner. Technicians are fully trained

to identify and clean all kinds of carpets and

upholstery, including valuable antique rugs and

fine furnishings.

For more information on Knight & Doyle visit

www.kdclean.co.uk.

.......................................................................................

Local School Goes

Green-Fingered

Year 10 boys working on the allotment project

A Lichfield school's community-backed

allotment project is reaping real results – and is

set to grow even more to become a weekly

activity for students.

The seeds of the ambitious project, at Nether

Stowe School in St Chad's Road, were planted

in July, when a small group of Year 10 boys began

working on clearing old flower beds to create

an allotment area.

Now it is set to be rolled out to other year

groups and could even provide the produce for

a future enterprise project to raise money for

the school, which is part of the respected

Arthur Terry Learning Partnership.

With the help of some local volunteers, ground

has now been measured and cleared ready to

expand the garden with three new raised beds,

which will be built using timber donated by

Tippers, whilst Tyres supplied by Central

Garage will be used as fencing and planters.

Parents and members of the community have

also supported the project, donating seeds,

pots, gardening gloves and even a lawn mower.

Nether Stowe students have also achieved

Level One of the Royal Horticultural Society's

School Gardening Awards and have submitted

evidence to apply for Level Two status.

.......................................................................................

Support for Back the

Track

The old South

S t a f f o r d s h i r e

railway line, which

used to run from

Lichfield to

Walsall ceased

p a s s e n g e r

operations in

1965. Since then,

Sustrans has

installed a

greenway cycle

path from Walsall to Pelsall, having purchased

the stretch from Walsall to Brownhills.

The track had become overgrown, with litter

strewn throughout, and largely impassable until

a group of volunteers set about clearing it,

removing six skips of rubbish and clearing the

brambles, bushes and diverting flood water.

Additional access steps have also opened up

many circular routes along towpaths, among

them Chasewater, and the track is becoming

more readily used by walkers, cyclists and

schools organising nature walks.

There are hopes that the track can be

continued to Lichfield however from Brownhills

the track is still owned by Network Rail and,

although talks are ongoing, progress is slow.

Back the Track is urging Lichfield locals to get

behind the campaign to full restore the length

of the track. To find out more, visit

www.backthetrack.org.uk and show your

support!

.......................................................................................

Men's Shed Lichfield

Opens Doors

Men's Shed Lichfield (MSL) opened its doors for

the first time on 9th September.

This newly formed group provides a hub where

members can work, share skills, chat and joke

together. Typical activities include making,

mending, joinery and similar craft-based

pursuits.

MSL is a registered charity with a formal

constitution; but don't be put off by that

formality - the weekly shed sessions are very

informal. Other than looking out for the safety

of fellow 'shedders', members are free to do as

much or as little as they choose. Working

together and sharing skills and ideas is the way

MSL works.

MSL is supported by Curborough Community

Centre and has received grants from

Staffordshire County Council, local churches

and the National Lottery Local Connections

Fund.

Shed sessions take place every Thursday

morning in the newly constructed community

workshop at Curborough Community Centre.

For more information, telephone 07726

618151.

.......................................................................................

Vote Reminder

Eligible voters across Lichfield District are being

urged to take action if they receive an invitation

to register to vote, to make sure they don't lose

their voice on decisions that affect them.

To find out more, go to

www.lichfielddc.gov.uk/canvass and to register

to vote go to www.gov.uk/register-to-vote and

make sure you have your national insurance

number to hand.

.......................................................................................

Got a story or charity event you want to

share with our readership? Think you've

snapped an image that captures the spirit

of the region? We want to hear from you!

Contact Citylife at

kristencitylife@gmail.com

Competition

Winners

Congratulations to E Bailey

who is the winner of a pair of

fantastic earrings from City

Jewellers; also congratulations

to L Mason who was selected

as the winner of a pair of

wedding bands from Allen

Brown Jewellery. Plus A Owen

receives two tickets to see a

show at Lichfield Garrick!

Well done everyone!
---
Your Garden in October

By Byron Lewis

October signals the start of another season of planting – from

ornamental trees and fruit bushes to shrubs, take advantage of damper

days and warm soil to get your new borders established and ready for

2022. As usual these days, Coronavirus is playing its part and there is

likely to be a shortage of many trees and shrubs. Our spring bulbs have

also been delayed due to earlier flooding in the Netherlands, and we are

still waiting for some to arrive.

The motto this year is: 'If you see something you like, buy it!' Growing

plants isn't like turning on a new production line, and it will take a season

or two to get back to normal!

Now is the time to look at replanting hanging baskets and containers

with plants that will look good through to next spring. Start by planting

a layer of spring flowering bulbs, then choose from pansies, violas, or

dwarf wallflowers for instant colour. Add some mini-shrubs – small pots

of heather, euonymus and dwarf conifers all add colour, and trailing

plants like ivy, thyme, ajuga and creeping Jenny (lysimachia) will cover the

sides of your pots. Don't forget your pots will still need watering

occasionally, but other than that they provide a low maintenance splash

of colour.

As the nights draw in, enjoy your garden at night with battery powered

solar lights. Technology has come on in leaps and bounds over recent

years, and there is now a huge choice with many lights lasting up to 30

days on one set of batteries. Some are timed to come on at the same

time each day as well - these look great draped over your shrubs and

along fence panels. Lights don't just have to be for Christmas!

Talking of Christmas, it's not too far off now and our Christmas Shop

should be open as normal in November (Covid, Brexit, transport issues

and stock shortages permitting!) Keep an eye on our social media pages

for the latest updates.

Next month we'll take a look at fruit trees and hedging plants as these

will be ready for planting much sooner than you think!

Byron Lewis runs Lichfield Garden Centre, at

Curborough Countryside Centre in Lichfield.

Tel: 01543 254306, visit the website at

www.lichfieldgardencentre.co.uk or find

on Facebook and Twitter.

13
---
Black History Month

........................

The Hub is celebrating Black History Month with events

throughout October, highlighting the accomplishments of

Black Britons throughout history.

Tuesday 5th – Saturday 30th October

'Face' is an exhibition in honour of Francis Barber by

the Kwanzaa Collective UK showcasing the art of Black

and Brown artists living and working in Staffordshire.

Wednesday 13th October 10am-12pm

'Look this way: A story café'. Join poet Gabriella Gay for

this ekphrastic workshop that will encourage you to think

and write imaginatively about the artwork displayed in the

'Face' exhibition.

Wednesday 20th October 6-8pm

Film lovers assemble! One Lichfield will show Soul,

Pixar's first film to feature an African American lead

character. All are welcome and Covid safety measures will

be in place. Booking is essential.

Thurs 21st October 7pm-9pm

Come Le' We Talk Face to Face: A Poetry Party –

featuring some of Staffordshire's finest poets. Headlined by

Maureen Roberts.

Tuesday 26th October 6.30pm

The celebratory workshop sounds of RHYZIM, a

Lichfield-based community drumming group led by

Zimbabwean percussionist Bruce Ncube.

Information and tickets are available online at

www.thehubstmarys.co.uk or from The Hub on Market

Square.

Pumpkins on Our

Local Patch

By Charlotte Benton

............................

For many of us one of the first things that

springs to mind when we hear the word

Halloween is pumpkins! Lining the

supermarket aisles and lighting up our

doorsteps, pumpkins are part and parcel of

Halloween. So, as the spookiest season of all

creeps up on us there is one thing that we must

do - pick a pumpkin! Oh and enjoy some sweet

treats of course!

But where did this tradition of picking and carving

a pumpkin come from? To our surprise this terrifying

tradition began in the UK and not America, as

commonly thought. Hundreds of years ago, turnips

were a very important part of our ancestor's winter

diet. They began carving spine-chilling faces into

turnips to mark Halloween. After placing lights in the

carved turnips, the glowing ghastly faces were

thought to be the spirit of the dead. It was in the

1800s when many UK citizens migrated to America

that they took this Halloween tradition overseas and began carving pumpkins instead of

turnips. Pumpkins are much softer and easier to carve as well as being available in abundance

during America's autumn. Modern pumpkin carving that we take part in today is, therefore,

a reinvention of a tradition that goes back hundreds of years.

This autumn there are numerous ways to enjoy the shocks and surprises of Halloween

right on your doorstep! Here are just a few of the spooktacular places to pick your own

pumpkin and enjoy some local Halloween treats:

•Bradshaws Brothers Farm Shop in Burntwood is hosting its very own Halloween

Festival from the 25th to 31st October. This is a ticketed event featuring children's

entertainment including spooky trailer rides, a creepy crawly corner and a chance to pick

your very own pumpkin from their patch, along with carving facilities on site. For more

information about times, prices and all the spooky activities taking place, visit

www.bradshawbros.co.uk/.../halloween-pumpkin.../.

•Essington Farm will also be offering a pumpkin picking experience for all the family to

enjoy. With a wide variety of pumpkins available, including even pink, grey and white

pumpkins (!), there is sure to be the perfect pumpkin for everyone. This event will run

throughout October between 9am and 4pm, however this event is also ticketed and will

require you to pre-book a time slot. For more information or to purchase your tickets, visit

https://essingtonfarm.merlintickets.co.uk.

•At Strawberry Field Farm and Coffee Shop on Coulter Lane, Halloween starts from the

1st October with copious spine-tingling Halloween activities, including pumpkin picking and

a scarecrow competition. Not to mention some great Halloween-themed additions to their

delicious menu - a white orange hot chocolate - I mean, say no more! Look out for more

information on their Facebook Page at StrawberryFields Farm & Coffee Shop.

•Not forgetting Manor Fruit Farms which is running its own pumpkin festival! Home to

an 8-acre pumpkin patch and mor than 60,000 pumpkins, squashes and gourds. Whether you

are looking for the biggest pumpkin to carve or a few petite pumpkins to decorate your

home, there is sure to be the perfect pumpkin for you. Along with the pumpkin patch, Manor

Fruit Farms have mini-mazes, straw pyramids and a lively bounce and climb play area for

children to enjoy. To book your tickets, visit https://manorfarmfruits.co.uk/pumpkin-fest/.

This year celebrate this spooky season in style with a locally grown pumpkin to decorate

your home. Carve a smile and light up the room!

14
---
15
---
A Warco milling machine, which

went under the hammer for £520.

These three vintage steel planes, including an 8''

dovetailed mitre plane with ebony wedge and a G

Tissington 7'' chariot plane, made £750 as part of the

auction of a specialist tool collection.

A Harrison industrial lathe used to manufacture

exquisite model trains and trucks by a local engineer in

his workshop sold for £2,700 at auction.

From the

makers of…

...............................

By Stuart Hay

ALL beautiful things are made with materials, imagination and tools.

Not just things of beauty but practical and necessary items as well.

Carpenters, engineers and lowly DIYers like you are me, need tools

to make life easier. From the humble hammer, a meagre screwdriver

or heavy-duty metal working lathes and milling machine are needed

to carry out the simplest of household jobs to repairing and

manufacturing your family car they are all needed, along with a little

skill.

Then there is the beauty of the tool itself. Over the years

carpenters and engineers, as part of their apprenticeships, made and

adapted hand tools to suit the jobs at hand. Richard Winterton

Auctioneers has sold some stunning tools and toolboxes over the

years, including one gentleman's collection of axes, planes, saws and

chisels from the iron age to the 1950s collected over 40 years and

displayed in rooms in his house in Tamworth and Cornwall. This

collection from the sublime plough and moulding planes

manufactured by Gabriel and Aux Mines De Suede in France, to the

ridiculous six inch hand chisel more than two-and-a-half feet in length

along with shipwright and coopering planes, axes and hammers made

in jolly old England by makers such as Hield, Cox and Luckman,

Mathieson, all sold through The Lichfield Auction Centre and realised

in excess of £30,000.

On the other end of the scale we held an onsite sale, just a mile

from our Fradley saleroom, of a deceased engineer who

manufactured exquisite model trains and trucks in his converted

garage/workshop. The machinery included a computer controlled

Warco milling machine, full size and miniature Axminster lathes, pillar

drill, hand power tools, turning blanks and sheet metal, along with lots

and lots of accessories for the machinery. These, along with some his

amazing models, totalled £15,000 for his long-time partner.

Our House Clearance team came across an attic full of

watchmaking and repairing equipment in one of our 'normal'

clearances. This included watchmakers' lathes only a foot in length,

This Axminster model engineer's microlathe sold for £500.

with mandrill, chucks, miniature drill bits and cutters, pin presses,

Rolex and Omega back removal tools along with spare parts, watch

glasses, pins, etcetera – another collection amounting to thousands of

pounds.

It isn't just large and extension collections that are sold at our

salerooms. As you can imagine, every household contains tools of

various grades and expenditure. From the DIY enthusiast with a

couple of hammers, saws and a power drill to more elaborate and

skilled home workshops with wood or metalworking lathes and

welding plants of all styles and sizes, such as a Parweld TIG welding

plant in almost new condition with all the kit needed for its use. This

realised more than £700 for a Coalville lady who had recently lost her

husband. Another example is the elderly gent with failing eyesight

wanting someone to utilise his Clarke metalworking lathe now that

he couldn't safely use it anymore – his cheque totalled £400 to help

fund his next holiday for him and his wife.

Our household sales will always contain hand and power tools from

different makers like Record, Rabone and Chesterman, DeWalt, Ryobi,

Bosch, Milwaukee and many more. We try to cater for all wants and

needs for purchaser or vendor where possible. Whether it is one item

that you want to consign to auction or a larger collection for our

team to collect, all it takes is a call or email to start the process –

telephone 01543 251081 or email office@richardwinterton.co.uk.

16
---
17
---
The Winds of

Change

...............................

By Jo Howell

And just like that, the summer has dipped over the horizon for another

year and a new season has snuck in - somewhat under the radar due

to (as I write) the still warm-ish weather. But there is no doubt that

change is in the air; the darker nights, the leaves on the ground and that

extra layer of clothing before the coats come out of the wardrobe.

"Do not fear the leaves changing, for it is leading to the best season of your life

yet."

It's a guarantee that change – whether it is simply the seasons or something a

little more nerve wracking – can bring a whole host of new feelings and emotions.

I'm not entirely sure I'm ready for autumn; I feel a little sad the long, summer days

have been and gone so quickly and as I think about the next few months ahead, it

doesn't necessarily fill me with joy.

"In order to truly embrace change, one must leave his or her comfort zone"

I read a great quote just last week that said, ''Change is hard at first, messy in the

middle and gorgeous at the end'' and I think it sums it up perfectly. Having gone

through an enforced job change recently, I couldn't agree more with this. It really

was very hard being made redundant – both emotionally and mentally – and I had

many a sleepless night worrying about finding another job. But then, like the sun

poking through the cloud on a dull day, I did get offered a new role and here I am

in week three and very much enjoying the gorgeous feeling it brings.

"Sometimes change is good. Sometimes change is exactly what you need"

So, why can change be good for us? Here's just a few reasons:

1. It's a mood enhancer

2. It allows us to move forward in life and experience new (and exciting) things

3. It can improve our quality of life

4. Out with the old, in with the new

5. Accepting change make us stronger and more powerful emotionally

And of course, the change doesn't have to be big; it can be as simple as clearing

out the wardrobe of those clothes you know you're not going to wear again. But

imagine the feeling when not only do you have more space, probably donated to

the local charity shop, and can go and buy something new you will wear. Powerful,

renewed, motivated, accomplished and satisfied. Now, imagine what you feel like

when you make a bigger, positive change in your life…

Make a wish, take a chance, make a change.

So as the new season wraps its arms around us, and the leaves fall with a rich

array of colours around our feet, maybe we should welcome the change it brings

and embrace it. Change is good. Change is beautiful. Change is inevitable.

Read more of Jo's work at www.justanaveragejo.blog.

18
---
Snaps of the City

............................

Some lovely photos of Lichfield sent in by our readers.

1. An Aerial view of Lichfield Cathedral by Simon Wilberforce

2. Beacon Park in full bloom by Simon Wilberforce

3. Lichfield Cathedral's spires against the sunset by Christopher Kay

1.

3.

2.

19
---
The Anglesey Curborough Road The Anchor at Streethay The Anchor Abnalls Lane

The Lost Pubs

of Lichfield

Anchor and Anglesey

By Jono Oates

............................

In the early 1800s, with a population of just 5,000 people, there

were nearly 90 public houses, or beer houses, in Lichfield city –

an average of one pub for very 55 people! Over the decades the

population has rapidly increased, to over 30,000 people today, but

the number of pubs has dramatically decreased. Some of the

former pubs have retained their original buildings and are easily

recognisable as to their former usage but others have either been

demolished or have been completely transformed.

The Anchor Inn at Streethay is one of the more recent pubs to be lost

from the Lichfield pub scene, it is now mainly housing. However, it is not

the only Lichfeldian pub with that name to have been demolished. The

original Anchor was on the Stafford Road, later Beacon Street, at the

junction of Abnalls Lane. This pub opened in the early 1830s and became

a private house in 1891, although by 1893 it was listed as a pub again, and

the landlord was Ernest Smith. In the September of that year Ernest was

taken to court for the offence of selling intoxicating liquor to Charles

Davies in breach of the Licensing Act. PC Hollings had seen Smith pass a

number of bottles of ale to Davies in mid-morning, outside of the

licensed hours, from the back garden of the pub, and Davies was then

selling the ale on to his friends. When approached by the policeman,

Smith and his wife attempted to bribe him with the offer of free drinks,

saying that 'There's only three of us here, and no-one else will know'. This

clumsy bribe failed though and Smith was charged with the offence at

court, the magistrates fining him £1 and 11 shillings and 6d.

The Streethay Anchor opened in the 1850s and has certainly seen

some tragedies take place over the years. In April 1863 pub landlord, and

wheelwright, John Chamberlain, committed suicide by hanging himself in

a barn at the back of the inn, having felt unwell and low-spirited for

several months. Just before Christmas, 1893, Arthur Griffiths, son of

Anchor landlord James Griffiths was in court, charged with affray at

another lost Lichfield pub, the Trent Valley Hotel. Arthur had been

ejected from the pub for being drunk and disorderly and PC Murphy was

called after he became violent and 'riotous'. Arthur was fined 10s and

ordered to pay 18s in court costs. During World War Two, in November

1941, landlord Henry Francis Irwin, who had served with distinction in

the Great War, was returning home from a holiday on the South Coast

when he was found dead in a train carriage after it had pulled in to

Lichfield Trent Valley station, he was aged just 49, and his death was

declared as being from natural causes.

The Anglesey pub that most Lichfeldians remember was on the

Curborough Road but, as in the case of the Anchor, there had been

another pub with the same name located on St John Street at the

junction of the Birmingham Road. Originally called the Marquis of

Anglesey, it opened around 1817 and was named after Henry Paget, the

Earl of Uxbridge (later Marquis of Anglesey) who had served under the

Duke of Wellington at the battle of Waterloo where he had lost his leg

to a French cannon ball. It's believed that the inn was built at the location

at which the city corporation and citizens of Lichfield gathered on his

return to Lichfield after the battle. A party of gentleman gathered at the

Anglesey in June 1836 to celebrate the house warming of the landlady,

Mrs Richardson, where they enjoyed a 'sumptuous dinner' provided by

the hostess and that several excellent songs were sung which 'greatly

added to the hilarity of the evening'.

The pub continued until 1938 when it closed and its licensed name

was transferred across to the 'new' Anglesey Arms on the Curborough

Road in April of that year. The pub was built by well-known Lichfield

builder JR Deacon, the brewery was Ind Coope and Allsopp and the first

landlord was Horace Wilson, who went on to become the licensee of a

number of pubs in Lichfield.

Like many pubs the Anglesey had a Darts Team and in August 1960

their team won the Challenge Cup that year, presented by the President

of the Lichfield and District Darts League, Councillor Bernard Garman.

Licensee of the Anglesey, David Jones, was also thanked for his

presentation of a cup to the league for the winners of the doubles'

competition.

The Anglesey Arms on the Curborough Road closed in 2013 and is

now a Co-operative store. The original Marquis of Anglesey became the

Lichfield Labour Exchange during World War Two and was eventually

demolished to make way for the extension of the Birmingham Road/St

John Street junction.

The Anchor and Anglesey are just two of the many pubs that have

closed in and around the city, and I'll be telling the story of more of

Lichfield's Lost Pubs in future editions.

*Vintage photographs courtesy of the St Mary's Photographic Collection.

Sources: The British Newspaper Archives; The Old Pubs of Lichfield by John

Shaw; Lichfield Pubs by Neil Coley

20
---
21
---
Christmas

Countdown

By Lauren Hirst

................................

It's that time of year again when Santa is making his list and checking it

twice to see who's naughty or nice. If helping animal charities is on your

Christmas list here are some ideas for helping the 40 greyhounds in the

care of Greyhound Trust Hall Green looking for their forever homes.

• When shopping online for gifts for your love ones, why not sign us up

to www.easyfundraising.org.uk and nominate GTHG as your charity?

With hundreds of popular retailers participating it's the easiest way to

help raise money for the Trust. Here's how it works: instead of buying a

gift directly from Amazon for example, go to the Easy Fundraising website

and click through to your desired retailer and make the purchase from

there. The cost is the same to you but the retailer makes a donation to

us. It's as simple as that!

• Sponsor a dog for the animal lover in your life. Sponsorship starts

from as little as £3 per month per hound or £6 per month to sponsor a

kennel. Our sponsor dogs all have some sort of additional needs. These

can be medical, behavioural, or both. Sponsorship enables these dogs to

live in loving homes while receiving the help that they need. Sponsorship

will also help other dogs in our care who need some extra help. Visit our

website to find out how and read about the sponsor dogs. You can

arrange to a visit to your sponsor dog for his or her sponsor.

• Buy a gift for our hounds. You can visit our Amazon Wish List to

purchase items and either have them delivered to yourself and drop the

Funding Community

Groups in the Trent

Valley

By Nicola Lynes

................................

The Transforming the Trent Valley

Landscape Partnership Scheme

has now been delivering projects

around the Trent Valley in

Staffordshire and South Derbyshire

for two years, and one of these

projects is a 'Community Grants

Scheme'. Through our funding by the National Lottery Heritage Fund, we

are able to distribute small grants to community groups in the

Transforming the Trent Valley area who have ideas for projects which

align with our aims and objectives of celebrating and enhancing our

natural, built and cultural heritage in the Trent Valley.

Since 2019, we have awarded 26 grants totalling £42,010.45 to a range

of community groups and organisations across the landscape. Successful

item(s) off at our kennels or you can have them delivered directly to one

of the kennels. Every little bit helps. Or you can visit our online shop and

buy Christmas cards and other gifts for you family and friends, and the

hounds at www.greyhoundtrusthallgreenonlineshop.com.

• Organise a shoe-box appeal with friends, family and work colleagues.

Fill boxes with treats and toys, wrap them up and drop them off. The dogs

love opening them on Christmas morning!

• Gift your time - we need you! Greyhound Trust Hall Green is run

entirely by volunteers. Without the commitment and enthusiasm of our

volunteers, we wouldn't be able to find loving homes for the dogs in our

care. We are looking for volunteers who can make a regular commitment,

i.e. once or twice per month or more, depending on what role you

choose. There are hands on roles at the kennels and behind-the-scenes

tasks as well.

Together we can make a difference this Christmas and throughout the

year. To find out about the dogs looking for their forever homes visit our

website at www.greyhoundtrusthallgreen.org.uk, follow us on Facebook,

Twitter, and Instagram. Or give us a call on 0121 426 4810. We'd love to

hear from you.

projects have included developing school garden and wildlife areas,

projects to develop volunteer skills and confidence, provision of

equipment to support sailing and outdoor activity, and tree planting and

habitat improvement.

One of our successful applicants was Manor Park Sailing Club, who

used our grant to provide extra buoyancy aids and equipment to expand

their sailing provision and training programme, and have reflected that

receiving the grant has "really

lifted club morale". The

"WELLIES" project was another

recipient, and they have reflected

that "the volunteers have greater

knowledge of wildlife habitats;

respect for the weather

conditions and seeing how

dropped litter spoils the

countryside and presents a

threat to the wildlife."

Our Community Grants are

still available to constituted

groups within the Transforming

the Trent Valley area, groups can

apply for up to £5000 and the

next deadline is 25th November

2021. Full details can be found

on our website

www.thetrentvalley.org.uk or

contact Nicola Lynes on

07837 127165.

22
---
Rail Enthusiast's Lifetime

Collection Steams to

£100k

By Charles Hanson

............................

Ahuge model railway collection, the life's work of an enthusiast

given his first train set at 18 months old, has smashed

expectations at auction.

The Nigel Thornley Collection went under the hammer at Hansons

Auctioneers' Staffordshire saleroom on September 11. Experts

estimated it could achieve £70,000 but it steamed to £100,000.

Rail enthusiasts came out in force to bid on 350 lots in what Hansons

described as 'a tribute' to a man who did so much to preserve the

history of trains.

Mark Holder, Hansons' railwayana expert, said: "Interest was strong

right from the start. Some models had been specially commissioned at

great cost. Individual locomotives were selling for £1,800 each."

Top-selling items included lot 28, a gauge 1 'City of Manchester' loco,

£1,700; lot 35, a scratch built LNWR 0-8-0 by Bill Davis, £1,250; lot 134,

a 0-4-0T Lancashire and Yorkshire Railway (L&YR) Railmotor by Peter

Priestly, £1,200, and lot 146, a 7mm finescale L&YR Dreadnought loco,

£1,800.

"This collection was a joy to bring to market," said Mark. "The

response from bidders was a tribute to Nigel's rail knowledge and

expertise. Fellow enthusiasts recognised how exceptional his collection

Mark Holder, train and railwayana

expert at Hansons Auctioneers

Photo by Hansons

Lot 134 0-4-0T L&YR Railmotor built by

Peter Priestly sold for £1200

Photo by Hansons

was. And there's more to come. The collection is so vast Hansons will be

selling more Nigel Thornley railwayana in its October 9th Toy Nostalgia

Auction."

Nigel's (1949-2021) passion for trains enriched his life for more than

70 years. His collection included an eclectic mix of models featuring

many Lancashire and Yorkshire Railway prototypes in 7mm scale, general

railwayana, train books and more. As well as collecting and building

models, he devoted countless hours to ensuring Britain's railway heritage

was preserved.

Hansons is inviting entries for future Toy Nostalgia Auctions. Toy

specialist Mark Holder will be offering free valuations at Bishton Hall,

Wolseley Bridge, Staffs, on October 7th and November 4th, 10am-1pm.

To book an appointment, email: rhalliday@hansonsauctioneers.co.uk or

call 07821 938392. Alternatively, email Mark Holder:

mholder@hansonsauctioneers.co.uk.

23
---
24

Tastes of the Season

By Simon Smith

Autumn Days!

............................

Autumn and the time of pumpkins,

walnuts, figs and fruits. I'm currently in

the Dordogne where there is an

abundance of all these foods on every

menu du jour. It's also impossible to find

a menu without foie gras and truffles and

there are so many specialist shops for

both of these it's hard to distinguish the

good from the not so good.

Every restaurant serves a wonderful

walnut tart for a pudding, as well as well

as a walnut salad as a garnish on pretty

much every starter - nothing like promoting the local ingredients!

Anyway, back to pumpkins! Apart from hollowing them out and testing

your carving skills they are a very versatile food and can be used both

as a sweet dish, especially for Thanksgiving, and also a great savoury

dish.

The apples and pears in the garden will now be ready to eat and falling

from the trees so we have a wealth of produce to work with. You can

preserve these by making a rich syrup and adding fresh bay leaf, vanilla,

lemon juice, and even peppercorns. Peel your fruits and put into the

syrup so they are covered. Top with some greaseproof paper and poach

until a little soft. Allow to cool and then put into storage jars.

The dish I have put together for this month is an idea I had walking

round the market and using the produce from here to reflect the

season.

Tales of a

Private Chef

By Simon Smith

............................

Iwas to work in Paris demonstrating for the Meat and Livestock

Commission at the Good Food Show, and I had been asked by the

Scotch Meat company to do a function in Milan for 200 people for

the day after the Paris show finished.

I did as much prep work as possible during the evenings of the Paris

show so it could be driven to Milan for the function. The rest of the food

was ordered by me in advance along with fridges, silver flats to serve on,

and kitchen space required was organised.

For the event, I flew to Milan on the first flight of the morning to get to

the exhibition centre in time for 9am in order to start the prep work. It

was basically only tastings of new products but a lot of work nonetheless

as it all had to be ready for 2pm.

When I got there I called my contact (who was still in bed!) to find out

Baked Pumpkin

'Dordogne'

1 x small pumpkin

8oz chestnut mushrooms or wild

mushrooms (quartered)

4ozs shelled walnuts, chopped

1tsp truffle olive oil (optional)

8ozs grated Comte cheese

6ozs double cream

Method

Cut the pumpkin in half, remove

the seeds and brush the inside

with the truffle oil. Bake in a

preheated oven at 180 degrees

centigrade for 20 minutes or until soft depending on the thickness of

the flesh. Scoop the flesh out of one half of the pumpkin and chop. In a

bowl, mix the quartered mushrooms, chopped walnuts, the chopped

pumpkin flesh and half the grated cheese. Add the cream and season to

taste. Put this mixture in the half pumpkin, top with the grated cheese

and put back in the oven for a further 20 minutes to bake and glaze the

cheese. This dish could be made a couple of days before and kept in the

fridge.

If you wanted to make this dish more of a canivorous treat you can add

some cooked chicken to the mix or some confit duck leg for more of a

French feel.

Simon Smith runs a catering business from his production kitchen in Lichfield,

providing bespoke private dinners plus wedding, corporate and event catering.

Simon also undertakes cookery demonstrations around the country and with

local businesses such as Arthur Price and Tippers. During the summer months

Simon works for private clients both on superyachts and in villas in St Tropez

and Europe. If you are looking for catering or a day of cookery skills go to

www.simonsmith-chef.com

*Please take extra care when preparing and handling hot foodstuffs. Go to

www.food.gov.uk for further details.

where the food was. She

told me it was in the

freezer on the Scotch

beef stand. Already a

problem as it would

never thaw in time. I

begged and borrowed

food from other stands

to replace it. The fridges

I had ordered were not

there, just a little under

counter fridge. I had to

bribe a lorry driver

outside with a

refrigerated truck to let

me use the back of his

truck, and when I came to collect it later he had driven off with all the

food.

The kitchen space I had ordered was a quarter of the size I needed

which makes life difficult but a space is charged by the square metre for an

exhibition so I appreciate they were trying to save money.

The silver flats were also missing so I had to do the best I could and

flatten cardboard boxes and wrap them in tin foil.

Fortunately, as always with this type of event, the number expected

never turned up and all was well!
---
A City of

Flavours

Little Italy!

Despite what the name suggests, Pizza by Goli serves

so much more than simply pizza.In fact,the menu is so

full of traditional and authentic Italian dishes, plus the

wines to complement them all, that you'll have trouble

choosing what to have!

Visit Pizza by Goli at 63 Tamworth Street, Lichfield.

Tel: 01543 250916.

See the menu at www.pizzabygolilichfield.co.uk.
---
Fresh, Local, Delicious!

By Kristen Lackajis

.........................

There's nothing quite as British as a Sunday roast dinner and

whether you're a staunch weekly roast-eater, or the

'occasional' roaster, you can't deny that nothing quite hits the

spot like meat and veg with all the trimmings! Therefore, we were

delighted to be asked to sample one of the area's best-known spots

to enjoy a bite to eat whilst surrounded by stunning countryside –

Bradshaw Brothers Farm & Café.

With its warm, inviting feeling, the café is situated adjacent to the

butchers and deli shop and features traditional farmhouse-style wooden

tables and chairs, with large windows letting in reams of sunlight – one of

which was ours – beautiful on a warm late-summer day!

Friendly staff are on hand to take your order, and also advise on the

food, and we eagerly took a look at the menu to see what was on offer

– we weren't disappointed! As well as a selection of roasts, there were

several starters and, well, it would be rude not to, wouldn't it?! Therefore,

we ordered Fresh King Prawn Cocktail, and Farmhouse Pate to get our

appetites going!

The king prawns, which came served with brown bread and butter,

were succulent and sweet, enveloped in a rich marie rose sauce, whilst

the farmhouse pate was smooth and creamy, delicious spread on melba

toast with butter and homemade chutney. Needless to say, we made light

work of these!

Next came the thing we'd been waiting for – our roast dinners! We'd

chosen beef and turkey, with one of our diners had gone a little 'off-piste'

and ordering the hand battered fresh haddock with chips!

The roasts arrived with their trimmings - the beef accompanied with a

homemade Yorkshire pudding, and the turkey with pigs in blankets and

stuffing. Served with seasonal veg (in this case, carrots and green beans),

cauliflower cheese, roast potatoes, new potatoes and smothered in a rich

gravy! The turkey was melt-in-the-mouth, moist and plentiful, whilst the

beef was simply falling apart if was so tender! And as for the haddock?

Fresh, light and with the most gorgeously golden chips we'd ever seen!

Whilst everything was divine, the real winner is knowing that all of this

was fresh and local, something which really does stand out as you can

certainly taste the difference. Another incredible plus was the price – for

a fantastic, large portion of fresh and local produce, we found we were

paying far less than at a larger establishment, for something so much

better!

If you're familiar with Bradshaws, you'll know what I mean… and if

you're not? Well, what are you waiting for? This is one place that should

definitely be on your wish list!

Bradshaw's Sunday Lunch Menu runs from 12pm-2.30pm each Sunday

and booking is advised as, trust us, it's very popular! Find out more at

www.bradshawbros.co.uk.

Dining Out - A City of Flavours
---
Cheese and

Onion Soda

Bread

By Ruth Redgate

.........................

After last month's

lengthy recipe, we

switch to a quick and

easy soda bread that can be

ready to eat in just over an

hour, flavoured with cheese

and onion (can be made

vegan friendly).

Ingredients

400g plain flour (you can use

wholemeal or a combination

of the two) plus extra to dust

1 tsp bicarbonate of soda

1 tsp fine sea salt

1/4 tsp cayenne pepper or mustard powder

125g of onions (red, white or spring onions) chopped

125g cheese/vegan cheese (coarsely grated)

300ml buttermilk (if you cannot get buttermilk just add

1tbsp of lemon juice to milk or if making a vegan option use

soya milk - it curdles better)

1 tbsp milk/soya milk, to glaze

Method

1. Preheat the oven to 200°C, fan 180°C, gas 6 and prepare

a baking tray with a light dusting of flour.

2. Sift the flour, bicarbonate of soda, salt and cayenne

pepper/mustard powder into a mixing bowl. Stir in most of

the onions and cheese, keeping a little back for the top of the

loaf. I like to keep back about 25g of each.

3. Add enough buttermilk to bring the dough together into a

clean ball. Add a little extra milk if needed, especially if you

have used wholemeal flour.

4. Shape into a round (approx 18cm) and place on the

prepared tray. Mark the loaf into quarters, cutting almost all

the way through the dough. Brush with a little milk, then

scatter the remaining onions and cheese on top.

5. Bake for 35-40 minutes until the loaf is crisp and sounds

hollow. Cool for at least 30 minutes on a wire rack before

eating.

Best eaten on the day of baking however leftovers can be

frozen or reheated the next day.

Ruth Redgate owns and operates Hunnypot Cottage Bakery.

To find out more, or to order freshly baked bread and other

products, visit the website at

www.hunnypotcottagebakery.co.uk.

Dining Out - A City of Flavours
---
Dining Review

To Dine For!

........................

If you're looking for a dining experience with a difference,

Pom's Kitchen & Deli on Bird Street is a must-visit.

Perfect for a spot of breakfast, brunch or a luncheon date,

Pom's offers a range of classics 'with a twist' created using

only the freshest of local ingredients – and it really does hit

the spot! We went along to meet owner, James, and

experience first-hand what Pom's is all about.

On entering Pom's the first thing that you will notice is the

atmosphere, which carries a relaxed yet contemporary vibe –

think industrial chic, with the natural materials of wood, brick

and metal combining with the vibrancy of bright soft furnishings

and you've got it!

We were shown to our seats by smiling staff and, as we

perused the menu, we supped an Iced Salted Caramel Fudge

Latte (served in a tall glass with cream and actual caramel fudge

pieces I might add!) and a quirky Lemon and Lime Iced Tea, which

really got the tastebuds going!

The drinks menu consists of enough coffee concoction as to

make the modern-day barista jealous and, with the house coffee

blend being 'tiki', you can be sure of a medium roast featuring

sweet aromas followed by soft notes and a hint of fruit – a taste

sensation that is appreciated by most palates. If you're after

something a little 'harder' to accompany your lunch or afternoon

meal, then Pom's also offers a selection of cocktails, wines and

even a prosecco if you fancy a little sparkle!

Having adequately whet the whistle with our beverages, we

chose several lunchtime dishes to enjoy between us. We didn't

have to wait long for our food to arrive and the first thing that

was apparent was the delectable aroma rising from the steaming

plates as they were placed in front of us.

The first dish was reminiscent

of a Greek island holiday! Fresh

salmon fillet came served with

roasted sweet potto wedges, a

Greek Salad and tzatziki on the

side. Not only was the salmon

light and flaky, bursting with

flavour, but it was moist too and

perfectly textured. The salad and

tzatziki were the ideal

accompaniment, and the wedges

were, quite simply, to die for!

Alongside this we opted for a

vegetarian dish of shakshuka

tomato and red pepper ragu

which was topped with poached eggs, feta, harissa, coriander and

served with a flat bread. Now it's hard to get a perfectly poached

egg, so this really was a test, and Pom's not only passed with flying

colours but they also delivered on taste too! This light and

refreshing plate of food was both tomatey, yet rich and creamy

as the egg and feta combined. Absolutely great for a non-meat

eater or if you want a lighter dish for lunch.

The final option for us was the more American offering of

Waffle Chicken! This unusual menu choice consisted of a freshly

made waffle, crispy chicken, streaky bacon, maple syrup, chilli jam,

spring onion and fresh chilli – and it may sound a bizarre

combination, but boy does it work together! The lightly textured

waffle was perfectly set off by the crunch of the crispy bacon, and

the mix of sweet, savoury and slightly hot flavours simply danced

on the tongue! It was nothing short of divine!

Needless to say, lunch was very well received and Pom's

Kitchen & Deli gets full marks from Citylife for its menu, service

and relaxed ambience! It's the ideal spot to enjoy a coffee and

catch-up with friends; grab a bite to eat whilst shopping; or even

to celebrate a special occasion and there is something for

everyone on the deliciously varied menu.

Visit Pom's Kitchen & Deli on Bird Street,

Lichfield, or take a look online at

www.pomskitchen.co.uk.

Dining Out - A City of Flavours
---
Dining Out - A City of Flavours
---
Dining Out - A City of Flavours
---
Welcome to

the Jungle!

.........................

We were delighted to attend the opening of

Lichfield's latest addition, Jungle Street

Kitchen, on Tuesday 21st September!

Welcomed with open arms, we got to experience

some fantastic world street food, as well as the

famous bubble tea!

Find Jungle Street Kitchen at 43 Bore Street, or

online at www.junglestreetkitchen.co.uk.

Dining Out - A City of Flavours
---
Mangia Mangia

Authentic Italian food made with love and pride - a

combination of recipes handed down, regional

dishes, meticulous passion for good food and

combined family efforts in the home kitchen. Local

delivery from a seasonal, online menu including

lasagna, tiramisù, focaccia and Italian salads.

Visit Mangia Mangia at www.mangiamangia.co.uk

or on Facebook and Instagram

@officialmangiamangia.

Win a Sunday Roast

Dinner for Two at

Bradshaw's

............................

Email: info@mangia-mangia.co.uk

You may well have just read our review on the famous Bradshaw's Sunday

Roast Dinners (page 26) – well here's your chance to win a meal for two at

the beautiful countryside café!

Using fresh meat from the traditional on-site butcher, Bradshaw's Sunday dinners are

somewhat of a legend in the Burntwood area, with people flocking to try the fresh, local

produce from many miles around.

Having experienced these meals for ourselves, we can highly recommend that

everyone visits… for the food, for the farm experience, and for the on-site deli and

shop too!

We've teamed up with Bradshaw's to offer one lucky reader the chance to win a

Sunday Roast Dinner for Two. All you have to do to be in with a chance of winning, is

correctly answer the question below and send it to us, along with your details, by the

closing date.

Traditionally, which day of the week is a Roast

Dinner served?

a) Tuesday

b) Sunday

c) Thursday

To enter, just send your name, contact details and answer to Bradshaw's

Competition at competitioncitylife@gmail.com or post your entry to Citylife in

Lichfield Ltd, PO Box 7126, Lichfield WS14 4JS by the closing date of 21st October

2021. One entry per household. Multiple entries will be disqualified. No cash

equivalent. Please note you must be 18 or over to enter. All entrants' information is

processed in line with GDPR Data Protection Regulations and our Privacy Policy

(available at citylifeinlichfieldltd.co.uk). Full t&cs on page 58.

Dining Out - A City of Flavours
---
J HOWELL &

DAUGHTERS

FUNERAL DIRECTORS LICHFIELD

LICHFIELD'S LONGEST ESTABLISHED INDEPENDENT,

FAMILY RUN FUNERAL DIRECTORS.

SECOND GENERATION BUSINESS HERE TO ASSIST YOU

AND YOUR FAMILY.

24 hours a day

We are proud to be Lichfield's longest established family run funeral directors offering a wide range of

choices to suit all requirements. Horse drawn hearse, non religious ceremonies, floral tributes and

memorials are but a few of the services we offer.

Pre-paid funeral plans are also available.

For a truly personal service please call

01543 255776

Private Chapel of Rest 116 Netherstowe,

Lichfield, Staffs. WS13 6TS

33
---
Advertising Feature

Country

.........................

Clothing for Ladies

Looking good

and feeling

great is every

discerning lady's

goal. At Eton

Taylor, the aim is to

provide unique and

luxurious, yet

practical, clothing

which is inspired by the Great British Countryside.

Geared to changing the way that women view country

clothing, Eton Taylor offers an exclusive range of British

ladies' fashion with a modern countryside flair, providing

timeless style whilst promoting sophistication and

individuality.

Based at The Deer Park, in the heart of the rolling hills

of Staffordshire, Eton Taylor's elegant clothes and

accessories truly bridge the gap between style and

adventure.

With everything being handmade, the classic collection

boasts a selection of tweed jackets, cowhide and leather

bags, and sheepskin scarves, plus fur gilets, cashmere wraps

and alpaca knitted wear, to truly transform and enhance

your look.

There's something to suit all occasions, be it spending

time out walking, a day at the races, or an evening dinner

party, Eton Taylor can offer the perfect look for you.

Find out more about Eton Taylor by visiting the website

at www.etontaylor.co.uk or pop along to The Deer Park,

Maker Lane, Hoar Cross, Burton on Trent.

Advertising Feature

.........................

Farm Festivities!

34

There's so much going on at The Deer Park Farm as

we enter the autumn and festive seasons.

With Halloween nearly upon us, The Deer Park is hosting

a fantastic Trick or Treat Street event which will involve a

woodland walk and hot drinks on an autumnal evening.

A fashion show follows in November with in-house

clothing retailers, SOS Lingerie and Eton Taylor showcasing

their latest collection of luxury items.

And then there's the Charity Christmas Market, featuring

more than 50 artisan stalls and local traders, refreshments,

plus the opportunity to visit Santa and have your photo

taken! All proceeds from the entrance fee go to charity

too!

There's Supper clubs, Afternoon Teas in The Linhay, plus a

new seasonal menu to try as well, all available at The Deer

Park Farm, Maker Lane, Hoar Cross. Visit the website for

more information, or telephone 01283 384465 to book

any events.
---
35
---
FM Tayler & Son

A Local Family Business

By Jono Oates

............................

Over the last 150 years there have been many family businesses in

Lichfield, as in many towns and cities across the country, where a

traditional business has been passed down from father to son,

from son to granddaughter and from granddaughter to cousin. One of the

best-known Lichfield family businesses was the Tayler family who

provided a gentleman's outfitters on Bore Street for over a hundred

years. The business was started by Frederick Monk Tayler at the end of

the 19th century, before it was handed down to his sons and even when

it was managed by non-family members, it was still known as 'Tayler and

Son'.

Frederick was born in March 1873 to his parents William, who was a cooper

(barrel-maker), and Emma in Abingdon, Berkshire, one of five children. He left

school at 16 to work in the clothing trade at various towns in Lincolnshire and

then at Corsham in Wiltshire where he met his wife, Alice, and they married at

Portishead near Bristol in 1897. In the autumn of that year the family moved to

Lichfield and he started his own gents' outfitters business at number 40 Bore

Street, part of the Five Gables, now Kerry Evans the butchers. In July 1898

William placed an advert in the Lichfield Mercury about his new business using

the limerick: 'When wool was high, In days gone by, It cost you lots of clothing,

Now wool is lower, And at our store, Are clothes for next to nothing…' –

catchy eh?!

By 1914 Frederick decided to expand his business after an opportunity arose

to move to a larger premises further along Bore Street, on the junction of Bore

Street and St John Street – but his new venture was to cause a lot of

controversy. The building he wanted to move in to had previously been the

Thomas Minors' School, established in the 17th century by a Lichfield

benefactor. Thomas provided the funds to build, and maintain, a school for 30

poor young Lichfeldian boys, so that they could learn to read and write. The

school later closed and the building was radically changed. In early 1914

Frederick Tayler purchased the property to build a 'modern' gents' outfitters,

replacing the one he had at number 40. However, there was much resistance to

this and, at a meeting of the City Council in May 1914, Councillor Joseph Raby

objected to the transformation of a historic Lichfield landmark to a modern

business premises, especially the removal of a fine Norman door, the original

entrance to the school. After a lengthy discussion the Council members agreed

that the decision on the planning change for the property be delayed, although

it was later approved and Frederick's new shop opened later that year.

Two of his sons, John and Ben, also helped in the shop and Tayler and Son

quickly became a very well-known and respected business in Lichfield, in a very

popular location. Tayler's were well-known for selling high quality suits, trousers,

sports jackets shirts, blazers, ties and accessories for both men and boys. In May

1938 you could buy a made-to-measure suit for 50 shillings (£2.50 in today's

money), a sports jacket for 12 shillings and eleven old pence (£0.65p) and a pair

of flannel trousers for 10 shillings and six old pence (£0.53p).

Tayler, as a successful businessman, owned houses in and around Lichfield,

including several houses on Cherry Orchard, using number 11 as his own

residence. He and Alice had six children and, as well as the two brothers who

worked in the shop, their daughter, Mary, went on to marry Frank Halfpenny,

from another well-known Lichfield family.

Frederick became a councillor in 1920 and in 1937/38 he became Mayor of

Lichfield before becoming Alderman of Lichfield in 1943 and also served as

Sheriff in 1932. In 1955 he became a Freeman of the City, a very rare privilege,

although this was tempered by the death of his wife, Alice, in the same year.

In May 1961 Frederick resigned his position at Lichfield City Council having

been involved with the council for 40 years. Known as the 'Father of the

Council' Tayler claimed the proud record that he had retained his seat, without

any contest, for 23 years, believed to be the longest in the history of the City

Council.

In December of that year Frederick died, aged 88, at St Michael's Hospital,

after falling out of his bed at his home in Cherry Orchard. The name Tayler and

Son continued however, first under his son's guidance and later under the

management of Reg Simkins, then Michael Mullarkey and David Harries. The

shop continued until 2007 when it closed, and it is now the site of Jayman Estate

Agents.

The name Tayler and Son still resonates strongly in Lichfield however, and that

bears testament to the impact and influence that the Tayler name had on the

city of Lichfield for over 100 years.

*Vintage photographs courtesy of the St Mary's Photographic Collection

Sources: The British Newspaper Archive; Trades of a City by J.P. Gallagher

My thanks to Mr Michael Mullarkey for his assistance with this article.

FM Tayler's earlier shop on Bore Street

Thomas Minors School before

conversion to FM Tayler's

Tayler and Son advert as featured

in Lomax Red Book

36
---
Advertising Feature

Halloween at

the Farm!

............................

It's fun and games down on the farm this October as Burntwood

Alpaca & Animal Experience presents its annual Pumpkin Festival!

Running from 25th October to 31st October, the farm will be

transformed into a spooky Halloween haven, with something for

everyone, no matter how big or small!

Children can enjoy a trailer ride around the farm, a scarecrow trail to

explore, plus they can pick their very own pumpkin from the 'pumpkin

patch' to carve and take home too!

There's lots to do, including a park and jumping pillow for a bounce or

two, apple bobbing in the log cabin, creepy crawlies to look at and handle

(if you're feeling brave enough!), and a fancy dress competition with a

prize for everyone who enters!

There are morning and afternoon sessions available every day and

booking is essential to ensure your place. Children's ticket cost covers

entrance into the farm, a trailer ride and a pumpkin to take home, plus

all of the additional activities and entertainment too!

Times:

Morning session: 10am – 12.30pm

Afternoon session: 1.30pm – 3.30pm

Ticket Prices:

Child - £12.99

Includes entry, trailer ride and 1

pumpkin

Adult - £4.99

Includes entry, and trailer ride (no pumpkin)

Infants (under 1-year-old) – Free

(no pumpkin)

To book, visit www.bradshawbros.co.uk or pop along to the

farm at Bleak House Farm, Ironstone Road, Burntwood

WS7 1YL. Tel: 01543 279437.

37
---
Can You Escape?

By Kristen Lackajis

............................

Lichfield's premiere Escape Room, based at Lichfield Garrick

Theatre, is a must for anyone aged 13 upwards who loves a

challenge! Offering a fully immersive experience, teams of 2-6

players must crack codes, solve puzzles and work together in

order to unlock the mystery and escape the room.

Lord Huxley has been kidnapped by mysterious forces whilst

investigating a secret ancient order! The Citylife team had just one hour

to find the ransom, save Lord Huxley, and escape his private museum.

However, it wasn't as simple as we thought...

After being ushered into a darkened room, with the door firmly

closed and locked behind us, we waited with bated breath for our first

instruction. As our eyes adjusted to the dim lighting, we saw a desk with

various items, a bookcase in the corner and another locked door leading

to a second room. The setting was that of Lord Huxley's office. Suddenly,

a monitor crackled into life with a patchy video from Lord Huxley

himself, begging us to find him before it was too late!

Armed with nothing more than a notepad and pen (plus a walkie

talkie to the outside world should we need it!) we set off rifling through

the artefacts laid out on the desk until we revealed what was to be our

first clue and began unravelling the mysteries that led to the infamous

kidnap.

Several clues later and we found ourselves in the adjacent room,

having successfully managed to gain possession of the key. This room

appeared to be a nautical museum, with models of navy ships and

portraits adorning the walls of the captains of vessels gone by.

60 frantic minutes later, during which time our four team members

had agreed, disagreed, debated heatedly, fallen out, and made up again

(escape rooms are intense!) we found the door unlocking and the game

declared at an end.

Did we succeed in finding Lord Huxley and escaping the room? Nope!

We didn't! The challenge beat us and we failed pretty miserably –

however we were reassured by staff members that the challenge had

only seen a handful of teams completing it and escaping! Needless to say,

we will be returning!

Do you think you have what it takes to solve the mystery? If so, book

your place and take on the challenge at

www.lichfieldgarrick.com/escape-room.

Opening Times:

Friday: 1.30pm, 6pm, 7.30pm, 9pm.

Saturday: 1.30pm, 3pm, 4.30pm, 6pm, 7.30pm, 9pm.

Price: From £17.50per person. Booking is essential.

Got a story or

charity event you

want to share with

our readership? Think

you've snapped an

image that captures

the spirit of the

region? We want to

hear from you!

Contact Citylife at

kristencitylife@gmail.com

38
---
Autumn

Interiors

.....................

Now that autumn is here, and

with winter steadily on its way,

it's time to get your home lovely

and cosy in time for the chilly weather.

We've got a few of our favourite local

interior retailers to ensure that your

house is warm and welcoming.

Apeer doors from The Window Centre start

from £1,499 and are triple-glazed, with an

energy efficiency rating of A. They come with a

10-year warranty, are made in the UK and can

be available on a 0% finance deal. Visit The

Window Centre at 60 Thornhill Road, Streetly,

Sutton Coldfield B74 3EN. Tel: 0121 411 9676.

www.windowcentre.co.uk

Four door linen press with painted finish.

An expert in made-to-measure furniture, Paul

Martyn has five showrooms located at Heart of the

Country. Specialising in oak and pine, it has an

extensive array of interior furniture and accessories

to enhance the home. Now open seven days a week.

Paul Martyn Furniture, Heart of the Country

Shopping Village, Swinfen, Lichfield, WS14 4QR.

Tel: 01543 481592.

www.paulmartynfurniture.co.uk

Inside the Burntwood showroom are

beautiful displays of quartz kitchen worktops

and a fantastic range of quartz samples to

choose from. Visit UK Stoneworx, Unit 28a

Ring Road, Burntwood Business Park, WS7

3JG. Tel: 07552 090278. Facebook:

@UKStoneworx.

www.ukstoneworx.co.uk

Make a statement with grey SPC flooring. Priced

from £23.99 per sq/m and available from Devlin

Wholesale, Unit 13 Prospect Drive, Britannia

Enterprise Park, Lichfield. Tel: 01543 263486.

www.devlincarpets.com

Soft long wool fibres, with exceptional strength

and durability, provide a strong statement and a

luxuriously soft touch. With single sheepskins

starting at £59 each and larger sizes available

too. Available from Tatlow Carpets & Flooring,

Lichfield.Tel: 01543 264766.

www.tatlowcarpets.co.uk

Mall baby grand piano in a beautiful mahogany

cabinet, recently reconditioned and comes with

a three-year guarantee. Priced at £1,250 and

available from Lichfield Piano Centre,

Curborough Hall Farm, Watery Lane, Lichfield,

WS13 8ES.

Find an extensive range of decorative homeware

that marries function with design. All products are

ethically sourced and many of them are made from

recycled glass and aluminium. So, whether you're

looking for a new lamp, tableware or something to

enhance your home, visit www.atthecedars.co.uk to

find something a little bit different.

At The Cedars, 48 Main Street, Barton-Under-

Needwood.

Style your home with individuality using

natural, sustainable, luxurious quality

handpicked pieces. Pure wool throws (from

£60), British sheepskins (from £70), and

footstools (£130). Available from Little Flock,

situated in the grounds of the Plant Plot

Garden Centre, Stafford Rd, Lichfield.

www.littleflock.co.uk

39
---
Just Panels & Bathrooms like to think that its

showroom can offer a bit of inspiration. After

all, everyone knows what a white bathroom

looks like, or a grey wall panel. So, at Just Panels

there's plenty of interesting designs on display.

And it you prefer white and grey, they've got

that too!

Visit the showroom at Unit 16 Trent Valley

Trading Estate, Rugeley, WS15 2HQ.

www.justpanels.co.uk

Are you dreaming of a stunning bathroom like

this? It's easier to achieve than you might think.

Waterproof panels are quick and easy to install,

and come in a huge range of colours and style

to suit every taste and budget. Just Panels &

Bathrooms can also supply the flooring, the

shower, and the sink! Pop into the showroom

and see the wide range on display at Unit 16

Trent Valley Trading Estate, Rugeley, WS15 2HQ.

www.justpanels.co.uk

Luminare has a superb selection of Tiffany lighting for

autumn and winter. With vast experience in all

aspects of lighting, being one of Lichfield's longest

established shops, Luminare has a beautiful range on

display at the shop at 29 Tamworth Street, Lichfield.

Tel: 01543 418254.

40
---
Here at Just Granite Ltd, we pride ourselves on being the experts for any worktop needs you may have.

Be it a beautiful bespoke and unique kitchen worktop, a bar, bathroom or even a barbecue area, we have

an extensive in-house range ready to be chosen by you! We stock a varied range, in a variety of materials,

such as our own competitively priced quartz, granite, marble and porcelain, as well as all the top brands

from around the world.

There really is no reason to go anywhere else!

Win a Granite Chopping Board

If you require our services please do not hesitate

to call us on 01785 711096 or email your quote

request to stef@justgranite.ltd.uk

With the largest variety of natural stones in the Midlands, the

solid slabs are kept on-site and are available for a virtual viewing

from 9am-5pm on Monday to Friday. Located at The Stone

Works, Pillaton Hall Farm, Penkridge, ST19 5RZ.

We've got a bespoke Chopping Board (in the

colour of your choice) to give away! To be in

with a chance of winning this magnificent prize,

simply answer the following question correctly:

Where does the supply

of granite come from?

a) Spain

b) Italy

c) Germany

To enter, just send your name, contact details and answer to Just

Granite Competition at competitioncitylife@gmail.com or post your

entry to Citylife in Lichfield Ltd, PO Box 7126, Lichfield WS14 4JS by

the closing date of 16th December 2021. One entry per household.

Multiple entries will be disqualified. No cash equivalent. Please note

you must be 18 or over to enter. All entrants' information is

processed in line with GDPR Data Protection Regulations and our

Privacy Policy (available at citylifeinlichfieldltd.co.uk).

Full t&cs on page 58.

41
---
Visit the showroom to discover your dream

kitchen! Chase Bedrooms & Kitchens, Unit 1

Toll Point, Chase Road, Brownhills. WS8 6JT.

Tel: 01543 379666.

www.chasebedroomsandkitchens.co.uk

Beautiful and unique natural stone worktops

really add a little something extra to your

kitchen. Visit Just Granite at The Stone Works,

Pillaton Hall Farm, Penkridge, ST19 5RZ

Tel: 01785 711096.

www.justgranite.ltd.uk

42
---
43
---
The M-Series basin and storage unit from

Deuco is the perfect addition to a modern

bathroom. Versatile storage solution suitable for

larger bathrooms. Available in 26 colour

options, customisable with your choice of

classic or premium handles to suit your new or

existing interior. Available from Tippers.

www.tippers.com

The Radford is an opulent double-ended rolltop

freestanding bath with elegant rim detailing,

offering classic symmetry. A true statement

piece. Available from Tippers.

www.tippers.com

Replace your existing

kitchen doors, worktops

and accessories to give your kitchen a completely new

look. Most of Kitchen Faces' kitchen restoration projects

are completed in just one day, taking away all the stress

associated with a completely new kitchen transformation.

Extensive range of style and colour combinations available.

Contact Kitchen Faces on 0121 318 7979.

www.kitchenfaces.co.uk

44
---
45
---
Win a Home

Cleaning Kit

from

Knight & Doyle

............................

We've got one home cleaning kit to give away! To be in

with a chance of winning this prize, simply correctly answer

the following question, and send your contact details to us.

Which local charity does Knight & Doyle

regularly donate to?

a) Katherine House

b) St Giles

c) Oxfam

To enter, just send your name, contact details and answer to

Cleaning Kit Competition at competitioncitylife@gmail.com or post

your entry to Citylife in Lichfield Ltd, PO Box 7126, Lichfield WS14 4JS

by the closing date of 21st October 2021. One entry per household.

Multiple entries will be disqualified. No cash equivalent. Please note

you must be 18 or over to enter. All entrants' information is

processed in line with GDPR Data Protection Regulations and our

Privacy Policy (available at citylifeinlichfieldltd.co.uk).

Full t&cs on page 58.

Lichfield's expert carpet and upholstery cleaners, Knight &

Doyle, have kindly supplied this bundle of their own brand

home cleaning products, worth more than £55, for one lucky

Citylife reader to win!

Knight & Doyle is also a corporate supporter of St Giles Hospice and

gives a donation to St Giles for every clean it undertakes. The firm uses

a wide range of cleaning methods which means it uses the right

processes to get the right results for clients, in fact "Right Processes,

Right Results" is the company strapline!

You can find out more about Knight & Doyle by visiting the website

at www.kdclean.co.uk and you can also buy these products from the

Knight & Doyle stand at the Lichfield Christmas Fayre on 21st

November.

46

Beautiful and unique natural stone worktops

really add a little something extra to your

kitchen. Visit Just Granite at The Stone Works,

Pillaton Hall Farm, Penkridge, ST19 5RZ

Tel: 01785 711096.

www.justgranite.ltd.uk

There's a fantastic range of interior gifts and

accessories to be found upstairs at The Deer

Park, Hoar Cross. With cushions, throws,

furniture, pictures, candles and ornaments,

you're sure to find something to enhance your

home!

Visit The Deer Park at Maker Lane, Hoar Cross,

Burton on Trent. DE13 8QR.

www.deerpark.farm

Beautiful home accessories from natural

materials are perfect to keep you warm and

bring some style to your home. Pure Wool

Throws from £65, Rare Breed Sheepskins

from £75, and accessories from £10. Available

from Little Flock, The Plant Plot Garden

Centre, Stafford Road, Lichfield.

www.littleflock.co.uk
---
47
---
Autumn at Lichfield

Cathedral

By The Rt Reverend Jan McFarlane

.........................

It's back - by popular demand! As the clocks go back and the nights draw in,

Lichfield Cathedral will shine out in the darkness with the return of the popular

and thought-provoking light and sound show, Poppy Fields.

Created by the award-winning team, Luxmuralis, the Cathedral will be filled with sound

and light as images of poppies cascade down the walls and across the floor and ceiling of

the stunning 900-year-old building, calling us to remember all those who have fought so

bravely for our freedom through two world wars, and in in countless conflicts since.

Specially composed music has been created for Poppy Fields by musician and composer,

David Harper, and hear too the voice of the Oscar winning actor, Eddie Redmayne who

recorded poetry for the show.

Poppy Fields was was originally created in 2016, and it was re-visited in 2018 to mark

the centenary of end of the First World War. The 2021 version of Poppy Fields also

features the main show from Luxmuralis' much loved 'Imagine Peace'. This stunningly

beautiful son et lumiere will bring the east end of the Cathedral to life with its poignant

message of hope for the future. Also, the first public showing of a work created in 2020,

to mark the 200th anniversary of the birth of Florence Nightingale for International

Nurses Day, will be presented in this newly curated version of the event as a tribute to

the NHS.

Poppy Fields will allow visitors a much-needed opportunity to reflect not only on past

and present conflicts, but also the global pandemic which continues to affect us all, as we

begin to consider how we might live differently as a result of all that we have lived

through.

Tickets are sure to sell out quickly, so book now through the Lichfield Cathedral

website. Lichfield Cathedral has been awarded VisitEngland's 'We're Good to Go'

accreditation for following the Government's Covid-19 guidelines. The Cathedral is

grateful to Friel Homes who have sponsored this event.

October turns our minds to Harvest and to those who ensure that we have food in

our shops and on our tables. Lichfield Cathedral's Harvest Festival will take place on

Sunday 3rd October at 10.30 and will be attended by members of the local farming

community and Staffordshire National Farmers' Union. Everyone is welcome to come

along to give thanks for the many good things we enjoy.

There is always something to see at Lichfield Cathedral. During October there are two

exhibitions to enjoy, free of charge. The Laboratory is a sound and light exhibition by

artist-in-residence Peter Walker and composer, David Harper. The exhibition takes its

inspiration from one of the greatest physicists of all-time, Albert Einstein, who wrote: "If

a cluttered desk is a sign of a cluttered mind, of what, then, is an empty desk a sign?" The

exhibition encourages us to reflect on our world through the eyes of a scientist, and to

contemplate our place in the universe. The Laboratory runs until Monday 1st November.

The Cathedral's Artistic Director and Artist-in-Residence, Peter Walker, has for the

past five years, worked with the Cathedral to develop, and bring to Lichfield, a series of

exhibitions, sound-and-light shows, sculpture and fine art, including the magnificent

bronze statue of St Chad, Lichfield's patron saint, which greets you as you come to the

Cathedral from Dam Street. (If you haven't seen it yet, come and see!) Peter's

Retrospective exhibition looks back over the past five years and runs until Monday 1st

November. To accompany the exhibition, the Cathedral is selling a limited-edition

brochure of just 500 copies, which showcases Peter's work. At just £3 it would make a

beautiful Christmas present for someone who has enjoyed the exhibitions, or who is

interested in art.

As always, the doors of the Cathedral are open for you to come and visit or to sit

quietly, light candles and reflect. Do check the Cathedral website for the latest opening

hours.

You are always welcome at Lichfield Cathedral.

48

Statue of St Chad with the Dean of Lichfield &

Sculptor Peter Walker

The Laboratory exhibition

The Laboratory exhibition
---
49
---
The Month in

Pictures

We take a look at the events

and activities over the last

month, bringing you a roundup

of the city in pictures...

Sheriffs past and present at history of

the Sheriff's Ride talk at the

Hub St Marys

Sheriff's Ride at the Bishop's Palace,

Lichfield Cathedral

Unveiling of restored Monk's Walk Wall,

by The Friary

Sheriff Peter Hitchman, Lichfield

Guildhall

Samuel Johnson celebrations, Guildhall

Lichfield Rock Choir at the celebration

of Ken Knowles at Speakers' Corner

Samuel Johnson Birthday Procession on

Breadmarket Street

Perry the Bull mascot with Lichfield

Community Games Team (image

courtesy of LDC)

50

Celebration of the life of the late Ken

Knowles at Speakers' Corner

Cutting the Samuel Johnson birthday

cake at the Johnson Birthplace Museum

Images by Jono Oates

www.jonotourism.co.uk

Staffordshire County Show

Snapped a picture at a local

event that you'd like to see in

Month in Pics?

Send your photos to

jonocitylife@gmail.com

for consideration.
---
51
---
What's On

October

35th Birthday Celebrations at Allen Brown

Join Allen Brown on Friday 8th, Saturday 9th

and Sunday 10th of October at the jewellery

gallery for the showcasing of a special

anniversary piece - a beautiful 18ct white gold

kunzite and diamond pendant.

Not only is Allen Brown Jewellery celebrating

its 35th birthday but also being at Heart of the

Country Shopping Village for 30 years!

All customers old and new are welcome to

celebrate with the gallery. No need to RSVP,

just visit us over the weekend between 10am

and 5pm to join in the celebrations with the

team.

The workshop will also be open too, so you

can also use the opportunity to see the

jewellery being made via the viewing gallery.

For more information follow the event page

on Facebook, get in touch using the details

below, or visit the social media pages.

Allen Brown Jewellery, Heart of the Country

Shopping Village, Swinfen, Lichfield, WS14 9QR.

Telephone: 01543 481 948. Email:

allen@allenbrownjewellery.co.uk.

Tuesday 19th October

Bollywood Night

Enjoy live music, and fantastic food at The

Bengal, Lichfield for Bollywood night. Set meals

are priced at: £39.95 (adult) and £29.95

(children). Limited space so booking is

essential.

Venue: The Bengal, 42 Bore Street, Lichfield.

52

Time: 6pm-9pm

Call to book: 01543 263772

Monday 25th October – Sunday 31st

October

Pumpkin Festival

Join in the fun this Halloween! With trailer

rides around the farm, a scarecrow trail, apple

bobbing, children's games and entertainment,

plus a PYO pumpkin patch – there's something

for everyone!

Venue: Burntwood Alpaca & Animal

Experience, Bradshaw Brothers, Bleak House

Farm, Burntwood, WS71YL.

Time: Morning & afternoon sessions available

Price: £12.99 (child), £4.99 (adult)

Booking essential. Visit

www.bradshawbros.co.uk to book.

Saturday 30th & Sunday 31st October

Trick or Treat Street

Take a walk through the haunted woodland

and enjoy a selection of fiendishly good treats

in The Linhay restaurant.

Venue: The Deer Park, Maker Lane, Hoar

Cross

Time: 4.30pm-8pm

Price: £5 per ticket

Saturday 30th October

Spooky Banquet

A devilishly delicious three-course meal to

tickle the tastebuds!

Venue: The Bureau, Market Street, Lichfield

Price: £20pp (£10 child price)

Visit www.bureaulichfield.co.uk to book.

Sunday 31st October

Halloween Afternoon Tea Party

Enjoy an afternoon tea with a spooky twist!

Venue: The Bureau, Market Street, Lichfield

Price: £18pp (children £9)

Visit www.bureaulichfield.co.uk to book.

Saturday 20th November

Artisan & Food

Festival

Come and eat, drink

and enjoy! Featuring

people who are

passionate about

what they do,

specialists and

award-winners from

all over the country.

Venue: Himley Hall, Dudley, DY3 4DF

Time: 10am-4pm

Price: Adults £3. OAP/students £2. Under 16

free.

www.himleyhallandpark.co.uk

Every Wednesday

Art Classes Lichfield

New art club for children aged 5-11. Learn

new skills, meet new friends!

Venue: Boley Park Hall

Time: 4pm-5pm

Price: £6 per week.

Adult lessons, Paint & Prosecco (or gin) party

events, and birthday paint parties also available.

Contact 07989 857277 or

mariacredali@yahoo.co.uk.

Every Wednesday

Senior Wellbeing Group

Home Instead, in partnership with the Life

Church in Lichfield will be launching a new

Well-Being Group. A Well-Being group is a

fantastic way for you to get out of the house

and socialise with like-minded individuals. Make

new friends while keeping your Mind & Body

Active.

Venue: Life Church, Netherstowe, Lichfield,

WS13 6TS

Time: 10am-11.30am

Price: £3.50pp

For more information, contact 01543 625002

or karen.wilkinson@Tamworth.homeinstead.

co.uk.

Every Thursday

Men's Shed Lichfield

This newly formed group provides a hub

where members can work, share skills, chat

and joke together. Typical activities include

making, mending, joinery and similar craftbased

pursuits.

Venue: Curborough Community Centre

For more information, contact 07726 618151.

Promote your event in our What's On

guide and reach over 16,000 homes and

businesses for only £20 for businesses

and £10 for charities. Entries must be 50

words maximum. To book contact

Rebecca Hill 07970 513144

rebeccahillcitylife@gmail.com

Please clearly mark your email 'What's

On Lichfield'.
---
City VIEW

The Newsletter of Lichfield City Council - October 2021

Councillor Mark Warfield, Leader of the Council

Welcome to this issue of City View.

I hope you have had an enjoyable summer as we were all

finally permitted to get together again and enjoy precious

time with family and friends in a more relaxed way. We were

pleased to open both our Offices and the Samuel Johnson

Birthplace Museum to the public once again on 19 July.

After a break of almost two years, it is a pleasure to see the

return of some of the City's historic Civic traditions. On the

11 September the Sheriff of Lichfield, Mr Peter Hitchman

upheld the custom of the Sheriff's ride by inspecting the

boundary of the City, albeit it in a somewhat reduced format.

It was also good to be able to welcome visitors and guests on

the 18 September to celebrate the 312th Birthday of

Lichfield's first son, Dr Samuel Johnson.

You may have seen that considerable work has been

undertaken on many of our Public Open spaces during the

summer. This work is continuing into the Autumn and we

have some exciting ideas in development for 2022. The City

Council's annual grants scheme has reopened, with

applications being invited from now until the end of the year.

Details of how to apply can be found on these pages, and the

Council is particularly keen to receive applications from

organisations which have not previously applied.

As the days grow shorter our thoughts turn once again to the

countdown to the Christmas Lights Switch on event on

Sunday 28 November and I hope (restrictions permitting) that

you will join us for what has become an extremely popular

event for all the family. There will be a programme of

entertainment on the Market Square from around 2.00pm

until the switch on itself at 5pm. There will also be special

events at the Samuel Johnson Birthplace Museum plus a

festive Market, and who knows, Father Christmas may even

pay us an early visit to check we have all been good!

As this is the final City View of 2021, I would like to take this

opportunity to briefly look back over the past 18 months or

so. The pandemic has led to great loss for many, and it

would seem that the 'new normal' is to live with COVID-19,

rather than to celebrate its eradication. We await

developments over the next few months with optimism but

balanced by a degree of apprehension as COVID cases

continue to rise. In the worst of times, we do however

discover the best in each other, and the way in which the

community came together during the pandemic to support

each other in a variety of ways is to be celebrated and

remembered.

May I wish you all a very happy Christmas, and a healthy and

prosperous 2022.

Grant Applications Now Due

Clubs, societies and voluntary groups in the City of Lichfield are invited to apply to the City Council for a grant from

the Council's 2022/2023 budget. Grant forms are available by email at: administration@lichfield.gov.uk, from the City

Council Office, Donegal House, Bore Street, Lichfield, WS13 6LU (telephone 01543 309858), and on the Council's

website at www.lichfield.gov.uk. Completed forms must be returned by 4 January 2022.

To be eligible, organisations applying MUST operate for the benefit of people living within the boundary of the City of

Lichfield.

Organisations helped in the past have included youth groups, sports clubs, arts groups, charitable bodies, and various

other societies. Grants totalling over £26,000 were awarded in the current year. Grants ranged from £75 to £4,500,

with 26 different groups receiving funding.

The Council Leader, Cllr Mark Warfield recently said "We are very fortunate to have a wide range of local clubs and

societies in the City which support the needs and interests of our citizens. Grants provided by the Council can support

an organisation's general funding or, in particular, provide help with some special project. We feel the City Council's

grants are particularly important as the city begins its return to normality after the past 18 months or so, and we hope

that as many organisations as possible can be helped through this programme"

The Council is particularly keen to receive applications from organisations which have not previously applied.

For further details contact: Lichfield City Council (01543) 309858

Christmas Lights

The Festive Season gets under way in Lichfield on Sunday, 28 November.

There will be a special Christmas themed market from 10am around the

City centre selling food and gifts, events at the Samuel Johnson Birthplace

Museum, entertainment in the Three Spires Shopping precinct and

children's rides. Once again there will be live music on the

Market Square from 2.00pm up to the big switch-on at 5pm.

During the afternoon from 2:00pm until 4.15pm the audience

will be entertained by performances from local groups 'The Hustle', 'Britpop Reunion' and Lichfield Rock

Choir who will be performing a mixture of popular covers and Christmas

Songs. The Christchurch School Choir will lead traditional Christmas

Carols from 4.20pm before the big countdown to the official switch-on at

5pm, and Santa might pay us a visit, too!

The Mayor of Lichfield, Councillor Robert Yardley will join the other civic

guests and two local

children - the winners of the

City Council's competition -

to help with the big switchon

at 5pm.

Please remember if you are attending this event that the roads

surrounding the Market Square will be subject to a road closure from

9am – 7.00pm

Please note: Events may be subject to change based on latest government

coronavirus restrictions.

Remembrance Sunday

On Sunday 14 November the Remembrance

service and wreath laying ceremony will once

again take place. The Civic party will process

from the Guildhall to the Cathedral for the

10.00am service, followed by the wreath

laying ceremony in the Gardens of

Remembrance at 11.00am and to observe the

National two minutes silence.

The City Council has commissioned a

commemorative booklet, written by local

historian Johnathan Oates, telling the story of

15 local men who gave their lives. Copies can

be purchased from Lichfield City Council

offices and all profits will go to the 'There not

There' charity.

If you would like to keep up to date with more of the City Council's

activities, you can follow the City Council on Twitter @lichfield_cc.

53
---
L2F Studio & Art Exhibition

Saturday 23rd - Tuesday 26th October

10:30am – 4:30pm, Free

We'll be showcasing entries from the L2F Art competition and also hosting L2F

studio performances on Saturday 23rd October.

Half Term Fun

Thursday 28th October

11.00am onwards, £3.50 per child

Hands-on arts and craft activities for the school holidays. Pre-bookable family

groups, children must be accompanied by an adult.

Christmas Light Night

Sunday 28th November

3.30pm – 6.00pm, Free

Warm up while visiting the Lichfield Christmas Light Switch On with hands-on

activities and festive refreshments including mulled wine.

54

City VIEW

Markets in Lichfield

The Lichfield Markets offer a wide selection of

goods and local produce from friendly,

established and reliable market traders.

As well as the weekly General Markets on

Tuesdays, Fridays and Saturdays, a Producers

Market is held on the 1st Sunday of the month

(except January).

The Market Square is also available for hire on

a commercial or charitable basis on non-market

days.

For more details or for any information or

queries relating to Lichfield Markets please contact the City Council's Markets Officers

01543 309853 or e-mail: markets@lichfield.gov.uk Follow us on Twitter @LichfieldMarket

Coming soon at

the Samuel

Johnson

Birthplace

Museum

The Johnson Family Christmas

Sunday 5th December

11.00am – 3.30pm, Free

Enjoy the historic house decorated for Christmas, with

activities for all including crafts, storytelling and the

chance to enjoy a warm glass of mulled wine!

1 March - 31 October 10.30am-4.30pm

1 November - 28 February 11.00am-3.30pm

Standard entry is Free of charge

Call 01543 264 972 or email sjmuseum@lichfield.gov.uk for more information

or to book an event.

Please note: Events may be subject to change based on latest government

coronavirus restrictions.

The Newsletter of Lichfield City Council

Dates for your

diary…

Tuesday 19 October Mayor & Sheriff's Charity Quiz Night

7.00pm Guildhall. Tickets £15 p/p

Sunday 14 November Remembrance Sunday.

Cathedral Service 10.00am; Wreath laying Ceremony 11.00am Gardens of

Remembrance

Saturday 20 November Mayor & Sheriff's Charity Dinner Dance.

7.00pm Guildhall. Tickets £40 p/p

Tuesday 7 December Mayor's Carols for Christmas

7.00pm Guildhall.

Sunday 23 January 2022 Mayor & Sheriff's Church Service &

Traditional Charity Sunday Lunch.

Church Service 11.00am Wade Street Church

Lunch 1.00pm Guildhall. Tickets £25.p/p

Friday 11 February 2022 Mayor & Sheriff's Charity Race Night

7.00pm. Guildhall. Tickets £15 p/p

Saturday 12 March 2022. Mayor & Sheriff's Charity Vintage Musical

Evening & Auction

7.00pm. Guildhall. £30p/p

Tuesday 1 March 2022 Pancake Races & Shrovetide Fair

12 Noon Guildhall

Please note: Events may be subject to change based on latest

government coronavirus restrictions.

For more information, please contact Lucy Clarke on 01543 309852, or

email lucy.clarke@lichfield.gov.uk

Sheriff's Ride

On Saturday 11 September the Sheriff of

Lichfield, Mr Peter Hitchman took part in

the annual tradition that is the Sheriff's

Ride. This year's ride saw a much-reduced

format with no other horses taking part.

The Sheriff, accompanied by the Sheriff's

Lady, Mrs Pat Peters, were applauded as

they left the Guildhall at 12 Noon in a

spectacular horse drawn carriage. The

Clerk of the Course, Nick Sedgwick led the

Sheriff out of the city in a vehicle ahead of

the carriage.

After alighting from the carriage at the

Pinfold, the Sheriff and Sheriff's Lady

continued their journey with the Clerk of the

The Sheriff of Lichfield, Mr Peter Hitchman and

Sheriff's Lady Mrs Pat Peters depart from the

Guildhall (Photograph: Clive Read)

Course visiting many landowners throughout the afternoon before returning to their carriage

at Maple Hayes.

The Sheriff and Sheriff's Lady were escorted back into the city at 6.00pm by the Sword and

Mace Bearers, via the Cathedral Close, where they were welcomed by Canon Andrew Stead

of the Chapter at Lichfield Cathedral. The ride then continued via Dam Street and Market

Street to the Guildhall, arriving on time to receive guests for the first ever Sheriff's Banquet

to be held at the Guildhall with over 80 guests attending.

The Sheriff's Ride is a tradition which started in 1553 when Queen Mary's Charter separated

Lichfield from Staffordshire, making Lichfield 'a City and a County' with the right to appoint

its own Sheriff. The Charter commanded the Sheriff to make a complete perambulation to

inspect and enforce the city boundary each year. This year marks the 488th Sheriff's Ride.

The Sheriff said 'I am honoured to take part in this historic tradition; it was a thoroughly

enjoyable day that I will never forget. I would like to thank the Clerk of the Course, Nick

Sedgwick, and all the landowners who made the day very special, the Sheriff's Ride is one

of the most traditional and historic events in Lichfield's history and long may it continue!

For more information regarding the Sheriff's Ride please visit the Lichfield City Council

website www.lichfield.gov.uk
---
City VIEW

The Newsletter of

Lichfield City Council

Weddings at the

Guildhall

Located in Bore Street in

the heart of the city, the

Guildhall is a beautiful

historic Grade II Listed

Building, and is a

magnificent setting for civil

ceremonies, receptions

and other celebrations.

The main hall has oak panelling and a beamed roof giving

a fine mediaeval appearance and can accommodate up to

130 guests. The Guildroom, on the Ground floor, has

paneled walls and timber ceiling and can seat up to 70

guests.

A number of smaller rooms are also available to hire, and

are ideal for conferences, seminars or small meetings.

For more information or to enquire over availability please

contact Helen Winter at Lichfield City Council.

Tel: 01543 309850 or e-mail: helen.winter@lichfield.gov.uk

A wedding brochure is also available either from the City

Council offices at Donegal House or by downloading from

our website www.lichfield.gov.uk

OUR WEBSITE:

www.lichfield.gov.uk

Have you visited the City

Council's website? It

offers a wealth of

information about the

work of the City Council,

including details of all

Council meetings and

associated documents.

In addition, it contains useful information about the

City, its history, festivals and major events, and its

many unique customs and traditions.

The right Council…

Lichfield City Council is the 'parish'

authority for the City and is the smallest

of the three councils serving the City area.

Within the City we deal with local matters

such as the markets, maintenance of open

spaces and churchyards, civic and

mayoral events, the Samuel Johnson

Birthplace Museum and public lettings of

the Guildhall.

Lichfield District Council (Tel: 01543

308000) is the larger local authority

dealing with such matters as planning,

environmental health, refuse collection,

housing, car parking, arts and tourism,

and leisure services.

Staffordshire County Council (Tel: 0300

111 8000) is the responsible authority for

wider services such as Education, Social

Services and Highways.

Public

Participation

City Council meetings are held in the Guildhall, Bore Street. Dates and times of meetings can be found on the

noticeboard outside the Guildhall, and on the City Council's website at www.lichfield.gov.uk

Meetings are open to the public, with public participation sessions held at full Council. Advance notice needs to

be given to the Council of the subject matter of each question, and

any person wishing to speak must contact the Council Offices at

Donegal House, Bore Street (next to the Guildhall) before NOON on

the day of the meeting.

Monday 6 December 2021 6.30pm COUNCIL

Monday 24 January 2022 6.30pm COUNCIL

Monday 14 March 2022 6.30pm COUNCIL

Wednesday 20 April 2022 6.30pm COUNCIL

Monday 16 May 2022 6.30pm ANNUAL COUNCIL

Wednesday 25 May 2022 7.30pm ANNUAL TOWN

MEETING

55
---
Win Tickets to

Your Wedding Live

............................

Citylife in Lichfield has teamed up with Your Wedding Live to

offer 10 lucky readers the chance to win a pair of tickets to

the UK's hottest new premium wedding show. Taking place

from 23rd-24th October 2021 at Coventry Building Society Arena,

Your Wedding Live is set to be the ultimate destination for

wedding planning.

For more information about Your Wedding Live visit:

www.yourweddinglive.co.uk

To be in with a chance of winning, simply send your answer to the

question below with your details.

Where is Your Wedding Live being held this year?

a) NEC

b) Coventry Building Society Arena

c) Staffordshire County Showground

(Covid-19 Disclaimer: Your Wedding Live and Coventry Building

Society Arena are actively monitoring the evolving situation regarding

the outbreak of Covid-19 and will ensure that we adhere to guidelines

and take necessary measures to protect our exhibitors, staff and

visitors).

T&Cs

The 10 winners of the competition are entitled to a complimentary pair of

56

A Swashbuckling

Panto!

............................

Don't miss the All New Adventures of Peter Pan as it flies

into the Lichfield Garrick for the 2021 festive season!

The theatre has once again joined forces with Paul Hendy and

Evolution Productions to bring audiences a real festive treat with this

year's full-scale pantomime.

Lichfield legend, Sam Rabone, is back in a frock for his sixth year at the

Garrick as he stars as Mrs Smee, as well as once again steering the ship

as the show's director.

David McKechnie and Marcus Billany will play Captain Hook and

Peter Pan respectively. David loves pantomime season and is honoured

to be invited to Lichfield for this year's production. He's taken part in

shows all across the country, including Fleshcreep (The Cleverest Little

Goblin in all of Fairyland) in Jack & the Beanstalk (Beck Theatre, Hayes),

The Emperor in Aladdin (Wyvern Theatre, Swindon), Carabosse in

Sleeping Beauty (White Rock Theatre, Hastings), Captain Hook in Peter

Pan (Civic Theatre, Chelmsford), and one of the Wicked Stepsisters in

Cinderella (North Wales Theatre, Llandudno).

The role of Peter Pan is one that Marcus knows well, having previously

played him in Dunstable's 2019 rendition of the pantomime as Strictly's

AJ Pritchard's understudy and stand-in as he took part in the reality

show. He graduated from Laine Theatre Arts after appearing as a young

performer in West End productions such as Matilda: The Musical, Les

tickets to Your Wedding Live, on the 23rd

or 24th October 2021.

The prize does not include travel to or

from the event. The prize does not

include a goody bag.

All entrants must have a valid email

address as tickets will be supplied as

etickets. It is the entrant's sole

responsibility to ensure that their contact

details are up to date. Tickets are nontransferrable.

The ticket code will expire at midnight on Friday 22nd October

2021.

To enter, just send your name, contact details and answer to Wedding Live

Competition at competitioncitylife@gmail.com or post your entry to Citylife in

Lichfield Ltd, PO Box 7126, Lichfield WS14 4JS by the closing date of 21st

October 2021. One entry per household. Multiple entries will be disqualified.

No cash equivalent. Please note you must be 18 or over to enter. All entrants'

information is processed in line with GDPR Data Protection Regulations and

our Privacy Policy (available at citylifeinlichfieldltd.co.uk).

Full t&cs on page 58.

By Pamela Raith Photography

Miserables, Children Of Eden and Chitty Chitty Bang Bang. He most

recently appeared as 'Young Paul' in Breaking the Band for ITV.

The theatre is thrilled to also be welcoming back Joanne Heywood,

who will be jumping into the role of the grown-up Wendy Darling. The

eagle-eyed panto fans among you will recognise Joanne, who played

Queen Rat in the Garrick's 2018 pantomime, Dick Whittington. She's

delighted to have been invited back to play a goodie this time!

Further cast announcements will be coming soon.

All New Adventures of Peter Pan promises to be a dazzling show with

a brilliant cast, larger-than-life costumes, and more laughs than you can

shake your hook at!

The show opens on Thursday 25th November and runs until

Sunday 2nd January 2022. Tickets are available now – you can hook

yours via the Lichfield Garrick website (www.lichfieldgarrick.com)

or from the Box Office on 01543 412121.
---
Lichfield

Camera Club

............................

Lichfield Camera Club's first competition of the new season

proved to be a real challenge for judge John Haines. The

exceptionally high standard of entries meant that deciding

which entries merited an award proved to be very difficult.

As John explained: "Any number of entries could have qualified for an

award, in the end it comes down to personal preference and one has to

accept that some excellent images miss out."

In the Beginners/ Intermediate section, Kevin Terry took the top two

awards. His wonderfully atmospheric, beautifully captured image 1

"Lovers on Wilderness Beach" took first place. Kevin also displayed great

technical skill in capturing 2 "Gannet" in flight.

Sandra Morgan's lovely still life study 3 "Peony" in monochrome took

third place.

Annette Keatley captured some wonderful textures and dramatic sky

with 4 "The Train Yard."

Lily Pavey shot a superbly detailed wildlife image, 5 "Orange Beak",

with a lovely defocused background.

The weathervane beautifully silhouetted against the early morning sky

in 6 "At the Break of Dawn" was Ivan Shaw's entry.

In the Advanced section, the honours were taken by Chairman, Darron

Matthews, his amazingly detailed macro shots earning well deserved

praise from the judge. His 7 "Shield Bugs Paired on Corncockle" took

first place and Darron also took third place with 8 "Male Blue Tailed

Damselfly on Poppy Seed Head."

Second place went to Joe Anderson who displayed great technical skill

in his image 9 "F15 Eagle over the Welsh hills," capturing the aircraft and

its crew in impressive detail.

The topical issue of receding glaciers was the subject of Ed Simpson's

landscape 10 "Fox Glacier and Moraine."

A very different urban landscape was captured by Dean Borgazzi in his

atmospheric 11 "Fog over Westminster Bridge."

Finally, Rob Ings displayed great compositional skill with his highly

effective image of a dandelion head and seeds, with 12 "Parachutes."

Lichfield Camera Club is a friendly club that welcomes photographers

of all abilities. For more information on the club's activities visit

www.lichfieldcameraclub.org.

4

6 7

8

10

9

5

11

1

2

3

12

57
---
MAGAZINE

DISTRIBUTORS

WANTED

Earn extra money delivering

magazines in Lichfield. Must be

over 16 and reliable, call Marie

07548 682576

Competition and Prize Draw Terms and Conditions

1.Entrants' details will be held and processed in line with Citylife in Lichfield Ltd's Privacy Policy, which in turn adheres to

GDPR Data Protection legislation. For a copy of our Privacy Policy please email kristencitylife@gmail.com

2.By entering the prize draw/competition, you agree to the terms and conditions stated.

3.The closing date is stated on each individual prize draw or competition.

4.Entrants' details will be securely held by Citylife in Lichfield Ltd in accordance with our Privacy Policy. Details will be

held only until the closing date of the competition. After this date entrants' details will be securely destroyed/deleted.

Winners' contact details will be securely stored only until the winner has been informed of their win/prize. After this details

will be securely deleted/destroyed.

5.Entrants' details will never be shared with any third party. The only exception to this is the name (and if the prize is to

be posted) address of Competition/Prize Draw winners that will be communicated to the competition partner to allow

winners to securely claim their prize, after which all details will be securely destroyed. The initial and surname of winners

will be printed in our magazines – no other details will be published.

6.By entering the competition/prize draw, entrants agree to Citylife in Lichfield Ltd using or publishing materials provided

by the entrants (but not address or contact details apart from initial and surname) in any of their publications and online.

7.Citylife in Lichfield Ltd accepts no responsibility for any breach of copyright or breach of any other legislation entailed

by entrants in their creation or submission of materials.

8.Only one entry per prize draw/competition, per reader.

9.Except in the case of cash prizes, no cash equivalent will be offered and the prize is non-transferable.

10.All prizes are subject to availability and the prize suppliers' terms and conditions.

11.No purchase necessary.

12.Prize draws and competitions are only open to UK residents aged 18 years or over (unless otherwise stated).

13.Competitions and prize draws may not be entered by any employee of individual associated with any employee,

58

Guttering, UPVC, facias,

cleaned, repaired and

replaced

Shenstone Property Maintenance

FREE QUOTATIONS

10% Discount with this

advertisement

Call Stuart: 07786 150622

CLASSIFIED

To Advertise please

contact our classified

team on

07970 513144

This ad...

£40 plus VAT

agent or third party of Citylife in Lichfield Ltd.

14.Winners will be selected at random in the case of applicable prize draws and competitions, or by an independent

judge in the case of photographic/art competitions from all entries received.

15.Winners will be notified by Citylife in Lichfield up to 28 days after the closing date of the competition/prize draw by the

contact details provided by the entrant.

16.A list of the surnames and county of residence of the winners will be available by writing to Citylife in Lichfield Ltd no

earlier than six weeks after the competition closing date.

17.When the prize draw/competition winner has been selected, this decision is final and no correspondence will be

entered into.

18.Citylife in Lichfield Ltd accepts no responsibility for the prize being lost, damaged or delayed in transit. When the prize

is provided by a third party, Citylife in Lichfield Ltd accepts no responsibility for any change to the prize, or for the quality

of the prize provided.

19.Competitions may be amended or withdrawn at any time.

20.By entering the competition or prize draw, you agree to having your name, (photograph, where stated) and city or

county of residence published in any of Citylife in Lichfield's publications and online.

21.Unless otherwise stated, the promoter is Citylife in Lichfield Ltd, PO Box 7126, Lichfield, WS14 4JS.

22. Citylife in Lichfield Ltd do not express any warranty or endorsement of any competition prize, information, service or

product provided in connection with a competition by printing or otherwise publicising any competition.

23.To the full extent of the law, Citylife in Lichfield Ltd shall not be liable for any loss, claim, punitive, indirect, incidental or

consequential damages of any kind incurred as a result of entering this prize draw or competition.

24.By submitting photos, text or artworks as part of competition/prize draw entries you agree that you own these photos

text or artworks, that it is your original work to which you own all rights to distribute, and that your entry is accurate, moral

and legal.
---
59