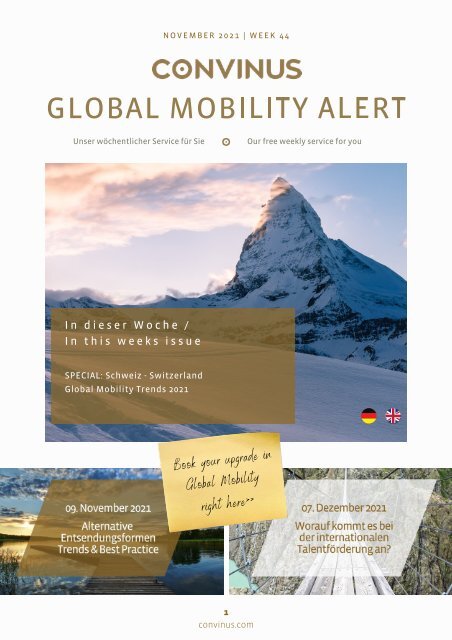 CONVINUS Global Mobility Alert Week 44
You also want an ePaper? Increase the reach of your titles
YUMPU automatically turns print PDFs into web optimized ePapers that Google loves.
N O V E M B E R 2 0 2 1 | W E E K 4 4

GLOBAL MOBILITY ALERT

Unser wöchentlicher Service für Sie Our free weekly service for you

I n d i e s e r W o c h e /

I n t h i s w e e k s i s s u e

SPECIAL: Schweiz - Switzerland

Global Mobility Trends 2021

your upgrade in

Book

Mobility Global

right here>>

1

convinus.com
---
Schweiz / 04. November 2021

Einführung des «Schweizer COVID Zertifikats»

Am 3. November 2021 hat der Schweizer Bundesrat die Einführung eines «Schweizer COVID Zertifikats» für

Geimpfte, Genesene oder negativ Getestete per 16. November 2021 angekündigt. In der gleichen Sitzung hat der

Bundesrat auch folgende Änderungen in diesem Zusammenhang beschlossen:

Personen, die ihre Genesung mit PCR Test nachweisen können, erhalten zukünftig ein COVID-Zertifikat gültig für

12 Monate anstatt 6 Monate wie bisher. Empfohlen wird eine einmalige Impfung, welche zur Ausstellung eines

12-monatigen gültigen COVID-Zertifikats führt.

Genesene mit positiven Antikörpertest erhalten ein COVID-Zertifikat gültig bis zu 90 Tage, das aber in der EU

weiterhin nicht anerkannt wird.

Wer sich aus medizinischen Gründen nicht impfen oder testen lässt, bekommt ab Mitte Dezember 2021 auch ein

COVID-Zertifikat gültig für 365 Tage. Zurzeit erhalten sie nur ein ärztliches Attest zwecks Zugangs zu Indoor-

Aktivitäten mit COVID-Zertifikatspflicht.

Ab Ende November 2021 erhalten jene Touristen/innen auch ein 30-tägiges Schweizer COVID-Zertifikat, die mit

einem nur von der WHO zugelassenen Impfstoff namentlich, Sinovac und Sinopharm geimpft wurden. Allerdings

ist das COVID-Zertifikat in diesem Fall nur in der Schweiz gültig. Alle anderen Personen, die mit einem von

Swissmedic und der EMA zugelassenen Impfstoff geimpft wurden, erhalten zurzeit ein COVID-Zertifikat, das in

der Schweiz und in der EU anerkannt ist.

Die Einführung des Schweizer COVID-Zertifikats betrifft auf keiner Weise die aktuell gültigen Einreisevorschriften

in Bezug auf das Vorliegen eines anerkannten COVID-Zertifikats bzw. eines negativen PCR-Tests vor und nach der

Einreise in die Schweiz.

Switzerland / November 4, 2021

Introduction of the «Swiss COVID Certificate»

On November 3, 2021, the Swiss Federal Council announced the introduction of a "Swiss COVID Certificate" for

vaccinated, recovered, or negatively tested persons as of November 16, 2021. At the same meeting, the Federal

Council also approved the following changes in this regard:

Persons who can prove their recovery with PCR test will receive in the future a COVID certificate valid for 12

months instead of 6 months as before. A single vaccination is recommended, which leads to the issuance of a 12-

month valid COVID certificate.

Recovered persons with positive antibody tests will receive a COVID certificate valid for up to 90 days, but this

will still not be recognized in the EU.

Those who do not get vaccinated or tested for medical reasons will also receive a COVID certificate valid for 365

days from mid-December 2021. Currently, they only receive a medical certificate for access to indoor activities

with the COVID certificate requirement.

From the end of November 2021, those tourists will also receive a 30-day Swiss COVID certificate who have been

vaccinated with a vaccine approved only by the WHO, namely Sinovac and Sinopharm. However, in this case, the

COVID certificate is only valid in Switzerland. All other individuals vaccinated with a vaccine approved by

Swissmedic and the EMA currently receive a COVID certificate that is recognized in Switzerland and the EU.

The introduction of the Swiss COVID certificate does not in any way affect the current valid entry requirements

regarding the presence of a recognized COVID certificate or a negative PCR test before and after entry into

Switzerland.

2

convinus.com
---
Schweiz / 4. November 2021

Zulassung zum Schweizer Arbeitsmarkt

Vereinfachte

Drittstaatsangehörige mit Schweizer Hochschul-

für

abschluss

Aktuell besteht für Schweizer Hochschulabsolventinnen und Hochschulabsolventen aus Drittstaaten die

Möglichkeit, für sechs Monate nach erfolgreichem Abschluss (Bachelor, Master und Doktorat sowie Master of

Advanced Studies) in der Schweiz zu bleiben, um eine Arbeitstätigkeit zu suchen. Schweizer

Hochschulabsolventinnen und Hochschulabsolventen aus Drittstaaten ist es unter der Voraussetzung, dass die

Arbeitstätigkeit von hohem wissenschaftlichem oder wirtschaftlichem Interesse ist, erlaubt eine Arbeitsstelle

anzutreten, ohne dass der Arbeitgeber bei der Bewilligungseinholung den CH/EU/EFTA-Inländervorrang einhalten

muss. Zudem unterstehen Arbeitsbewilligungsgesuche für Schweizer Hochschulabsolventinnen und

Hochschulabsolventen aus Drittstaaten den jährlichen Höchstzahlen für Aufenthaltsbewilligungen.

Die Bundesregierung hat am 27. Oktober 2021 bis zum 10. Februar 2022 die Vernehmlassung zu einer Änderung des

Ausländers- und Integrationsgesetzes (AIG) eröffnet, welche die rechtlichen Voraussetzungen für die

Arbeitsmarktzulassung für Drittstaatsangehörige mit Schweizer Hochschulabschluss erleichtern soll und die

Möglichkeit schaffen soll, in Bereichen mit Fachkräftemangel, erleichtert in der Schweiz zu bleiben und einer

Arbeitstätigkeit nachzugehen. Die Bundesregierung hat eine Änderung von Artikel 30 AIG und die Einführung eines

Artikels 30 Absatz 1 Buchstabe m AIG vorgeschlagen, wonach Arbeitsbewilligungsgesuche für Schweizer

Absolventen aus Drittstaaten von den jährlichen Höchstzahlen für Aufenthaltsbewilligungen ausgenommen

werden können. Somit würden die Bewilligungskontingente für Schweizer Absolventen aus Drittstaaten wegfallen.

Mit der Gesetzesänderung soll ebenso die Handhabung vereinheitlicht werden.

In der Praxis haben gewisse Kantone wie zum Beispiel der Kanton Waadt bereits eine ähnliche Regelung

eingeführt. Die Waadtländer Arbeitsmarktbehörde erteilt EPFL-Absolventinnen und Absolventen aus Drittstaaten

grundsätzlich eine Arbeitsbewilligung, ohne dass die Arbeitgeber Rekrutierungsnachweise erbringen

beziehungsweise den CH/EU/EFTA-Inländervorrang einhalten müssen. In Kantonen wie Genf und Zürich müssen

immer noch Rekrutierungsnachweise erbracht werden, um Arbeitsbewilligungen für Schweizer Absolventen aus

Drittstaaten zu erhalten.

3

convinus.com
---
admission to the Swiss labour market

Simplified

third-country nationals with a Swiss university

for

Switzerland / November 4, 2021

degree

Currently, Swiss university graduates from third countries can remain in Switzerland for six months after

successfully completing their studies (Bachelor, Master and Doctorate as well as Master of Advanced Studies) in

order to seek employment. Swiss university graduates from third countries are permitted to take up employment -

provided that the work activity is of high scientific or economic interest - without the employer having to comply

with the CH/EU/EFTA national priority when obtaining the permit. In addition, work permit applications for Swiss

university graduates from third countries are subject to the annual maximum numbers for residence permits.

On October 27, 2021, the federal government opened the consultation period until February 10, 2022 for an

amendment to the Foreign Nationals and Integration Act (AIG), which is intended to facilitate the legal

requirements for labour market admission for third-country nationals with a Swiss university degree and to create

the possibility of staying in Switzerland and pursuing a work activity more easily in areas with a shortage of skilled

workers. The federal government has proposed an amendment to Article 30 AIG and an introduction of an Article 30

paragraph 1 letter m AIG, according to which work permit applications for Swiss graduates from third countries can

be exempted from the annual maximum numbers for residence permits. This would eliminate the permit quotas for

Swiss graduates from third countries. The amendment to the law is also intended to standardize handling.

In practice, certain cantons, such as the canton of Vaud, have already introduced a similar regulation. The labour

market authority in Vaud generally grants EPFL graduates from third countries a work permit without employers

having to provide proof of recruitment or comply with the priority for CH/EU/EFTA nationals. In cantons such as

Geneva and Zurich, proof of recruitment is still required to obtain work permits for Swiss graduates from third

countries.

4

convinus.com
---
Besteuerungsregeln der privaten Nutzung von

Neue

per 1.1.2022

Geschäftswagen

taxation rules for the private use of company

New

as of 1.1.2022

cars

Schweiz / 4. November 2021

Die Gewährung eines Geschäftswagens zählt in den Unternehmen nach wie vor als ein grosser Benefit für den

Mitarbeiter. Daher ist die Änderung der pauschalen Abgeltung von Fahrkosten von Bedeutung, da dies – auch wenn

nur in geringem Umfang – zu erhöhten Kosten führt.

Was ändert sich? Ab dem 1. Januar 2022 setzt das Eidgenössische Finanzdepartement die Änderung der

Berufskostenverordnung in Kraft, durch die neu die Fahrtkosten für den Arbeitsweg ebenfalls im Rahmen der

privaten Nutzung des Geschäftswagens abgedeckt sind und somit besteuert werden.

Demzufolge gilt für die direkte Bundessteuer, bei der Anwendung der pauschalen Fahrkostenabrechnung der

Prozentsatz für die Aufrechnung sich von 0.8% auf 0.9% für die private Nutzung des Geschäftswagens erhöht. Mit

dem erhöhten Prozentsatz sind auch die Kosten für den Arbeitsweg berücksichtigt. Somit entfällt die Pflicht der

Aufrechnung für den Arbeitsweg sowie der Fahrkostenabzug bei der direkten Bundessteuer. Des Weiteren muss der

Arbeitgeber auch nicht mehr den Anteil von Aussendiensttätigkeit im Lohnausweis deklarieren.

Dies führt für Arbeitgeber zu weniger administrativen Aufwänden, wird aber zu erhöhten Sozialversicherungsbeiträgen

sowie Mehrwertsteuern führen. Gemäss der Auswertung der Direkten Bundessteuer sollte diese

Änderung nicht zu Mehrkosten für die Steuerpflichtigen führen. Neben der pauschalen Fahrkostenabrechnung

bleibt die Möglichkeit der Abrechnung der effektiven Kosten mit einem Fahrtenbuch.

Zurzeit ist noch unklar, inwieweit alle Kantone diese neue Regelung ebenfalls in gleicher Art und Weise umsetzen

werden.

Switzerland / November 4, 2021

The granting of a company car still counts as a great benefit for the employee in companies. Therefore, the change

in the flat-rate reimbursement of the private use is significant, as this leads to increased costs - even if only to a

small extent.

What is changing? As of 1 January 2022, the Federal Department of Finance will implement the amendment to the

Ordinance on Professional Expenses, through which travel costs for the way to work will now also be covered as

part of the private use of the company car and thus taxed.

Consequently, for the direct federal tax, when applying the flat-rate private-use settlement, the percentage rate

for offsetting is increased from 0.8% to 0.9% for the private use of the company car. The increased percentage also

takes into account the costs for the commute to work. This means that the obligation to offset the costs of the

commute to work and the deduction of travel costs for direct federal tax purposes no longer apply. Furthermore,

the employer no longer has to declare the share of field work in the salary statement.

This leads to less administrative work for employers, but will result in increased social security contributions and

VAT. According to the evaluation of the Direct Federal Tax, this change should not lead to additional costs for

taxpayers. In addition to the lump-sum settlement of private-use, there remains the possibility of settling the

actual costs with a logbook.

At present it is still unclear to what extent all cantons will also implement this new regulation in the same way.

5

convinus.com
---
Mobility Trends 2021:

Global

und Life-Science Unternehmen sind weltweit auf

Pharma-

Mobility Trends 2021:

Global

and life science companies rely

Pharmaceutical

4. November 2021

Die globale Mobilität von hochqualifizierten internationalen Arbeitskräften ist und bleibt ein Erfolgsfaktor für viele

ausländische Arbeitskräfte angewiesen

Unternehmen. Nicht nur - aber insbesondere auch - die Pharma- und Life-Science-Branche benötigen spezialisierte Fachkräfte, die

nur auf dem internationalen Arbeitsmarkt zu finden sind, um konkurrenzfähig zu bleiben und die Forschung voranzutreiben.

In einer kürzlich veröffentlichten Studie der IOE (International Organisation of Employers) wurden 153 Führungskräfte aus den

USA und Kanada befragt, wie sie den Zugang zu ausgewiesenen Fachkräften und Experten der Pharmabranche und des Life-

Science-Sektors einschätzen. Dabei stellte sich heraus, dass momentan nur circa 3% der Unternehmen ausreichend qualifizierte

Arbeitskräfte auf dem heimischen Arbeitsmarkt finden. Die überwiegende Mehrzahl der Unternehmen ist auf die Rekrutierung

von Arbeitskräften aus dem Ausland angewiesen.

Das unkomplizierte Einholen von Arbeitsbewilligungen für ausländische Fachkräfte ist dabei zentral. An den

Rahmenbedingungen für Arbeitsbewilligungen in den jeweiligen Einsatzstaaten lässt sich dabei wenig ändern. Für die

bestmögliche Gewinnung und Anstellung ausländischer Fachkräfte sind viele Unternehmen daher übergegangen, die aufwendige

und zeitintensive Arbeit des Beantragens von Arbeitsbewilligungen an geeignete Partner auszulagern. Damit wird der Prozess

war auch nicht zum Kinderspiel, aber er lässt sich deutlich optimieren und effizienter gestalten.

November 4, 2021

worldwide on foreign labor

The global mobility of highly qualified international employees remains a success factor for many companies. Not only - but

especially - the pharmaceutical and life science industries need specialized professionals that can only be found in the

international labor market to be competitive and drive research.

In a recently published study by the IOE (International Organization of Employers), 153 executives from the U.S. and Canada were

asked how they view their access to designated specialists and experts in the pharmaceutical and life science sectors. The survey

revealed that currently only about 3% of the companies can find sufficiently qualified employees on the domestic labor market.

The vast majority of companies rely on recruiting employees from abroad.

It is, therefore, essential that companies receive foreign work permits easily. However, not much can be done about each

countries work permit rules and regulation. To ensure the best possible recruitment and employment of foreign specialists, many

companies have, therefore, decided to outsource the tedious and time-consuming process of applying for work permits to

suitable partners. This does not make the process easy, but it can be significantly optimized and made more efficient.

6

convinus.com