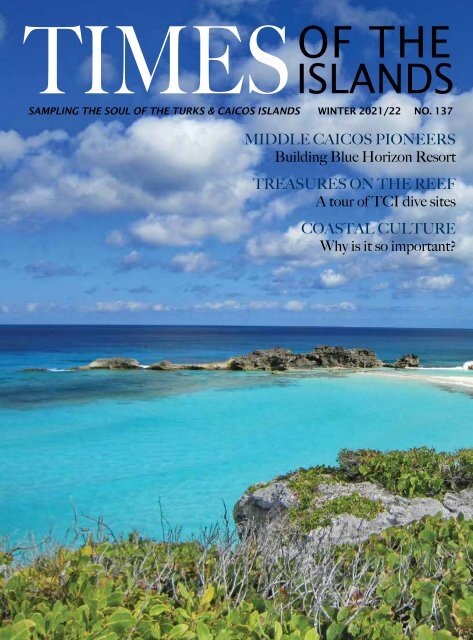 Times of the Islands Winter 2021-22
Presents the "soul of the Turks & Caicos Islands" with in-depth features about local people, culture, history, environment, real estate, businesses, resorts, restaurants and activities.
Presents the "soul of the Turks & Caicos Islands" with in-depth features about local people, culture, history, environment, real estate, businesses, resorts, restaurants and activities.
SHOW MORE
SHOW LESS
You also want an ePaper? Increase the reach of your titles
YUMPU automatically turns print PDFs into web optimized ePapers that Google loves.
TIMES

OF THE

SAMPLING THE SOUL OF THE TURKS & CAICOS ISLANDS WINTER 2021/22 NO. 137

ISLANDS

MIDDLE CAICOS PIONEERS

Building Blue Horizon Resort

TREASURES ON THE REEF

A tour of TCI dive sites

COASTAL CULTURE

Why is it so important?
---
Comfort Food Just Went A-list.

If your idea of comfort feels like

cashmere, you will find its culinary

equivalent at Almond Tree,

the Shore Club's deliciously

decadent new eatery.

Golden, crusty wood-fired pizza.

Savory skillets, bubbling over with flavor

and just oozing with temptation.

Salads and sides that give new meaning

to the word "indulgence."

These days, we're all hungry

for contentment and satisfaction.

Almond Tree at the Shore Club

simply takes it to a whole new level.

Reservations 649 339 8000

theshoreclubtc.com

ALMOND TREE

COURTYARD BAR

Dinner 6 –10:30pm

5pm – Midnight
---
JAMAICA'S

ULTIMATE

VOTED WORLD'S BEST

23

YEARS IN A ROW AT THE WORLD TRAVEL AWARDS

5 DISTINCT VILLAGES TO

CHOOSE FROM

Key West Italian

1. Village 2. Village

3. Caribbean

Village

4. French

Village

5. Seaside

Village

TM/© 2021 Sesame Workshop

EVERYTHING'S INCLUDED FOR EVERYONE!

Unlimited fun and entertainment is all-included

at Beaches® Turks & Caicos. And now with our

Platinum Protocol of Cleanliness, our already

industry-leading safety and health practices are

even more enhanced, guaranteeing the peace of

mind you need to enjoy your time with us. Stay at

one village and play at all five choosing from every

land and water sport imaginable, an awe-inspiring

waterpark with a SurfStream® surf simulator, or simply just splash,

swim and sip the day away with new friends at a sparkling swim-up

pool bar. Pamper yourself in a world of tranquility at our Caribbeaninspired

Red Lane® Spa and then enjoy an all-included feast at one of

21 incredible 5-Star Global Gourmet restaurants and enjoy non-stop

bars and entertainment all for the price of one vacation. With all of this

activity at your fingertips, it's no wonder Beaches Turks & Caicos has

held the top spot at the World Travel Awards for over two decades.

21 RESTAURANTS

@beachesresorts

FOR MORE INFORMATION, VISIT BEACHES.COM, CALL 1-800-BEACHES

OR CALL YOUR TRAVEL ADVISOR

*Visit www.beaches.com/disclaimers/timesoftheislandsspring2021 or call 1-800-BEACHES for important terms and

conditions. Beaches ® is a registered trademark. Unique Vacations, Inc. is an affiliate of Unique Travel Corp., the worldwide

representative of Beaches Resorts.
---
contents

Departments

6 From the Editor

17 Getting to Know

Lindsay Gardiner

By Jody Rathgeb ~ Photo By Tom Rathgeb

22 Eye on the Sky — Global Warming

A Ripple Effect

By Paul Wilkerson

28 Talking Taíno

Clear as Mud

By Emily Kracht and Lindsay Block with

Bill Keegan, Betsy Carlson and Michael Pateman

66 Around the Islands

Lights, Camera, Action!

By Matthew Matlack

76 About the Islands/TCI Map

80 Subscription Form

82 Classified Ads

Features

35 Middle Caicos Pioneers

By Michael and Mikki Witt

46 Treasures on the Reef

By Kelly Currington

Green Pages

55 Food for Thought . . . Not Iguanas

By Devyn Hannon, Jacqui Taff, Sedona Stone,

Maddie Adkison, Lily Finn, Amber Johnson,

Abbey Stewart, Luke Monteiro, Kerry Bresnahan

and Morgan Karns ~ Edited by Julia Locke, SFS

59 RumPowered Research

By Alizee Zimmermann and Don Stark, TCRF

Photos By Patricia Guardiola

TIMES

OF THE

ISLANDS

SAMPLING THE SOUL OF THE TURKS & CAICOS ISLANDS WINTER 2021/22 NO. 137

On the Cover

Marta Morton, our go-to photographer for all things naturally

beautiful in the Turks & Caicos Islands, captured

this peaceful scene overlooking Dragon Cay on Middle

Caicos. You can read more about the history of resort

development there on page 35. For more of Marta's

breathtaking images, visit www.harbourclubvillas.com.

62 TCI Coastal Culture Values

By Oshin Whyte

Astrolabe

70 Island Visionary

By Dr. Carlton Mills

35

GARY JAMES—PROVO PICTURES

4 www.timespub.tc
---
TurksAndCaicosProperty.com

Mandalay Estate, Long Bay Beachfront

Nestled along coveted Long Bay Beach, Turks and Caicos Islands, Mandalay Estate offers a discerning

buyer an idyllic private retreat with over 200 ft. of pristine, white sandy beach and brilliant turquoise

waters. Mandalay features 7 bedrooms and an award-winning architectural design capturing the essence

of open Caribbean living with a masterful layout that revolves around the spectacular multi-level pool.

US$13,900,000

Bernadette Hunt

Cell ~ 649 231 4029 | Tel ~ 649 941 3361

Bernadette@TurksAndCaicosProperty.com

Bernadette has lived in the Turks and Caicos

Islands for over 21 years and witnessed the

development and transition of the islands

into a significant tourist destination. Based

on independent figures her gross transaction

numbers are unrivalled. Bernadette

has listings on Providenciales, Pine Cay,

Ambergris Cay, North and Middle Caicos

and is delighted to work with sellers and

buyers of homes, condos, commercial real

estate and vacant undeveloped sites.

Grace Bay Commercial Property

Grace Bay commercial property consisting of 2 large vacant lots (parcel 96 & 97) with a total of 1.85

acres in the heart of Grace Bay; the Turks and Caicos Islands' top tourist area. Situated just behind Grace

Bay Road and the Bella Luna Restaurant and about a 3 minute walk away from the new Ritz Carlton on

Grace Bay Beach.

Price Upon Request

Turks and Caicos Property is the leading

independent real estate firm in the Turks and

Caicos Islands with offices located at Ocean

Club West Resort and Ocean Club West

Plaza on the Grace Bay Road.

Bernadette's reputation and success has been

earned over time through her dedication,

enthusiasm and passion for real estate. Her

personal experience as having practiced law

in the islands for more than 10 years together

with owning and renovating a number of

properties means she is well-placed to advise

her customers and developers on what to

anticipate in the purchasing and construction

process.

Bernadette delights in working in the real

estate industry and her humor and energy

make her a pleasure to work with.

Seven Stars 3 Bedroom Condo, Grace Bay Beachfront

Beachfront suite 1506/07 at the Seven Stars is a recently renovated 2,873 sq. ft. stunning residence

located in the Alhena Building on the 5th floor providing unobstructed panoramic views of spectacular

Grace Bay Beach. An excellent income generator in the very successful Seven Stars resort rental

program.

US$3,500,000

Please contact Bernadette if you would like

to find out more about owning real estate in

the Turks & Caicos Islands.
---
from the editor

MATTHEW MATLACK—SEATURTLECREATIVE.COM

Although now fronted by multi-million dollar villas, the view below the water at Providenciales' iconic Smith's Reef in late 1980 is among my

favorite memories of the Turks & Caicos Islands.

Nostalgia

The dictionary defines nostalgia as "a sentimental longing or wistful affection for the past, typically for a period or

place with happy personal associations." Perhaps it's my age or the effects of the COVID pandemic, but I find myself

steeped in nostalgia these days. I think I am becoming one of those "old timers" who wax eloquent about "the good

old days." I remember meeting such folks when I first came to the Turks & Caicos 30 years ago—as a young, fresh

editor totally enamoured of these Islands. When I read articles like this issue's "Middle Caicos Pioneers," it's odd to

realize that I was there when that was happening! And I had written many articles about what took place!

As Providenciales, especially, seems to be in the midst of "Development Boom 3.0," I empathize with the interviewees

of Oshin Whyte's study on cultural values and coastal heritage. This country's stunning, clean, uncrowded

beaches, bush and seascapes are important to keep us all centered and grounded. And once again, I feel blessed

with my purpose of documenting the TCI's amazing natural wonders and rich cultural heritage through the pages of

this magazine. I can't think of anything I would rather do with my life.

Nostalgia is sweet, but deceiving when it tends to downplay the good things that are ahead. When you read Mat

Matlack's description of the Turks & Caicos International Film Festival, we can realize that the young "up and comers"

of TCI society care about the same things we do—including the preservation of our precious planet and this "Beautiful

by Nature" Turks & Caicos Islands.

Kathy Borsuk, Editor • timespub@tciway.tc • (649) 431-4788

6 www.timespub.tc
---
Only select 1, 2 or 3 bedroom

units remain available.

Construction is underway

Prices starting from low $1m's

Register interest today at

livesouthbank.com

For more information contact

Nina Siegenthaler at 649.231.0707

Joe Zahm at 649.231.6188

or email: nina@tcsothebysrealty.com

The Boathouses, set around a landscaped park and pool, offer a vibrant village-style

atmosphere on the marina waterfront. Every residence has a private boat dock offering

instant access to life on the water, with peaceful terraces to enjoy sunsets over Juba Sound.

Developed by Windward: www.windward.tc

Managed by:

Brand partner:
---
YOUR FAMILY

HAS BEEN AND

WILL ALWAYS BE

PRIORITY

#1

®

BEACHES

THE BRAND YOU CAN

TRUST

PHYSICAL

DISTANCING

PRACTICES

11

1

SUITE

CLEANING

TOUCH 5

POINTS

In-Room Bars &

C o ff e e / T e a S t a t i o n s

2 All Closet Accessories

3 Air Ducts

4 Hard Surfaces

Television &

All Electronics

6 UV-LED Lights

WE'RE SAFEGUARDING YOUR HOME AWAY FROM HOME

PRIVATE

AIRPORT

TRANSFERS

NEW

AT-HOME

to

IN-ROOM

CHECK-IN

GUESTS CAN NOW

CHECK-IN ONLINE,

LETTING THEM SKIP

THE FRONT DESK AND

GO DIRECTLY TO

THEIR ROOM.

7 Bed Frame & Furniture

8

BEACHES ONLY USES

PRIVATE TRANSFERS FOR ALL GUESTS.

As part of the 5-STAR LUXURY EXPERIENCE,

Beaches guests are never left to fend for

themselves in crowded airports. Every guest

is given access to the private lounge reserved

for Beaches guests.

Placement Of

Anti-Bacterial Gels & Soaps

9 Carpeting And Floors

10 Soft Furnishings

11 Bedding & Mattresses

BATHROOM CLEANING TOUCH POINTS

9

1

2

Hand Sanitizers For All

Guests Upon Arrival

Placement Of Anti-Bacterial

Gels And Soaps

3 Floors

4 Electrical Aerosol Sprayers

5 Shower

6 UV-LED Light

7

SAFETY

TO EVERY CORNER OF THE RESORT

Tub

8 Air Ducts

EXCLUSIVE

A

9 Hard Surfaces

that

I R P O R T

SPANS

PRIVATE

L O U N G E S

TEMPERATURE

CHECK

AT CHECK-IN

TEMPERATURES

EXCEEDING

99.5F/37.5C

WILL BE CONSIDERED

OUT OF RANGE.
---
LEADING THE INDUSTRY IN HEALTH AND SAFETY PROTOCOLS.

ALWAYS.

1 Arrival At Our Airport Lounges

2 Guest Transfers To Our Resorts

3 Food And Beverage Outlets

4 Housekeeping & Laundry

OUR

TOUCH POINT PRACTICE

5 Butler Elite Services

6 Maintenance

7 Resort Recreational Activities

8 Guest Rooms

9 Elevators

10 Swimming Pools & Whirlpools

11 Team Members Access Points

12 Fitness Centers

13 Bathrooms

14 Suppliers

15 All Public Resort & Beach Areas

16 Back Of House Areas

17 Red Lane ® Spa

18 HVAC Systems

safe

to slide

3X

TRIPLE

CHECK

SYSTEM

FOR CLEANING

AND

SANITIZATION

Prevention is the key to safeguarding the health of our

employees and guests. We long ago developed a sophisticated

approach to preventing the spread of illnesses at our

resorts under the guidance of medical professionals,

the Centers for Diseases Control and Prevention

(CDC), World Health Organization (WHO), and the local

Ministries of Health in each country we call home. We

have dedicated Quality Inspection Teams and environmental

health and safety managers at all of our resorts to make

sure every procedure is in place to protect every guest and

team member. That even extends to our supply chain. Our

resorts have always been equipped with full-service

medical stations staffed daily with a registered nurse

and 24/7 on-call medical personnel, but we've upgraded

these facilities to include the appropriate equipment

and supplies needed to address new protocols. So you

can book your next stay with us knowing that Beaches has

always been the brand you can trust, and always will be.

BEACHES.COM l 1-800-BEACHES

Or Call Your Travel Advisor

@beachesresorts

Beaches ® is a registered trademark. Unique Vacations, Inc. is an affiliate of Unique Travel Corp., the worldwide representative of Beaches Resorts.
---
WWW.AGENCYIAN.COM

IAN HURDLE

IAN.HURDLE@THEAGENCYRE.COM 649.332.2612 @caribb.ian

One of the top agents serving the Turks and Caicos luxury markets,

Ian Hurdle brings more than 25 years of experience in the real estate,

construction, property management, and hospitality industries to his

role as Founder and Director of The Agency's Turks and Caicos office.

With a reputation for his excellent communication, stellar negotiating

skills, and superior, white-glove service, real estate isn't simply a job for

Ian, it's a passion.
---
YOUR LUXURY REAL ESTATE

SPECIALIST IN THE CARIBBEAN

Adventure Cliff

AMBERGRIS CAY | TURKS & CAICOS

4 BEDS | 4 BATHS | 6800 SQ FT | 0.46 ACRE LOT

There are few properties in the Turks and Caicos that

have 'everything'. Adventure Cliff on Ambergris Cay is

one of the few. Growing up I am sure you dreamed of

owning the quintessential beach cottage on a cliff face,

overlooking beautiful beach with powder white sand

and astounding ocean views, blues, and nature. It's the

stuff of movies and fantasy. Let me bring you to reality.

Boasting four magnificently appointed bedrooms, all

with en suite bathrooms, the master suite encompasses

the entire North wing of the house and the east facing

bedrooms allow for panoramic views of the crystalline

blues of the Caribbean Sea and sunrise to wake up to

every day. During season you are front row to watch

the whales migrating. A home designed for comfort

and family, these bedrooms envelop the beautiful and

spacious open plan living, dining and kitchen. The post

card backdrop is the expansive pool deck and the ocean

beyond, all delicately landscaped to enhance the effect.

OFFERED AT $4,999,500.00
---
- --- ---

- ---

-==---

-·----

Experience Our Sister Lslands

Each Island in our Turks and Caicos Islands chain is a destination on its own.

Experience the unparalleled beauty and exciting excursions that make our

'Beautiful by Nature' islands special. Retreat to one of our majestic Sister

Islands for the perfect family or solo getaway!

PHOTO CREDIT: BRILLIANT STUDIOS & CAYA HICO

Call: (649) 946-4970

TurksAndCaicosTourism.com
---
TIMES

OF THE

ISLANDS

MANAGING EDITOR

Kathy Borsuk

ADVERTISING MANAGER

Claire Parrish

CONTRIBUTING WRITERS

Maddie Adkison, Dr. Lindsay Bloch, Kathy Borsuk,

Kerry Bresnahan, Dr. Betsy Carlson, Kelly Currington,

Lily Finn, Devyn Hannon, Amber Johnson, Morgan Karns,

Dr. Bill Keegan, Emily Kracht, Julia Locke, Matthew Matlack,

Dr. Carlton Mills, Luke Monteiro, Dr. Michael P. Pateman,

Jody Rathgeb, Don Stark, Abbey Stewart, Sedona Stone,

Jacqui Taff, Lisa Turnbow-Talbot, Oshin Whyte,

Paul Wilkerson, Michael and Mikki Witt,

Alizee Zimmermann.

CONTRIBUTING PHOTOGRAPHERS

Lindsay Bloch, Eric Carlander, Kelly Currington, Lily Finn,

Patricia Guardiola, Devyn Hannon,

Gary James–Provo Pictures, Magnetic Media,

Matthew Matlack, Robert Metcalfe,

Marta Morton, Michael Morton, NASA, Leland Neff,

Carlos Pita, Tom Rathgeb, Shutterstock,

Turks & Caicos National Museum, Lisa Turnbow-Talbot,

Matt Weedon, Michael and Mikki Witt.

CONTRIBUTING ARTISTS

Merald Clark, Wavey Line Publishing.

PRINTING

PF Solutions, Miami, FL

Times of the Islands ISSN 1017-6853 is

published quarterly by Times Publications Ltd.

Copyright © 2021 by Times Publications Ltd. All rights reserved

under Universal and Pan American Copyright Conventions.

No part of this publication may be

reproduced without written permission.

Subscriptions $28/year; $32/year for

non-U.S. mailing addresses

S A V E O V E R 5 0 %

O N Y O U R P O W E R B I L L

W I T H S O L A R E N E R G Y

Call us today for a renewable energy consultation

+1 649 332 1393 or +1 649 431 4242

www.greenrevolutionltd.com

Submissions We welcome submission of articles or photography, but

assume no responsibility for care and return of unsolicited material.

Return postage must accompany material if it is to be returned. In no

event shall any writer or photographer subject this magazine to any

claim for holding fees or damage charges on unsolicited material.

While every care has been taken in the compilation and reproduction of

information contained herein to ensure correctness, such information is

subject to change without notice. The publisher accepts no

responsibility for such alterations or for typographical or other errors.

Business Office

Times Publications Ltd., P.O. Box 234,

Providenciales, Turks & Caicos Islands, BWI

Tel 649 431 4788

E-mail timespub@tciway.tc

Web www.timespub.tc

Advertising tfadvert@tciway.tc

16 www.timespub.tc
---
getting to know

These days, Lindsay Gardiner can be found behind the desk at Caicos Cruisin',

at Walkin Marina at the far eastern end of Providenciales.

The Travelin' Man

Who Didn't Travel

Lindsay Gardiner

By Jody Rathgeb ~ Photo By Tom Rathgeb

He was always there. In the 1990s and early 2000s, you never had to look far for Lindsay Gardiner. It

seemed he never left his spot at Provo airport, behind the desk of Global Airways. His was the face of

the air charter company, a welcome sight for travelers headed to North Caicos for vacation or Islanders

looking for a ride back after a day of banking, shopping and other errands.

Times of the Islands Winter 2021/22 17
---
Interisland travel has

changed, and Global Airways

no longer exists, but Lindsay

is still there . . . not at the

airport anymore, but as a

manager at Caribbean Cruisin'

at Walkin Marina at the eastern

end of Providenciales. He

has moved from an air service

to ferry service but remains

that steady guy behind the

counter.

Lindsay's perspective on

travel is not only his story,

but also that of his family.

With brothers Ferrington and

Bennett, the Gardiners put

together the air charter that

operated for 15 years. They

figured they had the right

stuff. As Lindsay tells it, in

1993 they were talking about

aviation in the Islands and realized they were ready for

forming a company: Ferrington was a fully-trained commercial

pilot, Bennett was an A&P (airframe and power

plant) mechanic, and Lindsay had a background that

included assisting Bennett, plus shipyard management at

Caicos Marina. It was decided, he says. "Ferrington will be

the chief pilot and Bennett the chief mechanic and I will

manage the company."

As a charter company, Global didn't have a set schedule,

but the brothers shrewdly began planning to run

flights to align with the most popular times when tourists

were moving back and forth to other islands. Lindsay

figured it all out while supervising and keeping an eye on

international flights, Ferrington's whereabouts, and the

coolers locals were carting to his desk.

Freight was always problematic. "Freight hauling was

a challenge because at the start, air transport was the

main mode for transportation, and North Caicos being a

hinterland, it was difficult to get supplies over," Lindsay

explains. He did his best to accommodate people's

belongings in the small holds of the planes while keeping

track of passenger weights and distribution. (Travelers

were asked to include their body weights when signing

the manifest; there was always a small adjustment for

the inevitable white lies.) Sometimes, there were strange

cargo requests: one customer wanted the plane to carry

bags of cement to North Caicos!

This is one of Global Airway's three aircraft operating during the peak of its business.

Lindsay made it all work. At the peak of Global Airways,

the company had three aircraft and eleven workers.

Through the years, he watched as airworthiness checks

tightened, security increased and new directives ensured

that certain errors and accidents would not happen again.

In short, Lindsay spent his days as a worrier. "The biggest

challenge then was to stay afloat and keep the cost

down, as aviation is a tough business and with any mistake

you easily lose a significant amount of revenue. You

could lose the entire business overnight," he says.

The company's work on this edge of viability did not

survive 2008, when the U.S. economy's downturn affected

all operations in the Turks & Caicos. Limping along, he

says, "We began to re-evaluate the business and decided

to move on from aviation." The brothers dissolved the

company and went in somewhat different directions.

Bennett began working on Parrot Cay while continuing to

do some aircraft maintenance. Ferrington pulled back to

North Caicos interests, but also received the opportunity

to purchase an interest in the developing ferry service of

Caribbean Cruisin'. Lindsay was invited to work with the

ferry company as an assistant manager.

For him, the transition was good. The stress of being

"the guy behind the desk" was mitigated because, he says,

"there are more heads and minds involved in my day-today

activities." Also, he stretched his skills by acquiring a

boat captain's license in 2010. "This is a fresh perspective

for me, and unlike in the aviation business, where I didn't

18 www.timespub.tc
---
WHEN OPPORTUNITY KNOCKS TWICE . . .

Don't miss out on the exciting Final Phase of one of

Providenciales' most successful real estate developments.

Casually Sophisticated Interiors • Club Room • Roof Top Terrace • Dining

Spa • Fitness Center • Snorkeling • Non-Motorized Watersports • Butler Service

Proven in Provo . . . where will you invest?

30+ Years of Development/Hotel Operations Success • a Decade of Travel Awards

Consistently High Guest Ratings • 10+ Years of Strong ROI and Very Satisfied Owners

1, 2 & 3 Bedroom Resort Residences from $525K to $4.45M

1-649-946-3766 • Toll Free (US/Canada): 1-855-WINDSONG (946-3766) • realestate@windsongresort.com

Stubbs Road, Grace Bay • Providenciales, Turks and Caicos Islands • www.windsongresidences.com
---
The longest established legal practice

in the Turks & Caicos Islands

have a pilot's license, I can back up the boat captains

should there be a need," he comments.

For a "son of North Caicos," Lindsay Gardiner has

spent a lot of time on Provo, living there while he continues

to help others to travel. And the guy behind the

counter is still there, getting others where they're going.

a

Real Estate Investments

& Property Development

Immigration, Residency

& Business Licensing

Company & Commercial Law

Trusts & Estate Planning

Banking & Insurance

1 Caribbean Place, P.O. Box 97

Leeward Highway, Providenciales

Turks & Caicos Islands, BWI

Ph: 649 946 4344 • Fax: 649 946 4564

E-Mail: dempsey@tciway.tc

Cockburn House, P.O. Box 70

Market Street, Grand Turk

Turks & Caicos Islands, BWI

Ph: 649 946 2245 • Fax: 649 946 2758

E-Mail: ffdlawco@tciway.tc

john redmond associates ltd.

architects & designers

construction consultants

project management

Confessions of a crazy customer

Some companies lose their personal touch in customer

service as they grow. Global Airways never

did, and that was due largely to the man behind the

counter, Lindsay Gardiner. Even though, in my memory,

he often appeared to have a phone permanently

attached to his ear, he was always listening out the

other. In the days when I was flying Global at least

once a month, doing my banking and shopping to

put the finishing touches on my North Caicos house,

I appealed to him for help several times, and he never

let me down.

There was, for example, the time I walked into the

airport carting a large mirror framed in wicker, which

I lucked into as the perfect solution to my as-yet

mirrorless upstairs bathroom. Lindsay watched me,

deadpan, as I approached the counter. He didn't say

"no," but his expression surely did. "Please, please,

please?" were my first words. He sighed. "We'll try,"

he said, understanding the plight of North Caicos

residents who then had few resources at home. My

mirror made it.

Another time, when I was trying to combine a computer-repair

trip on Provo with a writing job on South

Caicos, I realized that taking my newly-repaired laptop

with me on a working fishing boat might not be

a good idea. Could Global please hold it for me until

I got back? They did, locking it safely in an upstairs

office.

And more than once when, for various reasons, I

was either phoneless or lacking in minutes or low on

battery power, Lindsay handed me his. I was, and still

am, grateful. a

~ Jody Rathgeb

p.o.box 21, providenciales, turks & caicos is.

tel.: 9464440 cell: 2314569 email: redmond@tciway.tc

20 www.timespub.tc
---
The Leading Private Bank in the Turks and Caicos Islands

Where values are growing

Wealth Management • Bonds/Fixed Income

Investment Strategies • Foreign Exchange

Stocks/Equities • Precious Metals

Fixed deposits/CD's • International Transfers

Turks & Caicos Banking Company Ltd.

The Regent Village, Unit H102, Grace Bay Road, Providenciales

Tel: +649 941 4994

Email: services@tcbc.tc • www.tcbc.tc

Regulated by the Financial Services Commission, Turks & Caicos Islands
---
SHUTTERSTOCK
---
eye on the sky – global warming

Opposite page: Mangroves, which are vital protection for some species of fish and other sea life, will likely begin to succumb to higher ocean

temperatures.

Above: As ocean temperatures rise, fish species will be forced to leave their traditional home grounds in search of a habitat where they are

able to thrive.

SHUTTERSTOCK

A Ripple Effect

Impact of rising sea surface temperatures.

The topic of global warming is filling the headlines from the Islands to the States, from the Far East

to the Far West and everywhere in between. And for good reason. Global warming is having resounding

impacts around the world. Residents and visitors may assume because the Turks & Caicos Islands are so

small, that the effects of climate change will be low. Life will go on as always. Unfortunately, impacts are

already occurring, whether people realize it or not.

By Paul Wilkerson

Times of the Islands Winter 2021/22 23
---
Let's define global warming: the long-term heating

of the Earth's climate system due to human activities. The

majority of this heating comes as a result of burning fossil

fuels which ultimately leads to increased greenhouse

gas levels in the atmosphere.

Global warming is a multi-faceted problem. Far too

complicated to explain in this article, so for this issue we

will focus on the sea surface temperature changes and

impacts on the fishing industry. In future editions, we'll

discuss other weather-related topics as we continue to

adapt to this problem that will take all of us to solve.

Naturally, when booking a holiday to the Islands,

folks look forward to sampling local cuisine. In the

Caribbean, we would expect a cornucopia of seafood on

the menu—a variety of fresh fish, conch and lobster. And

when you come to the Turks & Caicos Islands, you won't

be disappointed. But will it always be that way?

Sadly, without changes to how we take care of our

environment, that once plentiful variety of "fruits of

the sea" may become the exception and not the norm.

A direct cause will likely be due to rising Sea Surface

Temperatures (SST) which are directly tied to global

warming.

To date, the Global Atmospheric Temperature has

risen on average over 1ºC since about 1900. This has

resulted in SST rises in the Caribbean of about 0.5ºC

in the last 50 years or so. That might seem like such a

small amount, that surely it isn't such a big deal. Now

remember that 70% of the earth's surface is covered in

water. Further consider that ALL water sources across the

globe are also absorbing that heat. As a result, there is

no region of the world that will be left untouched. The

impacts of this oceanic temperature rise, without intervention,

will likely prove devastating for islands like the

Turks & Caicos.

The likely impacts of SST rise are akin to watching

an avalanche of snow collapsing in slow motion down

the side of a mountain. As water temperatures rise,

coral beds, which many marine species depend on for

their homes and for raising their offspring, could be at

more significant threat of catastrophic coral bleaching

episodes. Coral bleaching is quickly becoming an emergent

problem across the large barrier reefs of the world,

including here in the Caribbean.

As a result of this loss in habitat, fish species will be

forced to leave their traditional home grounds in search

of a habitat where they are able to thrive. Other fish species

which are acclimatized to the shallower waters within

the Caicos Bank and shorelines of TCI may eventually be

pushed out as water temperatures climb over the coming

decades. As these shallow waters continue to heat,

oxygen depletion will occur, making it more difficult for

aquatic life to thrive.

Mangroves, which are vital protection for some species

of fish and other sea life, will likely begin to succumb

to the higher temperatures as well. Groves may thin in

areas as stress sets in, while other areas may see losses

of their groves completely.

MODIS OCEANS GROUP—NASA GODDARD SPACE FLIGHT CENTER

This sea surface temperature map was produced using MODIS (Moderate Resolution Imaging Spectroradiometer) data acquired daily over

the whole globe in the year 2000. The red pixels show warmer surface temperatures, while yellows and greens are intermediate values, and

blue pixels show cold water.

24 www.timespub.tc
---
HOMES IN PARADISE

BY GRACE BAY REALTY

Lyle Schmidek

Beth Atkins

Claudius Williams

Latoya Jones

Gordon Williams

Eugene Burns

O'Brien Forbes Betchaina Hyppolite Stenley Valmir

Bernard Young

649-941-4105 | SALES@GRACEBAYREALTY.COM

TURKSANDCAICOSREALESTATE.COM
---
As fish species are pushed further out to sea in search

of more habitable conditions, fish gatherers will likewise

have to venture a longer way to make their catches. The

current bounty of fish being brought in for harvest could

drop to 60 to 80% in the future, or worse yet. The species

caught may not be as diverse as what was once common.

Where lobster was once found in shallower waters where

free diving was possible, in the future these lobster may

be out of reach for those without appropriate gear.

Conch, the most consumed seafood in the Islands,

will be impacted. Studies are underway to analyze exactly

how higher sea temperatures impact the reproduction

of the different species, calcification rates and survival.

More research is needed to determine the long term

impacts.

As fish gatherers head further out to sea to find their

catches, they will incur higher costs for maintenance,

fuel, gear and personnel to run their operations. This cost

will be passed on to consumers, which in the long term

could lead to a crisis of sorts in the industry. The greatest

impact will be on the locals who depend on these waters

as their source of sustainment and income. The ripple

effects are far reaching.

Although this all sounds like doom and gloom, it

doesn't have to be! You, me . . . all of us play a critical

role in changing the environment. Even the simplest of

things will make a difference. Walk to work! Commute

with friends who have a similar schedule. Reduce your

energy usage at home. If we all make small changes in

our daily energy consumption, we reduce the demand on

power supply stations, which in turn reduces the amount

of energy they need to produce and lowers their emissions.

Eat more fruits and vegetables and reduce meat

consumption. Growing produce takes little more than

water and soil. Plants help exchange carbon dioxide

for oxygen. Less meat production significantly reduces

greenhouse gas emissions and reduces stress on water

and land resources.

Through the power of knowledge, education and

teamwork, we do have the ability to slow the process of

global warming, and with time, save our glorious planet

Earth. a

Paul Wilkerson is an American meteorologist and tourist

who frequents the Turks & Caicos Islands. Along with

his wife and two daughters, the Wilkersons stay actively

engaged with Islanders throughout the year with his

Facebook page Turks and Caicos Islands Weather Info.

26 www.timespub.tc
---
Building Your Vision, Delivering Excellence, and Exceeding Expectations -

Time After Time.

Projetech offers turnkey Construction Management and General Contracting

Services for Residential, Commercial and Hotel & Condominium Projects in the

Turks & Caicos Islands. Our depth of experience is unrivaled and our commitment

to quality shows in the hundreds of projects we've completed in the Turks & Caicos

since our beginnings in 1996.

ESTABLISHED 1996

CONSTRUCTION MANAGEMENT & SERVICES LTD

PO BOX 659 | PROJECT HOUSE | LEEWARD HIGHWAY | PROVIDENCIALES | TURKS & CAICOS ISLANDS

T: 649.941.3508 | F: 649.941.5824 | INFO@PROJETECH.TC | WWW.PROJETECH.TC |
---
MARTA MORTON–WWW.HARBOURCLUBVILLAS.COM
---
talking taíno

MERALD CLARK

Opposite page: A bright red sunset can often be attributed to Saharan dust in the atmosphere. This same dust is responsible for the red clay

used for early pottery in the Lucayan Islands.

Above: This image, "Palmetto Potters," depicts two sisters working on a set of new pottery bowls. The woman on the right uses the end of

a thin reed to decorate the rim edge of a small bowl. Her daughter kneads the dense clay and adds burnt shell to the mixture to make the

unique paste that distinguishes the pottery known today as Palmetto Ware. A set of freshly made bowls and a cassava griddle lie on mats and

in basketry frames—the patterns from their weave will be impressed into the ceramic bases as a permanent record of these fragile, organic

arts that do not survive the passage of time.

Clear as Mud

The origins of early pottery in the Lucayan Islands.

By Emily Kracht and Lindsay Bloch

With Bill Keegan, Betsy Carlson, and Michael Pateman

In our last "Talking Taino" we described a variety of ways that meals were prepared without clay pots. The

invention of pottery vessels led to widespread sharing of the technology and almost universal adoption.

Pots provided a superior method of cooking with liquids. Two significant reasons for adopting pots are

cooking corn porridge as weaning food (this has helped reduce infant mortality worldwide), and fermenting

alcoholic beverages such as manioc beer, chicha (corn), and pineapple wine (Carib).

Times of the Islands Winter 2021/22 29
---
Pottery has been made all over the world for thousands

of years, independently invented in multiple places.

At its most basic, the steps are: find clay, shape it, fire

it. But within this basic recipe, people have developed

innumerable variations to make successful pottery with

different materials and for specific purposes. Although

the process was by then well known, potters in the

Lucayan Islands faced a number of technological challenges.

So, how did the first people inhabiting the Turks

& Caicos Islands figure out how to make pottery from

scratch?

The first people to occupy the Lucayan Islands (the

archipelago that includes TCI and The Bahamas) arrived

around AD 900. They likely came from Hispaniola, bringing

their island lifeways and goods they would need with

them, including wood and stone tools, baskets, nets and

pottery. Pots for cooking and serving food or storing

water were common. When the pots they brought with

them broke, or when they needed more, the hunt was

on for suitable raw materials to make replacements. This

task proved to be much harder than you may imagine.

Many Lucayan tools were made of natural materials

that have decayed over time so archaeologists rarely find

them, but pottery from these early people is recovered

today throughout the Turks & Caicos as broken sherds

(fragments of pottery) washing out on beaches or buried

underground.

The pottery that was made in the Lucayan Islands,

a type we call Palmetto Ware, looks and feels very different

from the typical Taíno pottery made in their

homeland. While most Taíno pots are brown, thin-bodied

and smooth, Palmetto Ware is red, thick and chunky with

abundant fragments of burned conch shell.

In our research in the Ceramic Technology Lab at the

Florida Museum of Natural History, we set out to recover

the recipe for island-made Palmetto Ware pottery, figuring

out where the clay came from, what was added to it

and how pots were constructed. This has included several

expeditions to look for pottery raw materials. Trips

we took to Great Abaco, Long Island and Providenciales

allowed us to look for clay deposits in the same places

the Lucayans would have found them hundreds of years

ago. On Long Island, we drove out to sandy beaches

along the coast. Exposed beds of limestone sat where

the sand and water met, revealing small, eroded pockets

of clay. We eventually stopped at a large expanse of

beach, with exposed beachrock extending across it to the

tree line. Walking across the limestone revealed bright

These fragments of a Palmetto Ware bowl show its distinctive characteristics: red, thick and chunky with fragments of burned conch shell.

Note the incised line decoration circling the rim.

LINDSAY BLOCH

30 www.timespub.tc
---
Walkin May2017_Layout 1 5/28/17 5:45 PM Page 1

LINDSAY BLOCH

Emily Kracht collects bright red clay deposits on the beach, the same

place the Lucayans would have found them hundreds of years ago.

red clay deposits in its pockets. Wait, red clay? How did

iron-rich red clay end up on limestone islands?

When you visit the Lucayan Islands today, most of the

ground beneath your feet will be pale in color, whether

coral and shell beach sand, rock outcrops or soil. The

islands of this archipelago are comprised entirely of limestone

built up over millennia from calcium-rich sea life,

which is white in color, without the iron that turns soils

rusty red.

The deposits of red clay found in the Lucayan Islands

are Saharan dust that has made its way across the ocean!

Fine particles of soil from the Sahara Desert form clouds

that are transported all the way to the Americas, a process

that has been happening for thousands of years.

Even today, Sahara dust can be a nuisance affecting the

flight paths of airplanes and air quality during weather

events like windstorms. Over time, this dust accumulated

in protected places, weathering to form a clayey material.

So what is clay? Defining clay depends on who you're

talking to. To a geologist, clay is defined by its very small

particle size and the proportion of specific clay minerals.

To a potter, clay can be anything that behaves like

a clay. This usually means that it is plastic, or moldable

enough to hold its shape for making vessels, and that it

can survive the high temperature of the fire that renders

it permanently hard. For the most part the clay developed

from Saharan dust is not clay from a geological standpoint.

Yet these patchy deposits are the only usable mate-

DISTRIBUTOR DISTRIBUTOR FOR FOR EVINRUDE && MERCURY MERCURY

OUTBOARDS, PURSUIT WORLD CLASS CAT, CAT,

SUNDANCE AND BOSTON WHALER BOATS

Lures and Live Bait

Marine Hardware & Gear

Fishing Gear & Supplies

Marine Paints & Varnish

Marine Batteries

Sebago Docksiders

& Sperry Topsiders Shoes

BLUE

BLUE

HILLS

HILLS

ROAD

ROAD

PROVIDENCIALES

PROVIDENCIALES

TURKS

TURKS

& CAICOS

CAICOS

ISLANDS,

ISLANDS,

B.W.I.

B.W.I.

PHONE: 649-946-4411

FAX: 649-946-4945

Taino Paintings

by Theodore Morris

tainopaintings.weebly.com

mail:morristheodore@hotmail.com

3910 Longhorn Dr - Sarasota, Fl34233

Times of the Islands Winter 2021/22 31
---
ial for making pottery on these islands. Most other local

materials won't work because limestone contains high

levels of calcium which makes pottery decompose when

fired at high temperatures. But usable does not mean

ideal. As we dug up these deposits, some much deeper

than others, we evaluated their properties. We tried rolling

the clay into balls, then forming a coil and finally arching

the coil. Cracking or breaking at any step is an indication

that the clay might not be plastic enough for pottery

making. Almost all of our clay samples failed these tests.

We don't know what kind of tests the Lucayans may have

done, but they likely began with some failures as well.

Much of the Caribbean was once home to active volcanoes,

producing rocks that have weathered over time

to produce plenty of good quality clays. In many places

there is also abundant quartz sand, which can be added

to clays to provide strength. Additions such as this are

called tempers, similar to adding aggregate to cement to

keep it from cracking when it dries. Pottery making was

much easier in the Antilles.

There is no quartz sand in the Lucayan Islands,

only calcium-rich sand that would have made their pots

collapse when fired. When calcium-rich sand and shell

are heated in a fire they literally can explode. Instead,

the Lucayans figured out that by first burning and then

crushing conch shell it would become more stable and

rock-like when refired in the clay to a moderate temperature.

Conch shell temper made all the difference, helping

the stiff clay to hold its shape and form pottery vessels.

These shells were selected due to their abundance and

because the thick shells produce the larger fragments

needed to mix with the clay; thinner shells turn to powder

when heated. Researchers today understand that adding

the shell prevents cracking and thermal shock in fired

pottery, something the Lucayans clearly figured out long

ago.

The Lucayans were not simply explorers and settlers

of these new lands, but engineers and innovators too.

They likely tested different tempers, clays and firing temperatures

until they successfully created Palmetto Ware.

In the lab, we've been working on replication experiments

to determine what conditions produce the best pottery

with the available materials. We brought back clay samples,

burned a conch shell in a fire and then crushed it

to include into the ceramic recipe as a temper. We then

formed the clay into briquettes with various ratios of shell

temper, mixed with salt or fresh water, and fired to temperatures

ranging from 400º–800º C.

We compared the briquettes to archaeological

From top: When clay deposits found on the beach were formed into

an arch, they cracked, indicating that the clay is not plastic enough

for pottery.

Adding burned, crushed conch shell to pottery clay helps the clay hold

its shape and form pottery vessels.

Palmetto Ware and evaluated their hardness and color.

While some briquettes fired firm, others fell apart quickly

or soon after cooling, especially those fired at higher

temperatures. This told us that Palmetto Ware must have

been fired at lower temperatures, likely in the same range

as fires used for cooking. Even so, Palmetto Ware tends to

LINDSAY BLOCH

32 www.timespub.tc
---
e thicker and softer than traditional

Taíno pottery, crumbling fairly easily,

especially over time. The islands'

warm, moist environment makes for

poor preservation and other factors

like coastal erosion, sea level change

and weathering events make it difficult

to find intact artifacts or sites. In

fact, a whole Palmetto Ware pot has

never been recovered. What remains

of pots in the Lucayan Islands are

often small sherds.

Nevertheless, we have some

evidence that the Lucayans made

Palmetto Ware in some of the same

shapes and with the same decorations

as the pottery brought from

Hispaniola. These decorations include

incised parallel lines, cross-hatching,

appliqué, poked marks called

punctations, folded rims and animal

This experiment of firing the clay samples at

various temperatures showed that Palmetto

Ware must have been fired at temperatures

in the same range as fires used for cooking.

LINDSAY BLOCH

Times of the Islands Winter 2021/22 33
---
epresentations called adornos. Most Palmetto Ware

sherds are plain and undecorated, but this is due to their

small size and the limited placement of designs near the

top of the pot. These rough surfaces provide for a firmer

grip when moving the pot, while clay extending from the

vessel provides a cooler surface for lifting vessels from a

fire.

Sometimes we also find where clay was pressed

out onto woven mats, leaving a basket-like impression.

These mat impressions are also sometimes found on

bowls, where it looks as if the lower portion of the pot

was shaped in a basket. More often, these impressions

are found on even thicker, flat fragments of pottery griddles.

Griddles were used for baking cassava bread and

other types of food processing. In addition to acting as a

signature for the person who made the mat and the griddle,

the dimpled bottom increased the surface area and

enhanced thermal conductivity.

Palmetto Ware has long been considered simpler or

"inferior" to Taíno pottery due to its fragility and apparent

lack of decoration. This idea is belied by the fact that

modern archaeologists have struggled to experimentally

recreate Palmetto Ware. Rather than prove its simplicity,

these tests have shown the skill and expertise of the

Lucayans in their craft.

In the lab, we have now moved on to figuring out

more specifically where pottery was made, based on its

elemental "fingerprint." By identifying the specific composition

of a potsherd, we can link it to a particular island

where we've found clay with the same fingerprint. For

example, we can tell the difference between pottery made

on Middle Caicos from pottery made on Long Island (The

34 www.timespub.tc
---
TWATIMES_Layout 1 2/16/17 7:49 AM Page 1

LINDSAY BLOCH

The specific composition of this Palmetto Ware griddle fragment can

help link it to a particular island where the clay was found. Note the

mat impression.

Bahamas) by the specific ratios of elements such as zirconium

and rubidium. We have also learned where the

Taíno pottery found in TCI was made, with much of it

coming from the northwest coast of what is now Haiti.

Compositional analysis allows us to determine what

the Lucayans and Taínos cannot tell us themselves —

how they moved and traded hundreds of years ago. This

includes what routes they may have taken, and just how

far of an influence they may have had. Peoples from Cuba

and Hispaniola traveled to what is now TCI, but also hundreds

of miles to the most northern parts of the Lucayan

Islands. Not only are we able to retrace their steps, but

also see how they adapted their technology to new conditions

and materials. Understanding Caribbean ceramics

is as much of an exploration for us as it was for the

Lucayans first figuring it out. a

Serving international & domestic clients in real estate, property development,

mortgages, corporate & commercial matters, immigration, & more.

TEL 649.946.4261 TMW@TMWLAW.TC WWW.TWAMARCELINWOLF.COM

Emily Kracht (BS Chemistry and Anthropology, University

of Florida 2021) is currently studying Caribbean pottery

with Dr. Lindsay Bloch, who is Collections Manager of

the Ceramic Technology Laboratory, Florida Museum of

Natural History (University of Florida). Substantial funding

for this research came from a National Geographic

Society grant (NGS-55292-19).

Dr. Bill Keegan is Curator of Caribbean Archaeology

at the Florida Museum of Natural History (University of

Florida); Dr. Betsy Carlson is Senior Archaeologist at

Southeastern Archaeological Research (SEARCH, Inc.) in

Jonesville, FL; Dr. Michael Pateman is former Director

of the Turks & Caicos National Museum and currently

Curator/Lab Director of the AEX Maritime Museum on

Grand Bahama.

Times of the Islands Winter 2021/22 35
---
GARY JAMES–PROVO PICTURES
---
feature

Opposite page: The rugged northern coastline of Middle Caicos is unlike any other in the country.

Above: This is Blue Horizon Resort (now known as Dragon Cay Resort) as it stands today, over 30 years since the Witts first arrived in the

Islands.

GARY JAMES—PROVO PICTURES

This is the story of three people who went into a difficult adventure that turned into a wonderful

experience.

Middle Caicos Pioneers

Michael, Mikki and Dale Marie Witt.

It all started in 1990 when my mother, Dale Marie Witt, had just lost her companion to a heart attack.

She wasn't sure what to do next and we went to visit her in Buellton, California. In the course of our

conversations she said, "Why don't we buy a bed and breakfast inn and the three of us could run it?" The

three being my wife, my mother and I.

Story & Historical Photos By Michael and Mikki Witt

Times of the Islands Winter 2021/22 37
---
At the time, I was a consultant for the U.S. Government

on some secret undersea submarines. However, there

was a delay in the program so my wife and I said, "It

sounds like a good idea." We were also tired of traveling

back and forth from Anaheim, California to Washington

D.C. as often as twice a week. My mother said, "Let's go

to Hawaii." We made reservations and were off to Hawaii.

It was beautiful but everything was very expensive and we

did not find anything that suited us.

Where to go next? I had read an article about a place

called the Turks & Caicos Islands. No one seemed to

know where they were, but the pictures looked good.

After booking the tickets, we went to this place somewhere

south of the Bahamas and north of Hispaniola.

The airport where we landed in Providenciales was

very small, as was the terminal. We rented a car and it

didn't take long to tour the island. We met with several

real estate agents. Nothing was that interesting on Provo

and we asked about the country's other islands. Several

islands were mentioned, including one that was large but

not developed—Middle Caicos. It sounded interesting and

one agent said they had a listing there.

A chartered flight by small plane landed on the short

runway and we were met by taxi driver and landowner

Carlon Forbes. He took us to Bambarra Beach at the east

end of the island. He said his family owned land near

some grass huts. It was okay, but almost even with the

sea level. Once a year, the owners would have to allow

people to walk across the property to attend a beach festival.

We decided this was not what we wanted. The plane

would be back in a few hours so he said we should see

some of the rest of the island. He drove us to a place they

called Mudjin Harbour.

The only access was a small rough road that led

toward this cove. When we arrived, we were astonished,

as this was the most beautiful place we had ever seen.

Crystal-clear, brilliant blue waters were surrounded by

incredible rock formations. We assumed it was a national

park. After a brief visit, it was time to fly back to Provo.

We went to say goodbye to Phillip Misick at Prestigious

Properties, and to thank him for his help. We mentioned

Middle Caicos and Phillip asked us how we liked the

island. We said it was okay but the land we were shown

was not what we were looking for. One of us said, "Now if

you could get us Mudjin Harbour that would be different."

Phillip replied, "It's for sale and we have the listing . . .

but you said you were looking for 5 acres and that is 50

acres."

It was owned by a German family. We asked if they

would subdivide it and he said no. He told us the price

and we gasped. Would they take terms? No, it would be

cash only. Mikki and I were already thinking of our next

destination in our quest for property in the Caribbean.

Yet back at the hotel, we kept talking about Mudjin

Harbour and how breathtaking it was. My mother said,

"Let's go for it!" We just looked at her in disbelief. She

said, "We can take all the money that we have including

the sale of my California home and come up with a reasonable

offer." Mikki and I looked at each other and said

"Yes!" Phillip presented our offer to the owners and they

accepted! The funds were transferred and the paperwork

was completed.

We owned Mudjin Harbour! Now, what to do? We had

no cash, a lot of land and we needed to sell lots to survive

financially. Middle Caicos was truly undeveloped with only

two telephones (police and the District Commissioner's

office) and no Internet in those days. Isolated from the

other islands, the only access was by small plane or chartered

boat. The only communication was by VHF radio.

We went back to California.

My mother, Mikki and I returned to the Islands and

started figuring out what to do. We leased a house in the

nearby village of Conch Bar. One day we were sitting in

the beach cave and my mother looked out at the rocks in

the cove and said, "That looks like a dragon." From then

on, it was known as Dragon Cay. At nght, we sometimes

had a visitor who sang outside our window. People told

us that was the father of one of our neighbors and to

just ignore him. There was a constant parade of chickens

from some nearby houses.

I rented a survey land station and Mikki held a survey

pole at hundreds of spots on the land. At night, we plotted

the survey points and their elevations. After returning

to the States, the contours were cut out and a scale model

of the land made. A master plan with roads, etc. was submitted

and approved by the TCI Government Planning

Department.

I finished up my consulting and the three of us went

back to our rental house. Several of my engineering

friends came down and bought lots. We advertised in

some magazines and people would come and stay in our

rental house. There were no survey markers. We placed

rocks about where lot lines would be located. We took

potential buyers to view the lots but it was the view that

sold them. At that point, the parcels were surveyed.

I shipped a 24-foot Carolina Skiff and a Yamaha

TW200 motorcycle to the island. Then, with a motorcycle

ramp in the boat, we could go to the next island and buy

38 www.timespub.tc
---
Clockwise from top left: Mikki and Dale Witt arrive at the small airport in Providenciales. Mudjin Harbour in Middle Caicos before development

was the most beautiful place the Witts had ever seen. Captain Lewis Neat piloted the Dale Marie. The Dale Marie was a 48-foot, self-propelled

barge with a shallow draft. Lovey Forbes and his band played at the "boat warming" party. It was attended by a number of dignitaries and

locals. The Dale Marie was able to haul a large fuel tanker. This 24-foot Carolina Skiff was the Witts' first boat. In the beach cave, Washington

Missick and Robert Hall discuss the sale of Mudjin Harbour with the Witts.

Times of the Islands Winter 2021/22 39
---
groceries, gasoline and other items. There was no causeway

connecting North and Middle Caicos at that time.

How were we going to get building materials and

supplies to the island? Occasionally, a large barge came

around but not that often. On a trip back to Florida, I

noticed a self-propelled barge advertised. It had a shallow

draft which was needed for the local waters. Our friends

Ty and Pat Merritt offered to help us buy the boat. We

flew up to Maryland and bought the boat and named it

Dale Marie after my mother. It was still a little too much

draft with its propellers, so we bought out of Alaska and

installed a water jet drive.

The boat was shipped to the Islands. Who was going

to be the captain? I had heard about a guy called "Cap"

(Lewis Neat—now deceased). He was good with boats

and the biggest man on the island. We hired him. On

the maiden trips from Provo to Middle Caicos, we had

many adventures, from running aground to big swells

coming over the bow. I knew what an admirable person

he was when he said, "Mike—why don't you stand in the

exit doorway and I will steer as the boat might turn over."

Somehow, we made it. Along the shore of islands like

North Caicos along the way were lots of people waving,

as no one had ever seen a 48-foot boat traveling along

their shore. Then, we built docks on both Middle Caicos

and North Caicos.

We organized a "boat warming party" with the local

people, politicians and the TCI Governor. Lovey Forbes'

band was on board and off we went to do a river cruise.

Our friends Ty and Pat started dancing and everyone

joined the celebration. A contract was completed with the

government for weekend ferry service between Middle

and North Caicos. Dwight Hall was hired as the first mate.

It was very shallow in places so we did some dredging

in Bottle Creek. When running aground, an anchor was

placed and we winched the boat off the sandbar. One

time, Cap was out in the water with the anchor and this

really large shark swam right next to him. I yelled to

Cap and he said, "Don't worry," and continued with the

anchor. Another time, we came in at night and it was so

dark that we could not find the Middle Caicos dock. So

we just found a nice spot and anchored for the night.

There were many trips to Provo and sometimes we went

to South Dock twice a week. Once, we got back to Middle

and opened the 20-foot container on deck to discover it

was the wrong container! Oh well, back to Provo.

The first project on land was a metal pre-fab storage

building for a workshop and a place to keep materials.

Once the building was completed, we started on the

roads. I bought a bulldozer, crane truck, rock crusher

and a big rock wheel to cut trenches. Some days, we only

did 10 feet of trench, as there was some really hard rock.

For the next several years, we worked extremely hard and

built the main house and two cottages on each side.

In 1995, we met Sara Kaufman. She was also inspired

by the beauty of the area. We entered into a partnership

with Sara to build three more cottages. With the other two

cottages, this was called Blue Horizon Resort. Then, we

all worked together and marketed the resort as a vacation

destination. This was done in magazines and later on

the Internet. In the next several years, the resort became

known locally and internationally. It was very successful.

Hurricanes could be a major threat. During our first

few years in TCI, they were not a problem. In 1995,

Hurricane Erin formed over Provo and created two tornadoes.

In 1996, Hurricanes Bertha, Fran and Hortense

looked like they were coming right at us but curved and

stayed offshore. There were big waves, rain and some

wind. Hurricane Bonnie passed offshore in 1999. In 2004,

Hurricane Ivan came close with strong wind. Hurricane

Chris was strong and the path uncertain so we stayed in

the pump room of the new house we were building.

In September 2008, Hurricane Hannah passed to the

west of North Caicos and looped near Provo. It raised the

Caicos Banks to dangerously high levels. When the water

tried to escape, a ten-foot high storm surge destroyed

the recently built causeway between Middle and North

Caicos. Middle Caicos became isolated. Mikki was in

Mobile, Alabama and when she returned I had to hire a

small boat to pick her up on North Caicos. Then about

a week later came Hurricane Ike. This was a powerful

hurricane that passed just to the south of TCI. However,

the high winds were to the north and we received really

bad weather. On my wind instrument, over 140 MPH was

recorded! There was extensive damage to roofs and most

of the power poles blew down. We were without power

and telephones for many weeks.

The next series of storms from 2010 to 2017 were

Tomas, Dorian, Bertha and Cristobal. They brought rain

and a little wind but we survived okay. In 2017, Hurricane

Irma caused massive damage and loss of power across

the country. Hurricane Maria also created enough wind to

cause additional damage. I had to go to the hospital for

stomach problems and they were running on emergency

generators.

On Middle Caicos, we became very involved with the

community. During the week, my mother taught computer

classes to the children and I taught adult classes

40 www.timespub.tc
---
Clockwise from top left: The Witts' first project on land was a pre-fab metal storage building/workshop. This bulldozer was one of several

pieces of heavy equipment brought in to build the roads. The Circle of Hope includes a stone bench overlooking the sea. At this memorial service,

Dale Witt's ashes were spread over the sea. The Witts added stairs to a hidden beach below the resort. When the Witts moved to Florida,

Pastor Williams held a farewell church ceremony, thanking the Witts for their contributions to Middle Caicos and asking God's blessing for

their future. In 2019, the Witts sold their house on King Hill to Alan and Margaret. Mike Witt flew hundreds of hours over the Islands in his

gyrocopter. The Witts were very involved with the community, here Mikki celebrates Christmas with some of the kids. Yvette Tapfir and Mikki

distribute presents to island children. This crane truck was also instrumental in building the main house and cottages.

Times of the Islands Winter 2021/22 41
---
This Middle Caicos panorama at sunset is a sight to behold.

on the weekend. The computers were donated by landowners and Blue Horizon Resort guests. This was the first

computer lab in any of the islands beyond Provo. At Christmastime, we bought presents for the island's children from

landowner donations.

One interesting project was a garbage can painting contest where the winner received a prize. Another project

was "Paint the Island," with paint donated by Sherwin Williams and local houses (including their roofs) painted. We

42 www.timespub.tc
---
GARY JAMES–PROVO PICTURES

also built many paths around the resort, including the "Hidden Beach" stairs, the "Circle of Hope" with its stone bench,

the benches in the beach cave and the ones overlooking Mudjin Harbour. The Community Center was air conditioned.

In partnership with the government, many other projects followed including improvements to the Conch Bar Caves,

docks for small boats, a path into Indian Cave, improvements at the airport, school playground equipment and more.

In 2000, the three of us were granted "Belongership" which carries all the rights as if we were born in the Turks

Times of the Islands Winter 2021/22 43
---
& Caicos. We were then able to vote and enjoy benefits

like going through immigration faster. We continued to

run the resort and it did well with a great reputation. My

mother started to have health issues and returned to the

U.S. in 2001.

Mikki and I started our home on "King Hill." The

house was constructed of solid reinforced concrete, all

stainless steel fasteners, hurricane-proof windows and

built to withstand a category 5 hurricane. All water on

the island for household use is rainwater, so we added a

23,000 gallon cistern.

In 2007 we received an offer to buy the resort and

land around it from an Englishman, Mr. Gill. We accepted

the offer and moved into the King Hill house and sort of

retired. However, Mr. Gill asked me to design and build a

restaurant near Mudjin Harbour which was named Mudjin

Bar and Grill.

I obtained my private pilot's license and flew around

the Islands in Cessna and Piper fixed wing aircraft. Then

I followed a teenage dream and built a gyrocopter! It was

really fun and I flew hundreds of hours over North Caicos,

Middle Caicos and East Caicos. It became known as the

"flying lawn chairs" or "bicycle in the sky." It was a tandem

design and I took many people flying. Unfortunately,

in April 2017 I had an engine failure on take-off and

crashed into a hillside. We walked away but the gyro was

destroyed.

My mother died in 2016 and her ashes were brought

back to be spread over the sea at Mudjin Harbour and

the "Circle of Hope" was dedicated to her. There was a

memorial ceremony attended by family and members of

the community. They called her "Mama Dale" and she was

greatly loved.

We bought a condo in Florida to be closer to medical

care. The resort was sold by Mr. Gill and renamed

Dragon Cay Resort. In 2019, we sold our house on King

Hill. The couple were sitting in Mudjin Bar and Grill and

the bartender, Garnet, mentioned our house was for

sale. They came up to look and we had a meeting on the

screen porch. During that meeting and from then on, it

just flowed smoothly. They were not even looking to buy

a house, but the view was too beautiful to pass up. The

husband was a professor of theology and his wife mentioned

teaching at the local school. What a perfect match

for Middle Caicos!

It was time for our departure and our move to Florida.

Pastor Williams had a church ceremony and we received

a beautiful plaque thanking us for our contributions and

offering God's blessing

for our future. The church

was an integral part of our

life on Middle Caicos and a

meaningful and wonderful

experience for us.

Our 30 years in Middle

Caicos were filled with

many difficult challenges

that were met and overcome.

We have many

happy and satisfying

memories. However, the

memories that we cherish

most are the people

of Middle Caicos and the

rest of the Turks & Caicos

Islands. Had it not been

for their love and support,

we would have not succeeded.

Thank you and

God bless you all. a

44 www.timespub.tc
---
ERIC CARLANDER–SHUTTERSTOCK
---
feature

Opposite page: Divers love the area off French Cay for the large number of Caribbean reef sharks that call it home.

Above: Graceful sea turtles are another common sight across the waters of the Turks & Caicos Islands.

MICHAEL MORTON–WWW.HARBOURCLUBVILLAS.COM

Treasures on the Reef

The TCI's dive sites are a cornucopia of opportunity.

By Kelly Currington

Bags packed . . . dive gear checked . . . underwater camera ready to go . . . and you're off! No matter

where your dive destination may be, there is undoubtedly a list of dive sites and locations for you to plan

your best diving. But there is often much, much more to a dive site than any map can show you.

Times of the Islands Winter 2021/22 47
---
In the Turks & Caicos Islands, our dive sites have so

much to offer in topography and interesting creatures

and features . . . it's like having an underwater amusement

park at our disposal! As a dive professional here

since 2013, I've logged thousands of dives on these sites,

and each one has its own personality and vibe.

I would love to tell you about my "favorite" dive site

but as you will see, they are all my favorites for different

reasons. When you spend time on these sites, you start

to notice all the quirky and interesting characteristics that

make them special and they all hold their own hidden

riches. Let me take you on a treasure hunt . . .

Providenciales north

We'll start on the north side of Providenciales where the

backdrop is world-famous Grace Bay Beach. The sites

along Grace Bay mostly share a common topography and

layout. It's the shallowness of the sites east of the break

in the barrier reef that makes them different from other

sites in the country. Here, Pinnacles, Cathedral, Piranha

Cove and Coral Gables hold many surprises for divers.

The sunlight streams through the water and bounces off

the sugar-white sand reflecting like a disco ball in a nightclub.

The abundance of nutrients here contributes to the

wealth of reef fish. One thing I love most about diving

Provo's north side are the hard-to-find I always find here.

But you must slow down and forget about all the big stuff

in order to find them!

The layout of these sites are spur and groove formations

of sand chutes and coral ridges running from south

to north—where a mini wall drops off to a mere 100 feet,

which is shallow for the Turks & Caicos. I love milling

around in the sand, trying to focus on each grain to see if

it's actually sand or a tiny creature impostering as sand.

Anyone can see a shark cruising by or a turtle meandering

along the reef, but to find something like a netted

olive pushing a path below the surface of the sand is

quite an accomplishment, or maybe you'll see the tip of

its whorl as it drills into the sand—either way it's a special

find on any dive.

You might even see a magic carpet suddenly lift off the

sand and glide towards the coral. What is this creature?

Why, it's a peacock flounder. It blends in so perfectly

with the sand that only a sharp and attentive eye will

see it before it moves. As it drifts from the sand to coral,

the magic continues as stunning violet circles suddenly

appear and the previous white carpet is now a beautiful

tapestry of color.

Next, your eyes are drawn to a slit pore sea rod. Why?

Because you know there's another jewel that lives on

these soft corals and is relatively rare in these waters.

These little gems are small marine gastropod mollusks,

Peacock flounders blend so perfectly with the sand that only a sharp and attentive eye will seem them before they move.

48 www.timespub.tc
---
and their mantle resembles a human fingerprint in deep

yellow and black striations. The only crime these fingerprints

are used for is stealing time while you admire

them.

Providenciales northwest

Let's head around to the northwest side of Providenciales

where there's a whole new landscape waiting to be

explored. The reef is deeper here and the wall drops

off to staggering depths. Eel Garden, The Dome and

Amphitheatre, among others, hold opportunities for

encounters with incredible marine life and will broaden

your knowledge of the creatures that call this place home.

Caribbean reef sharks are regulars here, making appearances

nearly every dive, so you can spend your time

looking for more inconspicuous critters without feeling

like you're missing the sharks!

One of the more comical creatures I have encountered

here are banded clinging crabs, which live in the shelter

of different types of sea anemones. They look like little

dancing Ewoks! Fuzzy faces and a little side shuffle as

they play hide-and-seek in the tentacles of their host will

have you giggling, and probably flooding your mask.

Another obscure resident found along this stretch

of reef is the yellowhead jawfish, a bottom-dwelling,

burrowing little fish that is so adorable you may think

If you look carefully, you might spot a male yellowhead jawfish with

a mouthful of eggs.

Times of the Islands Winter 2021/22 49
---
This "garden" of garden eels will mysteriously vanish if you get too close! It's a treat if you can get close enough to see their smiles.

it isn't real. As they float or hover above their burrows,

they resemble tiny ghosts doing a not-so-synchronized

dance—sort of a Casper chorus line. They appear to be

all white, but if you take your time and approach slowly,

you will see their heads are pale yellow and their eyes

are blue. If you approach too quickly, they will vanish

into their burrows in the blink of an eye. If you are lucky,

you might see a male with a mouth full of eggs, and if

you're extra lucky, you will get to witness the male spitting

those little babies out, aerating them and sucking

them back in a split second—without losing a single egg!

As you comb over the terrain looking for movement

and color, you may suddenly see something that resembles

coral, but you feel it may be watching you. If you stay

very still and be patient, that piece of coral will start to

move and change shape, color and texture. It turns out to

be a cheeky little octopus hiding from you in plain sight!

It will keep its eyes on you as it reaches each tentacle into

crevices in search of a snack. Seeing one of these intelligent

invertebrates out during the day is a treat because

they normally hunt at night. Along North West Point, they

are seen regularly out during daylight; do you have a

sharp enough eye to find them?

I couldn't talk about this area without mentioning

The Dome has transformed into an artificial reef, where hundreds of tiny creatures have made the frame home.

50 www.timespub.tc
---
the best game of peek-a-boo ever! We have these adorable

little eels called garden eels, because they look like

a "garden of eels." They are cute members of the conger

eel family and like a mirage, the closer you get they

start to vanish! It's quite a challenge to slowly approach

and see if you can get close enough to see their smiles.

You always want to make sure you are not laying on the

bottom and that your fins aren't digging into the sand

because you could be unknowingly causing damage to

their burrows or other macro life.

No visit to the northwest side would be complete without

talking about The Dome. The remnants of an early

1990s game show have now transformed into an artificial

reef. Although the structure itself is a huge draw for divers,

it's the marine life who use it as shelter that are the

real attraction. This structure is quite a sight to behold,

and the story behind it is almost too outlandish to be true

Spinyhead blennies use as home the pores of sponges that cover the

structure of The Dome.

(but it is), however, the remains have become a much

more valuable part of the reef than its original purpose.

This will be the best "Easter Egg" hunt you could go on.

Hundreds of tiny creatures have made the frame of the

dome their home, but can you find them? Secretary and

spinyhead blennies use as homes the deserted tubeworm

holes or the pores of sponges and they cover the entire

structure. Freshly hatched fry fill the nooks and crannies

of the frame, and bearded fireworms move around inconspicuously.

In and around the main structure you will often see

huge channel clinging crabs, green morays and juvenile

hairy clinging crabs using the artificial tube sponge inside

the main structure as a hiding place. They are usually

accompanied by a spotted moray laying the length of

the tubes. Don't overlook the white sand fields and coral

ridges surrounding this artificial reef; they are full of life

and surprises! One of the little trinkets here are stareye

Stareye hermit crabs shuffle across the sand carrying their house.

hermit crabs shuffling across the sand. They are full of

personality and their beautiful blue eyes will hypnotize

you. They will duck inside their shells at first sight and

then slowly peek those baby blues out and see if you are

still there. When comfortable, they will carry on with sand

sifting and scuttling and amuse you with their comical

antics.

Before you leave this structure, take a very slow and

careful look on the frame for patches of purple. These

beautiful iridescent patches are tiny sargent major eggs.

They'll be guarded by a male who's normally white color

will now be a bright violet as a warning to you. Keep your

distance and watch him as he carefully fans his young to

keep them clean and picks algae from them. They are tiny

pearls of life . . . look but never touch.

West Caicos

West Caicos is currently an uninhabited island with a

unique history and some of the most dramatic walls for

diving in the Turks & Caicos. The great thing here is the

diversity of site layouts, covering almost every type of

preference. Starting at the north end of the island you

have Elephant Ear Canyon, and you can dive all the way

to the southernmost site at Spanish Anchor, covering a

wide variety of topography.

In the massive sectors of white sand at northern sites,

there is a wealth of macro life to be experienced by the

eagle-eyed diver. One of the coolest visuals is dropping

in, looking down and seeing the extensive maze of trails

laid out by all the conch—called "conch highways." The

fun starts with trying to figure out which way they are

traveling and following the path and finding the driver.

Conchs are fascinating creatures who can entertain a

diver for an entire dive.

Times of the Islands Winter 2021/22 51
---
Can you see the face of a frog in this green sponge?

If you like smaller subjects to search for, one of the

little trinkets you will find in the sand here during the

Spring are flapping dingbats. (No, I'm not talking about

your dive buddy.) They are tiny sea slugs with wings that

wrap up around their bodies and if they are disturbed,

those wings flap like crazy—all housed within a creature

the size of a grain of rice! You will need perfect buoyancy,

patience and a keen eye to find these jewels.

Let's not forget some inconspicuous fauna here. Just

like we see animal shapes in clouds as they float past,

there are some interesting images that appear in coral.

For instance, there is a green sponge that looks like the

face of a frog. Once you see it, the personality appears,

and you may find yourself talking to this "frog"—it makes

me giggle every time. There's also a coral head that

resembles an old, bent witch. She sits alone in the sand

waiting for her next unsuspecting diver.

As you move further south along the reef, the

topography changes from open sand flats to a more

concentrated coral coverage with isolated rubbly areas.

But fear not, these sites hold some serious gifts of their

own. Horizontal swim-throughs, an entire network of hidey-holes

for creatures and an old Spanish anchor are just

some of the ingredients that make West Caicos a definite

favorite among divers.

There is one creature that is so rarely seen divers think

he is an urban myth, but I assure you he is real. He is a

broadbanded moray who has inhabited a specific coral

head along West Caicos for a minimum of 14 years, but

he is a master at hiding. We affectionately named him

Benny and he's an oddity for sure. If you are lucky, and he

is feeling social, you will catch a glimpse of him peering

out from his den, which he has shared with a ruby star

and banded coral shrimp for the last 8 years; it's a house

party at Benny's! Did you bring your invitation?

In the swim-throughs at Gullies and Spanish Anchor,

you will initially think that the accomplishment of making

it to the exit is the best part, but by now you know I have

a different viewpoint on things. The thrill of swimming

Seahorses are a favorite of almost every diver. They easily move with

the ebb and flow of the water.

Benny is a moray eel who has inhabited a coral head along West

Caicos for at least 14 years.

though a horizontal chute is no doubt fun, but what's

even more exciting is seeing it for more than just a formation

to "get through." Creatures that like to be hidden

use these covered spaces as home. Eels, crabs and lobsters,

who all hunt under the cover of night, hide here

until the sunlight is replaced by moonlight. If you go slow

and take time to look in, up and around, you will find life

everywhere in this hidden realm.

52 www.timespub.tc
---
When a coney is in its xanthic phase, it is such a bright saturated shade of yellow it appears gold.

There is an old anchor embedded in the side of the

swim-through at Spanish Anchor, giving the site its

name. The amazing thing is that many divers swim right

past and never see it. The effects of being in the sea for

many years have transformed the anchor into a colorful

ornament that blends so well it can be invisible. Can you

find it?

There are two little residents here that are favorites

of almost every diver: the seahorse and the shortnose

batfish. Seahorses are skilled in resembling the flora they

hold onto and moving with the ebb and flow of the water,

making them extremely difficult to find. When this diamond

of the sea is found, take care to admire, smile,

giggle a little and make mental notes. If using a camera,

please keep the flashes and lights to a bare minimum

as they are extremely sensitive to light and will seek a

new hiding place. The shortnose batfish is just as hard to

find, but well worth the hunt. It blends in perfectly with

the sea bottom and moves very slowly along the bottom.

You may be a little confused at first sight of this strange

hodgepodge of features, but nature has no cookie-cutter

blueprint for life! This cutie has chicken wing legs, a flat

head with protruding lips, a scrawny tail and always looks

grumpy. It is not your classic beautifully colored reef fish,

but it has much character, and if you discover one you

will forget about looking for anything else.

French Cay

When all the stars align and the weather is permittable,

you can make your way south to a tiny plot of land

called French Cay. This bird sanctuary is the backdrop

to breathtaking walls that drop off into the abyss. The

most common reason divers love this area is the large

number of Caribbean reef and nurse sharks that call this

area home, which on its own is reason enough to dive

here. The "big stuff" is easy to see and always a thrill, but

there is so much more here if you take the time to look.

There is a fish here who stands out against all the

other colors of the landscape, its complexion so brilliant

it will stop you in your tracks. When a coney is in its xanthic

phase, it is such a bright saturated shade of yellow it

appears gold. At closer inspection, you will see blue dots

decorating the gold hue. Coneys' expressions are priceless

as they try to keep an eye on you while pretending to

retreat, but they are actually moving towards you when

you look away; they're sneaky like that.

Another creature I have only seen at French Cay is

the cherubfish. This bright violet fish with a golden face

is also called a pygmy angelfish and lives in holes and

crevices in coral heads. Extremely shy and elusive, your

patience will be challenged. They are so cute that once

you catch a glimpse of one, you will crave another look—

or two or three. I have spent an entire dive hovering in

one spot waiting for one to come out and see me. Even if

Times of the Islands Winter 2021/22 53
---
SHUTTERSTOCK

Nurse sharks often sleep during the day and hunt for food at night.

you don't capture a photo or video of this gem, you leave

with the memory of a very special encounter.

I know I said the sharks are easy to see, because they

will swim directly at you without a care in the world, but

there is a very special shark here that has so much sass

and personality that she's worth finding. She is a juvenile

nurse shark whom I've had the pleasure of watching grow

from a two-foot pup into a juvenile who's earned her spot

on the reef among the big fish. She is easily identified by

her dorsal fin—the top has been sheared off so it does

not have a point, but rather a straight edge. It is surmised

that this happened when she was very small, the cartilage

was still soft, and she rammed herself under a coral ridge

while hunting. At the time of this article, she is about

four feet in length and a definite force to be reckoned

with. She sleeps during the day and will tolerate some

company as long as her space is not invaded. If you see

her napping, please just admire her from a respectable

distance, whisper, "Hello FinFin" and let her rest. She will

have a busy night of hunting and wreaking havoc when

the sun goes down!

Respect the ocean

You can look at a dive site map and find out the depth,

direction and basic features of a site, and you should

always pay attention to these maps. But also, always dive

every site with an investigative eye, compassionate heart

and a respect for the environment.

Remember, it's not how far you go on your dive, it's

the encounters you have along the way and the knowledge

you gain that differentiate a good dive from an epic

dive. Slow down, look around and you will find "gold"

everywhere. The jewels and treasures that call these

waters home are more valuable than any doubloon! a

54 www.timespub.tc
---
green pages

Newsletter of the Department of Environment & Coastal Resources

Head office: Church Folly, Grand Turk, tel 649 946 2801 • fax 649 946 1895

• Astwood Street, South Caicos, tel 649 946 3306 • fax 946 3710

• National Environmental Centre, Lower Bight Road, Providenciales

Parks Division, tel 649 941 5122 • fax 649 946 4793

Fisheries Division, tel 649 946 4017 • fax 649 946 4793

email environment@gov.tc or dema.tci@gmail.com • web https://www.gov.tc/decr/

This is an adult male rock iguana on Long Cay. Feeding iguanas human food to lure them out for tourists is detrimental to their health and

the welfare of the eco-system on which they depend.

LILY FINN

Food for Thought . . .

Not Iguanas

How does tourism impact the endemic TCI Rock Iguana?

By Devyn Hannon, Jacqui Taff, Sedona Stone, Maddie Adkison, Lily Finn, Amber Johnson, Abbey Stewart,

Luke Monteiro, Kerry Bresnahan and Morgan Karns, The School for Field Studies

Hiking in the Turks & Caicos Islands: bright sunshine, stunning ocean views and . . . iguanas? Every tourist

dreams of seeing unfamiliar new creatures when they take a trip to a tropical oasis. One of the rarest

creatures to see is the cold-blooded Turks & Caicos Rock Iguana (Cyclura carinata), currently found on

only a few of the islands.

Edited by Julia Locke, Waterfront Assistant, The School for Field Studies

Times of the Islands Winter 2021/22 55
---
green pages newsletter of the department of environment & coastal resources

In the past, the rock iguanas inhabited all the islands

and cays in the Turks & Caicos Islands. This species

is native to Turks & Caicos and assists with seed dispersal

for native TCI plants, in contrast to the invasive

green iguana (Iguana iguana) that damages native wildlife

in Florida, and has recently invaded Providenciales.

Unfortunately, populations of the native rock iguana have

disappeared from 13 of the 40 islands and cays of the

Turks & Caicos over the past 20 years. Because of this

loss, the species is now designated as endangered on the

International Union of Conservation of Nature's Red List.

Hunting, habitat reduction from development, human

disturbances and the introduction of exotic species that

either outcompete them for food or hunt them are all

factors that have contributed to the decline of the native

iguana population in TCI. As a result, they are now limited

to a few smaller islands like Big Ambergris Cay, which

inhabits the largest subpopulation of this species.

In an effort to expand the reduced range and population

size of this endangered reptile, 400 TCI Rock Iguanas

were relocated in 2001 from Ambergris Cay to Long Cay,

off the southern coast of South Caicos inside the Admiral

Cockburn Land and Sea National Park. The population

there appears to be thriving currently, but increased tourism

on Long Cay could affect their behavior and normal

diet as humans lure them into the camera frame with

food for their social media photos.

Although many people think feeding wild animals

is harmless, even helpful, studies have shown that the

long-term effects on diet and behavior can be detrimental

to a population. A study on a similar species from the

Bahamas found that iguanas fed by tourists were more

likely to consume trash and non-native foods, which disrupts

their digestive system. To observe whether this

trend occurs in the TCI, students from The School for

Field Studies (located on South Caicos) collected data on

the behaviors of iguanas from two beaches — one frequented

by tourists, and one seldom visited — on Long

Cay. The results of these observations suggest that TCI

Rock Iguanas at tourist-visited sites have become accustomed

to being fed. The following excerpt from our field

notes illustrates this clearly:

We hopped off the boat at Long Cay into the clear

blue water and waddled our way to the sandy shore, not

nearly as adept at traversing uneven terrain as our scaly

subjects. As we waded through the water, a small boat

These three male rock iguanas are eagerly awaiting a handout.

filled with tourists whizzed by us, also on their way to

see the iguanas that afternoon. Walking southwest along

the shore, we immediately noticed five eager iguanas

confidently running up to us. We enjoyed their fearless

attitudes as we took note of habitat type, as well as the

age and sex of the lizards, and we hoped to continue seeing

them along the rim of the island. However, as we

continued farther along this beach, there appeared to be

fewer iguanas that made their presence known.

Traveling up the path towards the top of the island,

where tourists often hike and feed iguanas, we came

across several more iguanas as they ran down the

well-trodden path to greet us and the tourists ahead. We

were soon overwhelmed by the iguanas on the path, struggling

to take note of their age and sex before we were

swarmed again. Many were bold enough to approach us,

gathering at our feet like golden retrievers running to

the door when their owners arrive home. It was exciting

to see such a rare species scampering across our toes,

but the similarities between their behavior and that of a

domesticated pet weighed heavily on our minds.

When we returned to Long Cay the next morning, we

trekked along the less visited shoreline, far away from

the path commonly used by tourists. We were greeted by

fewer iguanas than the day before, spotting only four in

total. Unlike the iguanas regularly fed by tourists, those

we spotted did not approach us, but scattered into the

brush and did not come clearly into sight, eager to escape

our presence and find safety in the vegetation.

DEVYN HANNON

56 www.timespub.tc
---
green pages newsletter of the department of environment & coastal resources

The clear contrast in iguana behavior between both

locations demonstrated the immense impact that unnatural

feeding can have on an animal population. The iguanas

on the first beach had clearly habituated to humans and

their food, while those on the second beach exhibited the

species' natural wariness.

We can surmise that this drastic change in iguana

behavior is correlated with human feeding because there

was little to no change of habitat type between these two

sites. Iguanas will return repeatedly to a feeding site if

transporting seeds around the island if they are too full

of food hand-delivered to them. As a result, the overall

environment and ecosystem on Long Cay may shift out of

balance.

Another potential consequence is aggression towards

tourists and other iguanas. Male rock iguanas are naturally

very territorial, and human provisioning makes them

more likely to ramp up that aggression as they compete

for the tourists' handouts. In fact, while collecting data

on the tourist beach, one male iguana jumped at and

This is the tourist path on Long Cay where iguanas are fed.

LILY FINN

they are consistently successful, so it comes as no surprise

that the tourist site was filled with them. With so

many people coming to visit and feed these iguanas,

they will become more dependent on human provisioning,

leading them to forage less for themselves and to

consume food that does not have all the nourishment

they need. An unbalanced diet will give them less energy

to escape predators and reproduce. Plus, they will fail

to fulfill their ecological role of pruning shrubbery and

scratched a member of our group, perhaps frustrated at

not being fed. This was a trained group of students, with

no food to offer, so we can only imagine how bouts of

aggression may increase in the future when more tourists

lure iguanas with food.

These unfortunate effects of tourists feeding wildlife

can be seen all around the world. In the quest for a photo,

vacationers have been attacked by monkeys in Thailand

and South Africa, kangaroos in Australia, and bison in

Times of the Islands Winter 2021/22 57
---
green pages newsletter of the department of environment & coastal resources

Yellowstone National Park. These animals are becoming

accustomed to the food that tourists are giving them,

possibly leading them to attack each other in competition

for that food, or humans that do not provide any. As mentioned,

the foods normally offered by tourists, such as

fruit or granola bars, are terrible for the animals' digestive

system and overall health. Furthermore, their natural

foraging abilities will disappear if generations become

accustomed to humans feeding them.

As exciting as these incredible animals can be up

close, our study demonstrates the rapid, negative effects

that tourist feedings can have on iguanas and other wild

animals. Tourists who wish to observe these wonderful

critters should grab a pair of binoculars, rather than food,

to get a good look at the iguanas on Little Water Cay's

boardwalk experience. After all, observing an animal's

natural behaviors, undisturbed, in its native habitat is a

far more rewarding and special experience. Most importantly,

iguanas with natural diets and environments are

happier and healthier, making the experience more fun

and safer for both the iguanas and their admirers. The

rock iguanas are also Belongers of the Turks & Caicos

Islands, and responsible iguana excursions are essential

to help this species thrive. Leave smiles, not snacks! a

For additional information about The School for Field

Studies, visit www.fieldstudies.org or contact us on

South Caicos at hhertler@fieldstudies.org.

Below: This juvenile rock iguana is hidden in the brush of Long Cay.

LILY FINN

58 www.timespub.tc
---
green pages newsletter of the department of environment & coastal resources

As part of the RumPowered Research survey, TCRF staff and volunteers came prepared to treat Stony Coral Tissue Loss Disease. Over the

course of the trip over 80 reproductive, large, priority colonies were treated across three dive sites at Drum Point, East Caicos.

RumPowered Research

East Caicos reefs surveyed thanks to distilleries.

By Alizee Zimmermann and Don Stark ~ Photos By Patricia Guardiola

East Caicos remains the largest uninhabited island in the Turks & Caicos and is likely one of the largest,

if not the largest, uninhabited island in the entire Caribbean region. In 2018, the Turks & Caicos Reef

Fund (TCRF), funded by a grant from the EU's BEST 2.0 program, conducted extensive surveys of the reefs

around the island to establish a baseline health assessment of its reefs. We found that those reefs were

by far the healthiest reefs in the Turks & Caicos Islands.

Times of the Islands Winter 2021/22 59
---
green pages newsletter of the department of environment & coastal resources

In October 2021, the Turks & Caicos Reef Fund (TCRF)

teamed up with Explorer Ventures, who operate the Turks

& Caicos Explorer II liveaboard dive boat, to revisit the

reefs of East Caicos. This time the effort was funded by

generous donations from three rum distilleries: Woody

Creek Distillers, Bambara Rum and Mount Gay Barbados

Rum. Thus, RumPowered Research was born. Additional

funding came from private donations and from the Wine

Cellar, TCI Greens, Atlantic Gulf Rapid Reef Assessment

(AGRRA) and Ocean Alchemists. For six days at sea

aboard the TC Explorer II, the yacht crew, TCRF volunteer

and staff divers and TCI Government Fisheries staff conducted

surveys across the East Caicos reefs.

The previous survey of the East Caicos reefs occurred

prior to the arrival of Stony Coral Tissue Loss Disease

(SCTLD) on TCI's reefs, so one of the primary goals of

the week-long trip was to assess how SCTLD has affected

those reefs which are exposed to virtually no human

impact. Not only will these surveys provide an updated

baseline of reef health of the East Caicos reefs, but will

also provide insight into how impactful the human element

is in the spread and veracity of the disease. Ten

of the sixteen sites from the 2018 surveys were chosen

for re-surveying as these ten were previously observed

to have the densest coral cover. The data is still being

analyzed, but SCTLD is present on the East Caicos reefs.

Given how healthy these reefs were and how SCTLD

has had a significant impact on other TCI reefs, TCRF

staff and volunteers came prepared to treat the disease.

Over the course of the trip, over 80 reproductive, large,

priority colonies were treated across three dive sites at

Drum Point, East Caicos. Each coral colony treated was

tagged so that its health can be monitored on an ongoing

basis. In addition, over 20 roving diver surveys were conducted

on other sites to assess how SCTLD has affected

the East Caicos reefs.

The trip also served as an opportunity to increase the

TCI's capacity for reef health monitoring. TCRF's Alizee

Zimmermann and TCIG Fisheries Department's Richard

Archer trained and certified seven new volunteers in

Atlantic Gulf Rapid Reef Assessment (AGRRA) methodologies,

a system used by many researchers to assess and

monitor reef health. AGRRA operates on a platform of

open-sourced information and education and continues

to support TCRF efforts through data analysis, training

materials and scientific advice.

In October 2021, TCRF teamed up with Explorer Ventures who operate

the Turks & Caicos Explorer II liveaboard dive boat to revisit the reefs

of East Caicos.

60 www.timespub.tc
---
green pages newsletter of the department of environment & coastal resources

Above: Founded in 2010, the Turks & Caicos Reef Fund is the only active environmental advocacy organization in the TCI.

Below right: Over 20 roving diver surveys were conducted on other sites to assess how SCTLD has affected the East Caicos reefs.

The 2021 expedition marks the inaugural

RumPowered Research expedition. The plan is to use

RumPowered Research to fund a variety of conservation

work throughout the TCI as well as regionally. Explorer

Ventures and TCRF have also begun discussions on future

meaningful tourism itineraries. These would be special

week-long trips open to the public who want to learn

about and assist with the research work TCRF undertakes.

Explorer Ventures, who also helped to underwrite

the cost of the trip, has worked with TCRF on numerous

projects focused on protecting the local environment.

Explorer Ventures is committed to enhancing sustainable

operations and encouraging conservation worldwide. a

Founded in 2010, the Turks & Caicos Reef Fund is the only

active environmental advocacy organization in the TCI. It

is an all-volunteer-run organization that provides funding

for education, research and conservation programs

to individuals, organizations and agencies that help to

preserve and protect the environment of the Turks &

Caicos Islands. Our goal is to have at least 85% of all

funds raised directed to programs. To donate or assist

the TCRF in any way can contact us at www.TCReef.org.

Times of the Islands Winter 2021/22 61
---
green pages newsletter of the department of environment & coastal resources

MICHAEL MORTON

For the people of the Turks & Caicos Islands, their entire culture and existence revolve around the ocean and the coast.

TCI Coastal Culture Values

Culture. What is it? And why should we care?

By Oshin Whyte

If you had told me a year ago that I would be moving back home to the Turks & Caicos Islands (after

living in England for six years) to study culture, I would most likely think that you are having a laugh. My

earliest memory of structured exposure to my culture was when I was around nine and then-Director of

Culture David Bowen created a culture club at my primary school, Oseta Jolly. He would visit once a week

to tell us stories about our islands and ancestors, explain how to use bush medicine, sing folk songs and

teach us to tie the maypole. I thoroughly enjoyed those afternoons. I always learnt something new, but

most importantly, I genuinely felt like I was a part of something and that I belonged. It would not be until

almost two decades later that I consciously think about culture and its importance.

62 www.timespub.tc
---
green pages newsletter of the department of environment & coastal resources

In 1979, anthropologist Raymond Williams made a

rather bold statement by saying, "Culture is one of the

two or three most complicated words in the English

Language." We would soon realise that he is correct, as

decades later the definition of the term "culture" is still

an area of debate in anthropology and sociology. Culture

in and of itself is a dynamic process, and it is understood

that people live culturally rather than in cultures. It is

to society what memory is to individuals, and as such

includes traditions that enlighten us on what has worked

in the past. Encompassing the way people have learned to

look at themselves and the environment, it highlights an

interconnection between humans and their landscapes.

It is said that we stay alive by anchoring our existence

to places. This interconnectedness between people's way

of life (culture) and the natural world can be so strong

that removal from that environment can cause a feeling

of loss of self and purpose. This is evident in communities

where fishing is at the centre of their social structure

and identity. It is a way of life for these communities and

fishers often continue working in a failed fishery as their

communities depend on fisheries for their cultural identity.

The Turks & Caicos are no different in this regard.

Our entire culture and existence revolve around the

ocean and the coast. We are an island nation and inevitably,

ocean people. From salt raking to whale hunting to

the now-booming tourism industry, the ocean has shaped

and continues to shape who we are as a people and reinforces

our sense of identity.

However, this is not a topic that is spoken about

extensively in the Islands. Persons tend to speak about

the monetary benefits that they get from the coast

through marketing our sun, sand and sea but very rarely

do we speak about the non-material benefits of the

coastal landscape and how this affects our human experience

and our understanding of self. These non-material

benefits that we get from the natural world are known as

cultural values. They are not directly observable in the

physical landscape and manifest themselves in the form

of cognitive interactions with the environment, such as

spiritual and/or religious experiences, inspiration for culture,

sense of place, existence and bequest values and

symbolic services. Due to their intangibility, cultural values

have not been well documented and operationalized

in marine spatial planning.

From top: Fishing, such as these fishermen spearfishing in South

Caicos in the 1970s, is part of the shared heritage of Turks & Caicos

Islanders.

The beautiful seas surrounding the country are one of the main reasons

people choose to live in the Islands, forging a deep connection

with nature.

LELAND NEFF

MATT WEEDON

Times of the Islands Winter 2021/22 63
---
green pages newsletter of the department of environment & coastal resources

In late 2020, I was awarded a research scholarship

by the South Atlantic Environmental Research Institute

(SAERI) to investigate the coastal cultural values of the

Turks & Caicos Islands, under the supervision of Dr.

Robert Fish and Dr. Mark Hampton at the University of

Kent. Through this master's research project, I strive

to understand the various cultural values that persons

associate with the coastal landscape of TCI and how they

can be used to inform marine spatial planning and the

decision-making process. While it is rare to speak about

cultural values in TCI, it is even rarer to go into each community

to capture the voices and thoughts of the people.

I travelled to the islands of Providenciales, North

Caicos, Middle Caicos, Grand Turk, South Caicos and Salt

Cay to document the non-material benefits residents get

from the coast. These interviews focused on cultural values

such as lifestyle, heritage, identity, attachment, well

being and aesthetics.

The most spoken-about value across the Islands was

aesthetic and interviewees found attributes such as the

crystal-clear waters, bird watching, watching the sunrise

and hearing the waves crash aesthetically pleasing. They

also found mangrove wetlands, salt ponds, iron-shore

and marshland beautiful. They explained feeling a deep

sense of joy and peace when experiencing these things

and places, which has a positive impact on their overall

well being.

"One of the things I value about the coast is the

beauty. I like the beauty. I like to see the waves coming

up alongside the shore. Nature. The wonders of God and

appreciating the inexplicability of how this awesome universe

has been created."

–Interviewee, South Caicos

The aesthetics of the coast is one of the main reasons

interviewees choose to live in the Islands. They appreciate

the fresh air, minimal pollution and ability to form

a deep connection with nature. Other prominent values

were heritage, lifestyle and identity. These three values

are interconnected, and it was seen that the heritage of

interviewees impacts their lifestyle, which in turn helps

them establish a sense of identity. On the island of Salt

Cay, these values were evoked through practices that are

now regarded as dead or dying traditions such as whale

hunting and salt raking. However, these activities represent

where they are coming from as a people and their

shared heritage and residents have fond memories that

they look back on with pride.

On other islands, these values were enabled

through practices such as fishing, South Caicos Regatta,

Fisherman's Day, Junkanoo, Valentine's Day Cup and

playing rake and scape. It is important to highlight the

practice of fishing, as it was one of the major industries in

the Islands and while tourism has taken the lead, fishing

is still a revered practice, and the native fishermen take

pride in their heritage.

"I come from a family of hullers/ fishermen. My talent is

handed down from my forefathers and I have to be proud

of that."

–Interviewee, South Caicos

ROBERT A. METCALFE–SHUTTERSTOCK

Fishing—and eating the daily catch—is an important part of Turks & Caicos cultural heritage.

64 www.timespub.tc
---
green pages newsletter of the department of environment & coastal resources

"I feel left behind if I don't go out exploring the ocean

floors. It's like a dead day to me. When I am out there (on

the sea) that is when I get my full energy. I feel energised.

I am way happier and content."

–Interviewee, South Caicos

These cultural practices serve as a means of tying the

community together and creating a sense of togetherness

as well as rootedness.

"The coastal impact here in the Turks & Caicos is just as

important as the sun shining every morning because the

beach is really Turks & Caicos. The beach, the donkeys,

the sea, it is us. What ties us all together beyond the people

is the beach."

–Interviewee, Grand Turk

To the people of the Turks & Caicos, these cultural

values make life worth living. They are woven on the

very fabric of their being and help them understand their

past— but most importantly, navigate their future. Each

new development on the Islands presents the opportunity

for the inclusion of cultural values in the decision-making

process. The coast provides far more than mere material

benefits and it is time that the leaders of the Turks &

Caicos Islands understand and put this at the forefront of

our master plan. Only through understanding who we are

and where we're coming from will we be able to understand

where we are going.

I came home to document the cultural values of my

people. In the process, I found a piece of myself that I did

not know was lost. This is precisely why this topic is so

important. To each of my interviewees and the persons

who have helped me along the way, thank you. You all

have made this research project an enjoyable experience

and have imparted so much wisdom that I will carry with

me throughout this lifetime. I am forever grateful.

I leave you, the reader, with this piece of advice that

was bestowed upon me in Salt Cay, "When you respect a

person for who they are and they respect you for who you

are, life becomes so sweet." a

MAGNETIC MEDIA

From top: Islanders partake in traditional maypole weaving as part of

National Heritage Month.

Model sailboat building and racing recalls the days past when sloops

were a necessary mode of transportation between islands and other

countries.

TOM RATHGEB

Times of the Islands Winter 2021/22 65
---
MATTHEW MATLACK–SEA TURTLE CREATIVE
---
around the islands

Opposite page: Local student Janella Forbes won the film festival poster competition with this painting "Mother Earth."

Above: John Galleymore and Mat Matlack were present at the public screening of their documentary "East Caicos Expedition" at the Turks &

Caicos International Film Festival.

CARLOS PITA

Lights, Camera, Action!

Third Annual Turks & Caicos International Film Festival.

By Matthew Matlack, Sea Turtle Creative

When I received notice that the documentary short, "East Caicos Expedition" (www.eastcaicosexpedition.

com), had been accepted into the Turks & Caicos International Film Festival, I was elated. I shot the film

over three whirlwind days in October 2019 with the plan being to take the next six months to edit the

video and submit it to the 2020 festival. The festival was limited to a virtual event that year and I really

wanted to attend in person IF the film was selected, so I made the tough decision to hold on to the film

for another year. But the wait made its acceptance into the festival even sweeter!

Times of the Islands Winter 2021/22 67
---
Much like the quick trip to film the expedition on

East Caicos, I flew into Provo on Thursday, November

11, 2021 and had an early flight on Sunday to get back

home. I went to find The Shore Club while it was still

daylight, so I knew where I was going the next morning.

I became envious of those attending the Thursday events

as I followed along on the Turks & Caicos International

Film Festival (TCIFF) Instagram feed. I had hoped to experience

a little Junkanoo, but the Thursday Night Fish Fry

wasn't happening at The Bight Park due to COVID. (I hear

it's coming back soon?) So, I headed down to the beach

to take a dip and catch the sunset.

On Friday morning, I was thrilled to be up early and

excited for the film to screen that day. I headed to Shay

Café in Le Velé Plaza for latté and breakfast. I met a kind

young lady working there and we exchanged YouTube

channel information. I love meeting other people who

are passionate about what they are creating. There is so

much life in that.

The first session of the day was the Young Turks Art

Exhibition and Screenings. My film was included in this

session because of the ancient petroglyphs found in the

cave. When I arrived, I came upon a media event for all the

youth who contributed paintings to the festival's poster

contest. I was able to peruse all of the wonderful pieces

of art and fell in love with the winning poster "Mother

Earth" by 17-year-old Janella Forbes.

There were two films shown as part of the art screenings

and "East Caicos Expedition" was the second one.

Festival Director Collin Burrows invited me up to introduce

the film. It was a thrill to be in the room with 50–75

people experiencing the film for the first time. The sound

system and projector were first class. The film was well

received, especially by the young people in the room, and

that made me so joyful.

The festival took a break for lunch and I made my way

to Bugaloo's, now located on Grace Bay Road. I started

doing research about where to get a COVID test for my

return on Sunday. I missed the Music Producer's Panel at

the festival, which was a bummer.

But I made it back for the short films and was blown

away by them. I was very inspired by the film "Antonese"

by Conchboy Films (only.one/watch/antonese). The

short takes you on a journey with Bahamians on Cat

Island who learn to embrace the ocean and become modern-day

superheroes to overcome their fears of what lies

below the surface.

That evening was a festival gala. The high ticket

price meant that this starving artist had to sit it out, but

again, I followed along on Instagram and got to see folks

enjoying their evening with Nile Rodgers and other celebrities.

I ended up having drinks and a great dinner at

Mango Reef with the star of "East Caicos Expedition," John

Galleymore. It was no gala, but we had a great time celebrating

the screening of the film!

I was excited for another full day at the festival on

Saturday, which started with the Writer's Panel. Here, we

heard from TV and film producers Jamund Washington

("First Baptist," "Gimme the Loot") and Deniese Davis

("Insecure," "The Misadventures of Awkward Black Girl"),

plus artist manager, Krystle Hartsfield (Sony, Roc Nation,

Moonshot). It was insightful to hear of their experiences

in the industry, motivating to have them advise on how

to get noticed, and encouraging to hear them speak of

having "that one person" who helped them . . . now, they

are the ones giving back.

The evening session was very well-attended. We

enjoyed a wonderful interview by Festival Director Colin

Burrows with actor Brian Cox ("Braveheart," "The Bourne

Identity," "X2: X-Men United," "Troy"). Then we had the

pleasure of watching a new episode of Brian's latest HBO

series, "Succession." It has some amazing actors. The

characters are horrible people, but it's a great show.

That evening's gala was in full swing as I was departing

the resort to head back to my Airbnb. But I ended

up chatting with Festival Organizer Lizzie Foster and she

convinced me to join the festivities. So I changed out of

my flip flops and put on a collared shirt—there was a

red carpet, after all. I got to enjoy the company of Daniel

LeVin, one of the guides of the expedition to East Caicos.

Then I felt like an A-lister as tons of screaming fans

shouted my name and the flashes of the cameras blinded

me while I was strutting down the red carpet! No, that

didn't happen, but I did get my picture taken on the red

carpet as I made my way to the showing of "Eternals," the

new Marvel movie. I was impressed by the amazing surround-sound

from a portable system. Kudos to the crew

running it! At almost three hours, the film felt a bit long,

but was enjoyable.

I had a hard time understanding how Marvel movies

connected with the film festival. I was pleased to hear

Colin speak about Disney (who owns Marvel) declaring

they are working to make their film productions, resorts

and theme parks more sustainable and green (thewaltdisneycompany.com/environmental-sustainability/).

That's welcome news.

You see, some of the purposes of the festival are to

honor the oceans, to lift up creators that are doing works

supporting ecological awareness and to expose the world

to all that the Turks & Caicos Islands have to offer. I just

love an organization with purpose and these resonate

with me.

68 www.timespub.tc
---
The festival had beach parties and special dinners.

There was so much going on that I wasn't able to make

it to everything. I really wanted to see Andre Musgrove's

"Child of the Cenote," but I was high above the blue

waters (on the plane) when his film screened.

I'm thrilled for the TCI to have such a wonderful

film festival. Karen Whitt (festival chairperson) and Colin

Burrows, along with the rest of the festival board and volunteers

created an amazing experience. I think 2022 is

going to see the festival grow as the word gets out about

this gem. I hope to see it flourish. a

MATTHEW MATLACK–SEA TURTLE CREATIVE

Filmmaker Mat Matlack is based in Columbia, Missouri

with one foot in the Bahamas. He and his wife Shannon

enjoy exploring the North Atlantic and Caribbean.

They have two potcakes and a love for all island dogs

plus a passion for protecting the ocean's fragile, yet

extremely important, ecosystem. Their 8-year-old daughter

sometimes joins them on the adventures. (Visit

SeaTurtleCreative.com).

At left: Poster competition winner Janella Forbes and her mother stop

for photos as they walk down the red carpet.

Times of the Islands Winter 2021/22 69
---
astrolabe

newsletter of the Turks & Caicos National Museum

Front Street, PO Box 188, Grand Turk, Turks & Caicos Islands, BWI TKCA 1ZZ

tel 649 247 2160/US incoming 786 220 1159 • email info@tcmuseum.org • web www.tcmuseum.org

Fritz Ludington is one of the original developers of Providenciales.

Island Visionary

The late "Fritz" Ludington helped initiate development on Providenciales.

By Dr. Carlton Mills ~ Images Courtesy Turks & Caicos National Museum

Over the last fifty years, what was once known only as Blue Hills (now Providenciales), has witnessed

a remarkable transformation. One of the key players in this process was the late Frederick Ludington

(affectionately known as Fritz).

70 www.timespub.tc
---
astrolabe newsletter of the Turks & Caicos National Museum

The original developers of Providenciales are shown here during

the dredging of Turtle Cove (from top left): Fritz Ludington, Allan

Axt, Billy Dodson, Embry Rucker, Jessy Deets, Bengt Soderqvist, Bill

Watts and Bob Kellogg.

Fritz was an American who had investments in

George Town, Exuma, The Bahamas where he built a

small boutique hotel called Two Turtles. Fritz had put his

life's savings in this investment. His dream was to make

Exuma his home. This was about to change.

One of the factors that impacted his life in The

Bahamas was when the late Sir Lyndon Pindling became

prime minister in the early 1960s. On assuming office,

the Pindling administration embarked on a call for

nationalization—the theme being The Bahamas is for

Bahamians. Family members recalled that work permits

fees increased astronomically overnight. Fritz saw this as

a sign to get him out of The Bahamas. The straw that

broke the camel's back came when his boat was mysteriously

burnt down. It was time to leave. Providenciales was

next on his radar.

Fritz flew over Providenciales regularly en route to

Puerto Rico. This island caught his eye from the air. He

developed a fascination for it, realizing the enormous

potential waiting below to be exploited. It was possibly

the golden sandy beaches and the turquoise waters that

attracted him. Subsequently, he decided to stop over and

check out the possibilities.

According to the 1960 Population Census,

Providenciales had a population of about 518 persons.

At the time, there were no major roads, no public electricity

supply and no running water and other essentials

in Providenciales. This certainly presented a challenge for

Fritz from the outset, but he was not deterred from his

mission to embark on developing the island into a major

tourism destination.

In order to begin this mammoth task, Fritz had to

first submit his development proposal to government for

approval. The late Hon. Gustarvus Lightbourne, a member

of the Legislature at the time, strongly argued with

his colleagues for this project to be approved. He firmly

believed that this initiative would be the project that

would ignite the growth and development of the island.

Times of the Islands Winter 2021/22 71
---
astrolabe newsletter of the Turks & Caicos National Museum

This is the original "airport" in Providenciales in the early 1970s.

The development proposal that was submitted by

Fritz included:

• The construction of a 4,500 foot coral surface airfield.

• Construction of a jetty for Five Cays which was eventually

relocated to South Dock to facilitate the docking of

larger vessels.

• Road development linking all three settlements (Blue

Hills, Five Cays and The Bight).

• Dredging Sellars Pond and making a channel from the

ocean to the pond so that it would be used as a harbour.

• Building of a hotel with at least 10 rooms.

• Employment of a certain number of Turks & Caicos

Islanders.

• Requisition of 4,000 acres of Crown Land for development.

Fritz's request for 4,000 acres of land from the Turks

& Caicos government on a lease basis was not readily

accepted by the government or the populace as many

argued at the time that it was a mistake to give so many

acres of land to a foreign developer. Hon. Lightbourne,

on the other hand, saw it as the only way forward for

Providenciales. The project eventually got the blessings

of the government.

Following approval by the local Legislature, Fritz and

his partners set to work. It was necessary to import heavy

duty equipment and other supplies. The heavy equipment

included bulldozers, tractors, graders and trucks, which

were sourced in the USA, while other supplies including

canned food items and fuel were sourced from the neigbouring

Dominican Republic. The first challenge was to

clear customs in South Caicos before having their boat

guided by the late "Gus" Lightbourne and Charlie Rigby

to Providenciales—a pivotal task!.

Scenic Turtle Cove was the area selected by Fritz

to construct his hotel. He aptly named it "Third Turtle

Inn" following the sequence from The Bahamas. During

development of the hotels in The Bahamas, Fritz had

established a link with a real estate developer in Florida.

He used this individual to promote his project in

Providenciales. Fritz divided his 4,000 acres of land into

residential and commercial properties.

His first marketing approach was to advertise for

pilots who would fly down to the island in their private

aircraft. He was also able to attract a number of investors

in the project. These included: Mrs. Julia Barber, Tommy

Coleman, Richard C. Dupont Jr., Rogers C.B. Morton,

Teddy Roosevelt lll, Peter Thompson, Richard S. Dupont,

and Bengt Soderqvist. One of the team's first tasks was to

push a road from Heaving Down Rock to Turtle Cove. The

heavy equipment that was imported was utilized for this

mammoth undertaking. Bengt's role was also to survey

the land and properties.

This group soon became known as the Seven Dwarfs.

Fritz's real estate development program attracted invest-

72 www.timespub.tc
---
astrolabe newsletter of the Turks & Caicos National Museum

Providenciales' first airport was known as "Ludington's International."

Below: Fritz Ludington's contributions to the TCI were officially recognized in 1980.

ment potential from people such as: Frank Fairchild,

Doc Withey, Ed Erickson, Robert Guise, Eddie Erickson,

Ray Hall and Ward Thompson. Ray ended up building the

Erebus Inn which was an extension of Fritz's Third Turtle

Inn. Ward Thompson bought land and later developed

what is still known as Thompson Cove.

These investors eventually formed a partnership

known as Provident Limited. Each partner was granted 20

acres of land. Since there was no public electricity supply

at the time, each resident purchased personal generators.

Since so many of the white residents had purchased generators,

they eventually decided that it would be more

appropriate to have a central generator that would provide

electricity to the group. This led to the formation of

the Provo Power Corporation (Provo Corp). Each individual

connected to the grid paid monthly electricity bills.This

eventually lead to the electrification of Providenciales.

The late Scott Perkins was put in charge of the maintenance

and upkeep of the generator and electrical supplies

while Doc Withey was responsible for the management of

the operation.

Traveling to Providenciales was another challenge

as there was no major airport nor international flights.

In order to assist his guests and other potential investors

to get into Provo, Fritz promoted shuttle flights from

Florida twice weekly using a World War ll DC-3 aircraft.

In 1967, Lew Whinnery started an inter-island air service.

Fritz, along with Owen Cassaway, eventually bought out

the company establishing Caicos Airways Limited. By

1968, they were using the Beechcraft Bonanza which they

replaced a year later with a Twin Beech, eight-seater aircraft.

They also maintained a Cessna for charter flights.

As more persons expressed interest in residing and

Times of the Islands Winter 2021/22 73
---
astrolabe newsletter of the Turks & Caicos National Museum

investing in Providenciales, a greater demand was placed

on the Provo Corp to provide services. In the words of

Bengt Soderqvist, the Corp grew like a web. Eventually,

because of the huge demand, it became almost impossible

for the Corp to manage the supply and demand that

was being created. As a result, they eventually agreed to

sell the Corp to the owners of Provo Power Company in

the 1980s.

Fritz can be credited for being one of the major

pioneers that ignited this remarkable change in

Providenciales in just over fifty years. He not only set

the stage for our tourism development, but he also

contributed to the development of the electrification of

Providenciales. This was not by any stretch of the imagination

a simple task. This initiative was indicative of a

man who possessed drive, enthusiasm, determination

and fortitude. It is obvious that Fritz's vision is alive and

well in the TCI. He was a trailblazer.

It is sad and unfortunate that he has not been given

the respect or the acknowledgement for his tireless

efforts. The PDM administration (1976–80), saw it fitting

to name the airport in his honour. a

Museum Matters

Bricks have arrived

We are excited to announce that the memorial and decorative

bricks, purchased in support of the museum at

both locations, have arrived. We are extremely pleased

with the quality of the engraving and the logos. We are

determining exactly where we want the bricks on Grand

Turk placed and will be installing them soon. If you

ordered a replica tile, we will begin distributing those.

We plan to find a way to display the bricks at the

current Providenciales location. These bricks were purchased

in support of constructing a new building on

Providenciales and the bricks will be part of the new

building project.

The fundraiser for the engraved bricks will continue.

Once people see them we hope that additional orders

will be placed.

• Providenciales—All proceeds from the brick purchases

there will go towards the new museum building

on Providenciales.

• Grand Turk—All proceeds from the brick purchases

for Grand Turk will be used for the operations, projects

and exhibits for the Grand Turk Museum.

Bricks can be purchased for a cost of $100, $250

or $500. You choose the wording and for an additional

$25 have the option to include artwork. For more information,

contact us or visit our website. a

Lucayan educational materials distributed

We have begun reaching out to schools throughout the

Turks & Caicos to deliver Lucayan Education Materials.

The museum received the materials from the University

of Oxford–SIBA project. Each school will receive a set

of 10 posters depicting the lifestyles of the Lucayans.

Teacher guides and student booklets are also provided.

The materials have been very well received by

students, teachers and principals. The posters, booklets

and guides are durable and colorful. We will continue

to present the materials to schools during this school

year. a

School visits

Both museum locations were pleased to have recent visits

from several schools. Provo Middle School had two

74 www.timespub.tc
---
astrolabe newsletter of the Turks & Caicos National Museum

additional products.

• Our dedicated group of volunteers continue to keep

this location open and improving.

Students in Grand Turk are among the first to receive the new Lucayan

Education Materials.

separate classes visit the Providenciales location. Lisa

Talbot offered presentations on the Cotton Industry to

the Year 8 students and 20th Century History to the Year

9 students. Provo Middle School also visited the museum

while on their field trip to Grand Turk. A presentation

regarding the Salt Industry was given followed by a tour

of the museum.

Provo Primary and Oseta Jolly Primary visited the

Providenciales location. Students from H.J. Robinson High

School toured the Grand Turk museum as part of their

project about TCI culture and history. a

Provo Middle School students attend a presentation at the museum's

Providenciales location.

Location updates

Providenciales

• New flyers promoting the museum on Provo were distributed

throughout the island to taxi drivers, resorts, car

rental companies and other locations.

• The gift shop area was upgraded with new shelving and

Grand Turk

• The cruise ships are returning to Grand Turk starting

in December. We are awaiting additional details on how

this will impact the number of visitors to the museum. We

are hoping that this will return some normalcy to Grand

Turk for both the museum, other tour operators and businesses

that rely on the cruise ships.

• We will be adjusting our opening days and hours to

accommodate the return of the ships.

• Volunteers have also been key at this location, providing

support in the museum and gift shop.

• A spay and neuter clinic was held at the museum's

science building for two days in October. Over 55 animals

were "snipped." The museum is always willing to help out

other non-profits, especially for important projects that

benefit everyone in the community.

Current Days & Hours of Operation:

• Grand Turk—Check schedule online; days and times

vary based on cruise ships.

Located in historic Guinep House on Front Street, this

location includes exhibits regarding the Salt Industry,

Molasses Reef Wreck, the Lucayans, John Glenn Landing

and more.

• Providenciales—Tuesday, Thursday and Saturday;

10 AM to 2 PM

Located in The Village at Grace Bay, this location

includes a Historical Timeline that gives an overview of

the most important dates in the history of the Turks &

Caicos Islands. Our residents have descended from a vast

array of peoples, and an incredibly rich history.

Additional Exhibits—Slave ship Trouvadore, Molasses

Reef Wreck Artifacts, Sapodilla Hill Rock Carvings. Tour

the Heritage House, which is a historically correct recreation

of a typical 1800s Caicos dwelling, and the Heritage

Garden.

Days and times of operation are subject to change so

please check our website or Facebook page for updated

information. a

www.tcmuseum.org• info@tcmuseum.org

(649) 247-2160

Times of the Islands Winter 2021/22 75
---
about the Islands

Map provided courtesy Wavey Line Publishing. Their navigation charts and decorative and historic maps of the Turks & Caicos Islands, The

Bahamas and Hispaniola are available in shops throughout the Islands. Visit www.amnautical.com.

Where we are

The Turks & Caicos Islands lie some 575 miles southeast

of Miami — approximately 1 1/2 hours flying time —

with The Bahamas about 30 miles to the northwest and

the Dominican Republic some 100 miles to the southeast.

The country consists of two island groups separated

by the 22-mile wide Columbus Passage. To the west are

the Caicos Islands: West Caicos, Providenciales, North

Caicos, Middle Caicos, East Caicos and South Caicos. To

the east are the Turks Islands: Grand Turk and Salt Cay.

The Turks & Caicos total 166 square miles of land

area on eight islands and 40 small cays. The country's

population is approximately 43,000.

Getting here

There are international airports on Grand Turk,

Providenciales, and South Caicos, with domestic airports

on all of the islands except East Caicos.

As of September 1, 2021, all visitors ages 16 and

above must be fully vaccinated and provide a negative

PCR or antigen COVID-19 test taken within three days

of travel. (Children under the age of 10 are not required

to be tested.) Additionally, travellers must have medical/

travel insurance that covers medevac, a completed health

screening questionnaire and certification that they have

read and agreed to the privacy policy document. These

requirements must be uploaded to the TCI Assured portal,

which is available at www.turksandcaicostourism.

com, in advance of their arrival.

76 www.timespub.tc
---
The TCI has expanded COVID-19 testing capacity in

response to testing requirements implemented for travellers

entering the United States and Canada. Many resorts

offer on-site testing, along with numerous local health

practitioners.

Language

English.

Time zone

Eastern Standard Time (EST)/Daylight Savings Time

observed.

Currency

The United States dollar. The Treasury also issues a Turks

& Caicos crown and quarter. Travellers cheques in U.S.

dollars are widely accepted and other currency can be

changed at local banks. American Express, VISA and

MasterCard are welcomed at many locations.

Climate

The average year-round temperature is 83ºF (28ºC). The

hottest months are September and October, when the

temperature can reach 90 to 95ºF (33 to 35ºC). However,

the consistent easterly trade winds temper the heat and

keep life comfortable.

Casual resort and leisure wear is accepted attire for

daytime; light sweaters or jackets may be necessary on

some breezy evenings. It's wise to wear protective clothing

and a sunhat and use waterproof sunscreen when out

in the tropical sun.

Entry requirements

Passport. A valid onward or return ticket is also required.

Customs formalities

Visitors may bring in duty free for their own use one carton

of cigarettes or cigars, one bottle of liquor or wine,

and some perfume. The importation of all firearms including

those charged with compressed air without prior

approval in writing from the Commissioner of Police is

strictly forbidden. Spear guns, Hawaiian slings, controlled

drugs and pornography are also illegal.

Returning residents may bring in $400 worth of

merchandise per person duty free. A duty of 10% to

60% is charged on most imported goods along with a

7% customs processing fee and forms a major source of

government revenue.

Times of the Islands Winter 2021/22 77
---
etween popular visitor areas. Scooter, motorcycle and

bicycle rentals are also available.

Food for Thought provides free daily

breakfast to government school students.

A donation of $300 will provide breakfast

to one child for a whole school year.

To donate or learn more please

email info@foodforthoughttci.com

or visit foodforthoughttci.com

Transportation

Food for Thought Foundation Inc. (NP #102)

A valid driver's license from home is suitable when renting

vehicles. A government tax of 12% is levied on all

rental contracts. (Insurance is extra.) Driving is on the

left-hand side of the road, with traffic flow controlled by

round-abouts at major junctions. Please don't drink and

drive! Taxis and community cabs are abundant throughout

the Islands and many resorts offer shuttle service

Telecommunications

FLOW Ltd. provides land lines and superfast broadband

Internet service. Mobile service is on a LTE 4G network,

including pre- and post-paid cellular phones. Most resorts

and some stores and restaurants offer wireless Internet

connections. Digicel operates mobile networks, with

a full suite of LTE 4G service. FLOW is the local carrier

for CDMA roaming on US networks such as Verizon and

Sprint. North American visitors with GSM cellular handsets

and wireless accounts with AT&T or Cingular can

arrange international roaming.

Electricity

FortisTCI supplies electricity at a frequency of 60HZ,

and either single phase or three phase at one of three

standard voltages for residential or commercial service.

FortisTCI continues to invest in a robust and resilient grid

to ensure the highest level of reliability to customers. The

company is integrating renewable energy into its grid and

provides options for customers to participate in two solar

energy programs.

Departure tax

US $60. It is typically included in your airline ticket cost.

Courier service

Delivery service is provided by FedEx, with offices on

Providenciales and Grand Turk, and DHL. UPS service is

limited to incoming delivery.

78 www.timespub.tc
---
Postal service

The Post Office and Philatelic Bureau in Providenciales are

located downtown on Airport Road. In Grand Turk, the

Post Office and Philatelic Bureau are on Church Folly. The

Islands are known for their colorful stamp issues.

Media

Multi-channel satellite television is received from the U.S.

and Canada and transmitted via cable or over the air.

Local station WIV-TV broadcasts on Channel 4 and Island

EyeTV on Channel 5. People's Television offers 75 digitally

transmitted television stations, along with local news

and talk shows on Channel 8. There are also a number of

local radio stations, magazines and newspapers.

Medical services

There are no endemic tropical diseases in TCI. There are

large, modern hospitals on Grand Turk and Providenciales.

Both hospitals offer a full range of services including:

24/7 emergency room, operating theaters, diagnostic

imaging, maternity suites, dialysis suites, blood bank,

physiotherapy and dentistry.

In addition, several general practitioners operate in

the country, and there is a recompression chamber, along

with a number of private pharmacies.

Immigration

A resident's permit is required to live in the Islands. A

work permit and business license are also required to

work and/or establish a business. These are generally

granted to those offering skills, experience and qualifications

not widely available on the Islands. Priority is given

to enterprises that will provide employment and training

for T&C Islanders.

Government/Legal system

TCI is a British Crown colony. There is a Queen-appointed

Governor, HE Nigel John Dakin. He presides over an executive

council formed by the elected local government.

Hon. Charles Washington Misick is the country's premier,

leading a majority Progressive National Party (PNP) House

of Assembly.

The legal system is based upon English Common

Law and administered by a resident Chief Justice, Chief

Magistrate,and Deputy Magistrates. Judges of the Court

of Appeal visit the Islands twice a year and there is a final

Right of Appeal to Her Majesty's Privy Council in London.

Taxes

There are currently no direct taxes on either income

or capital for individuals or companies. There are no

exchange controls. Indirect taxation comprises customs

duties and fees, stamp duty, taxes on accommodations,

restaurants, vehicle rentals, other services and gasoline,

as well as business license fees and departure taxes.

Economy

Historically, TCI's economy relied on the export of salt.

Currently, tourism, the offshore finance industry and fishing

generate the most private sector income. The Islands'

main exports are lobster and conch. Practically all consumer

goods and foodstuffs are imported.

The Turks & Caicos Islands are recognised as an

important offshore financial centre, offering services

Times of the Islands Winter 2021/22 79
---
such as company formation, offshore insurance, banking,

trusts, limited partnerships and limited life companies.

The Financial Services Commission regulates the industry

and spearheads the development of offshore legislation.

People

Citizens of the Turks & Caicos Islands are termed

"Belongers" and are primarily descendants of African

slaves who were brought to the Islands to work in the

salt ponds and cotton plantations. The country's large

expatriate population includes Canadians, Americans,

Brits and Europeans, along with Haitians, Jamaicans,

Dominicans, Bahamians, Indians and Filipinos.

Churches

Churches are the center of community life and there

are many faiths represented in the Islands including:

Adventist, Anglican, Assembly of God, Baha'i, Baptist,

Catholic, Church of God, Episcopal, Jehovah's Witnesses,

Methodist and Pentecostal. Visitors are always welcome.

Pets

Incoming pets must have an import permit, veterinary

health certificate, vaccination certificate and lab test

results to be submitted at the port of entry to obtain

clearance from the TCI Department of Agriculture, Animal

Health Services.

National symbols

The National Bird is the Brown pelican (Pelecanus occidentalis).

The National Plant is Island heather (Limonium

bahamense) found nowhere else in the world. The

National Tree is the Caribbean pine (Pinus caribaea var.

bahamensis). The National Costume consists of white cotton

dresses tied at the waist for women and simple shirts

and loose pants for men, with straw hats. Colors representing

the various islands are displayed on the sleeves,

sashes and hat bands. The National Song is "This Land

of Ours" by the late Rev. E.C. Howell. Peas and Hominy

(Grits) with Dry Conch is revered as symbolic island fare.

Going green

TCI Waste Disposal Services currently offers recycling

services through weekly collection of recyclable aluminum,

glass and plastic. Single-use plastic bags have been

banned country-wide as of May 1, 2019. There is also a

ban on importation of plastic straws and some polystyrene

products, including cups and plates.

subscription form

VISIT WWW.TIMESPUB.TC TO VIEW CURRENT ISSUE ON-LINE!

TIMES

OF THE

ISLANDS

SAMPLING THE SOUL OF THE TURKS & CAICOS ISLANDS

One year subscription

$28 U.S. addresses/$32 non-U.S. addresses

Name____________________________________________________________________

Date ____________________

Address__________________________________________________________________

City _____________________________________________________________________

State/Province____________________________________________________________

Country/Postal Code_____________________________________________________

E-mail address (not required)_____________________________________________

r New Subscription r Renewal

r U.S. Cheque/M.O. enclosed

Mail with payment to:

Times Publications Ltd., c/o Kathy Borsuk,

247 Holmes Ave., Clarendon Hills, IL 60514

Please allow 30 to 60 days for delivery of first issue.

80 www.timespub.tc
---
Recreation

Sporting activities are centered around the water. Visitors

can choose from deep-sea, reef or bonefishing, sailing,

glass-bottom boat and semi-sub excursions, windsurfing,

waterskiing, parasailing, sea kayaking, snorkelling, scuba

diving, snuba, kiteboarding, stand up paddleboarding,

mermaid encounters and beachcombing. Pristine reefs,

abundant marine life and excellent visibility make TCI

a world-class diving destination. Whale and dolphin

encounters are possible, especially during the winter/

spring months.

Tennis and golf—there is an 18 hole championship

course on Providenciales—are also popular. Many resorts

have private tennis courts.

The Islands are an ecotourist's paradise. Visitors can

enjoy unspoilt wilderness and native flora and fauna in

33 national parks, nature reserves, sanctuaries and areas

of historical interest. The National Trust provides trail

guides to several hiking trails, as well as guided tours of

major historical sites. Birdwatching is superb, and there

is a guided trail on Grand Turk.

There is an excellent national museum on Grand

Turk, with an auxillary branch on Providenciales that

includes the Caicos Heritage House. A scheduled ferry

and a selection of tour operators make it easy to take day

trips to the outer islands.

Other land-based activities include bicycling, horseback

riding and football (soccer). Personal trainers are

available to motivate you, working out of several fitness

centres. You will also find a variety of spa and body treatment

services.

Nightlife includes local bands playing island music

at bars and restaurants and some nightclubs. There are

two casinos on Providenciales, along with many electronic

gaming parlours. Stargazing is extraordinary!

Shoppers will find Caribbean paintings, T-shirts,

sports and beachwear and locally made handicrafts,

including straw work, conch crafts and handmade beach

jewellery. Duty free outlets sell liquor, jewellery, watches,

perfume, leather goods, crystal, china, cameras, electronics,

brand-name clothing and accessories, along with

Cuban cigars. a

Times of the Islands Winter 2021/22 81
---
classified ads

R E J O U V E N A N C E

SPA

Collagen

Activation?

NEED

A

lift?

Fine lines and wrinkles?

Expect results! on your first treatment

with the latest technologies, Call Now

+1649-432-7546

www.rejouvenancespa.com

Community Fellowship Centre

A Life-Changing Experience

Sunday Divine Worship 9 AM

Visitors Welcome!

Tel: 649.941.3484 • Web: cfctci.com

D&Bswift_Layout 1 5/8/18 7:24 AM Page 1

FOR ALL YOUR

RELIABLE AND

AFFORDABLE

RENTAL NEEDS

649-941-8438 and 649-241-4968

SCOOTER BOBS_Layout 1 8/8/18 10:57 AM Page GBC2017_Layout 1 2/16/17 9:10 AM Page 1

autorental@dnbautoparts.com

We're here to

make your holiday

the island way...

DEPENDABLE VEHICLE HIRE

SERVICE OFFERED:

Provo & North-Middle Caicos

Office: 946-4684

Amos: 441-2667 (after hours)

Yan: 247-6755 (after hours)

Bob: 231-0262 (after hours)

scooterbobs@gmail.com

www.scooterbobstci.com

Grace Bay Road across from Regent Street

Fun Friendly People

Appreciating Your Business!

941-8500

www.gracebaycarrentals.com

82 www.timespub.tc
---
WE ARE LEADING THE CHANGE

FOR A NEW ENERGY FUTURE

Our executive team: (L-r) Senior Vice President of Operations Devon Cox; Vice President of Corporate

Services and CFO Aisha Laporte; President and CEO Ruth Forbes; Vice President of Grand Turk and

Sister Island Operations Allan Robinson; Vice President of Innovation, Technology and Strategic Planning

Rachell Roullet and Vice President of Engineering and Energy Production and Delivery Don Forsyth

The energy landscape is changing.

And at FortisTCI, we are leading the transition to cleaner energy with

innovative solutions, and the highest level of service to customers.

With sustainability as a guiding principle, we are strategically investing

in new technologies, people and processes to deliver least-cost, reliable,

resilient and sustainable energy to keep the Turks and Caicos Islands

economy moving forward.

At FortisTCI, we are powered by a team of energy experts, who are proud

to serve as your energy partners.

www.fortistci.com | 649-946-4313 |
---
We help you turn some day into right now . . .

nothing compares.

THE FINEST COLLECTION

Condominium | Home & Villa | Land | New Development

649.946.4474 | info@tcsothebysrealty.com | turksandcaicossir.com

Venture House, Grace Bay | Resort Locations: Grace Bay Club and The Palms

Each franchise is Independently Owned and Operated.