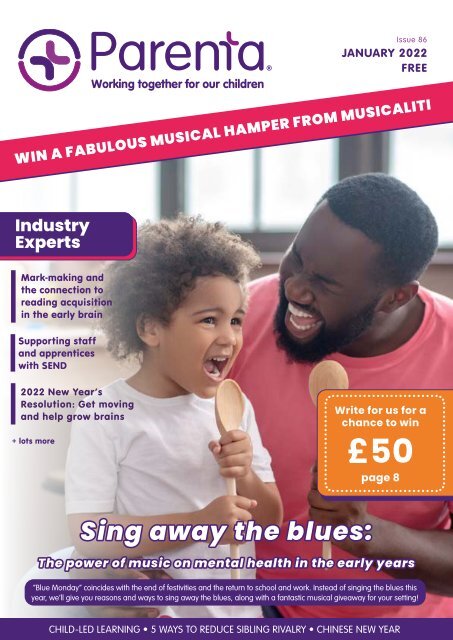 January 2022 Parenta magazine
Create successful ePaper yourself
Turn your PDF publications into a flip-book with our unique Google optimized e-Paper software.
Issue 86

JANUARY 2022

FREE

WIN A FABULOUS MUSICAL HAMPER FROM MUSICALITI

Industry

Experts

Mark-making and

the connection to

reading acquisition

in the early brain

Supporting staff

and apprentices

with SEND

2022 New Year's

Resolution: Get moving

and help grow brains

+ lots more

Write for us for a

chance to win

£50

page 8

Sing away the blues:

The power of music on mental health in the early years

"Blue Monday" coincides with the end of festivities and the return to school and work. Instead of singing the blues this

year, we'll give you reasons and ways to sing away the blues, along with a fantastic musical giveaway for your setting!

CHILD-LED LEARNING • 5 WAYS TO REDUCE SIBLING RIVALRY • CHINESE NEW YEAR
---
hello

welcome to our family

Hello and welcome to the January edition of the Parenta magazine!

The year 2022 is upon us - and a new year often brings new resolutions, as some of us evaluate

what has gone well for us; and what could be improved in the coming year. In January, the day on

which travel agents have found that most people look for or book holidays is on 17th, now unofficially

called "Blue Monday". This year, of course we also have the ongoing impact of COVID-19 restrictions to

contend with - so instead of 'singing the blues' for Blue Monday, we give you some reasons and ways

to sing away the blues! Turn to page 18 to read early years musical expert Frances Turnbull's wonderful

and uplifting advice on the power of music on mental health. To help you even more, we have a great

selection of musical instrument give-aways for your setting, courtesy of Frances!

Music and movement expert, Gina Bale continues this theme as she advises us to make a new year's resolution to "get

moving and help grow brains"; while Kathryn Peckham and Helen Garnett, both give us some fantastic insight into just how

those little brains are developing; and Katie White gives some invaluable guidance on "creatively expressing emotions".

As always, all the advice, guidance, crafts and recipes you read in our magazine are written to help you with the efficient

running of your setting and to promote the health, happiness and well-being of the children in your care. We hope you love

reading it as much as we enjoy making it!

Don't for get to check out our recipe for Chinese Dumplings which we will be making for Chinese New Year!

Please feel free to share the magazine with friends, parents and colleagues – they can sign up to receive their own copy

here!

We wish you a happy new year.

Allan

JANUARY 2022 ISSUE 86

JUNE 2020 ISSUE 67

IN THIS EDITION

IN THIS EDITION

Regulars

7 Congratulations to our learners

8 Write for us for the chance to win £50!

8 Guest author winner announced

24 Chinese dumplings

25 Pinecone birdfeeder

News

4 Childcare news and views

6 A round-up of some news stories

that have caught our eye over the

month

Advice

12 Child-led learning

16 Supporting children with EAL

28 Chinese New Year

32 Supporting staff and apprentices

with SEND

36 RSPB Big Schools Bird Watch

Industry Experts

Egg-cellent advice: Twinkle toes 30

Supporting staff and apprentices with SEND 32

Creatively

expressing

emotions

10

Although children need to

learn how to emotionally

regulate, it's also important

that they are able to express

what they are feeling.

Supporting

children with EAL

16

Early years practitioners

need to be able to help

students with EAL access

the curriculum and not

allow the children to be

at a disadvantage.

5 Ways to reduce

sibling rivalry

22

Sibling rivalry can often start from the

day a new baby is brought home, and

can have a huge impact on a family.

It's important for us to be aware of this

so we can minimise any repercussions.

10 Creatively expressing emotions

14 Mark-making and the connection

to reading acquisition in the early

brain

18 Sing away the blues: The power

of music on mental health in the

early years

22 5 ways to reduce sibling rivalry

26 CEO of the London Early Years

Foundation explains WHY the Government

must bridge the attainment gap for

disadvantaged children through an urgent

reform of 30-hours nursery policy

30 Egg-cellent advice: Twinkle toes

34 2022 New Year's Resolution: Get

moving and help grow brains

38 Together we are growing children's brains –

understanding brain development

RSPB Big Schools Bird Watch 36

Together we are growing children's brains -

understanding brain development

38
---
Childcare

news & views

Inequalities have worsened

during pandemic: Child of the

North report

A report published by the Northern Health

Science Alliance, Child of the North:

Building a fairer future after Covid-19

paints a bleak picture, caused by chronic

underfunding in the North of England.

Ofsted releases updated

Education Inspection

Framework

On 15th December, Ofsted updated its

inspection framework (EIF) to reflect the

new EYFS framework which came into

force in September.

In the updated guidance, the following

questions are answered in more detail:

• "Will Ofsted expect providers to show

the progress of a child tracked against

the revised non-statutory guidance,

'Development matters?"

• "Will Ofsted prefer to see paper

assessments rather than those

recorded electronically?"

• "How will Ofsted inspect the

curriculum? Do registered providers

need to produce a curriculum map?"

• "How will inspectors consider

progress?"

• "Does Ofsted expect practitioners to

use the government's non-statutory

guidance, Development matters,

when developing and shaping their

curriculums?"

• "When carrying out deep dives,

will inspectors want to see national

curriculum subjects, rather than EYFS

areas of learning, being taught in

Reception?"

• "Does Ofsted expect the national

curriculum in a primary school to start

when children first join in the early

years?"

You can read the full story, as reported by

Early Years Leadership here, and you can

read "Ofsted EIF inspections and the EYFS"

on the official government website here.

Read the full article here at parenta.com.

Toddlers struggling with

sharing post-pandemic

Ofsted has revealed that observations that

were made during November showed

that many two- and three-year-olds are

struggling with social skills, like sharing

and taking turns, post pandemic.

Two-year-olds - who have spent nearly

80% of their life in the Covid pandemic -

and babies of 18 months who have lived

their whole life in it, are often displaying

different characteristics to those who

started attending early years settings

before the pandemic.

This has been caused by (unsurprisingly)

lockdowns and reduced availability

of parent and toddler groups which

resulted in these children having a lack

of interaction outside their close family.

With limited social interaction at home

during the pandemic, children struggled

to settle with unfamiliar people, were

more wary, shyer, quieter, and some were

overwhelmed in larger groups. Inspectors

also found that the language and

communication skills of children born in

the pandemic were not as strong as those

that nurseries had cared for in the past.

On a brighter note, however, findings

published in Ofsted's report also revealed

children soon grew in confidence in

nurseries and became more comfortable.

Ofsted reports that this 'suggests that

there is no long-term negative impact on

children's ability to settle into childcare'.

Ofsted has currently halted all nursery

inspections due to the threat posed by the

Omicron variant and the rising number of

Covid cases in nurseries.

You can read the full story, as reported by

daynurseries.co.uk, here.

Read the full article here at parenta.com.

Inequalities which were in existence

before Covid have since deepened, with

children in the North East, North West and

Yorkshire and Humber being affected

disproportionately. They now have poorer

educational outcomes which authors of

the report predict will affect their lifetime

incomes.

Due to frequent lockdowns in some

local areas, compared to the rest of

the country, children in those areas lost

more education. Their health and mental

well-being has also consequently been

impacted.

The report states this must be addressed

by a child-first place-based recovery plan

and recommendations include:

• Tackle the negative impacts of the

pandemic in the North through rapid,

focussed investment in early years

services, including health visiting,

family hubs and children's centres.

• Commissioners of maternity and

early years services must consider the

impact of pandemic related service

changes on inequalities in families

and children's experiences and

outcomes.

• Increase child benefit by £10 per child

per week. Increase the child element

in Universal Credit and increase child

tax credits.

• Support educational settings to initiate

earlier interventions. Teachers and

early years professionals see many

of the first indicators of children's risk

and vulnerabilities.

• Prioritising strong pupil and staff

relationships and collaboration with

parents/carers will ensure a firm

foundation for meeting children's

needs, and for a return to learning.

Read the full report here and read the

story, as reported by the BBC here.

Read the full article here at parenta.com.

Ofsted report: 98% still good

or outstanding but more recent

inspection concerns

Her Majesty's Chief Inspector Amanda

Spielman has launched Ofsted's Annual

Report 2020-21. The report covered the

year to September 2021 during which the

Inspectorate carried out fewer inspections

than normal due to closures and

restrictions.

Although 98% of nurseries and preschools

still remain judged as good (76%)

or outstanding (22%) there are concerns

about the numbers of childcare providers

leaving Ofsted's register.

Childcare places have reduced by about

1% of the total numbers of places the

previous year.

Another big concern highlighted in

the report was that 44% of early years

providers believe children's personal,

social and emotional development had

fallen behind. This was particularly strong

in in areas of deprivation where it was

reported there was lower take-up of twoyear-old

places.

Purnima Tanuku OBE, Chief Executive

of National Day Nurseries Association

(NDNA), said: "This Ofsted report rightly

acknowledges the key role that early years

settings and their workforce have played in

supporting our youngest children through

such a tough year with the harmful effects

of closures and restrictions.

"We are hearing from early years providers

how they have worked with children who

have displayed challenging behaviours at

nursery. Their well-being and support with

their language skills and personal, social

and emotional development have been

critical.

It's a great tribute to our nurseries that

despite the negative impacts from

the pandemic, 98% are still judged as

being good or outstanding. However,

we are concerned by the trend in recent

inspections. It is vital that inspectors

recognise the challenges that nurseries still

face and the stress that staff are under on

a daily basis. Due to ongoing measures

and staff absences, nurseries are very

different places compared to pre-pandemic

times. Ofsted must review its complaints

and appeals procedure to make sure that

complaints are treated fairly.

Even before the Covid-19 pandemic hit, we

were reporting that staffing recruitment

and retention had hit crisis levels but the

pandemic has made this situation even

worse. It's important that this is recognised

by Ofsted. There is therefore a question

about how everyone in the sector, from

Government to Ofsted can put measures

in place to support nurseries to retain staff

and to encourage more people into the

profession.

Children must be at the heart of

educational recovery efforts, starting with

early years. That's why we need to see a

clear reform of the early education and care

policy and a funding system that is built to

deliver this."

Ofsted's Chief Inspector, Amanda Spielman,

said: "In order to protect older generations,

we asked the youngest generation to

put their lives and education on hold. As

we look forward to the year ahead, we

must strive to redress the balance. Every

generation gets one chance to enjoy its

childhood and fulfil its potential. We must

do all we can to make sure this generation

is not denied its opportunity."

Read the full report here and read the full

story, as reported by NDNA here.

Read the full article here at parenta.com.

4 January 2022 | parenta.com

parenta.com | January 2022 5
---
A round-up of some news

stories that have caught

our eye over the month

Source and image

credits to:

Parenta's blog, The Daily Mail,

The Northern Echo,

Leader Live

Congratulations

to all our Parenta learners!

Congratulations to all these Parenta learners who completed their apprenticeship

in November and have now gained their qualifications.

These range from Childcare Level 2, Childcare Level 3 and Team Leading

to Level 3 and Level 5 Management – that's a huge achievement in the

current climate.

All that hard work has paid off – well done from all of us here at Parenta Training!

Parenta Training reinforces

its leadership team with new

Managing Director - Edyta White

Parenta Training enters the next phase of

its commitment to "fully embed unrivalled

quality within apprenticeship programme

delivery" with the addition of Edyta White.

Tops Day Nursery had a visit from

the National Manager of the year

award winner

The Southsea based nursery had a visit

from Hannah Jennings who was awarded

the prestigious award in November after

more than 25,000 nurseries applied.

Dorset Council educate children

at local nursery

Dorset council are currently creating a

cycle Cath which passes Tops Day

Nurseries Wimborne. The council and

nursery have used this as an opportunity

to educate the children on the project.

Did you know?... Parenta has trained over 20,000 apprentices within the early years sector!

Our Level 3 success rate overall is almost 10% higher than the national average.

That's down to great work from you, our lovely Parenta learners!

If you have a learner with us who has recently completed their apprenticeship, please send in

a picture to hello@parenta.com to be included in the magazine.

November's wall of fame!

Recent data reveals UK parents

are missing out on 'tax-free

childcare scheme'

Only a fraction of parents are taking up

the 'tax-free childcare scheme' as there

has been a £2.37bn underspend on the

government's flagship policy.

Nursery group of 10 settings

fundraise for baby hospice

charity Zoe's Place

Rosedene nursery group have made an

addition to their usual festive activities by

asking the children and their families for

small donations to the charity.

Caego Day Nursery children

take part in reindeer run for

Nightingale House Hospice

All of the little ones at the Wrexham

based nursery have been taking part

in the run for the hospice - who care for

people with life-limiting illnesses.

A. Jepson

B. Tyrrell

C. Phillips

C. Wager

C. Hickmans

D. Gomes Alves

D. O'Brien

D. Sifanno

E. Coulson

E. Adams

F. Shaukat

I. O'Sullivan

I. Nasar

I. Billings

J. Salt

J. Selt

K. Circuitt

K. Paget

K. Barber

L. Davenport

L. Plant

L. Swaby

L. Page

L. Romanucci

M. Kolodziejska

M. Eriera

M. Turner

N. Urbano Herrera

S. Moreno De Abreu

S. Hussain

T. Frisby

Z. Geoghegan

6 January 2022 | parenta.com parenta.com | January 2022 7
---
Write for us!

We're always on the lookout

for new authors to contribute

insightful articles for our

monthly magazine.

If you've got a topic you'd like to write about, why

not send an article to us and be in with a chance of

winning? Each month, we'll be giving away Amazon

vouchers to our "Guest Author of the Month". You

can find all the details here:

https://www.parenta.com/sponsored-content/

Help change

children's lives

We are recruiting Early Years educators

that go that extra mile to join our growing

family. Receive a competitive salary plus a

great package of benefits:

50% off childcare at our nurseries

26 days paid annual leave

8 days' training per year

and much more

020 7254 7359

apply@leyf.org.uk

Congratulations

to our guest author competition winner, Joanna Grace!

Youngest Chef

Award

Musicaliti's Musical Giveaway

For your chance to win one of 8 musical

hampers, including a Musicaliti song

book, cd, sets of musical instruments

and puppets for either under 2s or over

2s, answer this question and send it to

marketing@parenta.com

Congratulations to Joanne Grace, our guest author

of the month for the second time running! Her article

"Egg-cellent advice: A little room" is two out of series

of a 10 articles following the adventures of her son

aka 'Egg'. In this article Joanna explores the sensory

fun children can have with the most simple objects

including a cardboard box. Well done Jo!

Sign up and receive:

Videos and Lesson Plans

Stickers

Posters

Books

Medals

A massive thank you to all of our guest authors for

writing for us. You can find all of the past articles

from our guest authors on our website:

www.parenta.com/parentablog/guest-authors

A fun, practical, purposeful and engaging award that ensures curriculum

coverage and basic life skills to support long-term health and wellbeing for

children aged 3+. The award is a 'Mini Muncher Challenge', which includes

5 exciting stand-alone lessons and additional resources/activities.

Find out more at: youngchefoftheyear.com

info@thefoodteacher.co.uk 01582 620178

Q: What is the name given to the Monday

in January when most people book

holidays?

Send your name, answer and preference

of over 2s or under 2s before Friday 28th

January for the chance to win.

8 January 2022 | parenta.com

Winner need updating

parenta.com | January 2022 9
---
Creatively

expressing emotions

Managing children's emotions can be problematic. We may lose

our patience, feel triggered by their outbursts, or become reactive

ourselves when they behave. Or act out in certain ways. We may insist

that they 'calm down!' or patiently explain to them that their actions

are unacceptable, only to be met with more difficult behaviour.

Although children need to learn how to

emotionally regulate, it's also important

that they are able to express what they are

feeling, and for those feelings to be seen,

heard and validated by us. That's why

it's vital that we are able to self-regulate

in those difficult moments; so that we are

able to create a safe space where those

feelings can be processed, expressed and

released.

But how an earth can you do that in the

middle of the supermarket? I might hear

you ask! And what about their incredibly

bad behaviour!?

All behaviour is communication! Those

outward behavioural displays are coming

from a need in the child to feel seen,

understood and accepted. For example, a

child might feel angry about not receiving

an invite to their friends party; being

unable to communicate or verbalise

their anger they might lash out, become

frustrated or annoyed. Or that anger could

turn inwards and be expressed through

self-criticism, judgement or self-harm.

Emotions are doing a job, pointing to an

experience, thought or feeling. It's our

job to give recognition to those emotions,

so they aren't suppressed, ignored or

shamed. When we are able to welcome

in every emotion without judgement and

reactivity, that's when the thought or

feeling underneath the behaviour can start

to come through and be expressed.

Learning how to verbalise emotions

through language takes time. (I'm sure

you know some adults who still haven't

mastered the art!) So this is where

creative expression can play a big part

in supporting children work through,

understand and express what they're

feeling.

Recognise the feeling

Children can get overwhelmed by their

emotions and fearful of them. Teaching

them that every emotion is welcome and

is part of being human, can help to lessen

the need for them to suppress how they're

feeling.

Finding a time to play with emotions can

help children to recognise them when they

arise in the moment. One of the best ways

to explore this is through drama play or

improvisation: as it provides a framework

where children can safely embody

emotions within the structure of a game.

The 'Potato' game is one of my favourites,

as it gives children the opportunity to

explore and exaggerate what an emotion

feels like in the body. You can play this

game with a group of children or one-toone.

The aim of the game is to say the word

'potato' in the style of an emotion. What

would a shy potato look and sound like?

A stressed potato? An excited potato?

Embody each emotion, clench fists for

angry, hunch shoulders for sad, move and

smile for happy. Explore the realms of all

the emotions through movement, voice

and posture.

Create without an outcome

Learning to put outcomes and objectives to

one side and be creative for the purpose of

self-expression can be hard for us adults.

When we conform to a structure or are set

to an outcome-driven activity, like making

a card, building a vase or creating a dream

catcher for example, the child is limited to

the structure and therefore has little room to

explore their feelings.

Not all creative projects need a final piece.

Try moving beyond a structured activity and

explore more expressive ways to create.

Mark-making for example can be a great

way to release emotions. Get a big piece

of paper and stick it to the wall, then use

paint, chalk, charcoal or felt tips, maybe

exploring different art tools, like brushes,

pallet knifes and sponges. Allow those

emotions to be released in the marks, don't

be afraid to make a mess!

Release the emotion

Movement can help to shift and release

suppressed emotions. You can use this

technique with your child in the moment or

retrospectively after an event or challenging

situation. Take a nice deep breath in,

stretching up to the sky with your hands,

tense every single muscle. And as you

exhale, release the hands down and shout

"HA! "

Katie White

Katie Rose White is a Laughter Facilitator

and founder of The Best Medicine. She

works predominantly with carers, teachers

and healthcare professionals - teaching

playful strategies for boosting mood,

strengthening resilience and improving

well-being. She provides practical

workshops, interactive talks and training

days - fusing therapeutic laughter

techniques, playful games and activities,

and mindfulness-based practices. The

techniques are not only designed to equip

participants with tools for managing their

stress, but can also be used and adapted

to the needs of the people that they are

supporting.

Email: thebestmedicine@outlook.com

Twitter: www.twitter.com/bestmedicine1

Facebook: http://www.facebook.com/

thebestmedicinecornwall

This exercise works particularly well for

nerves or anxiety. HA! The feeling can go

out the window, in the bin or down the

toilet!

For more information on how to playfully

and creatively support children check out

www.thebestmedicine.co.uk

10 January 2022 | parenta.com

parenta.com | January 2022 11
---
Child-led learning

Situation

Example of practitioner

leading or taking over

an activity

Example of the

practitioner

facilitating and

extending the learning

Explanation

In the revised EYFS, early years practitioners should consider "the individual needs, interests and

development of each child in their care and use this information to plan a challenging and enjoyable

experience for each child in all areas of learning and development."

A child picks up some blocks

and begins to put them into a

box.

The practitioner says, "I see you

are counting the blocks, let me

help" and counts the blocks with

the child.

The practitioner goes over and

asks "I see you are playing

with the blocks. Are you using

them for something special?"

When the child explains that

they are 'picking potatoes', the

practitioner joins in and asks

if there are other vegetables

that the child wants to harvest.

In the first instance the

practitioner has assumed the

child was counting and taken

over. In the second example, the

practitioner has interacted with

the child without assuming what

is going on. They allowed the

child to explain their idea and

then joined in, extending the

activity to other vegetables.

A child draws a picture of a tree

which is red and yellow.

The practitioner notices and

says, "That's a lovely tree, but

trees are not red and yellow.

What colour are trees normally?"

The practitioner notices and

asks, "Those are interesting

colours, why did you choose

those for this picture?"

In the first instance, the

practitioner is naming the colours

but also placing limitations on the

child's imagination. In the second

instance, the practitioner opens

up the conversation for the child

to explain.

One key word here is "interests", which

means things that the child is interested

in and motivated by, be that a model

car, a bird in the tree or the glinting

reflection of light on a carpet. These are

important because they motivate children

to explore, ask questions, and stimulates

them in a natural way. But the things that

children are interested in can sometimes

be overlooked in favour of national

curriculums, parental preferences, cultural

bias and goals and expectations dictated

by other people.

Child-led or child-initiated learning can

redress this balance and put the child's

interests back at the heart of their world.

What is child-led learning?

Child-led learning happens when a child

chooses an activity to do at a particular

time rather than have an adult choose

for them. It assumes that each person is

a unique expression of themselves and

has individual and valid approaches to

learning that are right for them, leading

to a meaningful learning experience. An

example could be when a child picks up a

pen and begins exploring what marks they

can make, or when a child's imagination

is captured playing with some cardboard

boxes, or when a child chooses to explore

an outdoor environment, looking under

rocks to see what is there. The potential for

the child to learn is almost endless since

they are free to move from one learning

experience to another. The opposite of

child-led learning would be a controlled

classroom where there are set learning

goals that need to be covered and the

children are only allowed to do the tasks

assigned them by the teacher.

Tips to encourage child-led

learning in your setting

Be prepared – ensure your

environment is inviting

The key to being spontaneous with

children is sometimes to be well prepared.

If all your toys, pens and paper are

neatly stored away until the practitioner

decides that she wants to use them, then

the opportunities for children to explore

using these resources will be limited. Your

resources therefore need to be organised

but easily accessible for the children. Don't

worry too much either if resources get

moved from one area to another, such as

a child taking some blocks into the outdoor

area. You want to be teaching them

adaptability and creative thinking rather

than limiting their choices or ideas.

Train practitioners to observe and

interact

Child-led learning is not the same as a

'hands-off' approach to teaching. It does

not mean practitioners have time off to

catch up on paperwork whilst the children

play on their own. Child-led learning at

its best has a high degree of practitioner

involvement but this involvement needs to

be measured and follow the child's lead.

It is important not to try to manipulate the

child into following the adult's agenda.

Practitioners need to be able to first

observe the children at play and identify

the moments where they can extend or

augment the child's learning through

joining in with the activity, taking the lead

from the child, or by posing high-quality

questions which lead the child to develop

their higher-order thinking.

Learning to identify higher-order thinking

questions is a skill that you can train your

practitioners to do. Bloom's taxonomy was

one of the original frameworks to identify

educational goals, but can be applied in the

early years too since it encourages students

not to just remember and regurgitate

information, but to solve problems, adapt

the situation and create something

completely new.

Make time but don't worry about

time

A child-led learning moment could last a

few seconds or a whole day. The length

of time does not matter but the quality of

the time and the quality of the interactions

between practitioners and children do. You

may already have free play or child-led

learning time scheduled into your day but

think about doing this if not. Remember too

that you can follow a child's lead at anytime

if it is appropriate and safe to do so.

Reflect and improve

Take a moment to reflect after a childled

learning experience and think about

whether you could extend their learning

through a different activity later in the

day or in the week. For example, if the

child was building a boat in the sandpit,

is there a way you could introduce this

topic later in the day at storytime or when

mark-making for example. Practitioners

should take the time to introduce new

vocabulary and to encourage speaking

and conversations to help children make

links to other areas of the curriculum, as

is encouraging physicality, movement and

social interactions with others.

A word about SEND

When working with children with SEND,

it is important to really understand the

needs of these pupils and to accommodate

them during child-led learning time. Some

children with SEND are less able to cope

with unstructured time than other children

and can become anxious or fretful if

they are not sure what to do or what is

happening. These children may require a

greater degree of support and guidance,

or some help in starting out. Some children,

such as those with autism, may become

completely engrossed in an activity that

they are interested in, to the exclusion

of everything else, so it is vital that you

understand the different needs and make

plans for SEND children too.

The great thing about child-led learning

is that it plays into a holistic programme

of education which will allow the child to

develop across all the areas of learning in

the EYFS and more.

More information

• https://www.readingrockets.org/

article/how-increase-higher-orderthinking

• https://www.teachstarter.com/gb/

blog/higher-order-thinking-in-theclassroom-and-why-it-matters-2/

• https://www.teachwire.net/news/

how-to-implement-child-led-learningin-your-early-years-setting

• https://www.teachingexpertise.com/

articles/child-initiated-learning/

12 January 2022 | parenta.com

parenta.com | January 2022 13
---
Mark-making and the connection to

reading acquisition in the early brain

Mark-making is as much a dynamic motor activity as reaching, grasping and manipulating objects. But

think about it! It is the only dynamic motor activity that leaves a 'trail' or a mark behind! This is literally

mesmerising for very young children, and with the use of colourful and bright crayons and marker pens,

mark-making can become a truly rewarding activity.

And then there is reading – this is also a

dynamic process. Some children can read

at a very early age, but most children's

brains cannot integrate visual, verbal and

auditory information rapidly enough until a

child reaches five years or above. Markmaking

is hugely important in emergent

reading because it activates the brain in

a way that fully supports future reading.

We will be far more successful in teaching

children to read if we offer plenty of

mark-making along with shared reading

of favourite stories, and wait for that

natural rite of passage when children are

developmentally ready for reading.

Brain activity in markmaking

Try giving a child a mark-making tool that

doesn't leave a mark. The reward system

in the brain is not activated and it is highly

likely that the child will abandon the task

within a few moments. The feedback

from 'marking' is lacking. Only tools that

produce a visual effect result in a child

wanting to leave more marks. And the

brighter the colour, the thicker the mark,

the more the child will want to carry out

this extraordinarily satisfactory motor

activity.

There is a powerful activation of the

reward system in the brain each time a

child picks up and uses a mark-making

tool. This will encourage them to try

ever more complex 'drawings' over a

longer duration of time. And this is where

automaticity will take place – mark-making

becomes automatic, and the child is able

to make marks repeatedly without effortful

thought, building up the letter recognition,

drawing and writing with more and more

ease.

14 January 2022 | parenta.com

Mark-making and reading

As already said, there is a powerful link

between mark-making and reading.

When children see the 'trail' made by a

mark-making tool, be it a letter, a shape or

anything else, the motor activity switches

on a part of the brain that supports

memory and cognitive thinking. The

dynamic motor activity influences the brain

activity, supporting the memory; children

will remember the way something felt as

they 'drew' it.

That isn't all. When children write letters by

hand there is more brain activity, and they

show better letter recognition skills than

when they look at letters or trace them

or use a keyboard (James & Engelhardt

2012). Interestingly, it does not matter

about any variability in the shape or size

of letters children make, as it appears

that this is a crucial component of their

emergent recognition and understanding

of letters.

Mark-making in the setting

Happily, we have plenty of research 1 about

what sorts of writing instruments and

backgrounds best elicit mark-making. Here

they are. Give them a go in your setting!

1

Crayons and magic markers are associated

with more complex and mature drawing

compared with pencils. The more

pronounced, bold and bright the markmaking

tool, the more a child will make

marks, and also the more advanced the

pre-drawing behaviour becomes. Offer

brightly coloured, thick and thin marker

pens/crayons, ones that leave a satisfyingly

noticeable mark.

2

Paper that already has images on it not

only elicits significantly more mark-making

than blank paper but also encourages

more complex mark-making. Provide paper

with images of people, animals, shapes or

nature. Draw them yourselves or find paper

with images already on them.

Conclusion

3

Of all images on paper, it is human figures

or animal images that result in the most

complex and frequent mark-making 2 . Make

sure you have paper with images placed in

areas around the setting, e.g. role play.

4

Writing on a slant helps children engage in

mark-making when they are using markers

or crayons. For some reason, this does not

apply for using pencils.

5

Structured and collaborative activities as

opposed to unstructured child-led activities

also elicits more lengthy and increasingly

complex mark-making. As rewarding as

child-led mark-making can be, children are

more likely to join in and focus longer on an

adult-led, captivating mark-making activity

than on their own.

In short, the more drawing opportunities children have, the more they mark and scribble,

and the quicker they make that transition to more complex drawing. And the more children

are given plenty of fun opportunities to mark or scribble, the more intent and engaged

they become in mark-making. Young children learn to enjoy mark-making which increases

their skill in emergent writing, strengthens the visual and motor regions of the brain seen in

letter processing and production, and facilitates their acquisition of reading.

It's a win-win situation!

Helen Garnett

Helen Garnett is a mother of 4, and a

committed and experienced early years

consultant. She has a wealth of experience

in teaching, both in the primary and early

years sectors. She co-founded a preschool

in 2005 where she developed a

keen interest in early intervention, leading

her into international work for the early

years sector. Helen cares passionately

about young children and connection.

As a result, she wrote her first book,

"Developing Empathy in the Early Years:

a guide for practitioners" for which she

won the Professional Books category

at the 2018 Nursery World Awards, and

"Building a Resilient Workforce in the Early

Years", published by Early Years Alliance

in June 2019. She also writes articles for

early years magazines, such as Nursery

World, Early Years Teacher Organisation,

QA Education, Teach Early Years, and Early

Years Educator.

Helen is the co-founder and Education

Director at Arc Pathway, an early years

platform for teachers and parents.

Helen can be contacted via LinkedIn.

References:

1. Dunst C, Gorman E. 2009 Development

of Infant and Toddler Mark-making and

Scribbling

2. James & Engelhardt . 2012 The

effects of handwriting experience on

functional brain development in preliterate

children

parenta.com | January 2022 15
---
Supporting

children with EAL

• Staff who have access to translation

materials

• Taking the extra time to ensure that

messages and home communications

have been properly understood

• Using stickers and praise

Involve parents

What is EAL?

According to government statistics,

approximately 17% students at the end

of key stage 2 are classed as having

English as an additional language (EAL).

That's nearly 1 in 6 students in our primary

schools, 79% of which join in the reception

year. Many of these children will be in early

years settings prior to that, so as early

years practitioners, we need to be able to

help these students access the curriculum

and do everything in our power to make

sure these children are not disadvantaged

by their EAL status.

The percentage of EAL children varies

widely from as little as 0.9% in more rural

areas to 76% in some inner city areas.

Some schools and nurseries have counted

the number of languages other than

English spoken by their children as over

40. Since all children, regardless of their

language are entitled to equal access

to the whole curriculum, how can we

effectively help these students to make the

same progress as native English speakers?

The first step is to correctly identify children

who have EAL and according to Ofsted,

all EAL children should be recorded on the

school census. There are many reasons

why children may have EAL, and it is

certainly not a guaranteed predictor of

poor achievement. Many EAL children

are fluent in English or become fluent in

English as they progress through school.

However, many still struggle to access

the education system as fully as those

whose first language is English. The

government definition of a pupil with EAL is

"a pupil whose first language is other than

English." And a first language is defined

as "the language to which the child was

initially exposed during early development

and continues to use this language in the

home and community."

This therefore includes:

• Pupils arriving from other countries

and whose first language is not

English

• Pupils who have lived in the UK for

a long time and may appear to be

fluent, but who also speak another

language at home

• Pupils who have been born in the UK,

but for whom the home language is

not English

• Pupils who have a parent who speaks

a language other than English and the

child communicates with them in that

language (i.e. bi-lingual children)

British citizens can still have EAL. According

to a 2020 Government report, 30% of EAL

pupils are white, 41% are Asian and 13%

are black, compared with 85% of pupils

with English first language being white,

4% black and 4% Asian). However, they

are similar to pupils with English as a first

language in terms of other characteristics

with 51% being male, 25% being

disadvantaged and 13% having a special

educational need. For children with SEN

and EAL, it may be more difficult to identify

EAL status due to other SEN issues.

Supporting children with EAL can be difficult

and many early years practitioners can

struggle to communicate effectively with

EAL children because of the language

barrier. However, it is important to realise

that in the early years, children have a

very high propensity to learn, so can

develop quickly with the right support.

And sometimes it is the inexperience of

practitioners rather than the language

barrier which is the biggest problem. So

how can we best support EAL children?

Oxfordshire County Council have produced

an very informative guide on how to do

this which you can access here and we

have some best practice ideas below.

It's not just about visual aids

It's important to understand that it's not

just about picking up new vocabulary and

grammar when learning English. Many

children may have to learn an entirely new

set of sounds, new intonation patterns, a

new alphabet, new social conventions and

non-verbal signals too. In addition, they

may feel isolated and anxious going into

a setting they cannot initially understand.

Best practice would begin supporting

these students even before they have

started attending your setting and may

include:

• Application forms which clearly

identify the first language of the child

• A home visit (in 2s) to the family to

assess the level of English of the

parents as well as the child

• Ensuring that everyone in the setting

is using the correct spellings and

pronunciations of the children's and

parent's names

• Training for staff on how to best

support EAL students

Once children are attending your setting,

there are a number of strategies that can

help students to feel welcome, included

and able to access the curriculum. These

can include:

• Using visual aids and signs that the

child can easily recognise (e.g. toilets/

playground)

• Cutting down language to avoid

being overwhelmed – this means

not necessarily using full sentences

but making sure that the essence of

the communication is understood

– remember that words make up

only 7% of communication so using

intonation, gestures and facial

expressions helps

• Translating 'survival' words which are

given and explained to the child so

they understand the basics, such as

where the toilets are, where they eat,

how to introduce themselves and say

'hello' and 'goodbye' and to ask for

help

• Other signs and information in their

own first language. Promoting and

using their first language as well as

English will help them feel understood

and more involved and will reinforce

the value of different cultures and

languages

• Using repetition and speaking slowly

and clearly

• Opportunities to speak and practice

English in small groups

• Opportunities to read and to be read

to in English, and at times, in their own

first language

• Learning through play where learning

is natural and achieved through

osmosis

The parents of an EAL child can be a great

resource to help ease the transition into

nursery, and support them with leaning

English at home. Ask parents for lists of

keywords, and exchange translations so

that the parents can use English word

labels at home too.

There are benefits too

According to research, good development

of a child's first language has a positive

effect on the development of other

languages and situations where children

are able to speak additional languages.

It should also be valued as a positive

skill. Learning and using more than one

language creates additional learning

opportunities for adults too and can often

bring a rich cultural tradition to the setting

to help increase understanding and

tolerance.

More information

• https://www2.oxfordshire.gov.uk/cms/

sites/default/files/folders/documents/

childreneducationandfamilies/

informationforchildcareproviders/

Toolkit/eal_guidance.PDF

• https://assets.publishing.service.

gov.uk/government/uploads/

system/uploads/attachment_data/

file/908929/Attainment_of_EAL_pupils.

pdf

• https://flashacademy.com/

• https://www.earlyyearscareers.com/

eyc/latest-news/5-tips-to-supportchildren-with-eal/

• https://www.nurseryresources.org/

post/EAL-early-years-settings

• https://www.pacey.org.uk/workingin-childcare/spotlight-on/2-year-olds/

english-as-an-additional-language/

16 January 2022 | parenta.com

parenta.com | January 2022 17
---
Sing away the blues:

The power of music on mental

health in the early years

New Year often brings new resolutions as we evaluate what has gone well or could be improved in our

lives. The day on which travel agents have found that most people look for or book holidays is now

unofficially called "Blue Monday", coinciding with the end of festivities, and the return to school and work.

This year, we also have the impact of COVID-19 restrictions, so instead of singing the blues, we'll give you

reasons and ways to sing away the blues, along with a fantastic musical giveaway for your setting!

Research from Mastnak (2020) identified

4 phases of impact that natural disasters

had on children's mental health.

• Acute phase: lockdowns/closures

trigger acute stress or adjustments

including insomnia, paranoid traits,

disruptive behaviour, fear and suicide

• Subacute phase: living an adapted

lifestyle for a few years led to

unhealthy habits, ongoing anxiety,

delusional ideas, post-traumatic

stress disorder, and regressed

development, personal growth, and

cognitive factors (concentration,

motivation)

• Post-traumatic phase: +3 years

after the initial event, resulting in

self-protective attitudes/personality

features, post-traumatic stress

disorder, and depressive/avoidant

personality traits

• Effect phase: children may remain

symptom-free for decades until

adulthood, where the effects could

impact the mind and harm quality of

life

To counteract these effects, our aim

is to help children to learn to regulate

their own emotions and immunological

health. Medical evidence shows that

music positively influences the immune

system, benefiting everybody. Singing

therapy is already used for respiratory

issues like asthma and COPD, while music

therapy develops inner calm, rebalances

psychosomatic conditions, reduces stress

and breaks through obsessive compulsive

disorder structures. Analytic and

expressive arts transform traumatic events,

helping both shy and hostile personalities,

while community music therapy improves

group immune systems and develops

mindfulness.

18 January 2022 | parenta.com

Practical pointers supporting

children through traumatic

events:

Positive and negative attitudes depend on

the child's culture, personality, changes,

and perceptions of the anticipated future;

vulnerable children can be supported in

modifying thinking through reassurance

and routine.

Mummy loves and daddy loves

(Russian lullaby)

Mummy loves and daddy loves and

Everybody loves little baby

Brother loves and sister loves and

Everybody loves little baby

With younger infants, two adults hold

either end of a blanket (like a hammock)

gently rock the child. Older children can

use small blankets or scarves to gently

rock a cuddly toy or doll.

1

2

Children may exhibit new conditions

including social phobias, self-imposed

withdrawal, personality disorders,

emotionally cold, detached, inappropriate

paranoia of contamination by others.

Musical games involving nearby,

appropriate contact help to refocus and

reprioritise personal safe space.

Old Brass Wagon

Circle to the left, old brass wagon

Circle to the left, old brass wagon

Circle to the left, old brass wagon

You're the one, my darling

Circle to the right, old brass wagon …

Everybody down, old brass wagon …

Everybody in, old brass wagon…

In a circle, perform the actions – walk to

the left/right/stand up and crouch down/

walk towards the middle and out – and

for the final line, point across ("you're the

one") and hug yourself ("my darling").

3

Anxiety in children may lead to obsessive

compulsive behaviours. Familiar songs set

to easy, relaxing exercises can override

subconscious self-controlling behaviours.

Twinkle Twinkle

Twinkle, twinkle, little star

How I wonder what you are

Up above the world so high

Like a diamond in the sky

Twinkle, twinkle, little star

How I wonder what you are

Lying down in a warm, quiet, darkened

room, use a torch light to watch its

movement on the ceiling. Within COVID

restrictions, consider giving each child a

turn to use the torch.

4

Vulnerable children could see COVID

regulations as punishment, leading to

learned helplessness and dependence.

Songs and games involving daily routines

can remind and recreate the natural desire

to achieve activities independently.

Mulberry Bush

Here we go round the mulberry bush

The mulberry bush, the mulberry bush

Here we go round the mulberry bush

So early in the morning

This is the way we brush our teeth …

This is the way we comb our hair …

This is the way we put on our clothes …

This is the way we eat our food …

Choose actions that children find familiar

and easy as well as actions that they may

find challenging. Consider breaking down

complex actions to allow the routine to

become familiar e.g. this is the way we pick

up our fork … this is the way we sit at the

table …

5

Children may witness extreme ideas or

allow their imagination to exaggerate

situations. Distinction between reality and

imagination can be made using songs and

games that make this clear.

Grand Old Duke of York

Oh, the grand old Duke of York

He had ten thousand men

He marched them up to the top of the hill

And he marched them down again

And when they were up, they were up

And when they were down, they were

down

And when they were only halfway up

They were neither up nor down

Marching around the room to the beat,

pretending to be soldiers, and follow

the actions, moving up (tip toes), down

(crouching), and halfway (usual walking

height).

Children may display non-psychotic

paranoia and make assumptions from

dramatic news headlines which may

trigger imaginations. Comforting songs

and routines help to remind children of

emotional anchors like love and family.

6

You Are My Sunshine

You are my sunshine, my only sunshine

You make me happy when skies are grey

You'll never know dear, how much I love

you

Please don't take my sunshine away

Rock each child, allowing them to feel your

heartbeat/vibrations of your singing, or get

each child to rock a soft toy or doll.

Research shows the therapeutic and

health benefits of discovering "beauty" in

the arts. Music is one of the least invasive

approaches to improving life. Being aware

of how it can be used can help us to use it

more effectively.

Mastnak, W. (2020). Psychopathological

problems related to the COVID‐19 pandemic

and possible prevention with music

therapy. Acta Paediatrica. https://dx.doi.

org/10.1111%2Fapa.15346

Musicaliti's musical giveaway

Frances Turnbull

Musician, researcher and author,

Frances Turnbull, is a self-taught guitarist

who has played contemporary and

community music from the age of 12. She

delivers music sessions to the early years

and KS1. Trained in the music education

techniques of Kodály (specialist singing),

Dalcroze (specialist movement) and Orff

(specialist percussion instruments), she

has a Bachelor's degree in Psychology

(Open University) and a Master's degree

in Education (University of Cambridge).

She runs a local community choir, the

Bolton Warblers, and delivers the Sound

Sense initiative "A choir in every care

home" within local care and residential

homes, supporting health and wellbeing

through her community interest

company.

She has represented the early years

music community at the House of

Commons, advocating for recognition

for early years music educators, and her

table of progressive music skills for under

7s features in her curriculum books.

Frances is the author of "Learning with

Music: Games and activities for the early

years", published by Routledge, August

2017.

For your chance to win one of 8 musical hampers, including a Musicaliti song

book, cd, sets of musical instruments and puppets for either under 2s or over

2s, answer this question and send it to marketing@parenta.com

Q: What is the name given to the Monday in January when most people book

holidays?

Send your name, answer and preference of over 2s or under 2s before Friday

28th January for the chance to win.

parenta.com | January 2022 19
---
CPD courses…

To revamp

Invest in the

5%

NON-LEVY CONTRIBUTION

development of

Whether you're a manager looking to support your staff by enhancing

their knowledge, or looking at developing your own career, when you

study one of Parenta's online CPD courses, you study in your own time

and at your own pace – all from the comfort of your own home!

Improve staff morale

and motivation

Maximise individual

potential and promote

development

Allows you and your

team to gain brand new

qualifications in many

different policies,

procedures and

practices

Enables you to keep

abreast of industry

changes by constantly

updating skill sets

By ensuring your team undergoes relevant, regular refresher training, they'll always be up-todate

with the latest policies, procedures and practices – and it doesn't need to be expensive!

With CPD courses from Parenta costing as little as £7,

what are you waiting for?

Log on and learn today!

your team...

Let us help you with your training needs - call us today!

By providing training

for your staff, you will:

Improve morale

Support children's safety

Enhance your

setting's reputation

Reduce staff turnover

We have secured funding available and are

enrolling learners on to our courses every day!

Take advantage for you or your staff!

Payment plan available for your 5% contribution

Did you know...

You can now access government funding for up to 10 staff members - instead of 3

- to help get your staff qualified and keep them motivated!

0800 002 9242 hello@parenta.com

0800 002 9242 hello@parenta.com
---
5

Sibling rivalry can often start from the day a new baby is brought home. The older child goes from being

the centre of attention and the youngest member of the family, to being the older sibling who then has to

share their parents and the attention that they get from them. Developmentally it can be a lot to handle, and

behaviour can change dramatically if a child fears that this new baby could replace them in some way.

Aggressive behaviour can be common, however, regressive behaviour such as bed wetting can also happen.

This is often a child's subconscious attempt to re-establish themselves in a dependent role with their parents.

Either way, a new baby joining the family can have a huge impact and it's important for us to be aware of this

so that we can minimise any negative repercussions.

Take action before the

baby arrives

By this I don't just mean preparing the

older child for the baby's arrival. I also

mean preparing family and friends for the

moment that they meet the baby too and

making them aware of how you want it to

be.

A big issue can be that the older child feels

pushed out. Quite often, when people

visit a newborn, they will fuss around the

baby and give it their undivided love and

doting attention. This is completely normal,

however if we think of this from the older

child's perspective it is actually quite tough.

They have gone from having all of the

attention on them to then having a little

person arriving and stealing the limelight.

When my son was born, I spoke to every

family member and friend and asked

them to essentially ignore the baby and

to go straight to my 2-year-old when they

came to visit. I wanted her to feel like she

was still the priority and that she was

special, so I asked everyone to ask her

about 'her new baby' and to let her show

them our new arrival. This way she still

had lots of attention and she also became

an important role in the baby's life by

introducing the people that mattered the

most to him. If anyone asked what we

ways to reduce

sibling rivalry

Here are 5 ways to reduce sibling rivalry:

wanted for the baby as a gift, I also asked

them to buy my little girl a present rather

than buying one for the baby. This worked

a treat because she was not only excited

to have a new baby brother to show off to

everyone, but she was also getting gifts for

being a new big sister.

Give time to both

children

As children get older, they often fight

for attention. By giving each child a

set amount of undivided time and

attention each day their need to fight for

it will reduce. If a child feels seen and

appreciated, they are less likely to feel

threatened or insecure. Label the time (for

example 'Mummy and Noah time' and

explain to the children that this is something

you will be doing with each of them every

day. Even if it's just 10 minutes, they will love

this focused time with you, and it will make

them feel special. Make sure there are no

distractions like phones or TVs and just give

100% of yourself to them for the set time

you have agreed.

Family time

Having set family time all together is

important too. Playing games, eating a nice

meal around the table, going to the park

and having a picnic are all ways in which

you can all bond and make memories

together. Times like this where both children

get your undivided attention allow them to

make positive memories together whilst still

feeling that connection with you and each

other.

Don't compare

Every child is an individual and has their

own strengths and weaknesses. When a

person feels inadequate or insecure, they

are more likely to overcompensate, fight for

attention and/or try to prove themselves.

If each child feels valued and appreciated

for who they are, they are less likely to pull

each other down. Quite often, if a person is

acting negatively towards another person, it

is linked to an insecurity inside themselves.

By celebrating each child's individuality,

you build their self-esteem and confidence

and reduce the chance of them craving

attention and approval.

Listen

There are always two sides to a story. When

siblings are fighting it is important to hear

both sides. Once the situation has calmed

down give each child the chance to tell you

what has happened and then encourage

each child to see the situation from their

sibling's perspective. Ask them questions

like:

• When you did that, how do you think

that made them feel?

• How did you feel when…?

• What could you have done differently

that might have had a better outcome?

• Can you understand that when you

did…, your sibling felt…?

By listening to both sides, you are making

each child feel valued and heard, but

you are also encouraging them both to

empathise and see the bigger picture.

Quite often it's the child who reacts and

lashes out that gets punished. However,

there is usually a reason for this. By calmly

talking though the whole situation you can

unearth some things that need addressing

and help both siblings to be more aware of

their actions and reactions.

At the end of the day, siblings will always

fight. However, if this is a constant

occurrence, it's important to get to the

bottom of why. Children crave attention,

acceptance and love. As parents, life is

fast paced, and we are constantly juggling

a million things at once. It can be easy to

go on autopilot dealing with day-to-day

routines and chores. However, it's important

to remember what truly matters and to take

time to bond with our children individually

and as a whole family. By doing this, even if

it's just 10 minutes per day, the need for our

children to fight for attention will decrease

and this will have a ripple effect with how

they interact and engage with each other.

Stacey Kelly

Stacey Kelly is a former French and

Spanish teacher, a parent to 2 beautiful

babies and the founder of Early Years

Story Box. After becoming a mum, Stacey

left her teaching career and started

writing and illustrating storybooks to help

support her children through different

transitional stages like leaving nursery

and starting school. Seeing the positive

impact of her books on her children's

emotional well-being led to Early Years

Story Box being born. Stacey has now

created 35 storybooks, all inspired by her

own children, to help teach different life

lessons and to prepare children for their

next steps. She has an exclusive collection

for childcare settings that are gifted on

special occasions like first/last days,

birthdays, Christmas and/or Easter and

has recently launched a new collection

for parents too. Her mission is to support

as many children as she can through

storytime and to give childcare settings

an affordable and special gifting solution

that truly makes a difference.

Email: stacey@earlyyearsstorybox.com or

Telephone: 07765785595

Website: www.earlyyearsstorybox.com

Facebook: https://www.facebook.com/

earlyyearsstorybox

Twitter: https://www.twitter.com/

eystorybox

Instagram: https://www.instagram.com/

earlyyearsstorybox

LinkedIn: https://www.linkedin.com/in/

stacey-kelly-a84534b2/

22 January 2022 | parenta.com

parenta.com | January 2022 23
---
Chinese dumplings

Pinecone bird feeder

This simple recipe is from BBC Bitesize. You could use this craft to celebrate

Chinese New Year in your setting with the children.

If you are planning to take part in The Big Schools Bird Watch, this pinecone birdfeeder

might be the perfect activity, which has been inspired by the RSPB's craft.

You will need:

For the dough

• 140g plain flour

• 125ml water

For the filling

• Finely chopped

vegetables

• You could include:

spinach, spring

onions, mushrooms,

cabbage, carrots

• ½ tbsp soy sauce

• 1 tbsp cold water

• salt and pepper

Image source: Preschool Inspirations

Instructions:

1. Stir the water into the flour until mixed - add more water if the mixture seems dry.

2. Knead the dough with your hands and add a little bit of flour if it's sticky.

3. Put the dough in a bowl, covered with a clean, damp towel, and let it rest for around 20 minutes.

4. After resting, tear the dough into sixteen equal-sized pieces and flatten them into round flat pancakes.

5. Add all of the filling ingredients into a bowl; and mix together.

6. Place a spoonful of filling into of each pancake and add a little bit of water to the edges of the pancakes.

7. Fold the dough in half and pinch the edges together with your fingers.

8. An adult will then need to boil a pan of water, to then add the dumplings and put on the lid.

9. Boil the dumplings for three to four minutes and then serve.

10. *Optional* You could add a little dish of soy sauce for dipping, as seen in the image above.

You will

need:

• Dried pine or fir cones

• Bird seed

• Raisins

• Peanuts

• Grated cheese

• Suet or lard

• A mixing bowl

• Scissors

• String

Instructions:

1. Make your bird mix with the bird seed, raisins and peanuts and grated cheese.

2. Leave the lard out to warm up to room temperature and then cut into small

pieces.

3. Add the lard and the bird mix into the mixing bowl and use your fingertips to

mix together until the fats hold the ingredients together.

4. Get all of your cones and loop the string around the top of them so they are

secure.

5. Use your hands to pack the bird mixture around the cones. Try to fit as much in

as possible.

6. Once you are finished put your cones into the fridge for around an hour to set.

7. After this, you can hang up your feeders on the trees and watch the birds

coming to visit for a snack!

24 January 2022 | parenta.com

parenta.com | January 2022 25
---
CEO of the London Early Years Foundation (the UK's largest

charitable social enterprise) explains WHY the Government

must bridge the attainment gap for disadvantaged children

through an urgent reform of 30-hours nursery policy

When the London Early Years Foundation (LEYF) saw its most vulnerable children arriving at nursery

hungry, anxious and developmentally-delayed as a result of lockdowns and the impact of living in poverty

(exacerbated by the pandemic), we set up the Doubling Down programme in October 2020. This coincided

with our Prime Minister asking leaders to come to Government with ideas to solve problems and improve

local services using a place-based response.

Click here to watch June O'Sullivan's TedX Talk video "How nurseries tackle the injustice of poverty".

Our idea was to double the funded hours

available to children from poor and

disadvantaged backgrounds by increasing

the standard funded 15 hours to 30 hours

and also provide a proper cooked lunch.

We targeted children returning from the

pandemic whose development had been

really set back. We know that high quality

nursery education can help make a real

difference to small children and get them

into a position where they can thrive at

home and at school. So, it seemed logical

that we should provide 30 accessible

hours for them.

Between October 2020 and July 2021,

97 children were offered an additional 15

hours at nursery each week.

It also seemed a sensible approach

given the concern that so many children,

especially those from disadvantaged

families, were badly affected cognitively

and socially by the lockdown.

Organisations such as the Education

Endowment Foundation appeared to

confirm our concern.

Their survey of schools and parents

completed in May 2020 found that

children who started school in autumn

2020 needed more support than in

previous years. The findings suggest

that the greatest area of concern

was communication and language

development, in which 96% (55 out of

57) of schools said they were either "very

concerned" or "quite concerned".

Close behind were personal, social and

emotional development (91%) and literacy

(89%) – skills which are heavily reliant

on the development of strong speech,

language and communication abilities.

Funded by generous donations from

Permira Foundation and Barclays 100 x 100

COVID-19 UK Community Relief Fund (plus

our own public crowd funding campaign

which is still on-going), analysis from

Doubling Down research found:

• Over 70% of parents and staff

saw a positive impact on their

child's communication skills, social

development and behaviour

Percentage of children at expected level of development

across EYFS areas of Learning & Development

Physical Development

Expressive Arts & Design

Personal Social &

Emotional Development

Communication & Language

Literacy

Understanding the World

Mathematics

0%

+9

+7

+12

+7

+3

+9

+8

Pre

Post

20% 40% 60% 80% 100%

• A profound positive impact on the

mood, sleep, empathy, school

readiness and nutritious eating

amongst children

• A reduction in the amount of screen

time, especially as many of the

children had spent months living

in high rise flats with no access to

a garden or opportunities to play

outdoors

The external evaluation of the 'Doubling

Down' programme conducted by Rocket

Science (between October 2020 to July

2021) also highlighted improvement

across ALL seven areas of EYFS learning

and development by an average 8%. The

largest improvement was a +12% increase

in Communication and Language (from

57% to 68%), followed by +9% across

Mathematics (from 52% to 61%) and

Expressive Arts & Design (from 67% to

76%).

Staff noted that by the provision of the

extra hours at nursery also significantly

benefitted parents, many of whom were

caring for children with Special Educational

Needs and Disabilities (SEND). Staff morale

also benefited because they felt they had

more time to support vulnerable children's

learning and development effectively.

This is super important as many staff are

reeling from the recruitment shortage

and constructive feedback is the tonic. It's

imperative that they feel optimistic and

confident about the significant part they

play in making a positive difference to

each child.

Disappointingly, it came as no surprise

that our Childcare Minister was not

a fan of Doubling Down. He thinks

30-hours risks children not benefitting

from the Government's own policy of 30

hours. Quoting the SEED Impact Report

from February 2020, the Minister and

his advisers seem overly focused on a

very small negative effect on children's

emotional self-regulation among children

using nursery for more than fifteen hours

per week between the age of two and the

start of school.

The research noted a very small

unfavourable association between formal

Early Childhood Education and Care

(ECEC) use and children's socioemotional

outcomes but contrasted with the largely

positive associations, the impact was

negligible and the researchers wondered

whether the reasons for these

unexpected differences lay in the source

of the socio-emotional measures. The

age four socio-emotional measures were

derived from parent report, whereas the

later outcomes were derived from teacher

report. The question will be considered at

age seven in a later SEED report.

The Sutton Trust's recent report. 'A Fair

Start – Equalising Access to Early Education'

and the Institute for Fiscal Studies (IFS) both

argue for extending the 15-hours funded

places to children from disadvantaged

backgrounds. The estimated cost of

universalising the 30-hour entitlement

would raise spending by around £250

million in 2024–25. Extending the

entitlement to disadvantaged three-and

four-year-olds would cost an extra £165

million a year. This is compared to the

roughly £735 million that the existing 30-

hour entitlement will cost. But the benefits

and the return on the investment would be

significant.

Our research provides a strong message

to both the Government and to global

investors, and demonstrates that we need

to think carefully about how we respond

to the fast-emerging problems we are

seeing across the country as a result of

the pandemic. We clearly need to reverse

the alarming decline in the health, wellbeing

and education amongst our young

children. Access to these crucial extra

Government funded hours is benefitting

children now and can actually help them

level up and reduce the attainment gap

that emerges from 22 months in children

from disadvantaged backgrounds. Doing

nothing is simply not an option.

So, back to Boris and his call for leaders

to provide examples of good practice

which we can learn from and drive

levelling-up and systemic change. Failure

to close the attainment gap continues to

have devastating consequences for the

1.3 million children aged 0-5 who live in

poverty. Just look at the most recent report

about disadvantaged white pupils.

Our Secretary of State for Education,

Nadhim Zahawi must put his money where

his mouth is. He is right when he says

June O'Sullivan

June O'Sullivan MBE is Chief Executive of

the London Early Years Foundation (LEYF),

one of the UK's largest charitable childcare

social enterprises which currently runs 39

nurseries across twelve London boroughs.

An inspiring speaker, author and regular

media commentator on early years, social

business and child poverty, June has

been instrumental in achieving a major

strategic, pedagogical and cultural shift

for the award-winning London Early Years

Foundation, resulting in an increased

profile, a new childcare model and a

stronger social impact over the past ten

years.

@juneosullivan

Facebook | Twitter | Instagram | LinkedIn

"… you don't tackle inequality and poverty

unless you tackle education."

https://leyf.org.uk/doubling-down/

26 January 2022 | parenta.com

parenta.com | January 2022 27
---
Chinese New Year

supposed to take a shower on this

day or get a haircut either since

using scissors, knives or other

sharp objects is thought to risk

bringing in bad luck.

On the 1st January each year, many cultures celebrate a New Year according to the solar-based Gregorian

calendar, and this year, most countries will celebrate the birth of 2022 at the stroke of midnight. But did you

know, that although this is the calendar used in the international standard for representation of dates and

times, known as ISO 8601, it is only one of many New Year celebrations that people mark over the course of

a year? You might have read our recent article about Diwali in November which is the New Year celebrations

for many Hindu, Sikhs and Jains in India. The Bengali people in India celebrate New Year in April, Jewish

people celebrate Rosh Hashanah in September or October, and many Celts and Pagans celebrate Samhain

as New Year's Eve on October 31st, starting their New Year on November 1st. In Islam, they use an calendar

that is based on the phases of the moon and is shorter than the solar year used in ISO 8601.

Celebrating in

your setting

Chinese New Year can be

celebrated in different ways and

we've given you a few suggestions

below to help you make the most

of this season. It also lasts just

over 2 weeks so there will be

plenty of time to try a few of our

suggestions.

8. "Happy New Year!"

One of the most famous and longest New

Year celebrations is that of the Chinese

New Year which occurs around January/

February each year, and in 2022 will be

celebrated starting with New Year's Eve

on January 31st, followed by New Year's

Day on 1st February. The celebration, also

called the Spring Festival, lasts for 16 days

ending with the Lantern Festival on the full

moon on February 15th. It marks the end of

the coldest part of winter and the start of

new beginnings. Like Easter, the exact date

is based on the cycles of the moon and

begins on a new moon day, usually the

second new moon after the winter solstice

(21 st December).

During Chinese New Year, most Chinese

people will get 7 days holiday at the start

of the festivities and many people will

begin thoroughly cleaning their houses

before that to sweep out the old year and

welcome in good luck for the new one.

Factories are closed and people return

to their families from the big cities. The

Chinese zodiac has 12 houses like the

Western zodiac, but whereas the Western

Feb 1, 2022 –

Tiger

Feb 27, 2026 –

Horse

Feb 3, 2030 –

Dog

zodiac cycles last approximately one

month, the Chinese ones last a year and

are named after animals such as the

pig, horse and dragon. The New Year

starting in 2022 will be the year of the

tiger and people born within that year

are predicted to be competitive, brave,

confident and unpredictable. Interestingly,

when it is your Chinese zodiac birth year,

(known as benmingnian), it is thought

that people with that birth sign (i.e. the

tiger) will have their unluckiest year rather

than their luckiest one. The signs come

around every 12 years, so the last

year of the tiger was 2010. The

12 signs of the Chinese zodiac

are shown above with their

corresponding New Year's

Day.

How is

Chinese

New Year

celebrated?

Jan 22, 2023 –

Rabbit

Feb 6, 2027 –

Goat

Jan 23, 2031 –

Pig

Around the world, many people

from China and other Asian countries

Feb 10, 2024 –

Dragon

Jan 26, 2028 –

Monkey

Feb 11, 2032 –

Rat

Jan 29, 2025 –

Snake

Feb 13, 2029 –

Rooster

Jan 31, 2033 –

Ox

celebrate by gathering with their families,

eating special foods and setting off

fireworks although fireworks are banned

in some places due to concerns about

air pollution. Many children receive red

envelopes containing money. Red is a

colour that symbolises good luck and

traditionally people prayed to their gods

or their ancestors. If you've seen the film

"Mulan", you will know the importance of

ancestors in looking after the people, even

after death. In life, people visit their elderly

relatives and pay their respects by doing 3

'kowtows' to the elders. A kowtow is where

people kneel on the floor and bow forward,

putting their head on their hands which are

on the floor. It is considered the ultimate

mark of respect.

Chinese New Year is also traditionally a

time for fighting off demons and monsters

such as a demon called Nian, and there

are many myths and legends about people

fighting these creatures and overcoming

them. Red is supposed to be useful in

fighting demons so many people also hang

up red decorations such as lanterns, red

chilli peppers or red paper during this time

to ward off evil spirits.

It's traditional to eat dumplings every

day, although you can have too much of

a good thing! And since new clothes are

also believed to bring good luck, many

people will add some new red clothes

to their wardrobes too. At the end of the

festive season is the Lantern Festival or the

Yuanxiao Festival, a night of partying and

freedom.

As well as trying to attract good luck, many

Chinese people actively try to avoid bad

luck by avoiding certain things during the

New Year period. So people avoid saying

negative words and don't demand debt

repayments. It is also thought to be bad

luck to break a ceramic object or to clean

your house on New Year's Day. You're not

1. Make some red paper lanterns and

decorate your setting

2. Cut out some silhouettes of the

different zodiac animals and make

mobiles or pictures – you can introduce

some new words by talking about their

different qualities

3. Make some Chinese dumplings –

there is a child-friendly recipe here

4. Introduce your children to the idea of

different New Years through reading

books and stories such as "Maisie's

Chinese New Year" by Lucy Cousins

or tell the children some traditional

Chinese myths and legends

5. Make a paper plate Chinese dragon

6. Run a movement session based on the

12 zodiac animals getting the children

to move in different ways

7. Do some mark-making with a

traditional New Year greeting

Whatever you do, remember to send us

your stories and pictures to hello@parenta.

com.

More information:

• https://chinesenewyear.net/

• https://www.eyalliance.org.uk/

celebrating-chinese-new-year-ideasand-activities-early-years-settings

• https://www.seriouseats.com/easykids-dumplings

28 January 2022 | parenta.com

parenta.com | January 2022 29
---
Egg-cellent advice:

Twinkle toes

If you are supporting people who enjoy the

sensory world as I do, can you find times

when they can be out of their socks and

shoes so that they have four sources of

information, not just two?

(These words first appeared on Jo's

Facebook profile you are welcome to

send her a friend request to watch out for

more insight https://www.facebook.com/

JoannaGraceTSP:

Joanna provides online and in person

training relating to sensory engagement

and sensory differences, look up www.

TheSensoryProjects.co.uk/online-college

for more information. To view a list of her

books visit www.TheSensoryProjects.co.uk/

books Follow Jo on social media to pick up

new sensory insights, you'll find her at:

@Jo3Grace on Twitter, www.Facebook.com/

JoannaGraceTSP and https://uk.linkedin.

com/in/joannagracethesensoryprojects

I do not know how he came to acquire the nick-name Egg but ever since he came along that's what my

youngest son has been called. I run The Sensory Projects www.TheSensoryProjects.co.uk (which should

now really be called The Sensory Projects and Sons!) My work focuses on people with profound disabilities

and sensory differences, but my son's advice will apply to your work too.

In this series of articles we are going to share his insights with you, if you are keen for more there is an ever

growing collection on my Facebook profile: come and make friends. www.Facebook.com/JoannaGraceTSP

Watching Egg before he could walk it

was clear that he used his feet to explore

materials as much as he used his hands.

Of course this could be a consequence of

having a sensory engagement specialist

as a mother, who is prone to wrapping

jangling belly dancer sarongs around the

chair legs, but more likely it is simply to do

This is article 3 out of a series of 10! To view the others click here.

with the number of nerve endings.

Our hands are very sensitive, lots of nerve

endings = lots of sensation = a great tool

for exploring. Tongues and lips are even

better, so putting things in your mouth

is a great way to explore the world. And

feet! Feet too should join this party, their

tickliness is a result of their many nerve

endings, so providing things to explore

with twinkle toes is a wonderful way to

invite learning about the world.

The belly dancer's sarong was a great

hit, providing texture to explore, and

rewarding that exploration with a light

show and a cacophony of jingles.

My feet reach out for things just like my

hands do.

You may only use your hands to touch and

explore, but feet seem just as good an

option to me.

When I am older more people will expect

me to wear shoes. And I probably will

because my feet will, likely, carry me

around so I will need shoes to keep them

safe.

But if wheels carried me around. Or if I was

inside in a safe space, it would be nice to

feel with my feet again.

If I had hands that did not work so well, my

feet might be all the more important.

Mummy gets teased for me not wearing

socks now. Think what you would say to

her if she encased my hands in leather

and put hard rubber soles across my

palms. When I have my socks and shoes

on, I learn less about the world around

me.

Joanna Grace

Joanna Grace is an international

Sensory Engagement and Inclusion

Specialist, trainer, author, TEDx speaker

and founder of The Sensory Projects.

Consistently rated as "outstanding" by

Ofsted, Joanna has taught in

mainstream and special school settings,

connecting with pupils of all ages and

abilities. To inform her work, Joanna

draws on her own experience from her

private and professional life as well as

taking in all the information she can

from the research archives. Joanna's

private life includes family members

with disabilities and neurodiverse

conditions and time spent as a

registered foster carer for children with

profound disabilities.

Joanna has published four practitioner

books: "Multiple Multisensory Rooms:

Myth Busting the Magic", "Sensory

Stories for Children and Teens",

"Sensory-Being for Sensory Beings"

and "Sharing Sensory Stories and

Conversations with People with

Dementia". and two inclusive sensory

story children's books: "Voyage to

Arghan" and "Ernest and I". There is

new book coming out soon called '"The

Subtle Spectrum" and her son has

recently become the UK's youngest

published author with his book, "My

Mummy is Autistic".

Joanna is a big fan of social media and

is always happy to connect with people

via Facebook, Twitter and LinkedIn.

Website:

thesensoryprojects.co.uk

30 January 2022 | parenta.com

parenta.com | January 2022 31
---
Supporting staff and

Advice, advocacy and mental

health

apprentices with SEND

Last year, we wrote about the different ways you can help children with SEND ranging from dyslexia,

dyscalculia and autism to those with ADHD, social, emotional and mental health issues (SEMH), through to

more complex needs such as those with a physical or learning disabilities. Children with SEND grow up to be

adults with SEND as many of these conditions are lifelong. Adults need to find employment and independence

(where possible) which means initially getting a job and then being able to operate at work without having

the security and support that many educational environments offer. This can be problematic.

According to The Labour Force Survey

for the six months ending June 2020,

employment rates in people with SEND

were:

• Depression, bad nerves or anxiety:

54.3%

• Mental illness or other nervous

disorder: 33%

• Severe or specific learning difficulties:

26.5%

• Autism: 21.7%

People with a learning disability have the

lowest employment rate amongst disabled

people. Just 5.1% of people with a learning

disability have a paid job, yet around 80%

can work.

For a lot of people with special educational

needs such as autism, dyslexia and

dyscalculia, some of the things they

struggled with a school can become

a positive attribute in a work situation.

People with autism and ADHD can thrive

in environments that suit their particular

skills such as details and logical planning.

Dyslexia has held many back at school

but at work, people are able to focus more

easily on what they can do well (such as

caring for others or being creative), and

work with their SEN, rather than constantly

having to struggle to fit into educational

'norms'.

The Government is committed to

supporting people with SEND into

adulthood and to help them secure jobs

and thrive independently. It has introduced

legislation to ensure that employers

do not discriminate against anyone on

the grounds of disability and has made

it compulsory for employers to make

'reasonable adjustments' so that it is

easier for people with SEND to find work.

However, there is no doubt that there are

still many barriers to full employment and

promoting a culture of inclusion, diversity

and understanding at work will help your

setting become part of the solution.

So how can you support adults or

employees with SEND in your setting?

Leadership and management

How you support your employees or

apprentices will depend on each person's

needs but making a clear commitment to

support any SEND staff you have is good

start. It is important that this comes from

the top and is written into your policies

and procedures which might mean

reviewing your policies on disability and

inclusion, or making budgetary decisions

and allocating money as necessary for

any changes or adjustments you need to

make.

Communication and

transparency

It is vital that you also have good and

honest lines of communication, and

this means having a two-way dialogue

and encouraging a culture of open

communication and respect. You will

obviously have to find out what the needs

of your employees are, be they physical,

sensory or supporting their mental health,

so encourage staff to be open and honest.

It also means being honest about what

you can and cannot do within the law,

but you should work towards a win-win

solution if you can. It can be helpful to

set up suggestion boxes to encourage

new ideas and put SEND issues onto your

weekly meeting agendas.

Think too about how you issue your

staff communications – are you

accommodating all staff if they have

dyslexia, hearing- or sight-loss or need

extra time to process information?

Changes to the environment

The Equality Act 2010 makes it law for all

public sector organisations and some

employers such as shops, local authorities

and schools to make 'reasonable

adjustments' to remove barriers that some

people with disabilities face, although it is

not set out as to what these adjustments

are and it depends on the size of the

company, the cost of the changes and

whether they are practicable to make.

Employers and employee should decide

but they can include things like:

• Changing the physical environment

such as steps and stairways

• Providing ramps or wider entrances

and exits

• Changing internal doors

• Making adjustments to lighting and

ventilation

• Installing noise reduction panels or

providing noise reducing headphones

Remember that small and simple changes

can make a huge difference to people

with sensory needs, which can boost your

productivity, efficiency and staff loyalty.

Think too about your other staff who may

not have SEND but who may be aging

as the age of the general workforce

increases, who might welcome some

adjustments to make their life easier.

Be proactive and become a source of

advice and information for your staff.

Promote awareness days/weeks/

months within your setting and take

the opportunity to improve everyone's

awareness of SEND to promote inclusion

and tolerance. You may be lucky enough

to have an HR department if you work

in a larger company, but many early

years settings are small, owner-manager

organisations where this is unlikely. You

can still seek advice and information

and there are many organisations who

help people with SEND get into work

such as Remploy, so do some research

and see how you can help (see below).

The Government runs an Access to

Work scheme to help people initially

apply for and get into self-employment,

training or start working which you could

promote at interviews or when thinking

about CPD for staff. The Government's

Disability Confident scheme is designed

to help employers make the most of the

opportunities provided by employing

disabled people. It is voluntary and

has been developed by employers and

representatives of disabled people to

improve their employment prospects.

Remember too that offering an

understanding ear can go a very long way

to make people feel included.

CPD

People with SEND also want to progress

in their careers when they start them, so

make sure you consider opportunities for

CPD and career progression in your setting

for people with SEND (and all staff for that

matter). Many courses can be done online

and remotely nowadays, removing a lot of

barriers for people with SEND. Parenta run

many CPD elearning courses through their

training CPD webpage on everything from

tissue viability to time management.

More information:

• Careers Enterprise Company: Working

with young people with SEND

• UK Government: Employing disabled

people and people with health

conditions

• Citizens Advice: Duty to make

reasonable adjustments

• Disability Confident Employer scheme

• Remploy

• Access to work

32 January 2022 | parenta.com

parenta.com | January 2022 33
---
2022 New Year's Resolution:

Get moving and help grow brains

We all know about the physical and mental health benefits of exercise, fitness, and movement for adults,

and we all make those New Year resolutions to hit the road or gym! Well, did you know that it is even

more important to make movement and physical activity a priority in the early years as this is the most

important time in our development?

Felicity Gillespie, Director of Kindred, said:

A child's development at 22 months

serves as a strong predictor of education

outcomes at age 26. Most of the human

brain is developed before we can even

talk and in the first year of life, the brain

literally doubles in size. The evidence of the

massive impact our earliest relationships,

environments and experiences has on our

future development is incontrovertible.

Did you know?

Physical activity grows the brain through

the Brain Derived Neurotrophic Factor

(BDNF) release which stimulates the

growth of new neurons. You are literally

growing the brain through movement and

physical activity.

A few ways to spur you on, to keep this

resolution, as physical activity is really the

foundation of brain functioning.

In the past, education has

compartmentalised learning, at all levels,

and all the neuroscientific research is

giving us clearer evidence that everything

is linked in the learning process.

The paper "Physical Activity and Cognition:

Inseparable in the Classroom" by Anya

Doherty and Anna Fores Miravalles from

the Faculty of Education, University of

Barcelona is worth reading.

We all know how active learning helps

children improve their well-being, speech,

language and communication skills,

personal and social development, and

their understanding of the world around

them. But did you know how your actions

and examples now, will have a long-term

impact on your little ones in later life?

By helping them now to create a healthy

lifestyle will help them make good choices

later in life.

The immediate benefits of

movement and activity

1. You are helping them grow their brain

through the BDNF release to stimulate

the growth of new neurons

2. You are building myelin on those

connections of the brain each time

you repeat a movement. Peek at

"meeting myelin" from the August

2021 edition

3. Exercise and movement can reduce

the risk of developing major illness in

later life

4. Helps children to build stronger bones

and muscles which improves their

posture and balance (core)

Did you know movement

literally grows the brain?

?

If you read "How Lifestyle Factors Affect

Cognitive and Executive Function and the

Ability to Learn in Children" it discusses

lifestyle and its impact on cognitive and

executive function. In their research on

movement and physical activity, the

researchers have seen that there are

several changes in the volume of brain

structure and that movement could

enhance cognition and learning in

children.

For example, a difference in the volume of

the basal ganglia (responsible for motor

control) and additionally increased volume

in the hippocampus, the hub of the brain's

memory network, has also been related to

aerobic fitness and movement. The article

suggests that increased aerobic fitness

could enhance cognitive development in

children by changing the volume in regions

of the brain that are involved in cognitive

function.

Movement is also such a benefit in the

learning process for children with additional

learning needs and the paper "The effect

of acute exercise on cognitive performance

in children with and without ADHD" shows

that exercise benefits all children.

Cognitive development: benefits

of movement and activity

1. Improved co-ordination

2. Improved memory and focus

3. The improved speed with which

information is processed

On top of all that, movement and

physical activity helps with well-being,

vital for learning, by reducing stress and

anxiety due to the release of moodboosting

endorphins, increases children's

confidence and self-esteem and gives

them opportunities to express and process

emotions. Working and playing together in

a group increases feelings of connection

and being needed and wanted.

A little something to think

about…

The neuroselection hypothesis paper

"Early life cognitive function and health

behaviours in late childhood: testing the

neuroselection hypothesis" from the BMJ,

suggests that higher cognitive skills in early

life (3-7) is associated with the avoidance

of hazardous behaviours (smoking and

alcohol) but also the avoidance of sport and

exercise.

The article suggests that children with

higher levels of cognition, particularly

those with higher levels of verbal ability,

need to be encouraged to participate in

physical activity and movement to help

them manage their health behaviours in

the future.

In a nutshell movement and activity is good

for everyone, no matter what age they are,

in so many ways. So, what are you waiting

for make this part of your resolution for

2022 and beyond?

Don't worry about the weather or rain,

wrap up well, and have lots of fun moving,

whether indoors or outside, and actively

grow brains.

References

• (2021). "New Research Highlights

Importance of Early Years Development

on Future Well-being", Department

of Psychiatry, University of Oxford.

Available at: https://www.psych.

ox.ac.uk/news/new-researchhighlights-importance-of-early-yearsdevelopment-on-future-well-being

• Miravalles. F, Doherty. A (2019).

"Physical Activity and Cognition:

Inseparable in the Classroom",

Faculty of Education, University of

Barcelona. Available at: https://www.

frontiersin.org/articles/10.3389/

feduc.2019.00105/full

• Jirout, J. et al. (2019). "How Lifestyle

Factors Affect Cognitive and Executive

Function and the Ability to Learn in

Children", Nutrients. Available at:

https://www.ncbi.nlm.nih.gov/pmc/

articles/PMC6723730/

• Pipemeier, AT. Et al (2015). "The

effect of acute exercise on cognitive

performance in children with and

without ADHD", The journal of

sport and Health Science; Vol 4,

issue 1. Available at: https://www.

sciencedirect.com/science/article/pii/

S2095254614001264

Gina Bale

Gina's background was originally

ballet, but she has spent the last 27

years teaching movement and dance

in mainstream, early years and SEND

settings as well as dance schools.

Whilst teaching, Gina found the time to

create the 'Hi-5' dance programme to

run alongside the Australian Children's

TV series and the Angelina Ballerina

Dance Academy for Hit Entertainment.

Her proudest achievement to date is her

baby Littlemagictrain. She created this

specifically to help children learn through

make-believe, music and movement.

One of the highlights has been seeing

Littlemagictrain delivered by Butlin's

famous Redcoats with the gorgeous

'Bonnie Bear' on the Skyline stage.

Gina has qualifications of teaching

movement and dance from the Royal

Ballet School, Trinity College and Royal

Academy of Dance.

Use the code 'PARENTA' for a 20%

discount on Littlemagictrain downloads

from 'Special Editions', 'Speech and

Language Activities', 'Games' and

'Certificates'.

• Aggio, D. Smith, L & Hamer, M. (2018).

"Early life cognitive function and health

behaviours in late childhood: testing

and the neuroselection hypothesis",

BMJ Journal of Epidemiology &

Community Health Volume 72, Issue

1. Available at: https://jech.bmj.com/

content/72/1/41.full

34 January 2022 | parenta.com

parenta.com | January 2022 35
---
RSPB Big Schools

Bird Watch

Winter days can be cold and unforgiving; sometimes there is snow and many of us loathe the additional

time spent in the morning defrosting our cars so that we can drive to work, if COVID restrictions allow. But

the vast majority of us move from one heated location to another, with food in our bellies and a hot drink

to keep out the chill. Now imagine that all you have to keep you warm is a thin set of feathers, your food

sources are covered in 3 inches of snow (2 inches deeper than the length of your legs) and all available

water sources are frozen! Such is the plight of many of our birds in winter, where every winter day becomes

a life and death struggle.

Luckily, there are many of us who have

pledged to assist our feathered friends,

who put out bird food and clean water

to help the birds keep the worst of the

weather at bay and give them a fighting

chance to survive the winter months. In

return, we are rewarded with the sound

of birdsong in our gardens, the beauty

of seeing our garden full of life, and the

satisfaction of knowing we have done our

bit to give nature a much needed helping

hand.

We have even organised ourselves into

groups and associations to be better

able to advocate for our feathered friends

through lobbying, fund-raising and

conservation. This is the work of groups

like the Royal Society for the Protection of

Birds (RSPB) who have been passionate

about nature and dedicated to saving it

since its formation in 1889.

A brief history of the RSPB

The RSPB was the brainchild of Emily

Williamson, who created an all-women

group called the Society for the Protection

of Birds in 1889. As the Victorian desire

for fashionable exotic feathers grew, she

became frustrated at the lack of progress

from the all-male British Ornithologists

Union in failing to protect birds such as

the little egrets, great crested grebes, and

birds of paradise who were being driven

to the edge of extinction. Emily found

others who shared her passion for birds

and soon joined forces with Etta Lemon

and Eliza Phillips and the movement

grew in popularity, so much so that in

1904, the society was granted a Royal

Charter, becoming the RSPB. In 1921, the

Importation of Plumage (Prohibition) Act

was passed, and the RSPB had run its first

successful campaign. They bought their

first nature reserve in Minsmere in 1947,

and have gone from strength to strength,

as today they manage over 200 reserves

across the UK.

and counting the numbers of birds they

see, and reporting this data back to the

RSPB to help with their data collection and

conservation efforts.

What do they do with the data?

Once the data has been collated, there

are three categories, red, amber or green,

that each bird can be placed in, in order

of conservation importance. The birds

whose plight is of greatest concern are put

on the red list, and in 2021, there were 70

species making up this list. This is nearly

double the length of the first report in 1996.

Some of our most popular birds such as

the swift, house martin and greenfinch are

now on the list along with cuckoos and

puffins. The Society reported that birds who

migrate to Africa for the winter, seem to be

doing less well and the number of water

birds who spend the winter in the UK,

has also declined including the Bewick's

Swan, dunlin and the goldeneye. The

red list species are globally threatened,

and have experienced at least a 50%

decline in UK breeding populations

over the last 25 years. There have been

success stories however, with the whitetailed

eagle increasing in numbers and

moving from the red to the amber list,

but it is more crucial than ever that we

begin reassessing our relationship with

nature and taking part in the Big Garden

Birdwatch is one thing that everyone can

do to help.

It's easy to take part and the RSPB have

put a lot of thought into how they can get

everyone to join in. They have created a

website full of information sheets, facts

and resources about how people can

get involved including some resources

specifically aimed at early years settings

that you can access here. You'll find sheets

to record your sightings in both English

and Welsh, and in different number

formats making them easy to use with

younger children, as well as lesson plans,

factsheets, colouring downloads, match

games, story books and card sets, and a

whole lot more. You'll find ways to identify

different birdsong, bird seed recipes and

lots of fun crafts related to birds so there

really is no excuse not to get involved in

one way or the other.

The bird watch part itself asks you to

spend an hour counting the birds you see

and report back to the RSPB. You need to

register on their website and will receive a

specially prepared pack to help everyone

take part including differentiated resources

in English and Welsh. If you take part, you

can achieve a Wild Challenge award to

display proudly in your setting too.

Tips to help birds in winter

1

Feed the birds with a high energy bird

seed mix and do this regularly, scattering

seeds in sheltered places so they can be

kept dry and accessible.

2

Put out fresh water - birds need it to drink

and to bathe in so remember to refill it

especially in freezing conditions.

3

Put up some bird boxes in your garden

or outdoor space to encourage feathered

tenants.

4

Remember that not all birds like to feed

from a bird table – there are many groundfeeding

birds too such as thrushes and

blackbirds, so remember to create a

ground-level feeding station too.

5

Clean your feeders regularly.

More information is available

at:

• https://www.rspb.org.uk/

• http://ypte.org.uk/

• https://sussexwildlifetrust.org.uk/

discover/in-your-garden/birds

• https://www.birdwatchersdigest.com/

bwdsite/learn/top10/top-10-ways-tohelp-birds-in-bad-weather.php

The Big Schools Bird Watch

Each year, the RSPB organises a

nationwide bird watch over the course of

one weekend in January called the Big

Schools Bird Watch. They use it to estimate

the number of wild birds in the country

and to spot changes and trends in their

numbers. In 2022 the event runs from

Friday 28th January to Sunday 30 January.

People from all walks of life up and down

the country are asked to spend an hour

in, or looking at, their garden, identifying

36 January 2022 | parenta.com

parenta.com | January 2022 37
---
Together we are growing

children's brains –

understanding brain development

Your children are living in a three-dimensional world. Full of people, plants, animals… and a whole host of

things to engage with and make sense of. Wherever you are located, whatever philosophies your setting

follows, and whatever environments you have available, your children are surrounded by wonder. With

voices to interpret, social skills to understand, dangers to be aware of and emotions to fathom.

This is an awful lot of things to learn within

bodies that are growing and developing

daily. Changing how they feel, how they

respond and how they can move. Because

of this, they are born with a brain that is

eager to learn and hungry to make sense

of their world. This powerful motivation to

learn will see them driven to explore and

understand their surroundings, even when

you wish they would not!

Whether you consider pulling over the

big pot of paint… again… a desirable

experience or not, the learning

opportunities for a child are just too rich to

resist. A few years later, and they will have

found other ways testing the boundaries

of their environment and relationships. It

is only when their efforts are fruitless or

met with resistance that they learn not

to bother, and frustration, boredom and

difficult behaviours may follow. So, if you

want to protect your floor, and keep this

powerful motivation to learn in place,

understand what is going on and provide

them with experiences they can explore.

So what is going on in that developing

brain and why do our children behave in

the ways that they do?

It is amazing to think that as you look into

the eyes of a new-born that they already

have most of the 100 billion neurons or

brain cells that you have contained within

your adult brain. And yet at birth, a child's

brain will have been around a quarter of

the size of yours. So, what is changing?

Where is this growth and development

coming from?

It is coming from the connections being

formed between these brain cells –

somewhere in the region of 1,000 trillion

connections to wire up an adult brain.

And these connections are being made

through every single experience a growing

child is exposed to – whatever they may

be.

Children are born with some primitive

structures already established in their

brain. You will have seen this when a baby

instinctively knows to grasp your finger, to

turn their head as their cheek is rubbed,

or the way they will fling out their arms

and legs when they are startled. These are

known as the primitive reflexes and are

hardwired into every new life as a survival

mechanism.

Other kinds of knowledge, they must learn

along the way, such as what happens

to their toy when they can no longer see

it, or why their friend is experiencing an

emotion right now that they are not… their

friend seems upset, but they are quite

happy now that they have the red trike! So,

how does brain development happen and

what exactly is going on? How do we even

begin to understand everything we need

to? And how are these connections being

made?

Our mature brains have learnt to translate

a multitude of sensory information. This

comes from our eyes, our eardrums and

our fingertips. Once our brain receives this

sensory input, it systematically rearranges

and transforms it, using memories from

our past experiences to create a complex

yet coherent interpretation that allows

us to operate in this complex world. We

can make out the face of a loved one

in a crowd, we can make sense of a

conversation in a noisy environment, and

we can make decisions and act on them.

Our brains have become so good at this

complex process that we take it for granted

– until something goes wrong. But just like

many other skills we have learnt along

the way; this takes lots of opportunities to

practice.

During early childhood, their young brain is

around twice as active as yours, reaching

a peak at around the age of 3 when they

are more connected, and more flexible

than at any other time of their life. From

this point on, the brain becomes selective

in the connections it keeps, with those

connections triggered by the experiences

they have more often, considered to be

more important.

While some of the basic wiring is

predetermined, for all the rest… they

are looking to those around them for

guidance. And every opportunity they can

find to explore. So how does this learning

happen?

At a fundamental level, children are

basically experiential learners. This means

that their knowledge and understanding

of the world comes from every experience

they have within it – the good ones and

the bad! And as they strive to make all

the connections they need, we need to

remember that this is a learning process,

and they will make mistakes along the

way. How these opportunities are offered,

and the way a child experiences them is

then making a massive difference within

this process. And the choices you make are

essential.

Everything from how you connect as

you play, offering them choices as they

explore their own ideas, or whether group

times with predetermined expectations

or planning, can dominate. Whether you

explore your local environment, talking

about the sounds and smells all around

you. Even that time you took your shoes

and socks off just to feel the wet grass or

cool paint between your toes. Through

these experiences you are changing not

only the hardwiring of their brain, but also

the ways in which they will react to any

new experience and the new opportunities

that come their way.

They are learning to deal with every new

situation, informed and enhanced by every

previous experience they have had of

something similar. They are learning what

to expect from the people they meet, and

the reactions they might expect from their

own actions. And they are also learning

about where their efforts and attentions

are best placed. During these early years

you are literally growing and shaping

your children's brains, defining them as

a person in ways that will be with them

for life. So, embrace every opportunity

with your children as you play, engage

and experience this amazing world of

sights, sounds, smells, tastes and textures

together.

Understanding children from the Inside

Out is the first session in the new Nurturing

Childhoods Accreditation, offering you a

whole new approach to CPD that is tailored

to the needs of your setting, and the

Kathryn Peckham

As Founder of Nurturing Childhoods,

Dr Kathryn Peckham is a passionate

advocate for children's access to rich and

meaningful experiences throughout their

foundational early years. Delivering

online courses, training and seminars, she

works with families and settings to identify

and celebrate the impact of effective

childhood experiences as preparation for

all of life's learning. An active campaigner

for children, she consults on projects,

conducts research for government bodies

and contributes to papers launched in

parliament. Through her consultancy

and research she guides local councils,

practitioners, teachers and parents all

over the world in enhancing children's

experiences through the experiences

they offer. A highly acclaimed author and

member of parliamentary groups, Kathryn

also teaches a Masters at the Centre for

Research in Early Years.

Get in contact with Kathryn by emailing

info@kathrynpeckham.co.uk

children and families you work with. With

its complete set of materials and guidance,

it complements the resources available

for your parents, and is underpinned by

professional standards. Check out this

great new website and together we can

surround children with this level of unified

understanding of who they are and what

they need. And really begin developing the

potential of all children in their early years.

38 January 2022 | parenta.com

parenta.com | January 2022 39
---
ONLY £20

Per Month

Attention Childcare Practitioners who want to

save time and make EYFS tracking easier!

The only EYFS software that allows you to blur faces of the

children, helping to ensure you are GDPR compliant!

Once you start using Footsteps 2, you will quickly see

how it can benefit your setting

Improve safeguarding

Comply with GDPR

No hidden costs

Unlimited support

Unlimited video, image &

document storage

Photo tagging, blurring &

editing technology

Footsteps 2 uses the recognised language and

colour coding of EYFS, making it simple to use.

Quickly capture detailed notes when observing

a child play or interact.

Instantly identify where each child is in their

development pathway.

When you join us at Parenta, you can

invest with confidence because you'll

always be covered by our 30-day

money-back guarantee.

CLICK HERE

TO BOOK YOUR

DEMO TODAY!

0800 002 9242 hello@parenta.com