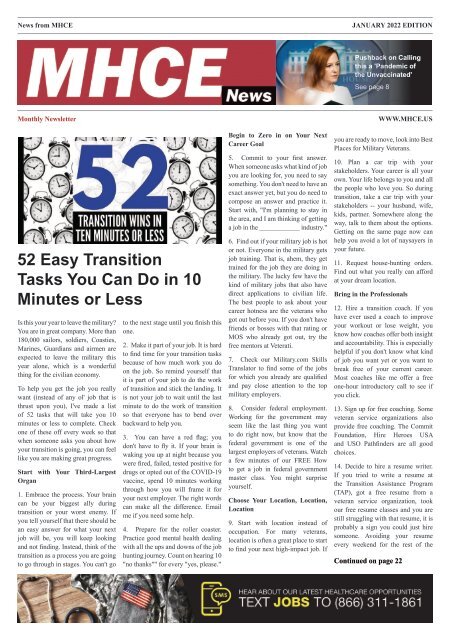 January 2022 — MHCE Newsletter
You also want an ePaper? Increase the reach of your titles
YUMPU automatically turns print PDFs into web optimized ePapers that Google loves.
News from MHCE

JANUARY 2022 EDITION

Pushback on Calling

this a 'Pandemic of

the Unvaccinated'

See page 8

Monthly Newsletter

52 Easy Transition

Tasks You Can Do in 10

Minutes or Less

Is this your year to leave the military?

You are in great company. More than

180,000 sailors, soldiers, Coasties,

Marines, Guardians and airmen are

expected to leave the military this

year alone, which is a wonderful

thing for the civilian economy.

To help you get the job you really

want (instead of any ol' job that is

thrust upon you), I've made a list

of 52 tasks that will take you 10

minutes or less to complete. Check

one of these off every week so that

when someone asks you about how

your transition is going, you can feel

like you are making great progress.

Start with Your Third-Largest

Organ

1. Embrace the process. Your brain

can be your biggest ally during

transition or your worst enemy. If

you tell yourself that there should be

an easy answer for what your next

job will be, you will keep looking

and not finding. Instead, think of the

transition as a process you are going

to go through in stages. You can't go

to the next stage until you finish this

one.

2. Make it part of your job. It is hard

to find time for your transition tasks

because of how much work you do

on the job. So remind yourself that

it is part of your job to do the work

of transition and stick the landing. It

is not your job to wait until the last

minute to do the work of transition

so that everyone has to bend over

backward to help you.

3. You can have a red flag; you

don't have to fly it. If your brain is

waking you up at night because you

were fired, failed, tested positive for

drugs or opted out of the COVID-19

vaccine, spend 10 minutes working

through how you will frame it for

your next employer. The right words

can make all the difference. Email

me if you need some help.

4. Prepare for the roller coaster.

Practice good mental health dealing

with all the ups and downs of the job

hunting journey. Count on hearing 10

"no thanks"" for every "yes, please."

Begin to Zero in on Your Next

Career Goal

5. Commit to your first answer.

When someone asks what kind of job

you are looking for, you need to say

something. You don't need to have an

exact answer yet, but you do need to

compose an answer and practice it.

Start with, "I'm planning to stay in

the area, and I am thinking of getting

a job in the ____________ industry."

6. Find out if your military job is hot

or not. Everyone in the military gets

job training. That is, ahem, they get

trained for the job they are doing in

the military. The lucky few have the

kind of military jobs that also have

direct applications to civilian life.

The best people to ask about your

career hotness are the veterans who

got out before you. If you don't have

friends or bosses with that rating or

MOS who already got out, try the

free mentors at Veterati.

7. Check our Military.com Skills

Translator to find some of the jobs

for which you already are qualified

and pay close attention to the top

military employers.

8. Consider federal employment.

Working for the government may

seem like the last thing you want

to do right now, but know that the

federal government is one of the

largest employers of veterans. Watch

a few minutes of our FREE How

to get a job in federal government

master class. You might surprise

yourself.

Choose Your Location, Location,

Location

9. Start with location instead of

occupation. For many veterans,

location is often a great place to start

to find your next high-impact job. If

WWW.MHCE.US

you are ready to move, look into Best

Places for Military Veterans.

10. Plan a car trip with your

stakeholders. Your career is all your

own. Your life belongs to you and all

the people who love you. So during

transition, take a car trip with your

stakeholders -- your husband, wife,

kids, partner. Somewhere along the

way, talk to them about the options.

Getting on the same page now can

help you avoid a lot of naysayers in

your future.

11. Request house-hunting orders.

Find out what you really can afford

at your dream location.

Bring in the Professionals

12. Hire a transition coach. If you

have ever used a coach to improve

your workout or lose weight, you

know how coaches offer both insight

and accountability. This is especially

helpful if you don't know what kind

of job you want yet or you want to

break free of your current career.

Most coaches like me offer a free

one-hour introductory call to see if

you click.

13. Sign up for free coaching. Some

veteran service organizations also

provide free coaching. The Commit

Foundation, Hire Heroes USA

and USO Pathfinders are all good

choices.

14. Decide to hire a resume writer.

If you tried to write a resume at

the Transition Assistance Program

(TAP), got a free resume from a

veteran service organization, took

our free resume classes and you are

still struggling with that resume, it is

probably a sign you could just hire

someone. Avoiding your resume

every weekend for the rest of the

Continued on page 22
---
2 | MHCE - News www.mhce.us JANUARY 2022 EDITION
---
WWW.MHCE.US Monthly Newsletter | 3
---
4 | MHCE - News www.mhce.us JANUARY 2022 EDITION
---
WWW.MHCE.US Monthly Newsletter | 5

Focus on Oversight a Key for Success at

CoreCivic

In the corrections industry, maintaining high standards of

operation is imperative to meeting the needs of the individuals

in our care. That's why CoreCivic adheres to a stringent set of

guidelines set forth by our own standards, as well as those of our

government partners and the American Correctional Association

(ACA).

Founded in 1870, the ACA is considered the national benchmark

for the effective operation of correctional systems throughout

the United States. To become accredited, a facility must achieve

compliance with ACA mandatory standards and a minimum of

90 percent non-mandatory standards. CoreCivic facilities adhere

to ACA standards, and in 2020, CoreCivic earned an average

ACA audit score of 99.6 percent across all facilities.

Key ACA audit areas include facility personnel, resident reentry

programs, resident safety, health care, and more.

holds our facilities and staff to a high standard. To be able to

represent our facility and receive reaccreditation in person is an

honor."

Adhering to ACA standards is only one part of CoreCivic's

commitment to robust oversight. When government partners

utilize CoreCivic's services, we are held not only to our own

high standards and those of the ACA, but we are often held to

the same or higher accountability of our public counterparts

through stringent government contracts, unfettered access to

our facilities for our partners, and hundreds of on-site quality

assurance monitors.

We provide access to our government partners, with most of

our facilities having government agency employees known as

contract monitors who are physically on-site to ensure we are

operating in line with partner guidelines.

Recently, the ACA held in Nashville, Tennessee, its 151st

Congress of Corrections, an annual convention that brings

together corrections professionals from across the country. In

addition to various workshops and events at the convention, the

ACA Commission on Accreditation also held panel hearings to

award accreditation to correctional facilities that meet the ACA's

rigorous requirements. Listed below are the seven CoreCivic

facilities that earned reaccreditation this year, with mandatory/

non-mandatory scores:

• Bent County Correctional Facility - 100/99.0

• Citrus County Detention Facility - 100/100

• Eloy Detention Center - 100/100

• Lake Erie Correctional Institution - 100/99.3

• Saguaro Correctional Center - 100/99.8

• Stewart Detention Center - 100/100

• Tallahatchie County Correctional Facility - 100/100

"The accreditation process is very important," said Warden

Fred Figueroa from Eloy Detention Center, one of the seven

CoreCivic facilities that was awarded reaccreditation. "ACA

To maintain our own high standards, annual on-site audits covering

all operational areas are administered to ensure compliance with

contractual and regulatory obligations and corporate-mandated

requirements. Each CoreCivic Safety facility is audited by our

internal quality assurance division, which is independent from

our operations division. Facilities are expected to be audit-ready

year-round, maintaining continuous compliance with numerous

applicable standards.

CoreCivic employs 75 staff members dedicated to quality

assurance, including several subject matter experts with extensive

experience from all major disciplines within our institutional

operations.

"A lot of hard work goes into preparing for these audits,"

Figueroa said. "Once they're complete, the staff can see their

accomplishments and feel proud."

Having multiple levels of oversight helps CoreCivic maintain

a safe environment for those in our care. By holding ourselves

accountable to our own high standards, along with our

government partners' and ACA's standards, CoreCivic continues

to be a trusted partner working to better the public good.
---
6 | MHCE - News www.mhce.us JANUARY 2022 EDITION
---
WWW.MHCE.US Monthly Newsletter | 7
---
8 | MHCE - News www.mhce.us JANUARY 2022 EDITION

Even this week, anti-vaxxers and vaccine-mandate opponents

resurfaced an old clip of Walensky saying in August that what

the vaccines "can't do anymore is prevent transmission." The

WSJ op-ed states that there is no "evidence that the vaccines

are effective in stopping the spread of the pathogen they target,"

and thus the mandates are ill-founded and wrong. (The op-ed

was written in part by a Nobel laureate with a colorful past of

questioning vaccine mandates, as well as a Yale Law School

professor suspended for alleged sexual harassment.)

Pushback Over Calling

this a 'Pandemic of the

Unvaccinated'

The emergence of the highly infectious - even for vaccinated

and boosted people - omicron variant has set off a new debate

over how to talk about and confront the coronavirus pandemic.

To some, this undercuts both the Biden administration's chief

talking point on vaccines and its push to require vaccines or

testing.

Two relevant examples

– At both a White House briefing and in an interview with the

head of the Centers for Disease Control and Prevention in recent

days, Fox News challenged President Joe Biden's talking point

that this is a "pandemic of the unvaccinated." Fox's Peter Doocy

on Monday noted that two people - both he and White House

press secretary Jen Psaki - became infected after three doses.

"Why is the president still referring to this as a 'pandemic of the

unvaccinated?' " he asked Psaki. Likewise, Fox's Bret Baier on

Sunday asked CDC Director Rochelle Walensky, "How is it that

'pandemic of the unvaccinated' is a terminology that should be

used?"

Separately - and more substantially - critics are challenging

Biden's vaccine-or-testing mandate by citing the increased

breakthrough infections amid the omicron variant. The purpose

of such vaccine mandates, after all, is generally to prevent the

spread. "Omicron Makes Biden's Vaccine Mandates Obsolete,"

reads an op-ed in the Wall Street Journal.

These arguments have been around for a while. They first

cropped up when the vaccines proved less effective against the

delta variant than their previous 90-plus-percent efficacy rates.

But they now feature renewed vigor as the omicron variant

has rendered the vaccines even less effective against omicron

infection - while still very effective against hospitalization and

death.

That claim is certainly a suspect one. While it's become clear the

vaccines are less effective at stopping the spread amid omicron,

that doesn't mean there is no evidence that they help. Early

studies have shown that they continue to help greatly when it

comes to preventing hospitalization and death, but they also

reduce infections - particularly when they include boosters.

A study from the United Kingdom Health Security Agency last

month found that the two-shot Pfizer-BioNTech and Moderna

vaccines by themselves were only about 10% effective at

preventing symptomatic infection 20 weeks after the second

dose. But the effectiveness rate increased to 75% two to four

weeks after a booster.

In Israel, a study of health-care workers - written up by the Wall

Street Journal itself - found that boosters increased antibody

levels by about 100 times when compared with two doses alone.

Another study from Imperial College London found that the twodose

Pfizer and AstraZeneca vaccines (the latter is not available

in the United States) were between 0 and 20% effective against

symptomatic infection, but those numbers rose to between 55

and 80% after a booster.

And a major study in South Africa, where the omicron variant

was detected early on, found that two doses of the Pfizer vaccine

- again, without a booster - provided 33% protection against

infection, while providing 70% protection against hospitalization.

These studies suggest that there is significantly reduced benefit

against infection from just two doses, but some studies show

even those two doses might provide a measurable benefit, and

adding boosters significantly increases that benefit.

TO ADVERTISE

contact Susan.Keller@mhce.us

But as with before, the arguments very often skip over the nuance,

pretending there's little to no distinction between preventing all

infections and preventing some or even lots of infections. They

also ignore lots of early studies on the efficacy of boosters.
---
WWW.MHCE.US Monthly Newsletter | 9

Veterans can now Identify as Transgender,

Nonbinary on their VA Medical Records

WASHINGTON — Veterans who identify as transgender or

nonbinary are now able to indicate their preference in their

official medical records with the Department of Veterans Affairs.

The department announced Wednesday that it added the options

of transgender male, transgender female, nonbinary and other,

when veterans select their gender. The gender identifier, along

with a veteran's preferred name, will be displayed on a patient's

health record.

The change allows health-care providers to better understand

and meet the medical needs of their patients, the VA said. The

information also could help providers identify any stigma or

discrimination that a veteran has faced that might be affecting

their health.

"All veterans, all people, have a basic right to be identified as

they define themselves," VA Secretary Denis McDonough said

in a statement. "This is essential for their general well-being and

overall health. Knowing the gender identity of transgender and

gender-diverse veterans helps us better serve them."

One of the recommendations from the task force was to collect

information from patients and employees about their race,

ethnicity, gender identity and sexual orientation. Task force

members also suggested the VA do more outreach to underserved

communities of veterans, such as those living in rural or remote

areas or veterans who speak little English.

The VA created a smaller task force that will be charged

with developing policies and adopting changes based on the

recommendations.

VISIT OUR

WEBSITE AT MHCE.US

Shortly after taking the helm of the VA in February, McDonough

vowed to focus on inclusivity, diversity and equity during his

tenure as secretary. One of McDonough's first actions was to

initiate an agency-wide review of the department's policies to

determine how to make it a more welcoming place for LGBTQ

patients and employees.

An 18-member task force was created to handle the review,

and the VA announced Tuesday that the group had issued

88 recommendations. The process of considering those

recommendations would take four years, the agency said.

"We recognize this work requires a culture shift and will not

happen overnight, but the [President Joe] Biden-[Vice President

Kamala] Harris administration and I will see this through to

completion," McDonough said in a statement.

TO ADVERTISE

contact Susan.Keller@mhce.us
---
10 | MHCE - News www.mhce.us JANUARY 2022 EDITION
---
WWW.MHCE.US Monthly Newsletter | 11

VISIT OUR WEBSITE

AT MHCE.US
---
12 | MHCE - News www.mhce.us JANUARY 2022 EDITION

TO ADVERTISE

contact Susan.Keller@mhce.us
---
WWW.MHCE.US Monthly Newsletter | 13

VISIT OUR WEBSITE AT MHCE.US

National Guard

Soldiers Deploy to

Arkansas Hospitals to

Help with COVID-19

Testing

The Arkansas National Guard announced Jan. 6 in a press release that

40 National Guardsmen from the 39th Infantry Brigade Combat Team

will deploy to nine hospitals across that state to assist local health care

facilities as case numbers rise.

The Guardsmen were set to report for in processing Jan. 10 at Camp

Joseph T. Robinson in North Little Rock and will report to their

assigned hospitals on Jan. 11.

Their initial orders are for 30 days, which may be extended or curtailed

as conditions dictate, according to the release.

The announcement came amid a record-breaking week for Arkansas.

An all-time high of 6,562 cases new cases reported by the Arkansas

Department of Health on Tuesday, Jan. 4, was quickly overcome as

numbers surpassed 7,000 and then 8,000 in the following days.

On Friday, Jan. 7, a record-breaking 8,434 cases were reported. The

ADH reported 61,121 active cases across the state on Monday.

Four National Guardsmen will head to Mercy Hospital Fort Smith.

There will also be Guardsmen sent to the Medical Associates of

Northwest Arkansas in Fayetteville, six to St. Bernards Medical

Center in Jonesboro, four to Northeast Arkansas Baptist Memorial

Hospital in Jonesboro, six to Baptist Health Medical Center in Little

Rock, two to Baxter Regional Health System in Mountain Home, two

to Jefferson Regional Hospital in Pine Bluff, six to Mercy Hospital

Northwest Arkansas in Rogers, and six to Washington Regional

Medical Center in Springdale.
---
14 | MHCE - News www.mhce.us JANUARY 2022 EDITION

For the first time in U.S. history, a woman took charge of the U.S. and its

military on Friday, but it lasted only briefly.

President Joe Biden transferred his executive powers to Vice President

Kamala Harris while he went under anesthesia for a routine colonoscopy

at Walter Reed National Military Medical Center in Maryland, according to

the White House.

TO ADVERTISE

contact Kyle.stephens@mhce.us

Join Our Team!

Embark on a new career

with Central New York

Psychiatric Center!

Our Team Promotes

Hope, Resilience and Recovery!

Central New York Psychiatric Center is seeking

candidates to fill the following positions;

Psychiatrists, Psychiatric Nurse Practitioners,

Psychologists, and Registered Nurses.

These positions are available at our Inpatient

Forensic Hospital in Marcy, New York, as

well as our Corrections Based Satellite Units

across the State.

Benefits Include:

VISIT OUR WEBSITE AT MHCE.US

• NYS Pension

• Competitive Salaries

• Comprehensive Health Insurance

• Flexible Spending Accounts for

Healthcare & Dependent Care

• Generous Paid Time Off

Contact Us:

315-765-3375 or by e-mail

CNpersonnel@omh.ny.gov
---
WWW.MHCE.US Monthly Newsletter | 15

VISIT OUR WEBSITE AT MHCE.US

mhce.us
---
16 | MHCE - News www.mhce.us JANUARY 2022 EDITION

US Military Elevates Coronavirus Restrictions in

South Korea in Wake of Latest Surge

CAMP HUMPHREYS, South Korea — The latest surge of

COVID-19 cases in South Korea has prompted the U.S. military

to elevate its health-risk level and enact additional restrictions,

including a ban on nonessential travel to Seoul.

U.S. Forces Korea, which is responsible for about 28,500 troops

on the peninsula, moved to condition Bravo-plus on Saturday,

signaling an "elevated" risk of the coronavirus respiratory

disease spreading in the community.

The move means a host of off-base activities are no longer

authorized. These include dining in at restaurants, along with

visits to shopping malls, bars, clubs, gyms, movie theaters,

amusement parks and festivals. Off-installation overnight stays

are also prohibited.

Gyeonggi Province reported higher infection numbers than

any other area of the country Sunday with 1,014 new cases,

according to the Korea Disease Control and Prevention Agency.

The province is home to Camp Humphreys, the largest U.S.

military base overseas, and Osan Air Base, home of the 7th Air

Force.

Eighth Army's commander, Lt. Gen. Willard Burleson, met

Friday with Pyeongtaek City mayor Jung Jang-seon to discuss

the military's pandemic response.

South Korean President Moon Jae-in on Friday addressed

USFK's influx of positive cases and said the government must

work closer with the command to control the spread.

"The government should cooperate closely with [USFK] for

more rigorous disinfection management of U.S. military bases

in Korea and their service members," Moon said in a statement

issued by his spokeswoman, Park Kyung-mee.

South Korea's response to the uptick in U.S. military infections

stands in contrast to that of Japanese officials. U.S. Forces Japan,

dealing with its own surge, has agreed to restrict troops to their

military bases, excluding essential off-base activities, for 14

days starting Monday.

"All members of the Eighth Army are aware of the critical

situation and are operating [within] strengthened quarantine

guidelines," Burleson said at the meeting.

TO ADVERTISE

contact Susan.Keller@mhce.us

Visits to Seoul are limited to official duty "due to the associated

risk of potential exposure to the virus," USFK said in Saturday's

announcement. The capital city, which frequently counts higher

case numbers than other provinces, reported 781 new infections

on Sunday.

The surge of new cases comes after the country reported a oneday

record of 7,849 infections on Dec. 15. The uptick prompted

the government to roll back its plans to loosen social distancing

restrictions by reenacting business curfews and limiting private

gatherings to four people.
---
WWW.MHCE.US Monthly Newsletter | 17
---
18 | MHCE - News www.mhce.us JANUARY 2022 EDITION

Business Is Global. Your Education Can Be, Too.

Complete Business Minor in One

Summer across Two Countries

By taking the five courses offered in this 12-week program, you

can complete a Business Minor and enjoy the unique opportunity

to immerse yourself in a cultural experience. Our Complete

Business Minor Abroad program will take you to the beautiful

streets of Rome, Italy, and Madrid, Spain, this Summer 2022

semesters

Business Core Fast Track

By taking the five courses offered in this 12-week program, you

can complete a Business Minor and enjoy the unique opportunity

to immerse yourself in a cultural experience. Our Complete

Business Minor Abroad program will take you to the beautiful

streets of Rome, Italy, and Madrid, Spain, this Summer 2022

semesters

2022 Program Update

In these uncertain times, the Harbert College of Business is

taking extraordinary steps to ensure the health and welfare of its

students. As such, only two study abroad trips will be offered for

this summer.

Please be on the lookout for details on offerings of a range of

Study Abroad Programs in Summer 2023. We appreciate your

interest and will be global again as soon as possible.

Study Abroad

At the Harbert College of Business, we offer the opportunity to

experience different business cultures, practices and standards

around the world. Round out your undergraduate experience with

a study abroad trip to Italy and Spain and gain a global business

perspective.

Undergraduate study abroad opportunities will allow you to gain

experience with a variety of contexts.

Have Questions?

COVID-19 has made the idea of international travel seem far

away. Let us reassure you we will provide a safe study abroad

experience that will give you an edge in your future career

Dr. Daniel Butler

Assistant Dean, Harbert Global Programs

Thomas Walter Professor

334-844-2464

butledd@auburn.edu
---
WWW.MHCE.US Monthly Newsletter | 19

When the practice of medicine

becomes the business of medicine.

You spent years studying medicine.

But what about the business side of

your practice?

It's easy to get started.

Take the next step toward a

Physicians Executive MBA

and contact us:

auburn-military.mba

334-844-4060

Auburn MBA
---
20 | MHCE - News www.mhce.us JANUARY 2022 EDITION

Navy Adds 2 Weeks

to Boot Camp

The Navy has announced that it is lengthening its

basic training from eight to 10 weeks in an effort

to provide sailors with more practical training as

well as life skills and professional development.

Navy leaders said the change is the first major

shake-up of the sea service's boot camp in 20

years.

"We are trying to give sailors some preventative

maintenance ... giving them some tools that they

can use to prepare themselves as individuals to be

part of a warfighting team," Rear Adm. Jennifer

Couture, commander of Naval Station Great

Lakes, the Navy's sole basic training facility, told

the press during a roundtable Friday.

Recruits will still spend eight weeks going through

the typical phases of instruction that culminate

with the "battle stations" capstone event. At the

end of the 12-hour scenario, set on a 210-footlong

Arleigh Burke-class destroyer simulator,

recruits are given a Navy ball cap that symbolizes

their transition to full-fledged sailors.

With the latest change, however, sailors would not

move on to graduation after the crucible event but

rather stay with their training cohort for an extra

two weeks and receive additional instruction --

albeit under less intense conditions.

"We're going to change the nature of the relationship

between the instructors ... and these sailors, to

more of a coaching and mentoring relationship

where we can have in-depth conversations about

what life is really like," Fleet Master Chief Wes

Koshoffer said.

Koshoffer noted that "identity transformation

in eight weeks is a lot to ask" and that the

additional training time "shows our commitment

to deliberately developing our sailors for success

in the Navy."

Some of the additional training is also aimed at

addressing problems with the culture of not just

the Navy but the military overall.

Perennial issues such as sexual assault prevention,

suicide prevention and healthy lifestyle topics will

make up a "a big portion" of the new "Life Skills"

curriculum, Couture explained.

She also noted that, while "the additional twoweek

timeline was not designed specifically with"

extremism prevention in mind, the training will

"model the behaviors that we want to contribute

to the culture" of the Navy.

"What we're really focusing on here is taking

recruits from many walks of life ... and introducing

them to the concept of what it means to be a sailor

and what is our level of expectation for how you

act and how you treat each other," Couture said.

The extra training will also focus on topics like

personal finance and "things that we need to teach

them about some basic living on their own that

they may not have gotten before they arrived

here," Couture explained.

Navy leaders emphasized that the longer training

time at Great Lakes will not impact the fleet or

lead to a short-term shortage of new sailors.

"Some of this type of training we were doing at

various locations all over the fleet. ... We've pulled

that out of those training continuums, and we've

pulled it back and connected it to boot camp,"

Koshoffer explained.

According to Couture and Koshoffer, the change

was driven largely by feedback they received from

commanders and leaders in the Navy.

"Our ships, submarines, aircraft and other fleet

units have got a lot on their plate, and they do

not have the time to do basic training," Couture

explained.

The new program began for all recruits arriving

on Jan. 3, 2022.
---
WWW.MHCE.US Monthly Newsletter | 21
---
22 | MHCE - News www.mhce.us JANUARY 2022 EDITION

year takes a lot more time than hiring someone to

bang it out.

15. Sign up for a mentor. American Corporate

Partners and FourBlock do great work connecting

transitioning military with mentors and companies

in the corporate world.

16. Get advice on your VA physical. So much

of getting your separation health assessment

done right is local knowledge, particular to your

geographical area and your branch of service. Ask

your local network for recommendations. You also

may find some real gurus in Vets2industryonline

networking events.

Embrace Your Career Level

17. Get focused career-level advice. Watch the first

10 minutes of one of our transition master classes

for your career level. Each one has different

strategies aimed at you and you alone. There are

free sessions for young enlisted, junior officers,

mid-career pros, senior leaders and spouses.

Make the Most of LinkedIn

18. Follow me on LinkedIn so that you can ask me

your questions. I always like hearing from you.

19. Reject LinkedIn envy. You know you have

LinkedIn envy when your entire feed consists of

everyone getting a job or a promotion but you.

This is guaranteed to make you run from LinkedIn.

Instead, get on LinkedIn for 10 minutes a day for a

week in order to check in with one of your groups,

find a new contact or send a message to a former

work friend.

20. Sign up for your free LinkedIn Premium

account when you are six months away from

transition.

21. Start your minimalist Linkedin profile. You

can do this in 10 minutes if you just fill in the

basic stuff the right way. You don't want to scare

off recruiters with your LinkedIn profile.

22. Write a fantastic summary section with

our exclusive instructions. Be sure to add your

keywords.

23. Use your profile. It isn't enough to make a

Linkedin profile, then disappear. You have to use

it. Avoid the six mistakes veterans are most likely

to make on LinkedIn.

24. Upload your job titles to LinkedIn in the

Experience section.

25. Connect with 501 people on LinkedIn. The

magic number on LinkedIn is 500 connections.

The older you are, the easier this will be because

you know more people.

26. Make friends with the job fairies. Recruiters

and talent sourcers are the job fairies of LinkedIn.

Find out about the three types of recruiters so that

you know what to say when they contact you.

27. Check your work. Make sure you have got it

all by reviewing your profile with our Military.

com LinkedIn checklist.

Do Networking Like Normal People

28. Decide not to hate networking. Study after

study shows that most people get their jobs

through networking, not through job boards. You

don't have to be a dirtbag to network into a job.

29. Stop lying to yourself about networking and

get started. Trust me. You are not bothering people

by contacting them. You are not begging for a job.

You do not have to be ready to network to get the

job done. Send one email. Make one phone call.

Text someone. Reach out on LinkedIn. It only

takes a minute to ask a question.

30. Make a list of 10 people in your network.

You don't have to start networking with total

strangers. Start with 10 people you have known

in your career who already have left the military.

Ask them whether they will tell you about their

transition.

31. Listen for the magic questions. People in your

network have three secret ways that they signal

they want to help you find a job. Listen for these

magic questions so that you can move to the next

level.

Begin to Upskill

32. Decide whether or not you need an MBA. For

veterans who already have a four-year degree, an

MBA can be the making of you or an epic waste

of time. Check out our five best reasons to pursue

an MBA.

33. Make a list of upskilling opportunities. At

Military.com, we always are looking for top

programs that offer veterans opportunities to

upskill for free.

Max Out Your GI Benefits

34. View your GI Bill statement of benefits. It only

takes a minute to look at it.

35. Look into how to apply for your GI Bill benefits

and check into other Tuition Assistanceprograms.

36. Learn more about transferring GI Bill

benefitsto your dependents. You can't do this after

you leave military service.

Engage with the TAP Program

37. Brace yourself. Then look at your preseparation

checklist DD-2648. It is five pages

long. Be simultaneously overwhelmed and bored

out of your mind. Remember that this is not a

demand signal. This is a menu of things you can

opt in for when you meet with your transition

counselor. All the links are live, so you can click

on them and decide whether this is something you

might be interested in hearing about more.

38. Make an appointment with your local

transition counselor. The great thing about the

local counselors is that they are local. They go

to all meetings and the job fairs. Employers and

veteran service organizations pitch them all the

time. If you plan to stay in the area, these guys

usually know a ton about local opportunities.
---
WWW.MHCE.US Monthly Newsletter | 23

39. Sign up for the TAP workshop online. If you do well working

at your own pace, if you have consistent internet access where

you are stationed, and you will honestly do all the work on your

own, this could be the way to go. Git 'er done.

40. Sign up for an in-seat TAP class. If you are a notorious

procrastinator, or your job is so all-consuming that you have no

brain power left over at the end of the day, sign up for the in-seat

version of TAP. You will feel so much better after you put that

tick in the box.

41. Upload my FREE resume template before you go to your

TAP class. It uses the same format, so you can just type without

wasting your time learning how to insert columns and bullet

points.

Knuckle Down on Your Resume

42. Take our FREE Reverse Resume Master Class.Once

you have struggled to think up bullet points on your resume

workshop in TAP, you are ready for a master class about how to

do it the easy way. Full disclosure: This one takes an hour, but

you can do it in 10-minute bursts if you like.

43. Do resume recon. Ask friends who already transitioned if

you can see their resume. Sometimes these people have great

resumes. Sometimes you will see that they got hired despite

their resume by using their network. Both are good lessons.

44. Edit the term "leader" out of your resume. You have spent

most of your career in the military learning how to lead, manage

and motivate people. Civilians like that. They just don't want to

see the word "leader" on your resume. Strange, but true.

45. Upload your resume to Military.com to get found by

recruiters.

46. Learn about federal resumes. Federal jobs are often hard to

get because the resume process is such a mess. Untangle the

process with our FREE Federal Resume Master Class.

Fun with Interviews and Negotiations

47. Practice insulting your interviewer. It is so easy to say the

wrong thing even when you mean to say the right thing. Then

practice not insulting your interviewer. Spouses are great at this

exercise. So are teenagers.

48. Get interview coaching with a real live feedback-giving

person. I know you are great at public speaking, and you can

talk to anyone professionally. But interviews are not like any

conversation you have had before. Interviews are all in code.

The hiring manager may sound conversational, but they are

looking for very particular answers. Get a coach to help you

now, not when you have had a dozen bad interviews.

TO ADVERTISE

contact Susan.Keller@mhce.us

49. Decode the language of "no." What did that "no" really

mean at your last interview? Sometimes it isn't them; it is you.

50. Learn about how to evaluate your job offers.

51. Practice asking for more money by preparing for the

negotiation phase.

The Most Important 10-Minute Skill of All Time

52. Stop waiting. Stop telling yourself you need to be ready.

You are already ready. Set yourself the goal of doing just one of

these 10-minute tasks every week. You will be amazed how this

tiny win will help you whittle down all the tasks of transition so

that you make real progress to the next great step in your career.

VISIT OUR WEBSITE

AT MHCE.US
---
24 | MHCE - News www.mhce.us JANUARY 2022 EDITION

mhce.us

VISIT OUR WEBSITE AT MHCE.US
---
WWW.MHCE.US Monthly Newsletter | 25

Japan PM: Deal Reached on US Military

Curbs to Halt COVID

Japanese Prime Minister Fumio

Kishida said Sunday that Japan

and the U.S. have reached "a

basic agreement" on banning

the U.S. military from leaving

its base grounds, amid growing

worries about a sharp rise in

coronavirus cases.

Kishida said American soldiers

will stay on base "except

when absolutely necessary,"

which presumably means for

emergencies or other security

reasons. Details of the deal are

still being worked out, he said

on Fuji TV. The overall U.S.-

Japan security alliance remains

unchanged.

New daily COVID-19 cases

have surged recently in what

medical experts call "the sixth

wave." New cases jumped above

8,000 on Saturday, a four-month

record. The spike has been

blamed on the U.S. military

because the case increases are

most pronounced in areas near

the bases. Japan asked the U.S.

for cooperation in keeping its

military personnel on base last

week.

A spokesman for U.S. Forces

in Japan was not immediately

available for comment on

Kishida's latest remarks. But

Maj. Thomas R. Barger has said

COVID-19 trends were being

closely monitored among the

ranks for "health protection and

operational readiness" in Japan.

the spread of infections kicked

in Sunday.

The measures, which last

through the end of the month,

force restaurants to close early,

at 8 p.m. or 9 p.m., and some

must stop serving alcohol.

Government-backed restrictions

also went into effect in Yamaguchi

Prefecture, where Iwakuni base

is located, and nearby Hiroshima.

The Hiroshima Peace Memorial

Museum, which documents the

U.S. atomic bombing of Japan

at the end of World War II, and

Hiroshima Castle are both closed

to visitors.

Other regions may order similar

regulations if cases keep rising.

People have been warned to

stay home and avoid travel.

Until recently, bars, shrines

and shopping districts have

been jam-packed with year-end

shoppers and New Year's holiday

travelers.

Japan has never had a lockdown

but it has undergone periods of

varying levels of restrictions,

including school closures and

event cancellations.

About 80% of the Japanese

population have received the

second vaccine shot. Boosters

have barely started, with

fewer than 1% receiving them,

despite repeated promises by

the government to speed up

their rollout. Japan has set up

stringent border controls, barring

most incoming travel except for

returning residents and citizens.

Japan has reported about 18,300

COVID-19-related deaths so far.

On recent days, there have been

just one or two deaths, and on

some days, zero.

Creating a Culture

of Caring

Offering master's

and doctoral

degrees for

Registered Nurses

Specialties Offered:

Nurse-Midwife

Family Nurse Practitioner

Women's Health Care NP

Psychiatric-Mental Health NP

Okinawa, a southwestern group

of islands that houses most of

the 55,000 U.S. troops in Japan,

is among the three prefectures

where new restrictions to curb

Learn more at frontier.edu/military
---
26 | MHCE - News www.mhce.us JANUARY 2022 EDITION

TO ADVERTISE

contact

Kyle.stephens@mhce.us

mhce.us
---
WWW.MHCE.US Monthly Newsletter | 27

TO ADVERTISE

contact Kyle.Stephens@mhce.us
---
28 | MHCE - News www.mhce.us JANUARY 2022 EDITION

College of Nursing

Visit www.southalabama.edu/colleges/con

251-445-9400

5721 USA Drive North, Mobile, AL 36688

High Quality

Programs

Available Online

and on Campus

On Campus:

• Pre-Licensure BSN

• Accelerated BSN

Online OptiOns Offered:

• RN to BSN

• RN to MSN

• MSN

• DNP

• Post Graduate Certificates

areas Of speCializatiOn:

• Clinical Nursing Leader

• Nursing Administration

• Nurse Practitioner

(multiple tracks)

• Clinical Nurse Specialist

• Nursing Informatics

sub-speCialties:

• Cardiovascular

• Oncology

• Palliative Care

• Nursing Education

• Lipid Management