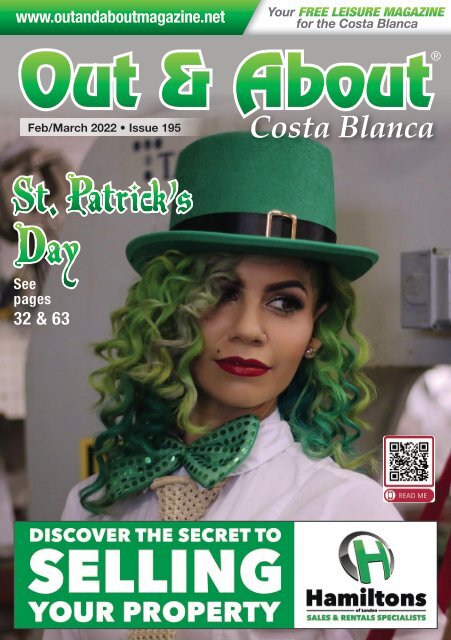 Outandabout March 2022 Issue195
Welcome to March 2022 the Spring air has arrived and St Patrick's day will be celebrated again in Benidorm without restrictions. Tourism is already back to pre-covid numbers and the British holidaymakers who love Spain and the Costa Blanca are already on the beach and sunny terraces eating, drinking, and having lots of fun in the sun. The new Out and About magazine is right here to read and find out what's going on in the Costa Blanca region of Spain. Lifestyle and leisure articles and reviews are written by the people who know, business professionals, and members of the public living in Spain. There are also popular pages that include puzzles and horoscopes with a host of supporting businesses that supports the charity work that editor Carol Leavy has undertaken for many years in Spain.
Welcome to March 2022 the Spring air has arrived and St Patrick's day will be celebrated again in Benidorm without restrictions. Tourism is already back to pre-covid numbers and the British holidaymakers who love Spain and the Costa Blanca are already on the beach and sunny terraces eating, drinking, and having lots of fun in the sun. The new Out and About magazine is right here to read and find out what's going on in the Costa Blanca region of Spain. Lifestyle and leisure articles and reviews are written by the people who know, business professionals, and members of the public living in Spain. There are also popular pages that include puzzles and horoscopes with a host of supporting businesses that supports the charity work that editor Carol Leavy has undertaken for many years in Spain.
SHOW MORE
SHOW LESS
Create successful ePaper yourself
Turn your PDF publications into a flip-book with our unique Google optimized e-Paper software.
www.outandaboutmagazine.net

Your FREE LEISURE MAGAZINE

for the Costa Blanca

Out & About®

Feb/March 2022 • Issue 195

Costa Blanca

See

pages

32 & 63
---
2 | OUT AND ABOUT COSTA BLANCA
---
FEBRUARY 2022 | 3

VCA25009

VCA0586

TOWNHOUSE

TBS0014
---
4 | OUT AND ABOUT COSTA BLANCA

Dear Reader

Looking forward to the spring time

and better weather. March is a

busy month.

Please remember the clocks change

on Sunday March 27,

when local standard time is about to

reach 2:00:00. Clocks are turned forward

one hour to 3.00. There will be lighter

evenings. It is good to memorise the phrase

"Spring forward, Fall back". Spring starts around

Sunday March 20th until Tuesday June 21st.

The clocks change again Sunday 30 October.

March is the time of year when animals start to wake

up from hibernation.

• Good Friday 15 April

• Easter Sunday April 17 in Spain.

• Monday 18 April (Easter)

It is so lovely to see the flowers appearing and spring

is arriving.

So why do some people say that spring starts in

March? This is where meteorology comes in. Because

of the way climate works, weather and temperature

experiences a 'lag' of about six weeks. This means that

the three warmest months of the year, i.e. meteorological

summer, arrives about six weeks after astronomical

summer. March is the first month of spring which

begins between 19th -21st. In the Southern Hemisphere,

March is the same as September in the Northern

Hemisphere.

In the lead-up of the Fallas week, many activities take

place like fireworks, pyrotechnic celebrations (mascletà)

and parades. You notice the smell of gunpowder and

the sound of firecrackers, a Valencian tradition to kick

off the festivities.

The FALLAS are usually taking place in March. At

the time of going to print information is not available

confirming this event. However, if this fiesta takes place

here is some information.

They are called cremà (burning of the giant

papier mache sculptures). This traditional fiesta is

a celebration of Fathers Day in Spain, which is on St

Joseph's Day (19th of March). The traditional Valencian

festival of Saint Joseph the carpenter. Originally a

contest amongst carpenters to create an effigy of

the Saint, it has escalated to become one of the most

spectacular fiestas of the calendar year. Festivities

include, processions with participants wearing elaborate

traditional costumes, street entertainment, fireworks

and live music.

Father's Day in Spain Saturday March 19th and in the

Sunday UK June 19th.

Sunday March 27th in England is Mother's Day and

in Spain is not until Sunday May 1st.

So save the euros for these special days – Us Mum's

and Dads deserve the extra attention ha!!

Tuesday, March 1. St David's Day– Patron Saint

DEAR READER

of Wales. The national emblems are the

Daffodil or the Leek.

St Patrick's Day Thursday March 17th.

Daffodil, Narcissus, Jonquil, Lent lily, Easter bells,

whatever you call it, this little yellow wonder is one of

the most popular springtime flowers of all time! Maybe

it's because when the daffodils are in bloom we all know

it's the beginning of spring and warm weather…and I

know we are all ready for that!

There are two legends of note about the origins of the

daffodil. It seems this flower has different meanings for

different cultures of the world. For the West, its vanity,

and the East it means fortune and prosperity.

Spanish summers come on pretty quickly. Average

amount of sunshine hours per day increases from

seven in March to nine throughout April and the sea

temperature rises to an extra 15 degrees. Milder nights

become more frequent and all the joys of spending

time sun-bathing, swimming, dining "al fresco" and

long summer evenings, is what we all look forward to

enjoying again!!

February 19th or later, fall under Pisces, a sign known

for being kind, compassionate, and easygoing.

March's birthstones are aquamarine and bloodstone

and symbolize courage.

The zodiac signs for March are Pisces (until March 20)

and Aries (March 21st to April 19th).

Pisces are extremely psychic and can amaze people with

their uncanny ability to predict things. They are usually

gifted in anything creative from designing to music.

Aries traits.

Strengths: Courageous, determined, confident,

enthusiastic, optimistic, honest, and passionate.

Aries likes: Taking on leadership roles, physical

challenges, individual sports.

Aries dislikes: Inactivity, delays, work that does not use

one's talents.

As the first sign in the zodiac, the presence of Aries

always marks the beginning of something energetic and

turbulent. They are continuously looking for dynamic,

speed and competition, always being the first in

everything - from work to social gatherings.

The birth flowers for March are Daffodils and Jonquil.

As you know you are never alone with a copy of "Out

& About" magazine. Keep happy, positive and smiling.

Carol R. Levey
---
FEBRUARY 2022 | 5

C O N T A C T S

EDITOR

CAROL LEVEY 651 459 776

CALPE AND JAVEA

LISA HANNAM 642 786 407

MORAIRA, JAVEA & CALPE

PETER FROST 634 333 240

POSTAL

Total Postal Levey OutAndAbout

Suite 551 C/ Corbeta 10 Calpe

WEB

www.outandaboutmagazine.net

www.facebook.com/OutAndAbout

CostaBlancaMagazine

EMAIL

outandaboutcostablanca@hotmail.com

carolrlevey@gmail.com

DESIGN & DIGITAL

by Impact Media Group: +34 602 296 180

email info@impactmediagroup.es

COVER IMAGE:

Image by Joey Velasquez from Pixabay

THIS MONTH

08 Readers' Letters

10 Akira

12 Dr. M.Signes

16 Memory Lane

18 David Moorhouse

24 Dee's Travels

30 Burying a Sardine

32 St. Patrick's Day

34 Walsh's Wisdom

40 PEPA animal rescue

42 A Medium Rare

46 Experience of Cruising

48 Dawn Blythe

50 Anne Rodger

54 Paws For Thought

55 Puzzle Page

57 Book Review

58 Celebrity Profile

62 Horoscope

63 St. Patrick's Day Quiz

ADVERTISE

WITH US!

Interested? Well just pick up

the phone or email one of our

representatives in the contacts

column to the left and they

will be back to you in a flash!

ARTICLES, PHOTOS AND FEATURES MUST BE RECEIVED BY 20TH OF THE MONTH TO BE INCLUDED IN THE NEXT ISSUE

All articles are checked for accuracy, however, Out & About cannot legally accept any responsibility for any misrepresentation that

may occur on factual features, or errors that may occur by misprint. Whilst every effort is made to ensure the accuracy and authenticity

of advertisments appearing, Out & About does not accept any responsibility for claims made by advertisers. The views and opinions

expressed in the articles in this magazine are those of the authors and do not necessarily reflect those of the editor or other staff.

Out & About cannot be held responsible for advertisments reproduced from poor quality artwork or any printing related issues.
---
PL

6 | OUT AND ABOUT COSTA BLANCA

Enough about Covid, let's talk about how

Enough Hamiltons about has Covid, worked let's on talk the about business how

Hamiltons give buyers, has sellers, worked landlords on the business and

to tenants give buyers, an even sellers, better landlords service. and

tenants New Staff an even better service.

New Hamiltons Staff have welcomed several new

Hamiltons members to have the welcomed team in the several past few new

members months including to the team English in the and past Belgian few

months speaking including people. This English allows and us Belgian to

speaking market properties people. This professionally allows us to

market the widest properties geographical professionally area including to

the widest all important geographical Norther area European including

the countries. all important Norther European

countries. New Location(s)

New Due to Location(s) demand and growth, the Jalon

Due office to has demand moved and from growth, their the original Jalon

office has moved from their original

Moraira, Benissa, Benitache

Moraira, Benissa, Benitache

modest office to a much more visible

modest corner office. At to the a much moment, more Shem visible and

corner the Jalon office. team At are the covering moment, Jalon Shem and and

the beyond Jalon but team "watch are this covering space" Jalon as they and

beyond say for new but "watch offices this in other space" towns as they in

say 2022 for and new beyond offices in other towns in

2022 Built on and a beyond strong foundation.

Built Of course, on a strong at the core foundation. of Hamitons are

Of its course, central values: at the core honesty, of Hamitons friendliness are

its and central professionalism. values: honesty, Through friendliness Covid,

and Hamiltons professionalism. has retained Through many of Covid, its

Hamiltons existing staff has ensuring retained that many their of wealth its

existing of local information staff ensuring has that been their retained. wealth

of In many local information ways, local knowledge has been retained. and

In a personable many ways, staff local are knowledge the keys to and a

a successful personable agency, staff are perhaps the keys that's to a why

successful Hamiltons continue agency, perhaps to be a leading that's why light

Hamiltons continue to be a leading light
---
FEBRUARY 2022 | 7

MORE

EASE

list

list

your

your

property

property

with

with

us

us

today

today

ll Calpe, Jávea, Denia, Jalon and all surrounding areas

ll Calpe, Jávea, Denia, Jalon and all surrounding areas

in the local estate agency market.

Thinking the local of estate Selling agency or Renting? market.

It's Thinking a big decision of Selling and or sometimes Renting? you

just It's a need big decision to talk it and through sometimes with people you

"in just the need know". to talk It may it through be that with instead people

of "in selling, the know". renting It may is a better that option instead for

you… of selling, and renting indeed, is everyone a better is option different. for

For you… a friendly and indeed, and everyone helpful chat, is different. pick up

the For phone a friendly and and make helpful an appointment chat, pick up to

talk the phone it through and with make knowledgeable an appointment yet to

professional talk it through people with knowledgeable who can help you yet

make professional the right people decision who for can you. help you

make the right decision for you.

List Your Property Today

List Your Property Today

we'll

we'll

get

get

you

you

moving

moving

Contact us (all areas):

Contact us (all areas):

+34 96 649 1883

+34 96 649 1883

moraira@moraira-hamiltons.net

moraira@moraira-hamiltons.net

www.moraira-hamiltons.net

www.moraira-hamiltons.net
---
8 | OUT AND ABOUT COSTA BLANCA

AGONY UNCLE

@

Can our AGONY UNCLE help you

Readers

Letters

Email to: relojdesol@mail.com

I was treated badly by my mother

when I was young. I feel that she

never really loved me and over the

years a lot of the pain inside me has

been from her attitude to me.

Currently I have a wonderful partner

and two beautiful children and I

give them all my love as the happy

family we are. I feel guilty because I

cannot love my mother the way that I

should and she is now in poor health.

I cannot describe the pain that I now

feel.

Annie. Busot

I can understand the great

difference that exists between

loving your mother in a natural

way, and having to love her

because she is aging and sick.

The dilemma here is making you

feel guilty and you must feel like

giving your mother a dose of

her own medicine. Your family

will surely have a relationship

with your mother and yet they

don't know the whole story of

her cruelty to you. I would like

to say that you have shown your

mother what being a mother

really is by your achievement

with your family. You will not

turn your mother away when the

time comes, but any caring you

do for her is a good time to get

answers directly from her.

Each time you must ask why?

Each time be prepared to sadly

not get the answers that you

want to hear but let your mother

know exactly that you are

unafraid to ask and how things

right now could have been so

much better.

Readers can now send their questions and problems

@

to a newly appointed Agony Uncle. He is a Therapist,

Counsellor, Psychologist and Life Coach and will be answering the best from his mailbox exclusively here

in Out and About, every month. Every email gets a personal reply from Agony Uncle and with your consent,

and subject to space; question and reply can be printed in a future edition of Out and About. Names and/or

locations will be disguised assuring confidentiality. Email to: relojdesol@mail.com
---
AGONY UNCLE FEBRUARY 2022 | 9

An old boyfriend has recently

contacted me on Facebook. We were

young when we met and have both

had challenging lives bringing up our

families. My relationship with my

husband is bad and my old lover has

just divorced his wife. Should I carry

on the online relationship that we are

currently having?

Cherry SMS

You are both in similar positions

in life right now, the only

difference being that you are

still married and locked in

to a relationship that's going

nowhere. I can understand

that you should feel that you

can reach out to each other.

Remembering the good old days

fills us with nostalgia, but at the

same time you are focusing on

your current situation and the

comfort of a friend. How far it

goes is going to be your choice,

but you sound as if you need

more than just a Facebook friend

and things have got to change for

you too!

I have a girlfriend and we are now living

together. She is still a student but I have

graduated and am working online for an

IT company. I have noticed that she comes

home late and that her timetable has shifted.

I have begun to think that something is

wrong and we are not good at talking

through things.

Andy. Altea La Vieja

Andy, Covid has brought about

many problems with timetabling and

deferred lectures. I mention these

because if you think that there are other

reasons for your girlfriend's change in

studying then you have to talk about

it. The silence that exists between you

is not good and I suspect that you are

the one who is not outward enough

to ask the questions you are scared to

hear the answers to. Being open is the

only way a relationship can survive. I

understand that you are stuck at home

most of the working day and so she is

the one who is

outside the home for her working

week. Talk. The truth should never

hurt but you are worked up and

if there is distrust arising from the

unknown then you have to have the

confrontation that your relationship

@deserves in order for it to survive.

JÁVEA · ALTEA

yorkshirelinecostablanca.com

Follow us on Facebook and Instagram
---
10 | OUT AND ABOUT COSTA BLANCA

Hamiltons of Javea & Moraira, Sales, Rentals & Construction

Sponsors Jalon Valley A.R.C. & AKIRA Dog Sanctuary Pages

"Animal voices are silent

But their cries can be heard

If you care enough to listen"

Tel. 657 689 567 - www.akira-animals.com - Facebook Akira Benissa Dog Sanctuary

BOB

Bob is a new arrival at Akira, found

on one of the main roads in Benissa

and nobody came to claim him. He

is a year old, house-trained, good

with children and people and easy

to walk. Loves going out and about!

Fine with other dogs once he gets to

know them. Please contact Akira on

657 689 567 or email akira shelter@

aol.com.

FIONA

When Fiona arrived at Akira she

had to be carried to the parking area

to take a short walk but now she is

confident enough to walk out herself.

She is young, affectionate and

growing in confidence daily. Good

with children and other dogs, she

loves to play. She will be spayed,

chipped and have all of her injections

prior to adoption. Please contact

Akira on 657 687 567 or email

akirashelter@aol.com

Tel. 657 689 567 • www.akira-animals.com • Facebook Akira Benissa Dog Sanctuary
---
FEBRUARY 2022 | 11
---
12 | OUT AND ABOUT COSTA BLANCA

How often should you

get your eyes checked?

DR. M. ISABEL SIGNES-SOLER

Eye care professionals recommend that

you have an eye exam every one to

two years. This may vary depending

on your age, risk factors and whether you

wear eyeglasses or contacts. Though vision

screenings are sometimes done for kids at

school, eye exams are still important.

Vision screenings may find a vision issue in

your child, but they aren't a substitute for a

comprehensive eye exam. An exam is more

in-depth, can catch problems a screening

may miss, and can find the underlying cause

behind issues a screening does identify.

How often children should get an eye exam

Experts say approximately 80% of all learning

comes from visual pathways. Yet one in

four children with a correctable refractive

error does not have it corrected properly. A

University of Bristol study also discovered

that brain-related visual problems likely affect

one in 30 school-aged children.

Because of this, it's recommended that

children have their first eye exam at 6 months

of age. Another exam should be done at age

three and again before the start of first

grade. If a child is not at risk, they

can continue having their eyes

examined every year until age

18.

Children with risk

factors for vision

problems may need

their first eye exam

earlier than 6 months of

age and may need eye

exams more frequently

throughout childhood.

Children need regular

eye exams to detect vision

problems that may interfere

with learning.

Examples of risk factors include:

• Family history of vision problems, such

as myopia, strabismus, amblyopia,

retinoblastoma or a genetic disease that

affects the eyes

• Prematurity or low birth weight

• Difficult labor associated with fetal distress

• Extended use of supplemental oxygen at

birth

• Infection of mother during pregnancy

(examples: rubella, venereal disease, herpes,

AIDS)

• Developmental delays

• Functional vision in only one eye

• Maternal smoking, drinking or drug use

during pregnancy

• Physical illness or diseases

• Eye disorders such as high refractive error,

strabismus and anisometropia

• Health conditions associated with ocular

conditions

• Taking a medication with ocular side effects

Children who currently wear eyeglasses or

contact lenses should also have annual eye

exams.

How often adults should get an

eye exam

To maintain a lifetime

of healthy vision,

adults ages 18 to

60 should have a

comprehensive

eye exam at least

once every two

years. Older

adults (ages 65

and older) should

have annual eye

exams. "At risk"

adults should have

an exam at least

once every year, or as

recommended by their

doctor.

Dra. Maria Isabel Signes-Soler, PhD, FAAO • Tel: 965832080
---
DR. M. ISABEL SIGNES-SOLER FEBRUARY 2022 | 13

Risk factors for adults include:

• Family history of eye disease, such as

glaucoma and macular degeneration

• Diabetes or high blood pressure

• Wearing eyeglasses or contact lenses

• Belonging to a high-risk racial or ethnic

group (such as Latino or African

American)

• Taking prescription or over-thecounter

medications that may have

eye-related side effects

• Previous eye injuries or eye surgery

(including cataract surgery)

• A visually demanding occupation

or one that may pose hazards to

the eyes (e.g., firefighter, mechanic,

welder, etc.)

Adults who have had refractive surgery,

such as LASIK, PRK or SMILE, still need

to have an eye exam every year. Eye exams

don't just measure good vision, they assess

overall eye health.

If you have any doubts about how often you

(or your children or parents) should have an

eye exam, ask your optometrist.

PROGRESSIVE

GLASSES

FROM

199€
---
14 | OUT AND ABOUT COSTA BLANCA

vivaldimoraira

vivaldimoraira

...a smooth experience

The beautiful coastal village Moraira, located on the Costa Blanca

has a new hotspot; Brasserie Vivaldi, where coziness and

qualitatively good food are central.

FloriditaMoraira

floriditamoraira

Open every day. Check our website or facebook/

instagram for current opening hours.

Passeo Senillar 25, 03724 Moraira

+34 965271088 | www.brasserievivaldi.com

IF YOU SHOW

US THIS

ADVERTISEMENT

YOU GET A FREE

DRINK ON THE

HOUSE!!

(wine, cava, beer or

refreshment)

NEW OWNERS! The best music bar in Moraira with live music 5 nights a week!

(after COVID lockdown). The hotest address for your drinks and cocktails!

Check our instagram/facebook for all actual news. SEE YOU SOON AT FLORIDITA!

Calle Tosqueres 3, 03724 Rada de Moraira
---
FEBRUARY 2022 | 15

KOSTA!

R E S T A U R A N T

C/Mulhacen 10

On the Coast Road | Between Moraira and Calpe, 95

03724 Moraira,

Tel. 865 77 83 00 Mob. 608 733 584

Every day 12:30 - 22:00

Simply The Best – What More Could You Ask for!

AT KOSTA everything is outstanding - beginning with the welcome from the

owner Christian, who makes everyone feel welcome like a special and valued

guest in his home along with the very attentive multi-lingual staff and

great service.

Enjoy a wonderful lunch time or evening meal with friends

or celebrate a family birthday.

Food is excellent quality and presented beautifully.

This is a restaurant that you simply cannot fault for food quality, service and

value for money

What more can you ask it's perfect
---
MEMORY LANE

March 1, 1872 - Yellowstone

becomes the U.S.'s first national

park.

March 1st. 1932 The Lindbergh

baby is kidnapped. On the

evening of 1 March 1932, the

pioneering aviator Charles

Lindbergh was at home in New

Jersey with his wife, Anne, and

20-month-old son, Charles Jr. At

7.30pm, a nanny laid the toddler

down to sleep in his crib. About

two hours later, Charles heard a

noise he thought sounded like

a crate smashing, but thought

nothing of it.

Then at 10pm, the nanny, frantic

with worry, reported that the

baby had disappeared. In his

bedroom, Charles found a

handwritten, misspelled note:

"Dear Sir! Have 50000$ redy

25000$ in 20$ bills 15000$ in 10$

bills and 10000$ in 5$ bills … We

warn you for making anyding

public or for notify the Police.

The child is in gut care."

So began one of the most lurid

cases in American criminal

history. Amid massive publicity,

crowds swiftly swarmed to the

Lindbergh estate, destroying

any chance of finding footprints.

Amateur detectives, military

men and even Chicago mobsters

offered their assistance. More

ransom notes arrived. In early

April, Lindbergh delivered

$50,000 to the kidnapper via an

intermediary. But there was no

baby. Then, on 12 May, a truck

driver found a child's body

in woods near Lindbergh's

home. It was little Charles. Two

years later, the police arrested a

German-born carpenter, Bruno

Richard Hauptmann, who had

a record of robbery and whose

garage contained notes from the

ransom money. Protesting his

innocence, he went to the electric

chair. But many observers were

convinced that he must have had

help. And for the novelist Agatha

Christie, the case inspired one of

her greatest books, Murder on the

Orient Express.

March 1, 1958 - U.S. launches

Explorer I, its first satellite.

March 1, 1961 - The U.S. Peace

Corps was founded.

March 1, 1982 - Late Night with

David Letterman premieres on

NBC.

March 2, 1836 - Texas declared its

independence from Mexico.

March 2, 1887 - The first

Ground Hog Day is observed in

Punxsutawney, PA

March 2, 1933 - The movie King

Kong premieres.

1966 - UK To Go Decimal 1971

1966 : The Chancellor of the

Exchequer, James Callaghan, has

confirmed the decision to change

over to decimal coinage in 1971.

March 4 1918: 'Spanish' flu

strikes and kills 100 million

March 5 1946: Churchill warns

of an 'iron curtain' falling across

Europe

March 7, 1933 - Monopoly board

game is invented.

March 9, 1964 - The first Ford

Mustang rolls off the assembly

line.

March 11, 1997 - Paul McCartney

is knighted by Queen Elizabeth II.

March 12, 1894 - Coca Cola is

sold in bottles for the first time

in a candy store in Vicksburg,

Mississippi.

March 18, 1931 - Shick introduces

the first electric shaver to the

marketplace.

March 23, 1857 - Elisha Otis

installs the first elevator at 488

Broadway in New York City.

March 24 1944: The Great Escape

arouses Hitler's fury

March 29 1461 At Towton in

Yorkshire, Edward IV leads

the Yorkists to victory over

the Lancastrian army – led by

the Duke of Somerset – in the

bloodiest battle ever fought on

English soil

March 29, 1886 - Coca Cola is

invented.

March 31, 1899 - The Eiffel Tower

was built to be one the main

attractions at the Paris World's

Fair in 1889.

1994 : Fred West is charged with

two more murders following the

discovery of additional human

remains in the garden of his

Gloucester home.
---
MEMORY LANE

JANUARY 2022 | 17

Foster Consulting is an insurance agency in Calpe, established in 1987, the first

dedicated insurance business in Calpe that dealt with the Expatriate community.

We work with two companies:

LIBERTY SEGUROS and ASSSA.

Our policies come in English, Spanish and German.

We speak English, Spanish, German, Dutch and French.

At Foster Consulting we are committed to providing our customers with excellent

insurance services.

Types of insurance products provided:

• CAR

• HOUSEHOLD

• HEALTH (including health cover for

residency applications and visas)

• DENTAL

• MOTORBIKE

• LIFE INSURANCE

• MORTGAGE PROTECTION

• COMMERCIAL

• BUSINESS

• FUNERAL PLAN

• MARINE INSURANCE FOR

PLEASURE BOATS

• PET

• COMMUNITY

• THIRD PARTY

LIABILITY

• ACCIDENT

• CONTACT US NOW FOR A COMPETITIVE QUOTE •

Email: info@fosterconsulting.es

Tel: 96 583 83 84

Address: Av. Gabriel Miró 18, Entlo. 2 - 03710-CALPE (Alicante)

DGSFP Registry Number: C0467B53971065

OPENING TIMES

MONDAY -

THURSDAY:

9.00 AM – 5.00 PM &

FRIDAYS:

8:00 AM – 15.00 PM.
---
18 | OUT AND ABOUT COSTA BLANCA

Magic Travel

Moments

Highlight those (many) travel moments in

my life when things have 'sparkled'.

by John

David

Moorhouse

DAVID MOORHOUSE.

The Lion Gate (Mikini)

At first approach, it is only partly-visible at

the top of a narrow pathway that slopes up

from a stand of trees.

After snacking at a mobile food-van near the

trees we start to walk up the pathway.

A small site, hemmed in by a low cliff, wThe

pathway is flanked by a poppy-dotted, open

field on one side and the still-impressive Massive

Remains of the Walls of Bronze Age Mikini (spelled

'Myceni' in English) on the other side.

At the top of the pathway we are confronted by

The Lion Gate, the Entrance to the Citadel of Mikini.

More correctly described as an Entrance

Passageway, built into the Walls at an awkward

angle

(purposely so - partly for defensive strength

from the ever-present threat of attack by other City-

States),

we walk some 10 metres through the tunnel-like

Passageway before coming out into the open air

again.... and begin to absorb the fascinating Ruins

of this once -impregnable, Bronze Age Citadel,

to marvel at their spell-binding variety.... and we

haven't even begun to climb up to the top of the

Mound upon which Mikini was built!

But let's return to The Lion Gate (Entrance

Passageway), to share one particular 'Magic Travel

Moment'.

The name 'Lion Gate' derives from two stonecarved

Lions Rampant, set into the Wall above

the Entrance, one Lion standing on each side of

a single, symbolic pillar, their outstretched front

paws touching the sides of the pillar in a gesture of

proud worship.... these are the unforgettable Lions

of Mikini; they radiate the Bronze Age Power of the

House of Atreus.

As we walk along the Passageway there is a

raised platform on our left upon which once stood

statues of the Guardian Gods of Mikini.... who kept

watch over the daily comings and goings of the

Citadel.

You can still feel their Watchfulness as they (and,

no doubt, armed sentinels) protected the House

of Atreus.... truly awesome.... the air inside the

Passageway is heavy and oppressive (as intended

by the Ancients?).
---
FEBRUARY 2022 | 19

MR YEN

ASIAN BAR/RESTAURANT

Calpe-Moraira Road No 223

(Opposite Centro Comercial Moravit Moraira)

Tel. 966 279 783/631 274 015 • Asia_ye@hotmail.com

MR YEN BAR/ RESTAURANT IS THE PERFECT PLACE

A warm welcome awaits you from the owner "Yen" at MR YEN Asian Bar/Restaurant in Moraira.

You will immediately notice the pleasing atmosphere and the different areas where you can dine. From a front

terrace to a well presented dining area inside, to a large covered back terrace. Thus plenty of space to choose where

to dine, with comfortable seating. Everything is perfect.

There is a variety of menus and diverse dishes, with delicious tasty food, all at

excellent prices. There are set menus and a variety of meat dishes from Pork,

Duck, Chicken, Beef and seafood with vegetables, rice or noodles.

There is also a "Take Away Service". Very attentive friendly

family service.

Perhaps you would like to relax just with a drink on the

terrace. No problem.

Parking available at the

front of the restaurant.

NOTHING IS TOO MUCH TROUBLE WHEN

YOU VISIT MR. YEN'S RESTAURANT.

MR YEN IS PERFECT FOR NIGHT AND

DAY AS THE OPENING HOURS ARE

12.00-16.00 - 18.00-24.00

Pepe

La Sal

€

KIDS

MENUS

AVAILABLE

Ctra. Moraira a Cal p e

Mr YEN

CV-746

Calle Dakar

Camino del Andragó

Ctra. Moraira a Calpe

€

Camino del Paellero

Calle P

irineos

Calle

Maigmó

Ctra. Mo

Lots of great products and special offers

in this months brochure including

Avon SKIN so SOFT

Dry Oil Spray

To order or get a brochure contact

LISA - 642 786 407

email - lisa.calpe7@yahoo.co.uk

SPECIAL

OFFER

only 4.50€

a bottle

Great to use all

year round

A time for us to enjoy

but which also means the

mosquitoes and insects will be

here to bite us!

It's time to stock up on Avon's dry

oil spray to keep them well away!
---
20 | OUT AND ABOUT COSTA BLANCA

NEW

Bar El Martillo

OPENING

HOURS

Monday to Sat

7.00 am to 8..00 pm

Sunday

10am to 6.00 pm

~ Real family run business ~

Meet Genadi and sister Lisi &

parents Tsuetan & Natalia

You are sure of a friendly welcome

and the food is delicious.

Glass of wine - Copa de vino 2€

Pint of beer - Tanque 3€

Plato combinado 7€

Paellas per person - Order an hour before

Carretera Teulada • Moraira 52 • Moraira

Tel: 642 19 15 44
---
Clambering

over Rocks

Sitting one Sunday at a bar near the Lonja I was

reminded about former times when I would

clamber onto the rock-built breakwater that

protects Moraira Town from the open sea.... the fact

that I was looking towards the inspiring reality of

the timeless Ifach underlined the moment!

Every Sunday I would walk carefully along

the breakwater, not just taking a light-hearted,

adventurous stroll but also performing a kind of

'ritual act' to acknowledge the Presence of Mother

Nature,

She who cannot/will not be ignored.

Each step I took along the uneven surface of the

breakwater was a calculated risk. If I put one foot

wrong I could easily coggle or twist my ankle, fall

over and do myself serious injury. If I misjudged

any of the narrow gaps between the rocks I could

end up with my foot wedged in an awkwardlyangled

space, unable to extricate myself!

When I found a comparatively level crouching

or sitting area there came a feeling of relief! Now I

would be able to better enjoy the panoramic vistas

and think great thoughts.... able to feel at one with

the world around me!

Go back 50 years to the early 1970's - we (my wife,

our 4 pre-teens children and I) were sun-bathing

and relaxing in the summer heat on Moraira's

Ampola Beach (no official lifeguard look-out stand

in those days - only a basic beach bar).

The 4 were clambering over the jagged rocks that

still fringe the Castello promontory today, jumping

into the shallow waters, clambering back up onto

the rocks, jumping and splashing into the waters

time and time again with inexhaustible energy!

Just watching the children was enough to send

my wife and I into a drowsy siesta.... for a while

at least!

Go back even earlier (the late 1960's) - a deserted

Loch in the Scottish Highlands, calm weather,

picnic hamper waiting, our children clambering

over a jumble of rocks and boulders at water's

edge, their grandfather (my father) with us on that

occasion, all looking forward to a simple alfresco

picnic.

The water was in no hurry and lapped gently

onto the shore, lightly blessing mossy rocks and

boulders.... at that moment, at least!

FEBRUARY 2022 | 21

by John

David

Moorhouse

Now go back even further in time (the 1950's -

65 years ago) - I was courting my future wife, headover-heels

in love with her, thinking wedding bells

and looking forward eagerly to starting a family!

As an only child I was determined to create a

family. Not that my childhood years had been

unusually challenging or dysfunctional (although

my mother had died when I was only 5 years

old).... in fact those young years (looking back

some 70 years from the present) had been exciting,

challenging and full of colour!

The thought of Eunice producing a family

of "happy, healthy wee bairns" thrilled me

enormously.

In 1956 and 1957 I was invited to join Eunice's

family for two summer holidays on the Isle of

Arran in Scotland.... two unforgettable holidays

(full of love-filled moments) that remain clear in

my mind to this day!

On one occasion (1957), led by my future inlaws,

6 of us went climbing up one of the many

challenging, mountainous slopes that inland Arran

offers to energetic folks. We clambered upwards,

negotiating rocky outcrops, wild heather tangles,

tricky little streams, etc.. It was a lot of fun as we

helped each other up the steep terrain!

Actually, we never reached "the top" - there

were more than enough "thrills" in the clambering

towards it!

Why 'clamber' if you can use an uncomplicated

'easy route', e.g., a well-paved road.... there are so

many 'easy routes' these days!

But, oftentimes, the 'easy route' can be

uninteresting, not to say boring!

Let's face it, we need unsettling challenges in

our lives (from time to time!), circumstances that

cut across our 'normal routines', that drag/push

us into new and invigorating activities, making us

react creatively!

Does my "clamber over the rocks' fascination

reflect my primeval antecedents?

Go back no further than when each of us is

born.... we emerge into a strange, uncomfortable

(?) world.... we have no choice but to 'clamber

forward' as best we may.... and the 'process'

appears to be lifelong!
---
22 | OUT AND ABOUT COSTA BLANCA

Calpe, Benissa, Altea, Moraira

Inmo COBAT welcomes you to the Costa Blanca.

Since 2003 we are an "all-in" company

when buying or selling property.

www.cobatcostablanca.com

LOOKING FOR ALL KINDS OF PROPERTIES

LA FUSTERA 565,000€

Completely reformed

villa in La Fustera

Benissa with Sea and

Peñon views. Build

369m2 Plot 792m2

3 bedrooms and 3

bathrooms, home

office, parking and

garage, sauna and

exterior kitchen

Ref. 3102

ALTEA 205,000€

Corner apartment

with Sea view in

Altea Mascarat

NEW LISTING

Build 2006 and

has 2 bedrooms,

underground

parking, 2 pools

Ref. 3208

CALPE 429,000€

Wow; villa with

3 kitchens, 2

living rooms, 5

bedrooms and

4 bathrooms,

outside shower,

covered BBQ area,

garage, carport

and parking.

Ref. 3016

CALPE 475,000€

Spacious villa in

tranquil area,

walking distance

beach and with

100% privacy.

Lovely views to

the " Peñon de

Ifach ". Ref. 2791

CALPE 720,000€

Modern new

build villa with

landscaped

garden, spacious

garage and private

swimming pool, a

real opportunity.

Ref. 12835

CALPE 785,000€

Gorgeous panoramic

sea view villa with

heated pool,

garage,

exterior kitchen

annex lounge and

mature garden.

Ref. 2837

Inmo Cobat

Telephone:

0034 620146993
---
Carretera Moraira-Calpe

coast road No 144, (in front

of Euro Gym), Moraira

Tel: 96 649 2436

OPEN 6 DAYS A WEEK.

(CLOSED ALL DAY ON MONDAYS)

12.00 – 15.30/18.00 – late.

For reservations call on

966 492 436.

Welcome to 'The Kathmandu' restaurant in Moraira where the food is prepared in the Nepalese style

giving you fragrant and tasty dishes from India.

Kathmandu Restaurant is a very popular Nepali-Indian Restaurant in Moraira.

The restaurant serves quality Indian and Nepali dishes at reasonable prices or to Take Away with a

10% DISCOUNT.

NOW OFFERING FREE HOME DELIVERY.

There are special discounts for celebrations and parties. The Kathmandu has free parking directly outside

the restaurant.

The menu at The Kathmandu includes a wide selection of Indian and Nepalese dishes to choose from. There is a

special set menu for 14.50€ per person, which includes a choice of starter, main course, rice or naan bread, side

dish and ice-cream or coffee. Nepalese cuisine, is known for the flavours and textures of their curries. For those of

you who enjoy a hotter curry, then just ask the Chef and he will certainly be able to accommodate.

There is also a very well stocked bar to suit all tastes. Inside the restaurant is spacious and attractive in design.

Outside has a stylish, also spacious semi covered lovely terraced area.

Great Indian food, owner and members of the staff are really friendly and you will find it a pleasure eating there!

There are other Kathmandu restaurants in Javea and Denia.

SPECIAL

MENU

14.95€
---
24 | OUT AND ABOUT COSTA BLANCA DEE'S TRAVELS

DEE'S TRAVELS

IMPRESSIONS OF

JOHANNESBURG

The first house we rented when we

arrived in the city of Johannesburg

was on a sprawling ten-acre plot,

chosen by my ex since he expected me to

bring the riding school with me.

Having looked around when

I made a quick visit south

from Francistown

had convinced me

this was not a

good idea. To

begin with, my

collection of

rather ancient

nags, a polyglot

of breeds and

whatever you

call mongrel

horses would

never entice a

single customer.

The competition

all around us was

beyond belief. The

nearby stables had all

the bells and whistles,

indoor riding school, show

rings, proper stables, professional

jumps and even lawns and flowerbeds. If

I set up a riding school in South Africa, I

would be laughed out of town. However, I

had already decided to sell up as the cost of

keeping twelve equines was way over our

slender budget.

Having seen the staff at the prestigious

school where I'd be teaching, I realised I

needed a new wardrobe. Would anyone

notice if I rotated two outfits on a daily

basis? It was all I could afford.

To my amazement I

discovered that everyone

ran on credit. All the

stores ran accounts,

including the

chemist. Thus,

on my first visit,

I was offered

one free suit

simply for

opening

an account

and then

they offered

me the

opportunity

to run up an

amount which

I considered

equal to the South

African national

debt.

I stagged home under a

mountain of carrier bags and I

was all set.

The children were less impressed with the

pile of new acquisitions. Clothes for sport,

sports equipment, basic uniform, shoes for

indoor and outdoor, the list was endless.

Add to that the requirements for pens,

pencils, books and brown paper and plastic

to cover these.

https://lucindaeclarkeauthor.com
---
FEBRUARY 2022 | 25

This was a mission at the start of every

school year and even up to their last year,

guess who was given the task of enclosing

large exercise books in paper and plastic

and labelling each and every one. Whoever

came up with this idea should have been

committed. As a teacher, you try carrying

thirty odd A5 exercise books as they slipped

and slid over each other.

As a law-abiding citizen I followed the

instructions to the letter, only to be met at

the end of the children's first day with wails

of disapproval. As prescribed, I'd used plain

brown paper. Of course, no other mothers

had done that! They had used jazzy coloured

paper, or pictures of cartoon characters,

ballerinas and horses. That's when I got all

snarly and shrieked that I was not going to

do them all over again. Plain brown paper

would have to do until next year, that wasn't

too long to wait, was it?

Sadly, the following year that class teacher

instructed all books had to be covered in

plain brown paper and plastic. She had

noticed the frenetic competition to use the

most outlandish decals and fluorescent

colours and patterns as, generally parents,

had to outdo each other in decorating their

children's books.

It was a culture shock when I was teaching

there. Firstly, the parents blamed the teacher

for their little darlings not coming top of

the class, and did not hold back on the

aggression either. From being a respected

member of society those instructing less able

children were in for a torrent of verbal abuse.

The second shock was, the parents often

did all the homework. Using words way

beyond the levels used by their offspring, it

wasn't hard to spot. The level of competition

was astounding. Asked to make a model of

a house at home, the results included riveted

steel frames, carved bricks and real solar

panels. This, from seven-year-olds? "Of

course, I did it all by myself Miss!"

By Dee Tavener-Craig

All proceeds are for the needy animals of Calpe

A difficult year for all of us but we still need to raise money for Calpe's lost or abandoned

dogs and cats.

Our shop is an Aladdin's cave of clothing, books, DVDs, bric-a-brac and household goods

so come along and snap up a bargain. The shop is situated in the lower ground floor of

Edificio Perlamar on the Gabriel Miro, Calpe and is open from 10am until 1pm

Mondays to Fridays.

The president, Elinor Gonzalez lives in Las Bassetes where she cares for

Calpe's abandoned and sick animals, bringing them back to health and

finding new caring owners for them. Her telephone number is

620 106 733

and she also has a stall on the Wednesday and

Saturday market in Calpe if you wish to offer help

or Dog walk, or adopt one of the lovely dogs

Elinor would be so pleased to hear from you.
---
26 | OUT AND ABOUT COSTA BLANCA

HAIR & BEAUTY

TEETH WHITENING

SEMI-PERMANENT MAKE-UP

MICRO BLADING

HAIRDRESSING

LOVELY GEL NAILS BY NICOLE

EYE LASH EXTENSIONS

TELEPHONE 965 874 770

The Studio, Local 35, Calle Pintor Sorolla, Edificio Apollo VII, 03710 Calpe
---
FEBRUARY 2022 | 27

Mar y Tierra today offers you red shrimp from Denia, emperor from Javea,

octopus, squid, tellinas, cuttlefish, fried shrimp, scallops, liver, salted fish,

Iberian lizard, suckling lamb chops, Galician meat, pink tomatoes, Iberian

ham, paellas, rice dishes and much more...

Large Sunny

Terrace

691 158 913

966 933 159
---
28 | OUT AND ABOUT COSTA BLANCA

Esmeralda Jewellers is an established family business with a fantastic array of

beautiful jewellery so adorable you would stand and gaze at the beauty and

craftsmanship of their products.

They are very professional, reliable people and also very helpful so your very

precious watch or piece of jewellery in need of repair or cleaning is safe in their

hands. Thus when looking for that special gift, you need to visit Esmeralda

jewellers. It is a family run business so you are made very welcome and the

staff will help you choose jewellery, watches, porcelain Lladro status, Swarovski

Silver crystal, clocks and much more. It is well worth a visit. The shop has been

newly refurbished.

The display is so lovely you would "Fall In Love" with the Jewellery.

CONTACTO

Av. Gabriel Miró, 29a, 03710 Calpe, Alicante Teléfono: 965 83 06 33
---
FEBRUARY 2022 | 29
---
30 | OUT AND ABOUT COSTA BLANCA

Why do they

bury a sardine

in Spain?

The Burial of the

Sardine Fiesta

Usually there is a fiesta for the Burial of the

Sardine but it has not been confirmed this

year but here is some information on the

fiesta if it takes place.

Glitz, glamour, music, dancing – and people

wearing giant fish heads. Yes this happens in

Spain. The Burial of the Sardine. Legend suggests

the festival dates back to the reign of Carlos III.

According to the story, the king planned to celebrate

the end of the festival period and ordered sardines

to be served, only for high temperatures to cause the

fish to go off, which were then buried to disguise

the smell.

Ash Wednesday is celebrated on Wednesday

seven weeks before Easter and the day after Mardi

Gras also referred to as Fat Tuesday. This is a

Christian observance which represents the first day

of Lent and the starting of approximately 6 weeks of

fasting and penance.

Days to Ash Wednesday 2022

Wednesday, March 2nd is day number 61 of the

2022 calendar year with 1 month, 1 day until Ash

Wednesday 2022.

The "Burial of the Sardine" (Spanish: Entierro de

la sardina) is a Spanish ceremony celebrating the

end of carnival and other festivities. ... The "Burial

of the Sardine" is celebrated on Ash Wednesday and

is a symbolical burial of the past to allow society to

be reborn, transformed and with new vigour.

Now more than 150 years old, the festival takes

place on Saturday April 7 with a large parade

through the streets, attended by thousands of

costumed participants, with decorated floats,

music, dancing, fireworks and... large fish heads

everywhere.

Ash Wednesday – 2nd March, 2022 – The Burial of

the Sardine. This is the first day of Lent and on this

day is an event that officially closes carnival known

as the Burial of the Sardine. This is one of the most

surreal carnival celebrations that occurs around the

world.

It's a bit of a bizarre custom. The mad heady days

of carnival are finished off by the solemn burial of

the sardine. But why do the Spanish bury anything

after Carnival, and why a sardine in particular?

To answer that, we must take a step backwards in

time, to a time when superstition and religion ruled.

The entierro de la sardina is a ceremony that

winds up Carnival across Spain and its South

American former colonies. The burial (the entierro)

is a carnival parade that parodies the funeral rites.

A cavalcade of clowns and revellers accompany

a symbolically grotesque figure, which is usually

a sardine. The sardine is taken to a spot outside

of town and buried amongst much cat calling and
---
FEBRUARY 2022 | 31

mock mourning. The ceremony is normally held

on (or in our modern hard-working times, on the

handiest weekend to) Ash Wednesday.

It's a symbolic burial of the past. The ceremony

is stripping away the past, in a socially established

ritual of chaos, burning out the mayhem of carnival

and the long winter months, and ushering in from

the ashes a new year, a society reborn and serious

once again, ready to face the hardships of the future.

With King Charles III shortly after he ascended to

the throne of Spain in 1759 he was a solemn believer

in tradition and encouraged local fiestas before Lent

on the condition that villagers buckled down to

their religious duties afterwards.

The story runs that on one Ash Wednesday the

King ordered the last day of the fiesta in Madrid to

be marked with an enormous festival at which free

fish – sardines – would be given out to all, and all

meat was to be buried, symbolising that no meat

could be eaten for the next 40 days.

However, it being a hot day, and Madrid being a

long way from the sea, when the cooks opened the

crates of fresh sardines the stench made everyone

ill.

King Charles furiously ordered the fish instead of

the meat to be buried in the Casa del Campo park

where the fiesta was being held. The attendees leapt

to work with gusto, and the fiesta carried on all day

– but with the revellers consuming meat instead of

the fish, by Royal Dispensation.

In fact, it was such a success that it became an

annual tradition that quickly spread elsewhere in

Spain.

What we do know is that many Spanish festivals

end with the symbolic destruction of a figure that

represents all the vice and fun that accumulated

over the course of the fiesta

The burial ceremony came to replace older

Spanish customs held to mark the end of the

winter. Many ancient Mediterranean cultures held

symbolic ceremonies to welcome the arrival of

Spring, and especially good luck rituals to ensure

the fishermen, who could now venture back out

to sea without fear of the winter storms, had good

hauls.

February 24 was called the day of the Halcyons

by Ptolemy in his Phaseis. This was held to be the

day that the Halcyons, a mythical bird with the

power to calm the waves of the sea, would head out

to the Mediterranean to build their floating nests,

and thus end the winter storms. Incidentally, that's

where we get the expression "those halcyon days"

from, those period of quiet gentle days of our youth.

It thus marked the beginning of the Spring

fishing season.

The tradition was picked up and spread by the

Arabs, who called the days between February 21

and 24 the Al riyab Al-jutt'afiyya – the winds of

calm – a tradition that the medieval Spanish would

adopt, calling it the winds of the Quelidonios.

These early Spring traditions would eventually

become absorbed by Christianity. In the same way

that the Anglican Church still celebrates Harvest

Thanksgiving, a ceremony to be grateful for the

harvest bounty of Autumn, these Spring traditions

would try to ensure a good bounty and good luck

for the season ahead.

The Inquisition, never a very understanding

bunch of men, did their best to eliminate such

festivals, but failed. And the Spanish Enlightenment

of the late 18th century would allow these ancient

traditions to be resurrected under a new name and

a new veneer of respectability.

People tend to confuse the burial with Ash

Wednesday. That marks the start of Lent, the forty

days of abstinence before Easter. The "Ash" of

Wednesday comes from the tradition of burning the

carefully kept palm leaves of the previous year's

Palm Sunday, which marks the start of Easter.

But Carnival is always held in the fortnight

before Lent starts. It's a way of letting your hair

down after the hard winter and before the serious

business of Lent begins.

The ceremony calls together the town and says:

"Look, we've all had our fun, now let's settle down

and get back to work".

Unless you're Murcian, of course. They bury

the sardine at the beginning of the carnival, and

there it represents the contrary: Order and Work is

buried away out of sight so it isn't shocked by the

Carnival. Which mind set is why their Carnivals are

considered to be the best in Spain.
---
32 | OUT AND ABOUT COSTA BLANCA

Saint Patrick's Day is a cultural and religious

celebration occurring annually on 17 March,

the death date of the most commonlyrecognised

patron saint of Ireland, Saint Patrick (c.

AD 385–461).

Saint Patrick's Day was made an official Christian

feast day in the early seventeenth century and is

observed by the Catholic Church, the Anglican

Communion, especially the Church of Ireland the

Eastern Orthodox Church and Lutheran Church.

The day commemorates Saint Patrick and the arrival

of Christianity in Ireland, as well as celebrating

the heritage and culture of the Irish in general.

Celebrations generally involve public parades

and festivals and the wearing of green attire or

shamrocks. Christians also attend church services

and the Lenten restrictions on eating and drinking

alcohol are lifted for the day, which has encouraged

and propagated the holiday's tradition of alcohol

consumption.

Much of what is known about St Patrick comes

from the Declaration, which was allegedly written

by Patrick himself. It is believed that he was born in

Roman Britain in the fourth century, into a wealthy

Romano-British family. His father was a Deacon

and his grandfather was a Priest in the Christian

church. At the age of sixteen, he was kidnapped by

Irish raiders and taken as a slave to Gaelic Ireland.

He spent six years there working as a shepherd

and during this time he "found God" and that God

told Patrick to flee to the coast, where a ship would

be waiting to take him home. After making his

way home, Patrick went on to become a Priest and

spent many years evangelising in the northern half

of Ireland and converted "thousands". Tradition

holds that he died on 17 March and was buried at

Downpatrick.

On St. Patrick's Day it is customary to wear

shamrocks and/or green clothing or accessories.

St Patrick is said to have used the shamrock, a

three-leaved plant, to explain the Holy Trinity to the

pagan Irish.

The colour green has been associated with Ireland

since the 1640s, when the green harp flag was used

by the Irish Catholic Confederation. Green ribbons

and shamrocks have been worn on St Patrick's Day

since at least the 1680s.

The church calendar avoids the observance of

saints' feasts during certain solemnities, moving

the saint's day to a time outside those periods.

Saint Patrick's Day is occasionally affected by this

requirement, when 17 March falls during Holy

Week. This happened in 1940, when Saint Patrick's

Day was observed on 3 April to avoid it coinciding

with Palm Sunday, and again in 2008, where it was

officially observed on 14 March. Saint Patrick's Day

will not fall within Holy Week again until 2160.

However, the secular celebration is always held on

17 March.

As well as Dublin, many places in Ireland

hold their own parades and festivals. The biggest

celebrations are in Downpatrick, County Down,

where Saint Patrick is rumoured to be buried.

However, all the following have not been

confirmed but in other years, The shortest St

Patrick's Day parade in the world takes place in

Dripsey, Cork. The parade lasts just 100 yards and

travels between the village's two pubs.

In Buenos Aires, Argentina, a party is held in the

downtown street of Reconquista, where there are

several Irish pubs; in 2006, there were 50,000 people

in this street and the pubs nearby.

One of the longest-running and largest Saint

Patrick's Day parades in North America occurs
---
FEBRUARY 2022 | 33

each year in Montreal, Canada since 1759 by Irish

soldiers in the Montreal Garrison

In Quebec City, there was a parade from 1837 to

1926. The Quebec City St-Patrick Parade returned

in 2010 after an absence of more than 84 years.

For the occasion, a portion of the New York Police

Department Pipes and Drums were present as

special guests.

There is a parade held in Toronto

which attracts over 100,000 spectators.

In March 2009, the Calgary

Tower changed its top exterior

lights to new green CFL bulbs

for Saint Patrick's Day. Part of

an environmental non-profit

organisation's campaign. 210 lights

were changed and resembled a

Leprechaun's hat. The change was

estimated to save the Calgary Tower some

$12,000 and reduce greenhouse gas emissions

by 104 tonnes.

Great Briton. London. There is a parade

in Trafalgar Square. In 2008 the water in the

Trafalgar Square fountains was dyed green. Queen

Elizabeth, The Queen Mother presented bowls of

shamrock flown over from Ireland to members

of the Irish Guards. The Irish Guards still wear

shamrock on this day, flown in from Ireland.

Birmingham holds the largest Saint Patrick's

Day parade in Britain with a city centre parade

over a two-mile (3 km) route through the city

centre. It is described as the third biggest parade in

the world after Dublin and New York.

Liverpool has the highest proportion of residents

with Irish ancestry of any English city. This has led

to a long-standing celebration in terms of music,

cultural events and the parade.

Manchester hosts a two-week Irish festival in

the weeks prior to St Patrick's Day. The festival

includes an Irish Market and a large parade.

The Scottish town of Coatbridge, where the

majority of the town's population are of Irish

descent also has a Festival which includes

celebrations and parades.

Glasgow has a considerably large Irish

population due to the Irish immigration during the

19th century raising the population by over 100.00

people. In Glasgow there are many Irish pubs and

groups who run annual celebrations on St Patrick's

day.

International Space Station

Chris Hadfield wearing green in the

International Space Station on Saint Patrick's Day,

2013 and took photographs of Ireland from earth

orbit, and a picture of himself wearing green.

He posted online a recording of himself singing

"Danny Boy" in space.

Japan hold many Parades.

The first in Tokyo. Nowadays

parades and other events

related to Saint Patrick's Day.

Malaysia There is a St.

Patrick's Ball, the biggest

celebration in Asia.

Guinness, Anchor, Berhad

also organises 36 parties

across the country in places

like the Klang Valley, Penang,

Johor Bahru, Malacca, Ipoh,

Kuantan, Kota Kinabalu, Miri and

Kuching.

The tiny island of Montserrat is known as

"Emerald Island of the Caribbean" because of

its founding by Irish refugees from Saint Kitts

and Nevis. Along with Ireland and the Canadian

province of Newfoundland and Labrador, St

Patrick's Day is a public holiday.

The first Saint Patrick's Day parade took place

in Russia in 1992. There are festivals in Moscow

and other Russian cities and unofficial parts.

There is a military parade and is performed in

collaboration with the Moscow government and

the Irish embassy in Moscow. The unofficial parade

is performed by volunteers and there is a carnival

and show with Celtic music. Over 70 events

celebrating Irish culture in Moscow, St. Petersburg,

Yekaterinburg, Voronezh, and Volgograd.

The Irish Association of South Korea has

celebrated Saint Patrick's Day since 1976

Saint Patrick's Day in Switzerland celebrate

festivities similar to those in central European

countries.

Saint Patrick's Day in the United States, is

widely recognised and observed throughout the

country as a celebration which include prominent

displays of the colour green, eating and drinking,

religious observances, and numerous parades.

Some groups, notably Guinness, have lobbied to

make Saint Patrick's Day a national holiday.

Everyone's Irish on March 17th.
---
34 | OUT AND ABOUT COSTA BLANCA

Walsh's Wisdom

WE ARE WHAT

WE EAT

We are what we eat is a saying that

stays good over time. My infant

sons were under 18-months of

age when they caught whooping cough. A

serious disease whoever it affects but often

lethal when infants are afflicted.

My wife and I were abandoned by the

British service. Because of their condition we

couldn't visit the doctor, the hospital was

problematic, our GP refused to visit.

Long before Google and the internet, we

parents scoured the medical books in our

local bookstore to see if we could discover a

way out of our crisis.

Finally, after weeks of near-death

experiences, we were recommended to a

herbalist. Mr Trevor Evans handed us a

phial containing dark brown syrup. Like the

laying on of the hands, the deadly disease

disappeared within hours without common

side effects.

A retired engineer, I asked Mr Evans what

If you have a book or indeed any writing needs contact Michael by emailing him at keyboardcosmetics@gmail.com

Michael Walsh Heart to Heart Poetry, Amazon Books.

Email: keyboardcosmetics@gmail.com

AMAZON 'TOP 100

BOOKS OF THE YEAR'

Website: www.mikewalshwritingservices.wordpress.com
---
FEBRUARY 2022 | 35

on earth inspired him to take up herbalism.

He explained. His wife had been diagnosed

as having multiple sclerosis. He was told

by doctors, 'In two years your wife will be

in a wheelchair. She will have passed away

within five years' (follow the science).

In despair, he and his wife consulted a

herbalist and a remedy was applied.

'That was ten years ago. Do you know

where she is now,' he asked me. Without

waiting for my reply, he told me his wife was

trotting around the local market with her two

heavy shopping bags.' He went on to explain

that suitably impressed, he studied, learned

and practised herbalism.

I saw him on a subsequent occasion to

see him if he could do anything about my

being afflicted with chronic mouth ulcers,

a condition that the NHS and dentists had

given up on. Mr Evans gave me some dietary

advice, especially avoidance of citric acid

foods, red wine, lemons, oranges etc. my

problem disappeared forever.

Well, nearly forever. There were times

when I forgot his advice about avoiding high

acid foods, which incidentally cause gout

and other crystal-forming tissue issues and

the ulcers returned.

He told me of a young RAF airman. The

young man's mouth ulcers were so severe

that he contemplated taking his life. Same

remedy with the same positive results.

Due to age and winter dampness, I spend

much of my mornings clearing my chest.

Recently and before retiring for the night, I

asked the great spirit if there was anything

he might suggest to alleviate the problem.

As I drifted off to sleep, I saw a strange

apparition of an ordinary garden onion

and a cutting knife. How odd, I thought as

I drifted to slumber. The next time I was

chesty I did slice a raw onion. Then chewing

on a small slice, I breathed in deeply the

onion's vapours. The irritation disappeared

immediately. Michael Walsh.
---
36 | OUT AND ABOUT COSTA BLANCA WALSH'S WISDOM

Walsh's Wisdom

VOGUE IS PERCEPTION

AND A LIFESTYLE DIET

Russian women are acutely conscious

of the importance of the impression

they make. Fashion in Moscow and St

Petersburg is a statement without words.

Couture isn't fixed otherwise it wouldn't

be the current style, or fashionable then or

in the future. As recently as ten years ago,

the standards in the apparel industry were

focused on models up to 25 years of age.

There were other parameters such as size

limitations, typically 90-60-90 and height

from 175 + (5' 7").

The concept of the ideal model is today

closer to the reality of life. Designers have

turned their attention to women with 'nonstandard'

constraints and appearances.

These are women who are of plus size,

women of 45 + years of age and women

who blend in easily but pleasingly with their

contemporaries.

Because modern fashion is democratic

and flexible women discover themselves by

immersing themselves in the creativity of

fashion. Such women tend to influence the

direction in which the elegance of fashion is

going. The modern pace of life has greatly

changed the style of modern women.

Fashionable women 50 + are choosing

Classic, Boho and Chic styles.

For women 50 +, palette matters a lot.

Stylists recommend abandoning bright

and pied or particoloured items and giving

preference to muted pastels. Fashion is

also a personal statement. I myself love

bright colours in clothes. Mature women's

wardrobes should include clean colours,

minimal decorations and a concise design.

Physical appearance must, of course, be

important in expressing oneself through

their attire. I am often asked how I maintain

such a figure and asked what is my secret for

achieving my physical appearance.

When I was young, I was a chubby girl +

15 to 17 kg more than I am today. I tried all

sorts of diets, I even tried starvation. The

result of dieting and starvation was shortlived.

The extra pounds or kilos if you prefer

did not add value.

I then came to understand that any diet is

a restriction of certain foods and the chosen

diet must become a way of life. This is the

theory but the reality was at odds with

my preferences and lifestyle. Apart from

'healthy and proper' foods, I loved sweets

and biscuits. There was a need to discipline

myself. I adopted a new approach to what

and when I ate.

I chose to eat less and I carefully measured

my intake. In those days I did it by eye

and I maintained a disciplined interval of

3-4 hours. At the same time, one should be

careful with wheat and dairy products and

sweets; it is better to eat them in the morning.

Over time this chosen diet has paid off.

If you have a book or indeed any writing needs contact Michael by emailing him at keyboardcosmetics@gmail.com

Michael Walsh Heart to Heart Poetry, Amazon Books.

Email: keyboardcosmetics@gmail.com

AMAZON 'TOP 100

BOOKS OF THE YEAR'

Website: www.mikewalshwritingservices.wordpress.com
---
WALSH'S WISDOM

Having accepted my dietary

lifestyle I now find that I can

eat whatever I want without

restrictions. My stomach has also

revised and is now used to small

doses.

NELLI KAMALOVA worked

as a restaurant manager and in

personnel work. Nellie says,

'It was only in my older years

that I discovered my potential.

I learned to dress nicely, use

the right make-up, and keep

my posture. There was a new

lustre in my appearance. All of

us women, regardless of age,

are girls inside and want to be

loved and admired. Present

fashion is very democratic in

terms of both fashion trends

and pricing.'

FEBRUARY 2022 | 37

WHAT IS THE OLD MAN

THINKING?

What is that old man thinking,

Do his thoughts run free?

Perhaps he thinks of lost love,

His youth and years at sea,

Does he have a longing?

For dreams that I can't tell?

Could it be he's dreaming for

Girls that he once fell?

What is the old man thinking?

He's truly lost in thought,

I think he must be dreaming of,

Lost chances when he sought,

A life where he could wander,

Is his spirit roaming free?

It was then I came to realise,

That gentleman was me.

Michael Walsh Verse for Romantics

CALPE - BENISSA COAST - MORAIRA - BENITACHELL - JAVEA - DENIA - LA XARA

THIS SERVICE IS AVAILABLE 7 DAYS A WEEK SERVICING ALICANTE "EL ALTET" AIRPORT,

MEETING & RETURNING FOR FLIGHTS ARRIVING & DEPARTING

From the 1st April - All year round we offer a service for flights between 07.00 hrs - 23.59 hrs

lisa.calpe7@yahoo.co.uk

ALITREN CONNECT

SHUTTLE SERVICE TO AND FROM ALICANTE TRAIN STATION AND CALPE TRAIN STATION

PLEASE CALL FOR TIMES
---
38 | OUT AND ABOUT COSTA BLANCA

Walsh's Wisdom

SELF-PUBLISHING HAS

NEVER BEEN EASIER

WALSH'S WISDOM

Few writers are under any illusions as to

the chances of their book becoming a

blockbuster. Amazon pays from 10 cents

to $3 per book sale. Amazon doesn't promote

books; you do. Try pushing 150 books a month

just to earn enough to pay a modest rent.

Don't let this put you off as we are talking

about alternatives to Amazon.

Fewer than 50 per cent of new writers have

it in mind to upload to Amazon or try their

luck through writers' agents. If this seems

strange consider how many talented people

without thought of reward are at this moment

sculpting figurines, creating earthenware,

composing music, indulging in photography,

painting landscapes, or making jewellery and

clothing.

They do it because following your dream

expresses your creativity. Their interest

and their passion are relaxing pursuits. On

completion, theirs is an achievement of which

they and their families can be proud.

If you have a book or indeed any writing needs contact Michael by emailing him at keyboardcosmetics@gmail.com

Michael Walsh Heart to Heart Poetry, Amazon Books.

AMAZON 'TOP 100

BOOKS OF THE YEAR'

Email: keyboardcosmetics@gmail.com

Website: www.mikewalshwritingservices.wordpress.com
---
WALSH'S WISDOM FEBRUARY 2022 | 39

Writers are undeniably kings and

queens. Their rivals in other creative

pursuits have little or no chance of

sharing their achievement with others.

Try selling your dresses, jewellery, your

paintings, your wife's portrait, busts

and figurines, or your sheets of music.

Yet, for comparatively little outlay

the writer can be his own publisher.

He or she can order their books from

a reputable book printer. After having

his book printed and delivered the

writer can sell copies and put in their

bank both the publisher's fees and the

royalties.

Let us imagine 200 or maybe 500

copies of your book are delivered to

your door. Do what I did on a number

of occasions. Each time I did so I hit the

jackpot.

Each book cost perhaps €3 to be

printed and has a cover price of €8.95.

Copies can be sold directly to buyers at

fetes, soirées, charity events, home book

signing functions, shared market stalls,

writers' circles, garden parties. The

seller pockets €6 profit.

I also used the Sale or Return method.

Wherever appropriate, booksellers,

retailers, tourist offices, giftware shops,

etc, say a dozen books are left 'sale or

return' so no risk to the vendor. The

retailer receives the usual one-third

(€3) for each book sold and the author

slips into their purse a profit of €3. You

don't wish to do this yourself. Offer the

salesman's job to a friend and pay them

€3 per copy sold.

Finally, or beforehand, you need your

book edited or ghost-written before

being published. If your book is expertly

brought to retail standard then you sell

a lot more copies so your ghost writer's

fee is a super investment. Well done,

writers of this world. Michael Walsh is

a professional book editor. He can be

contacted by email: keyboardcosmetics@

gmail.com
---
40 | OUT AND ABOUT COSTA BLANCA

Av. Constitució , 18, planta bajo,

La Font d'En Carros, 46717, Valencia, España.

Telephone: 650-304-746

Email: p.e.p.a.animalcharity@gmail.com

You rescue

we save

Frankie

Frankie is a beautiful black long haired

female about 6 months old. if anyone

can offer this lovely cat a home please

telephone the Pepa helpline on 604 304

746 or email p.e.p.a.animalcharity@

gmail.com

Lucky

Introducing Lucky, he is about 6 years

old and is currently living in a family run

kennels. He is a healthy boy and a happy

soul. He would love to be loved. For more

info please call PEPA 650-304-746 or email

p.e.p.a.animalcharity@gmail.com.
---
FEBRUARY 2022 | 41

PAINTING CONTRACTORS

• BASED IN CALPE COVERING ALL MARINA ALTA •

Specialist Painting and Decorating

With over 35 years experience in all aspects of painting and decorating

including DBS checked for working for the vulnerable, domestic,

commercial and industrial projects, including spray painting. We use only

the highest quality products and ensure that the projects are left clean and

tidy. We always ensure the client is happy before we leave and we have 5*

reviews on our facebook page so you have the confidence in us.

We are fully registered and insured.

Feel free to ring or email for a free quotation.

styledecs@yahoo.com

Facebook: https://www.facebook.com/groups/1702104550178152

Telephone Dave on 0034 711092706
---
42 | OUT AND ABOUT COSTA BLANCA A MEDIUM RARE

I

never know who from the Spirit World

is going to accompany my Clients into

my room. My clients are the defence

that magic happens between the four walls

of my office and that anything can happen

during their visit. The more open the client

is the more that Spirit responds, working

through me to get that connection and to

give the vital evidence of survival to loved

ones left behind. This proves the existence

of the Spirit World better than anything can.

My clients know that they are never

alone, protected, and that the sweet

energies of those who have survived the

longest journey of the soul can be felt all

around them.

The Spirit World is a holding station

and so too a destination for the soul. So it

isn't hard to imagine that after the passing

over, that souls make the difficult assisted

journey to their place in Spirit, a place

that they may call home. From that point

onwards they want to communicate. They

want that loved ones on Earth receive a

message that tells them that they are safe,

having transcended to their place in the

Spirit World.

My great fear for souls in Spirit is that

nobody comes to communicate with them.

Fear, or ignorance or disbelief in Spirit

causes such misery to someone who needs

to pause, think things out and to then

choose a preferred way through their big

start in the Afterlife. Imagine making a

short journey here on Earth and not being

able to say that you were safe, all is ok,

don't worry about me! I used to reach

for my phone the minute my plane landed

to tell my husband that I was safe,

and after every flight. Souls

in Spirit communicate

through the energies

of professional

Mediums. We

are skilled in

communication

often to levels

of direct voice

contact, and

we pass those

messages on

with loving

care, very

carefully and

accurately, and

with love.

So, if your family

don't get the Spiritual

message then you are

going to find yourself out

there alone. All those who enter

are taught how to contact and it's no easy

way down, but in time communication

is possible in voice, vibration or action.

Some Clients choose me because I am

a Physical Medium. Spirit feels free to

enter into my body in order to make their

message known. They may use their voice

or work on my wavelength totally. They

can see their loved ones and talk to them,

they will be able through guides to answer

questions and send messages of survival.

Many Earthbound clients are able to see

their loved ones if their faith is truly deep
---
FEBRUARY 2022 | 43

CALLING ALL SOULS

enough. They often surprise themselves.

Many people have mediumistic talents

and then the Medium can advise

them how to harness their

communication skills in

future contact.

I love bringing

people together.

One client came

to me and all

I could see

was an old

Grandfather

clock. The

story unfolded

in that the

clock no

longer chimed

and it needed a

complete clean.

It was a gift to my

client and he had failed

to look after it. Slowly my

client began to talk to his Uncle

in Spirit. He wanted to apologise for not

having the money to keep the clock going.

Their conversation continued with the

clearly audible workings of a very old and

resonant cabinet clock in the background.

The client was amazed that he could make

contact, the contact was thrilled and when

the young man returned home after his

holiday the clock was working like new. It

doesn't even have to be wound up with a

key anymore.

Nobody knows how it actually works,

just that it does.

Magic happens and sharing these events

helps others to see that they are blocking

the rights of their loved ones in Spirit by

not being there to communicate with their

dearest departed family and friends. You

have nothing to lose and everything to

gain just by believing in a process that

seems so right and in which you are the

key that makes it all work.

Have no fear that Spirit is there

all around us. They know how to be

both sensitive and understanding. If

you can eliminate fear then that is the

point of magic. If you cannot believe

then that's OK, but go and believe in

something. Spirit makes it easier for us to

communicate. There is a link between the

World we inhabit and the Spirit World.

If you wish to speak directly to your

loved ones who are dearly departed then

do so. Any response is the direct result of

your elimination of fear and their wish to

communicate in any way that they can. It

works just because it can.

If you encounter problems, or you feel

in need of advice of a Spiritual nature, I

am here to take your call or receive your

text. I am on What's App, and I will do

what I can to assist you dear readers!

Love & Light, - Kenny Corris

CHECK OUT MY WEBSITE WWW.KENNYCORRIS.COM

CALL FOR INCLUSION ON THE HEALING LIST, THIS IS A FREE SERVICE THAT WORKS!

TEL. 96 587 8424/686 361 594 / EMAIL: KENNYCORRIS@HOTMAIL.COM
---
44 | OUT AND ABOUT COSTA BLANCA

OPENING HOURS

Mon 3 – 9

Tues 3 – 9

Weds 3 – 11

Thurs CLOSED

Fri 3 – 10

Sat 2 – 10

Sun 10 – 8

Father Ted's

Camino del Pallero, 6, Moraira

Father Ted's can be described as a "Jewel in a Crown" as

it sparkles with personality and is a "gem" of a bar to visit

with a warm welcome.

In the Moraira area where there are plenty of fizzy beers, it's a joy to

get a decent pint of Guinness, properly served. The owner and staff are

professional and friendly and the food is very good. It has a relaxed and

civilized feel about it, everything a bar should be. Another big asset is

the wide selection of "GUEST CRAFT ALES" available including "ADNAMS

BROADSIDE" and "NEIPA" on draught.

GUEST BEERS CHANGED REGULARLY.

What a find! Great food and service and good value for money. Treat

yourself to a traditional Sunday Lunch with a choice of starters, main

courses of Roast Beef, Roast Chicken, Roast Lamb, or Roast Pork served

with all the trimmings, starting from 10.95€. Spaces are limited though

so give Gwen a ring on 966 490 277 or 630 965 392 to book.

Lunch will be served from 1.30.

Staff very friendly and attentive. Home-made Specials from €6.95.

Inside seating 52 people and on the terrace 20.

Plenty of outside parking space.

Check us out on Facebook for Up and Coming Events.

St Patrick , s Day

Celebrations!!

(17th March )

Thursday 17th March

MOONSHINE

Friday 18th March

MYSTERY MACHINE

Saturday 19th March

SIX NATIONS RUGBY

Wales / Italy 15.15

Ireland/ Scotland 17.45

France/ England 21.00

Sunday 20th March

FRANK ( Saxophone)

Food and Drink Specials

available including.

Home Made Irish Stew &

Soda Bread.

Steak & Guinness Pie !!

Traditional 3 Course

Sunday Lunch available

from €12.95.

Bookings advised for any

or all of the above. Please

check our Facebook page for

updated dates and times.

EVERY WEDNESDAY FUN QUIZ NIGHT

€5.00 MEAL DEAL AND OPEN THE BOX

EVERY SUNDAY TRADITIONAL SUNDAY LUNCH

3 COURSES €15.95

Please check our Facebook page for revised times, capacity and entertainment, as these

may change due to the easing of restrictions

SELECTION OF CRAFT ALES

Including Punk IPA and

Bombardier on draught.

New beer arriving on draught.

TV - WATCH IT INSIDE & OUT

All your favourite sports!

WEDNESDAY NIGHT

Quiz Night & The Open Box

FRIDAY NIGHT

Homemade fish & chips

plus a selection of

homemade pies for 7.95€

SATURDAY NIGHT

Meal deals from 5.00€

SUNDAY LUNCH

Available from 11.95€
---
FEBRUARY 2022 | 45

Father Ted's

Camino del Pallero, 6, Moraira

A Gem of a Place

One Course 11.95€

Two Courses 13.95€

Three Courses 15.95€

NORMAL OPENING HOURS

Mon 3 - 9 , Tues 3 – 9, Weds 3- 11, Thurs Closed,

Fri 3 – 10, Sat 2 – 10, Sun 10 – 8

Opening hours may vary and entertainment due to ongoing restrictions.

Check our Facebook page or phone the bar on 966 490 277/630 965 392

Booking advised: 966 490 277 / 630 965 392

Camino Del Pallero 6, Moraira
---
46 | OUT AND ABOUT COSTA BLANCA

CHANGE YOUR LIFE

Are you in a difficult relationship?

How are you coping with that? Do you

feel you are between a rock and a

hard place? Do you feel you are not

able to move because any move means pain?

Have you decided to stay, in spite of all the

problems? How are you going to be able to

deal with this?

However you answer the above questions,

remember that no one is perfect, and

relationships can be less than easy some of

the time, but if we are going to bring out the

best in each other perhaps it is time to look at

things impartially, and ask a few very direct

questions....what was it about my partner

that attracted me in the first place? What

has happened to that person? Have they

changed during the relationship? Then, have

I changed too?

Remember we are not trying to allocate

blame here. In a relationship between two

people at any given moment in time, we are

seeing the end result of having made various

choices in our lives. So now, if our life's

choices differ vastly from those of the person

we are with, there is definitely going to be

conflict, unless there is plenty of tolerance.

A good relationship should be co operation,

not competition. If we are competing with

our partner, that immediately makes them an

adversary, and not a loved one!

Try to be the kind of person we would

want to be with. If we feel unloved, are we

LOVEABLE?? Problems arise when we give

up thinking about the other person, and this

can cut both ways! Selfishness never results

in happy relationships!

If the person we are with has become all the

bad things we can think of, perhaps they

have become that way without question. Do

we talk to our partners about meaningful

things? Have we discussed ground rules

in the relationship, and do we know what

hurts out partner, or is unacceptable? It is

never too late to try to communicate. It is the

foundation of every successful relationship.

Remember "It's good to talk"!!

It is evident from listening to some of my

clients in the past, that sometimes the only

communication between them is when the

other person is doing something wrong!

Then the criticism starts. How does that

make anyone feel? Sadly, always being

negative and critical can never bring good

results. If we want to improve things we

could try using kindness and affection,

both are powerful tools and can be used

effectively. This is not as simple as it sounds,

but perhaps it is worth a try.

Being in a loving relationship should make

us feel GOOD! If that isn't true in your case,

then to make changes you you need to be

strong and deal with the situation to achieve

what you need. Bad relationships do not

mend themselves, and remember, only YOU

have the ability to make the changes you

want in your life.

You CAN be happy!

Violet King

Take Care......Till next time!
---
FEBRUARY 2022 | 47

All You Need UNDER ONE ROOF

Centro Comercial Montgó

Cap de la Nao Plá 68

Jávea

Tel: 966 462 275

Partida Planet 177

–

Altea

Tel: 965 841 399

yorkshirelinencostablanca.com

Follow us on Facebook and Instagram

and WIN a 40€ voucher.
---
48 | OUT AND ABOUT COSTA BLANCA

Screening Tests……..

Get Back on Track!!

Thousands missing out on

Cancer diagnosis

DAWN BLYTHE

One of the implications of the

COVID-19 crisis has been that

routine annual screenings have

been 'put on a back burner'

The British Medical Journal has

published an alarming figure. They

estimate that there could be at least a

20% rise in cancer mortalities due to

delayed screenings, delayed diagnosis

and delayed treatments.

Scientists suggest there could be at

least 7,000 additional deaths - but in a

worst case scenario that number could

be as high as 35,000.

Understandably people have not

wanted to attend medical centres unless

absolutely necessary! However, now we

are starting to get back to some degree
---
DAWN BLYTHE

FEBRUARY 2022 | 49

of normality it's time to start thinking

about any annual screening tests that

are overdue.

For women.....are you due a

smear test?

Cervical cancer is most

frequently diagnosed

between the ages of 35 and

44. However, it can occur

under the age of 20 and 15%

of diagnoses are in women

older than 65.

A smear test can detect

abnormal cells before they become

cancerous. It can also diagnose

cervical cancer in the very early stages,

before you have any symptoms. Early

detection may mean less treatment,

less recovery time and an overall better

chance of survival.

Statistics show that smear tests may

reduce deaths from cervical cancer by

up to 80%.

For men.....when were you last

screened for prostate cancer?

Men are notoriously bad at

preventative health screening. Many are

'dragged to the doctors' for an annual

check-up by their other half!

1 in 8 men will be diagnosed with

prostate cancer during their lifetime.

Unfortunately, around 40% of prostate

cancer cases are diagnosed at a late

stage.

The good news is that deaths from

prostate cancer are steadily falling due

to the increase of uptake of prostate

cancer screening.

The PSA test is a simple blood test

So come on men, what are you

waiting for?!

Throughout the month of March 2022

the Family Medical Centre in Albir is

offering 20% discount on both cervical

smear tests and PSA blood tests.

· Article by Dawn Blythe S.R.N. R.M.

· The Family Medical Centre, Albir. 966 865 072

· www.albirfamilymedicalcentre.com
---
50 | OUT AND ABOUT COSTA BLANCA

ANNE RODGER

LONELY

By

ANNE RODGER

He was alone. It seemed like years since

his wife had died, but was barely one.

At first he was numb - feeling nothing.

Didn't want to do anything. Just passed the

time.

He could hear life going on around him.

Families in other apartments. Children's voices,

dogs barking, shouting, singing. Ordinary

people with ordinary lives.

He used to be ordinary. Married to Jean for

almost 50 years - with all its highs and lows.

They enjoyed an annual holiday, meeting up

with family. Occasionally a row - usually about

money, but nothing that couldn't be sorted out

by an early night and a kiss and cuddle.

It had all gone. He was alone. More than that -

he was lonely. So lonely. What could he do? His

job had always been to look after the car and

the garden. Do odd jobs.

None of these things mattered any more.

The kitchen was littered with open packets

and empty tins. He ate off a tray in front of

the television - frozen meals heated up in the

microwave.

Enjoyed nothing. Felt nothing. He didn't live -

he existed.

He forced his eyes open. It was getting light.

Uncomfortable, difficult to move. Confusing.

He tried to focus. Cold - so cold. And wet.

Where was he? Not in bed. Not in the house.

Then he knew. He was on the floor in an alleyway.

Propped against the wall. Head pounding

- concentrating, trying to remember the last bar

he'd been in.

Every evening for months, he had used bars to

escape from his loneliness. 7 o'clock in the first

bar he would enjoy a couple of drinks. Other

bars and more drinks followed. Next morning

he would wake up with only a hazy memory of

the previous evening. Sometimes on the floor -

or the settee, but, up to now, he had managed

to get home.

"Is that you, Fred? What are you doing on the

floor? Are you alright?'

She came up to him and bent down. "Oh dear."

Didn't know what to do.

"Fred, can you hear me? It's Iris. From number

4. I was a friend of your Jean. Remember?"

He didn't want to remember. "Go away, Iris,

please leave me alone."

"I can't do that, Fred. Let me help you get up.

Sit on the wall for a bit. Then we can decide

what to do."

He began to realize his situation. Felt ashamed.

Could feel the wetness and something unpleasant

in his trousers. Didn't want her to touch

him - yet knew she was trying to help.

Once out of the alleyway, they were on the

main road - only 200 yards to the apartments.

Iris was puffing and panting trying to support

him as he shuffled along.

Somehow they made it. "Give me your key,

Fred, and we'll get you inside."

Iris didn't want to intrude, so when his coat

was off and she had put a blanket round him,

said :-

"I'm going home now to get Jack up. When

he's gone to his allotment, I'll come back to see

how you are. Try to undress and have a shower

- it will make you feel better. We need to talk."

Fred really tried. He couldn't be like this when

she came back. He must show he appreciated

her help.

There were still nice people in the world.

People who cared. He wasn't family, or even a

friend. Yet she had helped him.

He must stop feeling sorry for himself. Give

himself a chance. He had sunk into his grief -

escaped into loneliness. When Iris came back

he would tell her.

He knew he had to live with it and not seek

oblivion through alcohol.

One of Jean's sayings was 'A trouble shared is a

trouble halved.' He smiled at the memory.
---
ANNE RODGER

Cookery

By

ANNE RODGER

FEBRUARY 2022 | 51

Pavlova

The simplest, easiest and most spectacular dessert for the home cook to make is -

Pavlova. It is made in minutes from 2 basic ingredients - eggs and sugar. What could

be simpler? The key to success is that all utensils (and hands) should be free from any

trace of grease. Before you start, wash and dry the mixing bowl, beaters and whatever

you will use to break the eggs into.

2 ozs. Sugar to each egg white.

Break the eggs, one at a time, into a small bowl.

(I normally use 3 eggs but you can make any size you want)

Carefully pour off the white into the mixing bowl, and put the whole yoke into a cup. If

the yoke has broken, start again, as there must be no trace of yolk in the meringue.

Add a pinch of salt to the whites and beat until getting stiff - then slow down the speed

and start adding the sugar a spoon at a time. By the time all the sugar is added, the

meringue will be stiff and glossy.

Spoon onto a baking tray lined with non-stick paper. Suit the size and shape to the

plate you will serve it on. Make a flat centre, and build up the sides decoratively.

Bake at 160 o(degrees) C. for one hour, then switch off the oven leaving the meringue

inside to dry out. When completely cold, remove from the tin to the serving plate.

Spoon a filling of your choice into the hollow centre, and serve.

FILLING : Use thick whipped cream, Greek yoghurt, thick custard or creme patisserie as

the base for fresh fruit - spoon generously into the hollow.

My favourite filling is sharp lemon curd (made from the egg yolks) mixed with Greek

yoghurt. The sharpness gives a good contrast to the sweet meringue.

If you have used a sweet filling, the fruit topping should not be sweet.

Use raspberries, blueberries, red and black currants, kiwi fruit - or if

the base is less sweet, use any fruit in season cut up into regular pieces

:- Bananas, oranges, peaches, nectarines, pineapple, etc. - the choice is

endless but, whatever you use, your Pavlova will be memorable.

NEXT

MONTH

Homemade

Soup.
---
52 | OUT AND ABOUT COSTA BLANCA

West Side Story

BY

ANNE RODGER

"West Side Story" is one of the best musicals

of all time.

A young Steven Sondheim wrote the

lyrics for Leonard Bernstein's

vibrant and stimulating

music.

We all sat up and

took notice, there

was Romeo

and Juliet on

the streets of

New York.

The

warring

Montagues

and

Capulets

became the

rival gangs,

The Sharks

and The Jets,

competing

for control of

the New York

streets. The Puerto

Ricans confronted the

New York Americans for

power, and the lovers Maria and

Tony were caught in the crossfire. Their

heart-rending duets contrasted with the raw

energy of life on the streets, expressed with

gritty lyrics by members of the 2 gangs, and

incredibly dancing with the most innovative

choreography.

60 years on, Steven Speilberg has re-made

the film. He must have been so stimulated

by the original, that he was prepared to

take the challenge of presenting it to a new

audience. What an undertaking

to try to re-create something

that most of us thought

could not be bettered.

So what was the

outcome?

The new film

has won high

critical praise.

To bring

the story

to modern

times, that

part of New

York has

been turned

into a Slum

Clearance

Area. The film

opens with the

wrecking balls

and bulldozers,

emphasized by different

camera angles, long distance,

200m. and wide angle lenses, so

we are immediately into modern times, and

the over-riding Bernstein music still suits the

scene perfectly.

Unfortunately, when we are introduced

to the rival gangs, we are back in the Sixties

film - little changed. The gangs look the

same, and the choreography for the exciting
---
FEBRUARY 2022 | 53

dance routines still very much the same.

Why has all this not been put into a modern

setting? Where is the amazing street dancing

we have been witnessing for many years

now - performed by talented dancers with

street cred, baseball caps and trainers? These

should be the dancers in a modern setting.

Similarly with the girls. In the Sixties, Rita

Morena was one of the most exciting dancers

of her generation. Her portrayal of the Puerto

Rican dancer is spell-binding. Incredibly,

she has played quite a large part in the new

film - both as an associate producer and also

playing a significant role as the old lady who

has reared and guided Tony.

An absolute look-alike was found to

play the Morena role as in the original

film. Speilberg changed nothing about

her character - same dance routine, same

costume. He could simply have cut chunks

out of the original film and pasted them

on. There would hardly have been any

difference.

The new audience he hoped to appeal to

must be confused by the 'Saturday Night

dance' where Tony meets Maria. No teenager

nowadays would be seen dead in those

ridiculous Sixties dresses. Modern girls

dress in a totally different way. The dance

routines could still have been as spectacular

- differently dressed and differently

choreographed - because the music stands

the test of time - and would probably have

produced equally vibrant and exciting scenes

as the original, but in a modern setting.

It is still a very good film, as you would

expect of Steven Speilberg, but, for me, it is

inconsistent.

Believably Modern in setting - with more

credible street violence and undercurrent, yet

with the outdated look of the characters and

the dancing.

And it doesn't have the Magic.
---
54 | OUT AND ABOUT COSTA BLANCA PAWS FOR THOUGHT

Tyson's story for March 2022 CBD Oil is

helping to keep me healthy and young.

Lovey food treats.

As in my last article I mentioned my

birthday was the 23rd February, I am now

11 years of age and what a great time I had,

especially trying out my new comfortable bed.

Can you see the contented look on my face

as I am so relaxed on my soft, luxury bed?

Also I had lots of birthday toys. However, I

do love food. I could eat all day nonstop if I

could find a way of doing this but I have to

have controlled food to keep my weight down

and keep my figure. That's what I am told. I

will live a healthier life this way. However, on

my CBD Oil it is helping me keep healthy and

agile. Should you need any ask your owner to

ring 642 786 407.

People keep saying to me, I am so laid back

and docile, so I asked my step brothers Bentley

8 years and Alfie 6 to explain? Bentley said,

as best he could as they are both young and

not worldly, that when they keep jumping up

at me, biting my neck playing, hanging onto

my lip, teasing me, taking my birthday toys,

I usually stand and look upset until someone

comes up and takes the toy away from them

and gives it back to me. I never get annoyed

with them. Bentley said this is the meaning

of being docile. I suppose I am quite a lazy

dog as I do enjoy trying out the sofas and

snoozing. I don't like too many things to

bother me, like having to think of paying bills,

shopping, buying cloths, having a shave or

haircut, but I do enjoy my food and sleep and

apparently I snore!! Very loudly and snort.

Bentley's curly hair is different to mine and

has to visit the "Grooming Parlour", each

month. I tease him and call him a snob ha!! I

also add that I am low maintenance.

Everyone says how young and handsome I

look but I do have plenty of vitamins, minerals

and daily oils to keep me looking good. Thank

you to my family. I look younger and act

younger than my years.

It is Bentley's birthday in April but I won't

mention it to him yet as he will shiver with

excitement. Alfie in September.

At home Bentley, Alfie and I do enjoy each

other's company and play "tug of war" for

hours with a knotted rope. I am very strong

but let them think they are stronger but that's

part of the game.

Bentley, being small but is the "Boss" dog.

He likes his own way but I do have to bark

silently to myself when I see him run to the

gate if someone passes, looks back to me for

his backup support and if I don't get there

quick enough he gets Alfie, but then he is full

of confidence if his back up reinforcement

team "us" are there, Alfie and I. Oh he really

does show off. I stand there and nod to myself.

He has his mum's looks a Shih Tzu but his

father's "Yorkie" personality.

For more information on this lovely dog

please telephone the P.E.P.A. helpline on 650

304 746 or email p.e.p.a.animalcharity@gmail.

com.

My friends really do need your help and

hopefully you can find some time to foster

one of the lovely dogs in the shelters or to

dog walk or just offer a "helping hand" so my

friends will feel wanted again.

Until next time a big lick and tail wags from

Bentley, Alfie and I!! Woof, Woof!! Tyson.

Tyson
---
PUZZLY PAGE

FEBRUARY 2022 | 55

Firefox

https://puzzles.bestforpuzzles.com/games/daily-

ACROSS

1 2 3 4 5

1 Traffic hold-up near Cork? (10)

7 Untidy trees I'd put somewhere else

6

(7)

8 A lot of lions were nosy, so we hear

(5)

10 11

10 Sisters finding some men

unsatisfactory (4)

12

11 Wasn't led astray in swampy areas

13 14 15

(8)

13 Bird with bishop in West Bank city (6)

16

15 Prophet endlessly devouring

17 18 19

American dessert (6)

20

17 Was found folded (6,2)

18 Drunk embracing central Glasgow

21 22

resident, say (4)

21 Opening hours for animal (5)

Firefox

22 Damned bishop didn't run out (7)

23

23 College post could be richer post

(10) ACROSS

1 Traffic hold-up near Cork? (10)

DOWN 7 Untidy trees I'd put somewhere else (7) 1

7

1 Ship's 8 A lot officer lions reeling were on nosy, sub so (5) we hear (5)

10 Sisters finding some men unsatisfactory (4)

2 Drinks for children (4)

6

9 1

11 Wasn't led astray in swampy areas (8)

3 Females 13 Bird sailed with bishop up the in West creek Bank (6) city (6)

4 Frenchman's 15 Prophet endlessly refusal to devouring accept a American dessert 8

foreigner (6) as emperor (8)

17 Was found folded (6,2)

5 Customers, cold and silent, getting

8

1

18 Drunk embracing central Glasgow resident, say

upset (4) (7)

6 Inflammation 21 Opening from hours chin for animal to ribs? (5)

2 3 7 1

(10)

22 Damned bishop didn't run out (7)

9 Date 23 tree College is transplanted post could be in richer post (10) 9 5 6

3

springtime

DOWN

(10)

12 A bit 1 Ship's of a change officer reeling for show on sub team (5) (8)

2 9

8

14 Rural 2 Drinks building for children - one with (4) no

exceptions 3 Females (3,4) sailed up the creek (6)

4 Frenchman's refusal to accept a foreigner as 1 5

8

16 Less emperor sensitive (8) issue of periodical (6)

19 Nick, 5 Customers, getting out cold of bed, and silent, is distressed getting upset (7)

9

(3,2) 6 Inflammation from chin to ribs? (10)

9 Date tree is transplanted in springtime (10)

20 Money for Johnny the singer (4) How to play

12 A bit of a change for show team (8)

Test your brain on our SUDOKU puzzle.

14 Rural building - one with no exceptions Sudoku (3,4) is a logic Fill puzzle each where square you so have that to each populate row, column and

16 Less sensitive issue of periodical (6) the grid with numbers. each 3x3 A number square can contains appear only all digits once from 1 to 9.

19 Nick, getting out of bed, is distressed

in each

(3,2)

row, column and house. Each puzzle can be

solved using logic from the given information and

20 Money for Johnny Answers the singer to both (4) puzzles can be found on page 62

requires no guesswork.

7 8 9

https://puzzles.bestforpuzzles

5 7

6 5

6
---
56 | OUT AND ABOUT COSTA BLANCA

LIVE

MUSIC

most weekends

(Check Facebook

for updates).

Calle Móstoles 33,

Rada de

Moraira.

Telephone:

965 74 43 66

There is something for everyone at

Hill Top Pub!

Breakfast from 10.00 am – 1.00 pm.

Lunch and Evening meals available.

• Pool and Terrace •

ALL SPORT/BIGGEST

SCREEN IN MORAIRA

in a new glass enclosed terrace.

Sunday lunches

from 1.00 pm

BINGO EVERY THURSDAY from 7.00 pm.

Pool Table available

Open 6 days a week, early until late. Closed Monday

PETE FROST

Friday 4th March

RACE NIGHT

Starts 7.30pm

Contact details. Chris Cooper 634308746 and 600008406 and

lindacooper007@hotmail.com
---
BOOK REVIEW

Book

Review

FEBRUARY 2022 | 57

Costa Blanca

Climbs

by Robert Lopez

PRICE

35€

Paperback

The new climbing guide Costa Blanca

Climbs, written in Spanish and English,

presents more than 3400 routes in 58

paths in the province of Alicante and the

south of Valencia. Presented with spectacular

photographs of the tracks on 656 pages.

• ISBN:9788409212781

• Publisher: Self-publishing

• Edition date: 2020

• Place of the edition: Alicante.

• Edition number: 1st

• Binding: Rustic

• Dimensions: 15cm x 21cm

• Page No.:656

• Languages: Spanish

SUBJECTS:

• / Climbing / Guides Spain

DUE TO THE SUCCESS OF THE CURRENT EXHIBITION

we have decided to extend it till 30-April-2022.

LOCAL ARTIST JING KOPRIO XU

will be displaying portraits

at LIBRERÍA EUROPA BOOKSHOP,

Calle Oscar Esplá 2, CALPE, 965835824.

MONDAY TO FRIDAY 10.00 - 14.00 & 17.00 - 20.00. SATURDAYS 10.00 - 14.00.

ADMISSION

FREE

NO

RESERVATION

REQUIRED
---
58 | OUT AND ABOUT COSTA BLANCA CELEBRITY PROFILE

Meat Loaf, the singer behind

the 1977 Bat Out of Hell

rock opera album, died January

20, at the age of 74. It was stated

complications from COVID-19.

Born Marvin Lee Oday, Meat

Loaf released numerous hit

songs, including "Paradise by

the Dashboard Light," "Two Out

of Three Ain't Bad," and "I'd Do

Anything for Love (But I Won't

Do That)." He famously played

the role of Eddie opposite Tim

Curry and Susan Sarandon in

the 1975 rock musical comedy

The Rocky Horror Picture

Show.

Meat Loaf married his

current wife Deborah

Gillespie in 2007 and the

couple spent their time

between L.A and Austin,

Texas.

Meatloaf had two daughters

with his wife. Pearl Aday and

Amanda Aday.

Meat Loaf flew onto the

music scene like a bat out of

hell during the 1970s. Equal

parts beast and beauty, he

performed with a feral elegance

and passionate theatricality

that came to define his decadeslong

career. Whether entering

paradise by the dashboard light

or declaring he'd do anything

for love (but he won't do

"that"), Meat Loaf showed that

music isn't just something that

you hear; it's something you

feel. And he certainly struck an

emotional chord with listeners.

1977's Bat Out of Hell, the first

instalment in the "Bat Out of

Hell" trilogy, became the fifth

best-selling album of all time.

MEAT LOAF

Also passionate about acting,

Meat appeared in dozens

of films since the 1970s. But

behind the scenes his life was a

screenwriter's fever dream. At

times the details are grimmer

than fairy tale, and some details

contain more tale than truth.

Meat Loaf's Father allegedly

tried to murder him.

The

world

has

plenty

of method actors, but Meat

Loaf was a method singer. He

insisted, "I can't sing at all! It

sounds terrible until I put the

scene together." Meat said,

"On any record I've ever done,

you've never heard Meat Loaf

sing a song. They've all been

characters." From the sound of

things, the singer spent most

of his life pretending to be

someone else.

Meat did a lot of pretending

in interviews, too. The singer

claimed to be born in 1947 and

1951. When pressed about the

discrepancy, Meat explained,

"I just wanted to maintain a

constant lie." Meat Loaf is

either the world's greatest

fantasy football player or a lying

liar.

The singer explained, "I've

fallen three stories" and

had so many "near misses"

and collisions that "I should

have died." He suffered 18

concussions, survived eight car

crashes, and had close calls on

planes.

These accounts might read

more like tall tales and Meat has

admitted to lying habitually

during interviews. But he

does have a documented

history of onstage accidents

and health troubles. Per

Rolling Stone, in 2003, he

underwent heart surgery

after collapsing mid-concert.

He was reportedly diagnosed

with Wolff-Parkinson-White

Syndrome, which creates "an

extra electrical pathway in the

heart." In 2016, he collapsed on

stage in Canada, and in 2019,

he broke his collarbone after

tripping and falling.

Meat Loaf the showman

claimed that after the JFK

assassination he and his friends

got pulled over by Secret Service

agents who commandeered

Meat's car "to drive to the

hospital." He said he and his

friends remained in the vehicle

until President Kennedy's body

arrived two hours later.

In the book Like a Bat Out of

Hell, it was recalled Meat saying

something different about the

assassination. He and his friends

drove to the hospital on their

own, and someone with a badge
---
CELEBRITY PROFILE

halted them as they neared the

emergency room. There they

supposedly saw Jackie Kennedy,

still dressed in her "bloodspattered

pink suit," emerge

from a limo.

In 2000, Steinman said,

"Meat was the most

mesmerizing thing I'd ever

seen. The singer certainly

displayed voluptuousness

and violence during the stage

performances. Drummer

Joe Stefko said Devito "went

through hell." Meat threw

"a giant heavy steel mic

stand bottom" at her during

performances and nearly struck

her head.

Meat Loaf's backing singer,

Karla Devito described him as

"a tortured guy." And during

the Bat Out of Hell tour, he

tortured himself constantly.

"Meat pushed himself so hard

physically every night that

he required oxygen to revive

him," His temper was almost

as short as his breathing.

When he insisted on starting

a show by giving speeches

instead of singing, the band got

booed and Meat flipped out

about it backstage. The singer

"destroyed the dressing room,"

chucking chairs and other

objects "all over the place."

Such outbursts were a common

occurrence.

"I was a perfect monster,"

Meat recalled. He threw mic

stands at his band and at fans.

He wrecked dressing rooms and

eventually wrecked his own

body. Meat Loaf wrote, "When

you give everything you have to

give in a performance, it is like

cutting yourself with razorblades."

Those metaphorical

cuts became a literal broken

bone when he fell off the stage

while performing "Paradise by

the Dashboard Light." Meat

fractured

his leg, effectively ending the

tour. Out of control and hooked

on cocaine, Meat suffered

a nervous breakdown and

threatened to leap from the

ledge of a high-rise building.

Fortunately, road manager Sam

Ellis talked him down from the

ledge.

In Bearsville, New York, Meat

met his first wife, Leslie, then a

secretary for Bearsville Records.

They married after knowing

each other for about a month. It

was recalled that Meat popped

the question in a comically

creative way. At the Bear Cafe he

presented Leslie with "a giant

whole salmon. And it was as if a

bear had proposed to his mate.

Instead of a ring, a salmon."

The wedding was also a hoot,

it was claimed the priest "was

so old that he couldn't tell the

difference between" Meat and

Leslie and referred to one as the

other during the ceremony.

Bat Out of Hell propelled

Meat Loaf to the top of Rock

Mountain. You might expect that

as one of the world's biggest

rock stars, he also had one of the

world's biggest bank accounts.

Instead, his bank account

crumbled, forcing him to declare

bankruptcy in 1983. The road to

financial hell was paved with

poor money management and

FEBRUARY 2022 | 59

expensive lawsuits. Meat had

buckled under the crushing

weight of fame. In the singer's

words, "I was nuts and it was

all over being famous. I didn't

want people to call me a star."

Meat self-medicated with drugs

and alcohol, and his fruitful

partnership with songwriter

Jim Steinman was on life

support. The men parted ways

but reunited in the 1990s to

make Bat Out of Hell II.

With his big frame and even

bigger stage presence, Meat

Loaf seemed to be built for the

big screen. According to Rolling

Stone, he's had more than 50

movie roles. His breakout role

was Eddie in The Rocky Horror

Picture Show, but if given the

chance to do the Time Warp

again, Meat would have played

Dr. Scott, too as the singer

played both Scott and Eddie in

the stage version of the musical.

So when he only got cast as

Eddie in the movie, he objected.

Meat echoed that sentiment

in an interview: "I said you're

making a huge mistake and I

still think they did." Meat said

that of all the parts he landed,

his favourite was Bob Paulson in

Fight Club. What he liked most

is that the director allegedly let

him help choose which scene

takes to use.

But Meat's biggest and

best acting gig might just be

playing himself. He preferred

to see himself as "an actor

who thinks he can sing." He

adopted different characters for

his songs and has claimed it's

the only way he could find the

right notes. He reinvented facets

of his life during interviews,

prompting the interviewer to

ask if Meat Loaf is "just a great

big ham." However you slice

it, Meat Loaf's had the role of a

lifetime.
---
60 | OUT AND ABOUT COSTA BLANCA

FOR SALE

BMW Z4

2.500.cc - convertable

sports car.

Excellent condition

ITV JULY 2022.

147000 KLM

10,500 euro

https://www.facebook.com/marketplace/item/756608431964644/
---
FEBRUARY 2022 | 61

Out & About

Costa Blanca Magazine

NEEDS YOU!

BECOME A

SALES REPRESENTATIVE

IN YOUR AREA

Write an email to carolrlevey@gmail.com for further information

or telephone 651 459 776.

Part-time or full time

Entertainment

Sports

Movies

Video Club

Box Sets

Catch-up TV

Tel: 965 584 097

Mobile: 660 186 505

For all your Satellite or

Internet TV viewing

Set Top Boxes

Dish installations

Dish re-alignments

info@ccsattv.com

www.ccsattv.com
---
62 | OUT AND ABOUT COSTA BLANCA HOROSCOPE

Awarded the maximum 5 star rating in the most recent poll by

the American Federation of Certified Psychics and Mediums.

ARIES MARCH 21 - APRIL 20:

The New Moon in your 11th house works

well with a conjunct of the Sun and Saturn

this month. Release the old you because it is the best

action now.

TAURUS APRIL 22 - MAY 21:

Venus and Mars are uniting to see that love

finally wins out and that you move into a

new circle of friends. Be yourself and be very

unafraid. You'll make it!

GEMINI MAY 22 - JUNE 22:

Venus, as Lord of the 5th house joins Mars

in the seventh house. There is a tremendous

need to shift from negative to positive for good reason.

CANCER JUNE 23 - JULY 23:

The New Moon in Aquarius in the 8th

house calls you to end clutter. Mercury

assists you greatly in all matters of the

changes to be enacted now.

LEO JULY 24 - AUG 23:

The Full Moon in your sign puts the

spotlight on you. Some pampering and self

love would not go amiss, this is a time for you to enjoy

yourself. Go for it!

VIRGO AUG 24 - SEPT 23:

The Full Moon in the 12th house sees you

learning to use your gifts in a positive way

to help others. This will bring you the

abundance you seek, too!

https://puzzles.bestforpuzzles.com/games/daily-cryptic-crossword?puzz...

LIBRA SEPT 24 - OCT 23:

The New Moon enters into your fifth

house focusing on love, but particularly

self love, which is where so many of your

minor problems are currently focused.

SCORPIO OCT 24 - NOV 22:

New levels of family problems bring

worries, but all can be solved after the

New Moon in the fourth house. Use tact

and timbre to see you through!

SAGITTARIUS NOV 23 - DEC 21:

The Full Moon in your ninth house sees

you closer to seeking the true value of

life and connecting to spiritual solutions.

Watch finances!

CAPRICORN DEC 22 - JAN 20:

The eight house sees in the Full Moon and

helps you to clear doubts once and for all.

Use your clear intuition to get the answers

that you need.

AQUARIUS JAN 21 - FEB 19:

An aspect of love appears to be on hold

right now. A Full Moon in your first house

of relationships is coming, so hold on until

then and all will be well!

PISCES FEB 20 - MAR 20:

The more open you are the better. If you

can wait until the Sun enters in the first

house of Pisces then answers may be more

Firefox

transparent and effective for you.

https://puzzles.bestforpuzzles.com/gam

B O T T L E N E C K

1 2 3 4 5

B O O A A L

6

R E S I T E D P R I D E

7 8 9

O U S I O E A

10

N U N S

11

W E T L A N D S

C

12

S S E T T

13

H E

14

B R O N

15

M O U S S E

I A M

16

N N R

17

T U R N E D U P

18

S

19

C O T

I N W M

20

C U I

21

S L O T H

22

B L A S T E D

N A E S U E

23

R E C T O R S H I P

PUZZLE

PAGE

ANSWERS

1 2 8

5 7 6

4 9 3

3 8 7

6 4 2

9 5 1

2 6 9

7 1 5

8 3 4

5 7 9

4 3 2

8 1 6

9 2 1

3 5 7

6 8 4

7 4 8

2 6 3

1 9 5

6 4 3

9 1 8

5 2 7

4 6 5

1 8 9

7 3 2

3 5 1

8 9 4

2 7 6

How to play

Sudoku is a logic puzzle where you have to populate
---
1 8

During which century did the patron saint

of Ireland, Saint Patrick, live?

4th Century

5th Century

6th Century

7th Century

_______________

What was the first color associated with

Saint Patrick's Day before the colour

green?

Blue

2 9Green, white and orange

10

3

11

4

12

5

6 13

The day he bought his freedom

14

7

Purple

Red

Gold

_______________

Irish is the ________ most reported

ancestry in the United States?

First

Second

Fifth

Tenth

_______________

Which Irish actor has portrayed the English

King Henry VIII?

Kenneth Branagh

Jonathan Rhys Meyers

Peter O'Toole

Liam Neeson

_______________

What is Saint Patrick's original name

reported to be?

Arthur Guinness

James Hoban

Brian Boru

Maewyn Succat

_______________

What is the oldest Irish pub in the United

States?

Patrick's of Pratt Street

The Stagger Inn in Castlerea

Hibernian Pub in Raleigh

The Black Rose in Boston

_______________

What is the etymology of Dublin?

Merchant's harbor

White fort

Good air

Black Pool

True or False: Saint Patrick was kidnapped

from his homeland and taken to Ireland

as a slave.

True

False

_______________

What are the colours of the flag of Ireland?

Green, orange, and purple

Green, white, and red

Green, white, and purple

_______________

Where is the Book of Kells, an illuminated

religious manuscript, kept?

Trinity College Library in Dublin

Bodleian Library in Oxford

Widener Library in Cambridge

Central Library in Dublin

_______________

Which Southern Irish county's main town

of the same name was once the capital

of Ireland?

Kilkenny

Tipperary

Meath

Kildare

_______________

What is Ireland's second most populated

city?

Limerick

Cork

Derry

Galway

_______________

What day in the life of Saint Patrick does

March 17th supposedly mark?

His birthday

His death day

The day he became a slave

_______________

What Irish musical group holds the record

for Most Grammy Awards won by a group?

Van Morrison

Mumford and Sons

Enya

U2

"Top o' the

mornin' to

you" – It is -

ST PATRICK'S

DAY QUIZ

(Every 17th

March is St

Patrick-s

Day)

15

How much sunshine does Ireland get each

16

Jams Joyce

FEBRUARY 2022 | 63

year?

Between 30 and 40 hours

Between 1100 and 1600 hours

Between 3000 and 3800 hours

Between 5600 and 6000 hours

_______________

Which Irish author wrote Ulysses?

Samuel Beckett

Oscar Wilde

C. S. Lewis

_______________

What location claims to be the burial place

of St. Patrick?

Down Cathedral in DownPatrick

17

St. Patrick's Cathedral in Dublin

Cathedral Church of St Edan in Ferns

Westminster Cathedral in London

_______________

In myth, what type of animal does Saint

Patrick banish from Ireland?

Seagull

18

Rat

Snake

Dog

_______________

What does the Irish phrase "Éirinn go

Brách" mean in English?

"Ireland Forever"

19

"In Ireland We Trust"

"Ireland is Home"

"Ireland Comes First"

_______________

In myth, what religious idea did Saint

Patrick teach the Irish with a "three-leaf"

clover, also called a shamrock?

20

Resurrection

Holy trinity

The last supper

The Roman Empire

_______________

In Ireland, how many leaves do traditional

St. Patrick's Day clovers have?

One

21

Two

Three

Four

_______________

What year did Chicago first dye the river

green to celebrate St. Patrick's Day?

1903

22

1962

1975

1989

ANSWERS

1. 5th Century Can answer go at the bottom 2. Blue 3. Second

4. Jonathan Rhys Meyers 5. Maewyn Succat 6. Patrick's of

Pratt Street 7. Black Pool 8. True 9. Green, white, and orange

10. Trinity College Library in Dublin 11. Kilkenny 12. Cork 13.

His death day 14. U2 15. Between 1100 and 1600 hours 16.

James Joyce 17. Down Cathedral in DownPatrick 18. Snake

19. "Ireland Forever" 20. Holy trinity 21. Three 22. 1962
---
64 | OUT AND ABOUT COSTA BLANCA

Calpe, Benissa, Altea, Moraira

COBAT welcomes you to

theCosta Blanca.

Since 2003

Buying or selling a house or apartment is an

important matter. Doing so, you will need a

personal and professional service. In another

country, where not everybody speaks your

language and laws and customs are different,

you will certainly have to rely on experts.

Nederlandstalig

makelaarskantoor in

Calpe.

At COBAT we take every question serious, we

make plenty of time to negotiate and satisfy all

parties, we arrange all the paperwork properly,

sign with you at the notary and after the sale we

are still here for you!

An enthusiastic five linguistic team: Johan,

Katleen, Celine, Olga and Christel will work

together with you and their vast network to find

the right buyer or the dream property for you.