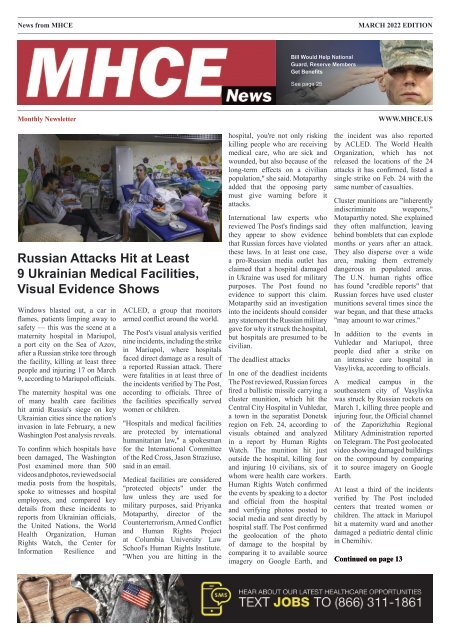 March 2022 — MHCE Newsletter
Create successful ePaper yourself
Turn your PDF publications into a flip-book with our unique Google optimized e-Paper software.
News from MHCE

MARCH 2022 EDITION

Bill Would Help National

Guard, Reserve Members

Get Benefits

See page 25

Monthly Newsletter

Russian Attacks Hit at Least

9 Ukrainian Medical Facilities,

Visual Evidence Shows

Windows blasted out, a car in

flames, patients limping away to

safety — this was the scene at a

maternity hospital in Mariupol,

a port city on the Sea of Azov,

after a Russian strike tore through

the facility, killing at least three

people and injuring 17 on March

9, according to Mariupol officials.

The maternity hospital was one

of many health care facilities

hit amid Russia's siege on key

Ukrainian cities since the nation's

invasion in late February, a new

Washington Post analysis reveals.

To confirm which hospitals have

been damaged, The Washington

Post examined more than 500

videos and photos, reviewed social

media posts from the hospitals,

spoke to witnesses and hospital

employees, and compared key

details from these incidents to

reports from Ukrainian officials,

the United Nations, the World

Health Organization, Human

Rights Watch, the Center for

Information Resilience and

ACLED, a group that monitors

armed conflict around the world.

The Post's visual analysis verified

nine incidents, including the strike

in Mariupol, where hospitals

faced direct damage as a result of

a reported Russian attack. There

were fatalities in at least three of

the incidents verified by The Post,

according to officials. Three of

the facilities specifically served

women or children.

"Hospitals and medical facilities

are protected by international

humanitarian law," a spokesman

for the International Committee

of the Red Cross, Jason Straziuso,

said in an email.

Medical facilities are considered

"protected objects" under the

law unless they are used for

military purposes, said Priyanka

Motaparthy, director of the

Counterterrorism, Armed Conflict

and Human Rights Project

at Columbia University Law

School's Human Rights Institute.

"When you are hitting in the

hospital, you're not only risking

killing people who are receiving

medical care, who are sick and

wounded, but also because of the

long-term effects on a civilian

population," she said. Motaparthy

added that the opposing party

must give warning before it

attacks.

International law experts who

reviewed The Post's findings said

they appear to show evidence

that Russian forces have violated

these laws. In at least one case,

a pro-Russian media outlet has

claimed that a hospital damaged

in Ukraine was used for military

purposes. The Post found no

evidence to support this claim.

Motaparthy said an investigation

into the incidents should consider

any statement the Russian military

gave for why it struck the hospital,

but hospitals are presumed to be

civilian.

The deadliest attacks

In one of the deadliest incidents

The Post reviewed, Russian forces

fired a ballistic missile carrying a

cluster munition, which hit the

Central City Hospital in Vuhledar,

a town in the separatist Donetsk

region on Feb. 24, according to

visuals obtained and analyzed

in a report by Human Rights

Watch. The munition hit just

outside the hospital, killing four

and injuring 10 civilians, six of

whom were health care workers.

Human Rights Watch confirmed

the events by speaking to a doctor

and official from the hospital

and verifying photos posted to

social media and sent directly by

hospital staff. The Post confirmed

the geolocation of the photo

of damage to the hospital by

comparing it to available source

imagery on Google Earth, and

WWW.MHCE.US

the incident was also reported

by ACLED. The World Health

Organization, which has not

released the locations of the 24

attacks it has confirmed, listed a

single strike on Feb. 24 with the

same number of casualties.

Cluster munitions are "inherently

indiscriminate weapons,"

Motaparthy noted. She explained

they often malfunction, leaving

behind bomblets that can explode

months or years after an attack.

They also disperse over a wide

area, making them extremely

dangerous in populated areas.

The U.N. human rights office

has found "credible reports" that

Russian forces have used cluster

munitions several times since the

war began, and that these attacks

"may amount to war crimes."

In addition to the events in

Vuhledar and Mariupol, three

people died after a strike on

an intensive care hospital in

Vasylivka, according to officials.

A medical campus in the

southeastern city of Vasylivka

was struck by Russian rockets on

March 1, killing three people and

injuring four, the Official channel

of the Zaporizhzhia Regional

Military Administration reported

on Telegram. The Post geolocated

video showing damaged buildings

on the compound by comparing

it to source imagery on Google

Earth.

At least a third of the incidents

verified by The Post included

centers that treated women or

children. The attack in Mariupol

hit a maternity ward and another

damaged a pediatric dental clinic

in Chernihiv.

Continued on page 13
---
2 | MHCE - News www.mhce.us MARCH 2022 EDITION
---
WWW.MHCE.US Monthly Newsletter | 3
---
4 | MHCE - News www.mhce.us MARCH 2022 EDITION
---
WWW.MHCE.US Monthly Newsletter | 5

Focus on Oversight a Key for Success at

CoreCivic

In the corrections industry, maintaining high standards of

operation is imperative to meeting the needs of the individuals

in our care. That's why CoreCivic adheres to a stringent set of

guidelines set forth by our own standards, as well as those of our

government partners and the American Correctional Association

(ACA).

Founded in 1870, the ACA is considered the national benchmark

for the effective operation of correctional systems throughout

the United States. To become accredited, a facility must achieve

compliance with ACA mandatory standards and a minimum of

90 percent non-mandatory standards. CoreCivic facilities adhere

to ACA standards, and in 2020, CoreCivic earned an average

ACA audit score of 99.6 percent across all facilities.

Key ACA audit areas include facility personnel, resident reentry

programs, resident safety, health care, and more.

holds our facilities and staff to a high standard. To be able to

represent our facility and receive reaccreditation in person is an

honor."

Adhering to ACA standards is only one part of CoreCivic's

commitment to robust oversight. When government partners

utilize CoreCivic's services, we are held not only to our own

high standards and those of the ACA, but we are often held to

the same or higher accountability of our public counterparts

through stringent government contracts, unfettered access to

our facilities for our partners, and hundreds of on-site quality

assurance monitors.

We provide access to our government partners, with most of

our facilities having government agency employees known as

contract monitors who are physically on-site to ensure we are

operating in line with partner guidelines.

Recently, the ACA held in Nashville, Tennessee, its 151st

Congress of Corrections, an annual convention that brings

together corrections professionals from across the country. In

addition to various workshops and events at the convention, the

ACA Commission on Accreditation also held panel hearings to

award accreditation to correctional facilities that meet the ACA's

rigorous requirements. Listed below are the seven CoreCivic

facilities that earned reaccreditation this year, with mandatory/

non-mandatory scores:

• Bent County Correctional Facility - 100/99.0

• Citrus County Detention Facility - 100/100

• Eloy Detention Center - 100/100

• Lake Erie Correctional Institution - 100/99.3

• Saguaro Correctional Center - 100/99.8

• Stewart Detention Center - 100/100

• Tallahatchie County Correctional Facility - 100/100

"The accreditation process is very important," said Warden

Fred Figueroa from Eloy Detention Center, one of the seven

CoreCivic facilities that was awarded reaccreditation. "ACA

To maintain our own high standards, annual on-site audits covering

all operational areas are administered to ensure compliance with

contractual and regulatory obligations and corporate-mandated

requirements. Each CoreCivic Safety facility is audited by our

internal quality assurance division, which is independent from

our operations division. Facilities are expected to be audit-ready

year-round, maintaining continuous compliance with numerous

applicable standards.

CoreCivic employs 75 staff members dedicated to quality

assurance, including several subject matter experts with extensive

experience from all major disciplines within our institutional

operations.

"A lot of hard work goes into preparing for these audits,"

Figueroa said. "Once they're complete, the staff can see their

accomplishments and feel proud."

Having multiple levels of oversight helps CoreCivic maintain

a safe environment for those in our care. By holding ourselves

accountable to our own high standards, along with our

government partners' and ACA's standards, CoreCivic continues

to be a trusted partner working to better the public good.
---
6 | MHCE - News www.mhce.us MARCH 2022 EDITION
---
WWW.MHCE.US Monthly Newsletter | 7
---
8 | MHCE - News www.mhce.us MARCH 2022 EDITION

6 Tips for Sharing Strengths and Weaknesses in

a Job Interview

You want to be forthcoming. You learned (in the military) to

be direct. You were told to be upfront about your challenges,

shortcomings and obstacles. But should you really share details

about your strengths and weaknesses in a job interview?

Interviewers sometimes ask the question, "Tell me about your

strengths and weaknesses," to see what traits you call out about

yourself, how self-aware you are and what others might say

about your work style.

Employers also find other creative ways of learning what you

can offer to the company and the job, and where risks or barriers

might be present by asking behavioral interview questions,

performance-based questions or opinion questions, which can

also reveal strengths and weaknesses.

Sharing Your Strengths

While you might be tempted to share every compliment you've

received from your mother and your commanding officer, here

you need to be focused. My tips for sharing your strengths in a

job interview:

1. Be specific.

Avoid using vague jargon such as "I give 100%" or "I think

outside the box." Instead, list specific strengths you possess that

directly relate to the job. If the position requires team building,

for example, highlight how your leadership and active listening

skills empower you to work well across job functions, enlist

buy-in and support, and create tangible results.

2. Offer examples.

If your experience is primarily military-related, convert those

into a civilian example. Instead of saying, "I can train new

enlisted recruits to perform at combat optimal levels," share an

example as a civilian might explain it: "One of my strengths is

clearly outlining the goals to the team, then ensuring everyone

is on board. For example, in one situation, I had a team of

direct reports who had dissimilar backgrounds. I worked to

lay a common foundation for the project and communicated

clear goals, and then met with each of them to ensure they were

aligned with the objectives."

3. Show humility.

Avoid the mistake of sharing strengths that are grandiose, such

as, "I'm the top go-to person on any team because I'm simply

always the best." If you want to talk about accomplishments but

fear that could come off as arrogant, phrase them as feedback,

offering, "I've been told by others that I'm the most empathetic

leader they ever reported to."

Talking About Your Weaknesses

There was a time when it was acceptable -- and even humorous

-- to answer "chocolate" when asked what your weakness is.

That is no longer the case. Today, employers expect you to be

clear about where you fall short and show how you address

those challenges. When discussing your weaknesses, consider:

4. Avoid offering reasons not to hire you.

One recruiter told me a candidate answered that question by

saying, "I get angry quickly. I'm working on it, but my ex-wife

would tell you it's scary!" Don't offer anything in a job interview

that would immediately disqualify you from contention.

Other examples include, "I get bored easily. That's why I've

changed jobs a lot." Or "I've been told I'm not a good team

player. I think that's bunk. They're all just jealous."
---
WWW.MHCE.US Monthly Newsletter | 9

5. Show what you're doing to address the weakness.

If your weakness is that you're better working on the

implementation and tactics of a project rather than the strategy,

explain how you've learned to overcome this challenge if it's a

required part of your work.

Similarly, if your weakness is that you don't have strong

credentials in a particular field, you might offer that you're taking

night classes, doing online learning and earning certificates to

shore up that part of your skill set.

6. Turn your weakness into a positive.

What if you don't have a desire to lead? It may seem like

employers today want to hire leaders. If you can turn this

perceived weakness into a positive, you can help the employer

see your candidacy differently.

Offer, "I believe the world needs leaders and followers. In

the military, I learned to do both. Today, I'm more focused on

helping to ensure the work -- and mission -- are completed, and

I take direction very well."

Talking about your strengths and weaknesses can feel awkward

and challenging. Be prepared in advance with ways to address

your candidacy that put you in control of what you'll share and

how, instead of being caught off guard in a job interview.

Join Our Team!

Embark on a new career

with Central New York

Psychiatric Center!

Our Team Promotes

Hope, Resilience and Recovery!

Central New York Psychiatric Center is seeking

candidates to fill the following positions;

Psychiatrists, Psychiatric Nurse Practitioners,

Psychologists, and Registered Nurses.

These positions are available at our Inpatient

Forensic Hospital in Marcy, New York, as

well as our Corrections Based Satellite Units

across the State.

Benefits Include:

• NYS Pension

• Competitive Salaries

• Comprehensive Health Insurance

• Flexible Spending Accounts for

Healthcare & Dependent Care

• Generous Paid Time Off

Contact Us:

315-765-3375 or by e-mail

CNpersonnel@omh.ny.gov

TO ADVERTISE

contact Susan.Keller@mhce.us
---
10 | MHCE - News www.mhce.us MARCH 2022 EDITION
---
WWW.MHCE.US Monthly Newsletter | 11

VISIT OUR WEBSITE

AT MHCE.US
---
12 | MHCE - News www.mhce.us MARCH 2022 EDITION

TO ADVERTISE

contact Susan.Keller@mhce.us
---
WWW.MHCE.US Monthly Newsletter | 13

In the northern city of Chernihiv on Feb. 27, visual evidence shows

impact to a central courtyard, near a pediatric dental clinic, which The

Post confirmed via imagery on Google Earth. The attack left a crater

in the ground, uprooted trees and blew the windows and debris from

the surrounding buildings. The facility posted video of the aftermath

to Facebook, showing blasted-out windows and debris scattered

throughout the building.

VISIT OUR WEBSITE AT MHCE.US

Russian airstrikes hit homes and a hospital, including a maternity

ward, in the northwest city of Zhytomyr on March 1, according to

the Zhytomyr City Council, which shared video, first verified by

third-party verification service Storyful and corroborated by The

Post, showing first responders at the nighttime scene amid destroyed

buildings and debris. Four people died in the attacks on the homes.

Only windows were damaged at the maternity ward, according to

regional council chairman Vladimir Fedorenko.

Hospital infrastructure damaged

In all of the examples reviewed by The Post, the hospitals' buildings

were damaged. Verified images and videos illustrated the varied

extent of the destruction.

On Feb. 25, an oncology hospital in the southeastern city of Melitopol

came under fire. Video, verified by Storyful and The Post, shows

an explosion at the facility. Government officials and ACLED also

confirmed the event. In the video, there is loud shelling, followed by

a large boom and a bright flash emanating from inside one of the top

floors of the hospital. Ukraine's Minister of Healthcare Viktor Liashko

said an operating room was damaged, but no patients were hurt in the

attack.

On Feb. 27, Russian shelled the ear, nose and throat department

building of a hospital in Volnovakha, a small city in the separatist

Donetsk region, according to a Parliament of Ukraine Telegram

channel. The Post verified photos posted online that showed damage

to the outside of the building by comparing to source imagery on

Google Earth.

The deputy mayor of Izyum, a city south of Kharkiv, said the

admissions office of a hospital was hit on March 8. Volodymyr

Matsokin posted video to Facebook later that day showing part of the

building destroyed, exposing part of the roof's internal structure with

the facade caved inward and debris littering the area. "Patients climbed

out from under the rubble as they could," he wrote on Facebook.

Late in the evening of March 11, the head doctor of a cancer hospital

in Mykolaiv posted photos and video, verified by The Post, of

smashed windows and debris from an alleged Russian attack. He said

many patients were being treated in the hospital at the time it came

under attack, but no one was killed. The Mykolaiv regional governor,

Vitaliy Kim, wrote on his Telegram channel that a Russian attack hit

the hospital.

"Assuming Russia does not take necessary steps - and it seems

highly unlikely that it will — this evidence will be relevant to the

International Criminal Court Prosecutor's investigation of war crimes

and crimes against humanity in Ukraine," Oona Hathaway, a professor

of international law at Yale Law School, said in an email to The Post.

The evidence gathered by The Post is "powerful circumstantial

evidence" that would require a more detailed investigation, Hathaway

explained.

Motaparthy too noted in some cases it is difficult to parse from the

visual imagery alone exactly what happened. "What is the extent of

the damage? Were they targeting a military object next door or nearby,

or were they targeting the hospital itself?" However, she noted that

"attacks where there's clearly extensive damages and civilians were

killed appear to violate the laws of war, and that militaries should

avoid damaging hospitals, even if targeting military targets nearby."
---
14 | MHCE - News www.mhce.us MARCH 2022 EDITION
---
WWW.MHCE.US Monthly Newsletter | 15

VISIT OUR WEBSITE AT MHCE.US
---
16 | MHCE - News www.mhce.us MARCH 2022 EDITION

4 More Areas on Navy's Oahu Water System

Declared Safe

Four additional zones using the Navy's water system, including

two Aliamanu Military Reservation zones and the Moanalua,

Halsey and Radford terraces, have been declared safe to use by

the state Department of Health today.

Six of the 19 in the Navy's water system are now awaiting

clearance. The areas declared safe today are labeled Zones F1,

F2, H2, and H3, which together comprise nearly 2, 800 homes.

Zone F1 includes Moanalua Terrace, the Navy Exchange Mall,

Moanalua Shopping Center, Pearl Harbor Elementary School

and Kamaaina Kids Moanalua Preschool.

Zone F2 includes Catlin Park, Maloelap, Doris Miller, Halsey

Terrace and Radford Terrace. It also includes Catlin School Age

Care and Peltier Child Development Center.

More than 600 AMR residences in Zones H2 and H3 have been

declared to have safe drinking water today. All three AMR zones

now have access to safe drinking water.

"We are incredibly excited to welcome home our Aliamanu

Military Reservation residents, " said Maj. Gen. Joe Ryan,

commanding general, 25th Infantry Division and Task Force

Ohana, in a statement. "For over three months, it's been our

mission, along with the members of the Interagency Drinking

Water System Team, to return our families to their homes with

safe and clean drinking water. We recognize this has been

a challenging time for our families, and we appreciate their

fortitude and understanding. Looking ahead, we will implement

a long-term monitoring plan that includes routine testing of

homes to ensure our residents continue to have clean and safe

drinking water."

The DOH issued a "do not drink " advisory in late November

after fuel from the Navy's Red Hill fuel facility contaminated its

drinking water system, which serves Joint Base Pearl Harbor-

Hickam and surrounding neighborhoods. Since then the Navy

has been cleaning the water, which has been sampled by the

Interagency Drinking Water System Team. The IDWST consists

of state and federal representatives from the DOH, the U.S.

Environmental Protection Agency, Navy and Army.

One sample from an outdoor sink at a Zone F1 school tested

above the DOH's Incident Specific Parameter for beryllium,

the department reported. The fixture was flushed and sampled

again, and afterward all sampled homes and buildings met the

beryllium screening level of four parts per billion.

Similarly, a home in Zone F2 tested above the DOH's screening

level for total petroleum hydrocarbons, which include hundreds

of chemical compounds that come from crude oil. The home's

water was flushed and sampled again, and subsequently all

sampled homes and buildings met the TPH screening level.

An independent, third-party laboratory had initially reported the

presence of bis (2-chloroethyl )ether, or BCEE, in samples in

Zones F2, H2 and H3, although the laboratory and the IDWST

later determined that the BCEE results were a false-positive.

The IDWST's joint plan is to draw samples from more than 900,

or 10 %, of the homes in the Navy's water system and 100 % of

its schools and child development centers.

TO ADVERTISE

contact Susan.Keller@mhce.us
---
WWW.MHCE.US Monthly Newsletter | 17
---
18 | MHCE - News www.mhce.us MARCH 2022 EDITION

Business Is Global. Your Education Can Be, Too.

Complete Business Minor in One

Summer across Two Countries

By taking the five courses offered in this 12-week program, you

can complete a Business Minor and enjoy the unique opportunity

to immerse yourself in a cultural experience. Our Complete

Business Minor Abroad program will take you to the beautiful

streets of Rome, Italy, and Madrid, Spain, this Summer 2022

semesters

Business Core Fast Track

By taking the five courses offered in this 12-week program, you

can complete a Business Minor and enjoy the unique opportunity

to immerse yourself in a cultural experience. Our Complete

Business Minor Abroad program will take you to the beautiful

streets of Rome, Italy, and Madrid, Spain, this Summer 2022

semesters

2022 Program Update

In these uncertain times, the Harbert College of Business is

taking extraordinary steps to ensure the health and welfare of its

students. As such, only two study abroad trips will be offered for

this summer.

Please be on the lookout for details on offerings of a range of

Study Abroad Programs in Summer 2023. We appreciate your

interest and will be global again as soon as possible.

Study Abroad

At the Harbert College of Business, we offer the opportunity to

experience different business cultures, practices and standards

around the world. Round out your undergraduate experience with

a study abroad trip to Italy and Spain and gain a global business

perspective.

Undergraduate study abroad opportunities will allow you to gain

experience with a variety of contexts.

Have Questions?

COVID-19 has made the idea of international travel seem far

away. Let us reassure you we will provide a safe study abroad

experience that will give you an edge in your future career

Dr. Daniel Butler

Assistant Dean, Harbert Global Programs

Thomas Walter Professor

334-844-2464

butledd@auburn.edu
---
WWW.MHCE.US Monthly Newsletter | 19

When the practice of medicine

becomes the business of medicine.

You spent years studying medicine.

But what about the business side of

your practice?

It's easy to get started.

Take the next step toward a

Physicians Executive MBA

and contact us:

auburn-military.mba

334-844-4060

Auburn MBA
---
20 | MHCE - News www.mhce.us MARCH 2022 EDITION

Soeder joked that that the generals

would never approve the beer for

breakfast.

After the soldiers who first arrived

waited about 30 minutes with their

trays, they all were allowed to dig in.

Fort Stewart-based

soldiers get their

Bavarian breakfast

in Grafenwoehr

GRAFENWOEHR, Germany —

Sausages and a big pretzel — exactly

what you'd expect from a traditional

Bavarian meal — awaited Fort Stewart,

Ga.-based soldiers on Friday morning,

courtesy of the state's governor.

Bavaria's Markus Soeder joined Army

Chief of Staff Gen. James McConville,

and the commander of 7th Army

Training Command, Brig. Gen. Joseph

Hilbert, in welcoming the soldiers, who

are deployed to Grafenwoehr Training

Area as part of a mission to reassure

NATO allies in the wake of Russia's

new invasion of Ukraine.

"This is a friendship for eternity, we

hope," Soeder told hundreds of soldiers

from the 1st Armored Brigade Combat

Team, 3rd Armored Infantry Division.

"Bavaria is the largest region for U.S.

(soldiers) in Europe. Grafenwoehr is

(an) important place for the troops."

Information sheets placed on the

dining tables provided guidance about

weisswurst, a white sausage considered

one of the southern German state's

signature foods.

It's traditionally made from a mixture

of finely minced veal and back bacon.

It is usually served with stone-ground

mustard, a large salted pretzel and a

Bavarian wheat beer.

The Bavarian Broadcasting Channel

reported that Soeder had ordered 4,000

of the sausages to be served at rural

Grafenwoehr, which hosts the Army's

largest training area in Europe.

The brigade is expected to provide

3,800 of the 7,000 service members

deployed to bolster NATO's defensive

posture.

TO ADVERTISE

contact Susan.Keller@mhce.us
---
WWW.MHCE.US Monthly Newsletter | 21
---
22 | MHCE - News www.mhce.us MARCH 2022 EDITION

some irregularities in the consideration of

the previous slate of candidates."

The VA did not provide specifics about

the situation.

Health, benefits undersecretaries

New Jersey Hospital Executive,

Former Pennsylvania Congressman

Among VA Health, Review

Commission Appointments

WASHINGTON – The White House

announced its nominee to lead the

Department of Veterans Affairs health

care system — a top role at the agency

that has been vacant for the past five years.

In addition, the White House named the

agency's new Asset and Infrastructure

Review Commission and announced a

candidate to be the next VA undersecretary

for benefits.

The appointees are Shereef Elnahal as

undersecretary for health for the Veterans

Health Administration, Ray Jefferson

as undersecretary for benefits for the

Veterans Benefits Administration, Patrick

Murphy for chairman of the VA's Asset

and Infrastructure Review Commission,

and Jonathan Woodson for vice chairman

of the review commission.

The VA has been without a confirmed leader

of the Veterans Health Administration

since the position was held by David

Shulkin. Shulkin left the position in

February 2017 after he was nominated by

then-President Donald Trump as the VA

secretary.

Richard Stone acted as the VA

undersecretary of health for nearly

three years and led the agency amid the

coronavirus pandemic. He resigned in

July after he learned he was not nominated

for the position.

In October, the VA abandoned its initial

search and restarted the process over again.

The VA established another commission to

aid in the search for candidates for the role

of undersecretary for health – a position

that oversees hundreds of hospitals and

clinics that comprise the largest health

care system in the country. Whoever takes

the job will be responsible for hundreds

of thousands of employees and an annual

budget of about $61 billion.

The agency restarted the search out of an

"abundance of caution," VA spokesman

Randy Noller said in October.

Noller also said the agency "received

information that there may have been

Dr. Shereef Elnahal, nominee for the VA's

undersecretary of health, has served as the

CEO and president of University Hospital

in Newark, N.J., since 2019. Before

joining University Hospital, Elnahal

served as the state's health commissioner.

If appointed, it will not be Elnahal's first

foray into VA health care. He served as

the assistant deputy undersecretary for

health for quality, safety, and value from

2016 to 2018. During his time in that role,

Elnahal managed the quality of care for the

Veterans Health Administration and cofounded

its innovation ecosystem, which

is part of the VHA's Office of Discovery,

Education, and Affiliate Networks. The

program help advance innovation and

practices that helps improve veteran care.

Ray Jefferson, the nominee for

undersecretary of benefits, is a graduate of

the U.S. Military Academy at West Point,

N.Y., and served as an army officer from

1988 to 1999, according to his LinkedIn
---
WWW.MHCE.US Monthly Newsletter | 23

profile. During his military service, Jefferson lost

all five fingers on his left hand after he cupped a

defective grenade to protect other soldiers.

After his service, Jefferson served various roles with

state and federal government agencies, including as

a special assistant to the secretary of Commerce,

and deputy director for Hawaii's Department of

Business, Economic Development and Tourism. In

2009, former President Barack Obama appointed

Jefferson as the assistant secretary for Veterans'

Employment and Training at the Department of

Labor.

However, in 2011, two subordinates accused

Jefferson of procurement improprieties, such

as directing government business to associates,

according to a Washington Post report in 2020. The

allegations forced Jefferson to resign.

But in September 2019, the Labor Department

inspector general reversed the findings, exonerating

Jefferson.

Jefferson is now the president of Jefferson Group

Pte. Ltd., a global consulting firm based in

Singapore. If confirmed, Jefferson will take over for

Thomas Murphy, who acted as the undersecretary of

benefits since January 2021. The role was officially

previously held by Paul Lawrence, who served in

the role from May 2018 until January 2021.

Asset and Infrastructure Review Commission

In January, the VA began reviewing its facilities

across the country to determine which buildings to

close and where to invest more resources.

The agency was to submit its recommendations

at the beginning of the year, VA Secretary Denis

McDonough said in December during a Senate

hearing.

In 2018, Congress approved the creation of an

Asset and Infrastructure Review Commission to

work on the "modernization or realignment" of VA

properties. The White House and the VA provided

five nominees for the commission. Four others are

nominated as commission members by leaders in

the House and Senate.

McDonough said Thursday that the agency is

awaiting one more nominee from Congress. He

also said the names were supposed to have been

submitted last May.

"I don't want to handicap the situation, but that's

our first big challenge, get the commissioners,"

McDonough said Thursday. "Then the next big

challenge is, the commissioners got to get to work

and take a look at [the Asset and Infrastructure

Review report]."

The report will be released on Monday morning.

McDonough said the committee has until next

February to make determinations about the VA's

recommendations. Afterward, the recommendations move on to the

president then Congress. McDonough said they can only vote down the

recommendations if they disapprove.

Patrick Murphy, nominee for chairman of the VA's Asset and Infrastructure

Review Commission, was the first Iraq War veteran to serve in Congress.

He was a congressman from Pennsylvania after serving as an Army

paratrooper. He received a Bronze Star for his service.

Murphy previously served as acting undersecretary of the Army during

the Obama administration. He serves now on the Cyberspace Solarium

Commission.

Jonathan Woodson, nominee for vice chairman of the AIR commission,

is a professor at Boston University. He previously served as the assistant

secretary of defense for health affairs as well as the director of Tricare

management activity in the Defense Department from 2010 to 2016.

The others nominated as commissioners are William Blake, executive

director for Paralyzed Veterans of America, Michael Blecker, co-founder

of the National Coalition for Homeless Veterans and the California

Association of Veterans' Service Agencies, Christine Hill, Republican

staff director for the House Committee on Veterans' Affairs subpanel on

health, Rear Adm. Joyce Johnson, Ret. Army Col. Lucretia McClenney;

and José Ramos, vice president of government and community relations

for the Wounded Warrior Project.
---
24 | MHCE - News www.mhce.us MARCH 2022 EDITION

For Spring

Recruitment Specials

contact:

Kyle.Stephens@mhce.us or

Susan.Keller@mhce.us

Advertise with us today.

HAPPY

SPRING!

from the MHCE family to yours.

mhce.us

VISIT OUR WEBSITE AT MHCE.US
---
WWW.MHCE.US Monthly Newsletter | 25

Bill Would Help National Guard, Reserve

Members Get Benefits

CONCORD, N.H. -- U.S. Rep. Chris

Pappas of New Hampshire is part of

a group of lawmakers that introduced

a bipartisan bill to help National

Guardand Reserve members receive

their benefits upon retirement or

completion of service.

A particular form is frequently

required by the Department of

Veterans Affairs, other benefits

organizations and private sector

institutions to certify qualifications for

benefits after completion of service.

Pappas and other sponsors of the bill

said it can be difficult and confusing

for both the VA and service members

to prove all service periods because

of the way the form is drafted.

all service periods. It would allow

them to apply for all entitled benefits

while reducing confusion.

"Providing all those who have served

our country the same record of their

service, one of the most valuable

documents for a veteran to possess,

is essential to ensuring equitable

access to benefits following their

service," Pappas, a Democrat, said in

a statement.

A similar bill has been introduced in

the Senate.

The bill is supported by the

Veterans of Foreign Wars, Reserve

Organization of America, National

Guard Association of the United

States, and the Enlisted Association

of the National Guard of the United

States.

VISIT OUR WEBSITE AT

MHCE.US

Creating a Culture

Plus, there is no single form used by

the Reserves or the National Guard

that is similar.

The bill would update the main form

and provide all service members with

proof of service that will consolidate

of Caring

Offering master's

and doctoral

degrees for

Registered Nurses

TO ADVERTISE

contact Paul.Randall@mhce.us

Specialties Offered:

Nurse-Midwife

Family Nurse Practitioner

Women's Health Care NP

Psychiatric-Mental Health NP

Learn more at frontier.edu/military
---
26 | MHCE - News www.mhce.us MARCH 2022 EDITION

TO ADVERTISE

contact

Kyle.stephens@mhce.us

HAPPY

SPRING!

from the MHCE family to yours.

mhce.us
---
WWW.MHCE.US Monthly Newsletter | 27

TO ADVERTISE

contact Kyle.Stephens@mhce.us
---
28 | MHCE - News www.mhce.us MARCH 2022 EDITION