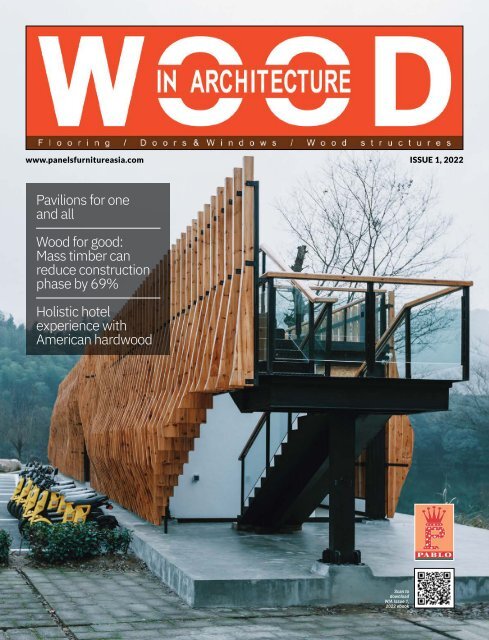 Wood In Architecture Issue 1, 2022
First published in 2017, Wood in Architecture (WIA) is a bi-annual trade magazine devoted to the international timber construction sector. The newest addition to the Panels & Furniture Group of wood magazines, WIA features in-depth insights to the latest industry news, incredible projects and leading trade events. WIA is an advocate for timber as a material of choice for today's built environment, and is the perfect source of inspiration for architects, builders, engineers and interior designers across the globe.
First published in 2017, Wood in Architecture (WIA) is a bi-annual trade magazine devoted to the international timber construction sector. The newest addition to the Panels & Furniture Group of wood magazines, WIA features in-depth insights to the latest industry news, incredible projects and leading trade events. WIA is an advocate for timber as a material of choice for today's built environment, and is the perfect source of inspiration for architects, builders, engineers and interior designers across the globe.
SHOW MORE
SHOW LESS
Do you know the secret to free website traffic?
Use this trick to increase the number of new potential customers.
www.panelsfurnitureasia.com

ISSUE 1, 2022

Pavilions for one

and all

Wood for good:

Mass timber can

reduce construction

phase by 69%

Holistic hotel

experience with

American hardwood

Scan to

download

WIA Issue 1,

2022 ebook
---
y Panels & Furniture Group of wood magazines

5 th Edition

26 th - 28 th JUNE 2023

SHANGHAI

CHINA

VENUE:

99 XING YI ROAD

SHANGHAI CHINA

w w w . s y l v a w o o d e x p o . c o m

ASIA'S SPECIALISED

WOOD MATERIALS

WOOD PRODUCTS

TRADE SHOW

Scan QR code for

exhibition site

JOINTLY ORGANISED BY

WeChat

China Timber &

Wood Products

Distribution Association

Shanghai

Timber Trade

Association

Shanghai Pablo

Exhibition Co., Ltd.

Enquiries For International Exhibitors

Pablo Publishing & Exhibition Pte Ltd.

Tel: +(65) 6266 5512

Email: williampang@pabloasia.com

ENDORSED BY

American

Hardwood

Export Council

French

Timber

Softwood

Export Council

Canada Wood

Thai Timber

Association

Malaysian

Timber

Council

National

Hardwood Lumber

Association
---
CONTENTS

16

28 32

2 WOOD IN ARCHITECTURE • ISSUE 1 – 2022
---
CONTENTS

04 Editor's Note

06 News

THE BIG PICTURE

16 Pavilions for one and all

SUSTAINABILITY

28 CO2 storage in wood

32 If companies want net-zero

carbon offices, they need to

focus on building materials

35 Wood for good: Mass timber

can reduce construction phase

emissions by 69%

MATERIALS AND

TECHNOLOGY

38 Clicking into place with

Threespine TM

41 A second life: Upcycling

disposable chopsticks into

ready-to-use panels

DESIGN

44 OMA reveals first quadrant of

KaDeWe Berlin with wood-clad

escalators

46 Façade ribs made with local

cedar wood

STRUCTURAL

ELEMENTS

48 The public library at the

heart of a compact, vibrant

city

52 Binzhou Yangxin Ten

Thousand Mu Pear Garden

tourism centre

FLOORING

54 "Nothing is lost, everything

is transformed": Cork

flooring with Amorim Wise

47 Antimicrobial power for the

wood we walk on

FIT-OUTS

60 Holistic hotel experience

with American hardwood

63 KAB House: A home for

housing

66 Events Calendar

67 Index of Advertisers

38

56 44

06

WOOD IN ARCHITECTURE • ISSUE 1 – 2022 3
---
EDITOR'S NOTE

The beautiful,

the innovative,

the eco-friendly

Take a look around you — how many of your

furniture or household items are made of

wood, and what are they used for? Which

parts of the wall, flooring or fit-outs are

wood-clad, or designed with wood veneer?

Chances are you have at least one furniture

item or part of your house that is made

of wood. It is everywhere. With recent

innovations, wood is greatly expanding its

applications across the furniture, furnishings

and construction industries.

In this issue, we showcase the best that

wood has to offer us — the beautiful, the

innovative, the eco-friendly. The cover story

is a testament to that, showing how versatile

wood can be in building pavilions (p.16).

Whether it is arched roofs with wide spans,

interlocked timber joints, or prefabricated

panels, the five pavilions showcased

highlight the innovativeness of wood in its

structural applications.

Material innovations are aplenty too.

ChopValue SG recycles discarded chopsticks

into wood-based panels to be used for

furniture items, such as charcuterie boards

or tables (p.41). Amorim Wise specialises

in flooring made with cork wood waste,

thus making it sustainable while making full

use of cork properties suitable for flooring

applications, such as acoustic and thermal

insulation, and improvement of indoor air

quality (p.54).

With the recent COP26 pledge of reducing the

global temperature by 1.5°C, more attention

is turned to wood for its climate positive

quality, especially in helping the construction

industry to reduce its global greenhouse gas

emissions. Ken Hickson advocates for more

mass timber buildings, citing that mass timber

can reduce construction phase emissions by

69% (p.35). Meike Siegner and Cory Searcy

from the Department of Mechanical and

Industrial Engineering, Ryerson University,

likewise argue that net-zero carbon offices

can reduce the carbon footprint of companies

(p.32).

Finally, we have various projects in this issue

that exemplify the beauty of wood in its

design applications, such as the Cozoo Tourist

Centre by Continuum Architecture & Design,

which features façade ribs made with cedar

wood sourced locally in Anhui, China (p.46),

the Rosewood Hotel Hong Kong made with

American hardwoods like white oak, walnut

and cherry (p.60), and many more.

Take your time to pore over every project, and

enjoy reading the issue!

YAP SHI QUAN | Assistant Editor

WOOD IN ARCHITECTURE

PABLO SINGAPORE

Publisher

William Pang • williampang@pabloasia.com

Senior Editor

Josephine Tan • josephine@pabloasia.com

Assistant Editor

Yap Shi Quan • shiquan@pabloasia.com

Business Development Manager

Pang YanJun • yanjun@pabloasia.com

Graphic Designer

Goh Meng Yong • mengyong@pabloasia.com

Circulation Manager

Shu Ai Ling • circulation@pabloasia.com

PABLO BEIJING

General Manager

Ellen Gao • pablobeijing@163.com

PABLO SHANGHAI

Editor

Kresly Shen • pabloshanghai@163.net

HEAD OFFICE

PABLO PUBLISHING & EXHIBITION PTE LTD

3 Ang Mo Kio Street 62, #01-23, Link@AMK,

Singapore 569139

Tel : +65 6266 5512

Email: info@pabloasia.com

www.panelsfurnitureasia.com

Company Registration No: 200001473N

Singapore MICA (P) No: 109/12/2021

REGIONAL OFFICES (CHINA)

PABLO BEIJING

Tel : +86 10 6509 7728

Email : pablobeijing@163.com

PABLO SHANGHAI

Tel : +86 21 5238 9737 / 36

Email : pabloshanghai@163.net

let's connect!

@wood.ia

All rights reserved. Views of writers do not necessarily reflect the views

of the Publisher. No part of this publication may be reproduced in any

form or by any means, without prior permission in writing from the Publisher

and copyright owner. Whilst every care is taken to ensure accuracy

of the information in this publication, the Publisher accepts no liability for

damages caused by misinterpretation of information, expressed or implied,

within the pages of the magazine. All advertisements are accepted on the

understanding that the Advertiser is authorised to publish the contents of

the advertisements, and in this respect, the Advertiser shall indemnify the

Publisher against all claims or suits for libel, violation of right of privacy and

copyright infringements. Panels & Furniture Asia is a controlled-circulation

magazine with two issues a year. It is mailed free-of-charge to readers who

meet a set of criteria. Paid subscription is available to those who do not

fit our terms of control. Please refer to subscription form provided in the

publication for more details.

Printed by Times Printers Pte Ltd

Scan to subscribe

to WIA's enewsletter

4 WOOD IN ARCHITECTURE • ISSUE 1– 2022
---
IN VIETNAM'S

FURNITURE

CLUSTER

www.bifawoodvietnam.com

NEW DATE: 8-11 AUGUST 2022

NEW

VENUE

WTC Binh Duong New City Expo

Lot A19, Hung Vuong Street, Hoa Phu Ward,

Thu Dau Mot City, Binh Duong Province, Vietnam

Google Map

QR code

Exhibition Site

WOOD & WOODWORKING MACHINERY EXHIBITION

Enquiries For International Exhibitors

Pablo Publishing & Exhibition Pte Ltd

3 Ang Mo Kio Street 62

#01-23 Link@AMK,

Singapore 569139

Tel: (65) 6266 5512

Email: williampang@pabloasia.com

info@pabloasia.com

WeChat

Jointly organised by

• BINH DUONG FURNITURE ASSOCIATION (BIFA) • PANELS & FURNITURE Group

BINH DUONG FURNITURE ASSOCIATION

Photo: elena rouame, helena lopes, guzman barquin/unsplash
---
NEWS

FIVE INDIAN FURNITURE DESIGNERS REMAKE THREE

EXISTING PIECES IN AMERICAN HARDWOOD

1 2

On a whole, the designers all

expressed satisfaction and

fascination at being able to

adapt American hardwoods into

their designs, with some also

commenting on their favourite

choice of hardwoods. Bram Rouws,

director of Bram Woodcrafting

Studio, commented on the

versatility of American hardwood

in terms of "the grain and finish",

and how the hardwood is carbon

negative upon arrival in India, thus

making it attractive in terms of its

environmental and sustainability

standards.

1 Ergos by Bram

Woodcrafting

Studio (Image:

Govind

Vishwanath)

2 Comet console

by Esvee Atelier

(Image: Esvee

Atelier)

3 Drawer Poufs

by Studio Wood

(Image: Vaibhav

Bhatia)

3

Five Indian furniture designers have

unveiled finished furniture items

remade using American hardwoods

as part of REMAKE, the first design

collaboration in India led by the

American Hardwood Export Council

(AHEC). The project challenged these

designers in selecting three pieces

from their existing furniture range

and remaking them using American

hardwoods.

REMAKE was conceived by AHEC

as a response to the need for

hands-on experience with American

hardwoods in India's evolving

furniture manufacturing sector. This

collaboration aims to inspire the next

generation of furniture designers and

help the Indian market discover the

untapped potential of US hardwood.

Launched in late 2020, the project

involved designers such as Bram

Woodcrafting Studio, Esvee Atelier,

Kam Ce Kam, Studio SFDW, and Studio

Wood. Available hardwood species

include American red oak, white oak,

cherry, hard maple, tulipwood or

hickory, all of which were supplied

by AHEC from a stock of American

hardwood species held in India, which

was donated to AHEC by Allegheny

Wood Products.

Rouws elaborated: "I believe that

American red oak and cherry have

the potential to be big in India.

As a company, we place great

importance on the environmental

credentials of the materials we

work with and find in American

hardwoods a way to continue

fulfilling our timber requirements

while consuming responsibly."

Despite the challenges posed by the

global pandemic and the inability

to travel to India, AHEC was able to

remotely launch REMAKE with the

five designer-makers. According to

AHEC, the onset of COVID-19 and

enforced lockdown enabled them

to spend a lot of time conducting

in-depth research into India's

furniture manufacturing sector and

identify a number of companies

previously unknown. Many of

these companies are already using

imported temperate hardwoods for

their production, which is primarily

targeted at India's domestic

market.

Saif Faisal, founder of Studio

SFDW, added: "Working with

6 WOOD IN ARCHITECTURE • ISSUE 1 – 2022
---
NEWS

cherry was a new experience for

me; it was quite fascinating as the

wood is quite dense and the grains

gorgeous. This inspired me to

explore computer numerical control

(CNC) milling with it for objects with

finer details and smaller in scale.

American white oak in contrast is

very strong and its resilience to take

any shape and structure. This made

it possible for me to achieve a piece

that is flatpack with neat joinery

and details. The Nightstand in white

oak is my favourite as it brings

the beauty of natural wood and

technology together in a harmonious

way." WIA

4 5

4 Mausam Side Table and Mera Chair by

Kam Ce Kam (Image: Anmol Wahi)

5 Split Bench by Studio SFDW (Image:

Edwin Lawrence)

WOOD IN ARCHITECTURE • ISSUE 1 – 2022 7
---
NEWS

SCM AND RANDEK TEAM UP

IN TIMBER CONSTRUCTION

SCM and Swedish company Randek have

sealed an agreement for the worldwide

supply of all-round, integrated solutions for

timber construction, where the aim is to be

a one-stop supplier for the complete timber

construction process, offering a range of

solutions for beams, walls, timber frame,

X-lam/cross-laminated timber (CLT) panels

machining.

Randek specialises in offering automation

solutions for customers within the

prefabricated house manufacturing

industry. The new partnership also aims to

further expand and strengthen the range

of technological solutions already provided

by both players across the globe and

complementary to one another: SCM, for

offering numeric control machining centres

capable of processing different construction

elements; and Randek, for its technologies

in the prefabricated house sector.

The partnership will also allow each

company to offer the other party's products.

It also intends to increase the range of

their products and expand the solution

SCM's area xl, a CNC

machining centre

(Photo: SCM)

competence, production capacity and level

of specialisation of both companies.

"Our global partnership with Randek

significantly and strategically expands

our offer of products and services for

timber construction, guaranteeing our

customers access to a wide range of

specific technological solutions dedicated

to machining prefabricated walls with

increased production efficiency and a better

return on investment," said Tommaso

Martini, manager for timber construction

business in SCM.

"An agreement with a global leading group

like SCM, with sound industrial expertise

and an extensive international distribution

network, means we can further strengthen

our presence on the most relevant markets,

offering the customer an even more direct,

widespread service," said Ola Lindh, CEO of

Randek.

Randek and SCM will develop and deliver

equipment for an advanced house factory

for the production of modules in wood and

steel frame. The customer consulted Bosch

Engineering and Production Services to

perform an analysis of potential suppliers.

"The decision to recommend our customer to

choose Randek and SCM was based on their

long experience in this kind of business and

their high standardisation level. In addition,

the visit at the suppliers' premise was very

impressive and has shown us that these are

the right companies with the right spirit to

fulfil the requirements and wishes of our

customer," said Markus Wörnle, senior project

manager of Bosch Engineering and Production

Services. WIA

STORA ENSO INVESTS

€9 MILLION IN AUTOMATED

CLT COATING LINE

Stora Enso will be investing €9 million in an automated cross-laminated

timber (CLT) coating line at the Ybbs sawmill in Austria. The investment

will further strengthen Stora Enso's position as a provider of engineered

wood products for low-carbon, sustainable buildings.

Stora Enso aims to lead the development of the growing mass timber

construction market. In the construction industry, there is a labour

shortage and pressure to shorten the construction time on-site. The

investment enables industrially pre-applied CLT coatings on the CLT walls

and floors produced at Stora Enso's Ybbs site. The automated coating

solution results in shorter construction times and higher wood protection.

"With this new automation line, we can apply high-quality water-based

coating to approximately 500,000m² of CLT walls and floors per year. Our

customers will benefit from improved protection of CLT against moisture,

sunlight, insects and fire, as well as nicely coloured visual surfaces," said

Lars Völkel, executive vice-president of the wood products division.

The automated CLT coating line is expected to be finalised in Q3 2023.

The Ybbs sawmill is located to serve all markets in central Europe. WIA

8 WOOD IN ARCHITECTURE • ISSUE 1 – 2022
---
NEWS

DOMOTEX TO

TAKE PLACE IN

JANUARY 2023

Deutsche Messe has announced that the

next edition of DOMOTEX will take place in

Hannover, Germany, from 12-15 Jan 2023.

The decision on the date in January 2023 was

taken following market discussions. DOMOTEX

will be a face-to-face event with additional

digital offerings, which means exhibiting

companies and trade show guests from all over

the world will be able to exchange information

on new products and current trends in the

industry on-site and virtually.

want to allow our customers to finally meet

in person again, to be inspired and to forge

new business relationships," said Sonia

Wedell-Castellano, global director DOMOTEX,

Deutsche Messe, Hannover.

"Having already had to cancel DOMOTEX twice

due to the pandemic, we would have liked to

give the industry its platform again this year.

However, after intensive discussions with

exhibiting companies, unfortunately, a majority

couldn't be found for a late summer edition of

DOMOTEX in September 2022. The preferred

option of the entire market is to keep the usual

date right at the beginning of the year."

Meanwhile, DOMOTEX Turkey, the trade

show for carpets and floor coverings in

Turkey and the Middle East, will continue to

take place in Gaziantep, Turkey, from 14-17

May 2022. DOMOTEX asia/CHINAFLOOR,

dedicated to the Asia-Pacific region, will

also be held from 25-27 May 2022 in

Shanghai, China, at the National Exhibition

and Convention Centre (NECC). WIA

"With the new date of DOMOTEX in January

2023, we want to give the players in the carpet

and floor coverings industry the greatest

possible long-term planning security. We

WOOD IN ARCHITECTURE • ISSUE 1 – 2022 9
---
NEWS

AUSTRALIAN PROGRAMME

TO INVEST AU$300 MILLION IN

MASS TIMBER BUILDINGS

On behalf of the Australian government, the

Clean Energy Finance Corporation (CEFC) will

be investing in an AU$300 million programme

to encourage mass timber construction

across the property sector in Australia.

The Timber Building Programme aims to cut

construction-related emissions, providing

a greener alternative to conventional

construction materials. The CEFC determined

through research the need to transform

the approach to construction to achieve

an economy-wide transition to net zero

emissions.

The $300m will be invested in projects

Australia wide, including commercial

offices, retail, industrial, healthcare and

education. Finance may also be available

for multi-residential apartments, seniors

living and student accommodation projects.

Concessional finance may be available under

certain circumstances.

According to CEFC, eligible projects will be

considered on a case-by-case basis and

may include those which: use low-carbon

engineered wood products in large-scale

construction; have secured appropriate

materials source, accreditation and embodied

carbon outcomes; require $20-75m in

CEFC debt finance; are commercially

sound, reflecting the rigorous investment

requirements of the CEFC; and comply with

the CEFC Investment Policies, Guidelines and

Risk Approach.

Ian Learmonth, CEO of CEFC, commented:

"Timber has been used in construction for

generations. Innovations in engineered

wood products have created new

opportunities for mass timber construction

to be used in larger projects, creating the

potential for immediate and long-term

environmental benefits.

"Our new Timber Building Programme will

help finance this transition by encouraging

owners, developers and builders to use lower

carbon engineered wood products in their

projects. The CEFC has a strong track record

in financing new market developments, from

large-scale solar to cleantech start-ups.

We are excited to bring this expertise to

sustainable construction."

Founded in 2012, the CEFC is an Australian

government-owned establishment, dedicated

to accelerating investments in Australia's

transition to net-zero emissions. WIA

WINNERS AND DESIGN TRENDS OF ICONIC AWARDS 2022:

INNOVATION INTERIOR REVEALED

The Iconic Awards 2022: Innovation Interior,

helmed by the German Design Council,

has announced the winners of its "Best of

Best", "Winner" and "Selection" labels, and

also trends in the furnishings industry and

developments in interior design.

As part of the German Design Council's Iconic

World platform, the Iconic Awards 2022:

Innovation Interior shows developments and

trends in design and furnishings each year, and

brings together architects, product designers

and property developers with the furnishings

industry. The German Design Council, since

1953, has been a centre of expertise in

communication and knowledge transfer within

design, branding and innovation.

The COVID-19 pandemic was again a theme for

this year's awards. Explaining its choices, the

jury said, "The pandemic is resulting in a variety

of deep changes to day-to-day life. There

are numerous designers responding to these

changes with vision. Work meetings and private

events are being held by video conferences,

and online delivery services and retailers are

supplying people with basic food and goods.

"Meanwhile the range of digital entertainment

media has reached record levels. The added

burden and the increased stress factor at work

and among families are paired with a loss of

options for relaxation, exercise and recreation.

Travelling to exotic destinations or partying is

out of the question. Many of our priorities have

changed. This has had a substantial impact

on design, as we saw during our evaluation of

the many entries for the Iconic Awards 2022:

Innovative Interior."

Some of the trends outlined by the German

Design Council include increasing demand for

hygiene products and new hygiene concepts

in a wide variety of design domains, all while

incorporating smart technology; the pandemic's

effect on the formal and aesthetic design of the

The V-Alpin is a project by Martin Ballendat which

was awarded the "Winner" label, manufactured by

Voglauer Gschwandtner & Zwilling (Image: German

Design Council)

objects, culminating in a shift towards cool, muted

tones, a clean design language and minimalism

involving only the essentials; high demand

for mobility, in a working world which values

flexibility, remote working and adaptability; and

material innovations that crease new forms and

objects, and minimise carbon emissions, all while

improving users' well-being. WIA

10 WOOD IN ARCHITECTURE • ISSUE 1 – 2022
---
NEWS

QUEBEC WOOD EXPORT BUREAU DEVELOPS TOOL TO

CALCULATE CO2 IMPACT IN BUILDING DESIGNS

Robotics & Innovation has

reported that the Quebec Wood

Export Bureau (QWEB), a nonprofit

organisation for wood

product manufacturers in Canada,

has developed a machine learning

tool with global AI consultancy

Brainpool.ai which calculates the

impact of CO2 in choices of earlyphase

building design.

According to QWEB and

Brainpool.ai, the tool CarbonFixer

aims to help the building

and construction industry

decarbonise by showing how

much CO2 is emitted in their

design-related choices of

using concrete and steel, in

comparative scenarios with

wood and bio-sourced building

materials.

The building industry is

responsible for 38% of the

total global energy-related CO2

emissions, mainly due to the

use of steel and concrete, with

concrete alone accounting for

8%. The partnership between

QWEB and Brainpool.ai hence

aims to explore carbon-neutral

alternatives of building materials.

Eli Gould, US architect liaison

and software project lead for

QWEB, described CarbonFixer

as "like using a mortgage

calculator before going to the

bank, it gives an idea of what

to expect". Architects and

sustainability professionals

can feed the tool basic building

data, such as dimensions, area

and structural data, to produce

scenarios that compare the use

of steel, concrete or timber.

It also has pre-sets for fire

resistance and acoustics and

offers design considerations

with industry-specific

knowledge and norm.

"Attitudes to using wood in

construction are changing,"

said Gould. "We wanted to

build a tool that counters the

greenwashing around nonsustainable

building materials

and gives architects and

construction firms the data and

confidence to explore timber

options.

"The Brainpool.ai team has

been instrumental in developing

the CarbonFixer, they were fast

Photo: BAM/Trevor Palin

Photo: BAM/Trevor Palin

and passionate and have created

something very robust that we can

soon launch to market."

Kasia Borowska, co-founder and

managing director of Brainpool.ai,

added: "CarbonFixer is a complex

application because of the volume

of data that has to be collected.

Our team of backend developers

and ML experts collated the data

quickly and built a robust proofof-concept

for the application,

which the CarbonFixer team

can develop further into the

future. The project shows how

environmental AI has a growing

role in the construction industry

PEFC/01-00-01

Constructing Constructing the Future with

Sustainable the

Timber the Future with

Sustainable Timber

Photo: BAM/Trevor Palin

PEFC/01-00-01

PEFC/01-00-01

Discover more at:

Discover www.pefc.org

Discover more more at: at:

www.pefc.org

from proving how sustainability is

feasible, through to automating

building designs to find the most

eco-efficient plans."

Robotics & Innovation explained

that the final version of the

tool will incorporate a machine

learning engine which will

continuously improve the accuracy

of calculations and inputs. Future

plans include integrations with

popular design software and a

bank of archetype structures

ready to be used and customised

by design studios. WIA

Source: Robotics & Innovation

Your assurance of

Your assurance of

responsibly Your assurance sourced of timber

responsibly sourced timber

responsibly sourced timber

Ask your suppliers for PEFC-certified

Ask

wood Ask your your products

suppliers for for PEFC-certified

wood wood products

Choose PEFC

Choose PEFC

Choose Caring for our PEFC forests

Caring globally and locally

Caring for for our our forests forests

globally globally and and locally locally

PEFC/01-00-01

PEFC/01-00-01

PEFC – Programme for the Endorsement of Forest Certification

PEFC – Programme for the Endorsement of Forest Certification

PEFC – Programme for the Endorsement of Forest Certification

Image: Darwin Vegher/Unsplash

PEFC INFOGRAPHIC AD MAY 2020 (B).indd 1 31/07/2020 11:03

PEFC INFOGRAPHIC PEFC INFOGRAPHIC AD MAY 2020 AD (B).indd MAY 20201 (B).indd 1 31/07/2020 31/07/202011:03

11:03

WOOD IN ARCHITECTURE • ISSUE 1 – 2022 11
---
NEWS

SLOW: A PROJECT BY AMERICAN

HARDWOOD EXPORT COUNCIL

Berlin's Museum of Decorative Arts,

Kunstgewerbemuseum, has opened its

permanent collection for an intervention from

26 Nov 2021 to 20 Feb 2022, showcasing

and celebrating emerging design talent and

the sustainability and versatility of wood as a

design material.

Initiated by the American Hardwood Export

Council (AHEC), Slow consists of nine projects

from emerging designers working with

American red oak, cherry and hard and soft

maple. Woven among the museum's existing

exhibits, these contemporary designs represent

design voices that articulate new ways of

thinking about sustainability and accountability

in terms of design, materiality and production

process.

From one or more of the aforementioned

hardwoods, each designer has created an

object that reflects their approach towards the

theme "slow design for fast change". The result

is a range of products, including bowls, chairs,

benches, shelving systems, tables and modular

furniture elements. This variety reflects voices

and ideas that are united by an emphasis on

sustainability, longevity and a focus on quality.

Nine young designers were hand-picked by

a selection panel comprising their university

tutors, the project's manufacturing partner,

German workshop Holzfreude, three mentors –

Hanne Willmann, Sebastian Herkner and Garth

Roberts – and the AHEC team.

"RE;Collection" by Hansil

Heo, displayed during

American Hardwood

Export Council's Slow

exhibition

The designers are: Maximilian Beck, Clémence

Buytaert, Simon Gehring, Hansil Heo, Sarah

Hossli and Lorenz Noelle, Anna Koppmann,

Haus Otto (Nils Körner and Patrick Henry Nagel),

Theo Luvisotto, and Maximilian Rohregger.

According to AHEC, the concept of "slow" – as

understood in terms of slow fashion or slow

food – is a response to the lifestyle changes

borne from COVID-19. Products that keep

materials in circulation for as long as possible are

increasingly appealing. All over the world, oncehectic

routines have been forced to slow down

drastically, making people even more aware

of what and how they consume. As such, the

concept of "slow" has come to entail a holistic

approach to creative thinking, processes and

products.

Among some of the pieces designed and were

displayed in Kunstgewerbemuseum include:

"Leftover Synthesis" by Simon Gehring, which

explores better use of wood scraps from furniture

production, combined with computational design

methods, using American cherry, maple and red

oak; "Rocking Chair" by Clémence Buytaert,

a rocking chair made using American red oak;

"RE;Collection" by Hansil Heo, a sculptural

storage system inspired by historic Korean

culture, and made using American cherry, maple

and red oak; and others.

"Strong, tactile and visually appealing, wood is

essential in an era of plastics, over-consumption

and climate change, because of its low impact on

the environment and the fact that it can be easily

recycled," commented David Venables, European

director of AHEC. "As well as being a material for

making, it is also a low-impact fuel and a carbon

store. This project presents four underused

timbers and questions the assumption that the

most well-known varieties of wood are always

the only 'right' woods to use." WIA

BECK LAUNCHES LIGNOLOC WOODEN NAILS

WITH HEAD FOR FAÇADE APPLICATIONS

After LIGNOLOC received the German general

construction technique permit in 2020, the

new wooden nail system with head tailored for

façade applications will be launched in 2022.

Developed by Austria-based fastening

developer Beck, LIGNOLOC is a collated

wooden nail for future-oriented use in

industrial production and ecological wood

processing. Made with central European beech

wood, the design of the LIGNOLOC nail point

and the large amount of heat generated by

friction when the nail is driven in at a high

speed will cause the lignin of the wooden nail

to weld with the surrounding wood to form a

substance-to-substance bond.

The most recent version of the LIGNOLOC F60

pneumatic nailer has already been adapted to

accept nails with head and is available now.

The main target application is horizontal and

vertical wood cladding. The nail with head

allows exterior cladding panels to be held

securely in position.

According to Beck, it has a blunt anti-splitting

point and is suitable for the most common

softwood façades as well as a range of other

LIGNOLOC (Image: Beck)

applications, both indoors and outdoors, such

as privacy screens, garden sheds, gazebos,

room dividers, among others. WIA

12 WOOD IN ARCHITECTURE • ISSUE 1 – 2022
---
NEWS

AURECON APPOINTS

NEW MANAGING

DIRECTOR TO DRIVE

GROWTH IN GREATER

CHINA

Alton Chow, new managing

director of Aurecon, Greater

China (Image: Aurecon)

International design, engineering and advisory

company Aurecon has appointed Alton Chow

as its new managing director of Greater China.

With this new appointment, Chow will take the

lead to grow Aurecon's business in Greater

China and work with the team to deliver

innovative and sustainable solutions to clients.

This move is part of Aurecon's strategy

to further strengthen its position in the

infrastructure and engineering sector in

Greater China. Recent years have seen the

company bolster its leadership team and grow

its presence steadily in the region. The team

has been winning and working on noteworthy

projects such as the recent MTR Hung Shui Kiu

Station, Tuen Ma Line extension, the Hong Kong

West Kowloon Terminus, The Mills, and Tseung

Kwan O – Lam Tin Tunnel.

Approximately HK$100 billion (US$12.8 billion)

is expected to be invested annually in Hong

Kong's infrastructure over the next decade,

in addition to the $120bn stimulus package

announced earlier this year. Infrastructure

development is also a key highlight in this

year's Chief Executive's Policy Address

2021 where there is a focus on Smart Cities,

developing a new Northern Metropolis,

establishing transport infrastructureled

developments and building an ecoenvironment,

among other initiatives.

Commenting on his new role, Chow said: "It is

refreshing to see an innovative company like

Aurecon pivot towards growth and expanding its

operations with purposeful and deliberate intent.

I also appreciate that Aurecon is committed to

quality and has grown a culture that focuses on

talent. This is crucial to any consulting business,

especially in the design, engineering and advisory

sectors.

"Along with that, I see immense potential in

the region, and I am confident that together as

a team, we can and will collectively advance

our growth and maximise this region's market

opportunities."

Prior to this appointment, Alton was with AECOM

for over seven years. He served as vice-president

and global head of commercial development as

well as Asia head of architecture. In these roles,

he expanded the company's market share in

the US, Middle East and Asia through strategic

alignments with key global clients. Earlier in

his career with the organisation, Alton was the

managing director for Mainland China where he

was responsible for the business' restructure,

driving record growth during his tenure. WIA

NATURAL RESOURCES CANADA SUPPORTING SUSTAINABLE AND

INNOVATIVE WOOD CONSTRUCTION

Jonathan Wilkinson, the Canadian Minister

of Natural Resources, has announced a

CA$887,000 investment to support the

replacement of the Duchesnay Creek

Bridge that connects the City of North Bay,

Ontario, Canada, and the Nipissing First

Nation, Ontario. The Government of Ontario

contributed $17m.

This is in line with Canada's goal of investing in

the increased use of wood in the construction

industry, to achieve their climate change

goals while increasing the demand for

Canadian wood products and creating jobs for

Canadians. The goal is supported by Natural

Resources Canada, a department of the

Federal Government of Canada that researches

and develops policies on natural resources,

energy, minerals and metals, forests, earth

sciences, mapping, and remote sensing.

Wilkinson said: "There is no solution to climate

change that does not involve our forests.

Creating new markets for Canadian timber

supports our forestry workers, creates jobs

and gets us to net-zero. By supporting the

use of wood in construction, we are taking

action to protect our planet and support our

communities."

Funding for this project is provided through

Natural Resources Canada's Green

Construction through Wood programme, which

encourages the use of wood in non-traditional

construction projects, such as tall and lowrise

non-residential buildings and bridges.

The programme aims to position Canada as a

world leader in innovative timber construction

systems and technologies and in the lowcarbon

economy, and also help Canada achieve

its 2030 climate change goals.

The funding supported the design and

construction of the new replacement bridge

and was made to maintain the original timber

aesthetic of the old bridge. By building with

wood, this project will result in a total carbon

benefit of 991 tonnes of CO2, which is

equivalent to taking over 190 cars off the road

for a full year. The bridge was built through a

limited partnership of Nipissing First Nation and

Miller Paving, which provided employment and

training opportunities for the community.

Patty Hajdu, Minister of Indigenous Services,

concluded: "Using green construction materials

and including employment and training

opportunities with the local community, this

project shows others how to make sure what

we build as a country can help with our goals

of a cleaner and more inclusive country. A big

congratulations to all involved." WIA

WOOD IN ARCHITECTURE • ISSUE 1 – 2022 13
---
NEWS

ASCENT TOPS OFF AS "WORLD'S TALLEST MASS TIMBER

HYBRID TOWER": NEW LAND ENTERPRISES

Top-down view of Ascent. (Photo: Korb + Associates Architects)

In mid-December 2021, the final mass

timber beams, columns and cross-laminated

timber (CLT) roof were set into place at

downtown Milwaukee's Ascent construction

site. This makes Ascent 284ft, or roughly

86.5m-tall, making it officially "the world's

tallest mass timber hybrid tower" at the time

of going to press, according to New Land

Enterprises, the real estate development

and property management company behind

Ascent.

Ascent, a mass timber structure in

Milwaukee, US, broke ground at the

intersection of Kilbourn and Van Buren in

August 2020, with timber construction

commencing in June 2021. Six months later,

general contractor C.D. Smith Construction

topped off the innovative tower at 25 storeys.

The construction process used prefabricated

columns and beams with factory integrated

connectors, making the construction process

approximately 25% faster.

"Today is the culmination of years of

determination and innovation for New

Land and our partners," commented Tim

Gokhman, managing director of New Land

Enterprises. "Together, we've shown that

we can build a more beautiful, sustainable

and precise building faster, paving the way

to transform development in the US. The

crews involved in construction have done

an amazing job and should be very proud of

today's milestone."

New Land Enterprises did not set out to break

the world record when the project began

more than three years ago, but after several

design revisions, the height of the tower

climbed four feet taller than the current

record holder in Norway.

"This continues to be a job of amazing

scale as we top off the building and

proceed with the buildout," said Chris

Johansen, project manager at C.D. Smith

Construction. "We have a veteran-led

team of talented craftsmen that really

took ownership and are always looking

for ways to build faster, smarter, safer."

With timber installation complete and

glazing mostly up, the project is already

moving into its final phase of interior

buildout. The building's 259 luxury

apartment homes will feature exposed

timber ceilings and columns, finishes

and appointed fixtures. Ascent will also

offer amenities including an indoor and

outdoor seventh-floor pool, a rooftop

cinema, a golf simulator, and a fitness

centre. It is scheduled to open this

summer. WIA

14 WOOD IN ARCHITECTURE • ISSUE 1 – 2022
---
BIG PICTURE

Pavilions

for one and all

A shelter for the weary, an outdoor classroom for youths, a performance

venue for curious passers-by — these are a few of the many possibilities

that pavilions can offer to the public. Here, we invite everyone to

imagine themselves within these pavilions, admire their versatility, and

marvel at how wood is an integral part of their structural beauty.

16 WOOD IN ARCHITECTURE • ISSUE 1 – 2022
---
BIG PICTURE

Efficient, economical,

ecological and

expressive

PROJECT: BUGA Wood Pavilion

LOCATION: Heilbronn, Baden-Württemberg, Germany

ARCHITECTS: Computational Design and Construction

(ICD) and the Institute for Building Structures and

Structural Design (ITKE) at the University of Stuttgart

COVERED AREA: 500m²

SHELL AREA: 600m²

PHOTOGRAPHY: ICD/ITKE University of Stuttgard

TEXT: ICD and ITKE

The BUGA Wood Pavilion celebrates a new approach to

digital timber construction. Its segmented wood shell is

based on biological principles found in the plate skeleton

of sea urchins, which have been studied by the Institute

for Computational Design and Construction (ICD) and the

Institute for Building Structures and Structural Design (ITKE)

at the University of Stuttgart for almost a decade.

As part of the project, a robotic manufacturing platform

was developed for the automated assembly and milling of

the pavilion's 376 hollow wood segments. This fabrication

process ensures that all segments fit together with submillimetre

precision like a big, three-dimensional puzzle. The

wooden roof spans 30m over one of BUGA's main event and

concert venues, using a minimum amount of material while

also generating an architectural space.

WOOD IN ARCHITECTURE • ISSUE 1– 2022 17
---
BIG PICTURE

1 2

1 Finished hollow

wood segment with

finger joints and bolt

holes

2 Preformatted plates

and finished hollow

wood shell segments

3 Detail view of spine

arch of the BUGA

Wood Pavilion

4 Interior and flexible

event space of the

BUGA Wood Pavilion

BIOMIMETIC LIGHTWEIGHT

CONSTRUCTION

The BUGA Wood pavilion provides an

architectural attraction at the central summer

island of the Bundesgartenschau 2019 in

Heilbronn, Baden-Württemberg, Germany.

Following the precursor research building of

the same project team, the LAGA Exhibition

Hall in Schwaebisch Gmuend, the research

goal of the BUGA Wood Pavilion is pushing

the architectural articulation and structural

performance of biomimetic segmented wood

shells onto a new level: With the same small

amount of wood per square meter as in the

LAGA project, is it possible to build a shell

that reaches triple the span? And can this

structure remain fully reusable, so that it can

be deployed on a different site after the BUGA

without any loss of performance?

To achieve this goal, the pavilion builds on the

biomimetic principle of using less material

by having more form, both on the level of the

overall shell and its individual segments. In

order to minimise material consumption and

weight, each wood segment is built up from

two thin plates that plank a ring of edgebeams

on top and bottom, forming large scale

hollow wooden cases with polygonal forms.

The bottom plate includes a large opening,

which constitutes a distinctive architectural

feature and provides access to the hidden

connections during assembly. The lightweight

building elements are connected by finger

joints, which follow the morphological principles

of anatomic features found on the edge of sea

urchins' plates. In the assembled state, the

shell works as a form-active structure through

its doubly-curved geometry.

INTEGRATIVE (CO)DESIGN

New ways of building require new ways of

designing and manufacturing. The BUGA Wood

pavilion was conceived under the paradigm

of co-design, where possibilities in design,

engineering and fabrication are explored

through continuous computational feedback

within an interdisciplinary team. In this

project, the co-design algorithms developed

by the project team generate the shape of

each element of the pavilion according to

architectural design intent and structural

requirements, while all robotic fabrication

aspects are directly embedded and negotiated.

The design of the pavilion happens concurrently

and in feedback with the design of the robotic

manufacturing set-up, which is a bespoke

development for the project.

The integrative process enables the design and

engineering of 376 plate segments with 17,000

different finger joints in response to multifaceted

18 WOOD IN ARCHITECTURE • ISSUE 1 – 2022
---
BIG PICTURE

3 4

design criteria, from the scale of the overall

structure down to sub-millimetre details.

Without any loss of precision, this multi-scale

approach allows addressing architectural and

structural considerations concurrently. Despite

the pioneering character of the project, and

despite a short development time of only 13

months from commission to the opening, the

integrative computational process allows for

the careful design of each building element in

minute detail.

ROBOTIC PREFABRICATION

Compared to a solid wood plate, the hollow

building segments reduce weight and

material, but they increase the number of

building parts eightfold and lead to more

complex manufacturing. Thus, striving for

higher resource efficiency needs to go hand in

hand with automated robotic manufacturing of

the shell segments. For this, a transportable,

14-axes robotic timber-manufacturing

platform was developed by ICD University of

Stuttgart and BEC, a manufacturer of robotic

applications for industrial automisation,

and located at the industrial partner

MuellerBlaustein Holzbauwerke

for production. The platform includes two

high-payload industrial robots mounted

on a 20-foot standard container base. The

flexibility of industrial robots allows the

integration of all prefabrication steps of the

pavilion's segments within one manufacturing

unit.

During production, each shell segment

is robotically assembled. This entails the

placement of preformatted timber plates

and beams, their temporary fixation with

beech nails, and the controlled application for

the structural glue joint between plate and

beam. In a second step, the finger-joints and

openings are machined into the segments

with 300μm accuracy. From the assembly of

beams and plates, to multi-tool machining

and sensorial process- and image-based

quality control, everything happens in a fully

automated workflow, controlled by two million

custom lines of robotic code that were directly

exported from the computational design

framework, according to ICD and ITKE. On

average, the assembly time per segment is

eight minutes, with the high precision-milling

taking another 20-40 minutes.

A NOVEL STRUCTURE AND

ARCHITECTURAL SPACE

The prefabricated shell segments were

assembled in within 10 working days by a

team of two craftsmen, as reported by ICD and

ITKE, without the usually required extensive

scaffolding or formwork. After connecting

all segments with removable bolts, a layer of

ethylene propylene diene monomer (EPDM) foil

was rolled over the pavilion in eight strips to

provide waterproofing. Untreated larch facade

plates provide the external cladding of the

pavilion. All building elements are designed for

disassembly and reuse on a different site.

The pavilion's loadbearing wood shell achieves

a column-free span of 30m, but weighs

36kg/m². Drawing a line from traditional

carpentry to high-tech robotic fabrication

methods, the BUGA Wood Pavilion showcases

the possibilities for efficient, economical,

ecological and expressive wood architecture

that arises at the intersection of master craft,

digital innovation and scientific research.

The BUGA Wood Pavilion is located at a central

crossroad within the wavy landscape of the

BUGA summer island. Three arches form

openings in the main directions and guide

visitors into the pavilion's interior. Hosting

concerts and public events, the shell creates

a smoothly-curved space that provides good

acoustics and generates an architectural

atmosphere. This is especially true at night,

when thousands of LED lights embedded in

the shells inner openings light up and bathe

the pavilion's interior in subtle, warm and

welcoming light.

WOOD IN ARCHITECTURE • ISSUE 1– 2022 19
---
BIG PICTURE

Designed and fabricated by Skidmore,

Owings & Merrill (SOM) and the

University of Michigan Taubman

College of Architecture and Urban

Planning, the pavilion is an open-air

learning lab and gathering space for a

high school in Chicago's South Shore.

Prefabricated

and sustainable

PROJECT: SPLAM Pavilion

LOCATION: Chicago, Illinois, US

CLIENT: EPIC Academy

ARCHITECTS: Skidmore, Owings & Merrill,

and University of Michigan Taubman

College of Architecture and Urban Planning

IMAGES: Kendall McCaugherty and Dave Burk

The SPLAM pavilion, which stands for

SPatial LAMinated timber, showcases

the potential for prefabricated

timber framing panels using robotic

technology to advance more

sustainable and efficient methods of

design and construction.

Spatial-laminated timber (SLT)

proposes an evolution of conventional

framing systems using an optimised

timber structure. The pavilion, unveiled

20 WOOD IN ARCHITECTURE • ISSUE 1 – 2022
---
BIG PICTURE

in September 2021 at the opening of

the Chicago Architecture Biennial, is a

full-scale prototype of a single-storey

SLT structural framing system used in

mid-rise, fire-resistant construction.

Lighter in weight than conventional

building framing methods, SLT reduces

material use by 46% compared to a

cross-laminated timber (CLT) panel.

The pavilion demonstrates a solution

that could reduce timber consumption

and overall carbon footprint if used to

construct an entire building.

"Weaving together timber beams like

threads in fabric, SPLAM explores

the idea of using smaller pieces of

wood than conventional mass timber

construction systems. Doing so means

that the wood can be sourced from

more rapidly renewable forests, or,

in theory, even from the salvaged

components of deconstructed

buildings," said Scott Duncan, SOM

design partner.

The team chose timber for its inherent

sustainable qualities, as a renewable

resource which has the capacity

to sequester carbon compared to

conventional concrete slabs. The

pavilion comes together using

interlocking timber joints, which allows

for shorter and salvaged wood beams

to be used.

"Automated manufacturing

technologies enable us to precisely

and efficiently prefabricate a kit

of parts which can be delivered to

the construction site on demand,

leveraging skilled labour where it

is most effective in the process,"

said professors Ng Tsz Yan and Wes

McGee.

SPLAM is a permanent addition to EPIC

Academy's South Shore high school

campus. The pavilion will host a series

of performances during the Biennial,

and will function as an outdoor

classroom and performance venue

afterwards, contributing to the future of

post-pandemic teaching and learning.

The pavilion was designed and

constructed in partnership with

Autodesk, McHugh Construction,

Gremley & Biedermann, and REX

Engineering Group.

WOOD IN ARCHITECTURE • ISSUE 1– 2022 21
---
BIG PICTURE

1

22 WOOD IN ARCHITECTURE • ISSUE 1 – 2022
---
BIG PICTURE

A structural

beauty

PROJECT: CLT Park Harumi

LOCATION: Tokyo, Japan

ARCHITECTS: Kengo Kuma & Associates

COMPLETION DATE: 5 Dec 2019

IMAGES: Kawasumi Kobayashi Kenji

Photograph Office / Satoshi Takae / Hiroshi Kuwahara

TEXT: Kengo Kuma & Associates

Kengo Kuma & Associates designed

a temporary cross-laminated

timber (CLT) pavilion for events and

performances for an open area in

the district of Harumi, Tokyo, Japan.

In the semi-outdoor space, the CLT

Park Harumi was built by weaving

leaves made from CLT panels of

160cmx350cm and 21cm-thick with

a steel frame, creating a structure that

appears to be reaching up in a spiral

shape towards the sky.

Transparent kite-shaped pieces made

from TEFKA fluororesin film were used

to close off the gap between the CLT

panels in order to prevent the entrance

of rain and wind, while allowing light to

filter through the CLT leaves like trees

in a forest.

The Meiken Lamwood Corporation

used Japanese cypress from Maniwa

city in Okayama prefecture to make

the CLT panels. After their period of

use in Harumi comes to an end, the

panels will be transported back to the

Hiruzen National Park in Maniwa and

reassembled in an area surrounded by

greenery.

WOOD IN ARCHITECTURE • ISSUE 1– 2022 23
---
BIG PICTURE

A resting point

PROJECT: Helsinki

Biennial Pavilion

LOCATION: Lyypekinlaituri,

Helsinki, Finland

SCALE: 187m 2

CLIENT: City of Helsinki,

Urban Environmental Division

ARCHITECTURE AND

DESIGN FIRM: Verstas Architects

TEXT: Verstas Architects

This pavilion is the entry to the Helsinki

Biennial, an art festival that takes place on

the island of Vallisaari, Helsinki, Finland.

Ferries from the pavilion will take visitors

from the harbour in the old town of Helsinki

to the archipelago. The wooden swirl of

the pavilion stands out in contrast to the

19th-century maritime city. The Market

Square and the façade of neoclassical and

neo-Renaissance buildings, such as the City

Hall, the Old Market Hall and the Cathedral

surround the pavilion. Instead, the form of

the temporary pavilion, reminiscent of a

giant's kettle, echoes the coastal cliffs of

Vallisaari that the ice age has rounded. Its

deck connotes wooden ships that still visit

the harbour during a herring market. Verstas

Architects designed the temporary pavilion to

prepare the visitor for the journey to the art

festival on the Vallisaari island.

A TERMINAL FOR THE ART

BIENNIAL

The Helsinki Biennial is expected to attract

300,000 visitors. It is part of Helsinki's

strategy to make the archipelago more

accessible, attractive and better serviced for

the public. The Vallisaari island, previously a

military area, has recently been opened to the

public. The Biennial Pavilion will house tourist

information as well as ancillary spaces in a

simple rectangular volume next to the pavilion

proper. The pavilion is a place to wait for the

ferry in all weathers. In sun, one can rest on

the sloping deck that provides a vantage point

to the Market Square and the Baltic Sea. In

case of rain, there are benches to wait under

the tent-like roof, which triangular timber

frames support.

DESIGN AND CONSTRUCTION

Verstas Architects studied the form of the

pavilion with the help of modelling clay models

and then designed it digitally. The digital 3D

building model guided the construction in the

wood workshop directly, without conventional

construction drawings. The workshop, too,

was in a port town, hence the pieces were

brought to Helsinki in a barge. The pavilion

is assembled of prefabricated elements

connected with bolts. Open elements consist

of glue-laminated timber frames and steel

ties, clad with laminated veneer lumber and

topped with fine-sawn pine battens. Lighting is

hidden in slots between the frames. The deck

is made of oiled pine planks, while the round

yard is paved with greyed crosscut logs and

white quartz sand.

1

24 WOOD IN ARCHITECTURE • ISSUE 1 – 2022
---
BIG PICTURE

2

3 4

1 The wooden pavilion is reminiscent of the cliffs

of Vallisaari or old wooden ships (Image: Tuomas

Uusheimo)

2 The Market Square and the façade of neoclassical

and neo-Renaissance buildings surround the pavilion

(Image: Pyry Kantonen)

3 The visitors can wait for the ferry under a tent-like roof

(Image: Pyry Kantonen)

4 The inner courtyard is paved with cross-cut logs and

quartz sand (Image: Pyry Kantonen)

WOOD IN ARCHITECTURE • ISSUE 1– 2022 25
---
BIG PICTURE

An experiment

with archetypes

PROJECT NAME: Wooden Pavilion #1 —

Experiment on Space Prototype

ARCHITECTS: LIN Architects

LOCATION: Zhenjiang, Jiangsu, China

AREA: 50m²

COMPLETION YEAR: December 2021

TEACHING RESEARCH AND

MATERIALS SUPPORT: RAC Studio

PHOTOGRAPHY: Liu Songkai

and Lin Lifeng

TEXT: Lin Lifeng

THREE KEYWORDS

Are there any new architectural space

prototypes that can be discussed? This

question is the starting point of LIN

Architect's experimental project, which

is located near the river in the tourist

area of Jiangxin Island in Zhenjiang,

Jiangsu province. In this project,

the architects sacrificed functional

elements and looked for keywords

that can define spatial elements in the

environment.

After analysing the site, they

focused on three keywords for the

design: ergonomics, proxemics,

and behaviourology.

Ergonomics: The scale of human

behaviour is one of the concerns

of this project. By observing and

understanding the behaviour

of people, the architects can

discover all kinds of possibilities

of space.

Space proxemics: Proxemics

is a concept developed by

anthropologist Edward T. Hall in his

book, The Hidden Dimension. For

Wooden Pavilion #1, the architects

deepened and extended this

concept of proxemics, applying it to

the category of physical space, and

discussed how intimate, private,

social and public spaces are

defined and designed at different

scales.

26 WOOD IN ARCHITECTURE • ISSUE 1 – 2022
---
BIG PICTURE

Behaviourology: On behaviour,

from the perspective of architects

Yoshiharu Tsukamoto and Momoyo

Kaijima, human, nature and

architecture are discussed as a whole,

because the study of this project does

not involve the category of urban daily

life pattern.

Therefore, the behaviourology of

various elements in the natural

environment was studied and

explored. Breeze, sunshine, sound

of waves, drizzle, sweet Osmanthus

fragrance, all of which affect the feel,

perception, touch, hearing, visual

elements, are the design materials.

ARCHETYPE DESIGN

Through keyword research, LIN

Architects began to create new forms

of space in response to the various

design elements surrounding it.

Human behaviour, such as sitting,

squatting, lying down, meditating,

listening, peeping, wandering,

overlooking and staring, forms the

space. The act of light, such as the

rising and setting of the sun, the

passing of the last light, the coming

of the lamp, and the illumination, is

a dialogue between space and time.

Finally, surrounding environment

elements like the brushing sea breeze,

rustling leaves, chirping frogs and

singing cicadas, is the medium of

dialogue between people and space.

MATERIALS AND STRUCTURE

LIN Architects prioritised the

combination of steel and wood

structure. Steel is easy to be hot-bent

to shape the main structure matching

the spatial form, while wooden keel

is the secondary structure, and

the texture and characteristics of

wood interact with the surrounding

environmental elements, producing

new traces. Steel and wood are

prefabricated in the factory and

welded together on site. WIA

3

WOOD IN ARCHITECTURE • ISSUE 1– 2022 27
---
SUSTAINABILITY

CO2 storage in wood

By Per Friis Knudsen, director, Global Timber Asia

The storage of CO2 – how it is tied up

in wood, and how the well-being of our

forests globally is necessary so that it

stays healthy and continues to tie up all

that CO2 – is a topic of interest to me.

Wood is one of the keys to a sustainable

future. That is not news for our industry

and our followers, and hopefully, this is

what our children learn in school.

Wood is a renewable resource as it

feeds on CO2, water, nutritious soil, and

sun rays. Wood stores approximately

1 tonne of CO2 per 1m 3 of wood.

Wood does not use any machinery

to grow and to store CO2 and it is

thereby CO2-negative. It can replace

other materials that are CO2-positive

materials that are manufactured using

heavy machinery such as steel and

concrete, used, for example, in the

construction of housing. The best thing

is if we help forests to stay healthy, it will

tie up even more CO2 in wood.

Per Friis Knudsen is the director of Global Timber

Asia and is responsible for sales and trades in Asia. He

has years of experience in the global wood industry

and is a qualified furniture maker with comprehensive

expertise in the wood furniture business. Before

joining Global Timber in 2013, Knudsen worked and

travelled across countries and cultures. With Asia

being his greatest interest, he decided to settle in

Malaysia from where he has worked with hardwood

trade ever since.

HOW CAN WOOD HELP SAVE

THE ENVIRONMENT?

Most air pollution comes from towns

and industries, whereas a forest usually

has a clean environment. A fresh breath

of air and far away from polluting

factories and towns. However, this has

led me to wonder about the connection

between the two areas. If that is the

case, the air from the forest where I

get my wood in Denmark is clean and

does not contain severely polluted air.

However, if I had imported and bought

the wood from a country with higher

pollution rates, would the wood be

just as clean, or store more CO2 as the

surrounding area is more polluted?

This would lead to questions such as,

should we plant a forest in very close

proximity to a town or industrial area

with high levels of pollution? Should

28 WOOD IN ARCHITECTURE • ISSUE 1 – 2022
---
SUSTAINABILITY

year. Thus, planting multiple tree species in

urban areas can help in CO2 mitigation and the

subsequent climate change.

we plant forests to prevent polluted air from

getting into the atmosphere and swirling

around and spreading to the clean forest?

Can we draw a hard line between the air that

is polluted and air that is not? And is CO2

different in the wood itself with different

levels of pollution?

Looking at a map from Global Forest Watch,

China has enormous areas of land covered

in trees but unfortunately, most of it is in

central China, which is far away from the

main pollution centres. China has grown its

forest by 40% over the last 30 years. That

equals an area of 629,367km 2 , and to put it

into perspective it is about the area of Texas,

US. I then wonder, how much pollution

does this forest collect and store? Does it

help China to get cleaner air? Or does all

the pollution in this global world enter the

atmosphere and spread equally around the

world and find a tree to store it in no matter

if it is a red oak tree in the Appalachian or a

beech tree in Denmark?

With these questions in mind, I called our

freelance consultant Krishnanunni Ravindran

to ask him about this.

Most air pollution and

harmful GHG comes from

towns and industries

Per Friis Knudsen: Would it help to plant

more trees near very polluted areas, such

as urban and industrial areas, to absorb the

CO2 emissions at an early stage to prevent

the CO2 to get into the atmosphere?

Krishnanunni Ravindran: Yes, growing trees

in towns and industrial areas can significantly

address the problem of urban air pollution.

Trees can absorb CO2 and other toxic

particles, odours, and pollutant gases, thereby

effectively filtering these chemicals from the

air. Trees growing in the street proximity can

absorb more pollutant gases than distant

trees growing miles away from the source of

pollution. Thus, trees absorb CO2 from the

atmosphere and release oxygen in return

through the process of photosynthesis.

Depending on the attributes of the tree — the

species, age, leaf type, canopy structure, and

others — and the environmental conditions,

the amount of CO2 absorbed by trees may

differ. Some trees are sensitive to changing

environmental conditions and absorb different

amounts of CO2 in different seasons. Some

are insensitive to seasonal changes in

environmental conditions and absorb more

or less the same amount of CO2 around the

Knudsen: We hear terms like CO2, nitrogen

dioxide (NO2), methane (CH4), and sulphur

dioxide (SO2) from time to time, but we

always focus on CO2. What are the other

elements? Where do they come from and

what impact do they have on us? Can they

be absorbed? Which of these gases is the

biggest problem for the environment?

Ravindran: Apart from CO2, there are a lot

of gases in the atmosphere such as nitrogen

oxides, ammonia, CH4, SO2, ozone (O3), water

vapour (H2O), chlorofluorocarbons (CFCs), and

others. They are released from many natural

sources such as volcanoes, decomposition

of organic matter, respiration, and the

combustion of fossil fuels. All these gases are

now commonly known as greenhouse gases

(GHGs) because of the warming effect it has

on our environment. Well, these gases are

purposely meant for keeping us warm and

comfortable on earth. Without these gases in

the atmosphere, we would have experienced

zero-degree Fahrenheit, making life impossible

on earth. However, a gradual increase in the

amount of these gases in the atmosphere

could increase the temperature of the earth,

causing serious problems to mankind.

Trees can absorb CO2 and other toxic particles,

odours, and pollutant gases, and when planted near

industrial areas, can address urban air pollution

WOOD IN ARCHITECTURE • ISSUE 1 – 2022 29
---
SUSTAINABILITY

Out of the many GHGs, CO2 is the largest in

concentration and of most concern because

of its potential warming effect. Other gases

such as SO2, ammonia, nitrous oxides,

are also harmful to life when present in

amounts beyond the permissible limits. We

can of course mitigate some of these gases

by planting more trees, which absorbs

them through their leaf pores, roots, and

bark surfaces. Trees are, therefore, an ideal

solution to abate global warming caused by

these greenhouse gases.

Knudsen: When I burn wood, do I then

release the same amount of CO2 that was

absorbed and stored in the wood in the

first place? What is the waste material

from burned wood?

Ravindran: Trees store carbon in their

leaves, trunk, branches, and extensive

roots. Also, trees store a significant amount

of carbon, around 48%, in the nearby leaf

litter and soil. So, not all absorbed CO2 is

released upon burning wood.

By burning wood, we unlock the carbon

stored in it, releasing it as CO2. The

resultant is ash and it is mainly comprised

of calcium compounds, potash, phosphate

and other hard metals like iron, copper,

zinc that the tree absorbs during its

lifetime.

Knudsen: Is it possible to calculate how

much CO2 a km 2 of forest can absorb? For

example, can we calculate how much CO2

storage we lose for each football field of

deforestation?

Ravindran: This is difficult to answer as the

amount of CO2 absorbed by trees depends

on their attributes and the environmental

conditions under which they grow. On

average, a mature tree absorbs 22kg or

48lb of CO2 annually. However, different

studies have given different values,

complicating its calculation. Findings from

North American forests show that CO2

uptake by forests is around 0.5kg/m 2 per

year. Thus, 1km 2 would absorb around

500 tonnes. This would be far higher for

old-growth forests compared to forests that

have regrown after harvest.

Carbon remains stored in wood — whether as timber or paper — until it is burned or rots

Knudsen: One of my favourite things to say

is "use more paper and wood — plant more

trees". The meaning is that we should trap

and store more CO2 in paper and wood that

can be recycled and reused repeatedly. Is

there a difference between how much CO2

wood and paper contain?

Ravindran: Carbon remains stored in wood

until it is burned or rots, no matter if it is timber

or paper pulp. Paper is a processed material,

and therefore, its production costs a lot of

emissions. Also, not all paper that ends up

in the trash is recycled. It is mostly burned,

unlocking all the carbon stored in it. Thus,

reducing paper use and increasing timber

production is what I would recommend for

mitigating CO2.

ENDING THOUGHTS

What I have learned already in 2022 is

to continue my Global Timber New Year

resolutions and additionally start recycling

more paper. Also, it sounds like a beautiful

thought to plant more forests in and

around polluted areas. But how easy is it

to carry out and why has it not been done

yet? One answer could be that the terrain

surrounding some of these areas is not

suitable for growing a forest. For example,

India and Pakistan have large parts of

barren areas where just about nothing can

grow. Can we then plant something else

instead like bushes to store CO2? WIA

References:

1. Visual Capitalist. Mapped: 30 Years of Deforestation and

Forest Growth, by Country.

This article was first published on Global Timber's website and

is reproduced here with permission.

30 WOOD IN ARCHITECTURE • ISSUE 1 – 2022
---
W O O D & W O O D W O R K I N G

20-22 JANUARY 2021

HANOIWOOD 2023

河 内 木 工 机 械 展

NEW DATE:

9-11 FEBRUARY 2023

Venue:

International Centre of

Exhibition (I.C.E ), Hanoi

91 Tran Hung Dao Street, Hoan Kiem

District, Hanoi , Vietnam

QR Code to exhibition

location on Google Map

JOINTLY ORGANISED BY

M A C H I N E R Y

BINH DUONG FURNITURE ASSOCIATION

PANELS & FURNITURE GROUP

VIETNAM TIMBER AND

FOREST PRODUCT ASSOCIATION

T R A D E F A I R

Pablo Shanghai

Contact: Rain Ma

Mobile: (86) 182 1755 3837

Email: 2229204646@qq.com

PLEASE CONTACT:

Pablo Publishing & Exhibition Pte Ltd

3 Ang Mo Kio Street 62 #01-23 Link@AMK

Singapore 569139

Tel: (65) 6266 5512 Mobile: (65) 9621 4283

Email: williampang@pabloasia.com
---
SUSTAINABILITY

If companies want net-zero

carbon offices, they need to

focus on building materials

By Meike Siegner, post-doctoral research fellow, Department of Mechanical and Industrial Engineering,

Ryerson University; and Cory Searcy, professor, Mechanical and Industrial Engineering,

and vice-provost and dean of Graduate Studies, Ryerson University

In 2020, the extraction, transport and

manufacturing of materials for the building

sector accounted for 10% of global

greenhouse gas (GHG) emissions. If buildings

are to make meaningful contributions to

keeping global temperature rise to 1.5°C above

pre-industrial levels, limiting emissions from

building materials is crucial.

To achieve this objective, engineered versions

of age-old building technologies, like wood,

straw or bamboo, are critical. These biobased

building materials generally demand less

energy in manufacturing and have the

ability to capture and store carbon through

photosynthesis.

This is why experts in green building policy,

climate science and architecture increasingly

tout the benefits of transforming buildings

from a giant source of carbon into a large

carbon sink.

As scholars of business sustainability and

bio-products markets, we closely observe

the trends in green building and construction

industries, and the reactions these provoke

in sectors of the economy looking to cut

emissions. With corporate announcements

on the rise that publicise natural materials

like wood as "the new concrete" in company

offices and warehouses, we believe it is time

to take a closer look at the opportunities and

limitations of making building materials part of

a company's net-zero carbon pledges.

THE RISE OF NET-ZERO CARBON

OFFICES

The past two decades have seen the use of

green buildings as an explicit tool to reduce

the carbon footprint of companies. It is now

commonplace for business offices to feature

32 WOOD IN ARCHITECTURE • ISSUE 1 – 2022
---
SUSTAINABILITY

the latest in engineering and building

operations, from energy efficiency

and on-site heating and cooling, to

waste reduction and recycling.

Bloomberg's European headquarters,

for instance, has earned the title

of the world's most sustainable

office building for combining all

these measures. From a company

perspective, going beyond

operational efficiency, to also

focusing on building materials, is a

logical step.

Walmart offers one example of the

use of biobased building materials.

The retail giant is set to finish its new

home office in Bentonville, Arkansas,

US, by 2025. It is the largest

corporate campus project in the US

that uses mass timber, a group of

large engineered structural wooden

panels that have gained market

acceptance following changes in

building codes, for the construction of

multi-storey and tall wood buildings.

Structurlam, a Canadian company

that delivers mass timber, opened a

fully automated facility in Walmart's

home state where it procures lumber

from forests in the region to complete

the project. Similarly, Google will

soon finish its first mass timber office

complex.

Microsoft already opened a building

on its Silicon Valley campus that uses

over 2,100 tonnes of cross-laminated

timber (CLT), a wood panel system

that is projected to reach a global

market size of more than US$3 billion

within the next five years.

Some European firms like the

German retail chain Alnatura are

using prefabricated loam in their

headquarters, and automaker BMW

is about to open an electric vehicle

showroom in California that has

flooring made from hemp wood.

Business offices now feature the latest in engineering and building operations, from energy efficiency to waste reduction

and recycling

WOOD IN ARCHITECTURE • ISSUE 1 – 2022 33
---
SUSTAINABILITY

Prefabrication helps optimise material use and model adaptive structures

that can be deconstructed, modified and reassembled

Cross-laminated timber

GREEN CONSTRUCTION MEETS

PREFABRICATION

What unites these technologies is the

potential to combine climate benefits with

the shift towards off-site construction and

prefabrication, where the planning, design,

manufacturing and partial assembly of building

elements occur at a location other than the

final building site.

Many of the manufacturers that offer buildings

made from biobased materials are, in fact,

a new class of technology start-ups that are

backed by large investors.

Prefabrication helps optimise material use

and model adaptive structures that can be

deconstructed, modified and reassembled,

thereby reducing the need for virgin resources.

This provides companies with flexibility

in planning for the long-term use of their

office buildings, sales stores, warehouses

and factories, without having to think about

demolishing a structure.

LIMITATIONS OF BIOBASED

BUILDING MATERIAL

Biobased building materials have their

limitations. Harnessing their environmental

potential requires that they are sourced from

sustainable supply chains. From a climate

perspective, building wooden office towers

with timber can be counterproductive if large

amounts of carbon dioxide are emitted in the

logging, transport and manufacture of wood

products.

A company may also ask whether new

buildings are needed in the first place. After all,

the lowest carbon footprint is that of a building

that is never constructed.

Companies may consider using biobased

building materials in retrofitting and

remodelling existing offices or factories instead

of building new ones. Serial retrofit initiatives,

of the kind spearheaded by governments in

Europe and suggested for Canada, already

funnel capital into the scale-up of industries

for prefabricated building technologies,

like facades made from wood and recycled

materials.

Ultimately, as with all corporate environmental

strategies, simply introducing biobased

products and materials to the company, be

it in office buildings or elsewhere, without

having resources in place to monitor their

environmental efficacy, for example, in

procurement, installation and use, can

backfire.

THE FUTURE OF BIOBASED

BUILDING MATERIALS

Building materials can play a key role when

considered as a part of a broader strategy in

companies' efforts to reach net-zero emissions.

Over 450 firms around the world have already

pledged to finance the transition to net-zero

emissions by 2050.

The issue of materials in construction is gaining

attention on a global scale as well. With more

than 130 events focused on the built environment

at the COP26 summit in November 2021,

buildings received more attention than ever.

That being said, biobased products and

materials will require even more attention going

forward. A likely bottleneck in assessing when

and how to use biobased building materials will

be just how quickly industries normalise the

use of lifecycle costing tools, such as whole life

carbon accounting.

Progress on the adoption of these tools has been

slow, but the recent signing of whole life carbon

requirements by 44 large companies offers hope

that the time for net-zero carbon buildings may

indeed be ripe. WIA

This article was first published on The Conversation's website and

is reproduced here with permission.

34 WOOD IN ARCHITECTURE • ISSUE 1 – 2022
---
SUSTAINABILITY

Wood for good: Mass timber

can reduce construction

phase emissions by 69%

By Ken Hickson

we found that substituting conventional

building materials for mass timber reduces

construction phase emissions by 69%, an

average reduction of 216kg CO2e/m 2 of floor

area."

The research study entitled "Wood buildings

as a climate solution", by Austin Himes and

Gwen Busby of the Mississippi State University

Department of Forestry in the US, found that

analysis was "unanimous in showing emissions

reductions when building with mass timber

compared to conventional materials".

So, scaling up low-carbon construction,

assuming mass timber is substituted for

conventional building materials in half of

expected new urban construction, could

provide as much as 9% of the global emissions

reduction needed to meet 2030 targets for

keeping global warming below 1.5°C.

SCION Innovation Hub by RTA Studio/Irving Smith Architects in New Zealand, which won the Best Use of Certified Timber Prize

"Wood for good" is no longer an idle wish. It lighting, also known as operational emissions,

is a vital move for the planet if we are going to and the harder to eliminate emissions

seriously cut emissions and attain net zero by associated with the extraction, processing

2030.

and manufacturing of building products, or

embodied emissions.

We know that the built environment is

responsible for 40% of global emissions. This The world is finally waking up to this, and

is confirmed by the World Green Building backed up by science, we now know that

Council, a non-profit of businesses and

timber construction can be the single most

organisations working in the building and important way to cut emissions.

construction industry.

A 2020 report in Developments in the Built

Emissions come from the energy we consume Environment by Elsevier showed that: "Based

within buildings for heating, cooling and on 18 comparisons across four continents,

Driven by Green Building Councils and

enterprising timber companies and supported

by the Programme for the Endorsement of

Forest Certification (PEFC), we are seeing

a remarkable and welcome move to timber

construction in Asia-Pacific, as well as in

Europe and the Americas.

When we announced in September 2021

that it was good enough that six of the eight

finalists for the World Architecture Festival

(WAF) Best Use of Certified Timber Prize

— awarded by PEFC — were for projects in

the Asia-Pacific, we reported that "there is

also been a big boost for mass engineered

timber (MET) by architects and builders in the

region, most notably in Japan, Australia and

Singapore".

WOOD IN ARCHITECTURE • ISSUE 1 – 2022 35
---
SUSTAINABILITY

1

Park, Rotorua, New Zealand, SCION is a

reinvention of the headquarters building of

the Crown Research Institute that specialises

in technology development for the forestry

industry.

It was chosen as the most outstanding of the

eight shortlisted projects from around the

world. It is also the winner of the WAF award

in the category Completed Buildings - Higher

Education and Research. Proudly showcasing

PEFC-certified timber in a diagrid structure, the

building requires less material than traditional

MET buildings.

2

The judges highlighted the focus of the project,

away from gravity mass timber buildings

to geometrically stiffened forms to help in

earthquake conditions.

1 The Ariake

Gymnastics

Centre in Japan by

architectural firm

Nikken Sekkei

2 The Climatorium

in Denmark by 3xn

architects

3 Daruma House

in Australia by

architecture and

design firm Tzannes

It was also noted that the building achieved

embodied carbon zero at the time of

completion and showcased dovetail node

joints that slot together, in an expression of

craftsmanship and beauty.

"SCION Innovation Hub pays tribute to the

local indigenous community and its history,

as well as being a forestry research centre.

Both are aligned with PEFC's principles

around community respect and continuous

innovation," highlighted PEFC's acting CEO,

Michael Berger.

PEFC said there were 22 built environment

projects entered, spreading from the

Americas and Europe to Africa, Asia and

Oceania. While all these buildings have their

use of certified timber in common, their

style and purpose vary widely: from higher

education and research to community spaces

and sports facilities, to name only a few.

Australia is in the lead, both for collecting two

finalist slots in the WAF/PEFC global contest

— and it has won the award in previous years

— but also through the work of XLam, using

Responsible Wood-certified cross-laminated

timber (CLT) for structures in Australia.

Modular building company Fabregas has

decked out its New South Wales central

coast warehouse with locally grown and

manufactured timber from XLam, meeting

the Australian standard for sustainable forest

management, a prerequisite for Responsible

Wood, a certification organisation that issues

PEFC certifications in Australia and New

Zealand.

The winning project for 2021, though, came

from New Zealand. It was seen as a cuttingedge

showcase for engineered timber, not

only in terms of the aesthetic but also what it

contributes to a carbon-zero future.

The WAF-PEFC Best Use of Certified Timber

Prize went to SCION Innovation Hub by RTA

Studio/Irving Smith Architects. Located

at the edge of the Whakarewarewa Forest

Japan also featured as one of the WAF-PEFC

finalists for the Best Use of Certified Timber

Prize with its Ariake Gymnastics Centre,

entered by architects Nikken Sekkei in the

Sports category.

PEFC and its national governing body in Japan,

the Sustainable Green Ecosystem Council

(SGEC), has also drawn attention to another

significant timber sporting stadium, which was

completed in time for the Tokyo Olympics.

The Ariake Tennis Forest Park Clubhouse

Indoor Tennis Court involved SGEC/PEFC

project certification — the first time for a major

Olympic facility — which was carried out by

Japan Gas Appliance Inspection Association

(JIA).

36 WOOD IN ARCHITECTURE • ISSUE 1 – 2022
---
SUSTAINABILITY

PEFC summarises this by confirming it is a

global certification system that upholds the

highest possible standards for the construction

industry and highlights the importance of

timber – certified, of course — as the building

material of choice.

Besides awarding prize-winning designs and

buildings, PEFC has also reported in recent

months on the rapid rise of MET projects in

Singapore. These have included two major

projects by Venturer Timberworks, one for

National Parks at Jurong Lake Gardens and one

for the People's Association at Bedok Reservoir.

Both of these are being lined up for chain-ofcustody

(CoC) project certification.

They will follow on from the Changi Chapel

and Museum for the National Heritage Board,

which was PEFC's first project certification in

Singapore, carried out by Double Helix Tracking

Technologies.

PEFC-certified timber is also being used in

one of the largest education facility buildings

in Singapore. The Nanyang Technological

University (NTU) in Singapore is adopting

sustainable materials and innovative

construction methods to develop its campus.

The latest project, Academic Building South,

is a showcase of sustainable construction

and largely utilises Stora Enso CLT to be the

new home for Nanyang Business School. At

40,000m 2 , it will be one of the largest wooden

buildings in Asia upon completion.

It is in line for PEFC project certification, too,

and is a fine example of the move to timber

as the best construction material. It is also an

integral part of NTU's mission to become the

greenest campus in the world by this year, 2022.

PEFC explains that its project certification

enables a built environment project to attain

3

the highest level of certification available, giving

the chosen project added environmental value

and a 'solid green' reputation.

It provides architects, builders and property

developers with a clearly defined view of

what needs to be achieved and delivered.

The process behind project certification is

also clearly defined. It can be applied to any

construction concept or any other one-off

project where timber is used.

As expectations grow for companies to source

responsibly, business interest in project CoC

certification is increasing. It offers several

important benefits:

First, it provides companies with competitive

advantages for their PEFC-certified projects

in an increasingly environmentally-conscious

world. Next, it allows project members to make

a bold statement of sustainability and sound

ethical sourcing of timber and forest-based

products. It also enables project managers to

take advantage of PEFC certification even if not

all project members have obtained PEFC CoC

certification.

The certification also complies with legislation

— PEFC's due diligence system excludes wood

from conversions, illegal and other controversial

sources. Additionally, since two-thirds of the

world's certified forest area is PEFC-certified,

the certification offers more than 230 million

hectares of fibre and timber. And lastly,

businesses acquire a competitive advantage

over competitors with the CoC certification.

PEFC also reminds all architects that they have

the opportunity to line up for the WAF-PEFC

Best Use of Certified Timber Prize for 2022.

Now in its 15th year, the annual WAF offers

architectural prizes globally and makes the

point that winning a WAF award will "elevate

your practice and help build your global

reputation as leading architects, plus, all

entries will be featured on the World Buildings

Directory".

Best Use of Certified Timber is one of the

prizes awarded every year by WAF. A special

jury, including a PEFC representative, will

identify entries that have used certified

timber in an innovative, educational or artistic

manner. The early bird deadline to enter is

8 Apr 2022, and the entry deadline is 6 May

2022. Shortlisted architects will be contacted

to confirm that the timber specified and used

in the project originates from certified sources

demonstrating leadership in sustainable

design. WIA

PEFC believes that architects play

a critical role when recommending

building materials, by specifying only

those which have a positive impact on

the environment. Timber is the obvious

choice, but it must come from certified

sources and not be illegally logged or the

result of deforestation.

It is important to use materials which

conserve natural resources rather

than exploit them. Each building

material selected has its impact on the

environment, whether at manufacturing,

installing or demolition stages. It is

important to choose materials wisely,

ideally from sustainably managed

forests and with chain-of-custody

certification.

WOOD IN ARCHITECTURE • ISSUE 1 – 2022 37
---
MATERIALS AND TECHNOLOGY

Clicking into place

with Threespine

By Yap Shi Quan

Threespine is a tool-and-hardwarefree

click technology used in furniture

assembly, taking away the need for

nails, dowels and glue to assemble

the panels. Instead, it uses a tongueand-groove

principle with a flexible

glass-fibre re-enforced plastic insert

as the key feature that locks the panels

together.

Adapted from the floor locking

technology developed by Välinge

Innovation, Threespine combines

Välinge's R&D experience in wooden

flooring and furniture with HOMAG's

expertise in industrial furniture

manufacturing. Jonas Banestig, senior

key account manager of furniture

technology, Asia, Välinge Innovation

Sweden, explained to Wood in

Architecture how it works: "Each

profiled joint contains some of the

plastic inserts along its length. When

a furniture panel is positioned and

pushed down, the insert retracts into

a groove, and as the panel reaches its

final position, the insert snaps out into

a wedge groove with a 'click' — that is

the sound which signals that the panels

are locked."

Without nails or dowels, the concern

of stability naturally rises. But

Banestig assured that the strength of

the panel comes from the profile using

"the entire depth of the product"

instead of conventional fittings

with point-wise connection: "In

combination with a back panel that

can be clicked instead of nailed, this

therefore creates a stable furniture

even during assembly."

PRODUCTION

Välinge offers a range of profiles that

complements different kinds of panel

joints, with corner and mitre joints

being the most commonly used in

every furniture — whether it is basic

kitchen cabinets or high-end design

furniture. They also complement panels

38 WOOD IN ARCHITECTURE • ISSUE 1 – 2022
---
MATERIALS AND TECHNOLOGY

1 2

1 The stability of

Threespine uses

the entire depth of

the product instead

of just point-wise

connection

2 Threespine can

be profiled into

panels of more

than 22mm down

to 6mm mitre

joints

3 Threespine is

applicable to

various joints,

such as mitre and

corner joints

3

of various thicknesses, from "more

than 22mm down to 6mm mitre joints",

depending on the material.

These mean that Threespine can be

profiled into various kinds of furniture,

such as cabinets, drawers, tables and

bookcases. Manufacturers can also be

creative in their design with the various

board thicknesses and panel joints,

choosing profiles best suited for the

product and optimised for the production

setup with machinery by HOMAG.

When manufacturing furniture with

Threespine, manufacturers can use the

same production line for both factory

assembly and ready-to-assemble. This

allows them to offer a future-proofed

omnichannel approach, suited to the

changing retail landscape and increase

in online sales.

Furthermore, with the plastic insert

slotted into the furniture panel in the

production line, the panels will be

ready for assembly as soon as they

roll off. This saves time and effort that

would otherwise be spent fiddling

with small fittings and components,

thus streamlining production. This

also ensures that the quality of the

finished furniture product is determined

during production, and not by the end

WOOD IN ARCHITECTURE • ISSUE 1 – 2022 39
---
MATERIALS AND TECHNOLOGY

consumer. As such, end consumers

will only need to click the panels

together, thus resulting in "fewer

claims and returns".

CAPACITY

According to Banestig, Threespine

was not developed for small-scale

solution to assembly, but optimised

for high capacity, industrial volumes.

That is not to say, however, that it is

unsuited for smaller manufacturers.

As he elaborated: "Threespine

allows manufacturers to grow and

expand with the technology. It is not

unusual for manufacturers to start

with a number of CNC machines

and gradually grow into automated

through-feed production processes.

The licensees for Threespine

stretches in production capacities

from 20,000 up to a million units per

year."

He also advised manufacturers that

before applying Threespine to their

furniture, they should consider how

they are able to offer an assembly

technology suitable for the growing

omnichannel market, and how relevant

the existing range is to that change.

COLLABORATION

Since Threespine was developed for

industrial volumes, Välinge chose to

consult and collaborate with HOMAG

to develop a suitable equipment that

produces the Threespine profiles.

Udo Mauerer, vice-president for Asia-

Pacific of HOMAG Asia, commented on

the fruitfulness of their collaboration:

"At times it was challenging for both

sides with respect to concepts and

technical executions. However, in

the end we came up with some good

solutions that we have launched into

the markets, with several machines

installed around the globe. We have

also started to jointly participate in

events, shows, and livestreams. Since

both sides have increased marketing

activities, the interest for these

products have increased and we are

seeing more and more inquiries."

Banestig expressed similar enthusiasm

about the collaboration, and

concluded: "Working closely with

HOMAG, we feel like our journey of

revolutionising the furniture industry

— in much the same way we did

with the flooring industry — is just

beginning. With HOMAG's machine

expertise and our R&D experience,

a new paradigm shift is underway

for how manufacturers, retailers,

and customers at home experience

furniture assembly. It is a really

exciting time." WIA

"With HOMAG's machine expertise and our

R&D experience, a new paradigm shift is

underway for how manufacturers, retailers,

and customers at home experience furniture

assembly."

Jonas Banestig

Senior Key Account Manager, Furniture Technology Asia

Välinge Innovation Sweden

"At times it was challenging for both [Välinge

and HOMAG] with respect to concepts and

technical executions. However, in the end we

came up with some good solutions that we

have launched into the markets."

Udo Mauerer

Vice-President for Asia-Pacific

HOMAG Asia

40 WOOD IN ARCHITECTURE • ISSUE 1 – 2022
---
MATERIALS AND TECHNOLOGY

A second life: Upcycling

disposable chopsticks

into ready-to-use panels

The premise behind the design of disposable wooden chopsticks is also

causing wastefulness: Once used, throw it away. But in the resourceful

hands of ChopValue SG, discarded chopsticks take on a second lease

of life as panels for various applications – from serve ware and home

office setups to decorative pieces.

By Yap Shi Quan

opening of its first international

franchise in Singapore which will serve

as the flagship and training Accoya facility cladding for

its regional expansion. Spearheaded

by Evelyn Hew, managing director at

ChopValue SG, the Singapore office has

outlined its aim to transform 35 million

chopsticks within the first three years

in business – that is equivalent to 100

tonnes of urban resources that would

otherwise be discarded.

Tables made with

upcycled chopsticks

Disposable chopsticks are the

product resulting from the fast-paced

social life; it is convenient and even

considered "hygienic" as they are

discarded after use. Traditionally made

from wood, disposable chopsticks

are now mostly made from bamboo

instead as it is more economical and

environmentally friendly. And with

sustainability awareness on the rise,

more innovations are being placed to

give these disposable items a second

life, one of which is from ChopValue,

a company that upcycles used

disposable chopsticks into panels that

can be used for a range of purposes.

ChopValue is a circular economy

furniture and design company

headquartered in Vancouver, Canada.

Since its founding in 2016, the

company has recycled over

50 million chopsticks. In April last

year, ChopValue announced the

She told Wood in Architecture: "In

Singapore, we throw out at least

500,000 chopsticks every single day.

We see that as a potential to divert

them away from our waste stream,

which could have landed in our

incineration plant.

"We also see bamboo as a renewable

resource. Typically, bamboo has a

denser composition than softwoods

and is, therefore, more resistant to

environmental changes and scratchresistant,

both of which make utilising

bamboo advantageous compared to

wood-based products. Our conversion

of chopsticks into products extends

their lifetime indefinitely, thereby

WOOD IN ARCHITECTURE • ISSUE 1 – 2022 41
---
MATERIALS AND TECHNOLOGY

extending the time that carbon dioxide

remains stored as well."

Although disposable chopsticks do not

constitute a large portion of the waste

generated in Singapore each year,

Hew expressed hope that ChopValue

SG's presence will inspire others to

transform other urban harvests into a

viable resource, and added: "We hope

that with ChopValue SG's presence,

we can lead the way for an alternative

view of how to handle the waste we

create."

In the first five months of collection,

ChopValue SG collected 1.2 million

pairs of chopsticks from about 105

partner restaurants, hospitals and

schools, she revealed. "We are also

looking to strengthen our outreach

efforts in the next few years. We hope

to partner with as many restaurants,

hospitals, schools, offices and

organisations in Singapore and our

ambitious goal is to upcycle every

single chopstick thrown out."

Besides leading ChopValue SG, Hew is a

serial entrepreneur, running businesses

ranging from restaurants to private

fleet leasing services. She is currently

managing SmartCity Solutions, a

small- and medium-enterprise (SME)

founded in 2015 that provides Internet

of Things (IoT) solutions to the waste

management industry.

Together with her team, she had a

view into the waste problems faced

in Singapore, such as challenges in

recycling and upcycling, a lack of offtakers

for recyclables, contamination in

recyclables, and the lack of innovative

and scalable products made from

recycled materials. Her search for a

solution to waste management led to

ChopValue.

"I'm heartened to see that the

sustainability awareness is picking

up in Singapore," she said. "Without

a comparison to Canada, I believe

that there is much more we can

do in Singapore to raise that level

of awareness and involve different

stakeholders to make that happen."

FROM CHOPSTICKS TO

PANELS

The process of turning disposable

chopsticks into wood panels begins

with the first step of collection, which

is the basis of the business. ChopValue

SG collects used disposable chopsticks

from its partner restaurants twice a

week and transports them back to their

micro-factory for further processing.

The collected chopsticks are then

sorted by length and aligned using the

shaker table, and anything that does

not belong, such as plastic or paper

sleeves, will be removed by hand. A

week's worth of chopsticks can be

sorted in less than two days.

Once the batch of chopsticks is sorted,

the chopsticks are packed vertically

in the chopstick totes, which are then

used for resin application. The resin

used is water-based, toxic-free and

food safe – which means the chopsticks

are safe to be manufactured into items

such as cheeseboards or charcuterie

boards.

The resin-coated chopsticks are

subsequently spread onto trays for

drying, and placed in the dryer for 8-16

hours. At high heat, it will sanitise the

chopsticks, eliminate all bacteria and

remove any moisture. To ensure a high

degree of hygiene, Hew assured that

the disposed chopsticks are further

fumigated with 99% ethanol as a

disinfectant.

After drying, the chopsticks are

loosened and weighed to the specific

tile density requirement and placed

into the press, where the tiles are

formed. The tiles are then extracted

from the press and hot-stacked and

1

2

3

42 WOOD IN ARCHITECTURE • ISSUE 1 – 2022
---
MATERIALS AND TECHNOLOGY

4

1 Collection stage of

processing chopsticks to

become panels

2 Sorting stage

3 Once sorted, the

chopsticks are ready to

be pressed

4 Office desk and table

setups

5 ChopValue SG also does

customised orders, like

trophies and awards

6 Cheeseboard and

butcher block

5

air-conditioned for 24 hours before further

processing. Finally, after the panels cool down

and normalise to the environment, they are

planed to the required thickness and formatted

in 7x7-inch tiles.

Where strength and durability of the raw

material are concerned, Hew explained

that despite it being made entirely out of

used disposable chopsticks, the ChopValue

Natural Microfibre Performance Material is a

"highly densified, solid composite material"

made from compressed, resin infused urban

harvested lignocellulose-based fibres.

"It is strong than oak, harder than maple and

as durable as teak," she said.

6

To further demonstrate the quality of the

material, ChopValue SG conducts two hardness

tests – the Janka hardness and Brinell scale –

to demonstrate the material's robustness. The

Janka test measures the resistance of a sample

of wood to denting and wear, and likewise,

the Brinell scale measures the hardness of

materials with an indenter. The results found

were 2,450 on the Janka test and 90N/mm 2 on

the Brinell scale, according to Hew.

Currently, ChopValue SG's range of products

includes wall décor, phone and tablet stands,

tables and desks, coasters, cheese and

charcuterie boards, among others. Besides

these ready-made items, they also manage

customised projects such as rebuilding wall

panels, decorative pieces and corporate

gifts. WIA

WOOD IN ARCHITECTURE • ISSUE 1 – 2022 43
---
DESIGN

OMA reveals

first quadrant of

KaDeWe Berlin

with wood-clad

escalators

Wood-clad escalators

within a concentric void

44 WOOD IN ARCHITECTURE • ISSUE 1 – 2022
---
DESIGN

project introduces four quadrants which

fragment the original mass into smaller,

easily accessible and navigable sectors.

With this project, OMA and KaDeWe

address the accelerating shifts in

consumer behaviour and the challenges

and opportunities brought by online

retail that are affecting the traditional

department store.

DESIGN INFORMATION

PROJECT: KaDeWe Berlin

LOCATION: Berlin, Germany

ARCHITECTS: OMA

CLIENT: KaDeWe Group

ESCALATORS: Hundt Consult,

Geyssel Fahrtreppen

PHOTOGRAPHY: Marco Cappelletti

The Berlin department store Kaufhaus

des Westens (KaDeWe) opened the

doors to the first quadrant of the

masterplan designed by architecture

studio OMA. A concentric void spanning

six floors holds a series of wood-clad

escalators. At the base, in extension of

the Tauentzienstraße main entrance,

the void serves both as a retail and

event space. Outside, a new twostorey-high

shop window for digital

and analogue presentations has been

introduced on the corner of the streets

Tauentzienstraße and Passauer Straße.

Rather than treating the existing

building as a singular mass, the

Ellen van Loon, partner at OMA,

commented: "The renovation of the

KaDeWe aims to redefine the dynamics

between retail space, its patrons, and

the urban environment, in a time when

e-commerce is reshaping our relation

with in-person shopping. The project

reinterprets the fundamental elements

of a typology that has remained virtually

unchanged for more than 100 years."

The masterplan and renovation of the

Berlin department store, ongoing since

2016, marks OMA's first project for

KaDeWe Group. The project is led by

Ellen van Loon and Rem Koolhaas, with

project architect Natalie Konopelski.

van Loon is also undertaking the design

of the new store by KaDeWe Group in

Vienna. WIA

WOOD IN ARCHITECTURE • ISSUE 1 – 2022 45
---
DESIGN

Façade ribs

made with

local cedar

wood

DESIGN INFORMATION

PROJECT: Cozoo Tourist Centre

LOCATION: Anhui, China

ARCHITECT: Kostas Grigoriadis,

Continuum Architecture & Design

INTERIOR: Li Zhang, Evogma Group

CLIENT: Evogma Group, Cozoo

AREA: 180m 2

TEXT AND PHOTOGRAPHY:

Continuum Architecture & Design

The centre's roof and

observation deck for the

enjoyment of surroundings

46 WOOD IN ARCHITECTURE • ISSUE 1 – 2022
---
DESIGN

1

The Cozoo Tourist Centre is located

in the Huangshan Mountain region

in southeast China and consists of a

tourist information space, local craft

display and storage area, staff rooms,

restrooms and an observation deck. The

main design objective was to eschew

an object-in-the-landscape approach,

and instead integrate the building in the

surrounding landscape, both formally as

well as materially.

2

On a formal level, a staircase placed

at each end of the building allows it to

be continuous with the ground plane

while enabling continuous longitudinal

movement over and across it. As a result

of this, the centre's roof becomes an

extension of the public space around it

and can be openly accessed for enjoying

views of the mountainous surroundings.

1 Straight

segments of the

ribs

2 Façade ribs

made with cedar

wood sourced

and worked

on by local

craftsmen

3 The centre

consists of

a tourist

information

space, local craft

display, and staff

rooms

3

The majority of materials, such as the

cedar wood used for the façade ribs,

were locally sourced to minimise their

carbon footprint. Initially designed

to be curved, the ribs had to be

rationalised into straight segments,

one measurement vertically and one

across to mark each vertex, that could

be easily hand-cut to size and shape

by local craftsmen in the village's wood

workshop. The different segments were

glued together, polished and varnished

before being installed on the facade.

Formally, their width varies gradually

from one end of the building to the

other, swelling higher up to mark the

centre's entrance. They also shade

the interior from the low hot sun in the

summer, while allowing sunlight into

the space for passive heating during the

winter.

Funded by a national strategic plan

fund for reversing urban migration

and working with budget constraints,

local materials and available tools and

machinery, the endeavour created

a sustainable focal point for local

inhabitants and visitors of this remote

rural region. WIA

WOOD IN ARCHITECTURE • ISSUE 1 – 2022 47
---
STRUCTURAL ELEMENTS

The public library

at the heart of

a compact, vibrant city

Inspired by the forests, Nasushiobara City Library

is more than just a library.

1

48 WOOD IN ARCHITECTURE • ISSUE 1 – 2022
---
STRUCTURAL ELEMENTS

PROJECT NAME: Nasushiobara City Library

LOCATION: Nasushiobara, Tochigi, Japan

DATE OF COMPLETION: January 2020

SITE AREA: 4,011.49m 2

BUILDING AREA: 3,078.21m 2

TOTAL FLOOR AREA: 4,967.69m 2

STRUCTURAL ENGINEER:

Kanebako Structural Engineers

CONSTRUCTION: Ishikawa/ Ikoma/

Ban Construction Joint Venture

CREDIT INFORMATION

ARCHITECTURE: Mari Ito/UAo

PHOTOGRAPHY: Daici Ano

WOOD IN ARCHITECTURE • ISSUE 1 – 2022 49
---
STRUCTURAL ELEMENTS

1 2

6

1 The lines of sight filter through the

latticework dividers that gently partition

the space which creates the atmosphere

of looking between trees in a forest

2 The "leafline" is a louvered ceiling that

covers the entire interior, modelled on the

lower edge of a forest crown

3 The "forest pockets" are atria that

resembles small clearings in the woods

where the sky suddenly becomes visible

and light pours in

4 Today, public libraries no longer just serve

as a "third place" for people to gather, it

also sparks vital learning and interaction

About 150km north of Tokyo, the

Nasushiobara City Library is a library and

community centre located in the city of

Nasushiobara.

Awarded the commission in a 2016

competition, the design drew inspiration

from the forests, an important part of the

city's identity.

"When we step into a forest, we sense

the subtle yet constant change in season,

weather, plant and animal life, absorbing

these transformations in multiple

emotionally powerful ways," explained

Urban Architecture Office, the architect

for the Nasushiobara City Library.

"Similarly, as visitors walk freely

through the library, they experience

layers of subtle changes unfolding

across softly defined borders, from the

aphorisms and other exhibits displayed

at various locations in the building to

the activities and other human-caused

transformations taking place."

Through the stimulation of multiple

senses, the design is intended to

spark new realisations and learning.

The first floor is a lively, accessible

space filled with intersecting

subtleties, while the stacks on the

second floor provide a comfortable

space for reading or research.

The three key features of the

building: forest pockets, radiating

bookshelves and leafline are as

described.

FOREST POCKETS

The "forest pockets" are atria that

resembles small clearings in the

woods where the sky suddenly

becomes visible and light pours

in. They have no clearly defined

purpose but instead are available

for community events, exhibits

and other uses. Sounds and sights

escape upwards and outwards,

allowing visitors in other parts of the

building to feel the activity in these

spaces.

50 WOOD IN ARCHITECTURE • ISSUE 1 – 2022
---
STRUCTURAL ELEMENTS

3

RADIATING BOOKSHELVES

Radiating bookshelves form the

framework of the entire building.

On the first floor, lines of sight filter

through the latticework dividers

that gently partition the space. This

creates the atmosphere of looking

between trees in a forest, creating

an interconnected, constantly

changing panorama of layered

activity.

On the second floor, the radiating

shelves form a real-life version of

the pie charts used in the Japanese

library classification system,

improving searchability and enabling

circulation routes that cut across the

categorised stacks.

LEAFLINE

The "leafline" is a louvered ceiling

that covers the entire interior,

modelled on the lower edge of a

forest crown. The height variations

in the polyhedral form create a

number of loosely divided spaces of

various sizes. Dappled light pours

through the louvers to the first floor,

creating a varied light environment.

The result is an interconnected, forestlike

space that gently enwraps visitors,

turning the surrounding cityscape as

well as the everyday activity in the

library into a variety of ever-changing

scenes.

Today, public libraries no longer just

serve as a "third place" for people to

gather, it also sparks vital learning and

interaction that ripples through the

wider community as social capital,

contributing to the development of

the city as a whole. The awareness

and knowledge that individuals gain

in this "forest of words" return to their

neighbourhoods as a resource capable

of setting off significant change and

inspiring lasting awareness in the

broader community. Those are the

ideals that the Nasushiobara City

Library embodies. WIA

4

WOOD IN ARCHITECTURE • ISSUE 1 – 2022 51
---
STRUCTURAL ELEMENTS

Binzhou Yangxin

Ten Thousand

Mu Pear Garden

tourism centre

LOCATION:

Yangxin County,

Hubei, China

SIZE: 3,530m 2

DEVELOPER: Pu Su Pear

Garden (Shandong) Cultural

Tourism Development

ARCHITECTS: Shanghai

Green-A Architects

1

52 WOOD IN ARCHITECTURE • ISSUE 1 – 2022
---
STRUCTURAL ELEMENTS

China has undergone urbanisation from being

a predominantly rural society to seeing most

of its people live in cities within just 30 years,

moving from 20.6% urbanisation in 1982 to

60.6% in 2020. During this transformation,

skyscrapers and developments were built

across the country, and hundreds of millions

of people upgraded to new homes. However,

a hangover effect of this is overpopulated

megacities and challenges for rural villages

and towns that bled working-age populations

who left to pursue new opportunities.

To address this issue, the Chinese government

has drafted new policies and plans to revitalise

rural areas through tourism, agriculture and

cultural programmes. Many Chinese recognise

that their roots lie in the countryside, and

although they might not want to live there,

they are interested in reconnecting with their

heritage. China's vision for prosperous rural

communities is tied to a more sustainable way

of developing the tourism industry, through

an environmental lens using green building

materials and prefabrication. In support of

those efforts, Canada Wood demonstrated

the benefits of building with wood through

the Binzhou Yangxin Ten Thousand Mu Pear

Garden project in the province of Shandong.

Functioning as a visitor centre, the project is

situated in a large development zone called

'Ten Thousand Mu Pear Garden', a component

of the Binzhou city government's tourism

plan. The design of the building has various

features, with inspiration for the roofline

coming from the floral bloom of a pear, where

the natural composition of a flower lends

itself to the building structure. Supported by

glue-laminated timber (glulam) columns, the

spacious atrium provides an open and warm

space for visitors. The glulam is made of

Canadian Douglas fir harvested from British

Columbia's sustainably managed forests.

The roof structure and prefabricated glulam

posts accelerated the speed of construction

enabling the building to be enclosed in about

eight weeks, with the entire project completed

in less than four months.

The Canada Wood China team collaborated

with the local government and the developer

to provide them with technical design support

and on-site quality control. Wood construction

is making inroads in the booming tourism

market, due to recent advances in local

engineering and the manufacturing of glulam

in China. WIA

This article was first published on Canada

Wood's website and is reproduced here with

permission.

WOOD IN ARCHITECTURE • ISSUE 1 – 2022 53
---
FLOORING

The maxim "nothing is lost, everything

is transformed" is typically attributed

to a famous chemist and has its roots

in scientific studies, but in the hands of

Amorim Cork Flooring, a new meaning

emerges. The company is dedicated to

transforming cork waste and residue

into cork flooring, ensuring that no

waste is left unused, everything is

productively used.

"Nothing is lost,

everything is

transformed":

Cork flooring

with Amorim Wise

1

Amorim Cork Flooring is part of

Corticeira Amorim, a global producer

of cork products based in Portugal.

As Corticeira Amorim developed

through the years, they realised that

the cork waste from the production of

cork stoppers was too valuable to be

disposed. Hence, they formed Amorim

Cork Flooring, whose purpose is to

turn this waste into cork floor and wall

coverings.

As Catarina Gonçalves, marketing

manager of Amorim Cork Flooring,

explained to Wood in Architecture:

"Amorim Cork Flooring itself was

born from the very concept of circular

economy. And more than using

natural raw material, the company's

sustainability culture puts great value

into its production process, making

sure it complies with environmental

principles."

Made with cork waste, cork flooring by Amorim

Wise is not only sustainable, it also provides

thermal and acoustic insulation and improves

indoor air quality, all while being comfortable to

the sole. Amorim Cork Flooring, the company

behind Amorim Wise, tells us more about their

specialty in cork flooring and their commitment to

sustainability.

By Yap Shi Quan

Their attention towards sustainability

does not stop there. To further

concentrate their efforts on sustainable

practices and operations, Amorim Wise

was created, their green brand which

sells "polyvinyl chloride (PVC)-free

products based on cork and recycled

materials".

CARBON NEGATIVE

PRODUCTION

Amorim Cork Flooring's emphasis on

sustainability begins as far back as the

harvesting process in the production

chain. Gonçalves explained that the

bark extraction of cork oak trees is done

manually, which means no heavy and

54 WOOD IN ARCHITECTURE • ISSUE 1 – 2022
---
FLOORING

pollutant machinery is used. The cork

treatment and storage facilities are

also located close to the forests, thus

minimising carbon footprint in this

initial step of the process.

Once the cork arrives at Amorim

Cork Flooring's facilities, it passes

through a stabilisation period of

minimum six months, after which it is

transformed into granules of different

dimensions and densities. During

this step, the company implements

an integrated production process,

where all cork waste and surplus are

reused by collecting, granulating and

reincorporating it in the production

process.

2

The company also leverages on

cork dust from production lines by

vacuuming and conducting it to silos

where it is burned, thus generating

energy through biomass. As a

result, "more than 60% of energy"

consumed in their factories is

obtained from burnt cork dust.

"This approach, combined with the

use of raw material, allows Amorim

Cork Flooring to reach a carbon

negative balance in the entire

process — carbon emissions resulting

from the creation of new products

are lower than what the process

captures, thus helping to reduce

global warming potential," said

Gonçalves.

Notwithstanding the production

process, cork itself is biodegradable

and recyclable. For each tonne of

cork produced, the cork oak forest

can capture "up to 73 tonnes of

CO2", she reported. In fact, cork

products maintain this storage

capacity through their entire lifecycle.

Moreover, after the first harvest, cork

oak can be extracted and stripped

15-20 times during its lifespan, at

intervals of at least nine years apart,

which makes it a renewable resource.

3

CORK FLOORING

What makes cork suitable for

flooring solutions? It is light, elastic,

compressible, and is able to adapt to

variations of temperature and pressure

without suffering alterations because

50% of cork's volume is air. Cork

flooring can also maintain an optimal

temperature for a long period of time,

thus providing a pleasant feel when

walking barefoot.

Furthermore, because of its honeycomb

cell structure, cork's low conductivity

to heat, noise and vibrations makes it a

natural thermal and acoustic insulator.

According to Gonçalves, tests have

confirmed that compared to walking on

laminate floors, cork floorings reduce

the walking sound up to 53%. On top of

that, cork is also fire retardant, resistant

to abrasion, and hypoallergenic.

Cork's ability to retain CO2 even after it

has been processed and transformed

also helps to improve indoor air quality.

"An Amorim Wise product can have

a carbon balance of up to 193kg of

CO2/m 2 , thus ensuring a purer and

cleaner air," elaborated Gonçalves.

"The indoor air quality of Amorim

Wise products is tested and certified

through several Indoor Air Quality

certificates, such as TÜV PROFiCERT,

a transnational certificate for volatile

organic compounds (VOC) emission and

air quality.

"All of Amorim Wise products have the

TÜV certificate, as well as the French

certification for VOC emissions with the

highest level of A+. Other certificates,

such as the Green Guard, identify

products that have low chemical

emissions, ensuring that the tested

1 Inspire 700

2 Cork Pure

3 Harvesting of

cork oak is done

without cutting

or damaging the

tree

WOOD IN ARCHITECTURE • ISSUE 1 – 2022 55
---
FLOORING

products can be used in environments

such as schools and healthcare

facilities."

GOING DIGITAL

During periods of lockdowns and

social distancing measures, Amorim

Cork Flooring saw the pandemic as an

opportunity to reinvent themselves in

terms of communication, as Gonçalves

said: "We used everything at our

disposal to speed up the pace of

digitalisation in our company, creating

specific tools to keep our costumers

close despite the distance."

She cited their Digital Ecosystem as an

example, which comprises websites

in 13 languages, providing the needed

information regarding their products.

They also invested in digital campaigns

during the pandemic to lead consumers

to their websites, and they have a

flooring simulator where consumers

can test the company's products in

their space just by taking a picture

with their phone. Virtual tours of their

showroom and factory, and virtual

training for their products are also

available for their clients.

AMORIM WISE'S PORTFOLIO

Currently, Amorim Wise offers a range

of solutions that can fit spaces from

residential to high traffic commercial

areas. Their cork flooring is designed

for commercial areas like restaurants,

since it can create a balance between

hard and soft floors by reducing

heel strike impacts and related body

tensions, while providing the needed

stability to reduce effort for walking.

These solutions also come in three

different visuals — wood, stone and

cork. Gonçalves remarked that cork

visuals are still a favourite within the

architecture and design community,

even though recent technologies

allowed them to replicate any kind

of visual on cork, as she elaborated:

"Architects and designers have always

shown special preference for natural

and sustainable products. While they

look for organic and natural textures,

related with the concept of biophilic

design, they also favour sustainability,

having in mind environmental issues

and circular economy."

Some of their solutions include:

Inspire 700, Cork Pure, Wood Pro, and

Dekwall.

The Inspire 700 range is a floating

solution with a negative carbon

balance. It is made of cork and

recycled materials, comes in cork and

wood visuals, and can be used in any

residential or commercial space.

Cork Pure is a glue-down solution

with a selection of cork veneers

in different colours, for customers

looking for a more biophilic design.

Within Cork Pure, the Cork Pure

Signature Collection offers veneers,

colours, dimensions and finishes that

allows customers to create "more than

17,000 combinations" — all of which

can be applied on the floor and wall.

Wood Pro is a glue-down solution for

professionals. It has low thickness and

high performance, with a selection

of wood visuals that can fit any

commercial space. And lastly, Dekwall

is Amorim Wise's wall coverings range,

exclusively with cork visuals.

For upcoming innovations or design

collections, Gonçalves concluded:

"Amorim Wise will continue to develop

sustainable and green products while

focusing on transparency regarding its

composition, lifecycle and materials." WIA

4

5

4 Inspire 700 SRT

5 Dekwall

56 WOOD IN ARCHITECTURE • ISSUE 1 – 2022
---
FLOORING

Antimicrobial power

for the wood we walk on

By Graham Harvey, global group director, Microban International

and odours, but also to help extend

its longevity. This article discusses

the benefits of built-in antimicrobial

chemistries and describes how they can

be used in all different floor types to

reduce the growth of microbes, without

affecting the characteristics of the

chosen material.

WHY TRADITIONAL

CLEANING IS NOT ENOUGH

Microbes are small living organisms

that are found all around us, and their

ability to rapidly multiply in different

environments makes them difficult to

control. Bacteria, moulds, fungi, algae

and viruses in undesirable locations

can cause illnesses, surface stains, bad

odours and reduced product life due to

contamination or degradation.

Traditional cleaning methods using

Traditional cleaning

methods using

disinfectants are

short-term solutions

From left: Bacteria,

mould, fungi, algae

and viruses

Wood or wood-effect flooring is

a feature in stylish homes and

commercial premises. The appearance

of wood floors can be achieved in

several ways – from solid hardwood to

wood-effect laminate or even luxury

vinyl tiles (LVTs) – with factors including

cost, durability, ease of installation and

appearance affecting choice. However,

whichever material is selected, floors

can be subject to a whole host of

contaminants as a result of foot traffic,

pets, food residues or cleaning lapses.

In a study carried out by the University

of Arizona, 96% of shoes were found

to be populated with faecal bacteria,

and an array of other microorganisms.

Minimising the colonisation of bacteria,

mould and mildew on a floor is

important, not just to prevent stains

disinfectants are short-term solutions,

offering limited residual activity

against microbes, which can build

up and grow again as soon as the

footfall returns. Some floor types are

also harder to clean than others. For

example, disinfecting hardwood or

engineered wood floors is challenging

since manufacturers advise against

using excessive water or harsh cleaning

chemicals. Finding the right balance

WOOD IN ARCHITECTURE • ISSUE 1 – 2022 57
---
FLOORING

Selecting a flooring

option with built-in

antimicrobial

technology is ideal

between maintaining a high standard

of cleanliness and reducing the

wear caused by vigorous cleaning is,

therefore, an important goal. Flooring

that has antimicrobial product

protection built-in, or wood flooring

treated with a coating, offer an extra

level of protection to support regular

cleaning protocols.

HOW ANTIMICROBIALS

WORK

Antimicrobial additives work 24/7,

interacting with microbial cells

to prevent their reproduction.

Technologies of this kind can be

built into some products or come in

the form of coatings that adhere to

surfaces, effectively acting as barriers

to reduce the microbial population.

Either way, they become an integral

part of the floor, and cannot be

washed off or worn away, making this

approach the ideal complementary

solution to cleaning in both household

and commercial settings.

Different floor types of course require

different solutions:

Solid hardwood: Solid hardwood

floors are often associated with a

high-end finish, but microbes do not

discriminate. Disinfecting hardwood

floors is tricky as moisture and harsh

chemicals are not recommended.

Similarly, built-in options are

challenging as the boards are made

from a natural material. Instead,

a thin urethane top layer infused

with antimicrobial properties can be

added to the surface, adding a layer

of protection without affecting the

quality or appearance of the wood.

Engineered wood: Engineered

wood floors give the natural finish

of solid hardwood floors, but are

more versatile for specific situations,

such as where there is underfloor

heating, or in areas that experience

fluctuations in heat and humidity,

such as conservatories. They are

also usually a more affordable

option compared to their solid wood

counterparts. However, as the top

wear layer is made from natural wood,

they still have the same restrictions

on cleaning as solid wood floors, so

adding an antimicrobial layer as a

coating to the wood surface is an ideal

solution.

Sheet vinyl: Wood-effect vinyl flooring

combines the look of real wood with

durability, flexibility and the waterresistant

features of vinyl. However,

it can be particularly susceptible to

staining from the growth of mould and

mildew, especially as it is often used

in areas that are frequently exposed

to spills and higher humidity, such

as kitchens, bathrooms and laundry

rooms. For well-rounded protection

against microbes, antimicrobial

chemistries can be infused into all

three layers of the material structure

– the foam, vinyl and surface topcoat

– before extrusion, calendering or

coating.

LVT: Wood-effect LVTs are a cheaper

alternative to traditional wood

flooring but offer similar durability

and hardwearing features. However,

spills and dirt can fall through the

seams and seep under LVTs where

it is hard to clean, and liquids can

become trapped and will not easily

evaporate. Antimicrobial technology

can be incorporated into both the

surface wear layer and the preattached

underlay, helping to prevent

stains, odours and premature

degradation caused by bacterial and

fungal growth.

Laminate: Laminate is regularly

used for flooring in hygiene-critical

spaces such as healthcare, consumer

and commercial environments,

and is also a popular choice as

an alternative to tiles and vinyl in

homes. Selecting laminate with

a wood-grain effect gives the

illusion of a wood floor, but it is

easier to maintain. Antimicrobial

technologies can be easily and

cost-effectively implemented by

laminate manufacturers. Highpressure

laminate (HPL) is a

thermosetting material and, as such,

is often marketed as having a natural

resistance to microbial proliferation.

However, these properties have a

limited lifespan and will eventually

wear off. Importantly, global biocidal

regulations also do not permit

the marketing of any laminates

as being antimicrobial unless

they contain a registered biocide.

Antimicrobial laminate protection

58 WOOD IN ARCHITECTURE • ISSUE 1 – 2022
---
FLOORING

Antimicrobial technology

can be added to some

floor types during the

manufacturing process

150x210mm--CORRECTED-MARAPR.pdf 1 18/2/22 11:21 PM

the flooring material, which has been selected

to fit the practicalities and appearance of its

surroundings. With many consumers asking for

products that are not only easy to clean but also

help to alleviate anxieties around cleanliness,

selecting flooring and floor products with

built-in antimicrobial technology puts builders,

architects and designers at the cutting edge of

innovation in cleaning. WIA

can be introduced into HPL during the final

resin bath of the impregnation process.

The result is a laminate surface that is

protected from microbial growth, ultimately

reducing the risk of cross-contamination,

and complementing existing cleaning

practices.

Underlay: Underlay is an important factor

for the finish of a wood floor, as it can

improve floor stability while providing

insulation, sound reduction and moisture

protection. Antimicrobial additives can

be added to the underlay during the

manufacturing process, providing continual

protection from the growth of stain and

odour causing bacteria, mould and mildew,

prolonging the lifetime of the product.

Nobody wants to have to replace an entire

wooden floor due to premature degradation

of the underlay.

C

M

Y

CM

MY

IT'S ALL IN THE FINISH

Selecting an option with built-in

antimicrobial technology offers an ideal

solution when fitting a new floor, as a

replacement or in a new property. However,

wood floors are designed to be longlasting

and replacing them to gain these

benefits may not be practical. Antimicrobial

technology can also be added to floor

finishes such as varnishes, waxes and oils,

meaning protection can be added during

routine maintenance.

CY

CMY

K

CONCLUSION

Antimicrobial experts can incorporate

product protection into a range of

flooring types and finishes for a systemic

approach to cleaning. Most importantly,

all of these can be achieved without

affecting the quality, design or finish of

WOOD IN ARCHITECTURE • ISSUE 1 – 2022 59
---
FIT-OUTS

1

Holistic hotel experience

with American hardwood

American white oak, walnut and cherry's beauty, versatility and durability

shine through in this family-owned hotel in the heart of Hong Kong.

60 WOOD IN ARCHITECTURE • ISSUE 1 – 2022
---
FIT-OUTS

The Rosewood Hotel Hong Kong

opened its doors in March 2019,

towering over the Victoria Harbour.

With American hardwoods including

white oak, walnut and cherry integral

to the interiors, elegance is at the

heart of the design.

John Chan, regional director for

Greater China and South East Asia

of the American Hardwood Export

Council (AHEC), said: "We are

absolutely delighted that after close

to two years of the pandemic, we

were able to organise this physical

seminar to meet with the specifier

community once again. The Rosewood

Hotel stands as a testament to

American hardwood's beauty, quality

and sustainability. We look forward to

more opportunities for us to gather

and demonstrate the use of American

hardwood in 2022."

In her address, Alison Chi, the

studio's managing director, said that

the Rosewood Hotel was designed

as a tribute to the ownership

family, standing as a beacon on the

Victoria Harbour, demonstrating

modern heritage and innovation in

international hospitality design. Just

as the family's estate was handed

down through the generations, it was

important for the design of the hotel

to go beyond being aestheticallypleasing

and to also offer a consistent

holistic experience, and last for

generations.

1 American walnut

for the lift doors

2 Quartersawn

American

white oak walls

chamber-fumed

to achieve the

brown patina

3 Quartersawn

American white

oak for the

flooring 2

3

ELEGANT BEAUTY

Chi explained how the holistic

design touches on all of the senses:

"American hardwood materials

transition from day to night, taking

us from morning light to night light

elegantly. In day light, it is very

elegant. In candescent light, the wood

glows warmly. It brings an emotional

quality to the experience and an

intangible value to the space that is

much more than just visual."

WOOD IN ARCHITECTURE • ISSUE 1 – 2022 61
---
FIT-OUTS

arts and crafts tradition. The use of

American hardwood thus added to

the sense of timelessness embodied

in the design.

As Chi elaborated: "There is a

longstanding tradition and heritage

to the materials that we love. Beyond

the richness of the wood grain that is

in itself extraordinary, it connects us

to the tradition of craftsmanship and

to the past. These materials have

engaged with people generations

before us."

3

DURABILITY

American white oak was used

for the flooring of the guest

rooms. Jonathan Boulay, from the

company that supplied the wood,

said: "American white oak is the

number one hardwood for flooring

in the world. It is hard enough

to withstand high traffic and its

beauty lasts for generations. It is

sustainably managed and more

plentiful in US forests now than even

50 years ago."

The white oak used in the Rosewood

Hotel was quartersawn and

chamber-fumed for six weeks to

achieve the brown patina in the

floors and walls, as Boulay explained:

"When white oak is quartersawn,

it remains dimensionally stable

with much less width and thickness

expansion and contraction than other

hardwoods. It is used to build sailing

ships and wine barrels, a testament

to its closed grain and resistance to

American cherry

for the foyer on

each floor

CONSISTENT HOLISTIC

EXPERIENCE

Chi's team envisioned building a

hotel that goes beyond being a place

you can stay and experience one

time, but rather a place you can live

in. As such, it was important for the

hotel to have a consistent wood

quality that carries guests across all

the spaces, from arrival to the guest

room. The use of American white

oak imbues calmness and harmony.

HERITAGE AND

TIMELESSNESS

As a legacy crop that has been

passed down from generation to

generation, American hardwoods

have had a long heritage, tradition

and connection with the global

the effects of water, either directly or

in the atmosphere."

To demonstrate the durability,

Boulay used an example of French

chateaux with American white oak

floors that have been trodden on by

generations for over 400 years and

still look beautiful. AHEC believes

that the Rosewood Hotel will be

similar for years to come. WIA

62 WOOD IN ARCHITECTURE • ISSUE 1 – 2022
---
FIT-OUTS

DESIGN INFORMATION

LOCATION: Copenhagen, Denmark

YEAR: 2017-2021

SIZE: 7.400m²

CLIENT: KAB

ARCHITECT: Henning Larsen

LANDSCAPE: SLA

ENGINEER: NIRAS

PHOTOGRAPHY:

Laura Stamer, Poul Christensen

Henning Larsen is an architecture, landscape

architecture, urbanism, and interior, graphic,

and lighting design studio. Their latest project,

a new 7,400m 2 headquarters for housing

association KAB, is a building at a crossroads

— literally and metaphorically. Located on the

axis, between one of Copenhagen's oldest

neighbourhoods and one of its newest, the

building bridges Danish office culture with

home life.

"With KAB, the challenge was to create

something simple out of something complex,"

explained Signe Kongebro, global design

director and partner at Henning Larsen. "We

were interested in the play between the office

and the home — the two places in which we

spend the majority of our daily lives — and

were interested in how we could infuse the

headquarters with the best of both worlds."

A BUILDING FOR THE MOMENT

Copenhagen is facing a housing crisis.

However, unlike many cities which face the

problem of speculative development and

financial interests changing housing to an

opportunity for investment, in Copenhagen

there are not enough places to live.

KAB House:

A home for

housing

Ground level and reception desk

When KAB was founded in 1920, Copenhagen

faced the same problem it does today.

As people flooded to the capital from

the countryside, housing could not keep

pace. Housing associations like KAB were

established to develop, build, rent and

administrate properties, and to make sure

that prices remained fair. Today, KAB manages

over 64,000 units across Greater Copenhagen,

housing approximately 120,000 residents, or

10% of the city's population, with a quarter

million more registered on waiting lists.

WOOD IN ARCHITECTURE • ISSUE 1 – 2022 63
---
FIT-OUTS

The variety of services KAB provides, from

the administrative to the more social or

outreach oriented, would make for a complex

assignment in any new headquarters. But the

challenge of KAB's new headquarters runs

even deeper — the building is representative

of Denmark's approach to collectivism,

welfare, and the home itself.

A HOME FOR HOUSING

The architectural approach to KAB takes

traditional elements of the home — the living

room, the stairs, the garden, the kitchen —

and applies them to the workplace. Things

begin traditionally office-like: The ground

level is open and airy, the large reception

desk flanked by a plant-filled seating area

behind which the office canteen nestles. It

is once you make your way up the stairs that

the feeling changes.

1

2

Within the atrium, nearly everything is clad

in wood, giving the space a soft, 'hyggeligt'

feeling — a Danish and Norwegian word for

cosiness and warm atmosphere, for enjoying

the good things in life with good company

— and adding scent and texture not often

associated with the workplace. The slender

stairs cut back and forth across the middle

of the atrium, alighting on large community

kitchens on each floor.

"The stairs are a play on the classic stairwell

of residential buildings, which is typically the

place you meet your neighbour," explained

Troels Dam Madsen, associate design

director at Henning Larsen. "In the KAB

House, we added a layer of visibility, texture,

and beauty to what is usually a very practical

space."

The western edge of the atrium is a wall of

windows, behind which the main meeting

rooms, outfitted to resemble rooms in a

house, and private offices are located. This

move marks the border between the private

office space and the space that is accessible

to the public, while also suggesting

something a little more subtle. When one

peeks into the windows of the meeting rooms

from the stairs, one observes a household at

work.

3

64 WOOD IN ARCHITECTURE • ISSUE 1 – 2022
---
FIT-OUTS

THE HOUSE AT CROSSROADS

For all the cues inside, the KAB House

could hardly be mistaken for a home on

the outside. Located between several

neighbourhoods and perched on a multilayered

intersection that sees traffic,

KAB marks a transition space in the

growing city.

1 The exterior of KAB

House

2 Within the atrium,

nearly everything is

clad in wood, evoking

a 'hyggeligt' feeling

3 Roof garden

4 The stairwell

segueing into other

rooms

5 The stairs are a

play on the classic

stairwell design of

residential buildings

In response to this medial situation,

this house is designed with no front or

back, its pentagonal shape opening into

the city on all sides and framing views

onto the streets Vesterbro, Sydhavn,

Carlsberg, and Valby. The red-brick

exterior evokes the materiality and

pragmatism of the properties it has

overseen since the 1930s, with some

flair in the contemporary bricklaying.

Landscape design studio SLA's

parkland around the KAB House invites

neighbours and passers-by to stop in

green surroundings. At the top of the

KAB House there is a green roof garden

where visitors and employees can take

a break and enjoy views of the railway

body and Copenhagen.

4

Mette Skjold, partner at SLA, explained

the design: "With the KAB House, we

have designed an urban nature that gives

employees, visitors and neighbours in

Vesterbro a green and inviting rest break.

The landscape draws character from the

creative environments of the local area

and continues the raw surroundings of

the existing railway terrain by creating

a robust and identity-creating nature

design — from street level to roof garden.

In this way, the nature design binds both

the KAB House together with the local

area, while acting as a buffer against the

noise and particle pollution of the track

terrain."

5

The building is a gathering place for 44

housing organisations, approximately

120,000 residents, and provides the

framework for 400 KAB employees'

daily work. KAB moved in in June

2021. WIA

WOOD IN ARCHITECTURE • ISSUE 1 – 2022 65
---
EVENTS CALENDAR

2022

The Big 5 Saudi

28 – 31

Riyadh, Saudi Arabia

Architect'22

26 April – 01 May

Bangkok, Thailand

MARCH

APRIL

MAY

INDEX Dubai

24 – 26

Dubai, United Arab Emirates

China (Beijing) International Building

Decorations & Building Materials

Exhibition

26 – 28

Beijing, China

JUNE

Carrefour International du Bois

01 – 03

Nantes, France

Project Qatar

06 – 09

Doha, Qatar

South China International Industry Fair

07 – 09

Shenzhen, China

JUNE

Design Shanghai

09 – 12

Shanghai, China

MegaBuild Indonesia

16 – 19

Jakarta, Indonesia

China Architecture Design Expo

23 – 26

Shanghai, China

FENESTRATION BAU China

23 – 26

Shanghai, China

Archidex

29 June – 02 July

Kuala Lumpur, Malaysia

AUGUST

BIFA WOOD Vietnam

08 – 11

Binh Duong, Vietnam

SEPTEMBER

Design Beijing

21 - 23

Beijing, China

FIND Design Fair Asia

22 – 24

Singapore

2023

Delhi Wood

02 – 05

Delhi, India

NOVEMBER

China Yiwu International Forest

Products Fair

01 – 04

Zhejiang, China

DECEMBER

The Big 5 Dubai

05 – 08

Dubai, United Arab Emirates

Hanoi Wood

09 – 11

Hanoi, Vietnam

FEBRUARY

MARCH

Salone del Mobile. Milano

07 – 12

Milan, Italy

66 WOOD IN ARCHITECTURE • ISSUE 1 – 2022
---
INDEX OF ADVERTISERS

INDEX OF ADVERTISERS

Advertiser

Page

Advertiser

Page

American Hardwood Export Council

OBC

Panels & Furniture Asia House Ad 15, 67

American Lumber 9

Softwood Export Council

IFC

Baillie Lumber 7

Sylvawood Expo 1

BIFA Wood Vietnam 2022 5

Technik Associates, Inc

IBC

Hanoi Wood 2023 31

Kuang Yung Machinery Co., Ltd 59

Malaysian Wood Expo 2022 68

PEFC 11

Scan to download

WIA Issue 1, 2022 ebook

@panelsfurnitureasia

PFA-HPHorizontal-Socialmedia-2021.indd 1

29/7/21 9:18 AM
---
2022

International

Wood & Woodworking

Machinery Expo

NOV

20-22

2022

MALAYSIA INTERNATIONAL TRADE

AND EXHIBITION CENTRE (MITEC)

KUALA LUMPUR, MALAYSIA

Jointly organised by:

Endorsed by

For enquiry, contact us at:

+65 6266 5512

williampang@pabloasia.com

MTC +603 9281 1999

info@malaysianwoodexpo.com.my

Malaysian Panel-Products

Malaysian Timber Industry Malaysian Wood Industries

Manufacturers' Associatin

Board (MTIB)

Association (MWIA)

Ministry of Primary Industries

(MPMA)

Malaysian Wood

The Timber Exporters'

Moulding& Joinery

Malaysian Furniture

Association of

Council (MWMJC)

Council (MFC)

Malaysia (TEAM)

Association of Malaysian

Bumiputra Timber & Furniture

Entrepreneurs (PEKA)

American Hardwood

Export Council

FrenchTimber
---
MASTER PIECES FROM TAIWAN

MASTER PIECES FROM TAIWAN

FOR BOTH SOLIDWOOD & PANEL INDUSTRIES

FOR BOTH SOLIDWOOD & PANEL INDUSTRIES

SBM-1300-H6

SBM-1300-H6

Double Sided Cutting

Double Boring and Sided Milling

Cutting

Boring Machine

and Milling

Machine

Designed For Solid Wood Furniture / Door / Flooring Production,

Designed Kitchen Cabinet, For Solid and Wood Functiona Furniture For / High Door Precision / Flooring Sizing, Production,

Boring, Milling .

Kitchen Cabinet, and Functiona For High Precision Sizing, Boring, Milling .

APPROVED/

APPROVED/

L-CLASS

L-CLASS

DET-4000-L6

DET-4000-L6

Double End Tenoner

Double End Tenoner

CLT 6,000 mm

CLT Special machine for CLT material such as flooring, ceiling and wall panel 6,000 mm

Special max. working machine width for up CLT to 6,000 material mm such or more. as flooring, ceiling and wall panel

max. working width up to 6,000 mm or more.

SD-700A

SD-700A

Auto. Edge Banding Machine

Auto. Edge Banding Machine

PVC (softforming) 0.4-1.2 mm

PVC For PVC melamine and veneer edge banding (softforming) job. Edging thickness: 0.4-1.2 0.4-1.2 mmmm.

For PVC melamine and veneer edge banding (softforming) job. Edging thickness: 0.4-1.2 mm.