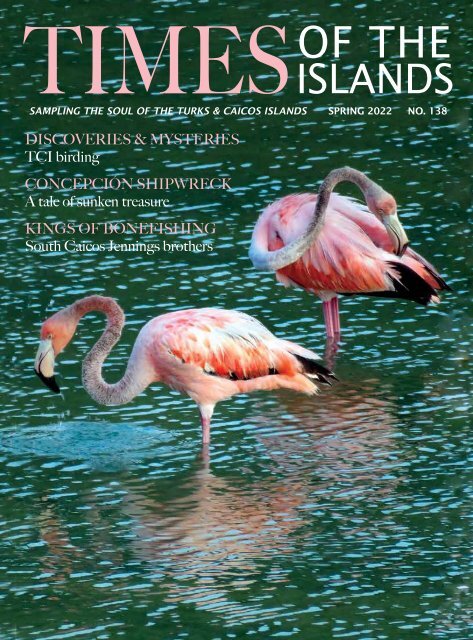 Times of the Islands Spring 2022
Presents the "soul of the Turks & Caicos Islands" with in-depth features about local people, culture, history, environment, real estate, businesses, resorts, restaurants and activities.
Presents the "soul of the Turks & Caicos Islands" with in-depth features about local people, culture, history, environment, real estate, businesses, resorts, restaurants and activities.
SHOW MORE
SHOW LESS
Create successful ePaper yourself
Turn your PDF publications into a flip-book with our unique Google optimized e-Paper software.
TIMES

SAMPLING THE SOUL OF THE TURKS & CAICOS ISLANDS SPRING 2022 NO. 138

DISCOVERIES & MYSTERIES

TCI birding

CONCEPCIÓN SHIPWRECK

A tale of sunken treasure

KINGS OF BONEFISHING

South Caicos Jennings brothers

OF THE

ISLANDS
---
Comfort Food Just Went A-list.

If your idea of comfort feels like

cashmere, you will find its culinary

equivalent at Almond Tree,

the Shore Club's deliciously

decadent new eatery.

Golden, crusty wood-fired pizza.

Savory skillets, bubbling over with flavor

and just oozing with temptation.

Salads and sides that give new meaning

to the word "indulgence."

These days, we're all hungry

for contentment and satisfaction.

Almond Tree at the Shore Club

simply takes it to a whole new level.

Reservations 649 339 8000

theshoreclubtc.com

ALMOND TREE

COURTYARD BAR

Dinner 6 –10:30pm

5pm – Midnight
---
JAMAICA'S

ULTIMATE

VOTED WORLD'S BEST

23

YEARS IN A ROW AT THE WORLD TRAVEL AWARDS

5 DISTINCT VILLAGES TO

CHOOSE FROM

Key West Italian

1. Village 2. Village

3. Caribbean

Village

4. French

Village

5. Seaside

Village

TM/© 2021 Sesame Workshop

EVERYTHING'S INCLUDED FOR EVERYONE!

Unlimited fun and entertainment is all-included

at Beaches® Turks & Caicos. And now with our

Platinum Protocol of Cleanliness, our already

industry-leading safety and health practices are

even more enhanced, guaranteeing the peace of

mind you need to enjoy your time with us. Stay at

one village and play at all five choosing from every

land and water sport imaginable, an awe-inspiring

waterpark with a SurfStream® surf simulator, or simply just splash,

swim and sip the day away with new friends at a sparkling swim-up

pool bar. Pamper yourself in a world of tranquility at our Caribbeaninspired

Red Lane® Spa and then enjoy an all-included feast at one of

21 incredible 5-Star Global Gourmet restaurants and enjoy non-stop

bars and entertainment all for the price of one vacation. With all of this

activity at your fingertips, it's no wonder Beaches Turks & Caicos has

held the top spot at the World Travel Awards for over two decades.

21 RESTAURANTS

@beachesresorts

FOR MORE INFORMATION, VISIT BEACHES.COM, CALL 1-800-BEACHES

OR CALL YOUR TRAVEL ADVISOR

*Visit www.beaches.com/disclaimers/timesoftheislandsspring2021 or call 1-800-BEACHES for important terms and

conditions. Beaches ® is a registered trademark. Unique Vacations, Inc. is an affiliate of Unique Travel Corp., the worldwide

representative of Beaches Resorts.
---
contents

Departments

6 From the Editor

17 Getting to Know

A Long Journey to Paradise

Beryl Nelson

By Jody Rathgeb ~ Photo By Tom Rathgeb

24 Talking Taíno

Crawling Out of History

By Bill Keegan, Betsy Carlson

and Michael Pateman

77 About the Islands/TCI Map

81 Subscription Form

82 Classified Ads

Features

32 Discoveries and Mysteries

TCI Birding

By Simon Busuttil

46 Wreck of the Concepción

By Ben Stubenberg

Original Painting By Richard McGhie

52 The Power of Vitamin Sea

Story and Photos By Kelly Currington

Green Pages

57 Helping the Humpback

By Katharine Hart & Cathy Bacon

Photos By Katharine Hart, Deep Blue Charters

62 Building an Ark

By Alizee Zimmermann, TCRF

65 Flamingo Flamboyance

By Skylar Wuelfing, SFS

TIMES

OF THE

ISLANDS

SAMPLING THE SOUL OF THE TURKS & CAICOS ISLANDS SPRING 2022 NO. 138

On the Cover

Marta Morton spent an hour filming a "flamboyance" of

flamingos last September at aptly-named Flamingo Lake

in Providenciales. The speckled water added a naturally

artistic touch to the image. You can read more about flamingos

on page 65. For more of Marta's beautiful images

of the TCI, visit www.harbourclubvillas.com.

Astrolabe

68 Raking Up the Past

Story & Photos By Jeff Dodge

73 Kings of Bonefishing

By Dr. Carlton Mills

32

MARTA MORTON–WWW.HARBOURCLUBVILLAS.COM

4 www.timespub.tc
---
TurksAndCaicosProperty.com

Mandalay Estate, Long Bay Beachfront

Nestled along coveted Long Bay Beach, Turks and Caicos Islands, Mandalay Estate offers a discerning buyer

an idyllic private retreat with approximately 190 ft. of pristine, white sandy beach and brilliant turquoise

waters. Mandalay features 7 bedrooms and an award-winning architectural design capturing the essence

of open Caribbean living with a masterful layout that revolves around the spectacular multi-level pool.

US$16,000,000

Bernadette Hunt

Cell ~ 649 231 4029 | Tel ~ 649 941 3361

Bernadette@TurksAndCaicosProperty.com

Bernadette has lived in the Turks and Caicos

Islands for over 26 years and witnessed the

development and transition of the islands

into a significant tourist destination. Based

on independent figures her gross transaction

numbers are unrivalled. Bernadette

has listings on Providenciales, Pine Cay,

Ambergris Cay, North and Middle Caicos

and is delighted to work with sellers and

buyers of homes, condos, commercial real

estate and vacant undeveloped sites.

Turtle Tail Beachfront Land

Newly listed for sale .65 of an acre Turtle Tail beachfront lot with 102 ft. of beachfront in the upscale Turtle

Tail community. This rare southern-facing beach lot is located just down the road from the South Side

Marina and offers direct access to the ocean. It is ideal for a buyer wanting to build their Turks and Caicos

dream home or a vacation rental property amongst other multi-million dollar villas and estates.

US$1,800,000

Turks and Caicos Property is the leading

independent real estate firm in the Turks and

Caicos Islands with offices located at Ocean

Club West Resort and Ocean Club West

Plaza on the Grace Bay Road.

Bernadette's reputation and success has been

earned over time through her dedication,

enthusiasm and passion for real estate. Her

personal experience as having practiced law

in the islands for more than 10 years together

with owning and renovating a number of

properties means she is well-placed to advise

her customers and developers on what to

anticipate in the purchasing and construction

process.

Bernadette delights in working in the real

estate industry and her humor and energy

make her a pleasure to work with.

Crystal Sands, Sapodilla Bay Beachfront

Recent price improvement! Crystal Sands is a luxury beachfront villa in Sapodilla Bay, one of the Turks and

Caicos Islands most coveted locations to reside. The 2 storey, 4,200 sq. ft. property is perfect for large

gatherings with friends and family. Each bedroom features an ensuite bathroom and breathtaking views of

the tranquil beach and turquoise waters.

US$3,800,000

Please contact Bernadette if you would like

to find out more about owning real estate in

the Turks & Caicos Islands.
---
from the editor

MARTA MORTON—WWW.HARBOURCLUBVILLAS.COM

A walk along Grace Bay Beach as the sun sets is a providential opportunity to contemplate the "invisible footprints" in your life.

Invisible Footprints

As I find myself in a very difficult and sad season of life, I try to make sense of struggle and suffering in light of my

faith. No doubt in this tumultuous world there is no lack of hardship, sickness, grief, unthinkable acts of aggression

and hurt against each other, such as what is happening in the Ukraine as I write this. I've long believed that our

God does not wave a wand and remove difficulties, but walks with us through them. Only He can supply the perfect

comfort, grace, and mercy we need—His invisible footprint as He "carries" us through trouble.

I realize "invisible footprints" are present all around us. In family and friends who lend an unselfish helping hand

and persevere when it isn't easy or fun. In organizations—like the TCI Reef Fund, Whale Project, and Iguana Islands

Partnership—whose unheralded, behind-the-scenes work is making important strides in protecting the natural treasures

that make this country so special. In historians who take time to document the Islands' unique past; the artists

who paint or photograph its cultural wonders. Examples abound in this issue.

The work of our steadfast contributors—and their forbearance with me—along with the support of our loyal

advertisers, are the footprints that walk beside us and carry us through each issue. For that I am so grateful.

6 www.timespub.tc

Kathy Borsuk, Editor

timespub@tciway.tc • (649) 431-4788
---
WORRY-FREE

STRESS-FREE TRAVEL.
---
THE TRAVEL INDUSTRY'S MOST COMPREHENSIVE

VACATION PROTECTION PROGRAM*

With Beaches® Vacation Assurance, you can be certain that

your vacation is fully protected. Should your trip be interrupted, we've

got you covered with a replacement vacation credit voucher and

air credit, so you won't miss out on any part of your vacation or

lose any investment in it. These are extraordinary measures so you

can travel with peace of mind and have a stress-free, worry-free vacation.

Go ahead and book with confidence knowing that your

vacation in paradise is fully assured with Beaches Resorts,

THE BRAND YOU CAN TRUST.

BEACHES VACATION ASSURANCE INCLUDES

OUR INDUSTRY-LEADING PLATINUM PROTOCOL

OF CLEANLINESS PLUS:

INCLUDED Replacement Vacation

INCLUDED Replacement Air Credit of $500pp

INCLUDED On-Resort Quarantine

INCLUDED Travel Protection Insurance Is On Us

INCLUDED Toll-Free Hotline:844.883.6609

INCLUDED On-Resort PCR & Antigen Testing

INCLUDED Date Changes and Cancellation Protection

by Unique Travel Corp.

BEACHES.COM • 1.800.BEACHES

OR CALL YOUR TRAVEL ADVISOR

AVAILABLE FOR BOOKINGS NOW THROUGH JUN. 30, 2022

FOR TRAVEL THROUGH DEC. 31, 2022.

*Visit www.beaches.com/disclaimers/timeoftheislandspring22 or call 1.800.BEACHES for important terms and

conditions. Beaches ® is a registered trademark. Unique Vacations, Inc. is an affiliate of

Unique Travel Corp., the worldwide representative of Beaches Resorts.
---
Everything's Included

The World's Best All-Inclusive Family Resorts
---
For Everyone

Beaches ®

Turks & Caicos has held the top spot at the World Travel

Awards for over two decades by offering families more of everything

on the world's best beach, featuring 5 villages, every land and water

sport*, an awe-inspiring waterpark with a surf simulator, 5-Star Global

Gourmet dining at 22 incredible restaurants, and 14 bars. Tips, taxes

and Beaches transfers* are included too. And with trend-setting food

trucks, live entertainment, and family sized accommodations… the

World's Best Family Resorts include everything families want and deserve.

BEACHES.COM

1-800-BEACHES

Or Call Your

Travel Advisor

We've got you

covered with*:

• Replacement Vacation

• Replacement Air Credit of $500pp

• Travel Protection Insurance Is On Us

• On-Resort Quarantine

• And Much More

*Visit www.beaches.com/disclaimers/timeoftheislandspring2022sp or call 1-800-BEACHES for important terms and conditions.

Beaches ® is a registered trademark. Unique Vacations, Inc. is an affiliate of Unique Travel Corp., the worldwide representative of Beaches Resorts.
---
WHEN OPPORTUNITY KNOCKS TWICE . . .

Don't miss out on the exciting Final Phase of one of

Providenciales' most successful real estate developments.

Casually Sophisticated Interiors • Club Room • Roof Top Terrace • Dining

Spa • Fitness Center • Snorkeling • Non-Motorized Watersports • Butler Service

Proven in Provo . . . where will you invest?

30+ Years of Development/Hotel Operations Success • a Decade of Travel Awards

Consistently High Guest Ratings • 10+ Years of Strong ROI and Very Satisfied Owners

1, 2 & 3 Bedroom Resort Residences from $525K to $4.45M

1-649-946-3766 • Toll Free (US/Canada): 1-855-WINDSONG (946-3766) • realestate@windsongresort.com

Stubbs Road, Grace Bay • Providenciales, Turks and Caicos Islands • www.windsongresidences.com
---
The Leading Private Bank in the Turks and Caicos Islands

Where values are growing

Wealth Management • Bonds/Fixed Income

Investment Strategies • Foreign Exchange

Stocks/Equities • Precious Metals

Fixed deposits/CD's • International Transfers

Turks & Caicos Banking Company Ltd.

The Regent Village, Unit H102, Grace Bay Road, Providenciales

Tel: +649 941 4994

Email: services@tcbc.tc • www.tcbc.tc

Regulated by the Financial Services Commission, Turks & Caicos Islands
---
Building Your Vision, Delivering Excellence, and Exceeding Expectations -

Time After Time.

Projetech offers turnkey Construction Management and General Contracting

Services for Residential, Commercial and Hotel & Condominium Projects in the

Turks & Caicos Islands. Our depth of experience is unrivaled and our commitment

to quality shows in the hundreds of projects we've completed in the Turks & Caicos

since our beginnings in 1996.

ESTABLISHED 1996

CONSTRUCTION MANAGEMENT & SERVICES LTD

PO BOX 659 | PROJECT HOUSE | LEEWARD HIGHWAY | PROVIDENCIALES | TURKS & CAICOS ISLANDS

T: 649.941.3508 | F: 649.941.5824 | INFO@PROJETECH.TC | WWW.PROJETECH.TC |
---
TIMES

OF THE

ISLANDS

MANAGING EDITOR

Kathy Borsuk

ADVERTISING MANAGER

Claire Parrish

CONTRIBUTING WRITERS

Cathy Bacon, Kathy Borsuk, Simon Busuttil,

Dr. Betsy Carlson, Kelly Currington, Katharine Hart,

Dr. Bill Keegan, Dr. Carlton Mills, Dr. Michael P. Pateman,

Jody Rathgeb, Ben Stubenberg, Lisa Turnbow-Talbot,

Sklylar Wuelfing, Alizee Zimmermann.

CONTRIBUTING PHOTOGRAPHERS

Nichoy Bent, Jonathan Blair, Simon Busuttil,

Kelly Currington, Florida Museum, Katharine Hart, Aravna

Lucsama, Marta Morton, Caitlin E. O'Brien,

Piping Plover Survey Team, Tom Rathgeb,

James Roy–Paradise Photography, Marjorie Sadler,

Shutterstock, Turks & Caicos Reef Fund.

.

TMW2022.qxp_Layout 1 3/2/22 3:41 PM Page 1

TRUST INTEGRITY

EXPERIENCE

Serving international & domestic clients

in real estate, property development, mortgages,

corporate matters, commercial matters,

immigration, and more.

CONTRIBUTING ARTISTS

Alejandra Baiz, Richard McGhie,

Theodore Morris, Wavey Line Publishing.

PRINTING

PF Solutions, Miami, FL

Times of the Islands ISSN 1017-6853 is

published quarterly by Times Publications Ltd.

Copyright © 2022 by Times Publications Ltd. All rights reserved

under Universal and Pan American Copyright Conventions.

No part of this publication may be

reproduced without written permission.

Subscriptions $28/year; $32/year for

non-U.S. mailing addresses

Submissions We welcome submission of articles or photography, but

assume no responsibility for care and return of unsolicited material.

Return postage must accompany material if it is to be returned. In no

event shall any writer or photographer subject this magazine to any

claim for holding fees or damage charges on unsolicited material.

While every care has been taken in the compilation and reproduction of

information contained herein to ensure correctness, such information is

subject to change without notice. The publisher accepts no

responsibility for such alterations or for typographical or other errors.

TWA MARCELIN WOLF

ATTORNEYS AT LAW SINCE 1982

TELEPHONE 649.946.4261 | TMW@TMWLAW.TC

WWW.TWAMARCELINWOLF.COM

Business Office

Times Publications Ltd., P.O. Box 234,

Providenciales, Turks & Caicos Islands, BWI

Tel 649 431 4788

E-mail timespub@tciway.tc

Web www.timespub.tc

Advertising tfadvert@tciway.tc

16 www.timespub.tc
---
getting to know

After years of "hippie life," living on the edges of society, Beryl Nelson is a law-abiding citizen of a country where he truly wants to live—the

Turks & Caicos Islands.

A Long Journey (by Boat)

to Paradise

Beryl Nelson

By Jody Rathgeb ~ Photos by Tom Rathgeb and Courtesy of Beryl Nelson

Q: How did you come to live in the Turks & Caicos Islands, Beryl?

A: Well, it's a long story . . .

Times of the Islands Spring 2022 17
---
Actually, the story

itself is simple: Beryl

Nelson, who grew up in

Michigan and Indiana,

decided when he came

of age that he did not

want to live in the turbulent

and violent American

culture of the late 1960s

and resettled himself on

Providenciales. Simple,

right? Ah, but the details

of his journey between

1969 and 1985 make for

a more complicated tale,

involving anti-war protests,

trips abroad, work

in The Bahamas and many

boats.

The boats are the

standouts when Beryl,

now 77 years old, retired

and living in Long Bay,

talks about his life. He

A young Beryl Nelson navigates at the helm of the schooner America.

punctuates his stories

with details of the sailboats he has captained, refurbished

and lived aboard, describing them with the spark in his

eye that marks a true sailor. The boats and the trips are

jumbled in with Beryl's Quaker roots, political activism

and the desire for a peaceful life. "Classic hippie stuff,"

he comments.

various places. In Philadelphia, visiting his sister Marjorie,

he saw a film on the Phoenix activities and became a volunteer

for A Quaker Action Group. He spent 1968 on the

Phoenix, and on his return continued anti-war activities.

"That was when I decided I didn't want to live in the U.S.,"

he says. "I figured my only option was to build a sailboat

and sail away."

Phoenix

While even his earlier days involved working around boats

and on the water, perhaps the start of his 17-year journey

to Provo was aboard the Phoenix of Hiroshima in 1968.

The 50-foot, 30-ton yacht was designed and owned by

anthropologist Dr. Earle Reynolds, who in the late 1950s

became interested in protests against nuclear weapons

For several years Beryl shuttled between Michigan,

where he was building a boat (never completed) on his

father's property, and Florida, where he was working

at a shipyard and "learning more about boats." He also

became involved in salvage operations and delivering

boats to The Bahamas. Those first tastes of The Bahamas

made him start thinking about emigrating, which lent

tests. Inspired by Quaker activists, Reynolds put his more reality to his "sail away" fantasies.

yacht to use in those protests and other anti-war activities.

In 1967–68, the Phoenix delivered medical supplies

to civilians in both North and South Vietnam. (Reynolds

Sheila A

Then he fell in love . . . with a boat. During a delivery trip

recounted those stories in his book, The Forbidden stop in Georgetown, Great Exuma, he saw the Sheila A,

Voyage.)

Enter Beryl Nelson, who had been knocking about

among jobs at a Fort Lauderdale shipyard and with the

"and I thought she was very pretty." The 22-foot wooden

sailboat with canvas sails was a Bahamian "B Class" racing

sloop. Beryl borrowed money to buy her and lived on the

Michigan State Waterways Commission; following an beach while he emptied and cleaned the boat. "I ended up

interest in underwater archaeology; and visiting friends in at the Out Island Inn. They let me tie up to their dock, and

18 www.timespub.tc
---
This is Beryl's houseboat, Ashram, in Great Exuma. When he moved to the Turks & Caicos, he tied up Ashram at his property and lived aboard

until he built a house.

I would fish for them. I could use their toilets, and then I

made a little extra by saving the backbones and heads of

the fish and trading with the locals. Of course, this was

all highly illegal."

When the authorities began sniffing around, Beryl

moved on to Nassau in Sheila A. "I got into a white

Bahamian crowd and did carpentry work for them and

other odd jobs." There he learned about the Yoga Retreat

on Paradise Island, where he became first a volunteer,

then a staffer. He also spent time on Rudder Cut Cay,

where he sighted a disabled 40-foot houseboat in a pond.

With some help from Swami Vishnu and a loan from his

father, Beryl bought it and named it Ashram.

Ashram

Eventually, Ashram would take him to Provo. But he got

sidetracked when he was asked to take another sailboat,

Jubilee III, to Newport, Rhode Island for the 1977

America's Cup race. From there he landed a job as first

mate on the replica of the schooner America. A bit later,

during a trip on the schooner to The Bahamas via Norfolk,

Virginia, Beryl received his 100-ton Coast Guard license

and became its captain.

Beryl had offers for other jobs at this time, but "I

wasn't looking for a career in running yachts," he says.

Instead, he found work in the Exuma Cays, first as the

assistant manager of Lee Stocking Island, then as the first

park warden for the Exuma Cays Land and Sea Park.

During his three years as park warden, Beryl became

more aware of the Turks & Caicos Islands and began

thinking about settling there. He had met Chuck Hesse,

founder of Provo's Conch Farm, at a Gulf Caribbean

Fisheries Institute Conference in Nassau and became

interested in the conch mariculture process, then began

looking at land on Providenciales. "My sister Marge had

talked to me about buying land in The Bahamas," he

recalls, but he wasn't impressed by the way The Bahamas

handled land registry. The Turks & Caicos, however,

did impress him. While still working in the Exumas, he

bought land on Long Bay. After his park stint, he moved

to TCI in 1985, towing his 40-foot houseboat. He tied up

by his property and lived aboard while building his house

himself and establishing a business and residency.

Provo

The business, Local Knowledge Computer Services,

became his entry into the developing island, where Beryl

made computer repairs and computerized the billing

systems for various island mainstay businesses, such as

Barclays Bank and American Airlines. "I watched Provo

develop," he recalls. "I saw Club Med being built, and all

four terminal buildings at the airport."
---
M Page 1

DISTRIBUTOR DISTRIBUTOR FOR FOR EVINRUDE && MERCURY MERCURY

OUTBOARDS, PURSUIT WORLD CLASS CAT, CAT,

SUNDANCE AND BOSTON WHALER BOATS

Lures and Live Bait

Marine Hardware & Gear

Fishing Gear & Supplies

Marine Paints & Varnish

Marine Batteries

Sebago Docksiders

& Sperry Topsiders Shoes

BLUE

BLUE

HILLS

HILLS

ROAD

ROAD

PROVIDENCIALES

PROVIDENCIALES

TURKS

TURKS

& CAICOS

CAICOS

ISLANDS,

ISLANDS,

B.W.I.

B.W.I.

PHONE: 649-946-4411

FAX: 649-946-4945

After years of "hippie life," living on the edges of

society (sometimes illegally), Beryl Nelson became a

law-abiding citizen of a country where he truly wanted to

live. "I intentionally emigrated out of the United States.

knowing that I could NOT accept living in that culture,"

he notes. "This meant that it was necessary for me to

find a life where the culture and people I was surrounded

with did not violate my inner beliefs. How blessed and

thankful I feel for living in the Turks & Caicos Islands. I

look back and think through the experiences I've had and

realize many of them grew out of, and refined, my desires

and attitudes which I feel are being fulfilled here." a

Celebrating a milestone

2022 marks 30 years that I have been writing for

Times of the Islands as a freelancer. It's been my longest

gig, and my favorite.

Back in 1992, when I pitched my first article to the

magazine, the process was different. Folks weren't

using email yet, so I either faxed or FedEx'd my hard

copy (don't recall which), and for photos we devised

a system in which Tom would leave a roll of film at

Gilley's as we left the Provo airport for the editor to

pick up. It got easier as we all became connected and

digitized, although I still prefer doing my interviews

in person rather than online.

I've done a lot of "this and that" for TOTI, contributing

profiles, features and items for such regular

bits as "Resort Report," "I Was Wondering . . .?" and

"Faces and Places." For several years, I did a column

called "A Day in the Life," in which I followed an

Islander around as he/she did their day's work: keeping

shop, running cargo between Provo and Middle,

conching, teaching, installing and repairing AC, etc.

Those pieces were among my favorites because,

like the profiles I choose to do, they focused on

ordinary people simply trying to do their best. They

weren't stars or superheroes, but I felt their contributions

to the fabric of the Islands were (and are)

greater than those of any top politician or big-time

developer. I made a point of hopping around among

the Islands for these pieces, reminding readers that

the Turks & Caicos Islands are more than Provo.

I ended "A Day in the Life" when I stopped living

in TCI full-time, but I've continued writing for TOTI

and will do so as long as they'll have me. I hope to

go on celebrating these Islands beyond this 30-year

milestone. a

~ Jody Rathgeb

20 www.timespub.tc
---
- --- ---

- ---

-==---

-·----

Experience Our Sister Lslands

Each Island in our Turks and Caicos Islands chain is a destination on its own.

Experience the unparalleled beauty and exciting excursions that make our

'Beautiful by Nature' islands special. Retreat to one of our majestic Sister

Islands for the perfect family or solo getaway!

PHOTO CREDIT: BRILLIANT STUDIOS & CAYA HICO

Call: (649) 946-4970

TurksAndCaicosTourism.com
---
JAMES ROY–PARADISE PHOTOGRAPHY
---
talking taíno

Opposite page: This view over the ocean from the west side of North Creek in Grand Turk was likely enjoyed 1,300 years ago by its first

human inhabitants.

Above: The discovery of a previously unknown species of tortoise at Coralie (GT-3), the oldest known archaeological site in the Turks & Caicos

and The Bahamas, reflected the gigantism sometimes exhibited by species on islands.

SHUTTERSTOCK

Crawling Out of History

The Grand Turk Tortoise Chelonoidis alburyorum keegani

By Bill Keegan, Betsy Carlson and Michael Pateman

Just as the hare is zipping across the finish line, the tortoise has stopped once again

by the roadside, this time to stick out his neck and nibble a bit of sweet grass,

unlike the previous time when he was distractedby a bee humming in the heart of a wildflower

"My Hero" By Billy Collins

Times of the Islands Spring 2022 25
---
Coralie (GT-3), on the west side of North Creek in

Grand Turk, is a remarkable place. It was first inhabited

about 1,300 years ago, and is the oldest known archaeological

site in the Turks & Caicos Islands and all of The

Bahamas. It provides us with a view of the islands when

humans first arrived, before the animal resources of the

archipelago had ever been exploited. Coralie was an outpost

for short-term visitors from Hispaniola who came to

the island to harvest its abundant resources. This tells us

that Grand Turk was already a popular tourist destination

1,300 years ago!

Animal bones were exceptionally well preserved in

the site's dry, sandy soil. The most prominent was the

sea turtle, whose upper shell (carapace) was used as a

cooking pot. Nowhere else in the Caribbean have the

bones of sea turtles been found in such abundance. In

addition, the bones of some iguanas are almost twice

the scientifically recognized size for this species. This

is an example of the gigantism sometimes exhibited

by species on islands. (Island gigantism is a biological

phenomenon in which the size of an animal species isolated

on an island increases dramatically in comparison

to its mainland relatives.) Birds, such as the red-footed

booby, no longer live on Grand Turk; and the inordinately

large-size fishes show the benefits from being the first to

inhabit a pristine island setting. While amazing in their

own right, the discovery of a previously unknown species

of tortoise topped all.

The partial remains of eleven tortoise individuals were

found throughout the GT-3 deposits. Several of their bones

from the earliest occupation are burned, which shows that

they were butchered and eaten soon after people arrived.

What is surprising is that after these first meals, tortoises

were mostly left unmolested for almost 400 years. But

during the final visit of people from Hispaniola, sometime

around AD 1100, all of the remaining tortoises on Grand

Turk were rounded up and butchered. This renewed interest

in the tortoise as food may have resulted from the

overharvesting of sea turtles. If sea turtles were no longer

as abundant—and we do see a dramatic decline in their

size over time—then tortoise may have been the next best

option. Or, they may have been ignored because the taste

of tortoise meat was not to their liking. After all, everyone

has different food preferences. In the book The Yearling,

for example, immigrants to Florida from the island of

Minorca are disparaged for eating gopher tortoise. Local

Floridians would have nothing to do with them. However,

the Minorcans probably had a good reason. The Catholic

SHUTTERSTOCK

This is the upper shell (carapace) of a giant tortoise ; tortoises were once widely distributed throughout the Caribbean.

26 www.timespub.tc
---
THEODORE MORRIS

Above: This Theodore Morris painting "Turtle Spirit" represents the importance of turtles in

Taíno culture.

Right: These are the bones of the Sawmill sink tortoise uncovered in Abaco, The Bahamas.

church does not classify tortoise as "meat," so tortoise can be eaten on days

when abstinence from meat is expected.

Lacking information about tortoises in these islands, we sought help

from our colleagues at the Florida Museum who specialize in herpetology.

They too were amazed, and knew of only one reported tortoise bone from

the Banana Hole paleontology site on New Providence Island (Nassau). We

anxiously waited for their findings, but the ensuing biological research proceeded

at tortoise-like speed. An answer began to emerge with the 2004

discovery of a variety of fossil animals and plants preserved in the anaerobic

sediments at the bottom of Sawmill sink blue hole on Great Abaco Island

(northern Bahamas). (A blue hole is a subsurface void in carbonate bedrock

that is open to the Earth's surface and extends below water.) The nearly

complete fossil tortoise skeletons renewed interest in the study of Bahamian

tortoises, and eventually resulted in the first extraction of ancient DNA from

a tropical species. Once again, the tortoise came in first!

Ancient DNA revealed that Bahamian tortoises belong to a group of

Neotropical tortoises that includes species living today in South America

and the Galápagos Islands. They diverged from these relatives about 2–3

million years ago. Tortoises were once widely distributed throughout the

FLORIDA MUSEUM

Times of the Islands Spring 2022 27
---
Caribbean, and an extinct species of giant tortoise was

recently described in the Dominican Republic. They are

today found only in Cuba, Hispaniola, and a few of the

southern Lesser Antilles outside of Central and South

America. The fossil species are related to the red-footed

tortoise which is today a popular pet.

In addition to Grand Turk, recent paleontological

research has identified tortoise bones in cave deposits on

virtually every island in the Bahamian archipelago, including

Indian Cave on Middle Caicos. They shared the islands

with the Indigenous Lucayans, although GT-3 is the only

site at which tortoises have been found in direct association

with humans. Current evidence indicates they were

driven to extinction about 700–800 years ago, which may

be why there is no recorded Taíno name for tortoise (only

freshwater turtles, called jicotea). Recognizing that tortoises

are important members of tropical ecosystems, the

Turtle Conservancy has expressed interest in rewilding

tortoises in The Bahamas and TCI. But this project is also

moving at a tortoise's pace.

So, how did tortoises get to the TCI and The

Bahamas? Their story begins at a time of much lower sea

levels. Somehow, they managed to reach the Bahamas

from Cuba or Hispaniola and spread out across the much

larger landmasses. As sea level rose, the large land areas

were transformed into smaller island banks. Isolated on

islands separated by deep-water passages, the tortoises

developed observable differences. As a result, the tortoises

from every island looked different, reflecting their

adaptation to unique local conditions.

The Sawmill sink tortoise is the "parent" species

because it was the first to be described scientifically

(Chelonoidis alburyorum). There currently are two named

subspecies, one for Middle Caicos (C. a. sementis) and

ours on Grand Turk (C. a. keegani). Although others are

yet to be officially named, there was perhaps a total of

seven subspecies, each restricted to its own small bank

(e.g., Caicos Bank, Acklins Bank, Great Bahama Bank).

Although there was little genetic divergence in these

islands, the differences are sufficient to identify two distinct

"clades" (a clade is a group of organisms believed to

have evolved from a common ancestor). The occurrence

of both clades on the same island has been interpreted

by biologists as evidence for two separate colonization

events. In other words, these clades evolved on different

islands and much later came to inhabit the same island.

This looks very much like people were involved. It suggests

that the Lucayans moved tortoises between islands,

perhaps as a managed food source.

This image of the interior of the plastron of the Grand Turk tortoise

shows the "Madonna face" (at top) created by muscle insertions.

The Grand Turk tortoise was of moderate size, measuring

about 18 inches in length and about 50 pounds

in weight. They were only a third the size of the largest,

modern Galápagos tortoises (another example of island

gigantism). Although it is common to speak of a turtle's

"shell," this often means only the thin keratinous (like

fingernails) layer used to make "tortoiseshell" jewelry.

More appropriately, the bone structure is described as

a thin-walled, high dome carapace (top). A "high dome"

(versus a "saddleback") restricts the extension of the

neck, which means that these tortoises had to feed close

to the ground. The plastron (bottom) is flat. When we first

saw the muscle markings on the interior of the plastron,

they gave the impression of a woman's face with her head

covered by a veil. However, Keegan's plans to market a

"Virgin Mary sighting" never materialized.

The Sawmill sink tortoises were exceptionally

well-preserved. A total of 226 seeds were found inside

two of the complete shells—their last meals. These seeds

came from wild mastic and satin leaf trees, which produce

plum-like fruits that scatter on the ground in spring

through summer. For these seeds to have survived, the

animals must have died soon after eating. A stable isotope

analysis of the bones was conducted to obtain a

more general picture of diet. It showed that tropical

grasses, cactus pads and fruits (e.g., prickly pear [tuna]

FLORIDA MUSEUM

28 www.timespub.tc
---
ALEJANDRA BAIZ

This charcoal drawing, "One of Atabey's Faces," is artist Alejandra Baiz's personal interpretation of a Taíno petroglyph found in the Caguana

Taíno Ceremonial Park in Utuado, Puerto Rico. The turtle illustrated in this drawing is a jicotea.

Times of the Islands Spring 2022 29
---
FLORIDA MUSEUM

This image shows the internal (A) and external (B) Paratype plastron in situ at the Coralie archaeological site, Grand Turk.

and Turks Head cactus), and carrion (e.g., marine fishes

that washed ashore or were discarded by Osprey) were

likely consumed. Modern tortoises have similar dietary

preferences, and also consume a variety of snails, ants,

termites, beetles, and carrion.

Modern tortoises can live to be more than 100 years

old. They are most active in the late afternoon and early

morning. They often rest for 50% of the day, and are

reported to remain still for five to ten days after a large

meal. Resting, of course, is a relative term. Their typical

pace is a leisurely 5–20 meters per hour, although they

can reach a top speed of 100 meters per hour (only 1/2

mile/hour). They can mate at any time of the year, but

often show a seasonal preference. Females dig a hole

and lay an average of ten golf-ball-size eggs that hatch in

about four months. Their small clutch size makes them

30 www.timespub.tc
---
vulnerable to overhunting. Tortoises are today considered

a delicacy in South America, and their populations

are declining accordingly.

Prior to the arrival of humans, crocodiles were the

main predator of adult tortoise. Crocodiles were once

common on many Caribbean and Bahamian islands,

although they have yet to be identified in the Turks &

Caicos. Crocodile bite marks are clearly visible on many

of the Sawmill sink shells, and bite marks on the interior

of shells indicate that crocodiles scavenged the discarded

carcasses of tortoises (and sea turtles) after they were

butchered by humans.

Christopher Columbus captured a crocodile in a saltwater

pond at the northwest point of Crooked Island (The

Bahamas). Having never seen one, he called it lagarto de

la agua (water lizard). Caimán was later reported as the

Taíno name for crocodile. Historians have used GT-3 as

FLORIDA MUSEUM

Crocodile bite marks are visible on many of the Sawmill sink shells.

proof that people were living on Grand Turk at the time

of Columbus' first voyage, and therefore Grand Turk is

Columbus' first landfall in the Americas. However, our

research showed that no people (or tortoises) had been

living on Grand Turk for at least 300 years before he set

sail. Had Columbus arrived at an earlier time, he might

have named the island for the ubiquitous tortoise, using

the Spanish name—Galápagos. Just imagine, you could be

visiting the Galápagos & Caicos Islands!

For more on TCI tortoises see https://www.

floridamuseum.ufl.edu/wp-content/uploads/

sites/35/2020/08/Vol58No1smallarchival.pdf. a

john redmond associates ltd.

architects & designers

construction consultants

project management

Dr. Bill Keegan is Curator of Caribbean Archaeology at the

Florida Museum of Natural History (University of Florida);

Dr. Betsy Carlson is Senior Archaeologist at Southeastern

Archaeological Research (SEARCH, Inc.) in Jonesville, FL;

and Dr. Michael Pateman is former Director of the Turks

& Caicos National Museum and currently Curator/Lab

Director of the AEX Maritime Museum on Grand Bahama.

p.o.box 21, providenciales, turks & caicos is.

tel.: 9464440 cell: 2314569 email: redmond@tciway.tc

Times of the Islands Spring 2022 31
---
SIMON BUSUTTIL
---
feature

Opposite page: This is one of 77 Piping Plovers found on the inter-tidal flats at Sand Bore Cay in the Turks & Caicos Islands in January, 2022.

Above: These Short-billed Dowitchers are congregating on the Middle Caicos Banks in January, 2022. They are part of the flock that comprises

3% of the world's population.

PIPING PLOVER SURVEY TEAM JANUARY 2022

Discoveries and Mysteries

TCI birding: Questions answered; questions raised.

By Simon Busuttil

"These islands are many in number . . . being low, sandy and barren . . .

and the beach is covered with sea-fowl."

(Extract from the Annual Register 1764 quoted in H.E. Sadler's book Turks Island Landfall.)

Times of the Islands Spring 2022 33
---
There are around 11,000 species of birds in the

world. "Around" because the number changes all the time.

Totally new species are fairly frequently discovered, and

a thankfully few (as yet) others are deemed extinct, but

most of the changes occur through "splitting" existing

species. These "splits" come about either when increased

observation or research, or new scientific techniques such

as DNA analysis, identify that races or sub-species of an

existing single species are deemed sufficiently different

to be considered different species despite superficially

appearing the same. One, the widespread Rufous Antpitta

Grallaria rufula of the Peruvian Andes has just been

split—after years of taxonomic debate and research—into

16 different species!

An endemic species is one found only in one place.

Almost anyone with an appreciation of the natural world

knows that islands are hotbeds of endemism. That is,

because of their geographic isolation, most islands are

home to species found nowhere else in the world.

Being an island-based species does come with downsides,

particularly being more vulnerable to factors such

as hurricanes or volcanic eruptions, habitat loss, or the

introduction of predators or other damaging non-native

species. Only about 10% of the world's bird species are

found on islands but 47% of the world's threatened bird

species are. Many island species have small populations

given the limited land area that they cover and islands are

particularly vulnerable to anthropogenic changes.

Biogeographically, Turks & Caicos are two of the

banks that make up the Lucayan Archipelago. Nature

does not generally conform to national boundaries, so

a systematic list of bird species of TCI is very much an

artificial affair. That in itself does not mean that the list

has no value. Politics and thus nature conservation policy

are man-made affairs, and a national bird list and the

associated status of each species can and should be an

important tool in helping national governments carry out

their moral—and in some instances internationally legal—

duty to help conserve the world's bird species.

A systematic list with the status of each species can

also be a useful tool in encouraging birdwatchers to visit

a country. The worldwide bird tourism market is huge.

In the USA alone it was valued at $32 billion in 2012,

according to the United Nations. Central to visiting a

country to watch birds is having an idea of what species

are there and what the chances are of seeing a certain

species. This is one value of the systematic list.

SHUTTERSTOCK.COM

From a bird-watching point of view, TCI is both under-watched and under-recorded. This gives visitors the chance to get away from the

bird-watching crowds and make their own discoveries.

34 www.timespub.tc
---
Over 700 of the earth's bird species are found in the

Caribbean. Of these, 171 are endemic—found only in

the area. The larger islands of Hispaniola, Jamaica, and

Cuba each support over 30 endemic bird species and the

Lucayan Archipelago just 8 endemic bird species. TCI

has no endemic species of bird, but one of the Lucayan

endemics, the Bahama Woodstar (our "hummingbird") is

a familiar resident species. TCI is thus never going to

"compete" as a birdwatching destination with the likes of

many other Caribbean countries which draw birdwatchers

from around the world.

That said, over 200 bird species have been recorded

in the Turks & Caicos Islands. There is a good range of

species, some accessible sites, and many species can be

approached quite closely as there is no tradition of hunting.

With few birdwatchers and sparse historic records

there are opportunities to get away from the crowds—

which can be difficult in some hot spots in popular

regions—and make your own discoveries.

From a birdwatching point of view, TCI is both

under-watched and under-recorded. There are few resident

or visiting birdwatchers and birders. Additionally,

there is no bird club or strong network of recording

and sharing sightings. The online citizen science portal

eBird (www.eBird.org) has helped, as anyone can log

their sightings which are then reviewed by a network of

regional experts. The sightings can then be viewed by

anyone.

To be able to look after our birds, to conserve them,

we need to know what species occur here, how many of

each and where they are. This is where birdwatchers can

contribute their sightings and records as data to support

the science of conservation. Once these questions

are answered, then conservation planning—protecting

the important areas—can be implemented as part of

the National Development Plan and the moral and legal

imperatives to protect the world's wonderful bird species

can be met.

So then, what is TCI important for? What do we know

and what more do we need to find out? Given the country's

ongoing rapid development and the needs of the

humans living here, on what and where should we spend

our political, social, and financial capital protecting?

The Piping Plover Charadrius melodus is a federally

protected species in both USA and Canada. It is also an

incredibly cute little ball of fluff that spends its summers

and winters on beaches around 1,000 miles apart.

Like other beach-living species, it suffers from increased

development and human recreational use of beaches

Times of the Islands Spring 2022 35
---
throughout its range. Having implemented significant

protective programs in its breeding range in small areas

on the Great Plains, around the Great Lakes and on the

Atlantic coast, authorities in North America realised that

as numbers were not increasing, the problem lay elsewhere.

The plover was known to spend its winters on the

southeast and Gulf coasts of the USA, but regular counts

of birds in these largely accessible and well-watched

areas could not account for the whole known population.

A significant number were missing. Upon instigating an

international Piping Plover census, several hundred were

"discovered" wintering, widely dispersed in The Bahamas

in 2006 and 2011, and in January 2016 a team from

North America successfully searched likely habitat for

this species in TCI, finding 96 birds.

Since then, teams have visited TCI almost every

January to look for Piping Plovers. We now know that

around 200 spend the winter with us at several key sites.

The area between South Caicos and East Caicos is particularly

important, with almost half of our birds on the

inter-tidal flats around Sand Bore, Plandon and McCartney

Cays. A further 30 stay on Little Ambergris Cay.

The sixth and final year of the TCI Piping Plover sur-

Above: This is "officially" Piping Plover EY1, found in the TCI on

Plandon Cay Beach in January, 2022. This bird was ringed on Fire

Island Beach, Long Beach, New York State in May, 2021!

Below: Another "dull" day at work, surveying waders on the Middle

Caicos flats.

ARAVNA LUCSAMA

SIMON BUSUTTIL

36 www.timespub.tc
---
This typical Australian Pine woodland in TCI demonstrates how no native plants grow under the alien trees.

SIMON BUSUTTIL

vey was undertaken by a local team of six birdwatchers

in February 2022. We now have a very good idea of how

many of this Globally Threatened species are here in TCI

and which areas are important for them.

All surveys have also searched for birds "banded" with

individually identifiable coloured plastic rings or flags on

their legs at their breeding sites. With a good telescope or

camera these are legible in the field, allowing individual

birds to be sighted and reported. From this we know that

the birds spending the winter in TCI come from eastern

Canada and northeastern USA, a flight of around 1,200

miles each way with stops at coastal sites in Virginia and

North Carolina en route.

This long migration is why disturbance on their wintering

grounds is such an important issue for Piping

Plovers. They need to be in peak physical condition to

make the flight home to their nesting areas and breed.

Disturbance has been shown conclusively to reduce this

physical fitness. Birds feed less and are more stressed

and this has a direct impact on their subsequent survival

and breeding success.

We need to consider taking this species' needs into

account in certain key areas such as the south side of Half

Moon Bay. This is also a bird of open spaces and many

of its favoured haunts such as the sandy spits on Dellis,

Fort George, and Dickish Cays are being squeezed by

the remorseless increase of the invasive Australian pine

or Casuarina. This tree favours the disturbed or newly

created habitat at the backs of beaches, and it casts a

physical shadow which many species appear to avoid.

Removing it as the Turks & Caicos National Trust is now

doing at Half Moon Bay will make more of the beach available

to birds like Piping Plovers.

There is another small plover that is rapidly declining

across its world range (North America and Mexico) and

about which there is growing concern. The Snowy Plover

Charadrius nivosus is superficially similar to the Snowy

Plover and nests on beaches and saline flats. There are

twice as many in the world as Piping Plovers, but unlike

the Piping Plover population—which has been the subject

of intense co-ordinated conservation management and

is now stable and maybe increasing—Snowy Plovers are

Times of the Islands Spring 2022 37
---
thought to be declining and are not (yet) the subject of

international co-ordinated effort.

Records in TCI suggest that it was just recently more

widespread and common here. Small numbers are most

regularly seen in winter on the salinas on Grand Turk

and more frequently, South Caicos. However, the species

was thought to breed here a few of decades ago—even

on Providenciales. I have not seen one yet despite having

spent hundreds of hours in the field, often in likely habitats

such as saline lagoons at North West Point Preserve.

We just don't know what is happening and need to find

out if we are to contribute at all to the effective action

that needs to take place to conserve this charming and

vulnerable little bird.

In January 2017, the Piping Plover survey team visited

the areas of sand flats exposed at low tide around Black

Rock on the Caicos Banks a few miles south of Middle

Caicos. There we found the single most important area

in TCI for migrant waders from North America. Around

3,500 birds were using this concentrated area. Among

them we found another wading bird of global conservation

concern. Breeding in the high Arctic, some Red

Knots fly 18,000 miles annually on their migrations. We

found 400 roosting at high tide on the Middle Caicos

Banks, though we still do not know where they all go to

feed. Previously, only a few had ever been recorded in

TCI and this is by far the largest population found in the

Caribbean—a real surprise. Surveyors have returned to

this site several times and we have consistently recorded

large numbers of birds here. There were almost 5,000

wading birds in this small area in January 2020, including

3% of the entire world population of Short-billed

Dowitchers. This is a migratory wader from the sub-Arctic

that can often be seen close-up in much smaller numbers

at places like Wheeland Pond on Providenciales or many

of the salinas.

A bird on which there is less focus these days (compared

to 20 years ago) is the West Indian Whistling

Duck Dendrocygna arborea. As its name suggests, it is

a Caribbean endemic and unlike the wading birds discussed

above, does not migrate. Hunted for food and

sport and suffering from the destruction of its habitats

and from predation by introduced predators like cats, this

crepuscular and nocturnal species underwent years of

SIMON BUSUTTIL

Members of the survey team count migratory waders on the Middle Caicos Banks in January, 2022.

38 www.timespub.tc
---
Red Knots breed in the high Arctic. This is one of 400 roosting at high tide on the Middle Caicos Banks, the largest population in the Caribbean.

It is in the dull winter plumage that we see on their wintering grounds in TCI. They are named for their summer breeding plumage which is

brilliant brick red.

NICHOY BENT

decline. It is now recovering largely due to public awareness

and education campaigns across the region.

At the height of concern for this species in 1999,

surveys were carried out across likely areas of habitat

in TCI but no large, previously undiscovered population

were found here and the species' status remained as it

was; a scarce breeding resident possibly moving between

smaller cays and the larger islands in search of food and

water. With recovery taking place across many parts of its

range, there is less concern for this species here now. It

will probably continue to exist largely secretively in small

numbers, particularly in the east of the archipelago.

That said, we should still look after this enigmatic

species. New threats can arise quickly. Destruction or

inappropriate development of a key wetland on somewhere

like East Caicos could be the loss of a key link in

the chain of sites that this species needs. This would be

a shame. This species may be a more important part of

TCI's natural and cultural heritage than currently thought.

There is an interesting reference to it being domesticated

on Salt Cay in the 1930s quoted in the Birds of the

Southern Bahamas by D.W. Buden. I have not yet found

any other reference to this species being domesticated

anywhere else.

An observation made by many birdwatchers from temperate

climes when they visit the Caribbean is just how

few seabirds there are given the vast areas of food-filled

seas and numerous islands for nesting. The explanation

for this unexpected scenario has been given in terms of

trophic levels; tropical seas are like tropical forests, very

complex, giving rise to a great variety of species none of

which was present in vast numbers. Think of a coral reef.

The temperate and polar seas, on the other hand, gave

rise to far fewer species, but in productive areas many

fish and seabird species occur in vast numbers. Think of

the vast shoals of herring or a penguin colony.

We now understand from both written records and

archaeological remains that human colonisation of the

Caribbean brought about two factors which have, almost

unbelievably, led to a loss of between 90 and 99% of the

seabirds that once bred here. Harvesting of seabirds and

their eggs on their breeding islands has almost certainly

been a part of every colonisation event, temporary or permanent,

over the thousands of years of human history.

Today it is often functionally replaced by high levels of

disturbance. Seabirds are long-lived species that reproduce

slowly—many just lay a couple of eggs per year.

Pressure on these populations, for instance when eggs

Times of the Islands Spring 2022 39
---
40 www.timespub.tc

The West Indian Whistling Duck is an important part of TCI's natural and cultural heritage.
---
Times of the Islands Spring 2022 41

SHUTTERSTOCK.COM
---
SIMON BUSUTTIL

Shown here are three of TCI's breeding seabirds at the National Trust's Wheeland Pond on Providenciales, one of the best sites in TCI to watch

and photograph birds. From left to right are: a Royal Tern, Laughing Gull, and Cabot's (formerly Sandwich) Tern.

don't hatch because they are taken or are abandoned,

inevitably leads to declines.

With European colonisation came the additional pressure

of the introduction of non-native predatory species

such as cats and rats to most islands, and on some,

mongooses were introduced to control the previously

introduced rats. The impact of introduced predators on

species which previously had no experience with them is

described in a seminal paper from our own Pine Cay. John

Iverson studied Turks & Caicos Rock Iguanas Cyclura carinata

there before, during, and after the construction of

the Meridian Hotel in 1973/74. His 1978 paper describes

the numbers of iguanas falling from over 15,000 to fewer

than 30 as a result of predation by cats and dogs introduced

to the island by construction workers. Elsewhere,

other non-predatory species such as goats significantly

change the vegetation on islands which had never had a

significant population of grazing animals and the plant

communities of which changed through grazing.

With over 250, mainly uninhabited, cays it is no surprise

that 15 of the 23 Caribbean species of seabirds

breed in TCI. Counts of breeding seabirds in TCI from

some 15 years ago suggest that there are about 60,000

pairs of seabirds breeding here, mainly on those cays on

the edge of the banks that are adjacent to oceanic waters,

but there are small numbers across the country even still

on Providenciales itself. Since the counts were made

much has happened which may have impacted on these

important populations—from the Deepwater Horizon oil

spill to significantly increased numbers of tourists and

residents which may cause added disturbance.

It is important that we get a clearer understanding

of how our breeding seabirds are doing and areas they

currently use. This data can inform planning and development

decisions so that this asset is not damaged further.

There are plans for a full survey of all TCI's breeding

seabirds over the next few years using both human surveyors

and a range of recently developed technology such

as drones, remote cameras, and acoustic recording. The

latter will be particularly important to help understand

how many Audubon's Shearwaters Puffinus Iherminien

there still are in the Islands. These birds breed in burrows

so are particularly vulnerable to predation by rats.

They are also nocturnal so are rarely encountered. They

are still here though. Small flocks can be seen beyond the

reef in Grace Bay during the spring and summer.

42 www.timespub.tc
---
The Turks & Caicos Islands are blessed with natural

beauty. The threat of destruction from development is

obvious but if there is to be a vibrant economy and homes

and jobs for people then this is the inevitable trade-off

that must be made. There are though far more insidious

threats which degrade and eat away at the remaining

natural areas. even those protected through legislation.

Many of these arise directly from Invasive Non-Native

Species (INNS), species which have been introduced either

deliberately or accidentally to these islands. The negative

impacts of Stony Coral Tissue Loss Disease and alien

Lionfish on TCI's valuable reef and marine life have been

effectively communicated locally by the Turks & Caicos

Reef Fund and Department of Environment and Coastal

Resources (DECR).

On land, Green Iguanas Iguana iguana are already

present in small numbers on Providenciales. The DECR,

National Trust, and volunteers are catching and euthanising

them when found. This creature is a significant

economic pest. The Cayman Islands Government has

just spent over $8 million removing over 1.2 million of

these animals from Grand Cayman, an island just twice

the size of Providenciales, and will have to spend valuable

resources into the foreseeable future managing a species

which should simply not be there. If we want to keep TCI

"Beautiful by Nature," we need to work together to keep

this species out. A project funded by the UK Government

through Darwin Plus is currently underway to highlight

the threat this species poses to both the natural environment

and the economy of the Islands.

What does this have to do with the systematic list

of birds of TCI? Another invasive non-native species is

the Australian Pine Casuarina equisetifolia which is widespread

at the back of beaches and on disturbed ground

across the Islands, particularly on the north shore. Around

human settlements it has a function of creating shade

and is appreciated for the sound of the wind blowing

through its leaves. In natural areas it is a disaster, shading

out native vegetation that is food for the endemic

Rock Iguanas. It was noticeable during our Piping Plover

surveys that the birds avoid beaches where tall Australian

pine trees create a shadow effect and in January/February

2022, we identified that many sandy spits being used by

the plovers as roosts at high tide were beginning to be

hemmed in by Australian pines.

We do not know what impact the further spread and

growth of these trees will have on this marvellous migratory

wader for which so much effort is being put into

saving by communities in North America. A precaution-

The longest established legal practice

in the Turks & Caicos Islands

Real Estate Investments

& Property Development

Immigration, Residency

& Business Licensing

Company & Commercial Law

Trusts & Estate Planning

Banking & Insurance

1 Caribbean Place, P.O. Box 97

Leeward Highway, Providenciales

Turks & Caicos Islands, BWI

Ph: 649 946 4344 • Fax: 649 946 4564

E-Mail: dempsey@tciway.tc

Cockburn House, P.O. Box 70

Market Street, Grand Turk

Turks & Caicos Islands, BWI

Ph: 649 946 2245 • Fax: 649 946 2758

E-Mail: ffdlawco@tciway.tc

Times of the Islands Spring 2022 43
---
SIMON BUSUTTIL

This image demonstrates that native plants re-grow vigorously where Australian pine has been removed at Half Moon Bay.

ary principle should be applied, and areas of Australian

Pine quickly removed from Piping Plover roost sites, all

of which have been identified. At Half Moon Bay, where

National Trust volunteers are removing this tree, the plovers

were clearly feeding adjacent to areas which had

been cleared but not areas backed by tall trees. This is

active conservation management and it seems likely that

to counter the threats from invasive alien species and

to balance the impacts of development, more of these

initiatives will need to be developed and implemented in

the future if we are to keep our piping plovers, flocks of

migrant waders and cays of breeding seabirds.

There is already a largely unsung story to be told

about a world-leading conservation success in Turks &

Caicos. Over the past decade or so, over $2.7 million has

been invested in the conservation of the Turks & Caicos

Rock Iguana, resulting in the International Union for the

Conservation of Nature uplifting the conservation status

of the species from Critically Endangered (one step short

of extinction in the wild) to Endangered. To date, this is

the only one of the 44 species of iguana worldwide which

has had a genuine positive change in fortune. Part of this

success story is on Pine Cay, where the cats introduced

in the mid 1970s have now been successfully removed.

Pine Cay is thus one of a small but growing number of

islands worldwide (currently fewer than 100) which has

successfully removed feral cats.

Turks & Caicos has a proven track record of conservation

success. We need to build on this and identify what

are the further challenges we need to tackle. a

Simon Busuttil is Biosecurity Advisor for The Iguana

Islands Partnership.The partnership is a collaboration

between Turks & Caicos National Trust, Turks & Caicos

Government, private island managers, and international

wildlife conservation organisations—The Royal Society

for the Protection of Birds, San Diego Zoo, and Wildlife

Management International Ltd. The partnership, with

funding from the Darwin Initiative, is working to ensure

Turks & Caicos' iguana islands remain "Beautiful by

Nature."

44 www.timespub.tc
---
Times of the Islands Spring 2022 45
---
RICHARD MCGHIE
---
feature

Opposite page: Local artist Richard McGhie painted this image of the Concepción in stormy seas. He has been avidly drawing and painting

since moving to Turks & Caicos in 2014. Captivated by his surroundings, he tries to capture the beauty and rich history of the Islands in his

art. You can see more of his work on Instagram at richmcghie_art or contact him directly at richardmcghie@outlook.com.

Above: A "treasure hunter" handles one of the few remaining pieces of wood from the wreck of the Concepción, now a protected site. The

ship wrecked on what is now the Silver Bank (Banco de la Plata), 85 miles (136 km) north of the Dominican Republic and 100 miles (160 km)

southeast of Grand Turk in 1641.

JONATHAN BLAIR

Wreck of the Concepción

The fateful final voyage of a treasure-laden Spanish galleon.

By Ben Stubenberg ~ Original Painting by Richard McGhie

Strewn across the long barrier reefs and shallow banks that encircle the Turks & Caicos lie more than

1,000 shipwrecks. Each one comes with a unique yet kindred story of crew and passengers staring down

death as relentless waves drag their helpless vessel over hull-ripping coral. Some manage to hang on long

enough to ride out the storm before the ship breaks up and make it to shore. But for many more, it's one

last gasp of air before the sea pulls them under to a blue-water grave.

Times of the Islands Spring 2022 47
---
Every so often, however, a wreck stands out with

a tale of transcendent irony. A voyage of the doomed

cursed by the plunder they carry. A desperate reckoning

of the soul as mortality beckons. Such is the case of

the Spanish galleon Nuestra Señora de la Pura y Limpia

Concepción, one of the richest treasure ships of all time.

On April 21, 1640 the Concepción set sail from the

Bay of Cadiz, Spain, as the Capitana (Flagship) of the La

Flota de Nueva España (The New Spain Fleet), a convoy

of 21 ships bound for Vera Cruz, Mexico. In the months

before, the Concepción had been refitted with new masts,

sails, anchors, deck space, and 36 bronze cannons. They

transformed the ship from a nao (large merchant ship)

to a formidable galeón that carried 500 passengers that

included noblemen, servants, fortune seekers, friars, and

bureaucrats. Stowaways too bribed their way onto the

ship, trying to remain invisible. Also on board were hundreds

of penned up animals, barrels of wine, and crates

of supplies—all to fortify and expand the settlements in

the colonized lands in the Americas.

The more privileged passengers took up quarters in

the lavishly decorated superstructure or "poop decks" at

the stern, towering four stories above main deck. They

included the new Viceroy for Mexico and and three bishops

who brought with them religious relics, including,

purportedly, a thorn from the crown of Jesus Christ and

the severed finger of St. Andrew. As added protection, a

magnificent statue of the Virgin Mary, the patroness of

the vessel, was fastened with bolts to the poop deck for

all to see.

The fleet kept close together during the crossing

and a sharp lookout for Corsairs or pirates who appeared

menacingly on the horizon from time to time. On June 24,

all ships made it to the port of Vera Cruz, a stifling hot

and humid town on the Mexican coast and the gateway to

what the newcomers called New Spain. Soon after arrival,

the fleet commander, known as the Capitana-General,

died, probably of yellow fever. That elevated Admiral

Juan de Campos to the new Capitana-General on the flagship

Concepción. The shuffle also promoted Don Juan de

Villavicencio to the rank of Vice Admiral or Almiranta on

the smaller galleon San Pedro y San Pablo. Villavicencio

at just 37 years old was already an experienced veteran

of many Atlantic crossings. De Campos, by contrast, was

more a businessman than a mariner.

Fateful delays

The ships stayed anchored for a year to await the arrival

of mule trains and boats carrying tons of silver mined by

enslaved Native Americans and Africans in Mexico and

Petosi (now Bolivia), along with gold bullion. They also

waited for another caravan making its way overland from

Acapulco, this one hauling jade, silks, spices, fragile porcelain

pots, and other luxuries from China brought across

the Pacific by the Manila fleet.

When the valuable cargoes arrived, haggling merchants

traded the supplies from Spain for the silver and

other valuables that were loaded onto the Concepción and

the San Pedro y San Pablo for the voyage back to Spain.

The Concepción alone took in at least 100 tons of silver,

possibly as much a 140 tons, filling it up to the gunwales.

No galleons with treasure had made it back to Spain in

1640, causing great anxiety for shipowners, merchants,

and the Spanish Crown. Spanish King Philip IV in particular

desperately needed his royal fifth (quinto real) cut of

the treasure to pay his armies to keep the wars going with

the Dutch and French. But as coffers emptied and time

dragged on, bankruptcies loomed for all.

Just before departing Vera Cruz for a stop in Havana,

de Campos switched the Capitana of the fleet from the

Concepción to the San Pedro y San Pablo. The decision

appeared to be triggered by the deteriorating condition

of the Concepción's from shipworms that had worsened

while at anchor for a year in warm tropical waters.

Villavicencio, now in command of the Concepción, forcefully

pointed out that the ship would need to be repaired

in Havana before it could make it back across the Atlantic.

In making the switch, de Campos also made a fateful decision

to transfer the inexperienced senior pilot, Bartolomé

Guillen, to the Concepción.

The fleet set sail for Havana in late July. The leaking

and slow moving Concepción took a long 35 days to

reach Cuba's bustling capital city on August 27, 1641.

That date put the ships a full week after August 20, the

last day Spanish shipmasters deemed it safe to depart

Havana to avoid hurricanes. The ships remained in port

another 17 days to take on more passengers and allow

Villavicencio to caulk the seams of his ship. But he still did

not feel the repairs were sufficient for safe passage. He

petitioned de Campos for a further delay, but to no avail.

De Campos, well aware of the crown's urgent dependence

on the treasure, wanted to get underway and brooked no

more postponement.

De Campos's anxiousness to set sail, however, was

also driven by a more self-serving motive. La Flota de

Nueva España was supposed to be joined by another fleet,

La Flota Terra Firma, on its way north from Cartageña to

Havana with its own treasure of precious metals and jew-

48 www.timespub.tc
---
els. But that fleet's Capitana-General was equal in rank to

de Campos and held in much higher regard for successfully

raiding an English settlement in what is now Nassau.

If the fleets traveled together, de Campos would have to

share the glory of delivering the treasure to the crown

with a much more popular and accomplished Capitana-

General. His ego and jealousy would seal the fate of the

Concepción and all the ships in his flotilla.

The hurricane

Deep into hurricane season, La Flota de Nueva España

finally departed Havana on September 13, heading

northeast toward the Florida Straits to catch the Gulf

Stream back across the Atlantic. But less than a day out,

the Concepción sprang a serious leak that put the ship

at risk of sinking. Villavicencio signaled with a lantern

that his ship must return to port. That required all the

other ships to turn around as well so that the Concepción

didn't sail solo and risk attack by pirates. Back in Havana,

Villavicencio unloaded the galleon of its massive treasure

cargo and hundreds of passengers to lighten the ship and

bring it above the waterline to plug the leaks. The fleet

set sail once more on September 20, now a month after

the final date set for fleets heading back to Spain.

Eight days out off the coast of Florida, a major hurricane

struck. For two days, violent winds and waves

battered the ships of the fleet and almost capsized the

top-heavy Concepción. Mast snapped, water poured into

the portholes, and cannons were thrown overboard.

Priests led the terrified passengers and crew in prayer and

took confessions from everyone. All anxiously looked for

some sign of a reprieve, but the storm continued to rage.

At some point, the statue of the Virgin Mary broke loose

and disappeared into the churning ocean. The shock of

losing the ship's patron saint induced deep despair that

the end was truly nigh.

When the storm cleared, the sailors worked the hand

pumps around the clock to bail out water. They cut away

the mast and rigged makeshift sails on remaining spars

to try to gain some control of the ship. The damage to the

rudder, already too small for the size of the ship, made

steering difficult. The crew spotted some ships from the

fleet in the distance, including the flagship San Pedro y

San Pablo, just as beaten up as the Concepción. But they

all disappeared from view after a day.

Using an astrolabe, the pilot Guillen attempted to

determine the ship's latitude. The navigation instrument

worked by taking measurements from the height of the

sun or the polar star over the horizon. His calculations

showed the ship could be somewhere near St. Augustine,

north of the Bahamas, or maybe near Bermuda. The chronometer

for determining longitude had not yet been

invented, so they did not know how far east they were

from Florida.

Villavicencio decided that the Concepción's best hope

was to try to make it to San Juan, Puerto Rico, that lay

somewhere to the south. For weeks, the crippled vessel

lumbered in a southeasterly direction. Along the way,

unsanitary conditions contaminated the dwindling supply

of food and water that hadn't washed overboard and

began to sicken people.

At about 22º N latitude, east of Grand Turk, Guillen

claimed that Puerto Rico must be due south. He called

on Villavicencio to set the course accordingly. But

Villavicencio, who plainly had no confidence in the pilot's

capabilities, countered that Puerto Rico was further east.

A contentious argument broke out between the two officers

until the pilot invoked his right per Spanish maritime

regulations to overrule the captain when navigation disputes

arise. A frustrated Villavicencio, knowing the rules,

ordered that a silver basin with water brought to him. In

front of the weary crew and sullen passengers gathered

on main deck of the struggling ship, he literally and symbolically

washed his hands of responsibility. The ship's

fate was then in the hands of the pilot Guillen.

Wreck on the reef

In calm water on the night of October 31, the eve of All

Saints Day, the Concepción's hull scraped against a reef

and came to a shuttering halt. The ship had jammed

between two giant coral heads shaped like mushrooms

rising from the seafloor. Called Abrojos, they appeared

as flat rocks just above the water at low tide. Some were

the size of a living room, some as big as a football field

that stretched out for miles. Guillen's new calculations

put the ship about 20 miles (32 km) north of Anagada

Island in the Virgin Islands and east of Puerto Rico. In

fact, the pilot's new assertions were wildly off the mark.

The ship wrecked on what is now the Silver Bank (Banco

de la Plata), 85 miles (136 km) north of the Dominican

Republic and 100 miles (160 km) southeast of Grand

Turk.

The crew tried to tow the Concepción away from the

coral heads using a longboat that had somehow survived

intact. They almost succeeded, but waves drove

the ship back in. The bow of the ship split open and

began submerging. The stern with its lavishly appointed

superstructure rose above the surface, as around 450

Times of the Islands Spring 2022 49
---
desperate survivors crammed into the remaining space.

Villavicencio ordered rafts to be built that could take

them to Anagada, which he also believed to be the closest

island, notwithstanding his disdain for the pilot. But a

widespread belief that cannibals lived there caused some

hesitation, even as options were quickly running out.

While preparing to evacuate the wreck, Villavicencio

and other officers turned their attention to how best to

protect the treasure. To our 21st century ears, such a

consideration amidst great suffering and imminent lifethreatening

danger comes across as rather unsettling. In

the 17th century, however, securing the treasure for the

Crown had the same priority.

In the midst of a thunder and lightning storm on

the third night after running aground, fights broke out

that killed several people. Villavicencio tried to stop the

violence with reassurances that everyone would get off

the ship, and that he would be the last to leave. But by

then his authority had collapsed, replaced by panic and

anarchy. At that point, Villavicencio and 31 officers and

noblemen clamored into the remaining longboat to get

away. Accounts differ on how Villavicencio actually came

to be on the boat. He would later claim that he tried to

stay on the ship, but that one of his officers pushed him

to the water where he was pulled into the boat unconscious.

The hundreds still on board ripped planks to finish

a dozen rafts. In chaotic groups, they set out on the sea

with most heading south. Some of the rafts sank so low

in the water that sharks swam into them and fed on the

people hanging on. After three or four days, the rafts that

didn't sink washed up on the north coast of what is now

the Dominican Republic, as happened with the longboat

carrying Villavicencio. Even after reaching land, the ordeal

of the survivors was far from over. They still had to trek

through the jungle or along stretches of empty beach

with little food or water to find help.

About 30 survivors took their chances and remained

with the Concepción, hoping to be rescued. As the ship

continued to disintegrate, they unloaded as much silver

as they could and piled it onto the flat top of a coral head

that could serve as a marker for rescuers. The pile was

so high they could walk on what became essentially a

platform above the water at high tide.

The irony is not lost. The silver bars brutally and

forcibly extracted and refined by the enslaved to pay for

endless European wars and make fabulous fortunes for

merchants and shipowners lost their anticipated value.

Instead, they acquired a much higher transformative

value as slabs that staved off death for another day. When

the Concepción totally broke apart, they too escaped on a

raft. Of the last 30 to leave the wreck, only one, a Native

American, lived to tell the story.

Searching for the Concepción

Of the more than 500 passengers and crew on the

Concepción, fewer than 200 survived. The pilot Guillen

made it to land, but knowing the likely fate of long imprisonment

or execution that awaited him, he disappeared,

never to be heard from again. Spanish officials first

learned about the wreck when Villavicencio and the survivors

from the longboat straggled into Santo Domingo

famished and in rags. They had walked 170 miles (272

km) over mountainous terrain guided by locals. More survivors

would follow. Spanish officials questioned them

about the location of the wreck to mount a search and

recover the silver. But no one could pinpoint the location.

Word got out quickly among pirates and opportunists,

and for years they scoured the reef for signs of the wreck

and the chance to become rich beyond dreams. But none

of them found it either.

In 1687, 46 years later, William Phips from New

England came across an old survivor of the Concepción.

With funding from a London syndicate of investors and

the backing of King James II, as well as incredible luck, he

managed to find the wreck. As in the first extraction of

the gold and silver decades before, Phips used enslaved

Africans and Native Americans to do the hard and dangerous

work to recover treasure. These enslaved may have

numbered as many as 60 skilled free divers who brought

up several tons of precious metal up from the sea floor.

Without these divers from Bermuda, Jamaica,

Barbados, and the Dominican Republic, Phips would not

have retrieved much, if anything. Europeans at the time

had none of the aquatic capabilities, such as five minutes

of underwater breath holding, required for such an operation.

The haul made Phips a vast fortune and got him

knighted by the King, who also appointed him Governor

of Massachusetts Colony. Interestingly, during his tenure

as Governor, he created a special court in 1692 to handle

the infamous Salem witch trials.

Almost 300 years would pass before the Concepción

was rediscovered in 1978 by American treasure hunter

Burt Webber. Using magnetometers and scuba gear to

find what Phips missed, Webber managed to bring up gold

and silver valued at US$13 million. This time, the recovery

was made under the watchful eye of the Dominican

Republic Government, that also received a substantial

50 www.timespub.tc
---
share of the treasure. UK/TCI also has a long standing

claim to the reefs that include the Silver Bank where the

wreck is located. The claim of jurisdiction remains unresolved

to this day.

Many treasure hunters like Phips and Webber became

popular heroes in their day for the bold, adventurous

expeditions that also made them multi-millionaires.

Today, however, the reputation of treasure hunters has

tarnished as preservationists and nautical archeologists

portray them as reef destroyers, heritage stealers, and

little more than grave robbers.

Governments still permit recoveries of treasure off

their shores, but under strict guidelines and direct observation.

Reflective of modern times, the reefs of the Silver

Bank where the Concepción met a grim and grisly end is

now a UN Underwater Cultural Heritage, World Heritage

Site and protected from further exploitation.

Tarnished treasure

Ships in peril have always fascinated and drawn us in.

They serve as metaphors for journeys of self discovery

and vulnerability, as well as microcosms of society that

lend clarity to the eternal conflict between good and evil.

Wrecks can also play out like Greek tragedies with a flawed

captain battling forces where the outcome has already

been decided by fate. The voyage of the Concepción contains

these elements, but another comparison comes

mind: a passage into the Heart of Darkness.

Just as Joseph Conrad's novella about a steamer heading

up the Congo River reveals the horrors of colonialism

in Africa, so too does the voyage of the Concepción

expose the heinous plunder of the Americas. There is no

mysterious Kurtz to find, nor is Charlie Marlow's steamer

about to run aground. But the meandering vessel across

the sea, unsure of where it is and laden with blood money

extracted for an imperial class, reflects the same essential

theme. Both are damning indictments that challenge

our notions of civilization. And the shipworms infesting

the leaky vessel, of course, take on their own potent symbolism

of rot and demise.

Perhaps those aboard the Concepción made a connection

between their fate and the cargo they carried,

as they sought to cleanse their souls while the hurricane

bore down. But it seems unlikely, as none were recorded

by the survivors. We do know that when the dying galleon

hit the reef and the game was up, Villavicencio and

officials worried about how to save the treasure, not how

it came to be. That ingrained ethos of avarice would continue

to shape the conquest of the Americas for the next

250 years.

Pieces of that tainted silver still lie sprinkled in the

sand and encrusted in coral around the wreck of the

Concepción, just three hours by boat from the Turks &

Caicos Islands. In the quiet of the deep, they resonate as

poignant reminders of a harrowing history lingering just

below the surface that never remains in the past. a

Ben Stubenberg (bluewaterben@gmail.com) is a regular

contributor to the Times of the Islands and a storyteller

about pirates and sunken treasure. He is the co-founder

of the TCI tour and swim company Caicu Naniki Vacation

Adventures and the annual "Race for the Conch" Eco-

SeaSwim.

Times of the Islands Spring 2022 51
---
SHUTTERSTOCK.COM
---
feature

Opposite page: The sense of peace and balance instilled by the sea can create more healing than any therapy session.

Above: Sea anemones are actually marine animals, named after a terrestrial flowering plant because of their colourful appearance. What joy

they bring to a scuba diver!

The Power of Vitamin Sea

One dose released Tristan to bloom.

Story & Photos By Kelly Currington

For anyone who loves the sea, the feeling of being connected to its powers seems to come naturally. We

feel drawn to it for our sense of peace and balance, and to reset from the chaos of everyday life. When we

slip below the surface of the waves, our souls are at home, and everything is as it should be. As a scuba

instructor, I have had the pleasure of experiencing those powers first-hand and understand they create

more healing than many a therapy session could provide.

Times of the Islands Spring 2022 53
---
Teaching people to scuba dive is rewarding in so many

ways, but every now and then you come across a student

whose transformation is as rewarding to you as it is to

the new diver. These are the moments instructors live

for. Teaching skills is pretty straight forward, but when

the power of the sea makes an actual, literal, and visual

change in a person it stays with you forever. One such

experience is definitely worth sharing . . .

A young man and his mom walked into the dive shop

to fill out paperwork for a Discover Scuba Dive, and it

was immediately apparent that this 16 year-old was very

shy and withdrawn, and that I would need patience and

understanding to get him through the training. During

the pool sessions he surprised me, and accomplished the

skills with ease, though he never maintained eye contact

for any length of time. He would look long enough to see

the skill demonstrated and then look down. But he was

proficient and comfortable in performing them. I was confident

that he was ready to explore the underwater world.

On the 45-minute boat ride out to the dive site, I

briefed him on the dive plan and as before, he never

looked at me—just stared at the deck. The time came to

gear up to enter the water. He was very quiet and waited

for instructions. As soon as we stepped off the boat into

the sea, I looked up and saw the worry on his mother's

face. I assured her that I would look after him as if he

were my own son; she nodded and off we went.

As we swam to the mooring line, I stayed beside him

and assured him he was doing just fine. We made it to

the line and I briefed him on how we would descend—

exact instructions. I asked him if he understood, if he was

ready, and reminded him that he must look at me and

communicate. He nodded and we slowly slipped below

the surface. As an instructor I was on high alert, fearing

that he would either panic and try to bolt to the surface

or never look at me for instructions or assurance.

I noticed his mask was fully flooded. I gave him the

signal to clear it and he did. It flooded again; he cleared

it. This is a skill that can derail experienced divers, but he

had listened and learned and did exactly what he should.

He stayed calm, looked to me for guidance, and followed

those instructions. To my surprise, he was fine and didn't

seem stressed at all.

In the next few moments, the magical healing power

of the sea took hold of this introverted, shy teenager, and

he blossomed like a morning glory in the early morning

light. I could not believe what I was seeing. He started

pointing out fish and coral and looking at me with bright,

excited eyes. His SOUL was smiling! It was truly magical

to watch. We completed our dive, did our safety stop, and

got back on the boat. I was so proud. We went to the bow

between dives to debrief and plan the next dive. With his

mother beside him, I asked how he felt about the dive.

This young man looked me square in the eyes and talked

about all the fish and coral we had seen. He wanted to

know the names of each one, and asked questions about

how to learn them all. We spent the entire surface interval

conversing about the beauty the sea held.

What a treat to spot a friendly Nassau grouper, so-named from its historically large populations in the Bahamas.

54 www.timespub.tc
---
When I asked if he was ready to do the next dive, he

looked at me and said, "Would you really take me on

another dive?" The process was different this time. He

was looking at me and smiling; he was ready to go. We

geared up and off we went. He was equalizing and signaling,

looking confident and relaxed. With no mask issues

to deal with, he went right back to looking for creatures

and showing me his hand signals for each one he found.

My mask filled with tears of joy as I watched this young

man experiencing the wonder of this underwater world

and the healing power of the sea. We stayed side-by-side,

and he showed me creatures and I showed him creatures,

and when he saw his first shark, instead of being afraid,

he turned to me, beaming the biggest smile and did the

"shark" sign.

Often spotted in schools, the yellowtail snapper is an abundant species

of snapper native to the western Atlantic Ocean.

We made our way to the boat and headed back to

shore. The flower that had blossomed was closed again.

He laid his head on his mother's back and never said

a word. She told me that he had never had a conversation

with another adult and when he talked to me the

entire surface interval, she knew something special had

happened under water. She opened up to me about his

struggles, his low self-worth, and his depression. The

things I learned about this young man broke my heart,

but also made me realize that being below the waves had

reached a part of him previously shut off and inaccessible.

I was determined to help him re-gain the happiness

and confidence the sea had drawn out of him.

Times of the Islands Spring 2022 55
---
Spotting a Hawksbill turtle during a dive or snorkel in the Islands is a treat. Staying quiet and calm can encourage it to stay near.

Back at the shop I addressed him directly and told him

how amazing it was to see him smiling and pointing out

fish and taking charge of the dive, and the confidence

he had demonstrated. I encouraged him to nurture the

experience and get certified and assured him I would

dive with him any time. He looked at me and merely said,

"Thank you." I encouraged his mother to keep this experience

fresh in his mind, and reiterated the difference in

the shy, withdrawn, closed-off kid above the waves, and

the excited, smiling, happy, and confident young man I

had seen on our dives. She promised me she would and

thanked me.

The day ended and I went home, but the events of the

day weighed heavy on my heart. I wondered how this kid

felt and if he would ever bloom again. I wondered if he

realized the effect that being underwater had on him. I

wondered if he knew how he had affected me.

The next morning, I was at our shop getting gear

ready for the boats and I saw two people on bicycles cutting

across the lot. It was this young man and his mother.

I was a little stunned to say the least. She approached

me and said, "He insisted on getting up at 5:00 AM and

coming down here so he could say good-bye to you." I felt

the tears welling up and choked them back as he stepped

in front of me. He said he wanted to thank me for taking

him diving and for showing him all the amazing things

down there. He asked for my e-mail address so he could

stay in touch. I told him what an incredible young man

he was and how proud I was of him. I reminded him to

find a dive shop in his home town and get certified. They

hugged me, went on their way and my tears were free

to stream down my face. THESE are the moments that

remind us how powerful and healing is a single dose of

vitamin "Sea."

He did get certified, keeping me informed through his

journey. He and his mother came back two years later,

and he and I went diving together. On the last dive of

his trip, he motioned for me to approach him underwater.

This young man hugged me tight, and gave me the

"Thank You" signal. My mask was again filled with happy,

proud tears. He has continued to come out of his shell

and has dreams of becoming a divemaster, and maybe

even an instructor.

The powers of the sea took this shy kid and drowned

his insecurities and self-doubt, unveiled his curiosity for

exploring, and filled him with the desire to grow. Of all the

students I have taught over the years, this young man's

transformation remains in the forefront of my mind and

heart. Vitamin Sea had saved my life many years back . .

. and now I watched it save another.

This is Tristan's story, and how one dose of Vitamin

Sea empowered him to bloom . . . a

56 www.timespub.tc
---
green pages

Newsletter of the Department of Environment & Coastal Resources

Head office: Church Folly, Grand Turk, tel 649 946 2801 • fax 649 946 1895

• Astwood Street, South Caicos, tel 649 946 3306 • fax 946 3710

• National Environmental Centre, Lower Bight Road, Providenciales

Parks Division, tel 649 941 5122 • fax 649 946 4793

Fisheries Division, tel 649 946 4017 • fax 649 946 4793

email environment@gov.tc or dema.tci@gmail.com • web https://www.gov.tc/decr/

The underside of a humpback whale's tail is like a fingerprint and can be used to identify individual whales between feeding and breeding

grounds. A single photograph like this one can provide valuable information about humpback whale migrations.

Helping the Humpback

Protecting one of the Islands' biggest natural wonders.

Each winter, hundreds of North Atlantic Humpback whales (Megaptera novaeangliae) travel thousands of

kilometers from their summer feeding grounds in colder waters to the turquoise shallows surrounding

the Turks & Caicos Islands. It is here, along the Islands' extensive stretch of underwater banks, that the

animals come to find a mate or give birth to their calves, making it one of the world's premiere locations

for whale watching.

By Katharine Hart and Cathy Bacon, Turks & Caicos Islands Whale Project

Photos By Katharine Hart, Deep Blue Charters

Times of the Islands Spring 2022 57
---
green pages newsletter of the department of environment & coastal resources

This is one of the few

places in the world where

you can get in the water

and snorkel eye-to-eye

with one of the planet's

largest mammals. It is

also one of the few places

in the world where you

can have such an up-close

encounter with marine

wildlife without any

regulations in place to

ensure the safety of both

the animals and curious

observers.

Currently, tour operators

are not required to

have any specific license

or training to facilitate

whale watching activities.

There are no limits as to

how many tour operators

can approach the whales

at one time, or how close

they can get. And with the

pressure from guests to

capture selfies and other

Instagram-worthy photos

of themselves swimming

with whales, some operators can be tempted to get as

close to the animals as possible. The Department of

Environment & Coastal Resources (DECR) has issued a

voluntary code of ethics for whale watching to discourage

such behavior, but there are no legal ramifications

for those who do not follow these guidelines.

As whale watching tourism continues to increase in

Turks & Caicos, it is vital to implement laws that protect

this species from behavior that can stress them at a time

in their lives when they are particularly vulnerable after

just having given birth.

The newly formed Turks & Caicos Islands Whale

Project is a collaborative project between researchers,

the DECR and watersports operators, including Deep Blue

Charters, to collect data on the local humpback whale

population that will be used to inform the development

of protective legislation in the near future.

This humpback whale is breaching during competition with other whales. Competitive groups of males are

often seen fighting over a female on the Turks Bank.

Over the next year, private whale watching operators

will be encouraged to document whale sightings during

their daily excursions using photography and video at the

surface and underwater cameras for in-water encounters.

Hydrophones may also be used to collect acoustic samples

from singing male humpback whales or groups of

males competing for a female mate.

Photographing individual whales—specifically the

underside of their flukes, which have unique fingerprint-like

patterns—will allow researchers to track the

whales' migratory routes between feeding and breeding

grounds. By partnering with both local and international

whale watching companies, researchers, and non-governmental

organizations, photographic matches can be

made, which can tell us where humpback whales have

migrated from and if the same ones continue to return

to the Turks and Caicos Islands. Already this season, at

58 www.timespub.tc
---
green pages newsletter of the department of environment & coastal resources

Pectoral fin slapping is a frequently seen behaviour when whale watching in the Turks & Caicos Islands.

Times of the Islands Spring 2022 59
---
green pages newsletter of the department of environment & coastal resources

least one mother whale has been identified as one who

has given birth several times in the region over the last

few years. Others have been tracked to Maine, New York,

Virginia Beach, Newfoundland and Labrador, and Samaná

Bay (Dominican Republic). Monitoring and assessment of

humpback whale behavior in response to boat vessels on

the surface and interaction with humans in the water will

also be used to inform future proposed legislation that

will enforce safe and conservation-focused interactions

with these beautiful giants once pushed to the brink of

extinction by whaling.

Our hope is that this research will allow us to better

understand these creatures and how we as humans can

support them while continuing to have safe interactions

with them for generations to come.

All members of the public can support marine mammal

conservation in the Turks & Caicos Islands and be

part of this collaborative conservation effort by adhering

to the Fisheries Protection and the National Parks

Ordinances and by submitting photographs and videos

taken while out on the water in the Turks & Caicos

Islands. If the TCI Whale Project is able to match your

image, the information about that whale will be shared

with you and credit given for the images. Submissions

are welcomed by email at tciwhaleproject@gmail.com

or via Facebook.com/tciwhaleproject or Instagram @

TCIWhaleProject.

Fisheries Protection Ordinance (5 of 1941) as amended,

Regulations Part III Conservation Provisions:

Restrictions on means of taking marine product and

harmful activities:

9. (1) No person shall —

(g) engage in the practice of throwing any food into the

water for the purposes of feeding or attracting or harvesting

any species of marine life unless authorized to do so

by the Director;

Restrictions relating to marine mammals

18. No person shall engage in fishing for, molest or otherwise

interfere with any marine mammal.

This humpback whale calf approaches snorkelers during a humpback

whale watching charter. Young whales are often curious about snorkelers

in the water and swim over for a closer look.

National Parks Ordinance (11 of 1975) as amended,

Regulations on Prohibitions and Permitted Activities:

3(1),(2),(3):

(a) The taking of any animal or plant by any method on

land or at sea except to the extent permitted in any fishing

zone;

(c) The destruction of, or damage or injury to, any animal

or plant;

(d) The removal of sand, rock, coral, coral-rag or any calcareous

substance;

(e) Anchor damage to coral reef structures living or dead

and associated marine plant and animal life.

As per the regulations, any person who contravenes

any provision of these regulations commits an offence

and is liable on conviction to a fine of $50,000 or to a

term of imprisonment of twelve months or to both such

fine and imprisonment. a

Similarly, the following activities are prohibited within all

national parks, nature reserves and sanctuaries, and will

not be tolerated:

Katharine Hart is a marine biologist and co-owner of

Deep Blue Charters on Grand Turk. Cathy Bacon is a

marine biologist based in the United States. Both are lead

researchers for the Turks & Caicos Islands Whale Project.

60 www.timespub.tc
---
green pages newsletter of the department of environment & coastal resources

To ensure that Humpback Whales return the following year, here are some points to

consider to keep both you happy and the whales safe on their journey:

During this sensitive period, vessels should approach slowly, carefully, and quietly

(keeping engine noise to a minimum). Maintaining a respectful distance ensures that

they will not be stressed or feel threatened.

Avoid "fencing in" the whales. This includes blocking them between boats, too close to

shore/shallow water, cutting off their direction of travel, chasing after them, or getting

between mother and calf.

If whales change their direction 3-5 times, it means they are feeling hassled or

stressed. Simply maintain your distance and allow them their space. Disturbed whales

will swim away and your viewing could be unfortunately cut short.

When operating a vessel, move parallel to the whales to avoid approaching them headon,

as this may give the whales the impression that they are being chased. Surprised

whales may show aggression and become very dangerous given their size.

Mothers and calves are tired and are more likely to be "spooked." They will need extra

consideration of the above.

If another vessel is with a whale or a group of whales, have some courtesy: Radio or

call that vessel to a) find out if it is safe to approach and b) ask if you may join the experience.

Proper communication will allow everyone to enjoy the experience.

Remember: whales are much bigger than people and most whale watching vessels.

Safety is always a priority, for both the whales and the viewers. Approaching with caution

ensures the whales stay happy and you will get the most out of your experience!

For more information, please contact DEMA at environment@gov.tc

Times of the Islands Spring 2022 61
---
green pages newsletter of the department of environment & coastal resources

SHUTTERSTOCK.COM

A coral restoration plan is key to preserving the Turks & Caicos Islands' stunning reefs.

Building an Ark

Pilot nursery can help stony corals survive.

By Alizee Zimmermann

2022 is off to a great start for coral restoration in these little blue islands we call home. The Turks &

Caicos Reef Fund (TCRF) has received a grant from the John Ellerman Foundation in the UK to establish a

pilot land-based coral nursery in an effort to create a species survival program for stony corals that have

been severely affected by Stony Coral Tissue Loss Disease (SCTLD).

62 www.timespub.tc
---
green pages newsletter of the department of environment & coastal resources

TCRF

The John Ellerman Foundation grant will allow TCRF to preserve genetic samples of coral on coral tables (or raceways) as shown here.

This $173,000 grant, which provides funding for the

two-year pilot project, will allow TCRF to gather live samples

of some of the 30+ reef building corals that have

been devastated by SCTLD since the initial outbreak in

early 2019. By taking genetic samples of the corals out of

the water we can preserve them (essentially infinitely) in

what's called "coral tables" or "raceways" and use them to

actively restore live tissue to the reef. Through a process

of micro-fragmentation, which involves cutting pieces of

coral into as small as 1x1cm 2 , we can prompt live tissue

to grow up to 40 times faster than it might in the wild.

That's pretty wild!

The pilot tank will be set up in the TCRF office located

at South Bank Marina and the facility will be open to visitors.

We're excited about the opportunities this will

provide for educational tours and for the training of local

volunteers in the basics of coral husbandry so that when

we are able to grow and increase our efforts, we'll have

the local knowledge and capacity to do so.

But first, Step 1: Learn about the ins and outs of

coral husbandry as well as all the technical/engineering

aspects involved with aquaculture and closed-system

tanks. For this we have partnered with The Reef Institute

(www.reefinstitute.org) based in West Palm Beach,

Florida. They are a non-profit research and education-based

facility and have played a significant role in

the rescue efforts for Florida's coral reefs. They house

the third largest collection of corals rescued from the

path of SCTLD along the Florida Reef Tract and they align

closely with our educational goals focusing on three main

areas: environmental sensitivity + scientific skills = oceanic

stewards.

With this grant award, we will be able to begin to

preserve samples of many iconic coral species that have

been the foundation of our reefs. The ultimate goal is

to greatly expand our land-based coral nursery program

allowing us to propagate these important reef building

corals and ultimately restore them to the reefs around the

Turks & Caicos Islands.

SCTLD has exacted a terrible toll on the reefs of the

TCI—it is a coral disease unlike any other, having now

affected reefs in 20+ tropical Atlantic and Caribbean

Island nations. It is a fast-moving, highly lethal disease

with a yet unknown cause affecting nearly all the major

Times of the Islands Spring 2022 63
---
green pages newsletter of the department of environment & coastal resources

reef building corals and has been identified on all the

reefs throughout the TCI.

This project, in essence, is providing an ark to preserve

the reef's genetic diversity. Ultimately, we expect

to grow this project into a much bigger nursery program

that will allow us to re-establish many coral species on

TCI reefs whose numbers have been significantly reduced

due to this disease.

There is a lot of work ahead if we are to be successful,

but we're committed to the cause and optimistic that

through carefully planned science and active restoration

we can not only preserve genetic diversity that might otherwise

be lost, but we can also bring that diversity back to

the reef through active restoration. 2022 is going to be a

good year for conservation in the Turks & Caicos. a

About the John Ellerman Foundation

The foundation was set up as a generalist grantmaking

trust in 1971 to focus on the broad philanthropic interests

of our benefactor Sir John Ellerman, while reflecting

changing times. Its aim is to advance the well-being of

people, society, and the natural world by focusing on

the arts, environment, and social action. The Foundation

supports organizations whose work has reach and significance

across the UK.

About TCRF

Founded in 2010, the Turks & Caicos Reef Fund is the

country's only active environmental advocacy organization.

It provides funding for education, research, and

conservation programs to individuals, organizations, and

agencies that help to preserve and protect TCI's environment.

Anyone wishing to donate or assist can contact

visit www.TCReef.org. Scuba divers visiting the Islands

are encouraged to make a $10 donation through the purchase

of a dive tag that can be attached to their dive gear

to show their support. Snorkelers can show their support

through the $5 purchase of a pink or blue silicone

wristband. Visitors can also support TCRF by purchasing

a rash guard designed each year by a different local artist.

A complete list of outlets for TCRF merchandise can be

found on the organization's website.

64 www.timespub.tc
---
green pages newsletter of the department of environment & coastal resources

Flamingoes like to nest in Salinas (large flat pools historically used for salt production), as the salt-encrusted, damp mud is inaccessible to

flamingo predators such as cats and birds.

CLARENCE STRINGER

Flamingo Flamboyance

The relationship between the salt industry and the American flamingo.

By Skylar Wuelfing, Waterfront Assistant

The School for Field Studies Center for Marine Resource Studies

Looking out across the salt flats of the Turks & Caicos Islands (TCI), one can often spot a flamboyance (or

large group) of brightly colored birds known as American flamingoes (Phoenicopterus ruber). These fluorescent

pink birds can be seen flocking around the Islands and are a popular attraction in the Caribbean,

a frequented breeding and feeding ground. Although they can be sighted on eight of the islands that

make up the Archipelago, flamingoes are most often seen on Providenciales, North Caicos and South

Caicos due to these islands being more highly populated, with more people actively looking for them.

Times of the Islands Spring 2022 65
---
green pages newsletter of the department of environment & coastal resources

While there are six species of flamingoes around the

world, the only species found in the TCI is the American

flamingo (also known as the Caribbean or West Indian flamingo).

They are found throughout Caribbean due to the

ideal conditions for nesting grounds on various islands.

Flamingoes like to nest in salinas (large flat pools historically

used for salt production), as the salt-encrusted,

damp mud is inaccessible to flamingo predators such as

cats and birds. It is currently estimated that there are

260,000–330,000 mature American flamingoes in the

Caribbean, making it a species of least concern on the

International Union for the Conservation of Nature (IUCN)

red list, a scale that rates the level of endangerment of

species.

Salinas can be found on three islands within the

Turks & Caicos: Grand Turk, Salt Cay, and South Caicos.

On South Caicos, the salinas cover approximately 22%

of the island (455 acres), whereas they only cover 5% of

Grand Turk and 7% of Salt Cay. Historically in the TCI,

salinas were used for salt production from the mid 1700s

into the 1900s. Total salt exports reached around 140

million pounds annually, and across the three islands 800

acres of salinas were utilized for production.

A unique feature of the salt industry on South Caicos

is the Boiling Hole, a historically significant site and a

unique tourist attraction. Because it is comprised of a

subterranean cave system that is connected to the ocean,

it is periodically refreshed by the tide. As the tides bring

in water, they also bring brine shrimp which are one of

the flamingoes' main prey.

Flamingoes tend to forage and breed in shallow bodies

of high saline environments consisting of a mix of

saline (sea water), brackish (a mix of sea water and fresh

water), and fresh water. Flamingoes prefer habitat types

with naturally high salinity as their prey (gastropods,

crustaceans, brine shrimp, and small insects) are more

abundant under high salinity conditions. In addition, the

salt-encrusted, damp mud allows for an ideal location to

build a nest as it provides the perfect conditions for egg

incubation.

Because flamingoes desire these very specific environments,

they are particularly vulnerable to human

disturbance in the Caribbean due to habitat destruction

and pollution. For instance, through the ups and downs

of the salt industry, populations of organisms residing in

the salinas fluctuated due to the uncontrolled changes

in the levels of salinity. Research has shown that these

salinity fluctuations affect flamingo behavior by changing

the population density of their food supply, which can

cause them to migrate away from or return to the TCI less

frequently.

As the salt industry grew to meet global demand

(becoming a world-wide commodity), the influx of people

and machines harvesting the salt created habitat changes

in the salinas that the flamingoes occupy, thus causing

them to frequent the Islands less often. Despite the massive

amounts of salt being produced and exported, the

TCI's salt production entered a decline in the late 1960s.

CAITLIN E. O'BRIEN

This flamboyance of flamingoes is gathering near the Boiling Hole on South Caicos. As the tides bring in water, they also bring brine shrimp

which are one of the flamingoes' main prey.

66 www.timespub.tc
---
green pages newsletter of the department of environment & coastal resources

CLARENCE STRINGER

Due to the small scale of production and a lack of both

funds and infrastructure, the Islands could no longer

keep up with the salt demand.

As the salt industry declined, the flamingoes had

all they needed for survival without the disturbance

of humans, which enabled them to slowly return.

Researchers found that in the late 1970s — right after

the decline of the salt industry — the American flamingo

population consisted of approximately 29,773 mature

individuals within the Turks & Caicos Islands.

Flamingoes are one of the most charismatic bird

species and a symbol for the conservation of tropical

ecosystems. This is often due to their fluorescent pink

coloring, which stems from their diets of algae, insects,

aquatic invertebrates, and small fishes. The algae contains

beta carotene, an organic chemical that contains

a reddish-orange pigment. This pigment, along with the

brine shrimp, are what turn the flamingoes' feathers

pink. As flamingoes trigger an influx in tourism, many of

their foraging and breeding grounds have been deemed

reserves or sanctuaries. As such, the popularity of the

American flamingo indirectly protects many other species

that frequent or reside in their coastal habitat such as

molluscs (snails, mussels, or slugs), crustaceans (crabs

or shrimps), smaller birds (shorebirds), and chironomids

(small insects).

Flamingoes tend to forage and breed in shallow bodies of high saline

environments consisting of a mix of saline (sea water), brackish (a

mix of sea water and fresh water), and fresh water.

While flamingo habitat in the TCI is currently mostly

undisturbed, the country is beginning to experience

an increase in tourism. (Tourism is the main source of

revenue for many Caribbean islands and their local communities.)

Yet tourism is a major potential threat for

many local species, not just the American flamingo. While

weather, pollution, and salt production are key reasons

for population declines in many species, the threat that

seems to cause the most damage is the land development

that comes with tourism. This will not only affect the flamingoes

but also all the organisms and plants that thrive

in and around the salinas.

Because of the increasing potential for disturbance,

there is a need for conservation of flamingo habitat and

the species they associate with. Many places around the

Caribbean have already begun flamingo conservation initiatives.

The Caribbean Alliance for Flamingo Research

and Conservation (CAFRC) was established in 2007 to

ensure the protection and conservation of the flamingo

species. This alliance is similar to the Caribbean Flamingo

Network, and both organizations aim to promote the

study of the American flamingo and monitor flamingo

populations. They have also been working on establishing

areas of protection for the flamboyances of flamingoes

based on site fidelity.

It is imperative that conservation efforts and future

research are continued so that we may protect the

American flamingoes that live throughout the Caribbean.

With tourism increasing steadily, there is a growing need

for conservation efforts and public awareness.

Along with these efforts, tourists can help to protect

flamingoes in various ways. By staying on designated

paths/roads in the salinas and refraining from littering or

feeding the wildlife, tourists will ensure that they don't

damage feeding areas or tread on a flamingo nest.

By being an eco-friendly tourist, we can help to protect

these iconic pink creatures so that future generations

can witness their beauty and grace. When you visit the

Islands, make sure you have plenty of sunscreen and a

decent pair of walking shoes so that you can have a flamingood

time while visiting the flamboyances that can be

found in the salinas of the Turks & Caicos! a

To learn more about the The School for Field Studies'

projects on South Caicos, go to http://www.fieldstudies.

org/tci.

Times of the Islands Spring 2022 67
---
astrolabe

newsletter of the Turks & Caicos National Museum

Front Street, PO Box 188, Grand Turk, Turks & Caicos Islands, BWI TKCA 1ZZ

tel 649 247 2160/US incoming 786 220 1159 •

email info@tcmuseum.org • web www.tcmuseum.org

This postcard depicts raking salt on Grand Turk Island. Notice the jail and library in background. (Circa 1906.)

Raking Up the Past

Salt production on the Turks & Caicos Islands (Part 1)

Story & Postcard Images Courtesy Jeff Dodge

Salt was the most important industry on the Turks & Caicos Islands for almost 300 years. Salt was of

critical importance, not only for culinary purposes, but to preserve meat and fish. Since salt production

involved so many people and occupied so much land, it would be a photographer's obvious subject.

Consequently, picture postcards made from early photographs of these islands included pictures of the

salt production process. All the postcards included in this article were printed from photographs taken

between 1905 and 1933.

68 www.timespub.tc
---
astrolabe newsletter of the Turks & Caicos National Museum

The discovery that the Turks Islands were well suited

for the commercial production of salt by the solar evaporation

of seawater came about accidently.

Shipping between Bermuda and the West Indies was

common during the early 1600s. During these passages,

Bermudian vessels would sometimes stop at Grand Turk

or Salt Cay to salvage cargoes from ships wrecked on the

reefs near these islands. The practice of "wrecking" began

in Bermuda in the early 17th century and the practice

soon extended to the Caribbean.

The Turks & Caicos Islands were uninhabited in

the 1660s—the Lucayan population had been gone for

more than a century. The Islands were not only unpopulated,

but were unclaimed by any other country. It was

during this wrecking activity on the Turks Islands that

Bermudians noticed that salt collected in naturally occurring

shallow pans or ponds after seawater held in them

evaporated in the sun.

Bermudians began collecting salt by hand from these

shallow depressions on the Turks Islands on an informal

basis in the 1660s. By 1673 salt collection became more

organized—first on Salt Cay and five years later on Grand

Turk. In the beginning, Bermudians and their slaves occupied

the Turks Islands on a seasonal basis—arriving in

March and returning to Bermuda in November. The summer

months provided the Bermudian "salt rakers" with

the weather conditions needed to extract salt from seawater

by solar evaporation—hot temperatures, little rain

and steady trade winds.

The success of the Bermudian salt merchants did not

go unnoticed by the Spanish in Santo Domingo or the

French in Hispaniola. Between the years 1710 and 1783,

they repeatedly attacked the Turks Islands, the ships carrying

salt and the salt rakers working the salt ponds. In

1764 Great Britain declared the Islands a British possession.

In 1767, Andrew Symmer from Nassau was appointed

as the King's Agent on Grand Turk. He devised the Royal

Regulations that year. These regulations, approved in

1781, established rules of governance for the Turks

Islands and for the salt industry. The Head Right System

that outlined who had the right to work the salt ponds was

part of these regulations. Under the Head Right System,

shares of the salt ponds were issued each February to

This postcard bears an image of East Harbour on South Caicos circa 1906. East Harbour would eventually become the largest producer of

salt on the Turks & Caicos Islands.

Times of the Islands Spring 2022 69
---
astrolabe newsletter of the Turks & Caicos National Museum

every adult, including

slaves, living on Grand

Turk and Salt Cay. The

shares issued to slaves

however, actually went to

the slave owner.

Agent Symmer's activities

during his 30-year

tenure served to ensure

that the Islands would

eventually become part

of the Bahamas, which

they did in 1799. The

Islands were variously

under the control of the

Bahamian government or

the Jamaican government

until 1973.

Great Britain's

Emancipation Act of 1834

freed over 1,900 slaves on

the Turks Islands. In theory,

freed slaves, under

the Head Right System,

would be given shares

in the salt ponds. Since

this was not favorable

to the former slave owners,

a leasehold system

was introduced in 1845.

Those with money (former

slave owners) remained in

control of the ponds while

freed slaves, having no

money, were no better off

than before emancipation. Many remained working for

their former owners.

At the end of 1861, following two years of dreadful

salt yields and the low prices salt commanded, lessees

found themselves unable to pay the rent for the salt properties

they leased from the government. A committee of

lessees at Grand Turk and Salt Cay was formed and in

1862 the leasehold system was replaced by a freehold

system. The government made up their loss of rental revenue

with an ad valorem royalty imposed on salt exports.

From top: This postcard depicts a canal leading from the sea to the

salt ponds. At one time there were seven such canals on Grand Turk

Island. (Circa 1905.)

This image shows the salt ponds on Grand Turk Island circa 1920.

Seawater coming from the ocean through canals entered public ponds

as large as five acres and 12 to 18 inches deep.

Salt production

Systematic salt production began on Salt Cay and Grand

Turk in the 1670s. East Harbour (Cockburn Harbour) on

South Caicos began salt production about 1848. East

Harbour would eventually become the largest producer

of salt on the Islands.

In 1857 salt production on West Caicos was explored.

70 www.timespub.tc
---
astrolabe newsletter of the Turks & Caicos National Museum

From top: This postcard depicts a hand-operated water wheel for "turning pickle," circa 1910.

This wind-powered water wheel (circa 1905) was heavy and could not be moved. Kids would sometimes

ride on them as though they were riding on a carousel.

A company was formed, land was leased from the government

and a railway and wharf were built. Three years later

these attempts to produce salt on West Caicos ended as

the company in charge was no longer solvent.

The Bermudians organized and improved the salt

collection process in the

1670s by constructing

sluices to keep out the

sea and building stone

walls around the naturally

occurring salt ponds.

They also constructed new

ponds and built canals to

bring water from the sea

to flood their ponds.

Seawater coming from

the ocean through canals

entered public ponds as

large as five acres and 12

to 18 inches deep. When

the seawater in the public

ponds registered 30º on

a salometer (a device that

measures the percentage

of salt in solution), it was

sent through sluices to

smaller, privately owned

ponds. These ponds were

known as "weak ponds" or

No. 1 ponds. The brine or

"pickle" remained in a No.

1 pond until it measured

60º on the salometer. This

took about 20 days.

When the pickle measured

60º, it was moved to

a "strong pond" or a No.

2 pond. At this point, the

volume of seawater had

been reduced by 50%. The

pickle remained in the No.

2 pond for another 15 to

20 days until it measured

90º on a salometer. The

pickle was then pink in

color.

Since the salt ponds were at the same elevation, water

wheels were used to move pickle from pond to pond.

Water wheels were either hand-operated or wind-powered.

Hand-operated water wheels were portable and could be

moved from one pond to another as needed.

Times of the Islands Spring 2022 71
---
astrolabe newsletter of the Turks & Caicos National Museum

This postcard shows the salt pans circa 1906. Salt raked into small

piles is ready to be moved to storage areas or to salt sheds.

Wind-powered water wheels were heavy and could

not be moved. Kids would sometimes ride on them as

though they were riding on a carousel.

From pond No. 2, the pickle was moved to shallow

salt pans where it would begin to crystalize after 15 to

20 days. It was ready to rake after another 20 to 25 days.

Toothed wooden rakes were used to break up the salt

crystals and rake them into small piles.

Salt raked into piles next to the salt pans would then

be loaded on donkey carts or wheelbarrows and moved

to outdoor storage areas near the beach or to salt sheds.

The next issue of the Astrolabe will continue the

story of the salt industry on the Turks & Caicos Islands. a

Thanks to Nigel Sadler of Sands of Time Consultancy for

providing information on the Royal Regulations of 1767.

Jeff Dodge spent a year at the Naval Base on Grand Turk

in 1966. He returned in the 1990s with his wife for a

diving vacation. A visit to the Museum led by Brian Riggs,

spurred his interest in collecting early picture postcards

of the Turks and Caicos Islands.

72 www.timespub.tc
---
astrolabe newsletter of the Turks & Caicos National Museum

These historic images are among few available of the bonefishing

greats of South Caicos in the early 1960s.

At left and top: Julius "Goo" Jennings in his boat and bringing home

the catch.

Bottom right: Stanley Jennings at work.

Kings of Bonefishing

Remembering the Jennings brothers.

Story & Photos Courtesy Dr. Carlton Mills

In the early 1960s, the only fishing plant in the Turks & Caicos was in South Caicos. This attracted fishermen

from throughout the Islands who came over to improve their livelihood. Many of them stayed on

the fishing bank for several days diving or hooking conch which was sold to the local plant or sold in

Haiti. Conch Ground Bay was the fishing hub. It was also the home to some of South Caicos' greats—the

Jennings brothers. They were Benjamin (Banner), Felix (Par Fee), Julius (Par Julius also known as Big Man)

and Oswald (Sam).

Times of the Islands Spring 2022 73
---
astrolabe newsletter of the Turks & Caicos National Museum

Banner had two sons—Bruce and Willis. Par Julius also

had two sons Julius (Jr.) who was affectionately known

as "Goo" and George. The "Supreme Leader" of the pack

was Banner. These men were rated as the "best" bonefish

haulers on the island.

Banner could also be described as the patriarch of

the family. He was of firm stature—towering to almost six

feet in height and weighing close to two hundred pounds

or more. He was very quiet and easy-going. His passion

and desire was bonefishing. He was also a family man

who encouraged his sons to also get into fishing. His

wife Helen was the traditional housewife whose passion

was baking bread for sale. This went hand in hand with

the local culture—South Caicos people loved their fried

bonefish and fresh-baked bread on a Saturday afternoon.

Banner provided the fish and Helen the bread—voted as

being some of the best in South Caicos at the time.

Felix (Par Fee) was the most talkative of the brothers.

It was said that you could hear his mouth before you

saw him coming. He seemed to have developed a spinal

problem, as he walked bent over with both hands usually

clasped behind his back. He was an ardent Methodist who

hardly missed a Sunday service, usually sharply dressed

in his black suit. Par Fee was a straightforward man. He

told it like it was fearing no man despite his condition. He

"called a spade a spade." You basically knew where you

stood with him.

Oswald (Sam) was very quiet but with a terrifying tone

of voice. He was also firm. Sam invested his earnings from

fishing into a bar and nightclub. This was a popular spot

especially on weekends. During the annual South Caicos

Regatta, he would bring in a band from The Bahamas to

entertain the public. Sam and his wife Helene also had a

small grocery store selling food items and dry goods to

the community.

Sam was strict. No children were allowed around his

establishment. He would also personally escort drunks

off his property if they misbehaved. People generally

feared Sam. He was one of the few persons in South

Caicos at the time known to be in possession of a firearm.

As boys, we believed that "If you mess with Sam, he will

shoot you." At times, he was seen hunting flamingos in

the ponds with his gun. This reinforced our belief that he

wasn't a guy you would want to mess with.

Julius (Big Man or Par Julius), was also huge in statue.

He stammered a lot. Like the other brothers, he was a

Oswald (Sam) Jennings invested his earnings from fishing into a bar

and nightclub, along with a small grocery store.

regular at the Methodist Church. Despite his massive physique,

he was a very quiet and loving man, one of the

most pleasant guys you would ever meet. He was one

who seemed not to keep many friends outside of his family

circle. His son Julius (Jr.) was also an integral part of

the fishing group.

One of the fascinating things about this exceptional

family was that they hauled together. They worked as a

unit—a team. They possessed exceptional skills and talent

like no other, putting them in a class by themselves.

The Jennings brothers were recognized as "Kings." They

were indeed kings of a very important industry.

Fish was the main diet of the people in South Caicos.

Since there was little opportunity at the time to acquire

other forms of meat (or relish as it was called), the South

Caicos community was dependent on the Jennings brothers

for their catch. Bonefish was a delicacy. Most people

who came to South Caicos in those days hardly left without

feasting on bonefish or taking supplies with them.

There were certain important strategies that had

74 www.timespub.tc
---
astrolabe newsletter of the Turks & Caicos National Museum

to be applied if one was to have a successful hauling

day. First, it required that the fishermen be extremely

quiet. Bonefish move in schools. The slightest movement

or noise result in an unproductive day as the fish will

speed away. Bonefish are very sensitive and Banner knew

this. Verbal communication was banned during hauling.

Sign language was the main form of communication. The

fishermen had to understand this. Their catch depended

largely on their ability to master sign language.

The net was stretched out as wide as possible with a

man holding each end. The others remained in the boat

as one man steered it towards the fish, chasing them in

the direction of the net. Both men holding the net would

then close in on the fish. They would all join in on pulling

the net in the boat full of bonefish. Following this, they

would clear the net and prepare for their journey home.

In the early days they did not have the luxury of a boat

engine. They either had to set or skull the boat in order

to get back to Conch Ground Bay which was usually not

very far away. When they arrived, the boat was docked.

Before being sold, the fish was shared. The owner of the

boat (who was usually Banner) received two shares—his

and the other for the boat. Finally, it was time to sell.

Consumers were free to purchase bonefish from any of

the fishermen.

As little boys, we would eagerly await the arrival of

the bonefish haulers. It was thrilling to watch the boat

come in loaded with fish. We longed for the days when

we could participate in this fascinating venture.

The Jennings brothers took their sales seriously. Pa

Fee would be talking at the top of his voice in an aggressive

tone which was a clear indication that there was

"no credit." Crowds of eager men descended on Conch

Ground Bay to purchase bonefish. This was usually not an

activity for women. Saturday afternoons in South Caicos

became a spectacular occasion for male bonding.

As there was no widespread electricity in South Caicos

at the time, freezing fish was not possible. The Jennings

brothers therefore mastered the skill of preserving their

fish that was not sold. This was done by a process called

"corning." They spread salt from the local salt ponds over

the fish after they were sliced down the middle. The fish

were then hung over racks. So for days after the catch,

folks could still purchase fish.

The Jennings brothers made a major contribution to

South Caicos. They made bonefish hauling a respected

and admirable profession. Their names will always be

synonymous with fishing as they made bonefishing an

integral part of the local culture. They will always be

regarded as fishing icons. Their legacy continues as

Banner's son Willis and his grandboys Dave (Big Cow) and

Gilbert (Snuka) continue to follow the family's tradition.

One can still purchase bonefish from these boys although

not in as large quantities as before. Helen passed on her

baking skills to her daughter Jacklyn, whose popular

bread gained the pet name "Mama's Bread."

The baking tradition entered its third generation as

Nita, Jacklyn's daughter, continues to bake bread for

sale. Goo also had three sons who were all involved in

bonefishing—Stanley, Hudson, and Nelson. Although

Hudson and Nelson are deceased, Stanley continued

the tradition until he retired. Goo also formed a band,

"Gillette and His Blades" (also called "Goo and the Yellow

Teeth Movement".) The group would play regularly at the

Admiral's Arms Hotel entertaining guests.

The Jennings brothers made time to be involved in

community and church life. They were also active in the

local Odd Fellows Lodge and the Benevolent Association.

Felix Jennings "Par Fee" made sure buyers knew there was NO CREDIT

when it came to bonefish.

In the afternoons after a day in the boat, they could be

seen mingling with the men on Conch Ground Bay, having

a few drinks and discussing events of the day.

Benjamin, Felix, Julius (Sr.), Oswald and Julius (Jr.) are

all deceased. They were instrumental in setting the stage

for the growth and development of small businesses

in South Caicos stemming from fishing. The island witnessed

the expansion in this industry to include conch,

scalefish, and lobster because of the contribution made

by the Jennings brothers.

Times of the Islands Spring 2022 75
---
astrolabe newsletter of the Turks & Caicos National Museum

Being men of great physical stature, they utilized

their strength as needed by assisting people to move their

wooden houses from one location to another. During this

event, they were assisted by their cousin Lambert Wilson

(Par Lumbie) and Robert and David Adams. During this

occasion, everyone would join in and sing the popular

song "Gal le we go down." This singing made the task

lighter. They were also involved in launching big boats in

South Caicos.

As Dave (Big Cow) and Gilbert (Snuka) get older,

there is concern as to the future of bonefishing in South

Caicos. Bonefishing is becoming more of a sports fishing

adventure—catch and release rather than for consumption.

The concern is whether someone will take the baton

from these grandsons so that bonefishing will remain an

integral part of the South Caicos culture.

Undoubtedly, South Caicos has produced some of the

country's greatest fishermen. Because of this, the island

has earned the distinction of being called the "Fishing

Capital of the Turks & Caicos Islands." a

Museum Matters

GRAND TURK

Return of cruise ships

Cruise ships returned to Grand Turk on December 13,

2021. We are pleased to have the guests return to visit

and learn about Turks & Caicos history and culture. A

very special thank you to visitors who stay in the hotels

and vacation rental homes. Their continued support

both now and when the ships were suspended helped

keep us open during the pandemic restrictions. a

Snip, snip

Grand Turk will once again be hosting a spay and neuter

clinic from April 22 to 29. This project benefits the

entire community, and we are proud to be able to assist

and host this much needed service. a

PROVIDENCIALES

The work and improvements to the Heritage Garden continue.

We are currently working with The Strand Turks

& Caicos development to safely remove and replant any

vegetation that would have otherwise been destroyed in

the process of construction. Over 20 species of plants

have been identified and we hope to rescue as many as

possible in the Heritage Garden. a

Current Days & Hours of Operation:

• Grand Turk—Open Monday to Friday; 9 AM to 1 PM.

The days a ship arrives on or after 11 AM, we will open

1 hour after arrival.

Located in historic Guinep House on Front Street, this

location includes exhibits on the Salt Industry, Molasses

Reef Wreck, Lucayans, John Glenn Landing and more.

The Heritage Garden's new clearing includes West Indian Mahogany,

Silver and Green Buttonwood, Gumbo Limbo and Palmettos.

• Providenciales—Open Tuesday and Thursday; 10 AM

to 2 PM. Also open the first and third Saturday of each

month; 10 AM to 2 PM.

Located in The Village at Grace Bay, this location

includes a Historical Timeline that gives an overview of

the most important dates in the history of the Turks &

Caicos Islands. Our residents have descended from a

vast array of peoples, and an incredibly rich history.

Additional Exhibits—Slave ship Trouvadore, Molasses

Reef Wreck Artifacts, Sapodilla Hill Rock Carvings. Tour

the Heritage House, which is a historically correct recreation

of a typical 1800s Caicos dwelling, and the

Heritage Garden.

Days and times of operation are subject to change so

please check our website or Facebook page for updated

information. a

www.tcmuseum.org• info@tcmuseum.org

(649) 247-2160

MARJORIE SADLER

76 www.timespub.tc
---
about the Islands

Map provided courtesy Wavey Line Publishing. Their navigation charts and decorative and historic maps of the Turks & Caicos Islands, The

Bahamas and Hispaniola are available in shops throughout the Islands. Visit www.amnautical.com.

Where we are

The Turks & Caicos Islands lie some 575 miles southeast

of Miami — approximately 1 1/2 hours flying time —

with The Bahamas about 30 miles to the northwest and

the Dominican Republic some 100 miles to the southeast.

The country consists of two island groups separated

by the 22-mile wide Columbus Passage. To the west are

the Caicos Islands: West Caicos, Providenciales, North

Caicos, Middle Caicos, East Caicos and South Caicos. To

the east are the Turks Islands: Grand Turk and Salt Cay.

The Turks & Caicos total 166 square miles of land

area on eight islands and 40 small cays. The country's

population is approximately 43,000.

Getting here

There are international airports on Grand Turk,

Providenciales, and South Caicos, with domestic airports

on all of the islands except East Caicos.

As of September 1, 2021, all visitors ages 16 and

above must be fully vaccinated and provide a negative

PCR or antigen COVID-19 test taken within three days

of travel. (Children under the age of 10 are not required

to be tested.) Additionally, travellers must have medical/

travel insurance that covers medevac, a completed health

screening questionnaire and certification that they have

read and agreed to the privacy policy document. These

requirements must be uploaded to the TCI Assured portal,

which is available at www.turksandcaicostourism.

com, in advance of their arrival.

Times of the Islands Spring 2022 77
---
The TCI has expanded COVID-19 testing capacity in

response to testing requirements implemented for travellers

entering the United States and Canada. Many resorts

offer on-site testing, along with numerous local health

practitioners.

Language

English.

Time zone

Eastern Standard Time (EST)/Daylight Savings Time

observed.

Currency

The United States dollar. The Treasury also issues a Turks

& Caicos crown and quarter. Travellers cheques in U.S.

dollars are widely accepted and other currency can be

changed at local banks. American Express, VISA and

MasterCard are welcomed at many locations.

Climate

The average year-round temperature is 83ºF (28ºC). The

hottest months are September and October, when the

temperature can reach 90 to 95ºF (33 to 35ºC). However,

the consistent easterly trade winds temper the heat and

keep life comfortable.

Casual resort and leisure wear is accepted attire for

daytime; light sweaters or jackets may be necessary on

some breezy evenings. It's wise to wear protective clothing

and a sunhat and use waterproof sunscreen when out

in the tropical sun.

Entry requirements

Passport. A valid onward or return ticket is also required.

Customs formalities

Visitors may bring in duty free for their own use one carton

of cigarettes or cigars, one bottle of liquor or wine,

and some perfume. The importation of all firearms including

those charged with compressed air without prior

approval in writing from the Commissioner of Police is

strictly forbidden. Spear guns, Hawaiian slings, controlled

drugs and pornography are also illegal.

Returning residents may bring in $400 worth of

merchandise per person duty free. A duty of 10% to

60% is charged on most imported goods along with a

7% customs processing fee and forms a major source of

government revenue.

Transportation

A valid driver's license from home is suitable when renting

vehicles. A government tax of 12% is levied on all

rental contracts. (Insurance is extra.) Driving is on the

left-hand side of the road, with traffic flow controlled by

round-abouts at major junctions. Please don't drink and

drive! Taxis and community cabs are abundant throughout

the Islands and many resorts offer shuttle service

between popular visitor areas. Scooter, motorcycle and

bicycle rentals are also available.

Telecommunications

FLOW Ltd. provides land lines and superfast broadband

Internet service. Mobile service is on a LTE 4G network,

including pre- and post-paid cellular phones. Most resorts

and some stores and restaurants offer wireless Internet

connections. Digicel operates mobile networks, with

a full suite of LTE 4G service. FLOW is the local carrier

for CDMA roaming on US networks such as Verizon and

Sprint. North American visitors with GSM cellular handsets

and wireless accounts with AT&T or Cingular can

arrange international roaming.

Electricity

FortisTCI supplies electricity at a frequency of 60HZ,

and either single phase or three phase at one of three

standard voltages for residential or commercial service.

FortisTCI continues to invest in a robust and resilient grid

to ensure the highest level of reliability to customers. The

company is integrating renewable energy into its grid and

provides options for customers to participate in two solar

energy programs.

Departure tax

US $60. It is typically included in your airline ticket cost.

Courier service

Delivery service is provided by FedEx, with offices on

Providenciales and Grand Turk, and DHL. UPS service is

limited to incoming delivery.

Postal service

The Post Office and Philatelic Bureau in Providenciales are

located downtown on Airport Road. In Grand Turk, the

Post Office and Philatelic Bureau are on Church Folly. The

Islands are known for their colorful stamp issues.

78 www.timespub.tc
---
Media

Multi-channel satellite television is received from the U.S.

and Canada and transmitted via cable or over the air.

Local station WIV-TV broadcasts on Channel 4 and Island

EyeTV on Channel 5. People's Television offers 75 digitally

transmitted television stations, along with local news

and talk shows on Channel 8. There are also a number of

local radio stations, magazines and newspapers.

Medical services

There are no endemic tropical diseases in TCI. There are

large, modern hospitals on Grand Turk and Providenciales.

Both hospitals offer a full range of services including:

24/7 emergency room, operating theaters, diagnostic

imaging, maternity suites, dialysis suites, blood bank,

physiotherapy and dentistry.

In addition, several general practitioners operate in

the country, and there is a recompression chamber, along

with a number of private pharmacies.

Immigration

A resident's permit is required to live in the Islands. A

work permit and business license are also required to

work and/or establish a business. These are generally

granted to those offering skills, experience and qualifications

not widely available on the Islands. Priority is given

to enterprises that will provide employment and training

for T&C Islanders.

Government/Legal system

TCI is a British Crown colony. There is a Queen-appointed

Governor, HE Nigel John Dakin. He presides over an executive

council formed by the elected local government.

Hon. Charles Washington Misick is the country's premier,

leading a majority Progressive National Party (PNP) House

of Assembly.

The legal system is based upon English Common

Law and administered by a resident Chief Justice, Chief

Magistrate,and Deputy Magistrates. Judges of the Court

of Appeal visit the Islands twice a year and there is a final

Right of Appeal to Her Majesty's Privy Council in London.

Taxes

There are currently no direct taxes on either income

or capital for individuals or companies. There are no

exchange controls. Indirect taxation comprises customs

duties and fees, stamp duty, taxes on accommodations,

restaurants, vehicle rentals, other services and gasoline,

as well as business license fees and departure taxes.

Times of the Islands Spring 2022 79
---
Economy

Historically, TCI's economy relied on the export of salt.

Currently, tourism, the offshore finance industry and fishing

generate the most private sector income. The Islands'

main exports are lobster and conch. Practically all consumer

goods and foodstuffs are imported.

The Turks & Caicos Islands are recognised as an

important offshore financial centre, offering services

such as company formation, offshore insurance, banking,

trusts, limited partnerships and limited life companies.

The Financial Services Commission regulates the industry

and spearheads the development of offshore legislation.

People

Citizens of the Turks & Caicos Islands are termed

"Belongers" and are primarily descendants of African

slaves who were brought to the Islands to work in the

salt ponds and cotton plantations. The country's large

expatriate population includes Canadians, Americans,

Brits and Europeans, along with Haitians, Jamaicans,

Dominicans, Bahamians, Indians and Filipinos.

Churches

Churches are the center of community life and there

are many faiths represented in the Islands including:

Adventist, Anglican, Assembly of God, Baha'i, Baptist,

Catholic, Church of God, Episcopal, Jehovah's Witnesses,

Methodist and Pentecostal. Visitors are always welcome.

Pets

Incoming pets must have an import permit, veterinary

health certificate, vaccination certificate and lab test

results submitted at port of entry to obtain clearance

from the TCI Department of Agriculture.

National symbols

The National Bird is the Brown pelican (Pelecanus occidentalis).

The National Plant is Island heather (Limonium

bahamense) found nowhere else in the world. The

National Tree is the Caribbean pine (Pinus caribaea var.

bahamensis). The National Costume consists of white cotton

dresses tied at the waist for women and simple shirts

and loose pants for men, with straw hats. Colors representing

the various islands are displayed on the sleeves,

sashes and hat bands. The National Song is "This Land

of Ours" by the late Rev. E.C. Howell. Peas and Hominy

(Grits) with Dry Conch is revered as symbolic island fare.

Going green

TCI Waste Disposal Services currently offers recycling

services through weekly collection of recyclable aluminum,

glass and plastic. Single-use plastic bags have been

banned country-wide as of May 1, 2019. There is also a

ban on importation of plastic straws and some polystyrene

products, including cups and plates.

Recreation

Sporting activities are centered around the water. Visitors

can choose from deep-sea, reef or bonefishing, sailing,

glass-bottom boat and semi-sub excursions, windsurfing,

waterskiing, parasailing, sea kayaking, snorkelling, scuba

diving, snuba, kiteboarding, stand up paddleboarding,

mermaid encounters and beachcombing. Pristine reefs,

abundant marine life and excellent visibility make TCI

a world-class diving destination. Whale and dolphin

encounters are possible, especially during the winter/

spring months.

Tennis and golf—there is an 18 hole championship

course on Providenciales—are also popular.

80 www.timespub.tc
---
The Islands are an ecotourist's paradise. Visitors can

enjoy unspoilt wilderness and native flora and fauna in

33 national parks, nature reserves, sanctuaries and areas

of historical interest. The National Trust provides trail

guides to several hiking trails, as well as guided tours of

major historical sites. Birdwatching is superb, and there

is a guided trail on Grand Turk.

There is an excellent national museum on Grand

Turk, with an auxillary branch on Providenciales that

includes the Caicos Heritage House. A scheduled ferry

and a selection of tour operators make it easy to take day

trips to the outer islands.

Other land-based activities include bicycling, horseback

riding and football (soccer). Personal trainers are

available to motivate you, working out of several fitness

centres. You will also find a variety of spa and body treatment

services.

Nightlife includes local bands playing island music

at bars and restaurants and some nightclubs. There are

two casinos on Providenciales, along with many electronic

gaming parlours. Stargazing is extraordinary!

Shoppers will find Caribbean paintings, T-shirts,

sports and beachwear and locally made handicrafts,

including straw work, conch crafts and handmade beach

jewellery. Duty free outlets sell liquor, jewellery, watches,

subscription form

TIMES

OF THE

ISLANDS

SAMPLING THE SOUL OF THE TURKS & CAICOS ISLANDS

One year subscription

$28 U.S. addresses/$32 non-U.S. addresses

Food for Thought provides free daily

breakfast to government school students.

A donation of $300 will provide breakfast

to one child for a whole school year.

To donate or learn more please

email info@foodforthoughttci.com

or visit foodforthoughttci.com

Food for Thought Foundation Inc. (NP #102)

perfume, leather goods, crystal, china, cameras, electronics,

brand-name clothing and accessories, along with

Cuban cigars. a

VISIT WWW.TIMESPUB.TC TO VIEW CURRENT ISSUE ON-LINE!

Name____________________________________________________________________

Date ____________________

Address__________________________________________________________________

City _____________________________________________________________________

State/Province____________________________________________________________

Country/Postal Code_____________________________________________________

E-mail address (not required)_____________________________________________

r New Subscription r Renewal

r U.S. Cheque/M.O. enclosed

Mail with payment to:

Times Publications Ltd., c/o Kathy Borsuk,

247 Holmes Ave., Clarendon Hills, IL 60514

Please allow 30 to 60 days for delivery of first issue.

Times of the Islands Spring 2022 81
---
classified ads

Rejouvenance

Natural - Organic Skincare

649-432-7546

Free Delivery

VISIT

OUR ONLINE

STORE

REJOUVENANCE.COM

Community Fellowship Centre

A Life-Changing Experience

Sunday Divine Worship 9 AM

Visitors Welcome!

Tel: 649.941.3484 • Web: cfctci.com

D&Bswift_Layout 1 5/8/18 7:24 AM Page 1

FOR ALL YOUR

RELIABLE AND

AFFORDABLE

RENTAL NEEDS

649-941-8438 and 649-241-4968

SCOOTER BOBS_Layout 1 8/8/18 10:57 AM Page GBC2017_Layout autorental@dnbautoparts.com

1 2/16/17 9:10 AM Page 1

We're here to

make your holiday

the island way...

DEPENDABLE VEHICLE HIRE

SERVICE OFFERED:

Provo & North-Middle Caicos

Office: 946-4684

Amos: 441-2667 (after hours)

Yan: 247-6755 (after hours)

Bob: 231-0262 (after hours)

scooterbobs@gmail.com

www.scooterbobstci.com

Grace Bay Road across from Regent Street

Fun Friendly People

Appreciating Your Business!

941-8500

www.gracebaycarrentals.com

82 www.timespub.tc
---
WE ARE LEADING THE CHANGE

FOR A NEW ENERGY FUTURE

Our executive team: (L-r) Senior Vice President of Operations Devon Cox; Vice President of Corporate

Services and CFO Aisha Laporte; President and CEO Ruth Forbes; Vice President of Grand Turk and

Sister Island Operations Allan Robinson; Vice President of Innovation, Technology and Strategic Planning

Rachell Roullet and Vice President of Engineering and Energy Production and Delivery Don Forsyth

The energy landscape is changing.

And at FortisTCI, we are leading the transition to cleaner energy with

innovative solutions, and the highest level of service to customers.

With sustainability as a guiding principle, we are strategically investing

in new technologies, people and processes to deliver least-cost, reliable,

resilient and sustainable energy to keep the Turks and Caicos Islands

economy moving forward.

At FortisTCI, we are powered by a team of energy experts, who are proud

to serve as your energy partners.

www.fortistci.com | 649-946-4313 |
---
We help you turn some day into right now . . .

nothing compares.

The Residence

Parrot Cay Beachfront

THE FINEST COLLECTION

Condominium | Home & Villa | Land | New Development

649.946.4474 | info@tcsothebysrealty.com | turksandcaicossir.com

Venture House, Grace Bay | Resort Locations: Grace Bay Club and The Palms

Each franchise is Independently Owned and Operated.