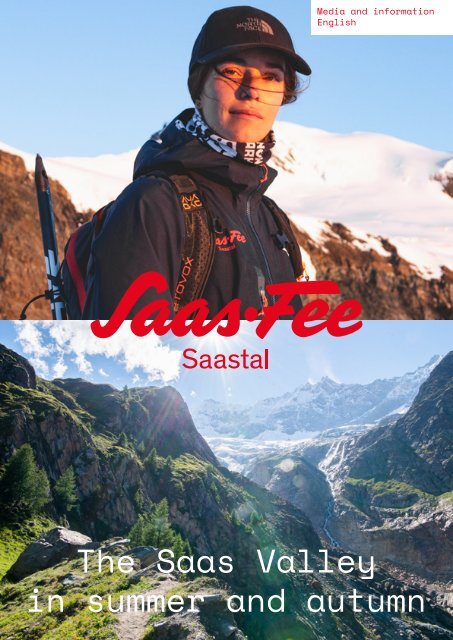 Mediendossier-Sommer_Herbst-2022-EN
You also want an ePaper? Increase the reach of your titles
YUMPU automatically turns print PDFs into web optimized ePapers that Google loves.
Media and information

English

The Saas Valley

in summer and autumn

1
---
Contents

04

10

12

12

14

17

18

19

20

Welcome to the Saas-Fee/Saastal holiday region

Sustainability

Authentic mountain villages

Overnight stays, guest nationalities and lengths of stay

Facts and figures

2022 summer/autumn highlights

SaasFeestival

Allalin Adventure Route

Mattmark Half Marathon New playground Kreuzboden

Stomping Grounds

New treasure hunt

New Kreuzboden flowtrail

Cuisine

Families

Ice Pavilion

Foxtrail

Märliwucha

Marmots

Aqua Allalin

Activities on the mountain

Hiking

Day-trip destinations

Adventure

Via ferratas

Trail running

Bikes and e-bikes

Gorge Alpine/Alpine Canyon

Culture/heritage

Comedy Saas-Fee

Saas Museum

Exhibition on Father Johann Josef Imseng

Winter sports in the summer

How to get here/contact info

2 3
---
Welcome to the

Saas-Fee/Saastal

holiday region

SUSTAINABILITY

Saas-Fee is – and has always been – a car-free village.

The road which connects us with the valley was

built in 1951 – but Saas-Fee made the decision to remain

car-free. Up here, you either travel on foot or in an

electric vehicle. What's more, Saas-Fee has introduced

measures to combat the health hazard represented by

particulate pollution and is equipping the municipality's

250 wood burners with filters. The village's entire electricity

supply – including that required for the cable cars

and lifts – is generated by renewable hydropower from

the Valais. No other Swiss residential and tourist area

uses as much natural energy as consistently as we do.

It was in recognition of all these endeavours that Saas-

Fee was awarded the accolade of 'Energiestadt' ('Energy

Town') by the Energie Schweiz energy programme

in June 2002. This accolade honours the introduction

of clear standards of quality in energy and transport

policy and is awarded for outstanding achievements in

the sustainability field. More about sustainability in the

Saas Valley:

Sustainability

AUTHENTIC MOUNTAIN VILLAGES

The Saas Valley is made up of four traditional mountain

communities: Saas-Fee, Saas-Grund, Saas-Almagell

and Saas-Balen. Saas-Fee is the biggest and most

tourist-focused of the four communities – yet it has still

managed to keep all of its rustic village charm. In the

Saas Valley, visitors can stroll down cobblestone alleys

between centuries-old barns and charming Valais-style

houses. In these communities, there is a special charm

in everything that is authentic, traditional and rustic.

-> Saas-Fee

Saas-Fee is located at the base of the Dom, the tallest

mountain in Switzerland. Cars are not allowed in

the village, which is one of Switzerland's more popular

winter destinations. The Saas-Fee glacier is home

to one of Europe's rare summer ski areas, and the

Mittelallalin features the highest-altitude revolving

restaurant in the world. With its sun-bleached barns,

cobblestone streets and wooden Valais-style houses

framed by the Mischabel mountain range, Saas-

Fee has a special charm that attracts up to 9,000

guests in the high season.

-> Saas-Grund

Saas-Grund enchants visitors with its rustic buildings

and narrow, winding streets. The village is the

starting point for numerous hiking trails, such as the

Almageller and Gsponer mountain trail or the popular

'18 Four-Thousanders' circular trail in Hohsaas;

the latter offers the best views of the Mischabel

massif.

-> Saas-Almagell

Nestled between picturesque side valleys, Saas-Almagell

is the southernmost village of the four. It's

particularly popular with hikers, as Saas-Almagell

is the starting point for many different trails. This is

where the adventure trail from Furggstalden to Almagelleralp

starts, as well as the route to the Monte

Moro Pass and Antrona Pass via the Mattmark Dam.

-> Saas-Balen

The village of Saas-Balen is located at the mouth of

the Saas Valley. Visitors should make time for a detour

to the imposing Fellbach Waterfall. Saas-Balen

is also the starting point for tons of hiking trails,

such as those leading to the hamlet of Matt or to

the Heimischgartu alpine pasture. Architecture fans

shouldn't miss the late baroque Round Church built

in 1812. It's the only one of its kind still standing in

Switzerland.

OVERNIGHT STAYS, GUEST NATIONALITIES AND LENGTHS OF STAY

DEVELOPMENT OF OVERNIGHT STAYS IN SAAS-FEE

2000-2021

1'100'000

1'050'000

1'000'000

950'000

900'000

850'000

800'000

750'000

700'000

650'000

600'000

550'000

500'000

450'000

400'000

350'000

300'000

250'000

200'000

150'000

100'000

50'000

0

-50'000

-100'000

DEVELOPMENT OF OVERNIGHT STAYS IN SAAS-GRUND,

SAAS-ALMAGELL AND SAAS-BALEN FROM 2005–2021

600'000

550'000

500'000

450'000

400'000

350'000

300'000

250'000

200'000

150'000

100'000

50'000

0

-50'000

429'957

374'632

200'263

314'693

Korrekturen

Parahotellerie

Hotellerie & Gruppen

432'786

393'988

198'664

297'815

425'740

404'012

204'713

307'746

419'275

411'258

238'036

312'393

440'322

425'317

225'748

320'352

216'774

306'422

417'304

402'994

199'309

276'624

385'157

397'274

194'400

242'350

353'744

376'763

191'374

234'868

2005 2006 2007 2008 2009 2010 2011 2012 2013 2014 2015 2016 2017 2018 2019 2020 2021

307'900

336'259

178'174

236'639

302'722

313'261

165'559

226'131

302'286

310'152

Korrektur im Folgejahr

Parahotellerie, Berghütten & Pauschalen

Hotellerie - Hotel & Gruppen

178'943

194'234

283'686

308'346

213'626

215'109

Korrektur im Folgejahr

Hospitality-adjacent industry

Hotels and groups

2000 2005 2006 2007 2008 2009 2010 2011 2012 2013 2014 2015 2016 2017 2018 2019 2020 2021

347'296

288'145

243'172

227'553

427'801

330'916

239'773

221'978

225'455

177'654

452'234

330'406

246'164

144'021

452'300

313'286

430'426

273'719

463'298

285'720

Korrektur im Folgejahr

Hospitality-adjacent industry

Hotels and groups

4 5
---
OVERNIGHT STAYS BY COUNTRY AND SEASON FOR THE 2020/2021 FISCAL YEAR

Country

OS

Winter Summer Year

Market share

in %

OS

Market share

in %

OS

Market share

in %

Switzerland/Liechtenstein 357'912 86.68 236'398 57.81 594'310 72.32

Germany 22'514 5.45 49'663 12.15 72'177 8.78

France 9'759 2.36 11'300 2.76 21'059 2.56

Italy 1'850 0.45 6'912 1.69 8'762 1.07

Austria 852 0.21 8'402 2.05 9'254 1.13

Great Britain 2'420 0.59 8'077 1.98 10'497 1.28

Netherlands 2'550 0.62 19'457 4.76 22'007 2.68

Belgium 3'082 0.75 15'020 3.67 18'102 2.20

Luxembourg 1'251 0.30 922 0.23 2'173 0.26

Denmark 467 0.11 555 0.14 1'022 0.12

Sweden 178 0.04 2'095 0.51 2'273 0.28

Norway 25 0.01 3'239 0.79 3'264 0.40

Finland 101 0.02 679 0.17 780 0.09

Spain 797 0.19 2'963 0.72 3'760 0.46

Russia 564 0.14 2'364 0.58 2'928 0.36

Poland 4'005 0.97 2'288 0.56 6'293 0.77

Czech Republic/Slovakia 832 0.20 4'094 1.00 4'926 0.60

Slovenia 259 0.06 1'997 0.49 2'256 0.27

Rest of Europe 1'911 0.46 3'280 0.80 5'191 0.63

USA 364 0.09 11'178 2.73 11'542 1.40

Canada 180 0.04 6'066 1.48 6'246 0.76

Rest of the Americas 230 0.06 174 0.04 404 0.05

Africa 70 0.02 85 0.02 155 0.02

Israel 0 0.00 3'108 0.76 3'108 0.38

Japan 70 0.02 2'778 0.68 2'848 0.35

China/Hong Kong/Taiwan 170 0.04 1'710 0.42 1'880 0.23

Rest of Asia 260 0.06 3'350 0.82 3'610 0.44

Australia, Oceania 239 0.06 759 0.19 998 0.12

Other 10 0.00 0 0.00 10 0.00

Total 412'922 100.00 408'913 100.00 821'835 100.00

OVERNIGHT STAYS BY MONTH FOR THE 2020/2021 FISCAL YEAR

Winter Saas-Fee Saas-Grund Saas-Almagell Saas-Balen Total

November 19'232 4'113 877 26 24'248

December 54'191 15'138 7'821 636 77'786

January 38'811 9'176 6'347 280 54'614

February 83'310 30'456 18'311 1'213 133'290

March 57'723 13'196 7'136 119 78'174

April 41'913 7'883 3'252 279 53'327

Total: Winter 295'180 79'962 43'744 2'553 421'439

Summer Saas-Fee Saas-Grund Saas-Almagell Saas-Balen Total

May 3'538 2'284 673 80 6'575

June 11'401 9'402 5'531 176 26'510

July 63'942 48'270 17'703 1'454 131'369

August 77'107 46'664 18'905 1'293 143'969

September 49'134 21'476 9'576 704 80'890

October 46'557 14'413 5'139 331 66'440

Total: Summer 251'679 142'509 57'527 4'038 455'753

Total: Year

(excluding all-inclusive)

546'859 222'471 101'271 6'591 877'192

All-inclusive 202'159 35'799 17'289 6'765 262'012

Total: 2019/20 year 749'018 258'270 118'560 13'356 1'139'204

Winter | Summer 54% 46% 36% 64% 43% 57% 39% 61% 48% 52%

Mountain huts 3'093 21'763 24'856

Shared house 5'424 25'077 30'501

All-inclusive 129'169 132'843 262'012

Total: Destination 550'608 588'596 1'139'204

6 7
---
FACTS AND FIGURES

-> The Saas-Fee/Saastal holiday region is surrounded

by 18 four-thousand-metre peaks. The ones in

brackets are those not that are not visible from

the location: Allalin, Alphubel, Täschhorn, Dom,

Lenzspitz, (Nadelhorn), (Stecknadelhorn), (Hohberghorn),

(Dürrenhorn), (Strahlhorn), (Rimpfischhorn),

Weissmies, Lagginhorn.

-> From Hohsaas, 18 four-thousand-metre peaks can

be seen ('18 Four-Thousanders' circular theme trail

on Hohsaas).

-> The road to Saas-Fee was first built in 1951. They

decided to stay car-free. Saas-Fee has remained

that way ever since.

-> There are 300 electric vehicles in Saas-Fee (private

individuals cannot apply for an electric vehicle. Only

hotels, businesses, craftsmen and landlords with

over 20 beds).

-> The first tourists were from England. That's why

there is an Anglican church in Saas-Fee (today the

Evangelical church). The Britannia hut was also built

by Englishmen in 1912 (hence the name Britannia).

-> Initially, there was only summer tourism (mountaineers,

researchers, botanists); winter tourism began

in 1951.

-> Johann Josef Imseng (statue in front of the church)

was a tourism pioneer and pastor. He built the first

hotel in the Saas Valley (in Saas-Grund) in the middle

of the 19th century. Johann Josef Imseng was the

first Swiss skier. He laid the foundation for the development

of skiing. In 1849, he mastered a downhill

run to Saas-Grund on self-built skis.

-> The only Alpine World Cup to take place in Saas-

Fee was held in 1988. Adelboden had too little snow,

so the giant slalom was moved from Adelboden to

Saas-Fee to the Plattjen ski area's black piste. Alberto

Tomba (Tomba la bomba) won. An investment

of three million francs would be needed to make the

piste able to host the World Cup – an unrealistic

sum.

-> In 1984, Wham shot their famous video for 'Last

Christmas' in Saas-Fee. They actually wanted to film

in Gstaad, but there wasn't enough snow. Here is the

tour itinerary for the 'Last Christmas' video shoot:

Felskinn valley station, Hotel FerienART (now known

as Walliserhof), Steinmatten cultural centre (indoor

shots were filmed there) + chalet in the hamlet of

'Schliechte': the famous Last Christmas chalet.

-> Saas-Fee is only 120 kilometres from Milan as the

crow flies. In clear weather, you can see the lights

of Milan from the revolving restaurant. And vice versa:

from the Torre Branca lookout tower in Milan, you

can see the Mischabel massif of Saas-Fee.

-> The Monte Moro Pass and the Antrona Pass were

once important crossings to the south, also known

as smuggling routes.

-> The Counterfeiters (1925), the most famous work

of the Nobel Prize in Literature winner André Gide

(1869–1951), is set in Saas-Fee (and Paris).

-> Hindu monk Swami Vivekananda (1863–1902)

spent two weeks in Saas-Fee in 1896. There is a

bust in front of the Saas Museum + plaque at the

Hotel Metropol, the successor of the building he

originally stayed in.

-> Carl Zuckmayer (1896–1977), one of the most-performed

playwrights in the German-speaking world

in the second half of the 20th century, lived in Saas-

Fee from 1957–1977 (in Haus Vogelweid). There is a

Carl Zuckmayer trail with quote stones.

'A day not spent here in Saas-Fee is like half a day

for me.' (Carl Zuckmayer)

-> Visitors to the Saas Fee/Saas Valley destination

can benefit from numerous discounts thanks to the

SaastalCard. All patrons of our partner organisations

receive our SaastalCard visitor ticket and can thus

take advantage of countless attractions in the area,

such as unlimited usage of the PostBus throughout

the entire Saas Valley. In summer, visitors with the

SaastalCard can use all mountain lifts (except for

the Metro Alpin) in the Saas Valley for free, starting

from a stay of one night.

8 9
---
Highlights and new features in

summer and autumn 2022

SAASFEESTIVAL

The first edition of the SaasFeestival offers five concert

moments at three different locations. The entire Saas

Valley will be transformed into a large open-air stage

for four weeks.

The festival kicks off on Saturday, 16 July with z'Hansrüedi.

The highlight of the new festival will be the three

evenings on the village square in Saas-Fee: Baschi,

Anna Rossinelli Trio and Baba Shrimps, accompanied

by Pat Burgener, Freitagsauto and Die Nachbarn promise

unforgettable musical evenings in the heart of the

car-free glacier village.

The grand finale takes place on 12 August on the village

square in Saas-Almagell with the band Wintershome

from Zermatt.

Entry to the concerts is free, entirely in keeping with the

concept of a festival that is open and accessible to all.

SaasFeestival

MATTMARK SEMI MARATHON 2022

In September 2022, the Mattmark Semi Marathon will

take place for the 4th time. The start is at the round

church in Saas-Balen. The route leads through beautiful

larch forests, past Saas-Grund and Almagell to the

hamlet of Zermeiggern. On historic paths, the dam wall

is reached on a pleasantly manageable climb. Finally,

the most beautiful part follows for the runners, the almost

flat 7-kilometre loop around the picturesque Lake

Mattmark!

Shorter race tours are also available, the 8 km course

around the Mattmark dam or the Nordic Walking/Fun

category.

Mattmark Semi Marathon

NEW FLOWTRAIL KREUZBODEN

The approximately five-kilometre long flow trail between

Kreuzboden and Trift has been built for spring

2022. From summer 2022, it will complement the original

Bike Skills, which was built in summer 2021.

Flowtrail

ALLALIN ADVENTURE TERRACE

Situated at an altitude of 3,500 m, the site will be transformed

this year into a place of leisure, adventure and

tourism. Thanks to our partner Cupra, the large terrace

at the foot of the Allalin (4'027m) will be staged with

bobbycars. Younger visitors will be able to enjoy the

bouncy castle and the slackline, as well as the preparation

of the slopes from the point of view of our staff

in the groomer equipped with VR glasses. Other highlights

include the world's highest revolving restaurant,

the world's highest underground lift and the large ice

cave.

THE STOMPING GROUNDS

HIGH PERFORMANCE TRAINING CAMP

In October, the Stomping Grounds will be gearing up

for the next round of training in Saas-Fee! This high

performance training Camp for ski and snowboard

slope-style, big air and half-pipes takes place on the

Fee Glacier every autumn. Attendees can train in ten

different Olympic disciplines. Over 200 freestyle ski

and snowboard pros prepare for the season here in two

ten-day freestyle training sessions. Charles Beckinsale

is one of the best park and jump builders in the world;

every autumn, he builds the best pre-season freestyle

training area in Saas-Fee in collaboration with Jeremy

Carpenter and Brandon Dodds from the USA.

The Stomping Grounds

Adventure terrace

NEW PLAYGROUND KREUZBODEN

A new, modern playground for children of different ages

is planned for the summer of 2022. It will be built from

natural materials and will be distinguished by its size

and spectacular facilities such as towers, climbing elements,

water games and much more. All this, of course,

with a breathtaking view of the 4000-metre peaks of

Saas.

Play area

NEW TREASURE HUNT

FURGGSTALDEN - SAAS-ALMAGELL

In cooperation with Valais/Wallis Promotion and SPICK,

a new treasure hunt has been created for families in

Furggstalden in Saas-Almagell. On the way there are

many interesting facts and information about the forest

habitat for young and old.

Revolving restaurant Mittelallalin

Treasure hunt

10 11
---
Cuisine

Here, you'll find everything from traditional Valais specialities

to international gourmet cuisine. The culinary

offerings of the more than 100 restaurants in the Saas-

Fee/Saastal holiday region are vast and diverse. And

countless cafés, bars and pizzerias provide additional

options. You can learn more from our 'Cuisine in the

Saas Valley' brochure:

Cuisine

THE SAAS VALLEY AND ITS MARMOTS

Our marmots are probably the cutest villagers in Saas-

Fee. You're likely to encounter them if you explore Spielboden

or Stafelwald. The rodents enjoy eating nuts and

carrots all summer long. In winter, the cute little critters

sleep peacefully in their burrows. Their winter hibernation

lasts between six and eight months. Starting

in mid-April, marmots can be seen out and about once

more.

Marmots

AQUA ALLALIN

Anyone who visits the Aqua Allalin can be sure to embark

on a very special alpine journey of well-being – the

spectacular mountain panorama that's visible here,

even from the whirlpool, is simply breathtaking.

Various saunas and baths, adventure showers, quiet

rooms, an indoor pool with a 25-metre pool, children's

pool and adventure slide.

Aqua Allalin

ROPE PARK "ADVENTURE FOREST"

In the adventure park, even the smallest children can

experience great climbing adventures. This is possible

thanks to the children's courses in the Saas-Fee Adventure

Park. Equipped with continuous safety systems,

children from 4 years of age can climb from tree

to tree with great fun and without interruption.

Adventure park

MONSTER SCOOTERS

With no less than 3 scooter courses, the Saas-Fee/

Saastal holiday region guarantees fast descents and

pure action. A 3.5 km long track from Furggstalden

is wide and easy to ride and leads down to Saas-Almagell.

From Hannig a 5.5 km long nature trail leads

down through a beautiful landscape to Saas-Fee. And

from Kreuzboden to Saas-Grund, 11 km of downhill fun

awaits you.

Monster scooters

Families

Families always feel particularly welcome in the Saas-

Fee/Saastal holiday region! Whether they're staying in

a hotel or holiday home or visiting a restaurant: families

feel right at home in our holiday region, no matter

the season. It is especially important to us to keep

the needs of our grown-up guests in mind and not just

those of the youngsters. The destination is affiliated

with the 'Families Welcome' seal of approval from Switzerland

Tourism.

ICE PAVILION

High above Saas-Fee, at 3,500 metres above sea level,

visitors will find the gateway to the interior of the Fee

Glacier. The Ice Pavilion, which measures 5,500 cubic

metres, was completely refurbished in the spring of

2016. Now the history of this 2,000-year-old ice formation

is being retold for a new generation. Mythology,

fairy tales and legends. The Ice Pavilion in Saas-Fee offers

new insights into the fascinating world of ice and

invites visitors to marvel and dream. This also includes

an avalanche simulation with lighting effects and an

impressive pressure wave that can be felt all over the

body.

FOXTRAIL

Foxtrail, a well-known scavenger hunt for families,

friends or companies, provides a playful way to explore

several regions of Switzerland. The fox has left its

tracks in Saas Valley, too. On the 'Allalin' Foxtrail, teams

in Saas-Fee and Saas-Grund follow in the footsteps of

the legendary Father Johann Josef Imseng. To uncover

all his secrets, they must search his historic home for

clues, coax important information from marmots, and

climb way, way up. An exclusive ride in an electric vehicle

will keep participants on their toes and provide

an unforgettable experience. The 'Allalin' Foxtrail has a

duration of around 2.5 hours. In addition, there are also

two shorter (approximately 90-minute) versions of this

trail: one for winter and one for summer.

Foxtrail

MÄRLIWUCHA - FAIRY TALE WEEK

Fairy tales are some of the oldest literary forms in the

world. They've delighted young and old listeners alike

for many generations. Every country, region and community

has its own fairy tales and legends. Our Fairy-

Tale Week is dedicated to the stories of the Saas Valley.

Immerse yourself in worlds full of wonder, magic and

heroes in the Saas-Fee/Saastal holiday region from 18

to 23 July 2021.

MÄRLIWEG - STORYTELLING TRAIL

In the middle of the larch forest between Mälchbodu

and Bärufalla, young people and families can discover

the story of Pia on theme boards. The panels are decorated

with beautiful drawings and the legend is set in

the surroundings with various natural elements that

can be touched up close.

Märliweg

FEEBLITZ TOBOGGAN RUN

The Feeblitz in Saas-Fee is a very special experience.

First you take the steepest lift in the Alps to the starting

point, then you descend at a breathtaking speed of up

to 40 km/h. An adventure for the whole family, whatever

the season.

Feeblitz

Sommer Highlights

Ice Pavilion

Märliwucha

12 13
---
Activities on the

Lake Mattmark

mountain

HIKING

Embark on a very special hiking adventure in the Saas-

Fee/Saastal holiday region. Experience the beauty of the

valley across over 350 kilometres of hiking trails, far away

from everyday stress. Find your way back in a unique natural

landscape. Hike past lush alpine meadows along the

forest line or along glaciers into higher territories. The majestic,

mountainous world of the Saas Valley is a delight

for hikers. As you continue on your path, new views of our

18 four-thousand-metre peaks reveal themselves again

and again.

SAAS HUT TOUR

The Saas Hut Tour, which lasts several days, starts in

Gspon and leads to the four mountain huts in the Saas

Valley along impressive paths. Unique views of the 4000

metre peaks are guaranteed. The Saas Hut Tour allows

you to discover the Saas Valley in its alpine way in 5 days.

Saas Hut Tour

DAY-TRIP DESTINATIONS

-> Mittelallalin

The Metro Alpin – the world's highest-altitude underground

funicular railway – will take you to the Mittelallalin.

Sitting in the highest revolving restaurant in the

world, at 3,500 metres above sea level, the giants of

the Alps are practically close enough to touch. And

right next door, in one of the largest ice pavilions in the

world, visitors can learn the secrets of the glaciers. 20

kilometres of well-prepared slopes at 3,500 metres in

altitude, ski lifts, the unique view of the highest peaks

in the Valais and the heat of the summer sun all contribute

to an unforgettable summer skiing experience.

-> Hohsaas

On the 1.4-kilometre-long circular trail from Hohsaas

(3,142 metres above sea level), you can see the 18

mighty four-thousand-metre peaks of the Saas Valley

'in the flesh' and on information boards and monuments.

-> Kreuzboden

Kreuzboden, above Saas-Grund, offers a unique

view of the Mischabel mountain range. Further up, in

Hohsaas, visitors can view the 18 four-thousand-metre

peaks of the Saas Valley on the 1.4-kilometre-long

circular trail.

-> Längfluh

Längfluh takes visitors much closer to the glaciers

than most paths. If you want to go even further, it's

best to connect with a mountain guide for a tour on

the Fee Glacier. The starting point for glacier trekking

is the Längfluh mountain hut. It takes around 20 convenient

minutes by cable car to get from the village to

around 2,800 metres above sea level.

-> Heidbodme

Heidbodme is a lookout point above Saas-Almagell

that offers a stunning view of the Saas Valley all the

way to Saas-Fee, as well as a unique perspective of the

Monte-Rosa massif.

-> Mattmark

In the south of the Saas Valley is where visitors will find

the biggest earthwork dam in Europe: the Mattmark

Dam. It's a popular day-trip destination, not only for to

its fascinating technical aspects but also because of

its wild and romantic setting. The modern mountain

restaurant and exhibition space is located at 2,205

metres above sea level. Visitors can enjoy the unrestricted

view of the reservoir lake and a breathtaking

panorama of the Monte Moro Pass. The dammed crest

of Lake Mattmark (2,200 metres above sea level) is

easily accessible by car or public transport. The easy,

flat circular lake hike starts from here (duration: 2.5

hours).

-> Fellbach Waterfall and the Round Church of Saas-

Balen

At 40 metres in height, the Fellbach Waterfall is one of

the top sights to see in Saas-Balen. It's also the most

impressive waterfall in the Saas Valley. The Round

Church dating from 1812 is another (albeit man-made)

landmark. The church and the townscape are included

in the Swiss Inventories of National Significance due

to their importance and uniqueness.

Hiking

A WORLD OF HIGH MOUNTAIN ADVENTURE

Experience summer in the high mountain adventure world

of Saas-Fee/Saastal! The picturesque mountains offer

activities to suit all needs and allow for active relaxation.

The batteries are recharged on our hiking trails, mountain

bike tracks and via ferrata. Here, the many adventures

take place with views of 18 peaks over 4000 metres and a

fascinating glacier world!

World of adventure

14 15
---
Jägihorn Via Ferrata

Adventure

VIA FERRATAS

Experienced mountain climbers who don't suffer from

a fear of heights will appreciate the opportunity to experience

belayed 'Cliffside Adventures' at various locations

in the Saas Valley.

-> Jägihorn Via Ferrata

Not only one of the most beautiful via ferratas in

Switzerland – it's also the highest in the Western

Alps. Great scenery, with little iron and lots of rock

contact, this climb has a lot to offer for advanced

climbers.

-> Mittaghorn Via Ferrata

This via ferrata will take you to the peak of a

three-thousand-metre mountain – a spot from

which you'll take in a breathtaking view of the Saas

and Rhone Valleys and nearby four-thousand-metre

peaks! An easy-to-moderate via ferrata that can

also be recommended for beginners.

-> Saas-Grund Mini Via Ferrata

You don't always have to take the highest route in

order to enjoy the sensation of a via ferrata. This

mini via ferrata is located just minutes away from the

Saas-Grund valley station for cable cars.

BIKE SKILLS PARK KREUZBODEN

Since 2021, our bike fans have been getting their money's

worth at the new Bike Skills Park Kreuzboden

above Saas-Grund. The various routes are each around

380 metres long and the bikers are transported to the

start by a conveyor belt.

BIKES AND E-BIKES

There are eleven bike trails in the Saas-Fee/Saastal

holiday region. Some routes are easier and better suited

for families or seniors – the Mattmark Bike Tour is one

of these. But anyone in search of a thrill should try the

Hohsaas Trail. When choosing a trail, please keep the

difficulty level in mind. The upper part of the Hohsaas

Trail has been classified as difficulty level 5 – so this

section is a trail for experts only. The Mattmark Bike

Tour, on the other hand, is only a level 2 and thus much

easier. If you're not sure which trail to pick, just ask at

the reception of a Tourist Information Centre at your

destination and get advice from one of our experts.

Biking

Via ferratas

TRAIL RUNNING

Trail running has become increasingly popular in recent

years. The Saas Valley is the perfect location for

this sport. Discover the stunning landscape as you run

along these trails. Due to the altitude in the Saas Valley,

you'll train your endurance like a pro athlete and get

your body into top form. How does this work? Your body

has to adjust to the unfamiliar altitude and reacts by

creating more red blood cells (which transport oxygen).

No time like the present to head out on one of our carefully

designed trail runs:

GORGE ALPINE/ALPINE CANYON

Thanks to its two Tyrolean traverses and the possibility

of abseiling, this route is one of just two dynamic

via ferratas in the Upper Valais. The route will take you

over suspension bridges, up ladders and along steel

cables through the rugged Fee Ravine from Saas-Fee

to Saas-Grund. The tour is not suitable for people who

are afraid of heights and is not permitted for children

under 12 years of age. All visitors must be accompanied

by a mountain guide.

Gorge Alpine

Trail running

16 17
---
Culture and heritage

COMEDY SAAS-FEE

The Comédie Saas-Fee theatre was founded in December

2019, when it was still called Kulturhaus Rex.

It all started when the actor, writer, director and theatre

producer Michael Klemm was attracted to Carl

Zuckmayer's last homeland and staged Zuckmayer's

DER FRÖHLICHE WEINBERG there in summer 2019 in

Saas-Grund on the open-air stage. He fell in love with

Saas-Fee and stayed on, founding the theatre in the

former premises of the Rex cinema. The result is a wonderful

troupe of local and foreign actors from all over

Switzerland and even Germany. The Comédie Saas-

Fee offers a wide range of classics. Since September

2021, the troupe has been performing at various venues

in Saas-Fee.

SAAS MUSEUM

When you visit the four-storey Saas Museum, you'll

go on a journey back in time in the Saas-Fee/Saastal

holiday region. Some exhibits of the museum include a

Saas flat from the turn of the century, folkloric objects,

beautiful and traditional historic costumes, sacred art

and – a special highlight – the study of the famous

writer Carl Zuckmayer, who lived in Saas-Fee for twenty

years. The building housing today's Saas Museum is the

former parsonage of Saas-Fee, which was built in 1732.

Another storey was added in 1855. In 1983, this old traditional

Saas-style house was reimagined as a museum

thanks to the initiative of local historian Werner Imseng.

EXHIBITION

FATHER JOHANN JOSEF IMSENG

To this day, the work of the pastor and tourism pioneer

Johann Josef Imseng (1806–1869) is of great importance

in this region. He also went down in history as the

first person to ski in the Alps, on 20 December 1849.

On that day, the Saas Valley lay under a thick blanket

of snow. A distress call reached the ears of the valley's

Father Johann Josef Imseng, who was staying in Saas-

Fee. He had been called to the bedside of a dying man

in Saas-Grund. In an act that marked a pivotal moment

in history, he tied homemade wooden boards to his hiking

boots and set off, completing the first-ever downhill

ski run in Switzerland. Johann Josef Imseng was not just

an excellent pastor. He also actively promoted tourism

in the Saas Valley with the aim of fighting poverty. He

opened his doors to guests, worked as a mountain

guide, and told his guests all about the history and customs

of the Saas Valley. The visionary pastor even arranged

for hotels to be built. It was thanks to his intervention

that people felt comfortable visiting this place.

He was himself a man of the mountains and took part in

many of the early mountain climbs. The memorial exhibition

in honour of this pioneer of Saas tourism can be

visited in the old parsonage of Saas-Grund during the

summer months.

Culture and heritage

Winter sports in the

summer

Starting in mid-July, 20 kilometres of slopes will be

available on the Fee Glacier. During the high season,

our summer ski area has around 1,200 visitors every

day (mainly professional training teams). Over 330

teams train on our glacier every year, about a quarter of

which are national teams. Around 20 countries in Europe,

as well as North America and Japan, send their

professionals to us to prepare for the season. Three

ski lifts have been in operation so far, the fourth was

completed at the end of 2018 and has since expanded

the capacity of the ski area on the glacier. The Swiss

Ski Team is particularly pleased about this – elite Swiss

skiers have always trained in the glacier village, so they

feel at home here. Our Freestyle Park on the Fee Glacier

is another magnet for athletes in summer. The park

is a state-of-the-art training space for freestylers. The

Stomping Grounds, a high-intensity training boot camp,

also takes place here every autumn. The park set-up

consists of a rail and kicker line as well as a halfpipe

and attracts top pros from all over the world to prepare

for the new season in private training sessions.

Summer ski

18 19
---
Getting to the

E-bike trail Saas-Balen

Saas Valley

Whether you're travelling by car or by public transport:

the Saas-Fee/Saastal holiday region is easy to reach

from anywhere in Switzerland. There are direct train

connections from all major Swiss cities to Visp; from

there, you can reach the Saas Valley in just 50 minutes

by taking Bus 511. We may be practically at the southernmost

tip of Switzerland, but your journey couldn't

be easier: you only need to change trains once, and the

unique scenery is included free of charge! The journey

takes three hours from Zurich, Geneva and Basle and

just two from Berne. If you're arriving by car, you'll find

plenty of parking spaces for car-free Saas-Fee in the

large multistorey car park right at the entrance to the

village.

CONTACT US!

Saastal Tourismus AG

Obere Dorfstrasse 2

CH-3906 Saas-Fee

Email: media@saas-fee.ch

Tel. +41 27 958 18 58

Media database

Saastal Tourismus AG

Obere Dorfstrasse 2

CH-3906 Saas-Fee

Email: sales@saas-fee.ch

Tel. +41 27 958 18 75

Tour operator

FOLLOW US!

Frankfurt (534 km)

Deutschland

München (521 km)

Basel (228 km)

Frankreich

Zürich (246 km)

Österreich

Bern (120 km)

Lausanne

Genf (226 km)

Sion

Martigny

Gotthard

Kandersteg

Goppenstein

Visp Brig

Iselle

Zermatt Saas-Fee

Italien

Milano (186 km)

20 21
---
22

+41 27 958 18 58 | info@saas-fee.ch | saas-fee.ch