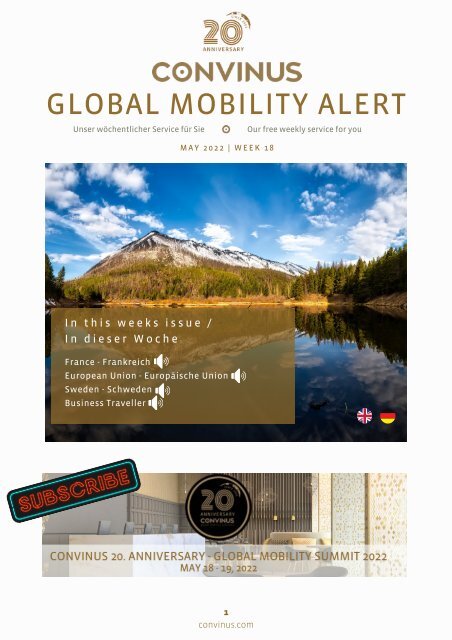 CONVINUS Global Mobility Alert Week 18.2022
Create successful ePaper yourself
Turn your PDF publications into a flip-book with our unique Google optimized e-Paper software.
GLOBAL MOBILITY ALERT

Unser wöchentlicher Service für Sie Our free weekly service for you

M A Y 2 0 2 2 | W E E K 1 8

I n t h i s w e e k s i s s u e /

I n d i e s e r W o c h e

France - Frankreich

European Union - Europäische Union

Sweden - Schweden

Business Traveller

1

convinus.com
---
Haben Sie schon

Ihre Vorsätze für

das neue Jahr

getroffen?

2022

investieren Sie

in Ihre Karriere

Ihr Global Mobility

Karriere-Booster!

Mit unseren

Webinaren inkl.

Zertifikat über Ihre

neu erworbenen Skills

Alle Details:

shop.convinus.com
---
France / May 5, 2022

Cross-border commuters in Switzerland with a home

office

The transitional regulations regarding taxation and social security obligations for cross-border commuters

between Switzerland and France will expire on 30 June 2022. It is now necessary to consider how to deal with the

desire for a home office. Most companies are confronted with this issue not only on the part of their employees.

However, with France now comes a difficulty: In 2019, the French government had already changed its tax law in

such a way that Swiss companies employing cross-border workers from France and granting them the possibility to

work from a home office in France must appoint a tax representative in France. In the last two years, this

regulation did not come into effect due to the overriding regulations based on the pandemic and the "home office

obligation". This is now changing, but not for all cantons.

Some cantons have reached an agreement with France to avoid this issue, among others. Since from Switzerland's

point of view the appointment of a tax representative in another country is a "prohibited act", and therefore Swiss

companies are liable to prosecution from Switzerland's point of view, talks are currently being held with France on

this matter.

For the time being, however, until an agreement has been reached, the recommendation is not to allow the

affected cross-border workers to work from home.

Frankreich / 5. May 2022

Grenzgänger in der Schweiz mit Homeoffice

Die Übergangsregelungen im Bezug auf die Besteuerung und Sozialversicherungspflicht von Grenzgängern

zwischen der Schweiz und Frankreich laufen per 30. Juni 2022 aus. Es gilt nun sich zu überlegen, wie man mit dem

Wunsch von Homeoffice umgehen möchte. Die meisten Unternehmen sind nicht nur vonseiten der Mitarbeiter mit

diesem Thema konfrontiert.

Mit Frankreich kommt jedoch nun eine Schwierigkeit auf: Im Jahr 2019 hatte bereits die französische Regierung ihr

Steuergesetz in der Form geändert, dass Schweizer Unternehmen die Grenzgänger aus Frankreich beschäftigen und

denen die Möglichkeit, aus dem Homeoffice in Frankreich zu arbeiten, gewähren, ein Steuervertreter in Frankreich

ernennen müssen. In den letzten zwei Jahren kam diese Regelung aufgrund der übergeordneten Regelungen

basierend auf der Pandemie und der «Homeoffice-Pflicht» nicht zum Tragen. Dies ändert sich nun allerdings nicht

für alle Kantone.

Einige Kantone haben ein Abkommen mit Frankreich zur Vermeidung u. a. dieser Thematik getroffen. Aufgrund

dessen, dass aus Schweizer Sicht die Ernennung eines Steuervertreters in einem anderen Staat eine «verbotene

Handlung» darstellt und somit Schweizer Unternehmen sich aus Schweizer Sicht strafbar machen, finden zur Zeit

Gespräche mit Frankreich diesbezüglich statt.

Für den Augenblick, bis es jedoch noch zu keiner Einigung gekommen ist, ist die Empfehlung bei den betroffenen

Grenzgängern die Homeoffice-Tätigkeit nicht zu ermöglichen.

3

convinus.com
---
European Union / May 5, 2022

Introduction of a Skills and Talent Package

The European Commission presented a Skills and Talent Package at its meeting on April 27, 2022 which aims to

address the demographic and migration challenges facing the EU and prepare the EU for future workforce needs.

The Package is designed to help attract talent and boost the EU economy after the COVID-19 pandemic. The

introduction is intended to implement the following changes, among others:

Amendment of the Single Permit Directive. Applications for a combined residence and work permit will be

accepted domestically as well as abroad. The processing time for the applications is to be reduced to 4 months.

Amendment of the Long-Term Residents Directive. Foreign nationals may complete their stay in several EU

Member States. The processing of the application for change of residence should take a maximum of 30 days.

Creation of an EU-Talent Pool. An online EU Talent Pool is to be introduced by mid-2023, which will then allow

employers to find foreign applicants with the qualifications they are looking for.

Europäische Union / 5. Mai 2022

Vorstellung des Qualifikations- und Talentpakets

Die Europäische Kommission hat auf ihrer Sitzung am 27. April 2022 ein Qualifikations- und Talentpaket vorgestellt,

das darauf abzielt, die demografischen und migrationsbedingten Herausforderungen der EU zu bewältigen und die

EU auf den künftigen Arbeitskräftebedarf vorzubereiten. Das Paket soll helfen, Talente anzuziehen und die EU-

Wirtschaft nach der COVID-19-Pandemie anzukurbeln. Mit der Einführung sollen u.a. folgende Änderungen

umgesetzt werden:

Änderung der Einzelbewilligungsrichtlinie. Anträge auf eine kombinierte Aufenthalts- und Arbeitsgenehmigung

werden sowohl im Inland als auch im Ausland angenommen. Die Bearbeitungszeit für die Anträge soll auf 4

Monate verkürzt werden.

Änderung der Richtlinie für langfristig Aufenthaltsberechtigte. Ausländische Staatsangehörige können ihren

Aufenthalt in mehreren EU-Mitgliedstaaten absolvieren. Die Bearbeitung des Antrags auf Änderung des

Wohnsitzes sollte höchstens 30 Tage dauern.

Einrichtung eines EU-Talentpools. Bis Mitte 2023 soll ein EU-Talentpool eingeführt werden, der es Arbeitgebern

ermöglicht, ausländische Bewerber mit den von ihnen gesuchten Qualifikationen zu finden.

4

convinus.com
---
Sweden / May 5, 2022

New Work Visa Program for Accredited Employers

The New Zealand Immigration Service is introducing the long-awaited Work Visa Program for Accredited Employers

as of July 4, 2022. The program includes the introduction of the following three checks that an employer must pass

to be able to hire a migrant worker:

The Employer Check verifies whether the employer is already accredited under the new system. If this is not the

case, the employer must apply for an accreditation to be able to hire migrants. Once the application has been

approved, the employer will receive an accreditation for 12 months, before having to renew it.

The Job Check examines whether the salary level is in line with the market, the working conditions comply with

the labor laws, and if necessary, whether a labor market test has been done. After this check, the migrant can

be hired.

The Migrant Worker Check is the last step in the new system where the new visa application from the migrant is

checked. The migrant must show that she/he meets the New Zealand Immigration requirements and has the

necessary skills to perform the job.

The three checks will be introduced into the new program in stages, starting with the Employer Check. Employers

who are not yet accredited can submit their applications for accreditation as of May 23, 2022. Employers who are

already accredited can start the Job Check as of June 20, 2022. Applications for the Migrant Worker Check will then

be accepted by New Zealand Immigration Services as of July 4, 2022, if the previous two checks have been

completed.

Frankreich / 5. May 2022

Neues Arbeitsvisum-Programm für akkreditierte

Arbeitgeber

Die neuseeländische Einwanderungsbehörde führt per 4. Juli 2022 das lang erwartende Arbeitsvisum-Programm für

akkreditierte Arbeitgeber («Work Visa Program for Accredited Employers») ein. Das Programm umfasst die

Einführung der folgenden drei Prüfungen, die ein Arbeitgeber bestehen muss, um einen Arbeitsmigranten

einstellen zu dürfen:

Beim «Employer Check» wird überprüft, ob der Arbeitgeber bereits nach dem neuen System akkreditiert ist. Ist

dies nicht der Fall, muss der Arbeitgeber eine Akkreditierung beantragen, um Migranten einstellen zu dürfen.

Sobald der Antrag genehmigt wurde, erhält der Arbeitgeber eine Zulassung für 12 Monate, bevor er sie erneuern

muss.

Beim «Job Check» wird geprüft, ob das Gehaltsniveau marktgerecht ist, die Arbeitsbedingungen den

arbeitsrechtlichen Vorschriften entsprechen und ob gegebenenfalls eine Arbeitsmarktprüfung durchgeführt

wurde. Nach dieser Prüfung kann der Migrant eingestellt werden.

Der «Migrant Worker Check» ist der letzte Schritt in dem neuen System, bei dem der neue Visumantrag des

Migranten geprüft wird. Der Migrant muss nachweisen, dass er die Anforderungen der neuseeländischen

Einwanderungsbehörde erfüllt und über die erforderlichen Fähigkeiten für die Ausübung der Tätigkeit verfügt.

Die drei Checks werden etappenweise in das neue Programm eingeführt, beginnend mit dem «Employer Check».

Arbeitgeber, welche noch nicht akkreditiert sind, können ihre Anträge auf Akkreditierung ab dem 23. Mai 2022

einreichen. Arbeitgeber, welche bereits akkreditiert sind, können ab dem 20. Juni 2022 mit dem «Job Check»

beginnen. Anträge für den «Migrant Worker Check» werden dann per 4. Juli 2022 von den neuseeländischen

Einwanderungsbehörden entgegengenommen, insofern die vorherigen zwei Checks abgeschlossen wurden.

5

convinus.com
---
May 5, 2022

Business Traveller:

Focus on Compliance

Business travel has increased strongly again in many countries in recent months after the existing restrictions were lifted due to

COVID-19. This now means that the "travel desk" is more challenged again, but also HR or Global Mobility staff. Companies should

be prepared for the fact that the various authorities are better networked in the meantime and that this will lead to a faster

exchange of information.

It is therefore important to check first and foremost the need for a work permit or a notification procedure (in the EU: Posted

Worker Notification) when travelling on business. It should be noted that each country has its own regulations from which day,

or for which type of activity this is necessary. Possible, necessary wage adjustments or adjustments under labour law should also

be clarified in this context.

In addition, the necessary A1 form should be obtained for employees who go on business trips in the EU, so that the employee

can present this in the event of a check. In most cases, there is no taxation in the destination country of the business trip.

However, this should also be checked to avoid possible negative consequences.

The attention of the authorities is strongly focused on this population and therefore it is advisable for every company to deal

with the issue accordingly.

5. Mai 2022

Geschäftsreisen haben in den letzten Monaten in vielen Ländern wieder stark zugenommen, nachdem die vorhandenen

Restriktionen auf Grund von COVID-19 aufgehoben wurden. Dies bedeutet nun auch wieder, dass der «Travel-Desk» mehr

gefordert ist, aber auch die Mitarbeiter von HR oder Global Mobility. Unternehmen sollten vorbereitet sein, dass die

verschiedenen Behörden in der Zwischenzeit besser vernetzt sind und somit es zu einem schnelleren Austausch von

Informationen kommt.

Business Traveller:

Compliance rückt in den Fokus

Es ist daher wichtig, dass bei den Geschäftsreisen in erster Linie die Notwendigkeit einer Arbeitsbewilligung oder eines

Meldeverfahrens (in der EU: Posted Worker Notification) geprüft wird. Dabei ist zu beachten, dass jeder Staat seine eigenen

Regelungen hat, ab welchem Tag bzw. bei welcher Art von Tätigkeit dies notwendig ist. Ebenfalls sollte in diesem Rahmen

mögliche notwendige Lohn- oder arbeitsrechtliche Anpassungen geklärt werden.

Zudem sollten für die Mitarbeiter, welche in der EU sich auf Geschäftsreise begeben, das notwendige A1-Formular eingeholt

werden, sodass der Mitarbeiter in einer Kontrolle dies vorlegen kann. In den meisten Fällen erfolgt keine Besteuerung in dem

Destinationsland der Geschäftsreise. Allerdings sollte auch dies geprüft werden, um mögliche negative Konsequenzen zu

vermeiden.

Das Augenmerk der Behörden ist auf diese Population stark gerichtet und daher ist es empfehlenswert, wenn jedes Unternehmen

sich mit der Thematik entsprechend auseinandersetzt.

6

convinus.com