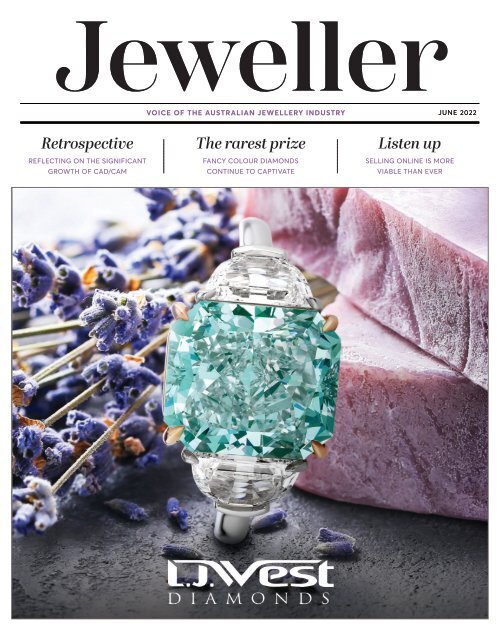 Jeweller - June 2022
Retrospective: Reflecting on the significant growth of cad/cam The rarest prize: Fancy colour diamonds continue to captivate Listen up: Selling online is more viable than ever
Retrospective: Reflecting on the significant growth of cad/cam
The rarest prize: Fancy colour diamonds continue to captivate
Listen up: Selling online is more viable than ever

SHOW MORE
SHOW LESS
Create successful ePaper yourself
Turn your PDF publications into a flip-book with our unique Google optimized e-Paper software.
VOICE OF THE AUSTRALIAN JEWELLERY INDUSTRY

JUNE 2022

Retrospective

REFLECTING ON THE SIGNIFICANT

GROWTH OF CAD/CAM

The rarest prize

FANCY COLOUR DIAMONDS

CONTINUE TO CAPTIVATE

Listen up

SELLING ONLINE IS MORE

VIABLE THAN EVER
---
AUSTRALIA'S PREMIER DIAMOND SUPPLIER

SINCE 1986

Honesty

Integrity

RENOWNED FOR THE LARGEST RANGE OF PREMIUM WHITE AND COLOURED DIAMONDS IN AUSTRALIA

IN BOTH ROUND BRILLIANTS & FANCY CUT DIAMONDS.

ACCESS ARGYLE PINK DIAMOND TENDER STONES & SINGLE STONES AND

THE WORLD'S LARGEST INVENTORY OF CERTIFIED ARGYLE CHAMPAGNE DIAMONDS

Diamond specialist with the largest inventory of:

Fine cut fancy-shapes

GIA / HRD / IGI / Round Brilliant Certified stones

Matched fancy and unique pairs

Calibrated melee in Round Brilliant and fancy-shapes

Quality diamond-set jewellery

P + 6 1 3 9 6 5 0 2 24 3

E S A L E S @A DTC . C O M . AU

L1 3 / 2 2 7 C O L L I N S S T R E E T

M E L B O U R N E V I C 3 000

A D T C . CO M . AU
---
Helping you shine

yesterday, today

& tomorrow.

YOUR LEADING SUPPLIER OF PINK ARGYLE, WHITE DIAMONDS & DIAMOND JEWELLERY

worldshiner.com
---
To schedule an appointment, please contact us:

L. J. WEST DIAMONDS INC. | 589 5th Ave, Suite 1102 | New York, NY 10017, U.S.A. | T +1 212 997 0940

L. J. WEST AU PTY LTD | Level 9, 225 St Georges Terrace | Perth, WA 6000, Australia | T +61 40 997 6981
---
Info@LJWestDiamonds.com | www.LJWestDiamonds.com | www.ScottWestDiamonds.com
---
Australian Argyle pink diamonds are beyond rare and amongst the

most precious diamonds in the world.

Pink Kimberley jewellery is crafted from an exquisite blend of white diamonds and

natural Australian pink diamonds from the Argyle Diamond Mine,

located in the East Kimberley region of Western Australia. A coveted

Argyle pink diamond Certificate accompanies all Pink Kimberley pieces

containing pink diamonds greater than 0.08ct.

PinkKimberley.com.au

SAMS GROUP

E pink@samsgroup.com.au W samsgroup.com.au P 02 9290 2199

AUSTRALIA
---
sales@dsmjewels.com

DSMPACIFIC.COM

SYDNEY

Suite 911-912, Level 9, 155 King St.

The Trust Building Sydney,

NSW 2000 | 02 9232 1410

MELBOURNE

Suite 605A, Level 6, 227 Collins St.

The Wales Corner Building Melbourne,

VIC 3000 | 03 9650 3166
---
Celebrating 15 Years of Trading in the Australian Diamond Industry.

Natural Certified Diamonds | Natural Loose Diamonds | Labgrown Certified Diamonds

Natural Fancy Colour Diamonds | Natural Matching Pair Diamonds | Natural Black Diamonds

Natural Diamond Jewellery | Labgrown Diamond Jewellery

WHY YOU SHOULD CHOOSE DSM PACIFIC GROUP

The largest GIA & IGI Certified diamonds inventory in Australia.

Over 15 years of industry experience

Presence in Sydney and Melbourne

Off market options for potential customers

Over thosands of diamonds online to choose from

Great customer services and after sales support
---
THE COUNTDOWN

TO UNITING THE WHOLE

INDUSTRY IS COMING!

AUGUST 27 – 29, 2022

ICC Sydney, Darling Harbour

jewelleryfair.com.au

Proudly supported by

Organised by

Est. 1990
---
Concept to Creation

YOUR JEWELLERY DESIGN BROUGHT TO LIFE

1300 886 108 | AUSTRALIA WIDE

palloys.com
---
available in 9ct & 18ct gold and platinum

MARKMCASKILL.COM.AU

+61 (08) 8352 1400 | sales@markmcaskill.com.au

ADELAIDE | BANGKOK
---
JUNE 2022

Contents

This Month

Industry Facets

15 Editorial

16 Upfront

18 News

40 Jewellers Showcase

26

29

56

58

10 YEARS AGO

Time Machine: June 2012

LEARN ABOUT GEMS

Akoya Pearls

MY BENCH

Danica Roderick

SOAPBOX

Gerri Maunder

33 CAD/CAM FEATURE

Wind back the clock

4It's been a decade of remarkable change for

the Australian jewellery industry with the rapid

rise of Computer Aided Design and Computer

Aided Manufacturing.

Features

33

43

CAD/CAM FEATURE

The digital decade

FANCY COLOUR DIAMONDS FEATURE

Filling the fancy colour void

Better Your Business

43 FANCY COLOUR DIAMONDS FEATURE

Rainbow coalition

4Fancy colour diamonds offer something

for everyone. SAMUEL ORD examines

an industry successfully rebounding from

major disruptions, as the search for the

next great source of supply continues.

50

52

53

54

55

BUSINESS STRATEGY

Social listening! BETH WALKER explains how to make it work for your business.

SELLING

THOMAS YOUNG breaks down the core principles behind retail success.

MANAGEMENT

Negativity can be overwhelming. PAUL KEIJZER shares tips on handling the pressure.

MARKETING & PR

DAVID BROWN shares a formula for standing out amongst the crowd.

LOGGED ON

HEATHER COOPER explores the many benefits blogging can bring a jewellery business.

29 LEARN ABOUT GEMS

Akoya Pearls

4Akoya pearls are always a popular

choice for consumers as they represent

classic style and sophistication.

FRONT COVER This beautiful 2.88-carat diamond

named "The Robin" presents a delicate mix of blue

and green as a result of natural radiation during

growth. Graded by GIA as Fancy Intense Blue-

Green, SI2 and exhibiting a blue fluorescence, the

diamond is reminiscent of an enchanting robin bird

egg. The Robin is accented by two white diamonds

of VS clarity totalling 1.04-carats and set in a fine

platinum ring. LJ West Diamonds is a specialist in

rare fancy colour diamonds with three generations

of knowledge and experience, and was one of the

earliest Argyle Pink Diamond authorised partners.

To learn more visit: ljwestdiamonds.com

June 2022 | 13
---
Fabricated Metals & Findings

Discover the ultimate collection of world-famous,

high-quality fabricated metals and findings

1300 886 108 | AUSTRALIA WIDE

palloys.com
---
Editor's Desk

Leaving the pandemic blues in the dust

As the industry bounces back from the ravages of COVID-19, there have been many 'positives' over the past two years.

ANGELA HAN says the sentiment should remain optimistic for the upcoming Sydney trade fair.

I think it's fair to say that in the depths

of the global pandemic, not too many

people would have predicted the

international jewellery industry would

have seen such an upsurge in sales.

The financial results of many of the

world's largest brands during and

'after' COVID surely surprised the most

optimistic pundits.

Consider for instance, the financial results

by the big brands reported over the past

12–18 months.

For example, Pandora operates 2,700

stores in 100 countries worldwide and

last year reported a record revenue of

$US3.5 billion ($AU5.09 billion) despite

the many challenges of the second year of

the pandemic.

The good news has continued in 2022,

with Pandora revising predicted sales

increases to 4-6 per cent after the release

of its first quarter data.

It was a similar story for Swiss luxury

goods company Richemont, which

reported a record all-time high full-year

sales performance ending 31 March.

A Richemont spokesperson has attributed

the performance to the progressive easing

of COVID-related health restrictions in key

markets worldwide.

Sales performance for the financial year

2022 increased by 46 per cent to €19.18

billion ($AUD28.64 billion) compared with

the same period in 2021 at €13.14 billion

($AUD19.62 billion) and a 35 per cent

increase based on a two-year difference.

What's going on in our backyard?

If Retail Edge's data from its 400-strong

database of jewellery stores is anything to

go by, industry optimism is well-deserved

given positive results for at least six

months, despite the doom and gloom

'pandemic hangover' predicted by other

retail analysts.

The data collected from retailers in April

shows that comparative overall sales

dollars have increased by nine per cent

compared with April 2021. That's a 240 per

cent increase compared with the figures

from April 2020!

with April 2021 but a strong 222 per cent

boost compared to April 2020. It's fair to

say, the year has been better than anyone

would have expected.

So now with the stage set, we are only a

handful of weeks away from the muchanticipated

International Jewellery Fair

in Sydney (27-29 August) – and it's been

quite the wait for many.

If recent industry meetings are anything

to go by, this year's fair is likely to be a

landmark celebration of the trade at large.

Local success stories

The boutique-style Australian Jewellery

Fair was hosted in March and described

by organisers and attendees alike as "an

overwhelming success." More recently,

strong sales were reported at the buying

days of Nationwide Jewellers' and

Independent Jeweller's Collective annual

conferences in Queensland.

Indeed, one supplier who attended both

conferences reported that the sales her

business had achieved was overwhelming

which she put down to pent-up demand.

Spread out across three days, the

Nationwide event showcased 49 suppliers

across 88 tables.

From what we've been told, for the first

time in the 30 years the event has been

running, some buyers were asked to hurry

and conclude their orders because the

doors were about to close. Imagine being

so busy that you have to usher out your

customers before closing time!

Some common feedback that has been

relayed as the industry climbs back to

it's feet, is that increasing adoption of

tech-based solutions (i.e. advancements

in customer-relationship and stock

management software) in the jewellery

industry has made it easier for retailers

and suppliers to accomplish all sorts

of tasks – but there's still nothing like

meeting face-to-face.

Online we can document a history of

communication, stick with agendas and

schedules, and reduce the overhead costs

associated with the trade, such as travel.

But what has this sacrificed in return?

Indeed, one

supplier who

attended both

conferences

reported that

the sales her

business had

achieved was

overwhelming

which she put

down to pent-up

demand.

to-face communication is still far more

engaging than chatting through a laggy

webcam video, or strained listening to

warbled audio.

It's simply easier to collaborate, innovate,

and strengthen business relationships

in person, not to mention being fully

immersed in the experience of a product.

It's become clear through COVID

that touching and feeling jewellery is

important in purchasing decisions for both

businesses and consumers.

Sure, there's been many creative

workarounds to keep the economy moving

during the pandemic – Zoom, Skype,

Webex, pick your poison!

And while they've kept us going, they can

never replace the feeling of someone's

hand in your hand during a solid

handshake (but don't forget your hand

sanitiser!)

Of course, when it came down to businessto-business,

many people learned that

virtual shows were a disaster. Usually the

only people who did well were the people

running them, charging exorbitant fees for

the privilege of sitting by a computer.

What we learned from COVID and its

accompanying restrictions, is that offline

shopping at brick-and-mortar stores

remains a critical part of life and important

for one's mental health.

Seeing one another face-to-face allows

us to pick up on nonverbal cues and body

language in our interaction; from a simple

smile to a thank-you, physical engagement

help us to read between the lines and

better meet one another's needs.

It's no wonder that almost every person I

speak to can't wait to gather in August for

the first Sydney trade fair in three years.

While technology was an excellent

temporary bridge during times of division

during the pandemic, most are ready to

go back to the good 'old days' to conduct

business, shake hands and share a few tall

tales… but above all, be immersed in the

joy of unexpected discoveries like bumping

into a friendly old face while standing in

line for coffee, an experience that certainly

cannot be replicated online.

Comparative units sold data reveals a

small decrease of 2.3 per cent compared

I have come to believe, despite being a

'product' of the digital era, that face-

Angela Han

Publisher

June 2022 | 15
---
Upfront

#Instagram hashtags to follow

#pearlsjewelry

170,477 POSTS

#jewelrytrends

1,000,000 POSTS

#jewellerygifts

464,000 POSTS

#treasurejewels

1,023 POSTS

#diamondgirl

124,000 POSTS

HISTORIC GEMSTONE

Atocha Star

#tiara

3,400,000 POSTS

#necklacedesign

187,000 POSTS

Alpha Order

#watchesandwonders

31,800 POSTS

#diamondlife

971,000 POSTS

#pearlsnecklace

43,672 POSTS

Discovered in Colombia, the Atocha Star is an

emerald weighing more than 25.87-carats.

The gemstone was cut down to 12.72 carats in

1992. The Atocha Star is 400 years old and is

estimated to be worth more than $US3 million.

It is currently mounted on the claws of a solidgold

eagle weighing more than eight kilograms.

The piece is known as The Golden Eagle. In

1622, the emerald was on a Spanish treasure

galleon that sank off the coast of Florida

during a hurricane. American treasure hunters

discovered the sunken galleon after more than

15 years of searching in 1985. In May of 2016, the

Golden Eagle (along with the Atocha Star) was stolen in

Vancouver, Canada, while being loaded into a vehicle. The Golden

Eagle had been on display at a museum and has not been

recovered in the six years since the theft.

Trend Spotting

4A popular throwback to the 1980s

has undergone a revival in popularity

in recent weeks with large pearls

drawing plenty of attention at a range

of major fashion shows. Playfully

known described as 'gobstoppers'

pearl necklaces, among other items,

were presented by Versace, Givenchy

and Dolce and Gabbana.

Image credit: Givenchy

Image credit: Brilliant Earth

Stranger Things

Weird, wacky and wonderful

jewellery news from around the world

Playboy's tiara for sale

4A tiara that once belonged to

British aristocrat Henry Paget,

the 5th Marquess of Anglesey, is

being sold in by London jeweller

Hancocks. Paget (1875-1905) was

the original owner of the tiara

which features diamonds totaling

more than 100 carats. Paget

inherited great wealth after the

passing of his father, in excess of

$AU100 million in today's money,

but squandered it all within five

years. The tiara was worn at the

coronation of Queen Elizabeth II.

Frankenstone

4A 2.38 brown colour diamond

has been discovered by one

lucky man in Arkansas' Crater of

Diamonds State Park. Adam Hardin

has been searching for gemstones

for more than a decade. The park

is a well-known location to hunt

for diamonds and is popular with

tourists. Hardin has nicknamed the

diamond 'Frankenstone'. A 4-carat

yellow diamond was discovered in

the same park last year.

With consumers

valuing provenance,

De Beers has

developed Tracr,

a program that

tracks diamonds.

Digital Brainwave

4De Beers Group CEO Bruce Cleaver has

confirmed that the development of Tracr, a

blockchain-based platform that aims to track

diamonds from mine to retailer, was spurred

on by Russia's invasion of Ukraine and the

ensuing political fallout.

"We've been working on traceability for a long

time," he said. "We always thought the day

would come when traceability would become

an issue and that consumers would want to

know exactly where the diamond had come

from. We had to accelerate Tracr as a result

of the Russian crisis, no question."

Campaign Watch

4Brilliant Earth withdrew a promotion

offering 'free diamond earrings' earlier

this month following a complaint from

rival retailer Blue Nile. Brilliant Earth

voluntarily withdrew the advertisement

as it did not disclose the fact that the

diamonds offered were lab-created and

not mined. Blue Nile filed a complaint

to the industry watchdog, the National

Advertising Division. Brilliant Earth

discontinued the promotion before any

formal ruling was made.

One charge dropped

4Fugitive jeweller Mehul Choksi

has one less legal battle to face after

Dominica withdrew a charge of 'illegal

entry' this month. Choksi has been

evading charges of fraud, totaling

more than $US1.8 billion, since 2018,

leaving India for Antigua and Barbuda.

Last year, Choksi was charged by

officials in Dominica with illegal

entering the island. Choksi's legal

team claims he arrived at the island

as a result of a violent abduction from

his home in Antigua.

VOICE OF THE AUSTRALIAN JEWELLERY INDUSTRY

Published by Befindan Media Pty Ltd

Locked Bag 26, South Melbourne, VIC 3205 AUSTRALIA | ABN 66 638 077 648 | Phone: +61 3 9696 7200 | Subscriptions & Enquiries: info@jewellermagazine.com

Publisher Angela Han angela.han@jewellermagazine.com • Journalists Samuel Ord samuel.ord@jewellermagazine.com | Richard Chiu editorial@jewellermagazine.com

Production Coordinator Lauren McKinnon art@befindanmedia.com • Advertising Toli Podolak toli.podolak@jewellermagazine.com • Accounts Paul Blewitt finance@befindanmedia.com

Copyright All material appearing in Jeweller is subject to copyright. Reproduction in whole or in part is strictly forbidden without prior written consent of the publisher. Befindan Media Pty Ltd

strives to report accurately and fairly and it is our policy to correct significant errors of fact and misleading statements in the next available issue. All statements made, although based on information

believed to be reliable and accurate at the time, cannot be guaranteed and no fault or liability can be accepted for error or omission. Any comment relating to subjective opinions should be addressed to

the editor. Advertising The publisher reserves the right to omit or alter any advertisement to comply with Australian law and the advertiser agrees to indemnify the publisher for all damages or liabilities

arising from the published material.
---
www.centrestone.com.au

CENTRESTONE BENEFITS

WORLDWIDE COVER

ANYWHERE, ANYTIME

YOUR CLIENTS' CLAIMS

COME BACK TO YOU

THE JEWELLERY

INSURANCE SPECIALIST

INSTANT COVER,

NO WAITING PERIODS

4 DAYS

UP TO 150% COVER OF THE

INSURED AMOUNT

AGREED VALUE AND LIKE-

FOR-LIKE REPLACEMENT

FREE COVER

Partner with us today

NO EXCESS ON ALL CLAIMS

COVER FOR ACCIDENTAL

DAMAGE, LOSS &THEFT

ANNUAL REVALUATIONS TO

MATCH REPLACEMENT COST

COMMISSION

PAID FOR

EVERY POLICY.

ALL CLAIMS

COME BACK

TO YOU

Our Mission.

Offer the best product & service,

and implement seamless solutions

for jewellery insurance.

Our Solutions.

Implementing frictionless deployment

of jewellery insurance with technology

led innovation and solutions.

Your Success.

Fast, efficient and easy to use.

Build your customer loyalty and

additional revenue.

JOIN AS A PARTNER JEWELLER

CALL NOW

+61 2 8316 3995

Centrestone Jewellery Insurance

Lvl 11, 52 Phillip Street

Sydney 2000 NSW

Info@centrestone.com.au

www.centrestone.com.au
---
News

RapNet bans Russian product

Nationwide's annual conference a raging success

The world's largest online diamond trading network,

RapNet, has banned the exchange of Russian-sourced

diamonds from the platform.

RapNet's ban applies to all diamonds sourced from

Russia after 24 February, the day the invasion of

Ukraine began.

The ban also includes polished diamonds

manufactured outside Russia from Russian rough.

Companies more than 50 per cent owned by

sanctioned entities are also prohibited.

Martin Rapaport, chairman of the Rapaport

Group, released a statement predicting a future

shortage of rough diamonds.

''We are very pleased with the strong start to the year,

delivering record revenue for a first quarter," said

Martin Rapaport.

"Sanctions on Russia are fundamentally changing the

diamond supply chain. Buyers want assurances as to

the source of their diamonds," Rapaport said.

"Ethical considerations are transcending legal

requirements as buyers reject Russian source

diamonds cut outside of Russia.

"Financial sanctions have stopped imports of rough

diamonds to the cutting centers and natural diamond

shortages are likely before the holiday season."

RapNet was formed in 1996 as the Internet Diamond

Exchange (INDEX). Today, more than 1.8 million

diamonds are listed with a total value exceeding $US8

billion.

This isn't the first time RapNet has implemented a ban

on the trade of diamonds based on ethical concerns at

the point of origin.

In 2009, RapNet suspended the trade of all Marange

diamonds sourced from Zimbabwe, citing extensive

human rights abuse which occurred during

government crackdowns on illegal mining operations.

The US and EU have hit Russia with extensive

economic sanctions since the invasion of Ukraine in

late February, including sanctions directly targeting

Alrosa, Russia's largest diamond mining company.

Russia accounts for approximately one-third of the

world's supply of diamonds, with Alrosa responsible for

mining more than 90 per cent of those diamonds.

Nationwide Jewellers' celebrated 30 years of

business with a three-day conference which has

received rave reviews from attendees.

This year's conference was titled 'Time Out-

Time to Shine' and ran from 13-15 May in

Brisbane.

More than 140 members representing 88

stores attended while a record 49 suppliers

participated in the buying conference with

exhibitions spread across 84 tables.

These numbers were particularly pleasing

becaue only seven New Zealand members

were able to attend due to pandemic travel

restrictions.

Nationwide general manager Glen Pocklington

said it was great to see so many industry faces

gathering in person again.

"We are very pleasantly surprised," Pocklington

said.

"The enthusiasm of members this year starting

with the welcome function, and right through to

our members' dinner, was amazing. Members

were truly happy to meet face-to-face again

with their many friends from the Nationwide

membership.

"There were many highlights. The keynote

speaker, our assessment of the industry and

outlook for the next 12 months, our many

diamond initiatives including our announcement

for Forever Custom, networking during the

happy hour, and of course staying in a 5-star

hotel for free as a part of our member reward

program.

"Everyone was just so happy to be there."

This year's keynote speaker was best-selling

author Andrew Griffiths, author of 14 books

on small business strategy. Griffiths spoke to

jewellers about important trends impacting

retailers in 2022.

Nationwide membership manager Erin

Keller said the feedback following Griffths'

presentation was glowing.

"We found members were even more positive

than normal about our keynote speaker, Andrew

Griffiths, than we anticipated," she said.

"His down to earth marketing ideas really

resonated with members. Many found

themselves taking notes, and speaking later

with several other members about their positive

reactions, and the inspiration found from the

guest speaker.

"Overall, we are very pleased with the turnout

from both members and suppliers, and found

that besides the buying day being so successful,

many were pleased to reconnect after so long."

Following two years of disruption due to the

COVID pandemic, retailers and suppliers alike

would be justified in feeling apprehensive about

a permanent return to uninterrupted trade.

Nationwide's managing director Colin

Pocklington said that after witnessing a busy

buying day at the conference, the general

sentiment coming from the industry remains

positive.

"We would have to say our members are very

optimistic based on the buying day, which is

expected to achieve a record result," he said.

"The buying room was busy all day, and for

the first time in the group's 31-year history,

members had to be asked to conclude their

ordering as the event was about to close. Whilst

exact numbers will not be known for a few

weeks, a number of suppliers have reported

that the event was their best buying day at any

group event ever."

Pocklington added that many members used

all of their Conference Cash allocation with up

to $60,000 in interest-free finance for spending

with suppliers at the buying day.

18 | June 2022
---
News

'The Rock' falls short, Red Cross

diamond sets record for yellows

Featuring the delicate pink tone

of Argyle pink diamonds

Holding 'The Rock', a 228.31-carat pear diamond is Christie's international head of

jewellery, Rahul Kadakia. Source: Christie's.

Christie's Magnificent Jewels auction took place on Wednesday (11 May)

and the lead item, a 228-carat white diamond named 'The Rock', was

sold for more than $US21 million.

The Rock is believed to be the largest polished white diamond to be

auctioned. Pre-sale predictions were more than $US30 million; hoping

that it would surpass a record set by a 163-carat diamond sold by

Christie's Geneva in 2017.

That wasn't to be, however, with The Rock settling for $US21,894,082

($AU31,655,076), purchased by an anonymous buyer.

More than 90 per cent of the items listed at the auction were sold, with

sales exceeding $US69 million ($AU99 million).

The second most expensive item sold was 'The Red Cross Diamond', a

205-carat fancy intense canary yellow cushion cut diamond.

Pre-sale estimates projected that the diamond would garner $US10

million, a target which was comfortably exceeded as an anonymous

bidder claimed the item for $US14 million ($AU20 million).

In the lead-up to the auction, the diamond's owner stated that a

'significant' portion of the proceeds would be donated to the International

Committee of the Red Cross.

International head of Christie's Jewellery, Rahul Kadakia, said registrants

from more than 20 countries took part in the auction.

"Weighing 228.31 carats, The Rock is the largest white diamond ever to

appear for sale at auction. The final lot of the auction presented another

extraordinary gemstone of over 200 carats, the sensational Red Cross

Diamond," he said.

"Over a century since that first sale, the diamond sold after 11 minutes

of competitive bidding for 14.1 million francs ($AU20.46 million), a world

auction record for a fancy intense yellow diamond.

"We are delighted that a significant share of the proceeds will benefit the

humanitarian efforts of the International Committee of the Red Cross."

Another item of note sold at this auction was the Fürstenberg Tiara,

created by famous Austrian jeweler Gustav Flach. The tiara carries 19th

century natural pearls, as well as diamonds, and early estimates hoped

the item would fetch a minimum of $US400,000 ($AU578,000).

The Fürstenberg Tiara was awarded to an anonymous bidder for a final

price of $US2.4 million ($AU3.4 million), well-and-truly exceeding the

estimate.

E pink@samsgroup.com.au W samsgroup.com.au P 02 9290 2199
---
News

Strong jewellery sales performance continue in April for Australian retailers

Jewellery retailers are four months into 2022 and

there's been on-going and noteworthy positive

trends according to the latest data released by

Retail Edge.

The data collected from retailers in April shows that

comparative overall sales dollars have increased

by nine per cent compared with April 2021. That's

a huge 240 per cent increase compared with the

figures from April 2020, however, it's important to

remember that's when COVID-19 lockdowns first

began in Australia.

Comparative units sold data reveals a small

decrease of 2.3 per cent compared with April 2021

but a strong 222 per cent boost compared to April

2020.

The comparative average sale, in inventory only,

continues to climb and has increased by 12 per cent

compared with April 2021, climbing from $205 to

$230. This pattern is the result of activity through

the product categories, with growth in fine jewellery

strongly influencing the average sale figures.

April has demonstrated growth across many of the

product categories. Further analysis of the sales

dollars data reveals diamond set precious metal

jewellery has increased by 17 per cent compared

with the same period of time in 2021 and by 292

per cent on the two-year difference looking back at

2020.

Colour gemstone set precious metal jewellery

sales dollars have improved, climbing 15 per cent

compared with April last year.

That product category shows an even larger

increase of 279 per cent winding back the clock

to April in 2020, again, because of the impact of

COVID-19 lockdowns.

Retail Edge sales manager Michael Dyer said the

data was pleasing: "These numbers continue to

show a confident and stable consumer mindset."

"It's heartening to see that diamond month had

period growth."

Dyer added, "No stone precious metal jewellery

sales dollars have also continued strongly again to

be 14 per cent improved compared with April 2021,

and it was an exceptional result of 253 per cent

growth on the two-year difference to April 2020".

Silver and alternative metals jewellery sales

dollars dipped slightly with a 2.2 per cent decrease

recorded compared with April 2021.

The pattern in laybys showed a decrease of nine

per cent in dollars between new purchases and

collections and cancellations. This is emblematic of

the collection and enjoyment cycle rather than the

preparation and demand cycle.

This also means that anticipated cashflow will be

reduced.

Service and repair work demonstrates a similar

pattern with a decrease of 29 per cent between

incoming and pick-ups and cancellations. The

special order numbers also show a similar pattern

with a decrease of 22 per cent between incoming

and collections and cancellations.

Retail Edge's analysis is gathered from POS

software located in more than 400 Australian

independent retail jewellery stores. The data is

intended to present a representative sample of the

wider Australian jewellery industry.

FIND US ON INSTAGRAM

MILLENNIUM_CHAIN

Australian leading wholesaler, specialising in manufacturing

9ct and 18ct yellow gold, rose gold and white gold.

Machine made and hand made, any kind, chains and bracelets,

bangles and findings. Suppliers to retailers and wholesalers.

MILLENNIUM CHAIN

P: 03 9650 5955 | E: sales@millenniumchain.com.au

www.millenniumchain.com.au
---
News

De Beers digital platform launched

De Beers' Tracr aims to provide trust in provenance for customers and traders alike,

and will be used to identify inefficiencies within the value chain.

De Beers Group has launched a blockchain-backed diamond sourcing

platform.

The program is named Tracr and aims to offer improved trust in

diamond provenance for consumers and traders, and will also be used

to identify potential inefficiencies within the value chain.

The term 'blockchain' is used to describe a distributed database that

is shared among nodes within a computer network. Blockchains

have gained fame in recent years for the crucial role they play in

cryptocurrency systems.

The technology stores data in blocks that are then linked together via

cryptography. Decentralised blockchains are immutable, which means

the data entered is irreversible. For a program such as Tracr, this means

that transactions are permanently recorded and viewable.

Each participant on Tracr has their own distributed version of

the platform, which allows their data to be shared only with their

permission.

The nature of each transaction on the platform ensures that the data

cannot be tampered with when the diamond moves through the supply

chain. The decentralised platform ensures its speed and scalability, with

De Beers claiming the program has the ability to register one million

diamonds per week.

CEO of De Beers Group Bruce Cleaver said the program was only the

beginning of a technology overhaul for the industry.

"De Beers discovers diamonds with our partners in Botswana, Canada,

Namibia and South Africa and, with our long-term investment in Tracr,

we are proud to join with our sightholders to provide the industry with

immutable diamond source assurance at scale.

"Tracr, which will enable the provision of provenance information from

source to sightholder to store on a secure blockchain, will underpin

confidence in natural diamonds and represents the first step in a

technological transformation that will enhance standards and raise

expectations of what we are capable of providing to our end clients."

In 2020, De Beers worked with five diamond manufacturers – Diacore,

Diarough, KGK Group, Rosy Blue NV and Venus Jewel – and tracked

100 diamonds as a part of a trial of Tracr. A digital trail was created

documenting journey of each diamond as it moved from mine to cutter

to polisher and finally to jeweller.

The program's development phase began in 2018 and De Beers has

registered one quarter of its production (by value) on Tracr in the first

three sights of the year in preparation for this first scale release.
---
News

Nationwide Jewellers to play crucial role in Global Jewellers Network

Three major independent jewellery buying groups

have joined forces and launched a new collaborative

project, the Global Jewellers Network.

Nationwide Jewellers has entered a new

collaboration with The Company of Master

Jewellers (CMJ), based in the UK and Ireland, and

Independent Jewellers Organisation (IJO), based in

the USA and Canada.

Representatives from the three organisations are

expected to meet face-to-face for the first time in

Antwerp, Belgium in September. Nationwide has

more than 400 members in Australia, New Zealand

and Fiji and, collectively, the three groups represent

more than 1,500 independent jewellery stores

across nine countries.

Nationwide's managing director Colin Pocklington

said the project would present exciting new

opportunities for Australian retailers.

"The groups will share information on new products

and suppliers. Sharing successful marketing,

training and education programmes will benefit

members from all three groups," he said.

"In fact, IJO has just referred to us one of their

new suppliers who is achieving excellent growth

amongst their members. We are working with this

supplier with the aim of launching an exciting offer

to members at the [Sydney] International Jewellery

and Watch Fair.

"For our members, being part of a global

collaboration of the leading jewellery groups in

the world, representing over 1,500 stores, is a big

plus. It will certainly give even more confidence to

consumers when visiting one of our members."

Nationwide Jewellers and IJO have been

collaborating since the 1990s, exchanging guidance

and resources. Pocklington said the two groups first

explored formalising the partnership three years

ago.

"We have been collaborating with IJO since 1999,

resulting in benefits for both of our groups. In 2019

we decided that it would be a good idea to contact

The Company of Master Jewellers in the UK, to see

if they would be interested in participating in a more

structured three-way collaboration with Nationwide

and IJO.

"Following our initial contact, Erin Keller,

our membership manager, visited the CMJ

headquarters in Rugby, England in early 2020 to

meet with their executive team.

"Following the meeting with the CMJ, we then set

up a series of Zoom meetings from mid-2020 to

now with Jeff Roberts (IJO) and Emmet Cummins

(CMJ) and myself. The launch of the Global

Jewellers Network took longer than we had hoped

– with COVID lockdowns, and the need to focus on

supporting members in each of our markets."

Independent Jewellers Organisation president

Jeff Roberts said his group was eager to share the

knowledge they've acquired over more than five

decades of operation.

"For the past 50 years IJO has helped build

successful, profitable retail jewellery stores for

literally thousands of IJO business owners, their

employees and their families by leveraging the

combined buying power and brainpower of our

group," he said.

The Company of Master Jewellers managing

director Emmet Cummins said his group would be

making the most of the opportunity to learn from

two established industry forces.

"The CMJ hugely admires what Nationwide

Jewellers and the Independent Jewelers

Organisation have achieved in their respective

markets," he said.

"There are a number of areas where both

organisations are considerably more established

and advanced and this is of great interest to the

CMJ."

The International Watch and Jewellery Fair is

scheduled for 27-29 August in Sydney.

Pandora anticipates continued growth following Q1 analysis

Following the release of 2022's first quarter data,

the Pandora Group has revised its forecast and is

now predicting sales growth of between 4-6 per

cent for the year.

Pandora reported record revenue in Q1, rising 21

per cent on a year-on-year 'organic basis', a similar

metric to total store sales. The company generated

total sales of 5.7 billion kroner ($AU1.15 billion)

in sales for the period beginning in January and

concluding in March.

In Q1 of 2021, Pandora reported total revenue of 4.5

billion kroner ($AU910 million).

The positive figures come despite the continuing

burden of the COVID pandemic in some locations,

as well as Pandora's response to the invasion of

Ukraine in late February. Pandora has closed all

stores in Russia, Belarus and Ukraine as a result of

the conflict, however, revenue generated from those

locations amounted to approximately 1 per cent of

total global sales in 2021.

Pandora CEO Alexander Lacik said the company

was anticipating more growth on the horizon.

"We are very pleased with the strong start to the

year, delivering record revenue for a first quarter,"

said Pandora CEO Alexander Lacik.

"I am encouraged by the growth opportunities we

have ahead of us. For the last two years, we have

invested in building a stronger organisation, and

this is increasingly visible in the numbers and how

we drive the company forward."

Not everyone is as optimistic about the market

prospects for Pandora moving forward, particularly

when it comes to online sales.

Freetrade investment writer Gemma Boothroyd

spoke to Professional Jeweller following the

release of the Q1 figures.

"Personalised products are Pandora's crown jewel.

But they might turn out to be the thorn in its side

too," she said.

"Online marketplaces and social media have

changed the game, and it's turning out to be a

challenge for jewellery behemoths like Pandora.

"While its online sales have doubled on 2019,

they're now sitting 17 per cent below 2020's figures.

Frankly, the firm's 2019 baseline comparable for

online sales was astonishingly low given the firm

was relatively slow to digitise."

Pandora is headquartered in Denmark and

has extended to more than 2,700 stores in 100

countries. The company employs 27,000 people.

24 | June 2022
---
News

New Zealand's Floeting Diamond recognised with prestigious design award

The potentially revolutionary work of New Zealand

jeweller Ian Douglas has been acknowledged with

an award for Product Design at the 2022 Red Dot

Design Awards in Germany.

The potentially revolutionary work of New Zealand

jeweller Ian Douglas has been acknowledged with

an award for Product Design at the 2022 Red Dot

Design Awards in Germany.

Douglas is the founder of The Village Goldsmith.

He spent more than two decades developing what's

known as the 'Floeting Diamond' - a diamond-set

jewellery collection without metal clasps or claws.

The Floeting Diamond was launched in 2021 by

VG Jewelers as an innovative approach to solitaire

diamond setting. The design eliminates traditional

claws, clasps and prongs which hold diamonds in

their setting. Prongs impede the light return and

sparkle of the diamond and obstruct the view of the

gemstone.

aesthetics, quality, durability, functionality, and

symbolic and emotional content.

The Floeting Diamond nomination featured

diamond studs, a pendant necklace, and a solitaire

ring.

"Less is more – this formula fully applies to the

jewellery series The Floeting Diamond," the jury's

statement reads.

"The focus is on sparkling diamonds, set in a way

that the entire attention is drawn to the brilliance

of the gemstones. Almost invisible, the bezel is

remarkable for more than one reason. It is made

of a special space-age titanium that is combined

with high-quality gold and platinum and provides

particularly long and secure hold for the cut

diamonds."

The standard six-claw diamond setting technique

has been used since 1886.

New Zealand Jeweller Ian Douglas is the Product Design

award winner at the 2022 Red Dot Design Awards.

The Red Dot Awards feature more than

18,000 design professionals, companies, and

organisations from more than 60 countries each

year. This year's Red Dot jury comprised 50

international designers, design professors, and

journalists from 23 countries.

Red Dot Product Design awards are judged on

for all enquiries email:

or call:
---
10 Years Ago

Time Machine: June 2012

A snapshot of the industry events making headlines this time 10 years ago in Jeweller.

Historic Headlines

4 Hong Kong jewellery fair bigger than ever

4 Online retailers dodging GST

4 Rio Tinto to share the story of its diamonds

4 Jeweller Paul Dracakis awarded OAM

4 Harry Winston buys back pink diamond for $17.4M

STILL RELEVANT 10 YEARS ON

Think before you post

Many are only conscious of what the last

'w' in 'www' stands for as they embrace the

'web' of communication opportunities. Not

being conscious of the fact everything you

post instantly becomes 'world wide' gives

people the confidence to write things they

would never say in an open forum.

READ ALL HEADLINES IN FULL ON

JEWELLERMAGAZINE.COM

Napoleon's jewellery hits

National Gallery of Victoria

An impressive array of Napoleon Bonaparte's

belongings arrived in Australia at the National

Gallery of Victoria (NGV).

The collection not only includes luxurious

jewellery, watches and silverware, it

demonstrates Napoleon's links to Australia.

The exhibition includes jewellery and other

luxury items as well as an impressive collection

of furniture, paintings and ornaments.

Also on display are Napoleon's uniforms,

decorative weaponry and trademark hat as well

as his first wife's (Josephine) jewellery, books

and silverware, all of which showcase the powercouple's

status and wealth.

The NGV worked in collaboration with The

Foundation of Napoleon in Paris to lend more

than 100 of its greatest treasures to the winter

exhibition. Some exhibits were already housed

in Australia.

Bevilles Jewellers closes

Queensland stores

After a five-year foray into Queensland,

jewellery chain Bevilles will close its two

suburban Brisbane stores by the end of July.

Bevilles' stores in Chermside and North Lakes,

which opened in 2006 and 2007 respectively

will close in the coming weeks as the retailer

shifts its focus back to its Victorian and NSW

operations.

Michelle Stanton, managing director Bevilles,

told Jeweller that the decision was made not

to renew leases because the stores were not

achieving adequate turnover, despite

impressive foot traffic.

June 2012

ON THE COVER Changing the Face of Retail

Editor's Desk

4Can you hear the noise?: "You are,

obviously, holding a very different

edition of Jeweller. Not only is it a

bumper, 68-page issue, but it's almost

wholly devoted to the digital age.

More precisely, this issue focuses on

the increasing importance of social

media and the role it plays in changing

consumer behaviour.

We all know how the internet has

changed business and we've already

witnessed the staggering growth of

e-commerce. While the jewellery

industry has often been accused of

being slow to embrace the digital age,

I believe we are witnessing another

seismic shift, even though many in the

industry are already way behind the first

shift.

My observation - not prediction! - is that

social media has passed the fad stage

and is now a trend, the difference being

that trends are short-lived behaviour

whereas a trend develops into a

permanent change.

The worrying thing is not only that

many retailers and suppliers are so

far behind that they can't see - or fail

to acknowledge - how new media has

changed the way consumers shop, but

that the same retailers and suppliers

are going to find it almost impossible to

play catch up."

Nationwide conference sizzles

Nationwide Jewellers took its annual winter

conference to the toasty surrounds of Darwin

this year, and reported a roaring trade and a

genuinely fun experience.

The buying group had announced several new

products in the months leading up to the annual

conference, and received impressive feedback

about the new offerings from the 135 retail

members that attended.

Nationwide director Collin Pocklington said he

was pleased with members' response to the new

initiatives, and noticed a strong interest in Gabi

Tolkowsky's new Astralis diamond cut.

"[The Astralis went] exceptionally well," he told

Jeweller. "All day we had people queued up for a

chance to buy them. It could quite possibly be the

biggest product launch we've ever done."

Police raid Westfield retailer for

counterfeit jewellery

Police seized hundreds of counterfeit jewellery

and fashion accessories in a raid on a Sydney

shopping centre last week.

Police allegedly discovered 172 counterfeit items

on display, with more than 1,000 other counterfeit

products in storage.

The falsely branded goods, which included rings,

earrings, watches, money clips and more, were

being promoted as authentic but sold cheaply. The

Hurstville store's inventory was estimated to be

worth around $300,000 if given the pricing of the

products they were imitating.

Police expect to charge a 34-year-old female

store-owner with several offences, including

selling fake trademarked goods.

C

M

Y

CM

MY

CY

CMY

K

26 | June 2022
---
Grown Diamonds

Access Australia's largest lab-grown diamond inventory

Over 80,000+ Diamonds available online

Over 2,000+ Diamonds on hand available for consignment in Australia

Register now - Trade customers only

GROWNDIAMONDS.COM.AU

Optically, chemically & physically identical to

earth mined diamonds

75% - 85% cheaper than mined diamonds

Get bigger & better quality diamond

than earth mined diamonds

A great alternative for clients with

a smaller budget!

Available online access of close up

videos, photos, and lab certificates

Eco-Positive & 100% mine-free

Consignment available

Free express shipping & 5% discount if you buy ONLINE

Scan to visit our website

GROWNDIAMONDS.COM.AU

contact@growndiamonds.com.au

1800 849 291

Level 11, Suite 1102

227 Collins St

Melbourne VIC 3000
---
Behind every gemstone,

there is a fascinating story

waiting to delight clients

around the world. Studying

with GAA brings the

expertise, networking and

confidence to build a solid

career in a multimilliondollar

industry. Joining

one of the most supportive

and passionate professional

communities of gemmologists

in Australia was one of the

best decision I ever made.

Gina Barreto FGAA DipDT

Gemmologist and Diamond Technologist

Diamond

Courses

Practical Diamond Grading

Advanced Practical Diamond Grading

Diploma in Diamond Technology

Enrolments now open

For more information

1300 436 338

learn@gem.org.au

www.gem.org.au

Be

Confident

Gem-Ed Australia

ADELAIDE BRISBANE HOBART MELBOURNE PERTH SYDNEY

Passionately educating the industry, gem enthusiasts

and consumers about gemstones
---
REVIEW

Gems

Pearls Part III: Akoya

Above: Yoko London; Tasaki; David Morris

Below: Mikimoto

Typically round in shape, white or cream

in colour with a pinkish overtone, and

possessing a high lustre – Akoya pearls

are a classic. For consumers of the western

world, these saltwater cultured pearls are

the most popular choice.

Unlike the more limited oyster species

that produce South Sea or Tahitian

pearls, Akoya pearls may grow in any

Akoya species complex consisting of

the Pinctada fucata, martensii, radiata,

and imbricata.

These species of oyster are relatively

small and generally produce pearls with

an average diameter up to 8mm, and

much more rarely up to 10mm.

Keshi Akoya – pearls accidentally

produced, as a by-product of the

cultivation process – can be as

small as 0.7mm.

A renowned figure in the pearling world

- Kokicki Mikimoto was the first to bring

cultured pearls to the market after his

experiments with cultivating Akoya pearls

via the Nishikawa-Mise method. Mikimoto

was established in 1893, followed by the

consistent production of pearls circa 1916.

Before these Akoya cultured pearls

became commercially significant around

the 1920s, pearls were only natural,

rare, and very expensive. Cultivating

pearls meant new demographics could

now enjoy what was once reserved for

the elite.

By the 1960s, the pearling industry

was an essential contributor to Japan's

economy following World War II. So much

so that Japan introduced a prohibition on

the culturing of Akoya pearls in foreign

countries in an effort to keep the secrets

of cultivating pearls within Japan.

Eventually, a combination of factors led

to the decline of Akoya pearl production

in Japan and a shift, as China became a

significant producer of Akoya pearls.

Today, Akoya pearls are still grown in

Japan and China, in Vietnam, and since

1999 – right here in Australia.

Unlike the Japanese and Chinese Akoya

pearls - known for their thin layers of

nacre (0.2mm-0.5mm) and standard

bleaching and dye processes to alter

colour - Australian Akoya pearls boast

a longer cultivation period of 18 months

(allowing thicker nacre production) and no

treatments post-growth.

Situated on the central coast of New

South Wales, the Broken Bay pearl

farm climate is ideal for the Akoya pearl

species, Pinctada imbricata fucata. Here,

the Australian seeders producing these

Akoya pearls are trained in the way of the

traditional Japanese method and receive

regular visits by Japanese specialists

during harvest season.

In addition to their nacre quality,

Australian Akoyas come in a variety of

colours besides the traditional white.

Akoya Pearl

Produced by the

Pinctada fucata,

martensii, radiata,

and imbricata oysters

Colour: Multiple

Found in: Australia,

Japan, China, Vietnam

Mohs Hardness: 2.5 - 4

Lustre: Sharp

Formula: CaCO ³

Oranges, greens, dark blues, deep silvers,

and light to deep golden hues all naturally

occur without treatment.

An on-going challenge in identifying the

origin of pearls is particularly prevalent

for saltwater pearls in the white to silver

hue range, such as Akoyas, as they all

form in various Pinctada oyster species.

For a typical gemmologist without

access to sophisticated laboratory

equipment, examination of the drill hole

remains the most useful in separating

a bead-nucleated cultured pearl from a

natural pearl.

Upon close examination, the drill hole in

an Akoya pearl will show a disconformity

where the nacre ends, and an organic

layer covering the shell bead begins –

called the conchiolin.

The layer will often be bleached and dyed,

which is a common and accepted practice

for Akoya pearls. This visible layer is

distinct from a natural pearl's continuous

concentric layers of nacre.

Mikaelah Egan FGAA Dip DT

began her career in the industry at

Diamonds of Distinction in 2015. She now

balances her role at the Gemmological

Association of Australia with studying

geology at the University of Queensland.

Visit instagram.com/mikaelah.egan

For more information on gems and

gemmology, go to www.gem.org.au

June 2022 | 29
---
WORLD RANKINGS OF JEWELLERY

INDUSTRY PUBLICATIONS

As at 31 March 2022, Jeweller was ranked 65,246, in the world, well

ahead of other jewellery industry titles in more populous countries.

For example, the US magazines JCK, Instore, and National Jeweler,

ranked 87,514, 222,301 and 250,243 respectively, even though the

population of the US is much larger than Australia.

POSITION PUBLICATION COUNTRY

WORLD

RANKING

1 Jeweller Australia 65,246

2 JCK USA 87,514

3 Instore Magazine USA 222,301

4 National Jeweler USA 250,243

5 Retail Jeweller India 264,557

6 Jewellery Net Asia Hong Kong 371,672

7 Diamond World India 515,279

8 Professional Jeweller UK 550,812

9 Solitaire Magazine Singapore 842,952

10 Retail Jeweller Magazine UK 1,019,888

11 Indian Jeweller India 1,077,502

12 The Jewelry Magazine India 1,195,354

Leaders and numbers

have one thing in common...

13 Jewellery Outlook UK 1,212,803

14 Jewellery World Australia 1,226,650

15 Art of Jewellery India 1,237,318

16 Jewellery Focus UK 1,290,905

17 Jewellery Business Canada 1,388,929

18 Jewellers Network South Africa 1,436,224

19 Jewellery Monthly UK 2,196,837

Jeweller has been the leading voice of the Australian and New Zealand jewellery

industries for 25 years, and today we rank #1 in the world.

Alexa, the independent global ranking system for measuring website traffic and

readership, now ranks jewellermagazine.com as the most widely read industry

publication in the world – by far!

Better still, the daily time spent on jewellermagazine.com is more than 21 minutes,

which far exceeds all other international publications, which average only 2–3

minutes per visitor. Moreover, our 'page views' is miles ahead of all other industry

publications.

In addition, Jeweller's social media presence dominates and our eMags boast more

than 12.3 million reads.

The numbers speak for themselves - follow the leader, and follow the readers too!

20 Canadian Jeweller Canada 2,670,625

21 The Retail Jeweler USA 3,218,391

22 Preziosa Magazine Italy 3,582,030

23 Gold Book Magazine Turkey 4,099,295

24 Bangkok Gems & Jewellery Thailand 4,558,422

25 Hong Kong Jewellery Magazine Hong Kong 6,296,819

26 The New Jeweller UAE / India 10,992,912

27 Jewel Trendz India NO DATA

28 Solitaire International Singapore NO DATA

29 Jewellery Time New Zealand NO DATA

POSITION

TRADING PLATFORM /

PUBLICATION

COUNTRY

WORLD

RANKING

1 Rapaport Magazine* USA 139,695

2 Idex* Israel 370,487

VOICE OF THE AUSTRALIAN JEWELLERY INDUSTRY

Denotes titles connected to diamond trading platforms / publication
---
NUMBER OF PAGES VIEWED BY READERS

TIME SPENT ON JEWELLERY WEBSITES

BOUNCE RATE / PAGE 'STICKINESS'

Page Views is the number of times a reader visits any page

on a website. A higher Page View figure the better, because it

means readers are more engaged in the content. Jeweller's

Page View count of 12 leads all websites while most others

can only record a single Page View before the reader leaves.

Time-on-Page is the average time a reader spends on a page

while Time-On-Site is how long they spend on the site each day.

Jeweller leads the world with a Daily Time of 21.50 minutes,

while most other publications only manage 1-2 minutes. The

more time spent on a website, the better the global ranking.

The Bounce Rate measures the percentage of visits that

consist of only a single page view. It indicates the percentage

of readers that land on a website, and immediately leave

('bounce off') meaning a low bounce rate is optimal. Alexa

records Jeweller's Bounce Rate at less than 25 per cent.

POSITION PUBLICATION COUNTRY PAGE VIEWS

POSITION PUBLICATION COUNTRY

DAILY TIME

(IN MINUTES)

POSITION PUBLICATION COUNTRY

BOUNCE

RATE

1 Jeweller Australia 12.00

2 Retail Jeweller India 8.60

3 Jewellers Network South Africa 6.00

4 Jewellery Business Canada 4.00

5 Gold Book Magazine Turkey 4.00

6 Jewellery Net Asia Hong Kong 3.60

7 Solitaire Magazine Singapore 3.00

8 JCK USA 2.20

9 Jewellery Outlook UK 2.00

10 The Jewelry Magazine India 2.00

11 Jewellery Focus UK 2.00

12 Indian Jeweller India 2.00

13 Canadian Jeweller Canada 2.00

14 Jewellery Monthly UK 2.00

15 Instore Magazine USA 1.70

16 Diamond World India 1.50

17 National Jeweler USA 1.30

18 Professional Jeweller UK 1.10

19 Retail Jeweller Magazine UK 1.00

20 Art of Jewellery India 1.00

21 Jewellery World Australia 1.00

22 The Retail Jeweler USA 1.00

23 Preziosa Magazine Italy 1.00

24 Bangkok Gems & Jewellery Thailand 1.00

25 Hong Kong Jewellery Magazine Hong Kong 1.00

26 The New Jeweller UAE / India 1.00

27 Jewel Trendz India NO DATA

28 Solitaire International Singapore NO DATA

29 Jewellery Time New Zealand NO DATA

1 Jeweller Australia 21:50

2 Retail Jeweller India 14:59

3 Jewellers Network South Africa 12.22

4 Jewellery Net Asia Hong Kong 02.60

5 Art of Jewellery India 02.49

6 JCK USA 02.47

7 Indian Jeweller India 02.47

8 Gold Book Magazine Turkey 02.26

9 Jewellery World Australia 02.23

10 Instore Magazine USA 02.12

11 Diamond World India 02.03

12 Jewellery Outlook UK 01.53

13 Solitaire Magazine Singapore 01.51

14 National Jeweler USA 01.49

15 Jewellery Focus UK 01.32

16 Professional Jeweller UK 01.28

17 Jewellery Business Canada 01.17

18 The Jewelry Magazine India 01.05

19 Retail Jeweller Magazine UK 00.60

20 Jewellery Monthly UK 00.34

21 Jewel Trendz India NO DATA

22 Solitaire International Singapore NO DATA

23 Bangkok Gems & Jewellery Thailand NO DATA

24 The New Jeweller UAE / India NO DATA

25 Jewellery Time New Zealand NO DATA

26 Canadian Jeweller Canada NO DATA

27 The Retail Jeweler USA NO DATA

28 Preziosa Magazine Italy NO DATA

29 Hong Kong Jewellery Magazine Hong Kong NO DATA

2 Jeweller Australia 24.40%

1 Retail Jeweller India 22.70%

3 Jewellery Net Asia Hong Kong 36.80%

4 Retail Jeweller Magazine UK 45.50%

5 Jewellery Outlook UK 50.00%

6 Jewellery Business Canada 58.30%

7 The Jewelry Magazine India 60.00%

8 Jewellery Focus UK 62.50%

9 JCK USA 64.40%

10 Art of Jewellery India 69.20%

11 Diamond World India 69.80%

12 Professional Jeweller UK 72.20%

13 Instore Magazine USA 72.70%

14 Jewellery World Australia 78.60%

15 Indian Jeweller India 81.00%

16 National Jeweler USA 82.30%

17 Jewel Trendz India NO DATA

18 Jewellery Time New Zealand NO DATA

19 Canadian Jeweller Canada NO DATA

20 The Retail Jeweler USA NO DATA

21 Preziosa Magazine Italy NO DATA

22 Bangkok Gems & Jewellery Thailand NO DATA

23 Hong Kong Jewellery Magazine Hong Kong NO DATA

24 The New Jeweller UAE / India NO DATA

25 Jewellers Network South Africa NO DATA

26 Gold Book Magazine Turkey NO DATA

27 Solitaire Magazine Singapore NO DATA

28 Jewellery Monthly UK NO DATA

29 Solitaire International Singapore NO DATA

POSITION

TRADING PLATFORM /

PUBLICATION

COUNTRY

PAGE VIEWS

POSITION

TRADING PLATFORM /

PUBLICATION

COUNTRY

DAILY TIME

(IN MINUTES)

POSITION

TRADING PLATFORM /

PUBLICATION

COUNTRY

BOUNCE

RATE

1 Idex* Israel 1.60

2 Rapaport Magazine* USA 1.80

1 Rapaport Magazine* USA 02:20

2 Idex* Israel 02:06

1 Rapaport Magazine* USA 54.60%

2 Idex* Israel 63.70%

All data collated as at 31 March 2022
---
Concept to Customer

Jewellery Casting

Casting daily in Australian gold,

Australian silver and platinum.

Our experts in jewellery design

and finishing, offer an exceptional

end to end service.

1300 886 108 | AUSTRALIA WIDE

palloys.com
---
FEATURE

CAD/CAM Report

The

DIGITAL

DECADE

2022 CAD/CAM REPORT

It's been 10 years since Jeweller first began exploring the world of CAD/

CAM technology, and its impact on the Australian jewellery industry.

SAMUEL ORD winds back the clock to examine some early

expectations, before surveying the state of play today.
---
The Digital Decade | 2022 CAD/CAM REPORT

Once, the words

'CounterSketch'

and '3D printer'

might have

been met with

a confused or

dismissive look.

T

he past 10 years have brought about

remarkable advances in science and

technology.

In 2012, the discovery of the Higgs boson was

made public. In 2019, the first image of a black hole was

captured while the most notable influence on society has

undoubtedly been the rise of smartphones and the impact

of social media.

Advances in science and technology have also reshaped a

number of retail industries.

It's been a significant period of advancement for the use of

technology within the jewellery industry, particularly when

it comes to Computer-Aided Design and Computer-Aided

Manufacturing (CAD/CAM).

Jeweller published its first report in June 2012 on the state

of CAD/CAM within the Australian jewellery industry.

"The Australian jewellery industry is three to 10 years

behind the rest of the world with its implementation of

retail computer-aided design (CAD) systems, which has

partly been due to our smaller market and the exclusion of

global competition," the report stated.

"It's futile to ignore the foreign invaders any longer

because retailers who work with technology can deliver

quality productions in less time with more competitive

pricing than their competitors."

At the time, the question on the minds of retailers was

whether or not CAD/CAM would become a significant

'force' in the jewellery industry.

Would it make a lasting impact on the trade, or come

and go like so many other ideas once entertained as

revolutionary?

It didn't take long for that question to be answered. With

manufacturing costs shrinking with each passing year, the

industry has increasingly embraced technology which has

showcased increasingly user-friendly functionality and

cost-effectiveness.

Boutique comeback

The Pallion Group is the largest precious metals services

group in Australasia with manufacturing facilities located

in Melbourne, Sydney, Hong Kong and Shenzen.

Since the 1950s, Palloys – one of six entities which forms

the Pallion Group – has taken pride in the expansion of

TIMELINE

3D Printing in

Numbers

1945

The general concept

of 3D printing was

first described in a

US short story

1980

Early additive

manufacturing

equipment was first

developed

1995

The Fraunhofer

Society developed

the selective laser

melting process

2009

Fused Deposition

Modeling (FDM)

printing process

patents expired

2020

Entry level 3D

printers dropped

below $US200,

leading to an influx

of recreational users

Right to left: Palloys was one of the first Australian countries to embrace

CADCAM; Intricate designs created by Palloys. Image credits: Palloys

jewellery casting, custom jewellery production and CAD/

CAM services on offer.

Palloys was an early adopter of CAD/CAM and in 2012, was

one of the first companies to share insight with Jeweller on

the rise of the technology in the jewellery industry.

Ten years ago, head of operations, Manuel Kalergis, had

this to say about the future of the trade.

"You'll see CAM wax printing getting smoother and

turnaround times for CAD drawing reduced," Kalergis said.

"In the next few years, you'll also see the rise of Direct

Metal Laser Sintering (DMLS) an additive rapid prototyping

process that builds up metal using a laser.

It's futile to ignore the foreign invaders any longer

because retailers who can work with technology can

deliver quality productions in less time with more

competitive pricing than their competitors.

"The laser fuses powdered metal layer by layer by

scanning cross sections generated from a CAD file. DMLS

technology bypasses the casting process all together

and will produce stronger products, comparable to CNC

manufacturing."

One decade later, Palloys operations manager Chris Botha

says those predictions were close to the mark but not quite

in line with what was to come, showcasing that advances

in technology aren't always linear.

"Interestingly, the improvement we foresaw in CAM wax

printing seems to be more observable in resins. Resin

machines have become exponentially cheaper over the

past 10 years," he says.

"Moreover, casting processes have greatly improved,

facilitated by keeping our hardware up to date and of the

highest quality.

"Additionally, vacuum-vibration technology and

overpressure technology have also improved. Direct Metal

Laser Sintering (DMLS) has not dropped in cost enough yet

to become accessible in the mainstream market, but we

anticipate this will happen over the next 5 years."

Palloys is currently investigating an investment in DMSL

technology.

34 | June 2022
---
Wax injection. Make it easy.

riacewax.com
---
The Digital Decade | 2022 CAD/CAM REPORT

Left and middle: Sprue trees

created by Palloys as a part of the

casting process.Image credits:

Palloys Right: Models created using

3D printing by Morris and Watson.

CAD/CAM has been lauded as a way of bringing 'in-house'

manufacturing back for jewellers.

Botha says that remains one of the most promising aspects

of the trade.

"I am starting to see more of a boutique industry for CAD/

CAM in the coming years," he says.

"Previously, the industry demanded workshops of hundreds

of people, whereas now some workshops only require a

single person, with their own printer and doing their own

work.

"Even if just for prototyping, the CAD/CAM industry is

becoming a more accessible industry.

"The CAD software industry is moving towards a future where

consumers have greater control and autonomy. With the

constant technological evolution, now there are many more

user-friendly, lower-cost options available for users in terms

of 3D Printers.

"There will be an amalgamation between the handmaking

jeweller and the CAD designer, moving forward. We have

already begun observing this trend in our own client base."

Rapid Prototyping Services production manager Ben Farago

agreed with this sentiment but says that for those exploring

CAD/CAM production for the first time, it's crucial to avoid

the common pitfalls.

"I think everyone in the trade knows the general direction

things are heading in the future, the advancements have

been steady and consistent," Farago says.

He also emphasised the importance of research and

forwarding planning when it comes to production.

Chemgold

Based in Sydney, Chemgold aims to offer the solution to any

jewellery manufacturing dilemma - by offering all precious

metal products and services; casting, refining, fabricated

alloys and mounts paired with a catalogue consisting of

thousands and thousands of designs.

Chris Botha

Palloys

"CAD/CAM has

brought a whole new

level of people into the

industry, for people

who did not previously

have the skillset, CAD/

CAM gives them the

chance to express

themselves. "

Darren Sher

Chemgold

"Providing a client

with up-to-date

information on the

status of an order in

the manufacturing

process is highly

valued. "

Alession Farnetani

Riacewax

"Today, what we are

capable of producing

wih injectors, it was

the stuff of dreams

back then [2007]."

Chemgold was a notable contributor to the 2012 CAD/

CAM report. At the time director Larry Sher highlighted the

opportunity technology presents jewellers when it comes to

avoiding expensive local labour costs: "There are far more

opportunities for jewellers to be able to create whatever they

require."

He added: "Chemgold has exciting developments in the

pipeline and aims to be a leader in the development of

new technologies for the jewellery industry. Advances in

technology are increasing at a rapid rate, which will only

improve the speed and resolution.

"Previously, the industry demanded workshops of

hundreds of people, whereas now some workshops

only require a single person, with their own printer

and doing their own work. "

"To remain competitive, the majority of jewellers will need

to embrace CAD/CAM by outsourcing the design aspect

to companies such as ours, along with learning to use the

software themselves if they choose."

In the years since that statement, Chemgold has significantly

invested in staff training to account for rising demand, with

jewellers increasingly utilising Chemgold's CAD-based

libraries.

Today, Chemgold's director Darren Sher says he continues to

be impressed by the rapid rate at which the industry adopts

advances.

"I believe that CAD programs will become more and more

user friendly," he says.

"We're going to see printers reach higher resolutions and

faster printing. There will inevitably be developments in

software for job tracking for the customer too. Providing a

client with up-to-date information on the status of an order

in the manufacturing process is highly valued."

36 | June 2022
---
With the increase in popularity of the technology

Sher says there is always a need to train and hire

staff to service demand and services.

"We are also continuously building on our

database for our staff to ensure any [updated]

information is easily accessible.

"With jewellers and stores, in general, being

extremely busy we have found that using a

one-stop-shop for CAD/CAM suits many of

our customers who can use all or some of

the services for jewellery production – from

designing, printing, casting, moulds, finishing

and setting."

World of wax

One name we may soon be hearing more often is

Riacetech. The business was founded in 2006 by

Giovanni Lejkowski and is based in Arezzo, a city

in eastern Tuscany in Italy.

Riacetech creates innovative wax injectors which

provide companies in the casting industry with a

range of functionalities and compatibilities.

Technical sales engineer Alessio Farnetani told

Jeweller that what's capable today with wax

injectors would have been considered fanciful a

little more than a decade ago.

"Our wax injectors were first created in 2006 and

the business was started in 2007. Today, what we

are capable of producing with the injectors, it was

the stuff of dreams back then," he says.

"A lot of the advances come down to things

like network connectivity and improvements in

user-friendly access. Today, it's very much easy

to begin making creations compared with what it

was like not too long ago.

"Improving user experience has always been

important for us, as is increasing the efficiency

of use, both to cut down on waste in an

environmental sense and also to save money for

the creator financially."

Riacetech serves clients both in and out of

Europe, with a number of Australian businesses

currently utilising the company's wax injectors.

Farnetani says that his sector has undergone a

rapid rise and fall in orders since the 'conclusion'

or winding down of the COVID pandemic.

"For our business, the flow of orders we've had in

recent months, I would describe as sort of like an

elastic band," he says.

Above: Riacetech's

Bi Hydro Endura is

controllable from

a colour touch

screen, and is

able to produce

about 480 3D

hollow pieces of

small and medium

size each day.

Right: Creators

use a touch

screen interface

to operate the

injectors. Image

credits: Riacewax

Your Casting Specialist

Experience exceptional quality & service

• Casting All Alloys Daily

• Waxes, Moulds & Mounts

• Design, 3D Printing & Finishing

1300 984 751

Unit 37, 34-36 Ralph St, Alexandria, NSW 2015

sales@chemgold.com | www.chemgold.com

Follow us
---
CASTINGS • MOULD-MAKING

CAD/CAM • FINISHING • REFINING

Pure Casting from Concept to

Completion providing premium

quality castings, mould-making,

CAD CAM and Finishing.

Backed by many years of experience

and the latest technology and

equipment (including Envisiontec

Resin Printing) we are able to supply

specialised service to your business.

"Ready to take your jewellery

from Concept to Completion!"

"Did you know we can also

COMPLETE YOUR CUSTOM MAKES?"

25 Sydney Street, Marrickville NSW 2204

PO Box 263, Marrickville NSW 2204

cad@purecasting.com.au

info@purecasting.com.au

Left to right: Riacetech introduced

lean production systems with the aim

of eliminating waste; Wax moulds

created by Riacetech.

"Everything of course slowed down to a halt during

COVID, and then when business resumed everyone

rushed to get their orders in and we were very,

very busy.

"Now we've completed that surge of orders and

things have dried up again somewhat, but we've

completed our projections for the remainder of

the year and our outlook is positive and we're

confident we're heading in the right direction.

"I can't speak for everyone, of course, but I think

that's been a common experience for a lot of

engineering businesses such as ours.

The company is expected to showcase its products

at the upcoming Sydney trade fair, and Farnetani

says he hopes to gain some long-term Australian

clients.

"Because this industry is always advancing and

improving, it's never a one-and-done type of thing

with our products, the newest improvement is

always right around the corner," he explains.

Lessons learned

Rapid Prototyping Services, based in Sydney, also

works with wax – offering printing and casting

services along with CAD/CAM manufacturing of

precious metal products and 3D printing.

Farago told Jeweller that last year's pandemic and

the restrictions on public gathering highlighted

some important trade principles, such as the

value of an up-to-date and user friendly website.

So, what does the future hold?

Over the past decade, the largest change in the

CAD/CAM industry has been the reduction of cost

required to utilise manufacturing technologies.

A method that was once restricted to the largest

of companies quickly opened up as technology

evolved, and new, jewellery-specific products and

programs arrived on the market.

The Jeweller 2012 report forecasted these

changes and concluded with an urgent call to

retailers.

"CAD is growing quickly. With this sort of

technology around the corner, how can retailers

ignore it?" the report asked.

"The future of everyday-CAD is almost here and

grows closer by the day. When toy companies like

LEGO, and furniture conglomerates like Ikea, are

already developing CAD-based software for the

everyday user, it's obvious that something big is

just around the corner.

"So, what does the future hold?

"CAD is growing quickly. With this sort

of technology around the corner, how

can retailers ignore it?"

"Retailers who choose to embrace CAD technology

as a part of their forward planning will benefit

greatly from this shift in the way that consumers

buy jewellery just as retailers who choose not to

embrace it will stay exactly where they are."

According to Palloys' Botha the industry at large

has heeded this message.

"The acceptance and adoption rate of CAD/CAM

jewellers has been extremely high. At this point,

most companies use CAD and CAM – this has

exceeded my expectations by far," he says.

"CAD/CAM has bought a whole new level of people

into the industry; for people who previously did not

have the resources or the skillset, CAD/CAM gave

02 8580 8141

www.purecasting.com.au
---
2022 CAD/CAM REPORT | The Digital Decade

www.morrisandwatson.com

NEW ZEALAND | 0800 500 654

AUSTRALIA | 1800 469 088

them the opportunity to express themselves.

"There has been widespread uptake of CAD/CAM services.

"At Palloys, we had customers who came to us with no knowledge about

CAD/CAM services, but just with a dream of seeing their drawing or idea

brought to life.

"It has given the trade a newer, more interesting life, as these designers

challenge the status quo.

Chemgold's Sher echoed this sentiment and says that Australia's

attitude towards technology in jewellery manufacturing in particular has

improved in recent years.

"We believe that with the what has unfolded during the pandemic,

mostly regarding the freight, but, also the quality and after-sales issues

that occurred during that time, a lot of manufacturers/stores decided to

opt for Australian made," Sher says.

"Not only is it a great selling point for most of the market, it's also

reduced their turnaround time greatly.

"Customers always value something being made locally and delivered

much quicker than any overseas competitor.

"The quality and attention to detail have also been a big turning point for

most of our customers as they receive the piece they require correctly

the first time around in a quick turnaround.

"Apart from this, they also enjoy the benefits of a much higher level of

after-sales service.

"We have seen a mass number of manufacturing roles open in the

industry the past few years with jewellers and setters and CAD

designers being in high demand across the country.

"This shows that there is a lot more interest in bringing manufacturing

back to Australian shores and keeping it here."

From the time of the first Jeweller CAD/CAM report until today, a

remarkable amount of industry advancement and change has occurred.

With costs continuing to decrease and capabilities continue to improve,

the next decade appears primed to create manufacturing possibilities

that a jeweller today would believe is a mere fantasy.

CAD/CAM

& MOULD

CREATION

Take Your Concept From Idea to Design,

Ready to Print CAD Files in Five Days!

*

*Lead time excludes other casting services and shipping, working days only.

Make a mould of your design to cast multiples

without multiple print fees, vulcanized rubber and

silicone moulds available from just $30.

Refining | Bullion | Fabrication | CAD/CAM | Casting | Chain
---
CELEBRATING

Local Talent

GEMMA GRACE

JEWELLERY

Flourish Earrings

Metals: Sterling

silver, 24-carat gold

plated silver

Gemstones: Garnet

Gemma Grace

Melbourne, VIC

Australia and New Zealand are not only home to some of the

rarest gemstones in the world, but also the most talented jewellers.

Jeweller showcases a tapestry of local masterpieces that have been

meticulously crafted with great artisanship, right here on home soil

280+

4

Product

Categories

Distinct Category

Sections

KROOL JEWELS

Chill / The Streets

Signet Rings

Metals: 9-carat

yellow gold; 925

sterling silver

Angus Smith

Newcastle, NSW

520

Individual Industry

Suppliers

500+

Jewellery &

Watch Brands

Supplier - Are you and your products listed?

Retailer – Get your copy?

Email info@jewellermagazine.com

www.jewellermagazine.com
---
ANNETTE

ELLSON

Compass

Necklace

Metals: Sterling

silver

Gemstones:

Variscite

Annette Ellson

Perth, WA

LILLY GRIFFIN

Butterfly Necklace

Metals: 14-carat gold,

sterling silver

Gemstones: Pearl

Nicki Cliff

Auckland, NZ

MERCHANTS OF

THE SUN

The Lovers Pendant

Metals: 18-carat

gold vermeil plated /

recycled 925

sterling silver

Matthew &

Harley Banks

Gold Coast, QLD

BUNDA FINE

JEWELS

Apus Fan

Earrings

Metals: 18-carat

yellow gold,

18-carat

white gold

Gemstones:

Diamond

ROBIN WELLS

Ruby Leaf

Imprint Earrings

Metals: 24-carat

gold, sterling

silver, fine silver

Gemstones: Ruby

Robin Wells

Perth, WA

Ben Bunda

Sydney, NSW

SIMON WEST

FINE JEWELLERY

Marquee Ring

Metals: Platinum

Gemstones:

Diamond, ruby

Simon West

Melbourne, VIC

CHARLOTTE J

STUDIO

The Tarot Ring

Metal: 9-carat yellow

gold / sterling silver

Gemstones: Opal,

sapphire

Charlotte J

Melbourne, VIC

June 2022 | 41
---
FILLING THE

Fancy Colour Void

Image: De Beers

Colour diamonds have increasingly become a consumer favourite, reaping great rewards

for retailers. Will their popularity continue and where will new sources come from?

SAMUEL ORD surveys the landscape with a range of industry voices.

It's impossible, of course, for anyone to provide

an accurate figure on just how many diamonds

unearthed meet the requirements to be classed

as fancy colour, however the widely cited number is

one in 10,000.

Of those that are unearthed, the vast majority are yellow

or the common brown. More than 70 per cent in fact!

Then there are the far rarer colours that are currently

commanding record levels of interest at auction - the

blues, greens, violets, blacks, purples, reds and of

course, pinks.

The rarity, combined with the beauty of these gemstones,

makes them a prize to any passionate collector.

William Gant, LJ West managing director, says it's a

volatile time for the industry around fancy colour

diamonds, however, the gemstones themselves remain

as highly valued as ever.

"As the recent upheavals in geopolitics and equities and

crypto markets have shown, volatility is frighteningly high

everywhere you look," Gant says.

"But premium fancy coloured diamonds have remained a

stable and growing asset that weathers such storms, and

continues to grow in value.

Gant continued by highlighting the importance of retailers

and suppliers alike to remain adaptive.

IN NUMBERS

Fancy Colours

2009

Tiffany & Co.

acquired exclusive

rights to yellow

diamonds

unearthed at the

Ellendale Mine

59.60

The weight in

carats of the Pink

Star diamond,

which was

auctioned in 2017

for $US71.2 million

12 million

The estimated

value of the Pink

Jubilee, a 12.76

carat Argyle pink

diamond

"The global pandemic forced a period of adjustment on the

industry as a whole, by limiting travel and trade fairs," he

added.

"But this also presented opportunities as demand

remained strong and disposable income was high from

lack of travel. Those who adapted to digital or remote sales

methods have performed very well."

State of play

In June last year, Jeweller published a comprehensive

review of the market, and with increased optimism

spreading with the removal of the shackles of the global

pandemic, experts gazed into their crystal balls and eyed a

positive rebound in 2022.

"We are looking optimistically forward to a revitalised

market in 2022," Fancy Colour Research Foundation

(FCRF) CEO Miri Chen told Jeweller last June.

It's the kind of good news the industry loves to be told -

but has this been the case? The natural colour diamond

industry has faced increasing pressure in recent years on

more than one front.

The man-made diamond industry has continued to apply

competitive pressure as it searched for manufacturing and

technological advances.

This has been paired with a new kind of influence precious

gemstone manufacturers and retailers are witnessing,

which is the rise of the 'conscientious' consumer; people
---
De Beers

who want to not only be told that products are coming

from the ethical origins – they expect retailers to be able

to prove it.

The conscientious consumer is fickle and once you've

lost them, they're difficult to win back. Following Russia's

invasion of Ukraine in late February, these consumers

have turned their attention to Russian diamonds and

many major retailers have been forced to respond by

banning their sale.

Rolling with the punches

With three months of 2022 FCRF data open for analysis,

Chen recently spoke with Jeweller and said all indicators

remain optimistic despite recent unexpected pressures.

"In light of the COVID lockdowns in China and the war

in Ukraine, the market no longer expected such a sharp

recovery, so in that regard, it's exceeding expectations,"

Chen says.

"In the first quarter of 2022 the average price of fancy

colour diamonds across the board rose by one per cent

led by pinks at 1.3 per cent and yellows at 0.7 per cent.

"But this also presented opportunities as

demand remained strong and disposable

income was high from lack of travel. "

"This continues the rise in the price of 89 per cent of all

fancy colour categories in 2021."

Western Australia has been home to some of the

world's most highly sought yellow and pink fancy colour

diamonds.

Ellendale Diamonds director Christopher Soklich says

that from an Australian perspective, 2022 is off to a

respectable start.

"In a marketplace that is continually changing due to

social and economic circumstances, it is important to

be agile, have a point of difference and that continuity

and reliability across all aspects of your business gives

confidence to your end client," Soklich says.

"Whilst this can be difficult to navigate in the current

climate your perseverance and diligence will help you

reap the rewards.

"We have encountered a solid start to 2022. It has not

been without its challenges in an ever-shifting landscape,

where thinking on your feet and being able to be

adaptable to the challenges presented by the pandemic

Graff

Leibish

David Morris

Malpani Jewels

have been a must.

"As confidence begins to return, restrictions are lifted

and freedoms are returned, we expect to see a continuing

resurgence in sales."

Fancy colour pink diamonds are regarded as the rarest in

the world. Approximately 90 per cent of these diamonds

have been unearthed in the Kimberley region of Western

Australia.

Soklich said he can't see any challengers any time soon to

the status and prestige held by pink diamonds.

"Our natural Argyle pink diamonds continue to be sought

after as the princess of the coloured diamond world," he

says.

"With less available due to the Argyle Diamond mine

closure, we expect to see demand continue to increase for

these rare and resplendent stones.

"Clients are now being tempted by alternative cuts such

as pear and cushion styles, although the round brilliant

cut diamond remains the most popular request. We have

also seen a surge in requests for larger natural yellow

diamonds with pear cuts coming out on top."

LJ West's Gant agreed with Soklich and says the

popularity of Argyle product has only increased.

"Pink and violet diamonds, particularly from the Argyle

deposit, have been in very high demand in Australia," he

says.

"This is likely to continue for some time as these stones

are as collectable as they are beautiful. Demand has

been strongest for Argyle-certified stones, but these are

becoming rarer.

"The vast majority of Argyle's diamonds are not certified:

there has been a growing popularity for stones that have

independent origin certification confirming their Argyle

provenance – we expect this trend to continue and the

value to grow."

Gant says the hunt for the next big source of fancy colour

diamonds remains alive.

"Diamond mining has been predicted to grow over the

next couple of years, with locations such as Namibia

getting some attention," he added.

"However, there is no 'next Argyle' to be found anywhere

as yet – the world waits with bated breath!"

Russia?

It was once suspected the search for a new source of

fancy colour stones may end in Russia.

44 | June 2022
---
Filling the Fancy Colour Void | COLOUR DIAMOND FEATURE

Salt and Pepper Diamonds; Melanie Katsalidis

Russian company Alrosa is the world's largest producer of

rough diamonds and fancy colour gemstones account for

less than one-tenth of a one per cent of the company's total

output.

In February of 2020, Rebecca Foerster, the former president

of Alrosa's USA branch, hinted at the company's plans to

claim a larger stake in the colour market.

"Alrosa deposits are known not only for their colourless

diamonds, but also for a variety of rough coloured

diamonds. Our cutter's unique skills allow us to turn them

into high-quality diamonds," she said.

"A closed production cycle guarantees the origin of each

stone and allows us to track its path from its birth in

Earth's mantle.

"With these advantages, Alrosa may well become a world

leader in the coloured diamonds market."

Following the invasion of Ukraine two years later in

February of this year, it's safe to see those ambitions have

been put on ice.

Retail titans Signet Jewellers, said to be the world's largest

diamond retailer, announced that it will no longer source

diamonds originating from Russia as a response to the

conflict. Tiffany & Co and other retailers, large and small,

have taken similar stances.

FCRF's Chen says the absence of Russian and Chinese

influence on the market will be two of the biggest factors in

the months to come.

"We expect the demand for yellow diamonds to continue,

especially with the boycott on Russia that significantly

affected the supply of yellow diamonds," she says.

"And when the Chinese, who are in lockdown and with

travel restrictions due to COVID, will return to the market,

we will see an increase in demand.

"In terms of specific inventory trends, we can see that the

leading companies have been buying more fancy colour

diamonds and increasingly incorporating it into their

collections, and even using yellow diamonds in engagement

rings."

Dabbling

Fancy colour diamonds occupy a smaller segment in

the cultural zeitgeist compared to white diamonds and

for many retailers, that can make them intimidating to

approach as a product for the first time.

Salt and Pepper Diamonds has been part of the Australian

jewellery industry since the 1950s and today, sell an

intriguing range of naturally flawed gemstones. Owner and

Fancy Colours in

Numbers

0.01%

Approximately

one in every 10,000

diamonds mined is

fancy colour

250 million

The estimated value

of the legendary

Hope Diamond

1867

The year the Eureka

Diamond was

discovered in South

Africa, believed to

be the first recorded

fancy colour

616

The weight in

carats of the

yellow Kimberley

Octahedral, the

largest natural fancy

colour diamond

1985

The year the Argyle

Mine was opened in

Western Australia,

source of 90 per cent

of the world's supply

of pink diamonds

jeweller Brendan Cunningham says maximising the unique

nature of the diamonds is the key to success.

"My advice to a jeweller considering entering the fancy

colour market for the first time would be to explore fancy

shapes," he advises.

"The less likely it is that a customer can compare a stone

you offer with one offered by your opposition, the less likely

it is that they will shop around. That sounds pretty blunt!

But the internet has made it particularly easy to compare

the prices of white diamonds. Our current trend cut is the

pear shape.

"People are after unique diamonds, although our strength

is in naturally flawed diamonds which we are still seeing

strong growth we have also ventured into reasonably priced

natural colours like browns and yellows.

We expect the demand for yellow diamonds to

continue, especially with the boycott

on Russia that has significantly

affected the supply of yellow diamonds.

"Some diamonds even have reddish characteristics. One

very cool diamond we found hidden in a parcel with a strong

orangish reddish inclusion. At the right angle, it looks like a

heart, it's remarkable."

Similar to other industry voices, Cunningham remains

optimistic about the future of the fancy colour market,

despite the wide variety of pressures it faces.

"There has been a lot of talk, especially amongst

the manufacturers in India, around price increases,"

Cunningham says.

"There's a shortage of rough and demand is very high.

From our perspective, we still have to manage to negotiate

reasonable deals while also finding a way to still offer

competitive prices that encourage decent retail margins.

"That's the balance for us, as it is for any jewellery retailer."

Educate

Harsh Maheshwari, director Kunming Diamonds, echoed

this sentiment and says it's thrilling to see the enthusiasm

around the rare diamonds increasing each year.

"Fancy colours have had a steady and healthy growth in the

past year," he says.

"Consumers' knowledge has exponentially heightened

about natural colour diamonds, which subsequently has

46 | June 2022
---
Natural Coloured

D I A M O N D S

l o S t r i v e r d i A m o n d S i S A n A u S t r A l i A n o W n e d b u S i n e S S S u p p ly i n g

C o l o u r e d d i A m o n d S t o l o C A l j e W e l l e r S f o r o v e r 3 0 y e A r S .

S u p p l i e r o f :

A r g y l e C e r t i f i e d p i n k d i A m o n d S | r i o C e r t i f i e d C h A m pA g n e d i A m o n d S | r i o C e r t i f i e d W h i t e d i A m o n d S

n At u r A l C o l o u r e d d i A m o n d S - y e l l o W , o r A n g e , g r e e n | W h i t e m e l e e | u n i q u e C o l o u r e d d i A m o n d j e W e l l e r y

3 / 1 0 5 S t g e o r g e S t C e , p e rt h WA 6 0 0 0 | 0 8 9 4 8 1 0 5 2 6 | troy@lostriverdiamonds.com | www.lostriverdiamonds.com
---
Filling the Fancy Colour Void | COLOUR DIAMOND FEATURE

Left to right: Le Vian; Leibish; De Beers; Kunming

led to soaring demand in key colours such as pinks and blues, and

with JLo's [Jennifer Lopez's] new green diamond ring, that has

started trending.

"The confidence in entering the fancy colour category is gained by

choosing the right supplier or having the right information.

"Don't shy away from sharing knowledge! It adds another layer to

the story of every purchase you make."

Ellendale Diamonds' Soklich says informing the customer about

the history of a diamond is crucial.

1.58ct | $2844+gst

"Education and marketing strategies are of great importance when

considering entering the fancy-coloured diamond market, being

able to understand the natural beauty, boundless design concept

options for unique pieces to be created and detail this to your

clients is key to successful sales," he says.

More accessible

At the highest end of the market, there are many reasons to feel

optimistic about the sector following recent auction results.

The world's largest blue diamond, the De Beers Cullinan Blue, was

recently sold at auction for $US57.47 million ($AU80.96 million)

at Sotheby's in Hong Kong. The 15.10-carat step-cut gemstone

was expected to go for $US48 million with pre-sale estimates

comfortably surpassed.

Meanwhile at Christie's Magnificent Jewels auction on 11 May,

The Red Cross Diamond, a 205-carat fancy intense canary yellow

cushion cut diamond was sold at a record-breaking price.

Pre-sale estimates projected that the diamond would garner

$US10 million, a target which was comfortably exceeded as an

anonymous bidder claimed the item for $US14 million

($AU20 million).

It's a fascinating aspect of the fancy colour industry, however

naturally, it's explored by only the ultra-wealthy. That exclusivity
---
FANCY COLOUR

AUCTION BLOCKBUSTERS

5.11 CARATS

14.82 CARATS

100.09 CARATS

5.03 CARATS

Moussaieff Red

The Orange

Graff Vivid Yellow

The Aurora Green

$US15 million

Christie's, 2014

$US35.5 million

Christie's, 2013

$US16.3 million

Sotheby's., 2014

$US16.8 million

Christie's, 2016

59.6 CARATS

15.8 CARATS

14.62 CARATS

555.55 CARATS

The Pink Star

The Sakura

Oppenheimer Blue

The Enigma

$US71.2 million

Sotheby's, 2017

$US29 million

Christie's, 2021

$US57.54 million

Christie's, 2016

$US4.29 million

Sotheby's, 2022

may soon be reduced, however, with the rise of Luxus.

Luxus was launched in mid-May. It's a US-based fractional

ownership company which allows investors to buy shares of fancy

colour diamonds.

The first diamond on offer is a 0.54-carat fancy pink diamond from

the Argyle mine valued at $US400,000. Luxus is making 2,000 shares

available, allowing investors to buy in for as little as $US200.

The company was founded by hedge fund expert Dana Auslander

and journalist Gretchen Gunlocke Fenton. A company spokesperson

says it expects to sell most investment diamonds within 18 months

to three years.

"Education and marketing strategies are of great importance

when considering entering the fancy-coloured diamond

market, being able to understand the natural beauty..."

Kunming Diamonds' Maheshwari says it's not surprising to see more

and more consumers take an interest in fancy colour diamonds –

even if it means taking an alternative approach to ownership.

"With global markets being so uncertain, collectors are looking at

alternative options to invest in," Maheshwari says.

"Fancy colour diamonds happen to be up there on the list.

"We've seen many blue diamonds being auctioned off and breaking

records, and a lot are keen on the Argyle Blue Moon too."

While the uncertainty around the future of the fancy colour industry

is well-founded, the passion for these rare and beautiful diamonds

is still very much ablaze, leaving little reason to fear for it's survival.

For now, however, the hunt remains on for the next significant

source.

Our collection of unforgettable jewellery designs are crafted

in premium 18ct gold, centred around unique, one-of-a-kind

Australian Sapphires. The pieces in this range have been

embellished with beautiful White Diamonds, to enhance the

incredible hues of the Australian Sapphire.

SapphireDreams.com.au
---
BUSINESS

Strategy

The importance of social listening

Selling online is more viable than ever before, however doing so comes at a cost – direct access to customers.

BETH WALKER explores options for overcoming that challenge by utilising social listening.

When I graduated from college my father

and I looked at buying a new car.

At one dealership the salesman jumped

into a pitch about how the car I was sitting

in was one of the most comfortable cars

he'd ever driven. He pointed out the

convenience of the interior layout and how,

as a right-handed person, he found this the

best car to purchase.

I'm left-handed. Everything he had said was

helpful and informative, however, as a lefthanded

person, as soon as the salesman

landed on his closing pitch, I knew the car I

was sitting in was not for me.

Nowadays, we have the opportunity to sell

our products or services in various ways

including online media such as blog articles,

social media posts, videos, and email.

The challenge with digital marketing is that,

unlike with face-to-face sales, you don't

have the benefit of reading someone's body

language or facial expressions. If they leave

our website, we don't know why. It's not all

doom and gloom, however.

We can still 'hear' what our ideal

customers are saying online by

implementing 'social listening'.

What is social listening?

Social listening is the practice of analysing

the activity and conversations trending

around your industry, including your brand,

and then using those insights to make

informed marketing decisions.

Social listening helps a business

understand what target customers are

thinking, what their needs are, and how

they are searching for information about

your product or services. You can use social

listening to create content that answers the

why, where, and how messages your buyer

persona is looking for, using the keywords

they are currently using online.

Make it a priority

Is social media promotion a part of your

content marketing strategy? Do you

publish blog articles, share industryrelevant

content, and engage with other

social users who ask questions about your

products and services?

If you aren't leveraging these free platforms

yet I hope you will soon. However, it's

important to make sure that you plan your

strategy to connect with your buyer persona

on their preferred social platforms.

A few years ago, you could easily assume

that promoting your content on Facebook

would help you reach a good number of

your potential customers, but there has

been a shift.

Edison Research reports that Facebook

has an estimated 15 million fewer US users

compared with 2017 and this drop is in the

12 to 34-year-old age group.

It's also important to note with Facebook

specifically, user time is decreasing.

In 2016 the average user spent 50

minutes per session. By January 2021

Statisita.com reports, "the average time

spent by day by American users on

Facebook was 33 minutes".

With fewer

opportunities

for face-to-face

interactions in

today's digital

world, social

listening is an

excellent way to

keep a pulse on

many aspects of

your business

as well as your

competition.

In February of this year, a Digital 2022

Australia report revealed the average

Australian was spending three per cent

less time on the platform than in the

previous year.

So, if Facebook isn't the guaranteed

connection space it once was, how do you

know where your customer is spending

their time online? For jewellers it begins by

establishing a social listening plan.

Strategic approach

Creating a social listening plan starts

with what you know. Create and review a

'buyer persona' – a detailed description

of someone who represents your target

audience – and then visit the websites

where you interact with your customers and

take notes.

From there ask yourself a few questions: Is

the information you curated still accurate;

are your customers still active in these

online areas? You can also establish

what are their likes and dislikes and what

problems are they looking to solve?

As you are reading the social media

interactions, observe the words used to

identify your industry.

Also, note who they consider your

competition. Next, head to your competitors'

social platforms, such as their Facebook

page, and do the same thing.

Once you have spent some time taking

notes, review the information you have

gathered. What are the keywords that your

potential and current customers are already

50 | June 2022
---
Business Strategy

using? Make a list of all the relevant words

that you see in your notes as well as those

you know are common to your niche.

Establish a tracking system that helps you

see how the keywords are flowing together

so you can best understand the context

of what people are talking about not just

how many times a specific keyword comes

up. Do people commonly connect certain

keywords with negative comments? That's

important to know.

You will want to keep your system flexible as

you do this but a few things you may want to

consider tracking include:

• Industry keywords

• Your product name(s), including

common misspellings

• Your brand name and handles

• Your competitors' brand names,

product names, and handles

• Your business slogan and those of your

competitors

• Your branded hashtags

• Industry relevant hashtags

• Names of people in your business such

as your CEO or owner and handles

• Key names and handles of competitors

If you know that your business name is

often misspelled or that specific industry

terms are misused track those as well as

commonly used abbreviations.

There are online services and tools that

will help you gather all this information so

you can quickly sort through all the social

mentions regarding your brand.

We love Buzzsumo for social monitoring,

but there are many tools to consider.

Hootsuite lists 10 additional social

monitoring tools to check out.

The largest benefit of using a tool for social

monitoring is that this will help you easily

track all the social websites at the same

time. One thing you may notice is that your

competitors are mentioned more frequently

on different social platforms because they

have a presence where you do not.

Finding value

Using a social monitoring tool pulls in any

mention of a keyword. This means you

may quickly gather large quantities of data

which you will need to sift through. You will

need to take time to sort what is helpful and

applicable versus that which is 'noise'.

A few categories to track should include:

• Sentiment – what is the overall opinion

of your business?

• Total mentions – how many times are

you mentioned weekly?

• Active social platforms – where are

your customers most active?

• Pain points – What are the problems

that customers are looking to solve?

Track this weekly or monthly. Regardless

of your choice, you want to make sure

that you are watching trends. Are brand

mentions increasing? Is positive sentiment

continuing? What time of day or days of the

week are customers most active? Where are

your industry keywords trending the most?

Once you have a better understanding of

your customer's current needs, you can use

this information to create a content strategy

for the next quarter that will best help solve

your potential customers' issues and to

educate them on areas of your products or

services where they are unclear.

By incorporating the information you

gather directly from your customers into

your content calendar you will increase

your opportunities to earn their trust and

establish yourself as an industry expert.

SOCIAL

LISTENING

BREAK DOWN

Understand

Create an

online persona

mirroring a

hypothetical

customer

Research

Perform the

kinds of online

searches they

would for your

industry

Sentiment

Observe how

your business is

portrayed to the

persona online

Competition

Take note of how

your competition

is also presented

Value

Discover key

areas to improve

based on this

information

and implement

changes

Track

Keep an official

record of all the

information you

compile

Keep a record

Of course, you will only know if all your

hard work is paying off if you track your

efforts. It's important to make sure that

you don't include vanity metrics in your

data gathering.

Increasing your social following or

interactions feels great, but are those

people coming to your website as well? Are

your leads converting to customers?

To save time tracking data, create a digital

dashboard for analysis.

Social listening requires attention to detail

that should not be cut short, however, data

analysis doesn't need to be a hassle.

Once you know the key metrics you want to

track, establish a system that allows you to

see all the information in one location at a

quick glance.

There are many free options for dashboards.

You may want to choose a dashboard that

will alert you when you hit your key goals for

the period.

That way, if you are tracking analytics weekly

but you hit your goal three days early you

will know immediately with an email alert

and can make a note to consider adjusting

your plans.

Social listening is an important part of

understanding your potential and current

customers' requirements.

With fewer opportunities for face-to-face

interactions in today's digital world, social

listening is an excellent way to observe

many aspects of your business as well as

your competitors.

BETH WALKER writes for US-based

SMA Marketing, which specialises

in digital marketing strategies for

businesses. Visit: smamarketing.net

June 2022 | 51
---
BUSINESS

Selling

Laws of business success

All businesses are unique but the principles behind success are universal.

THOMAS YOUNG explains the nature of these principles, and how you can best implement them.

Running a successful retail business may

appear complex to an outsider looking

in. However, once the basics are in place,

the key to success is common sense.

It's a simple and easy-to-understand

process that involves relating with

people. Yet still, so many organisations

don't employ this pivotal practice.

Instead, many businesses function well

below their potential due to the fear

and anxiety of leaders, managers, and

employees at all levels.

Errors, emotions, and ego so often

block the fundamental laws of business

success from being implemented.

Leadership and rewards

Success begins with the lead taken by

the head of the business.

The leader of the business sets the tone

for the culture and focus. The approach

taken by the leader flows throughout all

levels below, and this is particularly true

for small retailers such as jewellers.

Leaders, usually the storeowner,

must have a clear mission. They must

effectively communicate this mission,

along with their values and goals.

Any business can reach high levels of

performance if the staff accepts the

mission statement and work toward

making it a reality. Every individual

associated with the business, including

customers, must understand why the

business exists.

Successful retailers build relationships

with staff, customers, and other

stakeholders through the values of trust,

integrity, and honesty.

On average, people tend to be good at

sensing when they're being misled or

deceived. Customers and staff have

a low tolerance for dishonesty and

environments that lack trust.

Businesses that can build trust will have

the best employees and the most loyal

customers.

Errors, emotions, and ego so often block the fundamental laws of business

success from being implemented.

From there, customers who repeatedly

purchase their products or services

will naturally promote the business

to others. These organisations then

attract and hire highly motivated

staff who feel valued because trust is

present in the workplace.

Organisational compensation,

motivational programs and rewards

systems should always be clear and in

tune with the mission, values, and goals

of any business.

When a business prospers, the staff

should benefit. Staff incentives and

rewards should be evaluated from the

perspective of the employee, not the

business or owner.

The key is to see motivation from the

mind of the employee, not the business.

Understanding customer needs

Studies have shown that members

of staff want to feel valued by their

employers above other factors. It's

natural to want to feel important and to

be sure that the business values their

contribution.

Business leaders must find ways to

communicate how they value staff.

Staff make decisions based on their

emotions and thoughts, which are

not always rational or logical, and

sometimes abstract and unpredictable.

Successful

retailers build

relationships

with employees,

customers,

and other

stakeholders

through the

values of trust,

integrity, and

honesty.

Money paid to staff does not express

value in the long term. Employees want

respect, recognition for their work and

to feel valued.

Furthermore, a business is nothing

without its customers and yet, so many

businesses make decisions based on the

perception of the trade as seen by the

managers, and not the customers.

All decisions need to be evaluated based

on the impact to the customer.

The question all leaders must routinely

ask themselves is, "How will this

decision impact our current and

potential customers?"

Storeowners and managers should get

into the minds of their customers and

make decisions based on what is valued

by the people who pay their salaries —

the customer.

Success between sales

Every member of staff has a role to play

when it comes to marketing. After all,

they're the face of the business.

Customers have many choices to make

and make no mistake, they will not

hesitate to switch to your competitor if

the price or environment is right.

Retailers must communicate effectively

with all customers, informing them of

the value they offer through marketing

and sales efforts.

It's all too common for businesses to

focus entirely on making the sale or

generating revenue. Managers look

at the bottom line and make decisions

from there.

The true success of any business –

large or small – is determined by what

happens before and after the sale.

THOMAS YOUNG is CEO of Intuitive

Websites. He has more than 25 years'

marketing and sales experience.

Visit: intuitivewebsites.com

52 | June 2022
---
BUSINESS

Management

Channeling frustration into positive results

Running a business can be frustrating and negativity creeps up on the best of us at times.

PAUL KEIJZER shares tactics to keep negativity from becoming overwhelming, and even turning it into positive results.

We've all faced frustration every

now and then at work. When you're

passionate about what you do certain

negatives can agitate us. That's

certainly true in the world of retail.

The reaction to this is generally anger

and frustration, both of which we try to

avoid, but sometimes it's inevitable.

Sure, the books you read will tell you

about how to stay positive, think positive,

act positive and bring positivity into your

lives to be happy and as a result, find

success. But how possible is it to always

be positive?

Since we can't always avoid negative

emotions, we should learn to embrace

them, and channel our frustrations into

achieving something good.

At first, I'm sure this all sounds

like fiction. When you're angry and

frustrated, being positive is the last

thing on your mind. Most times you just

want to give whoever is standing in front

of you a piece of your mind.

The next time you find yourself in a

tricky situation, consider utilising one of

the following techniques.

Walking away

Try to be mindful of the idea that as

much as you're frustrated by customers

and situations, customers themselves

can equally be frustrated by you or other

members of staff in similar situations.

In a way, I'm saying you could allow

them the benefit of the doubt.

Instead of reacting in a manner that could

seriously damage a business relationship,

try walking away from the situation.

You can still salvage things by doing this,

rather than causing long-term damage

to potential sales.

By walking away you're giving yourself

time to think things over.

Often, we look back at a bad situation

and upon reflection, we think of all the

things we could have said but didn't.

Since we can't always avoid negative emotions, we should instead learn

to embrace them.

When you're frustrated this is one of

those moments.

Don't allow yourself to stumble on this

avoidable pitfall.

Start the day right

I'm a firm believer of starting mornings

early, energised and pumped up for the

challenges ahead. And that's certainly

something to pursue if you own a retail

business.

I usually wake up in high spirits and look

forward to the day ahead.

It may not always end up being a smooth

and happy day, however, my mornings

are almost always starting off on a

positive note.

So should yours!

They say you should love what you do.

If you're already passionate about your

business, that's a great start. If you're

not – ask yourself why?

Try to find changes you can make that

address any negative feelings you have

towards working.

Another important factor in a strong

morning mindset is how you go about

your morning. Shake things up!

Break routine here and there, in minor

ways, to keep things fresh. Make your

mornings less dull and instead be

livelier. Make sure you arrive at work

with the right mindset.

They say you

should love

what you do. If

you're already

passionate

about your

business, that's

a great start.

If you're not –

ask yourself

why? Try and

find changes

you can make

that address

any negative

feelings you

have towards

working.

Choose your battles

Sometimes we overlook basic wisdom

like 'don't cry over spilled milk'. Being

frustrated over something you have no

control over is just like this saying. It's

pointless, needless, and can't be undone.

The only thing that can be done is to

assess the damage, mitigate risks,

learn from the experience, and make

corrections to avoid similar situations in

the future.

To address the things that frustrate you,

which you have no control over, there

can be a different approach.

Don't be hasty and quick to react.

Assess, and weigh your options.

The Greater Good Science Center at

the University of California Berkeley

conducted research that found that

"feeling angry increases optimism,

creativity, effective performance" and

that "expressing anger can lead to more

successful negotiations."

There is optimism to be found in

frustrations if you channel it wisely.

Sometimes the best way to manage your

frustrations is to lose a few battles just so

you can have your say and win the war.

The reaction to frustrations can be ugly

at times. The last thing you want is for

your staff to see your dark side.

Don't allow them to have this one-up

over you. Remain calm, collected, and

composed.

Being angry and frustrated isn't always

a bad thing.

It's how you channel your frustrations

and use it to your benefit and advantage

that counts.

PAUL KEIJZER is the CEO and

managing partner of Engage Consulting,

supporting organisations grow their

business. Visit: engageconsulting.biz

June 2022 | 53
---
BUSINESS

Marketing & PR

How to build a competitive advantage

Standing out from the crowd in the retail world can be difficult.

DAVID BROWN shares a straightforward formula for building a successful business.

One of my favourite questions to ask

storeowners when discussing business

performance is "what is it that your

business does that your competitors

don't or won't?"

Inevitably, in more than half the responses,

I hear some variation of praise for the

quality of the customer service of the

business in question, and how it is superior

to that being offered by rival stores.

When I dive deeper, the answers tend to

lack supporting evidence.

In most cases, these responses represent

an ideal the storeowner has, however

they have rarely conducted a survey of

customer service standards between

themselves and the competition.

In some cases, the retailers will recite

an example of poor customer service

that was presented to them by a

customer who visited a rival jewellery

store years earlier. This isolated

incident will be used as a sweeping

generalisation for the rival stores'

overall performance with customers.

Any similar such incidents that have

occurred in their own store are, of course,

'customer misunderstandings.'

I'll often ask the owner what response

their competition would give to the

same question, and they will usually

begrudgingly admit that they too would

likely cite customer service as their store's

great strength.

It is in our natures to overlook any

shortcomings that may reflect badly on us,

and we tend to disregard our flaws if they

reflect our own inabilities or defects.

Stand out

A genuine competitive advantage comes

from tangibles that can be presented as

factual.

If you can show consistently that you sell

the same item as the competition for a

lower price that is a fact. If you can show

your trading hours are longer than a

competitor down the road, that is a fact.

Any successful business must discover a niche that is not being satisfied

by others.

A social media page full of customers

singing your praises is a fact, and the

opinion of your customers and whether or

not they choose to spend with you is a fact.

There are a number of steps you can

take to develop a tangible competitive

advantage in your business.

Attract talent, find your niche

The first thing to focus your attention on is

attracting the best talent.

It stands to reason that those with the

best staff will achieve the best results for

their customers.

You need to ensure your business has an

environment that attracts the best people

in the industry and that once they're on

board, they're allowed to get on with doing

what they do best.

From there, any successful business must

discover a niche that is not being satisfied

by others.

We have a bad tendency in business to

think bigger is better and to try and be

all things to all people. And yet so often,

when a business chooses to minimise

and pursue specialist areas, that's when

success follows and quality connections

with customers really begins.

I often give the example of sports stores.

A generalist sports store selling a wide

range of products may appeal to a golfer,

but probably not as much as a golf goods

We have a bad

tendency in

business to

think bigger is

better and to try

and be all things

to all people.

store. If that golfer is left-handed, a store

that only sells left-handed golf supplies

will appeal to them most of all. An inchwide

niche that goes a mile deep is the key

to profitability.

Understand and then satisfy

Know who your customer truly is.

Hand-in-hand with our second point about

pursuing a niche is the need to not only

recognise what the market wants, but to

also discover who exactly they are. Your

typical left-handed golfer will tick a lot of

demographic boxes that will help you find

and connect with them.

From there, we simply need to ensure

that our business satisfies their needs.

Once you know what your niche is and who

inhabits that space you need to give them

exactly what they want.

Not sure what that is? Ask! Customers will

gladly give you their advice and opinions.

You only give them half a chance.

If you closed your doors tomorrow what

would your customers be losing?

If you can't answer that in 10 seconds,

they may not be losing much at all. You

may have a good business now offering

good products at a good price with good

service – but as Jim Collins, author of the

book Good to Great teaches us "good is the

enemy of great."

Settling for 'being good' is an attitude we

can't afford to have around.

Attract the best talent the industry has to

offer and then narrow down your business

to serving a specific niche. Understand

who it is that's pursuing products from that

area of the market, and then focus your

attention on satisfying their desires.

That's the simple recipe for a competitive

advantage in any market.

DAVID BROWN is co-founder

and business mentor with Retail

Edge Consultants. Learn more:

retailedgeconsultants.com

54 | June 2022
---
BUSINESS

Logged On

Boost your business by blogging

Blogs! More and more businesses are pursuing them every day, but what's it all about?

HEATHER COOPER explores the many benefits blogging can offer retailers.

Online blogs began appearing for the first

time in 1994 and they've been an important

part of the internet ever since.

In the most basic form, a blog is a website

that is routinely updated by an individual or

group of people, with the overall tone of the

website conversational and informal.

For an individual, it might be a kind of diary

or journal. For a business, it's an avenue to

keep in contact with customers.

At first, blogs were primarily something

that people did to share their creative

writing. They've now grown into a powerful

marketing tool for businesses of all

shapes and sizes.

We've all seen personal blogs for

businesses here and there, but how are

they beneficial exactly? Let's take a look at

the reasons why blogging for businesses

can lead to retail success.

Drive traffic to your website

Every time you publish a new update to

your blog you're increasing the chances of

your business appearing higher in search

engine results.

This drives traffic to your website and

by extension, creates new opportunities

for sales and forging of longer-term

relationships with customers.

Regular blogging for businesses also tells

Google and other search engines that

you have an active website that should be

crawled regularly for new content. That

goes a long way to keeping you towards the

top of search results.

Repurpose content

Creating authentic, interesting and

worthwhile social media posts every day

can become a challenge.

One sure-fire way to help with content

creation and increase website traffic is to

promote your blog posts on social media

platforms, effectively ticking two boxes

at once.

Each link to your blog that you share on

social media has the potential to be shared

Your updates have the potential to continue bringing traffic to your

website long after they have been posted.

further by your followers, reaching new

audiences and potential customers.

Convert traffic

When you're blogging for a business each

new update helps convert website traffic

into new leads. At the end of each article,

there should always be some kind of call to

action. An action you want the reader to do

after they finish reading.

This call to action should be linked to a

landing page that invites the reader to

provide more information or to simply

contact the business directly.

Consider including some sort of offer for

free products or reduced prices, either

on the update or on a separate landing

page. The more people that follow this call

to action, the more chances you have to

convert traffic into leads for your business.

Establish yourself as an authority

Successful business blogs will try to

answer the questions they feel their

readers and customers may have.

It's an approach that is beneficial

for multiple reasons. The most

straightforward benefit is that it helps your

customers. The added benefit is that it

places your business or brand in a positive

light as an industry leader.

Your audience will begin to view your

business as a reliable source of helpful

guidance and this practice goes a long way

The beauty of

blogging for

your business

is that your

updates have

the potential

to continue

bringing traffic

to your website

long after they

have been

posted.

towards creating trust between a business

and customer.

When it comes to customer priorities, trust

in a business is always a highly-sought

characteristic. For jewellery retailers,

trust is what keeps a customer returning.

It also increases the chance that they will

share or recommend your products or

services to those they know.

Long term returns

The beauty of blogging for your business

is that your updates have the potential to

continue bringing traffic to your website

long after they have been posted.

In marketing, 'evergreen' products or tools

are those with lasting appeal or value. An

evergreen post or update for a blog is one

that keeps readers returning long after it

has been posted.

The level of traffic generated by an update

or post usually drops off after a few days,

however, if it's well ranked by search

engines or features information that's

worth revisiting for customers, an update

or post may gain long-term value.

It's important to revisit older posts and find

ways to edit them to keep them relevant. It

can be as simple as replacing older links

or adding new information that fits with the

current climate.

Share business news

One final way blogging may benefit your

business is by acting as a conduit for

sharing exciting developments that impact

your business, be they big or small.

These sorts of posts and updates

humanise your brand, build trust with

customers and help your audience see

that it's not always about selling a

product or service.

HEATHER COOPER is a writer for Three

Girls Media, offering guidance on website

design and build, public relations, and

content marketing strategy. Learn more:

threegirlsmedia.com

June 2022 | 55
---
My Bench

Danica Roderick

Nique Jewellery. Manly NSW

Age 35 • Years in Trade 13 • Training Jewellery Apprenticeship with Southbank institute • First job Toowoomba Jewellers

SIGNATURE PIECE

LUCID DIAMOND PENDANT NECKLACE

The Lucid is a 9-carat yellow gold necklace set with five

diamonds ranging in size. The colour and clarity is G-H

and SI or better, with a total diamond weight of 20pts.

The LUCID range is one that is raw, celebrating imperfections.

The jewellery is imperfect and each piece has its own unique

identity. This range celebrates that you are perfect in your

own skin. Raw, real and understood!

We want you to know that you are your own type of

perfect however imperfect you think you may be.

It is your imperfections that make you who you are.

4FAVOURITE GEMSTONE Hands down my favourite

gemstone is a sapphire. Purely because the range of

colours that they come in, their lustre and how hard

they are makes them a joy to work with.

They are so much fun when you show a client outside

in daylight, the way the sapphire throws colour back

and also changes colour in the sunshine is just

brilliant.

4FAVOURITE METAL 18-carat yellow gold! I love the

feeling of working with it but also that bright yellow

colour is just so beautiful. It also brings a lovely

colour contrast when making a piece with coloured

gemstones.

4FAVOURITE TOOL My most used tool would be

my head loupe. We need to protect our eyes in this

industry and the head loupe makes detailed work

much easier and without doubt when you can see

easily you provide a higher quality piece.

4BEST NEW TOOL DISCOVERY I have just started

using the GRS Thermo-Loc and I am really enjoying

it, the ease of heat and set works really well for me.

4BEST PART OF THE JOB Talking to a client about a

new piece, the excitement that they have during the

design process is so lovely to be a part of. Their ideas

are always fresh and you know it will be something

they will cherish for a long time.

4WORST PART OF THE JOB The constant cleaning!

I have an open studio where the retail cabinets, client

consult area and workshop is all open, the clients

love to stop by and see their piece being worked on,

but the cleaning is a daily task.

4BEST TIP FROM A JEWELLER Every day in this

trade you will still be learning.

4BEST TIP TO A JEWELLER Keep an open mind on

new techniques and client ideas.

4BIGGEST HEALTH CONCERN ON THE BENCH

There certainly are a few but my main concern for

now is back and neck pain. I have a saddle seat and

a timer that is set to tell me to get up and stretch.

Too many times I sit distracted by the piece I am

making and time will just fly past.

4LOVE JEWELLERY BECAUSE It tells a story,

creates a memory to last a lifetime. Being a part of

this process for a client is the reason why I come to

work every day.

56 | June 2022
---
OPINION

Soapbox

Taking a risk and coming out on top

Playing it safe in the jewellery industry is always tempting because the consequences

for failure are dire. GERRI MAUNDER says risk-adverse behaviour closes the doors to success.

Who dares, wins. Fortune favours the

bold, they say. Or, you need to take risks

to succeed.

We've all heard these kinds of sayings

before – but how often do you put that

wisdom into practice?

We took a leap of faith nearly 30 years ago

when we started Gerrim. Anyone that's

spoken to me about the history of the

business knows that our motto is 'pride

in ownership'.

It's not just a gimmick. It's something

we're really passionate about – and if

you're reading this right now, you should

be too! It's about owning your space,

owning your business, owning your

personality, and the impact you have on

the people you work with.

It's about taking pride and ownership of the

decisions that you make. Being responsible

and being prepared for the consequences

of your decisions and most of the success

we've had has come from taking a

calculated risk.

You've got to be in it, to win it

For example, during the COVID lockdowns,

we took a big punt; we overstocked on

product. We invested in inventory that

exceeded our traditional requirements.

We're based in Queensland, and we

watched what happened in Victoria with

great interest. There were major delays in

transport and delivery, both domestic and

international. A supplier's worst nightmare!

In Queensland, we didn't experience the

types of lockdowns that Melbourne and,

to a lesser extent, Sydney did – but the

possibility was always there. We looked

at Victoria and asked ourselves – what

happens here if that happens to us?

We decided to make a significant, 'risky'

investment and increasing stock in

anticipation of COVID lockdowns ending

and there being a major impact on our

ability to deliver to our retailers.

Our mantra has always been that if a

product we offer is made and manufactured

in Australia, we will be able to deliver that

product to a retailer in 7–10 business days.

We've always said that, and we're proud of

that part of our business.

Suppliers are, essentially, solution-based

businesses. Retailers need stock – and they

want the supplier to offer a solution – to

provide the stock and deliver it on time. It

doesn't have to be any more complicated

than that. We also understand that the

jeweller is in turn attempting to offer a

solution to their customer.

COVID forced all businesses to re-think how

they operate. Our decision to 'well-stocked'

our business needed to be carefully

considered.

The decision was not easy because it

meant we needed to invest more money in

very uncertain times. And worse, making

a large financial investment in a business

when it could all go so wrong so quickly,

is a daunting prospect.

We had to think about the dollars of course.

We needed to think about what we were

risking by carrying extra stock.

We estimated our requirments based on a

previous pre-COVID period of trade. Then

we added a bit more after noticing a few

of our country retailers had already told

us that stores sales had greatly increased

because people were traveling less and

treating themselves more.

Our decision was made!

Outcome

It certainly paid off. As soon as the doors

swung open and businesses were open,

retailers wanted more and more stock

and we were in an excellent position to

complete orders.

It's about offering the solution and because

of our decision to 'overstock', because we

took that gamble, we were in the right place,

at the right time, to complete those orders.

It's about taking

pride and

ownership of

the decisions

that you

make. Being

responsible

and being

prepared for the

consequences of

your decisions

and most of the

success we've

had has come

from taking a

calculated risk.

When a customer visits your store, they're

looking for a solution too. The solution to

a need to provide a gift, for a birthday or

anniversary, or even a marriage proposal.

When a jeweller comes to a supplier,

they're looking for a solution too. And they

want it quickly – so we need to be ready.

We've just come back from two buying

meetings over the weekend and at one

of them we've had the biggest meeting in

terms of sales that we've ever had, which

is amazing.

It was far greater than we expected –

and as a result of that decision we made

to overstock, we have been able to invoice

it all early in the week and get those sales

completed and delivered.

The items a buyer looked at on Sunday

will be at their retail store before the end

of the week. When a retailer purchases

a stock they want it now. And we want to

meet that requirement.

Ride the wave

We will continue to take risks too.

We've spent more on advertising and

marketing in recent months. We'll be

looking at more and more advertising in

the months to come, particularly around

August, as we build up our inventory again

in the lead-up to jewellery fairs and the ever

important Christmas and New Year trading.

We're able to make these investments

with confidence now because we've had

such a great year sales-wise. And that

goes back to our decision to take a risk – a

well-calculated risk, but a risk nonetheless

– and overstock on product, and being

willing to live with the consequences of our

decisions.

Name: Gerri Maunder

Business: Gerrim

Position: Co-director

Location: Brisbane, QLD

Years in the industry: 30

58 | June 2022
---
THE JEWELLERY

INSURANCE SPECIALIST

4 DAYS

FREE COVER

for your customers

COMMISSION

PAID FOR

EVERY POLICY.

ALL CLAIMS

COME BACK

TO YOU

CENTRESTONE BENEFITS

Our Service

Guarantee if the customer ever has a claim, the full replacement

cost is paid directly to you as the customers preferred jeweller,

not shopped around to the insurers preferred jewellers

WORLDWIDE COVER

ANYWHERE, ANYTIME

INSTANT COVER

NO WAITING PERIODS

AGREED VALUE AND LIKE-

FOR-LIKE REPLACEMENT

YOUR CLIENTS' CLAIMS

COME BACK TO YOU

UP TO 150% COVER OF

THE INSURED AMOUNT

NO EXCESS ON ALL CLAIMS

Like-for-like replacement to the same quality and craftsmanship

that was lost

We do annual revaluations so the item is never under-insured

Commission for every one of your customers that process a policy

Easy, fast claims process. Claims payments made within

5 business days

COVER FOR ACCIDENTAL

DAMAGE, LOSS &THEFT

ANNUAL REVALUATIONS TO

MATCH REPLACEMENT COST

www.centrestone.com.au

JOIN AS A PARTNER JEWELLER

CALL NOW

+61 2 8316 3995
---
THE WORLD'S FIRST DIGITAL MARKETPLACE EXCLUSIVELY

FOR ARGYLE PINK DIAMOND ENTHUSIASTS AND INVESTORS!

Australian Pink Diamond Exchange provides a smart and safe platform

to buy and sell your Argyle pink diamonds.

Every diamond we list undergoes and completes a strict authenticity verification process.

APDX will also arrange safe and secure transportation, no matter if you are buying or selling.

Our team has over 25 years of industry experience and expert knowledge

in working with Argyle pink diamonds.

apdx.com.au

SAMS GROUP

E pink@samsgroup.com.au W samsgroup.com.au P 02 9290 2199 AUSTRALIA