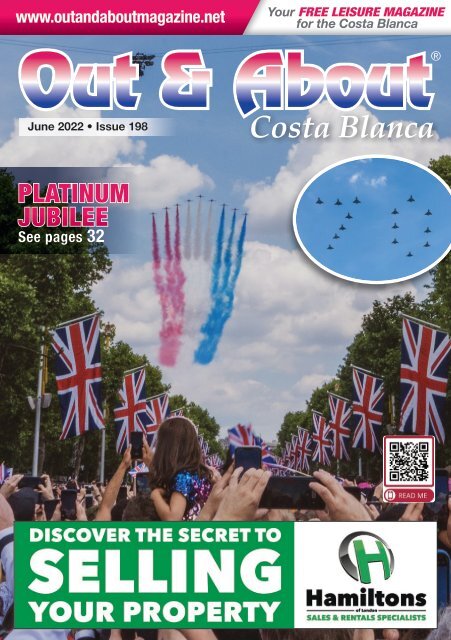 Out and About June 2022 -issue198
Welcome to the June 2022 edition Out and About Magazine Costa Blanca the weather is now in the 30's and summer is here! Enjoy reading our articles and finding out more about what is going on in Costa Blanca. You can find the handy A5 printed version of Out and About magazine, at local bars, cafes, shops, and restaurants which you can keep with you when you out for a walk or sitting on the beach.
Welcome to the June 2022 edition Out and About Magazine Costa Blanca the weather is now in the 30's and summer is here! Enjoy reading our articles and finding out more about what is going on in Costa Blanca. You can find the handy A5 printed version of Out and About magazine, at local bars, cafes, shops, and restaurants which you can keep with you when you out for a walk or sitting on the beach.
SHOW MORE
SHOW LESS
You also want an ePaper? Increase the reach of your titles
YUMPU automatically turns print PDFs into web optimized ePapers that Google loves.
www.outandaboutmagazine.net

Your FREE LEISURE MAGAZINE

for the Costa Blanca

Out & About®

June 2022 • Issue 198

Costa Blanca

PLATINUM

JUBILEE

See pages 32
---
2 | OUT AND ABOUT COSTA BLANCA
---
CALPE - BENISSA - MORAIRA - AND REGION

JUNE 2022 | 3

LUXURY VILLAS

VBS0433

CLASIC VILLAS

VAT0021

FINCAS

VBS0350

MODERN HOUSE

VCA0585

APARTMENT S- PENTHOUSES

ACA0205

TOWNHOUSE

BOUWGRONDEN VOOR NIEUWBOUW BESCHIKBAAR

DISPONEMOS DE PARCELAS PARA NUEVA CONSTRUCCIÓN

BUILDING PLOTS FOR NEW CONSTRUCTION AVAILABLE

TCA4012
---
4 | OUT AND ABOUT COSTA BLANCA

Dear Reader

Time is just racing along at such a speed

lately that I am wondering

where days, weeks and

months have gone? It is now June

and cannot believe it. However,

it is said that when you are

enjoying life time speeds along at

a quicker pace ha!

2nd June to 3rd June 2022

A two day bank holiday in the

UK to celebrate the Queen's Platinum

Jubilee. Replaces the Late Spring Bank

Holiday.

Father's Day 19th June 2022

Celebration of father's day in the UK, the

US and most of Europe and many other parts

of the world. In Spain, Italy and Portugal,

Father's Day is celebrated on March 19,

which is the Feast of St. Joseph who is the

patron saint of fathers. In Spain.

Why is the Sixth Month Called June?

The first is that the month is named after

the Roman goddess Juno, the goddess of

marriage. The second is that the name comes

from the Latin word iuniores, meaning

"younger ones". It also may have been

called "sere-month, meaning "dry and

withered," though this term may have meant

June, July or August.

Wimbledon tennis. The Wimbledon

Championships will be the 135th time the

competition has been held.

It is scheduled to start on Monday 27th

June 2022 and run until Sunday 10th July

2022.

The weather is often a topic of conversation

and this is of no exception now as summer is

here. It is the most excellent time of the year

when dining "al fresco" is at its best. The cool

evenings and the eagerness, which comes

with the holiday passion of the tourists,

family and friends and more people arriving,

creates an exciting atmosphere. Spain offers

DEAR READER

so much with its sandy beaches, lively

markets, several golf courses and great

restaurants.

A fiesta is a party, a celebration,

a thanks giving. To a Spaniard,

it symbolises the town in which

they were born: its Patron Saint;

its culture. Therefore fiestas are

important places, to individuals

and to families. There are so many

wonderful fiestas celebrated in the

Costa Blanca that you are bound to see one

whatever time of year,

Rose is the flower of this month. Though

roses are available in many colours from red

to pink to white to yellow, all with their own

special meanings, the underlying message the

flowers convey is that of Love and Devoted

Affection.

June birthdays claim two birthstones; pearl

and Alexandrite. Pearls have been wildly

popular in jewellery for centuries because of

their natural beauty. Alexandrite gemstones

are extremely rare and desirable since they

change colour based on the lighting.

The two zodiac signs associated with the

month of June are the Gemini and Cancer.

For those born from June 1st to June 20th,

they are members of the Gemini zodiac sign.

Social, talkative and familiar with trends,

and is one of the most outgoing zodiac signs.

While these traits of the Gemini sign can

make them a lot to handle, their charisma

and intelligence is also refreshing, and their

magnetism is irresistible.

Have a great and enjoyable "Summer

Time".

Remember you are never alone with a

copy of Out & About Costa Blanca magazine.

Keep cool and happy. Until next time.

Carol R. Levey
---
JUNE 2022 | 5

C O N T A C T S

EDITOR

CAROL LEVEY 651 459 776

CALPE AND JAVEA

LISA HANNAM 642 911 110

MORAIRA, JAVEA & CALPE

PETER FROST 634 333 240

POSTAL

Total Postal Levey OutAndAbout

Suite 551 C/ Corbeta 10 Calpe

WEB

www.outandaboutmagazine.net

www.facebook.com/OutAndAbout

CostaBlancaMagazine

EMAIL

outandaboutcostablanca@hotmail.com

carolrlevey@gmail.com

DESIGN & DIGITAL

by Jit Media: +34 602 296 180

email info@jit-media.com

COVER IMAGE:

Photo by Jonny Gios on Unsplash

THIS MONTH

08 Readers' Letters

10 Akira

12 Dr. M.Signes

18 David Moorhouse

22 Memory Lane

24 Dee's Travels

32 Platinum Jubilee

34 Walsh's Wisdom

40 Whining On

42 A Medium Rare

48 Dawn Blythe

50 Anne Rodger

51 Cookery

54 Paws For Thought

55 Puzzle Page

57 Book Review

58 Celebrity Profile

62 Horoscope

ADVERTISE

WITH US!

Interested? Well just pick up

the phone or email one of our

representatives in the contacts

column to the left and they

will be back to you in a flash!

ARTICLES, PHOTOS AND FEATURES MUST BE RECEIVED BY 20TH OF THE MONTH TO BE INCLUDED IN THE NEXT ISSUE

All articles are checked for accuracy, however, Out & About cannot legally accept any responsibility for any misrepresentation that

may occur on factual features, or errors that may occur by misprint. Whilst every effort is made to ensure the accuracy and authenticity

of advertisments appearing, Out & About does not accept any responsibility for claims made by advertisers. The views and opinions

expressed in the articles in this magazine are those of the authors and do not necessarily reflect those of the editor or other staff.

Out & About cannot be held responsible for advertisments reproduced from poor quality artwork or any printing related issues.
---
Wi

Co

6 | OUT AND ABOUT COSTA BLANCA

Reasons to Rent Your Property With Hamiltons

1. The winter rental market is growing, so take advantage

and earn some extra income whilst you're not here

2.

empty one. We do a 5-point reference check to ensure the

on-going security of your property

3. We take care of your property whilst you're not here

keeping it in tip-top condition so little problems don't

become big problems.
---
JUNE 2022 | 7

nter's

ming

Earn an Income from your

property this winter

Contact Farleigh

+34 679 745 231

farleigh@moraira-hamiltons.net

www.moraira-hamiltons.net
---
8 | OUT AND ABOUT COSTA BLANCA

AGONY UNCLE

@

Can our AGONY UNCLE help you

Readers

Letters

Email to: relojdesol@mail.com

My son is transitioning his sex and I am

supporting him all that I can. I feel that

he has gone so far that he really needs

to leave the male body he is currently

trapped in. My worry is that people won't

accept him as a woman.

Monica: Campello

Monica the most important thing

for your son is completion. He has

your respect and your love to back

him through a difficult time. Help

him sincerely in practical ways. Be

honest and frank because he needs

to adjust and move on, and with

your loving care and support he will

do his best. He has to learn and he

will no longer be acting a woman,

he will be one. Do your best!

My husband snores so badly we can no longer

sleep in the same room. Having been together

for over forty years this is so hard for me, and

I want to support him, but I need my sleep too.

He's tried so many ways to stop his snoring but

nothing seems to work.

Penny: Benidorm

I know how snoring can affect a

relationship, and it is time to connect with

your Doctor to

take things to new levels. There are sleep

units in Hospitals now that can finely

diagnose why he snores and he will

be invited to spend a night in a facility

that can help him get the appropriate

treatment. Your relationship will take a

turn in the right direction with proper

diagnosis and a plan of action that will

help you both.

JÁVEA · ALTEA

yorkshirelinecostablanca.com

Follow us on Facebook and Instagram
---
AGONY UNCLE JUNE 2022 | 9

@

My sister and her husband are coming to stay for needs talking to! Whilst she is a guest in

a holiday later this summer. We get on fairly well your house, welcome or not, her unwanted

but they are such a difficult couple to have around. carping and criticising are not helpful to you

I don't need any advice on how to keep my house in any way.

in order and unwarranted comments don't exactly You have to say something that clears the air

help. I feel bad that this is my sister and I should be once and for all, at the start of the holiday.

kinder but it is a very miserable time for me.

Prepare for the fireworks, but also do say

Babs: Coveta Fuma that as sisters this should be sorted once

and for all. Above all you should not suffer,

Queen Victoria said that guests were like fish, especially in your own home in which,

they should go off after four days! I guess

anyone who stays is welcome subject to

that your sister stays longer. She obviously their acceptance of a few house rules of your

doesn't feel your tensions are rising and

volition! Be firm and start as you wish to

that it is only your blood relationship that

continue, then, hopefully you can relax.

stops a row from developing. Your sister

Readers can now send their questions and problems

@

to a newly appointed Agony Uncle. He is a Therapist,

Counsellor, Psychologist and Life Coach and will be answering the best from his mailbox exclusively here

in Out and About, every month. Every email gets a personal reply from Agony Uncle and with your consent,

and subject to space; question and reply can be printed in a future edition of Out and About. Names and/or

locations will be disguised assuring confidentiality. Email to: relojdesol@mail.com

CALPE - BENISSA COAST - MORAIRA - BENITACHELL - JAVEA - DENIA - LA XARA

THIS SERVICE IS AVAILABLE 7 DAYS A WEEK SERVICING ALICANTE "EL ALTET" AIRPORT,

MEETING & RETURNING FOR FLIGHTS ARRIVING & DEPARTING

From the 1st April - All year round we offer a service for flights between 07.00 hrs - 23.59 hrs

THE SERVICE MUST BE PRE BOOKED AT LEAST 24 HOURS IN ADVANCE.

FOR MORE INFORMATION PLEASE CALL: LISA 642 911 110

lisa.calpe7@yahoo.co.uk

ALITREN CONNECT

SHUTTLE SERVICE TO AND FROM ALICANTE TRAIN STATION AND CALPE TRAIN STATION

PLEASE CALL FOR TIMES
---
10 | OUT AND ABOUT COSTA BLANCA

Hamiltons of Javea & Moraira, Sales, Rentals & Construction

Sponsors Jalon Valley A.R.C. & AKIRA Dog Sanctuary Pages

"Animal voices are silent

But their cries can be heard

If you care enough to listen"

Tel. 657 689 567 - www.akira-animals.com - Facebook Akira Benissa Dog Sanctuary

MARLEY

Marley is a medium size boy of mixed

breed who is 10 months old. He is

great on the lead, good with children

and other dogs and is hard to keep

out of the water! He is house trained

and dreams of his forever sofa. To

meet this boy ring Akira on 657 698

567 or email akirashelter@aol.com

ZEUS

Zeus is a gorgeous boy, just 18

months old, who is very friendly

and loves cuddles. He would be an

amazing family dog. He needs a little

house training but he is very intelligent

and picks things up in no time. Zeus

is easy to walk and so far everyone

who has met him has fallen in love.

Please 'phone 657 689 567 or email

akirashelter@aol.com.

Tel. 657 689 567 • www.akira-animals.com • Facebook Akira Benissa Dog Sanctuary
---
JUNE 2022 | 11
---
12 | OUT AND ABOUT COSTA BLANCA

Chronically high blood pressure, or

hypertension, can hurt your eyes and

vision if it leads to:

• Damaged retinal blood vessels,

called retinopathy

• Fluid accumulation

beneath the retina,

called choroidopathy

• Nerve damage,

called optic

neuropathy

These issues can

cause blurry vision,

bleeding in the eyes

and even sight loss.

Hypertension

is also linked to

cataracts, high

intraocular pressure,

age-related macular

degeneration and diabetic

eye complications.

If your eye doctor observes signs

of hypertension during an eye exam, they will

recommend that you see your primary care

doctor for assessment. In addition to its effects

on the eyes, untreated high blood pressure

can have fatal consequences, including stroke,

heart attack, kidney failure and dementia.

What is hypertension?

Hypertension, or high blood pressure,

occurs when the force of the blood flowing

through the body's blood vessels is chronically

too high. This makes the arteries in the body:

less elastic, leaky, and narrower

Hereditary and lifestyle factors both

contribute to elevated blood pressure. Risk

factors for hypertension include: Eating a

high-salt diet, Obesity or extra weight in the

middle of the midsection; alcohol or tobacco

use; family history of hypertension and high

stress levels.

How does hypertension

affect the eyes?

DR. M. ISABEL SIGNES-SOLER

Symptoms of high blood pressure can occur

years after it has begun to damage the body.

This is why it is important to have

routine physical exams and eye

exams to monitor your health

and check for signs of

hypertension and other

serious conditions.

How do I maintain

healthy blood

pressure?

In addition to

following the

recommendations

of your primary care

provider, there are

many lifestyle choices

that can help you

maintain healthy blood

pressure:

• Reduce your intake of salt – A

high-salt diet contributes to high

blood pressure.

• Eat a nutritious diet – Eat meals that

are composed of whole foods such as

vegetables, fruits, beans, legumes and other

lean proteins.

• Exercise – Studies show that exercising 150

minutes a week greatly improves overall

Dra. Maria Isabel Signes-Soler, PhD, FAAO • Tel: 965832080
---
DR. M. ISABEL SIGNES-SOLER JUNE 2022 | 13

health.

• Maintain a healthy weight – Stay within the

recommended BMI guidelines.

• Quit smoking – Create a strategy to stop

smoking.

• Limit alcohol – Limit to two drinks per day

for men and one drink per day for women.

• Stress management – Stress may be linked

to increased blood pressure.

damage hypertension can do to your body,

resulting in a greater risk of vision loss and

the development of other serious conditions.

This is why detecting high blood pressure

early is crucial.

How often should I see an eye doctor if I

have high blood pressure?

If you have high blood pressure, you

should have a dilated eye exam at least once

a year or as directed by your eye doctor. If

you notice any type of vision loss or have

persistent eye pain, it is important to schedule

an appointment with an eye doctor as soon as

possible.

Annual comprehensive eye exams help to

catch high blood pressure early. In fact, an eye

doctor may be the first to detect hypertension.

The longer it goes untreated, the more

69€

FOR

PRESCRIPTION

SUNGLASSES
---
14 | OUT AND ABOUT COSTA BLANCA

vivaldimoraira

vivaldimoraira

...a smooth experience

The beautiful coastal village Moraira, located on the Costa Blanca

has a new hotspot; Brasserie Vivaldi, where coziness and

qualitatively good food are central.

FloriditaMoraira

floriditamoraira

Open every day. Check our website or facebook/

instagram for current opening hours.

Passeo Senillar 25, 03724 Moraira

+34 965271088 | www.brasserievivaldi.com

IF YOU SHOW

US THIS

ADVERTISEMENT

YOU GET A FREE

DRINK ON THE

HOUSE!!

(wine, cava, beer or

refreshment)

NEW OWNERS! The best music bar in Moraira with live music 5 nights a week!

(after COVID lockdown). The hotest address for your drinks and cocktails!

Check our instagram/facebook for all actual news. SEE YOU SOON AT FLORIDITA!

Calle Tosqueres 3, 03724 Rada de Moraira
---
JUNE 2022 | 15

KOSTA!

R E S T A U R A N T

C/Mulhacen 10

On the Coast Road | Between Moraira and Calpe, 95

03724 Moraira,

Tel. 865 77 83 00 Mob. 608 733 584

Every day 12:30 - 22:00

Simply The Best – What More Could You Ask for!

AT KOSTA everything is outstanding - beginning with the welcome from the

owner Christian, who makes everyone feel welcome like a special and valued

guest in his home along with the very attentive multi-lingual staff and

great service.

Enjoy a wonderful lunch time or evening meal with friends

or celebrate a family birthday.

Food is excellent quality and presented beautifully.

This is a restaurant that you simply cannot fault for food quality, service and

value for money

What more can you ask it's perfect
---
Yodel Chef Calpe is a fast food

restaurant serving the best schnitzels,

breakfasts, drinks and cocktails.

We are situated on the terrace of Plaza

Central Calpe shopping mall, and offer

not only the juiciest meats but also the

most beautiful views in Calpe

• Large panoramic rooftop terrace with

an adjoining play area

• Delicious food from English

Breakfasts to schnitzels with friendly

upbeat staff

• Karaoke, live bands & party planning

available we can cater for any events/

occasions.

• Parking available at Plaza Commercial

Central.

• Pet & Kid friendly

Contact Dennis on (+34) 615 85 52 17

Opening hours: Monday-Saturday 9AM -10 PM
---
MEMORY LANE

JANUARY 2022 | 17

Foster Consulting is an insurance agency in Calpe, established in 1987, the first

dedicated insurance business in Calpe that dealt with the Expatriate community.

We work with two companies:

LIBERTY SEGUROS and ASSSA.

Our policies come in English, Spanish and German.

We speak English, Spanish, German, Dutch and French.

At Foster Consulting we are committed to providing our customers with excellent

insurance services.

Types of insurance products provided:

• CAR

• HOUSEHOLD

• HEALTH (including health cover for

residency applications and visas)

• DENTAL

• MOTORBIKE

• LIFE INSURANCE

• MORTGAGE PROTECTION

• COMMERCIAL

• BUSINESS

• FUNERAL PLAN

• MARINE INSURANCE FOR

PLEASURE BOATS

• PET

• COMMUNITY

• THIRD PARTY

LIABILITY

• ACCIDENT

• CONTACT US NOW FOR A COMPETITIVE QUOTE •

Email: info@fosterconsulting.es

Tel: 96 583 83 84

Address: Av. Gabriel Miró 18, Entlo. 2 - 03710-CALPE (Alicante)

DGSFP Registry Number: C0467B53971065

OPENING TIMES

MONDAY -

THURSDAY:

9.00 AM – 5.00 PM &

FRIDAYS:

8:00 AM – 15.00 PM.
---
18 | OUT AND ABOUT COSTA BLANCA

Magic Travel

Moments

Highlight those (many) travel moments in

my life when things have 'sparkled'.

by John

David

Moorhouse

DAVID MOORHOUSE.

Over the years we have loved exploring

Ancient Greece sites and have taken

many opportunities to visit, learn

about and absorb their beauty, significance,

historic atmosphere.... especially in Southern

Mainland Greece. where we have long-time

connections.

One temple site comes back to me today,

not because of its historic significance but....

all that remains of this Temple, one of many

Temples dedicated to the Goddess Demeter,

is its base with a few column 'stumps' and

pieces of marble scattered around the site....

the Temple is set among olive trees in empty

The Hiding Place

hill-countryside; we arrived about midday,

as the heat was starting to build up.

Walking around one side of the Temple

base I thought I saw something go 'flashing'

along the sculpted under-lip of its Floor....

it was gone in a single, 'Magic Moment'....

a slender, darkish-coloured snake no more

than 2 feet long.

Had we disturbed its secret hiding place at

the Temple? Was it angry? Was it the only one

hiding there?

OR was its appearance a 'flee(t)ing

message' from the Goddess?

If so, what was The Goddess saying to us?
---
JUNE 2022 | 19

Darjeeling Dawn

At age 5, I began my formal education

in a small Boarding School for Boys up

in the Himalayas of India.... this was

an unforgettable chapter, a "Magic Moment",

that lasted for a period of months in my young,

ever-interesting and challenging life!

There were about 10 Boarders (no daypupils)

at the School.... I clearly remember

some of the well-ordered routines of our daily

life, including meals and evening "relax time"

before bed.

Before breakfast, weather permitting, I would

often go out into the School Grounds (really

the spacious garden of what had once been a

private residence) to look around, explore, and

be ready for breakfast and the day ahead.

One morning I entered an enclosed tenniscourt

in the Grounds and walked around it, not

thinking about anything in particular, when

my attention was drawn to something moving

on the blaze court-surface just in front of me....

bending down to investigate, I was amazed

to see a number of little, round, particles of

earth being pushed up to the surface to form a

miniature 'hill' !

As if this wasn't "magic" enough there

suddenly broke out of the top of the 'hill' a

small, glistening 'blob' that began to twist and

turn, to free itself from the 'hill'.... it was an

earth-worm.... and a "Magic Moment"!

Nothing daunted, I reached forward,

grabbed the worm's head and tried to yank it

out of the 'hill'.

But the worm stubbornly resisted my

yanking, NOT by sliding out of my grip but

by allowing me to stretch its body further and

further out of the 'hill'.... how long was this

worm, I wondered?!

I let go, straightened up, turned away and

there, in the far distance, I was confronted by

a high mountain peak, beyond a range of dark

mountains.... a brilliantly-white peak against

the background of a crystal-clear sky.

I was looking at the Peak of Mount Everest....

and it was another, unforgettable "Magic

Moment"!

Lots of great products and special offers

in this months brochure including

Avon SKIN so SOFT

Dry Oil Spray

To order or get a brochure contact

LISA - 642 911 110

email - lisa.calpe7@yahoo.co.uk

SPECIAL

OFFER

only 4.50€

a bottle

Great to use all

year round

A time for us to enjoy

but which also means the

mosquitoes and insects will be

here to bite us!

It's time to stock up on Avon's dry

oil spray to keep them well away!
---
20 | OUT AND ABOUT COSTA BLANCA

NEW

Bar El Martillo

OPENING

HOURS

Monday to Sat

8.00 am to 8..00 pm

Sunday

10am to 6.00 pm

~ Real family run business ~

Meet Genadi and sister Lisi &

parents Tsuetan & Natalia

You are sure of a friendly welcome

and the food is delicious.

Glass of wine - Copa de vino 2€

Pint of beer - Tanque 3€

Plato combinado 7€

Paellas per person - Order an hour before

Carretera Teulada • Moraira 52 • Moraira

Tel: 642 19 15 44
---
JUNE 2022 | 21

Calpe, Benissa, Altea, Moraira

Inmo COBAT welcomes you to the Costa Blanca.

Since 2003 we are an "all-in" company

when buying or selling property.

www.cobatcostablanca.com

LOOKING FOR ALL KINDS OF PROPERTIES

LA FUSTERA 565,000€

Completely reformed

villa in La Fustera

Benissa with Sea and

Peñon views. Build

369m2 Plot 792m2

3 bedrooms and 3

bathrooms, home

office, parking and

garage, sauna and

exterior kitchen

Ref. 3102

ALTEA 205,000€

Corner apartment

with Sea view in

Altea Mascarat

NEW LISTING

Build 2006 and

has 2 bedrooms,

underground

parking, 2 pools

Ref. 3208

CALPE 429,000€

Wow; villa with

3 kitchens, 2

living rooms, 5

bedrooms and

4 bathrooms,

outside shower,

covered BBQ area,

garage, carport

and parking.

Ref. 3016

CALPE 475,000€

Spacious villa in

tranquil area,

walking distance

beach and with

100% privacy.

Lovely views to

the " Peñon de

Ifach ". Ref. 2791

CALPE 720,000€

Modern new

build villa with

landscaped

garden, spacious

garage and private

swimming pool, a

real opportunity.

Ref. 12835

CALPE 785,000€

Gorgeous panoramic

sea view villa with

heated pool,

garage,

exterior kitchen

annex lounge and

mature garden.

Ref. 2837

Inmo Cobat

Telephone:

0034 620146993
---
22 | OUT AND ABOUT COSTA BLANCA

MEMORY LANE

Birthday - Founder of Utah and

patriarch of the Mormon church

Brigham Young (1801-1877) was

born in Whittingham, Vermont.

Called the "American Moses,"

he led thousands of religious

followers across the wilderness to

settle over 300 towns in the West,

including Salt Lake City, Utah.

Birthday - Marilyn Monroe

(1926-1962) would have been

96 years of age, was born in

Los Angeles (as Norma Jean

Mortensen). Following an unstable

childhood spent in foster homes

and orphanages, she landed a

job as a photographer's model

which led to a movie career. She

later married baseball legend Joe

DiMaggio. Beneath her glamorous

movie star looks she was fragile

and insecure and eventually

succumbed to the pressures of

Hollywood life. She died in Los

Angeles from an overdose of

sleeping pills on August 5, 1962.

Best known for Gentlemen Prefer

Blondes (1953), The Seven Year

Itch (1955), Bus Stop (1956), Some

Like It Hot (1959), and The Misfits

(1961).

June 3, 1937 - The Duke of Windsor

married Wallis Warfield Simpson

in Monts, France. As King Edward

VIII, he had abdicated the British

throne in December of 1936 amid

tremendous controversy to marry

Simpson, an American who had

been divorced. Following the

wedding, the couple lived in

France and had minimal contact

with the British Royal family.

The Duke died in Paris on May

28, 1972, and was buried near

Windsor Castle in England.

June 6, 1944 - D-Day, the largest

amphibious landing in history,

began in the early-morning

hours as Allied forces landed in

Normandy on the northern coast

of France. Operation Overlord

took months of planning and

involved 1,527,000 soldiers in 47

Allied divisions along with 4,400

ships and landing craft, and 11,000

aircraft. The Germans had about

60 divisions spread along France

and the Low Countries. American

forces landed on two western

beaches, Utah and Omaha, while

British and Canadian troops

landed farther east on Gold, Juno

and Sword beaches. By the end

of the day 150,000 Allied soldiers

and their accompanying vehicles

had landed with 15,000 killed and

wounded.

June 9 Birthday - Composer

and lyricist Cole Porter (1893-

1964) was born in Peru, Indiana.

He published his first song The

Bobolink Waltz at the age of

ten. His Broadway career was

launched in 1928 when five of his

songs were used in the musical

play Let's Do It. Among his many

contributions to the Broadway

stage; Fifty Million Frenchmen,

The Gay Divorcee, Anything

Goes, Leave It to Me, Du Barry

Was a Lady, Something for the

Boys, Kiss Me Kate, Can Can and

Silk Stockings.rown Colony until

July 1, 1997, when its sovereignty

reverted to the People's Republic

of China.

June 10 Birthday - Judy Garland

(1922-1969) was born in Grand

Rapids, Minnesota (as Frances

Gumm). She is best remembered

for her portrayal of Dorothy Gale

in The Wizard of Oz (1939) and

other films including Meet Me in

St. Louis (1944) and Easter Parade

(1948). She became one of the most

popular concert performers of the

1950s and '60s and broke boxoffice

records in New York City

and London. She was found dead

of an overdose of sleeping pills in

London on June 22, 1969.

June 14 Birthday - German

psychiatrist and pathologist Alois

Alzheimer (1864-1915) was born

in Markbreit am Mainz, Germany.

In 1907, he published an article

first describing 'Alzheimers,' a

degenerative disease, usually

beginning at age 40-60, affecting

nerve cells of the brain and leading

to severe memory impairment

and progressive loss of mental

faculties.

June 16 Birthday - Film comedian

Stan Laurel (1890-1965) was born

in Ulverston, England. He teamed

up with Oliver Hardy as Laurel

& Hardy delighting audiences for

more than 30 years.

June 18, 1983 - Dr. Sally Ride, a

32-year-old physicist and pilot,

became the first American woman

in space, beginning a six-day

mission aboard the space shuttle

Challenger, launched from Cape

Canaveral, Florida.

June 29. Birthday - Social worker

Julia Lathrop (1858-1932) was born

in Rockford, Illinois. She fought

to establish child labour laws and

was instrumental in establishing

the first juvenile court in the U.S.

In 1912, President Taft named

her to head the newly created

Children's Bureau. In 1925, she

became a member of the Child

Welfare Committee of the League

of Nations.

June 30, 1997 - In Hong Kong, the

flag of the British Crown Colony

was officially lowered at midnight

and replaced by a new flag

representing China's sovereignty

and the official transfer of power.
---
Carretera Moraira-Calpe

coast road No 144, (in front

of Euro Gym), Moraira

Tel: 96 649 2436

OPEN 6 DAYS A WEEK.

(CLOSED ALL DAY ON MONDAYS)

12.00 – 15.30/18.00 – late.

For reservations call on

966 492 436.

Welcome to 'The Kathmandu' restaurant in Moraira where the food is prepared in the Nepalese

style giving you fragrant and tasty dishes from India.

Kathmandu Restaurant is a very popular Nepali-Indian Restaurant in Moraira.

The restaurant serves quality Indian and Nepali dishes at reasonable prices or to Take Away.

NOW OFFERING FREE HOME DELIVERY.

There are special discounts for celebrations and parties.

The Kathmandu has free parking directly outside the restaurant.

The menu at The Kathmandu includes a wide selection of Indian and Nepalese dishes to choose from.

Nepalese cuisine, is known for the flavours and textures of their curries. For those of you who enjoy

a hotter curry, then just ask the Chef and he will certainly be able to accommodate.

There is also a very well stocked bar to suit all tastes. Inside the restaurant is spacious and attractive

in design. Outside has a stylish, also spacious semi covered lovely terraced area.

Great Indian food, owner and members of the staff are really friendly and you will find it a pleasure

eating there! There are other Kathmandu restaurants in Javea, Denia, Albir, Moraira and Valencia.
---
24 | OUT AND ABOUT COSTA BLANCA DEE'S TRAVELS

DEE'S TRAVELS

UNSETTLING

TIMES

As I sit here at my laptop, I'm

struggling to write. I'm not the

only one, many of my online writer

friends feel the same. In long posts on

social media, we have discussed it

at length. We are questioning

why we just basically, can't

write. If I didn't have a

deadline for Carol, I'm

not sure if I would

be tapping this out

now. I can manage a

short blog post, but

when I sit down

to continue with

my latest book I

freeze. I've taken

to binge reading

the first four books

in my current series

to immerse myself in

Leah's world in the hope

it will break the barrier.

You will have to forgive me

if I have veered away from the travel

theme for this month, as my addled brain

ties to cope with my fears for our wonderful

Queen, and her declining health. Of course,

it is to be expected at her age, but I was still

crawling when she came to the throne, and

for most of us she has always been there.

I heard this morning that due to mobility

problems she will not be attending the state

opening of Parliament. The last time the

monarch missed this occasion was in 1963

when she was pregnant with Prince Edward.

Then there is the distressing situation

within the royal family and the

speculation and criticism.

Like them or loathe

them, we must admit

Her Majesty has

been amazing

and dedicated

herself to her

public. I hate it

when hints are

broadcast about

improprieties

and neglectful

behaviour

and there is

little chance of

defending them

without starting a

slanging match.

I feel very guilty when

I tell people I loved the lock

down. Of course, I felt for those in

hospital, friends and relatives kept apart

and the thought of living in a seventh floor

flat with a tribe of pre-schoolers doesn't bear

thinking about. However, if you are retired

and a writer, the peace and quiet without

traffic and aeroplanes screeching overhead,

was, well, bliss.

Mind, for part of the time, I was flat on my

back, really sick, not so much that I needed

https://lucindaeclarkeauthor.com
---
JUNE 2022 | 25

hospitalization, but I'd not wish Covid on

anyone. Now, we are all set free, I am still

a little nervous, it's still lingering there and

the social scene has exploded. From my

quiet, almost solitary existence to parties

and dinners, the whole scene feels over

whelming.

For the first time in my generation, there

is war in Europe. Now, I'm not panicking

about being nuked any time soon, but with

modern media we are all aware of the bombs,

the carnage, the cruelty and the horrific

events in Ukraine. To us, it does not seem

fair and I have spent endless hours online

trying to understand a different mindset

with different values and opposing values.

I have never lived in Russia, though I have

Russian friends. I worked in films which

could be termed propaganda – the parts

you don't show or mention – and I have

been determined to examine both sides of

the argument for going to war. I didn't want

to automatically follow what the western

media was feeding us. But I've failed. Am

I too indoctrinated? No, I don't think so. It

can never be right to invade an independent

country to impose your way of life on their

population. Yes, the west could be accused

of doing the same.

Which brings me to the very sad news

that the women under the new regime in

Afghanistan will now only be able to leave

their houses covered from head to toe and

only with a male escort. This is no problem

if the women have a choice, but they don't,

it is now law, along with banning education

for females over the age of ten.

I should stop there, or I will soak the

keyboard as I cry my eyes out and then I will

miss my deadline.

To end on a positive note, summer is here

and the sun is shining again. I love living in

Spain.

By Dee Tavener-Craig

All proceeds are for the needy animals of Calpe

A difficult year for all of us but we still need to raise money for Calpe's lost or abandoned

dogs and cats.

Our shop is an Aladdin's cave of clothing, books, DVDs, bric-a-brac and household goods

so come along and snap up a bargain. The shop is situated in the lower ground floor of

Edificio Perlamar on the Gabriel Miro, Calpe and is open from 10am until 1pm

Mondays to Fridays.

The president, Elinor Gonzalez lives in Las Bassetes where she cares for

Calpe's abandoned and sick animals, bringing them back to health and

finding new caring owners for them. Her telephone number is

620 106 733

and she also has a stall on the Wednesday and

Saturday market in Calpe if you wish to offer help

or Dog walk, or adopt one of the lovely dogs

Elinor would be so pleased to hear from you.
---
26 | OUT AND ABOUT COSTA BLANCA

HAIR & BEAUTY

ABBI IS A PROFESSIONAL INTERNATIONAL HAIRDRESSER

FOR MEN AND WOMEN

TEETH WHITENING

SEMI-PERMANENT MAKE-UP

TEETH WHITENING SEMI-PERMANENT

ABBI

MICRO BLADING

MICRO BLADING LOVELY GEL NAILS

HAIRDRESSING

OLAPLEX TREATMENT

for the hair. Repairs and

strengthens all types of hair

LOVELY GEL NAILS BY NICOLE

HAIRDRESSING

EYE LASH EXTENSIONS

TELEPHONE 965 874 770

The The Studio, Local 35, 35, Calle Pintor Sorolla, Edificio Apollo VII, VII, 03710 03710 Calpe

Calpe
---
JUNE 2022 | 27

A family run estate agency that is dedicated to

SELLING YOUR PROPERTY

·

Professional & friendly

Experienced & knowledgeable

Helpful & courteous

People oriented

Prepared to listen & advise

Honest & straight

Our aim is simple: to sell your

property and ensure the sale

goes through without stress,

sorting out any issues and

holding your hand all the way

so that you never know if there

is a problem! Call us today...

Marilyn & Antonio Bono

InmobresCalpe

www.inmobres.com

Marilyn: (+34) 660 601 952

Antonio: (+34) 656 633 190

Partida Salamanca 1G

03710 Calpe (Alicante)

info@inmobres.com

facebook.com/InmobresCalpe
---
28 | OUT AND ABOUT COSTA BLANCA

RESTAURANTE EL NIDO

PLAZA DE LA SORT 1

03724 MORAIRA

Tel. 96 574 5395

www.elnidomoraira.com

Opening hours.

From 10.00 am

every day.

El Nido is a True Haven. Excellent

restaurant in every way - It's a must

This restaurant is fantastic!!!! You will love the food

and its location is in a top spot right opposite the

beach. The staff are lovely and very efficient. It's a

must.

Excellent variety of great food and if you need

food to be gluten free they totally understand your

requirements.

The Chef at El Nido, Moraira is an artist, the meals

are displayed with such talent and far beyond

anyone's expectations. Everything is presented

with a clash of favours that complement each other

brilliantly and each dish is displayed mouthwateringly

beautiful.

El Nido has a really good menu with a nice mix

of local dishes and international style items. The

Service is friendly and attentive and the food is of

really high quality, it would bear comparison with

some of the prestige places in the larger cities

It is a real gem and you will look forward to eating

there again and again, as the service is quick

and friendly, food is tasty. Location is good. The

whole place feels perfect and is worth trying. El

Nido's paella is also a must and is very tasty and

good value plus an excellent house wine. There

is so much variety in Paella choices from a mixed

meat or fish, vegetable, Seafood, Mellow rice with

Lobster, to Saffron and Squid and many more to

think about. The tapas are mouth-watering from

mixed fried fish, Clams in Marina sauce, Grilled

cuttlefish to name but a few. A big variety of meat

and fish menus such as Grilled Pork fillet, Rabbit

cooked in garlic seasoning, Duck. Or Grilled

Seabass, Lobster stew, Hake to grilled prawns

and many more to choose from. Childrens' menus

available.

El Nido is a true haven to relax and enjoy an

evening with friends and family. The staff go out of

their way to make you feel welcome.

So all you need to do now is phone and reserve your table. Tel. 96 574 5395
---
JUNE 2022 | 29

Esmeralda Jewellers is an established family business with a fantastic array of

beautiful jewellery so adorable you would stand and gaze at the beauty and

craftsmanship of their products.

They are very professional, reliable people and also very helpful so your very

precious watch or piece of jewellery in need of repair or cleaning is safe in their

hands. Thus when looking for that special gift, you need to visit Esmeralda

jewellers. It is a family run business so you are made very welcome and the

staff will help you choose jewellery, watches, porcelain Lladro status, Swarovski

Silver crystal, clocks and much more. It is well worth a visit. The shop has been

newly refurbished.

The display is so lovely you would "Fall In Love" with the Jewellery.

CONTACTO

Av. Gabriel Miró, 29a, 03710 Calpe, Alicante Teléfono: 965 83 06 33
---
30 | OUT AND ABOUT COSTA BLANCA

Mar y Tierra today offers you red shrimp from Denia, emperor from Javea,

octopus, squid, tellinas, cuttlefish, fried shrimp, scallops, liver, salted fish,

Iberian lizard, suckling lamb chops, Galician meat, pink tomatoes, Iberian

ham, paellas, rice dishes and much more...

Double fronted

restaurant with

large front and back

terraces. Spacious

dining areas.

Av. de la Paz 3/4, Moraira.

Felix - 691 158 913

966 933 159

Ian - 658 070 813
---
JUNE 2022 | 31

SUPERFINE

CONSTRUCTION

& SERVICES

• DESIGN &

ARCHITECTURE

• PLANNING &

PERMISSIONS

• TILING

• PLUMBING

• COMPLETE REFORMS

• SWIMMING POOLS

DESIGN & BUILD

• BATHROOMS

• AIR CONDITIONING

• ELECTRICAL

INSTALLATIONS

• KITCHENS, 3D DESIGNS

• CARPENTRY WORK

• GROUND WORKS &

DRAINAGE

• PLASTERING,

RENDERING &

MONOCAPA

• SOLAR SYSTEMS

• CCTV DRAIN & POOL

INSPECTION UNIT

BRITISH FAMILY RUN BUSINESS

40 YEARS EXPERIENCE

ANY PROJECT, ANY SIZE

WE'RE THE COMPANY TO

BUILD IT RIGHT

REGISTERED MASTER BUILDERS

FULLY LEGAL & INSURED

Find us on

facebook
---
32 | OUT AND ABOUT COSTA BLANCA

PLATINUM JUBILEE

The queen is

the first British

monarch to

celebrate a

Platinum Jubilee

The UK and Malaysia started in June with

major celebrations to mark Queen Elizabeth

II's Platinum Jubilee and Her Majesty's 96th

birthday. On 6th February 2022, Queen Elizabeth

II became the first British monarch in history to

achieve Platinum Jubilee - 70 years of reign and

service.

Thursday 2nd June. This annual event has

now marked the official birthday of the British

Sovereign for over 260 years. During the Queen's

birthday parade A Royal Gun Salute was fired.

What is jubilee celebration? Jubilees celebrate a

monarch's reign upon ruling for certain periods.

The first British monarch to celebrate a

jubilee was George III in 1809. Several

monarchs including Queen Victoria

have held such events since. Also there
---
JUNE 2022 | 33

was a parade in 1897, to mark Queen Victoria's

diamond jubilee, for 60 years of rule.

When was the last Jubilee celebrated? In the

Roman Catholic Church, jubilees began to be

celebrated formally in 1300 AD and are years of

forgiveness of sins and reconciliation. They are

celebrated every 25 years. The most recent year

of jubilee was 2000.

The Queen marked her 70th year on the throne

on 6 February this year, but she did not celebrate

her Platinum Jubilee until June. The reason for this

is because 6 February also marks the anniversary

of her father's death, as she ascended the throne

the day that King George VI died in 1952.

The Platinum Jubilee celebration included

everything from the traditional Trooping the

Colour birthday parade for the queen to a starstudded

concert led by Diana Ross to thousands

of street parties across the country.

Elizabeth attended the Trooping the Colour

and a beacon lighting ceremony later that night,

but did not attend the Friday's service after

experiencing "some discomfort" during previous

events.

The queen appeared outside of Windsor Castle

and touched a symbolic globe that set off a chain

of "Placing the 'Tree of Trees' at the heart of the

beacon lighting reflects the Royal Family's long

history of championing environmental causes

and paid a fitting tribute to Her Majesty's 70

years of service to the nation.

As the queen and William participated in

the beacon lighting ceremony, more than 1,500

beacons lit up across the U.K. and Commonwealth

countries and territories.
---
34 | OUT AND ABOUT COSTA BLANCA

Walsh's Wisdom

THE BOVRIL BULL

IN A BOTTLE

Other than the little-known fact that it was

invented by a Scot, here are ten things you

might not know about everybody's favourite

beef extract, Bovril. Created in Edinburgh in the

188os by Midlothian native John Lawson Johnston,

who experimented with what he called 'fluid extract

of beef' after starting as an apprentice in the family

butcher shop on Canongate, here are 10 facts about

this football fan favourite.

The name was inspired by the Latin word for

the ox and a popular novel of the time. The first

part, chosen by Lawson when he rebranded in 1886

changing the name from 'Johnston's Fluid Beef',

comes from Bovine, the Latin for Ox. The second

If you have a book or indeed any writing needs contact Michael by emailing him at keyboardcosmetics@gmail.com

Michael Walsh Heart to Heart Poetry, Amazon Books.

Email: keyboardcosmetics@gmail.com

AMAZON 'TOP 100

BOOKS OF THE YEAR'

Website: www.mikewalshwritingservices.wordpress.com
---
JUNE 2022 | 35

part was inspired by the word Vril, the name given

to a powerful energy-giving fluid in a hugely

popular occult novel of the time, The Coming Race.

Tasked with supplying preserved beef from the

ranches of North America for Napoleon III's army,

following their defeat due to starvation during the

1870/71 Siege of Paris, John Lawson Johnston saw

the potential for a beef extract with added protein.

He produced an extract made by heating

carcasses of cattle and reducing the liquids that

came off into a residue which was mixed with

powdered dried meat. This substance, which

Johnston believed was truly nutritious, overcame

all the problems associated with

the transportation of meat across

thousands of miles of ocean.

The French reportedly asked

Johnston, who had emigrated to

Canada by then, to devise a form of

'canned beef' that would supplement

the standard fare. Johnston instead

came up with a thick concentrate of

salty beef that could be either eaten

as a spread on a slice of bread or

dissolved in hot water to provide a

savoury drink, the product he had

earlier created in Edinburgh and the

rest they say, is history.

Johnston was a canny promoter. He organised a

stunt for a launch of Bovril at the 1887 Colonial and

Continental Exhibition in London by recreating a

Montreal Ice Palace in frosted glass to encourage

sales of Bovril from the chilly location.

The first Bovril adverts appeared in 1889 and one

enterprising employee went on to set up his own

advertising agency. The beef drink was his first

client. One famous advert showed a picture of the

Pope drinking a hot mug of Bovril.

It was so popular by the turn of the century that

was being sold in more than 3,000 British pubs,

grocers and chemists. It was available in South

Africa and South America around that time.

In fact, famous explorer Ernest Shackleton

was reportedly a fan

The adventurer was said to have shared

a cup of Bovril with Captain Scott on

Christmas Day of 1902, near the South Pole,

after a chilling four-hour march.

Unilever, the company that now produces

Bovril, sparked outrage six years ago by

changing its composition from beef to yeast.

The change was made amid concerns about

mad-cow disease and the growing popularity

of vegetarianism. After prolonged criticism

that the product had lost its taste, Unilever

relented and reintroduced beef extract.
---
36 | OUT AND ABOUT COSTA BLANCA WALSH'S WISDOM

Free Home Delivery

Servicio a Domicilio Gratis

Moraira & Surrounding Area

FINE NEPALESE AND INDIAN CUISINE

10% Discount On Take Away / Para Llevar

Lunch menu

Special menu

Ctra. Moraira-Calpe, 253 | 03724 Moraira, Alicante | Tel. +34 965 748 298

Mov. 632 87 24 08 | www.gurasrestaurant.com |

12.00 - 15.30/ 18.00 - Late | Monday Lunch Closed

10%

discount on

take away

food

Available

for special

occasion

or private

parties

At Guras Curry House, we have a

passion for making sure customers

have an enjoyable time as well as

eating delicious genuine Nepalese

Indian Food. Guras combine a

panoramic range of Nepalese and

Indian food, cooking many of

your favourite dishes including,

Tikka Masala, Korma, Pasanda,

Karahi, Bhuna, Saag as well as

Special House Grilled dishes.

Private parking.

Childrens

menu available

from Chicken

Nuggets to

Fish fingers

Pete Frost

singing from

1.00pm-4.00pm

Sunday 26th

June

Reserve your table telephone

632 87 24 08 or 96 574 8298
---
WALSH'S WISDOM

JUNE 2022 | 37
---
38 | OUT AND ABOUT COSTA BLANCA

Walsh's Wisdom

LOOK LIKE YOU OWN

THE BANK NOT LIKE YOU

NEED A LOAN FROM IT

WALSH'S WISDOM

Who says that a woman, having

crossed a certain point, should

forget about fashion? She can be

stylish, fashionable and elegant at any age.

It is true: As the years go by, a woman, like

wine, only gets better and nobler.

Let's take a fresh look at fashion and

women. As Coco Chanel perfectly put it, 'Age

is not the most important thing for women:

you can be admirable at 20, charming at 40

and remain irresistible to the end of your

days.'

If you have a book or indeed any writing needs contact Michael by emailing him at keyboardcosmetics@gmail.com

Michael Walsh Heart to Heart Poetry, Amazon Books.

Email: keyboardcosmetics@gmail.com

AMAZON 'TOP 100

BOOKS OF THE YEAR'

Website: www.mikewalshwritingservices.wordpress.com
---
WALSH'S WISDOM JUNE 2022 | 39

As it happens, not all women appreciate and

accept their age. Many try to look younger than

they really are. There's nothing wrong with that,

as long as you don't use youthful clothes and you

understand the importance of not giving in to such

temptation.

Dress smartly, elegantly and self-sufficiently. The

image of elegance creates a sense of something,

expensive, pedigree and gorgeous.

Fashion for women over 50 suggests a minimal

and concise fashion style. The softness of the lines,

strict necklines, fashionable cuts and expensive

fabrics will help to comply with all the laws of

dressing for this age period. Choose your clothing

strictly according to your size.

Here is a tip from international fashion designers.

Forget about retro style per se and even more so

about vintage pieces. Even if it's a dapper outfit by

a big-name designer, you'll look like you haven't

been following fashion for 40 years.

Start your makeover with a thorough assessment

of your outfit at home as you'll find yourself

looking in front of the mirror more often than not.

A bathrobe, just for morning and evening hygiene

and beauty treatments. Give to charitable concerns

clothing no longer required for your wardrobe.

With just a couple of sets of comfortable, yet neat

and stylish home wear, you'll look in the mirror

as an attractive woman who has no intention of

ageing either in body or soul.

NELLI KAMALOVA an

international model says, 'It

was only in my older years that I

discovered my potential. I learned

to dress nicely, use the right makeup,

and keep my posture. There

was a new lustre in my appearance.

All of us women, regardless of

age, are girls inside and want to be

loved and admired. Present fashion

is very democratic in terms of both

fashion trends and pricing.'

Nelli Kamalova
---
40 | OUT AND ABOUT COSTA BLANCA

Whining on

with Steve

Welcome to the sun inspired

June edition of our

monthly wine musings.

This month's wine term that

is well used and often under

appreciated is Terroir. There is no

real translation for the French word

terroir but terrain as you might

expect comes the closest but is both

less specific and emotive.

In essence the terroir represents

the soil, subsoil, underlying rock

and chemical properties allied to

the way in which they interact and

are affected by the geographical

climate, light, shade, wind, rain and

all aspects of its topological location.

All of these factors create a particular

terroir and a particular growing

culture and flavour for the grapes

produced, the difference between the

top and bottom of a slope will add

variety to the growing conditions

as any keen gardener is aware. A

good wine maker takes all of this

into account when arriving at their

optimum yield and quality. The

single most important aspect of the

terroir, assuming it has the necessary

climate for vines to flourish, is water

supply and minerals, the balance

of this being crucial as too much

will cause the vines to become too

vigorous in its growth of shoots

and leaves that will inhibit the fruit

growth. Too little which is a bigger

risk in Spain has the opposite affect

and the plant conserves energy and

under produces fruit. In short, the

terroir is of upmost importance to a

good wine.

As for the wine itself today we will

consider which reds can be drunk

chilled.

Many people dismiss this concept

completely, but this shouldn't

necessarily be the case. The main thing

to consider is which type of wine

and how cold. The sense of smell is

a key factor in enjoying a good wine

and the fact that red wine generally

has a higher molecular weight means

that it needs to be warmer, in order

for the bouquet to open up and the

wine to present at its best, white

wines are naturally more open on

the nose when cold. For this reason,

when considering a wine to be served

chilled you should look for a young

or "Joven" wine. Look for something

fruity that has a lower alcohol content

and steer clear of anything that has

had any good length of time in an Oak

barrel as this will not drink at its best

cold.

The most commonly known reds

that serve well chilled are Beaujolais

as they are produced primarily to be

fruity wines drunk young and share

similar characteristics with whites.

For Spanish reds to drink at a

colder temperature look for lighter

Tempranillo's or Garnacha, these are

the main grapes of the Rioja region

so a young low alcohol wine from

here will work well. One region

particularly good for young light

reds is Galicia so you should find an

interesting option from here.

As for how much to chill a red the

ideal temperature for light reds would

be 10-12 degrees C, therefore for a

bottle that's

at room temperature, fill an ice

bucket with half ice and half water and

sit for 15 to 20 mins or alternatively

place in the fridge for 20 minutes or

so, place yourself in a nice shaded spot

pour and enjoy.

Until next time.

Un Salud

Until next time, Salud!
---
JUNE 2022 | 41

PAINTING CONTRACTORS

• BASED IN CALPE COVERING ALL MARINA ALTA •

Specialist Painting and Decorating

With over 35 years experience in all aspects of painting and decorating

including DBS checked for working for the vulnerable, domestic,

commercial and industrial projects, Specialises in wallpapering, mould

control and power washing, including spray painting. We use only the

highest quality products and ensure that the projects are left clean and

tidy. We always ensure the client is happy before we leave and we have 5*

reviews on our facebook page so you have the confidence in us.

We are fully registered and insured.

Feel free to ring or email for a free quotation.

styledecs@yahoo.com

Facebook: https://www.facebook.com/groups/1702104550178152

Telephone Dave on 0034 711092706
---
42 | OUT AND ABOUT COSTA BLANCA A MEDIUM RARE

We Spiritualists are a minority group,

albeit a group that I am very proud to

be a part of. We believe quite simply

that the human body is a vehicle for the soul,

and that stored in this soul is the journey of life

as we have lived it. Only the body dies. The soul

survives! It records all that we have achieved as

The World is full of sceptics. They are convinced

that they are right, but their lack of opinion,

although they are entitled to it of course, brings

considerable negative energies; especially when

spiritually matters are concerned. I have been

asked to prove that I am a Medium, and my

instant reply was to ask the questioner to prove

I was not. The trouble is that if I was to give

a demonstration to the sceptic, they wouldn't

stay around to see or hear what I had to do. So

there comes stalemate. But if you have no faith

whatsoever, and cannot see beyond the box, then

maybe you are fuelled by negativity to start with.

Spiritual readers ask me to convince their non

believing partners that the Spirit World exists,

and this is very hard to do. Rather than to keep

an open and free mind these sceptics block all

possibilities, and then in return offer no solution

to the matter whatsoever. Closed minds and

closed hearts. One wonders what they do believe

in!?

Of course it isn't easy to believe in the unseen.

World religions trot out stories from the past that

maybe we cannot identify with, and ask people

to believe in miracles, and it is a hard concept

and a personal choice to choose to believe or not.

Beliefs are a contract after all, and a contract that

many do not wish to sign. The ancient Egyptians

worshipped what they could see, and elevated to

Gods; the River Nile, Cats and Dogs and the Sun.

This meant belief could be harnessed by actually

being able to see the object of worship and to

glorify the status received as a result.

When I was told the story of Creation, and

that Cain killed his brother Abel, then took a

wife, I couldn't understand where that woman

came from. Was she Cain's sister? We were told

that there were no other people on the Earth

other than the direct descendents of the fatally

attracted Adam and Eve.

Curious? Well I have asked the question of

how it happened to exalted members of religious

organisations, and they have replied to me as

any good politician would, with no promise of a

direct answer. Just waffle.

As to the Spirit World, here Spirits gather

and wait, and from here messages can

be sent, proving survival of the soul and

underlining the love and devotion of those

who have passed, but who wish to establish

a conscious communication with Earth. That

is Earthbound souls who believe that the two

way communication is possible. Sceptics will

never get a message through however, because

whatever would be the point?

Faith rewards, and questions can be answered

and a better understanding can be established

with loved ones as soul survivors in the Spirit

World make communication.

After a journey we call our loved ones to

confirm our safe arrival. After the longest journey

of the soul we need to receive that call that is the

surety of the existence of a soul so contained and

surviving adequately in another dimension.

Your belief in Spirit is not obligatory or

essential, if you decide not to make it a priority,

then that's your business.

Otherwise please use your faith to believe

in something because faith is overwhelmingly

needed to make great things work, and because

your loved ones could be missing out whilst you

test a faith that needs no more than the affection

and love that you can muster. Love protects and

cares and we are all here to read this because

somebody somewhere loved someone. That's

how it works!

Love & Light, - Kenny Corris

CHECK OUT MY WEBSITE WWW.KENNYCORRIS.COM

CALL FOR INCLUSION ON THE HEALING LIST, THIS IS A FREE SERVICE THAT WORKS!

TEL. 96 587 8424/686 361 594 / EMAIL: KENNYCORRIS@HOTMAIL.COM
---
JUNE 2022 | 43

New stock

arriving

weekly

Men's &

women's

clothing

Everything

at Budget

prices

from

10€ to

30€

Carrer San Joan de Garay, Carrer La Santamaría corner

Come and enhance

your fashion life!!

Everything at affordables prices

No matter what the occasion,

we have the outfit for you!

FOR HER - from dresses & blouses to

jewellery and handbags

FOR HIM - from Shoes & trainers to

Jackets & trousers

TEXAS AMERICAN STEAKHOUSE

C/. JARDIN, EDIF. APOLO III, CALPE.

he restaurant has the benefit of a large terrace

for "al fresco" dining and inside also a spacious

Tdining area. The menu of the day is excellent

Wheelchair

friendly

value. Enjoy their juicy Steaks alongside succulent

Ribs, Burgers, Vegetarian dishes and many more in

a Western ambiance. Everything is cooked in their

open kitchen on a grill. Try their famous spare ribs.

ALL YOU CAN EAT. There is also take-away ribs with

chips plus a 3 course daily menu. Different burgers

(Black Angus Beef), Vegetarian burgers and Chicken

burgers. For fish lovers, there is Salmon and battered

Cod. There is an excellent fresh Roast Sunday lunch

from 1.00pm until 5.00 pm. The bottle of wine is

only 6 euros. 2 Courses only 15 euros. Such good

value. The restaurant is known for its constantly high

quality food and attentive service. The restaurant is

located on the corner of Calle Jardin, Calpe, with the

Cowboy in front of the door! Tel: 677 727 305 for

bookings. Open every day from 18:00.

You can find their complete menu at

steakhousetexas.com
---
44 | OUT AND ABOUT COSTA BLANCA

OPENING HOURS

Mon 3 – 9

Tues 3 – 9

Weds 3 – 11

Thurs CLOSED

Fri 3 – 10

Sat 2 – 10

Sun 10 – 8

Father Ted's

Camino del Pallero, 6, Moraira

Father Ted's can be described as a "Jewel in a Crown" as

it sparkles with personality and is a "gem" of a bar to visit

with a warm welcome.

In the Moraira area where there are plenty of fizzy beers, it's a joy to

get a decent pint of Guinness, properly served. The owner and staff are

professional and friendly and the food is very good. It has a relaxed and

civilized feel about it, everything a bar should be. Another big asset is

the wide selection of "GUEST CRAFT ALES" available including "ADNAMS

BROADSIDE" and "NEIPA" on draught.

GUEST BEERS CHANGED REGULARLY.

What a find! Great food and service and good value for money. Treat

yourself to a traditional Sunday Lunch with a choice of starters, main

courses of Roast Beef, Roast Chicken, Roast Lamb, or Roast Pork served

with all the trimmings, starting from 10.95€. Spaces are limited though

so give Gwen a ring on 966 490 277 or 630 965 392 to book.

Lunch will be served from 1.30.

Staff very friendly and attentive. Home-made Specials from €6.95.

Inside seating 52 people and on the terrace 20.

Plenty of outside parking space.

Check us out on Facebook for Up and Coming Events.

STEAK &

GUINNESS PIE !!

TRADITIONAL

3 COURSE

SUNDAY LUNCH

available from

€12.95.

Bookings advised

for any or all of the

above. Please check

our Facebook page

for updated dates

and times.

EVERY WEDNESDAY FUN QUIZ NIGHT

€5.00 MEAL DEAL AND OPEN THE BOX

EVERY SUNDAY TRADITIONAL SUNDAY LUNCH

3 COURSES €15.95

Please check our Facebook page for revised times, capacity and entertainment, as these

may change due to the easing of restrictions

SELECTION OF CRAFT ALES

Including Punk IPA and

Bombardier on draught.

New beer arriving on draught.

TV - WATCH IT INSIDE & OUT

All your favourite sports!

WEDNESDAY NIGHT

Quiz Night & The Open Box

FRIDAY NIGHT

Homemade fish & chips

plus a selection of

homemade pies for 7.95€

SATURDAY NIGHT

Meal deals from 5.00€

SUNDAY LUNCH

Available from 11.95€
---
JUNE 2022 | 45

Father Ted's

Camino del Pallero, 6, Moraira

A Gem of a Place

One Course 11.95€

Two Courses 13.95€

Three Courses 15.95€

NORMAL OPENING HOURS

Mon 3 - 9 , Tues 3 – 9, Weds 3- 11, Thurs Closed,

Fri 3 – 10, Sat 2 – 10, Sun 10 – 8

Opening hours may vary and entertainment due to ongoing restrictions.

Check our Facebook page or phone the bar on 966 490 277/630 965 392

Booking advised: 966 490 277 / 630 965 392

Camino Del Pallero 6, Moraira
---
46 | OUT AND ABOUT COSTA BLANCA CHANGE YOUR LIFE

All You Need UNDER ONE ROOF

Centro Comercial Montgó

Cap de la Nao Plá 68

Jávea

Tel: 966 462 275

Partida Planet 177

–

Altea

Tel: 965 841 399

yorkshirelinencostablanca.com

Follow us on Facebook and Instagram

and WIN a 40€ voucher.
---
JUNE 2022 | 47

Restaurante

Maryvilla

DINER · TAPAS BAR & RESTAURANT · GERMAN RESTAURANT

Intimate friendly atmosphere with amazing food and stunning sea views.

Family friendly and perfect for every occasion.

Run by Master Chef , Werner Esser.

Open every evening except

Wednesday 6 until late

Maryvilla, 73, 03710, Calpe

(Opp Ecomas Letting Offices)

For reservations:

965 83 49 59

restaurante-maryvilla.com
---
48 | OUT AND ABOUT COSTA BLANCA

DAWN BLYTHE

The most hotly debated

medical subject!!

Everybody these days turns to

'Google' but if you start to research

the 'pros and cons' of taking HRT

you will be bombarded with a mix-match

of information!! My advice is that it is

generally not a good thing to turn to

internet for medical advice but if you do

want to do your own research, always use

trusted sites such as NHS Choices or NICE

(National Institute for Health and Care

Excellence).

If you visit a gynaecologist on the

Spanish Social Security system (NHS)

complaining of menopausal symptoms,

it is very likely that the response you

will receive is to be told it is 'normal'

and basically you need to get on with it!!

The strange thing is that there are many

conditions that come with age such as

deteriorating eyesight, worn out joints,

high cholesterol etc. etc. But, do we say

'Normal'........NO, we give people glasses,

joint replacements and medications!!!

So, why are some health professionals

reluctant to give HRT? It is because of fear

of risk factors.

Here at the Family Medical Centre

(Albir) we are generally pro HRT, so long

as it is given to suitable low risk patients

as safely as possible. For those suffering

(or who have suffered) from menopausal

symptoms, you will know that your

quality of life can be very much reduced to

the point that you feel a different person.

Loved ones may also report that you are

totally not yourself.
---
DAWN BLYTHE

JUNE 2022 | 49

If you are suffering symptoms such

as hot flushes, night sweats, poor sleep,

anxiety, irritability, loss of libido, loss of

memory (to name just a few) do not suffer

in silence. The first thing to do is to speak

with an experienced, sympathetic health

care professional. Here at the Family

Medical Centre we offer menopausal

assessments. Appointments are not

rushed (some take over an hour). You

will be given a sympathetic ear and there

is always a box of tissues to hand! In my

experience, many women just want to be

heard. They want somebody who is not

judgemental to listen to them. Sometimes

after a really good 'heart to heart' (and

often a good cry) women decide not to go

the HRT route but to try other things to

help.

Unfortunately there is not one form of

HRT that will help all symptoms. During

a menopause assessment, we try to to get

a clear picture (from lots of questions!) of

what symptoms are most troublesome to

a woman and to ascertain what symptoms

they can or can't put up with! All women

are different. The other task is to assess the

risks for that particular patient by taking

a careful personal medical history and

family medical history. In certain cases we

could not be able to consider giving HRT.

If following the menopause assessment

it was felt that the benefits of HRT would

outweigh the risks (having explained them

to the patient) our G.P. would make the

final decision about prescribing HRT.

We always point out to patients that this

is not a 'quick fix'. The normal procedure

is for the patient to come back in 3 months

for a review. If there is an improvement

in symptoms (and quality of life) and the

woman wants to continue, the doctor

would then prescribe for a further 6

months. After a 6 month review, if all is

well the patient can then just have an

annual review.

During the month of July, the Family

Medical Centre, Albir have a limited

special offer – they are offering

Menopausal Assessments for 40€ (20% off

the normal price of 50€) Appointments

are essential. If you feel that you may

benefit from an appointment call us on

966 865 072

· Article by Dawn Blythe S.R.N. R.M.

· The Family Medical Centre, Albir. 966 865 072

· www.albirfamilymedicalcentre.com
---
50 | OUT AND ABOUT COSTA BLANCA

ANNE RODGER

OLD AGE

By

ANNE RODGER

Getting old is as surprising as it is

inevitable. I have seen the deaths of

the closest members of my family,

and my best friends in the past

few years. So there is an

underlying sadness as

I make adjustments

to my life without

them - but, at

the same time,

an immense

gratitude

that I am still

surviving

and doing

my best to

enjoy the

bonus of these

later years.

The greatest

benefit that we

oldsters have is time.

We don't have to go

out to work any more, so

there is no imposed timetable.

Our allotment of time is of our own

choosing.

Sometimes - particularly when I am not

well, or the weather is really bad, I decide to

make a big cup of milky coffee (laced with a

little something !), grab a packet of chocolate

biscuits and go to bed with a good book -

maybe for a few hours or maybe for the day.

Interrupted only to get food and go to the

loo.

On other days, it's go-go-go and I arrive

home exhausted. But exhilarated. What bliss

that there is such a choice of things to do.

In many ways, I have been very lucky. A

number of my friends have very dependent

loved ones who require a 24 hour

commitment. Others have

regular hospital visits they

must go to or other

medical treatments.

Even those

negatives can be

turned around,

in that they

give structure

to each day,

and provide

a hook round

which the rest

of the day can

be organized.

With

a positive

attitude, as with

all other phases of

life, old age can be a

significant time. Some

of us find charity work

very rewarding, as with joining

a group of like-minded people. It may be

fun to sit and knit, and chat together, to play

Boules or Petanc, or maybe contribute to a

heated debate. You may prefer to sing in a

choir, act or dance on the stage, or put the

World to rights over a restaurant meal in a

dining-out group.

Religion and family often contribute in

a big way to those of us fortunate enough

to have the extra time in our lives to which

others have been denied.

Don't be lonely. Don't be sad.

Old age can be such a bonus.
---
ANNE RODGER

Cookery

By

ANNE RODGER

JUNE 2022 | 51

Java Pork

The beauty of this recipe is not only its simplicity, but its

unusual sauce, and the fact that you can use any cut of

pork you like -

METHOD.

Coat the pork (cubes, chops, slices - whatever) with

seasoned flour and shallow fry in a mixture of oil and

butter (or margerine) till coloured. Remove from the

pan, add more oil if necessary, and fry 1 large chopped

onion + 2 sticks chopped celery over medium heat.

Lower the heat and add 1 heaped tspn curry powder

and a sprinkling of flour. Stir in 3/4 pint hot stock (a

dissolved chicken stock cube is fine). Replace the pork

and cover the pan. Simmer slowly for 3/4 hour. Stir in

the juice of 1 lemon + 1 cup of cream, and turn off the

heat. Correct seasoning to taste.*

Serve with a jacket potato or a selection of vegetables.

* This is where you can personalise the recipe if you

wish.

(a) It will not taste like a curry at this point. But you can

add more curry powder and serve it with rice if you wish.

(b) To make a more fruity sauce, add some orange

segments or pieces of mango before serving.

(c) Add chopped apple to the onion and celery - and

maybe some chopped sage.
---
52 | OUT AND ABOUT COSTA BLANCA

Conn lly's

bar

• Draft Guinness, Strongbow, Heineken & Aguila

• Vast selection of spirits, Cocktails, Smoothies &

soft drinks

• Sporting & Football matches

• Full english breakfast

• Pie chips & gravy

• Toasties

• Burgers

Calle Jardin 7, Calpe • Tel: 602 40 31 21
---
JUNE 2022 | 53

The Fountain of Life

by Anne Rodger

The fountain is the source

The beginning of the natural stream

A well-spring of water - clear and true

The Embarkation, commencement

The Spring of the dream.

The dream of a life that will follow a course

Pre-determined or chance

Who knows the way?

The path it will take?

The speed and the flow?

The whole of life's pattern

Caught up in its sway.

It bursts forth at the origin

Like a baby at birth

So new and alive.

With its energy spent

It will find its own path

The cascade of excitement

Will slow to content.

Sparkling droplets of water refracting the light

Are scattered and blown as they descend

through the air

On reaching the ground, they settle and pause

Then move forward together

The life-stream on course.

A stream or a river - what will it become

Narrow or wide? fast flowing or slow?

Some lives are shallow - exhibit no depth

Other waters run murky - their depth not to

know.

Though the role of the fountain determines the

start

Its influence lessens as life takes a hold

The flow of the river through all life must be

Direction downstream before it fades out to sea.
---
54 | OUT AND ABOUT COSTA BLANCA PAWS FOR THOUGHT

Now the hot spells are here, I do hope

all my furry friends take note of what

I am barking at "You Must Drink A

Lot of Water" so you do not dehydrate

and try and stay out of the midday

sun.

My paws feel the heat from

the ground, so the times

have to change for my

walking schedules

This summer, I have to

be careful I don't go near

the swimming pool as I

cannot swim and I fell in

a couple of years ago and

still have nightmares of the

time I was rescued. Other

dogs can swim but I just sink

to the bottom. I don't even like the

rain. I start barking at water, it scares me.

Stupid isn't it?

Last year Bentley used the pool quite a

lot. He enjoys swimming a few lengths. I do

admire how fast Bentley swims from one end

to the other. Alfie can swim but does not enjoy

it. He goes down three steps in the pool so his

front paws are in the water but ventures no

further. This is just to retrieve one of his toys

that had fallen in.

I am now wearing my cooling collar and

when it gets too hot the cooling jacket goes on.

Carrying some weight I really do feel the heat

but my cooling collar is like "magic" as I don't

pant so much.

I tend to find any shade or where there is a

breeze to rest my body. I have a cooling mat

which I share with Alfie. He lies on it more. It

cools our bodies down.

Been having a yap with Alfie as

you can see he loves me to bits

but he never leaves me alone.

I had a few whispers in his

ear and said he has to stop

sleeping on top of me as

it is a bit warm. I am lazy

so him cleaning my face

and ears and of course

adoring me, I enjoy ha ha.

I put my paws in the air

now and he cleans these. Yes

I am spoilt. Our bossy boots

little dog Bentley is in charge and

bosses us both all the time. Bentley

has to have his own way and gets annoyed

with us, so we just give in. He gets grumpy

and Alfie and I are placid. Bentley is so lovely

but his dad is a "Yorkie" so sometimes this

grumpy nature comes out in Bentley. Most

of the time he is good fun racing around the

garden chasing Alfie. They both can run fast.

Lots of tail wags from yours truly me Tyson

and of course Bentley and Tyson. Until next

time.

Tyson

Av. Constitució , 18, planta bajo,

La Font d'En Carros, 46717, Valencia, España.

Telephone: 650-304-746

Email: p.e.p.a.animalcharity@gmail.com
---
PUZZLY PAGE

JUNE 2022 | 55

Firefox

https://arenacloud.cdn.arkadiumhosted.com/overw

ACROSS

1 Mr Martin, the cathedral clergyman (4)

3 Very bad lad Freud cured (8)

9 Fielder supports insolence (3,4)

10 Look displeased as small animal left

(5)

11 Extremely tough line for cast (5)

12 Carrying drink at home - gallons! (6)

14 Renounce sin in Religious Education

class (6)

16 Bodyguard employed by firm in Derby

(6)

19 Poster put out quickly for musicians

(6)

21 Antelope seen in Kenya lately (5)

24 Bouquet is the start of a romantic

Firefox

1 2 3 4 5 6 7

https://puzzles.bestforpuzzles

affair (5)

25 Social occasions for roving pirates (7)

26 27

26 In poor visibility wood is wrongly

distributed ACROSS (8)

27 Little 1 Mr Leonard's Martin, the optical cathedral device clergyman (4) (4)

3 Very bad lad Freud cured (8)

9 7 3 2

DOWN 9 Fielder supports insolence (3,4)

1 Shuffling 10 Look adroitly displeased and as wasting small animal time (8) left (5) 4

2

9

11 Extremely tough line for cast (5)

2 Forecaster

12 Carrying

in

drink

gold

at

cover-up?

home - gallons!

(5)

(6)

4 Esteem 14 Renounce for scrambling sin Religious up tree Education (6) class 3(6)

5

5 Girl 16turning Bodyguard up with employed something by firm worth in Derby (6)

having 19 Poster (5) put out quickly for musicians (6)

21 Antelope seen in Kenya lately (5)

6 New 24 Ford Bouquet model is the made start of headlines? a romantic (7) affair (5)

9 8

3 1

7 Girl 25likely Social to occasions lose heart for (4) roving pirates (7)

8 Phone

26 In

bill

poor

initially

visibility

reduced

wood is

(6)

wrongly distributed (8)

27 Little Leonard's optical device (4) 5 1

7 6

13 A Republican attached to one state or

DOWN

another

1 Shuffling

(8)

adroitly and wasting time (8)

15 Fast partner possibly hopping mad (7)

4

8

2 Forecaster in gold cover-up? (5)

17 Take 4 Esteem no notice for scrambling of ogre up novel tree (6)

5 Girl turning up with something worth having 6(5)

3

7

18 Try 6short New Ford period model with made book headlines? (6) (7)

20 Fish 7 Girl that likely can to travel lose on heart ice? (4)(5)

1 7 6 8

22 Incidental 8 Phone remark bill initially producing reduced (6) new

ideas

13 A

(5)

Republican attached to one state or another (8)

How to play

15 Fast partner possibly hopping mad (7) Test your brain on our SUDOKU puzzle.

23 Hannibal 17 Take manufactured no notice of ogre some in novel (6) Sudoku is a logic Fill puzzle each where square you so have that to each populate row, column and

soothing 18 Try short ointment period (4) with book (6) the grid with numbers. each 3x3 A number square can contains appear only all digits once from 1 to 9.

20 Fish that can travel on ice? (5)

in each row, column and house. Each puzzle can be

solved using logic from the given information and

22 Incidental remark producing new ideas Answers (5) to both puzzles can be found on page 62

requires no guesswork.

23 Hannibal manufactured some soothing ointment

(4)

8

9 10

11 12

14 15 16 17

23

19 20 21 22

18

24 25

13
---
56 | OUT AND ABOUT COSTA BLANCA

LIVE

MUSIC

most weekends

(Check Facebook

for updates).

Calle Móstoles 33,

Rada de

Moraira.

Telephone:

965 74 43 66

There is something for everyone at

Hill Top Pub!

Breakfast from 10.00 am – 1.00 pm.

Lunch and Evening meals available.

• Pool and Terrace •

ALL SPORT/BIGGEST

SCREEN IN MORAIRA

in a new glass enclosed terrace.

Sunday lunches

from 1.00 pm

Pool Table available

Open 7 days a week, early until late.
---
BOOK REVIEW

Book

Review

JUNE 2022 | 57

PRICE

7.85€

plastified

leaflet

Covers more than 250 species regularly seen in

mainland Spain and the Balearics Concise text

includes information on identification, songs and

calls, behaviour, distribution and habitat Packed with

full-colour photographs, each carefully selected to guide

identification The ideal pocket-sized guide - perfect for

nature-loving travellers and birdwatchers.

James Lowen is an experienced naturalist and awardwinning

author whose previous books include Much

Ado About Mothing, British Moths, Birds of France

and Bloomsbury's RSPB Spotlights on Badgers and

Hedgehogs. Two of his books received the accolade of

Travel Guidebook of the Year, and James also writes

for publications such as The Telegraph, BBC Wildlife,

Nature's Home and The Countryman.

jameslowen.com / @JLowenWildlife

Spain Birds : A Folding

Pocket Guide to

Familiar Species

by James Kavanagh

(Author)

Series:

Format:

Publisher:

Imprint:

Pocket Naturalist Guide

Pamphlet 2 pages

Waterford Press Ltd

Waterford Press Ltd

ISBN: 9781620053492

Published: 12 Mar 2019

Readership:

Weight:

Dimensions:

Teenage / Young Adult

26g

209 x 103 x 3 (mm)

Pub. Country: United States

For sale in:

Available at:

All countries

Bookshop Europa, Calpe

FROM JUNE 1ST TILL NOVEMBER 30TH 2022,

LOCAL ARTIST DAVID BIGLANDS

will display contemporary illustrations at

at LIBRERÍA EUROPA BOOKSHOP,

Calle Oscar Esplá 2, CALPE, 965835824.

MONDAY TO FRIDAY 10.00 - 14.00 & 17.00 - 20.00. SATURDAYS 10.00 - 14.00.

ADMISSION

FREE

NO

RESERVATION

REQUIRED
---
58 | OUT AND ABOUT COSTA BLANCA CELEBRITY PROFILE

Dennis Waterman (24

February 1948 – 8 May 2022)

died at the age of 74. The actor

was best known for his roles

in New Tricks, Minder and the

Sweeney's, and was a popular

household name in Britain.

He died peacefully on Sunday

afternoon (May 8) with his wife

Pam at his side in Spain of lung

cancer. The news is a huge loss

to the British entertainment

industry, with the Claphamborn

actor having enjoyed

a successful career

spanning back to the

1960s. As the youngest

of nine children to

Rose Juliana (née

Saunders) and Harry

Frank Waterman from

Clapham, London. The

family, which included

siblings Ken, Peter, Stella,

Norma, and Myrna, lived

at 2 Elms Road, Clapham

Common South Side, Harry

Waterman was a ticket collector

for British Railways. Two older

sisters, Joy and Vera, had already

left home by the time Dennis

was born, and another brother,

Allen, had died as a young child.

Dennis was an English actor

and singer. He was best known

for his tough-guy leading roles

in television series including

The Sweeney, Minder and New

Tricks, Waterman's acting career

spanned 60 years, starting with

his childhood roles in film and

theatre, and adult roles in film,

television and West End theatre.

He was known for the range of

roles he played, including drama

(Up the Junction), horror (Scars

DENNIS WATERMAN

of Dracula), adventure (Colditz),

comedy (Fair Exchange),

comedy-drama (Minder),

musical (Windy City) and sport

(The World Cup: A Captain's

Tale). He appeared in 29 films,

the last being released in 2020.

Boxing was a big

part of Waterman's childhood.

His father had been an amateur

boxer and made all of his sons'

box.

Waterman was educated

at the Granard Primary

School, a state primary school

on the Ashburton Estate in

Putney, South-West London,

followed by Corona Stage

School, an independent

school at Ravenscourt Park in

Hammersmith in West London.

Waterman's acting career

began in childhood. His first

role was in Night Train for

Inverness (1960). He appeared

in two small stage roles for the

Royal Shakespeare Company's

1960 season. In 1961, at the

age of 13, he played the part of

Winthrop Paroo in the Adelphi

Theatre production of The Music

Man. A year later, he starred

as William Brown in the BBC

TV series William based on the

Just William books. Waterman

played the role of Oliver

Twist in the production of

the Lionel Bart musical

Oliver! Staged at the

Mermaid Theatre,

London, in the early

1960s, and appeared

on the cast recording

released in 1961.

Waterman was a series

regular in the 1962 CBS

comedy Fair Exchange,

playing teenager Neville

Finch. In 1963, he took

a "starring" role in the

Children's Film Foundation

film Go Kart Go.

In the early 1970s, Waterman

appeared in the BBC television

series Colditz as a young

Gestapo officer. He played the

brother of a victim of Count

Dracula (Christopher Lee) in the

Hammer film Scars of Dracula

(1970), and the boyfriend of

Susan George in Fright (1971).

He appeared alongside Richard

Harris and John Huston in a

Hollywood western, Man in

the Wilderness (1971). He was

a member of the company of

actors who featured in The

Sextet (1972), a BBC 2 series

which included the Dennis

Potter drama Follow the Yellow
---
CELEBRITY PROFILE

Brick Road and Waterman

later appeared in the same

dramatist's Joe's Ark (Play for

Today, 1974). Also in 1974,

Waterman appeared in episode

4 of the second series of the

comedy programme Man About

the House entitled "Did You

Ever Meet Rommel", in which

he played a friend of Robin, a

German student by the name of

Franz Wasserman

He became a household name

as DS George Carter in The

Sweeney during the 1970s. As

well as starring as Terry McCann

in Minder, Waterman sang the

theme song, "I Could Be So

Good for You", which was a

top three UK hit in 1980 and a

top ten hit in Australia. It was

written by his then-wife Patricia

along with Gerard Kenny.

Waterman also recorded a song

with George Cole: "What Are

We Gonna Get For 'Er Indoors?"

In 1976, Waterman released

his first album, Downwind of

Angels. A single, "I Will Glide",

was released from the album.

Waterman starred in a

television film made by Tyne

Tees Television entitled The

World Cup: A Captain's Tale

(1982). It was the true story

of West Auckland Town F.C.,

a part-time side who won the

Sir Thomas Lipton Trophy,

sometimes described as the

'First World Cup', in 1909 and

1911. Waterman played the part

of Bob Jones, the club captain.

It cost £1.5 million to make,

most of which was funded by

Waterman. Shooting took place

in the North East and in Turin

in Italy . Scenes were shot in

County Durham pit villages and

in Ashington, Northumberland,

where goalposts and a

grandstand were erected in

a public park with a colliery

headframe in the background.

In 1982, Waterman starred in

the musical Windy City. The

cast included Amanda Redman,

with whom Waterman

had an eighteen-month

affair during the run

of the musical and

with whom he later

went on to star in

the TV series New

Tricks. Windy

City closed after

250 performances.

Waterman took

the lead male

role in the BAFTA

Award-winning

BBC adaptation of Fay

Weldon's The Life and

Loves of a She-Devil (1986).

He was a regular cast member

in every season of New Tricks,

from 2003 to 2014, and also sang

the theme song. Waterman

appeared on stage in Jeffrey

Bernard is Unwell and as Alfred

P. Doolittle in the 2001 London

revival of My Fair Lady.

The Minder Podcast revealed

that Waterman was semi-retired

and living in Spain. The podcast

referred to Waterman as "a truly

underrated actor" and following

Waterman's death pledged to

go off air for seven weeks, one

for each series of Minder he had

appeared in, in commemoration.

Waterman filming New Tricks

in 2012

Waterman was married four

times:

Penny Dixon (1967–1976) .

Patricia Maynard (1977–1987),

an actress with whom he had

two daughters, one of whom,

Hannah Waterman, is also an

actress. Hannah is best known

for playing Laura Beale in the

BBC1 soap opera EastEnders,

and later appeared in New

Tricks alongside Waterman as

his character's daughter. Rula

Lenska (1987–1998. Pam Flint

(November 2011 – 2022)[

Waterman's marriage to

JUNE 2022 | 59

Lenska ended because of his

violent behaviour towards

her. In March 2012, he caused

controversy with some

comments on this issue: "It's not

difficult for a woman to make a

man hit her. She certainly wasn't

a beaten wife, she was hit and

that's different." The interview

was broadcast in full on Piers

Morgan's Life Stories on ITV in

May 2012.

Waterman was a fan of

Chelsea F.C. His love of football

was reflected in his being

chosen to present Match of the

Seventies from 1995 to 1996, a

nostalgic BBC show celebrating

the best football matches from

the 1970s.

In 2015, his friend of many

years, George Cole, who had

played Arthur Daley in Minder,

died aged 90. Waterman

delivered the eulogy at Cole's

funeral on 12 August.

Waterman sung the theme

tunes for at least four of the

programmes in which he

starred, namely for Minder, Stay

Lucky, On the Up and New

Tricks.
---
60 | OUT AND ABOUT COSTA BLANCA

Out &

About

Costa Blanca Magazine

Write an email to

carolrlevey@gmail.com

for further information

or telephone 651 459 776.

NEEDS YOU!

BECOME A

SALES

REPRESENTATIVE

IN YOUR AREA

Part-time or full time
---
JUNE 2022 | 61

Entertainment

Sports

Movies

Video Club

Box Sets

Catch-up TV

Tel: 965 584 097

Mobile: 660 186 505

For all your Satellite or

Internet TV viewing

Set Top Boxes

Dish installations

Dish re-alignments

info@ccsattv.com

www.ccsattv.com
---
62 | OUT AND ABOUT COSTA BLANCA HOROSCOPE

Awarded the maximum 5 star rating in the most recent poll by

the American Federation of Certified Psychics and Mediums.

ARIES MARCH 21 - APRIL 20:

Mars and Jupiter are taking good control

over the month ahead. Mars is dynamic

and Jupiter scheming but they bring out the best for

you!.

TAURUS APRIL 22 - MAY 21:

Venus enters the twelfth house and shines

a light on the New Moon at the end of the

month, when there are so many changes

coming your way.

GEMINI MAY 22 - JUNE 22:

The Direct of Saturn opens doors after the

5th of the month, and things will move

back into place, just the way that they

should be!

CANCER JUNE 23 - JULY 23:

Moon magic sees that problems are

illuminated and then comes resolve, as

you take time to see that if you want an omelette

you have to break eggs!

LEO JULY 24 - AUG 23:

Take good care of yourself. You need some

tender loving care to prepare you for what

comes next. Mercury Directs so that you can feel

more secure.

VIRGO AUG 24 - SEPT 23:

Mercury sees to it that a message finally

gets the response that it should. Jupiter

and Mars take up action on your behalf

and troubles fade!

https://arenacloud.cdn.arkadiumhosted.com/overwrites-live/iframe-rende...

D E A N D R E A D F U L

1 2 3 4 5 6 7

8

I U B E S R I

L E G S L I P

10

S C O W L

9

A U O U E W Y

11

T H R O W

12

T O T I N G

O E E E

13

A

14

R E

15

F O R M

16

M

17

I N D E R

Y U

18

G G K

19

P R E

20

S T O

21

N Y

22

A L A

23

B I K S O S N

24

A R O M A

25

P A R T I E S

L U T E E D A

26

M I S D E A L T

27

L E N S

PUZZLE

PAGE

ANSWERS

LIBRA SEPT 24 - OCT 23:

Passions are aroused as Venus

squares up to Mercury in your ninth

house. Harmony and love result in a

romance and it's not before time!

SCORPIO OCT 24 - NOV 22:

The mid month Full Moon is in your

second house of finances. Take care of

your money because it has to care for

you. A proposition is on the cards.

SAGITTARIUS NOV 23 - DEC 21:

The Full Moon in your sign fills the

first house with energy, love and

protection. Take good care of yourself

and indulge in a little pampering too!

CAPRICORN DEC 22 - JAN 20:

Jupiter and Mars are in the fourth

house. You are restless and feeling

trapped so time to move on. Decisions

and action are the next steps!

AQUARIUS JAN 21 - FEB 19:

Saturn Directs in the 5th house. Take a

break, have a breather. There has been

some stagnation of late and you need

to be your creative self.

PISCES FEB 20 - MAR 20:

Mars is empowering and Jupiter

intensifying. Together they focus on

all aspects of expenditure and budget.

Firefox

Be proactive and amplify your income.

8 5 6

4 7 1

3 2 9

7 9 8

2 6 4

5 1 3

9 3 2

6 8 5

1 4 7

9 4 7

3 2 6

1 8 5

5 6 4

7 1 3

8 9 2

4 7 1

2 3 9

6 5 8

https://puzzles.bestforpuzzles.com/gam

3 1 2

5 8 9

4 7 6

2 3 1

8 9 5

7 6 4

6 5 8

1 4 7

9 2 3

n (4)

How to play

Sudoku is a logic puzzle where you have to populate
---
Your Key to

Tomorrows

Dream Home

in the Sun 450.000€

Ref. GSPRV581 - CALPE Detached

3 storey villa built in 1988 and situated

on a very mature plot with various fruit

trees nestling in a peaceful residential

location with outstanding views over

the bay of Calpe.

JUNE 2022 | 63

575.000€

Ref. GSPRV563 - CALPE

Classic "Valencian" style villa restored

to a high tasteful standard, situated in

a sunny private residential cul de sac

location within walking distance from

the town centre & beaches.

220.000€

130.000€

Ref. GSPRV583 - CALPE Semidetached

villa situated on a larger style bungalow/apartment situated on

Ref. GSPRV575 - CALPE Quad

than average corner plot in a peaceful the ground floor within the prestigious

residential oasis location. The villa is built Galeta Mar Hotel complex and being

on two levels with various sunny terraces a 5 minute walk to Calalga & Levante

with driveway parking and garage. beach areas

330.000€

645.000€

Ref. GSPRV576 - CALPE Traditional Ref. GSPRV569 - CALPE

style detached villa built in the early 80's Prestigious elevated family villa with

situated on a larger than average plot in spectacular sea, bay and Penon

a peaceful residential wooded location. views situated in a residential cul de

Pretty Mediterranean style gardens, 8x4 sac only a 30 minute walk being 2 km

mt Swimming pool & shower.

to the centre of town.

VILLAS - APARTMENTS - PLOTS - COUNTRY PROPERTIES - BUSINESSES

Benidorm, Altea, Calpe, Moraira, Javea, Denia and Jalon Valley

LOOKING FOR A HOUSE OR

INVESTMENT OPPORTUNITY?

Come a have a chat with MICHAEL BREEN

to discuss buying or selling of your property

Calle Corbeta 5 • 03710 Calpe (Alicante)

Tel: (+34) 965 835 468 • Mob. 629 618 793

info@gspspain.com • www.gransolproperties.com
---
64 | OUT AND ABOUT COSTA BLANCA

Calpe, Benissa, Altea, Moraira

COBAT welcomes you to

theCosta Blanca.

Since 2003

Buying or selling a house or apartment is an

important matter. Doing so, you will need a

personal and professional service. In another

country, where not everybody speaks your

language and laws and customs are different,

you will certainly have to rely on experts.

Nederlandstalig

makelaarskantoor in

Calpe.

At COBAT we take every question serious, we

make plenty of time to negotiate and satisfy all

parties, we arrange all the paperwork properly,

sign with you at the notary and after the sale we

are still here for you!

An enthusiastic five linguistic team: Johan,

Katleen, Celine, Olga and Christel will work

together with you and their vast network to find

the right buyer or the dream property for you.