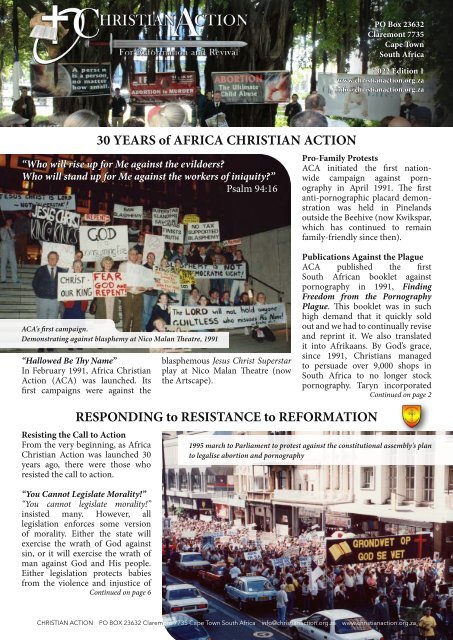 Create successful ePaper yourself
Turn your PDF publications into a flip-book with our unique Google optimized e-Paper software.
PO Box 23632

Claremont 7735

Cape Town

South Africa

2022 Edition 1

www.christianaction.org.za

info@christianaction.org.za

30 YEARS of AFRICA CHRISTIAN ACTION

"Who will rise up for Me against the evildoers?

Who will stand up for Me against the workers of iniquity?"

Psalm 94:16

Pro-Family Protests

ACA initiated the first nationwide

campaign against pornography

in April 1991. The first

anti-pornographic placard demonstration

was held in Pinelands

outside the Beehive (now Kwikspar,

which has continued to remain

family-friendly since then).

ACA's first campaign.

Demonstrating against blasphemy at Nico Malan Theatre, 1991

"Hallowed Be Thy Name"

In February 1991, Africa Christian

Action (ACA) was launched. Its

first campaigns were against the

blasphemous Jesus Christ Superstar

play at Nico Malan Theatre (now

the Artscape).

Publications Against the Plague

ACA published the first

South African booklet against

pornography in 1991, Finding

Freedom from the Pornography

Plague. This booklet was in such

high demand that it quickly sold

out and we had to continually revise

and reprint it. We also translated

it into Afrikaans. By God's grace,

since 1991, Christians managed

to persuade over 9,000 shops in

South Africa to no longer stock

pornography. Taryn incorporated

Continued on page 2

RESPONDING to RESISTANCE to REFORMATION

Resisting the Call to Action

From the very beginning, as Africa

Christian Action was launched 30

years ago, there were those who

resisted the call to action.

"You Cannot Legislate Morality!"

"You cannot legislate morality!"

insisted many. However, all

legislation enforces some version

of morality. Either the state will

exercise the wrath of God against

sin, or it will exercise the wrath of

man against God and His people.

Either legislation protects babies

from the violence and injustice of

Continued on page 6

1995 march to Parliament to protest against the constitutional assembly's plan

to legalise abortion and pornography

CHRISTIAN ACTION PO BOX 23632 Claremont 7735 Cape Town South Africa info@christianaction.org.za www.christianaction.org.za
---
Continued from page 1: 30 YEARS of AFRICA CHRISTIAN ACTION

"Salt Shakers", now "Christian

Action", protesting against Alan

Boesak's pro-abortion stance, 1992

Pro-family, anti-pornography protest in Tygerberg Mall, 1995

the original Finding Freedom

material into an updated and

greatly expanded book: Porndemic

— How the Pornography Plague

Affects You and What You Can Do

About It.

"Your people will rebuild the

ancient ruins and will raise up the

age-old foundations; you will be

called Repairer of Broken Walls,

restorer of Streets with Dwellings."

Isaiah 58:12

The Fight for Life

In 1991, Africa Christian Action

also launched Operation Life

which began with the distribution

of 15,000 copies of Abortion —

The Facts leaflets (over 400,000

copies have since been printed and

distributed in English, Afrikaans

and Xhosa) and 1,000 copies of

the book, When Does Life Begin?

39 Other Tough Questions about

Abortion. These books were given

to key doctors, pastors, editors and

government officials throughout

Southern Africa. This led to the

launch of Doctors for Life.

Standing for Life

The first pro-life demonstration

was organised by ACA in Cape

Town in February 1992, outside

the Argus newspaper. This was

followed by the first Life Chain in

Southern Africa, in March 1992,

on Main Road, Newlands. Since then, ACA

has organised numerous country-wide Life

Chains every year. ACA has also organised

prayer vigils outside parliament and prolife

placard demonstrations, prayer vigils

and sidewalk counselling outside abortion

clinics and Marches for Life National Day

of Repentance funeral processions.

Speaking Up for Those Who

Cannot Speak for Themselves

In 1995, ACA published Fight

for Life — A Pro-Life Handbook

for Southern Africa. This

was the first pro-life book to be

published in South Africa and

it was enthusiastically received

country-wide. It is now available

as a free PDF book online.

Over the last 20 years, ACA

has conducted many thousands

of public meetings, radio and

TV programmes, services,

lectures, debates, rallies,

workshops, conferences

and seminars.

Christian Voice protest outside parliament, 1996

March against canned lion hunting

and cruelty to animals, 2014

March to parliament against the secular state's plans to legalise abortion & pornography, 1995

CHRISTIAN2

AC TIO N

CHRISTIAN ACTION – For Reformation & Revival 2022 Edition 1 CHRISTIAN ACTION PO BOX 23632 Claremont 7735 Cape Town South Africa info@christianaction.org.za www.christianaction.org.za

CHRISTIAN3

AC TIO N
---
SABC interview during

Women's Day protest against

pornography at CNA, 1995

Protest against blasphemous

film "Last Temptation of

Christ" — Wits, 1993

March Against Blasphemy to SABC in Sea Point, 1998

Interview outside the gates of Parliament

CHRISTIAN4

AC TIO N

Seminar in the Transvaal

Motivating and Mobilising

Marches to Parliament

ACA has organised and

participated in numerous

marches to parliament, which

have mobilised tens of thousands

of people to stand up and speak

out for the right to life of preborn

babies, against the exploitive

industry of pornography and for

God to be honoured and obeyed in

our Constitution.

In Opposition to Blasphemy

In 1993, the Directorate of

Publications granted permission

for the banned blasphemous

and pornographic film The Last

Temptation of Christ to be screened

at Wits University. We responded

by taking part in a public debate

and protest action with university

professors at the theatre. Similar

protests, prayer vigils and literature

outreaches were held at various

Gay Film Festivals and at the

Nico Malan Theatre when the

Protesting the paganisation of South Africa, outside Parliament, May 1996

blasphemous play Jesus Christ

Superstar was exhibited.

Evangelism at Escort Agencies

In 1993, ACA began a series

of prayer vigils, placard

demonstrations and evangelistic

outreaches outside brothels,

disguised as "escort agencies." At

the first such outreach, several

Christians were actually arrested

"for interfering with business" whilst

praying outside one of the brothels!

Soon hundreds of Christians were

protesting outside brothels in

Durban, Cape Town, Pretoria,

Johannesburg and Bloemfontein.

Several of our protestors, including

myself, were assaulted, but this only

led more people to get involved

in these outreaches. Numerous

"escort agencies" closed in response

to persistent prayer and pressure.

First-Hand on the Ground

Experience

Over the last 30 years, ACA has

organised and taken part in many

hundreds of protest actions, letterwriting

campaigns and outreaches.

It is from this background of

extensive on the ground experience

that Make a Difference — A

Christian Action Handbook for

Southern Africa was published.

Confronting Sin in Society

We write from hard experience

having debated abortionists on

radio, at public meetings and in

the streets, confronted pimps

outside brothels, counselled

women outside abortion clinics

and presented expert testimony

to numerous parliamentary

committees. Our Pink Agenda

and The Rise of the GayGB and

the Pink Inquisition books made

a national impact, leading to over

one hundred media interviews,

radio and TV programmes and

hearings in government.

Resources for Reformation

The battle-proven arguments and

strategies that the ACA team has

accumulated, devised, revised

and refined can be accessed on

the www.ChristianAction.org.za

website, in the Christian Action

magazines, on our Salt and Light

radio programmes and in books

and ACA audio visual resources.

You Can Make A Difference

Your prayerful involvement and

practical participation is urgently

needed. Lives are at stake. Precious,

innocent, pre-born babies are

threatened by legalised abortion.

Families, our Faith and the Future

are at risk. You can make a crucial

difference!

"But thanks be to God, who

gives us the victory through our

Lord Jesus Christ. Therefore, my

beloved brethren, be steadfast,

immovable, always abounding in

the work of the Lord, knowing that

your labour is not in vain in the

Lord." 1 Corinthians 15:57–58

Dr. Peter Hammond

Africa Christian Action

PO Box 23632

Claremont 7735

Cape Town South Africa

021-689-4480

info@christianaction.org.za

www.ChristianAction.org.za

1995

Parliament Protest

March to Parliament to protest against the

constitutional assembly's plan to legalise

abortion and pornography, 1995

CHRISTIAN ACTION – For Reformation & Revival 2022 Edition 1 CHRISTIAN ACTION PO BOX 23632 Claremont 7735 Cape Town South Africa info@christianaction.org.za www.christianaction.org.za

CHRISTIAN5

AC TIO N
---
Continued from page 1:

RESPONDING to RESISTANCE to REFORMATION

Great Commission Conference in Nairobi, Kenya, 2000

Biblical Worldview Seminar for members of parliament and

city councillors, 1999

School outreach in East London, 2015

abortion, or, as we see happening now, legislation

will be designed to penalise and prosecute medical

professionals who are conscientious objectors to

participating in the taking of innocent life. It did not

take the "gay rights" advocates long to move from

demands for "toleration", to approval, to state funding,

to demands for conformity and then criminalising

of criticism. The Comprehensive Sexuality Education

(CSE) being forced on schools at this time is an example

of how the situation has so drastically deteriorated to

where pornographic child abuse can become state

mandated, not only in government schools, but even

private "independent" schools!

"Christians Should Not be Involved in Politics!"

"Politics is dirty! Christians should not get involved

in politics!" becomes something of a self-fulfilled

prophecy as it keeps Christians from being salt and

light in society. When Christians retreat from social

and political concerns, one can expect the situation to

deteriorate even more drastically. Nappies/diapers are

also dirty and therefore need to be changed frequently.

So, it is with political leaders. "Who will rise up for

Me against the evildoers? Who will stand up for Me

against the workers of iniquity?" Psalm 94:16

"We Are Living in the Last Days!"

"These are the last days! Everything is meant to get

worse and worse in the end times!" By this logic,

none of the actions we have taken to save lives and

clean up local communities over the last three decades

should have been done! For as long as I have been a

Christian, 44 years, people have been proclaiming that

"we are in the last days" and that there wasn't enough

time to do what was being proposed. In fact, date

setters have been proclaiming this kind of message

for more than 170 years. We are to occupy until Jesus

comes, or calls. When Professor Martin Luther was

asked what he would do if he knew that the Lord

would return tomorrow, he replied: "I

would plant a tree today!" Occupy until

He comes, or calls. The main thing is to

keep the main thing the main thing. Our

priority is to fulfil the Great Commission

of our Lord and Saviour Jesus Christ.

"Just Preach the Gospel!"

"Just preach the Gospel!" This response

has often seemed like a convenient excuse

for disobedience to the clear commands of

Scripture and an excuse for doing nothing.

Do we really believe that Jesus would have

us stand passively by while God-hating pagans

exploit women made in the image of God, to degrade

that which God has made to be holy, make public

what God has meant to be private, make common

what God has meant to be special, corrupting young

minds and morals and ruining marriages? "Just

preach the Gospel!" has often been used as an excuse

to justify laziness or cowardice. Would God have

us stand idly by while a murderer rips the arms and

legs off a baby and crushes its head? "If you faint in

the day of adversity, your strength is small. Deliver

those who are drawn toward death and hold back

those stumbling to the slaughter. If you say, 'Surely

we did not know this,' does not He who weighs the

hearts consider it? He who keeps your soul, does He

not know it? And will He not render to each man

according to his deeds?" Proverbs 24:10–12

Back to the Bible

Which servant of God in the Bible limited himself

to "Just preaching the Gospel?" Was Elijah wrong

to confront and expose the pornographic, childsacrificing

prophets of Baal? (1 Kings 18). Was John

the Baptist wrong to have publicly confronted the

immorality of king Herod? (Matthew 14:3–4). Could

our Lord have been in error when He confronted

the corruption in the Temple? Why did He overturn

the tables and drive out the money-changers (Mark

11:15–16)? Why did our Lord not "just preach the

Gospel!"

Sins of Omission

The Parable of the Good Samaritan with its "Go and

do likewise" (Luke 10:26–37), the coming Day of

Judgment when our Lord warned us that we will be

judged on the basis of what we did to care for the sick,

feed the hungry, clothe the naked, visit prisoners and

welcome strangers (Matthew 25:31–46), confirms that

we are obligated to do far more than "Just preach the

Gospel!" In Matthew 25, our Lord makes it clear that,

on the Day of Judgment, we will be judged for sins

of omission, for the good things that we failed to do.

True Christianity is Love in Action

In James 1:27, we read that the Biblical definition

of true religion before God is: "to look after orphans

Biblical Worldview Summit—Glenvar, 1991

and widows in their distress and to keep ourselves from

being polluted by the world."

Seek First the Kingdom of God

We are called to be "the salt of the earth." Matthew 5:13.

We have been taught to pray: "Our Father in Heaven,

Hallowed be Your Name. Your Kingdom come. Your

will be done on earth as it is in Heaven … "

Matthew 6:9–10

Love God and Love your Neighbour

It was love for God that motivated us to stand up

against the legalisation of blasphemy. It was love

for our neighbour that motivated us to organise

outreaches outside escort agencies and brothels. It

was in obedience to the Scripture: "have no fellowship

with the unfruitful works of darkness, but rather

expose them." Ephesians 5:11, that led us to march to

parliament and protest the legalisation of pornography

and attempts to legalise modern-day slavery, human

trafficking and prostitution. "Those from among you

shall build the old waste places; you shall raise up the

foundations of many generations and you shall be

called the Repairer of the Breach, the Restorer of Streets

to Dwell In." Isaiah 58:12

Renewing Minds to Transform Lives

For 30 Years, Africa Christian Action has been

conducting Biblical Worldview Seminars and

Summits in obedience to the command "And do not

be conformed to this world, but be transformed by

the renewing of your mind, that you may prove what

is that good and acceptable and perfect will of God."

Romans 12:2

CHRISTIAN6CHRISTIAN ACTION – For Reformation & Revival 2022 Edition 1

ACTION PO BOX 23632 Claremont 7735 Cape Town South Africa info@christianaction.org.za www.christianaction.org.za

AC TIO N

CHRISTIAN7

AC TIO N
---
March For Life

2022

view our videos on

www.ChristianAction.org.za
---
The Burning

of Parliament

in Cape Town

2 January 2022

The National Assembly (the lower house),

built in the 1980s

"If a fire breaks out and spreads … he who started the fire shall surely make restitution." Exodus 22:6

The Oldest Parliament in the Southern Hemisphere

• Early Sunday morning, 2 January 2022, firefighters responded to

a report about smoke coming from parliament—before any fire

alarm had been made from parliament itself!

• The fire had raged for several hours before being reported.

• The fire began on the top floor where ANC MPs have offices.

With many records being destroyed and only hours from the

release of the State Capture Inquiry Report, a fire would have

been convenient for those under investigation for corruption.

• There were no security personnel in the building at the time, as

parliament was not willing to pay workers overtime during the

New Year holiday weekend.

• Since 30 July 2015, the Parliamentary Protection Service has

been without a permanent head. The incumbent leader and

deputy were suspended over allegations of corruption and

security breaches, one contract ran out during suspension.

• Closed valves prevented the sprinkler system from operating.

• Sprinkler valves, not serviced since 2017, missed a service

scheduled for February 2020.

• Fire doors were latched open.

• Emergency staircases were poorly ventilated.

• The roof of the Old Assembly building completely collapsed.

• The main assembly chamber was gutted.

• There were cracks showing in the walls.

• Great damage was caused to the new assembly wing, which

includes the National Assembly Chamber.

• Construction of the Cape parliament building began on 12 May

1875. Overcoming setbacks, the building was opened in 1884.

• Suspect, Zandile Christmas Mafe (49), diagnosed as a paranoid

schizophrenic, faces charges including terrorism and arson. A

pre-trial hearing at the High Court is set for 12 August 2022.

• The small Good Hope Chamber is being used as a stopgap.

• Relocating parliament to Pretoria is being considered, with the

EFF planning to introduce a "Relocation of Parliament" Bill.

https://www.hmsschoolofchristianjournalism.org/news-articles/theburning-of-parliament-in-cape-town

CHRISTIAN10

AC TIO N

CHRISTIAN ACTION – For Reformation & Revival 2022 Edition 1 CHRISTIAN ACTION PO BOX 23632 Claremont 7735 Cape Town South Africa info@christianaction.org.za www.christianaction.org.za

CHRISTIAN11

AC TIO N
---
Continued from page 7:

RESPONDING to RESISTANCE to REFORMATION

Christine and Rob McCafferty protest the City's plan to declare Cape Town "gay capital of Africa", 2001

Home Education

In obedience to "Beware lest anyone cheat you

through philosophy and empty deceit, according to

the tradition of men, according to the basic principles

of the world and not according to Christ." Colossians

2:8, we have promoted home education and Christian

textbooks for Independent Christian schools. "The

discerning heart seeks knowledge." Proverbs 15:14

Redeeming the Time

In obedience to Ephesians 5:15–16 "Be very careful,

then, how you live — not as unwise but as wise,

making the most of every opportunity, because the

days are evil," we have been presenting a regular

weekly radio programme Salt and Light on Radio

Tygerberg, for over 25 years.

Public Protests

In the response to Proverbs 8:1–3 "Does not wisdom

cry out and understanding lift up her voice? She takes

her stand on the top of the high hill, beside the way,

where the paths meet. She cries out by the gates, at the

entry of the city, at the entrance of the doors," we have

regularly conducted Life Chains, Marches for Life,

Missions in the Malls, mass literature distribution at

traffic lights and National Day of Repentance Prayer

Vigils at the gates of parliament.

Prayer Vigils

"If My people, who are called by My Name, will

humble themselves and pray and seek My face and

turn from their wicked ways, then will I hear from

Heaven and will forgive their sin and will heal their

land." 2 Chronicles 7:14, has inspired many rallies and

services at the gates of parliament, on the lawn before

Union buildings and outside the High Court.

Salt and Light

"You are the salt of the earth … You are the light of the

world … Let your light so shine before men, that they

may see your good works and glorify your Father in

Heaven." Matthew 5:13–16, has inspired the pro-life,

pro-family moral ministry of Africa Christian Action

for 30 years.

Watchmen on the Walls

Africa Christian Action has been called to be

watchmen on the walls. "I have set watchmen on your

walls, O Jerusalem; they shall never hold their peace

day or night. You who make mention of the Lord, do

not keep silent," Isaiah 62:6

Learning from History

"Stand in the ways and see and ask for the old paths,

where the good way is and walk in it; then you will

find rest for your souls … Also, I set watchmen over

you, saying, 'Listen to the sound of the trumpet!'"

Jeremiah 6:16–17. As Nehemiah rallied the people of

Jerusalem to the sound of the trumpet to mobilise to

defend that part of the wall under immediate attack,

so ACA has used the Christian Action magazine and

E-mail list, the www.ChristianAction.org.za website,

our Salt and Light Radio programme and public

meetings as trumpets to alert and mobilise positive,

practical Christian Action to where it is most urgently

and strategically needed. "So, I sought for a man

among them who would make a wall, and stand in

Stop the traffick, mall outreach, 2019

the gap before Me on behalf of the land, that I should

not destroy it … " Ezekiel 22:30

Persevere in Prayer and Action

Our Lord Jesus taught us that we should "always pray

and not give up." In the parable of the persistent widow,

Jesus taught us that even an unjust judge will give in

and do what is right in response to persistent prayer

and pressure (Luke 18:1–8). We need to continually

ask (pray), seek (strategy) and knock (action). "Also,

I heard the voice of the Lord, saying: 'Whom shall I

send and who will go for Us?' Then I said, 'Here am I!

Send me'." Isaiah 6:8

A Call to Action

If you want to join, or start, a Christian Action

group, contact info@christianaction.org.za and

visit www.ChristianAction.org.za for news, projects

and resources that you can use to educate, enlist

and encourage others in this Biblical movement to

motivate and mobilise the church to be salt and light

in society. "But thanks be to God, who gives us the

victory through our Lord Jesus Christ. Therefore, my

beloved brethren, be steadfast, immovable, always

abounding in the work of the Lord, knowing that

your labour is not in vain in the Lord."

1 Corinthians 15:57–58

Dr. Peter Hammond

www.ChristianAction.org.za

University of Cape Town

"Salt and Light" programme on Radio Tygerberg, 2015

Rebuilding the Walls

The Book of Nehemiah has been an inspiration for

our Project Nehemiah. " … You see the distress that

we are in, how Jerusalem lies waste and its gates are

burned with fire. Come and let us build the wall of

Jerusalem, that we may no longer be a reproach."

Nehemiah 2:17. As Nehemiah responded with

intercession, information, involvement, investment

and implementation, we seek to provide research

and direction so that our people can be informed,

interceding, involved, investing and implementing,

applying the Lordship of Christ to all areas of life.

"When the enemy comes in

like a flood, The Spirit of the

Lord will lift up a standard

against him."

Isaiah 59:19

On top of Table Mountain

CHRISTIAN12

AC TIO N

CHRISTIAN ACTION – For Reformation & Revival 2022 Edition 1 CHRISTIAN ACTION PO BOX 23632 Claremont 7735 Cape Town South Africa info@christianaction.org.za www.christianaction.org.za

CHRISTIAN13

AC TIO N
---
Upcoming Events

9 Aug 2022 Women's Day Outreaches (Missions in the Mall)

11 Aug 2022 Sakeliga KragDag

Sept 2022

CLB Home Education—African History

2 Oct 2022 International Life Chain Sunday

Biblical Worldview Summit 2022

29 Oct 2022 Home Education Fair and Variety Concert

30 Oct 2022 Reformation Sunday

31 Oct 2022 Reformation Day 2022

6 Nov 2022 Rhodesia Remembrance Sunday Service

11 Nov 2022 Remembrance Day

13 Nov 2022 International Day of Prayer for the Persecuted

5–13 Jan 2023 Biblical Worldview Summit 2023

TO SUPPORT AFRICA CHRISTIAN

ACTION PAY BY EFT INTO ACCOUNT:

Name:

Christian Action Network

Bank:

Standard Bank

Account No.: 072906901

Branch: Kromboom

Branch No.: 026209

Please use your name as the reference, and

e-mail us the deposit slip with your name and

postal address, or e-mail the amount, date

paid, reference and your postal address to

mail@christianaction.org.za.

CHRISTIAN ACTION

PO Box 23632, Claremont 7735

Cape Town, South Africa

www.ChristianAction.org.za

CHRISTIAN14

AC TIO N

CHRISTIAN ACTION – For Reformation & Revival 2022 Edition 1

CHRISTIAN ACTION PO BOX 23632 Claremont 7735 Cape Town South Africa info@christianaction.org.za www.christianaction.org.za

CHRISTIAN15

AC TIO N