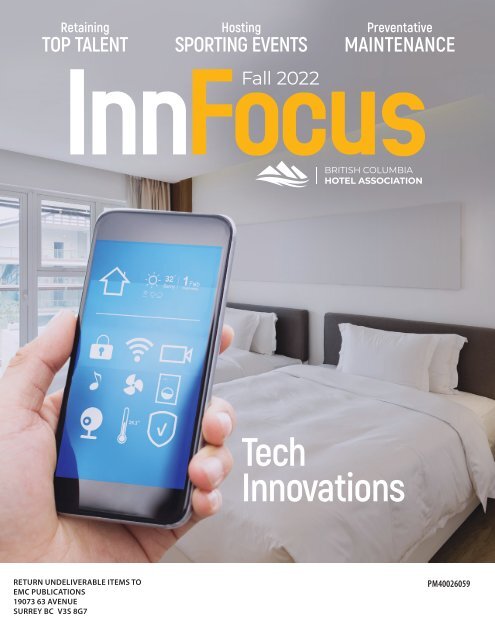 InnFocus Fall 2022
InnFocus magazine for hoteliers in British Columbia
InnFocus magazine for hoteliers in British Columbia
SHOW MORE
SHOW LESS
Create successful ePaper yourself
Turn your PDF publications into a flip-book with our unique Google optimized e-Paper software.
Retaining

TOP TALENT

Hosting

SPORTING EVENTS

Fall 2022

Preventative

MAINTENANCE

Tech

Innovations

RETURN UNDELIVERABLE ITEMS TO

EMC PUBLICATIONS

19073 63 AVENUE

SURREY BC V3S 8G7

PM40026059
---
contents

200-948 Howe Street,

Vancouver, BC V6Z 1N9

T 604-681-7164 1-800-663-3153

www.bcha.com

@BCHotelAssociation

@bchotelassoc

@BCHotelAssociation

bchotelassociation

BCHA Team

Ingrid Jarrett

President & CEO

Mike Macleod

Director Member

and Business Development

Karissa Bourgeault

Project Manager & Board Liaison

Kelsey Millman

Communications Manager

Samantha Glennie

Member Services Manager

Dylan Tomlin

Energy Specialist

Vanda Fragoso

Member Services Coordinator

2021/2022 Board of Directors

Executive Committee

Bryan Pilbeam – Delta by Marriott Hotels, Kamloops (Chair)

David McQuinn – Coast Bastion Hotel, Nanaimo (Vice Chair)

John Kearns – Sheraton Vancouver Guildford Hotel, Surrey

(Past Chair & Governance)

Ravinder Dhaliwal – Mundi Hotel Enterprises Inc., Kamloops

(Treasurer)

David MacKenzie – Pemberton Valley Lodge, Pemberton

(Executive Director)

Tanya Stroinig – Prestige Hotels & Resorts, Kelowna

(Executive Director)

Directors

Angie Eccleston – Crest Hotel, Prince Rupert

Chris Watson – Best Western Plus Carlton Plaza, Victoria

Christine Louden – Granville Island Hotel, Vancouver

Doug Andrews – The Listel Hotel, Whistler

Eleanor Ryan – Pomeroy Hotel & Conference Center,

Fort St. John

Jessica Dolan – Ramada Penticton, Penticton

Jonas Melin – Pinnacle Harbourfront Hotel, Vancouver

Leo Saad – Best Western Plus Chateau, Fort St. John

Samantha Hackett – Long Beach Lodge, Tofino

6

12

20

26

Regulars

Tech Innovations

Attract the digital nomad, increase your hotel's energy

efficiency, personalize service, and more.

Retaining your Top Talent

How can you make employees feel needed and

valued in the workplace?

PUBLICATIONS MAIL AGREEMENT

NO. 40026059

RETURN UNDELIVERABLE CANADIAN

ADDRESSES TO CIRCULATION DEPT

EMC PUBLICATIONS

19073 63 AVENUE

SURREY BC V3S 8G7

email: info@emcmarketing.com

When It Comes to Hosting Major

Sporting Events, Hotels Are the MVPs

Athletes need quality space to perform their best.

Extending the Lifespan of Your Equipment

Preventative maintenance will save you money

over the long term.

4 BC Hotel Association Report

5 Leader of the Future:

Wivine Mathias Rukera

9 Names in the News

9 What's New?

10 Go Green – People, Planet, Prosperity

15 Hotelier Feature: Angie Eccleston

29 BC Hospitality Foundation

30 BCHA Member Engagement

Regional

Feature

18 The Okanagan

extras

23 Collaboration as a Path to

a Prosperous Workforce

24 Menu Innovation

InnFocus is published quarterly

by EMC Publications - a division

of EMC Executive Marketing Consultants Inc.

19073 63 Avenue, Surrey, BC, V3S 8G7

t 604-574-4577 1-800-667-0955

info@emcmarketing.com

www.emcmarketing.com

Publisher & Editor: Joyce Hayne

Design & Layout: Kyla Getty

Sales Manager: Beatriz Friz

InnFocus 3
---
y Ingrid Jarrett, President & CEO

At the beginning of Summer, the Federal

Minister of Tourism, Randy Boissonnault,

reached out to our industry leaders and

operators across the country, seeking

feedback to help develop a submission for the

Federal Growth Strategy. We worked with our

partners at the Hotel Association of Canada,

the Tourism Industry Association of Canada,

and members of the Hardest Hit Coalition, to

align our sector and clearly prioritize its needs.

We identified four priority pillars in our

submission:

• Attract and retain a sustainable hospitality

and tourism workforce

• Develop and promote hospitality and

tourism assets

• Improve access for visitors to and within

Canada

• Build a regenerative and inclusive tourism

industry

This was a significant opportunity to provide

specific asset development recommendations,

to advise on required policy changes in multiple

ministries, and ensure specific immigration

and training is supported across the country.

Additionally, it was important to showcase

our industry as a healthy, stable, and growing

sector with investment recommendations that

are foundational to capturing demand and

cementing our nation's position as a leading

tourism destination on the global stage.

On a provincial level, I recently presented to

the Standing Committee on Finance, which

was an opportunity to help guide the priorities

of government for Budget 2023. Recognizing

the critical need for the sustainable growth

of tourism, our first recommendation was to

align our industry and our GoGreen program

with the climate action goals of our province.

The second recommendation surrounded

our workforce shortage and our urgent need

to expand immigration eligibility to attract

highly-trained hospitality workers from outside

of Canada. Finally, we also highlighted the

necessity for government to return to prepandemic

meetings and travel.

To expand on our advocacy priorities, we

have also been actively pursuing initiatives in

support of affordable housing, as the lack of

housing for employees is crippling our industry.

Of course, coupled with this, is the work we are

leading on the short-term rental file, which has

negative implications on livability, affordability,

and taxes for our province. We are pleased to

be working with experts and industry partners

across Canada that have been critical to

developing our strategic approach, which we

are confident will result in a positive outcome

for our sector.

Similarly, we have a team addressing the

workforce shortage at the provincial and

federal level. We have signed agreements with

the Consulate of Barbados and the Consulate

of El Salvador to fast track visas, allowing

swifter access to foreign workers. We also

have sought a revision to the PNP program,

to ensure expanded eligibility for hospitality

workers. Additionally, we are aligned with

Tourism HR Canada and the Hotel Association

of Canada on their efforts to have a hospitality

immigration stream to support our industry at

the federal level. As we have begun to witness

our sector bounce back to pre-pandemic

occupancy levels, we know the work around

workforce is essential for our members.

Beyond our workforce crisis, there remain

significant pandemic-related obstacles for

accommodators and travellers alike: airline,

testing and border confusion; the potential

of yet another wave with respiratory season

upon us; inflation; high gas prices; and more.

These challenges are not easy to fix, but with

the strong partners we have both federally and

provincially, we will certainly address each of

the issues to the best of our ability.

On a more promising note, we have been

celebrating the return of large sporting events

in BC, with successful hosting bids for the

upcoming FIFA World Cup, Invictus Games,

and Levar Cup. Additionally, there has been

significant momentum surrounding the

historic Indigenous-led 2030 Olympic Winter

Games bid, which is well on its way from a

planning and partnership perspective. Each

of these large-scale events pose an enormous

opportunity to showcase our province to

the world and grow tourism revenue far into

the future. And after years of witnessing our

events' sector struggle, we couldn't be more

elated over these positive developments. As

your industry association, we are committed

to ensuring that there will be more positive

developments to come.

4 InnFocus
---
Leader of

the Future:

Wivine Mathias

Rukera

Room Attendant,

Long Beach Lodge Resort

by Danielle Leroux

Wivine Mathias Rukera is a charismatic and hard-working Room

Attendant at Long Beach Lodge Resort in Tofino.

Rukera moved to Canada in August 2021 and began working

at the resort several months later, after completing a two-month

hospitality management education program at Camosun College.

Rukera was working as a server in Kenya, when she found out

about the Hospitality Industry welcomes Refugee Employmentlinked

Sponsorship (HIRES) project through her sister and a

friend.

World University Service of Canada (WUSC) and Camosun

College welcomed refugee youth from Kenya to British Columbia

through the project, a unique employment-linked sponsorship

pathway in collaboration with Tofino's hospitality sector.

The new initiative, funded by Immigration, Refugees and

Citizenship Canada, builds on WUSC's long-standing Student

Refugee Program model and looks to further expand access

to economic opportunities for refugee youth and enhance their

economic integration into the Canadian labour market.

Out of 800 people, Rukera was one of nine selected to the

project in 2021. "HIRES is a good program," adds Rukera. "It

helps so many people to do what they want to do in life and

adjust in their future."

Long Beach Lodge Resort was one of our four champion

employers in Tofino that welcomed the first nine HIRES

participants.

When asked how she got into hospitality, Rukera says: "I love

people and being around people. You meet a lot of different

people from different parts of the world. You get to know their

needs and provide what they need." She also loves the element

of teamwork, helping each other, and exchanging ideas and

conversation. In her current role, Rukera makes beds and cleans

rooms.

Courtesy of Camosun College

Before moving, Rukera interviewed with several companies,

but ultimately landed on Long Beach Lodge Resort. "I felt like it

was the one for me," she says. "I did research online and it is a

beautiful place." Outside of work, Rukera's also soaked in some

of the nature Tofino has to offer. "I tried surfing once! And I've

also done some hiking."

But the transition hasn't been without its challenges. "I had

never done housekeeping before," says Rukera. "At first, I

thought they were giving me too much information and it was

very challenging. But with time, I got used to everything." Rukera

also experienced culture shock moving to a new country and

place but has a positive attitude when it comes to the change

and seems incredibly adaptable: "It's life. We have to explore and

live in new areas," she says.

Rukera is currently training to be a supervisor and is modest

about her success. But the resort's General Manager Samantha

Hackett shares, "Wivine has proven in a short time that she is a

hard worker and a skilled leader. Her efficient work and ability

to connect with team members has started her on a great path

in the industry and we have been coaching her to become a

housekeeping supervisor at Long Beach Lodge Resort."

In the future, she wants to expand her education and learn

more about hospitality and tourism or explore social work. "I am

a person who really likes helping people," she says. "I want to do

other courses related to that." Wherever her career path may take

her, it's clear Rukera wants to be around and helping people.

InnFocus 5
---
The

Latest in

Hotel Tech

Innovations

by Danielle Leroux

6 InnFocus
---
The last two years have changed the way

we live, work, and travel. COVID-19 has

dramatically accelerated the adoption of new

technologies, and many of these are here to

stay. Hotels have to adapt and be innovative

if they want to appeal to the changing needs

and wants of tech savvy travellers.

From attracting the digital nomad, to

increasing your hotel's energy efficiency, and

personalizing service, read on for the latest in

hotel tech innovations.

Hotel Apps

Have you considered swapping your paper

guest directories for a digital version? The

Crystal Lodge prides themselves on the

new Crystal Lodge app, described by

General Manager Jared Sissons as a 'pocket

concierge.' It is a complete guide for everything

to see and do in Whistler. Guests can also

easily contact the hotel through the app via

email, text, or phone.

"It has reduced paper in the guest rooms and

helped reduce COVID touch points," says

Sissons. "The app is quite extensive in terms

of information, providing a high level of service

for guests. All of the customers using it love it!"

Messaging Services

Looking for a way to keep in touch with your

guests during and after their stay and help

personalize their visit?

Bill Lewis, General Manager of the Magnolia

Hotel, says the most significant tech innovation

the hotel has implemented is its guest

relations management system. "It allows us

to communicate with guests via text. It's an

easy interface for the entire team. We can be

in contact with guests, personalize their stays,

and track their wishes and wants—like when

they arrive or what type of bed they want."

The hotel can also maintain relationships with

their guests between stays if guests choose

to opt-in to communications.

At the Oswego Hotel, General Manager Sarah

Webb says they use the text messaging

platform Whistle to communicate with guests.

"Within the first year of using it, 30,000 text

messages were sent between guests. It has

improved guest satisfaction and efficiency."

The platform can also be used to track

maintenance requests, helping the hotel make

better informed decisions about where to put

resources and adjust their budget based off

real-time feedback.

Energy-Saving Technology

Technology can also help reduce your energy

bill and environmental impact.

Lewis notes increasing trends around energy

efficiency in hotel rooms, with new hotels being

built with guest room management and climate

control systems—like lights or AC automatically

shutting off in an empty room.

Courtesy of the Crystal Lodge

In September, the Magnolia is upgrading

its building management system to improve

energy efficiency in common areas. "There will

be central control of all the common areas by

a web app," says Lewis. The technology will

allow for set points to be put for different times

of the day and year, creating a comfortable

temperature and more efficient energy use in

the common areas.

Mobile Check-In

Hotels across the world are adopting mobile

check in. Usually through an app, hotel guests

can use mobile check-in to select their room

and complete the check-in process prior to

arriving at the hotel. Guests can skip any line at

the front desk and check right into their room

upon a contactless arrival, using their mobile

device as the key to their room.

But it may not be the right fit for your

property. The Oswego is holding off for now.

"We are an 80-room property and check-in is

a nice way to get to know guests personally,"

says Webb. "Our customer service is a strong

selling point and having that initial human

contact and personal touch goes a long way."

InnFocus 7
---
Cleaning Robots

Could technology help with your staffing challenges? "With labour

shortages the way they are, we're looking at ways to augment

our cleaning," says Sissons. This includes testing a robot vacuum

cleaner that does not require an operator. "If we can take, not

a position away, but a task away that allows us to concentrate

on other areas during staffing, it is something we're looking at,"

adds Sissons.

Fitness Tech

Fitness equipment has become

a lot more interactive and hightech

in the last two years,

with many guests investing in

home gym equipment, and the

Magnolia has taken note. "We

have an interactive treadmill

and will be getting a Peloton

over the summer," says Lewis.

Top-end technology in the fitness room helps the Magnolia

deliver a luxury experience. "One of the old-fashioned adages of

the hotel business was you hope to see things nicer than your

own home in a luxury hotel," says Lewis. "That's what we strive

for, to give guests a little better experience every time."

In-Room Technology

Gone are the days where people watch cable. Guests expect

access to Netflix, Amazon Prime, or any other streaming service

they may use at home. Lewis says the Magnolia plans to upgrade

Testing out energy-saving heat

pumps partnered with a userfriendly

climate control pad.

its in-room streaming solutions in the next year, making it easier for

a guest to watch off their own device or use streaming services.

The hotel is also sampling a new interactive phone featuring

wireless charging for devices, a beautiful sleek design, and Bluetooth

speaker.

The Coast Bastion Hotel is in the midst of renovations and tech

improvements are part of it, says General Manager David McQuinn.

This includes testing out energy-saving heat pumps partnered with

a user-friendly climate control pad and noise cancelling technology

in the guest rooms.

The hotel is also taking into account the changing needs of travellers,

like the rise of digital nomads—

people who live in a nomadic

are not going away."

way while working remotely. The

Coast is implementing WeWork

style zones, so guest don't have

to work in their rooms. "As the

market evolves, we want to be

ready," says McQuinn. "The things

that occurred during the pandemic

Stay Current

What's the best way to stay current on future trends—like cyber

security, artificial intelligence, facial recognition technology, and

even NFTs in hotels? Look to hotels in other cities and countries,

tradeshows and conventions, and industry newsletters and websites.

Lewis also suggests fostering a culture of innovation and having

your team contribute new ideas. "Technology is very important to

consumers going forward," says Sissons. The time is now to be

adaptive and innovative.

8 InnFocus
---
y Deb Froehlick

NAMES IN THE NEWS

by Deb Froehlick

Genuine Comfort is introducing the

quietest and most efficient 32" PTAC unit

on the market—the Genuine Comfort

GCDM 32" PTAC. It features a universal

fit in all 32" sleeves, decreased noise by

12% vs. industry standard, and increased

efficiency by 18% vs. industry standard.

https://genuinecomfort.com/landing

page-2-2/

Blue Mountain Solutions Inc. is launching

their new Online Learning Centre, which

is easy to follow and flexible on time. It is

an efficient way to get your team trained

and onboarded with customer service.

https://www.bluemountain.solutions/

learning-centre

dormakaba Canada Inc. is announcing

BlueSky Access, its cloud-based mobile

access key delivery application that

combines security and convenience.

Create a simplified guest experience,

while streamlining hotel operations. Guests

receive their room key on their smart device

allowing them to bypass the front desk and

go straight to their room, as well as access

authorized areas throughout the hotel

property. Visit dormakaba.us/BCHA and

https://www.dormakaba.com/us-en/

solutions/products/lodging-systems/

mobile-access-solutions/blueskyaccess-420578

go2hr has a new HR support initiative:

Regional HR Consultants. Partnering with

the BC Government and the Vancouver,

Coast, and Mountain regions, go2HR

offers complimentary human resource

advisory services for tourism and

hospitality employers through Regional

HR Consultants. Wherever you are in BC,

your Regional HR Consultant can assist

you with recruitment, retention and more.

https://go2hr.ca/hr/regional-hr-consultants

New Members

The BC Hotel Association is proud to

welcome these new members:

Associate members:

Arkitek Creative Inc.

Bell Alliance LLP

Crease Harman LLP

David Roberts Food Corporation

Kasselman Creative Ltd.

New Life Painting and Decorating Ltd

Peninsula Canada

RaDaR Immigration Inc.

Stash Hotel Rewards

Takasa Lifestyle Company

Hotel members:

Bedford Regency Hotel

Best Western Pacific Inn & Suites

Best Western Plus Sunrise Inn

Best Western Premier Route 97

Cabins West

Fairfield Inn & Suites Kamloops

Holiday Inn Express & Suites Vernon

Hospitality Inn

Pacific Inn & Suites Kamloops

Vista Inn and Suites

Congratulations

Congratulations to the Summerland

Waterfront Resort and Spa which has been

awarded the 2022 Tripadvisor Travelers

Choice "Best of the Best" Award. This

means the resort is ranked in the top 1%

of properties worldwide based on earning

excellent reviews from travellers. And

to make things sweeter, the resort also

cracked the top 25 resorts in Canada!

The Inn at the Quay also won a Traveler's

Choice Award which recognizes businesses

that get consistently good reviews.

Congratulations to the following hotels that

were honoured to be on Travel + Leisure's

annual Reader's Choice Awards list:

The 10 Best Resort Hotels in Canada

2. Fairmont Chateau Whistler, BC

7. Four Seasons Resort and Residences

Whistler, BC

9. The Westin Resort & Spa, Whistler, BC

10. The Wickaninnish Inn, Tofino, BC

Appointments

Graeme Benn has been appointed Dual

General Manager of JW Marriott Parq

Vancouver and

the DOUGLAS,

Autograph Collection

Hotel. The industry

veteran has 35+ years

of global hospitality

experience in luxury

and full-service

Graeme Benn hotels.

Jeneen Sutherland is the new Executive

Director of Wilderness Tourism Association

(WTA). She says, "The WTA is a 'force for

good' that aims to preserve remote areas of

BC, and it is our goal to foster responsible and

respectful travel in our beautiful province. We

are one of the many voices advocating for

forests, oceans, communities, and wildlife.

For our members, operating a wilderness

tourism business goes hand in hand with

being stewards of the land and sea."

RHB Enterprises is excited to welcome Colin

Turley to their team as BC area sales rep.

He's very personable and has an extensive

background in restaurant management

after working for several establishments in

Vancouver and Toronto.

Former BCHA Board Director, Brian Rohl,

has been appointed as General Manager of

the Georgian Court Hotel.

The 10 Best City Hotels in Canada:

2. Rosewood Hotel Georgia, Vancouver, BC

3. Fairmont Empress, Victoria, BC

4. Magnolia Hotel & Spa, Victoria, BC

6. Fairmont Hotel Vancouver, BC

9. Fairmont Waterfront, Vancouver, BC

InnFocus 9
---
GO

Green

People, Planet,

Prosperity

The Role of Hotels in Regenerative Tourism

by Elizabeth Smith

The climate, the way people travel,

and what people expect from hotels is

changing. Travellers and prospective

employees are increasingly looking for

hotels that align with their values and are

contributing to a brighter future. A 2021

study of global travellers by Booking.

com found that 76% of respondents

pledged to seek out accommodation

with reputable third-party sustainability

accreditation.

For some, a brighter future means

focusing on people and community.

For others, this means addressing

environmental impacts such as

greenhouse gas emission reduction

and water conservation. For everyone,

it is about ensuring that we have a future

in which we can all thrive. Ensuring all

three areas (people, planet, prosperity)

are covered is called the triple bottom line

approach.

Later this year, Green Key Global will

be launching updated and improved

eco-rating criteria for its hotel certification

program. The new triple bottom line

approach will help hotels on their journey

from sustainable to regenerative by

focusing on People, Planet, and Prosperity

in alignment with the UN Sustainable

Development Goals (SDGs). The updated

Green Key Global Eco-Rating program will

continue to be recognized by the Global

Sustainable Tourism Council (GSTC)

and will feature virtual audits to help

hoteliers stand behind their certification

and enhance hotel relationships with

responsible suppliers.

From Sustainable to Regenerative

A regenerative approach means working

to repair and restore systems (ecological

and social) that have been damaged

and ensuring those systems are set up

to thrive in the long term. Economist

John Fullerton describes regenerative

capitalism as "applying the lessons of

living systems to economic systems."

Living systems are inherently restorative

and almost always in balance.

An Economy

Place – Culture – Enterprise – Government – Commons

LESS

Energy/Materials

Required

Holistic Thinking

Patterns

Natural System Design

REGENERATING

Conventional Green Sustainable Restorative Regnerative

DEGENERATING

Mechanistic Design

Reductionist

Thinking Parts

MORE

Energy/Materials

Required

10 InnFocus
---
For hotels, moving beyond sustainable

to regenerative means a stronger focus

on employees and residents and on

ecosystem restoration and conservation,

while remembering that a strong fiscal

performance is necessary to be able to

support these activities.

Green Key Global & the UN

Sustainable Development Goals

(SDGs)

For over 20 years, Green Key Global has

been helping properties in North America

and beyond to showcase and improve their

environmental sustainability performance

through its certification programs. This

latest update to the program will see the

hotel-specific assessment criteria as well

as the comprehensive package of tools

and resources go beyond environmental

sustainability by addressing all 17 of the UN

Sustainable Development Goals.

The improved Eco-Rating program will

include additional questions and resources

focused on responsible consumption,

reduced inequality, climate action, good

health and well-being, reconciliation,

accessibility and inclusion, biodiversity,

and more.

Take SDG 3 - Good Health and

Wellbeing as an example. New questions

will reward hotels that offer extended health

benefits, wellness programs, Employee

Assistance Programs (EAP), cross-job

training opportunities, and job flexibility.

Focusing on employee wellness is good

business as these programs help attract

and retain top talent.

Virtual Audits & Digital

Documentation Submission

Organizations now embrace new and

innovative digital processes. Green Key

Global program updates will allow hotels to

book virtual audits and submit supporting

documentation digitally.

After completing the self-assessment

questionnaire, hotels will be able to choose

to work on improving their score or submit

it for verification. Properties will be provided

with a list of required documentation

(policies, reports, employee handbook,

etc.) which they will be able to submit

through a secure portal.

During the virtual audit, managers will

meet with an auditor to review their selfassessment.

Hoteliers should be prepared

to provide additional supporting evidence

and conduct a virtual tour of the property

for the verifier. These new digital processes

will be more efficient, economical, and

better serve remote properties across

North America while further reducing the

carbon impact of conducting all audits

on-site.

Green Vendor Directory

Purchasing from responsible vendors is

critical to reducing a hotel's environmental

impact and maximizing the benefits for

the community and economy. Green

Key Global's Green Vendor Directory is

designed to connect members with

environmentally and socially responsible

products and services within the hospitality

and meetings and events space.

Hotel-specific suppliers range from

guest amenities to cleaning products to

renewable energy solutions.

Through a new online vendor application

process, Green Key Global aims

to increase transparency and provide

qualified suppliers in every area of their

sustainability journey to hotels.

Join Green Key Global to start your

journey toward regeneration and contribute

to a future where people, planet, and

prosperity are in balance.

InnFocus 11
---
Retaining

Your Top

Talent -

Inspire and

Motivate

by Cindy Conti

12 InnFocus
---
With the continuing exit of baby boomers from the workforce and the

competitive labour market, the need to retain top talent in the tourism and

hospitality industry has become more and more critical. The workplace has

changed because of COVID-19, and it continues to evolve as we navigate

this new world of work. Some of the old tactics we used to inspire and

motivate employees in the past now seem outdated. What used to be

impactful pre-pandemic may no longer have the same effect.

So, what can you do to retain your top talent? Start by taking an objective

view of the programs and offerings you already have in place, and ask

yourself, "Will this continue to inspire and motivate our employees to stay?"

If not, make changes to meet the ever-changing needs of our industry, your

business, and your staff.

Your employees may spend as much as one-third of their lives at work. If

they don't find the experience rewarding, or are not recognized for making

an important and valuable contribution to the company, why would they

stay? Everyone wants to feel needed and valued in the workplace, not just

through wages and benefits but also by having their voices and opinions

heard, being recognized for their efforts, and having opportunities for

growth and development. These factors contribute to a successful retention

strategy that keeps your employees motivated and leads your company to

long-term success. Consider the following methods:

Offer Flexible Work Arrangements or Scheduling

Consider offering a hybrid work model between home and the workplace

for those who work in office settings such sales, finance, and administration.

Show your employees that while the business needs must be met, you also

respect their personal needs. Stress the importance of providing work-life

balance, whenever possible. Consider offering a shorter workweek or

a weekend off once a month for employees who cannot work remotely.

RHB is your

seating source

HOTEL • RESTAURANT • OFFICE

LIGHTING

CASEGOODS

UPHOLSTERY

SEATING

CONTRACT

FURNISHING

SOLUTIONS

FAST DELIVERY

CANADIAN MADE

1-866-208-7675x2011 • rhbenterprisesinc.com • @rhbenterprises

InnFocus 13

2022 Inn Focus 1/4.indd 1 2022-08-01 2:49 PM
---
Professional Development

Workplace expectations have changed

significantly in the past couple of years.

Employees want to know what's in it for them.

Offer opportunities for training and education,

and a clear path to career advancement.

Promoting from within not only helps

employees feel valued but also allows them

to feel they are contributing to the success of

the business. If the employee isn't yet ready

for the next step, then set up a plan to help

the person get there.

Review HR Policies

Take time to review your existing

policies and update your

employee handbook. Do your

current policies reflect the new

work world? Consider allowing employees

to take time off work to deal with personal

or family-related issues. Some may still be

struggling to balance home and work-life

responsibilities such as childcare, elder care,

or pet care. Review your travel policy, if you

require your employees to travel. And don't

forget to review and update any policies that

pertain to your employee's health and safety.

Compensation & Perks

Review your total compensation plans, not just

the base salary. Look at the whole package.

What types of benefits do you offer and are

they currently being used? Could you consider

eliminating perks that aren't frequently used

and replace them with something more

meaningful or relevant? Can you personalize

benefit selections by offering financial tools for

retirement, pet insurance, or floating holidays

to accommodate different cultures? Consider

Consider floating holidays to

accommodate different cultures.

partnering with another local business so

you can swap employee discounts or gift

certificates. Review your salary structure and

wages. Are your base salaries and wages

competitive within the industry?

Motivate Your Seasonal Employees

to Return

Before the season ends, talk openly with

your departing employees. Schedule a

quick check-in meeting and ask them about

AN INSURANCE PROGRAM TAILORED

TO THE HOSPITALITY INDUSTRY

From claims service to risk management, our fullservice

hospitality insurance program has you covered.

Join over 1,200 properties who are a part of Canada's

longest running Hospitality Insurance Program.

Scan here or get started

at HIPInsurance.ca or at

1-800-665-8990

their experiences and whether they would

consider returning the following season.

Stay connected after they leave. Create an

Instagram or Facebook page, a WhatsApp

group, or another social media page for

employees to stay in touch. The more ways

you can make employees feel like they are

still part of the family, the more inclined they

will be to return.

One of the many advantages of having

employees return to your business is that

it is not necessary to retrain them

each year. Saved training dollars

can be used as incentives. Consider

offering returning staff a higher salary

upon their return or offer a returning

signing bonus.

Make Mental Health a Priority in the

Workplace

If we have learned anything over the past

two years, it's that the health and wellness of

your employees is vital, especially if you want

them to stick around. From the uncertainty of

job security to the ups and downs of layoffs

and recalls to being on the receiving end

of upset guests, your employees have kept

your business running, and it has taken a

significant toll on their mental and physical

well-being. Start talking about mental health

in the workplace. Understand that employees

may need help if they aren't feeling like

themselves. You need to notice if they are

struggling to meet the daily demands of their

jobs. Communicate with your employees and

allow their voices to be heard without fear of

reprimand. Ensure they know who they can

safely go to if they have questions or concerns.

Become known for having a workplace culture

that values the well-being of its staff. When

employees feel valued and connect to your

organization, they work with a deeper sense

of meaning and strong motivation.

As the tourism and hospitality industry

continues to recover from the impacts of

the pandemic, inspiring and motivating your

employees to retain them needs to be a

workplace priority. As business leaders, you

are not expected to have all the answers.

There is a wealth of free resources available

and go2HR is here to help. We invite you to

contact us to learn more about how you can

support your employees at hr@go2HR.ca.

Cindy Conti, CPHR, is HR Consultant-

Vancouver, Coast & Mountains with go2HR,

the human resources and health and safety

association for the BC tourism industry.

14 InnFocus
---
HOTELIER FEATURE:

Angie

Eccleston

General Manager of the Crest

Hotel in Prince Rupert

by Danielle Leroux

Angie Eccleston is the General Manager of the Crest Hotel in Prince

Rupert, a role she took on in October 2021 after being with Prestige

Hotels and Resorts for 10 years.

"I wanted to live by the ocean and had been looking at Prince

Rupert for quite a while," says Eccleston. She had settled into

Smithers, where she was General Manager at the Prestige Hudson

Bay Lodge, and it didn't seem like an 'ocean opportunity' would

come up to move with Prestige.

But then, "I got a LinkedIn message from a managing director

who was looking for someone to run the Crest Hotel. They were

reaching out within their current network and asked me if I knew

anyone who was interested. I said, 'please consider me first,' and

it went from there."

It was hard leaving a company that had been good to her for so

many years, but there was also the draw of something new. "I would

have to learn how to operate under different circumstances," she

explains. "The Crest Hotel is an independently owned property. You

just have to go through one layer to make changes. But in other

ways it's hard. I can't call on a bunch of other general managers

for advice on how they've handled a similar situation." Fortunately,

Eccleston is still able to lean on the support system she built at

Prestige, while building new relationships with other local operators.

Eccleston had her start in the hotel industry as a night auditor 11

years ago. "I left a manufacturing job that I couldn't get ahead in,"

she says. "I found the work very tedious and boring. I needed to

try something more engaging, and I thought hotels would be such

a different feeling, so I took a chance." It paid off and Eccleston

immediately found the work rewarding. She worked for three weeks

as a night auditor, before moving onto the day shift.

"That's where I really fell in love with the hotel industry. There is

such a variety of unique challenges requiring creative solutions.

It also felt like people were being respected in a way that I wanted

them to be," describes Eccleston.

She worked her way up from front desk to assistant manager

at Prestige Harbourfront Resort in Salmon Arm and later became

General Manager at Prestige Radium Hot Springs Resort before

moving to Smithers.

In her current role, Eccleston is responsible for a team of

'incredibly competent and skilled' managers who look after

different departments. "My role is to act as a support system

for them. I assist them with challenges—doing what I can to

make their jobs easier—and also maintain an active role in the

day-to-day operations."

Eccleston continues to find the job very rewarding. "Between

our guests and co-workers, I can help people improve their

day and see that a tough minute is not necessarily a tough day.

I get to bring people out of their shells and have an authentic

experience—it's not all just work. We can also have a good time."

Eccleston is also learning how to lead leaders. "You don't stop

learning," she says. She wants to foster the same environment

for her staff. "People should have the opportunity to learn, grow,

and make mistakes in a safe space."

Eccleston credits her mentors, like Heather Bodnarchuk

and Tanya Stroinig, as being instrumental in her growth and

development, and encourages other aspiring leaders to seek out

mentors. Eccleston acknowledges the current labour challenges

but tries to inspire future leaders by operating with integrity—

and is clearly doing so.

InnFocus 15
---
Samsung Canada

Elevates the Guest

Experience with

Digital Innovation

To help support the efforts of hotels and deliver value on their

digital investments, Samsung Canada offers an array of digital

display solutions. Such solutions ensure efficient, high-end

connectivity that allow hotels to deliver impeccable service

and communication from check in to check out and beyond,

driving and enhancing guest loyalty. Whether it's outdoor

digital signage that captures guests' attention or in-suite

digital tools that keep guests both informed and entertained,

Samsung's innovative digital solutions support the incredible

guest experiences that hotels strive to provide to their guests.

The world around us is rapidly changing. After a challenging

couple of years, the way people engage and interact with

each other has evolved, which influences their attitudes and

behaviour. As part of this change, today's guests have increased

expectations, which now include enhanced experiences that are

enabled by seamless digital connectivity.

A personalized hotel experience is important to guests, so

increased pressure is being placed on those working within the

hospitality industry to explore and invest in digital technologies

that will meet guests' enhanced expectations.

Making a Big Impression with Impactful Digital Signage

It's no secret that the guest experience begins as soon as

patrons enter the hotel lobby. To help create an immediate

impression that guests will remember, Samsung's LED displays

are an incredibly powerful visual tool. The Wall, for instance,

allows hotels to showcase welcome messages for event

attendees, or wayfinding information for private functions.

And, when the screen isn't being used to deliver specific

messaging, it can be leveraged to display captivating scenes

of the city, its landmarks, landscapes, or other local highlights.

16 InnFocus

Advertising Feature
---
Augmented Signage for Additional

Revenue Elevators can also be outfitted

with Samsung digital displays to provide

guests with news, weather, directions to

hotel amenities, or information specific to

the hotel. For example, a digital display can

promote the hotel's restaurant, café, bar, and

gift shop by displaying timely deals, menu

boards, upsell opportunities, and special

promotional offers, generating additional

revenue for the hotel.

Checking-In Made Easier

A growing trend among some travellers today is their increasing desire for a

discrete and private check-in experience. Samsung enables this experience with

its interactive, self-service Kiosk, which provides guests with the ability to check in

or select upgrades. The Kiosk boasts a compact, space-saving design, advanced

security, and easy management and maintenance for reliable performance.

Delivering a Premium In-Suite Experience

For most travellers, a comfortable and seamless in-suite experience is one of

the most important aspects of their stay. Samsung's new generation, in-room,

hospitality TVs with QLED display technology for deeper contrast and exceptional

brightness featuring Samsung's new content management system, LYNK Cloud,

provide a gateway to hotel information, services, and activities. It's a way for hotels

to provide a new level of interactivity for their guests, which includes opportunities

and access to new experiences in a personalized manner, allowing guests to order

room service, view menus, and check out easily and conveniently.

Digital Concierge Stations

Digital touchscreen displays can also be used to provide guests with real-time

information regarding local restaurants, sporting and entertainment events as well

as airport and airline updates. Serving a similar function as a mobile device, a digital

concierge station helps fulfil guests' search needs while encouraging essential

personalized engagement with the hotel.

Outdoor Signage

With the latest fully integrated and contained

outdoor signage technology, which can

withstand different weather elements,

hotels can reach potential guests with

messages promoting different services

and offerings like free Wi-Fi, complimentary

breakfast, parking, discounted nightly

rates, or seasonal partnerships with local

restaurants. This provides hotels with yet

another way to increase revenue.

In an ever-changing world and continuously

evolving hospitality landscape,

hotels are always exploring new ways

to "wow" their guests and provide them

with an exceptional experience during

their travels. Through its innovative digital

display technology, Samsung is helping

the industry achieve that goal.

For more information concerning the

ways Samsung Canada's innovative

digital solutions can help elevate the

experience you provide for your guests,

contact Jared Lay: jared.lay@samsung.com.

Advertising Feature InnFocus 17
---
The

Okanagan

BC's Wine Region

Grows Up

by Carolyn B. Heller

Elizabeth Cucnik has seen lots of changes

in BC's Okanagan Valley. The general

manager of Penticton Lakeside Resort &

Conference Centre grew up in this sunny,

agricultural region once known for "beaches

and peaches." Today, she says, with more than

200 wineries and an expanded infrastructure

for active pursuits, the Okanagan is becoming

"a world-class destination."

An influx of entrepreneurs—opening coffee

shops, breweries, wineries, restaurants, and

more—has brought greater cultural diversity and

sophistication to the Okanagan, which extends

from the US border, along a chain of lakes north to

the cities of Kelowna and Vernon. For visitors, this

mix of urban attractions, outdoor experiences, and

a growing selection of places to eat and drink, offers

plenty to see and do.

Penticton Lakeside Resort & Conference Centre

Opened in the 1980s on Okanagan Lake, the 273-unit

Penticton Lakeside Resort has evolved along with the

region. Family-run RPB Hotels took over the property in

1993, and in 2017, constructed an upscale 70-suite annex.

This newer West Wing is an environmentally friendly all-wood

structure, which Cucnik describes as one of the first of its kind in

Canada. From the spa-like bathrooms to the oversized lakeview

balconies, she says that the West Wing offers "a more elevated

experience," to couples and business travellers who can afford

a higher price point.

During the summer, Cucnik says, the hotel's overall demographic

"is typically families that have a healthy disposable income and love

spending time exploring," enjoying water sports, mountain biking, and

other outdoor activities. The property also draws older independent

travellers, who come for wine touring or sampling the microbreweries.

Courtesy of Penticton Lakeside Resort

18 InnFocus
---
The Penticton resort offers more than 32,000 square feet of

conference space as well, and after two challenging years, the

meetings and event business "is coming back in abundance,"

Cucnik notes. The hotel is attracting corporate retreats, by

offering yoga classes and other wellness services onsite, and

partnering with local businesses, such as nearby wineries, to

host private tours or tasting events.

"People now are seeking these niche, unique experiences,"

Cucnik states. "They want something that they can't get

everywhere. So as a hotel, we've really had to think about how

we can stand out."

Summerland Waterfront Resort & Spa

Many guests at Summerland Waterfront Resort & Spa "just want

to zone out," says General Manager Tom Matthews. "They want

to get their shoulders down from their ears and unwind."

At this strata property located lakeside between Penticton

and Kelowna, the 115 studio, one-bedroom, and two-bedroom

suites, all with kitchens and fireplaces, are individually owned.

Families, primarily from the Lower Mainland, make up the resort's

main summer clientele, while in the off-season, Matthews says,

"We see a lot of couples wanting to escape for a couple of days."

"We do a huge repeat business," adds Matthews, who

also owns Tepic Management Group which manages this

Summerland property. "It's people coming for their annual

Father's Day trip. It's the grandparents joining the grandkids for

the 15th summer in a row."

The growth in the wine industry is the biggest change that

Matthews has seen during the more than two decades he's

lived in the Okanagan, and the city of Kelowna has developed

exponentially as well. "I remember winter days up there 28

years ago where the tumbleweed would be blowing down

Harvey Avenue," Matthews quips. Now, he says, "Kelowna has

exploded."

Hyatt Place Kelowna

Opened by Surrey BC-based West Fraser Developments in

July 2020, Hyatt Place Kelowna is capitalizing on the city's

expansion, says General Manager Cedric Younge. The 161-

room Hyatt is positioned between limited-service properties

and more expensive waterfront resorts, targeting millennial

business and leisure travellers seeking "a cool vibe and

elevated service at a decent price."

The Hyatt brand is drawing active travellers, including

Americans who might previously have chosen Whistler or

Banff. The hotel rents e-bikes for cycling the nearby rail trail,

and Younge says, "You can be in the woods hiking in about 10

minutes." The city's north end has become a craft beer hub,

and both the culinary scene and the wine industry continue

to evolve.

When he arrived in the Okanagan from Montreal in 2005,

Younge says the lack of diversity surprised him, but these

days, "every single culture is represented." At the Hyatt Place,

employees come from Russia, Mexico, Chile, and Jamaica, as

well as many Canadian regions.

What makes Kelowna—and the Okanagan—so attractive,

Younge adds, is that from wine, food, and the outdoors to

its increasingly multicultural population, "you're hitting all the

niches."

Photos this page courtesy of Summerland Waterfront Resort & Spa

InnFocus 19
---
When It Comes

to Hosting Major

Sporting Events,

Hotels Are

the MVPs

by Tania Moffat

20 InnFocus 2015 FIFA Women's World Cup - Courtesy of Sport Hosting Vancouver
---
What do the HSBC World Rugby Sevens

Series, FIFA World Cup, and Invictus Games

all have in common? All three are among

the list of major sporting events scheduled

to be hosted in Vancouver over the next few

years. Secured by Sport Hosting Vancouver,

a partnership between the City of Vancouver,

Destination Vancouver, the Vancouver Hotel

Destination Association (VHDA), and several

competition venues, the group strives to build

upon the city's reputation as a desirable host

city for sports. Vancouver has an advantage

in attracting this type of tourism, thanks to its

world-class sports facilities, infrastructure, and

desirability as a visitor destination. However,

securing these events and ensuring their

success is a long and arduous process in which

the hotel industry plays a critical role.

Hosting a mega sport, such as the HSBC

Canada Sevens rugby tournament, is both

costly, involving support and financing from

all three levels of government, and lucrative,

providing an economic boost for the community.

According to Sport Tourism Canada, sport

tourism attracted 15.9 million visitors to various

events across Canada in 2019 and generated

$7.4 billion. Visitor spending in BC, the second

highest in Canada, reached approximately

$1.7 billion, with accommodations making up

the majority of spending, followed by food and

beverage.

Working as a Team

"British Columbia, and Vancouver specifically,

is blessed with its location as a spectacular

and inspiring destination for these types of

events," says Royce Chwin, CEO and president

of Destination Vancouver. "The city is fortunate

to have an excellent selection of hotels in terms

of brand and quality. Our hotel community

understands, values, and supports our city

hosting major sport events. We could not

do so without them as core partners. Hotel

support played a major role in Vancouver and

Whistler securing the 2010 Winter Olympic and

Paralympic Games. And, as we look ahead

to the FIFA World Cup, the Invictus Games,

and the Laver Cup, Vancouver could not

have bid for and won the right to host these

without the tremendous support from our hotel

community."

Canada Sevens - Courtesy of Sport Hosting Vancouver

Stephen Regan, executive director of the

Vancouver Hotel Destination Association,

agrees, "When it comes to major international

sporting events, hotels are almost as important

as the competition space. Athletes need

comfortable, quality space to sleep and rest

to perform their best. Coaches, managers,

trainers, and other team support staff see hotels

as partners in supporting athletes with private

space to meet, strategize, socialize, and anchor

their whole event experience. Major events

also need to ensure sponsors and media are

treated well, and a big part of their experience

is quality accommodation with responsive and

helpful staff."

Sport Hosting Vancouver spearheads

the partnership that actively pursues these

mega-events. "It's a great partnership that

has allowed us to simultaneously support

the visitor economy, community, hospitality

industry and event destinations," explains

Michelle Collens, senior manager, Sport

Hosting Vancouver. "We are proactive and look

for events that complement other businesses

and leisure travel that we have coming in. This

helps to maximize our calendar availability

InnFocus 21
---
2016 America Masters Games - Courtesy of Sport Hosting Vancouver

both for our venues and our stakeholders in the hospitality industry,

especially our hotels.

"Hotels play a critical role right from the beginning when we're

attracting large events. Destination Vancouver, our marketing

organization, will forward an RFP to the VHDA to notify them of the

opportunity and what the client is looking for—dates, room blocks,

room needs and any other concessions they may require. The VHDA

then alerts us to their inventory and then prepare a bid which includes

everything the event right holder needs, from competition venue

availability, hotels, transit, and transportation to any other ancillary

features we want to highlight about our city, such as the walkability from

hotels to competition venues. Once the business end is confirmed,

we will assist with spectator planning. Having a single point of contact

makes it easier for organizers and also helps us to present a compelling

bid as to why they should bring their event to Vancouver."

Securing the Event

When considering events, those that fall outside of peak travel

seasons are preferred as they support the hospitality industry. This

is an issue that has become increasingly important due to the overall

shortage of hotel rooms. "There is a capacity gap that our industry

has been facing in various forms for more than a decade. This is not

news: cities of a comparable profile have been building hotels and

adding rooms. At the same time, Vancouver's hotel supply has been

contracting; the city is now net negative 1,500 rooms since 2010," says

Chwin. Unfortunately, when the system is overstressed, it becomes

increasingly difficult for visitors to find and secure an affordable room,

decreasing their satisfaction.

"Although we try to secure major events when hotels have more

capacity as a destination, that is not always possible. When major

events like FIFA land in our high season, it helps if hotels take a slightly

broader, long-term view of the business. Hosting one major event can

lead to hosting another and then another. A sport hosting reputation

is built over time. If hotels are keen partners and provide competitive

room pricing and quality services, it provides the confidence other

destination stakeholders need to be aggressive in seeking sport

business," says Regan.

Once an event has been secured, Sport Hosting Vancouver begins

working to identify and promote packaging for the leisure traveller.

Packages could be a combined ticket and room rate or securing a

courtesy block of rooms at a set rate. These promotions are shared

with VHDA members, however every hotel should be marketing their

own deals to this demographic. Providing destination packages,

offering tickets to other local events, points of interest, or restaurants

are a great way for them to attract the sport tourist.

Hosting mega events, sport or otherwise relies heavily on the

hospitality industry. Just as the events require facilities, the people

behind and attending them need a comfortable place to rest at

reasonable prices. Hotels are clearly an MVP, given their involvement

from the initial bid to delivering a satisfactory experience to the

organizers, athletes, and fans once the event is underway.

22 InnFocus
---
Collaboration as a

Path to a Prosperous

Workforce

By Alison Langford

It is no secret that our industry's

workforce crisis is currently the single

greatest barrier to our recovery and

growth following the devastating impacts

of the COVID-19 pandemic. Already

challenged by labour shortages prepandemic,

Canada's tourism sector lost

1 million workers between March and

May of 2020, and within the tourism

sector, the accommodation industry

was the most severely impacted.

Frequent lockdowns and the instability

of our industry have driven hundreds

of thousands of employees from the

tourism sector to other industries like

retail and health care. With record low

national unemployment rates, the labour

shortage has reached a

crisis point with hotels

capping occupancy to

maintain service levels.

Early in 2022, the

hospitality industry had

the added challenge of

competing with other

sectors such as retail,

health care, and manufacturing whose

restrictions lifted much earlier than travel.

As it stands, there are currently over

27,000 jobs in BC's tourism industry that

need to be filled for businesses and the

industry to be successful; and according

to the Hotel Association of Canada our

sector will need to increase national

employment from 300,000 to 500,000

by 2030 to meet increased travel

demand.

Despite the complexity and scope of

this issue, the British Columbia Hotel

Association (BCHA) has been laserfocused

on expanding our network

to implement our workforce strategy,

aimed at driving recruitment, retention,

and growth—both domestically and

internationally.

Local Training Programs

As it relates to our domestic strategies,

the BCHA is the lead partner in a Hotel

Operation Service Skills Training Program

with Progressive Intercultural Community

Services (PICS) and Western Community

College (WCC). This program is focused on

growing our workforce through upskilling

and retraining students during a 23-week

hotel services training, which is followed by

four weeks of practicum and employment

support. Recently, the first iteration of

the program finished in Vancouver with

the second program in progress in the

Okanagan region.

In addition, we continue to focus on

education as a path of entry to our sector

The British Columbia Hotel Association

(BCHA) has been laser-focused on

expanding our network.

and have numerous relationships with

institutions across the province, including

Camosun College through their Hospitality

Management Diploma and Applied Tourism

and Hospitality Management course.

Both programs have co-ops or internships

as part of their program. In addition,

Hospitality Management and Latincouver

Cultural & Business Society are private

training schools that also have an internship

component to their programs.

Providing Support to Students

Supporting students with their coops

and internships is a win-win for the

students and for the hotels that support

them through their work experience.

These are unpaid placements, so an

accommodator has the opportunity to

train a worker who has an intention of

being hired after their internships are

completed. We look to our members

to support these training programs by

taking the time to interview and take

these students "under their wing". While

it does take time, we believe the benefits

far outweigh the demands.

International Recruiting

In terms of our international efforts, the

BCHA is pleased to have created several

key partnerships with the Consulates

of Barbados and El Salvador that have

agreed to work exclusively with the

BCHA. We have signed memorandum

of understandings (MOUs) to create a

pathway for skilled, experienced workers

from each country to come to Canada

and work primarily in the accommodation

and hospitality sectors.

In each country, the Ministry of Labour

will pre-screen, interview, and prepare

resumes for these highly trained workers;

the international job seekers are then able

to connect with members of the BCHA

to be interviewed and hired to work in

Canada.

As workers from both Barbados

and El Salvador require a LMIA to be

hired, the employer will

have to apply for that. To

support our members with

this process, the BCHA

has signed partnership

agreements with three

immigration companies—

Bell Alliance LLP, Radar

Immigration Inc., and

Crease Harman LLP. We encourage

our members to connect with

these companies or reach out to

alison@bcha.com should you have any

questions.

These partnerships are vital to our

workforce strategy which is aimed

at successfully rebuilding a thriving

workforce. Whether it be training

programs with practicum components

or new international partnerships, we

are approaching the labour crisis with

many possible solutions. We need to be

far reaching, forward thinking, and as

collaborative as possible; and while we

have made great headway already, we

look forward to keeping you updated on

what else is to come.

InnFocus 23
---
Menu Innovation

Courtesy of Gordon Food Service

Realize better profits with product

cross-utilization and proper pricing

by Gordon Food Service

Amid all the challenges facing restaurant operators, menu innovation

remains a key ingredient to success. It's a matter of doing more with

less.

For restaurants, a downsized labour force means downsized menus.

Supply-chain struggles have manufacturers in a bind, often unable

to develop new products as they try to keep core products in the

pipeline. Then there's inflation.

What's an operator to do? Get back to basics—focus on ingredients

that define the restaurant's brand. It requires a lens of product crossutilization,

menu smarts, and operational efficiency, according to

Gordon Food Service® experts.

Balancing Innovation

Customers are dining out more and have increasing expectations.

Buying a different cut of beef for each dish is a tall order. With a

smaller kitchen staff and inconsistent product availability, you're inviting

stress, according to Calgary-based, Culinary Specialist Darren Lexa.

He recommends a hard look at batch cooking and cross-utilization.

Consider the convenience of batch-cooked short ribs. It's a star

in the centre of the plate, but it's right at home elsewhere:

• Add seasonings and use it for tacos.

• Shred it into a nacho plate.

• Stir it into a ragout and serve over pasta.

• Cut it into chunks, deep-fry, and create a barbecue burnt ends

appetizer.

• Put it on a biscuit with a fried egg as a brunch item.

"Cooking short ribs in bulk might require three or four hours of

labour when you're not open, but it will reduce the volume on the

line so you can execute service easier," Lexa says.

Cover All Bases

Innovative cross-utilization doesn't stop with proteins. Simple

mixtures can create signature flavours, Customer Marketing

Manager Art Tigera explains. Add blackening spice to ranch

dressing for a blackened ranch condiment. Combine ranch

dressing and hot sauce for a buffalo ranch dip. "These can take

your appetizers up a notch without adding new products."

24 InnFocus
---
Don't overlook the bar, says Culinary Specialist

Bill Pilgrim. A can of wild cherry topping mixed

with a little bourbon makes a wonderful sauce

for a chocolate torte. Those same cherries can be

used to create a shrub for a non-alcoholic offering

or for your signature Old-Fashioned. Add a bit of

olive oil and vinegar to create a cherry vinaigrette

for a marinade or salad dressing.

Speed scratch cooking, using ready-made

products and adding a few fresh ingredients, is

another popular concept. Pilgrim suggests these

ideas:

• Signature salsa - Start with fire-roasted salsa

verde, then blend in cilantro, jalapeños, green

onions, and fresh lime juice.

• Trendy elote - Start with frozen corn and

jalapeño blend, combine with mayo, butter, and

top with crema and a sprig of cilantro.

• Seafood sauce - Start with lobster bisque,

add cream and egg yolks, then whip until creamy

and serve as lobster veloute.

Price for Profitability

A big mistake operators make is overlooking how

plate costs affect profits. With rising food and

labour costs, simply increasing menu prices may

not protect profit margins.

"You can't make money unless you know where

you're losing money," Tigera says. "Before you

go through menu innovations, you really have to

understand where your costs are."

One way to start is by analyzing the 10 or 15

top-selling menu items, Culinary Specialist Adam

Walkover suggests. Price adjustments on those

items will impact the bottom line the fastest. After

the first 15 items, cost out five more each week to

cover the entire menu. Recipe Manager can help

make sense of the numbers.

Innovative dishes run through a pricing formula

alone won't always deliver the most profit. Pilgrim

recommends putting the dish in front of your team

and asking what they would pay. "They might tell

you it's a $19 dish in your market, where the foodcost

formula might price it at $11 or $12," Pilgrim

says. "Using the perceived value can capture more

profit on an item that's pretty easy to make."

1

2

3

4

5

6

1 INGREDIENT =

6 APPLICATIONS

START WITH

Gordon Choice® Fresh CVP

Chicken Tenders

CREATE

Hand-bread for a basic appetizer

basket or kids' meals.

Cut up and bread or batter to toss

in a wing sauce as an alternative to

chicken wings.

Shred and use for nachos, quesadillas

and even on-trend birria tacos.

Grill and slice for salad toppers.

Skewer and grill layered with veggies

for a great kebab. (Use your favourite

marinade or seasoning or apply

international flair with Mediterranean

seasoning.)

Pound and hand-bread for chicken

parmigiana, marsala or piccata.

This article originally appeared in the Gordon

Food Service Foodscape publication. Reprinted

with permission.

InnFocus 25
---
Extending

the Lifespan

of Your

Equipment

by Ellen Baragon

26 InnFocus
---
Ensure that your property's equipment functions at an optimum over

the long haul by sticking to the correct use and maintenance guidelines

provided by the manufacturer and the experts who service it.

It's not rocket science, but it's safe to say many of us forget, or put off

doing maintenance, until the equipment we rely on to keep our business

running smoothly no longer functions properly or breaks down altogether.

Two essential keys to protecting your equipment and extending its

lifespan are to clean it regularly and pay attention to capacity limits.

Washers and Dryers

One simple way to keep your washing machines functioning efficiently

over time is to ensure that they are used according to their design. For

example, when someone tosses in a few small towels to launder in a

washer designed to handle large loads of sheets and towels, it doesn't

extract properly, which causes additional wear and tear. That means it

will likely need replacing earlier than a machine used as it was designed.

You will also be wasting chemicals and energy for nothing.

Dryers are indispensable in a hotel but can become fuel for fires if

the lint, dust, and other particulate are not cleared out of the vents and

throughout the ductwork system regularly. Lint is highly combustible,

and if it is close enough to the dryer's heating element, it can ignite and

start a fire. It also restricts the dryer's airflow and therefore its efficiency.

If lint builds up in the exhaust vent and moisture gets inside, there is

also the risk of mould. The lint screen should be cleaned every day, and if

it's torn, it should be replaced. Every three months, any lint accumulation

from the lint chamber thermostats and sensors, as well as from the

motor air vents, should be removed. Every six months lint should be

cleaned from the gas burner area with a dusting brush or vacuum cleaner

attachment. For steam dryers, the coil should be cleaned to prevent lint

buildup between the fins.

Every few months examine the motor and drive belts. Cracked or

frayed belts need to be replaced. Tighten loose V-belts when necessary,

and check belt alignment and safety devices such as door switches,

sail switches, burner, and thermostats.

Refrigerators

As noted with other kinds of equipment, a refrigerator needs to be

used according to its design to work properly and last. If it is stuffed

with food items beyond its engineered capacity, it reduces the airflow

which then lowers the cooling capacity. This is especially true for

refrigerators that house a freezer. The cold generated by the freezer

compartment keeps the rest of the unit cold. If the refrigerator becomes

over-full of perishables, the cold gets trapped in the upper level of the

compartment and the lower racks don't get sufficient levels to keep

food fresh.

A kitchen that is relatively hot with considerable dust and grease

will impact the efficiency and longevity of a refrigerator. For regular

maintenance, the experts say it's important to clean the refrigerator

condenser of any oil, grease, or dust, every two to three months.

Stoves

Most commercial kitchens use a gas stove and once again, cleanliness

of the stove is the number one priority for its maintenance, not only to

keep it operating at maximum capacity, but to prevent the risk of gas

leaks, explosions, and fire.

Keeping the gas unit clean and professionally inspected and

maintained will also make for better and time efficient meal preparation.

Even small leaks in the tubing can affect the airflow, and char and

burn cookware.

Oxygen levels are another reason to keep a gas stove maintained.

It is not possible to gauge the oxygen levels by the flame. Your gas

unit may be consuming high levels of oxygen in the room without

being noticed by the kitchen staff. Some facilities pump fresh oxygen

into kitchens with a machine, but not all properties are so equipped.

The experts say any gas-powered unit should be inspected

annually by an authorized gas fitter who can discover anything that

compromises the efficient and safe operation of the stove.

InnFocus 27
---
Packaged Terminal Air Conditioners (PTACs)

PTAC filters should be rinsed off with soap and water in a sink, at

least every six months. It's also important to clean the evaporator

coils which can be pulled out of the wall and pressure washed.

These two simple steps can increase the lifespan of the unit up to

20 years and beyond.

Variable Refrigerant Flow (VRF) Systems

In hotels, VRF systems are common today because they offer a

considerable advantage. Where temperature needs vary by time and

location in the same building, and with heavy heating and refrigeration

demands, VRF systems can take advantage of any unused thermal

energy by redistributing it to other parts of the property.

However, a large HVAC system of this type can be a challenge

when there is a failure in one part of the system. There is a long list of

ways that an HVAC system can be maintained by personnel without

any special certification:

• Filters should be checked every month and changed when

soiled.

• Evaporator and condenser coils should be kept clean and free

of nearby blockages.

• Outdoor units should not have any debris such as leaves, grass,

dirt, sticks, or other material around and inside the vents.

• Blockages to the vents such as furniture, boxes, or other material

that can interfere with proper airflow should be removed.

Developing and maintaining a

maintenance schedule for your

equipment will extend its lifetime.

Following is maintenance for a certified HVAC professional

to perform:

• System controls checked to ensure they work properly.

• Thermostats and other components adjusted and calibrated.

• Belts, bearings, and other moving parts inspected to improve

performance.

• All electrical connections checked, cleaned, and tightened.

• Recharge of the refrigerant fluid and repair of any leaks.

• Inspection of the duct system to ensure all sections are sealed

and fitted tightly together.

• Inspect and clear drain lines to clear any blockages so that water

can flow away easily. Note that an algaecide can prevent organic

growth.

Developing and maintaining a maintenance schedule for all your

equipment will extend its lifetime and save you a lot of money in the

long term.

28 InnFocus
---
y Alana Dickson

Courtesy of BCHF Photo by Geoff Howard Photography

Time flies when you are having fun!

In the last six months, the BC Hospitality Foundation (BCHF) has

supported beneficiaries with over $15,000 in financial assistance

and awarded 48 scholarships to hospitality, food and beverage,

culinary, wine, and spirits professionals.

But that's not all we've been up to! The BCHF hosted the

first annual Okanagan Golf Tournament on May 10th at Harvest

Golf Club in Kelowna and the thirteenth annual Vancouver Golf

Tournament at Coquitlam's Westwood Plateau Golf & Country Club.

Combined these events netted the BCHF just over $25,000. Funds

from the 8th annual Victoria Golf Tournament at Olympic View Golf

Club in August are still being tallied. Thank you to all golfers, event

sponsors, and silent auction donors.

Throughout these programs, more than 75 industry professionals

donated their time by volunteering to review scholarships, plan

events, manage social media, and recruit participants, sponsors,

and auction items. Our industry professionals never cease to amaze

us, they encompass the true spirit of hospitality at every level.

Sandra started Tinhorn Creek Vineyards with her husband in 1994.

Over the next 20 years as winemaker, she was the first in Canada

to use screw caps and led the way for BC's first sub-appellation—

the Golden Mile Bench. As CEO, Sandra led Tinhorn to become

Canada's first carbon-neutral winery and was a recipient of go2HR's

Canada's Safest Employers Awards.

In 2017 Sandra began anew, starting Elysian Projects, a beverage

and tourism consulting company. She created the Fortify Conference

in 2018 helping artisan beverage producers better manage their

businesses.

She is an Executive in Residence at Accelerate Okanagan, a board

member of TIABC and the creator of the weekly #BCWineChat on

Twitter every Wednesday night. Sandra was named one of Canada's

Top 100 Powerful Women in 2016.

What Other Fundraisers Do We Have Going On?

Poplar Grove Winery is donating $1.50 per bottle sold of the

Lakeview Rosé throughout the summer. Partial proceeds will be

donated to our scholarship program. Don't miss out! This delicious

rosé sells out fast. Wines can be purchased from the winery tasting

room, restaurant, and online.

Other News

We'd like to thank Jeff Guignard, who recently stepped down from

his role as Chair of our Board of Directors. Over the past eight

years, Jeff has given generously of his time and energy, and we are

grateful for the difference he made. Thank you, Jeff!

BCHF's Executive Board is pleased to announce the appointment

of Sandra Oldfield as the new Chair of the Board of Directors.

InnFocus 29
---
y Mike Macleod, Director of Member and Business Development

Many of our members will cite property and liability insurance as the reason

for belonging to the BCHA. Not coincidentally, insurance matters have

played a significant role in the support our organization provides to our

members. Over the years, this has included offering members a variety

of insurance programs that provide the advantage of a group purchase,

as well as policies tailored to the unique needs of our sector. This work

has also been supported by a variety of advocacy efforts that includes

furthering the interests of our members with insurance companies and all

levels of government.

Recently, however, the industry has been faced with the most

adverse insurance market conditions in decades. These conditions

have led to unacceptable insurance premium increases during

the worst economic conditions

brought on by the COVID-19

The industry has been faced with

the most adverse insurance market

conditions in decades.

pandemic. Furthermore, many

properties previously included in

our BCHA Hospitality Insurance

Program (HIP) were not even

offered insurance. It is important

to note that these conditions were

experienced across the country and experienced both inside our program

as well as externally.

Faced with these market conditions, earlier this year, the BCHA, along

with our provincial partners in HIP, commissioned a third-party study into

our program and several months ago they provided their conclusions. The

overarching theme was that BCHA along with its business partners had

several good options to deliver better value within its insurance program.

Not surprisingly, the recommendation outlined that taking better control

over insurance matters and exploring self-directed models was the most

important step. While the independent study may have yielded predictable

results, it only scratched the surface on the work that was ahead of us.

The partner associations in BC, Alberta, Saskatchewan, Manitoba,

and Ontario decided on a five-step course of action in order to facilitate

real change. The first step was to truly understand the needs of the hotel

sector. We did this through a variety of surveys and in-person engagement

sessions. The second step was to inform and educate members on

the root causes of the issue, while outlining initial recommendations for

possible solutions; this was accomplished by delivering the findings of

the research project and gaining the support of plan members and

non-plan members.

The next step is to leverage the strength of hundreds of hotels across

Canada. We have engaged businesses of all types and requested

their policy information and support so that we can complete a robust

feasibility study. The final steps are putting forth the best solution for

our members—following the outcomes of our engagement process,

research, and conversations—to support accommodators as a trusted

advisor. After a decision on the best model to move forward with, we

will seek to ensure we move forward with the right level of investment

and map out a long-term strategy to provide a sustainable, predictable,

and affordable insurance program.

We are close to announcing

a final recommendation and

solution. Our members can be

assured that the attentiveness and

due diligence to this issue is in your

best interest and will be beneficial.

All members of the sector will

be eligible to participate in this

plan and may even seek to become business partners. Ultimately,

the reason for this work is in response to what we've heard from

members. We recognize the important role insurance plays for each

of you, how crucial it is to have certainty on insurance premiums, and

most importantly, to take back control in the currently unreasonable

insurance market.

Advertisers

BCHA

IBC

BC Hospitality Foundation 29

Coldstream

FRESCo Building Efficiency/

FortisBC

IFC

BC

RHB Enterprises 13

Samsung Electronics Canada 16,17

Telus

IBC

Tex-Pro Western Ltd 4

Western Financial 14

Group Insurance Solutions

World Web Technology 7

30 InnFocus
---
Keep guests connected,

from check-in to check-out.

Keep guests coming back with a strong,

reliable connection they can count on. Our

property-wide coverage and 24/7 bilingual

support give you even more confidence in

your level of hospitality. Find out what

Managed Wi-Fi can do for your business.

telus.com/Hospitality

Client TELUS

1 TELGH11665_Business_MultiSuite_InFocus_7x4.indd

Created 7-28-2022 6:08 PM

Account None

Creative Akshata

Producer Marietta Mac Artist Matt

Mech Bleed

4.8125" H x 7.75" W

Mech Trim

4.5625" H x 7.5" W

Mech Viewing 4.5625" H x 7.5" W Mech Safety

4.5625" H x 7.5" W

Final Bleed

4.8125" H x 7.75" W

Final Trim

4.5625" H x 7.5" W

Final Viewing 4.5625" H x 7.5" W Final Safety

4" H x 7" W

Colours Cyan, Magenta, Yellow, Black

Scale 1" = 1" Printed @ None

Info None

Built @ 100% Final Output @ 100%

All colours are printed as process match unless indicated otherwise. Please check before use. In spite of our careful checking, errors infrequently occur and we request that you check this proof for accuracy. The&Partnership's liability is limited to

replacing or correcting the disc from which this proof was generated. We cannot be responsible for your time, film, proofs, stock, or printing loss due to error.

APPROVAL

Creative Team