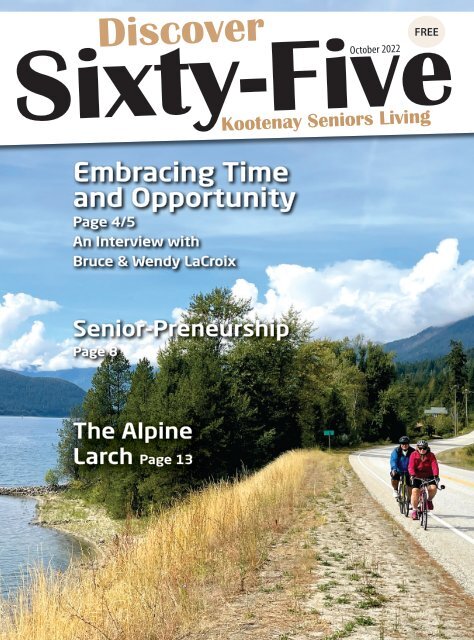 Discover Sixty-Five: October 2022
Kootenay Seniors Living - Seniors News, Articles, Discounts & Sales in the West Kootenay area.
Kootenay Seniors Living - Seniors News, Articles, Discounts & Sales in the West Kootenay area.
SHOW MORE
SHOW LESS
Create successful ePaper yourself
Turn your PDF publications into a flip-book with our unique Google optimized e-Paper software.
Discover

Sixty-Five

October 2022

FREE

Kootenay Seniors Living

Embracing Time

and Opportunity

Page 4/5

An Interview with

Bruce & Wendy LaCroix

Senior-Preneurship

Page 8

The Alpine

Larch Page 13
---
WK Senior Citizens Association Directory

Check with your branch or organization for local updates on programs.

Everyone welcome - the more members the better!

Balfour Branch 120

8435 Busk Rd, Balfour

email enquiries to:

bsca120@hotmail.com

Monday:

11am to 1pm Cribbage

Wednesday:

7pm to 9pm Carpet

bowling

Castlegar Branch 46

2101 6th Ave, Castlegar

President Dan Shields

danshields.ca@gmail.com

Monday:

9:30am Darts

1pm Whist

Tuesday:

9:30am Carpet Bowling

1pm Crafts

Wednesday:

9:30am Floor Curling

1pm Rummoli

Thursday: CLOSED

Friday:

9:30am Darts

1pm Crib

Kaslo Branch 81

304 4th St, Kaslo

email enquiries to:

lmdepape@gmail.com

1st Tuesday of the

month, lunch at 12noon,

meeting at 1pm

Every Friday meet &

greet drop-in coffee

9:30am – 11:30am

year round

Fruitvale Branch 44

1916 Main St, Fruitvale

Monday: 1pm Bingo

Wednesday: Beaver

Valley Senior

Ambassadors: includes

Welcome coffee party,

brain drain, chair exercises.

Lunch together (provided)

and more activities

in the afternoon.

Thursday: 1pm Cards

NOTE: Carpet Bowling

returning in the fall!

Brenda at 250-367-3839,

Kris at 250-367-9685.

Passmore

Branch 116

Passmore Hall

3656 Old Passmore Rd.

MONTHLY ACTIVITIES:

Alternating Fridays:

1pm Card games.

Whist and Cribbage

Wednesdays:

1pm Carpet Bowling

2nd Sundays:

12 noon monthly business

meetings followed

by a potluck and

Tiki card game

Special meetings on

issues of general interest

Nelson Branch 51

717 Vernon St, Nelson

email nelsonseniorscentre

@gmail.com

Monday: 1pm Bridge

Tuesday: 9am Tai Chi;

10:30am Chair Yoga;

1pm Duplicate Bridge

Wednesday: 1pm Crib;

1pm Snooker;

6:30pm Duplicate Bridge

3rd Wednesday:

10am Book Club

Thursday: 1pm Bridge

1st & 3rd Thursday:

1pm Hookers & Makers

Friday: 9am Tai Chi;

10:30am Chair Yoga;

6pm Novice Snooker

Saturdays:

9am Knitters

Sundays: 1pm Crib

https://nelsonseniors.ca/

services/other-resources/

Nakusp Branch 71

210 8th Avenue NW

Nakusp

Contact Doreen

250-265-4646

dordes@telus.net

Activities include

Bridge on Monday

afternoons. and drop

-in coffee 10 - 11am

Wednesday mornings

Procter-Harrop

Branch 118

7906 Woodside Rd,

Procter

email: Sharon

rsboldt@telus.net

WEEKLY ACTIVITIES:

Monday:

10am Carpet Bowling

all year

Monday:

10am Shuffle Board

winter

Wednesday:

1:30pm Cribbage

all year

If we missed your

association or would like

to update your events,

please call toll free

1-800-663-4619

Genelle Seniors

Genelle Community Hall,

1205 2nd Street, Genelle

Offers social and recreational

activities for the

seniors of Genelle.

Call for more info

Darlene

250-693-8865

MaryAnn

250-693-2228

Rossland Branch 45

1916 First Avenue

Les or Violet

Anderson

250-362-5532

Cell 250-231-4573

rosslandseniorssca@

gmail.com

Greater Trail Life Long Learners,

is working with Selkirk College to provide monthly learning presentations. The intention is to grow to provide

increased learning and social opportunities. https://selkirk.ca/ce/courses/greater-trail-life-long-learners

2

October 2022 Discover Sixty-Five email: seniors@pennywiseads.com
---
Brass Tacks

Health & Wellness:

Cannabis Corner................. 12

Music Therapy..................... 16

Detoxification for Fall........... 17

Education:

Senior-preneurship ............... 8

Investing Ups & Downs......... 9

Woodbury Fishing Derby....... 9

My Downsize Adventure...... 15

Ginkgo Biloba Club :)

Seniors' Associations............. 2

Classifieds/Personals............ 6

My Retirement Travels.......... 7

Care to Share ..................... 10

Langham Gallery/Theatre.....11

Fun Facts: The Alpine Larch. 13

Charles Baily Theatre.......... 13

Puzzle Solutions.................. 14

Halloween Joke .................. 14

Kitchen Kapers............... 18/19

Puzzles.................. .........20/21

October Horoscopes...... 22/23

Scratch the Surface

Interview

Bruce & Wendy Lacroix...... 4-5

On The Cover:

You have probably seen Bruce &

Wendy Lacroix biking between

Balfour, Kaslo and New Denver.

Please thank the advertisers in

these pages for supporting your

Discover Sixty-Five.❤

It would not happen

without them.

Come & Meet the

Publishers!

Would you like to see the faces behind

the Discover 65 magazine?

Let us know your feedback in person at

the Kootenay Seniors Fair hosted by

Nelson CARES Society and the Kootenay

Seniors!

Friday, October 28th in Nelson at the

Prestige Lakeside Resort, 10am to 3pm.

We are looking forward to meeting our

readers and discovering more of what

can make this publication the best that

it can be! This experience can be rewarding

for all. Please fill out a survey at our

table to enter to win a Zipline Adventure

for 2… or one of 2 sets of tickets for the

Ainsworth Hot Springs Pools!

See you at the fair!

~Tonya Lefebvre

Celebrating Autumn,

Thanksgiving & Halloween!

This month I am thankful for the fire as it

gets chilly, the friends and calm that remains

as the busy of summer ends, the

colours of the rainbow that appear on

the earth all around us for autumn and

everyone reading Discover 65!

October is time for everything to slow

down! The harvests are finishing up, the

days are getting noticeably shorter and

a mild chill is starting to emanate in the

air. Whether you took good care of your

garden through the hot,

ENTER

TO

WIN!

dry summer or not, it's time

for the plants to go dormant and get

ready for the coming blankets of snow!

If you haven't already thought ahead

its time to get firewood. The spirit of

Thanksgiving & Halloween is very strong

in our communities and we hope you

all enjoy celebrating the season with

friends and family. Happy Fall!

~Tonya Lefebvre

CONTACT US

Email: seniors@pennywiseads.com, Phone 250-353-2602 or 1-800-663-4619

Mail: Discover 65, Box 430, Kaslo, B.C. V0G 1M0, or drop submissions

at our office #209-312 Fourth St., Kaslo.

All content © Discover Sixty-Five 2022, a KS Perry Publications product.

Karma Larissa Tonya Julie Wilson Jeremy Gary Adam Zeb

Halleran Scott Lefebvre Care to Taylor Schnieder Prisciak Hansell

Publisher Sales Editor Share/Sales Designer Designer Sales Webmaster

Discover Sixty-Five - Want to distribute these magazines? Call 1-800-663-4619 September 2022 A

Call 1-800-663-4619 Discover Sixty-Five October 2022 3
---
Karma

Halleran

Publisher

Recently I had the

pleasure of meeting

Bruce and

Wendy Lacroix.

Bruce had just

emailed me with an

idea for a column in the Discover Sixty-Five.

It was an interesting idea that

I had not heard explored previously. I

thought you, our readers, would like it.

Bruce said he would drop by to discuss

his idea, and he also brought along his

partner. After a bit of chatter I learned

his wife's name is spelt Lacroix - and

the penny dropped. Wendy has been

submitting articles since February. She

writes about all the aspects of setting

"Your Retirement Path" from maintaining

a healthy relationship with your

partner - now that you have so much

time together - to how to downsize

your home as you prepare for a simpler

life. I enjoyed meeting them and

thought you would too.

D65: Wendy, are you a Kootenay Girl?

Wendy: No, I was born in Ottawa,

Ontario, the youngest daughter of

two daughters. I lived there until

I was 19. I then went to college in

North Bay, studying Environmental

Sciences and Lab Technology.

D65: Do you have children?

Embracing Time and Opportunity ~ Karma Halleran

Wendy: Yes we do, two girls – Melanie,

32, works for West Kootenay

Rural Teacher Education Program in

Nelson. She is also a certified Nutrition

and Fitness coach, and coaches

part time. Her husband is a teacher at

Mt. Sentinel. Our other daughter, Angela,

has her own business. She studied

the Digital Media course at Selkirk

College, and now works for Nelson

Becker on the ExpressNews, along

with other freelance design projects,

for the city and other businesses. She

loves working from home.

D65: You have been writing articles

for Discovery Sixty-Five for months

now, about being prepared for retirement.

Your business name is

'Your Retirement Path' and you raise

questions (and answer them) about

such things as Planning for retirement,

Living with someone 24/7 -

which may not have been the case

when you were both working, How

to meet other's expectations of your

retirement, and more. You often run

workshops to explore these questions

more deeply. Have you done

this work your whole life?

Wendy: No. I have had a number of

different careers; lab tech in the environment

field, ski instructor, daycare

owner, restaurant manager at Fairmont

Hot Springs, Bruce and I had a

training school in Nelson called Kootenay

Career Directions Inc., which

we ran for 5 years. The focus was to

help income assistance and EI candidates

acquire the skills necessary

to be successful in the workforce.

We mixed in a number of life skills as

well. I taught career and employment

skills, plus tourism courses, Bruce

focused on entrepreneurship, and

our partner Becky taught computer

skills. After the school closed down I

returned to school to get my TESOL,

to teach English, and

went to China for four

months to teach English

and customer service

skills. When I came back

from China in 2008, I was

then offered a position at

KCDS as an Employment

Counsellor. I worked

there as a job coach with

the Wage Subsidy Program

for 17 years. I went

back to school again (I

love learning) and trained as a counsellor.

When that course finished I

looked around Nelson and realized

there were already a large number

of traditional counsellors available,

so decided to specialize in preparing

for retirement. As much as I help

others, it has made me acknowledge

the coming challenges of retirement

as well. My workshops have an outline,

that is fluid, allowing movement

in the direction the class determines.

We become a group working together

to learn new skills and to prepare

ourselves for retirement. I receive as

much as I give to my attendees, for

which I am grateful.

D65: What have you discovered in

this process?:

Wendy: We enjoy life to the fullest.

We want to stay fit right into our senior

years. That is why we bike, swim,

ski, kayak and Bruce plays pickleball

as well. I cannot imagine coming to a

full stop, by choice.

Which leads us to the other half of

this team.

My office on the Beach in Cuba ~ Bruce

4

October 2022 Discover Sixty-Five email: seniors@pennywiseads.com
---
ack east?

D65: Bruce,

have you always

lived in

the Kootenays?

Bruce: No,

I was Halifax

born,

Montreal

and Ottawa

raised.

D65: Did you

meet Wendy

Bruce: Yes, at the Delta Inn of the

Provinces near Parliament Hill. I was

a Wine Stewart, she was serving - she

bounced into the room and I was

mesmerized. We have been a team

ever since.

D65: How did you come to live in

Nelson?

Bruce: We discovered the Kootenays

together. First East, then West.

In the late 80's after we left school

in Edmonton we spent some time

in Kimberley, I was the Tennis instructor

there. We then moved on to

Fairmont Hot Springs Resort where

I was the Recreation Director and

Wendy managed a restaurant. While

working there, we came to Nelson

to visit a friend overnight. We never

forgot the place. Young and yearning

for adventure, with not too many

responsibilities - childless at that

point, we sold everything and went

to Europe to ski. Unfortunately it was

a snowless season that year… and

we soon found ourselves living in a

beach house in Portugal. Poor us - no

snow :)

D65: Why did you ever leave?

Bruce: We decided that we were

ready for kids and while considering

where we would do that, Wendy

suggested Nelson, the beautiful

small city we remembered fondly.

D65: You have had a variety of professions,

when did writing take centre

stage?

Bruce: Actually writing has been a

small part of my life, but I have done

alot of it. I love it.

D65: What is your most memorable

writing project?

Bruce: In writing: While on a long

solo dive vacation in Cuba, I completed

the 300 page Business and

Entrepreneurship Skills Training

(BEST) Manual, since used by over

four thousand entrepreneurs, and

some colleges and universities

across Canada. Daily, it was rise, scuba,

breakfast, scuba, lunch, write, dinner,

mojitos at sunset, write, repeat!

With side trips to Havana by scooter.

That was a dream job.

D65: That sounds amazing! It seems

you have often been involved in

guiding people towards success as

entrepreneurs. Why does this subject

interest you so much?

Bruce: I was always a terrible employee

working for others. Fired from

most jobs, not due to lack of professionalism

or work ethic, just that I always

told employers that there was a

better way of doing things. So, best

to work for myself. I love teaching,

interacting with others, and helping

them realize that working for oneself

can be a reality.

D65: You are starting a column with

us this month about Senior Entrepreneurship,

being on the rise. It seems

to me that you follow each others

teachings.

Bruce: As a couple, we have never

lived to work. It took me a while

when I first met Wendy some 40

plus years ago to convince her that

life was not all about careers, work,

money, getting ahead, but enjoying

the moment and living well. We

were never flush with money (actually

down to 28 cents and stealing

firewood at one time), but there was

healthy food on the table and a roof

over our heads. We survived that period,

with humour and gratitude for

what we did have. Having experiences,

raising two healthy, well-adjusted

daughters and travelling extensively

with them was important to us. Now,

we bounce ideas off each other, plan

our next trip, and share our knowledge

with others.

D65: What are your favourite things

to do together?

Bruce: Well... we enjoy all the outdoor

experiences we are so blessed

to have right outside our door. We

entertain. I can cook and know my

wines. We have been known to share

our home-grown herb and dance in

our living room during the winter

together. Living the Hygge lifestyle,

embracing time and opportunity.

Discover Sixty-Five October 2022 5
---
News

CARD OF THANKS ST. JUDE NOVENA.

May the sacred heart of Jesus be adored,

glorified, loved and preserved, throughout

the world now and forever. Sacred Heart

of Jesus pray for us. St. Jude, help of the

Hopeless, pray for us. Say this prayer, nine

times a day for nine days, it has never been

known to fail. Publication must be promised.

Thank you St. Jude. Theresa W. Borm,

Nelson.

FREE SENIORS DROP-IN PROGRAM! Coffee

and light refreshments. Books, puzzles

and games. Guest speakers and presenters.

Every 2nd and 4th Tuesday, 11am-

1pm, Trail Legion Branch 11. All Seniors

welcome! Drop by for a game of cards or

a chat.

NORTH KOOTENAY LAKE COMMUNITY

SERVICES SOCIETY (NKLCSS), with the

support of the United Way and the Province

of BC, offers a FREE Calling Senior's Meal all Program

for Kaslo and area residents. Once

per week a meal will be delivered to the senior's

door by a NKLCSS staff person. If you

or someone you know is 55+ and would

benefit from this program or would like

6

Seniors' Discounts

ALL SENIORS RECEIVE 10% OFF supplement

purchases at Sunnyside Naturals everyday.

404 Front St, Kaslo. 250-353-9667.

CORNUCOPIA SENIORS DAY: 10% off your

purchase EVERY Friday, 9am-5:30pm. 422

Front St, Kaslo. 250-353-2594.

EVERY DAY IS SENIORS DAY at Nelson

Remedy's RX 737 Baker St. Mention you are

a Senior and receive 10% off your purchase.

Some exclusions apply. 250-352-0022.

EVERY FRIDAY IS SENIORS DAY at Salmo

Valley Pharmacy. Receive 10% off your purchase.

107 4th St, 250-357-9444.

EVERY THURSDAY SENIORS RECEIVE 20%

OFF regular priced items. Some exclusions

apply. Shoppers Drug Mart, 1965 Columbia

Ave, Castlegar. 250-365-5888.

FIRST TUESDAY OF EVERY MONTH Seniors

receive 10% off regular priced items

at Salmo Village Grocery, 303 Main St in Salmo.

250-357-2316. Some exclusions apply.

L'BEAR'S NATURAL FOODS in Trail offers

10% off all vitamins everyday for shoppers

th , 60+. 2022 1339 at Cedar the Slocan Ave, 250-368-831 Hall

Please join us Oct. 14

more information, please call Kathy @ 250

353-7691 ext. 204 or email kathyallaire@

SENIORS WHO SHOP PHARMASAVE,

nklcss.org 9:30 Coffee is on!

CASTLEGAR every Tuesday, receive 20% off

10:00 Elder Abuse & regular Ageism priced items. Some exclusions apply.

Run your Personal

Brief presentation & discussions

1128 3rd St, 250-365-7813.

Ad for free

SHOPPERS SIMPLY PHARMACY offers Seniors

20% regular priced items every Thurs-

October - December, 11:00 Coffee, 2022snacks, idea sharing

-interests and ideas day. for Some Seniors' exclusions gatherings apply. #117 1983 Columbia

Ave, Castlegar, 250-365-3400.

seniors@pennywiseads.com

-topics or presenter ideas

Calling all

Slocan Valley Seniors

Calling all

-what do we need to make this happen?

Slocan Slocan Valley Seniors

Registration required. Please call or email Bonny

250.359.6679, fritz03@hotmail.com.

Please join us Oct.14th, 2022 at the Slocan Park Community Hall

Please join us Oct. 14

9:30 Coffee is on!

th , 2022 at the Slocan Hall

10:00 Elder abuse 9:30 Presentation

& Coffee by Sandi

ageism

on! McCreight

Castlegar CRN IRIS Program.

(Brief presentation 10:00 Elder & discussions) Abuse & Ageism

Refreshments

11:00 Coffee, snacks,

Brief provided

idea

presentation by

sharing

& discussions

Castlegar IRIS Program.

• interests 11:00 & ideas Coffee, for seniors' snacks, gatherings idea sharing

• topics or presenter ideas

-interests and ideas for Seniors' gatherings

• what do we need to make this happen?

-topics or presenter ideas

Registration Required! Please call or email

-what do we need to make this happen?

Bonny 250.359.6679 fritz03@hotmail.com

Presentation by Sandi McCreight Castlegar CRN IRIS Program

Refreshments provided by Castlegar IRIS Program

Registration required. Please call or email Bonny

250.359.6679, fritz03@hotmail.com.

October 2022 Discover Sixty-Five email: seniors@pennywiseads.com

Personals

DO YOU BUILD SCALE MODELS of aircraft,

ships, armour, cars, etc and would be interested

in monthly meetings to display your

projects? Contact Wayne, 250-354-1586 or

email sumfun@telus.net

LOM (LITTLE OLD MAN) seeking LOL (Little

Old Lady) for LOL (Lots Of Laughs). Bill,

250-354-9080.

ORIGINAL KOOTENAY BOY LOOKING TO

rekindle my inner Koots, plant some roots

and explore to my hearts content. I'm 63yrs

old, fit, healthy, 6´ 1˝, n/s, n/d, easygoing,

adventurous but not extreme, seeking

female partner/companion for outdoor

activities in Kaslo and area. I enjoy hiking,

mountain biking, cross-country skiing,

snowshoeing, day trips and hot springs. In

Kaslo on weekends, w/intent to move there

full-time. I look forward to sharing good

times with a good friend on and off the

trail! Reply to: godobe29@gmail.com

SEEKING A COMPATIBLE LADY COMPAN-

ION: Tall, athletic, mid-sixties gentleman

seeks a unvaccinated, ns,/nd, late 50s to

mid-60s lady to enjoy life with. Please contact

Jim at misterref@outlook.com

SENIOR LADY LOOKING FOR MALE COM-

PANION: Likes to go out for coffee, rides in

the car and short walks. 250-231-9588.

SLENDER SEVENTY-FOUR YEARS YOUNG

GUY looking for a male playmate for an

occasional get together. Email me at bootsie@Kaslo.org

"YOUNG" SENIOR MAN LOOKING FOR

a woman interested in joining me for activities

such as walks, conversation, travel,

etc. Phone Cor at 250-304-1942.

What is a Vampire's

favourite fruit?

Answer: Neck-tarines!

Who won the skeleton

beauty contest?

Answer: No body
---
My Retirement Travels ~ Liz Ross

In this edition, I will write

about two of my favourite

places that I visited in

South America. In 2010, two

friends and I booked a Peregrine

trip to the Galapagos,

Equador and Machu Picchu,

Peru. We flew from Quito to

Baltra where we boarded a

yacht visiting Turtle Cove, a

nesting site for Pacific Green

Turtles. Next we sailed to the

red sand beaches of Rabida

Island where sea lions abound

and we had an opportunity

to snorkel, then to Santiago

Island, a breeding ground for

marine iguanas and fur seals.

We visited Bartolome Island

next which has a lunar-like

landscape with pahoehoe

lava and gigantic lava tubes,

evidence of it's volcanic past.

We ended our trip at the

Charles Darwin Research

Station on Santa Cruz Island

where endangered tortoises

from every Island are housed

until mature enough to be

reinserted in their island of

origin.

Next we flew to Lima Peru and

on to the ancient Inca capital

of Cusco travelling from

sea level up to 3350 metres.

We visited the Sacred Valley

located between the towns

of Pisac and Ollantaytambo

where we saw evidence

of the Inca's engineering

skills in the ruins of ancient

terraces, temples and fortresses.

Next we boarded a

train and then the bus up to

Machu Picchu, the Lost City

of the Incas. Built in 1450 and

deserted less than a century

later following the Spanish

invasion, it was only rediscovered

again in 1911.

The architecture of Machu

Picchu is extraordinary with

the earthquake resistant mortarfree

design and stones so

precisely cut that not even a

knife fits between them.

The experience of

being there, literally

"took my breath

away".

Red sand

beaches

of Rabida

Island...

~ Liz Ross

Sometimes I take a local paper or

magazine to share :)

Discover Sixty-Five October 2022

7
---
Senior-Preneurship ~ Bruce LaCroix

Bruce Lacroix is joining D65 as a regular columnist, sharing his ideas and experience surrounding

Senior-Preneurship. Bruce's writing history includes past regular columns for:

Sterling Press (Nelson Daily News, Cranbrook Townsman): Practicing Business,

Kootenay Weekly Express: Bruce On Business,

B.C. Home Business Report: Report From The Kootenays,

Kootenay Business Magazine and Articles in Globe and Mail, Vancouver Sun

We think you'll enjoy what he has to say.

Welcome to a regular feature on

Entrepreneurship for those past middle

age considering starting a small

business, or turning a hobby into a

money-maker. Over the past 30 years,

my companies (The Canadian Centre

for the Aboriginal Entrepreneurship,

Inc. and The Canadian Centre for

Ageless Entrepreneurship, Inc.) have

assisted about six thousand people

across Canada and the Caribbean

get started.

At 69 years old, I now relate best with

my age-peers. Using stories, quotes,

interviews and how-to hints and tips,

I would like to share with you the opportunities,

advantages (and disadvantages)

and steps of starting your

own senior-preneurship at this stage

of our lives.

According to Stats Canada: Average

HEALTHY life expectancy (mentally

and physically "able") is now into

the '80s. About 20 years of healthy

life after traditional "retirement". The

Sheridan Centre for Elder Research

found that the top three reasons entrepreneurs

started a business after

50 were:

Emily Tucker

RRC

Senior Financial Consultant

Office: 250-352-7777

Direct line: 250-551-7971

✔ Interest in continuing to use

their skills,

✔ Needing or wanting to generate

a new source of income, and

✔ Wanting greater ownership and

control of their lifestyle

Do you really want to spend those

extra 20 years in front of the TV, or

playing endless bridge or golf, squandering

years of experience?

No, I didn't think so.

So, join me each month as we explore

the exciting world of entrepreneurship

for the "ageless".

Feel free to contact me at blacroix@

shaw.ca for column ideas, positive or

negative feedback, or to share your

experiences.

Cheers!

emily.tucker@ig.ca

515 Vernon St. Nelson

8

October 2022

Discover Sixty-Five
---
Investing Ups & Downs

As fall and uncertainty of the weather

to come approaches so does the

continued feeling of uncertainty for

investors. Bouts of volatility in the

markets is unnerving, but normal in

long term investing.

They're not fun, but you can expect

to see market declines periodically

throughout your investing career.

Yet it's hard to sit still when the

market is sliding. You can't help but

think: "Shouldn't I be doing something?"

Every investor is different,

but here are a few steps that everyone

should consider.

During market volatility:

1. Resist the urge to sell based solely

on recent market movements. Selling

equities when markets drop can

make temporary losses permanent.

Staying the course, while difficult

emotionally, may be healthier for

your portfolio. This doesn't mean

you should hold on blindly, but

I suggest considering an investment's

future prospects and the

role it plays in your portfolio, rather

than being guided by noise and

fear.

2. Take the long view. Markets typically

go up and down, and you're

likely to experience several significant

declines during a long investing

career. But even bear markets—

that is, periods when the market

fell by more than 20%—historically

have been relatively short when

compared to bull markets. Because

timing the market's ups and downs

is nearly impossible, but all investors

would do well to ignore the noise

and stay focused on their plans.

Review your risk tolerance and

your risk capacity

Risk tolerance is your ability to emotionally

handle big price swings; risk

capacity is your financial ability to

take a loss. Market downturns can

be a wake-up call to reconsider your

risk tolerance, although we recommend

waiting until you're calm!

Risk capacity, however, can—and

should—be considered at any time.

Do you have enough cash to handle

near-term goals? Money that

you'll need soon or that you can't

afford to lose shouldn't be in the

stock market—it's best invested in

relatively stable assets, such as cash,

money market funds, GIC's or Treasury

bills. If you're retired, having

your next 12 months of living expenses

in a bank account or money

market fund—and a few more

years' worth in a conservative liquid

investment—can help you stay

calm when stock markets are not.

Make sure you have a diversified

portfolio

Volatile markets also can reveal that

portfolios their owner's thought

were appropriately diversified in

fact aren't. If you haven't looked

at your portfolio recently to make

sure you understand what each asset

class is doing and that the mix

matches your target asset allocation,

now is a good time to become

reacquainted with it. All firms have

an investor profile questionnaire

that can help you determine your

profile and match it to an appropriate

target asset allocation.

Emily Tucker, CFP, RRC

at IG Wealth

emily.tucker@ig.ca

Senior Financial Consultant

Office: 250-352-7777

Direct Line: 250-551-7971

515 Vernon St. Nelson

Woodbury Resort

& Marina,

Rainbow

Derby

Saturday, October 8 until NOON

Monday Oct 10

Luncheon 12:30, awards and

door prizes @ 1:15 @ Rec Hall

Tickets $50 per person

1st Prize $2500.00

2nd Prize $1500.00

3rd Prize $1000.00

Plus 4 hidden weight prize

draws of $100 Sat & Sun

~~ BONUS DRAW ~~

$500 for largest BULL trout

SUPPORT KOOTENAY LAKE ANGLER

INCENTIVE PROGRAM

and you could win:

• Monthly Draw for a $1000

Local Gift Certificate

• November 1 draw for a 2022 Polaris Ranger

SP570 side-by-side

• June 1st draw 2022 Ford F150

4x4 Tremor Edition Pickup

TICKETS AVAILABLE AT: Woodbury Resort,

Jones Boys Boats, Wynndel Foods/

Wynndel, Gill and Gift/Balfour

Pre purchase tickets by calling

250-353-7717 or toll free 877-353-7717

Email: woodburyresort@netidea.com

Visa/ MC /Amex accepted

4 kms north of Ainsworth Hot Springs

250-353-7717

Toll Free 1-877-353-7717

email: woodburyresort@netidea.com

www.woodburyresort.com

Restaurant & Pub

Thurs - Sun

3pm to closing • 250-353-7716

Call Kaslo,1-800-663-4619 Discover Sixty-Five October 2022

9
---
Lovely fall drive on Hwy 31A

Photo taken by Karma Halleran

Care to

Share...

Spinning and spinning and spinning

70 years on Mother Earth, a pittance of

time to her

70 years, spinning and spinning and

spinning.

70 years from birth in Brooklyn

to school in Flushing,

to high school in Miami,

to college in Cortland,

to graduate school and a broken heart

in Champagne- Urbana,

to couch sitting in Oakland,

to living in San Francisco.

From the USA to Canada

to beautiful downtown Dorval

to commune-living in Montreal

to more school in Vancouver

to love in Slocan Park

to land-owners in Winlaw

to death that brings me

to this place in Nelson.

And when I'm gone and buried in the earth

Mother Earth will keep spinning, and

spinning, and spinning

For all that she's worth.

by Bonnie Baker

Naanai Rita and River go for a stroll!

Submitted by Rita Rasmussen

Send us your photos, short stories (100-200 words), poems, best jokes, etc., for Care to Share

by email: seniors@pennywiseads.com, or by snail-mail: Care to Share, Box 430 Kaslo BC V0G 1M0,

or drop off at Pennywise, #209-312 Fourth Street Kaslo. Phone 250-353-2602, 1-800-663-4619

10

October 2022 Discover Sixty-Five email: seniors@pennywiseads.com
---
What disappears as soon as

you say its name?

Answer: Silence

Q: When do you go at red

and stop at green?

Answer: When you're eating a

watermelon

Seniors Wellness Expo & Flu Clinic

Castlegar, October 20 th 10am -2pm

• Info tables hosted by organizations serving seniors

• Kevin from Pharmasave providing flu shots (high dose for 65+)

• Selkirk Nursing Students onsite with a variety of info, wellness checks and screenings

• Cafe open for coffee & snacks • Door prizes

Hosted by Kootenay IRIS

1250 26th St.

Kinniard Park Community Church building

Gallery Hours

Thursday – Sunday

1 – 4pm

447 A Avenue Kaslo

250-353-2661

Gallery Showing from July 22 to October 16

https://thelangham.ca

Gallery Showing from September 16 to December 11

'Of Light Itself ' - A RetroPerspective

Studio 26 Gallery, 2nd floor -

Brought to you by IRIS & PHARMASAVE

by Tsuneko Kokubo

Broken

✓ Info tables hosted by organizations serving seniors

Promises

Brought ✓ Kevin to from you Pharmasave by IRIS providing & PHARMASAVE

Flu Shots (high dose for 65+)

- Grounded

Selkirk Nursing in Students research will be onsite offering a variety of information,

✓ Info tables hosted from by UVIC's organizations serving seniors

wellness checks screenings.

✓ Kevin from Pharmasave Landscapes providing Flu Shots (high dose for 65+)

✓ Cafe open for coffee Injustice & snacks.

✓ Selkirk Nursing project, Students will be onsite offering a variety of information,

Door prizes.

this exhibit

Other wellness info: checks and screenings.

explores the

‣ Vaccine

dispossession

passports required.

✓ Cafe open for coffee & snacks.

‣ Flu shot by booking a time

(250.608.0706) of Japanese or by drop in.

✓ Door ‣ prizes.

Venue: Canadians 1250 26 th St. in (old middle school)

Kinnaird Park Community Church building.

Other info: the 1940s.

The Langham is honoured to present Of Light Itself

‣ Vaccine The passports story required. Canada before WWII, the

showcasing the life and work of the eclectic Kootenay-based

To book a table or donate a door follows prize, seven please connect. narrators, administration of their

IRIS: Increasing

‣

Recreation

Flu shot

Involving

by booking

Seniors Facebook:

a time

Kootenay IRIS

Japanese Canadian artist Tsuneko Kokubo. The exhibition

Contact: Sandi McCreight (250.608.0706) Email: illuminating castlegarcrn@hotmail.com or by the drop loss in. of Phone: 250.608.0706 lives during and after the

is a 66-year survey of Koko's creative life, including her ‣ Venue: home 1250 and 26 th the St. struggle (old middle for school) war, and how legacies of

earlier art school days to her current works in oils and Kinnaird justice. Park Learn Community about Church life building.

dispossession continue

acrylics. The exhibit also includes sample video clips of past for Japanese Canadians in to this day.

choreographed performances and interviews.

Curated by Maggie Tchir.

Saturday , October 1st, 7pm

An evening of Japanese

Canadian Theatre

Performance

Join us for an ensemble of

contemporary Japanese Canadian live

theatre to mark the 80th anniversary

of WWII Japanese Canadian

Internment and celebrate the

enduring spirit of Japanse Canadian

art. Three short dramatic pieces explore modern cultural and

historical themes & concepts through storytelling, movement,

poetry & multi-media performance. Featuring Snake in the

Grass Moving Theatre, Tasai Collective and Carolyn Nakagawa &

Laura Fukumoto.

Admission by donation - $10 suggested. Open at 6:30pm

Seniors Wellness Clip & Save Expo October Schedule

Seniors Wellness Expo

& Flu Clinic, Castlegar

www.thelangham.ca

& Oct. Flu 20Clinic, th 10:00–2:00. Castlegar langham@netidea.com

Oct. 20 th 10:00–2:00.

To book a table or donate a door prize, please connect.

IRIS: Increasing Recreation Involving Seniors Facebook: Kootenay IRIS

Contact: Sandi McCreight Email: castlegarcrn@hotmail.com Phone: 250.608.0706

Saturday, October 22, 7pm

Guest Artist Ian Foster live

in concert - Ian Foster, native of

Newfoundland, is a storyteller.

That music and film are the ways

he tells those stories only makes

the telling richer still. CBC's

Bob Mersereau said Ian is "a fine

example of what a 21st century

folk performer should be." Ian has

toured Canada, the US, Germany,

Netherlands, Austria, and Italy,

and his music has played on radio

internationally. He is a MusicNL and East Coast Music Award

winner. .

Tickets $15 Sunnyside or Willow, $20 @ door 6:30pm

Call Kaslo,1-800-663-4619 Discover Sixty-Five October 2022

11
---
Cannabis Corner

Terese Bowors

Can you relate?

"Lying awake

trying not to

overthink that

I'm lying awake

and not asleep."

Sleep is so paramount to our

health. Imbalanced sleep is often

the very first symptom we work

on when restoring health and

wellness. Did you know that we

do much of our healing at night,

while we are supposed to be

asleep? Each sleep stage plays an

essential role in maintaining mental

and physical health.

But what if you are not actually

sleeping, your sleep is interrupted,

you experience insomnia or you're

kept awake by pain? Healthy sleep

habits are great tools to get closer to

a good night's sleep, here's a few:

• dim the lights in the evening

• keep the bedroom cool

• turn off the news

• limit blue light

Cannabis for Sleep

• put worry and problem solving on

hold until the morning

What about adding cannabis to your

healthy sleep habits? There are a

growing number of studies showing

that integrating THC and/or CBD into

a sleep routine helps people get a

good night's sleep.

While THC promotes sleep and reduces

the time it takes to fall asleep, it can

also cause morning drowsiness, and

at higher doses, especially for vulnerable

patients, it can cause panic and

anxiety, making insomnia worse. It's

important to start with small doses

(1-2.5 mg THC). Similarly, CBD at higher

doses promotes deep sleep, while

CBD at lower doses promotes wakefulness

and therefore compensates

for THC's sedating effects. Also start

with small doses (2-5mg CBD) and

slowly increase.

As everyone is different in their response

to cannabis, you may need to

experiment with THC and CBD to find

the correct ratio for you. Your method

of intake is personalized to you as

well. Inhaling will activate quickly and

also taper off within a couple hours.

A sublingual oil activates within 15-

40 min and lasts 2-4 hrs. Edibles activate

within 1-3 hrs and last 6-8 hrs.

In order to fall asleep soundly and

sleep through the night, fat-based infusions

taken 1 hour before bed, may

be your best bet. Slowly increase your

dose till you reach your desired results

without unpleasant side effects.

Consistency is important to start to

see improvements.

Getting a good night's sleep was the

first reason I reached for cannabis

about 12 years ago. I was diagnosed

with Chronic Fatigue Syndrome and

was not getting restful sleep at night.

I was fatigued and exhausted all day

and then insomnia would hit at night.

My body was all out of sorts! I couldn't

get restful and rejuvenating sleep

and started napping 2-3 hrs a day -

with four kids running around the

house. I had to find a better solution!

That's when cannabis came to help. I

started with inhaling a gentle indica

strain with terpenes high in myrcene

and about 17-20% THC. A

few puffs before bedtime

brought a calm, relaxation

to my body and mind and

gave my body permission

to relax, rest and fall asleep.

References:

Since then, my body has

changed, my aches and

pains have changed, my

stress has changed and my

cannabis routine needs to

change too. I now work

with different methods of

intake including oils and

edibles. I also work with

different ratios of THC to

CBD.

https://app.imdhealth.com/top-

ic/d3da170d-d150-4c91-b527-

5bd60222e272/61222636-a50f-436aaafd-db992d8ffc50

https://dailycbd.com/en/cbd-dosage/

https://pubmed.ncbi.nlm.nih.

gov/34115851/

https://pubmed.ncbi.nlm.nih.

gov/34704957/

Terese Bowors, Certified

Cannabis Wellness Coach

www.terese.ca info@terese.ca

The information shared is for educational

purposes and should not be

seen as medical, nursing, nutrition or

legal advice and is in no way meant

to take the place of your health professionals.

12

October 2022 Discover Sixty-Five email: seniors@pennywiseads.com
---
Fun Facts

The Alpine Larch

The Alpine Larch lives at high elevations

in the Rocky Mountains of Idaho,

Montana, British Columbia, and

Alberta. The Alpine Larch is a hardy

tree, often found in the most inhospitable,

rocky spots in north-facing

basins buried by snow much of

the year. It is also the smallest type

of larch, growing from 30-70 ft tall,

and shorter at higher elevations.

The branches of the Alpine Larch

are horizontal to the trunk, irregularly spaced and twisted

by the snow, ice, and winds of its extreme habitats.

(The Western Larch, by contrast, grows straight and tall,

sometimes reaching 200 ft.) The needles of the Alpine

Larch are about 1 inch long and crowded in groups of

30-40.

Larch is one of only two deciduous conifers in North

America. It has needles on what look like typical evergreen

trunks and branches, but like a leafy tree, it drops

its needles in the fall. The needles of the Alpine Larch are

pale blue-green in the summer, but turn a spectacular

golden yellow in the autumn before they fall off for the

winter. Usually, the trees begin turning golden in late

September, reach their peak brightness in mid-October,

and fall off by the winds and storms of November.

The alpine spectacle that larches create in October is so

compelling that many hikers plan annual trips to trails

known for the trees. The larch is a fire-resistant species

that could play an important role as national forest managers

attempt to restore the health of forests across the

West. Amazingly, these trees may live in excess of 1000

years. Larch is reminding us to rest and recover. Its appearance

indicates a time of connection and rejuvenation

by seeing with our heart.

Call Kaslo,1-800-663-4619 Discover Sixty-Five October 2022 13
---
I

I

I

The Halloween Costume...

A bald man with a wooden

leg gets invited to a Halloween

Party. He doesn't know

what costume to wear to

hide his head and his leg,

So he writes to a costume

company to explain his

problem.

A few days later he received

a parcel with the following

note:

Dear Sir,

Please find enclosed a pirate's

outfit. The spotted

handkerchief will cover your

bald head and, with your

wooden leg, you will be just

right as a pirate.

Very truly yours,

Acme Costume Co.

The man thinks this is

terrible because they have

emphasized his wooden

leg and so he writes a letter

of complaint.

A week goes by and he receives

another parcel and a

note, which says:

Orchestral Derangement by Barbara Olson

© ClassiCanadian Crosswords

DON'T PEEK!

W

13

A

12

L

11

E

10

S

9

A

8

C

7

6

D

5

A

4

L

3

B

2

O

1

E A S O N 15 O N E L I R A

S

14

A D T H E 17 W R O N G K E Y

H

16

L A S S O F 19 E N O 20

S

C

18

23 24 D

25 E D O F F

H E R 22 S O U N

C

21

A U

29

A M T

28

E D I

27

E F T

H

26

Orchestral

Derangement

Puzzles on

pages 20/21

Dear Sir,

Please find enclosed a monk's

costume. The long robe will

cover your wooden leg and,

with your bald head, you

should really look the part.

Very truly yours,

Acme Costume Co.

Now the man is really upset

since they have gone from

emphasizing his wooden

leg to emphasizing his bald

head, so again he writes the

Company another nasty letter

of complaint.

The next day he gets a small

parcel and a note, which

reads:

Dear Sir,

We have TRIED our very BEST

Please find enclosed a bottle

of molasses and a bag of

crushed nuts. Pour the molasses

over your bald head, pat

on crushed nuts, stick your

Wooden Leg up your rear end

and go as a caramel apple.

Very truly yours,

Acme Costume Co.

U 32 S N U B 33

S

31

S U Z

30

37

H E B E A T

T

36

35

O S T

L

34

H R E E 39 D O O 40 41

U T

T

38

S H

O N 46 D

47 48

B S I

45

O

44

B

43

A

42

51 A R 52 A L E X

I S 50 S E D A B

M

49

G H A 54 S W A 55 B B E D

A

53

A D 57 E

58 A

59 H I G H P I T C 60

H

M

56

W A R D E D 62 M O R T A R

A

61

A T S E Y E 64 S E D E R S

C

63

Word Scramble

Joint

14

October 2022 Discover Sixty-Five email: seniors@pennywiseads.com
---
My Downsize Adventure ~ Wendy LaCroix

Recently my husband and I downsized

from our 4 bedroom, 3 storey

home in Nelson to a small 3 bedroom

modular home into a 55+ community

close to Balfour. Little did we know at

the time, just how much work was involved

in this. We had 32 years full of

memories, old books, furniture, dishes,

furniture, ski equipment, a mink

stole, and two wedding dresses.

There are so many chapters to this

adventure, including the pros and

cons of getting your house ready to

sell, and the choices between; selling

your house, renting it, renting for the

long term, and buying a condo. The

part that consumed me the most was

the purging of my possessions.

My house was filled with things including

several book shelves of books,

and they had to be sorted into keep

or donate. Then my closet had to be

sorted out into piles: keep, recycle

and garbage. The next was the basement

where I kept a variety of boxes

of photos, resaleable items for the local

garage sale, and items to give to

my family. I quickly realized that selling

them on

Facebook was

not an easy

task, especially

beds, older

style furniture

and assorted

dishes. Local

charities such

as your local

churches will

take a huge

variety of

items, if they

are having a

garage sale.

Used clothing

and bookstores will take a number of

items, but you need to call first to see

if they are taking donations. I ended

up giving a number of furniture items

to my two kids, and some of my items

unfortunately ended up in the recycle

and garbage bins.

If you are looking to declutter, or

downsize in the next couple of years,

start now to organize your items and

where they will go. Next issue will

cover tips on how to declutter and

organize your possessions.

Wendy Lacroix

Registered Retirement Coach

at Your Retirement Path

250-505-7704

https://yourretirementpath.ca

Call Kaslo,1-800-663-4619 Discover Sixty-Five October 2022 15
---
Health & Wellness

Music Therapy is the clinical & evidence-based use

of music interventions to accomplish individualized

goals within a therapeutic relationship by a credentialed

professional who has completed an approved

music therapy program. Music therapy interventions

can address a variety of healthcare & educational goals:

• Promote Wellness

• Manage Stress

• Alleviate Pain

• Express Feelings

• Enhance Memory

• Improve Communication

• Promote Physical Rehabilitation and more

Check out www.musictherapy.ca for more information

about The Canadian Association of Music Therapists.

Kaslo

COMMUNITY

FITNESS

Co-op

Adult/Regular • $70 month

Contract Plans & 25-50% Discounts for

Youth, Seniors & Emergency Responders

OPEN 24 HOURS

kaslofitnesscoop@gmail.com

It has the power to make us smile,

and bring us to all

types of tears.

It can carry us back in time,

and inspire us to

dance in the

moment,

For all our happiest days,

there is music.

The best part of a concert is being surrounded by people that

feel the same way about the band on stage as you do. You can

turn in any direction and talk to a complete stranger and be

their best friend five minutes later. We all know those lyrics,

we all paid to see them, we all bought their CDs, their shirts,

their merch, everything. We all love that feeling that spreads

all over you when that band we all love plays the songs that

saved us when we were down. That is the best feeling! What

concerts did you see in the past? And which ones do we

look forward to seeing next?

51 Years in Business

16

October 2022 Discover Sixty-Five email: seniors@pennywiseads.com
---
Detoxification for Fall

Autumn season is upon us as the

body naturally undergoes detoxification.

The liver is the main organ

of detoxification in the body and

has three phases of detoxification. A

healthy gut microbiome, meaning

healthy bacteria throughout your

digestive tract is imperative to liver

health and proper detoxification.

This must always be considered first

and foremost before any detoxification:

probiotics can be one of the

most important pillars of detoxification.

Alongside this, bitter foods,

dark green vegetables, enough fiber

(20g/day!), berries, lots of water with

fresh lemon, bone broths alongside

enough magnesium, B-vitamins and

some milk thistle seeds are other

important components to making

sure the liver is properly functioning.

Sulphur is the additional key component

in the detoxification process

and can be found in garlic, cruciferous

vegetables (broccoli, kale, cabbage)

and the sulphur hot springs!

Fermented foods such as sauerkraut,

kombucha or kimchi are required to

support a healthy bacterial flora.

The next important aspect of the

Autumn season, especially for the

elderly, is the importance of supplementing

with vitamin D. Vitamin D

acts as a hormone in the body - not

just a vitamin - and it is required for

many aspects

of health: most

notably the health of the immune

system, the bones, and mental sphere

- helping to prevent seasonal affective

disorder. A reminder that Vitamin

D is a fat-soluble vitamin meaning

you can take too

much and it can

become toxic to

the body so it's

recommended

to stay at recommended

levels of

vitamin D intake

which is best

measured via

measurements

of your blood

levels of vitamin

D.

Visits to support

proper detoxification,

Vitamin

D levels or any

other health

concern can be

booked online

at www.drashleyromanchuk.

com or send me

an email: info@

drashleyromanchuk.com

Please note:

None of this

Health & Wellness

is medical advice. Please book an

appointment if you have medical

concerns or require support in your

health.

Dr Ashley Romanchuk, ND

info@drashleyromanchuk.com

www.drashleyromanchuk.com

NATUROPATHIC MEDICINE

Dr. Ashley Romanchuk, ND

Virtual clinic providing primary care

naturopathic medicine throughout British

Columbia is welcoming new patients.

Please visit website for more info & to book initial visit

www.drashleyromanchuk.com

We

too

404 Front St, Kaslo • 250-353-9667

Call Kaslo,1-800-663-4619 Discover Sixty-Five October 2022

17
---
KITCHEN

KAPERS #10

by Annette

Gallatin

CHEESEBURGER PIE

Preheat the oven to 400º Fahrenheit. Spray a 9" round deep dish pie plate

(or cake pan) with cooking spray.

1 1/2 pounds lean ground beef

1/2 cup chopped white onion

1 teaspoon minced garlic

1/2 teaspoon salt

1/4 teaspoon pepper

1 cup shredded cheddar cheese

1/2 cup biscuit mix

1 cup milk

3 large eggs

Some savoury pies for

Thanksgiving!

Using a skillet over medium heat, brown the ground beef and the onions

together until the beef is no longer pink and the onions are translucent.

Drain off any fat.

Add in the minced garlic, salt and pepper. Mix well.

Spread the beef mixture in the bottom of the prepared pie plate. Sprinkle

the shredded cheese over the top.

In a small bowl, whisk together the biscuit mix, milk and eggs.

Pour evenly over the beef and cheese.

Bake for 30 minutes or until the middle of the pie is set and the top is

golden brown. A knife inserted in the center should come out clean.

Serve immediately.

EASY ITALIAN CHICKEN PIE

1/3 cup grated Parmesan cheese

1 1/2 cups cut-up cooked chicken

1 1/4 cups shredded mozzarella cheese

(5 ounces)

1/2 teaspoon dried oregano leaves

1/2 teaspoon dried basil leaves

1/2 teaspoon garlic powder

1 can (6 ounces) tomato paste

½ cup biscuit mix

1 cup milk

1/4 teaspoon pepper

2 eggs

Heat oven to 400°F. Grease 9-inch pie

plate.

Sprinkle Parmesan cheese in pie plate.

Mix chicken, 1/2 cup of the mozzarella

cheese, the oregano, basil, garlic powder

and tomato paste; spoon over Parmesan

cheese. Stir Bisquick mix, milk, pepper

and eggs until blended. Pour over chicken

mixture. Bake 35 minutes. Sprinkle

with remaining mozzarella cheese. Bake

5 to 8 minutes or longer or until knife inserted

in center comes out clean. Cool 5

minutes.

EASY TACO PIE

1pound lean ground beef

1medium onion, chopped (1/2 cup)

1package (1 ounce) taco seasoning

mix

1cup milk

2eggs

1/2cup biscuit mix

3/4cup shredded Monterey Jack or

Cheddar cheese (3 ounces)

salsa (any variety, store bought or

homemade)

Sour cream, if desired

Heat oven to 400°F. Grease 9-inch pie

plate. Cook ground beef and onion in 10-

inch skillet over medium heat, stirring occasionally,

until beef is brown; drain. Stir in

dry seasoning mix. Spoon into pie plate.

Stir milk, eggs and biscuit mix until blended.

Pour on top of meat layer in pie plate.

Bake about 25 minutes or until knife inserted

in center comes out clean. Sprinkle

with cheese. Top it like a taco! Pile slices of

this zesty pie high with shredded lettuce,

chopped tomatoes, diced avocado, sliced

green onions and sour cream.

18 October 2022 Discover Sixty-Five email: seniors@pennywiseads.com
---
EASY MINI CHICKEN POT PIES

Chicken Mixture

1tablespoon vegetable oil

1lb boneless skinless chicken breasts,

cut into bite-size pieces

1medium onion, chopped (1/2 cup)

1/2cup chicken broth

1cup frozen peas and carrots

1/2teaspoon salt

1/4teaspoon pepper

1/4teaspoon ground thyme

1cup shredded Cheddar cheese (4

oz)

Baking Mixture

½ cup milk

2 eggs

½ cup biscuit mix

Heat oven to 375°F. Spray 12 regular-size

muffin cups with cooking

spray.

In 10-inch nonstick skillet, heat

oil over medium-high heat. Cook

chicken in oil 5 to 7 minutes, stirring

occasionally, until chicken is no

longer pink in center. Add onion and

chicken broth; heat to simmering.

Add frozen vegetables and seasonings.

Heat until hot, stirring occasionally

until almost all liquid is absorbed.

Cool 5 minutes; stir in cheese.

In medium bowl, stir baking mixture

ingredients with whisk or fork until

blended. Spoon 1 scant tablespoon

baking mixture into each muffin

cup. Top with about 1/4 cup chicken

mixture. Spoon 1 tablespoon baking

mixture onto chicken mixture in each

muffin cup.

Bake 25 to 30 minutes or until

toothpick inserted in center comes

out clean. Cool 5 minutes. With thin

knife, loosen sides of pies from pan;

remove from pan and place top sides

up on cooling rack. Cool 10 minutes

longer, and serve.

EASY CHICKEN & BROCCOLI PIE

1package (10 ounces) frozen

chopped broccoli, thawed and

drained

1 ½ cups shredded Cheddar cheese

(12 ounces)

1cup cut-up cooked chicken

½ large onion, chopped (1 cup)

1 cup biscuit mix

1cups milk

1/2teaspoon salt

1/4teaspoon pepper

2 eggs

Heat oven to 400°. Grease bottom

and sides of rectangular baking

dish, 13x9x2 inches, with shortening.

Sprinkle broccoli, 1 3/4 cups of

the cheese, the chicken and onion

in baking dish.

Stir remaining ingredients until

blended. Pour over chicken mixture.

Bake uncovered 40 to 45 minutes or

until knife inserted in center comes

out clean. Sprinkle with remaining 1

cup cheese. Bake 1 to 2 minutes or

until cheese is melted. Let stand 5

minutes before cutting.

A fresh-air space for seniors

Creston adds an outdoor venue

Where could seniors

continue to safely get

together? This question

was on the mind of staff

and volunteers of a

seniors' program in

Creston—and a new pavilion was the result.

As seen in

Our Trust

MAGAZINE

Coming to your

mailbox in

September!

Located on the grounds of the Creston and District Community

Complex, the pavilion was built with support from the Trust,

which helps organizations meet their communities' needs.

each other and take pleasure in life.

"What we needed was an outdoor meeting space, giving us

options no matter what the COVID restrictions might be," says

Justine Keirn, Executive Director, Valley Community Services

Society. The society's Therapeutic Activation Program for Seniors

program provides seniors with opportunities to come together,

participate in community activities, connect, support each other

and take pleasure in life.

Discover Sixty-Five October 2022 19
---
hestral Derangement

by Barbara Olson

© ClassiCanadian Crosswords

1 2 3 4 5 6 7 8 9 10 11 12 13

s

onsense refrain in a Beatles

14 15

ong

16 17

egal ruling based on prior

Orchestral

ecisions

18 19 20

Derangement

dd a little spice

ACROSS

21 22 23 24 25

00 centesimos, pre-euro

1 Nonsense refrain in a Beatles

he ill-equipped locksmith in

26 27 28 29

song

he orchestra ...

7 Legal ruling based on prior 30 31 32 33

ords before decisions a grad year

34 35 36 37

on of Seth, 14 Add in Genesis a little spice

The Goddess 15 100 of centesimos, Pop" pre-euro

he irate 16 complainer The ill-equipped in the locksmith

38 39 40 41

in the orchestra ...

42 43 44 45 46 47 48

rchestra .......

18 Words before a grad year

layboy boss Hugh, for short

49 50 51 52

19 Son of Seth, in Genesis

anson or 21 Dekker "The Goddess of Pop"

53 54 55

elen Reddy's 22 The "___ irate Woman" complainer in the

reek letter orchestra symbolizing .......

56 57 58 59 60

orque 26 Playboy boss Hugh, for short

61 62

rooper producer 27 Danson or Dekker

28 Helen Reddy's "___ Woman"

63 64

udely rebuffs

29 Greek letter symbolizing

he fired street cop in the

torque

DOWN

33 ___ Paulo, Brazil

rchestra 30 ....... Trooper producer

1 ___Kosh B'gosh (clothing brand) 35 Crushed underfoot, with "on"

Quarter 32 after" Rudely clock rebuffs number

5 Dumb 2 quotes Sand castle from sites Homer? 40 Pre-owned 36 "... ___ big Pinto, fat hen" say (counting

eceitfully 34 deprive The fired (of) street cop in the

6 Existing, 3 Soup in Latin scoop serving 41 Follow-up rhyme) to pls.

__ system orchestra (blood ....... typing

7 Touristy

4 "___

isle

Is

off

Born"

Greece 42 "I ___

37 Place

Rock"

to

(Paul

go in Paris?

Simon song)

ethod) 38 "Quarter after" clock number 5 Dumb quotes from Homer? 40 Pre-owned Pinto, say

39 Deceitfully deprive (of) 8 "It's ___-win situation"

43 Quarter Pounder's heftier

harged atom

6 Existing, in Latin

41 Follow-up to pls.

42 ___ system (blood typing 9 Red Chamber 7 Touristy worker: isle off Greece Abbr. cousin

42 "I ___ Rock" (Paul Simon song)

peaker vol. units

method)

10 '50s film 8 "It's star ___-win Tainasituation"

44 Ontario 43 Quarter G.M. Pounder's factory city, heftier till

ncertain 45 ending Charged atom 11 Gave a 9 Red Facebook Chamber thumbs-up worker: Abbr. 2019 cousin

he reluctant 46 Speaker nondrinker vol. units in

12 Retort 10 to '50s "Am film so!" star Taina 46 "Hi 44 and Ontario Lois" G.M. canine factory city, till

he orchestra 48 Uncertain ..... ending

13 "The ___

11 Gave

Pilgrim"

a Facebook

(classic

thumbs-up47 Noted 2019 lullaby composer

ate "Jeopardy!" 49 The reluctant host Trebek nondrinker in 12 Retort to "Am so!"

46 "Hi and Lois" canine

the orchestra .....

prayer manual)

50 Peace Nobelist Anwar

ig Turk

13 "The ___ Pilgrim" (classic

47 Noted lullaby composer

52 Late "Jeopardy!" host Trebek 17 Golfer's iron alternative 51 Overturned record, maybe

opped, as the deck

prayer manual)

50 Peace Nobelist Anwar

53 Big Turk

20 Van. sch. 17 Golfer's named iron for alternative an 52 "I'm

51

Like

Overturned

___" (Nelly

record,

Furtado

maybe

he softball

54 Mopped,

lobber in

as

the

the deck explorer 20 Van. sch. named for an explorer hit) 52 "I'm Like ___" (Nelly Furtado

rchestra 56 ..... The softball lobber in the21 Ho ___ 21 Minh Ho ___ City Minh City 55 Letters hit) on a men's lodge

iven a Juno orchestra Oscar .....

23 "Quarter 23 "Quarter to" clock to" number clock number 57 Ambulance 55 Letters destinations, a men's lodge for

asonry 61 goo Given a Juno or Oscar

24 Smear

24

with

Smear

plaster

with plaster

or mud

or mud short 57 Ambulance destinations, for

twood title 62 Masonry with a feline goo

25 Sets firmly, as in concrete short

eference

63 Atwood title with a feline25 Sets firmly, as in concrete 58 Ending with Gator or hater

27 Twerked body part, casually 58 Ending with Gator or hater

reference

27 Twerked

pringtime meals with matzoh

31 Lightning

body part,

zap,

casually 59 Attention-seeker's word?

in "B.C." comics 59 Attention-seeker's word?

64 Springtime meals with matzoh 31 Lightning 32 Female zap, in subject, "B.C." at comics times

60 Time

60 Time

sheet

sheet

figs.

figs

32 Female subject, at times

20 October 2022 Discover Sixty-Five email: seniors@pennywiseads.com

__Kosh B'gosh (clothing

rand)

33 ___ Paulo, Brazil

35 Crushed underfoot, with "on"
---
Sudoku

Sudoku puzzles are formatted as a 9x9 grid,

broken down into nine 3x3 boxes. To solve

a sudoku, the numbers 1 through 9 must fill

each row, column and box. Each number

can appear only once in each row, column

and box. You can figure out the order in

which the numbers will appear by using the

numeric clues already provided in the boxes.

The more numbers you name, the easier it

gets to solve!

Puzzle solutions pg 19

AUTUMN

BUSHEL

COMMODITY

CORN

CRADLE

CROPS

CULTIVATE

EROSION

FALLOW

FARM

FEED

FLAIL

FORAGE

GRANGE

GRASS

HARVEST

HAY

HUSK

MANURE

MILL

ORCHARD

PICK

SOWING

TILLING

Discover Sixty-Five October 2022 21
---
October Horoscope

ARIES – Mar 21/Apr 20

1st Week: Aries, others are

counting on you this week,

so you'll need to direct all of

your attention toward a special

project. Don't let distractions

get in the way.

2nd Week: It may be tempting

to throw your weight

around and assert power

in a situation, Aries. But this

may backfire in the long run.

Try to be a team player.

3rd Week: Aries, maintain

your alignment with your

dreams and tap into your

warrior instinct if you come

up against a significant obstacle

later in the week.

4th Week: This should be a

very interesting week, Aries.

Money matters will be at the

heart of it. Figure out what

you want to do with the extra

cash that you have accumulated.

TAURUS – Apr 21/May 21

1st Week: Taurus, rather

than wishing for something

to happen, figure out a plan

to make it happen. Before

taking action, consult with

a few close friends for guidance..

2nd Week: Taurus, someone

close to you may be

driving you crazy, and you're

tempted to let them know.

However, go with the flow

instead and enjoy this calmer

approach.

3rd Week: Taurus, you're

naturally good at juggling

many different tasks simultaneously.

Don't be surprised

if someone recognizes this

and give you a few projects

to handle.

4th Week: Treat everyone

with a bit of caution, Taurus.

Some person in your

circle may need a little extra

support this week, and your

calm and even approach

could be just what's needed.

GEMINI – May 22/Jun 21

1st Week: Someone may

come to you this week with

a problem asking for your

advice, Gemini. It's tempting

to react right away. However,

take a few hours to mull

things over.

2nd Week: Gemini, an important

decision must be

made in the days ahead.

Take a calm approach and

do your best to keep your

emotions out of this discussion.

3rd Week: The theme of this

week is "opposites" for you,

Gemini. If you're a normally

tidy person, you'll leave

a mess behind. If you are

prompt, you will arrive late.

It could be refreshing.

4th Week: Gemini, this

week has the potential for a

few bumps in the road that

could be avoided if you simply

slow down a bit. Think

things through or you could

trip yourself up.

CANCER – Jun 22/Jul 22

1st Week: Someone at work

may not agree with your

point of view lately. Rather

than cause friction, try to

look at things through this

person's perspective.

2nd Week: Once you involve

others in a situation, it

can be difficult to dial back

their involvement, Cancer.

Consider whether you

should ask for input or go it

alone this week.

3rd Week: This week there

will be a great deal of pressure

on you, Cancer. Try to

remain as calm as possible

while ticking off the boxes

on your to-do list. Ask for

help if you need it.

4th Week: An exciting few

days lie ahead, Cancer. You

may be tempted to spend

much more than you usually

would. Have fun, but keep

track of your finances.

LEO – Jul 23/Aug 23

1st Week: Leo, cooperation

could be essential in the

days and weeks ahead. This

week you will benefit from

being more open-minded

to other people's suggestions.

2nd Week: Leo, rather than

shouting from the rooftops

how much you love a person,

it may be better to take

a more subtle approach.

Reel in your excitement for

the time being.

3rd Week: Your leadership

skills will be on display this

week, Leo. People at work

and at home will call on you

to make decisions and guide

them through various situations.

4th Week: Leo, even if you

have plans to hang out with

friends, something at home

could crop up that will need

your immediate attention.

Be flexible and at the ready.

VIRGO – Aug 24/Sept 22

1st Week: It seems that you

have been tasked with moving

from one difficult situation

into another one, Virgo.

Find ways to set aside time

strictly to unwind.

2nd Week: Keeping secrets

is not the way to go, Virgo,

especially when they are

kept from someone close to

you. Why all the smoke and

mirrors? Be open and honest

with yourself and others.

3rd Week: Virgo, this week

you could come up with a

new plan to make a big difference

in the world. It may

start with an assignment at

work or be inspired by volunteering.

4th Week: Virgo, find balance

where you feel out of

sync. Maybe you have been

having relationship woes

or seem out of touch with

family. Make an effort to respond

to these feelings.

22

October 2022 Discover Sixty-Five email: seniors@pennywiseads.com
---
These are the weekly Horoscopes for the month of

October Week number 1, 2, 3 and 4 this month!

LIBRA – Sept 23/Oct 2

1st Week: Keep careful track

of your expenses, Libra. You

may find that lately you have

been going a bit overboard

with expenditures and not

bringing in any extra money.

2nd Week: A financial situation

may be worked out

this week or even inflamed,

Libra. The only way to stay

ahead is to keep careful

track of your expenditures.

3rd Week: Libra, try to learn

as much about the people

around you as possible. They

may share strategies that

can affect your life in many

positive ways. Start asking

the right questions.

4th Week: Libra, even if your

best plans do not work out,

that doesn't mean you have

to scrap everything and

sulk. Make the most of what

worked and build on that.

SCORPIO – Oct 24/Nov 22

1st Week: Maintain a positive

outlook this week, Scorpio.

Things may not go exactly

according to plan, but

that doesn't make it any less

successful and satisfying.

2nd Week: Be honest with

yourself about your needs,

Scorpio. If you don't feel

like socializing in a loud and

public manner, organize

a group to come over for

some more quiet R&R.

3rd Week: You may need

to brush up on your charm

skills, Scorpio. Sometimes

you come at people at full

force. You could benefit from

employing a more slow and

steady approach.

4th Week: Scorpio, you may

find yourself in a situation

that tests your levelheadedness

in a big way this week.

It could throw off your equilibrium

when your plans go

awry.

SAGITTARIUS – Nov 23/Dec 21

1st Week: Sagittarius, you

may have to put others first

for the next few days, particularly

if you care for an elderly

relative or a young child.

It's a sacrifice worth making.

2nd Week: Getting involved

with chores and other tasks

can occupy your mind with

some busy work, Sagittarius.

After a brief mental break,

you can return to more serious

tasks.

3rd Week: Sometimes you

can be naturally shy and

quiet, Sagittarius. This week

show others what lies beneath

that quiet surface. Use

your voice and get others excited

about your thoughts.

4th Week: Sagittarius, focus

on communication in the

days to come. The ability to

communicate effectively

will be a true asset as you

work more with others.

CAPRICORN – Dec 22/Jan 20

1st Week: Capricorn, let another

person lead a team or

spearhead a project at work,

even if you have an urge to

take control. You can use a

break from your responsibilities.

2nd Week: Finances may

get a boost this week as a

new income stream falls into

your lap, Capricorn. Investigate

it fully before getting

deeply involved.

3rd Week: Try not to hide in

the shadows this week, Capricorn.

This is your time to be

in the spotlight and show

others what you are made

of. A spark will inspire you to

act.

4th Week: A problem that

arises may initially seem insurmountable,

Capricorn.

But you're more than capable

of overcoming this

obstacle. Look to Pisces for

help.

AQUARIUS – Jan 21/Feb 18

1st Week: Aquarius, handson

work not only helps save

you some money, but also

strengthens your skills. Think

about a more DIY approach

with your next project.

2nd Week: Opening up

about your personal life

may relieve some pressure

and stress that you have

been feeling, Aquarius. Find

someone who doesn't have

a close stake.

3rd Week: Getting back into

the swing of things after

time away can take a little

while, Aquarius. You may

have forgotten some steps

or feel out of practice. Don't

be too hard on yourself.

4th Week: Are you ready to

take action and get to work,

Aquarius? An unexpected

home project has fallen

into your lap, and it will take

some effort to get it all done.

PISCES – Feb 19/Mar 20

1st Week: Pisces, if life has

been tedious and filled with

analytical requirements as of

late, take on a creative project

that will work your brain

in new ways.

2nd Week: Don't spread the

word about a big idea until

you are sure about it and

ready to move, Pisces. Don't

let others steal your thunder.

3rd Week: You're used to

dealing with situations as

they arise, Pisces. Plan ahead

for what you anticipate will

come along this week.

4th Week: You could wind

up learning something simply

by letting the wind take

you where it will, Pisces. Firm

plans are unnecessary this

week.

OCTOBER

HOROSCOPE

SPONSORED BY

Call Kaslo,1-800-663-4619 Discover Sixty-Five October 2022 23
---
24 October 2022 DISCOVER SIXTY-FIVE, Kootenay Seniors Living