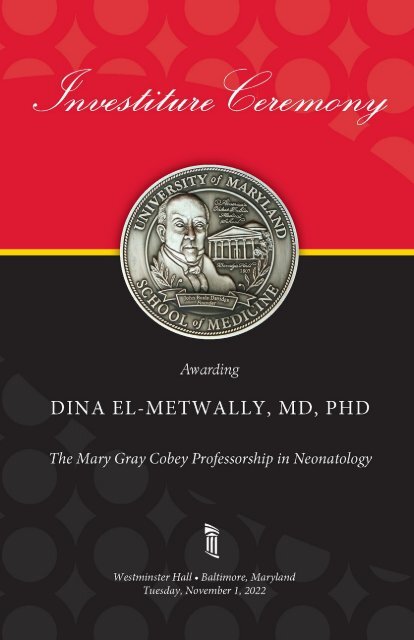 Dina El-Metwally, MD, PhD Investiture Ceremony Program
Create successful ePaper yourself
Turn your PDF publications into a flip-book with our unique Google optimized e-Paper software.
DINA EL-METWALLY, MD, PHD

Dina El-Metwally, MD, PhD, is a Professor of

Pediatrics and the Chief of the Division of

Neonatology at the University of Maryland School

of Medicine. She joined the Department of

Pediatrics, Division of Neonatology, in 2011.

During her tenure as medical director, she played a

pivotal leadership role in the design and operation

of the state-of-the-art Drs. Rouben and Violet Jiji

NICU. This NICU design was instrumental in the

transition of other NICUs at the University of

Maryland and globally.

Dr. El-Metwally graduated at the top of her class

from the Faculty of Medicine, Suez Canal

University, Egypt. She completed her Pediatric

Residency and Fellowship in Neonatal-Perinatal-

Medicine at the Warren Alpert Medical School of Brown University, Providence, RI. She

obtained a PhD in Neuroscience focused on the Neurodevelopment of VLBW with Brain

Hemorrhage. She completed a fellowship in Neonatal Transport at the Hospital for Sick

Children, University of Toronto, Canada. In addition, she obtained a Master's in Health

Professions Education from Maastricht University, Faculty of Health, Medicine and Life

Sciences (FHML), Netherlands. She also completed a fellowship at the Foundation for

Advancement of International Medical Education and Research (FAIMER) Institute,

ECFMG, Philadelphia, where she currently serves as an adjunct faculty.

Dr. El-Metwally was a consultant to the World Health Organization (WHO) in program

evaluation and health workforce development. She led national programs to decrease

neonatal and childhood mortality in the Middle East and North Africa (MENA). As a

MENA regional trainer, she disseminated neonatal resuscitation to mitigate the

consequences of Hypoxic Ischemic Encephalopathy (HIE), for which she received the

prestigious Sheila Wallace Award from the International Child Neurology Association in

Montreal, CA.

Dr. El-Metwally's research focuses on neonatal opioid withdrawal syndrome (NOWS).

She is the Co-Director of the UM Center of Excellence for Substance Use in Pregnancy

(SUP). She has secured grants in collaboration with the Departments of Anatomy and

Neuroscience, the Institute for Genome Sciences (IGS), the School of Pharmacy, and the

Smith School of Business, utilizing artificial intelligence to study multi-omics

biomarkers for precision therapy in infants with NOWS. In 2017, she was featured and

recognized in JAMA for the efforts concerted by the Jiji NICU for opioid-withdrawing

babies. Other areas of her research are NICU Environmental Toxicants and HIE.

Dr. El-Metwally is a leader recognized for her regional, national, and international

institutional services. She is a member of the Medicine Appointment, Promotion, and

Tenure (APT) Committee at the School of Medicine. She supports the Women's

Legislative Caucus in Maryland. She chairs the Maryland AAP committee on the Fetus

and Newborn; co-sponsored the FDA Analgesic Clinical Trial for Infants and Neonates;

is a Board Member and Associate Editor for Pediatric Research, a member of the

National Institute of Child Health and Human Development (NICHD) Neonatal Research

Network Clinical Centers grant applications review committee. Internationally, she is the

Co-Chair of the International Hot Topics in Neonatal Medicine Conference. She is also a

FAIMER Institute Faculty for Curriculum Mapping, Reform, and Professionalism for

Medical Schools in the MENA region.
---
WELCOME

Mary Pooton

Associate Dean for Development

University of Maryland School of Medicine

Steven J. Czinn, MD

The Drs. Rouben and Violet Jiji Endowed Professor and Chair

Department of Pediatrics

University of Maryland School of Medicine

Director, University of Maryland Children's Hospital (UMCH)

REMARKS

Mark T. Gladwin, MD

Vice President for Medical Affairs, UM Baltimore

John Z. and Akiko K. Bowers Distinguished Professor and

Dean, University of Maryland School of Medicine

DONOR RECOGNITION

Mark T. Gladwin, MD

REMARKS

Julia Cobey Gluck

Daughter of Mary Gray and William Wilfred Cobey

SPEAKERS

Maureen M. Black, PhD

Professor Emeritus

Department of Pediatrics

University of Maryland School of Medicine

Betty R. Vohr, MD

Professor of Pediatrics

Warren Alpert Medical School of Brown University

Division of Neonatology

Women & Infants Hospital of Rhode Island

Hany Aly, MD, MSHS, FAAP

Department Chair of Neonatology

Cleveland Clinic

Professor of Pediatrics

Case Western Reserve University

Lerner College of Medicine

MEDAL PRESENTATION

Mark T. Gladwin, MD

REMARKS

Dina El-Metwally, MD, PhD

The Mary Gray Cobey Professor of Neonatology

CLOSING REMARKS

Steven J. Czinn, MD
---
T

he first endowed professorships were established more than

500 years ago with the creation of the Lady Margaret chairs

in divinity at Oxford and Cambridge Universities. The

original endowed chairs were sponsored by Lady Margaret,

countess of Richmond, and grandmother of Henry VIII in 1502.

Subsequently, private individuals began making financial contributions

to establish other endowed professorships and chairs such as the

Lucasian Chair of Mathematics, which Sir Isaac Newton held

beginning in 1669. Professor Stephen Hawking, the internationally

renowned physicist and recipient of the 2010 US Medal of Freedom,

was another prominent holder of this endowed chair.

The honor associated with appointment to an endowed position has

remained unchanged for the last 500 years and is recognized as one of

the highest tributes that an academic institution can bestow upon its

most distinguished faculty. These endowed professorships and chairs

continue to reward exceptional scholars uninterrupted to the present

time.

The Office of Development is charged with securing private gifts to

ensure the School's tradition of excellence is sustained through robust

research, clinical, and educational programs and initiatives. The

University of Maryland School of Medicine is fortunate to have nearly

85 endowed chairs & professorships in various stages of completion

and held by esteemed faculty members.
---
MARY GRAY MUNROE COBEY AND

WILLIAM WILFRED COBEY

Mary Gray Munroe Cobey and William Wilfred "Bill" Cobey, originally

from Quincy, Florida, built their family in University Park, Maryland. A

1930 graduate from the University of Maryland College Park's College

of Arts and Sciences, Bill played lacrosse. His passion for athletics was

demonstrated throughout his tenure as UMCP's athletic director from

1956 to 1968.

Parents to six children, family was at the core of Mary Gray's and Bill's

lives. It was their love and commitment to family that inspired them to

make a legacy gift to the University of Maryland School of Medicine to

establish the Mary Gray Cobey Professorship in Neonatology in loving

memory of Mark Welch Munroe and Mary Gray Munroe, parents of

Mary Gray Cobey; Carrie Jessica Cobey, and Alice Elizabeth Cobey,

their granddaughters.