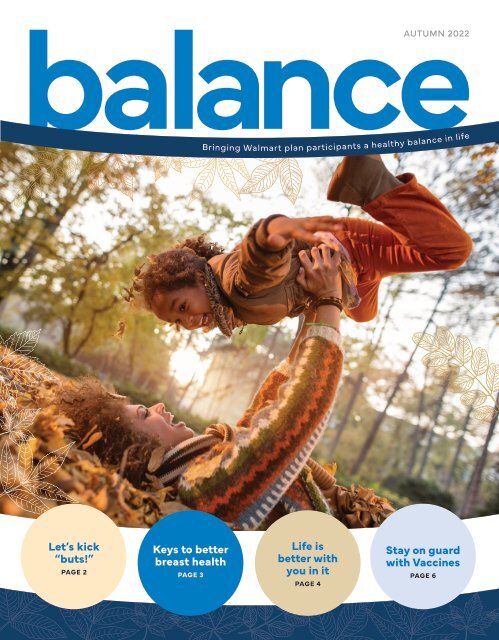 You also want an ePaper? Increase the reach of your titles
YUMPU automatically turns print PDFs into web optimized ePapers that Google loves.
alanceAUTUMN 2022

Bringing Walmart plan participants a healthy balance in life

Let's kick

"buts!"

PAGE 2

Keys to better

breast health

PAGE 3

Life is

better with

you in it

PAGE 4

Stay on guard

with Vaccines

PAGE 6
---
Let's Kick

"Buts!"

As the weather gets colder, we tend to stay inside

more, and our risk of contagious respiratory viruses

such as COVID increases. That makes this an

especially important time to focus on lung health.

Nothing damages the lungs more than smoking.

If you are a smoker, you know quitting tobacco

isn't easy. There is always a "but" to keep you from

quitting. "But" my life is so stressful. "But" I'll stop

after this pack …

If you are ready, Walmart can help you kick those "buts."

Smoking harms more than your lungs

Smoking can harm nearly every body organ and

leads to disease and disability. More than 16 million

Americans are living with a disease caused by

smoking. For every person who dies because of

smoking, at least 30 people live with a serious

smoking-related illness. Smoking causes cancer,

heart disease, stroke, lung diseases, diabetes, and

chronic obstructive pulmonary disease (COPD),

which includes emphysema and chronic bronchitis.

Smoking also increases the risk for tuberculosis,

certain eye diseases, and immune system problems,

including rheumatoid arthritis.

Here's how we can help:

• KICK BUTS – Walmart offers the Kick Buts

program at no cost to all associates and

immediate family members. Kick Buts is a simple

and interactive coaching program that works

through your mobile phone. Once you enroll, Kick

Buts supports you via text messages and works

with you until you've quit for good. If you have a

craving, Kick Buts is there 24/7. If you slip up, Kick

Buts helps you get back on track.

• NICOTINE REPLACEMENT THERAPY – Walmart

provides Nicotine Replacement Therapy (NRT)

products at no charge to those who enroll in

the Kick Buts program. NRT products, like gum,

patches and lozenges, help you manage cravings

by easing the effects of nicotine withdrawal.

Ready to kick

the habit?

If you want help quitting tobacco,

we encourage you to enroll in the

free Kick Buts program. Register

online at kickbuts.com/kbewmt,

or call 855-955-1905 M-F,

9 a.m. – 6 p.m. CT.

2 balance AUTUMN 2022
---
Achieving Your

Best Breast Health

Breast cancer is the second most common cause

of cancer death among adult women. We all know

regular breast exams and mammograms are the best

strategies for detecting breast cancer, but there's

much more you can do to boost good breast health.

Maintain a healthy weight. Staying a

healthy weight reduces your lifetime

risk of developing or dying from cancer.

Exercise regularly. Physically active

women are 25% less likely to develop

breast cancer than sedentary women.

Stay hydrated by drinking lots of

water and fill your plate daily with

fruits and vegetables.

Limit alcohol to one drink per day.

Women who drink more than one

alcoholic beverage daily — even just

two drinks — increase their risk of

developing breast cancer.

Take your vitamins, especially vitamin D.

Women with low vitamin D levels may

have a higher risk of developing breast

cancer. Breast cancer survivors with low

vitamin D levels may have a greater risk

of disease recurrence. Research also

suggests high vitamin D levels are linked

to better breast cancer survival rates

Conduct regular breast self-exams.

Nobody knows your body as you do.

By doing self-exams, you can

determine how your breasts vary in

sensitivity and texture during different

times of the month. Watch for lumps,

pain or nipple discharge. If you have

signs or symptoms that worry you,

be sure to see your doctor.

The importance of

early detection

Mammography screening is a valuable early

detection tool that can identify breast cancer at an

early stage when treatment is more effective and

less expensive. The following screening schedule is

recommended for women of average risk:

Women ages

50-74

should receive

a screening

mammogram every

2 YEARS

Women

younger

than

50

should talk with their

physician about their

family history and

general health to

determine whether

they need a screening

mammogram.

Women whose family history has an increased

risk of breast cancer genes (mutations in

BRCA1 or BRCA2 genes) should receive genetic

counseling and evaluation for BRCA testing.

If breast cancer is detected, you should outreach

to your health care advisor at BlueAdvantage

Administrators of Arkansas to discuss how they

can assist you. Please see the number on the

back of your plan ID card.

balance AUTUMN 2022 3
---
Life

is better with

you in it

Suicide prevention: know the

signs and ways to get help

The Thanksgiving-Christmas holiday season can be

a joyous time of the year. Late fall gatherings with

family, buying presents for loved ones, decorating

and preparing special meals are all part of the fun.

But maybe instead of joy, what you feel is pressure.

Or you feel alone and left out of celebrations. You

could even dread the shortening of daylight, a

symptom of Seasonal Affective Disorder (SAD).

When these feelings get out of hand, the risk

of suicide grows. Nobody wants to talk about

suicide, but ignoring the problem won't make

it go away. The good news is that there are

signs you can watch for to help prevent

someone from attempting suicide, things

you can do to reduce the risk, and resources

you can reach out to for help.

Need help?

Call Resources

for Living at

800-825-3555.

Need to speak to a

counselor?

With Resources for Living you and your family have

access to 10 face-to-face counseling sessions per

person, per issue per year, all at no co-cost. But not

everyone can fit a counseling office visit into their

schedule. Talkspace is a benefit through Resources

for Living where, instead of 10 individual sessions,

members can access 10 weeks of chat therapy through

the convenient website or app. While there aren't live

sessions, you can send messages to the therapist you

choose to work on a variety of needs in a way that fits

your lifestyle. Call Resources for Living at 800-825-3555

or visit One.Walmart.com/RFL for more information.

4 balance AUTUMN 2022
---
Here are

four ways

to reduce suicides:

1.

Maintain Meaningful

Social Connections

Cutting down on social

isolation can have positive

effects not only in

preventing suicide but on

the overall quality of life.

If someone you care for

seems isolated, reach out.

That means you, too.

2.

Identify whether you

or someone you know

has untreated mental

health needs

Hidden symptoms of

mental illness can give

a false sense of security.

Addressing the issue

by seeking help from a

professional is the first

important step.

3.

Reduce access to

items that could be

used for self harm

Studies explain that the

suicide rate drops when

easy access to lethal

means is restricted or

eliminated.

4.

Be Aware of Risks

While they don't

necessarily predict suicide

attempts, you should watch

for these risk factors:

• Mental disorders, particularly

mood disorders, schizophrenia,

anxiety disorders, and certain

personality disorders

• Alcohol and other substance use

disorders

• Previous suicide attempt(s)

• Family history of suicide

• Job or financial loss

• Loss of relationship(s)

• Hopelessness

• Easy access to lethal means

• Impulsive and/or aggressive

tendencies

• History of trauma or abuse

• Local clusters of suicide

• Lack of social support

and sense of isolation

• Major physical illnesses

• Stigma associated with

asking for help

• Lack of healthcare, especially

mental health and substance

abuse treatment

Take care of yourself and those

near and dear to you during

the upcoming holidays.

• Cultural and religious beliefs,

such as the belief that suicide

is a noble resolution of a

personal dilemma

• Exposure to others who have

died by suicide (in real life or

via the media and Internet)

balance AUTUMN 2022 5
---
Stay on Guard

with

Vaccines

Fall is a busy time of year, with kids back in school

and the holidays approaching. It's easy to forget

getting a flu or COVID-19 shot with such a hectic

schedule. But just think of how much you won't

get done if you get sick!

With the flu, we are used to the regular call to

get a vaccine before the flu season (typically late

fall or early winter) begins. COVID is a newer threat

but getting vaccinated is the best way to fight it.

Here is up-to-date information on COVID and

flu vaccines.

Can you get

both vaccines

at once?

You can get a COVID vaccine and other vaccines,

including a flu vaccine, at the same visit. Your

immune response after getting vaccinated is

generally the same when the COVID vaccine

is given alone or with other vaccines.

6 balance AUTUMN 2022
---
A couple of quick vaccines and

you don't have to worry about

that busy life grinding to a halt.

Who should get the flu shot?

There are a variety of types of flu vaccines, making

it easy for most people over the age of 6 months

to receive a flu shot. Standard-dose inactivated flu

vaccines are approved for people as young as 6

months of age. High-dose inactivated vaccines are

approved for people 65 years and older. Even people

with egg allergy can get a flu shot.

Some people are at higher risk of hospitalization or

death from the flu:

• Children younger than age 5 years — especially

those younger than age 2 years

• Pregnant people and those who are up to two

weeks postpartum

Who should get the COVID shot?

• COVID primary vaccines: everyone

ages 6 months and older

• COVID boosters: everyone eligible

ages 5 years and older

Who SHOULD NOT get a COVID shot?

It's a pretty short list. People who are moderately

or severely immunocompromised have different

recommendations for COVID vaccinations and

should discuss with their primary doctor what

kind or how many vaccines they may need.

Source: CDC.gov, nfid.org/flu

• People with certain chronic health conditions

like heart disease, lung disease, diabetes,

obesity or a compromised immune system

• Certain racial and ethnic groups including Black,

Hispanic or Latino, and American Indian or

Alaska Native persons

• Adults age 65 years and older because they

often have weak immune systems

Who SHOULD NOT get a flu shot?

• Children younger than 6 months

• People with severe, life-threatening allergies to

a flu vaccine ingredient (other than egg proteins)

including gelatin, antibiotics or other ingredients

• People with a severe allergic reaction to a flu

vaccine in the past. If you had a severe allergic

reaction to a flu vaccine, talk with your doctor to

determine whether vaccination is appropriate.

balance AUTUMN 2022 7
---
BlueAdvantage Administrators of Arkansas

P.O. Box 1460

Little Rock, AR 72203-1460

blueadvantagearkansas.com

PRSRT STD.

US Postage

PAID

Permit 7

Caney, KS

67333

Don't Let

Diabetes

Overwhelm You

Fall is in full swing – school is back in

session and Thanksgiving and Christmas

are right around the corner. Your to-do list

has grown from a few items to an endless

scroll. Managing your diabetes during this

busy time can be a real challenge.

Feel overwhelmed yet?

No worries. Help is here.

Making the Most of myAgilelife

People with diabetes can lessen their burden with

myAgilelife – a free text messaging-based coaching

support program. myAgileLife provides the motivation

and personal support needed to be successful. It will

send anywhere from two messages a week to three

messages per day, depending on the goals you want to

hit. As part of the program, you'll be assigned a personal

health coach who will support you every step of the way.

Use myAgilelife to stay on course with:

Diet

Exercise

00096.04.01-1022

Medicines

Preventive health

screenings

Q: How do I sign up for myAgilelife?

A: There are three ways to get started:

Text 'DIABETESB' to short code 63141, and

a text message will be sent to you with a link

to a mobile web page that describes the program.

Click on the ENROLL NOW button to get started.

Go to myAgilelife next, enter Program Code "DIABETESB,"

and then, click on the ENROLL NOW button.

Call 1-855-955-1905, M-F 9 AM to 6 PM (CT)

and a myAgileLife customer service

representative will help enroll you.

During the enrollment process, you will need to provide

some basic information including:

• Your name (as it appears on your insurance card)

• Demographics (gender, date of birth, zip code, etc.)

• Mobile phone number (where text messages will be sent)

• Facility ID (Store Number or Department Number

for non-store associates)

• Member ID Number (from your insurance card)