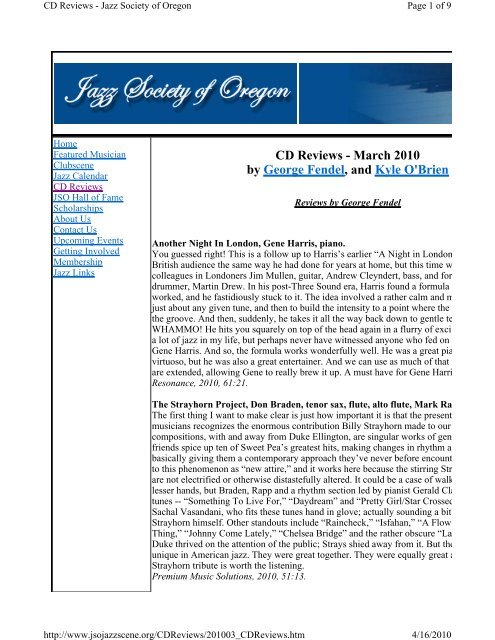 CD Reviews - March 2010 by George Fendel, and ... - Whitney James
CD Reviews - March 2010 by George Fendel, and ... - Whitney James
CD Reviews - March 2010 by George Fendel, and ... - Whitney James
SHOW MORE
SHOW LESS
You also want an ePaper? Increase the reach of your titles
YUMPU automatically turns print PDFs into web optimized ePapers that Google loves.
CD Reviews - Jazz Society of Oregon

Home

Featured Musician

Clubscene

Jazz Calendar

CD Reviews

JSO Hall of Fame

Scholarships

About Us

Contact Us

Upcoming Events

Getting Involved

Membership

Jazz Links

CD Reviews - March 2010

by George Fendel, and Kyle O'Brien

Reviews by George Fendel

Page 1 of 9

Another Night In London, Gene Harris, piano.

You guessed right! This is a follow up to Harris's earlier "A Night in London

British audience the same way he had done for years at home, but this time w

colleagues in Londoners Jim Mullen, guitar, Andrew Cleyndert, bass, and for

drummer, Martin Drew. In his post-Three Sound era, Harris found a formula

worked, and he fastidiously stuck to it. The idea involved a rather calm and m

just about any given tune, and then to build the intensity to a point where the

the groove. And then, suddenly, he takes it all the way back down to gentle te

WHAMMO! He hits you squarely on top of the head again in a flurry of exci

a lot of jazz in my life, but perhaps never have witnessed anyone who fed on

Gene Harris. And so, the formula works wonderfully well. He was a great pia

virtuoso, but he was also a great entertainer. And we can use as much of that

are extended, allowing Gene to really brew it up. A must have for Gene Harri

Resonance, 2010, 61:21.

The Strayhorn Project, Don Braden, tenor sax, flute, alto flute, Mark Ra

The first thing I want to make clear is just how important it is that the present

musicians recognizes the enormous contribution Billy Strayhorn made to our

compositions, with and away from Duke Ellington, are singular works of gen

friends spice up ten of Sweet Pea's greatest hits, making changes in rhythm a

basically giving them a contemporary approach they've never before encount

to this phenomenon as "new attire," and it works here because the stirring Str

are not electrified or otherwise distastefully altered. It could be a case of walk

lesser hands, but Braden, Rapp and a rhythm section led by pianist Gerald Cla

tunes -- "Something To Live For," "Daydream" and "Pretty Girl/Star Crossed

Sachal Vasandani, who fits these tunes hand in glove; actually sounding a bit

Strayhorn himself. Other standouts include "Raincheck," "Isfahan," "A Flow

Thing," "Johnny Come Lately," "Chelsea Bridge" and the rather obscure "La

Duke thrived on the attention of the public; Strays shied away from it. But the

unique in American jazz. They were great together. They were equally great a

Strayhorn tribute is worth the listening.

Premium Music Solutions, 2010, 51:13.

http://www.jsojazzscene.org/CDReviews/201003_CDReviews.htm

4/16/2010
---
CD Reviews - Jazz Society of Oregon

Page 2 of 9

Best Of Love Songs, Jackie Ryan, vocals.

This new Jackie Ryan recording came out with a Valentine's Day theme, and

singer among a plethora of wanna-be's, serves up these evergreens with her u

I'm only sorry that it wasn't received in time to get it into the February issue.

herself with many of the best jazz cats that L.A. can offer, including Tamir H

Red Holloway, Larry Vukovich, Jeff Hamilton, Roy McCurdy and more. For

simplicity and beauty, try "While We're Young" with only the guitar of Larry

also handles the politely swinging tempos of the likes of "You'd Be So Nice t

"This Heart of Mine," "Let There Be Love," "Besame Mucho" and a standou

Holiday, "Now Or Never." But there's also a sampling of the pretty stuff like

of Yo"u and lesser known delicacies like "Make It Last." Where little girl sin

through American Idol and other adolescent angst, Jackie Ryan is all grown u

songs for people with the ears to hear the difference.

Open Art Productions, 2010, 65:15.

Three's Company, Bill Cunliffe, piano, Holly Hoffman, flute

These two deep-in-the-shed musicians have worked together nearly two deca

an altogether new idea for this recording. In addition to performing as a duo,

of their faves, resulting in several trio combinations. The first of these brings

Carter on Billy Strayhorn's beautiful "Star Crossed Lovers." The next guest i

Stafford on Hoffman's sprightly title tune. Ken Peplowski chimes in on clarin

original, "Reunion," a piece with classical connections. The last guest player

Garmett who helps out on another Cunliffe tune, the whimsical "Sweet Andy

tasteful trio performances, the co-leaders get several opportunities to perform

highlights include Burton Lane's lovely standard "Too Late Now" and a journ

repertoire with the delicate Gabriel Faure composition, "Pavane." While this

slight departure for Bill and Holly, it's a very welcome one. I would like to se

idea into the future, perhaps adding other guests for a volume 2.

Capri, 2010; 51:15.

Phenomenology, Liam Sillery, trumpet and flugelhorn.

Two previous releases on OA2 Records found Sillery in a quintet setting with

man, David Sills. This time out, Sillery opts for alto saxist Matt Blostein, who

Sillery on some probing, often energetic music. Sillery's pianist, Jesse Stacke

Morgan, are once again on hand as they were on the previous "Minor Change

played here, all original compositions, are hardly a lesson in lyricism, perhap

two CDs. However, there's something riveting in Sillery's sound, and if you'

'catchy' melody lines tunes you can hum in favor of some stellar, earthy trum

playing, you might find this music illuminating, although sometimes challeng

highlight here, it was Sillery's sterling silver trumpet on "Koi," a ballad of pu

album ends with a New Orleans-style dazzler called "Intentionality." This isn

aunt Martha who used to bake Betty Crocker with Guy Lombardo on the old

think aunt Martha's great grandkids will dig it

OA2 Records, 2010, 38:16.

Brazil Confidential, Jon Gold, piano, keyboards.

Tango Grill, Pablo Aslan, bass.

Sorry to put it this way, but to me American jazz is quite a separate art from t

of South America. Distant cousins? Of course, and each has a loyal following

over from one to another. I'm not the ideal guy to review music from Brazil (

(Aslan) because I'm much more a jazz guy than I am a World music guy. An

http://www.jsojazzscene.org/CDReviews/201003_CDReviews.htm

4/16/2010
---
CD Reviews - Jazz Society of Oregon

Page 3 of 9

played, catchy, lively, 'glass is completely full' World music to make you sm

the effort that went into the arranging of both of these recordings with various

and out of the varied pallet of tunes. Just consider the possibilities of such ins

accordion, English horn, flute, violin and even bandoneon. One musician put

palpable joie de vivre." Classy, well arranged, well played music? No questi

as good as it is, it's niche music and a lengthy journey from, say, "Ornitholog

Moments."

Zoho Music, 2010, 59:42 (Gold) and 58:59 (Aslan).

Raising The Bar, Mort Weiss, clarinet.

Okay, you're familiar enough with solo piano and solo guitar recordings, but

to retain a listener's attention for over an hour with a solo clarinet album? Th

of the time, but a resounding 'yes' when the clarinetist is Mort Weiss. In the t

return to performing jazz, Weiss has put together some stirring groups, but th

for him, for me and for you. Weiss, at seventy something, retains a balanced,

ideas are endless, and they flow from him like Mrs. Butterworth's. He's a bop

case you haven't yet heard him, will bring to mind the virtuosity of Buddy De

tunes race along at a near dangerous clip, but his ballads, while attractively de

dripping with frosting. No less than seventeen tunes, most of them less than f

will delight you. By the time you realize there's no piano, bass and drums it w

Mort Weiss will have captured your attention and your admiration. And Mort

cats have yet to even dream about.

SMS, 2009, 70+.

Curiosity, John Vanore, trumpet, flugelhorn.

Former Woody Herman trumpet man John Vanore has assembled a sizzling b

Abstract Truth, a tip of the hat to another big band baron, Oliver Nelson. And

Vanore's original music, although performed by a 14-piece aggregation, has a

feeling. Undoubtedly, this is due to the generous amount of space and time af

tunes, seemingly, are written with this in mind. You might also like to take no

brassy ensemble, with no less than five guys in the trumpet section; plus two

French horn. The group is completed with two reeds and a standard rhythm se

prominence of the brass, it would be easy to surmise that Varone is doing a K

it -- this music will in no way remind you of Kenton. The arrangements seem

writing of such stalwarts as Bill Holman or Thad Jones, or, of course, Oliver N

truth. Or, in this case, the abstract truth.

Accoutical Concepts Inc., 2009.

Do It Again, Rossano Sportiello, piano and vocal, Nicki Parrott, bass and

Pianist Sportiello and bassist/singer Parrott are back at it as a duo, and it seem

chord (pun unintended) as two highly polished musicians who work beautiful

of 16 songs features Parrott's feathery vocals on seven of them, including "Co

Shine," "Do It Again," "Moonglow" and a totally charming old timer called "

You're Breaking My Heart." Sportiello even chimes in as a singer on "Two S

Parrott's rather high-pitched voice and her intimate delivery are slightly remin

Dearie, that's not a bad place to be. Sportiello demonstrates considerable vari

choices, from Tommy Flanagan's "Sea Changes" to Robert Schumann's "Of

People" to Duke Ellington's delicate "Fleuine Africane." He is a pianist with

to admire. This twosome sounds as if they're having more fun than the law sh

likely follow suit.

Arbors, 2009, 61:19.

http://www.jsojazzscene.org/CDReviews/201003_CDReviews.htm

4/16/2010
---
CD Reviews - Jazz Society of Oregon

Page 4 of 9

The Nature Of Love, Whitney James, vocals.

Seattle's Whitney James, a much admired singer among that city's hip jazz fo

album which satisfies in so many respects. First, take a look at the careful cho

about spot-on perfect on Benny Golson's "Whisper Not," never succumbing t

tune's possibilities of overdoing it to somehow prove that she's the real deal.

to take on Jimmy Rowles' gorgeous (but extremely challenging) "The Peacoc

now has established itself as a jazz standard, but it gains new freshness with N

as "A Timeless Place." Other little subtleties, surprises and highlights: the rar

to "Long Ago and Far Away"; her clever use of the closing phrases of "The V

to open the song; the tension release as the rhythm section opens up on "How

and a Bill Evans tune which has somehow escaped even an Evans freak like m

a lilting, life-is-good kind of melody. Put all this and more together with Jame

Wolf, piano, Matt Clohesy, bass, and Jon Wikan, drums, and add a bonus: Ing

and flugelhorn is a plus on several of the tunes, especially the ballads. This is

from a singer who deserves the kudos sure to come her way.

Self-Produced, 2009, 51:30.

Men Of Honor, Jeremy Pelt, trumpet, flugelhorn.

After experimenting with some synthetic sounds on his last album or two, I al

Jeremy Pelt. But here he's returned to a standard quintet, and I'm once again

colleagues on this date include J. D. Allen, tenor sax, Danny Grissett, piano, D

and Gerald Cleaver, drums. The eight tunes are all originals from various gro

cover the gamut from burning hard bop to luminous balladry. Each of the play

define New York attitude, and collectively, the result is sometimes electrifyin

expressive and beautiful. Most importantly, Jeremy Pelt is back where he sho

straight ahead quintet and providing soaring, relevant music with great creativ

High Note, 2010, 45:26.

Blue Bassoon, Daniel Smith, bassoon.

I was informed that the bassoon is one of the most difficult instruments to pla

quotes the New York Times saying, (Daniel Smith is) "the greatest bassoon p

generation." An interesting perspective when one considers how much compe

jazz field. Maybe none. Be that as it may, Smith plays bebop tunes undaunted

ease on this most unwieldy of instruments. His quintet includes the very unde

Bejerano, with Edward Perez, bass, Ludwig Alfonso, drums, and Larry Camp

understand this: Smith isn't giving you a 'look what I can do on an instrumen

when he and colleagues work the changes to "Billie's Bounce," "Things Ain'

Be," "Equinox," "Footprints," "Solid," "Nostalgia In Times Square" and mor

of the horse of a different color in the Wizard Of Oz. I think the line was, "the

and he's it."

Summit, 2009, 43:06.

Three For The Ages, Michael Pagan, piano.

Piano heroes like Bill Evans, Hank Jones, Tommy Flanagan and Alan Broadb

groundwork for the elegant, in-the-pocket pianist Michael Pagan. Like theirs,

both the beauty and the swing in the music. And, like them, his trio is just tha

player makes a significant contribution. Most pianists begin an album with a

tempo. Pagan opens with an extended "You Don't Know What Love Is," a ba

tradition. In fact, he doesn't really let out all the stops until a high wire "How

Victor Feldman tune, "Falling In Love," once again represents Pagan's pagea

http://www.jsojazzscene.org/CDReviews/201003_CDReviews.htm

4/16/2010
---
CD Reviews - Jazz Society of Oregon

Should Care" swings politely with some bountiful block chords. "Atras da Po

Brazilian bossa which I recall from a delicious performance from an old Rob

second Irving Berlin tune, "The Best Thing For You," is played with swingin

and friends end the program with "Persona," a thought provoking entry from

pianist, Enrico Pieranunzi. These and more signal the arrival of Michael Paga

jazz pianists who listen first and then find their own voice.

Capri, 2010, 64:13.

Zollar Systems, James Zollar, trumpet, flugelhorn.

According to the bio which was enclosed with James Zollar's CD, this versat

served the cause for quite a few years and has played with some formidable a

recording is a blowing session with a New York crew creating several tempos

tunes, all unfamiliar except the standard, "The Nearness Of You," sample the

group members, plus one each by Hank Jones and Eddie Harris. It's all here:

of avant garde, a couple of foreign language vocals, and to top it all off, a hin

Surrounding all this creativity is the engaging trumpet and flugelhorn of Jame

vital, biting and rich, perhaps in the Woody Shaw school. We certainly need t

perhaps next time on an entire album of unabashed hard bop!

JZAZ Records, 2009, 62:56.

SHORT TAKES

Popjazzic, Christopher Lehman, trumpet.

Seems like Christopher Lehman is trying to be all things to all people in bring

couple tunes brought to mind Lee Morgan's "Sidewinder" and Herbie Hancoc

Voyage") and a lot of pop and funk. The group goes too far astray with some

couple of poppy vocals, a bit too much electric bass and the like. Amidst it al

ribbon trumpet, but because the CD tries to cover too much ground, it doesn't

as a thoroughgoing jazz CD. But then, the title of the disc is "Popjazzic," wha

Earlin Music & Media Productions, 2009, 43:12.

Takin' My Time, Michael Kaminski, Hammond B3 organ.

There must be a lot of people who thoroughly dig these organ-tenor-guitar thi

ton of 'em out. While it's not exactly my musical entree, this one came off m

than a funk session. The guys even found the possibilities of "It Might As We

or When" and "Moonlight in Vermont" in this setting. Kaminski sounds more

Jimmy Smith, the ultimate jazz organist. There's lots of cookin' fun here, wit

overkill of all those funk groups.

Chicken Coup, 2010; 75:00.

Make Someone Happy, Monica Ramey, vocals.

On her debut CD, Nashville singer Monica Ramey displays a velvety voice o

tunes including infrequently heard ones like "Dream Dancing," "You Hit the

Flower" and "Give Him the Ooh-la-la." But the award winner was the opener

tune called "Hey, John." Carmen McRae's version of it was a wake up call fr

comes darn close. Some sparkling arrangements for horns add some luster to

Ramey has learned the lesson of never over-decorating a tune, something som

never understand. I liked her a lot!

Cognito, 2010; 46:20.

Past Present, George Cotssirilos, guitar.

http://www.jsojazzscene.org/CDReviews/201003_CDReviews.htm

Page 5 of 9

4/16/2010
---
CD Reviews - Jazz Society of Oregon

I'm always a bit wary of guitar albums. Will a jazz guitarist really show up? C

George Cotsirilos. He plays gimmick-free guitar, and his trio, with Robb Fish

Marabuto on drums, cooks up several nicely conceived originals, moving wit

swinging post bop to shimmering ballads. And always using space effectively

veteran player. Three standards played wonderfully well included "The Way

"Without a Song" and a beautiful acoustic solo on "What Kind of Fool Am I.

middle of the jazz highway, a nice place to be.

OA2 Records, 2010, 58:02.

Live At Blackhawk, Lady K & The Kings of Swing.

Big band swing is alive and well in the San Francisco area. If you need proof

(Kaye Leedham on tenor sax and flute) and her 17-piece band. If you'd expec

feature Ellington, Gershwin, Porter and Rodgers and Hart, you'd be right on t

band devotee knows that such an organization needs a 'boy singer,' and Dale

You'll know virtually all seventeen tunes, so put this one in the player and ge

floor!

Self-produced, 2009, 67:43.

Free At Last, Tobias Gebb, drums.

New York drummer Gebb must have put out the call to some willing hard bop

with alto sax man Bobby Watson, tenors Ron Blake and Joel Frahm, and trum

Magnarelli. These and other Gotham cats show up on an album of nearly all G

offer solid writing, excellent arranging, and premier solo work. You will not s

wondering where these songs go because Gebb gives you real melody lines, w

burner or a ballad. He has scored a winner.

Yummyhouse Records, 2009, 45:51.

Here In The Moment, Gail Pettis, vocals.

Seattle singer Gail Pettis has released her second CD for OA2 Records, and it

love her singing because she's a natural. Pettis doesn't go over the top with u

blessed with a great voice and lets that voice do its thing. With a couple of Se

pianists Randy Haberstadt and former Portlander Darin Clendenin, Pettis wor

delights.

OA2 Records, 2010, 46:25.

Reviews by Kyle O'Brien

Page 6 of 9

Creepin' Up, Dave Fleschner Trio.

Keyboardist Fleschner keeps putting out solid music and growing as a solo ar

This time, the keyboardist for Curtis Salgado returns to his stripped-down, cla

play some bluesy soul jazz with guitarist Dan Gildea and drummer Charlie D

is a nice, swinging minor blues, showing off the loose-yet-focused nature of t

Fleschner and Gildea taking turns soloing and comping while Doggett locks i

quit. There is palpable soul on this disc, especially on the backbeat grooves o

"SAF," and the amusing "Bo Diddley Owes Me 80 Bucks." Fleschner groove

them, and his playing has an approachability that makes him a very talented e

opening up the sonic possibilities and Doggett being his tasteful self, this trio

normal organ trio, even if the tunes aren't terribly complex. The groovy "Feet

Coleman, fits in perfectly, while the original, "Byzantine," courts world rhyth

without straying too far afield. The closer, "Brother," is a nice, pulsating balla

come up yet remains a lovely tune, with Gildea's distorted guitar leading the

http://www.jsojazzscene.org/CDReviews/201003_CDReviews.htm

4/16/2010
---
CD Reviews - Jazz Society of Oregon

retro-'80s fusion-style piece.

2009, Fleschtone Records, 60 minutes.

Page 7 of 9

Rinnova, Scenes.

John Stowell, Jeff Johnson and John Bishop have been playing together as Sc

decade, and the group continues to evolve and develop a sound as a trio rathe

players. It's not about showcasing one instrument or even one sound. Their w

the fusion of the '70s and early '80s, like that done by Mike Stern or John Ab

definitely of the now. Stowell's guitar approach is softer and more delicate ev

chords and dense textures, due to his nylon-stringed instrument. The trio isn't

more acoustic version of a fusion act, though -- it's about creating textures, co

sonic landscapes. The disc begins with some free-form jazz, with Bishop atta

flurry of stickwork and Johnson strumming hard chords before settling into a

swings and grooves through a few tracks until the haunting bowed bass by Jo

a slow piece with a pronounced low end, which fits the nautical theme. Stowe

with nylon-stringed chord jabs as Bishop uses brushes to heighten the feeling

Things get a little freer on "Art of Falling," then get light with "Fun with Frui

electric on "Little Church," a free-flowing tune that lets Johnson and Stowell

interesting closer, Stowell picks up a fretless guitar, which creates a dizzying

upright bass on "Clues," a tune that will challenge the listener while creating

whimsy. These three continue to create cohesive musical conversations while

ways to weave their magic.

2010 Origin Records, 63 minutes.

100 Years of Django, Frank Vignola.

Guitarist Vignola has played with people as diverse as Ringo Starr, Madonna

for him to pay tribute to one of the most influential guitarists of all time isn't

is that so many folks have paid tribute to the late great gypsy guitarist that on

new can be brought to the retro genre. This disc starts promising, with a frene

barnburner that shows off Vignola's strumming skills and features the rapid-f

musician Julien Labro. The fact that they let the volume bubble under for a lo

and makes building to a final crescendo all the more vibrant. There is a sense

tribute, as the nearly bossa-like "Troubland Bolero" shows, as Vignola does a

light strumming of guitarist Vinny Raniolo and bassist Gary Mazzaroppi. The

bring a freshness to what could just be another jump-swing tribute. The melan

as done solo by Vignola, is beautiful and technically sound. The inclusion of

tune, "Mystery Pacific" is amazing in its speed, while the more recognizable

that this is a tribute. Vignola is a name that needs to be heard more on the left

2010, Azica Records, 48:50.

Three's Company, Holly Hofmann & Bill Cunliffe.

Flutist Hofmann teams up again with pianist, composer and arranger Cunliffe

off and on with for two decades. They have recorded several discs as a duo, b

of some lofty guest stars, including Regina Carter, Terell Stafford, Ken Peplo

Garnett. The disc starts with a bluesy duet on "Too Late Now," a chance for H

to show off their sophisticated classical meets jazz aesthetic. When Hofmann

alto flute, she teams beautifully with Carter's violin on the lovely "Star-Cross

Cunliffe staying in the background as the two share harmonies and melodic li

trumpet bops along with Hofmann's flute on her own "Three's Company," a j

Cunliffe's "Reunion" is a harmonically more interesting tune, with Peplowsk

both harmonic and countermelodic lines. Peplowski is a fine player, and with

http://www.jsojazzscene.org/CDReviews/201003_CDReviews.htm

4/16/2010
---
CD Reviews - Jazz Society of Oregon

Page 8 of 9

perfect company. Garnett's drums are welcome in the setting, as he uses brus

textures rather than simply beats. The duets are just as successful as the trio tu

interludes and bookends to a very nice recording.

2010, Capri Records, 51:20.

Paul Meyers Quartet Featuring Frank Wess.

Wess's breathy, mellow tenor fits smoothly with Meyers and his nylon string

Strayhorn's light swinger, "Snibor," is a perfect intro, smooth and relaxed. W

for a more modern tune, Meyers' "Blue Lantern," an extended contemporary

showing his breathy flute work. But it works better on the bossa version of "I

of the Morning," where Wess can extend his notes and tone. This isn't an exc

might take away some stress. Wess concentrates on melodic interpretations, w

group swing along with ease. Vocalist Andy Bey brings his rich and deep voi

Afternoon," a Brazilian version of the standard that gives it a very different fe

quietude that is calming. The blues of "Menage a Bleu" is about as dirty as it

his best tenor growl. Their version of "My One and Only Love" is worth the w

justice to the timeless melody.

2009, Miles High Records, 60 minutes.

Forty Fort, Mostly Other People Do the Killing.

This eclectic Pennsylvania ensesmble's fourth CD cements them as one of the

working today. They aren't shy with volume, as the opener, a frenetic "Pen A

Kevin Shea's drums thunder and fly as the horns create honks and generally s

out of control at any second. The only thing is -- they never do. The tune cons

beats and rhythms but they somehow all come together doing what they need

some nifty harmonies along the way. Easy listening this is not, and thank goo

that MOPDTK is a bit over the top. And they'd be right, but jazz was built on

chances, and this raw jazz takes plenty. John Irabagon's honky alto, Peter Eva

and bassist/composer Moppa Elliott's boundary blurring tunes make this a fun

through the disparate elements we call jazz. One might wish for a little more u

make the loud parts a little more effective and less cacophonous, but heck, thi

2009, MoppaMusic, 60:25.

Twelve Pieces, Mike Mainieri/Marnix Busstra Quartet.

Mainieri is a renowned vibe player known best for his many years with the ev

Ahead. Here the veteran teams with guitarist Marnix Busstra for another winn

vibes and the various guitars and bouzouki fit well together, but then again M

adapt to a setting. This seems a natural fit though, since the band is tight and M

longtime member. The tunes, mostly written by Busstra, are contemporary pi

more towards traditional modern jazz and others adding world elements, like

-meets-European jazz of "Lost in Little Spain," with its droning electric sitar.

global edge. Marnix is quite the string player, jumping back and forth betwee

and other selected stringed instruments. It's a welcome fusion of sounds and t

tone "All in a Row" fits well here but could just as easily fit into the Steps Ah

fusion should evolve.

2009, NYC Music Productions, 60 minutes.

ART-i-facts: Great Performances from 40 Years of Jazz at NEC.

The New England Conservatory of Music's jazz program is officially 40 year

that have come through its doors are astounding. This disc is a collection of tu

Conservatory over the years. The opener, a swinging "Cottontail" from the D

http://www.jsojazzscene.org/CDReviews/201003_CDReviews.htm

4/16/2010
---
CD Reviews - Jazz Society of Oregon

Copyright 2009, Jazz Society of Oregon

Page 9 of 9

Repertory Orchestra conducted by Gunther Schuller from 1974, is amazing, t

quality is less than stellar. Jaki Byard's "'Round Midnight" is hauntingly beau

Lacy's solo version of Monk's "Thelonious" is repetitive though intriguing. B

the NEC Jazz Orchestra is a rouser from 2005, but again the sound quality co

interesting study in how one school helped shape jazz for the future with incr

quality of the recording is less than great.

2009, New England Conservatory,72 minutes.

American Rock Beauty, Torbeen Waldorff.

Guitarist Waldorff is an interesting character and a heck of a composer and gu

accessible but edgy modern jazz is impressive, and here he has a fine band ba

includes drummer Jon Wikan and saxophone whiz Donny McCaslin. This ban

the compositions come to life on tunes like "Shining Through," a mix of Ame

builds. The songs have a diversity that lets the listener sample the music, from

colorful slower songs like the title track. McCaslin is restrained during the m

gets a chance to show his muscle on tunes such as "Late," where he works his

grace and power. There's even some swing, with "Song-Ella," where Waldor

Waldorff is a force in the contemporary jazz world, and with this group he ke

2010, Wasteland/ArtistShare, 60 minutes.

Sicilian Opening, Salvatore Bonafede Trio.

Italian pianist and composer Bonafede is joined by two other Sicilians, drumm

and bassist Marco Panascia, for a varied disc of blues, jazz, covers and some

New Orleans-street-style blues, the title track, which could work well in the G

Bonafede has a little more polish than the street. The blues gets slower on "bb

be down and dirty but stays sophisticated. "WWWW" is an homage to Dr. Jo

European-meets-New Orleans flair but is done as a modern jazz composition.

"Blackbird," he uses a light funk-rock beat with the familiar melody but make

descending line. Bonafede and his group would fit well in either a jazz club o

Sometimes the tunes are a bit too clean for their own good, but maybe it's an

2010, Jazzeyes, 55:45.

http://www.jsojazzscene.org/CDReviews/201003_CDReviews.htm

4/16/2010