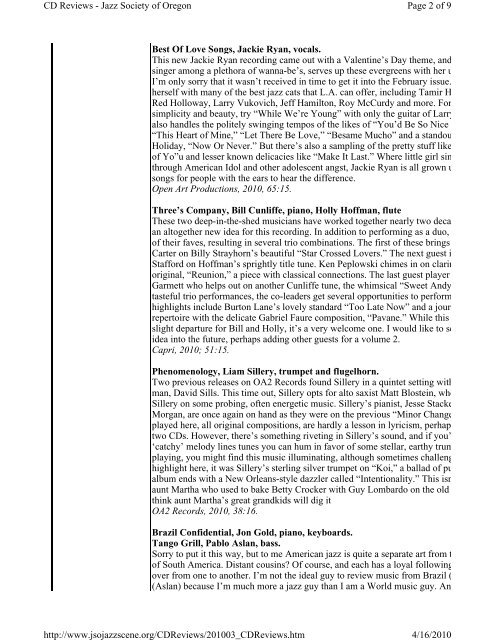 CD Reviews - March 2010 by George Fendel, and ... - Whitney James
CD Reviews - March 2010 by George Fendel, and ... - Whitney James
CD Reviews - March 2010 by George Fendel, and ... - Whitney James
SHOW MORE
SHOW LESS
You also want an ePaper? Increase the reach of your titles
YUMPU automatically turns print PDFs into web optimized ePapers that Google loves.
CD Reviews - Jazz Society of Oregon

Page 2 of 9

Best Of Love Songs, Jackie Ryan, vocals.

This new Jackie Ryan recording came out with a Valentine's Day theme, and

singer among a plethora of wanna-be's, serves up these evergreens with her u

I'm only sorry that it wasn't received in time to get it into the February issue.

herself with many of the best jazz cats that L.A. can offer, including Tamir H

Red Holloway, Larry Vukovich, Jeff Hamilton, Roy McCurdy and more. For

simplicity and beauty, try "While We're Young" with only the guitar of Larry

also handles the politely swinging tempos of the likes of "You'd Be So Nice t

"This Heart of Mine," "Let There Be Love," "Besame Mucho" and a standou

Holiday, "Now Or Never." But there's also a sampling of the pretty stuff like

of Yo"u and lesser known delicacies like "Make It Last." Where little girl sin

through American Idol and other adolescent angst, Jackie Ryan is all grown u

songs for people with the ears to hear the difference.

Open Art Productions, 2010, 65:15.

Three's Company, Bill Cunliffe, piano, Holly Hoffman, flute

These two deep-in-the-shed musicians have worked together nearly two deca

an altogether new idea for this recording. In addition to performing as a duo,

of their faves, resulting in several trio combinations. The first of these brings

Carter on Billy Strayhorn's beautiful "Star Crossed Lovers." The next guest i

Stafford on Hoffman's sprightly title tune. Ken Peplowski chimes in on clarin

original, "Reunion," a piece with classical connections. The last guest player

Garmett who helps out on another Cunliffe tune, the whimsical "Sweet Andy

tasteful trio performances, the co-leaders get several opportunities to perform

highlights include Burton Lane's lovely standard "Too Late Now" and a journ

repertoire with the delicate Gabriel Faure composition, "Pavane." While this

slight departure for Bill and Holly, it's a very welcome one. I would like to se

idea into the future, perhaps adding other guests for a volume 2.

Capri, 2010; 51:15.

Phenomenology, Liam Sillery, trumpet and flugelhorn.

Two previous releases on OA2 Records found Sillery in a quintet setting with

man, David Sills. This time out, Sillery opts for alto saxist Matt Blostein, who

Sillery on some probing, often energetic music. Sillery's pianist, Jesse Stacke

Morgan, are once again on hand as they were on the previous "Minor Change

played here, all original compositions, are hardly a lesson in lyricism, perhap

two CDs. However, there's something riveting in Sillery's sound, and if you'

'catchy' melody lines tunes you can hum in favor of some stellar, earthy trum

playing, you might find this music illuminating, although sometimes challeng

highlight here, it was Sillery's sterling silver trumpet on "Koi," a ballad of pu

album ends with a New Orleans-style dazzler called "Intentionality." This isn

aunt Martha who used to bake Betty Crocker with Guy Lombardo on the old

think aunt Martha's great grandkids will dig it

OA2 Records, 2010, 38:16.

Brazil Confidential, Jon Gold, piano, keyboards.

Tango Grill, Pablo Aslan, bass.

Sorry to put it this way, but to me American jazz is quite a separate art from t

of South America. Distant cousins? Of course, and each has a loyal following

over from one to another. I'm not the ideal guy to review music from Brazil (

(Aslan) because I'm much more a jazz guy than I am a World music guy. An

http://www.jsojazzscene.org/CDReviews/201003_CDReviews.htm

4/16/2010