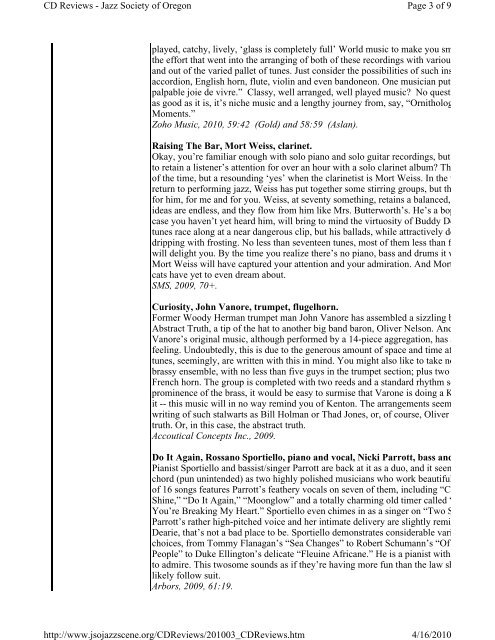 CD Reviews - March 2010 by George Fendel, and ... - Whitney James
CD Reviews - March 2010 by George Fendel, and ... - Whitney James
CD Reviews - March 2010 by George Fendel, and ... - Whitney James
SHOW MORE
SHOW LESS
You also want an ePaper? Increase the reach of your titles
YUMPU automatically turns print PDFs into web optimized ePapers that Google loves.
CD Reviews - Jazz Society of Oregon

Page 3 of 9

played, catchy, lively, 'glass is completely full' World music to make you sm

the effort that went into the arranging of both of these recordings with various

and out of the varied pallet of tunes. Just consider the possibilities of such ins

accordion, English horn, flute, violin and even bandoneon. One musician put

palpable joie de vivre." Classy, well arranged, well played music? No questi

as good as it is, it's niche music and a lengthy journey from, say, "Ornitholog

Moments."

Zoho Music, 2010, 59:42 (Gold) and 58:59 (Aslan).

Raising The Bar, Mort Weiss, clarinet.

Okay, you're familiar enough with solo piano and solo guitar recordings, but

to retain a listener's attention for over an hour with a solo clarinet album? Th

of the time, but a resounding 'yes' when the clarinetist is Mort Weiss. In the t

return to performing jazz, Weiss has put together some stirring groups, but th

for him, for me and for you. Weiss, at seventy something, retains a balanced,

ideas are endless, and they flow from him like Mrs. Butterworth's. He's a bop

case you haven't yet heard him, will bring to mind the virtuosity of Buddy De

tunes race along at a near dangerous clip, but his ballads, while attractively de

dripping with frosting. No less than seventeen tunes, most of them less than f

will delight you. By the time you realize there's no piano, bass and drums it w

Mort Weiss will have captured your attention and your admiration. And Mort

cats have yet to even dream about.

SMS, 2009, 70+.

Curiosity, John Vanore, trumpet, flugelhorn.

Former Woody Herman trumpet man John Vanore has assembled a sizzling b

Abstract Truth, a tip of the hat to another big band baron, Oliver Nelson. And

Vanore's original music, although performed by a 14-piece aggregation, has a

feeling. Undoubtedly, this is due to the generous amount of space and time af

tunes, seemingly, are written with this in mind. You might also like to take no

brassy ensemble, with no less than five guys in the trumpet section; plus two

French horn. The group is completed with two reeds and a standard rhythm se

prominence of the brass, it would be easy to surmise that Varone is doing a K

it -- this music will in no way remind you of Kenton. The arrangements seem

writing of such stalwarts as Bill Holman or Thad Jones, or, of course, Oliver N

truth. Or, in this case, the abstract truth.

Accoutical Concepts Inc., 2009.

Do It Again, Rossano Sportiello, piano and vocal, Nicki Parrott, bass and

Pianist Sportiello and bassist/singer Parrott are back at it as a duo, and it seem

chord (pun unintended) as two highly polished musicians who work beautiful

of 16 songs features Parrott's feathery vocals on seven of them, including "Co

Shine," "Do It Again," "Moonglow" and a totally charming old timer called "

You're Breaking My Heart." Sportiello even chimes in as a singer on "Two S

Parrott's rather high-pitched voice and her intimate delivery are slightly remin

Dearie, that's not a bad place to be. Sportiello demonstrates considerable vari

choices, from Tommy Flanagan's "Sea Changes" to Robert Schumann's "Of

People" to Duke Ellington's delicate "Fleuine Africane." He is a pianist with

to admire. This twosome sounds as if they're having more fun than the law sh

likely follow suit.

Arbors, 2009, 61:19.

http://www.jsojazzscene.org/CDReviews/201003_CDReviews.htm

4/16/2010