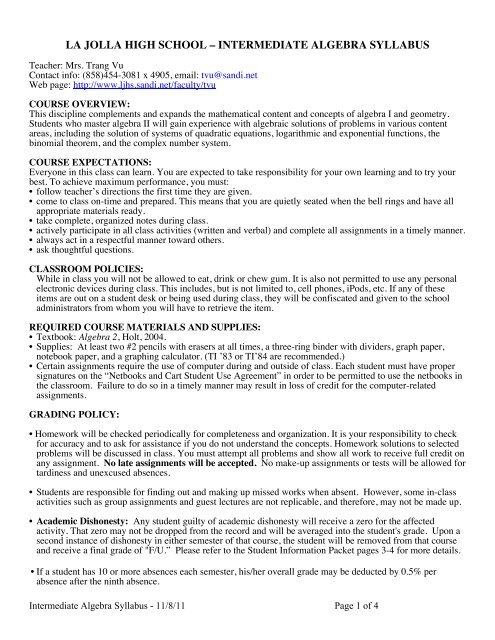 Mrs. Trang Vu - La Jolla High School
Mrs. Trang Vu - La Jolla High School
Mrs. Trang Vu - La Jolla High School
SHOW MORE
SHOW LESS
Create successful ePaper yourself
Turn your PDF publications into a flip-book with our unique Google optimized e-Paper software.
LA JOLLA HIGH SCHOOL – INTERMEDIATE ALGEBRA SYLLABUS

Teacher: Mrs. Trang Vu

Contact info: (858)454-3081 x 4905, email: tvu@sandi.net

Web page: http://www.ljhs.sandi.net/faculty/tvu

COURSE OVERVIEW:

This discipline complements and expands the mathematical content and concepts of algebra I and geometry.

Students who master algebra II will gain experience with algebraic solutions of problems in various content

areas, including the solution of systems of quadratic equations, logarithmic and exponential functions, the

binomial theorem, and the complex number system.

COURSE EXPECTATIONS:

Everyone in this class can learn. You are expected to take responsibility for your own learning and to try your

best. To achieve maximum performance, you must:

• follow teacher's directions the first time they are given.

• come to class on-time and prepared. This means that you are quietly seated when the bell rings and have all

appropriate materials ready.

• take complete, organized notes during class.

• actively participate in all class activities (written and verbal) and complete all assignments in a timely manner.

• always act in a respectful manner toward others.

• ask thoughtful questions.

CLASSROOM POLICIES:

While in class you will not be allowed to eat, drink or chew gum. It is also not permitted to use any personal

electronic devices during class. This includes, but is not limited to, cell phones, iPods, etc. If any of these

items are out on a student desk or being used during class, they will be confiscated and given to the school

administrators from whom you will have to retrieve the item.

REQUIRED COURSE MATERIALS AND SUPPLIES:

• Textbook: Algebra 2, Holt, 2004.

• Supplies: At least two #2 pencils with erasers at all times, a three-ring binder with dividers, graph paper,

notebook paper, and a graphing calculator. (TI '83 or TI'84 are recommended.)

• Certain assignments require the use of computer during and outside of class. Each student must have proper

signatures on the "Netbooks and Cart Student Use Agreement" in order to be permitted to use the netbooks in

the classroom. Failure to do so in a timely manner may result in loss of credit for the computer-related

assignments.

GRADING POLICY:

• Homework will be checked periodically for completeness and organization. It is your responsibility to check

for accuracy and to ask for assistance if you do not understand the concepts. Homework solutions to selected

problems will be discussed in class. You must attempt all problems and show all work to receive full credit on

any assignment. No late assignments will be accepted. No make-up assignments or tests will be allowed for

tardiness and unexcused absences.

• Students are responsible for finding out and making up missed works when absent. However, some in-class

activities such as group assignments and guest lectures are not replicable, and therefore, may not be made up.

• Academic Dishonesty: Any student guilty of academic dishonesty will receive a zero for the affected

activity. That zero may not be dropped from the record and will be averaged into the student's grade. Upon a

second instance of dishonesty in either semester of that course, the student will be removed from that course

and receive a final grade of "F/U." Please refer to the Student Information Packet pages 3-4 for more details.

• If a student has 10 or more absences each semester, his/her overall grade may be deducted by 0.5% per

absence after the ninth absence.

Intermediate Algebra Syllabus - 11/8/11 Page 1 of 4
---
The grading breakdown is as follows:

• Assignments.................................................................................................... 20% A............85-100%

• Quizzes (some quizzes may not be announced in advance) ........................... 30% B...........75-84.9%

• Chapter tests, bench-mark assessments, final exam ....................................... 50% C...........65-74.9%

................................................................................................................................. D...........55-64.9%

................................................................................................................................. F ................< 55%

Students' academic grades are posted online at http://sc.webgrade.classmanager.com/LaJollaHS/.

Please obtain your username and password from your teacher.

CITIZENSHIP:

Grade Criteria

Excellent:

No unexcused absences, no more than 3 excused absences, no tardy, no disruptive

(All criteria are met.) behaviors; always displaying respectful behaviors toward adults and peers, always

displaying excellent study habits, asking thoughtful questions, participating actively in class

discussion, often helping others; is a role-model.

Good:

No unexcused absences, no more than 5 excused absences, no more than 2 tardies, rarely

(All criteria are met.) displaying disruptive behaviors; consistently displaying respectful behaviors and good study

habits, asking thoughtful questions, participating actively in class discussion, sometimes

helping others.

Satisfactory:

No unexcused absences, no more than 10 excused absences, no more than 4 tardies, no

(All criteria are met.) major disruptive behaviors, asking questions, consistently participating actively in class

discussion.

Needs

1 to 3 unexcused absences, 10 to 15 excused absences, 5 tardies, disruptive behaviors

Improvement:

resulting in at least one referral or two parent contacts, often lack preparation and/or

(If any one of the criteria participation.

is met.)

Unsatisfactory:

More than 3 unexcused absences, more than 15 excused absences, 6 tardies or more, major

(If any one of the criteria disruptive behaviors resulting in two or more referrals or three parent contacts, lack of

is met.)

preparation and/or participation on a daily basis, caught cheating or plagiarizing on

assignment/test.

LJHS – Universal Tardy Policy:

First week Tardy grace period. Student – Teacher conference. Tardies will not be recorded and will

not be applied to the consequences.

First Tardy after

Verbal warning. Mark first tardy.

Grace Period

Second Tardy Parent notification either by letter or by phone.

Third Tardy Citizenship grade lowered one grade.

Fourth Tardy Citizenship grade is lowered one more grade and a referral is written. At a minimum the

student will be assigned one day of detention by the counselor.

Fifth Tardy Citizenship grade lowered one more grade.

Sixth Tardy Citizenship grade lowered to a "U".

Seventh Tardy Referral number two will be written for defiance of school rules. Vice-Principals will

contact parents. The student will be suspended.

TUTORING AND/OR INDIVIDUAL CONFERENCES:

I will be available before school, at lunch and after school if you have any questions or concerns on courserelated

matters. If possible, please make an appointment. Link Crew (peer) tutoring is available after school in

the Library Media Center. Please consult the school bulletin and classroom postings for updates.

Intermediate Algebra Syllabus - 11/8/11 Page 2 of 4
---
TO: ALL PARENTS OR GUARDIANS

Please read the attached syllabus and return this form with your signature. In addition, you can help me monitor

your son's/daughter's progress by checking their grades online at

http://sc.webgrade.classmanager.com/LaJollaHS/. If you have any questions and/or concerns on any

course-related issues, please contact me via email tvu@sandi.net, the school phone number or send a note with

your son/daughter. Thank you.

I have read and understood the class syllabus. In order to help my son/daughter successfully complete the

course, I agree to:

• provide a quiet space and time for my son/daughter to study at home everyday.

• monitor his/her progress regularly.

• communicate with the teacher when questions and/or concerns arise.

Necessary info Student's Parent's/Guardian's

Full Name

Phone(s)

Address

Email

Signature

Date

Does your son/daughter work with a private tutor in math? If so, how often? ___________

Do you have access to the internet? __________

Do you know the login information to check your son/daughter grades online? _______

Please feel free to indicate any suggestion(s) to help make this class a successful experience for your

son/daughter. Include any special needs/accommodations that he/she requires to learn successfully.

Intermediate Algebra Syllabus - 11/8/11 Page 3 of 4
---
Name: _______________________

Date: _______________________

Period: _______________________

Course: _______________________

SYLLABUS QUESTIONS

Read the course syllabus and answer the following questions. Use the back if necessary.

1. What is your math teacher's name? ____________________

2. What math class(es) did you take last year and in summer school (if any)? Indicate course name, academic

& citizenship grades, and names of school and teacher.

Course name Grade level Academic grade Citizenship grade School/Teacher

3. What materials and supplies are required for this course?

4. If by the end of the semester, a student earned an 90% average on HW, 80% on quiz, 75% on exams, what is

the overall average according to the weights described in the syllabus? Show your reasoning and/or

calculation.

5. When can late assignment(s) be turned in?

6. What may happen to your grade if you are absent 10 times or more?

7. What are the consequences if you are tardy for the fourth time?

8. How can you get extra help in the course?

9. What grades (both academic & citizenship) do you expect to earn by the end of this course? How will you

achieve them?

10. Please include any special needs/accommodations that you require to learn successfully.

Intermediate Algebra Syllabus - 11/8/11 Page 4 of 4