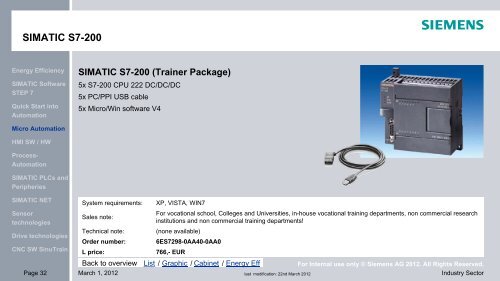 Siemens Automation Cooperates with Education (SCE) Siemens Automation Cooperates with Education (SCE)
SIMATIC S7-200

Energy Efficiency

SIMATIC Software

STEP 7

Quick Start into

Automation

SIMATIC S7-200 (Trainer Package)

5x S7-200 CPU 222 DC/DC/DC

5x PC/PPI USB cable

5x Micro/Win software V4

Micro Automation

HMI SW / HW

Process-

Automation

SIMATIC PLCs and

Peripheries

SIMATIC NET

Sensor

technologies

Drive technologies

CNC SW SinuTrain

System requirements:

Sales note:

Technical note:

Order number:

L price:

Page 32 March 1, 2012

XP, VISTA, WIN7

For vocational school, Colleges and Universities, in-house vocational training departments, non commercial research

institutions and non commercial training departments!

(none available)

6ES7298-0AA40-0AA0

766,- EUR

Back to overview List / Graphic / Cabinet / Energy Eff

last modification: 22nd March 2012

For Internal use only © Siemens AG 2012. All Rights Reserved.

Industry Sector
More magazines by this user